*FYI - this post may contain affiliate links, which means we earn a commission at no extra cost to you if you purchase from them. Also, as an Amazon Associate I earn from qualifying purchases. Check out our Privacy Policy and Disclosure. for more info.
Headed to Europe for the first time and trying not to cry?
I get it. You're probably a hot mess of emotion right now. Between the excitement of ticking off bucket list moments and the anxiety of getting pickpocketed or (possibly worse) getting side-eyed by cool European youths, there's a lot of potential for stress carbs and sheer overwhelm.
Don't worry though – I have all the Europe tips you need in this post to keep those first time jitters at bay, and ensure you're fully prepared for your big European adventure.
So, what are some must-knows before you travel to Europe for the first time? Read on for a full of my best Europe travel tips, after over a decade of travelling around/living on this gorgeous and delicious continent.
NOTE: As an aggressively apologetic Canadian, I must first clarify that these European travel tips are written from a North American perspective, and there are some culture shocks that (while seemingly basic) can really confuse a 1st time visitor, so… yes, this is just me covering all the bases. Enjoy!
Europe Travel Planning Tips
Let's start with some planning-related Europe tips to help you with flights, booking hotels in Europe, choosing dates, the best times to visit Europe, etc. to get you from armchair travel to your real-life dream trip.
Steal my step by step guide to planning a trip to Europe from scratch
This post is full of random Europe travel tips, but if you are looking more for step by step guidance, be sure to check out my step by step guide to planning a Europe trip.
Also be sure to check out my free Europe trip planner book, as well as my free International Travel Checklist for a list of things to do before you travel abroad.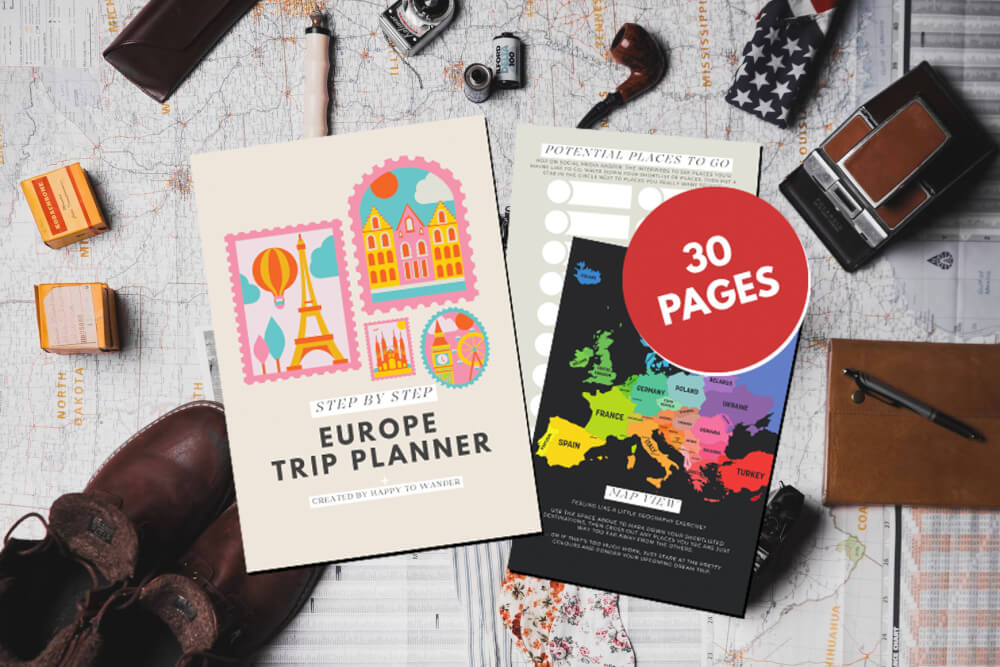 Avoid peak travel times
If you have the luxury of flexibility, I'd avoid visiting Europe between mid-June to the end of August.
Simply put, this is when prices and crowds are at their highest, and (depending on where you go) temperatures during this season can reach a point of salty, sweaty discomfort.
Instead, consider going in the Spring, Fall or Winter!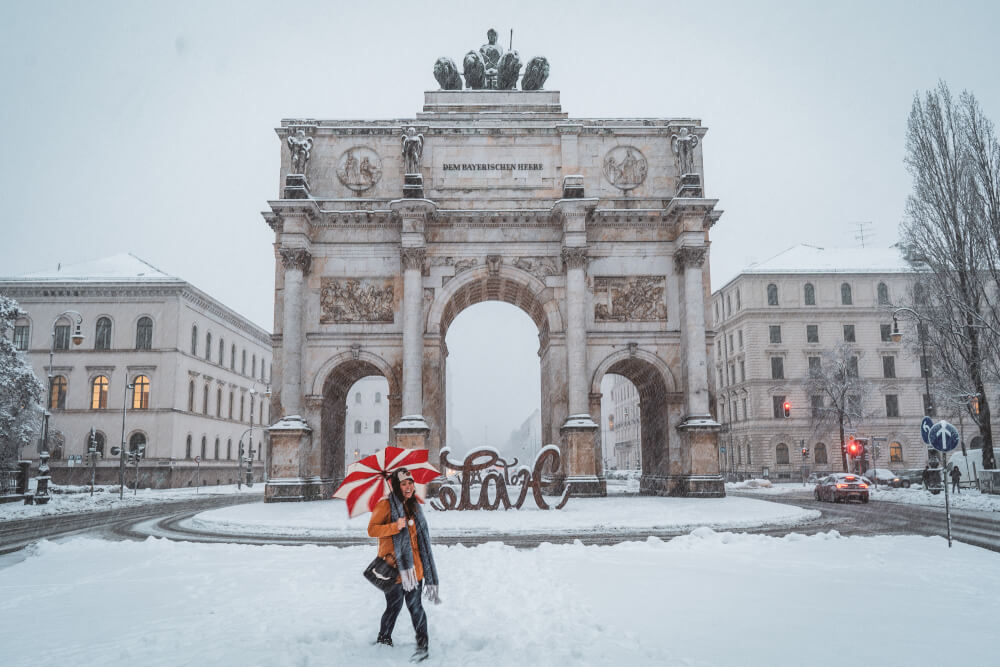 Avoid European holidays
In addition to avoiding North American holiday periods, be sure to also consider popular European school holidays too.
Generally, speaking longer European school holidays will take place during Easter/Christmas, a very popular time for European families to travel around the continent too.
Yes, Europeans can be avid tourists too. Don't forget that!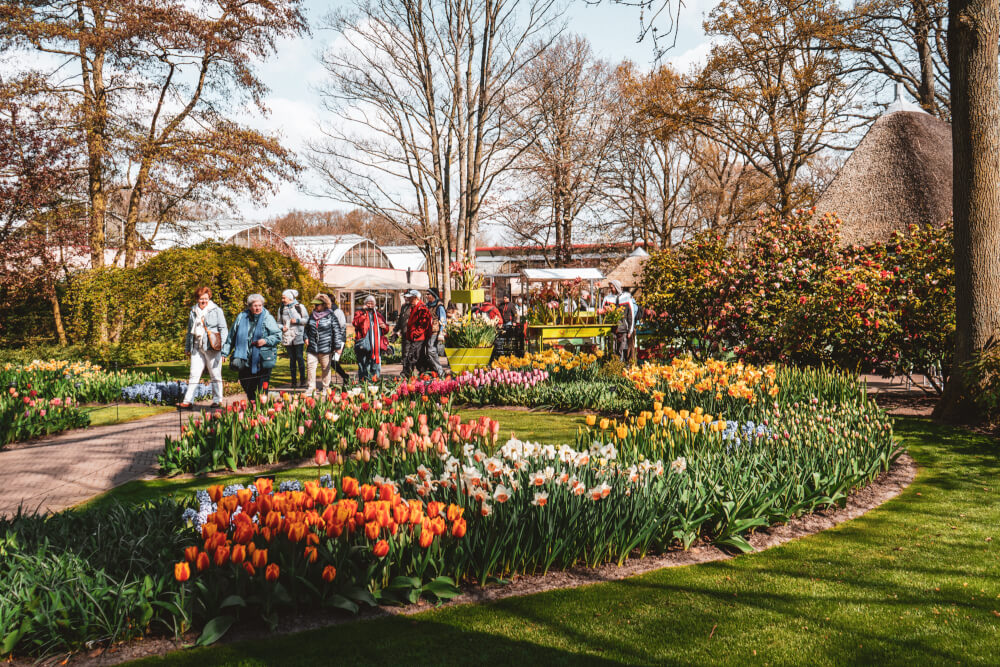 Go for Christmas markets!
Okay, this may be a direct contradiction to what I said above, but one exception I'd make for "peak season travel" in Europe is going to Christmas markets.
This is one of the most magical times to visit Europe, and if you plan your visit for earlier in the season (late November, rather than close to Christmas), you'll usually be able to avoid the bulk of the crowds.
Here are my top must-knows for visiting Christmas markets in Europe if you want to learn more.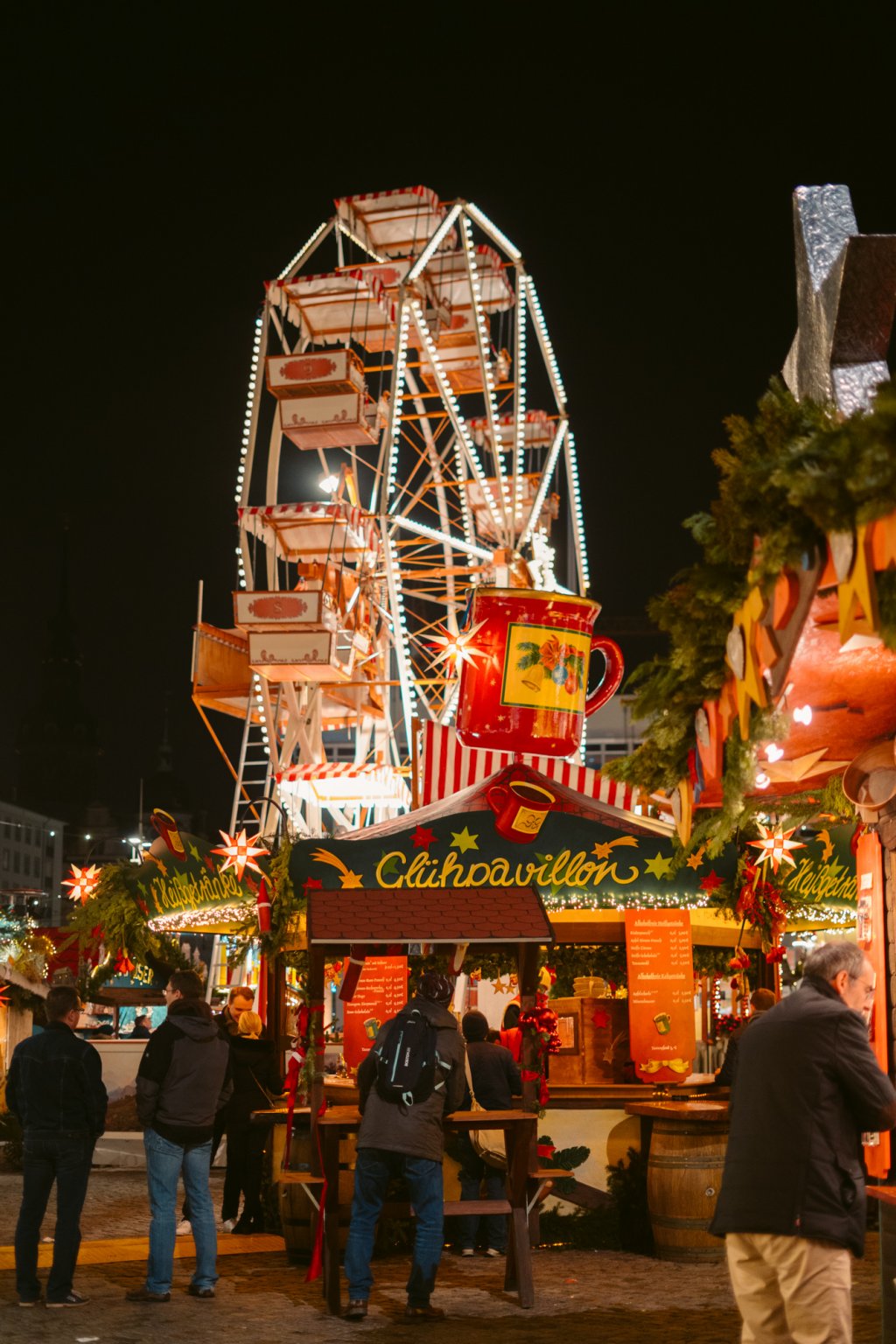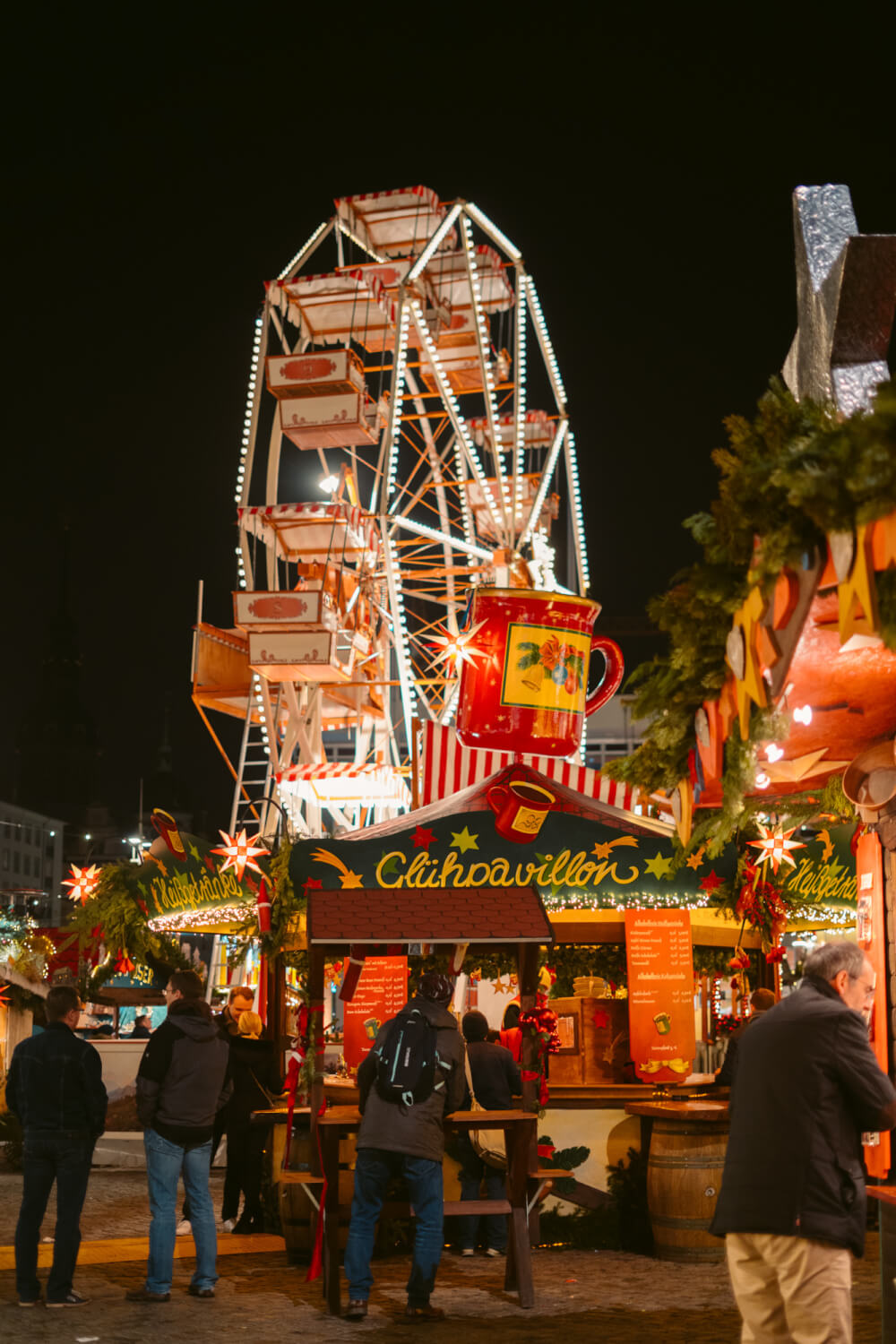 Consider getting a travel credit card
I'm going to level with you: no matter how you plan it, even if you stay in hostels and subsist solely on hummus and bread scraps, you will end up spending a lot of money on your Europe trip.
… so you might as well try to reap as many rewards from it as possible!
Getting a travel rewards credit card before booking all your hotels and flights is one of my favourite underrated Europe travel tips.
There's a million options out there, so I'll leave the research/choice up to you, but just make sure you're booking everything on a card that maximizes the amount of benefits you get.
For me personally, I have the Amex Platinum, which yes has a really high fee but at least for the first year it's super worth it because you get travel credits, travel insurance, lounge access, and most importantly, enough bonus sign-up points to get you a roundtrip flight to Europe from North America! It's not for everyone, but definitely worth looking into.
Bonus sneaky point hoarding tip: Travelling with friends? Especially if they don't collect points of their own, offer to book for everyone, then have them pay you back. Whee – free points without needing to spend all the money!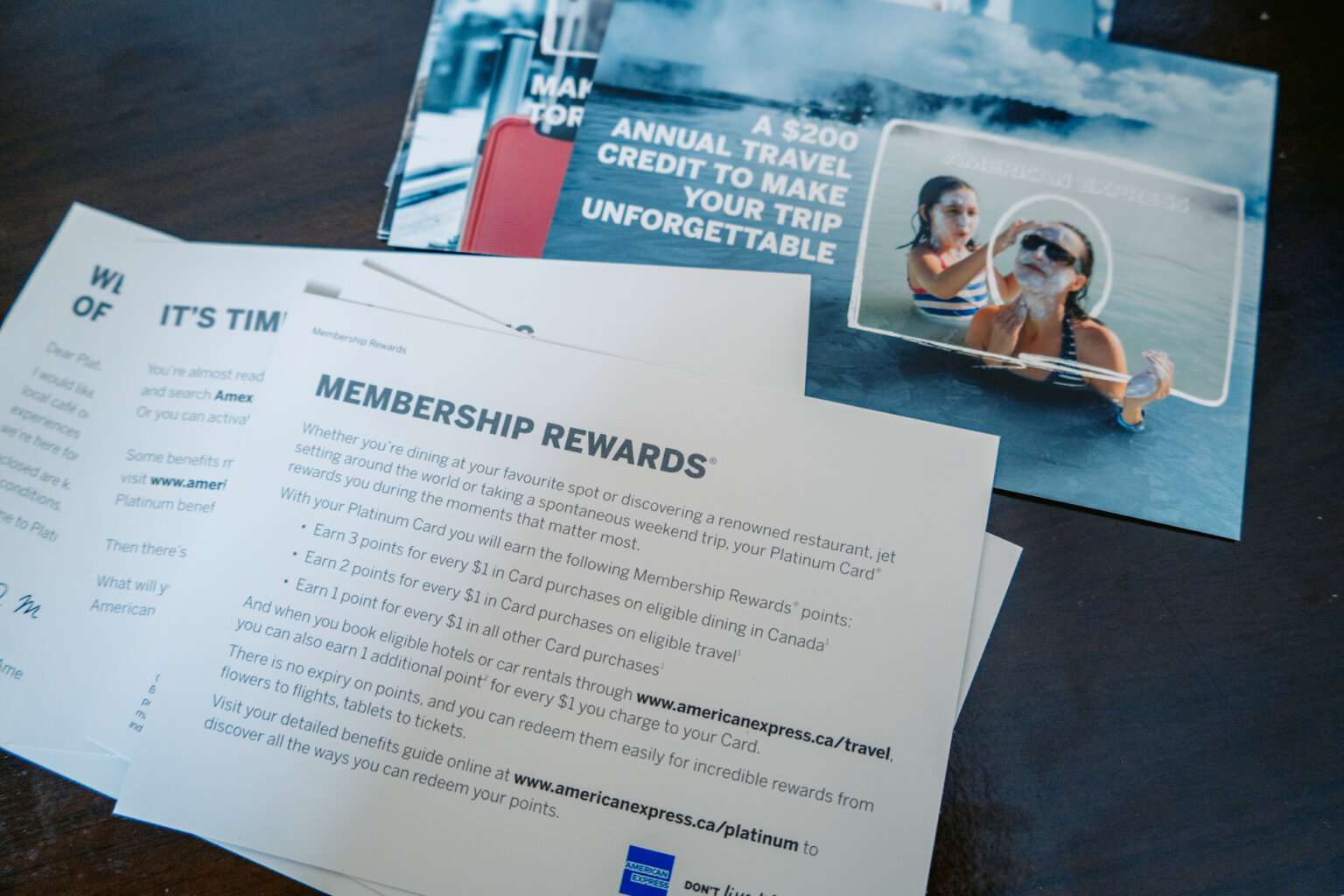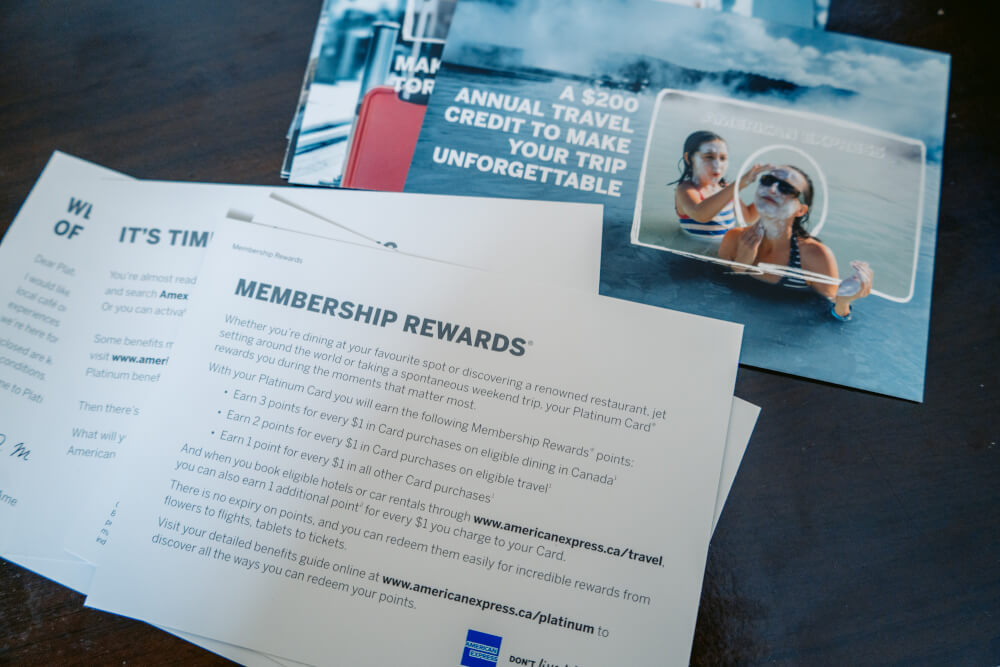 Get a Wise card
If you're not interested in getting a travel credit card, a handy and free alternative I can highly recommend is a Wise card.
Having a Wise card allows you to "send and spend money around the world at the real exchange rate", avoiding hidden fees in the process.
It is SO handy for travel, because you can use it for over 150 currencies around the world, and you even get 2 free ATM withdrawals per month with it overseas.
And because your card is linked to your Wise account, you can simply load it up with a minimal amount of money so you don't have to risk your normal credit/debit cards while walking around.
You can use my referral link here to transfer your first $500 fee-free.
NOTE: I've also had a good experience with Revolut when I lived in Germany, but they don't offer services for Canadians so I can no longer use them.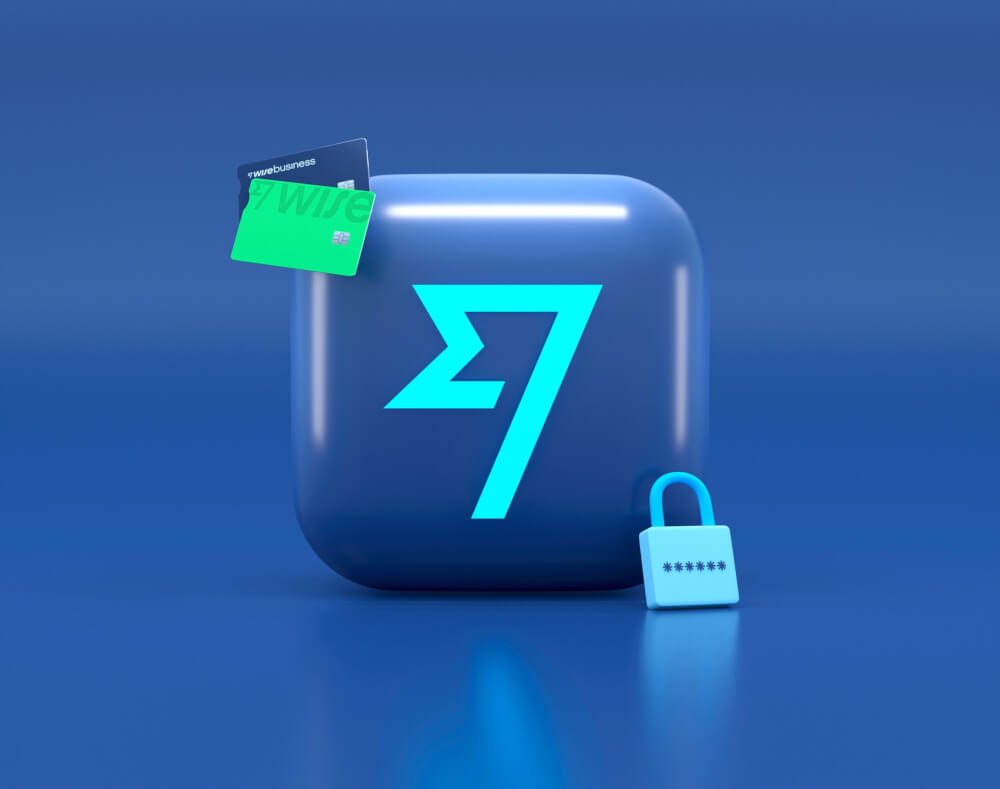 Focus on one or two countries for shorter trips
Unless you have a lot of time to work with, I would recommend getting to know one or two countries well rather than trying to visit too many countries in one go just for the sake of checking them off your list.
While travelling between European countries can be affordable and quick, hopping around too much can be a sure recipe for burnout and time lost commuting.
Plus, the more you see of one country, the more you're able to get more off-the-beaten path and find spots you hadn't heard of before!
Check out my list of 1 week itineraries for Europe if you need inspiration.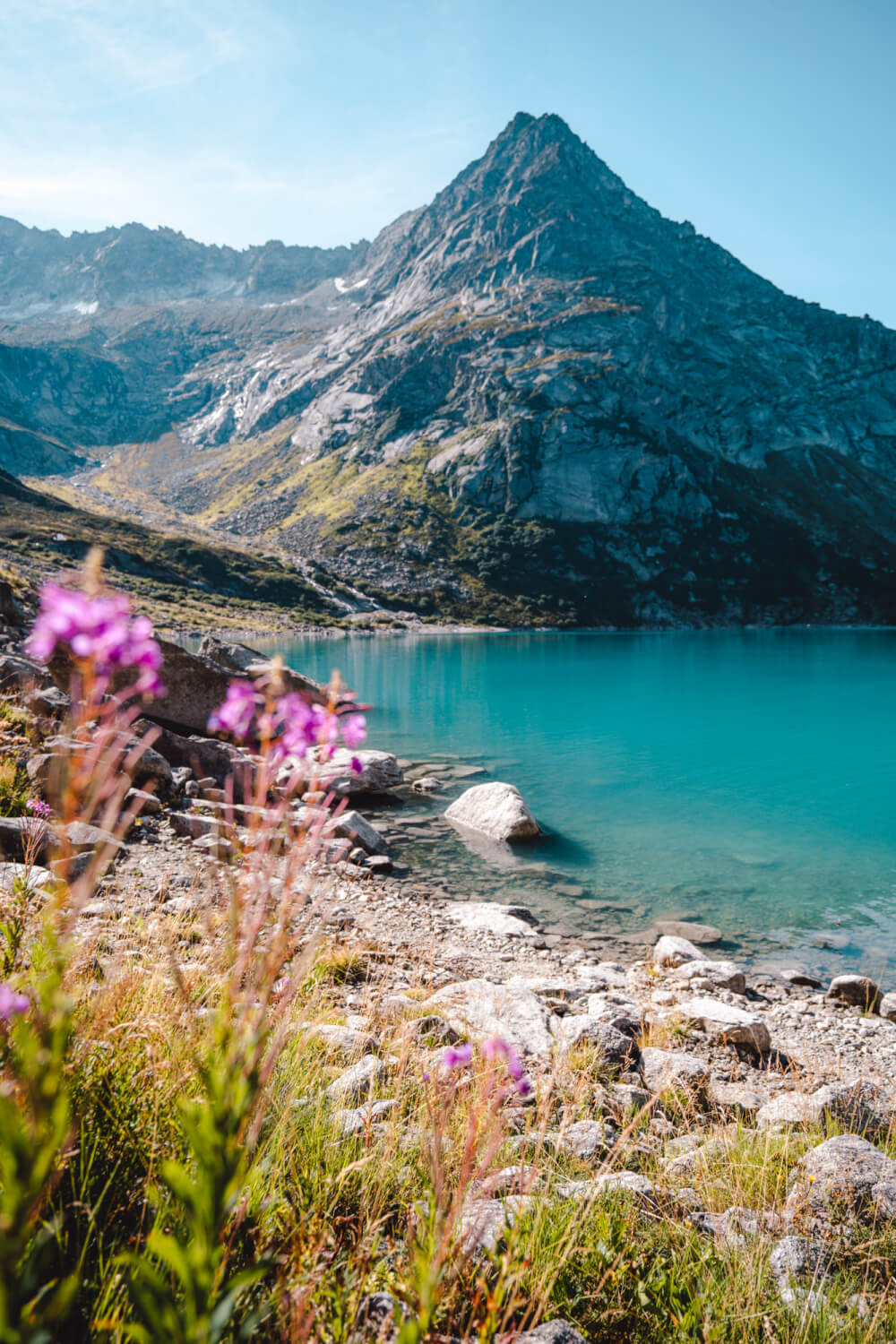 Learn all about the Schengen Area
An important must-know for all first time visitors to Europe is that border-free travel doesn't exist across the continent (as is commonly believed).
Rather, border-free travel apples only between countries in the Schengen Area, this group of 27 countries (accurate as of 2023):
Austria
Belgium
Croatia
Czechia
Denmark
Estonia
Finland
France
Germany
Greece
Hungary
Iceland
Italy
Latvia
Liechtenstein
Lithuania
Luxembourg
Malta
The Netherlands
Norway
Poland
Portugal
Slovakia
Slovenia
Spain
Sweden
Switzerland
When crossing borders outside of these countries, you will need to clear passport control as normal.
Understanding this distinction will help you plan how long you can stay in different countries, as well as Europe in general, and give you some insight into logistics like when you'll need to clear passport control, and which visas you might need for where.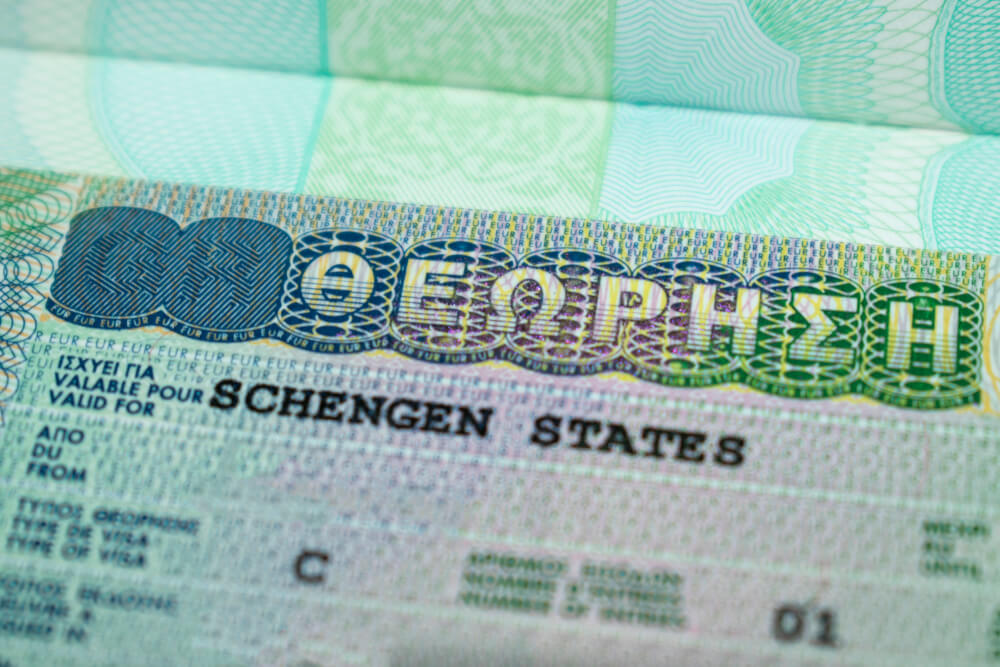 Use your understanding of the Schengen Zone to legally stay in Europe longer
For most tourists, the maximum amount of time you can spend in the Schengen Zone is 90 days out of 180 days.
Simply put, if by the time you leave, you can look back on the past 180 days and say you stayed less than 90 days total, you're good.
BUT if you want to stay in Europe for longer than that amount of time, you can utilize your Schengen Area understanding to stay longer, simply by including travel to non-Schengen countries.
For example: Let's say you can only spend 90 days in the Schengen Zone, but you're allowed to spend 180 total in the UK. You can easily make your European trip longer than 90 days by adding time in the UK, Ireland, Bulgaria, Romania or any other non-Schengen country.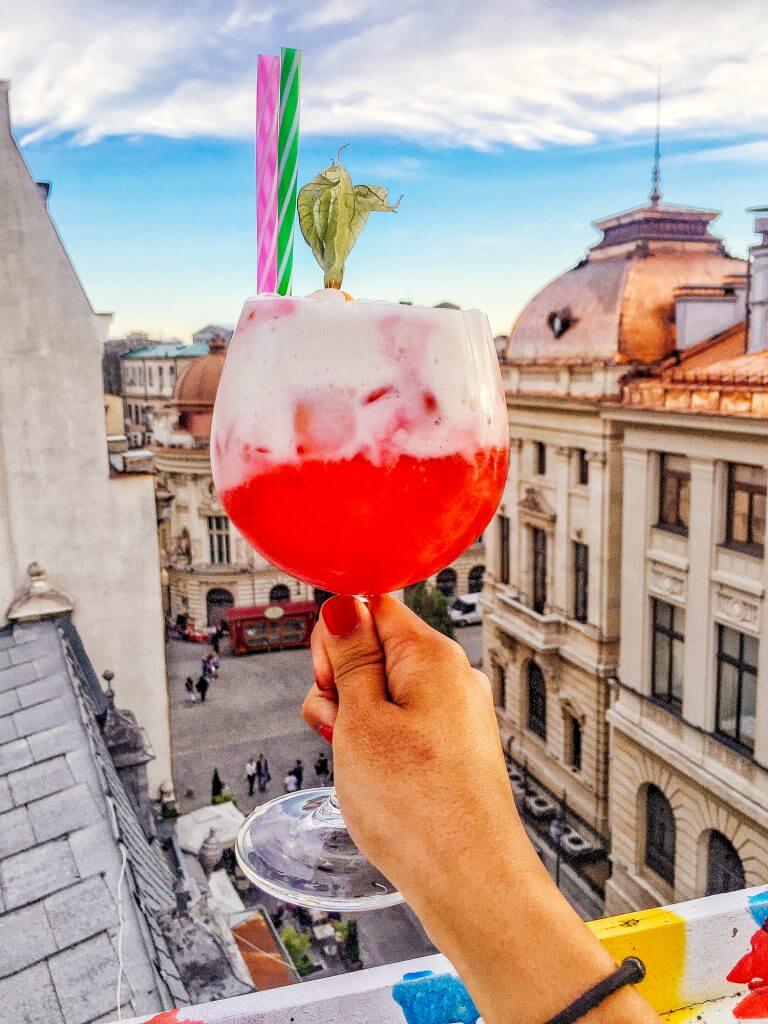 Consider more off-the-beaten path destinations
Another benefit of visiting non-Schengen countries is they're often lesser visited, and filled with some truly amazing hidden gems.
For example, I'm a HUGE fan of Bulgaria. (Here are some of the coolest things to do in Bulgaria that you probably haven't heard of.)
While I totally understand the desire to see the most popular and best-known destinations on your trip, sometimes visiting these lesser known spots can bring amazing surprises that end up being the highlight of your vacation!
Of course, there's a middle ground too – you can easily get the 'best of both worlds' by combining a hugely popular destination with some side trips to other lesser known places in the same country. These posts might help with that: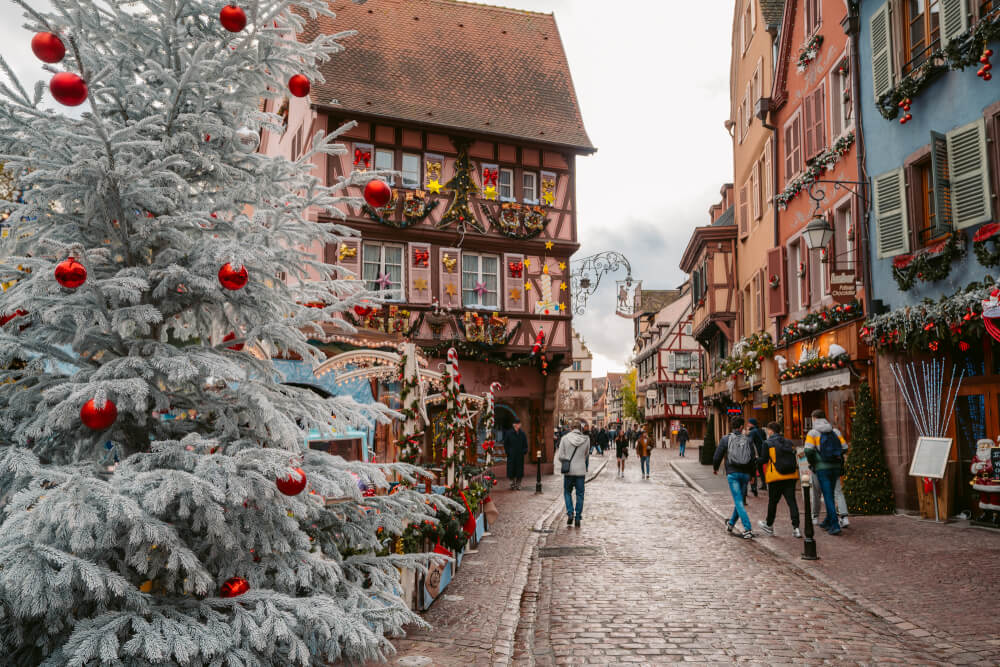 Offset pricey destinations with more budget-friendly ones
If you're hoping to visit Europe on a budget, but still have some pricier destinations on your bucket list (e.g. Switzerland, Norway, Sweden, Iceland, UK, Germany, etc.), then a great way to cut costs is to round out your itinerary with more affordable stops (e.g. Bulgaria, Romania, Poland, Montenegro, Lithuania, etc.)
This of course makes more sense on longer trips where you'll be covering a lot of ground, but just remember than some European destinations are MUCH rougher on the budget than others, so mix it up if you're looking to give your wallet a break.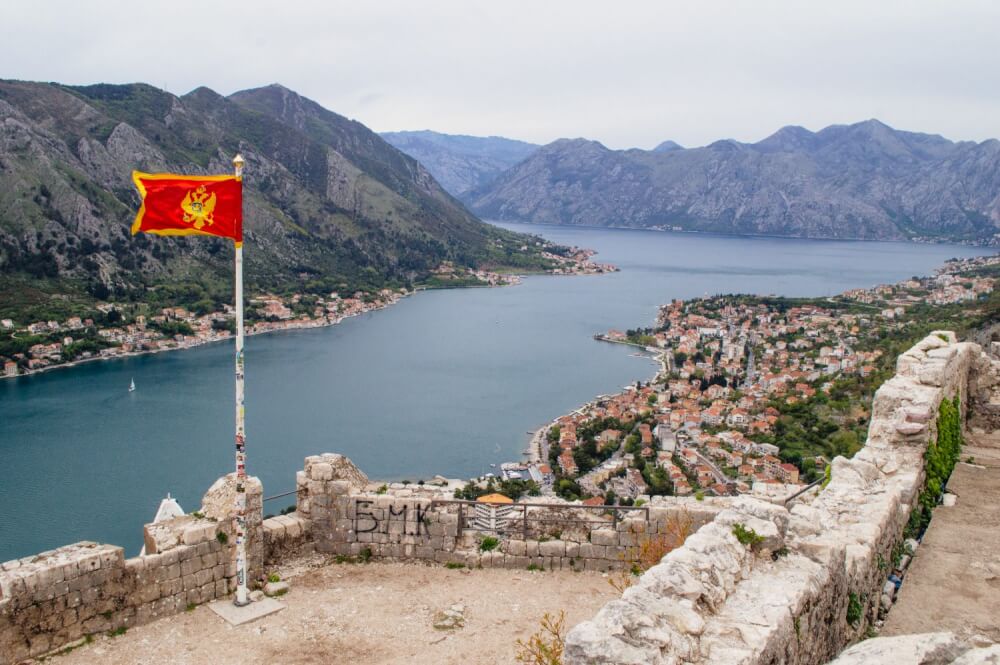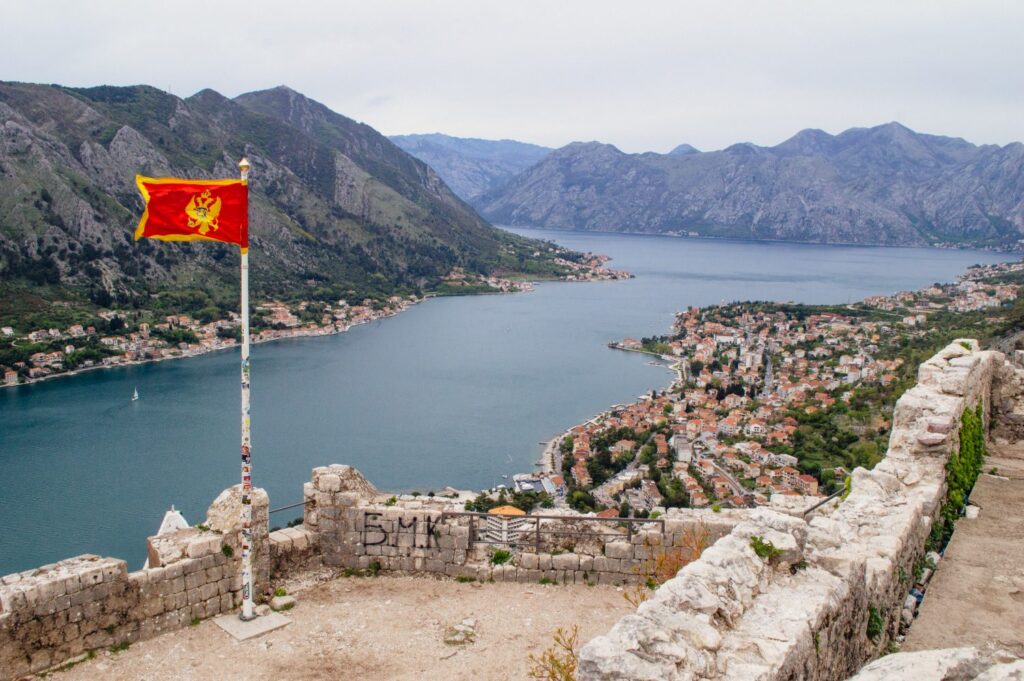 Alternate between busy and chill destinations
On a similar note, you should make sure your Europe trip itinerary also includes a mix of busy and relaxed places.
One of the biggest mistakes I made during my first backpacking trip was I crammed SO many huge cities into my itinerary, one after another.
But when your itinerary is nothing but European heavyweights like Paris, London, Amsterdam, Rome and Florence… yikes, you'll be sightseeing your eyeballs off daily with zero chance for breaks.
So, here's a very important Europe travel tip when planning your itinerary: try to space out the "big" cities with chiller destinations, maybe nature or beach breaks so you have time to rest up before sightseeing like the Energizer bunny once more.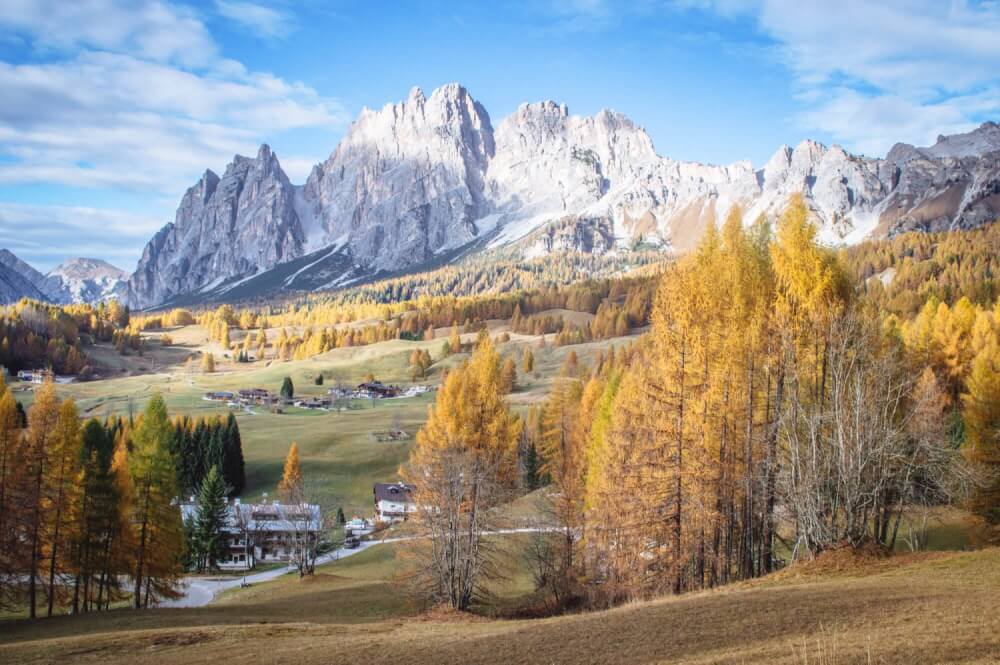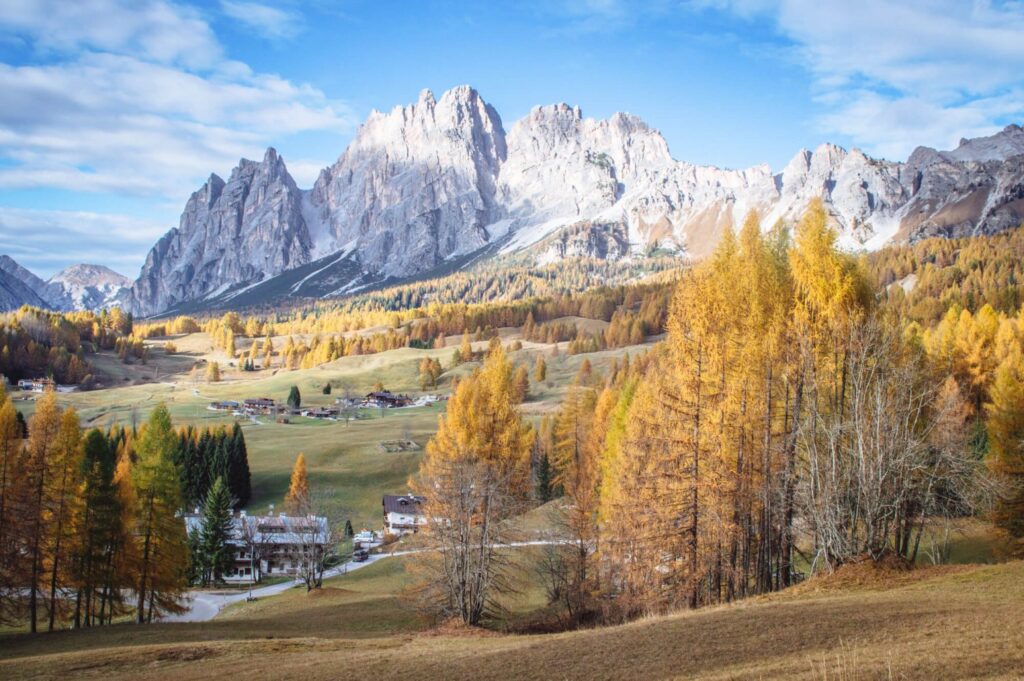 Learn the tricks to getting cheap flights TO Europe
Not sure how to get the best flight deals for your big Europe trip? Be sure to check out my guide on how to get the cheapest flights to Europe.
I promise it'll save you hundreds of dollars, if not more.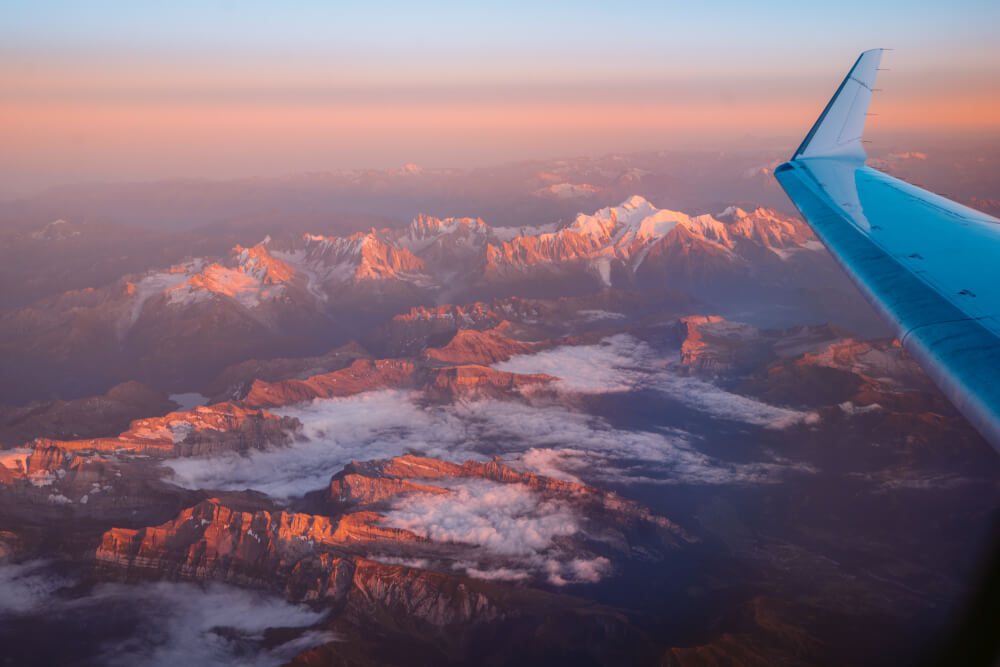 Take advantage of free stopovers
Certain airlines have a free stopover program where you can have a long layover for no extra cost, meaning you get two destinations for the price of one plane ticket!
Here are some Europe-based airlines that offer this: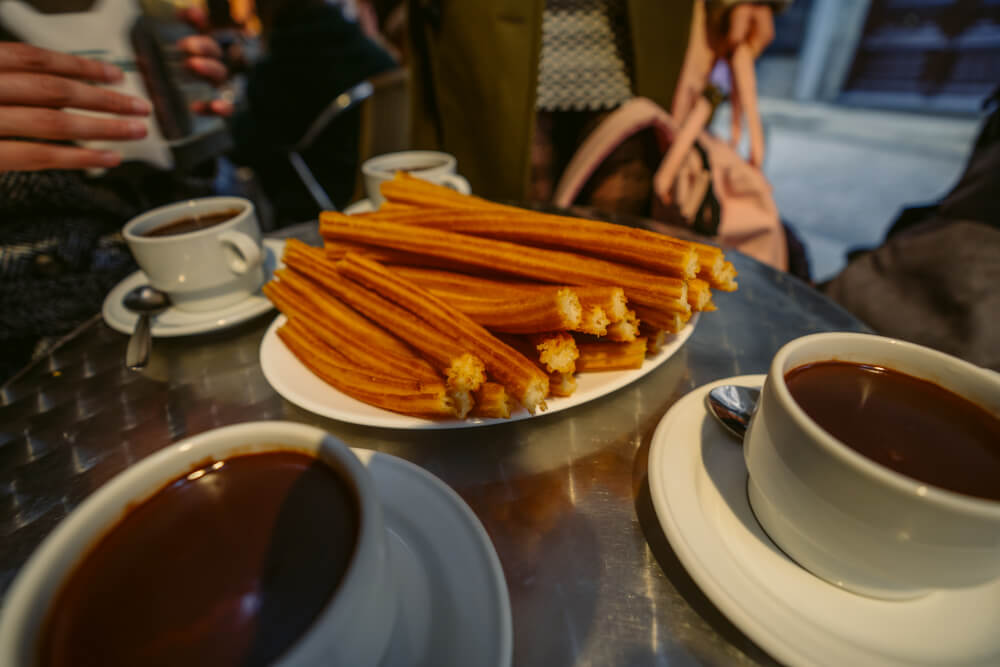 Steal my step by step process for finding the best hotels
If you're overwhelmed by the prospect of booking all your own places to stay, I have just the resource for you.
Here's how to find the best accommodation in Europe every time.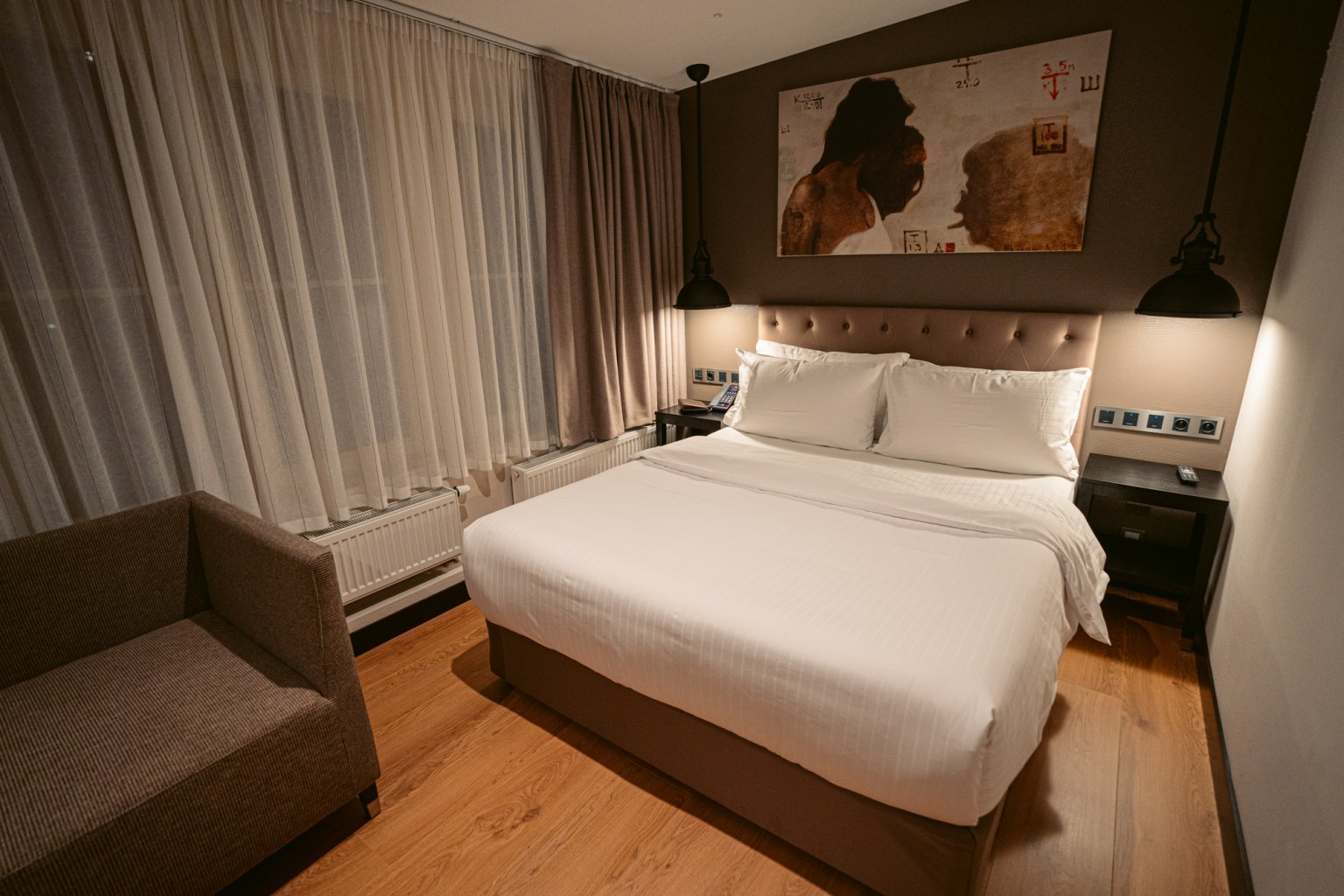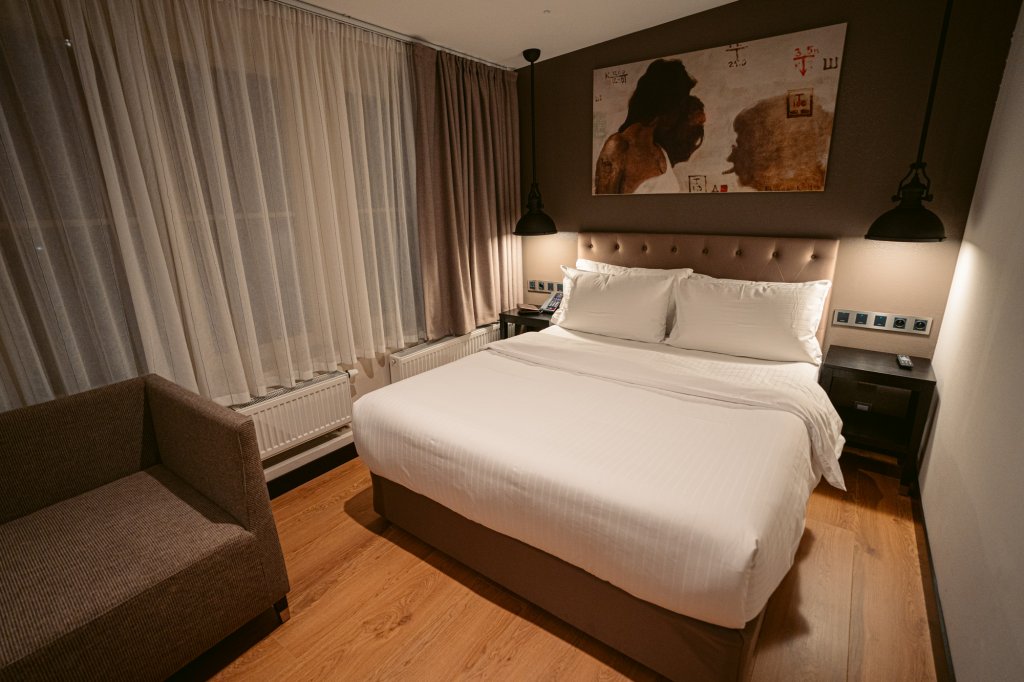 Book hotels far in advance
And if you don't have time to check out my whole step by step process, then here's the #1 piece of Europe accommodation wisdom I can give you: book your hotels as soon as possible.
In many of Europe's most popular destinations, good value accommodation books out quickly, so your biggest defense against outrageous prices and poor quality hotels is booking early.
Even if you're not going in peak season, you never know when an unexpected event (e.g. a big concert, sports game or conference) will send hotel prices soaring, so the sooner you book, the better.
I know that committing to a hotel early can feel scary, but if you use Booking.com, you can find hundreds of hotels that offer free reservations and free cancellations up until a certain point.
I'll often hop on Booking.com to make a placeholder / "just in case" reservation in the early stages of my planning just to ensure I have a Plan B in case prices skyrocket.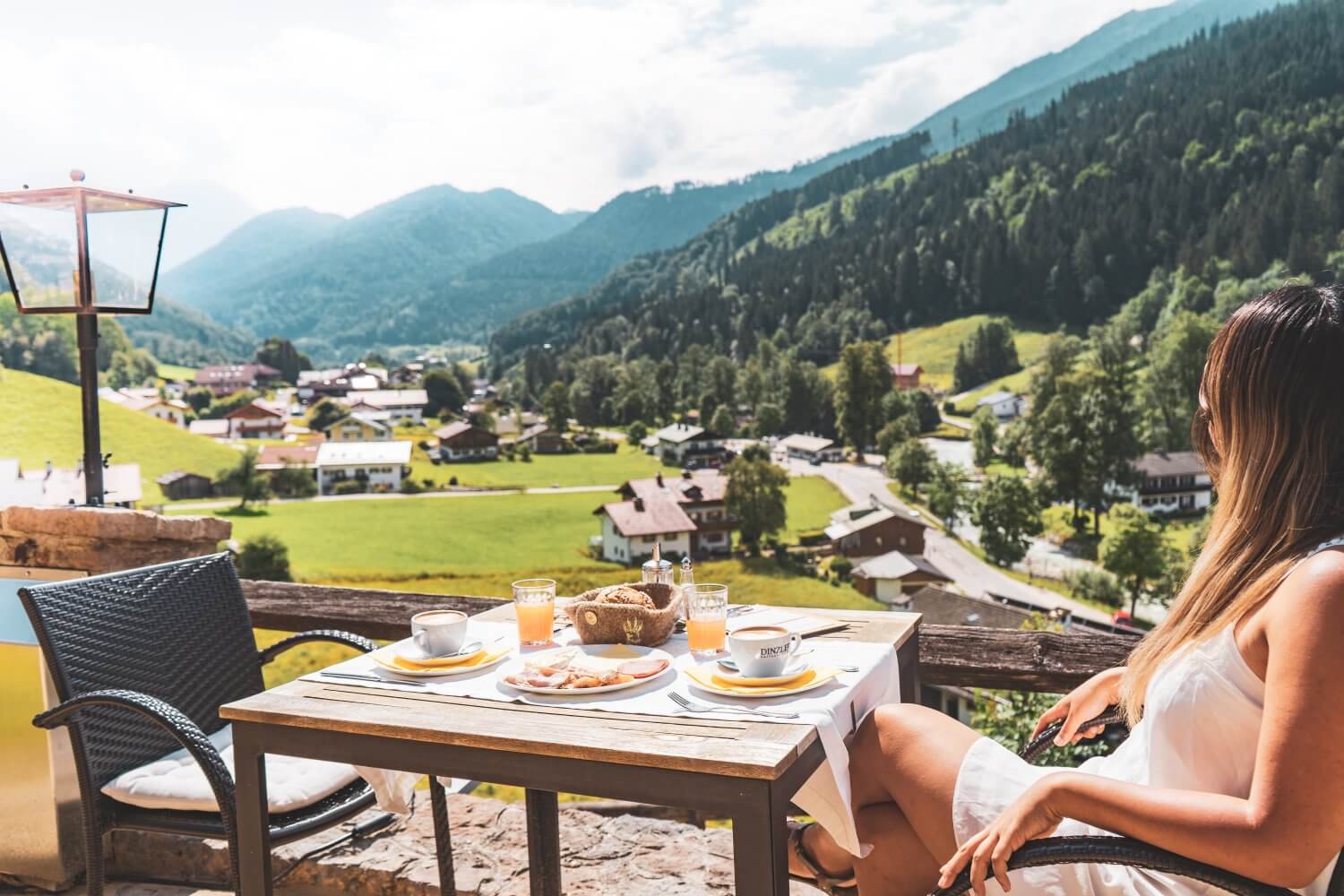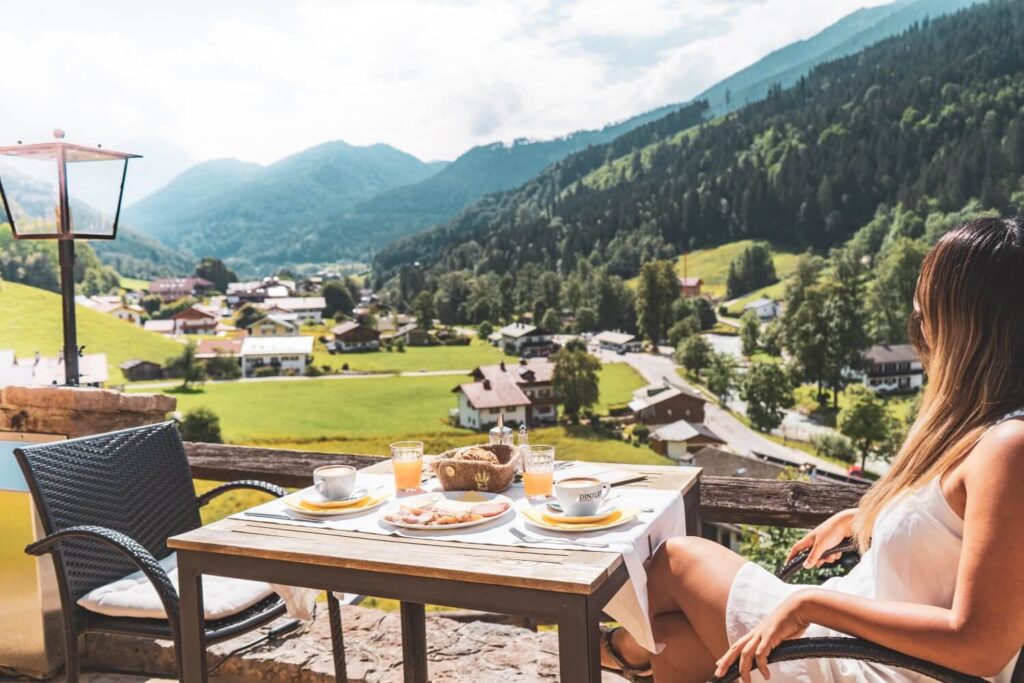 The European hotel star system is different to North America
I grew up with a North American hotel system where 5* meant opulent luxury and 1* meant run for the hills, unless you want to lose your kidneys.
The star ratings in Europe are a bit different. Instead of stars coinciding to quality on a scale of 1-5, the stars actually correspond to a checklist of amenities/requirements.
SO, you can get some amazing 2* properties that are simply smaller and don't really have things like a spa or pool, while also finding crappy 4 or 5* properties that have that rating just because they're big and have amenities like fitness centers and valets (i.e. many chains).
Learn more about the criteria for star ratings here.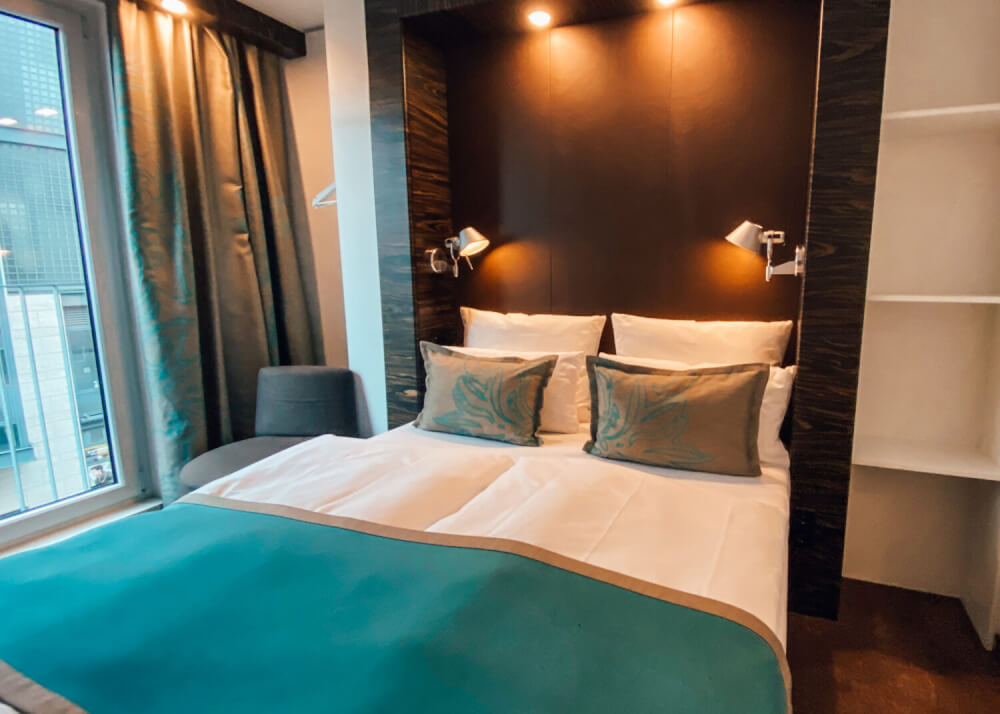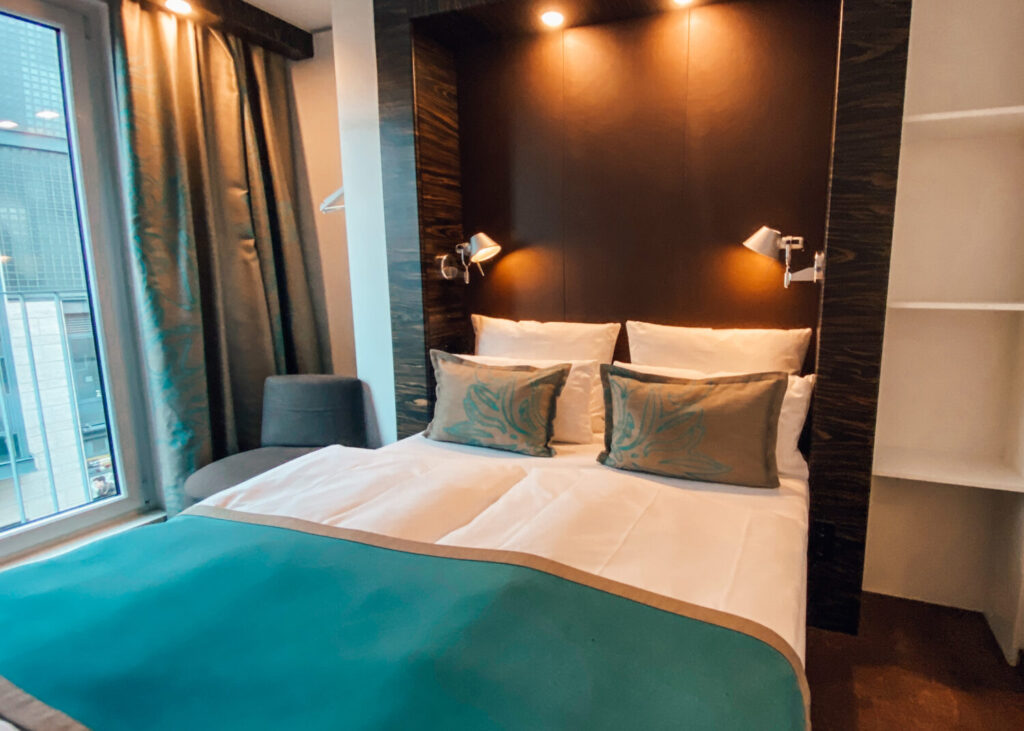 Avoid airport hotels unless flying in or out
Tempted by a cheap hotel deal near the airport? Run.
Unless you are flying into your destination late and need a place to crash or are flying out early in the morning, do NOT book a stay at any airport hotels.
With Europe travel, you want to ideally be close to the sights or at least in a scenic neighbourhood, not next to a motorway. Adding in the time and cost of commuting to/from the city centre, it's rarely worth it so keep that in mind the next time you're tempted by the siren's call of an airport Ibis.
Learn the options for free accommodation in Europe
Hoping to find places to stay for free in Europe? There are indeed options for that!
Here are a few ways you can potentially find accommodation for free:
Couchsurfing: Crashing with someone within a community of travellers where people offer to host each other in their homes free of charge
House Swap: Trading homes with someone (like in The Holiday). Many sites facilitate these exchanges, including HomeExchange and Kindred
House and Pet Sitting: Looking after someone's house/pets in exchange for free accommodation. One of the most popular platforms for this is Trusted Housesitters
Workaway: Volunteering your time/services in exchange for accommodation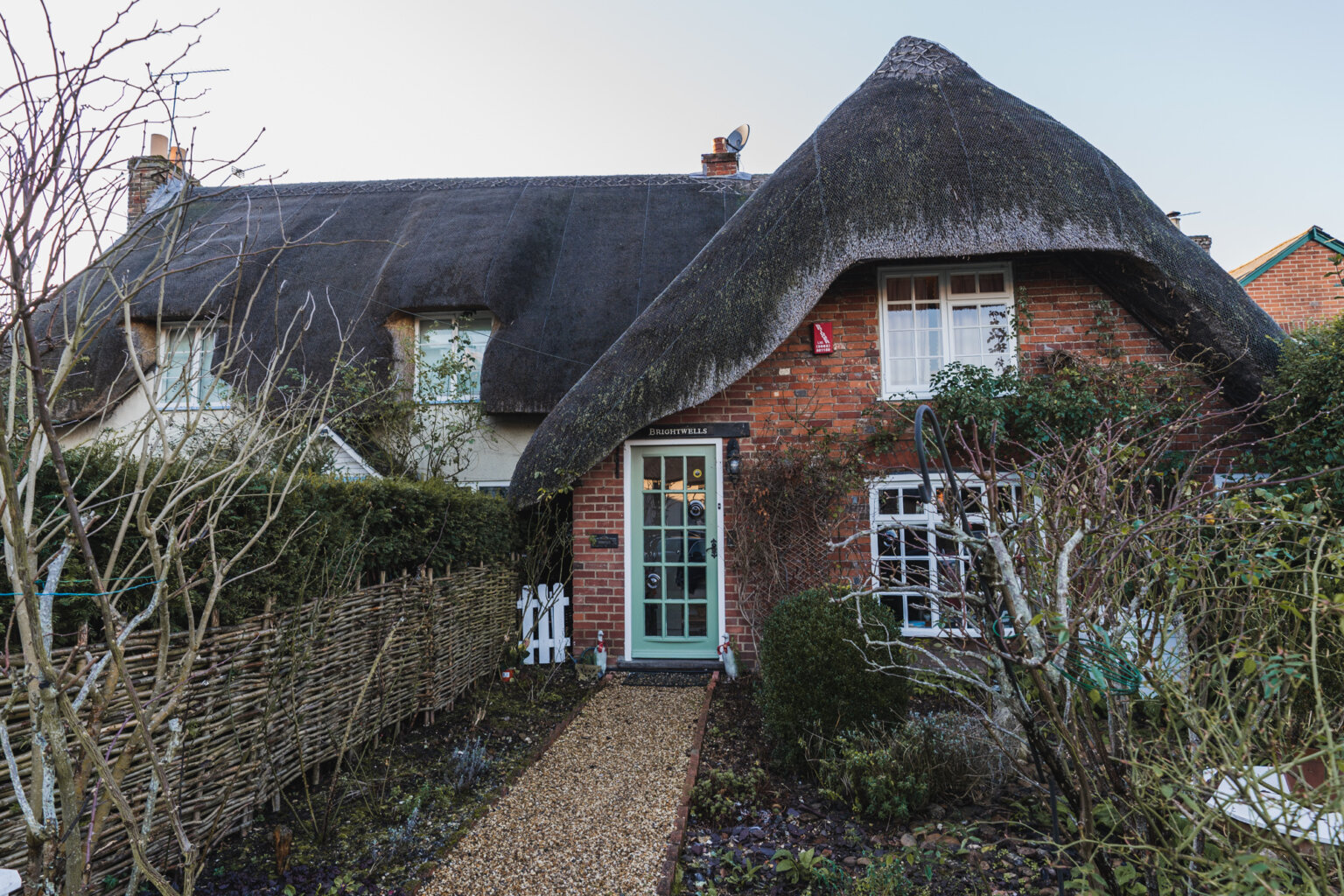 Don't forget travel insurance
I personally believe that travel insurance is a must for every trip. Trust me, the peace of mind is worth the cost!
Click here to check rates with WorldNomads.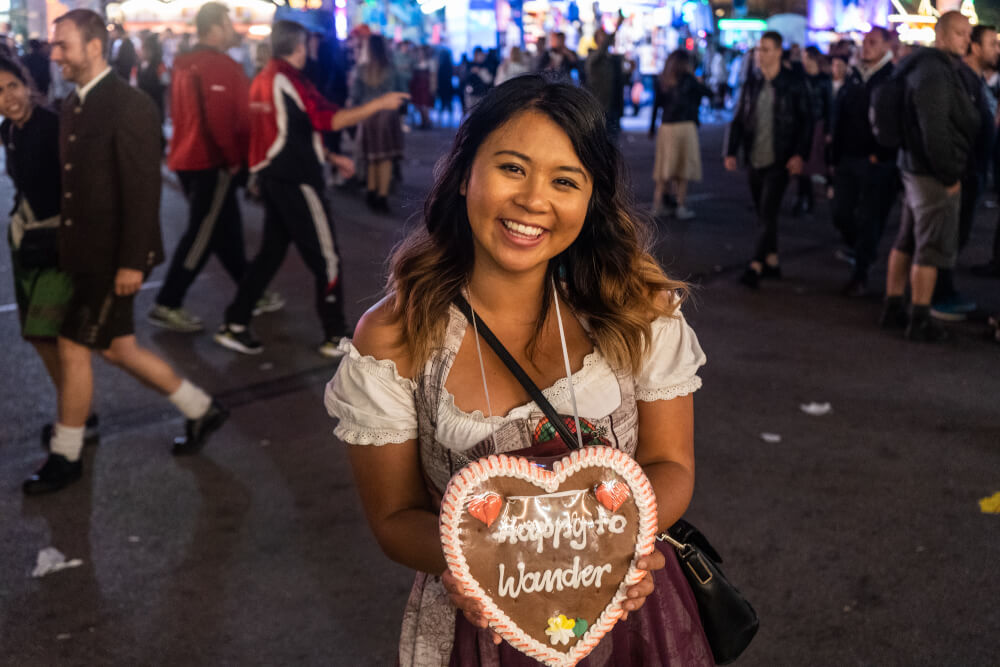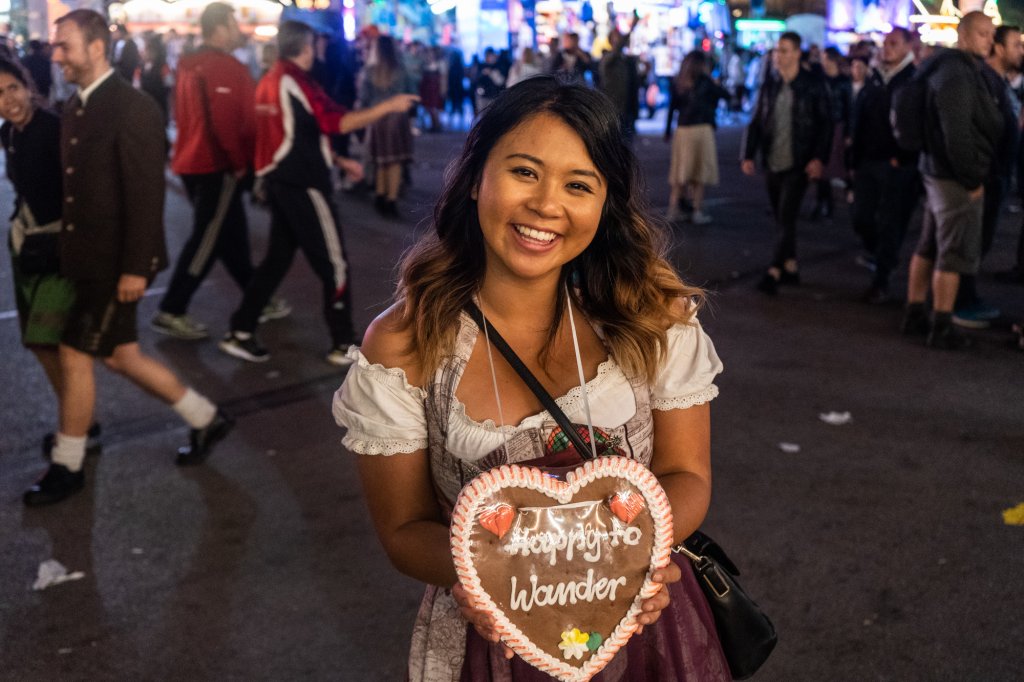 Make sure you'll have Internet access
This tip goes without saying, but if you're old school and prefer to travel without Internet, don't.
Really, as romantic as it is to disconnect during your travels, having an Internet plan for your phone is crucial. It allows you to navigate with Google Maps, use translation apps, do research on the go, etc.
Without it, your trip will be infinitely harder. No joke – some places these days even require you to have data to scan menus!
Luckily, roaming within the EU is free, and it's wayyyy cheaper than what we have in Canada.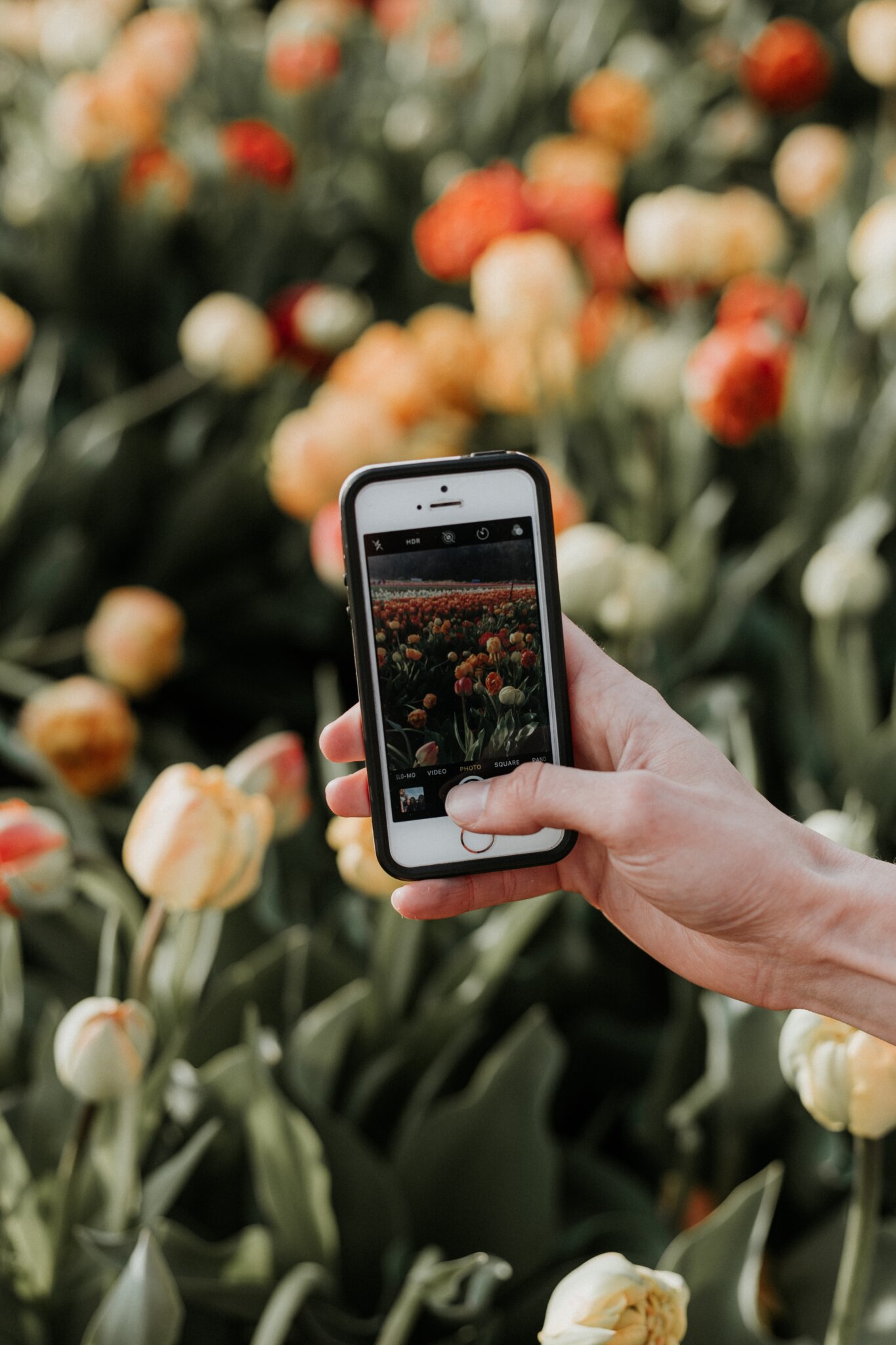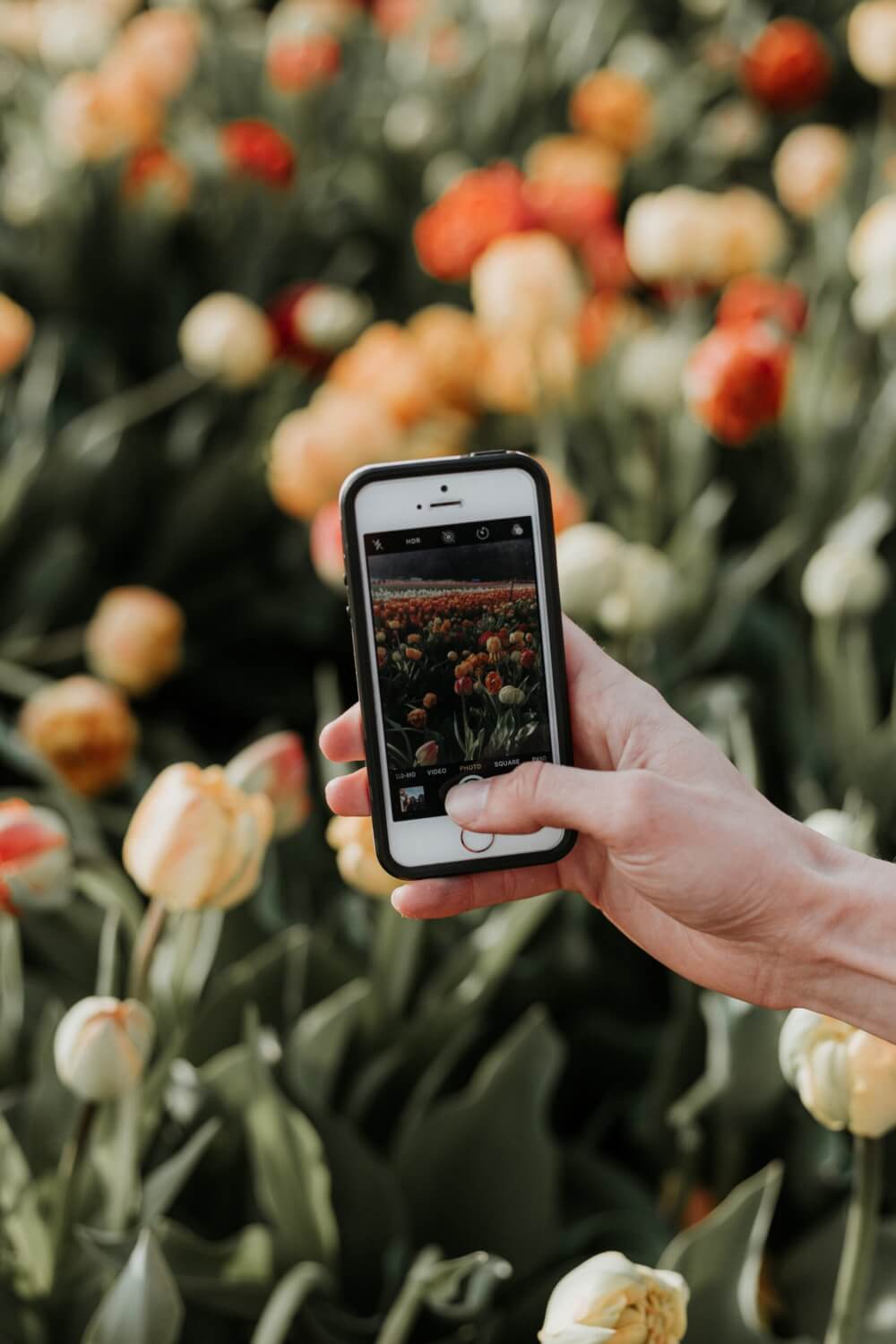 Download helpful apps before you go
On that note, once you have a data plan set up, you can take advantage of all the helpful apps for Europe travel available.
Some of my favourites include…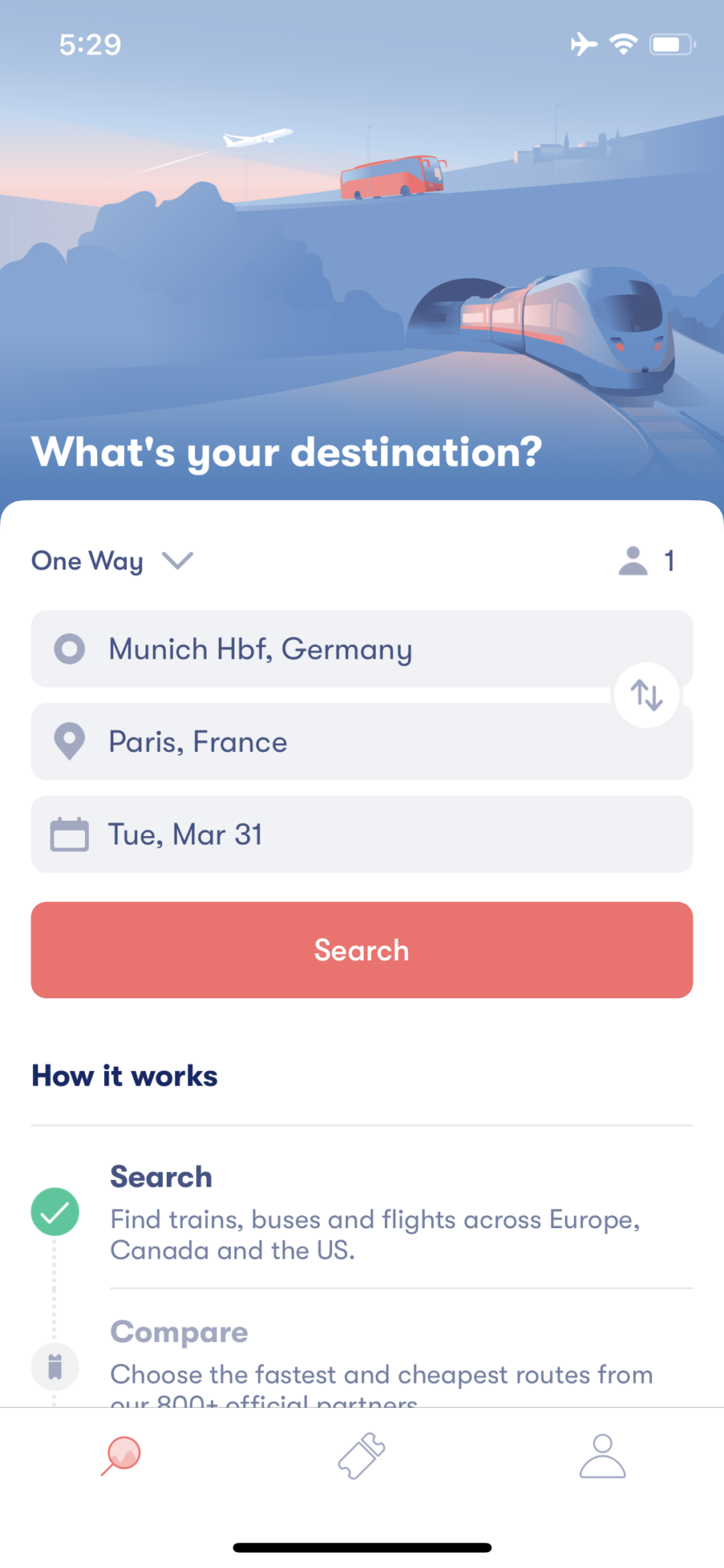 Download TripIt to keep track of all your travel bookings
Speaking of helpful Europe travel apps, another one I can recommend is TripIt.
This app works like magic to organize your hotel bookings, flights, tickets and all in one place… the best thing is, it does it automatically through scanning your inbox for confirmation emails.
If you're planning a long trip with multiple stops, hotels, modes of transport, etc. to worry about, then TripIt is a great tool for organizing everything in one neat place.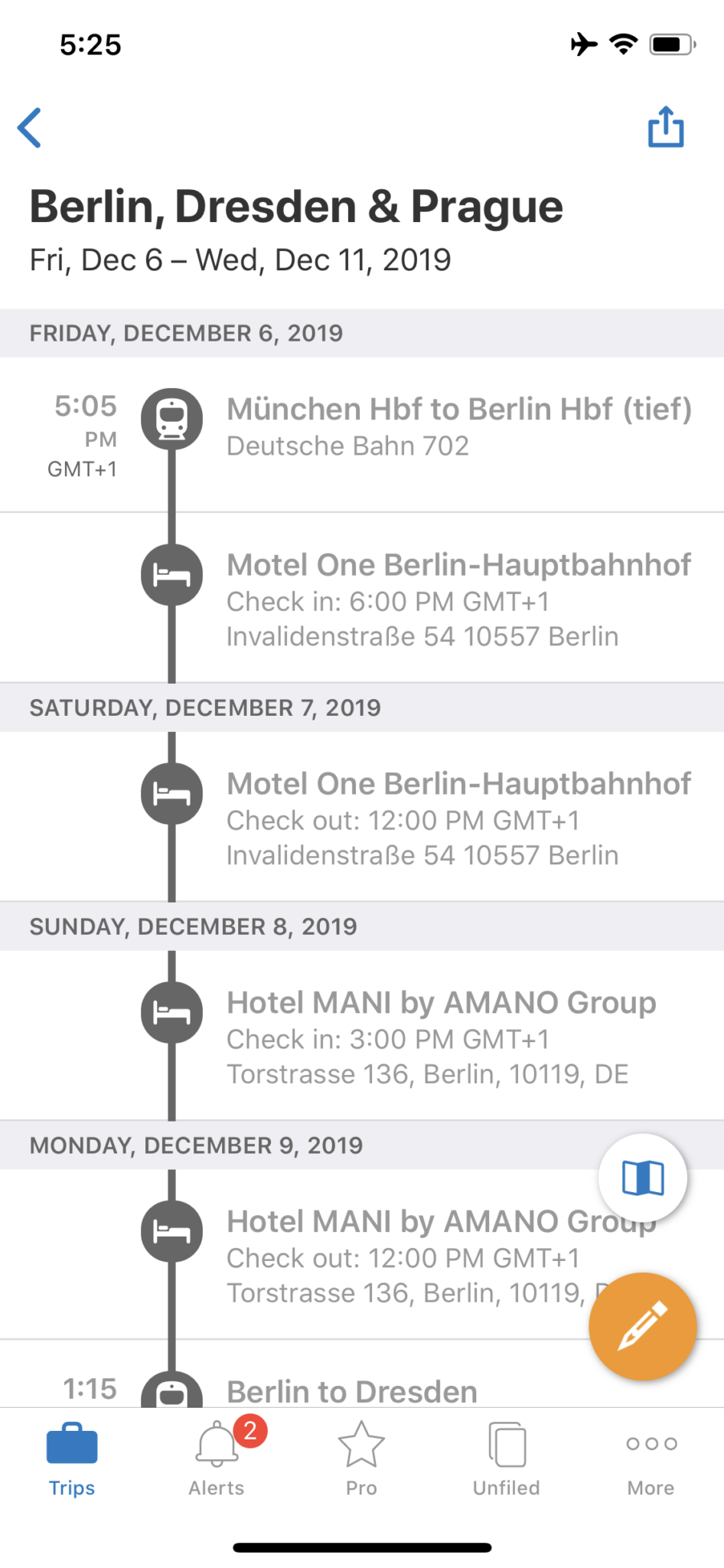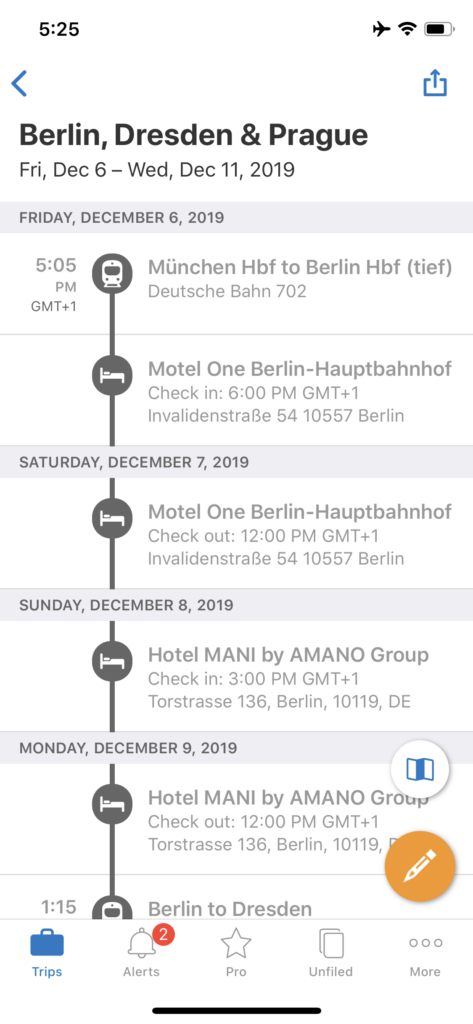 Ensure you have proof of onward travel
"Proof of onward travel" is a very important consideration that many first-time travellers forget about.
In sum, it's proof that you're leaving your destination before your visa or allowance expires.
Usually this proof is provided in the form of a ticket back home, or a ticket elsewhere to prove that you'll be leaving at some point.
A lot of people dismiss this requirement as a myth, but trust me: it's not.
I was once almost barred from boarding a flight to Germany because my return flight was after the 90 day Schengen Zone allowance, and I didn't have proof I would be leaving the Schengen Zone before the 90 days was over. I intended to spend some time out of the Schengen Zone to ensure I never overstayed, but they demanded proof… so yes, they do check!
Want to learn more? I have a full article if you want to read more about proof of onward travel and my experience lawyer-ing myself out of that (very awkward) situation.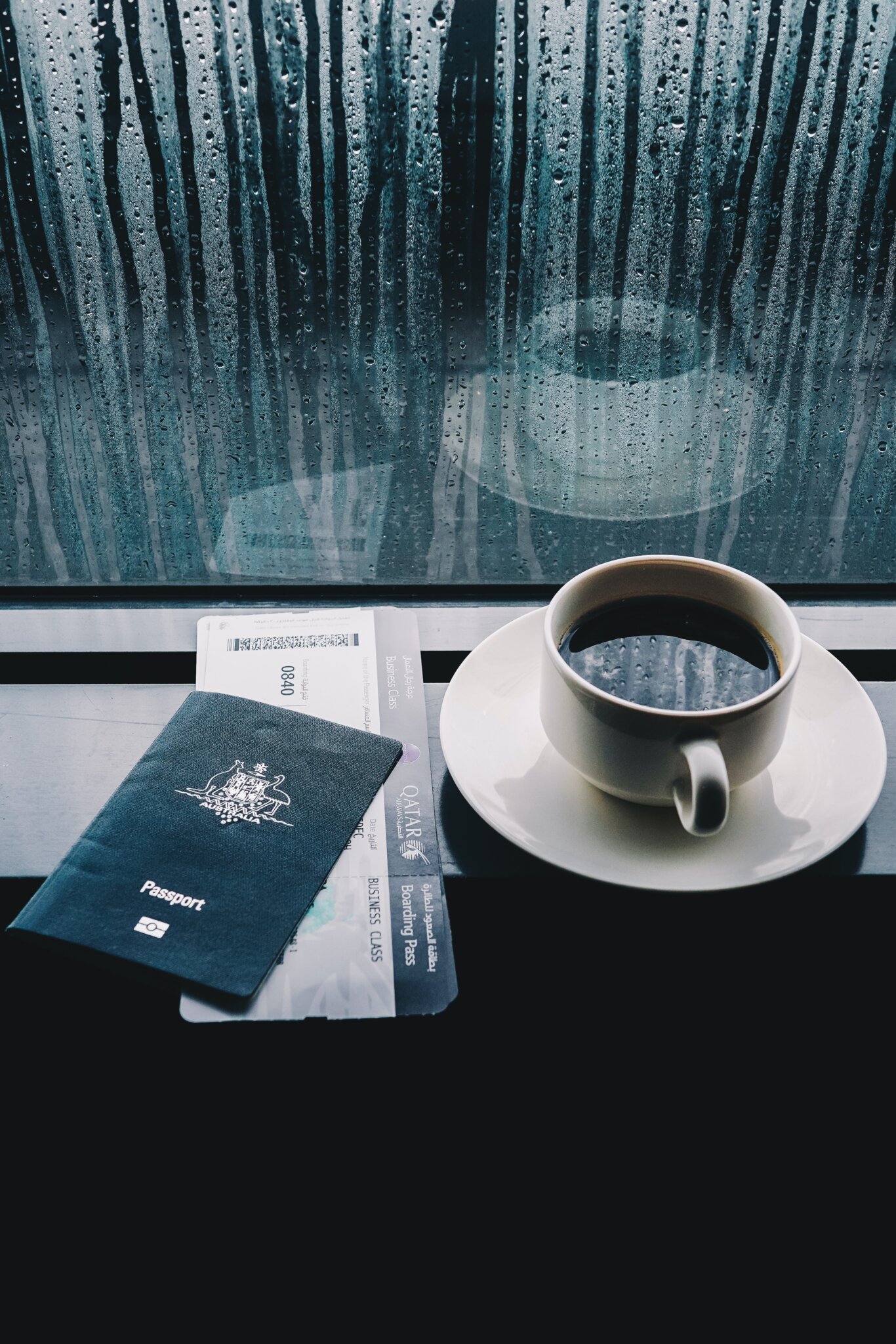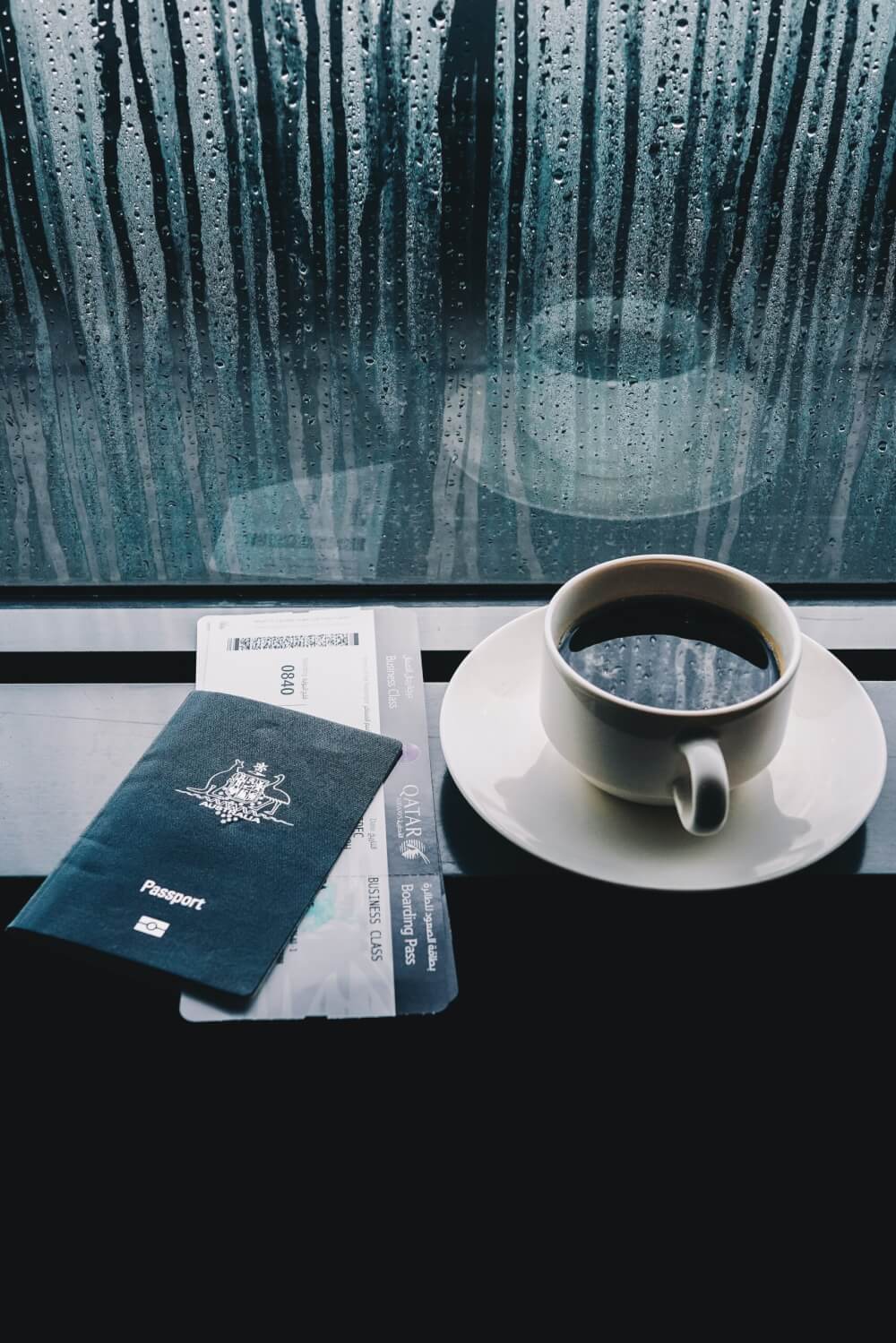 Steal my pre-made itineraries
Lastly Europe travel planning tip: I know that making itineraries can be exhausting, but luckily there are Type A laptop gremlins like me who adore doing it.
So, here are some itineraries for you to steal in case you need them: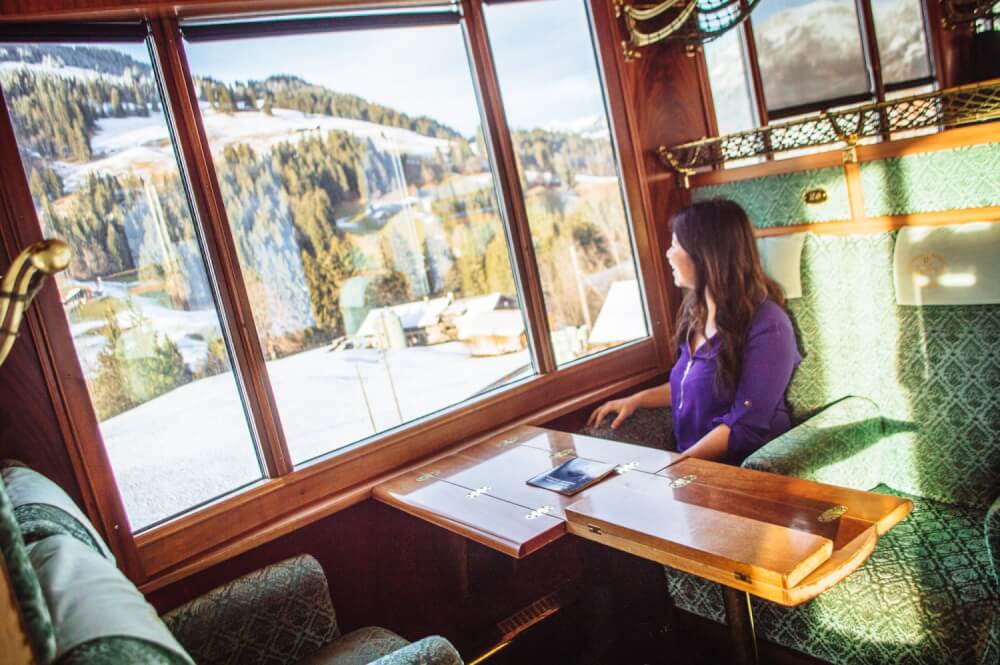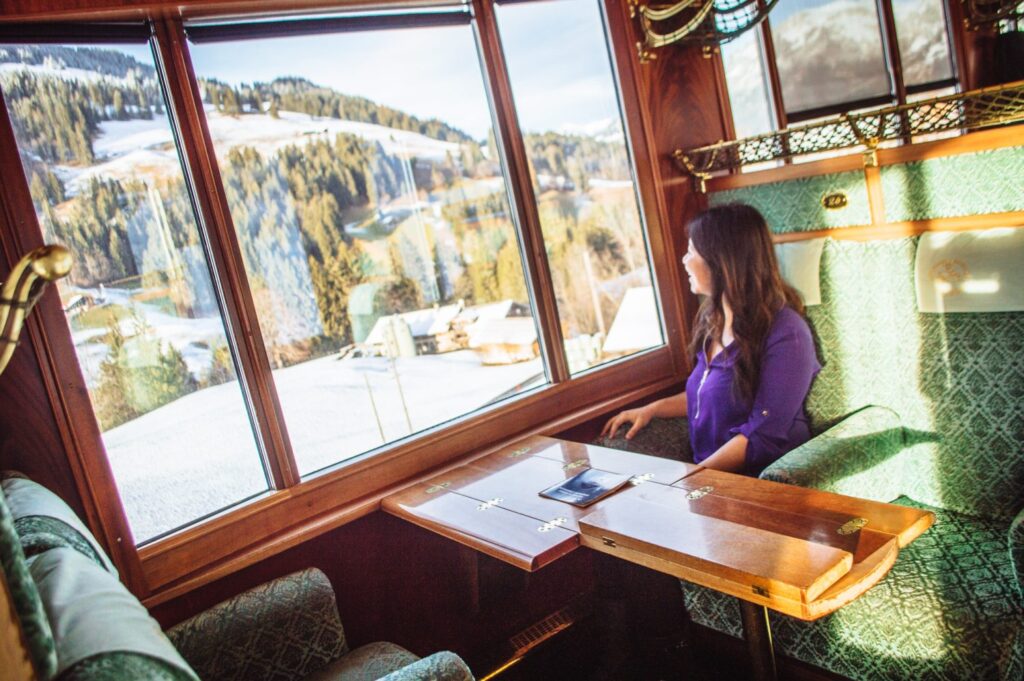 Europe Travel Tips for Transport & Getting Around
Getting around Europe can be really daunting for a first-time visitor, so here are all my best Europe tips related to transport and getting from one place to another.
Public transport is abundant and amazing
Don't be afraid of using it!
I'm always shocked when I hear travellers who think that they'll need to rent a car for their Europe trip.
Oftentimes, you really won't need to, especially if you're mainly visiting big cities.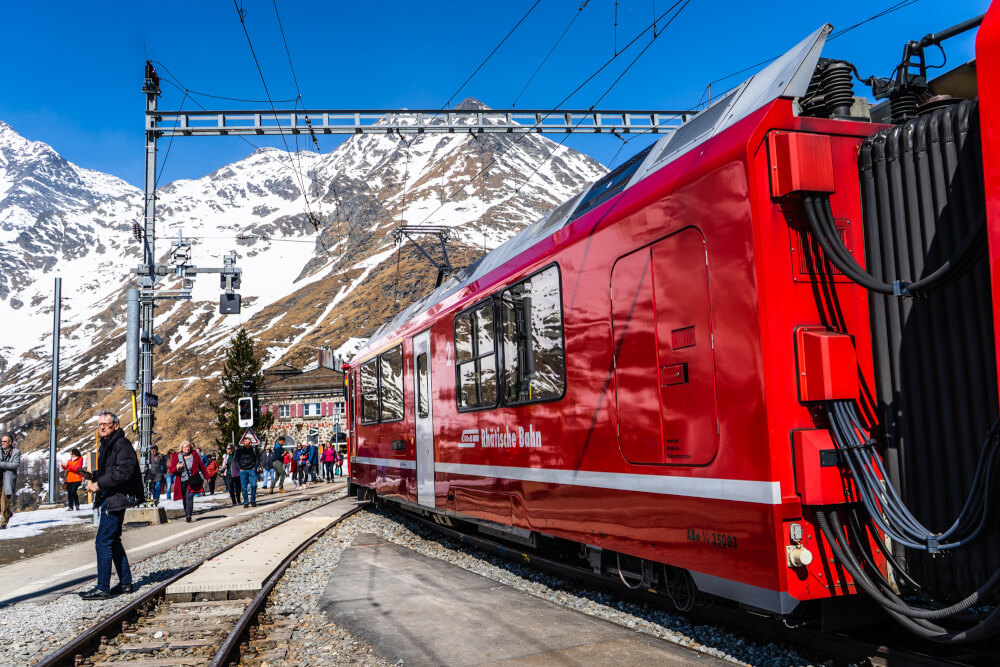 On that note…
Avoid renting a car
Unless you are doing a trip that focuses heavily on natural sights or smaller remote villages, odds are you won't need a car.
Public transport (as I mentioned above) is a solid option, and involves a fraction of the stress often unleashed by car rentals.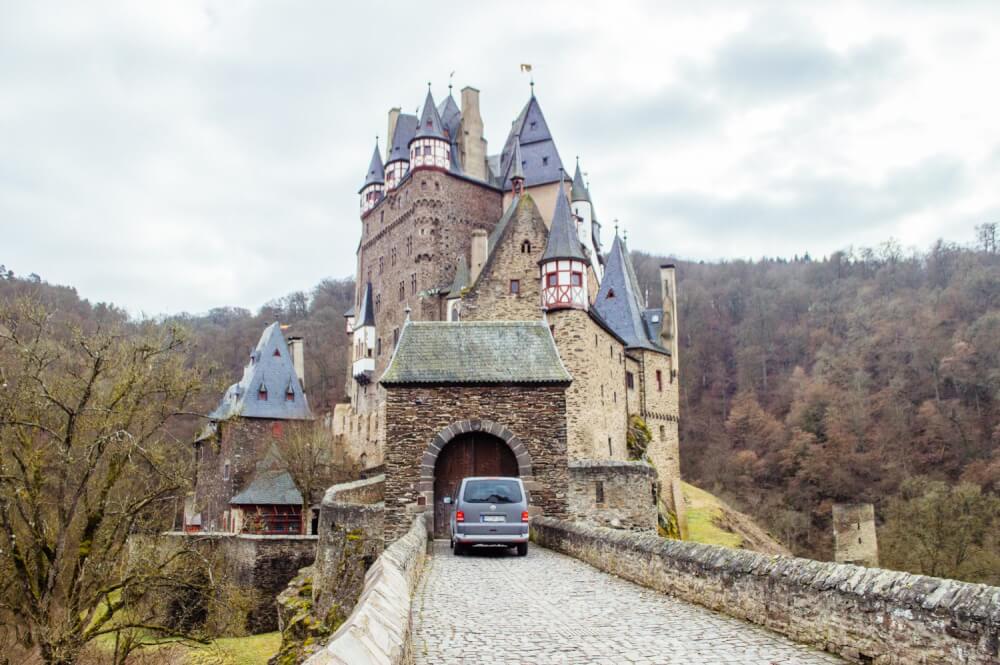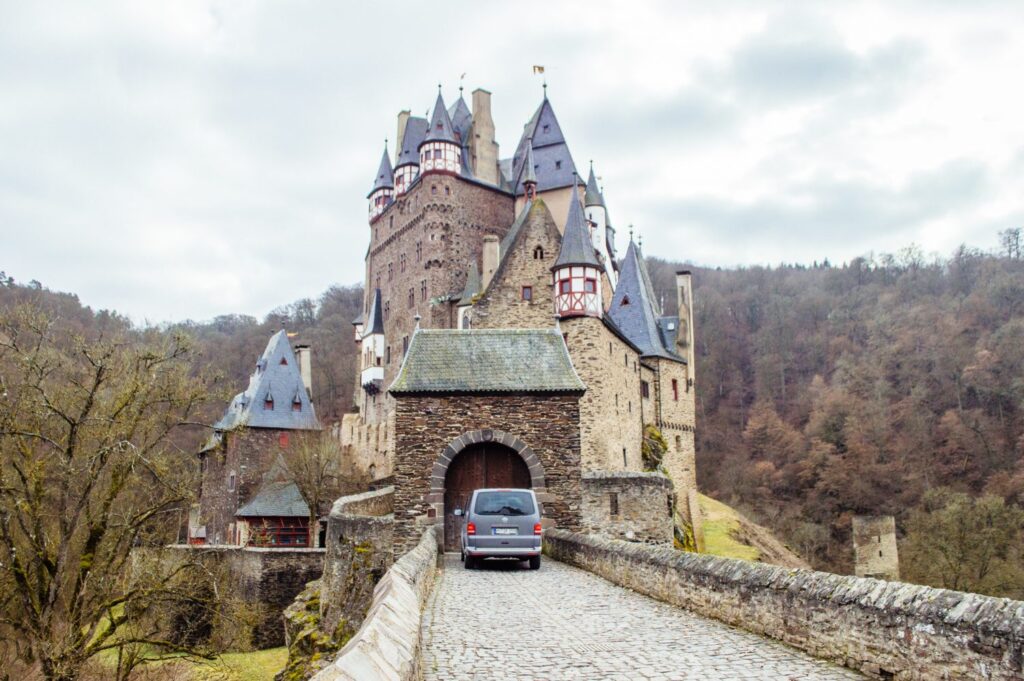 … But beware of hidden costs if you do rent a car
When it comes to car rentals in Europe, often the first price you see isn't indicative of what you'll have to pay in the end.
Some hidden/additional costs might include…
Age or nationality based surcharges
Additional driver fees
Multiple country fees
Extra miles
Extra insurance
One way fees
Tolls/vignettes
So if you still want to rent a car, here is a post to help you figure out how much renting a car in Europe really costs.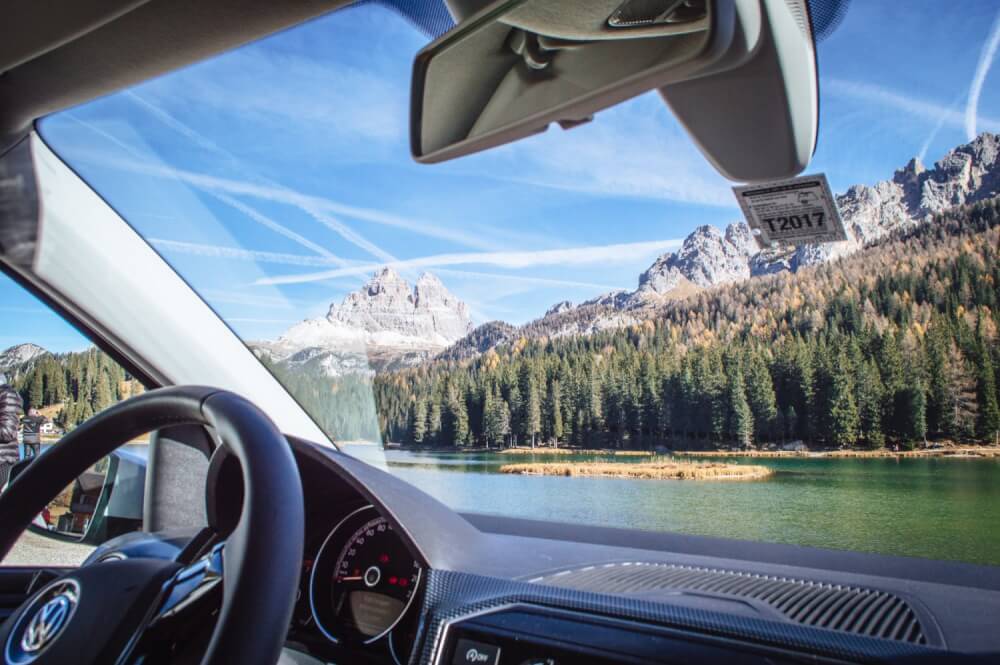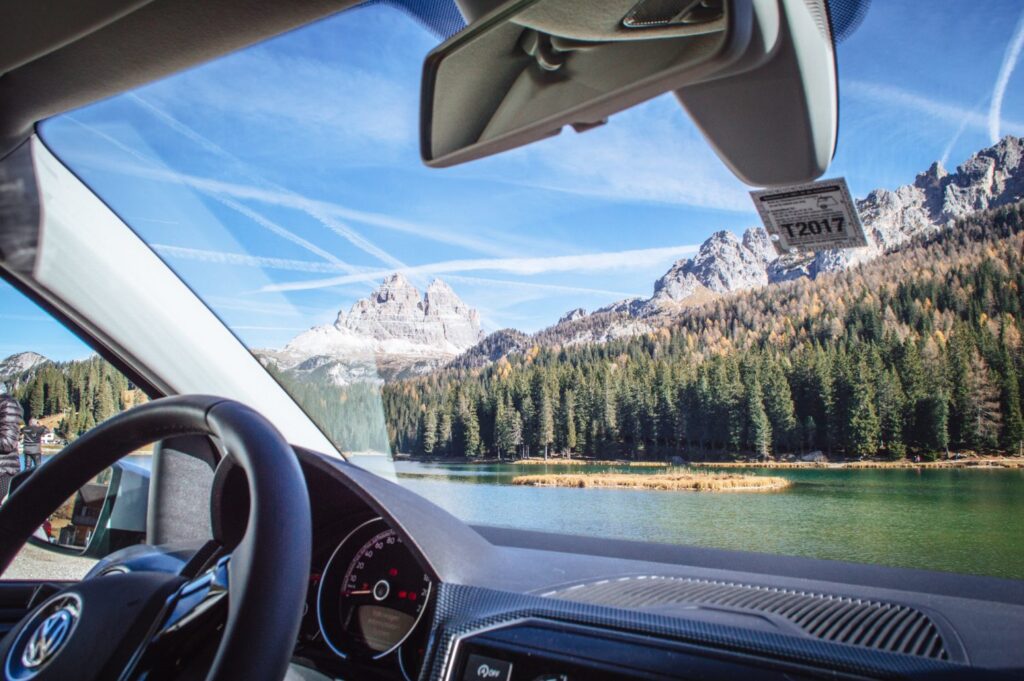 Renting a car? You might need a vignette
One of the pains of car rentals is the additional fees. In many European countries, you need to pay for a vignette (a sticker you put on your car) to use their motorways.
In Switzerland for instance, this costs 40 francs… and yes, you need to make sure you have the vignette BEFORE you drive into the country, as there are automatic scanners at the border that can pick up your details and send you a ticket later (which we learned the hard way).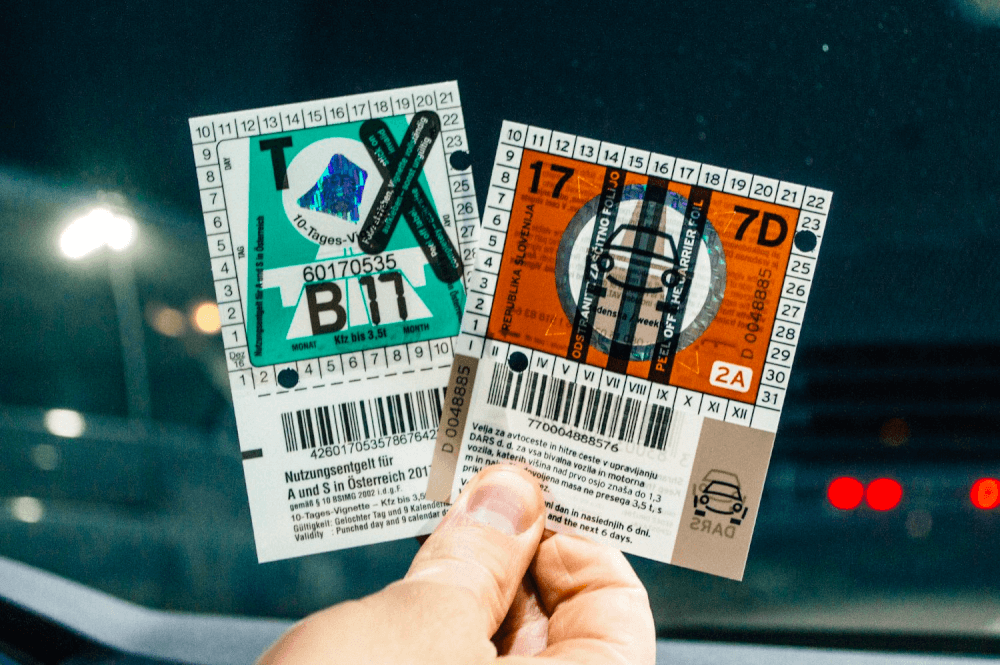 Do a lot of research before committing to a Eurail pass
Many first time visitors to Europe think of a rail pass as the cheapest option, but very often, booking your train tickets in advance will work out to be cheaper than a Eurail pass, especially if you aren't taking that many trains and don't need full flexibility (i.e. you are okay to book the trains advance).
Eurail passes can be great value, but not always. If you need help figuring out whether they'd make sense for you, read my full Eurail review for more details.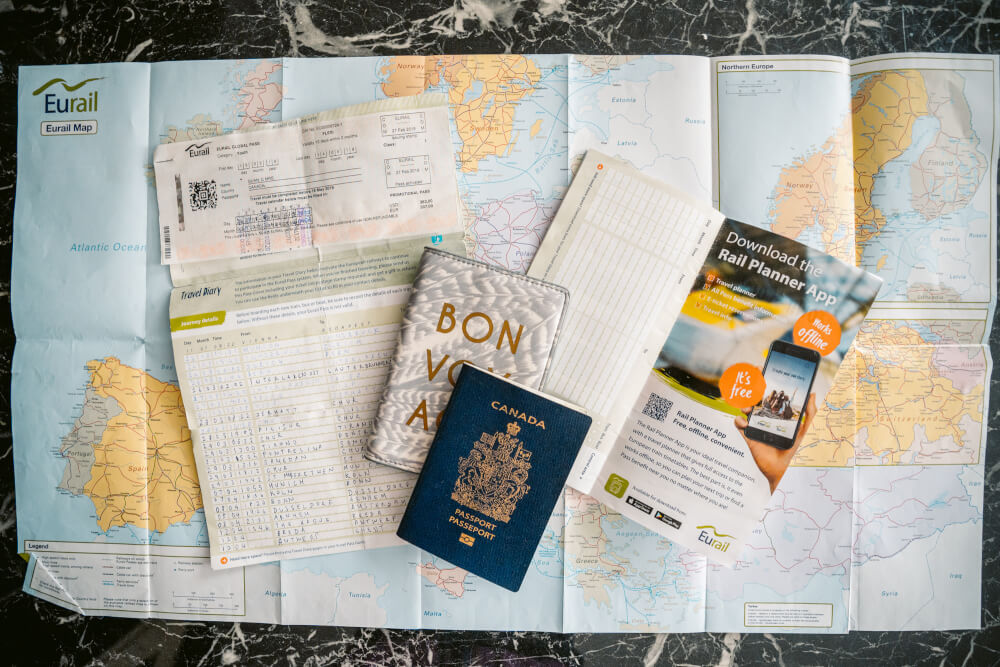 Look into scenic European train rides
I've already made my allegiance to European public transport pretty clear, but one of the main reasons is simply how beautiful it can be.
Sure, trains aren't always the cheapest way to to travel Europe, but they're often the most scenic and beautiful.
So if you're into the idea of travel as an experience, then be sure to read my post on the best scenic train rides in Europe, and the best scenic train rides in Switzerland.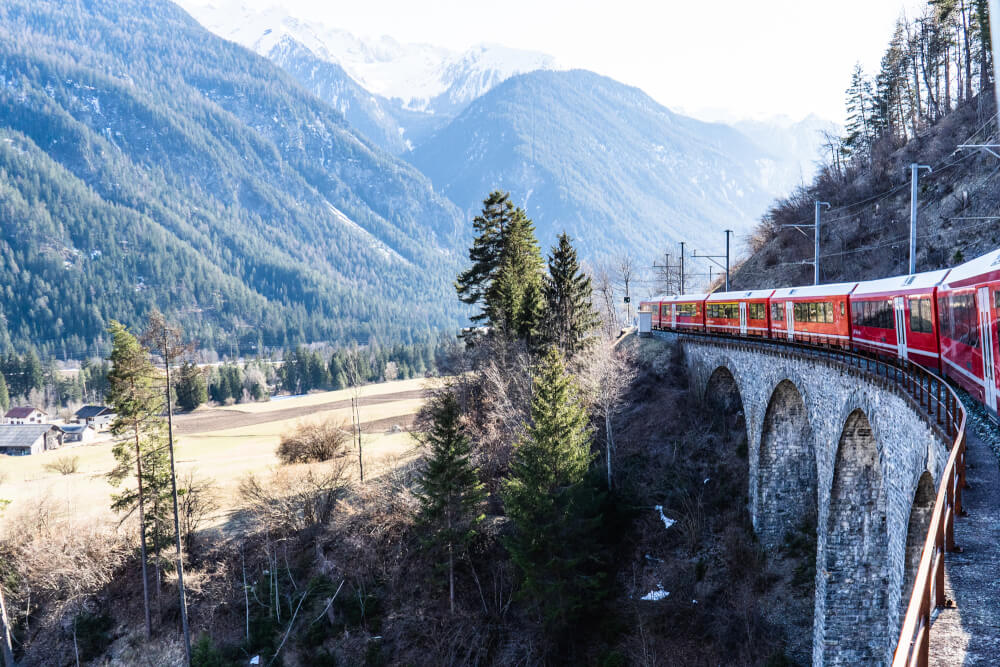 Familiarize yourself with Europe's most famous budget airlines
One of the cheapest ways to get around Europe is hopping around on budget airlines… where sometimes an international flight is cheaper than a 6 pack of nuggets.
Of course, the epic prices come with their own set of drawbacks, usually in terms of the flight experience, customer support, and additional add-ons (which always come at an extra fee).
You can learn more specifics about Europe's top budget airlines through my reviews here: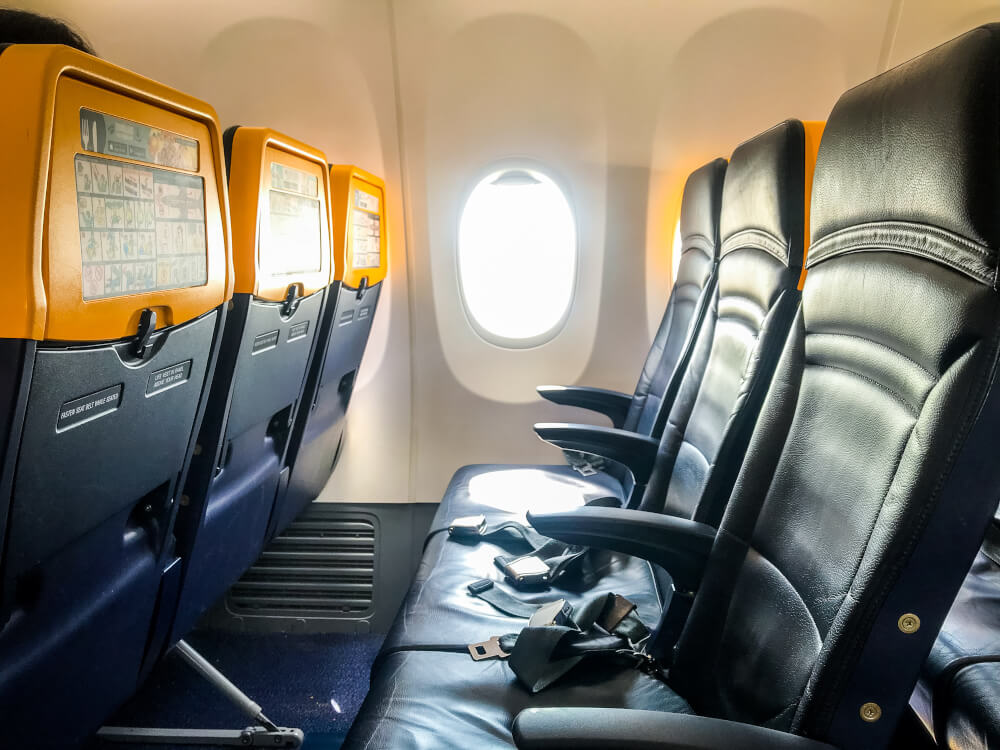 Consider bus/coach travel if you're on a budget
In addition to planes and trains, Europe is very well connected by an extensive bus (AKA coach) network.
One of the main contenders in this space is Flixbus, but depending on the country you're visiting, there's often local companies offering affordable bus travel between cities as well.
Again, I'd recommend using Omio so you can quickly compare buses, trains, and flights at the same time, but just know that bus travel in Europe can be a really cheap, safe, and easy way to get around.
Although there are of course some downisdes as well. You can read my full Flixbus review for more details.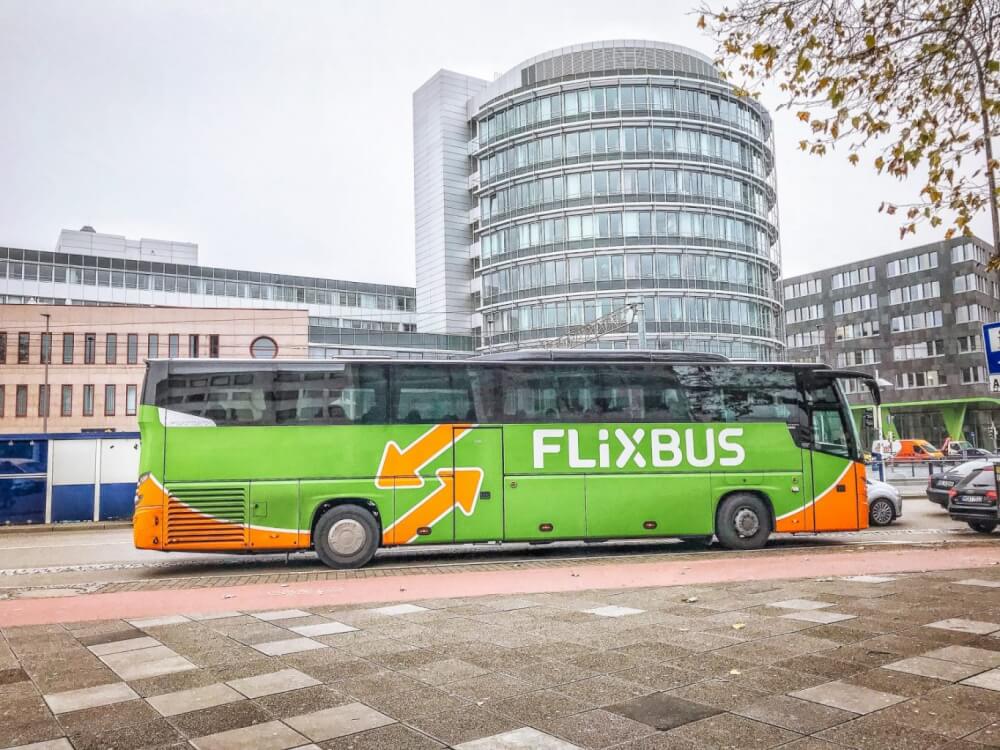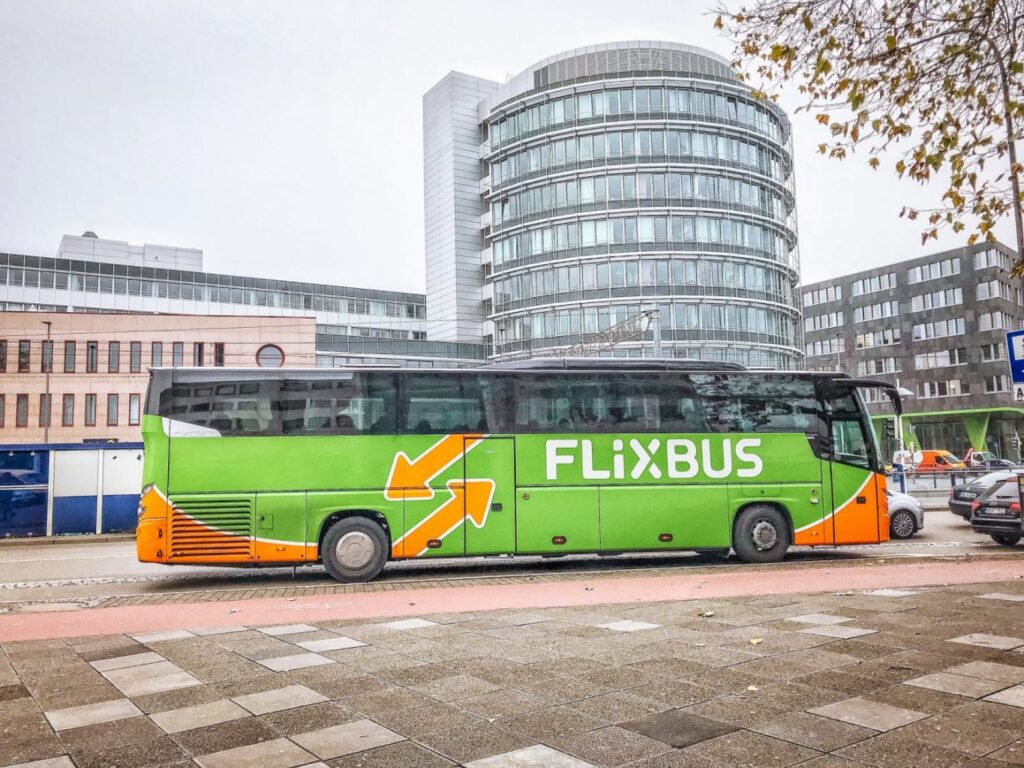 Book an airport transfer for minimal stress
I love navigating Europe with public transport but if you're travelling with a lot of luggage or as a big group, one of the more cost effective ways might actually be to just book a private transfer or taxi.
Of course, depending on where you go, taxi scams can be a real possibility, so for the least stressful option, consider booking a Welcome Pickups transfer, which is a set price, includes an English speaking driver who monitors your flight arrival time, and offers free cancellations up until 24 hours before.
This saves you the hassle of trying to get a taxi/navigate the language barriers to do so.
… Plus they pick you up with a cute little sign that has your name on it!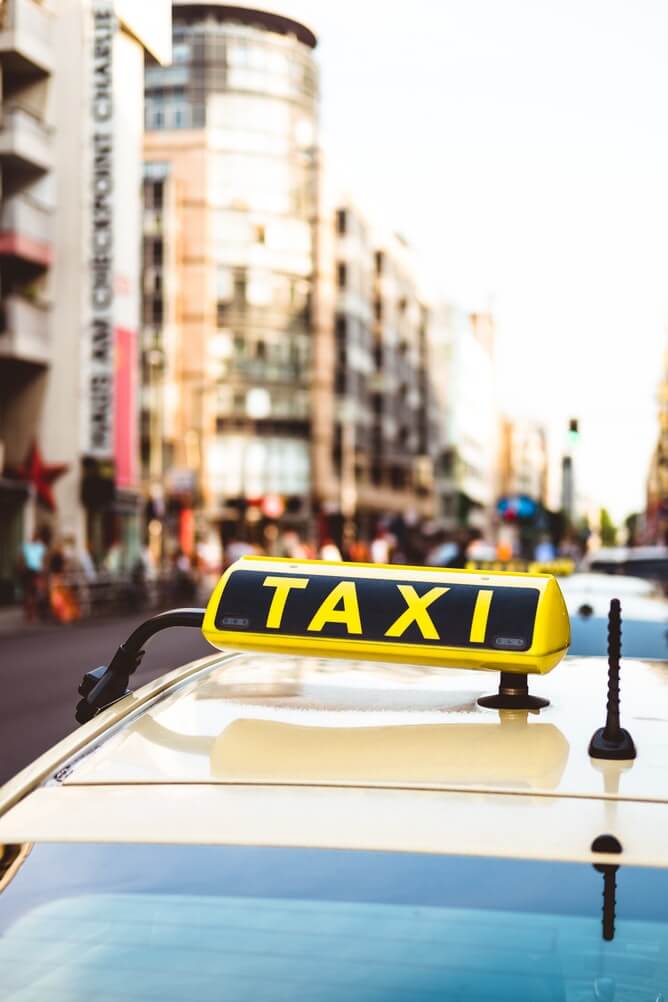 Do research on how trains work in your destination
I have to say, one of the most overwhelming things for me in Europe was getting used to how trains work. I come from West Coast Canada, where passenger rail from city to city is very limited.
SO if you're new to train travel, it might be helpful to do some research on how the train system works in your destinations, paying attention to particularities like…
Where to find the right platform for your train
Where to stand in order to find the right section of your train
Whether you need to buy and validate tickets before you get on board
Train stations are chaotic and stressful places, so you'll ideally want to know these main things before you get there, otherwise you may have a lil mental breakdown on-site.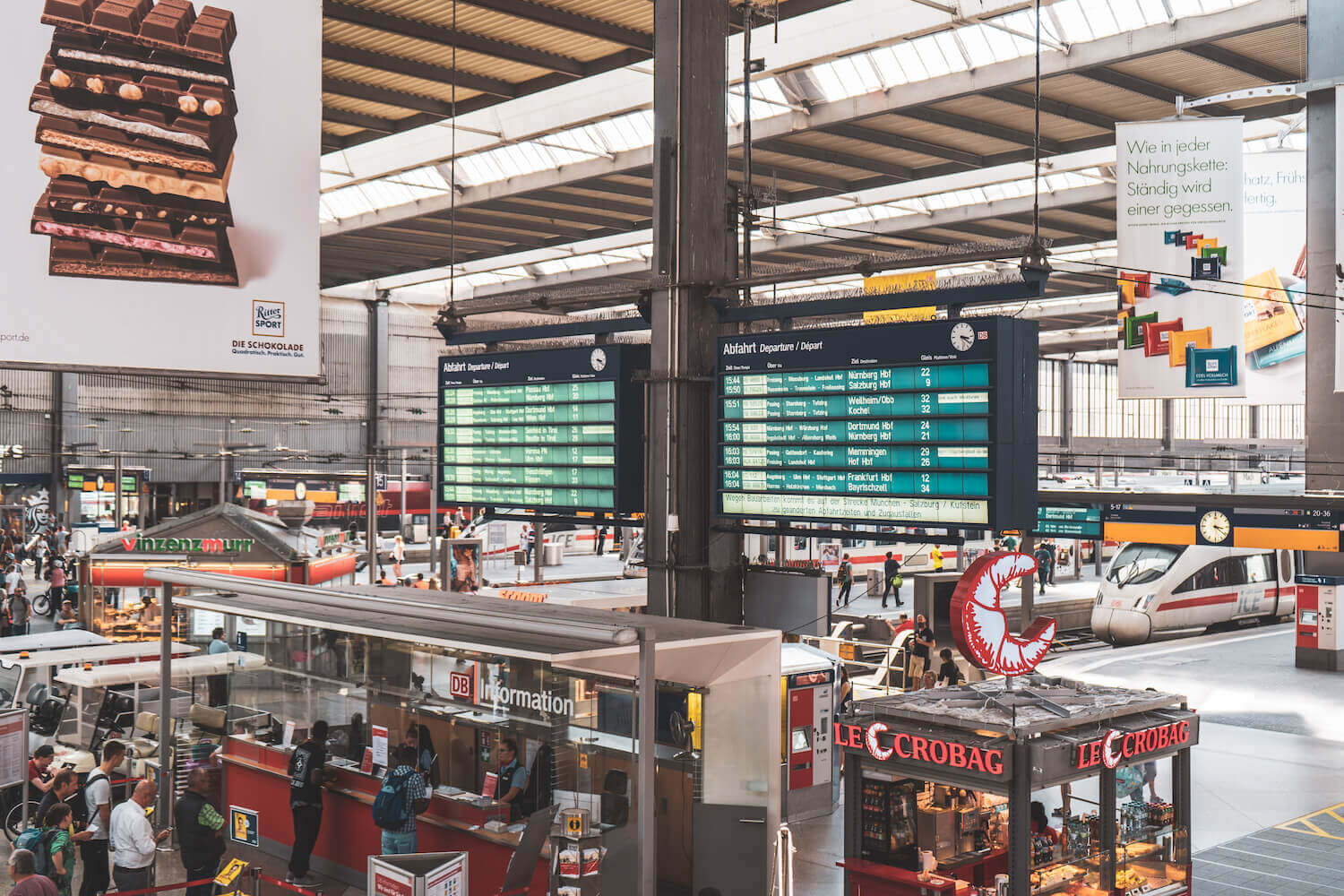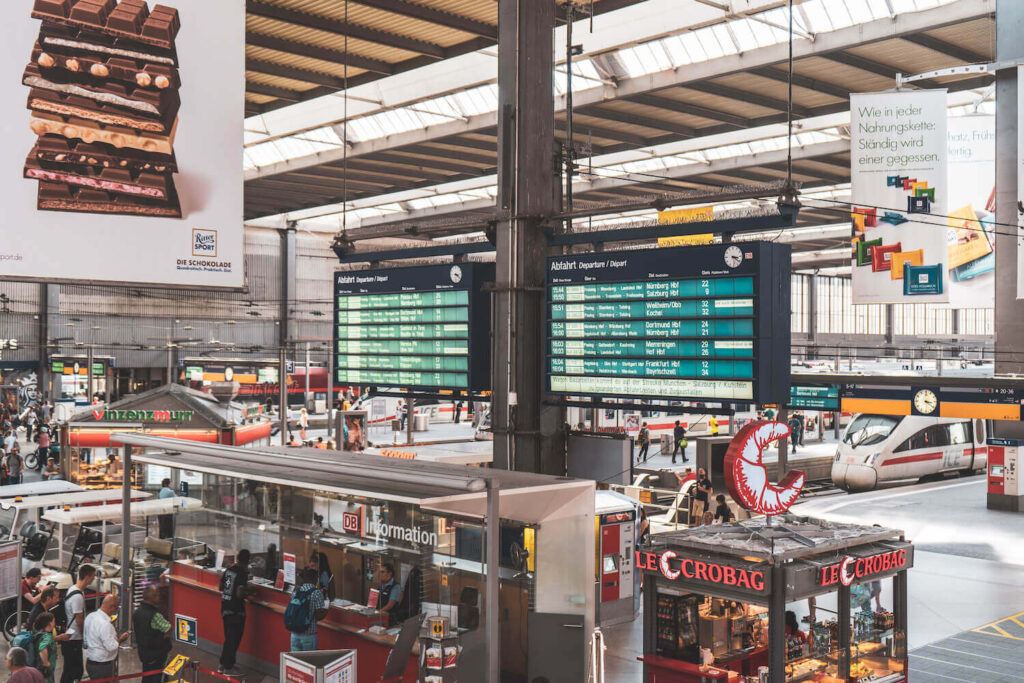 Use train station lockers
If you're looking for a stress-free way to explore a city for the day, or if you need a place to dump your bags before check-in or after check-out, a convenient solution can often be found at your destination's train station.
At larger train stations in Europe, there will usually be paid lockers or a 'left luggage' office for you to leave your bags for a small fee. Be sure to take advantage of these so you can explore without hauling all your lively possessions with you.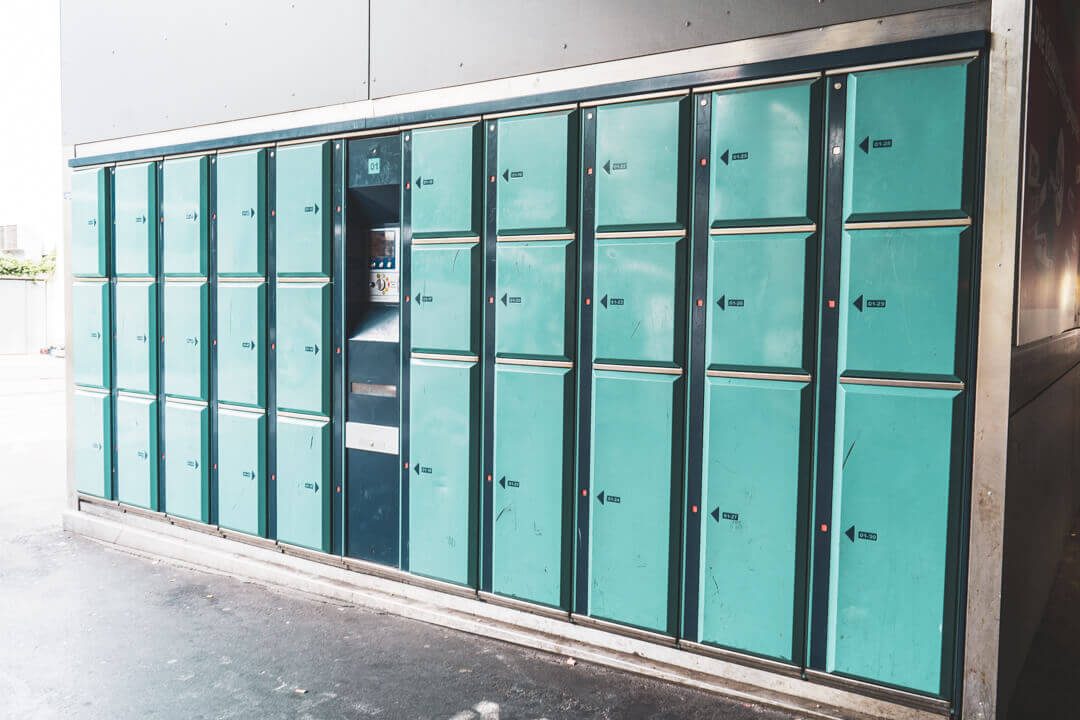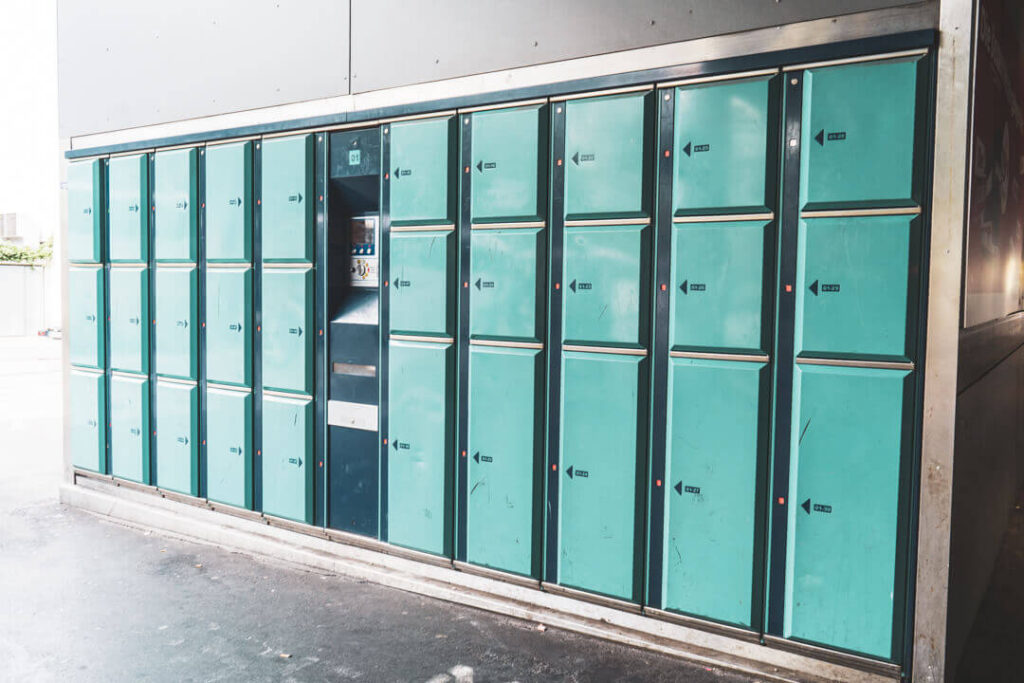 Order taxis or rides through apps whenever possible
Of course, this isn't possible everywhere, but taxi scams are so widespread in certain European countries that you should definitely use an app when you're able to.
The most popular ones in Europe include Uber, or FreeNow which is like Uber except you're ordering an official licensed taxi.
Ordering through an app helps ensure you get a fair rate, and is also (in most cases) more convenient than waiting at a taxi stand or trying to wave one down in the street.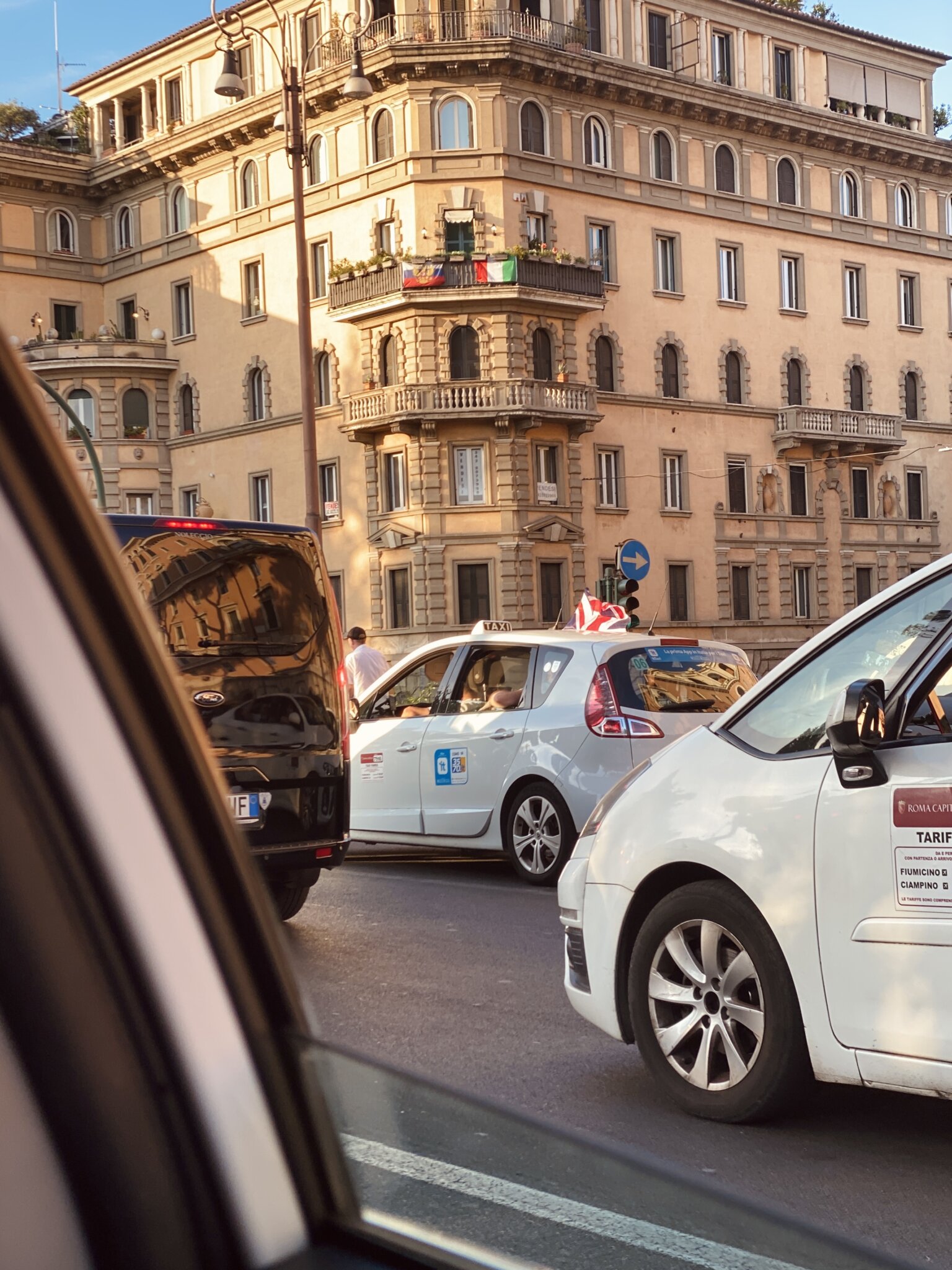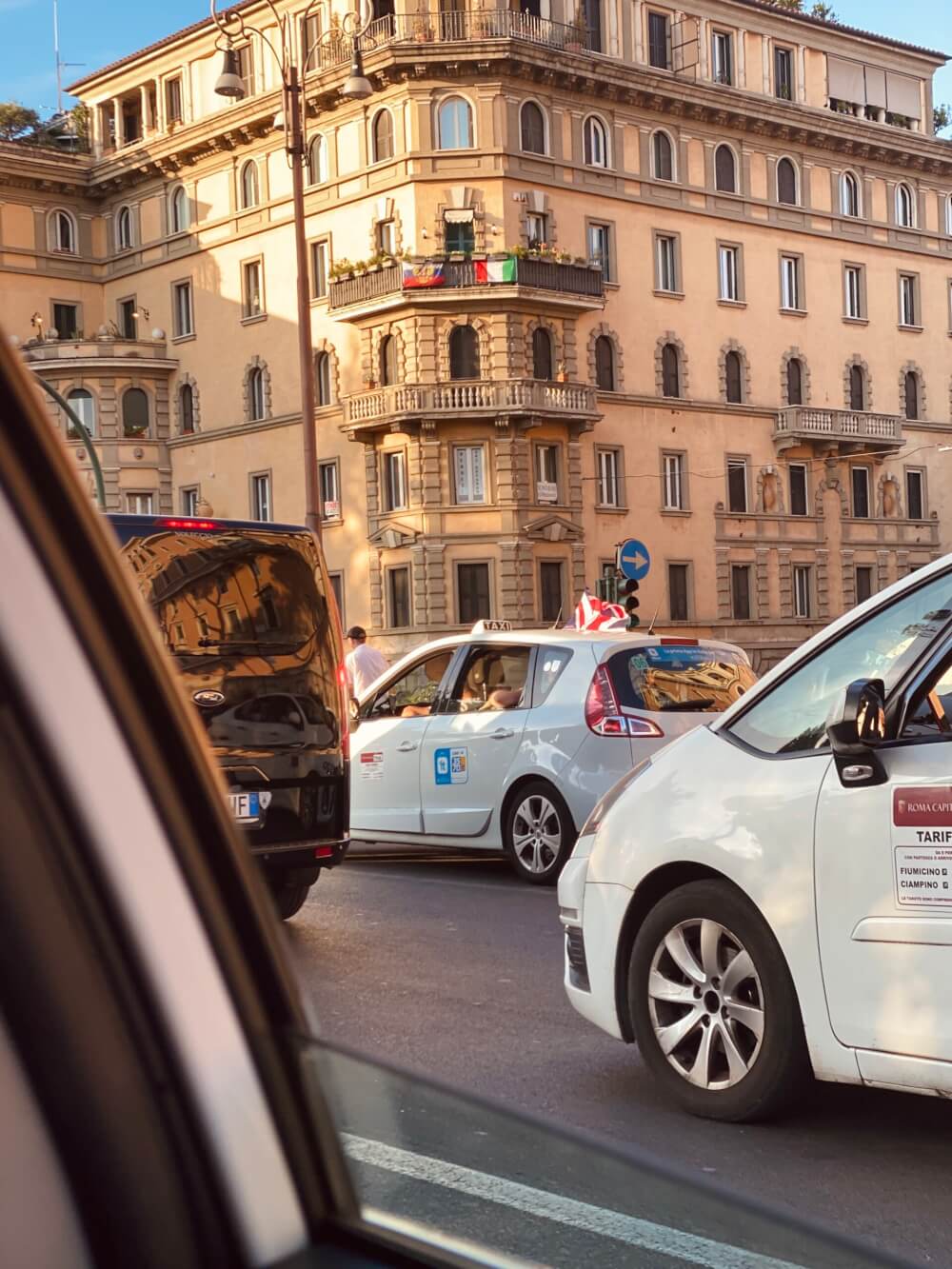 Always look for deals with public transport
If you're relying on public transportation to get around during your trip (which I highly recommend), then doing a bit of research on ticket types and discounts can really save you a lot of money.
Most major European cities offer some kind of discount for day tickets, group tickets, or multiple trip bundles, so be sure to look into those rather than buying single tickets every time.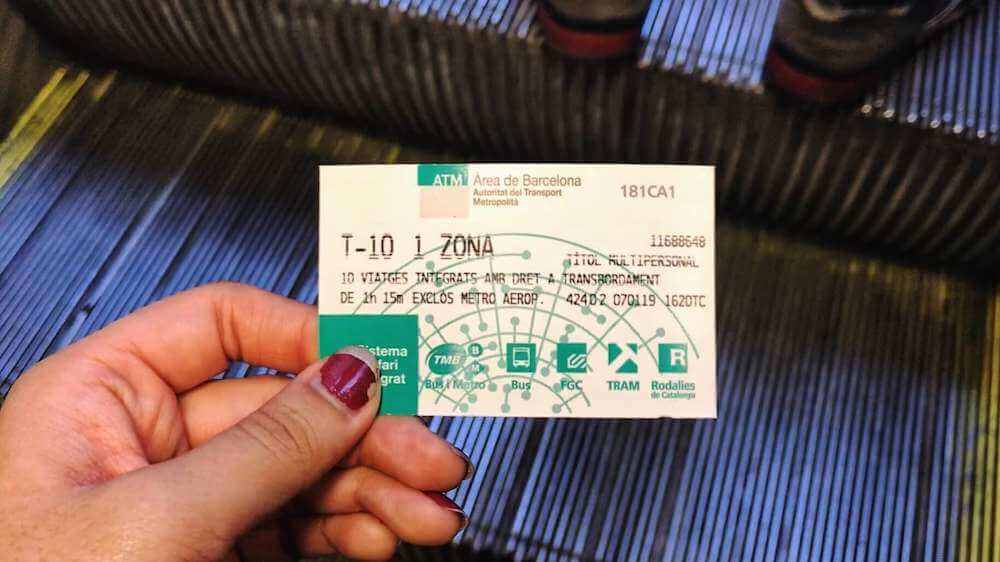 Always validate and hold onto your ticket
When it comes to navigating public transportation in Europe, most times it's not enough to simply buy a ticket – you must usually a) validate it properly and b) keep it on you in case of inspection.
Who's checking you ask? Well, most major European cities have random ticket controllers who periodically go around to make sure you've paid for and validated your fare correctly.
Sometimes (like in Paris) they'll even ask to see your ticket after you've left the train platform, so be sure to hold onto your ticket until you've left the station.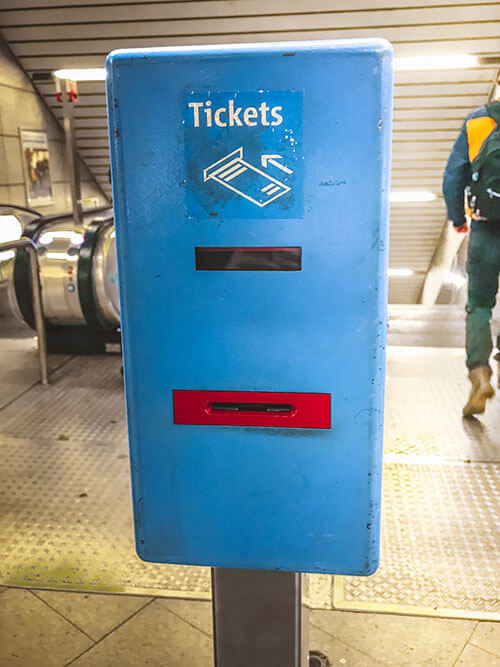 Avoid public transport during rush hour… and during big events like sports games
When you're a care-free tourist, it can be easy to forget the woes of mundane daily life like trying to get home during rush hour. Well, don't forget: no matter where you go, they have a rush hour too, so be sure to avoid it whenever possible.
Ideally, you should aim to avoid public transport during times that locals are commuting to/from work. Pay special attention as well to big events like huge concerts or sport games, which can also make public transport a nightmare.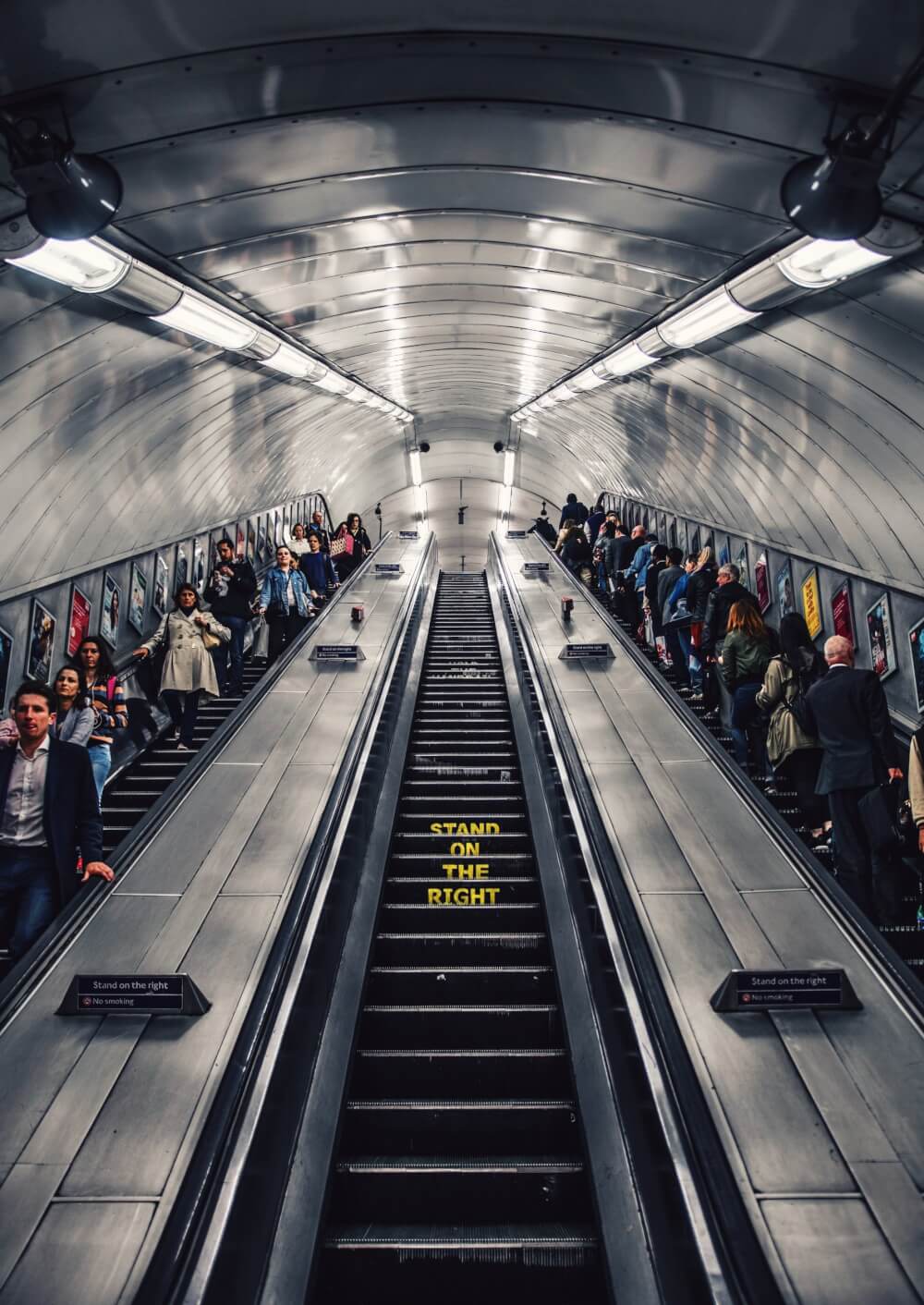 Easily rent bikes or scooters
Most major European cities now have e-bikes and e-scooters that you can easily rent on-the-go through an app. This can be a fun way to quickly and cheaply get around the city.
Options will depend on your destination, but keep an eye out upon arrival! If they are available, odds are you will see them everywhere.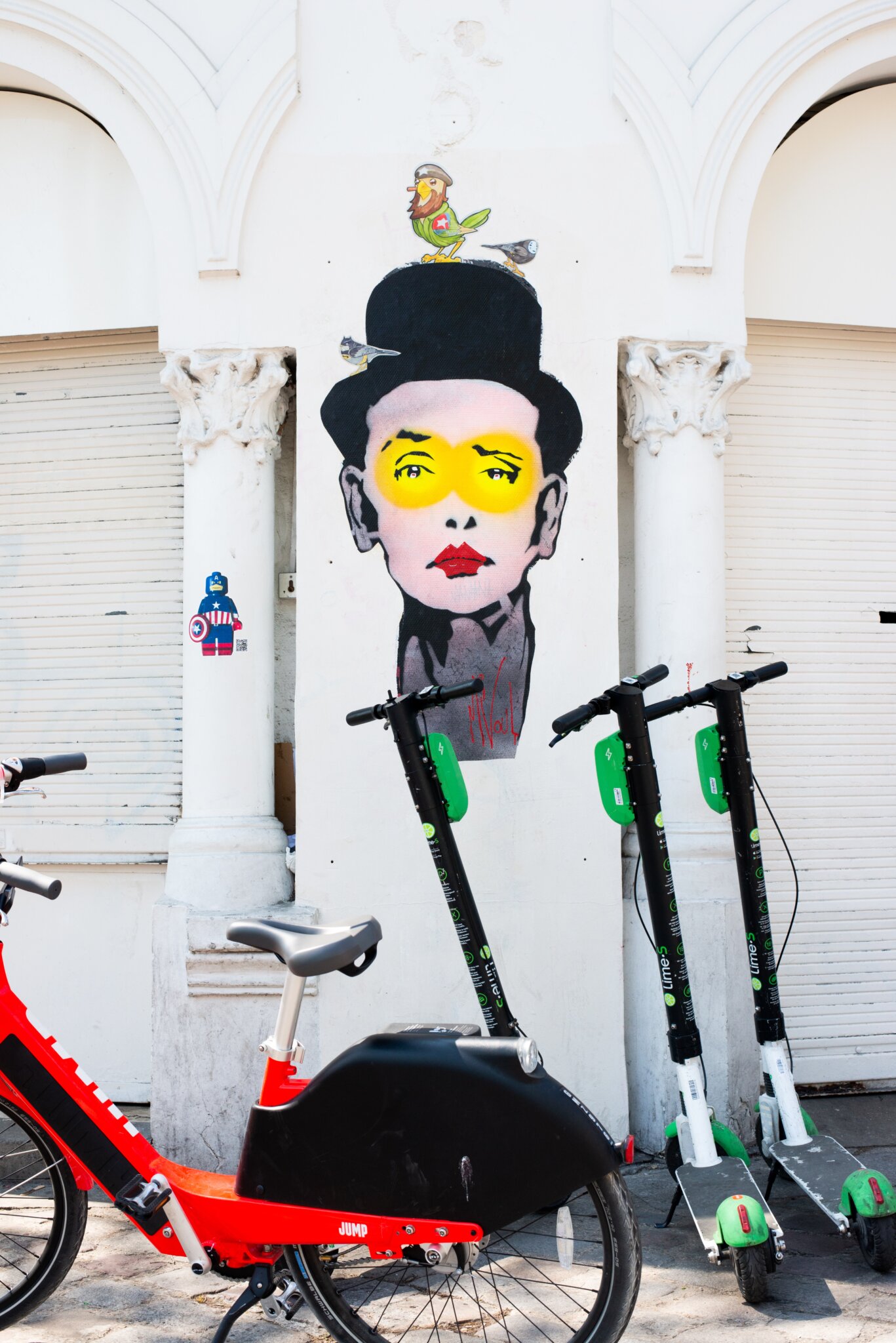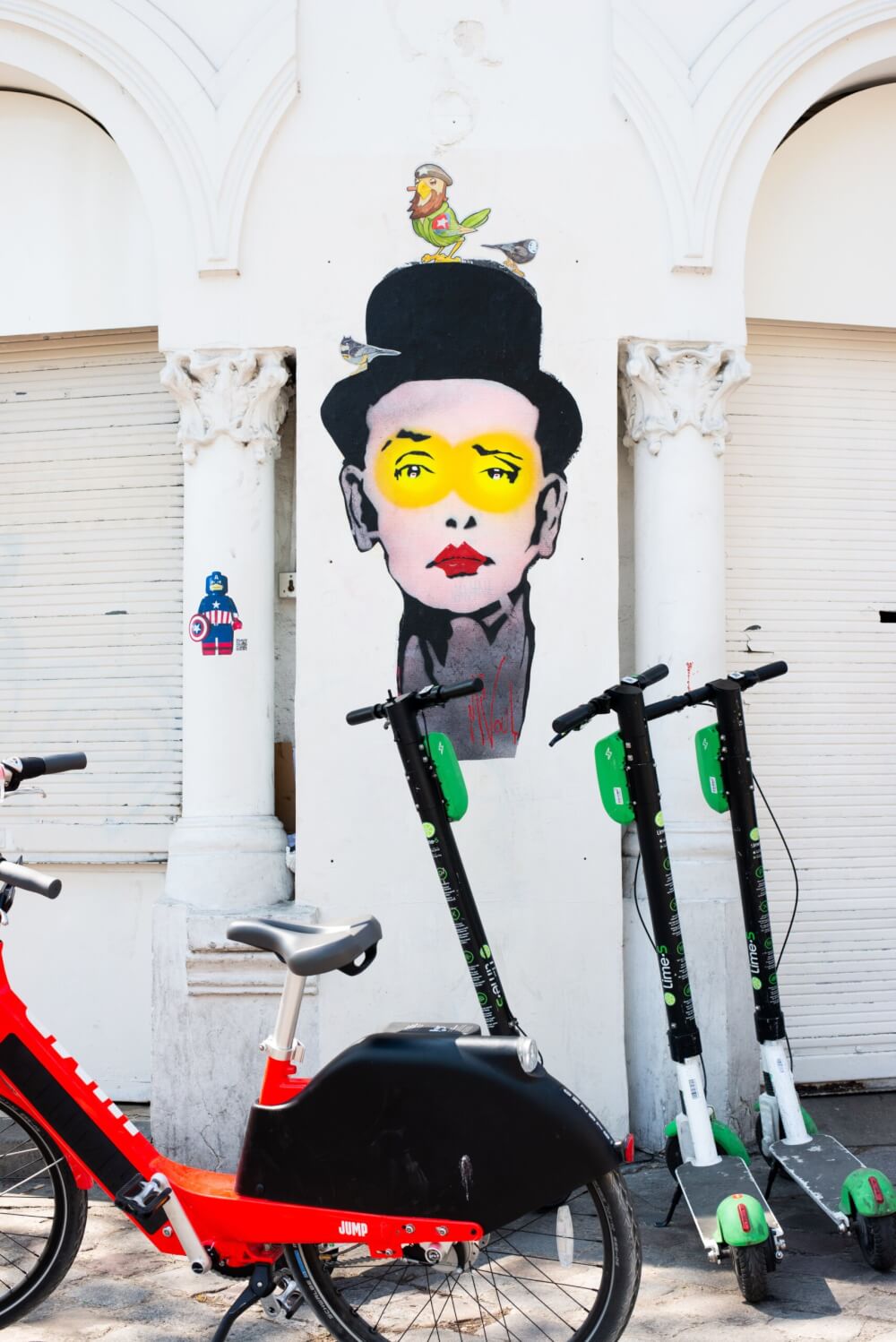 Europe Tips for Attractions
Odds are, if you're visiting Europe, your plans involve a lot of sightseeing. So, here are some of my best Europe travel tips related to attractions and itinerary planning.
Prepare yourself for scaffolding and restorations
Europe is an amazing destination thanks to its history.
… But the flip side of that is that it is old and so are many of its most famous monuments.
So, mentally prepare yourself for the possibility that the amazing church or landmark you've seen a million times on social media is covered in scaffolding, or doesn't look as you hoped due to restorations.
For example, the first time I went to Rome, I was devastated to see the Trevi Fountain completely covered with scaffolding, and drained of water.
And most travelers have similar stories. There's no way around it, but just keep in mind that it's possible!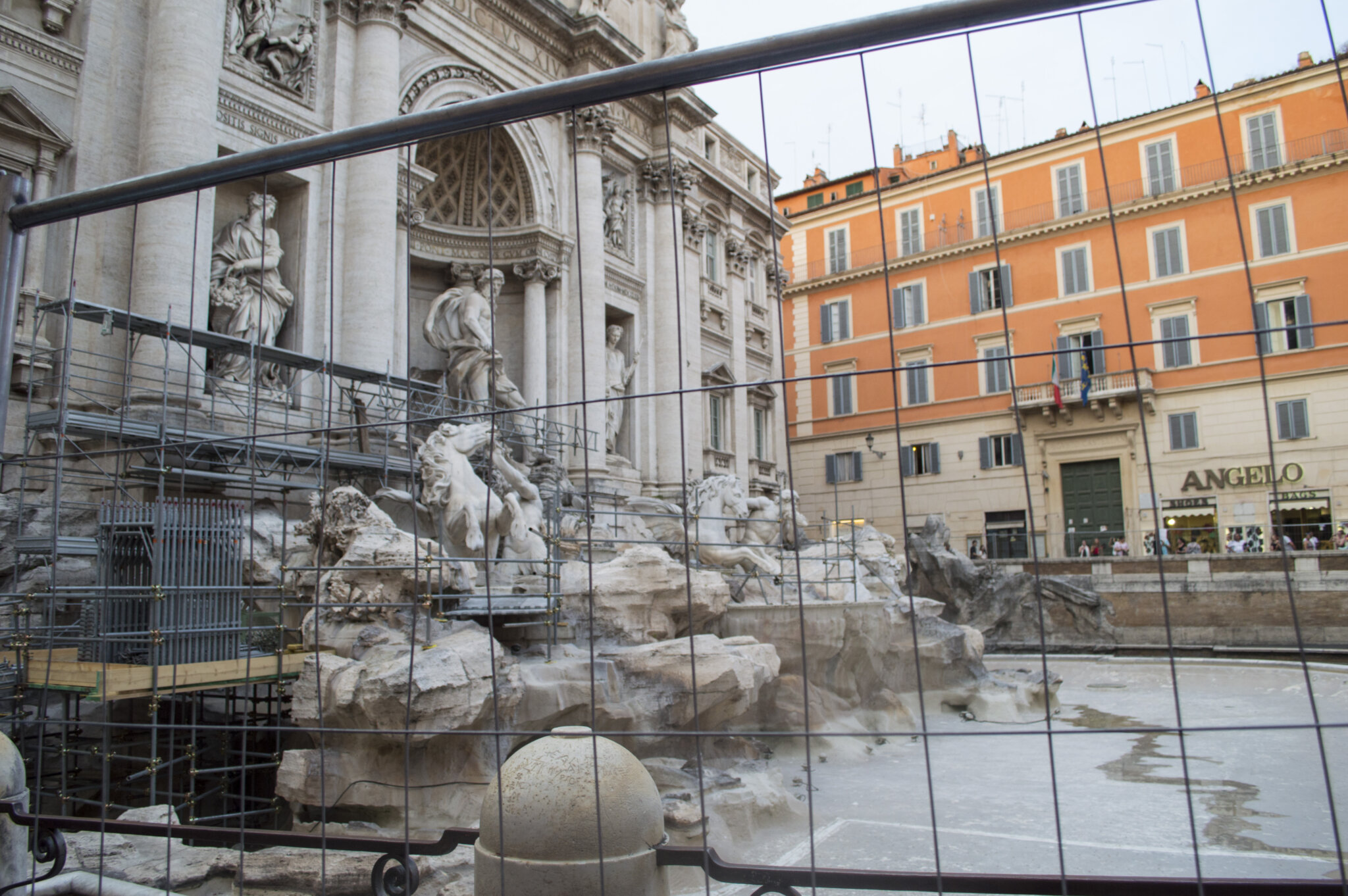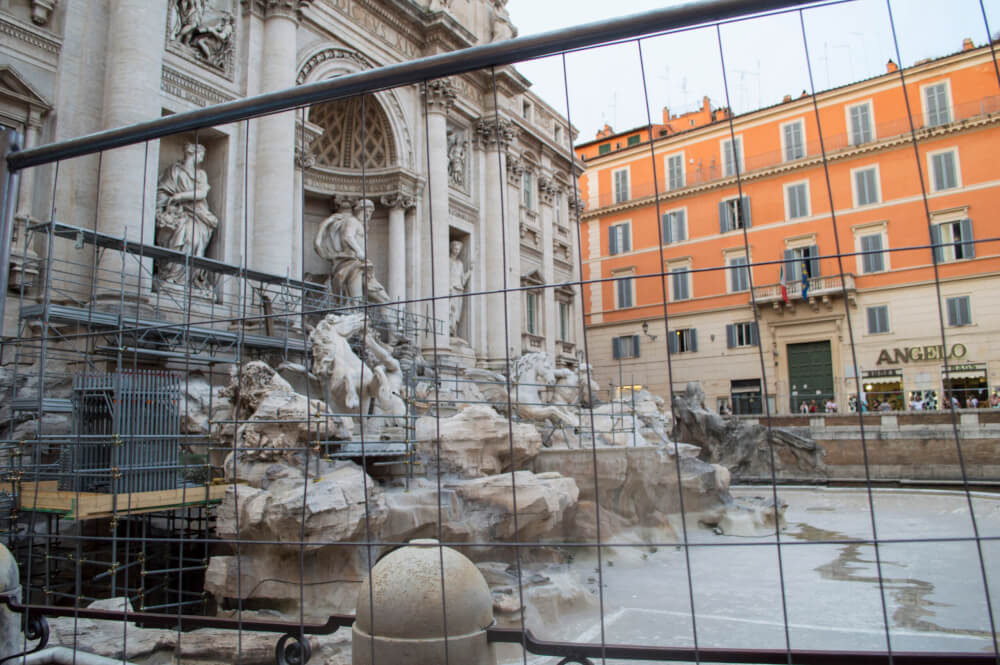 Look into age-based discounts
Oftentimes, whether you're looking at train tickets or attraction tickets, there will be enticing discounts available based on your age, so be sure to look into those for additional savings, especially if you're considered a child, youth (often this goes up to age 27!) or senior.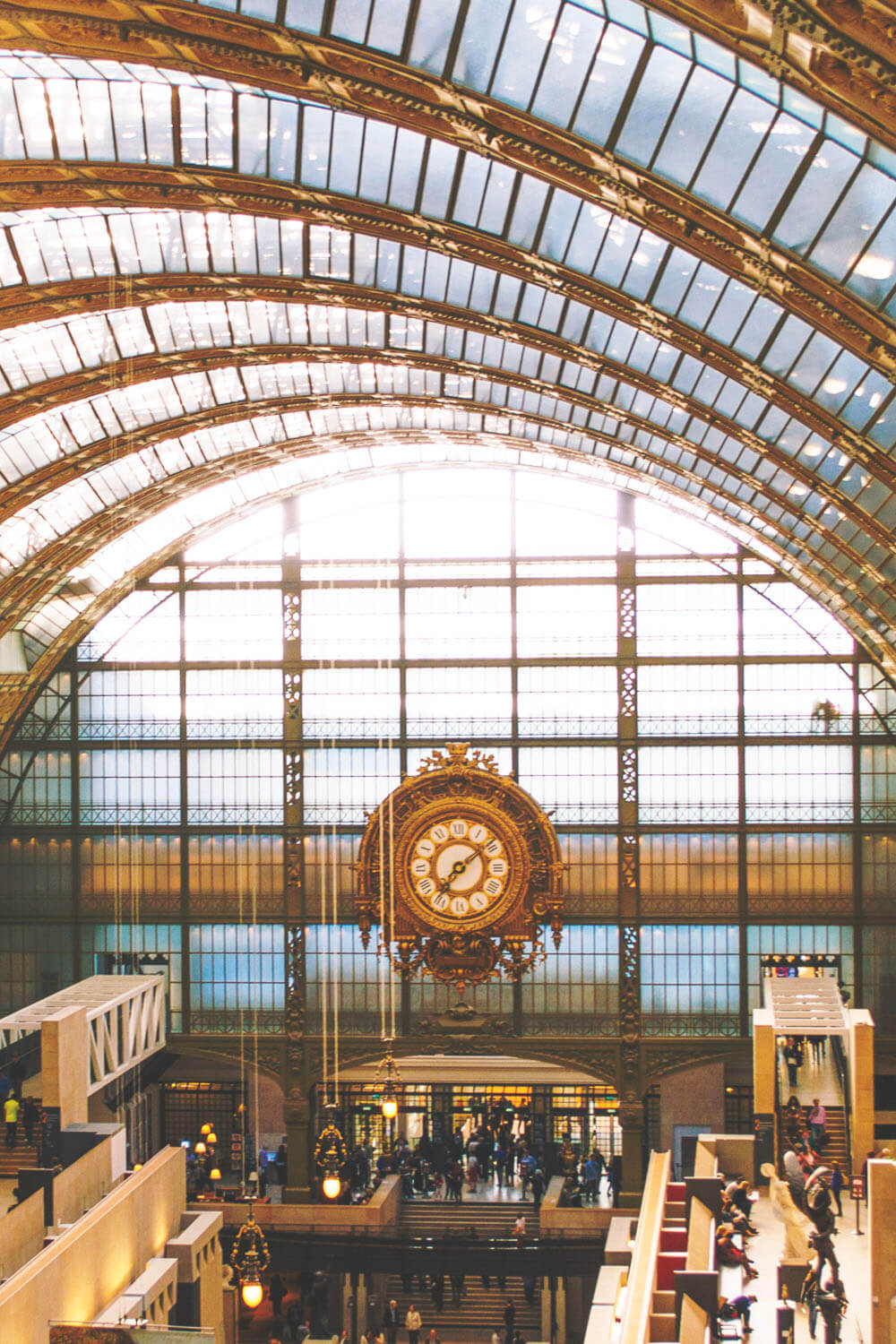 Get an ISIC Card if you're a student
Here's a very important Europe travel tip for students: if you are a student, the good news is you're eligible for a wealth of additional discounts and offers.
The bad news is, often European institutions won't recognize or accept student IDs from abroad, since they're all so different.
An easy way to get around this though is by getting an ISIC Card, which is an internationally recognized student ID that costs about twenty dollars, but will save you at least that much in discounts.
I'd recommend getting one if you plan to travel around Europe for a longer time.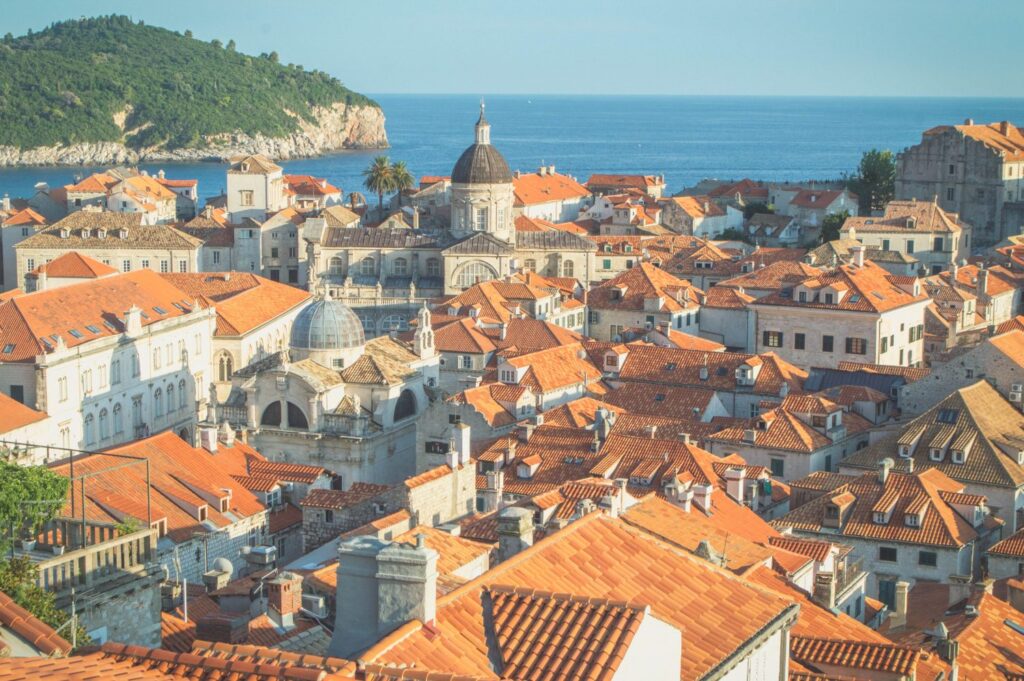 On a budget? Prioritize free museums and sights
This is one of my top Europe backpacking tips – do not sleep on the many free things to see and do in Europe.
Everywhere you go in Europe, there will be free things to do and see, ranging from free museums to beautiful architecture and street art.
So, be sure to research beforehand and see what free things there are to do at your destination.
NOTE: A lot of museums across Europe offer free admission on particular days of the month. Take advantage of these offers!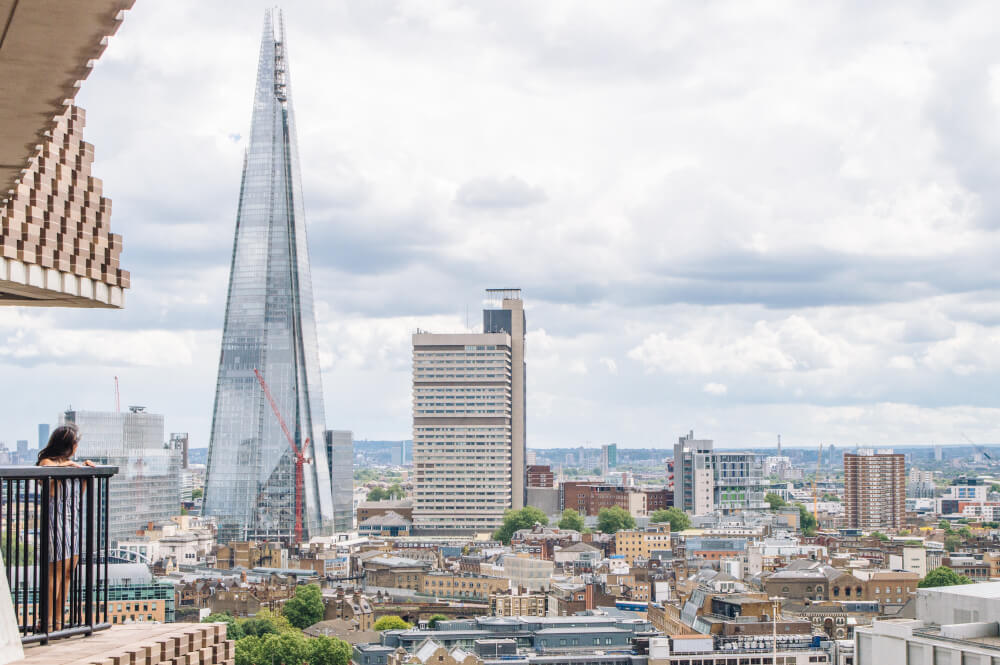 Book tickets for attractions in advance whenever possible
This is usually cheaper, and can save you a lot of time on the day of your visit because at major attractions, there's usually a separate line for people who already have tickets.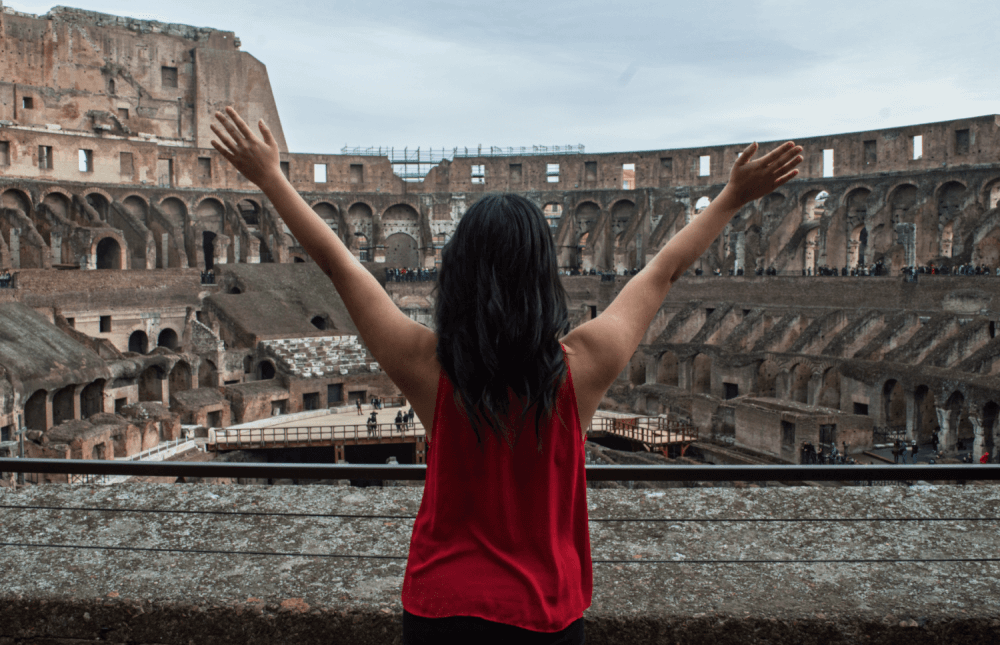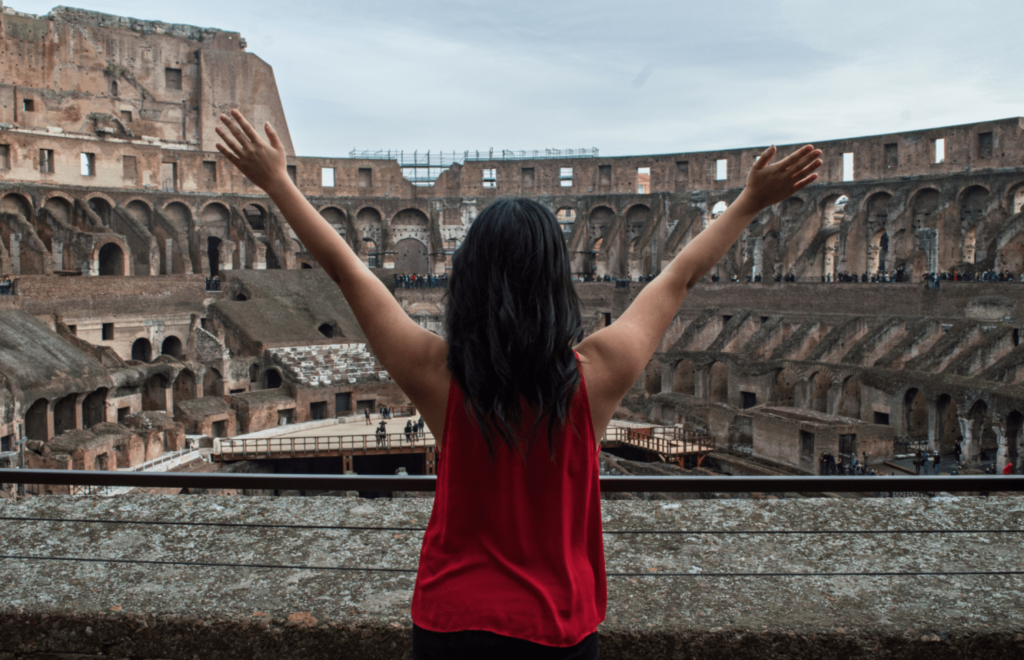 Skip the line tickets are usually worth it
If you're visiting a busy destination, then I'd highly recommend looking into Skip the Line tickets for major attractions, which will allow you to get in quicker.
Remember, during your trip, time is money, so paying a bit extra to skip the line is definitely a good use of funds.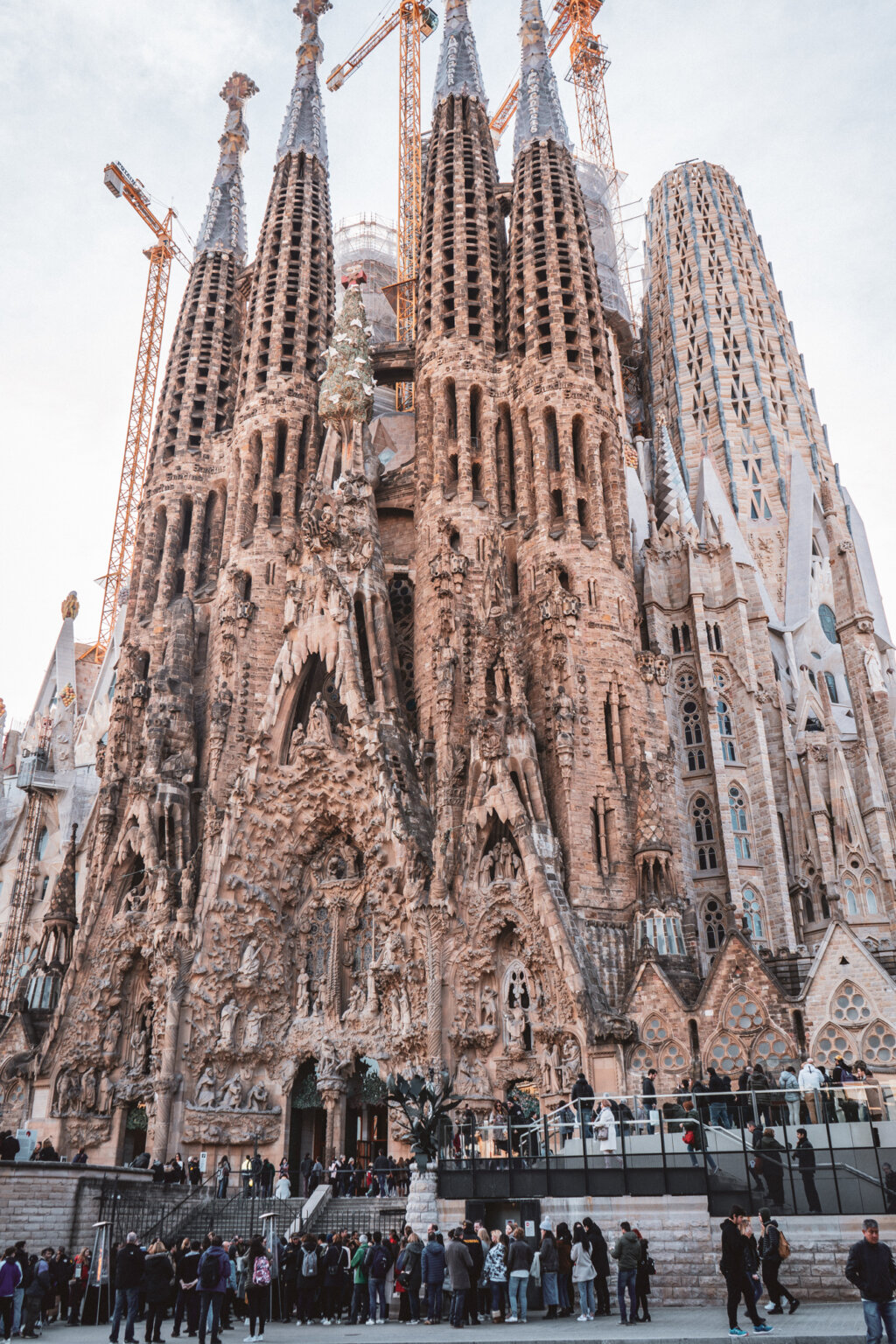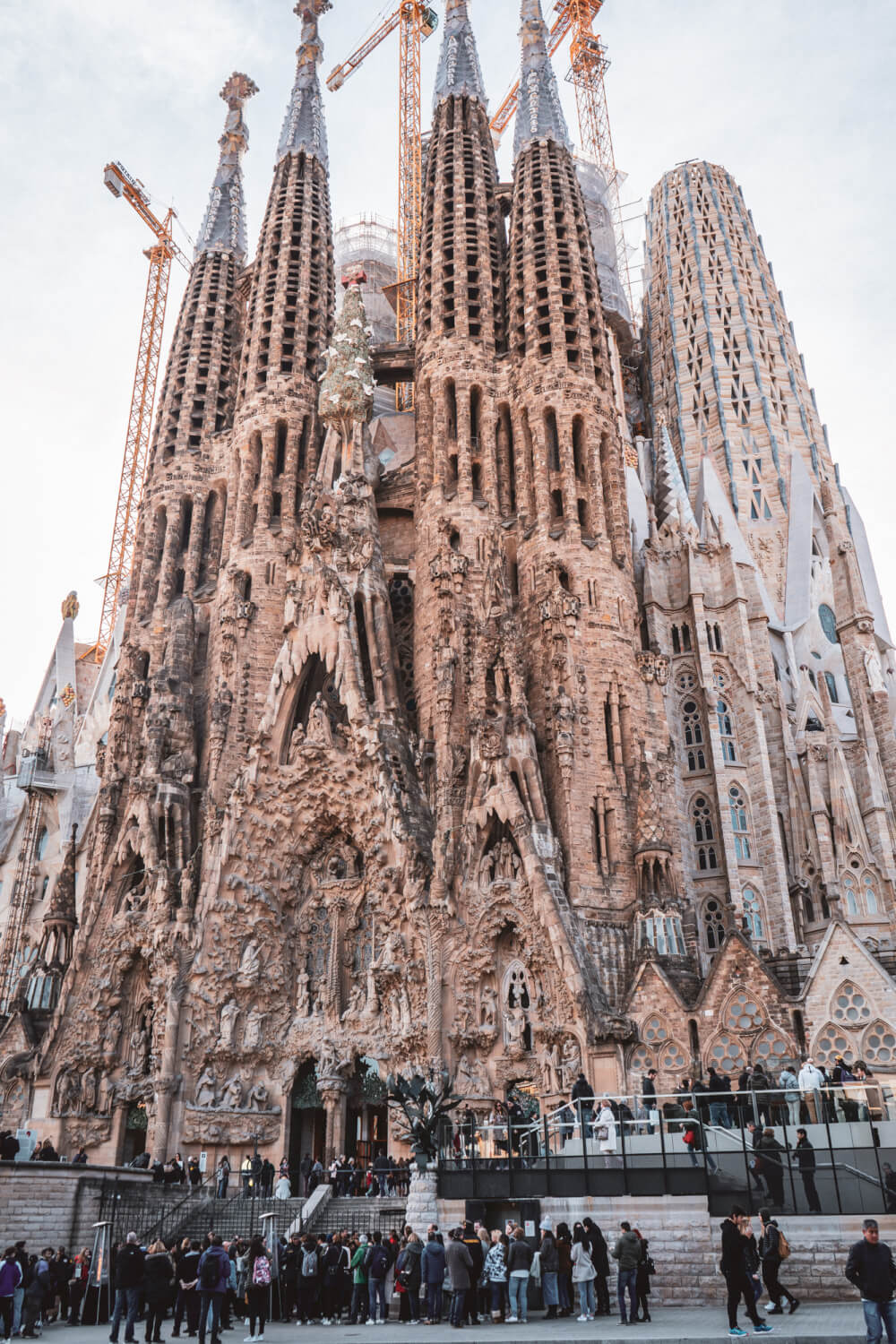 Visit attractions shortly before closing time
While most guides advise that you visit the main sights early, another sneaky hack that works quite well is visiting right before it closes.
I did this once with the Vatican Museums, entering about 1.5 hours before closing time and it I practically had the place all to myself!
In contrast, one time I did an early morning tour of the Vatican and it was already quite busy because other tour groups were starting at the same time.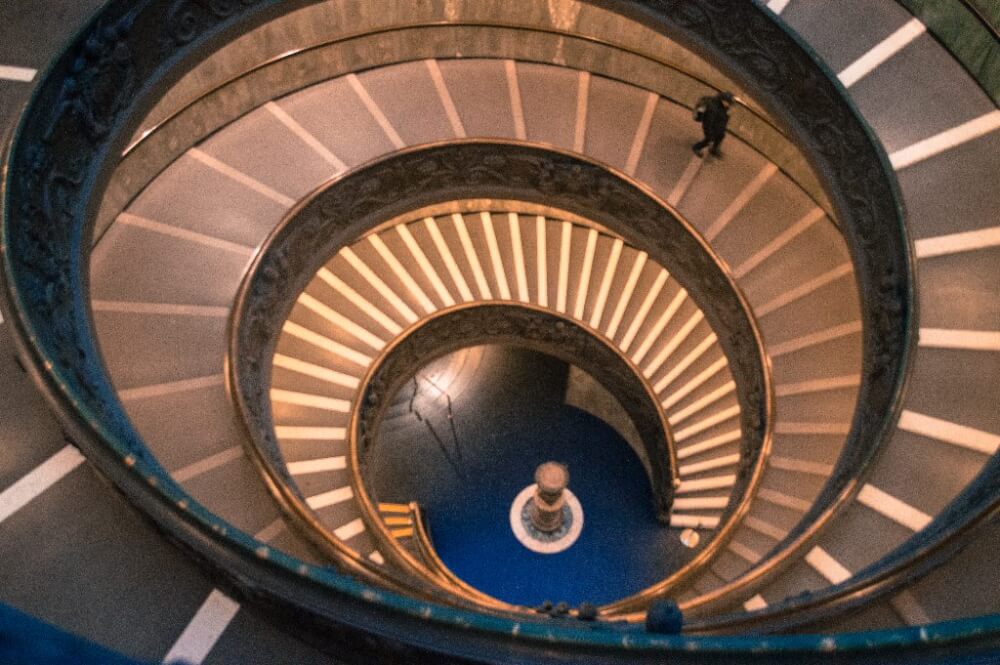 Book special tours that are before or after public opening hours
Many busier destinations will offer this now, and it's a magical way to experience the top sights with a fraction of the crowds.
I once did a sunrise tour around Venice and it was incredible to see all the main sights and feel like I had them mainly to myself.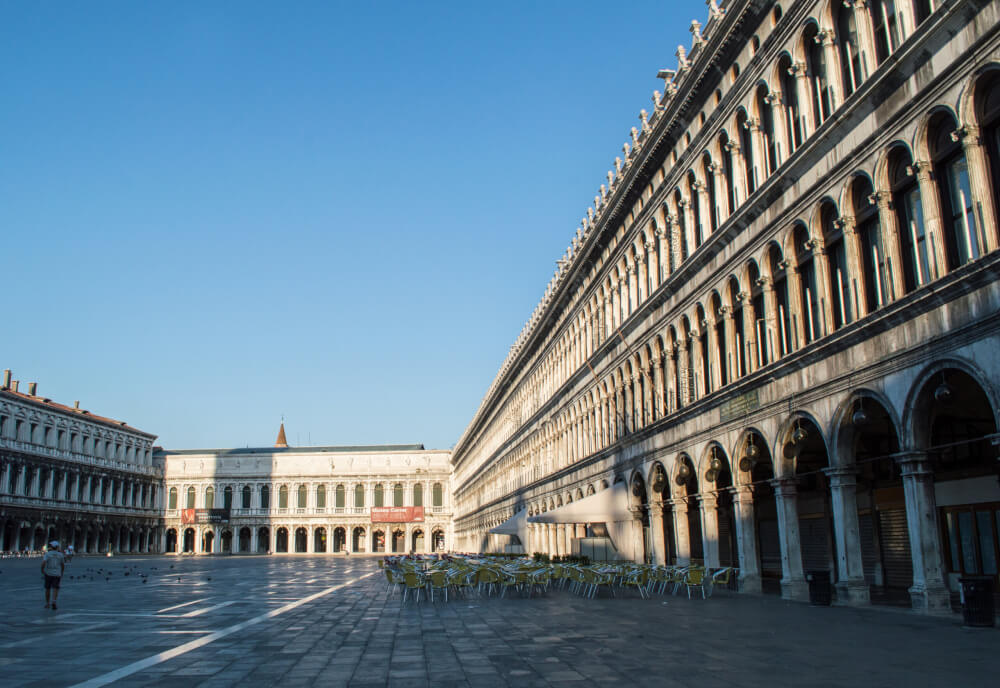 Seek out fun and unique tours in general
Gone are the days that destinations offer just your old standard tours that cover everything generally.
These days, in most major European destinations, there are special tours you can book based on interest, with tours focusing on everything from history and food to street art and photography.
I usually like to have a quick search on GetYourGuide to see what's available.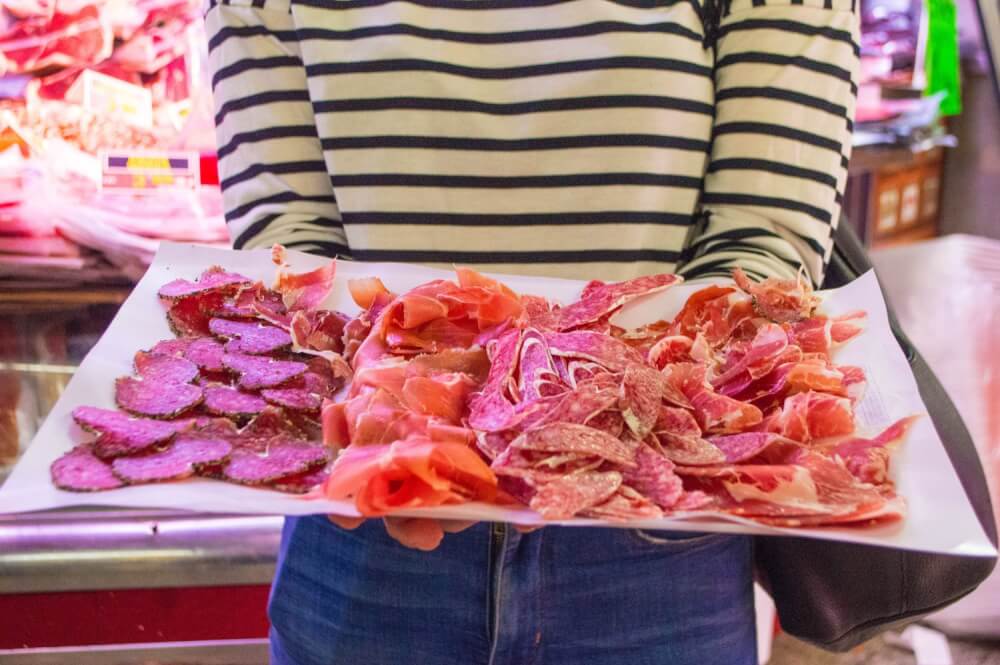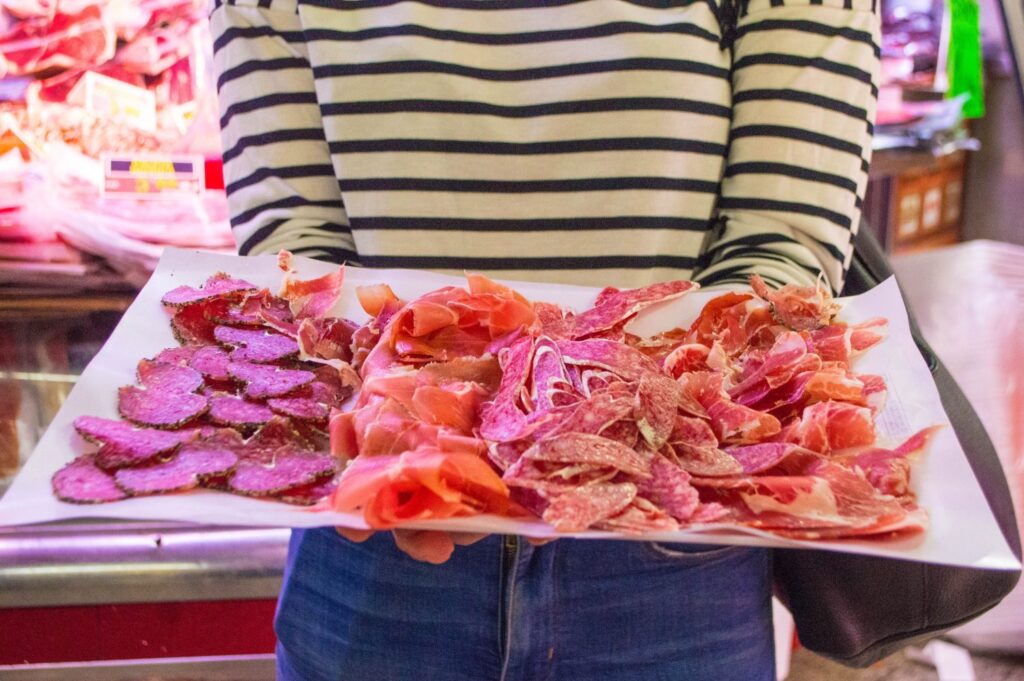 For touristy cities, research on local blogs
In big cities like Paris or London, sure there's a lot of tourists, but there are even more locals, who live there and call it home.
This means there's a whole other side to the city that many tourists miss out on, from cool pop-ups and restaurants to special cultural events. I always try to look up fun events/updates on local blogs before every trip, and have gotten some really fun travel memories out of it.
You might find my guide on How to Find Cool Stuff to Do Near You helpful.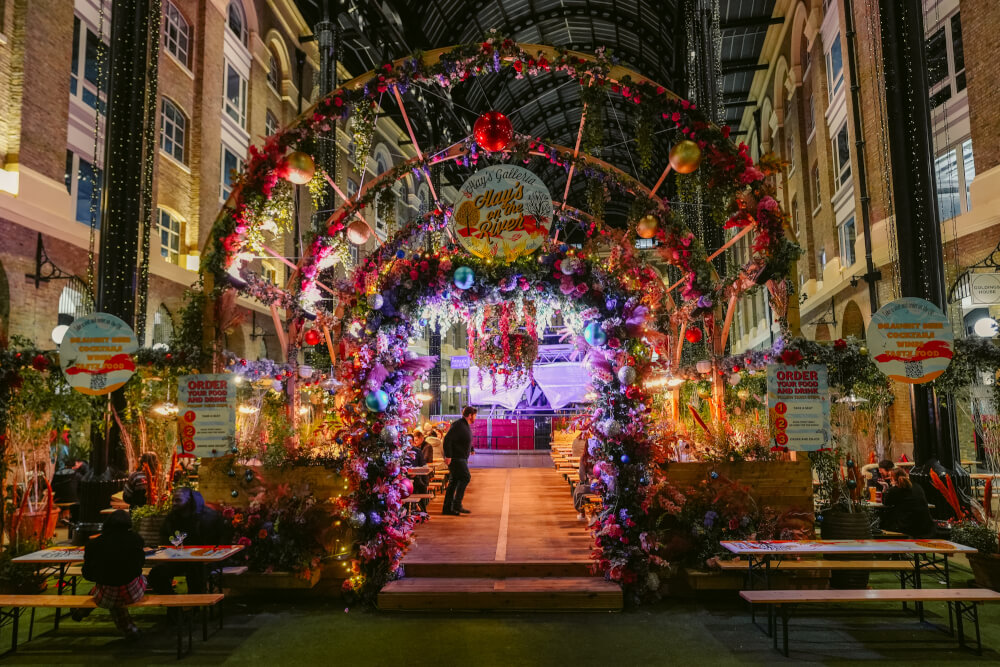 Seek alternate viewpoints to main landmarks
If you ever find yourself in a place wanting to get THE photo of a major landmark (e.g. the Eiffel Tower in Paris, the Coliseum in Rome, etc.) then a great way to get an amazing photo away from the crowds is by seeking out alternative angles and perspectives.
Remember, landmarks are big, so odds are you can find some cool places to get your photos without having to cram with everyone else. Simply walk a few blocks away and try to find unique views!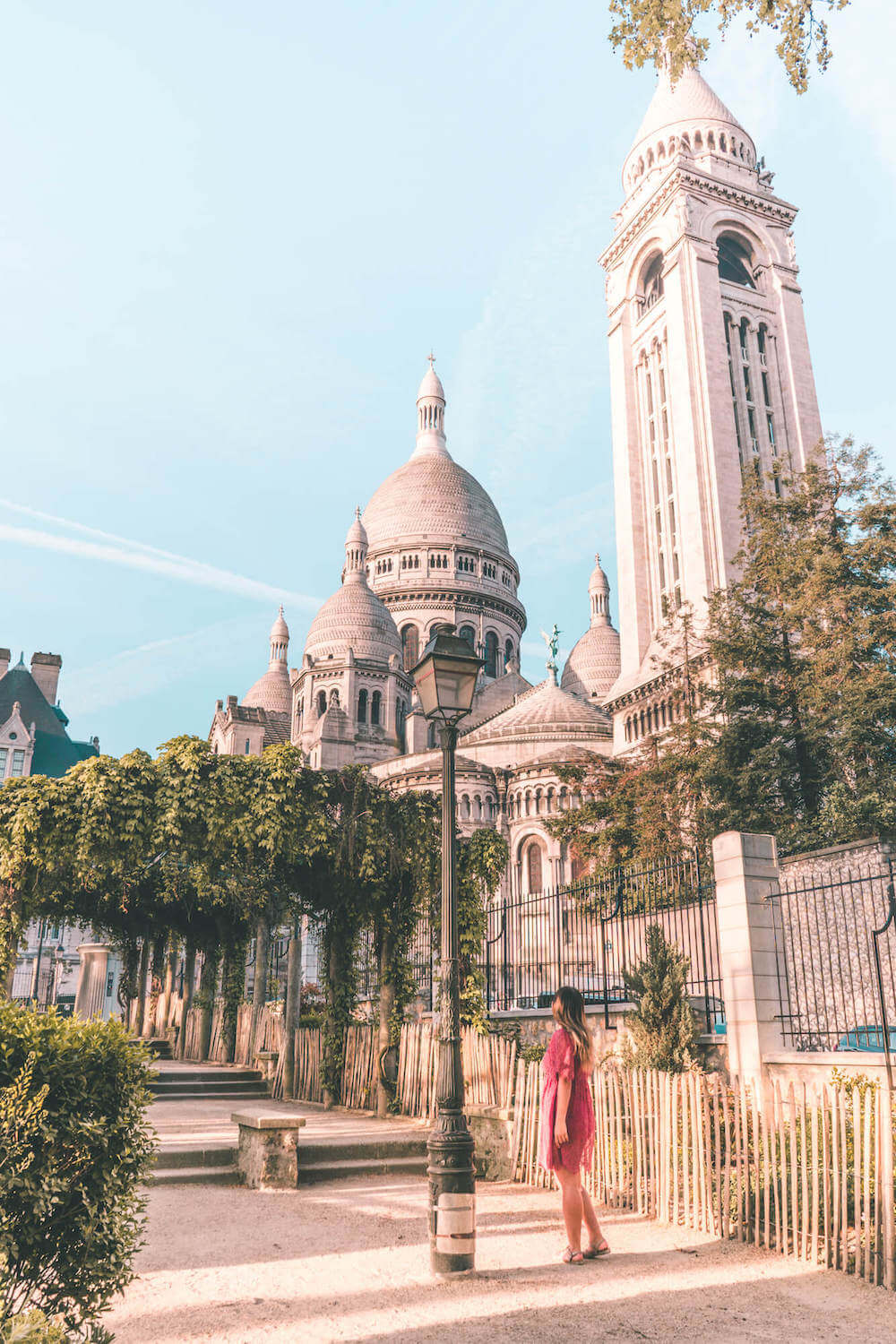 Always search for information on the official websites of attractions (even in the local language)
These days, hours/entry requirements can change quickly and third party guides (yes, even Google Maps!) may be inaccurate.
So, if you're trying to find information on how to book tickets or what opening times are, make sure you always go straight to the source rather than other sites or blogs (even mine!)
For example, on my most recent visit to Rome, the Pantheon had changed its policy to be open only for reserved time slots on weekends, which would have been really unlucky because I saw no information about this anywhere else.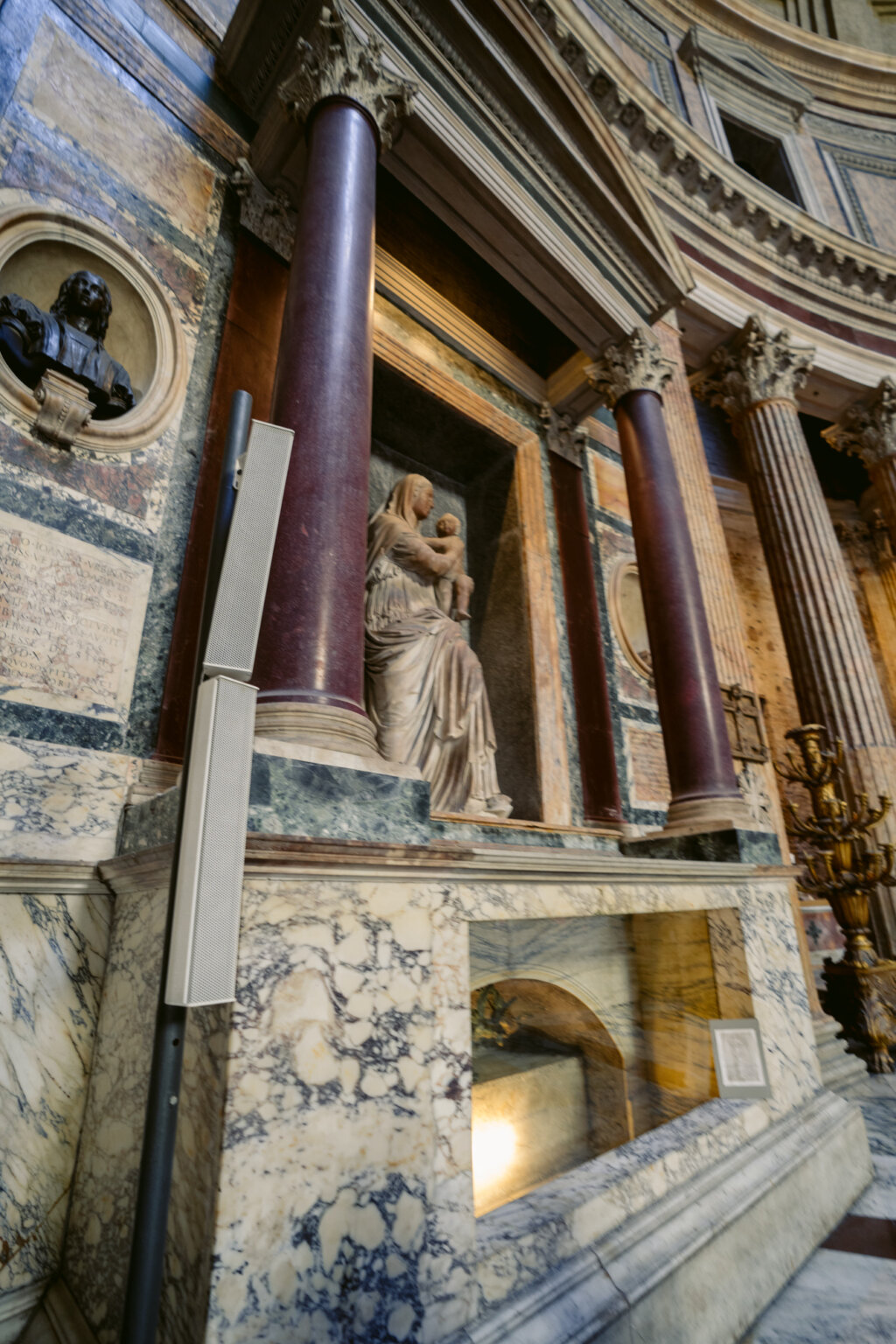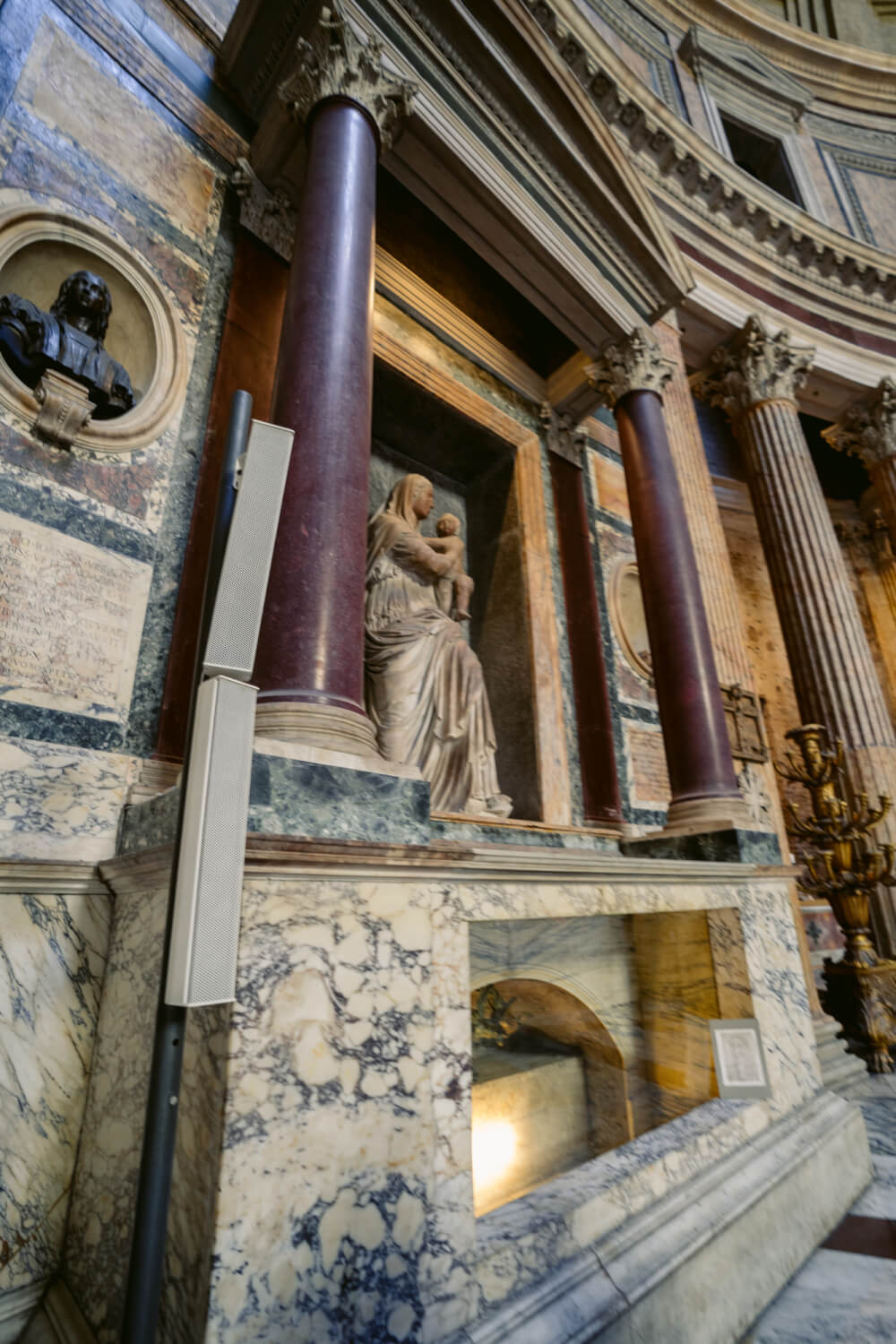 Don't spread yourself too thin
An ideal itinerary should have a mix of sights, experiences & relaxing. Don't burn out by forcing yourself to see everything. I personally always ensure that there's a relaxing or chill activity on each day, whether that be a picnic or just a relaxed coffee/cake afternoon.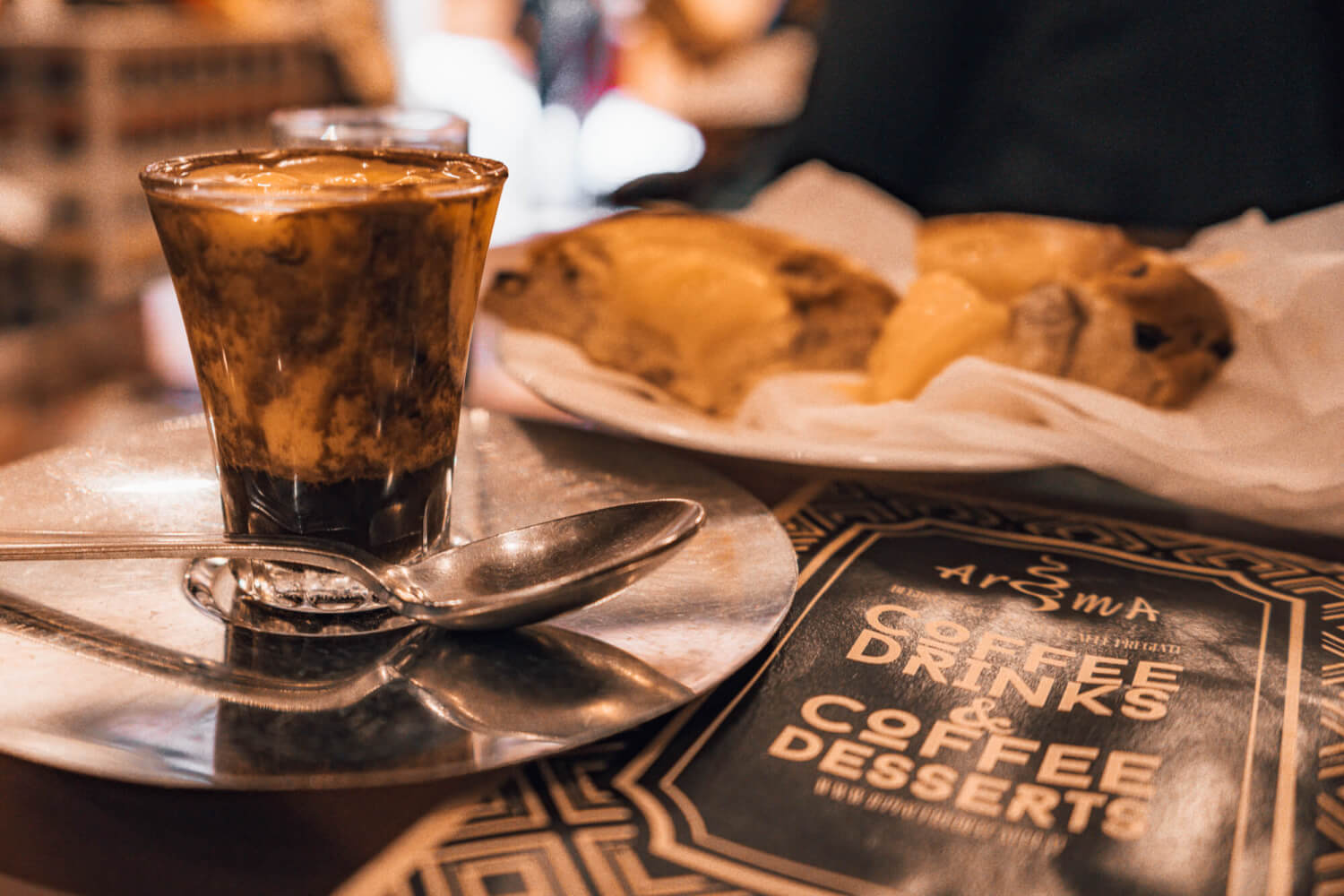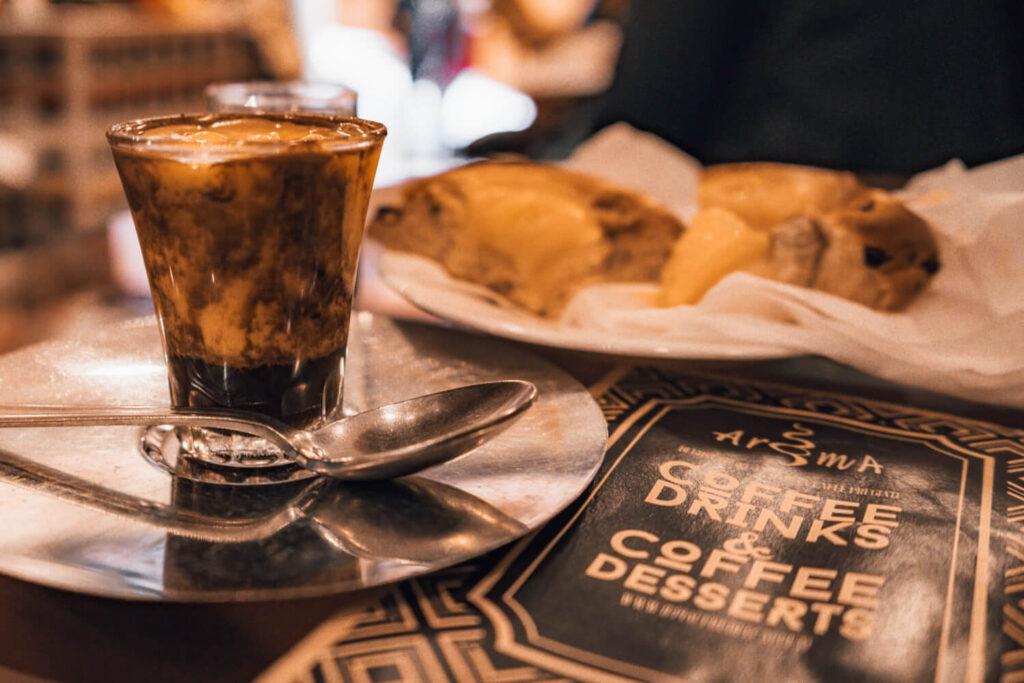 If you're not interested, don't force yourself just because it's a must do
I think too often, first-time visitors in Europe get caught in this trap of needing to see all THE most famous things, but remember: at the end of the day, this is your vacation, so don't force yourself to see something just because a random person on the Internet told you to.
I personally love museums but they're not for everyone, so just remember it's your vacation and there's no need to do something just because it's famous.
… but psst – if you ARE into museums, don't wait until your trip to go! There are tons of really cool virtual museums you can check out when you're bored. Pro tip from one hopeless nerd to another.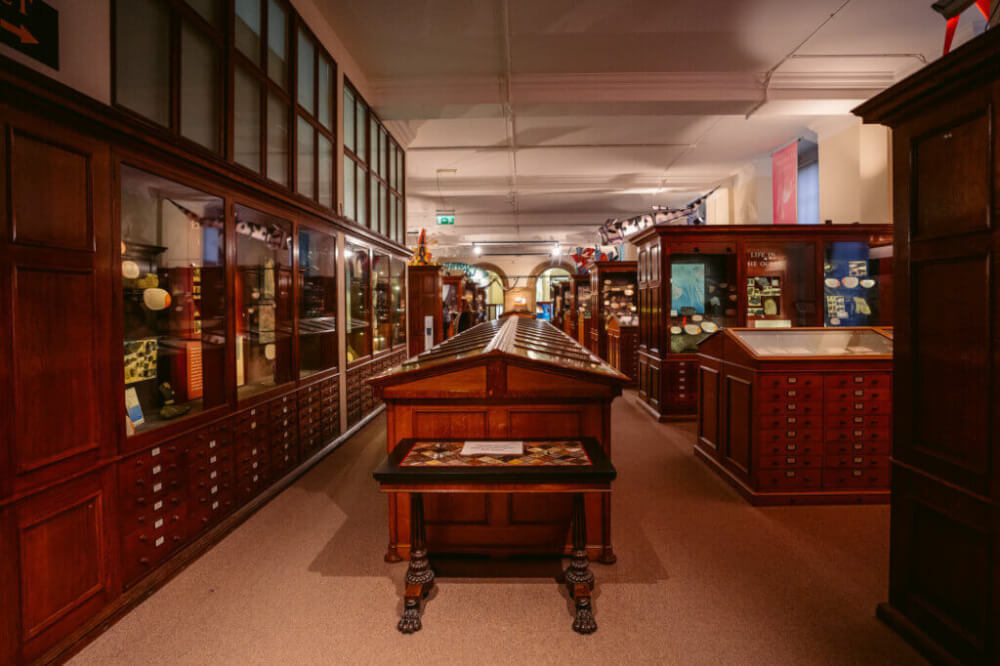 Safety Tips for Europe (And How to Not Get Scammed!)
Is Europe dangerous to travel? This is one of the most common questions that first-time visitors ask. Honestly, so long as you keep the following Europe safety tips in mind, you will be fine.
Be wary of petty theft and scams when you visit Europe
Certainly in more touristy cities like Paris and Barcelona, opportunistic crime is abundant.
You can learn the most common pickpocket techniques and how to avoid them in my post about how to avoid pickpockets in Europe, but overall, the key is to always be vigilant and keep an eye on your belongings.
Pickpockets thrive on distraction, and tend to operate in high-traffic areas that have a lot of people/tourists (e.g. train stations), so be especially careful to not let anyone get too close.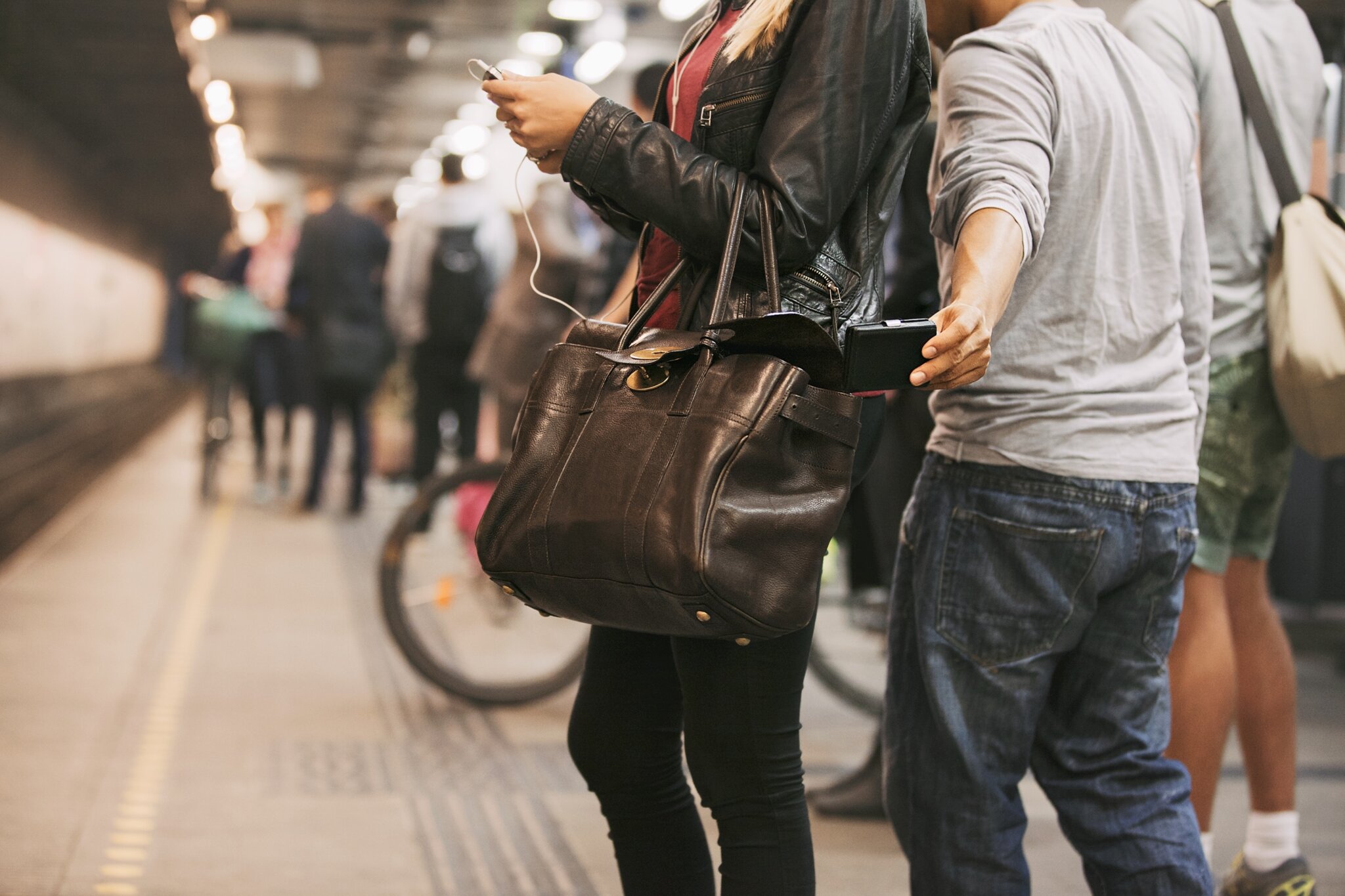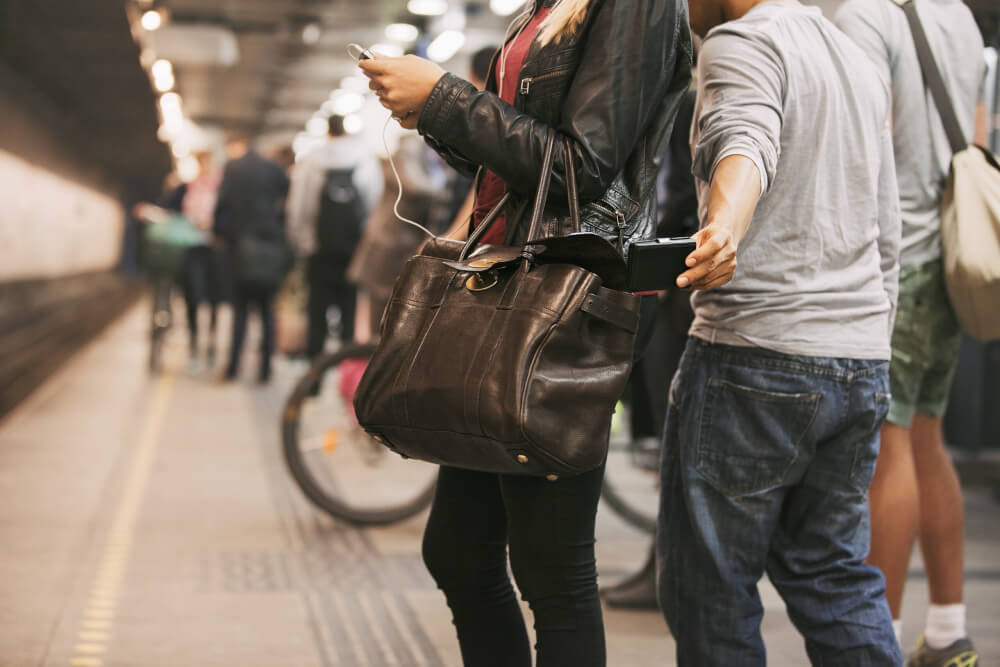 Look into theft-proof bags and accessories
There are a lot of amazing theft-proof travel accessories out there these days. The bad news is they're not always the cheapest.
If you're willing to splurge a bit on something high-quality and designed to thwart pickpockets, here are some options:
PacSafe's products are all made to be theft-proof, including their signature backpack here and day bag here
Secret passport scarves like these are a great way to stash THE most important things in a subtle and discreet way
Research the pickpocket hot zones for your destination
Most major cities have certain areas that are particularly well-known as pickpocket destinations.
In Rome for example, there's Termini Train Station where I got pickpocketed, and Bus 64 AKA the Pickpocket Express.
Knowing where pickpockets tend to operate can help provide some ease of mind, and help you figure out when to be on guard.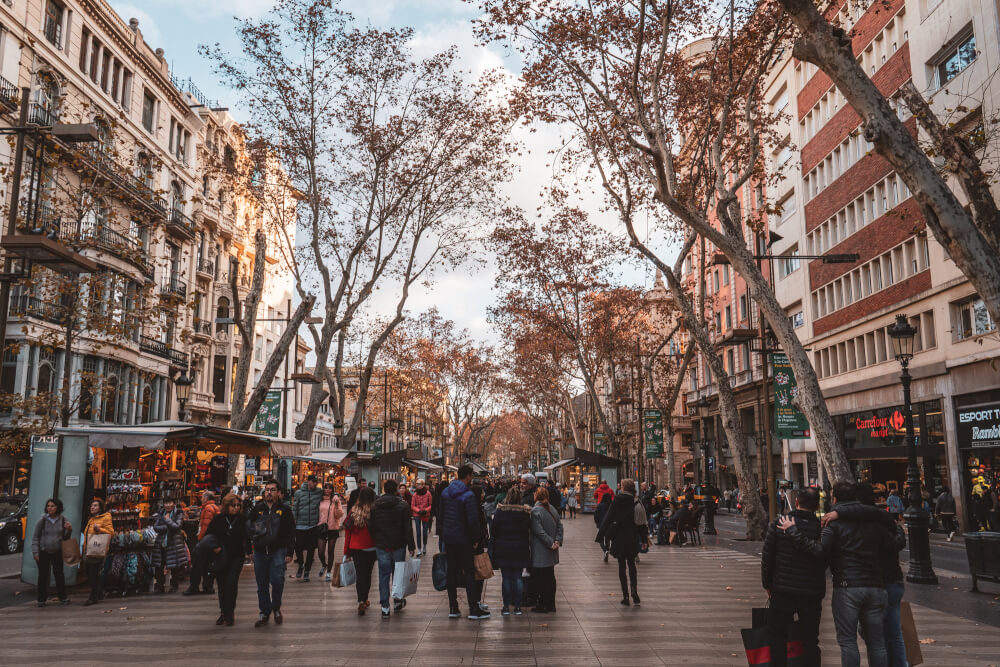 Keep valuables out of sight
Leaving your phone on a terrace table, or your purse hanging on your chair are both easy ways to get your valuables stolen!
Sure, it's easy to let your guard down when you're trying to relax, but remember that keeping your valuables out like that can be an easy way for them to get snatched.
Whenever I'm dining anywhere, I always keep my bag between my feet so they're hard to access, and make sure to not leave my phone out on the table (on my lap, under a big napkin is often a safer bet!)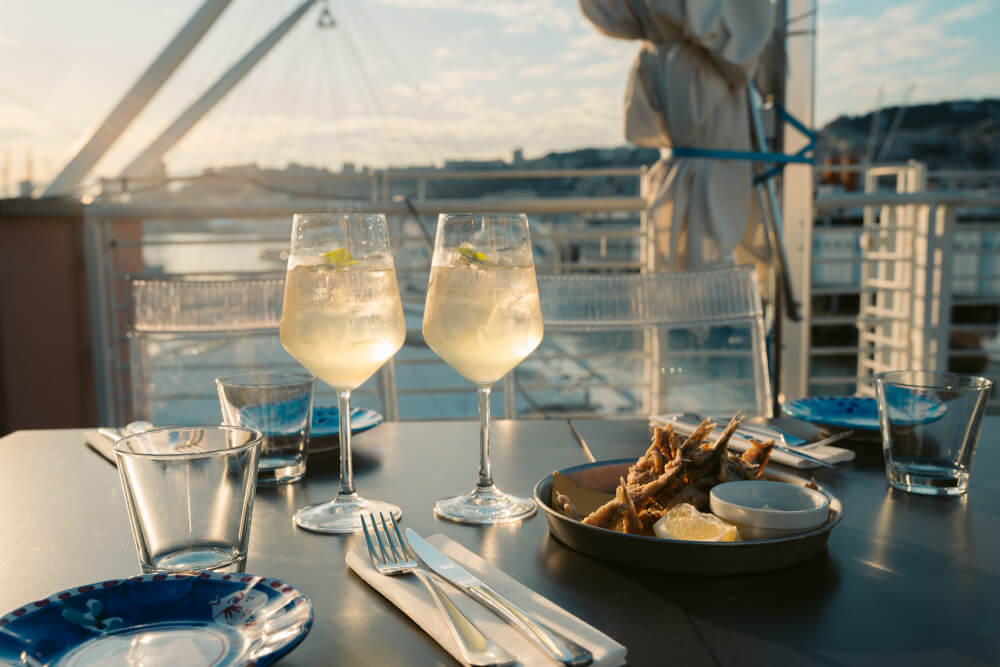 Don't take "free stuff"
A very common scam in touristy European places is people will offer you something for free "as a gift", but then demand you (or one of your travel buddies) pay for it.
Some examples include…
Friendship bracelets
Roses
Generally, they will set up shop in busy, touristy areas, so remember to be especially cautious in these areas.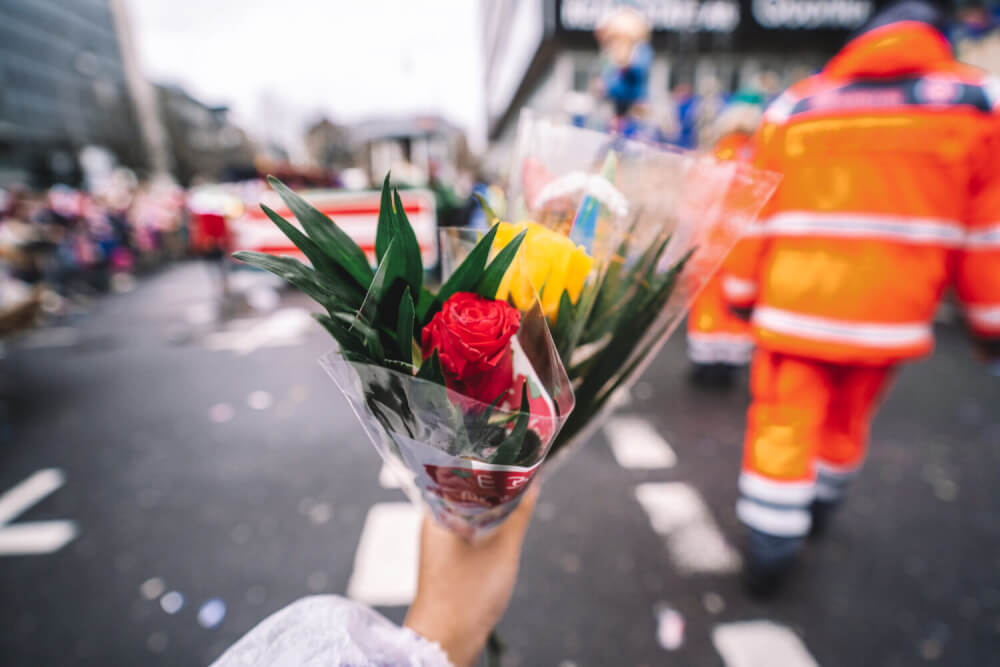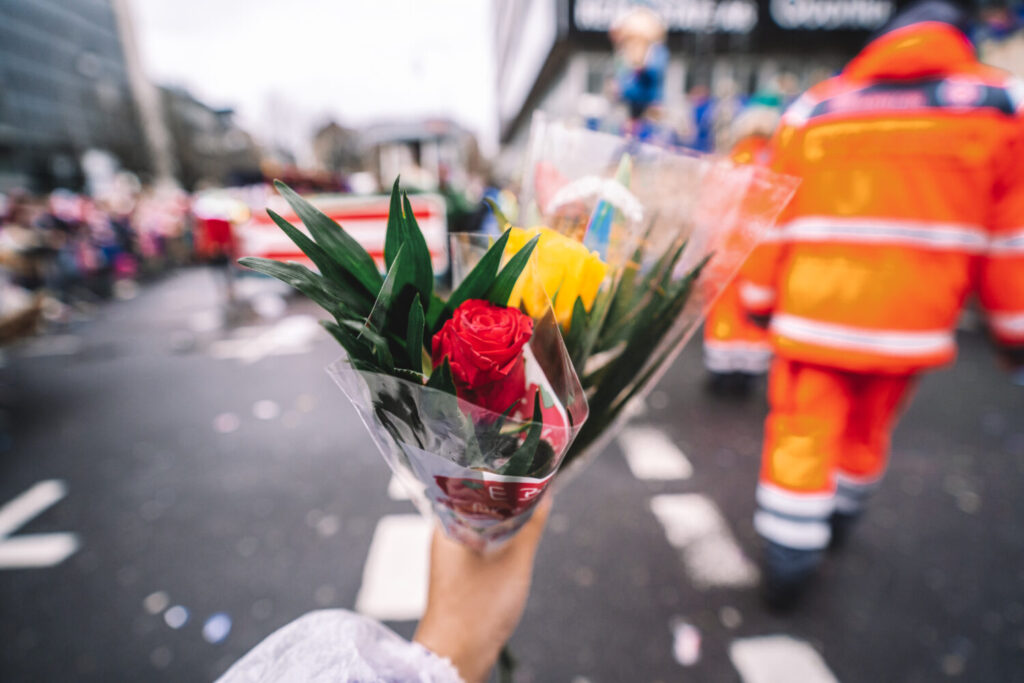 Don't sign any petitions
Another common scam is the petition scam, usually run by groups of young women.
They'll come ask you to sign a petition (often first breaking the ice by asking if you speak English) and then either demand a donation from you, or distract you as someone else picks your pockets.
… So if someone asks you to sign a petition, just ignore and walk away. Better safe than sorry!
Rudeness is the way to get rid of scammers
On that note, if you find yourself in a situation where you are being followed or confronted by one of the aforementioned scammers, the best thing to do is ignore them and walk away.
They can be very persistent, but will give up eventually when you ignore them.
Limit the amount of cash you bring out with you
I always say to plan for 'worst case scenario', so another one of my top Europe safety tips is to not bring around more cash than you'd stand to lose.
Once upon a time, my friend was carrying around hundreds of euros in her bag (at the start of her trip) and was pickpocketed in Nice on her very first day! Pickpockets work quickly and unexpectedly, so don't bring out more than you'd be okay losing.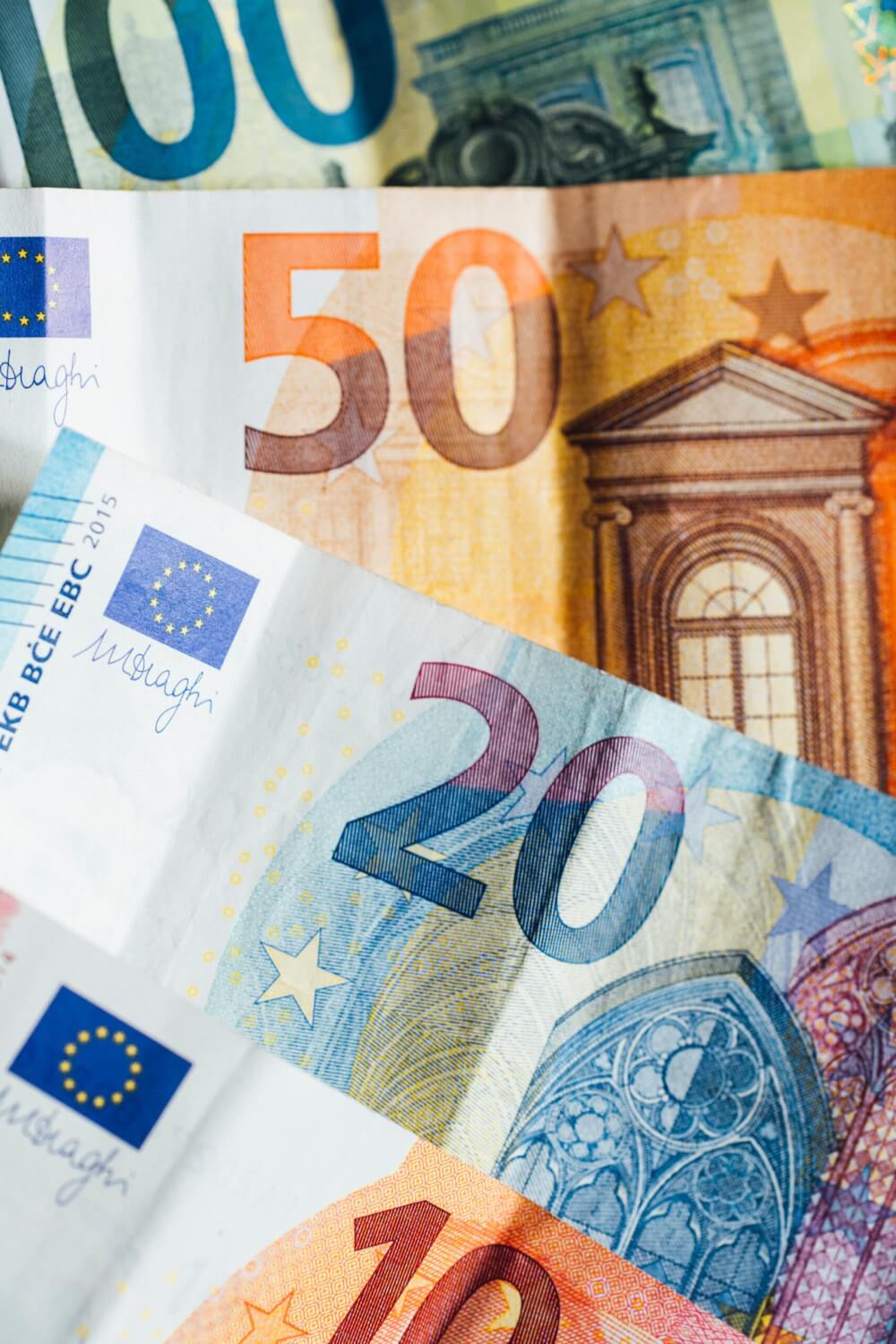 Store your cards separately
On a similar note, make sure to not carry all your cards in one wallet, so that (in case you are pickpocketed), you have a back-up.
I would recommend keeping one card in your suitcase, or in a separate bag.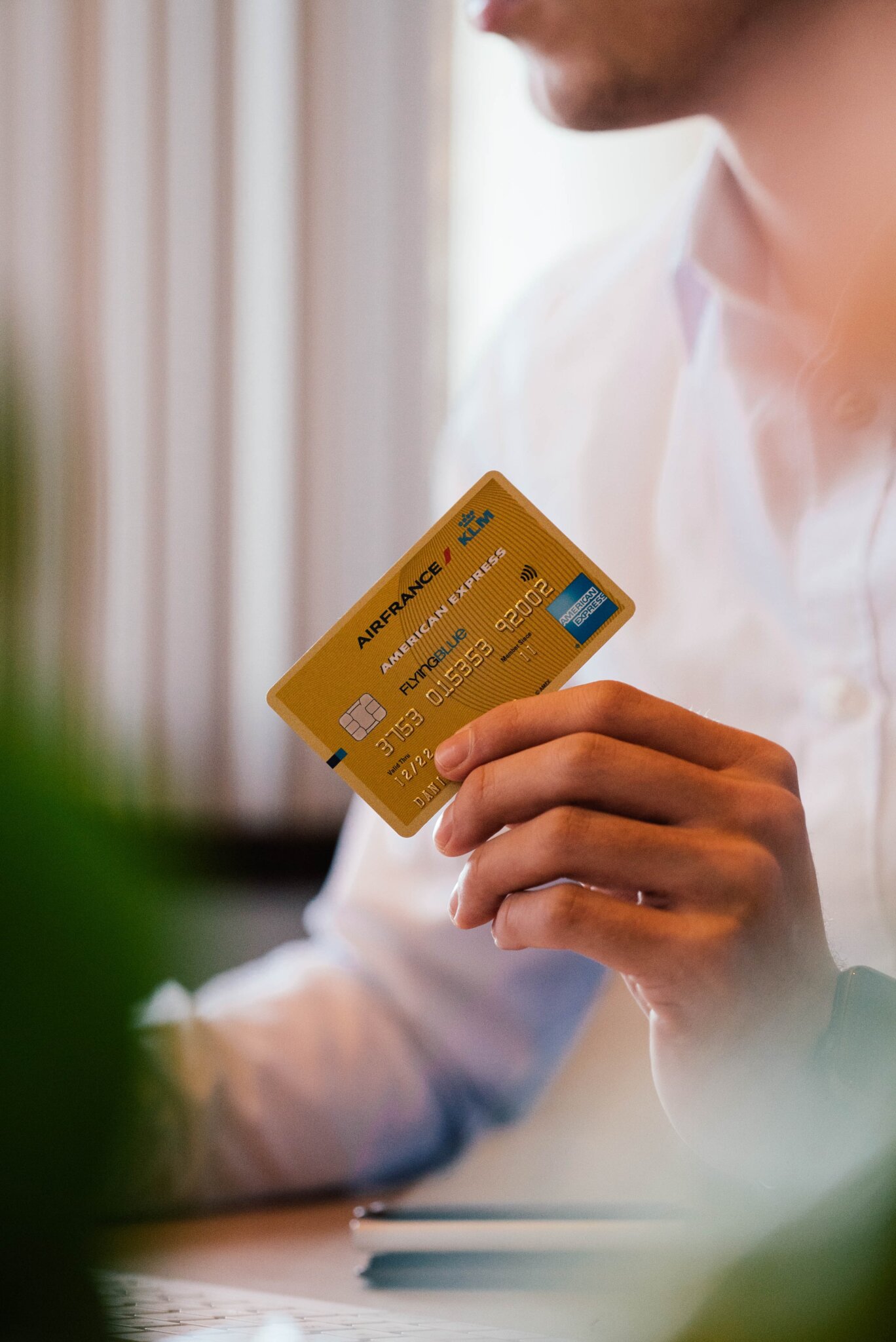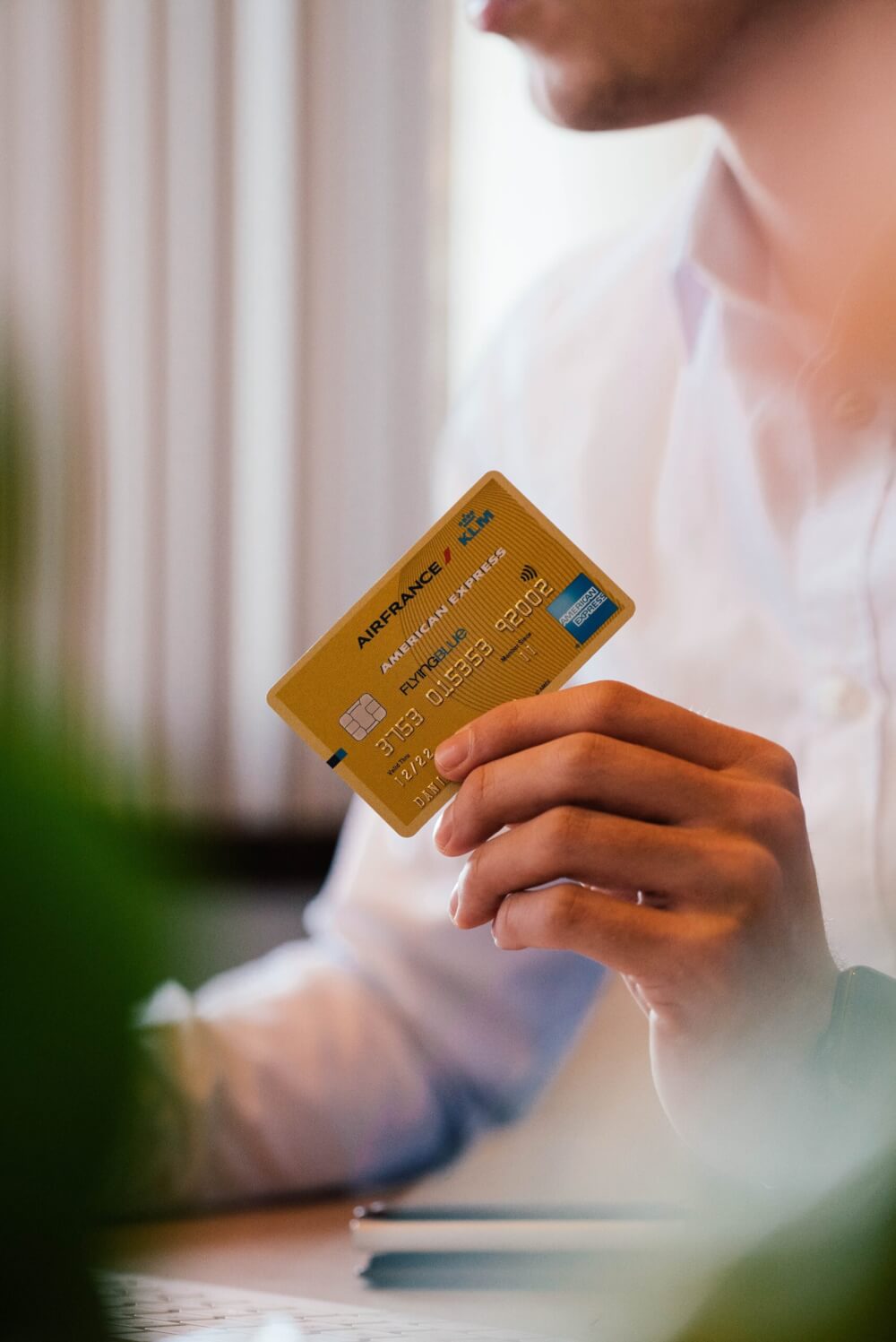 Don't make yourself appear to be a good target for robbery
Sometimes when I'm travelling I'll see people doing photoshoots posing with their designer shopping bags, completely oblivious to the fact that they're making themselves targets.
Worse, sometimes they just leave the bags on a bench or on the stairs while they're occupied on their phone.
If I were to write a "how to get robbed in Europe" article, these are the types of behaviours that would make the list, so make sure you're not making yourself a clear target, and don't wear unnecessarily flashy outfits or accessories which might catch a thief's eye.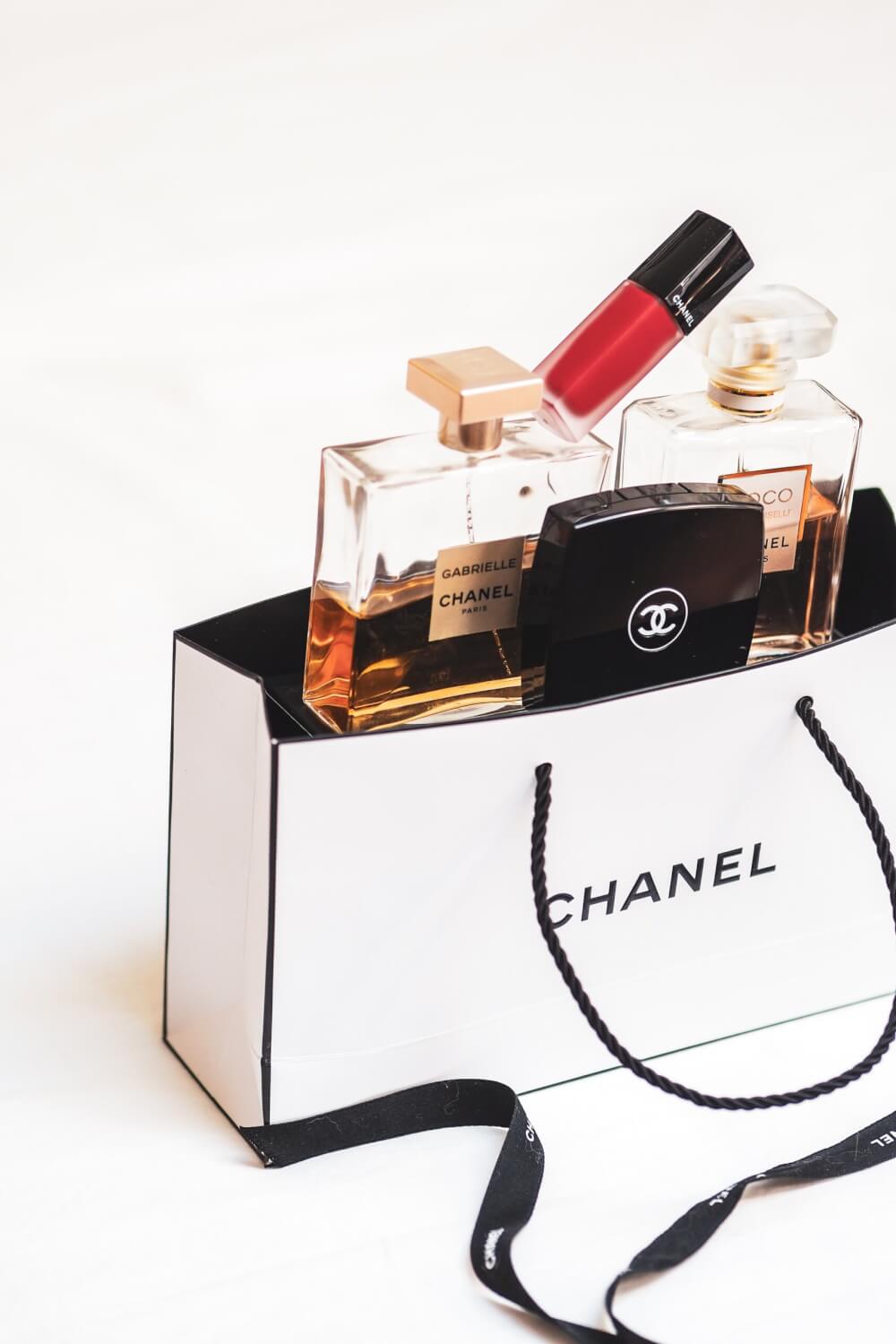 Keep your phone out of reach
Phone snatchings are becoming a really common crime, especially in big cities like London, so avoid having your phone haphazardly out, or at least be sure to pay more attention when you do, especially…
If you're standing close to doors on public transport
If you're walking along a bike lane or road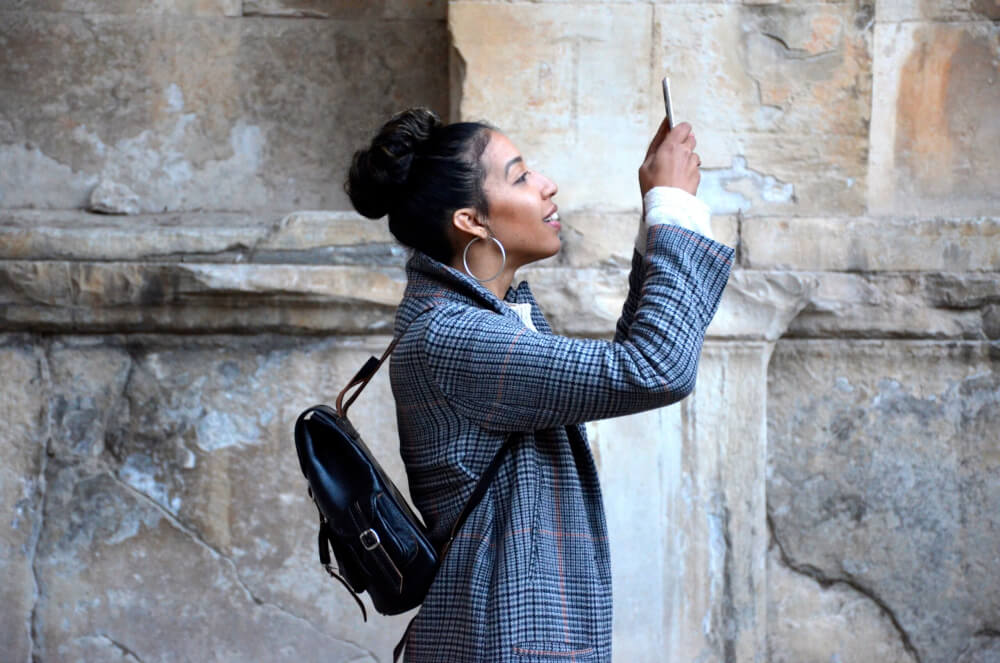 Be careful of bike lanes
Speaking of bike lanes, here's another important (physical) Europe safety tip: be mindful of them.
If you're like me and come from somewhere that they're not overly common, it's way too easy to accidentally walk onto them and potentially get yourself run over (or more likely, make yourself an annoyance to a cyclist just trying to get home).
Beware of strangers asking you to go for drinks randomly
This is a scam that's more prevalent in famous party cities, but if a random person (usually an unreasonably attractive woman) comes up to you off the street and asks you to grab a drink, odds are rather good that they're not just a friendly local looking to grab drinks with a stranger.
This is a common scam where people (again, usually beautiful women, but not always) will bring targeted tourists into bars they're working with to get a few drinks, only for these tourists to get charged extortionate rates for these drinks, because you never question how much stuff costs when you're trying to flirt.
Extreme stories even say that bar staff will block the door until the tourists pay up.
Moral of the story: if it seems too good to be true, it probably is.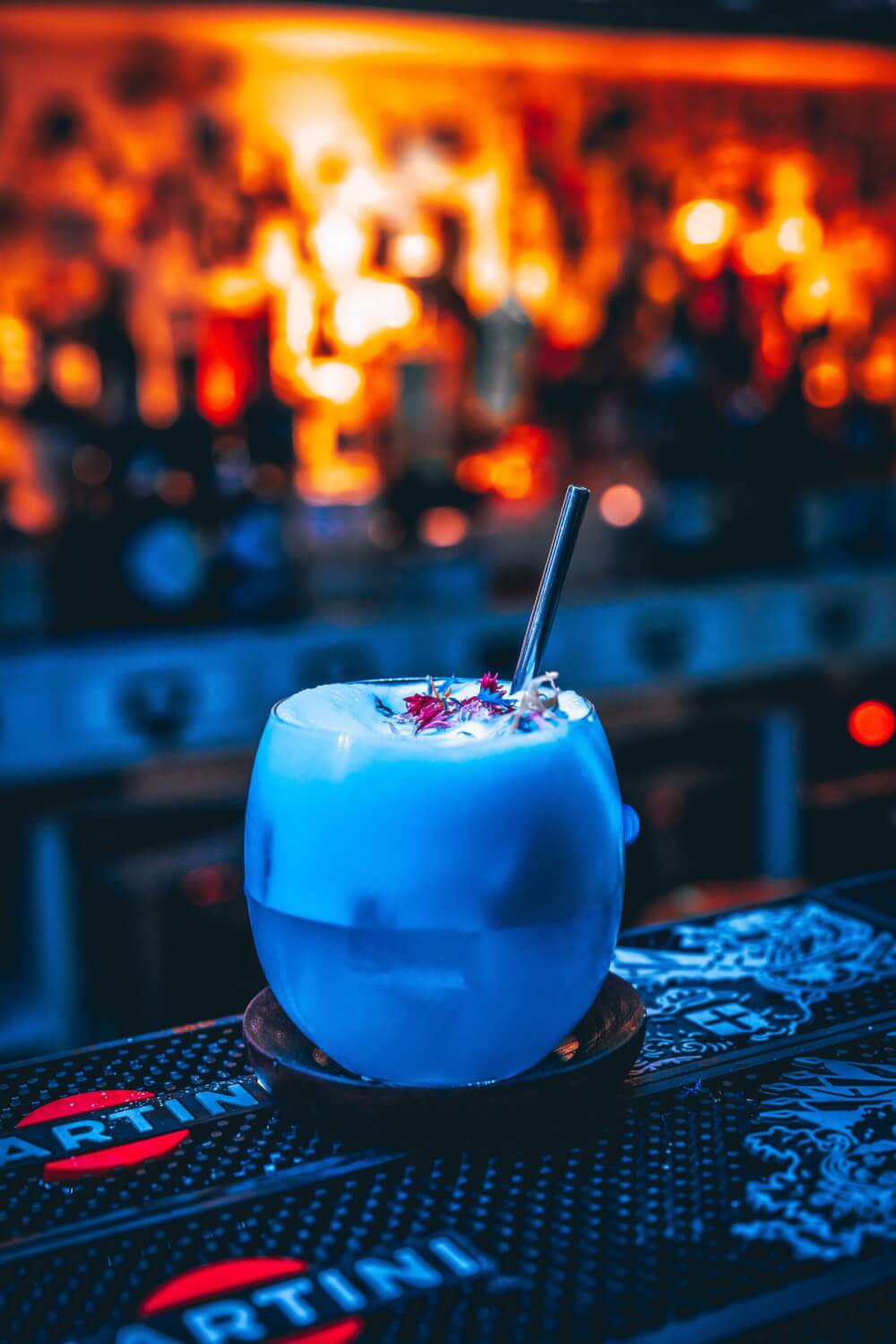 And beware of children
A general rule of thumb is this: if a kid is confidently coming up to you and/or getting close unannounced, keep your valuables close and watch your pockets. This is often a distraction tactic used by pickpockets, and sadly some kids are also trained to steal from a young age too.
I almost lost my wallet in Bratislava this way, when a woman asked me to take her photo and her kid started running around me as a distraction.
I realized pretty quickly what was happening and caught my pickpocket literally with her hand in my purse. Luckily, I was able to swat her hand away just in time.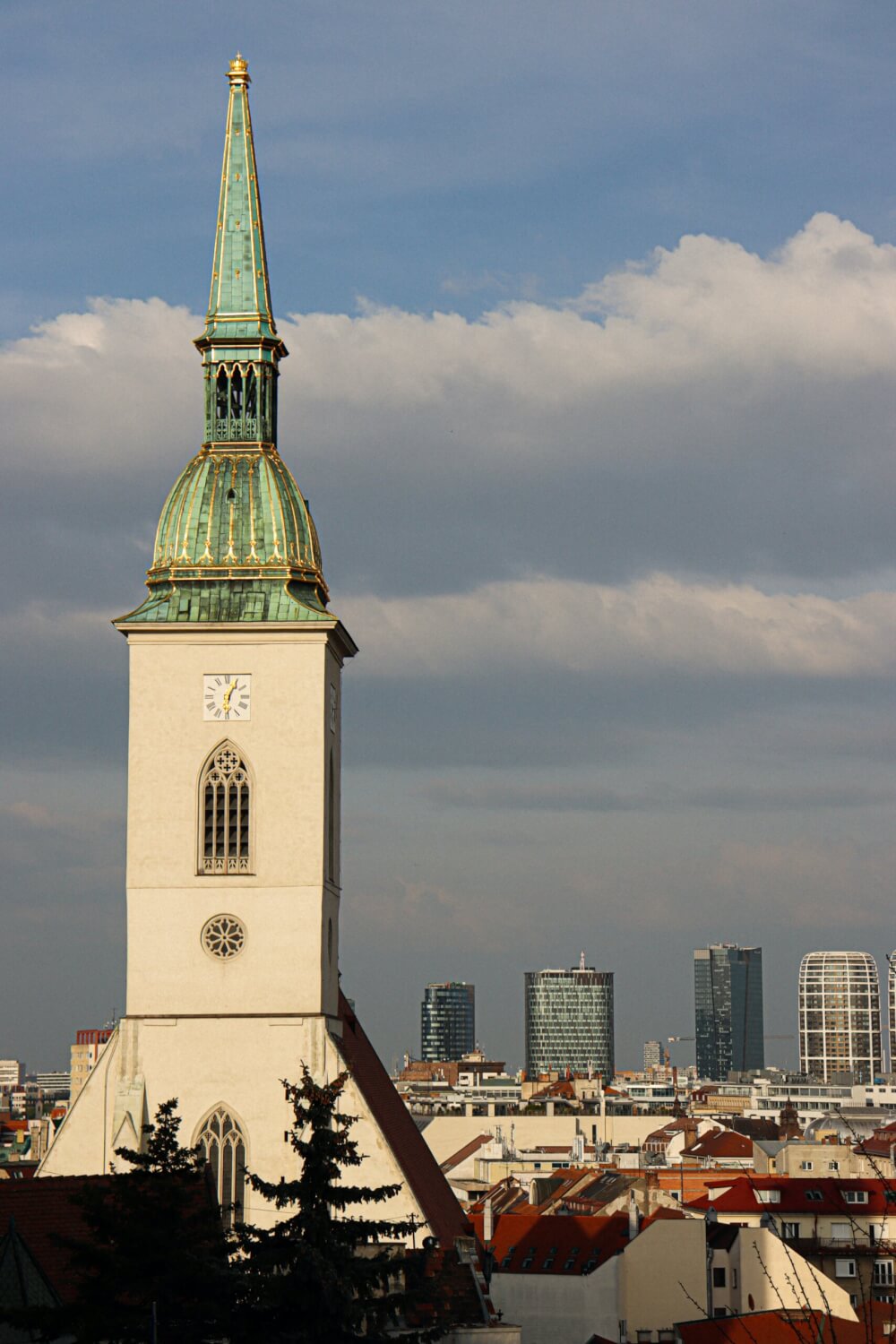 Buy some small locks to put around your zippers
Another great travel hack I've picked up over the years is simply buying a set of small cable locks like these and keeping one in each bag.
That way, you can quickly lock your zippers together in crowded situations and prevent anyone from randomly opening your bag.
Simple, but effective.
Look up common taxi rates and scams before arriving
While I'm a firm believer that public transport is the way to go, sometimes you might need to take a taxi, whether it's because you're arriving late, running late, or just want to splurge a little.
While this varies depending on the country, taxis are often prime scam zones! I've personally been scammed by taxis in Prague and also in Sofia.
Particularly if you are leaving from busy areas like airports or train stations, some opportunistic drivers will take advantage. This is how I got charged 4x the usual fare in Sofia, mainly because I didn't know better.
So, if you plan on taking a taxi, make sure you search up how much that route should generally cost, and also familiarize yourself with common scams.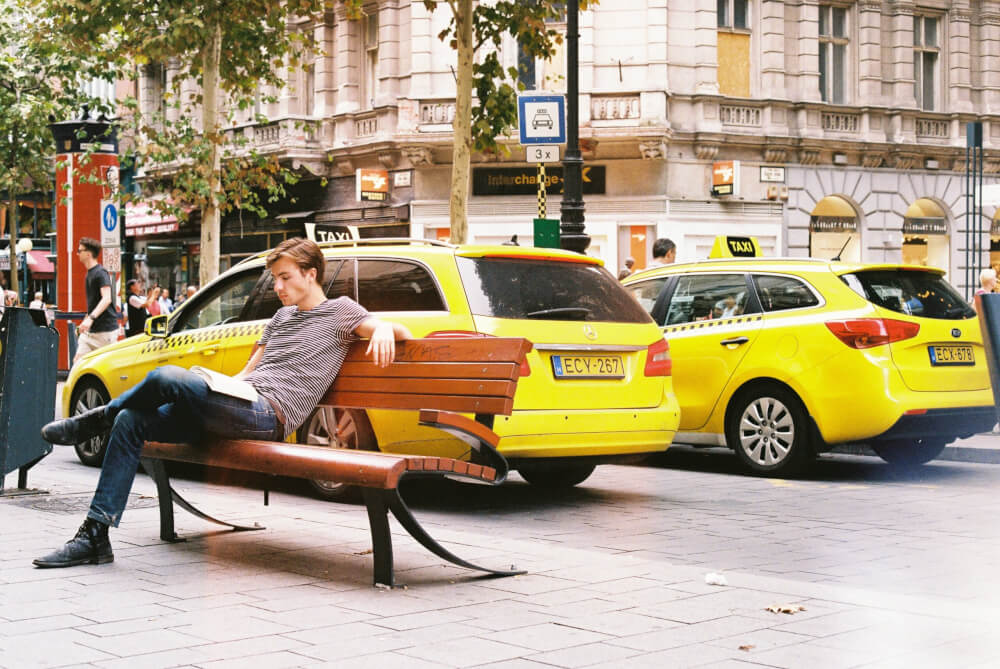 Know the emergency numbers
In North America, 911 is the go-to when you have any kind of emergency, but the numbers are different in Europe.
Within the EU (and a handful of other countries), the general emergency number is 112, and most countries will have other numbers for more specific emergency services as well.
So, be sure to take note of what these are before your trip, although I've heard anecdotally that 911 should reroute to emergency services as well.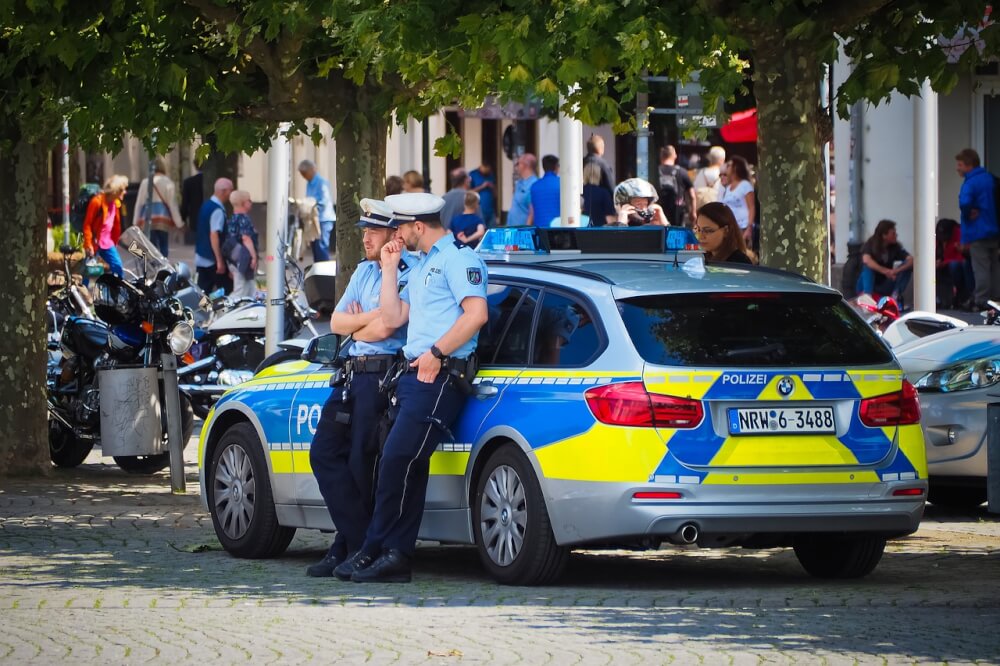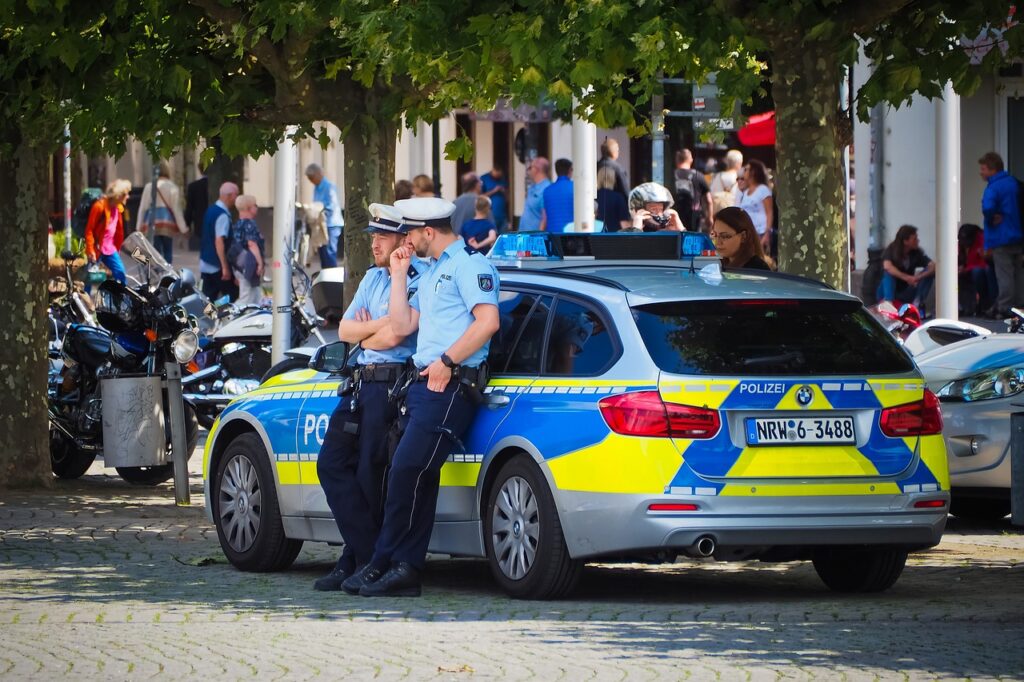 Avoid sketchy EuroNet ATMs
If you're going to an ATM, try your best to find one that's connected to an actual bank.
There are a lot of ATMs (especially around tourist areas) that charge huge fees, or make currency conversion more confusing than it needs to be so you can get charged more.
As a general rule, don't use any of those Euronet ATMs – they're the worst!
Have a plan in case of a worst case scenario
This isn't just a good Europe travel tip, but a good tip for travelling anywhere – make a plan for the worst case scenario.
Imagine your bags get stolen with your passports and all your cash/cards – what would be your backup plan? What would you do if you lost your phone?
Having a plan in place can minimize stress in the event that anything does happen, and having that peace of mind is very important for any vacation!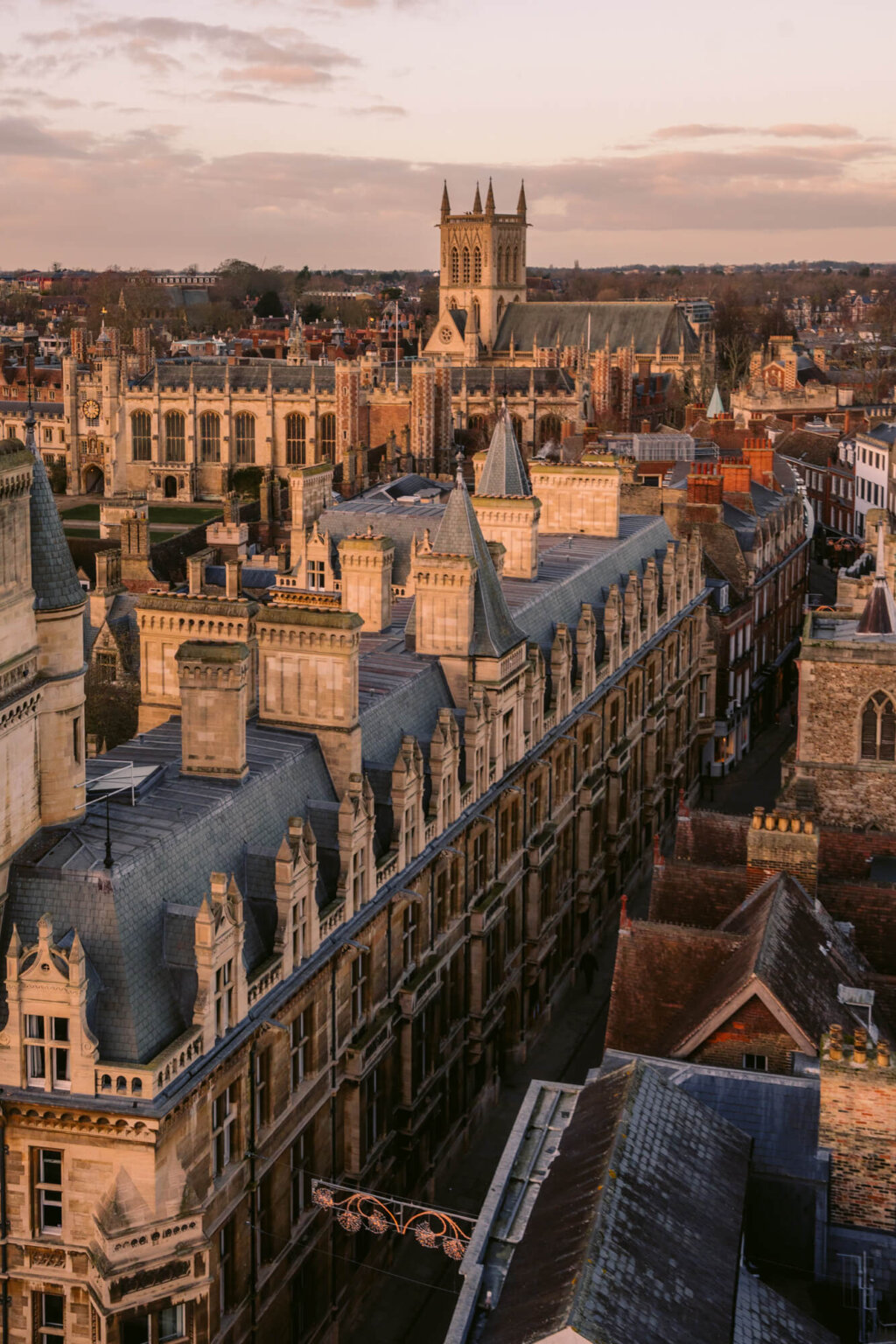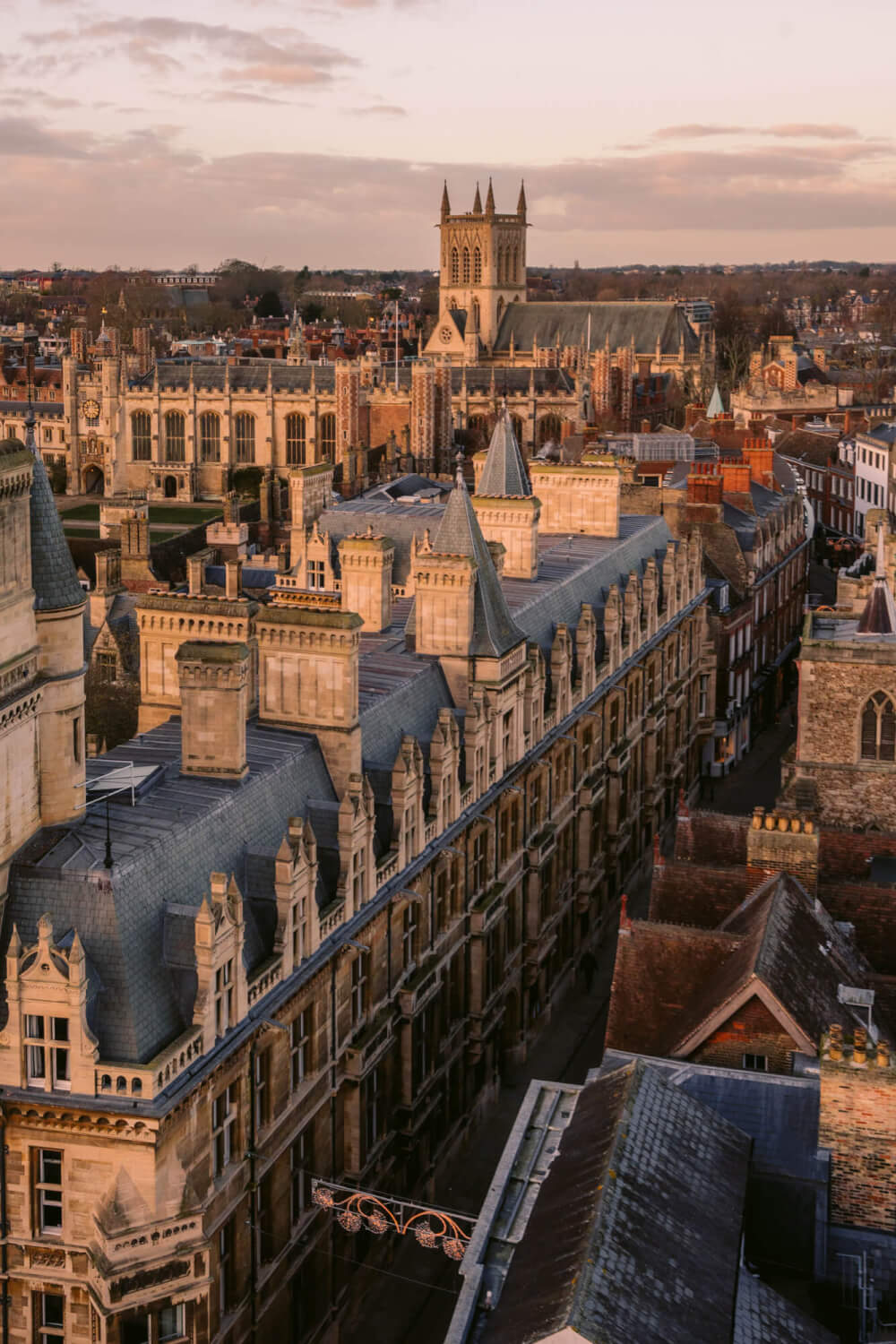 Get a good VPN
If you plan to be travelling longer-term, getting a reliable VPN is a must.
In short, VPNs (or Virtual Private Networks) mask your IP address and encrypt your data so that you can protect your identity online, browse anonymously, and even change the geographical location you're browsing from.
This can be helpful in a lot of backpacking situations. In the past, I've used a VPN to…
Access streaming for my favourite TV shows that weren't available in the country I was travelling in
Visit sites that were blocked in the country I was travelling in
Access important sites (e.g. banking portals) that flagged my visit as suspicious because I was in a new country
Securely browse the Internet with public WiFi knowing my data/identity was protected
As a real cheapskate (especially in my earlier travel days), I've tried every free VPN under the sun, and always found them to be unreliable or buggy.
After doing lots of research, I decided to splurge on Private Internet Access, which I've been using for the past few years, and I've been loving it. It's super easy to use, very reliable, and actually (when you break it down) not expensive it all.
Subscribe via this link and you can get it for under 3 bucks a month.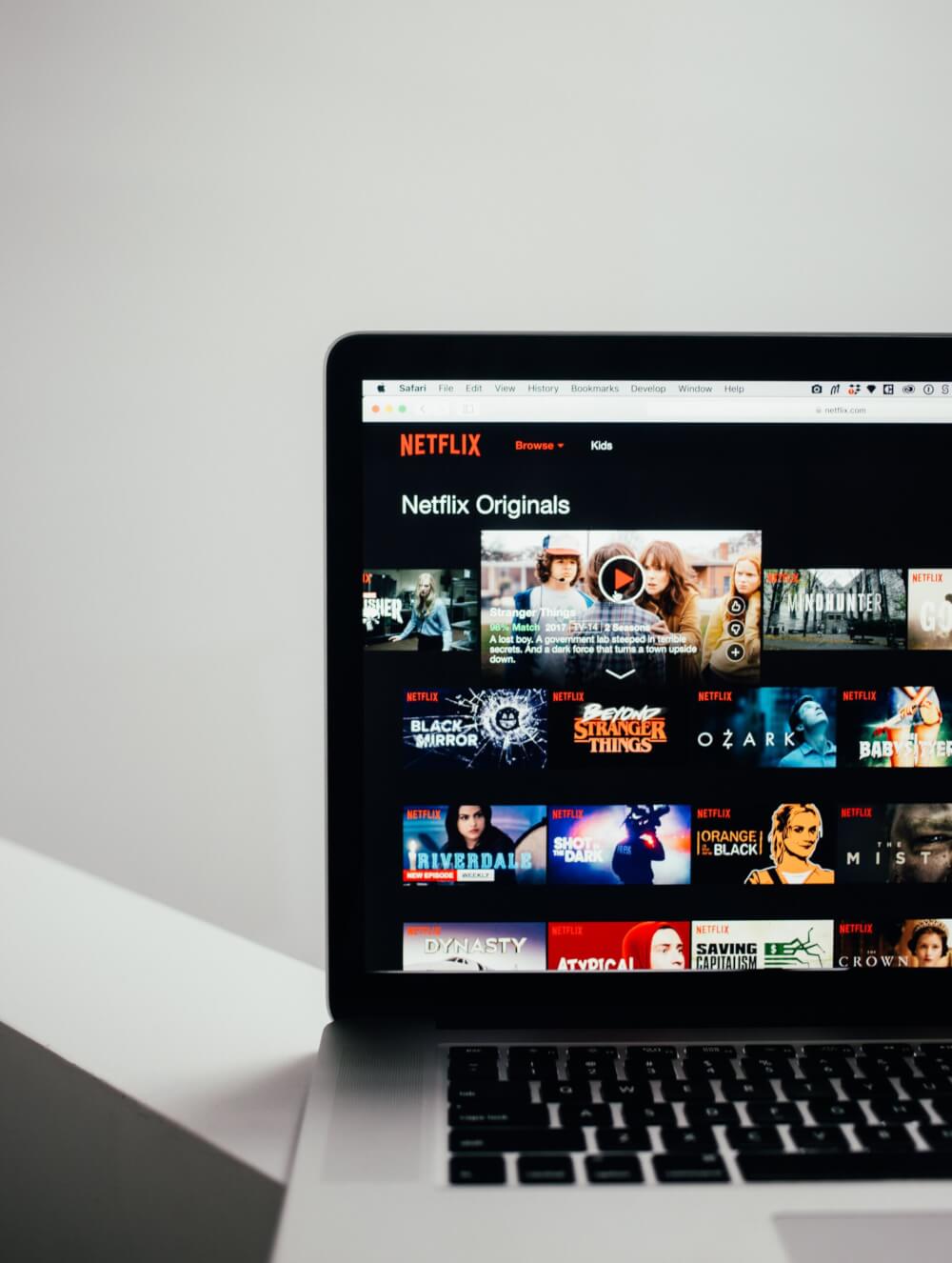 Food & Drink Tips for Europe
When in Europe, eating and drinking well is a must! Here are some of my best tips for making the most of Europe's varied food culture.
Visit grocery stores to save big
Not only is visiting supermarkets abroad just a fun cultural activity in general, you can save a great deal of money by buying snacks/drinks there vs. from vendors as you're out and about.
If you have cooking facilities at your accommodation, making some of your own meals can also be a huge money-saver, even if you're just swapping out a sit-down lunch for a picnic one.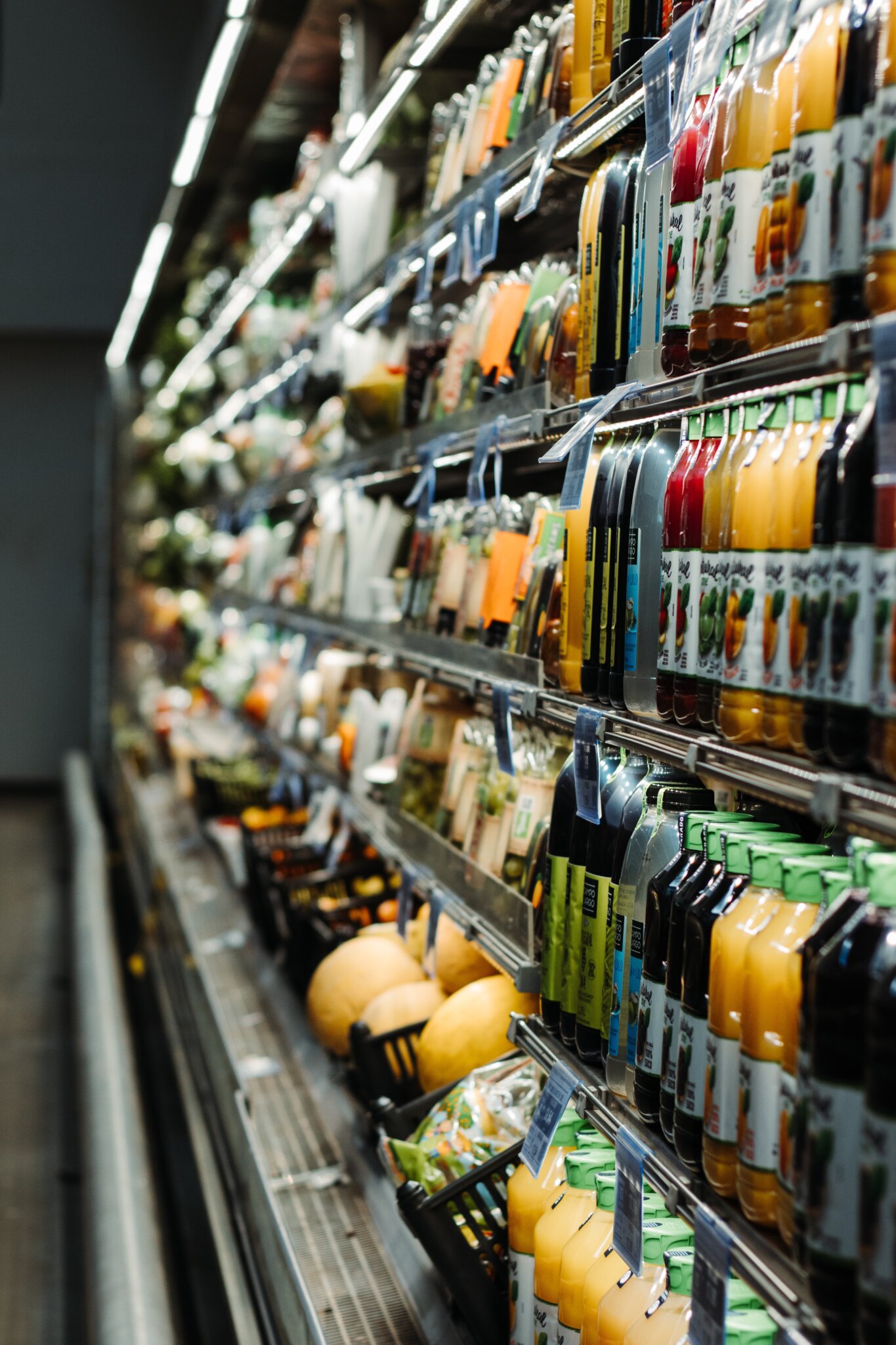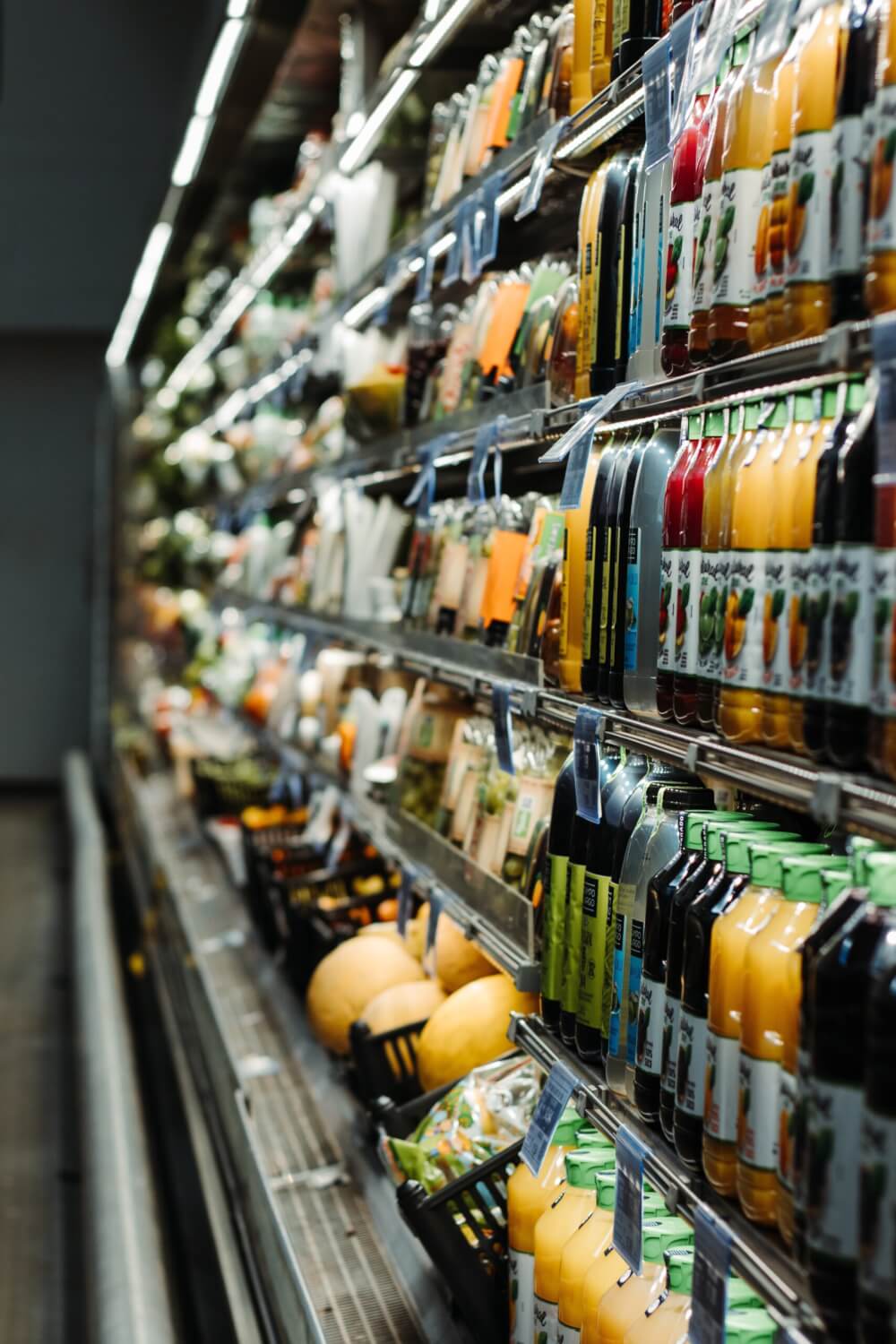 Beware that you might need to weigh your own produce
Of course, visiting supermarkets abroad can come with its own healthy dose of culture shocks, one of the main ones being that most countries have their own different method of handling produce.
Should you weigh it? Print a sticker? Just bring it as-is?
The answer will depend, so observe what others are doing before you get caught awkwardly at the cashier with a woman shouting at you in Bulgarian because you didn't weigh your tomatoes (true story).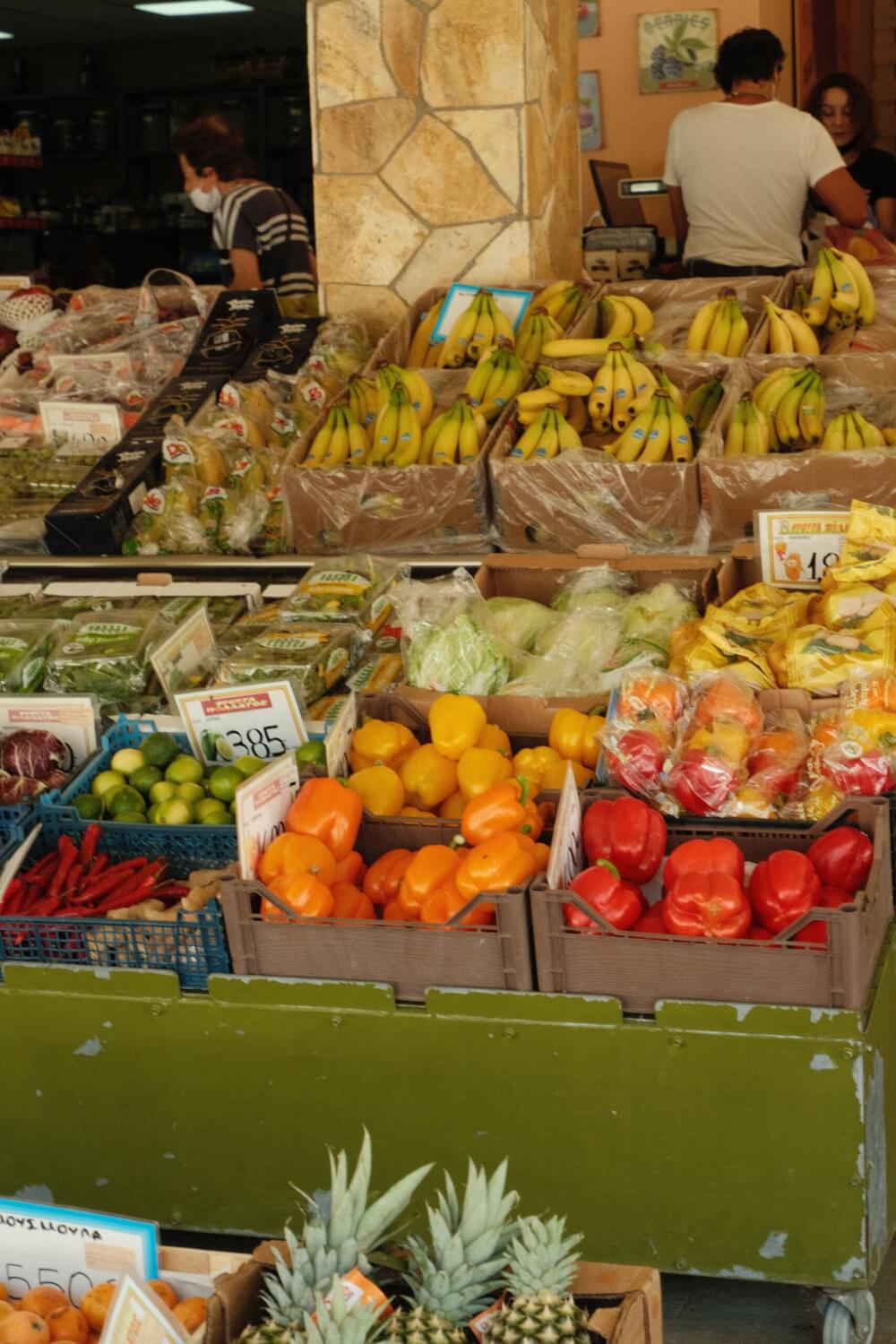 Have a quick search of regional specialties before you go
European cuisine is SO diverse, and even within one country, you'll have all kinds of different regional dishes to try, so I'd recommend doing some research beforehand about the top must-tries, so you can keep an eye out for them.
For example, you might think you know what Italian food is but when you go to actual Italy, you'll realize that every region has their own special dishes, so be sure to look into what those are before just getting pizza everywhere.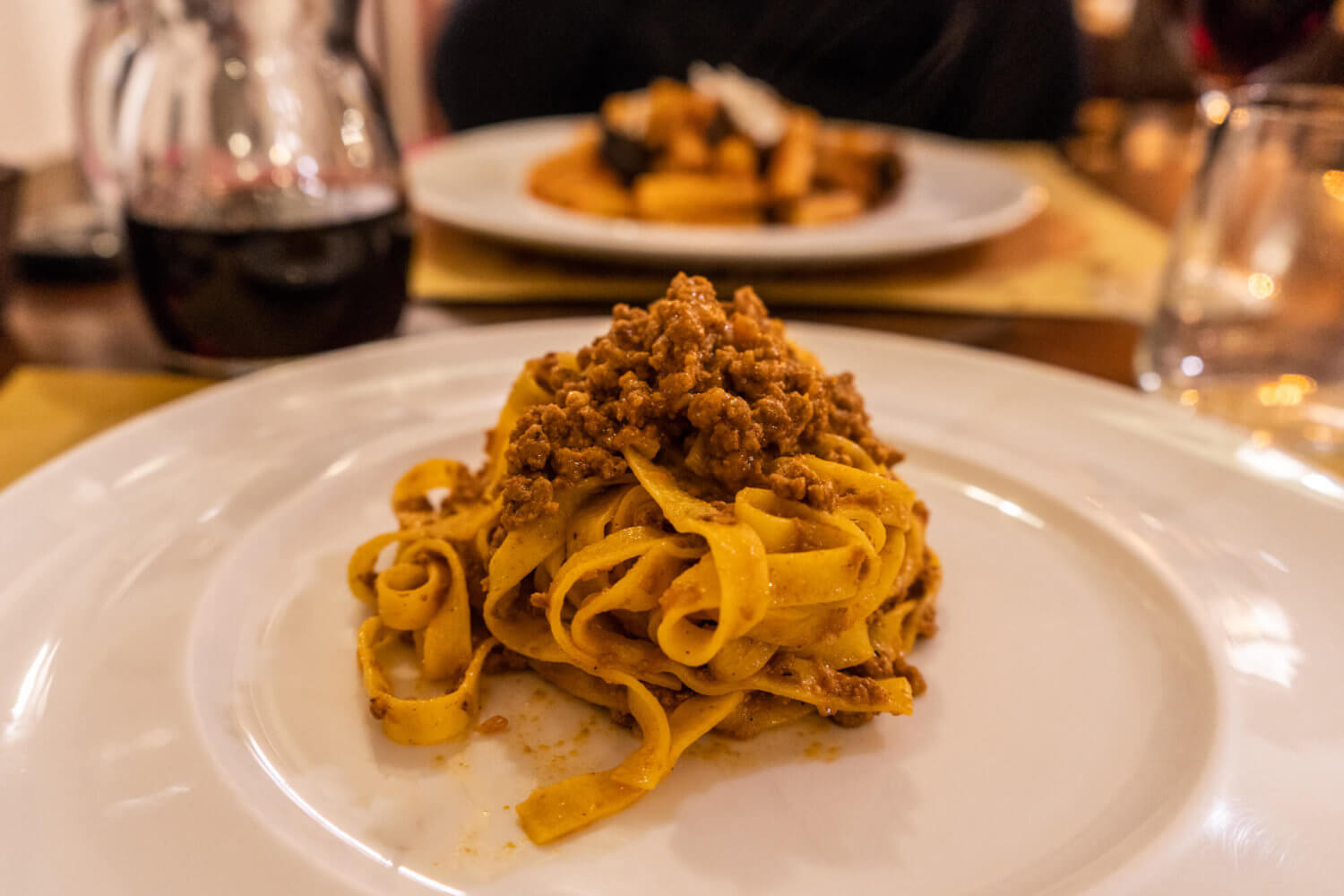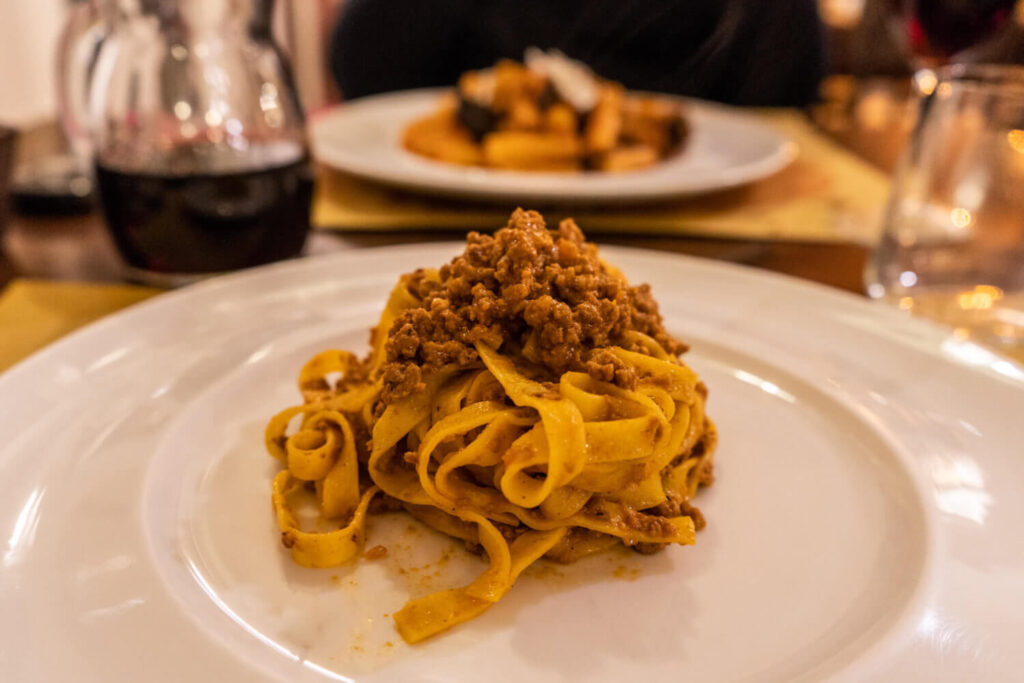 Dine far away from tourist attractions
A general rule of thumb is that any restaurants right next to major tourist attractions are probably gonna have a poor price to quality ratio, since they cater more to tourists who are flush with cash and unlikely to return.
My tip? Just walk a few blocks over before starting your food hunt, or d some research beforehand to find well-rated restaurants near you.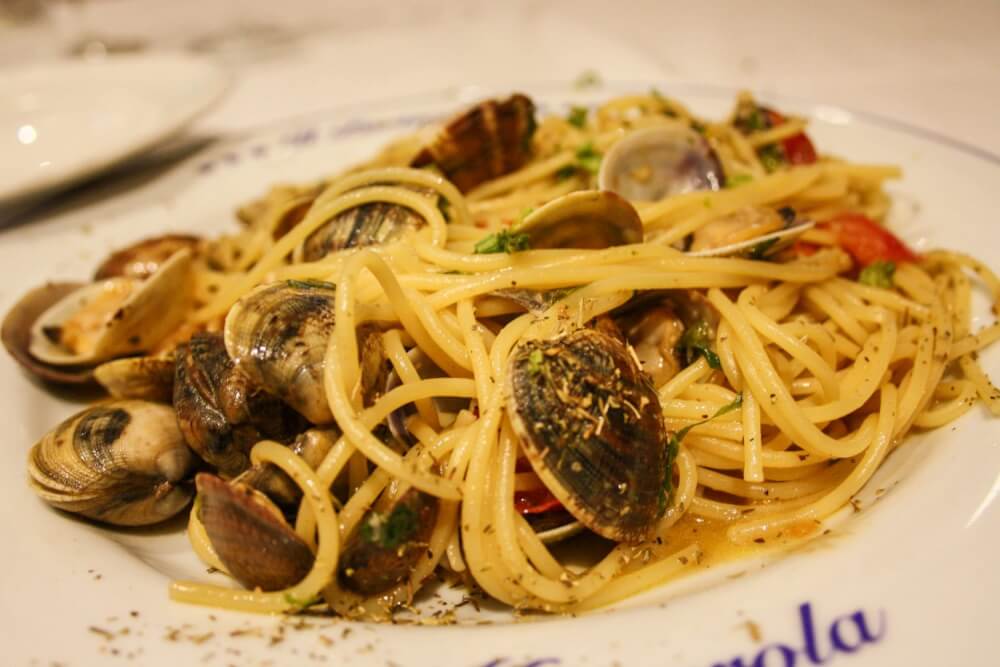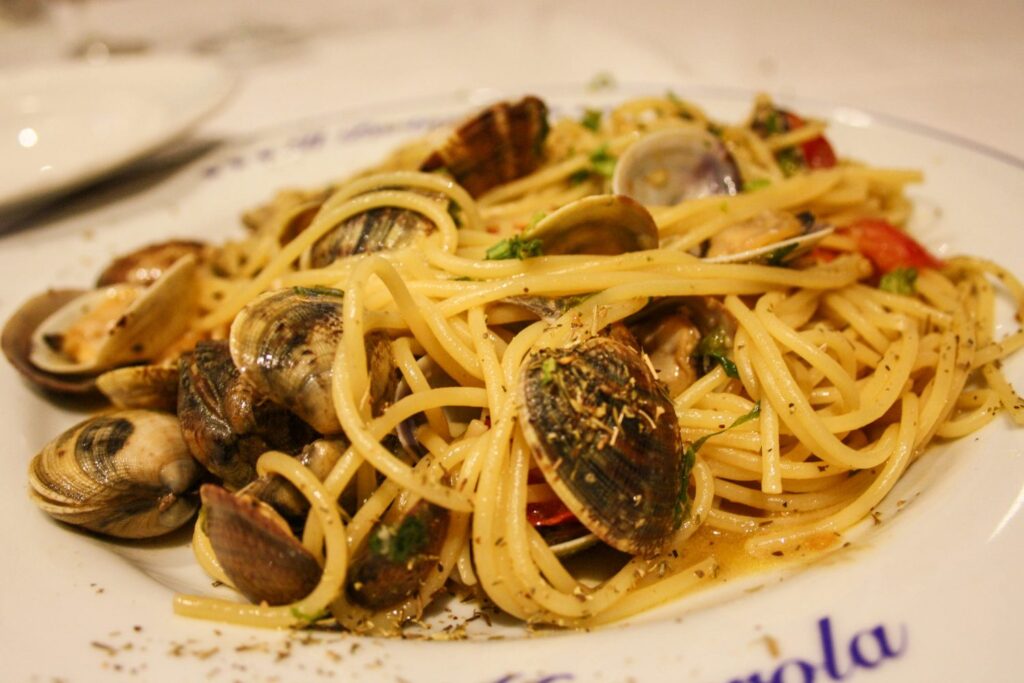 Learn how to spot a tourist trap restaurant
Tourist trappy restaurants are a dime a dozen in Europe's more popular destinations, so make sure you work on your tourist trap radar.
A few red flags include…
Big pictures
The menu being translated into a million languages
The words "TOURIST MENU" over it
A really persistent person out front beckoning you to come inside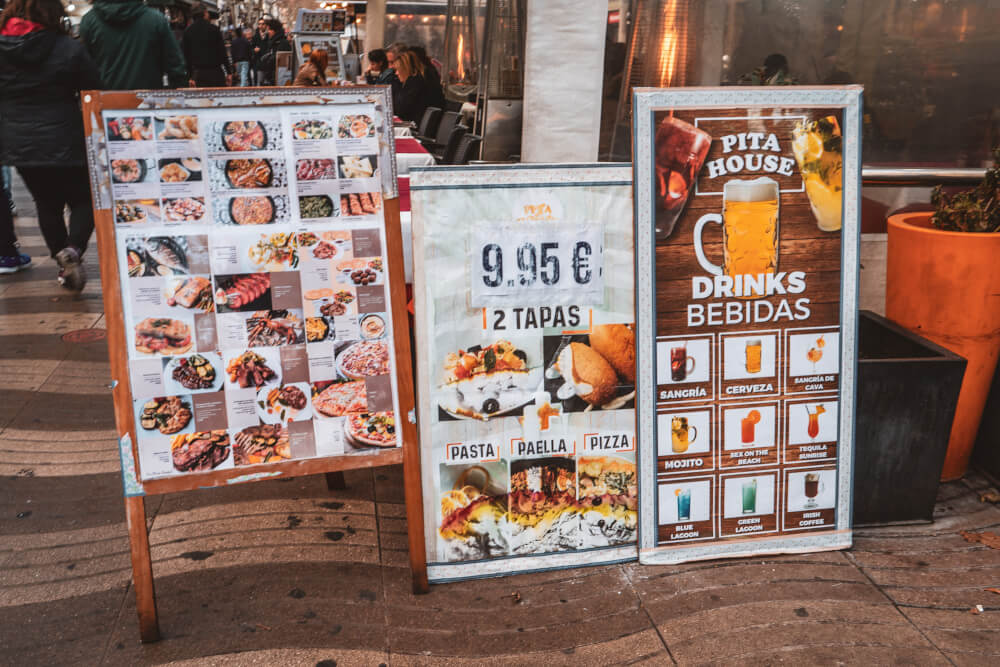 Double check that places have prices on display before ordering
This may be the oldest scam in Europe's "let's extort tourists" playbook, but any restaurant with fair pricing will be transparent with their pricing.
If you come across a restaurant that doesn't list prices upfront, then run for the hills.
Never assume "it can't be that bad" because odds are they've omitted their prices for a reason and plan to charge you an extortionate amount, like this place which went viral for a 500 euro lunch bill.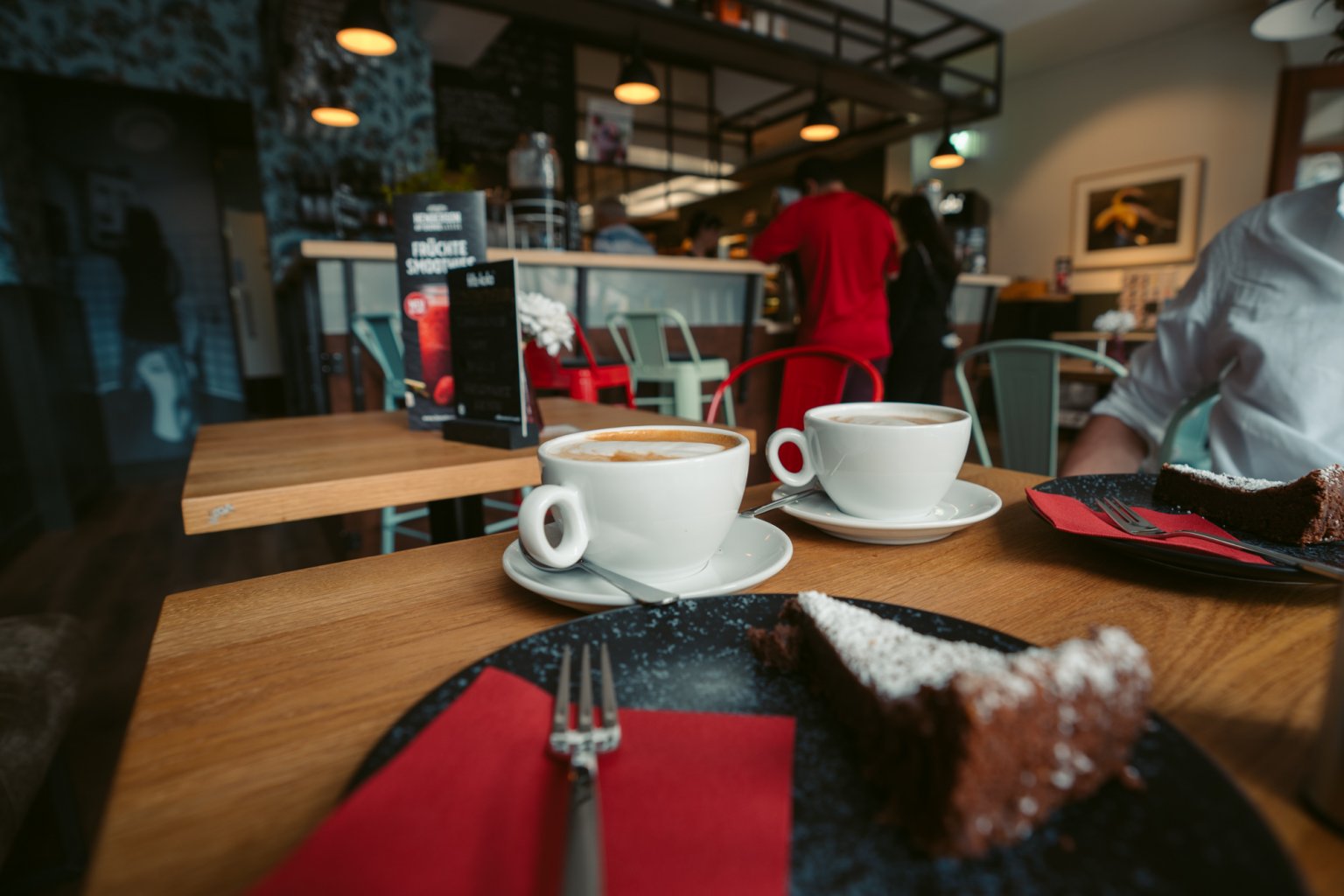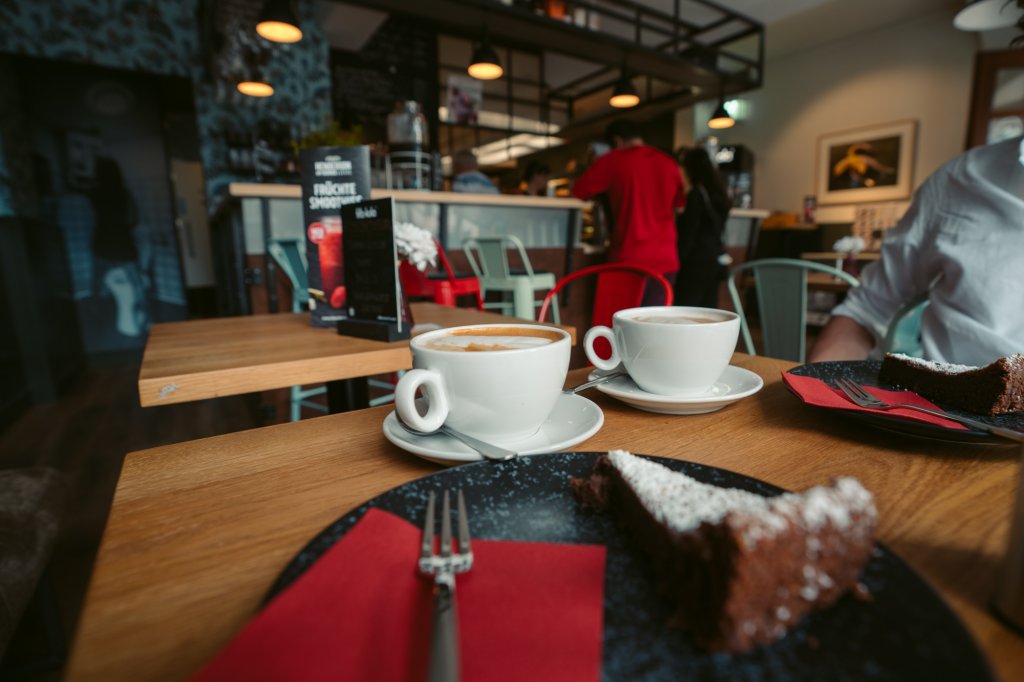 A quick check of reviews is a must
While I don't believe reviews are accurate 100% of the time, I do think they're very helpful for establishing patterns, especially when there's a bunch of reviews all saying the same thing.
A quick search of the restaurant (even on Google Maps Reviews) can help prevent you from getting scammed or being subject to mediocre food/service.
Lunch specials are usually cheaper
If you're gonna splurge and treat yourself, lunch might be the time to do it. Many places will offer special deals for lunch, so keep an eye out for those!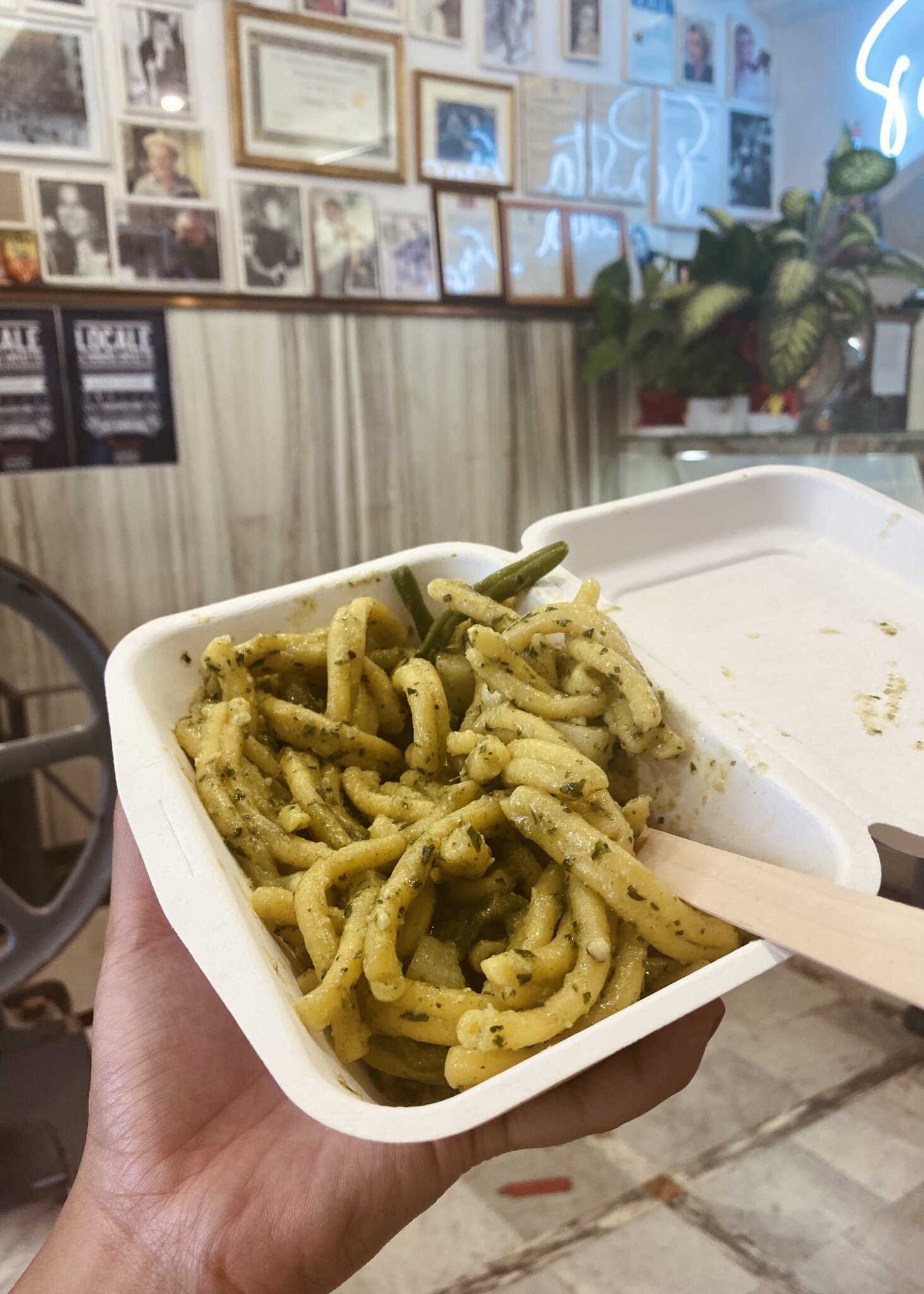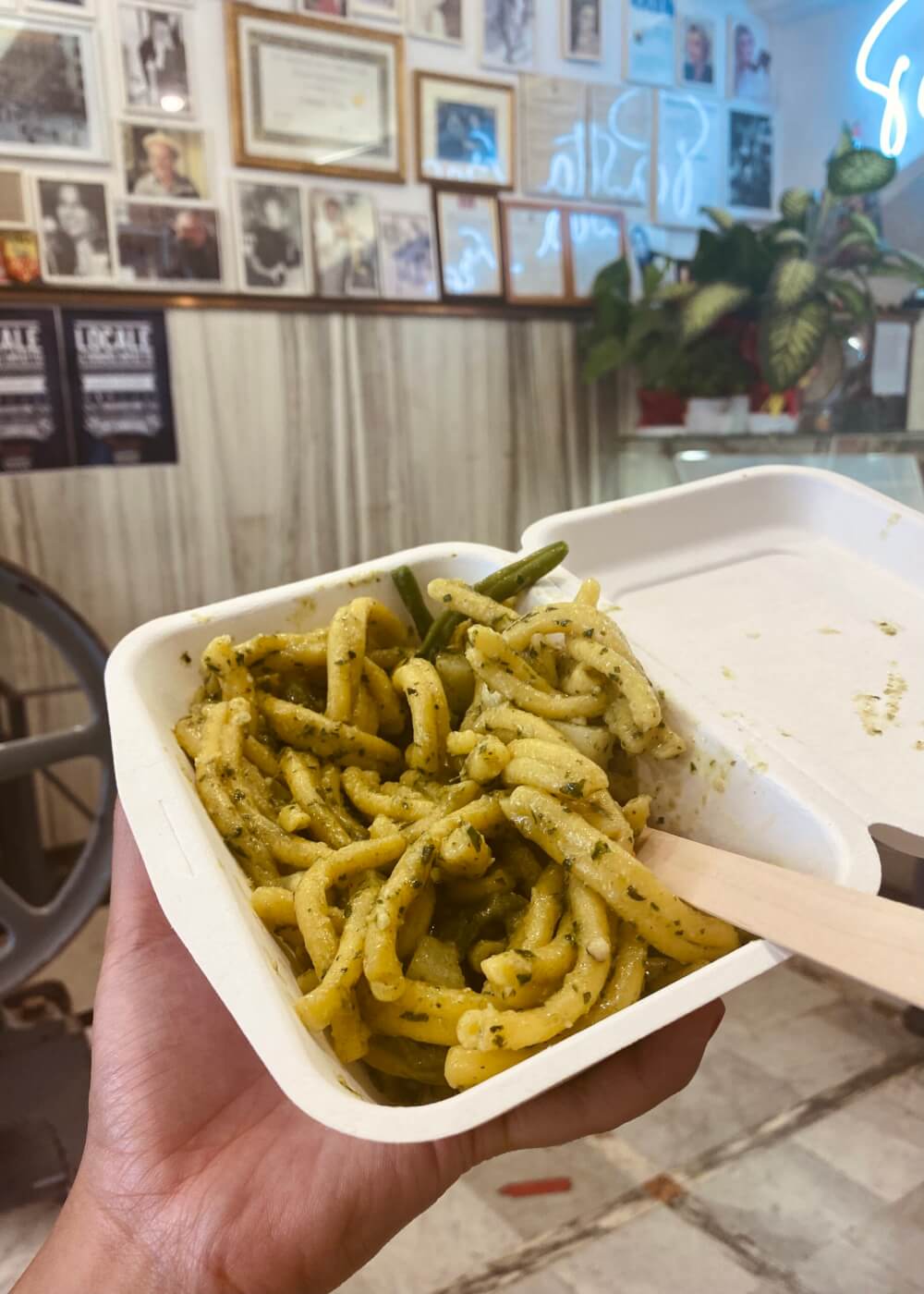 Usually the bill won't come until you ask for it
Generally speaking, the ultra-friendly and proactive customer service you get in North America doesn't really exist in European countries.
Very rarely will you have servers come up to constantly check on you and ask how you're doing, so if you're wondering why nobody has brought the bill around, just get their attention because they don't tend to drop it off until you ask (doing so without asking is actually considered a bit rude in itself).
Don't shy away from food tours
If you're running on limited stomach space but want to try as many local specialties as possible, then food tours are a really fun and delicious option.
Most big destinations in Europe have them these days, and they're a great way to sample a lot of local foods while also getting a local guide's perspective and expertise.
Context is key and learning about food (while eating it!) is the best.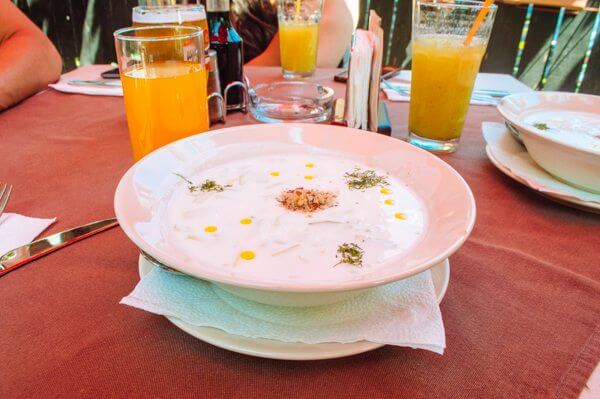 Take a cooking class
Another foodie activity that's now offered in most European destinations these days is cooking classes.
There's no better souvenir than learning how to prep your favourite foods once you get home, so definitely consider adding one to your itinerary.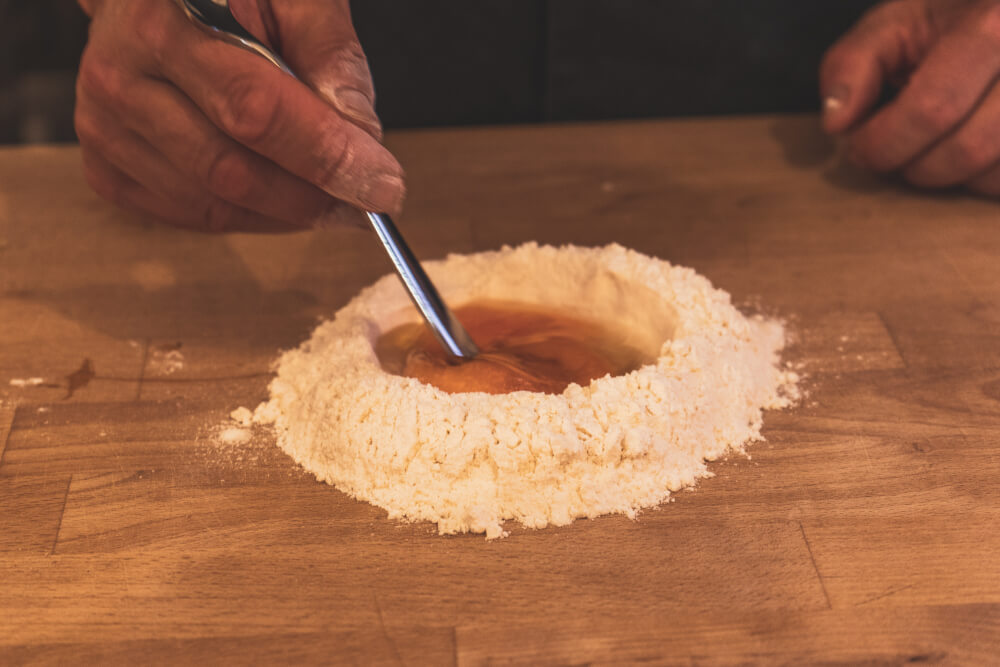 Get used to sparkling water
Sparkling water is a lot more common in certain European countries than in North America, to the point where sometimes it's the default if you ask for water.
If you're not a fan of spicy H20, then make sure to specify Still when you order water.
Don't pay extra for hotel breakfast
Don't get me wrong, I love a good hotel breakfast when it's included in the room rate, but if you're given a choice, you can save a lot of money by going out to get breakfast at a bakery, which is also more fun in my opinion.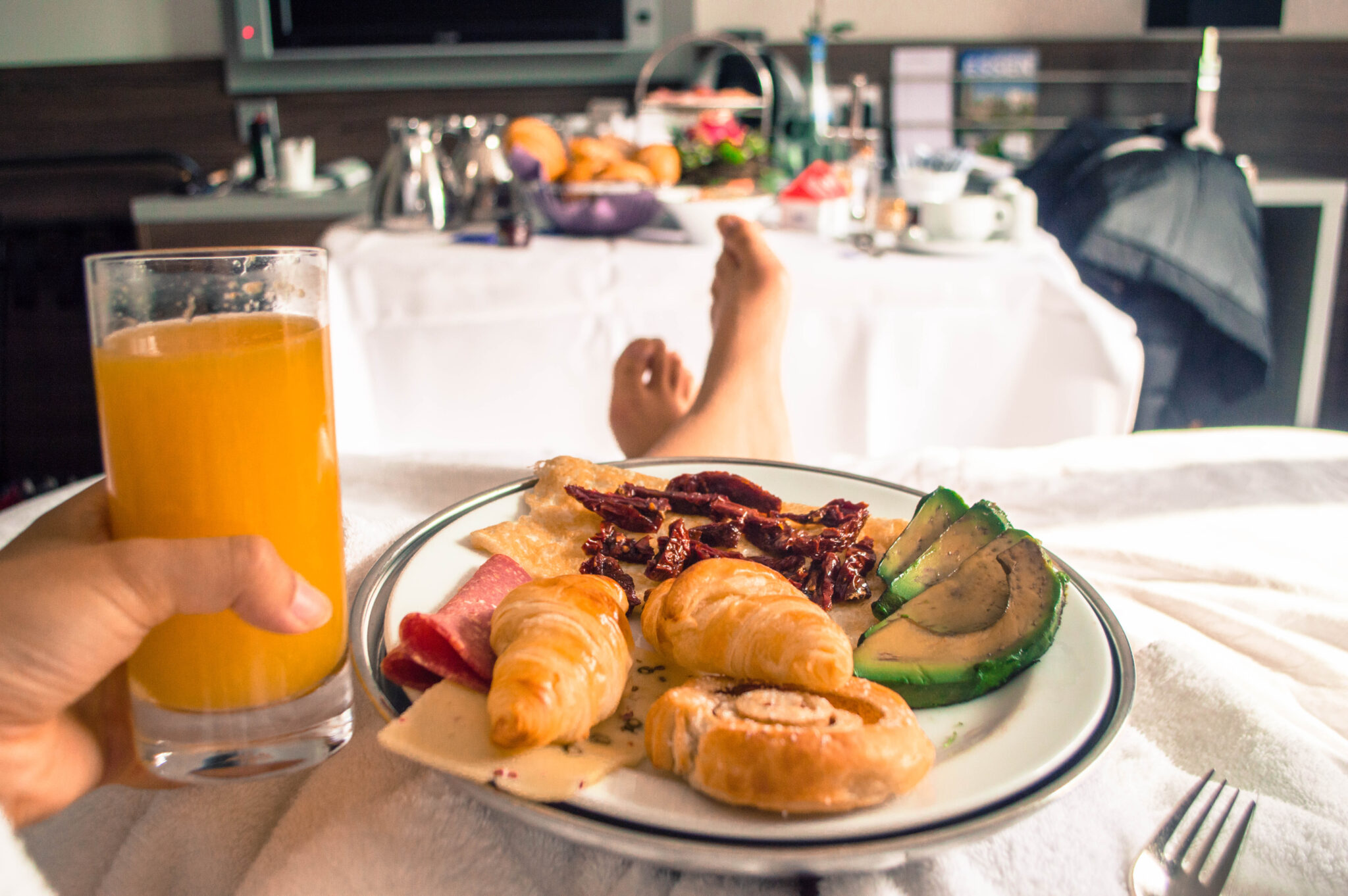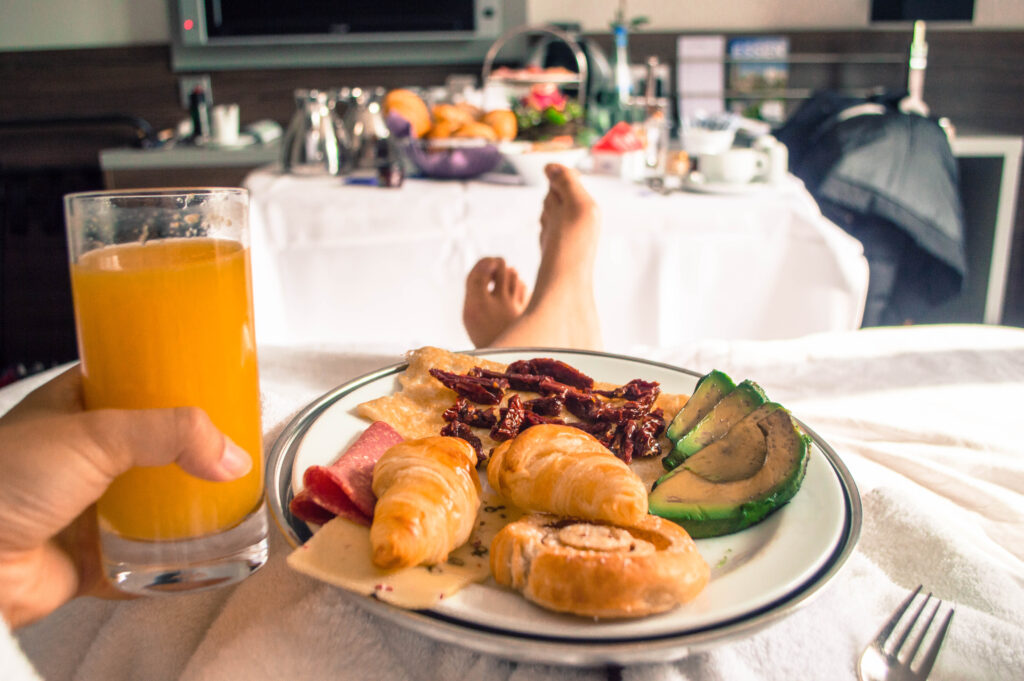 When weather permits, picnics are a much better option
I love picnics. They're such a romantic and affordable way to enjoy a meal, especially when you have a great backdrop.
Make sure you picnic at least once during your trip – I promise you'll love it! And your wallet will too.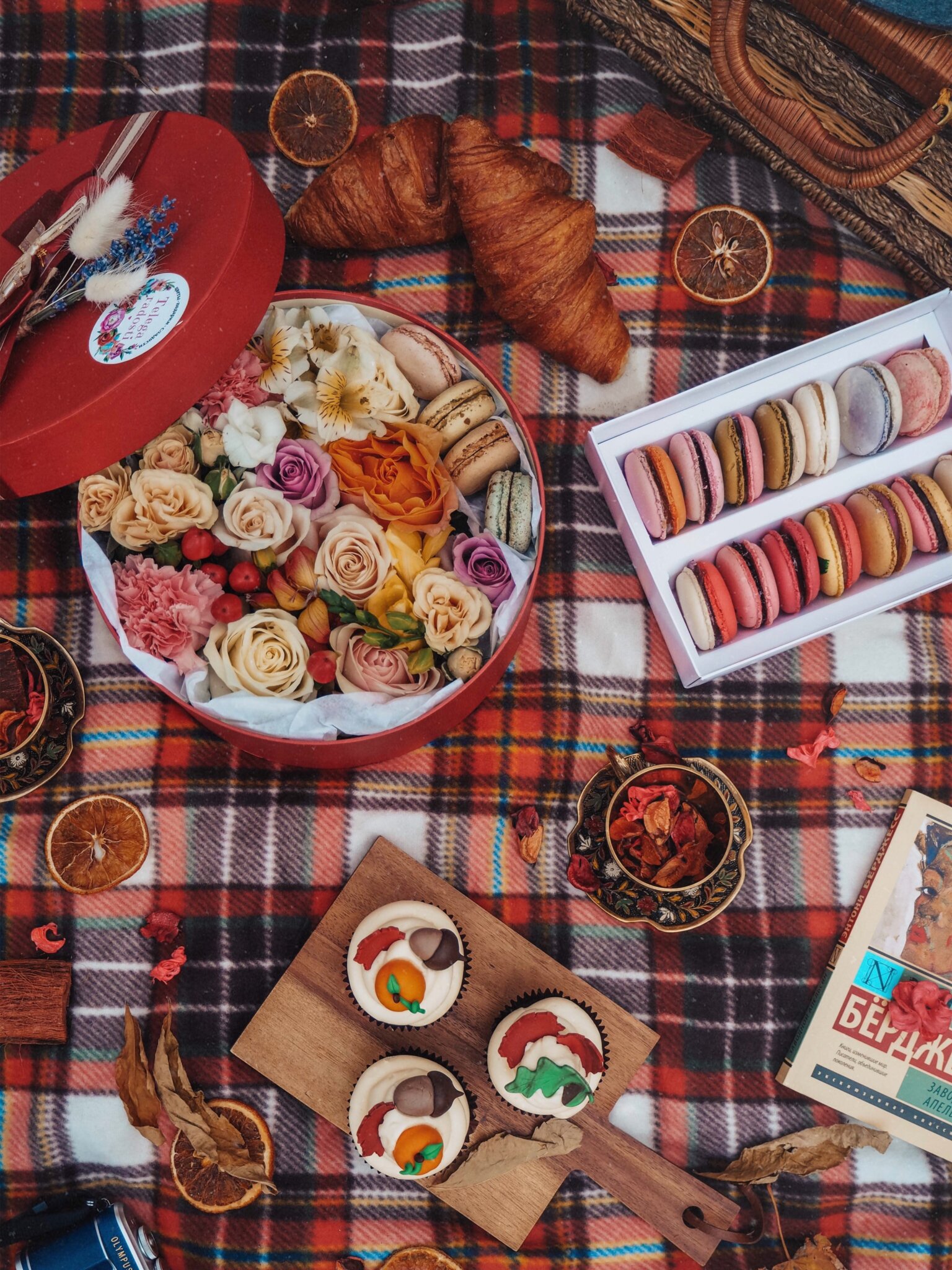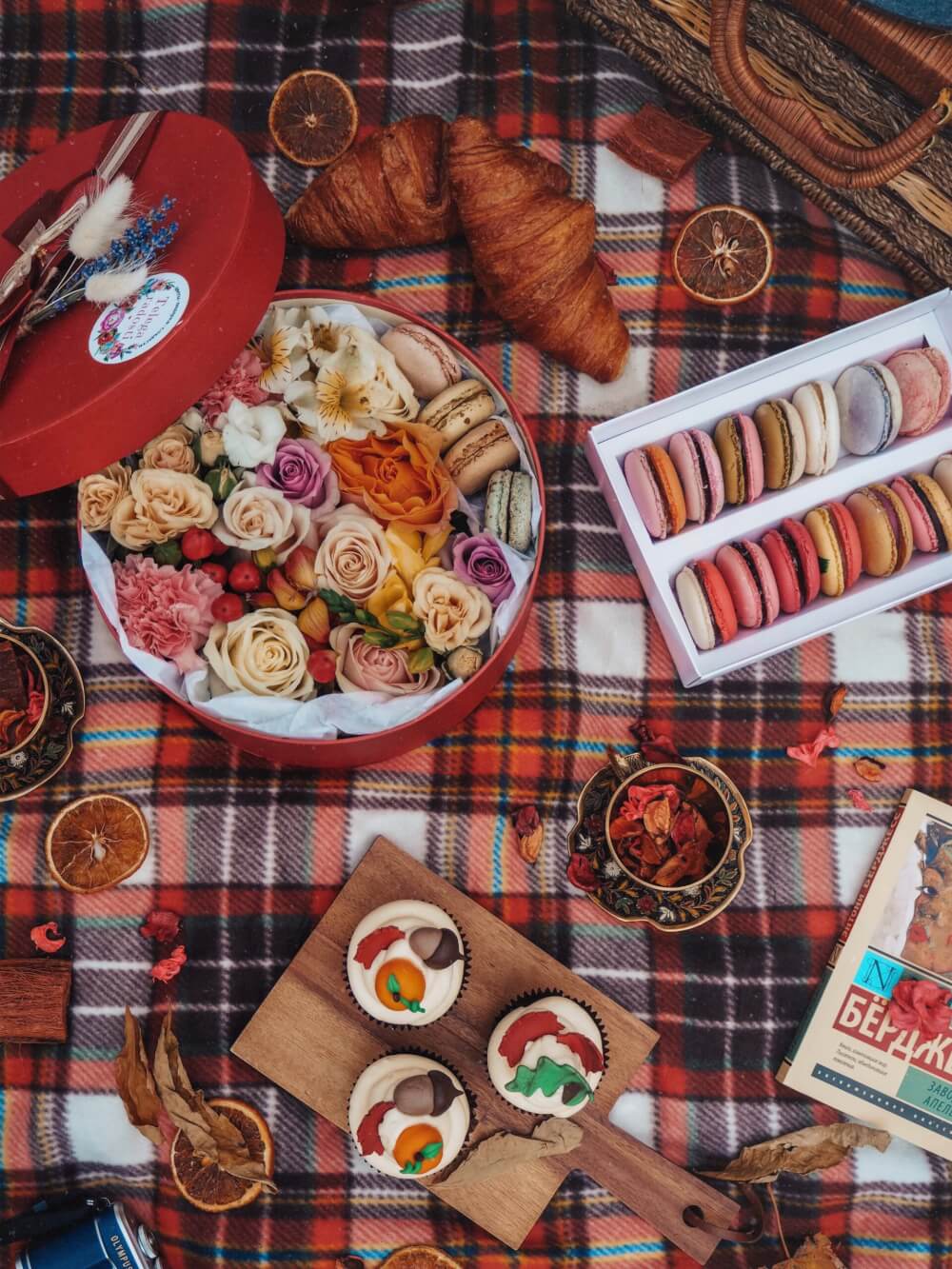 Generally speaking, Europeans eat later than North Americans
After living in Germany for a few years, making dinner plans with friends at home almost put me in a coma. Dinner at 5:30 or 6pm? Wayyyy earlier than most European countries, especially Spain where dinner time is often after 9pm.
Of course, you can take advantage of this cultural difference by getting a table at popular restaurants simply through booking as soon as they open.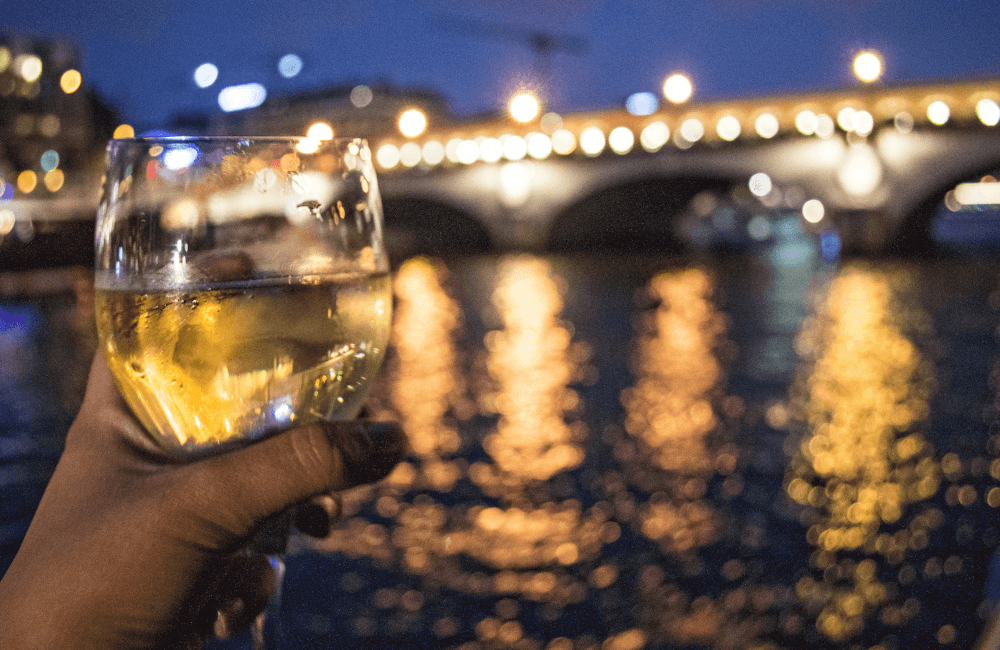 Be openminded with trying new foods
I hated beer until I had it in Belgium. I hated cheese until I tried smoked cheese in the Netherlands.
I don't know how to explain it, but certain food and drink items just taste different, and frankly, better in Europe than they do in North America.
So before you write something off as a food you don't like, give it a try. You might be pleasantly surprised, especially if it's the regional specialty.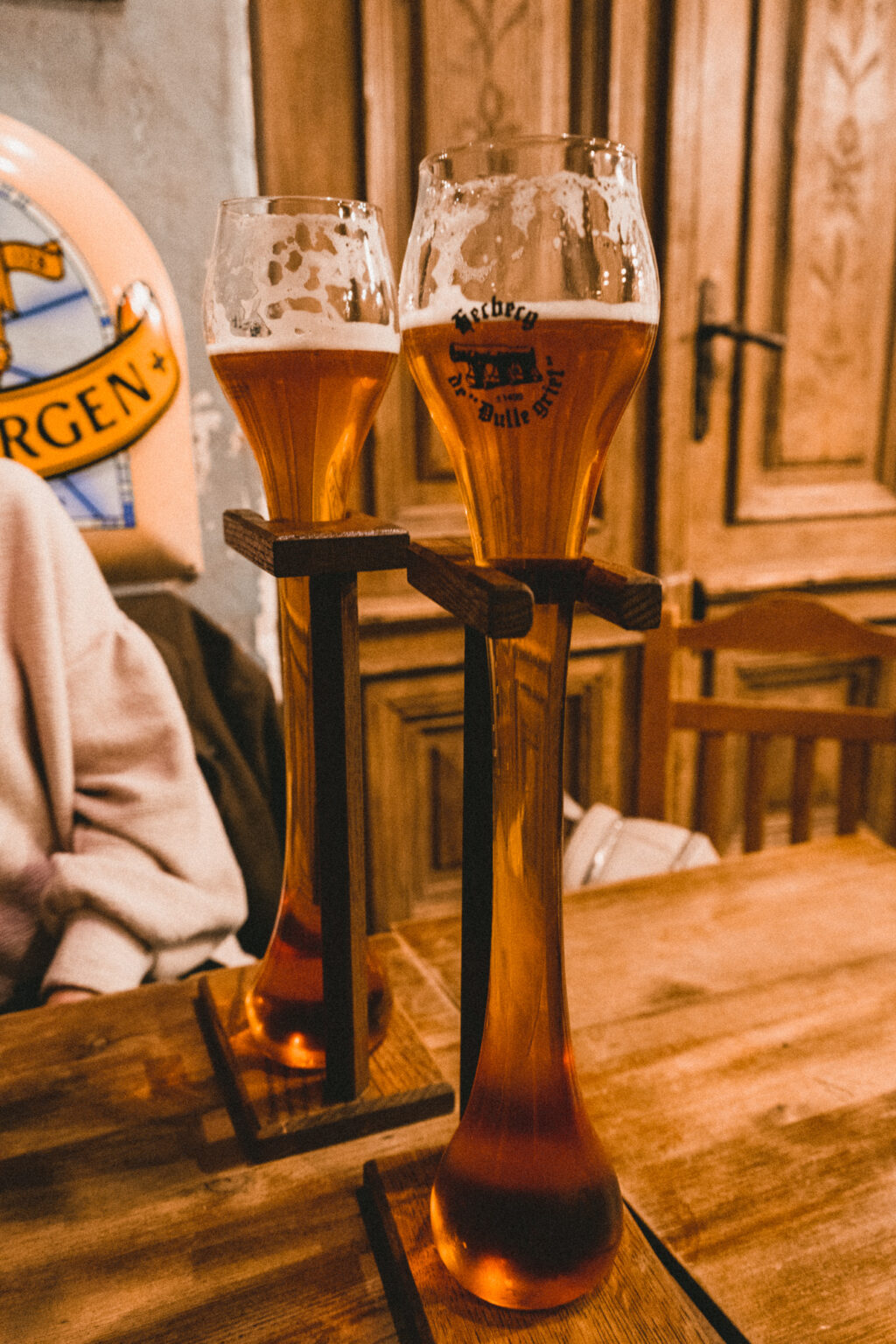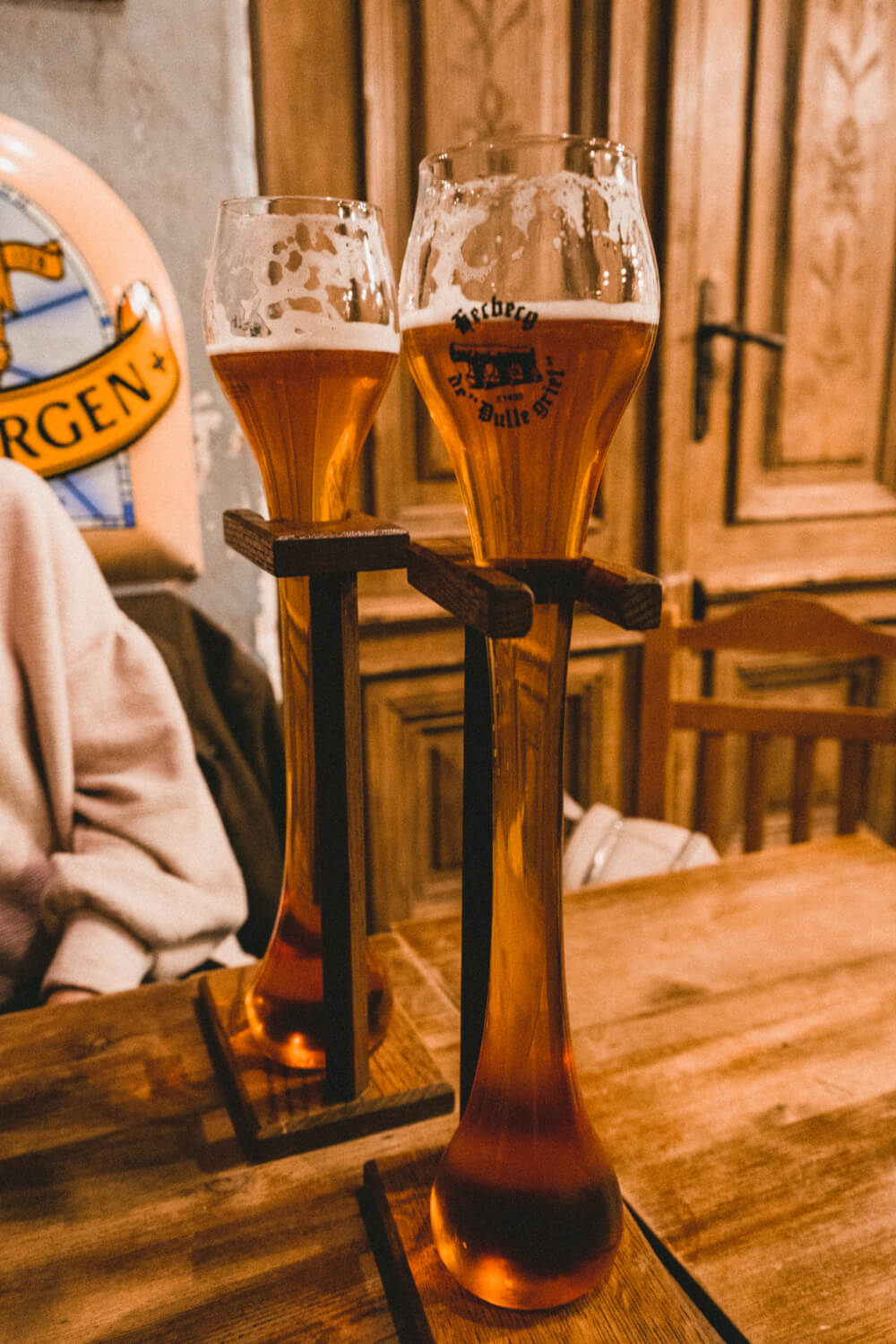 Get takeout for super cheap with Too Good to Go
One of my favourite (little-known) Europe travel apps is called Too Good to Go.
They service many major European cities, and basically, it's a free app that restaurants use to sell their leftover food at the end of the day (sometimes at lunch too).
This helps minimize food waste, and means you can pick up an entire take out meal for less than 5 euros.
Sure, you don't get to choose what you get, but it's an excellent way to eat cheap and help reduce waste at the same time.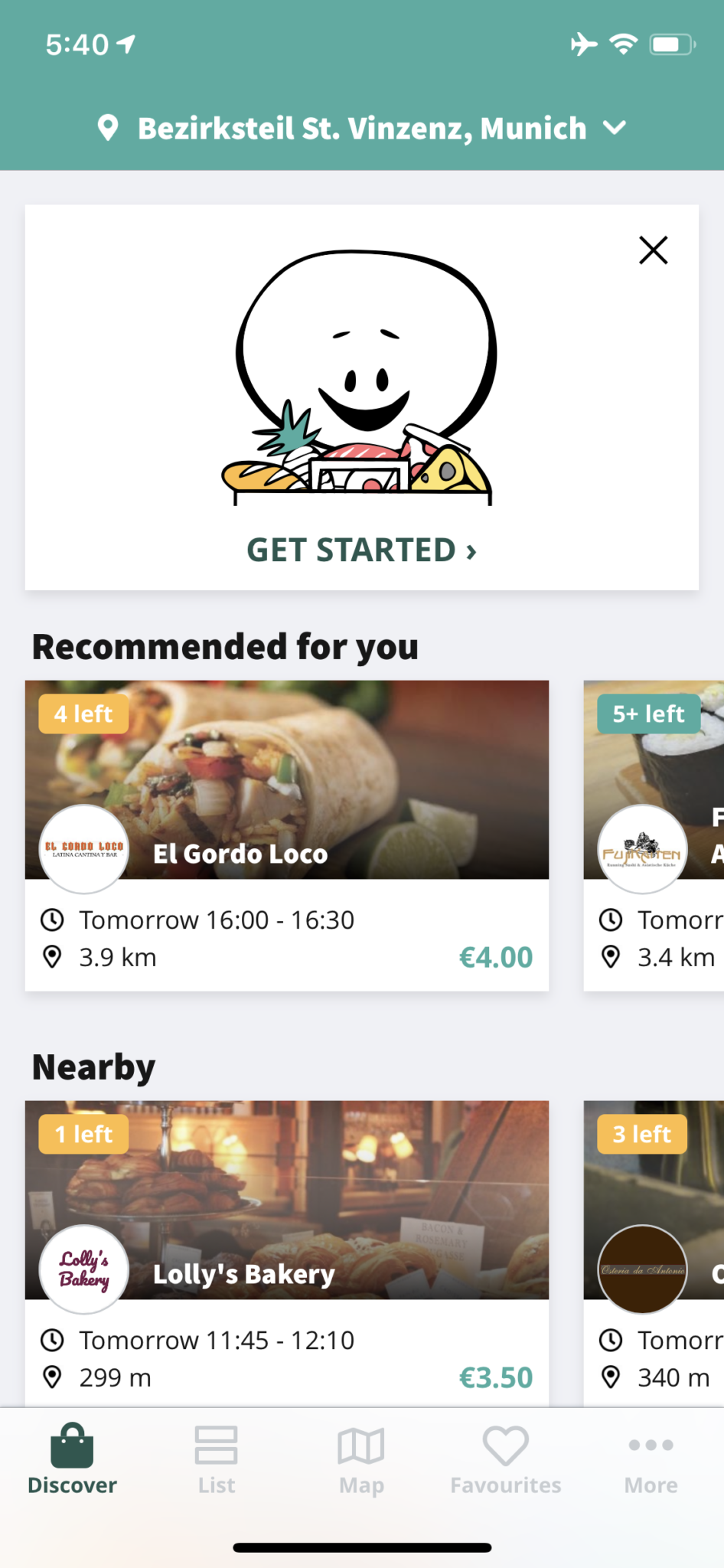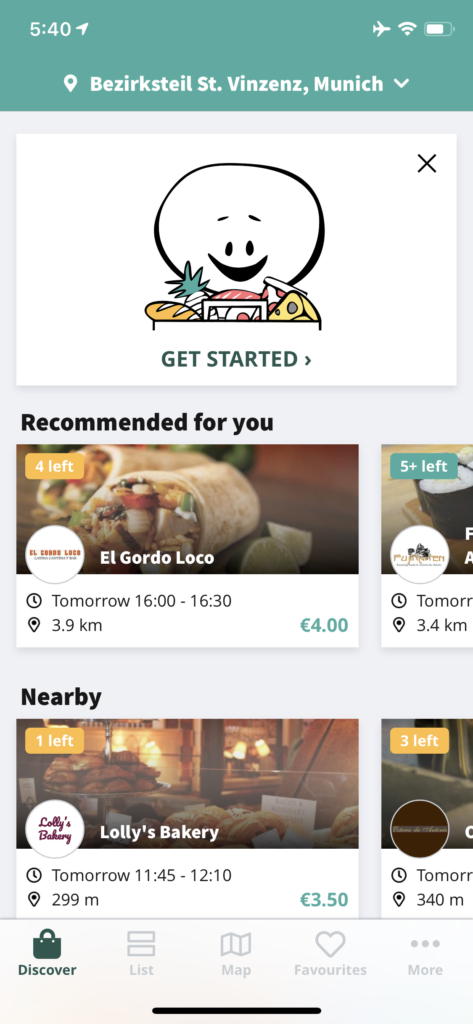 Culture & Etiquette Tips for Europe
Tourists can often have a reputation for being rude… but not you! Not on my watch. Here are some culture and etiquette tips to keep in mind for your trip to Europe.
Culturally, Europe is a million different entities
One of my biggest pet peeves when it comes to Europe travel advice is when books or sites tell you "In Europe, tipping is like…", "In Europe, locals are…"
… Which I know is kind of ironic in an article simply called "Europe Travel Tips" but shhh just go with it.
Long story short: Europe is composed of dozens of countries, each with their unique cultural nuances and norms, so be sure to research culture tips specifically for where you're going, because things like tipping, queuing, meal times, etc. can vary considerably across the continent.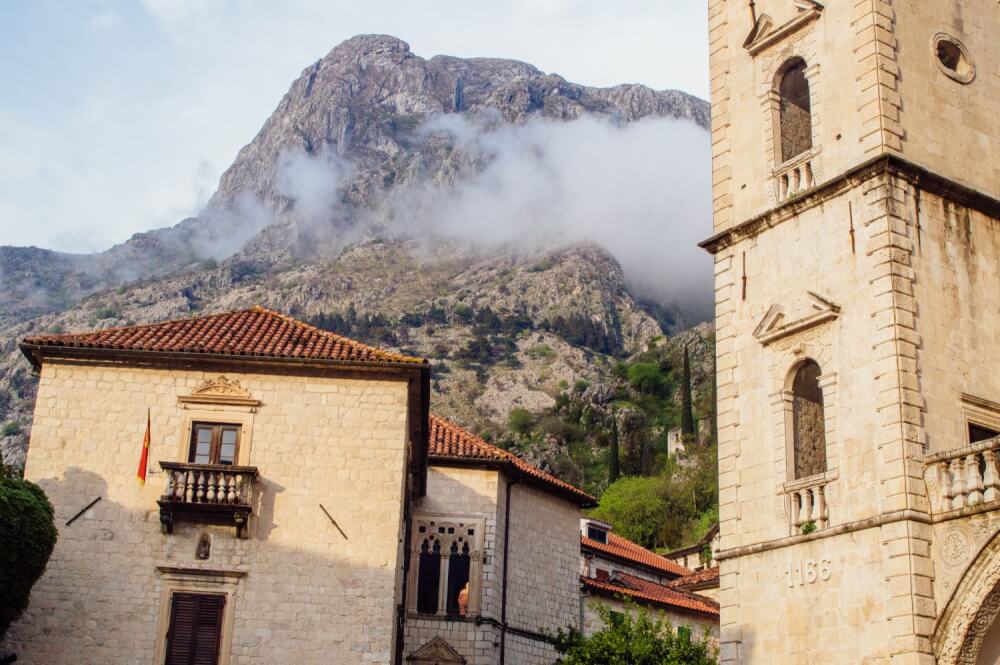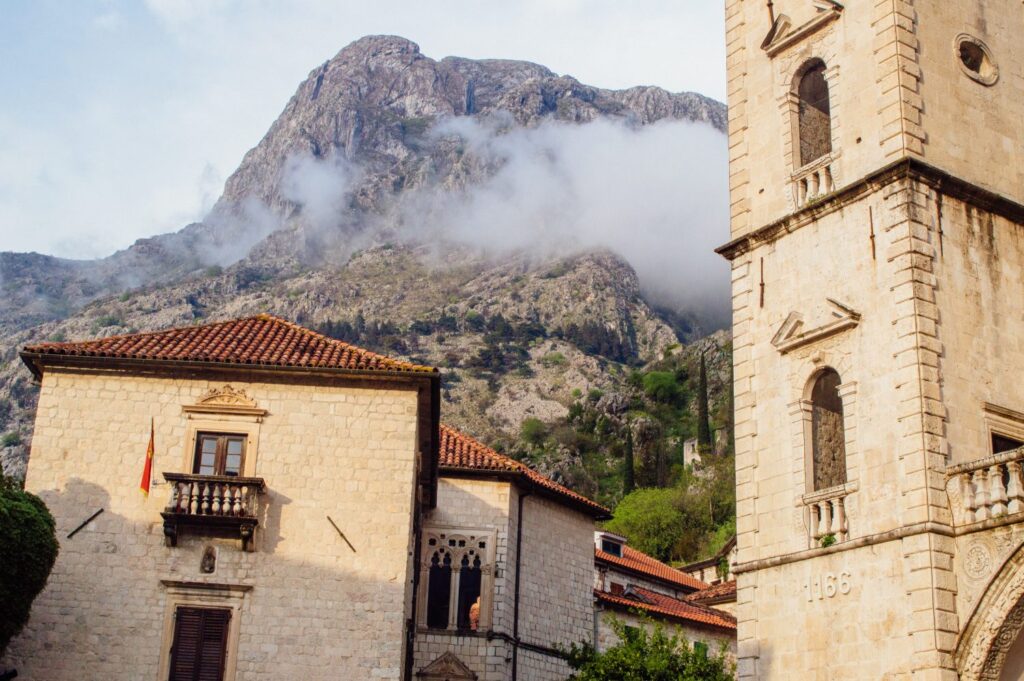 Learn at least hello and thank you
While visitors can often survive just fine without learning the local language, i's generally good manners to know basics such as hello and thank you for every country you visit.
… So be sure to practice that a bit before you go!
Do not tip by North American standards
As I previously mentioned, tipping in Europe does vary from country to country, but never would a 20% tip be considered the bare minimum like in North America sometimes.
So, be sure to research tipping culture in your destination before you go. In many countries, tipping involves simply rounding up.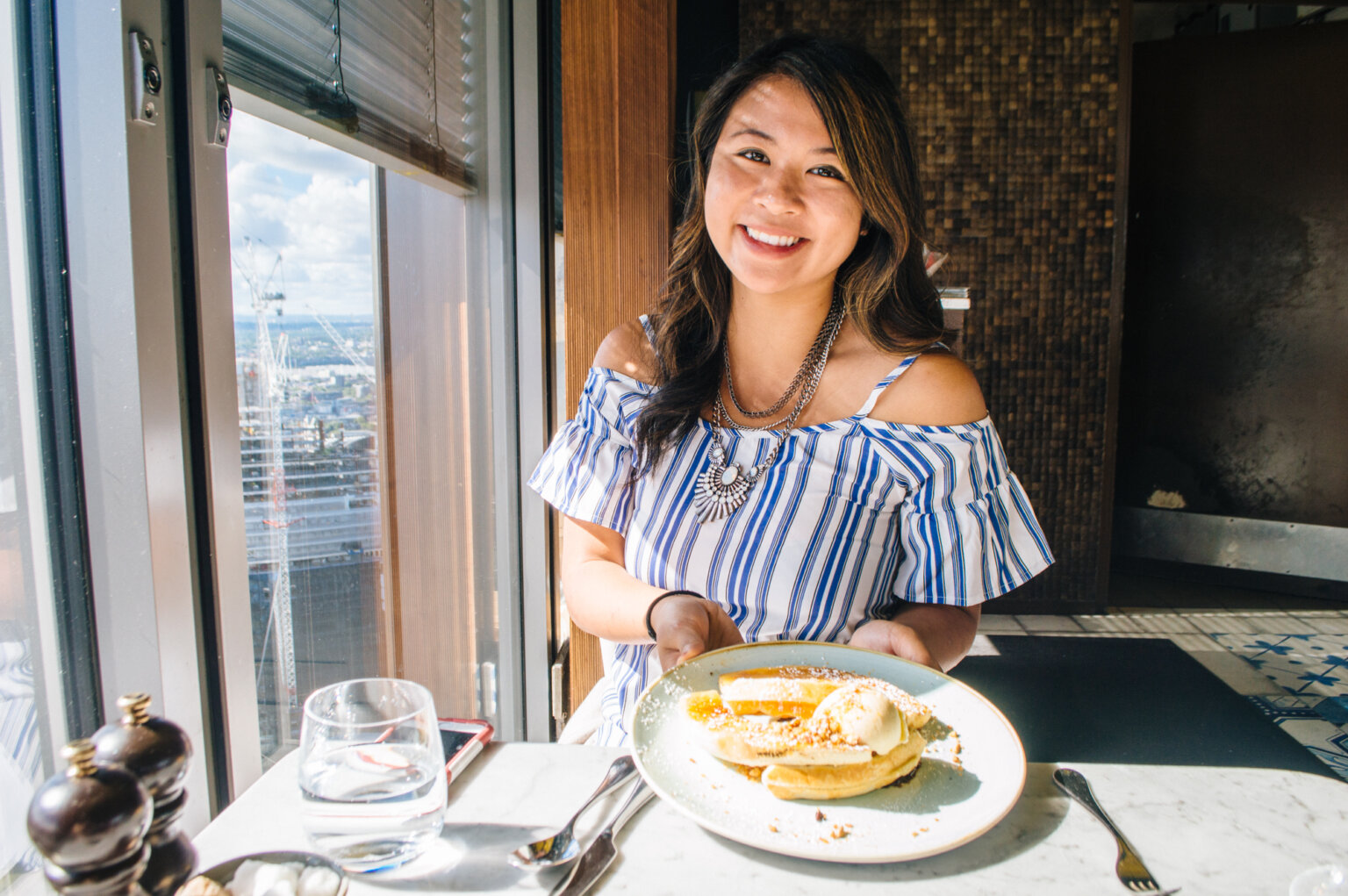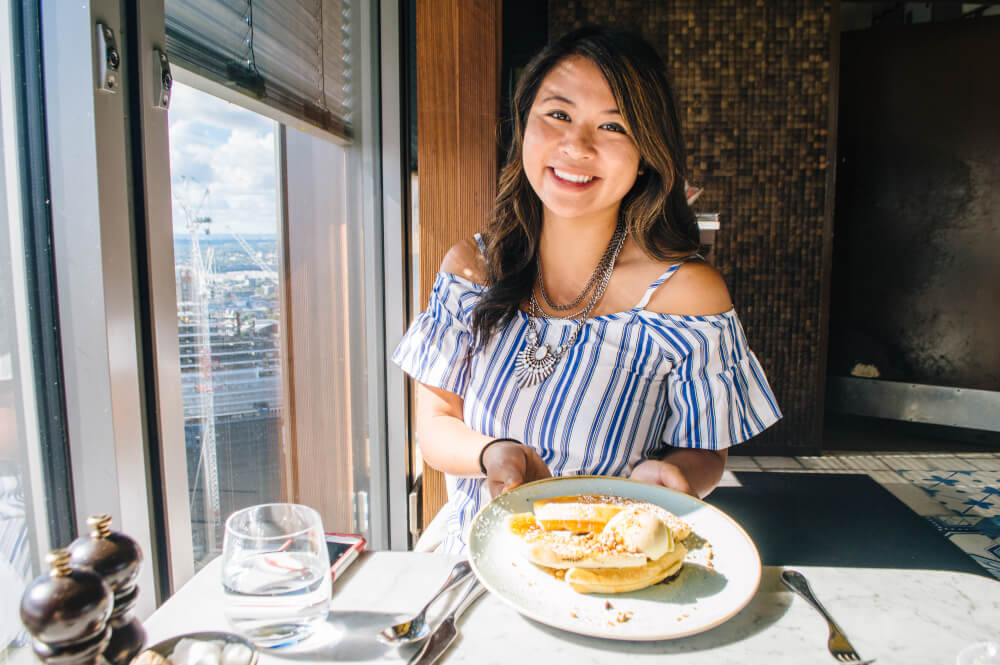 Try to not speak too loud
In Europe, North Americans generally have a reputation for being… loud. Sometimes obnoxiously so.
So if you're out in public, try to lower the volume of your voice to closer match what's around you (easier said than done, I know, but something to be mindful of).
When in doubt, mimic the locals
Cultural norms can vary widely from place to place, so your best bet is to just observe the status quo and try to imitate that.
If nobody is chatting on the train, it's probably a good sign that you shouldn't either. If everybody is lining up in an orderly queue, maybe you should join that queue instead of barging in the front.
Remember, tourists can have a reputation for being disrespectful and annoying, so try your best to shatter that stereotype wherever you go.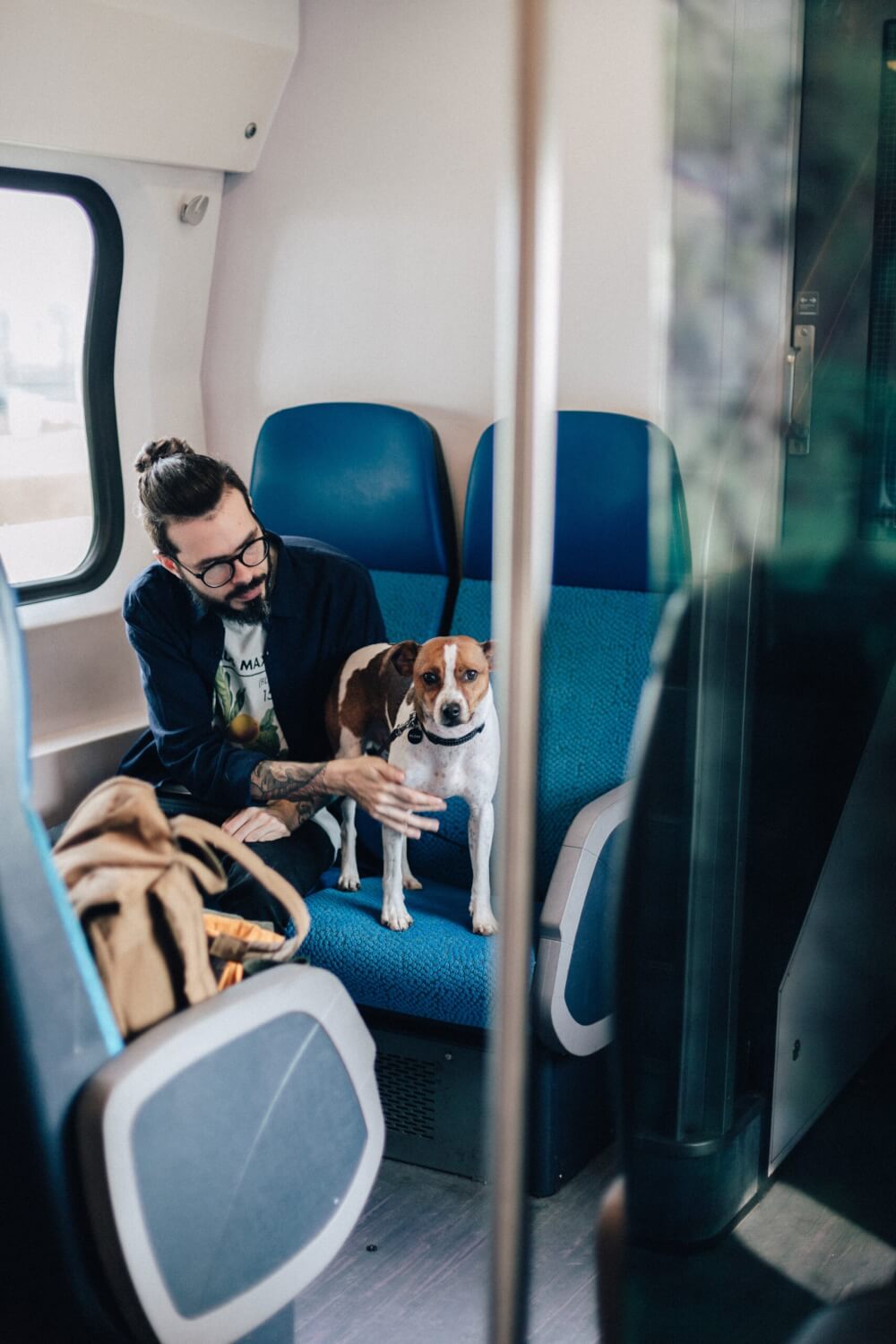 Look into festivals and folk events to attend
One of the most amazing things about Europe as a continent is that it is so deeply rooted in heritage and tradition, with some cultural traditions dating back thousands of years.
For a truly unforgettable experience, I'd recommend looking up some fun festivals or events to enjoy.
Here are some of my favourites I've been to: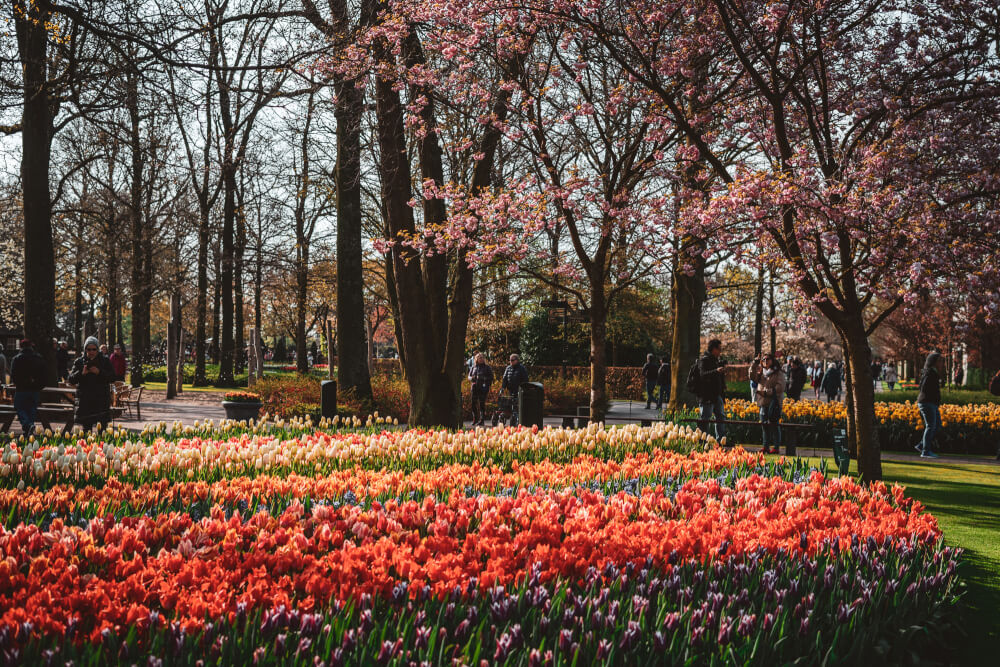 Packing Tips for Europe
Not sure what to wear and what to pack for Europe? Here are my top Europe packing tips.
Steal my pre-made packing lists
If you're overwhelmed with what to pack, I've already made some packing lists that you can use as a starting point!
Download them, print them, mail them to all your friends and exes! I hope you get tons of use out of them: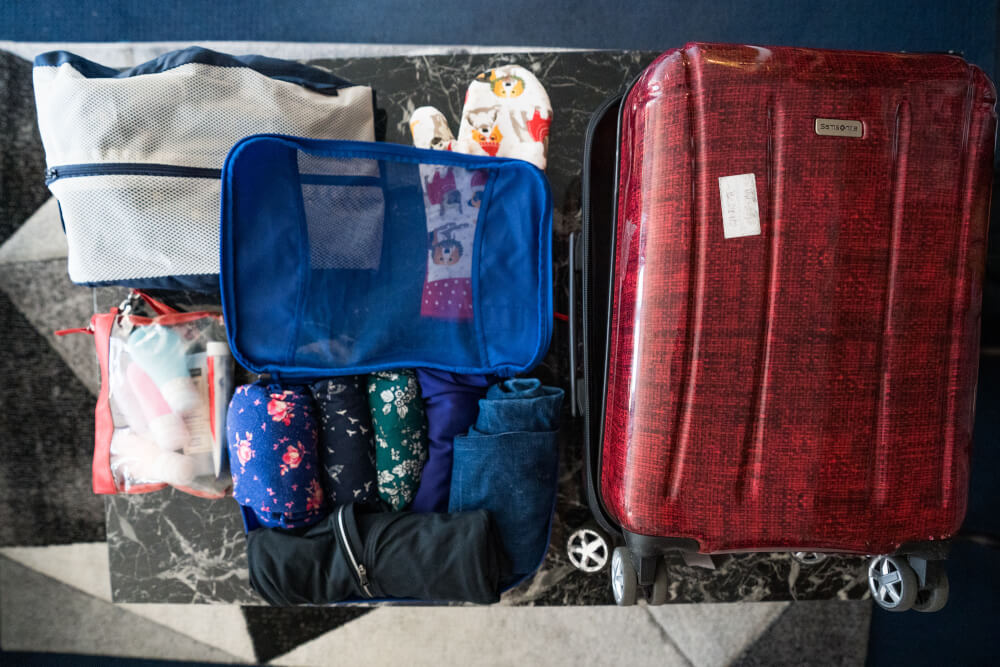 Don't bring any suitcases you can't carry
I've always been an advocate for packing light, but a good rule of thumb is to not bring any suitcases you aren't physically capable of carrying yourself.
There's a million and one scenarios where you might have to end up carrying your suitcase in Europe, like…
Your hotel or accommodation unexpectedly has no elevator
The elevator you were counting on at the train station is out of order
You need to carry your bag up some ancient staircase to get to your accommodation
You need to lift your suitcase on/off the train you're taking
So yes, whatever bag or suitcase you bring, make sure you're able to carry it yourself.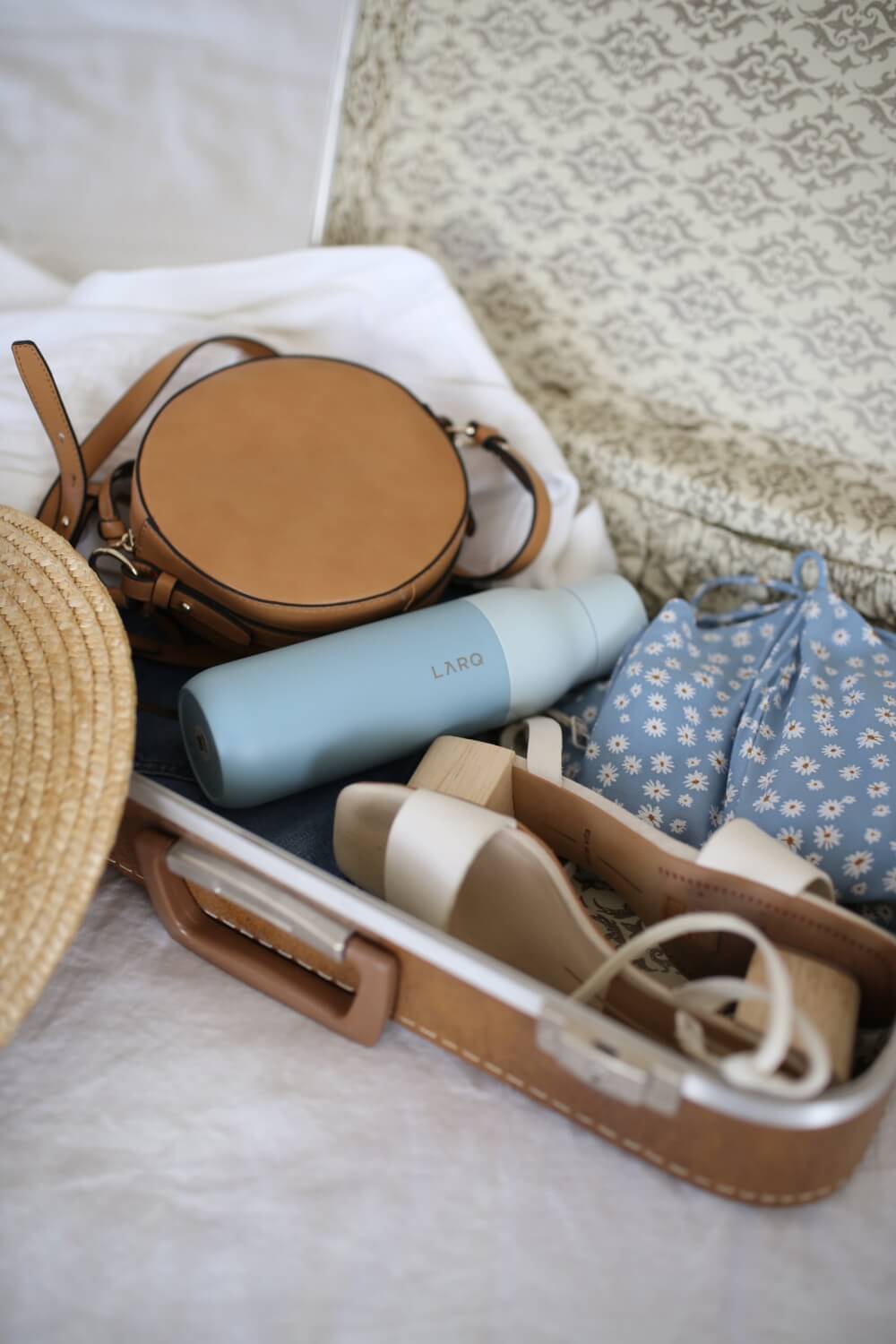 Good walking shoes are a must
I cannot explain to you how much walking you'll end up doing, so comfortable shoes are much more important than cute stylish ones.
That said, if you're able to find comfortable walking shoes that are a bit dressier, opt for those over beat up runners.
Generally speaking, casual wear in Europe is more dressed up than what we're used to in North America, so packing a nice pair of white sneakers or comfy leather boots would definitely be a more versatile choice over hole-filled running shoes.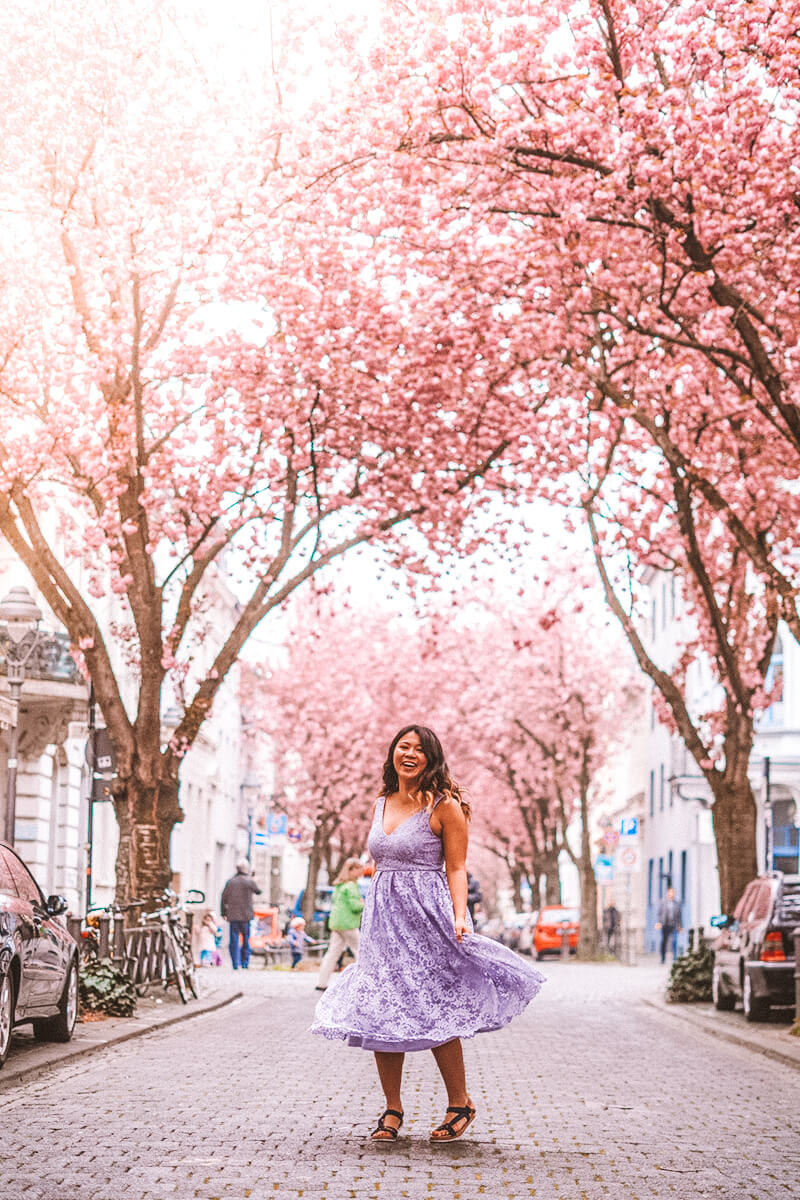 Buy AirTags to track your suitcases
With airlines losing baggage all the time these days, I've finally caved and bought an AirTag to track my checked bag.
And honestly? I regret nothing! I love the ease of mind it provides, and should a thief ever nab my bag one day, I feel very smug knowing I'll be able to track them down.
Pack an emergency outfit in your carry-on
On a similar note, one Europe packing tip I live by is always having an emergency set of clothes in your carry-on bag.
Checked bags get lost all the time, so having extra clothes with you is key for ease of mind. I usually bring all the top essentials with me in my carry-on. Better safe than sorry!
Pack clothes with hidden inner pockets rather than a money belt
While many travel experts tout the the benefits of money belts, I've honestly never been able to get on board with them. They're awkward, sweaty, and reaching under your clothes to get change for an ice cream is just… not my idea of fun.
Instead of a money belt, I always have either:
A backpack with a zippered pocket in the back, which makes it inaccessible to anyone else when worn
A crossbody purse with a pocket on the backside, again making it inaccessible to anyone so long as I hold it close to me
A jacket with inner pockets so it's impossible to reach in without getting super super close
These anti-theft methods are a LOT more comfortable to me than a money belt… so remember: a money belt isn't the only way!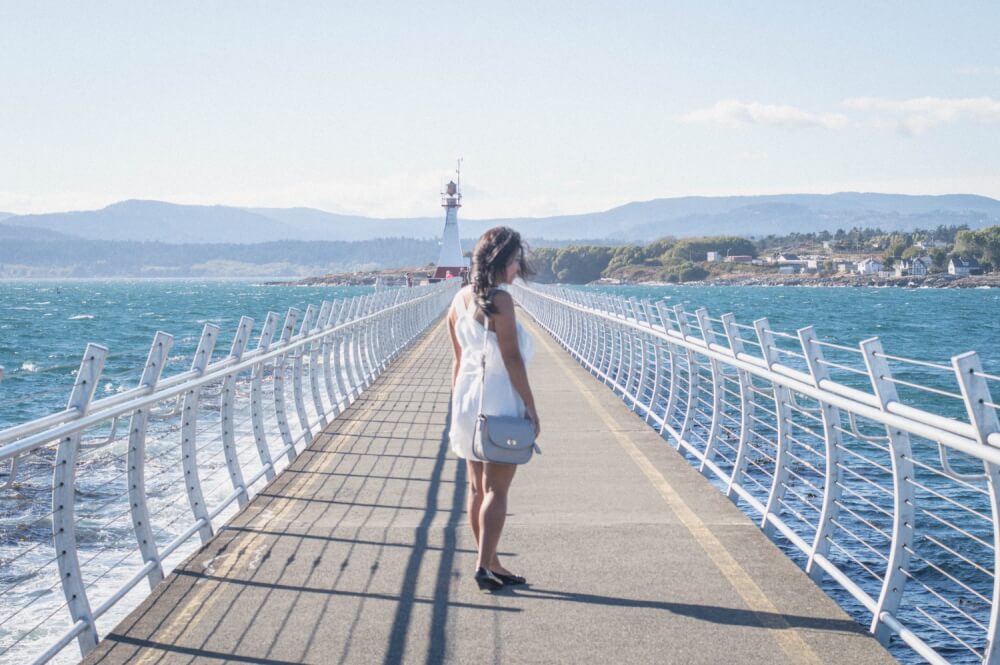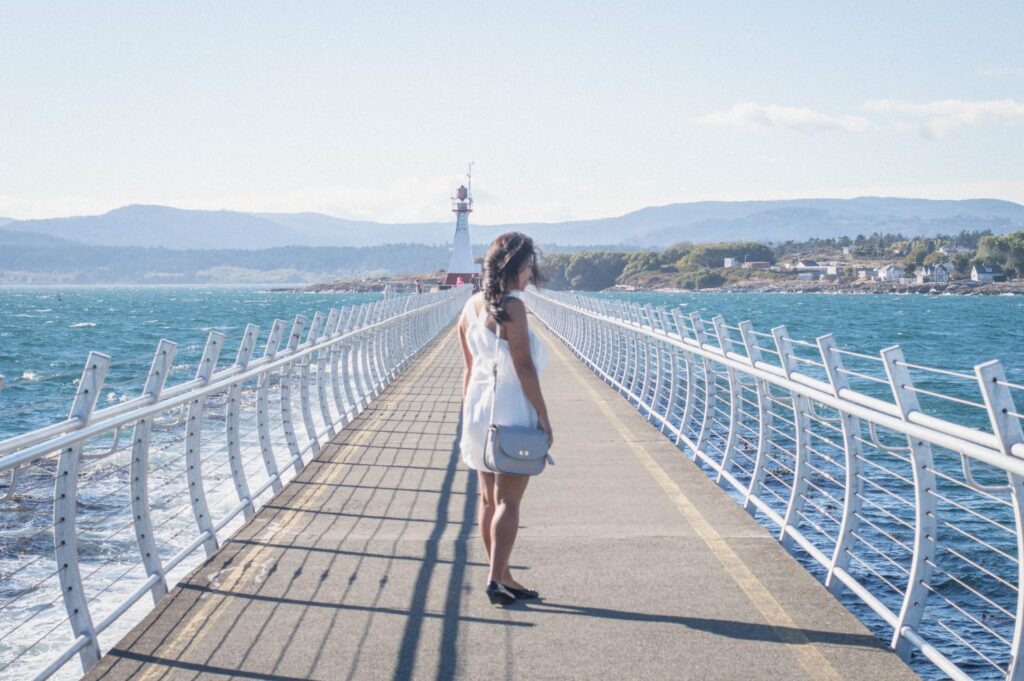 Bring a universal adapter
Power sockets in most European countries have two round holes and if you're visiting from overseas, odds are you'll need an adapter for your plugs to fit.
I'd strongly recommend buying a universal adapter like this one if you don't have one already. Not only is it good for the standard round hole outlets, but it can also work for the three prong plugs in the UK, Malta, and Cyprus.
It's cheap, can be re-used for every trip, and covers you in all situations. Definitely some of the best money I've ever spent!
Use packing cubes to organize and compress your clothes
I am such a packing cubes fangirl.
These beauties are a magical way to keep all your goods organized, while saving space in your bag as well. Gone are the days that you rummage through your entire pack for a particular t-shirt!
Not all packing cubes have to be expensive either. There's plenty of affordable options on Amazon, like this blue set from Amazon Basics, but you definitely get what you pay for.
PS: I'm a total packing cube nerd and once bought a bunch of different brands to compare. See my full packing cube showdown for more.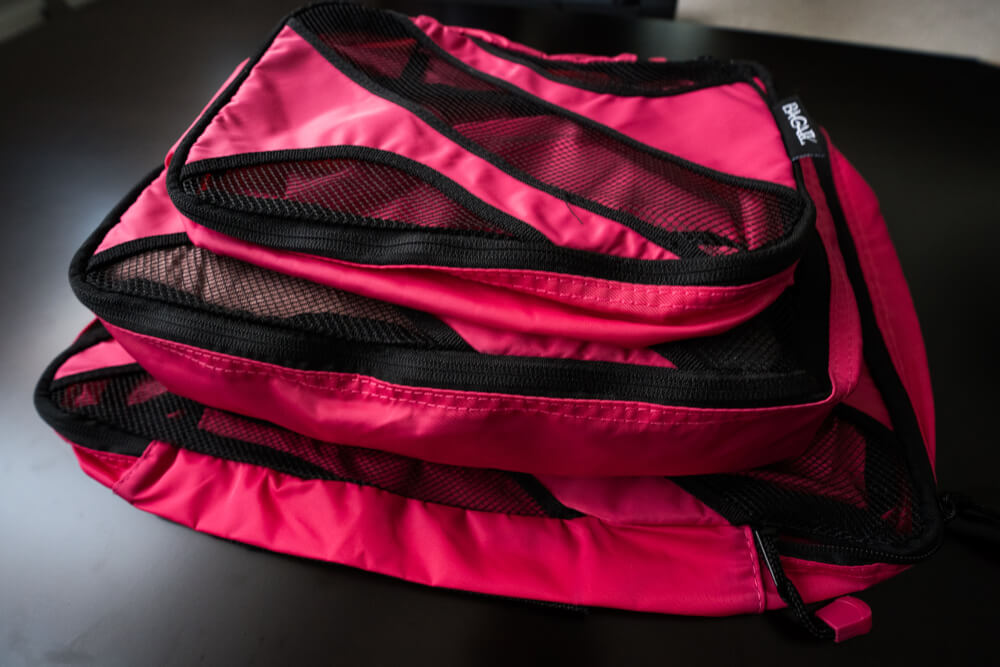 Pack a re-usable bag for purchases
Single use bags are slowly getting phased out in Europe, so I find it's always a good idea to bring an extra bag or two whenever I travel, whether to stash my souvenir haul for the day or to carry around snacks.
So, when in doubt, pack a tote or two! They can be such lifesavers.
DIY your own travel sized toiletries
This is a very basic packing tip I always recommend, but rather than buy the bottles of toiletries which give you like, three good squeezes of shampoo, I find it's easier (and more eco-friendly) these days to buy small reusable bottles that you can fill with your own toiletries of choice.
This allows you to bring your favourite products with you, and saves needless one-use toiletries from ending up in the landfill.
Need help picking the right one? Read my guide to reusable toiletry bottles for more info.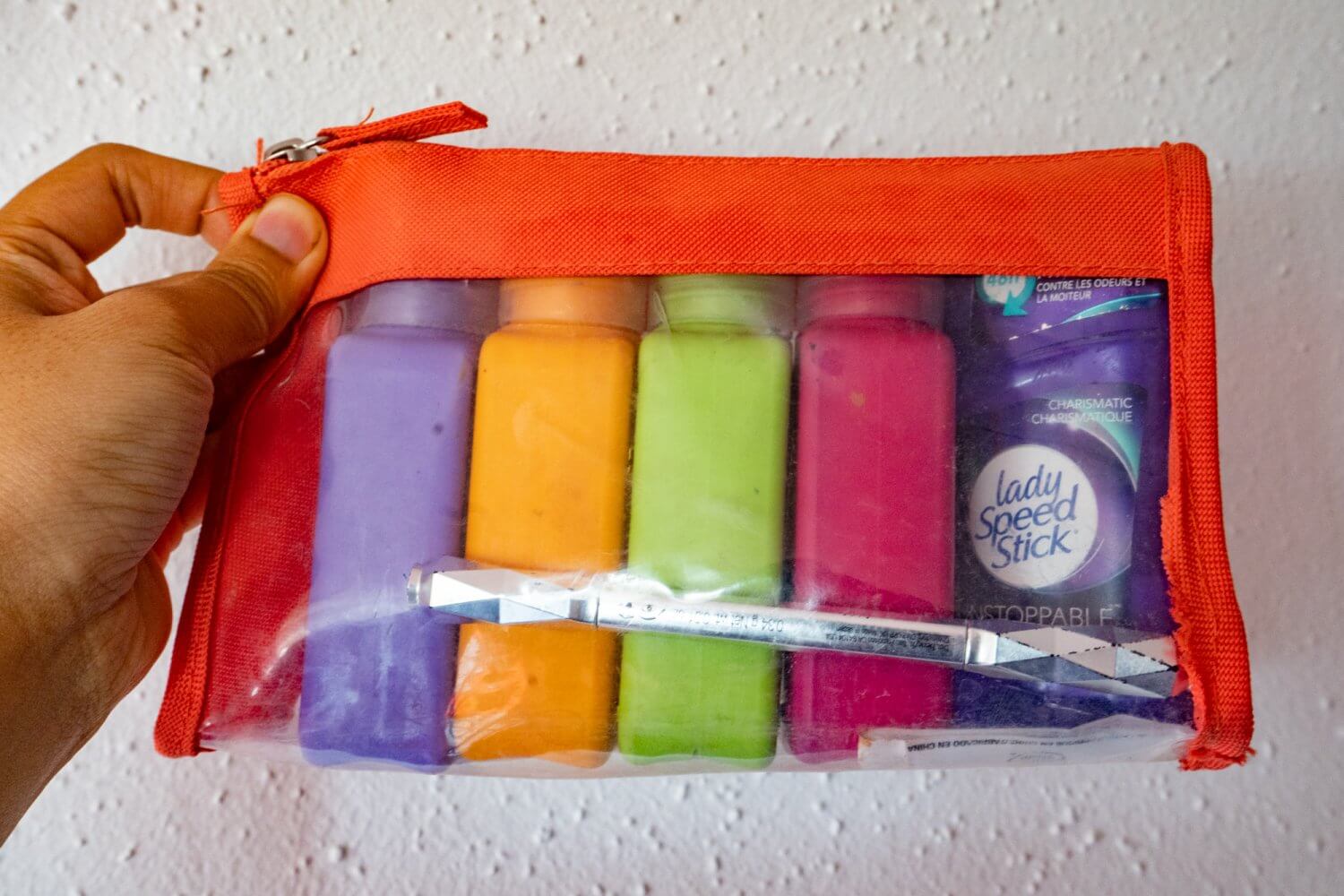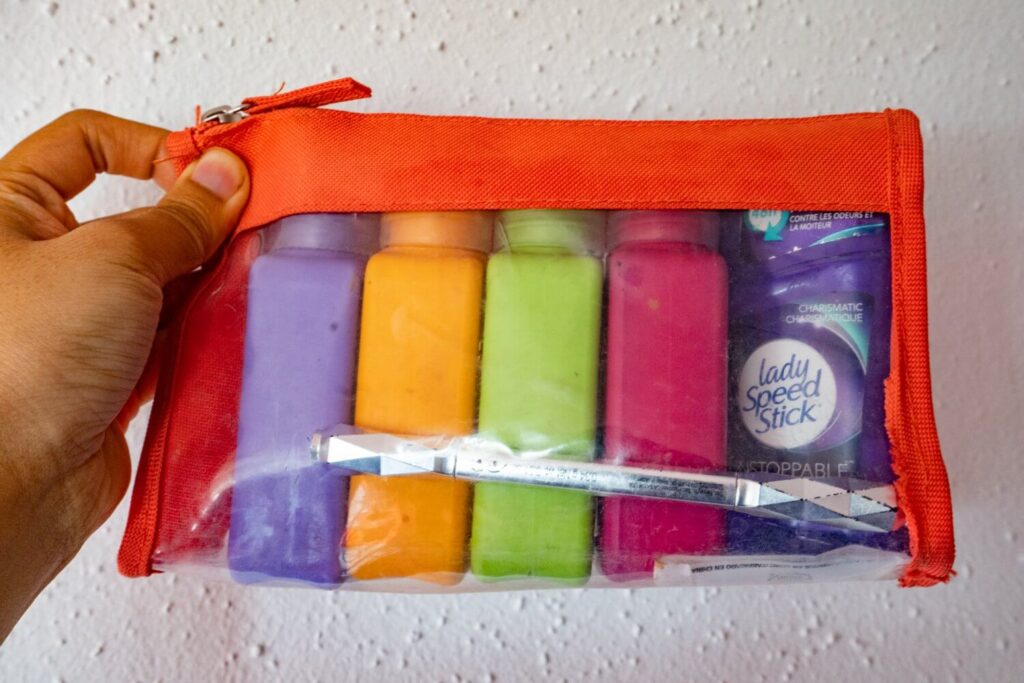 Final Europe Travel Tips to Know Before You Go
Alright, before I let you get back to… your real life, friends, and family, here are some final random Europe travel tips to keep in mind.
Having cash is important
With the exception of Northern Europe and some parts of the UK, cash is still important to carry around, whether for small purchases or for essentials like using the washroom. Keeping coins is also a good idea.
So, don't forget that cash is still king in many parts of Europe!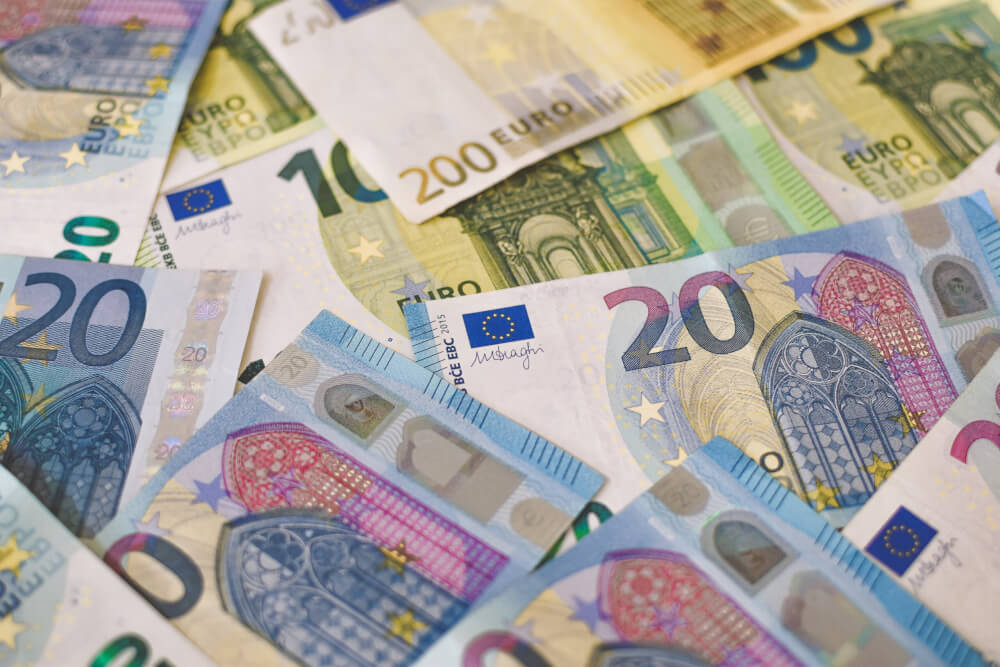 Claim VAT refunds at the airport
Taxes are generally built into the price in Europe, so many travellers don't realize they are paying up to to 20% in VAT (Value Added Tax) for everything they purchase.
The good news is, when it comes to goods that you are buying and taking home (e.g. clothes, gifts, etc.), non-residents of Europe are eligible for a refund on this VAT that you pay.
VAT refund rules vary from country to country, but usually there's a minimum spend amount in one single location (around 175 EUR in most cases).
So, keep this in mind and you can get a good chunk of change back. To get the step by step process, Google your destination + VAT refund, as the process does differ country to country.
Floors start at zero so don't get confused
If you've seen Emily in Paris you'll already know this one.
The floor system in European buildings tends to differ from North America.
Whereas in North America, the ground floor is often the 1st floor, the ground floor is considered its own separate entity in most countries (i.e. Floor 0) and then the next one above that would be the 1st floor.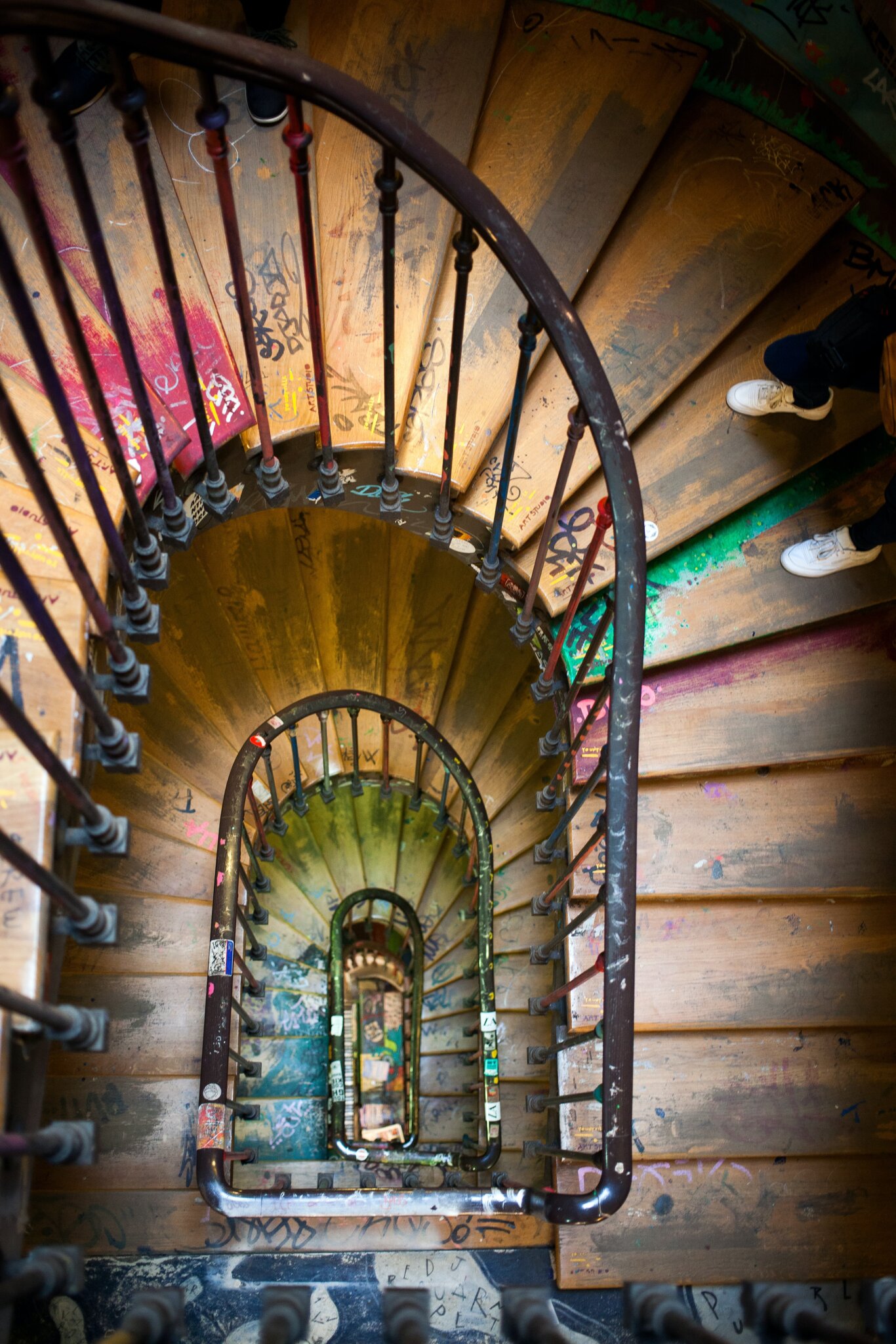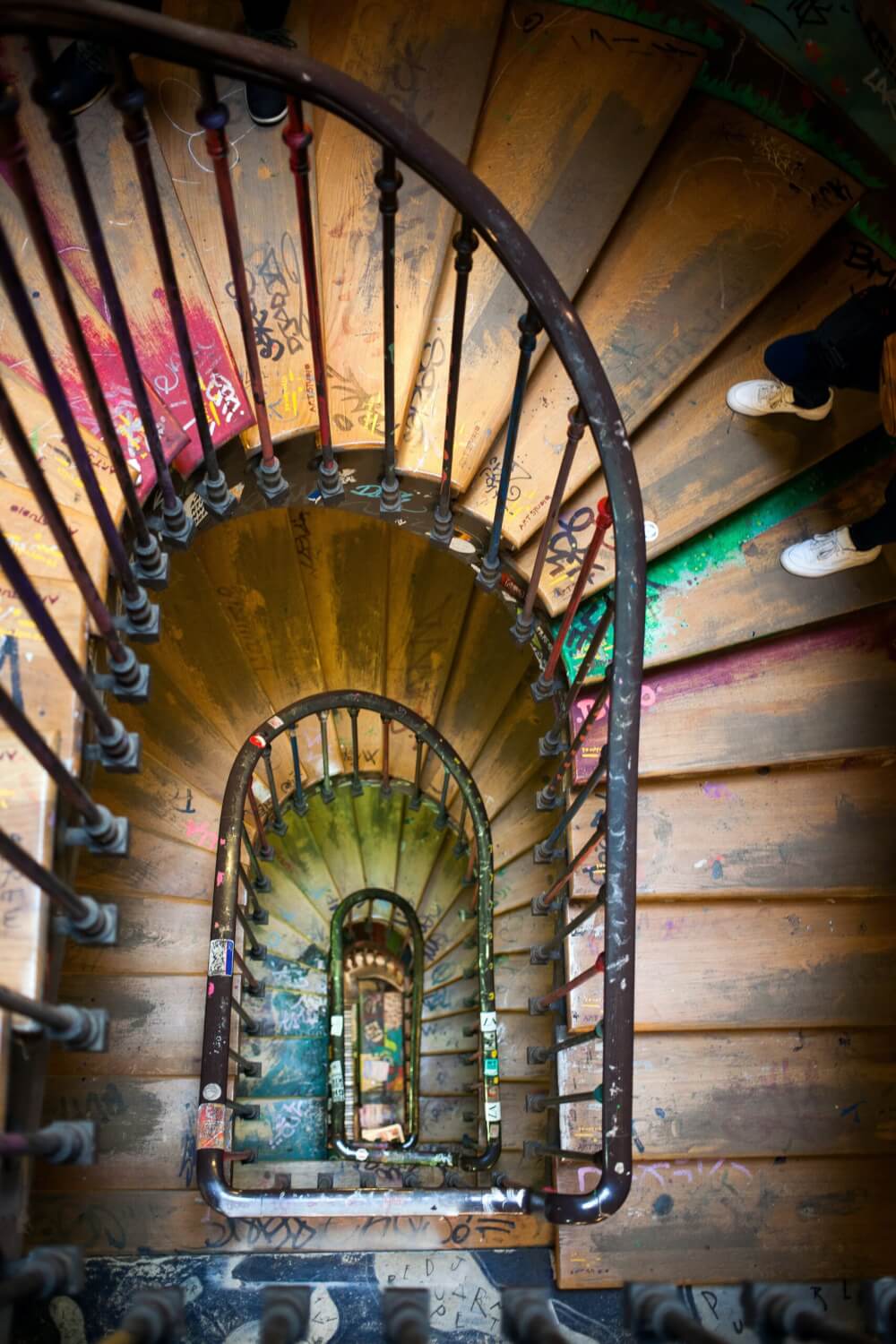 Prepare for beds to be different
Bed sizes in Europe tend to be smaller, and doubles can often just be two single beds pushed together (so romantic, I know).
Depending on where you go, the pillows and comforters can be different as well, like in Germany where they've randomly decided that the optimal shape for a pillow is square. *shudder*
Beware of words you know that may mean a different thing in other languages
For example, a menu for North Americans is a list of dishes you can order, but a menu in France means a set meal or combo.
Similarly, entrées in North America are the main course, when in France, it means appetizer.
Use Google Maps to save spots you want to see
Google Maps is an amazing resource not just for navigating a new city, but also for saving spots you might want to visit in the future.
One of my favourite travel hacks is starring every location I deem interesting on Google Maps. You can do this by pressing the Save button when you search up that spot.
This allows you to have a visual map of all the cool cafes, street art murals, attractions, restaurants, etc. that you've saved during your research, which means you can easily organize your itinerary/sightseeing.
I love doing this because I'll often end up in new areas during my explorations, and I can just look at my map to see if anything interesting I read about happens to be nearby. Saves a lot of planning!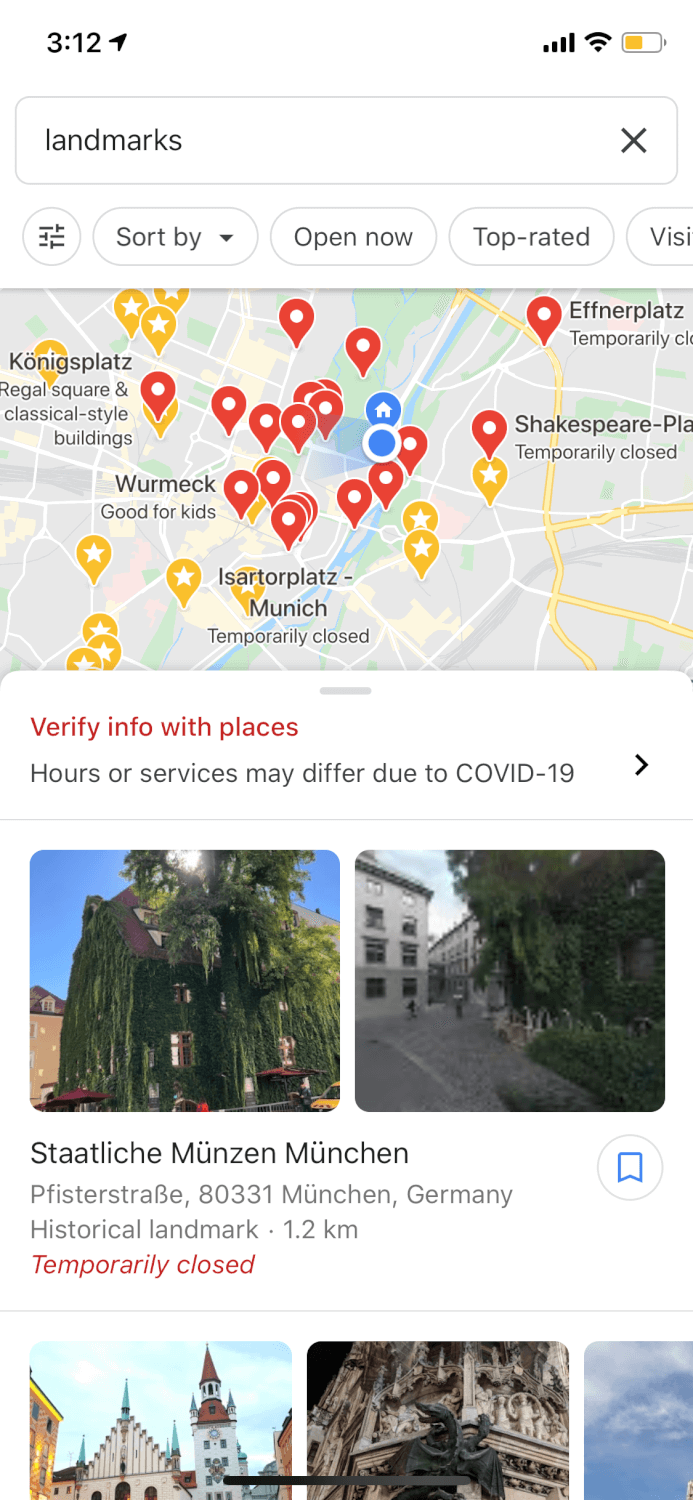 Need customer support? Hop on Twitter
Don't ask me why this is, but if you need to get ahold of customer support during your trip (e.g. an airline, a train company, etc.), usually the quickest response time will be through Twitter.
The best way to tell if you'll get a reply on Twitter is by checking the official accounts' replies – if there are recent replies to Tweets, odds are good that there's a dedicated staff member monitoring the account.
This of course works in non-travel settings as well!
Get crowdless photos by using this cool photo hack
For iPhone users, there's a super easy way to get cool photos in crowded places without getting a bunch of people in the shot.
Simply follow these steps:
Turn on Live photo
Pose for your photo, making sure to stand still
Get your photographer to snap a few photos of you standing still
Edit the photo by going in the upper left corner, click on the LIVE button with the downwards arrow, and turn on Long Exposure
The crowds walking around you should now be blurry, with you still in focus
Binge on movies set in your destination before your visit
You know, I could binge travel quotes all day but nothing will put me in more of a wanderlusty mood that a good movie set somewhere beautiful.
So, if you binge travel movies set in your destination, I promise your trip will be 1000000x times more enjoyable when you recognize the sights that you're seeing. Trust me.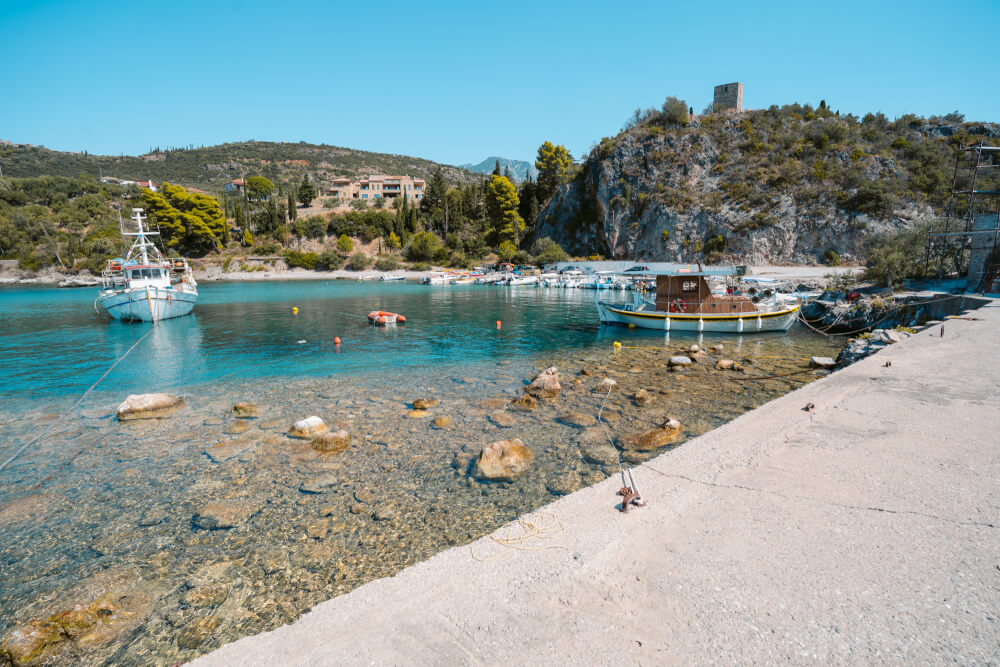 Consider learning the Cyrillic alphabet
If you are travelling somewhere that uses the Cyrillic alphabet, it can be very beneficial to learn how to read it.
This is because sometimes destination names at train/bus stations are written only in the local alphabet, which can lead to a lot of confusion if you're unfamiliar with it.
European countries that use the Cyrillic alphabet include…
Belarus
Bulgaria
North Macedonia
Montenegro
Russia
Serbia
Ukraine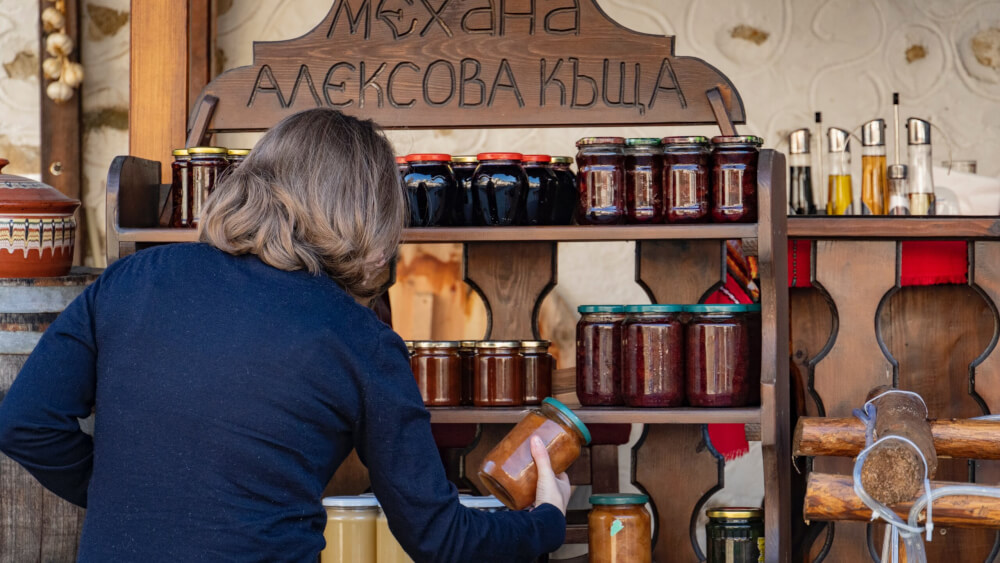 Remember: Europe is more about the experience than it is about seeing a million sights
Last but not least, I have to say… Europe is beautiful, yes. It's packed to the brim with gorgeous museums, architecture, natural beauty, etc. BUT at the end of the day, what you need to focus more is on the experience of just being present and enjoying every moment.
Don't stress yourself out too much with a heavy itinerary and trying to cram as much as possible in.
Enjoy it! Because your trip will go by far quicker than you think.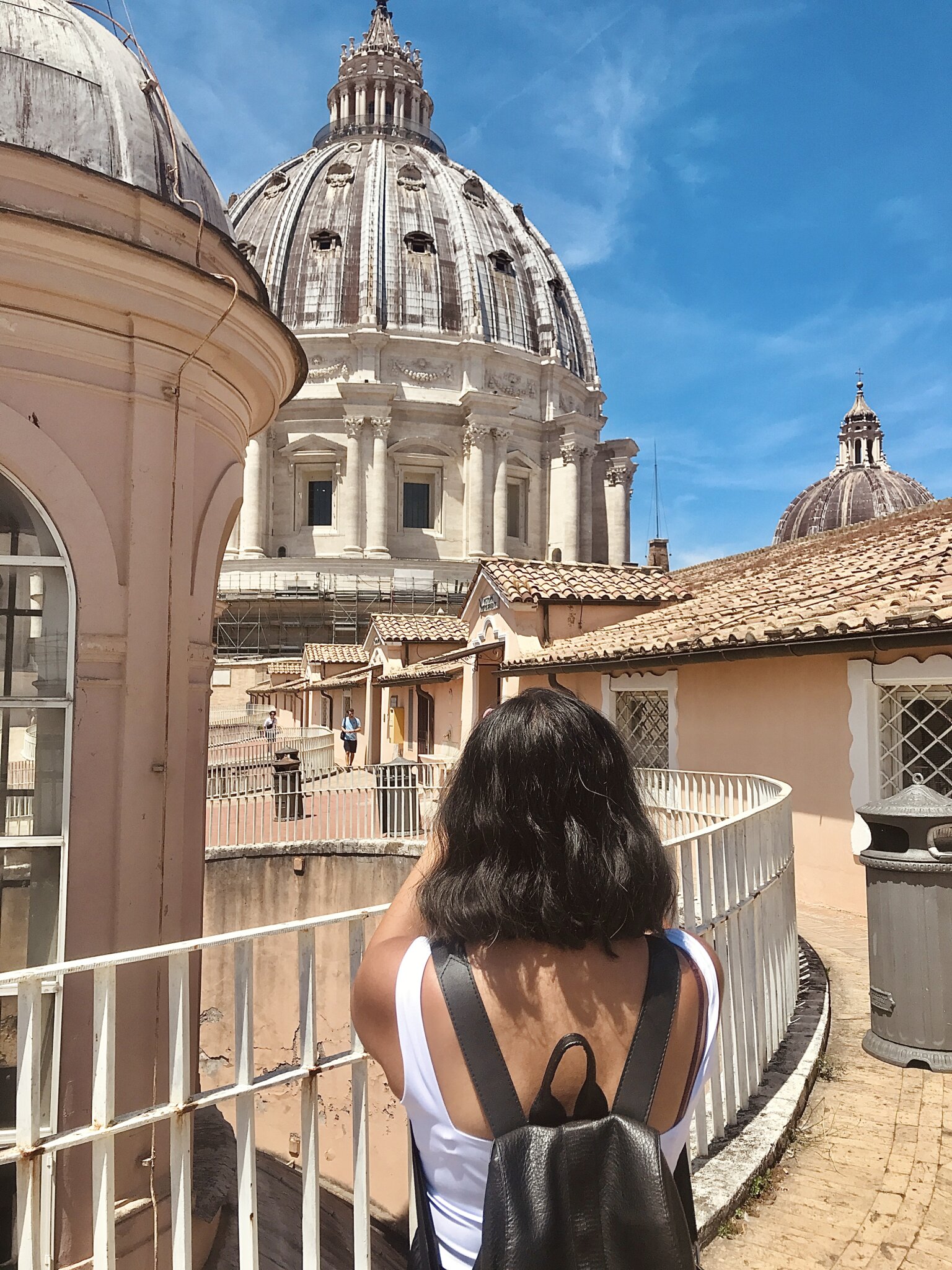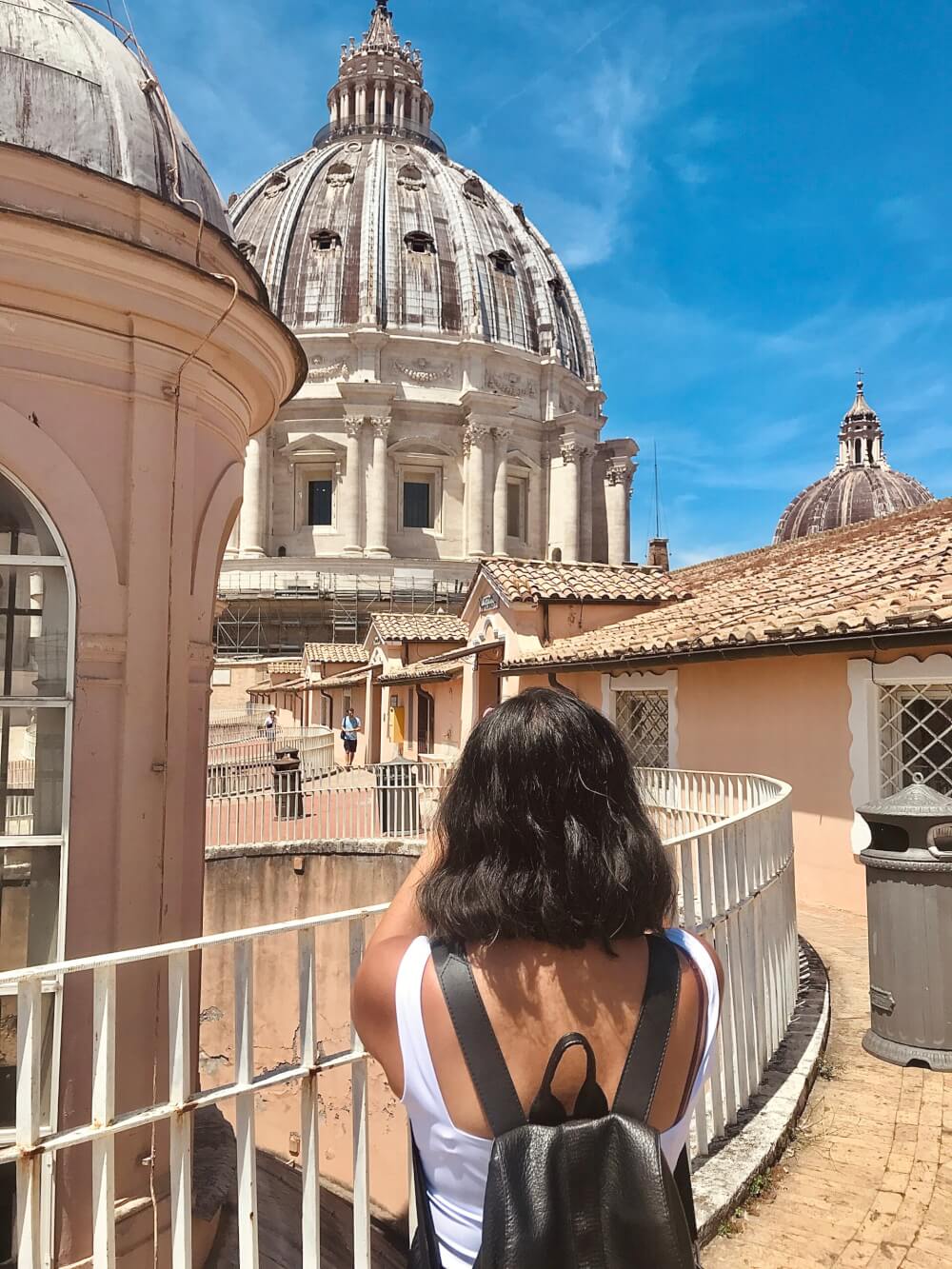 I hope this list of Europe travel tips was helpful!
If you've made it this far, wow. I applaud the stamina. And patience! This ha admittedly been a VERY long list of tips for Europe, but if you have any more questions, let me know in the comments… and be sure to read my list of unconventional travel hacks if you're eager for more.
---
Watch my most popular YouTube video this week:
---