*FYI - this post may contain affiliate links, which means we earn a commission at no extra cost to you if you purchase from them. Also, as an Amazon Associate I earn from qualifying purchases. Check out our Privacy Policy and Disclosure. for more info.
Packing for summer in Europe is a daunting task.
After all, if you're like me, you want to look dayum good while eating your 10th croissant, or at least semi-blend in with the hordes of attractive and stylish locals.
But it's not easy knowing what to bring! Europe is a big, diverse continent with ever-changing weather conditions.
Luckily, I've travelled extensively around Europe in the past 3 summers, so have a pretty good idea of what you need and what you don't.
Here's my packing guide below, with tips/suggestions that will make packing as stress-free as possible… after all, your mental energy should be spent on planning where to eat, not on what goes inside your suitcase.
NOTE: Of course, you should only take this as a base for your packing list! Be sure to tailor the specifics to your itinerary, style preferences and weather.
Save this post on Pinterest for later: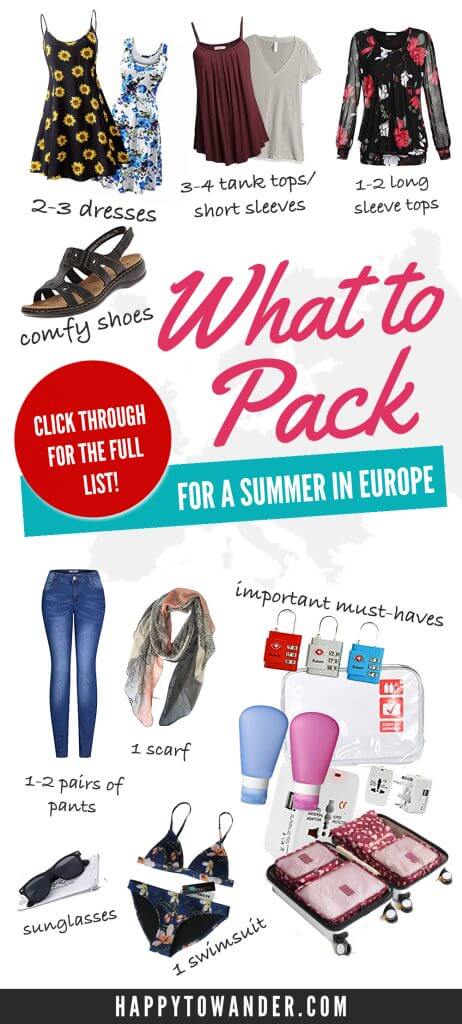 Must-haves that will make your summer in Europe 1000x easier
Packing for summer in Europe: the simple breakdown of what to pack
Here's a quick clothing/accessories packing list for you! To see a more detailed explanation, scroll down.
Clothes
1-2 long sleeve tops
3-4 tank tops/short sleeve tops
2-3 dresses
1-2 pairs of pants (trousers)
1-2 skirts or shorts (1 longer, past the knee)
1-2 cardigans
1 jacket/coat
7-8 pairs of underwear
1-2 bras (1 strapless!)
2-3 pairs of socks
1-2 pairs comfortable walking shoes
1 swimsuit
1 pair of yogapants/comfy pants (that can double as active wear)
1 comfy top for sleeping
Accessories
Sunglasses
1-2 statement necklaces
1 scarf
1 daybag (purse or backpack)
Where to buy clothing for a summer in Europe
Before I get into the nitty gritty of what exact items to pack, I thought it would be helpful to give you a list of online shops where you can buy lots of nice, affordable clothing that are perfect for a summer in Europe.
These shops have lots of cute, stylish clothes for affordable prices (which means you won't feel bad tossing them around/crumpling them in suitcases). They also have a lot of clothing with non-wrinkly materials, which is of course preferable. Here are some of my recommendations:
Dynamite: My go-to store when I'm home in Canada. The perfect compromise between style and price (and a lot of their stuff is resistant to wrinkles!)
Mango: My favourite store when I'm in Europe. Lots of beautiful styles to choose from (and not horrifically expensive either)
ASOS: Shipping is super fast, they're constantly having sales, the styles are really cute and they have a lot of super easy ways to return the goods for free if you don't like them. WARNING: A very dangerous site for your willpower 😉
What clothing to pack for a summer in Europe
1-2 long sleeve tops
Odds are the temperatures will be warm enough that you won't need too many long sleeve tops, but I always bring one just in case a chilly day arises.
I'd recommend bringing a nice one that can also work for going out, because obviously at night the temperatures tend to dip, so you might want something warmer.
3-4 tank tops/short sleeve tops
Ideally these will be made from fabrics that don't wrinkle easily. I like to make sure all my tops match all my bottoms (which maximizes the number of outfits I can make!)
I'd also stick to darker shades, especially if you're travelling for a while, as you want something that can hold up to adventures (and messy eating!)

2-3 dresses
Dresses are my favourite when travelling, because they're low-maintenance yet can instantly make you look like you tried!
I'd recommend packing at least one that transitions easily from day to night (e.g. an LBD), and one that's longer in length.
I personally love solid-coloured basic dresses because they're so versatile. Here's one that's very similar to my go-to.

1-2 pairs of pants (trousers)
Europe in the summer can get HOT, so I don't find myself wearing long pants often. I find one pair (usually jeans) will suffice for the days it's too cold or for night time adventures.

1-2 skirts or shorts (1 longer, past the knee)
Having bottoms that go past the knee are essential in Europe, because some stricter churches won't let you in unless your shoulders (and sometimes legs) are covered.
I like to bring bottoms that match all my tops – that way I get more choices in terms of outfits.
1-2 cardigans/cover-ups
You might think this is librarian-esque, but I way prefer a nice cardigan to a hoodie or sweatshirt because of its versatility.
You can layer it over a top or dress and still look decent, plus they're light enough to carry in your bag (or tied around it) 'just in case'.
Again, aim for something that matches the majority of your clothes (neutrals work best!)

1 jacket/coat
Remember to double check that this jacket matches the majority of your clothing items (length wise and colour wise!).
You won't need to bring more than one, especially because they're so bulky and you'll realistically only need them at night/on the off cold day.
I like to bring something a little dressier (e.g. not a bulky parka or athletic windbreaker) because you can then use it as an instant class-up for fancy occasions, and you can wear it 'out' for bars/clubs or wherever your adventures take you.
7-8 pairs of underwear
You could honestly get away with less if you're okay with doing laundry on the road, but 7-8 is a nice number so that you only need to take care of laundry once a week!
A friend of mine also recommends packing panty liners so that you can just use those/not have to switch underwear as often… but that's not for everybody!
I always stalk Victoria's Secret and wait for one of their sales, which they have constantly! Then I stock up.
1-2 bras (1 strapless!)
I highly recommend one of them being strapless (or at least convertible) because odds are, your tops will have varying straps, and with the hot summer sun, the last thing you want is weirdo strappy tan lines all over the place.
Again, stalk sales on Victoria's Secret and maybe get yourself one of those convertible bras (which are perfect for trips like this where you want to pack light but also avoid getting ridiculous tan lines).
1-2 pairs comfortable walking shoes
Unless you plan on doing physical activity like hikes, running shoes aren't necessary. My go-to is a comfortable pair of sandals and/or some nice canvas shoes.
The key is to bring shoes that match all your outfits. If you want to pack light, don't worry about bringing heels or anything for going out, just bring sandals that are nice enough that you can get away with wearing them out for a few drinks (or ten).
My sandals from Clarks are still the comfiest I've ever worn and they've been with me on a series of misadventures, from awkward bike rides to accidental mountain climbs and hikes. I can vouch for their comfort!
I can't find my exact pair online anymore, but here are some similar ones.

2-3 pairs of socks
This depends on what shoes you bring, but during the summer, you'll likely be rocking sandals or other shoes that don't require socks. In such cases, 2-3 pairs would be more than enough.
1 swimsuit
Unless you're doing a sailing trip or plan on spending a lot of time at the beach, 1 swimsuit will be more than enough.
1 pair of yogapants/comfy pants
A smart trick is to pack pyjamas that can also double for a second purpose if absolutely needed. If you don't plan on doing a lot of physical activity (e.g. hiking), you can get away with one pair of yoga/activewear pants as pyjamas, then use them on the off-chance that you need to get physical.
I recommend you just get a good quality pair from Nike or something and call it a day. Saves you more in the long run!

1 comfy top for sleeping
Again, pack something that's loose and comfortable, but something that you wouldn't mind wearing out in public.
That way, if you need something comfortable in a pinch (e.g. for a long commute day), then you have something to wear.
I hope you found this summer in Europe packing list helpful!
Let me know in the comments if you have any more questions.

---
Watch my most popular YouTube video this week:
---