*FYI - this post may contain affiliate links, which means we earn a commission at no extra cost to you if you purchase from them. Check out our Privacy Policy and Disclosure. for more info.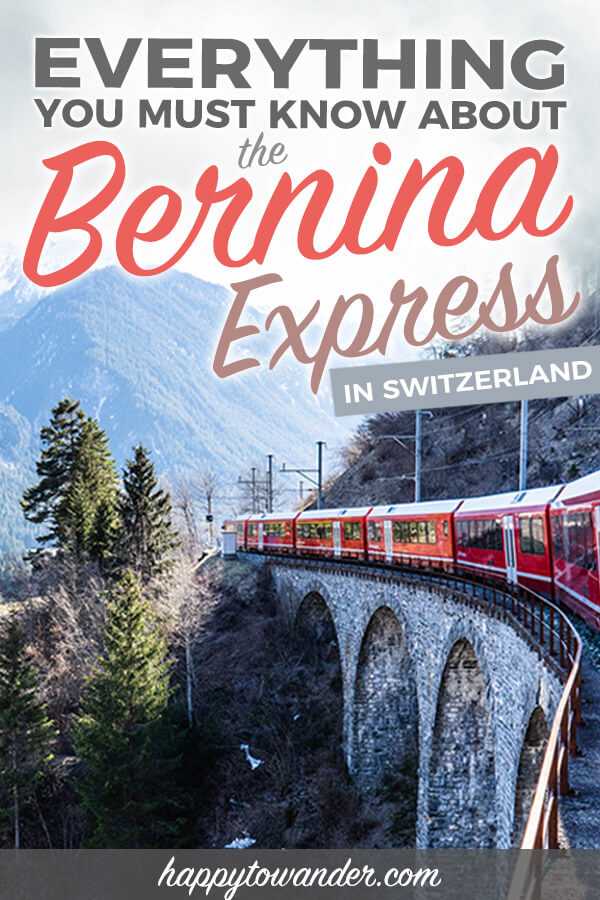 Whether you're an avid lover of train travel or simply a frequent snooper on Instagram, odds are you've heard of the world-famous Bernina Express train in Switzerland, frequently hailed as one of the most scenic train rides in the entire country.
And guys, let me tell you…
This. ride. is. the. bomb. diggity.
I have a jar of happy tears and full SD cards to prove it!
What's so special about the mystical Bernina Express? Well, if timed properly, this one single train ride brings you on a whirlwind journey through the most incredible variety of landscapes that Switzerland has to offer, from snowy mountains, adorable villages and hilltop castles to bright blue lakes and the rustic charm of northern Italy.
I recently got to check this ride off my bucket list not just once, but in March: once from Chur to Tirano on board the official "Bernina Express", and then back again from Tirano to Chur in a DIY fashion, using regional trains which travelled the same route.
While the experience was fantastic, prior to my trip, I found it comically difficult to find all the right information consolidated in one place, so here's a guide on all the important must-knows before you ride the world-famous Bernina Express, including the route, the cost, whether or not it's right for you, how to buy tickets, and a secret trick for doing the trip cheaper/with better photography opportunities!
Choo choo! Let's go.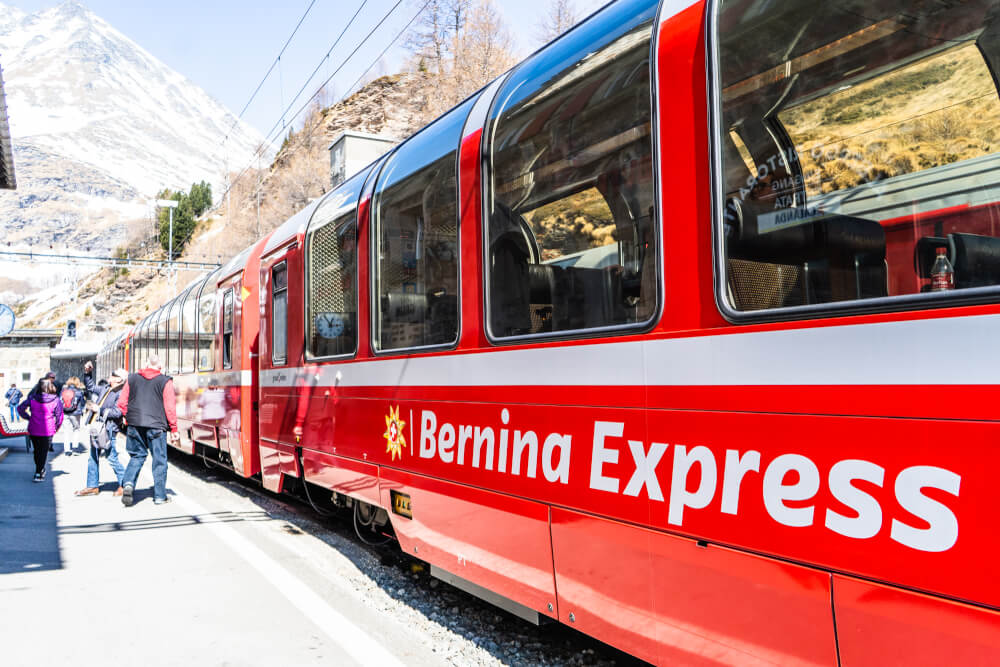 First – A Quick Intro to the Bernina Express
So, as I mentioned earlier, the Bernina Express is a legendary train ride that is often hailed as one of the most scenic in the world.
Having done it, I can assure you that it's akin to getting throatpunched with natural beauty.
With a relatively short 4 hour  journey time from start to finish, it takes half the time of the much lengthier Glacier Express, and covers just as many scenic landscapes, from fairytale castles and mystical viaducts to mountain-top lakes and and quaint Italian towns. Along the way, you traverse 55 tunnels and 196 bridges/viaducts, which means plenty of action to keep your eyeballs busy. Taken end to end, you'll get from Switzerland to Italy (or vice versa) in style, making it one of the most badass ways to country hop, certainly if you indulge in some on-board vino.
… All in all, the Bernina Express is a once-in-a-lifetime experience, and well worth a try on your next Swiss adventure!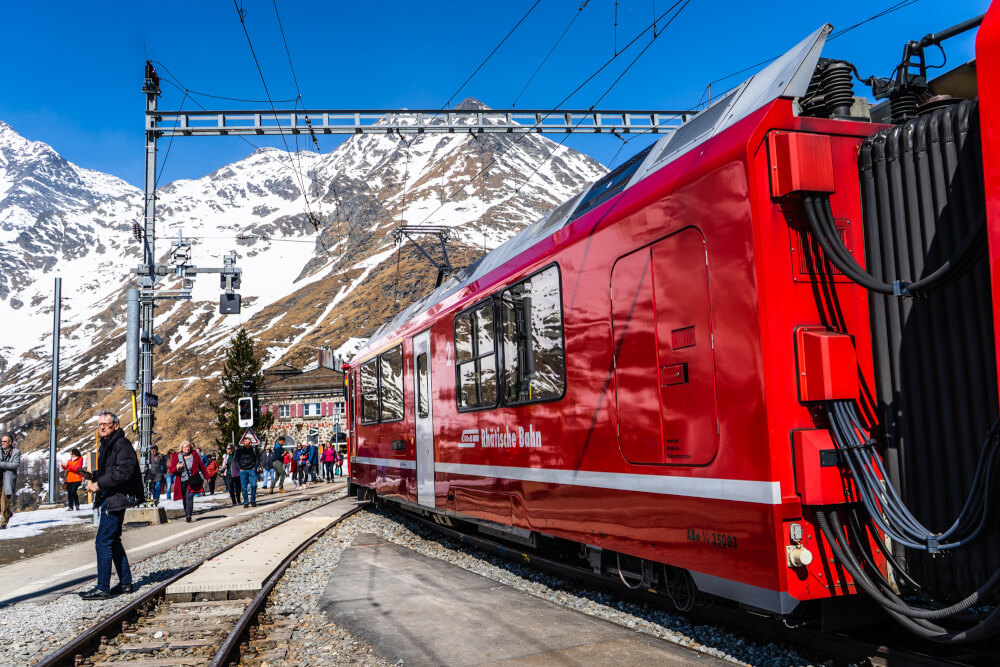 The Bernina Express Route
So, if you're curious about where the Bernina Express goes, here's a detailed breakdown of the route:
The Bernina Express route runs between Chur and Tirano. You can start at either end, but I did it from Chur to Tirano.
If you leave from Chur as I did, you pass through Thusis and Tiefencastel, going through the Domleschg valley which is dotted with countless mountain-top castles and pretty ruins. The journey continues for an hour until one of the key moments of the trip: crossing the Landwasser Viaduct, about 5 minutes before you arrive at Filisur. The train crosses the viaduct extremely quickly though, so blink and you might miss it. Have those cameras at the ready!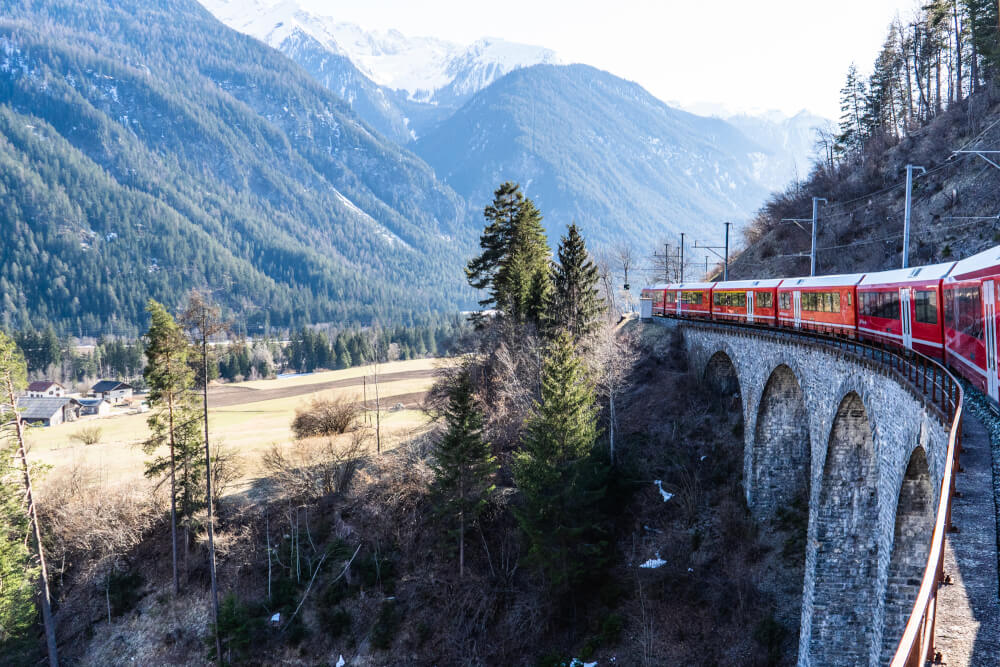 After Filisur, you go through the Albula tunnel and head onwards to the Upper Engadine valley, passing Pontresina along the way.
Then, upwards you go!
In March, this meant we were soon face to face with snowy mountains and and an endless snowy landscape. Seeing the Lago Bianco was a highlight, because even though it was frozen over, part had began to melt which meant we got a glimpse at the intense colour of the lake. I'd love to see it again in the summer! Soon, you reach the Ospizio Bernina, the route's highest point (2253m above the sea).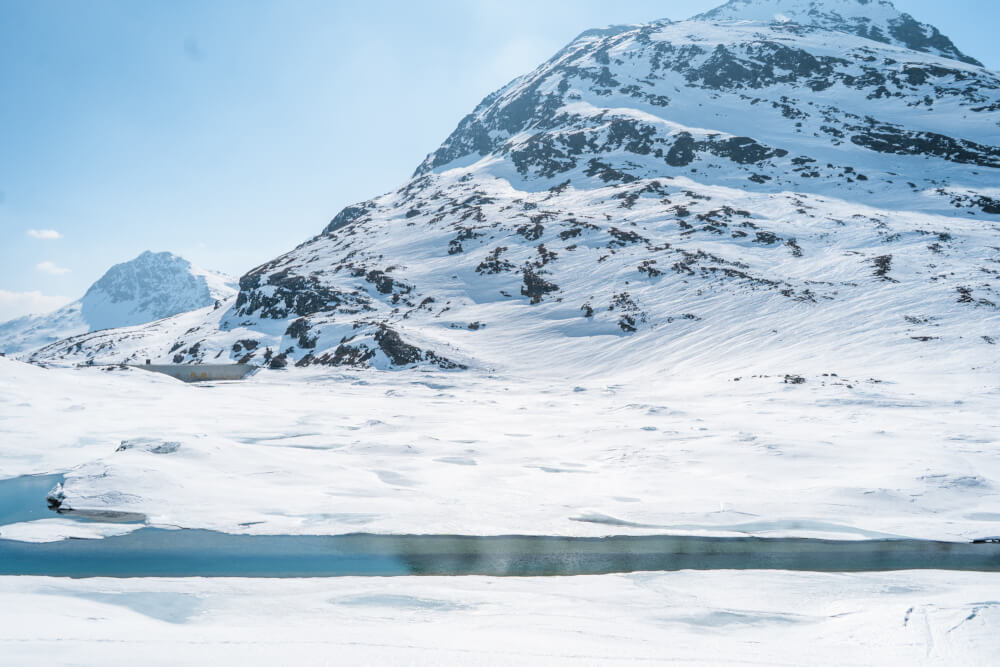 From here, you begin a descent and the landscapes quickly begin to change. After a 20 minute photo stop at the Alp Grüm stop, the Bernina Express curves into the Poschiavo valley, and you'll soon see how quickly those snowy mountains have been replaced by picturesque villages and a distinctly Mediterranean vibe.
You then pass the beautifully blue Lago di Poschiavo before taking on the Brusio spiral viaduct, which is a real treat to ride. Your journey wraps up in Tirano, but along the way you weave through tiny towns, at times occupying the entire road and being so close to houses you could probably knock on their doors if you tried. Such a cool experience!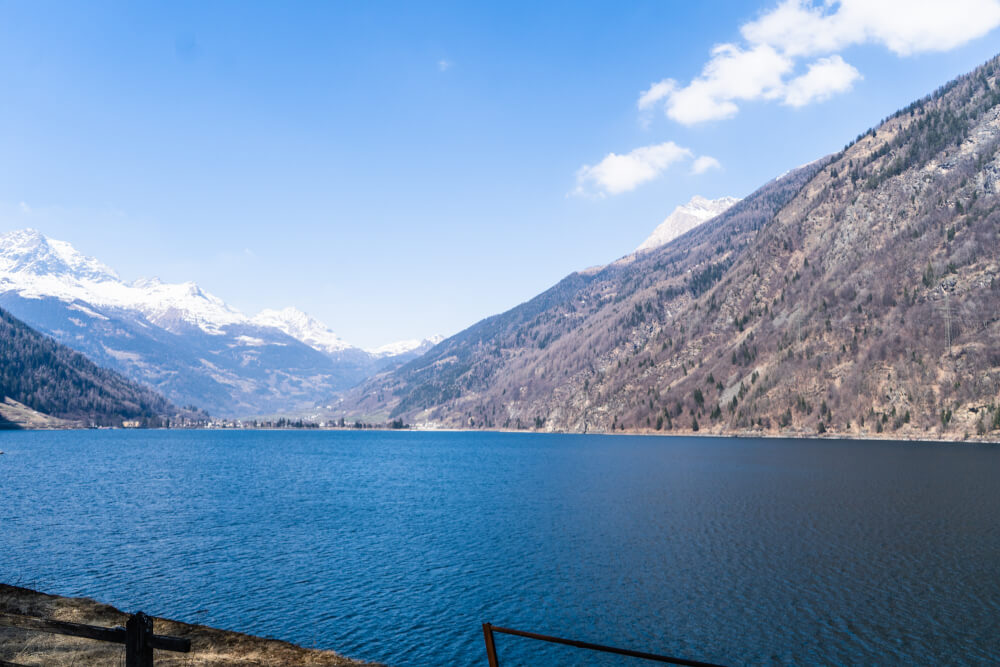 Once in Tirano, you can disembark and check out the city, take the Bernina Express bus onwards to Lugano (summer only) or take it the way back to enjoy a nice roundtrip.
If you are looking for a Bernina Express route map, here's one.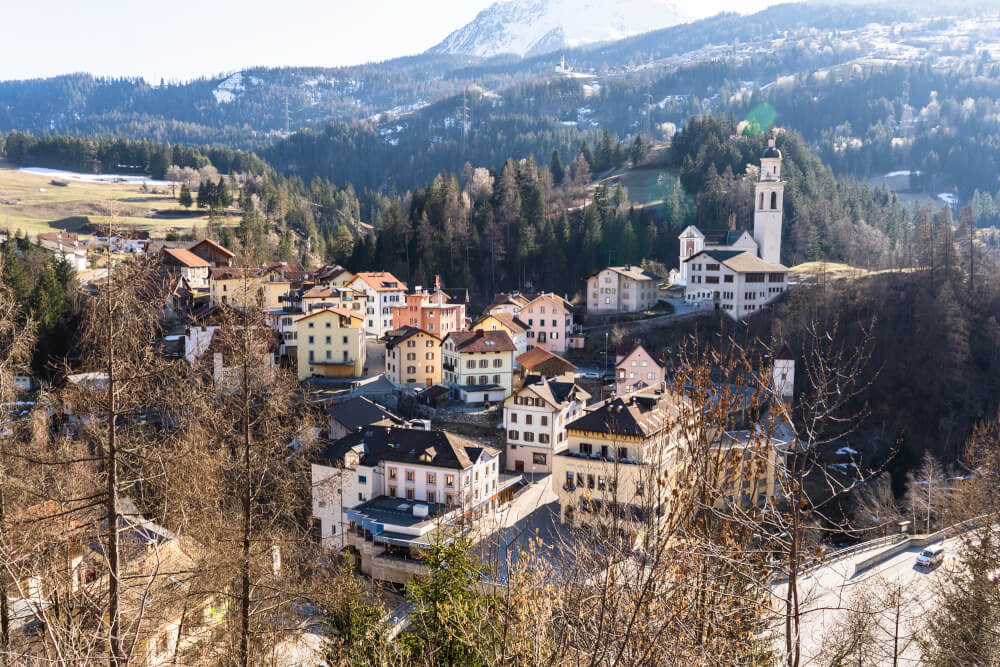 How Much Is It? An Explanation of Bernina Express Costs
First-time customers might have a little trouble understanding how much the Bernina Express actually costs. I know I stumbled around for this info much longer than I'd like to admit, so here's a simple explanation.
Buying a ticket to the Bernina Express comes in two parts: first you need to buy a base ticket which covers your fare from Point A to Point B, then you need to pay a mandatory reservation fee of 14CHF to hold your seat.
As such, the cost of the Bernina Express depends on where you're starting, where you're getting off, and of course, what class you pick.
Here's a table summarizing the costs for 2019: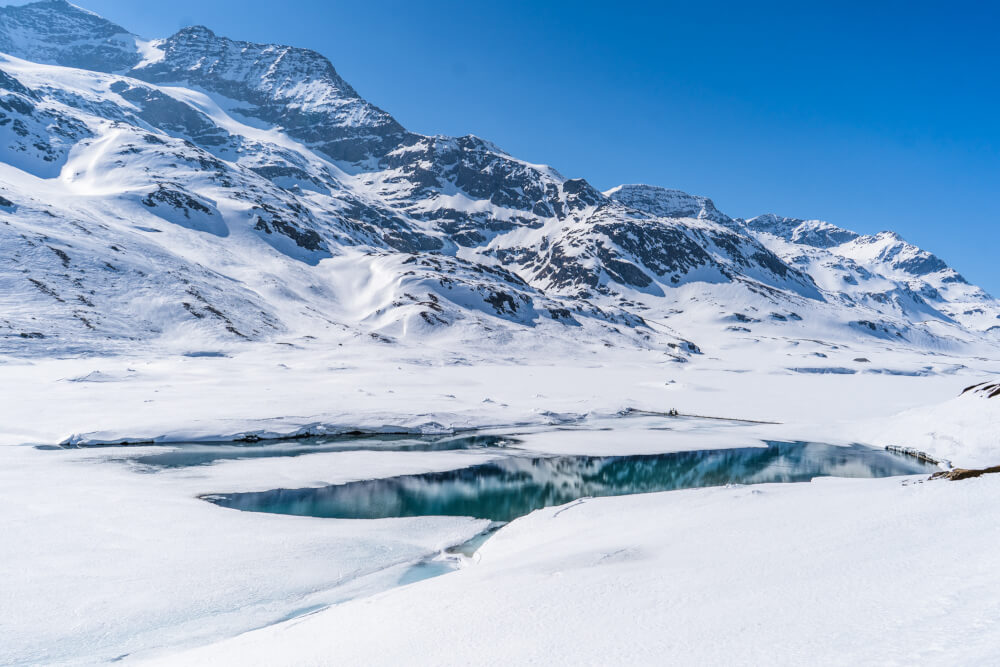 A Quick Review: Is the Bernina Express Worth It?
There are a lot of amazing things you can do in Switzerland, so you might be wondering, as a full-day activity that costs quite a bit of money, is the Bernina Express worth it?
My annoying answer: it depends!
If you love train travel and are looking for a relaxing way to enjoy some stunning landscapes, then the Bernina Express is 100% worth the money.
If you don't love organized "touristy" things, and feel restless being trapped on a train for 4 hours (8 hours roundtrip), then you might be better off exploring other Swiss activities.
I'll be honest: my preferred way of doing the Bernina Express is actually the DIY route that utilizes regional trains instead of the panoramic Bernina Express tourist train. I'll explain how to use this method below, but overall, doing it by regional train was only minorly less convenient, with amazing perks like windows you could open, substantially less crowds and of course, all the same landscapes as you would get on the regular Bernina Express. I would recommend this route if you are more of an independent traveler.
Regardless though, the Bernina Express is a wonderful bucket list activity, and definitely one that I'm glad I did. Below, you'll find detailed instructions on how to book tickets, along with important tips to keep in mind.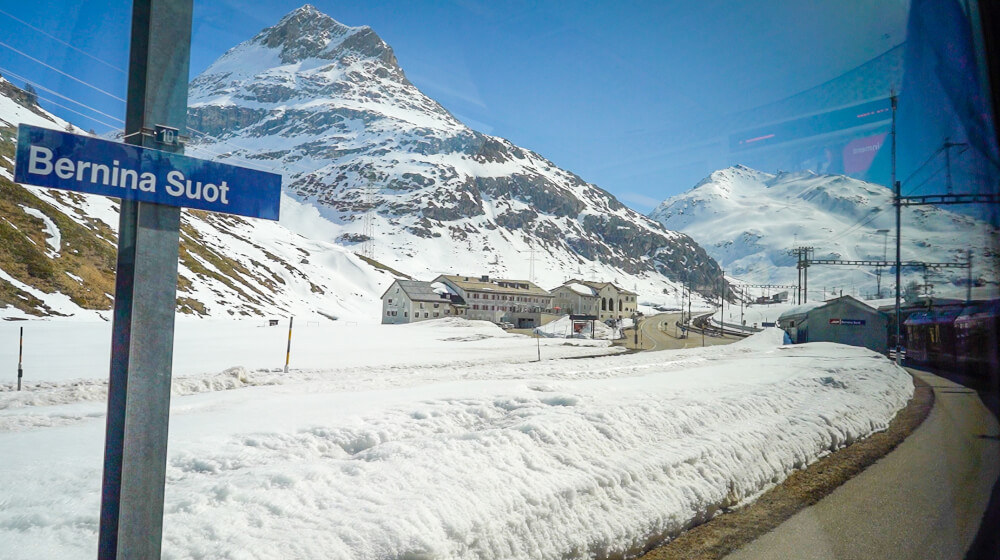 How to Buy Bernina Express Tickets: Step by Step
Buying tickets for the Bernina Express can be a bit confusing, so here's a foolproof guide to help you through the process.
OPTION A: From the official website
Step One: Go onto the official Bernina Express website here.
Step Two: Enter your Departure Point, Arrival Point and date of travel, bearing in mind you can only buy actual tickets 2 months in advance, but you can make a reservation (the most important part!) earlier than that, up to 6 months before (based on my own tests, as I'm able to make reservations for October at the time of writing this article, which was April).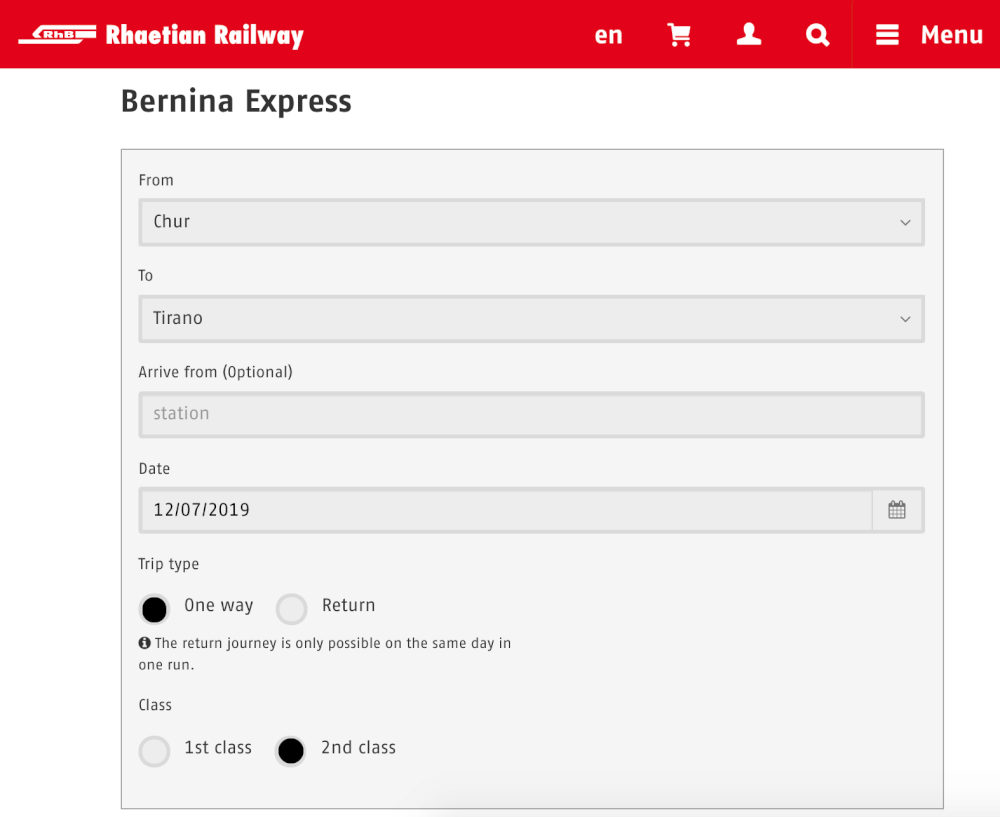 Step Three: Choose your desired journey time and scroll down to choose your reserved seat, which will be highlighted in green. When you're happy with your choice, press 'Next'.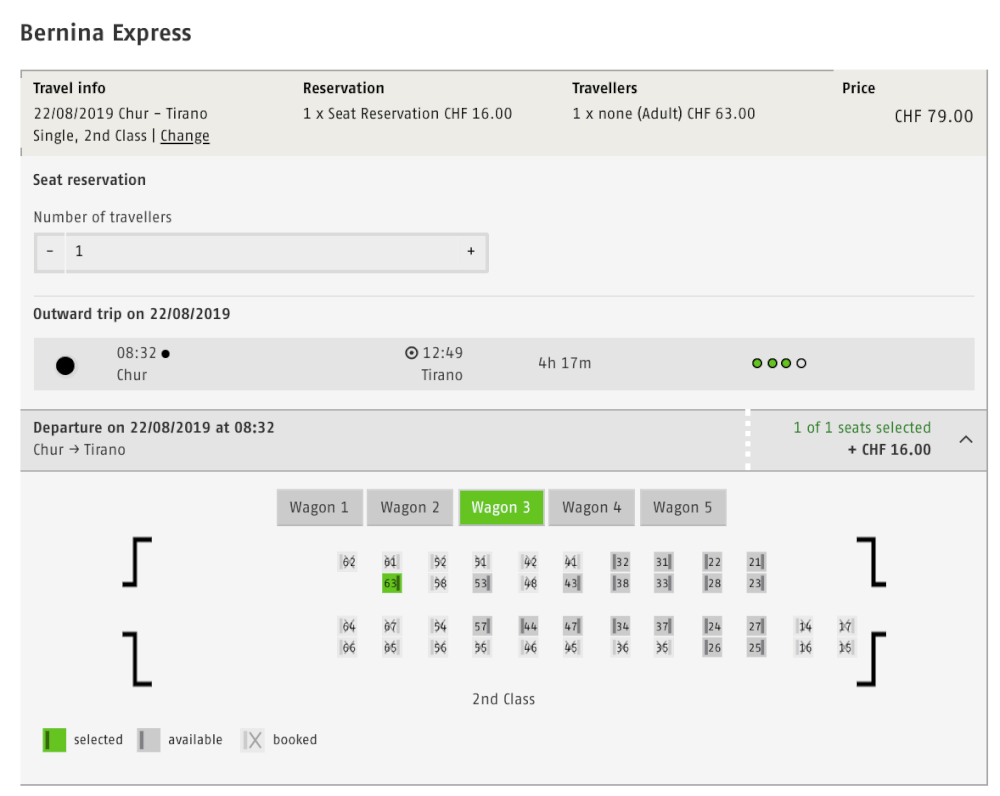 Step Four: Enter your details, press Next and pay up! Then you're all done 🙂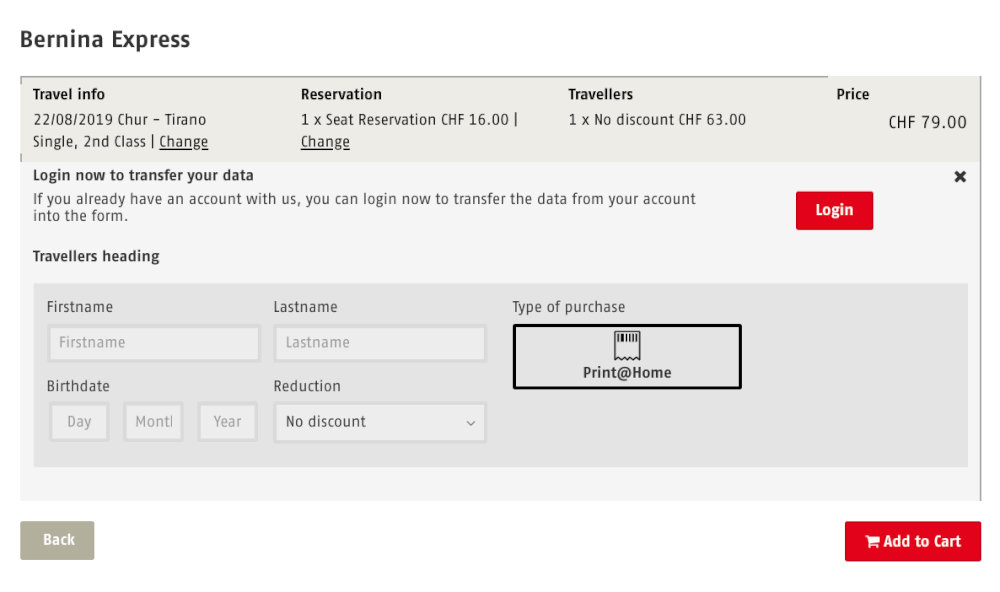 OPTION B: Book a tour
If you're looking for someone to take care of everything for you, or perhaps if you want to do the Bernina Express trip starting from another city you're travelling in, then maybe booking a tour is a good idea. There are many companies that offer tour packages which include transport from main cities (e.g. Zurich, Bern, Basel) to a Glacier Express stop, and also take care of your reservations and tickets. Of course, this will be more expensive than organizing everything yourself, but you do get a lot more ease of mind.
Booking a tour is ALSO a great trick for ensuring you get tickets, even more than 3 months in advance. This is important if you're travelling from far away to do this ride!
So, if you're interested in booking a tour, here are a few options:
How to Make a Bernina Express Seat Reservation
If you are travelling with a pass that covers the cost of your base ticket (e.g. Eurail, Interrail, Swiss Travel Pass), then you won't need to purchase a ticket, only a seat reservation.
Step by step, here's how you do that.
Step One: Go onto the official Bernina Express website here.
Step Two: Enter your Departure Point, Arrival Point and date of travel, bearing in mind you can only buy actual tickets 2 months in advance, but you can make a reservation (the most important part!) earlier than that, up to 6 months before (based on my own tests, as I'm able to make reservations for October at the time of writing this article, which was April).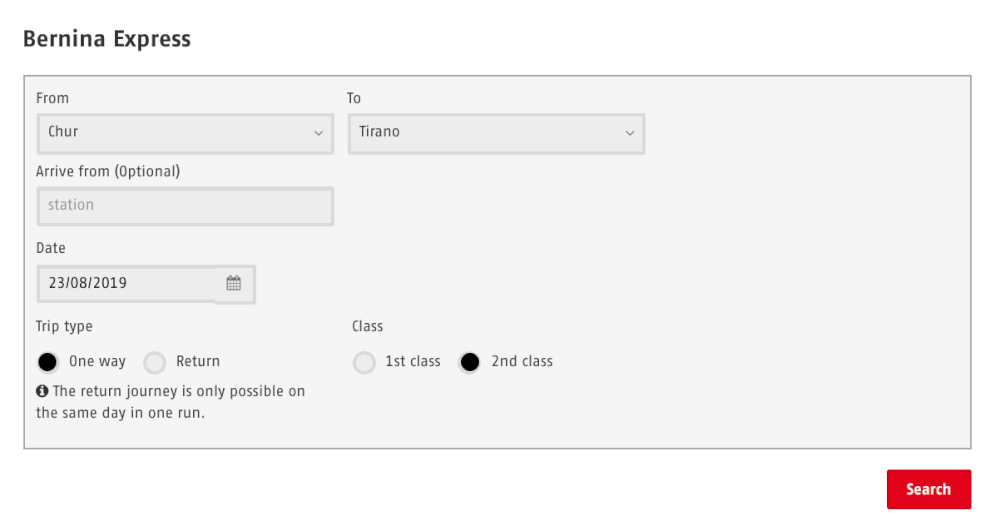 Step Three: Click on your desired journey/departure time, then scroll down to the seating chart to select your seat. Your selected seat will be in green.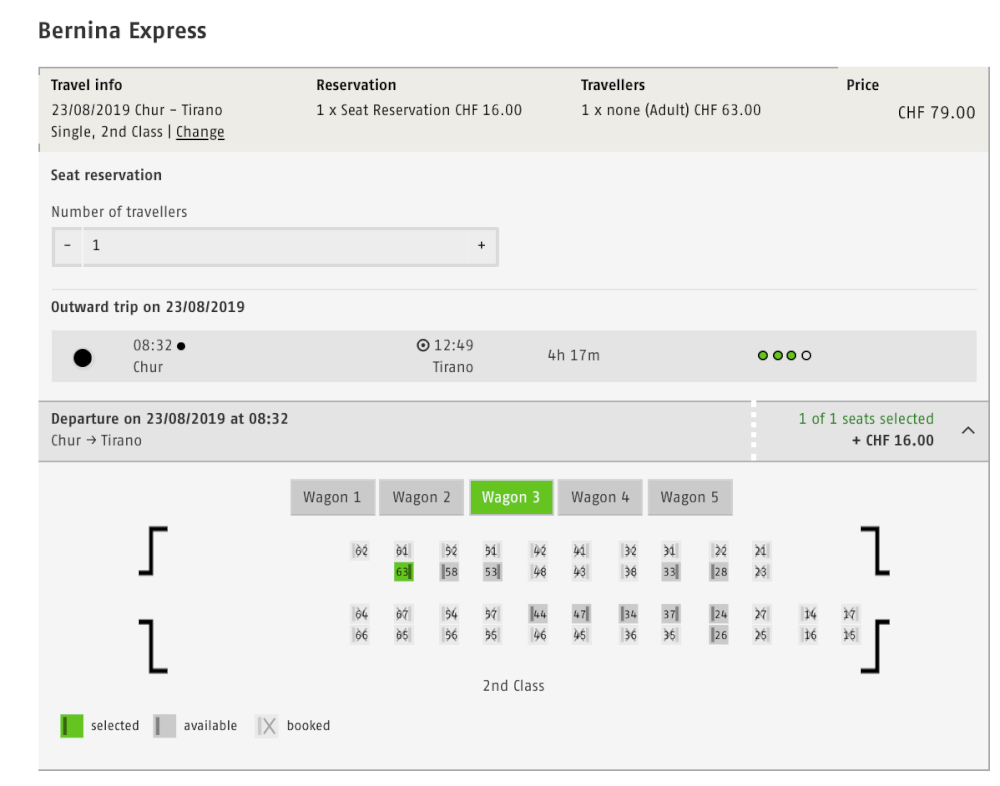 Step Four: Enter your information (first/last name and birthdate), then click on the Reduction menu and find your specific discount. If you're using a Eurail pass for instance, select that. After you do so, the ticket price should be taken away from your cart and you'll only need to pay the reservation fee. After that's done, press Next, pay, and you're all set! The details will be sent to you by email.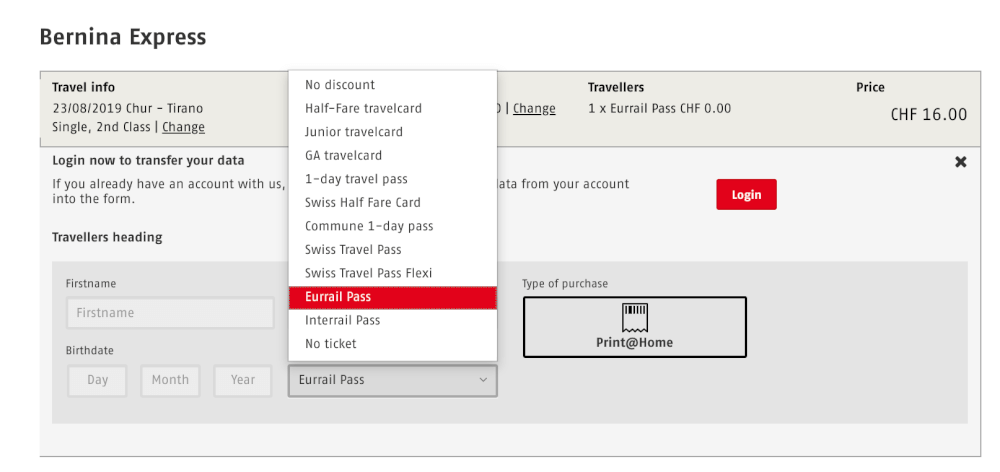 How to Get the Best Deal on Bernina Express Tickets
Bernina Express train tickets are a lot more affordable than the Glacier Express, but they're still on the pricey side (you are travelling in Switzerland after all!). That said, there are still a variety of ways that you can scheme your way into cheaper fares. Here are some of those methods!
1. Use a rail pass
Listen up: this is how I managed to scheme my way into only paying 30 euros for my 1st class ticket!
Here's how: When you use a Eurail/Interrail pass, that covers your base ticket fee which means you only need to pay for a reservation. As such, I paid 306 euros for a Eurail global 10 day pass, (I got a free 1st class upgrade thanks to a sale they were running). I then used 1 travel day on the Bernina Express, which evens out to only about 30 euros spent for this gorgeous ride (plus the 14 CHF reservation fee). Still an incredible deal, and by far the cheapest way to do it.
If you are travelling around Europe, getting a Eurail pass might be a good idea, because Switzerland is certainly where you get the best bang for your buck! Click here to browse the different passes and deals.
2. Consider a Swiss Travel Pass
This would be perfect for you if you plan to travel extensively around Switzerland. A Swiss Travel Pass is similar to the Eurail/Interrail passes except it gives you unlimited transportation on trains, buses, boats and free public transport + museums).
I know that sounds like a total dream, but the obvious caveat is that it is still very expensive, so make sure to do the math and see if getting one would really be worth it.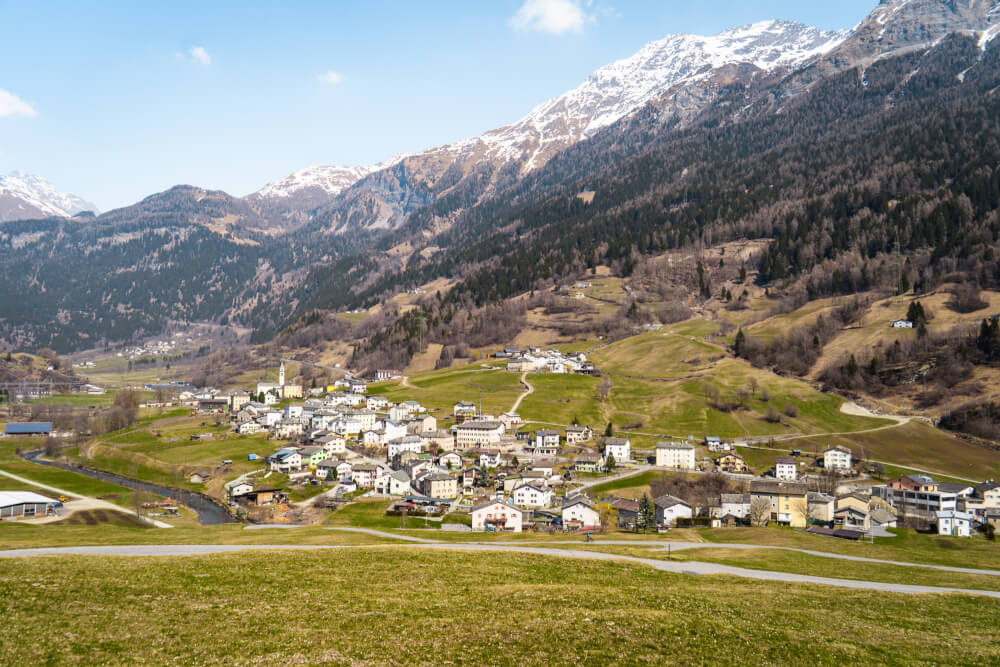 3. Consider getting a discount card
The Half Fare Travelcard is a very popular card that you can buy which (true to its name) gets you half price tickets. In 2019, this card is 120 CHF for one month. This sounds like a lot, but it could be worth it if you are spending an extended amount of time in Switzerland and plan to take multiple trains.
4. Do the "DIY" Bernina Express using regional trains
Last but not least, you can take regional trains instead of the official "Bernina Express", which can work out to be cheaper as you don't need to pay a reservation fee.
On my way back to Chur from Tirano, I decided to experiment and take regional trains along the Bernina Express route, just to compare the experience.
And honestly? I LOVED IT!
Having just endured four hours on a crowded train across from a judgey older couple, it was such a joy to hop on a regional train and have the first class car all to myself. Best of all? You could open the windows on the leg from Tirano to Pontresina, and there is a special photography carriage available on many trains from Samedan to Chur, so if you're a shutterbug like me, using regional trains is a perfect way to take excellent photos without ugly window reflections.
The main downside to this DIY route is you have to transfer a few times. I didn't find this to be a problem. Basically this is the route:
Tirano to Pontresina
Pontresina to Samedan (only a quick 6 minute ride)
Samedan to Chur
Because I didn't have tons of heavy bags, I could easily hop onto these transfers, and the peace/quiet along with the excellent photo opportunities made it worth it.
NOTE: The Man in Seat 61 has an excellent hack for securing this trip for as low as 29.90! This involves booking the trip to depart from a German city and taking advantage of Deutsche Bahn's super cheap Sparpreis ticket deals. Click here for more information on that special trick.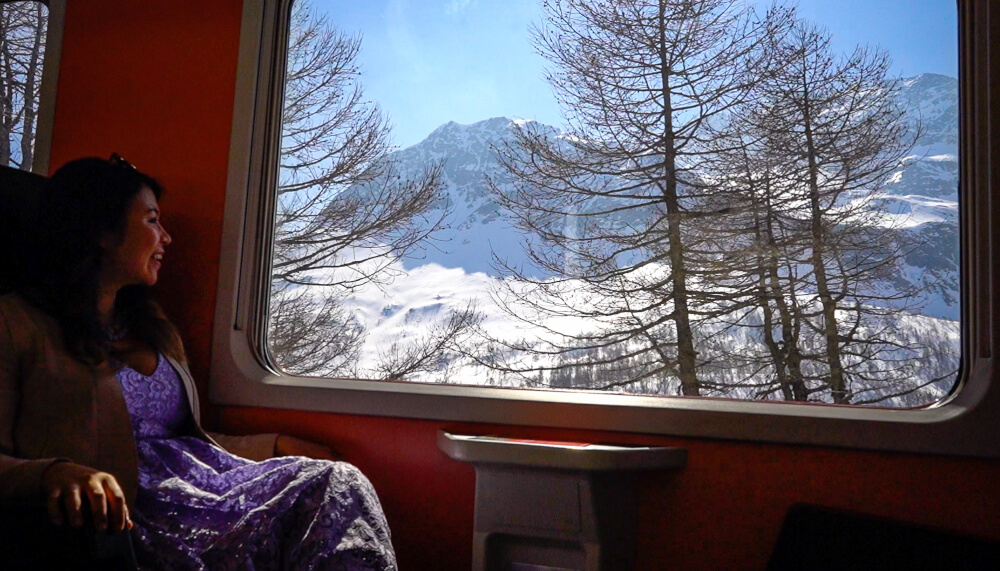 Oftentimes, the Bernina Express sells out in peak season. If you find yourself in a situation where seats are completely sold out for your travel dates, don't despair! Here are some solutions:
OPTION A: Check travel agencies/websites for organized tours
There are many companies that offer tour packages which include transport from main cities (e.g. Zurich, Bern, Basel) to a Bernina Express stop, and also take care of your reservations, tickets, lunch all for one package price. Again, this will be more expensive than organizing everything yourself, but booking one these might help you score a spot even on a "sold out" train.
Booking a tour is ALSO a great trick for ensuring you get tickets, even more than 3 months in advance. This is important if you're travelling from far away to do this ride!
So, if you're interested in booking a tour, here are a few options:
OPTION B: Do a DIY route with regional trains
Again, don't panic if Bernina Express tickets are sold out. Regional trains operate on the same railways as the Bernina Express, which means you can get the same views if you just take regional trains instead. The main inconvenience is you'd have to stop/transfer multiple times, but if you only want to do a portion of the ride, or don't mind the switching, then this is a great way to still "do" the Bernina Express even when tickets are sold out.
And honestly, you know what? I actually preferred the DIY route! It was so much quieter, I had an entire carriage pretty much to myself, I could open the windows for two of the main rides and the few changes were super easy and non-disruptive.
This is the route you would have to take. More info on this later!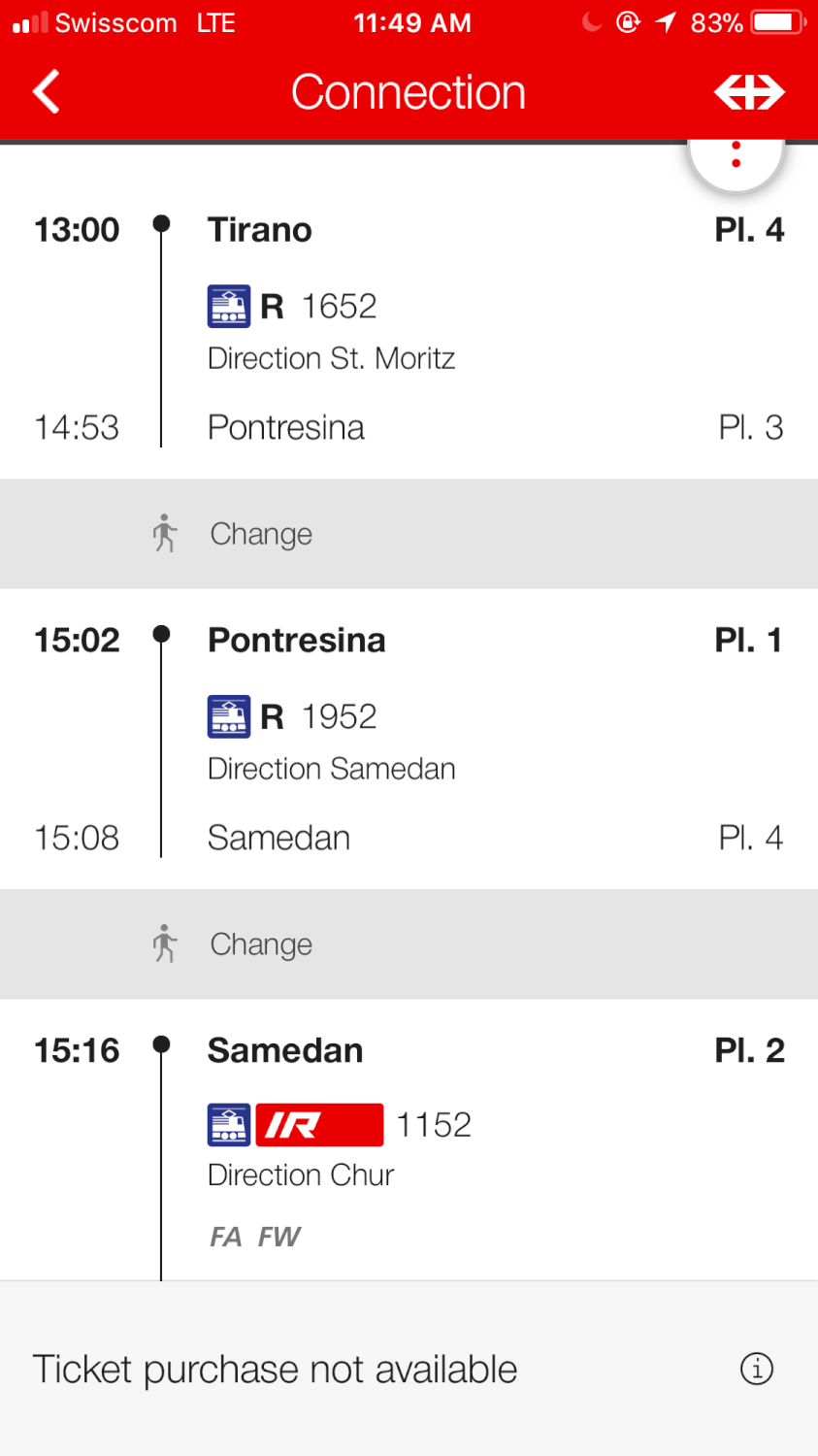 What to Pack for Your Bernina Express Trip
Passport: Don't forget, if you start in Tirano, you WILL be taking the train from Italy to Switzerland (or the train from Switzerland to Italy if you start in Chur), so make sure you valid travel documents with you.
Headphones: The Infotrainment includes free audio stories that you can listen to, but you would need to bring your own headphones to listen to them (and not awkwardly press play at full volume in a full carriage like I did).
Sunglasses: Even in the wintertime, the sun gets blindingly bright, certainly when it reflects off the snow. Make sure you have sunglasses!
Polarizing filters: If you're a keen photographer, know that reflections will probably get in the way of your shot. One way to get around this is to buy some polarizing filters. While they won't get rid of the reflection 100%, it will be much better than not using a filter of any kind.
Layers: When the sun is out, the panorama cars get super hot. I would advise dressing in layers so you can adjust to the changing temperatures.
Drinks/snacks: The food/drink selection is super limited on board and honestly, not the best quality. I would bring your own if possible.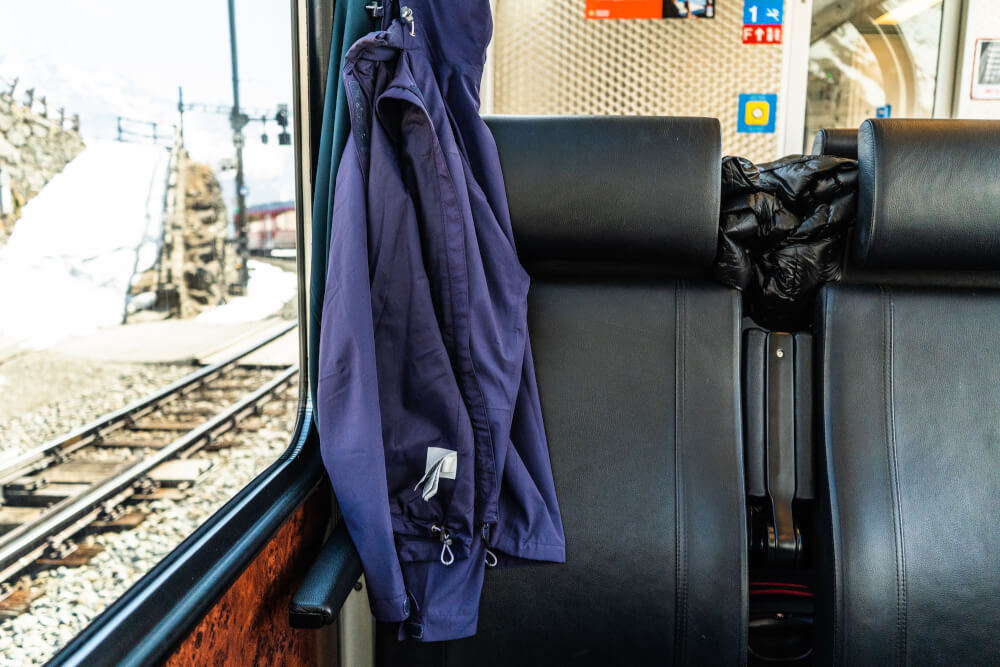 How to DIY the Bernina Express on Regional Trains
Alright, now let's dig into the really juicy stuff: how to do your own DIY Bernina Express.
I mentioned this a few times throughout the article, but basically, there are two ways you can see the landscapes of the Bernina Express. 1) You can take the official 'Bernina Express' train that is marketed to tourists as a sightseeing experience or 2) You can take regional trains that go along the same route, which gives you the same landscapes but without touristy add-ons like the panoramic sightseeing car, souvenirs, Infotrainment, etc.
Having tested both methods, I actually preferred recreating the route by myself on regional trains for a few different reasons: less crowds, windows you could open and an overall more "independent" experience away from the giant tourist mobs you would encounter on the Bernina Express.
So, in my opinion, doing it this DIY way is perfect if…
Tickets for the regular Bernina Express are sold out, and you still want to see all the pretty landscapes
You are an avid photographer and would like the ability to roll the window down partway for photos
You are more of an independent explorer and want to get away from the "packaged tour" feeling of the Bernina Express
To do the Bernina Express is a DIY way, you will need to split your journey into the following three rides (assuming you are leaving from Tirano).
Tirano to Pontresina
Pontresina to Samedan (only a quick 6 minute ride)
Samedan to Chur
And that's it! The exact same landscapes as the actual Bernina Express, without being on it ; ) I personally used my Eurail pass for all these rides, but  if you want the easiest way to check prices/times of point to point tickets, check out the official SBB website. See the "how to get the best deals" section above for ideas on how to get these tickets the cheapest possible way.
11 Final Tips for Riding the Bernina Express
Alright, so now that I've talked your ear off about the many ways to get tickets and make the most of your experience, I have some final words of wisdom to chuck at you. In no particular order, they are…
1. Sit on the right side!
Hands down, the right side of the train (from Chur to Tirano) or the left side (from Tirano to Chur) is the far superior side. Unlike the Glacier Express, which I would argue had pretty equal views on both sides, the Bernina Express definitely has a "better side" especially if you want a nice view of the Landwasser Viaduct. While reserving is tricky because you don't actually know which way the carriage will end up facing, just remember this for photos and if you see a free spot!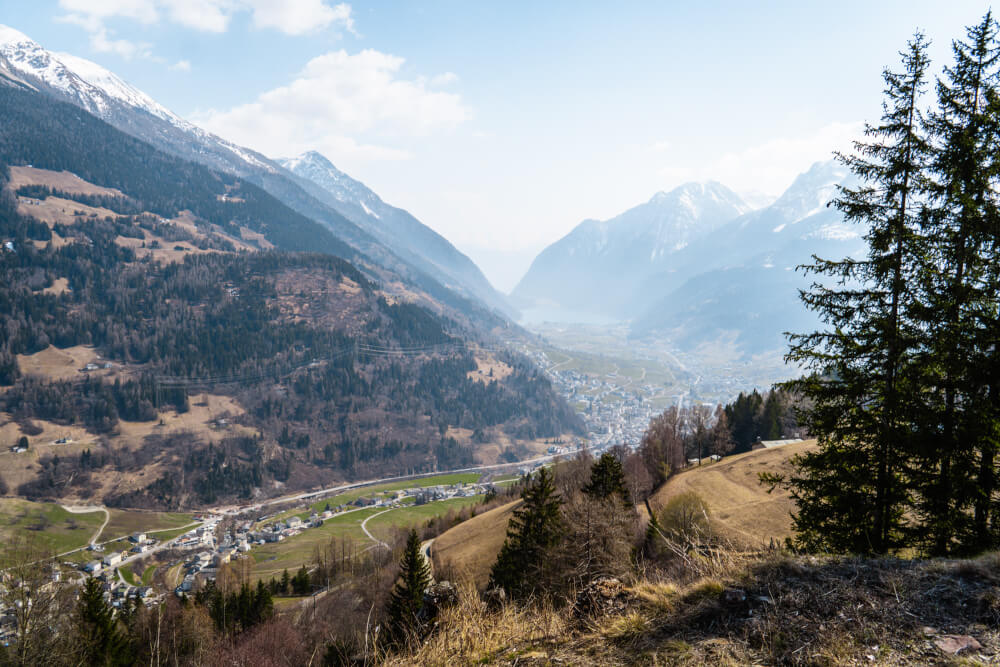 2. Reserve your seat ASAP
The Bernina Express is an incredibly popular train. Even when I looked again in April, many of the window seats for 1st class in mid-June were mostly taken. I would recommend you get your seat reserved as soon as you know you'll be doing the Bernina Express because ideally you're going to want a window seat, and if travelling with others, you'll want to sit together! While they don't have an official policy on how far in advance you can reserve seats, my tests with the online system seem to indicate the limit is about 6 months in advance.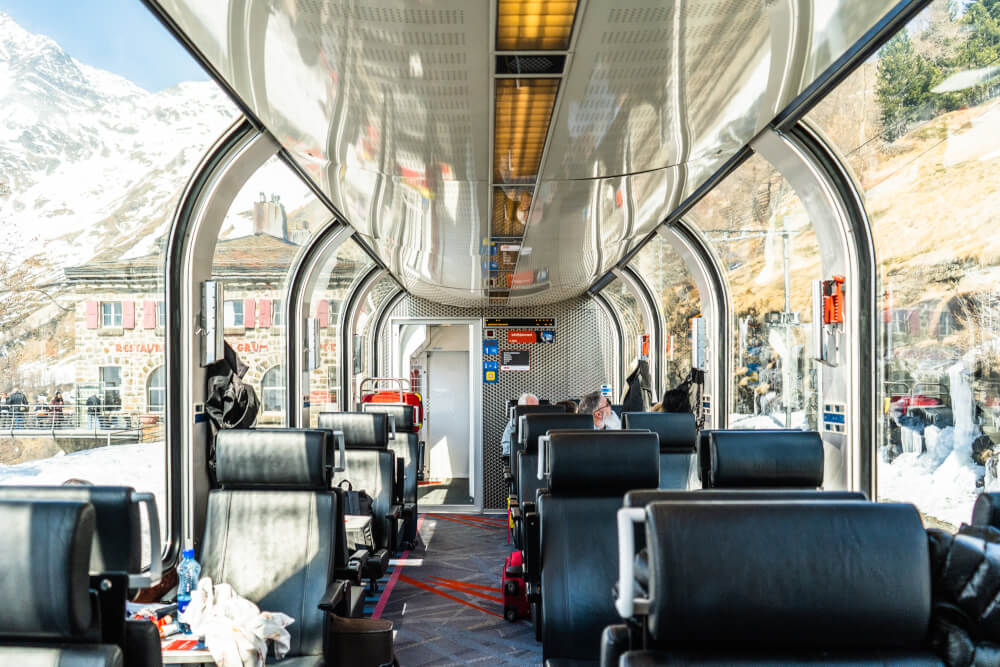 3. If you're not sitting on the right side, loiter by the luggage racks during key landscapes
If you have the unfortunate luck of being sat on the wrong side (in my opinion, the left side from Chur to Tirano, or the right side from Tirano to Chur), don't despair. First of all – the windows are huge so you'll be able to see the landscapes no matter what. BUT, secondly, if you are interested in capturing key moments of the journey with a photo (e.g. going over the Landwasser Viaduct), prepare yourself well and nab a spot on the right side of the train near the luggage rack! This way you can have a good view of the right side, without disturbing anybody. You can also go to the middle connecting area between carriages. I've heard the windows there can open halfway for good photos.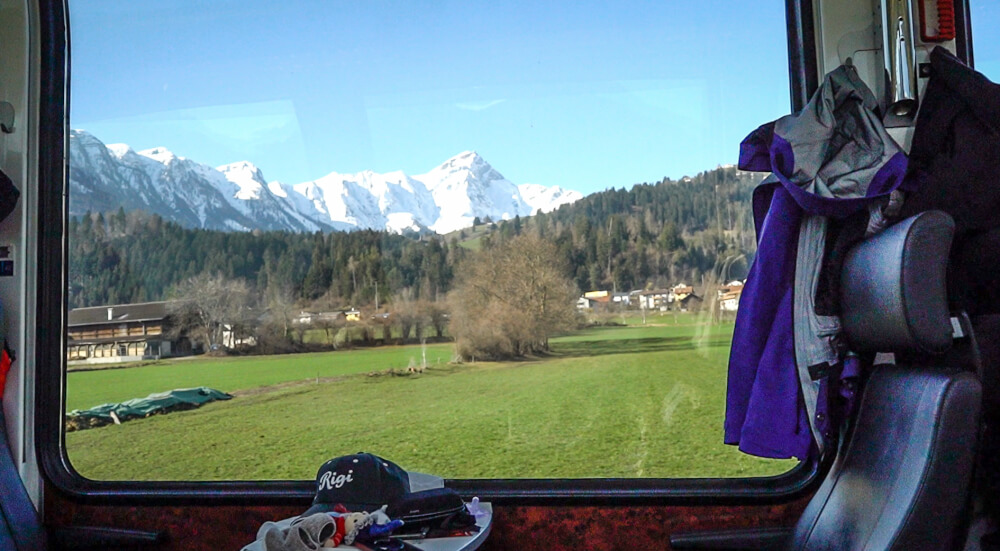 4. Remember your passport
Again, you'll be crossing the border if you are taking the Bernina Express the entire way, so remember to bring some valid travel documents with you.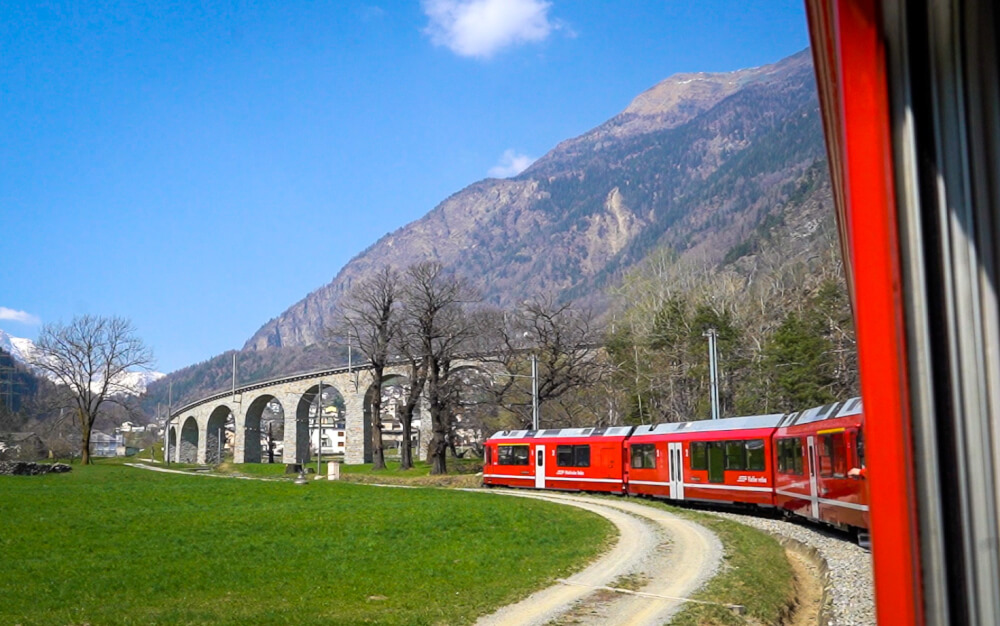 5. Get to the train early
Assuming you are boarding the Bernina Express on the first stop, I would advise getting to the train about 20-30 minutes before departure time. This extra buffer time will make a world of difference in terms of keeping stress levels down, and at least based on my own experience, there's always awkward seating misunderstandings when the train gets close to departure (e.g. one person sits in the wrong seat, displaces the next person, etc) and it all gets very confusing. If you fear confrontation like me, getting there early is an easy way to ensure you get in your seat without having to fight with anybody!
Additionally, if you have luggage, getting on board early will mean you have first pick at the limited spots for storing luggage.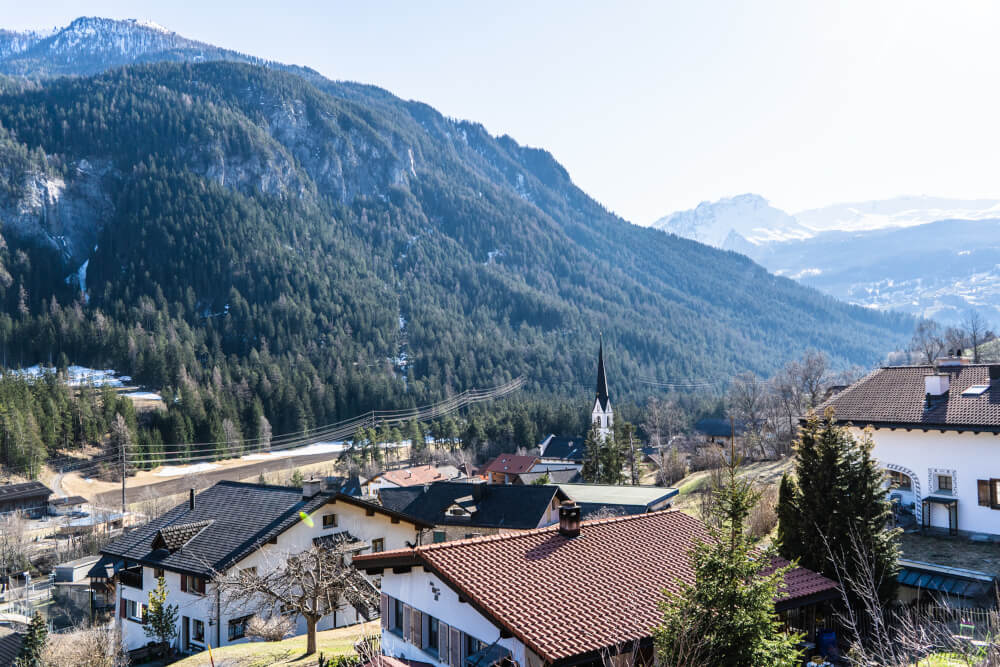 6. Know where to put your luggage
The Bernina Express has some luggage racks, but there are also slots in between the backs of seats (you'll see what I mean) where you can slide in smaller suitcases. If you can't find a place, the staff are more than willing to help you out.
7. Take advantage of the free Infotrainment
The Infotrainment available on board the Bernina Express is actually a really fun and interesting addition to the ride – one that I noticed nobody was using!
So, take this tip now and run with it: if you have a smartphone during your Bernina Express ride, you can log onto a special WiFi network on board that connects you to the Bernina Express Infotrainment system, which shows you a moving map of where you are, along with a feed of fun facts/historical tidbits as you pass through different stops on the Bernina Express route. If you bring headphones (see the tip below), you can even listen to narration, commentary and stories related to each stop. Details on how to access this network should be available on a pamphlet on the table.
8. Bring headphones
Again, if you want to make the most of the Infotrainment experience described above, make sure you have headphones so you can plug in and listen!
9. Bring sun protection
Oh my gosh, some of the landscapes along the Bernina Express route are so bright, you'll feel your eyeballs burning ever so slightly. To avoid this tingly sensation, be sure to bring sunglasses and sun protection if you have sensitive skin.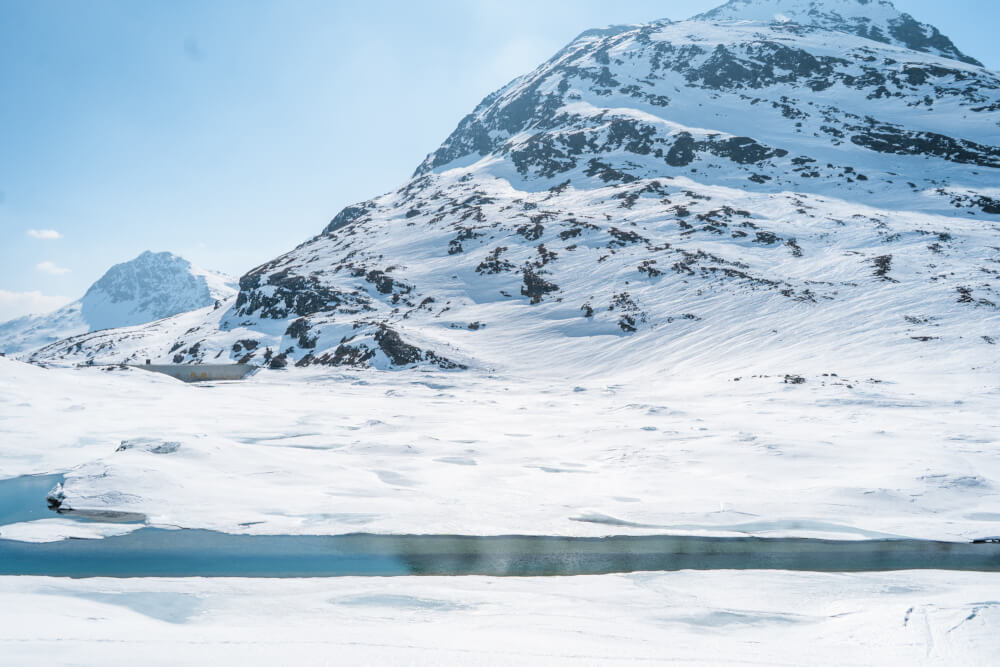 10. Don't forget water and snacks for your Bernina Express trip!
To my permanently hungry hungry hippos, you need to know that there is no Dining Car available on the Bernina Express.
Instead, there is a staff member that comes around with a little trolly selling a limited selection of drinks and snacks. To be honest with you, the food/drink options are kind of overpriced and underwhelming. With coffee for instance, you can only order black coffee or cafe au lait (not even a cappuccino! my diva self was shocked).
Experience-wise, it pales in comparison to the Glacier Express, where you are served hot meals at your seat with proper cutlery and glasses. So, to avoid disappointment, be sure to bring your own refreshments.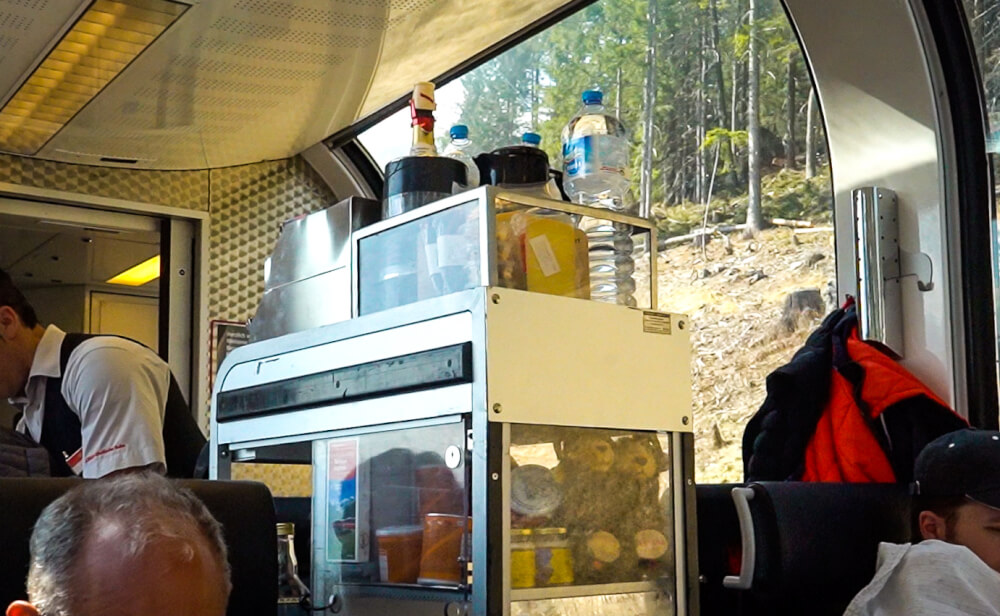 11. Be mindful that the Bernina Express is not a super baby-friendly experience
Last but not least, I have to add this because I sat next to a young couple with a baby, and saw their struggle first-hand.
Sadly, the Bernina Express isn't an ideal ride for a little baby, here's why: the train can make some very random and sudden noises that startle babies, and there aren't any change tables available in the train bathrooms. All of this makes bringing your newborn spawn onto the train a bit more difficult.
So, in case you are considering doing this journey with a baby, keep those limitations in mind.
Do you have any more questions about the Bernina Express?
Phew! That was a long post, but I hope you found this guide helpful in planning your Bernina Express trip. Safe travels, and have an amazing time!
Want to travel smarter and more often?
Join over 80,000 followers who love what I have to say! Enter your email here & you'll gain instant access to my special VIP zone, featuring freebies like checklists and printables... plus exclusive content, tips and updates!
---
Watch my latest video:
---