*FYI - this post may contain affiliate links, which means we earn a commission at no extra cost to you if you purchase from them. Also, as an Amazon Associate I earn from qualifying purchases. Check out our Privacy Policy and Disclosure. for more info.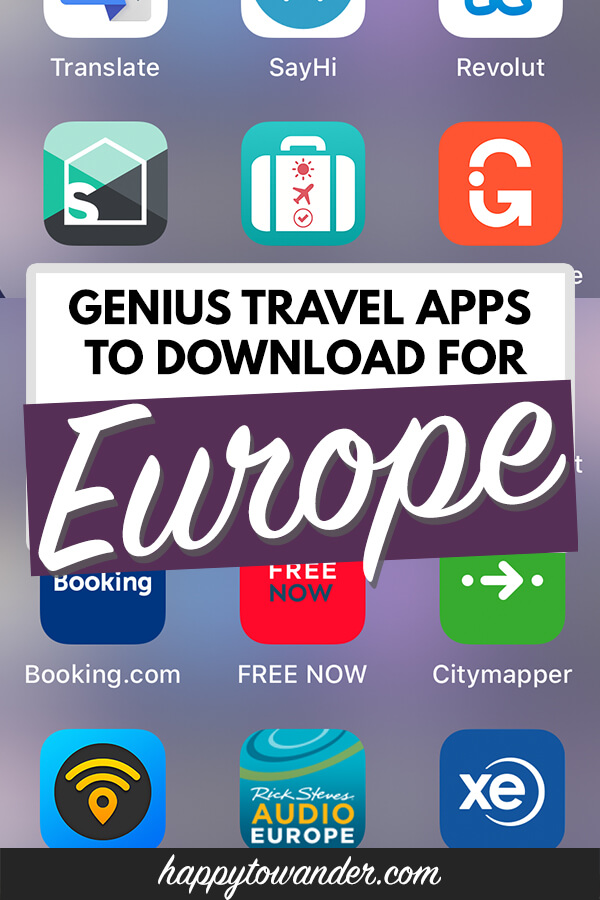 One of the most important things to do before you travel abroad is ensuring you have all the best travel apps you need for your trip. Below, you'll find my top recommendations. 
Whether you need to book transportation, organize your itinerary, find cheap food, or pack your suitcase, I promise you my friend, there's an app for that.
SO, if you have a Europe trip planned soon, bookmark this page, grab a coffee and get ready to download your thumbs off.
Below, you'll find a curated list of the BEST travel apps for Europe that will make your life a million times easier abroad…
Which of course means less time crying and more time stuffing your face!
Best of all, the travel apps in this list are mostly free.
Not into reading? Catch a video version of this guide here.
1. TripIt
Download for iOS | Download for Android
TripIt is a magical app that organizes your hotel bookings, flights, tickets and all in one place… the best thing is, it does it automatically through scanning your inbox for confirmation emails.
If you're planning a long trip with multiple stops, hotels, modes of transport, etc. to worry about, then TripIt is a great tool for organizing everything in one neat place. Although the automatic import can sometimes be finicky, all you need to do is forward emails to [email protected] and it detects all the information automatically from there.
2. Google Maps
Download for iOS | Download for Android
Odds are 99% of you already have Google Maps downloaded on your phone, but it really is one of the most helpful apps out there for travelling.
I love to use it for not just navigating, but for also saving places I'm interested in. Whenever I find a cool cafe, attraction or spot I want to visit somewhere, I star it on my Google Maps so that way when I'm in a city exploring, I can easily see worthwhile spots that are nearby.
I also like to use it to find food, cafes, attractions near me through search. Saving maps for offline use is a huge perk of this app as well, and here's a cool trick: you can easily save a spot for offline use by typing in OK Maps.
Maps.me is another good app with offline maps but I prefer a Google Maps because I'm more used to it.
3. Omio
Download for iOS | Download for Android
When travelling around Europe, you have a lot of options in terms of how to get from one place to the other. Between trains, planes and buses, the choices are pretty overwhelming, BUT Omio is a great app that allows you to search and compare different transportation options all in one place and even sort the options by what's cheapest, fastest, and by time.
This is one of the handiest apps you can use while planning your trip and while I love flight apps like Google Flights or Skyscanner, Omio just covers more ground in terms of options so this is definitely one to keep on your phone.
4. Google Translate
Download for iOS | Download for Android
If you're travelling in a foreign country where you don't speak the language, having the Google Translate app is an absolute must.
Of course, when you are connected to the Internet, you can use it to search up translations in a bunch of different languages but what you should also do is save the languages you'll be encountering most for offline use. This way, with data or without, you can translate phrases here and there which will come in very handy. Another little known tool is the image scan translation tool which you can use to translate things like signs and menus.
5. SayHi
Download for iOS | Download for Android
Another great translation app is SayHi and its main focus is voice translations so you can have a way to connect with locals in a destination even if you don't speak the language.
All you have to do is select the language you're speaking, the language you're translating to and speak into it. Then a voice will read a translation out loud. I'll be honest, the translations aren't always perfect, but it helps you get your point across and can be a great way to break the ice if you have trouble being understood.
6. Revolut
Click here to sign up for a FREE card!
Download app for iOS | Download app for Android
If you want a functional debit or credit card to use when you're in Europe that charges you no foreign transaction fees, then you need to look into Revolut. I've been using them for years!
Making an account takes minutes, it can all be done on your phone, and then you get a free card shipped to you within a few days. With it, you're able to top up your card and transfer money between currencies at the interbank exchange rate which means lots of potential savings, and a separate card you can use for payments and even ATM withdrawals. The app is also great for tracking your expenses, quick money transfers within Europe and they even have premium cards that come with perks like travel insurance and lounge access.
If you're travelling long term in Europe or even coming here as an expat, this is an amazing service you need to take advantage of. Click here to learn more.
7. Splitwise
Download for iOS | Download for Android
If you're travelling with another person or a group of people, Splitwise is an app that will 1000% save your friendships, relationships, marriages, whatever.
It's a finance app that allows you to input expenses as you go, so if you paid for hotels and your friend got flights, or you got lunch and your friend got coffees, you can have an accurate record of who paid for what so nobody is bitter about paying more or owing someone lots of money. It also takes out the stress of doing the math, or the awkwardness of going full loan shark, so it's amazing, I highly recommend it.
8. Packr
Download for iOS | Download for Android
If packing stresses you out, first of all – check out my video on Packing Tips, but also if you need help creating easy Packing Lists, Packr is an amazing app that lets you input your destination, your dates, trip details and then it magically creates a packing list for you based on weather forecasts and what kind of activities you'll be doing. You can change the quantity of items, add items, and if you pay for the premium version, you can also customize lists a lot more and even integrate it with TripIt! If you get packing anxiety, this is a great app to have.
9. GetYourGuide
Browse the regular GetYourGuide website here
Download app for iOS | Download app for Android
If you're a fan of tours, attractions and activities, one handy app to download is GetYourGuide which is an aggregator for different activities that has great selection in Europe. From walking tours and skip-the-line-tickets to experiences like cooking classes, you can book and pay all through the app which takes the hassle out of finding a good activity. I like to vet them based on reviews! They also have a best price guarantee so if you can find a place that does the same tour for cheaper, they'll pay you the difference which is pretty amazing.
10. PolarSteps
Download for iOS | Download for Android
If you want an easy way to log your travels and keep a journal of your trip in a seamless way, PolarSteps is a great travel tracking app that automatically records your trips for you by syncing with your phones location and camera roll. This means you can easily keep track of your travels, edit stops, add photos, write down little notes, all within one easy app. At the end of your trip, you can even order a pretty photo book based on your trip info too, which would make a great souvenir!
11. Too Good to Go
Download for iOS | Download for Android
If you are on more of a budget and want to save some money on food, one great app to download for your Europe trip is called TooGoodToGo, a wonderful app that aims to reduce food waste by selling the leftover food from restaurants for really cheap.
You basically hop on the app, which is live in many major European cities, and you can place orders with different restaurants to pick up meals at certain hours for less than 5 bucks. You don't usually get to pick what you get, but it's a great way to eat affordably and help keep good, edible food out of the landfill.
12. HotelTonight
Download for iOS | Download for Android
Sometimes in travel, you want to be spontaneous or you're forced to be spontaneous because something has gone wrong. HotelTonight is a great app for these moments. They curate cheap last minute hotel deals for the day-of so you can get very cheap stays with last-minute notice. They also do this thing called the daily drop where there's one very especially cheap deal for that day, so it's a good app to keep on your phone in case you get stranded somewhere and need to find a place to stay.
13. Booking.com
Download for iOS | Download for Android
Booking.com is another great accommodation app to have on your phone. My favourite thing about Booking is they have a lot of great hotels with lax cancellation policies so if your plans aren't set in stone but you want a place to stay just in case, you can easily reserve a spot and then cancel. Many places let you cancel up to the day before with no penalty, so it's a very handy app with great functionality and allows you to browse a lot of hotels at once. I book 90% of my hotels through them and have never had an issue.
14. FreeNow
Download for iOS | Download for Android
If you expect to be taking taxis at some point during your Europe trip, a great app you should download is called FreeNow, formerly known as MyTaxi.
It works very similarly to Uber or Lyft except the main difference is you use it to order an actual taxi, and you can pay either in-person or with the app. This is awesome because it can help you avoid taxi scams which are unfortunately very common in major European cities, and it also allows you to easily hail a taxi wherever you are.
15. City Mapper
Download for iOS | Download for Android
If you're visiting some major cities during your Europe trip, like London, Paris, Rome, Brussels, and dozens more, odds are you'll be able to use City Mapper, an amazing free transport/map app that is great.
It helps you find the best way from Point A to Point B in a city with different options including public transport, walking and cycling. I find it's often more accurate than Google Maps in some cities, and the best part is you can save journeys for offline use or even use aspects of the app online, which is PERFECT for cities like London where you get zero service underground.
16. WiFi Map
Download for iOS | Download for Android
In terms of necessities when you travel, I would say the order would go water, food, and then WiFi. If you don't have access to data during your trip, then WiFi is this precious little life source that you will be scouring the streets for like some Internet-deprived zombie. WiFi map is an awesome app that crowdsources information about WiFi networks and passwords so you can open it up and see at a glance where there is WiFi near you, and even passwords to certain networks! Sure this information is all crowdsourced so there's the potential for outdated passwords, but it's very handy to see at least where you might be able to get some free WiFi. The app is free but the ads can be a little distracting, so there's also a premium version if you want it.
17. Rick Steves Audio Europe
Download for iOS | Download for Android
If you've ever turned on a TV or walked into the travel section of a bookstore, odds are you know Rick Steves. If you don't, he's kind of like an OG Europe travel wizard who has been writing guidebooks and filming TV shows about Europe since I was… probably a fetus. SO, the point is Rick Steves knows his stuff and he also has a very delightful speaking voice and a great app where you can download self-guided tours and other fun audio files to listen to.
18. XE Currency
Download for iOS | Download for Android
Conversion rates can be really confusing, especially when you visit multiple countries in Europe because contrary to popular belief, not everybody is on the euro…. so to avoid any surprises, or to avoid getting scammed, be sure to download the XE currency app on your phone, which will give you a quick and easy way to make currency conversions without stressing out.
19. GlobeTips
If tipping culture really freaks you out, then this simple app is a great one to keep in your pocket because it allows you to quickly take a peek at general norms for tipping in your current country, and even has a built in tip calculator that you can use to figure out a fair tip or a great tip based on your bill. Its free version is functional but you can choose to unlock a pro version for full detailed tipping guides.
20. Happy Cow
Download for iOS | Download for Android
While veggie and vegan options are rapidly growing all around Europe, sometimes it can still be a challenge to find good plant-based options when you travel. Happy Cow is an app that makes it easier, and although it's a paid app, it aggregates a lot of reviews and restaurant listings to help you find places to eat abroad as a vegetarian or vegan. All my veggie friends swear by it, so if food is a priority for you when you're in Europe, be sure to download it!
---
Watch my most popular YouTube video this week:
---