*FYI - this post may contain affiliate links, which means we earn a commission at no extra cost to you if you purchase from them. Also, as an Amazon Associate I earn from qualifying purchases. Check out our Privacy Policy and Disclosure. for more info.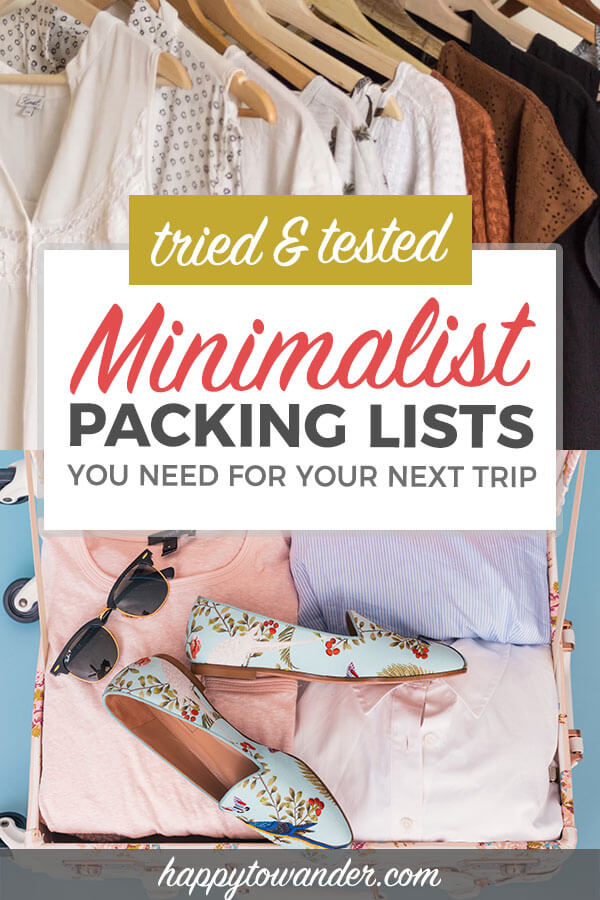 I've always been terrified by the idea of minimalist travel.
Let's just say I'm not great with decisions, and opening my suitcase feels like an impending death sentence every time.
No space for my blender, you say?! WHAT IF I NEED AN EMERGENCY SMOOTHIE.
My first backpacking trip around Europe, I carried everything on my back, with options for every possible occasion. Buuuut the thing about bringing around a million outfits is your suitcase becomes a sad brick of poor decisions. If you're on the go, you want a light bag, no ifs ands or buts.
Luckily, I think after 4+ years of frequent travel, I've mastered the art of packing light (and looking presentable).
Of all my packing lists, the one I'm most proud of is my packing list for minimalist travel.
I recently returned from a ten day road trip around the Balkans and every time I wore a new outfit, I'd get a stare from my travel companions akin to "where the bleep did you get that from?" Honestly, by the end of the trip, my little black tote earned its reputation as a Room of Requirement.
… 10 days, multiple outfits, all different purposes, crammed into one weekender bag.
If this intrigues you, keep scrolling. Today, I'd like to share my simple minimalist packing list with you (plus one adapted for winter).
Alright, here we go – my guide to easy, breezy minimalist travel.
My Minimalist Packing List (for Minimalist Travel in the Summer)
Suitable for: 10 days
So the following list is the one I alluded to in the intro (read: Room of Requirement).
It's primarily geared towards summer city travel (as in, this will probably not cut it if you're going on some wilderness adventures or Arctic trek) BUT if you want to look nice while travelling around with a small bag, this is the list for you.
PS: I'm a bit obsessed with dresses, hence their hefty representation in the list. If your personal style is different, feel free to sub dresses for additional shorts/tops.
4 summer dresses
I know that four dresses sounds like a lot for a minimalist packing list, but in the summer these are pretty much all I wear so I stand by my choice. They fit every possible occasion, so here are the four dresses I'd bring:
1 solid white one
White dresses to me are synonymous with summer travel. They make you look effortlessly good, and pop well in photos. I see them as the summer equivalent of the LBD.

Click here to shop the best deals on cute white summer dresses
1 dressier, flowier one
The key here is to pick a dress that's nice enough to pass for a night out (grabbing drinks, having a nice dinner) but is also suitable to wear during the day. These are similar variations to what I brought:

1 more fitted, classy-looking one
There are some occasions on every trip where you might want to look a bit more dressed up, whether it's spontaneous cocktails at a rooftop bar or spontaneous cocktails at a non-rooftop bar 😉 Okay, basically, bring this dress for cocktails. I brought a printed dress with a halter neckline for this purpose and it did the job.

1 strapless tube dress
Why strapless? Doesn't that sound impractical? Nope! A strapless tube dress is the perfect addition to your capsule minimalist wardrobe because it can function as a dress, easy beach cover-up AND if you wear it lower down on your waist, it doubles as a skirt. Genius.

1 maxi skirt
I find that maxi skirts with the elastic band waistline are the most versatile. Mine was black, which is ideal because a) it goes with everything and b) it doesn't get dirty as easily so you can wear it more times. That said, feel free to pick one that is bolder and goes with your personal style (bearing in mind that it should fit any tops you bring).

2 tops
The key with picking these tops is they should match with your 1 pair of shorts (which we will discuss below), AND your maxi skirt AND your strapless tube dress. Opting for solid colours or a very subtle print is probably a good idea. Make sure the two tops you bring pass this test: would I wear it with my skirt, tube dress and shorts? If the answer is yes, throw them in the bag!

1 pair of shorts
Dark colours will work best (just for practical reasons). The key here is to make sure these shorts look good with every top you bring.
1 denim jacket
What would summer be without a perfect little denim jacket? Denim jackets look good on top of every summer outfit, whether it's a dress or cute top/shorts combo. There's no more versatile cover-up, I assure you.

1 pair of yoga pants
These will be your PJs, so make sure they're comfortable… the good thing about bringing yoga pants vs. actual pyjama pants is you can bust them out on long travel days (in a car, on a bus) and not look like a total weirdo, BUT also they can be used on a last minute athletic expedition of any kind, like a hike. Always good to have just in case.

1 comfy t-shirt
This will be the top you wear to sleep, so again, make sure it's a comfortable one. I usually just bring a baggy concert tee or something. It's important this is something you wouldn't mind wearing in public, in case you want something comfy to wear on a long travel day or you just need an extra shirt for whatever reason.
1 pair of comfy walking shoes
Ah yes, shoooees. So I am personally one of those people that hates runners. I never wear runners unless I'm actually running, so my go-to walking shoes during the summer is a pair of really comfortable sandals. Honestly, I could walk all day in my sandals. The key is to find something that could transition from day to night and also goes well with all your outfits. For you this might mean a pair of white sneakers, but for me it's sandals. This is the pair I love most!

1 pair of flip flops
Assuming you'll be headed to any beach or pool at some point, flip flops are always a good idea. Plus, they're lightweight, and offer you an alternative if your other shoes start pinching in the wrong places.
Underwear
Since underwear takes up such little space, I usually bring a pair of underwear for every night of the trip. If you're okay with doing laundry half-way through, feel free to cut this amount in half.
2 bras
1 strapless (or convertible), one regular.
1 swimsuit
I go for a one-piece because I like spaghetti too much.
Toiletries
Refer to my full toiletries packing list here.
… and that's it! Yes, seriously. If you roll things right and use packing cubes, they should all fit easily into a small weekender tote or a little suitcase.
My Minimalist Packing List (for Minimalist Travel in the Winter)
Minimalist winter travel is tough. I mean, when your jacket alone takes up the majority of your suitcase, then you're a bit screwed in terms of options. Here is a minimalist packing list for winter travel though that I invite you to copy!
1 very warm jacket/coat
Only bring one. Make sure it's waterproof, cute and comfortable because it will be thrown on top of every single outfit you bring (and will feature predominantly in most photos). I would bring one that's a little bit longer (past the butt) so you can be assured your sweaters won't peak out from underneath weirdly.

1 fleece, windbreaker or warm wool sweater
I'd recommend bringing a fleece to layer on. It also doubles as an alternative jacket for days when it's not necessary to bring your full-on coat.
1 warm cardigan
This can be layered over any tops you bring for a new look, and can be a great additional layer of warmth.
2 long sleeve tops
The most important thing is that your tops look good with any bottoms you bring.
2 pairs of jeans/pants (trousers)
Again, make sure they're comfy. I would make at least one pair black just for practicality purposes. They should also coordinate well with any tops you bring, and should look good with your boots.
1 nice-looking tank top
A tank top in winter?!?! I haven't gone off my rocker – this is just in case you need a top for a night out, or another special occasion where dressing up is necessary.

1 pair of leggings
If you bring leggings to sleep in as opposed to normal pyjama pants, then you can easily use them as a layering piece if it gets really cold.
1 comfy t-shirt
This will be the shirt you wear to sleep, so make sure it's comfortable, but also presentable enough that you wouldn't hate being seen in public with it… just in case you need to throw it on as an additional layer.
1 pair of warm, comfortable boots
You will wear these all the time, I promise, so make sure they're comfortable and waterproof.
Underwear
Again, since underwear takes up such little space, I usually bring a pair of underwear for every night of the trip. If you're okay with doing laundry half-way through, feel free to cut this amount in half.
2 bras
You definitely don't need more than 2.
Socks
1 pair of very warm wool socks: A must for layering
3-4 pairs of regular socks: To layer below and soak up all that sweet sweat 😉
1 warm scarf
You should aim for a stylish but warm scarf that you love (mainly because you'll be wearing it often and in virtually every photo).
OPTIONAL: 1 pair of thermal underwear
If you're going somewhere that's really cold, definitely bring 1 pair of thermal underwear for layering purposes.
Other Tips for Minimalist Travel and Packing
Always wear your heaviest things on the plane
This is more to avoid overweight luggage fees than anything else, but always wear your bulkiest things on the plane.
Use packing cubes
Not only do they keep you organized, they help you save space too.
Click here to check reviews and prices on these packing cubes
Bring fabrics that don't wrinkle
The key to a minimalist travel wardrobe is versatility and making the most of every piece you bring. Let's be honest – we're all lazy walrus people and when a shirt is wrinkled, we usually can't be bothered to wear it or iron it, so it stays in the suitcase. By bringing fabrics that don't wrinkle, you're ensuring that you'll actually wear everything you bring.
Remember that you can buy things!
Unless you're going on an Arctic expedition, odds are your destination will be a place where goods such as toiletries and clothing can be purchased. Remembering this will help you avoid overpacking. I highly recommend buying your own travel size bottles to fill up with your favourite shampoo – that way you can pack less than full bottles and reduce unnecessary plastic waste from the mini-ones you buy from the store. Click here for my full guide to the best travel toiletry bottles you can buy online.
Any more questions about my minimalist travel wardrobe?
Let me know in the comments! I hope you enjoyed that post featuring my minimalist packing lists. As always, safe travels!
My Go-To Travel Favourites: