*FYI - this post may contain affiliate links, which means we earn a commission at no extra cost to you if you purchase from them. Also, as an Amazon Associate I earn from qualifying purchases. Check out our Privacy Policy and Disclosure. for more info.
Because I am (generally speaking) a very odd person, I have dedicated the past six months of my life to a very specific and arduous mission: find the best packing cubes you can buy online.
I mean, did anybody twist my arm and ask for this information? No… but as a weird sort of packing cube cult leader, I felt it was my duty to find out.
So, no word of a lie, I dropped hundreds of dollars on packing cubes one fateful afternoon 6 months ago so I could test them all and report back. After all, there are thousands of packing cube brands floating around out there, so someone's gotta do the research….. right?
…….. Right?
WELL, the research has been done, the cubes have been packed ad nauseam, and I am sitting down today to share all my honest and overly detailed opinions with you. That's right – welcome to the packing cube showdown that NOBODY ASKED FOR!
So which packing cubes are the best? Which are best value for money? And WHY am I talking like a promo for the Bachelor?
FIND OUT in this article… or catch the video version here.
First: What are Packing Cubes?
If you still aren't sure what packing cubes are… oh boy, am I about to blow your mind.
Sure, they don't seem like much at first glance – they're literally just fabric compartments with zippers that are designed to help you keep your clothes organized, but once you try them, it's tough to go back.
Packing cubes are multifunctional – they give you a great system to keep your clothes organized, they help you compress your clothes so you can save precious space, plus they make your suitcase super aesthetically pleasing to look at after you're all done.
If I had to pick one piece of inexpensive travel gear that every traveler should have, it would be these cubes… and my goal is to make you a convert! Trust me, once you find the perfect packing cube, you'll wonder how you travelled without them ever.
Considerations for Picking the Best Packing Cubes For YOU
As with anything in travel, packing and um, well life in general, the best packing cube depends on your specific needs, so here are some things to consider before proceeding with my packing cube showdown and review below:
Consideration A: Packing Cube Size
I don't want to be all weird and sexual and say size matters while waggling my eyebrows suggestively…
But it does! So let me waggle my eyebrows quickly.
Here's the thing: not all packing cubes are created equal, and even within the same brands and models, you're bound to find a lot of variation.
A huge (under-discussed) part of packing cube effectiveness is simply choosing the right size for your needs. For instance, as you might have seen in my minimalist packing guide, I'm usually a carry-on only traveler, so using medium size packing cubes is best for me, rather than the huge ones that can fit my entire family.
On the other hand, if you are travelling with bulky clothes, are taller than my meagre 5'3″ frame, or are travelling with a big suitcase, larger packing cubes might be a better fit. This is why it's important to consider your specific bag/situation.
I see a lot of negative reviews online related to packing cubes being too huge or too small, and this can easily be avoided by double checking dimensions beforehand and comparing them to your travel bag.
Just know that most packing cube brands will provide different sizes and shapes to choose from, so dig around for the right sizes/combos for you, and you'll be golden.

Consideration B: Compression vs Non-Compression
There are two main kinds of packing cubes, the standard ones that are like zippered little cubbies for your clothes and the compression ones which usually have two layers of zip so you can compress your clothes and save more space.
The compression ones are great if you want to save space and that's your main priority but I find they're more difficult to stack and they don't actually make your suitcase weigh any less, so I far prefer using standard ones that I can easily get to without two layers of zips and ones where I can easily see at a glance what I've brought.
I think compression cubes would be good for items like puffy jackets or sleeping bags that don't weigh a ton but take up a lot of space, but again, it all depends on your needs.
SO, just know that there is this distinction, and consider that before buying your first set of packing cubes. I'll further explain the pros and cons of different compression cubes below.

Consideration C: Travel Frequency/'Roughness'
The third consideration before we launch into our lil packing cube showdown is just how much you plan to throw your cubes around. As in, how often you plan to travel with them and how careful you are with them as well.
I have to tell you guys the truth, if you don't travel super often, and take great care of your packing cube babies (i.e. you're not overstuffing them or recklessly throwing them around like a gorilla), then you can probably get away with a budget version and don't necessarily need to pay a ton for big brand ones.
I mean I'll be honest, for the first 3 years of my travels I used the same set I bought for less than 20 bucks from IKEA Family and they are still in tact to this day. Even though as I'll show you later, the more expensive brands do FEEL nicer and sturdier, the cheaper ones can still get the job done.
I mean some travelers even swear by Ziploc bags instead, and if you feel like that's better for you, then go for it… but I do like having these packing cubes because I travel really often, and I just think they keep things much more organized and it's nice to be able to reuse them over and over again.
Okay so now that we have all those little caveats out of the way, let's break down my packing cube ranking!

The Best Packing Cubes on Amazon – Tried and Tested
So, as a recap: 6 months ago, I went on a buying spree of packing cubes so I could test them all and report back to you. Whether that's a clear sign of neurosis or just a desperate desire to be well liked online, you tell me.
Overwhelmed by choice, I decided to pick the top rated ones on Amazon.ca. Trust me, as desperate as I was to test out the puppy packing cubes or avocado packing cubes, I figured going for the highest rated ones would help you guys decide among likelier contenders than the weird novelty ones.
SO, here are the ones that I tested: the Eagle Creek Pack-it Cubes, the Eagle Creek Specter Compression Cubes, the Bagail Packing Cubes in Fuschia, the Gonex Packing Cubes in Green, the Gonex Compression pouches in yellow, and the Medium Amazon Basics in Black.
How do each of these brands stack up? I'll start with the two sets of compression cubes I bought, then move onto the four regular packing cube sets I bought.
Eagle Creek Specter Compression Cubes
If you're looking for a set of compression packing cubes that compress well, hold up to repeated use, and weigh almost nothing, go for the Eagle Creek Specter Compression Cubes.
PROS:
These Eagle Creek compression cubes are feathery light. probably the lightest of all the ones I bought, so they would be great if you're backpacking and need a lightweight solution.
Despite how light they are though, they're still very well built and appear like new even after six months. They compress clothes very well and with their double zip are SUPER satisfying to use. Overall, they're a great quality, solid product.
CONS:
These compression cubes are more expensive than most, and the set includes fewer cubes than most sets as well, so they're not necessarily the best choice if you're on a budget.
I also don't love that that they only open halfway unlike most packing cubes. I believe they're designed this way so you can cram more clothing in, but if you're like me and enjoy seeing all your clothes at a glance, this design isn't as practical.
Plus, unlike some of the other packing cubes out there with mesh tops, it's tougher to quickly identify what's in each cube, or to locate a specific item. 
Click here to check reviews and prices

Gonex Compression Pouches
For a more budget-friendly compression cube, and one that opens up all the way, then consider getting a set of the Gonex Compression Pouches.
PROS:
These Gonex Compression pouches are really affordable and open up all the way like a regular packing cube, just with a second zip for compression.
This means you can can open them up all the way and get easy access to your clothes, with the option to compress them down if you need to. They also come in a large range of sizes and have a much larger colour selection than the Eagle Creek Ones.
CONS: I don't feel like these Gonex compression cubes compress as well as the Eagle Creek ones do, and they're also a bit heavier than the Eagle Creek ones.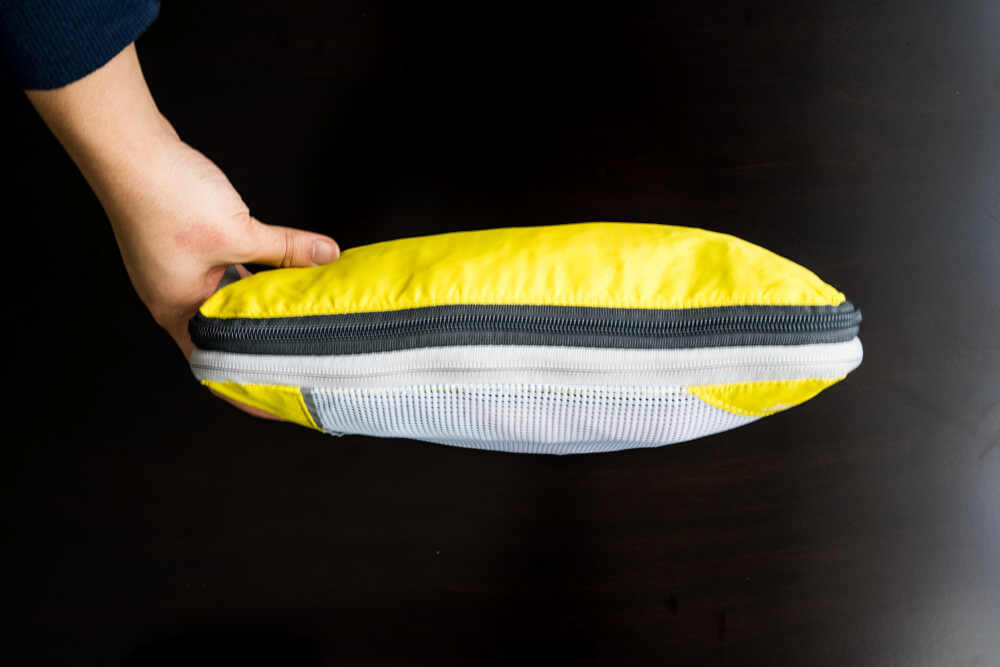 Click here to check reviews and prices
Amazon Basics Travel Cubes
Moving onto regular packing cubes, we'll start with my least favourite, the Amazon Basics Medium which I purchased in Black.
These cubes are of course the Amazon house brand and a lot of people recommend them as a budget-friendly option so my hopes were quite high. Unfortunately, one of mine ripped within a week, creating this little hole, which was not a great start.
PROS: The Amazon Basics packing cubes are frequently recommended because they are highly affordable, and okay value for money. In spite of the initial rip, the material is decently sturdy and holds its shape well when it's stuffed with clothes. The zippers are also quite smooth, and they come in some nice colours, including sky blue, mint green, red and grey.
CONS: Of course, there are a few cons to purchasing the Amazon Basics packing cubes for travel. Over the past 6 months, I have seen quite a bit of wear and tear, including that rip that I talked about, as well as some fraying.
Even though sure, it still works fine, that's just not very promising durability, so I wouldn't really recommend these since they can't seem to handle my gorilla enthusiasm. If you're a bit of a rough packer like me, best spend a little bit extra for something more durable.
Click here to check reviews and prices

Gonex Travel Cubes
In terms of another budget option, what's actually better but still cheaper than Amazon Basics in some cases are these Gonex Cubes I bought in green. They come in a few different sizes, shapes, and colours, lots of selection and are really budget friendly.
PROS: They're cheap! Very, very cheap, but the quality is still great. The fabric feels very durable like a good raincoat, with a nice bit of water resistant coverage, but still with a nice mesh top so you can see most of what you packed. They also offer a LOT of really great bundle options and colours so it's easy to find a set that would match your needs.
CONS: Maybe this is nitpicky, but I do think with their red tag and branding, the Gonex Packing Cubes can look a bit cheap. I know they're just packing cubes, but they're not exactly fashionable or chic. It's also a small pet peeve of mine, but the zippers just don't feel as smooth as some of the other ones. Overall though, they're a great budget-friendly packing cube, with nice bright colours to choose from.
Click here to check reviews and prices

Bagail Packing Cubes
For larger and thicker packing cubes, Bagail is a great choice with a 'prettier' selection of colours and patterns.
PROS:
I just love the look of these Bagail packing cubes! The design is a bit different from most packing cubes and on a vain level, I just they look really nice in your suitcase.
There's also a great colour and print selection so if you want something cuter, like with polka dots or in prettier colours like teal, purple and pink, they have those, which I love.
They're also very very sturdy with thick fabric which feels more robust than Amazon Basics for example, and a few cm deeper than the other cubes which is good if you need more space for your clothes.
I also love these pully zippers which are really easy to grab hold of… and most of their sets actually come with a free laundry bag.
CONS:
The sizing and bundling of these cubes is….. interesting. Most of the sets I found all came with at least one GIANT packing cube which is not super practical for normal travels since they take up like 90% of a carry-on suitcase.
That said, they are good for storing things at home like big sweaters, so it's not a complete waste.
Another con though is depending on how you feel about nylon, the fabric can feel a little bit cheap, but it does hold up well, apart from a little bit of fraying which I noticed after 6 months of frequent use.
Click here to check reviews and prices

Eagle Creek Pack It Cubes
So what's my top pick then? Of course, they're the priciest ones – my #1 pick are the Eagle Creek Pack-It Cubes. I bought mine in blue.
PROS:
I know it's not the most scientific explanation, but these Eagle Creek Pack-It cubes just have a smart look and feel. The fabric is strong and durable without feeling too slippery or cheap like some of the budget ones.
The full cube size is also really perfect for my needs because they stack nicely into a carry on and hold their shape really well. It's also highly durable and looks as good as brand new after 6 months of use, which can't be said for some of the cheaper ones I bought.
CONS:
The main con here is really the price tag, which is a little bit more than most standard packing cubes, averaging about 10 dollars per cube… but they are more than worth it for me because I travel so often.
Just in terms of quality, you can feel that these ones have more structural integrity and just don't feel as flimsy or cheap as some of the more budget ones. The zippers are really smooth and overall the cubes just feel like they're built to last.
Honestly, if you don't mind spending a bit extra, these are the best cubes I would recommend. I would note though that they are a bit more shallow than some of the other cubes, so if you plan to use packing cubes for big sweaters or larger items, then they might not be the best fit.
Click here to check reviews and prices

The Best Packing Cubes on Amazon – Ranked
So, to recap, here are my picks summarized in a table:
SO what do you think? Which of these would you want in your life?
I hope you enjoyed this detailed packing cube breakdown of all the best packing cubes form Amazon! Did I miss any of your favourite brands? Let me know in the comments!
My Go-To Travel Favourites: