*FYI - this post may contain affiliate links, which means we earn a commission at no extra cost to you if you purchase from them. Also, as an Amazon Associate I earn from qualifying purchases. Check out our Privacy Policy and Disclosure. for more info.
Headed to Oktoberfest? This guide will walk you through everything you need to know!
I remember when I attended my first Oktoberfest… well, parts of it anyway 😉
I was a young naive exchange student who could barely shotgun a beer…
Trust me when I say NOTHING could have prepared me for the insanity of Oktoberfest, the world's largest (and possibly messiest) beer festival. 5L of beer later on my first day, and I was converted.
I fell in love with beer, with Oktoberfest and with Munich.
I guess that's why (surprise!) I live here now. And that still makes me as giddy as I was before my first Oktoberfest.
Back then though, I remember hunting all over for solid Oktoberfest information in English, and didn't find much that gave me all the details I needed.
That's why I decided to write this massive guide. If you've been sleuthing the web for Oktoberfest information in English, this one's for you – a guide with insider info on everything, so that you're prepared to enjoy the best festival on earth.
Truly, there is no experience in the world quite like Oktoberfest. I hope you find this guide helpful, and feel free to ask in the comments if you have any specific questions! Happy drinking 🙂
Where to Stay for Oktoberfest
One of the first and most important considerations you should make is where you're going to sleeping after your long day of drunken antics.
Accommodation is probably the steepest cost you'll need to swallow during your trip, and the earlier you book, the better.
Any central locations will be VERY pricey no matter what, so if you're booking something farther out, just make sure you're close to an U-Bahn station on the U4 or U5 line.
This way, you're well connected to the Oktoberfest grounds.
AirBNB is usually one of the more cost-effective options. If it's your first booking, you can click here to save yourself $40!
If you're really on a tight budget, Stoke Travel offers camping options for 60 euros a night. It's not the most glamorous place to stay for Oktoberfest, but if you're up for some backpacker camping fun, this might be a great option to save some dough. Click here to check prices and availability.
All that said, maybe you're feeling bougie and want to splurge on a hotel. Why not?!
Honestly, there are many upsides to staying in a hotel (ease of check-in, support from staff, etc. being key ones). If you do want to stay at a hotel during Oktoberfest, here is my vetted list of well-rated hotels within walking distance to Theresienwiese:
Basic Information You Must Know About Oktoberfest
Oktoberfest dates and hours:
Oktoberfest 2023 will be from September 16 to October 3.
For your reference, according to the official Oktoberfest website, the opening hours in previous years are as follows:
Beer Serving Hours
Opening day: 12.00 noon – 10.30 pm
Weekdays: 10.00 am – 10.30 pm
Saturday, Sunday & holiday 09.00 am – 10.30 pm
Daily closing hour 12.30 am 'Käfers Wiesnschänke' and 'Weinzelt' open until 1.00 am
Opening hours of stalls
Opening day: 10.00 am – midnight
Monday – Thursday: 10 am – 11.30 pm
Friday: 10.00 am – 12.00 midnight
Saturday: 9 am – midnight
Sunday 9 am – 11.30 pm
Munich's Oktoberfest location:
Oktoberfest in Munich takes place at Theresienwiese, a large open space in the city center. It is easily reachable by public transit or by foot from the central bus/train stations. Click here to read detailed information about the location and how to get there.
… Is it too late to go?
Trying to attend Oktoberfest last-minute is an extremely expensive mission, BUT there are still some budget-friendly ways to do it. Stoke Travel for instance offers camping options just outside of the city center that includes tents, breakfast/dinner and hardcore parties for 60 euros a night.
They still have availability for this year so you can check here. You can even click here to score free unlimited beer and sangria!
NOTE: This is very much a budget backpacker option – you'll be sleeping in tents, it might be cold, it won't be the Ritz by any means, so if you're a mild germaphobe, hate crowds, loud noises, etc. this won't be for you… but if you love a good party and want a very cheap way to enjoy Oktoberfest, this is it. Click here to learn more!
Download the Oktoberfest app:
Yes this is a thing. It has handy information like up-to-date news and a map of the festival grounds. Read more about it here.
How to get into the beer tents:
If you don't have a reservation in place, or spots reserved through a tour of some sort, you need to make sure you get to Theresienwiese early in the morning on weekends or before 2:30pm on weekdays.
The earlier you go, the better your chance of getting a spot inside the tents. Don't worry, each tent has space specifically for walk-ins, so chances are good you'll get in if you arrive early enough.
Click here for a guide on how to secure reservations for free!
How much money to bring:
At Oktoberfest, cash is king. Do NOT forget to bring cash, unless you want to rot in an ATM lineup! I would budget for at least 50 euros a day if you plan on spending the whole day there. You will likely spend more. Click here for a full breakdown of Oktoberfest costs and expenses.
How much do things cost at Oktoberfest?
Beer and food prices vary by tent. Generally, you will spend 12-13 euros including tip for a litre of beer. Food ranges from 5-6 euros for snacky items, and 15-20 euros for full entrees. To eat cheaper, go for lunch and take advantage of lunch specials which are often less than 10 euros. Again, a full breakdown of Oktoberfest expenses/costs can be found here.
What to do at Oktoberfest
There are two main components of Oktoberfest: the beer tents/drinking portion and the funfair!
The combination of the two is what Germans call a Volksfest. Oktoberfest happens to be the largest Volksfest in the world, so be sure to explore the massive festival grounds at some point, because there's a lot to see.
INSIDE THE TENTS
Enjoy some delicious beer – Million of litres are consumed every year, so do your part to contribute 😉
Make new friends – It's common to sit with strangers at Oktoberfest and totally not creepy. Be friendly, make conversation – everyone is happy to chat after a few beers.
Sing along to classic songs – While traditional music will be playing during the day, the evening time is when the band plays some serious bangers that everyone knows the words to. Think Sweet Caroline and Angels by Robbie Williams. Stay until the evening to ensure you get this experience!
Dance on the benches – Dancing on the tables is a big no no, but as the night goes on, pretty much everyone will be up on the benches dancing. Be careful though – people fall all the time!
Try some delicious Bavarian food – There's nothing better after a few beers than some delicious, comforting Bavarian foods. Here is a list of must-trys.
AROUND THE FUN FAIR
Go on rides – There are tons of rides at the festival, including some wickedly terrifying roller coasters (think one that does 5 loops like the Olympic rings!) These rides are expensive (the big ones can be 8-9 euros) so budget accordingly.
Play carnival games – Maybe as a way to impress some of the new friends you meet? 😉 PS: There's bumper cars too to indulge your competitive side.
Enjoy some snacks – There are loads of food stalls beckoning your drunk soul. I highly recommend trying the sugar roasted almonds. You will smell them from a mile away and they are ridiculously delicious. (I refer to them as Oktoberfest crack)
Buy souvenirs – If you're looking for a nice memento from your Oktoberfest experience, there are loads of souvenir stalls selling t-shirts, mugs, and more. Just don't buy one of those dumb beer-shaped hats – they are ridiculous.
Sit in a beer garden – When weather permits, you can chill outside the tents at one of the many beer gardens. This is perfect when the sun is shining. You can order the same food and drink as inside the tent, the only difference is you can't hear the band.
Oktoberfest Food & Drink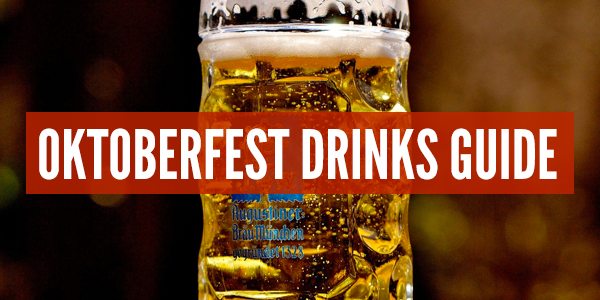 Click here to read a full Oktoberfest Drinks guide.
At Oktoberfest, there's no doubt beer is king! Beers are served in 1L steins called Maß.
The most common type of beer consumed is called Helles – a light beer, but you will also see Dunkel (dark) varieties and Hefeweizen (wheat beers).
Beer at Oktoberfest is specially brewed for the occasion by Munich's 'big 6' breweries and are stronger than regular beers, with a 6% alcohol content.
Tents will typically only serve beer from one brewery (i.e. you won't be able to pick and choose which brewery your beer comes from), so know that you'll have to tent hop a bit to try the different breweries.
Check out my full Oktoberfest drinks guide to see a list of which tents serve which beer.
If you don't like beer, first give radlers a try.
They're a 50/50 mix of lemon soda and beer, which helps dial down the beer taste.
Radlers are delicious and refreshing, plus they ensure that you pace yourself and prevent you from getting drunk too quickly 😉
There are also some tents that serve wine (specifically the Weinzelt – Wine Tent) but the vibe here is different from the regular beer tents.
You'll also find some stalls outside the tents serving spirits too. Just don't expect much variety within the tents themselves.
There are non-alcoholic options as well – specifically non-alcoholic beer, sodas, juice and water.
Be sure to give apfelschorle a try – it's a sparkling apple drink that is really popular here. There's also Spezi (a 50/50 mix of Coke and Fanta), a common soda of choice in Bavaria.
Click here to read a full Oktoberfest food guide.
Food at Oktoberfest is delicious, plentiful anddd… expensive!
The good news is, Oktoberfest is a great chance to try out Bavarian specialties, although the truth is you can find the same food for cheaper (and better quality) elsewhere in the city.
If you're crunched for time though and don't have much time in Munich, treat yo'self to some Oktoberfest eats to get a feel for what Bavarian cuisine has to offer.
These are the top 10 dishes I think you need to try at Oktoberfest.
Each of the tents will offer food menus.
Note that lunch is way cheaper than dinner, and there are often lunch specials clocking in at less than 10 euros per meal.
At regular price, you can expect to pay 15-20 euros for big dishes and 5-6 euros for snack items like fries, currywurst, etc. You can click here for a full guide to doing Oktoberfest on a budget.
Some tents are also known for the food specialties that they whip up.
Specifically, the Ochsenbraterei is famous for their oxen dishes and Café Kaiserschmarrn is known for their Kaiserschmarrn (a torn pancake dish and wonderfully comforting dessert).
In terms of must trys, I have the full list with explanations/photos here, but be sure to try roasted chicken, pork knuckle, pretzels, Weißwurst, Käsespätzle and SKIP those giant gingerbread cookies. They're pretty but taste terrible!
Oktoberfest Clothing: What to Wear
As a tourist, is it mandatory to wear traditional clothes at Oktoberfest? The answer is no.
There are loads of people who will be wearing regular clothes, locals and visitors alike.
The only downside of not dressing up is that you will probably feel left out.
That said, a quality outfit is not cheap, so if you'd rather save your money for beer, there's no shame in that!
Oktoberfest Clothing for Men
Men at Oktoberfest typically wear lederhosen (leather pants).
Most lederhosen look similar, with length being a key differentiator. A good pair of authentic lederhosen should last a lifetime, which is why they can be very expensive!
Lederhosen are usually paired with button up shirts/nicer looking tops. Checkered shirts are commonly seen, but white is more traditional and often preferred by older locals.
Good, comfortable shoes are VERY important. Something that you won't mind spilling beer all over.
If you're feeling especially fancy, men often jazz up their outfits with a cool hat, belt or waistcoat.
Learn more about where to find these outfits in my full Oktoberfest clothing guide.
Oktoberfest Clothing for Women
Click here to read a full guide on Oktoberfest outfits for women.
Women at Oktoberfest typically wear dirndls, which are composed of three parts: a blouse, a bodice and an apron. You can usually find these in a set in shops all over Munich.
The bodice should fit like a glove (yes, they're built to accentuate certain features!), and there are all sorts of styles for blouses.
Length-wise, they should be knee length or longer.
The super short dirndls tend to look very costumey. These short, scandalous "porno dirndls" (as some people call them) are frowned upon.
I highly recommend you try your dirndl on before buying because getting the right fit is important.
Check out this full clothing guide to see where you can get dirndls on a budget in Munich.
Comfortable, close toed shoes are a must. Leave the heels at home because you'll be doing a lot of walking and dancing (on precarious benches).
Sometimes women choose to accessorize with flower crowns and necklaces, although remember: your dirndl should be the star of the show!
Golden Tips for Surviving Oktoberfest
Pack light.
Bags over 3L aren't allowed and there is no coat check. Everything you bring will have to be kept under the table, so don't bring anything you aren't comfortable losing.
Tie your jacket around the table leg.
This helps you remember where it is and prevents too much beer and grossness from spilling on it!
Bring cash, including coins.
You will need cash all over the festival. Coins are good for tip. Remember, you should always be tipping your server and also the bathroom attendants (so bring change to the bathroom too).
Have your address written down somewhere.
Not just on your phone (in case you lose it)! Having a paper copy of your address will help you get home when you've gotten a bit "silly" and can't remember how to get back home.
Pace yourself.
Think of it as a marathon, rather than a sprint. The beer at Oktoberfest is stronger than regular beer, so if you drink too much too quickly, you'll be in bed by 2pm. The real party starts in the evening, so hold on! Try drinking some radlers in between so you don't get too drunk.
Have a meeting spot for you and your friends.
If you're here with a group, you will inevitably get separated.
Have a plan in place for when this happens, maybe a meeting spot and time. The tents are loud so you'll have a hard time hearing any phone calls or text chimes.
Basic German Phrases You Should Know
Servus (Serve-oos) – Hello! [Bavarian greeting]
Hallo (hah-lo) – Hello!
Tschüß (Choo-ssss) – Bye!
Danke (Dahn-keh) – Thanks!
Bitte (Bit-uh) – Please + you're welcome + here you go + pardon?
Entschuldigung (En-shoe-lih-gung) – Excuse me
Prost! (Pr-OH-st) – Cheers!
Ist hier noch frei? (Iss-t here knock fry) – Is this spot free?
Eine Maß, bitte (eye-nuh Mass bit-uh) – A beer, please.
Noch ein Bier, bitte (Knock eye-n beer, bit-uh) – Another beer, please.
Oktoberfest Guide: Frequently Asked Questions
When is Oktoberfest celebrated?
Oktoberfest 2023 will be from September 16 to October 3.
Where is Oktoberfest?
While Oktoberfest is celebrated all around the world, the original festival (and the world's biggest) still takes place in Munich. This is commonly the one that people are referring to.
Within Munich, the Oktoberfest festival grounds can be found at Theresienwiese, a large open space in the city center (and where it has been celebrated since 1810).
Why is Oktoberfest celebrated?
The first Oktoberfest in 1810 was held to celebrate the wedding of King Ludwig I to Princess Therese of Saxe-Hildburghausen (hence why the festival grounds are known as Theresienwiese, AKA Therese's meadow.
Back then, the festivities looked a little different, with horse races being a big part of the event.
The tradition continued in the years after, with the festival growing bigger with time, adding more attractions, carnival booths, a parade, etc.
Over time, it has morphed into the beer guzzling festival we know and love today!
Do I need Oktoberfest tickets?
The short answer is no.
There is no need to purchase tickets to Oktoberfest as entrance to the festival grounds (and into the tents is free). In other words, there is no such thing as an "Oktoberfest entry fee".
That said, it does get very very busy at the festival (especially in the evenings and weekends), so it IS possible to reserve a table, in which case yes you would be "buying a ticket" to attend (or in essence, reserving your spot).
Read this post for a more in-depth explanation about reservations for Oktoberfest.
Is it hard to get a table at Oktoberfest?
If you're a little group (2-3 people) you will likely be able to find a spot to sit quite easily.
Just slide to the end of a table that has space (but make sure you always ask first!)
If you're a big group, getting an entire table to yourselves might be difficult, especially in the evenings and weekends.
Your best bet is to go early in the morning and be flexible with which tent you end up in (as some fill up way faster than others).
How do I make Oktoberfest reservations?
Reservations are made months in advance (often in January/February) and are arranged individually by each tent.
The process varies for each tent as well (some have info online, others require you to fax in forms). To read up more on how to make reservations, check out my Oktoberfest reservations guide.
What if I want to go this year but still haven't planned anything?
Trying to attend Oktoberfest last-minute is an extremely expensive mission, BUT there are still some budget-friendly ways to do it.
Stoke Travel for instance offers camping options just outside of the city center that includes tents, breakfast/dinner and hardcore parties for 60 euros a night.
They still have availability so you can check here, and clicking here to score free beer and sangria on me during your trip.
NOTE: This is very much a budget backpacker option – you'll be sleeping in tents, it might be cold, it won't be the Ritz by any means, so if you're a mild germaphobe, hate crowds, loud noises, etc. this won't be for you… but if you love a good party and want a very cheap way to enjoy Oktoberfest, this is it. Click here to learn more!
Why is Oktoberfest celebrated in September?
I know what you're thinking: Oktoberfest in September? What is this madness?!
Well, the original Oktoberfest did take place in October, but over the years the dates got moved up for a simple reason: weather!
That said, the last weekend of Oktoberfest does always spill into October, so the name isn't completely incorrect 😉
Where in Munich is Oktoberfest?
Munich's Oktoberfest grounds are in the city center. The festival is held at "Theresienwiese", For more detailed tips, directions and more, check out this post.
How much does Oktoberfest cost?
It depends on how much you drink 😉
Let's be real, Oktoberfest is not a cheap event. Your overall costs will largely depend on where you're coming from and how long you're staying.
While there is no Oktoberfest entry fee, you should expect to pay a lot at the festival.
A litre of beer will cost you around 12€ including tip, and food will be from 6€ (for small bites like fries) to 12-15€ for bigger entrees.
I would personally bring at least 50 euros to spend a day if you plan on spending the whole day there, but click here for a guide to doing Oktoberfest on a budget.
For a more detailed breakdown of costs and what to expect, check out this in-depth Oktoberfest budget post.
Munich in October: what's the weather like?
knock on wood Weather tends to stay pleasant throughout Oktoberfest.
If you are wearing a full Oktoberfest get-up (i.e. lederhosen and long sleeved shirt or dirndl with blouse and apron), you should be fine so long as it's not raining.
If needed, bring a thin jacket that can fit in your bag just in case.
Not to worry because you'll be drinking more than enough beer to keep you warm, and all the tents are indoors (with optional outdoor areas).
When is the best weekend to go to Oktoberfest?
Every weekend will be fun, I promise!
On opening weekend, there are a variety of special events like the opening ceremony/keg tapping and a traditional wear parade.
The middle weekend is commonly known as "Italian weekend" because of the influx of Italian visitors who come in to enjoy the festivities.
Last but not least, the final weekend is always special because some tents turn off all the lights at the very end and hand out sparklers. It gets people low-key emotional!
What is Oktoberfest clothing? Do I need it?
At Oktoberfest, men wear lederhosen (leather pants) and women wear dirndls.
They are not mandatory to wear – many people will be wearing regular clothes. The only thing is, you might feel a little bit left out!
Good quality outfits do not come cheap, but you can save by buying them at second hand shops or flea markets. You can learn more in this thorough Oktoberfest clothing guide.
Is Oktoberfest safe for girls?
Yes, absolutely! The atmosphere at Oktoberfest is very lively and also very safe.
That said, especially if travelling alone, there are certain precautions/considerations that ladies should keep in mind in order to ensure they have the best experience possible.
To get my best Oktoberfest tips meant specifically for ladies, check out this Oktoberfest Girls' Survival Guide.
What if I don't like beer?
While beer is definitely the central focus of Oktoberfest, you're not entirely out of luck.
Some tents do serve wine and there are soft drinks as well, but in some cases these soft drinks (and even water) will be pretty much the same price OR more expensive than beer.
Paying 10 euros for water isn't too great a feeling!
Beer in Munich really is delicious, so I say give it a try. If you to tip your toes in a little, try getting a radler (half beer half soda).
It's amazingly refreshing, especially on a hot day. You can read more about the different drinks offered at Oktoberfest in this Oktoberfest Drinks guide.
When does Oktoberfest end?
In 2023, the last day of Munich's Oktoberfest is scheduled to be on October 3rd.
Other Things to do in Munich
Munich is an incredible city, and if you are lucky enough to have extra time to explore, read my guide on things to do in Munich for more ideas!
I hope you found this Oktoberfest guide helpful!
Let me know if you have any more questions in the comments.
---
Watch my most popular YouTube video this week:
---