*FYI - this post may contain affiliate links, which means we earn a commission at no extra cost to you if you purchase from them. Also, as an Amazon Associate I earn from qualifying purchases. Check out our Privacy Policy and Disclosure. for more info.
If you're ho ho hoping to visit Christmas markets in Europe this year, be sure to read this article first before filling your suitcase with mugs and falling face first into a vat of mulled wine.
Christmas markets are magical, sure… but the planning and research that goes into visiting them can be a true hellscape of tabs, confusion, and outdated websites seemingly built in the 90s.
Luckily, there are some losers who have done the research first-hand so you don't have to.
And today, this loser is here to share her top tips and must-knows for visiting Europe's famous Christmas markets, based on years of visiting dozens of them.
… In case that wasn't clear, it's me – hi. I'm the loser.
Now, let's get to those Christmas market tips.
1. First: do thorough research on Christmas market opening dates
Contrary to popular belief, there is no uniform rule across countries or even in one city as to when Christmas markets open, which creates a bit of a logistical mess when you're trying to plan.
As most opening dates are based around opening on a certain day of the week, the dates are never the exact same each year… nor are they consistent across places.
Some traditional markets will run for weeks and start around the same time as the first weekend of Advent, whereas some other markets will open earlier, later or some even just for one or two days of the entire year.
This is why it is so important to make sure you do proper research on dates because very often visitors who are new to Christmas markets in Europe will plan a trip around the wrong dates which as you can imagine is not the greatest vehicle for Yuletide joy.
Luckily, I've done much of the leg work for you and assembled dates for the most popular Christmas markets in these Christmas market opening date tables. Hope you find them helpful!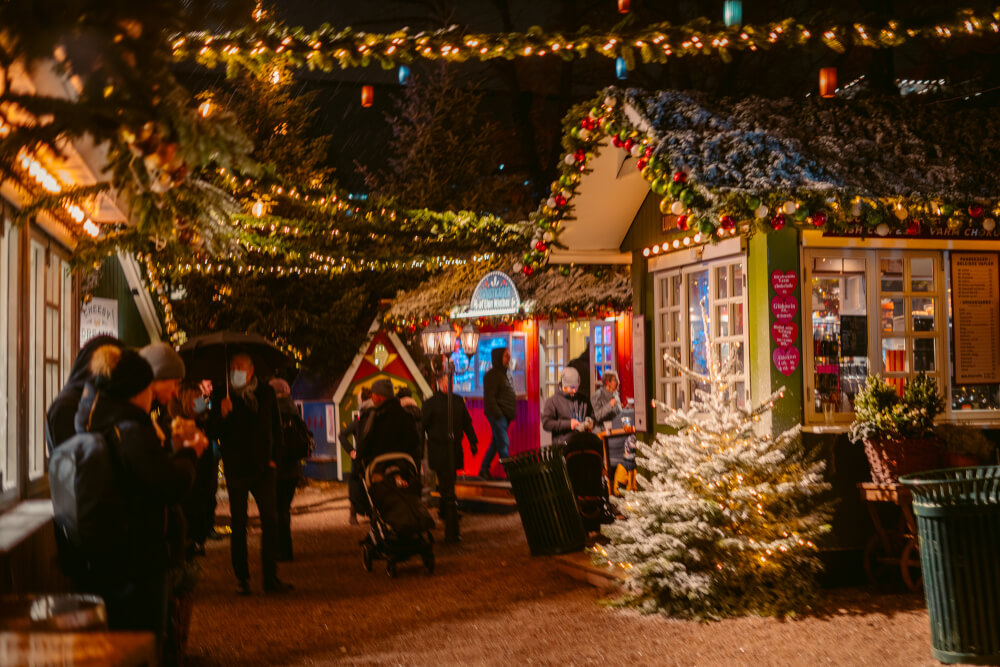 2. Always look at official event websites to confirm dates
Now, most travelers think that it's easy to just Google the different dates for Christmas markets but it's actually not that straightforward.
Often times the results that come up first on Google are websites that are not run by the official event organizers and therefore based on second hand information, which can mean information that's outdated or inaccurate.
So I always make sure to double check dates by cross-referencing them with official sources such as the official event organizer's website or the official tourism board for that destination.
Wherever possible, these links are included in my table I've created.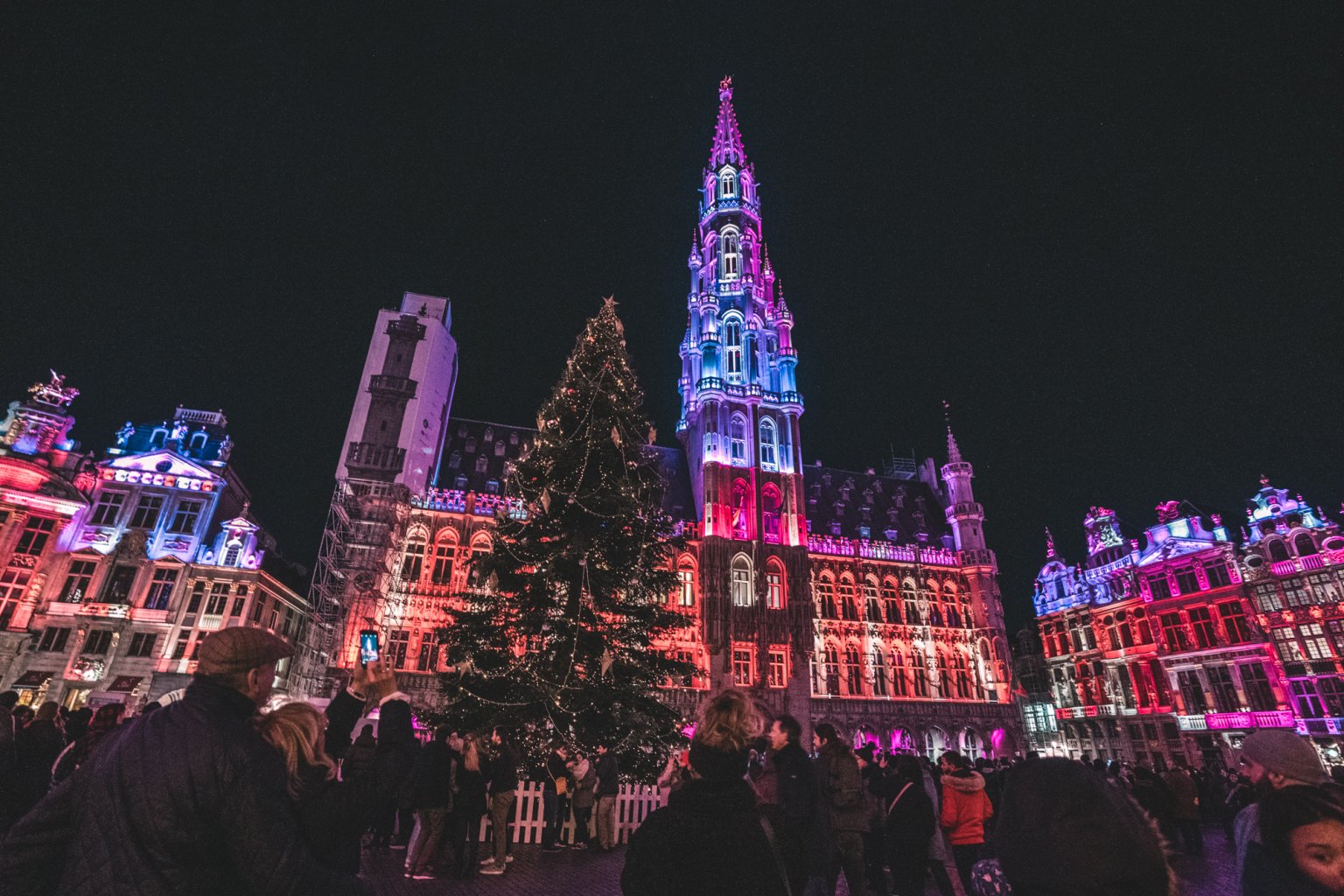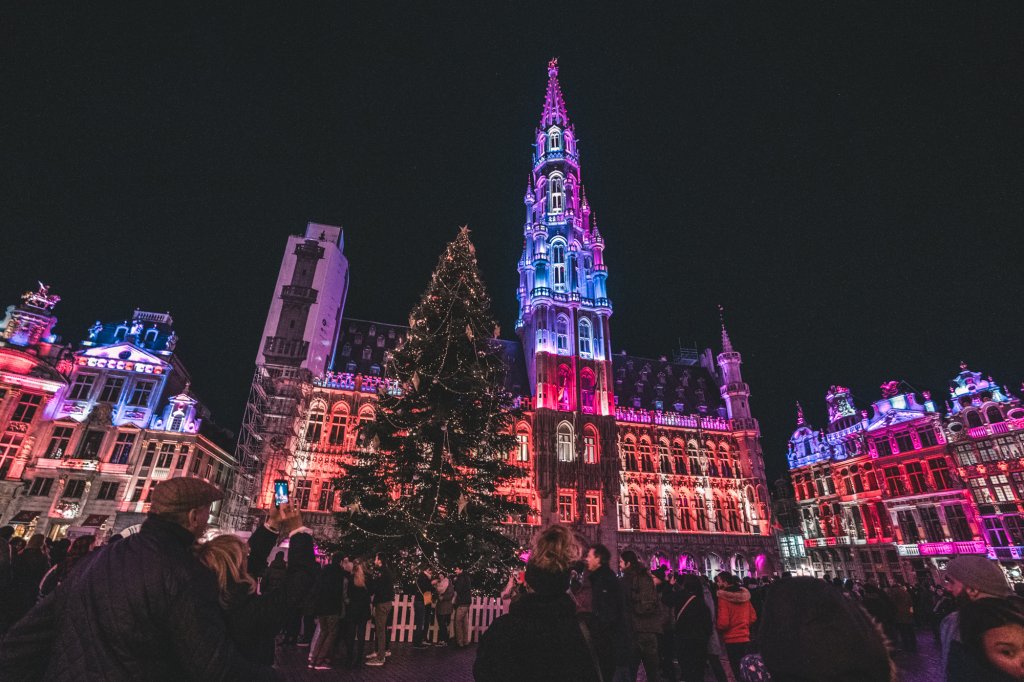 3. Know there are usually multiple Christmas markets in one city
Often, we have a tendency to refer to Christmas markets as THE Munich Christmas Market or THE Frankfurt Christmas market, but it's helpful to know in your planning that in most major cities, the Christmas market scene is actually made up of several independent markets, some of which are organized by the city and some by independent organizers.
All these Christmas markets can open and close at different times, and also tend to have their own unique offerings… so if you want to be thorough in your research, make sure you find out the actual names of the Christmas markets (preferably in the local language), and research them separately.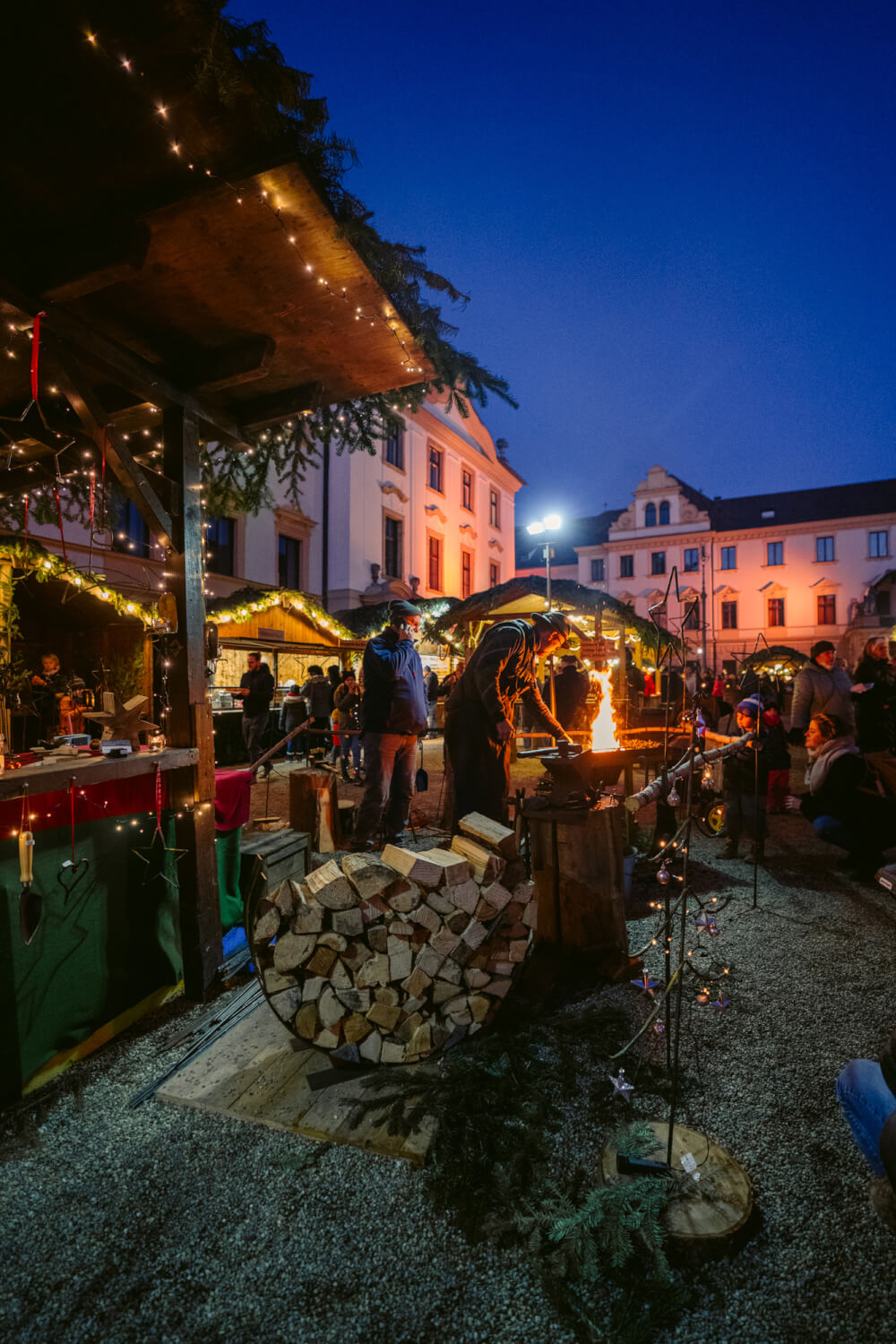 On that note, another important Christmas market tip is to…
4. Research in the local language
This is probably one of THE most important Christmas market tips I can share with you.
Do NOT only search for resources only in English, because often times when you're traveling in a country were English isn't the first language, the best and most up-to-date resources will not be fully translated.
Of course I don't think that you need become fluent in German, French, or Luxembourgish (which is a really language by the way!) before you head over to see Christmas markets, but what you do need to learn is how to use Google Translate efficiently.
So what I would recommend you do is firstly type in the name of the Christmas market on Google Translate, get it translated into the local language, and then search that up on Google.
I like using Google Chrome as my Internet browser because it has translation automatically built in, so you can just click and then translate it all into English.
When researching, another tip I have is to remember to look in the corner of every website and double check the local language version of the site because usually this is more up-to-date than the English version.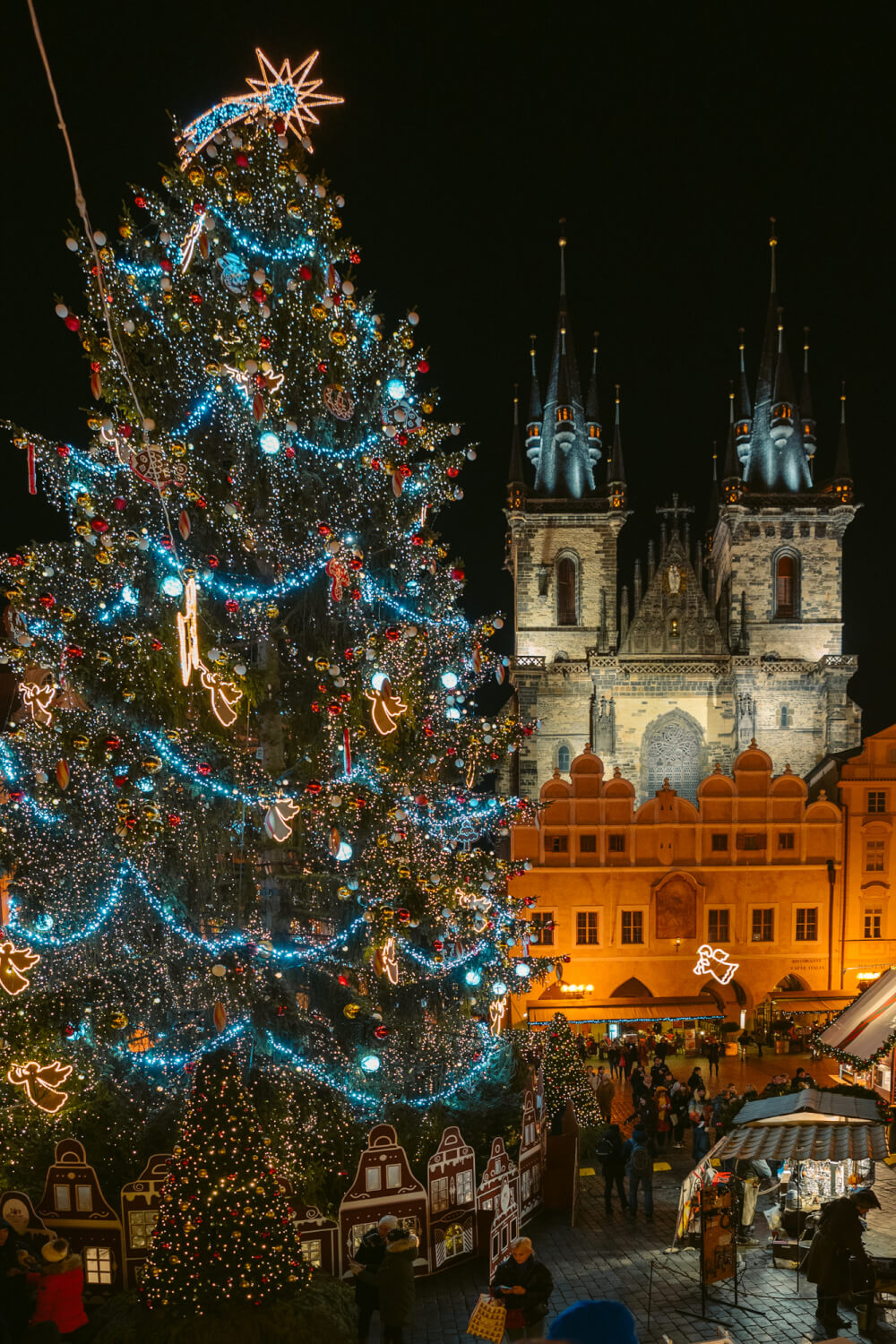 Another Christmas market must-know is to…
5. Be mindful of closure dates
Whenever event websites list out their dates, they tend to do so with a date range, like November 25 – December 31st, but often they gloss over the fact that they have specific closure days or dates within that range.
For example, most Christmas markets will actually be closed on Christmas Eve or Christmas Day, even if they list their dates as extending past Christmas.
Another example is in Germany, it's very common for markets to not open until after Totensonntag, AKA the Sunday of the Dead, which is a religious holiday that takes place on the last Sunday before Advent… and even markets that do open before that day will be closed on that Sunday, so be sure to do the research and find out if there are any closure dates you need to know about.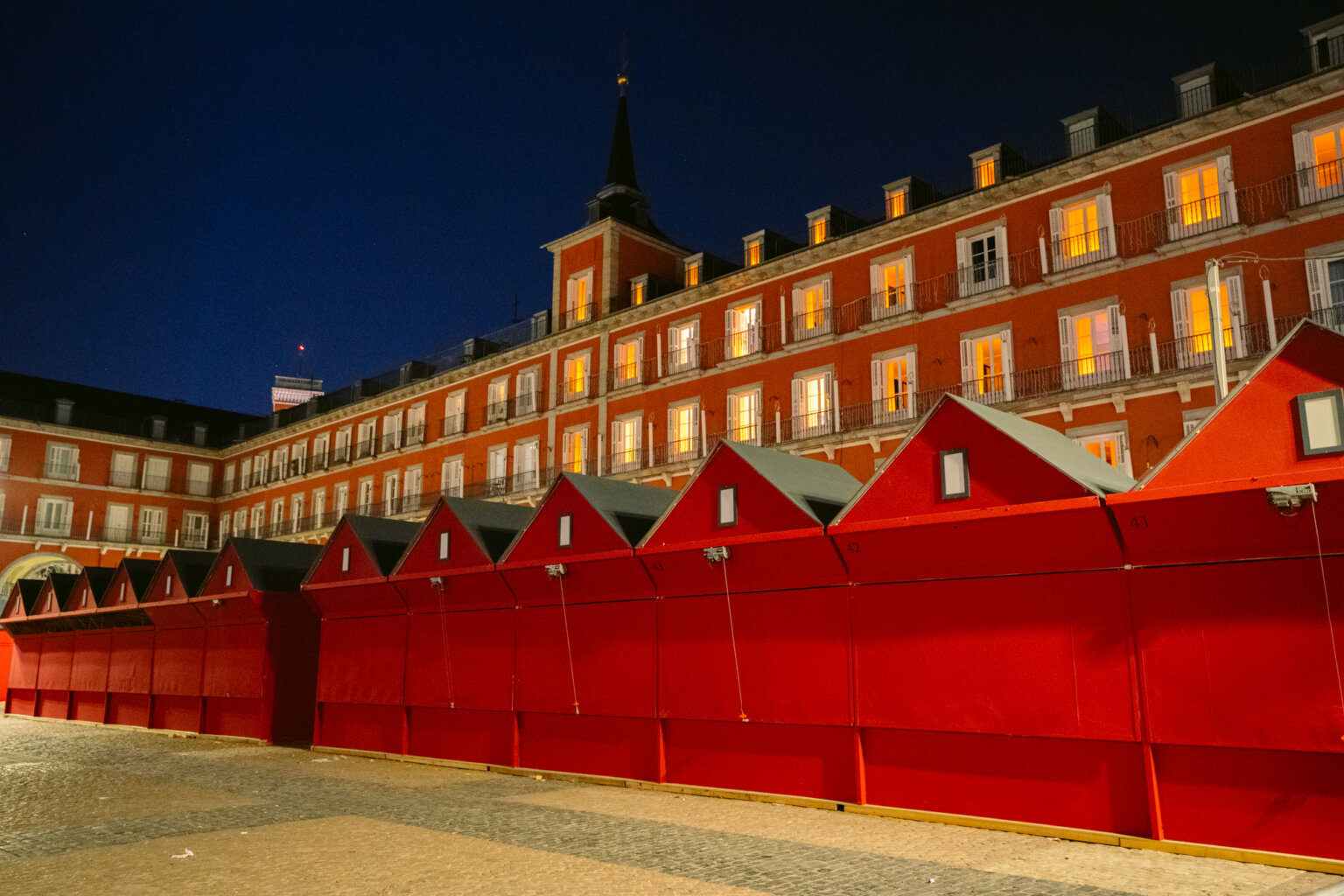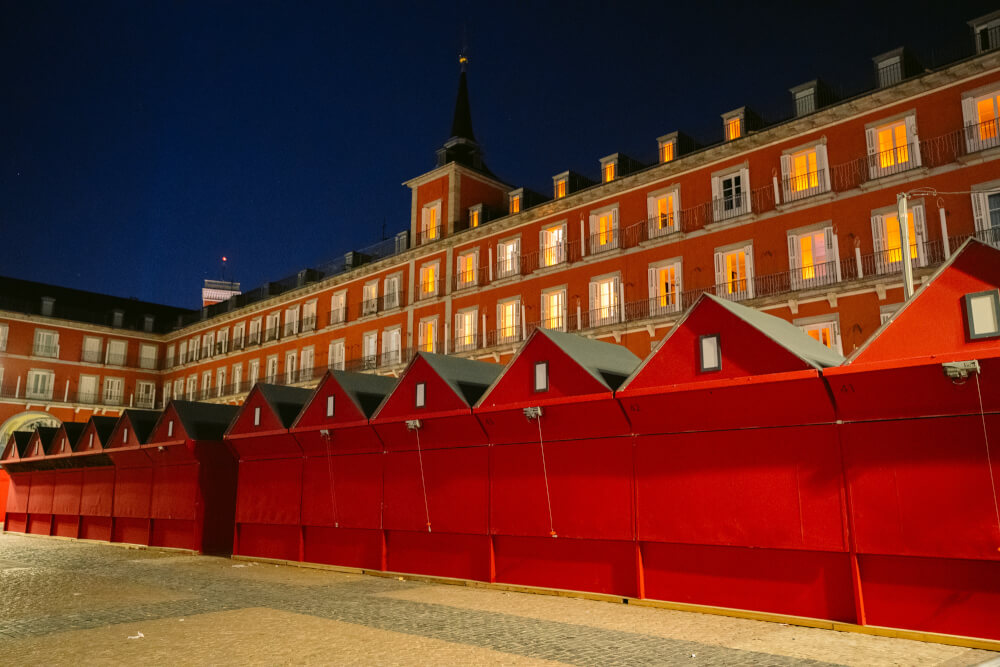 6. Consider travelling mid-week if you can
If you have the luxury of flexibility, try your best to plan so that your trips happen mid-week, or so you'll be at your busiest destinations mid-week.
This is because weekends tend to be incredibly chaotic and busy, no matter where you go for Christmas markets.
After all, one of the major downsides these days at Christmas markets in Europe is that they are hardly a secret.
This means that if you visit on the weekend you can expect really heavy crowds, sometimes to the point where you can't even see the stalls or enjoy your time without drowning in a giant festive cuddle puddle.
Of course, another perk of going midweek is that flights tend to be cheaper. Be sure to read my post on finding cheap flights to Europe if you want to learn more.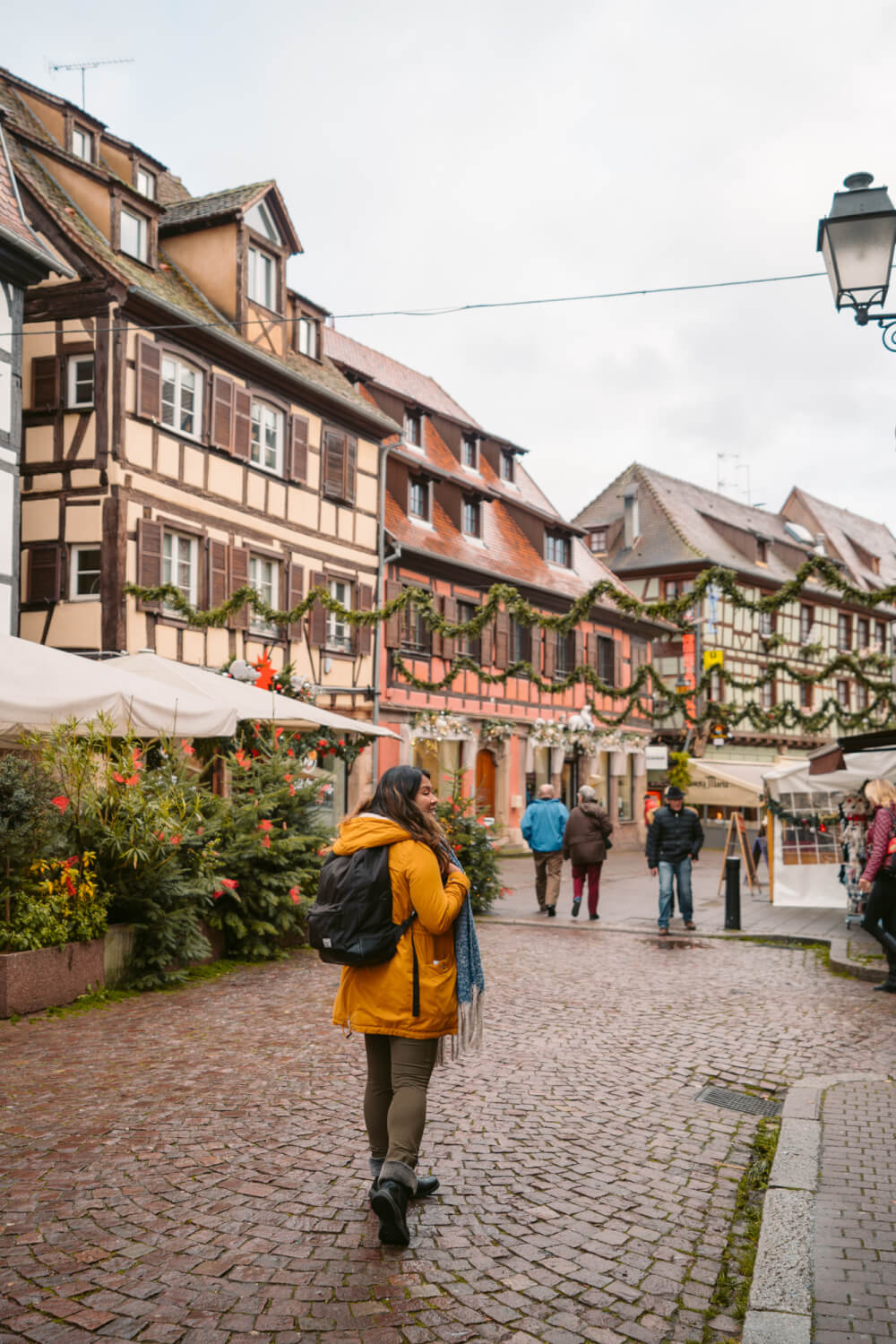 7. Consider seeking out Christmas markets in smaller towns and villages
Whenever international visitors come to Europe for Christmas markets, they tend to focus on the biggest and most famous Christmas markets that they've heard of.
Of course this can be great because these markets are famous for a reason, but I would argue that some of the most charming Christmas markets in Europe are the ones that take place in smaller towns.
This is why whenever I plan a Christmas market trip, I like to base myself in one city and then do day trips out to smaller towns or villages to round out my experience.
There's often a very different vibe to small town Christmas markets compared to the big city ones, so it's quite nice to get a mix.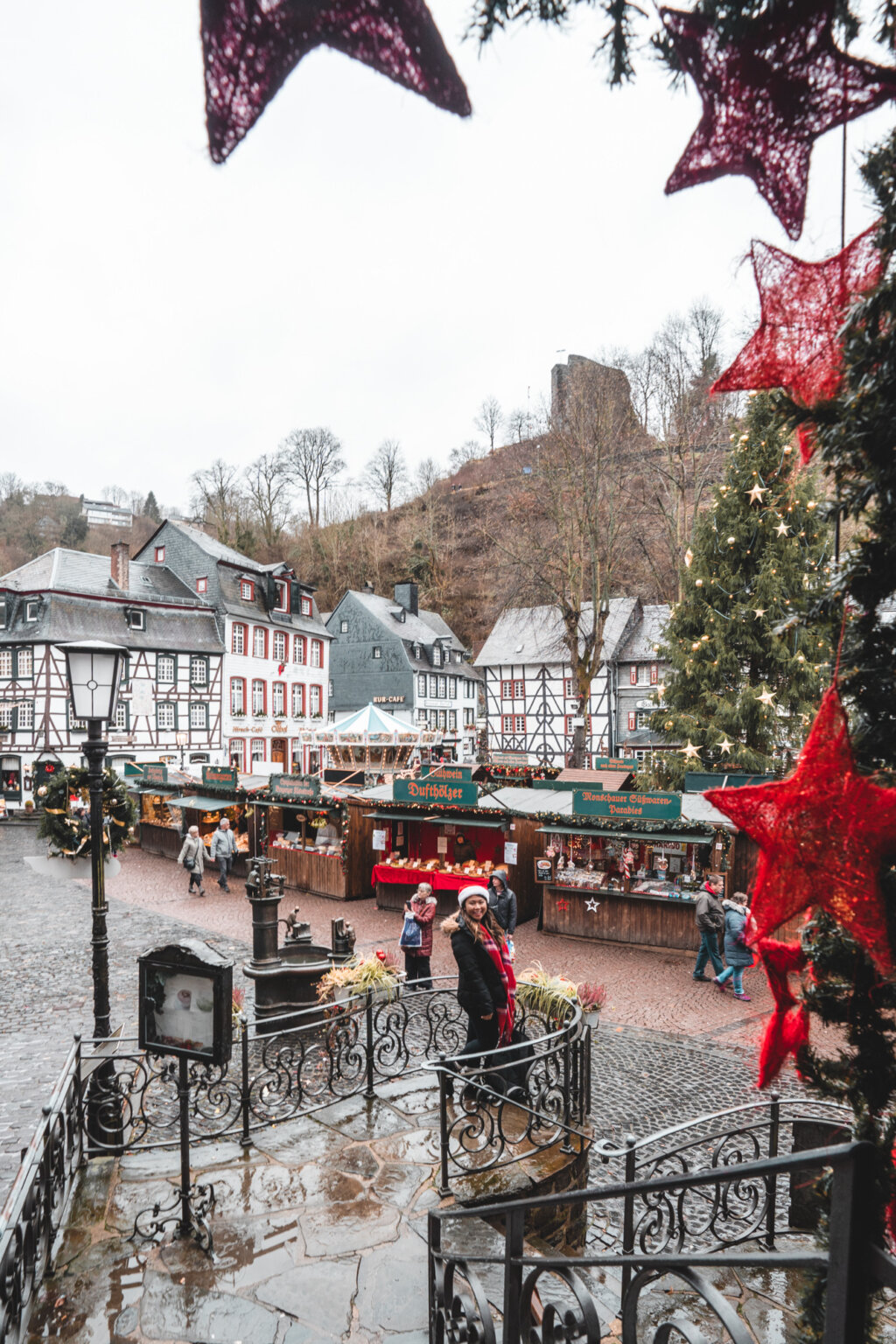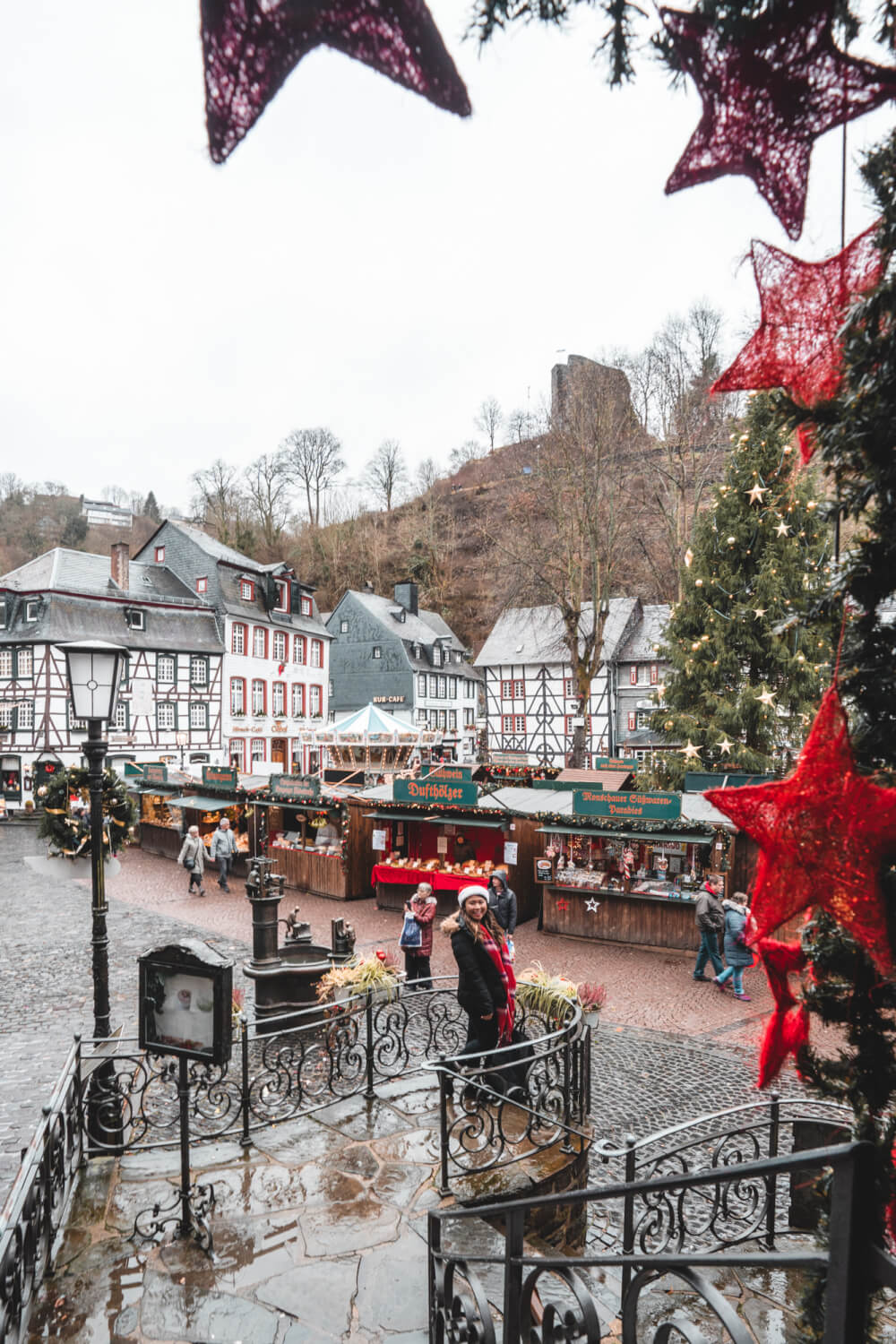 Of course, if you decide to do day trips out to smaller markets, another important tip to keep in mind is to…
8. Look into passes for public transportation in that region
Now this tip is more for Germany specifically, but I know these offers exist in other countries as well.
If you are planning on travelling to many markets in a day, be sure to look into regional day tickets.
In Germany, these are available in each state (like the Bayern Ticket), meaning you can pay one set price and get unlimited regional train rides in one state for the day.
This is great for Christmas market hopping because you can do a bunch of rides for one set price without needing to prebook, which leaves lots of room for spontaneity.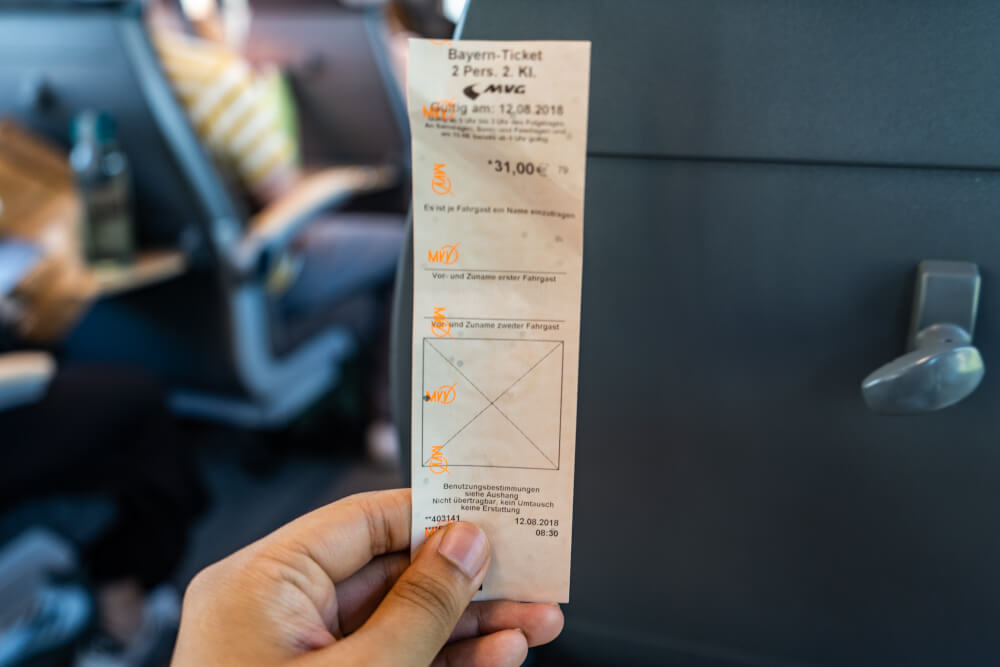 9. Look into uniquely themed Christmas markets to add to your itinerary
As much as I hate to admit it, Christmas markets can get quite repetitive after a while, even the prettiest and most magical ones.
That's why it's always good to mix up your Christmas market itinerary with more unique types of markets.
For instance, medieval markets or Nordic Christmas villages are very popular in a lot of major cities, there's also often Christmas markets centered around a special theme, like the colour-themed Christmas markets in Guebwiller and Munich, or the gnome and elf themed markets of Cologne and Turckheim.
In addition to all those, you'll usually be able to find local craft fairs, or specialty fairs designed for certain themes, which are all worth adding to your itinerary if you want a more well-rounded Christmas market experience.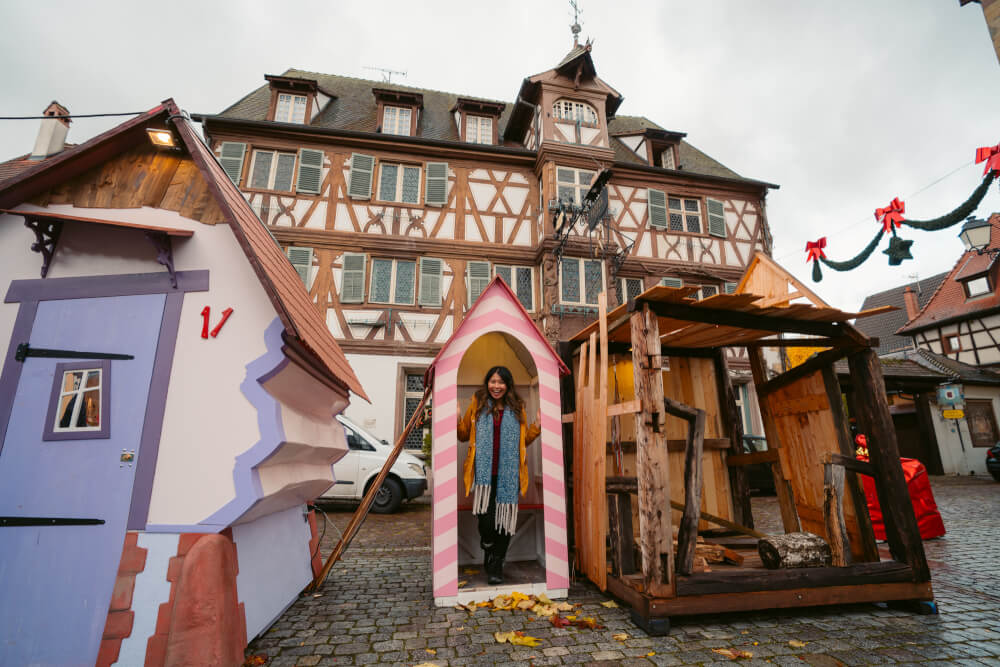 10. Try your best to book accommodation within walking distance to markets
In terms of choosing where to stay, I would say one of the things worth prioritizing is staying within walking distance to the Christmas markets you're interested in.
There's a few reasons for this: first off – there are few things more magical than leaving your hotel and being just a few steps away from all the Christmas market magic.
Second – if you plan on partaking in some of the local specialties like mulled wine, mulled beer, mulled gin, or whatever else they manage to mull, then the last thing you want to do is try to navigate back to your hotel through a long journey.
Lastly, hotels that are located close to different Christmas market sites will probably be able to give you much better advice about how to get to the markets, where to eat nearby, and other helpful insider tips.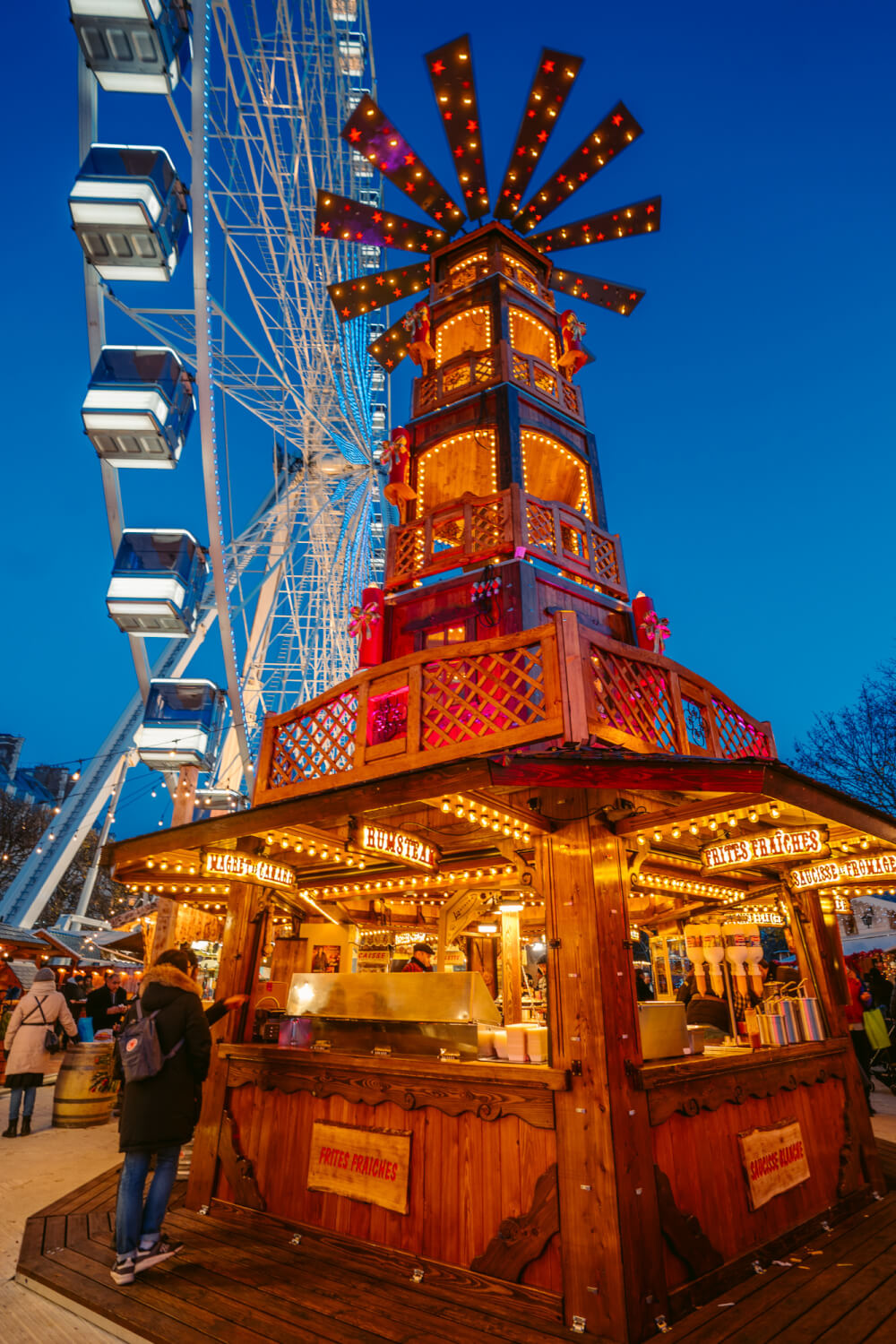 11. Book experiences and tickets in advance when needed
With a few exceptions, most Christmas markets in Central Europe offer free admission, meaning you don't need to pay to get inside.
BUT, oftentimes there will be components and activities within these Christmas markets that require booking in advance, like cool seating areas, fun workshops, or festive activities.
It can be extremely disappointing to arrive at a Christmas market, see a really fun thing you want to try, only to see that it's fully booked out, so be sure to sleuth around on the event's official website to see if there are any must-dos that require booking in advance.
You should also make sure to research other festive events and activities in the city beyond Christmas markets, like concerts or special light shows.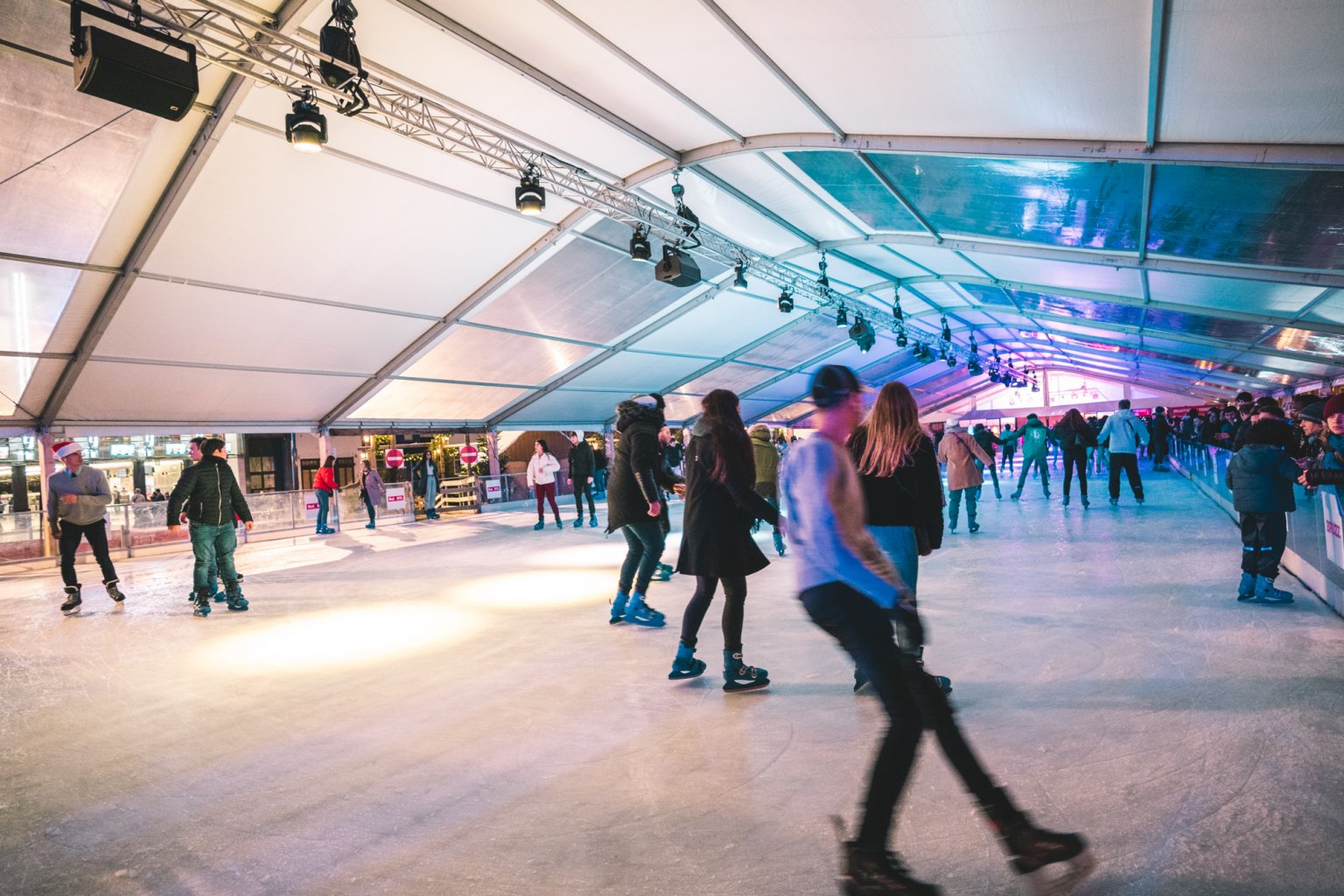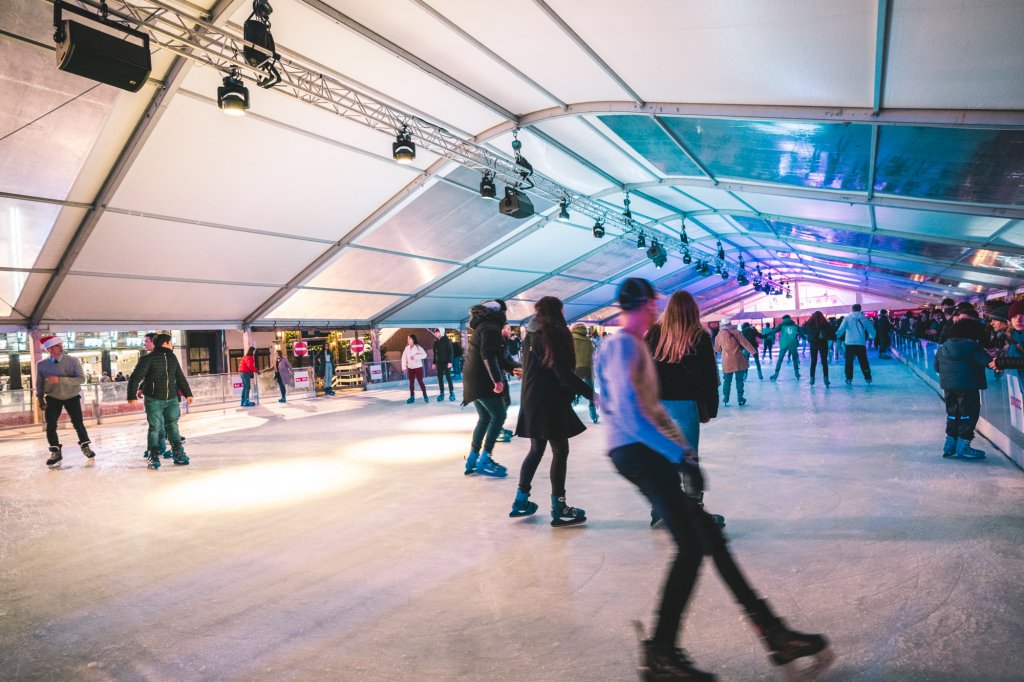 Now, let's move onto some packing tips.
Europe Winter Packing Essentials:
12. Remember to leave space in your suitcase
If you're visiting Christmas markets in Europe, odds are you plan to do a bit of shopping, or at the very least hoard a million of those adorable Christmas market mugs.
That's why it's VERY important to leave space in your luggage for all these amazing new goodies.
I share this tip in my "How to Pack for Europe video", but if you want to save money on checked bags on your way there, you can always nest suitcases within one another, or pack a duffle bag or large backpack that you can use to haul your goodies over on the way home, that way you only pay once for the additional checked bag.
As a bonus tip, if you plan to buy wine or other fragile goodies like mugs while abroad, you should definitely look into getting some wine protectors like these which come flat, but can be inflated with a pump to create the perfect cushioning for all your fragile goods.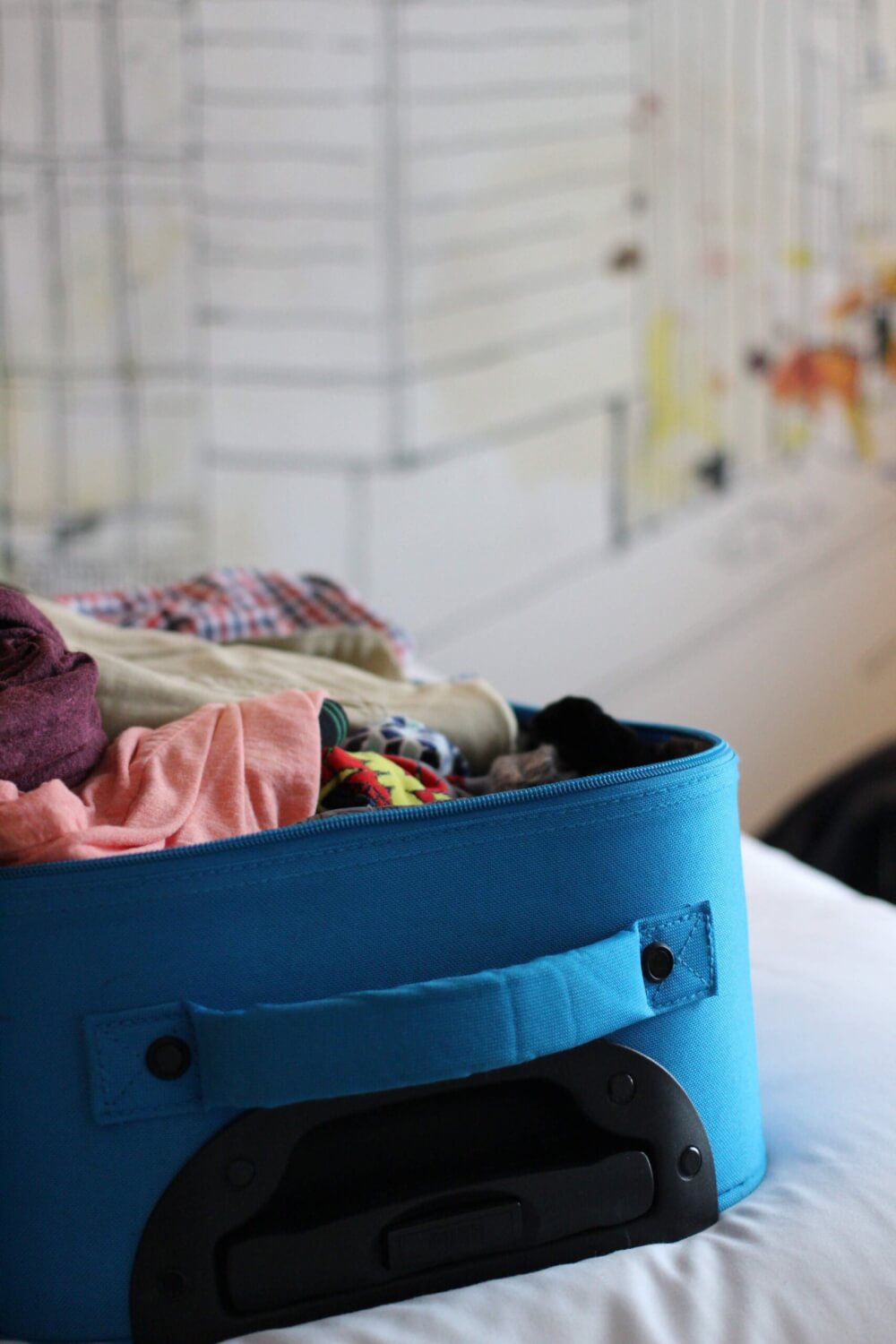 13. Bring at least one waterproof coat
The thing about Christmas in Europe is that the weather can be pretty unpredictable. While snow tends to be rare unless you're higher up North, one universal theme across most parts of Central Europe is that it can get very grey and wet.
Umbrellas can be really cumbersome to lug around, especially in crowded markets, and especially when it's windy, so I'd advise bringing a really solid waterproof coat with a hood for protection. If you only have space for one coat, make sure it's waterproof!
While we're discussing coat strategy, another important tip to keep in mind is to…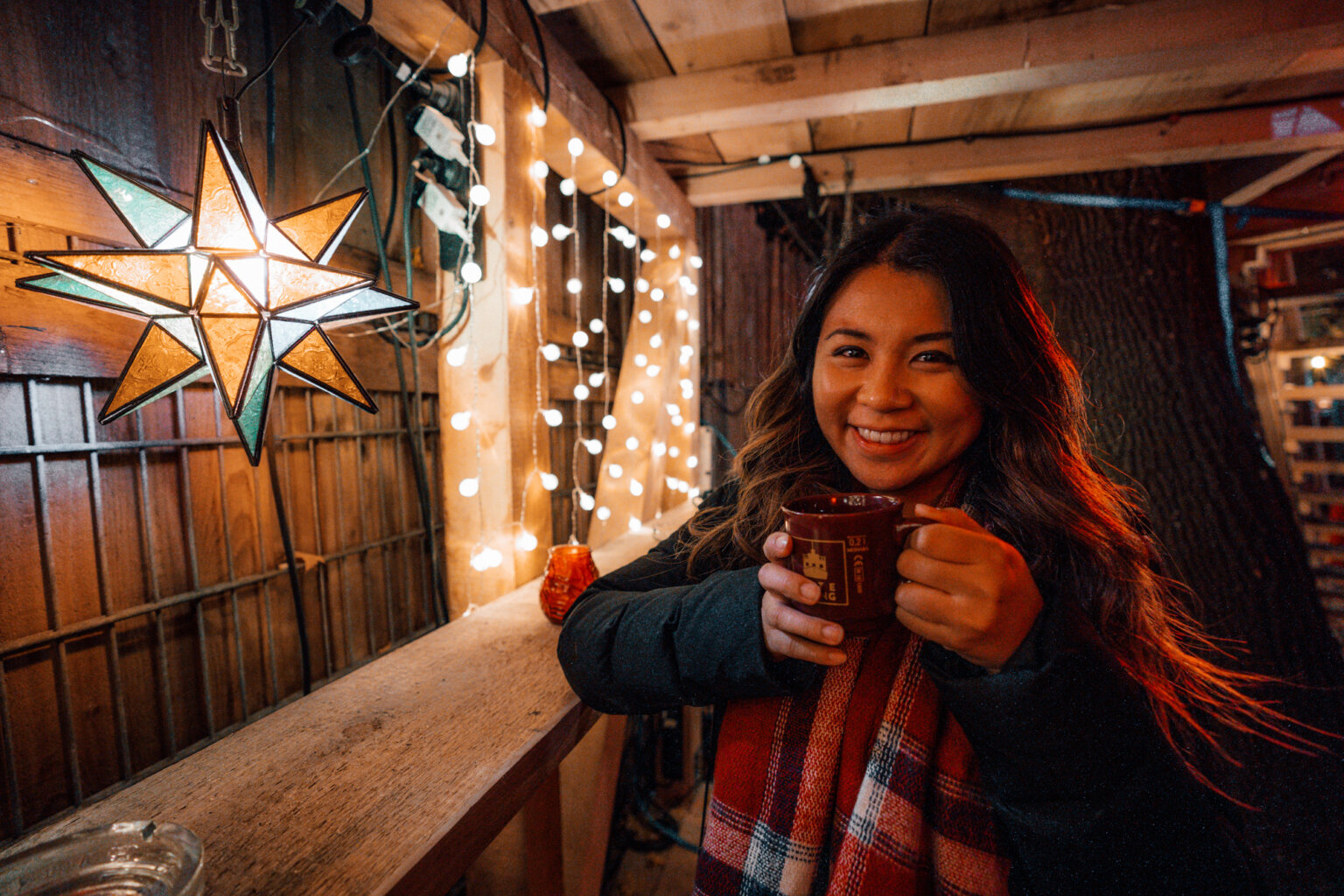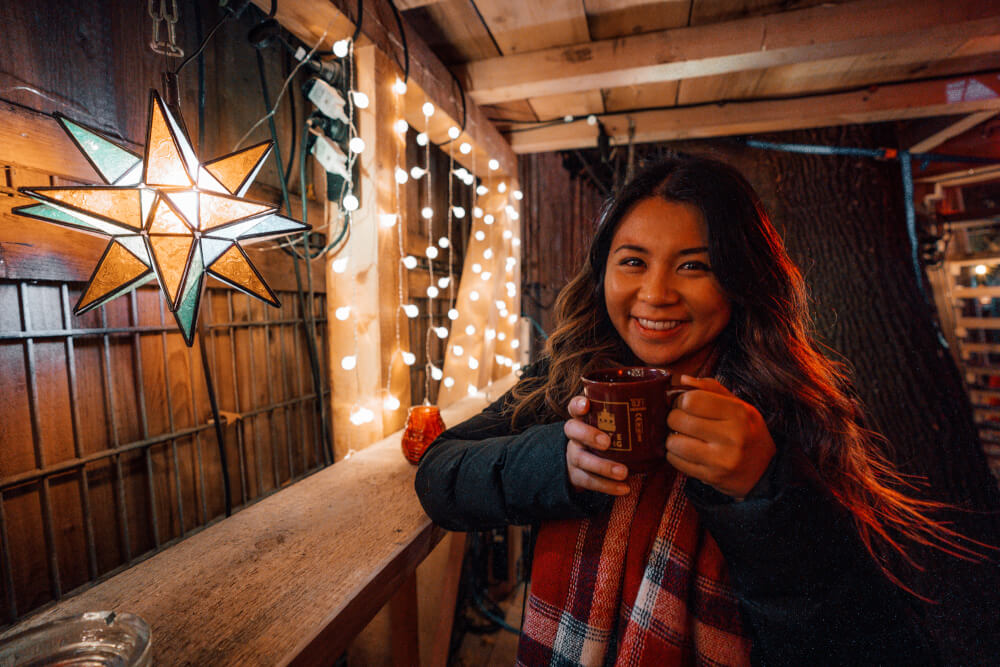 14. Bring a coat with an inner pocket
These kinds of coats are luckily increasingly popular these days, and can be so helpful in a Christmas market environment because you'll often be juggling between your wallet, your phone, and whatever treat you're holding.
So, being able to drop your valuables in an inner pocket can be a HUGE lifesaver, and also provide ease of mind when it comes to pickpockets… which sadly come with the territory anytime there's crowds and money-flinging tourists!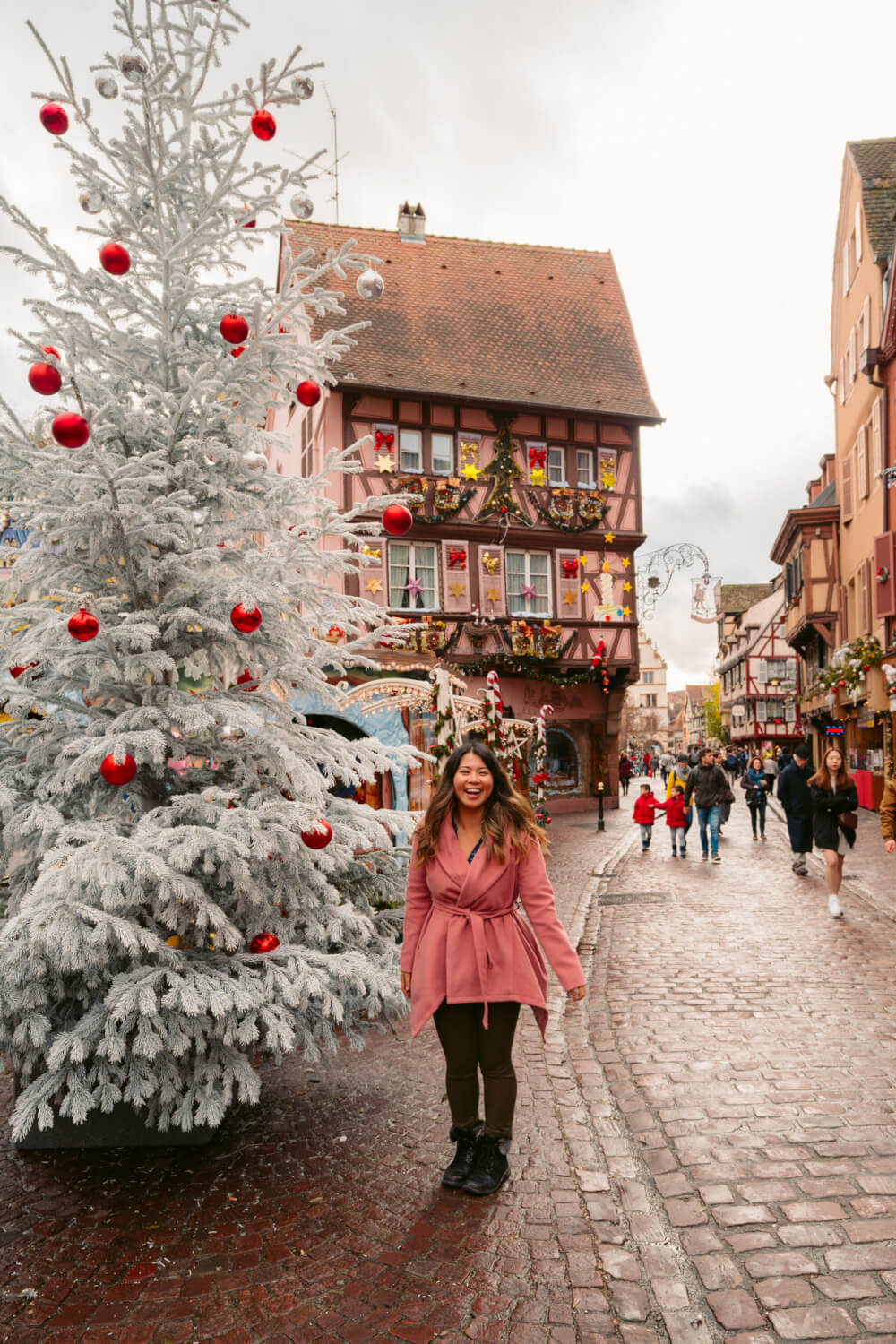 Free for You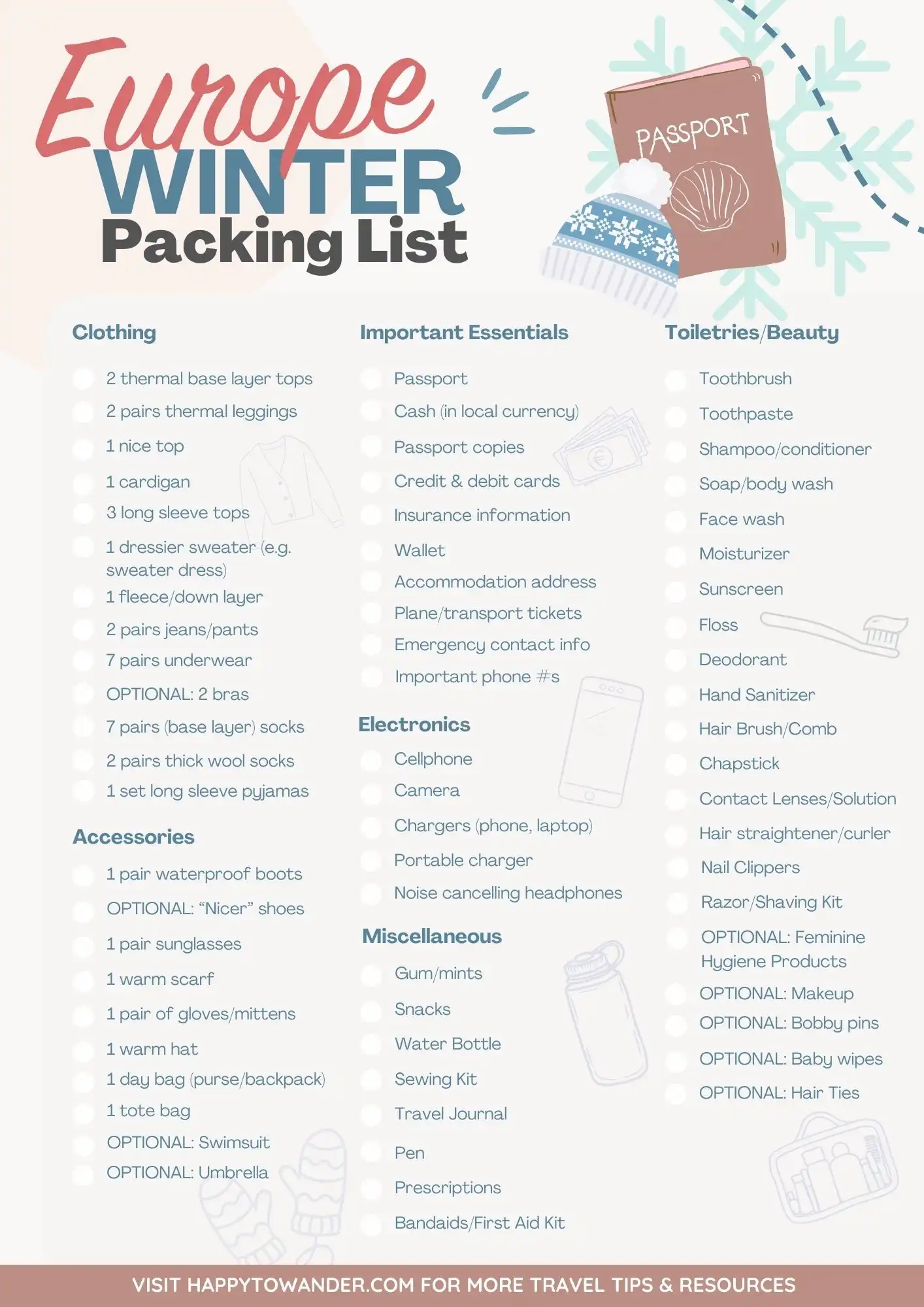 15. Warm up by packing layers
Oftentimes you'll be alternating between walking around the markets outside, to sipping a warm drink inside a heated indoor area, or heading into a restaurant that will leave you sweating buckets.
This is why it's crucial to layer for warmth, rather than just wear super thick everything.
Good layering starts with a nice thermal base layer – I can highly recommend the Heat Tech line from Uniqlo as an affordable option – they are super thin, keep you incredibly warm and don't take up too much space.
Check out my guide on How to Pack for Winter in Europe for more help.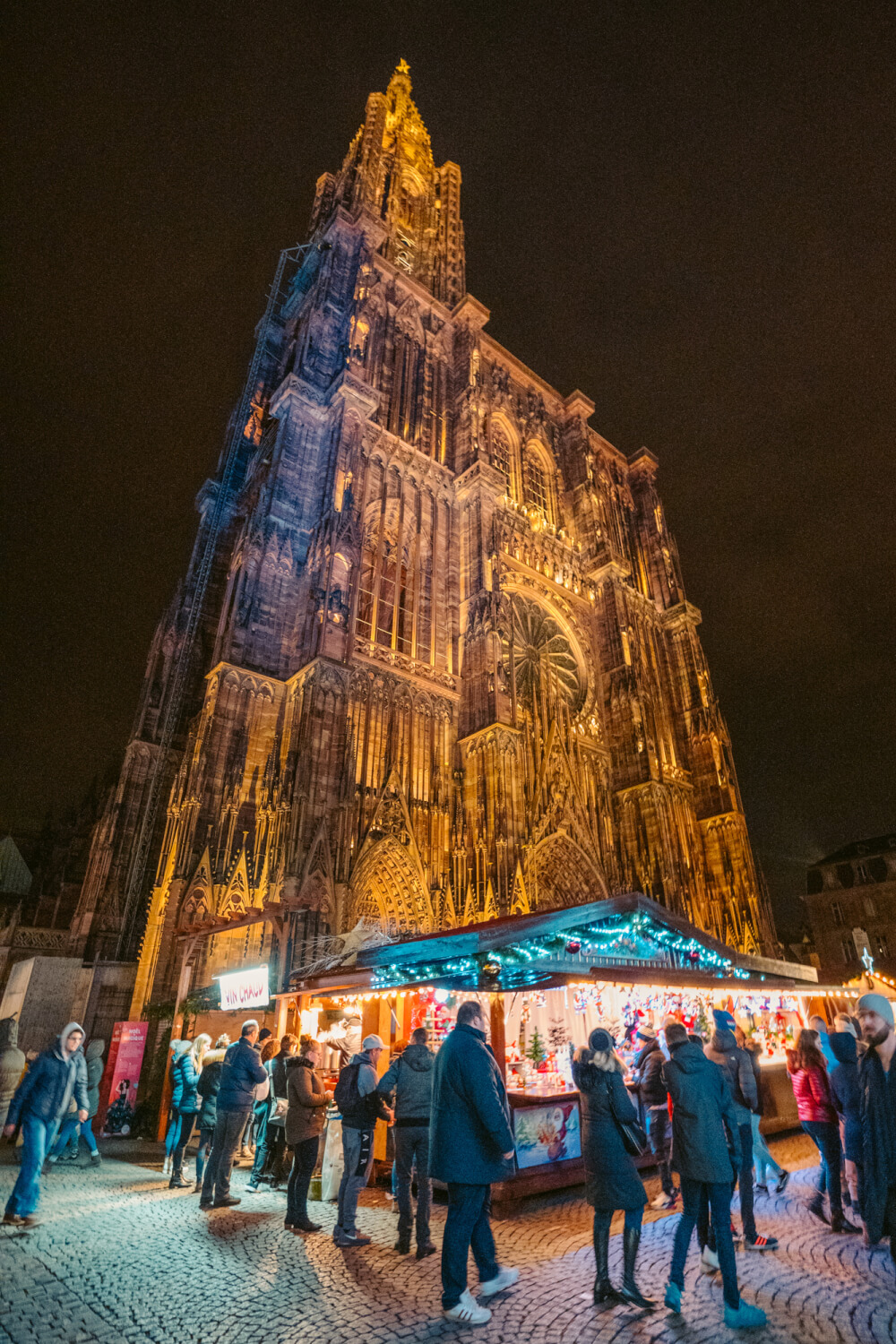 16. Bring comfortable boots
You'll be doing a LOT of walking, whether it's at a market, from market to market, or just general sightseeing. This is why comfort and warmth are crucial.
Unless you're going to Christmas markets in Northern Europe, you likely won't need full-on snow boots, but it's important that whatever boots you do bring are warm and have solid grip on them, because those European cobblestones are no joke.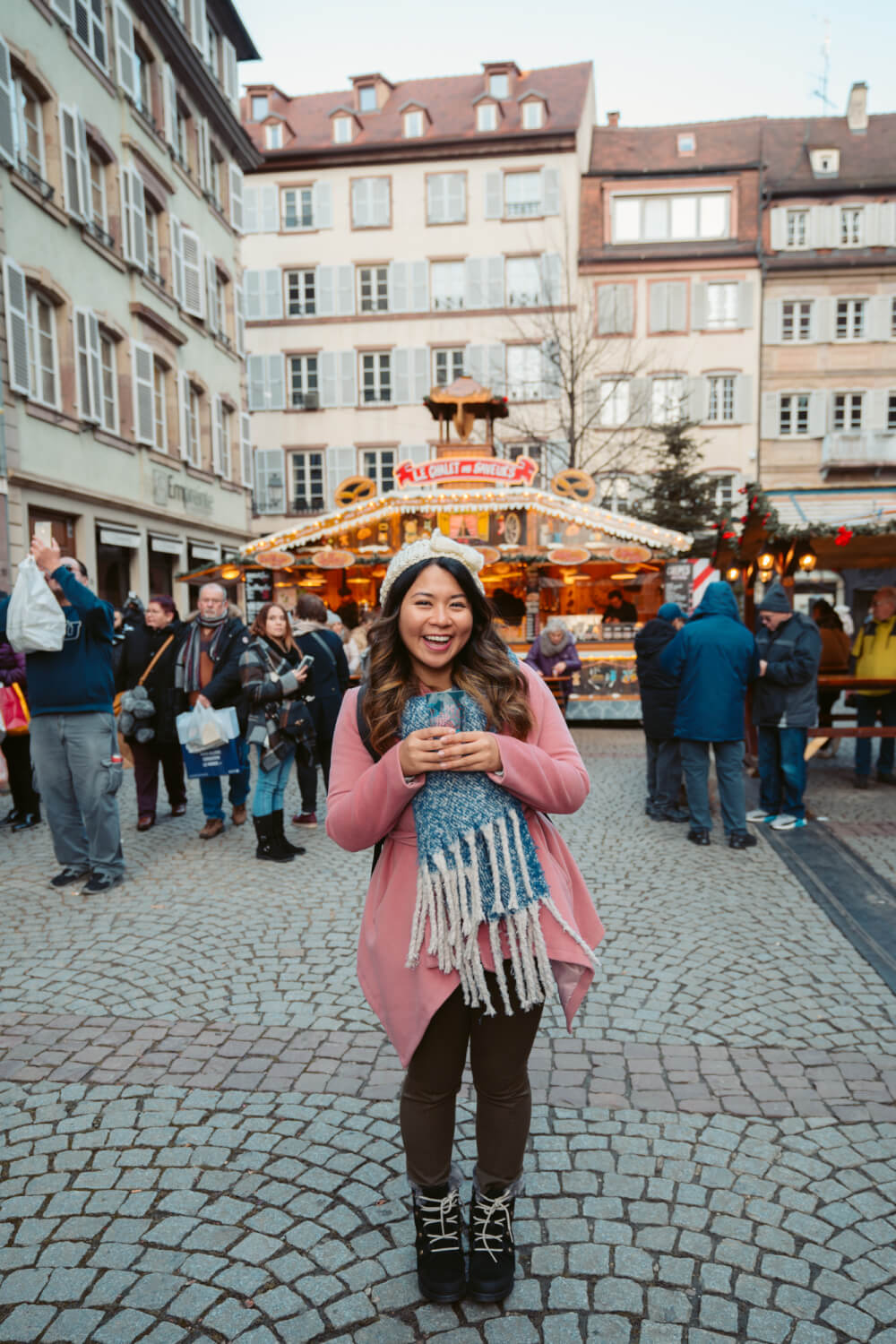 17. Prioritize packing darker shades
Listen, I love a nice white sweater as much as the next gal but the reality of Christmas market food is that it is SO messy.
If you are packing light and need to prioritize certain items in your wardrobe, go for darker shades, because the last thing you want is a giant mulled wine stain on your only sweater.
Of course, if you can't resist the cutesy appeal of having light coloured clothes, then another hack is to simply pack a really big dark scarf. Think of it as a fashionable bib for catching spills and incidents.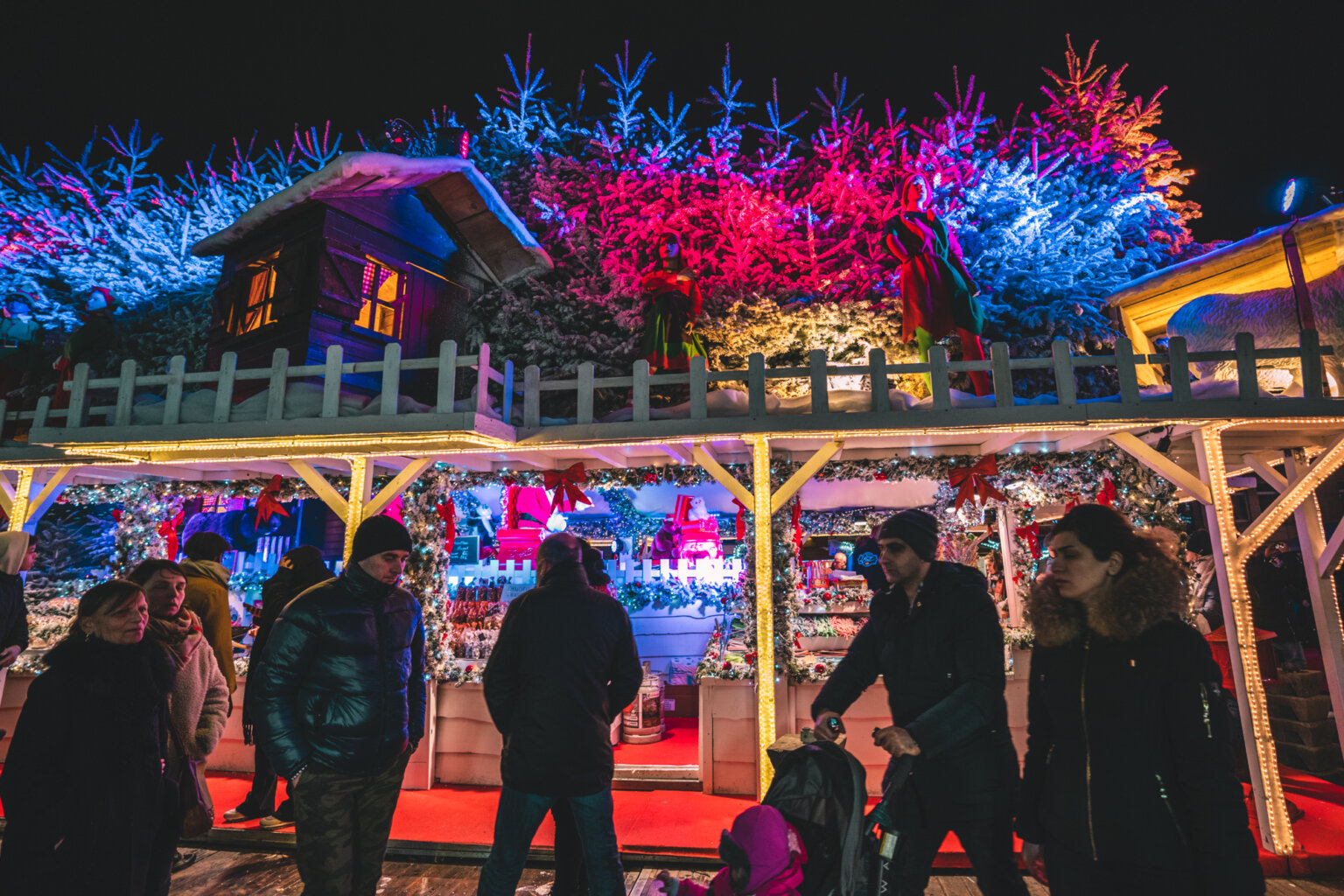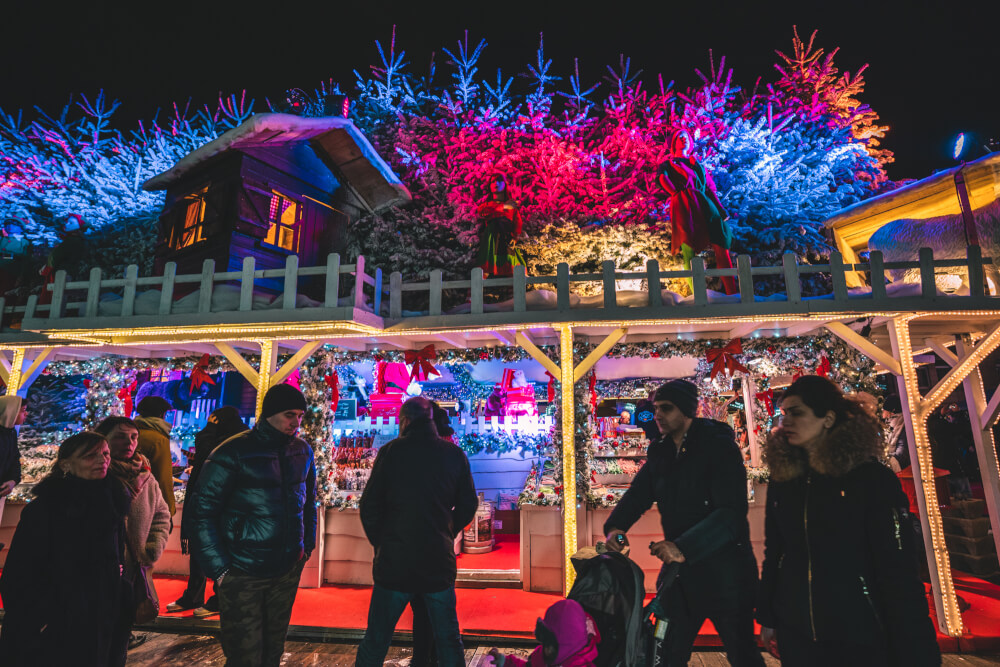 18. Pack light when visiting the markets
At bigger, busier markets, they can sometimes have restrictions on bigger bags during busy times, or security bag checks which can take longer if you're carrying a lot.
Practically speaking, big bags also tend to get in the way in a crowded environment like Christmas markets, so try not to bring overly big bags with you.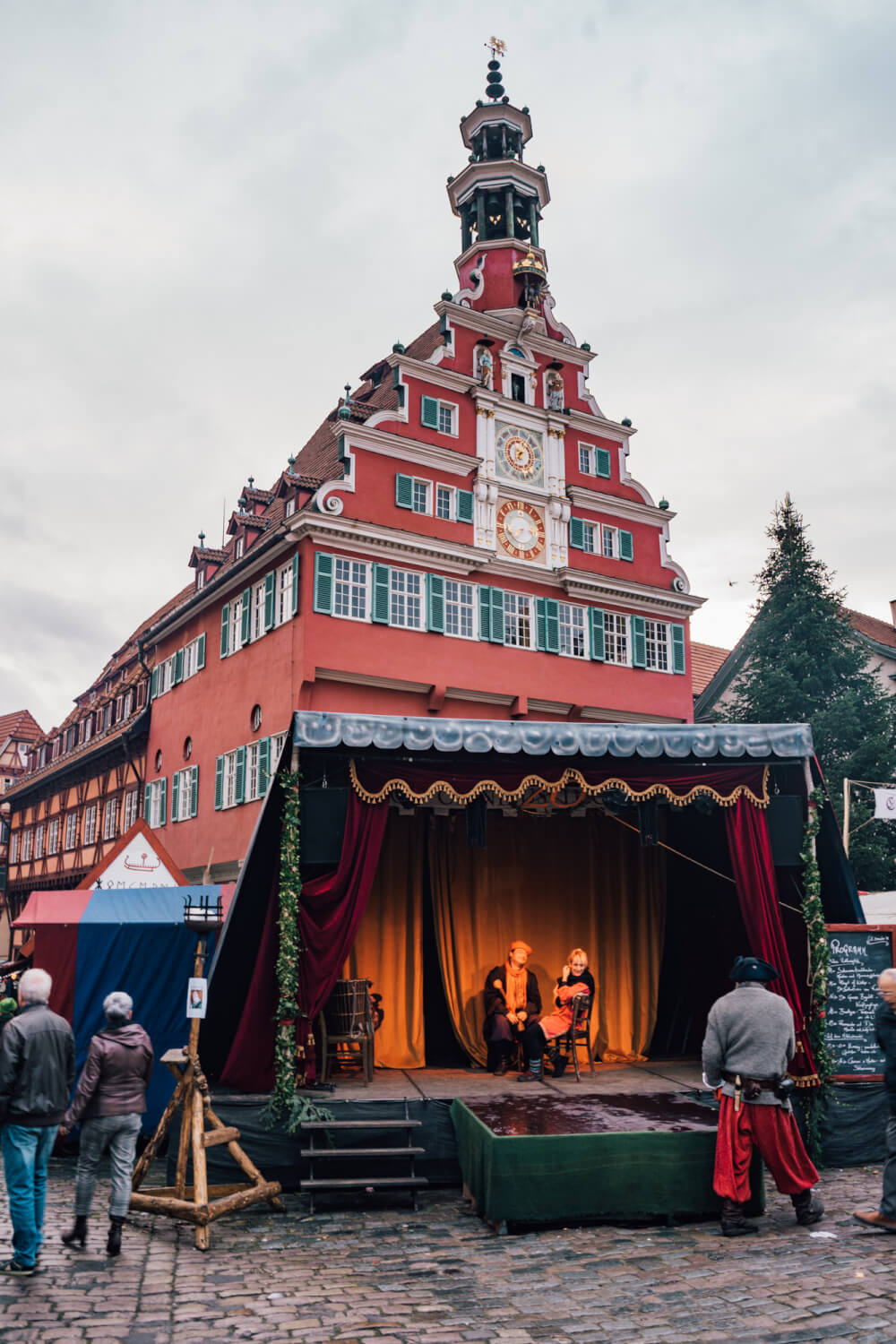 19. Pack and bring a tote bag or small bag with you
These will be incredibly helpful in holding your market purchases without needing to bring a big bulky backpack.
When buying smaller items, most vendors won't give you a bag, and most of the bigs they carry tend to be smaller dinky plastic ones, so it's definitely more convenient to just bring a bag of your own.
Lastly, in terms of packing, don't forget to…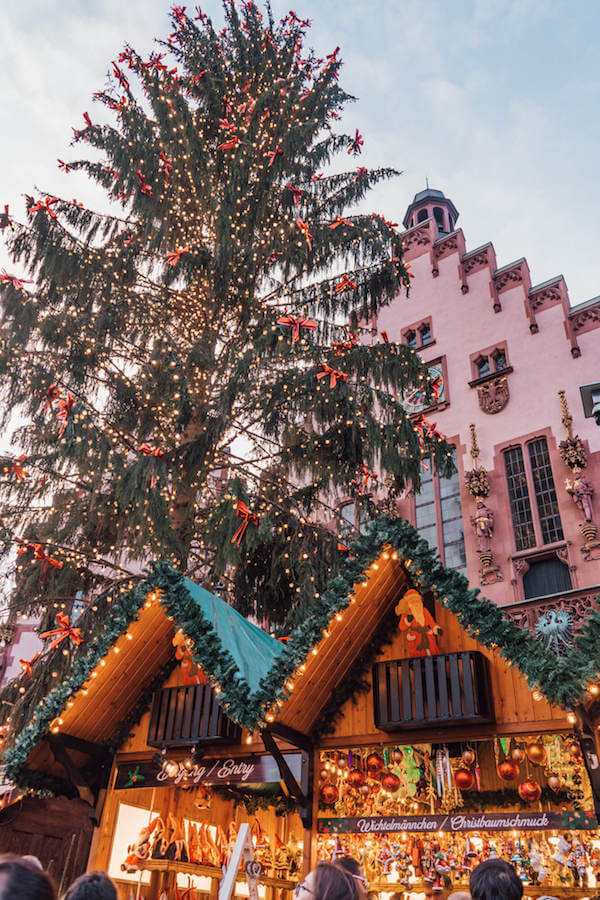 20. Bring sanitizer wipes
There will of course be napkins around most Christmas markets but with all the treats you're about to consume, fingers get sticky and you might want something to wipe the mulled shame off the mugs before you pack them.
All in all, it doesn't hurt to pack some sanitizer wipes with you, so be sure to add those to your packing list.
Now, let's move onto Christmas market tips for when you're actually there.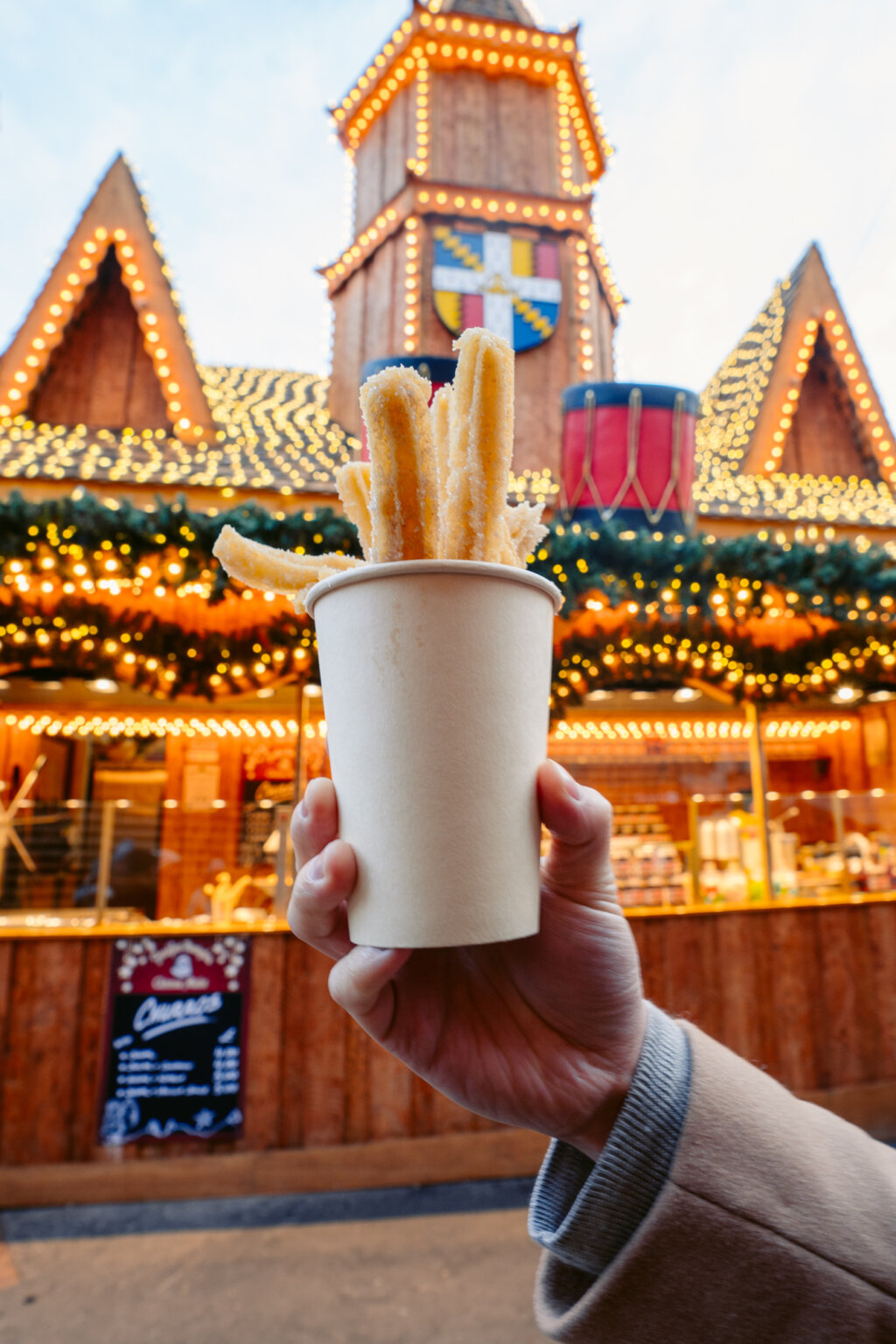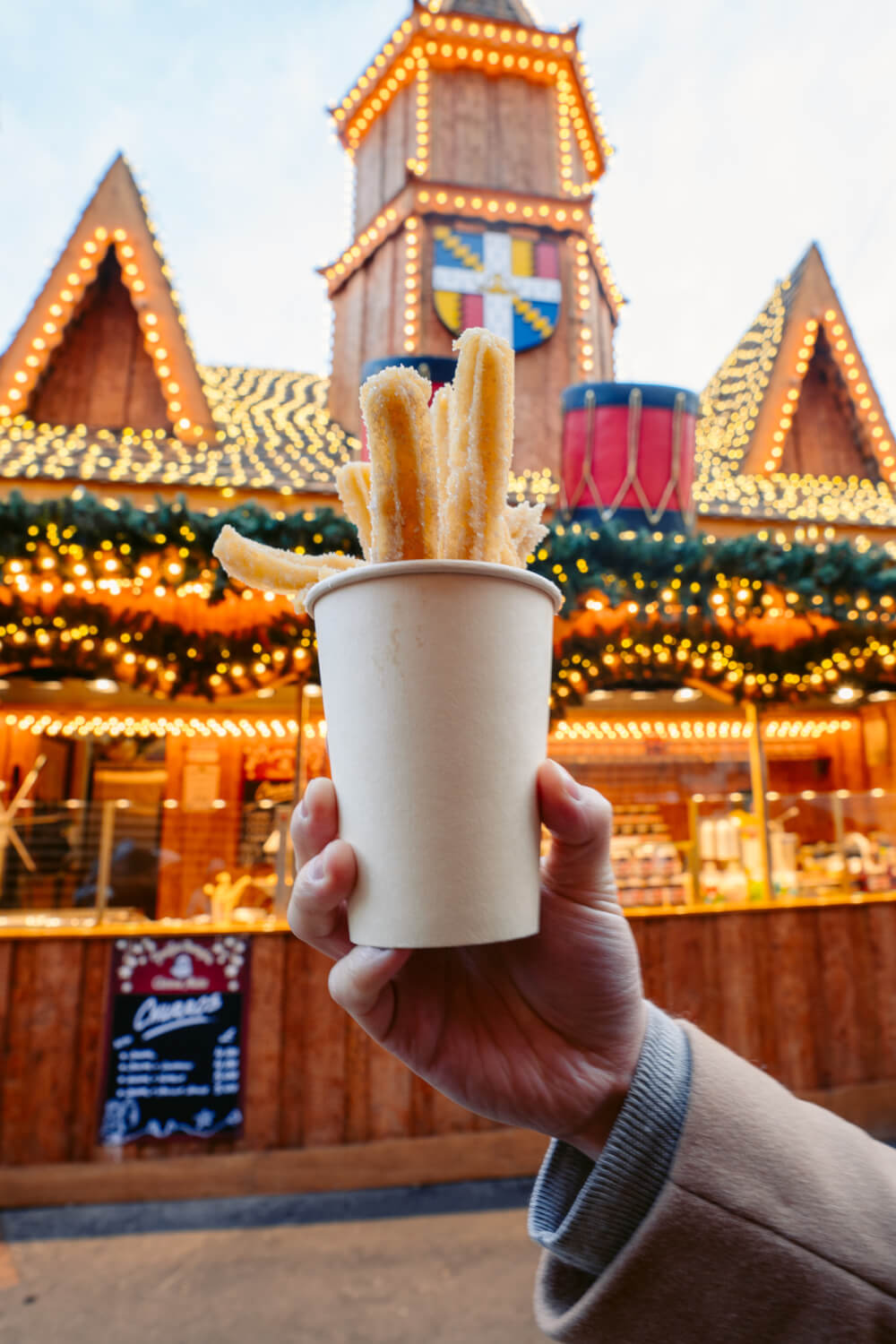 22. Bring cash
While Christmas markets are increasingly becoming card-friendly these days, especially in Northern Europe and the UK, by and large cash is still king at European Christmas markets, plus it makes things easier for things like mug deposits.
Preferably, bring cash in smaller bills because breaking bills can sometimes prove difficult, especially at the start of the day when you're buying something small like a mulled wine.
You should also make sure you have coins on you, especially in central European countries as often it's customary to leave a tip for the bathroom attendants who keep the facilities clean.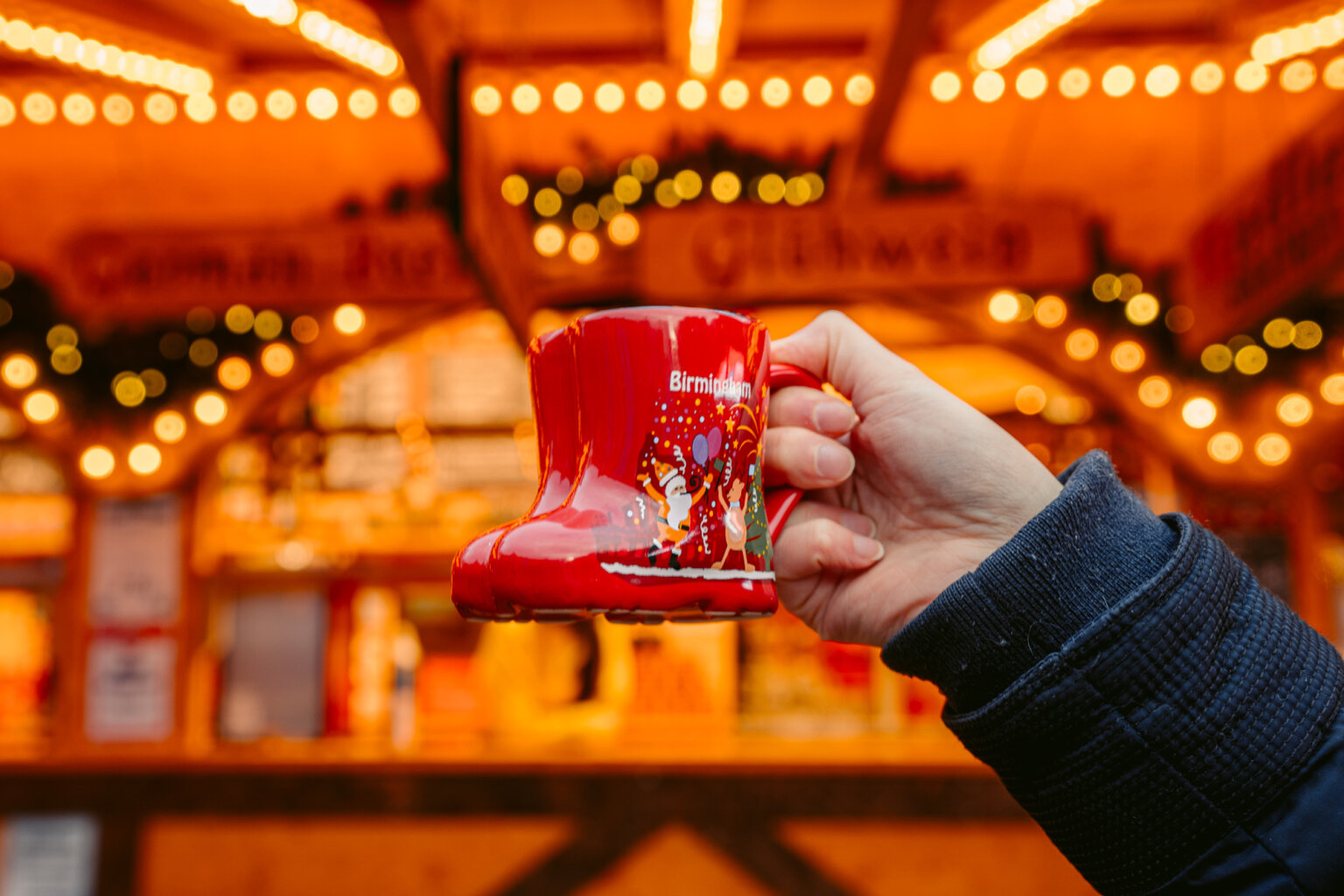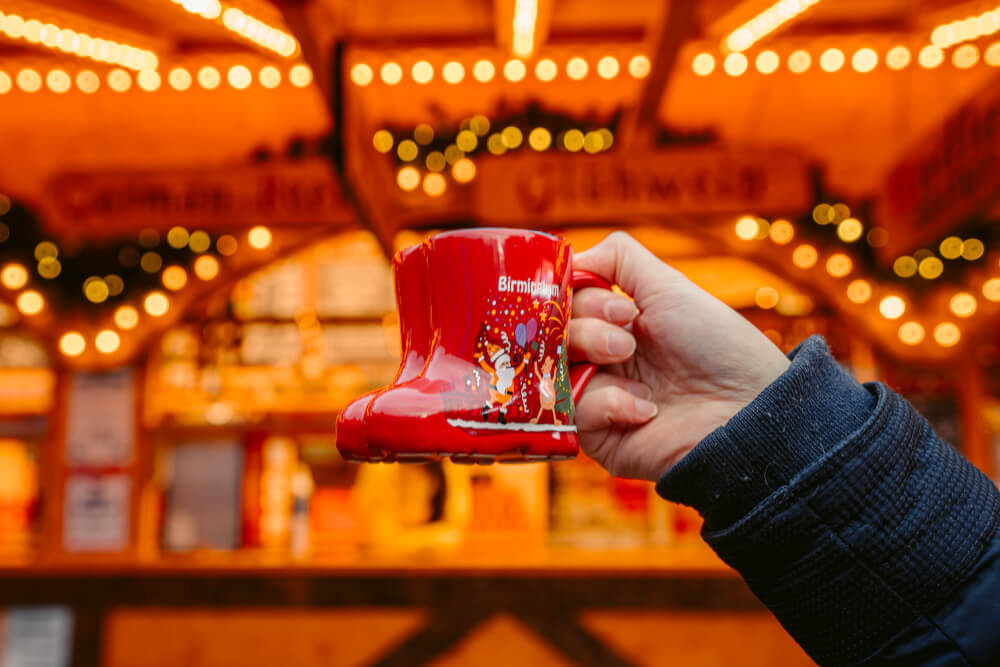 23. Plan your visits to avoid peak hours
As you can imagine, Christmas markets get a lot busier in the late afternoon and evening, usually when people get off work.
If you have the luxury of flexibility, avoiding these times is a great idea so you can enjoy the markets without the crowds. Besides going early, staying late also tends to mean thinner crowds, although this isn't always guaranteed.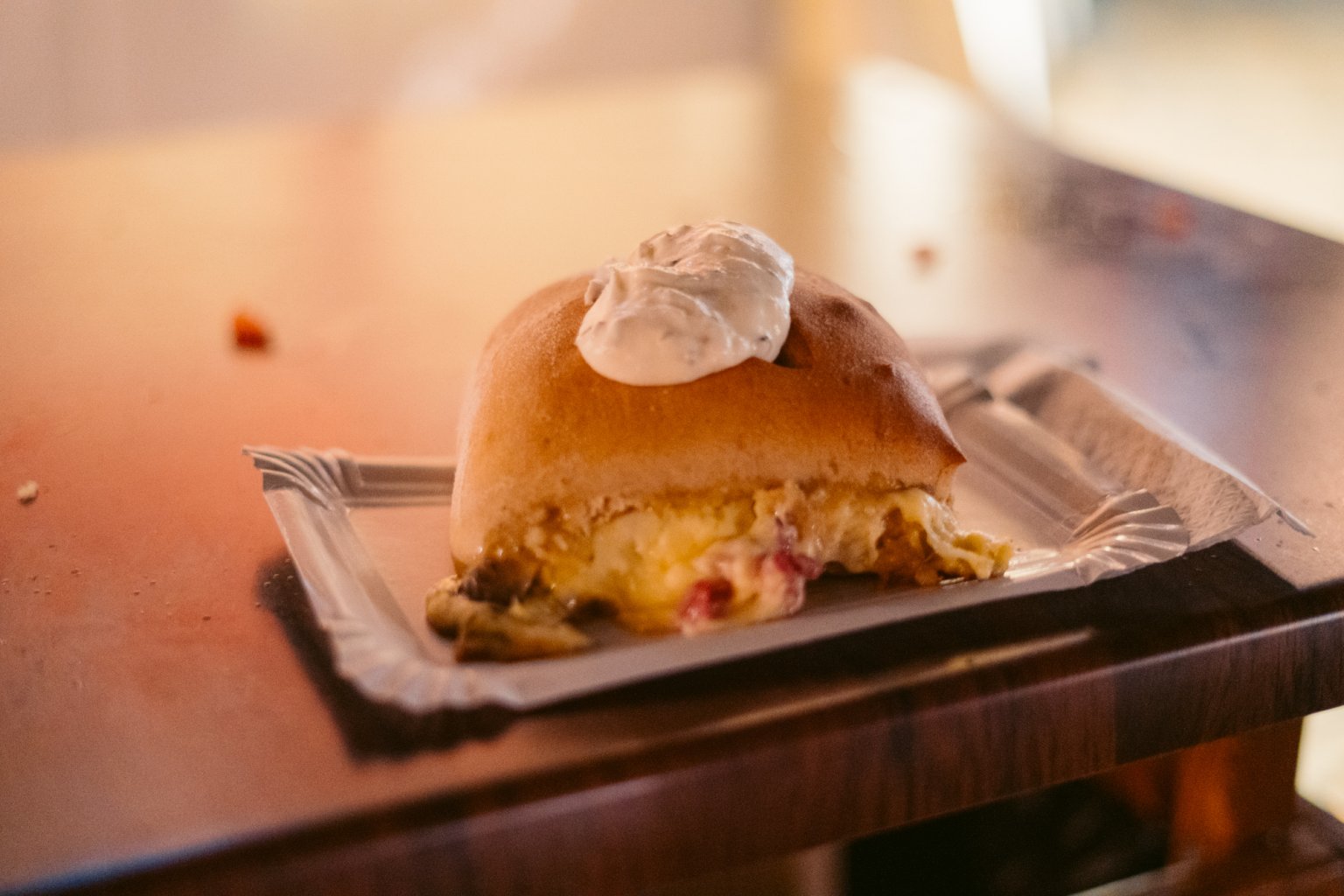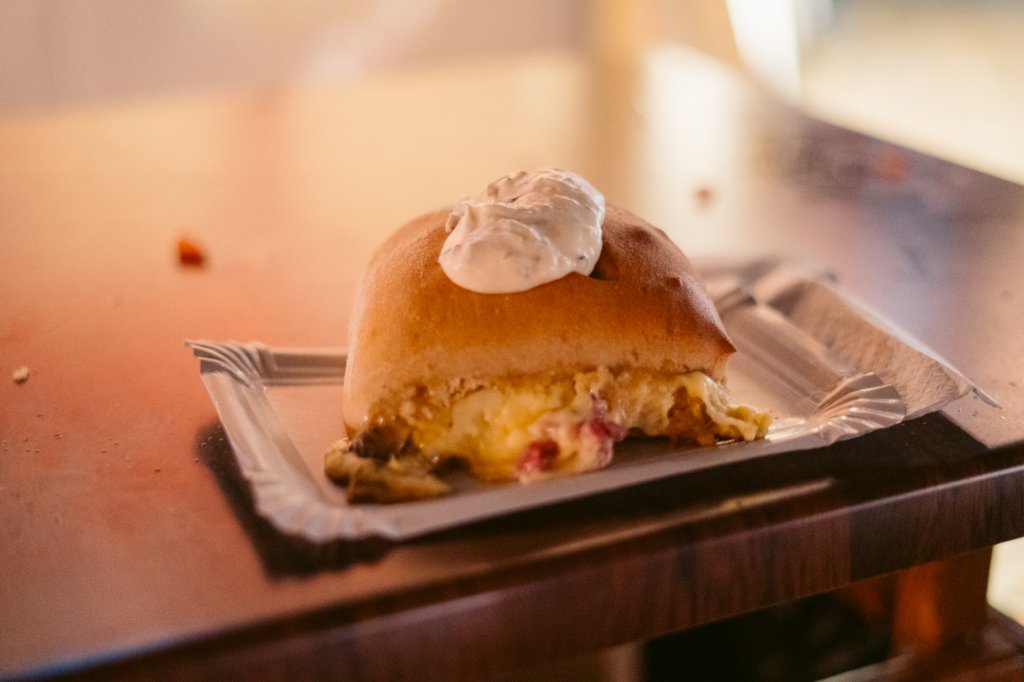 For that reason, I'd recommend…
24. Visit some markets twice (day and night)
If you want the optimal, most stress-free Christmas market experience, it may be a good idea to go once during the day to properly shop and browse, and then again at night to enjoy the atmosphere.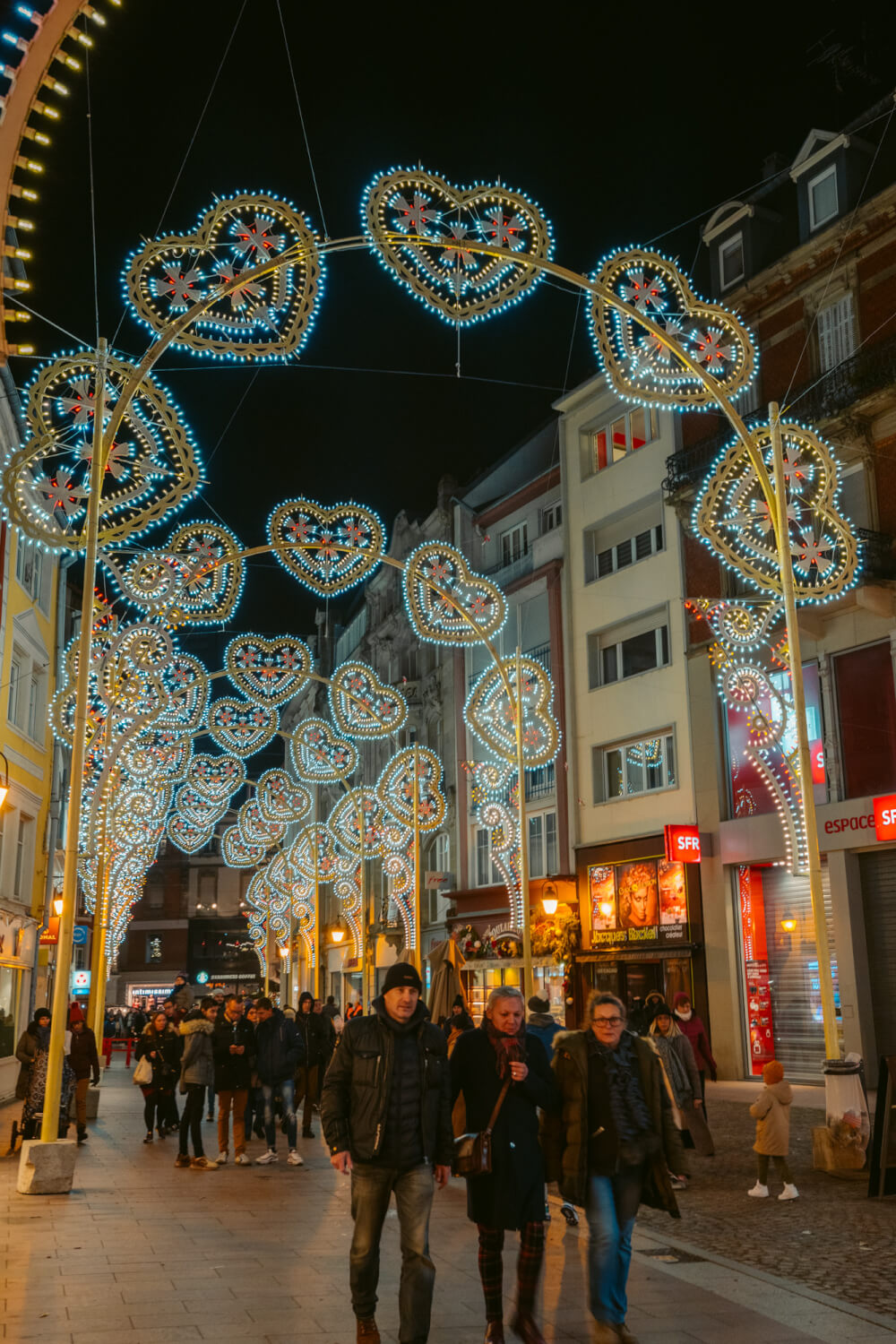 25. Do a few laps before committing to buying anything
There are SO many stalls and options available at Christmas markets, offering way too many possibilities for regular humans with limited stomach space, budgets, and suitcase room.
This is why it's important to battle the urge to just buy and eat every single thing you lay an eye on. Do a lap first – I promise that'll help prevent later regrets when you're eye-ing fried donuts but cannot physically fit any more food in your system.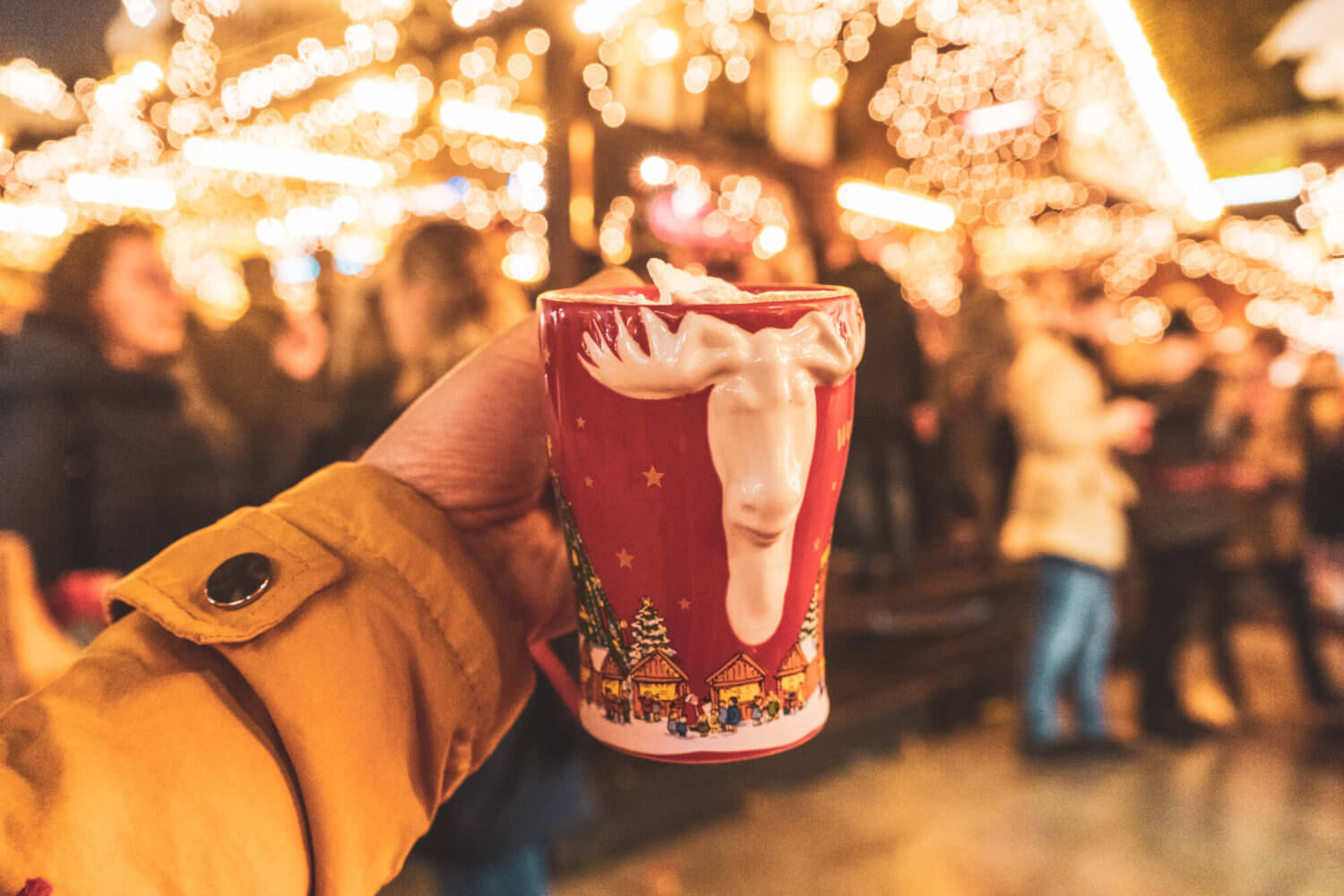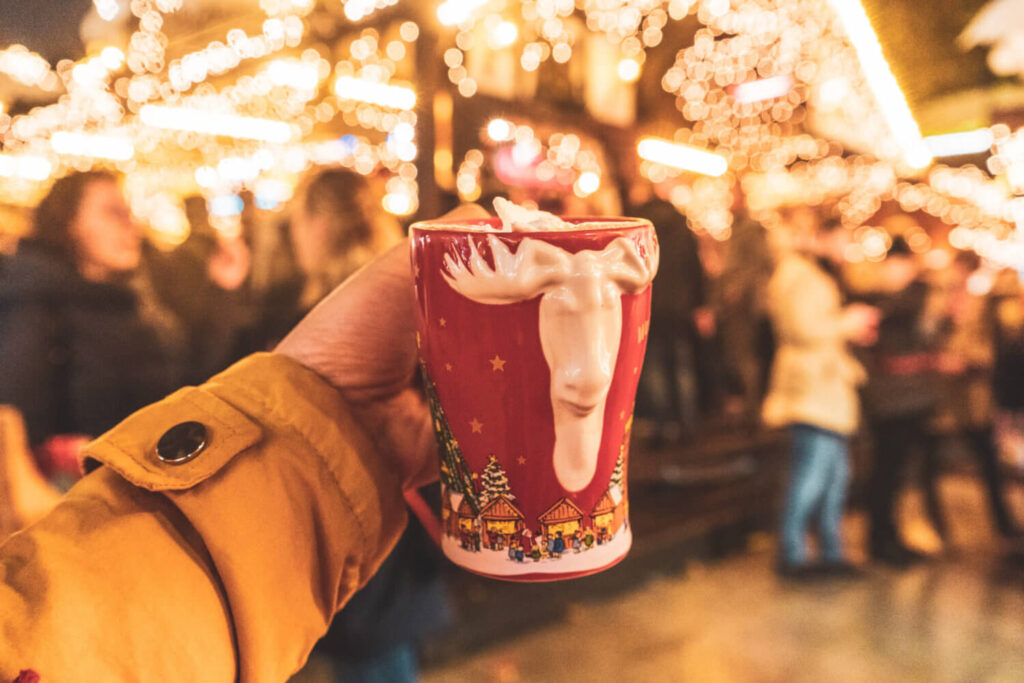 Doing a few laps can also help you…
26. Learn to spot mass-produced goods
While it's romantic to imagine that all Christmas market vendors have handcrafted every single item themselves, mass-produced gifts are becoming increasingly common, especially in larger cities.
For some, this isn't a dealbreaker, after all – a nice ornament is a nice ornament, but if it's important to you that your purchases are handmade locally, then walking around first can help you spot which items are probably mass-produced, as they tend to appear over and over across stalls and markets.
Curious about what to buy? My German Christmas Market Shopping Guide can help with that.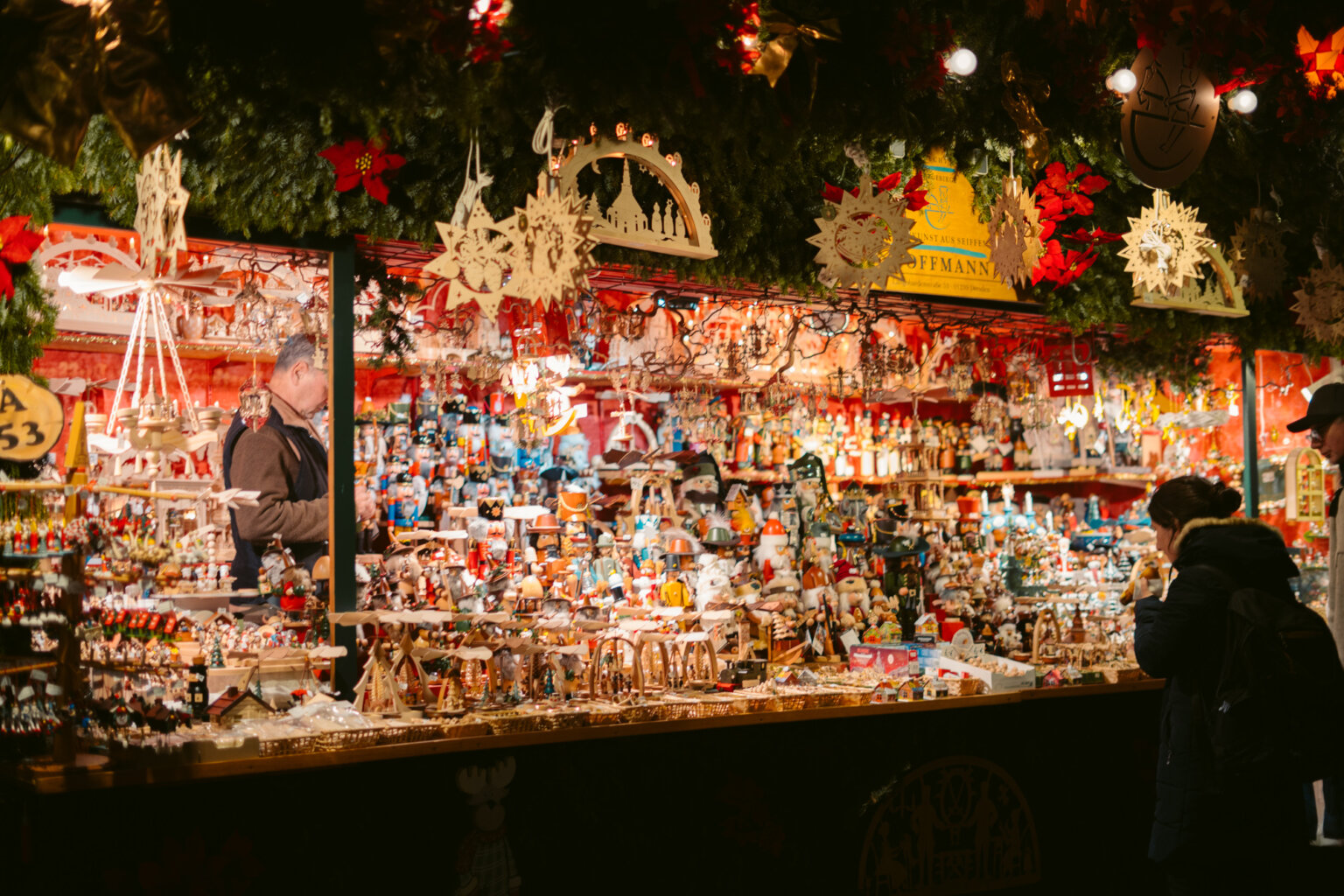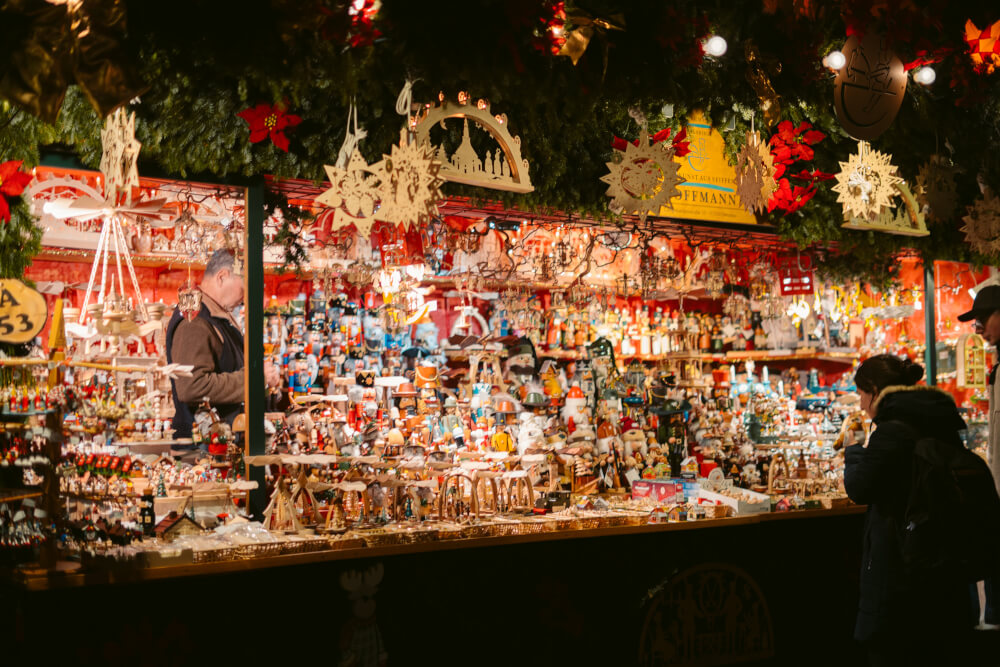 27. Get the Google Translate app installed on your phone
Depending on where in Europe you're headed for Christmas markets, many vendors will speak enough English for you to get by.
Of course, this isn't always the case, which is why it may be helpful to have Google Translate on hand so you can ask more specific questions if you need to, or at least have a way of communicating with others if needed.
If you download a language for offline use, this means you can also use it without any data on your phone, which is ideal if you don't plan on having a data plan while abroad.
I also have a full article about helpful apps to download before visiting Europe, so be sure to give that a read if you need more recommendations.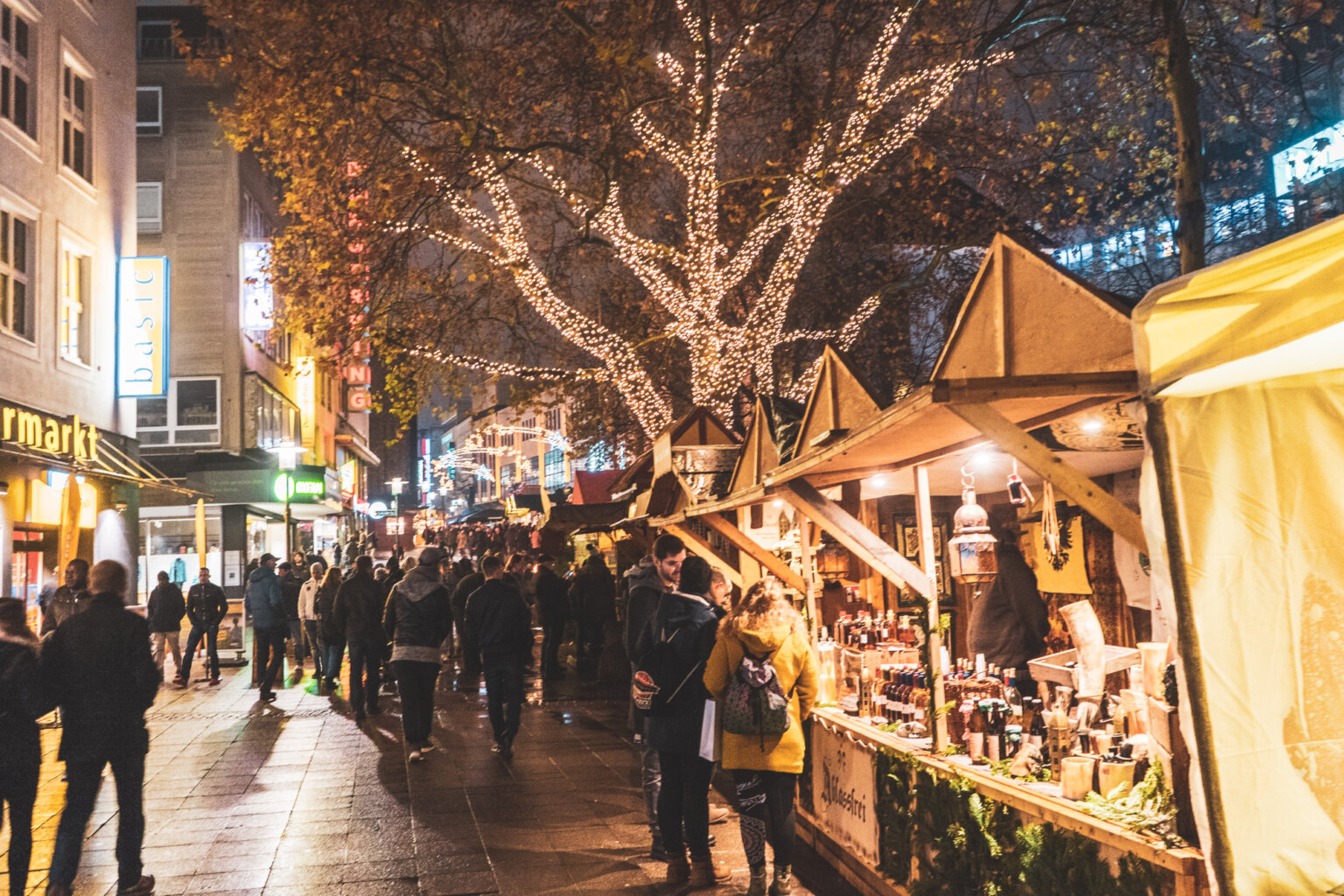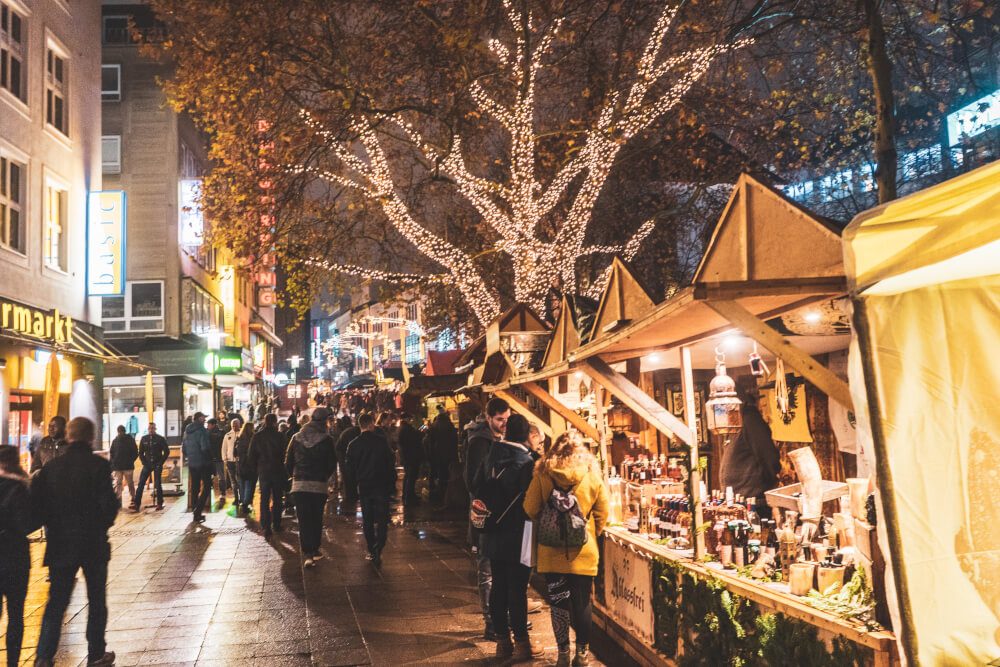 Another practical Christmas market tip to keep in mind is to…
28. Set a meeting point in case you get separated
If you're travelling in a group, Christmas markets are the perfect place to accidentally lose each other. Plenty of people, plenty of distracting shiny objects, and a surplus of tasty hot drinks that will leave you a bit… silly.
This is why it's very important to set a designated meeting point in case you do get separated.
This is important even if you all have phones, because a) sometimes it can be tough to get signal when there's tons of people around, b) Christmas markets can be loud and you may not hear each other, and c) trying to designate and find a meeting point after the fact can be an absolute nightmare.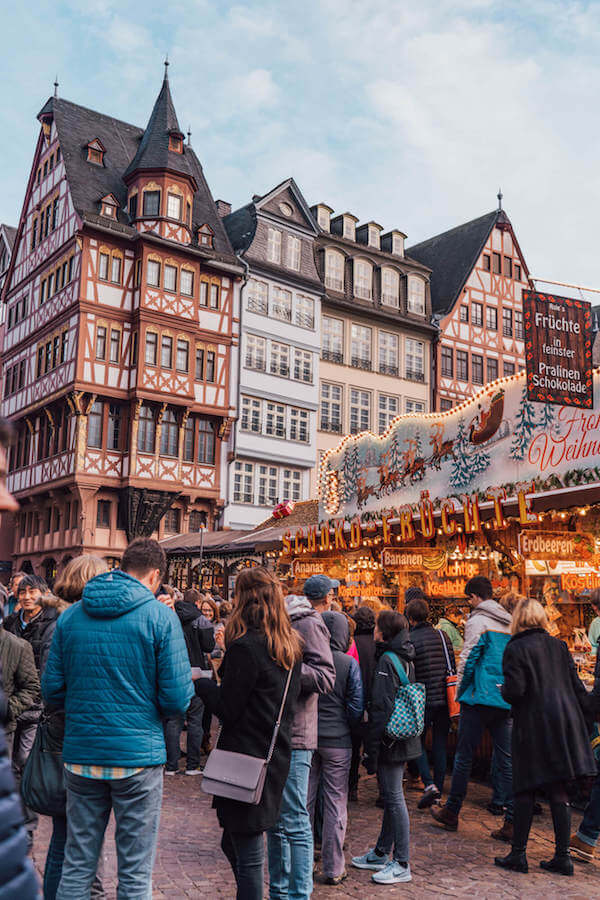 29. Be mindful of your pockets and valuables
Try not to ever keep your phone or wallet in an outer pocket without having your hand over it, and always have a hand over your bag if you're navigating tight and crowded spaces.
… You might want to brush up your anti-pickpocket knowledge before you go by the way. Be sure to read my How to Avoid Pickpockets in Europe post!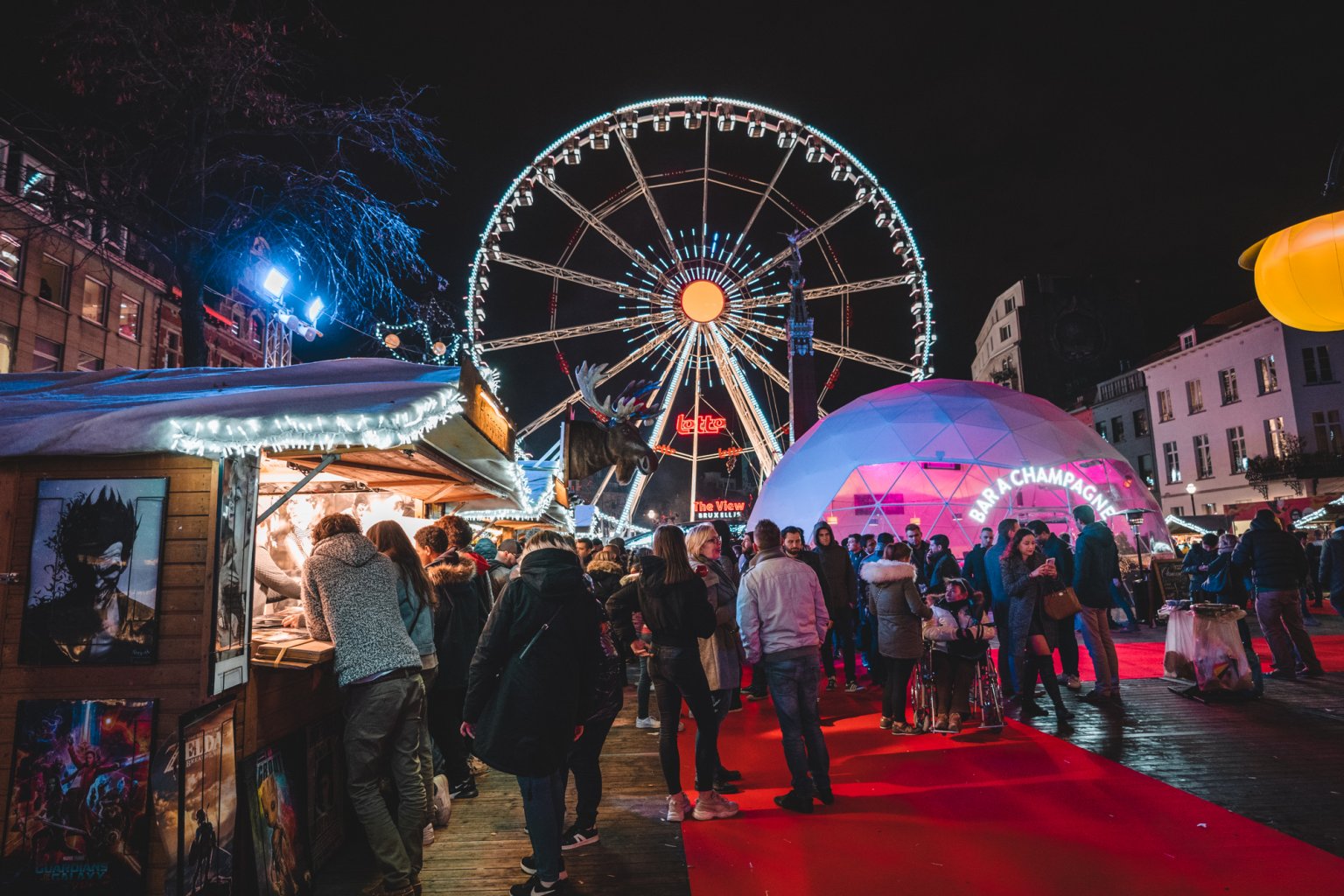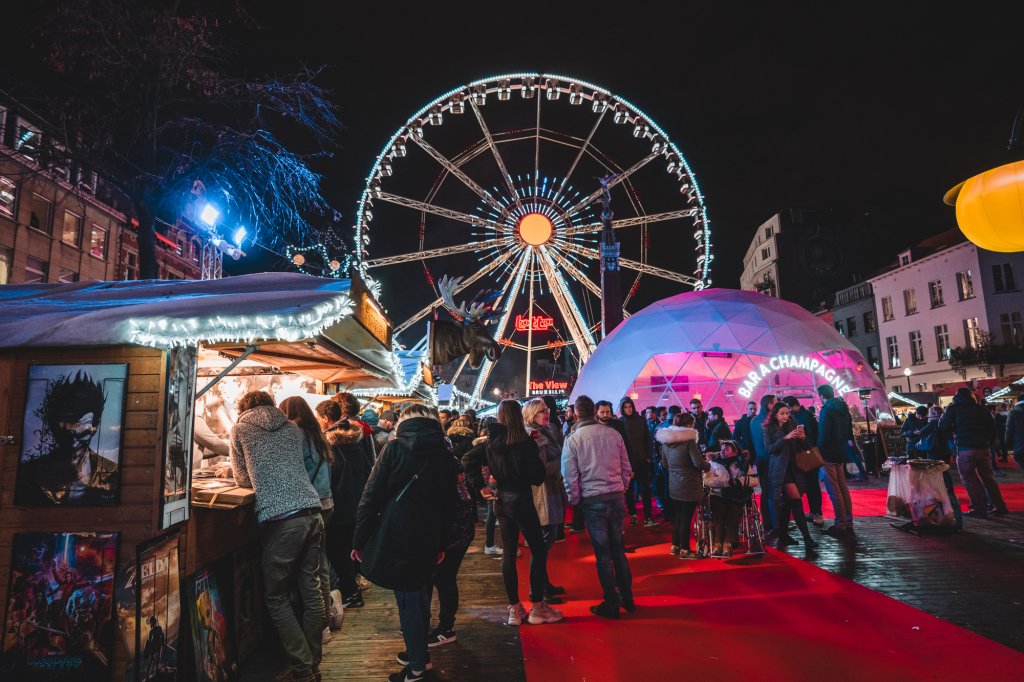 And finally, for the most exciting part, let's move onto tips for Christmas market food and drink.
30. Research the must-haves
Please, I beg of you… don't just show up and see where things go. Your stomach is a sad, limited space, and strategy is needed to optimize your Christmas market food consumption!
I've already written an article all about this, but let me tell you – the choices at Christmas markets can be overwhelming, and while there's a lot of standard goodies that you can probably also get at home, like waffles and chocolate-covered fruit, there are a ton of specialties you might not be able to get elsewhere, so be sure to research!
Of course, Christmas market specialties do depend on where you are, but I'd say a few overarching must-haves are…
Mulled wine, also known as Glühwein in German, Vin Chaud in French, Svarak in Czech, Gløgg in Danish, and a myriad of other names. This is THE drink of Christmas markets, made up of hot wine with warming spices.
There's also Feuerzangenbowle, which is like mulled wine but with a sugar cube on top that is soaked in rum then SET ON FIRE, spiking your mulled wine with boozy sugar.
Potato pancakes are also pretty universal. They're commonly known as Kartoffelpuffer or Reibekuchen. They're the crispiest and most delicious hashbrowns you'll ever have
Lastly, sausages of all kinds are a must, usually served with a bun
Those are the basics, but be sure to research some local specialties for your own destinations too.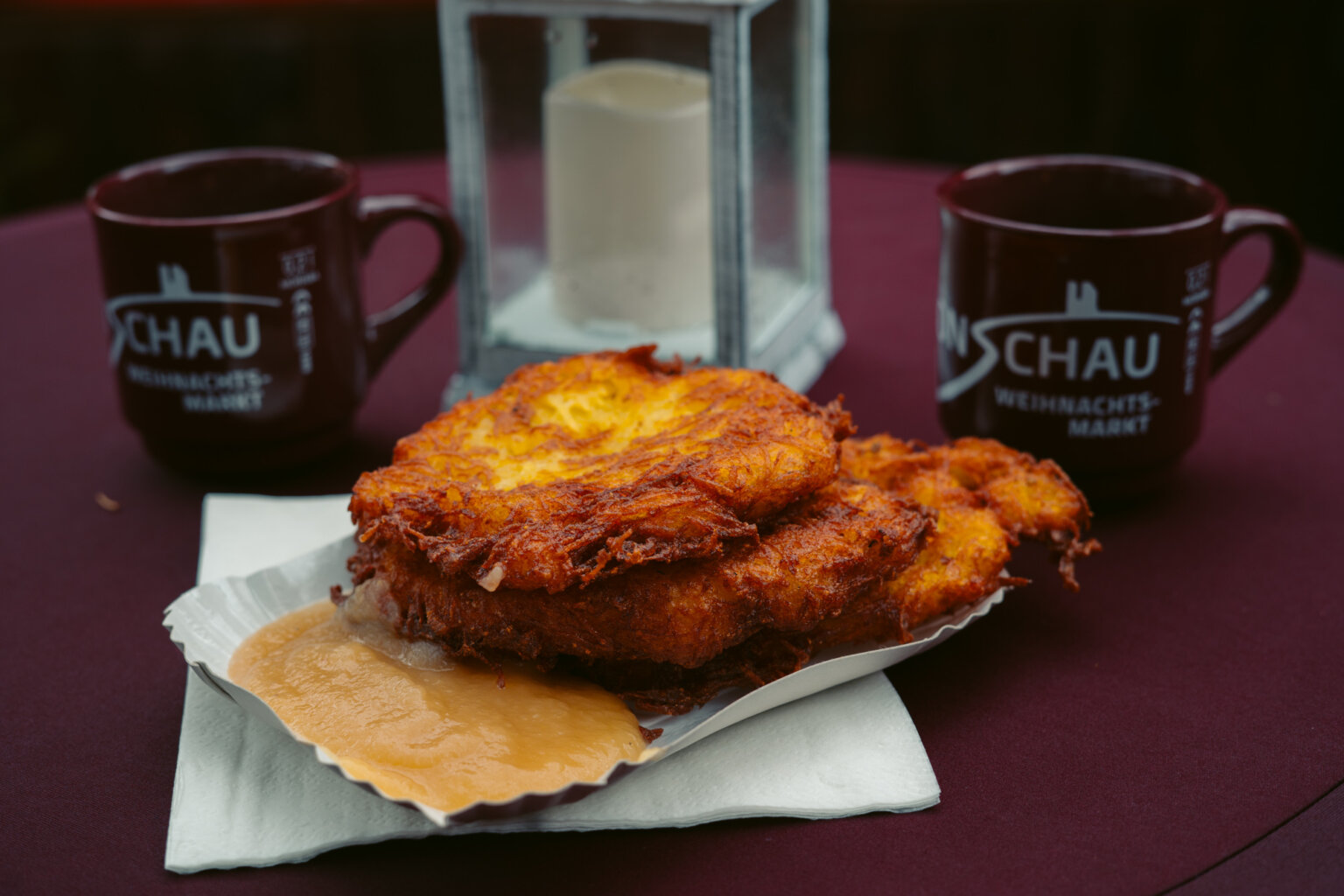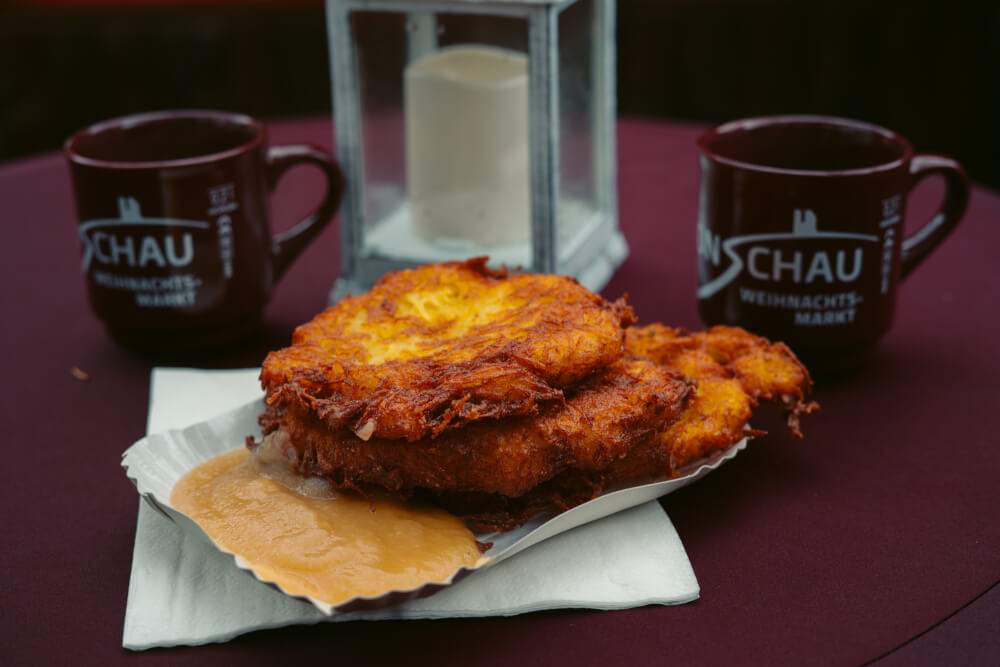 On that note…
31. Food intolerances? Make sure to research before hand
Truthfully, Christmas markets aren't really the friendliest places for food intolerances. Add in a language barrier and it might be difficult to know which foods you can safely have.
This is why research is key, and also downloading Google Translate to avoid any misunderstandings.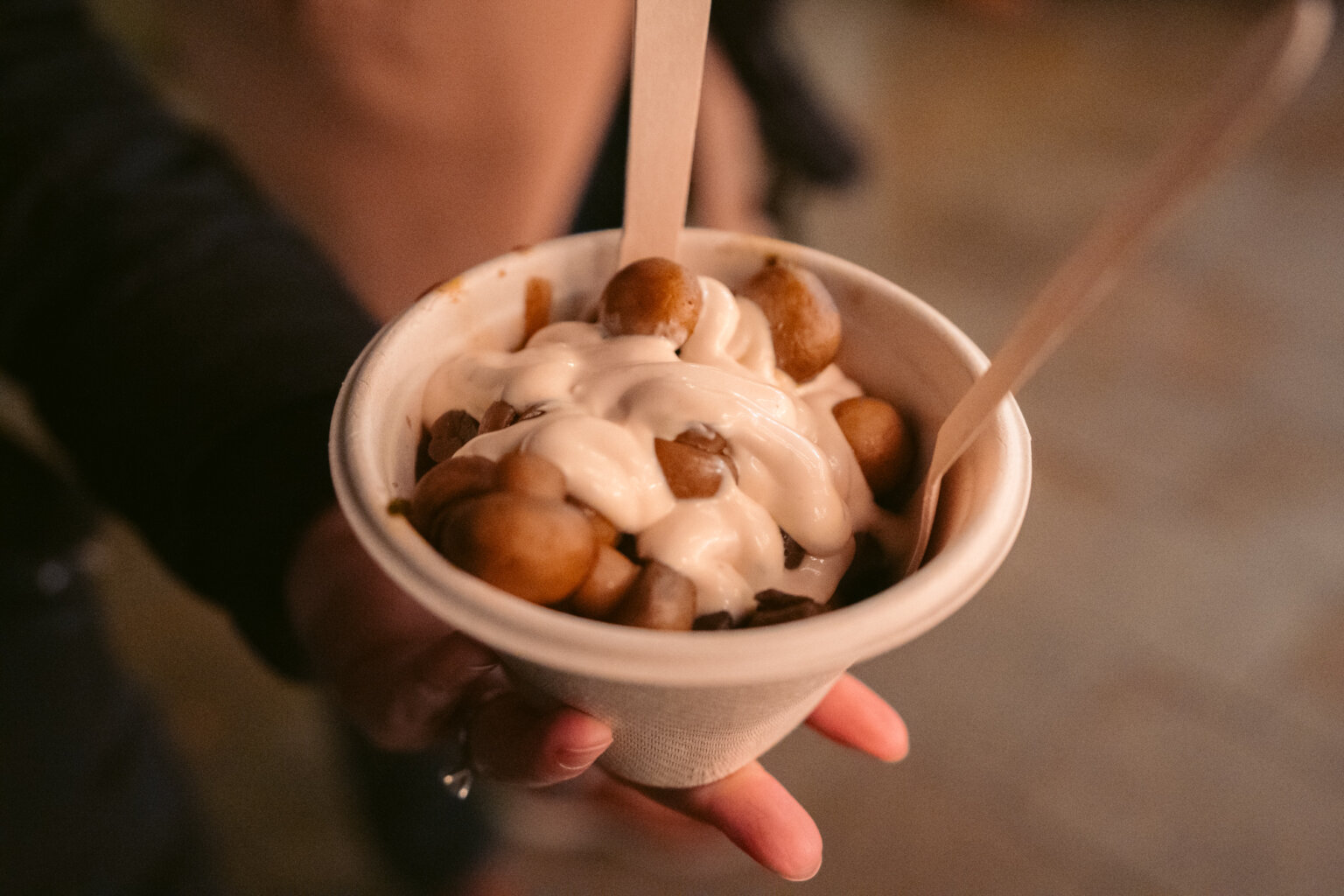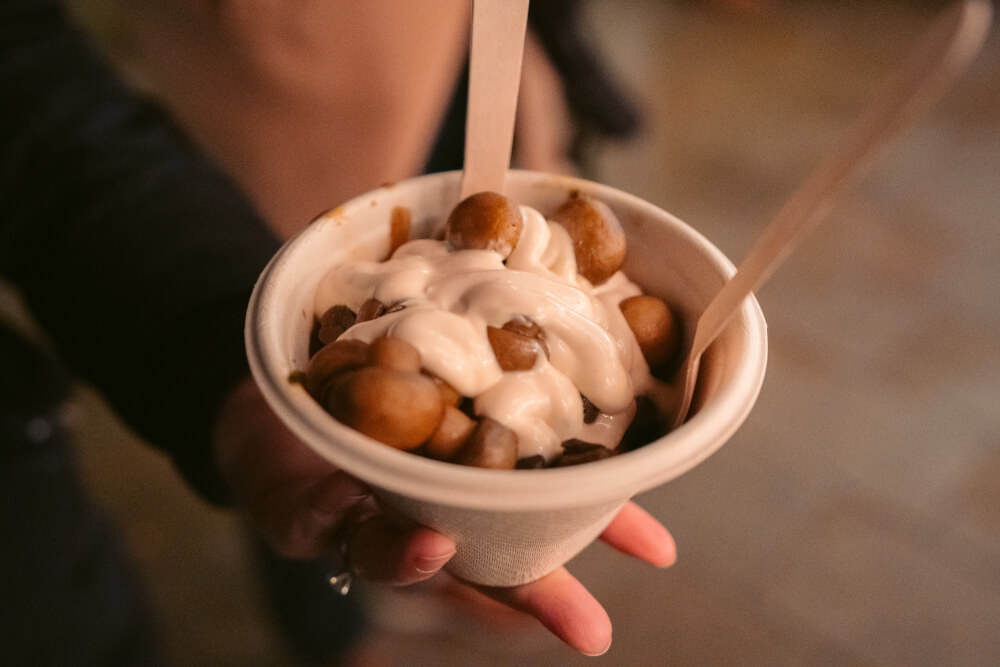 32. Be prepared to perch while you eat
It is pretty rare for Christmas markets in Europe to have proper sit down tables.
Typically when you get food from the usual vendors and not from a special seated area of the market, you will have to eat your food while standing, usually perching at a table of some kind.
This is why it's crucial to pack light and wear comfortable shoes – you'll be standing quite a bit!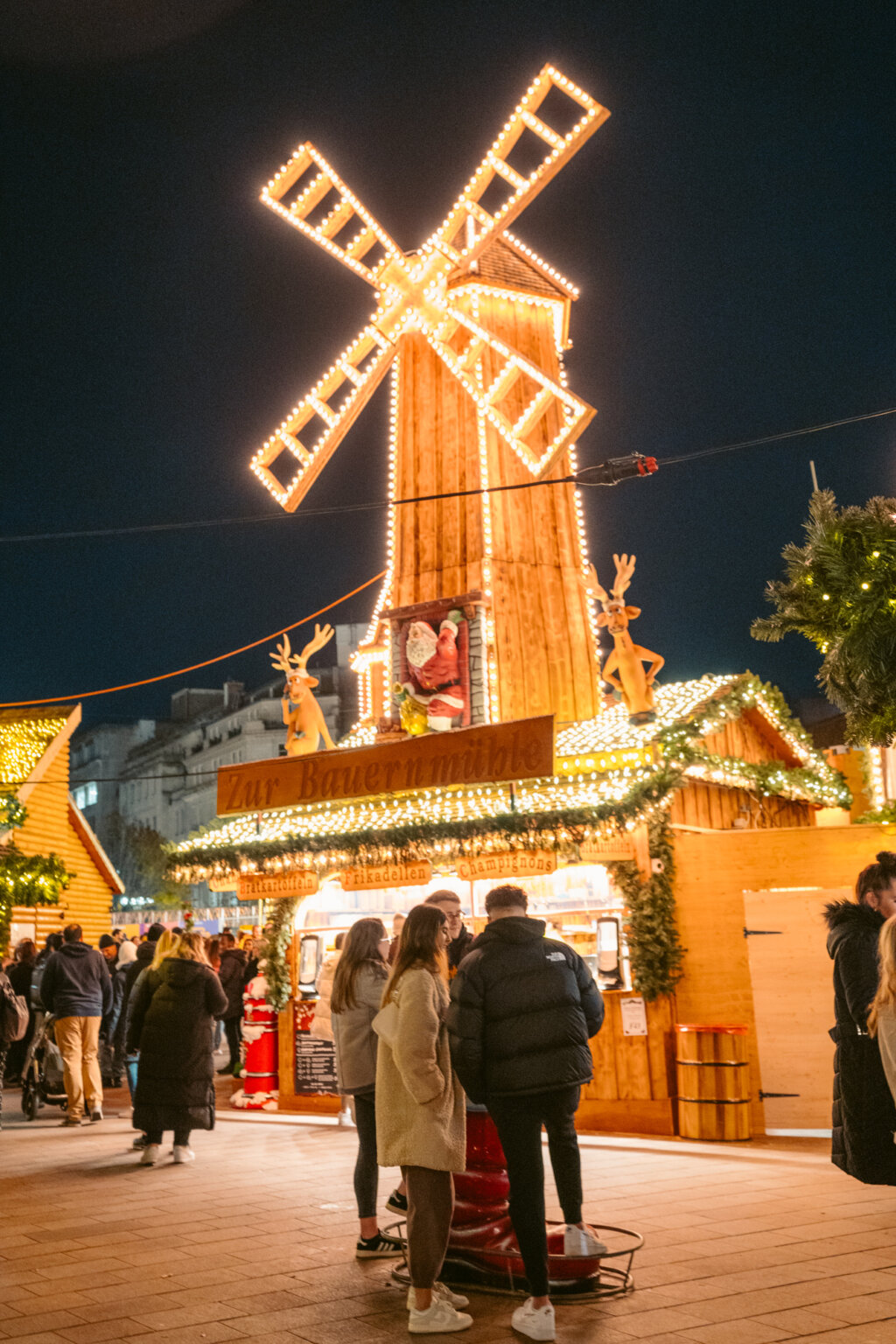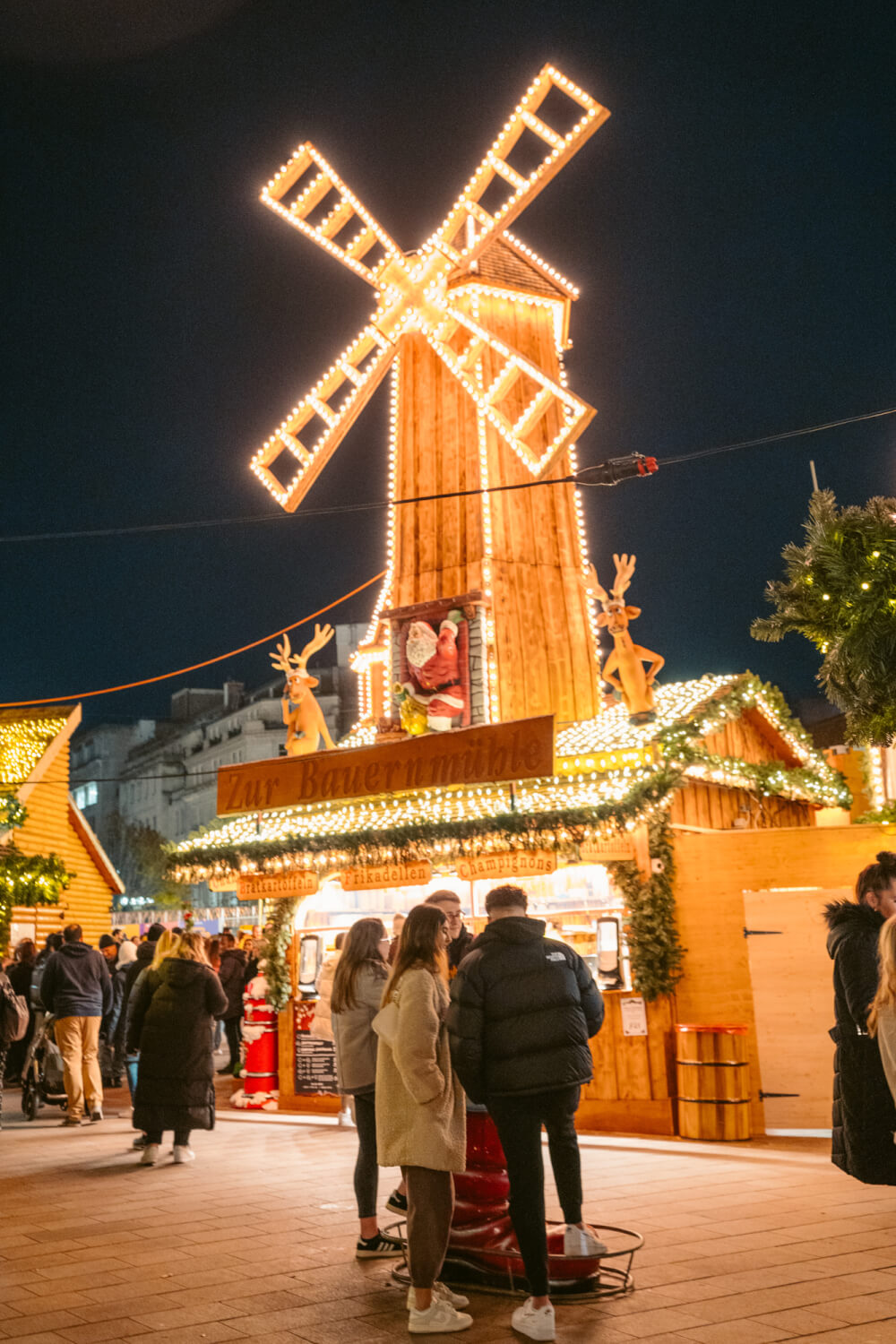 Another crucial tip is to…
33. Be mindful of deposits on cups
You know those adorable Christmas market mugs that you see in every photo (and which haunt my cupboard)?
Most stalls will charge a deposit on those, meaning you will be initially paying a bit extra for the mugs.
Of course, you get this extra deposit back when you return the mug, but just know that the cost upfront will typically be higher than what you see on the sign, simply because of this additional deposit. So don't have a heart attack when your mulled wine costs 8 euros.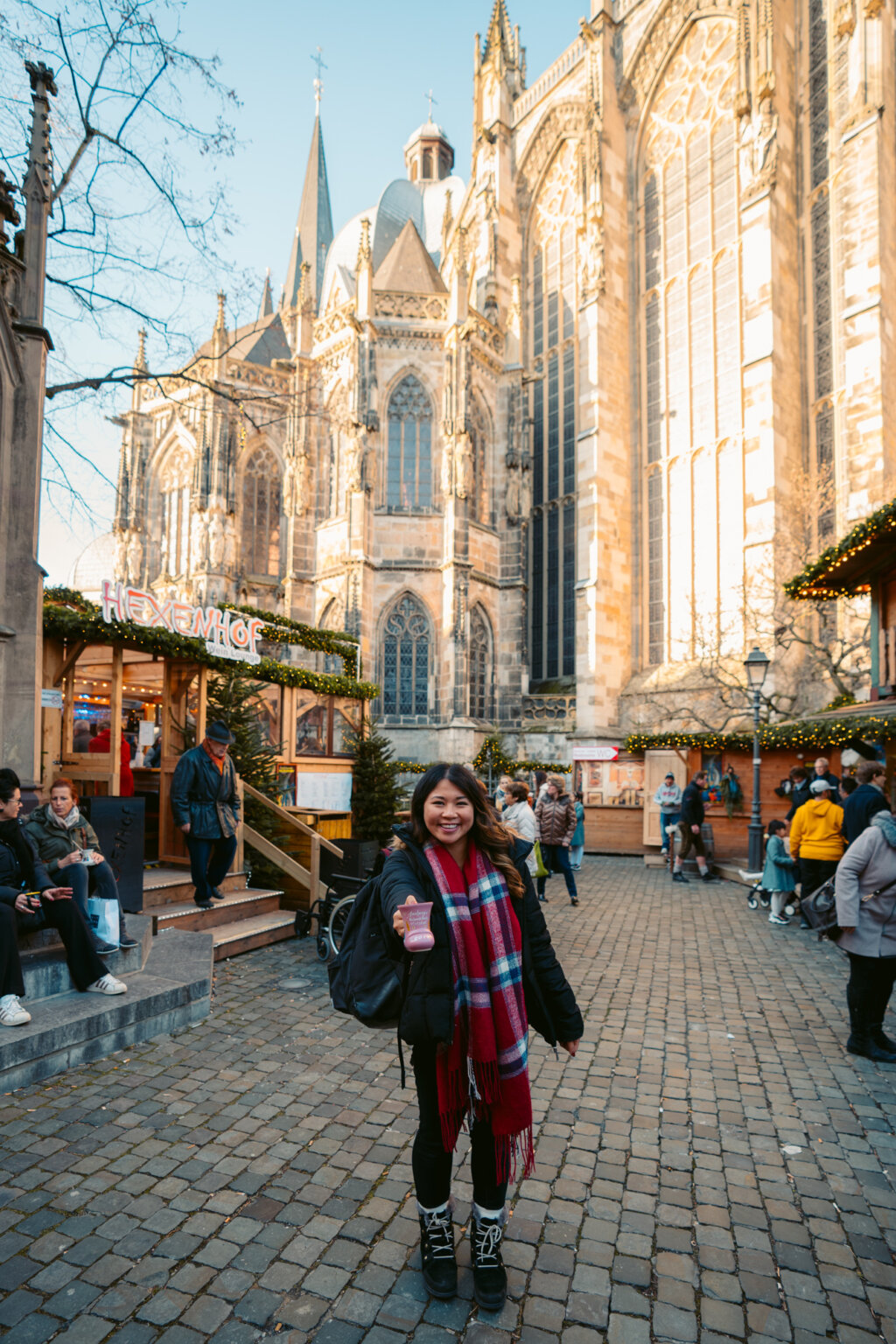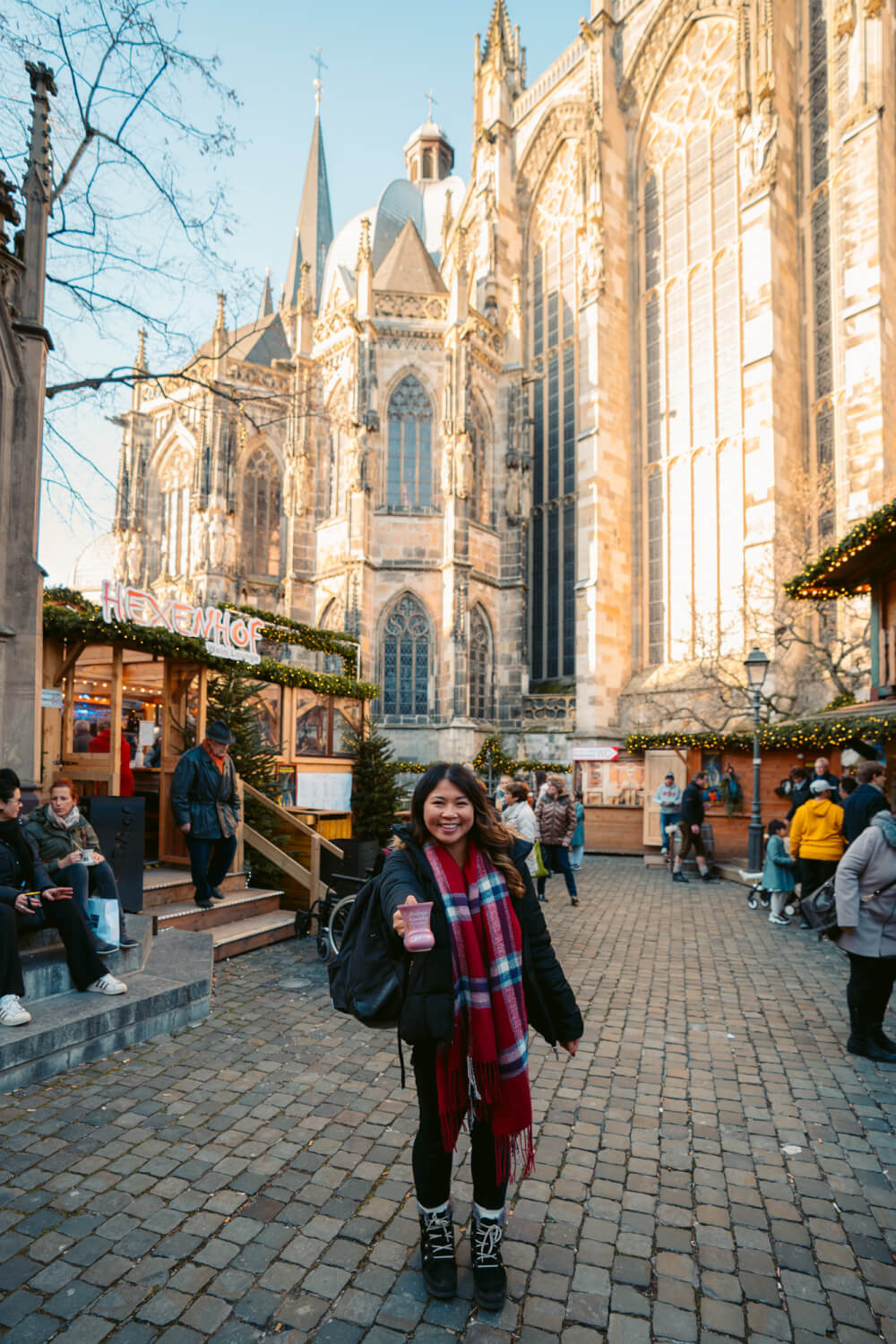 In other mug-related tips…
34. Know that different markets have different mugs
I feel like we're getting really niche now with these tips, but if you're a mug hoarder like me, you should know that different markets will usually have different mugs, so have that in mind before you commit to a specific one. It's the ultimate first world problem, I know, not having enough space for mugs, but just know not all of them are made equal.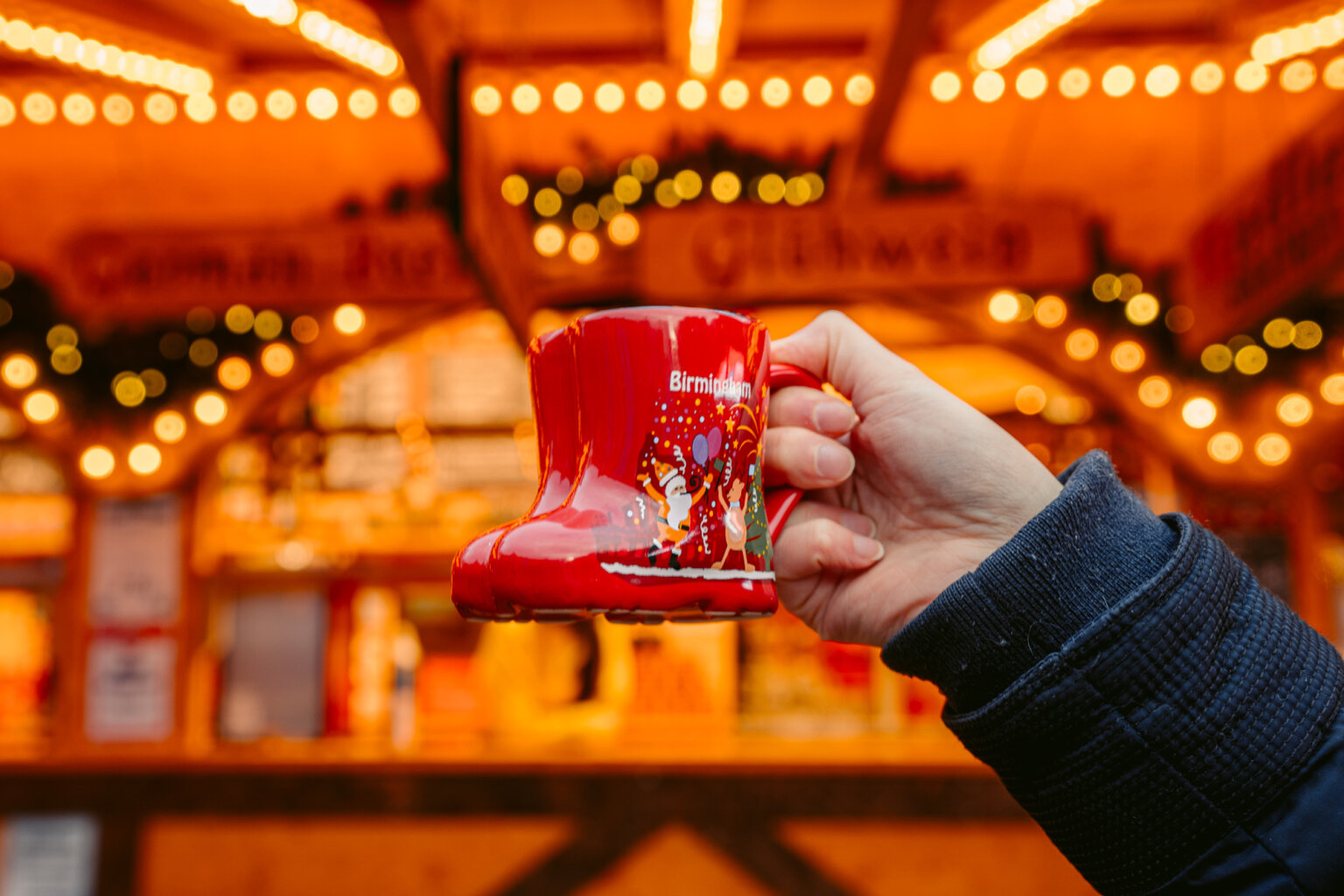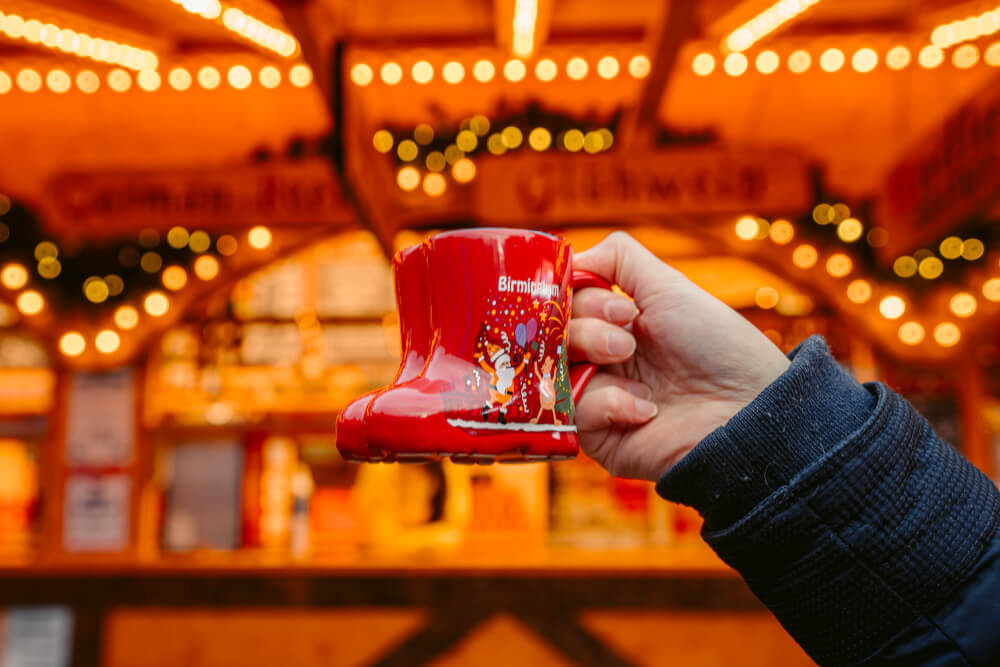 Lastly, a final tip is to…
35. Bring a water bottle
Considering the sheer amount of goodies you can buy at Christmas markets, it's pretty wild to see that what's not so common is water.
Whereas in North America, there's often free water on-site whether through refillable stations or just provided at the event itself, this is a lot rarer at European Christmas Markets, so if you want to stay hydrated, then it's best to bring your own bottle just in case.
While most Christmas markets will be fine with this, do double check on the official website of the event to see if there are any restrictions on what you can bring.
Ticketed events like Winter Wonderland in London for example often don't allow any outside food or drink, even water, so be sure to double check.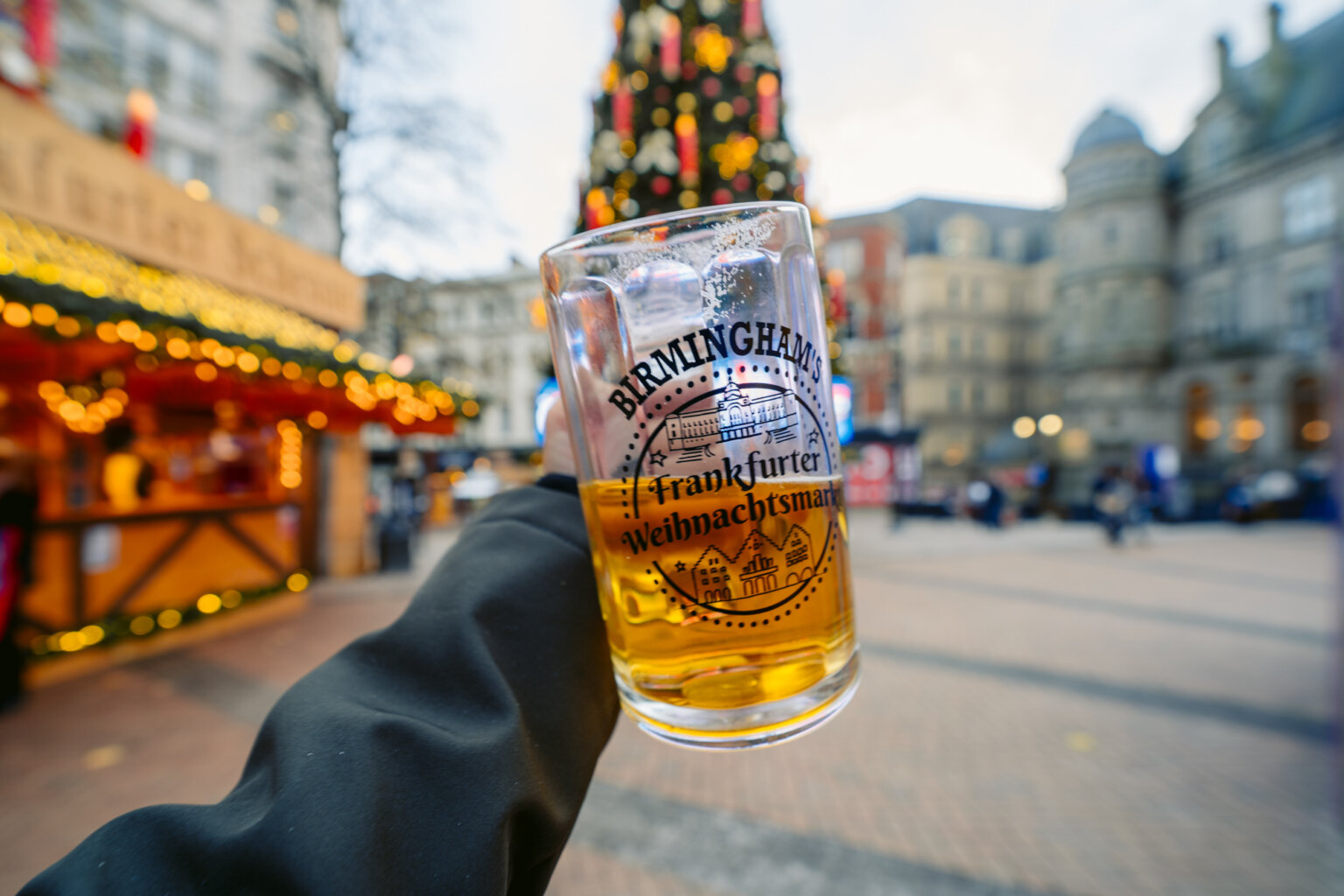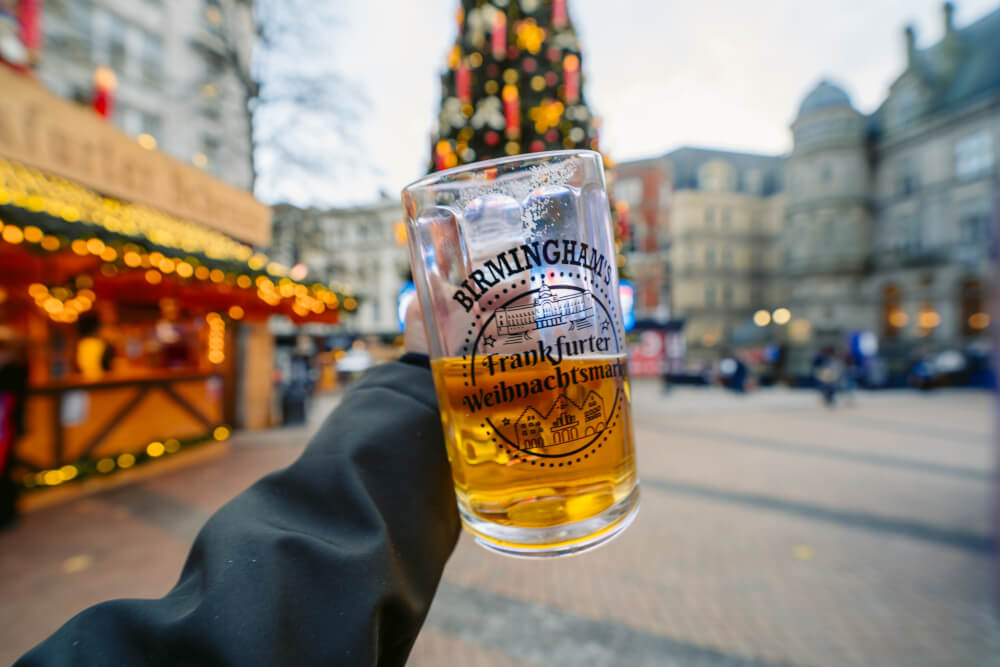 Did I miss any of your top Christmas market tips?
And there you have it – my top European Christmas market tips for those planning a visit, or those who are just nosy and preparing for the future. Let me know in the comments what your favourite Christmas market is, or where you might be headed this year!
My Go-To Travel Favourites: