*FYI - this post may contain affiliate links, which means we earn a commission at no extra cost to you if you purchase from them. Also, as an Amazon Associate I earn from qualifying purchases. Check out our Privacy Policy and Disclosure. for more info.
Having just returned from a whirlwind binge of Switzerland's most scenic trains, I can say without an ounce of exaggeration that the Swiss train system is a true marvel of magic.
And beyond their surplus of scenic routes, razor-sharp punctuality and Care Bear-friendly service, the crowning jewel of the Swiss rail system is, in my opinion, its glittering roster of scenic, panoramic Swiss trains – a holy grail of sorts for those traversing Europe by rail.
As I'm sure you know, train travel in Europe is an oft glamourized mode of transport, a classy and elegant contrast to the stuffy conditions of air and bus travel.
Well, I'm happy to report that in Switzerland, all your swankiest train dreams do indeed come true.
As a Canadian who grew up far removed from train travel, I admit the concept always delighted me (thanks, Hogwarts Express!!), and now even after so many years of frequent rides, I'm still like a giddy sugar-high child on her own moving candy shop.
Take it from this fangirl then, European train travel doesn't really get better than Switzerland.
So, are you keen to try some scenic Swiss train rides for yourself? Here are some of my top picks for train rides in Switzerland you simply cannot miss.
Save this post on Pinterest for later: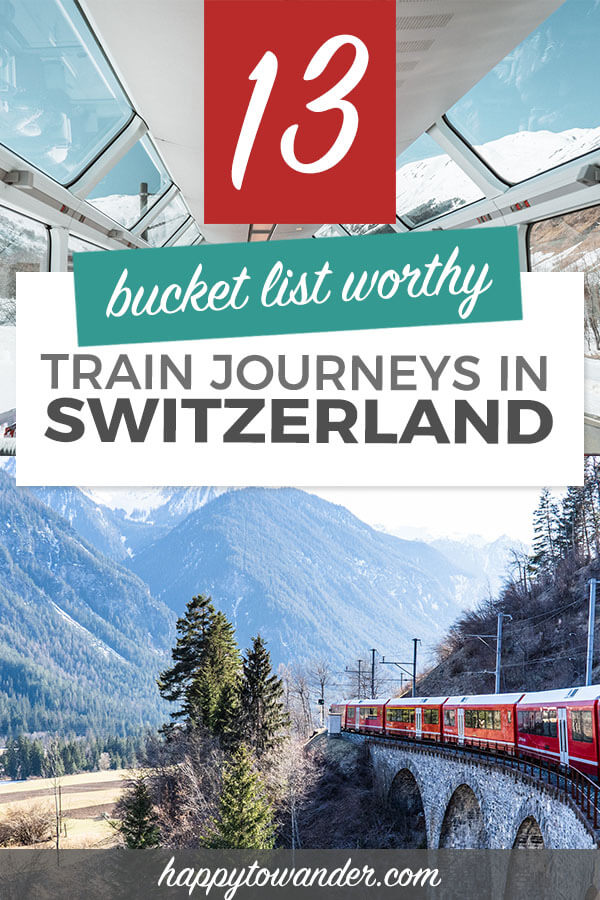 The Most Magical Swiss Train Rides You Need to Try
The following are all stunning Swiss train rides that I have personally done and consider extremely bucket list worthy, whether for the landscapes, the trains themselves or just the overall experience. So, without further ado, here are some trains in Switzerland that you definitely cannot miss!
Money saving tip: If you plan on doing many of these train rides in one trip, look into huge money savers like the Swiss Travel Pass, the Half Fare Travel Card or a Eurail Pass to potentially save hundreds of dollars. More on this below!
1. The Golden Pass (Classic)
This Switzerland scenic train is, without a doubt, my favourite.
While not as famous as big Swiss names like the Glacier or Bernina Express, if it's a touch of old world glamour and Belle Époque elegance you're looking for, then please, book yourself on the Golden Pass Classic as soon as humanly possible.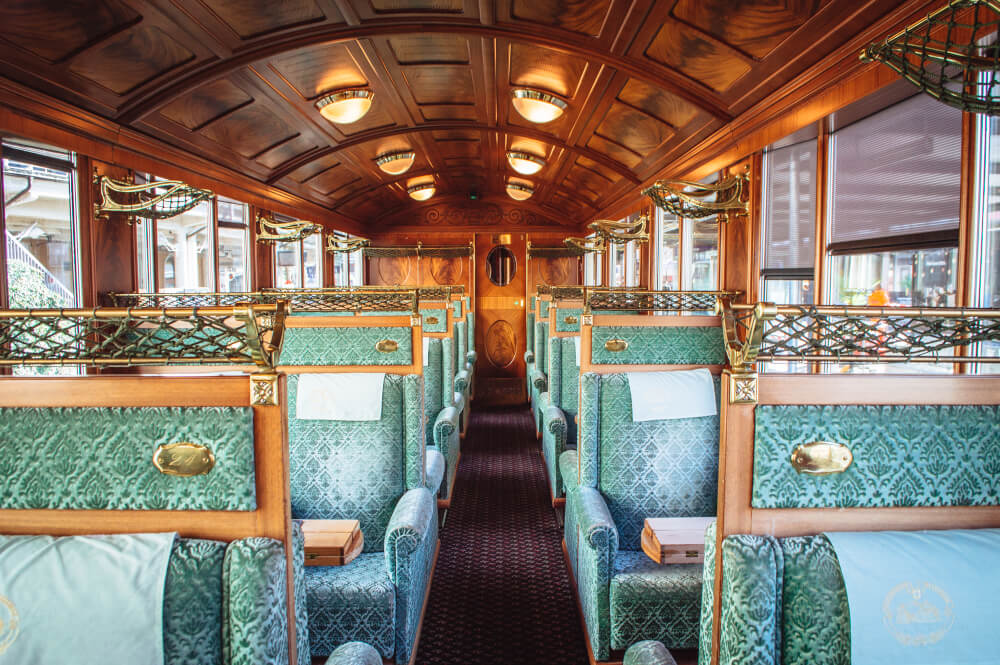 The entire GoldenPass line is a tremendously scenic line running between Lucerne and Montreux in three separate segments, offering sweeping views of snow-dusted peaks and eight glimmering lakes along the way.
While the entire route is well worth drooling over, the segment from Montreux to Zweisimmen in particular is one I'd highly recommend because a few times a day, you can do the route in the "MOB Belle Époque" which is modelled after a 1930s Orient Express style luxury train.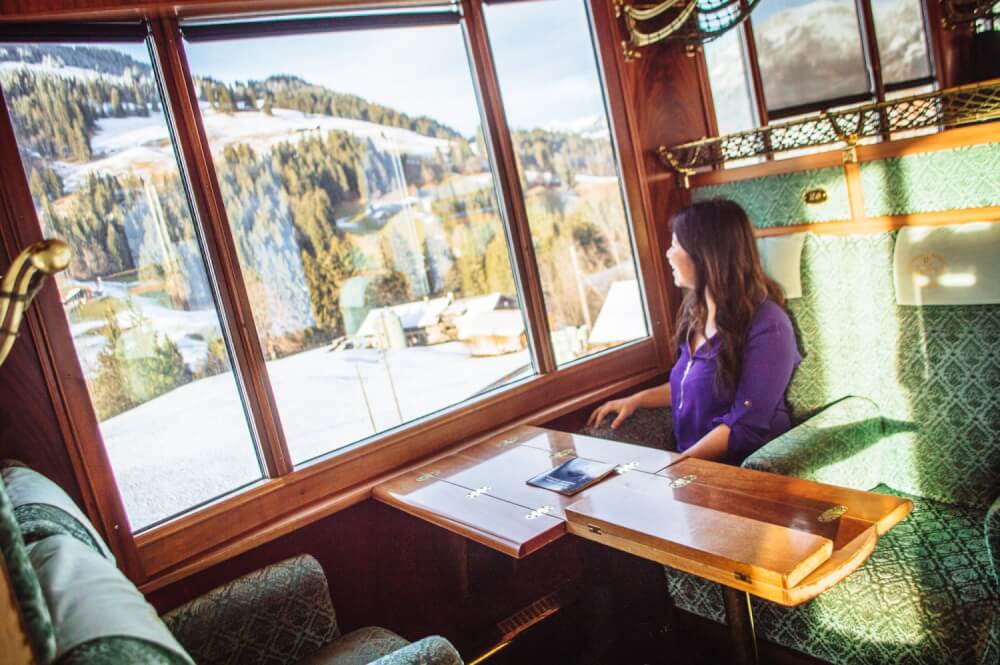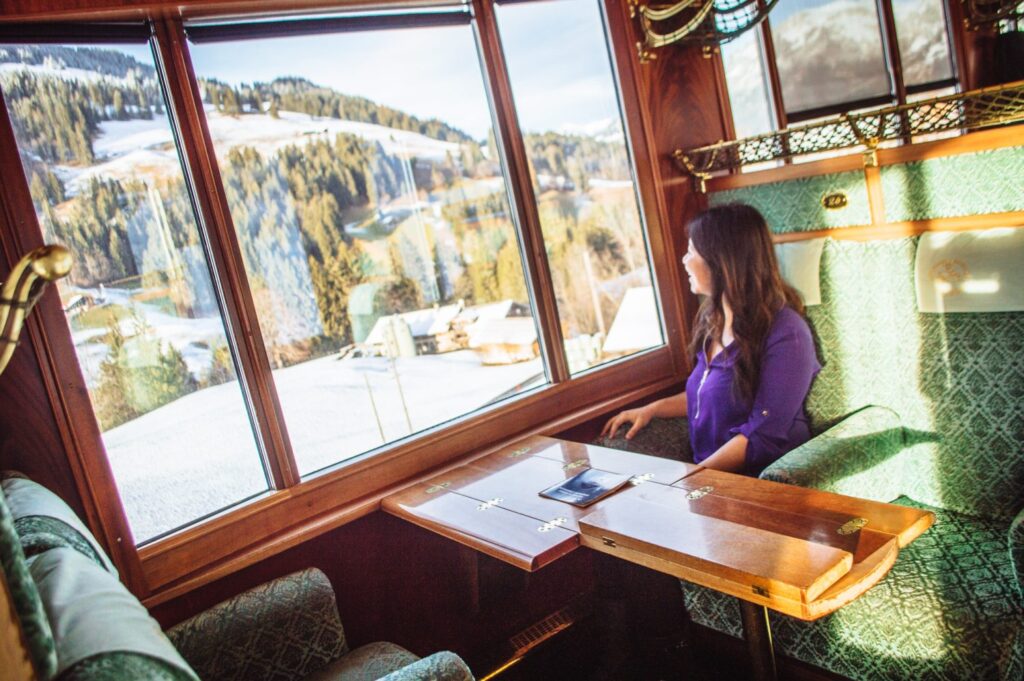 If you're feeling especially swanky, splurge for 1st class, where you get to sit in plush green armchairs while taking in all the stunning scenery. I have to admit, this felt even swankier than that $7000 train ride I did in India!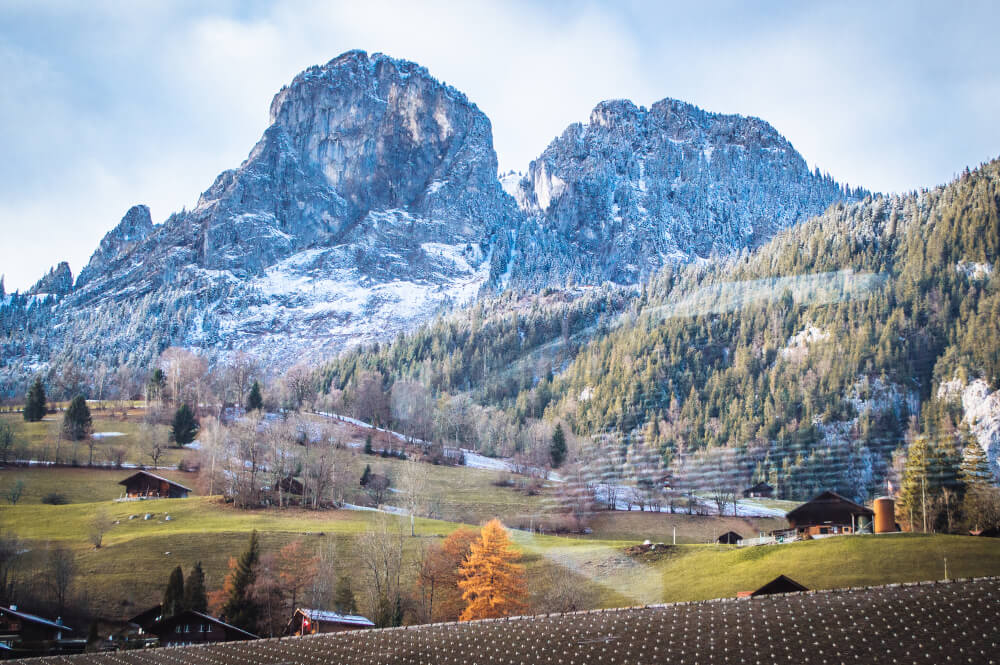 NOTE: The Golden Pass from Montreux to Zweisimmen ALSO has trains called the "MOB Panoramique" that do the same route, but with modern cars and not the classic ones. If you really want the experience I described above, make sure you are booking on the "MOB Belle Époque".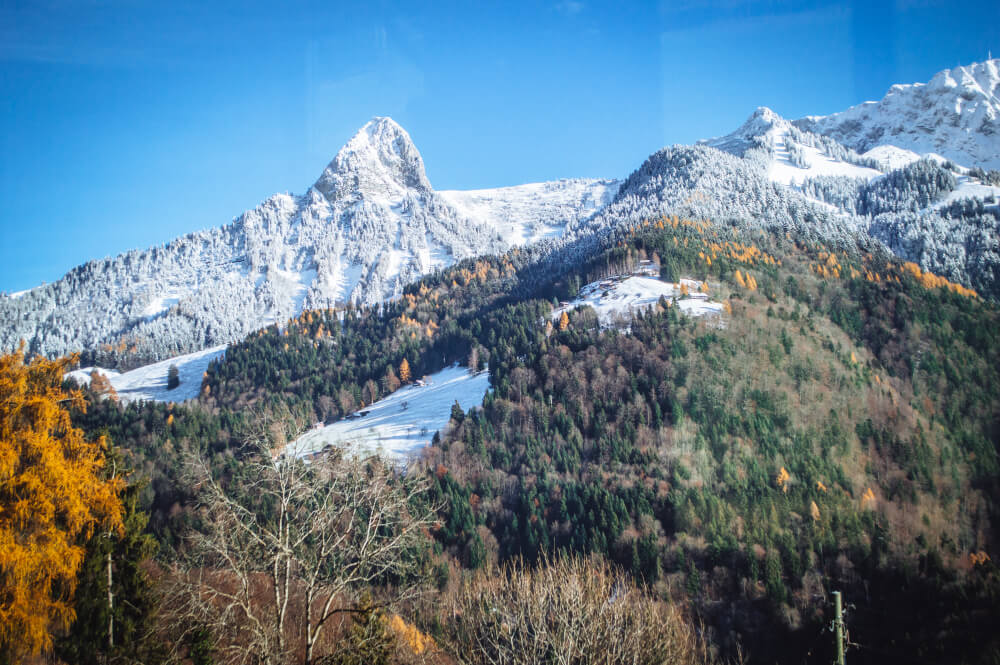 BONUS TIP: I did this scenic ride in November, and I got to witness golden autumn colours mixed in with all the snowy mountains, while enjoying the benefit of fewer crowds. I'd highly recommend this time of year for it! You can also stop off at some of the most magical Christmas markets in Switzerland along the way, including the beautiful lakeside Christmas Market in Montreux.
2. The Glacier Express
This famous Swiss Alps train ride is known as one of the most luxurious and best train rides in Europe, so it's no wonder it's made my list (read my honest review of the Glacier Express in 1st class!).
End to end, it brings you between the swishy ski resorts of Zermatt and Saint Moritz, stopping in a variety of stops like Andermatt and Chur along the way.
From start to finish, you're looking at a tortoise-like slow ride of about 8 hours, ensuring that it does indeed earn its title of "the slowest express train in the world".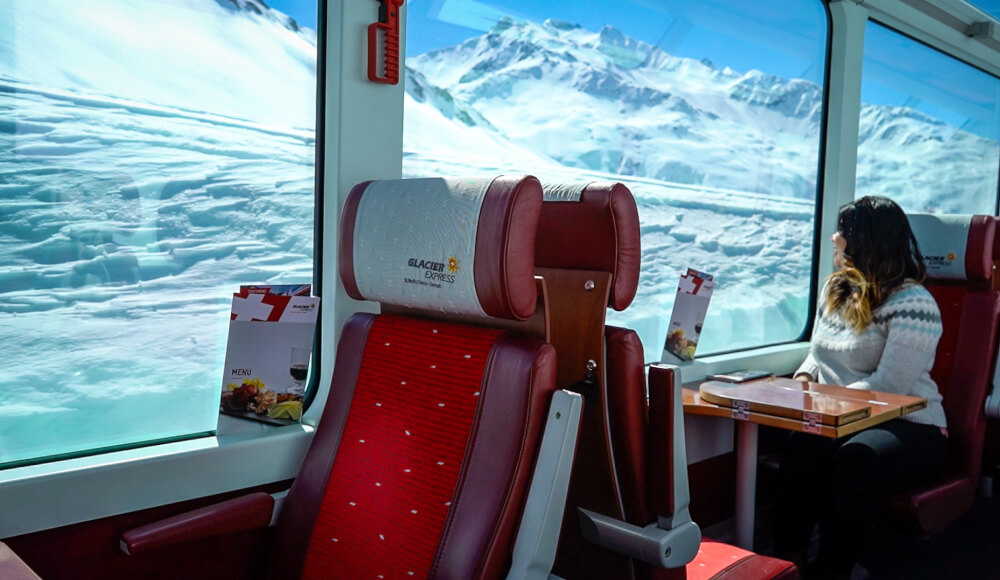 And while the Glacier Express is certainly not everybody's cup of tea (again, it's very very slow and takes up an entire day), I loved it for the experience.
There's nothing quite like a long scenic train ride to give you an ample dose of dreamy "I love the world" moments.
Imagine giant panoramic glass windows, plush, comfy chairs, and my personal favourite: table service with hot three course meals served straight to your seat.
After all, if you're taking a train through Switzerland, why shouldn't you be inhaling a giant chocolate pudding at the same time?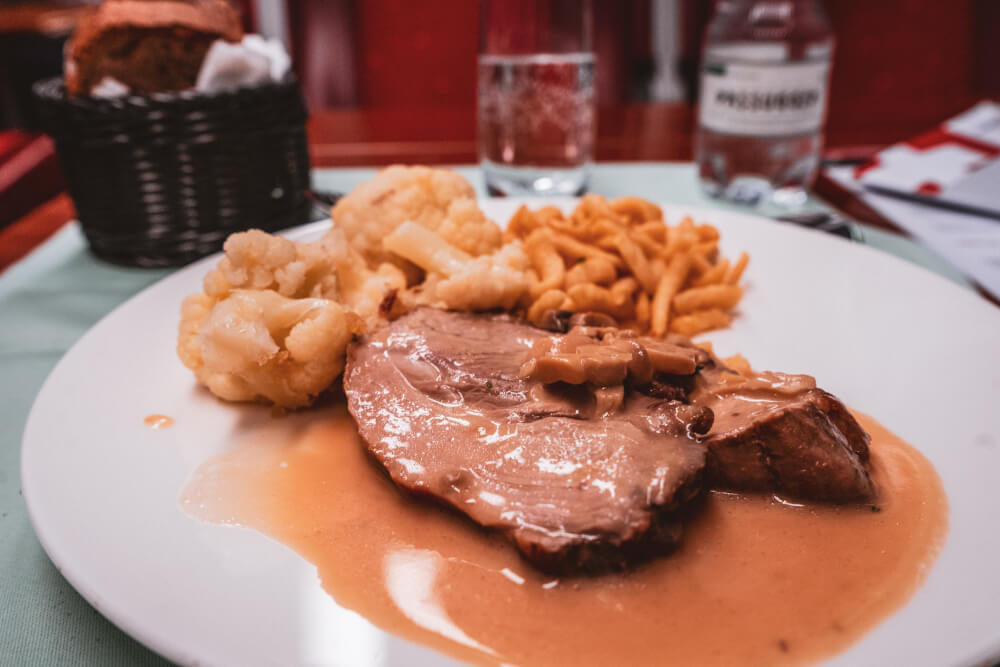 It's not just about the food of course. This wonderful train ride through the Swiss Alps will take you from snow-dusted mountains and terraced vineyards to rocky gorges and turquoise rivers.
This is definitely a bucket list trip that comes with a hefty price tag, but if you want to treat yourself to one of the best train trips in Switzerland, this is it. Just don't expect to get anywhere in a hurry 😉
Read my full guide to the Glacier Express for more info.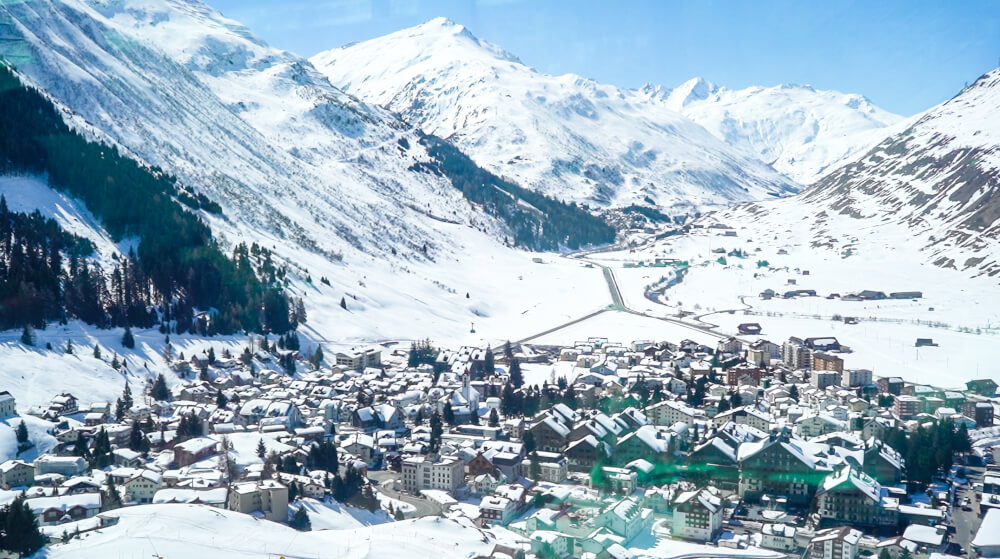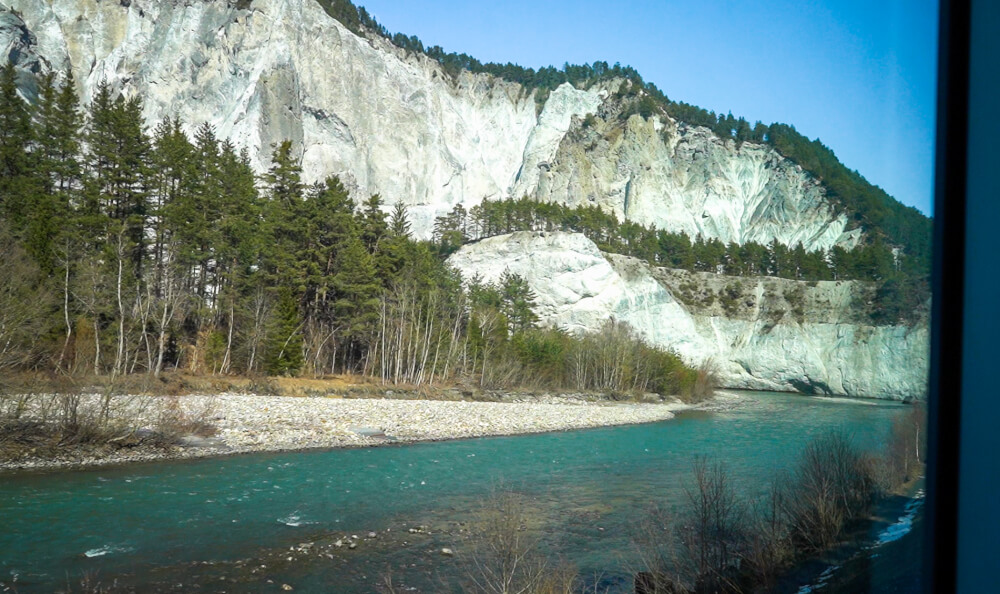 3. The Bernina Express
Bar none, the Bernina Express is one of the most famous train trips in Switzerland, and I'm happy to report that it does indeed live up to all the hype and buzz!
This four hour ride between Chur and Tirano is one that brings you from the snowy mountaintops of Switzerland down to the warm, balmy Mediterranean views of Italy, passing by a constant barrage of unique landscapes along the way.
No doubt, if it's excellent value you're looking for, this is the train I'd recommend. read my full guide to the Bernina Express for more info.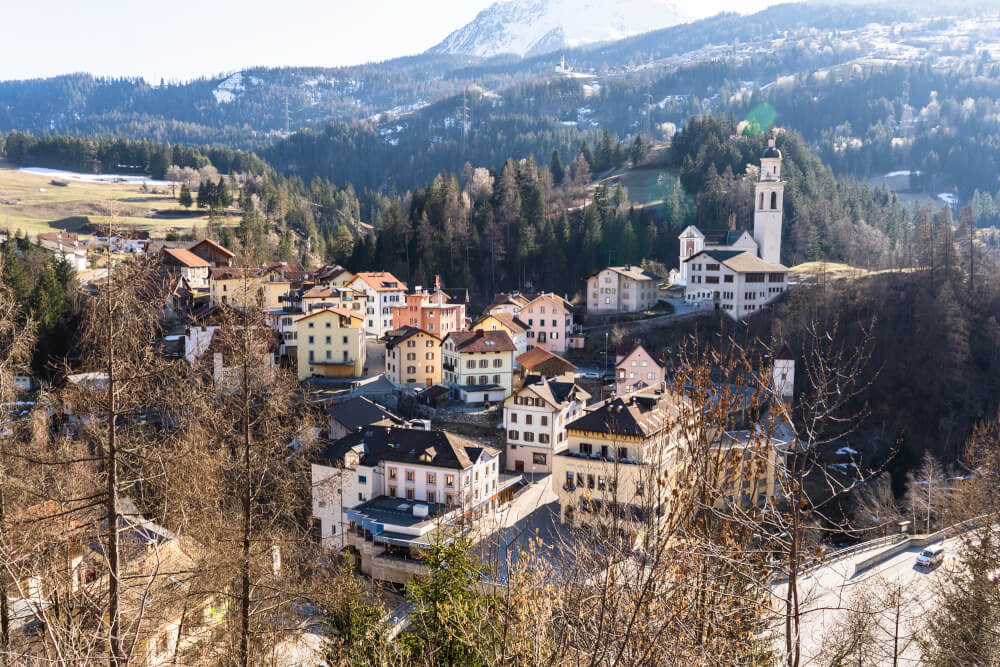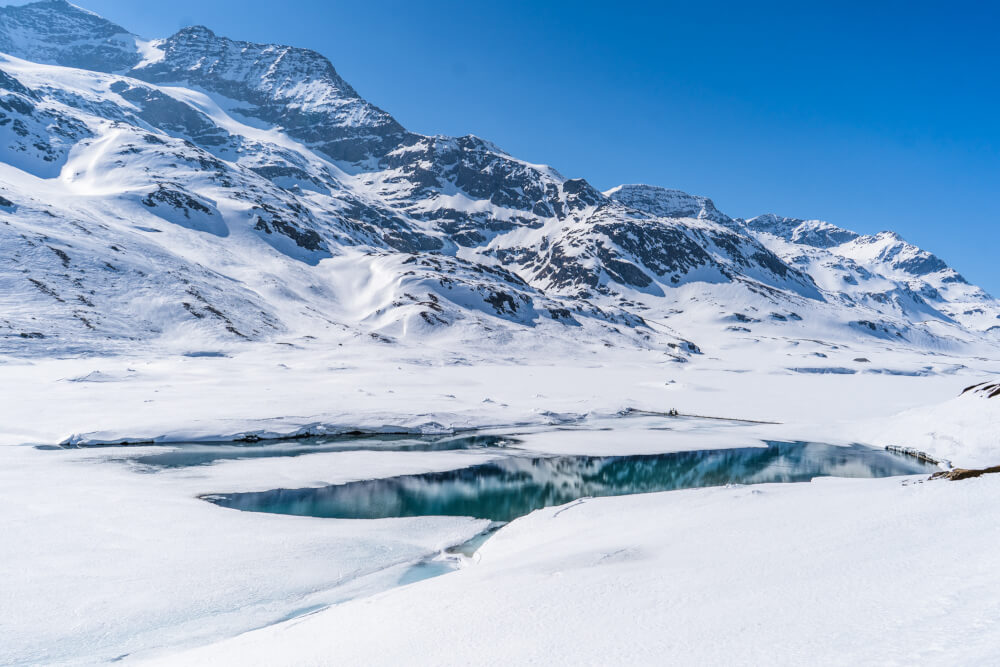 Compared to other journeys (side-eying you, Glacier Express), the Bernina Express is quite a short ride, but the diversity of landscapes you get to take in is breathtaking.
From ruined castles and fortresses to quaint alpine villages and famous viaducts, the Bernina Express is like a "best of" tour of Switzerland, all in a compact, time-friendly package.
Just to warn you though, your memory cards will all run out of space, and your phone will 1000% die from the sheer beauty of it all.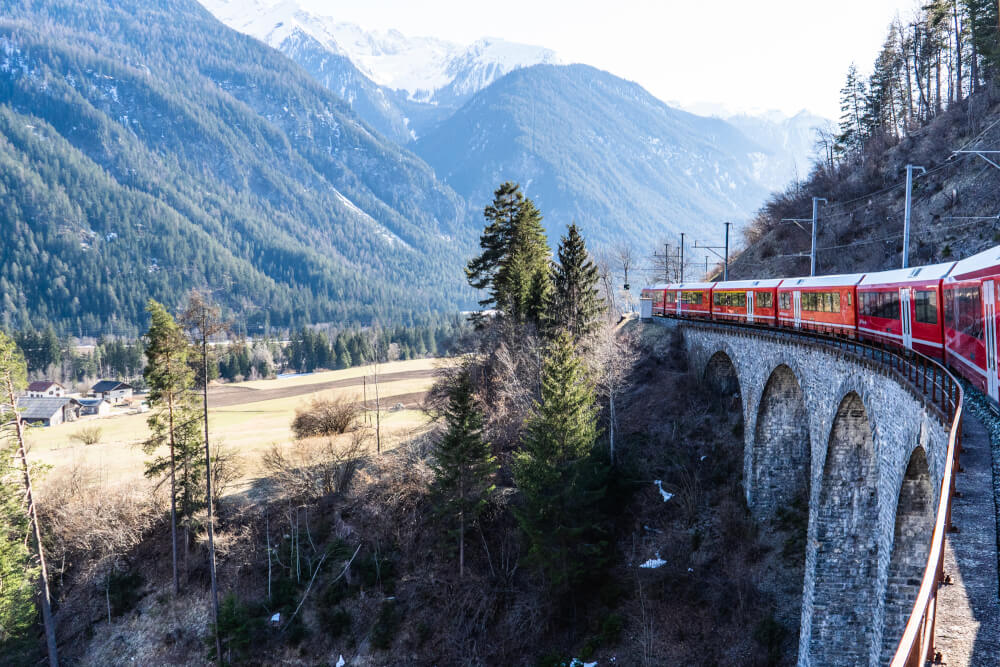 NOTE: If you are a keen photographer, or prefer to avoid touristy crowds, I would actually recommend doing this ride using regional trains instead. More on this below!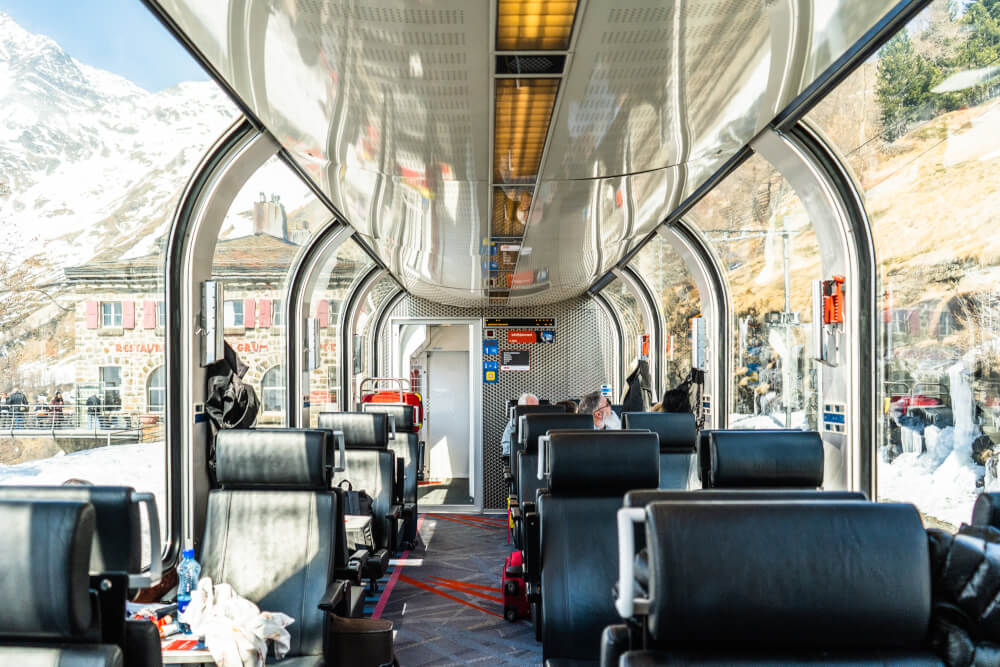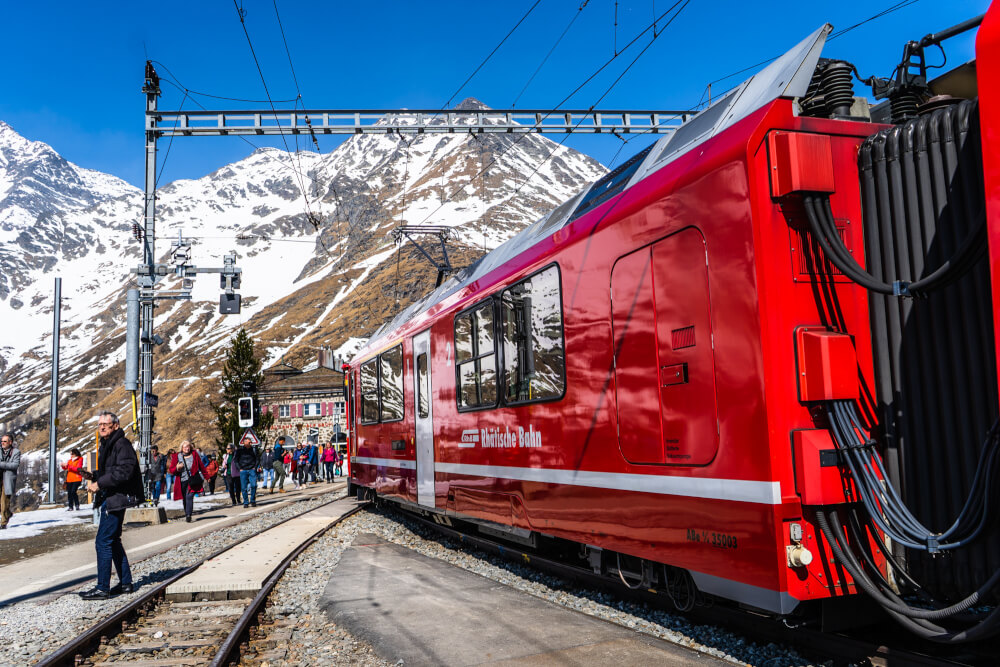 This Switzerland train ride has amazing views in winter too: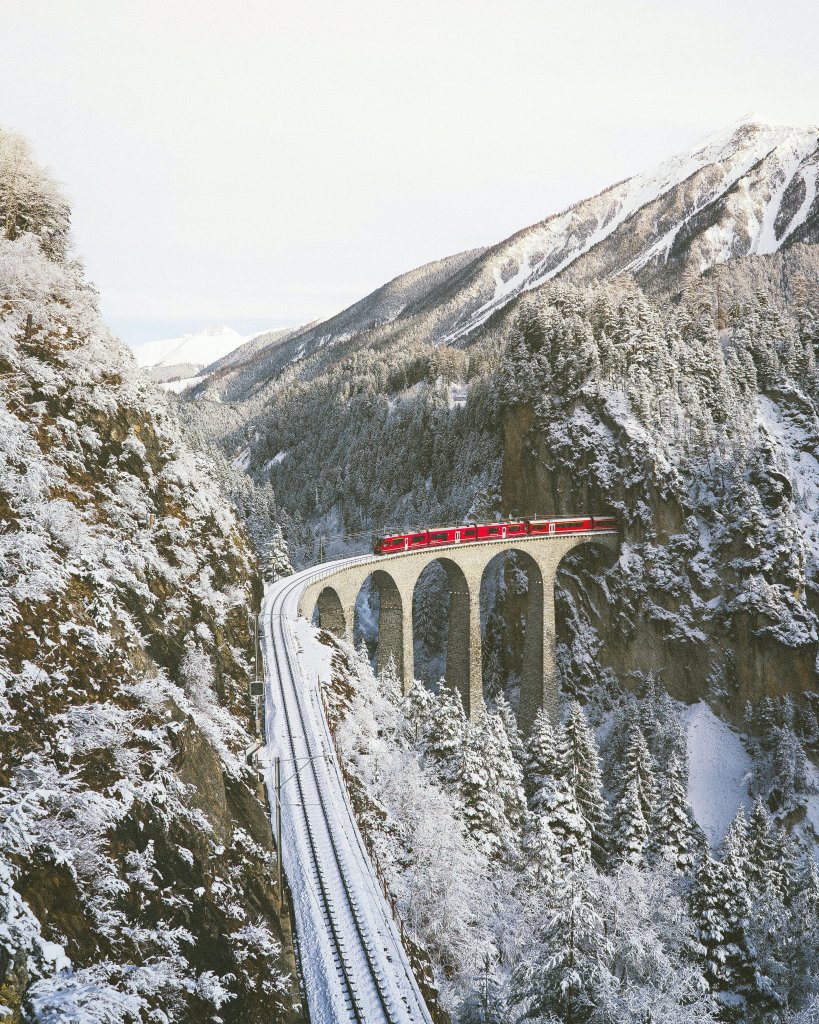 4. The Transalpin (from Austria to Switzerland)
It's definitely not the most well known of all Swiss train rides, but I recently rode the Transalpin from Innsbruck to Zurich, and was blown away.
This EuroCity Express ride is one that isn't marketed as being a scenic sightseeing experience, but is nonetheless one that brings you across some awe-inspiring landscapes in Austria, Switzerland and even the wonderful micro-nation of Liechtenstein.
The scenery you pass is gorgeous, but the starring feature for me is the panoramic 1st class car that they add to one journey a day, which allows you to soak in the views with giant windows just like on the sightseeing trains mentioned above.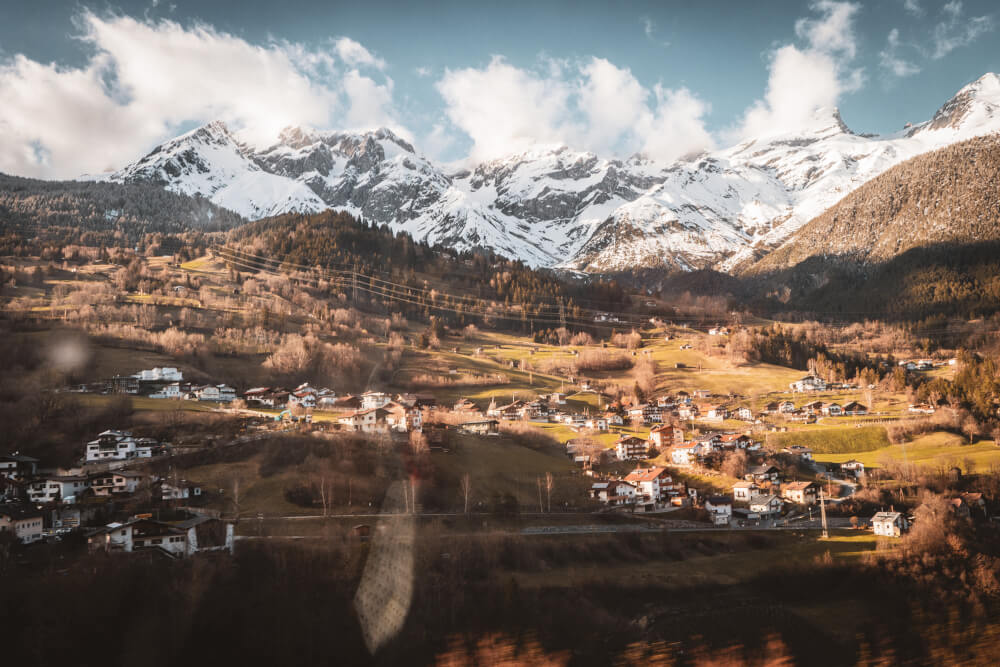 Seriously: it's the glamour of the aforementioned express trains, but without the crowds!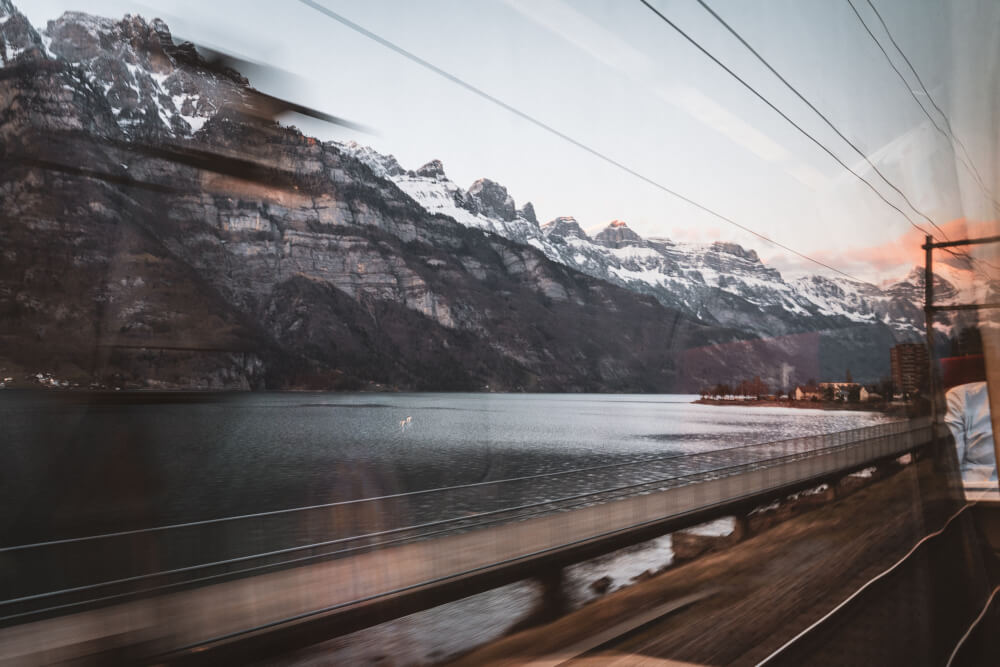 The best part is, taking this panoramic train at 3:48pm from Innsbruck in March meant I was able to watch sunset from the train, and let me tell you: watching the sky turn fiery pink over Walensee as we weaved through the impossibly green rolling hills of Austria, then Liechtenstein, then Switzerland was pure magic.
This is a lesser known Swiss panoramic train, and definitely a hidden gem that you should consider adding to your Switzerland train tour.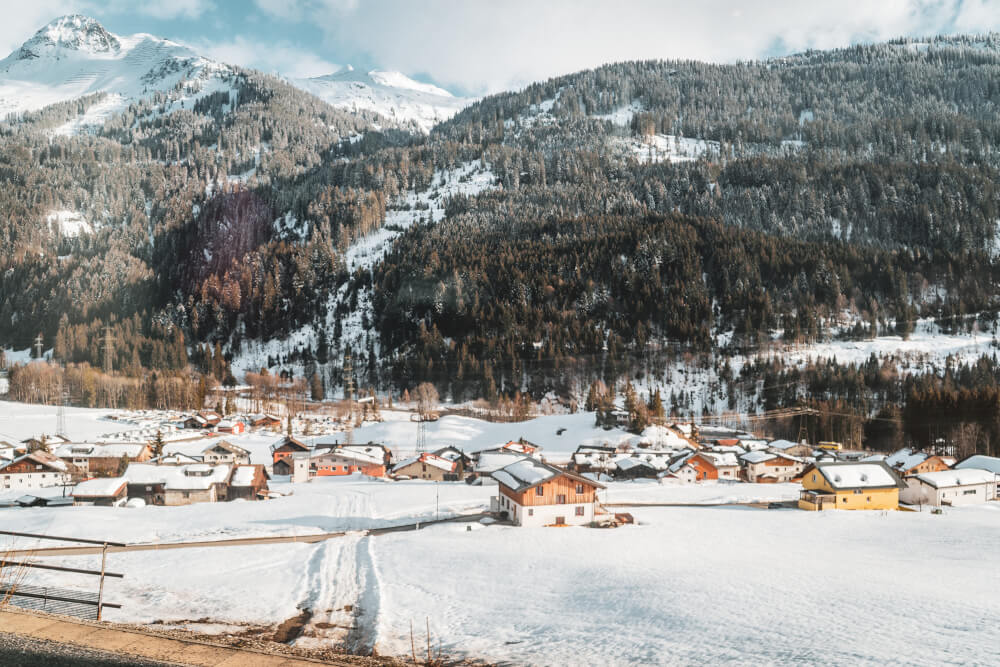 5. The Matterhorn Gotthard Bahn
Alright, listing the Matterhorn Gotthard Bahn is kinda cheating because the following route is technically a segment of the Glacier Express.
But since the Glacier Express is a million years long and not everyone has the luxury of spending a full 8 hours on a scenic train, I would recommend the Matterhorn Gotthard Bahn from Visp to Zermatt as an excellent taste of the Glacier Express experience.
Not only do they have panorama cars just like on the Glacier Express, the rugged scenery here (I would argue) is one of the best parts of the entire GE journey.
Leaving from Visp, you pass by rocky mountains, terraced vineyards, turquoise rivers, and of course, as you approach Zermatt, snowy Alpine towns and even the famous Matterhorn if you pay attention! I didn't, and managed to miss it, although thankfully I got some great views of it in town!
If you want to experience a panoramic train in Switzerland without paying a reservation fee (and without the accompanying crowds of the more popular scenic trains), then this is a great option.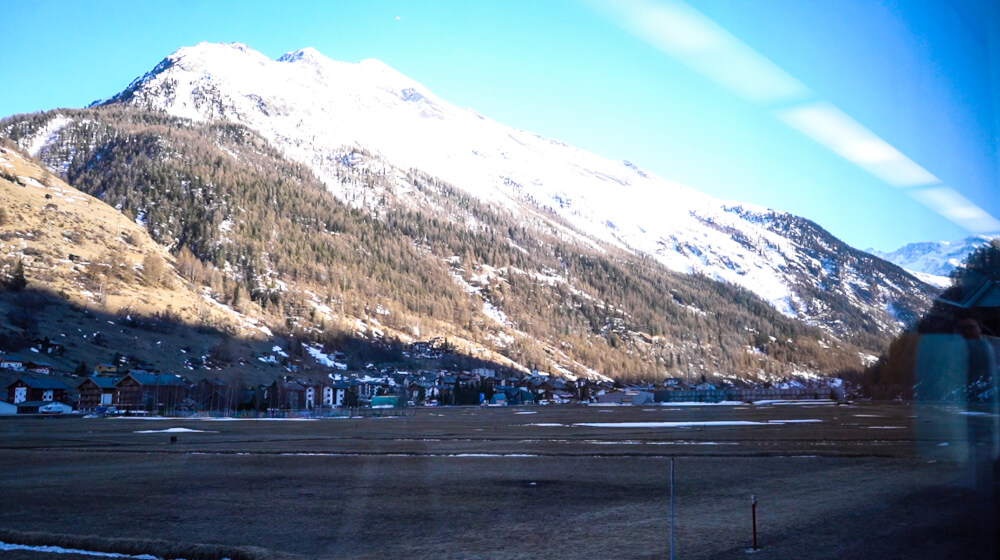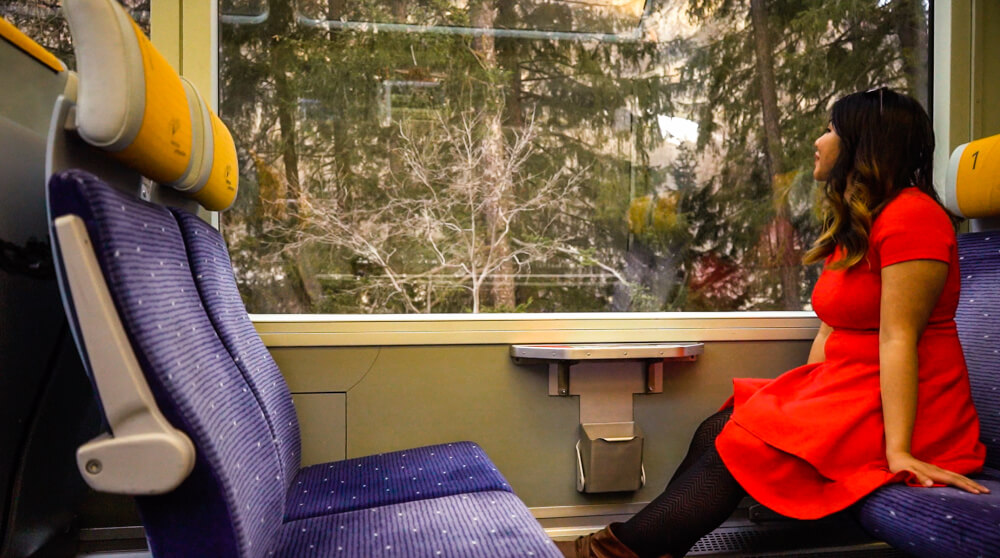 Other (Non-Tourist) Swiss Train Rides and Routes I Recommend
Train travel in Switzerland is next level, so naturally, the country has far more to offer than just the panoramic tourist trains mentioned above.
In fact, pick any random route in Switzerland and it's bound to bring you somewhere pretty scenic.
That said, here are some of my top picks for train rides I've done that weren't part of the panoramic express rides mentioned above, but are still pretty incredible (with the added bonus that they don't feel at all touristy).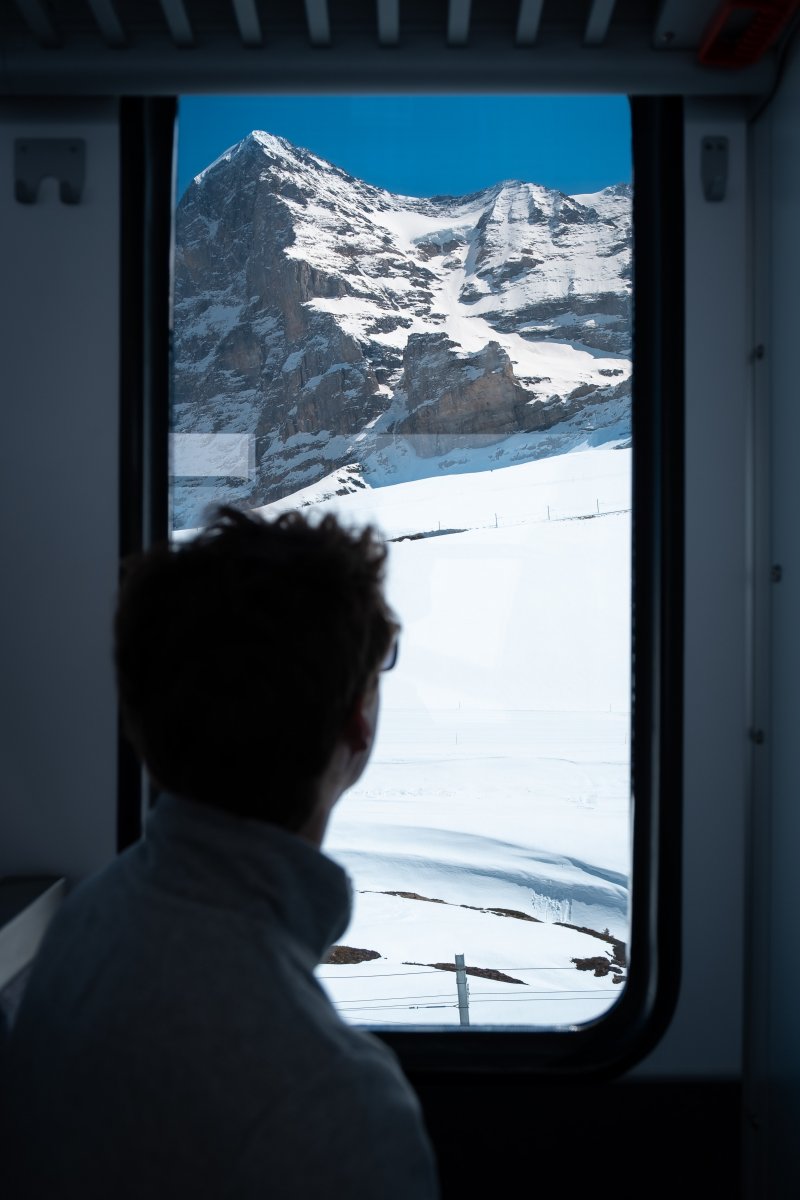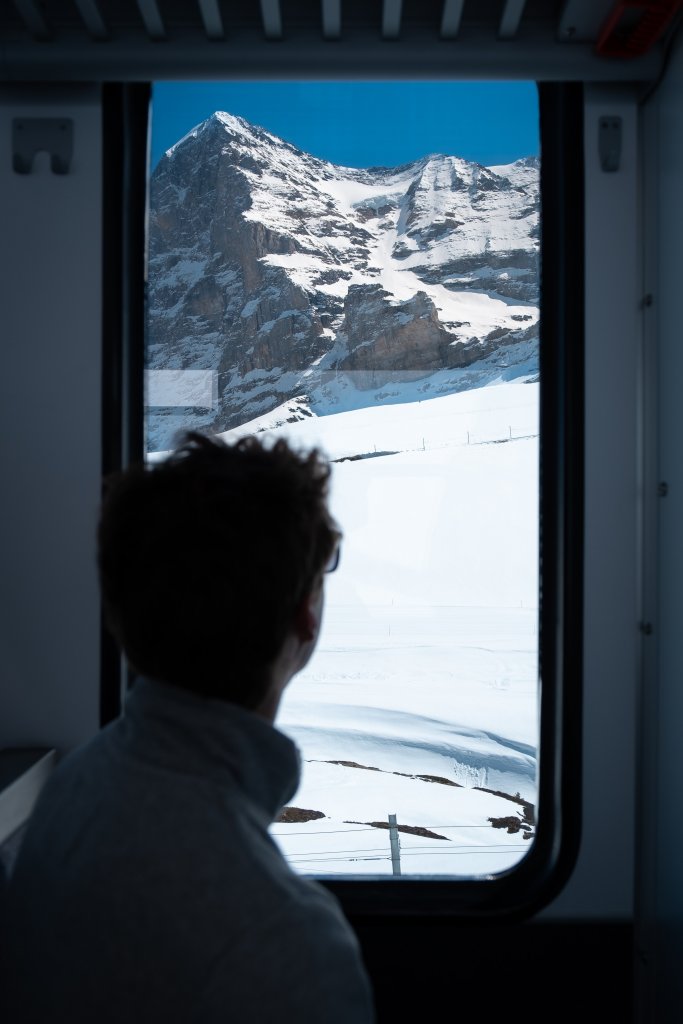 6. The Express routes above but on regional trains
So here's a secret I'll let you in on: all the "Express" trains mentioned above are so-named because they are built for sightseeing, and take you end to end with no stops… BUT regional trains travelling between those areas go past the exact same landscapes, often with fewer crowds, and the ability to open windows on certain trains.
So, while most Swiss train tours will bring you along one of the 'Express' trains, if you are an avid photographer, want to save money on the reservation fee, or would like to stop at different towns along the way, then I would recommend doing the Bernina Express and Glacier Express on regional trains instead.
I did this on my return leg from Tirano to Chur (AKA the Bernina Express route) and I loved the experience. I had a carriage all to myself, I could open the windows and overall, I was like a happy puppy sticking her head out a car window the entire time! 10/10 would recommend.
NOTE: Download the SBB app to look up regional routes with ease. It's one of the handiest Europe travel apps out there if you're headed to Switzerland!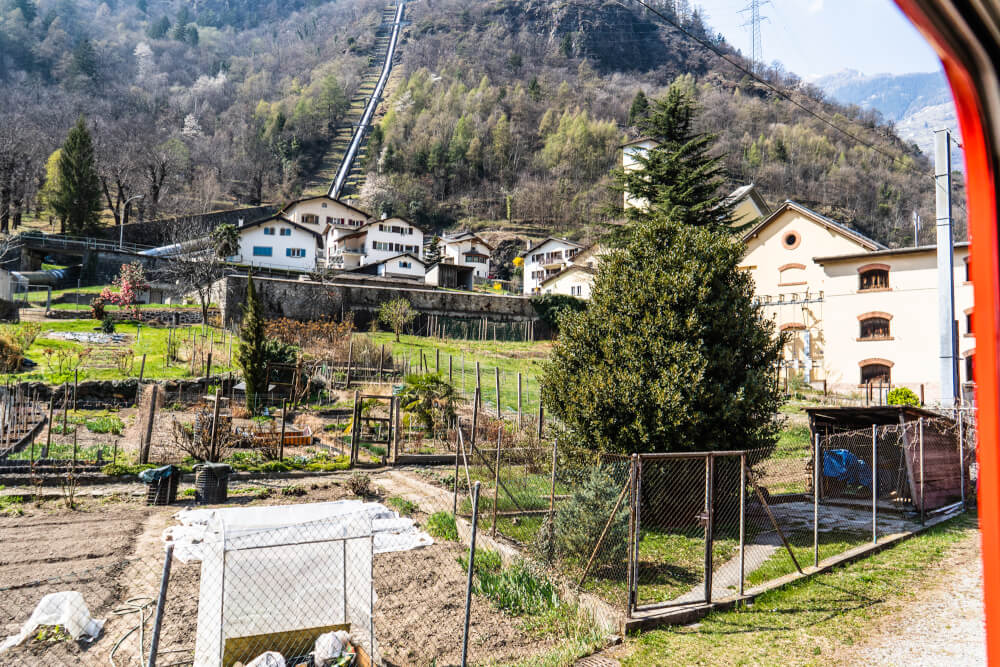 7. From Interlaken to Thun
The clarity and colours of Lake Thun are seriously next-level, so if you can, enjoy the views from a train going from Interlaken to Thun.
I recently got to enjoy the view below while going from Interlaken to Spiez, and I really couldn't believe my eyes.
Is water even legally allowed to be that blue? Was I trapped in an over-saturated anime?
These are the kinds of existential questions that you'll find yourself asking on board this ride 😉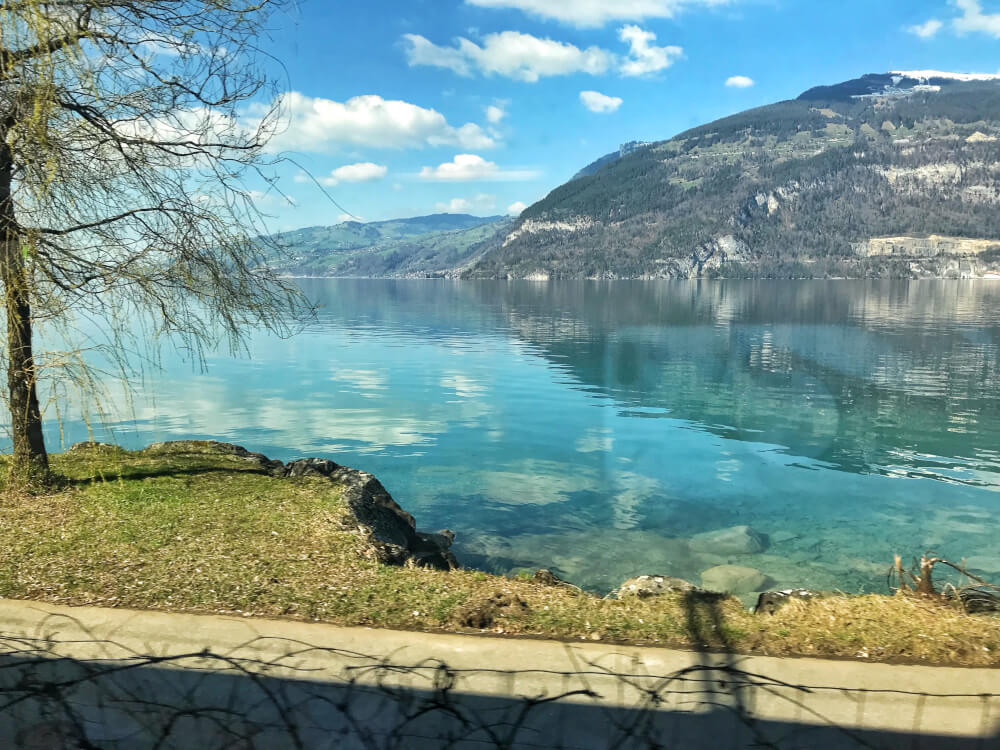 8. From Interlaken to Lauterbrunnen
One of the biggest treats of doing Switzerland by train is being able to slowly enjoy the fairytale-esque landscapes, and as far as colourful postcards go, it's tough to beat the short ride from Interlaken to Lauterbrunnen.
Rolling green hills, towering mountains and an endless parade of lush green trees await. The best part? The view riding into Lauterbrunnen, as the iconic Staubbach waterfall comes into view.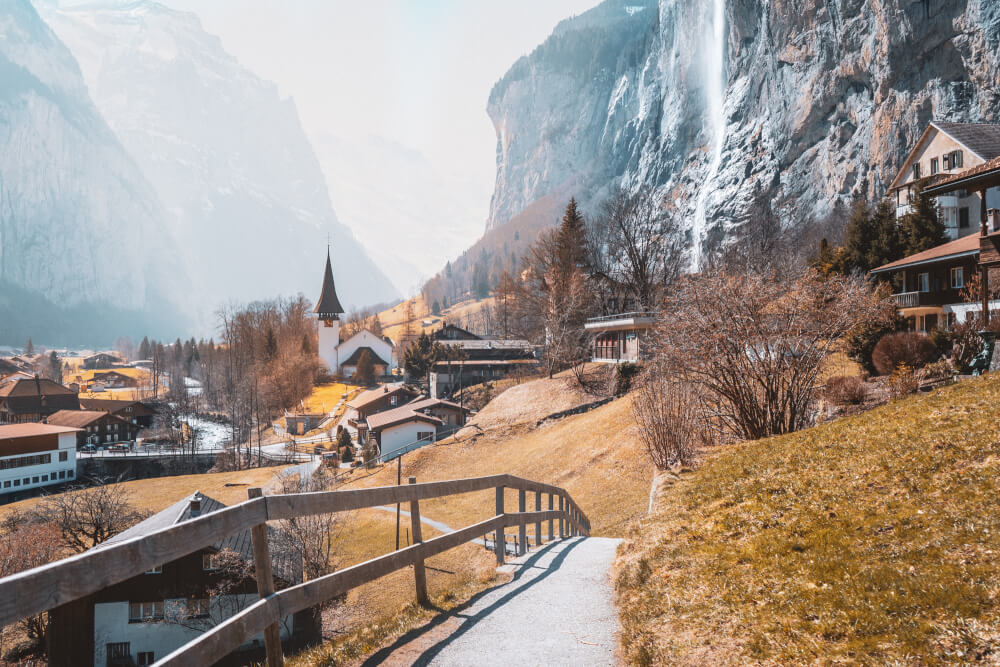 9. From Buchs to Zurich
I love that this Switzerland train ride takes you past two stunning Swiss lakes: my personal favourite, the impossibly turquoise Walensee, and of course the beautiful Lake Zurich.
This is a ride I've gotten to enjoy a few times, and it's certainly one of my favourites.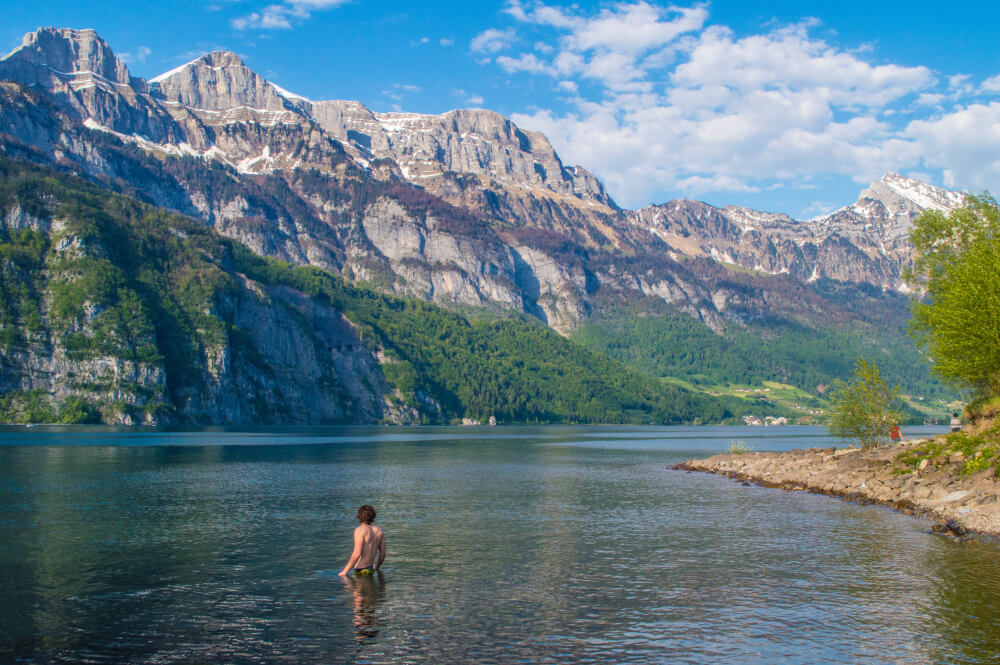 10. From Lausanne to Montreux
Alright, so this is another short ride, but it's an unbelievably beautiful one that glides along the clear blue waters of Lake Geneva the entire time, with a foreground of lush green vineyards to boot.
If your goal is to experience one of the nicest and shortest train routes in Switzerland, I'd highly recommend this ride, especially when it starts to tilt and swerve into Lausanne (a city with an awesome Christmas market). Total bliss!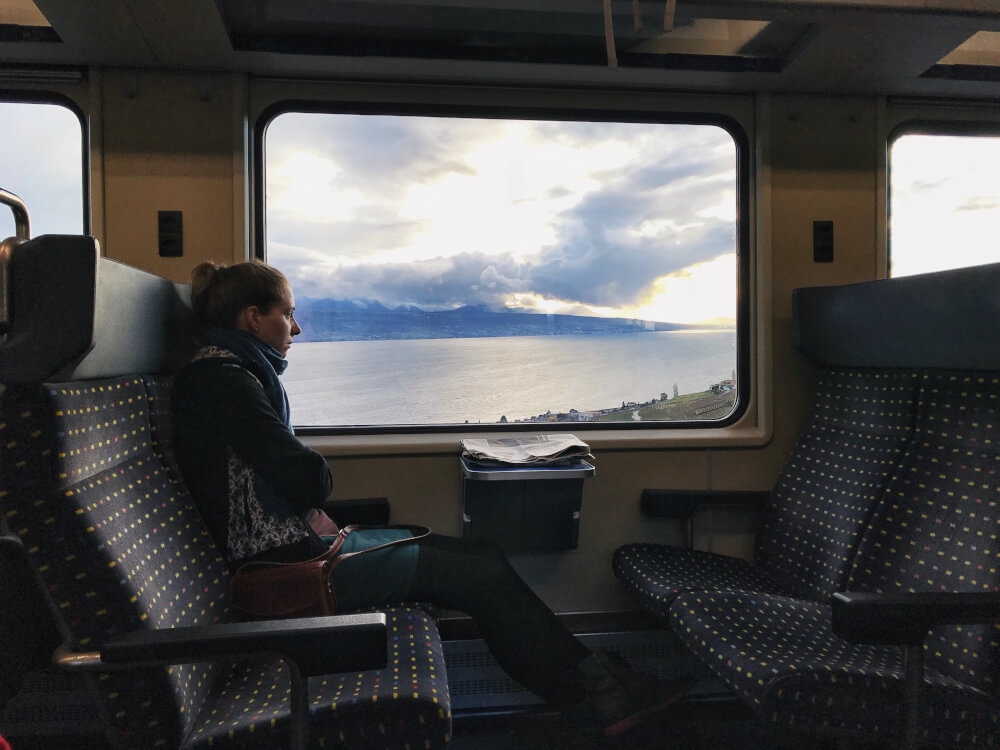 Amazing Swiss Train Rides Still on My Bucket List
Last but not least, there are a handful of Switzerland scenic train rides that I still haven't had a chance to do, but it feels weird to exclude them in a roundup of Switzerland's best train rides, so here they are below:
11. Erlebniszug Rheinschlucht
Imagine riding along the Rhine Gorge in an OPEN TRAIN, with all the fresh smells and sounds of nature hitting your senses directly.
I caught a glimpse of this yellow beauty while on the Glacier Express and I just about lost my mind and demanded that they stop the train immediately so I could transfer.
Unfortunately, the Erlebniszug Rheinschlucht is only available in the summer (which I guess makes sense) but it's nonetheless something I would love to try someday. Click here for more details (and photos!)
Of all the scenic train rides in Switzerland, there are very few that allow you to experience it all completely open-air, so definitely put this one on your list!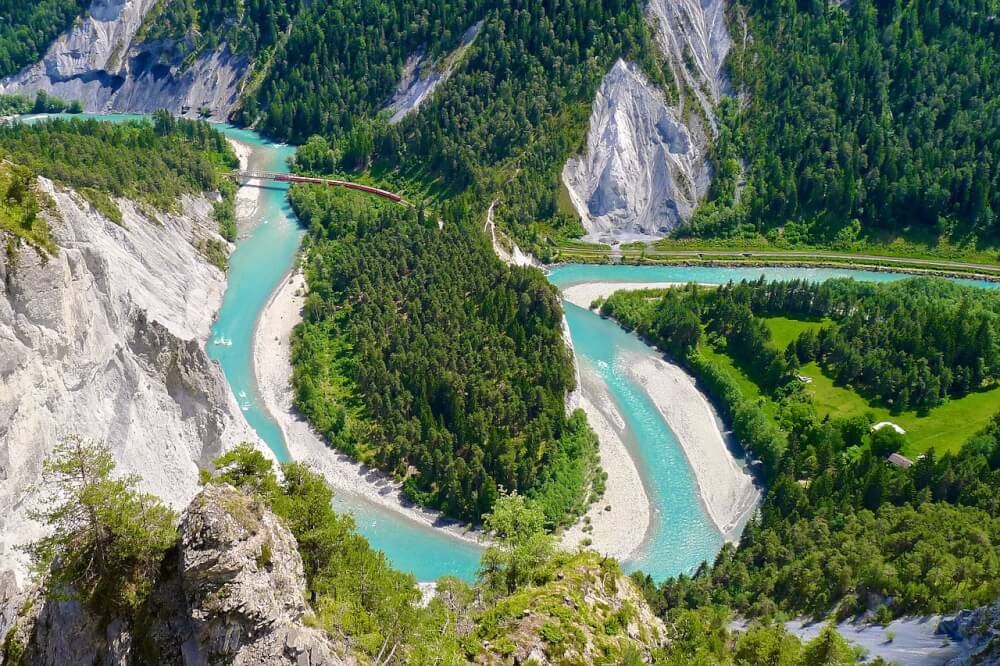 12. The Cogwheel Train up Mount Pilatus
With a title like "the steepest cogwheel train in the world" you can expect the ride up to Mount Pilatus to be pretty special.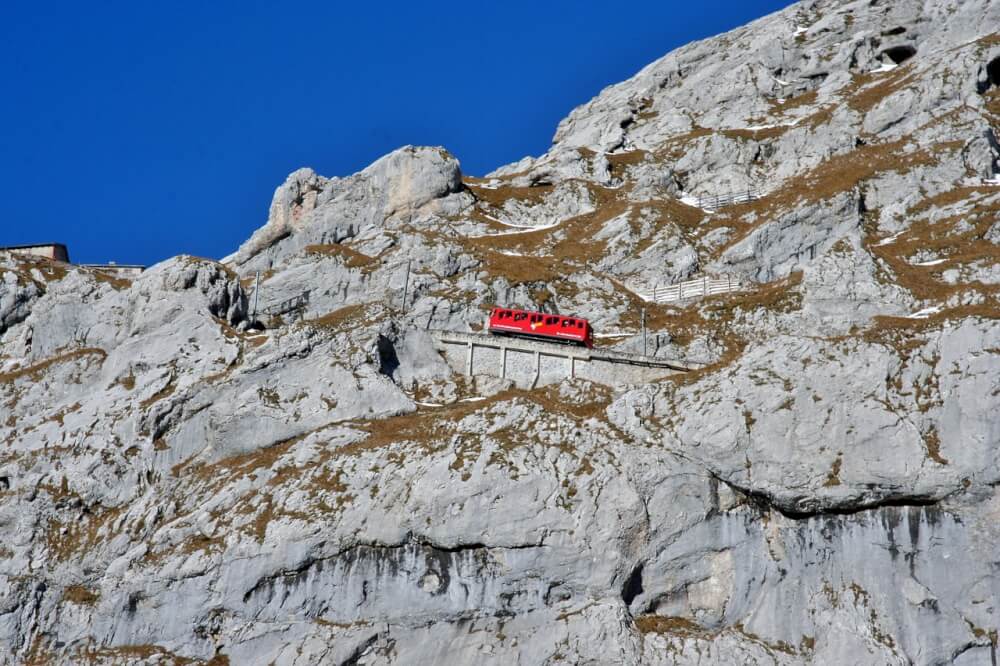 Mount Pilatus is one of my favourite mountains in Europe, and because my visit a few years back was veeery poorly timed (snow delayed the opening of the cogwheel train by a week!), I missed the opportunity to ride this steep monster up to the top.
Nonetheless, my consolation prize was sweet enough: a scenic ride up by cable car, with access to incredible views the entire way up.
The next time I'm in the area, I'll be sure to catch the Cogwheel train to the top instead, experiencing a nerve-rackingly steep ascent that I'm sure will make me cry a little….. but in a good way!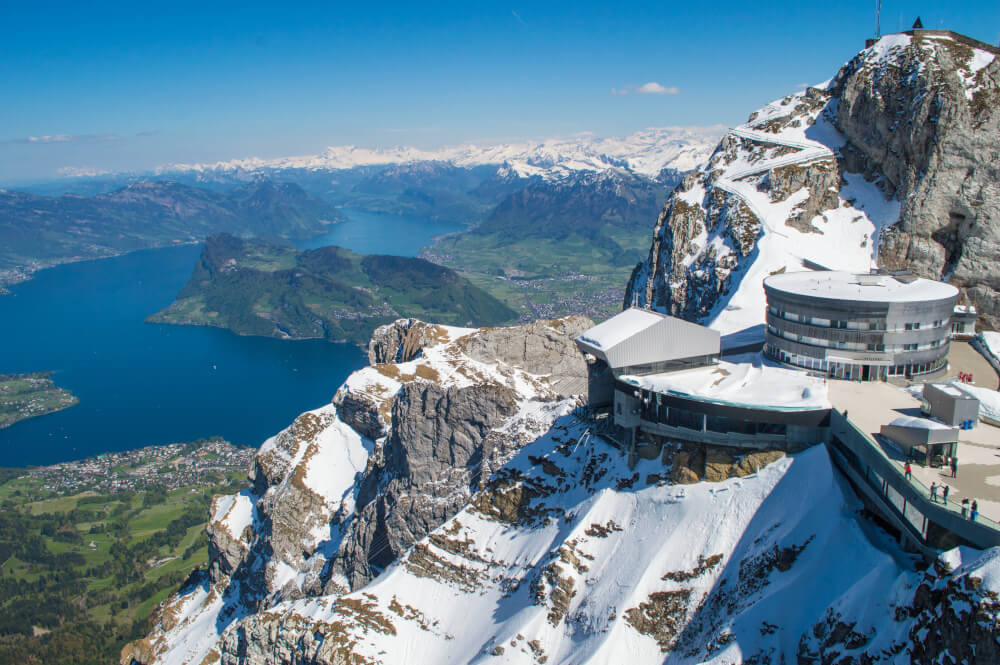 13. Jungfraujoch
Last but not least, we have the legendary Jungfraujoch.
The train ride up to Jungfraujoch brings you to the highest train station in Europe, passing by endless snowy peaks along the way (if your views aren't obscured by poor weather that is!).
Truthfully, I've resisted doing the Jungfraujoch thus far for two simple reasons: cost and uncertainty!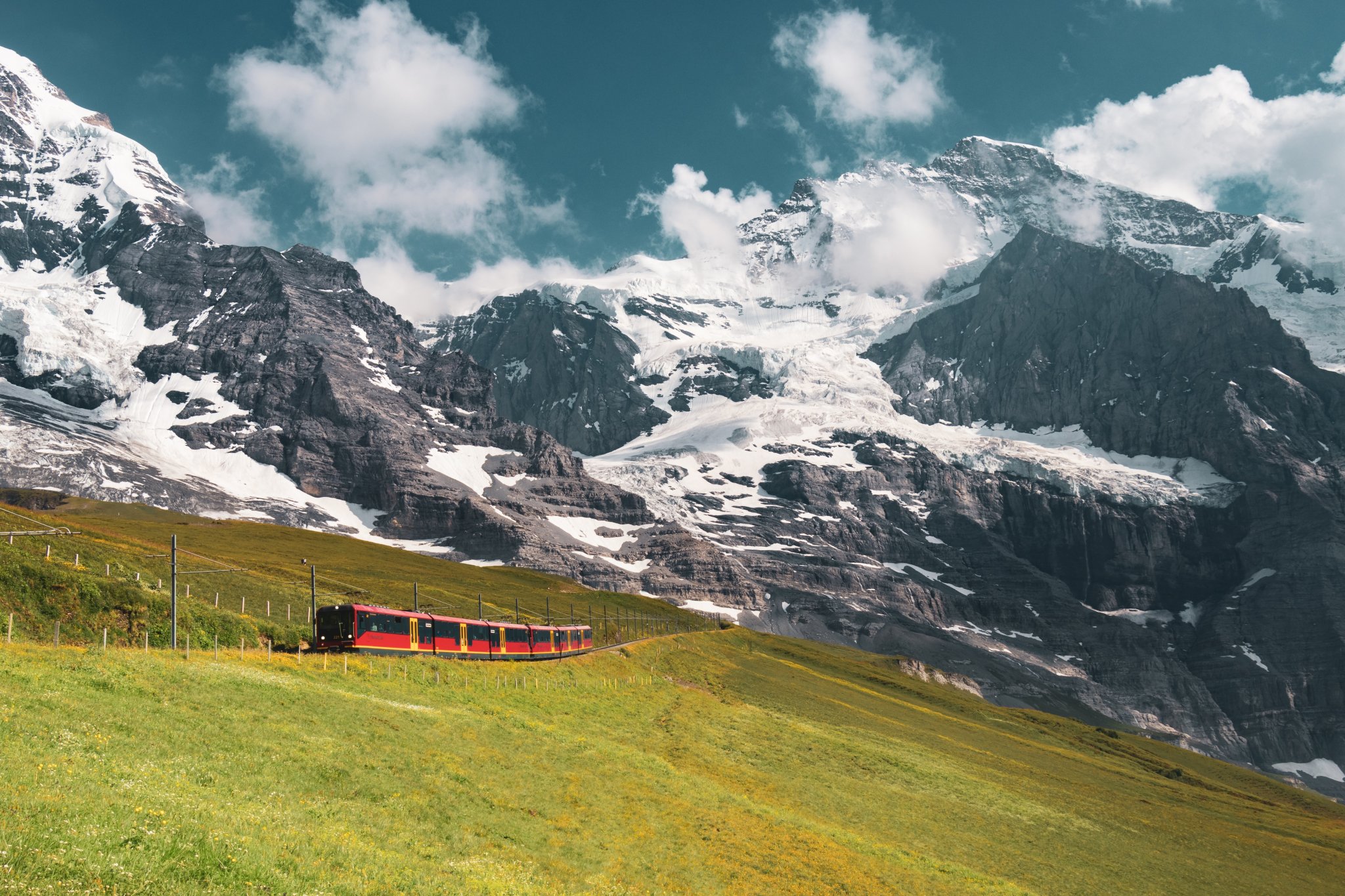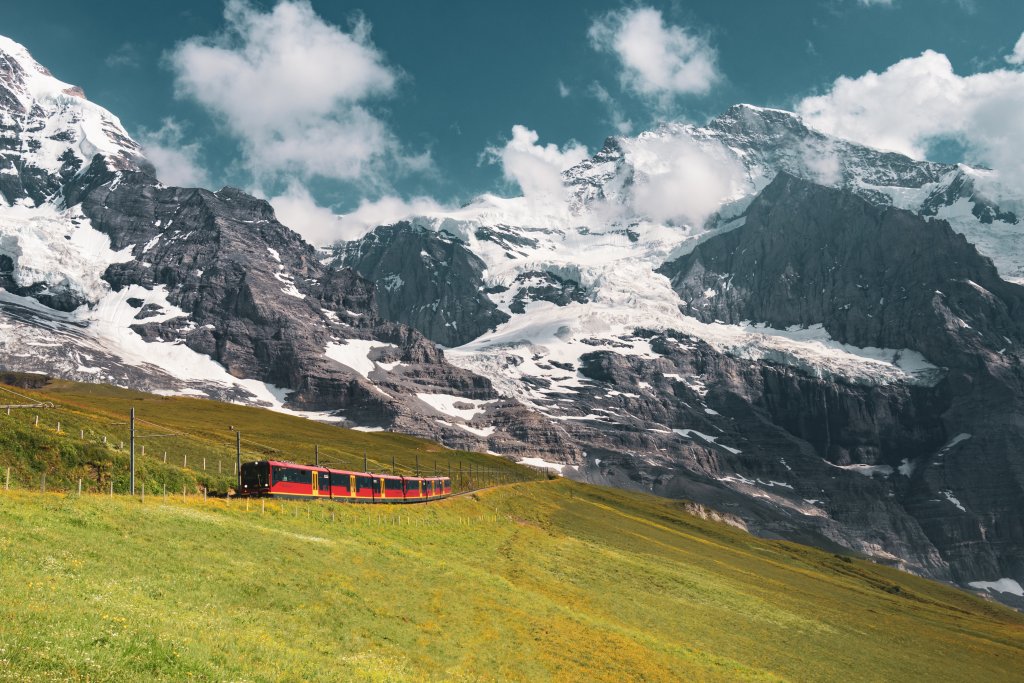 At an eyewatering 200CHF for a regular roundtrip ticket, this is one trip that does NOT come cheap, certainly when bad weather might mean you don't see anything at all once you reach the top.
Nonetheless, it's a bucket list item for sure, and one that I'd be keen to test out sometime in the future, as I have heard great things about it. I did part of this journey (which for most, starts in Interlaken) from Lauterbrunnen to Wengen which was short and slow, but very nice.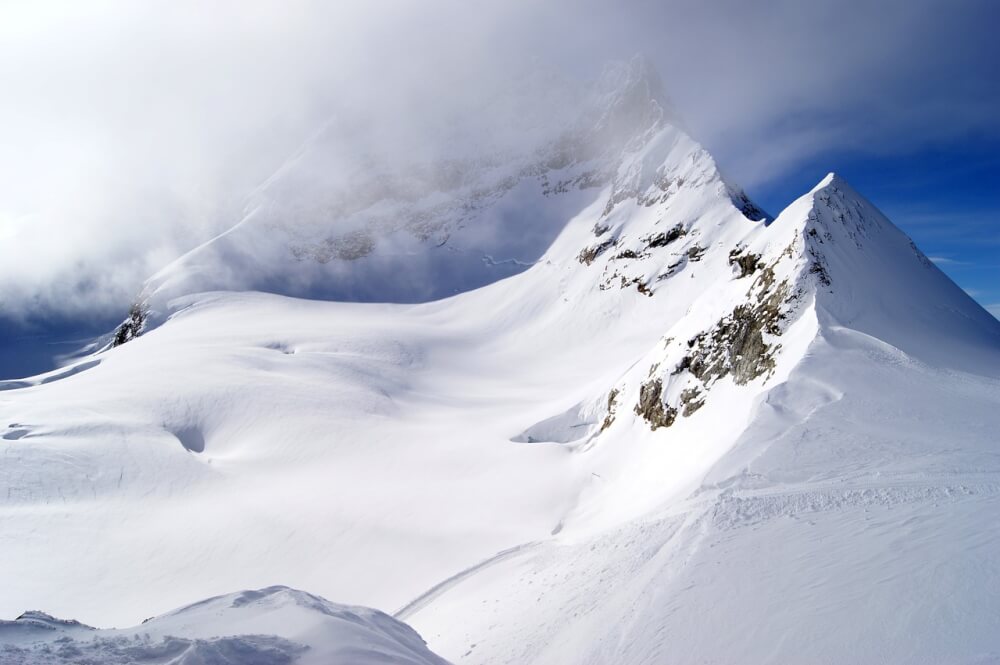 BONUS: The Gelmerbahn
No roundup of amazing Switzerland train journeys would be complete without this one, even though it's brief and not quite a conventional train ride.
Nonetheless, the Gelmerbahn (AKA the Gelmer Funicular) is a truly epic ride that deserves a mention on this list.
This surprisingly thrilling ride is an open air funicular that whisks you up a steep mountain to a crystal clear turquoise lake.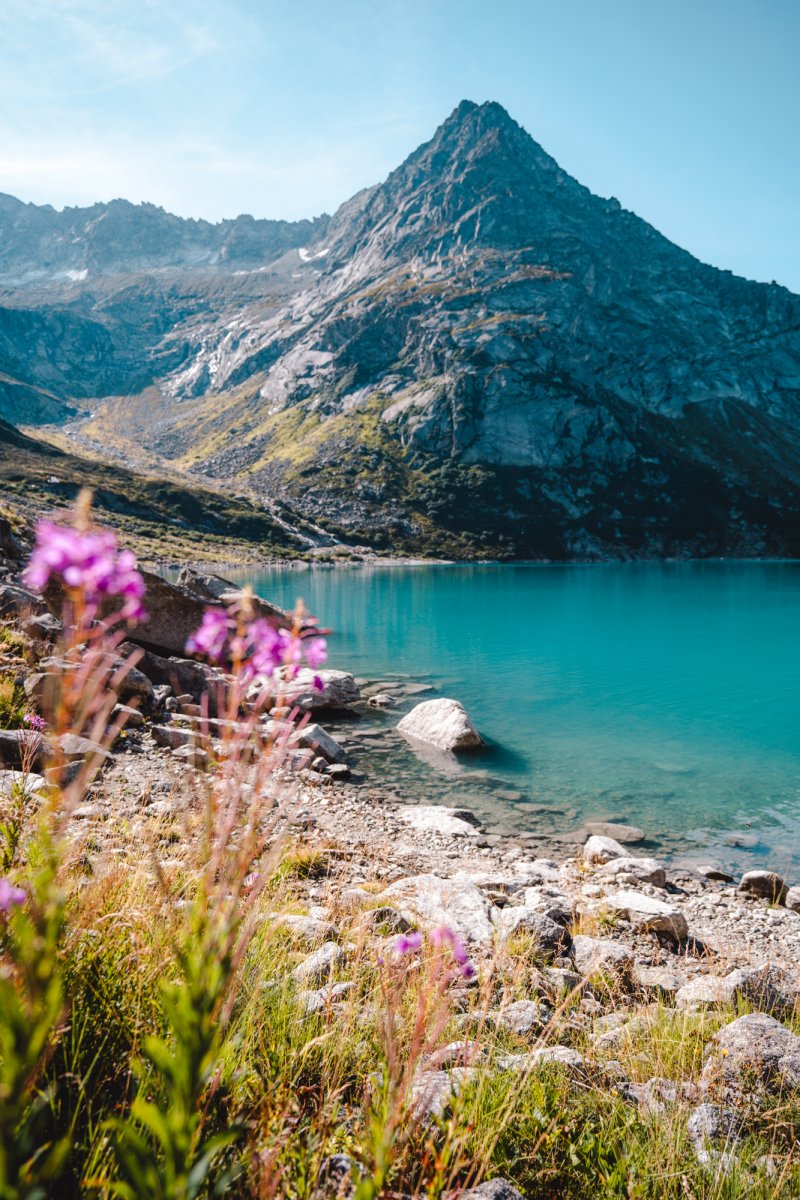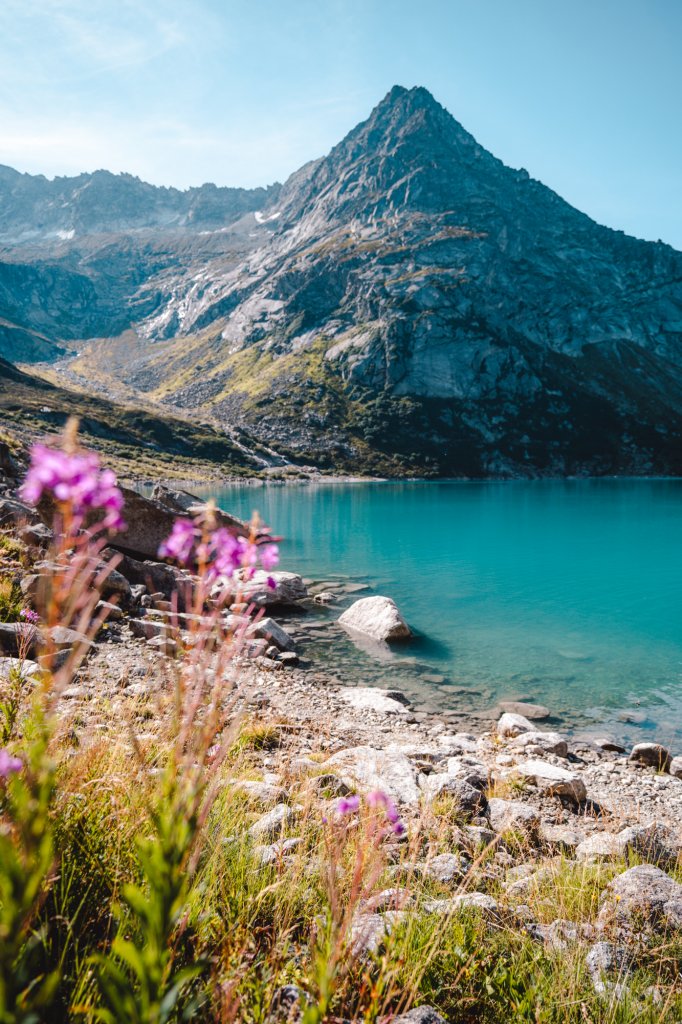 The incline is so steep, it was once the steepest of its kind in Europe, and moves 2m per second, which doesn't sound like a lot, but definitely feels like it when you're racing up a mountain.
You can take the Gelmerbahn up (which is what we did), down (which I hear is much scarier) or roundtrip. Either way, the unique experience, views, and lake up top all combine to make this one of the coolest Swiss "train" rides you can do!
Read my full Gelmerbahn guide for more tips.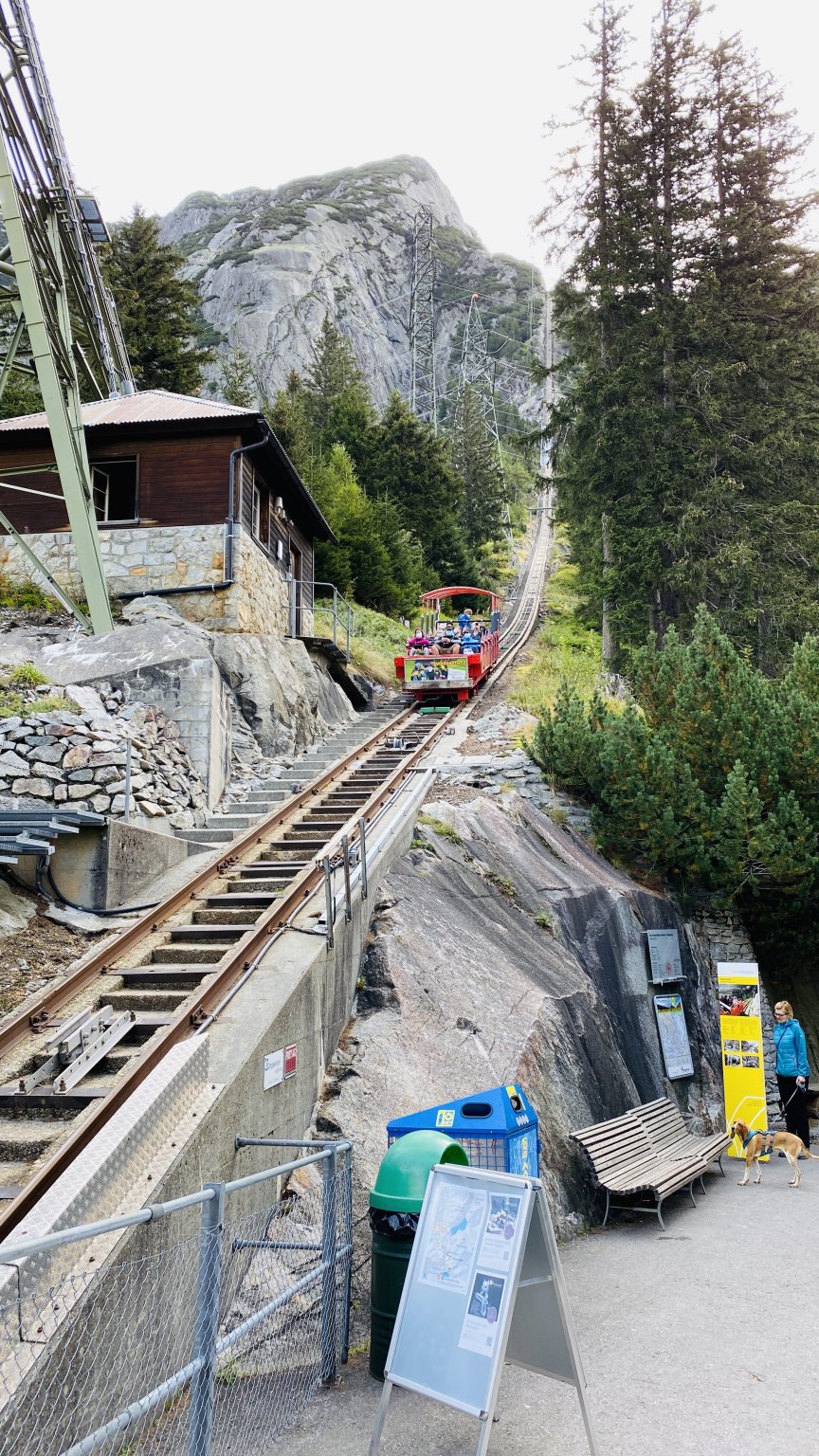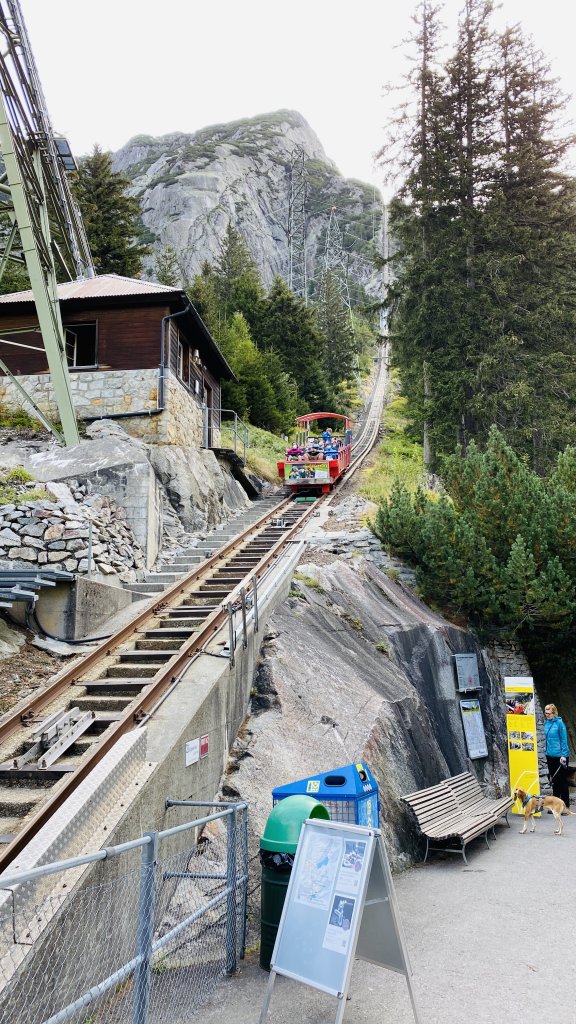 How to Buy Cheap Train Tickets in Switzerland?
Last but not least, I know what you're all thinking after reading this post… how can you possibly afford all these Swiss scenic trains?
The tough truth is: enjoying Switzerland train travel is an expensive endeavour indeed, but I've been able to discover a variety of cost-saving hacks over the years that might be able to help you out!
TIP #1: Use a rail pass
One of the ways I've been able to explore Switzerland by rail SO cheaply is thanks to rail passes!
This is how I managed to scheme my way into only paying 30 euros for my 1st class tickets on the Glacier Express and Bernina Express!
Long story short, Eurail/Interrail passes allow you to waive the base ticket fee which means you only need to pay for a reservation. As such, I paid 306 euros for a Eurail global 10 day pass, (I got a free 1st class upgrade thanks to a sale they were running).
I then used 1 travel day on the Glacier Express, which evens out to only about 30 euros spent for this gorgeous ride (plus the 23 CHF reservation fee).
Still an incredible deal, and by far the cheapest way to do it. This is actually how I did all my recent train rides for a rock bottom price.
So, if you are travelling around Europe, getting a Eurail pass might be a good idea, because Switzerland is certainly where you get the best bang for your buck!
Need more info? Read my detailed Eurail pass review to see if it's a good fit!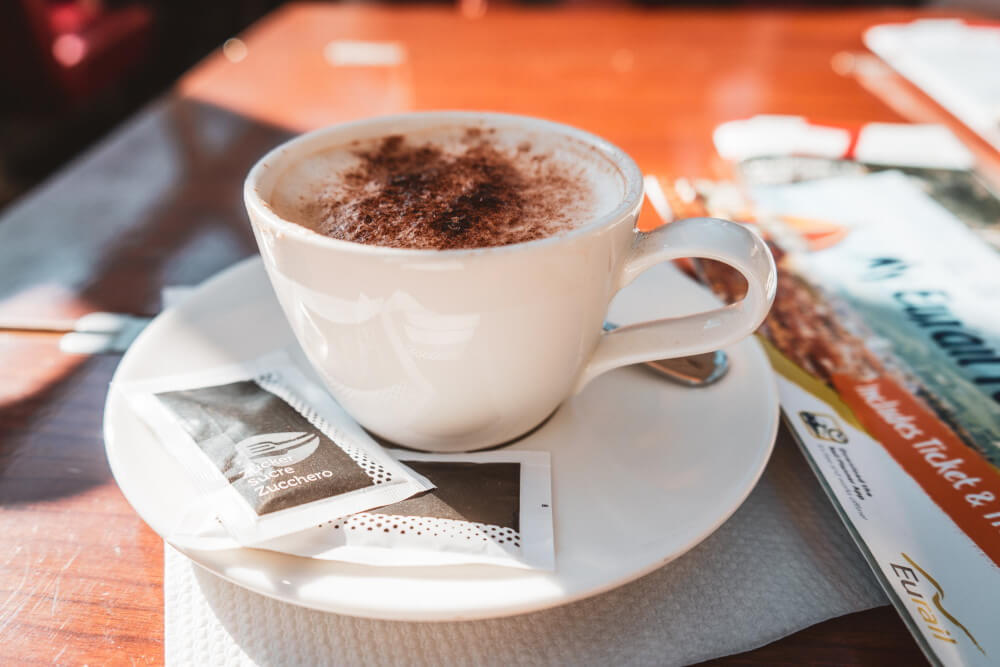 TIP #2: Consider a Swiss Travel Pass
A Swiss Travel Pass is similar to the Eurail/Interrail passes except it gives you unlimited transportation on trains, buses, boats and free public transport + museums).
If you are travelling only around Switzerland, this might be a good option.
It is expensive though, so make sure to do the math and see if getting one would really be worth it.
If you only plan to do one Switzerland train journey, buying a point to point ticket will most likely be cheaper. Click here for more info on the Swiss Travel Pass.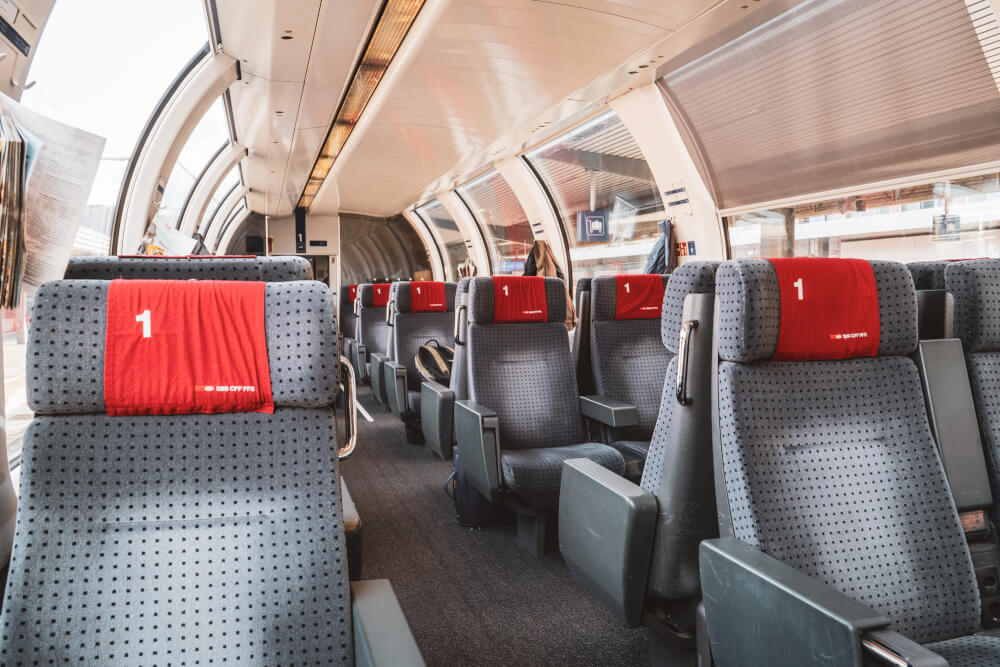 TIP #3: Consider getting a discount card
The Half Fare Travelcard is a very popular card that you can buy which (true to its name) gets you half price tickets across Switzerland.
In 2020, this card is 120 CHF for one month.
This sounds like a lot, but it could be worth it if you are spending an extended amount of time in the country and plan to take multiple Switzerland train trips throughout your stay.
For what it's worth, if you were to use this card for the Glacier Express alone, you'd already be breaking even so if you take more trains on top of that, then you'd definitely save a good amount of money.
I still think buying a rail pass would work out to be cheaper though in most cases. Click here to browse prices/options for the Half Fare Travelcard.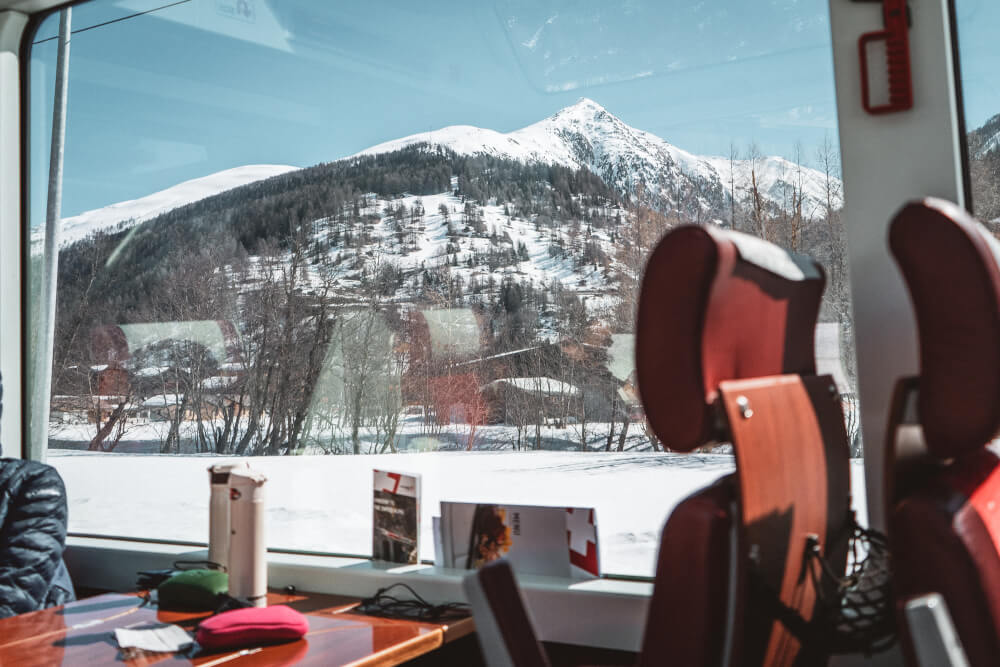 TIP #4: Travel in the off-season
This tip is mostly just for the Glacier Express, but I'll include it anyway.
While base ticket prices do not change, reservation fees for panoramic trains can change depending on whether you travel in the off, mid or peak season.
If you want to get the cheapest ride, go in the off-season which A) means guaranteed snow!! and B) half the price on a reservation.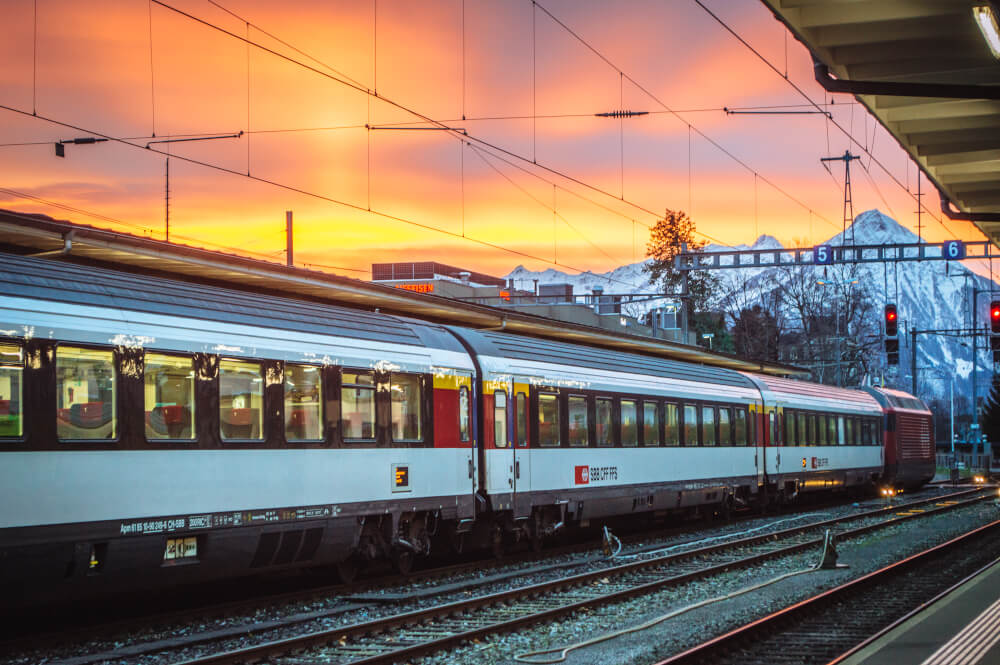 Any more recommendations for scenic train rides in Switzerland?
I hope you enjoyed this post all about Switzerland train travel and the best Swiss railway journeys the country has to offer, assembled meticulously after many Swiss train trips of my own!
All that said, I'm always looking to add more Swiss trains to my list – especially hidden gems 😉
Let me know in the comments!
---
Watch my most popular YouTube video this week:
---