*FYI - this post may contain affiliate links, which means we earn a commission at no extra cost to you if you purchase from them. Also, as an Amazon Associate I earn from qualifying purchases. Check out our Privacy Policy and Disclosure. for more info.
If you're travelling Europe in winter, let me tell you: those European winters are no joke.
With unpredictable temperatures, constant threat of rain/snow, and the pressure to pack light yet keep up with trendy locals, a girl is left with few options besides drinking one's weight in mulled wine.
I've waddled through Christmas markets in Germany and France, slept in Iceland with 7 layers of clothing on and scurried across Copenhagen, Stockholm and Helsinki with the same wardrobe.
I've made my fair share of European winter packing mistakes, and picked up a few crucial pieces of wisdom along the way.
That's why I decided to write this post, to share my wisdom/fails with you! If you're trying to figure out what to pack for your winter Europe trip, here's all the information you need to know.
TIP: If you are still doing research for your trip to Europe, here are some recommendations. I always use Omio to compare/book transport options in Europe. It's a free site that compares planes, trains and buses all at once and sorts them by price, convenience, etc. Also HotelsCombined offers a similar price check for hotels if you're still needing a place to stay 🙂
Important things to Consider When Creating Your Winter Packing List for Europe

Layering is key for surviving winter in Europe
Trust me: packing big, chunky sweaters to keep warm is a bad idea. Not only do they take up loads of space, they're also only useful in very cold weather conditions.
On the other hand, if you rely on layering for warmth, you have a more versatile wardrobe with pieces that can lend themselves to different weather conditions/occasions.
Bonus tip: Make sure you have a really warm, high-quality base layer of thermal underwear AKA long johns like these in your suitcase. For a more affordable version, I have a set of tops/bottoms from this line and they kept me perfectly toasty through a Canadian snowstorm!
The weather is completely unpredictable
I can confirm that the weather in Europe is batsh*t crazy almost 100% of the time.
You can't predict it (and usually weather forecasts aren't all that accurate either).
Prepare for all of the following: drizzly days, torrential downpours, hail, snow and crystal clear blue skies. If you're prepared for all the elements possible, then you're far less likely to be caught off guard 😉
Your coat will be over top everything
I know that it's tempting to lug around a suitcase full of cute outfits because you want to look nice in photos, but I can guarantee that you'll look 99% the same in all your photos because you'll always be wearing your coat!
That's why it's important to bring a coat you love and feel confident in. This one is similar to the parka I pretty much live in during the winter-time – bright yellow so you can always spot me, and toasty warm… plus it pops well in photos!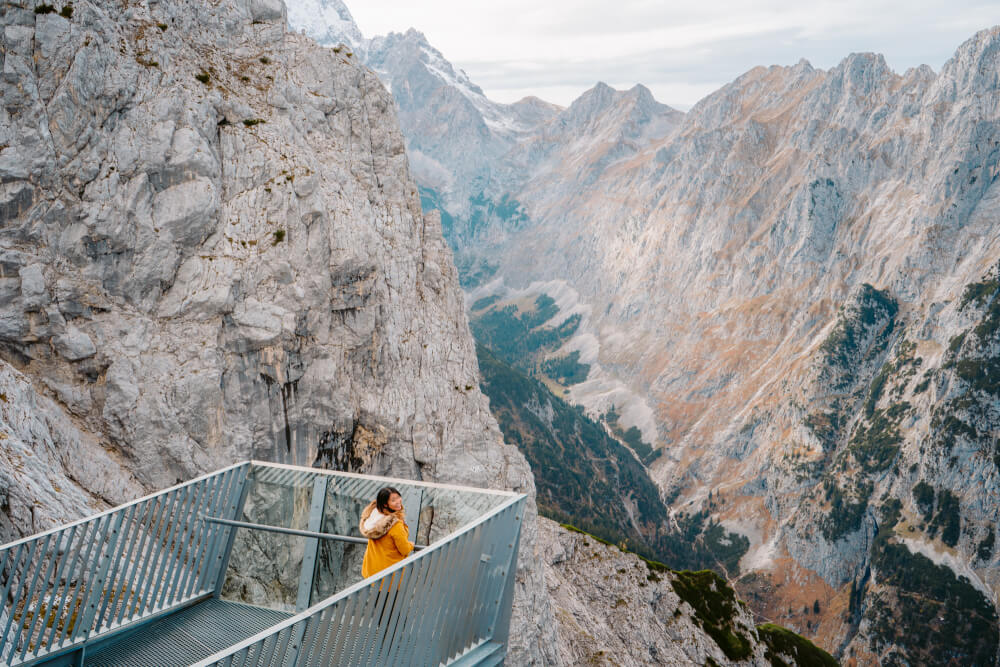 Consider where in Europe you'll be going
I know there's a tendency to group Europe together as one entity, but the truth is (especially in winter), the weather conditions will vary a lot depending on what region you're headed to.
Obviously, you should expect a lot of snow and low temperatures in Northern Europe, whereas there are more tolerable temperatures/rain in Western, Central and Southern Europe.
Warm accessories will save your life
Assuming you're an adventurous go-getter, you'll be spending a lot of time outside.
Make sure that you're well covered up during your outdoor jaunts by having a solid arsenal of warm, high-quality accessories.
Think warm hats, earmuffs, mittens, gloves and SOCKS. I'm all for a good bargain, but don't cheap out on these or else you'll be freezing!
Don't forget to moisturize 😉
Cold = dryness = chapped everything! And I mean everything. Moisturizer is a must. I never go anywhere without this chapstick and a little mini tube of this moisturizer (it's basic but I promise it hydrates amazingly for an affordable price).
Anyways, let's get to the real packing goodness. You'll find my full guide below, but here's just a peek at the kind of things I would pack:

Winter Packing List for Europe: the simple breakdown of what to pack
Here's a quick clothing/accessories packing list for you! (This should last you a week. I wouldn't pack more than this. Just do laundry instead to ensure you pack lightly!)
To see a more detailed explanation, scroll down.
Clothes
1 set of thermal base layers
1 nice-looking tank top (suitable for going out)
1 cardigan
3-4 long sleeve tops
1 cute sweater dress
2-3 pairs of jeans/pants (trousers)
1 pair of leggings
1 very warm jacket/coat
1 thin fleece/windbreaker (for layering)
7-8 pairs of underwear
1-2 bras
5-6 pairs of socks
1 pair of very warm wool socks
1 pair of warm, comfortable boots (like these)
1 pair of cute ballerina flats
1 set of warm, long-sleeved pyjamas
Accessories
Sunglasses
1-2 statement necklaces
2 scarves (1 thick and warm)
1 pair of gloves/mittens
1 warm hat that covers your ears
1 daybag (purse or backpack)
[OPTIONAL] Umbrella (if you have a good hood on your coat, you can do without)
[OPTIONAL] 1 swimsuit (if your hotel has a pool)
Other
What to Pack for Travelling Europe in Winter [Detailed Clothing List with Explanations]
Alright, now we're getting into the nitty gritty of what to pack when travelling Europe in winter. The Winter Packing List for Europe essentials listed above will now be explained in further detail:
1 set of thermal base layers
Sure, base layers probably aren't necessary in warmer countries like Portugal or Spain, but they're definitely handy to have (and light to pack).
After surviving -25 temperatures on a recent trip to the Québec Winter Carnival, I've really learned the value of having solid base layers.
While a really high quality set like these are ideal, there are affordable options out there too like this thermal top I picked up for less than $25.
PS: There are also a lot of very cute thermal sweaters you can buy that are designed to retain heat. Here are some examples:


1 nice-looking tank top (suitable for going out)
I know what you're thinking: tank tops in winter – girl you trippin?
And I know it sounds crazy, but tank tops are so light to pack, it's handy to bring at least one 'nice' one that you can wear in case you go out to a nice dinner or bar (which will likely happen in Europe, I assure you).
The good thing is you can easily layer other tops over it to keep warm, and now you have one cute option "just in case!"
Here are some examples of the kinds of tops I mean:


1 cardigan
Cardigans are an easy layer to add on and great for when you want to look nice (maybe while settling into a cozy cafe somewhere!). Ideally it should match your (aforementioned) "nice looking tank top" 😉
Here are some examples of what I would bring with me on my European winter adventure:

3-4 long sleeve tops
When travelling Europe in winter, I highly advise bringing long sleeve tops rather than thick sweaters, because sweaters take up way too much space. Bringing 3-4 basic long sleeves like these should be sufficient for a week.
1 cute sweater dress
You never know who you're going to meet 😉 But in all seriousness, it helps to have one cute outfit that makes you feel like a total star. Sweater dresses are perfect for this during winter.


2-3 pairs of jeans/pants (trousers)
Dark colours work best, like this super comfy pair. Don't bring any that are too tight because you might need to layer leggings or thermal underwear underneath them.

1 pair of leggings
One pair of basic black leggings like these will do. They're great for layering and can also be worn underneath any dresses you choose to bring! (or for comfy lounge wear if you're so inclined)
1 very warm jacket/coat
Hands down, the most important consideration of your winter packing list is the coat you bring. This one is similar to the parka I pretty much live in during the winter-time – bright yellow so you can always spot me, and toasty warm 😉
Remember, you'll be wearing this over top all your clothes, and it'll likely feature heavily in any photos you take, so bring one you love and feel confident in.
Keep the colour in mind too! Neutrals work best. I once packed a bright red parka like this and only two pairs of pants: one of which was maroon. I looked like a ridiculous tomato. Don't be stupid like me!
You should ensure that your coat is very warm (I recommend packing one for the coldest destination you intend to visit during your trip) and waterproof, with a hood (because you never know when it's going to start raining), something similar to this.
Size-wise, it should be a little bit longer (3/4 length coats work best) because you'll be throwing it over top every outfit you own, so you don't want an awkward long cardigan to be sticking out in all your photos!
I would also get one that fits a little bit loose, considering you'll be wearing many layers underneath it. There's no use in having a nice warm coat if you can't zip it up!
Last but not least, think about the coat's pockets! I love winter coats with warm, fuzzy pockets to keep my hands warm. Trust me, when you're outside waiting in line to get into the next hotspot or attraction, you'll be thankful for those bad boys.
Some examples of great coats for winter in Europe:

1 thin fleece/windbreaker (for layering)
On some days of your trip, it's likely the weather will be unexpectedly nice.
When the sun is shining, wearing your big thick coat might seem like too much of a commitment.
That's why I'd recommend bringing a thinner fleece or windbreaker that you could a) wear on its own for warmer days and b) use as an additional layer under your coat on colder days.
This one from Amazon is super cute. As are these:

7-8 pairs of underwear
You could honestly get away with less if you do laundry on the road, but 7-8 pairs of underwear is a nice number so that you only need to take care of laundry once a week!
A friend of mine also recommends packing panty liners so that you can just use those/not have to switch underwear as often… but that's not for everybody!

1-2 bras
Pretty self-explanatory 😉 Don't be like my friend who once brought 10 bras on a 10 day Europe trip. Why, girl, why.
It's cliched, but Victoria's Secret bras are my absolute my favourite… and they go on sale often, so keep an eye out!

5-6 pairs of socks
Okay gross fact time: your feet are going to get really sweaty during winter travel.Like…. REALLY sweaty. Yay!
That's why, above all else, you want socks that are warm, comfortable and also wick away moisture.
In other words, avoid cotton. I personally swear by these merino wool socks which are warm, comfy, and most of all, DO NOT SMELL!
I literally wore the same pair for a week during a winter trip in Canada for research, and even after a week of sweaty trodding, they were odour-free. I was mind blown… plus they have sheep on them, so…
1 pair of very warm wool socks
I always bring a pair of ridiculously thick wool socks just in case temperatures are worse than I anticipated (which is 99% of the time).
I recently invested in this pair and I can't recommend them enough – so comfy with some padding along the heel so you can do plenty of walking while staying comfy.
They're all stretchy and still look pretty cute peeking out of boots. It's a little pricy for a sock, but you only need one pair since you'll ideally be layering it over your other socks.
1 pair of warm, comfortable boots
When travelling Europe in winter, warm and comfortable shoes are key.
I highly recommend packing just one pair of versatile boots.
I recently got my first pair of solid Sorel boots and am in LOVE! This pair is like walking on clouds and it has served me well in over five countries already – I love that it's warm and comfortable but not overly clunky.
Here are some of the styles that are perfect for winter in Europe, and ones I would consider investing in:


1 pair of cute ballerina flats
These tend to be lightweight, don't take up much space and are a great backup for those special occasions when you want to have a nice dinner or go out (and you know, not be wearing Uggs). Black is my go-to.
Here are some very cute, versatile black flats (similar to what I would pack):

1 set of warm, long-sleeved pyjamas
Something that'll keep you warm and cozy. Don't bank on being able to sleep in shorts and a tank top! The heating systems in some European buildings/hotels can be weirdly temperamental.
Plus, long sleeve ones can be reaaaaally cute:


What to Pack for Travelling Europe in Winter: Accessories & Other
Sunglasses
The sun shows up in winter too 😉
Sometimes, the European winter will just surprise you with a day of ridiculously clear skies/sunshine.
Don't be caught off guard and make sure you pack these! Definitely something that's way too easy to leave out on your winter packing list for Europe.
1-2 statement necklaces
It's easy to feel like a clunky sweater-monster in the winter, which is why I like having some nice statement necklaces with me so I can doll up and feel pretty from time to time.
I would recommend picking two that match all your tops/dresses.
Here are some examples of cute statement necklaces you could easily add to your Europe winter packing list:


2 scarves (1 thick and warm)
Scarves are like packing magic when it comes to travelling Europe in winter!
You'll be wearing these scarves a lot so pick two that you love and that match most of the pieces in your wardrobe.
I recommend packing one thick wool one that's meant for functional 'keep me from freezing to death' purposes, and one cuter lighter one that's colourful or printed (just to spice up your outfits).
Packing scarves like these will help make sure you survive the European winter in style:


1 pair of gloves/mittens
Keep in mind you'll likely need to be on your phone for Google Maps, messaging friends to meet up, etc. so be sure to invest in either a pair of cute texting gloves like these (that allow your fingers to still work on a touch screen) or flip top mittens like these.
1 warm hat that covers your ears
So important!! There's no worse feeling than ice cold ears. A looser fitting toque/beanie is better, because then you can avoid that dreaded hat hair 🙂
I love cute knitted ones like these that have the giant pom pom up top. Call me basic but they make me feel like a little forest creature and I love it.

1 daybag (purse or backpack)
Realistically, you don't need more than one purse… I know, crazy right?
Here's what I do: Instead of a wallet, I bring this adorable wristlet to hold my cash/cards. That way, if I'm going out, I'll bring this wristlet in lieu of a purse.
Then, as a day bag, I have my Lo & Sons Claremont (which I adore!). It's big enough to hold my camera and everything I need for the day.
A cute backpack would work too, but I prefer the security of a purse (I can keep my hand on it, so I know it's safe from pickpockets). When I do need to bring a backpack though (if I have lots of camera gear, etc.) I bring this classic black backpack which is really inconspicuous and holds a surprising amount of stuff.

[OPTIONAL] Umbrella (if you have a good hood on your coat, you can do without)
Chances are good that it'll rain at least once during your trip.
You won't need to bring one if you have a sturdy hood on your coat, but it's always nice to have a lightweight yet sturdy one like this just in case.

[OPTIONAL] 1 swimsuit (if your hotel has a pool/jacuzzi)
Be sure to research your accommodations/activities beforehand to determine whether or not you'll need a swimsuit. After all, doesn't snowy jacuzzi time just sound magical?
Click here to download a printable version of the list for later!
Must-haves that will make your winter in Europe 1000x easier
Packing cubes – These are seriously my favourite thing ever. They do wonders for helping you stay organized, and can compress all your clothes neatly so that you can fit more in your bag!
Refillable bottles – SUCH a good investment. Buying miniature toiletry bottles is such a pain. Buy one of these and you'll have travel-ready shampoo, conditioner, etc. ready instantly! Click here to read my full guide on the best travel size bottles you can buy online.
Clear bag for carry-on liquids – You need these for getting any of your liquids/toiletries past airport security, and a durable bag is an awesome investment that will save you from countless dinky Ziploc bags. Click here to read my full guide on the best travel toiletry bags you can buy online.
A travel towel – this is my favourite towel in the universe because it dries super quick and folds up to be tiny. It comes in handy for a surprising number of occasions so I would recommend always bringing one.
Universal adaptor – Never stress about whether or not you have the right adaptor! Having a universal one will mean you can just pack it every time you travel, regardless of where you're going. One less thing to worry about.
Luggage locks – One of the downsides of travelling Europe is that there's often pickpockets! I recommend buying a pack of three small luggage locks to bring with you so that you can protect your goods while in transit, or perhaps in a hostel/hotel room where there's no secure place to keep your belongings. Here's a really affordable pack you can get online.
I hope you enjoyed that winter packing list for Europe!
Travelling Europe in winter is such an amazing experience, and with the right wardrobe, you'll be able to stress less and focus your attention on what counts: eating all the desserts you can fit in your mouth.
Let me know in the comments if you have any questions re: travelling Europe in winter! Thanks for reading 🙂
---
Watch my most popular YouTube video this week:
---