*FYI - this post may contain affiliate links, which means we earn a commission at no extra cost to you if you purchase from them. Also, as an Amazon Associate I earn from qualifying purchases. Check out our Privacy Policy and Disclosure. for more info.
Once upon a time, I didn't think that a flight could be cheaper than a sandwich.
Then, one day, I learned about Ryanair's cheap flights and my Europe backpacking world was flipped upside down, throttled in a blender, and shaken around like a margarita.
Fast forward five years and dozens of Ryanair flights later, I've become a bit of an expert on this budget airline…. not that that's anything to be proud of.
Allow me to explain…
You see, for those who haven't had the pleasure, Ryanair is this wonderfully infamous airline in Europe known for two things: 1) mindbendingly cheap fares and 2) equally mindbending restrictions/customer service.
Use Ryanair smartly, and you can fly for the price of a literal sandwich (no joke, sometimes fares are less than 1 euro!).
Get caught by their tricks however, and you'll be paying 10x the flight cost for basic things like airport check in, checked baggage and soon enough I'm sure "oxygen".
Save this post on Pinterest for later: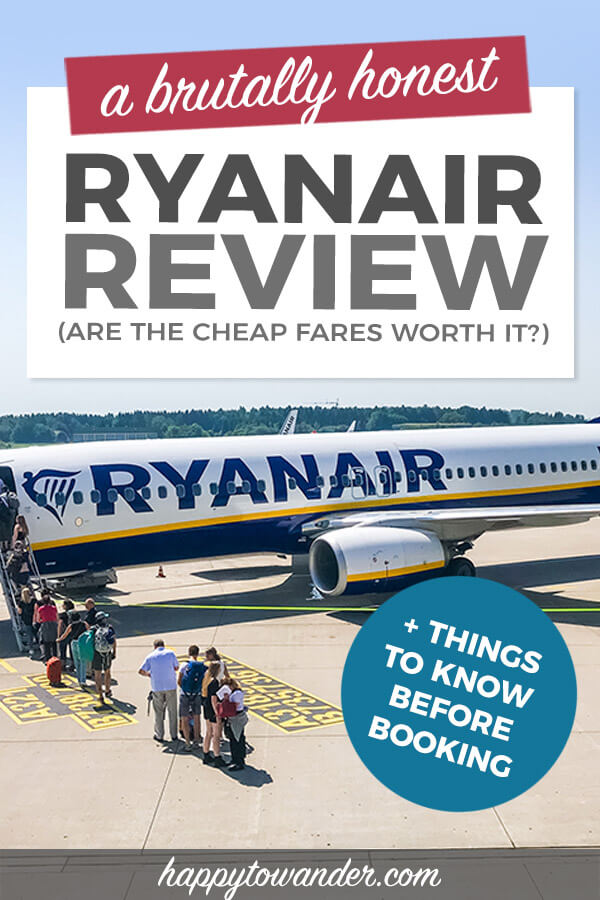 In sum, Ryanair is an airline that everybody loves to hate and snark on….. but nonetheless one that remains irresistible thanks to its cheapness and availability, hence creating a thoroughly toxic and unhealthy relationship that would make any therapist light themselves on fire.
BUT hey, despite the cloud of negativity and sarcasm that often surrounds Ryanair, it's perfectly healthy to ask "how bad can it REALLY be?", (usually while eyeing a 9.99 flight to Mallorca or Nuremberg).
As your reluctant Ryanair expert, here's what I think: really, Ryanair is fine, but you need to learn how to play by their rules, and that's what this honest review is all about.
WARNING: As with many Ryanair reviews scattered across the web, this article is going to dive into the multiple issues that make Ryanair such a common target for ridicule.
But I must make one thing clear!
Although I present many negatives in this honest review, what I want you to know is if you go in prepared and know all the little tricks that they use to "get you", Ryanair is a pretty good option for the budget-conscious. Whether you want your travel fund to go further, or are actively looking for ways to save money for travel/on travel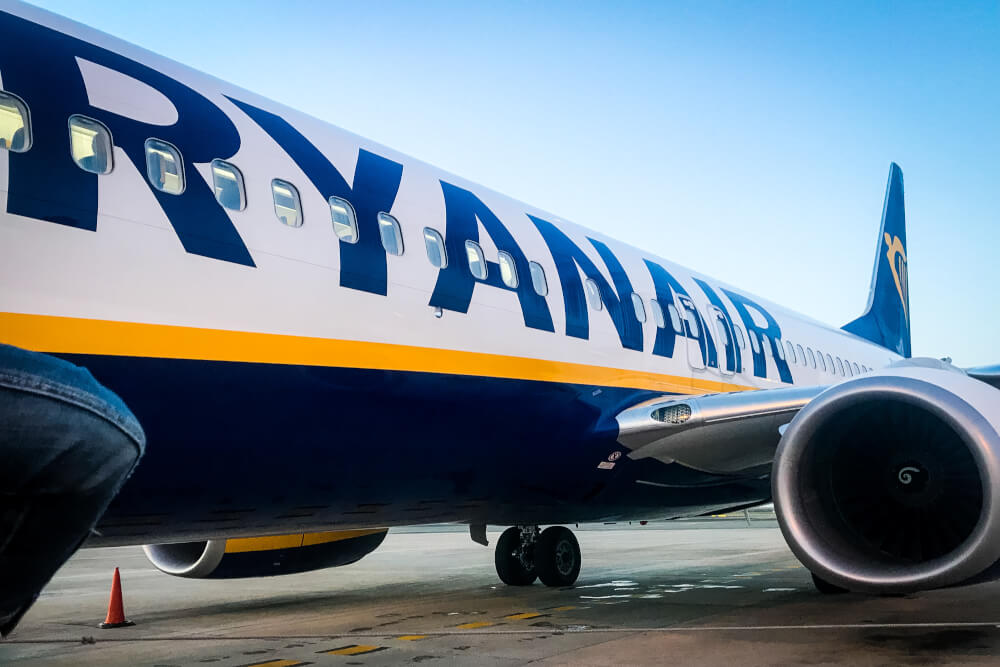 So before you book those tantalizing low cost flights with Ryanair, give this review a solid read, and make sure you're prepared for the rollercoaster ride to come.
It goes without saying, this post is not sponsored in any way, otherwise I would likely get fired for 90% of its content. Enjoy!
Looking for alternatives to low cost flights w/ Ryanair? Read my post on the cheapest ways to travel around Europe, and be sure to cross-reference your options with the free comparison search engine Omio.
My Ryanair Review In Brief
While the internet may be clogged with Ryanair complaints, at the end of the day, I take a more whimsical approach and think of flying Ryanair as a mediocrely exciting challenge.
Know the rules, and you WILL prevail, with shockingly cheap flights that are cheaper than a large pizza.
If you're not prepared though, that's a different story, and that's usually when the angry mobs start to light their torches.
Here's the thing: Ryanair, as with any other budget airlines like Wizz Air or easyJet, need to make money… and the way they do that, sadly, is by charging you for pretty much everything besides the tiny square that you put your butt on during a flight.
But hey, for 9.99, I don't think you can exactly expect world class service.
Personally, I still fly regularly with Ryanair even though the experience is consistently "okay" at best.
Why? The prices, when booked early enough or during a fare sale, are simply ridiculous.
And honestly, I'm not above slumming it for 1-2 hours on a Ryanair flight if it means I have 200+ extra euros to throw at treats, entertainment, and a fluffier hotel bed.
So yes, that's my stance.
Ryanair ain't glamorous, but at these prices, can you really complain?
Truth be told, there are many negatives, but if you're a relatively carefree traveler (which I consider myself to be), the low costs do justify the relatively crappy in-flight experience.
But for the cynics and skeptics, let's do a deep dive into those negatives, shall we?!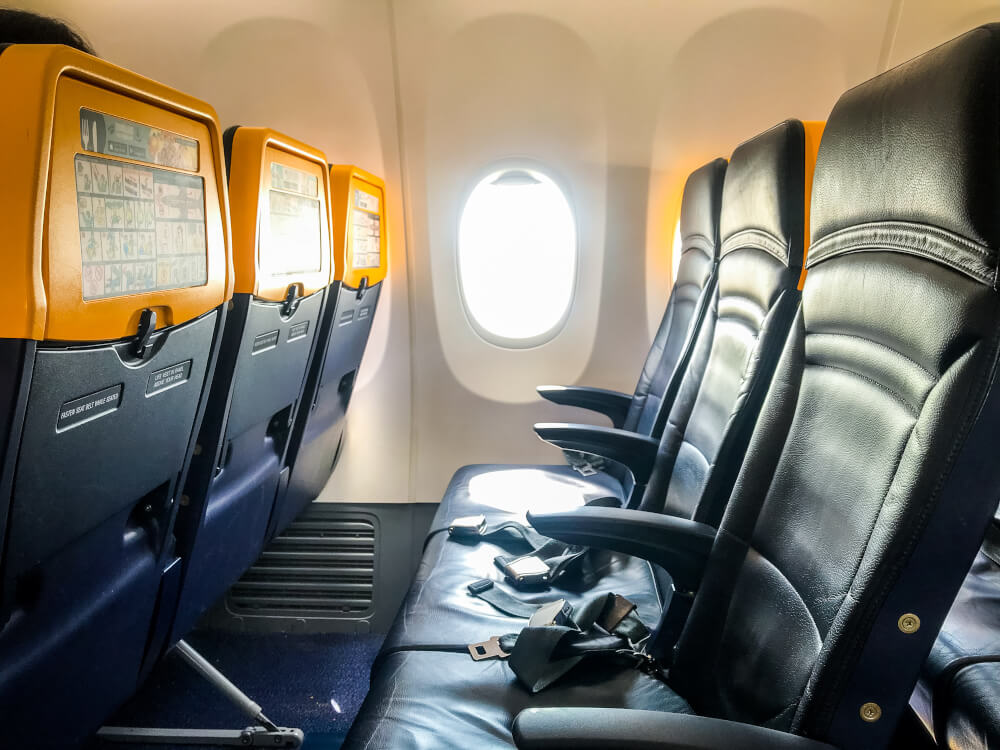 Quick Ryanair Review: Pros and Cons
For a quick and dirty Ryanair review, you can check out a breakdown of overall pros and cons below. Warning: quite a few cons, but we can start with positive things first to avoid spontaneous sobbing.
Ryanair Pros:
Let's begin with the pros of nabbing those cheap Ryanair flights:
Ryanair Flight Prices:
The only reason I would ever fly RyanAir is because of the cost savings.
I mean, for a short-haul flight, I'll happily sacrifice comfort for an hour if it saves me hundreds of euros.
RyanAir tickets can often be less than twenty bucks if you book far enough in advance, with the craziest deals I've seen being flights for less than a euro!
So, yes, cheap fares would be the #1 reason to choose Ryanair.
Ryanair Destinations:
Ryanair does fly to a lot of great destinations around Europe.
While often they make use of smaller airports farther away from particular cities (e.g. Memmingen, AKA Munich West), their various routes, options and coverage are pretty impressive, which makes their cheap fares all the more appealing.
Ryanair Safety:
Lastly, for what it's worth, I have never felt unsafe on a Ryanair flight, and the airline itself has a pretty decent record.
They were once even dubbed the world's safest airline thanks to their lack of fatalities on board, and while that seem a smidge hyperbolic, what I'm saying is, of all the things to worry about on a Ryanair flight, safety shouldn't be a big one.
There aren't a ton of negative Ryanair reviews re: safety out there, because most gripes have to do with other issues like baggage fees and upsells.
Speaking of which, this seems like a great segway into my lengthy list of Ryanair cons.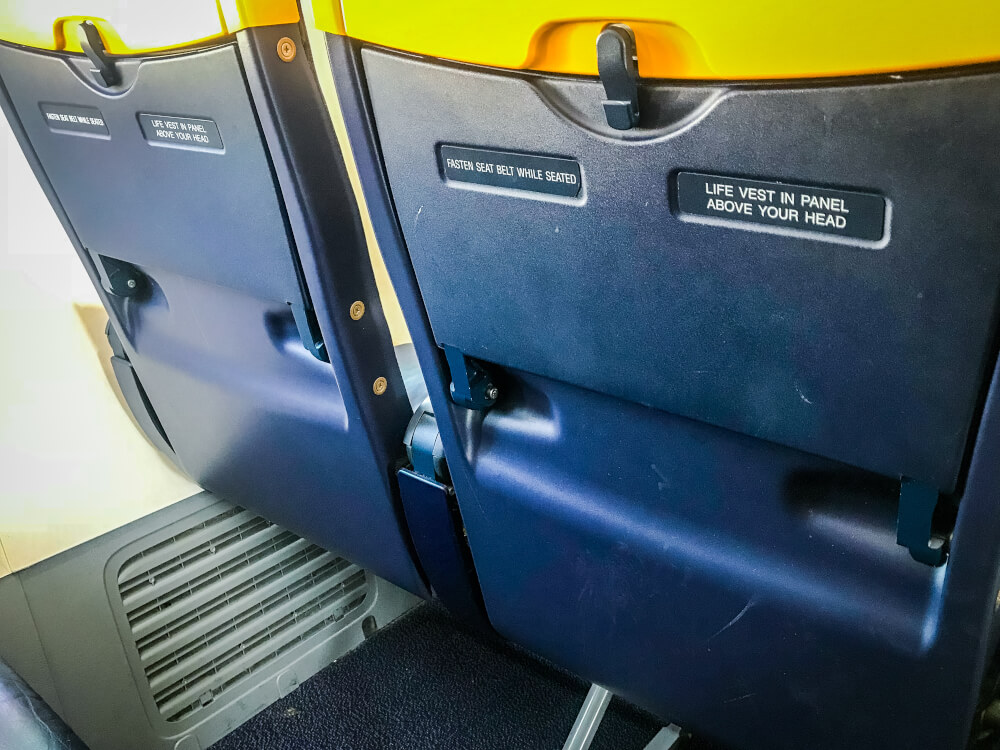 Ryanair Cons:
Now onto an (admittedly lengthier) list of RyanAir cons:
Hidden fees:
Let's be honest: the most common Ryanair complaints usually deal with hidden fees in some way.
Let's be clear: the mega-cheap fare you pay will only get you a seat on the plane, and nothing more.
Bags, food, even seat CHOICE come at an extra cost, so be wary that costs will add up quickly unless you fly learn to travel light and fly bare-bones.
Ryanair airports:
In many cities, Ryanair flies in/out of smaller airports that can often be quite far away from the city itself. This means additional costs for actually getting to/from the airport.
The airport Ryanair check-in process:
Failing to check in online is pretty much a death sentence when it comes to Ryanair because their in-person check-in fees are extortionate.
BUT, even when you do check in online, there are often reasons that you need to still go to the check in desk regardless.
With a Canadian passport for example, I can travel visa-free to most of Ryanair's destinations, yet they still get me to go to the check in desk every time for a "visa check". It's quite ridiculous.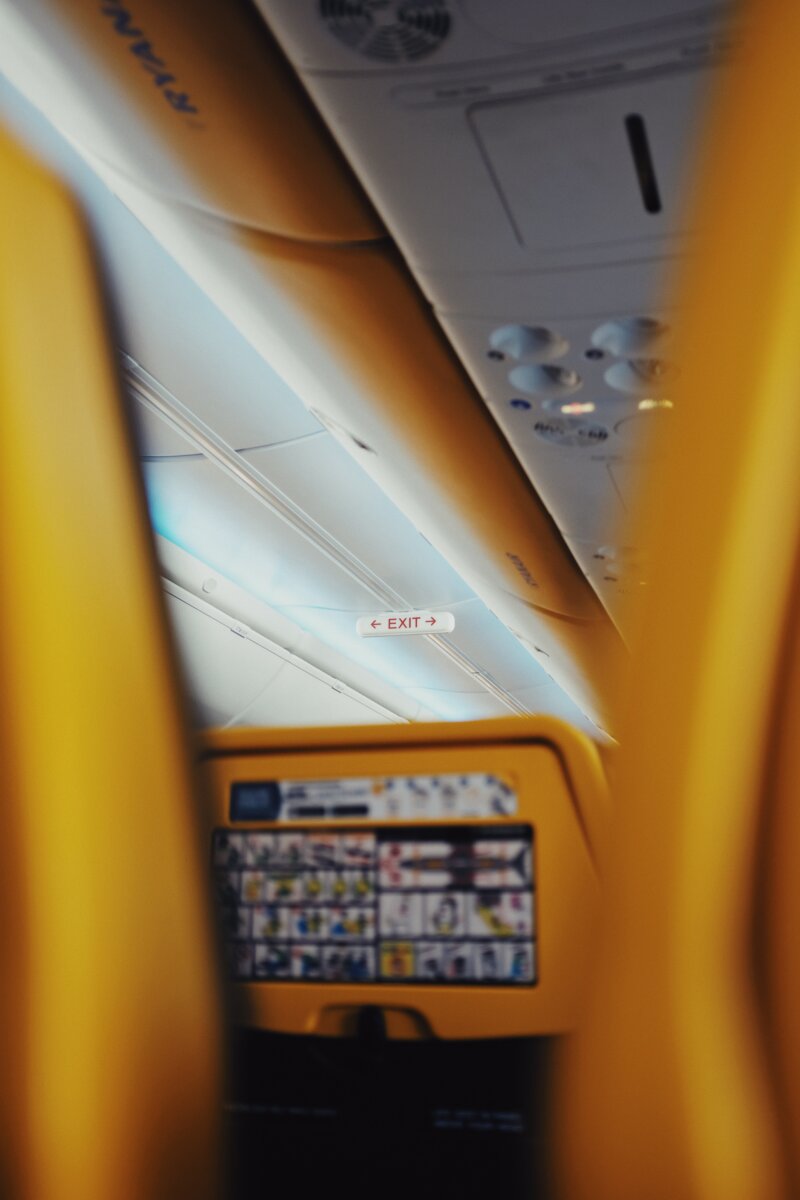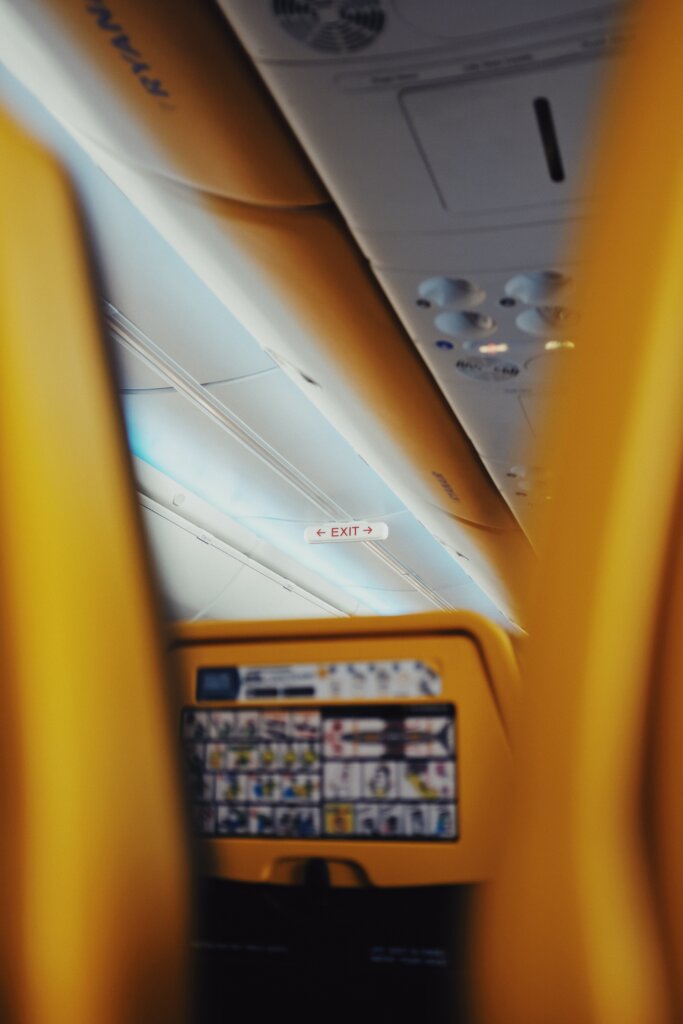 Ryanair hand luggage rules/baggage fees:
Unless you're able to cram all your possessions into a little purse, you WILL end up paying extra for additional hand luggage, or perhaps a checked bag.
The default bag inclusions on regular fares are absurdly stingy, although additional baggage fees aren't too bad when you fly light (like with just a small carry-on suitcase).
Ryanair staff = okay at best:
Of course I can't generalize, but I have never met a Ryanair staff member who went above and beyond in service.
At best, they are pleasant and adequate.
At worst, they are rude and condescending. It's like a fun lil mixed bag.
Their email system is clingier than your ex:
You will get emailed once a day after you make your Ryanair reservations. No joke.
Uncomfortable seats:
I've recently been on planes where they don't even have a little pocket or net for you to store your belongings.
THEY DON'T EVEN GIVE YOU SAFETY INSTRUCTIONS ANYMORE.
They're stuck onto the back of your seat where a dignified airline might give you a TV, and the best part? It's probably connected to an advertisement for coffee or potato chips. For real: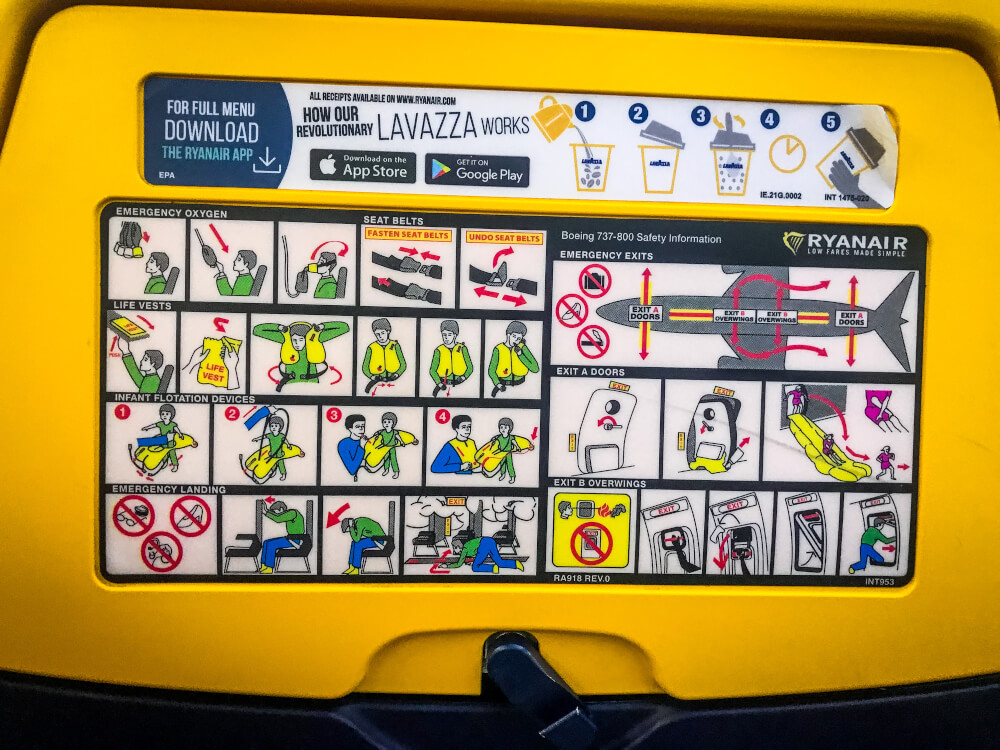 The Ryanair boarding process:
I have never been on a Ryanair flight where boarding was civilized.
It usually involves a mob, a confusing mix of priority/non-priority and people being upset they can't bring more bags on board. It gets Bachelor-level dramatic in there.
Mediocre in-flight experience:
Lastly, if you are flying with RyanAir on a short haul flight (1-2 hours), I can guarantee you that you will not get a single moment of peace or rest.
Why?
There is ALWAYS some kind of announcement or disruption going on – I once jokingly wrote down every instance on a Ryanair flight when there was an encounter or one of the attendants bumped into my arm (while in the aisle seat).
Side note: definitely not blaming attendants for the overly tiny planes, just thought the situation was amusing because I counted 40+ encounters in less than 1.5 hours. No joke.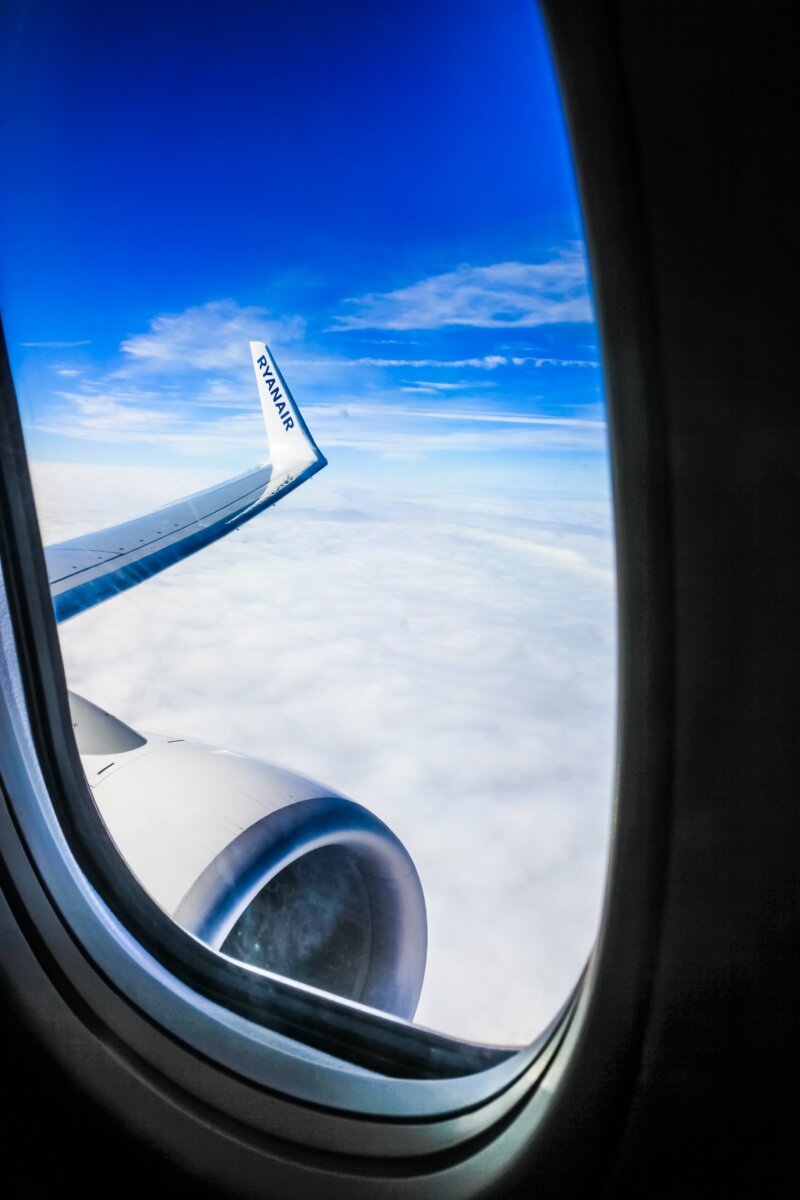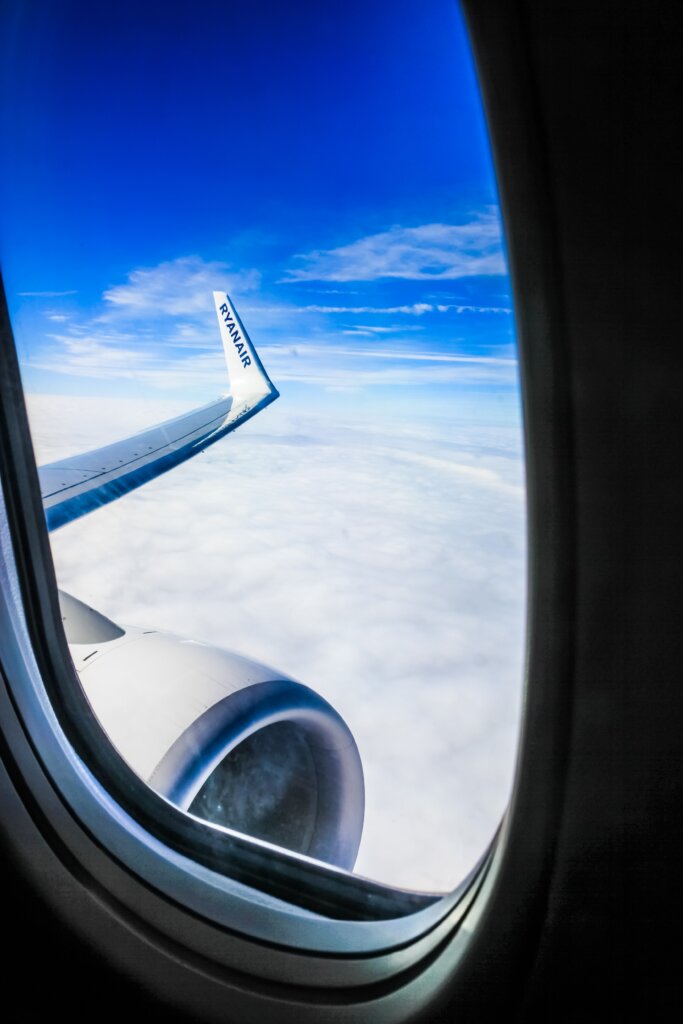 Must-Knows Before You Make Your Ryanair Reservation
I summarized all my main points above, but I felt some of them needed elaborating. As I mentioned in the intro, the key to flying with Ryanair is going in prepared and knowing all their tricks, so here are some must-knows collected over my past five years married/enslaved to them. Again, apologies for the snark, but I couldn't resist. The people NEED TO KNOW!
1. Use Omio to see if there are cheaper options than Ryanair
Given that 'low cost' is the main (and honestly, only) reason to fly with Ryanair, I recommend you first double check that there aren't better options than Ryanair first.
I always use Omio (it's free!) to check all the best options to get to my destination.
In some cases, you might find that a train, bus or alternative airline will save you more money, so be sure to double check!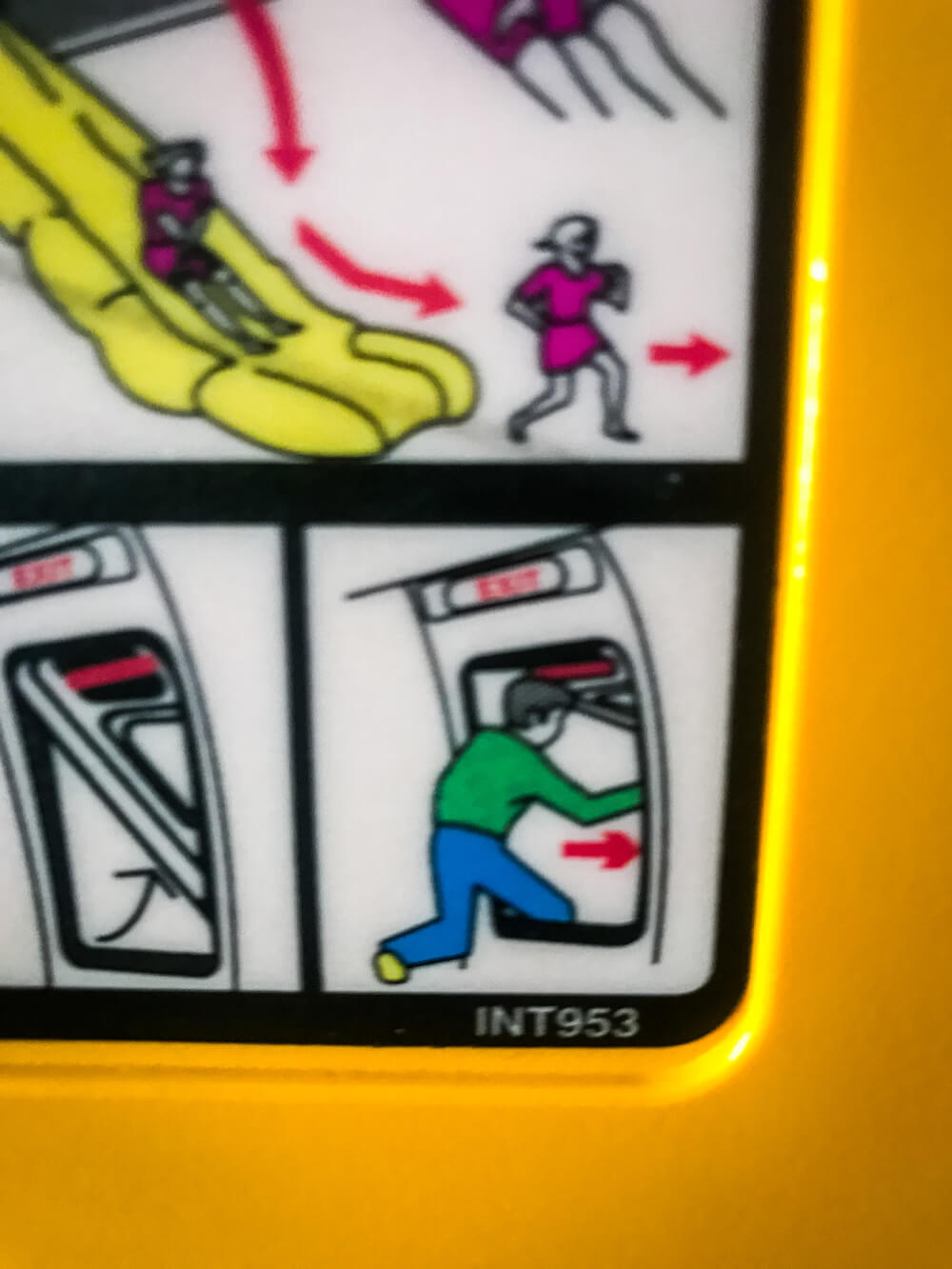 2. The RyanAir website is a glitchy hot mess of pop-ups and misery
So let's start with the whole Ryanair booking process. It's not great.
For one, booking on the Ryanair website is like playing dodgeball, except instead of balls, there are relentless pop-ups upselling basic human rights.
Want to sit next to your loved one that you booked this flight with? That'll be four euros. Want to bring more than just a fanny pack full of gum on board? 12 euros.
Also, clicking anything on the Ryanair site will prompt some kind of jittery pop-up or menu expansion. Get ready to practice clicking 'x'.
… And lastly, don't think you're safe until after you get that confirmation email in your inbox, my friend.
One time, I went through the entire process, dodged 1.2 million pop-ups and up-sells, entered all my payment information, only to get this: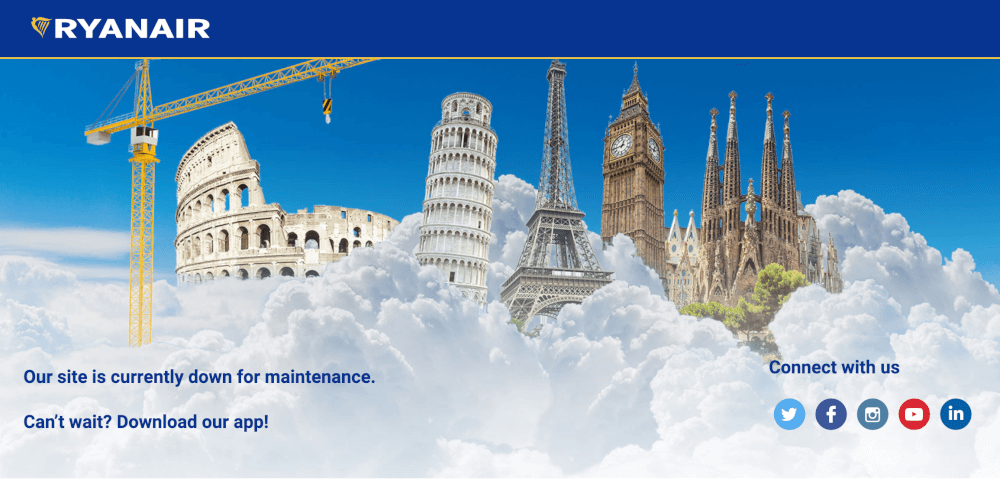 There are not many times in my life that I have literally shouted and thrown up middle fingers at my computer screen, but this was one of those times.
It all went through on the 2nd try though, so don't worry – I will be nursing my post-Ryanair booking trauma in lively Dublin for less than 100 euros!
All in all, the booking process isn't the greatest, and you'll probably swear a few times. Still, think of the savings and you'll cope just fine.
3. Ryanair airports can often be in the middle of nowhere
Whenever you are booking flights with Ryanair, remember to always check where the airport actually is, and read the airport code carefully.
Once upon a time, I booked mega-cheap fares from Frankfurt Hahn to Morocco for less than 40 euros roundtrip.
I soon discovered that Frankfurt Hahn is actually nowhere near Frankfurt, and requires an almost 2 hour bus ride to the Frankfurt city centre…. Yikes!
While Ryanair does of course fly in/out of bigger international airports, many of their flights do not, so be sure to double check before you punch in those credit card details.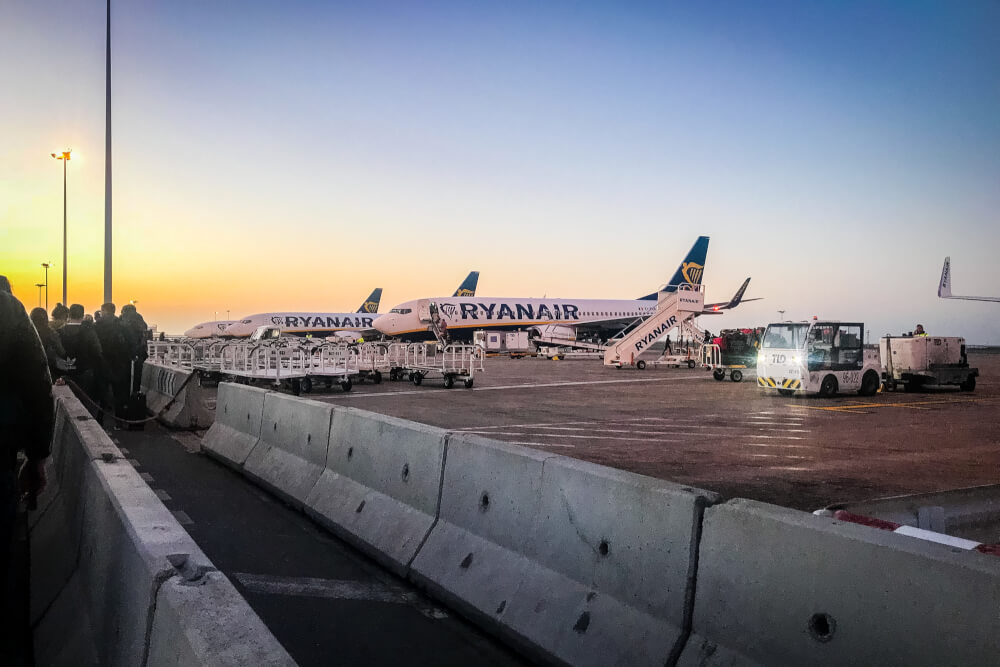 4. Prepare yourself for those infamous Ryanair baggage fees and rules
One of the main complaints that people have about Ryanair are its baggage fees.
And I get it: being able to bring a bag on your trip feels like a pretty basic human right…
BUT, I also feel like the hate is a bit overexaggerated. Is it annoying that you need to purchase bags separately? Yes, but the price honestly isn't that high, and your combined total will usually still be far less than other airlines.
Ryanair baggage fees can be confusing because there's no one centralized place that lists the price outright – you need to go to book your flight and THEN look at the options that are presented.
I'm not sure why this is – maybe the cost of baggage varies depending on the flight, but the prices tend to be pretty consistent so I'll show you through the rough costs below.
Now, there are two places where you can add on bags during your Ryanair booking process, first when you are picking your fare package, and second when you want to just add on cabin baggage.
So the first option, adding bags when picking your fare package, is ideal if you plan to bring bags on board and ALSO check a large bag.
The cheapest bare-bones package (also conveniently the usual advertised price) is called "Standard fare" which includes literally nothing besides one small purse-sized cabin bag.
The next level up is the Plus, which includes priority boarding, 2 cabin bags (e.g. a small purse and a little suitcase), AND a 20kg check-in bag.
This is the option that makes the most sense if you plan to check a bigger bag. Side note: According to the official Ryanair site, each passenger is entitled to check in three bags of 20kg each.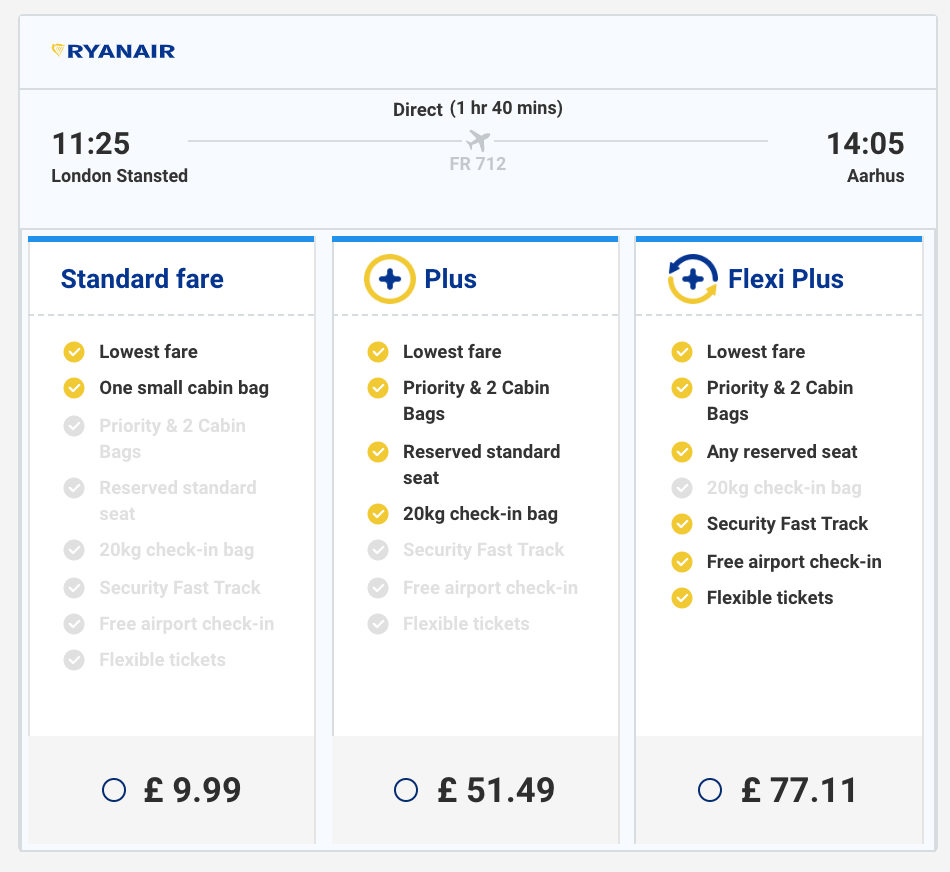 NOTE: There is also a Flexi-Plus, but its main benefit is that tickets are flexible, and it doesn't even include a check-in bag. Here are the options:
If you are like me though and travel carry on only, then you can continue booking and soon enough, they will ask you what bags you want to bring on board.
The "most popular" option (and the one I always pick) is to purchase Priority and 2 Cabin Bags, both of which you bring on board.
According to the official Ryanair website, this costs between £6-12 extra. This allows you to bring both bags with you and not check either in. For example, in the screenshot below, adding a bag to my fictional flight from London to Aarhus would cost £9.
The second option (and weirdly, the more expensive option) is to bring a small bag on board then check your small carry-on size suitcase (10kg). During my test, this option was the very random total of £12.51.
As for checking bags independently on the fare packages, Ryanair hold luggage costs seem to change all the time, and can't be easily located on the website so your best bet is to actually go to the flight you're interested in and go through the booking process to see what the total comes to.
They claim to have recently lowered their prices, so 20kg hold bags supposedly now start at only £25, but who knows how much they might actually charge.
I need to make a final note about carry-on baggage, because a lot of people get tripped up by this.
You might assume that Ryanair's carry on bag policy is similar to other airlines.
This is not the case! (heh. case. #baggagepuns)
But seriously though – you will NOT be able to just waltz onto your Ryanair flight with a little rolling suitcase and a backpack.
Remember, you need to pay for the privilege of even carrying two bags on board.
So, keep in mind that your basic fare only includes one small bag, which is the equivalent of a small purse or backpack that is 40x20x25cm and can easily fit under your seat.
You can also bring on a duty free shopping bag (according to their official website).
If you choose to add on Priority and 2 bags to your fare though, then you can bring this small bag, PLUS a small "cabin bag", like a suitcase or backpack that fall under the 55x40x20cm, and weighs under 10kg.
To be honest, I have never been asked to weigh my suitcase or place it in the sizing guide, but I know others have.
The key is to bring a bag that LOOKS compact so you never arouse suspicion, but most importantly, don't try to bring an oversized bag because they WILL charge you an oversize baggage fee of £50.
Anyways, with that info, I hope you now understand the Ryanair suitcase size that you can get away with for your flight. You can find more information about their baggage rules here.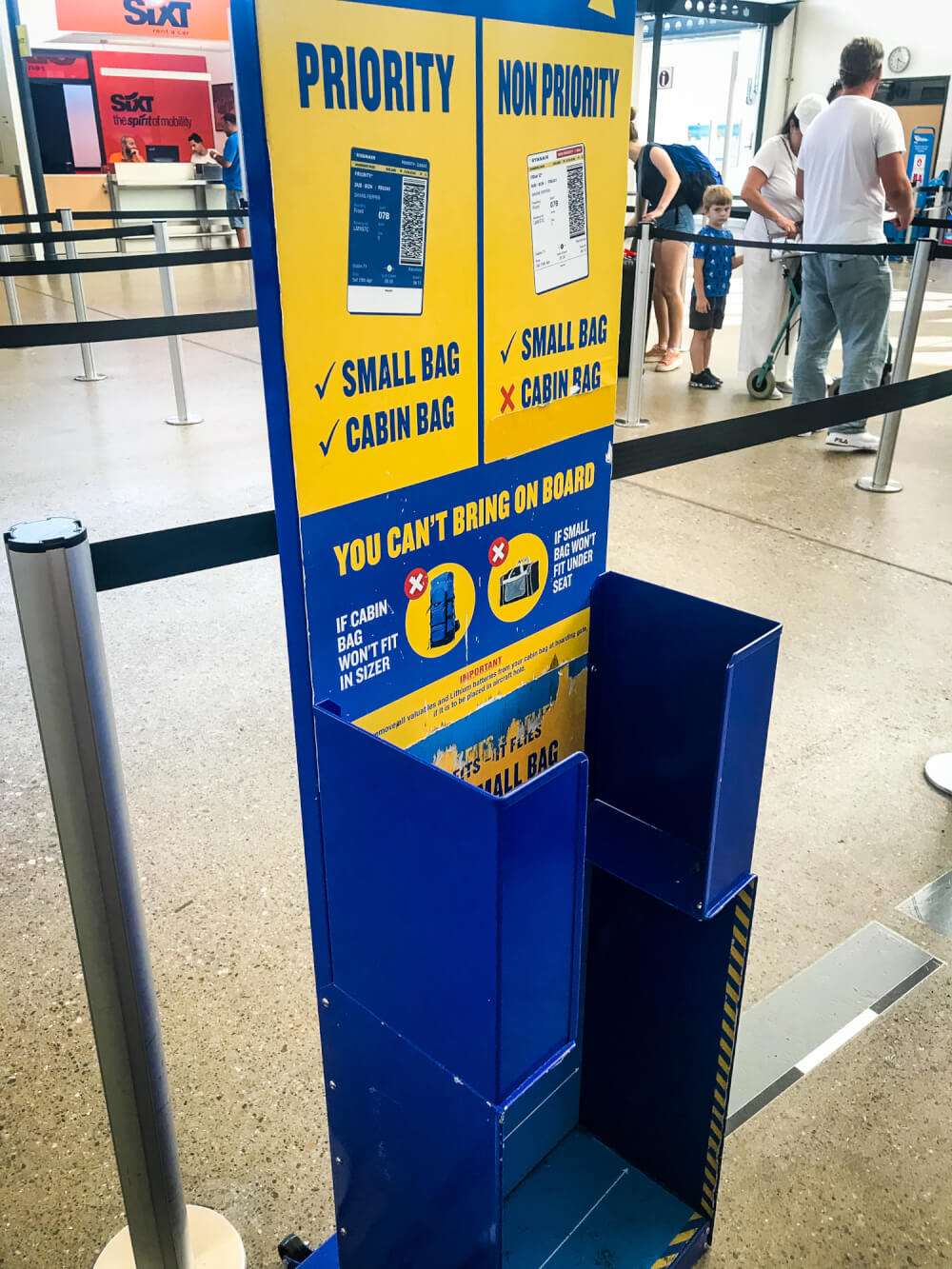 5. Prepare your inbox. Ryanair WILL email you everyday
This is not a joke.
Once you purchase a ticket from the Ryanair official site, you are immediately locked into a very, very clingy long-distance relationship.
I mean, look at my inbox shortly after I booked a Ryanair flight to Hamburg. I got to instantly enjoy cute morning texts like "WAKE UP CHRISTINA". Thanks, Ryan!

Long story short: the upsells do not stop after you finish your booking. Ryanair will email you regularly leading up to your flight trying to get you a car, a hotel, maybe some company for the night – I don't know, I clearly don't open these emails.
That said, the few days before the trip, they DO send some helpful reminder emails telling you to check in, print your boarding pass, make sure your baggage allowance is all set, etc. So at least there's that.
6. When flying with Ryanair, check in online beforehand or empty your savings
The cost of checking in at the airport tends to fluctuate, but during my most recent trip, checking in at the airport had a hefty price tag of 55 euros, which (yes) is pricier than many of their actual flights, so remember you must must must must check in beforehand or face the pricey consequences.
This is one of the main complaints lodged by first time Ryanair customers, and I agree the fee is extortionate…. but in all fairness they DO warn you and remind you multiple times before your departure that this is their policy.
Although you could easily miss it amidst the sea of other daily emails: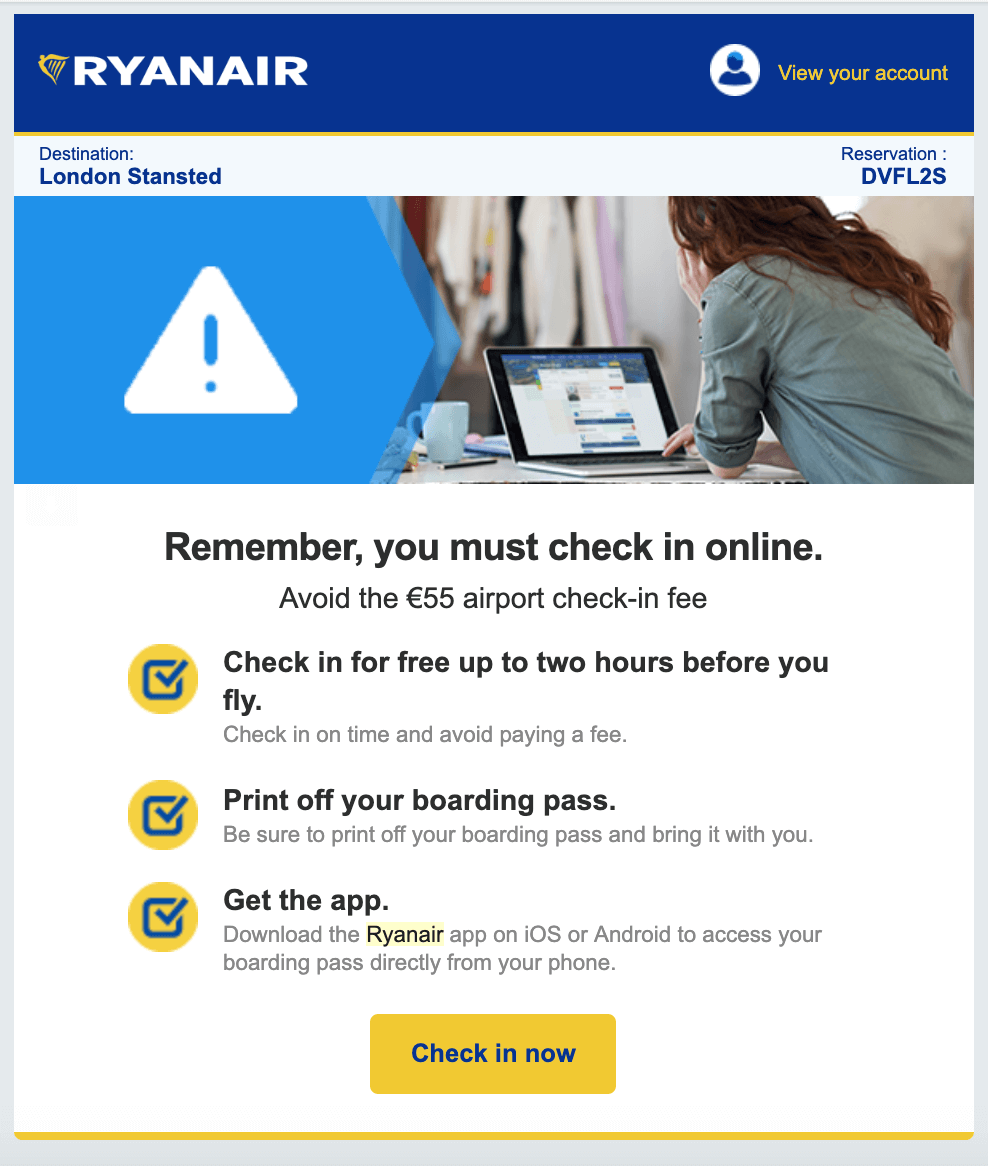 7. … And remember to print your Ryanair boarding pass too!
Besides just checking in online, it's very important you get your boarding pass too, and print it out!
If you are an EU citizen, you will most likely be able to load your boarding pass on the app, BUT note that there are some restrictions with this.
Certain airports are said to not be compatible with mobile passes yet for example, and people from certain countries (mostly non EU) like me are not able to use mobile passes either.
This is why I would always recommend printing out your Ryanair boarding pass no matter what, just in case.
What's the cost of just printing your Ryanair boarding pass at the airport?
As per the Ryanair official site (screenshotted below), so long as you've checked in online, you are charged a "Boarding Card Reissue Fee" of 20 euros.
I mean, it's not as outrageous as some of the other hidden fees, but forking over a twenty in exchange for a piece of paper might not be the best feeling. … ha. ha. ha. *sobs into my expensive university diploma*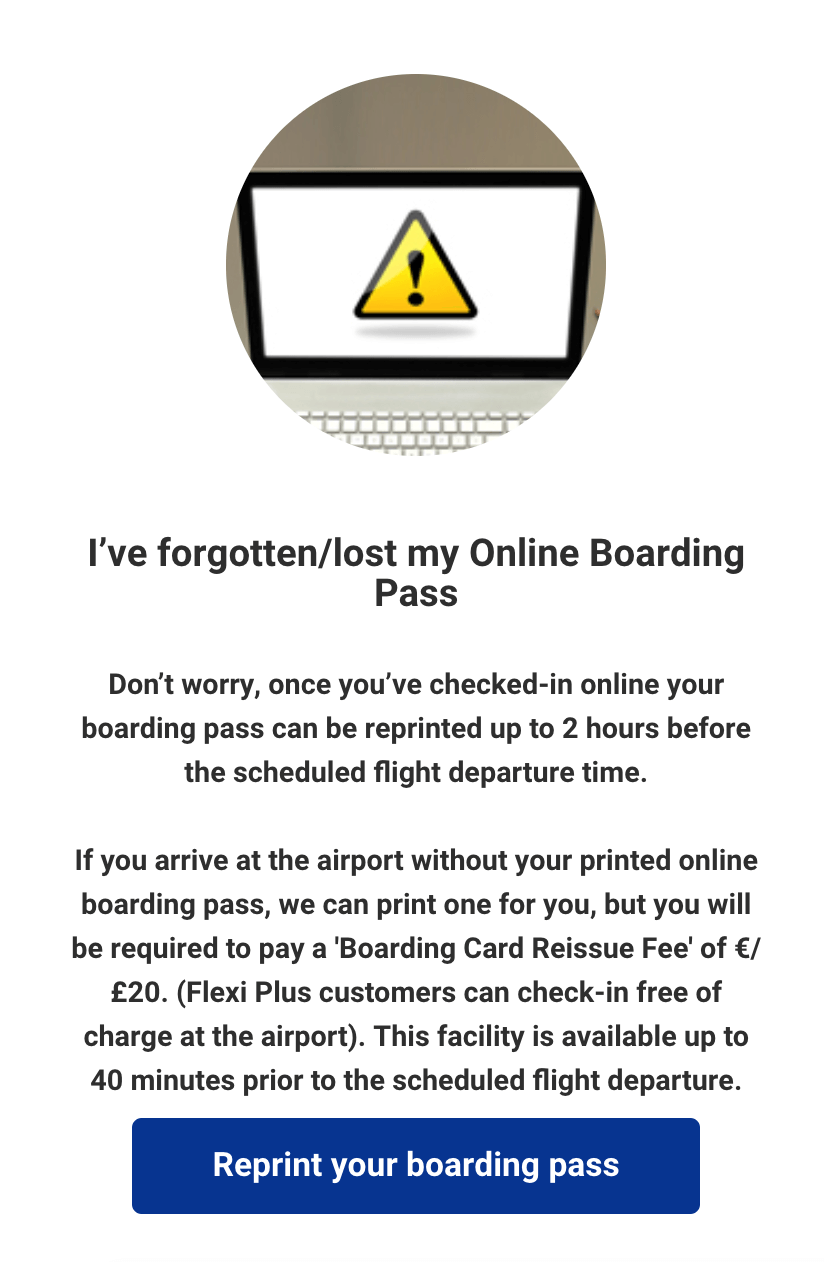 8. You will not get food included on board your Ryanair flight
Forget snacks, forget drinks, forget basic needs like "water"… Ryanair is a strictly no frills airline, which means any refreshments are only available at additional cost.
Those familiar with budget airlines will not be shocked by this, but if it's your first-time flying low cost, this takes some getting used to….
So yes, bring your own refreshments on board if possible!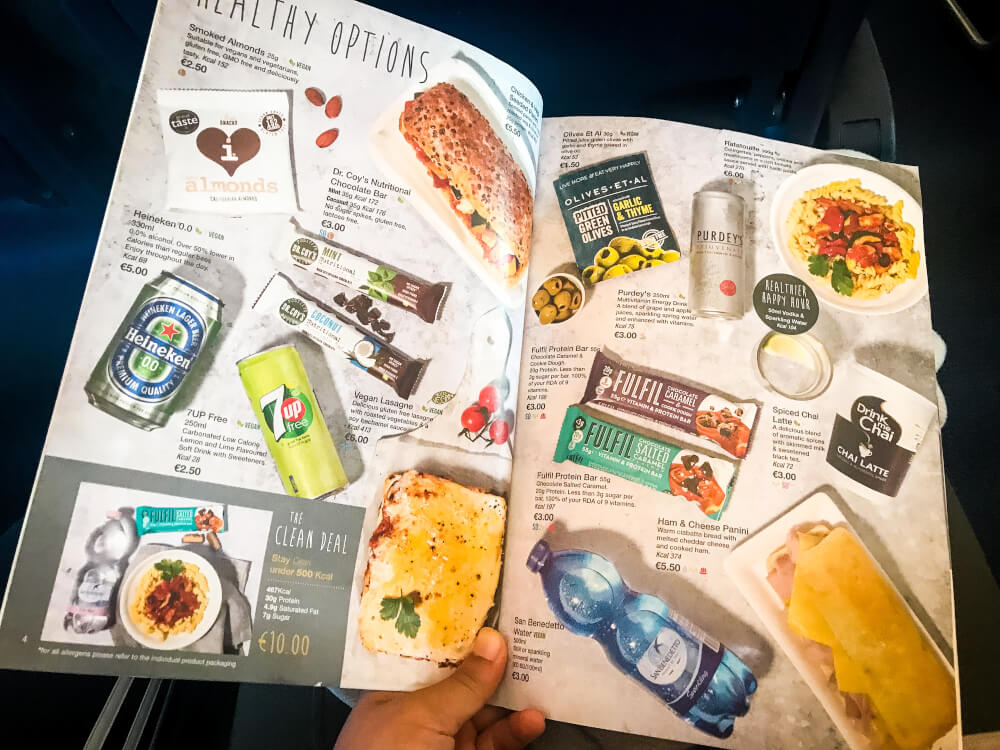 9. … And your food will certainly not look anything like this
Sorry, I just needed to show you the cover of this Ryanair on-board dining menu.
Look at that beautifully plated restaurant-quality pasta, served on an actual plate and topped with fresh basil leaves.
That is some straight-up culinary catfishing. The first time I saw it, I literally laughed out loud: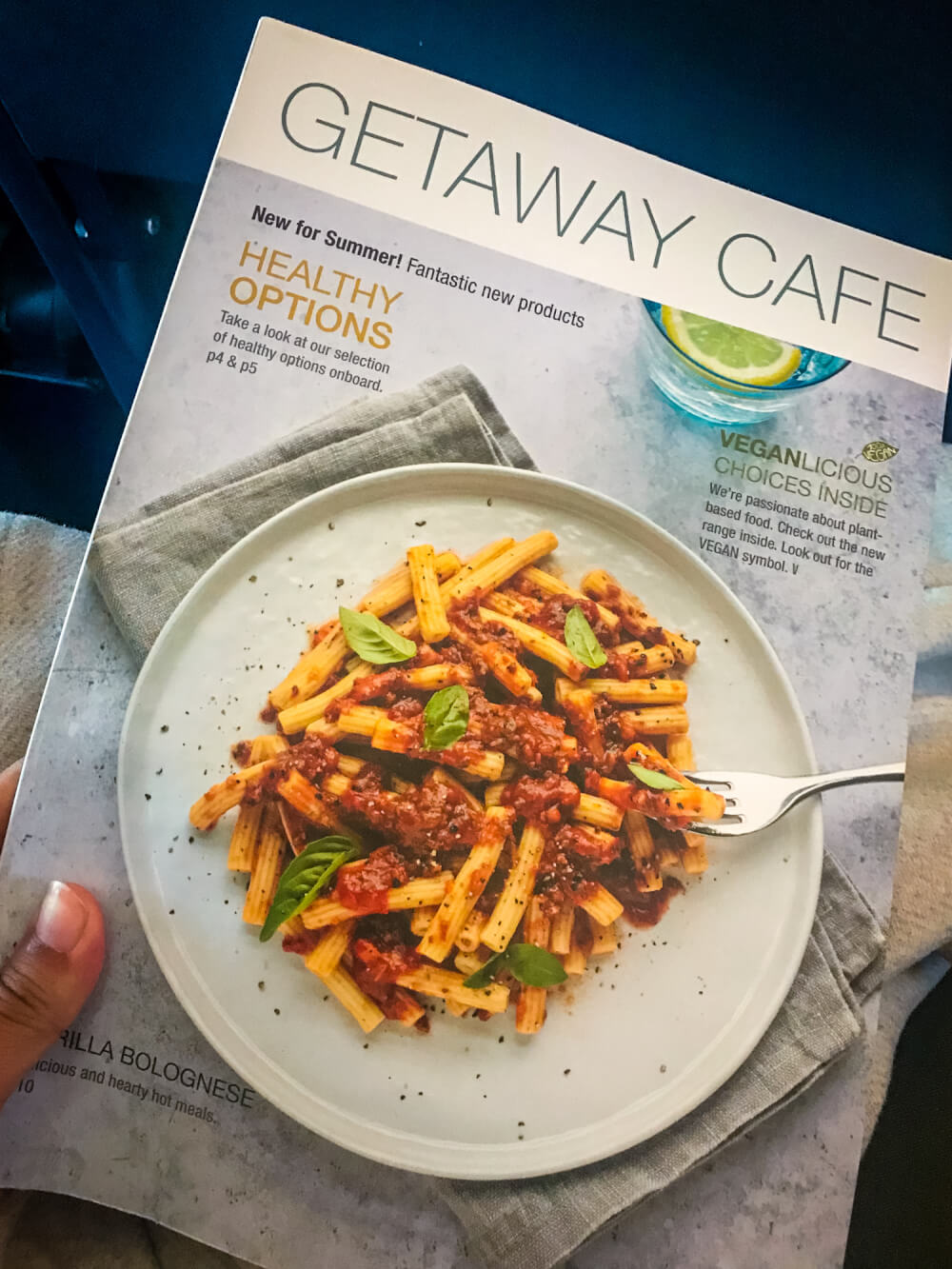 … And on a recent Ryanair flight, I let curiosity get the best of me and I decided to GO FOR IT. Here is what I received: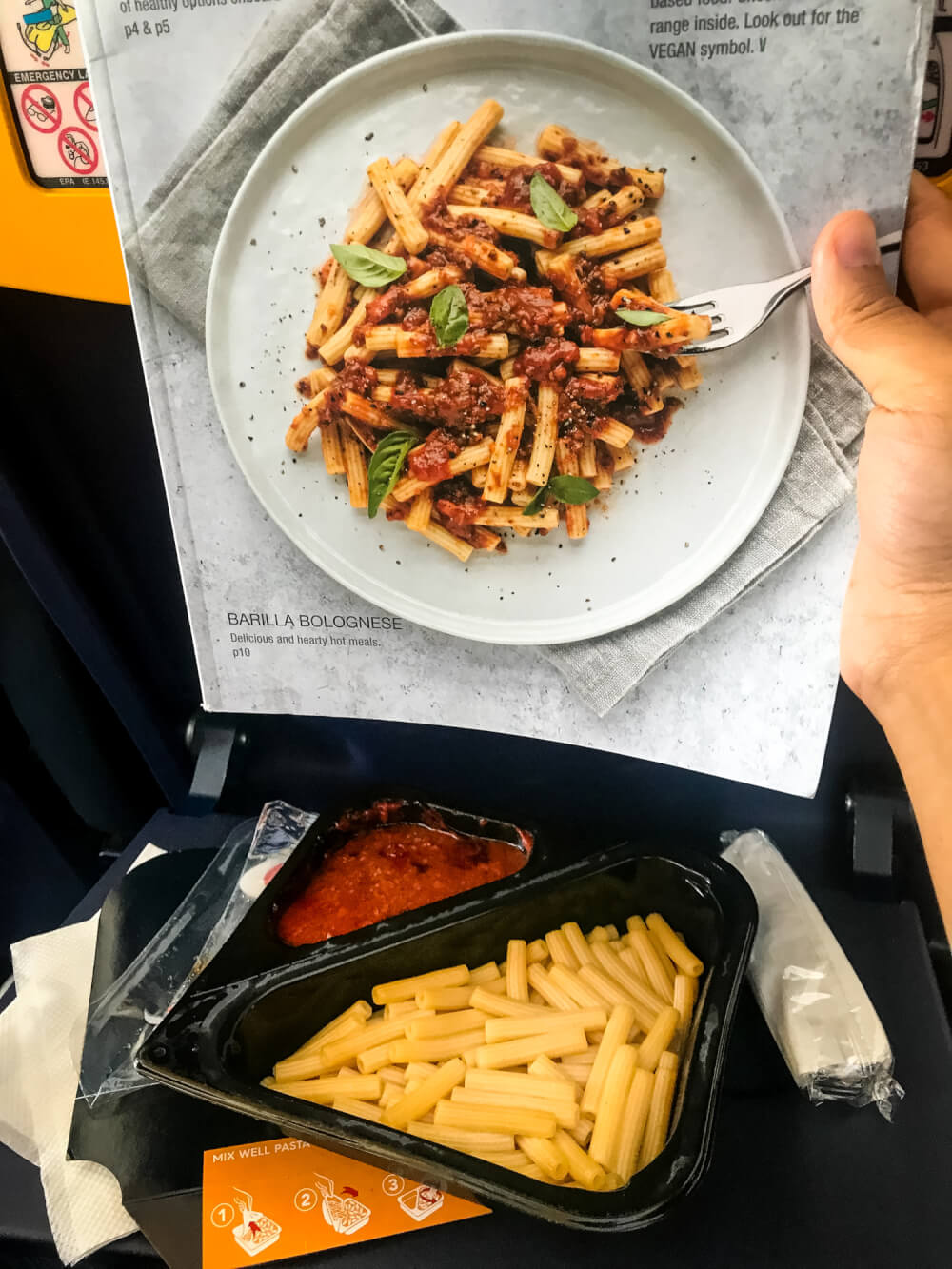 In all fairness, it tasted quite alright, but the photo on that cover is um, not quite representative.
10. Familiarize yourself with the Ryanair check in policy
I'm sorry, but I don't understand why checking into a flight is so cumbersome when flying with Ryanair.
As a non-EU citizen, after I check in online, it is apparently mandatory that I go to the counter to get a "visa check" to ensure I'm allowed to go into the next country.
Fair enough, despite the fact that a Canadian passport gets visa-free access to most of the places Ryanair flies to, but ANYWAY… The dumb thing is you need to wait in line to do this, often with no dedicated line-up for you, so you rot for a while with everyone who are trying to check bags, check in, etc.
One time in Faro, I even waited in line for 20 minutes, only to be told I needed to go to a separate customer service desk to be checked, only to be told THERE that I didn't need to get my ticket checked anymore because the rules changed.
My fist was almost through that counter.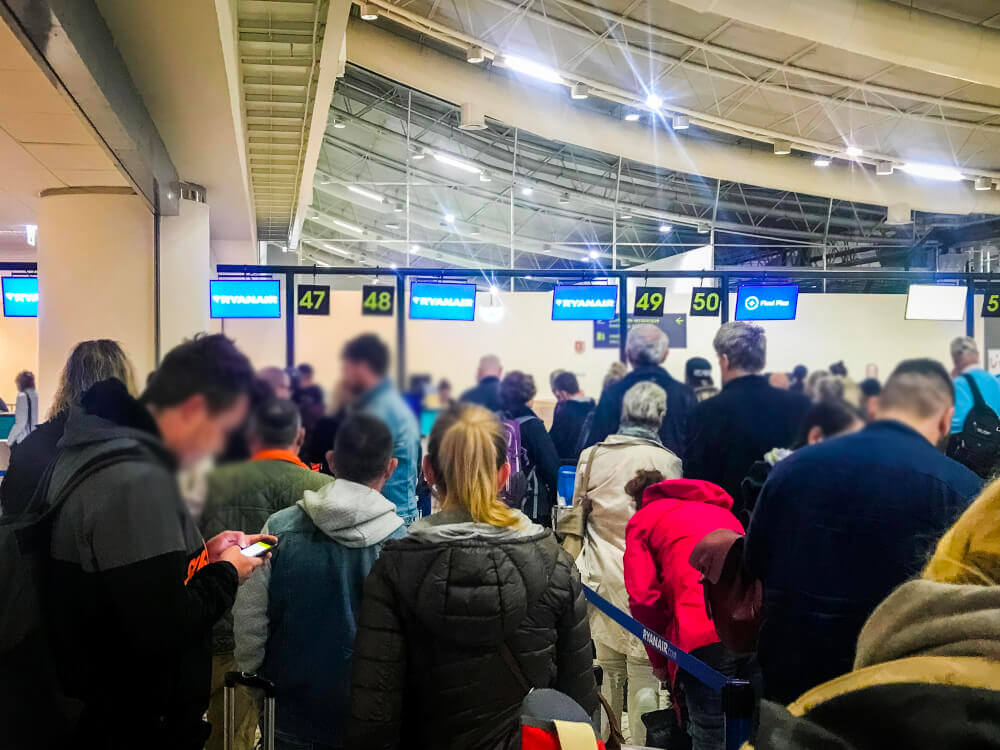 11. Know that the Ryanair boarding procedure WILL make no sense
I always get extremely worked up over this so allow me to quickly enter my zen zone before I type any further.
*deep meditative breaths*
OKAY. So….
The irony of Ryanair's priority boarding system is that they gouge you so hard, they make it pretty impossible to NOT get priority boarding, creating a new environment where the priority boarding line is even longer than the regular line-up itself.
Think of priority as the new normal, whereas non-priorities become some sort of "peasant minus" class.
BUT wait – there's more. When they announce boarding…? All bets are off!
Instead of a well organized line-up, everyone (priority or not) gels together in this indistinguishable lump of poor listening and unwillingness to give a damn.
The result? You move as one globby mass towards the outside where you walk onto your plane, usually making pleading eye contact with those around you, hoping to recognize a glimmer of humanity in the sea of dead faces.
Alas, no. The mutual dread in the plane will echo "WHYYYYY" into the grim, yet still cost-friendly abyss, all the way home.
…… I apologize for the dramatics, but the boarding mess really winds me up. Clearly.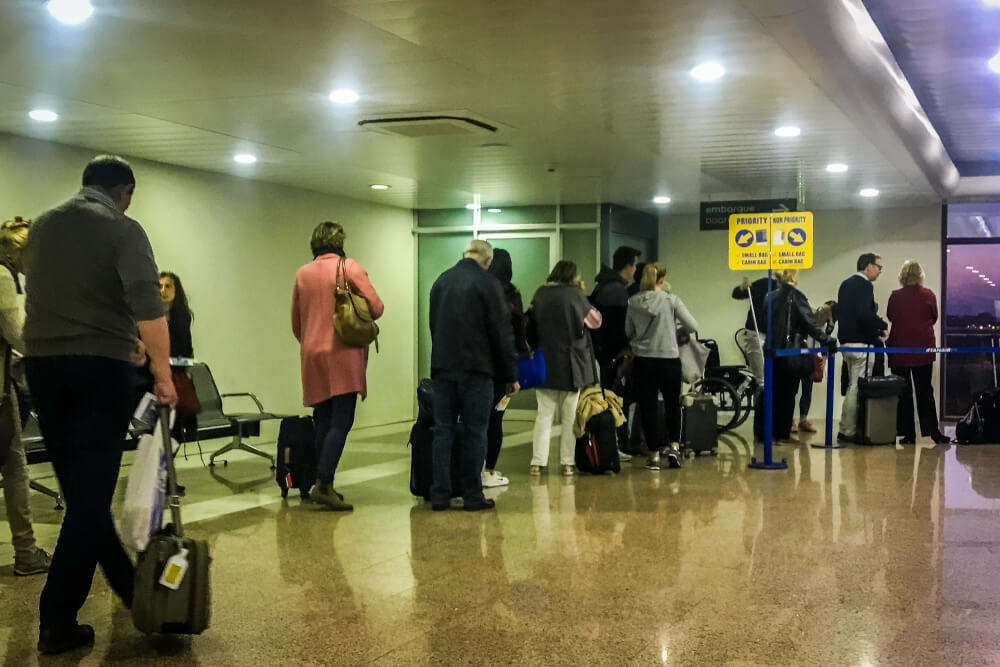 12. Your in-flight experience will be okay at best
I don't think I've ever had a genuinely comfortable flying experience with RyanAir.
I mean, it certainly gets me there in one piece but all throughout the flight, they'll be making announcements, trying to sell random duty-free products, coming by with drinks (at extra cost), selling scratchcards, etc. etc.
I get that these are all things that must be done on a flight, but trust me when I say it is incessant.
There will literally be noise the entire flight. If you aren't prepared to deal with that, then you should probably book with someone else.
As for me, I use napping as my coping mechanism of choice, whenever possible.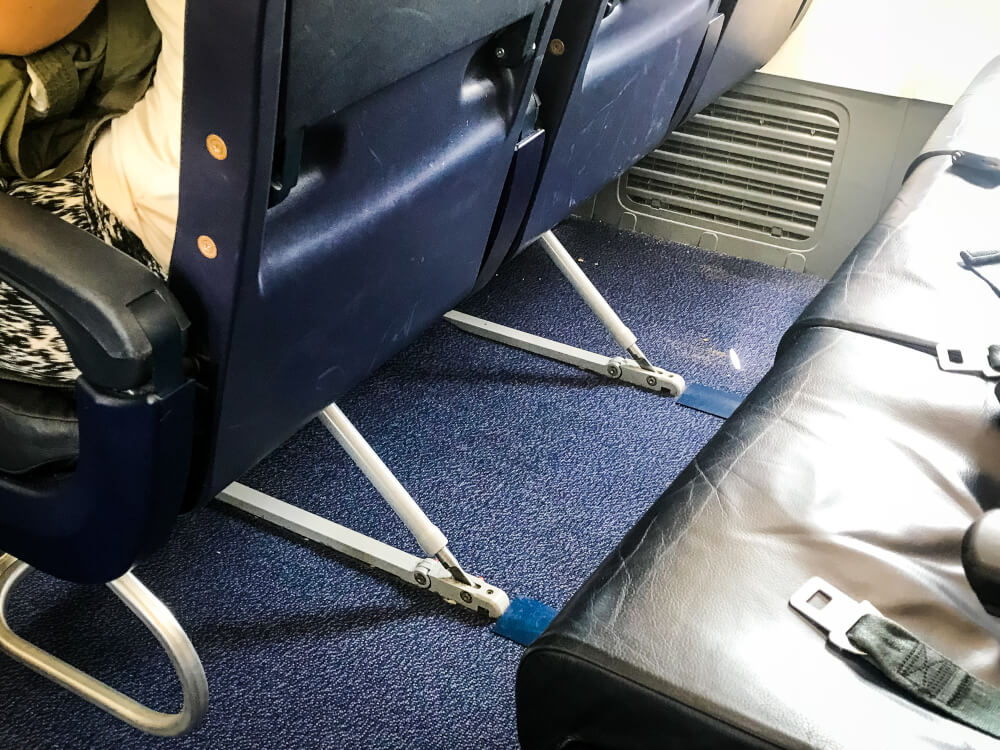 13. Lastly, no one flight experience is the same – you might get unlucky
Last but not least, I find it important to mention that delays and horrible experiences can happen on any airline.
This review was written after dozens of experiences I've had with Ryanair, so it's kind of a generalized overview.
I've luckily never had monstrous delays or cancellations, but I know others have.
Just keep in mind that my experience might not reflect yours, and be prepared for delays and cancellations.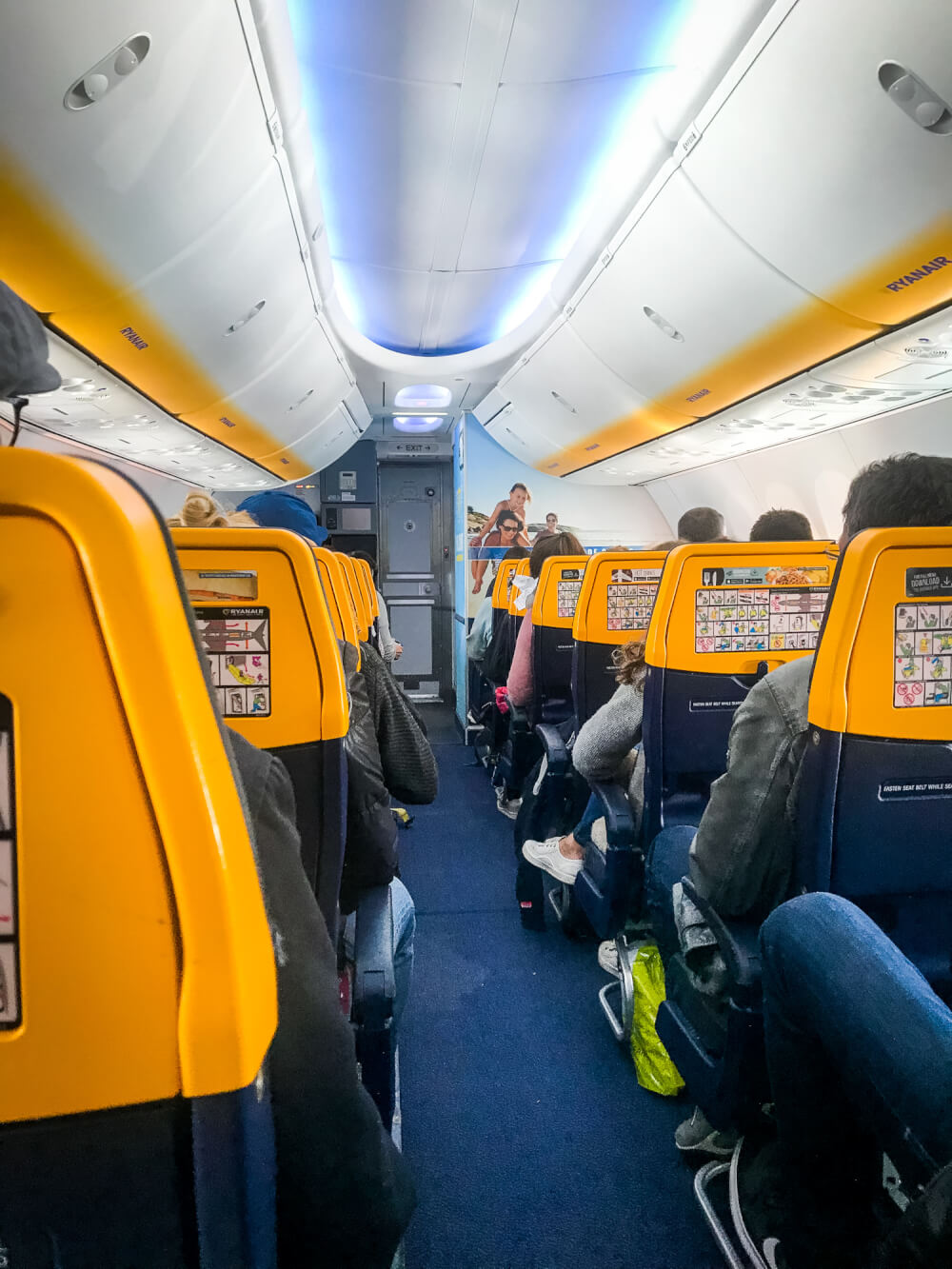 My Ryanair Review: The Final Word
So, are Ryanair's cheap flights worth it?
If it's a short flight, I don't see why not.
Yes it's never a smooth and stress-free experience, but if you're a "chill" traveller who is easy-going and able to roll with the punches, the savings really are incredible and well worth it.
If however, you're a traveller accustomed to regular (non-low cost) airlines or have particular needs when it comes to comfort, convenience and service, then in all likelihood, Ryanair is not for you. Put some extra dolla towards a 'mainstream' airline and run, run as fast as you can.
As for me, at this point in my life, I am very happy to endure 1-2 hours of discomfort in exchange for a dirt cheap flight.
That just adds up to more funds for beer and sweet, sweet carbohydrates. If you have a similar mindset, I say go for Ryanair, what's the worst that can happen?
[Ryanair, feel free to adopt that as a new slogan]
So, any more questions about flying with Ryanair?
I hope you enjoyed that lengthy breakdown of what it's like to fly with Ryanair.
I feel like I've addressed most questions/concerns in the review above, but if you have any more questions, feel free to ask away in the comments! Safe travels!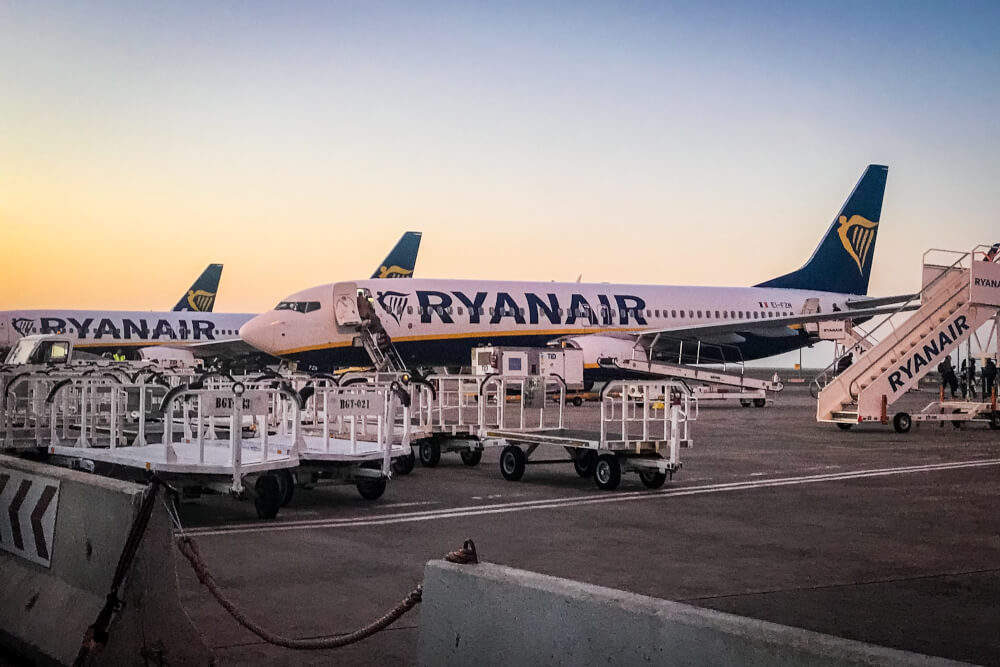 ---
Watch my most popular YouTube video this week:
---