*FYI - this post may contain affiliate links, which means we earn a commission at no extra cost to you if you purchase from them. Also, as an Amazon Associate I earn from qualifying purchases. Check out our Privacy Policy and Disclosure. for more info.
People often ask me about my favourite part of living in Munich.
And while I could rave about all the beautiful buildings, green spaces and abundance of awesome things to do, I think what I have learned to love most about Munich is that there is always (yes, always) an excellent justification to drink.
Whether it's clinking foamy Maß at Oktoberfest, or warming up via Glühwein during Christmas Market season, Munich is always brewing up some kind of excuse to get buzzed.
And with March now in full swing, it's officially time for one of my favourite of such excuses – Starkbierfest, a glorious few weeks chugging down the strongest of Munich's beers!
Save this post for later on Pinterest: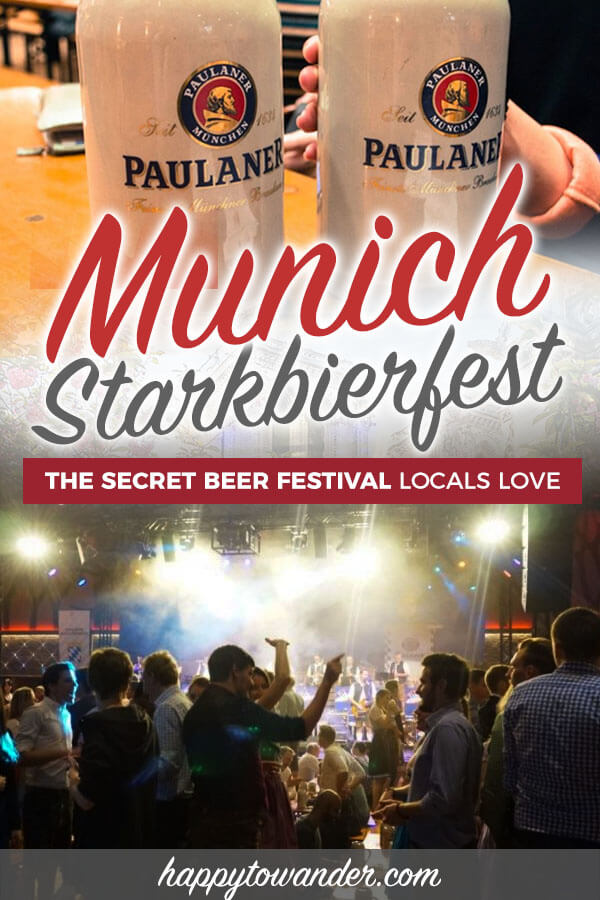 Sandwiched between Carnival celebrations and Easter, Starkbierfest is Munich's Lent-time justification for alcohol consumption.
The festival is celebrated over a few weeks during early Spring (this year up until April 7) and has sort of developed a reputation as the city's secret low-key beer festival.
… Until now!
Starkbierfest is honestly one of my favourite times of year in Munich, and if you happen to be in town for it, I think it's a huge shame to miss it. That's why I've written up this guide to help you understand this amazing festival, where you can celebrate it and more. Enjoy, and feel free to drop any questions you have in the comments below!
What even is Starkbier?
First thing's first, you might be wondering "starkbier-whaaa?"
Well, basically, starkbier (in German) means strong beer.
Let's get a little nerdy here! While most people assume the "stark" (strong) in starkbier is linked solely to higher alcohol content, what it actually refers to is a higher concentration of dissolved solids (think starch, proteins, sugars, etc.) In other words, starkbier = more filling, more caloric and, of course (as a result) more likely to get you schwasted for less! Yay!
And where exactly did it come from? The most commonly told origin story of starkbier is a simple tale of hungry monks. Forced to fast during Lent, monks began to brew starkbier as a loophole-y way to get their fill of calories. Again, thanks to the higher dissolved solid content (known as wort), starkbier became recognized as liquid food…
But beyond that, Starkbier does of course have a higher alcohol content (ranging from 7.5%-9%). In terms of flavour, it's malty and surprisingly (perhaps I should say deceivingly) smooth and its effects will surely 1000% creep on you. Like, "please ma'am, stop dancing on the table – you're scaring the children" creep on you. You have been warned.
My favourite part thing about Starkbier though might just be the incredibly aggressive names they're given. Starkbiers most commonly have the suffix "-ator" which makes every single one sound like a video game weapon. Here are a few examples:
Salvator, by Paulaner
Triumphator, by Löwenbräu
Maximator, by Augustiner
Aviator, by Airbräu (the airport brewery… isn't that clever?!)
Anyways, to sum things up: starkbier is strong beer, it's stronger in alcohol content but also in dissolved solids, it will fill you up and mess you up. Now, onwards to the "fest" bit.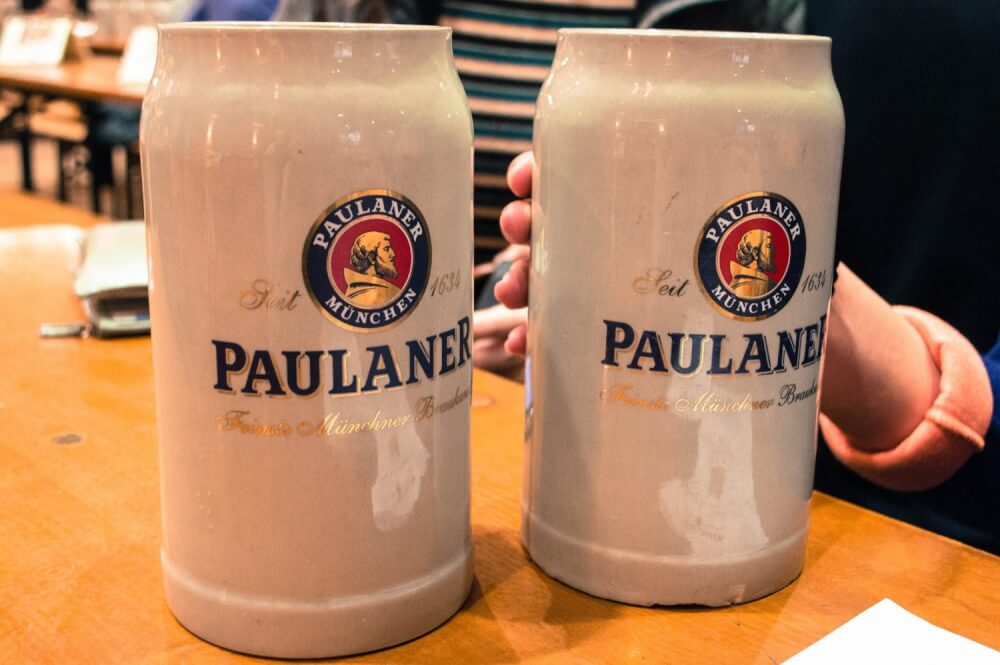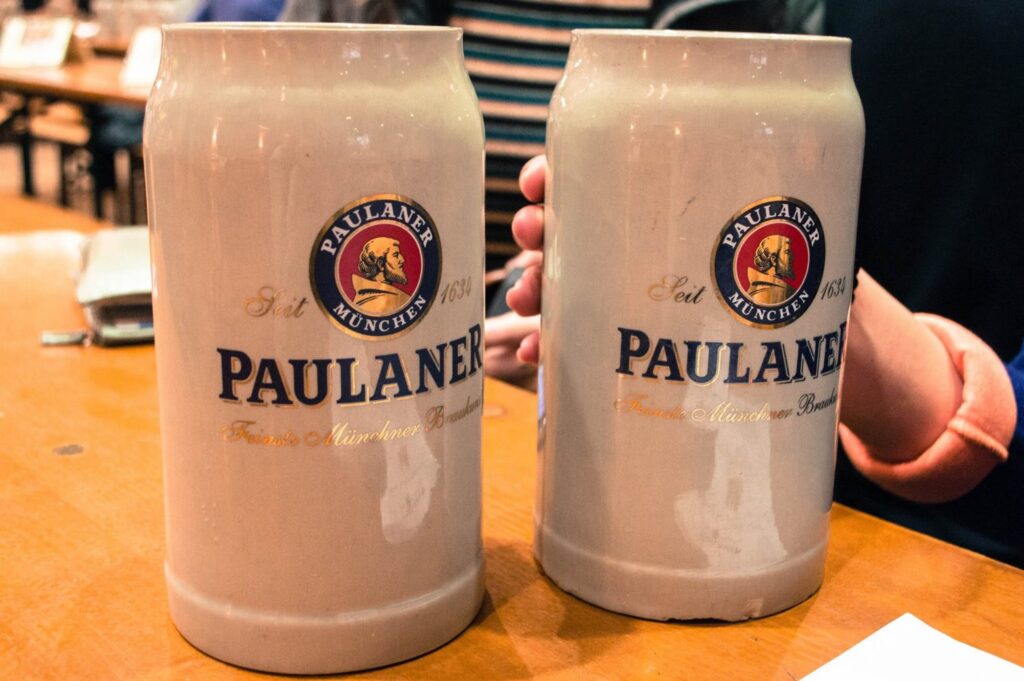 So what is Starkbierfest?
So, since you now know that starkbier is strong beer, you might be able to guess what the Starkbierfest will be all about.
… copious amounts of drinking. Yay!
The Starkbierfest (Strong Beer Festival) is a fun few weeks of the Munich social calendar where we consume massive amounts of strong beer and celebrate in different beer halls/breweries around town.
In spite of its social and cultural importance, it is still probably one of the least known among Munich's beer festivals. In fact, I write this post with hesitation because many consider it to be a local's secret.
While I'm not convinced that this is true (after all, I've somehow made it in), there's no doubt that this festival is way smaller and packed with fewer tourists than one of the big dawgs (like Oktoberfest). If you happen to be visiting Munich outside of Oktoberfest season, this is a great way to get the classic beer festival experience.
The Starkbieranstich
A bit of a side note, but I need to tell you about the Starkbieranstich because I find it so hilarious.
So, basically the Starkbieranstich refers to the tapping of strong beer (i.e. tapping the keg) – it's kind of a big deal in Munich and marks the start of Starkbierfest. At Paulaner am Nockherberg, they celebrate the tapping of their Salvator strong beer with a musical political roast.
… no, I'm not joking.
As in, they literally fill their beer hall with local politicians and make fun of them through song and dramatics. If you fancy checking out what the event is like, here's a YouTube clip from this year.
Okay, now that I have you all jazzed about the event, you might be wondering…
When is Starkbierfest 2024?
While Starkbierfest typically takes place from March – April, official dates have not yet been released for all the usual Starkbierfest events in the city.
Based on previous years however, Munich's Starkbierfest at Paulaner am Nockherberg (the main event) typically takes place from mid-March to early April, while elsewhere in the city, you'll find strong beer festivities kicking off a bit earlier, with the Löwenbräukeller usually going every weekend in March and the Augustiner Keller celebrating from Feb – April (more details below).
So far, these are the Starkbierfest 2024 dates that we know of:
Löwenbräukeller Starkbierfest: TBA Details here
Starkbierfest at the Augustiner Keller: Various dates from Feb 22 – March 23, 2024. Details here
Where does Starkbierfest take place in Munich?
Last but not least, you might be wondering where in Munich you can celebrate this awesome festival.
… So this is where it gets a little confusing. In terms of location, Starkbierfest is very different from other beloved Munich festivals like Oktoberfest and Frühlingsfest (which both take place at the same festival grounds – Theresienwiese). Instead, Starkbierfest scatters its celebrations around the city, with special events being hosted by different breweries.
While not an exhaustive list, here are some places around the city where you can get the most out of that Starkbier joy:
Paulaner am Nockherberg Starkbierfest
Address: Hochstr. 77
Hands down the most famous place to celebrate Starkbierfest in Munich. In fact, they've been at it since 1870. It makes sense that eager drinkers would congregate here – after all, Paulaner monks are the ones who created the first Starkbier centuries ago. Expect a rowdy mix of young and old, all ready to jam out to the live band pumping hits like YMCA and Angels.
Löwenbräukeller Starkbierfest
Address: Nymphenburger Str. 2
It's all fun and games at Löwenbräukeller's Starkbierfest where you'll get a classic beer festival vibe with plenty of dancing and drinking.
Here, you can prove your prowess by trying to lift a giant stone (yes, seriously…) while sipping your weight in Triumphator, their signature strong brew.
Ladies, there's even a contest for Miss Triumphator (where the prize is a dirndl)… because what else would you expect from Bavaria? Click here for more info on their official website.
Augustiner Keller
Address: Arnulfstr. 52
With a starkbier name like Maximator, you can tell right off the bat that the folks at Augustiner aren't here to mess around. Munich's oldest brewery holds their Starkbierfest celebrations in the brick vaults of their storage cellar, where live music and plenty of new drunk best friends await.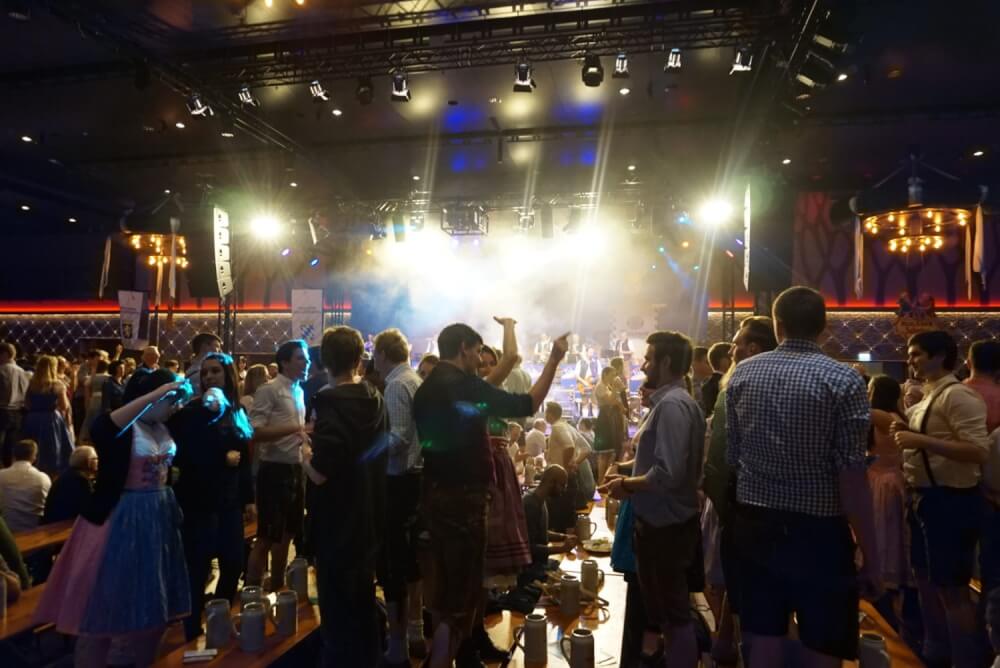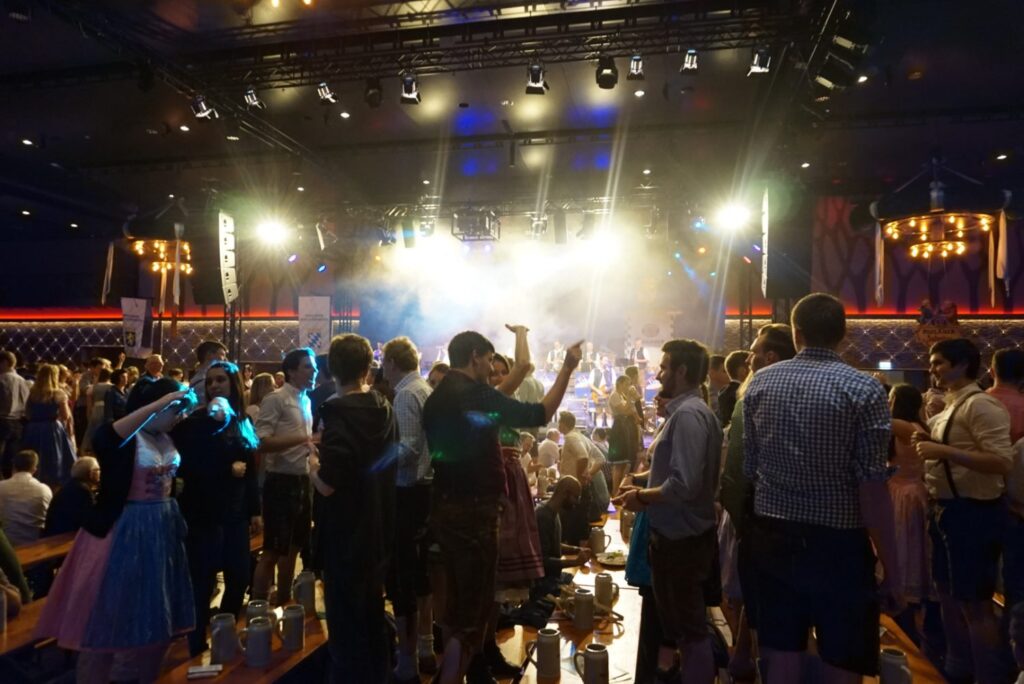 Any more questions about Starkbierfest in Munich?
Alrighty, I hope you enjoyed that Starkbierfest Guide and that you can experience this festival for yourself sometime. Let me know in the comments if you have any other questions or if you've ever been to the Starkbierfest yourself – I'd love to hear your stories!
My Go-To Travel Favourites: