*FYI - this post may contain affiliate links, which means we earn a commission at no extra cost to you if you purchase from them. Also, as an Amazon Associate I earn from qualifying purchases. Check out our Privacy Policy and Disclosure. for more info.
Let me tell you one thing straight up: train travel in Europe is here to ruin your life.
I mean, after being spoiled with the convenience and comfort of beautiful train rides across the continent, it's physically impossible for me to enjoy stuffy buses or claustrophobic planes in the same way I used to.
In fact, the worst has happened: I've become a stuck-up train person, guys….. I talk about trains for fun and get excited explaining routes to people…
Who have I become?!
But this is the difficult truth: once you experience the comfort, convenience and general badassery of train travel, it's a difficult return to life pre-rail.
Especially so in Europe, a continent packed with scenic routes, dramatic landscapes and a surplus of incredible destinations to gawk at.
But hey, you know, sometimes sacrifices must be made.
If you dare to take this plunge and risk becoming a transportation snob yourself, I invite you to read on.
Train travel is by far the most scenic and comfortable way to get around Europe (though not usually the cheapest), and there are some routes that will genuinely blow your mind.
In fear of overselling you, I'll simply say this: the following train rides are eye candy in their purest form, and if you're anything like me (a chronic sucker for views), then you NEED to see them for yourself.
So, without further ado, here are some of Europe's most scenic train routes (I recommend setting a bowl aside to catch your drool as you scroll through).
This post is in partnership with ACP Rail International and Eurail, who provided me with a rail pass I used on many of these adventures!
Clearly, I'm hooked on train travel… Let me know in the comments where your favourite train ride is in the world so I can add it to my bucket list!
1. The Golden Pass Classic, Switzerland
Truly, it took every ounce of my self-control to not put the entire country of Switzerland on this list. In fact, a peek at early drafts of this post will quickly reveal that my original list was Swiss-er than a luxury watch dipped in fondue.
Truth be told, a lot of my Eurail pass was used for train hopping in Switzerland (a seriously amazing value considering the high cost of EVERYTHING in that country), but because I don't want to play favourites, I've decided to highlight just one.
Now, the Swiss train system is studded with scenic heavyweights and household names such as the Bernina Express and Glacier Express, but today I'd like to add another stunner to your bucket list: the Golden Pass, a glorious journey split in three parts between Lucerne and Montreux.
Specifically, I need you to know about the Golden Pass Classic train, which uses refurbished cars from the Orient Express (except you know, less murder).
This scenic section of the ride between Montreux and Zweisimmen brings a whole new meaning to the term spectacular, taking you past narrow valleys, lake views and mountainscapes to die for.
As part of my tour of Swiss Christmas Markets, I hopped on this ride in late November, catching the perfect sweet spot in the off-season when golden trees mingled with snowy mountains to create the most scenic train ride on Earth.
NOTE: To get the full experience, make sure you book for the Golden Pass Classic, and maybe even treat yourself to a VIP seat at extra cost, which allows you to ride at the head of the train for sweeping unobstructed views. Although this regular 1st class seat wasn't too shabby either: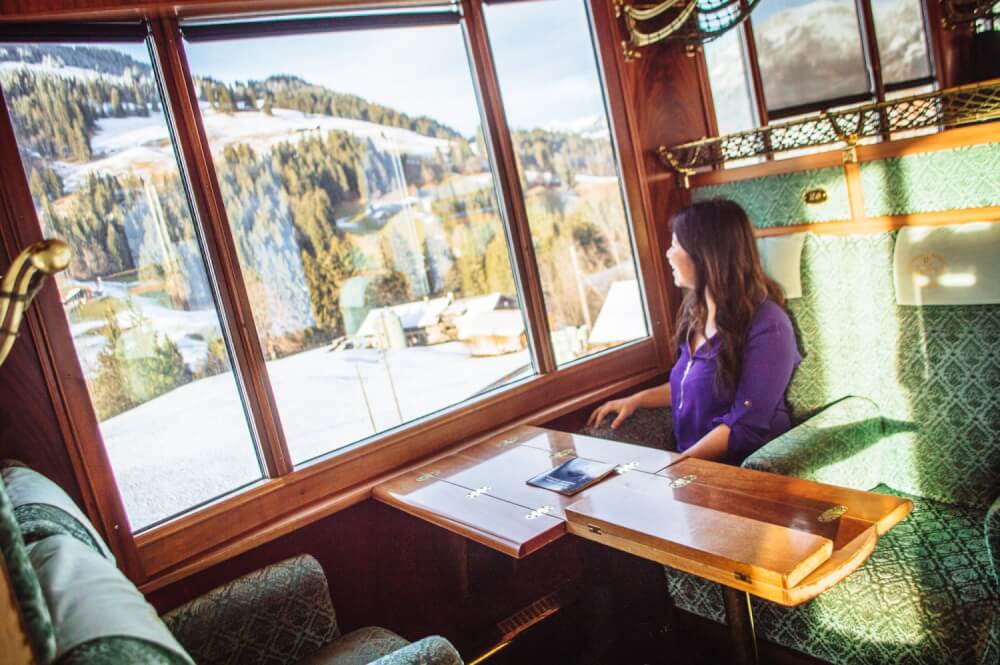 2. The Flåm Railway, Norway
I've always thought that Norway was where Mother Nature went to gloat and show off her best work.
I mean… the fjords, the mountains, the… *ahem* vikings! If addictive eye candy is what you're after, Norway is where you'll find it in spades, and I highly recommend booking a trip on the Flåm Railway to soak it all in.
This train line is one of the steepest in the world, and offers unbeatable views of Norway in all its majestic glory.
PRO TIP: This line is part of the famous "Norway in a Nutshell" tour, which gives visitors a taste of Norway's best fjord views through a combination of scenic train/boat/bus rides. If you have some time, I definitely recommend adding on other segments of this tour (e.g. the boat ride) because it is SO worth it! I did a DIY version by booking all the legs of the trip independently (rather than through a package) – it ended up far cheaper this way 🙂
And in case you need an additional nudge, here are some snapshots from a snowy March day when I did this ride a few years ago: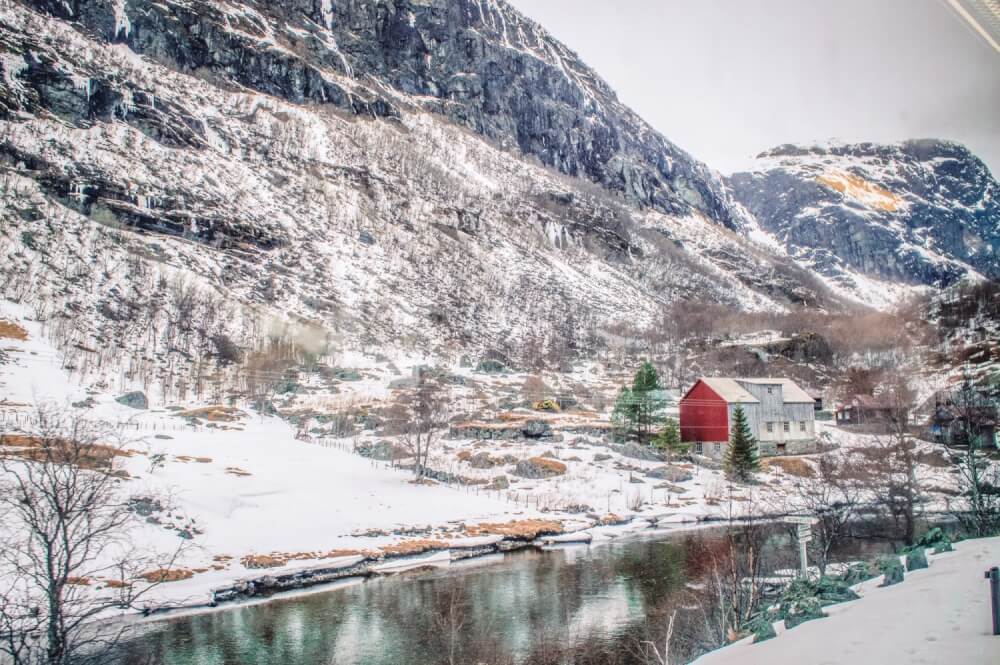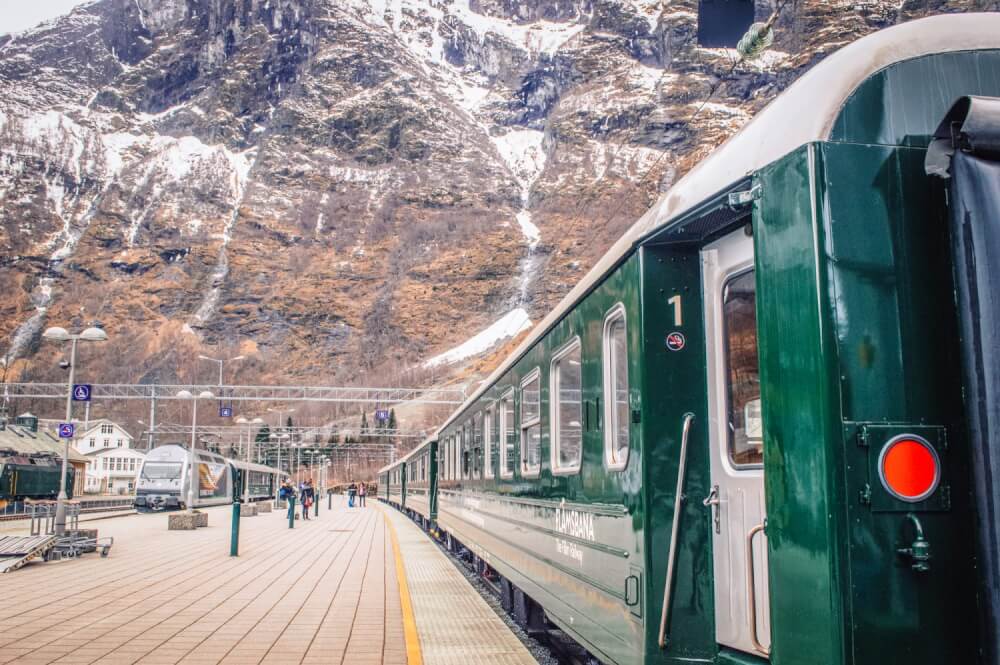 3. Train de la Côte Bleue, France
The South of France is a region known for its lax Mediterranean vibes and gorgeous landscapes… but can you imagine exploring it by rail, a gentle breeze in your hair as you glide past one of Europe's most scenic coastlines?
Now that's sweet joie de vivre.
And while France's mega high speed trains often turn any scenic views into disappointing blurs, there are still several regional trains well worth the ride… and trust me, the Train de la Côte Bleue is one of them.
This train ride offers up an hour and fifteen minutes of scenic bliss running between Marseille and Miramas, and it's a stunner.
I had the pleasure of doing this ride several summers ago, when (even in the suffocating heat), I couldn't help but feel like the luckiest girl alive.
There's just something about the shimmering blue sea and adorable town views that make it such a ride to remember…!
4. The West Rhine Railway, Germany
In many ways, this scenic stretch along the Rhine River combines many of my favourite things: vineyards, castles and lush, knockout beauty.
The journey between German cities Cologne and Mainz is one that I first got to experience on board a river cruise, back when I did my crazy summer internship with CroisiEurope.
When I found out this route was doable by train, I just about melted into a puddle of goo.
… jaws were dropped, and shortly after, plans were made.
Known worldwide as part of the "Romantic Rhine" journey, the West Rhine railway winds its away around the famous Rhine river, swooshing through green valleys studded with charming castles, vineyards and picture-perfect landscapes that will literally stop your heart. It is by far one of the most scenic train routes you can do in Europe.
Sadly, a rainstorm destroyed any chances of me getting a good photo, so here's a little taste of the region via HolgersFotografie on Pixabay: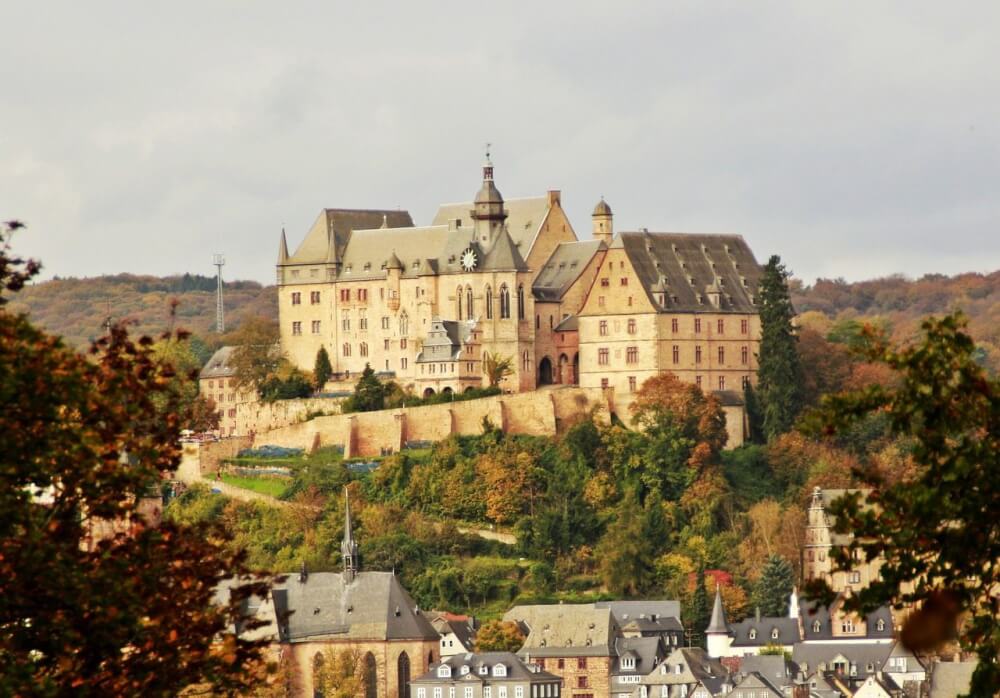 5. Linha do Douro, Portugal
Portugal's Douro Valley is hands down one of my favourite places in Europe.
Imagine perfectly terraced vineyards, picturesque olive tree clusters and rugged, rocky terrain, all framing a bright blue river. In this picturesque dream, the views are nothing short of magic.
This was another area I fell for during my river cruise days, and I've literally yakked about the beauty of the Douro to anyone that would listen.
If cruising isn't your thing though, the Linha do Douro train route running from Porto to Pocinho allows you to take in the beauty of this picturesque river, all from the comfort of a swishy train carriage.
PRO TIP: If you visit during the summer, there's also an old timey steam train you can catch through the valley.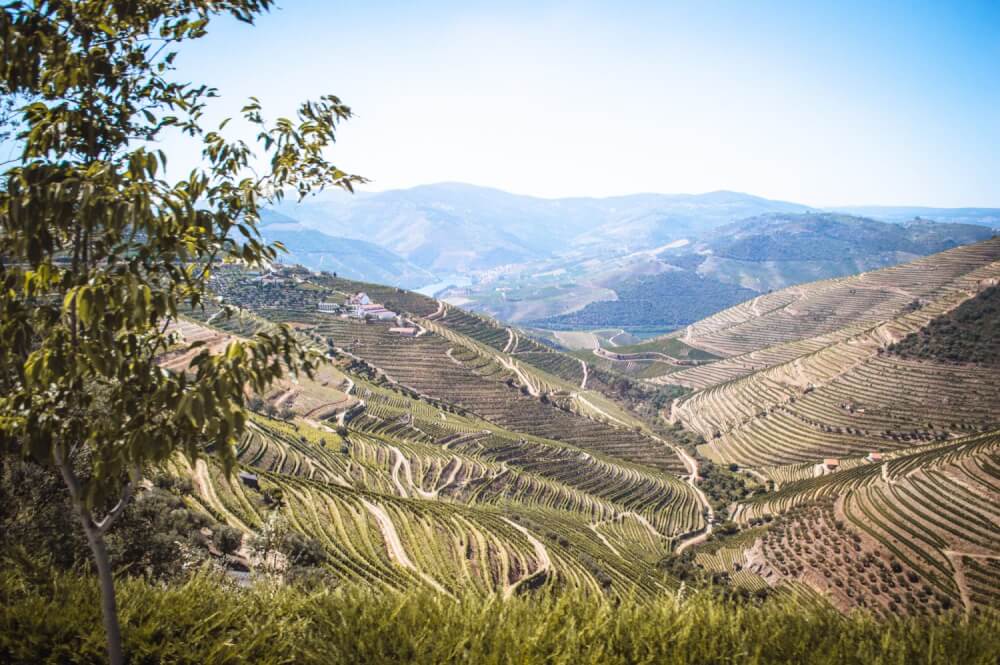 6. Munich to Mittenwald (or to Füssen), Germany
I could chat you up all day about the beautiful train rides in and out of Munich.
I'm incredibly spoiled to be living here, a stone's throw away from the Alps and all their pristine glory.
There are several noteworthy train rides in the area, including the scenic Black Forest, which (besides an excellent cake) offers up incredible views by rail.
My personal favourite however is the train ride from Munich to Mittenwald (or Füssen if you choose to disembark a little earlier).
Not only are the sights along the way absolutely gorgeous, but the destinations are insanely special in their own right.
In fact, just outside of Füssen is where you'll find Walt Disney's fairytale muse – Neuschwanstein Castle, one of the dreamiest places in Germany.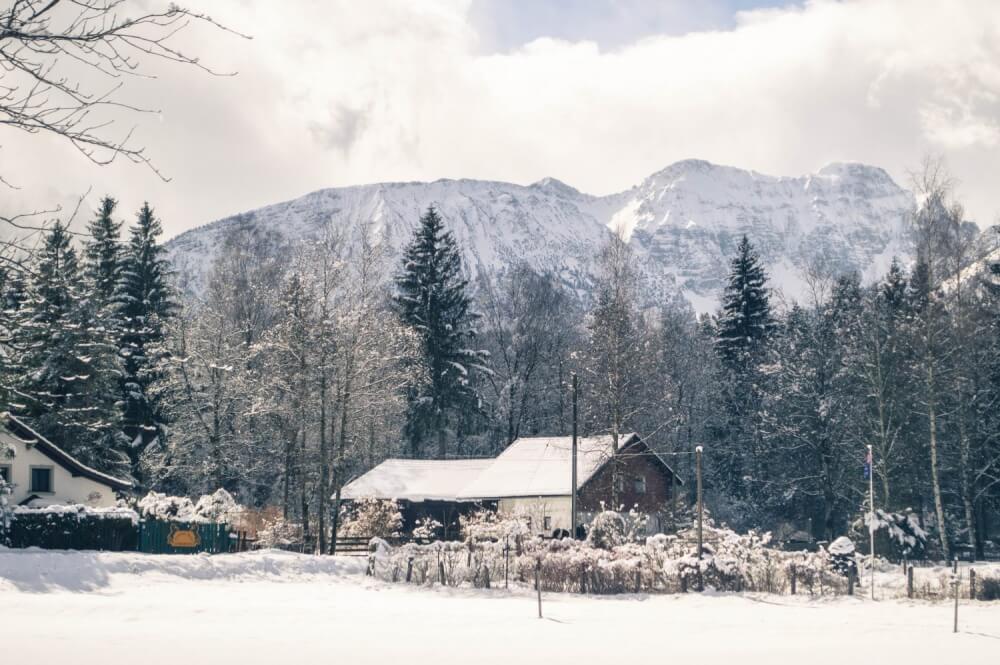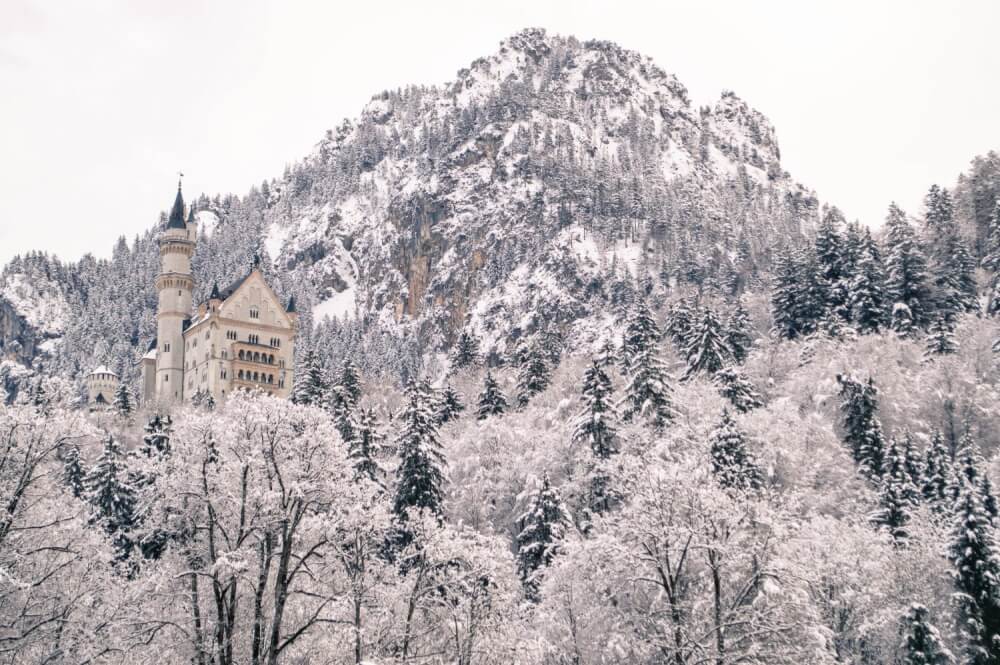 7. West Highland Line, Scotland
And last but not least, I bring you the scenic train route of your childhood dreams.
I forced myself to put this one last because I technically haven't done it yet (unless my drool-soaked dreams count), but I assure you: it's priority #1 on my list! If the photo below looks familiar, it's likely because this scenic ride in Scotland is better known by its Wizarding name – the Hogwarts Express 😉
Luckily for us though, this ride is open to the muggle public, and operates between Glasgow and Oban (or Fort William and Mallaig, depending on how you do it),
One of the main highlights of this ride is a chance to chug across the Glenfinnan Viaduct, a starring sight in our childhood hearts thanks to Harry Potter & co.
Beyond that though, this ride is a unique chance to immerse oneself in the dramatic and rugged landscapes of Scotland – a worthy incentive in itself.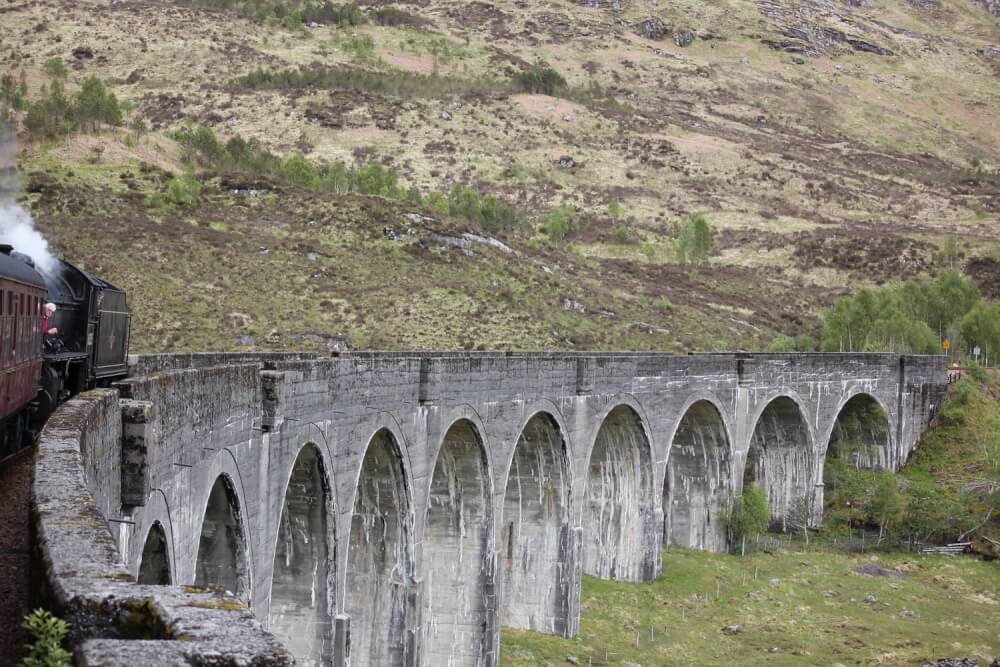 Did I miss any of your favourite train rides in Europe?
And so, now that I've filled your head with all sorts of dreams and plans for train travel, I want to hear some suggestions from you! I hope you enjoyed this roundup of scenic train routes around Europe, and again, I know there are countless others that shouldn't be missed, so let me know in the comments what your favourites are 🙂
---
Watch my most popular YouTube video this week:
---