*FYI - this post may contain affiliate links, which means we earn a commission at no extra cost to you if you purchase from them. Also, as an Amazon Associate I earn from qualifying purchases. Check out our Privacy Policy and Disclosure. for more info.
I was welcomed graciously hosted by Berghotel Rehlegg and Green Pearls during my stay. All photos, experiences and stories however are my own.
If there's one thing I'm comically terrible at, it's relaxing.
As a Type A forever-caffeinated go-getter, I'm quite certain I crawled out of the womb with a to-do list in hand and a fistful of coffee beans.
And no more is this "go go go" mentality more apparent than when I travel. When I'm somewhere, I make it a personal duty to see it all, breathe it all, eat it all… you get the point.
This is why, in part, I never understood the concept of a "wellness hotel".
Save this post on Pinterest for later: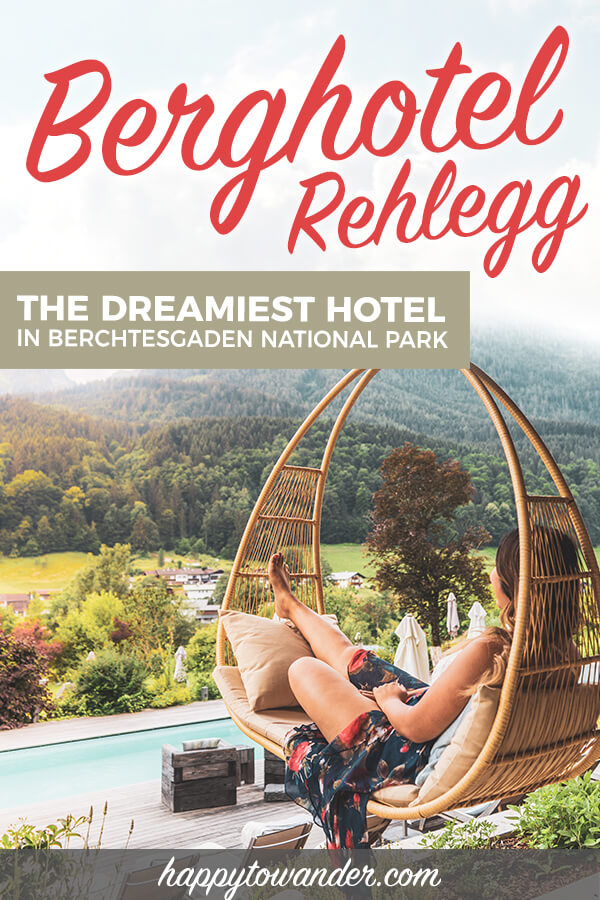 Ever since I started living in Germany, I began hearing whispers of these hotels, where fancy Germans would go to escape to the mountains and (presumably) lay in saunas naked all day while breathing in the fresh Alpine air.
As swishy as it all sounded, as a serial sightseer, travelling to simply…. lie around sounded like a certified nightmare.
But time and time again, I kept catching glimpses of these wellness hotels, strategically built into some of the most gorgeous natural settings on the continent.
Whether peeking at me from glossy Instagram photos, or strategically creeping through Facebook ads, the concept of a hotel built for relaxation became an increasingly enticing offer.
And so I caved. A weekend getaway in Berchtesgaden National Park it was!
Two nights was all it took to convert me. I'm now a believer in all things wellness, and in this post I'd like to introduce you to the Berghotel Rehlegg, the property I hold completely responsible.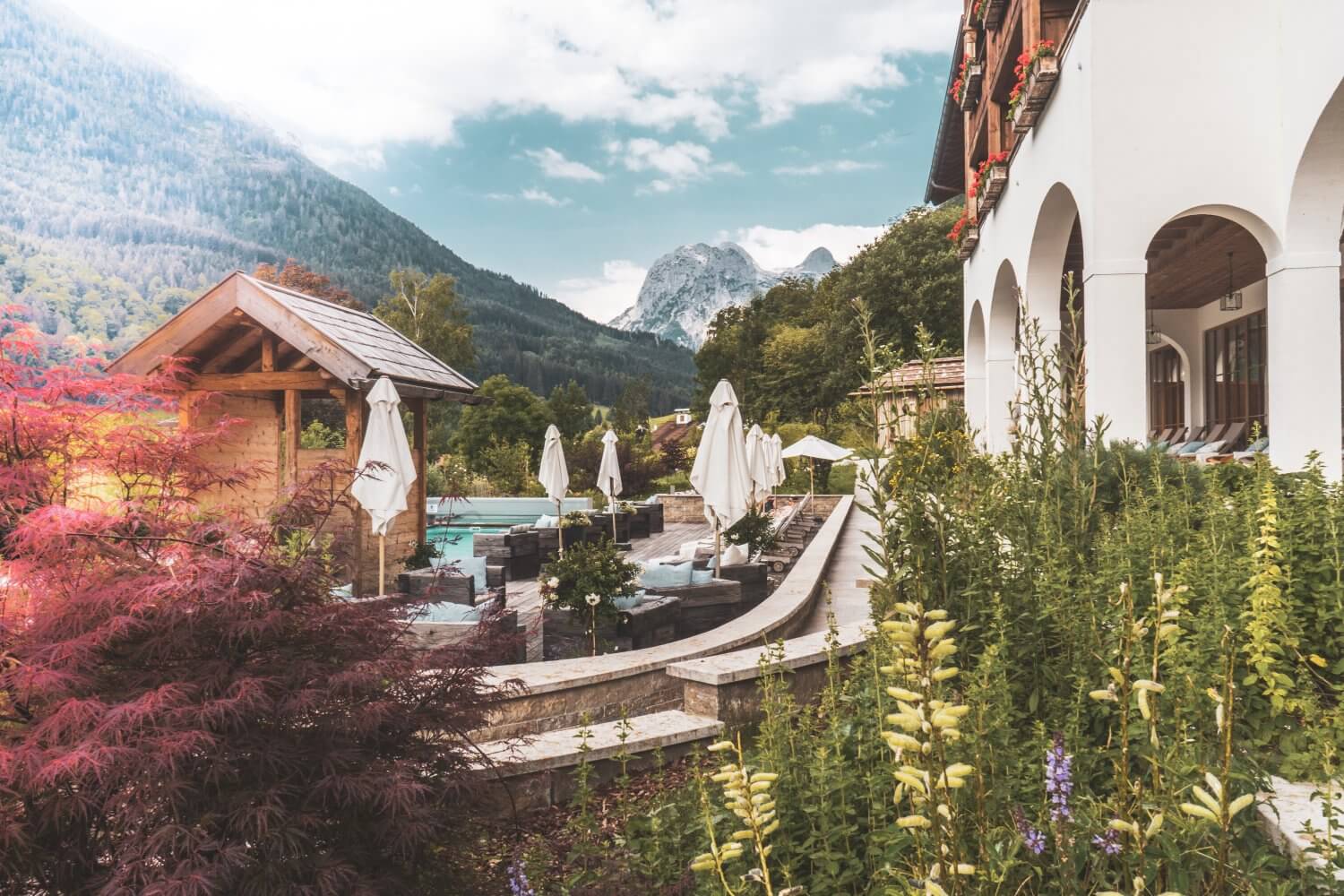 A Brief Introduction to the Berghotel Rehlegg
Perched on a grassy hill overlooking the village of Ramsau in Berchtesgaden National Park, the Berghotel Rehlegg is a farmhouse-turned hotel property, welcoming guests ever since the land was purchased by the Lichtmannegger family just over 100 years ago.
Throughout the past century, the property has been tweaked and designed to perfection, gliding gracefully through its evolution to the hotel's present form today, a beautiful hotel with 87 rooms and suites, still run by the same family now in the 3rd generation.
Fittingly, the family biz is now in the hands of happily rhyming cousins Franz and Hannes.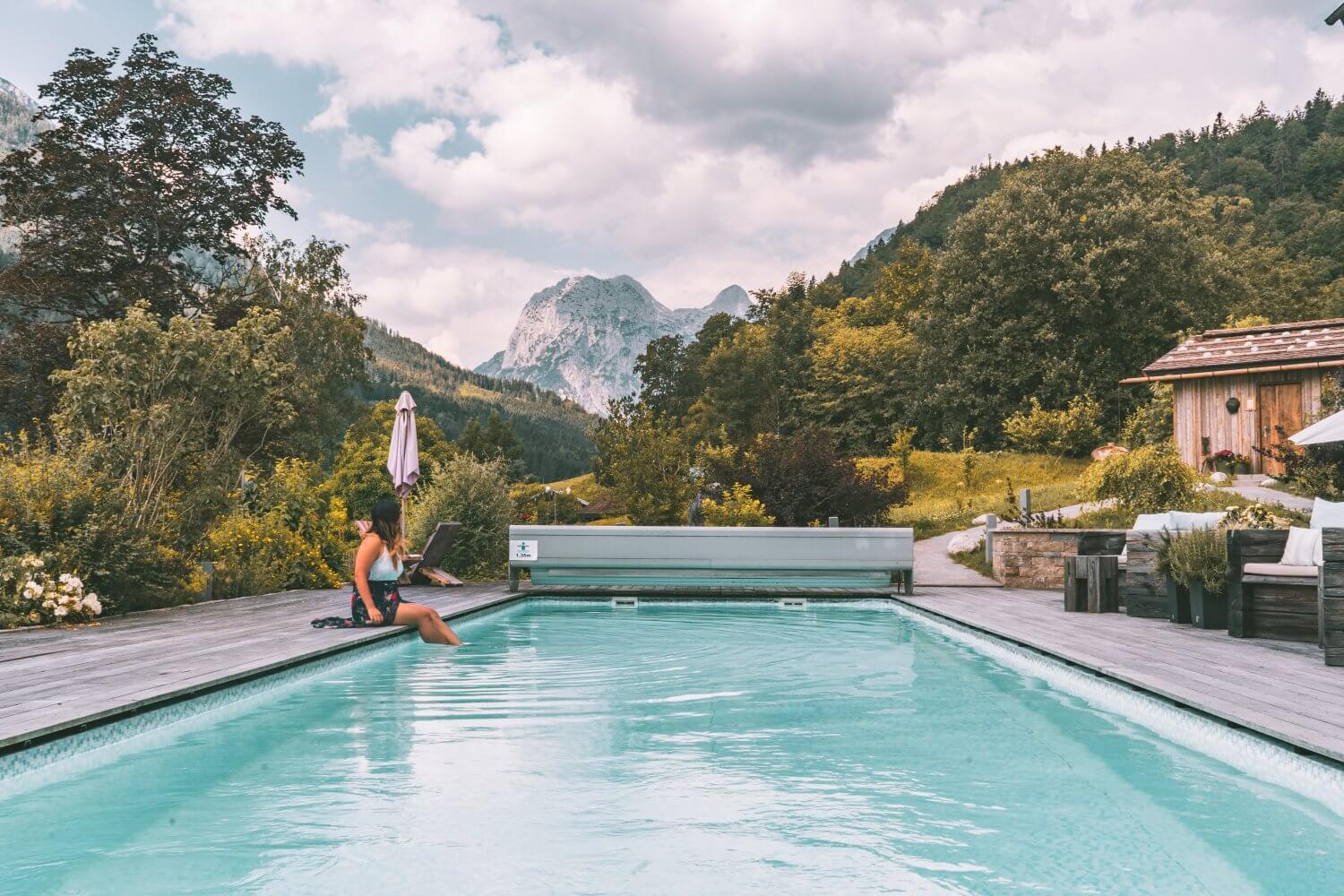 A Dazzling Location in Germany's Only Alpine National Park
The Berghotel Rehlegg can be found in the southern tip of Germany, so close to Austria, you can practically smell the schnitzel.
This makes it an ideal base for exploring the natural splendour of Berchtesgaden National Park, with gems like Hintersee only seven minutes away by car (or 1 hour by foot). Königssee, one of the park's starring attractions, can also be reached within 15 minutes, and the world-famous Eagle's Nest is also close.
And let me tell you: Berchtesgaden is a uniquely special place. As Germany's only alpine national park, it's a certified wonderland of lush, endless forest, imposing mountain peaks and crystal clear turquoise lakes (some of which are considered the cleanest in the country).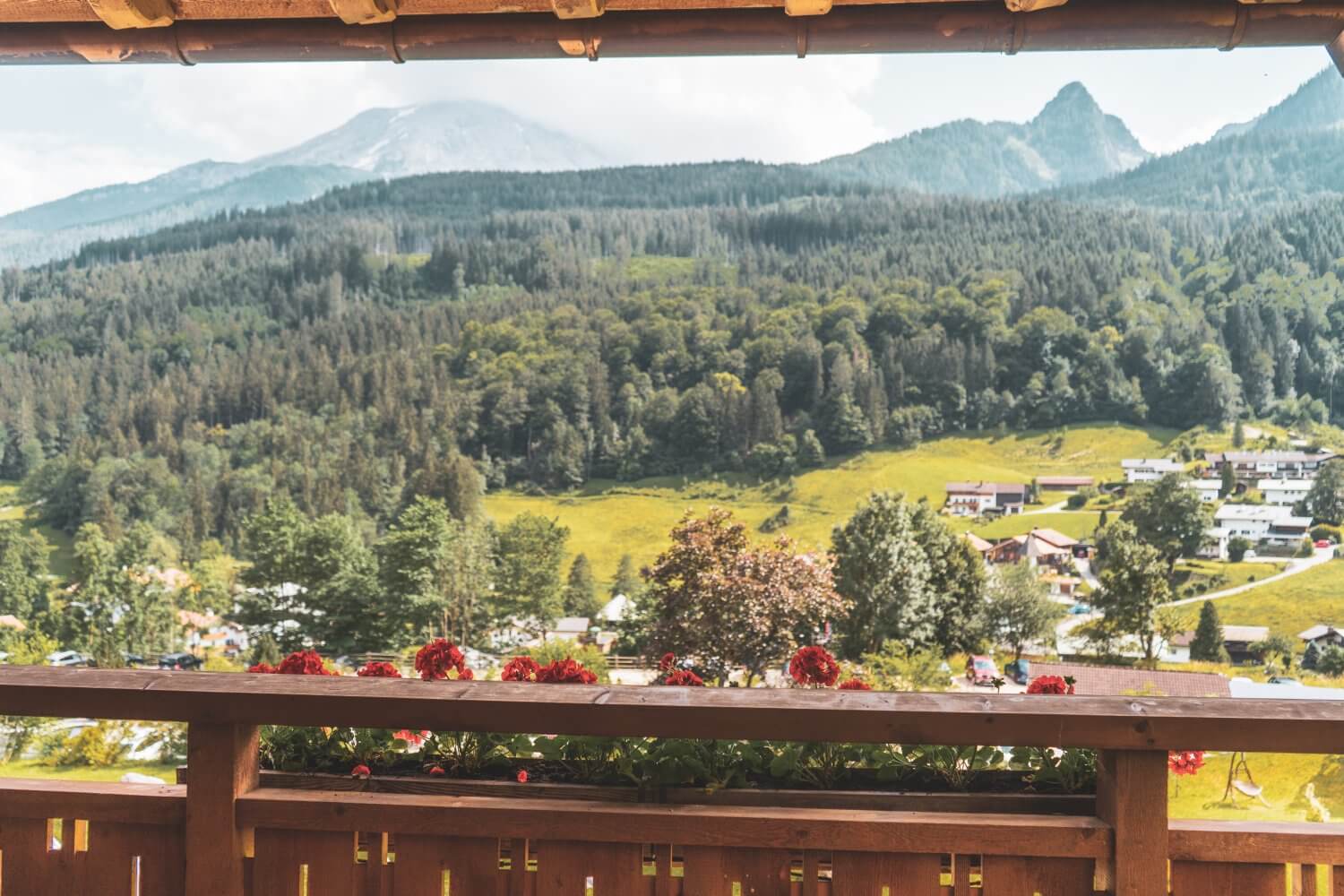 250km of hiking trails run through the park, an enticing offer if its hotels weren't so darn comfortable.
That's perhaps Berghotel Rehlegg's ultimate irony: it's a hotel built in one of the world's most stunning locations, but you'll be too enamoured by the hotel itself to venture outside. Oops.
Cozy & Relaxed Décor and Ambiance
As I would soon learn throughout my stay, time chugs a little bit slower in the Alps.
The stillness of the natural surrounding and the gentle lull of birdsong inevitably means one thing: you never feel in any rush to do anything. (Except maybe indulge in a poolside nap).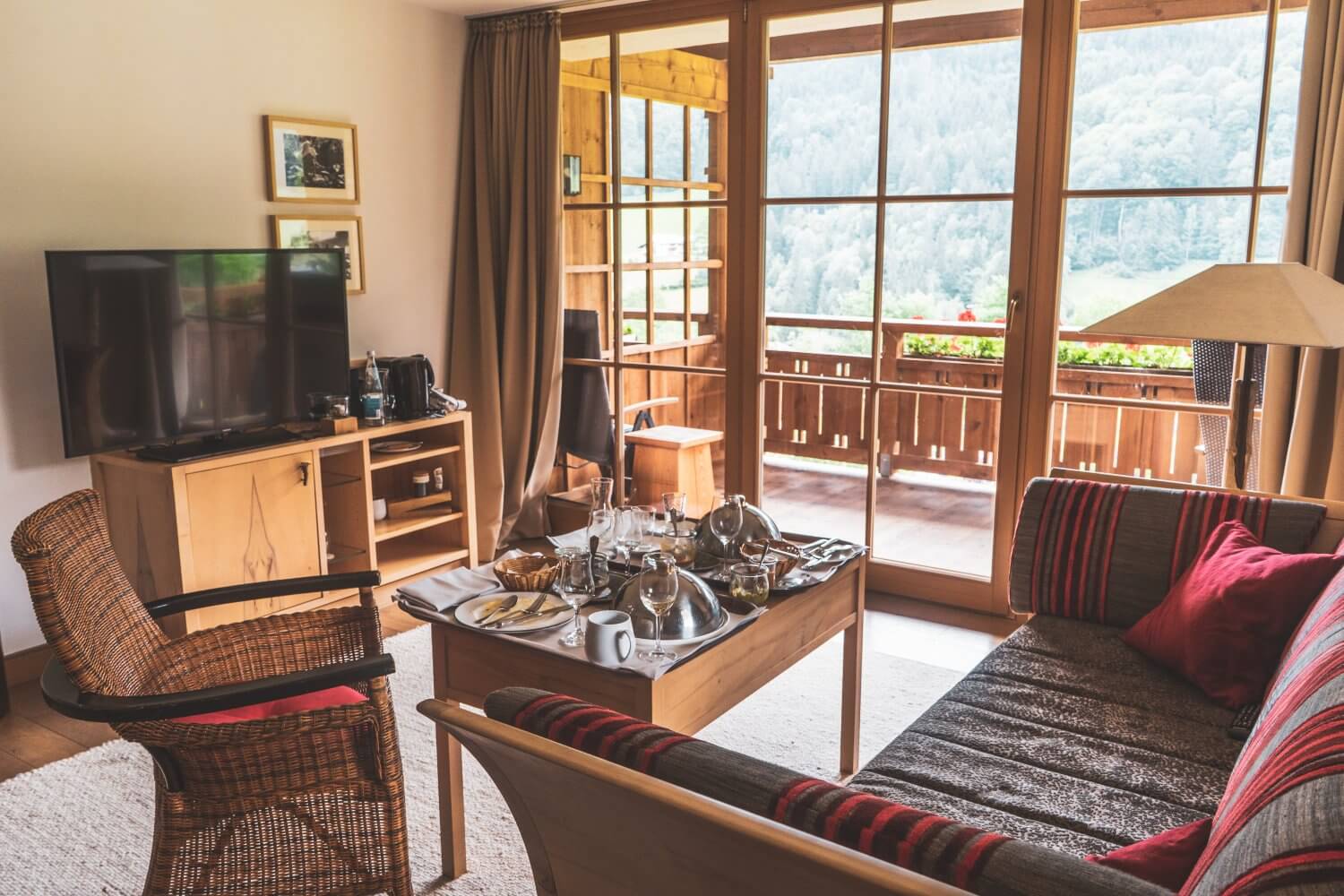 As I arrived to Berchtesgaden as a high strung mess (stressful deadlines and over-caffeination will do that), checking into the Berghotel Rehlegg was a much-needed break from my typical routine of mulling over all my life decisions.
In fact, at this hotel, the only thing that required mulling over was the extensive menu (but more on that later).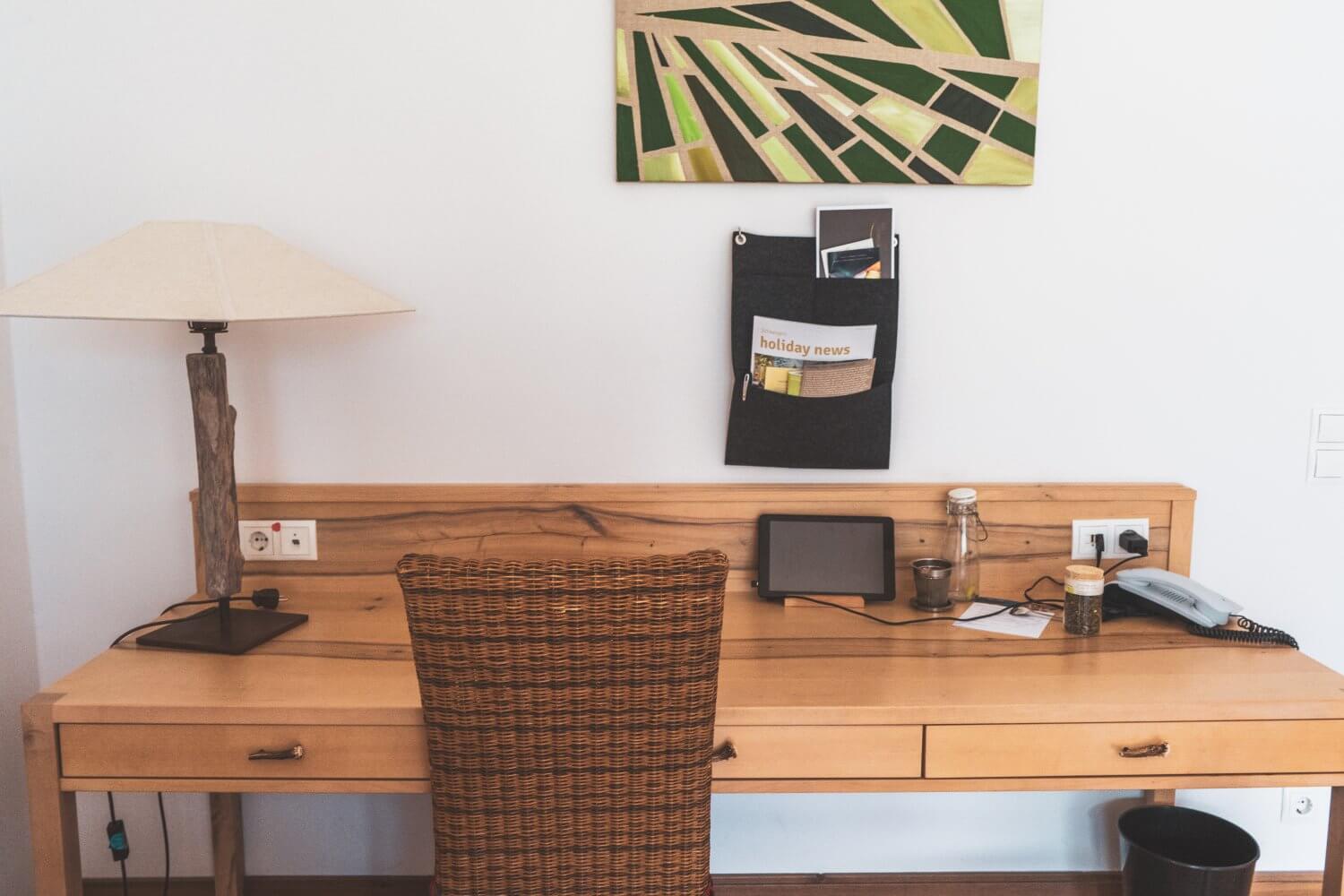 Every inch of the Berghotel Rehlegg is designed to make you feel relaxed.
After being stuffed with food upon arrival (always a nice welcome), we checked into our Suite for the weekend, which turned out to be an excessively spacious dream divided into three rooms: a bedroom, bathroom, living area and a gorgeous open balcony as the cherry on top.
The suite had all the rustic charm and coziness of an alpine cabin, ushered into the modern era with thoughtful amenities and all the conveniences of the 21st century, like an in-room iPad with all the hotel's important information.
As my boyfriend pored over the gloriously manly wooden details, I plopped myself on the couch, admiring the living area which came complete with a big TV, a desk area and delicious DIY tea/coffee.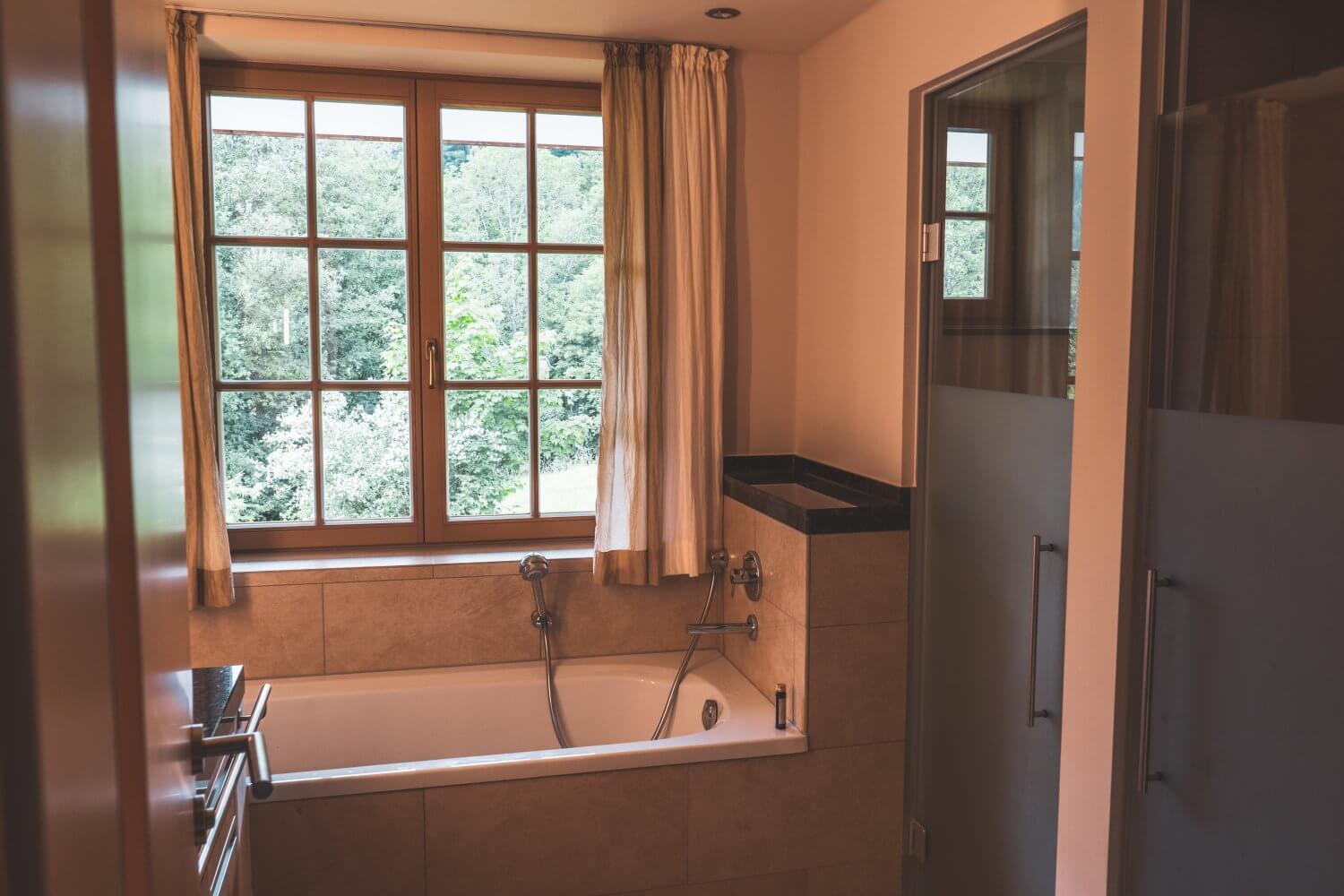 The separate bedroom of course meant a lot of wonderful things: it meant I could quickly wrap up my last work obligations while my boyfriend was distracted by German-dubbed blockbusters.
It also meant I could shuffle around the suite early in the morning to take photos, as bae snored on.
The pillow menu and cloud-like mattresses were of course a happy bonus.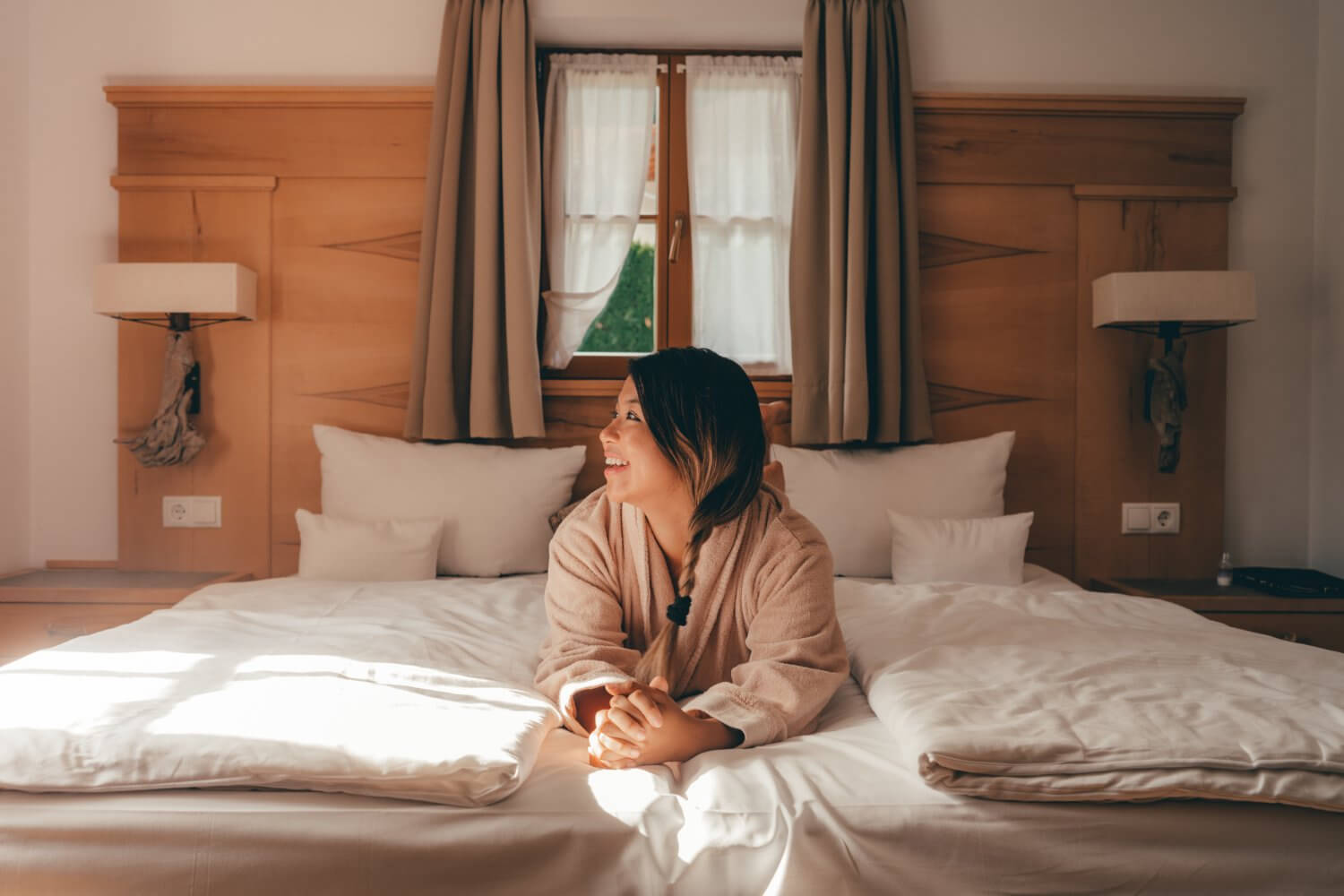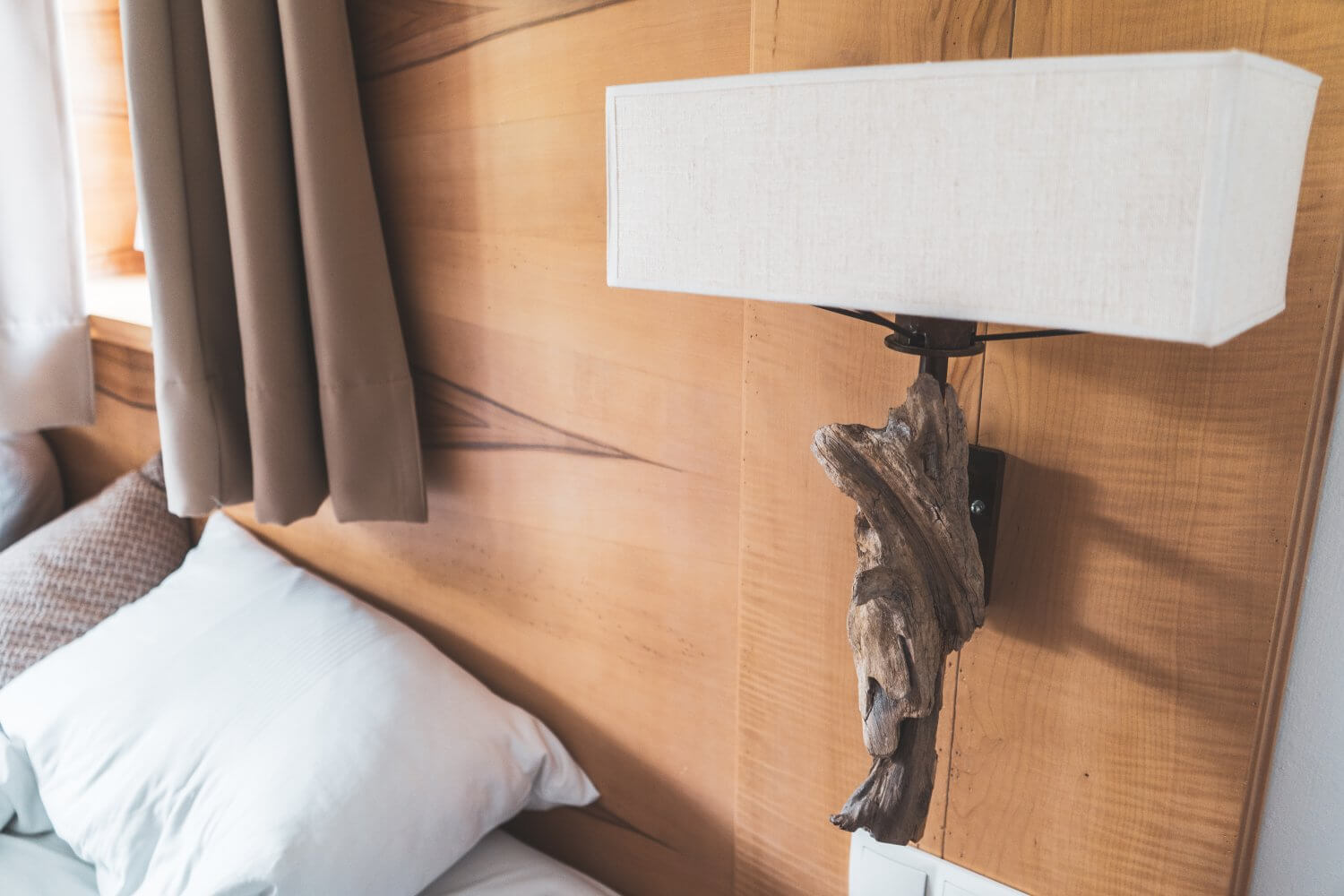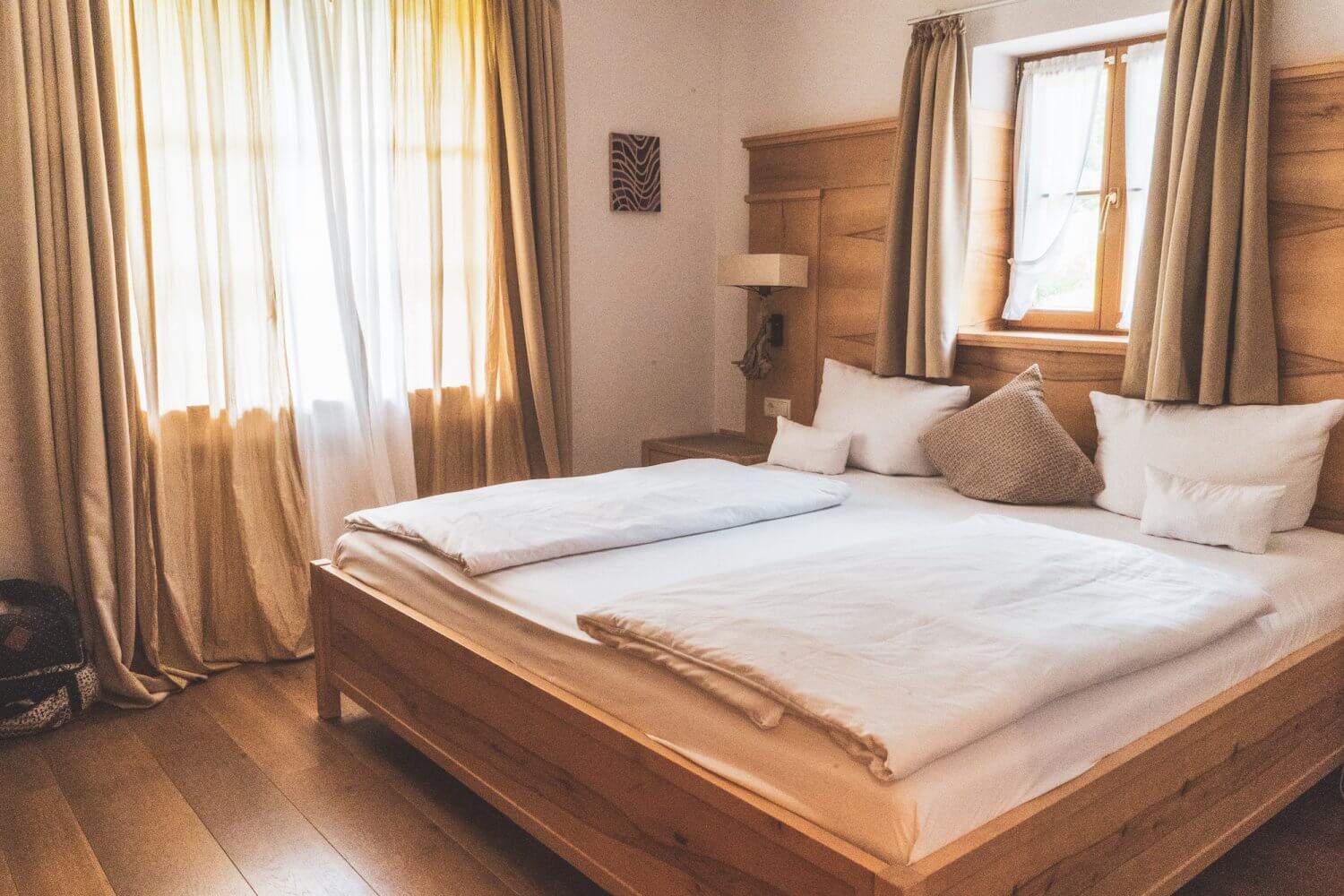 Oh and did I mention the balcony yet? Because this is what it looked like…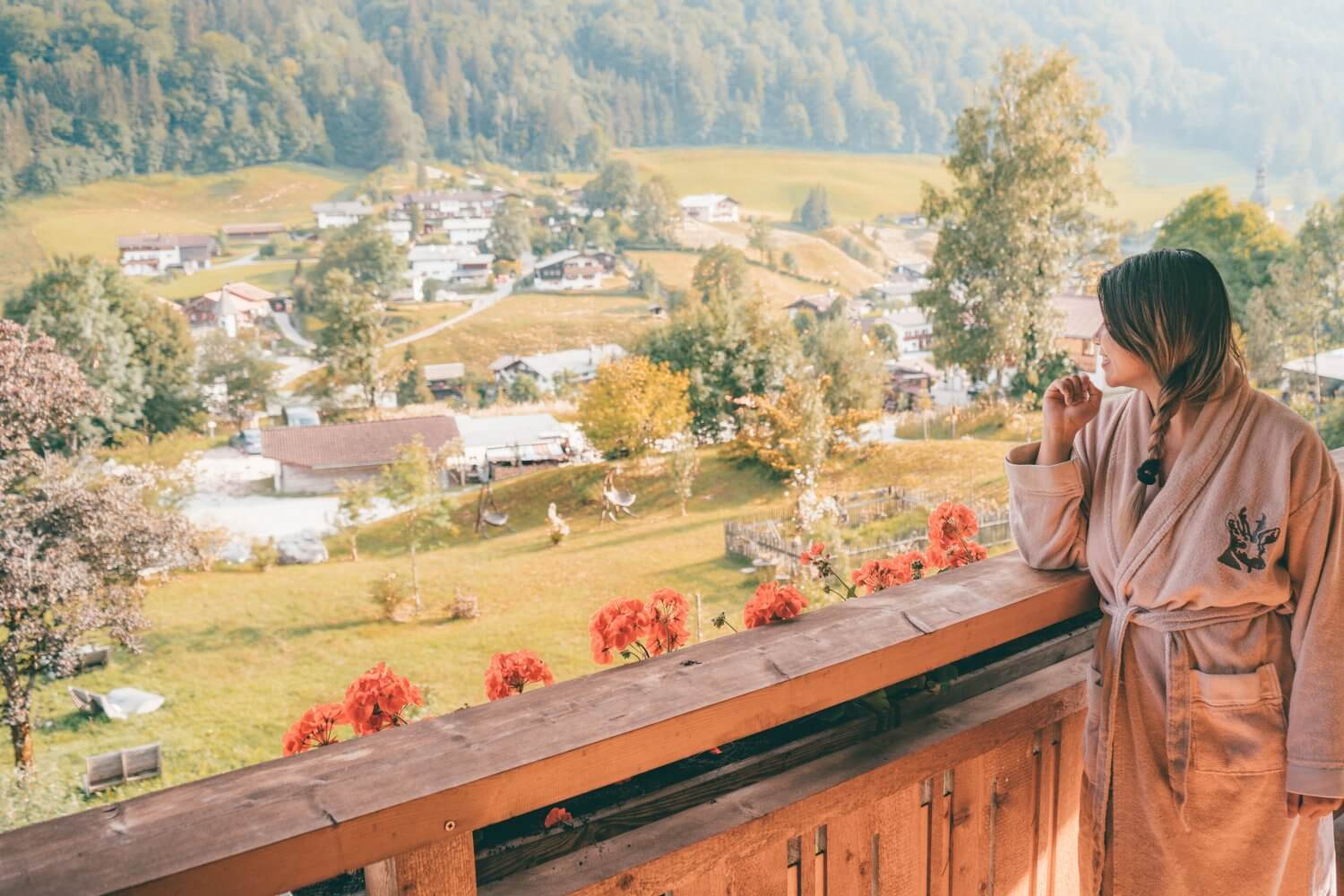 The Food at Berghotel Rehlegg
And while the natural setting and gorgeous decor were already enough to sweep me off my feet, it was the food at Berghotel Rehlegg that really sealed the deal.
Conveniently, one did not need to wander far for a good feed.
Guests staying on a half-board basis (included in the price!) can enjoy both breakfast and dinner on-site.
On sunny days, breakfast can be eaten on the terrace with high-up views over Ramsau, with a European buffet selection of cold cuts, cheeses, cereal, yogurt and all kinds of bread that you lovingly plopped into a little felt basket (adorable).
Hot egg dishes could also be ordered, and of course, there was a nice bottle of bubbly out for some DIY mimosa action if that's your style (which, of course it is).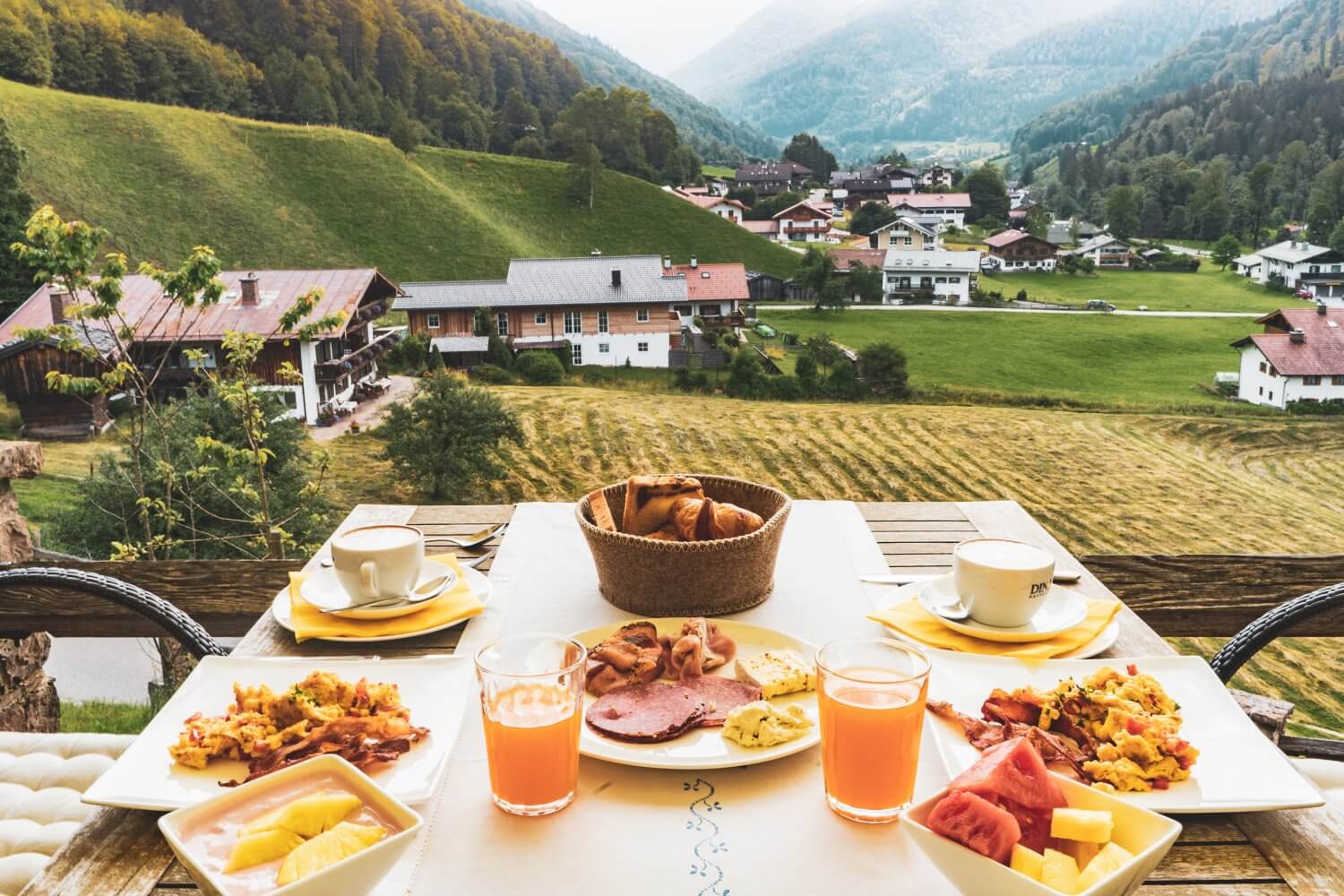 For dinner, you're treated to your own personal Sophie's Choice – a painful decision between the evening dinner buffet at The Lichtmannegger's or a night spent at the a la carte restaurant, The Almstüberl.
For our stay, we chose the a la carte option, feasting on locally sourced deliciousness steeped in a remarkably homey ambiance. After my dessert, a trio of gin-soaked sorbets, I felt like I needed to be carried back to the room.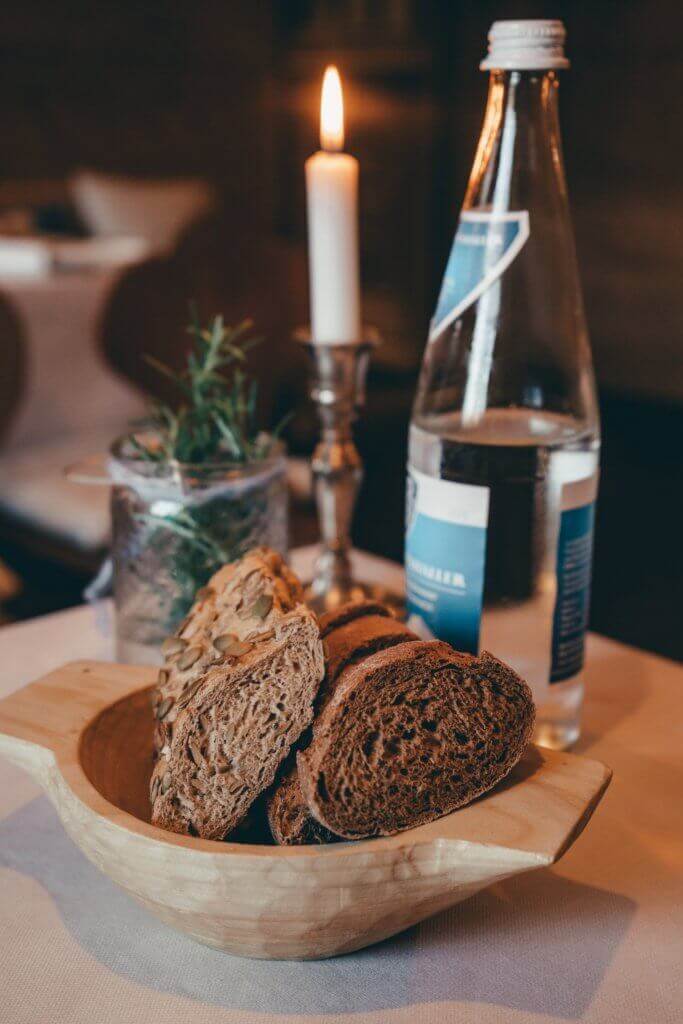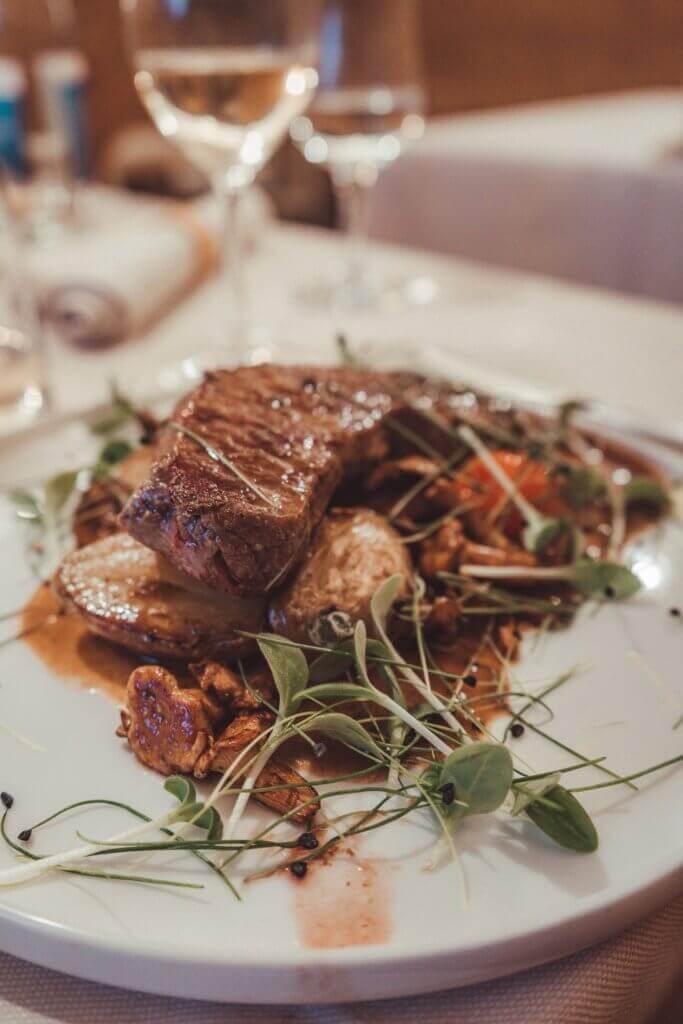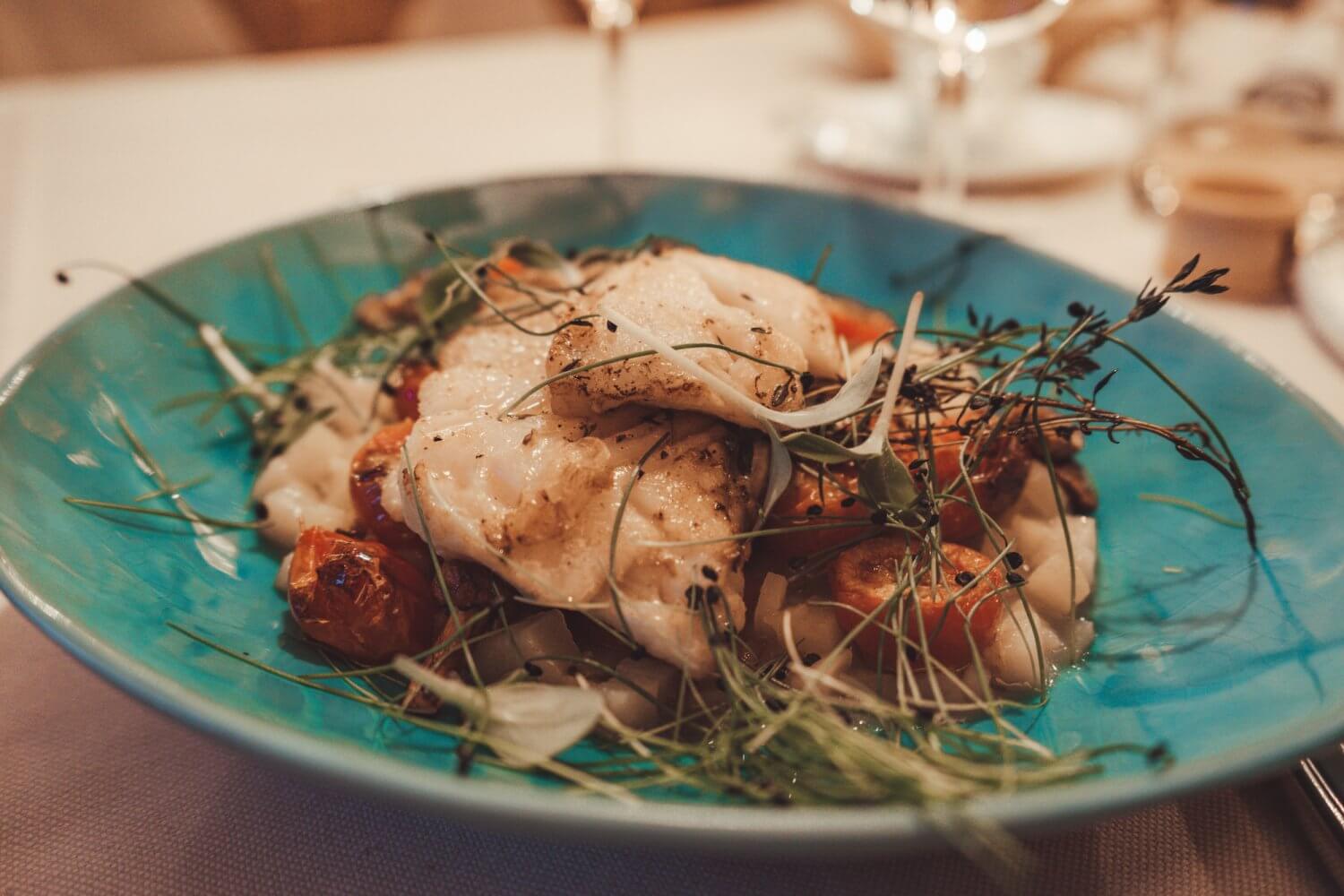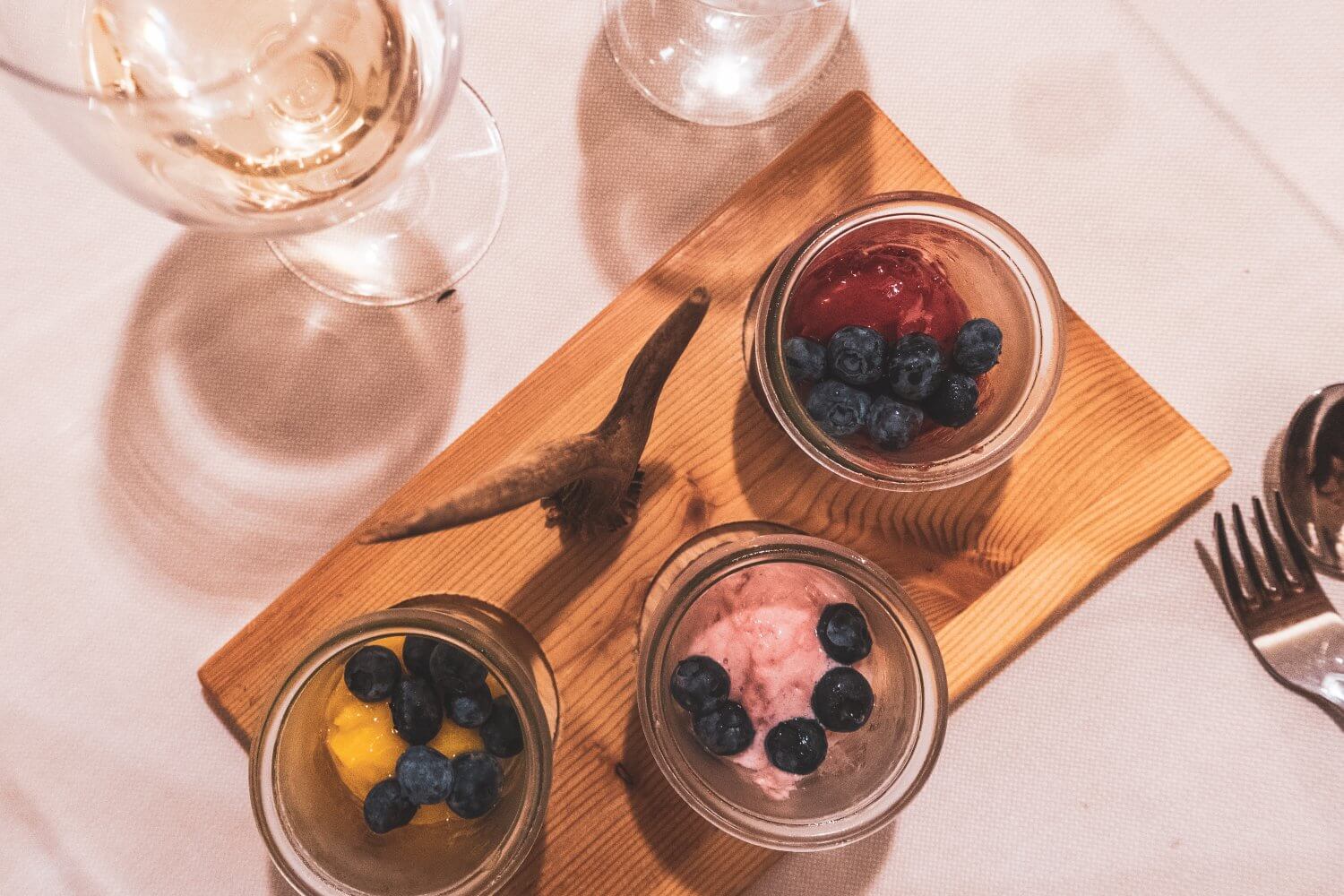 And if you are so pleased with the confines of your room that you can't even make the trek downstairs, room service is offered for only a 5 euro delivery fee.
I discovered this on one particularly lazy Saturday, when my masseuse had massaged all the willpower out of me. Oh, and when I saw tiramisu could be delivered to my door.
Yes please, take all my money, just take it.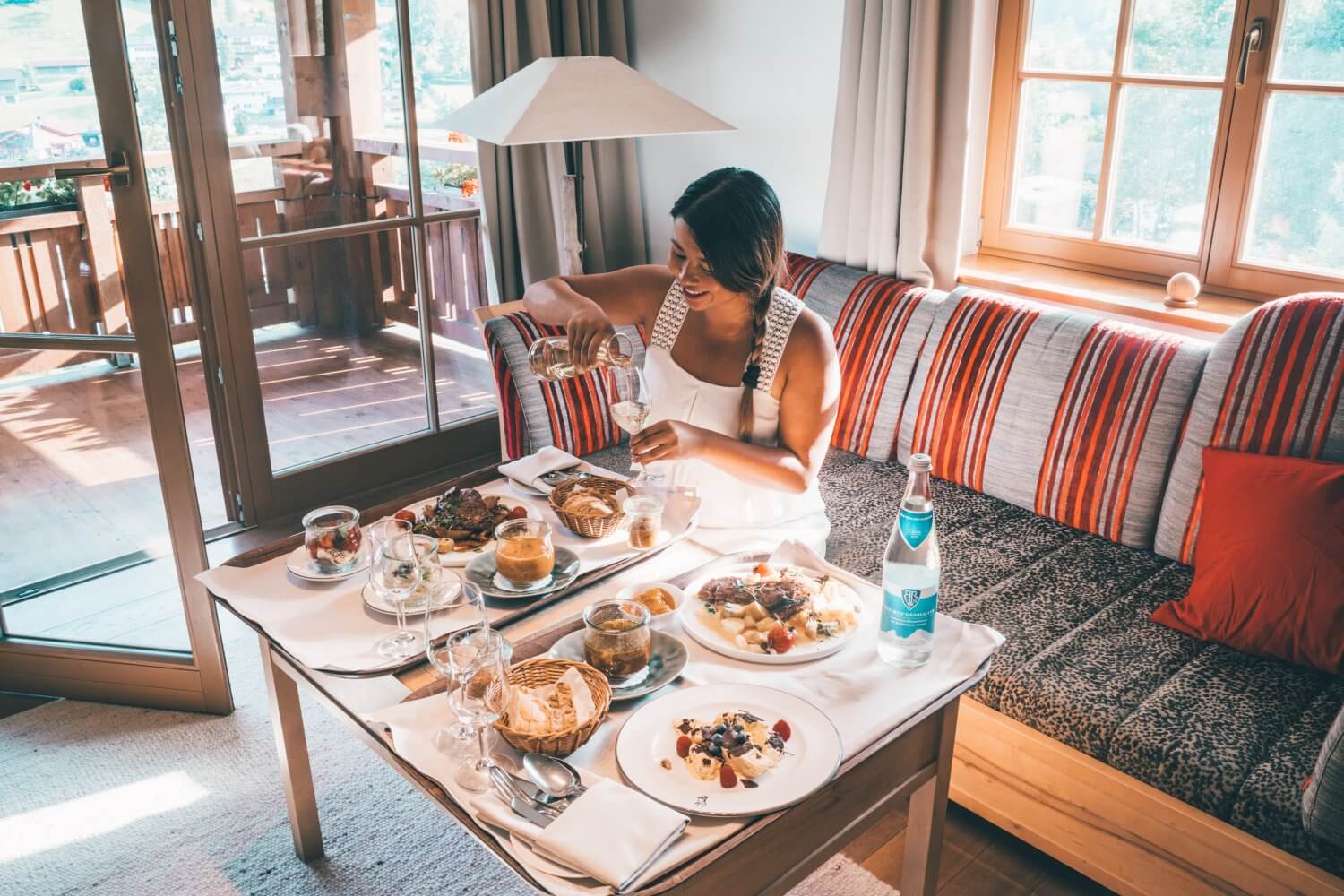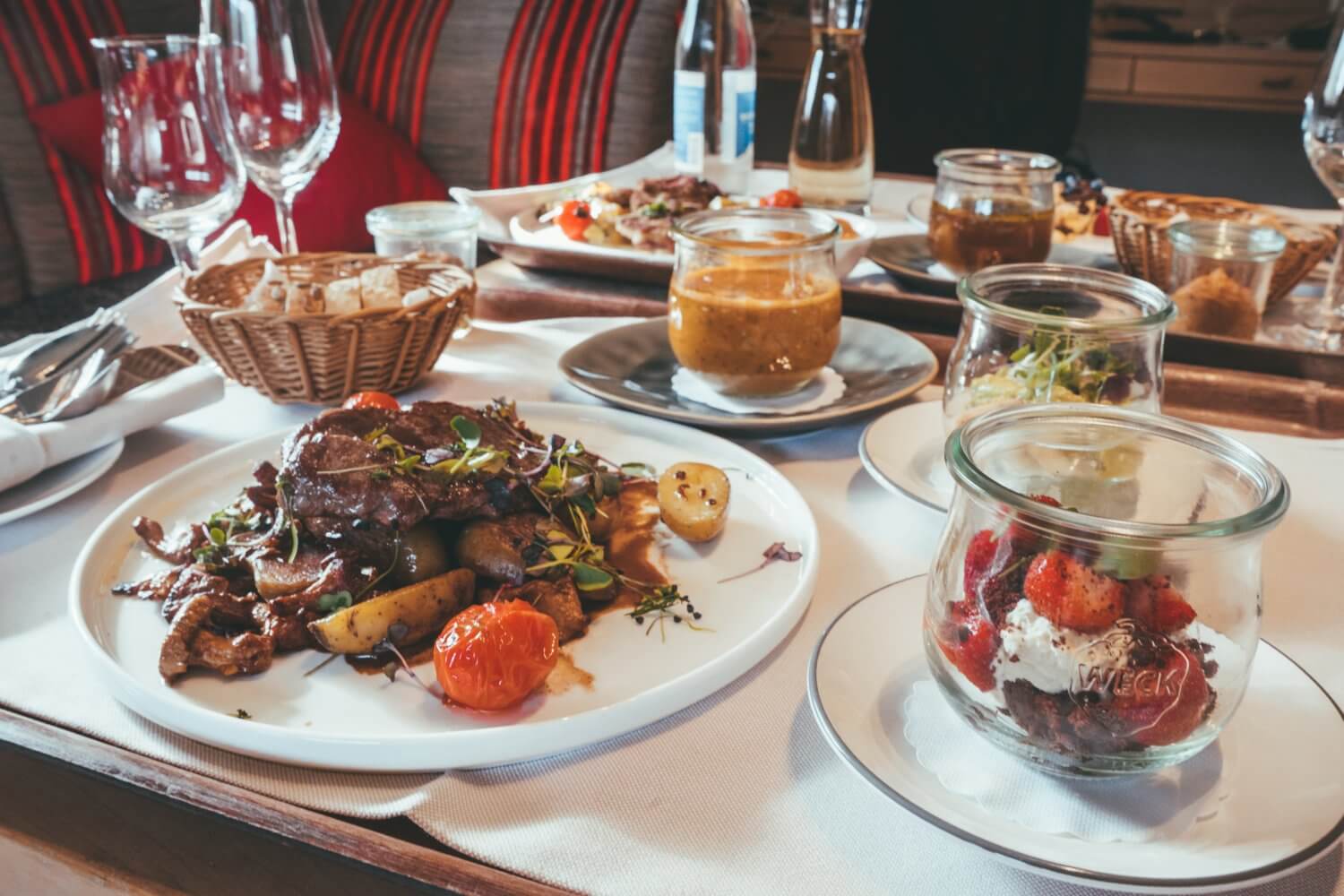 Dreamy Facilities
My time at the Berghotel Rehlegg can best be summed up as "aggressive relaxation"… because yes, my superpower is I can find a way an aggressive way to do anything.
I relaxed aggressively as I swung poolside in a wicker swing, which swayed elegantly against the Alpine breeze.
I relaxed aggressively as I sipped wine on my wooden terrace, as birds literally swooped in and sang at me like I was an alcoholic Disney princess.
And yes, I relaxed incredibly aggressively during my Große Bergfrische massage at the Almwies'n Spa, where my hands were made baby smooth by a lavender/rose scrub made in house, and my body was slathered with a dreamy beeswax block, mixed with fragrant essential oils and cocoa butter.
I mean… nama-stay forever, you know what I mean?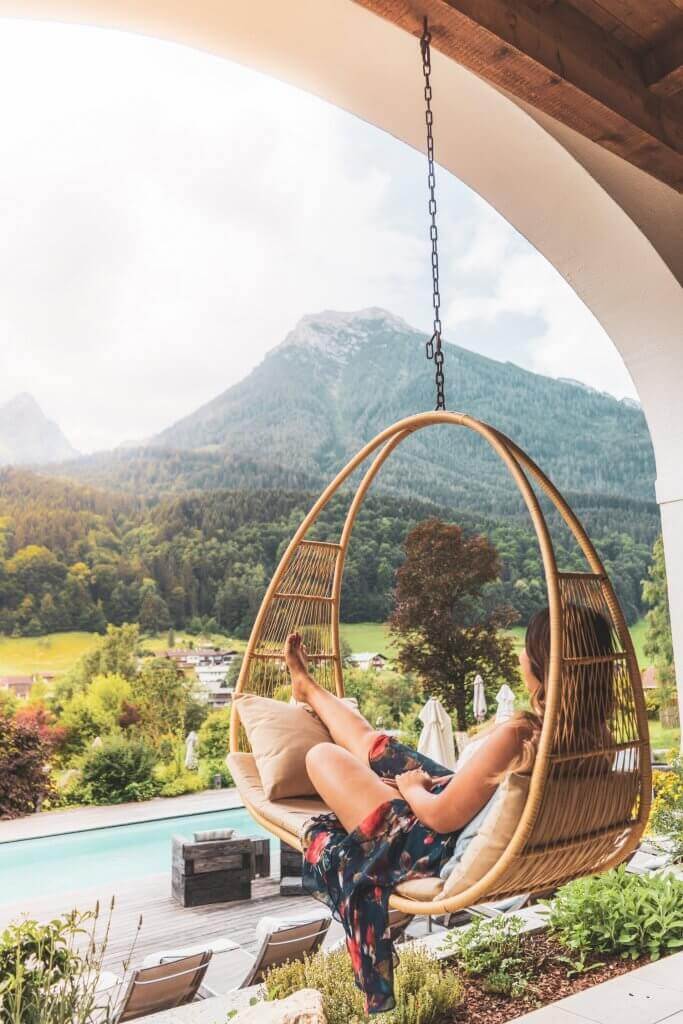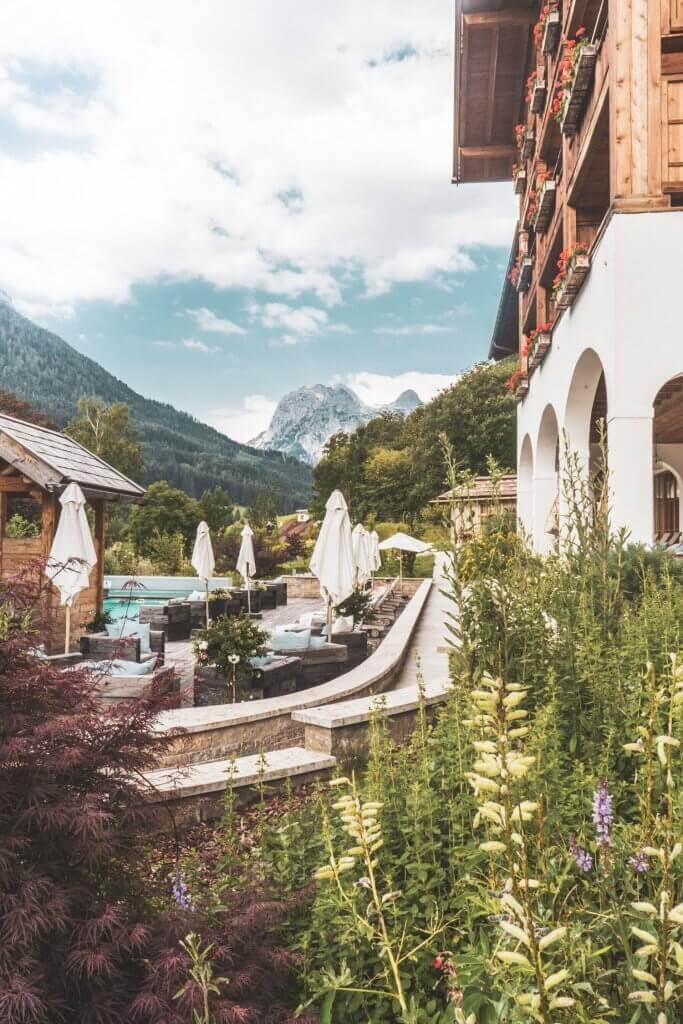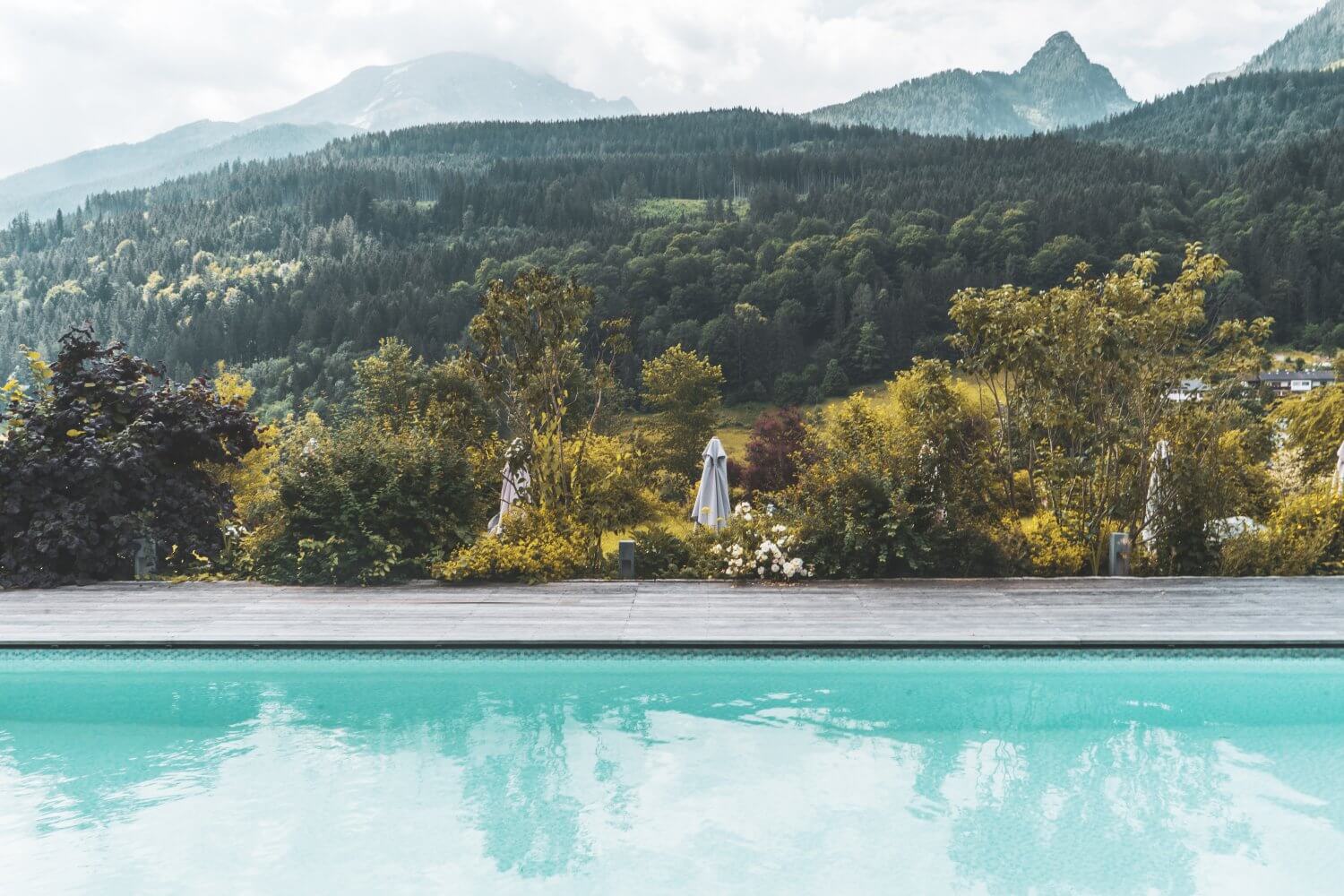 Besides the heated solar-powered pool overlooking the scenic mountains ahead, sauna people will also delight in the exceptional variety on offer, whether your preference is woodfire, infrared, steam or Finnish.
On my final morning in Berchtesgaden, I pried myself out of bed to enjoy one final exploration around the hotel. Imagine my surprise when I opened the doors of the indoor spa area, only to find a glorious glossy pool, practically glowing turquoise in a warm wooden room… all with rolling hills of green just outside the window.
Oh the missed opportunities… oh the many hours I would have spent here, starfishing like my career depended on it. I guess there needs to be a next time?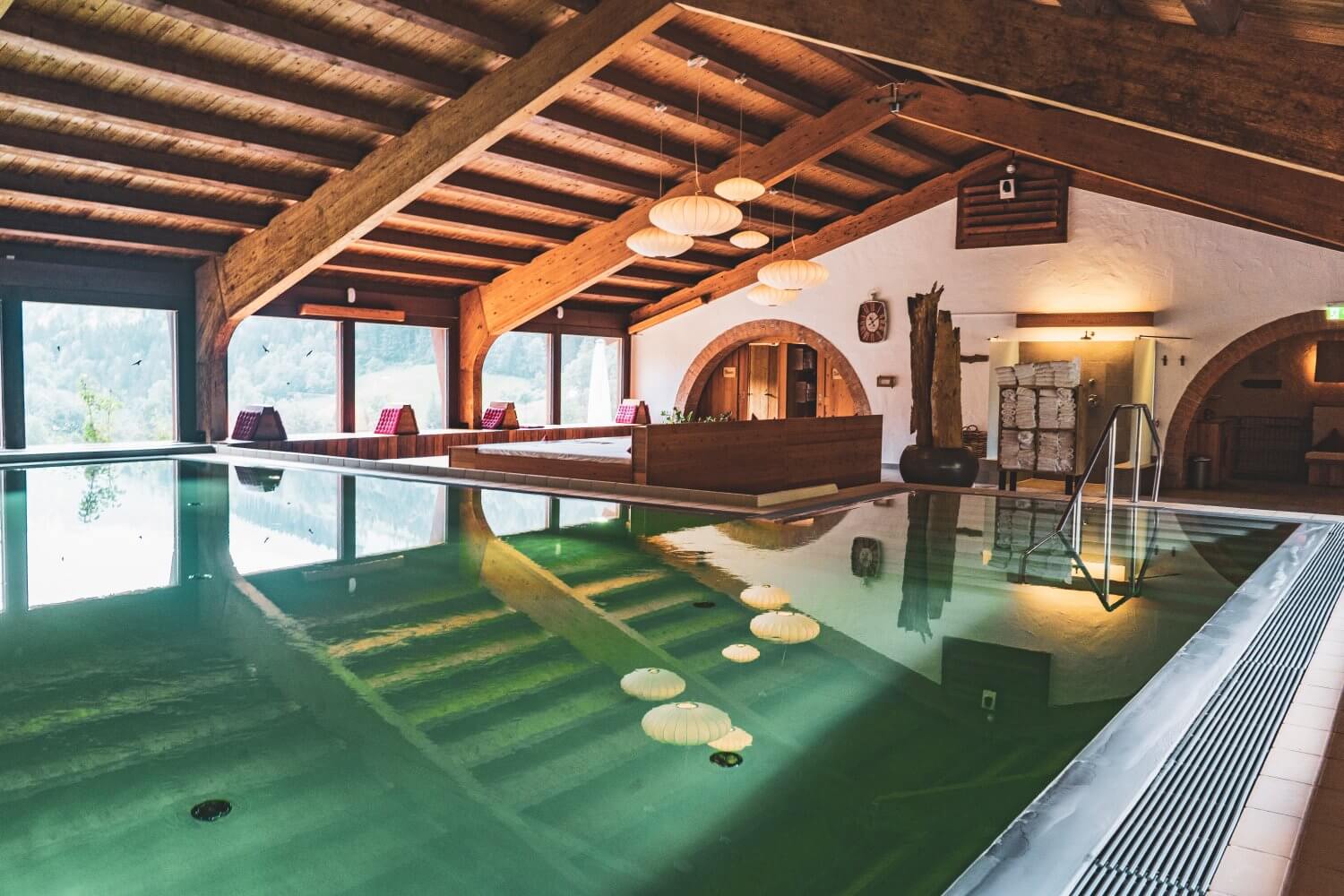 A Sustainable Ethos
Last but not least, I need to mention the property's focus on green operations and sustainability.
Sure enough, the Lichtmanneggers look to nature as more than just a pretty backdrop, but also a constant reminder of their responsibility to keep the world a clean & beautiful place. As such, the hotel takes active measures to ensure practices are eco-friendly.
For instance, the property minimizes energy consumption through renewable energy sources (solar thermal systems power the pools and most of the hotel's hot water), while keeping a close relationship with local suppliers and producers wherever possible.
With 90% of the hotel's food sourced locally, here, eating local is more than just a fad, it's a way of life (and a mighty delicious one, might I add). There are also charging stations for electro cars and e-bikes available on-site, and deliberate usage of effective microorganisms in place of chemical cleaners. Learn more about the hotel's Sustainability efforts here.
Berghotel Rehlegg: The Final Word
If you're looking for a relaxing getaway in a gorgeous setting, look no further than the Berghotel Rehlegg.
After my weekend here, I felt completely reborn and blissed out.
And as for opinion on wellness hotels…? Well, let's just say this visit certainly won't be my last.
Rooms at the Berghotel Rehlegg start from €99.00 per person. Click here to see a full list of their rates and availability.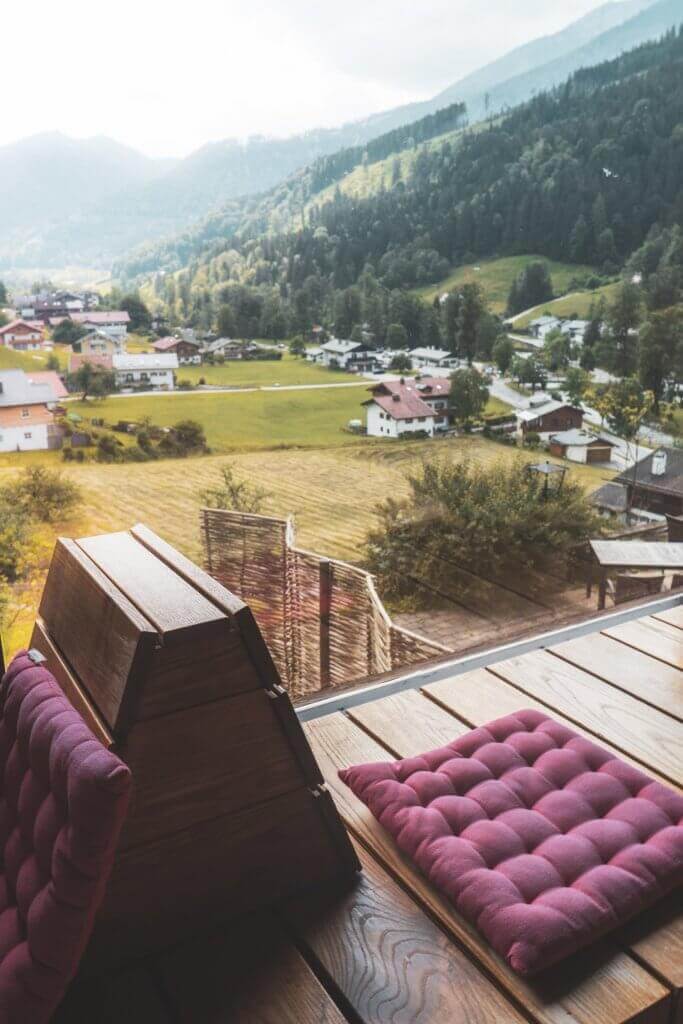 ---
Watch my most popular YouTube video this week:
---