*FYI - this post may contain affiliate links, which means we earn a commission at no extra cost to you if you purchase from them. Also, as an Amazon Associate I earn from qualifying purchases. Check out our Privacy Policy and Disclosure. for more info.
For a lot of first-timers visiting the Eternal City, many find it to be an eternal disappointment.
From crafty pickpockets and heaving crowds to tourist traps around every corner, Rome is not an "easy" city to enjoy…
But don't worry – if you're visiting Rome any time soon, I've put together a list of oddly specific Rome travel tips to ensure your trip is a roaring, calorie-packed success.
I've been to Rome three times now, with each visit better than the last. I chalk that up to learning through painful trial and error all the eccentricities and traps that this magically frustrating city has to offer.
(Although full disclosure: the first time, I literally got robbed within 15 min of arrival, so I guess that's a pretty low bar.)
So, if it's your first time in the Eternal City, here are some highly important must-knows before you visit Rome. Trust me – with these Rome tips in hand, you're guaranteed to have the trip of a lifetime.
Rome Travel Planning Tips
Let's start with some planning-related Rome tips to help you with flights, booking hotels in Rome, choosing dates, the best times to visit Rome, etc.
Learn the tricks to getting cheap flights TO Rome
If you haven't booked your flights to Rome yet, be sure to check out my guide on how to get the cheapest flights to Europe. I promise it'll save you hundreds of dollars on your flight!
Consider flying into Rome's cheaper, smaller (and more central) airport
Rome Fiumicino Airport (AKA the Leonardo da Vinci Airport) is Rome's main international airport. If you are coming from overseas, this will likely be your point of entry.
This airport is located in Fiumicino, about 40km west of Rome's historical centre, right by the sea.
Getting to/from Rome's Termini (central) station can be as quick as 32 minutes if you take the Leonardo Express Train (14 euros) or as long as an hour or so if you take some regional trains with stops and connections.
If however you are flying from within Europe, then a cheaper alternative may be Rome Ciampino Airport, which is only 12.5km away from Rome's historical center and services budget airlines like RyanAir and WizzAir.
A train from Ciampino to Rome's Termini station can be as quick as 14 minutes and costs only 1.50, so it's a great way to save time/money if you're on a budget.
NOTE: Budget airlines come with their own set of unique struggles, but if saving money is a big priority for you, then flying into Ciampino is worth looking into.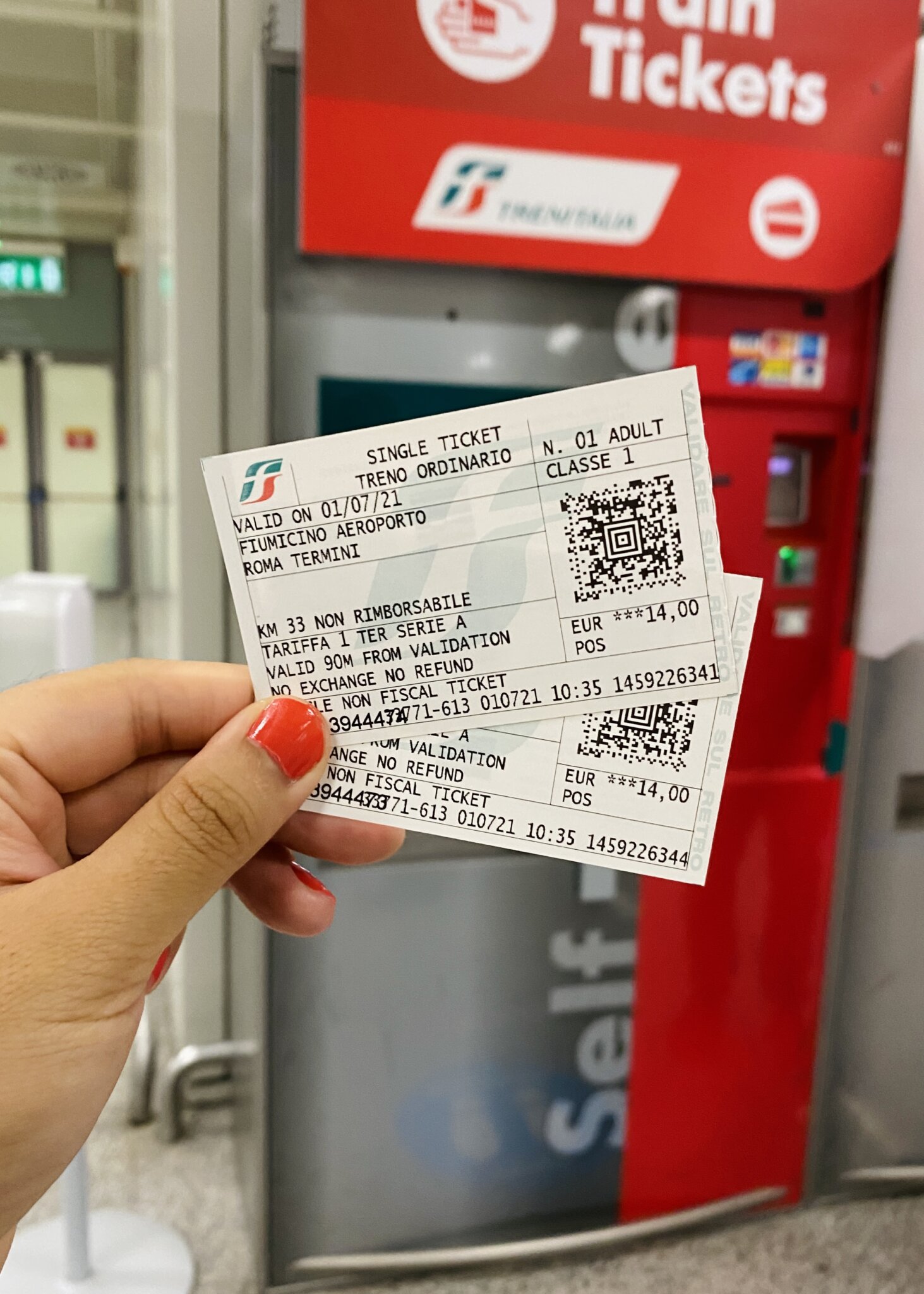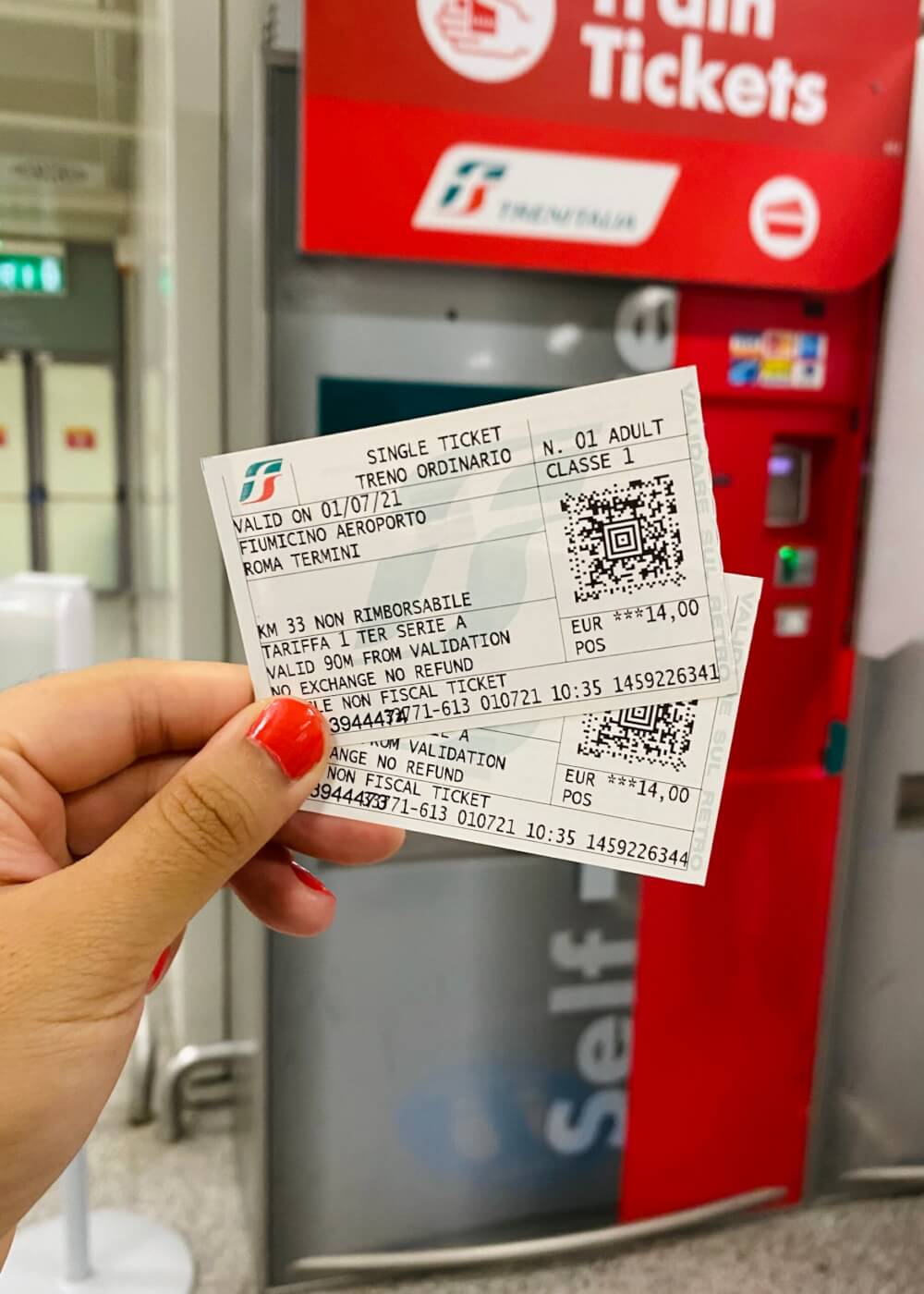 Avoid peak season in Rome if you can
I've visited Rome in June, July, and January. By far, January's temperatures and crowds were the most pleasant.
Not only are July and August extremely popular times to visit Rome (meaning inflated prices and crowds), the heat will destroy you completely.
One afternoon on my most recent visit, my boyfriend and I were so exhausted by the heat that we literally sat down next to a water fountain, and wordlessly sipped water for a solid 30 minutes. It was weird – and for that bizarre chapter, I blame that scorching Roman sun.
Of course, Rome in the peak summer months is still worthwhile to visit, but if you have the luxury of choice, visiting outside of July and August will mean thinner crowds and more tolerable temperatures.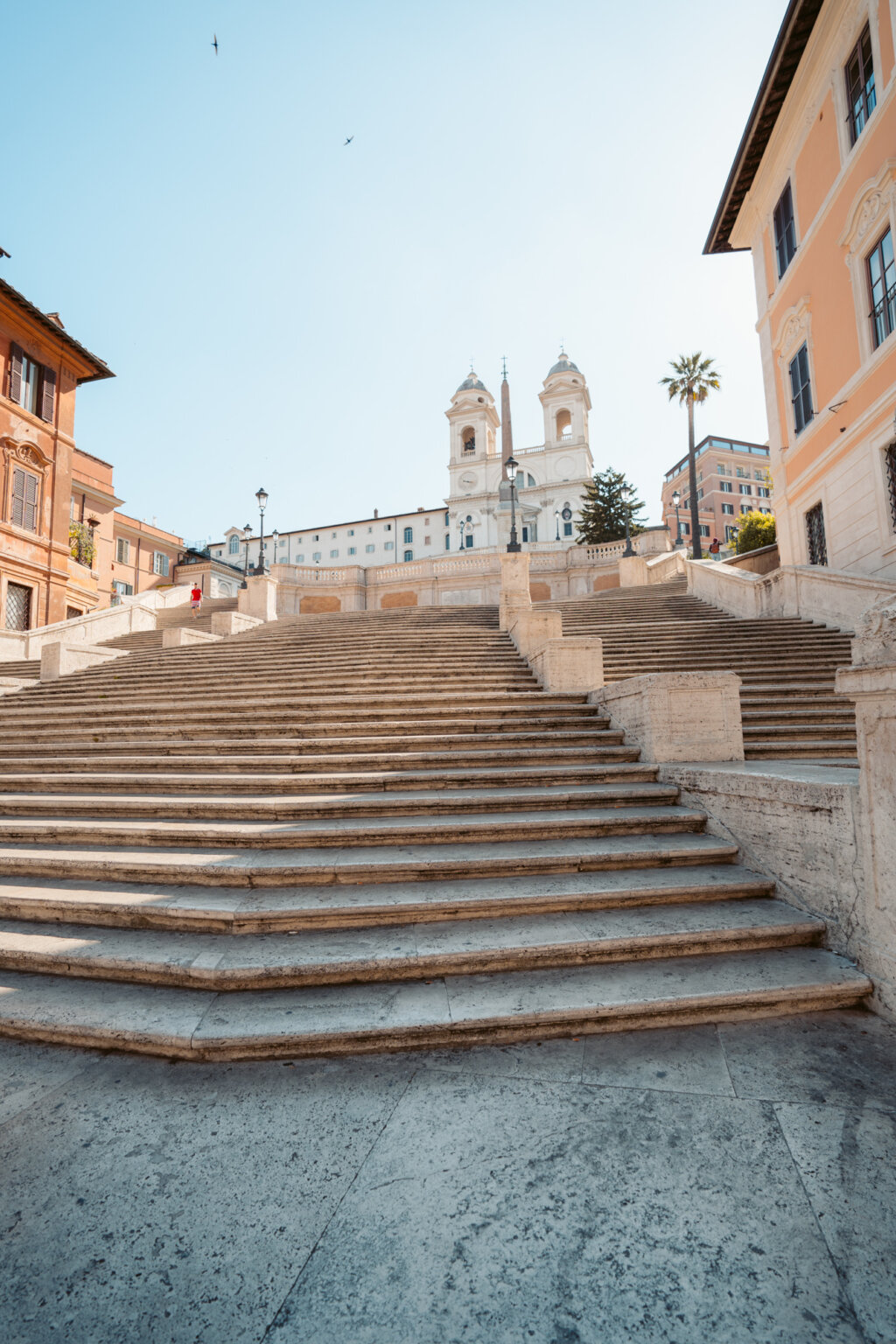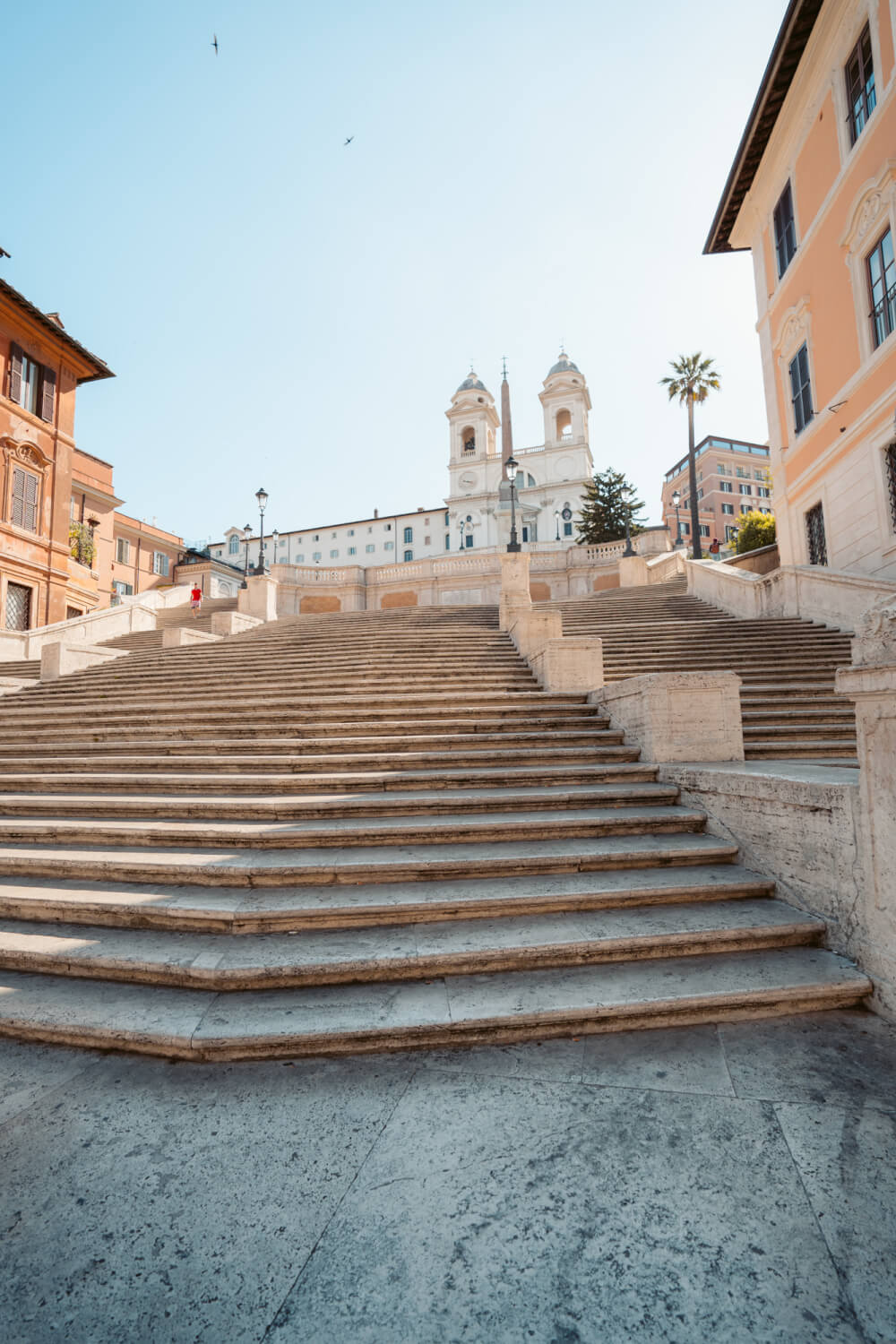 Plan your trip for minimum four days
If you are currently planning your first visit to Rome, I strongly encourage you to plan for at least 4 days in the city.
There is SO much to do in Rome – after three visits I still feel like I've barely scratched the surface.
I think the beauty of this city is that there are huge powerhouse attractions that are a must-do (e.g. the Colosseum, Vatican City, etc.) alongside quirkier and more offbeat sights that many visitors miss.
4 days will allow you to experience both of these (equally worthwhile) sides of Rome, while making time for lengthy, relaxing meals and aperitivos.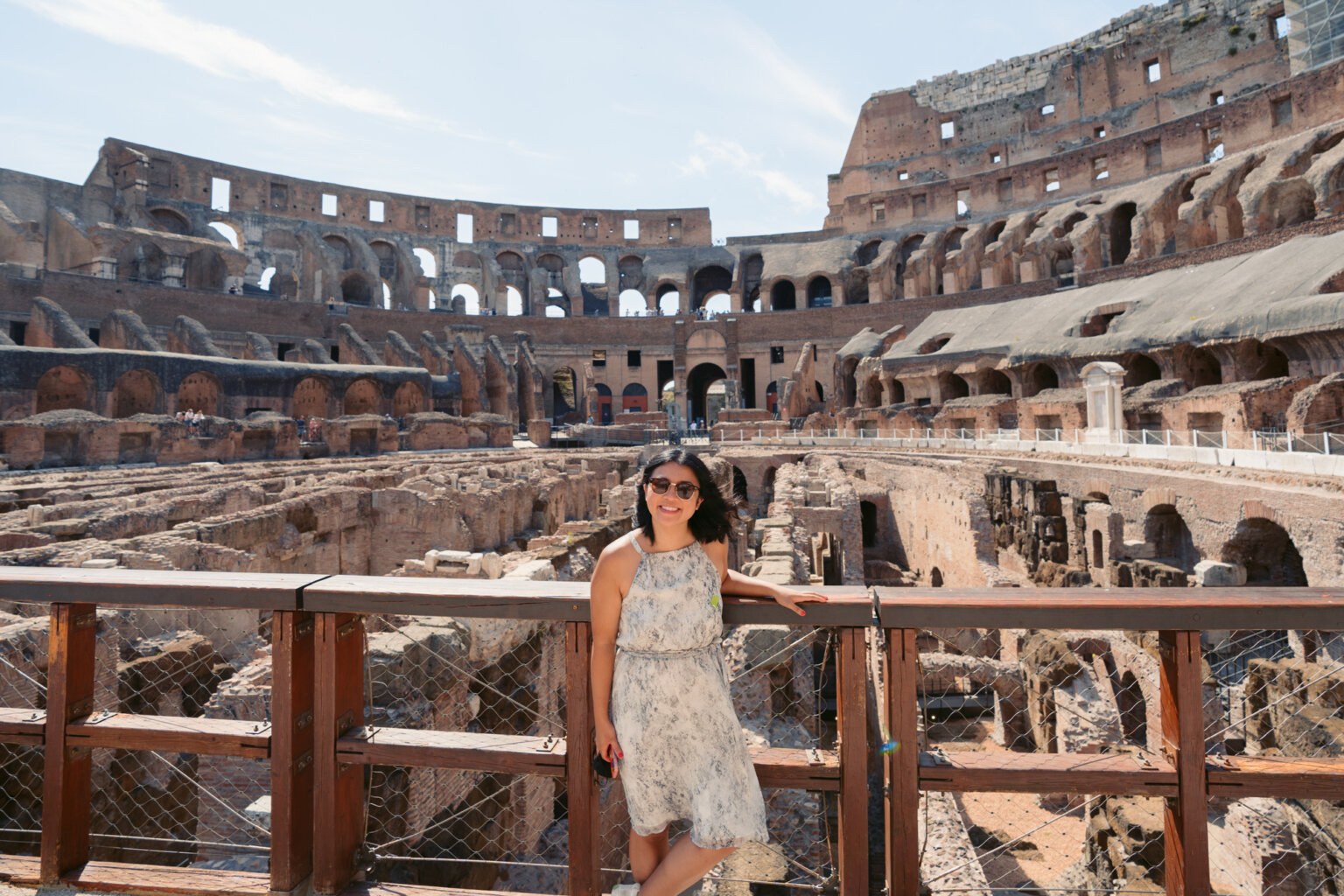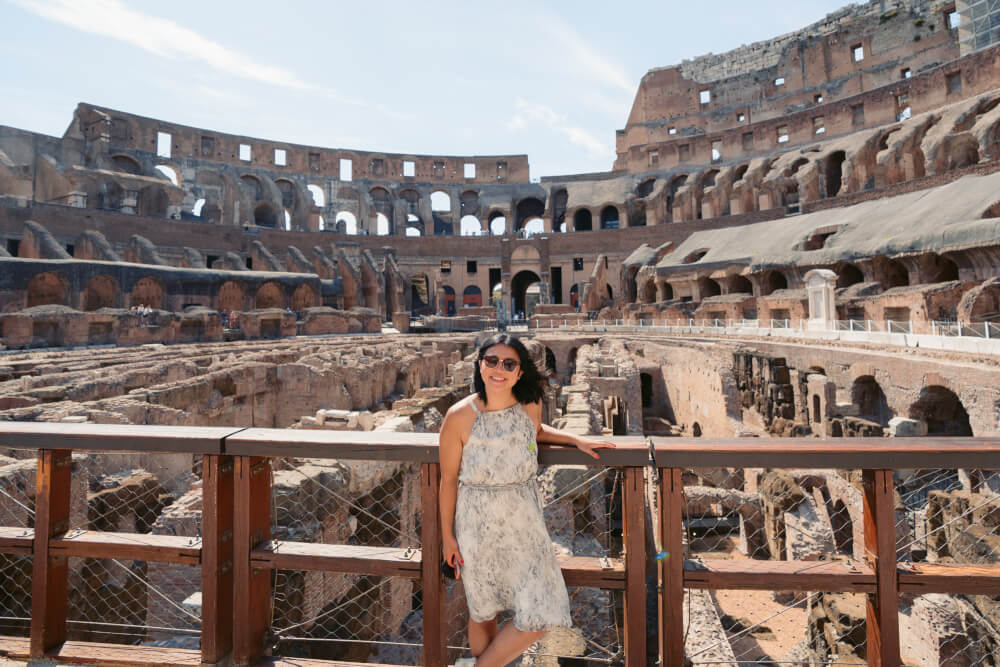 Book your Rome hotel early
Hotel options in Rome are overwhelming, with over 700 hotels in the historical center alone.
And honestly? I feel like the value for money with Rome accommodation is pretty mediocre. While there are of course many beautiful hotels, most come at a high price point, and a lot of budget/mid-range options leave much to be desired in terms of facilities and decor.
That's not to say you can't find some gems! I stayed at this hotel ON the Spanish steps for only 120 euros a night, a complete bargain for the location.
But anyways, when it comes to getting a good hotel in Rome, your best bet is to book early.
TIP: If you use Booking.com, you can find hundreds of hotels that offer free reservations and cancellations, ensuring peace of mind even if you aren't 100% committed to that property.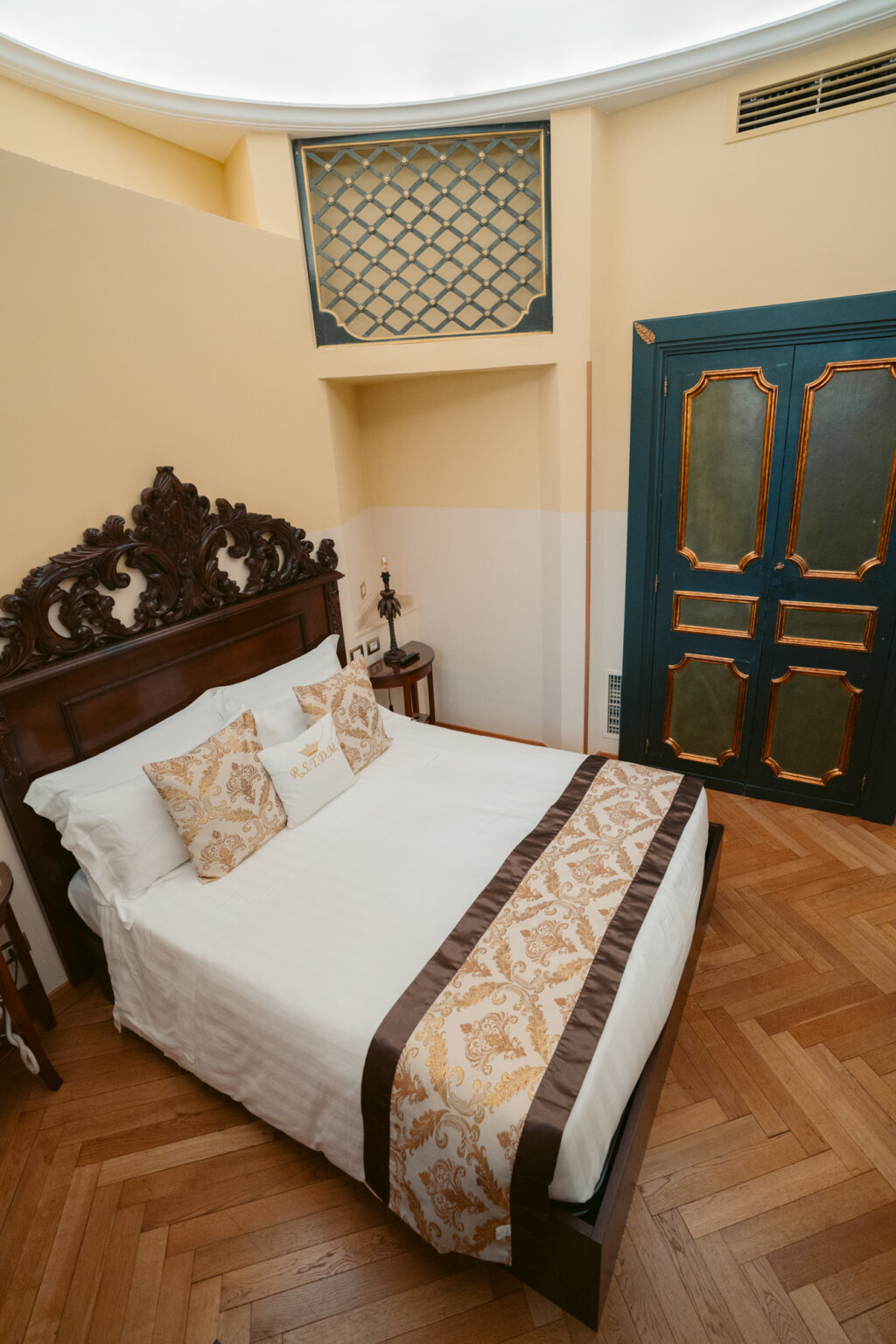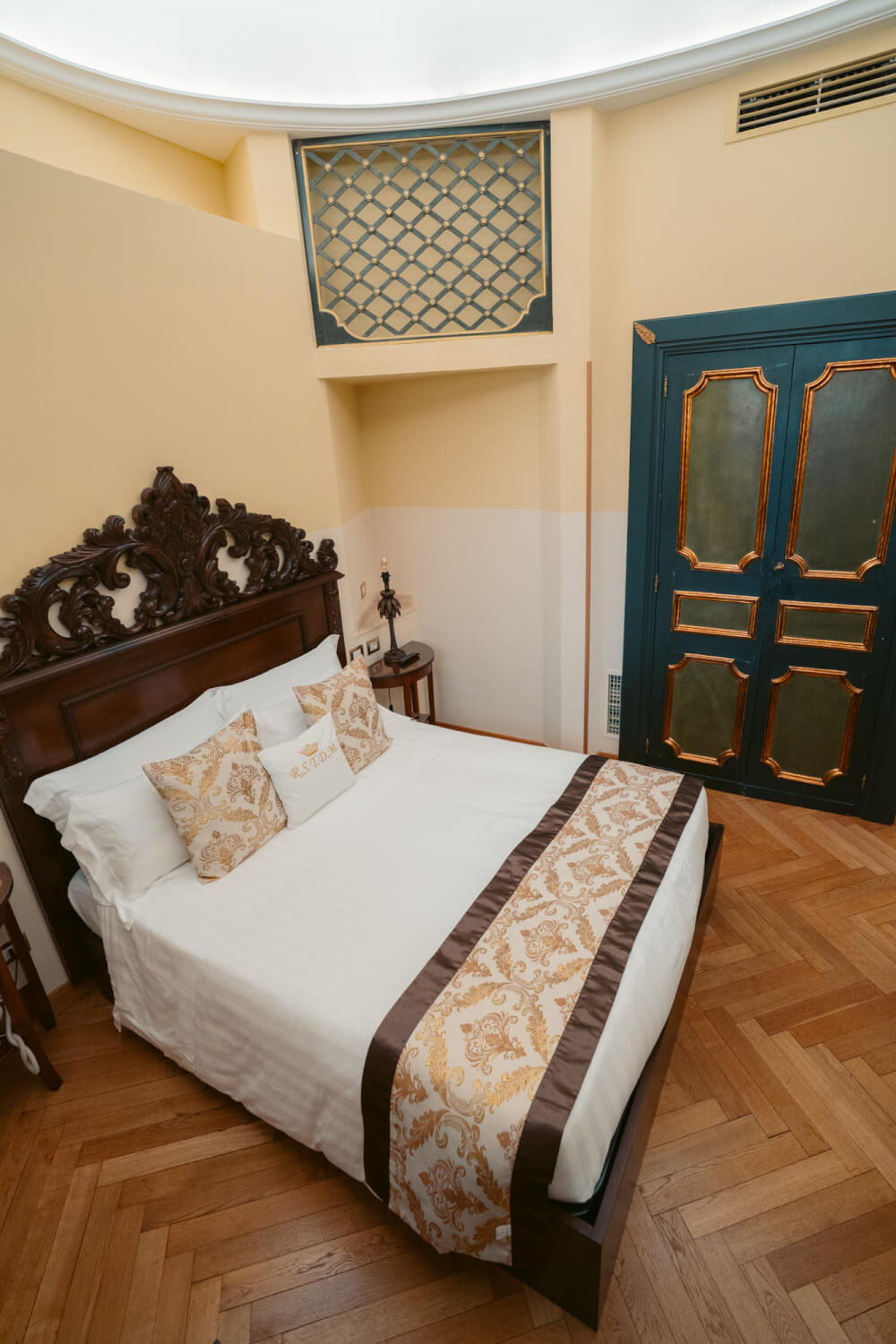 Staying somewhere central is key
It goes without saying that where you stay can have a huge impact on your experience in Rome, but I didn't realize what a big difference it made until I finally stayed somewhere 'nice' on my most recent trip.
Staying right on the Spanish Steps meant I was within 30 min of all major sights on foot, and getting back to the hotel after along day of exploration was always filled with beautiful sights, lovely monuments and a hopelessly rome-antic ambiance.
Being able to explore as soon as I stepped out was invaluable, and worth every penny.
Public transportation in Rome is also not super reliable (more on this later), and time is money, so if you're prioritizing your needs for accommodation, I highly recommend location being high up on your list.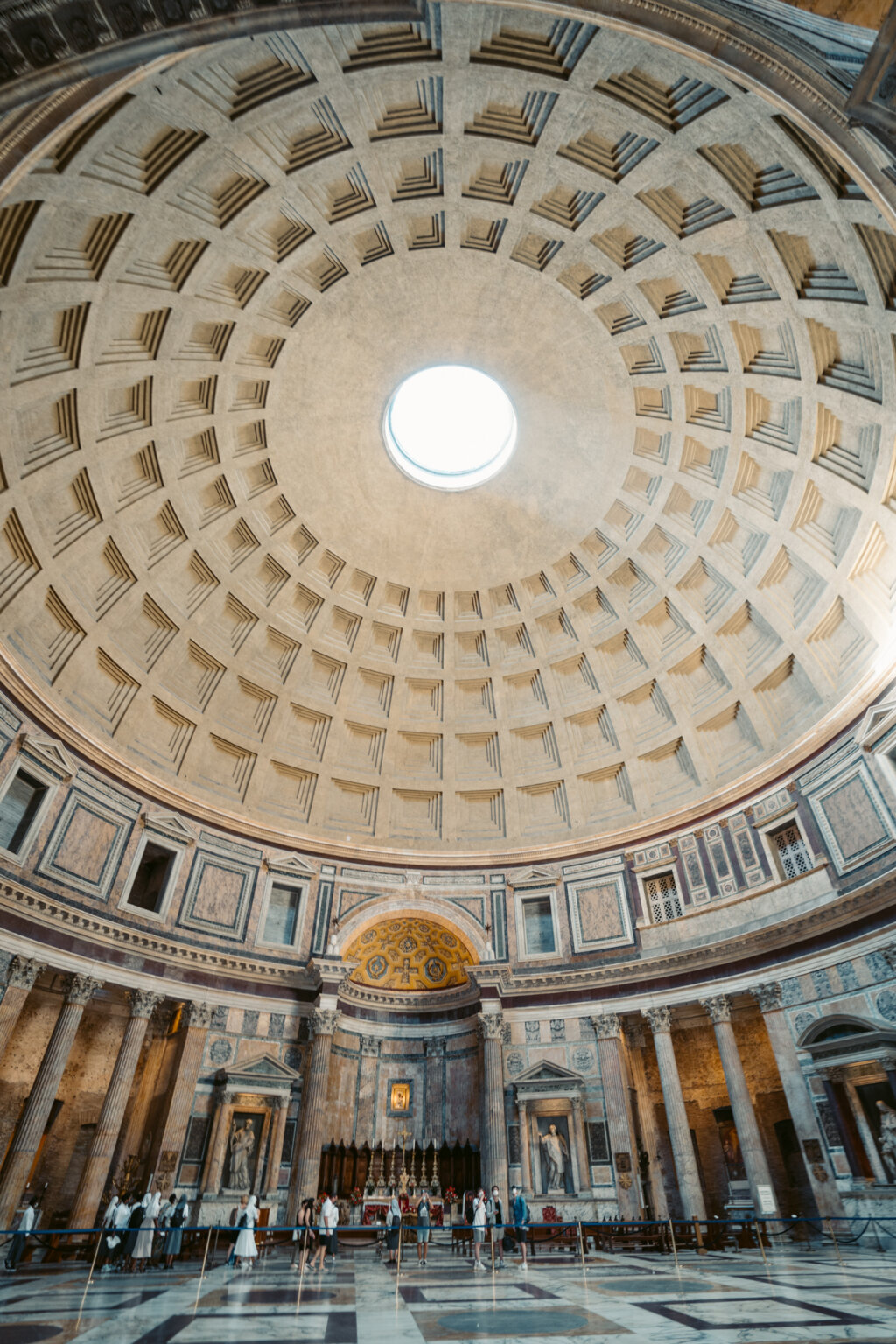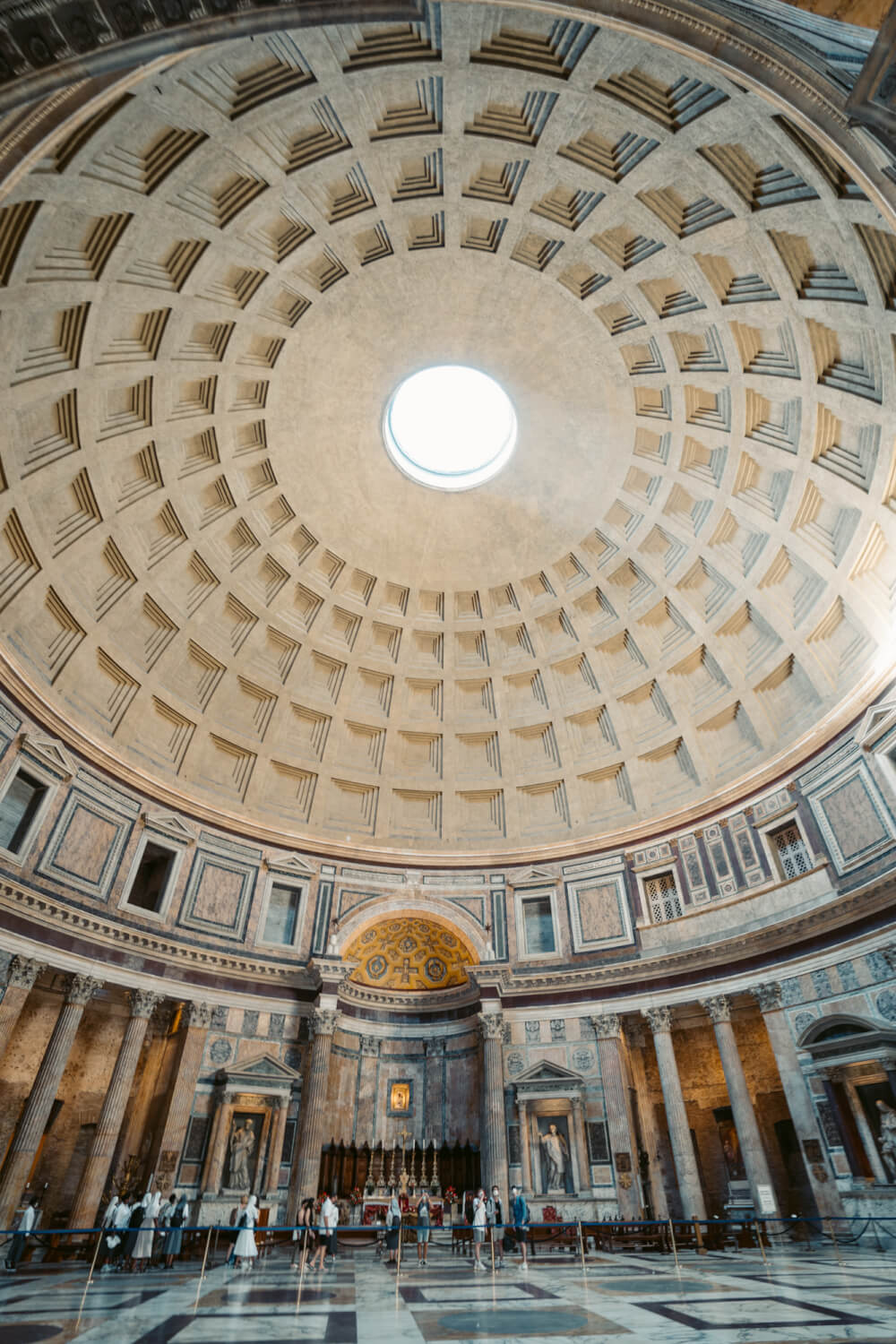 Consider booking an airport hotel & spending your last evening in Fiumicino
As I previously mentioned, hotels in central Rome can be expensive, and if you happen to be flying out earlier in the day, then I highly recommend spending your final night in Fiumicino (assuming that's the airport you're departing from).
There are many accommodation options in Fiumicino that are MUCH cheaper than central Rome. We stayed at this hotel for only 66 euros a night, and they even had a pool.
If you love seafood, there's also the added bonus that Fiumicino is right along the sea, meaning an abundance of excellent seafood restaurants for cheap.
We dined at Ristorantino Da Giorgio and enjoyed an epic menu of gorgeous seafood antipasto, spaghetti with clams, and a main meat course (I had calamari) for only 25 euros, including water and coperto. Unreal!
After a hectic city break in Rome, a final evening in Fiumicino is the perfect relaxing end. My boyfriend and I felt like we'd been dropped off in a Spanish resort town – it was so nice.
NOTE: The Terravision bus from central Rome to the airport has a stop in Fiumicino town, which means you can get there for cheap too.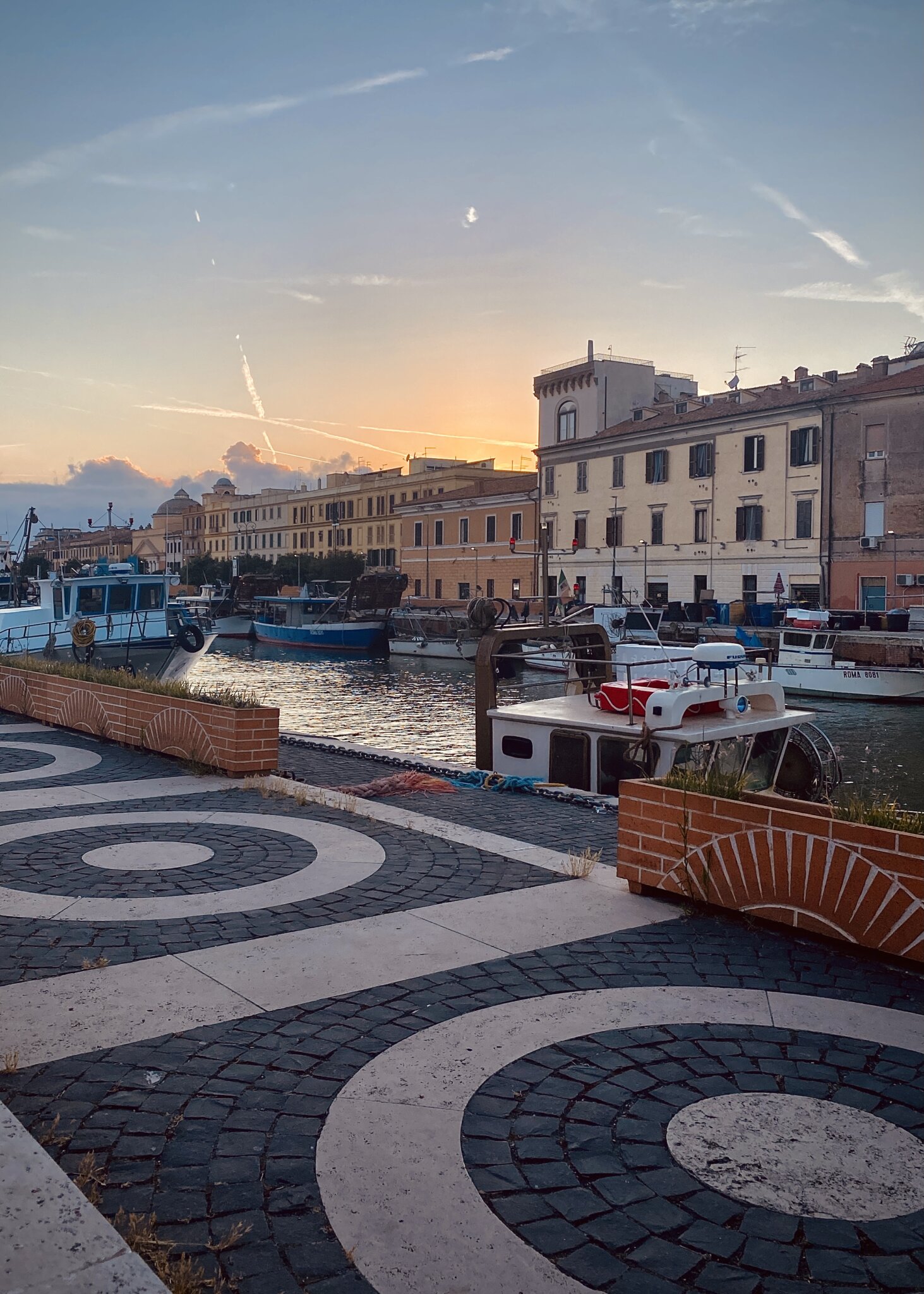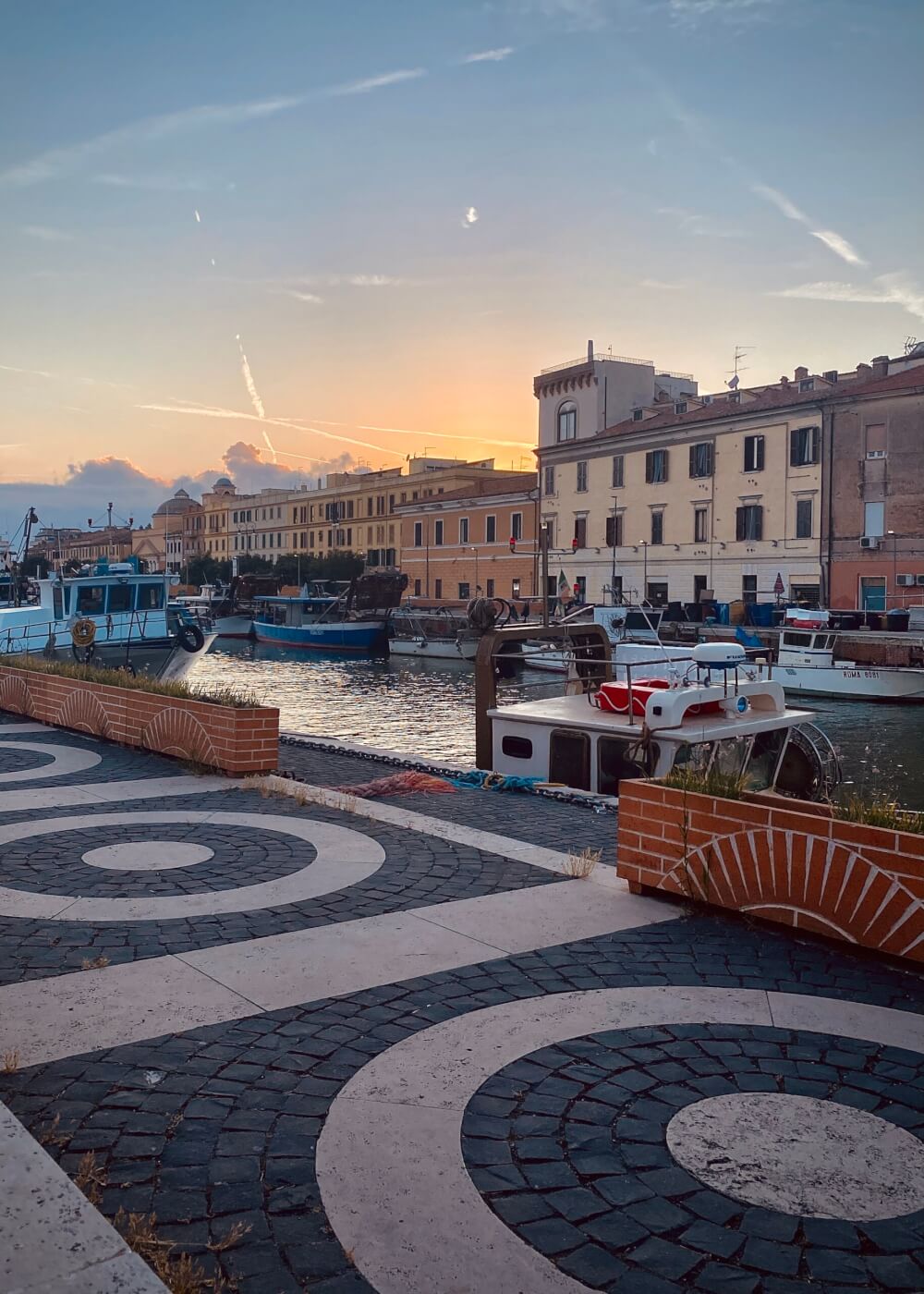 Don't forget travel insurance
I personally believe that travel insurance is a must for every trip, but especially in tourist cities like Rome, where pickpockets are a dime a dozen.
Trust me, when visiting a dream destination like Rome, the peace of mind is worth the cost!
Click here to check rates with WorldNomads.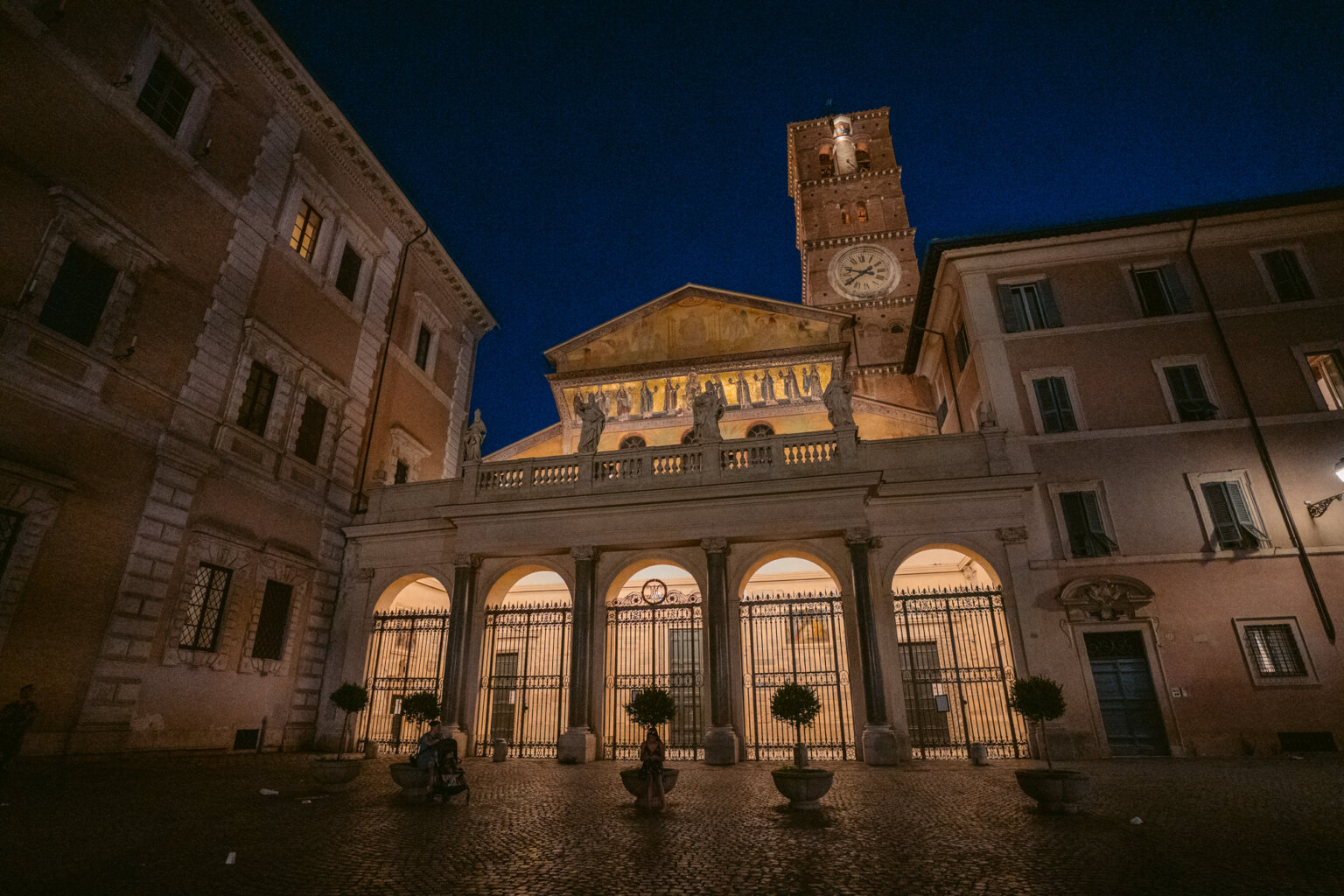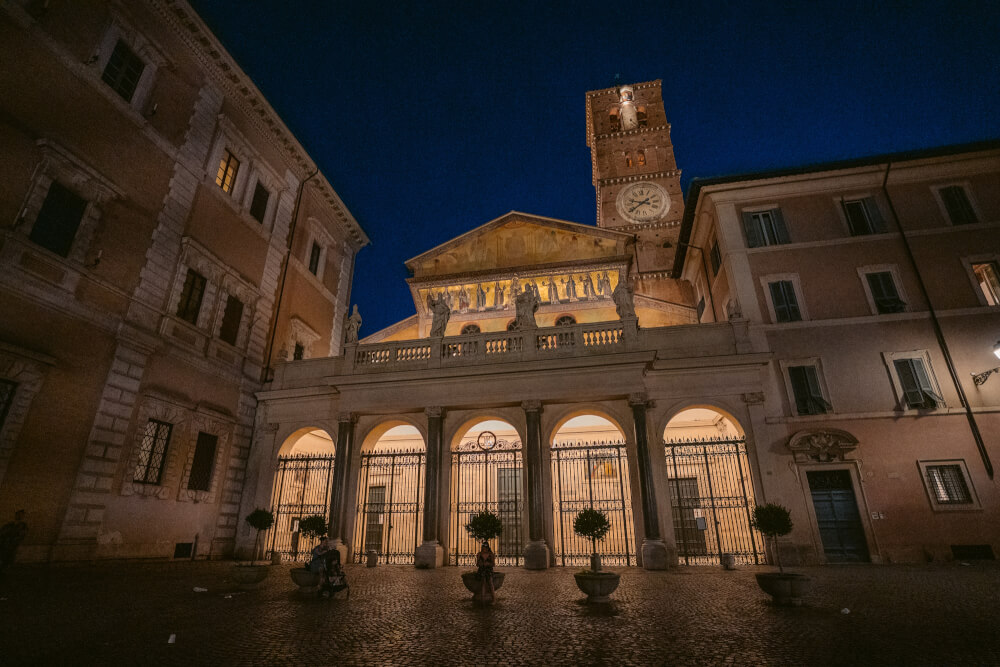 Download helpful apps before you visit Rome
There are plenty of apps you can download that will make your time in Rome 100x easier.
I've previously written a full list of the best travel apps for Europe so be sure to check that out, but here are some especially good options for Rome:
MyCicero: An app that allows you to buy tickets for public transport, trains, and even parking
FREE NOW: Great for ordering taxis with a transparent price so you know you're not getting scammed
Google Translate: A must for translating signs/menus on the go. Download Italian to be used offline if you can
The Fork: Great for making restaurant reservations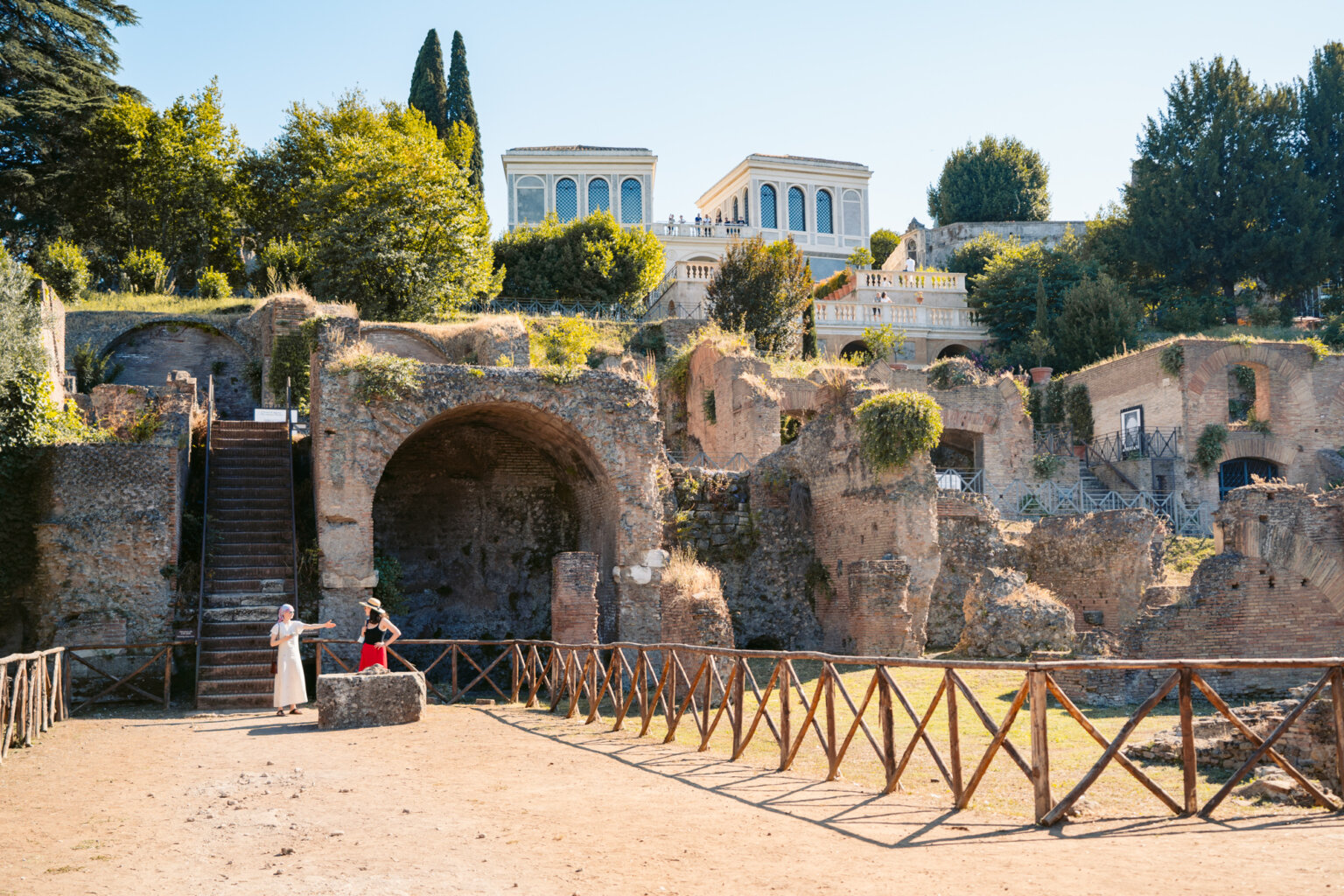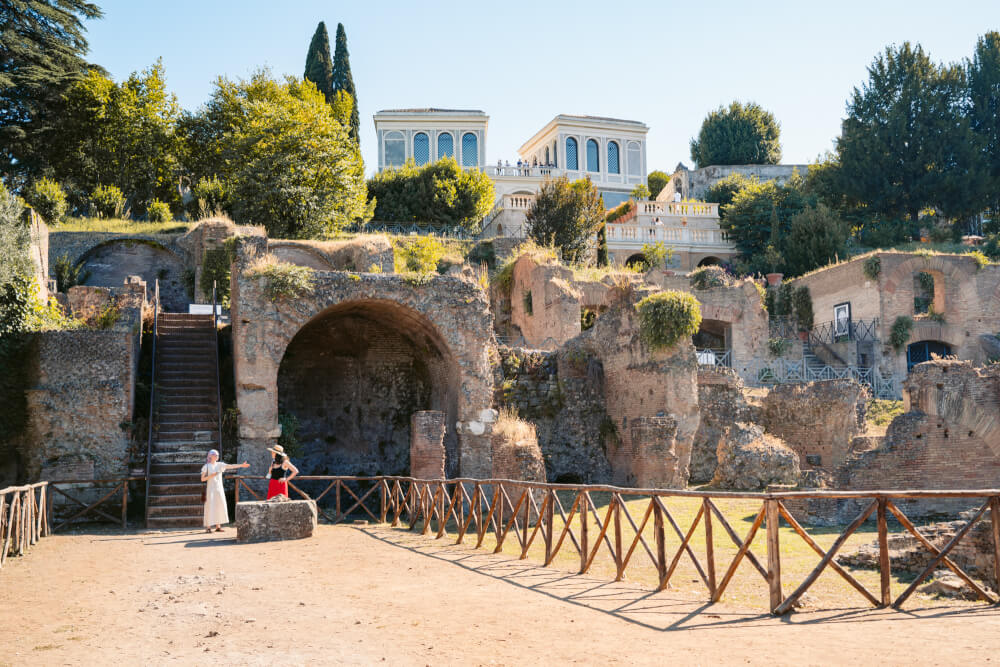 Use Omio to search transport options if you're headed elsewhere
If Rome isn't your only destination on the trip, then another helpful app/website to know is Omio, which allows you to compare and book transport options from Point A to Point B.
That means you can compare buses, trains and flights for your route at the same time, making it much easier to find the best option in terms of cost, speed, etc.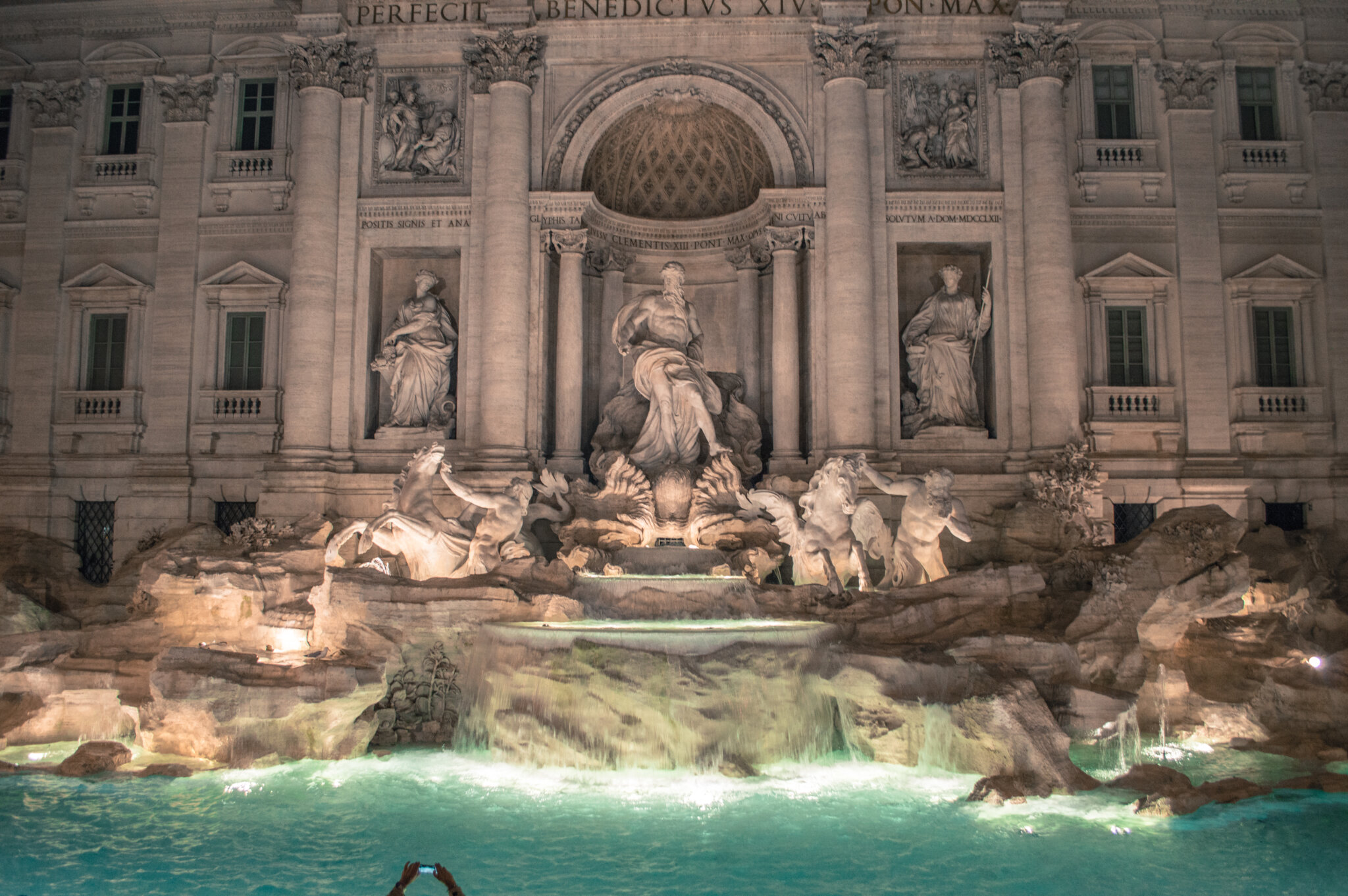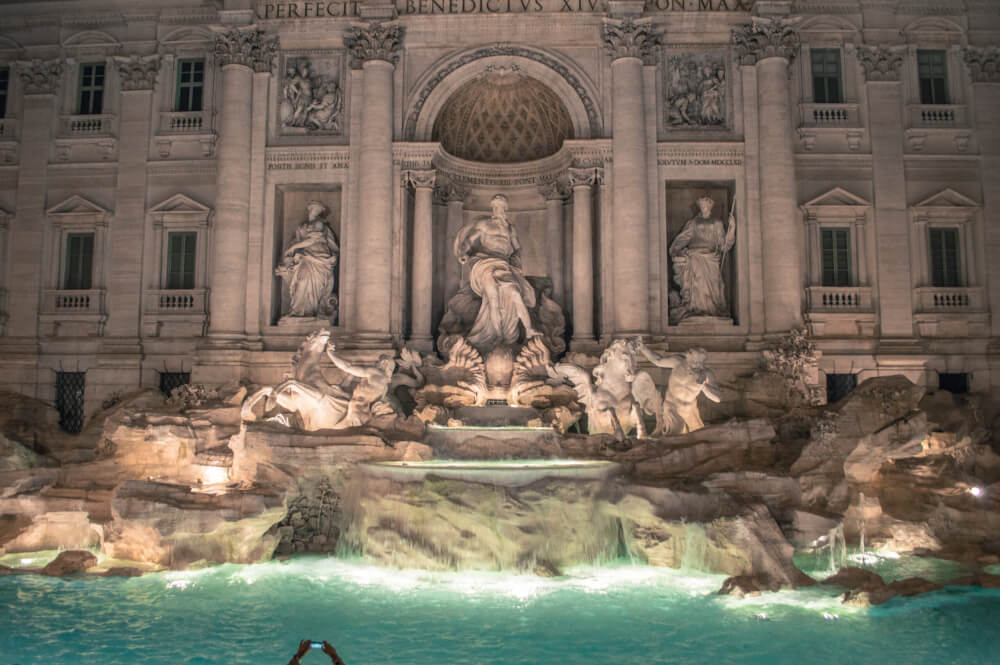 Rome Transport Tips And General Tricks For Getting Around
Getting around Rome can be really daunting for a first-time visitor, so here are all my best Rome tips related to getting around the city.
Get ready to walk… a LOT
In my opinion, Rome is a city best explored on foot. My hotel receptionist though would disagree – his jaw just about hit the floor when we said we wanted to walk everywhere.
Admittedly, in the summer, walking from Point A to Point B is exhausting, but you get to see so much more that way!
I also find using my own leg-stumps to be more reliable than Rome's bus/tram system. We tried to catch the bus a few times but on each attempt, it was either packed or delayed for no reason – maybe it was bad luck, but even after three visits I still haven't ever taken the bus in Rome!
For context, each day of my recent trip, I averaged 25,000 – 30,000 steps… so I hope you enjoy explorations on foot!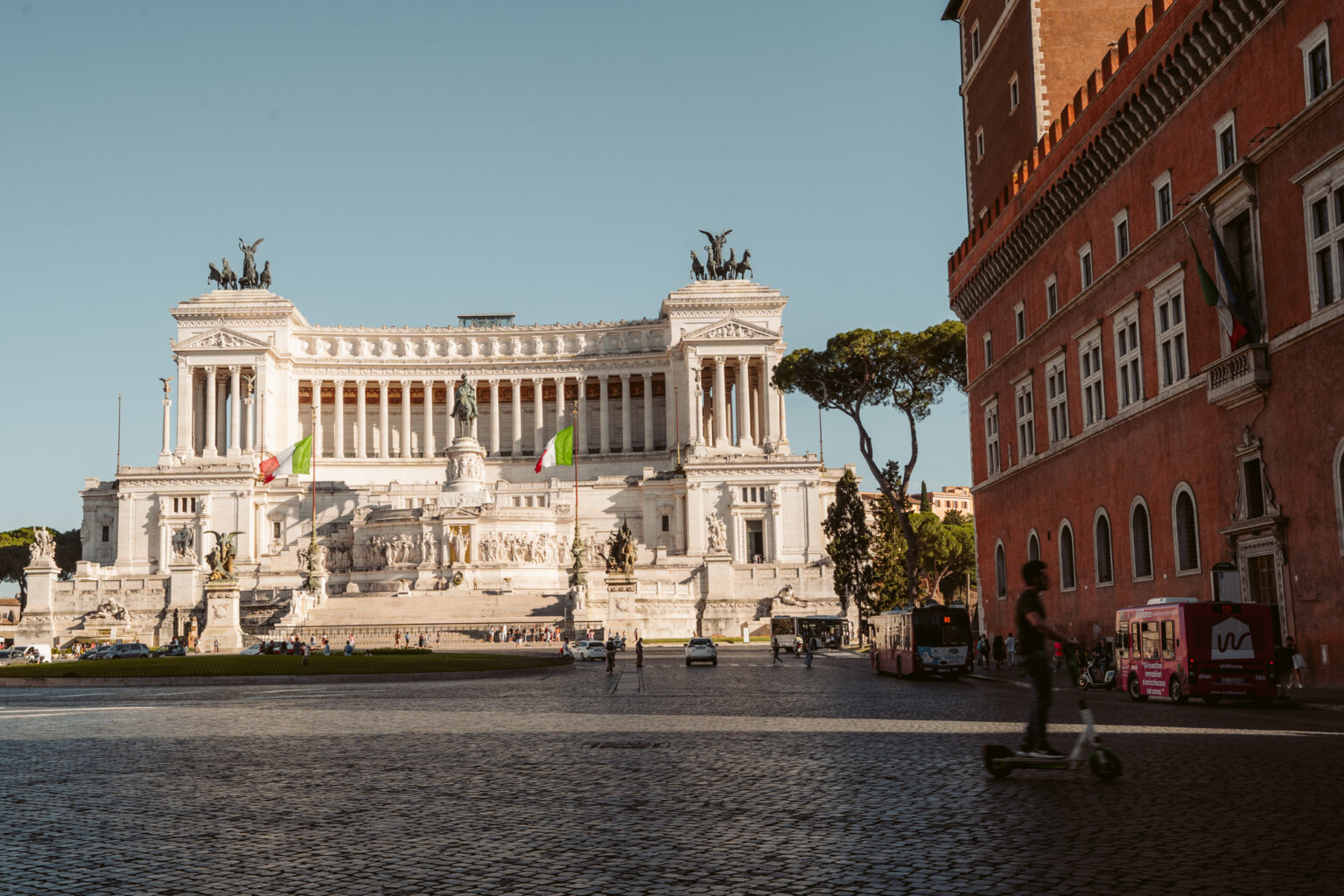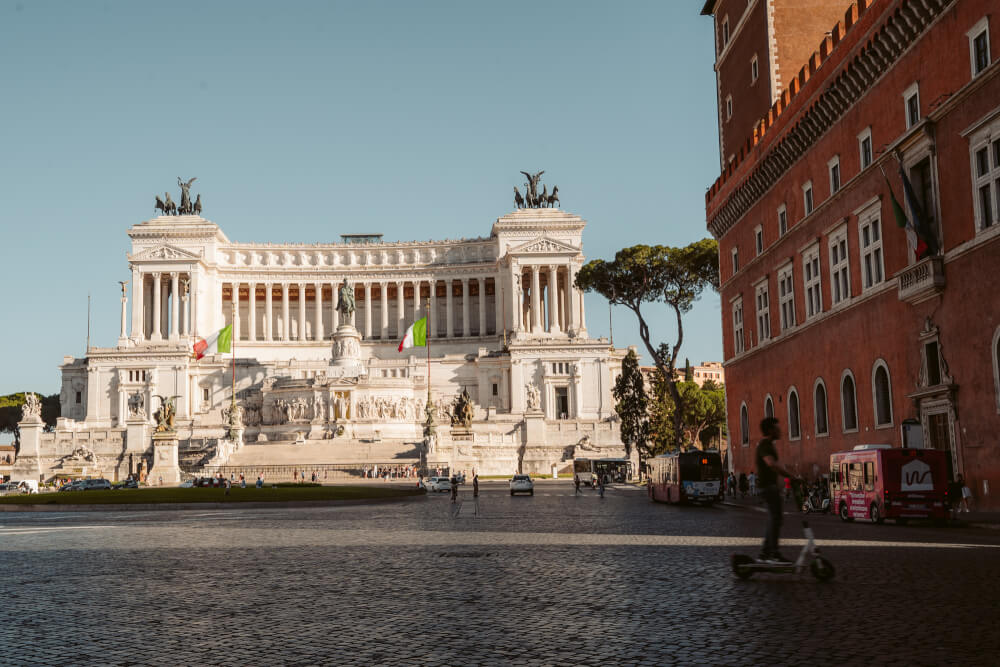 Prepare to cross the street like a maniac
Crossing the street in Rome is a guaranteed adrenaline rush and a half.
At least for me, living in Germany where jaywalking is treated akin to murder, trying to navigate the chaotic streets of Rome is… intimidating to say the least.
In Rome, drivers don't like to stop for you, even when there's a zebra crossing. They also don't always signal turns, and crossing the street is pretty much a free-for-all that rewards the boldest and most shameless…. AKA not me.
My tip? Walk out and cross with confidence, or simply wait for a local to step out so you can meekly shuffle alongside them, praying not to die.
Bus & Metro tickets are the same
The ticket is 1.50 and good for 100 minutes after you validate them.
While historically, you needed to have your ticket before you boarded the Metro, bus or tram, these days there's the new Tap & Go System that allows you to pay with contactless cards instead.
Remember to validate your tickets
This goes for bus tickets, Metro tickets and even train tickets.
Validating your tickets in Rome is just as important as buying them, because if you get caught with an unvalidated ticket, you get fined the same as not having one at all.
You can validate your tickets at special machines (usually found on train platforms, on the bus near the doors or at metro stations).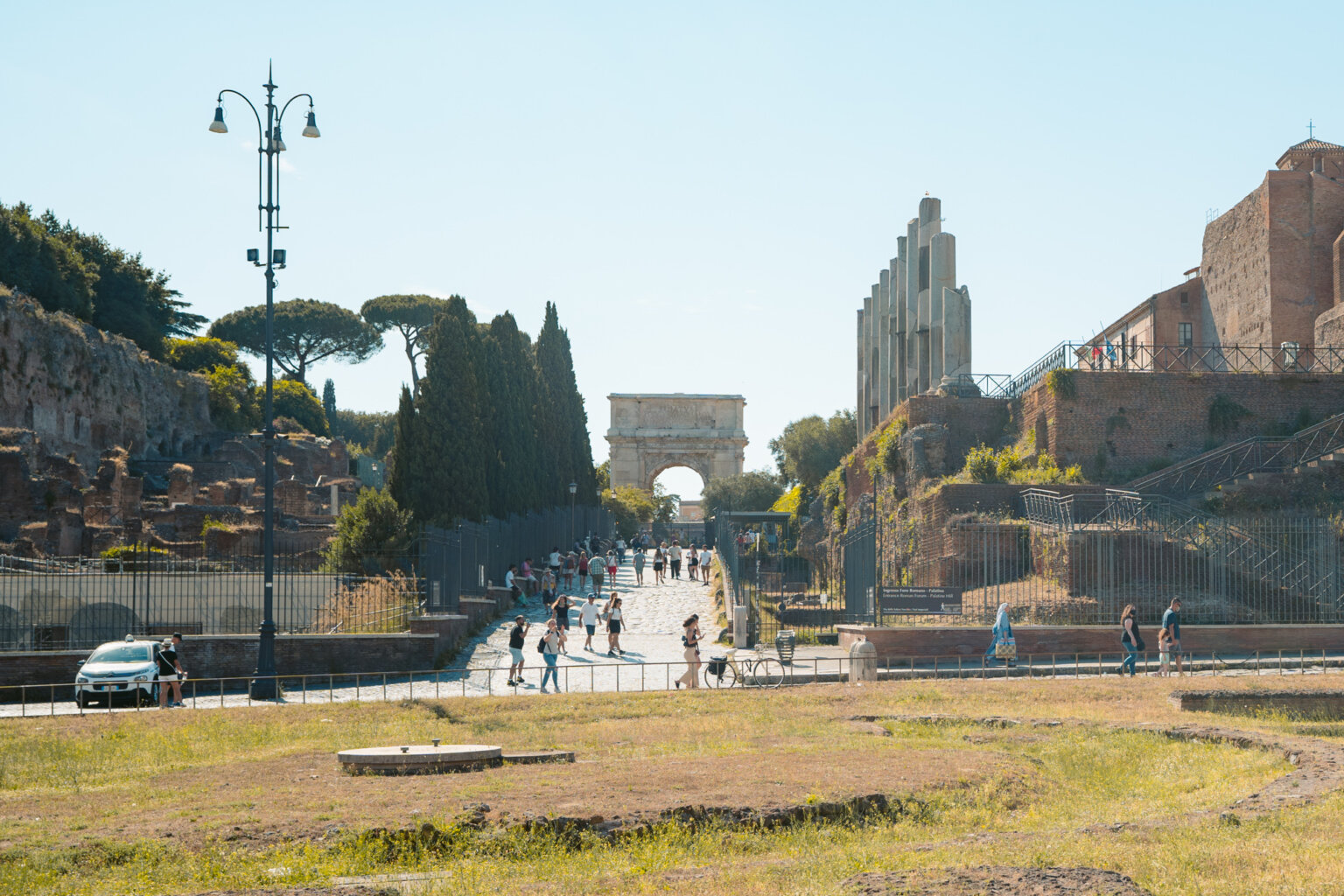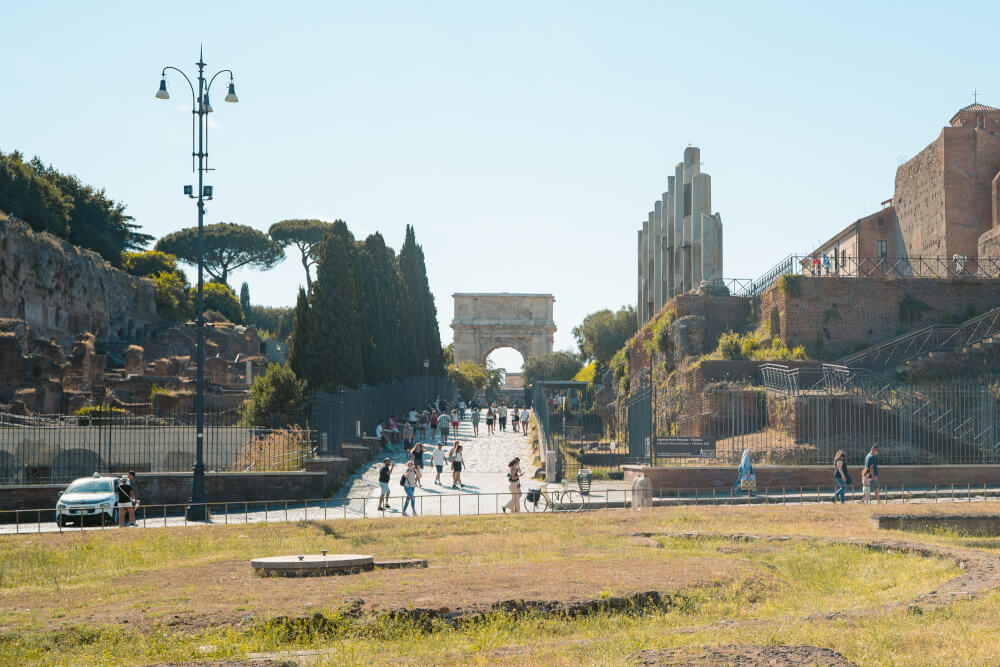 Validate train tickets by sticking it way in and to the left
Here's an oddly specific tip for validating train tickets!
Trenitalia ticket machines are super finnicky and I've seen more than a few people struggling to understand them, so remember: validate your train ticket in one of these (usually green/white) machines by aligning your ticket to the left side, then pushing all the way in with the back side of the ticket facing up.
Your stamp should be on the BACK of the ticket.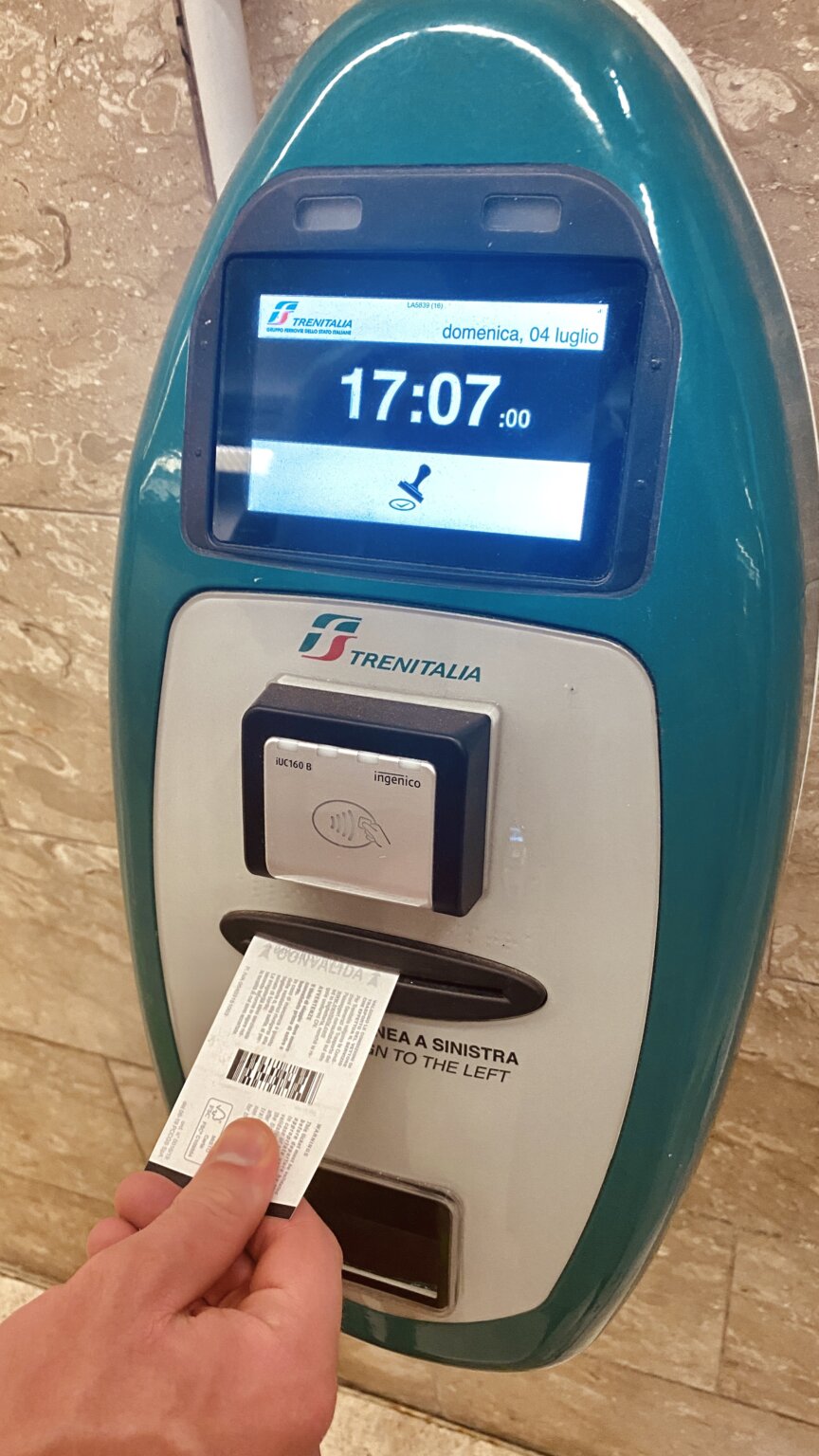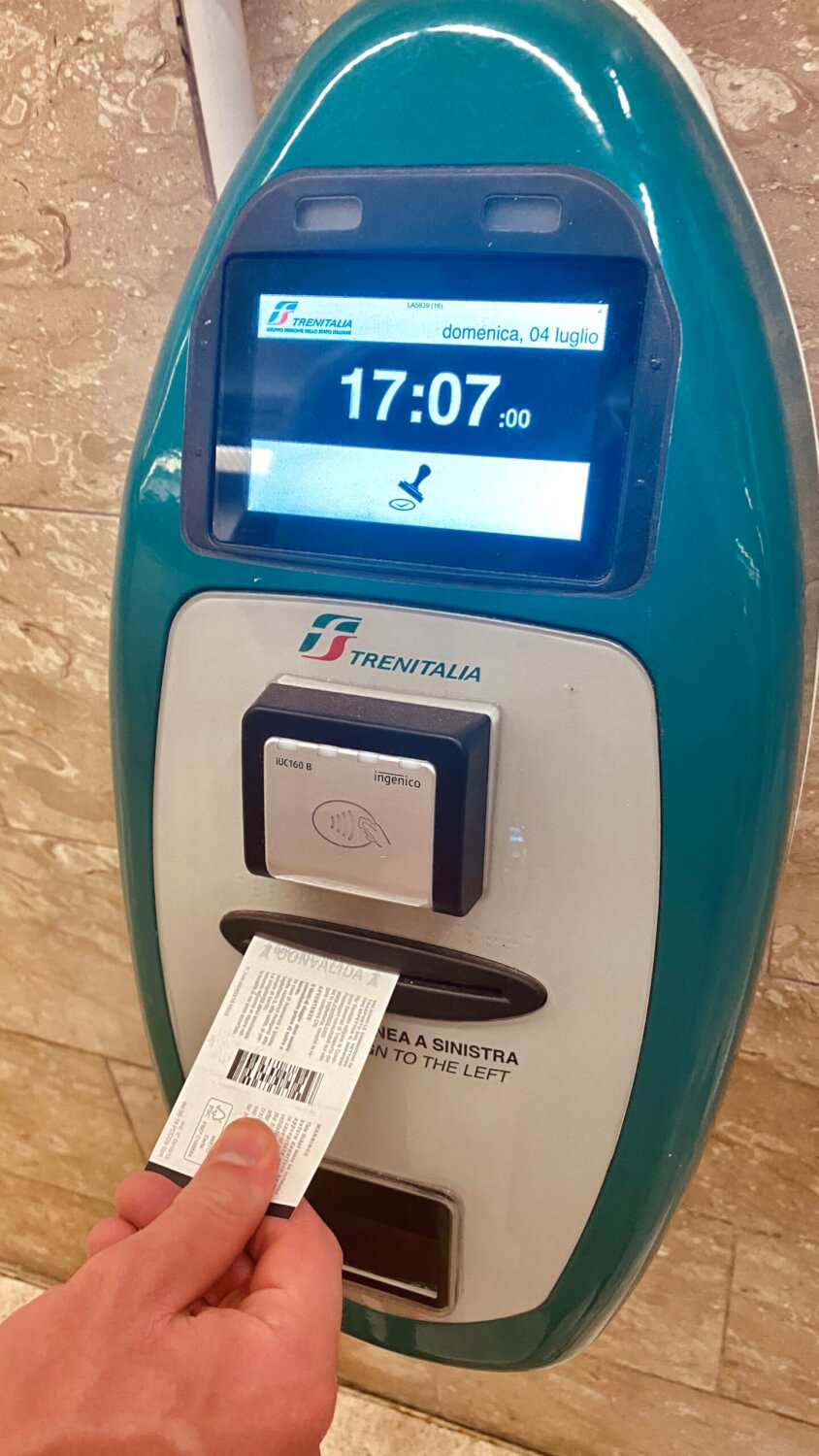 Know that the Metro is limited
For a city as huge as Rome, the Metro system is surprisingly limited, with only 3 lines to offer (A, B, and C).
While the Metro is punctual compared to buses/trams, the platforms can be excruciatingly hot and stuffy in the summer, and they can be a hot zone for pickpockets, so always be vigilant!
On the bright side, there are Metro stops near many of Rome's main attractions (e.g. Spanish Steps, Colosseum, Circus Maximus), so it's a very affordable way to get from sight to sight quickly.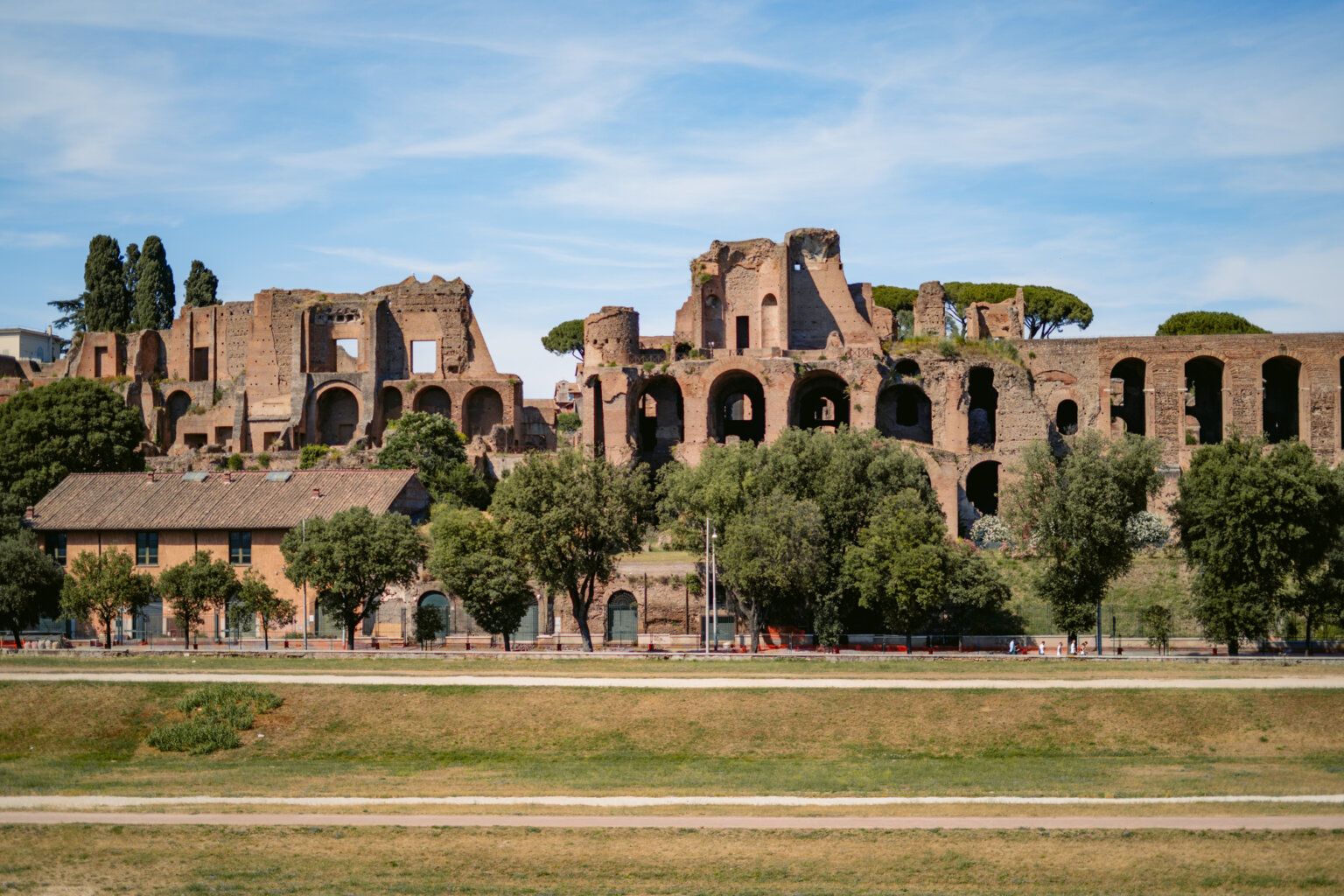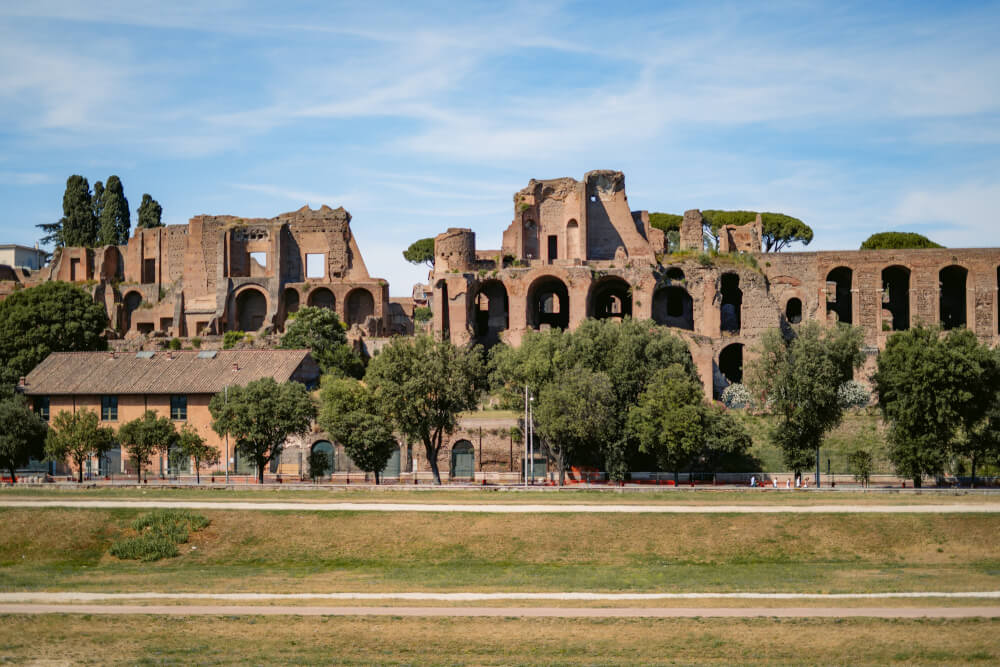 Consider getting a 24h, 48h, 72h or week long pass (though you likely won't need it)
Bearing in mind that a single public transport ticket in Rome costs only 1.50, it likely won't be worth it for you to get a transport pass, but if you intend to rely a lot on buses, trams and the Metro, then you should know that day/week passes exist, and could potentially help you save some money.
Here are the pass prices (last updated July 2023) and how many trips you would need for them to be worth it:
24 Hour Ticket: €7 – 5 trips needed to break even
48 Hour Ticket: €12.50 – 9 trips needed to break even
72 Hour Ticket: €18 – 12 trips needed to break even
Integrated Weekly Card: €24 – 16 trips needed to break even
FREE NOW is a must-have app for taxis
The best way to not get scammed by a taxi is hands down ordering one through FREE NOW.
It's similar to Uber but works with actual licensed taxis, and these days they even have options that show you your maximum fare you're expected to pay.
This provides great ease of mind, and prevents common taxi scams like bait and switch rates and taking long routes to drive up the price, since the route is tracked through the app.
Always use official Rome taxis
These are the white taxis that have the maroon Roma Capitale logo on the side.
Particularly when you're getting a taxi from the airport, it's important you go with one of these rather than an "unofficial" taxi or private transfer company because those rates aren't regulated, and are more prone to scams.
NOTE: Just because you get an official Rome taxi though doesn't mean you're exempt from scams! Still be vigilant and when possible, order through FREE NOW or another app.
Know the flat rates for taxis from the airport to central Rome
Luckily for your wallet, there are flat rates for taxis from both of Rome's airports into the city center (within the Aurelian Walls). They are as follows:
Rome Fiumicino: €48
Rome Ciampino: €30
NOTE: If your hotel is out of this zone (call ahead with the hotel to double check), then the taxi may subject you to payment by the meter.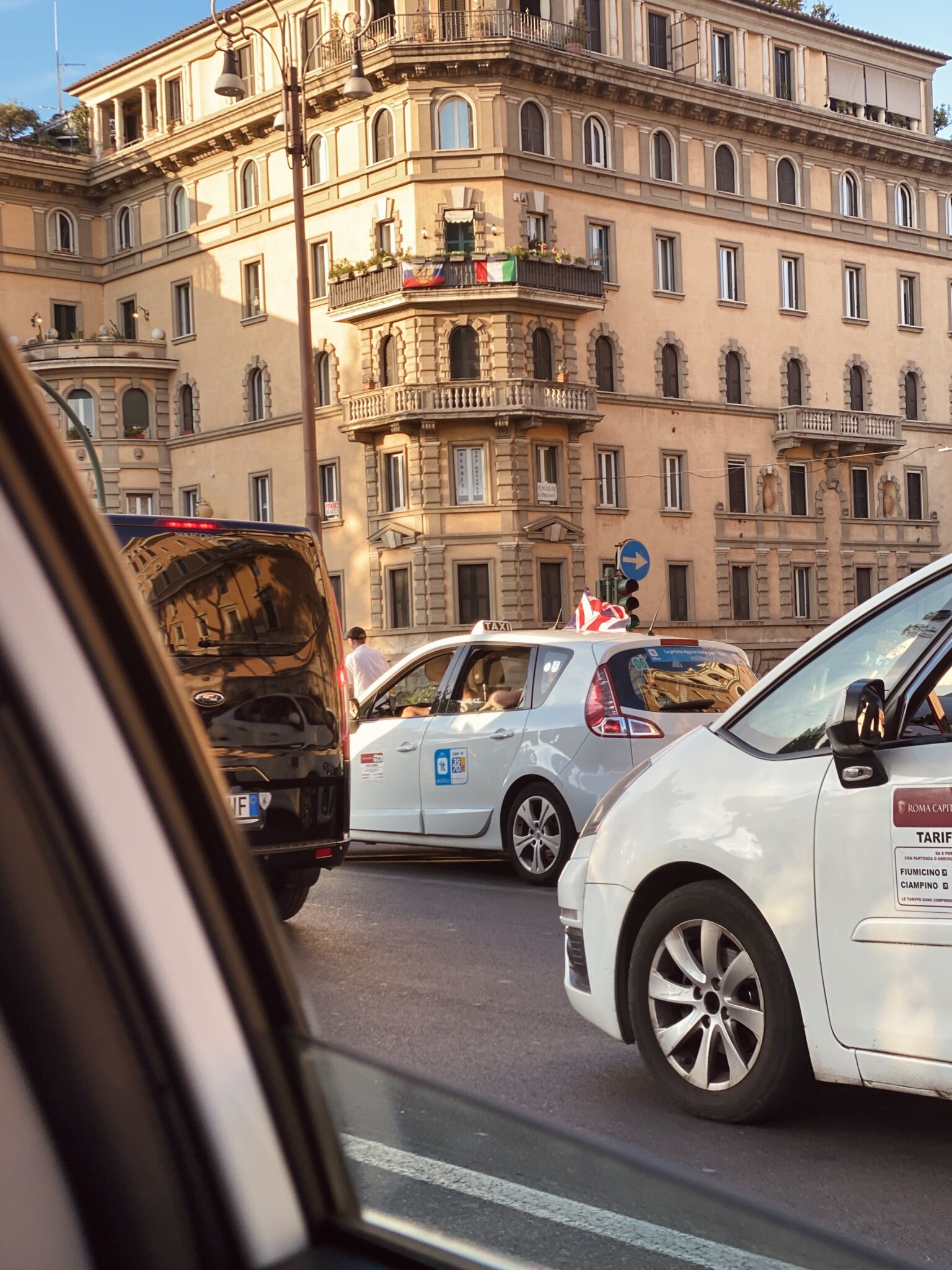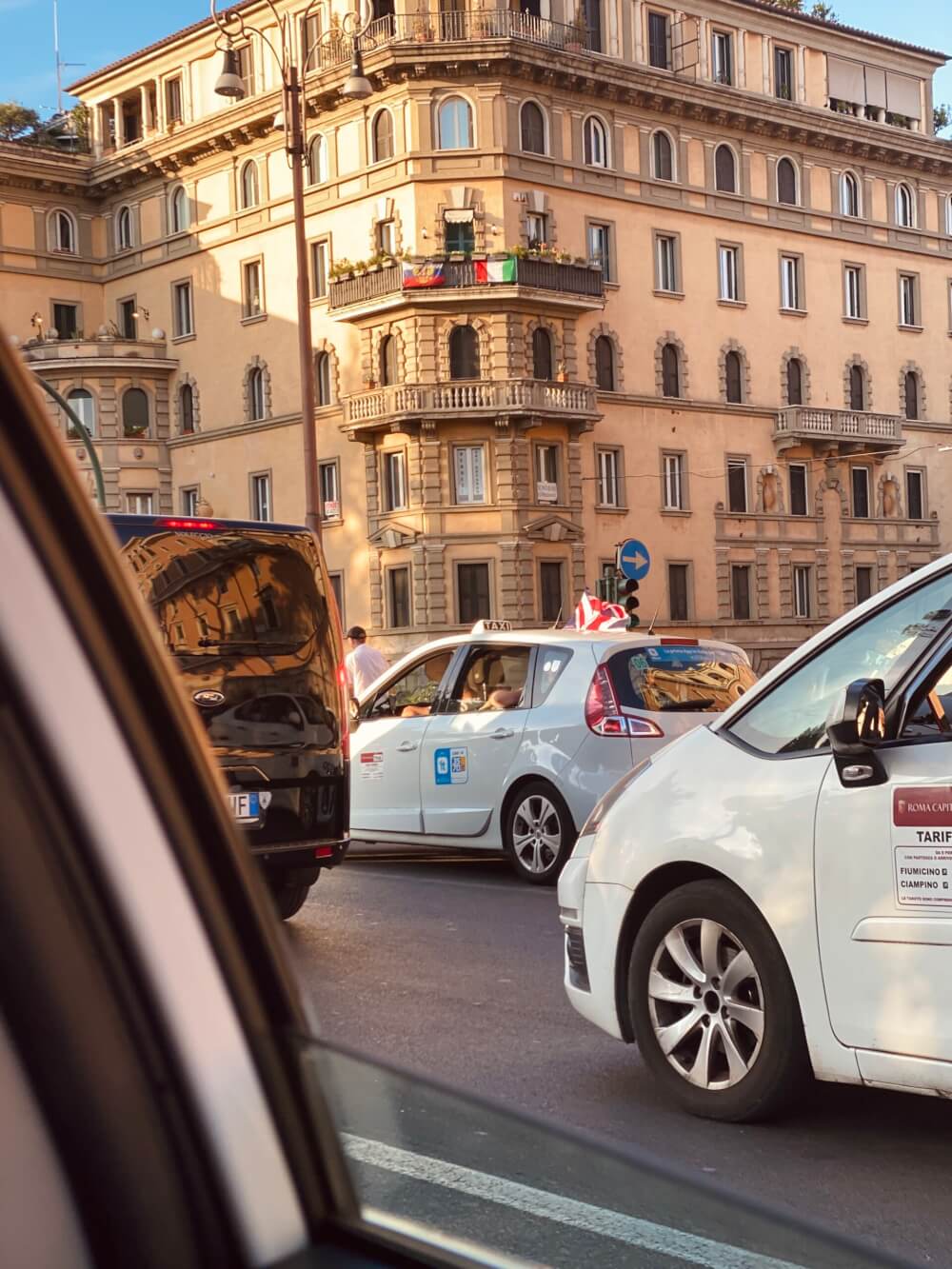 Easily rent a bike or scooter
For another Rome transportation option, consider looking into the bike and e-scooter sharing options in Rome.
This has become an increasingly popular way to get around the city, and involves paying per minute/distance for various modes of transport like bikes or e-scooters.
Here is a guide on how to find and use them.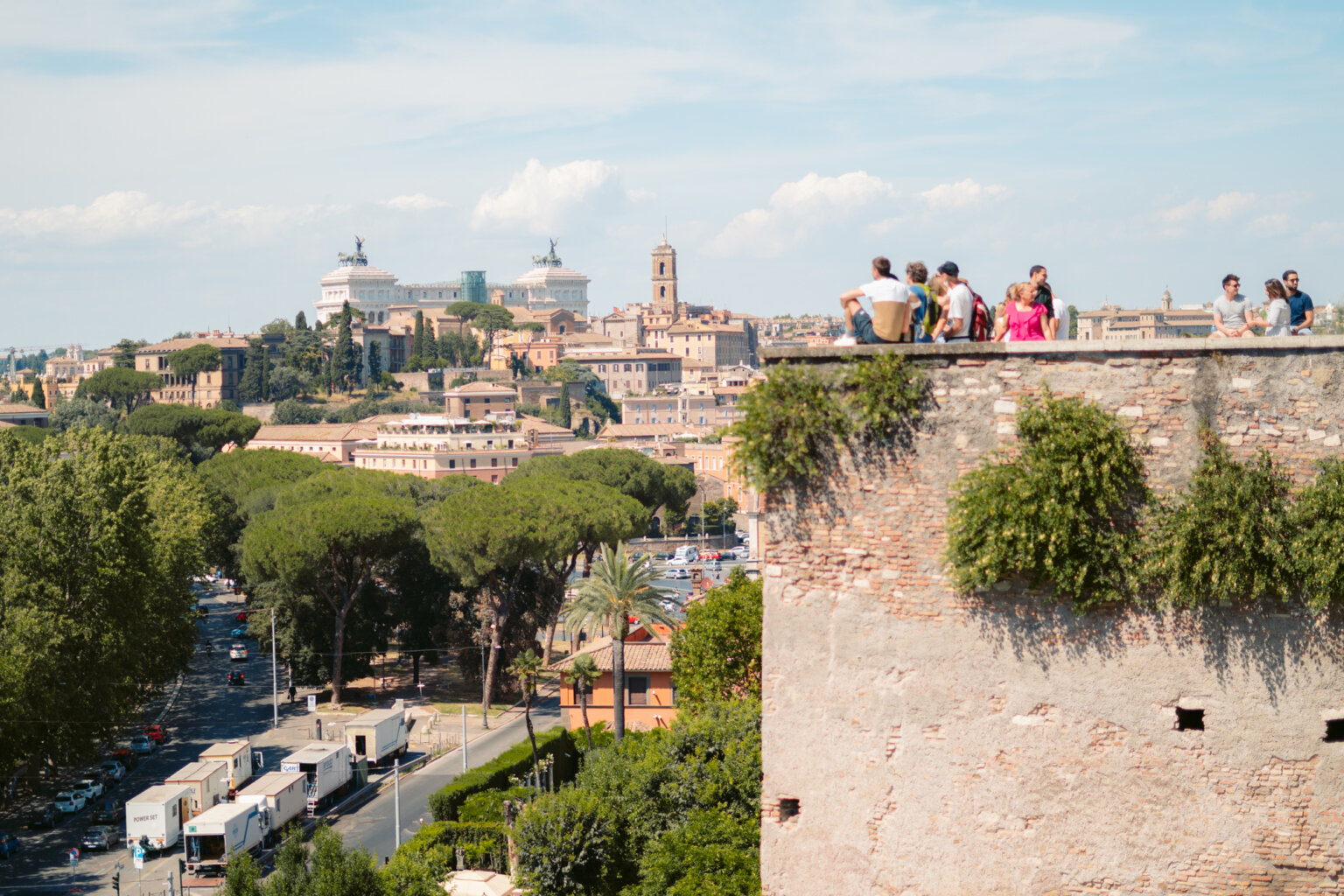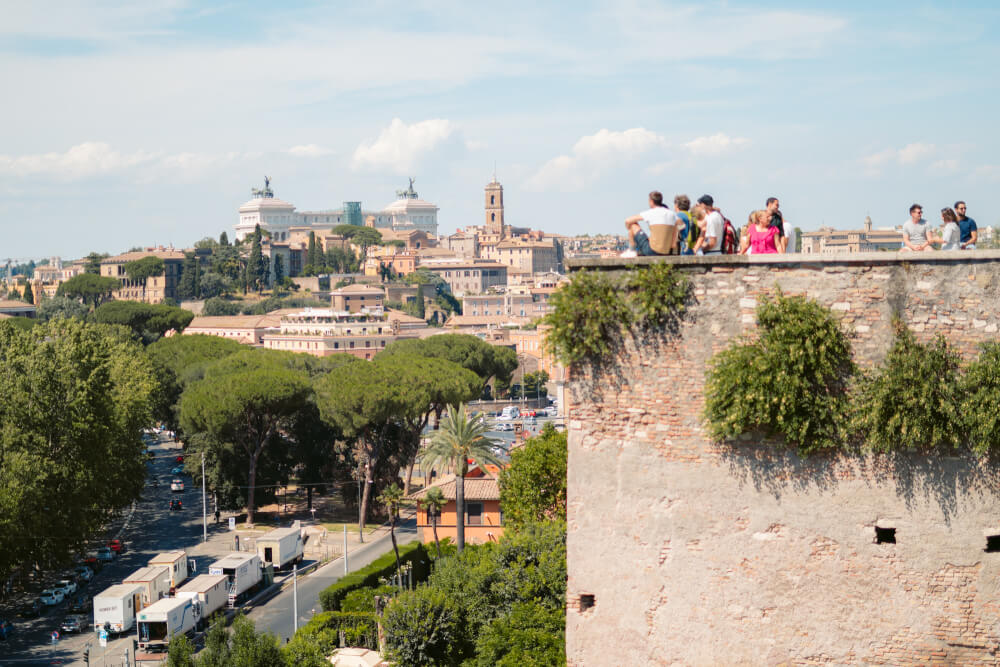 Rome Tips For Attractions
Odds are, if you're visiting Rome, your plans involve a lot of sightseeing. So, here are some of my best Rome travel tips related to attractions and itinerary planning.
Be prepared for a lot of construction and restorations
Rome is an ancient city, and with that millenia-old history comes the inevitable fact that something will always be undergoing some kind of restoration or renovation.
On my first trip to Rome, I was left SO disappointed because the Trevi Fountain had been closed and scaffolded up (without warning on any official channels), a large part of the Colosseum was scaffolded up, and the fountain by the Spanish Steps was entirely covered by a big advertisement.
On my most recent visit, I had booked a lovely hotel with a view of the Spanish Steps… only for the hotel to be covered in scaffolding, blocking 80% of my view. There were also large chunks of the historical center that had been dug up for road/sidewalk repairs.
While this may be frustrating, at the end of the day, it's not a situation you have much control over, so just make sure you have your expectations in check!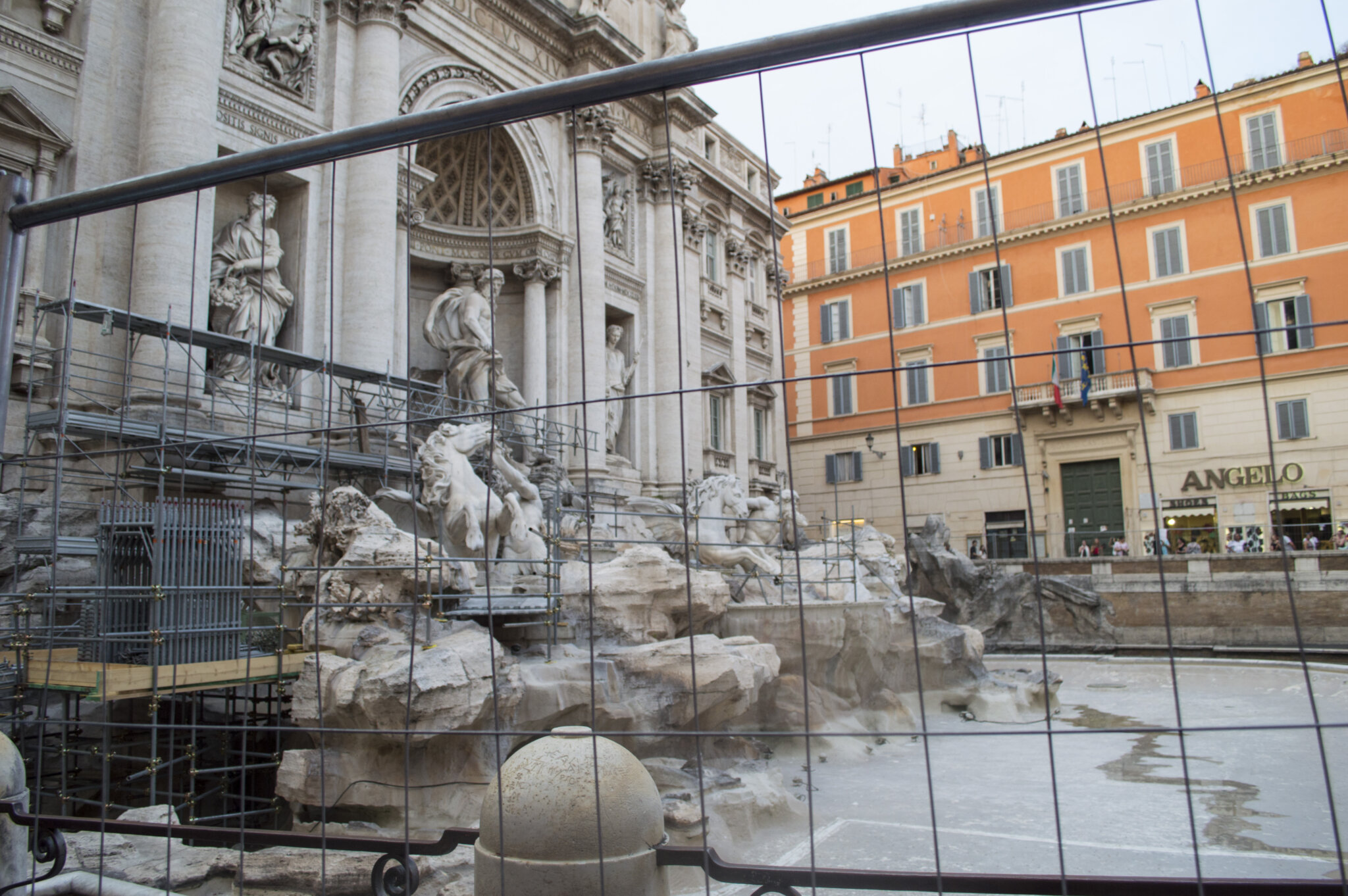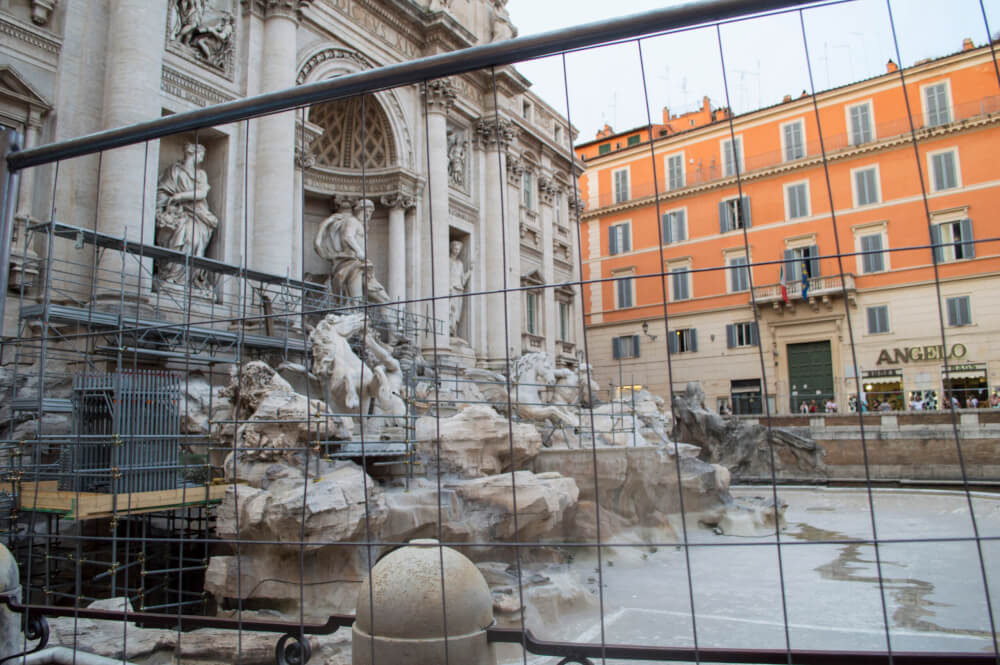 Remember that there's a dress code for churches in Rome
Enforcement isn't always consistent, but out of respect, you should ensure that you're adhering to the dress code of Rome's churches, which is that shoulders/knees must be covered.
An easy way to ensure you're always church ready (in the summer) is wearing a long skirt/dress and bringing a thin scarf to drape over your shoulders when needed.
The place where they're strictest with this dress code is usually St Peter's Basilica, although I did notice a lot of visitors with exposed knees (mostly men in shorts!).
Whether or not you get let in depends on how the security feels that day, but it's definitely easier to stick to the known dress code just in case.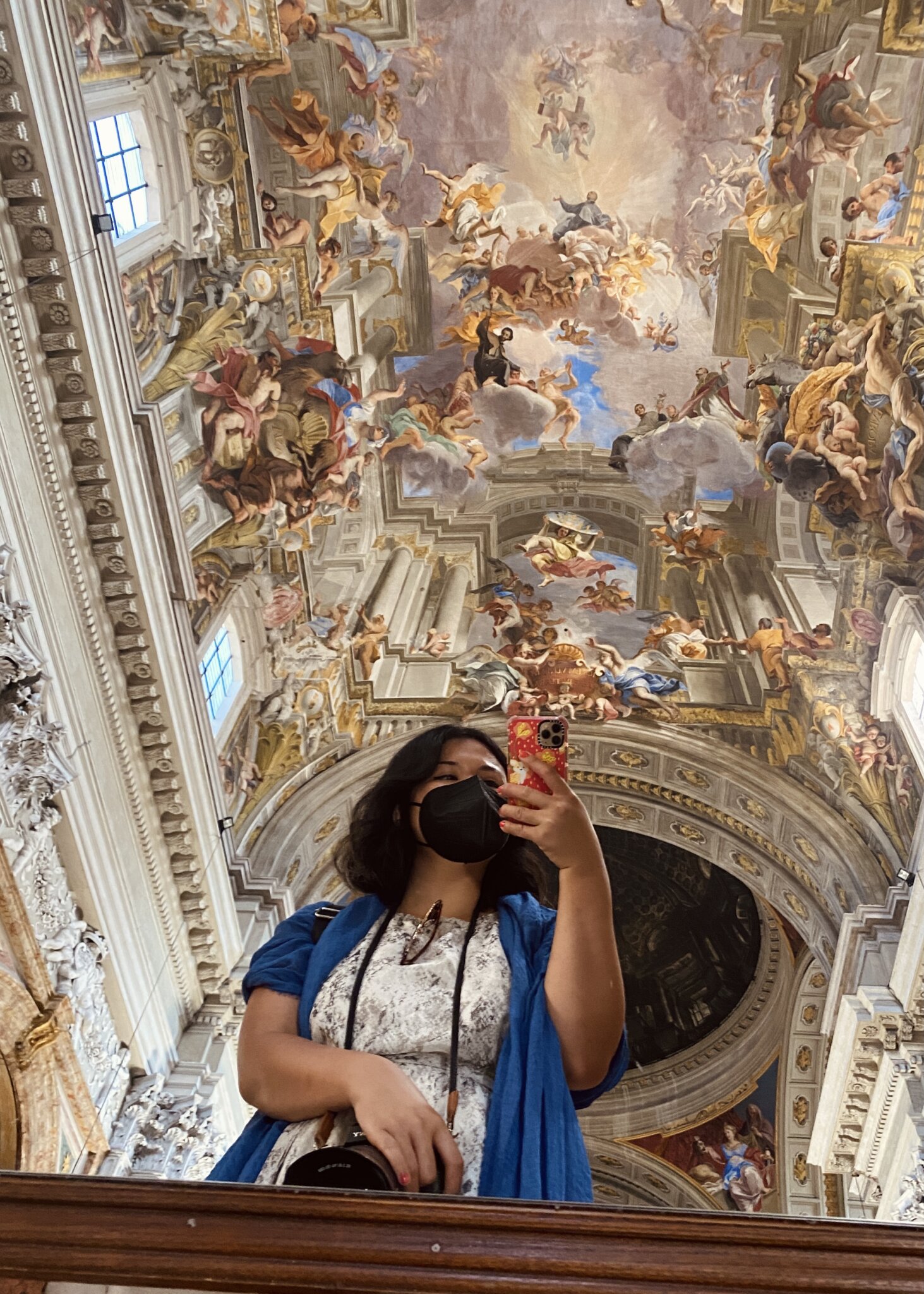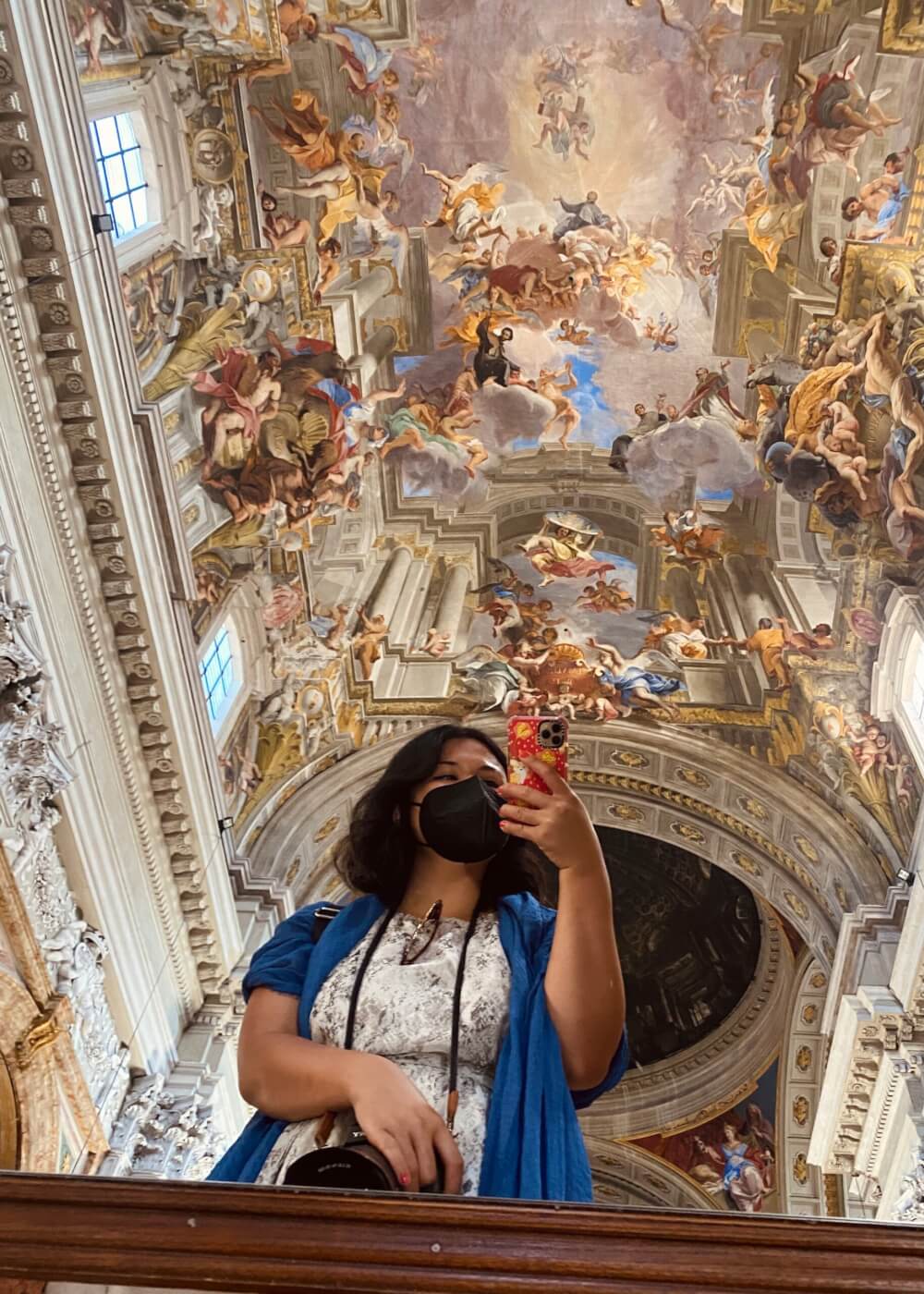 Pick only one major sight to do per day
Rome is a city of heavyweight attractions, and sightseeing in this city can really take it out of you!
Instead of trying to cram a lot of attractions into one day, I highly recommend breaking up your itinerary so that you only do one (or two max) big attractions in a single day, then leave the rest of the time for exploring, enjoying some food, etc.
Buy your tickets in advance
Rome is a hugely popular city with most attractions offering some kind of "skip the line" ticket option. The best part is you can easily get your tickets online.
In fact, these days, a lot of attractions require pre-booking (e.g. the Colosseum) to ensure crowd control.
If you are looking just for an entry ticket (without any kind of tour or guide), the cheapest place to buy them will always be the official website of that particular attraction.
Otherwise, if you are looking to combine your experience with a tour, guide, etc. then I can highly recommend GetYourGuide. They have a lot of great options with an easy to use interface that makes booking super simple.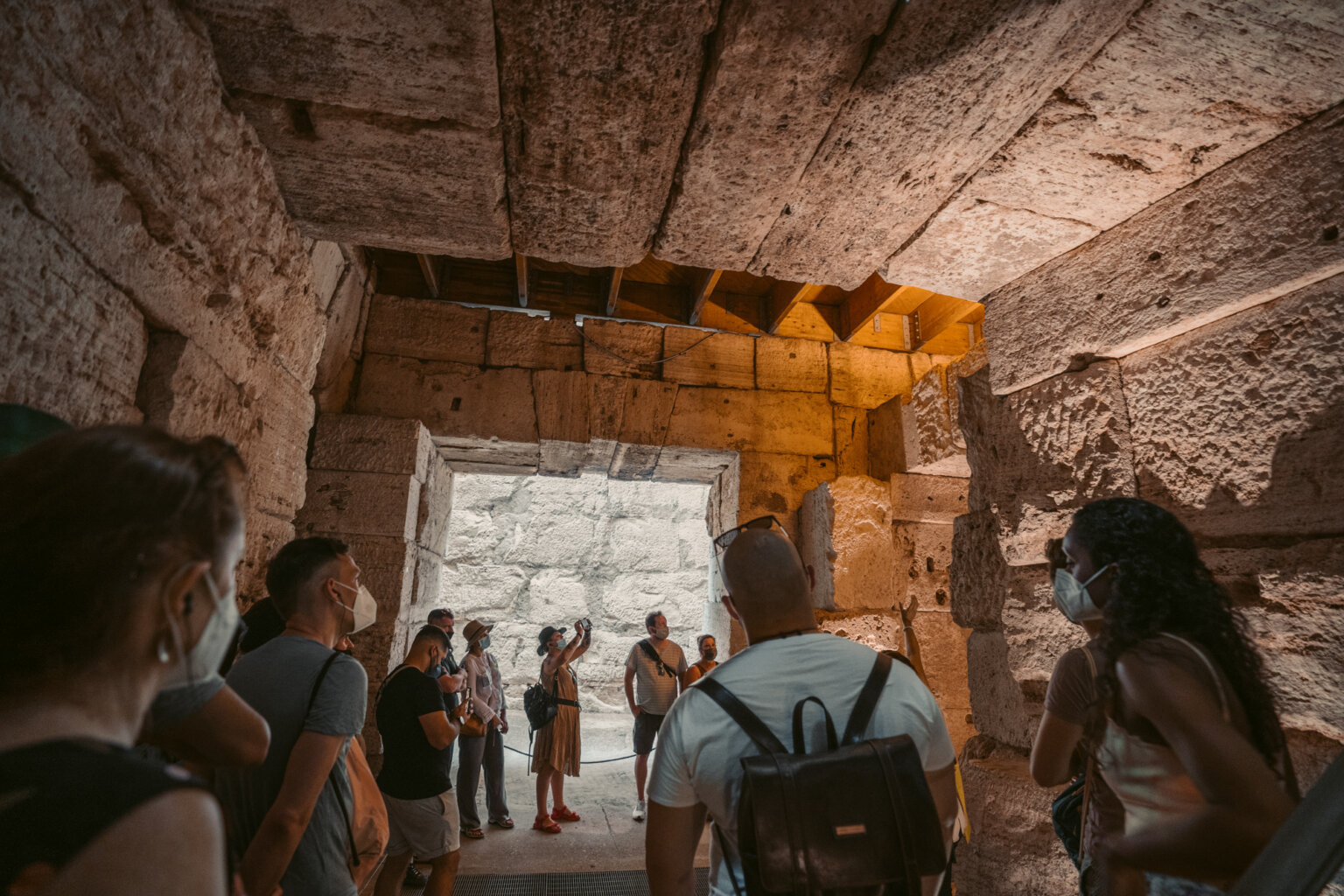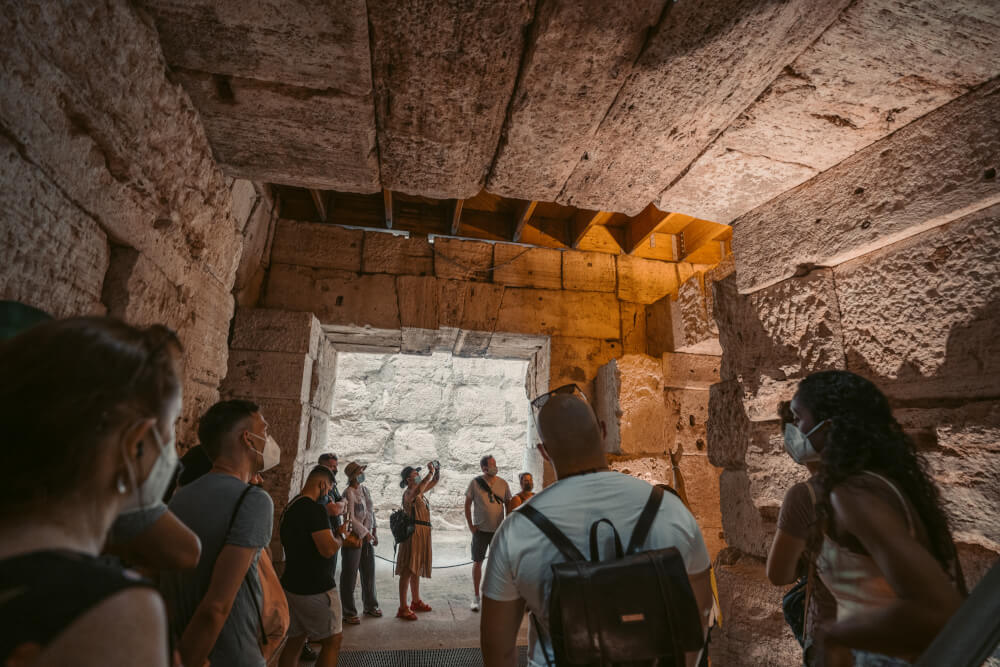 Consider booking tours for context
Rome is a fascinating city, but it has an expansive history that's tough to grasp for a first-time visitor…
That's why having a tour guide can really help in a lot of situations, particularly for Ancient Roman sights like the Colosseum and Forum, where you're basically just looking at ruins without any idea of what it used to be/look like.
While I'm usually quite an independent traveler, Rome is one of those cities where I've never really regretted having a tour guide.
Think twice before buying a Roma Pass or Omnia Card
I'm usually a huge fan of city passes that give you unlimited access to museums and attractions, like for example the I amsterdam card which offers incredible value and helped me save over 100 euros last time I went to Amsterdam.
… but I'm not so quick to recommend Rome's equivalent passes, because of the following reasons:
None of the passes are "all inclusive" – most include only a few attractions and then discounts for the rest, which makes the deal a lot less sweet
None of the passes include guided tours of any kind, which I think are valuable for some of the main sights (including the Vatican Museums and the Colosseum, who only just opened up their underground to visitors, and is only currently accessible by guided tour)
If you can buy tickets at a reduced price (e.g. EU Citizens aged 18-25), then buying tickets on your own is much cheaper
These passes are only really worth it if you use all the benefits (e.g. the Hop on Hop Off bus) which I don't think is the best way to see the city
The most tempting perk of these passes is the promise of a "skip the line ticket" but honestly these are easy to book on your own these days.
In short, the benefits of these passes are not unique, and I don't feel like the deal is good enough to make it an absolute must-buy.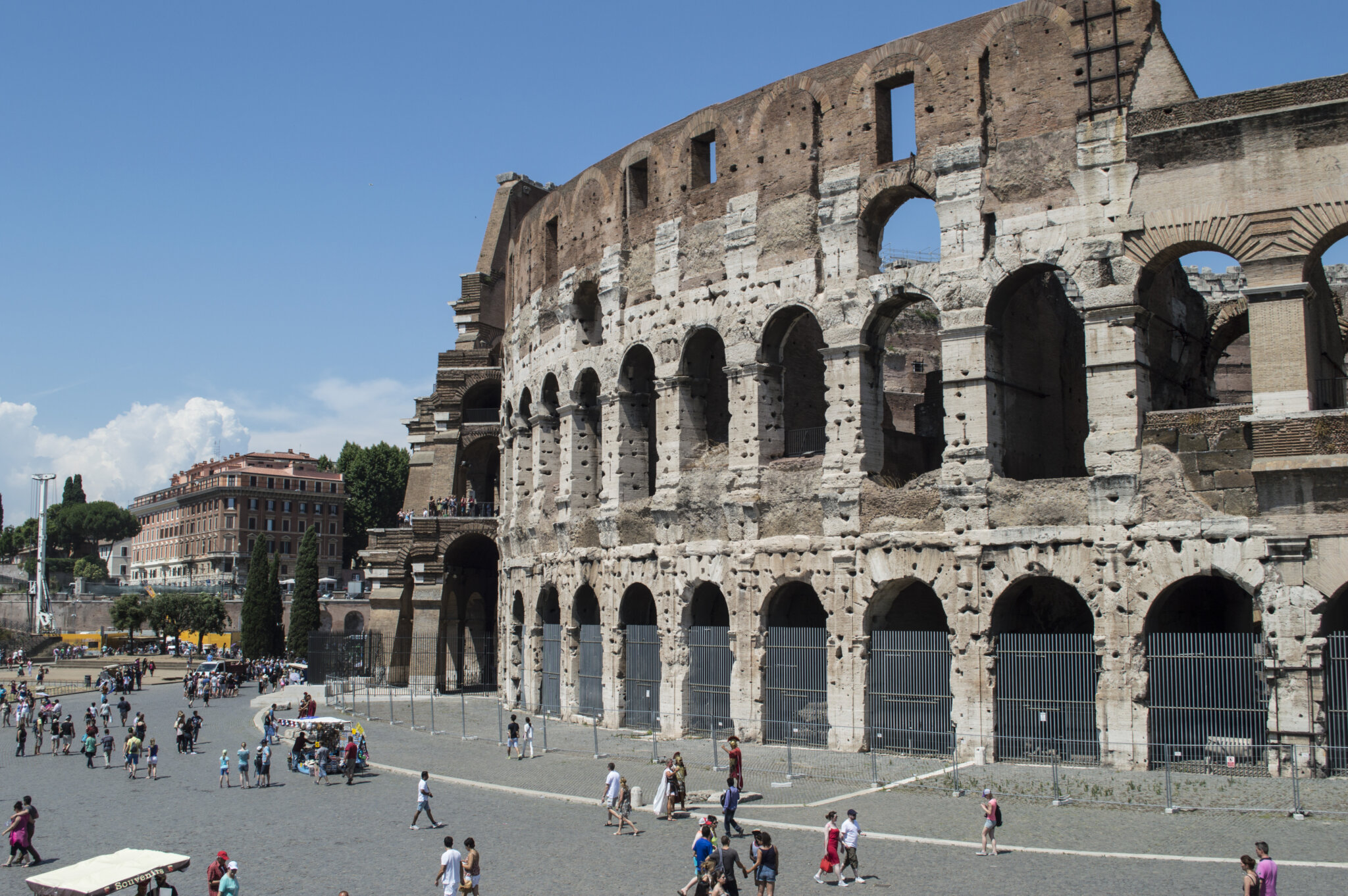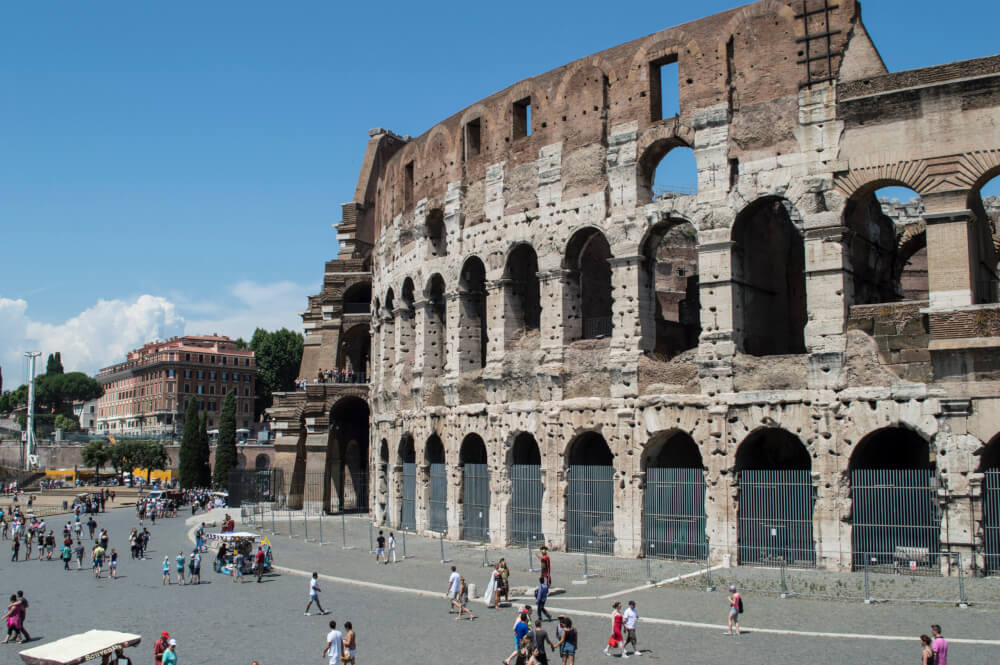 Wake up EARLY
The morning/late night hours are the best time to explore Rome if you hate crowds a much as I do.
In the summer, this has the bonus perk of being a lot cooler (temperature-wise).
PRO TIP: Pick the #1 attraction you're most excited for, and plan to see it as soon as it opens, with some sunrise explorations beforehand. I've heard sunrise at the Roman Forum is especially magnificent!
Visit big sights at the end of their opening hours
While most guides advise that you visit the main sights early, another sneaky hack that works quite well is visiting right before it closes.
I did this once with the Vatican Museums, entering about 1.5 hours before closing time and it I practically had the place all to myself!
In contrast, one time I did an early morning tour of the Vatican and it was already quite busy because other tour groups were starting at the same time.
NOTE: In Italy right now, booking a time slot is mandatory due to COVID regulations so this hack won't work if you're currently travelling, but hopefully these restrictions lift soon.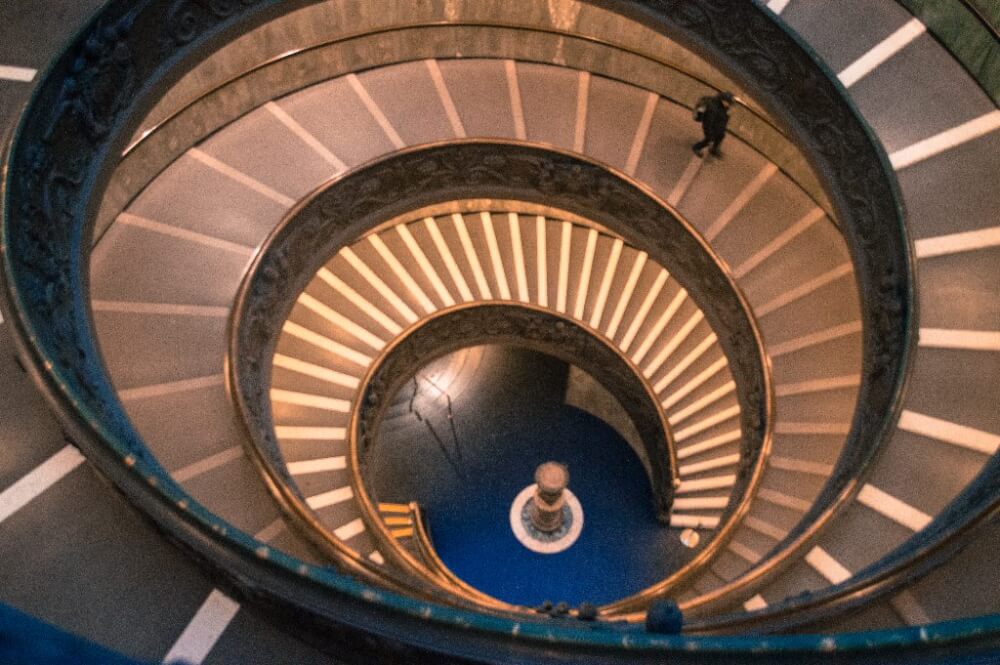 Plan around closure dates
While it's easy to assume that all of Rome's sights are open daily, this is actually not the case.
The Vatican Museums for example are closed on Sundays (apart from the last Sunday of the month which is usually a free day), while Museo di Roma and Villa Borghese are closed on Mondays.
When in doubt, search up the entry times for each attraction on their main website.
Always search for information on the official websites of attractions (even in Italian)
These days, hours/entry requirements can change quickly and thirty party guides (yes, even Google Maps!) may be inaccurate.
So, if you're trying to find information on how to book tickets or what opening times are, make sure you always go straight to the source rather than other sites or blogs (even mine!)
For example, on my most recent visit, the Pantheon had changed its policy to be open only for reserved time slots on weekends, which would have been really unlucky because I saw no information about this anywhere else. Luckily, we went on a Friday.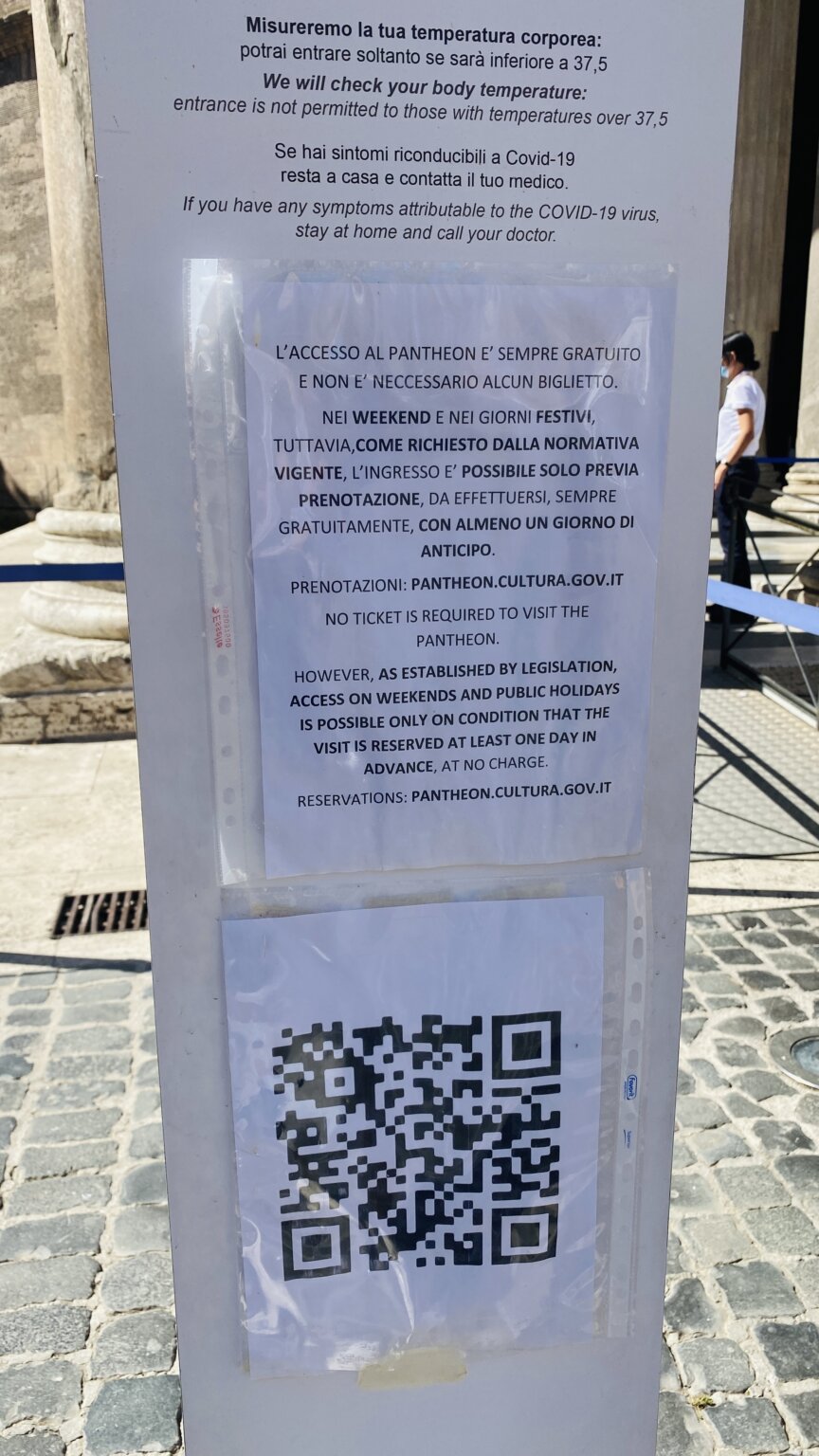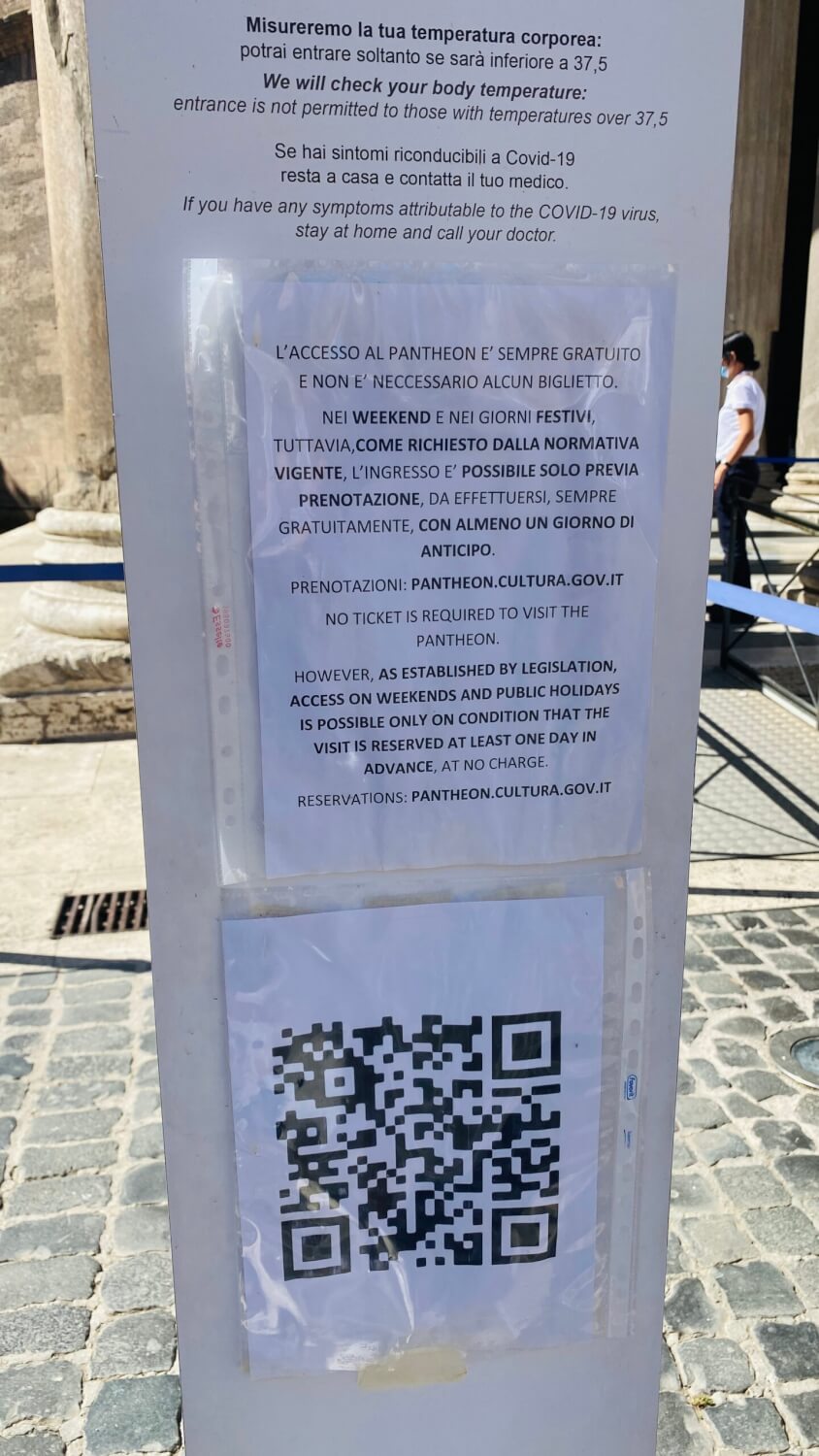 Don't rely on Google Maps for opening hours
On a related note, on several occasions throughout this past trip, I found that Google Maps was simply incorrect with a lot of the attraction opening times in the city.
For example, it had listed the Pantheon as temporarily closed for the entire week, when it was in fact open for visitors as usual.
So, again, remember to only check official websites.
Get familiar with the many free things to do in Rome
Rome is often regarded by many as an expensive city, but this doesn't have to be the case. In fact, there are tons of excellent free activities in Rome that you can enjoy, in addition to the city's slew of paid attractions.
Here is a list of great free things to do in Rome.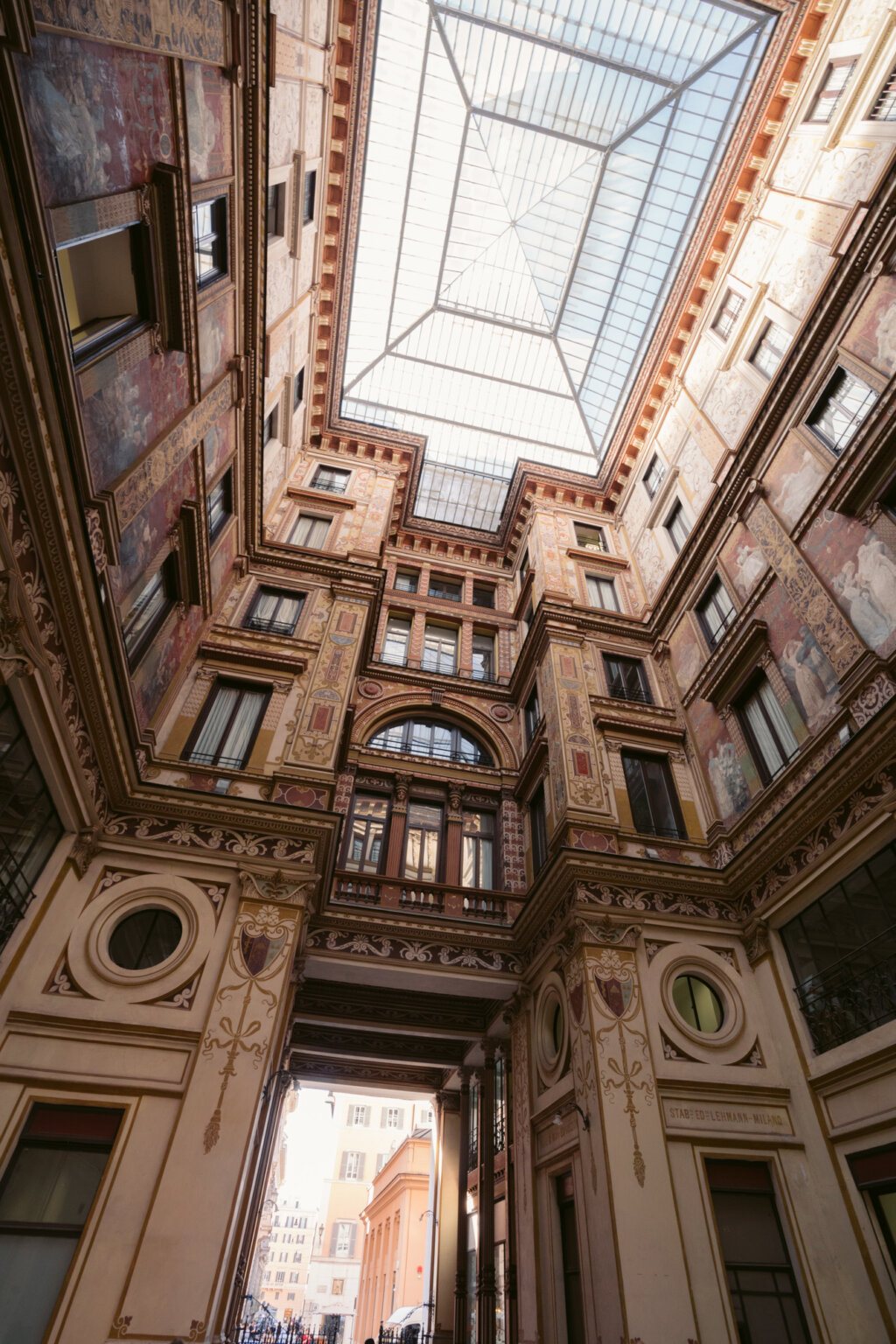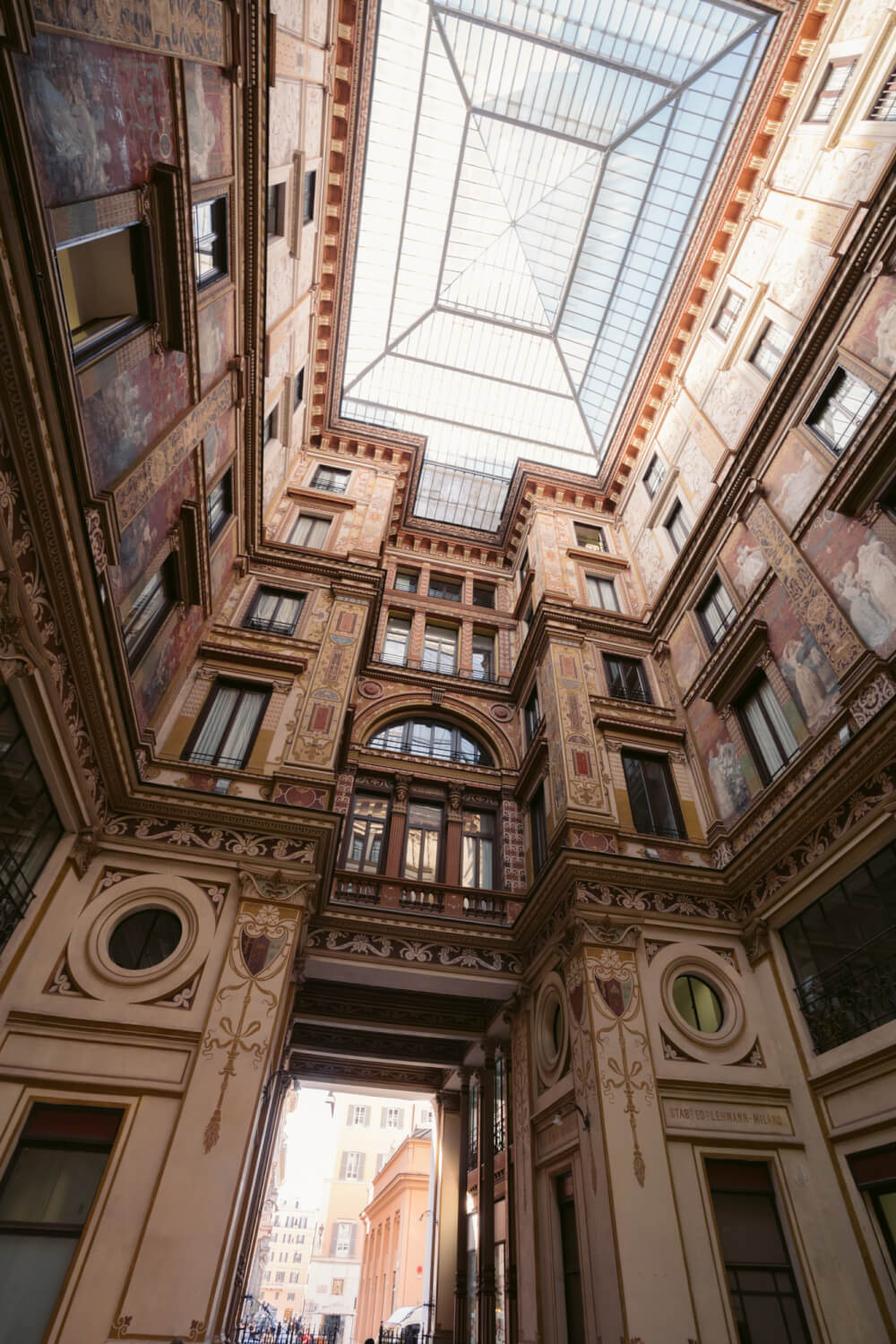 Climbing up St Peter's Basilica? Time your visit with the hour mark
Rome is a city with 900+ churches, and getting to hear all of them ring their bells while standing at the top of the world's largest cathedral is truly an epic experience.
This is why I would time your visit so that you hit the hour mark when you're up top! If you're climbing stairs the entire way, about 30min before the hour should give you enough time.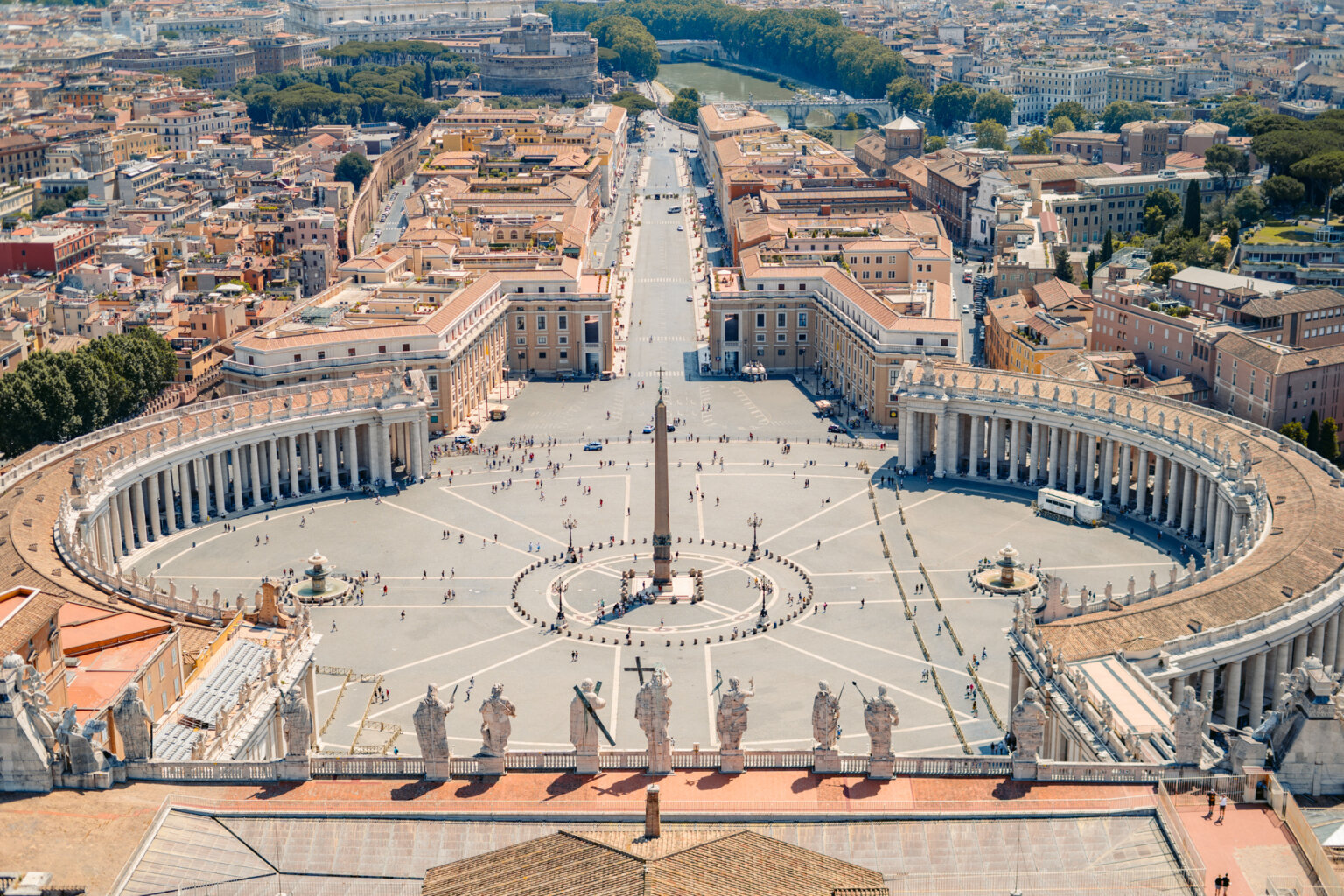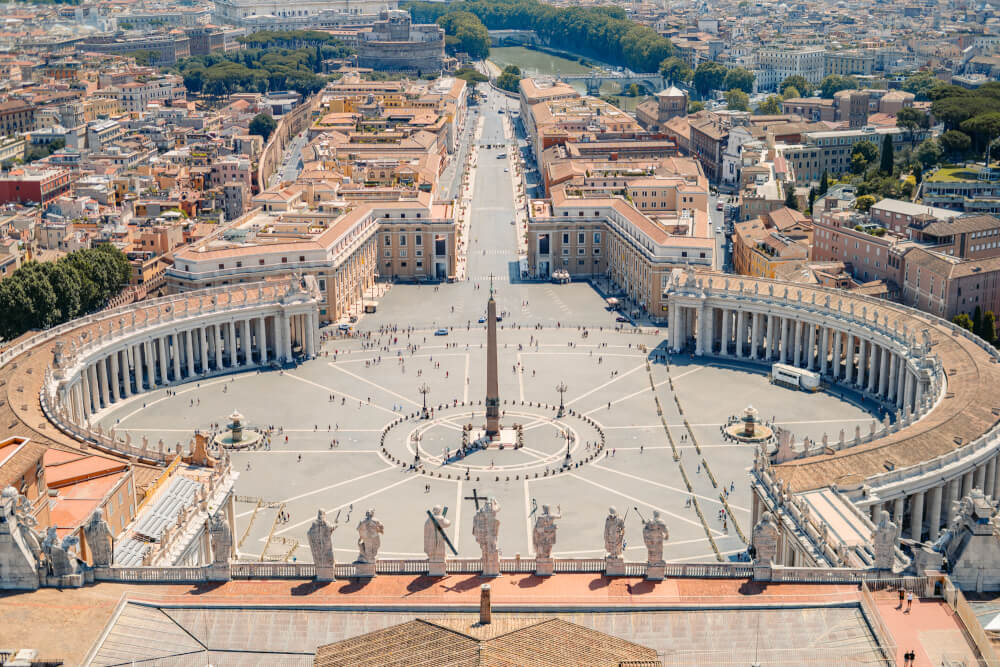 Don't sit on the Spanish Steps
This has been banned since 2019, and doing so risks a fine of 400 euros, although practically speaking, I don't think anyone actually gets fined.
We stayed on the Spanish Steps this past trip, so it was a great source of entertainment to hear "the Whistle Police" enforce this rule. Yes, they're there all hours of the day whistling at anyone who dares to sit down even for a second, so don't do it!
PS: It goes without saying, eating on the Spanish Steps is also prohibited.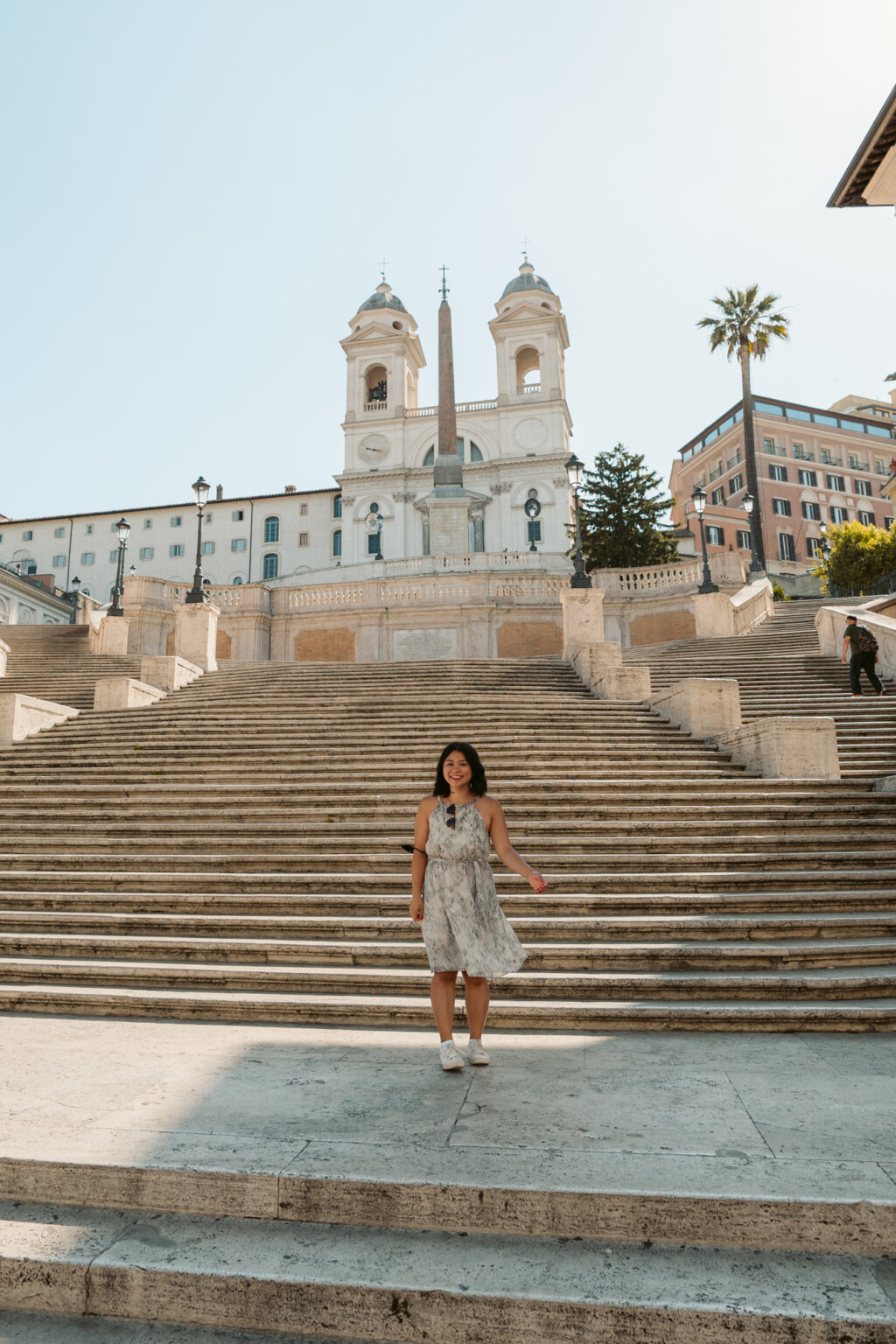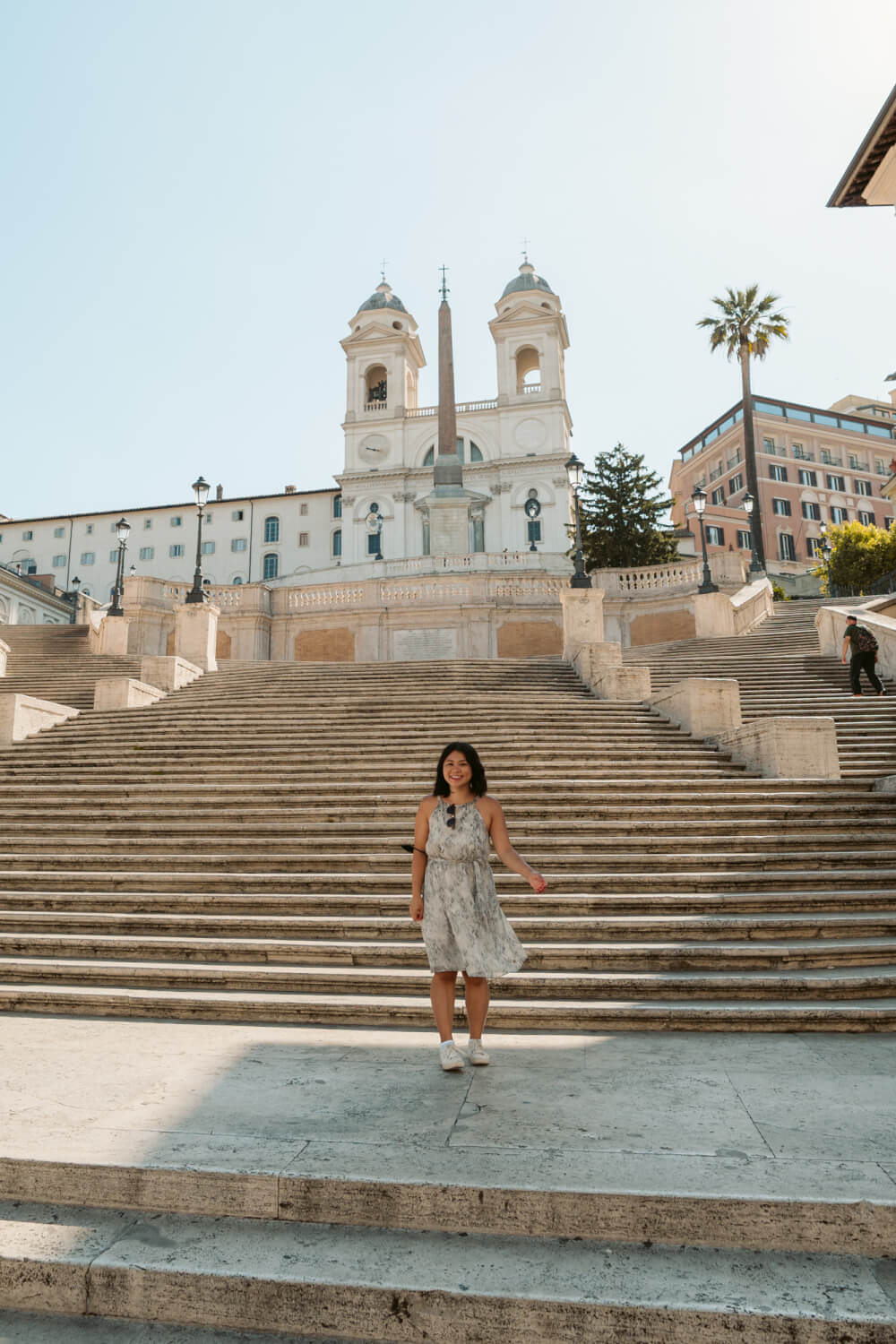 Take my suggested route for visiting St Peter's Basilica
On my most recent visit, there were certain one way systems in place to ease the flow of crowds in St Peter's Basilica, and I happened to accidentally do a really breezy route that I highly recommend.
Here it is as follows:
Enter the cathedral, have a quick look around to get a feel of the grandeur of it
Head down to the papal tombs, and the exit will take you back outside, conveniently where the ticket office is for the climb up the basilica dome
Climb up the tower, enjoy the views from above
Climb back down (the exit will actually bring you back into St Peter's) and finish your explorations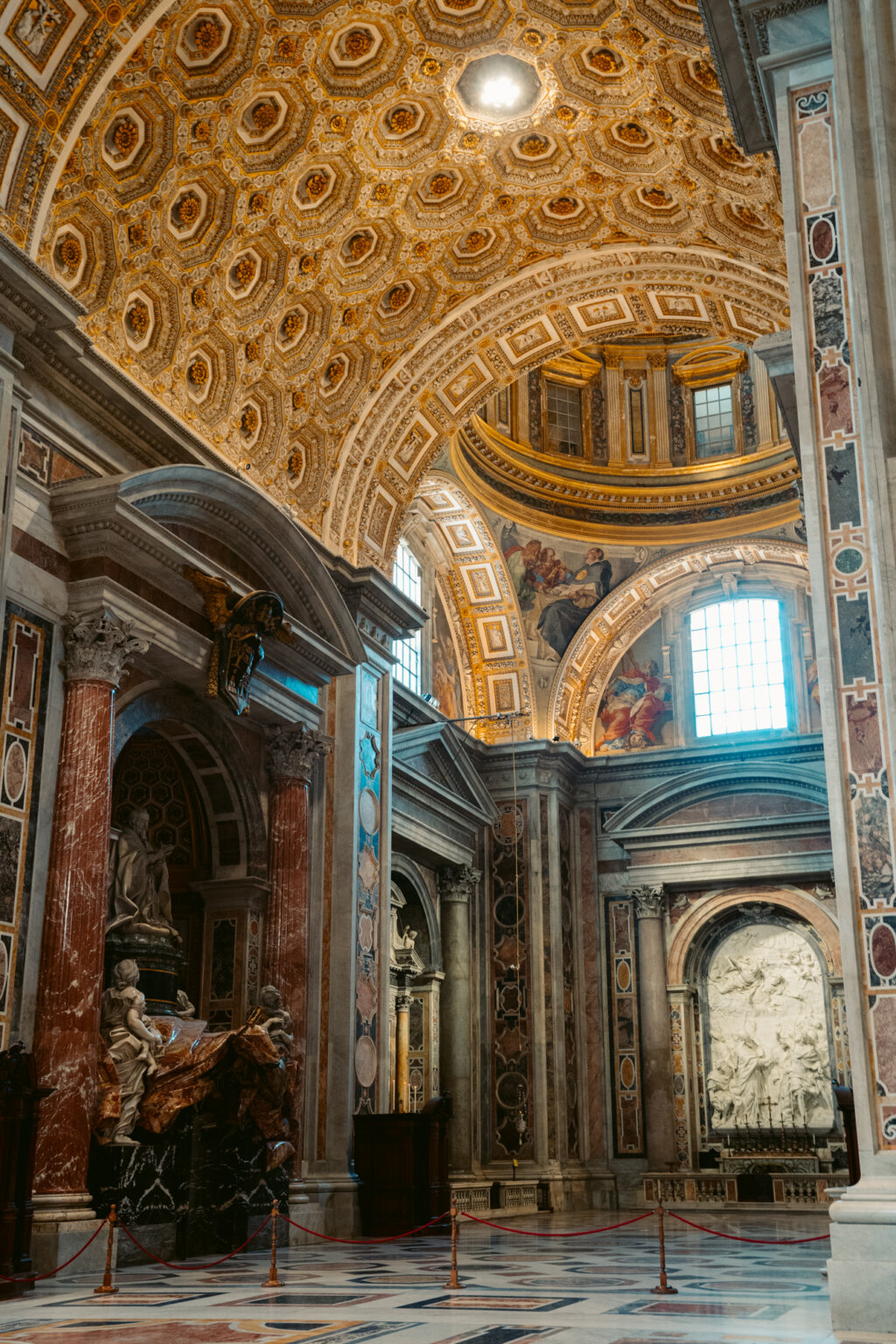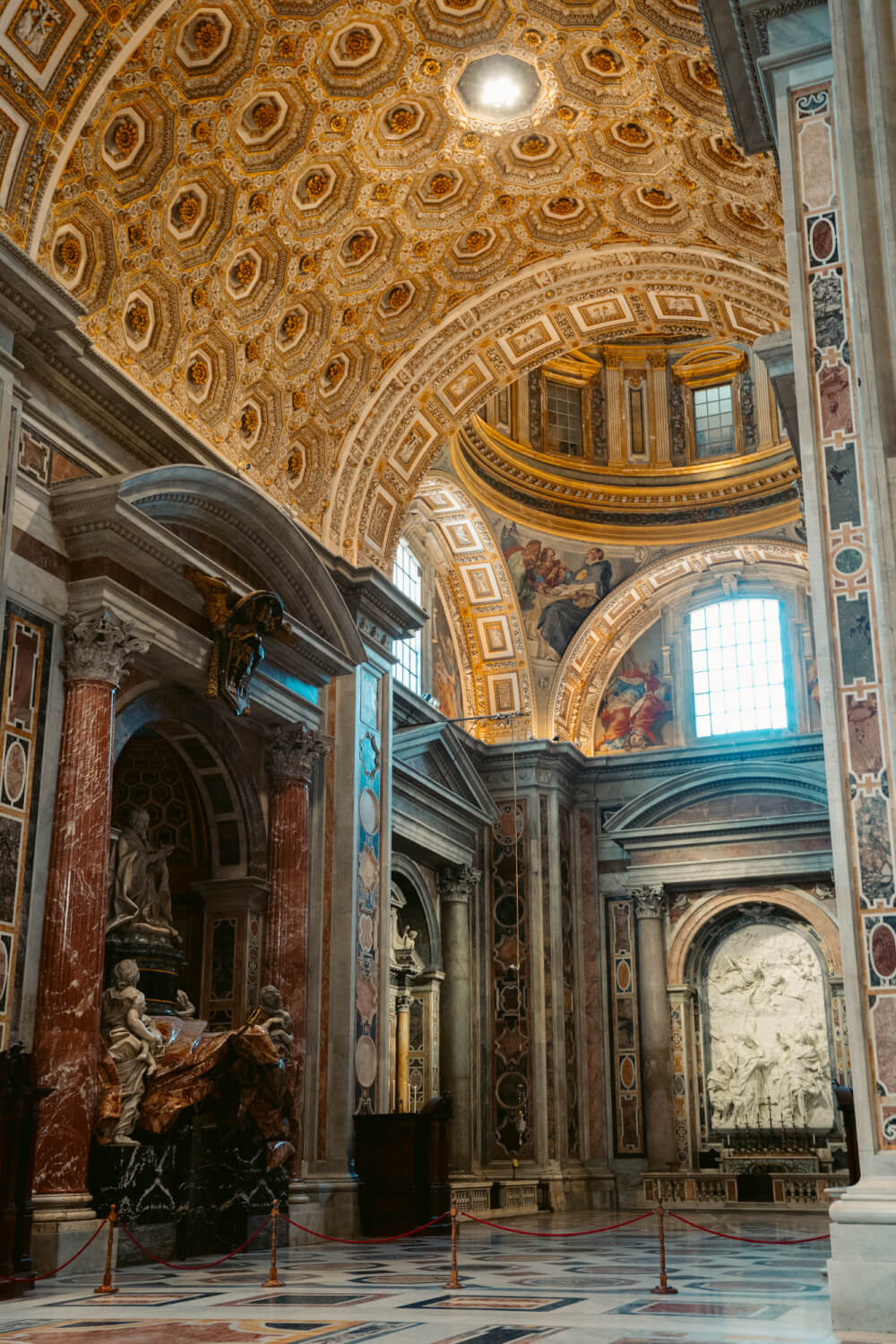 Bring a pen to the Vatican
Just outside of St Peter's Basilica, you'll find a mandatory tourist stop: the Vatican Post Office, where you can purchase a (very Popey) stamp and send a postcard from the smallest country in the world!
Is it shamelessly touristy? Yes, but it's a cheap souvenir to send to loved ones.
My main tip to you though is to bring your own pen – they don't provide them and the cheapest ones cost 1.50. During my brief visit, they had even sold out of the cheap pens!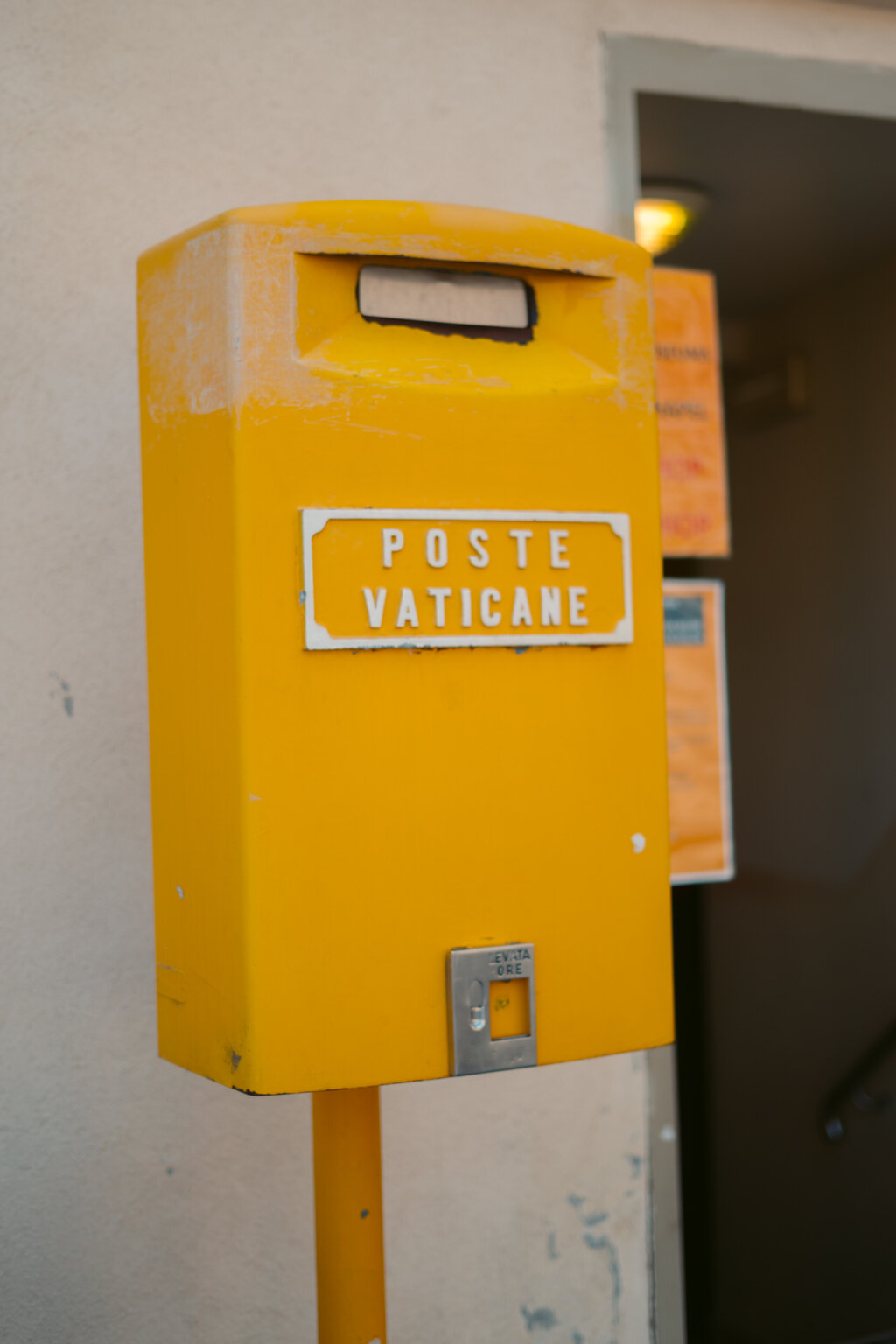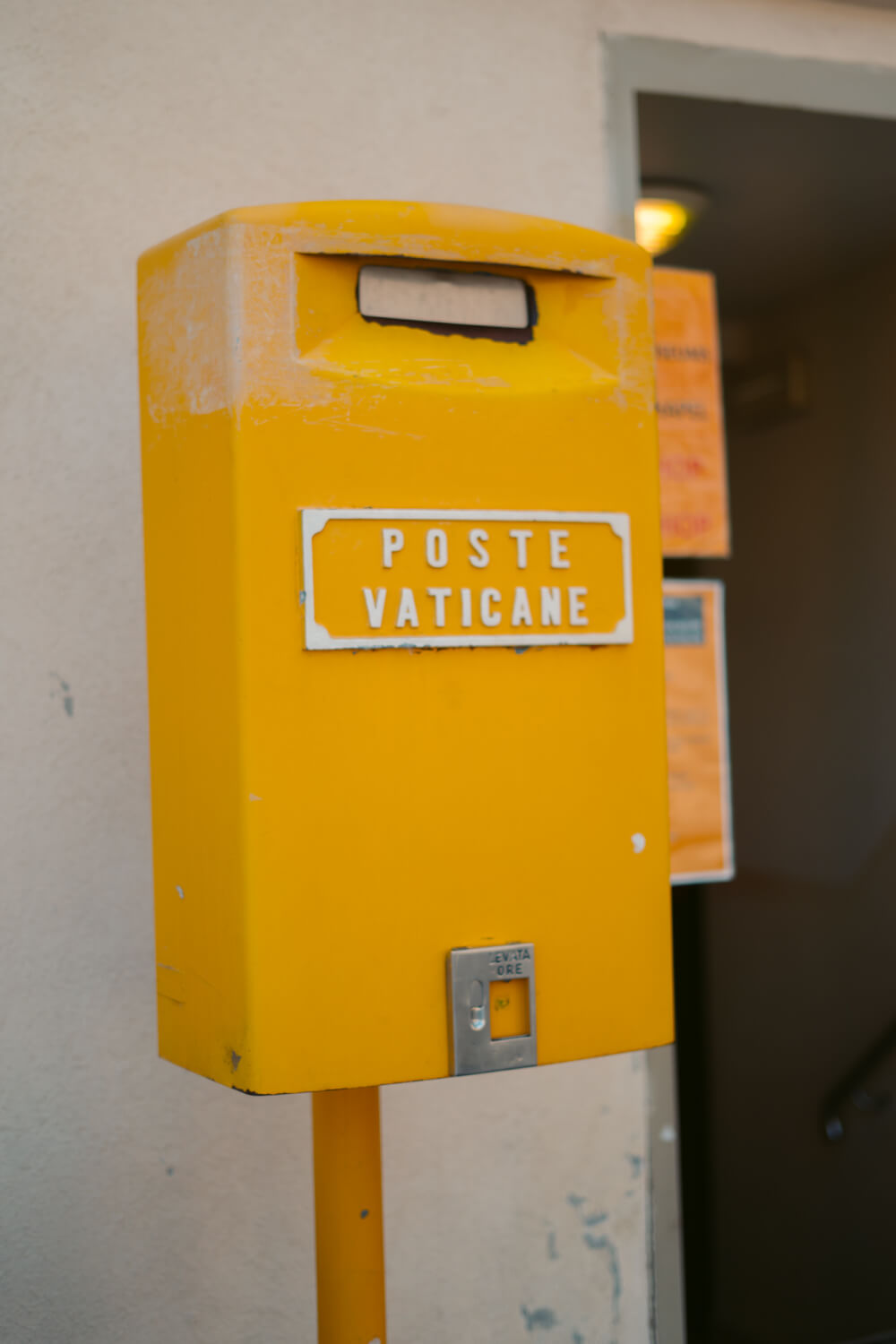 Cool down in Rome's green spaces
With all the sightseeing you'll inevitably do in Rome, one major tip I have for you is to schedule a more relaxing stop each day (e.g. a park) so you can catch your breath and enjoy a calmer side to Rome.
I can highly recommend both Villa Borghese's Gardens (the 3rd largest public park in Rome and filled with beautiful sights and plenty of shade!) as well as Giardino degli Aranci (AKA Parco Savello).
Both offer amazing views as well as lots of shady spaces to hide from the sun.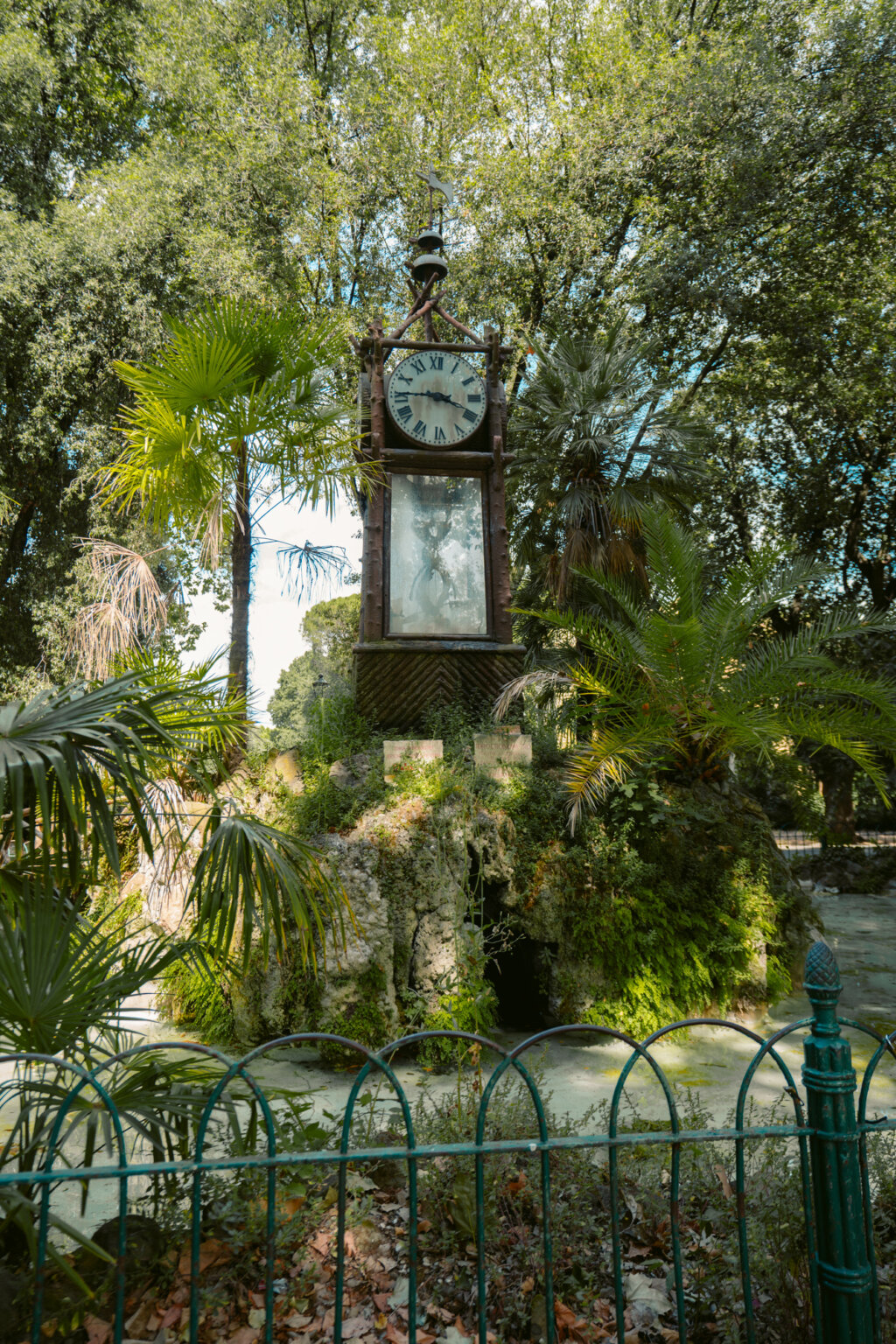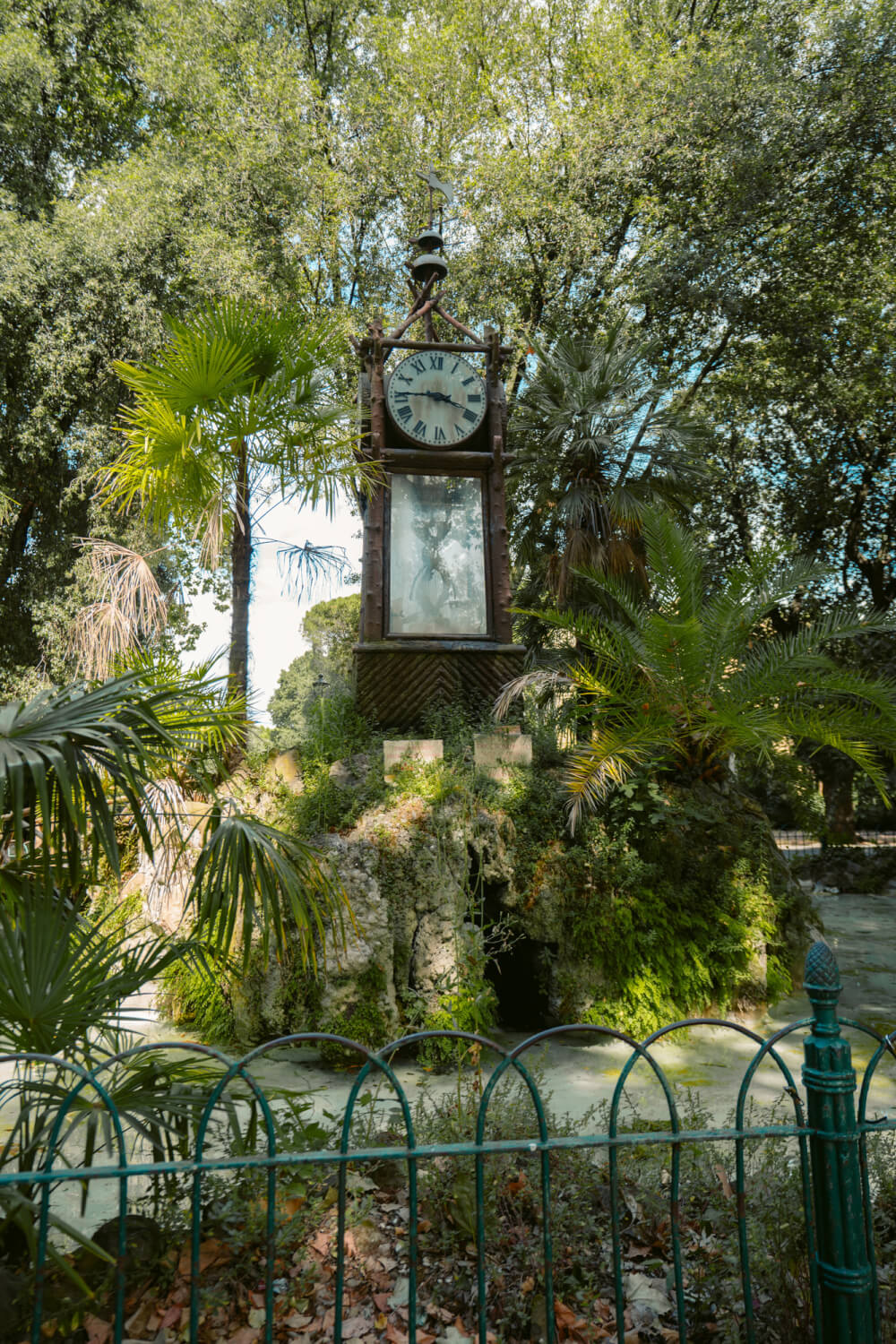 Be wary of outdated information about "the 1st Sunday in Rome"
In the 'Before TImes', the first Sunday in Rome had traditionally been a day of free entry for Rome's state run sights and attractions, including Galleria Borghese and Palazzo Barberini.
While this has been paused due to COVID-related crowd control issues, other sources from 2019 actually say they were planning on rehauling this program so that each museum decided their own free days, and the free 1st Sunday would be paused in peak season.
Anyways the point is, as I mentioned above – when looking for information about attractions in Rome, always go to the official source (i.e. that attraction's actual official website) for the best info.
There are a TON of blogs out there that look official but are actually run by third parties, and most of them have outdated information.
For example, many websites said that Villa d'Este and Villa Adriana in Tivoli were both free on the 1st Sunday, but when we went, the ticket office seemed VERY confused when we asked about it, so I'm not convinced the free 1st Sunday will be making a comeback there any time soon!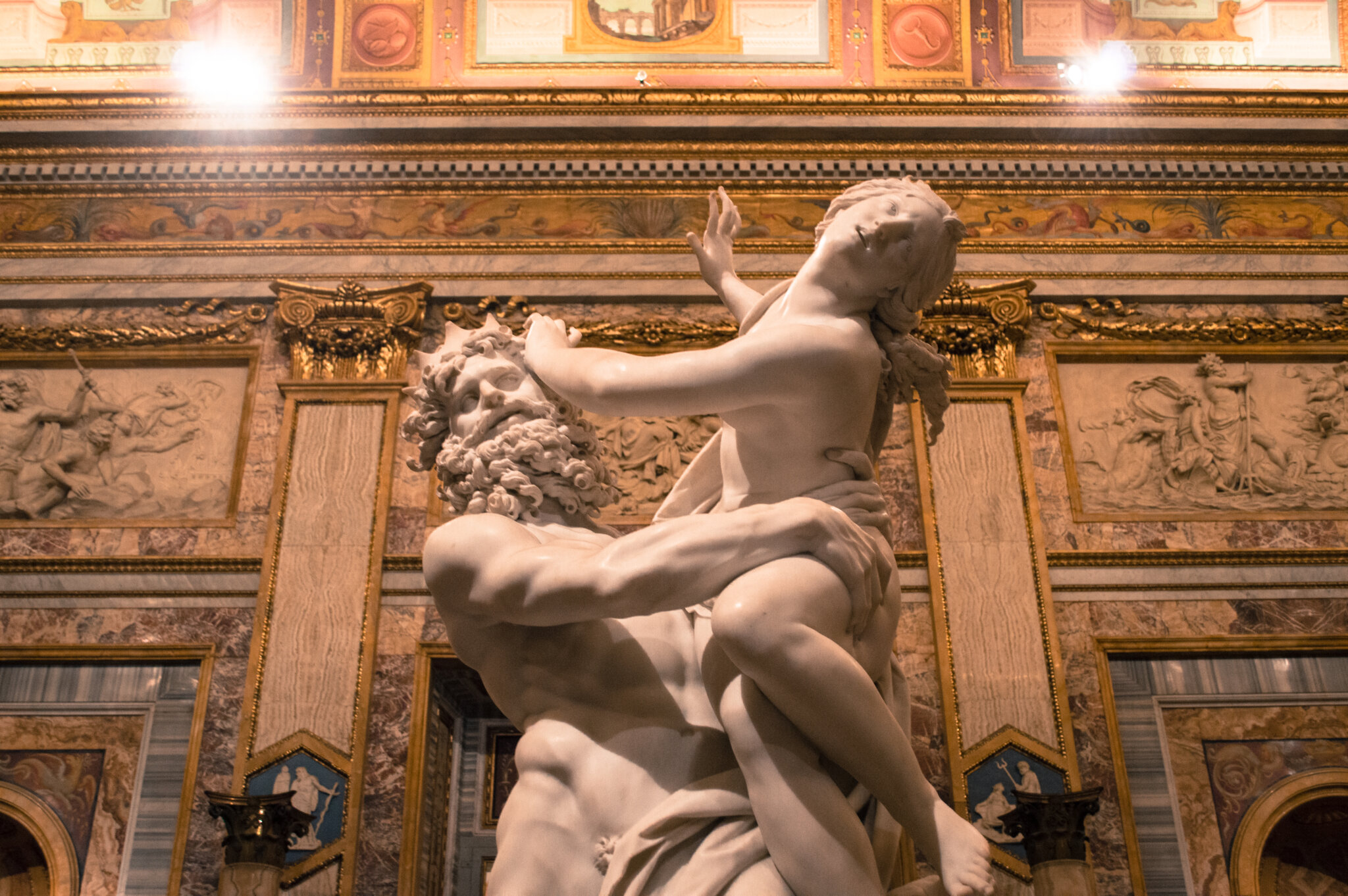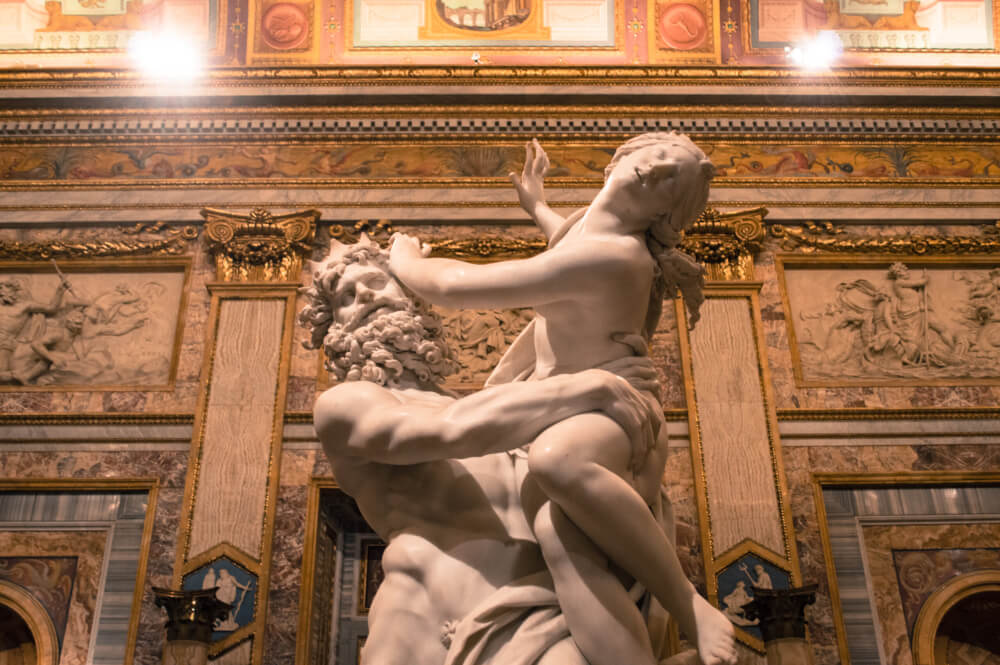 Safety Tips for Rome
Is Rome dangerous? This is one of the most common questions that first-time visitors ask.
As someone who was robbed literally 15 minutes into my first visit here, my answer is this: Rome isn't dangerous for tourists in terms of violent crime, but you need to take smart precautions to avoid theft or scams.
Don't worry – that's what these Rome safety tips are for!
Know the common pickpocketing scams
The #1 threat to tourist safety in Rome is petty theft. Pickpockets are everywhere in Rome, particularly in hot spots like transport hubs and crowded tourist areas.
So, if you haven't already, I highly recommend reading my guide on how to avoid pickpockets in Europe for a crash course on staying safe in pickpocket-heavy cities. I'll share some more tips on that below.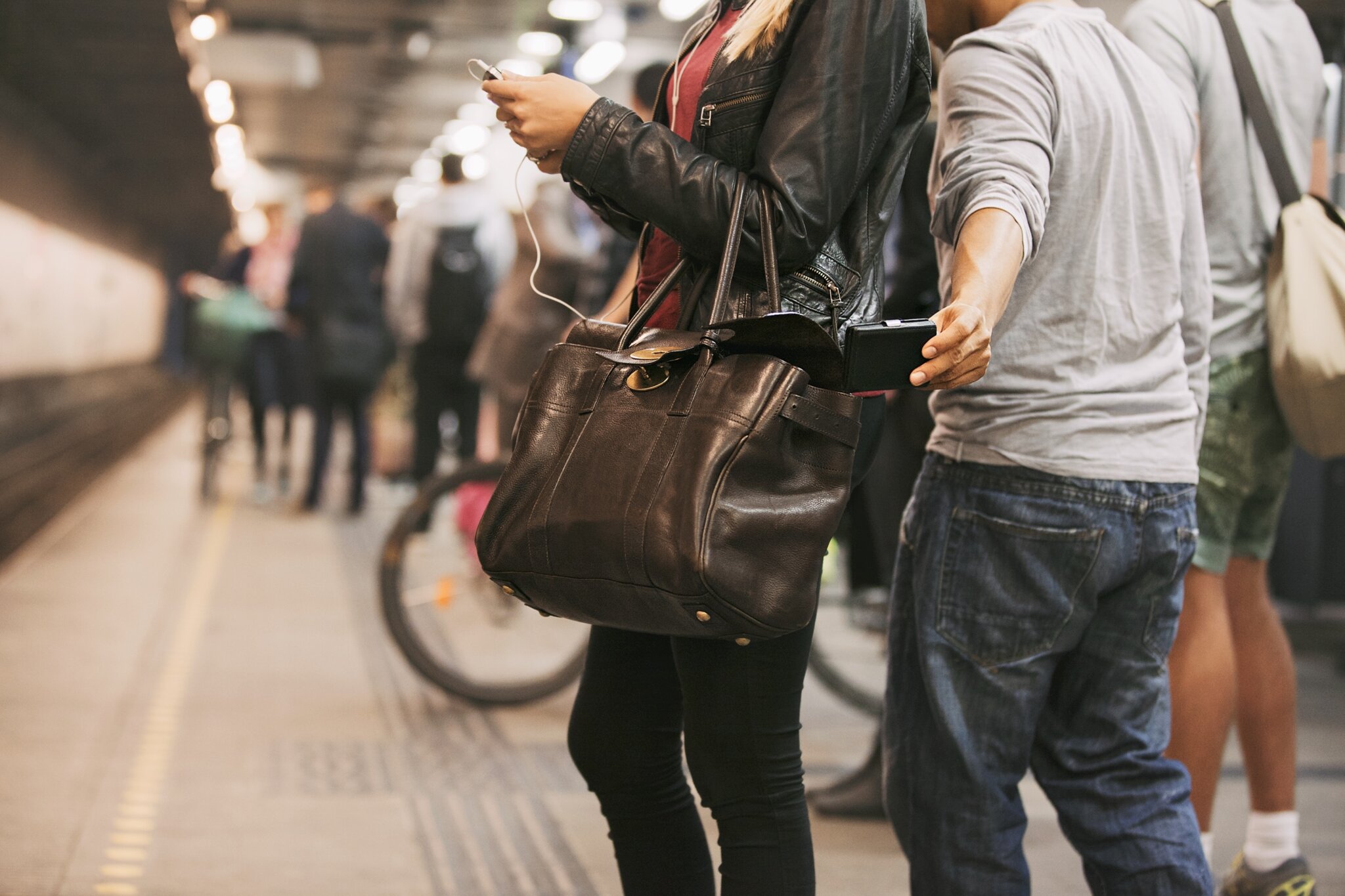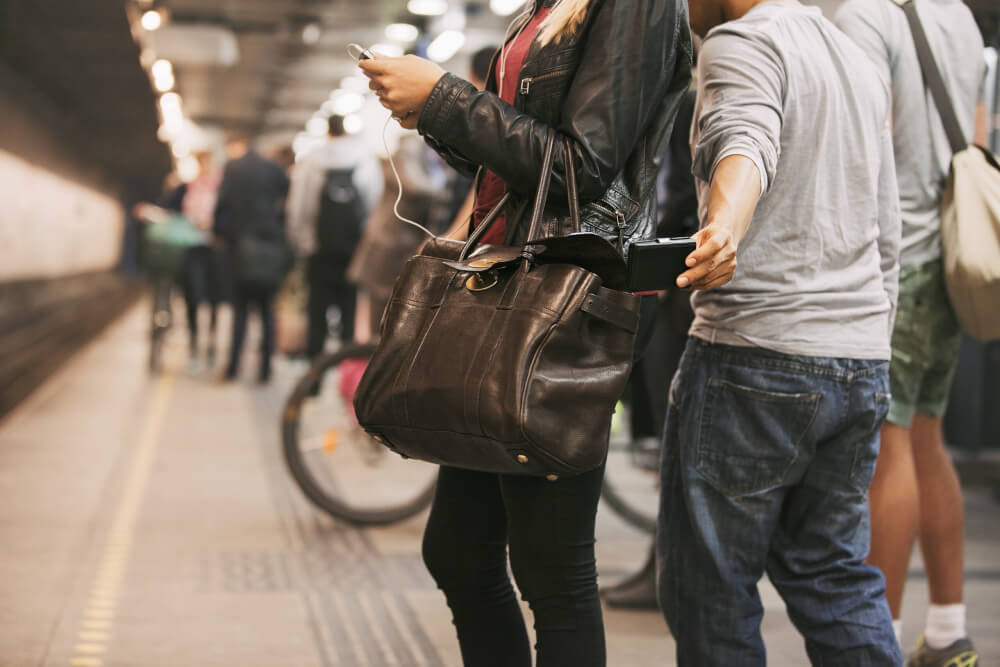 Avoid Bus 64
This is a bus that has earned the nickname "Rome's Pickpocket Express" because of its popularity with tourists (and therefore pickpockets).
Its route connects Termini Station with a variety of sights in central Rome, ultimately ending up by the Vatican.
Due to the popularity of this route with tourists, it's common for the bus to be packed and therefore an easy place for pickpockets to work their magic.
If you're able to avoid this bus (or honestly, buses in general), I'd recommend doing so.
Otherwise, just ensure you have a firm hold on all your belongings (lock up your zippers if you need to!) and stay vigilant.
Avoid crowds and getting close to strangers
I know we're all masters of social distancing by now, but that is honestly the #1 defense you have against pickpockets in Rome, who usually thrive on close contact/bumping into you as a distraction.
My most recent trip to Rome (July 2021) is the one where I felt safest because social distancing has become so normalized.
Remember, people can't pickpocket you if they can't get close to you, so try to always remove yourself from crowded situations.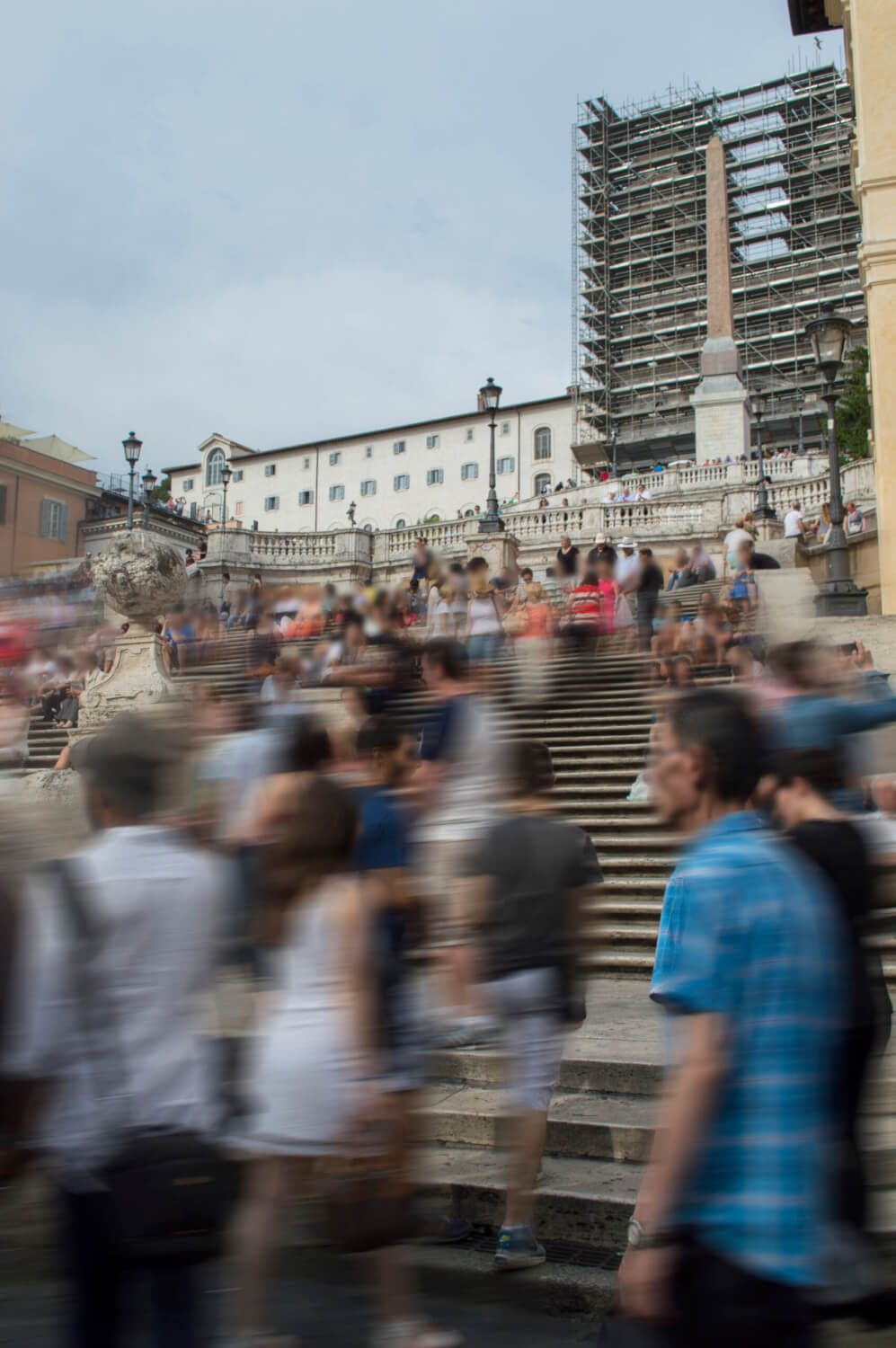 Keep valuables out of sight
Leaving your phone on a terrace table, or your purse hanging on your chair are both easy ways to get your valuables stolen!
Sure, it's easy to let your guard down when you're trying to relax, but remember that keeping your valuables out like that can be an easy way for them to get snatched.
Whenever I'm dining anywhere, I always keep my bag between my feet so they're hard to access, and make sure to not leave my phone out on the table (on my lap, under a big napkin is often a safer bet!)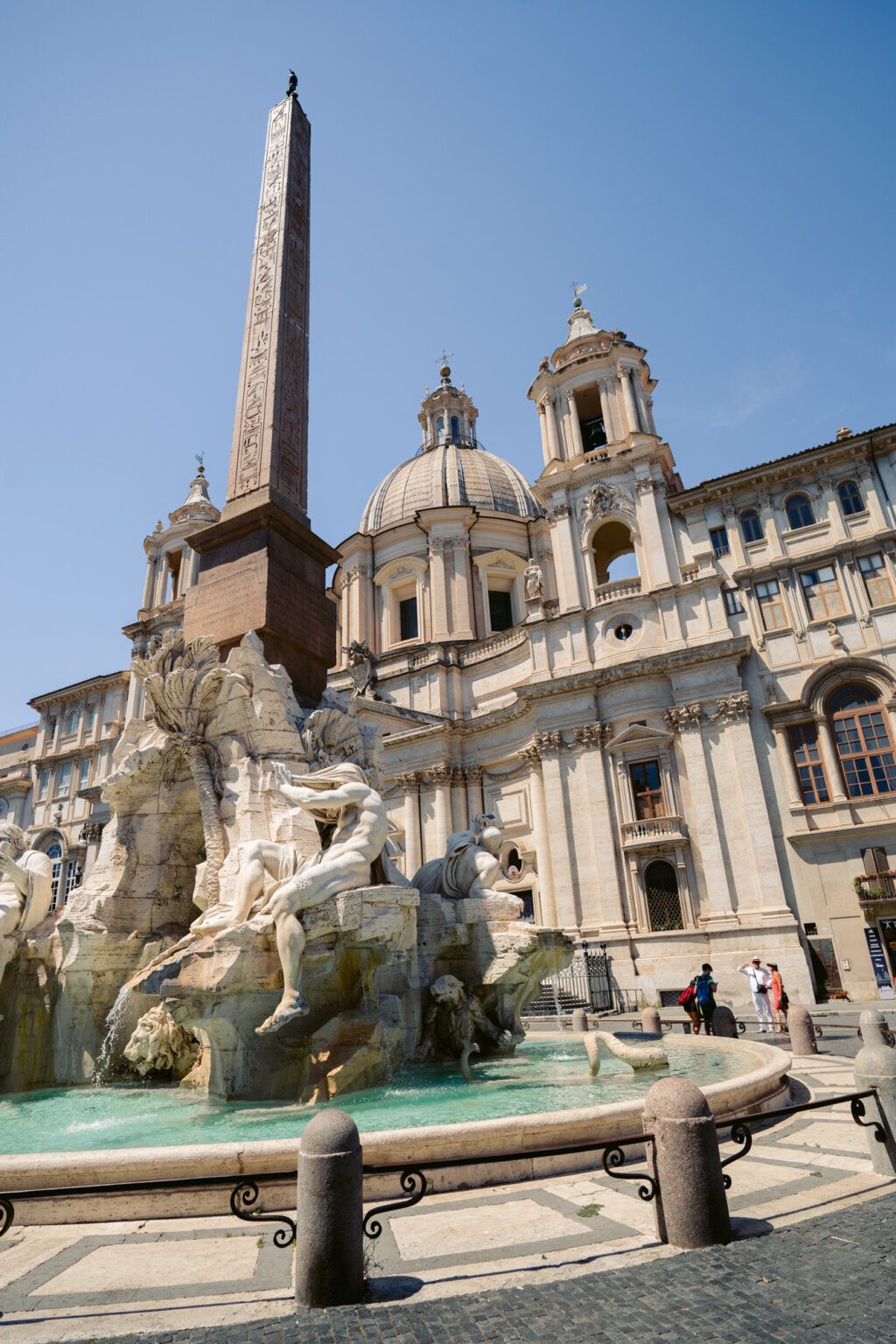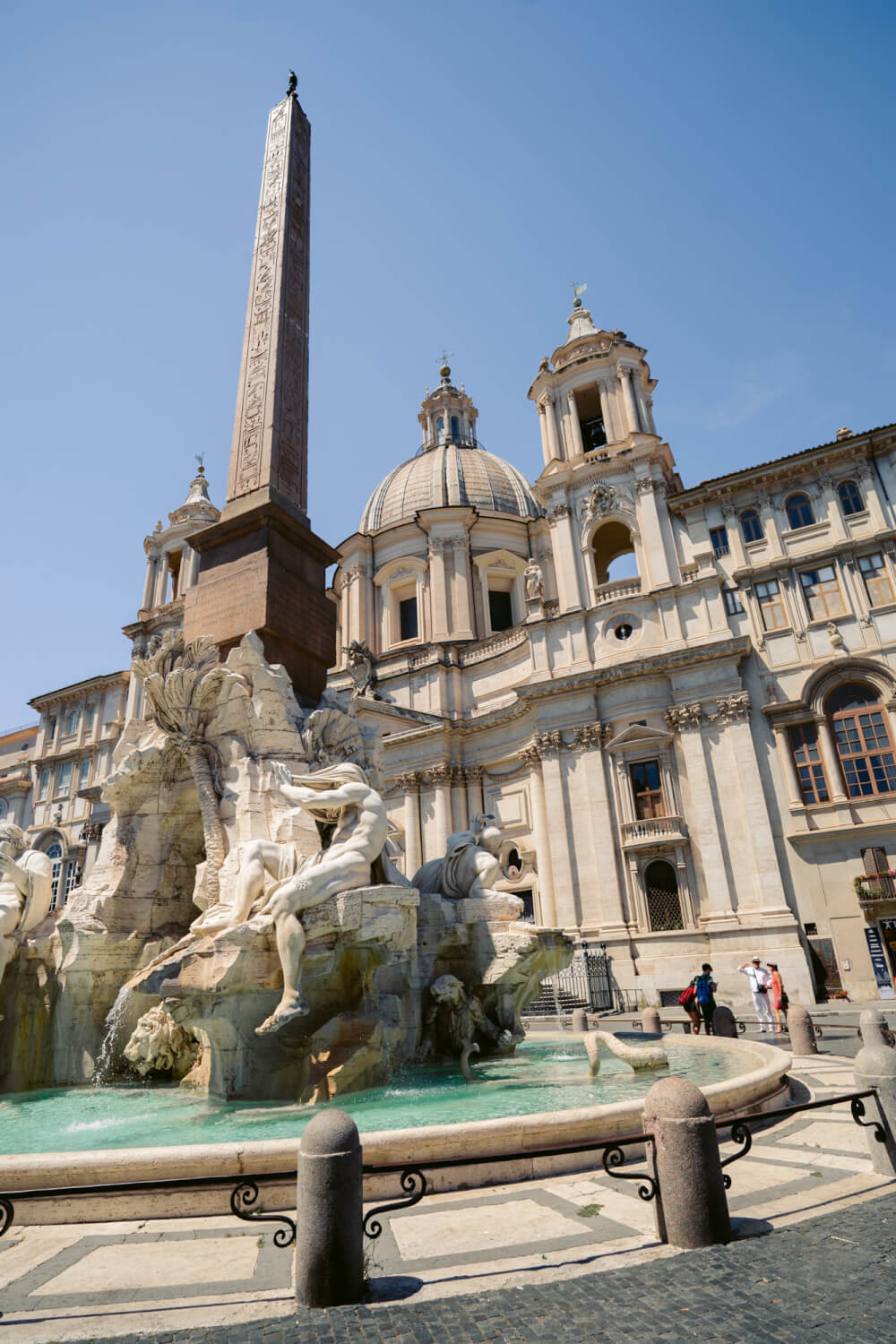 Bring a money belt
I've never been a money belt person because I find them uncomfortable, but this is a common accessory many travelers swear by to keep their most precious items safe.
My boyfriend bought this one for our trip and said it was light, secure & comfortable.
For me personally, I prefer the following methods…
Store your stuff in tough-to-reach pockets
Remember, pickpockets thrive on quick movements, so if you inconvenience them even in the slightest, your risk of theft decreases dramatically.
Instead of a money belt, I always have either:
A backpack with a zippered pocket in the back, which makes it inaccessible to anyone else when worn
A crossbody purse with a pocket on the backside, again making it inaccessible to anyone so long as I hold it close to me
A jacket with inner pockets so it's impossible to reach in without getting super super close
These anti-theft methods are a LOT more comfortable to me than a money belt.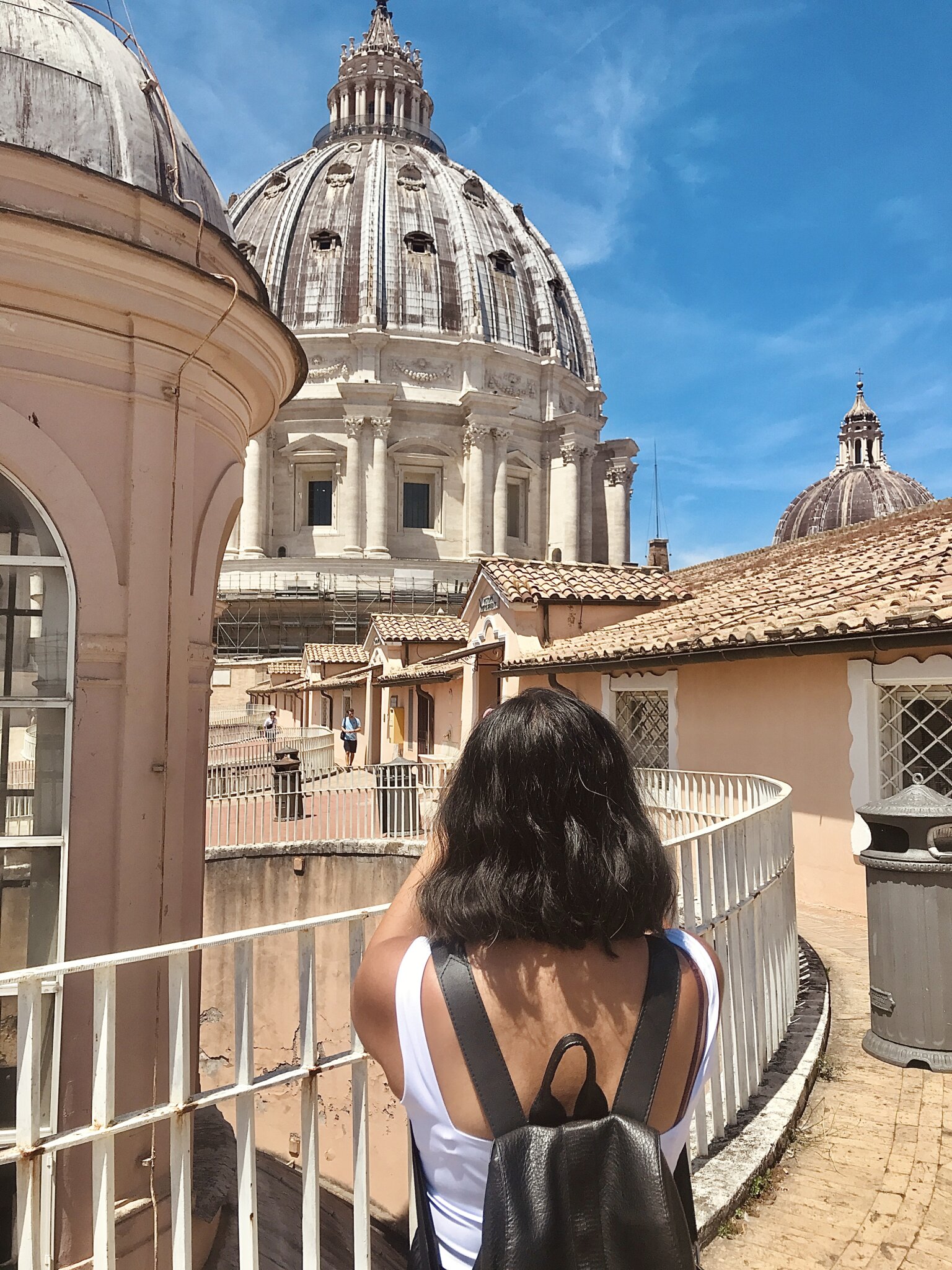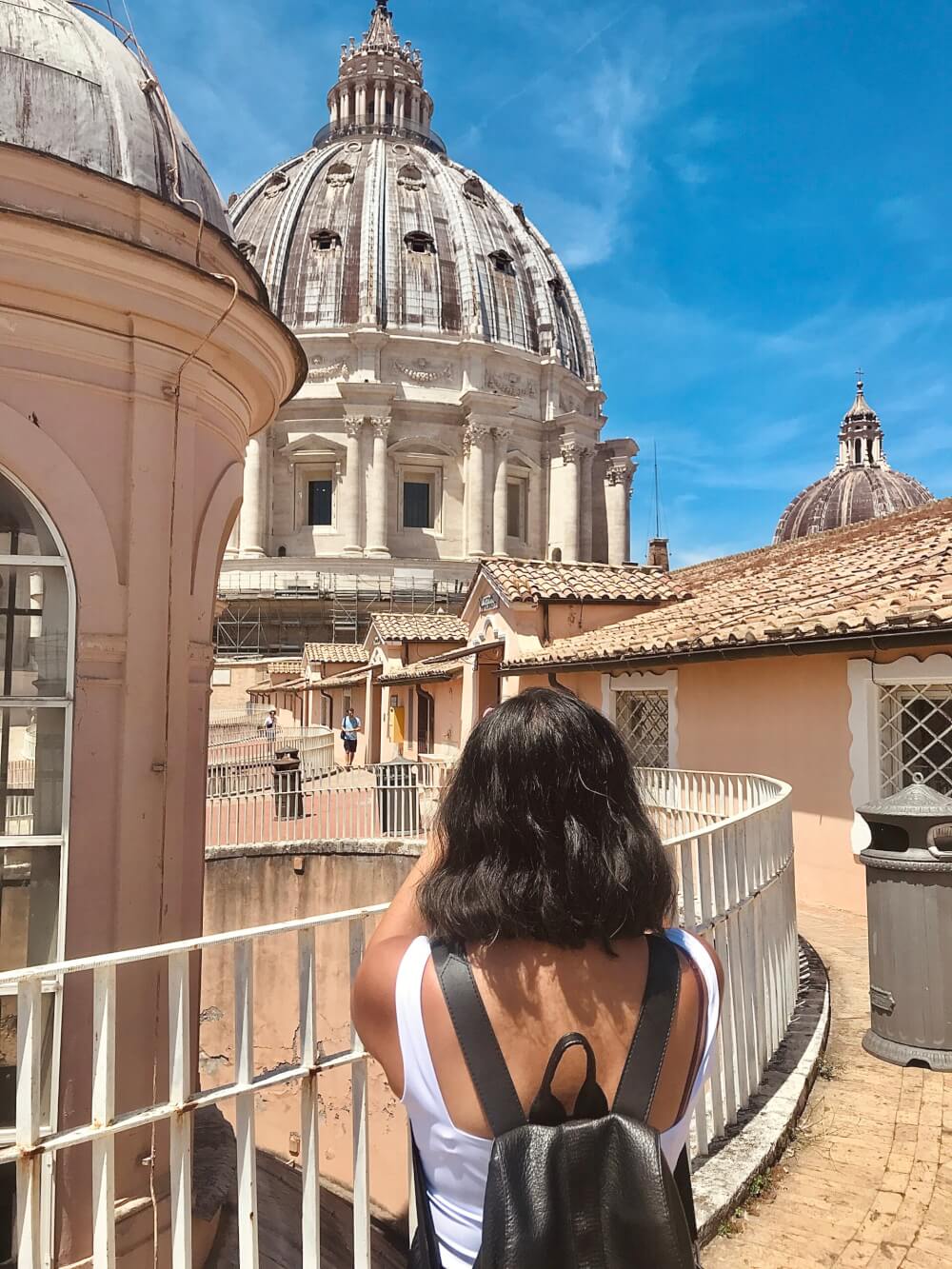 Buy some small locks to put around your zippers
Another great travel hack I've picked up over the years is simply buying a set of small cable locks like these and keeping one in each bag.
That way, you can quickly lock your zippers together in crowded situations and prevent anyone from randomly opening your bag.
Simple, but effective.
Know the emergency numbers
If you are wondering what the 911 equivalent is in Rome, here are the numbers to keep in mind:
112: General European emergency number which will connect you to the relevant service you need
113: Police
118: Medical emergency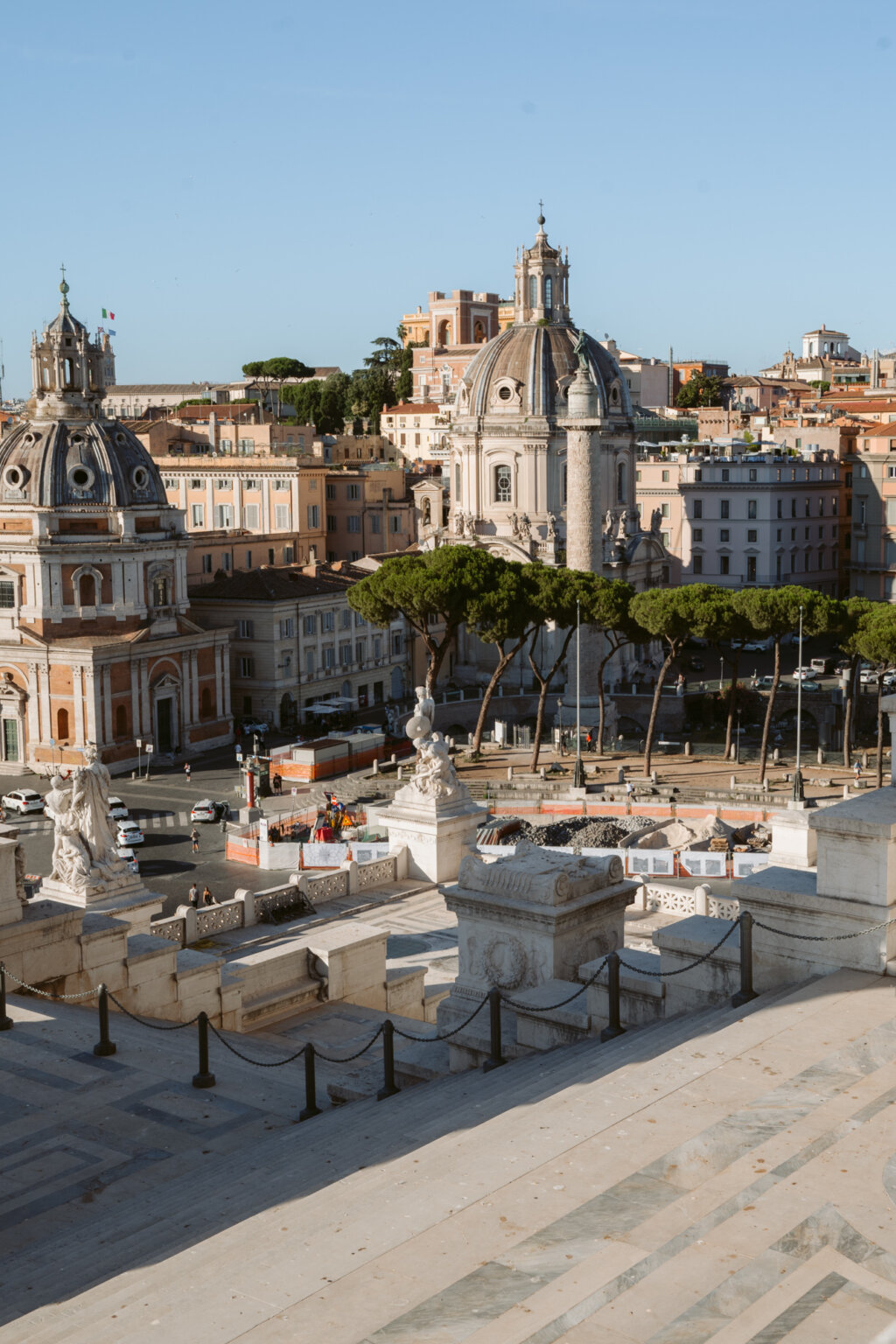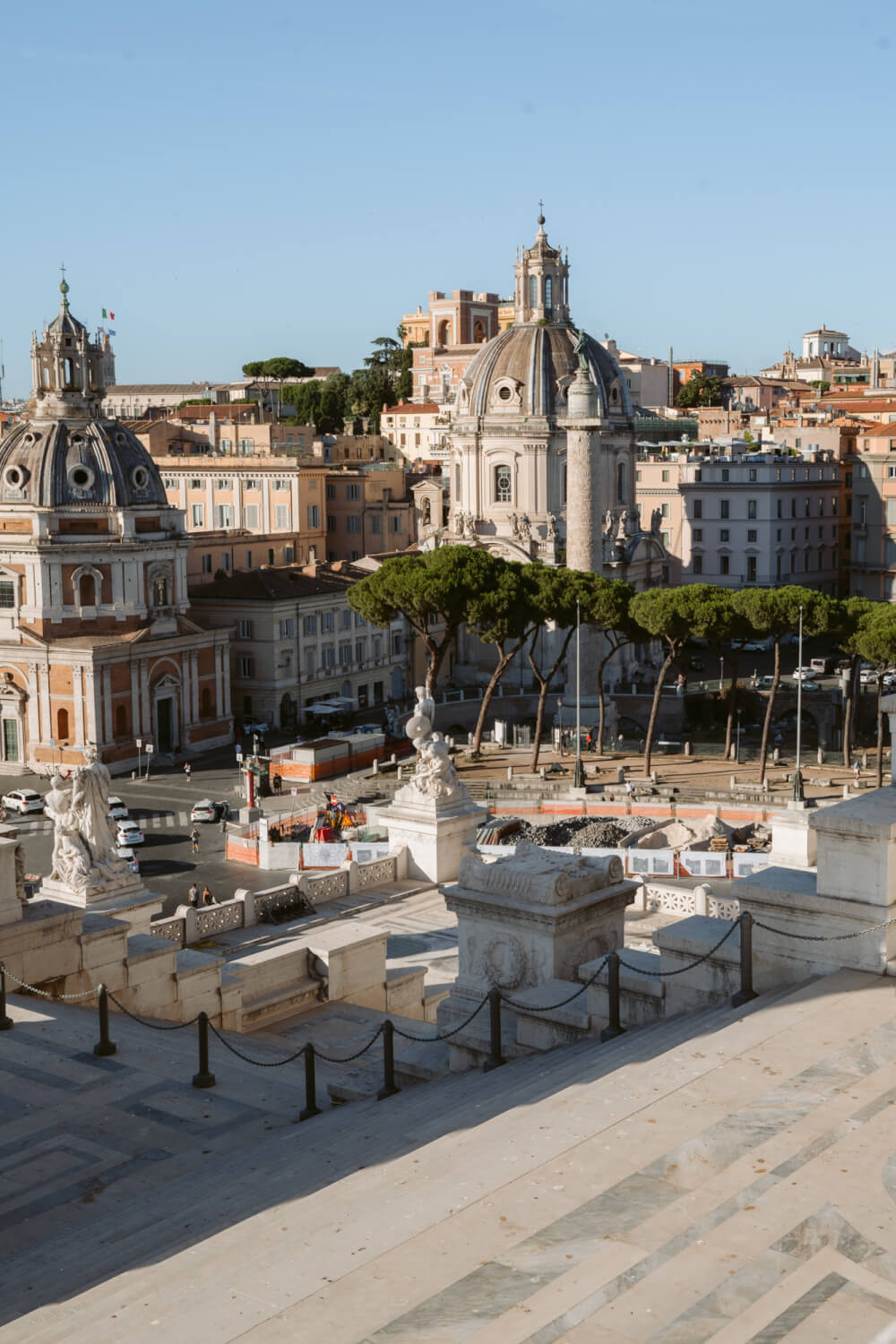 Don't accept bracelets from strangers
Particularly around tourist hotspots like the Colosseum and the Spanish Steps, there will often be men offering bracelets to you. Don't take them!
They're cheap bits of string that they tie on your wrist then demand payment for. In other words, they're not free gifts.
Don't accept free roses
On a similar note, if someone offers you a free rose, odds are that will also not be free and they'll demand payment for it after.
This often happens to couples, when the rose is offered to one partner then payment is hounded from the other partner.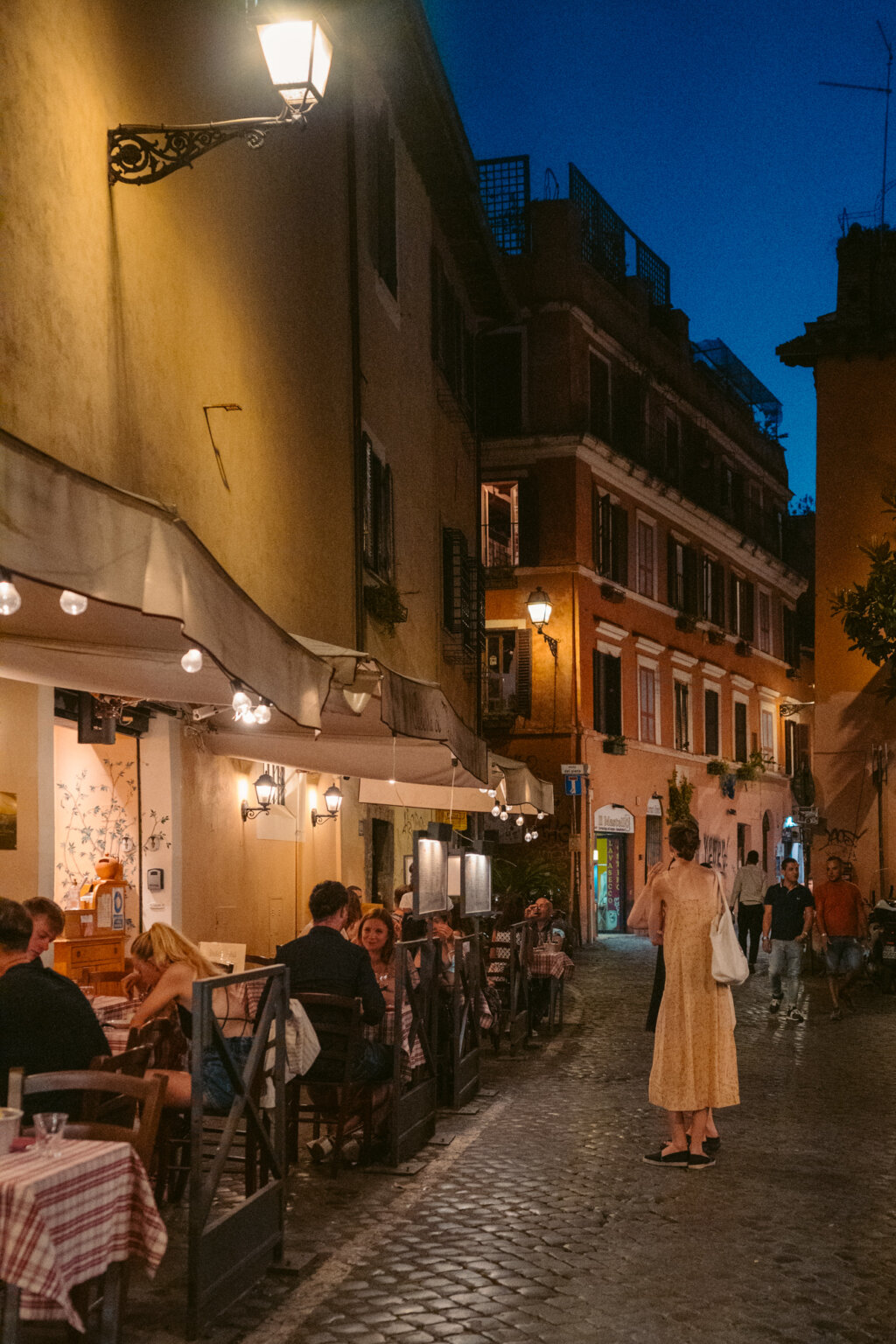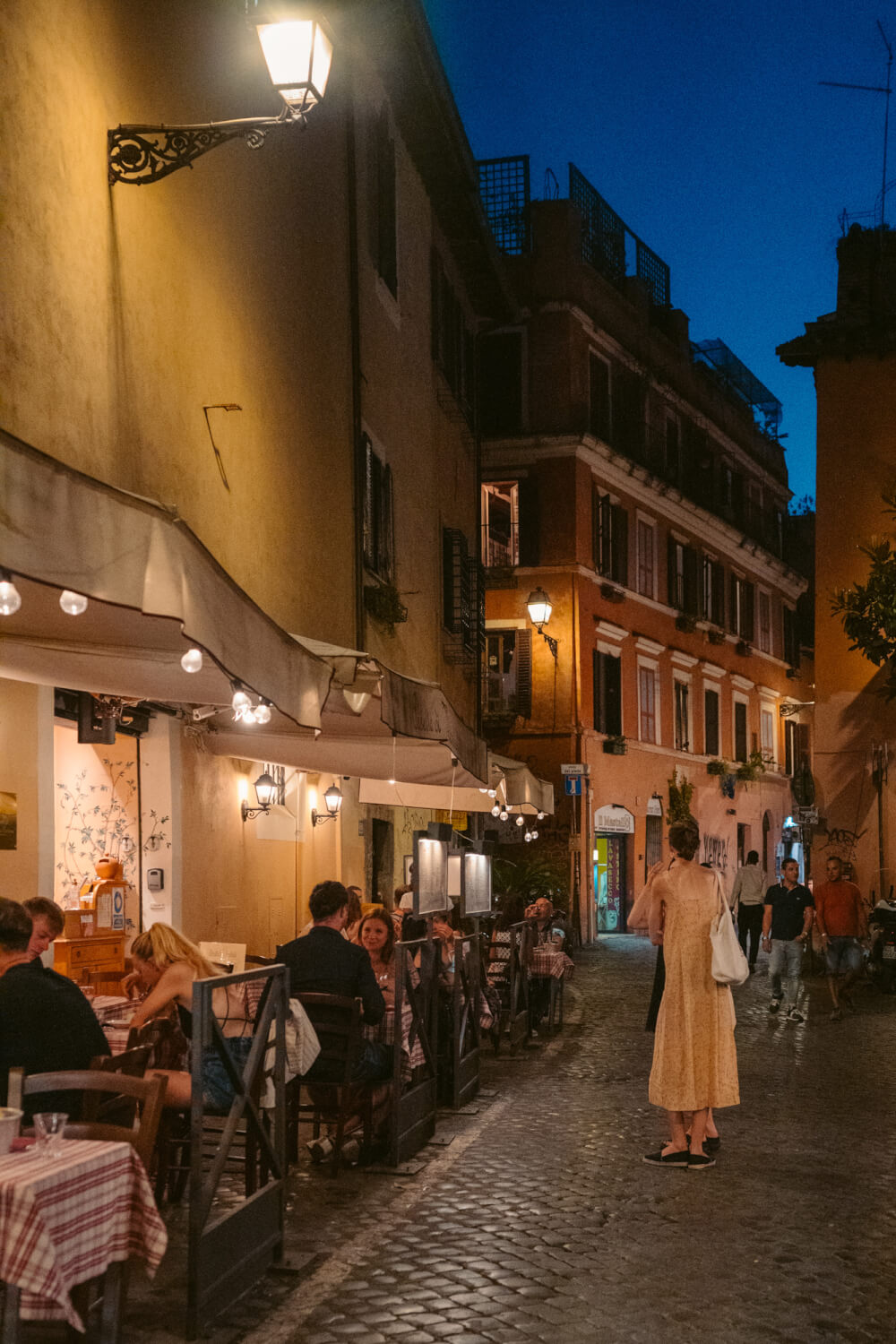 Food and Drink Tips for Rome
When in Rome, eating and drinking well is a must! Here are some of my best tips for making the most of Rome's excellent food culture.
Make sure you try some classic Roman dishes
Rome is a huge metropolitan city with incredible restaurants representing tasty cuisines from around the world.
But if you're anything like me, your main priority might be to eat quintessentially local dishes first and foremost.
If that's the case – great news! There are tons of tasty dishes for you to try in Rome that the region is known for.
Here are some (note that the pasta shape can differ from restaurant to restaurant, hence why they're in brackets):
(Spaghetti) Carbonara: Pasta with eggs, cheese and cured pork
(Tonnarelli) Cacio e Pepe: Pasta with cheese and pepper
Pizza Al Taglio: Rectangular pizza usually sold by weight
Suppli: Deep fried rice balls with tasty sauce inside
(Bucatini) All'amatriciana: Pasta with tomato, cheese, and cured pork
Trapizzino: A street food that's like a hybrid between a pizza and a sandwich
Pasta Alla Gricia: Pasta with cheese, black pepper and cured pork
Porchetta: Slow roasted pork, often served in a sandwich
NOTE: The beauty of Roman cuisine is that it's simple. I know some of these dishes don't sound like much but trust me, they are SO GOOD. Make sure to try as many as possible!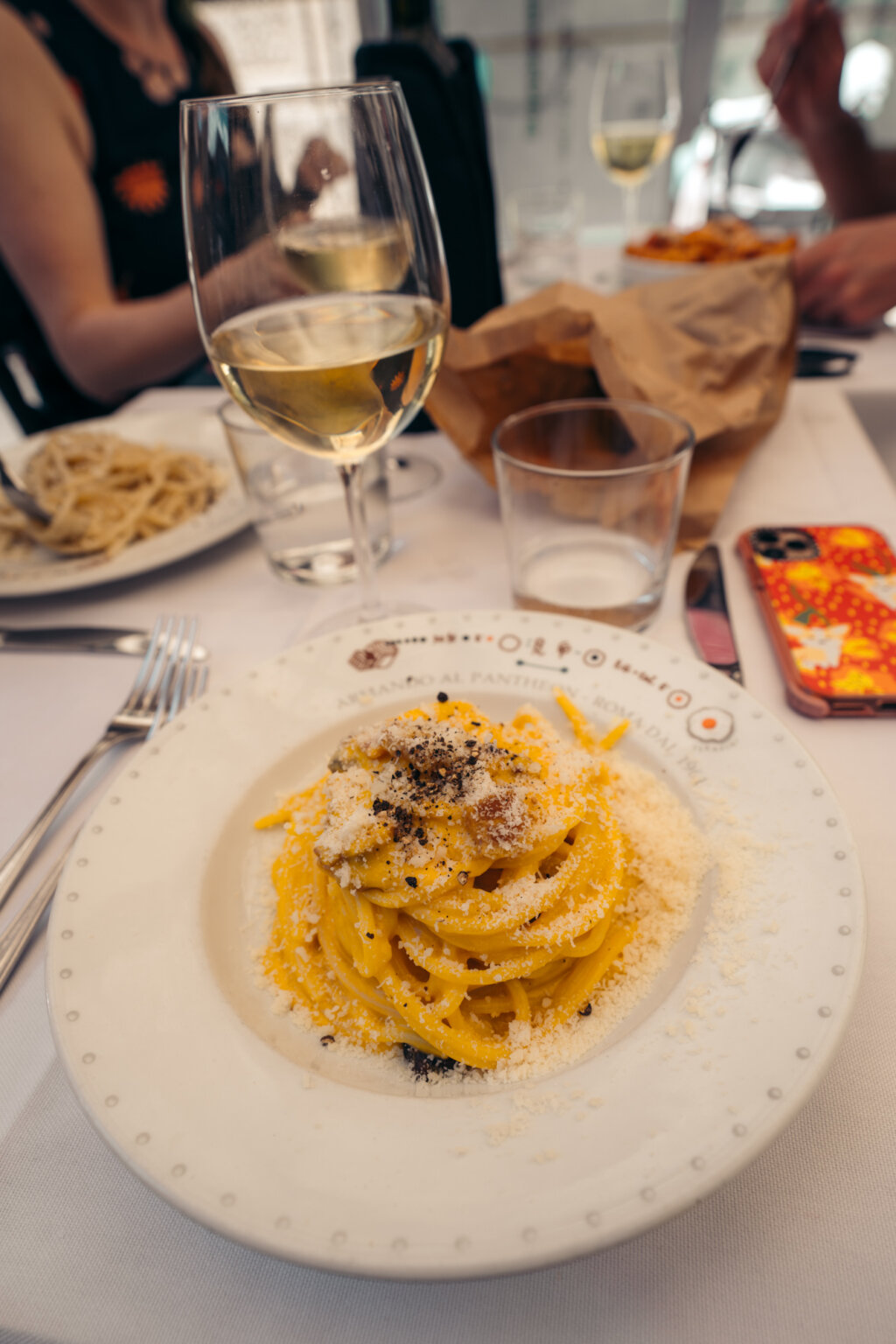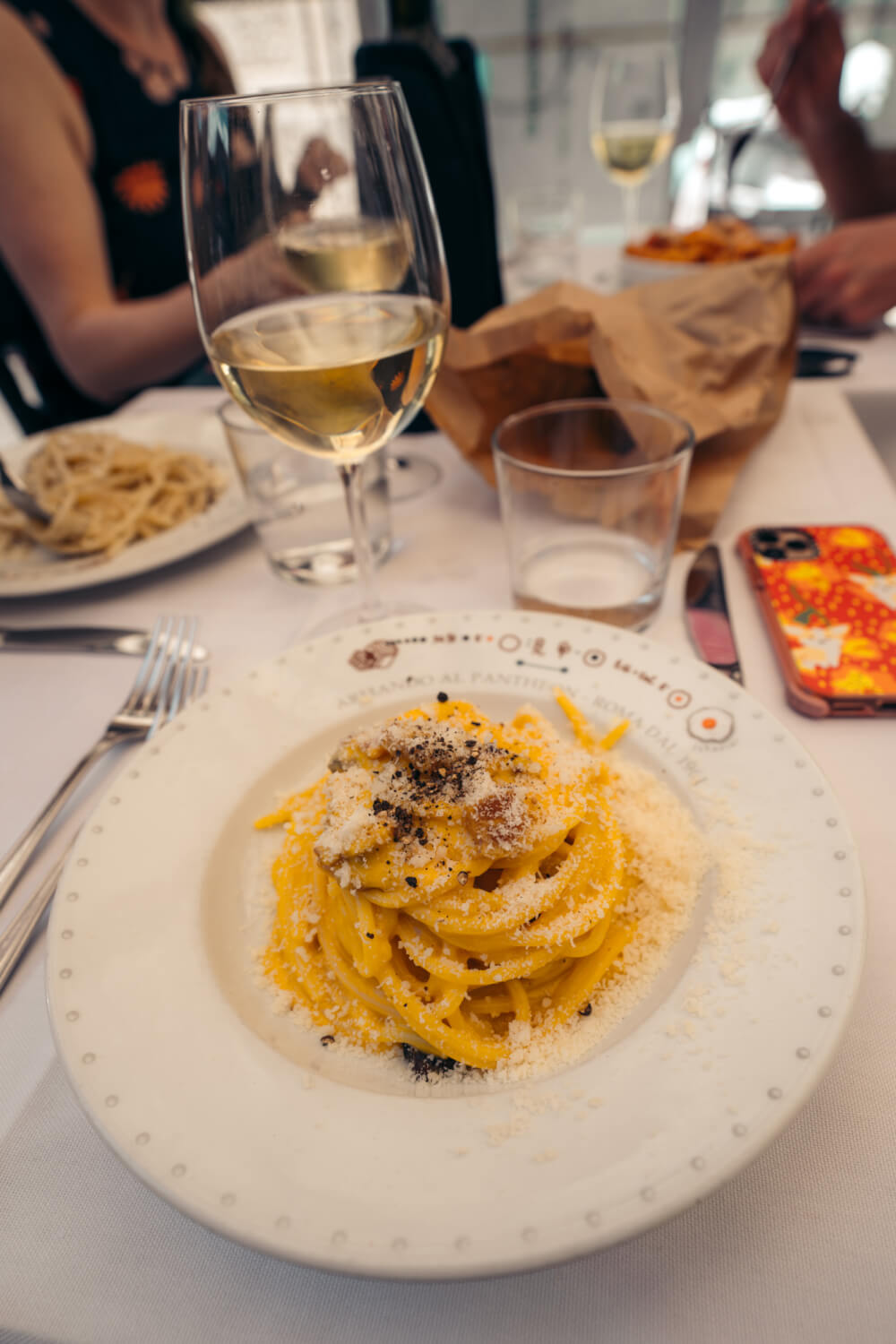 Dine away from main tourist attractions
It's a good rule of thumb to follow in Rome that you should never eat near tourist hotspots, particularly restaurants arranged along main squares as these tend to have hyperinflated prices and mediocre food.
It makes sense after all – when your target market is tourists who aren't likely to return, why bother trying too hard?
There are some exceptions of course! Particularly around the Pantheon – Armando was a great lunch spot with fair prices and absolutely delicious food. La Casa del Caffè Tazza d'Oro was also a wonderful coffee spot.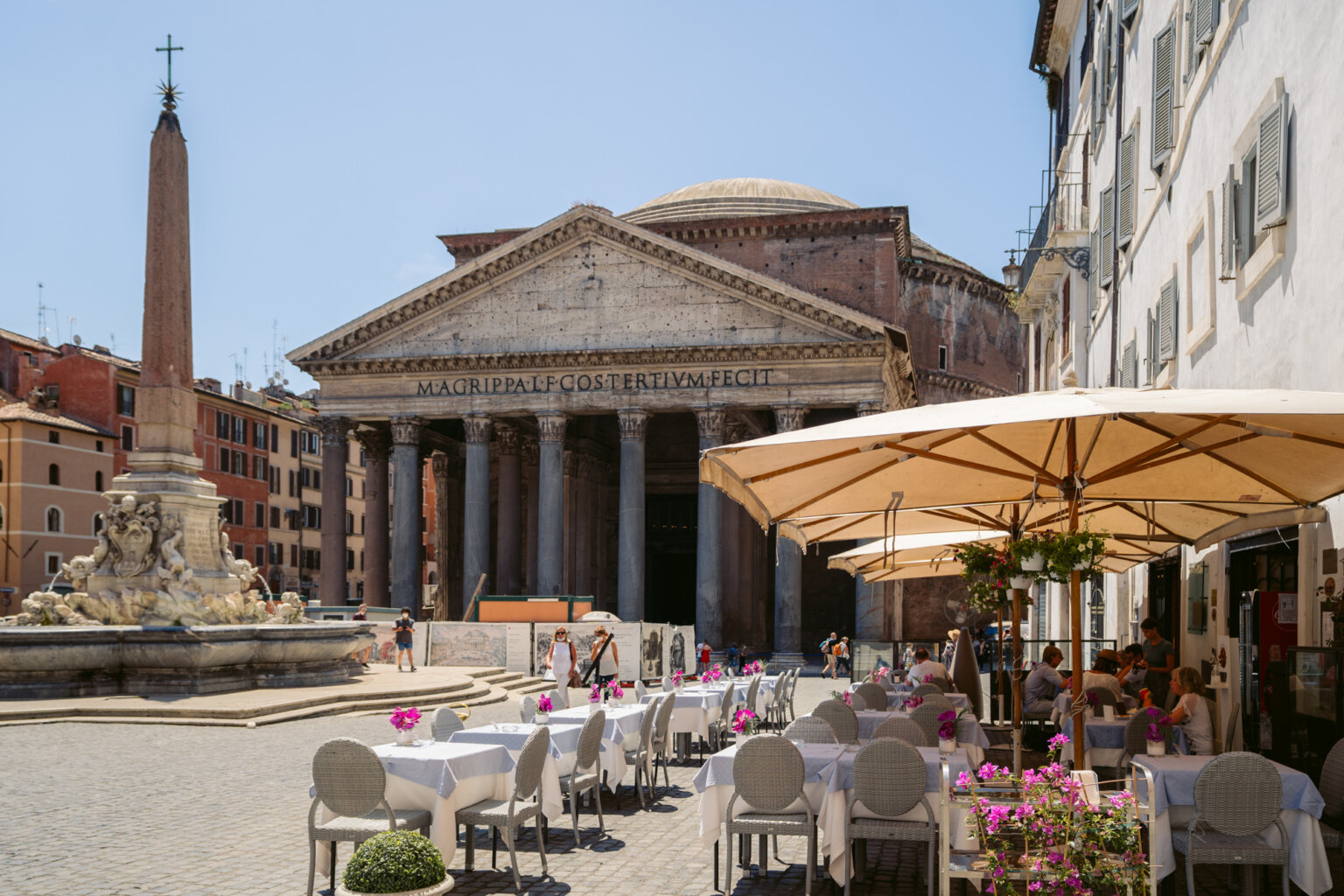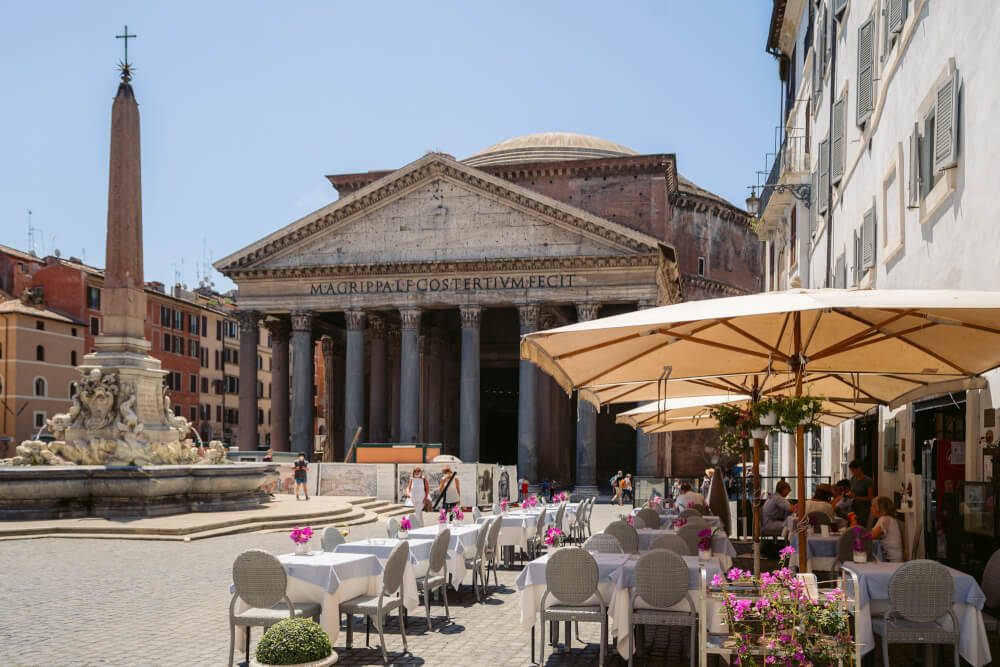 Double check that places have prices on display before ordering
This may be the oldest scam in Rome's "let's extort tourists" playbook, but any restaurant with fair pricing will be transparent with their pricing.
If you come across a restaurant that doesn't list prices upfront, then run for the hills.
Never assume "it can't be that bad" because odds are they've omitted their prices for a reason and plan to charge you an extortionate amount, like this place which went viral for a 500 euro lunch bill.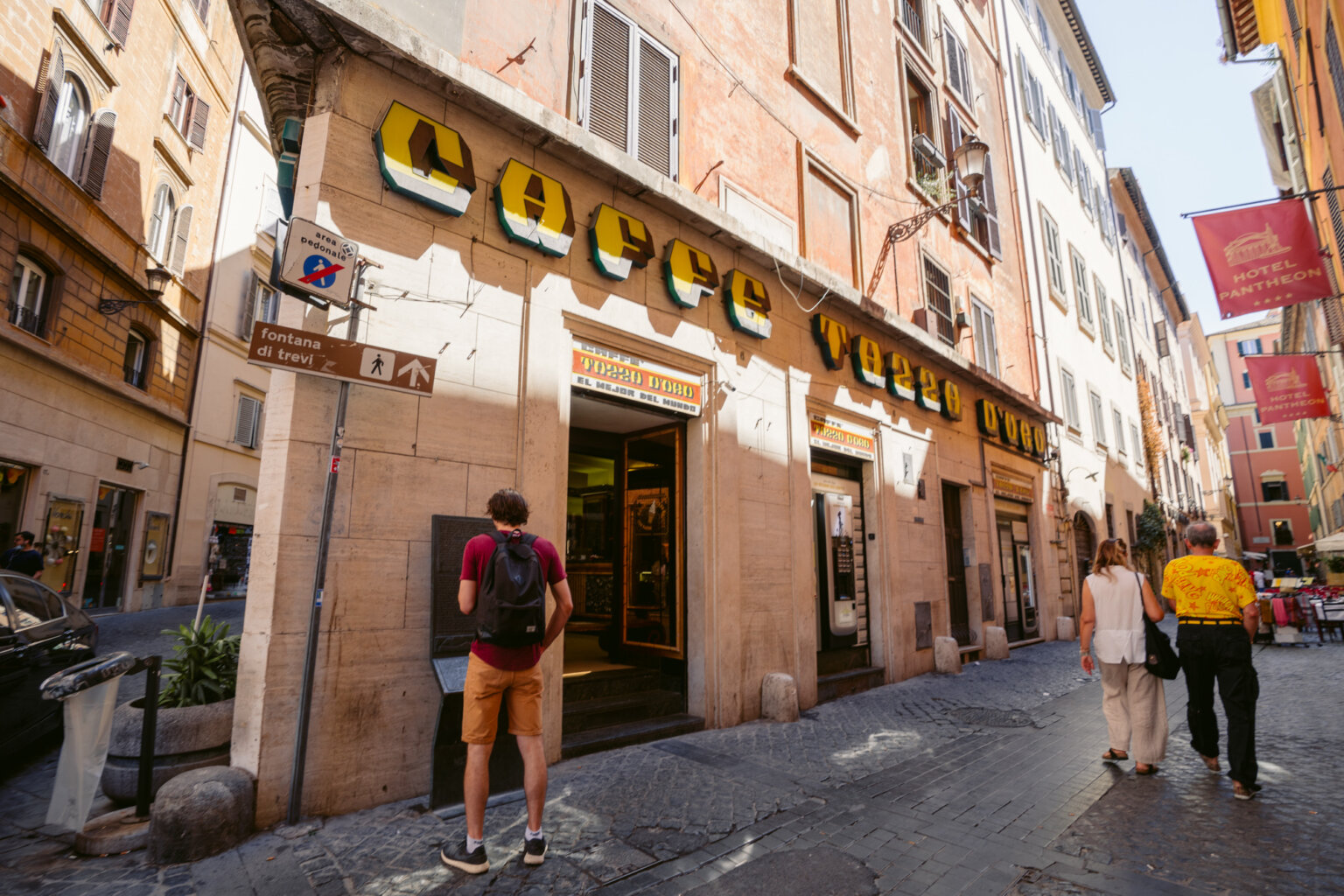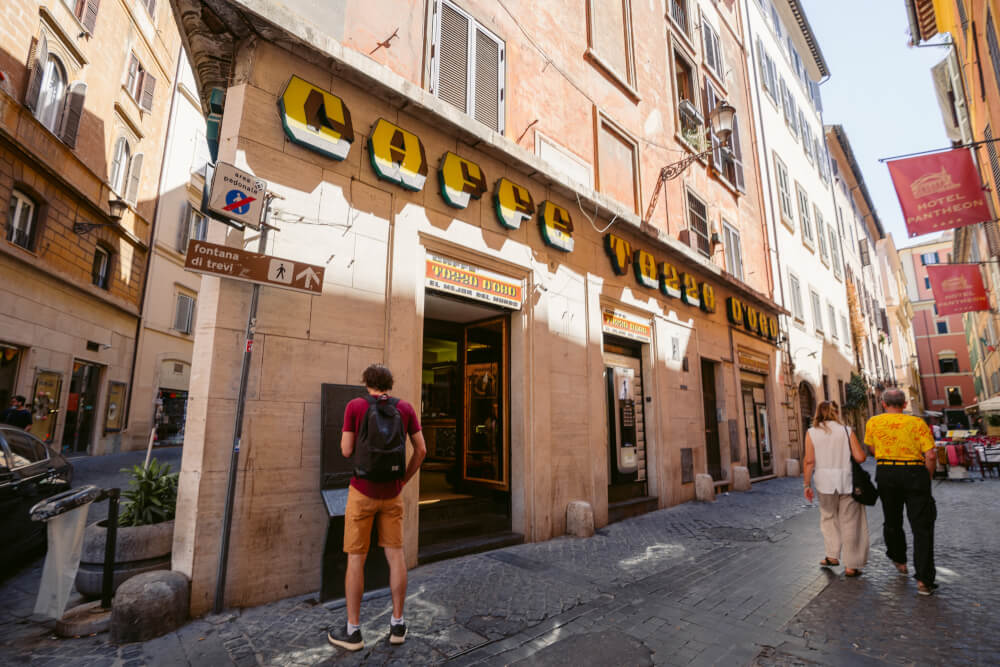 Make sure you reserve tables in advance
Rome is BIG on reservations. Virtually every restaurant we visited asked first if we had a booking, then only squeezed us in with hesitation… and this was at a very non-busy time!
When regular crowds return to Rome, I can't imagine getting a table at any highly reviewed place without a reservation in advance, so make sure to book a table (or ask your concierge to help).
For those of you who fear making phone calls like me, there are a few online places you can book tables to, although note that many of the most popular restaurants in the city will only take phone bookings.
Here are some sites where you can make reservations online:
NOTE: Many websites will also have their own reservation info on their websites, so be sure to check on there as well.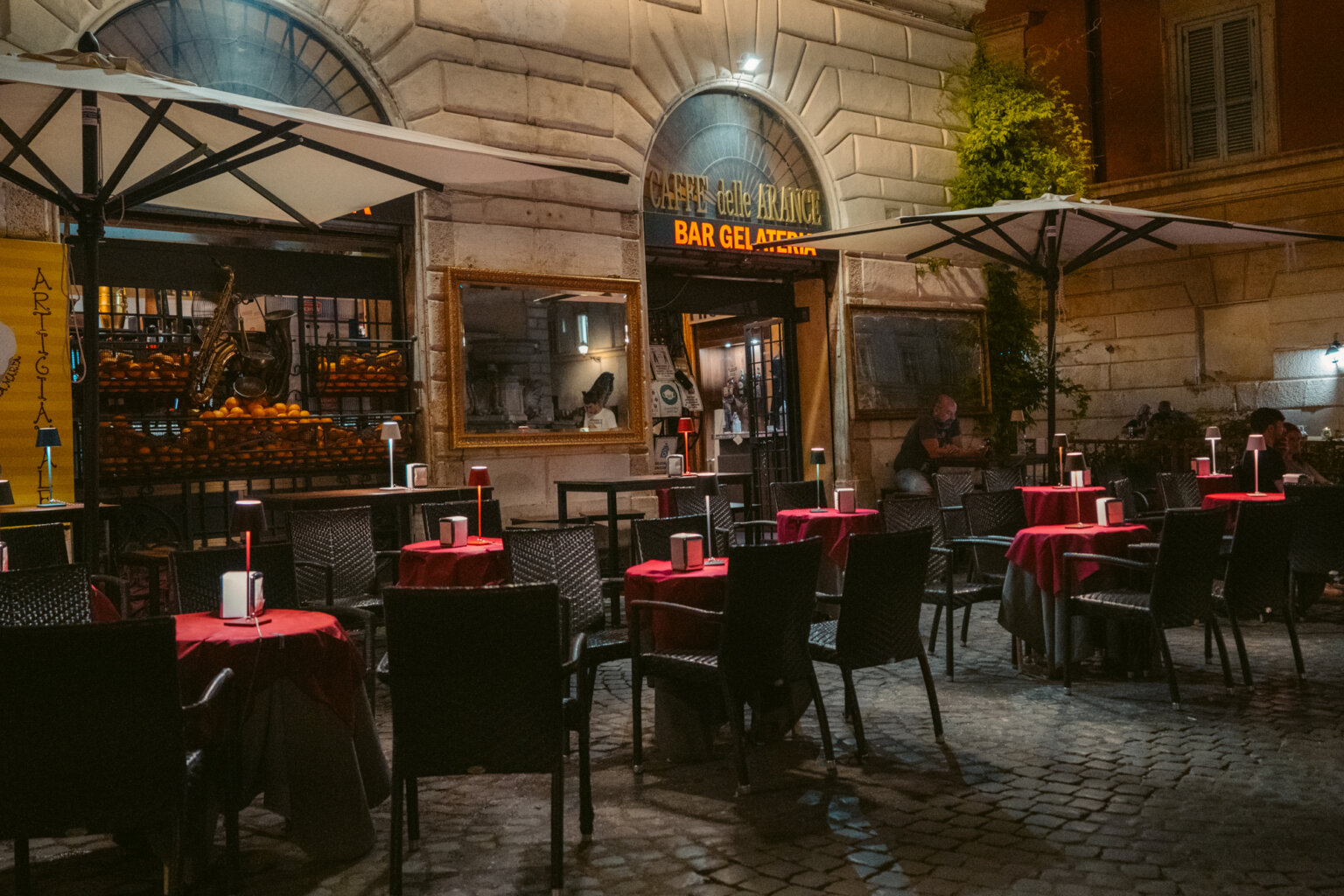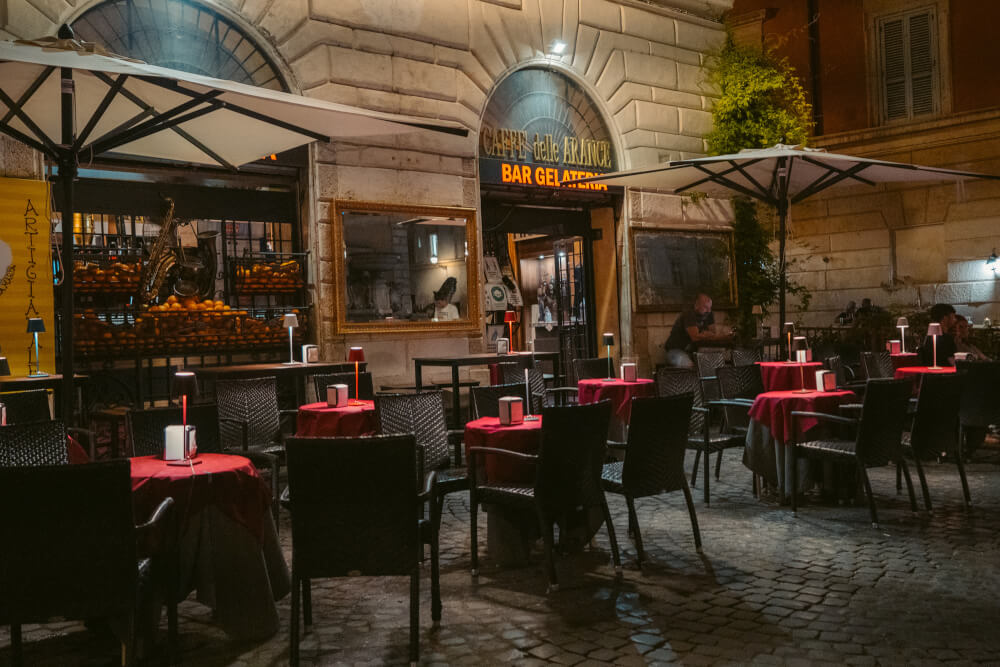 A quick check of reviews is a must
While I don't believe reviews are accurate 100% of the time, I do think they're very helpful for establishing patterns, especially when there's a bunch of reviews all saying the same thing.
A quick search of the restaurant (even on Google Maps Reviews) can help prevent you from getting scammed or being subject to mediocre food/service.
Know that water won't be free and they'll ask if you want still or sparkling
When you sit down at a restaurant in Rome, often the first question asked is if you want water.
If you do (and I bet you probably will after so much sightseeing), then be prepared that tap water isn't really served in restaurants and the default will be bottled water that comes at 2-3 euros a bottle.
Be sure to specify still or sparkling though – usually they will ask, but sometimes they'll default to one or the other.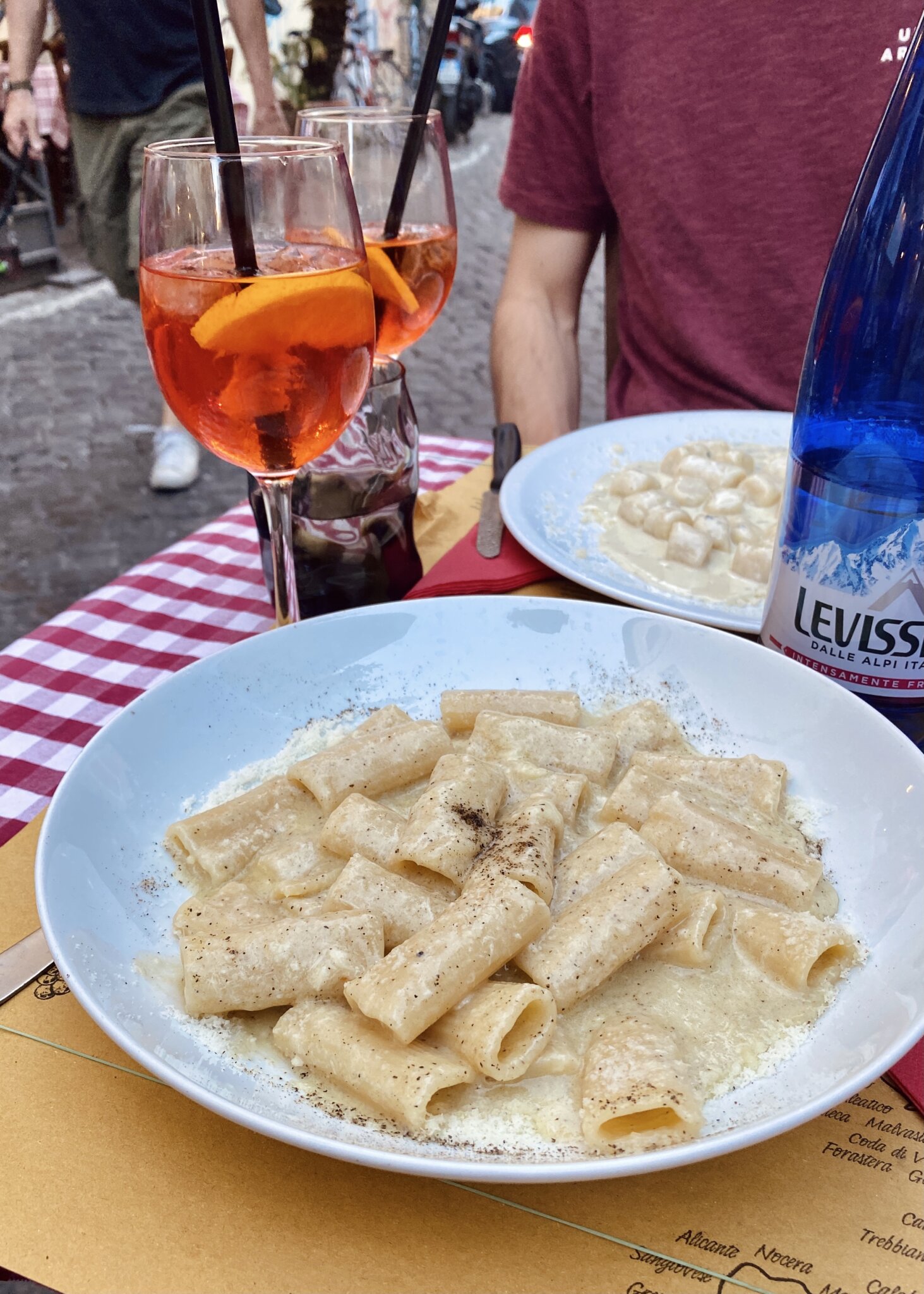 Be prepared for the coperto and pane charge
Most restaurants in Rome will charge an additional fee per person (around 2-3 euros) as a "Coperto" charge.
You can think of this a service/sit-down fee, usually including bread too.
This is not a scam – it's fairly standard, and evens out as tipping culture in Italy is very modest compared to North America, with rounding up or 5-10% being the max.
In fact, some restaurants even refused when we tried to tip!
Make sure to enjoy aperitivo
Rome is a hectic city to explore, so make sure you take some time to enjoy yourself and unwind a bit!
Aperitivo is a classic ritual that is perfect for this – an early evening pre-meal drink intended to whet your appetite for dinner.
There's a million and one terraces/bars where you can enjoy an aperitivo in Rome, but if you're feeling especially fancy, consider booking a table at one of Rome's top rooftop bars.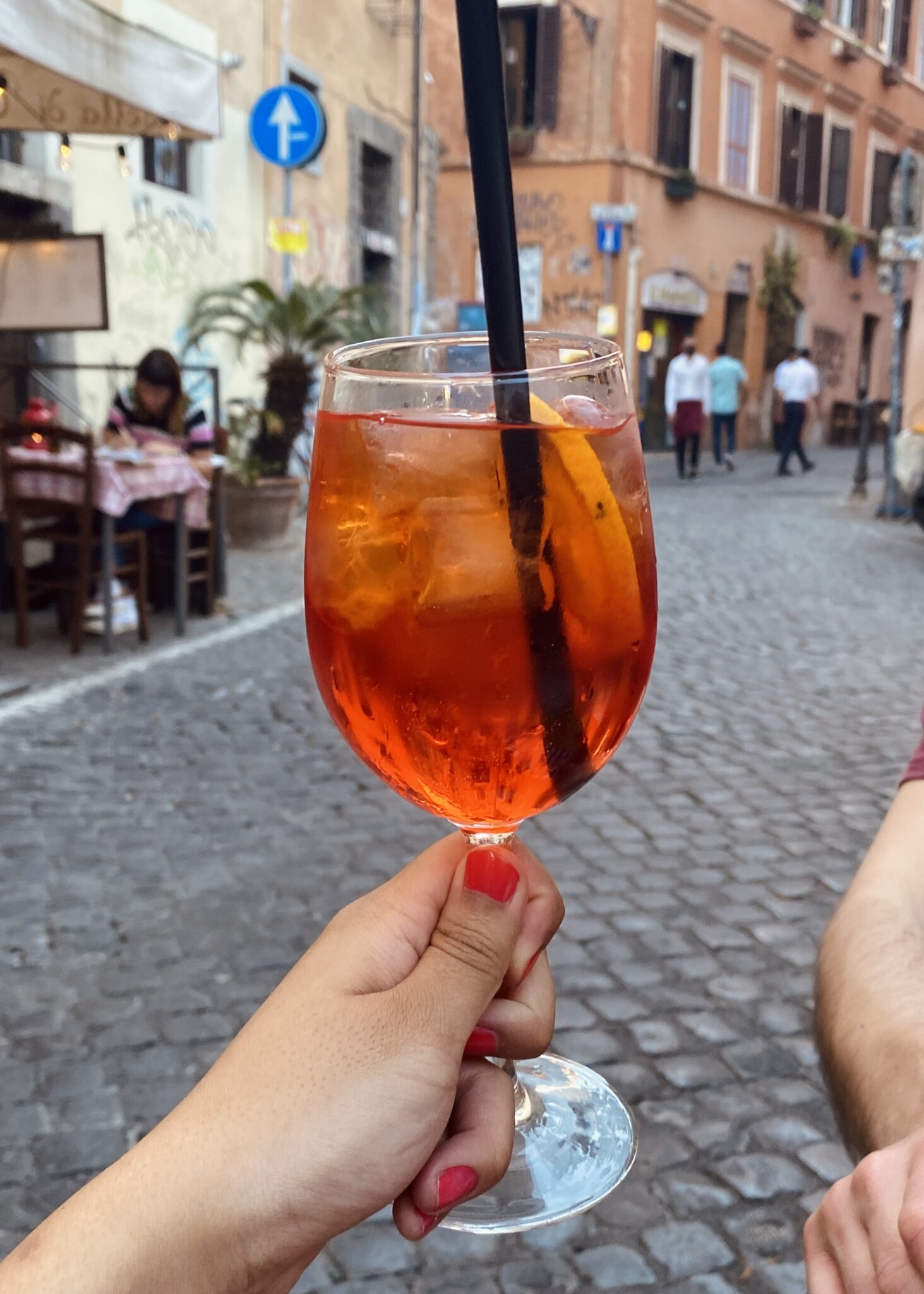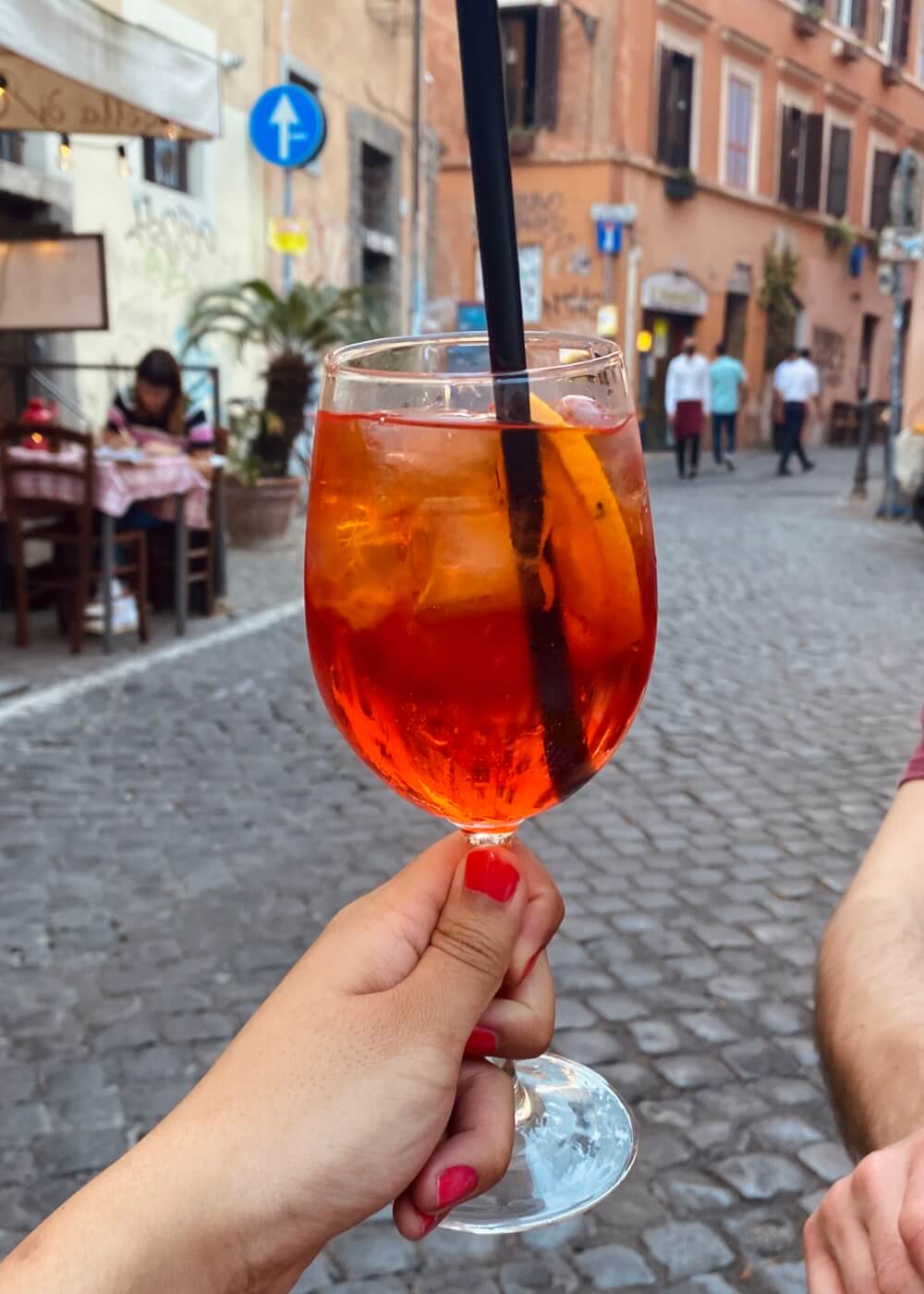 Drink coffee at the bar
In Italy, "bars" aren't restricted to alcohol-slinging establishments. In fact, most of them actually serve coffee.
For a very budget-friendly caffeine fix, be sure to mimic the locals and order your coffee at the bar and drink it while standing.
While many places now offer a sit-down option (especially in touristy areas), sit-down coffees will cost you extra as these prices aren't regulated and often not advertised.
In contrast, having a coffee at the bar will usually be only 1 euro for a regular caffè (espresso shot) and 1.30-1.50 for a cappuccino.
NOTE: Takeaway options are also becoming increasingly popular, but it's nicer to just drink it quickly at the bar and go.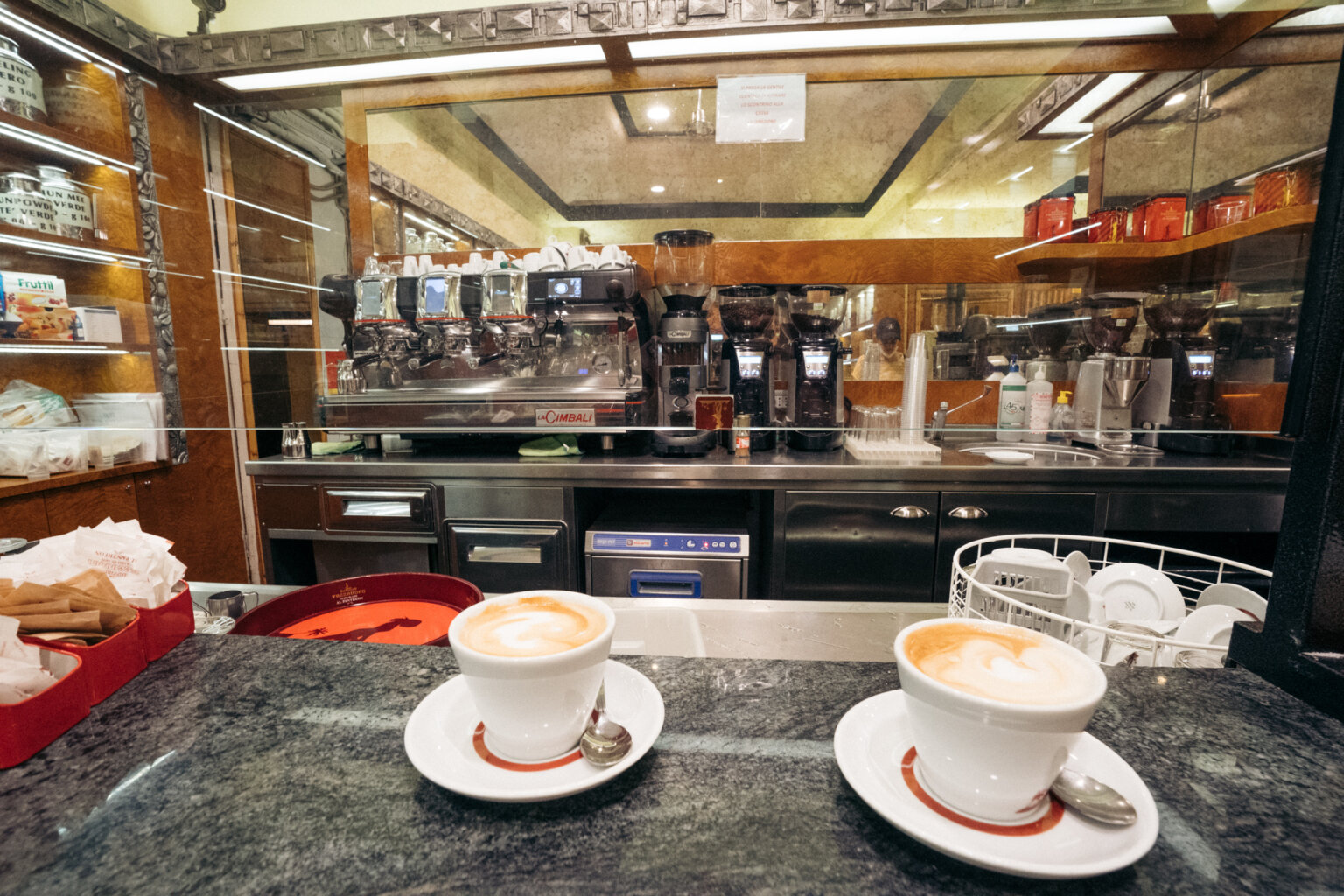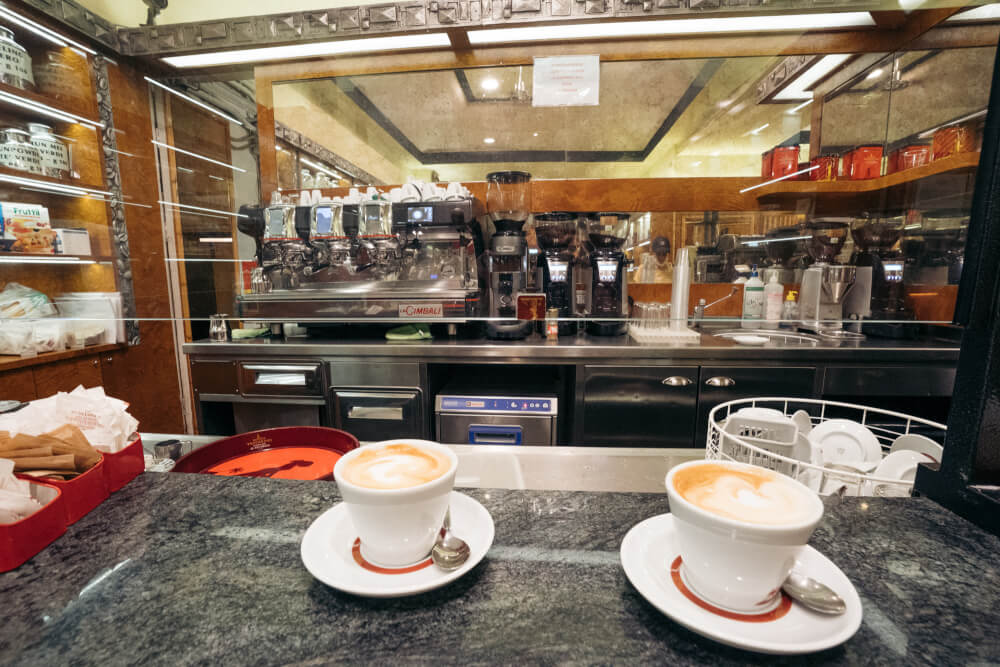 Know that one "Caffè" is one espresso shot
If you waltz into an Italian bar and ask for a "Caffè", you will be given a single shot of espresso served black, not a drip coffee or anything like that which most bars will not have.
If this is what you want, then order "1 caffè", rather than "1 espresso". While they'll probably understand what you mean, caffè will sound a bit more normal.
If you want something closer to a larger drip coffee, then a caffè americano (1/3 espresso, 2/3 water) is what you should order.
Know that Latte means milk
"Lattes" in Italy do not exist. In fact, that word on its own means milk, so you might be ordering yourself a giant…. milk.
Instead, the closest match to what you want is a "caffè latte", which is espresso with hot milk and a bit of foam. A cappuccino is more common though (same concept but more foam).
Again, if this is a bar used to serving tourists, then they'll probably clarify what it is exactly that you want, but I've had friends before who have been served literal cups of milk when ordering a latte… so be warned!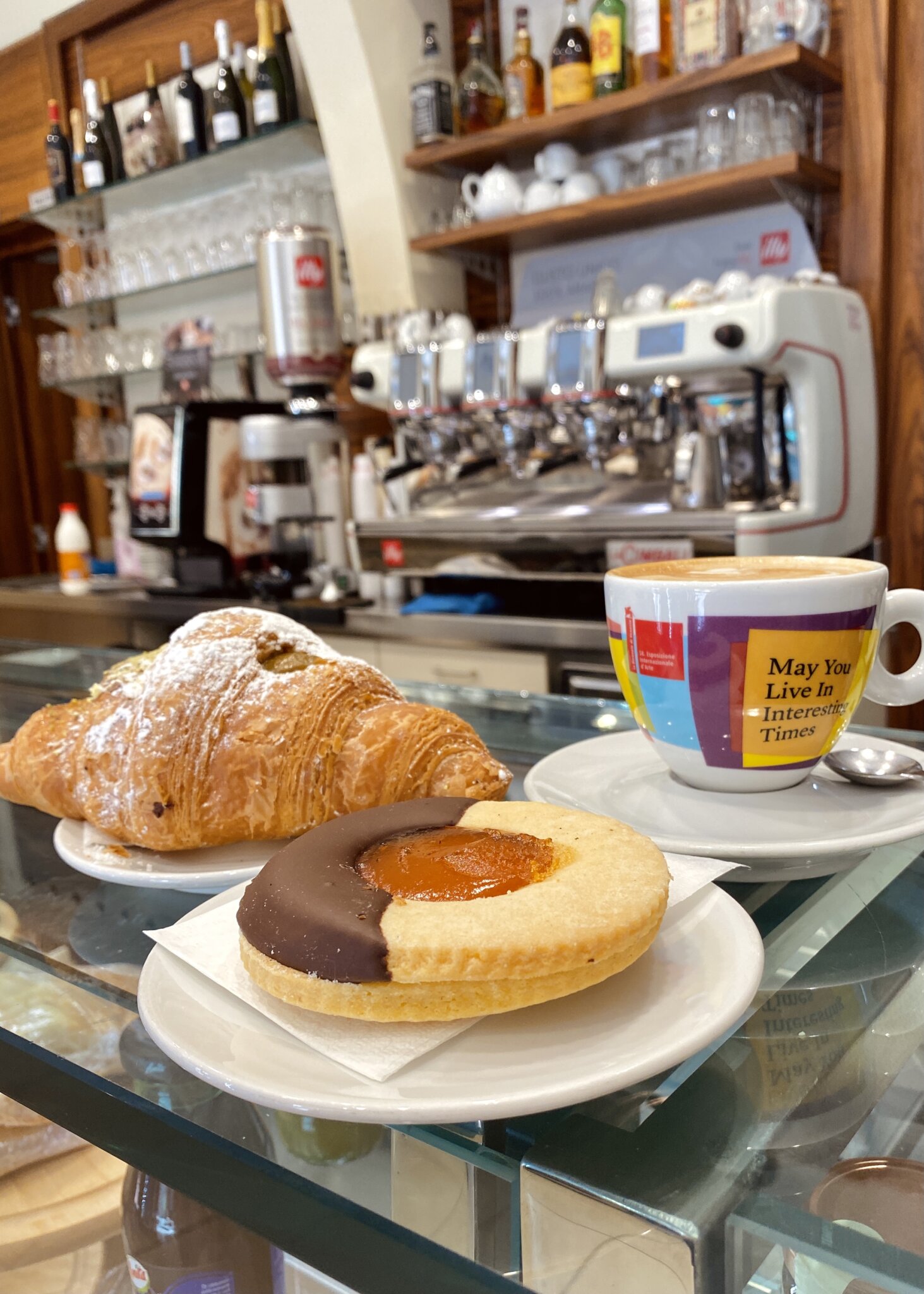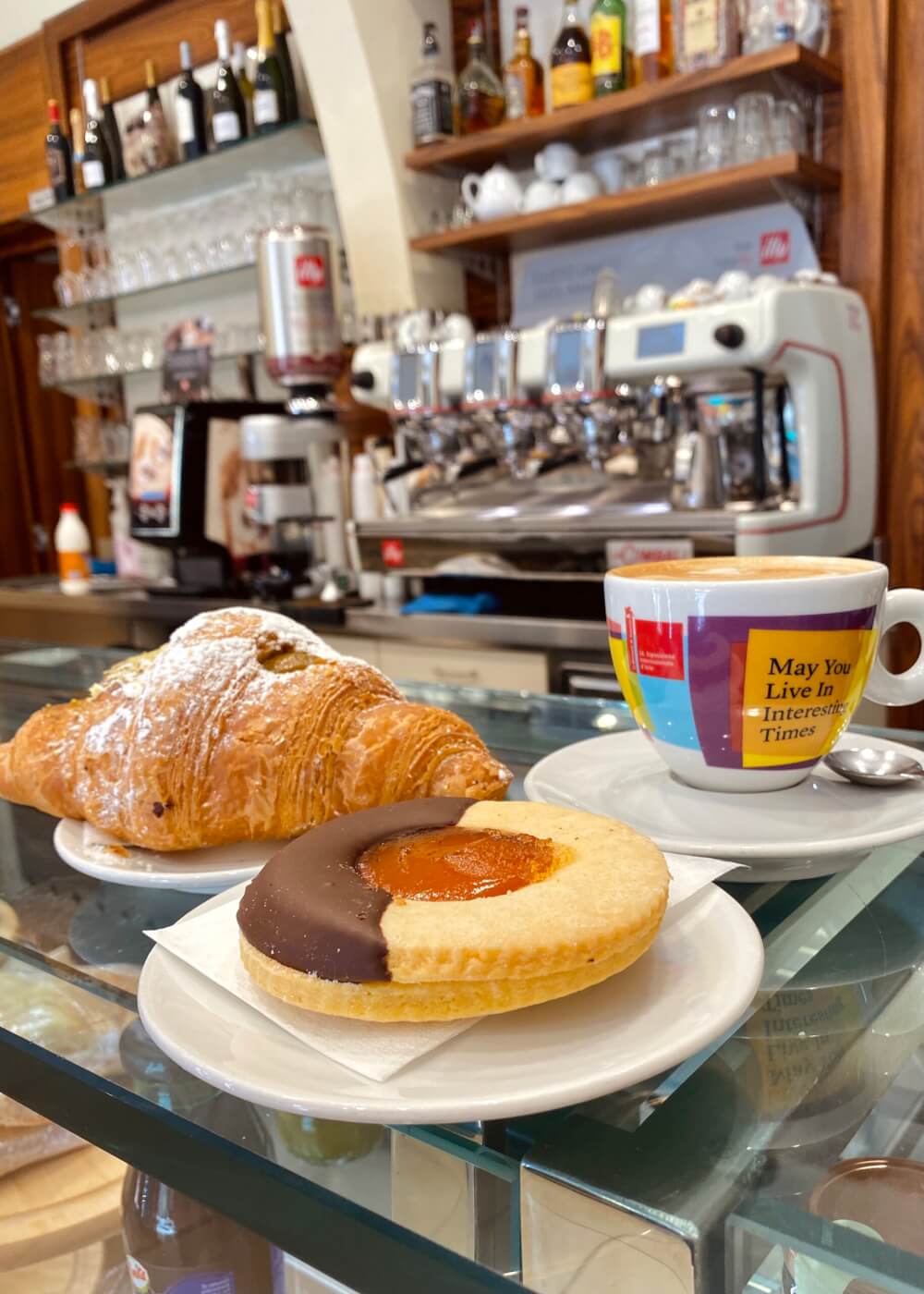 Eat gnocchi on Thursday
Okay, this maybe isn't a must, but if you want to stick to tradition, gnocchi is a dish conventionally consumed in Rome on Thursdays, to the point where more traditional restaurants will only offer it on Thursdays.
Why Thursday? As with many things in life, it all goes back to religious tradition!
According to Catholic tradition, Friday was typically a day for abstaining from heavy meat dishes, opting instead for lighter meals like fish, hence why people would fill their stomachs with decadent gnocchi on Thursdays (like stocking up on calories).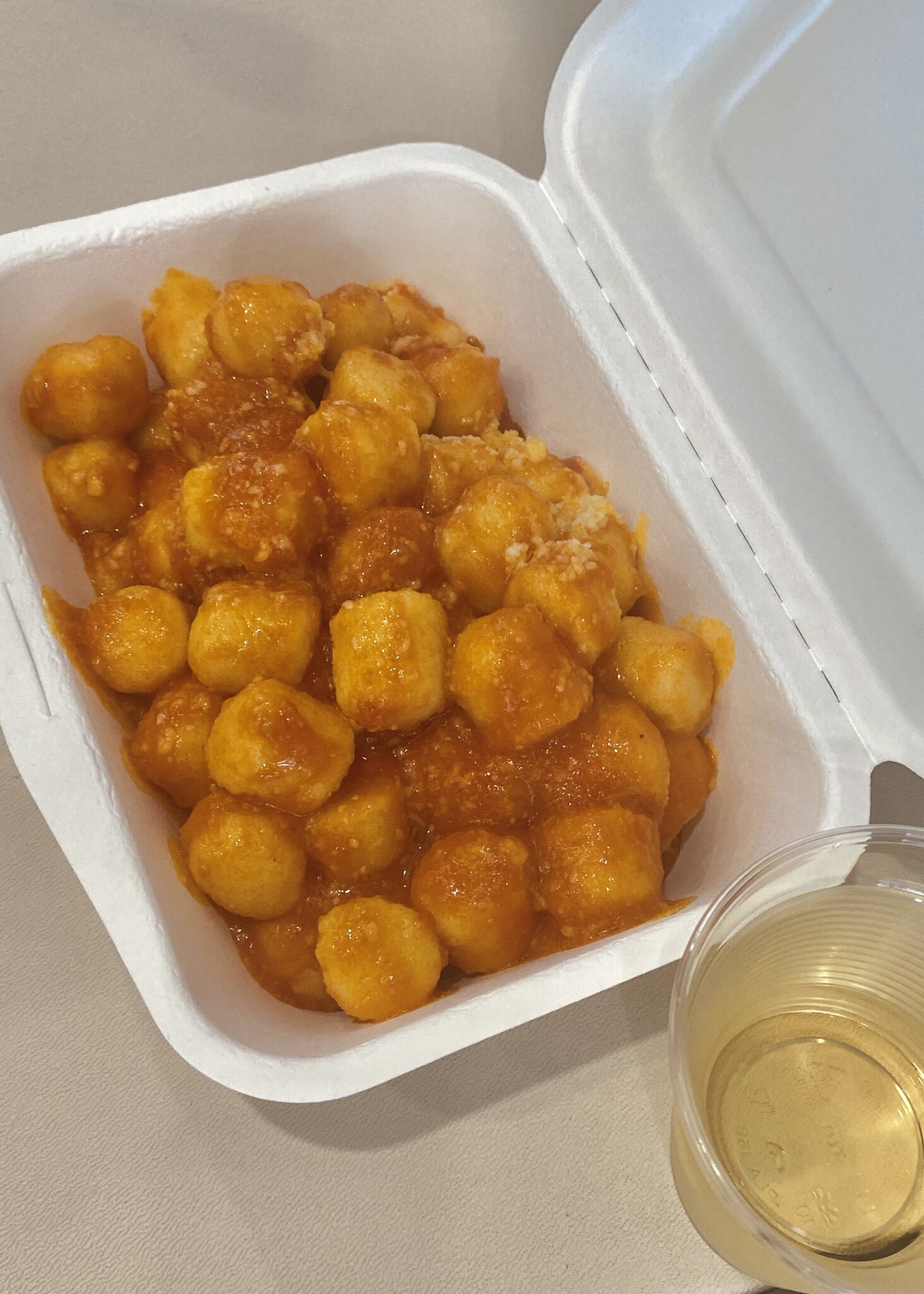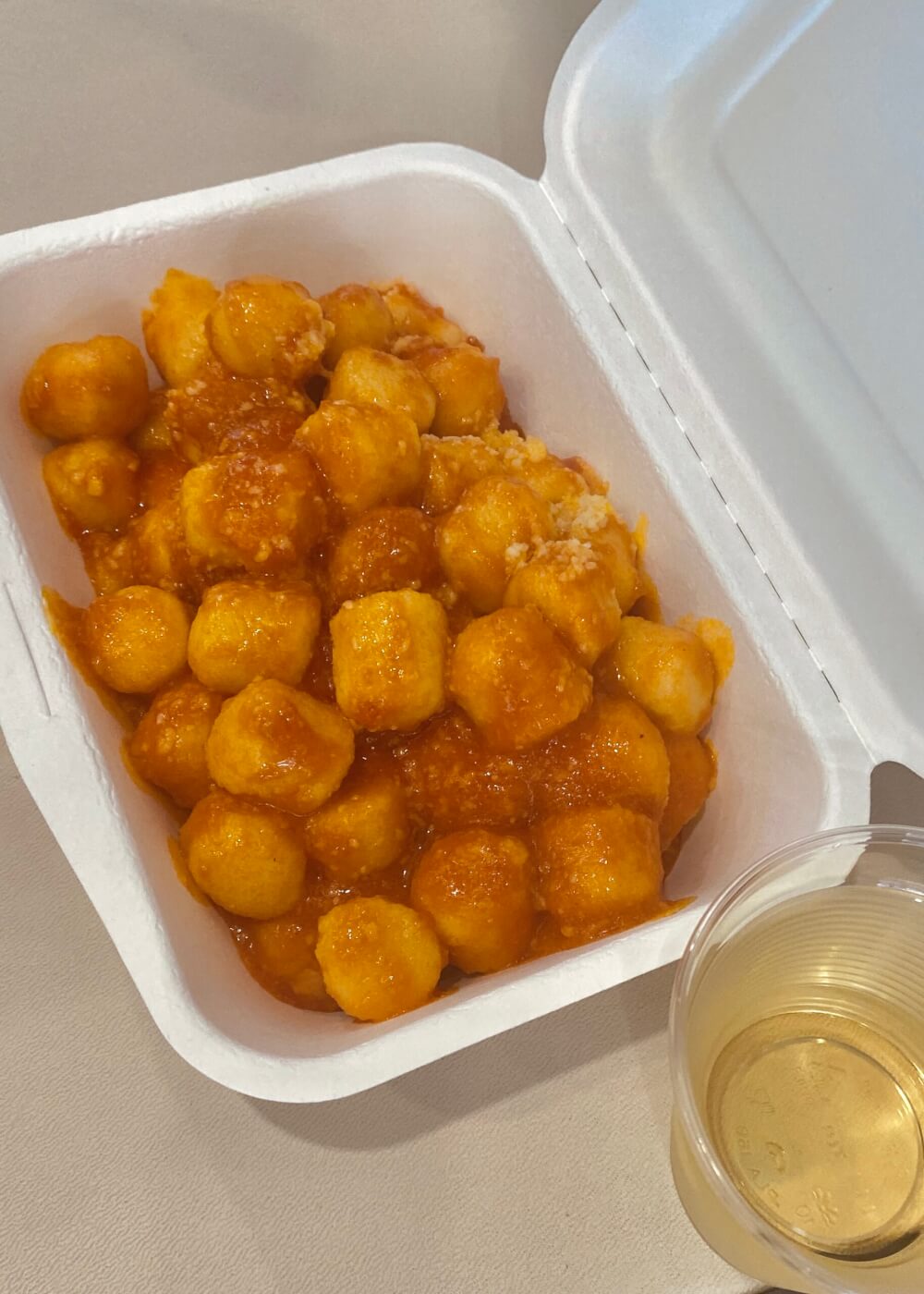 Understand the basic structure of an Italian menu
When you see the word "menu" in Italy, often this refers to a set meal that includes multiple courses, so if you see something like "Menu – 25 euros" that means they are offering a set deal that is 25 euros, not that every dish costs that much.
Italian menus are fairly easy to understand – most are separated into the following:
Antipasto: Appetizers like cured meats, cheeses, etc.
Primi: Usually a carby dish like pasta or risotto
Secondi: Usually a meat-based dish
Contorni: Side dishes like roasted vegetables
Dolce: Desserts
If you are trying to have an indulgent 4 course meal the traditional way, then you would order some antipasto to start, a Primi, then a Secondi, and finally some dessert.
Practically speaking though, it is completely normal to just have a Primi (a plate of pasta is plenty filling on its own) or a Secondi with a side dish. Don't feel pressured to have a giant 4 course meal every time.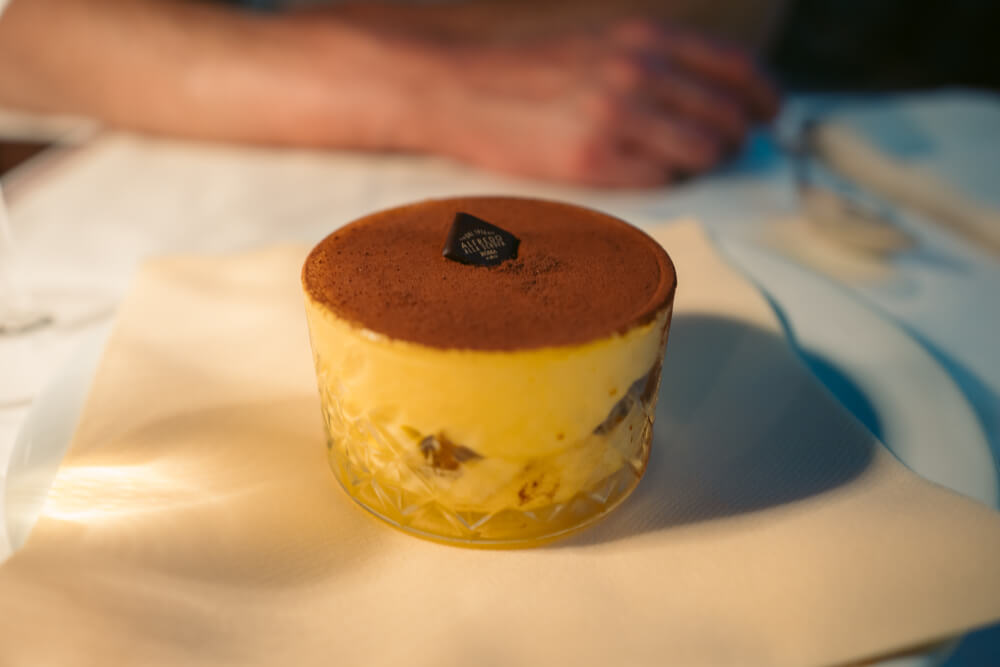 Check out some food markets
If you want a true foodie adventure, then heading to one of Rome's many food markets might be a great activity to add to your itinerary!
I love visiting food markets to get a feel for local culture, and of course to enjoy a more immersive food experience than just sitting down at a restaurant.
Here are some options for food markets in Rome to visit.
Mercato Testaccio: 100+ stalls selling ready-to-eat meals and fresh produce
Mercato Centrale: Centrally located right at Termini Station with lots of street food options
Mercato Trionfale: Rome's largest food market, selling fresh produce rather than ready-to-eat meals
Mercato Campo de' Fiori: One of Rome's oldest food markets, with lots of fresh produce and goodies on display
Take a food tour
On a time crunch and want to try as many Roman specialties as possible? Then a food tour might be a great idea for something fun and unique to do in Rome!
I've been on many food tours in the past (sadly not any in Rome) but I've never regretted it.
Here are some options: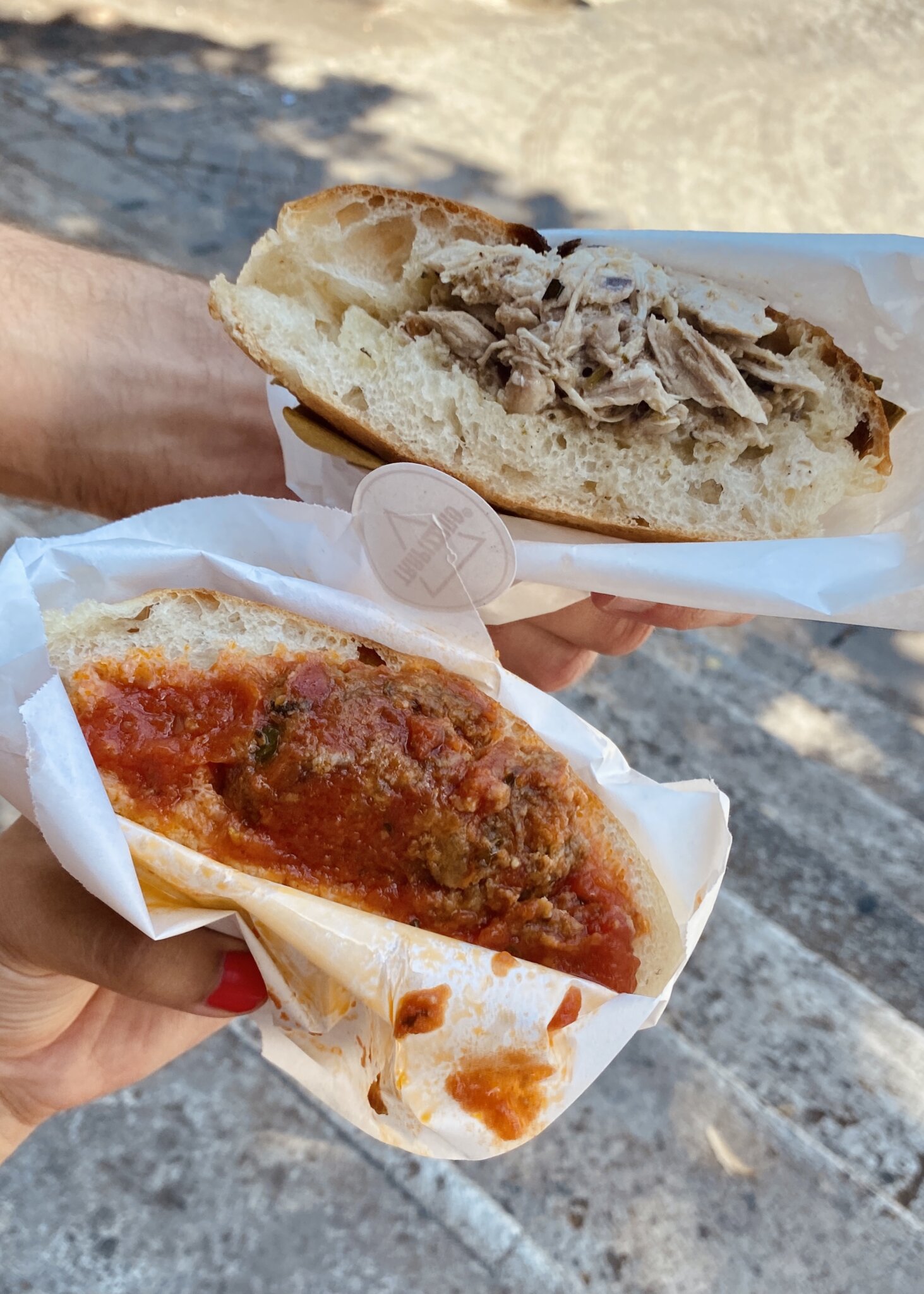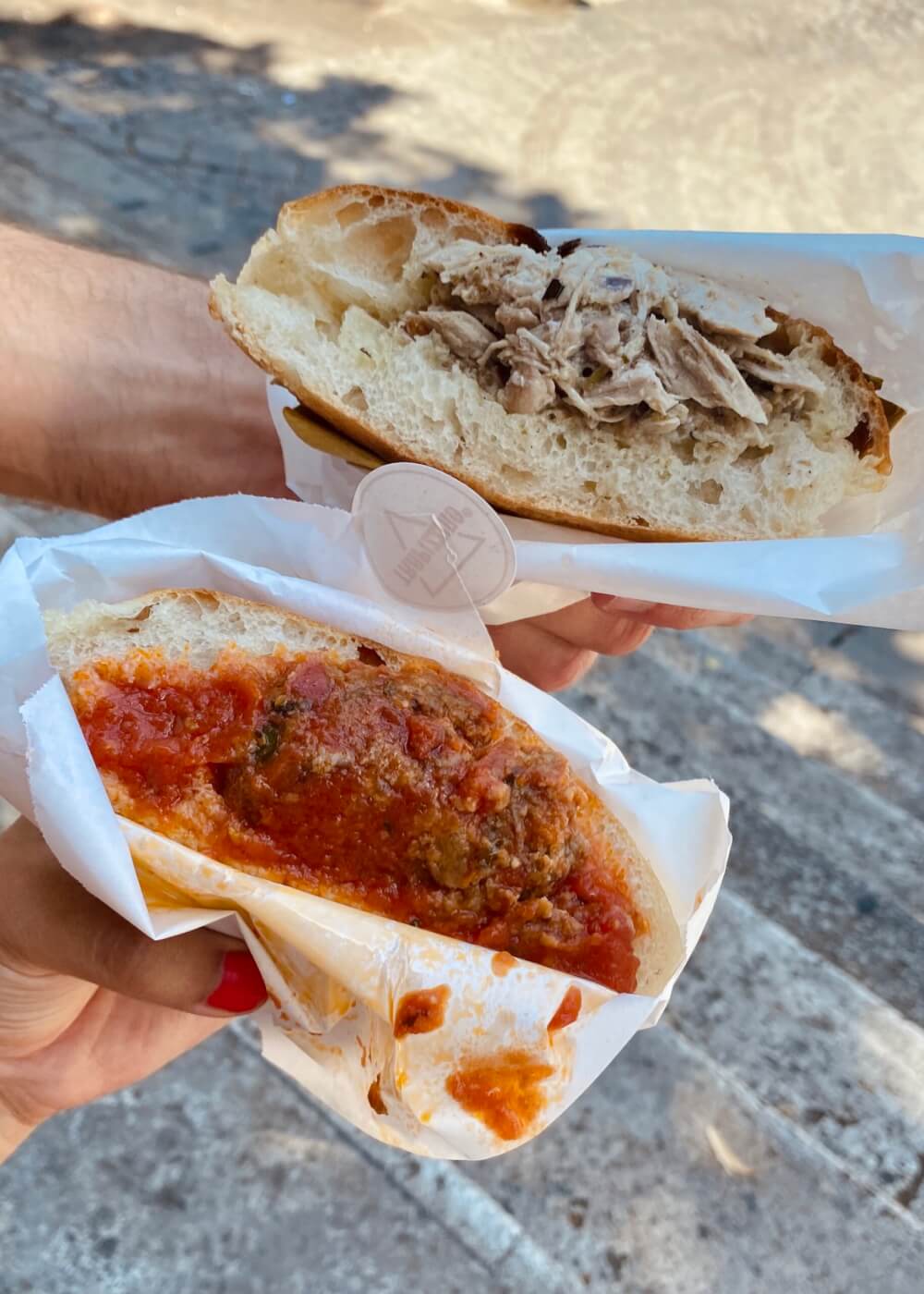 Take a cooking class
Last but not least, if you want to take a piece of Rome home with you, then booking a cooking class would be a great idea.
After all, feed a man some pasta and he eats for a day, teach a man to make pasta and he'll be food coma-ing for the rest of his life.
… As they say.
Here are some options: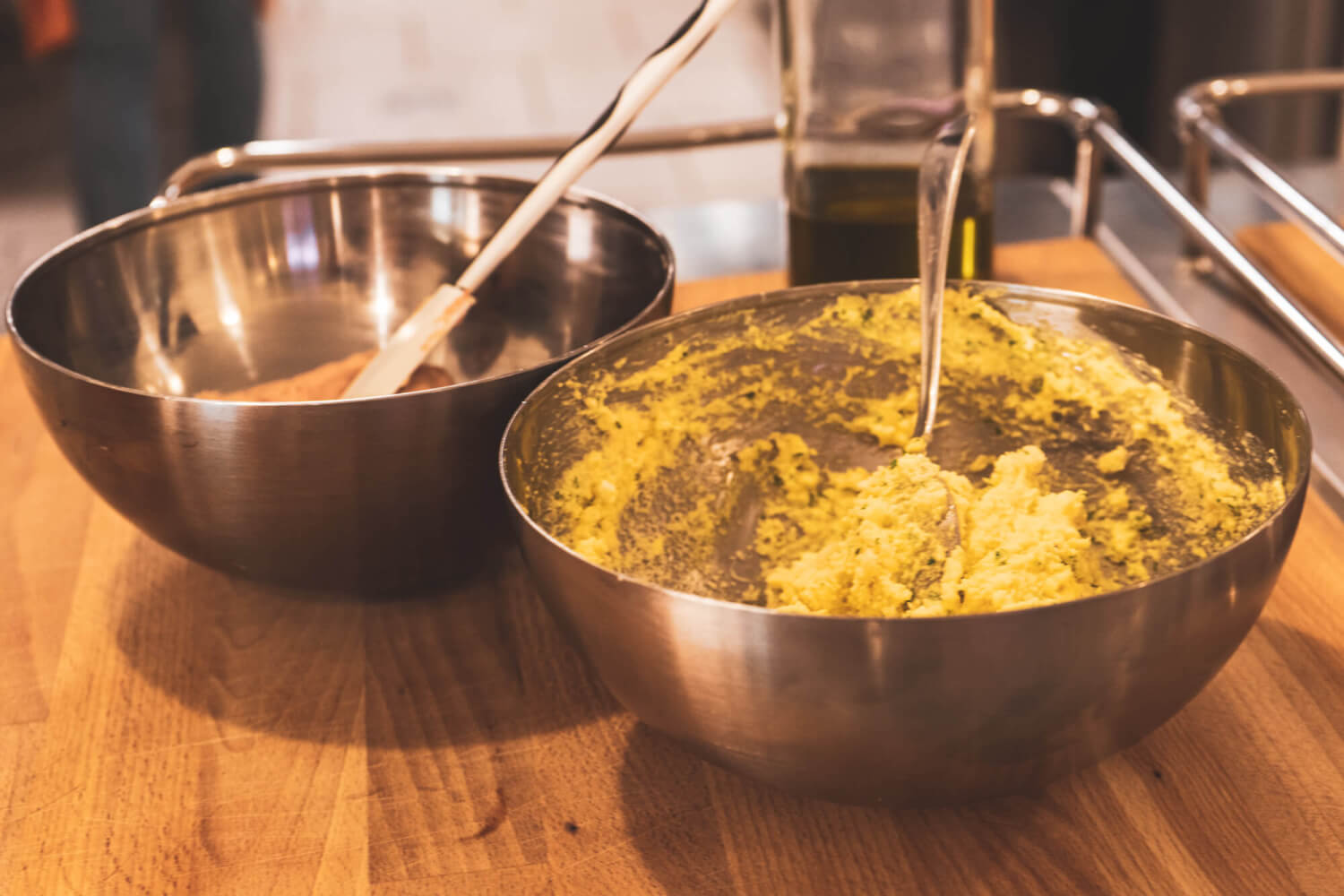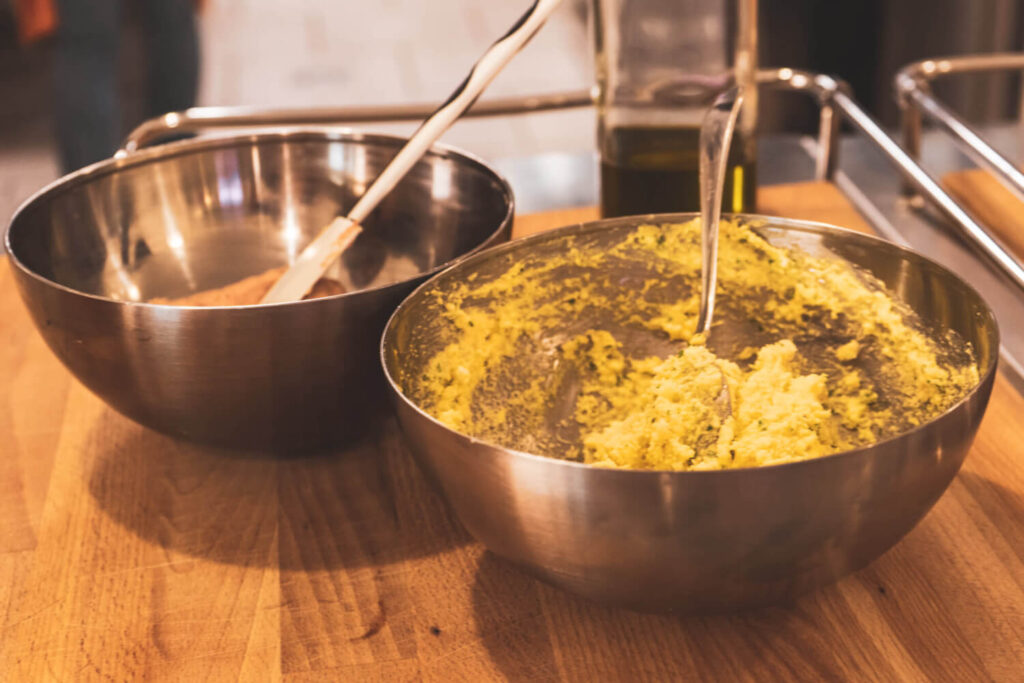 Packing Tips for Rome
Not sure what to wear and what to pack for Rome? Here are my top Rome packing tips.
Good walking shoes are a must
I cannot explain to you how much walking you'll end up doing, so comfortable shoes are much more important than cute stylish ones.
Rome is a city with uneven sidewalks and plenty of cobblestones, so it's best to leave those heels at home.
Bring a water bottle
As I keep saying, visiting Rome in any season involves a lot of walking, which is why having a water bottle is essential for staying hydrated!
Luckily, Rome is filled with "Nasoni" – free water fountains with cold & delicious water you can bottle up for free.
You'll find them at virtually all major sights, and randomly around the city so there are plenty of opportunities to get tasty drinking water for free.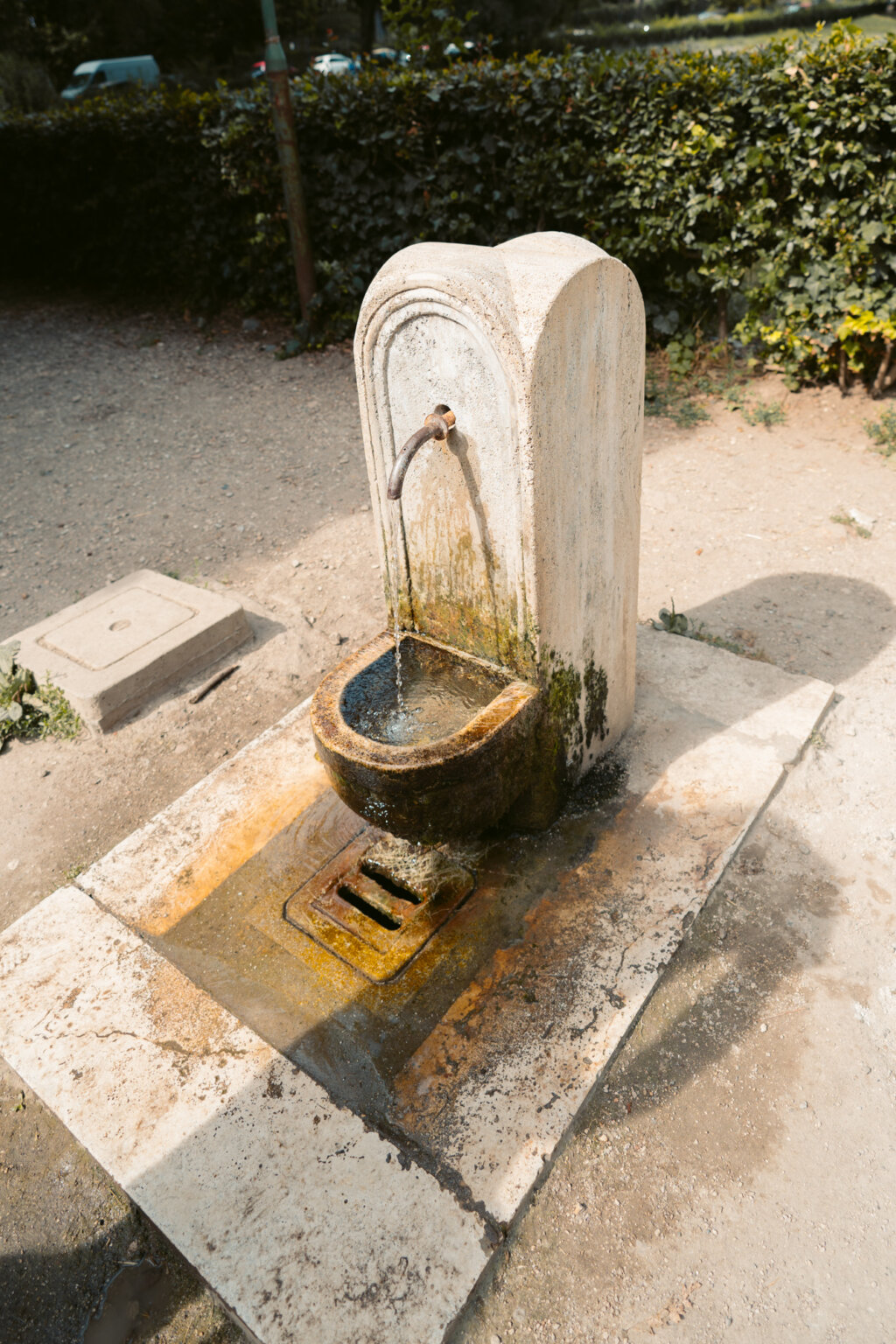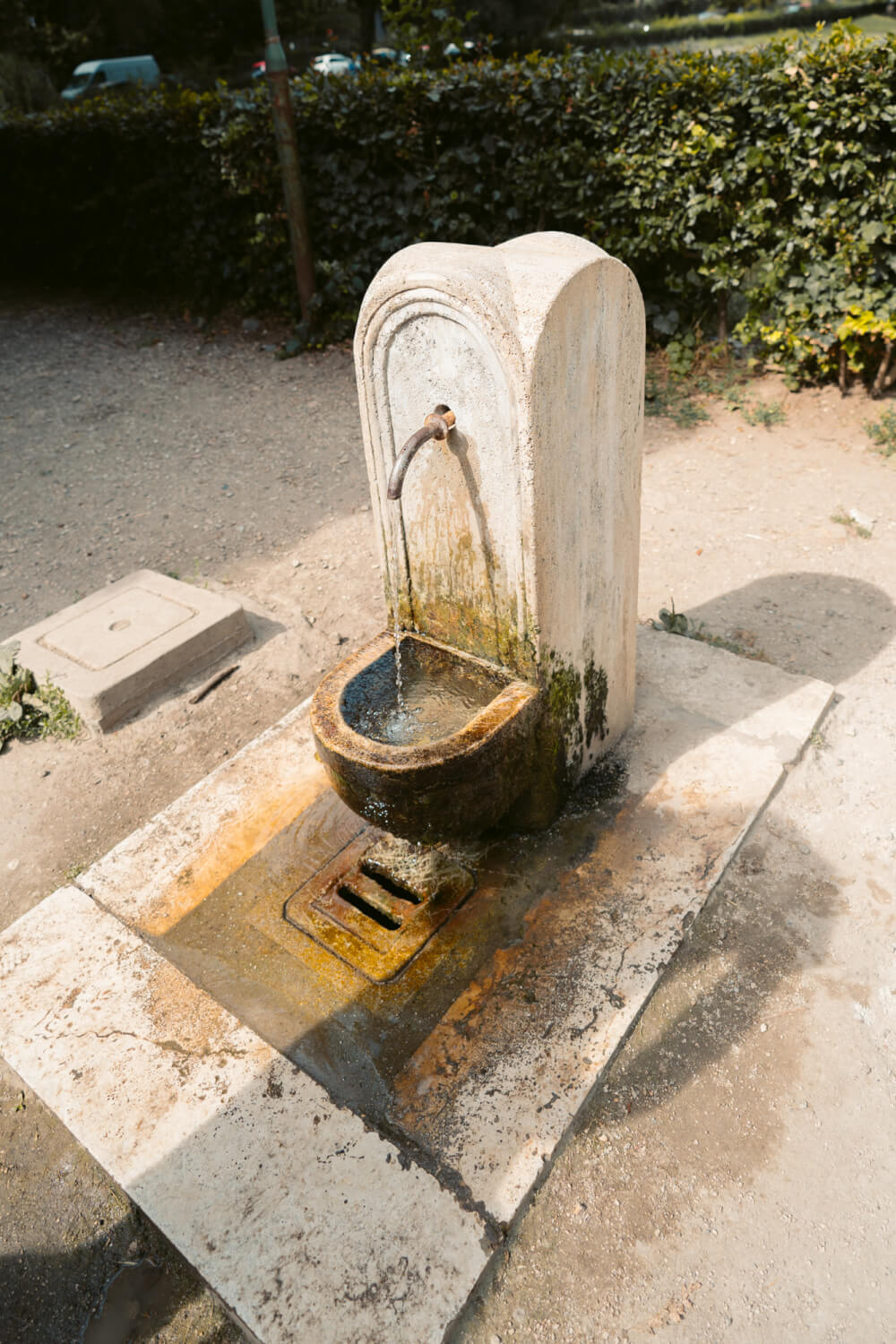 Bring a scarf (or two)
Again, the dress code for Rome's churches is that your shoulders and knees need to be covered, so having a light scarf with you is an easy way to ensure you're safe.
Plus, in a city with 900 churches, you might randomly stumble upon one that you want to explore, unplanned.
NOTE: I suggest bringing one scarf if you're wearing a longer skirt or dress, but maybe even two scarves if you're wearing shorts and a tank top.
I recently saw a woman trying to go into the Vatican with only one scarf, but both knees and shoulders exposed. The security wouldn't let her in until she found a weirdo way to tie her scarf that covered both areas (a truly impressive feat if you ask me).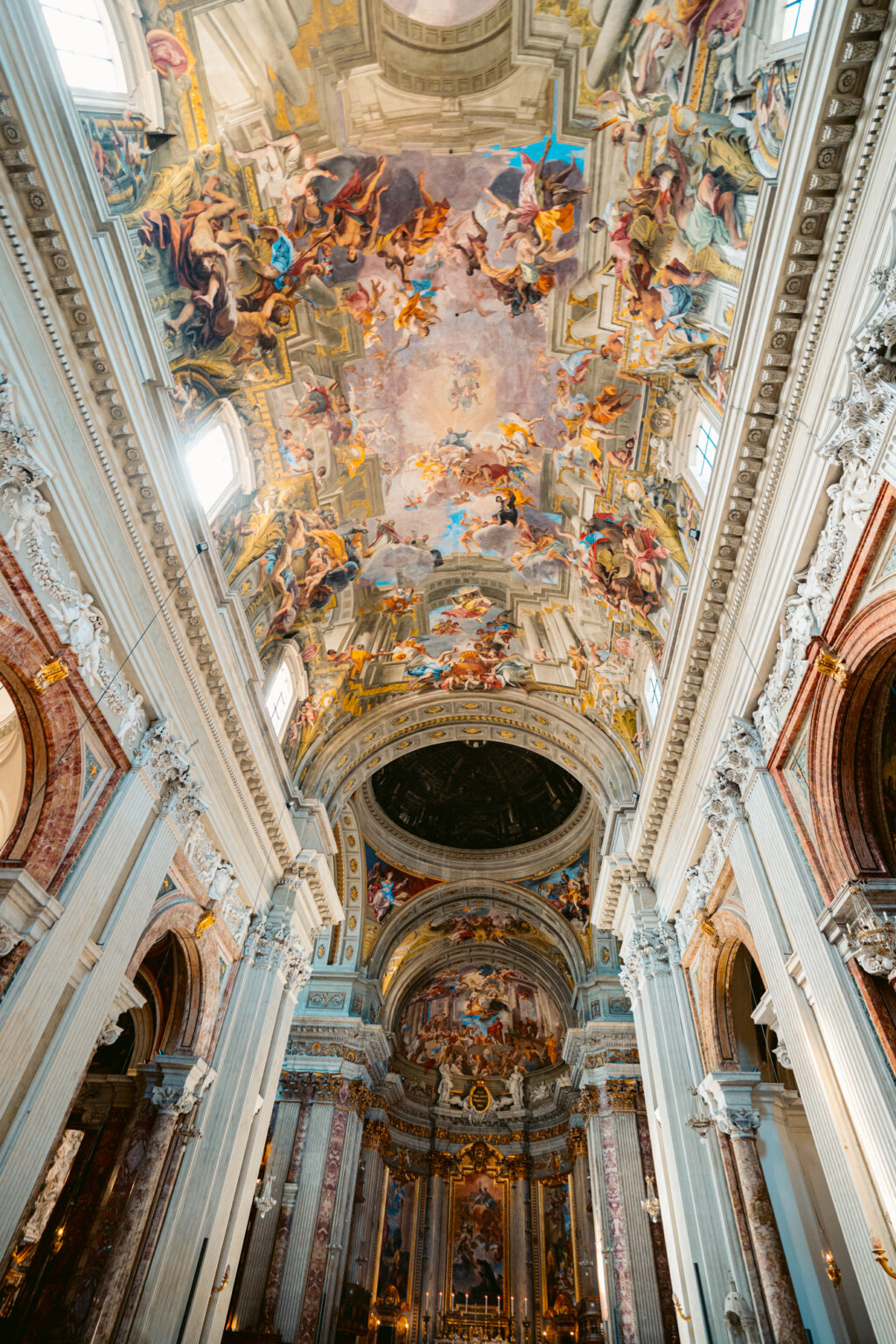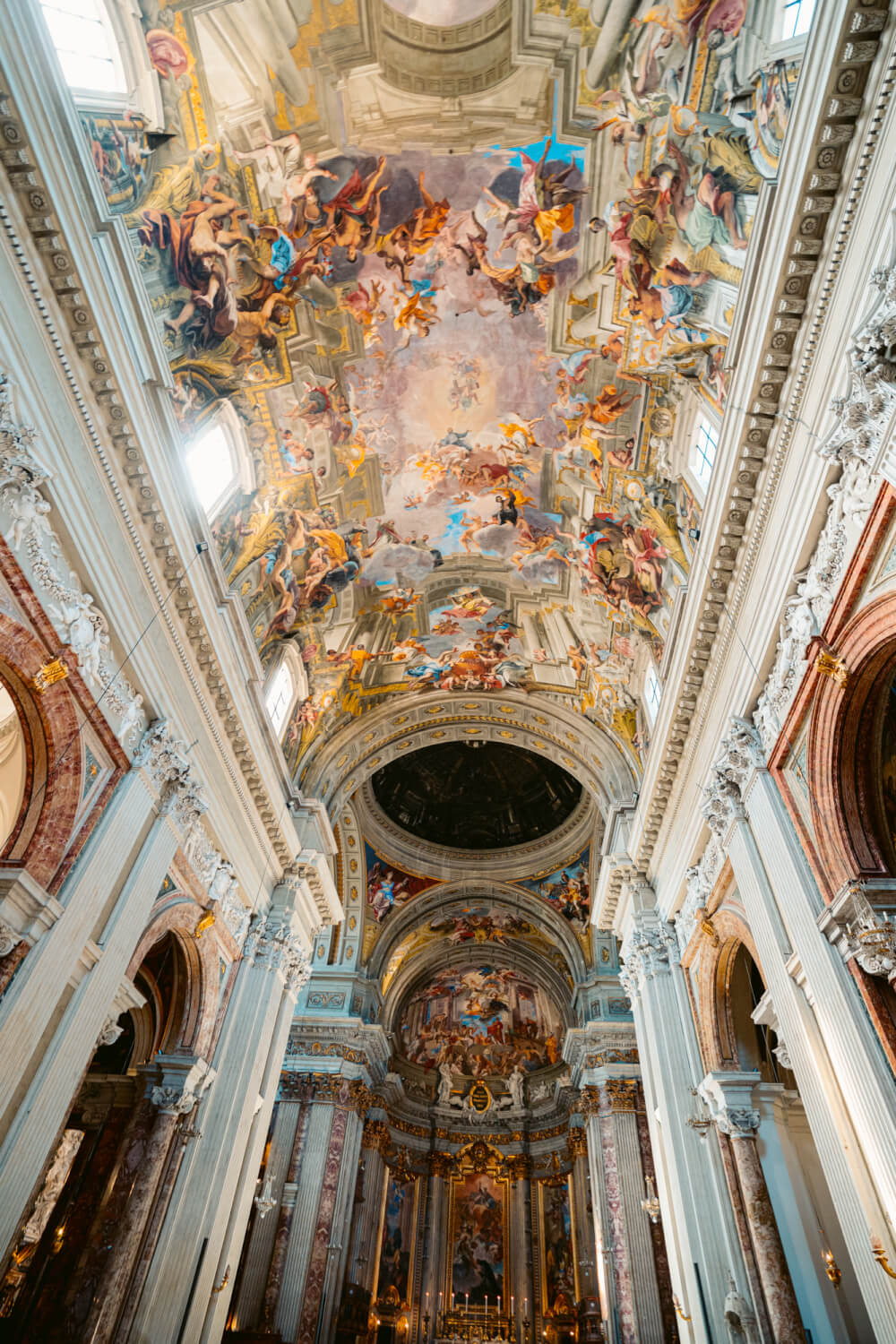 Make sure you have a universal adapter
Power sockets in Rome have two round holes and if you're visiting from overseas, odds are you'll need an adapter for your plugs to fit.
I'd strongly recommend buying a universal adapter like this one if you don't have one already.
It's cheap, can be re-used for every trip, and covers you in all situations. Definitely some of the best money I've ever spent!
DIY your own travel sized toiletries
This is a very basic packing tip I always recommend, but it's very easy these days to buy small reusable bottles that you can fill with your own toiletries of choice.
This allows you to bring your favourite products with you, and saves needless one-use toiletries from ending up in the landfill.
Need help picking the right one? Read my guide to reusable toiletry bottles for more info.
Have a re-usable bag handy
You can't go wrong with a tote bag or two, and I always like to keep one in each purse when I travel.
You never know when you'll need an extra bag, whether to haul goodies back from the market or simply carrying whatever souvenirs you've gotten that day, so remember to pack some.
Bring protective wraps
If you're travelling with an expensive camera, or anything else fragile, I highly recommend these amazing protective wraps.
I bought mine a few years ago and use them every trip. They're padded velcro wraps that you can use to protect…. pretty much anything! So handy and they don't take up too much space.
Alternatively, you can also look into product-specific protectors, like these awesome wine protectors to ensure your precious cargo doesn't break in transit.
Miscellaneous Travel Tips for Rome
Last but not least, I have some final Rome travel tips that don't really fall into a particular category, but are VERY good to know. Here they are!
Bring cash but not too much at once
While these days, many bigger places will take card, cash is always handy to have for quick purchases like gelato.
I wouldn't advise carrying more than 200 euros of cash with you at a time though in case you get pickpocketed.
Some visitors like this poor fella report losing 800+ euros in cash after getting pickpocketed in Rome… so yes, don't bring too much cash at a time out with you.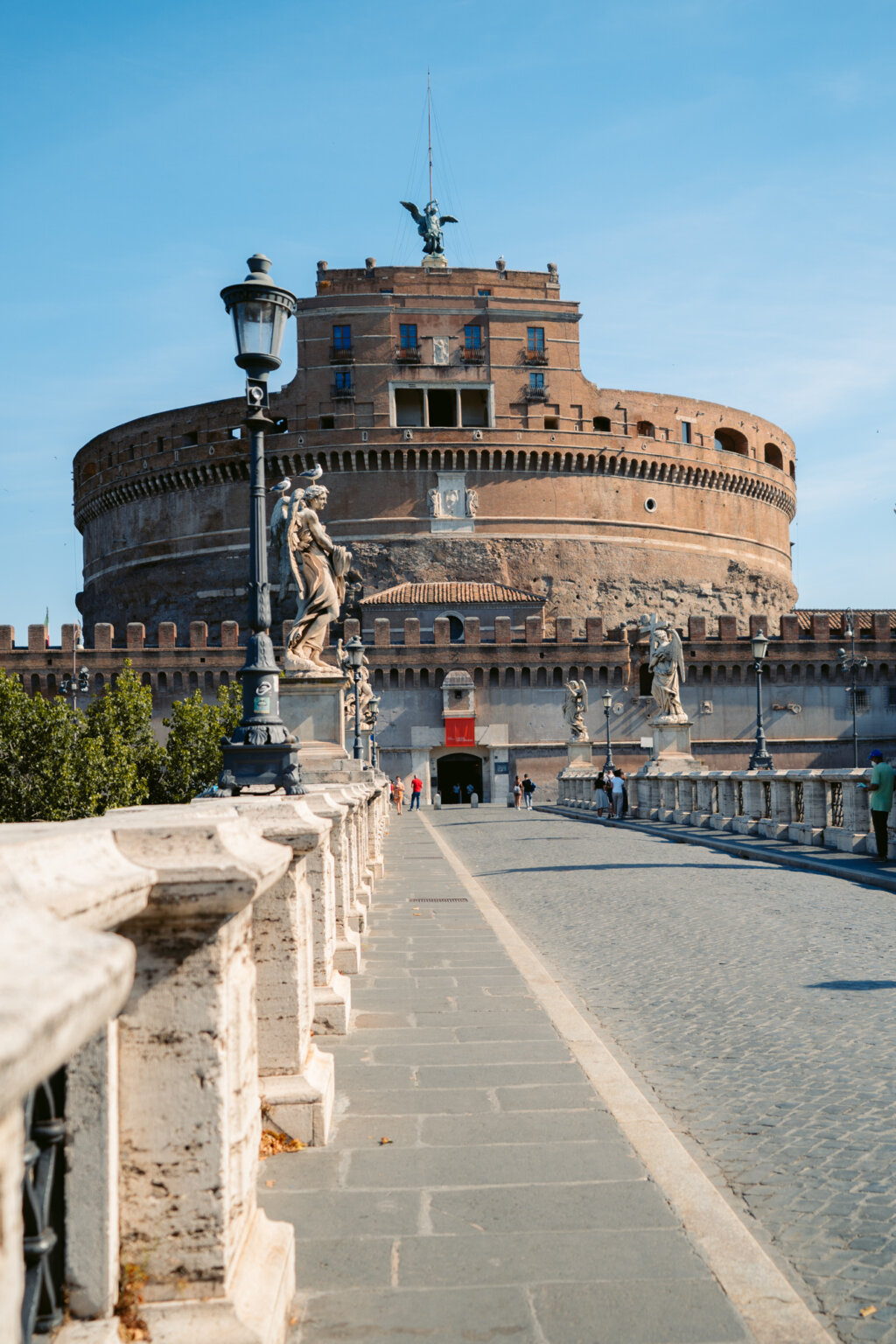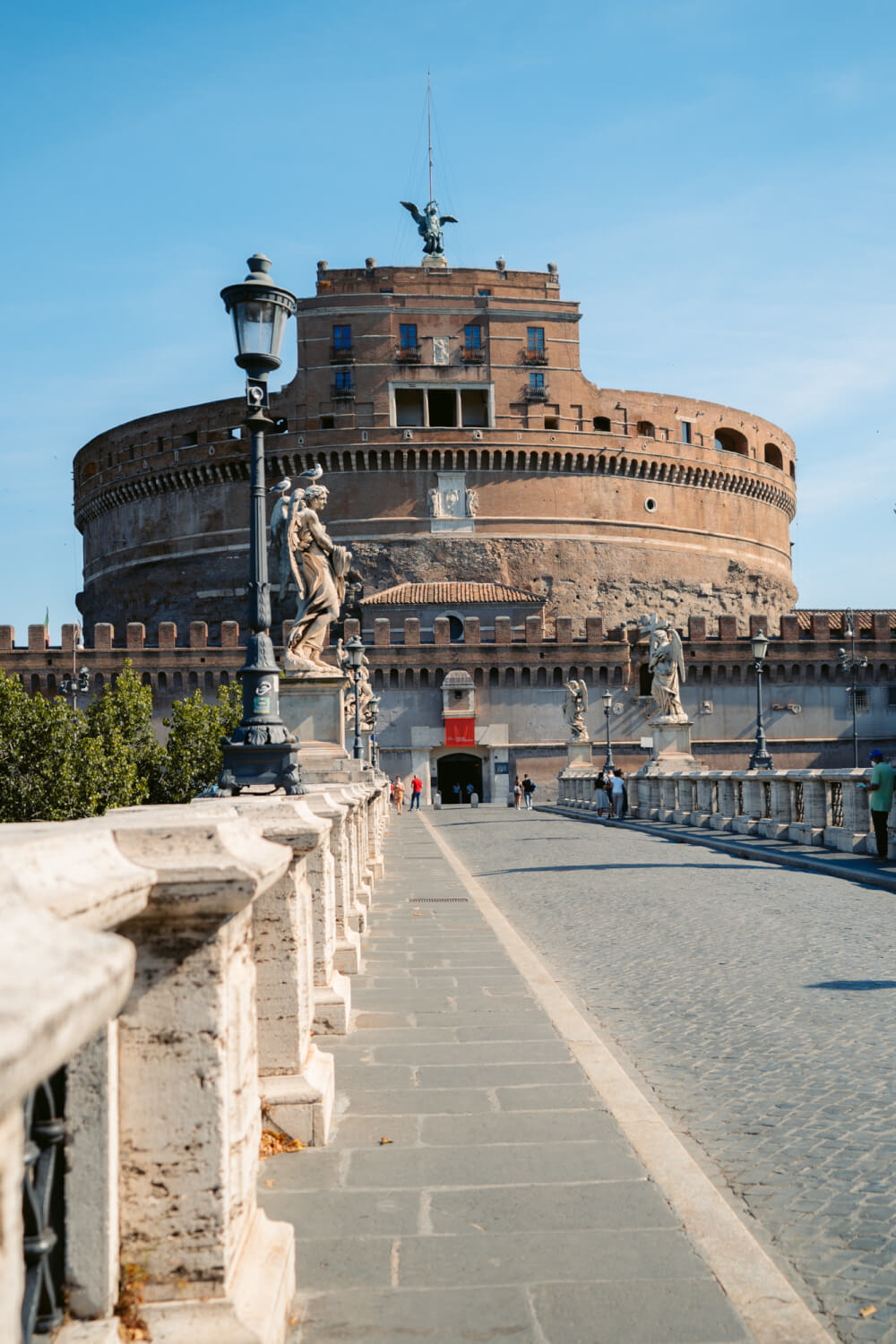 Prepare for the tourist tax
While small, the mandatory tourist tax in Rome is something to factor into your budget.
This is a mandatory tax paid per person per night, ranging from 3-7 euros depending on your accommodation.
Because this tax is often asked for in cash, you might think it's a scam (particularly when it's just an AirBNB) but it's definitely a real thing, and you are entitled to a receipt for it if you wish.
Your accommodation will usually tell you in advance what the tourist tax is, so come prepared!
Beware the "Pausa"
Similar to the Spanish Siesta, you can expect many shops and restaurants in Rome to close in the late afternoon for a few hours, often between 1 and 4.
While you'll certainly have no trouble finding food or supplies (Rome is a big city catering to tourists, so you'll often find an option), keep this in mind as most places aren't open continuously like we're used to in North America.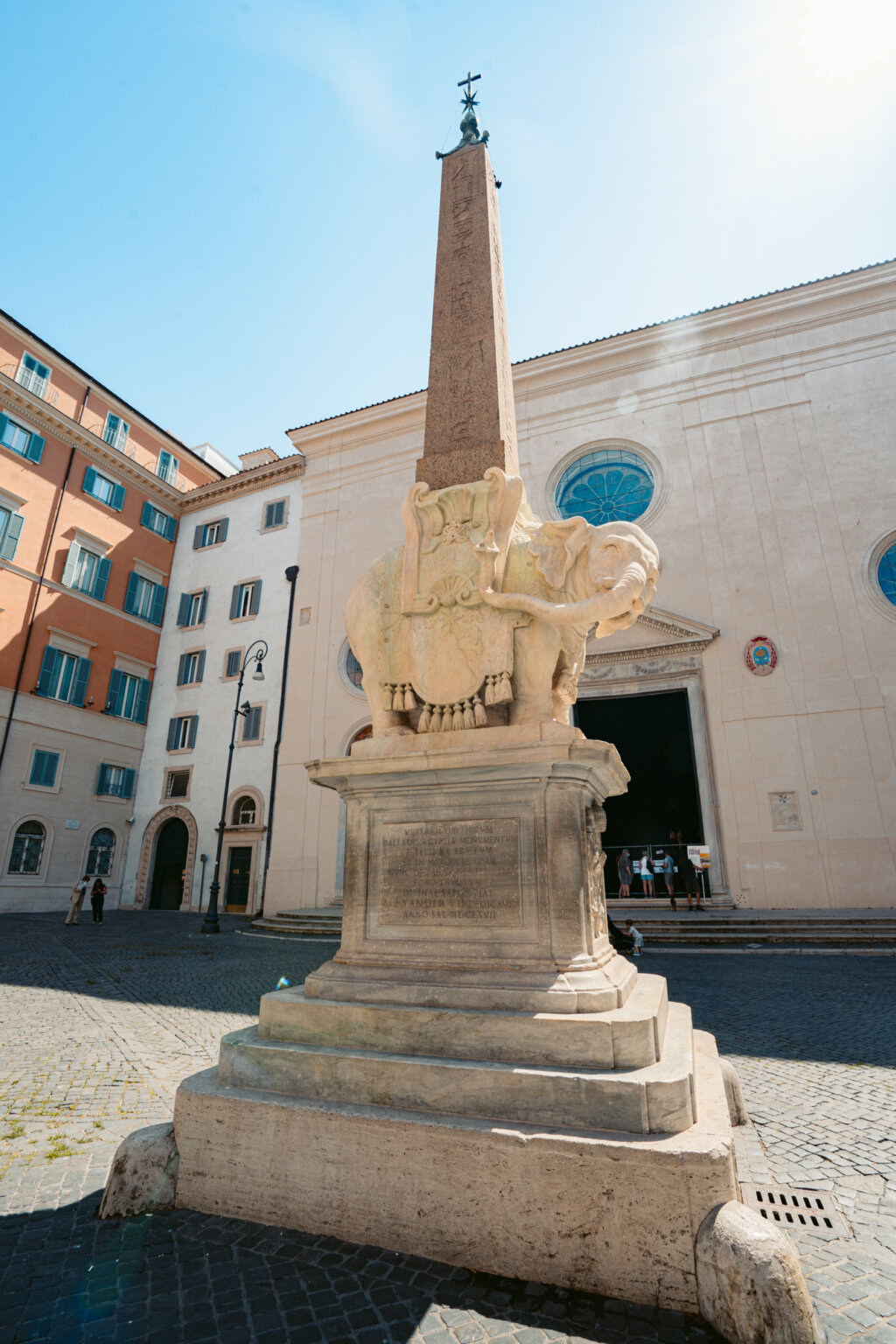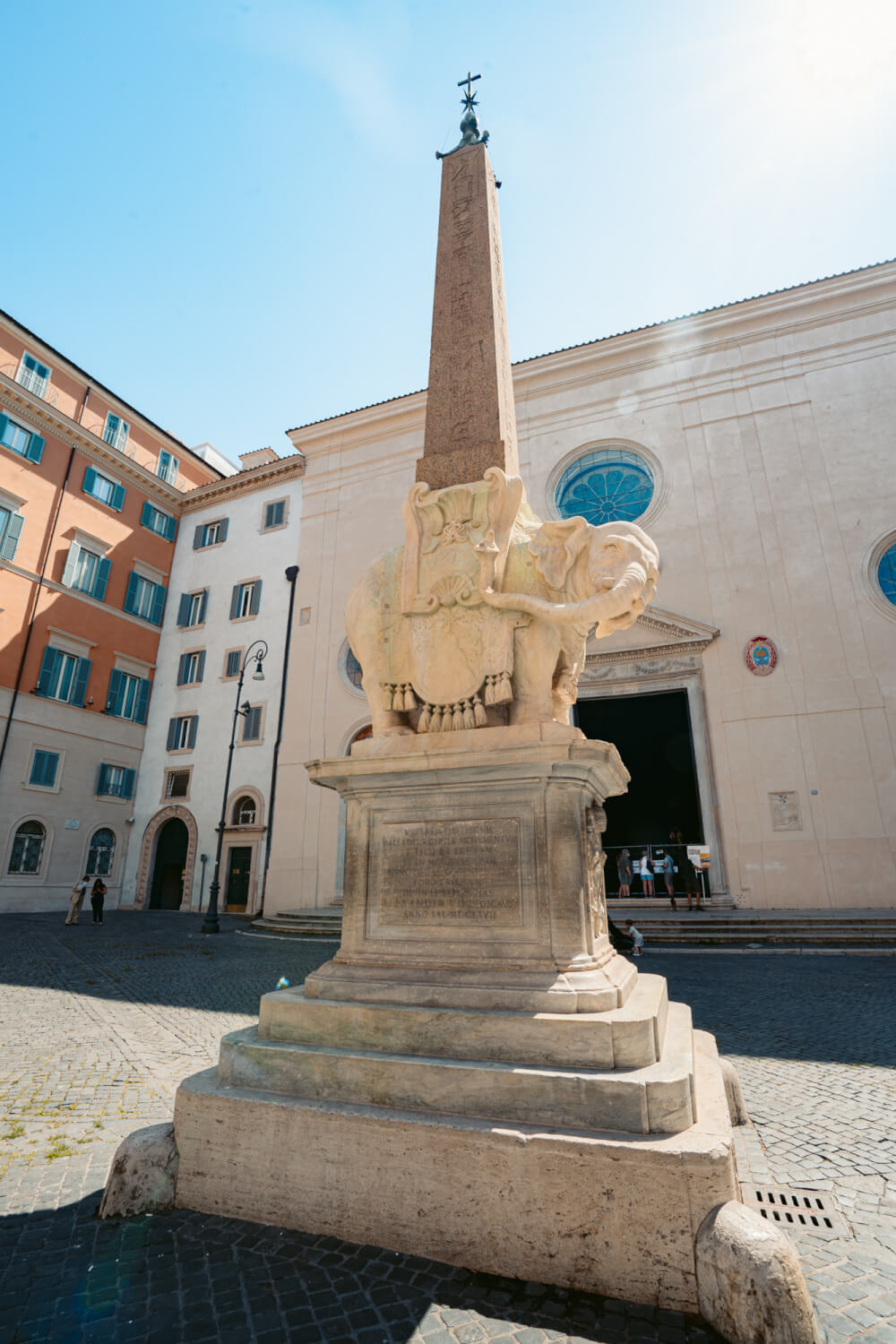 Public toilets often don't have toilet seats
So yes, I hope you've got a good squat game.
Looking for a flush? Check the floor or wall
I find that Italian bathrooms can be very creative with hiding their toilet flush mechanisms.
While you'll of course find standard flushes in many bathrooms, you'll also encounter more unique ones like….
A random button on the wall
A random button on the floor
A random chain dangling from the ceiling
Confused about your faucet? Look for a floor pedal
Similarly, faucets and taps can be quite fun in public washrooms as well.
Often they will be activated through a floor pedal, which (if you ask me) is actually way more sanitary and smart.
Make time if your train leaves from Platform 25-29 at Termini Station
This is one of those oddly specific Rome travel tips that you can tell comes from a particularly traumatic experience.
This experience was me trying to catch a train on Platform 27 at Termini with 3 minutes to spare, thinking it would be close to all the other platforms.
…. This is not the case!
Platforms 25-29 are really far down the station, and I had to literally sprint for a solid 3 minutes to make it on time. I ended up just catching it – the train was in movement before I even caught my breath.
Binge on movies set in Rome before your visit
I love watching movies set in a place before I visit, and luckily with Rome, you have lots of options!
So, before you head out, be sure to watch plenty of travel movies set there, like…
Eat, Pray, Love
The Lizzie McGuire Movie (of course!)
Angels and Demons
La Dolce Vita (a classic)
Roman Holiday (the film that propelled Rome to the top of most American bucket lists)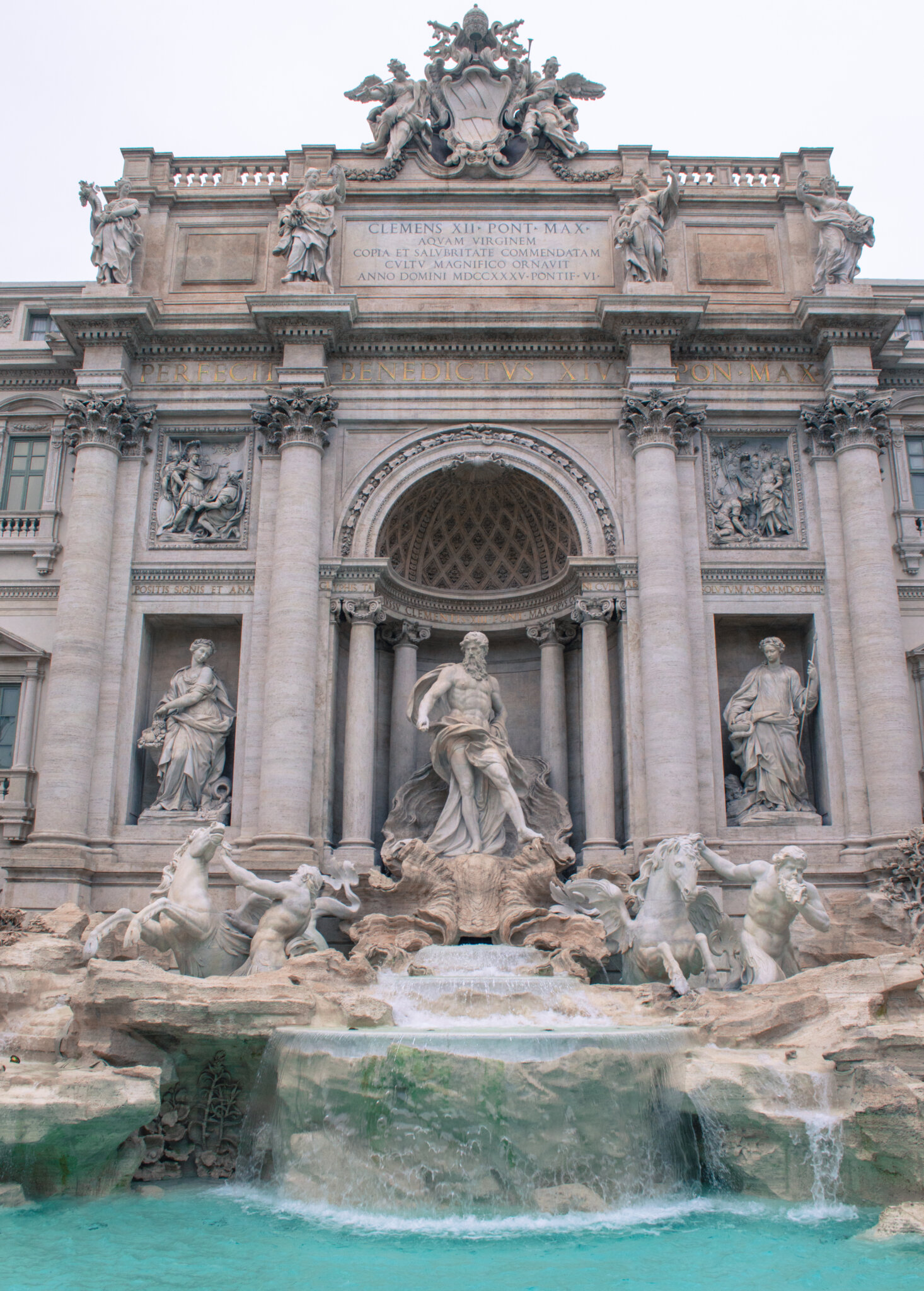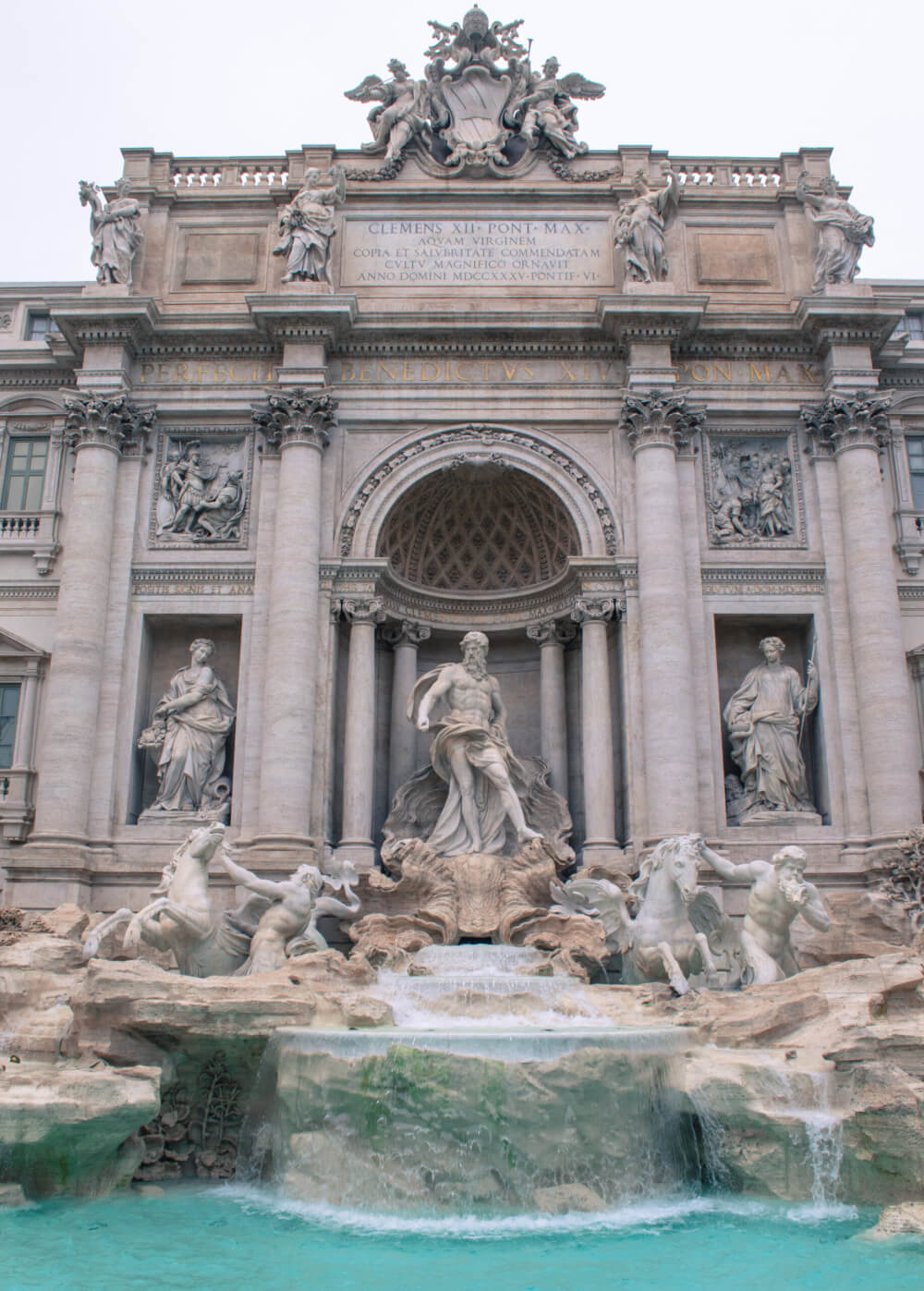 Use Instagram, Pinterest and Blogs to research more offbeat Rome activities
Guidebooks and Google are great, but if you really want to find Rome hidden gems that are specific to your interests, be sure to dig deeper!
I mean, if you've gotten this far on my blog, you're probably off to a good start, but make sure you also sleuth through Roman Instagram accounts and blogs, in addition to Pinterest to find more great stuff to do.
You might find my guide on How to Find Cool Stuff to Do Near You helpful.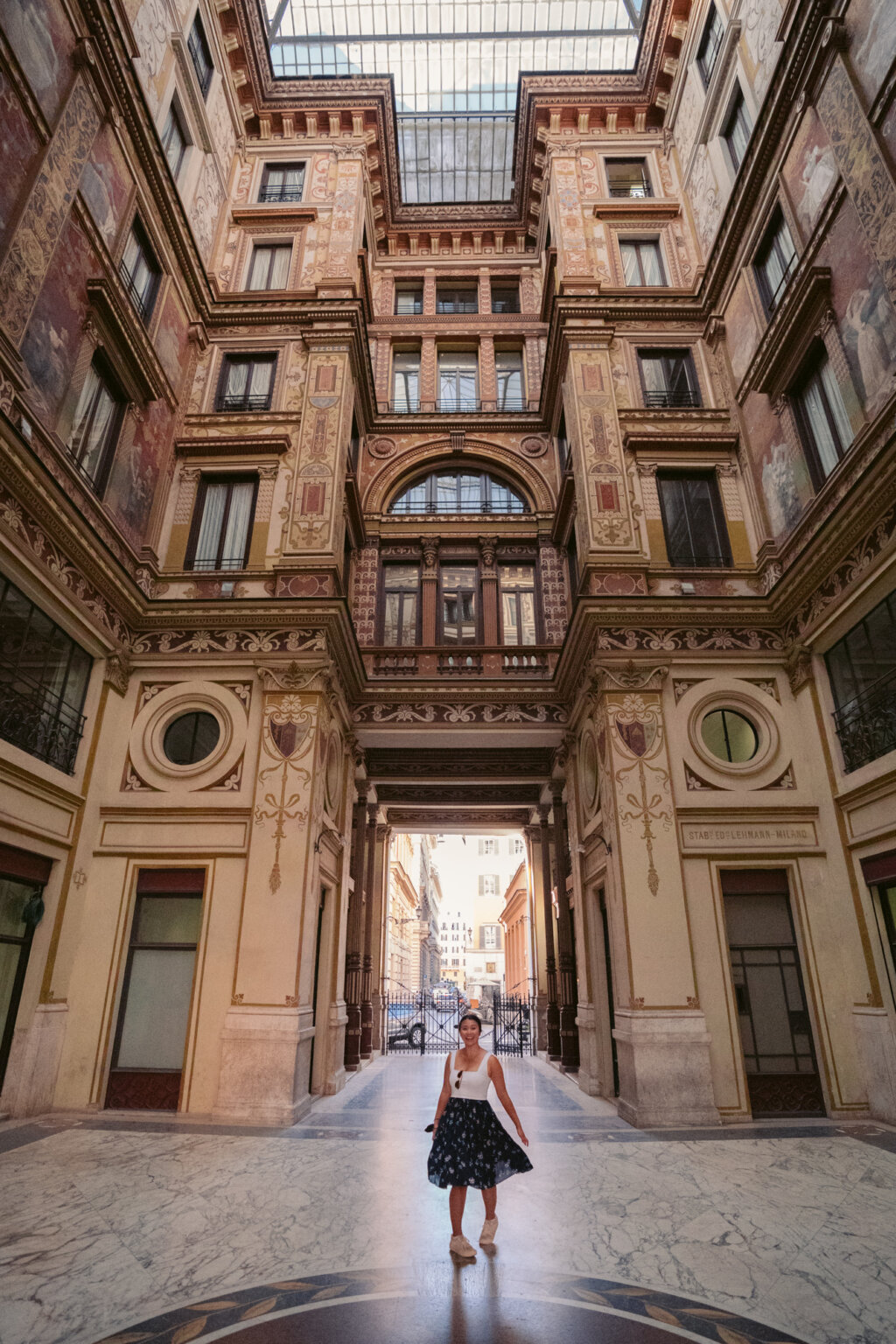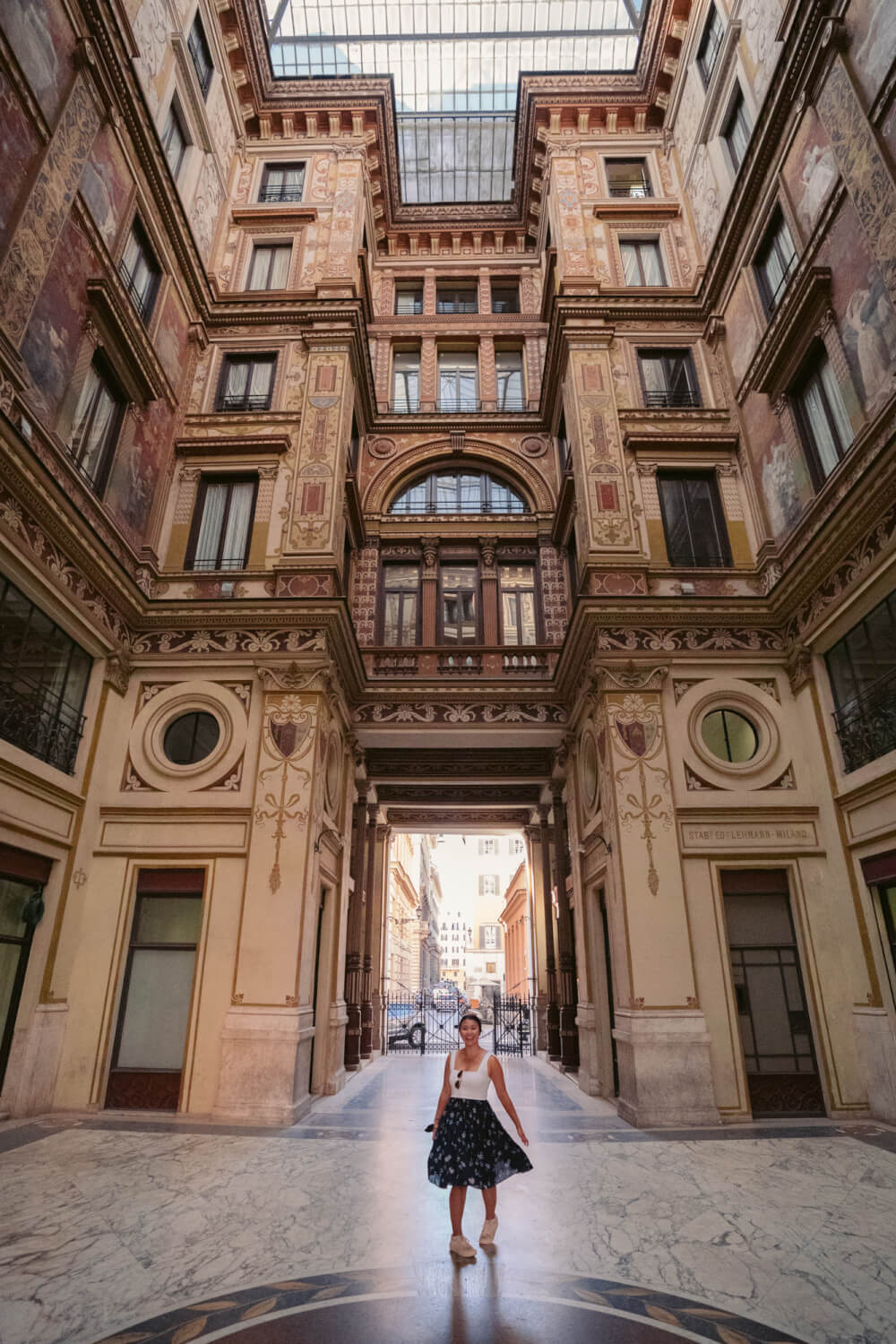 Use Google Maps to save spots you want to see
Google Maps is an amazing resource not just for navigating a new city, but also for saving spots you might want to visit in the future.
One of my favourite travel hacks is starring every location I deem interesting on Google Maps. You can do this by pressing the Save button when you search up that spot.
This allows you to have a visual map of all the cool cafes, street art murals, attractions, restaurants, etc. that you've saved during your research, which means you can easily organize your itinerary/sightseeing.
I love doing this because I'll often end up in new areas during my explorations, and I can just look at my map to see if anything interesting I read about happens to be nearby. Saves a lot of planning!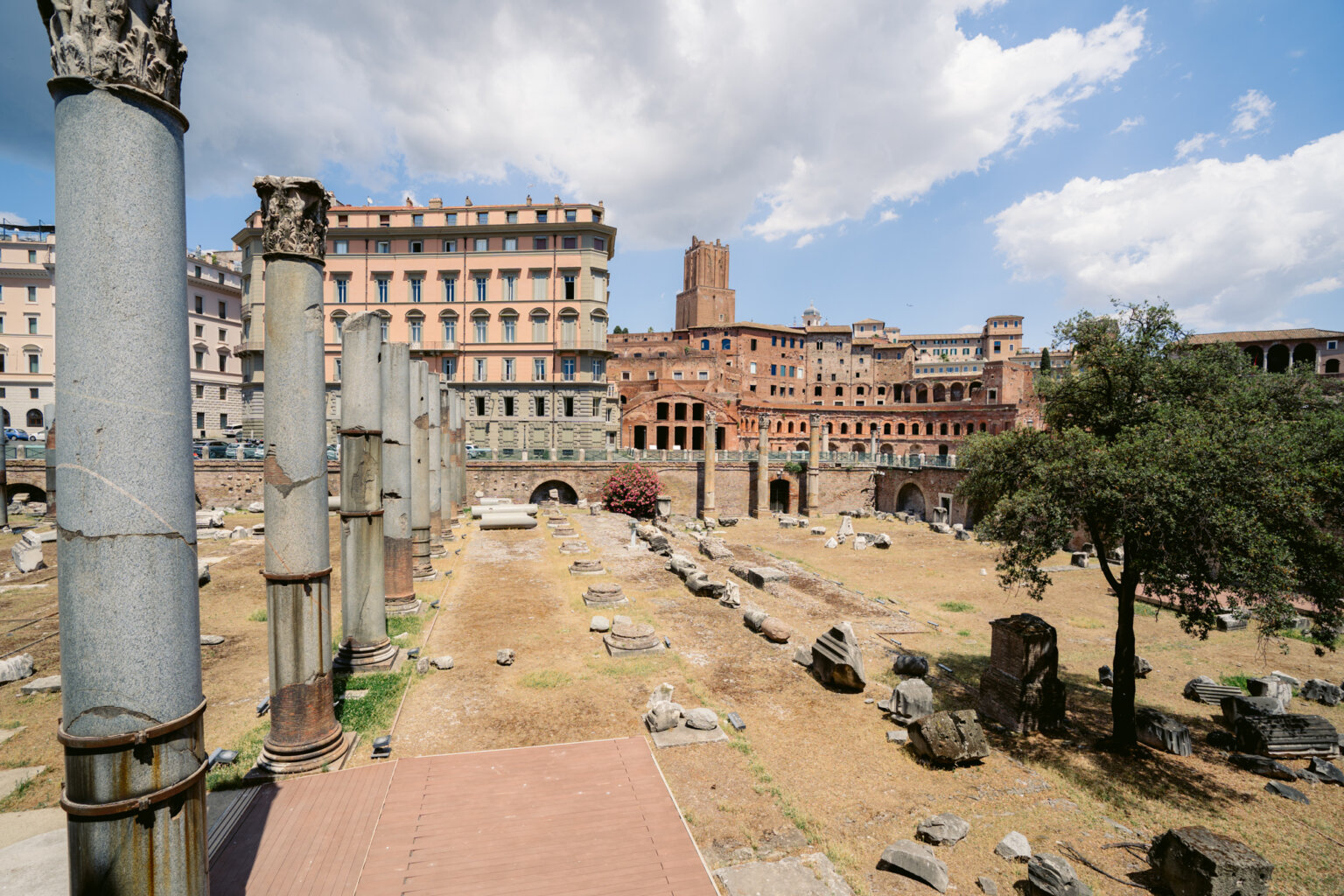 … But beware when searching places by name only on Google Maps
A very peculiar thing I noticed when using Google Maps in Rome is that many businesses like to name themselves after famous landmarks/sights… and sometimes Google Maps will auto-suggest the wrong one!
So, for instance, you might find that searching "Spanish Steps" might lead you to the "Spanish Steps Apartments" if you're not careful.
This is often the case too for sights that have a colloquial name known in English that isn't recognized on Google Maps.
The Aventine Hill Keyhole (actually known as Buco della serratura dell'Ordine di Malta, or the Knights of Malta Keyhole) is a great example, because if you just type in "Keyhole" on Google Maps, you get directed to a bar!
No joke, I even found a bed and breakfast that had labelled itself as "Rome Fiumicino Airport" on Google Maps. Imagine getting those two mixed up!
So, just double check before navigating that you are indeed being directed to the place you thought (easy to verify through swiping through reviews and photos).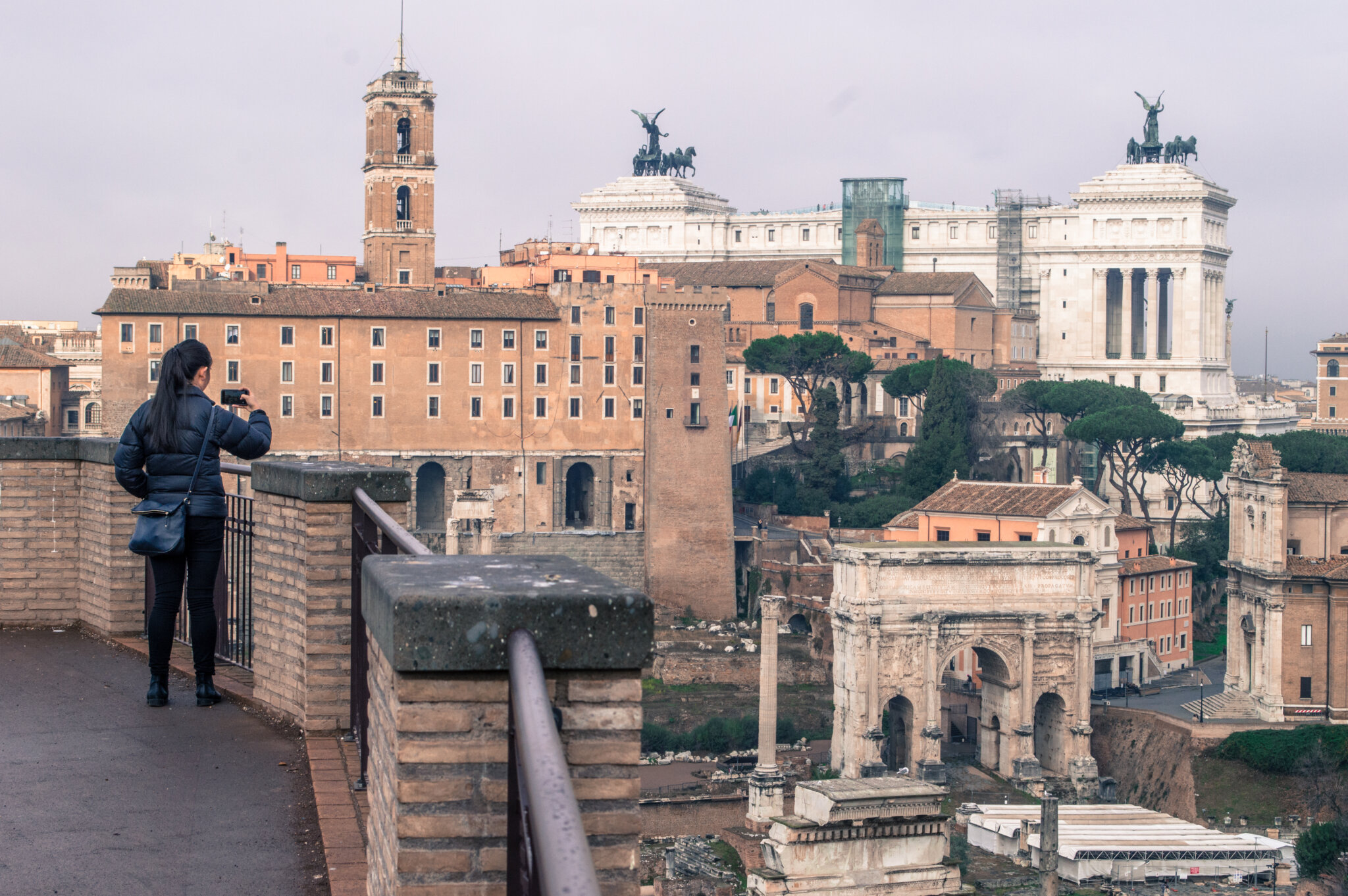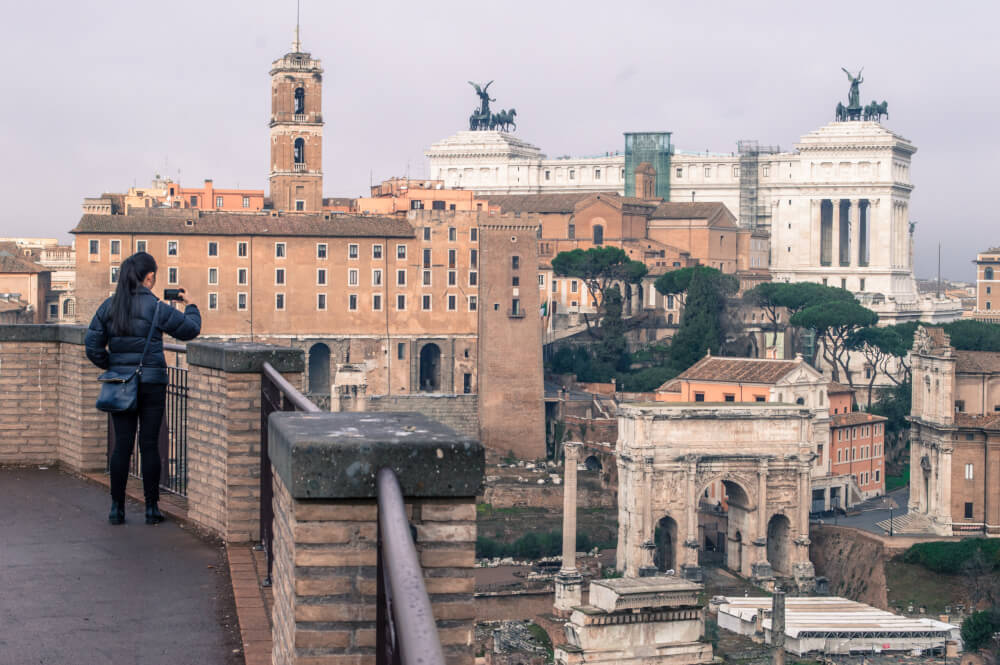 Lastly, visit more of Italy Besides Rome
Okay, here's a bonus Rome tip: I beg you to explore more of Italy than just Rome!
I adore Italy and it has so many diverse destinations to offer, from the mighty lakes and mountains in the North to the gorgeous coastal towns like in Cinque Terre and the Amalfi Coast.
From Rome, you can do day trips to Tivoli (or more ambitiously) to Naples, Sorrento, and Pompeii.
With a bit of extra time, you can also schedule in a wonderful few days along the Amalfi Coast. In fact, this is one of my favourite 1 week in Europe itineraries.
So, remember – roam beyond Rome!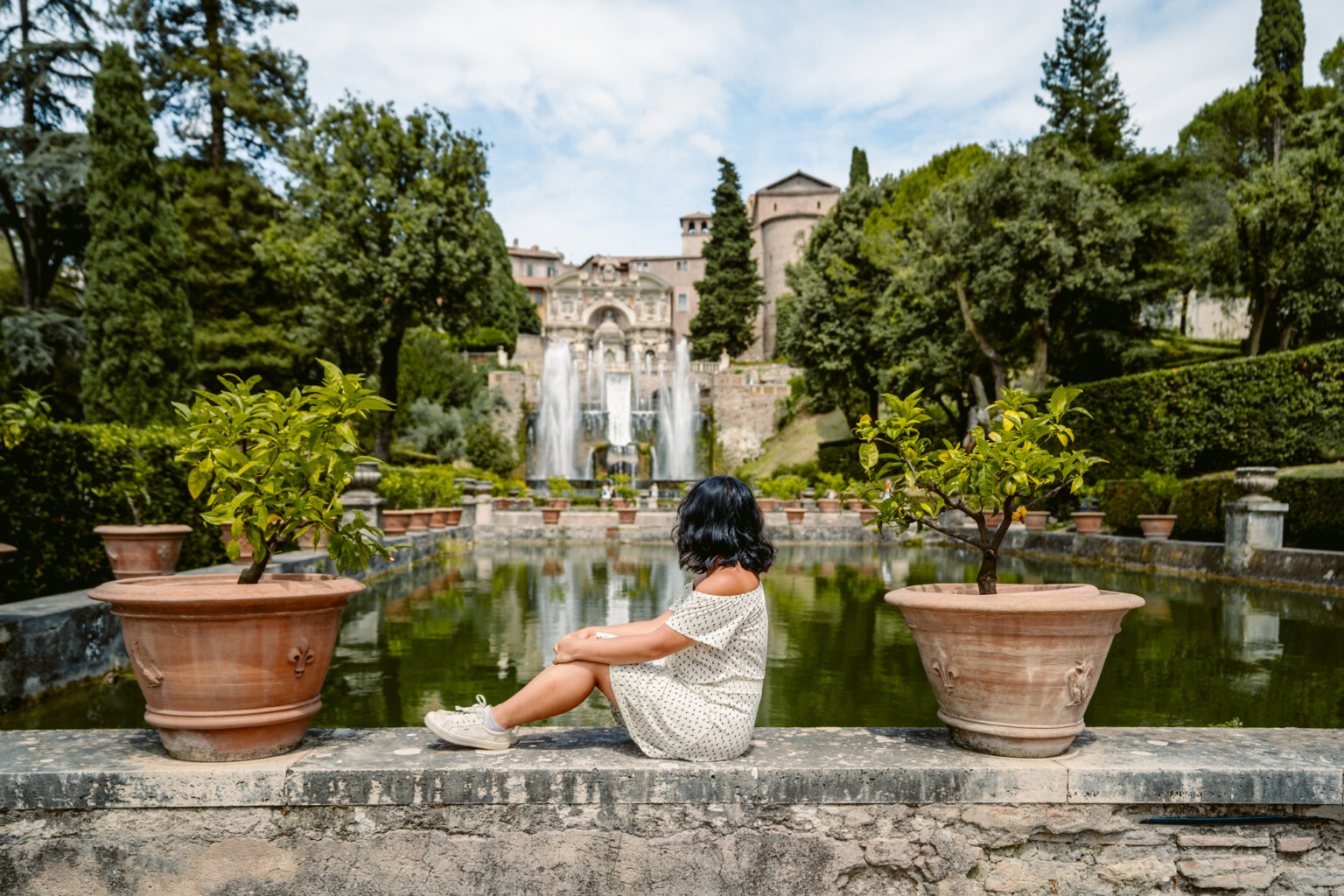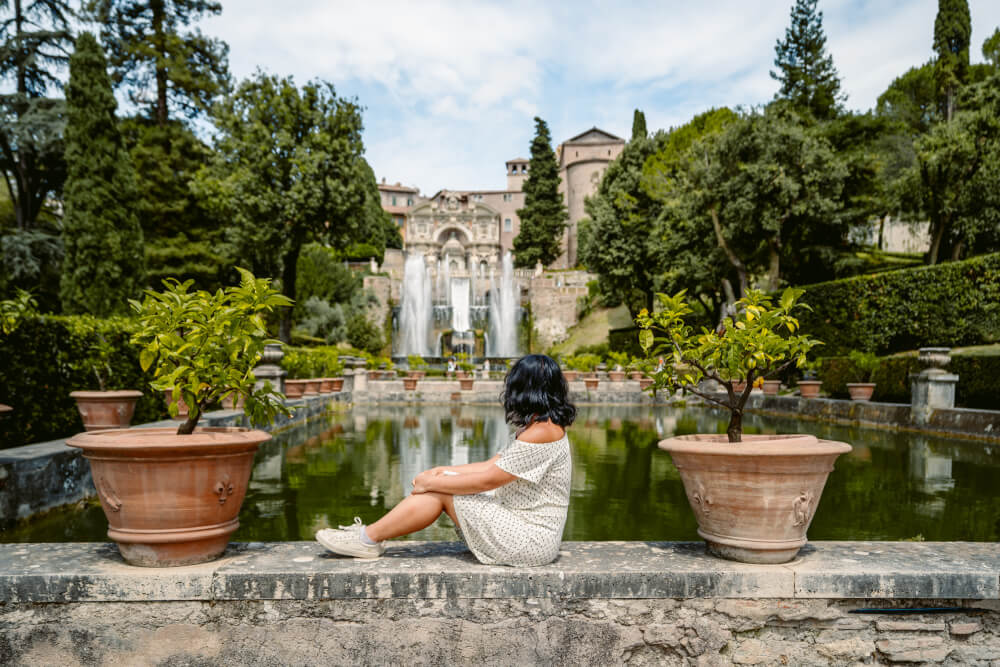 I Hope This List Of Rome Travel Tips Was Helpful!
Quite frankly, if you made it this far, you deserve some kind of medal! This was a VERY long list of tips for Rome, but if you have any more questions, let me know in the comments.
---
Watch my most popular YouTube video this week:
---