*FYI - this post may contain affiliate links, which means we earn a commission at no extra cost to you if you purchase from them. Also, as an Amazon Associate I earn from qualifying purchases. Check out our Privacy Policy and Disclosure. for more info.
First-timers who visit Paris will usually come to one of two common conclusions…
First – that Paris is the most undeniably wonderful place in the world, where the streets smell like croissants and every step is a cheese-coated dream.
The second (perhaps more common) conclusion, is that Paris is the worst, most overrated city on Earth, where the streets stink of smoke, sewage & the shattered dreams of starry-eyed tourists.
But what if I told you that both conclusions are valid?
In fact, what if I told you the difference between experiencing one vs. the other lies purely in avoiding a few key mistakes?
Trust me, from a "meh" reaction on my first visit to now worshipping the City of Light, I've spread my time over countless visits & an internship based there, learning through trial and error what it takes to truly enjoy and adore Paris.
Without any hesitation, I now say that Paris is one of my favourite cities in the world.
I honestly love re-visiting and discovering new parts of it, a byproduct of which is, I've successfully made pretty much every mistake under the Parisian sun.
Today, I'd like to share the wisdom I've accumulated through an epic list of Paris tips and tricks for your visit. It's a long one, but I hope you find every word helpful!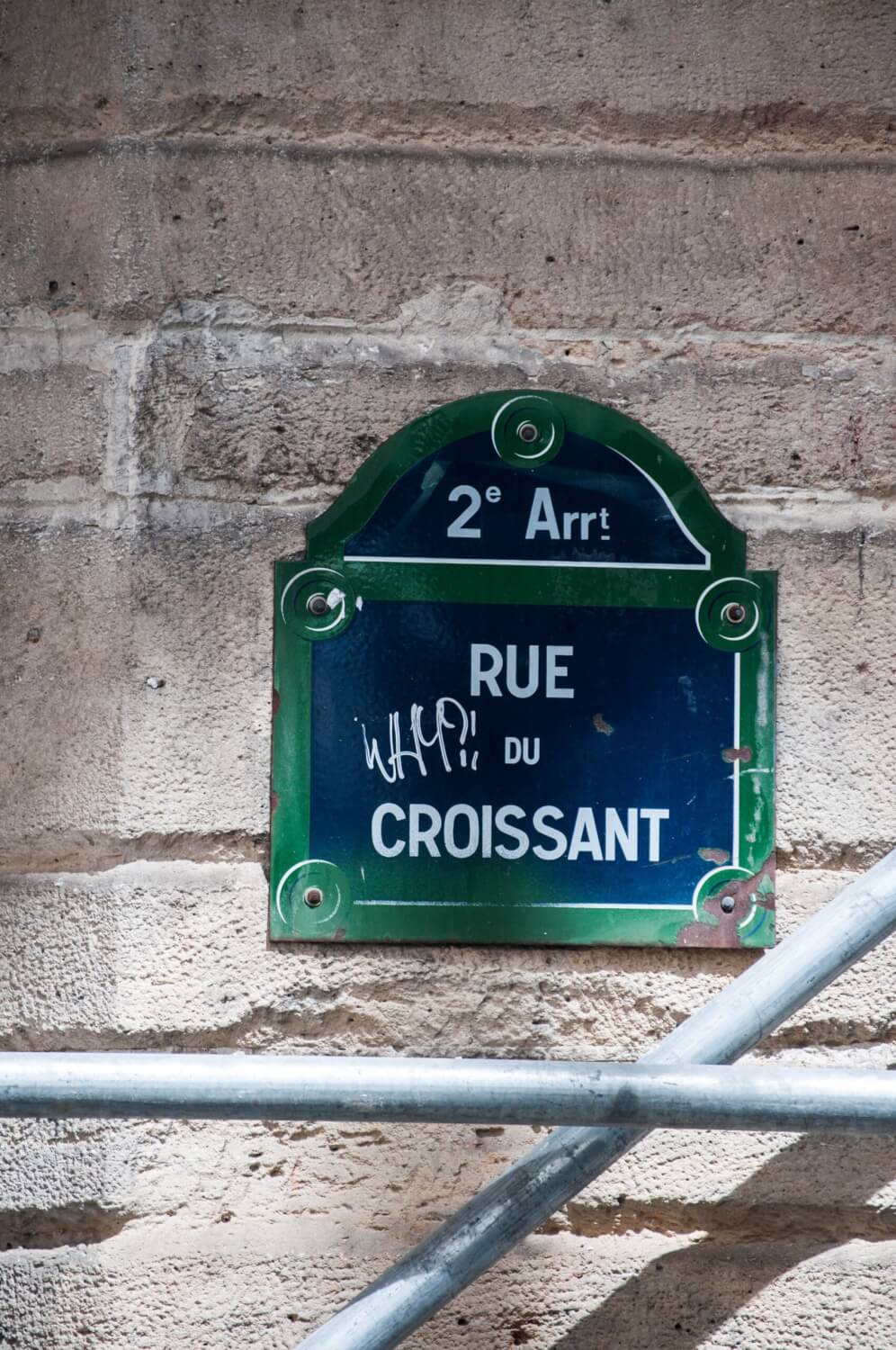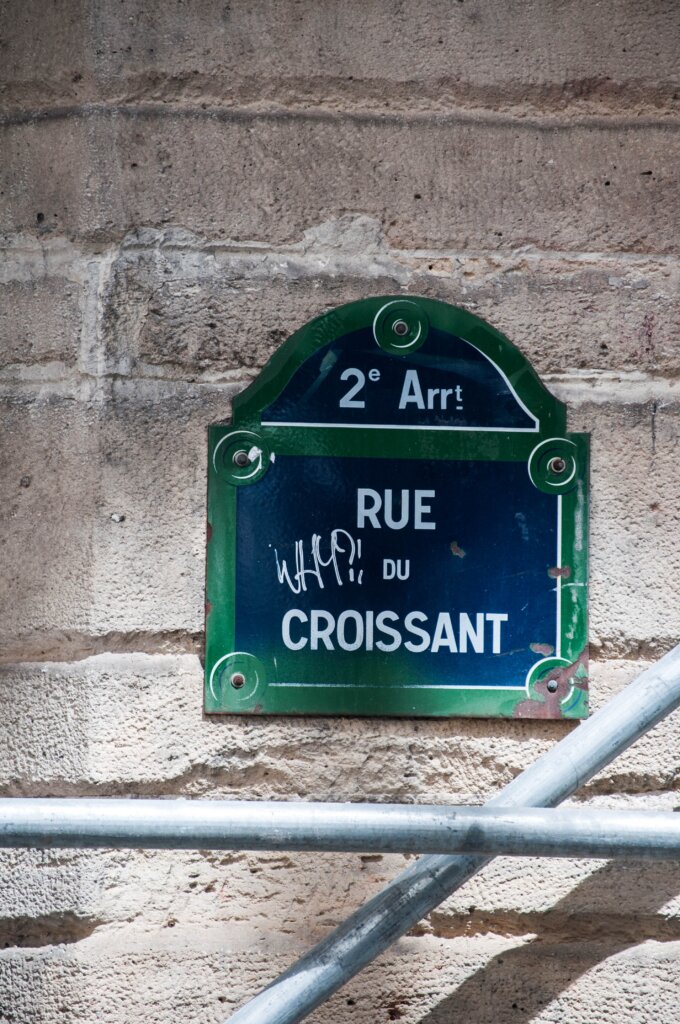 Paris Travel Planning Tips
Let's start with some planning-related Paris tips to help you with flights, booking hotels in Paris, choosing dates, the best times to visit Paris, etc.
Learn the tricks to getting cheap flights TO Paris
If you haven't booked your flights to Paris yet, be sure to check out my guide on how to get the cheapest flights to Europe. I promise it'll save you hundreds of dollars on your flight!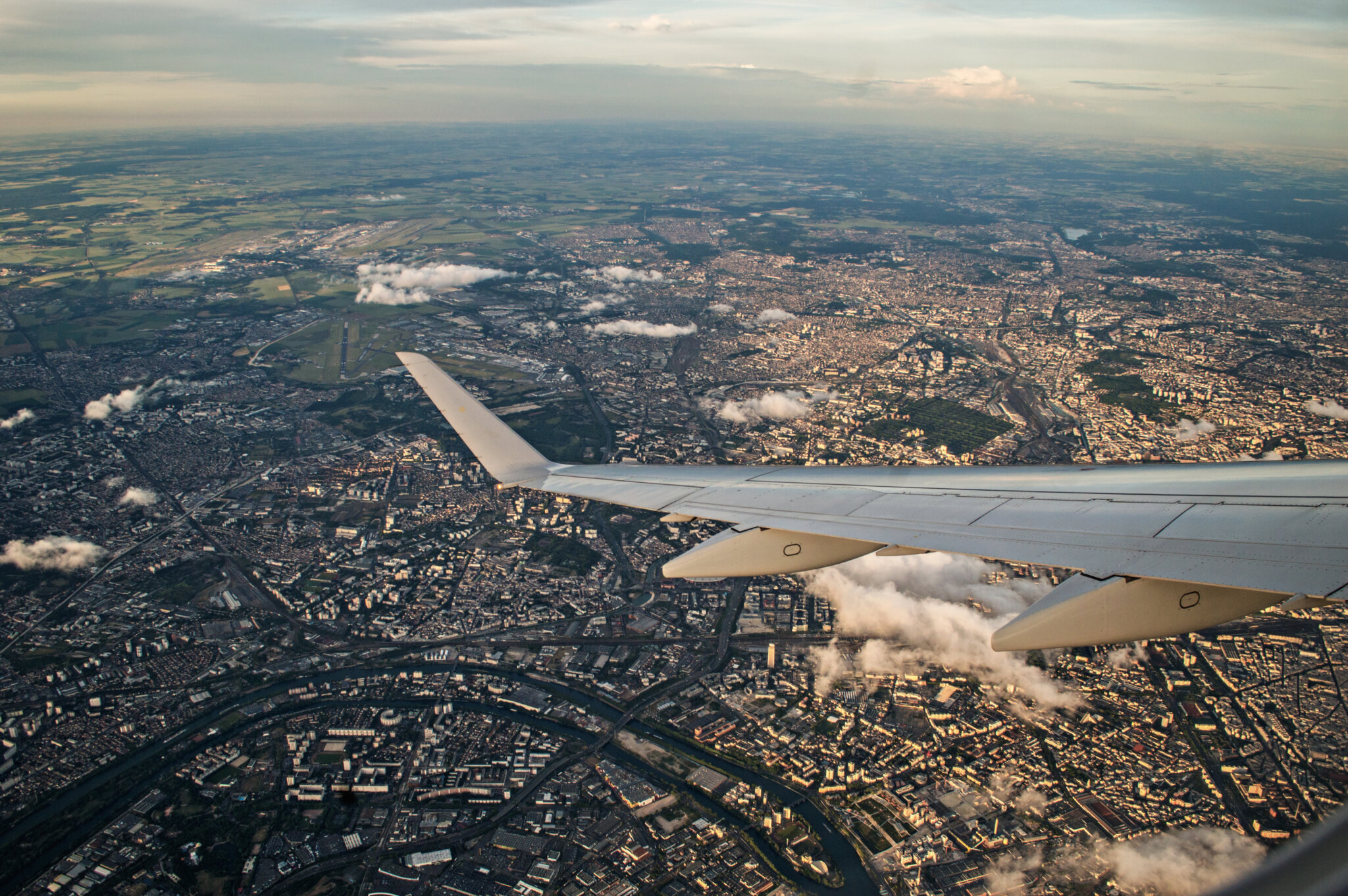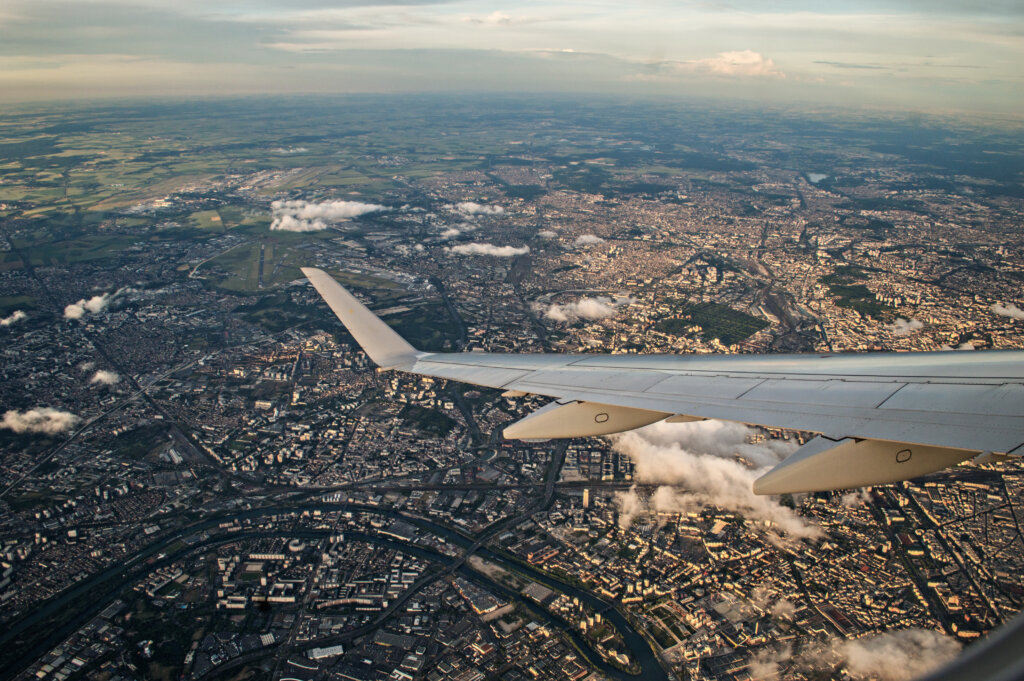 Plan your Paris trip for off-peak periods
"Paris is always a good idea" – said every cliched Instagram caption ever.
Sorry to burst your wanderlusty bubble, but Paris is not always a good idea… certainly not in peak season.
So when is the best time to visit Paris?
My trips have all been spaced out over a few different months, so I feel like I can answer this quite well.
April in Paris (when all the flowers begin to bloom!) is simply magical
May-June offer the plus of decent weather minus the sweltering summer crowds
December is also fun, because (as I'm sure you can expect), Paris at Christmas time is amazing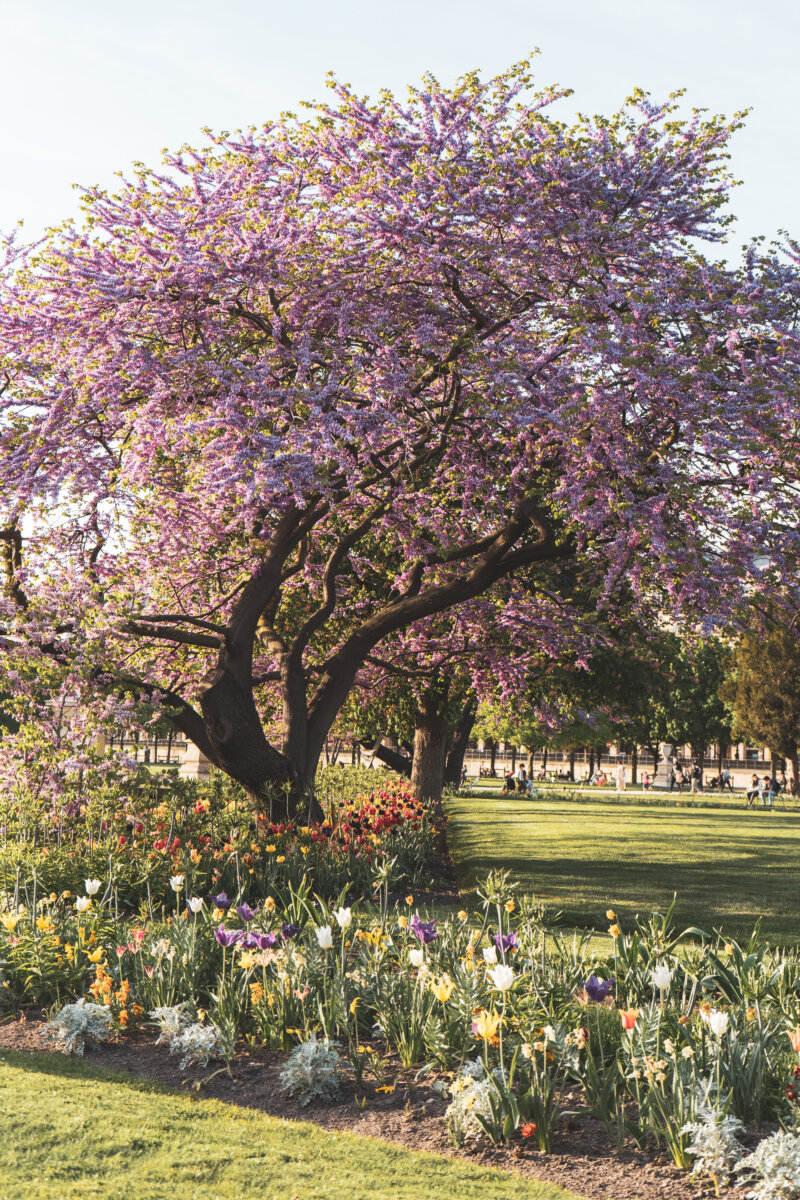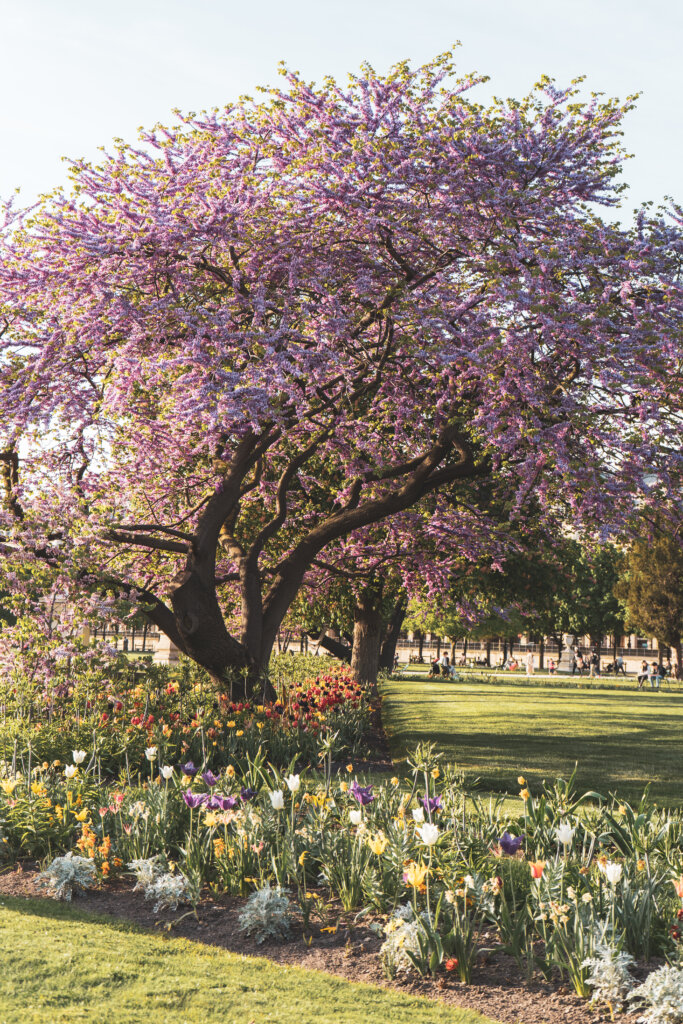 Know the double edged sword of Paris in August
Visiting Paris in August is a controversial topic.
For some, it's the best time to visit because the locals are all vacationing out of town and it's a lot "quieter".
For others, it's the worst time to visit because it's ridiculously hot, the city is only full of tourists, and most things are randomly closed.
So, keep those pros and cons in mind to better evaluate if Paris in August is a good idea for you.
I've been in Paris during August, and while it's fine if you don't intend on hitting up all the touristy sights, it doesn't make a great month for sightseeing/being a cheesy tourist, mainly because you'll be standing in queues all day long.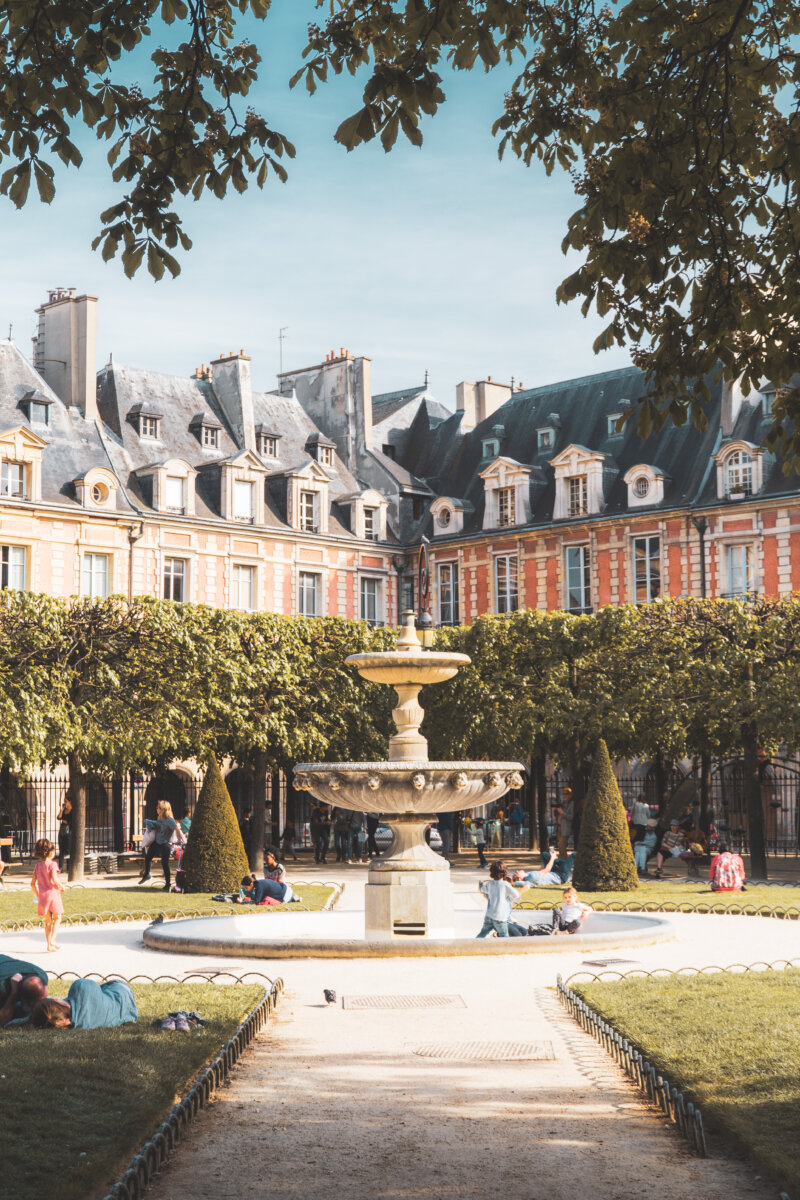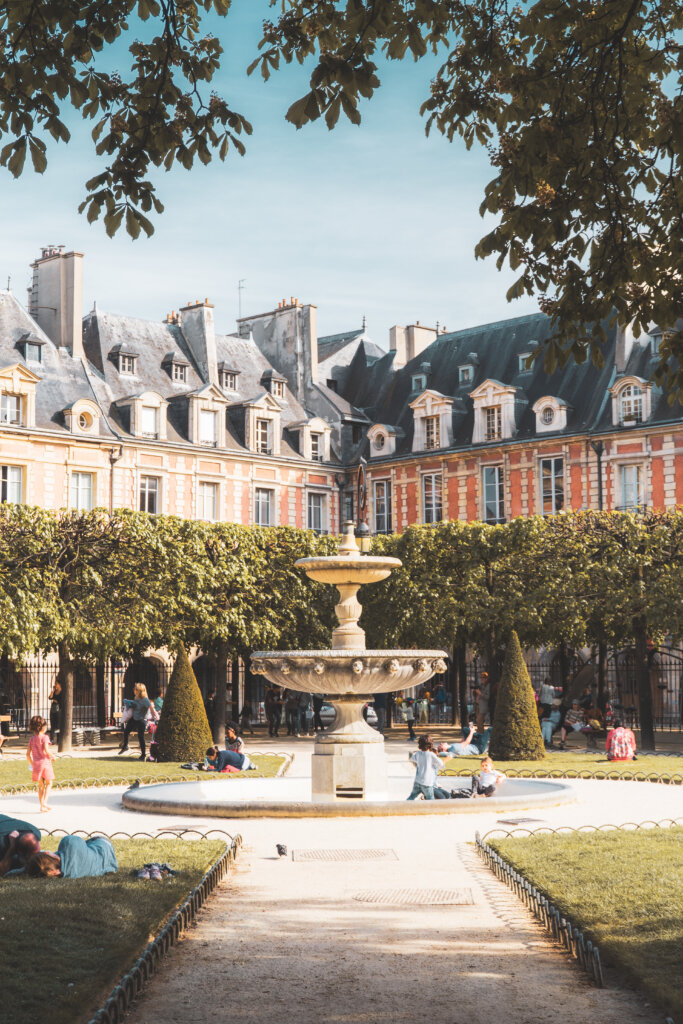 Consider spending Christmas in Paris
I already mentioned this Paris tip above, but it's worth repeating.
While people often think of visiting Paris in the summer, I have to say my winter trips have been among my favourite.
Christmas in Paris is its own special brand of magical, with wonderful decor and Christmas markets around the city, and a fraction of the usual summer crowds.
I highly recommend a winter trip in Paris if you want to beat the worst of the crowds… and photograph fun glittery bears!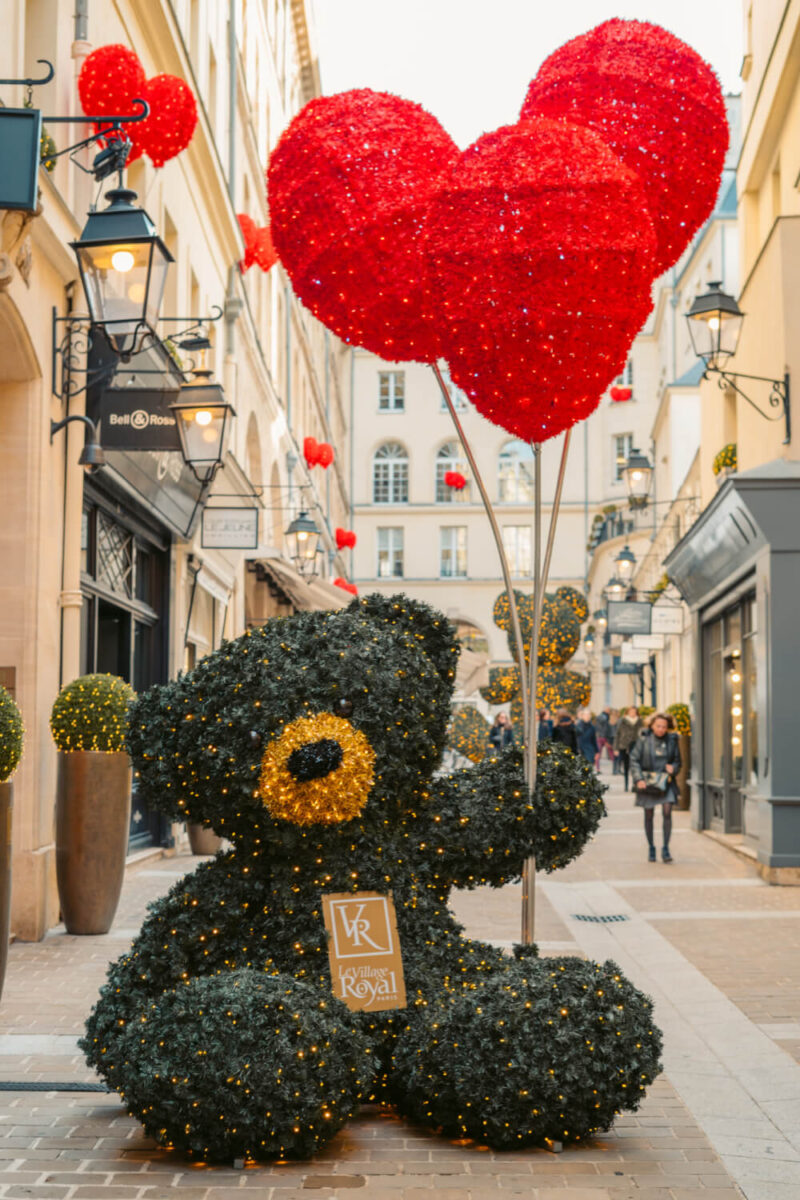 Going to Paris for shopping? Go for Les Soldes
Sales in France are serious state business, in that they are heavily regulated and only permitted twice a year – once in the summer (June), and once in the winter (January).
So, if you're hoping to find luxury brands (or any brands really) in Paris at a steep discount, you should organize your visit for one of these times. Learn more here.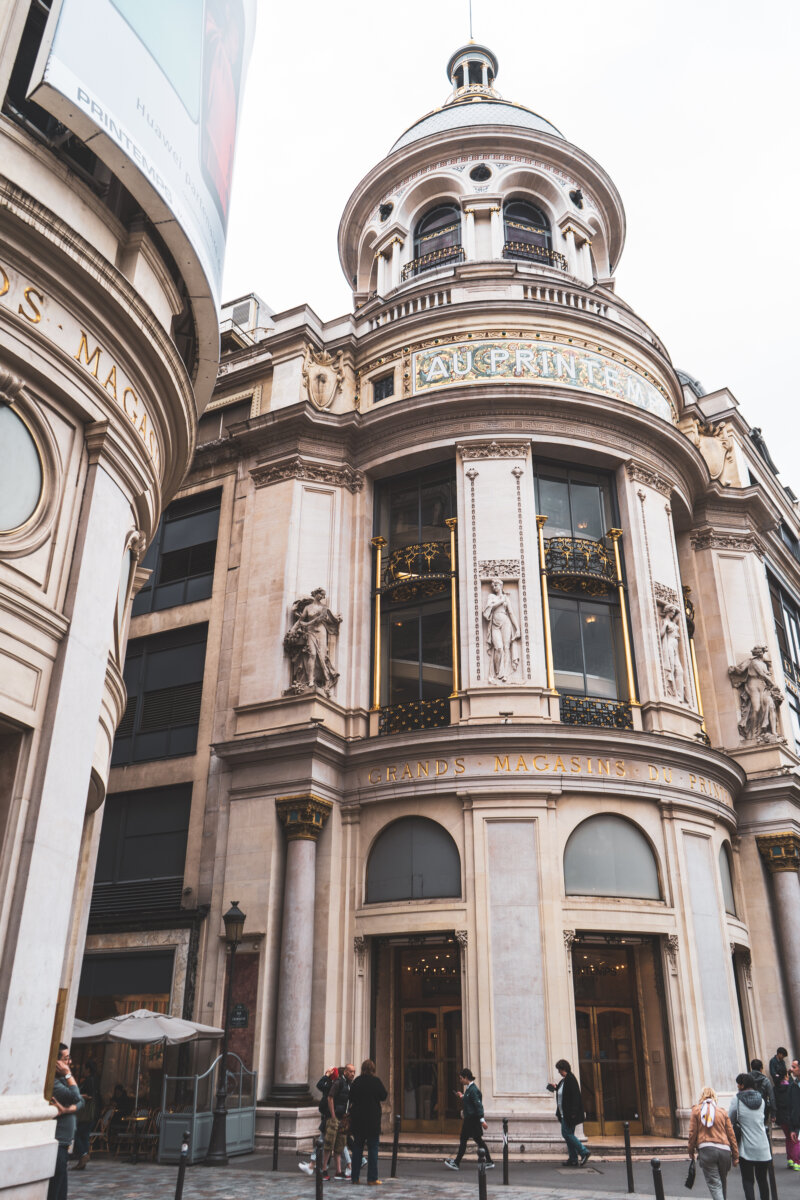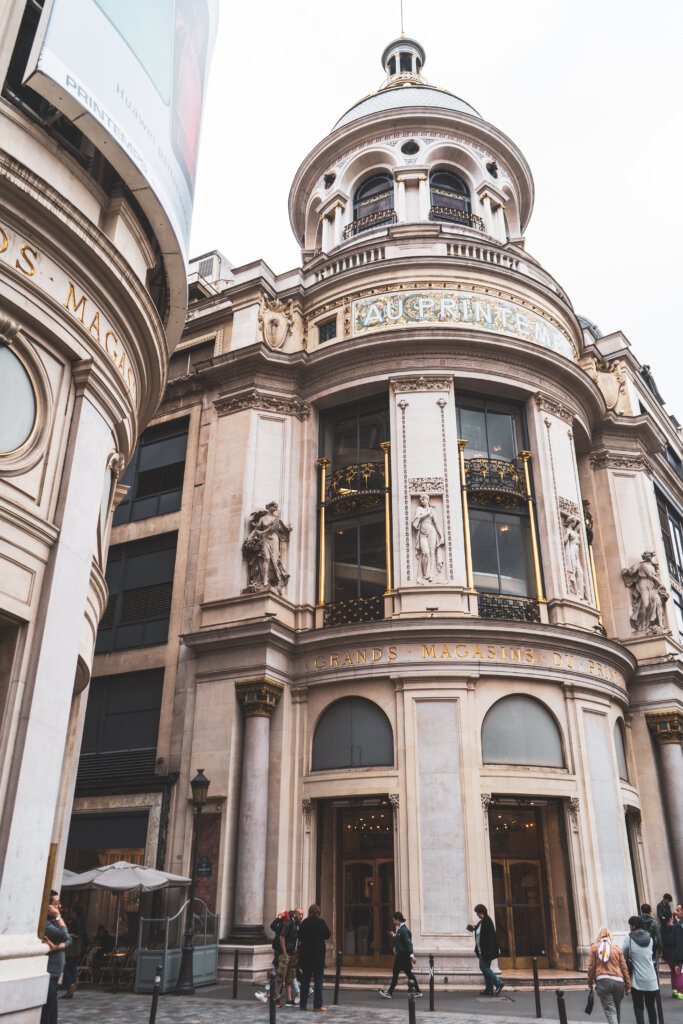 Plan your trip for minimum four days
If you are currently planning your first visit to Paris, I strongly encourage you to plan for at least 4 days in the city.
This isn't to say that you can't enjoy just a day or a weekend in Paris, but four days is really a minimum for getting a feel for the city. settling in a bit, and actually enjoying your time vs. sightseeing your face off until you cry.
The bonus of adding more days is of course you can also include some quintessential day trips like to Disneyland Paris or Versailles.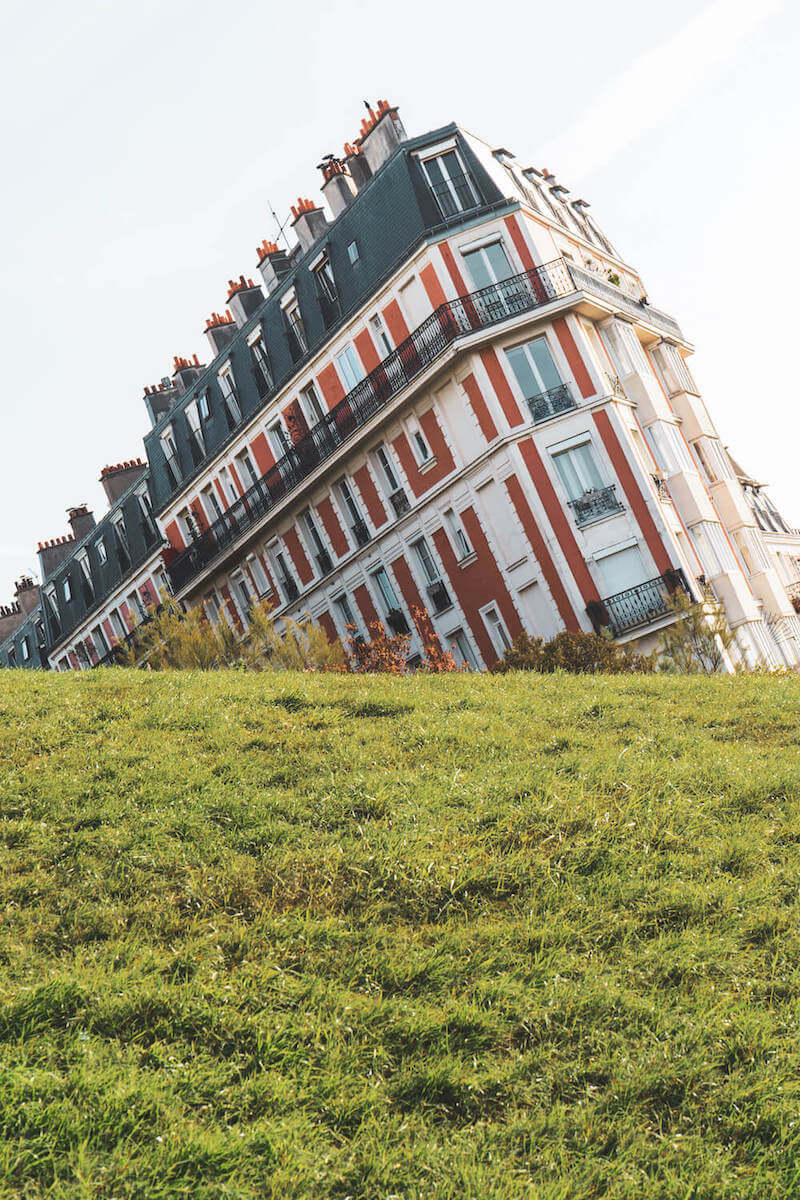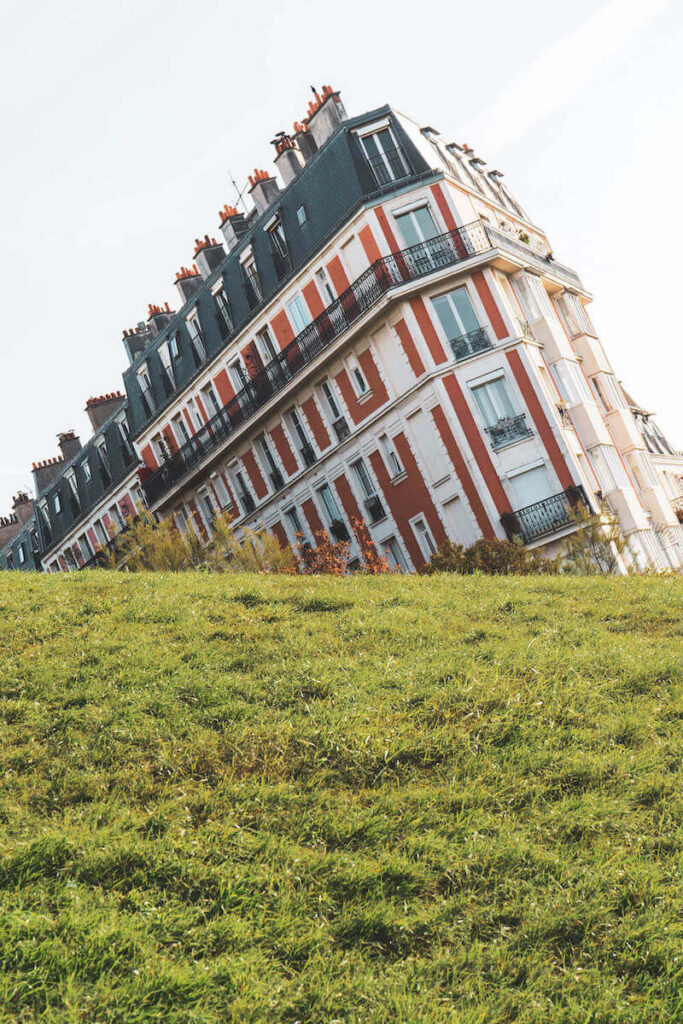 Book your hotel well in advance
Paris is one of the busiest tourist cities in the world, which means the best hotels (and most affordable ones) book up quickly, especially during peak season.
The solution to this Parisian hotel hunger games? Book early!
I know that committing to a hotel early can feel scary, but if you use Booking.com, you can find hundreds of hotels that offer free reservations and free cancellations up until a certain point.
This means you can get some peace of mind without putting down any deposits or committing to a hard date until much later.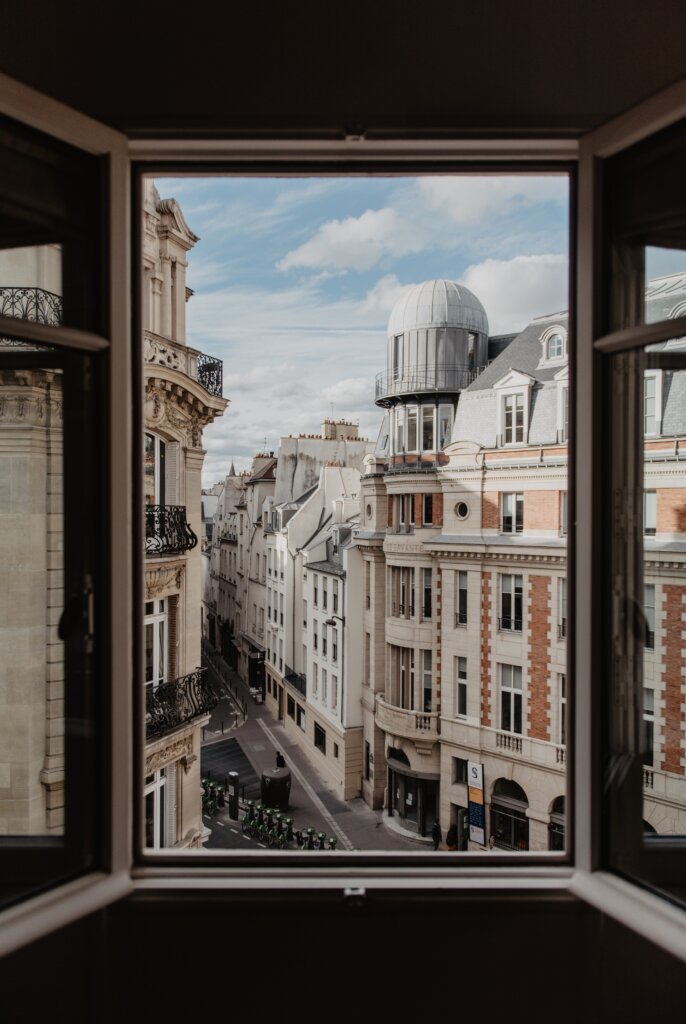 Understand the the hotel star system in Europe is different from North America
I grew up with a North American hotel system where 5* meant opulent luxury and 1* meant run for the hills, unless you want to lose your kidneys.
The star ratings in Europe are a bit different. Instead of stars coinciding to quality on a scale of 1-5, the stars actually correspond to a checklist of amenities/requirements.
SO, you can get some amazing 2* properties that are simply smaller and don't really have things like a spa or pool, while also finding crappy 4 or 5* properties that have that rating just because they're big and have amenities like fitness centers and valets (i.e. many chains).
Learn more about the criteria for star ratings here.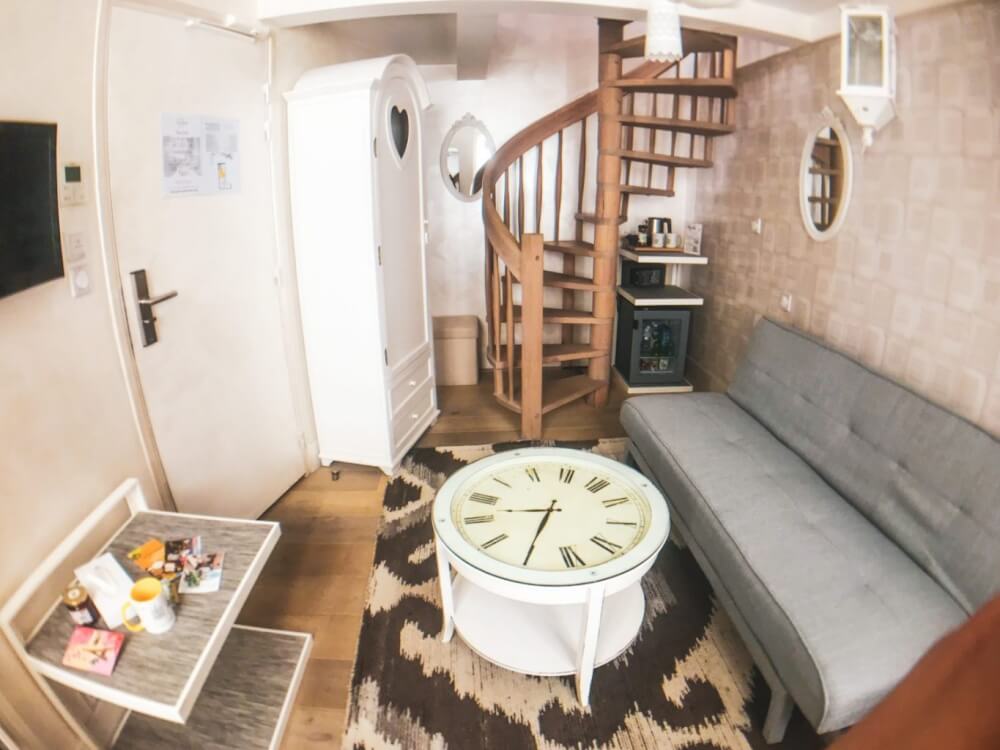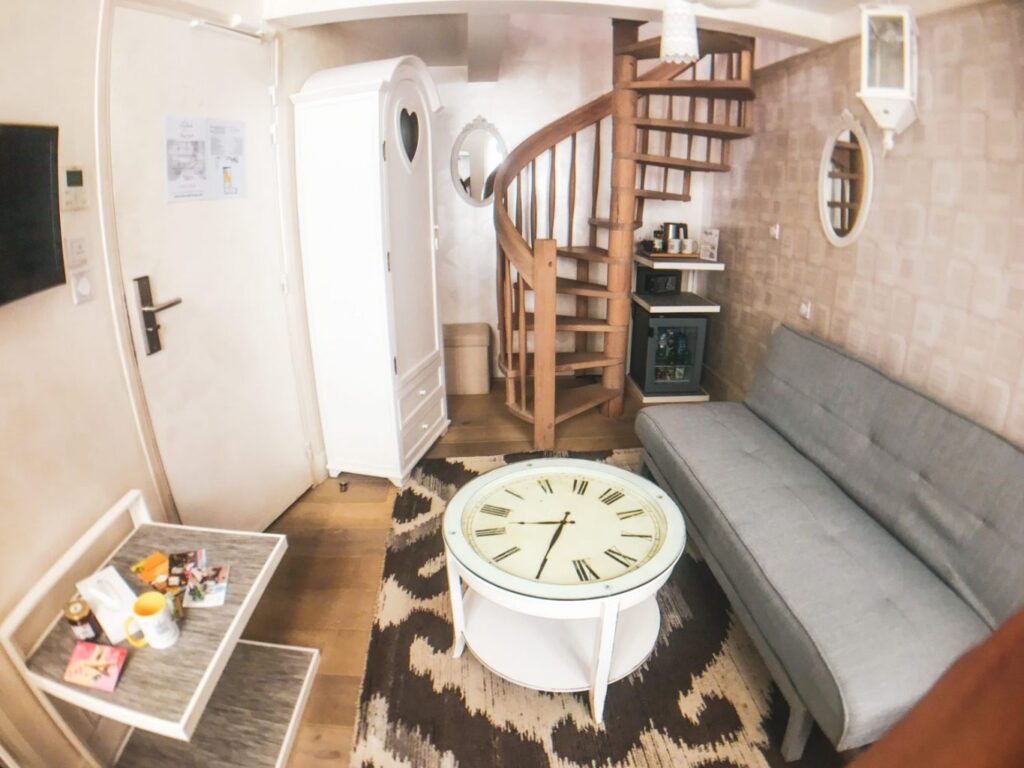 Book a central hotel
Parisian hotels can be expensive, so I understand the temptation of a hotel that seems just slightly outside of the center at a fraction of the cost.
But trust me – if you are visiting Paris for the first time, you'll want somewhere central.
And by central, I mean you want a hotel close-ish to the sights you plan to visit. When you're on vacation, time very much is money, and the last thing you want is to spend half your time in the Metro trying to escape the labryinth of stairs and judgey locals.
The extra splurge is worth it! Trust me!
Avoid airport hotels
This is similar to the point above, but PLEASE, unless you are flying into Paris late and need a place to crash or are flying out early in the morning, do not book a stay at any Paris airport hotels.
Again, I know it's tempting because they always show up as the cheapest option, but there's a reason for that.
Paris airport hotels are literally nowhere near the main sights in Paris, unless you consider the scenic motorway a main sight. Getting to and from the city center is also very expensive, so all those savings will be negated anyway.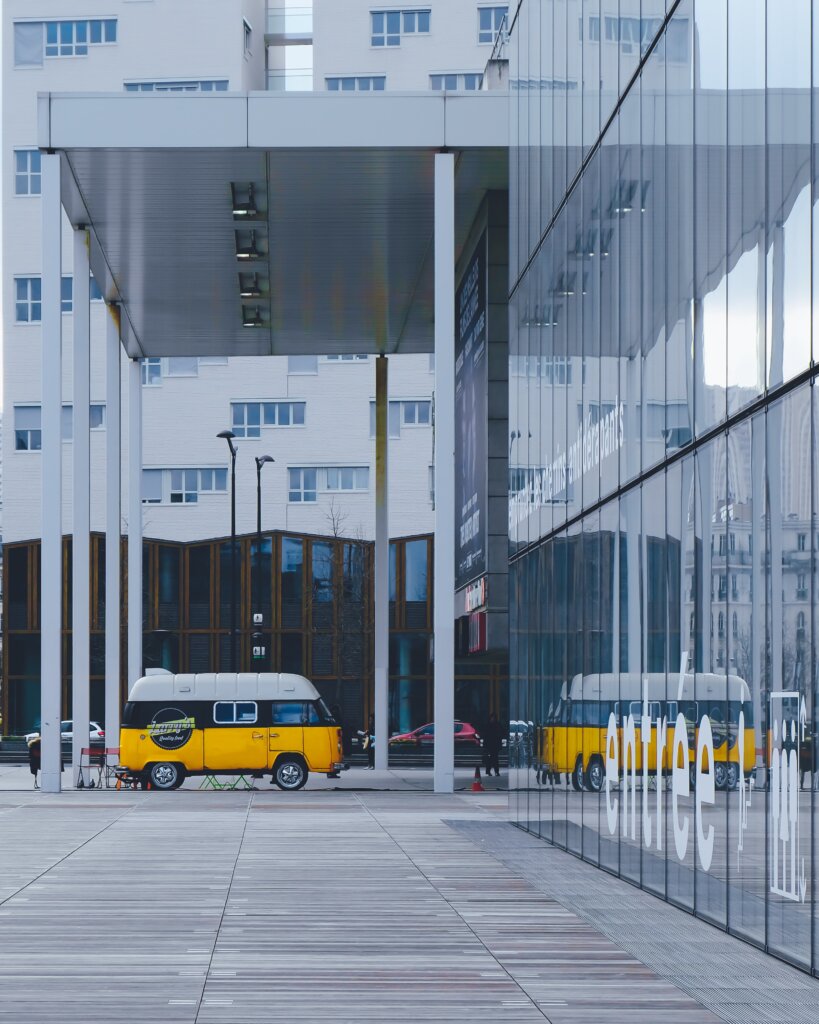 Consider AirBNB, but be careful when booking
AirBNB is often recommended as an affordable accommodation option in Paris, and I have used it a few times, but there are some things you should know before you book one.
I've spent an embarrassing amount of time looking at AirBNBs in Paris, so I've developed keen eye for "AirBNB traps".
Besides the usual must-knows before booking an AirBNB like vetting reviews, here are some AirBNB considerations to look out for in Paris specifcially:
Photos of landmarks instead of the actual properties: often rental apartments will lure you in with a glittering photo of the Eiffel Tower, and include only 1-2 photos of the actual apartment. Make sure you click through to see ALL the photos so you have a better idea of what the space actually looks like. "Eiffel Tower view" can sometimes mean you see the tip from your bathroom window!
Apartments with no elevator: It's very common in Paris for older, more historical buildings to not have an elevator at all. This can spell disaster if you're travelling with big bags and need to get up 7 flights of stairs on your own (true story!). So, double check in the listing and in reviews that there is an elevator if you need one.
Apartments with a shared bathroom: Many of the cheaper AirBNB rentals in Paris are "chambres de bonne", which are top floor micro-studios once used as accommodation for maids/household workers. Most of these won't have a toilet in the apartment, but rather a shared one at the end of the hall. Often this detail will be buried in the listing though.
Generally speaking, if it sounds too good to be true, it probably is.
Make sure you read lots of reviews (not just the first page) as sometimes it can take a while to discover some of the more important potential issues like noisy neighbours, noisy neighbourhood, etc.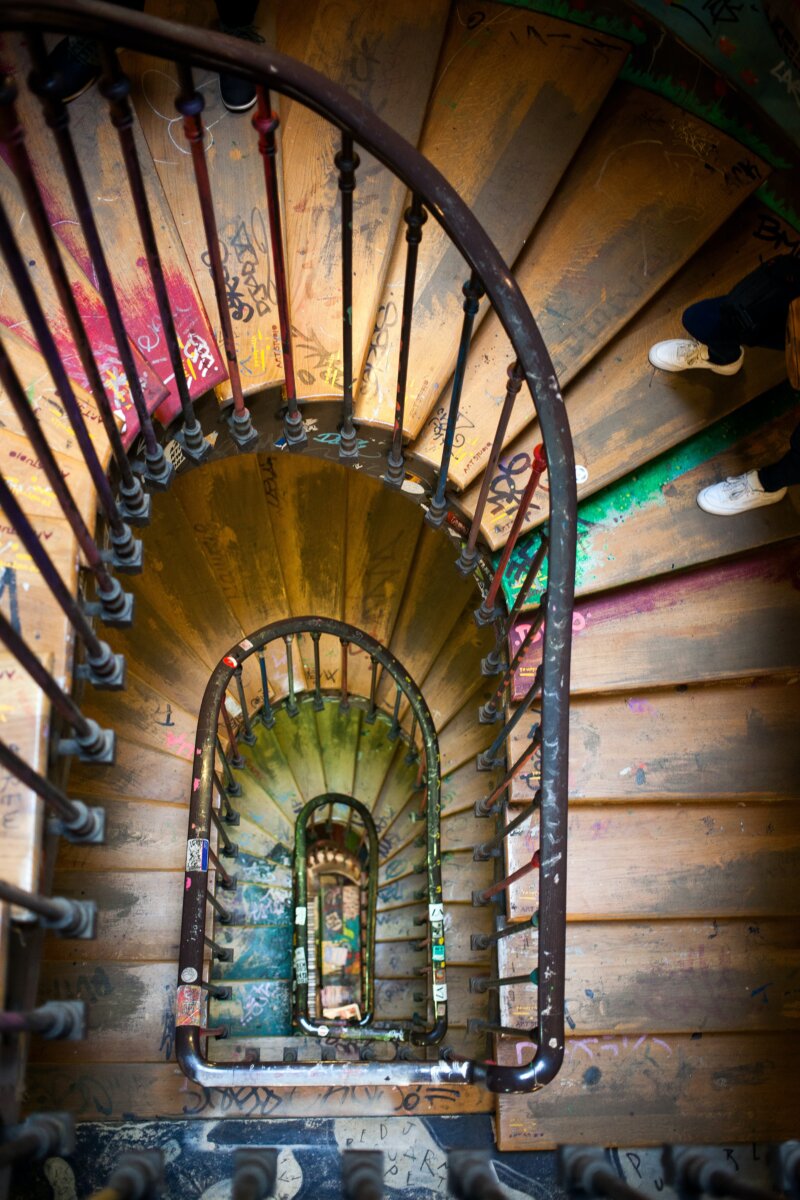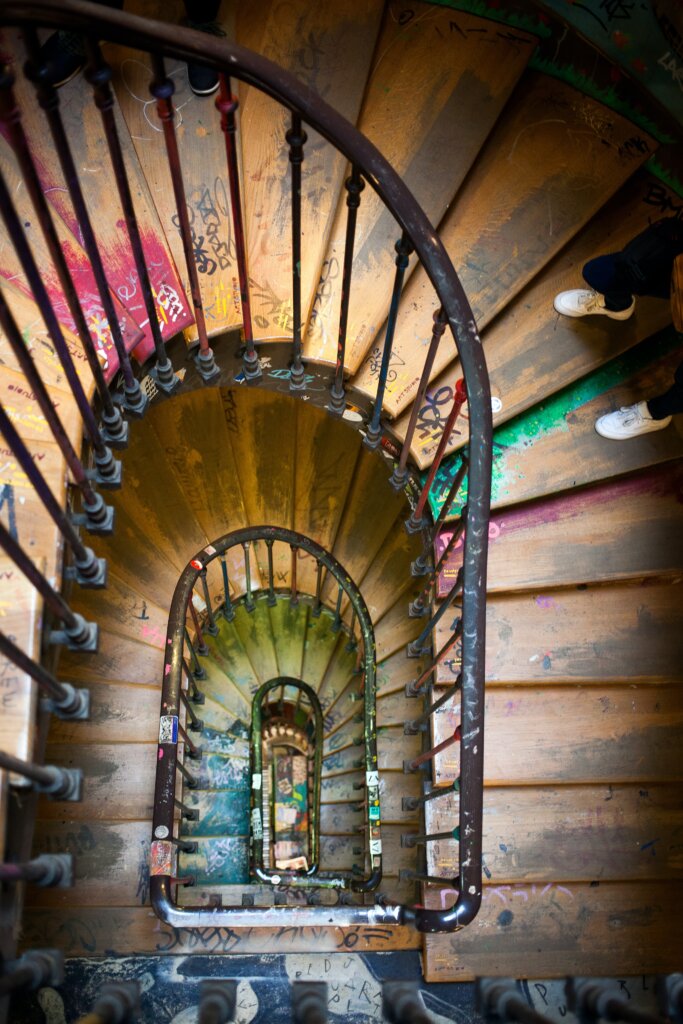 Know your arrondissements
Paris is split into 20 "arrondissements" which are administrative areas that each have their own town hall, and elected officials.
Locals will refer to arrondissements by number, e.g. "I live in the 18th", and most travel guides will also tell you where things are based on their arrondissement.
For first-time visitors, tying to grasp the difference between these arrondissements can be difficult (I still struggle after so many visits!) but it's not really that important for you to know all of them by heart.
Think of arrondissements as an organizational tool, and keep in mind that an arrondissement can encompass multiple historical neighbourhoods, so you shouldn't get them confused.
For example, many visitors to Paris want to stay in Montmartre for their first visit, which is located in the 18th arrondissement.
However, the 18th also includes other neighbourhoods like Goutte d'Or and Pigalle which are aesthetically VERY different from Montmartre. So, in this case, simply booking a hotel in the 18th wouldn't serve your desired purpose without doing a bit more research. You feel me?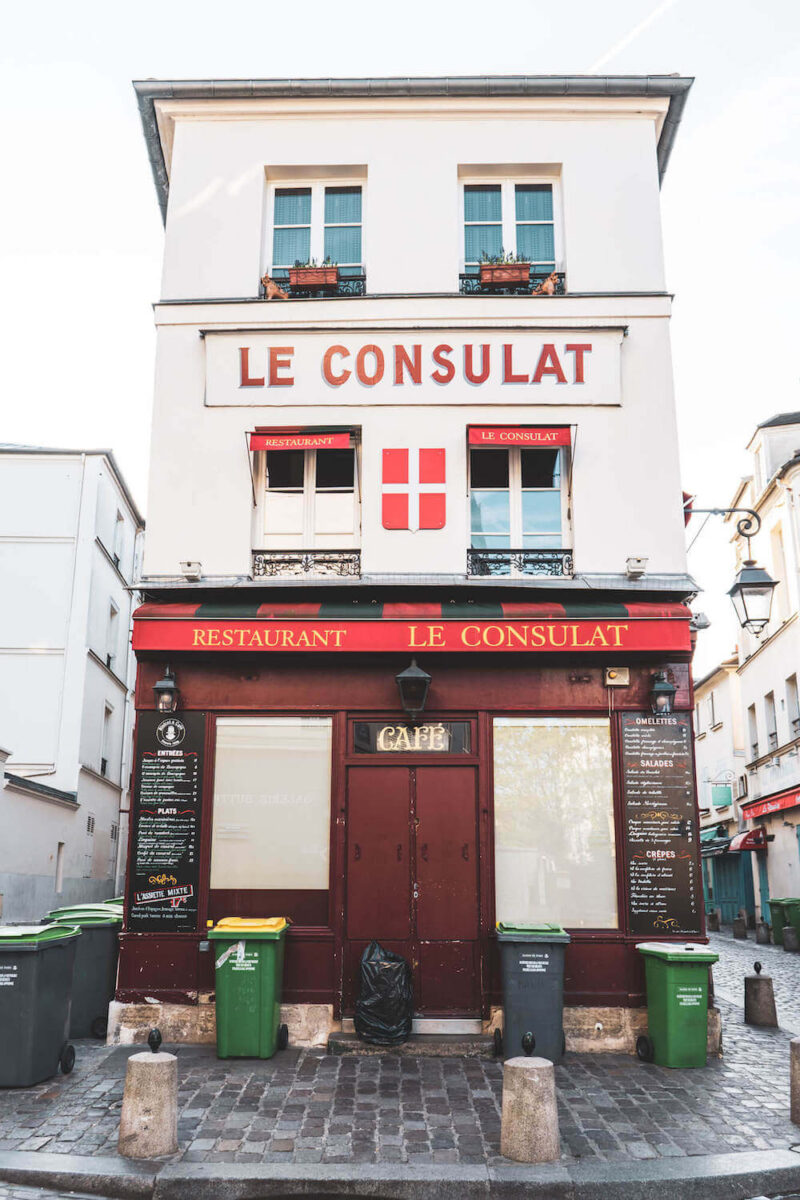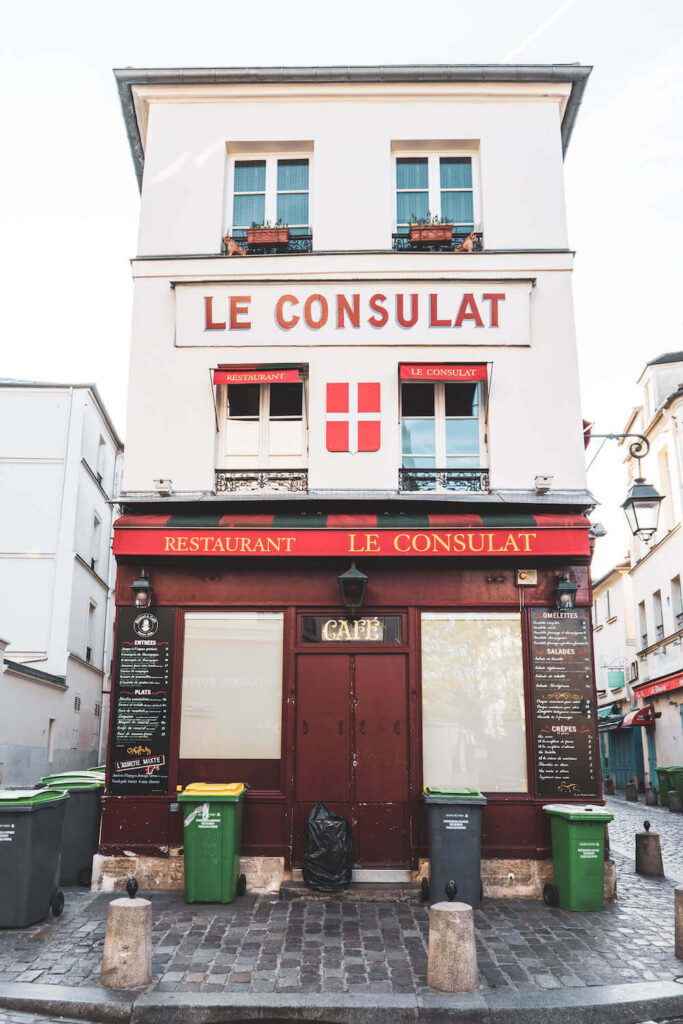 As a tourist in Paris, you should definitely aim to stay in one of the 20 central arrondissements, but which one is best depends on a lot of different factors.
If your main goal is sightseeing, then your pick is easy! In 2020, Arrondissements 1-4 were combined into a single administrative area known as "Paris Central".
As a tourist, this is as central as it gets, and where you'll find some of Paris' top attractions like the Louvre, Tuileries Garden, Centre Pompidou, Notre Dame, etc.
The downside is these are touristy neighbourhoods and you won't find as much "local life" as in other neighbourhoods, especially in the evening.
Want to learn more about arrondissements? Read this guide from my friend Sophie, who lives in Paris!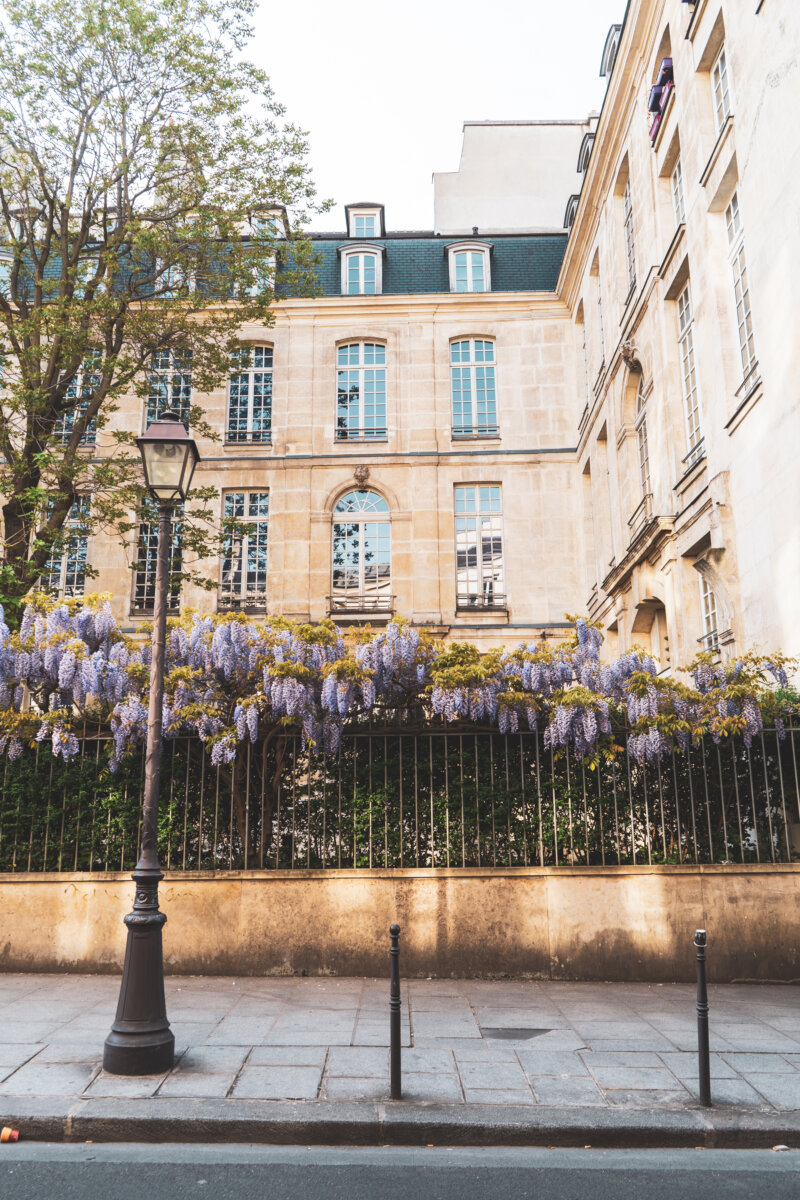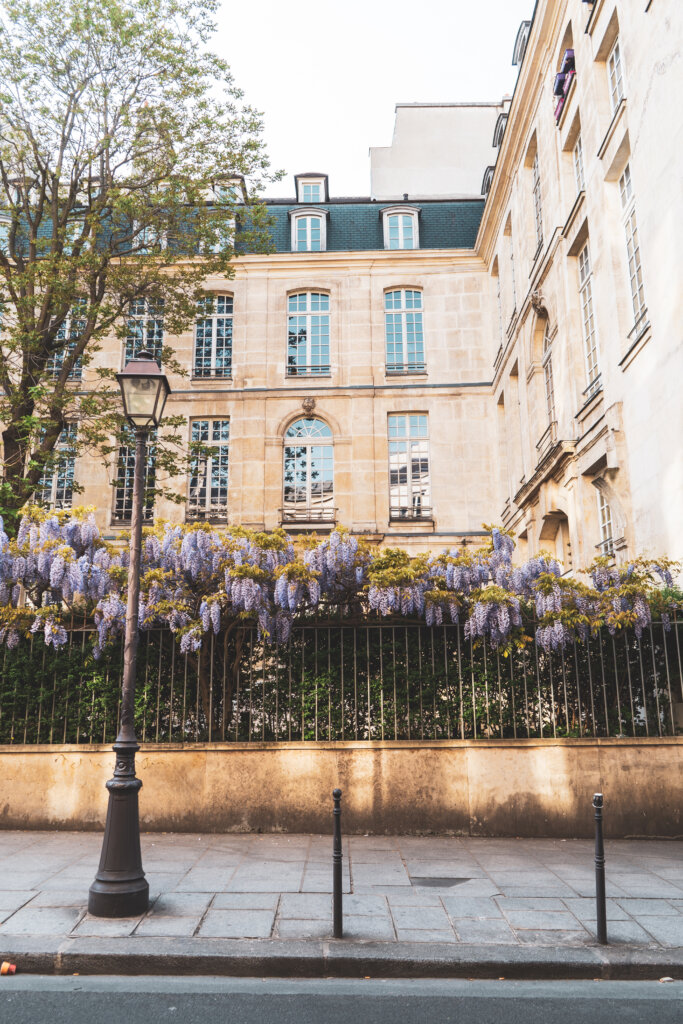 Don't forget travel insurance
I personally believe that travel insurance is a must for every trip, but especially in tourist cities like Paris, where pickpockets are a dime a dozen.
Trust me, when visiting a dream destination like Paris, the peace of mind is worth the cost!
Click here to check rates with WorldNomads.
Download helpful apps before you go
There are plenty of apps you can download that will make your time in Paris 100x easier.
I've previously written a full list of the best travel apps for Europe so be sure to check that out, but here are some especially good options for Paris:
Moovit: Great for public transport
Google Translate: A must for translating signs/menus on the go. Download French to be used offline if you can
The Fork: Great for making restaurant reservations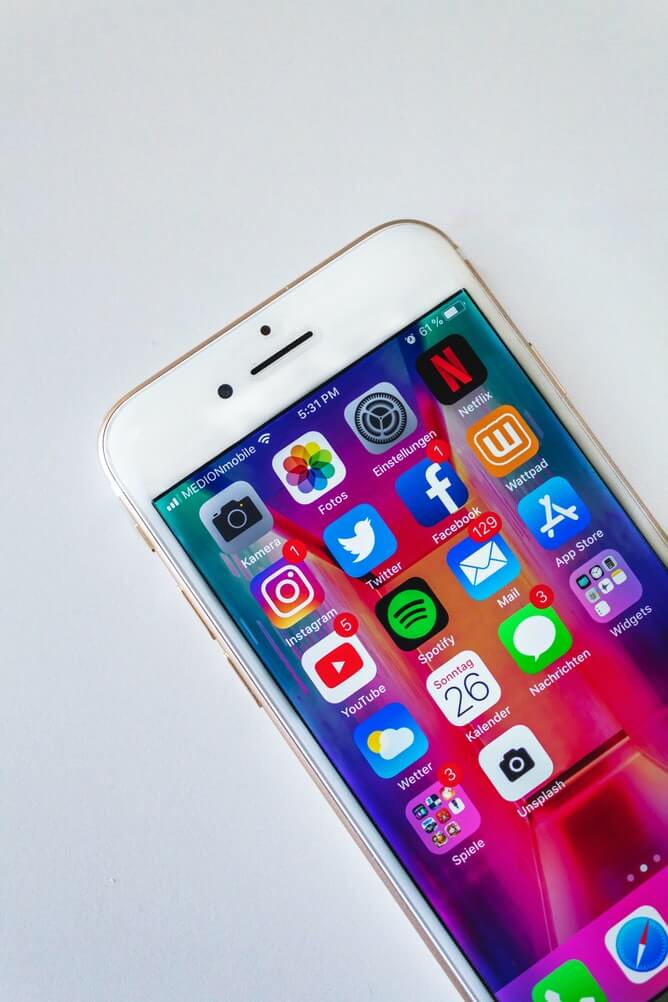 Use Omio to search transport options if you're headed elsewhere
If Paris isn't your only destination on the trip, then another helpful app/website to know is Omio, which allows you to compare and book transport options from Point A to Point B.
That means you can compare buses, trains and flights for your route at the same time, making it much easier to find the best option in terms of cost, speed, etc.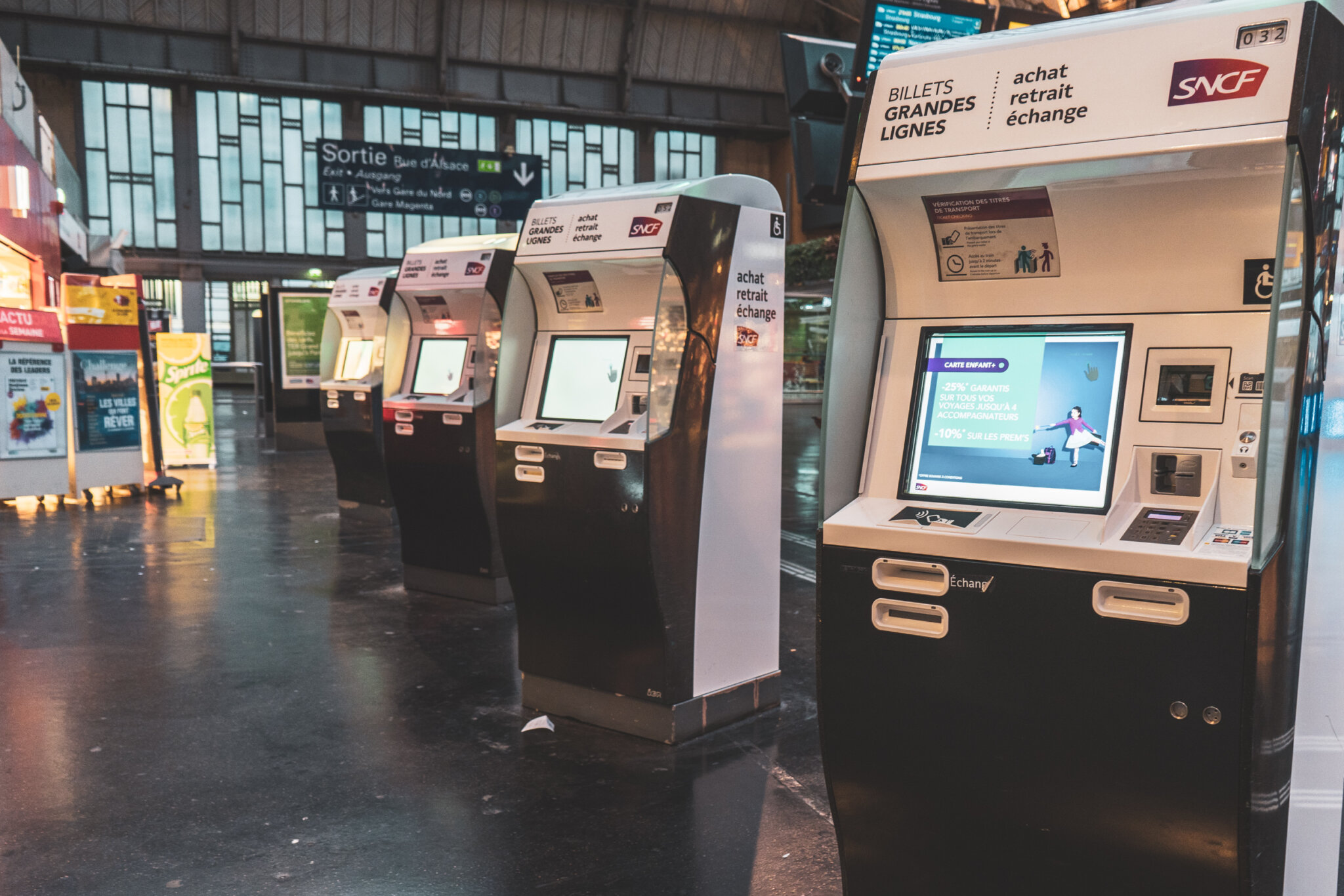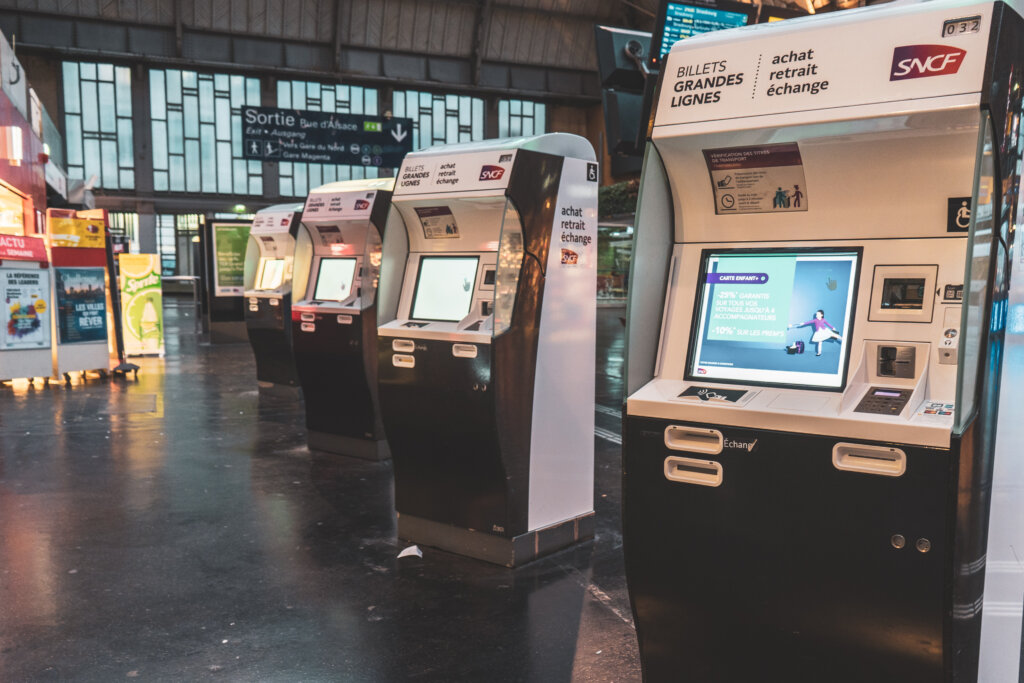 Paris Metro Tips and General Tricks for Transport/Getting Around
Getting around Paris can be really daunting for a first-time visitor, so here are all my best Paris tips related to getting around:
Use public transport to save a lot of money
Public transport in Paris is cheap, convenient and relatively easy to use once you get the hang of it.
Beyond (maybe) getting a taxi to/from the airport to deal with your bags, you should take advantage of public transportation as much as possible during your trip.
Not only is it a great way to save money, it gives you a taste of what Paris is like for the millions of people who call it home (crowds and BO included!)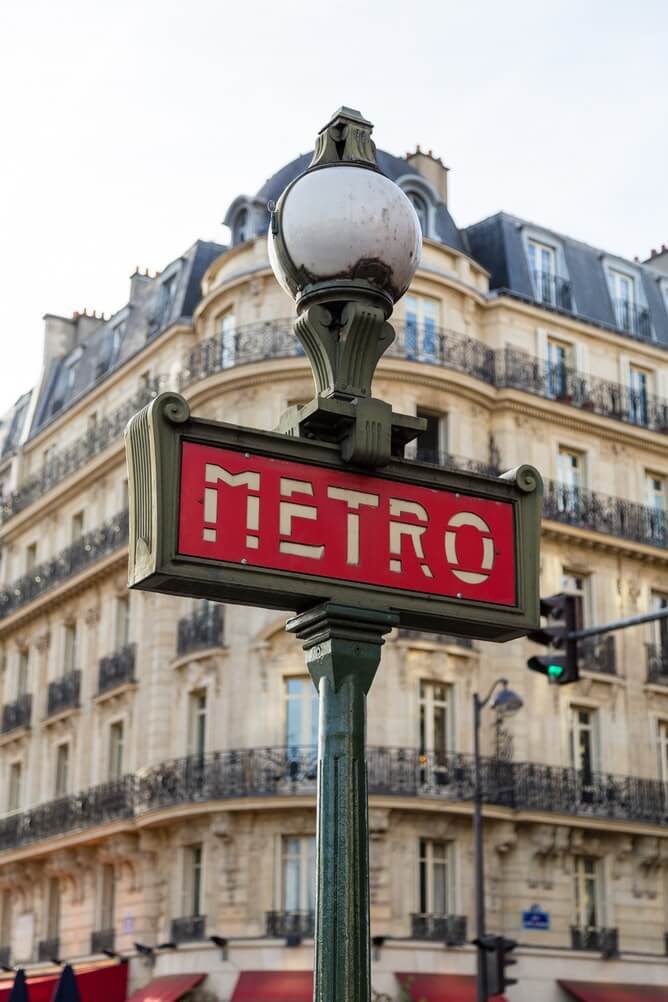 But don't use the Metro if you're carrying a lot of luggage
The Metro is full of stairs and confusing twists/turns… not to mention pickpockets in busy areas who are looking for easy targets like new arrivals.
If it's your first time in Paris, and ESPECIALLY if you are carrying bags that are more than you can comfortably carry, avoid the Metro and save it for when you're travelling light.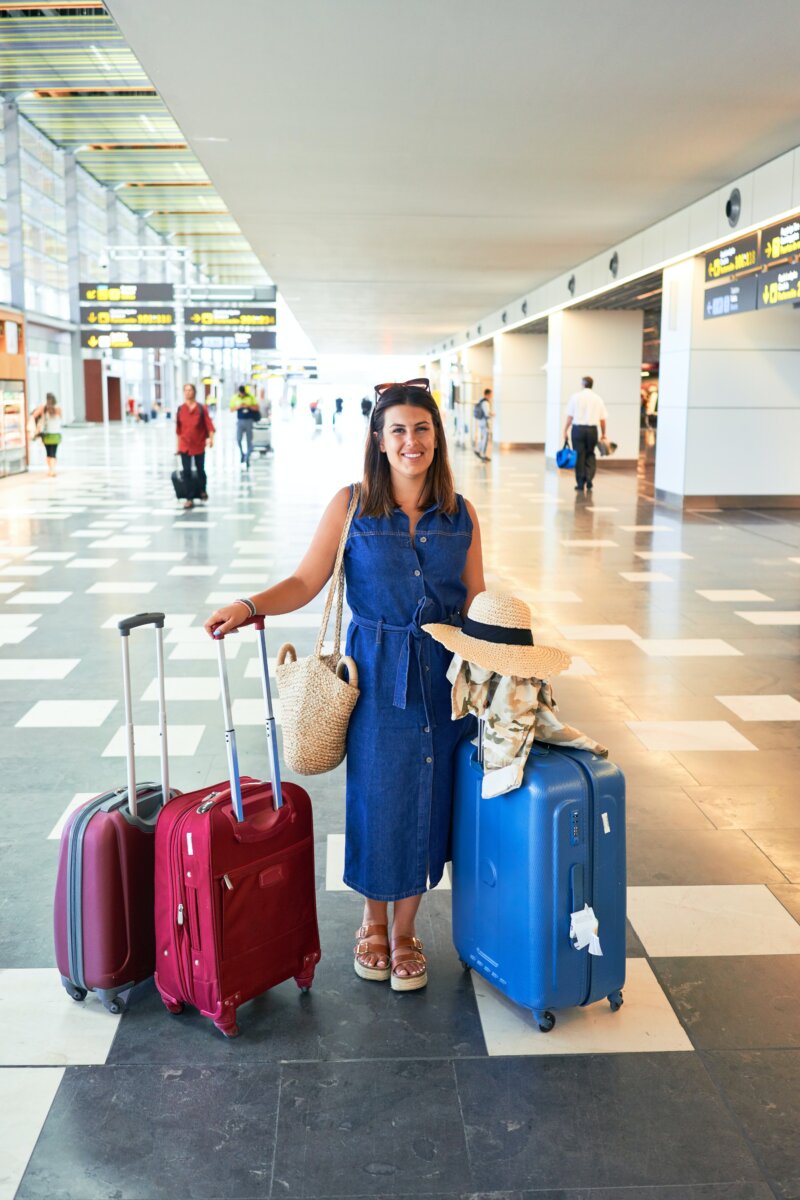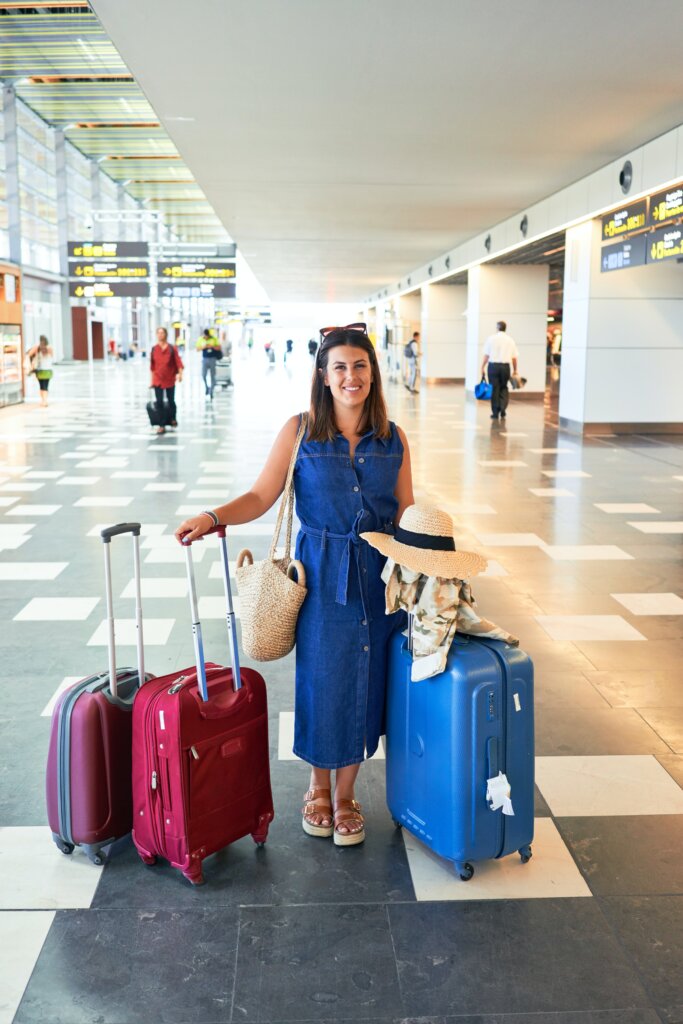 Book an airport transfer for minimal stress
Paris is one of the few cities in the world where I'd highly highly recommend booking an airport transfer, especially if you're travelling with a lot of bags, a big group, or as a family.
Navigating Paris' public transport is a daunting endeavour when you're new to the city, and are carrying LOTS of bags.
Paris' train stations and transport hubs are also prime hang out spots for pickpockets and scam artists, who usually target those who have clearly just arrived… so if you want to get your vacation started on the right foot, then definitely pre-book an airport transfer.
For the least stressful option, consider booking a Welcome Pickups transfer, which is a set price, includes an English speaking driver who monitors your flight arrival time, and offers free cancellations up until 24 hours before.
This saves you the hassle of trying to get a taxi/navigate the language barriers to do so.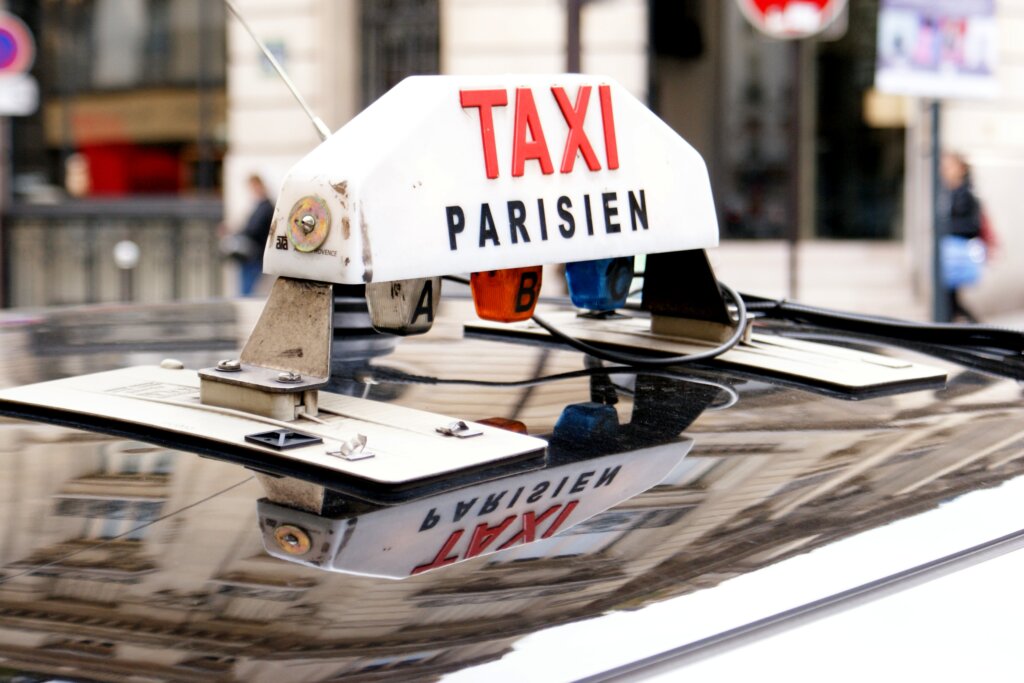 Do NOT rent a car
Rental cars in Paris are more stress than they're worth.
Trust me: public transport and Ubers can take you anywhere you need to go.
The only time when I can imagine a rental car might come in handy is if you are planning for a long road trip after, or intend to do day tips not easily accessible by public transport.
In these cases, I'd recommend booking your car only for the dates when you'll be outside Paris, because within the city, you really won't need it.
Thinking about renting a car for your trip? Here is my guide on how much a rental car costs in Europe.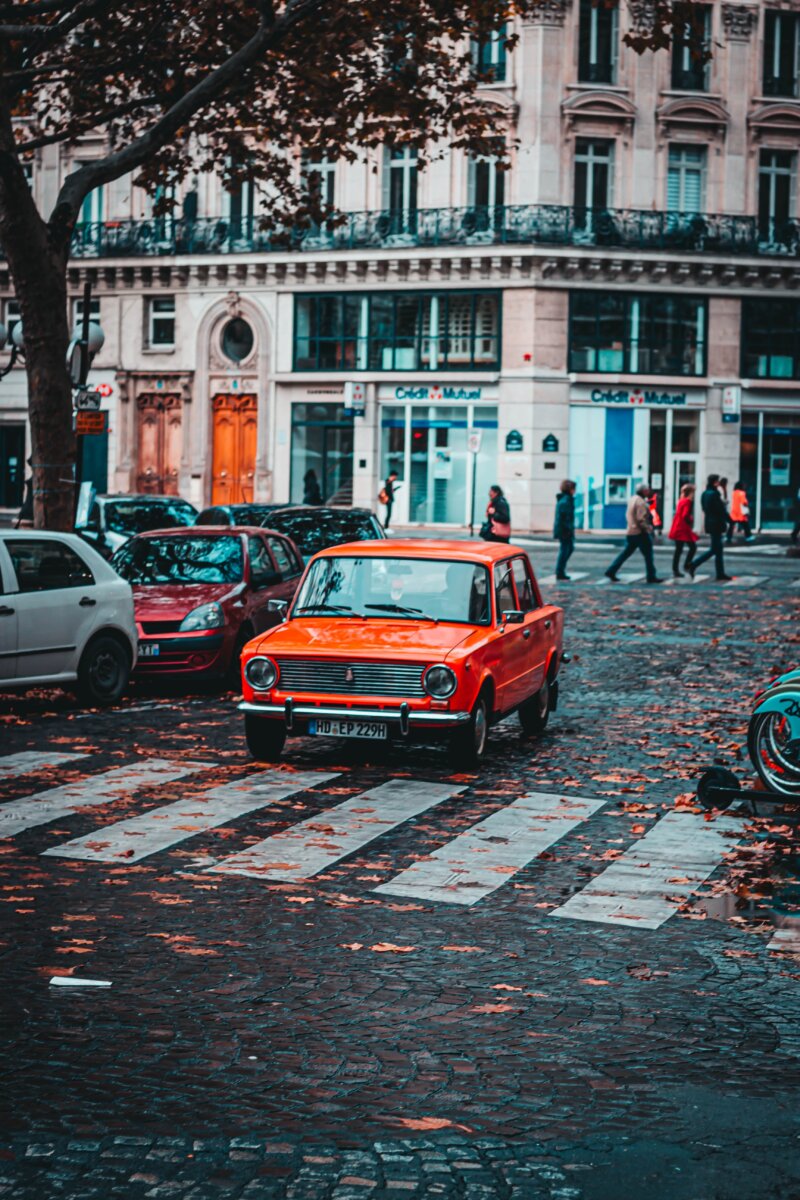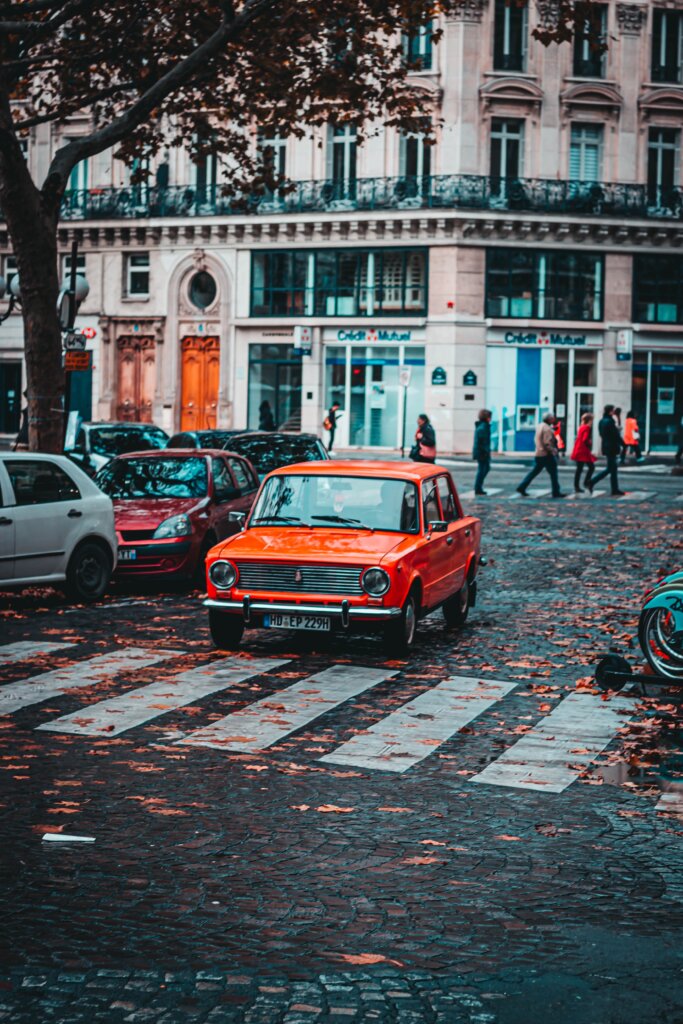 Buy Metro Tickets in packs of 10
I love saving money on my travels, so you best believe I know the best ways to save money on public transport in Paris!
One of the biggest mistakes that people make is they buy transit tickets separately, but here's a trick: you can actually buy tickets in packets of ten and save a LOT of money.
The best thing is, you can split them with others (you literally just get ten single tickets) so if you are travelling with friends or just plan to use the Metro ten times, this is a smart money-saving option.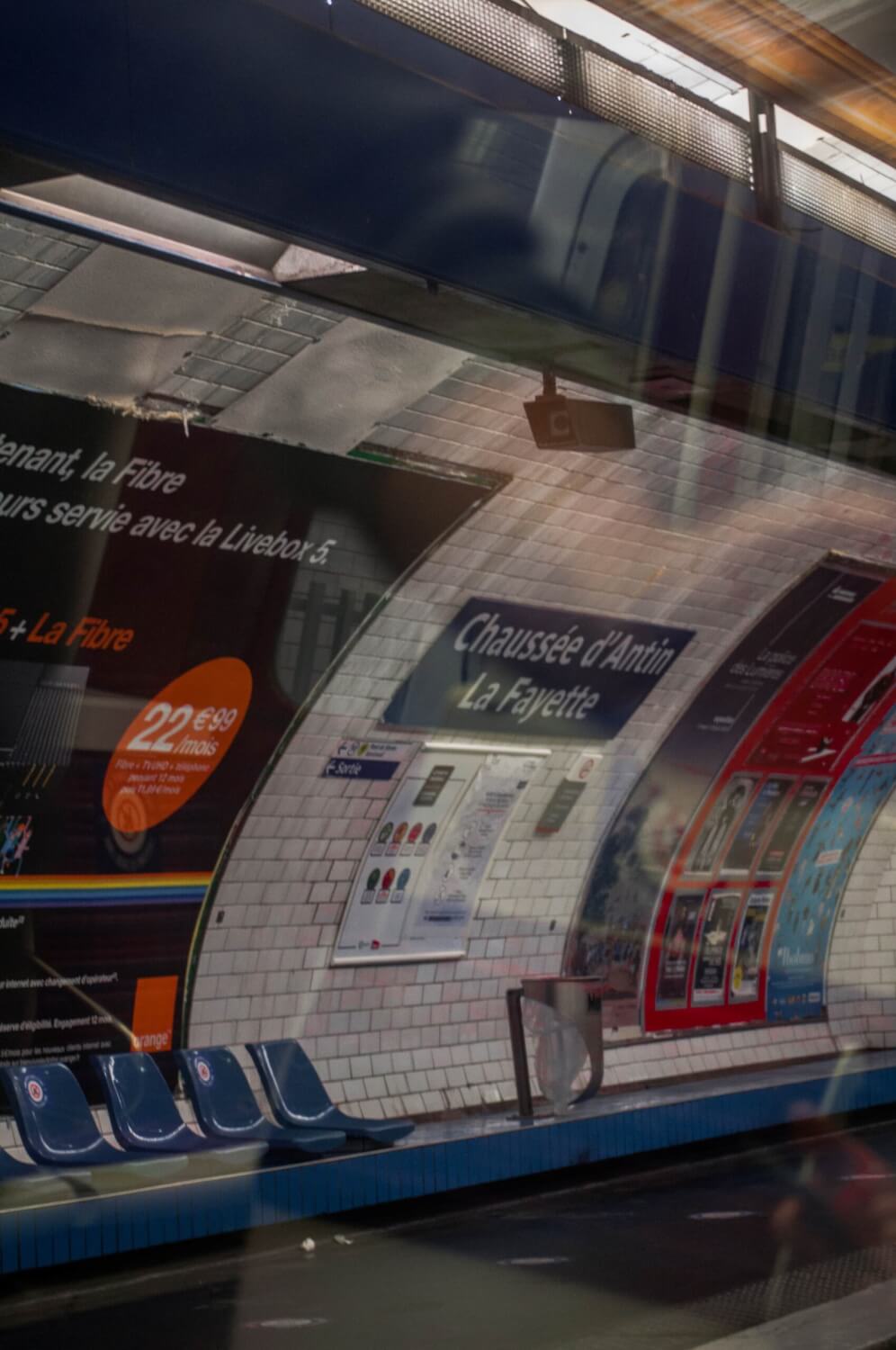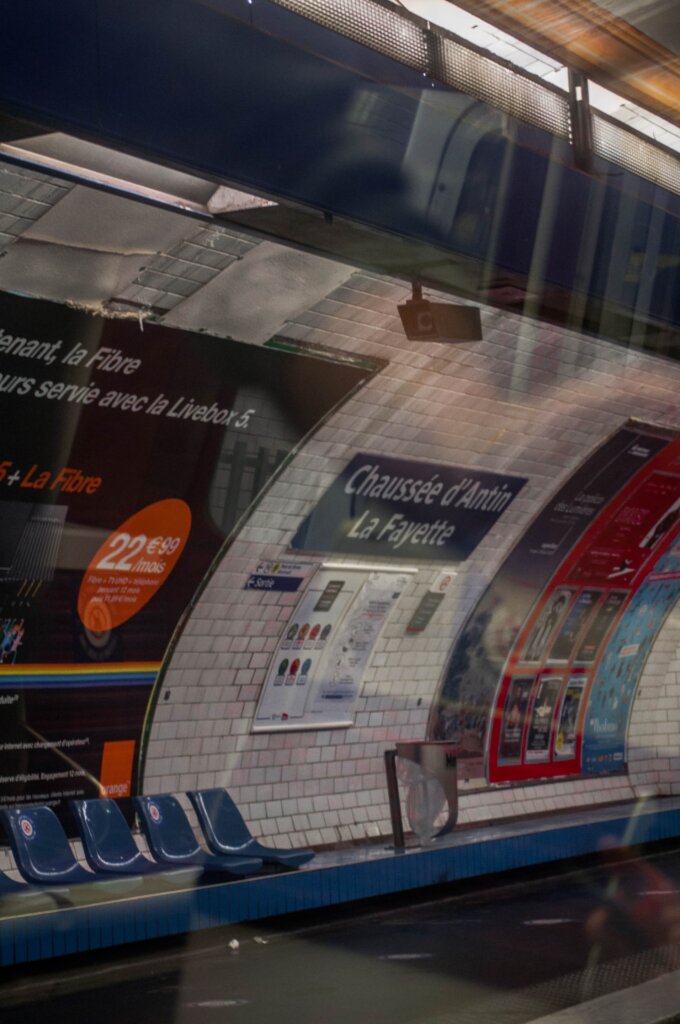 Hold onto your tickets throughout your ride
Another key Paris travel tip that many visitors don't know? When using the Metro in Paris, hang on to your single tickets throughout the ride and make sure you don't get them mixed up.
This is important because sometimes they will have ticket controls where they scan your ticket to make sure it's valid (to catch gate hoppers and those abusing the system). They sometimes even have these controls at the top of the escalator after your ride is finished… so make sure you don't throw them away!
BONUS TIP: I would also throw away or fold up old tickets once they're used so you don't get confused!
Metro car really congested? Move in
Often the most congested parts of a Metro car are right at the entrance and you'll find a lot more breathing room if you move in a little.
Usually that accordion space between Metro cars is a relatively airy place to stand (so long as your balance is good!)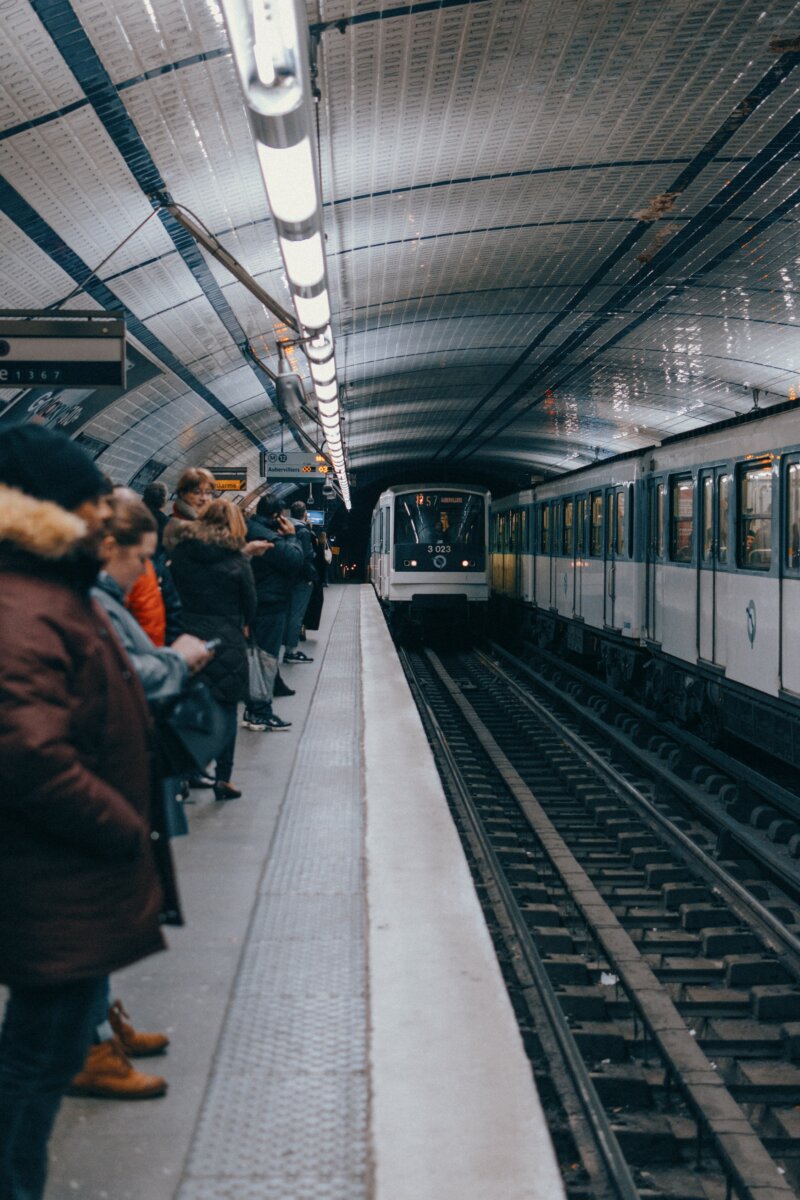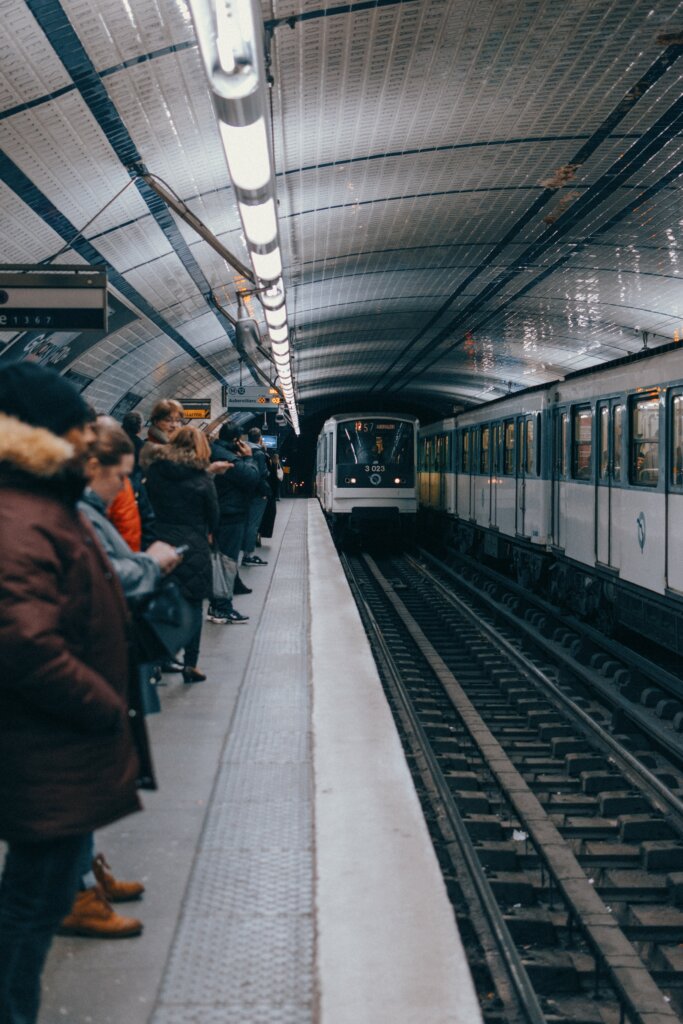 Let everyone exit the Metro car before you get in
This is mainly just a Paris etiquette tip, but there's no surer way to get Parisians to hate you than when you barge into the Metro before everyone has had a chance to get out.
Avoid the Metro in Rush Hour
Peak periods for the Parisian Metro are 8-10am and 5-7pm – pretty much any time people are rushing to or from work.
Unless you enjoy packing into a hot Metro Car with every surface of your body touching every surface of everyone else's body, don't do it. It's not worth it!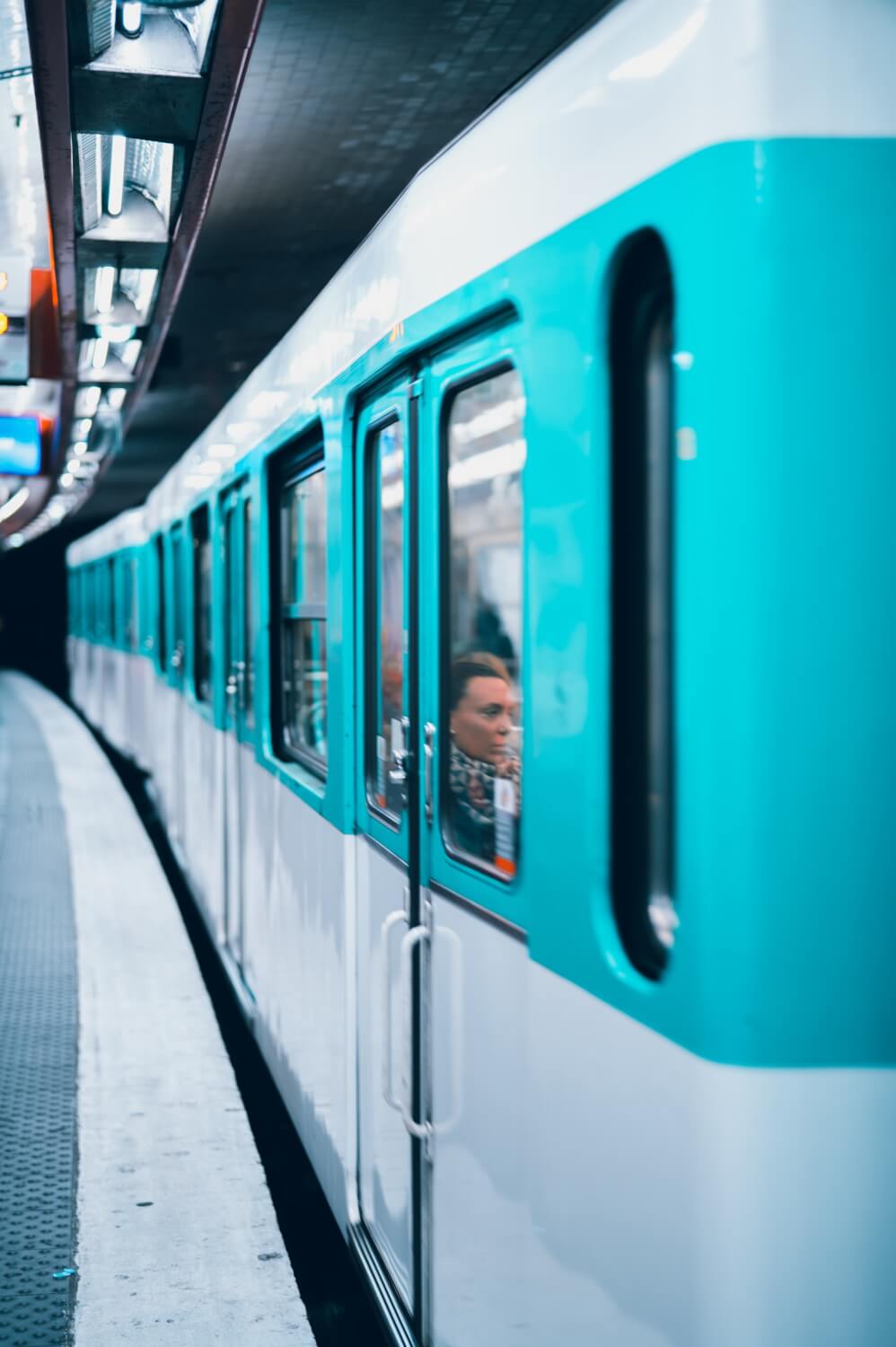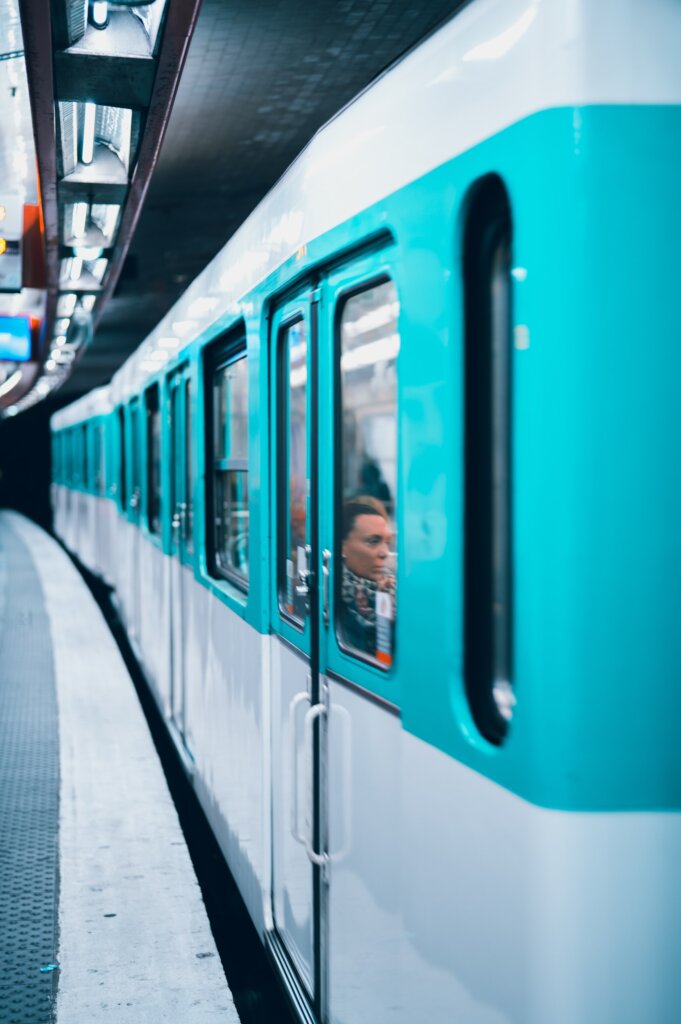 Walk as much as you can
When in Paris as a tourist, walking is the best way to get around. Hands down.
Not only does this mean saving money on the Metro and avoiding the unique um, fragrance of Parisian public transport… you also get to see the most incredible "mundane" sights of the city and enjoy the atmosphere a lot more.
There's far more to Paris than just the most famous Parisian landmarks, and walking around is the best way to see the city's "non-touristic" side.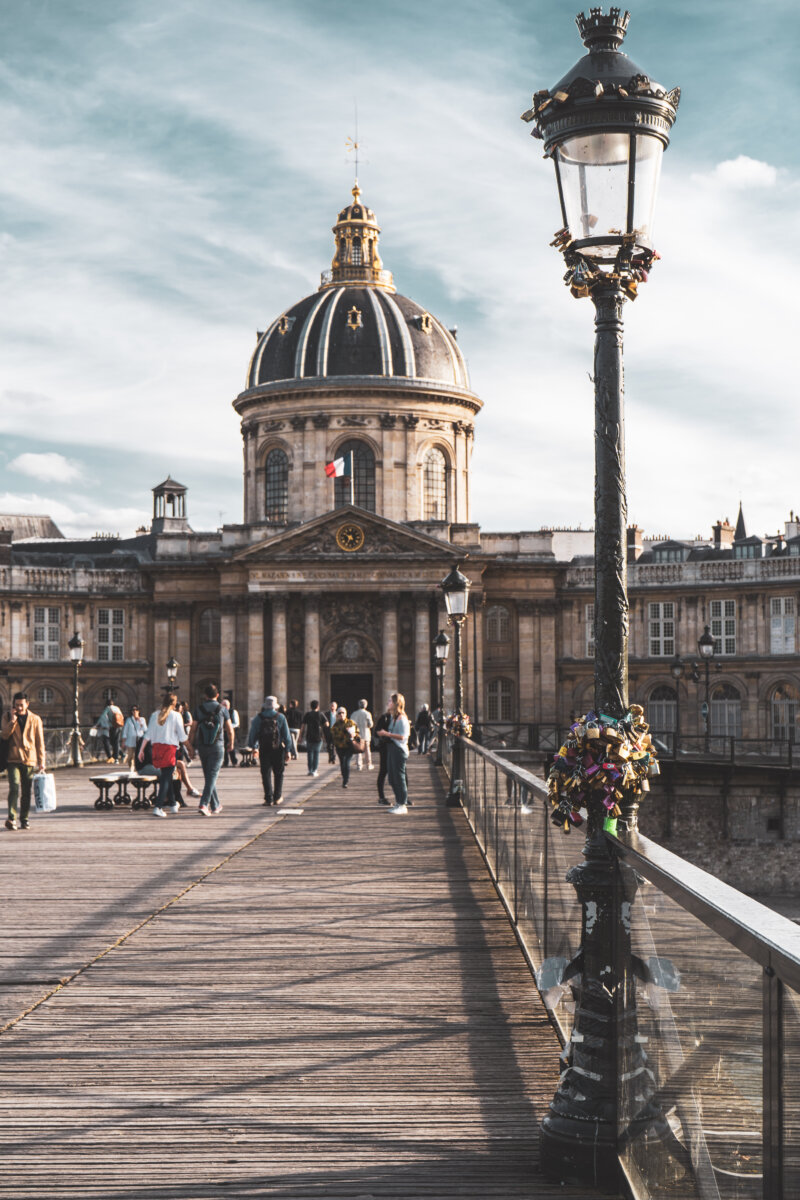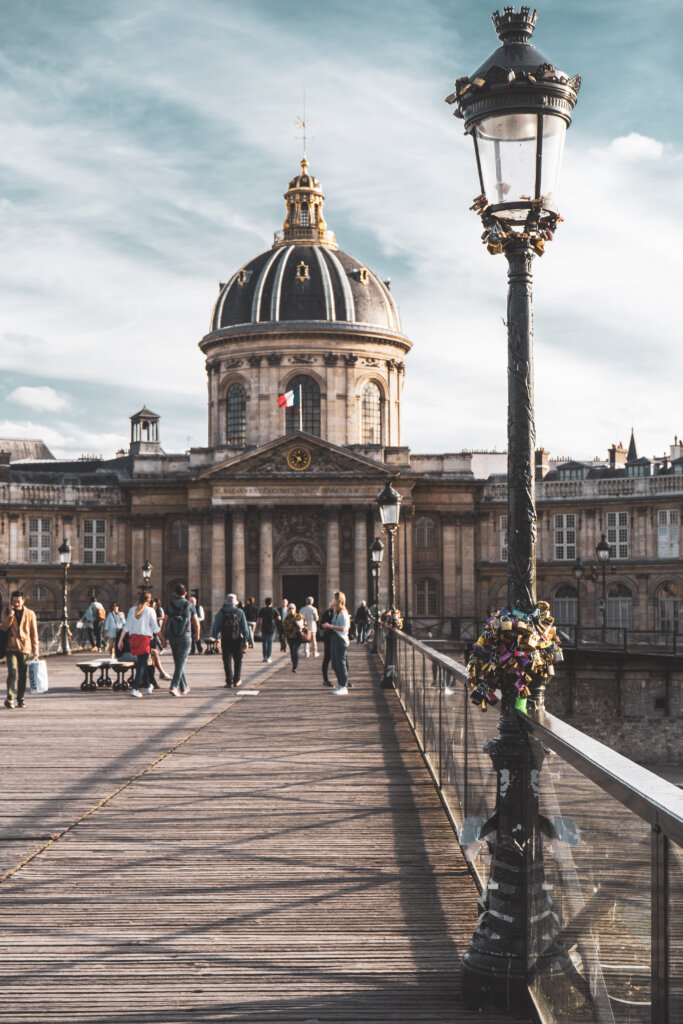 Know that jaywalking is weirdly okay here
I live in Munich, where jaywalking is considered as terrible a crime as wasting beer.
Such is not the case in Paris. In fact, jaywalking is just as Parisian as the Moulin Rouge or the Iron Lady herself.
In fact, I imagine most French children are simply born jaywalking straight out of the womb.
If you feel the need to jaywalk at any point, just know that it's fine here.
I can still remember being floored the first time I travelled with a French friend of mine. He sped through the streets of Seville, jaywalking at every opportunity. When I asked him why, he simply told me "I am French. I do not wait!"
So, you know, consider it a cultural experience.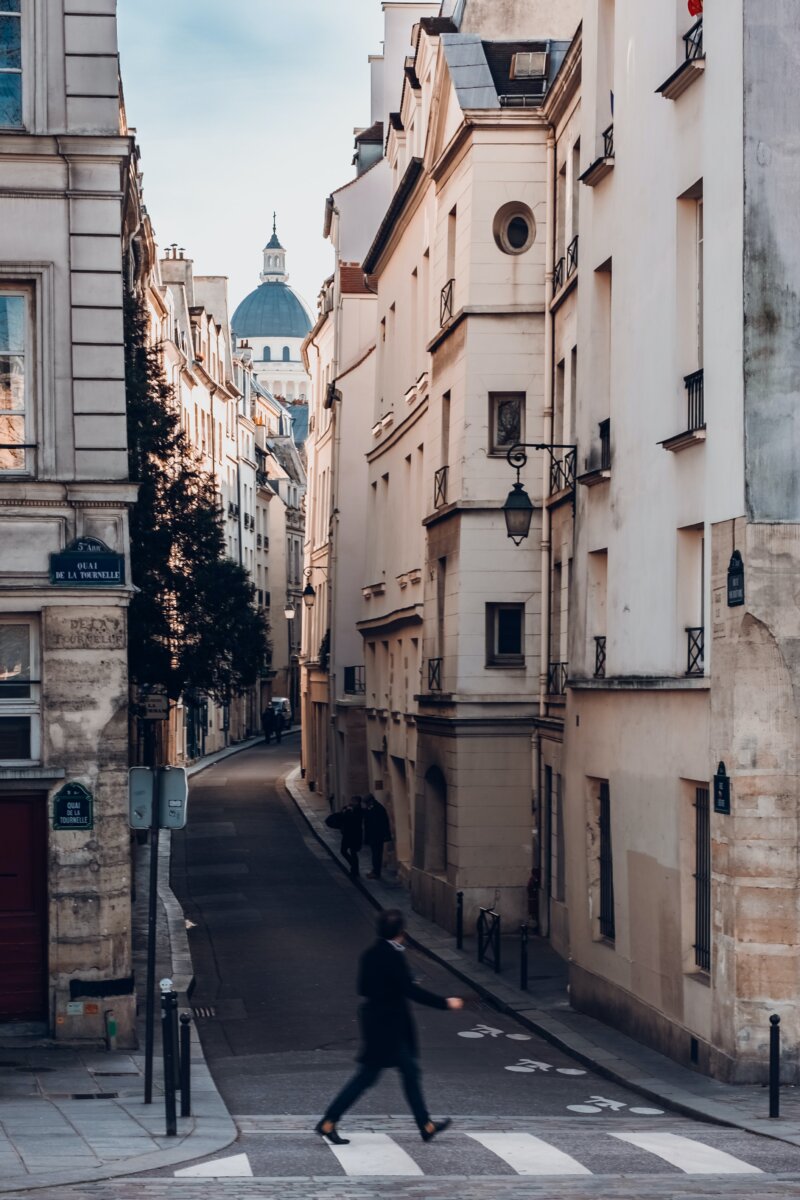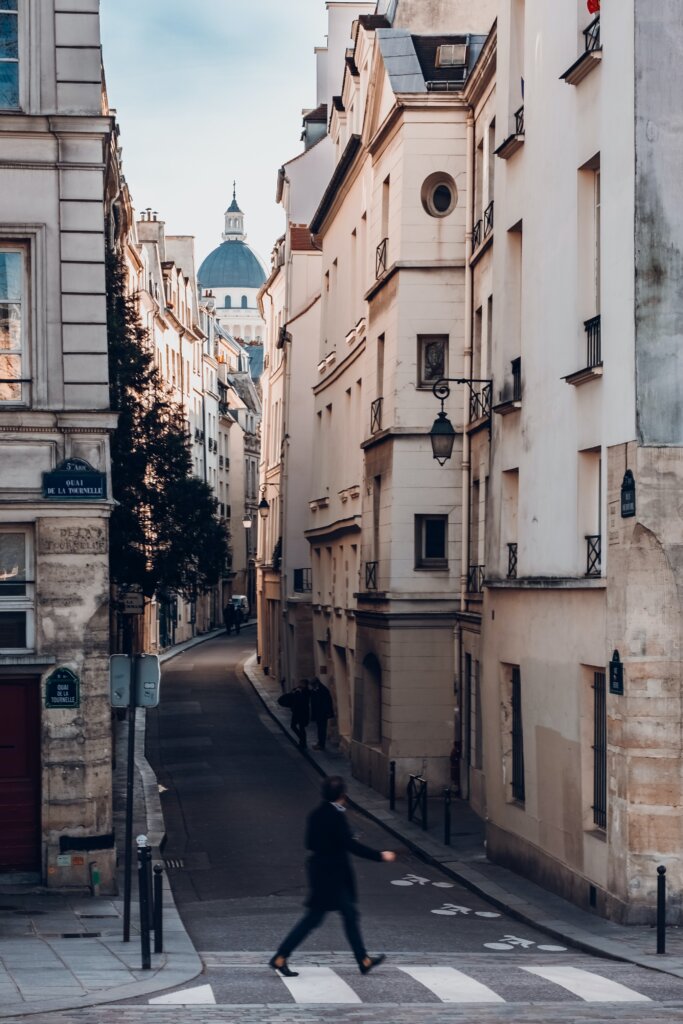 Easily rent a bike
While you can of course book a bike tour in Paris like this one, there's a super simple way to rent a bike in Paris whenever you need one – through an app called Velib', which allows bike-sharing across the city.
You simply pick up a bike when you see one, use it, then drop it off at one of thousands of docking points around the city.
Click here for a guide on how to use it.
Easily rent a scooter
For a transport option that's even more fun, Paris also has many companies that offer e-scooter rentals that are activated through an app.
Here is a guide on how to use them.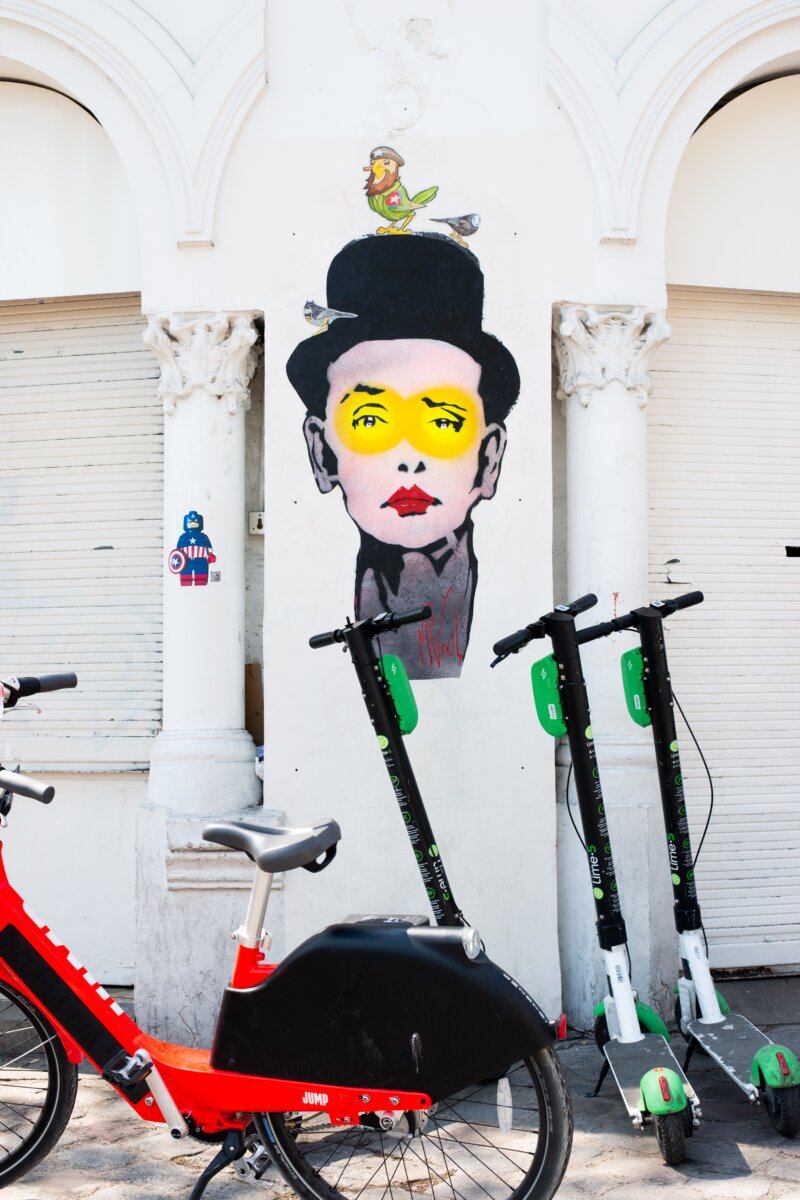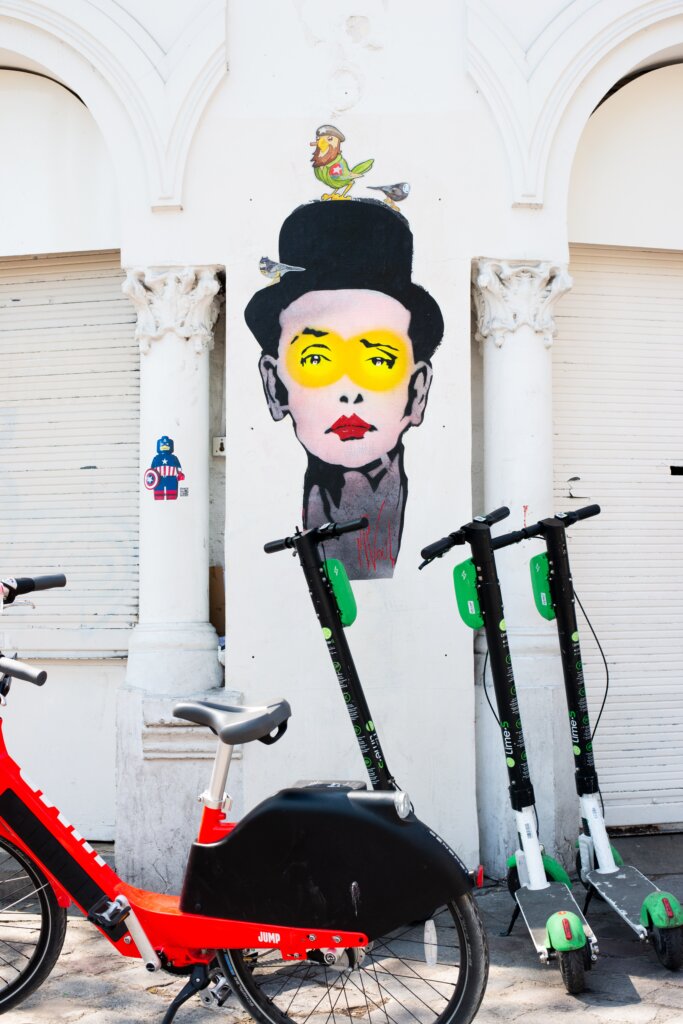 Paris Tips for Attractions
Odds are, if you're visiting Paris, sightseeing your face off is part of the plan. So, here are some of my best Paris travel tips related to sightseeing, attractions and itinerary planning.
Make a sightseeing plan
Okay, listen, I get it: there's nothing more romantic than the thought of dancing around Paris spontaneously, surrendering yourself to the whims of the day, but I'll bet you a million macarons that this method will lead to you surrendering yourself to the worst queues in the history of mankind.
One thing you need to know when you visit Paris is that it's a city that requires some strategy, especially for a first-timer, so make sure you write down a list of all the places you want to visit in advance, and create a loose plan for your days.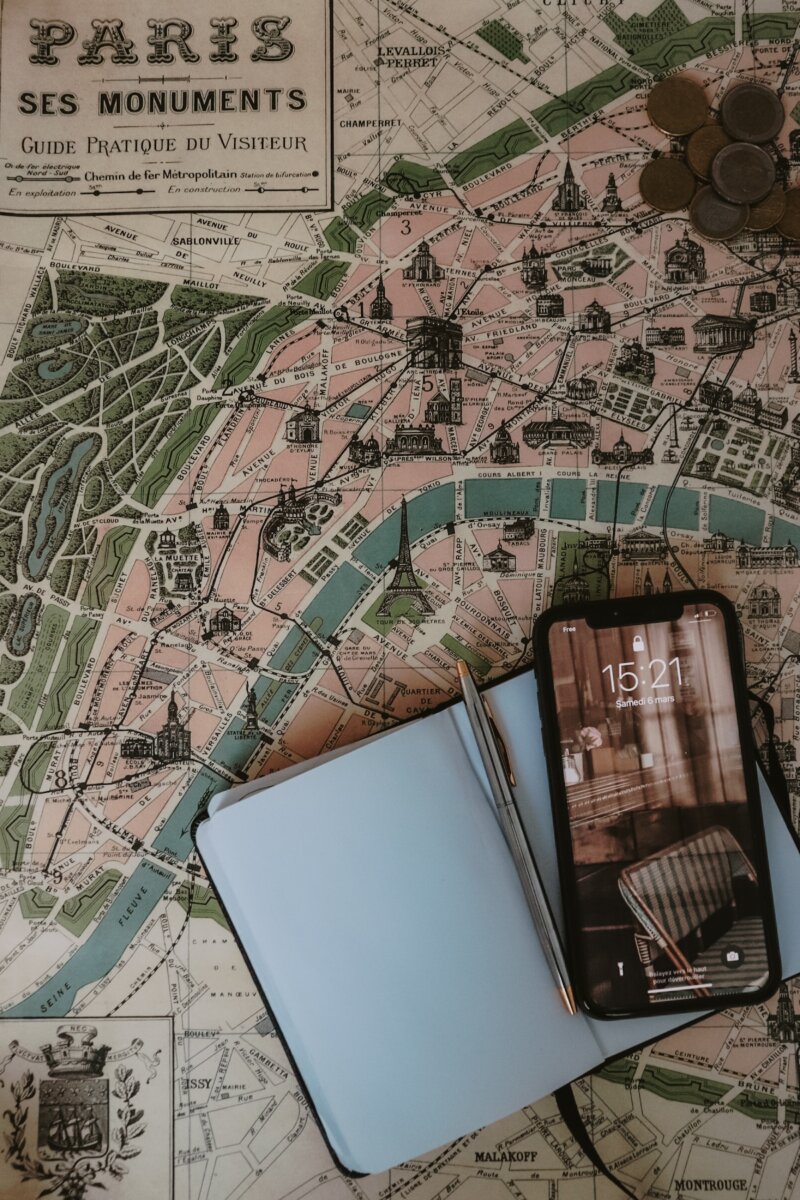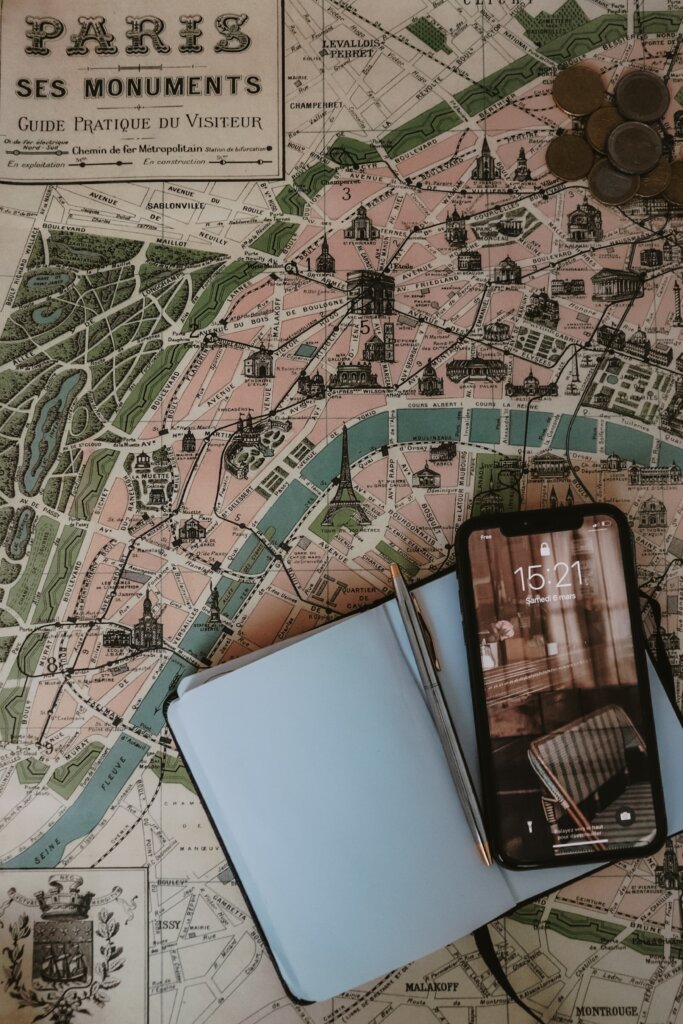 Don't overstuff your itinerary
Okay, I get it: you're in Paris and you want to make the most of it.
But do you know what is a total recipe for disaster?
Having three days in Paris and spending all of them locked in dark, sweaty museums just because your guidebook said so.
Sure, while attractions are great, you need to realize that Paris is a huge city with a ton to offer, spread over a bunch of diverse neighbourhoods.
It's impossible to cover "all of Paris" in a few days, so it's better to take out a few things and have a light, breezy itinerary with room for flexibility, lest you get afflicted with Paris burnout.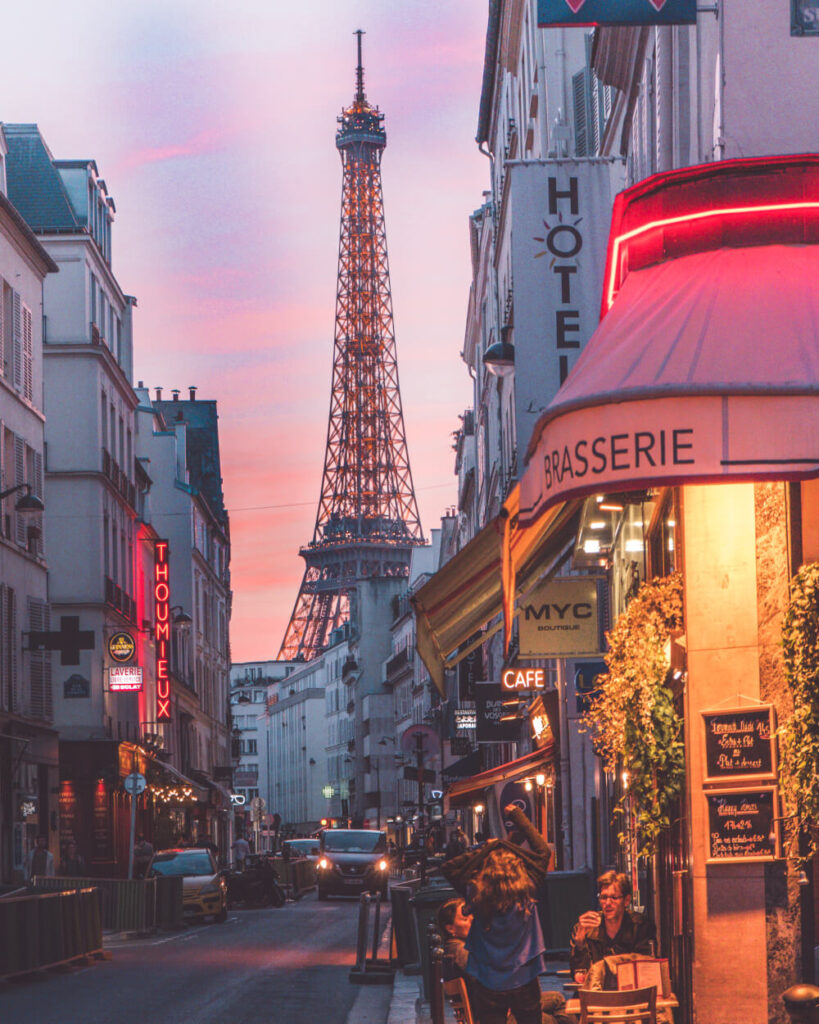 Buy your tickets in advance
Paris is a hugely popular city with most attractions offering some kind of "skip the line" ticket option. The best part is you can easily get your tickets online.
I love Get Your Guide for that because their booking portal makes everything super quick and easy. Click here to browse all the cheap options for Paris.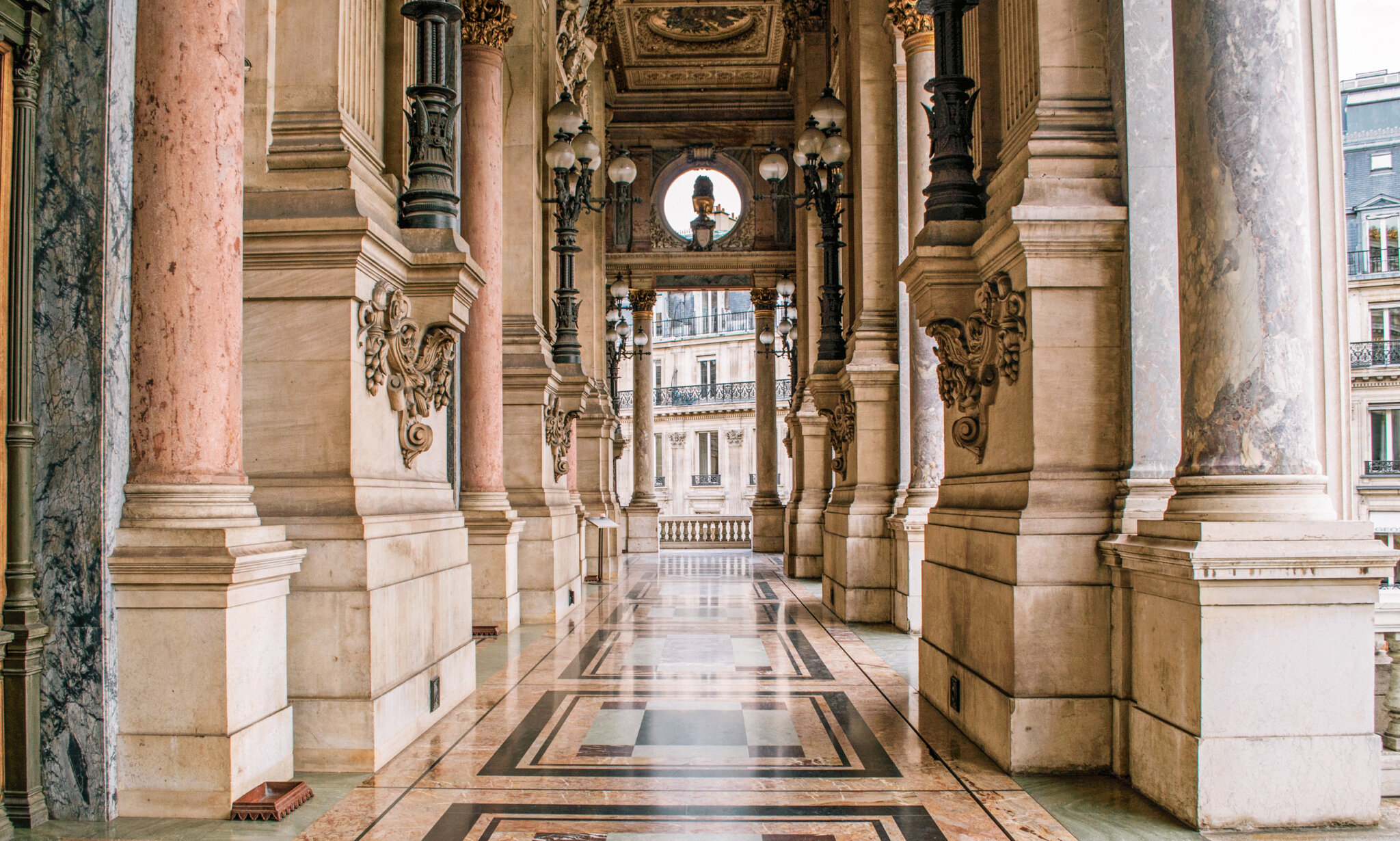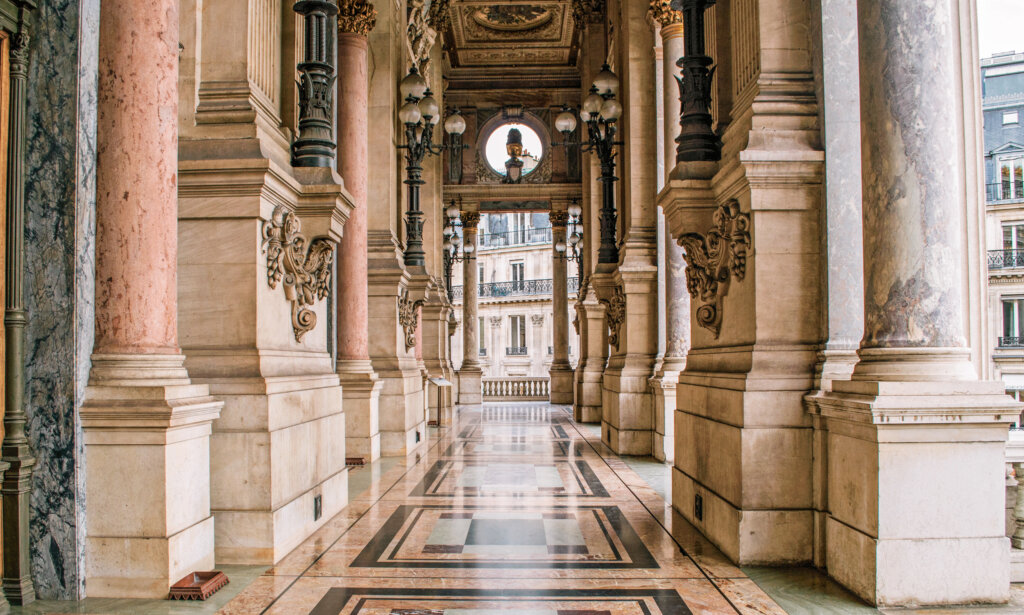 Consider a Museum Pass
If you intend to visit many big attractions when you visit Paris, consider buying a Museum Pass.
I got one of these on my first Paris visit and it saved me SO much money and time because it comes with priority access to 60+ attractions including big ones like the Louvre, Orsay and Centre Pompidou.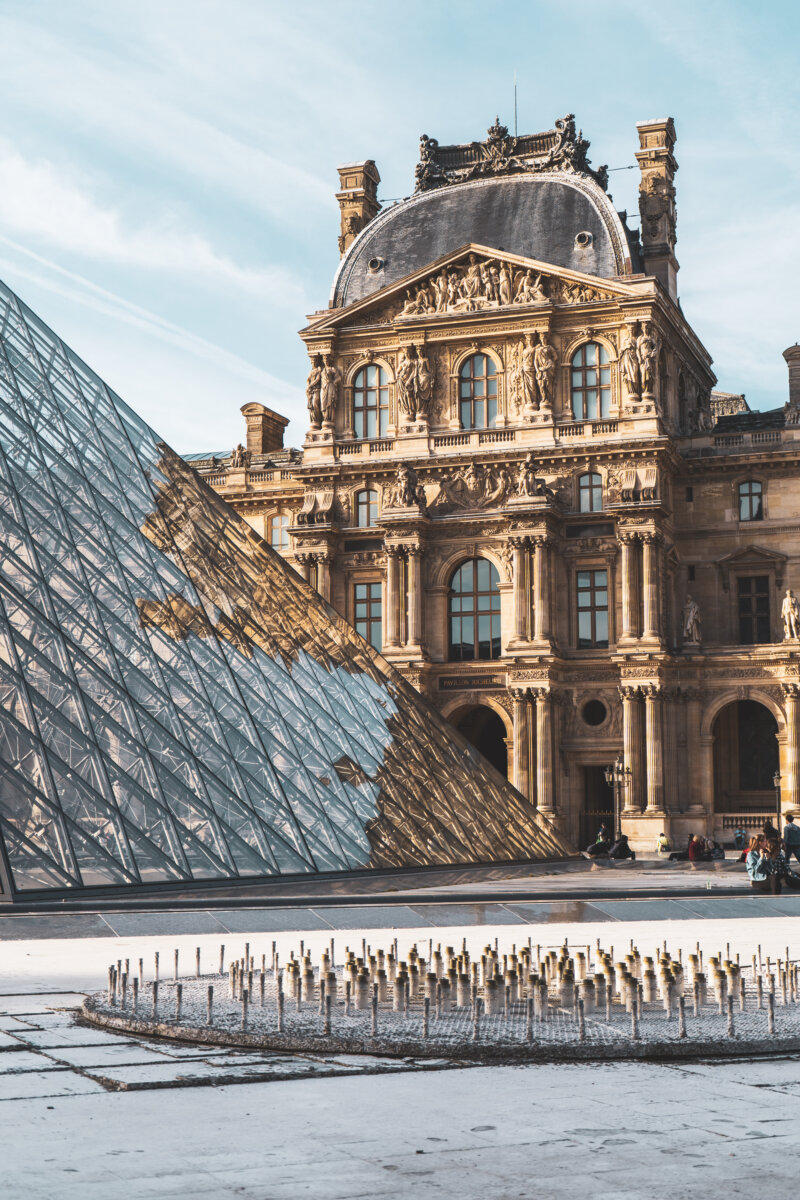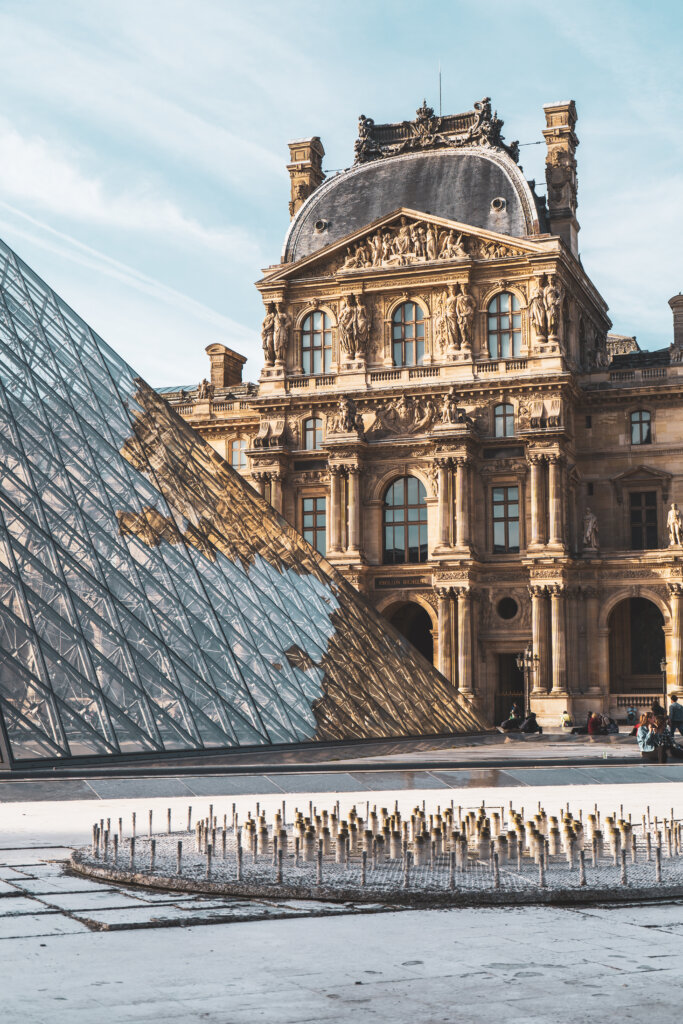 Wake up EARLY
The morning hours are the best time to explore Paris. If you want to be extra intense like me, I'm talking sunrise-early.
Trust me, nothing beats enjoying Paris at sunrise. The entire city feels empty, like it's just yours (and the other eager photographers who had the same idea of course).
If I were you, I would pick the #1 attraction you're most excited for, and plan to see it as soon as it opens, with some sunrise explorations beforehand.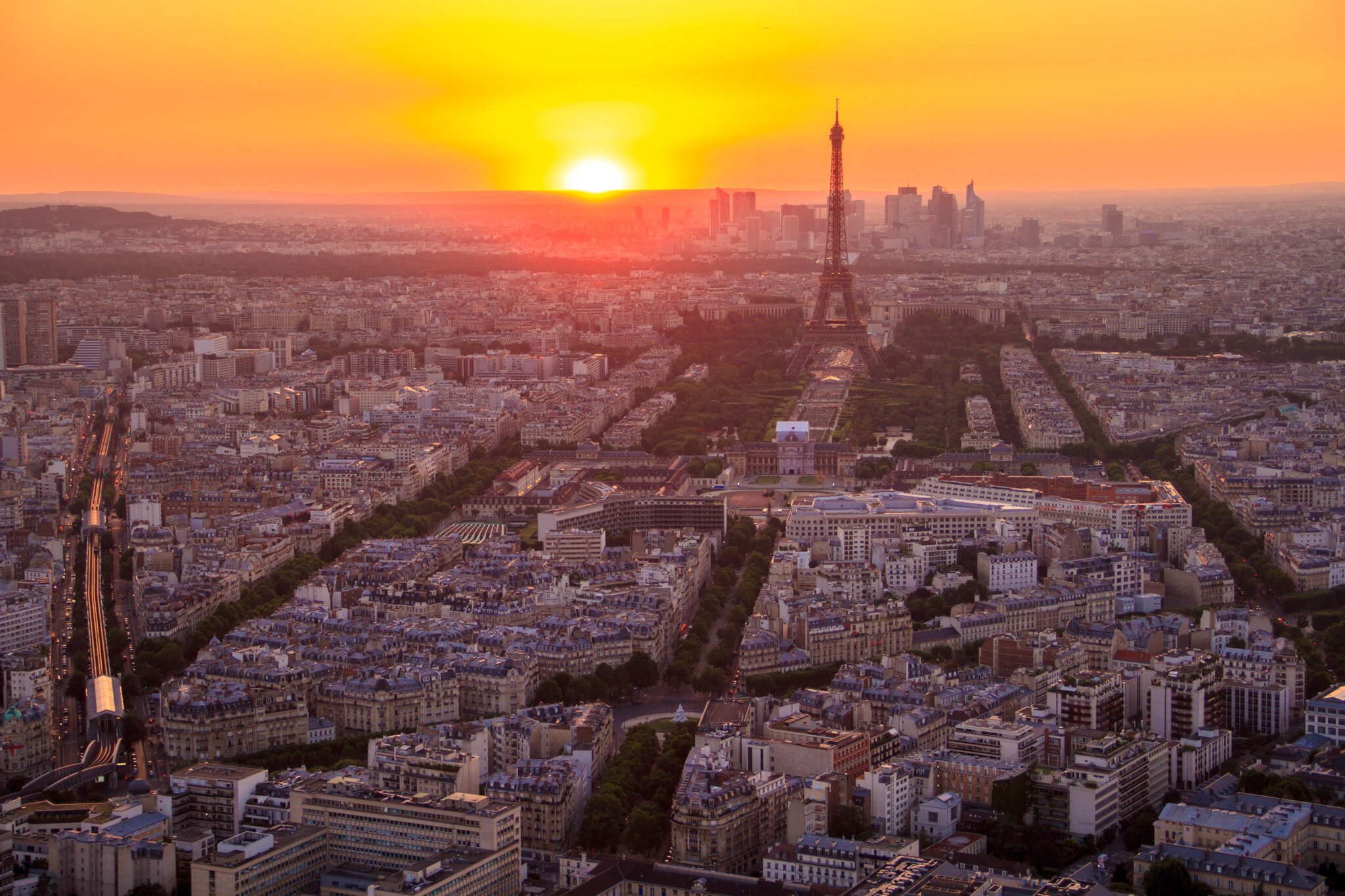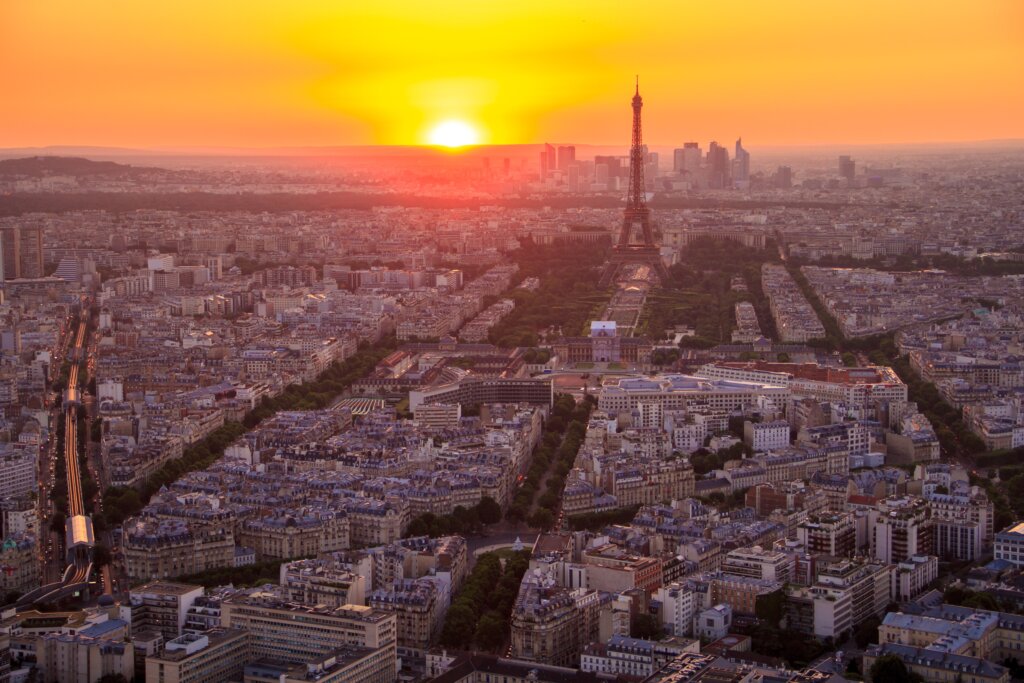 Plan around attraction Free Days
If you're travelling on a budget, there are tons of excellent free things to do in Paris.
One of them is visiting some of the city's most iconic museums… for free!
Generally speaking, the first Sunday of the month is a good day to plan around, as many of the city's top museums are free, including…
The Orsay
The Orangerie
Centre Pompidou
The Louvre is also free on the 1st Saturday evening of the month.
You can catch a full list of museum free days here.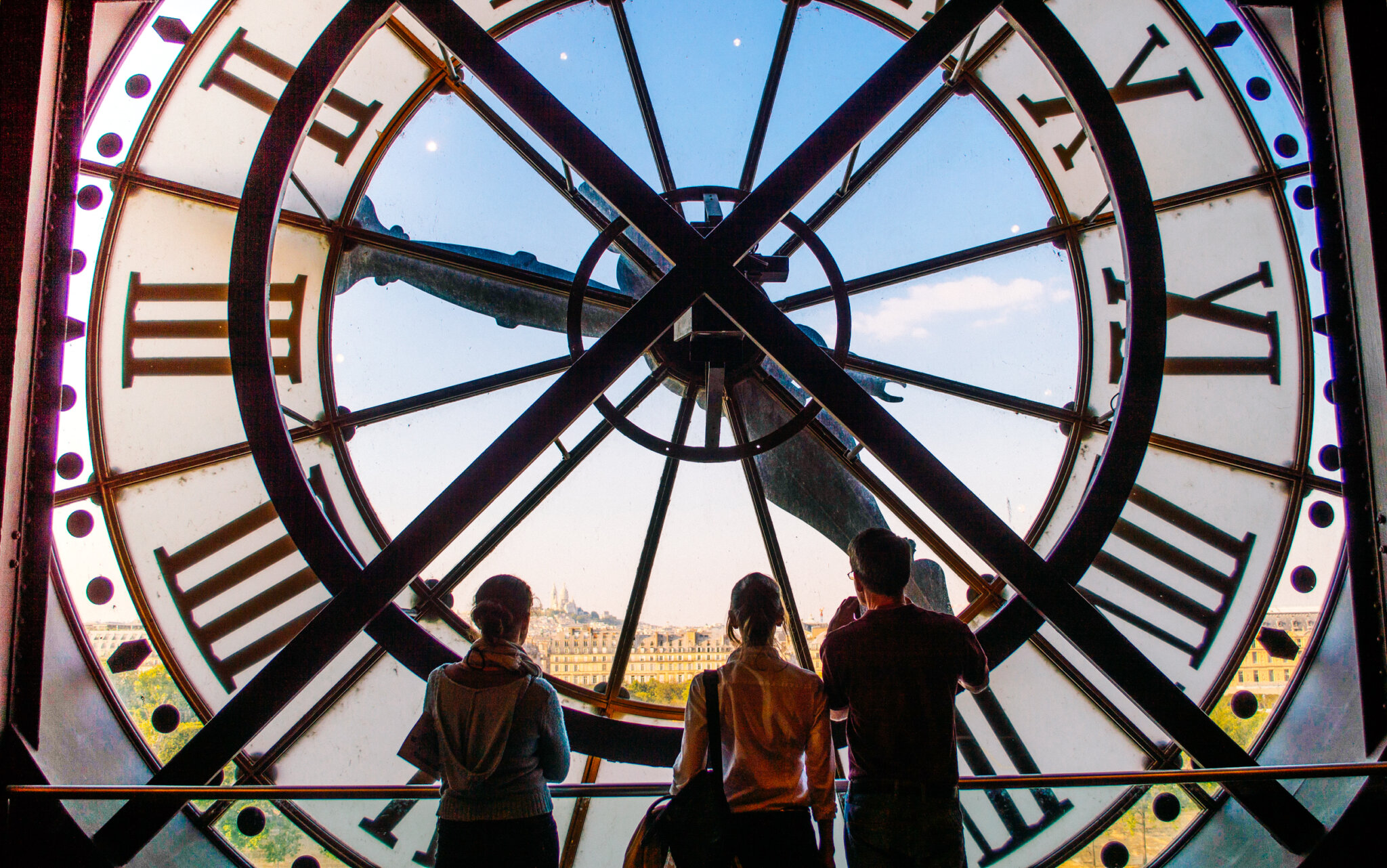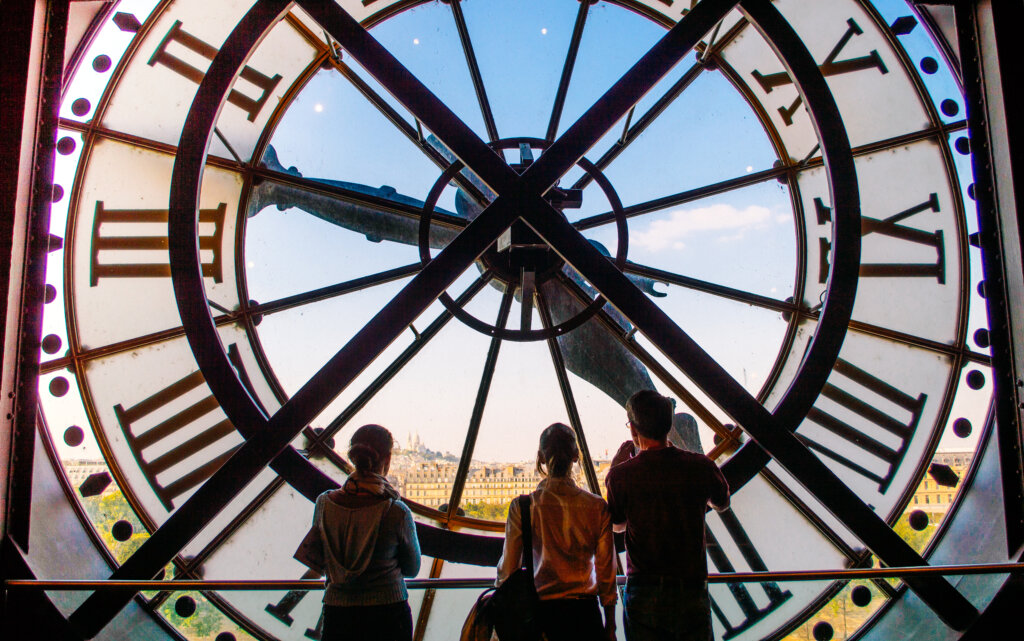 Visit attractions shortly before closing time
This is one of my more unconventional travel tips but it has worked consistently for me in big cities, from Rome and Florence to Paris.
When it comes to museums, one of the least busy times to go is about 1 hour before closing because nobody thinks this gives them enough time.
Honestly though, because I don't usually dwell at the long in museums anyway, an hour is more than perfect for me, especially when there's zero crowds to brawl with.
EXAMPLE: I recently went to the Louvre on Bastille Day (AKA when there's free admission). Despite the freebie, I was able to walk right on in without lining up at all about 1 hour before closing. Insane!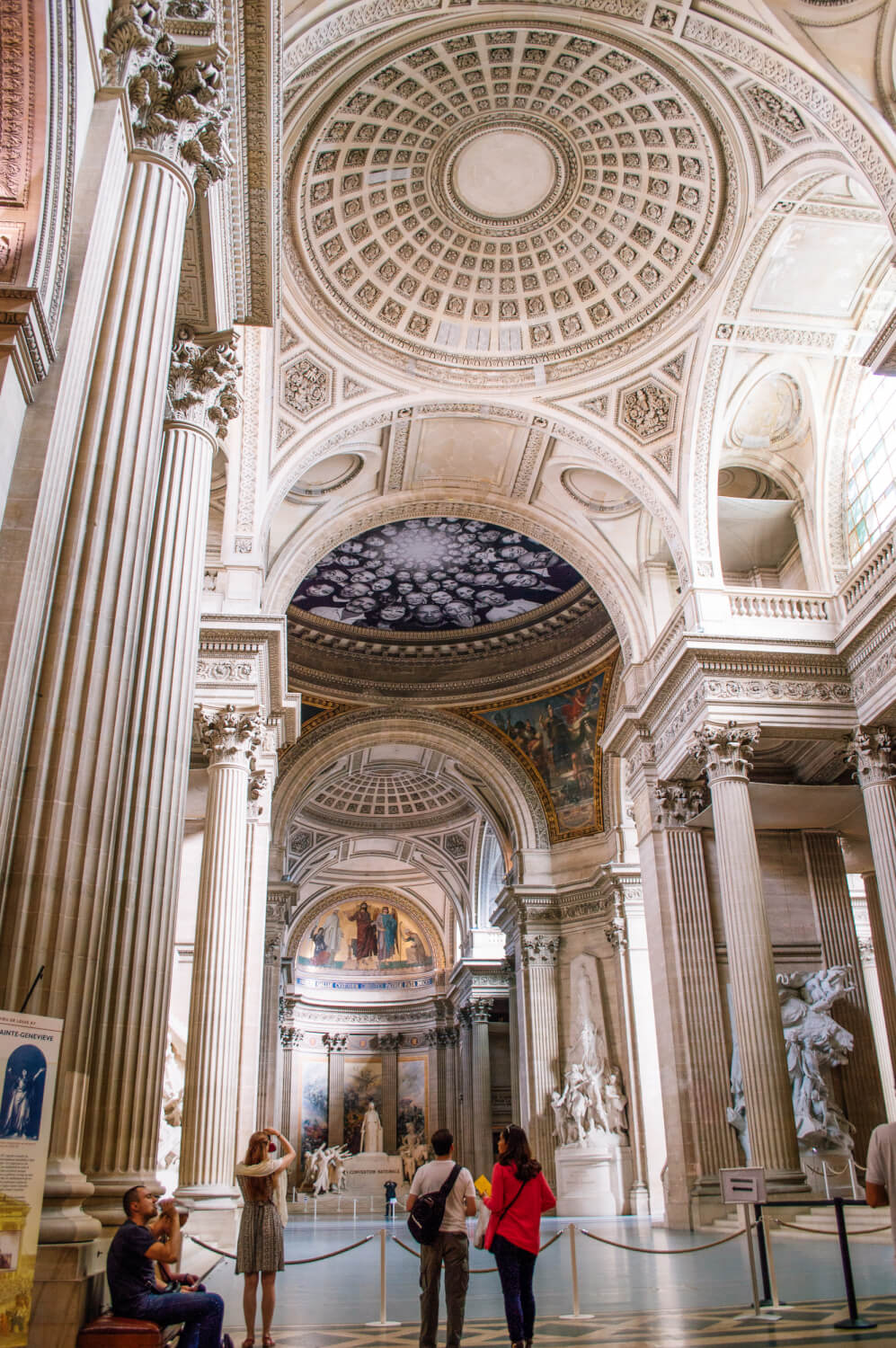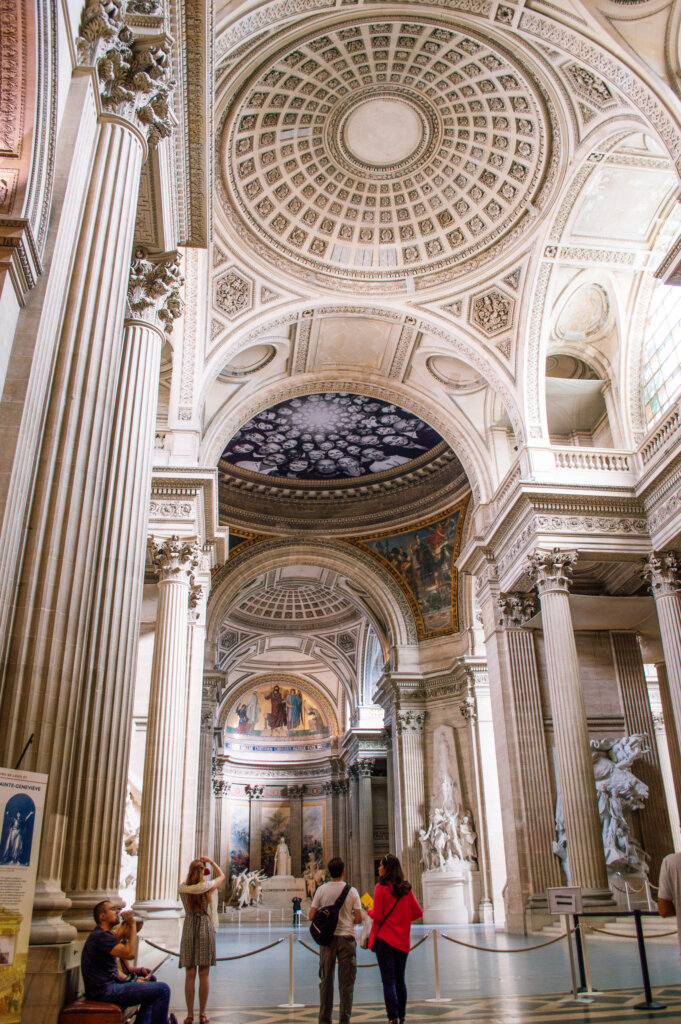 Avoid sightseeing bus tours if you can
Traffic in Paris is the worst, and while most things tend to seem a bit more magical in Paris thanks to their setting, sadly traffic is still as dull as anywhere else in the world.
I remember one time, I had to do a sightseeing bus tour for my summer internship and we were stuck in traffic forever, with terrible views of everything to boot because we were stuck behind tinted glass windows.
If you're able to explore Paris on foot, then I recommend doing that. If not, try to book a tour during off-peak traffic periods with an open top roof… or consider doing a river cruise instead!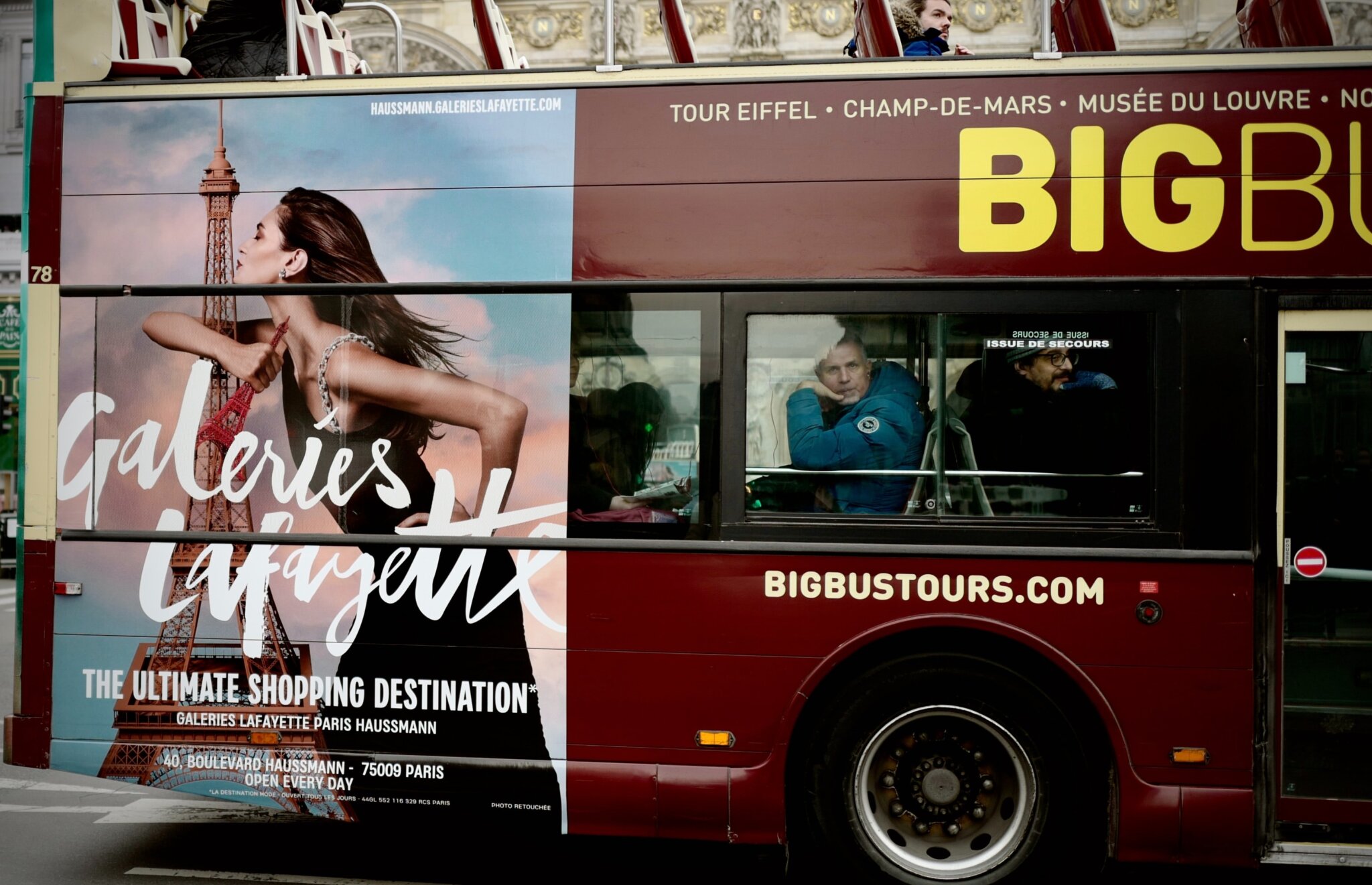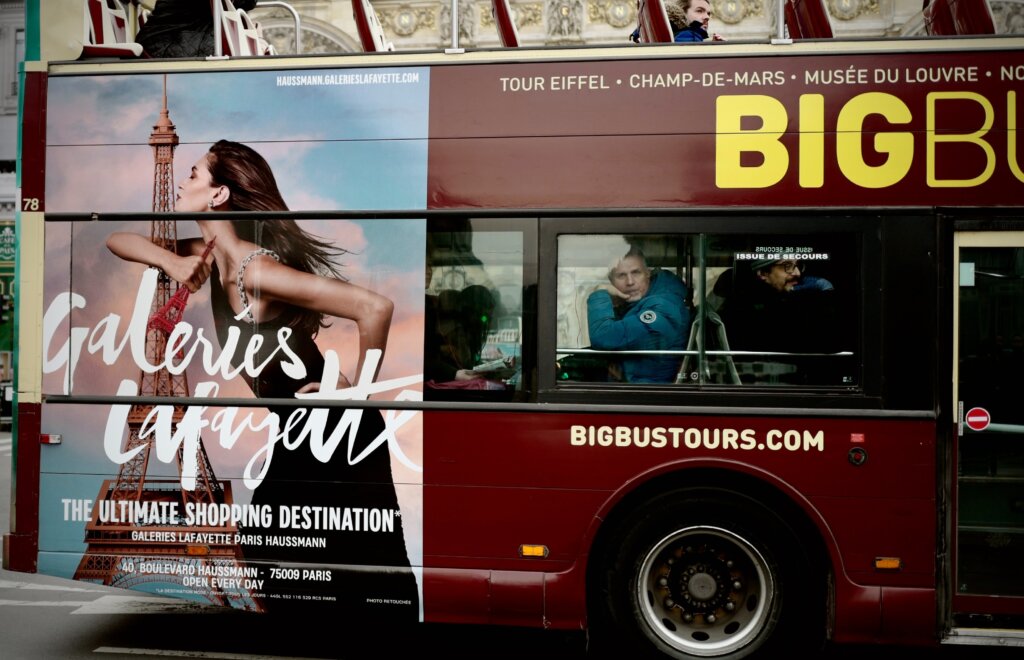 Don't miss a Seine River cruise
The #1 shamelessly touristy thing I recommend to every visitor is to take a Seine River cruise. There is no better way to enjoy Paris – trust me.
I worked for a river cruise company one summer, with multi-day itineraries all around Europe and the highlight of my trips would always be the Seinr River cruise part through Paris.
I must have done it 10 times or more, and I was still twitching in excitement every time.
There are a lot of options for Seine River cruises, but here are some you can easily pre-book online:
(Cheapest!) This standard 1hr cruise
This 2 hr lunch cruise
(Splurge!) This evening cruise with dinner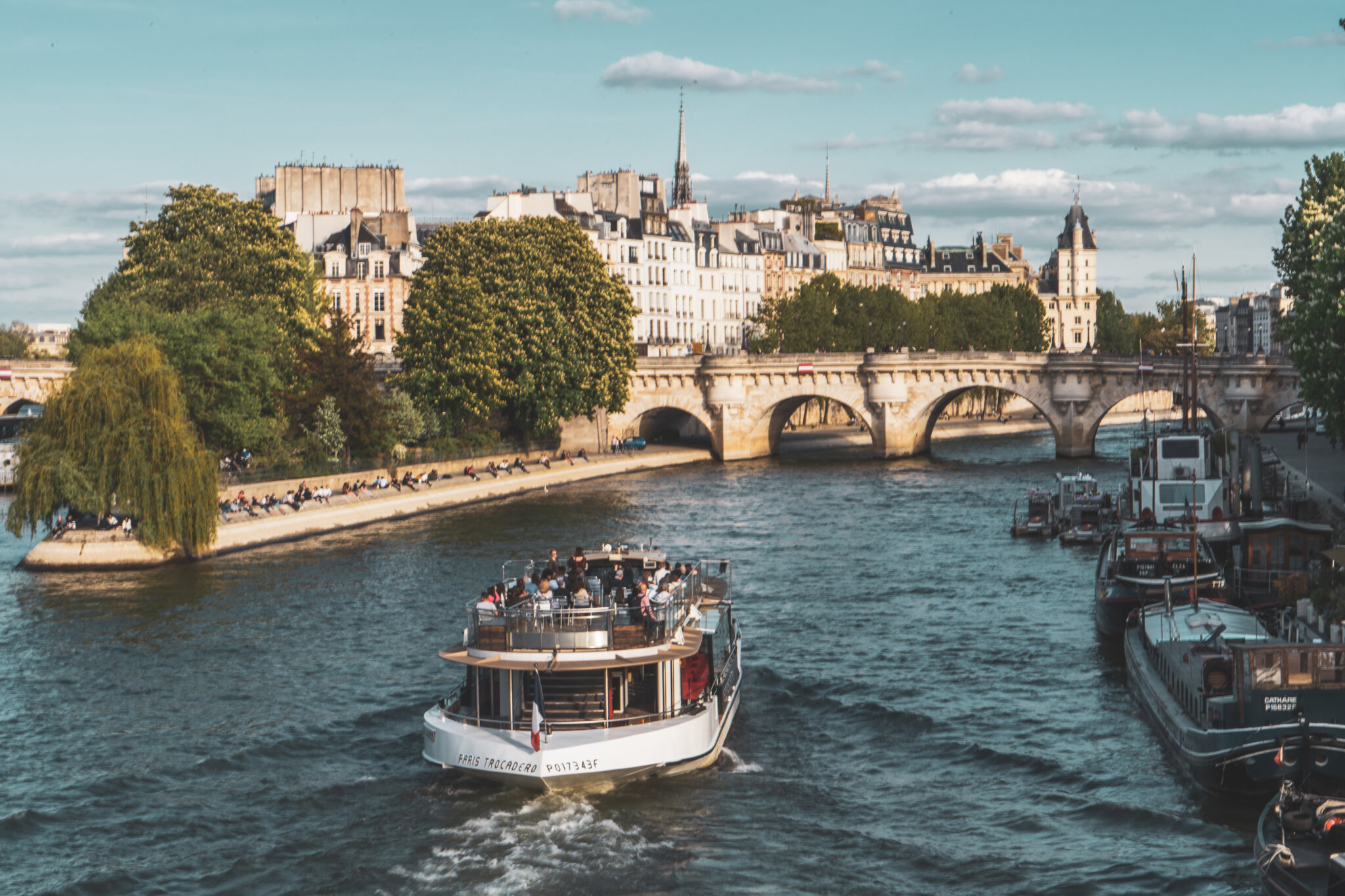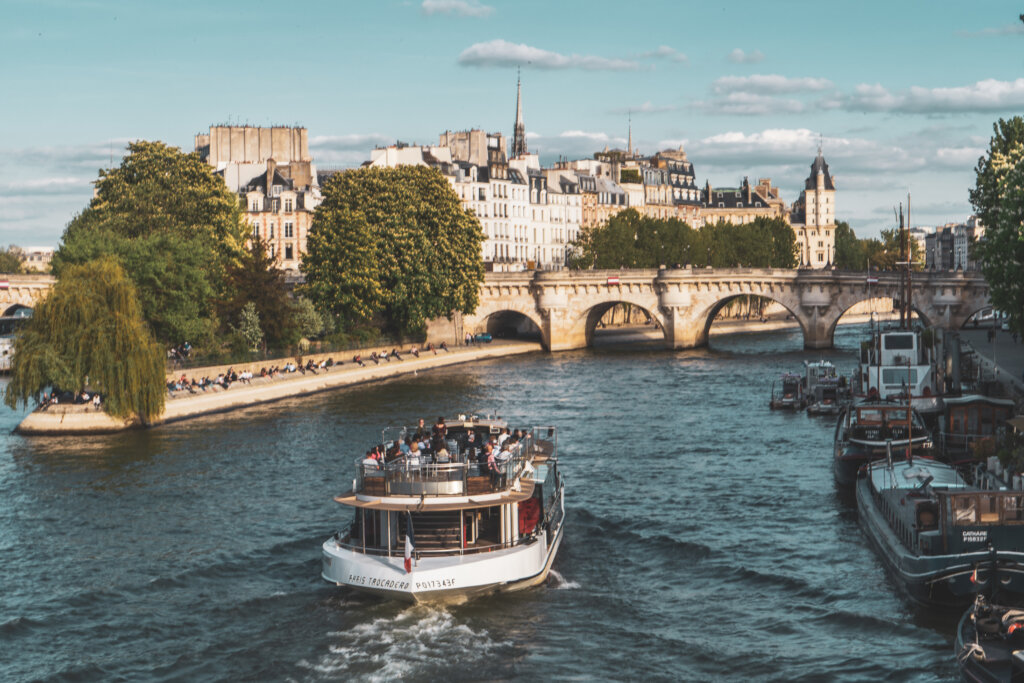 Don't feel guilty for skipping "must-dos"
Ahh, I wish I could tattoo this Paris tip onto every visitor's forehead, but it's important you remember that this is YOUR vacation, and you shouldn't feel guilty for any part of it (croissant binges included).
Seriously… Every second thing in Paris has been called "a must see" by one person or another, so don't build your itinerary around what other people say is awesome, especially if it's not something you typically like.
For instance, here's my confession: I find the Louvre kinda boring.
Why? You wait forever to get inside, at which point you're herded in with throngs of other tourists, then you linger around forever because you feel like you "should".
Ehh. It's alright, and I've grown to like it more on subsequent visits, but if art isn't your thing, there's no shame in skipping it.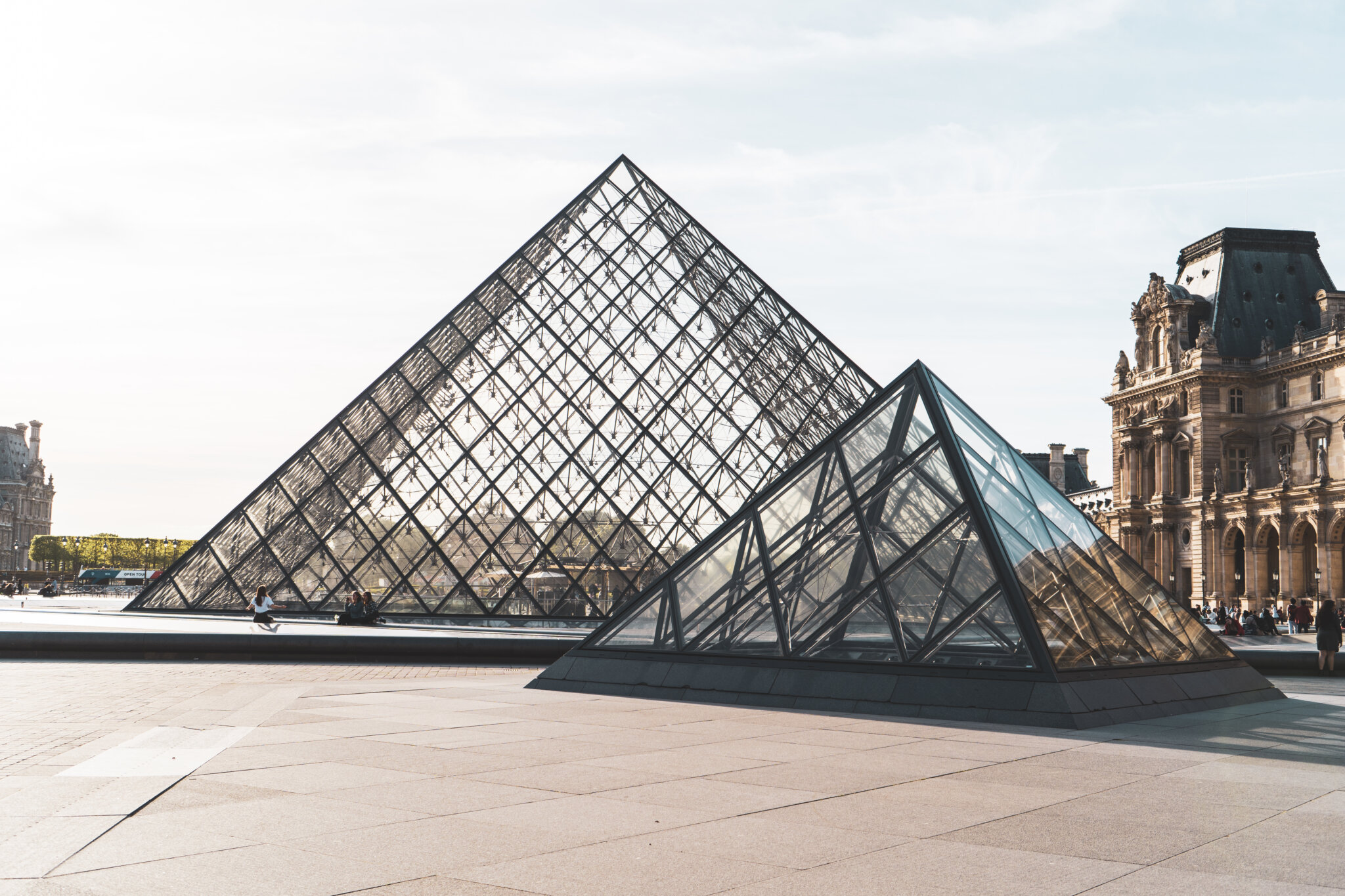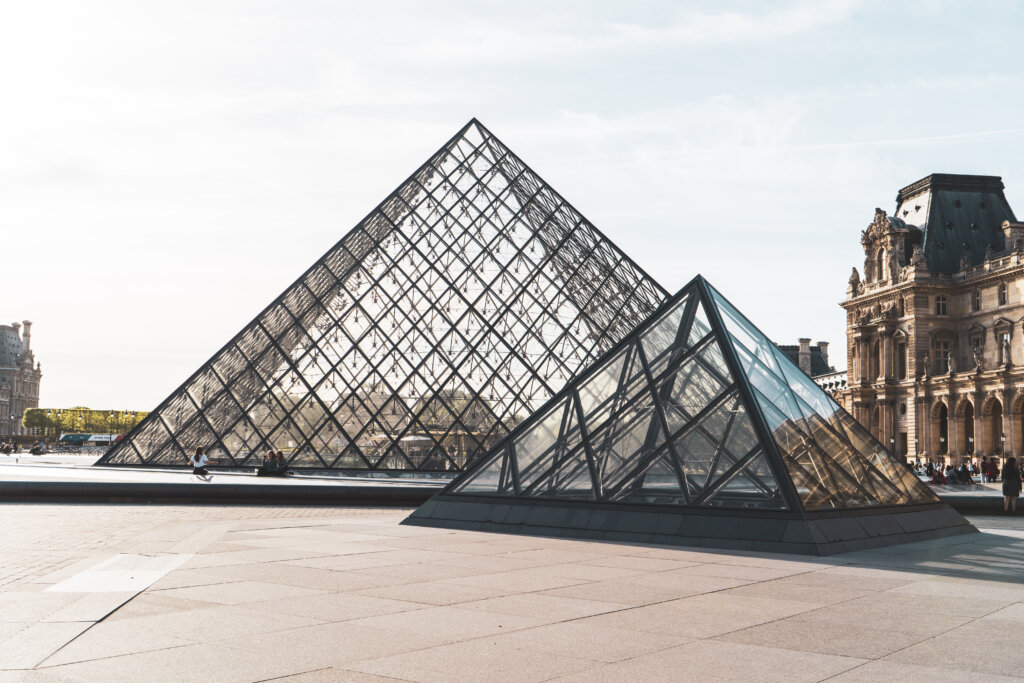 Don't get hyped up for the Mona Lisa
On a related note… okay, I can't call this iconic lady a tourist trap, but let's say she is a lot more petite than you would expect.
The Louvre is a lovely museum if you like art, but don't organize your whole trip around seeing the Mona Lisa because she's this tiny little painting in a giant room filled with other disappointed people all trying to get selfies because #Paris.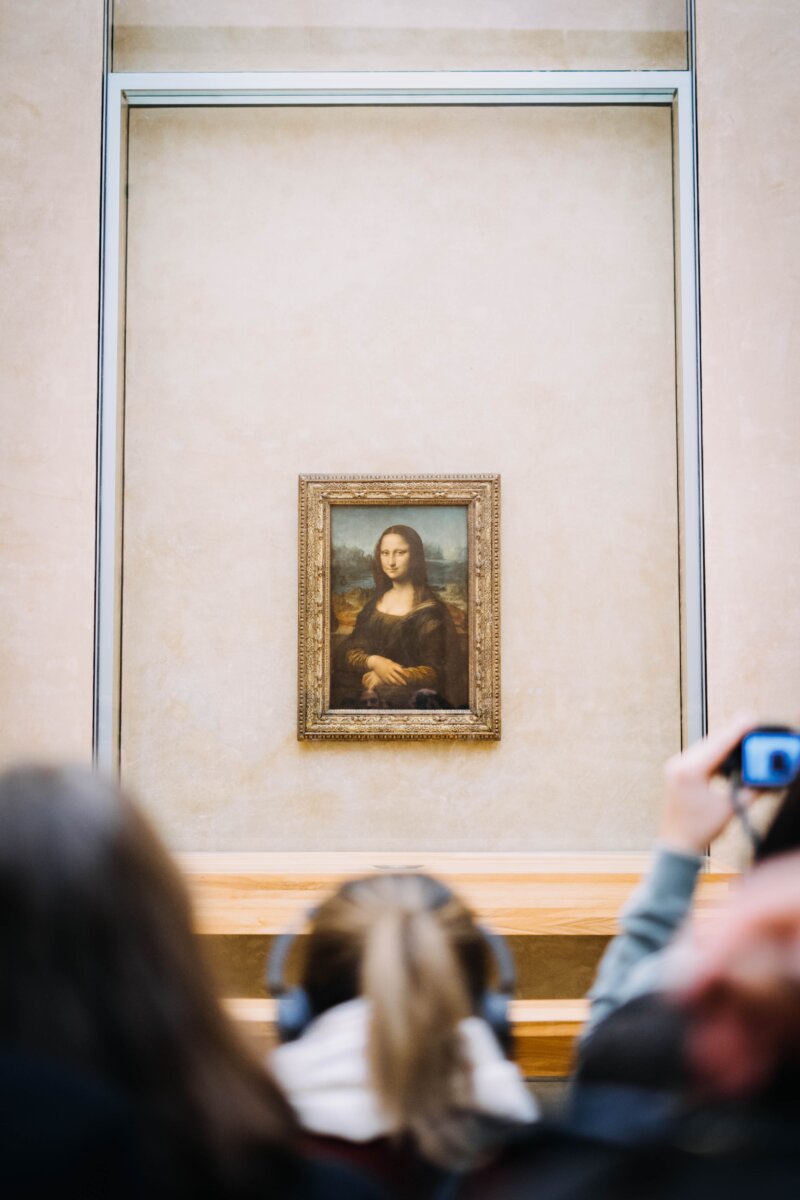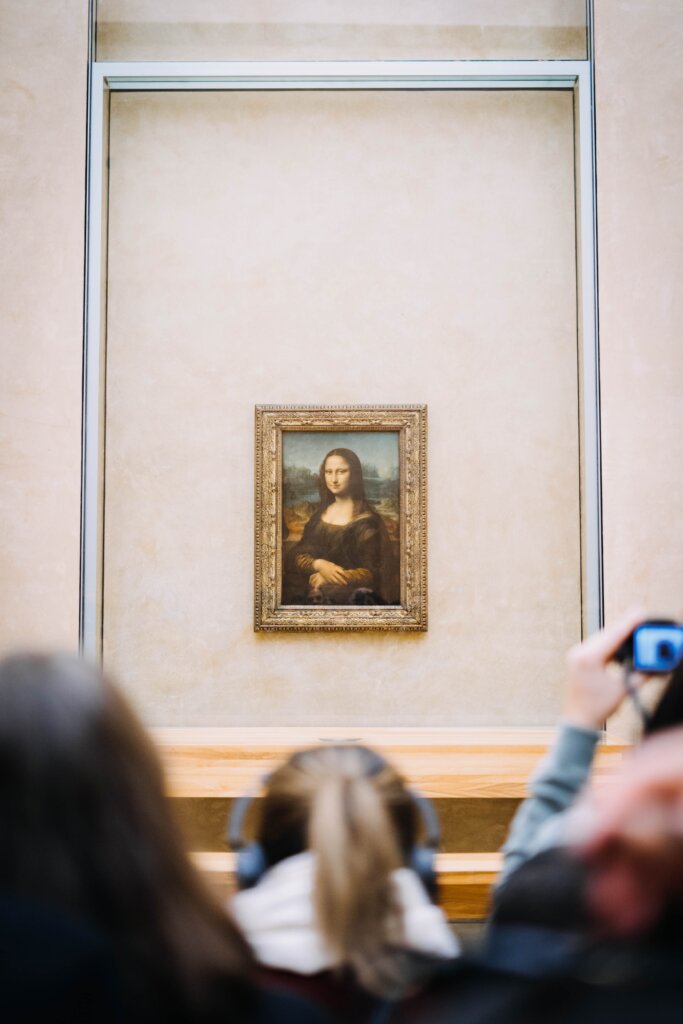 Prepare yourself for strikes
People often joke that striking is like the national sport of France, and while that may be a bit of an exaggeration, I've been impacted by strikes on the majority of my trips to Paris, so… it's definitely worth keeping in mind!
On my first trip for instance, a train strike meant that we had to take a 12 hour bus from Nice to Paris instead of the much shorter train.
It also took me 4 tries to visit the Arc de Triomphe due to random strikes and closures.
So, keep in mind that this may be something that will impact your trip. There's not much you can do to prepare for this apart from Googling attractions the day before you visit just to double check that they aren't closed, but remember: going with the flow is an important skill to master if you want to properly enjoy Paris!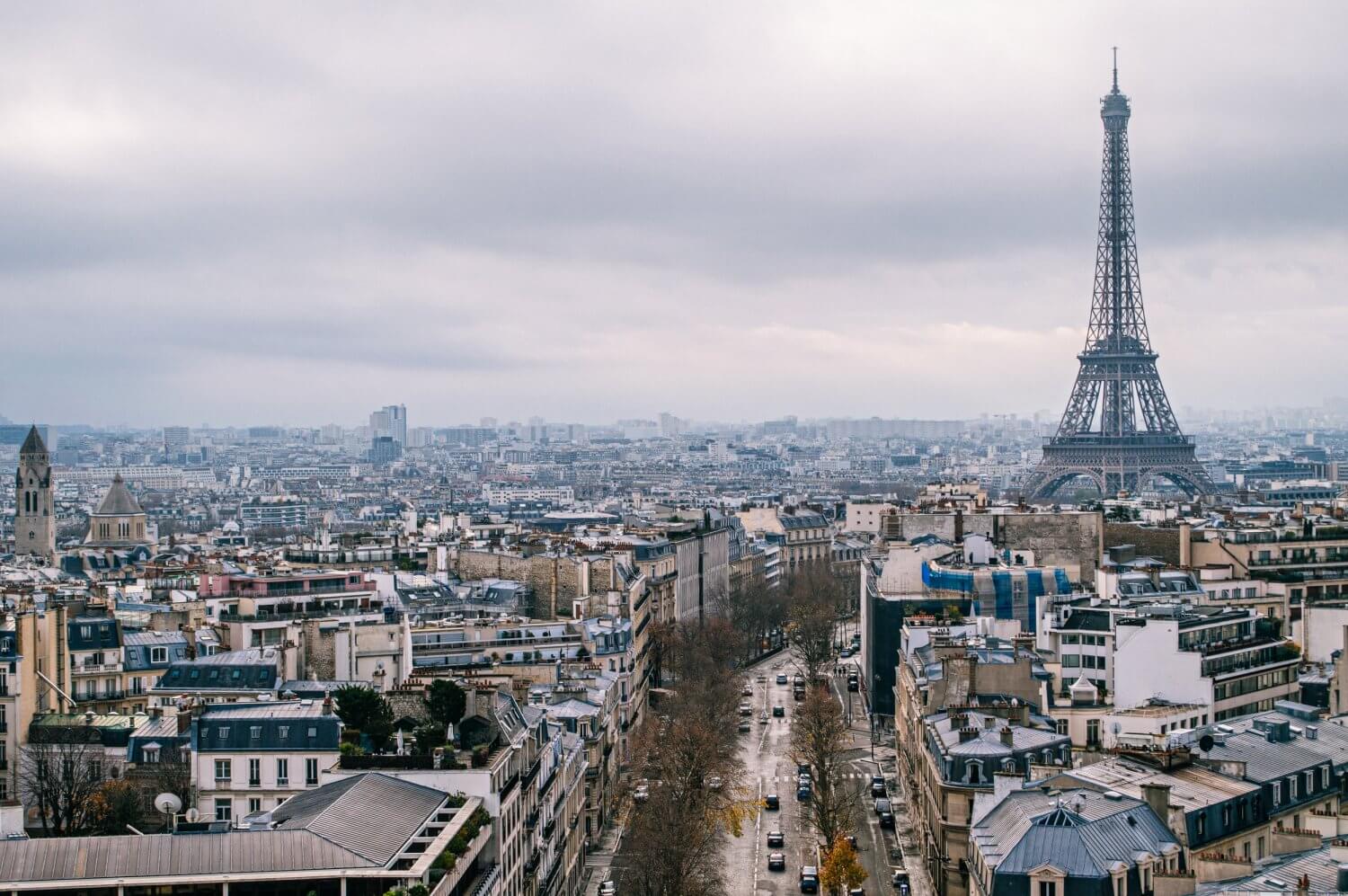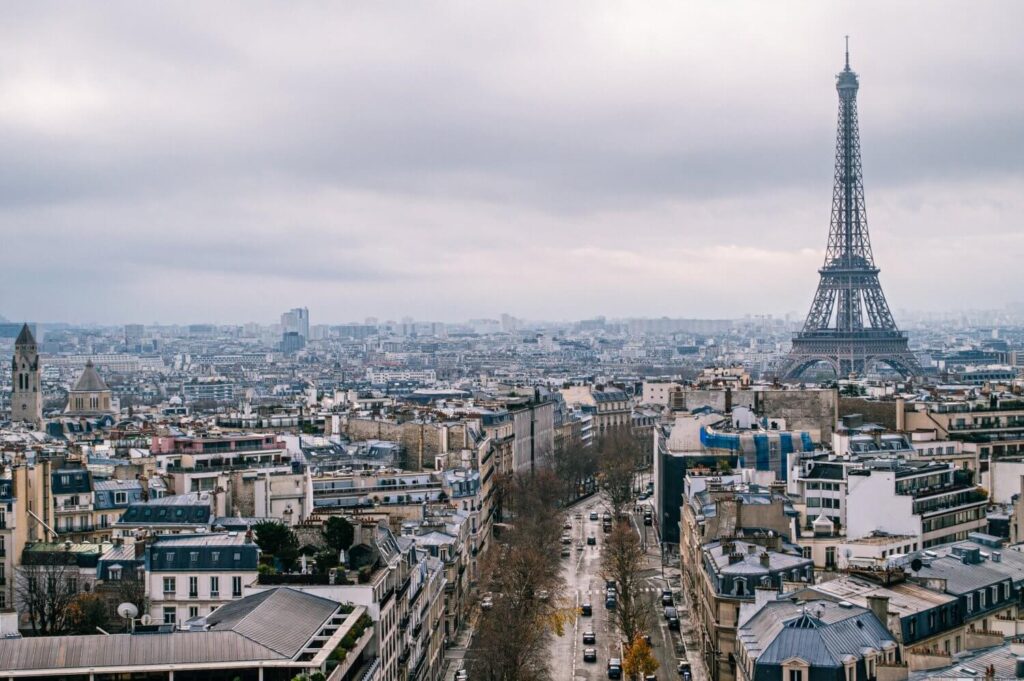 Prepare yourself for random closures
Similar to the Paris tip above – you should brace yourself for closures and always have a plan B.
Going with the flow is important, because besides strikes, there are often times that shops, restaurants or attractions are closed even if Google Maps says they're open.
This is especially true if you visit peak vacation periods like August, when may locals will leave the city.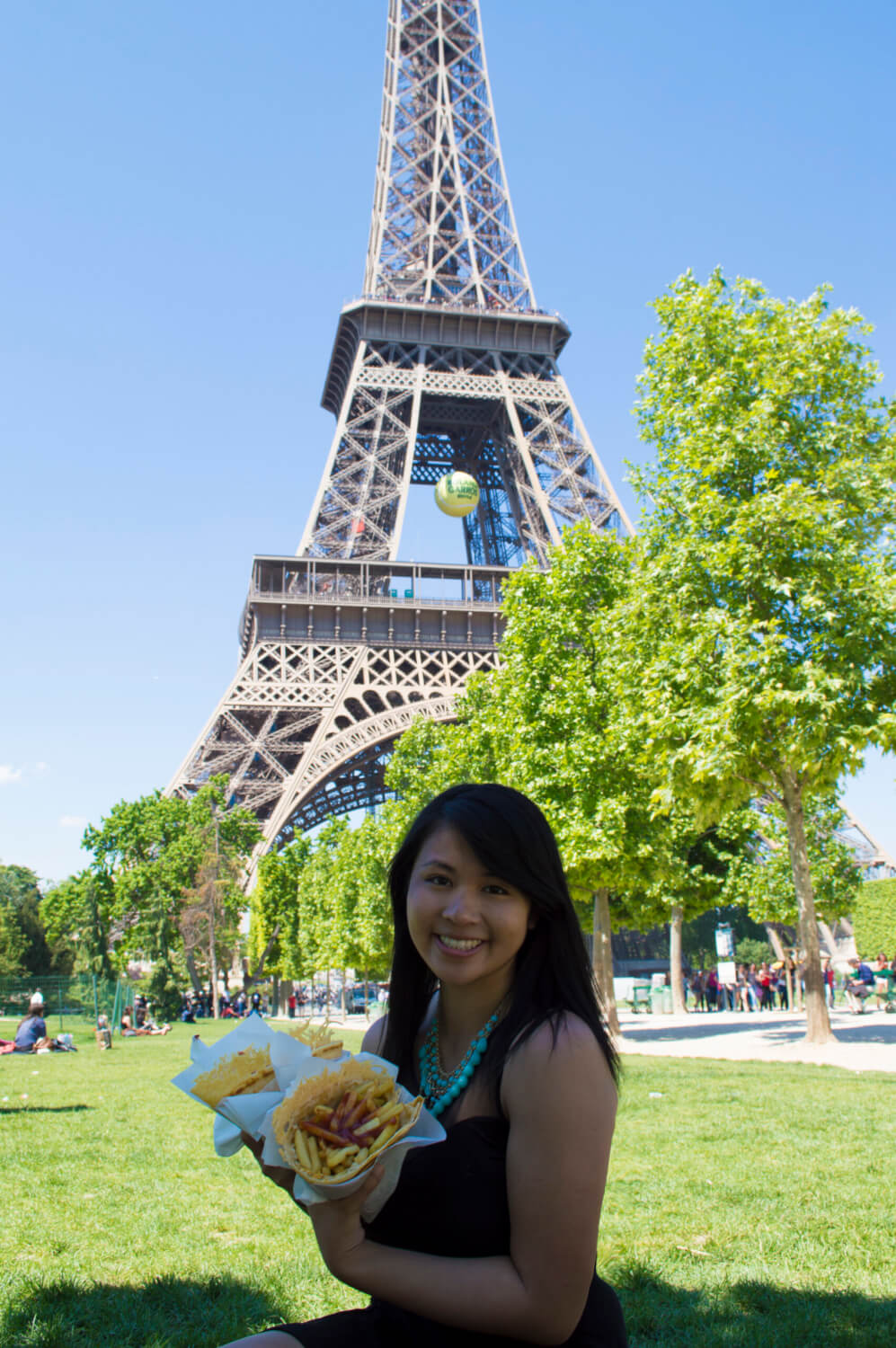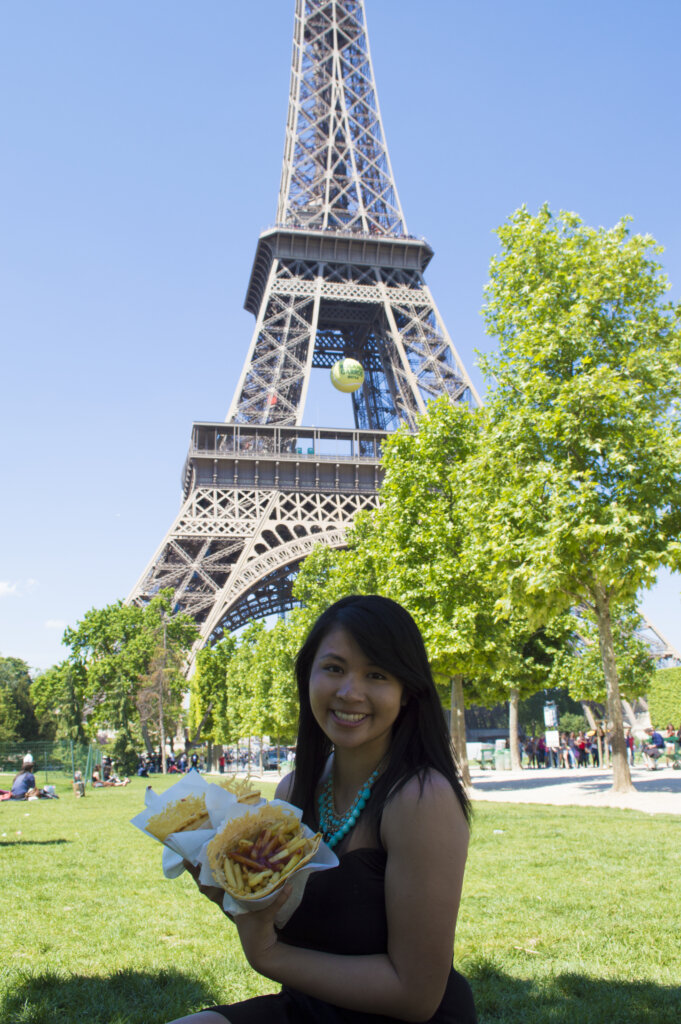 Seek out fun and unique tours
Paris is one of the most visited cities in the world, and of course you can have an amazing time sightseeing and taking yourself around the city… but you should also know that there's loads of unique tours you can choose from that will make your experience all the more special.
Here are some options:
This vintage car tour that includes a wine tasting
This gourmet food tour
This fashion tour with a style guide
Bring your Student ID everywhere if you have one
Many Paris attractions will have a student discount (and freebies especially if you're a student in the EU).
Just make sure you have VALID proof that you're a student (i.e. your regular student ID might not work if it doesn't have any validity dates on it).
My Student ID for example only showed the date it was issued, not the date it was valid until, so I had a hard time with it in some attractions.
PRO TIP: These days, many places only accept valid ISIC cards as proof of being a student, so if you intend to make use of your student ID a lot on your trip, you should consider getting one. The savings are more than worth it!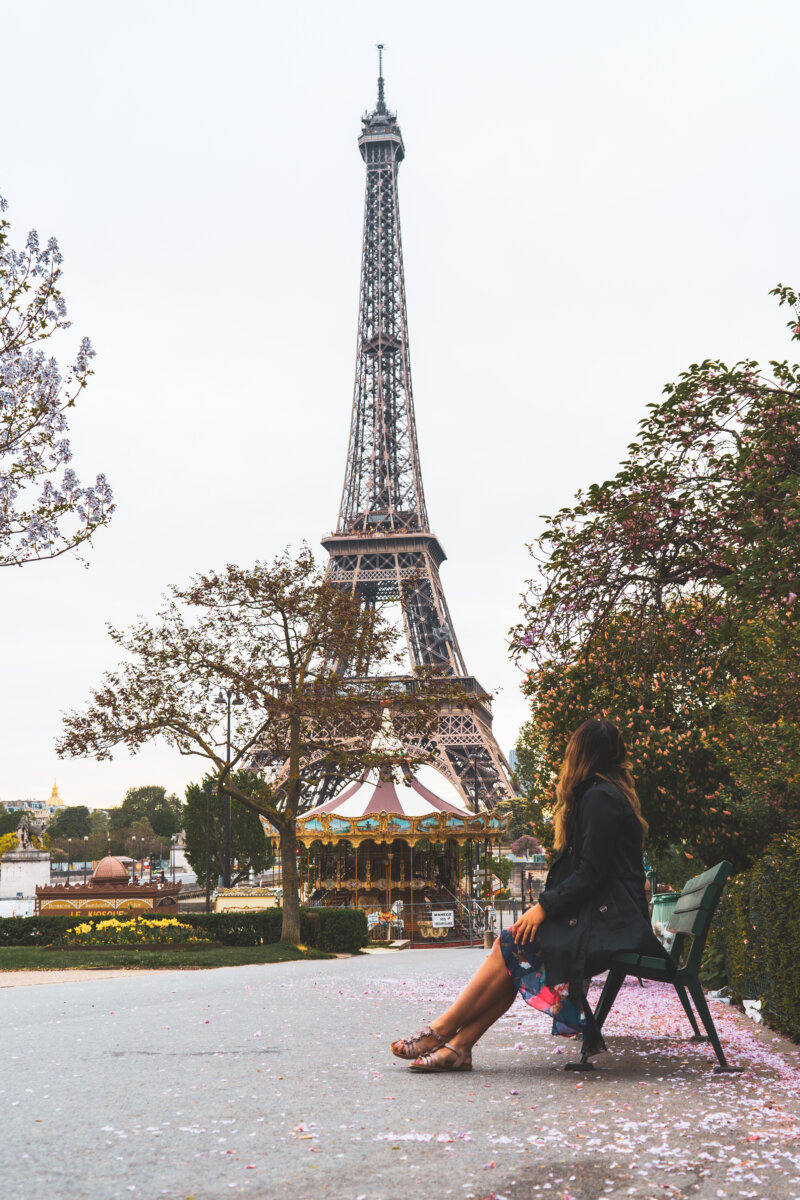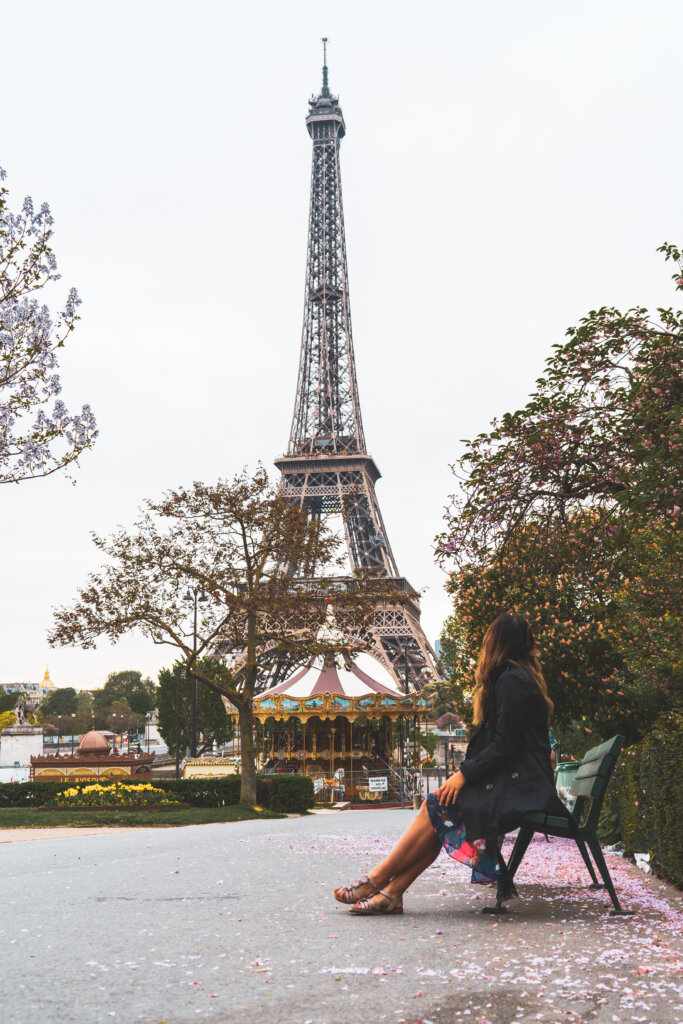 Bring proof of age/residency everywhere you go
Besides heavy discounts for children (at pretty much every attraction), Paris also offers many discounts for "youths" (teens/early twenties), particularly those who reside in the EU.
The Eiffel Tower for instance has a "Youth Rate" for those that are between 12-24 and there's a weekend ticket available for young people under 25 for the Metro, where you get unlimited trips in a day for about 4 euros. Amazing deal!
Most of the major museums actually have free/discounted admission for EU residents under 26. This was how I got into the Orsay and many other museums free during my visit as an exchange student living in Germany (I was allowed in free because of my student visa).
There are frequently also senior discounts for those who are 60+. My rule of thumb: it doesn't hurt to ask 🙂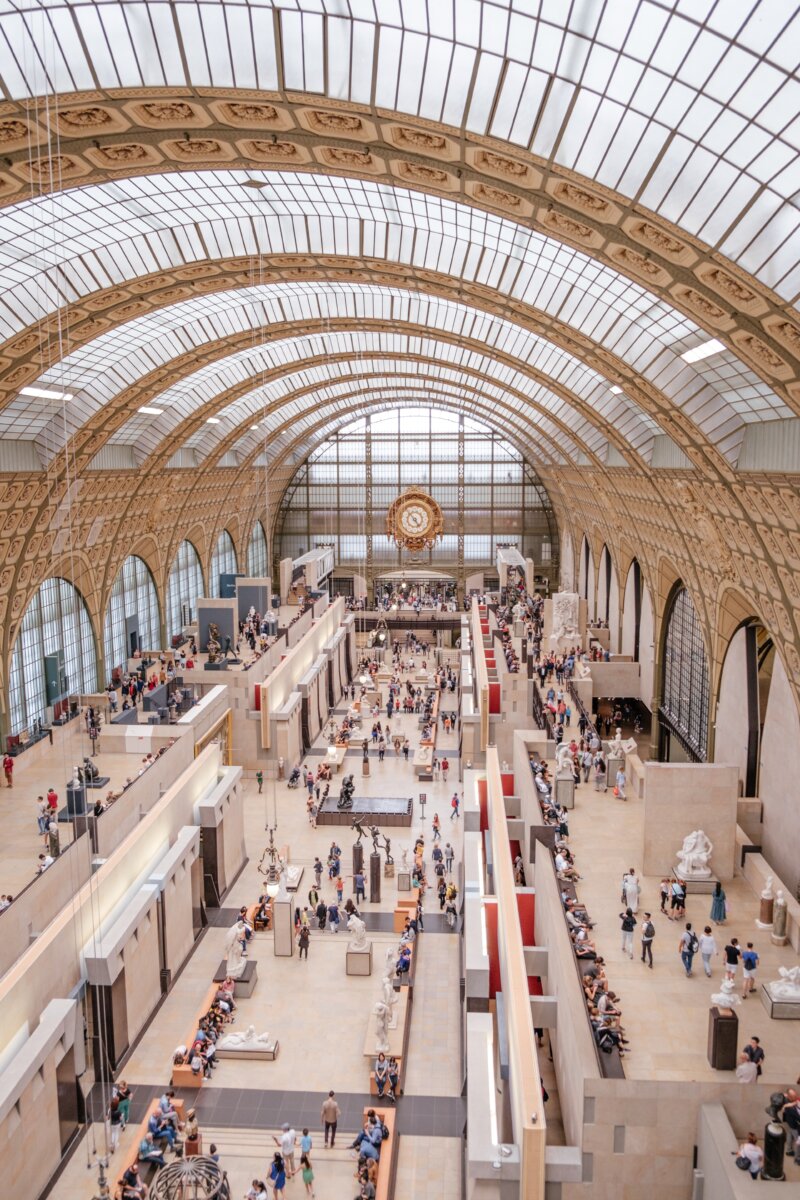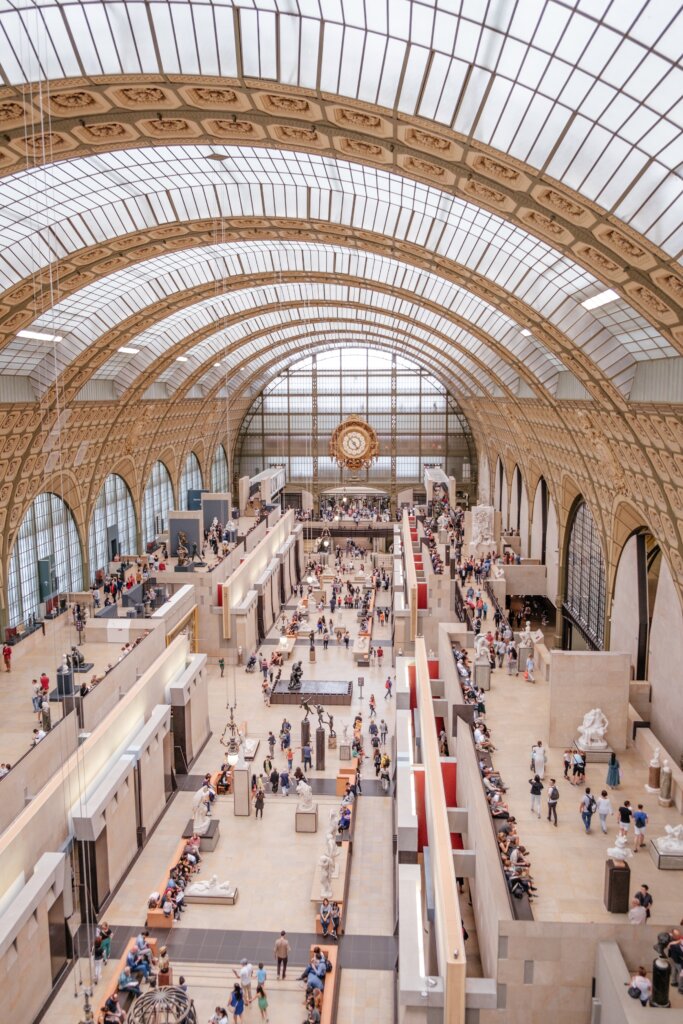 Get familiar with the many free things to do in Paris
Paris is a city where the cost of attractions can add up quickly.
Luckily, there are a lot of free things to do that are just as fun as paid attractions, like visiting the city's parks, heading to free museums, etc.
Check out my full list of free things to do in Paris for more.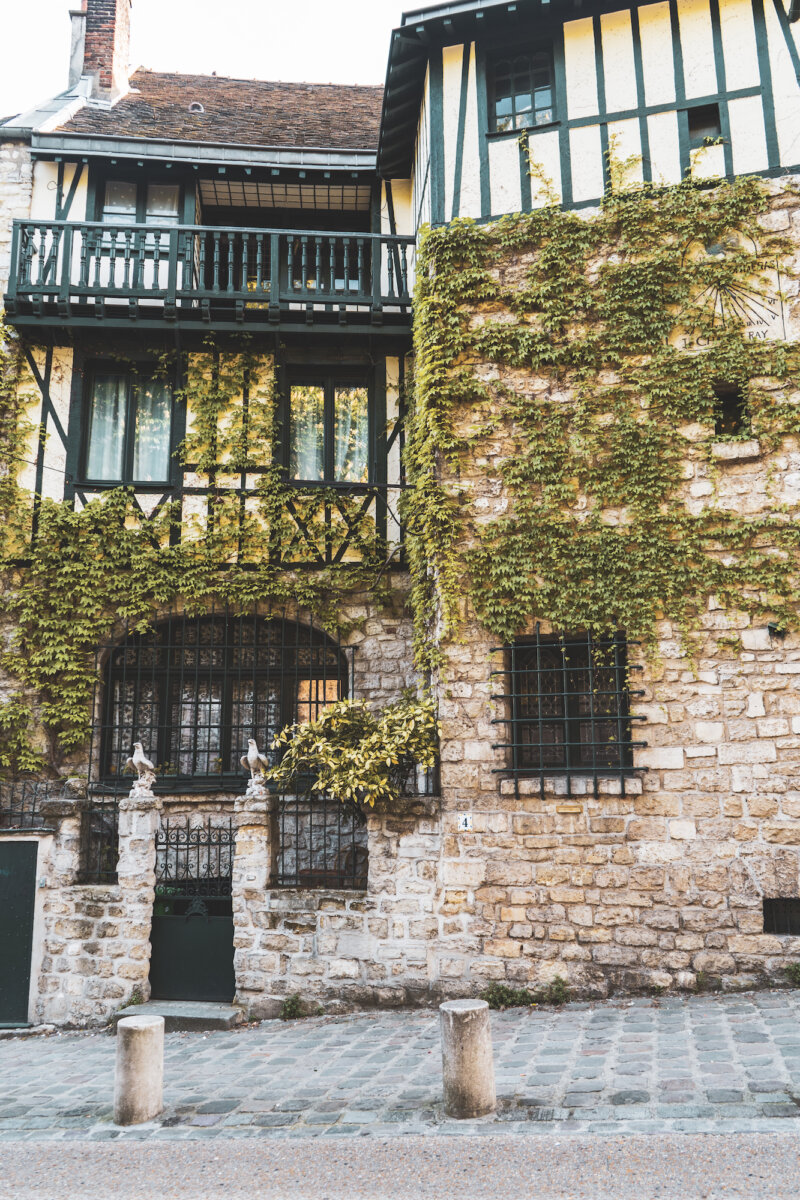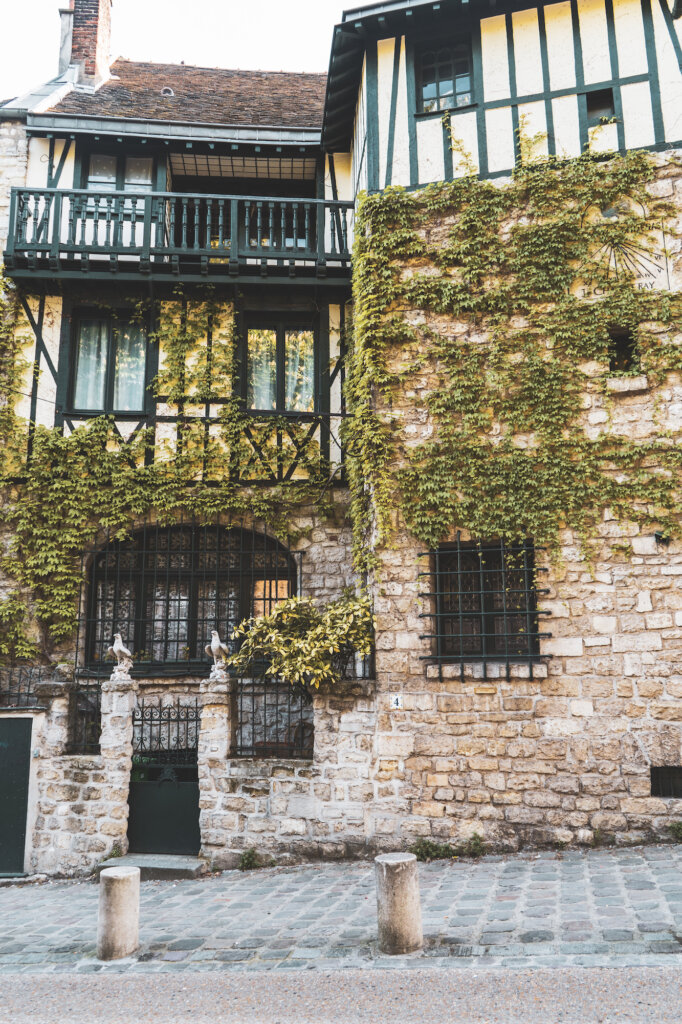 Enjoy sunset from the Seine
Of all the cheap activities you can enjoy in Paris, sitting down to enjoy sunset by the Seine is one of my favourites.
This to me is a quintessentially Parisian experience (best enjoyed with a glass of wine!) that you cannot miss. Make sure to schedule this in at least once!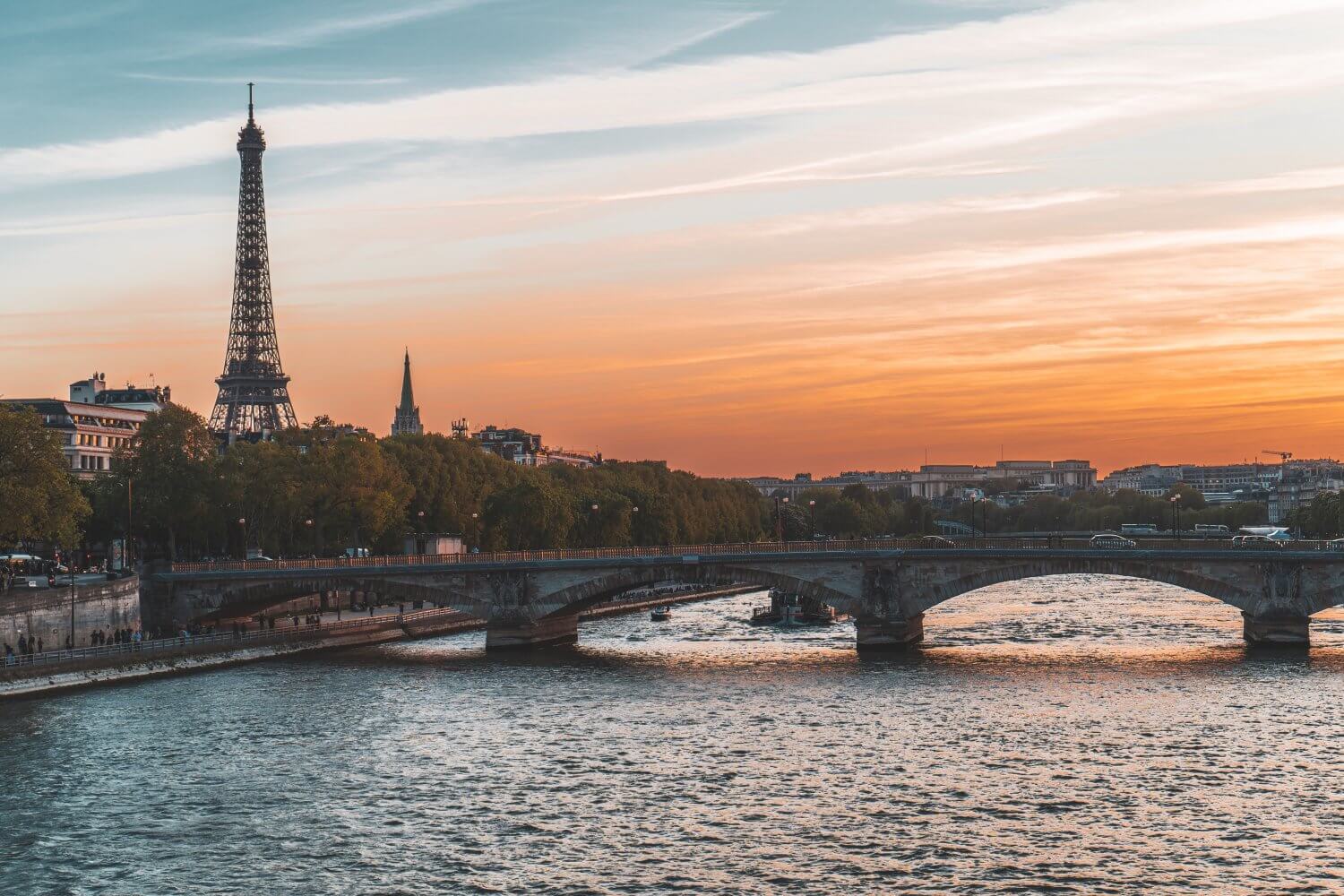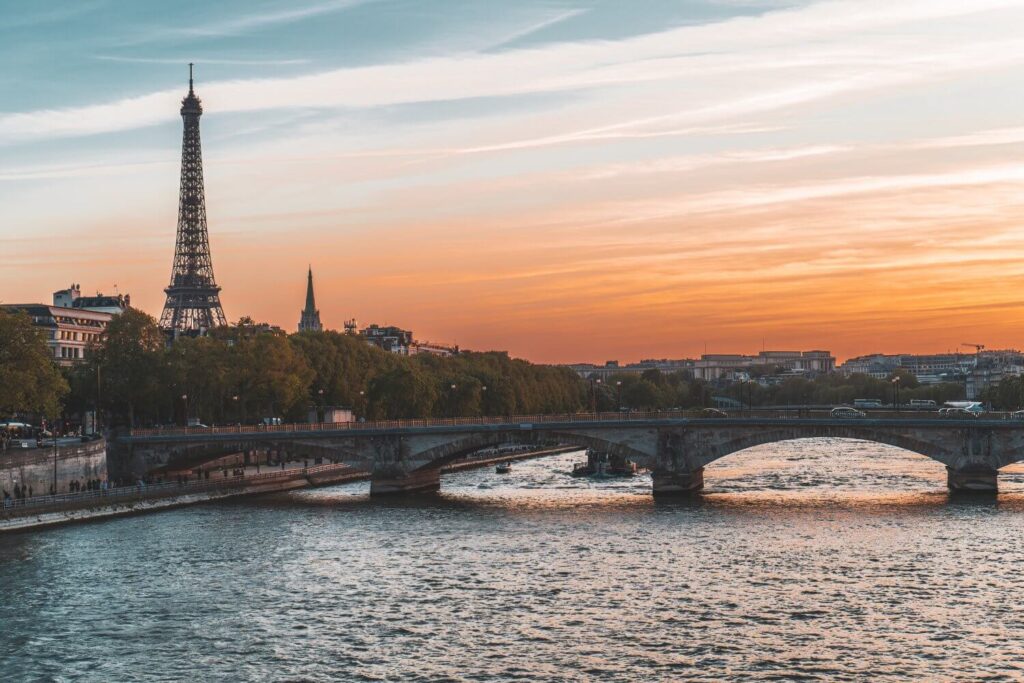 Don't make it a priority to go UP the Eiffel Tower
If I can be honest with you, I genuinely think the view from the Eiffel Tower is one of the worse paid viewpoints in the entire city.
Woah, I know – bold statement, but hear me out. Isn't one of the most iconic parts of the Parisian skyline the Eiffel Tower itself? And wouldn't you say that a view without said tower would feel mighty incomplete?
… exactly.
That's why I've been up the Eiffel Tower only once and don't really plan on doing it ever again. A Parisian view without the Iron Lady is like a pain au chocolate sans chocolat. You feel me?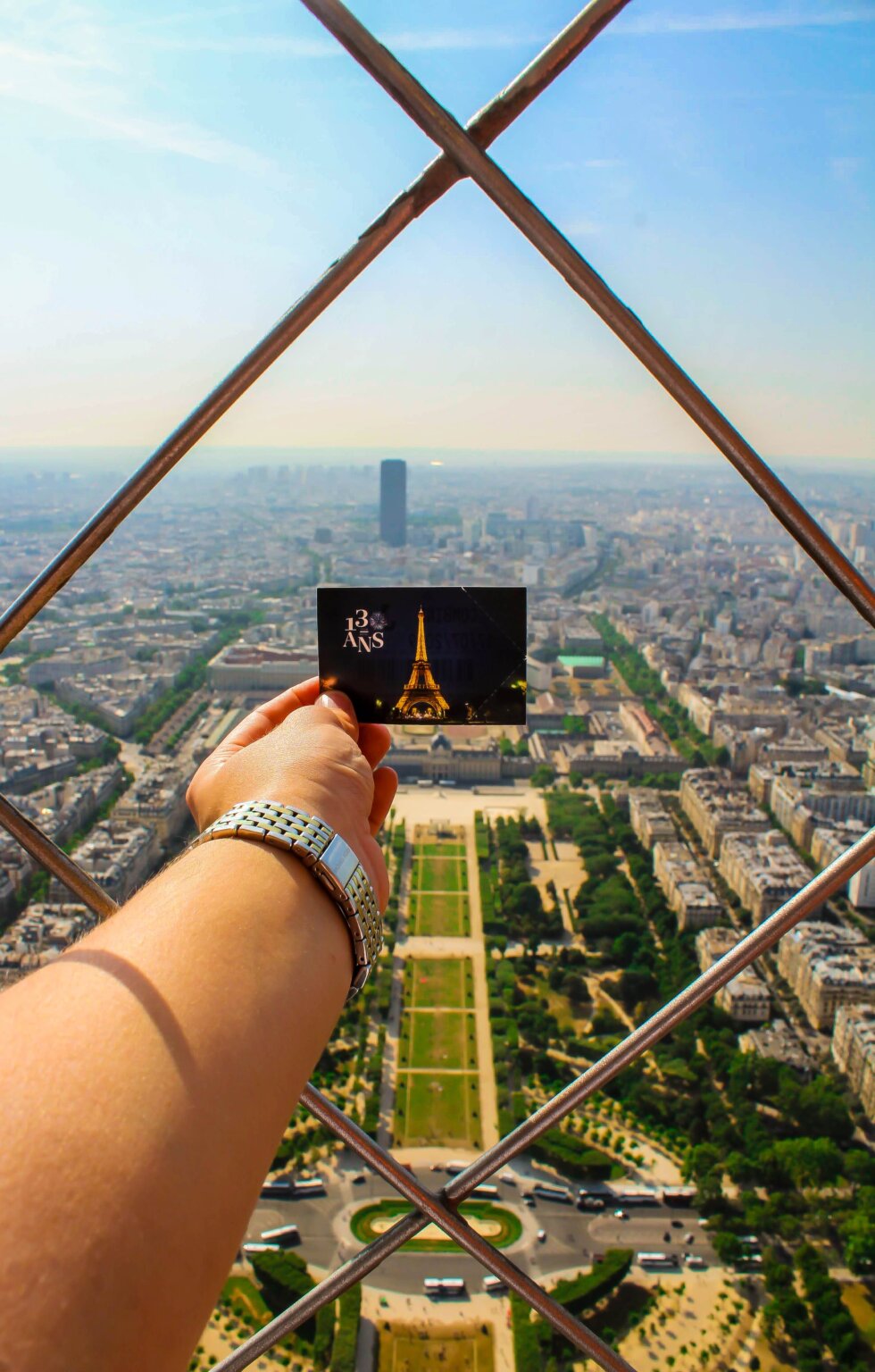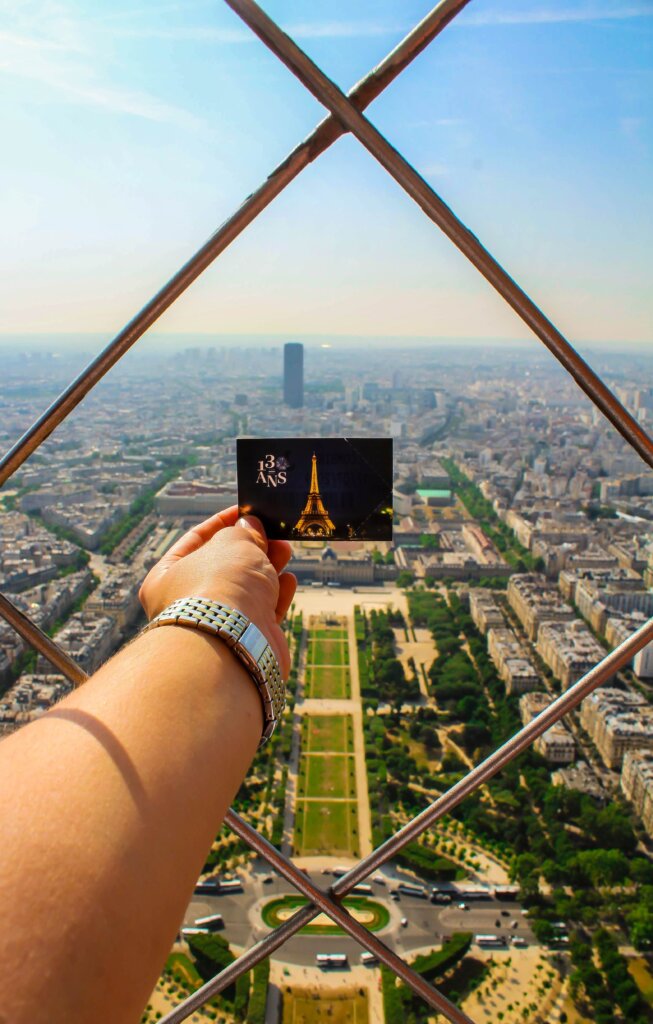 Consider walking the Eiffel Tower
If you are set on heading up the Eiffel Tower though, there's a more unique way up that many visitors don't know about.
For those looking to get a leg workout, you can also opt to climb up the Eiffel Tower on foot.
Not only is this a unique way to experience this Parisian landmark, you'll also encounter shorter wait times and line-ups than taking the elevator up.
Do NOT jaywalk across the roundabout at the Arc de Triomphe
I know I said earlier that jaywalking is mainly fine in Paris, but there's one big exception – the roundabout at the Arc de Triomphe.
This is a sight that makes me cringe every time – a LOT of tourists in Paris seem to miss the fact that the passageway to the Arc de Triomphe is underground, so they choose chaos and instead try to run across this super busy roundabout into the middle section.
Don't do that – it's genuinely dangerous! Look instead for the stairs that will take you underground.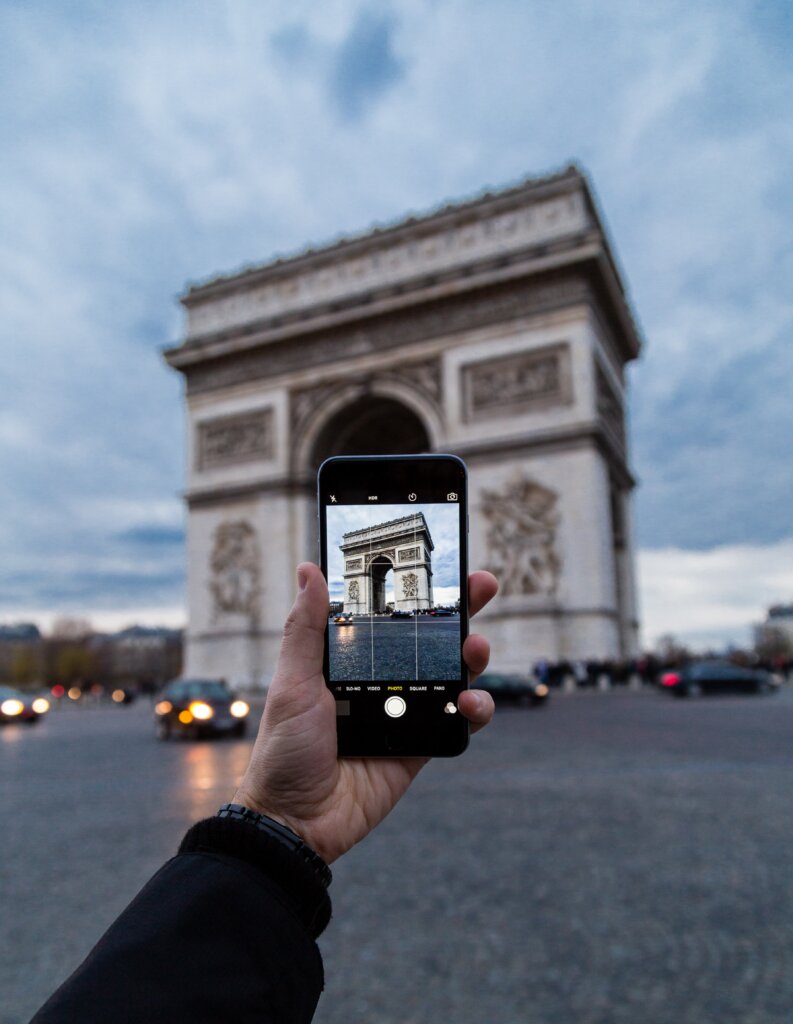 Don't miss the free view at Galeries Lafayette
Looking for a splendid view that won't cost a thing? Head to the world famous Galeries Lafayette, where an epic rooftop view awaits.
It took me so many visits to finally explore this free view and now it's one of my faves, especially because the Opera Garnier is… the best.
You can see the Eiffel Tower from here too!
PS: For more amazing free viewpoints in the area, I've heard the one at Printemps is excellent too, but it was closed when I tried to go.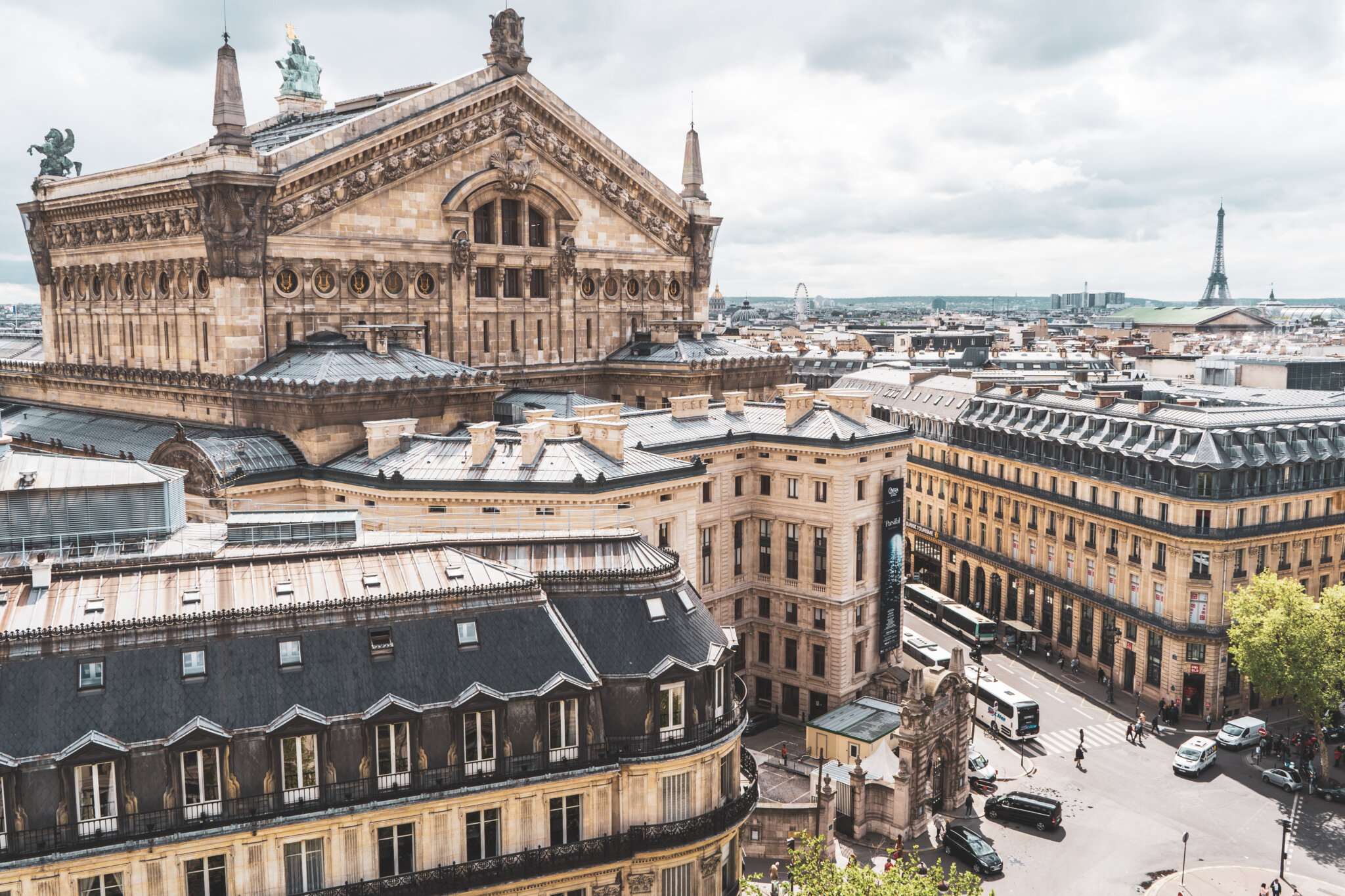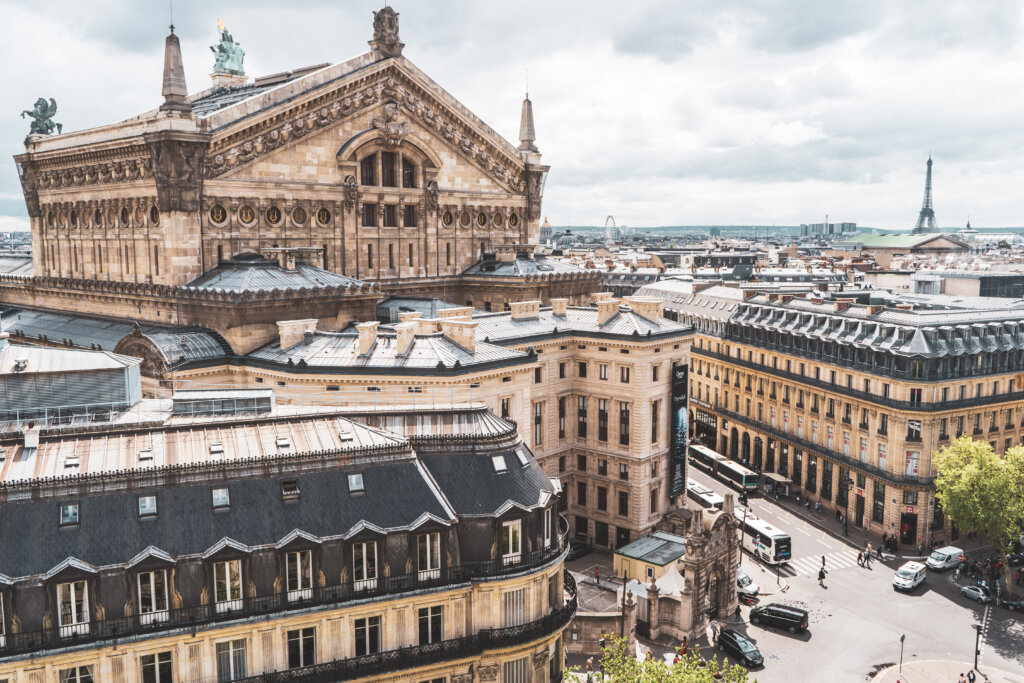 Go to Sacré-Cœur (at sunrise)
If you don't mind a little climb that will melt your legs right off, there's a phenomenal view over the city from Sacré-Cœur Basilica, a view that's even more glorious if you climb its tower.
For an extra special experience, come here for sunrise.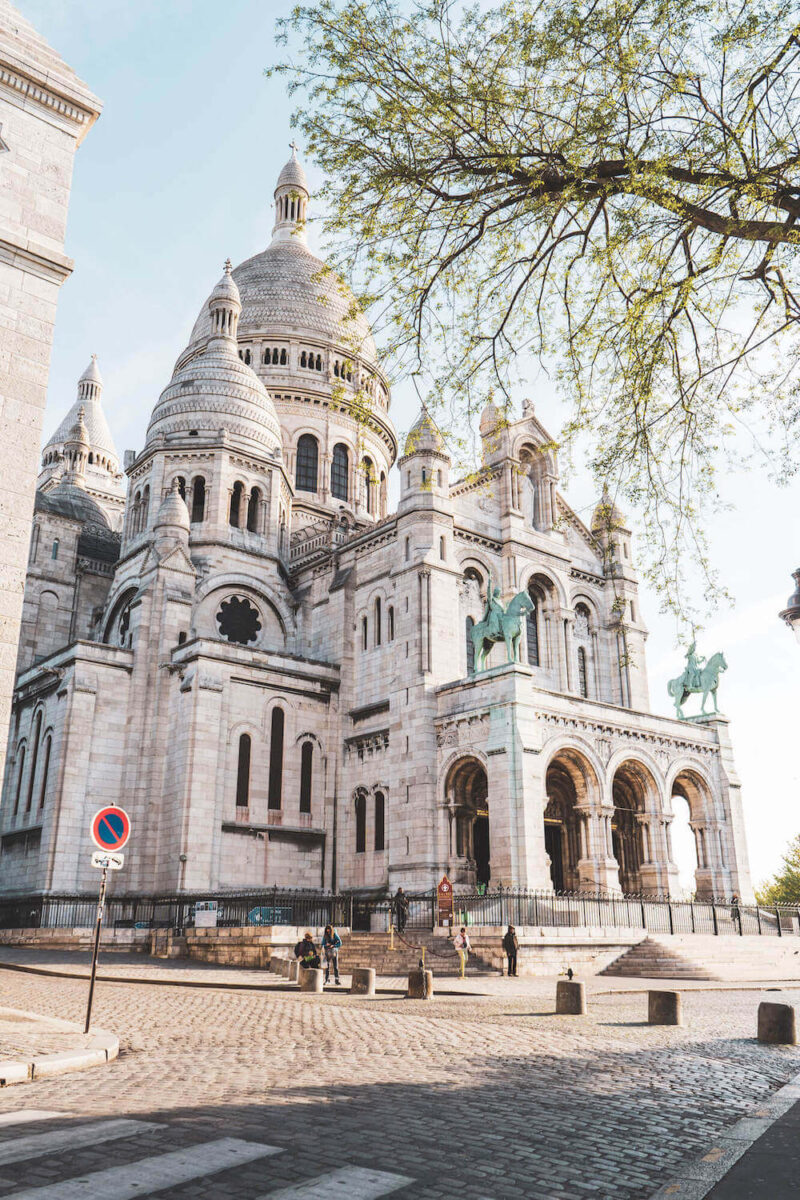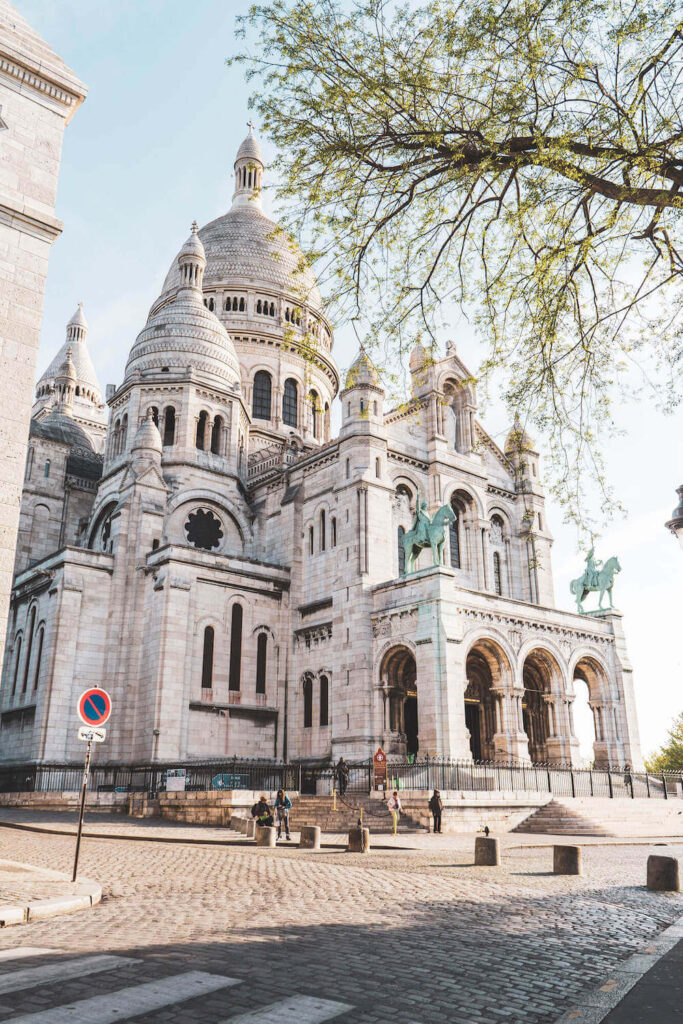 Raining? Head to Paris' Covered Passages
The Covered Passages of Paris are one of my favourite hidden gems in the city – you'll find about 20 of them scattered mainly around the 2nd, 9th and 10th arrondissements.
While each passage is different, they all share a magical quality that brings you back in time, with splendid architectural details and a lovely mix of shops, bistros and cafes.
Here are some of my favourite covered passages in Paris:
Galerie Vivienne
Passage Jouffroy
Passage des Panoramas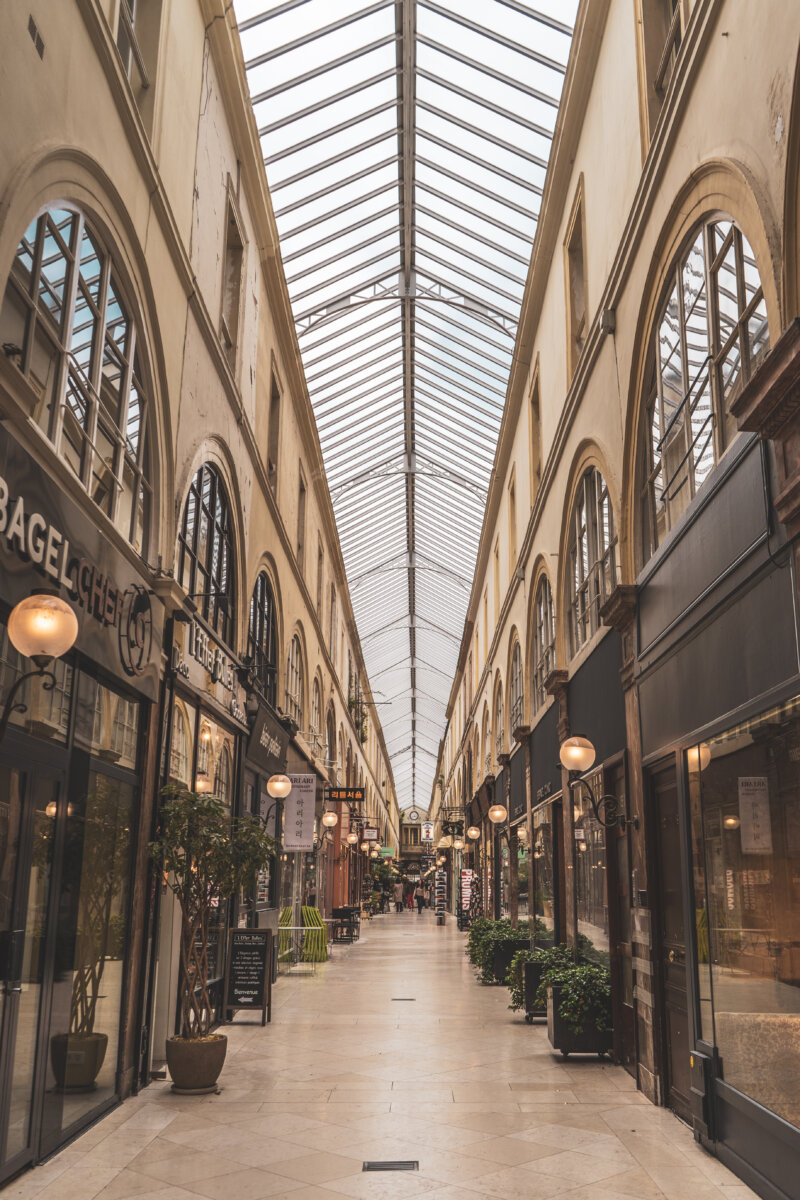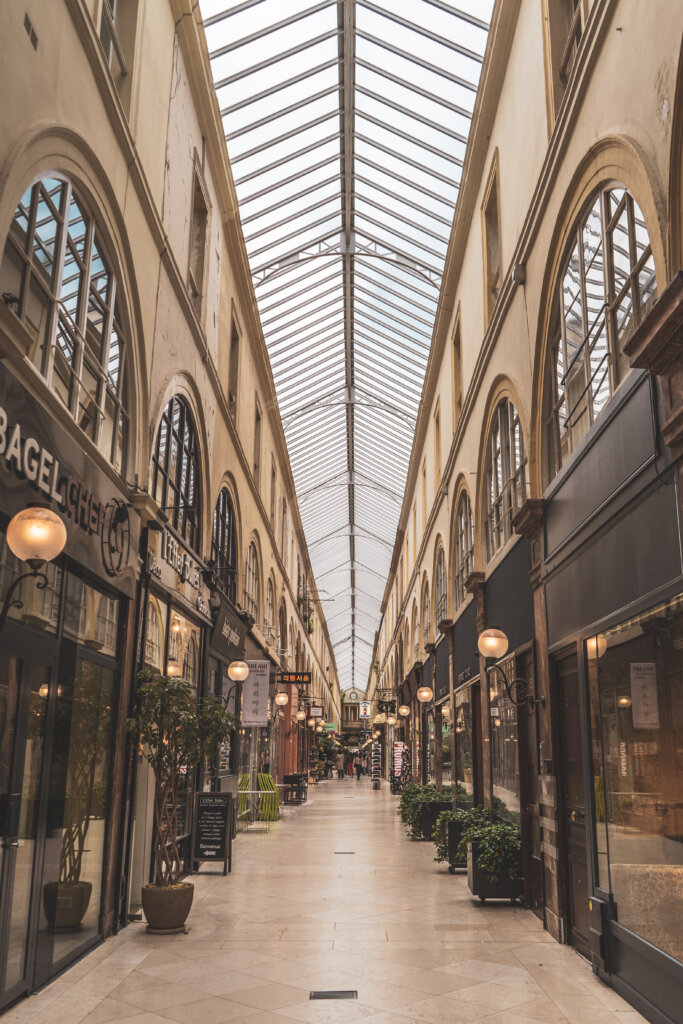 See inside the Palais Garnier
The Palais Garnier (Paris Opera House) is an attraction many tourists visit for the exterior, but please, if you can, go buy yourself a ticket to go inside.
No joke – This is one of the most beautiful buildings I've seen in my entire life.
Sure, my teenage obsession with the Phantom of the Opera likely plays a factor, but if you have time in your itinerary, GO INSIDE. It's stunning!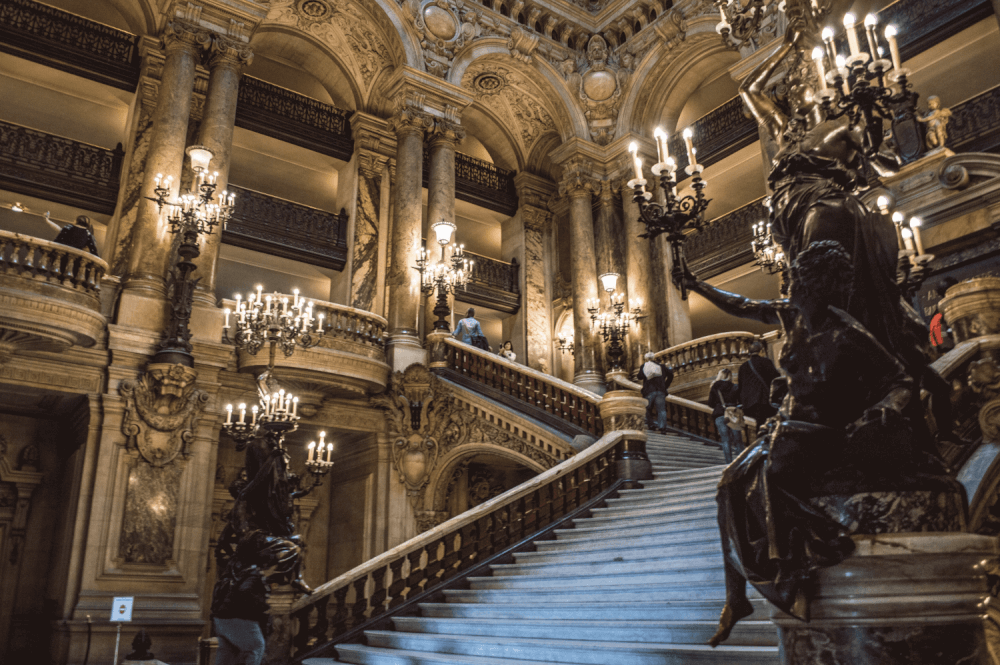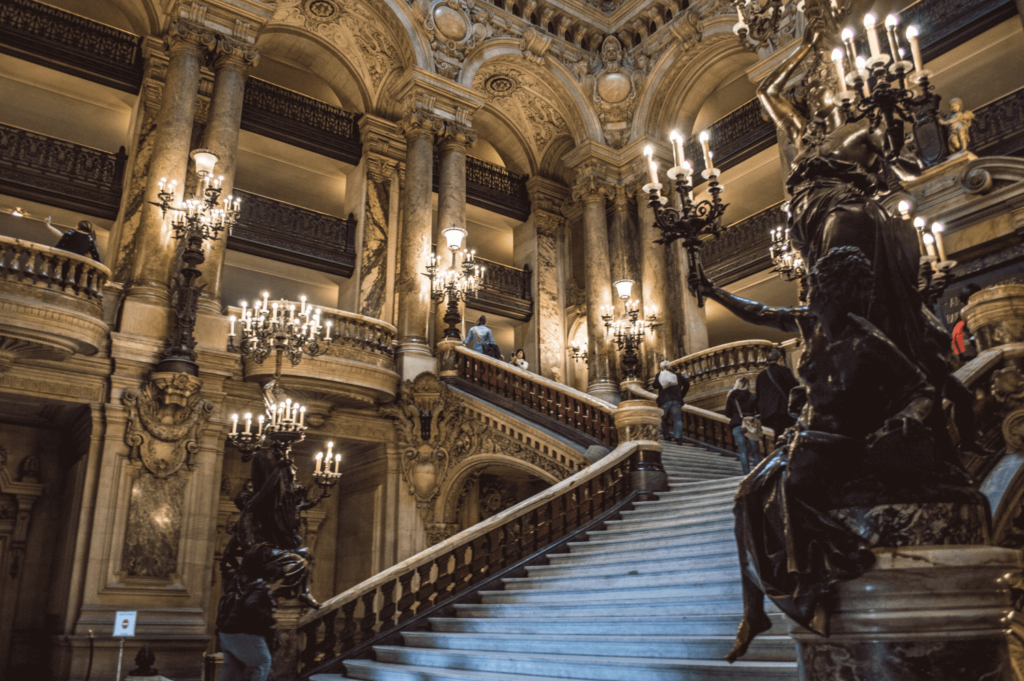 Visit the Parc des Buttes-Chaumont
Paris is full of gorgeous parks, and taking advantage of them is a must when you visit.
The Jardins des Tuileries and Jardins du Luxembourg are both prominent tourist must-sees recommended in every travel guide, but if you don't mind going a bit further afield, the Parc des Buttes-Chaumont is a wonderful park.
Sure it's farther from other tourist sights in Paris, but it's also less busy, and filled with awesome sights like a large artificial lake, a cool grotto with waterfalls, and several neat bridges.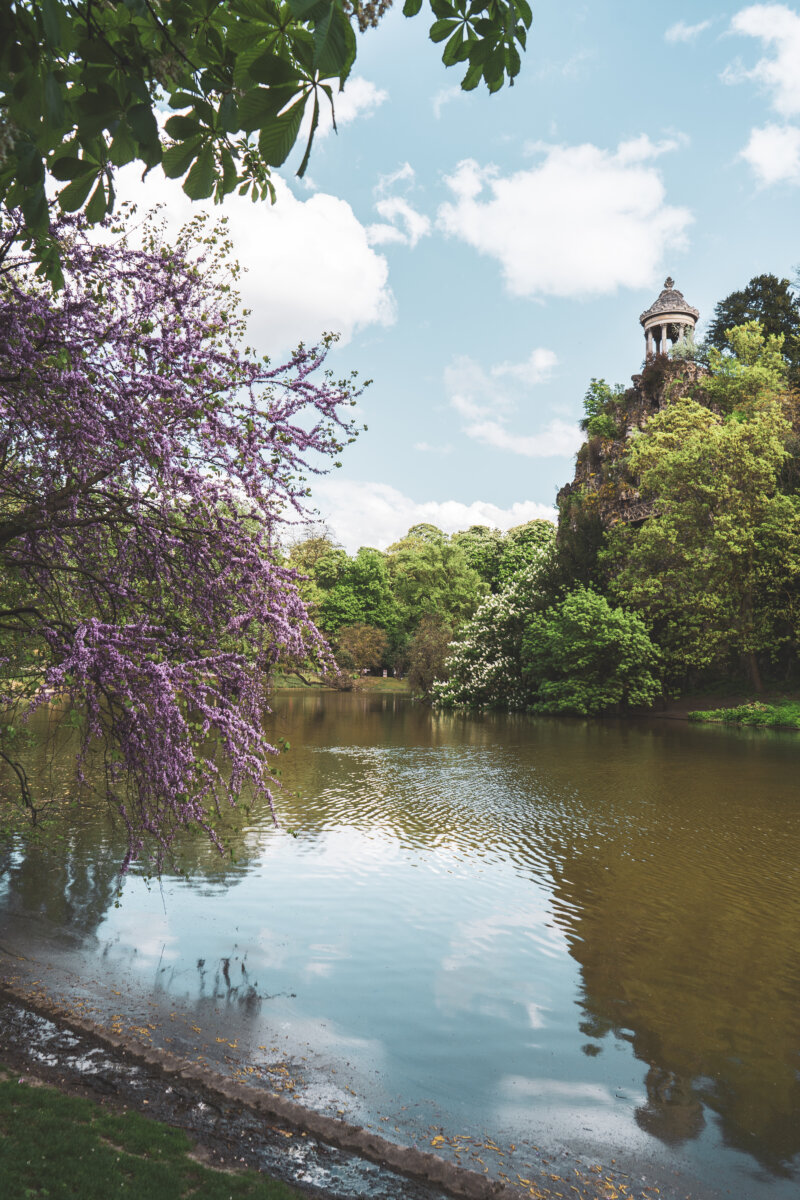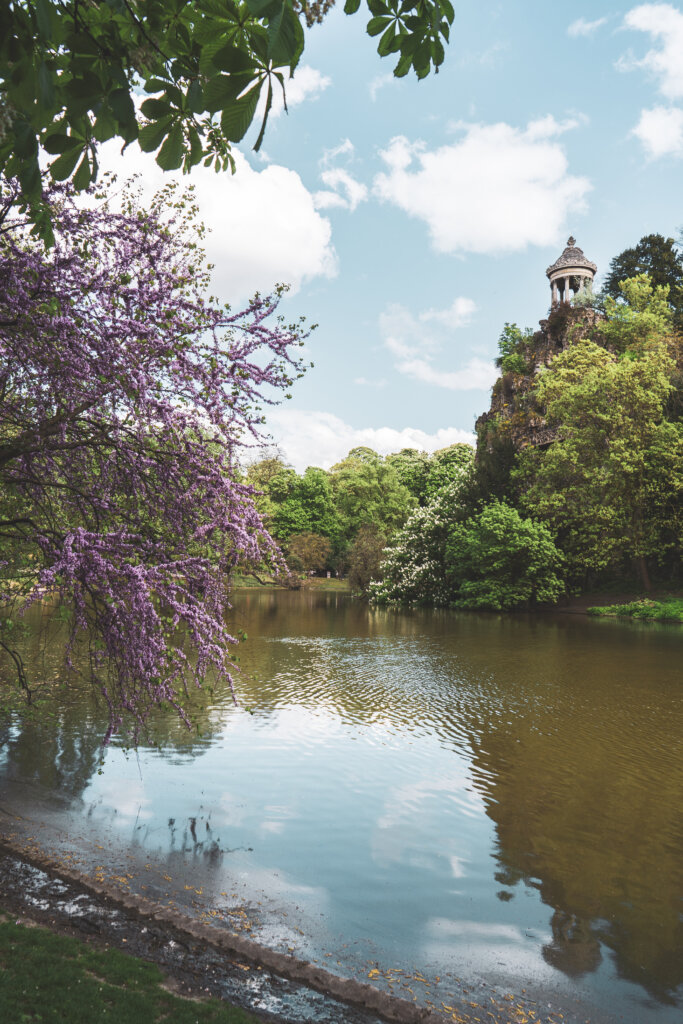 Seek alternate viewpoints to main attractions
This is a Paris tip that you can use pretty much all over the city.
When you're exploring the main attractions in Paris, try to venture a little away from the crowds to find cool alternate viewpoints.
You'd be surprised at how easy it is to find a spot with fewer people to get THE perfect photo and some creative angles as well.
For example, the Sacré-Cœur is most photographed from the front entrance, along the steps, but my personal favourite view is from the Square Marcel Bleustein Blanchet, just behind and usually with a fraction of the crowds.
Similarly, Trocadero or the Champs de Mars is the #1 place people go to photograph the Eiffel Tower, but the Passerelle Debilly offers a much cooler angle (and unique opportunity to score a photo without a million other people in it).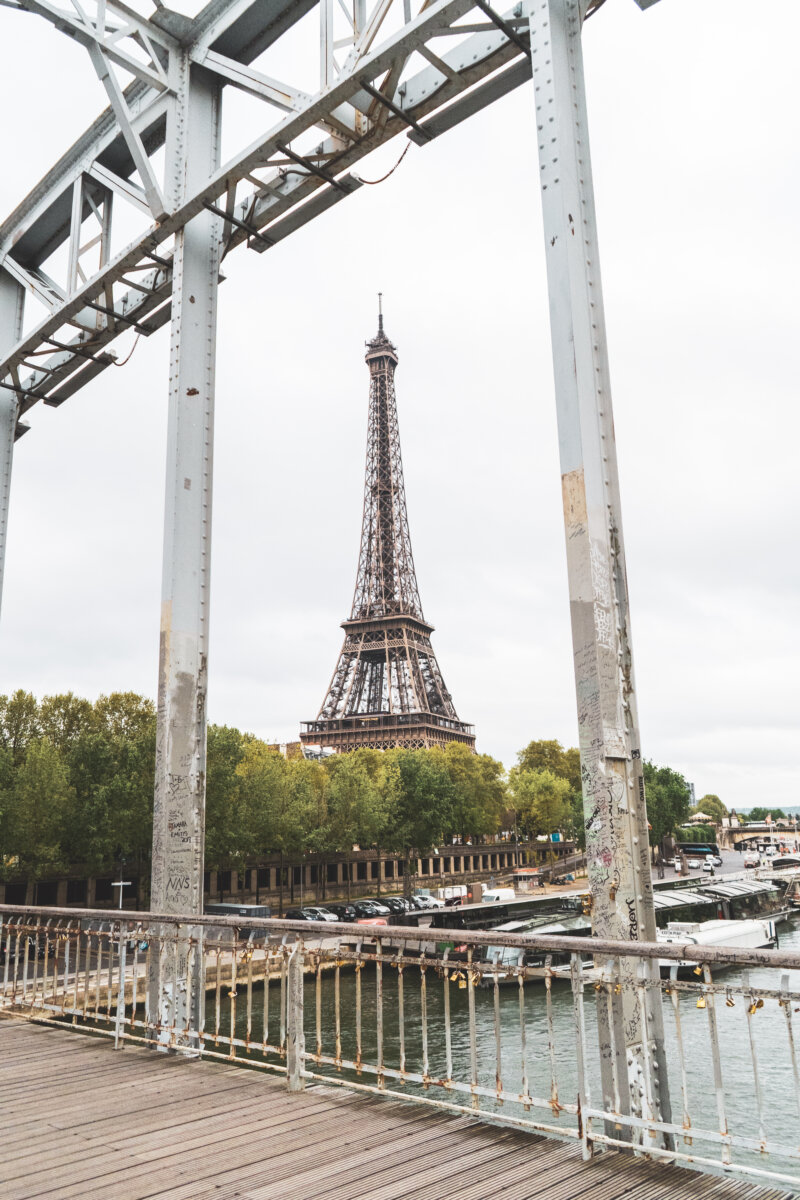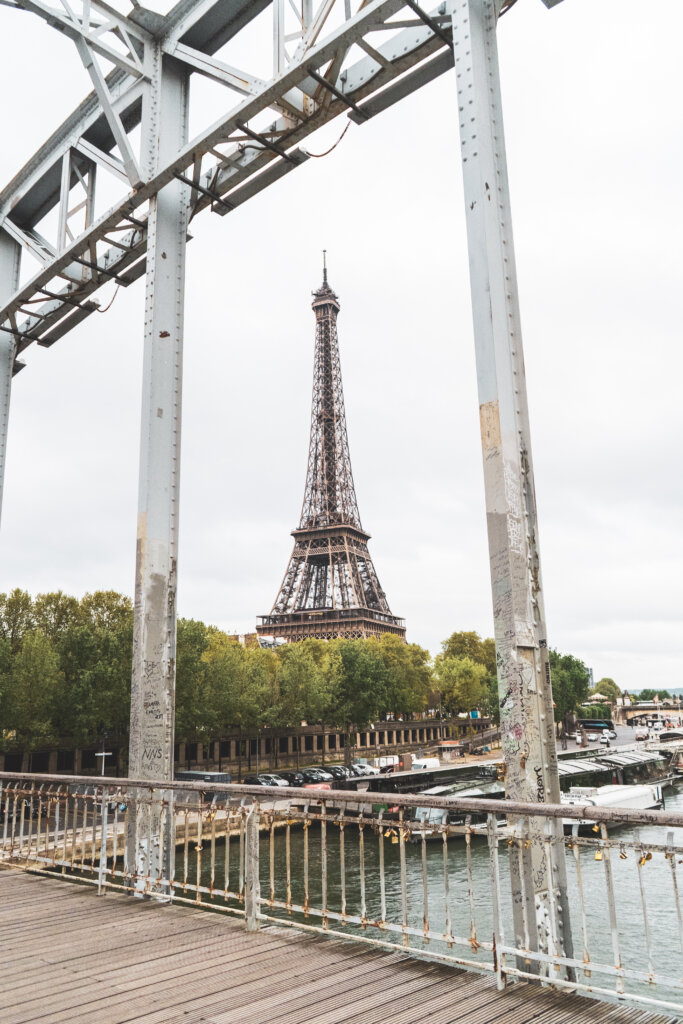 Head to a flea market
I adore rummaging for useless junk and something about rummaging for useless junk in Paris makes the event feel 100x more romantic.
Les Puces (as popularized by Midnight in Paris) is one of the better known flea markets in the city, and while some say its popularity has turned it into a touristy place, it's still well worth a visit if you love nostalgically sifting through crap as much as I do.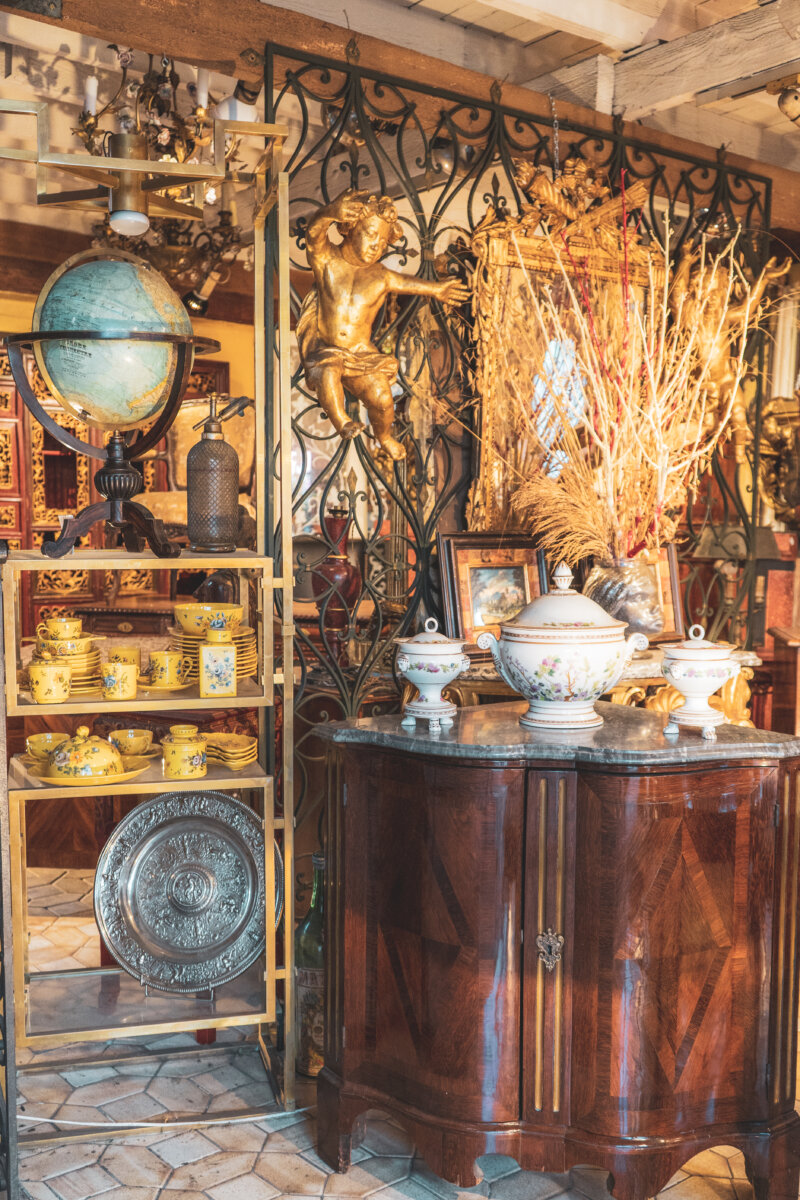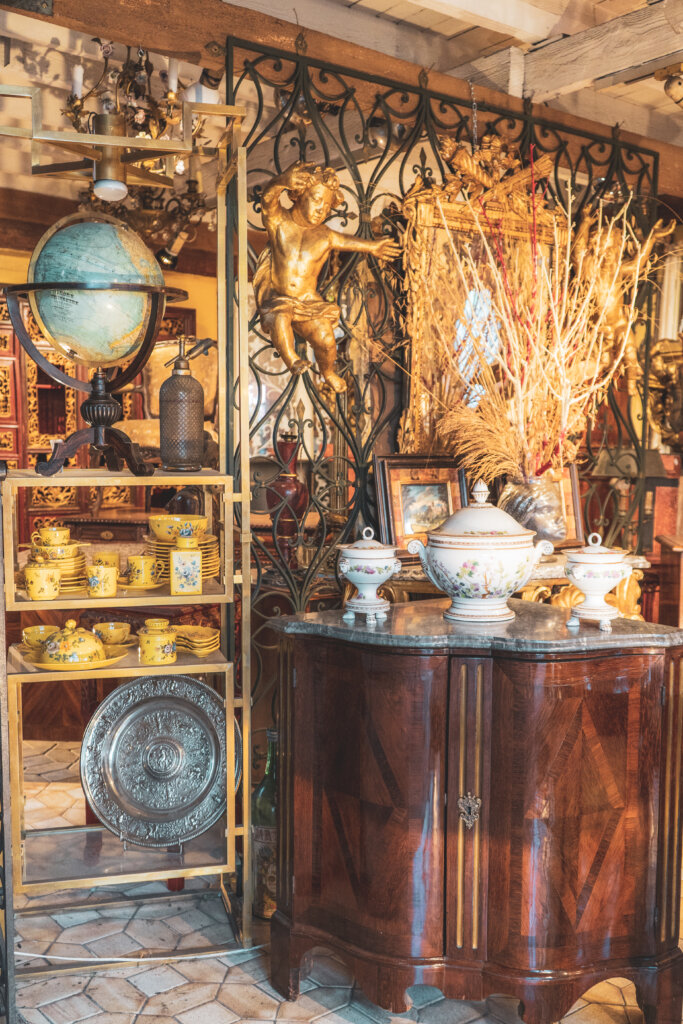 Consider doing Disneyland Paris as a one-night trip rather than a day trip
Doing Paris to Disneyland Paris as a day trip is a very common part of visitors' itineraries, but if I were you, I would recommend doing (at least) one night there instead.
I've been to Disneyland Paris 3 times now – and while it's quite doable as a day trip, nothing beats sleeping close to the park, arriving early, and staying late.
This allows you to maximize your time at the parks (to discover Disneyland Paris' secrets and its uniquely beautiful castle) and not stress too much about transportation.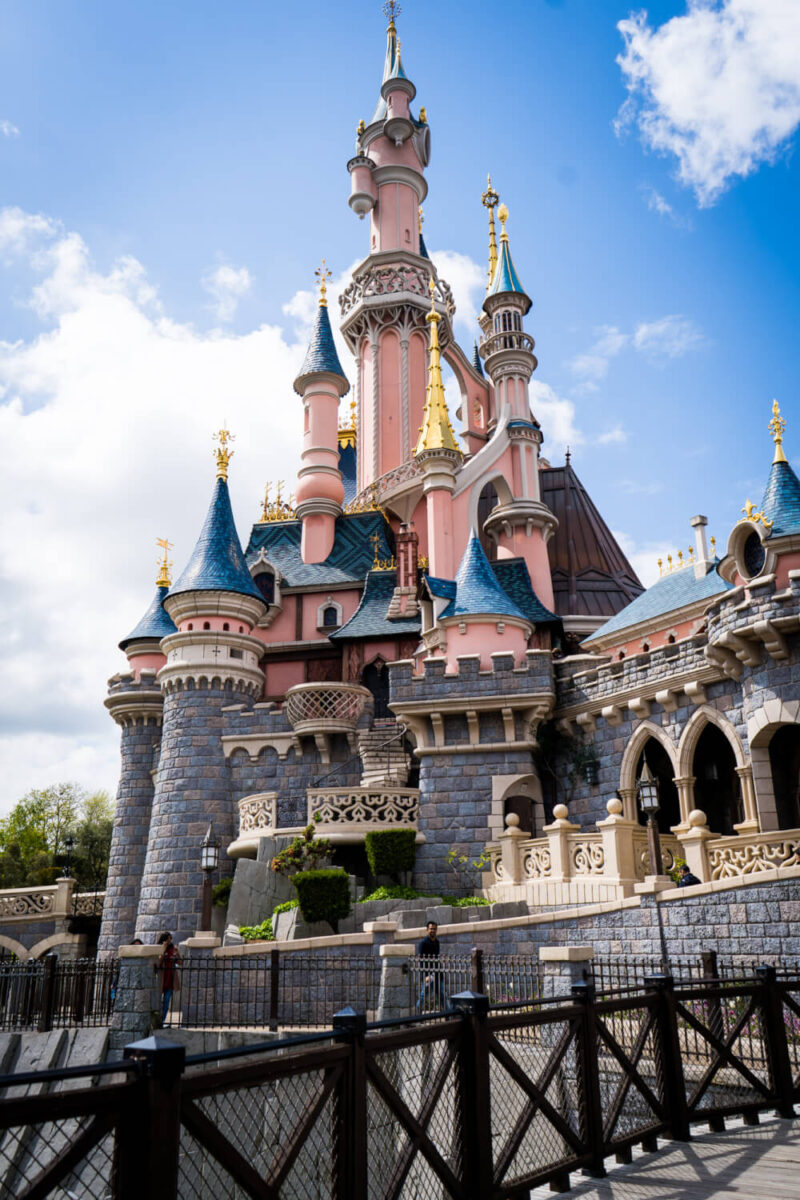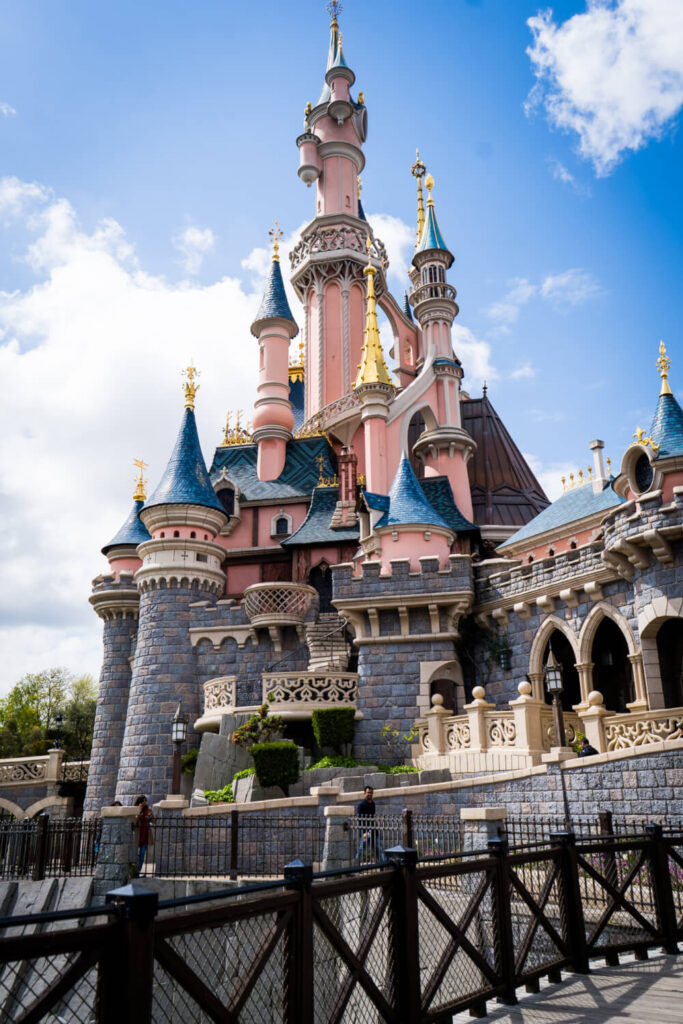 Safety Tips for Paris
I've heard some of the worst horror stories there are to hear about Paris… from people getting their passports stolen while picnicking by the Eiffel Tower to people getting pickpocketed straight out of the airport.
If you don't want that to be you, here are some tips for avoiding safety issues in Paris.
Keep valuables out of sight
Tourist-related crimes in Paris are primarily opportunistic ones.
Off the top of my head, these are stories I have heard from visitors and Paris locals:
Someone getting their phone yanked out of their hands on the Metro as the doors were closing
Someone getting their phone stolen off their table at a cafe terrace
Someone getting their bag and passports stolen because they left their bag unattended near the Eiffel Tower while taking photos
The one common denominator here is that their valuables were in sight and easy to gab, so try your best to keep an eye on your valuables and not have them out and about.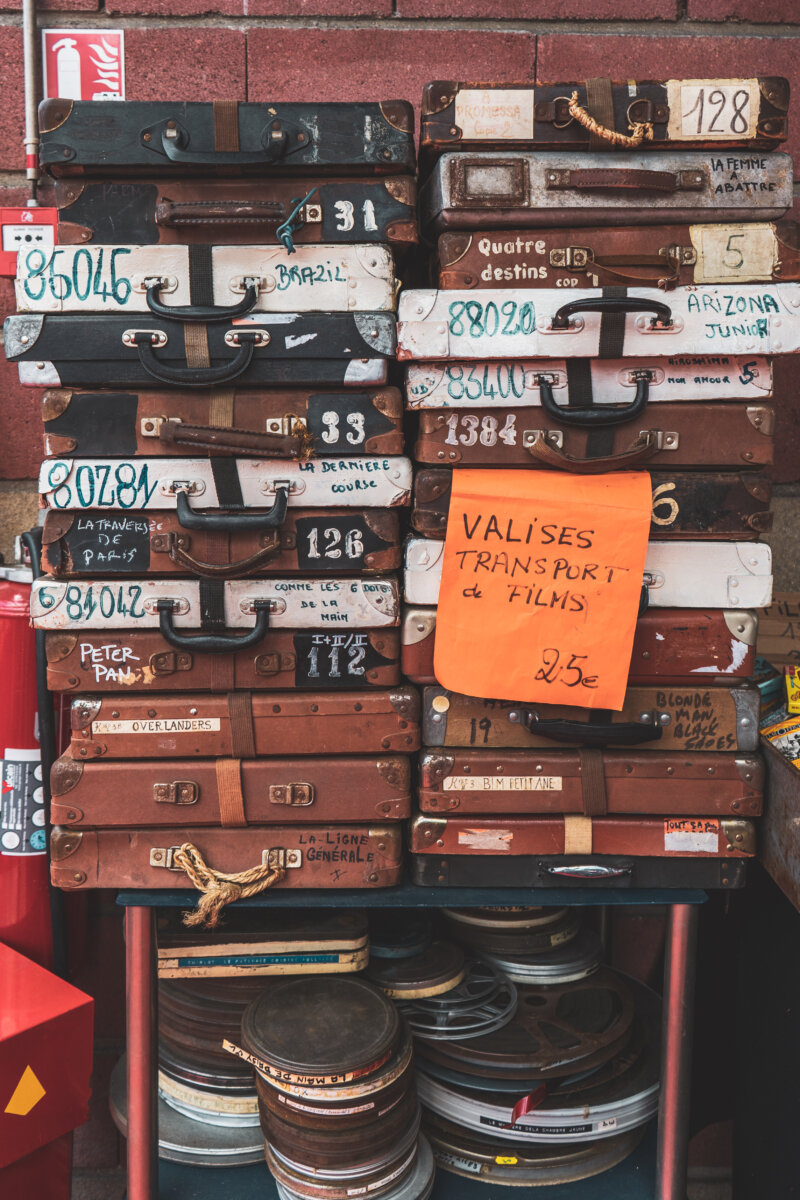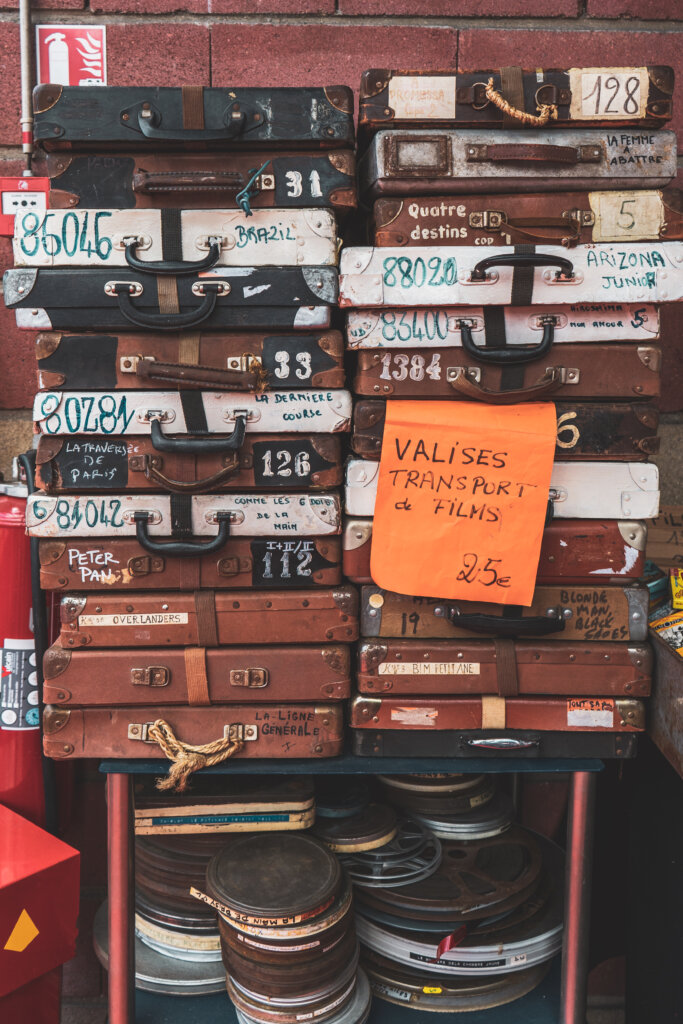 Know the emergency numbers
In North America, 911 is the go-to when you have any kind of emergency.
If you face an emergency in Paris, there's a few options for numbers you can call:
112 – General line where you may be redirected
15 – Ambulance/medical emergencies
17 – Police
18 – Fire department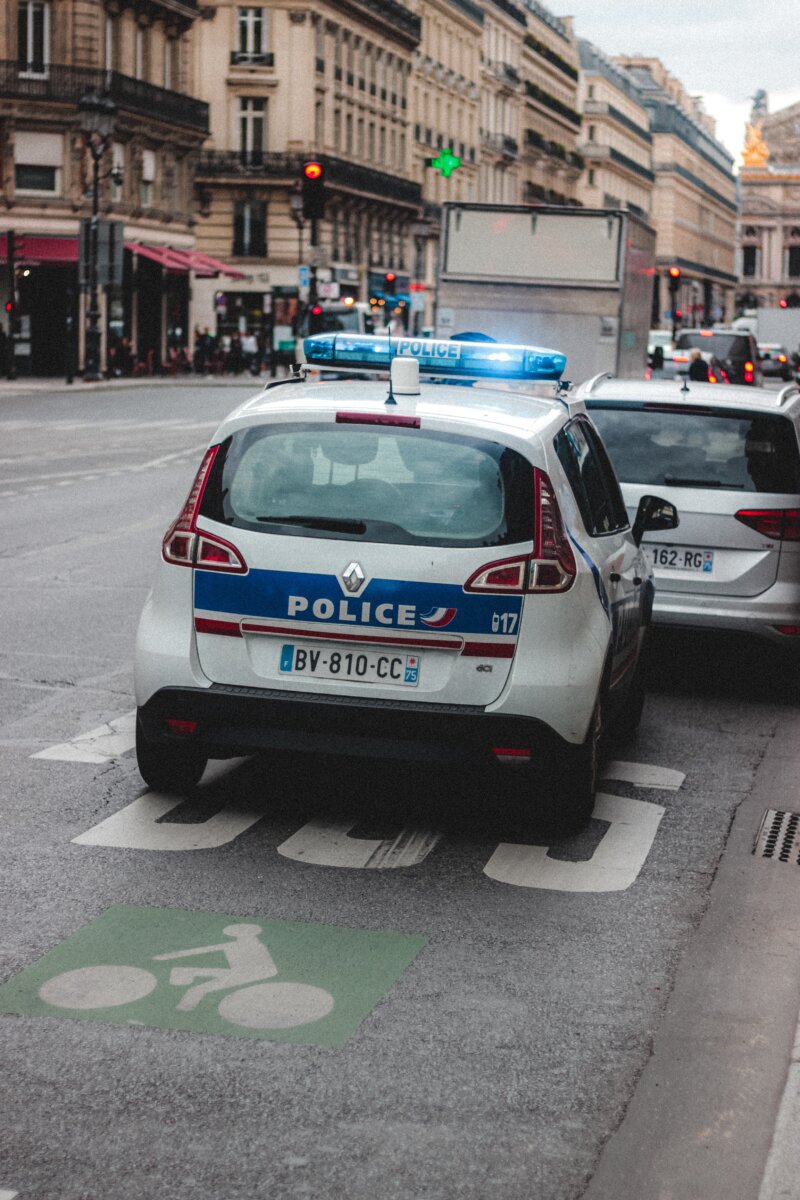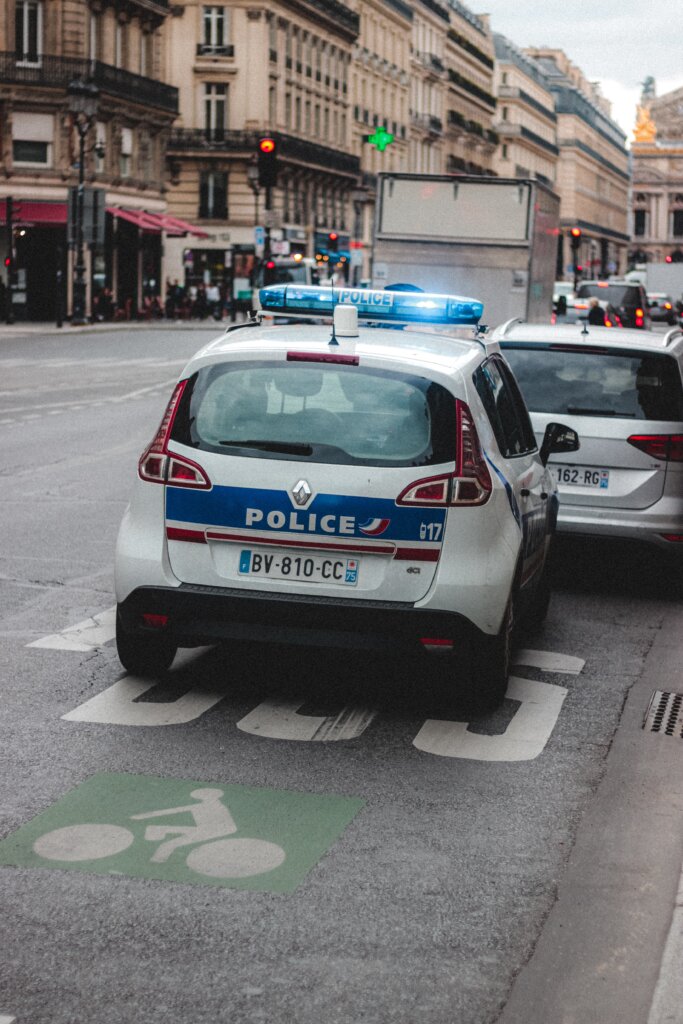 Don't Sign Petitions
9/10 times, if someone comes up to you asking you to sign a petition in any touristy area in Paris, it is something known as the Parisian Petitions scam.
Here's how it works: Young girls will approach you in busy places (Champs-Élysées, Jardins des Tuileries, Notre Dame, etc) with a clipboard and will either pretend to be deaf-mute, using gestures to ask you to sign OR they will ask "do you speak English?" to draw you in.
Usually they do this to distract you while another pickpockets you, or commonly they ask you for a donation while you sign the petition, and get really aggressive when you don't.
To deal with this scam, just ignore, avoid eye contact and move on.
Don't accept bracelets from strangers
This happens a LOT near Sacre-Coeur and the Louvre, but usually, if someone is trying to give you a bracelet, that's another common Parisian scam.
Here's how it works: There will be guys with string bracelets walking around in busy touristy areas, trying to sell them to you.
The more aggressive ones will even tie the bracelet on your wrist without you consenting, then demand you pay for it. Avoid these guys like the plague!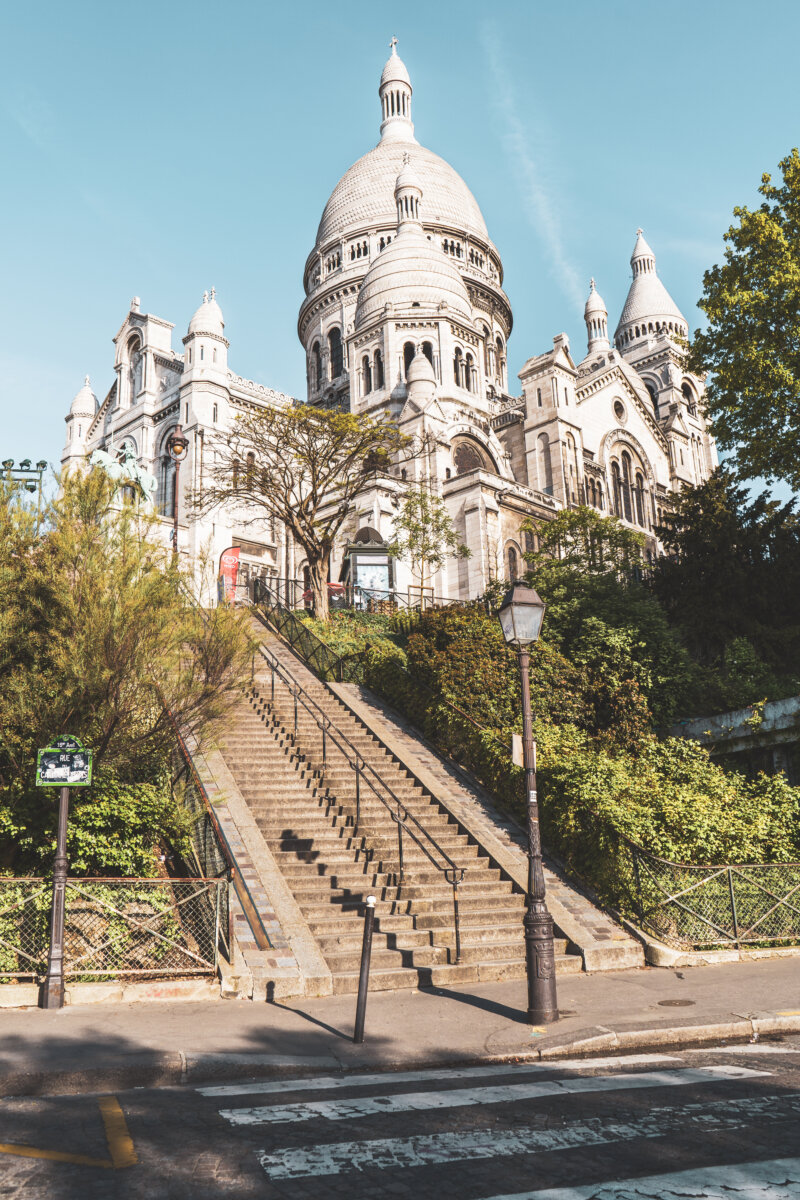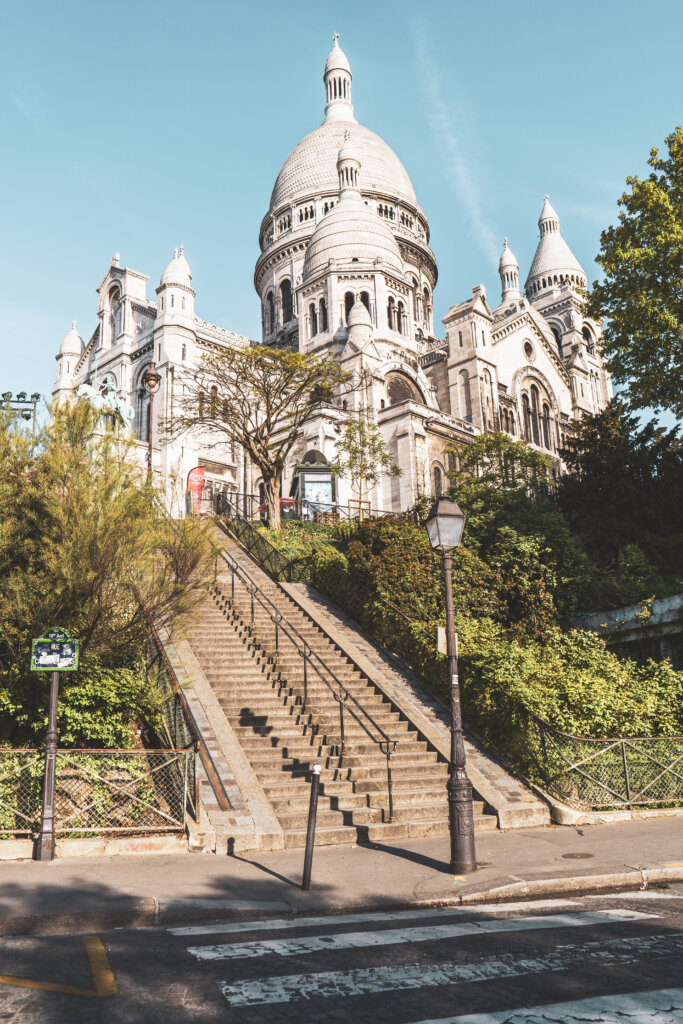 Beware of pickpockets
Another important Paris tip is to always have an eye on your belongings and don't bring anything out that you can't afford to lose.
I know this all sounds paranoid, but there are even pickpockets operating in paid attractions like the Louvre, so please be careful!
I've written a full guide on how to avoid pickpockets in Europe, so be sure to read that to get familiar with common scams and tactics.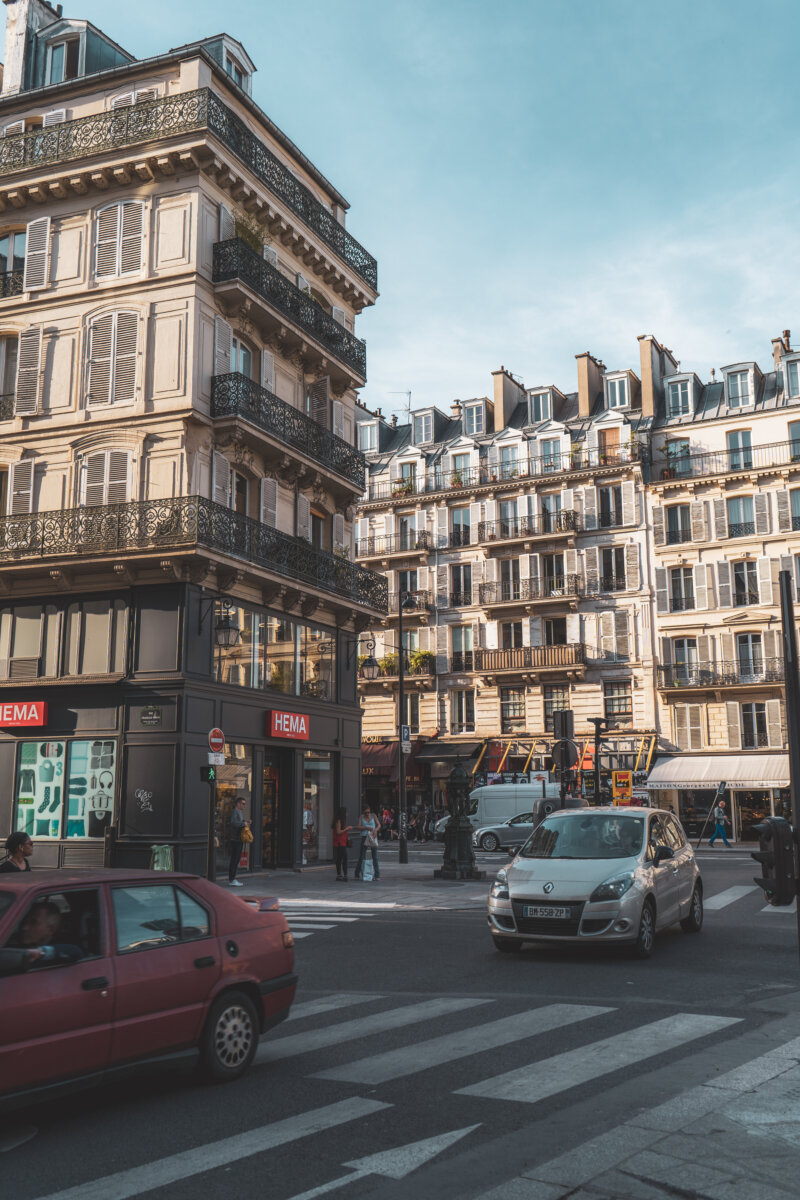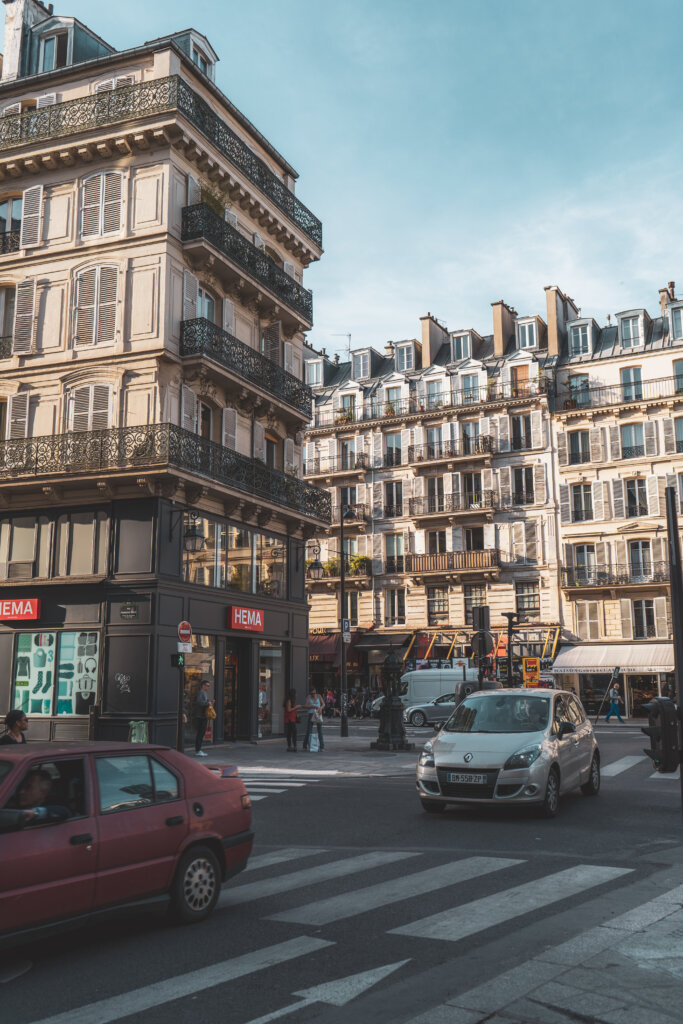 Beware of overly helpful people at the Metro
Buying tickets at the Metro stations can be confusing, but don't fall into the trap of an overly helpful stranger who has volunteered to help you.
Sometimes they will offer to help you get tickets in exchange for your cash, then get you the wrong ones (e.g. a child's ticket) while pocketing the profit. This is a very common scam that has happened to friends of mine, so beware!
Don't accept free roses
Another popular Paris scam is the rose scam, where you'll be given a rose as a "gift" then asked for money.
So, if some guy hands you a rose, don't take it… even if he insists it's a welcome gift. He WILL ask you for money, or ask your significant other for money at some point.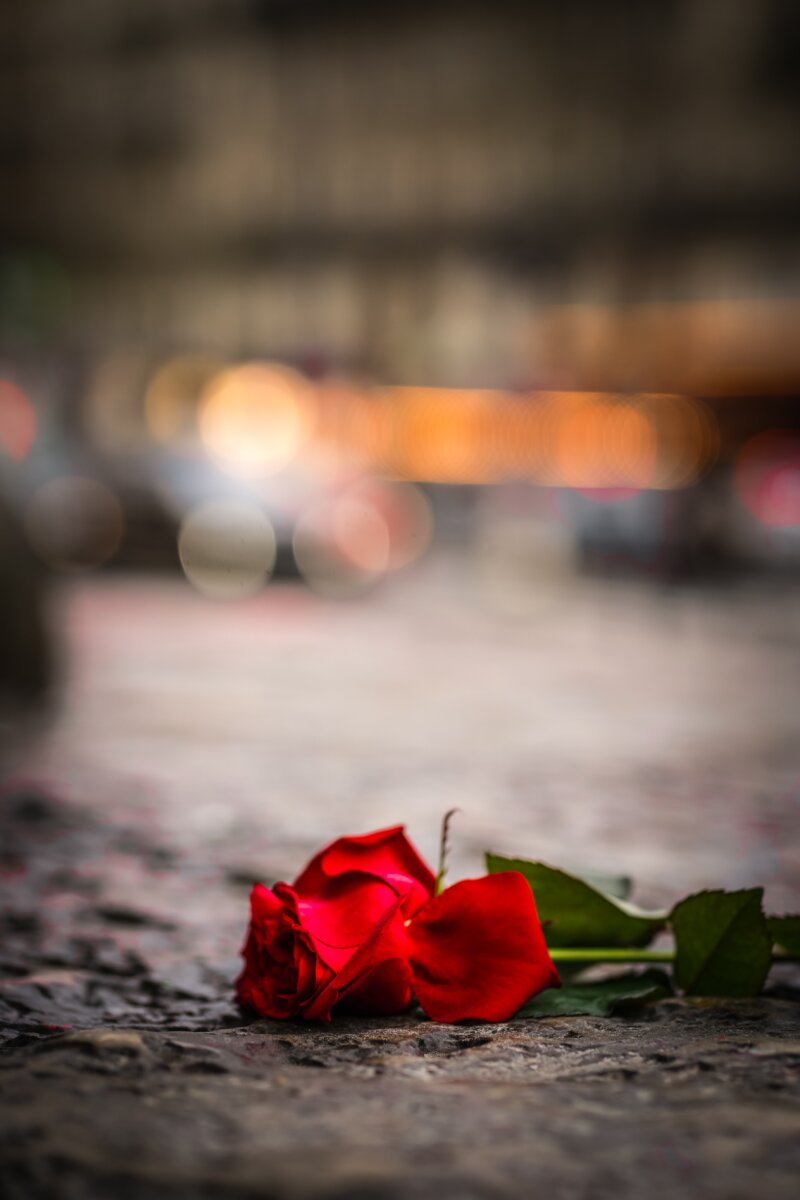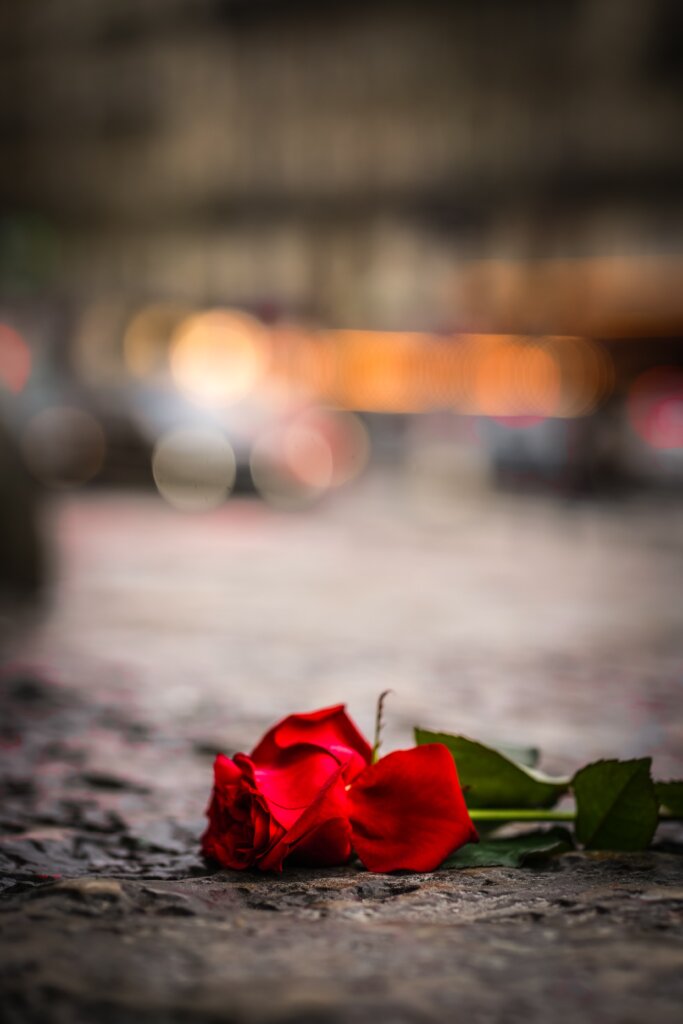 Avoid sketchy EuroNet ATMs
If you're going to an ATM, try your best to find one that's connected to an actual bank.
There are a lot of ATMs (especially around tourist areas) that charge huge fees, or make currency conversion more confusing than it needs to be so you can get charged more.
As a general rule, don't use any of those Euronet ATMs – they're the worst!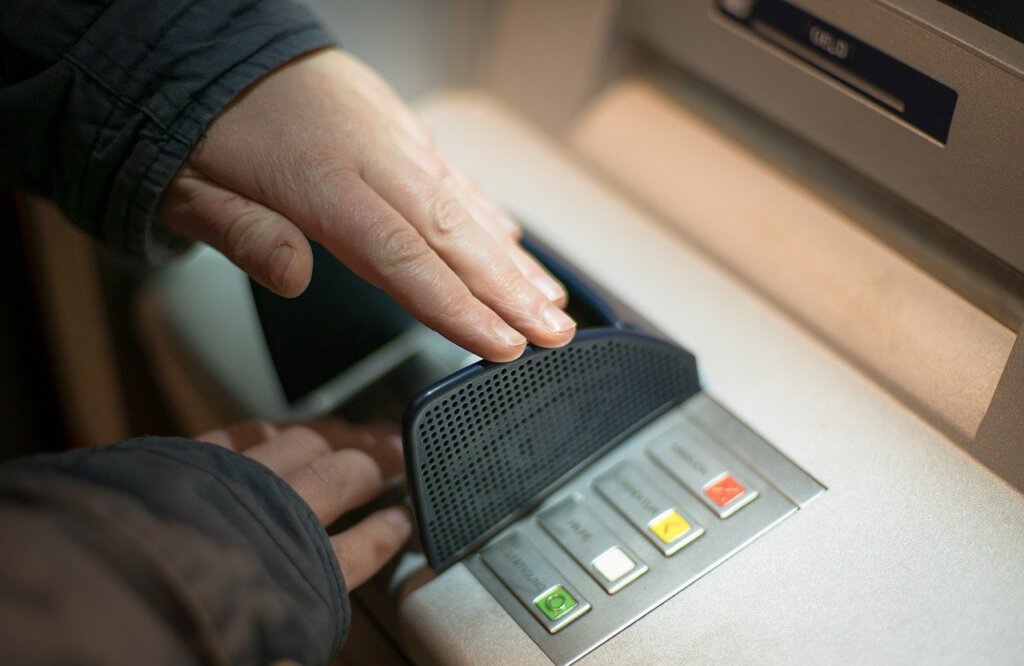 Have a plan in case of a worst case scenario
This isn't just a good Paris travel tip, but a good tip for travelling anywhere – make a plan for the worst case scenario.
Imagine your bags get stolen in Paris with your passports and all your cash/cards – what would be your backup plan? What would you do if you lost your phone?
Having a plan in place can minimize stress in the event that anything does happen, and having that peace of mind is very important for any vacation!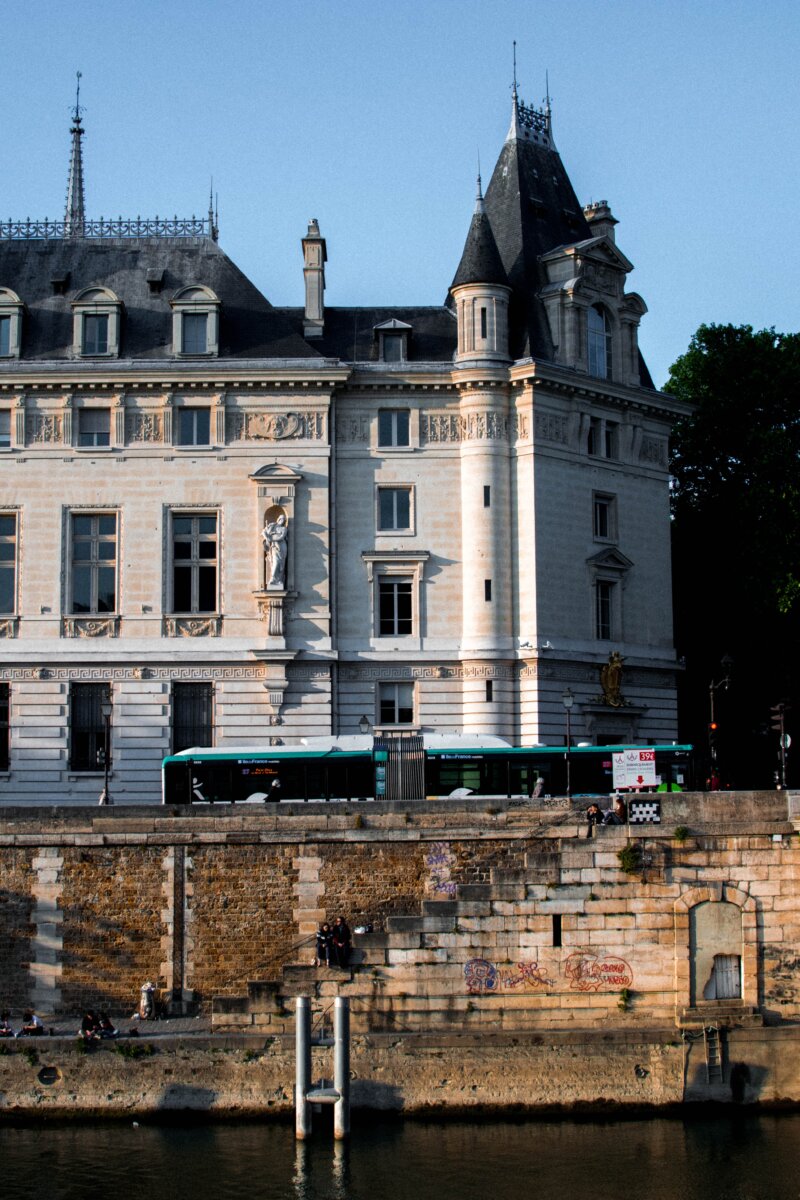 Food and Drink Tips for Paris
Eating and drinking well is a quintessential part of any Paris trip. Here are some Paris travel tips related to food and drink!
Avoid restaurants with giant pictures or openly advertising a "tourist menu"
These are likely to be overpriced and gross, despite sounding like a good deal.
I got sucked into one during my first backpacking trip in Europe and it was…. not great.
It also goes without saying that the hard Rock Cafe isn't where you should go if you're looking for authentic Parisian cuisine: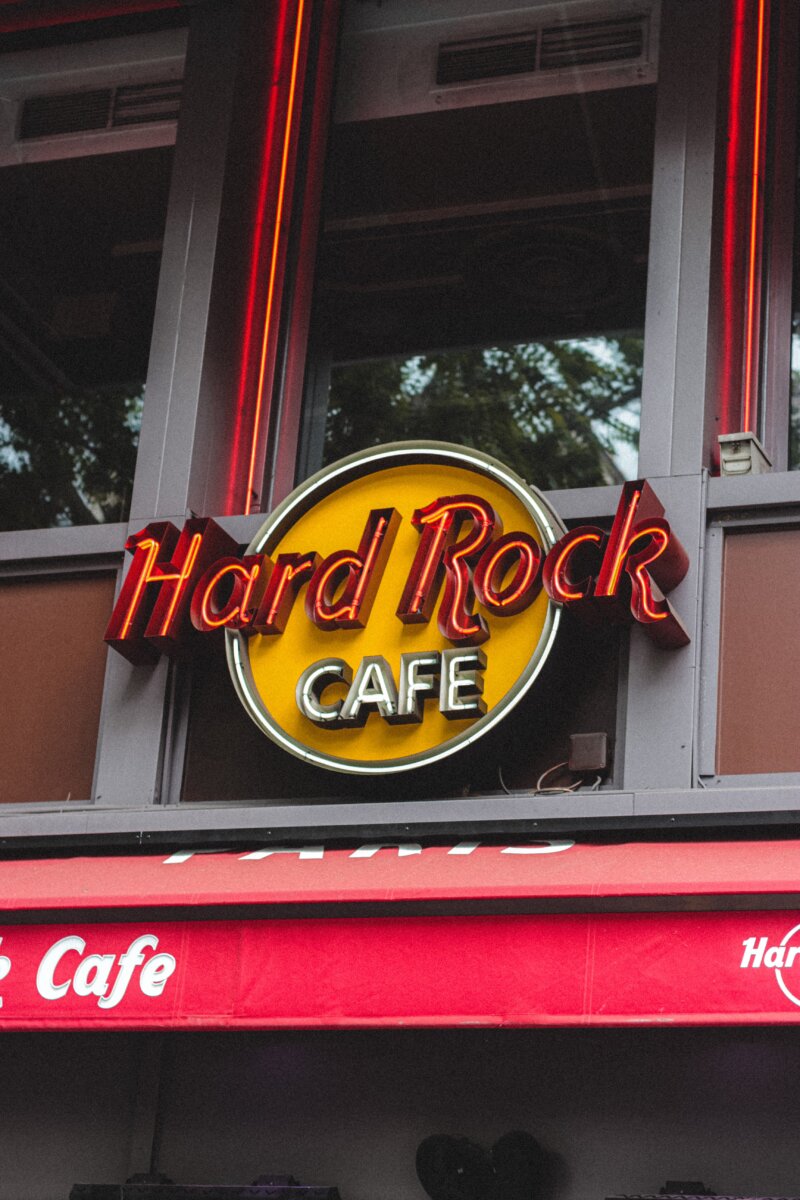 Know the difference between "Menu" and "Carte"
In North America, we use the word "menu" to refer to the piece of paper that lists all the dishes and prices at a restaurant.
But "Menu" in France has a different meaning – it instead refers to a combo/set meal, so if you order a "Big Mac Menu" for example, what you're ordering is a combo that comes with the sandwich, fries and drink. So, remember that difference and don't just go asking for "menus" or else you might create some confusion.
In France, the list of prices/dishes is actually known as the "Carte".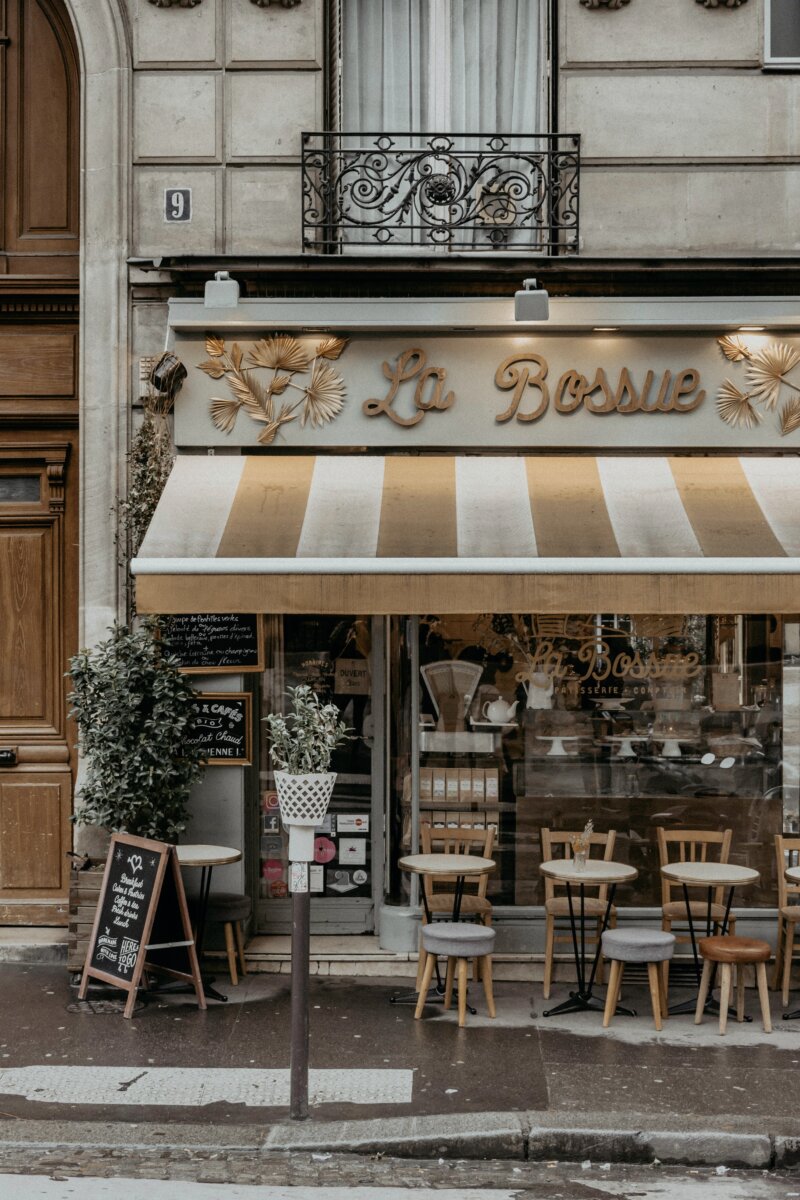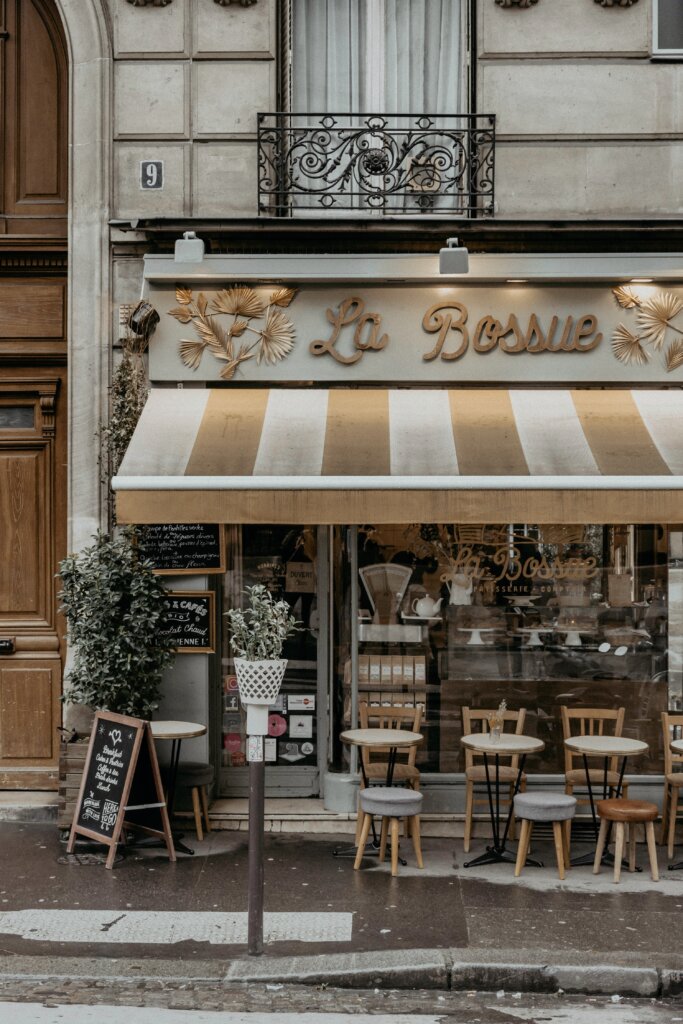 Double check that places have prices on display before ordering
A common tourist scam in Paris is to not have prices on display so they can charge thirsty, hangry, unsuspecting tourists whatever they want, so remember to double check lest you get sucked into paying 5 euros for a Coke.
Expect to eat dinner later
If you're accustomed to eating dinner before 8pm, then know that you'll probably have to adjust slightly to adapt to typical Parisian dinner times, which usually begin around 7:30pm or often later.
You won't have trouble finding something to eat earlier than that, but many restaurants will close between lunch and dinner to prep, so keep that in mind if you were looking forward to a particular restaurant… and maybe pack some granola bars in your purse to fight off the hanger.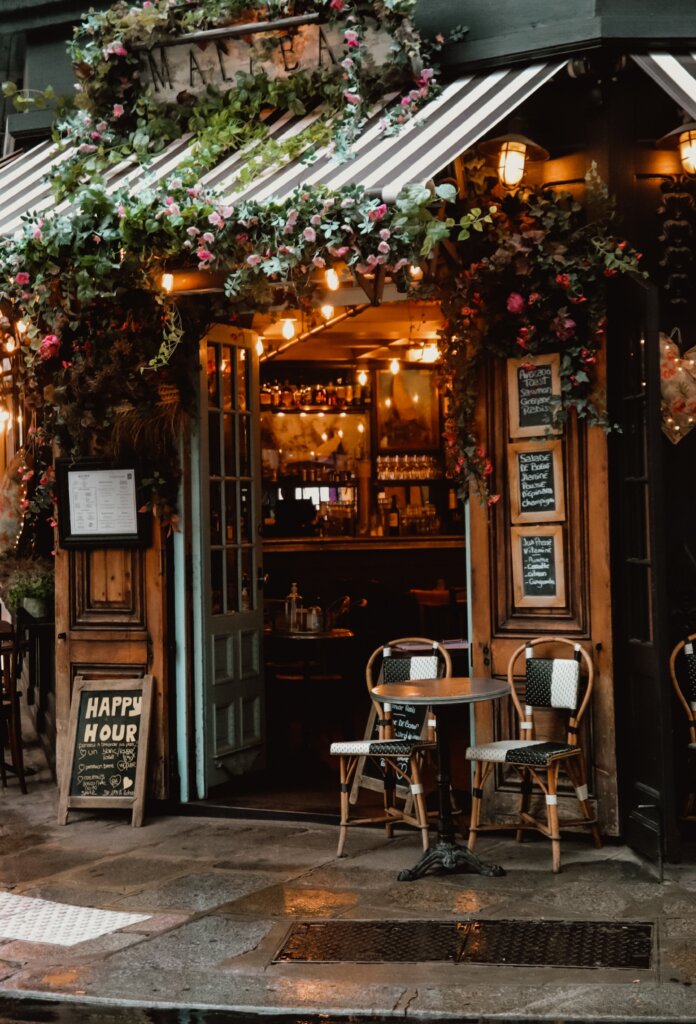 Make reservations
If you have your eye on a particular restaurant in Paris, odds are many others do too! Avoid disappointment by reserving a table in advance.
This will help you avoid the dreaded 'walk of shame' going from restaurant to restaurant asking if they have space.
In peak periods (especially weekends!), odds are the best spots won't… or they won't even take reservations at all, in which case showing up early is your best bet.
If you dread making phone calls like me, you can book reservations online via OpenTable and The Fork although they only cover a portion of restaurants in the city.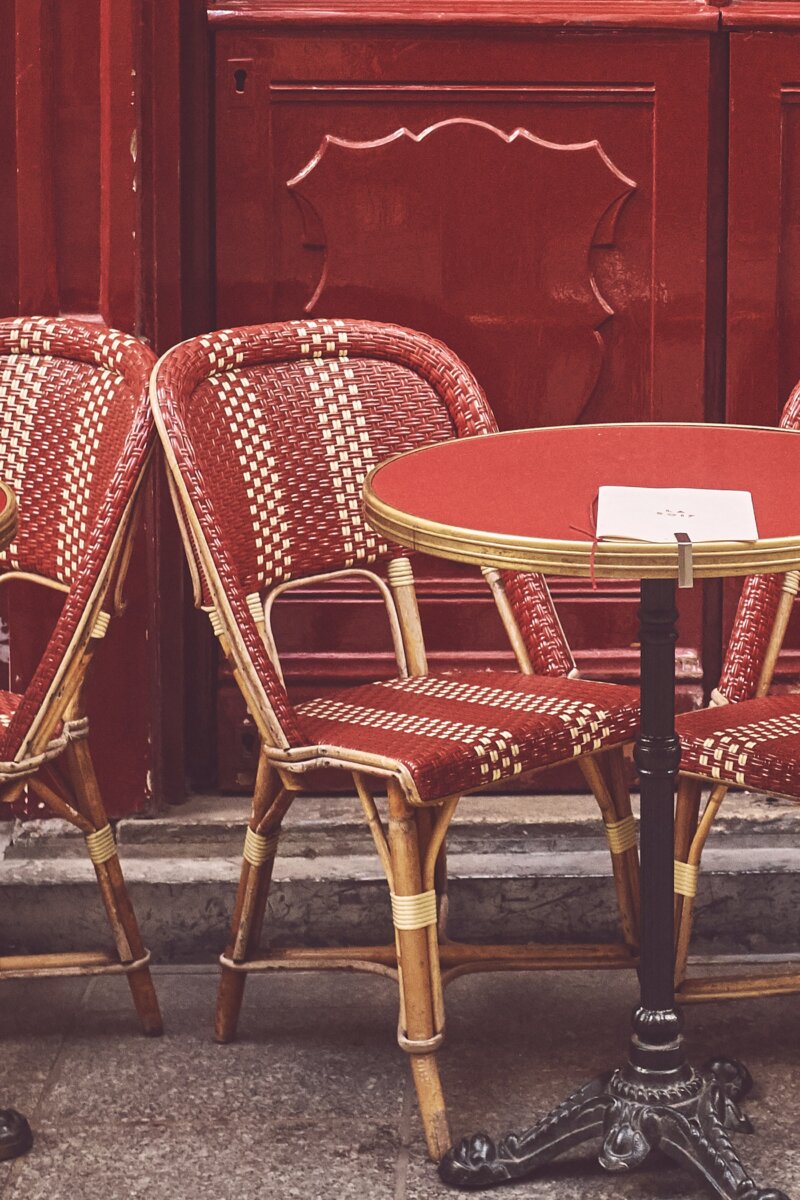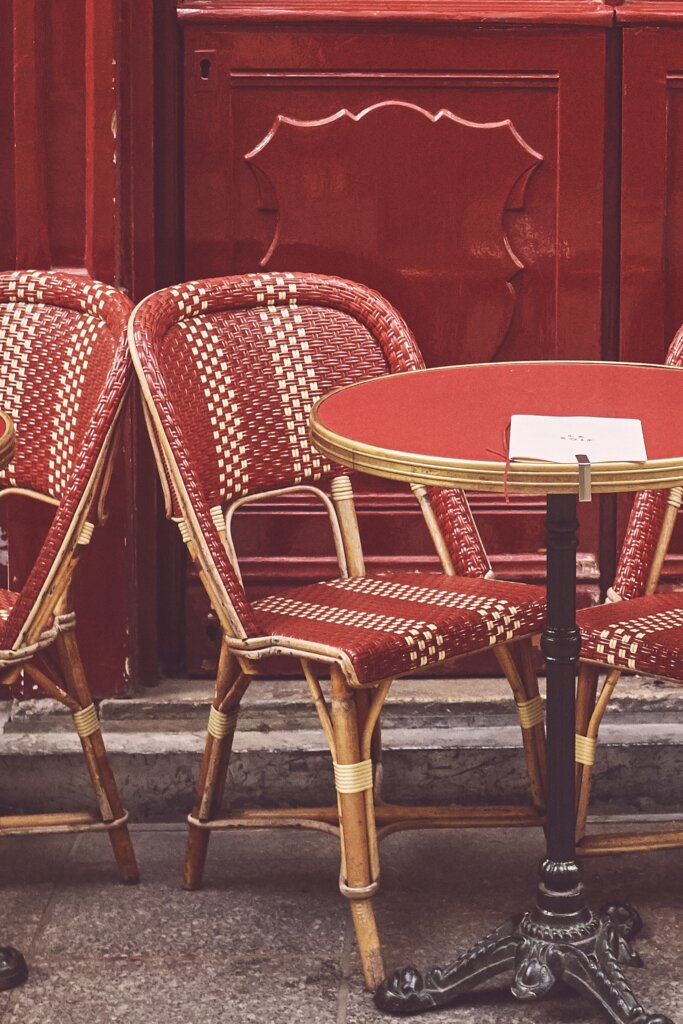 Know that restaurant hours may vary
If there's one thing I've learned about Parisian restaurants, it's that Google Maps can't be trusted! A lot of the time, operating hours will shift around or be different than what is online, much to the frustration of many a rumbling belly.
There's not a ton you can do about this, except booking a table in advance or preparing a few backups in case you need to go with the flow.
Wait to be seated
Seating yourself is not usually a thing in Paris, and there will often be signs telling you so, although many tourists don't see it or choose to self-seat anyway.
To avoid the wrath of your server, definitely don't just take any table you see (they might be reserved!) and wait to be seated.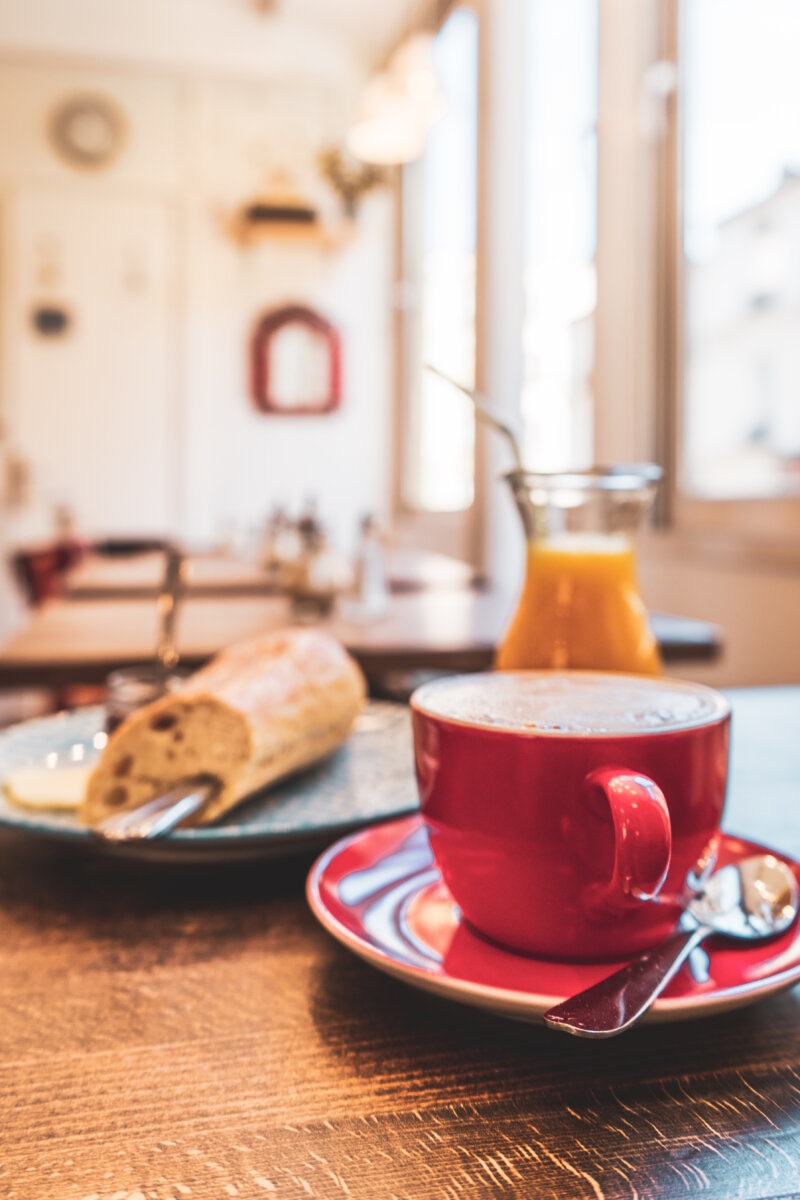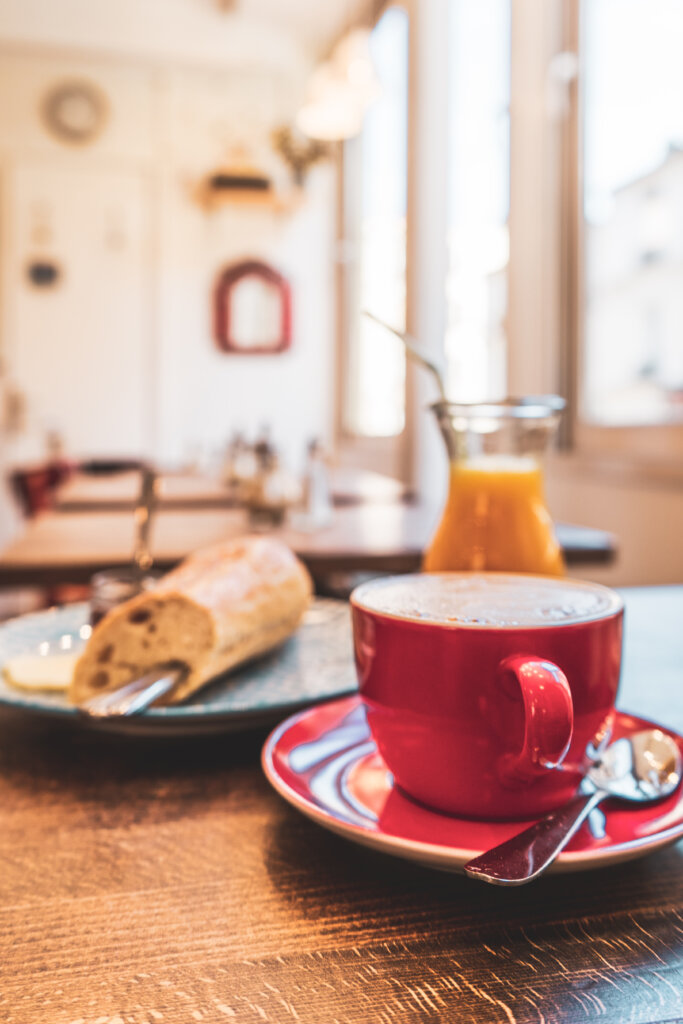 Know that the service charge is included
In France, a 15% service charge is included in your bill, so the tipping culture here is definitely less prominent than in North America.
Opinion is divided on whether or not you should still tip on top of this service charge – younger Parisians often won't bother with a tip at all. For me personally, it comes down to what "feels right" (so Canadian, I know!)
If you feel your server deserves a bit extra, then 5-10% would be acceptable… but you don't need to feel obligated like you might in North America.
Splurge more at lunch
This is a great travel tip for not just Paris, but all over Europe. If you want to splurge on some nice local cuisine while in Paris, a much cheaper way to do this is by having a nice lunch.
Many restaurants will have lunch specials or "menus" which include multiple courses for a much cheaper price than at dinner time.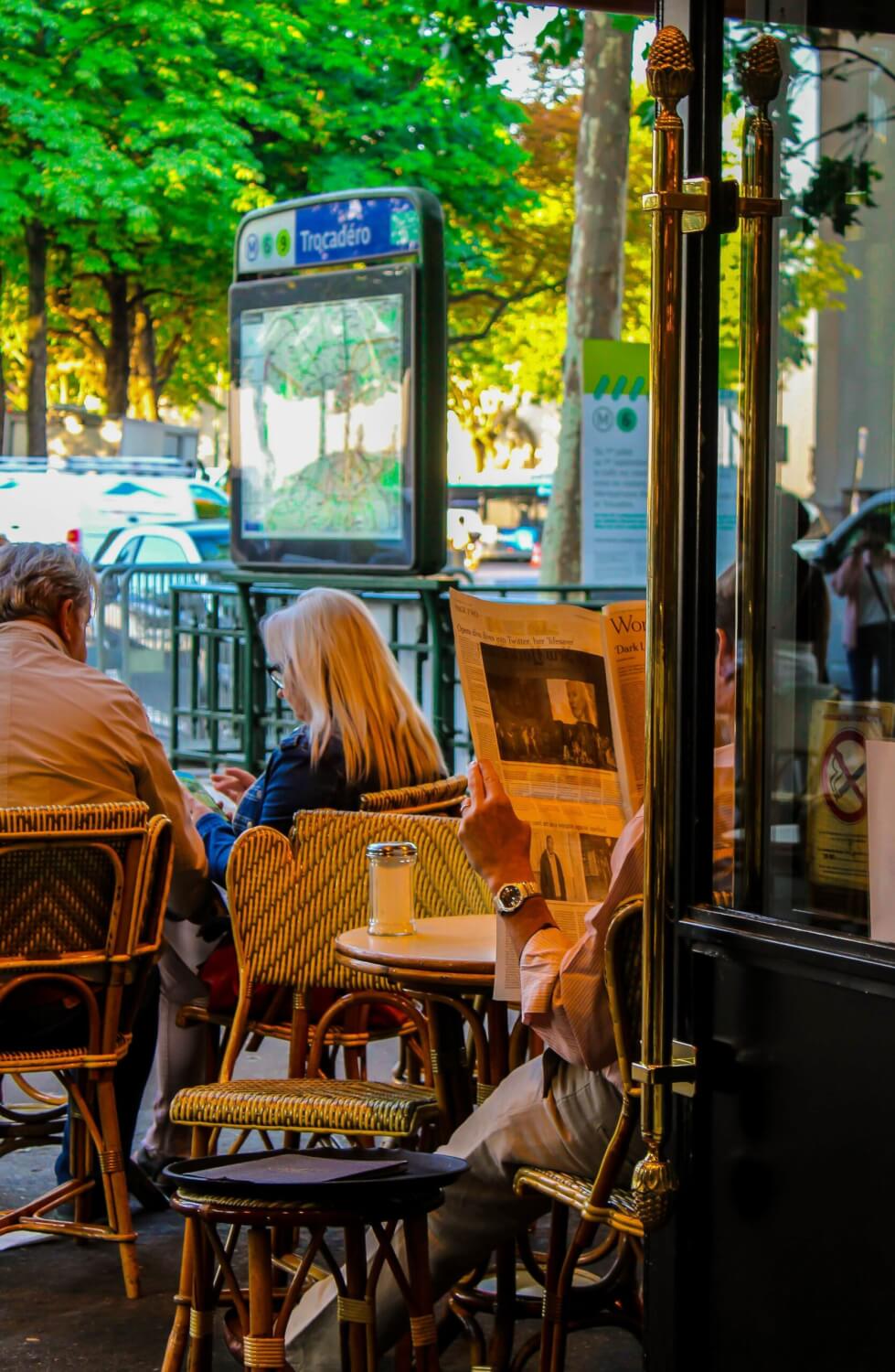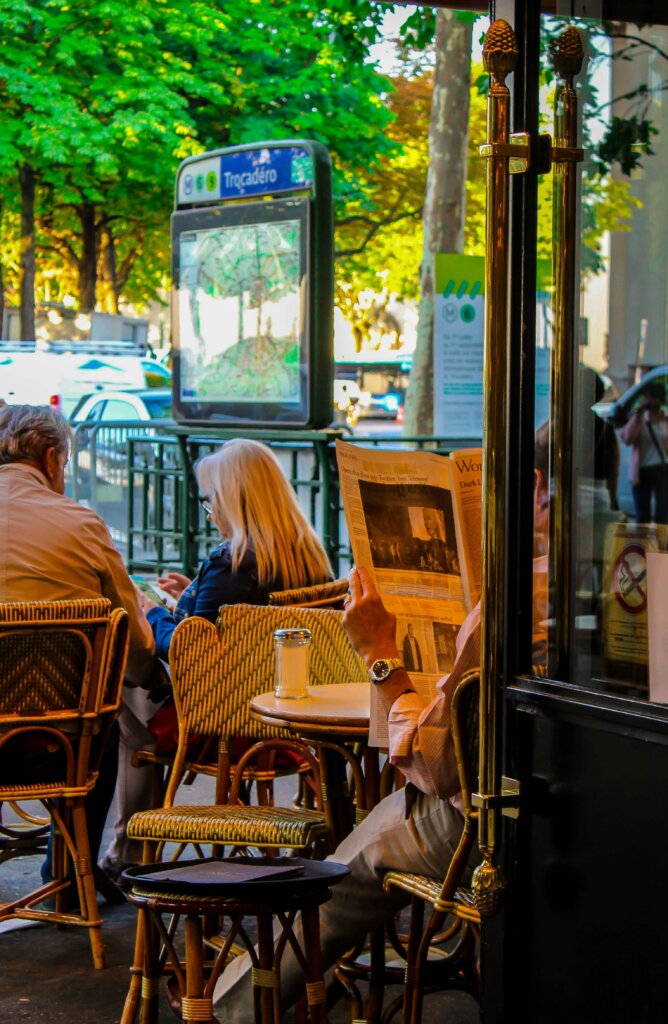 Ask for tap water by asking for"une carafe d'eau"
Often when you order water at a restaurant, they might assume you mean bottled. If you are 100% sure you want tap water, then ask for "une carafe d'eau".
This will help avoid the heart attack from a 7 euro bottle of water on your bill (true story).
Try the "Plat du Jour"
Many restaurants in Paris will offer a "Plat du Jour" or "Dish of the Day" which is typically a special dish that's offered in addition to the regular menu offerings.
Often, this dish will be cheaper, or at least something special, so consider trying one if it sounds good!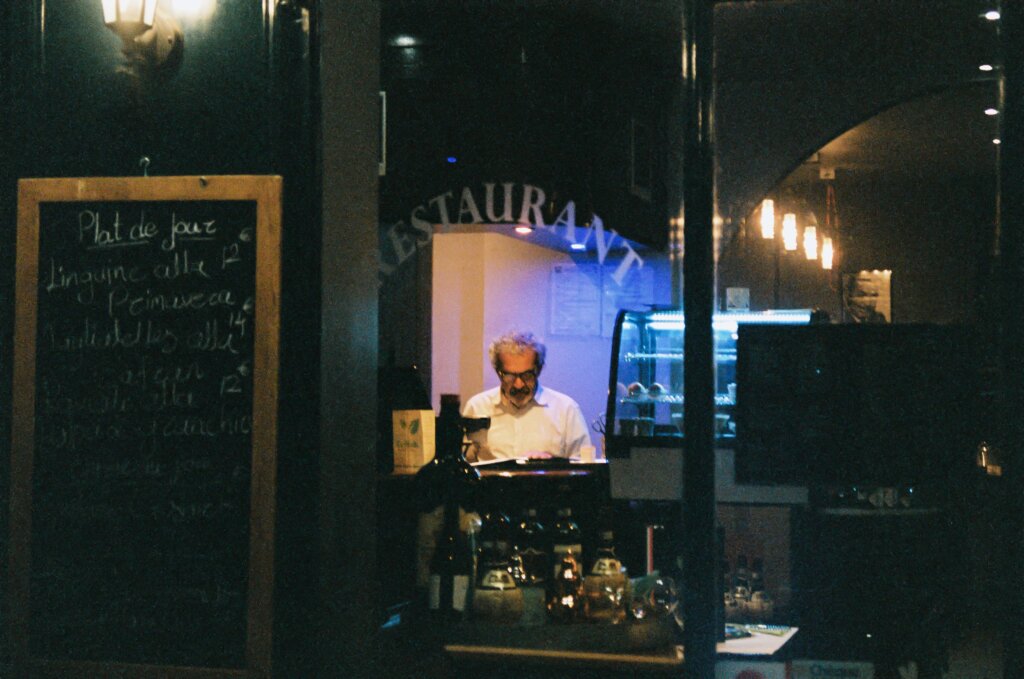 Avoid eating in the Latin Quarter
I know generalizing is unfair, but this is a Paris tip that many Paris travel guides (including me) will repeat: stay away from the tourist trap restaurants of the Latin Quarter!
From personal experience, I can tell you the food is not good. Some things to look out for include big signs that say "TOURIST MENU" or "FREE WIFI". Any restaurants that have a pushy server in the front beckoning you to come in will also likely not be great.
Of course, not all restaurants in this area are doomed. Here are some recommendations from a local.
Find happy hours for cheap drinks
Paris can be an expensive city for booze, but if you plan smartly, you can definitely save a ton of money.
One great way to enjoy drinks cheaply in Paris is by seeking out Happy Hours. Many bars offer them, but here is a list of some top ones.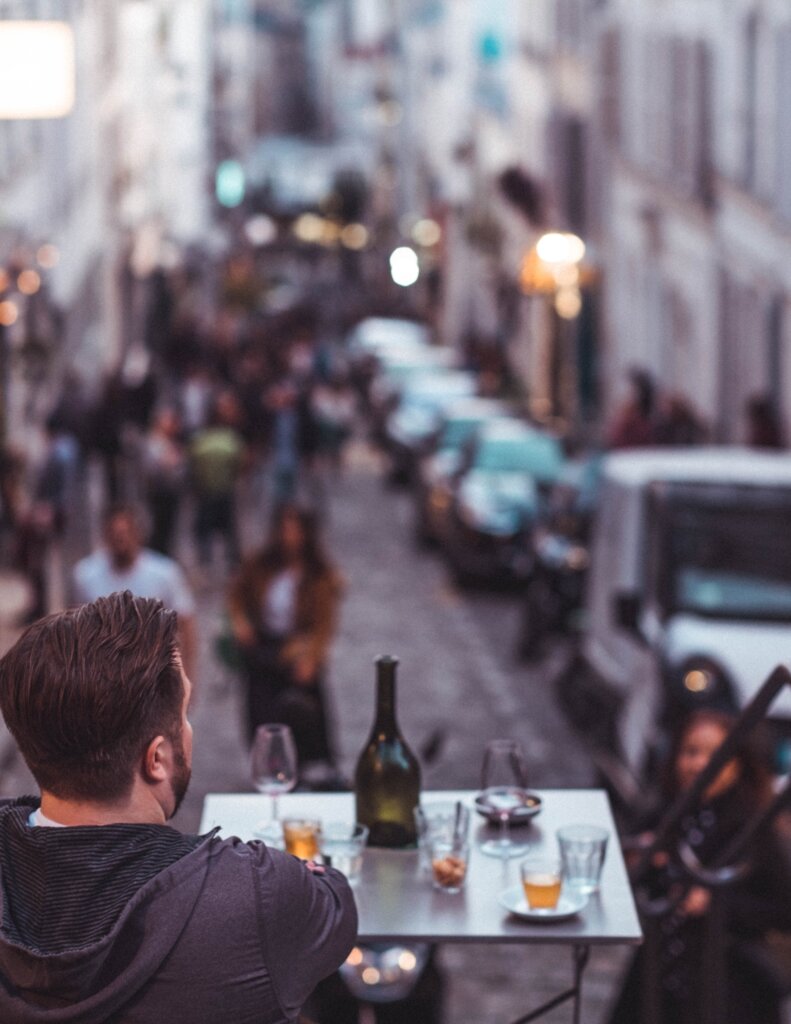 Get breakfast from a boulangerie when they open
Can you imagine anything better than a hot buttery croissant, still warm from the oven?
… Maybe a pain au chocolat, still warm from the oven, but I'll leave that fierce debate up to you.
Either way, if you want a cheap, delicious, and authentically Parisian breakfast, skip the hotel breakfast buffet and head straight to a boulangerie for a fresh assortment of baked goods.
Try as much as possible from a boulangerie
On that note, don't limit yourself to just baguettes, croissants, and pain au chocolats.
While these are all indeed delightful heaven-sent creations, there are many more amazing treats in Paris to be enjoyed and taste-tested.
I'm partial to tasty Tarte aux Fraises or Tarte aux Framboises – amazing berry tarts with buttery crusts that are filled with a wonderful cream and juicy berries on top. Completely irresistible.
I'd recommend you just pick what looks good though and make a big picnic out of it!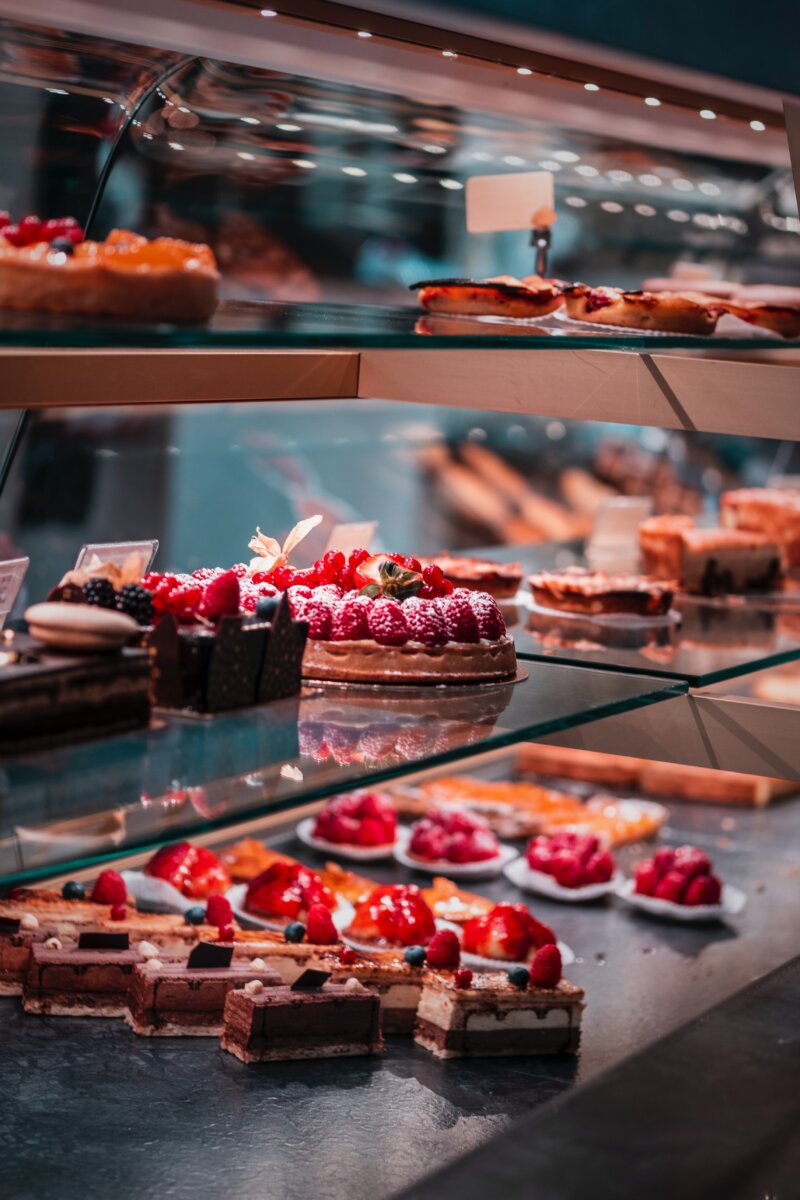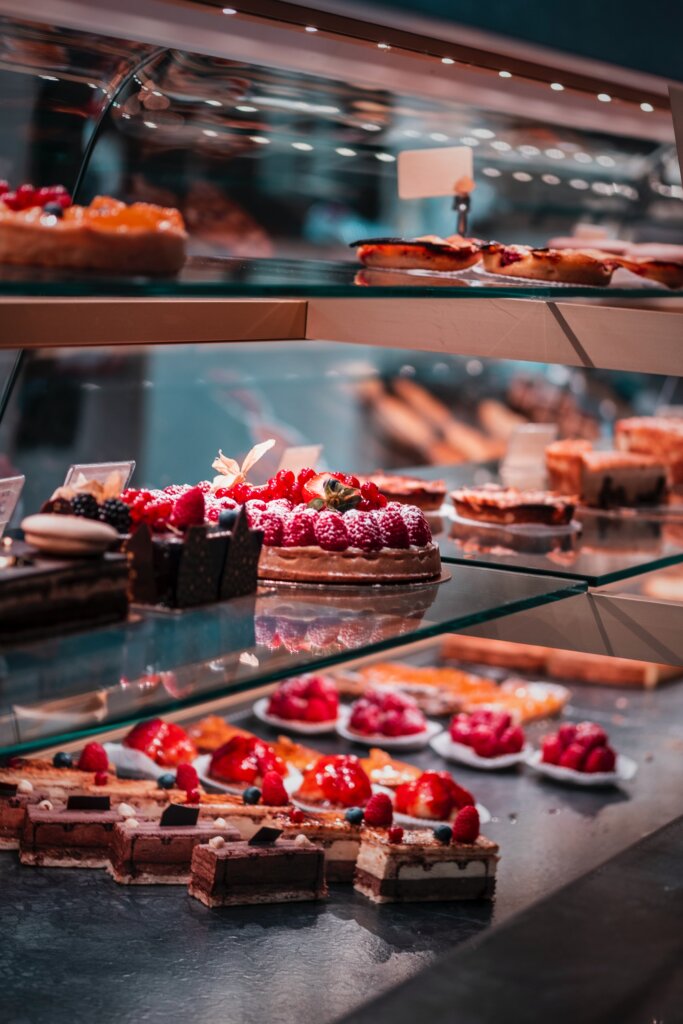 Good macarons are worth the cost
My first time in Paris, I was alarmed at how expensive macarons were. 2-3 euros for a tiny cookie? My backpacker budget couldn't justify it.
But trust me – there's a world of difference between the cheap macarons from supermarkets (which are often cakey, and just sugary more than anything else) and the pricey macarons you get from big names like La Durée and Pierre Hermé.
Some will say these shops are overpriced, but I feel like they're a worth it "treat yo'self" splurge. Try one yourself to see the difference!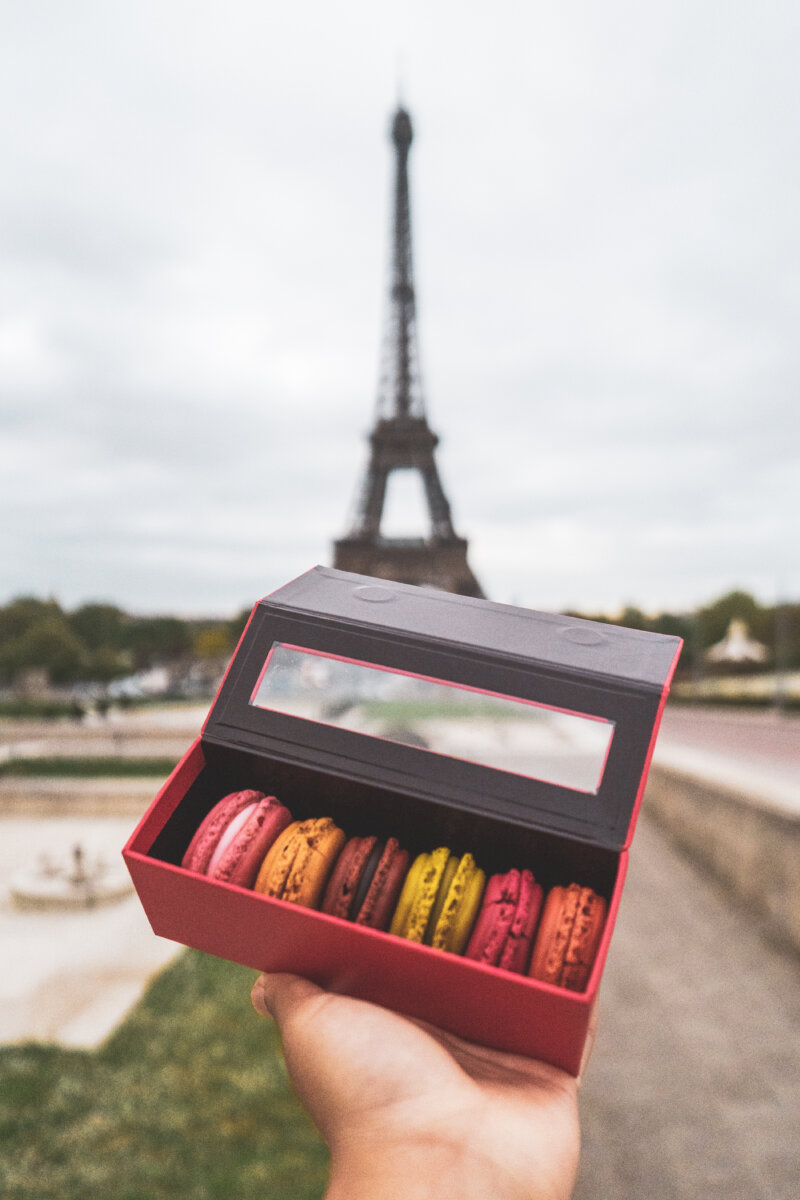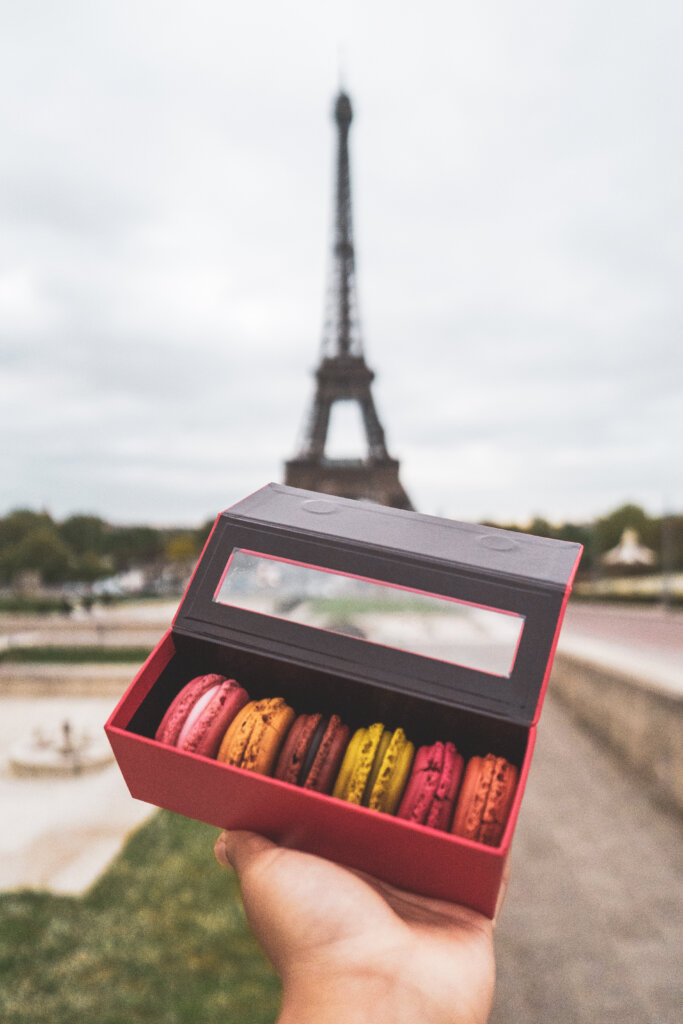 Yes, cheese is eaten post-meal here. Embrace it
If you're used to eating cheese as an appetizer, then you should know that in France, it's more common to eat cheese after the main course (sometimes in place of dessert) or maybe as a nibble to go along with your Apéro (a pre-dinner drink usually accompanied by finger foods).
… Just go with it.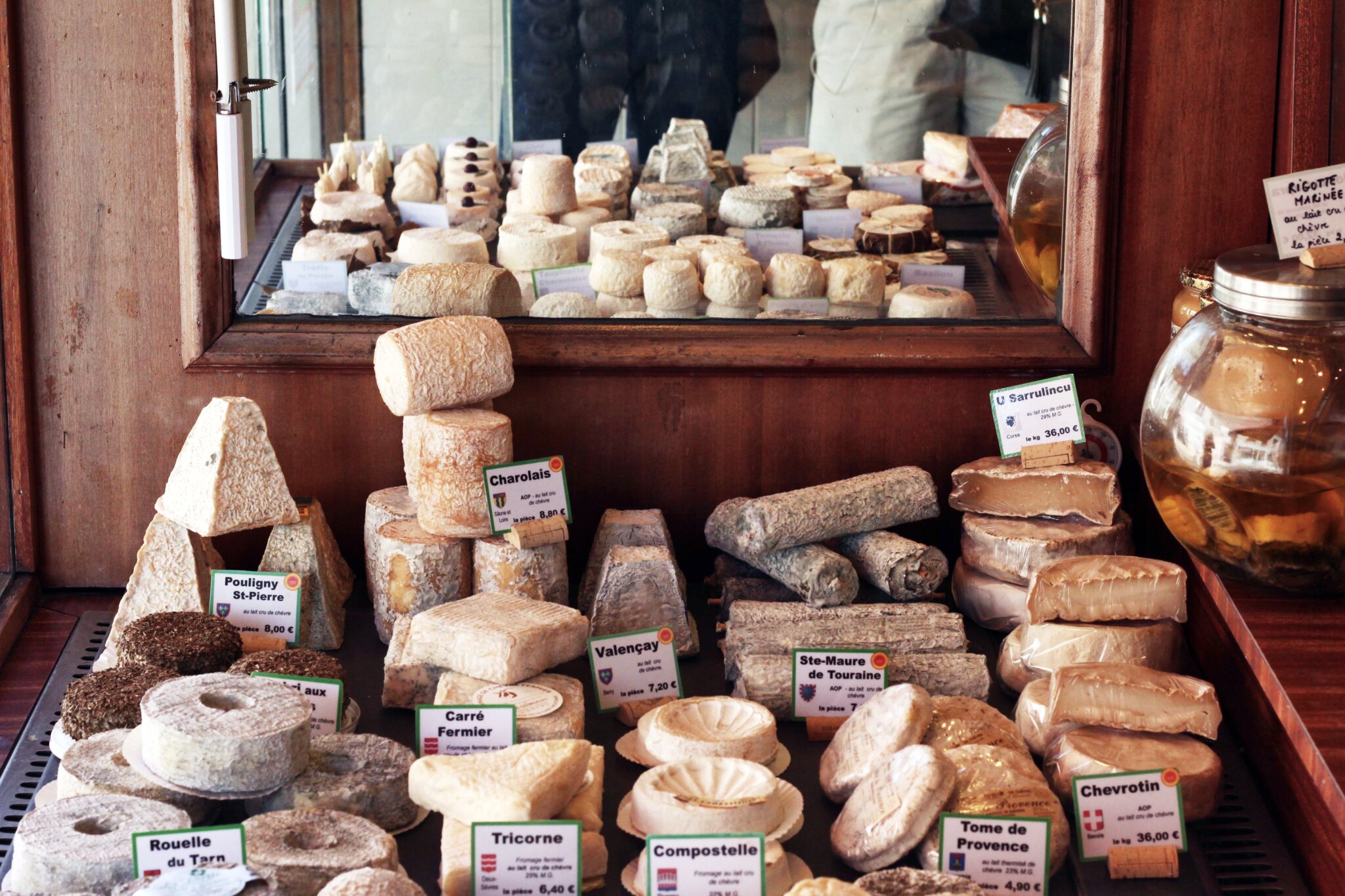 Eat your weight in crêpes
Crepes are a French cliché I can firmly get behind. You'll find crêpe stands all around the city, and honestly, I've never had a bad one.
For a more indulgent "experience" with crêpes, Breizh Café is a very popular pick. I've been there once before and it was definitely nice, although much fancier (and therefore pricier) than typical crepe stalls.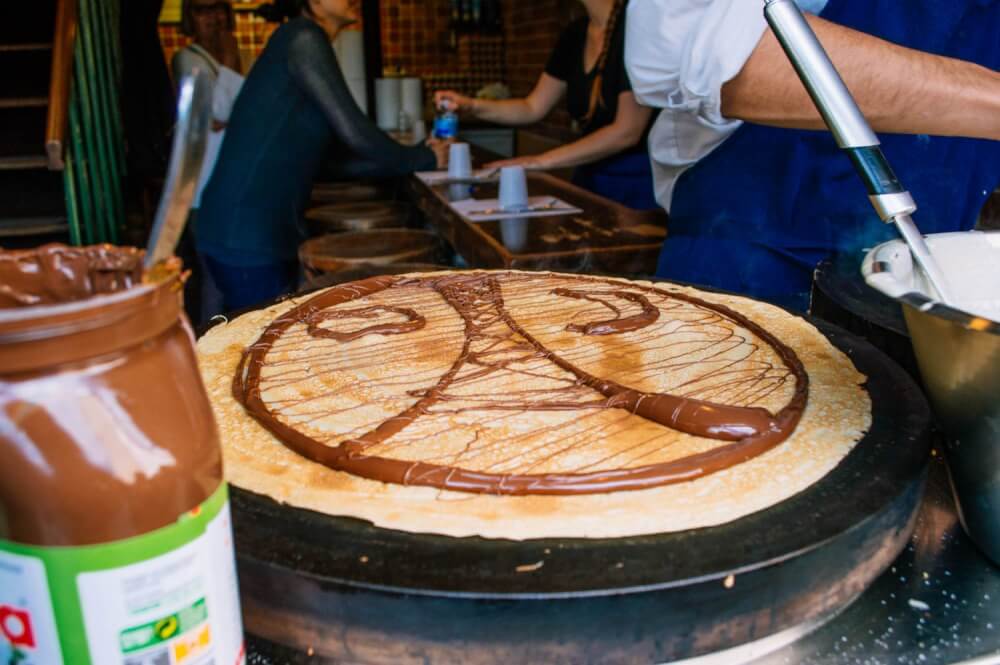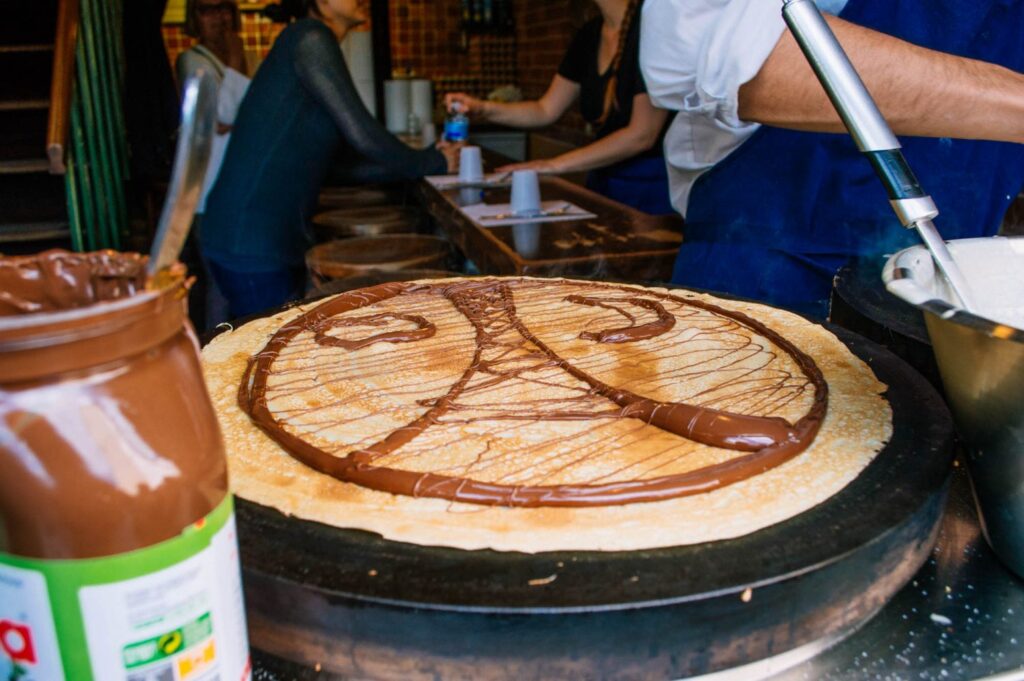 On a Budget? Picnicking is the way to go
My first Europe backpacking trip is when I experienced the art of the Parisian picnic for the first time and my life was forever changed.
Eating in Paris doesn't have to be expensive.
Sometimes, the best meal is simply a fresh baguette and an assortment of meats/cheeses/fruits from a local market.
Shared with friends, this is an affordable experience that's not only delicious, but absolutely wonderful if you pick a scenic place to eat too!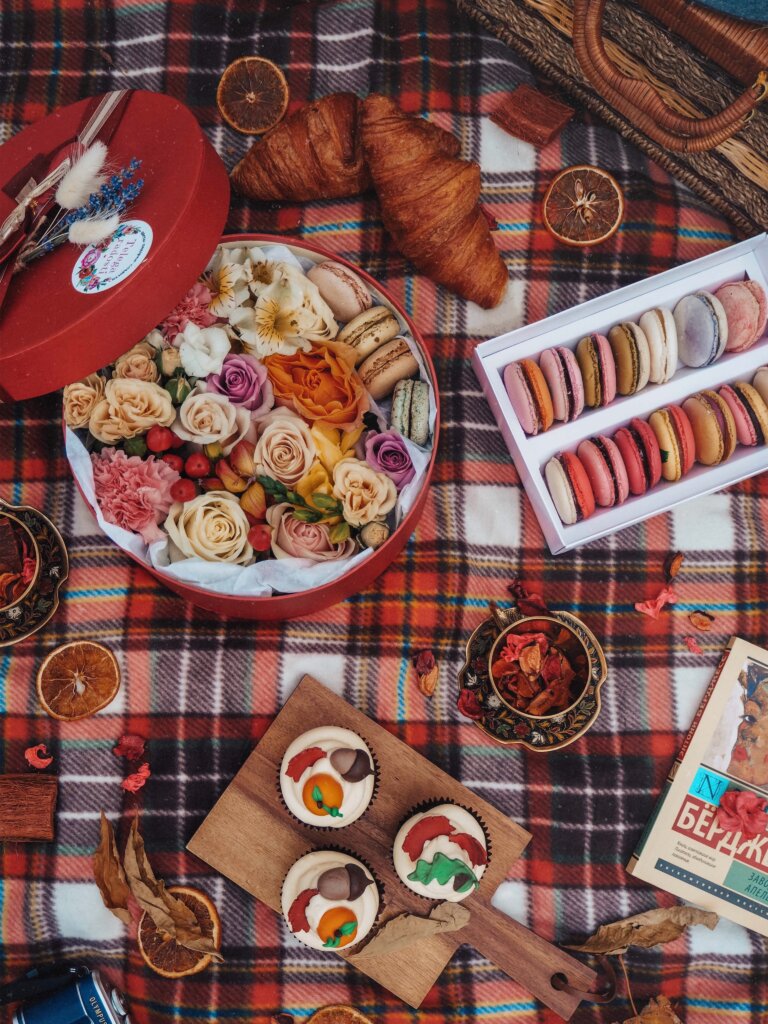 Get food from grocery stores or markets to save a lot of money
Similar to the tip above, don't feel pressured to dine at a restaurant for every meal while in Paris.
These costs can add up quickly, and since Parisian service can be… a bit slow, often this will cut into your sightseeing time as well.
Instead, don't forget that grocery stores and markets are a great resource for cheap grab & go meals, or even groceries for whipping up your own meals if you've booked accommodation with kitchen facilities.
Shop at local markets
As in countless other places around the world, many locals in Paris prefer to get fresh produce from markets rather than grocery stores, where the quality is often not as high and the goods not as fresh.
As a tourist, it's also a nice experience to try shopping at local markets since the interactions you get are a lot less sterile than in a chain supermarket for instance. Maybe a chance to test out your French while buying some fromage?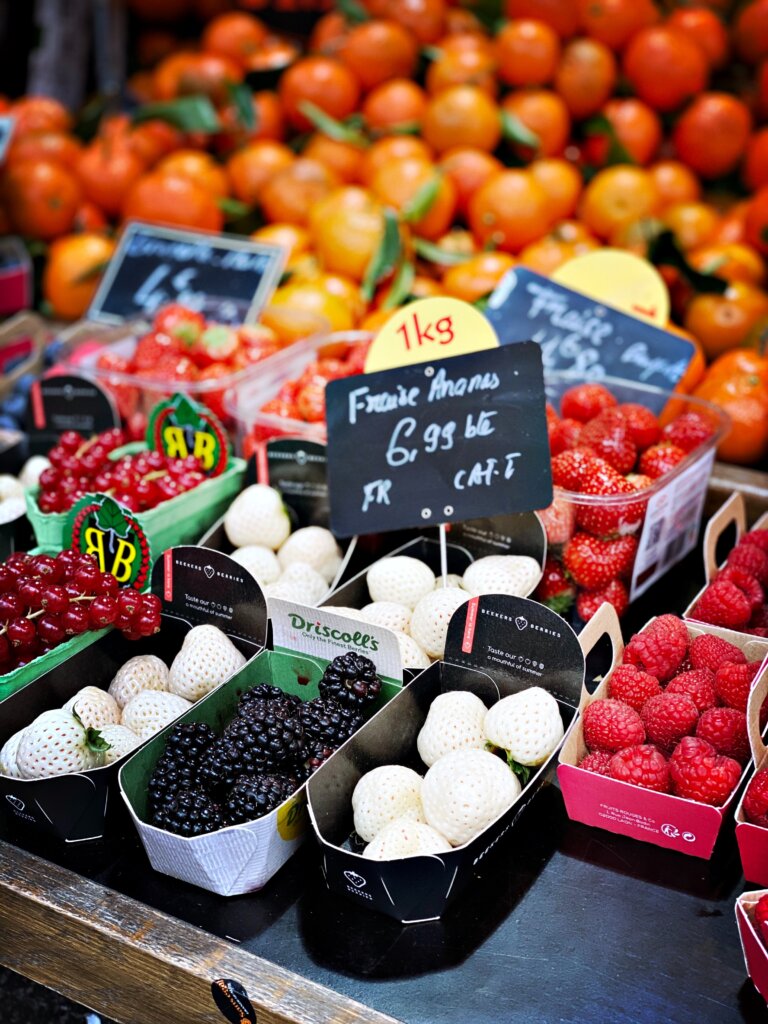 Drinking in public is A-okay
I grew up in Vancouver, Canada, where you couldn't even have a drink on the beach. So, visiting Paris as a 20 year old (only just able to drink legally back home!) was quite the shock.
Here, it's totally common to enjoy a glass of wine or a beer while chilling in the park or by the Seine, so go wild!
Try to buy your alcohol from grocery stores before 10pm
I've been caught out by this more times than I can count… and it's a surprise each time!
While there doesn't seem to be any official restrictions on the sale of alcohol in France, some supermarket chains/gas stations have their own rules in place where they won't sell you alcohol after a certain time (often 9 or 10pm, depending on the chain and location).
Yes, this sometimes means the store is still open, and you can even grab a bottle of wine from the cooler while staff watch, but they will refuse to ring it up due to store policy (can you tell I'm still bitter?)
Anyways, just keep in mind that this is a thing, and try to stock up earlier if you can.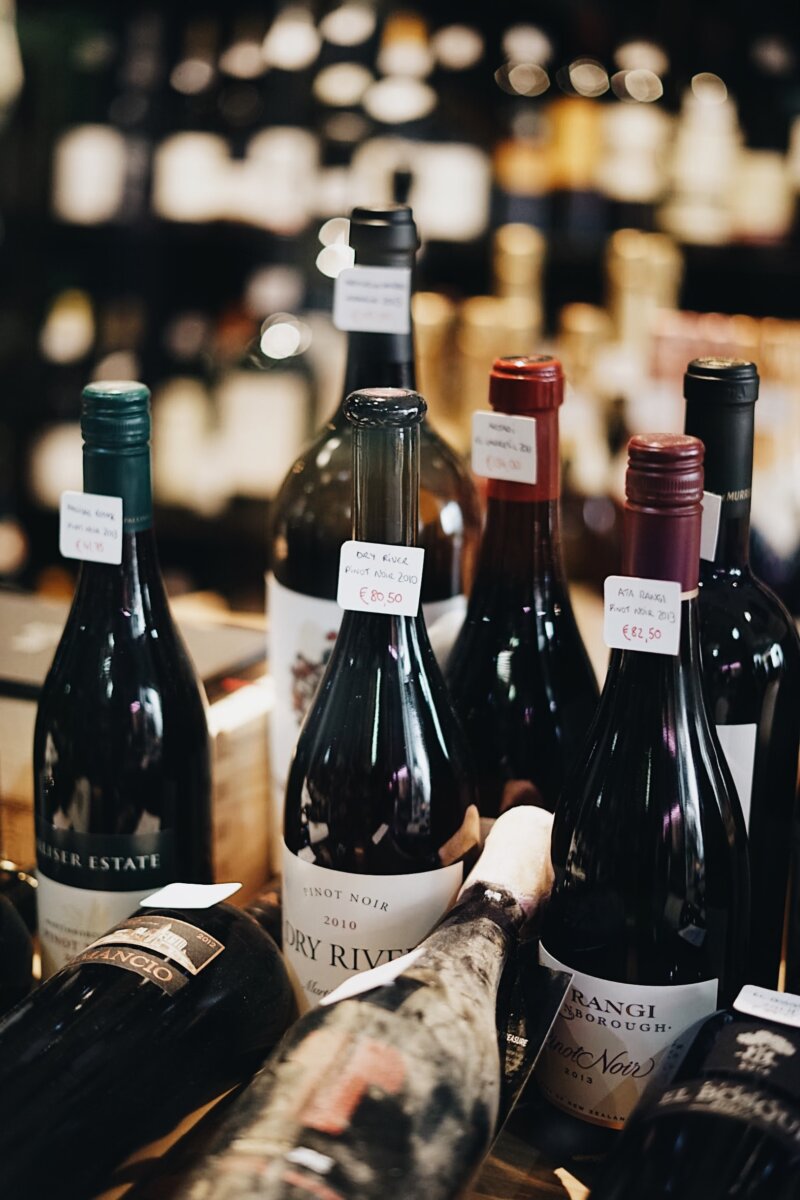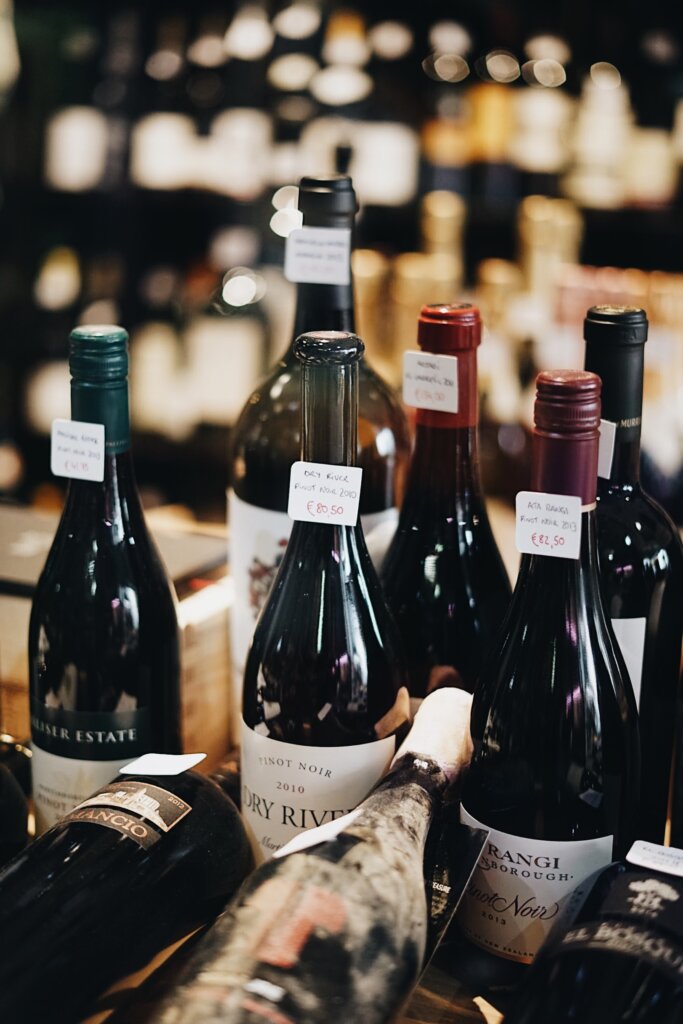 … but if you're desperate, Uber Eats can deliver alcohol
As can some "convenience stores", although you can expect inflated prices from both these options.
Don't be pressured to only buy French food
If it's your first time visiting Paris, you may feel pressured to eat only French cuisine all the time because that's what's "authentic".
But the truth is, Paris is a global city! Today, over 150 nationalities are represented in Paris which means there's all sorts of wonderful restaurants from global cuisines as well.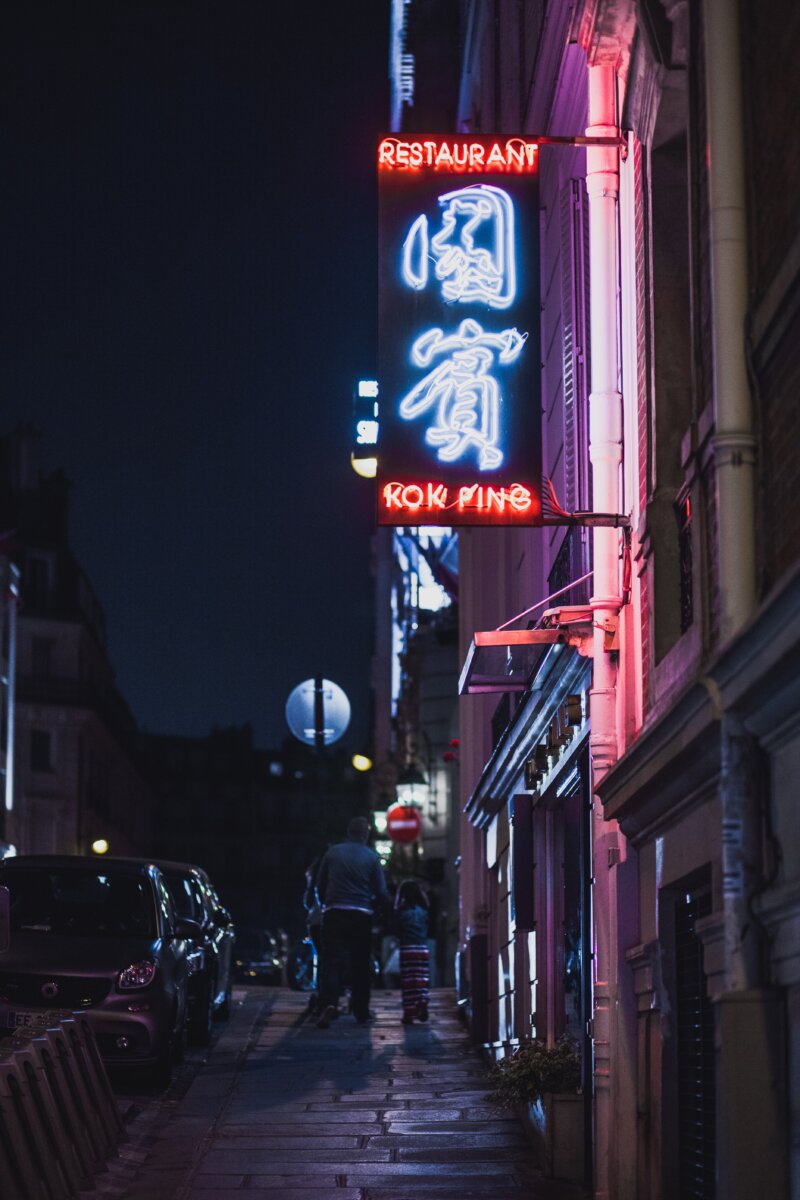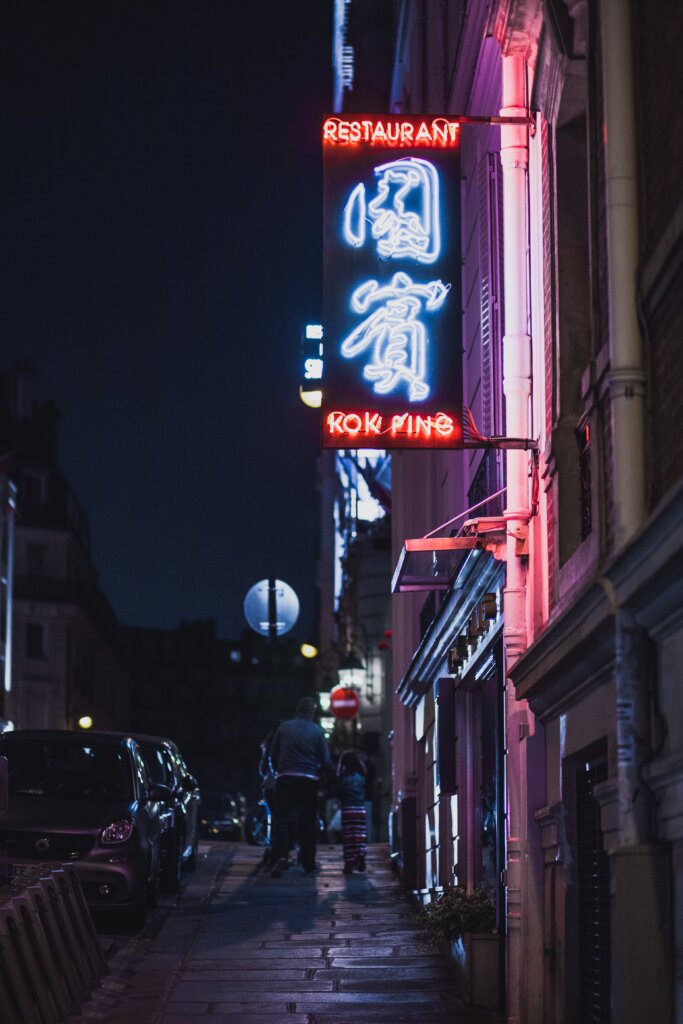 Dine away from main tourist attractions
Recommending the top restaurants in Paris to you is outside the scope of my expertise, but one Paris travel tip I need to shout over and over is this: dine away from the city's top tourist attractions!
Often the restaurants set up close to main attractions (e.g. Eiffel Tower, the Louvre, etc.) are geared towards high turnover tourist crowds, meaning inflated prices, and mediocre food because they don't expect repeat-customers.
One easy way to find better restaurants instantly is walking a few blocks away from main attractions. Remember, avoid "tourist menus" like the plague!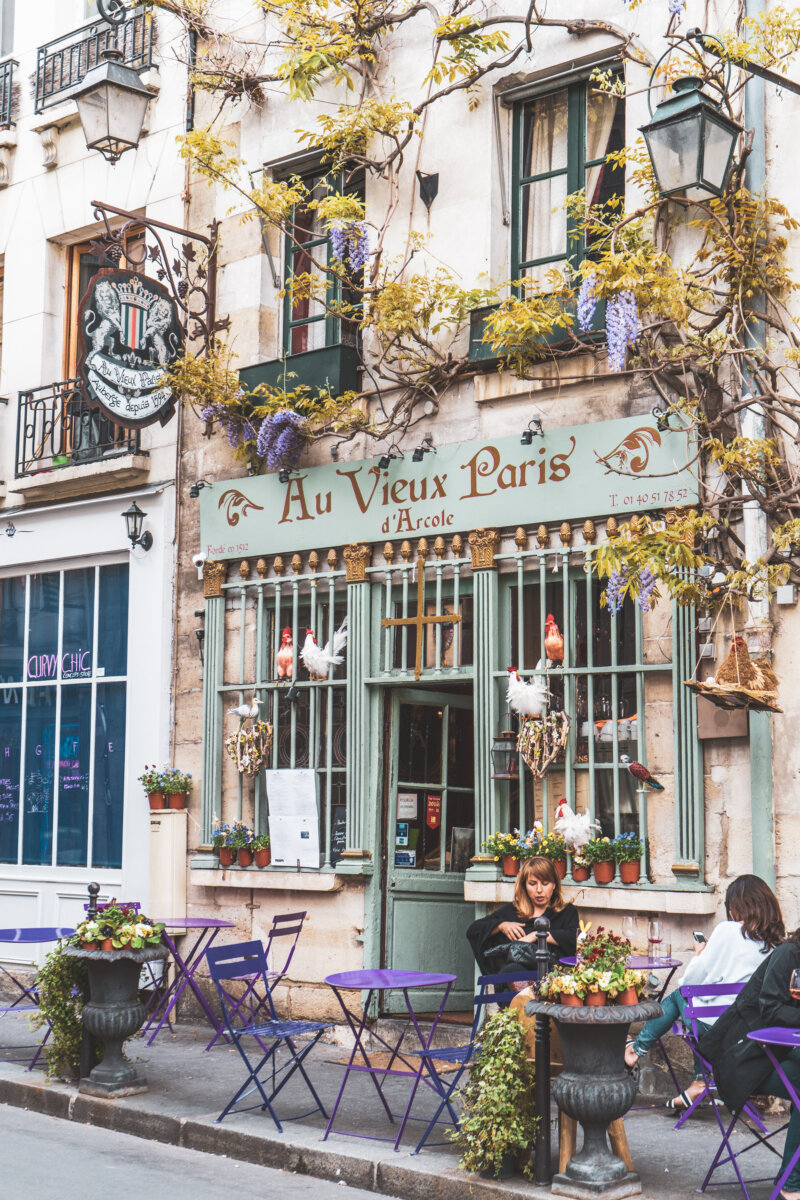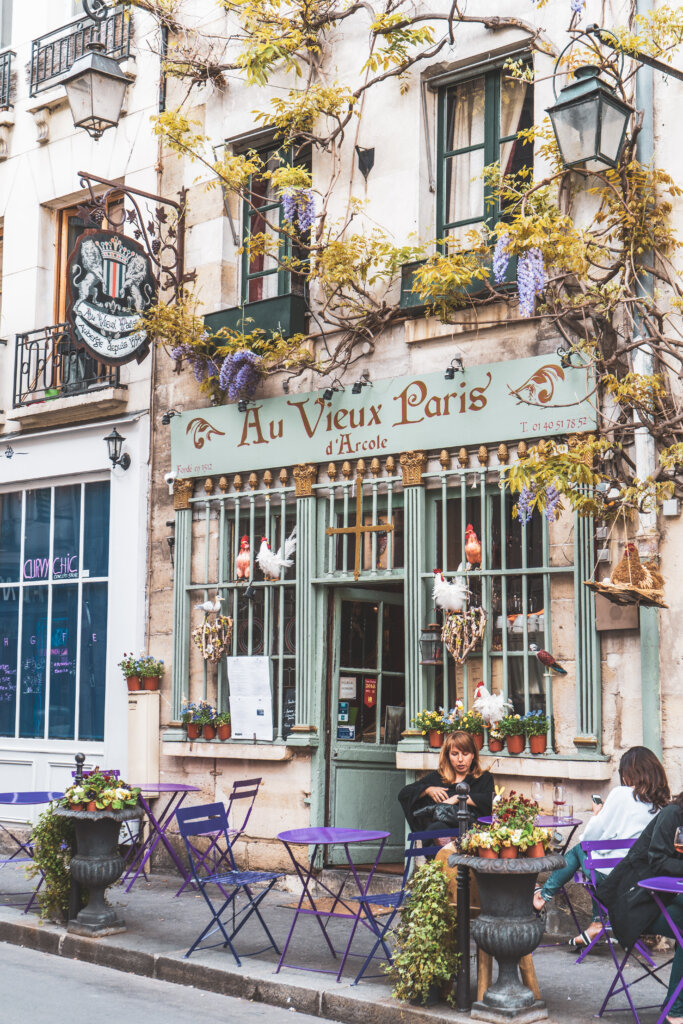 Consider a food tour
If you're a true foodie who wants to try a lot of Parisian goodies while learning more about them in context, then a food tour might be a great idea.
I've done many food tours in my travels, and always find them very enjoyable – not just for the food, but to learn more about local life and why certain foods are popular/how they're made.
I still haven't done a food tour in Paris, but you are absolutely spoiled for choice when it comes to options.
Here are some fun-sounding food tours I'd love to try: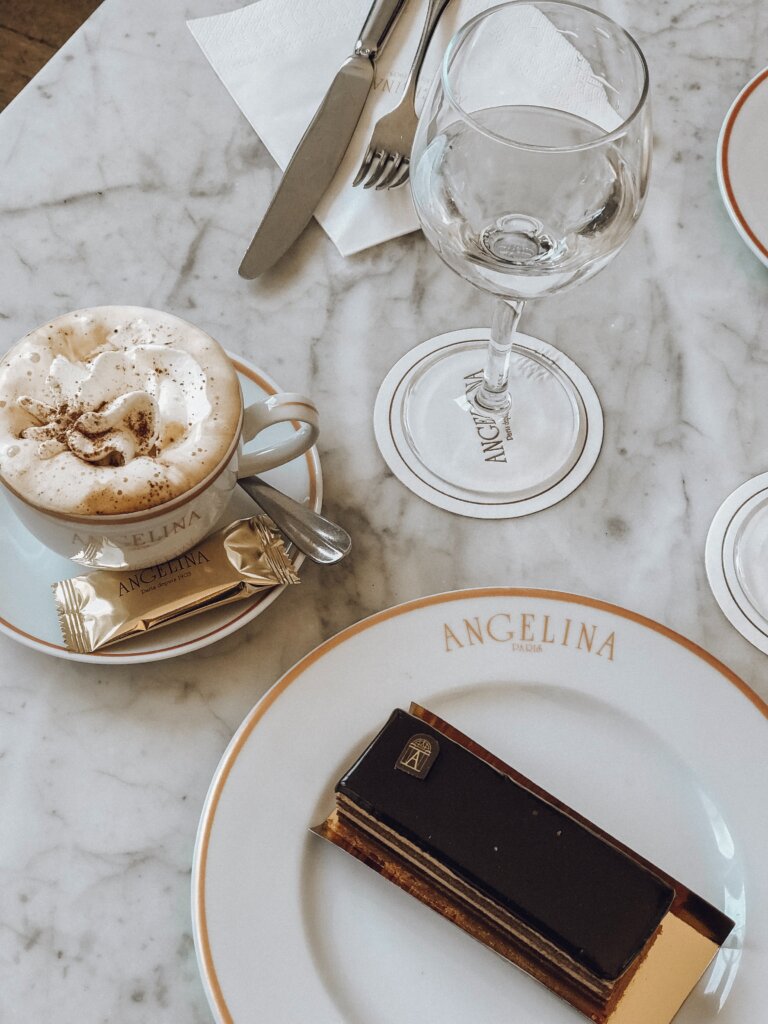 Take a cooking class
The only thing better than sampling local cuisine is learning how to make it yourself! If you love food, one of the best bucket list experiences you can pursue in Paris is taking a French cooking class.
Here are some options: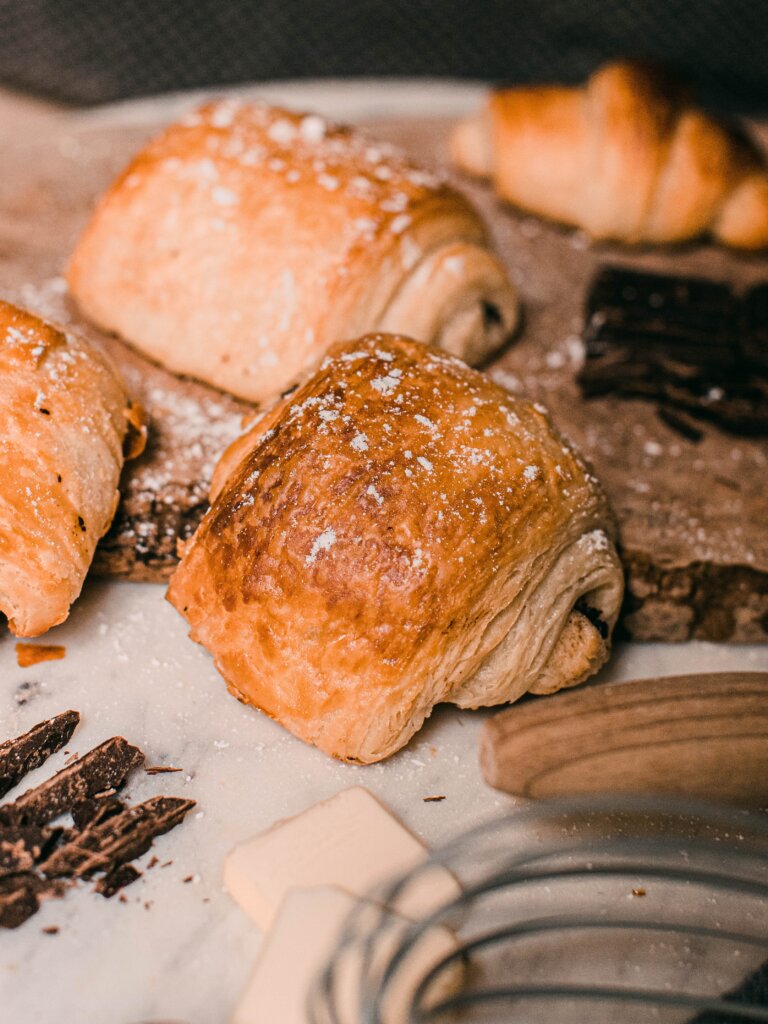 Get rose gelato from Amorino
Amorino is not exclusive to Paris, but they have great gelato and the presentation/concept is too cool to not mention.
Long story short: Amorino shapes your gelato like roses, and you can get as many flavours as you want because you simply pay by the size of cone rather than per flavour. I usually get at least one Amorino any time I'm in Paris, because their gelato is delicious and just so pretty to look at.
NOTE: I'm fully aware that there are more "Parisian" ice cream recommendations (like Berthillon), but I'm a shameless basic B who loves Amorino. Try it yourself and you'll see what I mean.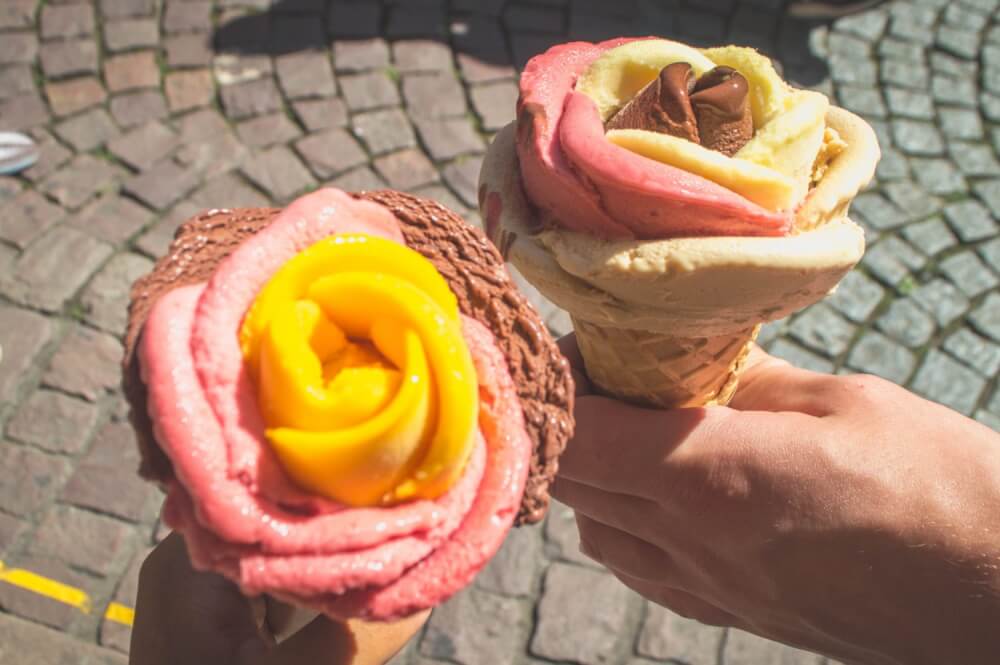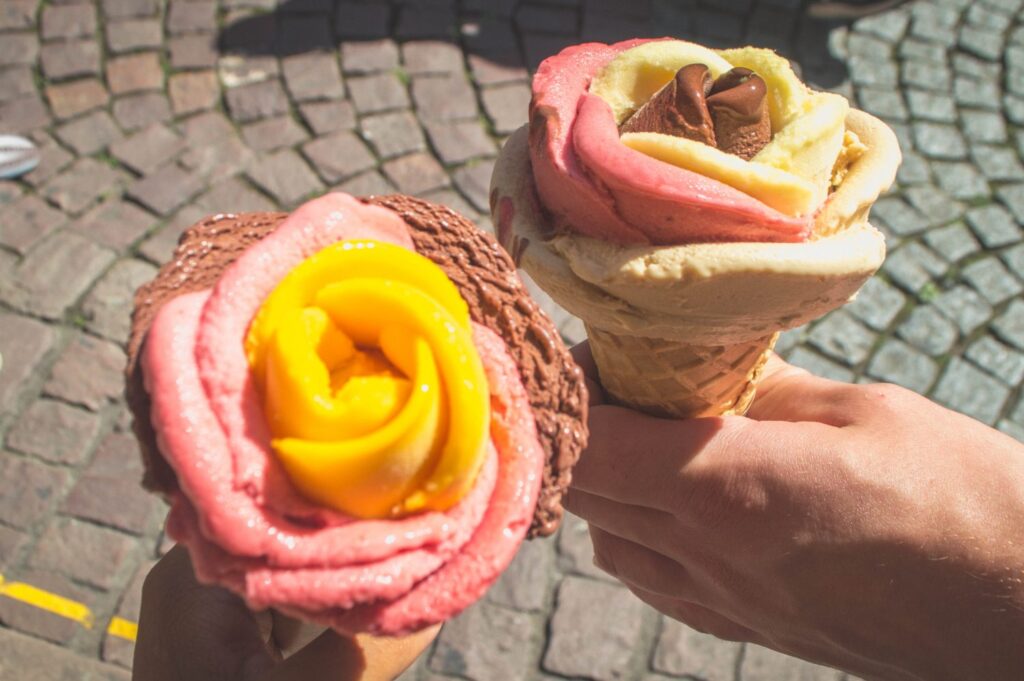 Paris Etiquette Tips
Wondering how not to be rude in Paris? Here are some important must-knows related to French etiquette to keep in mind before you visit.
Say "bonjour" or "bonsoir" when entering a shop
If you're going to learn two French words, these would be it. Failure to greet people when entering a shop is considered the peak of rudeness in Paris , so don't forget.
Bonjour is hello, and bonsoir is good evening.
A good rule of thumb is to say bonjour before 6pm and bonsoir after 6pm.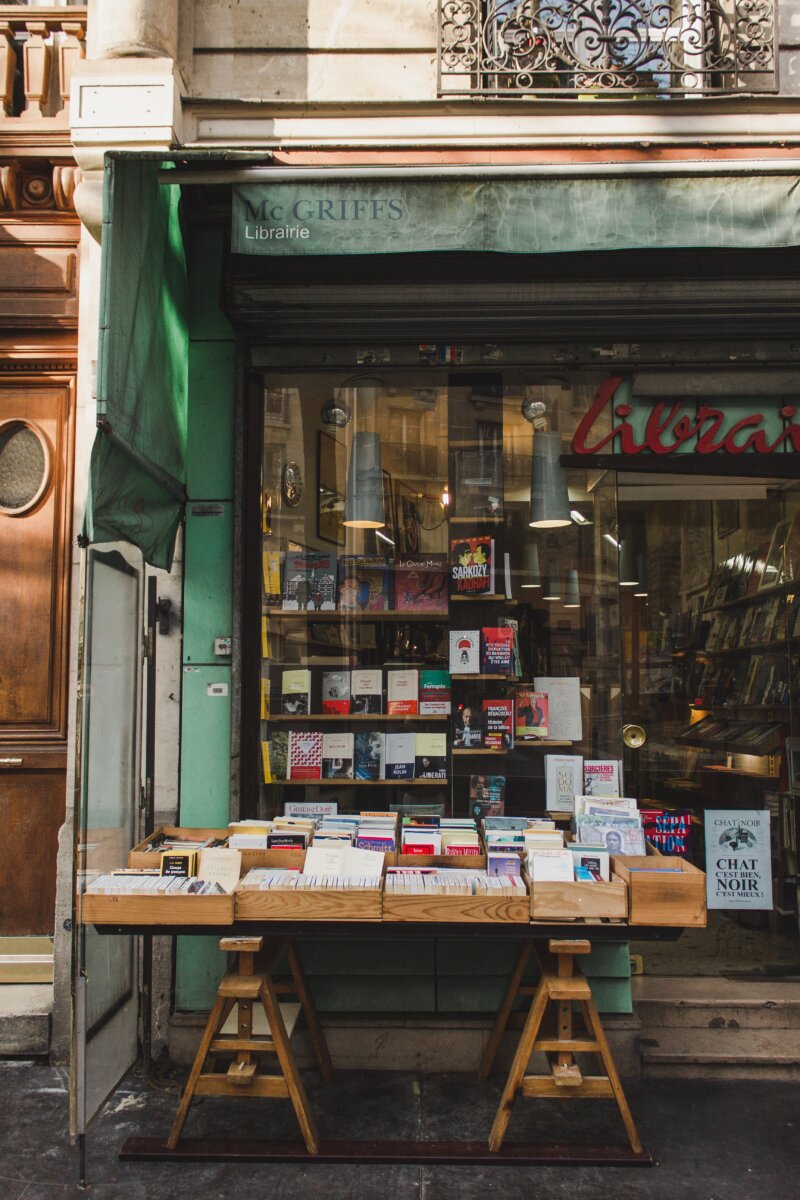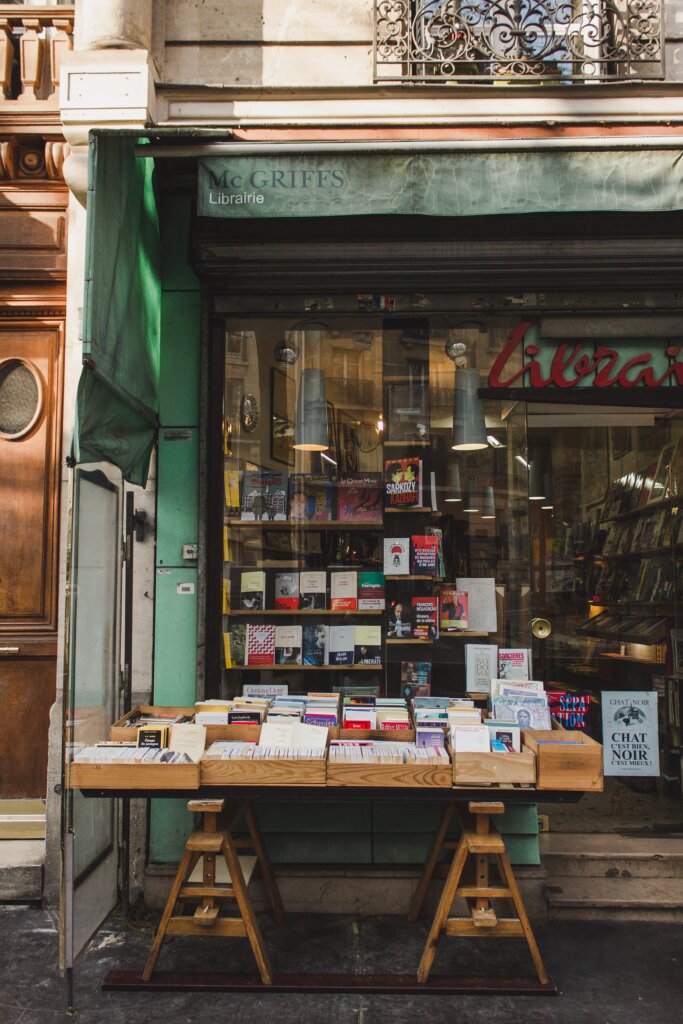 Also say "au revoir" or "merci" when leaving a shop
Failing to say "goodbye" on your way out is also very much frowned upon, so remember to say bye or thank you as well.
Attempt French
Of course, you don't need to master the French language before you visit Paris, but a little effort goes a long way.
I've usually gotten decent service in Paris (contrary to the rude Parisian stereotype), and I chalk that up to the fact that I speak French.
Here are some key phrases you should 100% commit to memory, along with rough pronunciation guides:
Hello = Bonjour (bon-zhoor)
Good evening = Bonsoir (bon-swahr) -> [say this after 6pm-ish, people kind of get snobby if you say "bonjour" in the evening]
Thank you = Merci (mer-see)
Please = S'il vous plaît (see voo play)
Can I get the bill please? = L'addition, s'il vous plaît (lah-diss-yon, see voo play)
Do you speak English? = Parlez-vous anglais? (par-lay voo ong-lay)
Excuse me (like, sorry/when you're trying to move past someone) = Pardon (pahr-dawn)
Excuse me (like, when you're trying to get someone's attention) = Excusez-moi (ex-kews-ay-mwah)
Bye = Au revoir (oh rev-war)
If you're looking for a more thorough guide with audio included, check out this awesome article from my friend Diane, an expat living in France!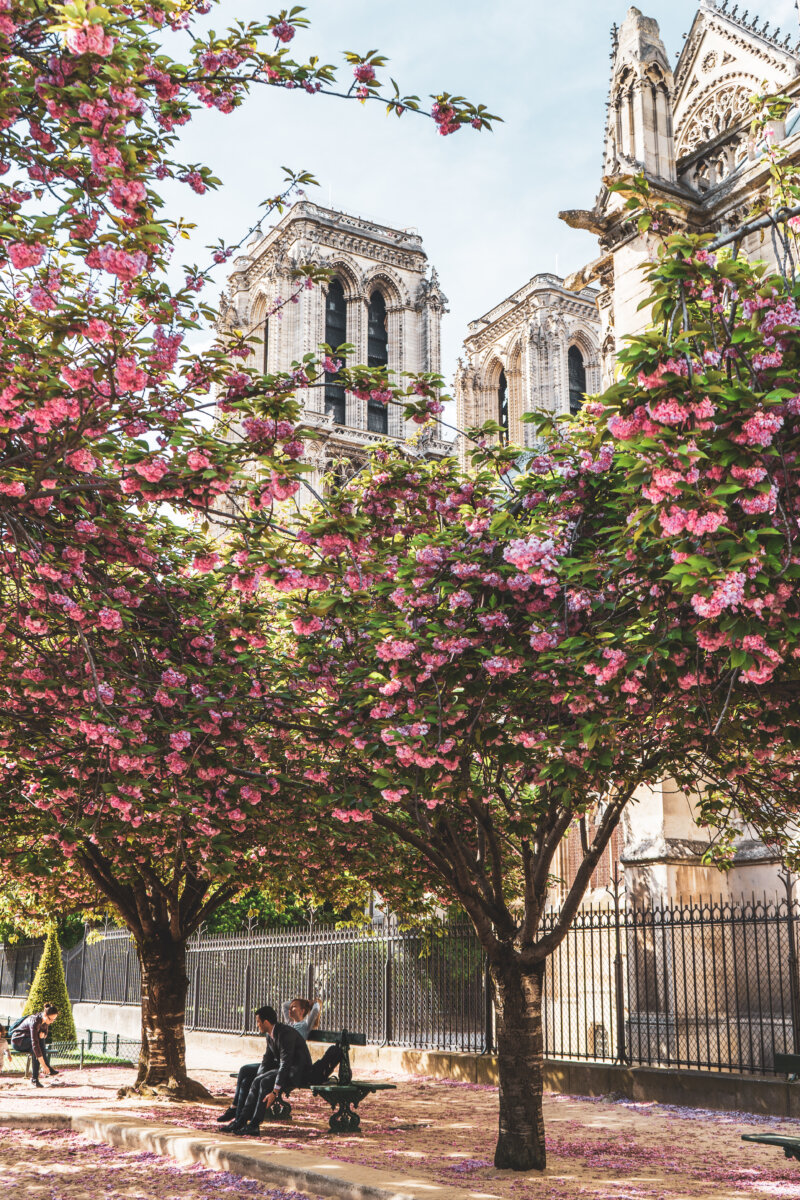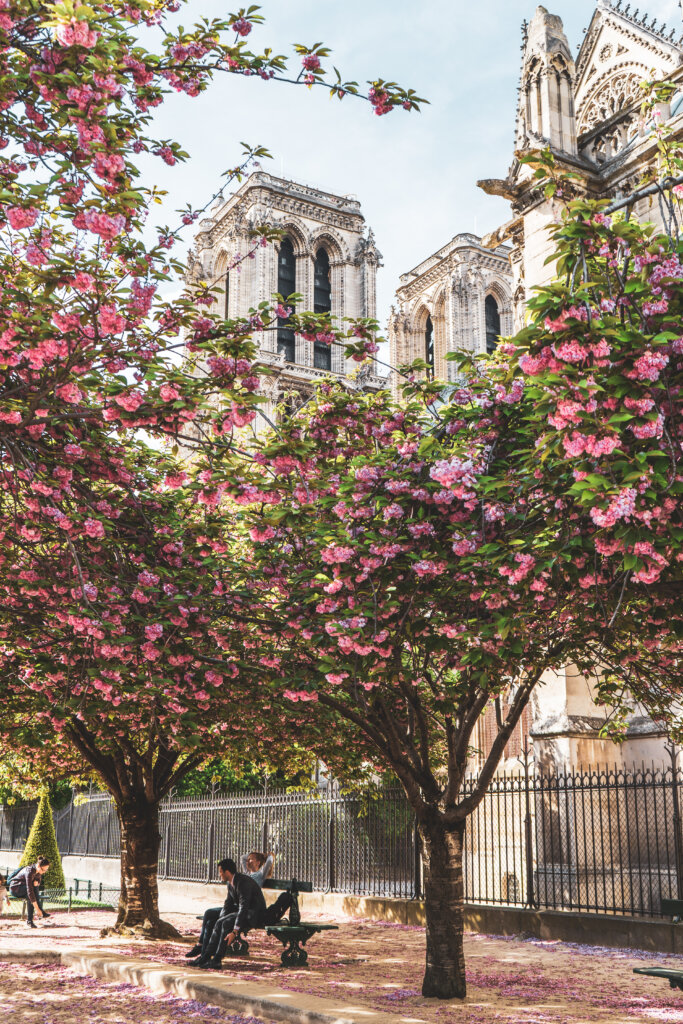 Always ask "Parlez-vous anglais?" before asking in English
Contrary to stereotypes, many Parisians speak English, but get annoyed by the idea that tourists assume they do.
So, remember to never just run up to someone speaking English – be sure to ask "Parlez-vous anglais (Par-lay voo on-glay)", which means "Do you speak English?" before proceeding.
Get ready to greet with "La Bise"
This Paris etiquette tip will only be relevant if you plan on meeting a local friend (or friend of a friend) while in Paris, but the standard informal greeting among "friends" is La Bise, which is basically an air kiss on each cheek while making a slight kissing sound.
Trust me, it's very weird if you're not used to it, and to this day, I still worry I might accidentally plant a smooch on someone.
Again, this isn't something you would lay on your hotel concierge or friendly server, but it's good to know if you have friends in the city, or are meeting up with locals.
Moving past people? Say "Pardon"
I know a lot of tourists default to "excusez-moi", which would be understood but is more meant as "excuse me" in the context of getting someone's attention.
Instead, if you want to pardon yourself for moving past someone in a crowd, say "Pardon" instead… with an emphasis on the second syllable "par-DON".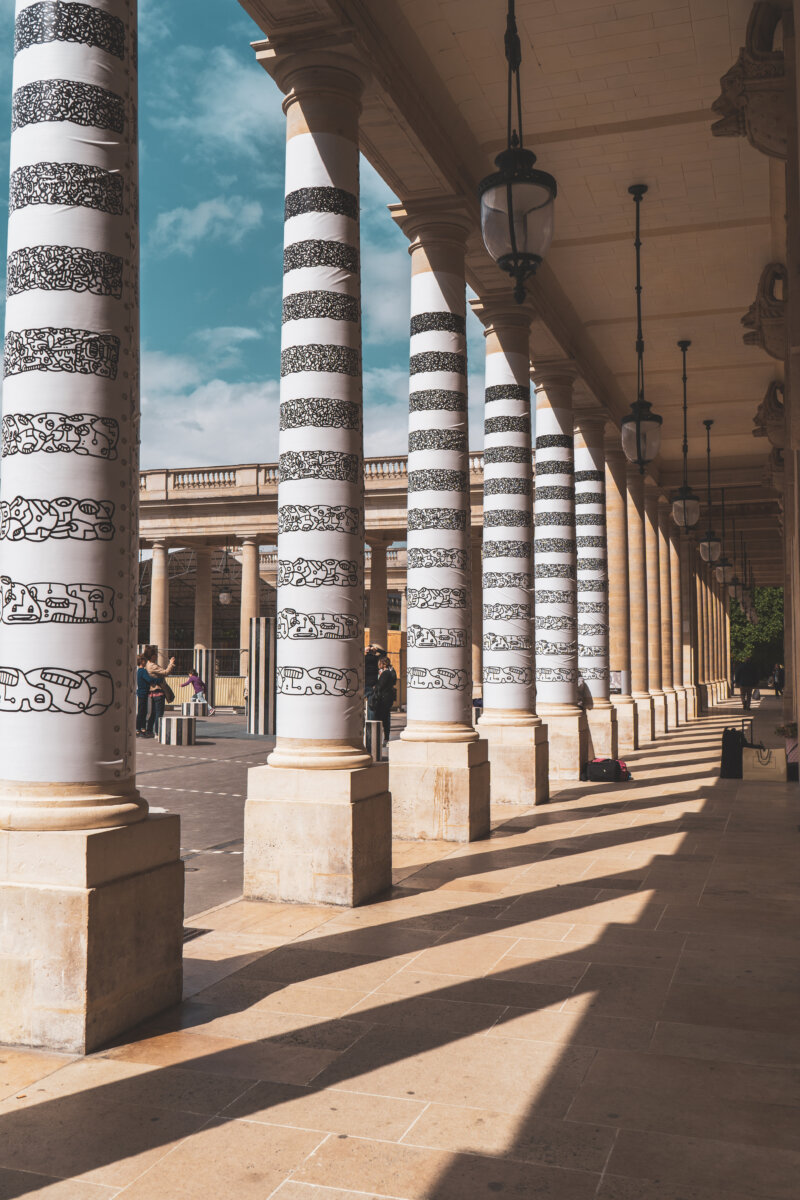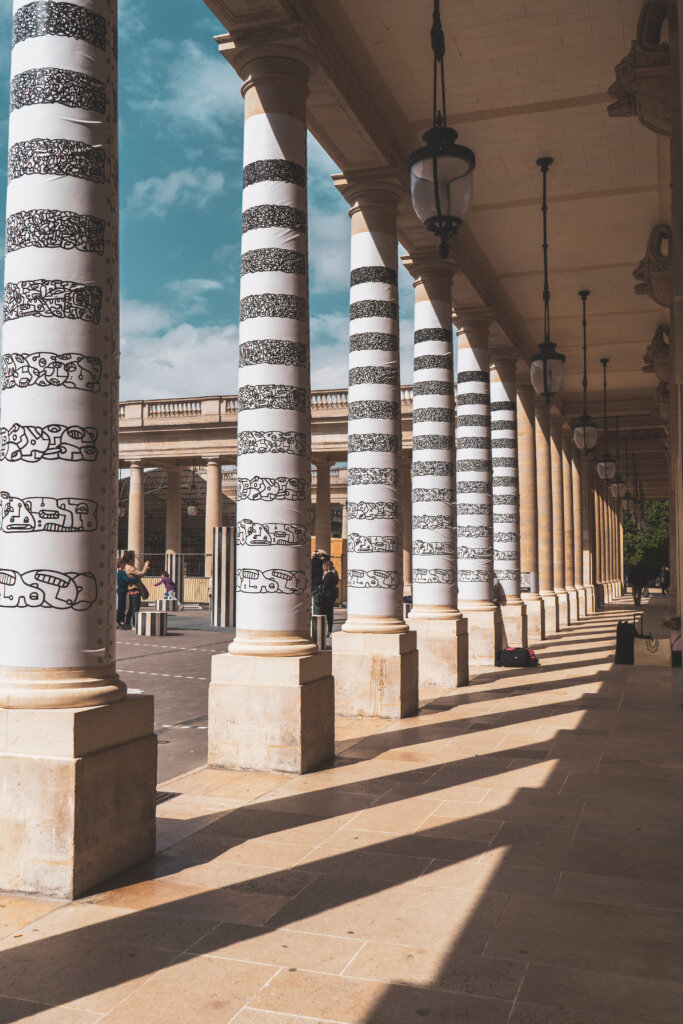 Cover up when visiting churches
As a standard practice, you should aim to cover up your shoulders and knees when visiting any churches in Paris.
Unlike other big tourist cities like Rome or Florence, you won't often find explicit signs that bar you from entry unless you follow this rule, but it's definitely a good bare minimum to follow when it comes to respect.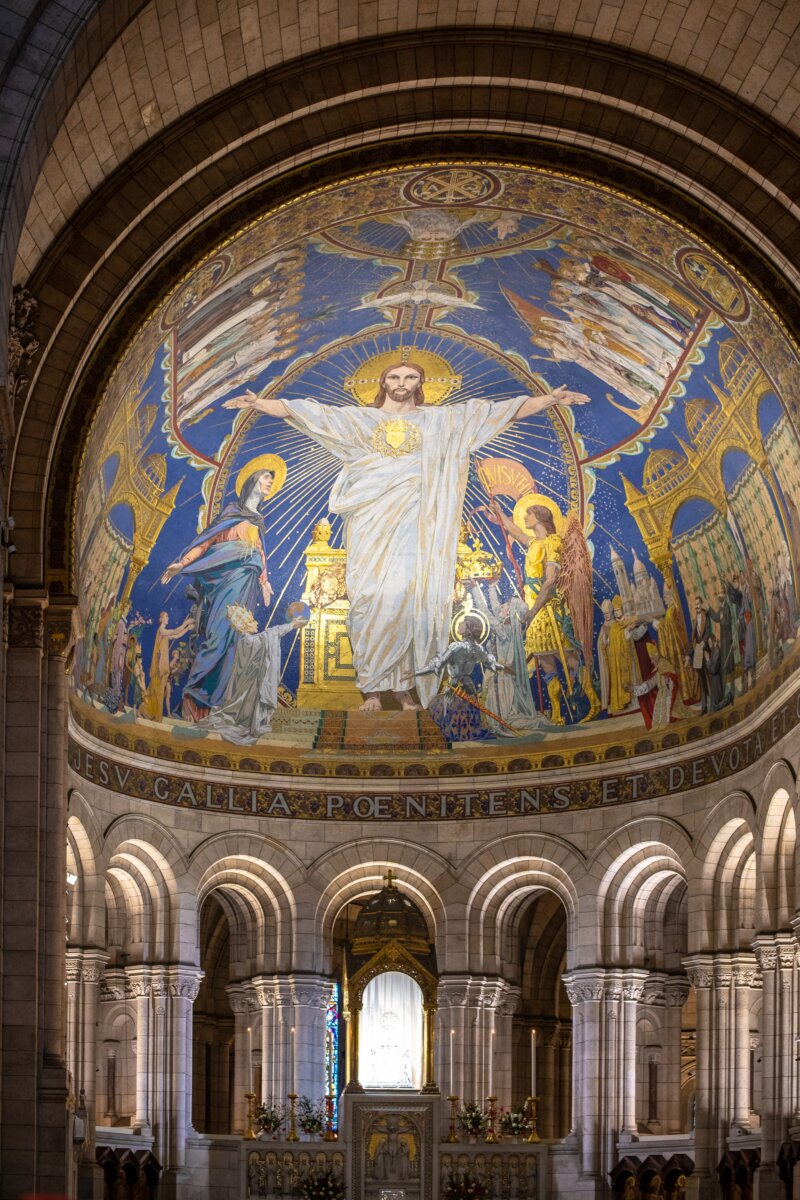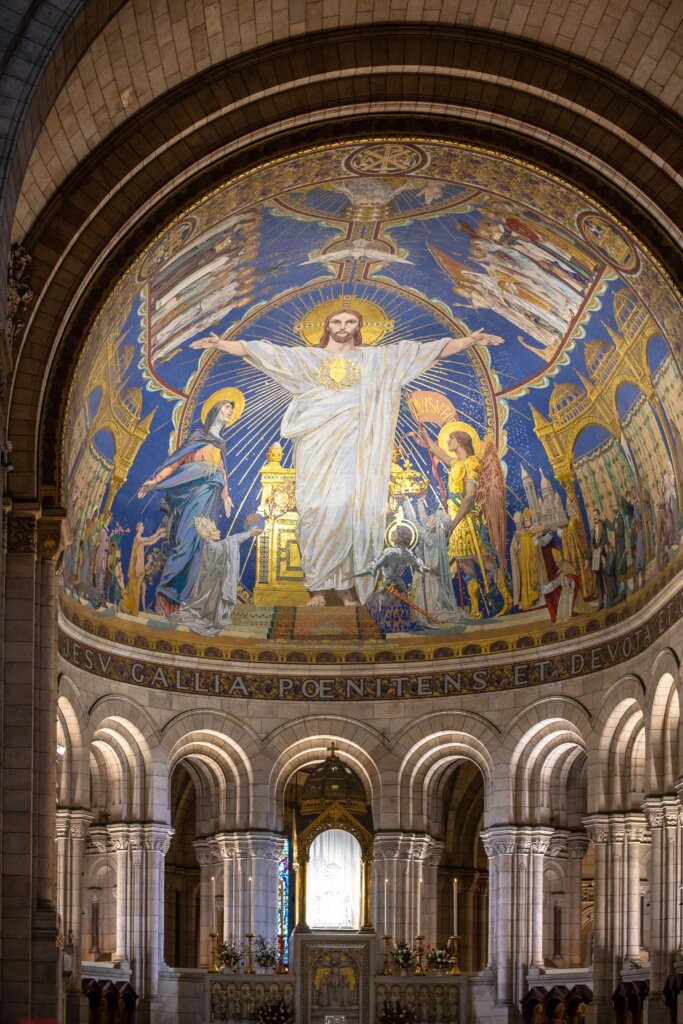 Keep your voice down
One of the #1 complaints that I hear from Parisians about North American tourists is how LOUD they can be.
Having lived abroad for several years, I can now totally hear it too.
I'd say generally speaking, North Americans speak louder than their European counterparts, particularly in typically "quiet" places like public transport.
So, if you're chatting with people, just try to keep your voice down to not disturb others around you.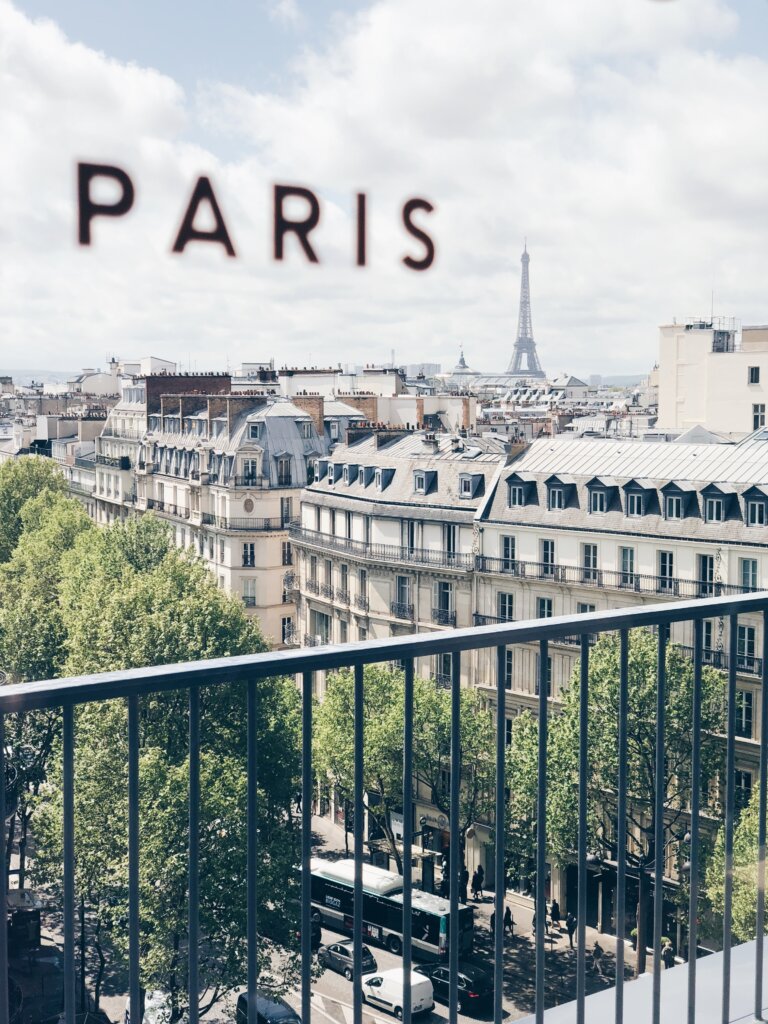 Packing Tips for Paris
What should you wear in Paris? And what shouldn't you wear? What important things should you definitely pack for your Paris trip? Here are my best Paris travel tips related to packing.
Bring comfy shoes
Paris is a city made for walking and exploring.
It's also a city made of cobblestones!
I know you might want to dress cute for your Paris trip, but do yourself a favour and pack only practical shoes that you can walk a whole day in. Your feet will thank you later.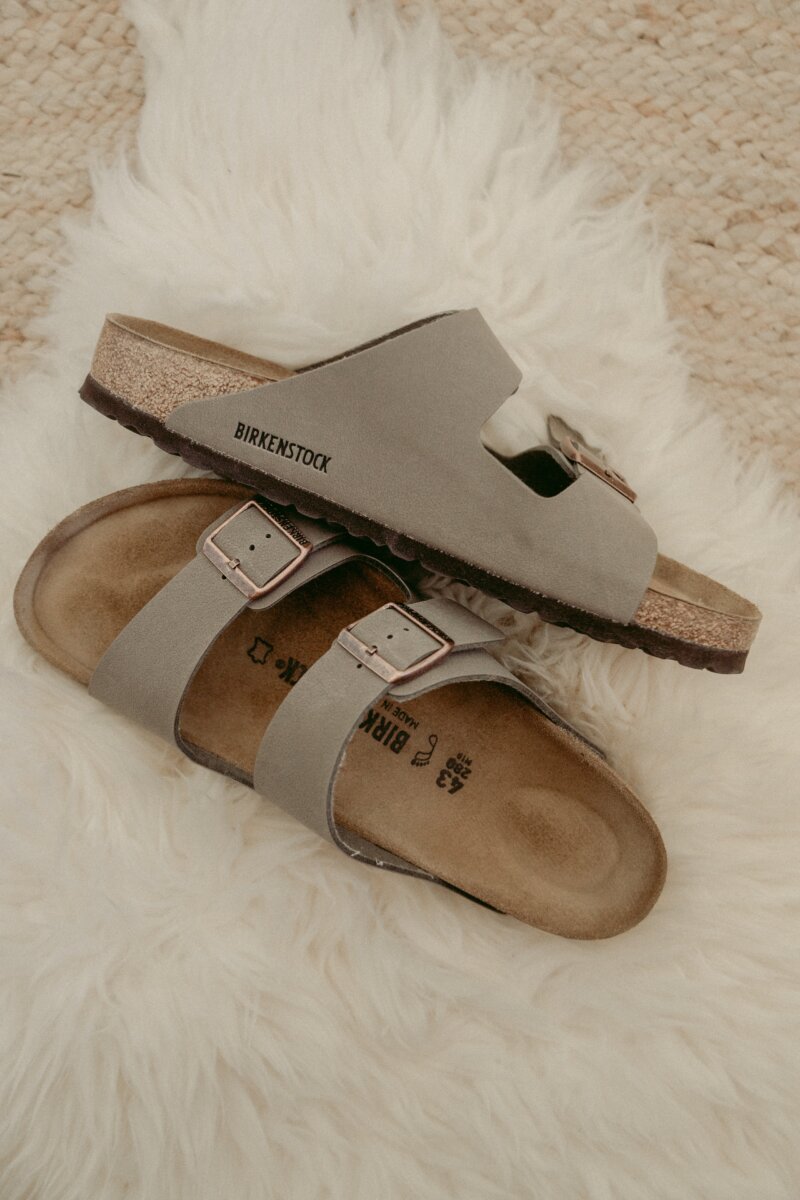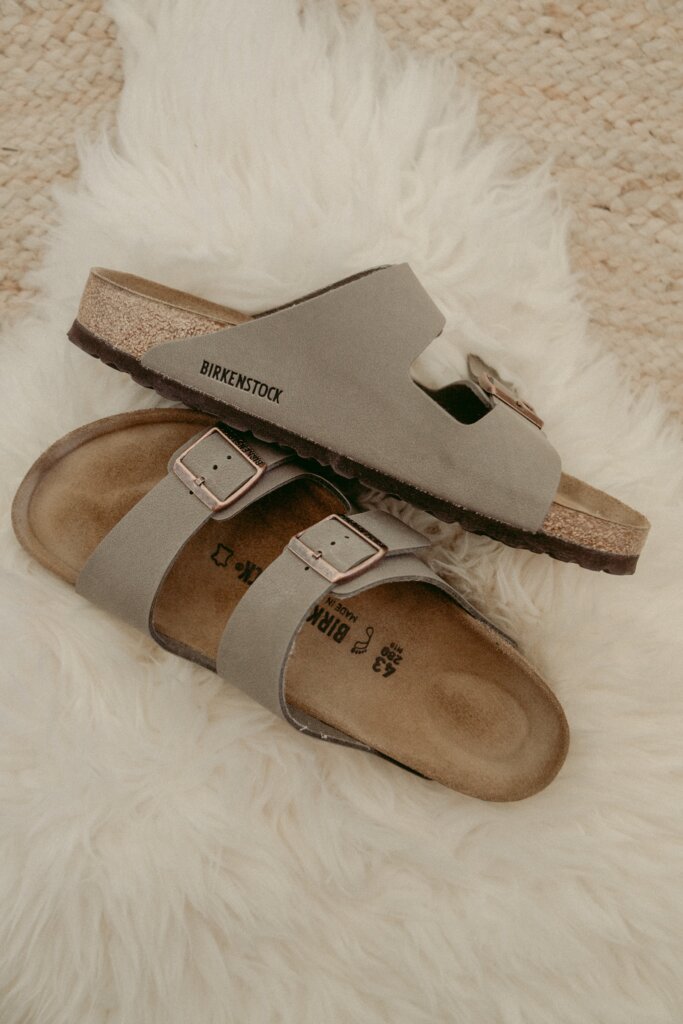 Bring a theft-proof bag
Unfortunately, pickpocketing and petty theft is common in Paris, particularly with tourists as easy targets.
For peace of mind, you should definitely look into buying theft proof bags like this one, which is slash-proof and also has an abundance of hidden pockets to keep your belongings safe.
Bring bags with hidden pockets or a money belt
If you don't want to buy an entirely new bag for your trip, that's understandable, but you should still take a few measures to "theft-proof" your own bags.
A few ideas would be to pick only bags that have an additional layer of security (e.g. a zippered compartment inside the bag, or in the back where it's inaccessible to grabby hands), or to simply wear a money belt or hidden passport scarf like this one.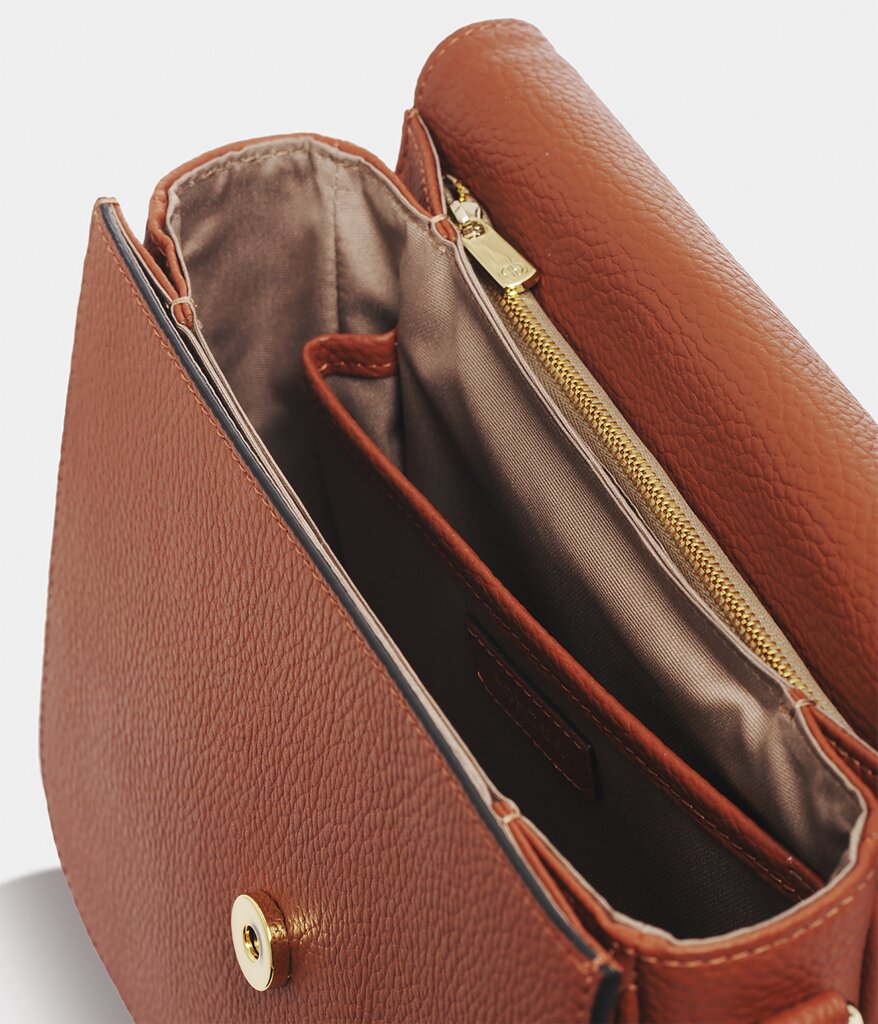 Make sure you have a universal adapter
Power sockets in Paris have two round holes and if you're visiting from overseas, odds are you'll need an adapter for your plugs to fit.
I'd strongly recommend buying a universal adapter like this one if you don't have one already.
It's cheap, can be re-used for every trip, and covers you in all situations. Definitely some of the best money I've ever spent!
Pack a water bottle
Paris is filled with free water fountains spouting out clean and cold water for you to drink.
Especially if you're travelling in the summer, you'll be doing tons of walking and need to stay hydrated… so pack a water bottle to take advantage of all the free H20.
If you worry about the amount of space a water bottle will take, consider getting a collapsible one like this.
DIY your own travel sized toiletries
This is a very basic packing tip I always recommend, but it's very easy these days to buy small reusable bottles that you can fill with your own toiletries of choice.
This allows you to bring your favourite products with you, and saves needless one-use toiletries from ending up in the landfill.
Need help picking the right one? Read my guide to reusable toiletry bottles for more info.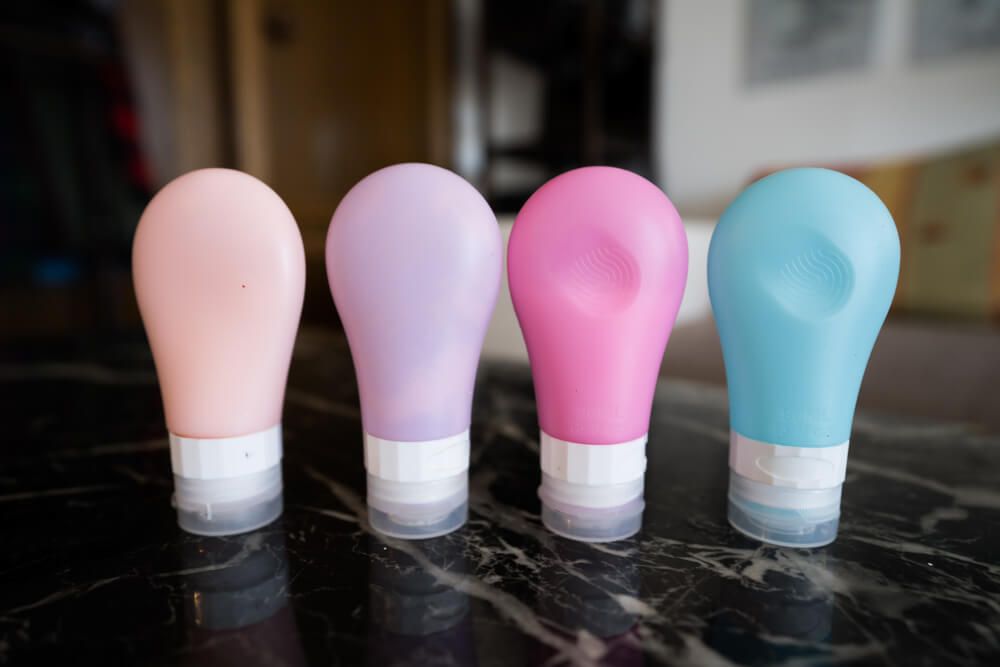 Have a re-usable bag handy
You can't go wrong with a tote bag or two, and I always like to keep one in each purse when I travel.
You never know when you'll need an extra bag, whether to haul goodies back from the market or simply carrying whatever souvenirs you've gotten that day, so remember to pack some.
Bring protective wraps
If you're travelling with an expensive camera, or anything else fragile, I highly recommend these amazing protective wraps.
I bought mine a few years ago and use them every trip. They're padded velcro wraps that you can use to protect…. pretty much anything! So handy and they don't take up too much space.
Alternatively, you can also look into product-specific protectors, like these awesome wine protectors to ensure your precious cargo doesn't break in transit.
Read up on Parisian style
Pop culture (shaking my fist at you, Emily in Paris) has brainwashed us into thinking that Parisian style is all about red berets and black/white striped tops. This is not the case at all!
If you want to dress as locals do in Paris, you should definitely read more about how Parisians like to dress – which is often described as chic and effortless. This guide is great for learning the basics!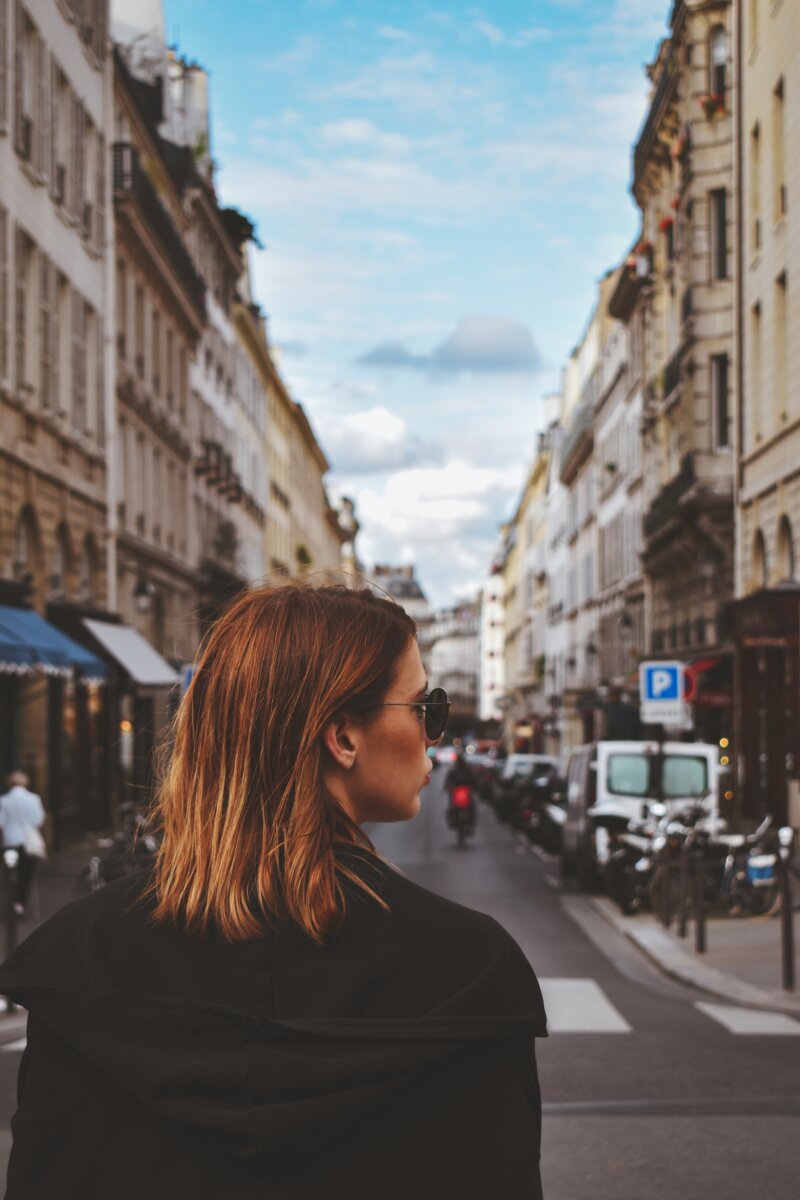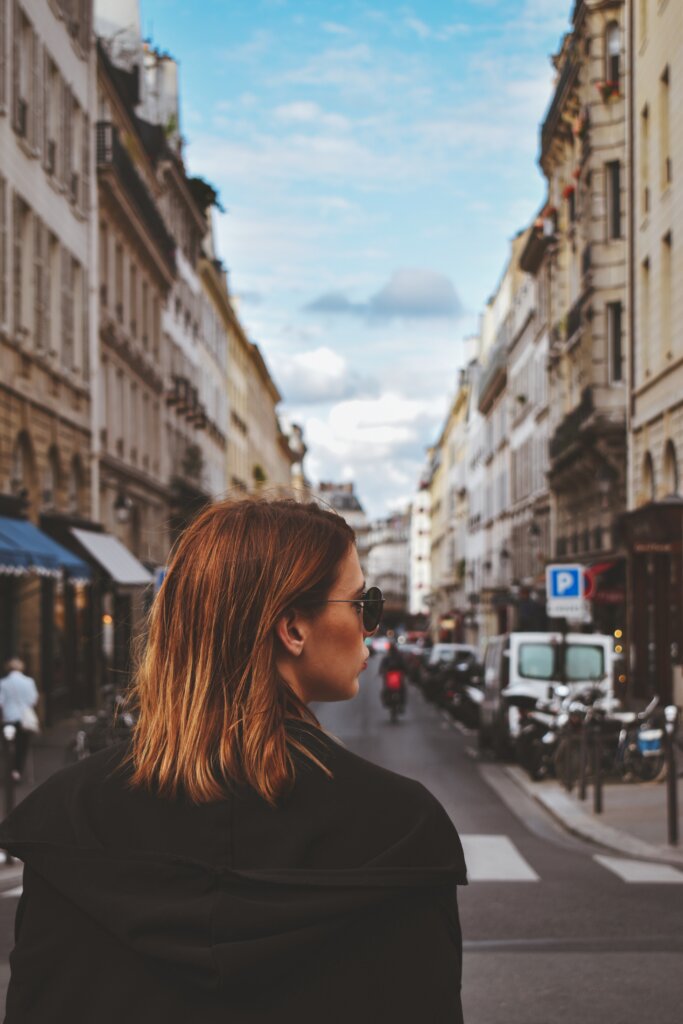 Pack "monochromatic" if you want to blend in more
Bright colours and patterns are fun and I wear them all the time, but (building on the Paris packing tip above), if your goal is to blend in with the style of Parisians, monochromatic colours are a good idea.
But honestly, just wear whatever makes you feel comfortable and chic! Life is too short to worry about what others might be thinking.
… but I draw the line at a red beret.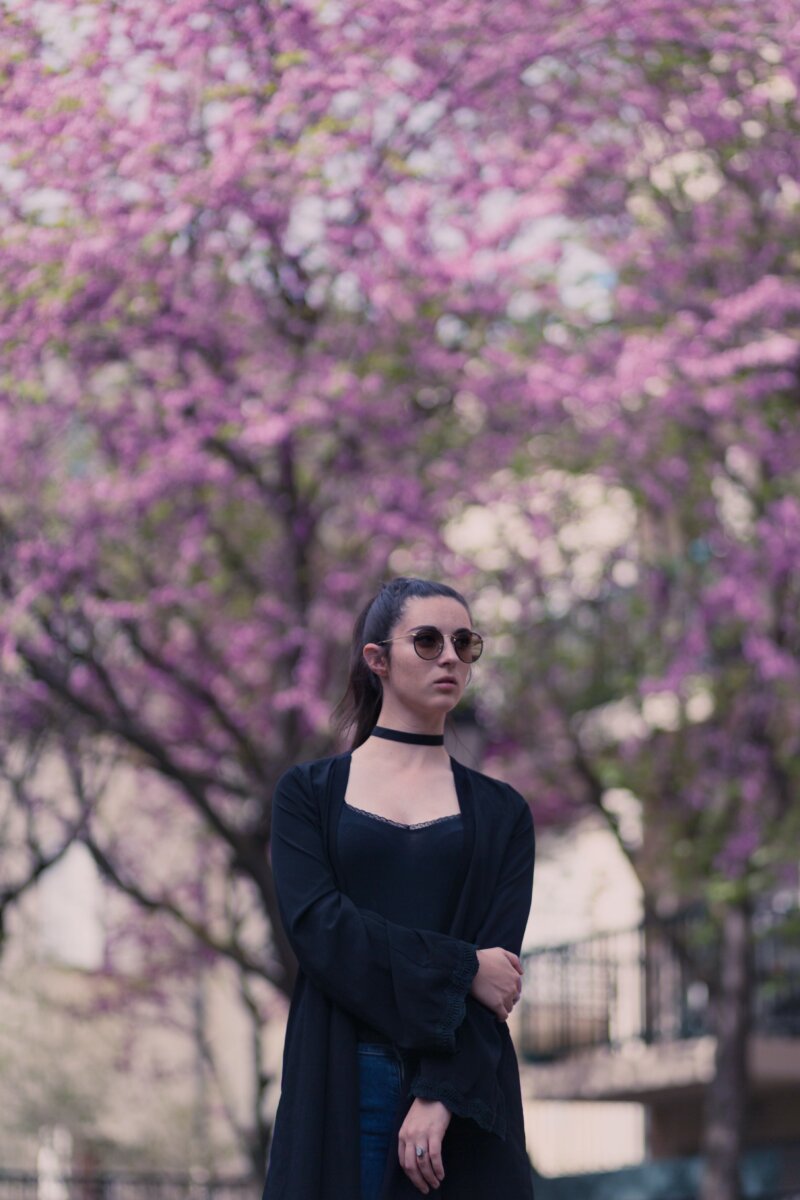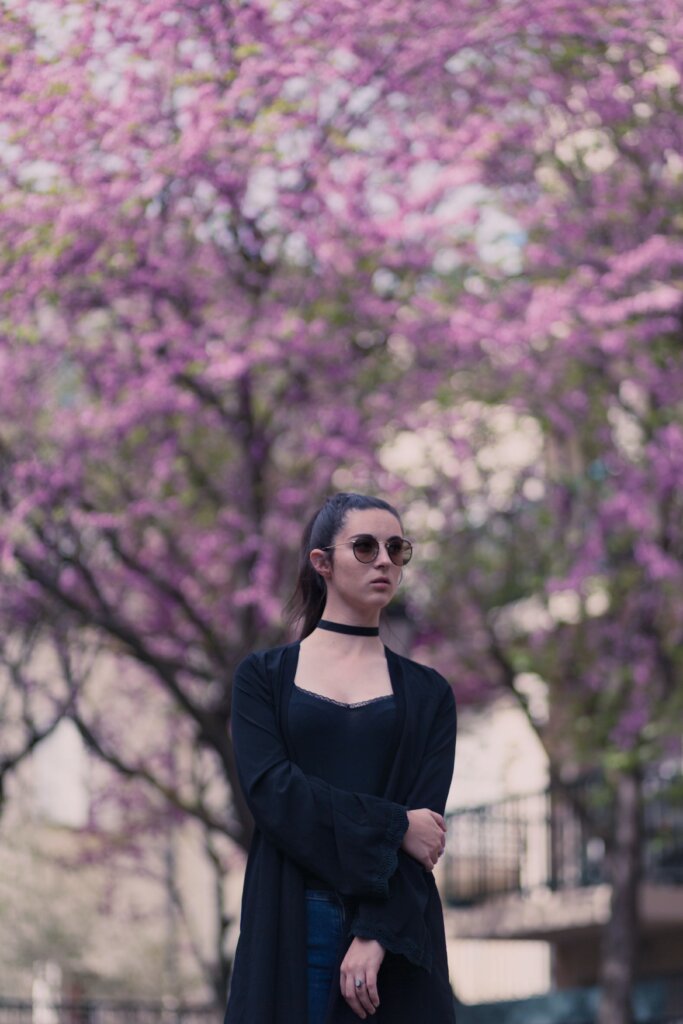 Final Paris Travel Tips You Must Know Before You Go
Okay, last but not least, here are some miscellaneous Paris trip tips that will help ensue your trip to Paris is as magical as you always dreamed!
Get Your Expectations Straight
Paris is beautiful, yes… but when you spend a lifetime pining over black and white postcards and repeat-screenings of Amélie or Emily in Paris, you start to get reality a little twisted in your head.
Paris is stunning, but it also has its ugly bits. It can be crowded, smelly, the people (both locals and tourists alike) can be rude, and ugh, there is truly nothing worse than stepping onto a scorching Metro car during rush hour.
That, my friends, is where dreams go to die.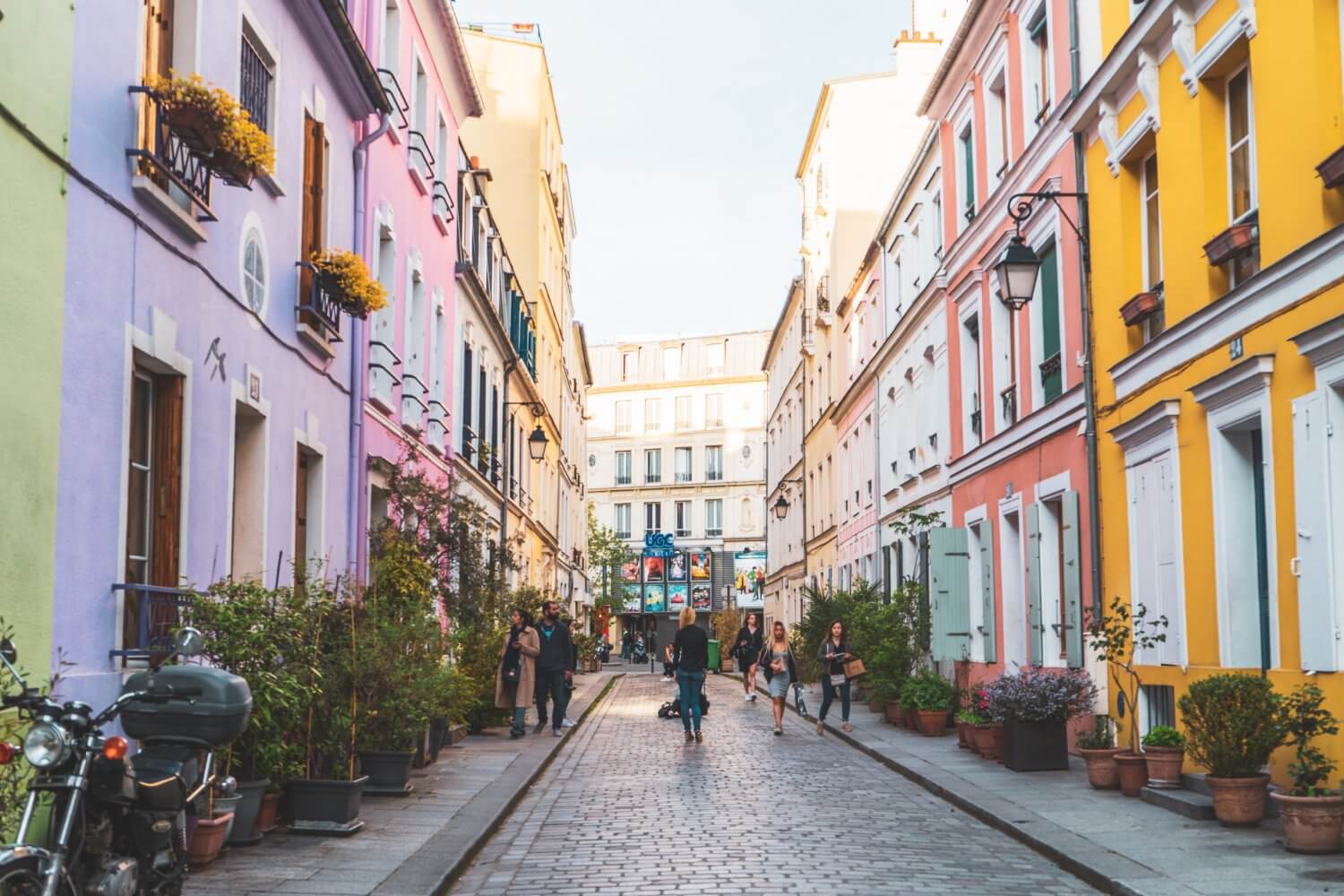 But if you come in with realistic expectations, if you say to yourself "hm maybe I MIGHT have ten other heads in my Eiffel Tower selfie" or "hey, who doesn't like random wafts of urine stench?" then you'll be just fine.
Paris is one of those cities you need to love in spite of its imperfections, not because it's objectively perfect (like Instagram might have you believe).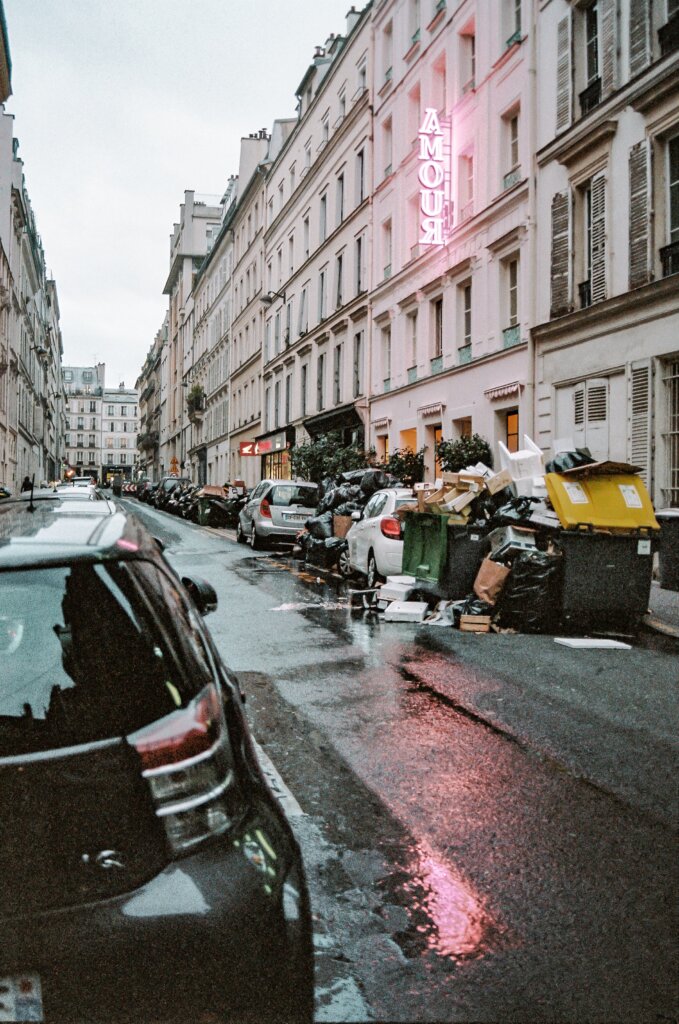 Schedule in some people watching time
Sitting around, enjoying the vibe, and people watching is one of Paris' greatest joys.
If you don't allow yourself some free time to sit around and judge people walking by (it's a cultural experience I swear), you're seriously missing out.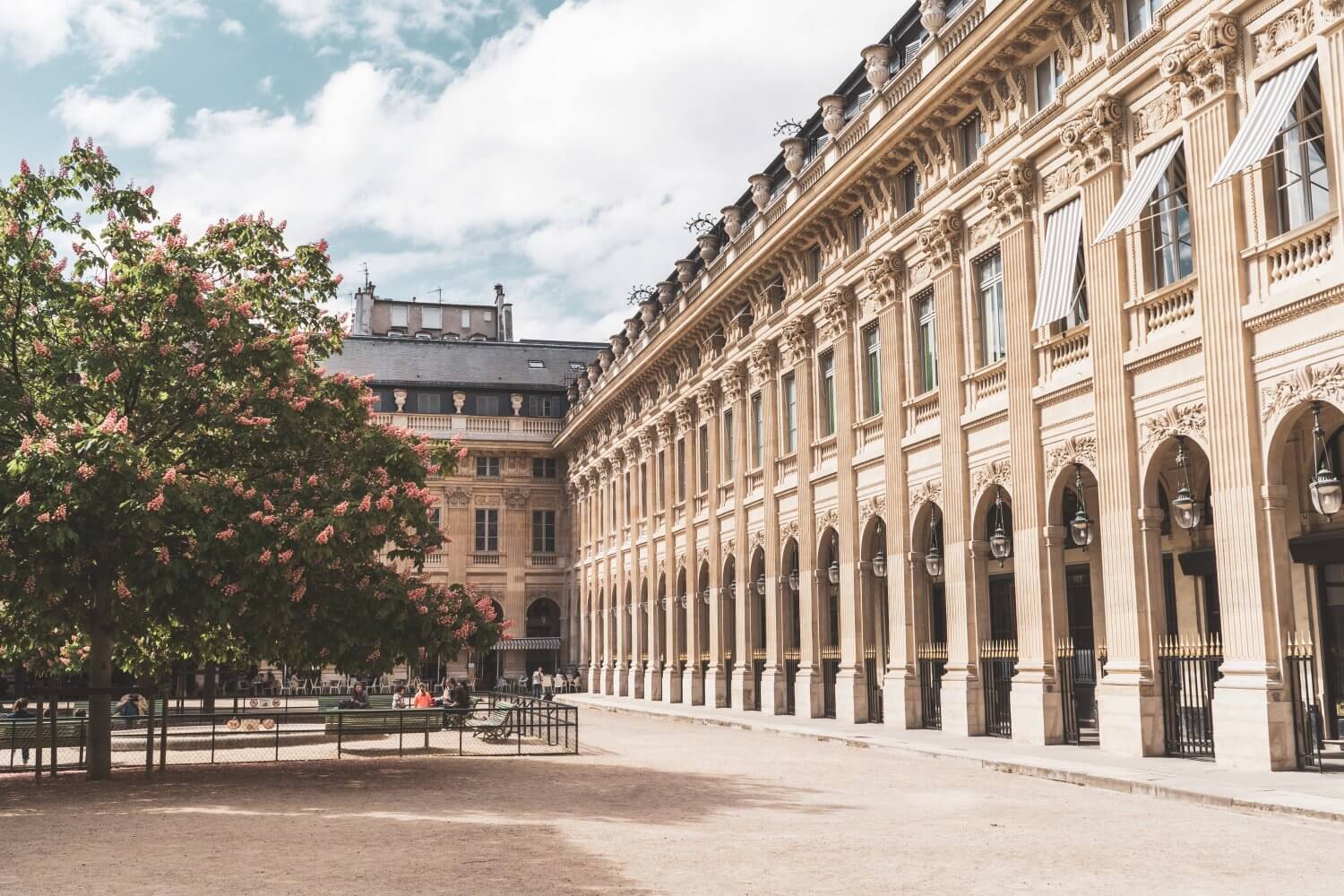 Know that the floor system is different here
A very common misunderstanding for tourists in Paris relates to which floor they're on in a building. How come? The numbering system for floors in France is actually different than in North America – whee!
It's not too important to know the specifics of why, but the 2nd floor in North America would be considered the 1st floor in France, because in France, the ground floor (1st floor in North America) is the "Rez-de-chaussée" rather than the 1st floor.
… Sorry, that sounds a little confusing, but I hope you get what I mean.
You can read more about the topic here.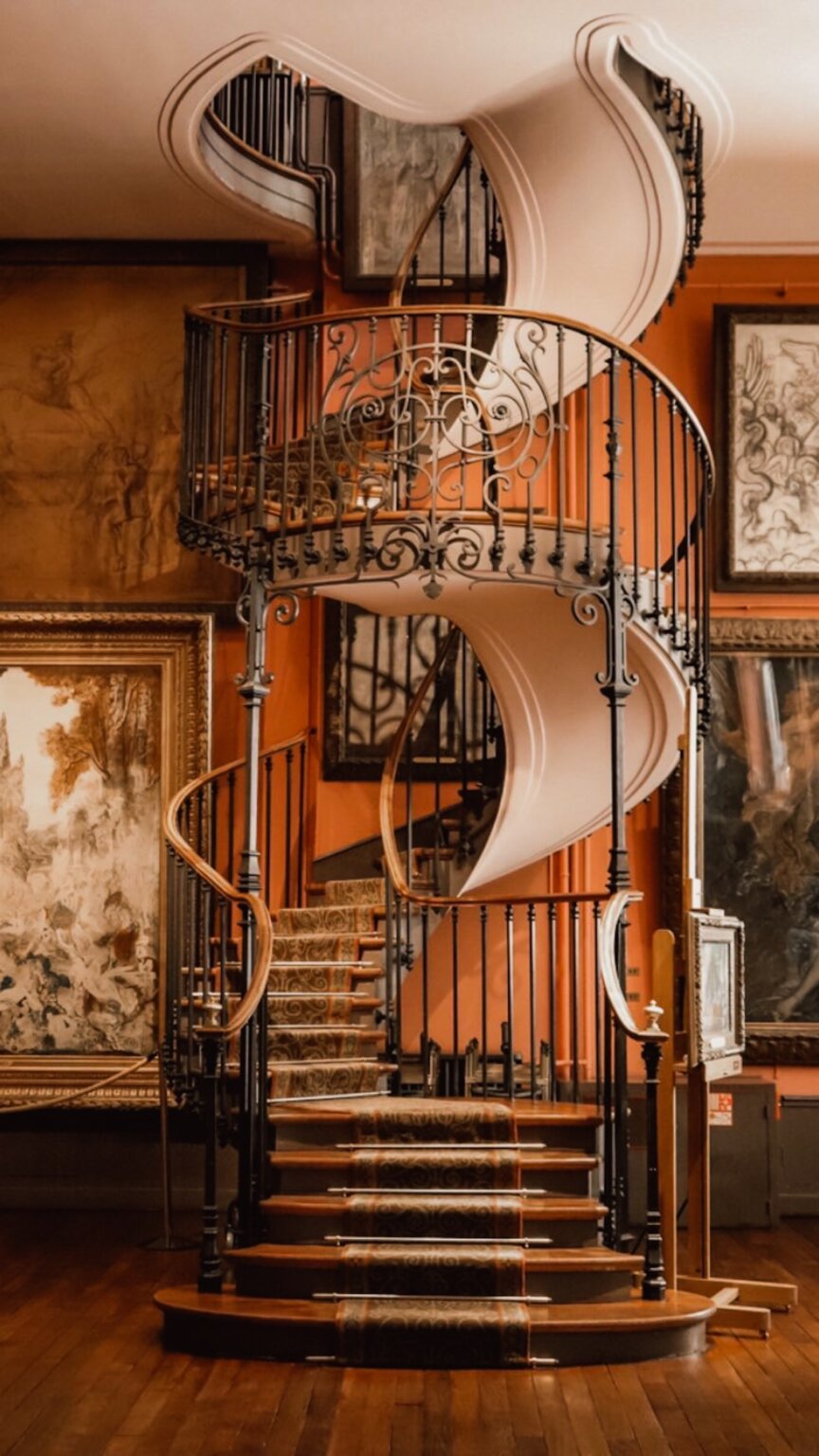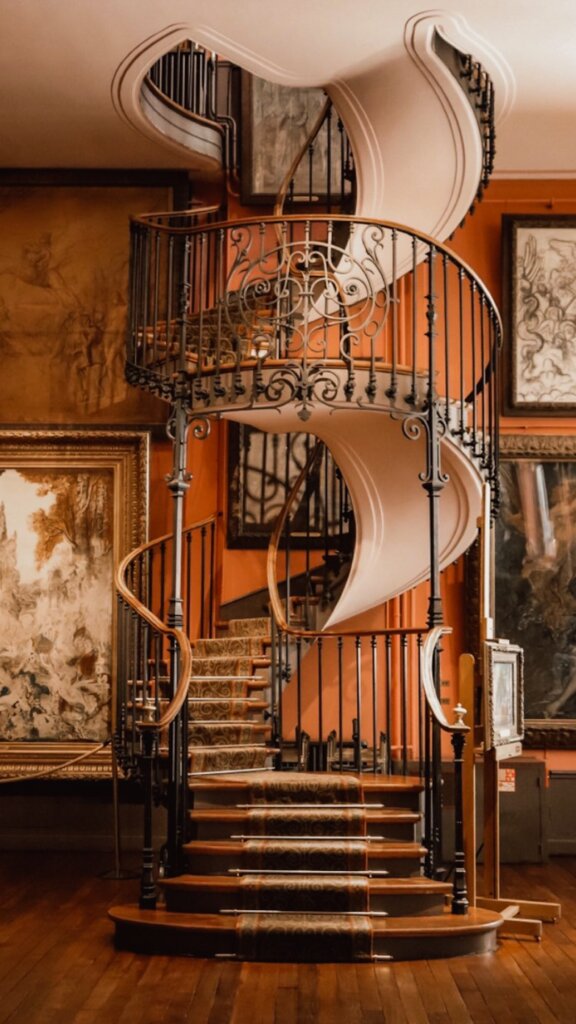 Carry change for public bathrooms
If you're used to peeing for free back home, sorry – there's often a charge for public bathrooms in Paris, especially in busier areas like parks.
Usually the fee is 50 cents or a euro, so be sure to have some coins with you in case nature calls.
NOTE: There are Sanisettes on the streets of Paris which are free, but I've always had trouble finding one whenever I've actually needed it. Just Sod's Law I guess!
Know how to find free WiFi
WiFi for tourists is a big deal – I get it! Luckily, there's a lot of free hotspots scattered around Paris.
Here are some Paris tips for always finding free WiFi:
Head to (or outside) a McDonalds or Starbucks – they always have WiFI
Download an app like Wifi Map which will help you find hotspots
Look on FourSquare, where people will often share the password of protected hotspots in the tips section
Keep receipts for a VAT refund
If you come from outside the EU and plan to do a lot of shopping, you may qualify for a VAT tax refund when you leave Paris. This can amount to huge amounts depending on what you buy!
To qualify, you have to be a non-EU resident older than 15 years of age, and you need to spend more than 175 euros in one store in one day.
Here's more info on how to claim your VAT refund before you leave France.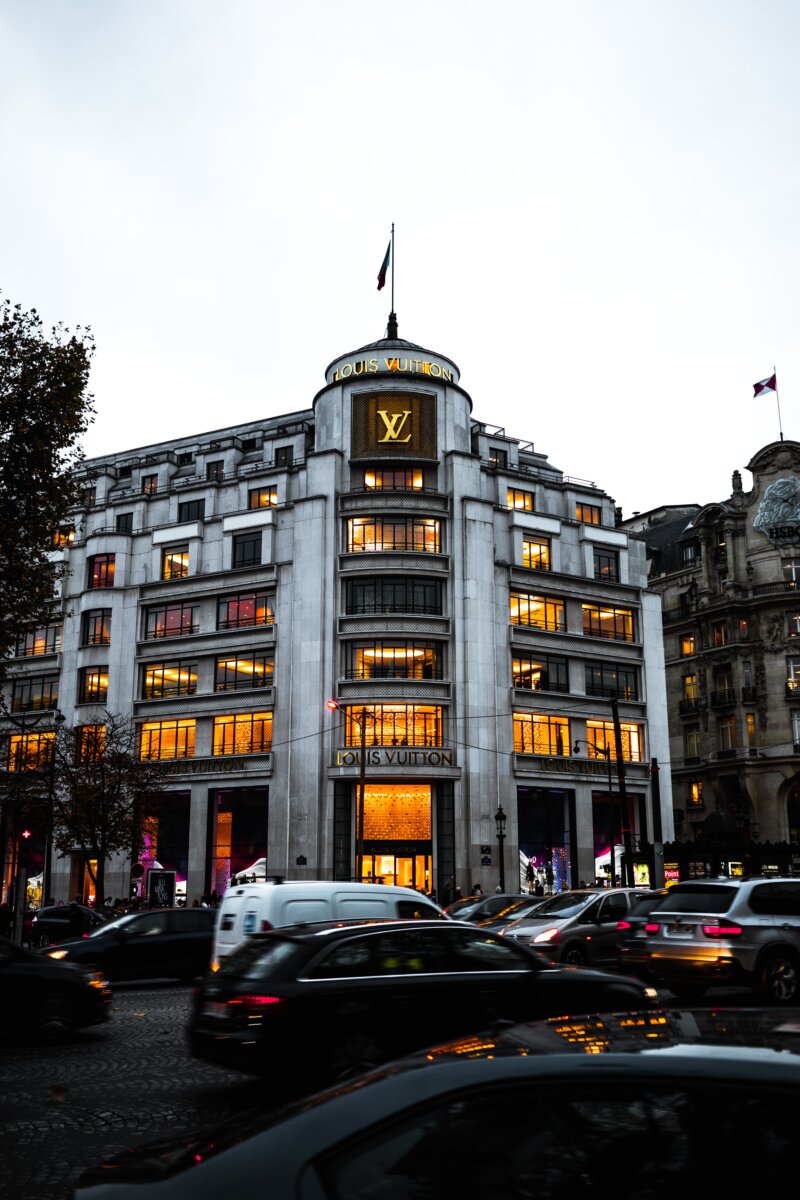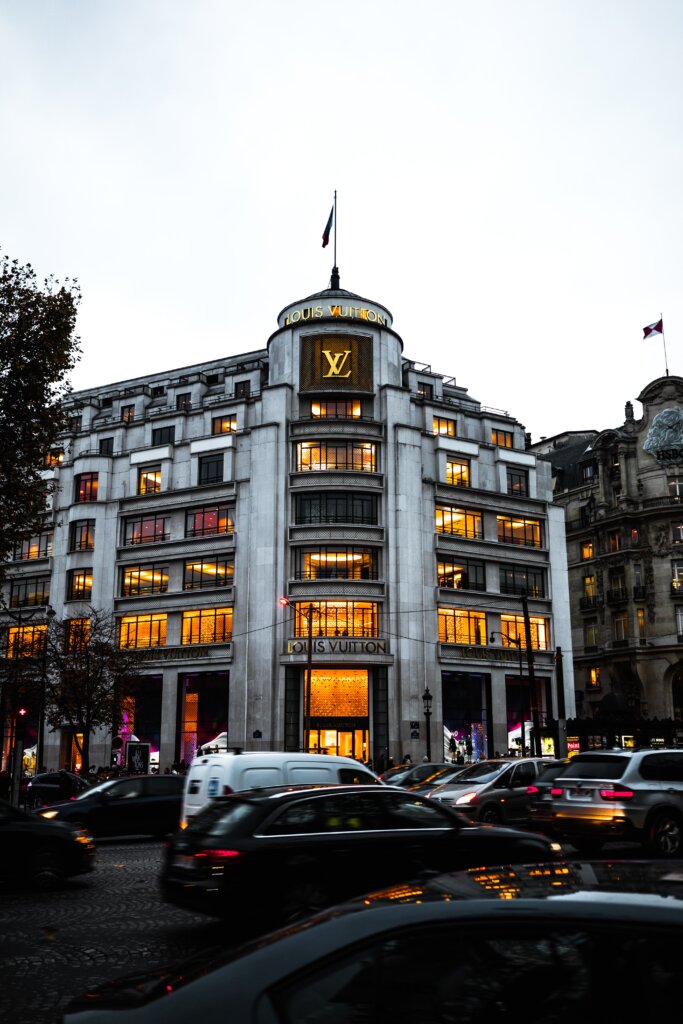 Don't take rudeness personally
Parisians have a reputation for being rude.
As with all generalizations, this isn't true of all people in the city, but sadly, the stereotype can hold true.
Especially if you're used to overly friendly North American customer service, your reception in Paris might feel especially frosty.
But let me clue you in on a little secret, my very special secret for loving Paris: its called the subtle art of not giving a duck (confit), if you get what I'm saying.
Seriously, just don't care. Laugh it off. Maybe imagine spitting on them in a dramatic dream sequence, but then carry on twirling around and making memories.
… You'll love Paris so much more with that mindset.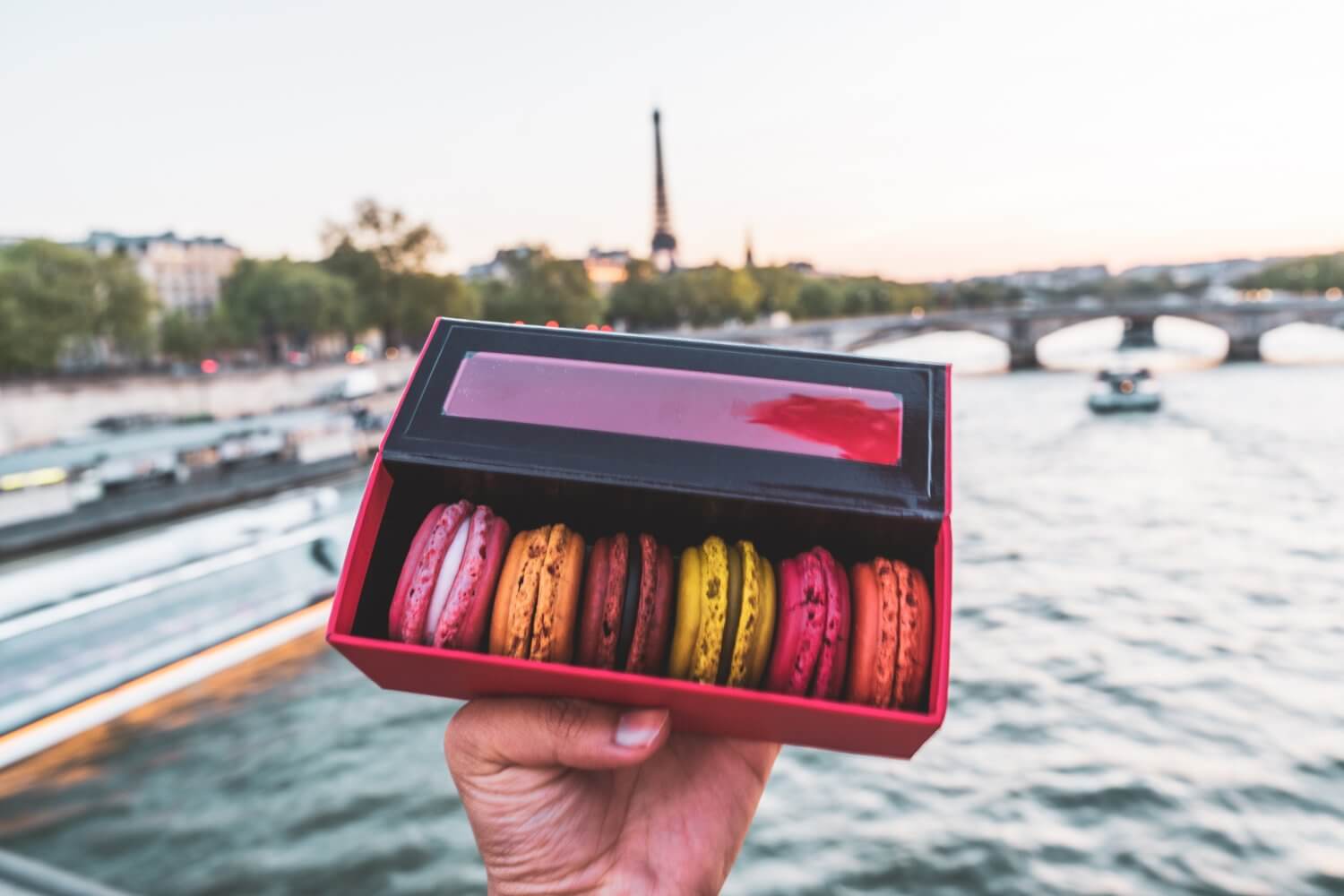 Binge on movies set in Paris before your visit
While many visitors tend to romanticize Paris too much (resulting in a sad expectations vs. reality type situation upon arrival), the best way to get absolutely hyped for your Paris trip is to watch plenty of travel movies set there.
Here are a few I love:
Amélie
Midnight in Paris
Inception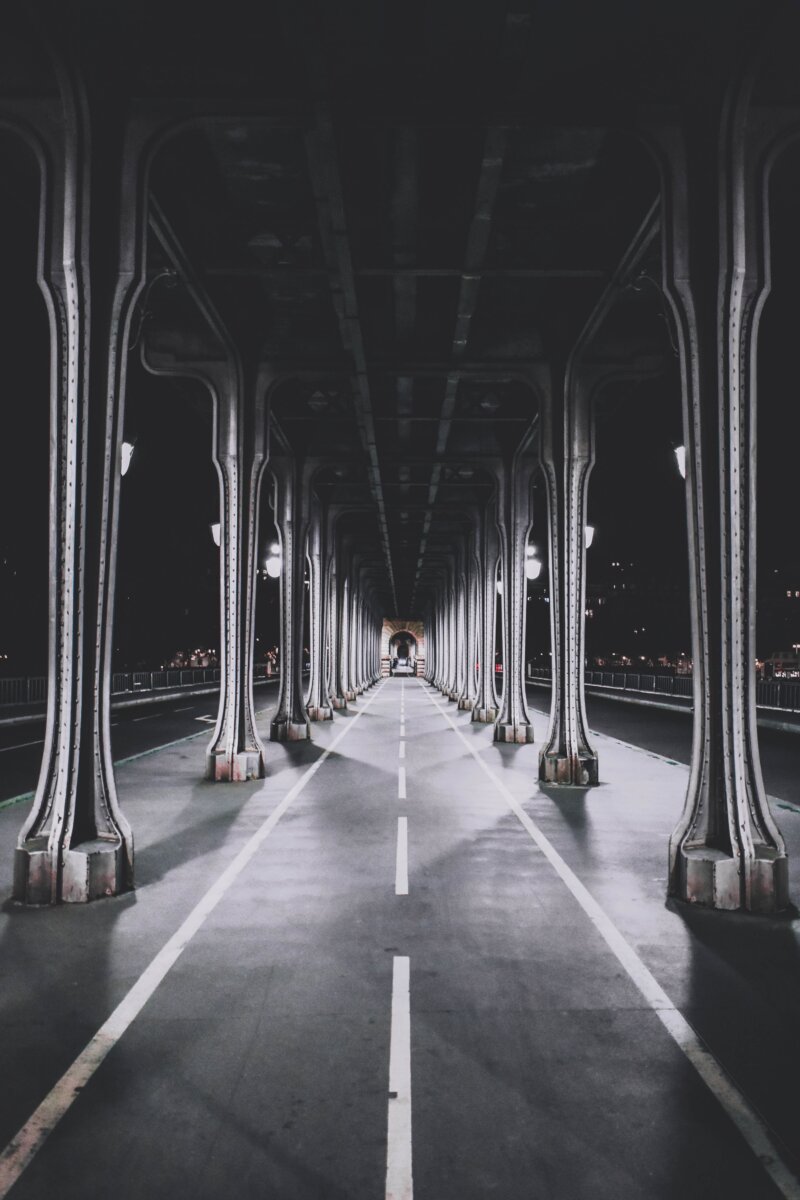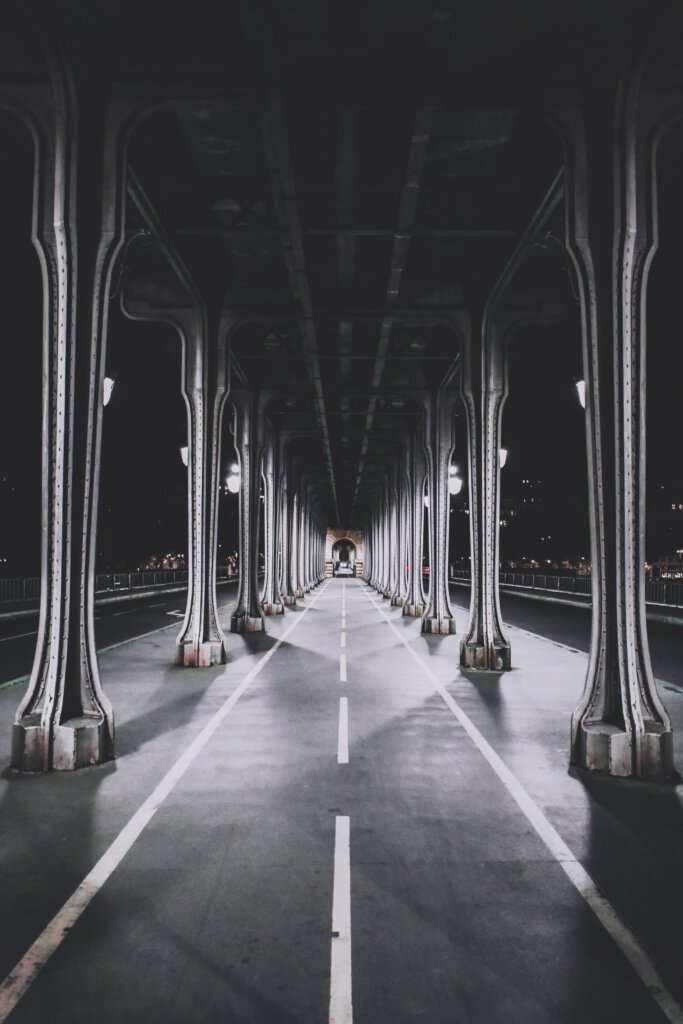 Check out local events during your visit
Paris is a vibrant city with plenty to offer locals as much as tourists.
One of the best ways to get a feel for what it might be like to "live" in Paris is by attending one of the many awesome events happening in the city at any given time.
Sortira Paris is a great resource for current things happening in the city.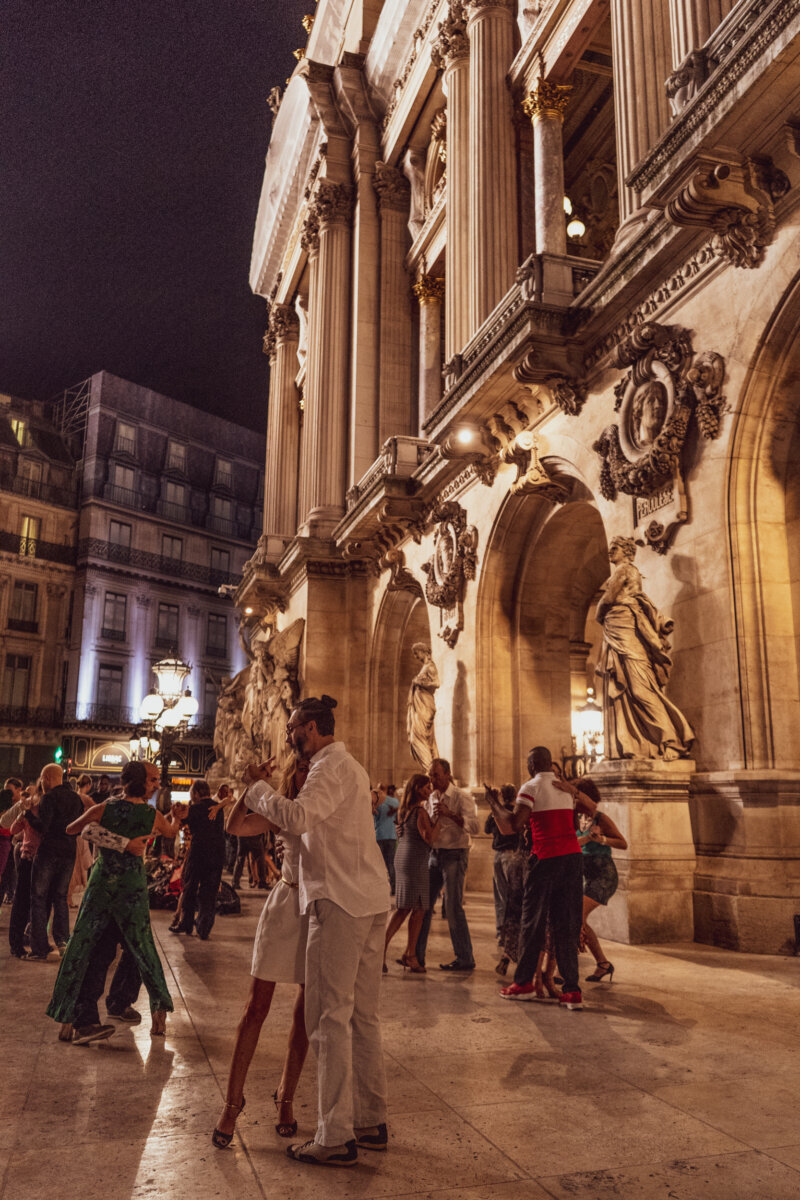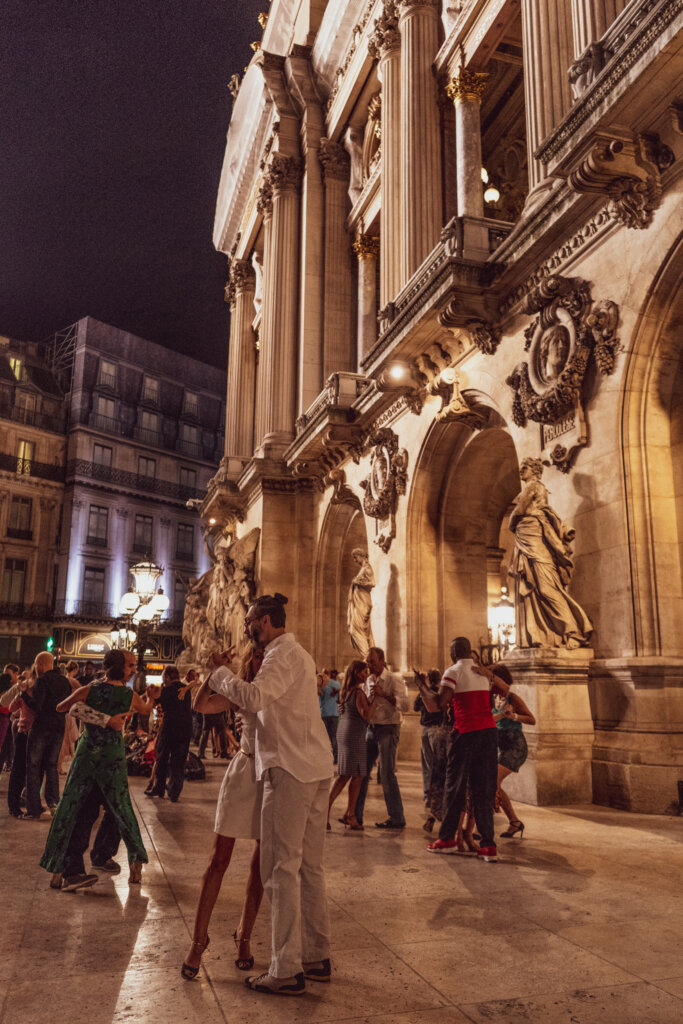 Use Instagram, Pinterest and Blogs to research more offbeat Paris activities
Guidebooks and Google are great, but if you really want to find Paris hidden gems that are specific to your interests, be sure to dig deeper!
I mean, if you've gotten this far on my blog, you're probably off to a good start, but make sure you also sleuth through Parisian Instagram accounts and blogs, in addition to Pinterest to find more great stuff to do.
You might find my guide on How to Find Cool Stuff to Do Near You helpful.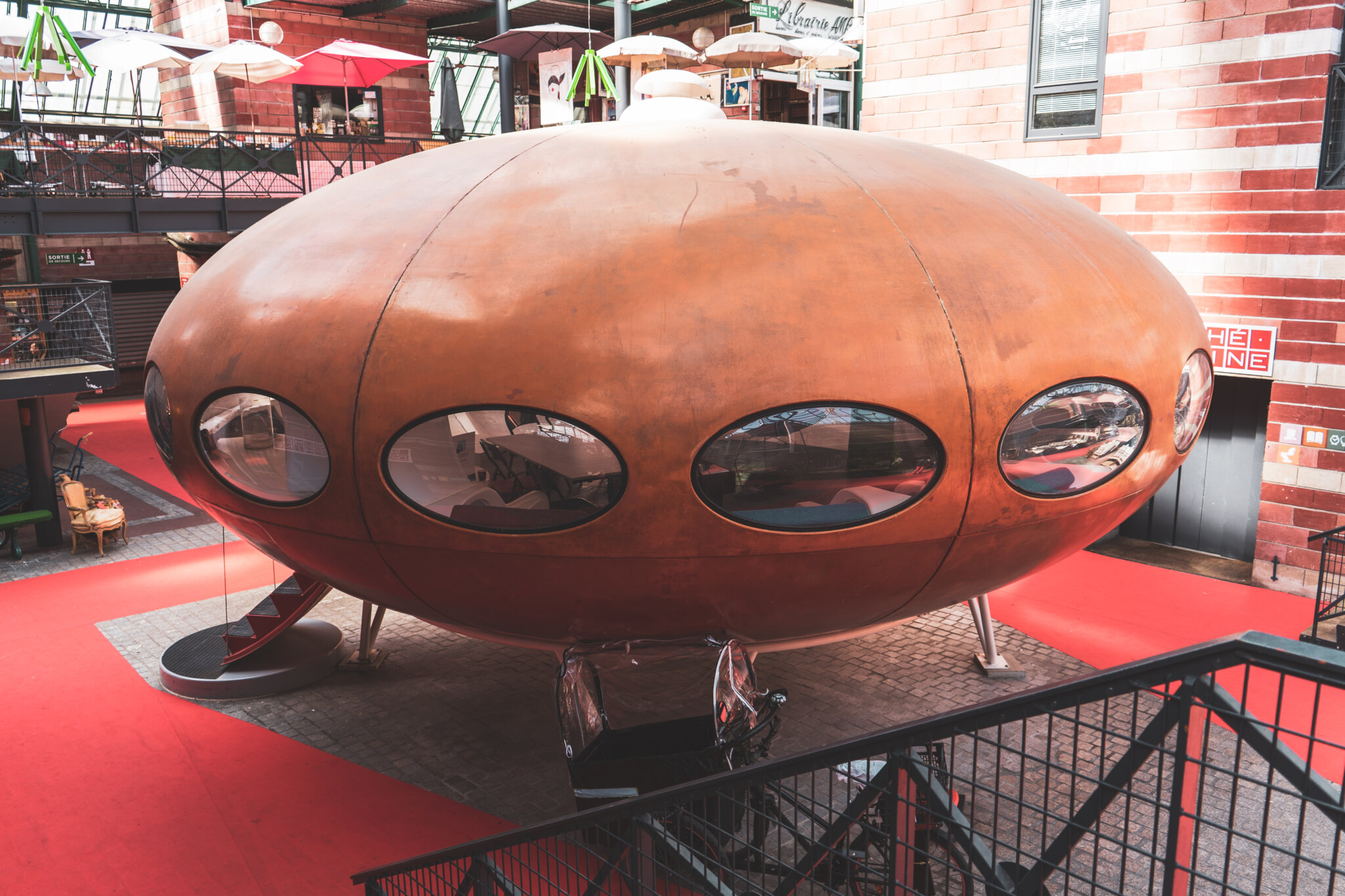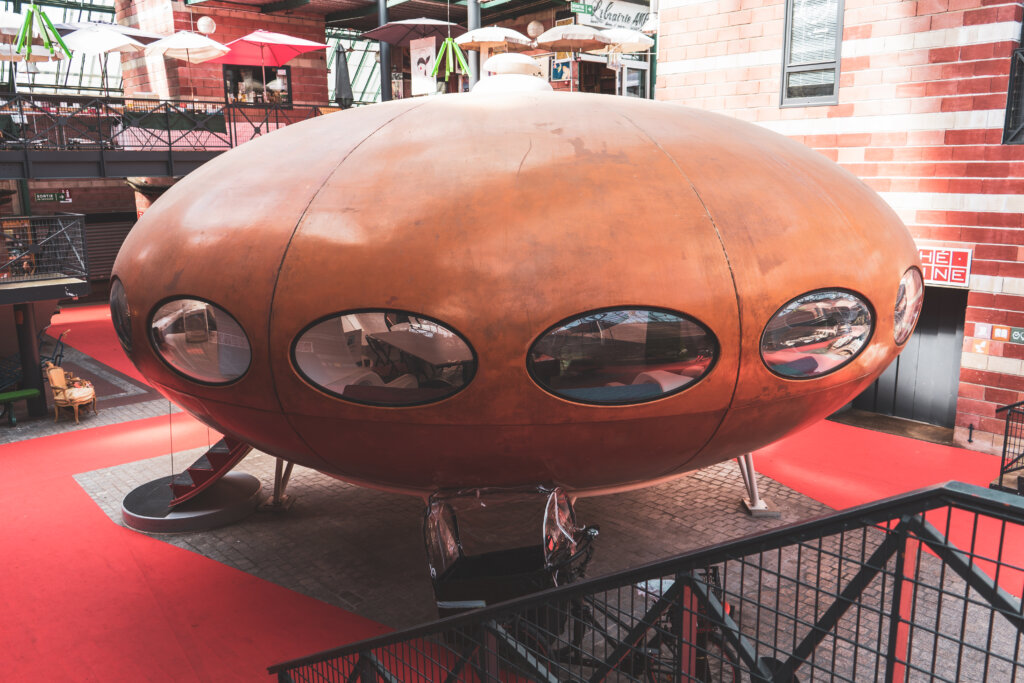 Use Google Maps to save spots you want to see
Google Maps is an amazing resource not just for navigating a new city, but also for saving spots you might want to visit in the future.
One of my favourite travel hacks is starring every location I deem interesting on Google Maps. You can do this by pressing the Save button when you search up that spot.
This allows you to have a visual map of all the cool cafes, street art murals, attractions, restaurants, etc. that you've saved during your research, which means you can easily organize your itinerary/sightseeing.
I love doing this because I'll often end up in new areas during my explorations, and I can just look at my map to see if anything interesting I read about happens to be nearby. Saves a lot of planning!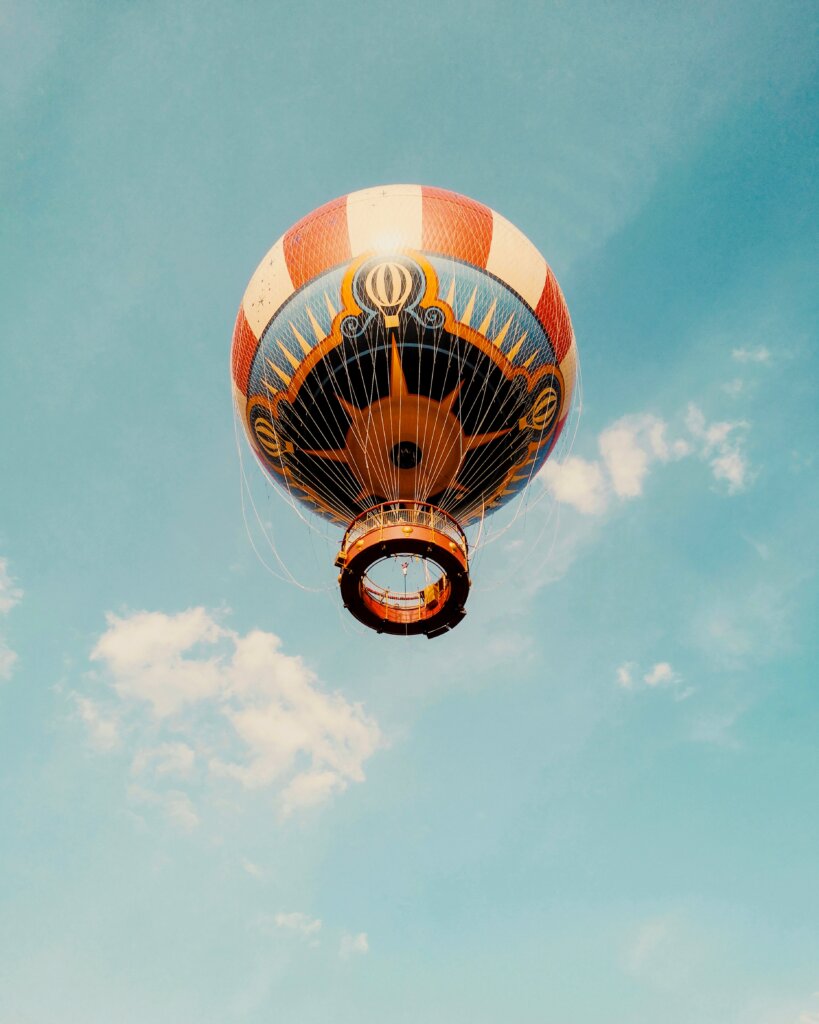 Lastly, visit more of France Besides Paris
Okay, here's a bonus Paris tip: I beg you to explore more places in France besides just Paris!
France is one of my favourite countries in Europe because it has SO much to offer, from the fairytale towns of Alsace to the turquoise coastlines of Normandy.
France is way more than just Paris, so that's my final Paris tip for you – be sure to come back and see more of the country.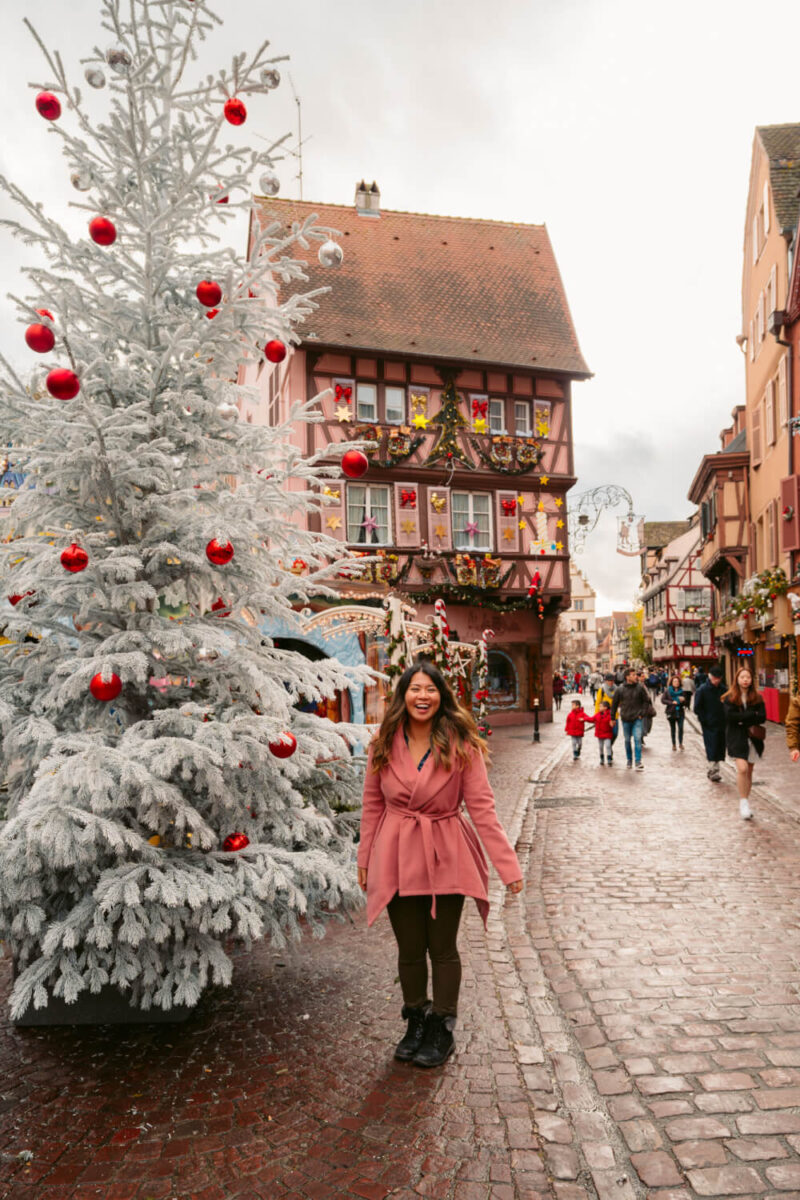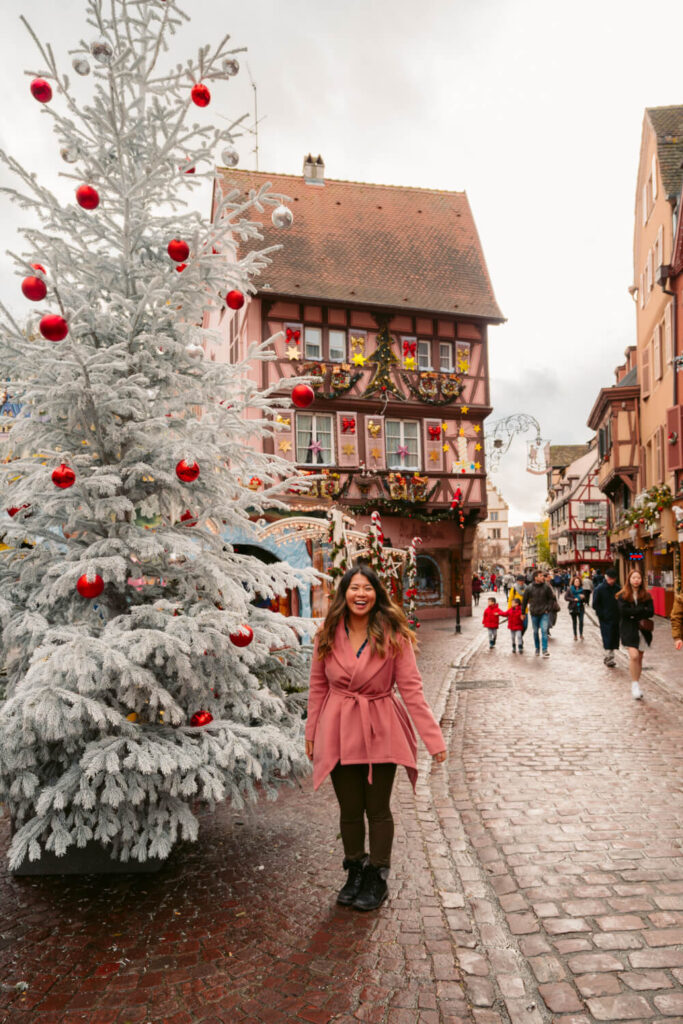 I hope this list of Paris travel tips was helpful!
Quite frankly, if you made it this far, I think you deserve some kind of medal! This was a VERY long list of tips for Paris, but if you have any more questions, let me know in the comments.
---
Watch my most popular YouTube video this week:
---