*FYI - this post may contain affiliate links, which means we earn a commission at no extra cost to you if you purchase from them. Also, as an Amazon Associate I earn from qualifying purchases. Check out our Privacy Policy and Disclosure. for more info.
This guide to the Keukenhof Gardens was originally written in 2019. It is updated annually to reflect new dates, prices, etc. but please let me know in the comments if I've missed anything!
The world famous Keukenhof Gardens are known as one of the best Spring destinations in Europe, and are an attraction I've always been mildly terrified of.
I mean, 1.4 million flower-hungry visitors each year, stretched across only 8 short weeks? Let the floral Hunger Games begin…
BUT, over the years, the loveliest photos of Keukenhof kept popping up to taunt me. I mean, 32 acres of perfectly sculpted gardens, a sea of over 7 million vibrant flowers, and a relentless onslaught of photo opps from corner to corner? How could I not be tempted?
So 2019 was the year. I did it! I finally visited Holland's trophy-attraction, Keukenhof Gardens… and surprisingly, I loved it.
Sure, it's a little expensive, and yes, it does get hysterically crowded, but if you plan properly, go in with the right expectations and use a few of the tricks I reveal below, I promise you'll actually have a good time (and return home with unrealistically grand gardening expectations).
In this comprehensive guide, I'll be spilling the beans on everything you need to know for your Keukenhof Gardens visit, from mistakes to avoid, the best way to buy tickets, how to get to the gardens and more.
I hope you enjoy it, and let me know in the comments if you have any more questions!
Keukenhof 2024: A Quick Overview
WHAT IS KEUKENHOF?
Keukenhof is one of the world's largest and most spectacular flower gardens!
Every year, it opens for only 8 short weeks to over 1.4 million visitors, making it one of the most popular attractions in the Netherlands.
These gardens offer up over 7 million flowers arranged in picture-perfect displays, creating 32 hectares worth of ahh-worthy landscapes.
Imagine the fanatical hysteria of a Backstreet Boys concert, except with tulips instead of sweet musical nostalgia 😉
It's a busy, but beautiful place to visit. My best tip? Click here to get your tickets online in advance to save yourself a lot of valuable time.

KEUKENHOF 2024 DATES:
In 2024, the Keukenhof Gardens are scheduled to open from March 21 – May 12.
KEUKENHOF OPENING HOURS:
8am – 7:30pm, including during Easter, Kingsday, and Liberation Day.
NOTE: The ticket office closes at 6pm, so make sure to buy your tickets in advance if you plan to arrive late.
KEUKENHOF 2024 THEME: TBA
Every year, the Keukenhof Gardens are decked out according to a new theme.
2015 was the year of Van Gogh
2016 was the Golden Age
2017 was Dutch design
2018 was romance in flowers
2019 was Flower Power
2020 and 2021 were both "A World in Colour", a nod to global cultures!
2022 was Flower Classics
The theme for Keukenhof 2024 is still TBA.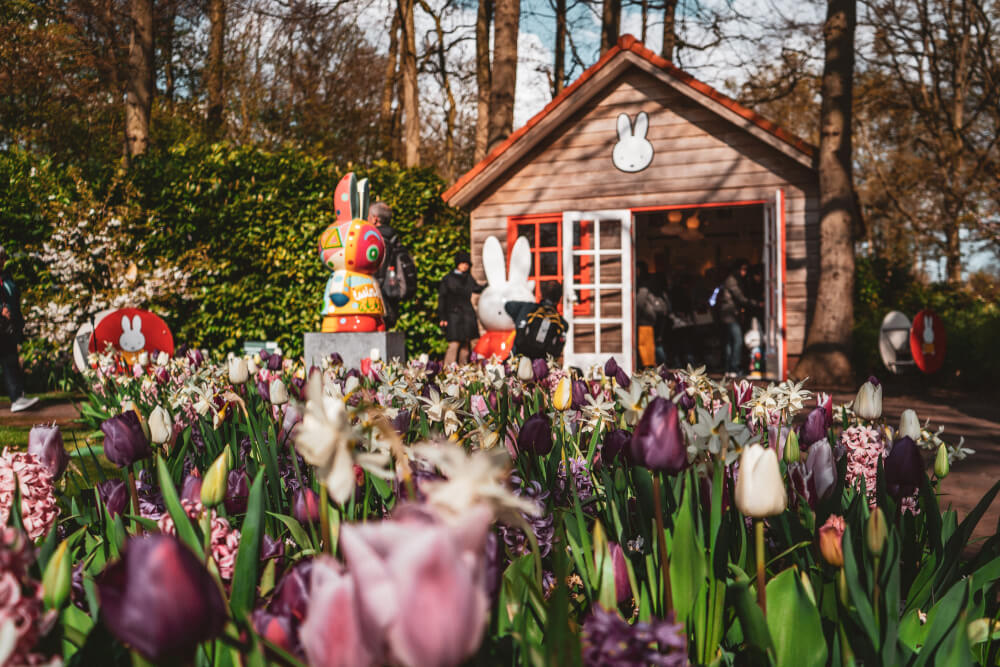 How to Reach the Keukenhof Gardens
One of the positive byproducts of Keukenhof's popularity is that it's incredibly easy to reach. There are a lot of different options depending on whether your priority is convenience, price or speed.
Me personally, I decided to spend a little extra and stay the night in a lovely Lisse B&B (click here for the link!).
This way, I could comfortably walk to Keukenhof in the morning in about 15 minutes.
You can easily get to Keukenhof from a variety of major Dutch cities though. 9292 is a great free website for planning journeys within the Netherlands, but here's how to reach Keukenhof from Amsterdam, Schipol Airport and Leiden.
1. Getting from Amsterdam to Keukenhof
OPTION A: Book an Amsterdam to Keukenhof Tour
Cost: Starts at 39 euros per person
There are a lot of different tours you can book that will get you from Amsterdam to Keukenhof quickly and easily. This option will get you from central Amsterdam to Keukenhof directly in less than an hour.
Honestly, it's only a few euros more than paying for a combi-ticket from Amsterdam, which would require one transfer and um, having to handle directions yourself, so if you don't mind paying a tiny bit extra for a convenient direct connection, this is the option I would pick.
OPTION B: Take public transport to get from Amsterdam to Keukenhof (via Schipol)
Cost: 36 euros (when purchased online) for a train + Keukenhof Express + Keukenhof entry Combi-ticket
Unless you book a tour, there aren't any direct connections from central Amsterdam to Keukenhof, so you'll need to make the journey in two steps.
The best ticket to buy for this journey (which includes your Keukenhof entry) is the Train + Bus + Entry Combiticket.
If you're hoping to arrive at Keukenhof from Amsterdam, here's what you do:
STEP ONE: Get from central Amsterdam to Schipol Airport. Use 9292 to plan your journey for free.
STEP TWO: Take the Keukenhof Express (Bus 858) from Schipol Airport, which departs 8 times an hour and leaves from the bus station in front of the airport. The earliest departures are around 8am daily (7:59am on weekends and holidays – I know, it's weird).
OPTION C: Take public transport to get from Amsterdam to Keukenhof (via Hoofddorp)
Cost: 30 euros (when purchased online) for a bus + Keukenhof Express + Keukenhof entry Combi-ticket
STEP ONE: Take the 397 bus from central Amsterdam to Hoofddorp. Use 9292 to plan your journey for free.
STEP TWO: Take the Keukenhof Express (Bus 859) from Hoofddorp. Click here for more info on times.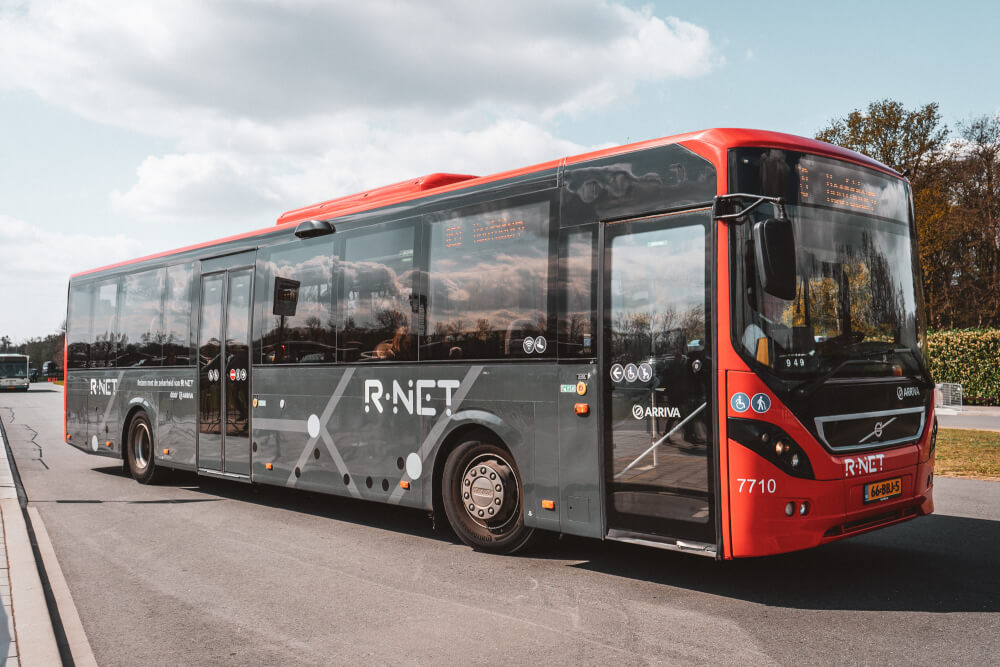 OPTION D: Drive
Cost: Parking is available for 6 euros
If you want to get there before everyone else, and you're not keen to stay in Lisse like we did, then driving is probably your best bet to avoid crowds.
Keukenhof is located between Amsterdam and the Hague, so you can easily get to it using Google Maps.
There is also plenty of parking at Keukenhof available for 6 euros per vehicle, although it does fill up quickly so be sure to arrive early!
2. Getting from Amsterdam Schipol Airport to Keukenhof
Cost: 25 euros (when purchased online) for a Keukenhof Express + Keukenhof entry Combi-ticket
The journey from Schipol Airport to Keukenhof is an easy one – there's the direct Keukenhof Express bus (858) which gets you to Keukenhof's main entrance in around 30 minutes, depending on traffic.
If you're going directly from Schipol to Keukenhof, you should probably get a 25 euro Combi-ticket which covers your roundtrip busfare and your skip-the-line entry to Keukenhof.
3. Getting from other Dutch cities to Keukenhof
As I mentioned before, getting to Keukenhof is pretty simple from most major cities in the Netherlands.
Basically, so long as you can get to Hoofddorp, Schipol Airport, Leiden or Haarlem, then you can hop on one of the Keukenhof Express buses (or the 50 bus at Haarlem) and use a Combi-ticket for savings.
Again, you can use 9292 to plan your journey for free!
Click here to learn more about Combi-tickets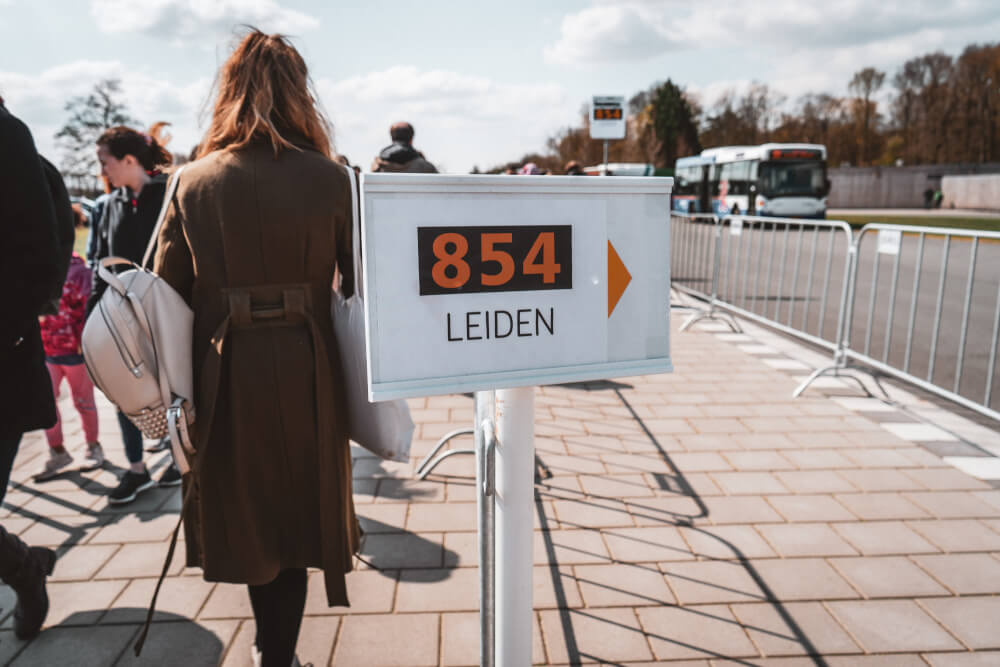 How to Buy Keukenhof Tickets
If there's one takeaway for you during this article, it's that you should just get tickets in advance! You can easily book your skip-the-line ticket here for cheap, and it takes two seconds.
Seriously, what was life before the Internet?
Alternatively, you can book yourself a tour that covers your transport and your entry ticket too.
It's only a few euros more than doing the trip independently with public transport, and you get some precious ease of mind.
This option will get you from central Amsterdam to Keukenhof in less than an hour.
If going by public transport, you might find it worthwhile to purchase a Combiticket, which gives you a bundle discount for your roundtrip bus/train tickets and your Keukenhof entrance.
The price of your Combiticket depends on whether you are a) taking JUST the bus (25 euros) or b) a train AND a bus (36 euros). Check my Keukenhof Tickets Guide to learn more about how Combitickets work.
Last but not least, while it used to be possible to grab tickets at the Ticket Office on the day-of, the website seems to indicate that tickets must now be purchased in advance.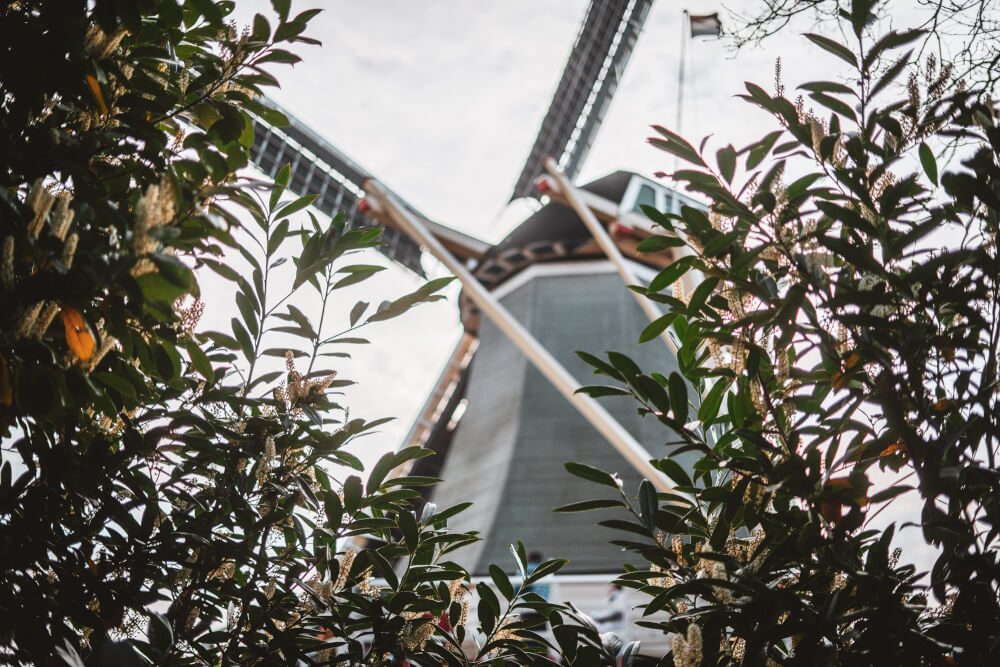 Mistakes to Avoid When Visiting Keukenhof
Keukenhof can be a wonderful experience if you plan properly and avoid a few key newbie mistakes. Here are some crucial mistakes to avoid if you want to maintain any semblance of sanity.
1. Not booking tickets in advance
Click here to get your instantly downloadable skip-the-line tickets
Without mincing words, Keukenhof is a madhouse of flower-hungry visitors of every age, size, and species (yes, you'll see your fair share of Keukenhof doggos on sight! )
This place gets busy, and the last thing you want to do is wait a million years is a line-up while bus loads of other tourists glide smugly past you with their pre-purchased tickets! Plus, it seems these days with the time-controlled tickets, purchasing in advance might even be mandatory.
I got my ticket online the night before on GetYourGuide and used my mobile voucher to walk straight in.
NOTE: If you're new to the GetYourGuide app, make sure you tap through to "Bookings" and download your mobile voucher.
What they're looking for is basically a QR code or bar code that they can scan, so if your ticket doesn't have that, then you're not looking at the right voucher.
My friend Sophie had a bit of trouble with her voucher, but a quick visit to the info desk and she was able to get a replacement ticket by forwarding her confirmation email to the (really friendly) staff member on duty.
I loaded my mobile voucher in advance though and it worked fine! I practically walked right in.
2. Assuming that you'll see sprawling tulip fields
There's a common misconception out there (especially amongst those who live and breathe Instagram) that Keukenhof is where you would go in the Netherlands to frolic among an endless sea of colourful tulip fields.
This is actually not the case at all!
Keukenhof is a large manicured garden with a variety of floral displays spread across diverse pavilions.
While you do get some views of colourful flower fields from certain viewpoints around the garden, you won't have the opportunity to actually walk among these fields or photograph them closely when you go to Keukenhof.
So, if that's what you want to do, I'd recommend checking out my article on free tulip fields you can visit in the Netherlands for free!
If you want to get a closer look at the tulip fields in Lisse, you can also rent a bike (independent of the Keukenhof entry) so you can freely bike and explore the fields this way, although beware that many farms are private property and you shouldn't go to take photos unless it's explicitly stated as allowed.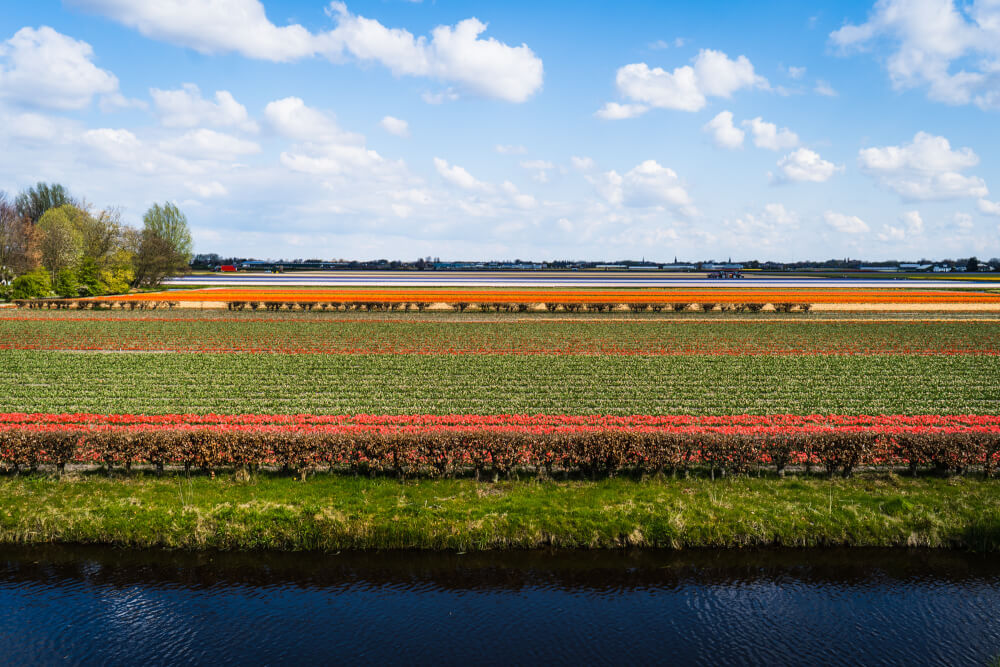 3. Waltzing in during the afternoon… or on weekends and holidays
NOTE: Keukenhof 2022 introduced timed entrance tickets, so it's possible that this will help reduce crowds significantly. no matter when you're visiting. I do still think that weekdays will be much more peaceful though.
We decided to book a hotel in Lisse on a weekday so we could leisurely stroll to Keukenhof in the morning and be there right as the gates opened.
This was a beautiful, naively optimistic dream.
We slept in, sipped our coffee a little too long, and walked up to Keukenhof around 30 minutes after opening.
To our shock and horror, the parking lot was ALREADY filled with tour buses and cars, all filled with tourists as photo hungry as we were.
Luckily, the gardens are big and the crowds thin out the further in you go, so we were able to enjoy 2 hours of mildly peaceful strolling.
By 11 though, all bets were off – every path was practically filled with camera-wielding zombies.
It was quite the sight, and very overwhelming!
While the gardens are beautiful, visiting during the afternoon would not be doing them justice!
Get here early in the morning (or perhaps just before closing) to ensure you enjoy the best crowdless experience possible.
Also avoid weekends, holidays and the day of the flower parade (unless you love getting elbowed in the face).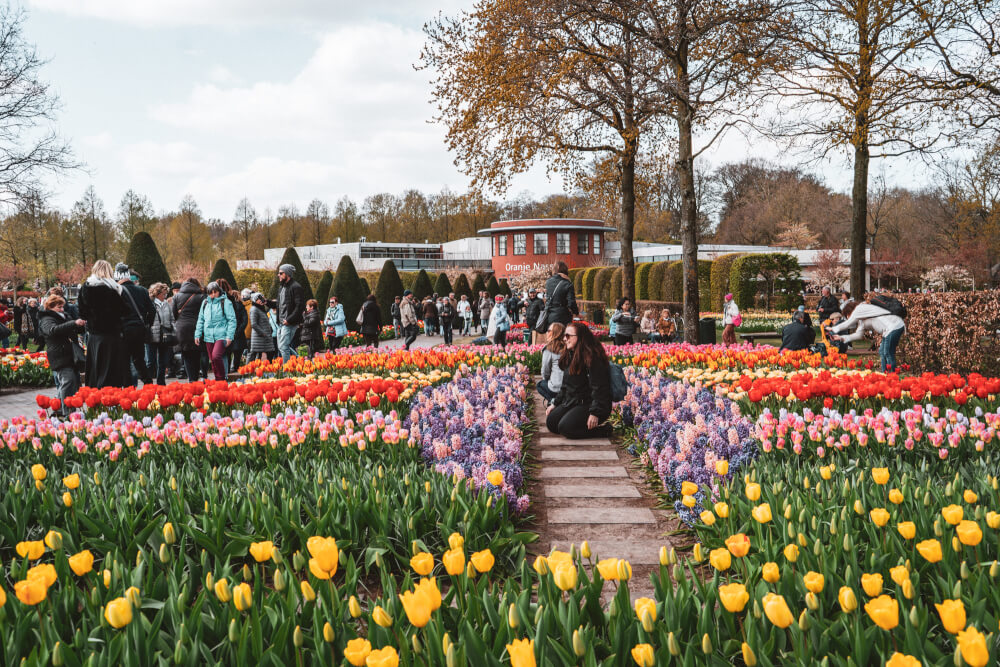 4. Waiting to buy food on-site
Food at Keukenhof is, as you might expect, can be eye-gougingly expensive.
I'm talking 17.50 euros for a burger, fries and beer, which is pretty much the price of your entrance ticket!
While there are some vaguely more affordable options, after a pretty mediocre coffee, I'd bet that the cuisine here isn't exactly Michelin-level, so I'd recommend buying some food to bring in as a picnic.
That's totally allowed and the staff could not care less.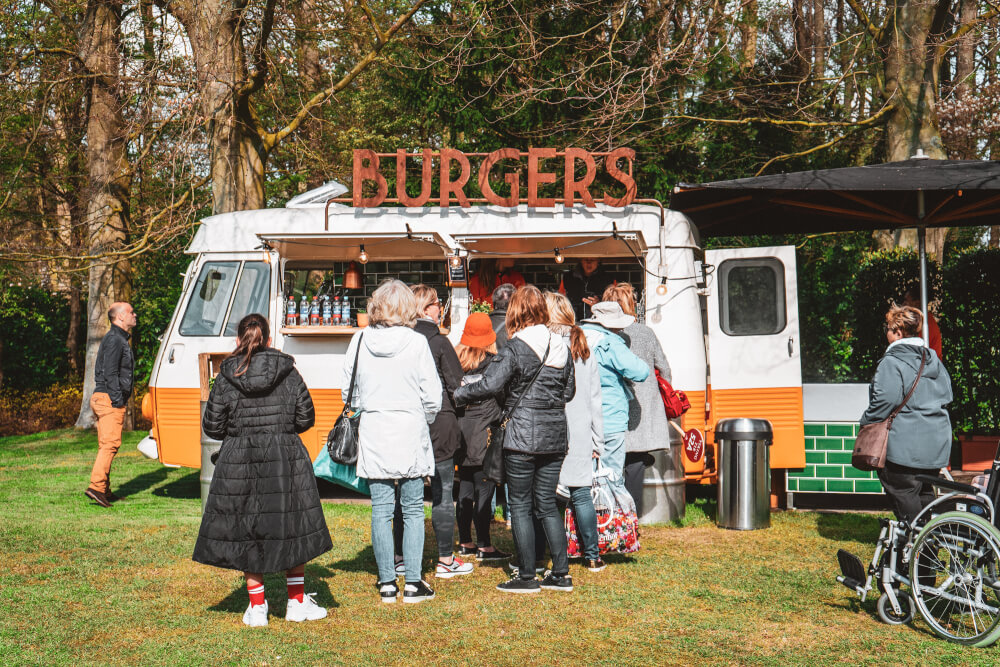 5. Not grabbing a map
The Keukenhof Gardens are not just huge, their network of winding paths is a disorienting tangle of confusion.
Blame my general lack of navigational skills, but there were multiple times I was convinced I was going one way, then ended up on the opposite end of the park.
There are free maps that you can take advantage of around the entrance, so make sure to grab one!
This will help ensure you don't miss anything. Alternatively, you can be nosey and download a pdf copy here.
6. Dressing to be cute rather than dressing to be warm
With all the stunning flowers in boom, and (oftentimes) blue skies and sunshine overhead, you might assume that Keukenhof will be a warm, sunshiney getaway from the chilly grey of nearby Amsterdam.
NOT SO.
I don't know what it is about this part of the Netherlands – I'm sure there's a scientific explanation but I'll settle for a very non-scientific warning that it is COLD up in those gardens, so bring a coat.
I saw so many shivering tourists who dressed for Spring and well, let's just say the gardens are a little less magical when you're shaking like an overcaffeinated maracca.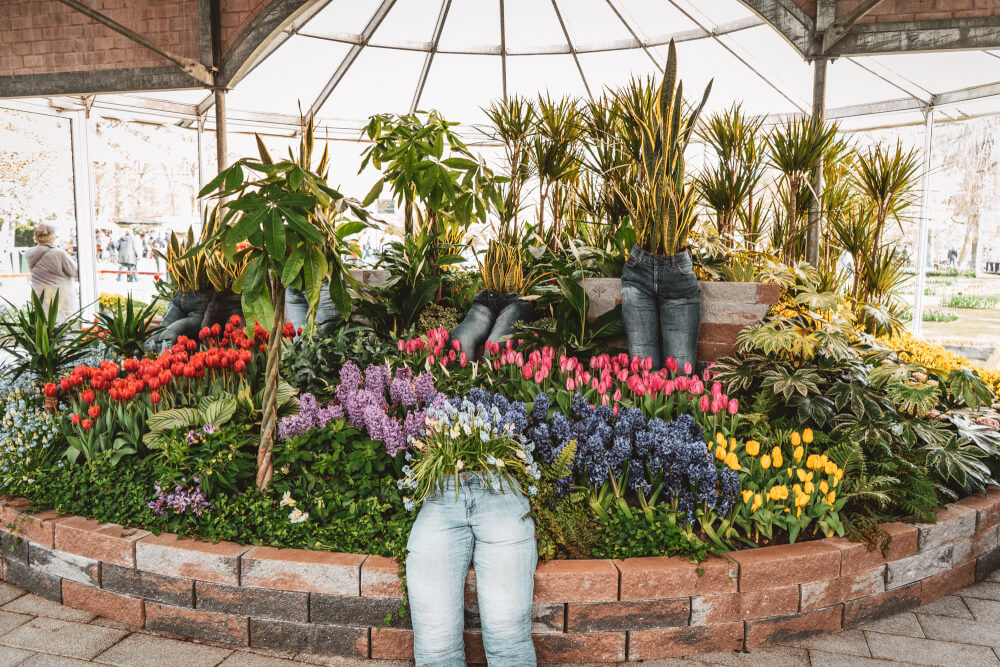 7. Missing the free perks
Last but not least, I was surprised to see that Keukenhof had a variety of free perks on offer for guests, from free WiFi in certain areas to a free luggage storage!
Be sure to take advantage of these while you're at the garden… after all, you gotta get your money's worth 😉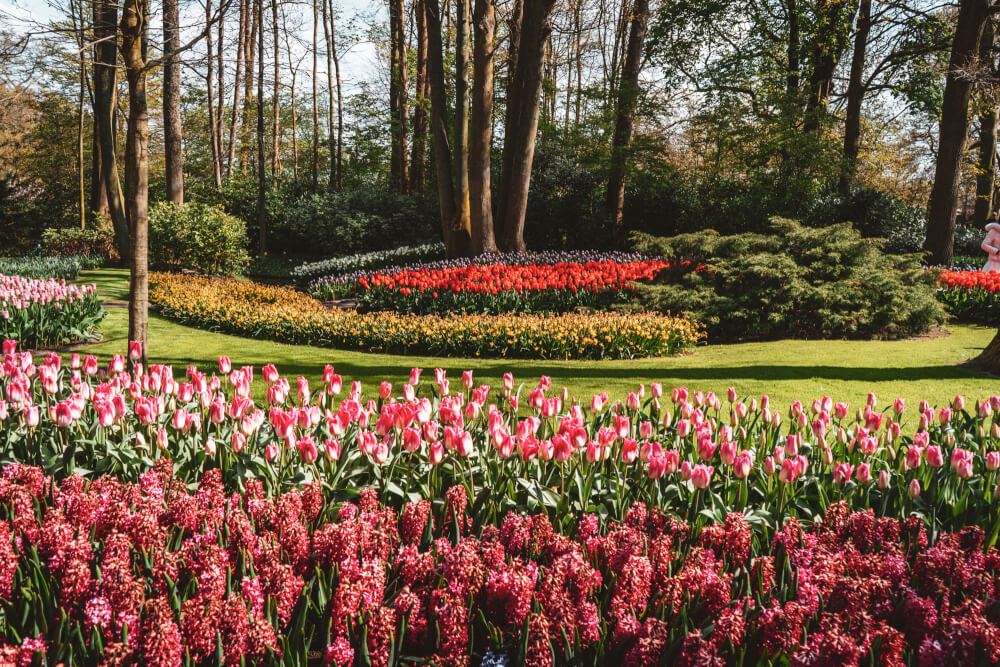 The Layout of Keukenhof Gardens: A Visual Tour
If you're still on the fence about visiting Keukenhof, or just want a taste of the floral wonderland that will soon assault your senses, here's a quick tour of the different Keukenhof pavilions and gardens from 2019.
NOTE: Directions are given relative to the main entrance, and according to the orientation on the main map they give you!
The Main Pond
One of the most beautiful parts of the Keukenhof Gardens is the large pond in the upper left side of the gardens, complete with a dramatic fountain and even swans (although sadly, missing Ryan Gosling).
This is also one of the busiest parts of the entire park, so I'd recommend coming here first, as we did!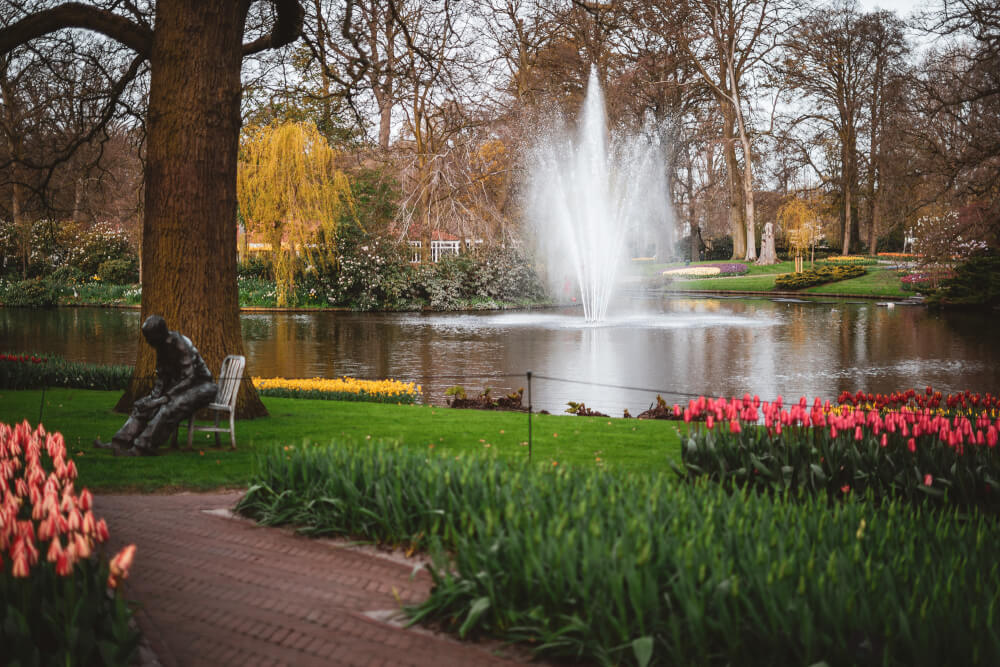 Gardens, Sculptures and Displays
Keukenhof is comprised of mostly outdoor floral displays, with a handful of covered pavilions where you can hide from the cold.
There are all sorts of colourful, perfectly arranged flower beds scattered around the park, with benches to rest your feet and art pieces liberally placed to keep things interesting.
Keep an eye out for their themed "Inspirational Gardens". When I went in 2019, there was a Beatles-themed one with its own yellow submarine!
Here were some of my favourite spots: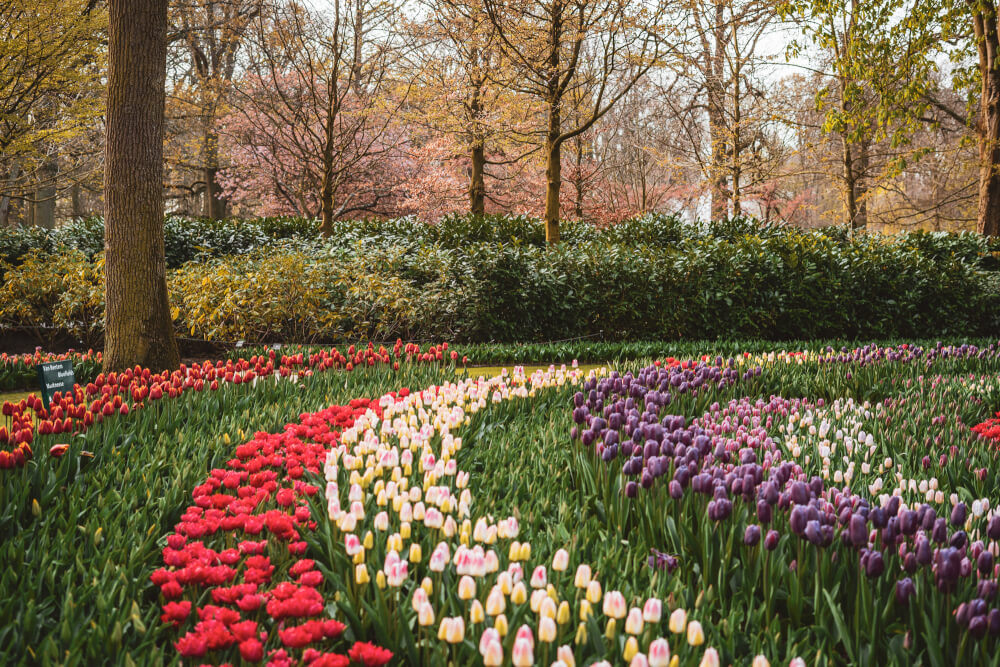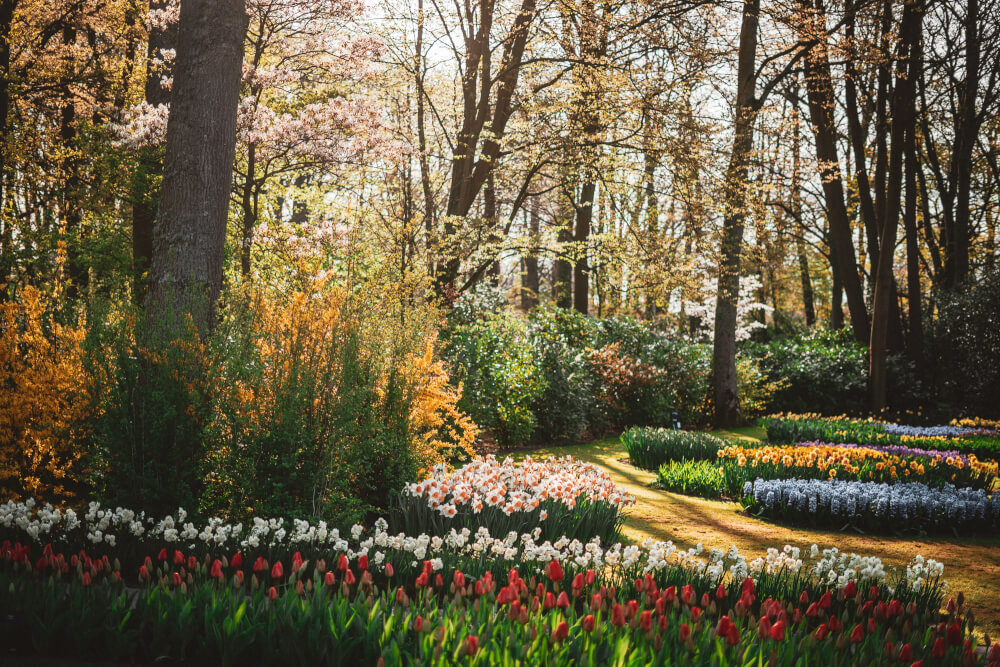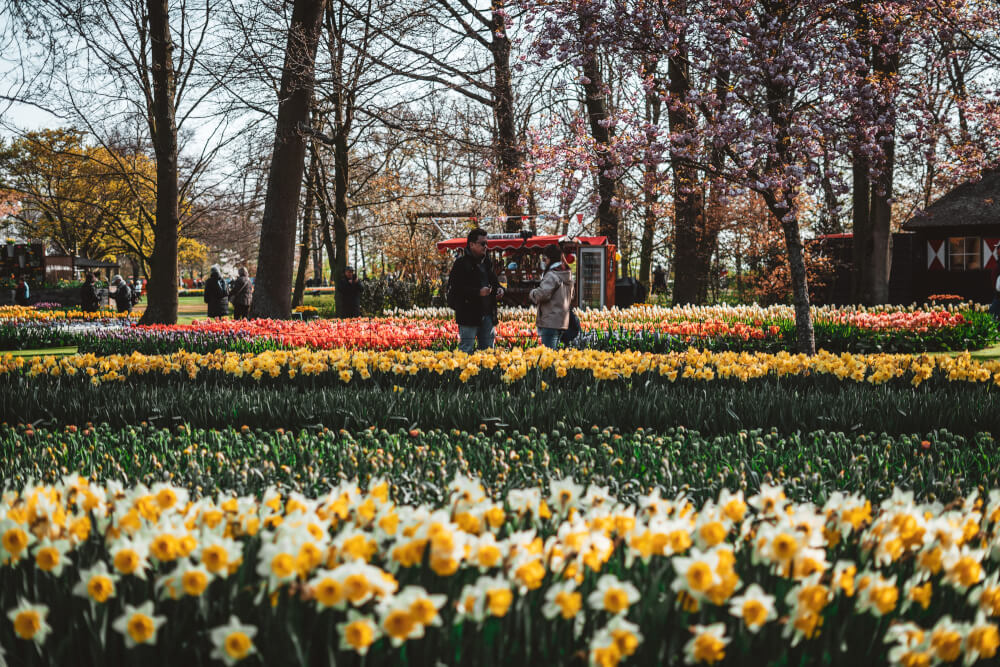 Wilhelm-Alexander Pavilion
At the heart of the Keukenhof Gardens, you'll find the Willem-Alexander Pavilion, a covered pavilion (and actually Keukenhof's largest!) which is filled with all sorts of colourful flowers, including tulips, lilies and more.
The diversity in tulips you see here is truly astounding.
From colourful yellow tulips shaped like royal crowns to fringe-lined variations reminiscent of a fancy throw pillow, you'll soon realize that tulips can, against all odds, actually be really cool.
Inside this pavilion, you'll also find a little sit-down cafe area (perfect for Googling the wacky tulips you've just seen) and a few famous Keukenhof Instagram spots/photo opps for good measure.
Be sure to give this pavilion a proper walkthrough – it's easy to miss a lot of the good stuff!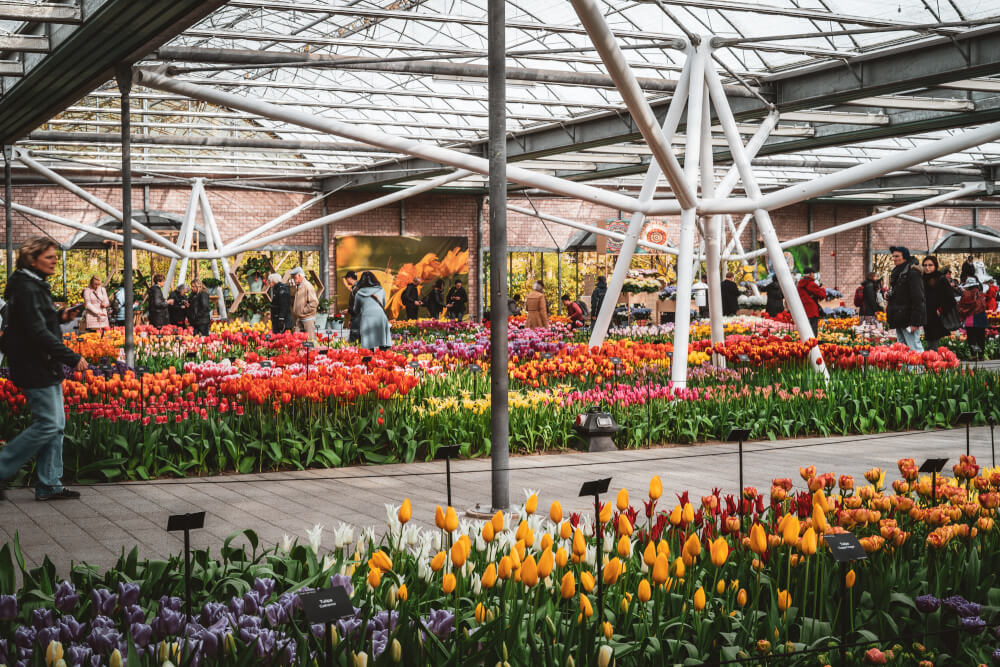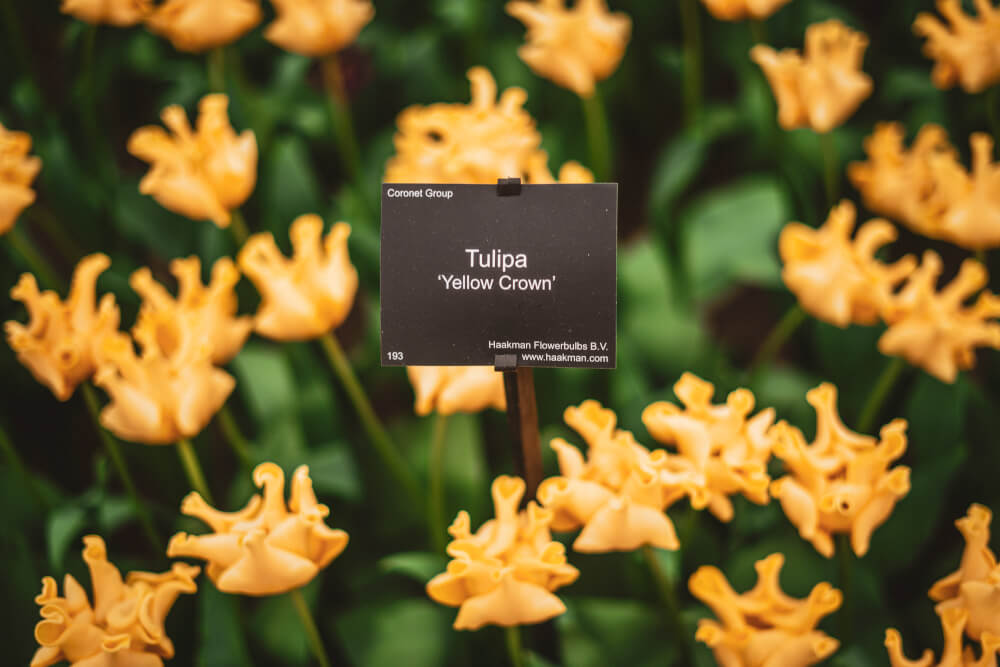 The Oranje Nassau Pavilion
This pavilion is likely to be the first one you visit if you come in through the main entrance and head straight ahead.
This pavilion is unique in that it has a little theatre that offers flower shows throughout the day, with plenty of changing flower displays. In 2019, there was an abundance of nods to the Flower Power theme.
Honestly? I found a lot of these displays to be kind of garish, with bright colours, gigantic peace signs and pop art ft. the likes of Marilyn Monroe, Lady Gaga, and John Lennon… plus some terra cotta warriors and Buddha statues thrown in for some foreign flair.
I definitely preferred the displays in some of the other pavilions, but here are some photos so you can judge for yourself: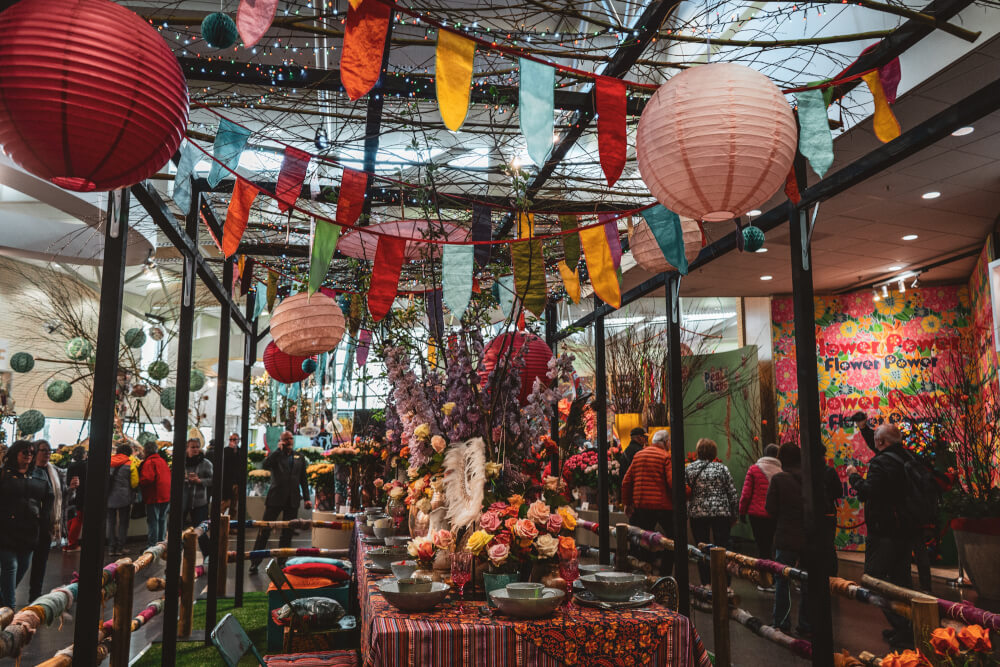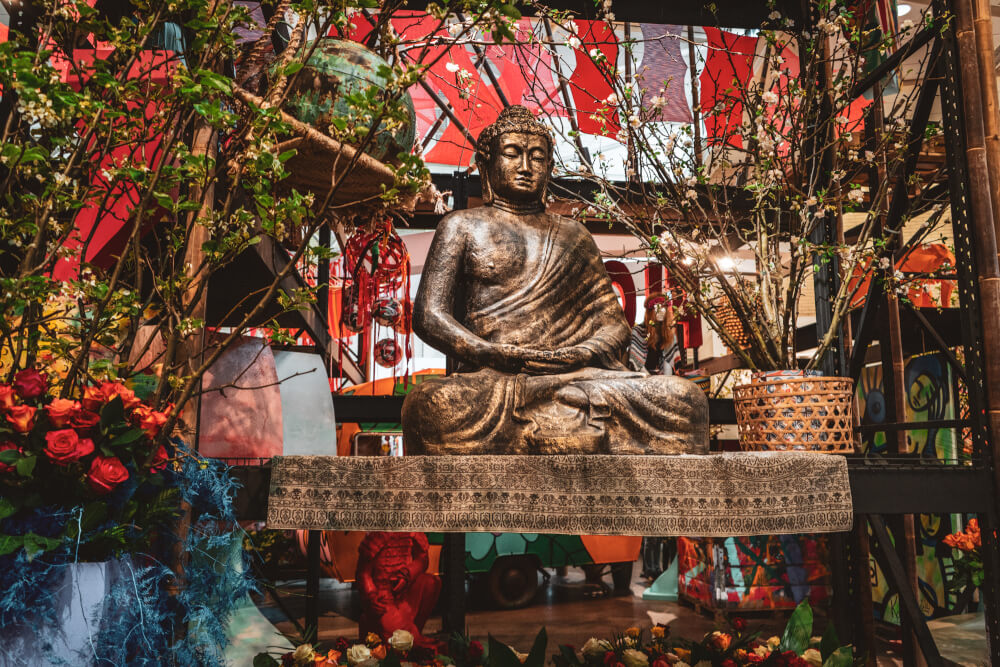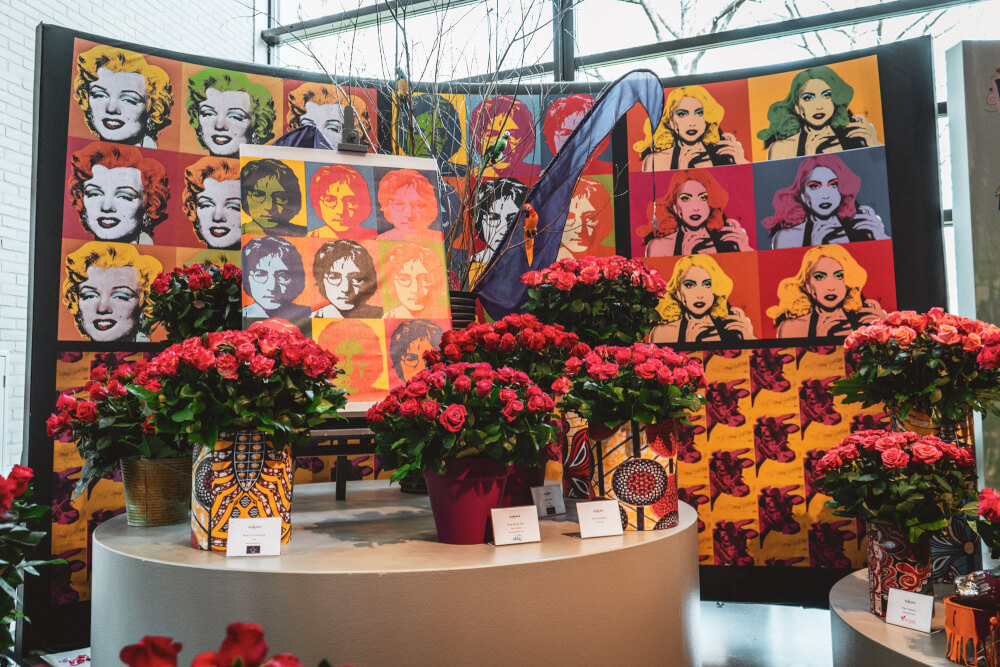 The Beatrix Pavilion
The Beatrix Pavilion, located in the upper right hand corner of the park (relative to the main entrance) is a real crowd pleaser, and is home to Keukenhof's orchid and anthurium show.
In the center of the pavilion, you'll find a staircase that leads to a viewing platform which gives you a bird's eye view over the displays, with colourful orchids in all sorts of incredible colour schemes (including bright turquoise!!) and plenty of beautiful decorations.
In 2019, we had the likes of painted bottles stuffed with flowers, dangling flower baskets hanging from chandeliers and bright yellow flower pots.
There were also satisfyingly on-theme displays like a classic Volkswagen van nestled in a bed of flowers and an arrangement of international lady mannequins wearing traditional dress!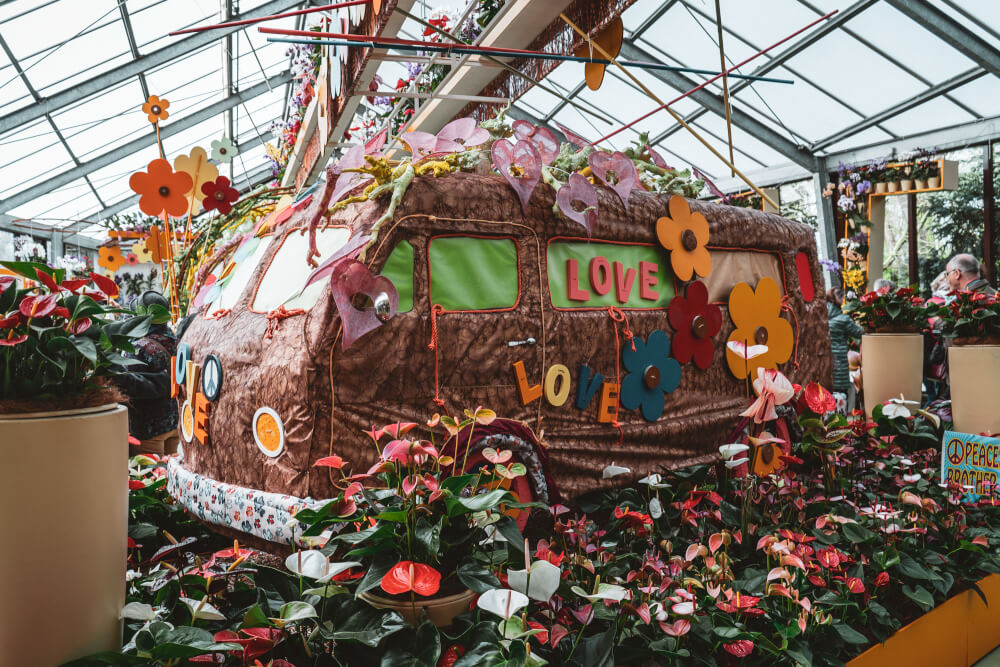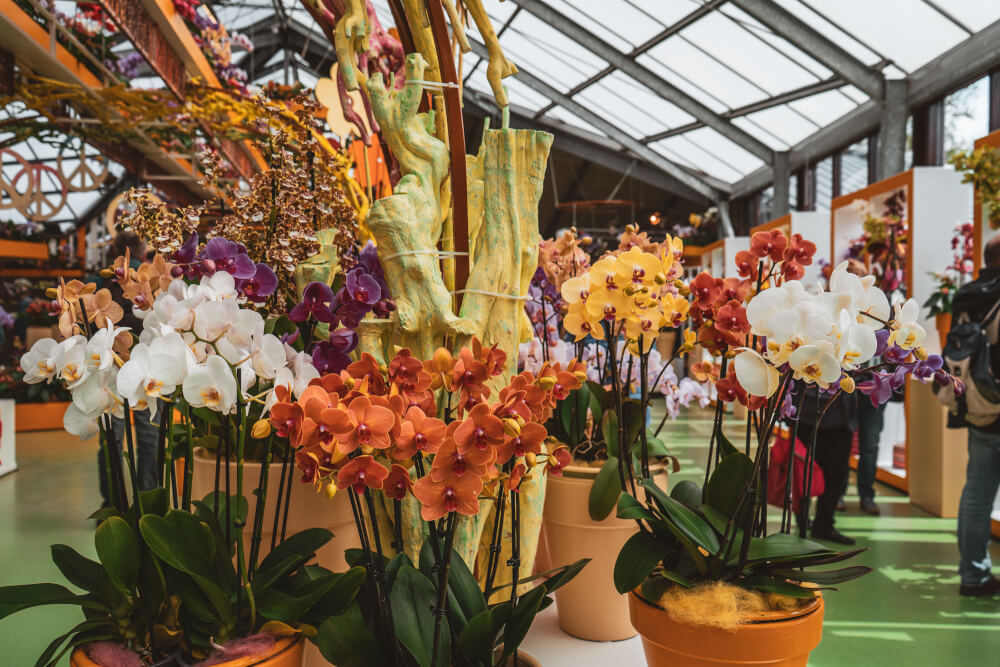 The Mill
The Keukenhof Gardens windmill can be found on the far right side of the park.
This is where you can also catch an electronic whisper boat (at additional cost) that can whisk you around on a scenic tour around the nearby tulip fields.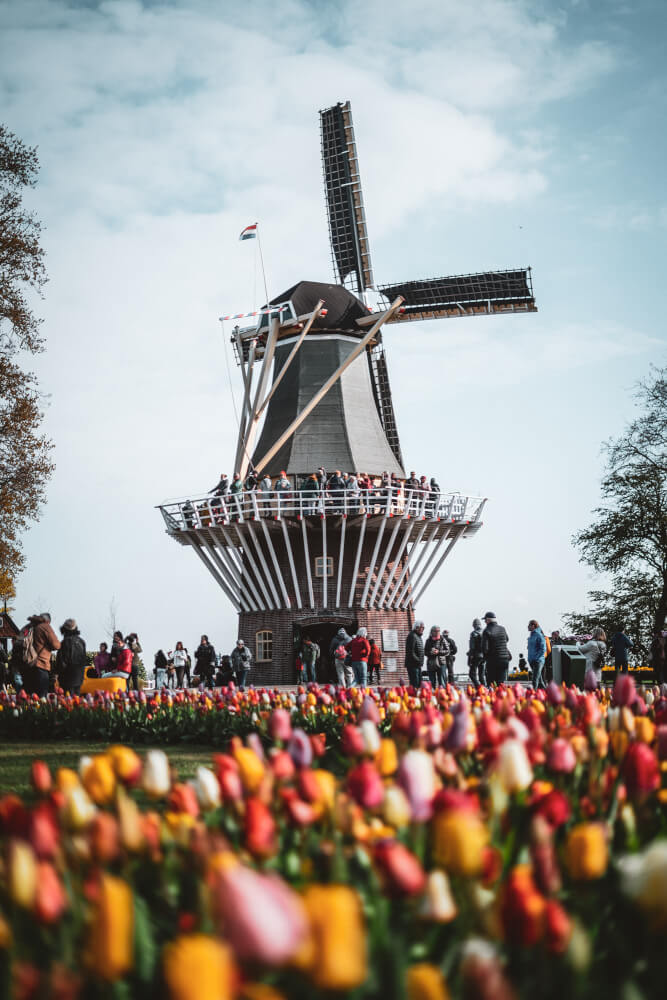 The Irene Pavilion
This is a very fun pavilion located in the lower left hand corner of the garden, with a big fountain and a barrel organ that regularly churns out different tunes.
While I was there, it was playing Bad Romance by Lady Gaga!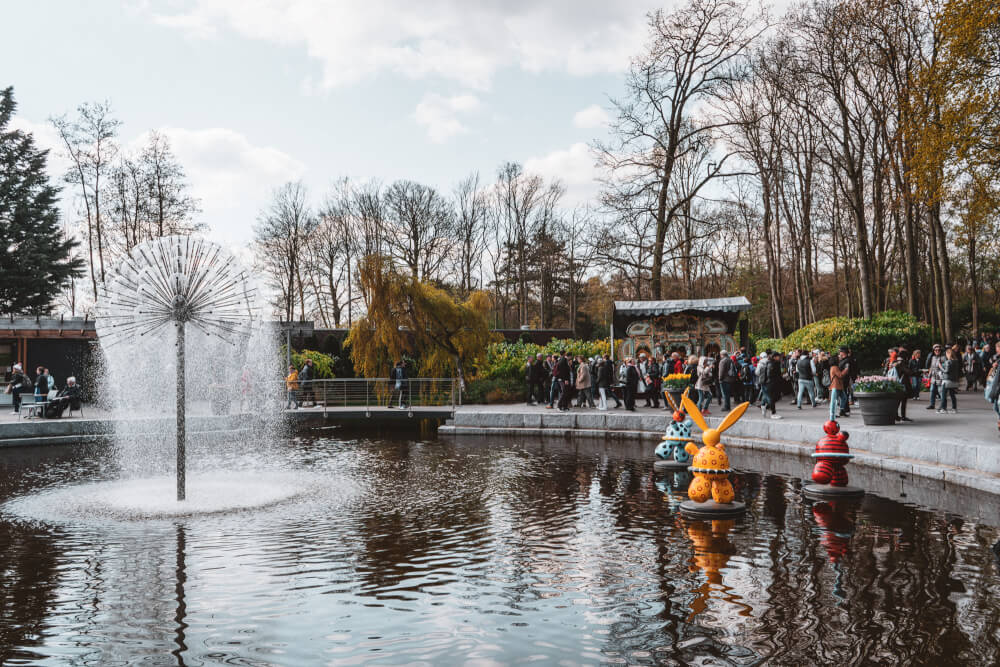 The Juliana Pavilion
This is where you'll find an exhibition about the history of the tulip, along with more beautiful floral displays and a souvenir shop.
In my lost bumbling about, I managed to completely miss this section of Keukenhof, but I've heard it's lovely so definitely make sure you see it!
The Wilhelmina Pavilion
If you're looking for a scenic place to grab a bite to eat, head to the Wilhelmina Pavilion in the upper left-hand corner of the park.
Here, you'll find a large restaurant that serves hot meals and also coffee/treats, with a view overlooking Keukenhof's photogenic pond.
On your way here, you might spot a cute little shack type structure with a "KEUKENHOF" sign. This was actually the former entrance of the park once upon a time!

The Best Photo Opps and Instagram Spots in the 2019 Keukenhof Gardens
One of the most liberating things about Keukenhof is that everybody is here for the same thing: to fawn over all the pretty flowers and snap a dramatic selfie or two.
This of course makes Keukenhof a judgment free zone for those who want to shamelessly photograph and drool over every bulb.
Unsurprisingly then, the park is crawling with made-for-Insta photo opportunities scattered across various pavilions and gardens.
While it's pretty difficult to snap an ugly photo anywhere in Keukenhof, here were a few photo opportunities I loved! Some may have been specific to 2019, but others should be available every year based on what I've seen.
The Keukenhof Windmill
With candy-coloured tulips, giant clogs scattered about, and a tall, imposing windmill, Keukenhof is, unashamedly, a celebration of Holland's most colourful and beloved stereotypes.
This is why one of my favourite spots for Keukenhof photography is the park's dainty windmill, which provides the perfect, most typically Dutch focal point for any shot.
Plus, you can climb the windmill for a unique perspective over the gardens or even catch a whisper boat from here around Keukenhof!
NOTE: There's also a fun photo opp in front of the windmill, along the water right next to the footbridge. Look for a little boat that's been placed strategically for photography purposes, or perhaps more accurately, look for the Instagram model in a ballgown.
The Giant Wedding Dress
Location: Willem-Alexander Pavilion
For those who aspire to be as extra as one can possibly be, there is a giant poofy wedding dress studded with beautiful flowers that you can pose in.
Don't worry – undressing in front of 1.4 million strangers isn't required – there's a clever little ladder behind the dress that lets you stand behind it for this wonderful photo opp.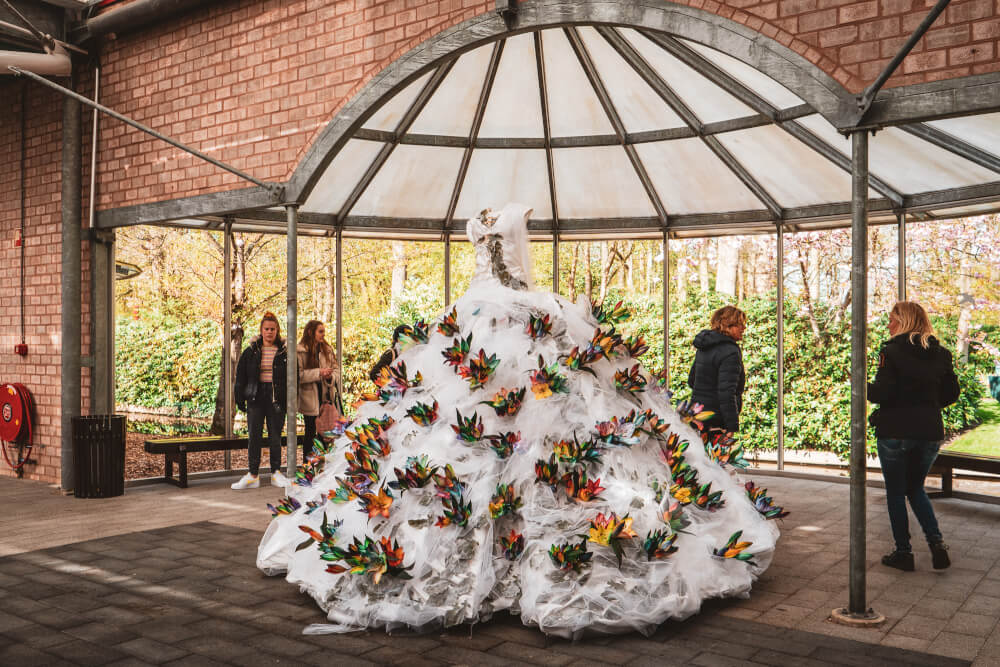 The "LOVE is all you need" sign
Location: Willem-Alexander Pavilion
With big light grey block letters bursting with colourful flowers, and a healthy smattering of pink/white flower pots dangling below each letter, the "LOVE IS ALL YOU NEED" sign is the perfect place for a disgustingly adorable photo 😉
The bike with flowers
Location: Between the main entrance and the Oranje Nassau Pavilion
Hoping to pretend like you managed some exercise during your dream Keukenhof trip?
Luckily for you, this cute bike-centric photo opp is the perfect photographic alternative to real athletic endeavours 😛
You can find it on a path when you leave from the main entrance and turn right towards the Oranje Nassau Pavilion.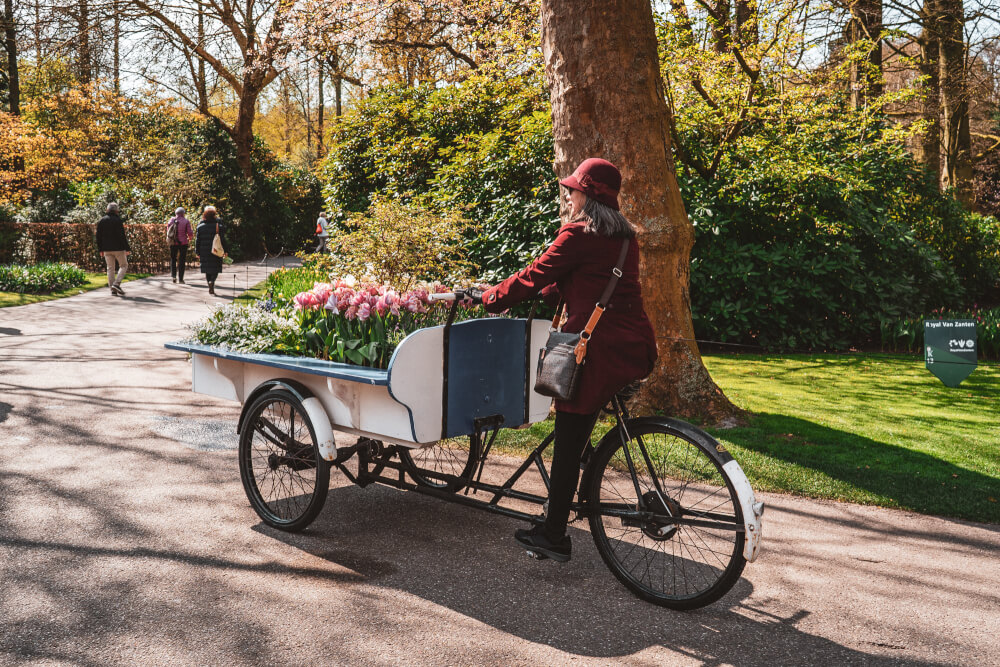 "Walking on water"
Location: On the Keukenhof pond
A series of circular stepping stones mark the "walking on water" installation, which gets so busy it becomes more like "awkwardly waiting in a queue" on water, BUT nonetheless, if you happen to catch this part of the pond at an 0ff-peak time, it makes for a pretty cool photo.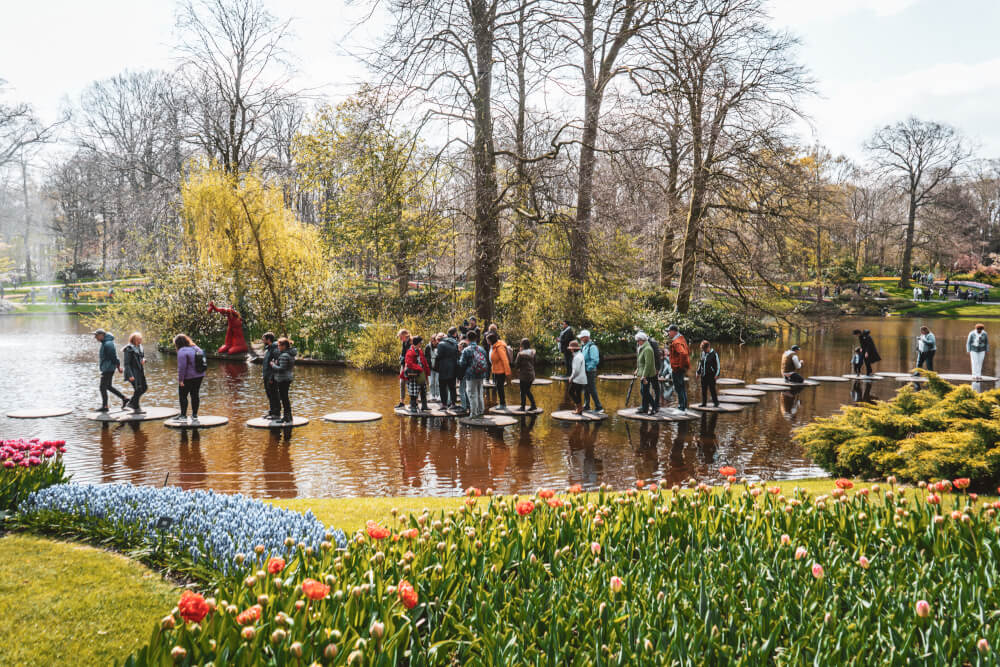 The Labyrinth Gazebo
There's a not-too-difficult labyrinth located to the right of the Oranje Nassau pavilion, which has an elevated gazebo in the center.
If you get up here, you get a cool view over the twists and turns of the labyrinth, plus all the beautiful flower displays.
If you turn over to the fields, you'll also get a great view over the sprawling rows of tulips in bloom!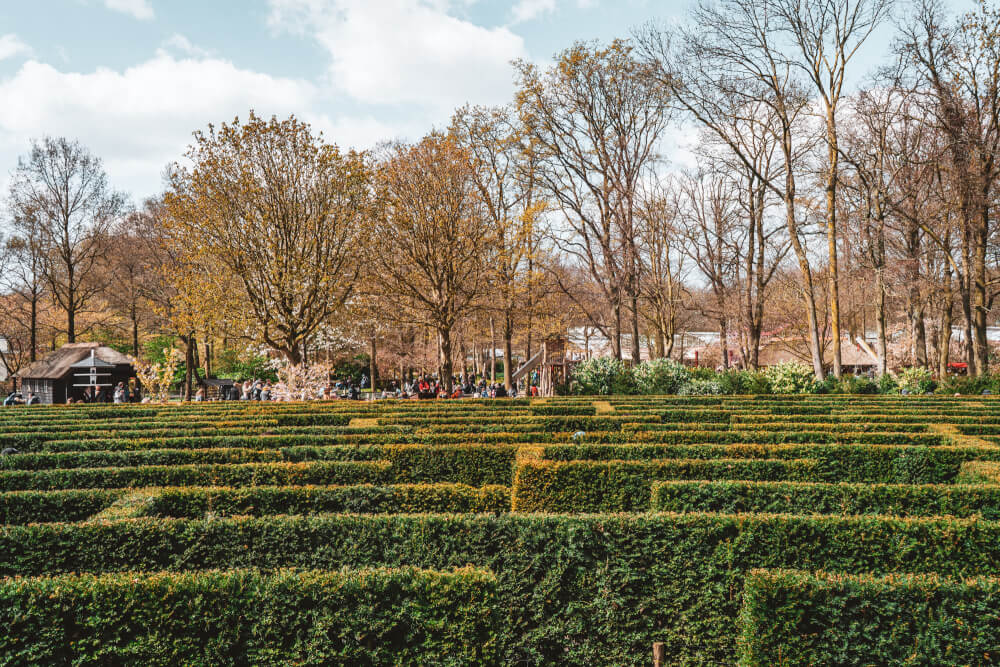 Keukenhof Gardens FAQ
Still have questions about Keukenhof? In this last section, I'll address some frequently asked questions, but feel free to ask away in the comments too!
Is Keukenhof worth the price?
I get it: at 18.50 euros per person for a skip the line ticket, Keukenhof isn't exactly cheap…
But once you see the immaculate gardens in this place (and the countless gardeners running around to keep things perfect), you might, as I did, find it much easier to justify the pricing!
Keukenhof is huge, and you could easily spend several hours here just exploring the grounds.
Honestly, I'm not in any rush to go back and see Keukenhof again, but I'm glad I got to check it off my bucket list because it really was a wonderful experience before the crowds arrived.
If you like gardens, I can confidently say you'll adore Keukenhof, but if manicured gardens aren't really your thing and you're hoping to just see some sprawling tulip fields, you might be better off just renting bikes and pedalling around Lisse. Click here for my guide on how to see tulip fields for free!
How do I know what's currently in bloom at Keukenhof?
The cool thing about Keukenhof is they strategically plant flowers that bloom at different points in the season to ensure that visitors are delighted with beautiful arrangements regardless of when they visit.
You can keep tabs on the current flowering situation through this page on the official website.
Are there activities for children at Keukenhof?
Yes, loads! Based off what I saw, there was a big playground area (conveniently next to a cafe kiosk) so you can enjoy some coffee or beer while the kids frolic.
There's also a maze and loads of fun photo opps for kids too.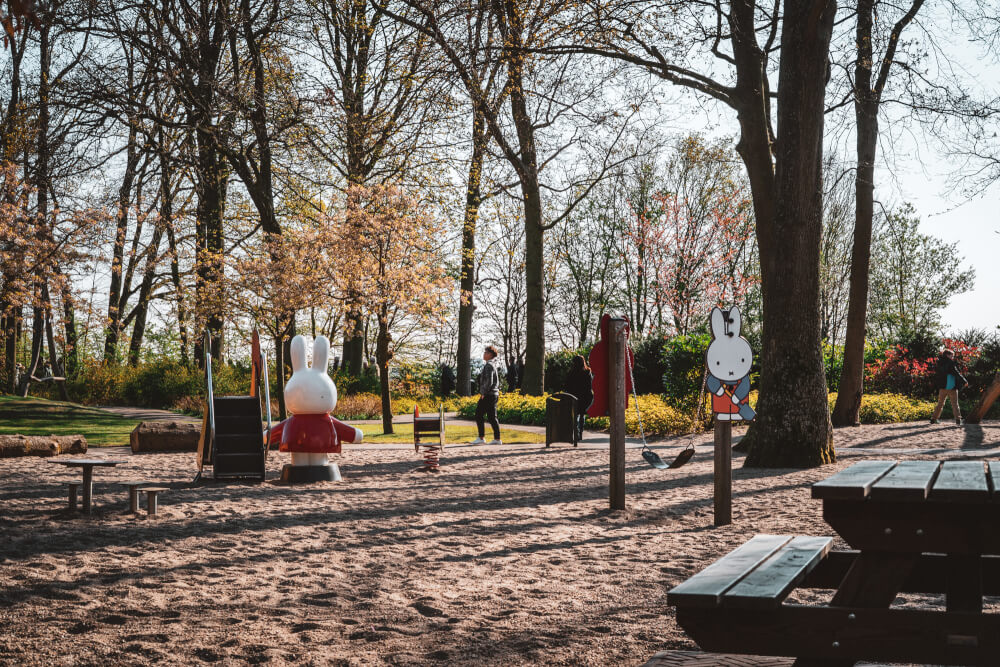 How much does food cost at Keukenhof?
There's quite a variety of food items available at Keukenhof.
Based on casual observation, the restaurant near the entrance was rather pricey, with burger, fries and beer combos for 17.50 euros, pasta dishes for 11 euros, and paninis for 6 euros.
Elsewhere in the park, you'll find food trucks and stalls selling quick eats. Here, I saw some burgers being sold for the 6-7 euro range and smoothies for 5.
I personally had a (mediocre) cappuccino for 2.70. The prices aren't ridiculous, but the quality certainly won't blow you away, so I would arrange to bring my own food if I were you.
Can I bring my dog to Keukenhof?
Keukenhof allows dogs on leashes around the gardens, but they're not allowed in the pavilions.
That said, it gets incredibly crowded so I'm not sure bringing a dog is the best idea if they're small or scared of crowds.
What things are there to do in Keukenhof?
Besides running around like a headless chicken taking as many photos as possible, there are several different activities that you can enjoy at Keukenhof!
In the park, you can climb up the windmill for a nice view, get a ticket for a boat tour that goes past the beautiful tulip fields, enjoy some food/drink in the various restaurants or nibble on your own DIY picnic, take a walking tour…
And last but not least, you can enjoy special events as they come up, like the annual Flower Parade.
How long should I expect to spend at Keukenhof?
Honestly, this answer depends on how well you can handle crowds!
We arrived at 8:30am and stayed until about 1pm. This gave us more than enough time to see every pavilion, take lots of photos and enjoy a leisurely coffee break.
We would have loved to stay longer but it got so busy at this point that we felt suffocated and needed to get out ASAP. Regardless though, I'd plan to stay at least half a day at Keukenhof.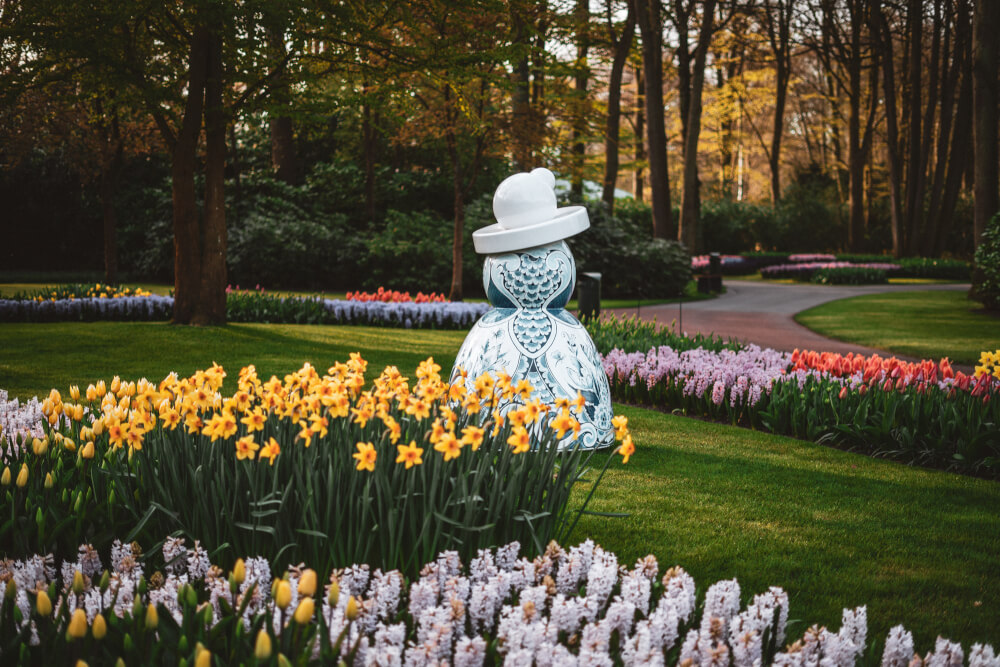 Any more questions about visiting Keukenhof for the first time?
Let me know in the comments! I hope you have an amazing trip.
---
Watch my most popular YouTube video this week:
---