*FYI - this post may contain affiliate links, which means we earn a commission at no extra cost to you if you purchase from them. Also, as an Amazon Associate I earn from qualifying purchases. Check out our Privacy Policy and Disclosure. for more info.
As a place where you can score churros by the dozen, and marvel at everything from giant skeletons to train station jungles, it should come as no surprise that there are plenty of fun things to do in Madrid, Spain.
And while many international tourists already know of all the amazing things to do in Barcelona, the wonders of Spain's capital city frequently fly under the radar.
……. Until now. Yes, cue some dramatic instrumentals.
After a long overdue visit, I am here to sing the city's praises and share with you all the best things to do in magical Madrid.
So, keep reading for a roundup of the top Madrid activities, from wonderful tourist attractions to quirky hidden gems.
1. Enjoy the scenery at El Retiro Park
El Retiro is one of the largest parks in Madrid and hands down one of the most beautiful too. As with many gorgeous things, it used to belong to the Spanish Monarchy before being turned into a public space in the late 19th century, making it freely accessible for regular peasants like you and me.
This park is a true natural wonderland filled with different garden sections, an artificial lake, statues, galleries and various event venues.
Shielded from the hectic chaos of Madrid, it's a delightful spot if you want to get away from all the traffic and noise to enjoy some tranquillity in nature.
… And not only is it a pretty face, there are lots of fun things to do here too, especially in summer when there are free concerts on Sundays, street performers, rowboats and horse-drawn carriage rides to ooh and ahh from.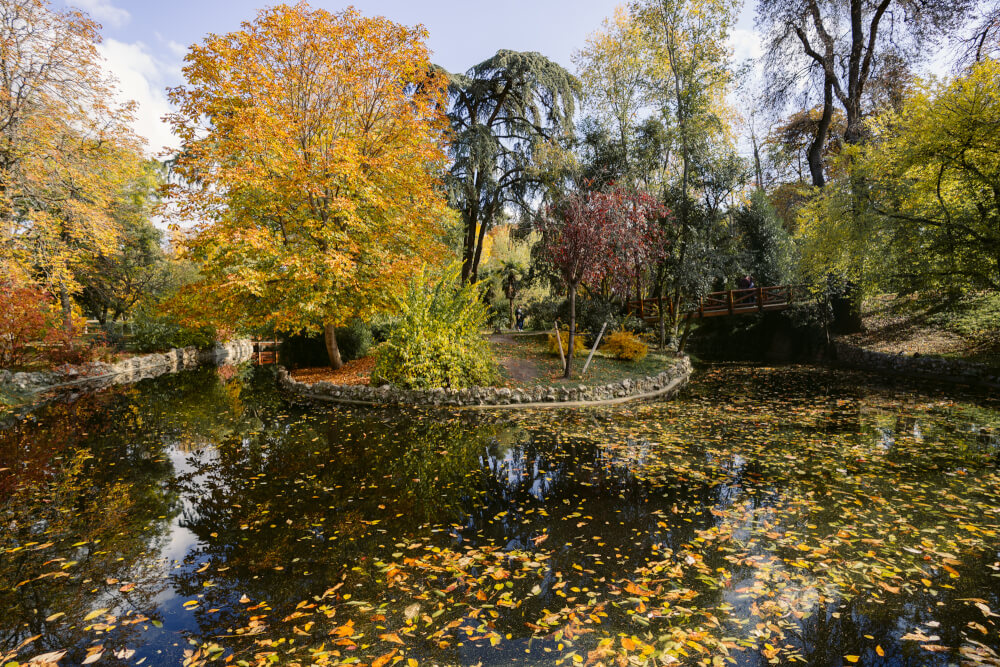 2. Marvel at the Palacio Cristal 
One of the most stunning things to see inside El Retiro Park is the Palacio Cristal (Glass Palace), a gorgeous conservatory made entirely of glass and modelled on London's Crystal Palace. It's located directly next to a pond and, together with a majestic fountain in said pond, makes for some truly glorious photo opps.
The Palacio Cristal is owned by the Reina Sofía Museum, so it usually houses temporary art exhibits, along with the Velazquez Palace just nearby, which is also worth visiting.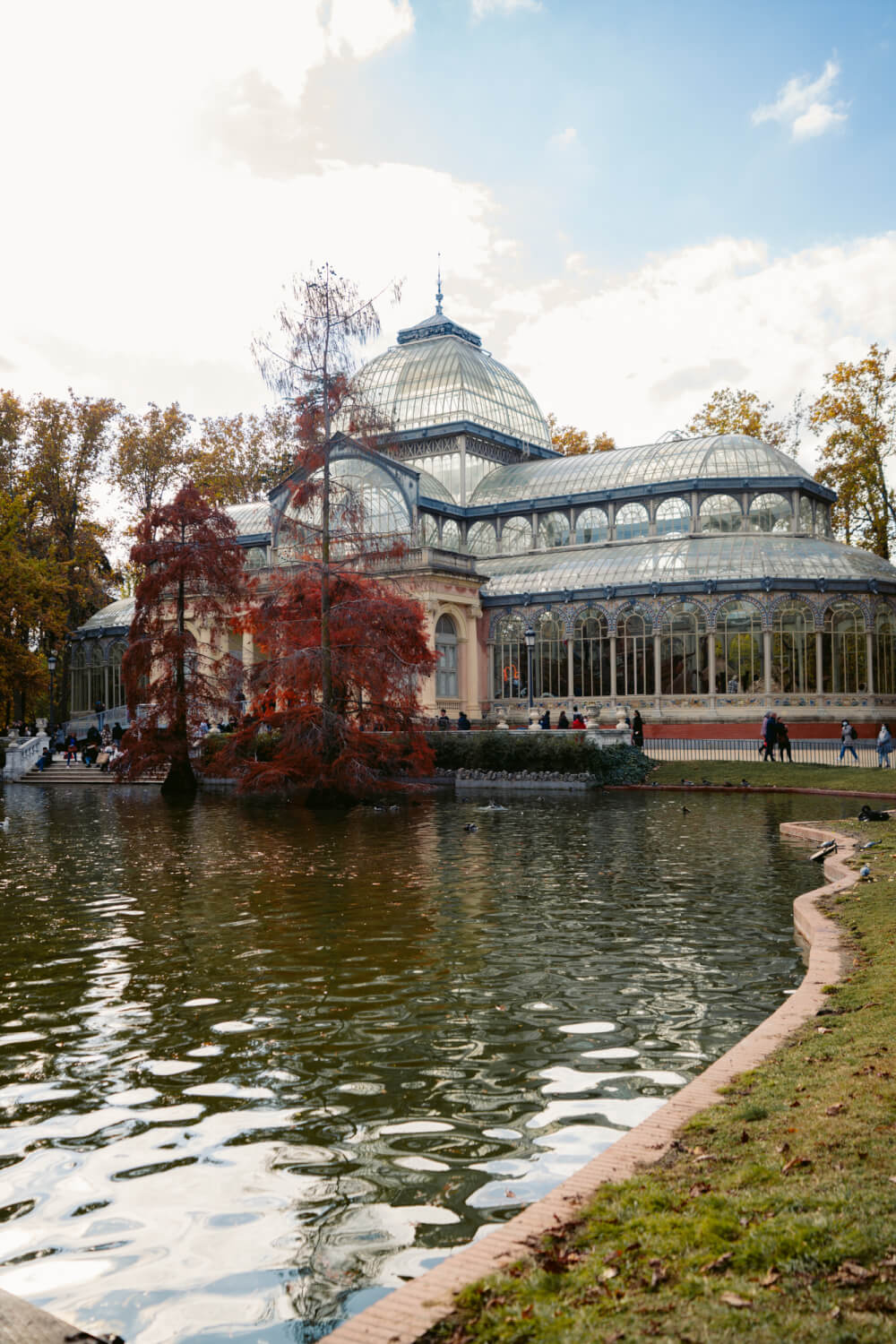 3. Tour the royal palace
The Royal Palace of Madrid is the biggest royal palace in Europe so it's well worth a visit if you want to feel like a princess swanning through the stunning staterooms… which if you're reading my blog, of COURSE you do.
While once upon a time, this palace was the official Madrid residence for the Spanish royal family, it is now only used for state functions and is open to the public as a museum.
Mind you, it's so big that usually only part of it is open and they change the route for visiting every few months, so rest assured there's plenty to gawk at.
NOTE: Make sure you buy a fast-access ticket to avoid the lengthy queues.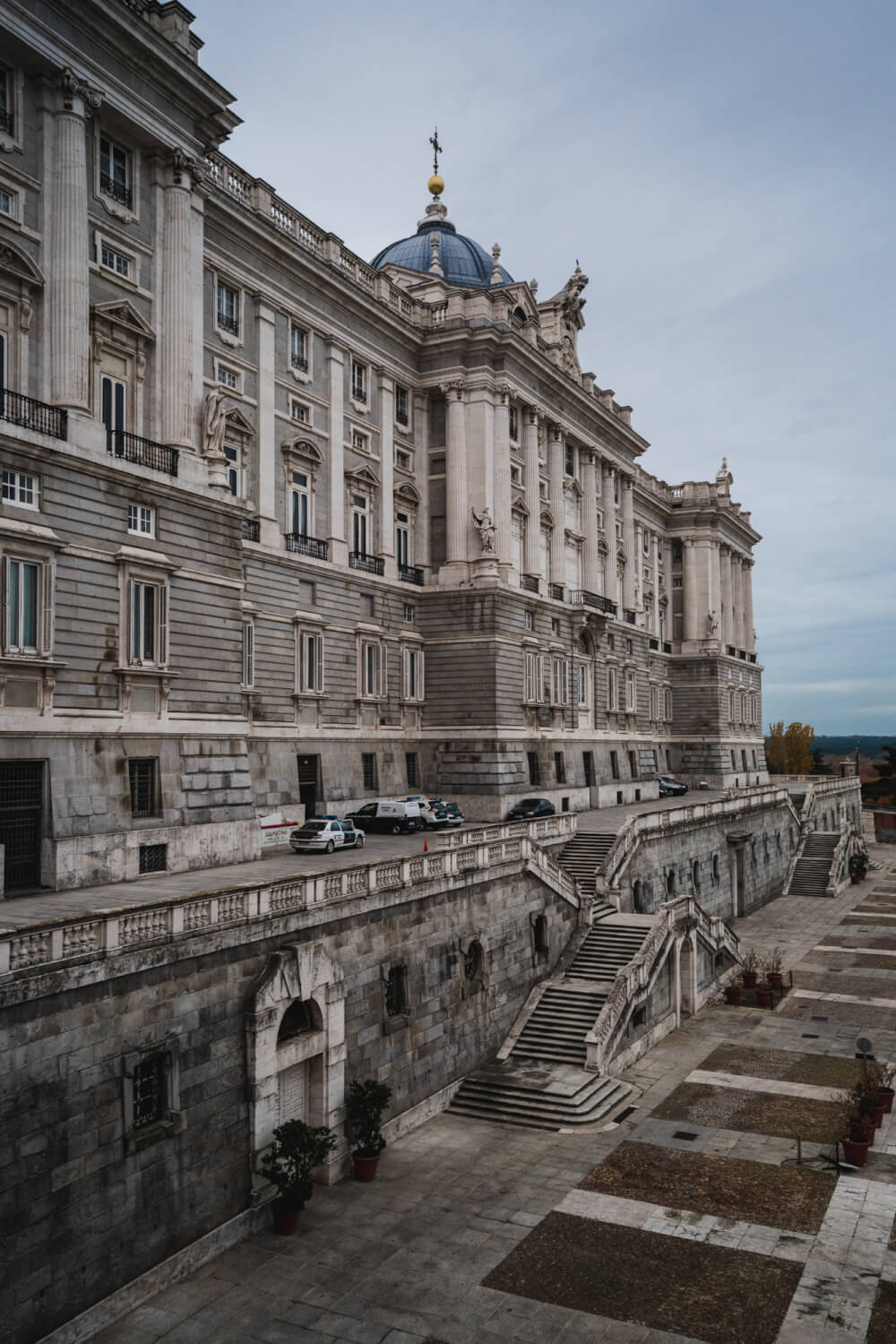 4. Visit Almudena Cathedral
Next door to Madrid's Royal Palace is another stunning piece of architecture, the Santa María la Real de La Almudena – or Almudena Cathedral.
It's a breathtaking construction, built in a Gothic-revival style with Neo-Gothic interiors, although you might not think it looks all that Gothic since it's so white on the outside.
Inside, this is one of the most colourful cathedrals ever, with the ceiling and sanctuary featuring bright artwork that looks much more modern than what you normally see in cathedrals! There's also a museum within the cathedral where you can learn more about the history of the building, and then head up to the dome for incredible views over Madrid.
There's an image of the Virgen de la Almudena (the saint the cathedral is dedicated to) from the 16th century inside the Neo-Romanesque crypt which is also worth a look.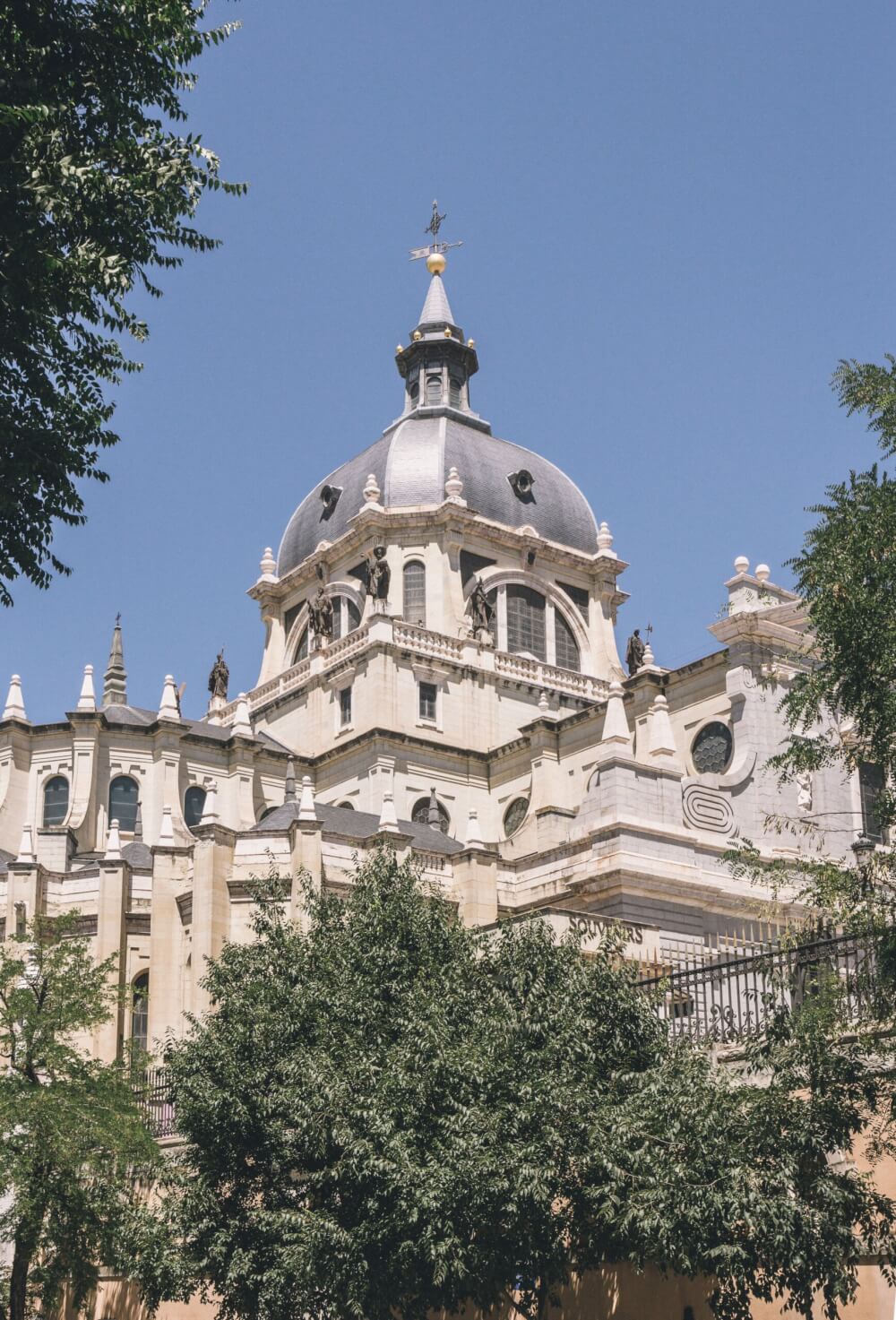 5. Eat your weight in churros
There are plenty of places in Madrid to consume more churros than you ever thought possible, but a classic (and one I can vouch for) is Chocolatería San Ginés.
This is one of the most famous churrerías in Madrid and has been operating since 1894! It features two floors of beautiful white marble and green walls, although it's also nice to sit outside if the weather is good, so you can inhale your churros in plain view of the general public.
Of course, you should be prepared to see lines of locals and visitors alike waiting for their fried doughy delights and chocolate wonderjuice. It's all worth the wait though – even though it's possibly one of the most popular places in Madrid for churros, it's still very affordable. Win-win!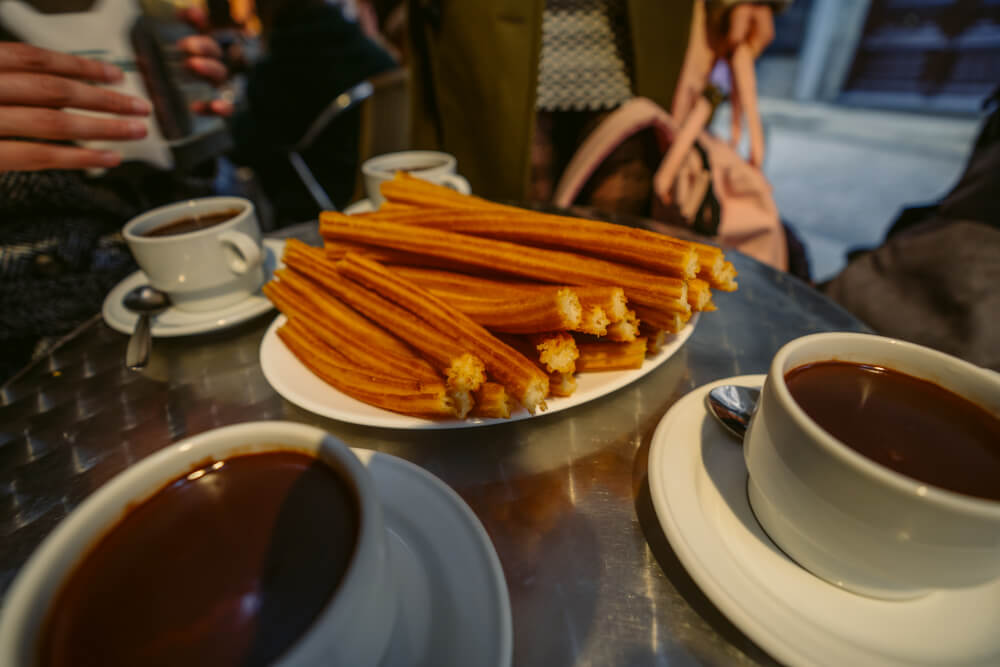 6. Grab a bite at the world's oldest (still operating) restaurant
When it first opened its doors in 1725, few would have guessed that Sobrino de Botin would continue to serve hungry patrons almost 300 years later… a unique distinction that has earned this famous Madrid institution an entry in the Guinness Book of World Records.
A lot has changed of course over the centuries, and Sobrino de Botin has come a long way since its early days as an inn eatery where patrons brought their own ingredients!
Today, it's a well-respected Spanish-themed restaurant, serving countless visitors each day with local specialities, although the roasted suckling pig is said to be a stand-out… so if you want to check a unique foodie bucket list item off your list, be sure to add this one to your itinerary!
7. People watch in Plaza Mayor
Madrid's main public square is none other than Plaza Mayor, a beautiful spot in the heart of the city that is enclosed by a photogenic rectangle of buildings on all sides.
Pretty as it may be, it's all too easy to get lost, with 10 different entryways into the plaza, nine of which are gates.
But of course, any directional confusion is worth it for (what I consider) one of the prettiest squares in Europe… and one with plenty of activities to offer too.
While Plaza Mayor was once the (way too picturesque) backdrop for executions… these days, markets and soccer games are far more frequent.
In fact, on Sunday mornings and holidays, you'll find a stamp and coin collecting market held here, along with Madrid's yearly Christmas market if you time your visit for the holidays… so be sure to at least stop by for a peek if you're looking for uniquely 'Madrid' things to do.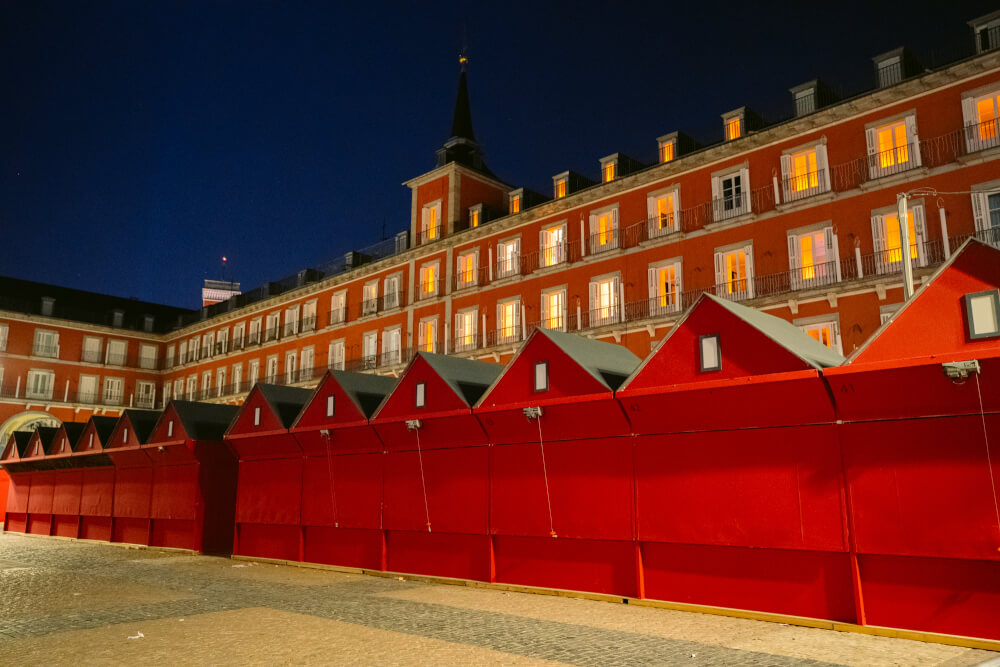 8. Get your culture on at Madrid's Triangle of Art
Alright, we've covered plenty of food and pretty things so far, but for those who are a bit more culturally inclined, there are plenty of excellent cultural things to do in Madrid as well.
In fact, at the centre of Madrid's Paseo del Prado boulevard are three important art museums which together make up the very grandiose sounding "Golden Triangle of Art".
… and yes, as hinted by the over-the-top name, all three museums are well worth a visit if you like art even a little, as they're widely regarded to be the best of Madrid's art museums.
The three members of said 'Golden Triangle' are:
The Prado: The Spanish national art museum, with an incredible collection of European art dating from the 12th to early 20th centuries. It's one of the most visited sites in the world and one of the most famous art museums. Buy Tickets Here
Reina Sofia Museum: Spain's national museum of 20th-century art, mostly focusing on works by the Spanish masters Pablo Picasso and Salvador Dalí. It also shows many modern exhibitions in its many galleries, such as the Palacio Cristal in El Retiro. Buy Tickets Here
Thyssen-Bornemisza Museum of Art: An art museum that sort of fills the gaps that the other two in the triangle miss – with works by the Italian, Dutch, German and English schools, as well as Impressionism, Expressionism, and European and American paintings from the 20th century. Book a Ticket + Tour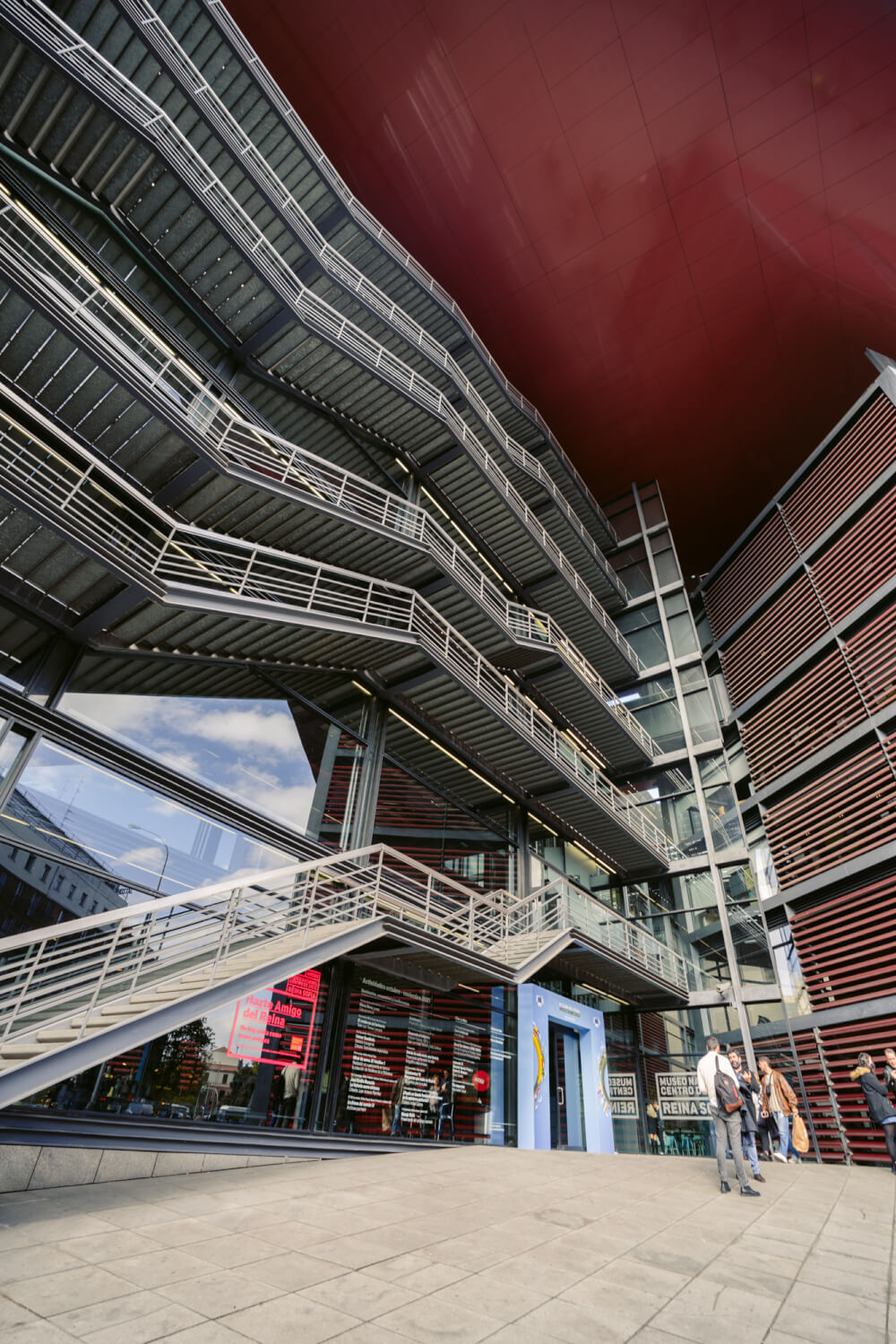 9. Or tour a museum dedicated to ham
Once you've had your fill of art and want to fill up on ham instead (no judgement), head to the Museo del Jamón – a ham museum! Well, sort of…
Technically, the Museo del Jamón is a chain of delis in Madrid which serve, not surprisingly, jamón, the famous dry-cured ham produced in Spain enjoyed the world over. The first Museo del Jamón deli was opened next to the Prado Museum in 1978, hence the somewhat confusing name.
Any one of these deli restaurants are worth a visit if you want some tasty local jamón, but the first one on the Paseo del Prado is also kind of a museum, because there are so many different types of jamón on display in the downstairs butcher shop area.
The chefs are happy to talk to you about the different cuts and even give you a taste, or you can head upstairs to the restaurant for a proper meal – either way, a great foodie thing to do in Madrid!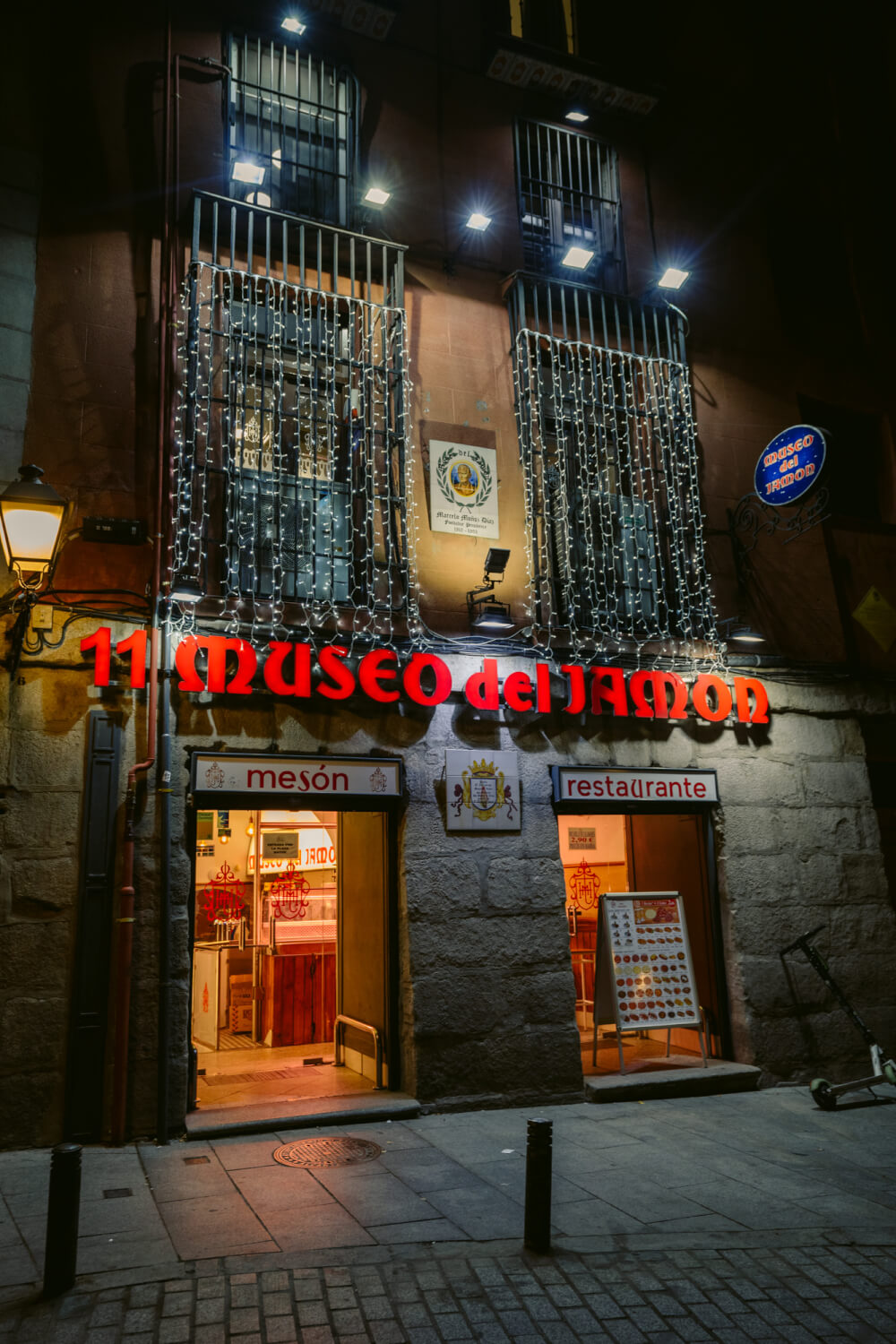 10. Step inside Palacio de Cibeles and visit CentroCentro
The Palacio de Cibeles (or Cybele Palace) is made up of two buildings that used to be the Palacio de Comunicaciones (Palace of Communications) and Palacio de Telecomunicaciones (Palace of Telecommunications).
These were the main post office and telephone/telegraph headquarters in Madrid, although now they house the Madrid City Council (including City Hall) and CentroCentro.
CentroCentro is a public cultural centre that's well worth a visit while you're in Madrid, with all sorts of exhibitions, concerts, workshops, seminars, meetings, reading groups, performances, and screenings held on the site. Check out their Facebook page to see what's on when you're there.
The building is also home to a wonderful observation deck for views of the city, along with two restaurants and a rooftop bar. Looking for an extra special thing to do while in Madrid? Be sure to head here for sunset drinks!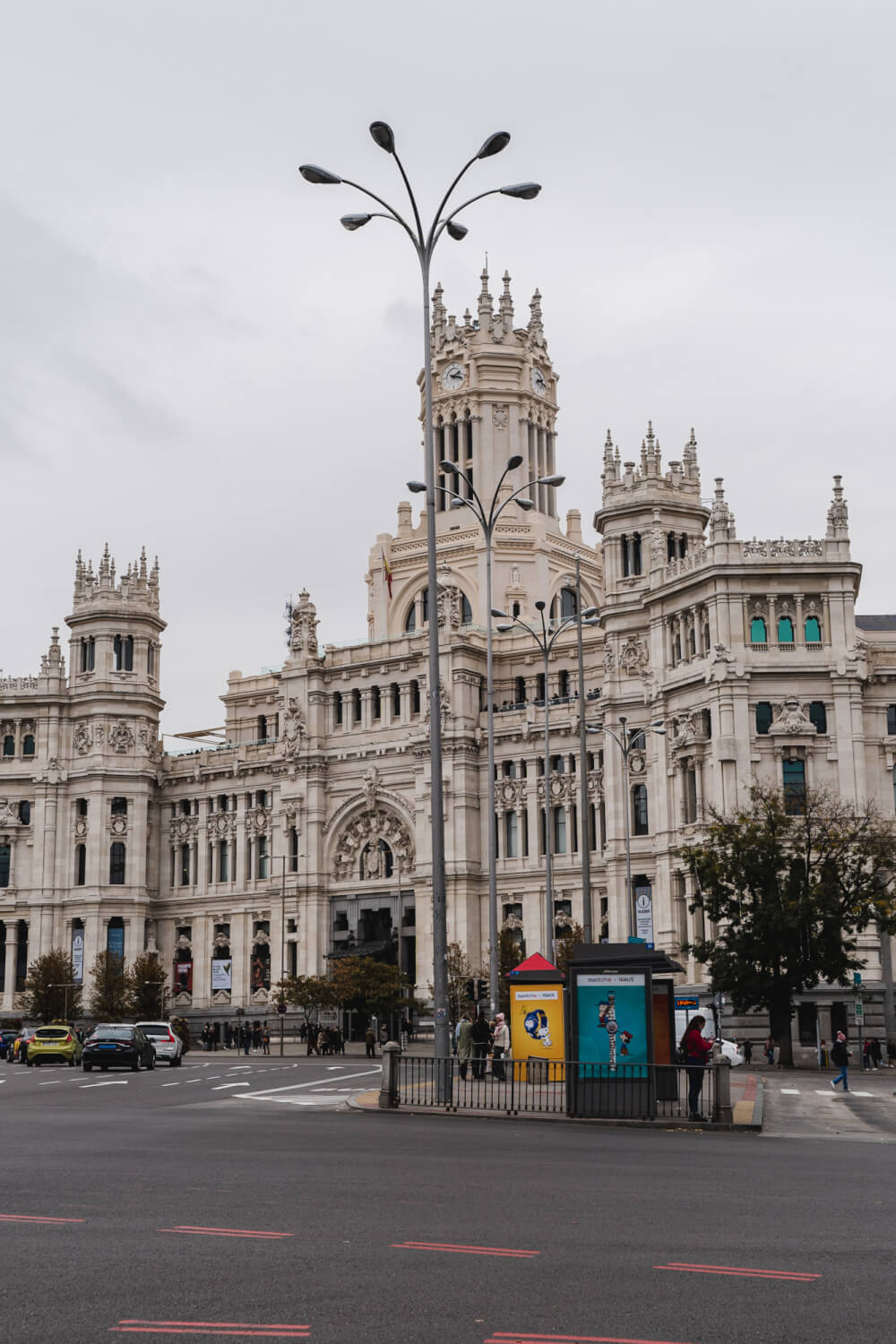 11. Taste your way around Mercado San Miguel
And if you're still looking for fun foodie activities, make sure the Mercado San Miguel is on your list. Lurching through this beautiful food market like a hungry hungry hippo was truly one of the most delicious things I did in Madrid.
Originally opened in 1916 as a local food market for groceries, in 2009 the Mercado San Miguel was transformed into Madrid's first gourmet market, with a gorgeous array of food and drink stalls to munch your way through!
This historic cast-iron building houses everything from fresh seafood to tapas, churros and cheese as well as options for ice cream, cake, wine and cocktails… so yes, come prepared, and come hungry.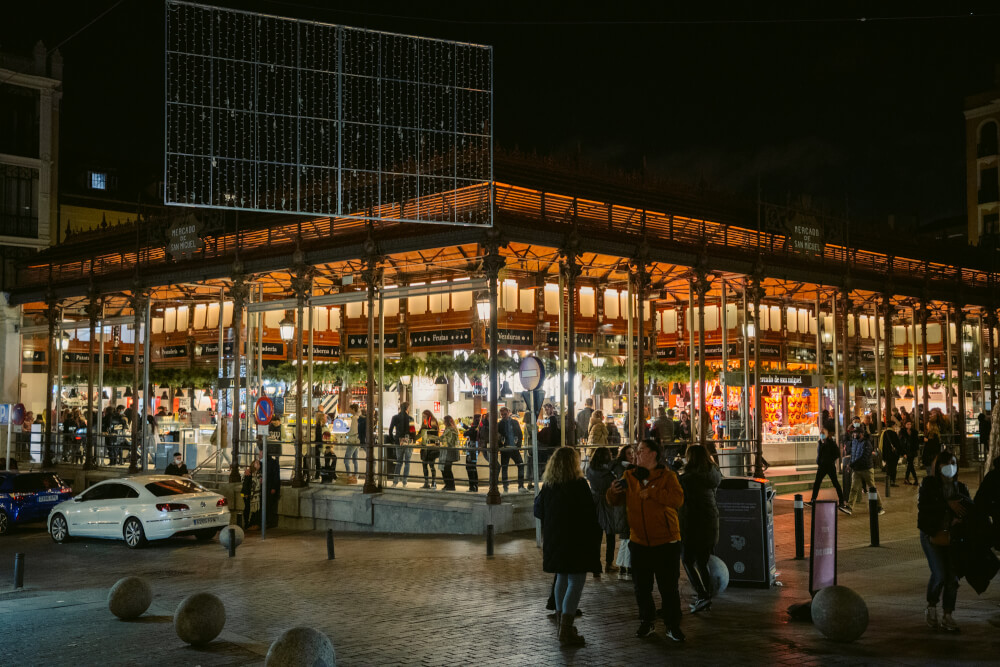 12. Snap a photo at Puerta de Alcalá
Located on the Plaza de la Independencia, the Puerta de Alcalá is a gate that used to be part of the Walls of Felipe IV which surrounded Madrid between the years of 1625 and 1868.
While it looks similar to the Brandenburg Gate in Berlin and Arc de Triomphe in Paris, it's actually older than both! It was the first neoclassical triumphal arch to be built after the fall of the Roman Empire and features some very cool statues of children meant to represent the cardinal virtues: fortitude, justice, temperance and prudence.
Conveniently for sightseeing, it's located next to El Retiro, so make sure you pop over for some photos if you are exploring the park!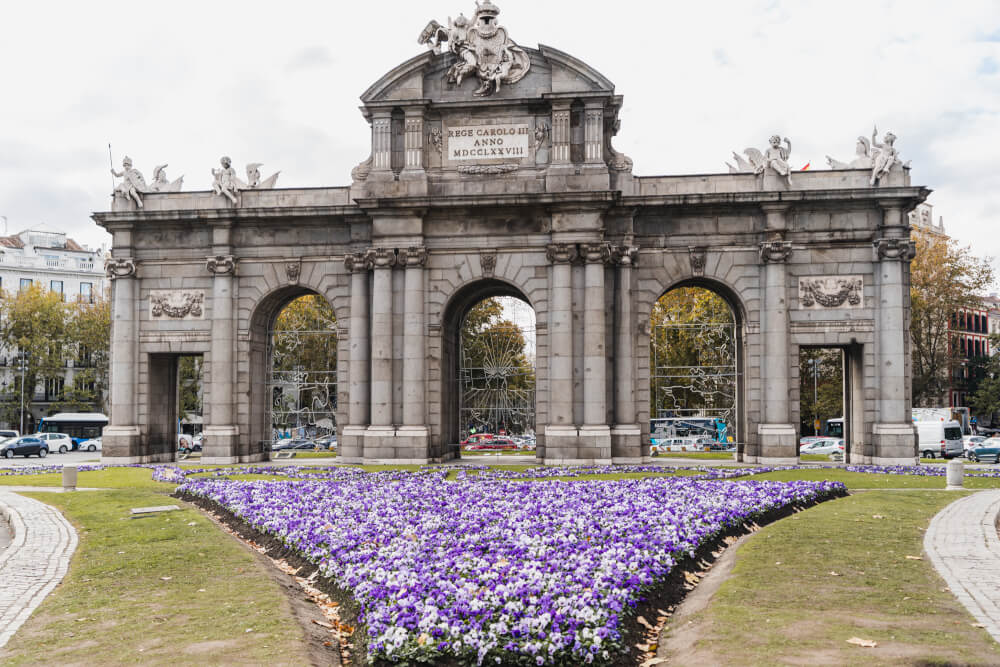 13. Enjoy a nice rooftop drink
There are a number of great rooftop bars in Madrid, but one of the classics is the Azotea del Círculo at Círculo de Bellas Arte.
This is where you get a stunning vantage point over one of the most recognizable sights of Madrid: the Metropolis Building, a beaux-arts structure dating from 1911 with a winged goddess statue on top.
The rooftop terrace of Azotea del Círculo also has its own statue, so the photo opportunities are amazing here… and ideal for statue enthusiasts 😉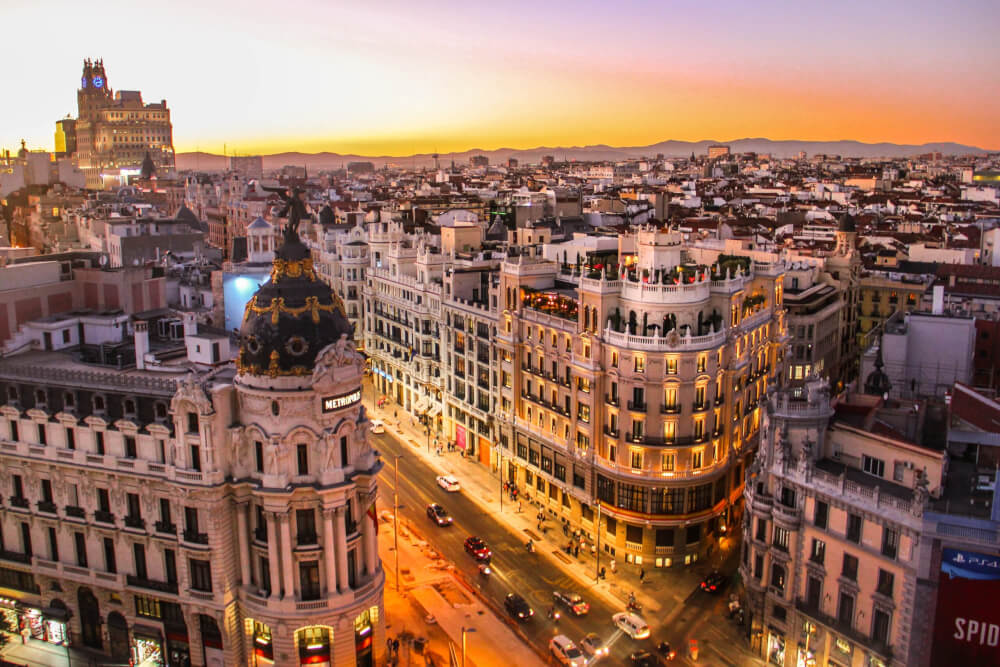 14. Visit an ancient Egyptian temple
The Templo de Debod is an unusual Madrid attraction that once stood in the Nile Valley thousands of years ago. Today, it's a popular vantage point at Parque de la Montaña, framed perfectly by a reflective pool.
Transported from Egypt and reconstructed brick by brick back in the 70s, this temple was said to be a gift/donation from the Egyptian government, which sought to protect the temple from flooding.
This is one of the few examples of ancient Egyptian architecture that can be seen outside of Egypt and the only one in Spain, making it one of the most unique attractions to see in Madrid.
NOTE: There are currently plans to cover it for protection from the elements so the site may change in the future… which is why you should definitely put it on your Madrid to do list and see it while you can!
15. Scope out Madrid's own Walk of Fame
While not exactly like the Hollywood Walk of Fame, Madrid does have a 'Walk of Fame' of its own, dedicated specifically to Spanish actors, actresses and filmmakers!
Located on Calle Martín de los Heros, the stars on this Walk of Fame include big names in Spanish cinema such as Penélope Cruz, Antonio Banderas and Javier Bardem. It was organized by the Spanish Film Academy to commemorate its 25th anniversary and would be a cool little detour for anyone interested in Spanish film, or pop culture in general.
Fun Fact: This area was popular with movie-goers even before the stars were added, thanks to two local cinemas where Spanish films were usually shown without any translation: The Golem Cinema and Renoir.
16. Admire the remains of an ancient Islamic tower
Tucked away in a nondescript parking garage, you'll find one of the lesser-known things to do in Madrid: The Tower of the Bones, a relic from the 11th century when Madrid was inhabited by Muslims.
This chunk of rocks in a display case were once part of an Islamic watchtower called the Tower of the Bones (la Torre de los Huesos) because the original tower was constructed near an Islamic cemetery.
Since the watchtower was located where the Royal Palace now stands, the remains can be found in the underground parking garage in front of it. It's definitely worth a quick detour to see this unusual piece of history, so be sure to add it to your list!
17. Scope out a lush tropical oasis in the heart of a train station
And for those looking for green things to do in Madrid – I have just the thing!
The Greenhouse Atocha is a lush byproduct of Madrid's ongoing evolution. Following railway expansions in the city back in the 90s, this former train station space was abandoned and turned into a garden packed with thousands of plants.
This 4,000 square metre garden contains over 7,000 plants of 400 different species from the Americas, Asia, and Australia, as well as water lily ponds. There are also cafés and restaurants surrounding the garden which are ideal for a quiet break from the city inside what I can only describe as a beautiful train jungle. Ugh, I loved it here so much.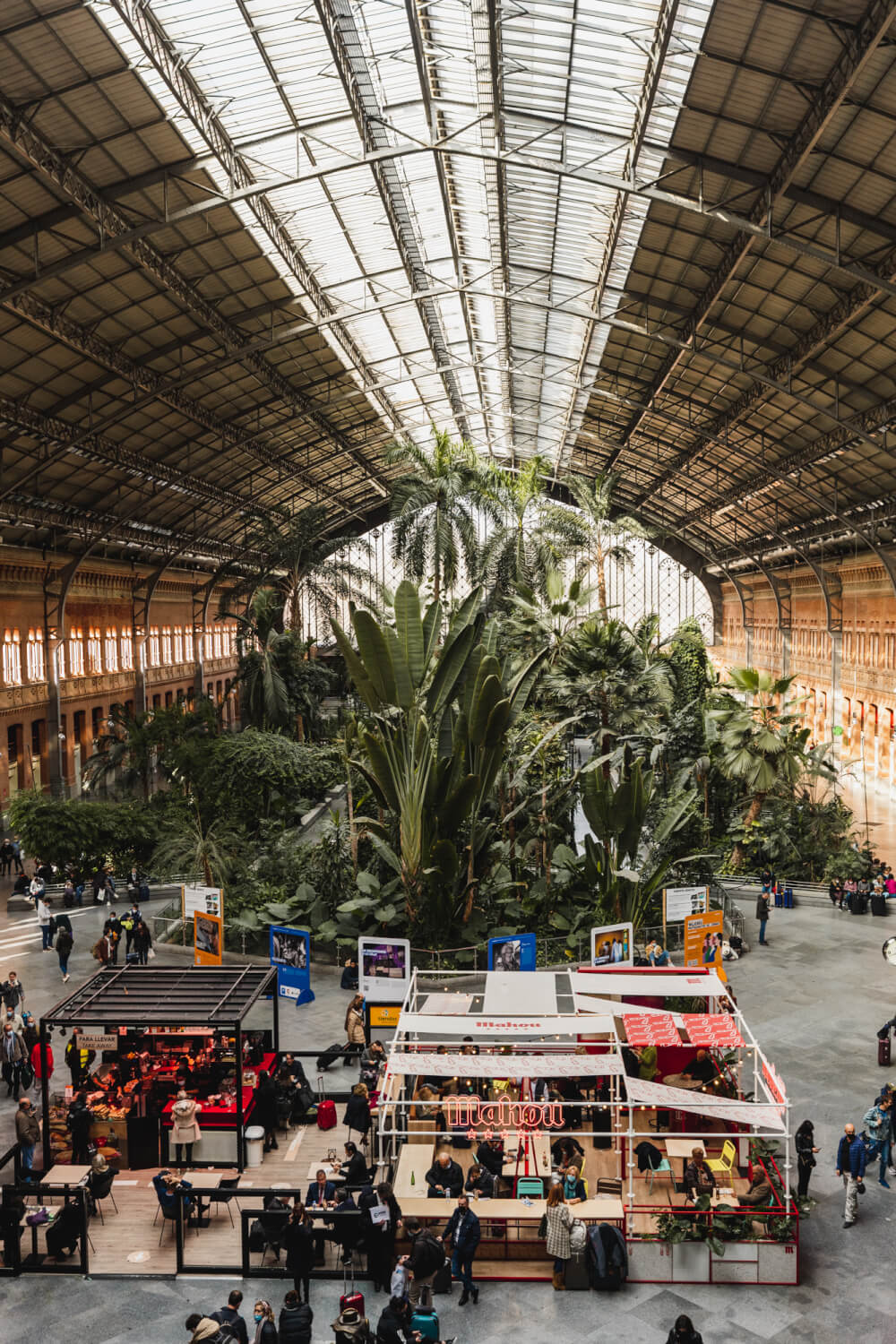 18. Marvel at the oldest known map depicting America
Madrid is a city known for its museums, but the Museo Naval (Naval Museum) is one Madrid activity that often flies under the radar.
This museum houses items that show the history of the Spanish navy from the 15th century until today, including navigation instruments, weapons, maps and paintings.
One of the most fascinating objects on display is the map of Juan de la Cosa, a world map that depicts the earliest known representation of the New World.
Said to date back to around the year 1500, this map was created by Juan de la Cosa when he travelled to America with Christopher Columbus.
…. SO yes, be sure to add this to your list if you're looking for unique, historical things to do in Madrid!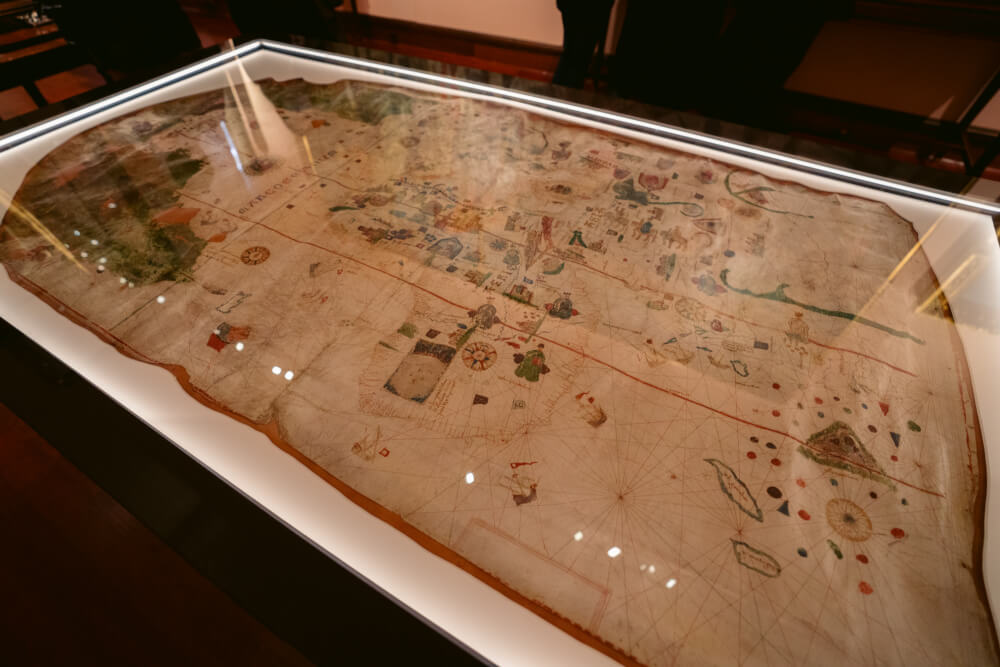 19. Admire the "Sistine Chapel of Madrid"
Another underrated thing to do in Madrid is stopping by the San Antonio de los Alemanes (or the Church of Saint Anthony of the Germans), a stunning Baroque church that contains epic ceiling and wall frescoes.
Built between the 1620s-1630s by King Felipe III, the frescoes were painted by the Spanish artist Francisco Rizi and the Italian Luca Giordano. Thanks to its staggering beauty, the church was added to the Spanish Cultural Heritage list in 1973… and even to this day boasts the grand nickname of Madrid's 'Sistine Chapel'.
So, be sure to pop in and take a look!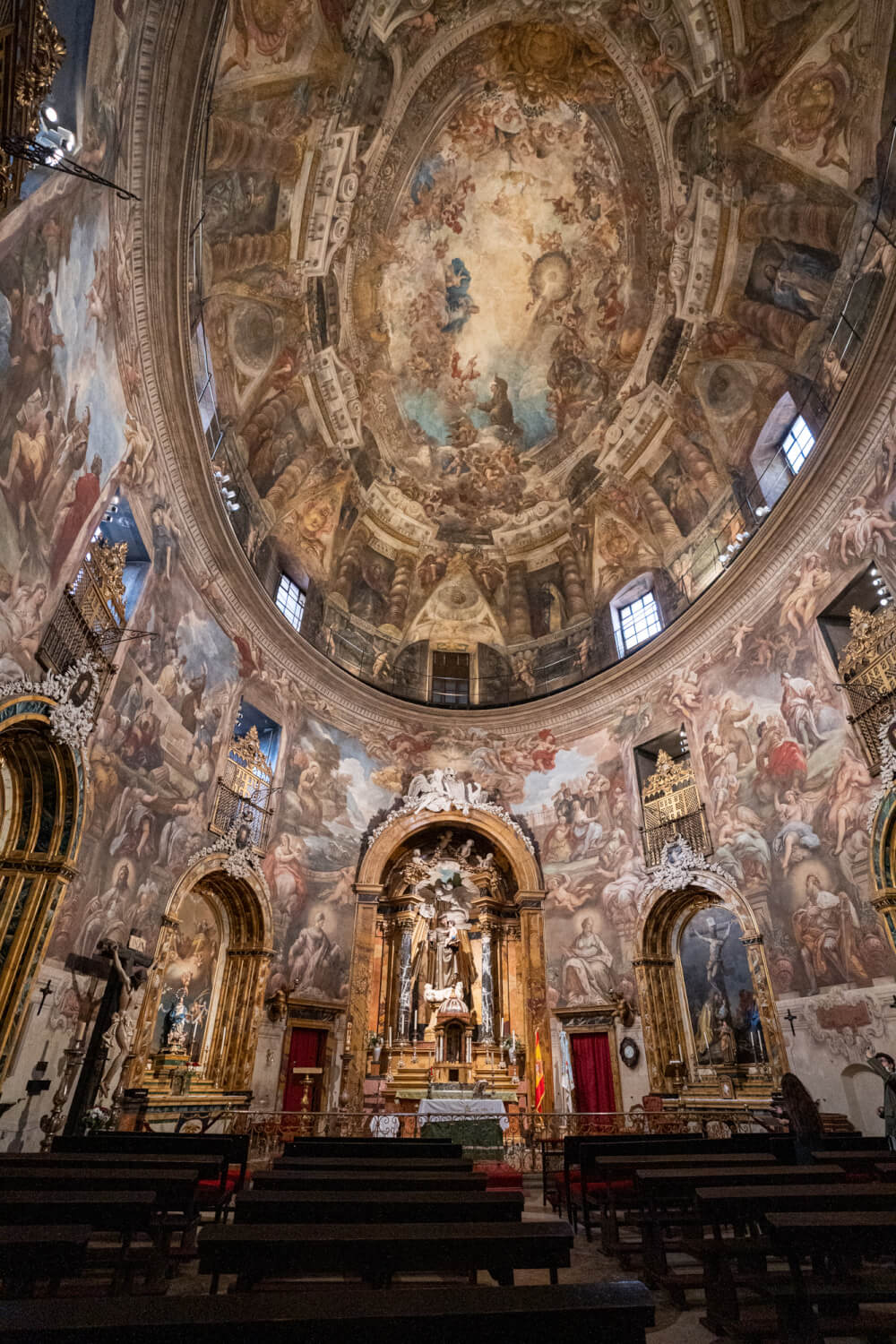 20. See the skeleton of a Spanish giant
Inside Madrid's National Museum of Anthropology is a massive skeleton that has a pretty strange but fascinating story.
The skeleton belongs to Agustín Luengo Capilla, one of the tallest Spaniards of all time who was nicknamed "The Giant of Extremadura" because he stood 7 feet and 8 inches (2 meters, 35 centimeters) high!
The reason his skeleton remains on display today is because Dr. Pedro González Velasco (the head of the museum when it started) came to an agreement with Augustín that he would buy his corpse (to display in the museum) in exchange for a daily income of 2.50 pesetas while he lived.
And well, that's how a massive "giant's" skeleton became one of Madrid's weirder tourist attractions. The more you know.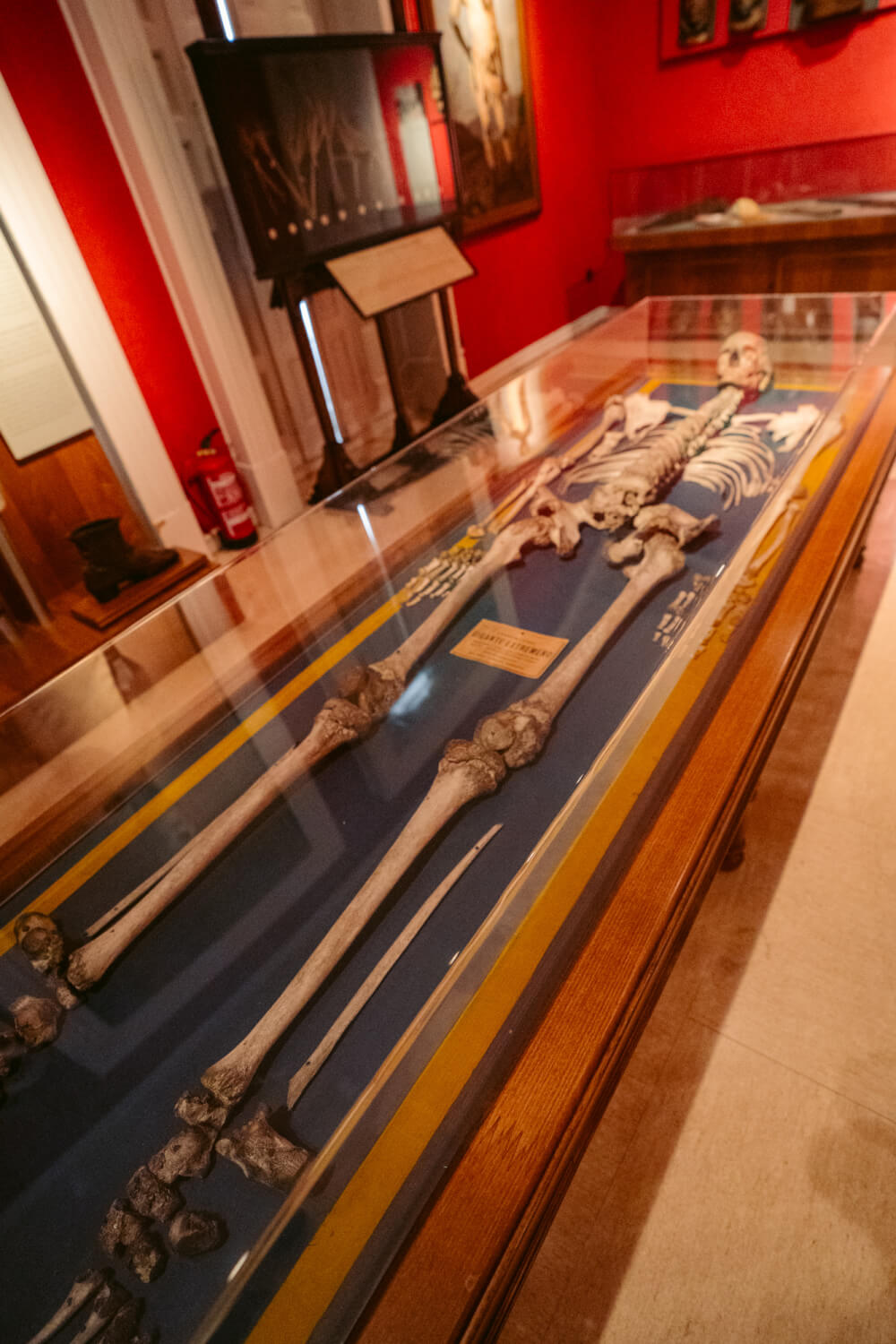 21. Take a tour of Santiago Bernabéu Stadium
If you're a fan of soccer (or should I say… football), then you will definitely want to visit the Santiago Bernabéu Stadium as this is the home turf of the Real Madrid team!
Santiago Bernabéu Stadium is the second-largest football stadium in Spain and one of the world's most famous, having hosted the final of the European Cup/UEFA Champions League on four separate occasions. It also hosted finals for the 1964 European Nations' Cup and the 1982 FIFA World Cup.
You could try and see a match here, if you're lucky, or join a stadium tour if you want access to exclusive areas and to learn about the history of Real Madrid.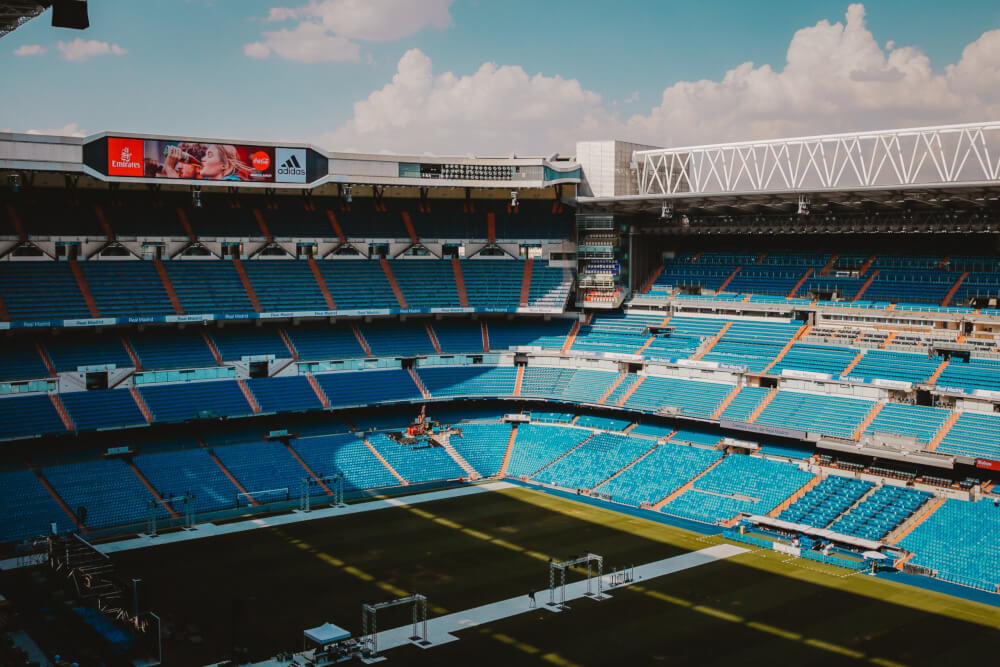 22. Play around at the Museum of Illusions
For those who like photography, being a bit silly and playing around with perspective, there's the Madrid Museum of Illusions.
There are a few of these museums around the world, but if you're looking for fun things to do in Madrid with kids or on a rainy day, then it's a very fun way to spend a few hours – plus you get cool photos out of it!
It's presented in both English and Spanish, plus the gift shop is full of really cool games, puzzles and souvenirs if you're looking for some presents. All in all, if you're looking for a fun Madrid activity to break up all the sightseeing, this is a great choice.
23. Visit Madrid Archaeological Museum
Besides museums dedicated to art, history, ham, and illusions, Madrid is also home to Spain's National Archaeological Museum, where you'll find artefacts from southwestern Europe, Greece and Egypt all on display inside a beautiful neoclassical building.
For anyone interested in ancient history, particularly in the Iberian Peninsula, Greece or Egypt, this is a must-visit. Make sure you get a skip-the-line ticket to avoid the queues and also receive an audio guide to hear more about the fascinating objects on display.
One of the most famous is The Lady of Elche, an ancient Iberian funerary urn that's more than 2,500 years old and seems to stare at you from inside an impressive headdress that would put even Princess Leia to shame!
24. Do a wine and tapas walking tour
Look, you can't visit Madrid and not try some local tapas, so why not join a local walking tour to ensure you get to visit all the best places?!
This wine and tapas walking tour visits some of the oldest (and best) tapas bars in the city, going beyond the usual tourist traps.
It's the perfect delicious way to get acquainted with the cuisine of Madrid, especially if it's your first visit!
25. Say hi to a rocker Abuela
One of the weirdest/coolest things to see in Madrid is a statue of a 'rocker grandma' in the neighbourhood of Vallecas.
This bronze statue was made to commemorate a real woman who lived in the area and, at the age of 70, accompanied her grandson to a heavy metal concert and discovered she loved the genre!
Ángeles Rodríguez Hidalgo became a well-known figure in the Madrid rock scene during the 80s, even having her own column in Heavy Rock magazine. A photo of her (clad in leather and giving the metal horns sign) was used on the cover of the album "Toca Madera" by the Chilean heavy metal band Panzer.
It's this image of Ángeles which was also turned into a sculpture by Carmen Jorba in 1999. If you like heavy metal, you've got to get a selfie with the rocker grandma!
26. Step on the geographical centre of Spain
Last but not least, if you're looking for unique things to do in Madrid, be sure to stop by for a photo of Spain's geographical centre, housed in Puerta del Sol, Madrid's historic semi-circular city square, one of the busiest and most well-known spots in the city.
It's easy to miss one of the coolest things in this square as it's just a small plaque on the ground but this small stone slab shows the exact centre of Spain, where all distances in the country are measured from!
Kilometre Zero (as it's known) can be found directly in front of the old Post Office building, which also has a famous clock where the main New Year celebrations in Madrid are held each year.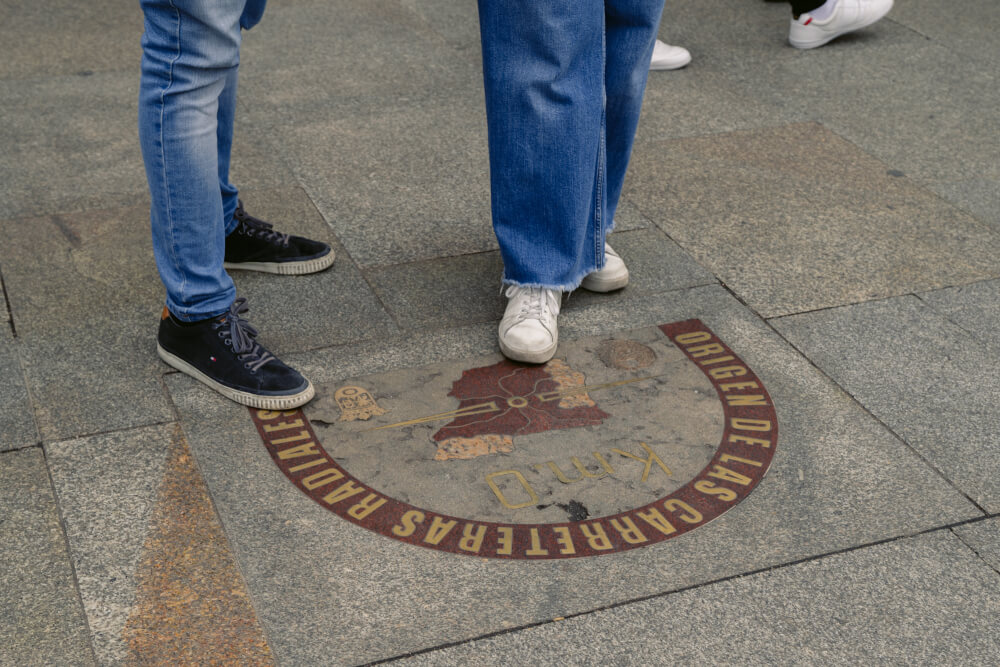 Did I Miss Any of Your Favourite Things to do in Madrid?
Let me know in the comments so I can add more Madrid recommendations to the list!
My Go-To Travel Favourites: