*FYI - this post may contain affiliate links, which means we earn a commission at no extra cost to you if you purchase from them. Also, as an Amazon Associate I earn from qualifying purchases. Check out our Privacy Policy and Disclosure. for more info.
Looking for a clear, easy-to-follow toiletries packing list? I've gotchu.
I'm not sure what it is about toiletries that makes them so easy to forget, but time and time again, even after 4 years of frequent travel, I frequently find myself in exotic locales without basic necessities like toothbrushes, combs and *shudder* deodorant.
So after brushing my teeth with my fingers for the umpteenth time, I've decided to plant my butt down and write a complete Toiletries Packing List, both for myself, and of course for you, the best looking readers on the planet.
In this post, I'll also be including my favourite products/must-haves. I'm a pretty low-maintenance person with a penchant for packing light, but there are some things I couldn't travel without. Here is the full list!
If you need a handy version of this printed out, I've got you. Click here to download it from my Resource Library!
Save this post on Pinterest for later: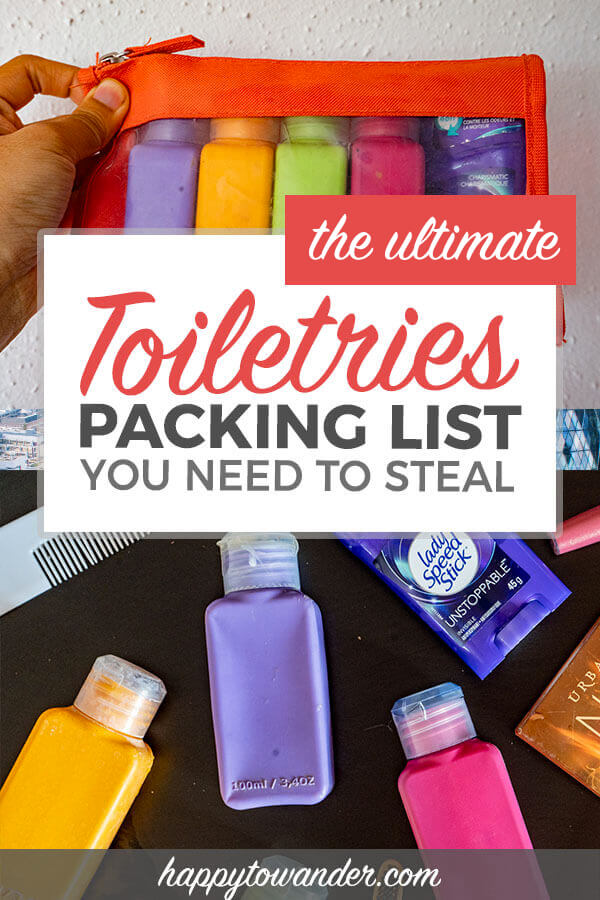 ---
---
Essential Items for Your Toiletries Packing List
Before we get started with the actual toiletries I pack, I want to introduce you to a few different products that can be re-used time and time again, and will make packing toiletries way easier in the long run. In my suitcase, I'm always sure to have…
Re-usable toiletry bottles
This helps you save both money and the environment, so double tick!
I always travel with my own re-usable toiletry bottles, which means I don't need to use the mini toiletries at the hotel (which, while adorable, aren't great for unnecessary plastic waste) and also I have easy access to my own favourite products all the time. Re-usable bottles are cheap and easy to find online! Here's an example.
Of course, the best bottles for you depend on your needs. I have a full guide here that rounds up the best options for different functions, but here is a table summarizing some of the highest rated toiletry bottles you can buy online:
---
---
A reuseable toiletries bag
Forget using Ziplocks or the flimsy little bags provided at the airport. Get yourself a clear, TSA-approved toiletries bag instead and you'll be able to reuse them over and over. Plus, they're sturdier. Mine is similar to this one and I love it.
Depending on your needs though, you might want to look into investing in a more comprehensive toiletries bag. I have a full guide here that rounds up the best options, but here is a table summarizing some of the highest rated toiletry bags you can buy online:
---
---
A good travel towel
No lie, this travel towel is my favourite travel item in the whole wide world. It folds up super small, is amazingly absorbent, dries quickly and is perfect for the beach, hostels and pretty much anywhere you need to go. Best investment I ever made!

Check prices and reviews for this amazing travel towel
---
---
OPTIONAL: A hanging toiletries bag
A lot of travellers swear by these hanging toiletries bags, which allow you to easily prop up all your stuff for easy access (without having to put them on the grimy sink). I don't think this is a total necessity, but a handy splurge if you need it! Plus, this one has pink flamingos on it, sooo…

Check prices and reviews for this cute flamingo organizer
---
---
Toiletries Packing List: Summary
If you just want a quick toiletries packing list to glance through, here it is! Obviously this is a very thorough list and you might not need all these things, but I've listed them anyway to remind you of them. You can scroll down below for a more detailed explanation and product recommendations.
Oral Hygiene:
Toothbrush
Toothpaste
Floss
Mouthwash
Haircare:
Comb or hairbrush
Shampoo & Conditioner
Hair elastics
Bobby pins
Hair straightener/curler
Hair spray
Miscellaneous face & body care:
Deodorant
Body wash
Face wash
Moisturizer
Razor
Shaving cream
Miscellaneous extras:
Sunscreen
Make up wipes
Q-Tips/Cotton Pads
Lip balm
Perfume
Eye care:
Glasses
Contacts
Contact Solution
Make-up:
Eyeliner
Mascara
Foundation
Concealer
Primer
Eyeshadow
Feminine Hygiene Products:
---
---
Toiletries Packing List: Detailed Explanation & Recommendations
A lot of the time, you guys ask for more specific recommendations about travel products, so if you need any further clarification or elaboration on the above list, here it is!
Oral Hygiene:
Toothbrush
The #1 thing I forget, so I put it first!
One key consideration is to either get a toothbrush with a protective case, or remember to bring a protective case for it, otherwise your toothbrush will just be floating around in your bag with everything else, which is a little gross for something you regularly put in your mouth.
If you're looking to get something new, I recommend buying a bamboo toothbrush. You can easily get packs online for SO cheap, plus they're much better for the environment. For instance, this 6 pack comes with a carrying case and is less than $15.
Check prices and reviews for this set of bamboo toothbrushes
Toothpaste
I'll never understand why toothpaste isn't usually included in hotel toiletry kits. I always manage to forget mine!
Floss
You can stock up here if you're out.
Mouthwash
If you're looking for a non-liquid option, some folks make mouthwash tablets these days. Otherwise, I'd recommend just filling up your own reusable bottles rather than buying mini-versions.
Check prices and reviews for these mouthwash tablets
Haircare:
Comb or hairbrush
Another thing I always forget, so I'm gonna underline this multiple times for you. To save space, you can get very cute mini hairbrushes like this one.
Shampoo & Conditioner
I use a special blue shampoo because of my dyed hair, and I bring it with me everywhere using my own reusable bottles. This is more cost-effective in the long run and better for the environment too, so I highly recommend it! If you don't mind it, a 2 in 1 might be a good idea if you want to cut down on your toiletries packing list.
Otherwise, solid shampoos are all the rage now. I have a strange hair type and I've never found them to work that well for me. That said, if you want to reduce liquids and get a product that will travel/keep well, my friends rage about the shampoo bars from Lush. There's also a huge range of affordable options on Amazon.
Check prices and reviews for these shampoo bars
---
---
Hair elastics
Always handy to have at least a few small ones in your bag for days when your hair just won't cooperate. If you have thick hair like me, I highly recommend you get some higher quality ones to avoid mid travel day breakage. Here's a cheap pack you can grab on Amazon.
Bobby pins
Always, always handy to have a few of these. If you keep losing them like I do, you can buy them in bulk online for super cheap here.
Hair straightener/curler
I'm not usually high maintenance but one indulgence I always allow myself is my hair straightener! I use it to curl my hair too, so it's a double whammy.
Sure it's a little heavy, but it's worth it because otherwise my hair looks like a rat's nest.
One thing I will say: don't waste your time with mini travel straighteners… they don't save THAT much space and in my experience, they don't work nearly as well.
Check prices and reviews for this straightener (that also curls hair really well!)
Hair spray
I don't usually bring it to be honest, but some people swear by it so I thought I would include it. Aerosol toiletries like these are okay in small amounts for carry-on baggage.
---
---
Miscellaneous face & body care:
Deodorant
So, so crucial. I have a genuine fear of smelling bad, so I actually bring a little deodorant in my toiletries bag and also every purse. This Lady Speedstick 48h is my favourite of all time, so much that I stock up on it every time I'm back home because they don't sell it in Germany!
Body wash
Again, I really recommend you just get some reusable bottles and bring whatever body wash you use at home. It's more cost-effective in the long run and better for the environment too.
Face wash
This Nivea Purifying Facewash is my favourite. It works great on my oily skin and I just bottle it up in my reusable bottles and I'm good to go.Check prices and reviews for my favourite facewash
---
---
Moisturizer
It's so basic but I swear by my Cetaphil Lotion. It's nothing fancy but it works wonders.
Razor
The most important consideration with your razor is that you have a case for it, otherwise it gets wet and goopy and weird to just throw in with the rest of your toiletries (razor and toothbrush touching? NOPE!!)
This mini travel razor from Venus is my fave – the case is really cute and handy. Otherwise, my friends have said great things about this Sphynx All in One which even comes with a shave bar.
Shaving cream
I don't use it. Is that blasphemy? Anyways, if you do, just don't forget to pack it!
---
---
Miscellaneous extras:
Sunscreen
I always, always, always forget sunscreen. Don't be me. This Neutrogena one is my favourite.
Make up wipes
I don't usually use these – facewash is sufficient for me!
Q-Tips/Cotton Pads
A tiny bundle is always handy to have in your toiletries bag just in case! I've seen a cute hack where you can also store them in a little pill container. Cute!
Lip balm
If you need a good lip balm recommendation, Burt's Bees is the bees knees.
---
---
Perfume
No recommendations – sorry! I don't usually include perfume in my toiletries packing list but some might 🙂
Eye care:
(All self explanatory, methinks, so I'll spare you additional explanation)
Glasses
Contacts
Contact Solution
---
---
Make-up:
Disclaimer: I'm not a fancy make-up girl. I'm just so bad at make-up that any expensive, high-end products would be lost on me… so these are basic products that I own and love.
Eyeliner
This Loreal Liquid eyeliner is my favourite thing ever. I have very oily skin so finding eyeliner that doesn't just rub off is a miracle. Plus, it's cheap! I wear it everyday.
Mascara
I used to avoid mascara like the plague because it would always rub off and give me panda eyes. This Covergirl Lashblast waterproof mascara is the only one I've found that stays put all day. I love it.
---
---
Lipstick/gloss
Okay, so I don't normally gush about makeup products because I'm no makeup guru but I literally swear by this Maybelline Superstay 24h lip stuff.
It's cheap, comes in a bajillion colours and is SO good for travelling because it lasts such a long time.
Trust me, if it can survive 6 hours of straight-drinking at Oktoberfest and still look flawless, it can survive any of your travel days, I promise!
Check prices and reviews for my favourite lip stuff
Foundation / Concealer
I find that the Loreal True Match line works great and lasts all day!
Primer
When I travel, I just use moisturizer but back in the day, I used to use this Smashbox one a lot.
---
---
Eyeshadow
Lastly, I wear eyeshadow on rare occasion but the Naked Mini Palettes are great – I have the Heat one and it's super versatile.
Feminine Hygiene Products:
These are pretty straight forward, no explanation necessary I think…
Tampons
Pads
Pantiliners
---
---
What NOT to Include in Your Toiletries Packing List
Full-sized anything
It's not worth it! It's heavy and also you won't be able to bring it in your carry-on.
Flammable items
Again, not worth the risk and you probably won't be able to bring it on.
Any "just in case" items
Sometimes, people panic and freak out and pack a million things just in case, like a full-on first aid kit.
I would like to remind you that you'll most likely be travelling somewhere where there are pharmacies and stores for you to buy your stuff.
Don't pack anything "just in case" because you'll most likely not need it. Instead, just buy it when the "case" arises.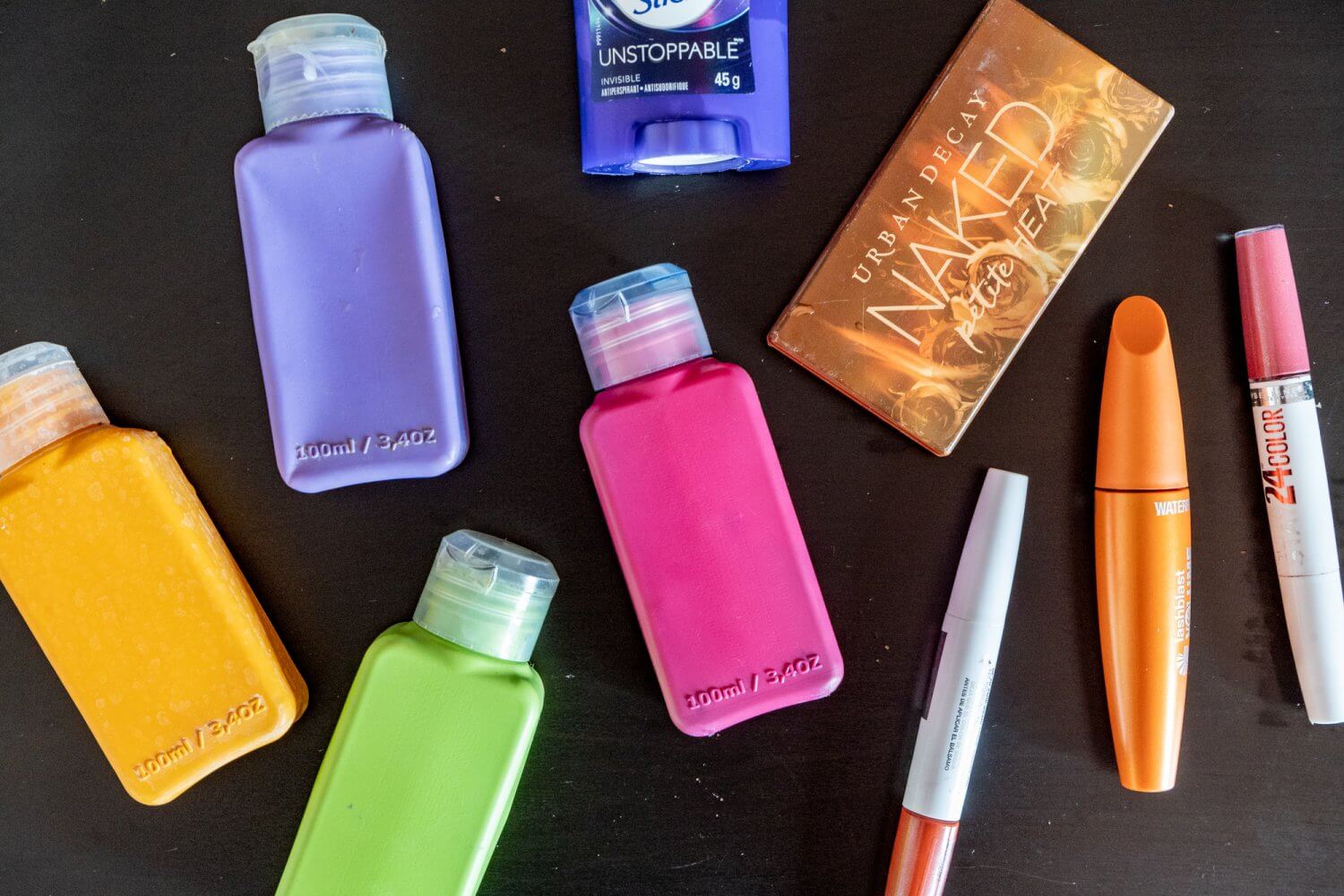 ---
---
Grab Your Printable Toiletries Packing List
If you need a handy version of this printed out, I've got you. Click here to download it from my Resource Library!

---
---
---
Watch my most popular YouTube video this week:
---