*FYI - this post may contain affiliate links, which means we earn a commission at no extra cost to you if you purchase from them. Also, as an Amazon Associate I earn from qualifying purchases. Check out our Privacy Policy and Disclosure. for more info.
If you have spent any amount of time hunting for cheap ways to travel around Europe, I guarantee you've come across the name easyJet at some point in your search.
This aggressively orange British low cost airline has been a staple of my flight arsenal ever since I started frequently hopping around Europe 5 years ago.
Is it glamorous? No… but is it also like half the price of mainstream airlines? You betcha.
And when flights in Europe don't usually last more than 2 hours tops, I'm okay with 2 hours of non-luxury in exchange for dozens of extra euros for my pastry fund.
See, for a very long time, I considered easyJet to be the most palatable of all the European low cost airlines I've flown with.
Despite its low fares and comically stingy baggage policy, something about flying with easyJet has always felt more dignified than a flight with say, Wizz Air or RyanAir, which often feel like a twisted psychological experiment or study on human behaviour.
So, in this review I'll be telling you everything you need to know before booking one of the notorious easyJet cheap flights you've likely seen while researching your options… is the colloquial nickname "SleazyJet" given by frequent travellers justified? Read on for my opinion after flying with easyJet dozens of times.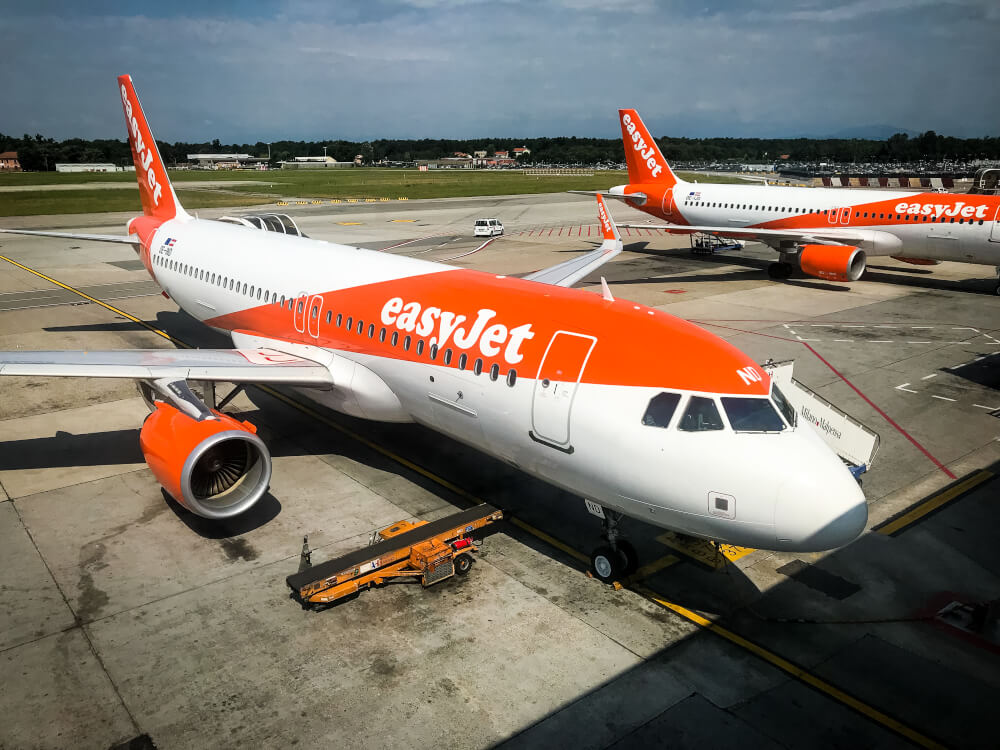 Quick easyJet Review: Pros and Cons
I'll start with a quick rundown of the pros and cons of flying with easyJet. Hopefully this will give you a good idea of what to expect when flying with them.
easyJet Pros
Let's start with the pros! Why should you fly with easyJet? Well…
easyJet PRICES:
It's fairly obvious, but the #1 perk of flying with easyJet is that its fares are absurdly affordable.
Compared to mainstream airlines, fares with easyJet can often be a fraction of the cost, which makes it a strong option to consider if you're backpacking around Europe or simply more budget-conscious.
I mean, when your flight costs less than a dinner, that's a pretty tempting offer (although additional fees an easily jack up this price. More on that later).
The easyJet check-in process:
I really can't fault how easy easyJet makes it to check in.
I love doing it on their app – it takes two seconds and then you have your boarding pass on your phone, which means you won't have to fumble around trying to find your paper boarding pass.
This is in stark contrast to some other budget airlines which force you to print your own paper boarding pass in advance, or otherwise incur a truly comical printing fee that's heftier than your actual plane ticket.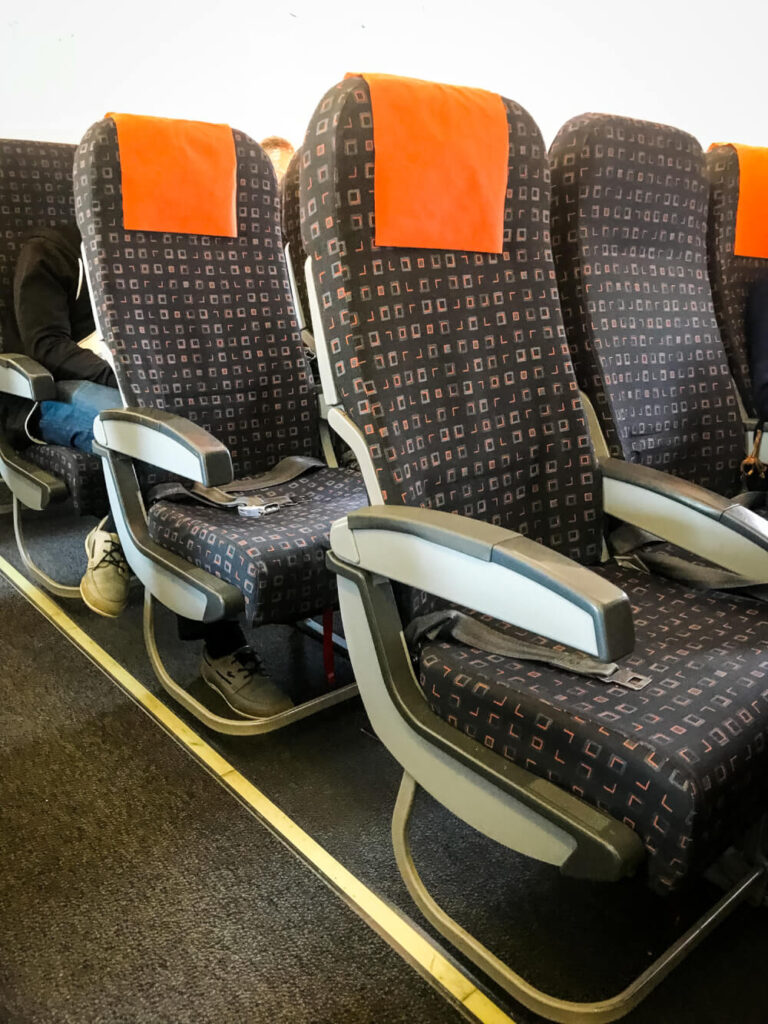 Mainstream airports (mostly):
One of the main complaints I have about budget airlines in Europe is often they fly out of the most random little airports that are actually miles and miles away from the actual city they claim to be in (e.g. Memmingen or "Munich West", which is about 1.5 hours west of Munich to be precise).
I have found this less to be the case with easyJet, and most of the time, flights with easyJet do depart/arrive into the city's main international airports.
Side note: the airlines is headquartered at London Luton, which is (in my opinion) one of the most chaotic and insane places in the entire world. Maybe I've always managed to use it while they've been under construction (which feels never-ending), but this is my least favourite airport to fly in/out of in London. Just a warning!
easyJet customer service:
Of all the budget airlines I've flown with, the staff at easyJet are consistently the friendliest, and when you have a problem, they actually step in and try to help rather than just judge you from afar and shoo you away like a confused zoo animal.
(This is based on in-person customer service from check-in staff and cabin crew. I have heard less flattering comments about their customer service reps on the phone when handling refunds and such).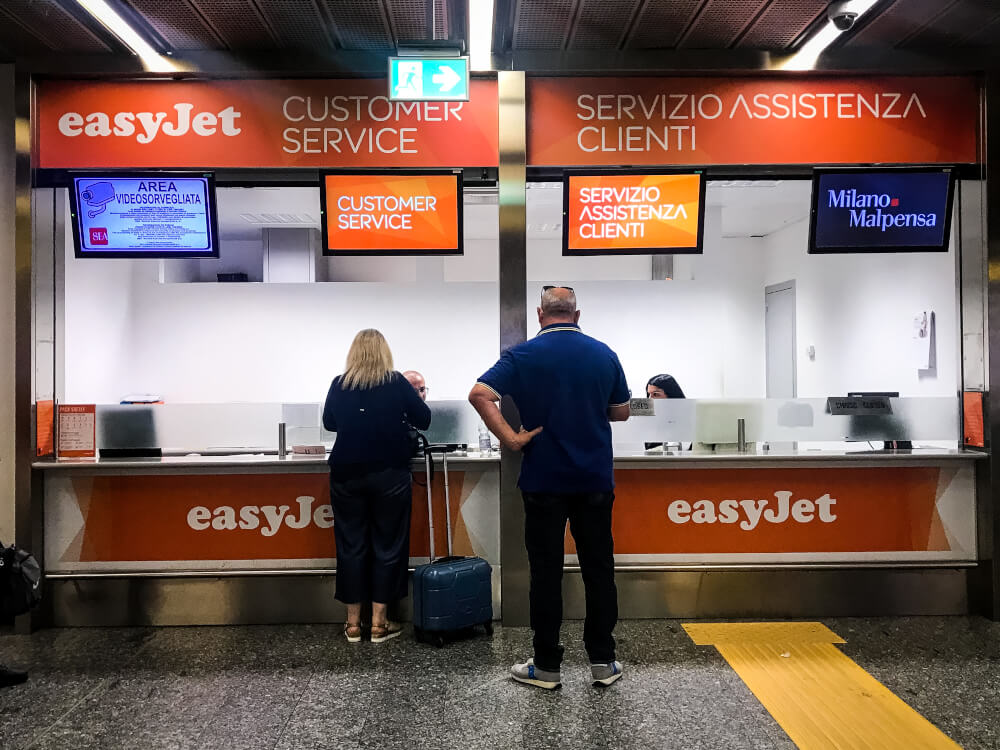 easyJet Destinations:
easyJet services a ton of routes all around Europe. Their extensive network means you can cover a great deal of the continent for a cheap price. You can see a route map here.
A relatively peaceful in-flight experience:
easyJet flights are not swanky (I talk about this more under the Cons section), but compared to many other budget airlines, I would say their actual flights are MUCH less ridiculous than say, RyanAir which interrupts you every 2 minutes to sell scratch tickets or Wizz Air who likely powers their jets through chaos alone.
The easyJet Traveller Magazine:
Weird thing to include in a review, but actually one of my favourite things about flying with easyJet is reading their in-flight magazine, which is quirky, funny and punny – basically what an in-flight magazine would look like if I wrote it 😉
I'm a bit sour with them now because the editorial team wanted to publish one of my photos in the magazine without paying (it was a very unprofessional exchange, I assure you) but I do still enjoy reading it when I'm on board.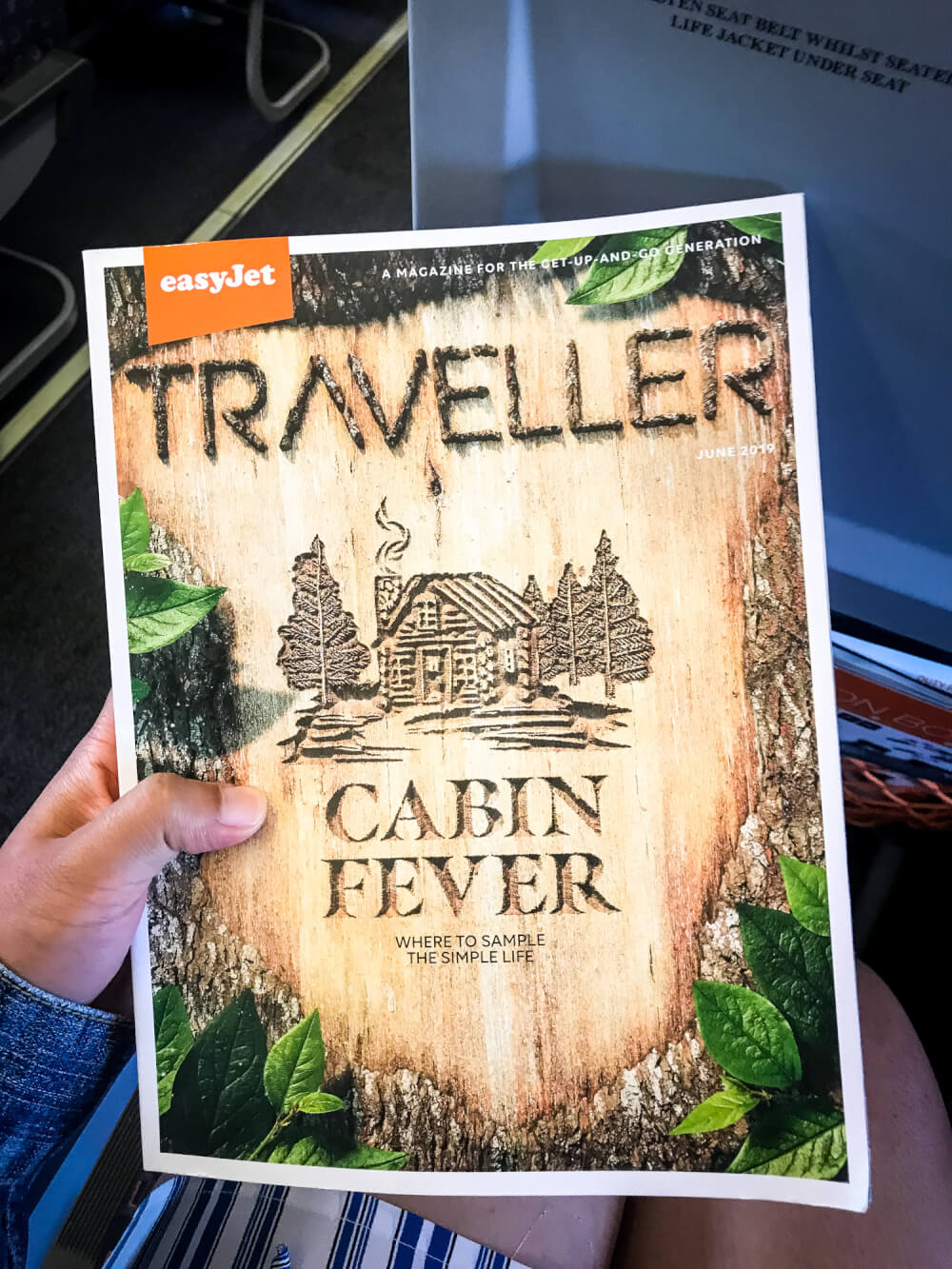 easyJet Cons
Now onto the cons… What are some reasons you might want to avoid easyJet?
Bare bones in-flight experience:
easyJet flights aren't luxurious. The seats don't really recline, leg room is minimal, and you don't get any complimentary refreshments of any kind… which means sorry – no fun pretzels or thimble-sized bottles of water.
Those used to European budget airlines will already be familiar with this kind of flight experience, but those who are new to it might be (unpleasantly) surprised.
For short flights (and frankly, short legs like mine!), this is not an issue, but might put a damper on your trip if it's a big bucket list vacation or honeymoon.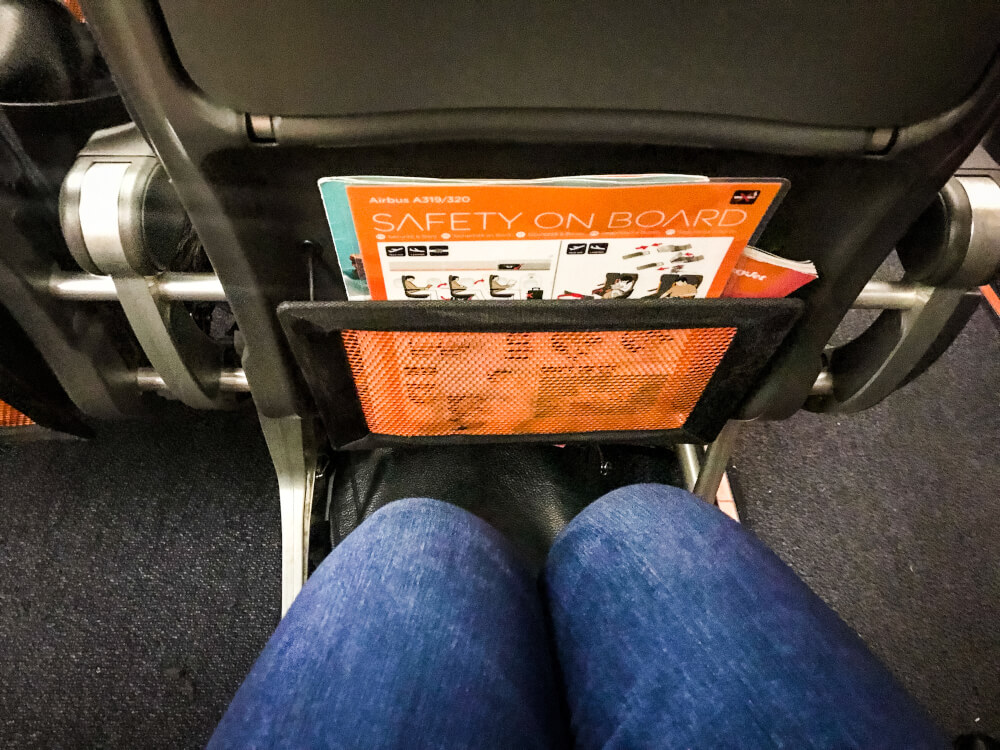 Not-so-comfy "easyJet" terminals:
In many of the larger airports around Europe (e.g. Milan Malpensa, Schönefeld, etc.) there are specific terminals (or parts of terminals) that are used exclusively by easyJet.
More often than not, these terminals have minimal food options, limited seating and some of the saddest vibes you'll find at an airport. It's definitely not a luxurious place to start your trip, but hey, at the prices you're paying, you can't complain too much.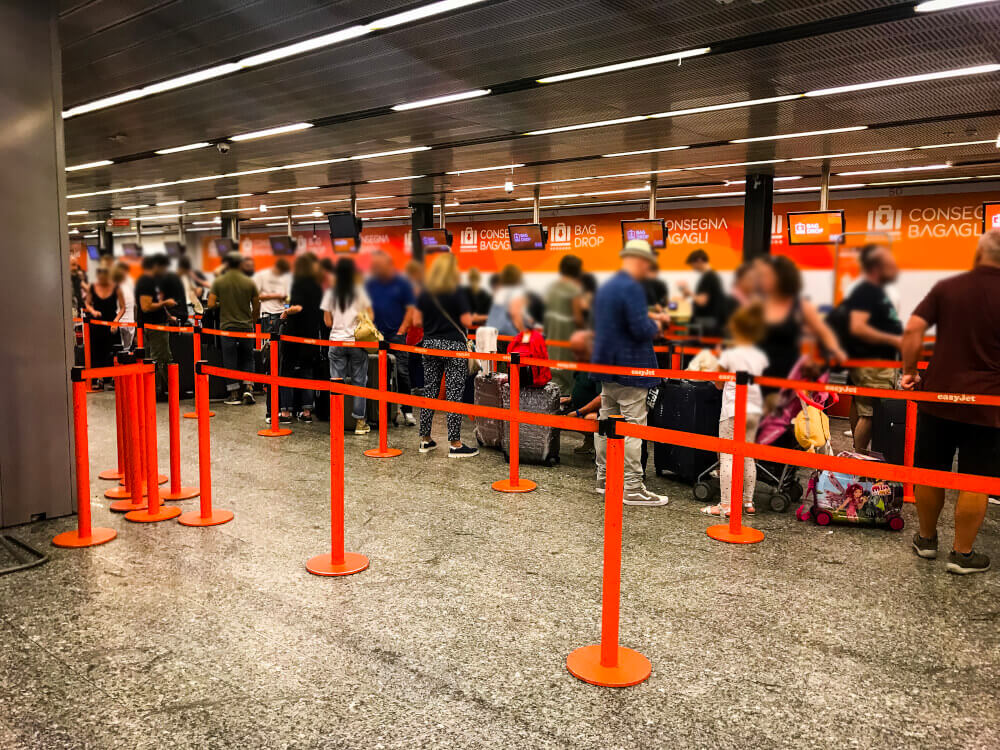 The easyJet luggage allowance:
Among all budget airlines in Europe, easyJet has some of the strictest baggage allowances I've encountered.
When they say one bag only, they mean it! Even a tiny purse, camera bag, etc. will not be allowed in addition to your carry on bag, which is a rule that catches most passengers off guard.
A recent update now even means the only bag you get is a small one that fits in the seat in front of you, which is bad news if you want to bring more than a few packs of gum and some spare undies. Be sure to double check the latest rules before you fly!
Lots and lots of additional fees:
Trying to buy an easyJet ticket online is like playing virtual dodgeball with pop-ups and fees.
Unfortunately, as with most budget airlines, anything extra (from choosing seats to checking a bag) will cost you extra.
If you don't mind a random seat allocated next to a stranger, packing light, and sitting two hours without free snacks and water, then your fare should still stay relatively low. Add on any extras however and you'll quickly watch those promised savings fade away.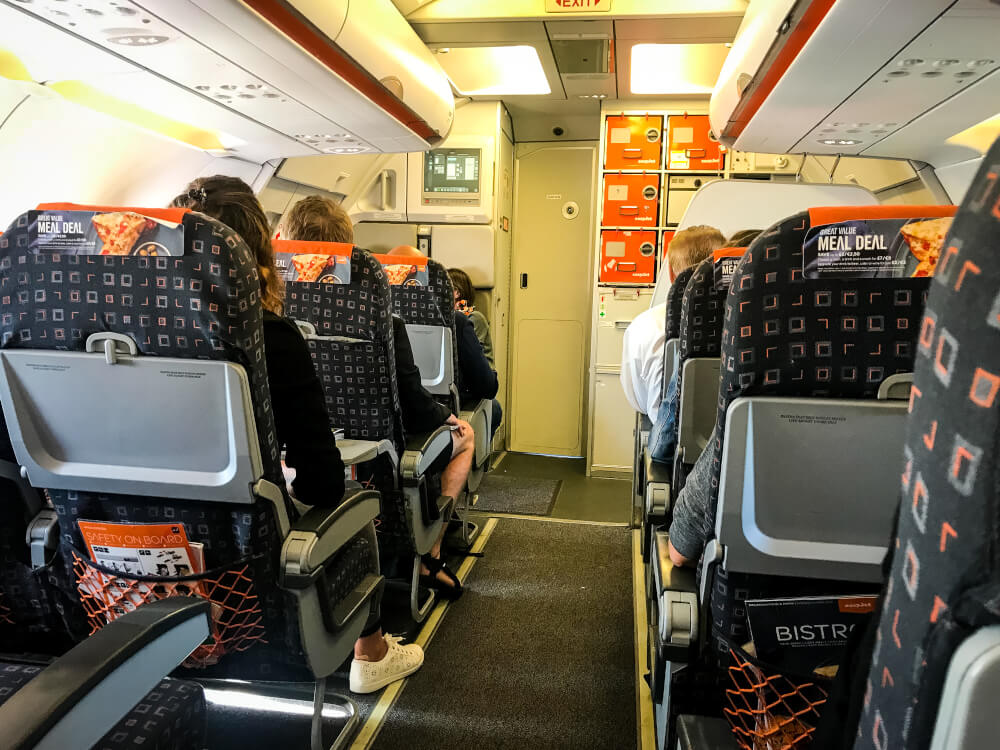 Cancellations and refunds?
Lastly, I have not had any personal experience with this, but I have seen a LOT of negative easyJet reviews lately, most of which revolve around not getting properly refunded for cancellations due to the virus that shall not be named. Be sure to do additional research on this as I haven't flown with them lately.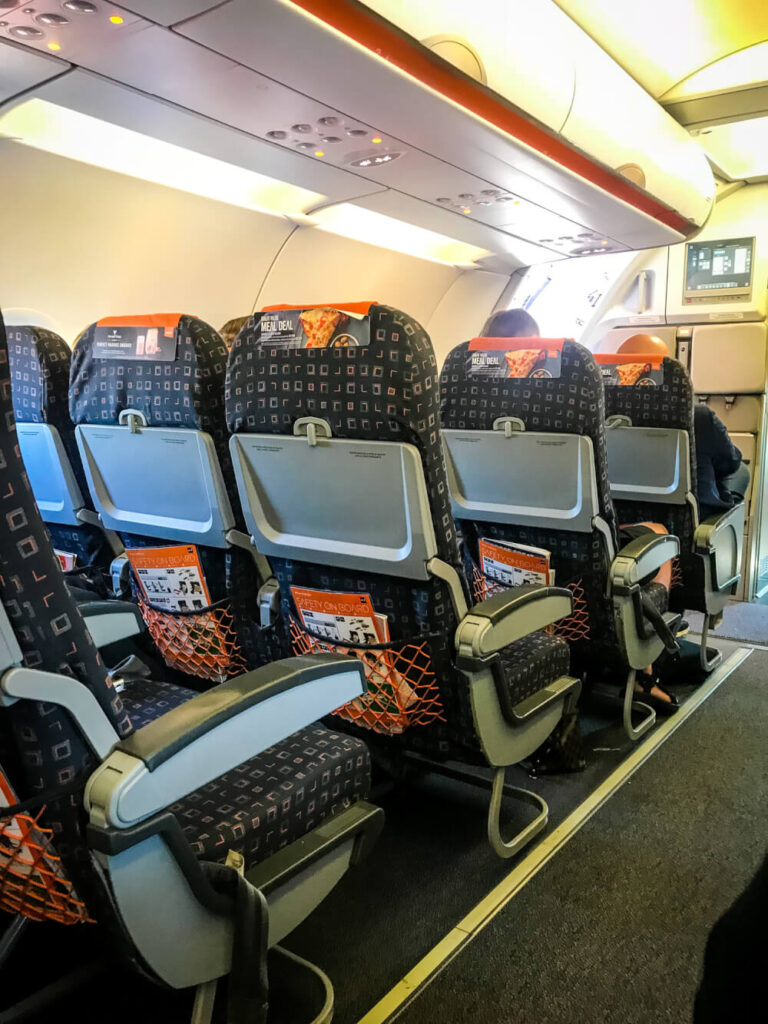 Must-Knows Before You Make Your easyJet Reservation
Alright, now let's get to some must-knows before you book with easyJet so you know exactly what you're in for. Again, I love flying with this airline for short haul flights on a budget, but you really need to be prepared for it! Keep in mind all the following before buying flights with easyJet:
The easyJet cabin bag allowance is a cruel, cruel joke
As I mentioned in the intro, easyJet has always been my favourite of Europe's low-cost airlines, but my number one gripe with it is (and has always been) their absurdly strict hand luggage policy.
I would say on every flight I've been on, about half of my poor fellow passengers have not understood this rule, and have been forced to (at the gate) attempt to stuff their backpack, purse, etc. into their main suitcase, or be charged a hefty fee.
SO if you will be travelling with a lot of baggage, you might end up paying out the nose in baggage fees, in which case it's not worth it at all to choose easyJet over another more mainstream airline.
NOTE: A very recent change has meant that their baggage allowance is now even stingier than before! Be sure to read up on the latest rules accordingly as they appear to be changing frequently.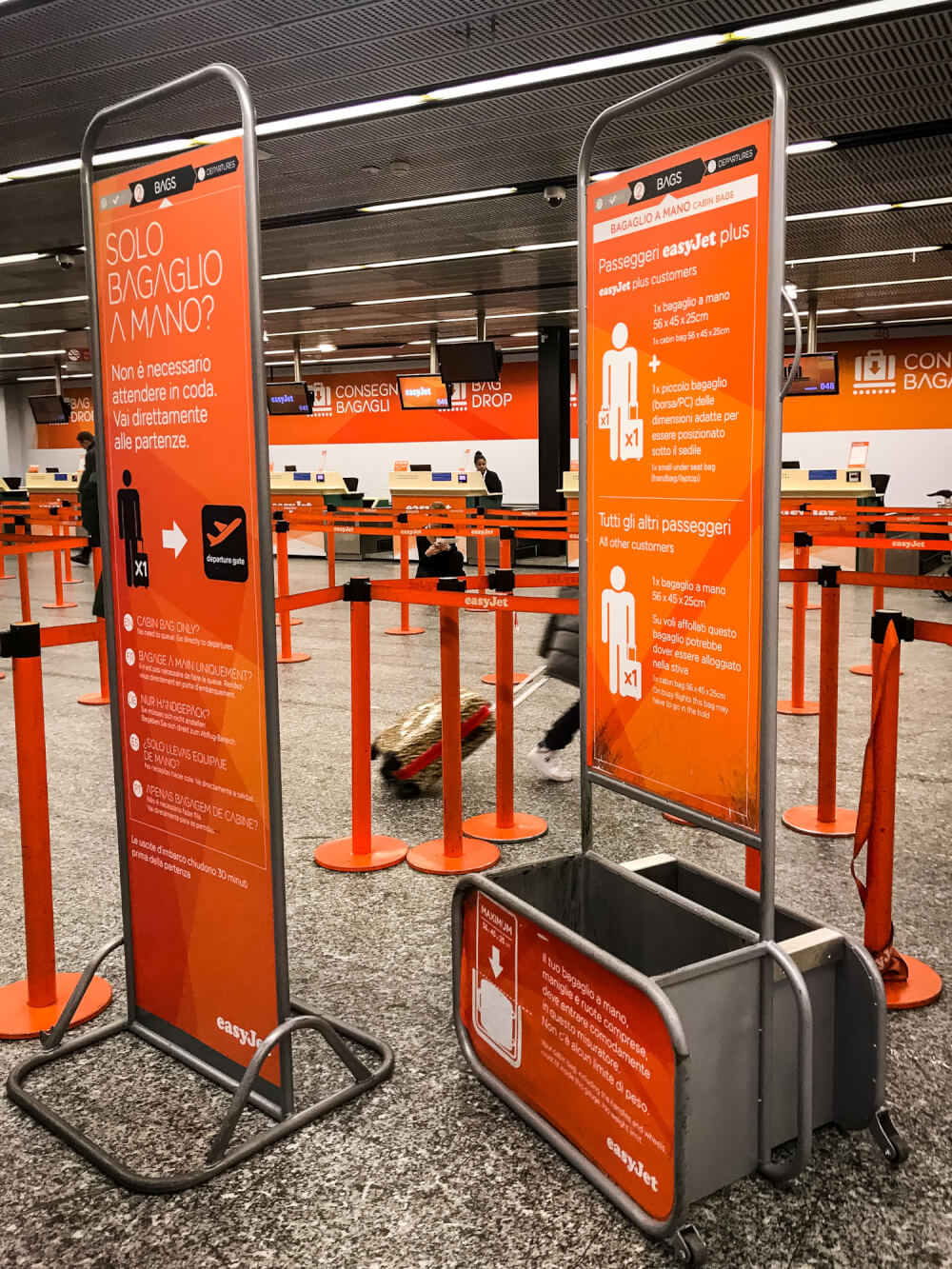 Download their app to make the easyJet check in process much smoother
I love the easyJet app. It's really well designed and makes check-in such a breeze. Definitely download it before you go!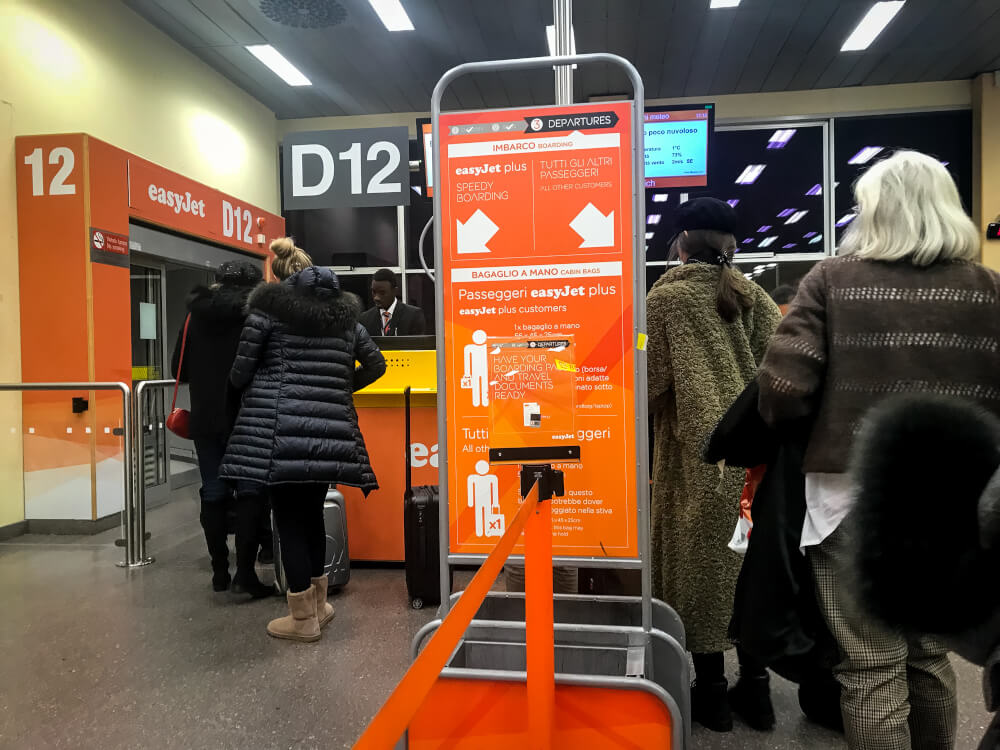 easyJet Plus is also kind of a cruel joke
Is easyJet Plus worth it? In my opinion, not really…
That is, unless you plan to fly with easyJet really frequently!
A lot of people might buy easyJet plus thinking it's similar to the business class/deluxe offerings offered by other airlines. In reality, it's kind of just a slight step up from the bare minimum.
easyJet Plus includes perks normally given for free by most airlines, like:
Seat selection
An additional bag (as in, a normal sized cabin bag)
Other (more enticing) perks include speedy boarding, a dedicated check-in desk and um… 10% off food on board.
I've flown with easyJet a few times, and it was alright, but not really worth the extra money unless you're a frequent or business flyer.
This membership comes at over 200GBP a year, which to me would negate most savings from flying easyJet. So, keep that in mind before springing for Plus.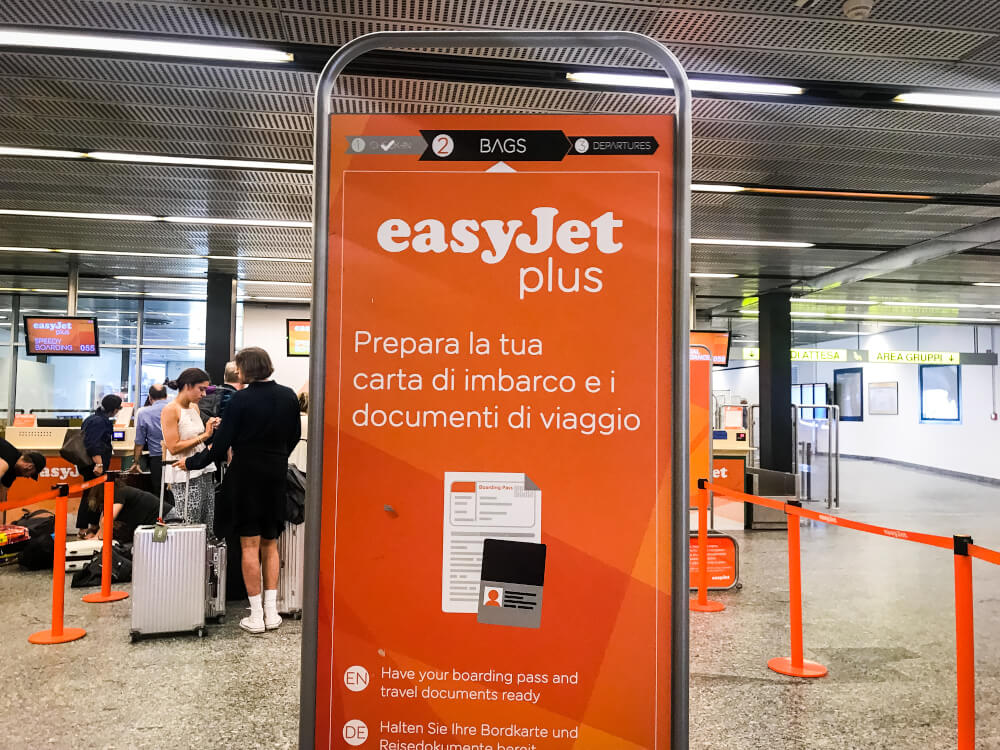 easyJet food (and pretty much everything else) costs extra
Another important consideration to make is that easyJet inflight meals will cost extra, just like pretty much anything else extra you try to add onto your trip.
Of course, you can simply bring your own snacks on board, but this is something that catches a lot of first timers off guard.
On the plus side, the easyJet food menu is actually not as pricey as some other airlines. Here's a sneak peek: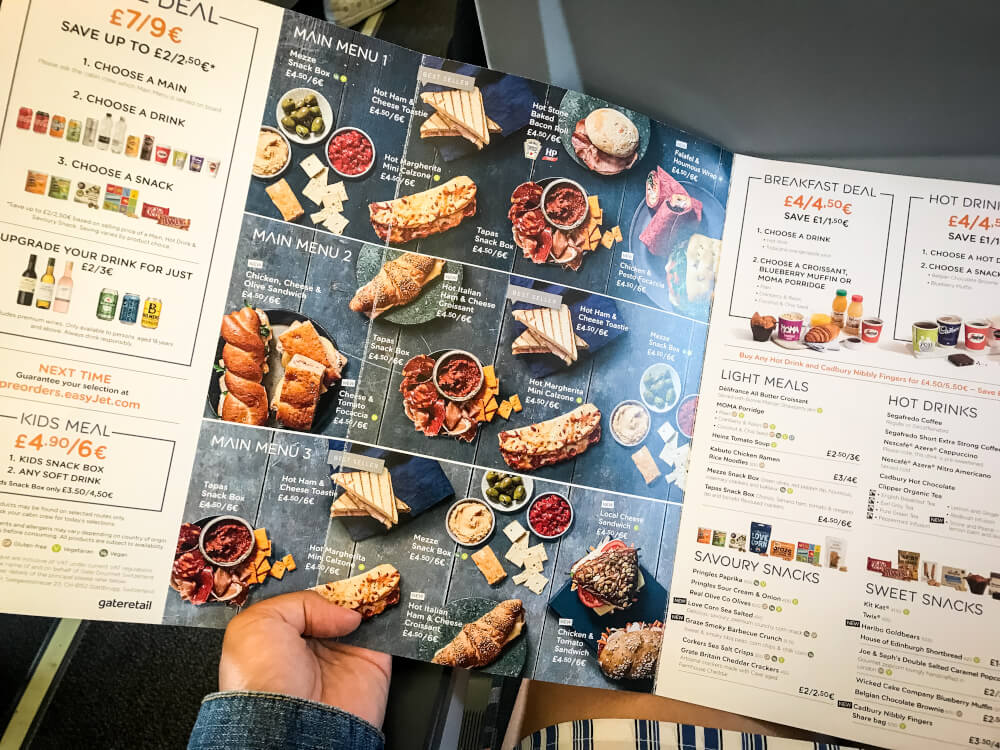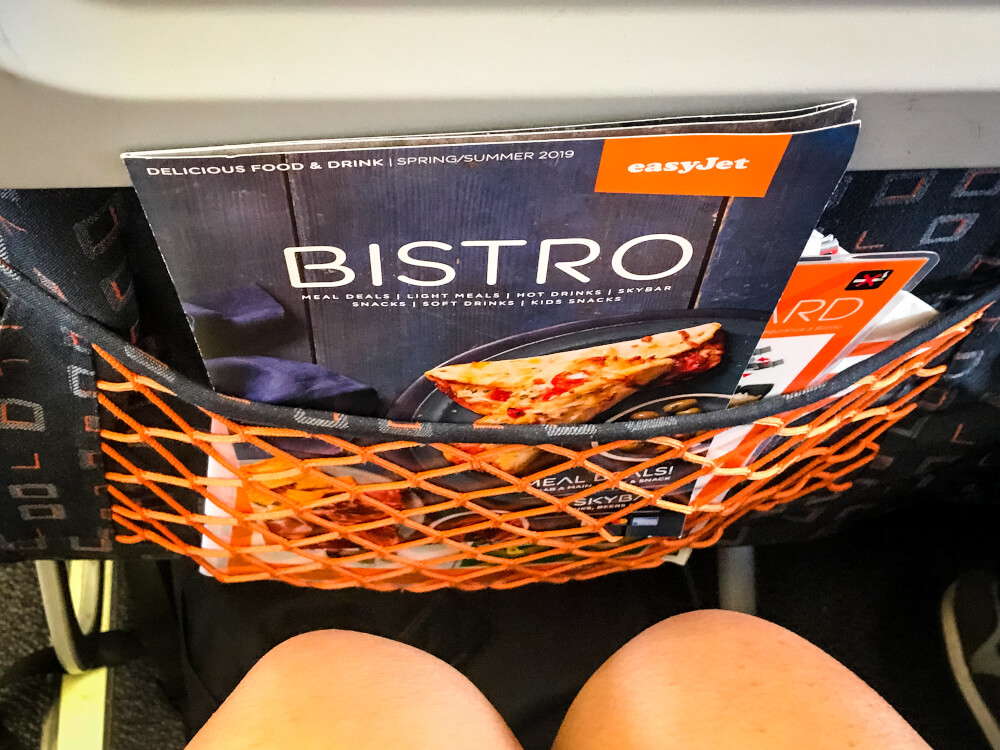 easyJet is best if you have fixed plans and no intent to change them
As with most budget transportation companies, easyJet is great…… until you need to change things.
While I've luckily never been in a position where I needed to amend my ticket or booking, I feel like most easyJet complaints come from people needing refunds, modifications, etc.
So, try to only pick easyJet when you're confident you don't need to make any amendments in the future.
At the moment, it seems like they're having a customer service crisis re: refunds and cancellations related to the events of the past year. I have no personal experience with this, but it seems they're not the best at handling refunds and customer service on that front. Be warned!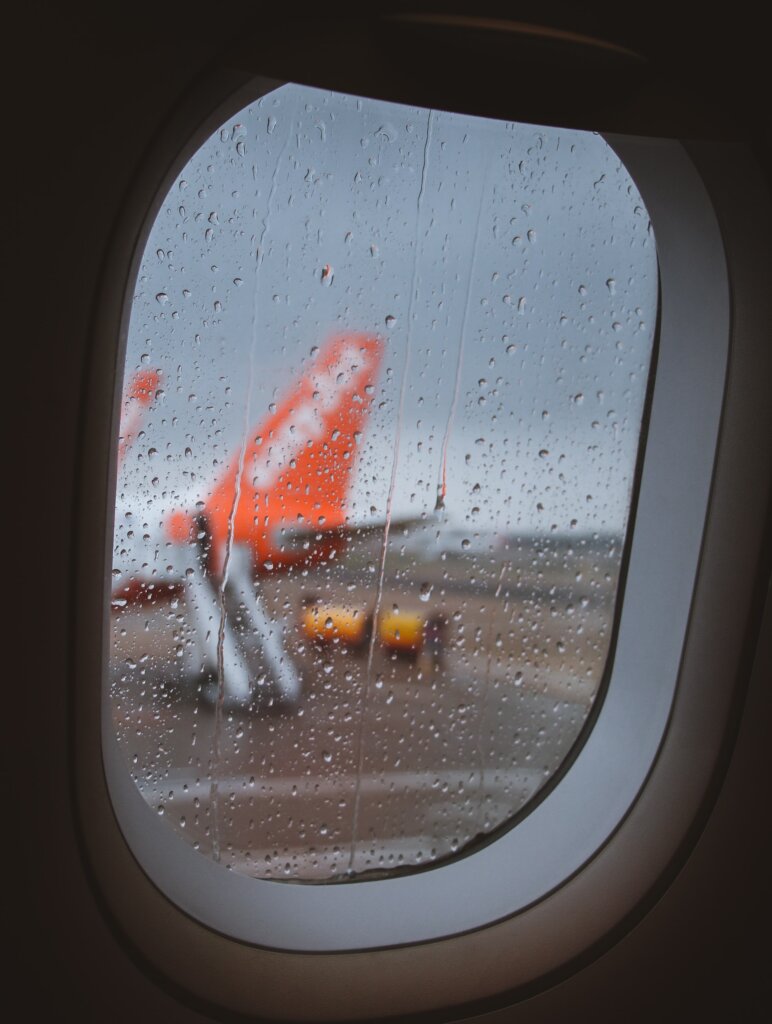 My easyJet Review: The Final Word
easyJet does what it's supposed to: it's a low cost airline that gets you to where you need to go for cheap, and (most of the time) with a smile.
What easyJet does not provide is a particularly luxurious experience, or an easy straightforward experience for someone who is new to European budget airlines. If this is your first time booking with a low cost airline in Europe, make sure you look out for all the extra fees, strict baggage rules, etc. and you'll be fine. Those who don't research however are likely to be left feeling disappointed!
In summary – should you fly with easyJet? I'd say yes, so long as you're prepared and well researched. After this post, hopefully you'll be exactly that!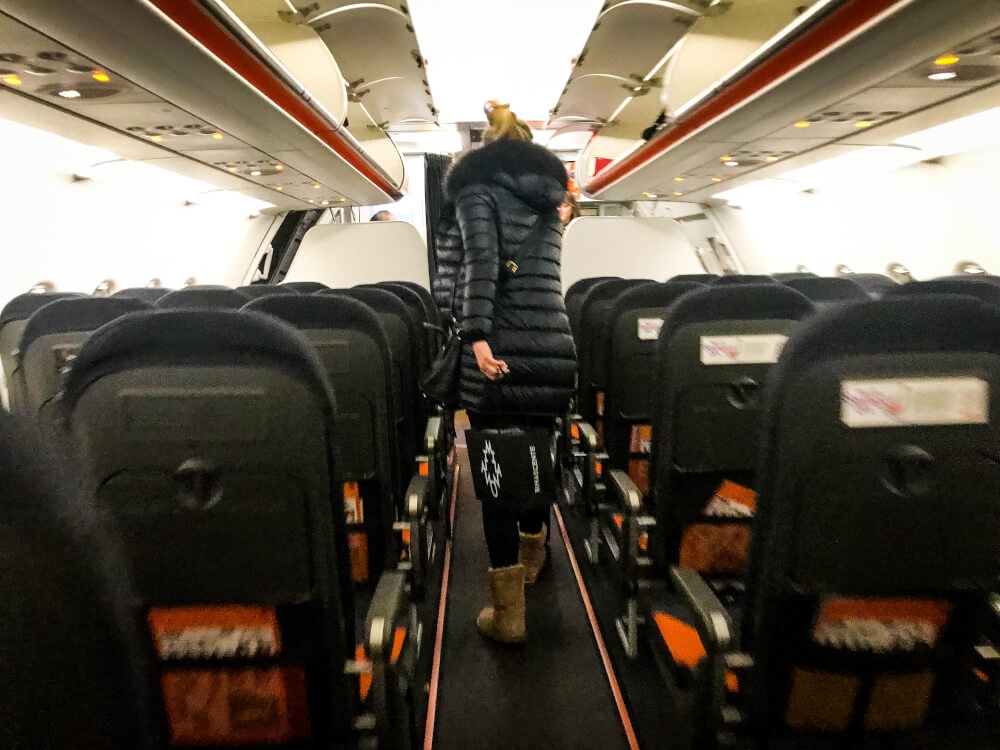 What have your experiences been like with EasyJet?
Let me know in the comments!
My Go-To Travel Favourites: