*FYI - this post may contain affiliate links, which means we earn a commission at no extra cost to you if you purchase from them. Also, as an Amazon Associate I earn from qualifying purchases. Check out our Privacy Policy and Disclosure. for more info.
Hallstatt is a legendary tourist hotspot in Austria's Salzkammergut region, famed for its pristine lake, mountainous backdrop, and glittering fairytale aesthetic.
Read any description of Hallstatt on the Internet and you'll be throat punched with hyperbole. Sure enough, Hallstatt is where words like magical, serene, idyllic and quaint come to die very slow, repetitive deaths.
… But it's a reputation that's well-deserved, which I hope to show you through today's virtual walking tour of Hallstatt, peppered with lake views, scenery, and the occasional tales of arson and murder (which I'm sure you've come to expect by now).
Sure, we may need to rise at the crack of dawn and wrestle a few selfie sticks in the process, but I promise: by the end of this tour, you too, will be a lovestruck mess muttering "fairytale" on autopilot until you get run over by a tour bus.
Save this post on Pinterest for later: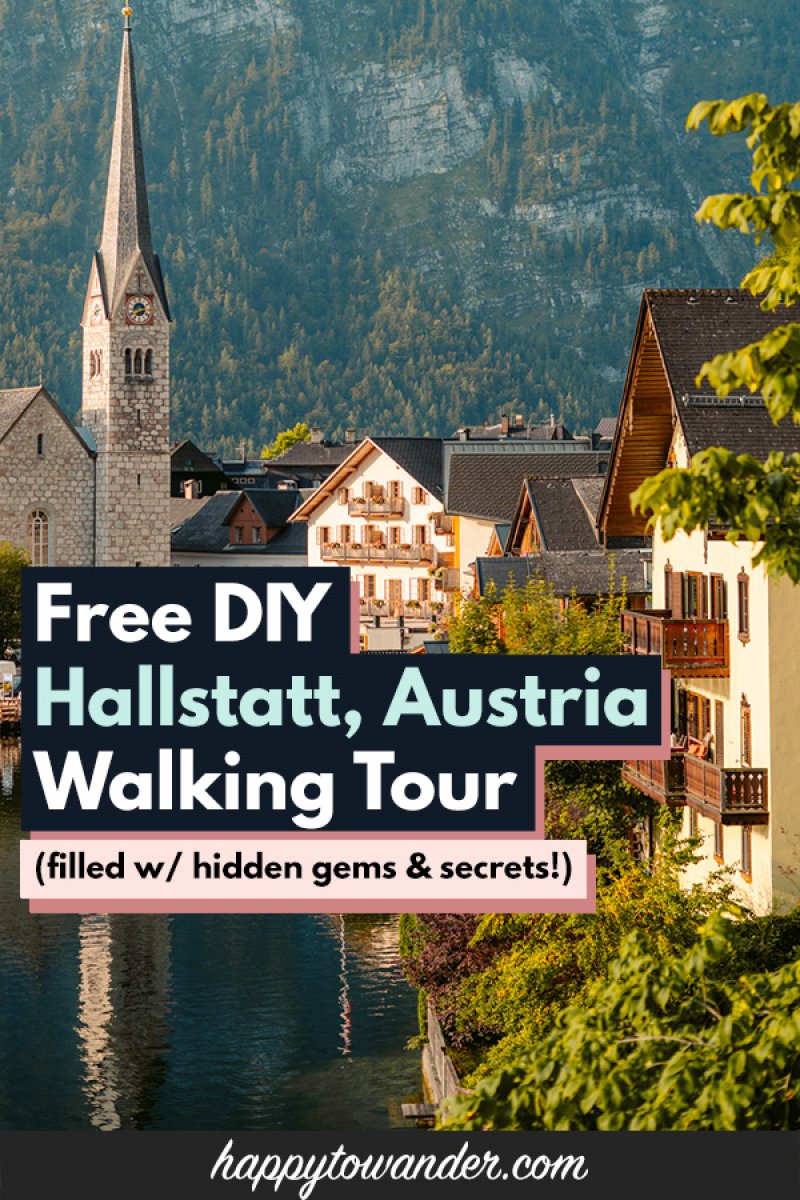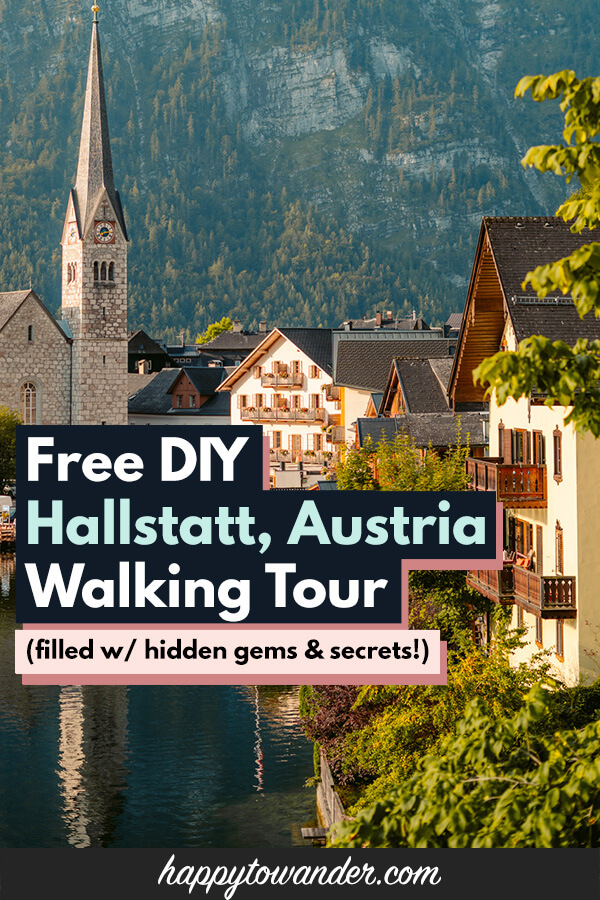 A Brief Summary of Today's Hallstatt Tour
The following post will bring you along on a whirlwind tour through Hallstatt's Old Town, designed to make you feel like you've stepped right into the action yourself.
It's by no means comprehensive and excludes many big activities you can do in the area, but I hope you enjoy this virtual walking tour escape!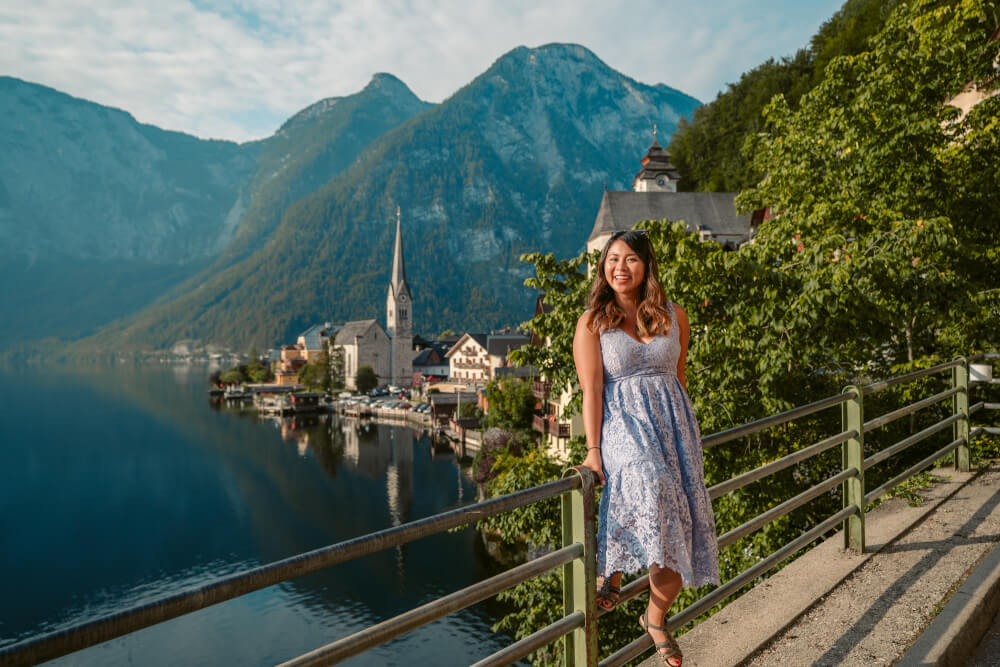 Of course, if you're lucky enough to be visiting Hallstatt in-person, this walking tour can also be followed in real life (what even is that?) for the ultimate budget-friendly activity to get acquainted with Hallstatt's Old Town. And, if you don't fear human interaction and might actually enjoy it (again, what even is that?), you might want to book yourself a locally guided walking tour like this one.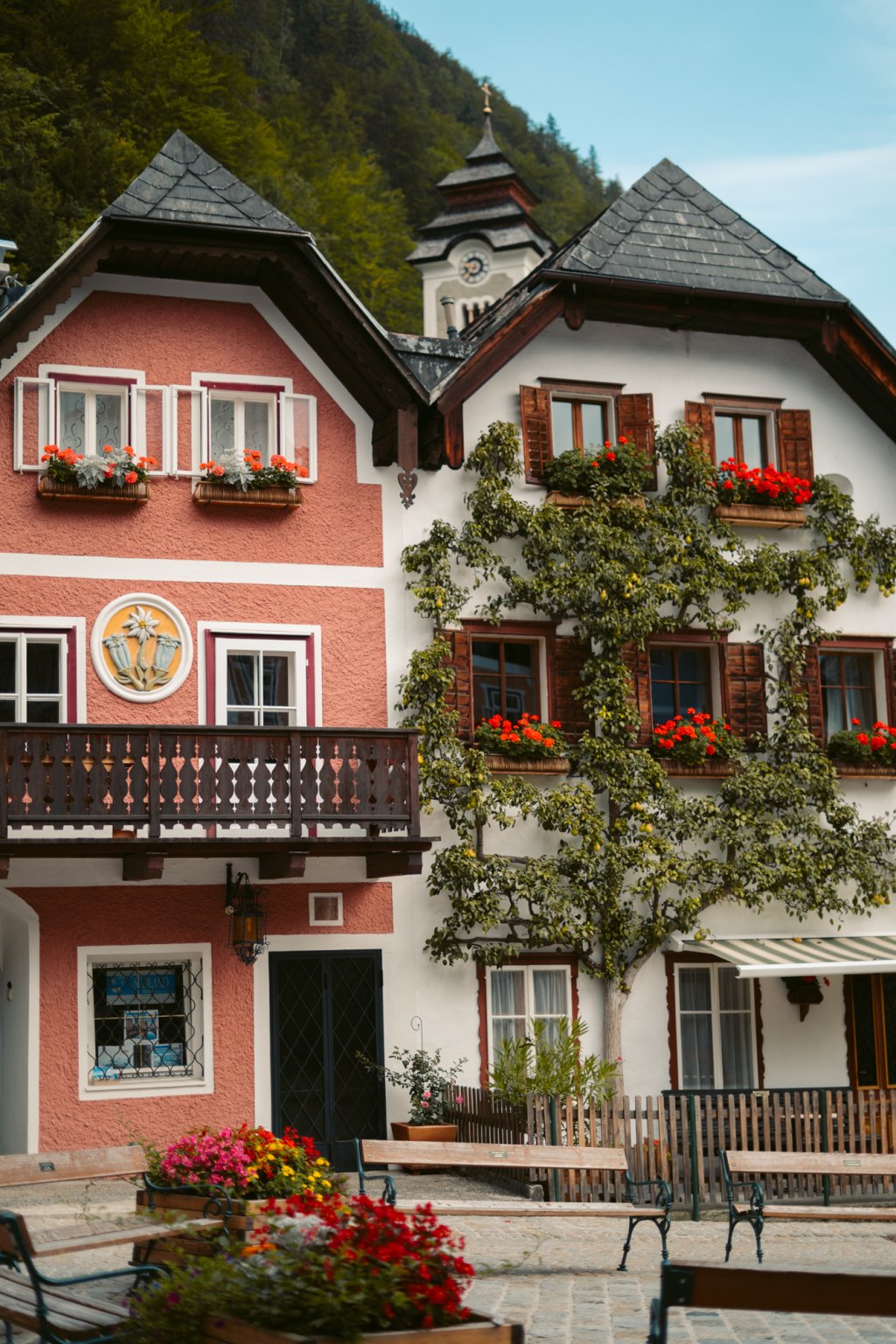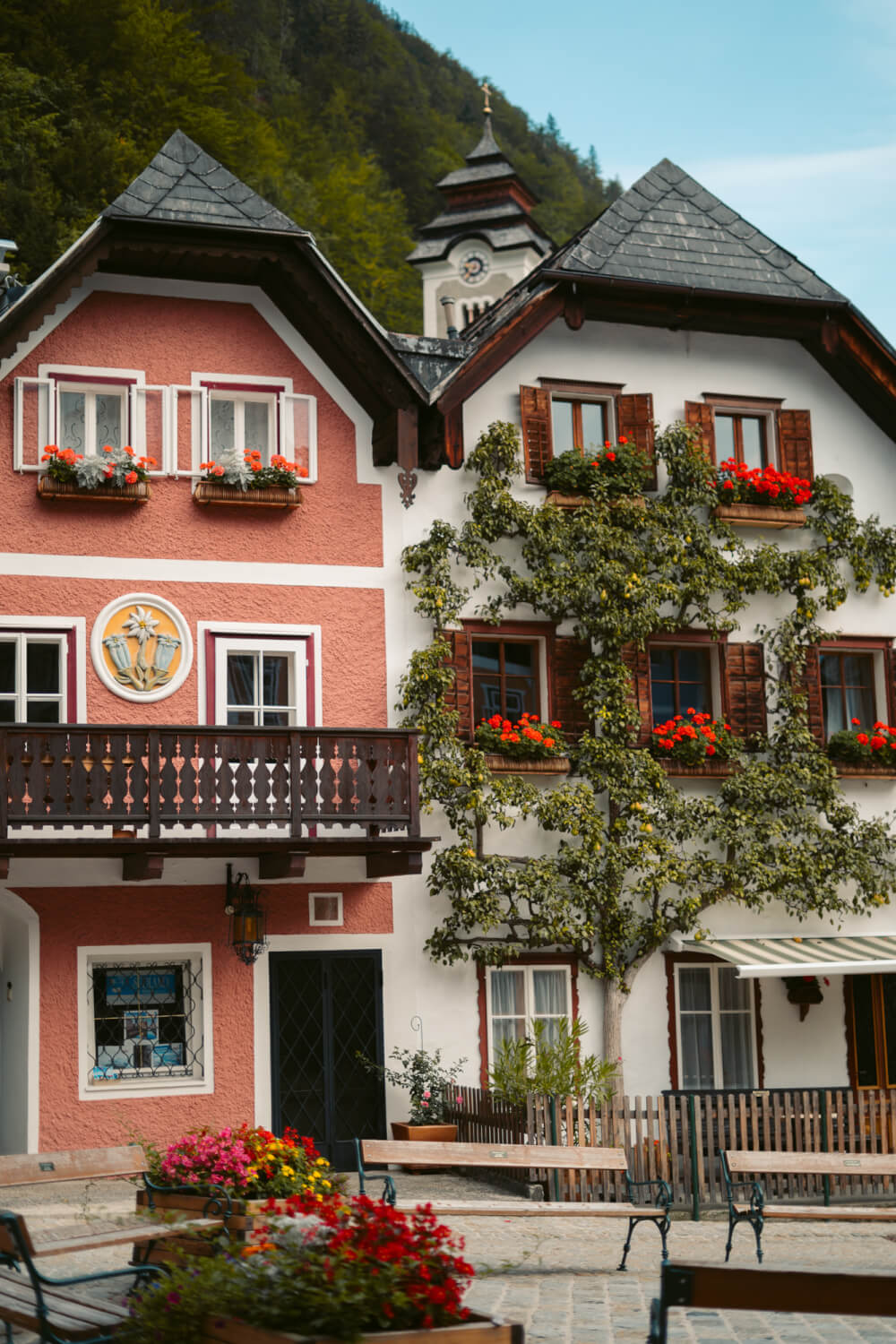 The official Hallstatt website claims that Hallstatt can be "toured on foot in ten minutes".
If you are Usain Bolt reading my blog right now, hello Mr. Bolt, congrats on the medals, and yes you can probably tour Hallstatt in 10 minutes.
For those of us who are non-Olympians however, I'd say this tour will take a bit longer, with plenty of stops to enjoy the views and learn more about the peculiar history of this tiny village that dates back even farther than Rome.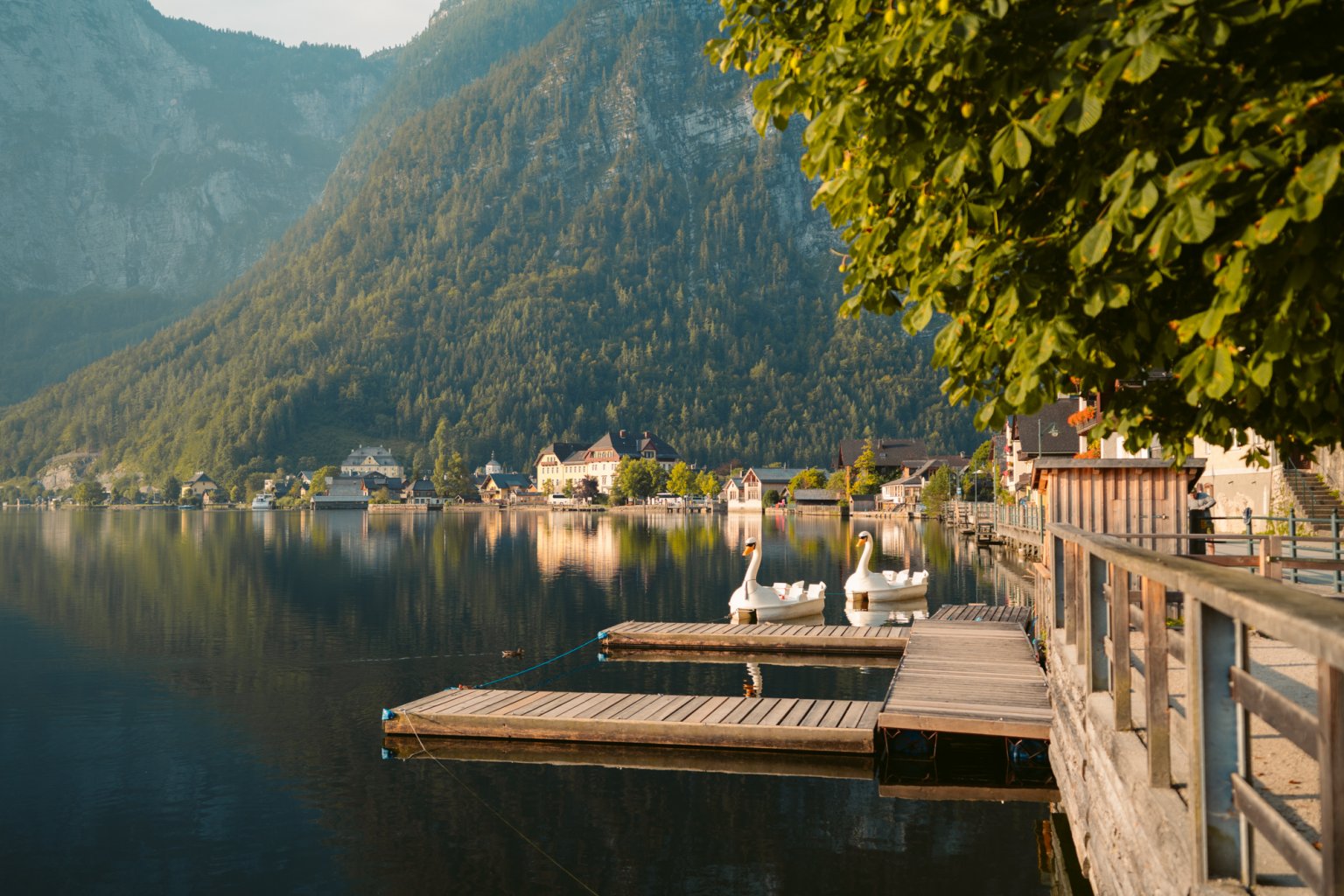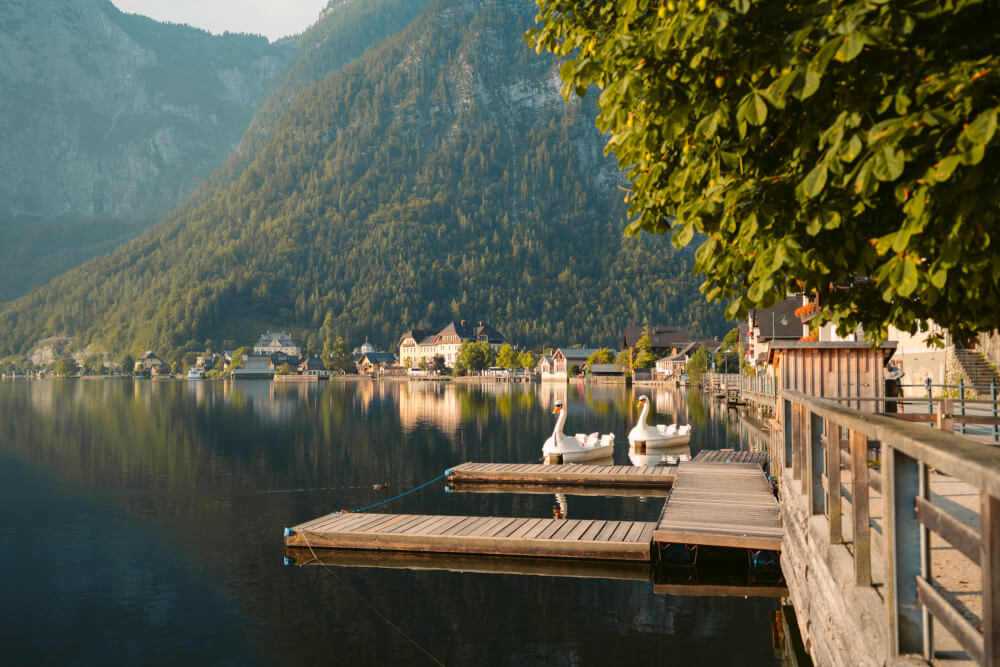 Oh, and one more thing – we are starting our tour at 7am. Sorry. In a place this famous, that's the price you pay for idyllic serenity. Now, let's go.
NOTE: I wrote this virtual tour assuming we begin at 7am. Since we're working with village opening times, there will be some backtracking, but you can of course follow the same route at any other hour and bypass some of the backtracking we do. Just follow the points on the map and go at your own pace!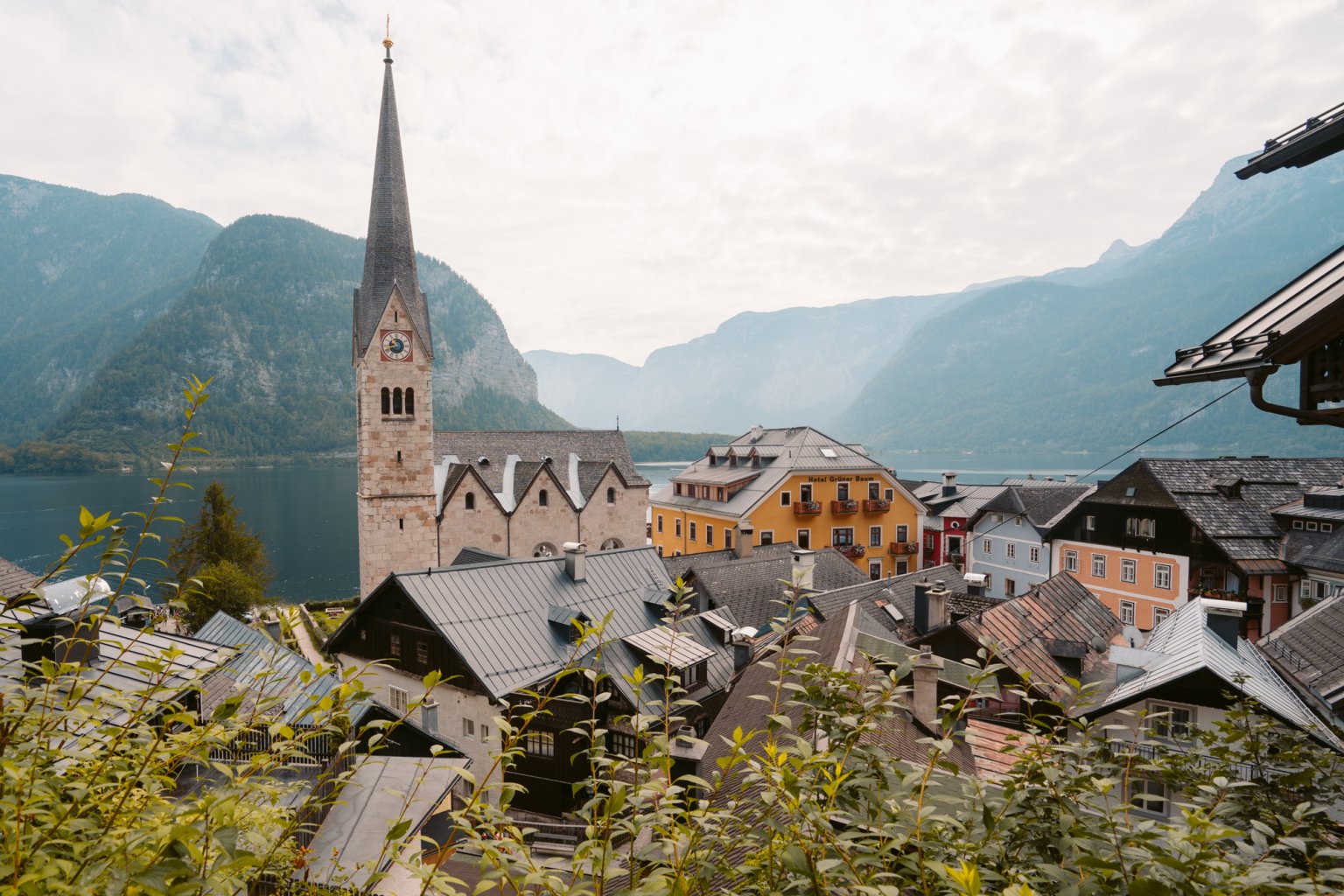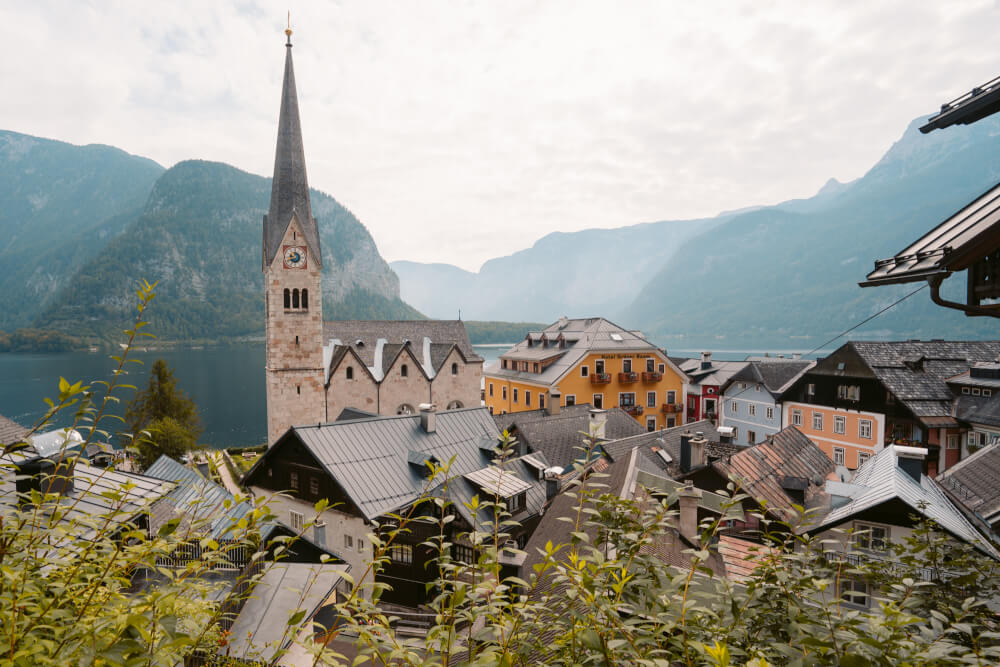 1. THE View. *THE* Hallstatt View That Will Make All Your Friends Combust with Jealousy
When first-timers encounter Hallstatt, more often than not, it is through a screen, whether taunting you between two crockpot recipes on Pinterest, or through a matte filter on Instagram.
If you have come to Hallstatt to see its most photogenic angles, THIS is where you go.
It's a viewpoint so famous, everybody and their grandma's BFF have seen its photo somewhere, yet weirdly it lacks an official name.
Fret not – you will find it at the spot marked "THE #1 Hallstatt View" on our map.
Since we are chirpy early birds, WE are starting our walk at 7am, when the sun has just risen over the mountains, the water lies still from the lack of boats, and… what is that sound…? You can actually hear your own thoughts?!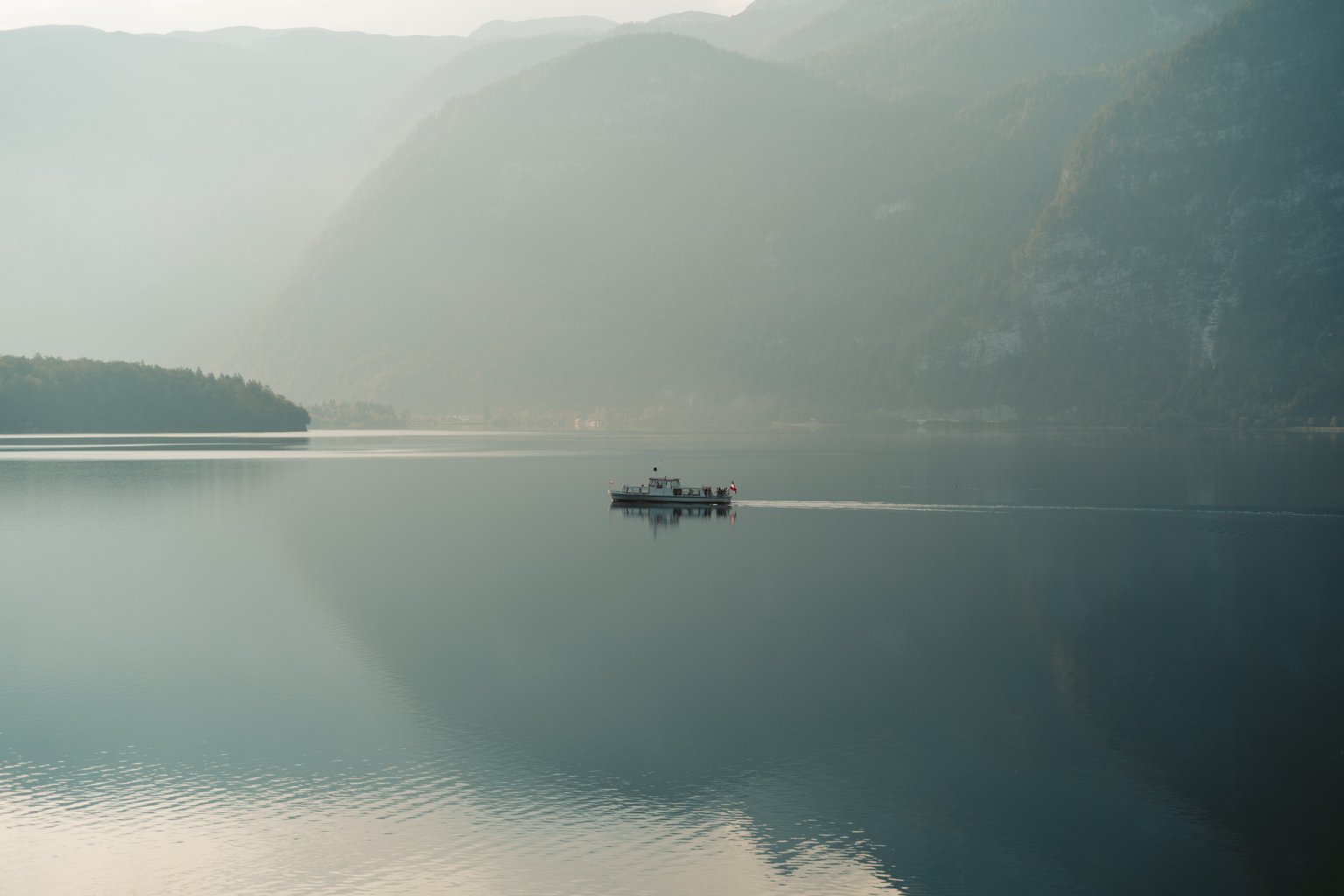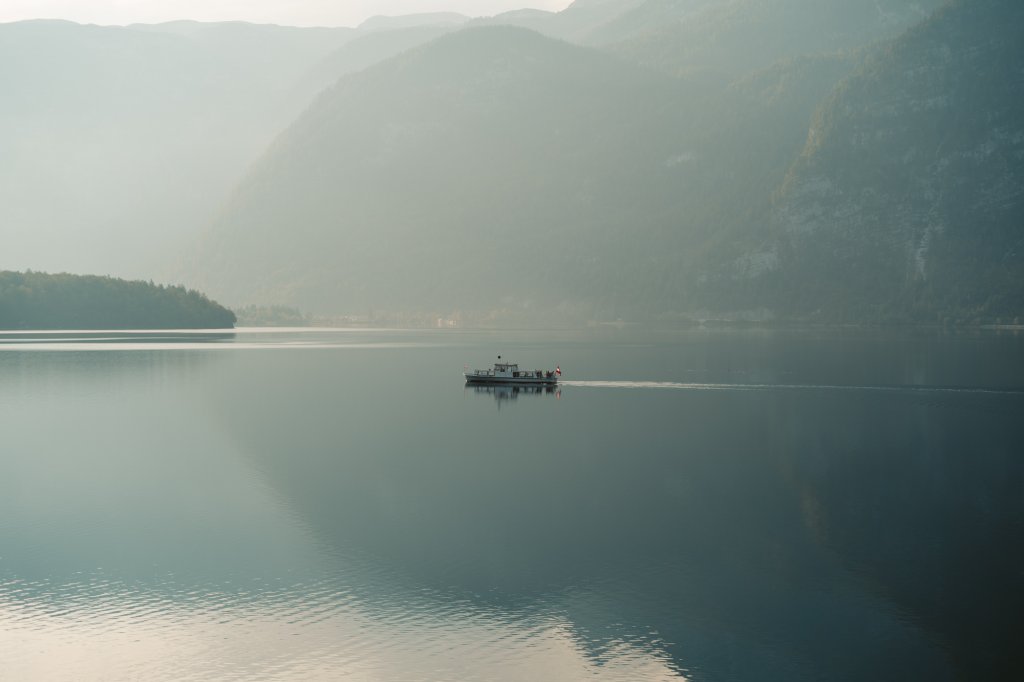 From this viewpoint, you're getting a taste of everything that makes Hallstatt the drool-worthy wonder it is.
The stony steeple you see belongs to Hallstatt's Evangelical Church, a pretty symbol of a VERY non-pretty-past. More on this later.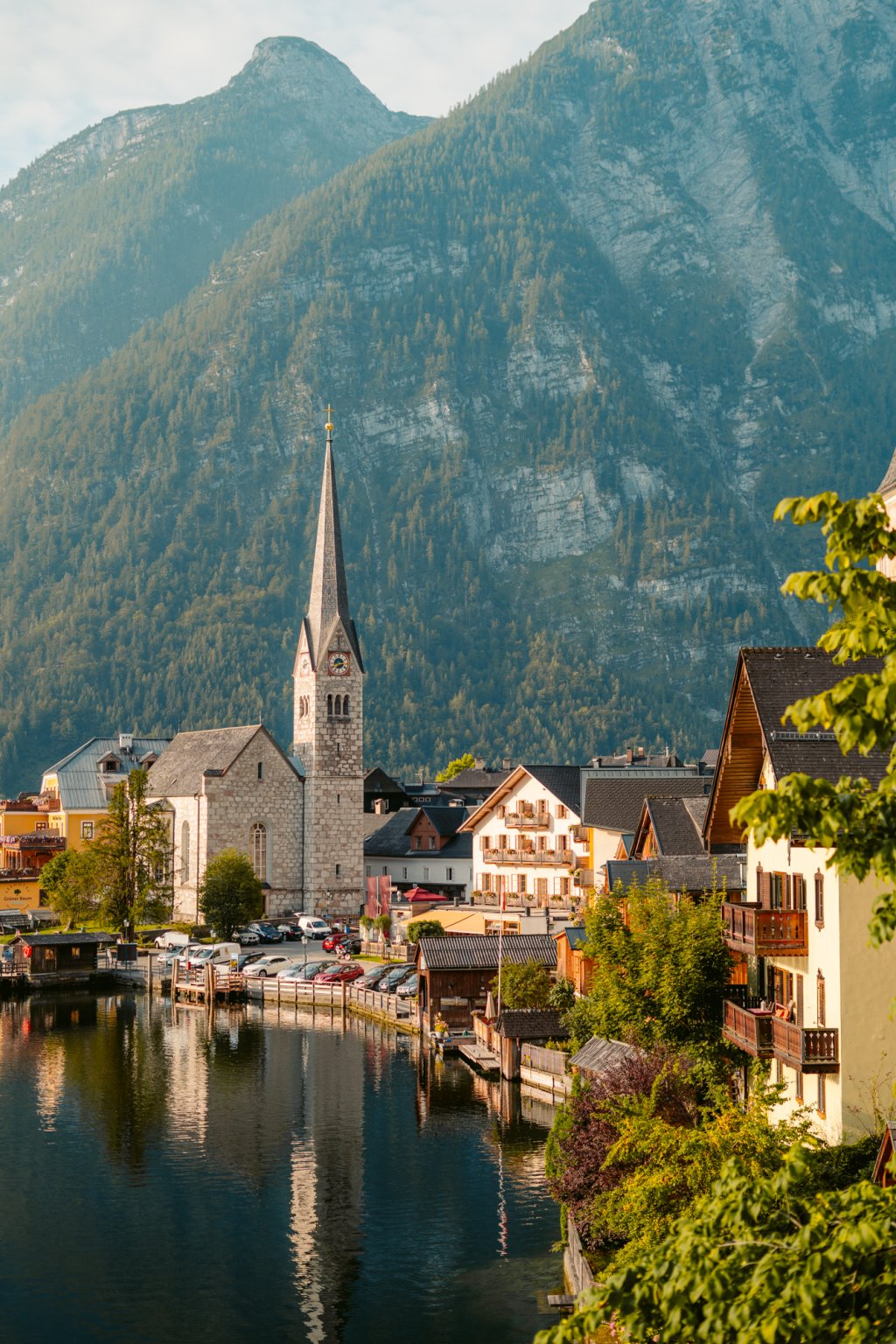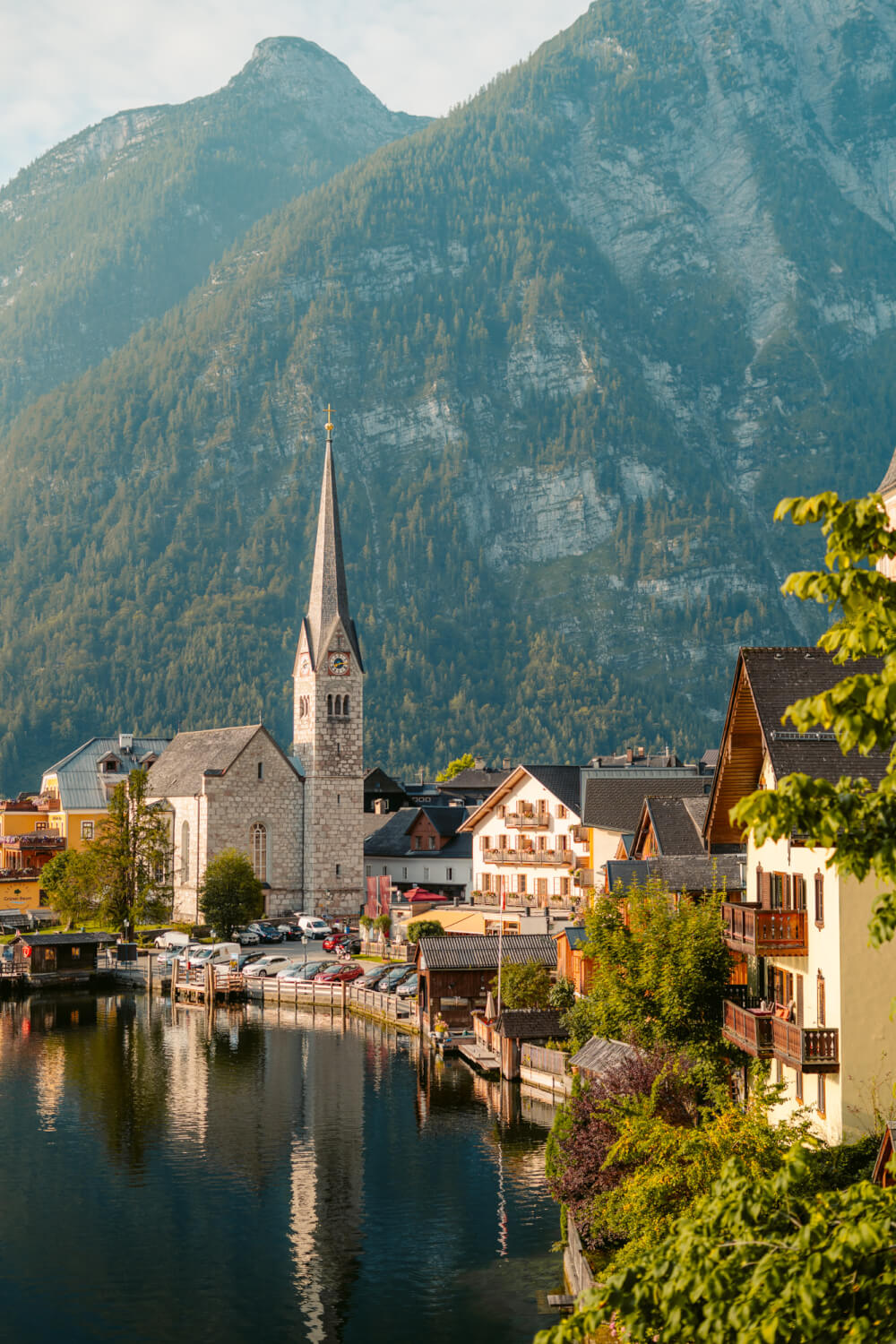 And while you should have this spot mostly to yourself at the wee hours of the morning, there are signs all around of the typical kinds of tourist shenanigans you'll encounter here. Literal signs.
One large poster lists a series of rules that (for most) would seem like common sense.
Personally, I don't think I needed a sign to remind me not to burst into private homes sans invite, but alas these are the kinds of notices you'll observe plastered around town.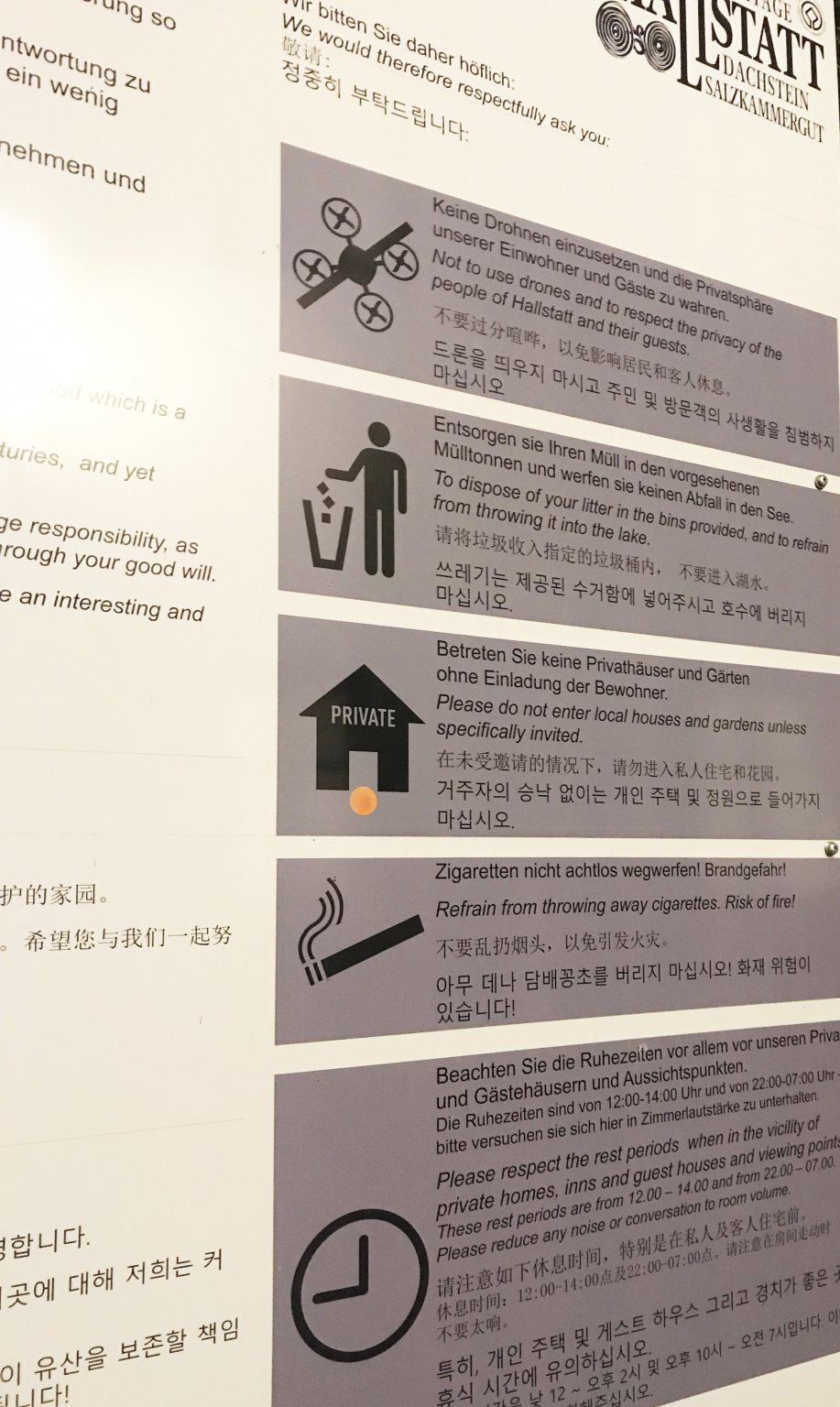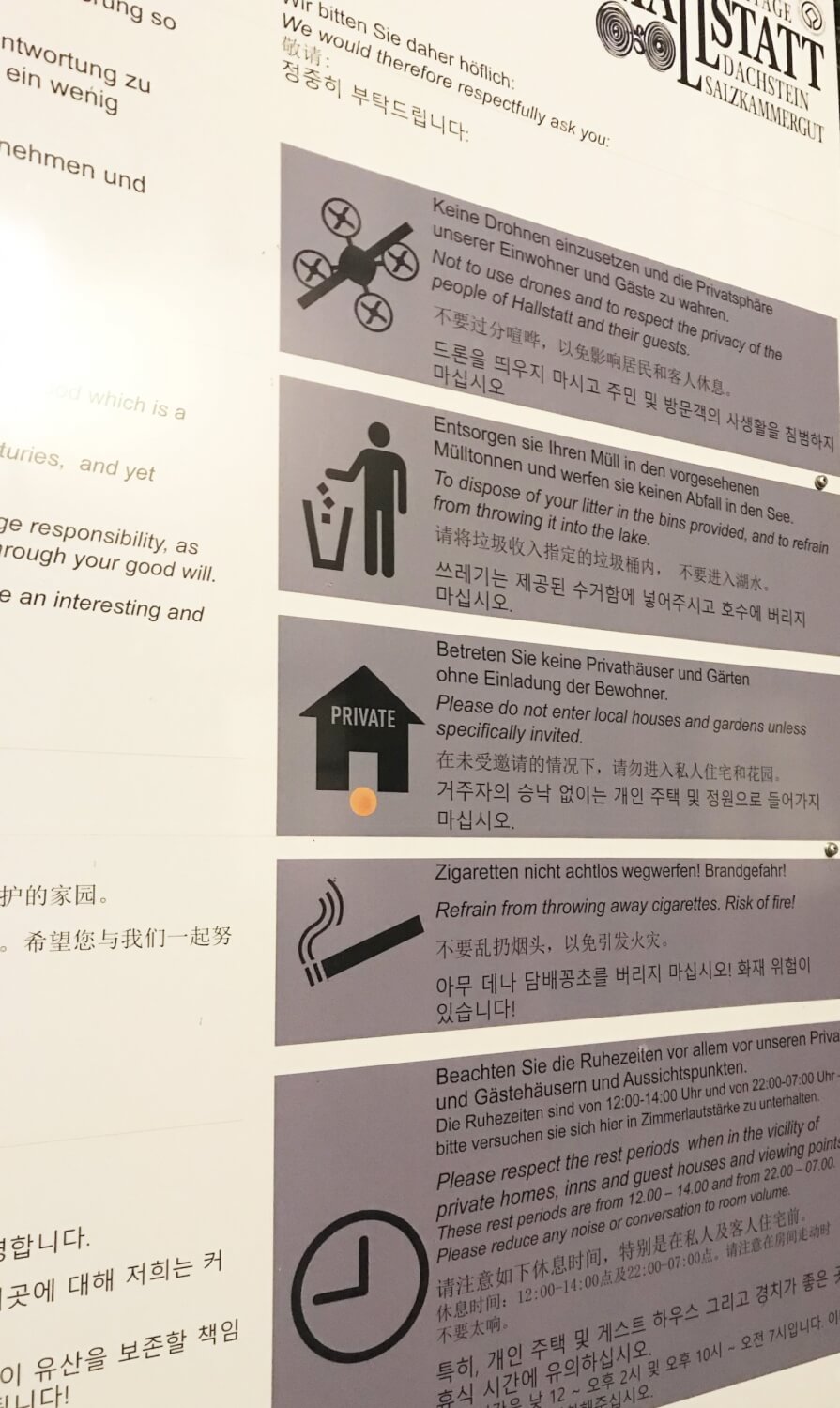 Now, go ahead and grab your photos. I'll take one of you if you want!
2. Marktplatz
From THE viewpoint to Marktplatz, you'll be navigating a narrow road with lake views on one side and stacked wooden chalets on the other.
If you're lucky, you'll accidentally make eye contact with another tourist having coffee on his balcony. Let's wave hi and keep moving.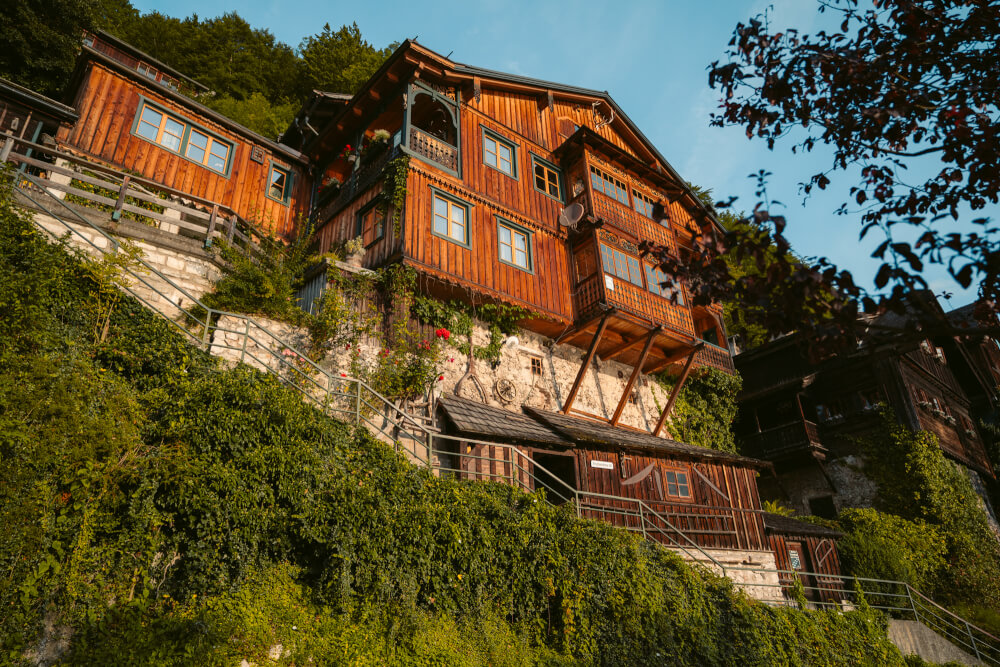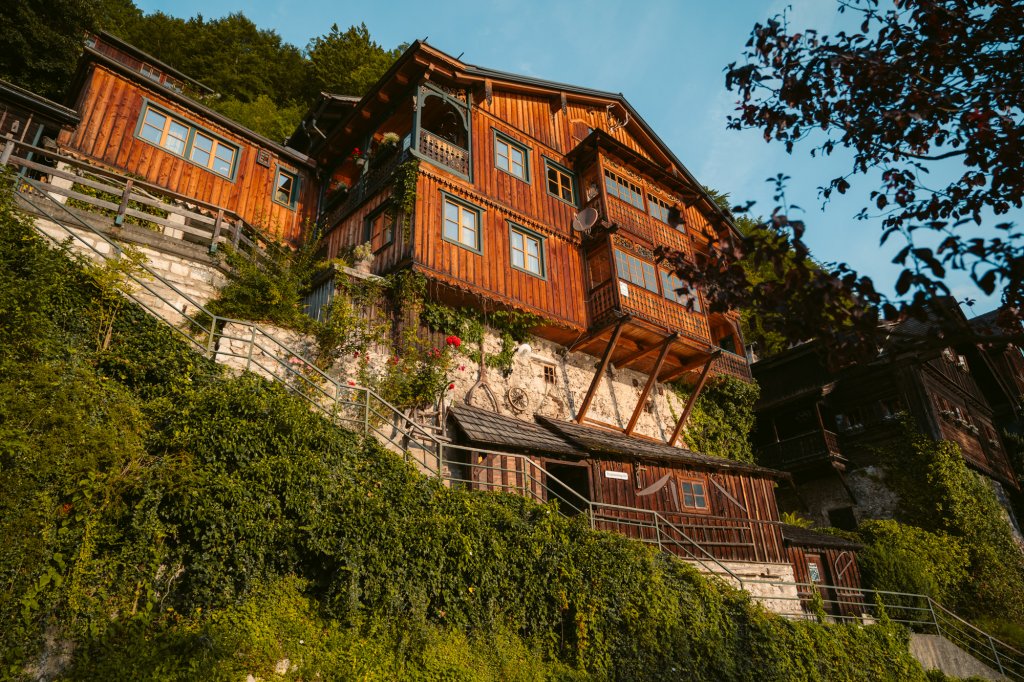 If you have heeded my overbearing 7am start time, this is the only time (in daylight) that you will enjoy Hallstatt this empty.
By 10am, the town is full-up with tour buses from Salzburg, so enjoy it.
Hallstatt at its peak welcomes 10,000 visitors a day, a stunning feat for a village with a population of only 800, so if you're lucky enough to see Hallstatt without thousands of others in your face, make the most of it.
Suck in that crisp alpine air. Take a million photos. Lick a pole. Hallstatt is yours and yours alone!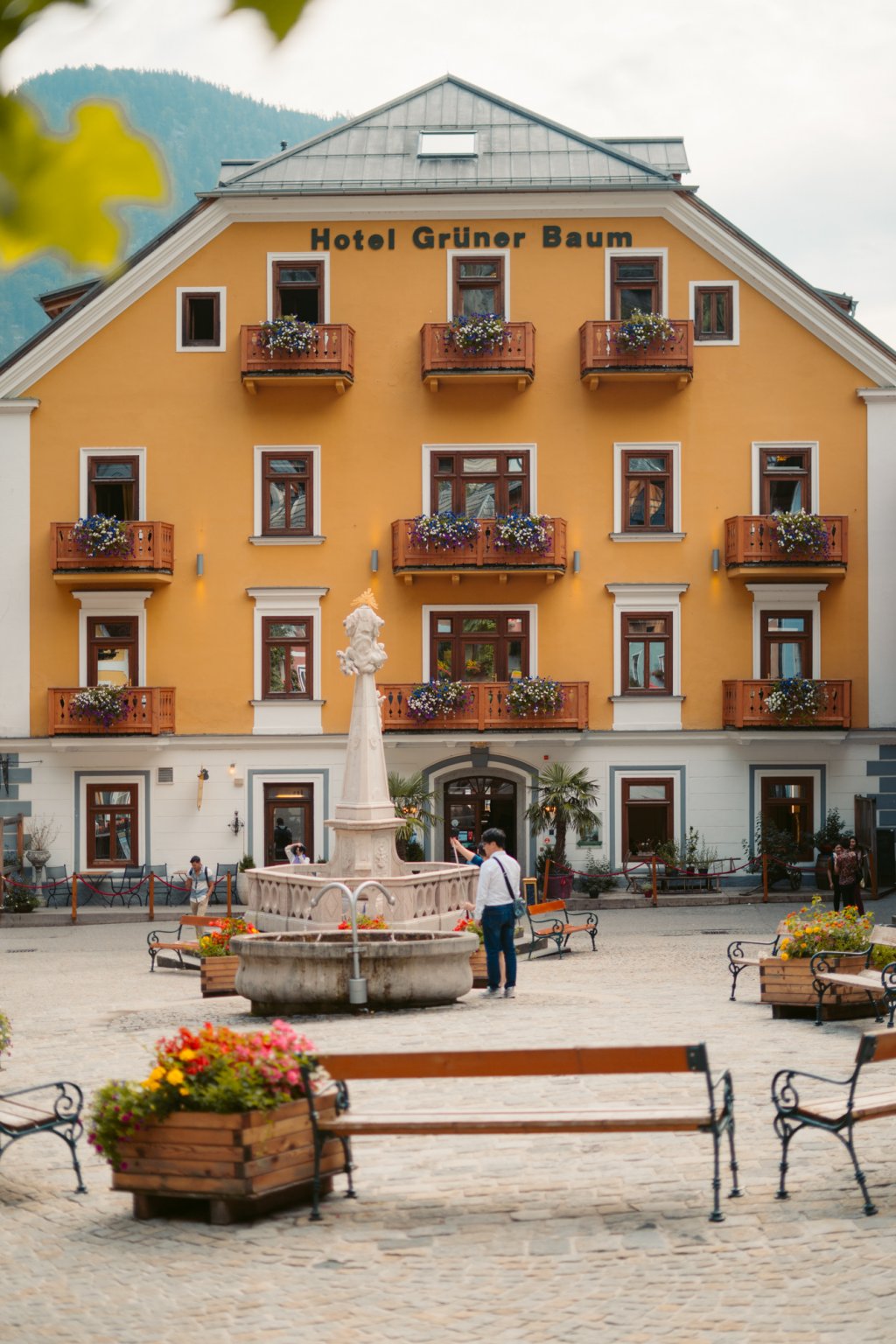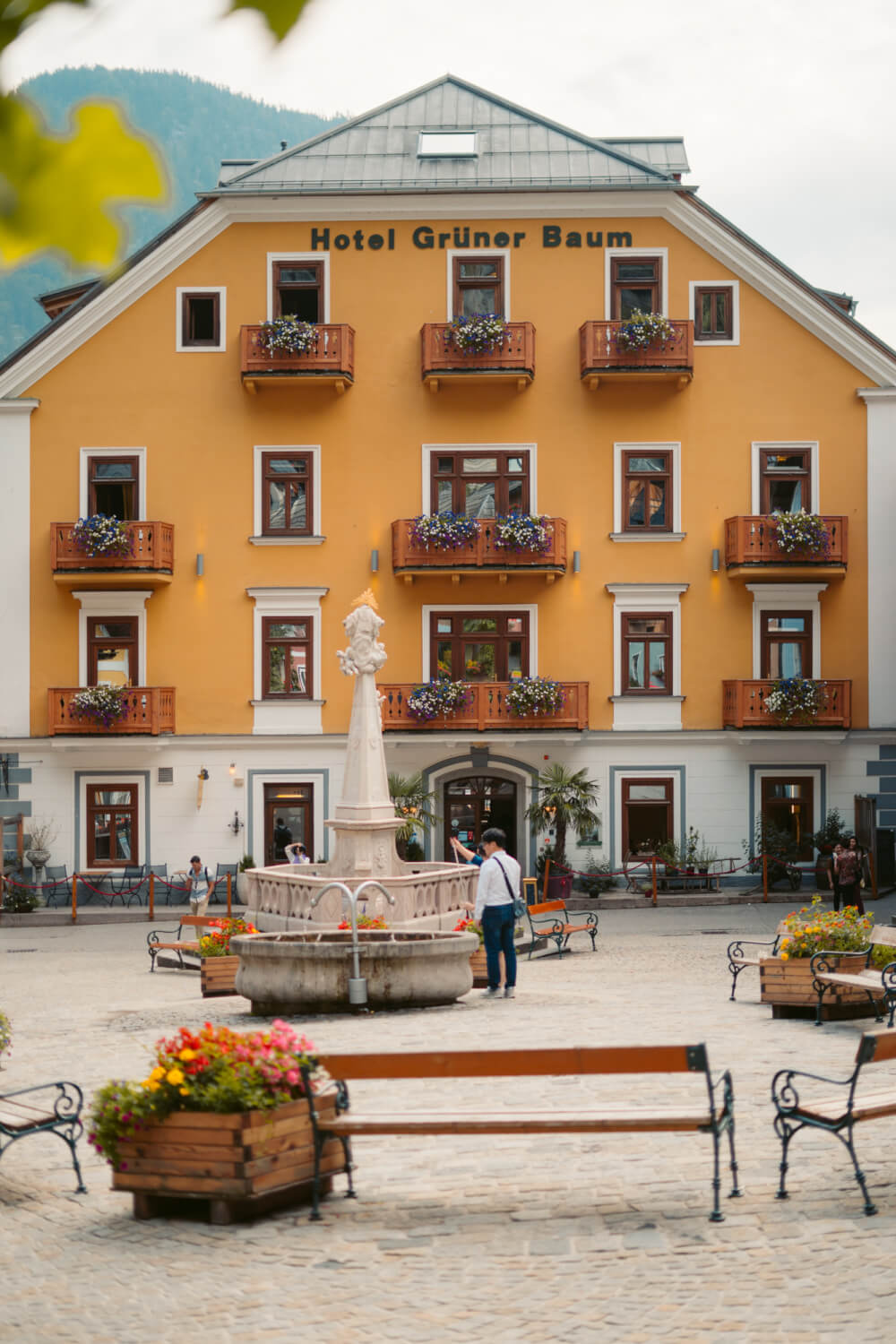 Now, let's learn more about Marktplatz, the central square of the tiny town that is Hallstatt.
It's the epicentre of activity here, hosting concerts in the summer, a Christmas market in the winter, and now you and me – two clunky tourists excited about wooden houses.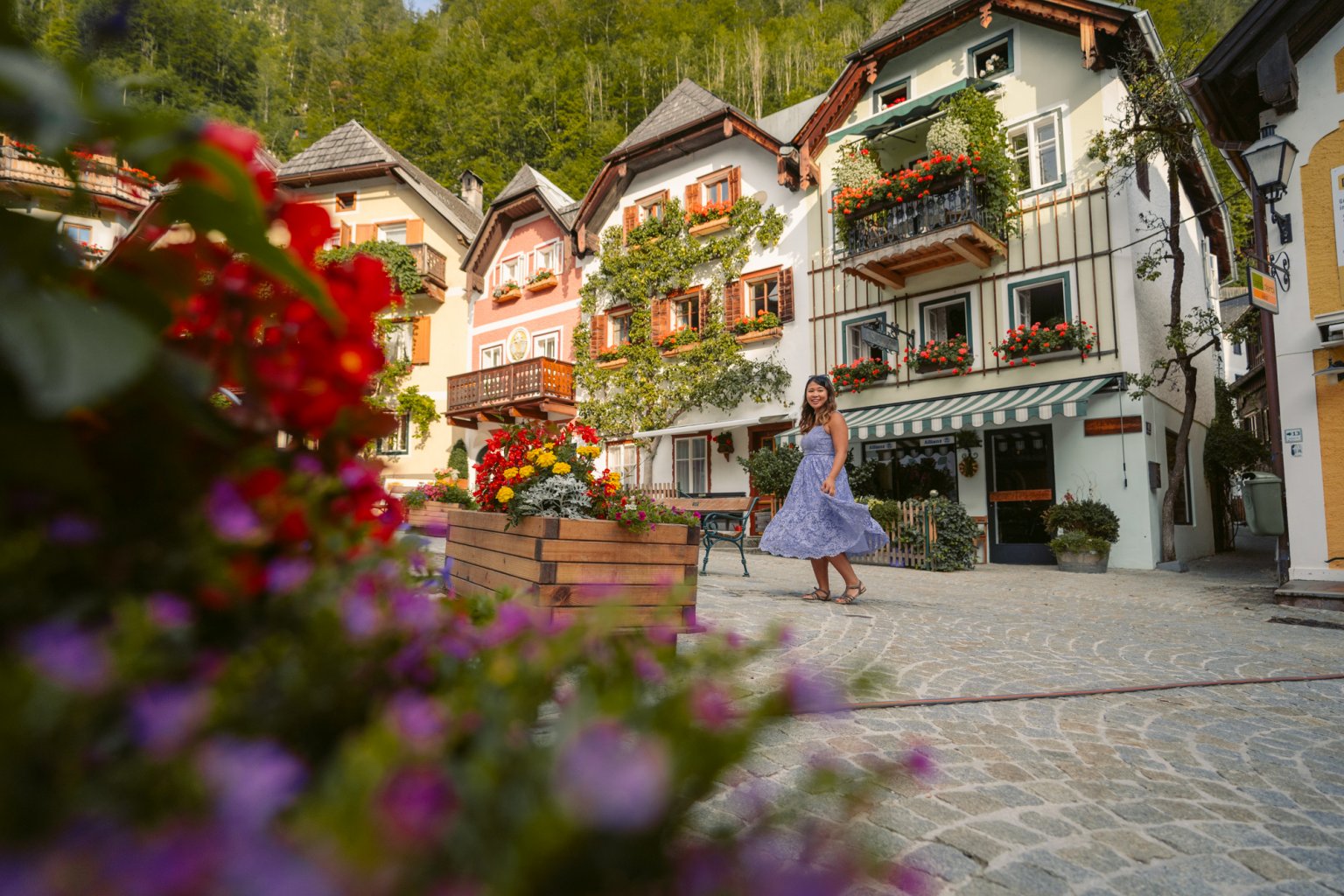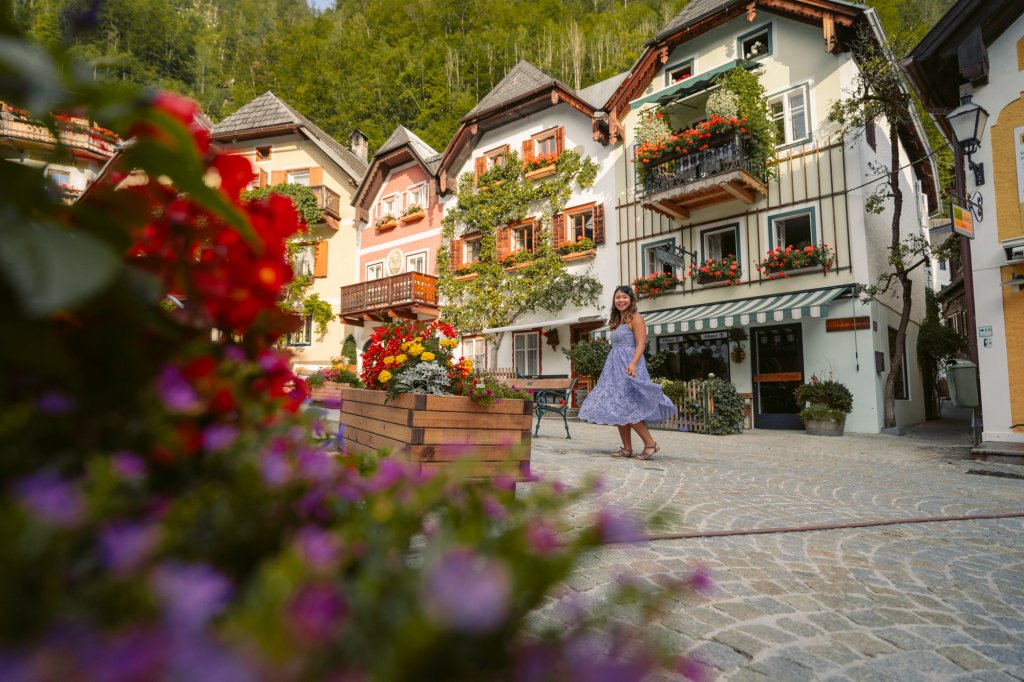 But I mean WOW – what spectacular wooden houses!
The Marktplatz (Market Square) in Hallstatt is lined with wooden buildings in pastel shades and picturesque balconies spilling with greenery and overflowing flower boxes.
The centrepiece of the square is the Holy Trinity Column, gifted by a wealthy merchant back in 1744 to flaunt his salt-money.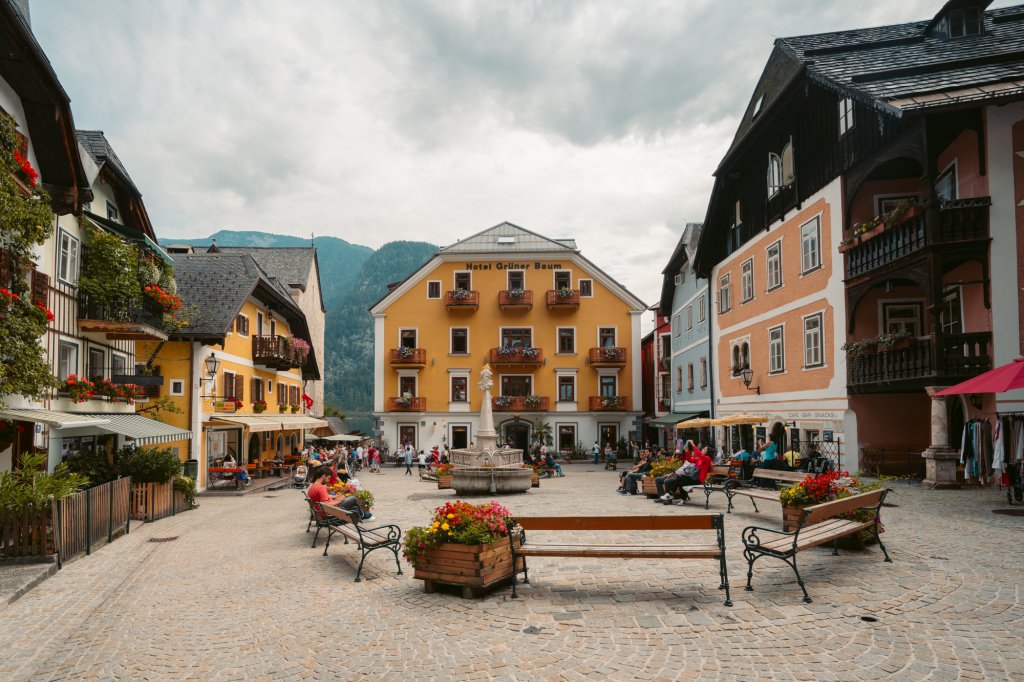 Salt-what?
Sorry, allow me to explain.
The pretty town you're stomping through was funded by literal salt. Back in the day, this was Hallstatt's main income source – everybody and their uncle, brother, mom, ex's roommate, etc. worked in the salt industry – whether they were mining it, shipping it, or rubbing it into the wounds of enemies.
In fact, the oldest salt mine in the world is located right here – you can even tour it!
But enough saltiness – let's get back to Marktplatz. While fairytale bliss is of course the aesthetic here, this square has been the setting of some of Hallstatt's darkest chapters.
There was for instance the Great Fire of 1750, a fiery blaze originating in this very square that engulfed 35 entire houses… all caused by a baker's wife trying to heat her attic.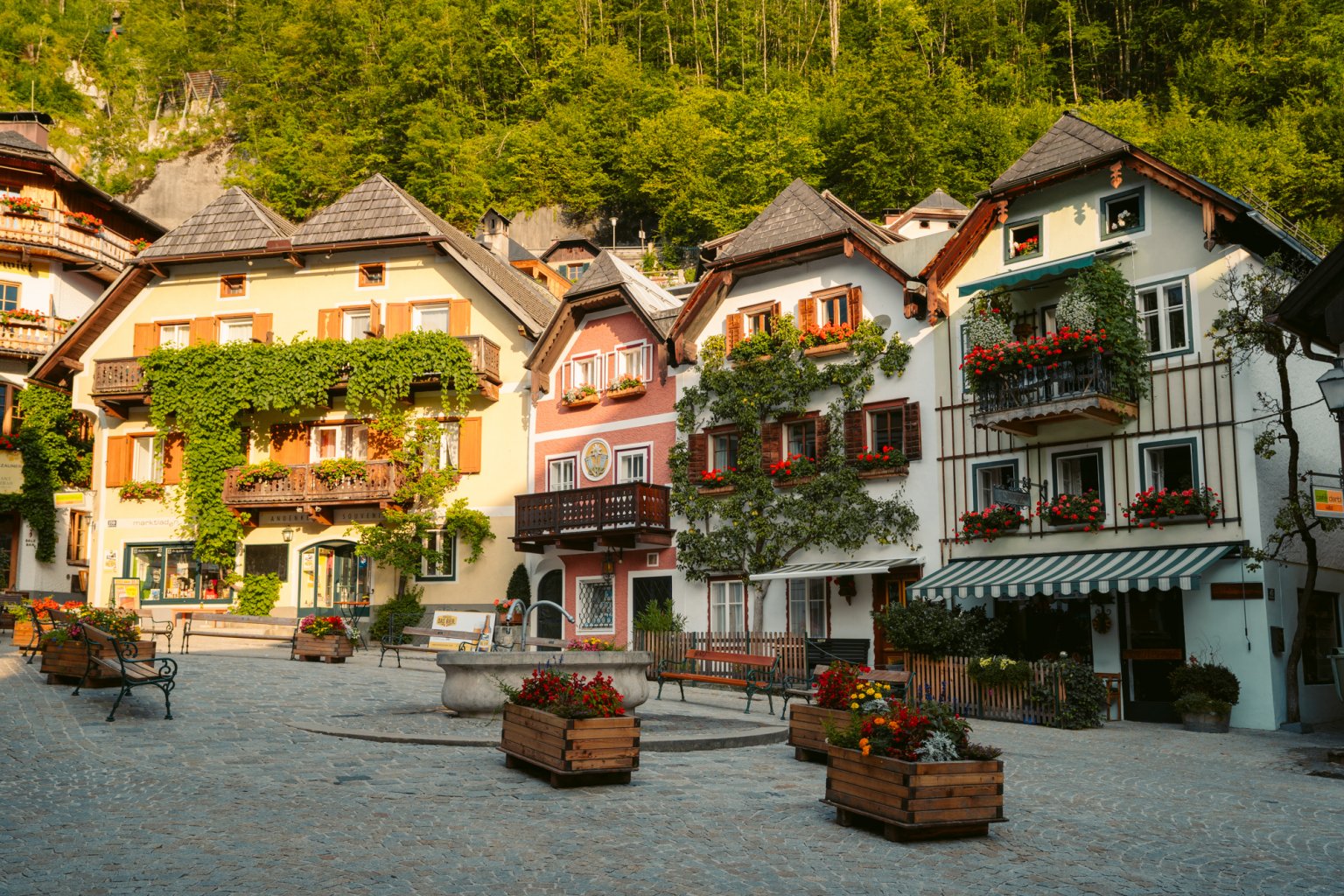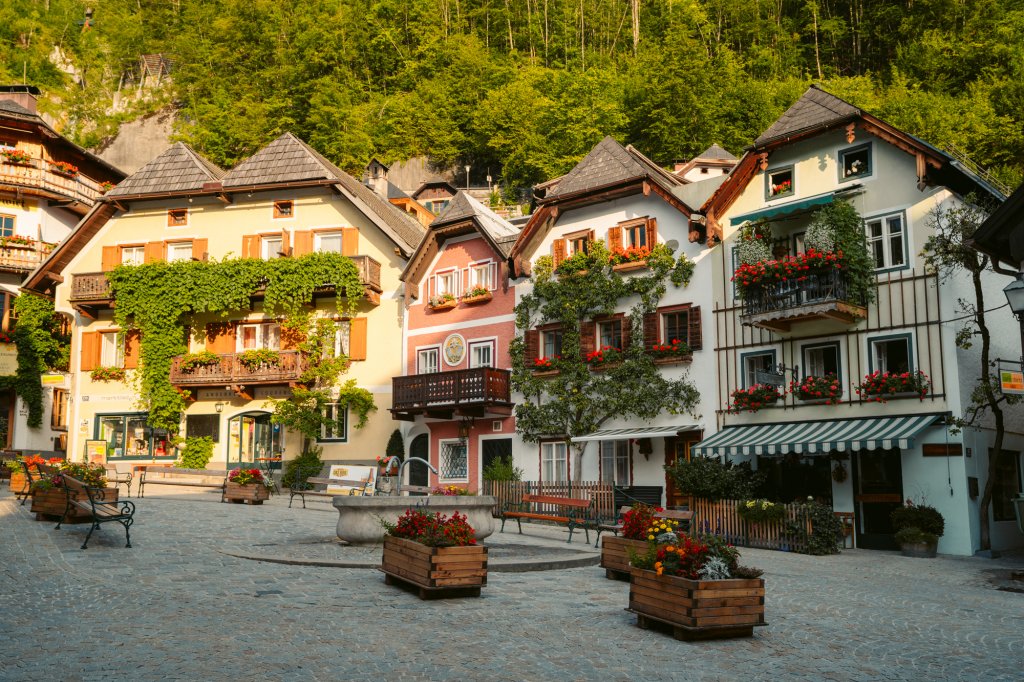 More recently, a mudslide in 2013 swept through the square, causing over a million euros in damage. You can see photos of it here.
But despite these "setbacks", today the square is perfect.
During business hours, buzzing terraces pop up to serve hungry hungry patrons, but if you've arrived early in the morning, you get to enjoy it all before the chaos hits. Pretty nice, isn't it?
PS: One of the town's top reviewed hotels offers rooms overlooking the square here.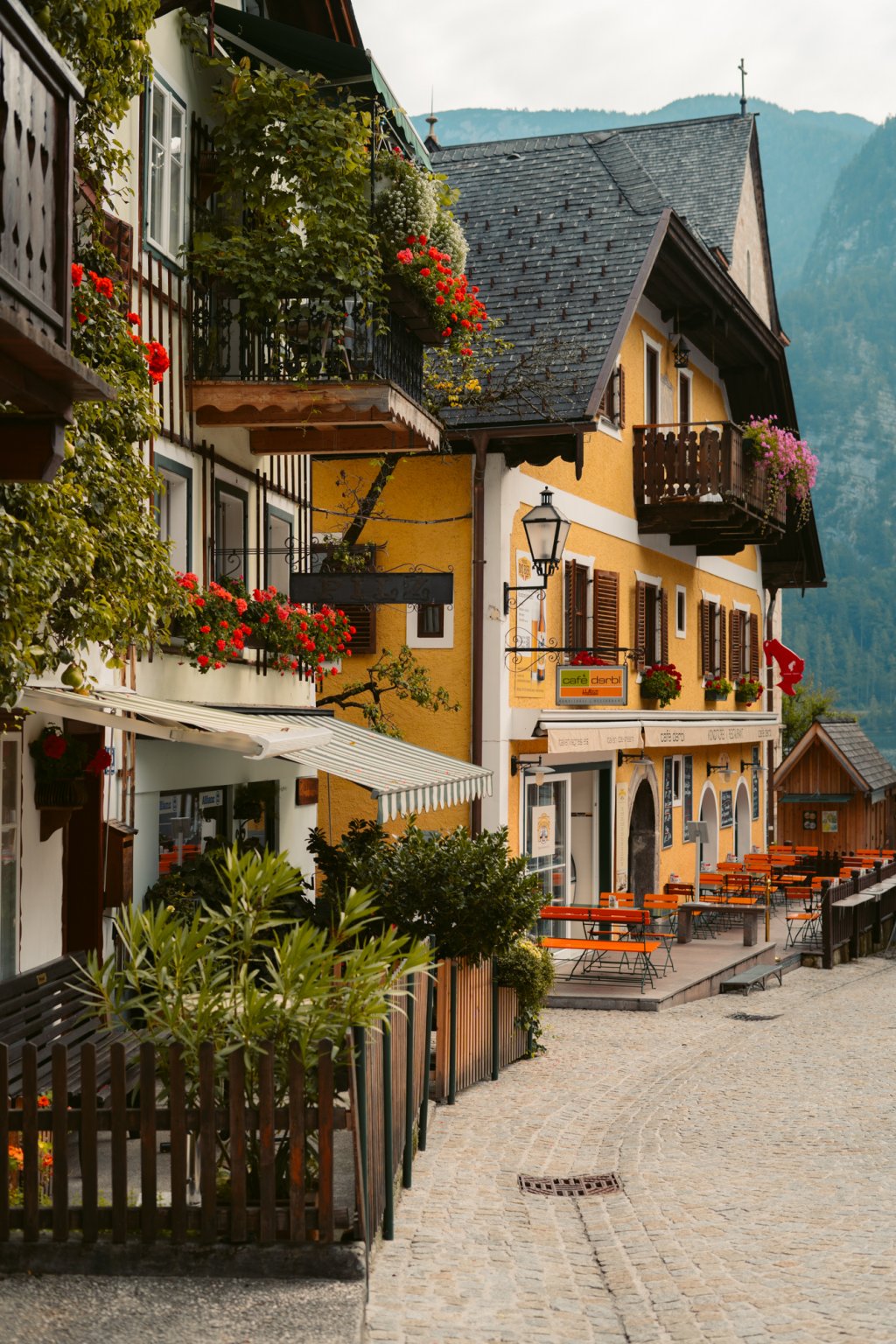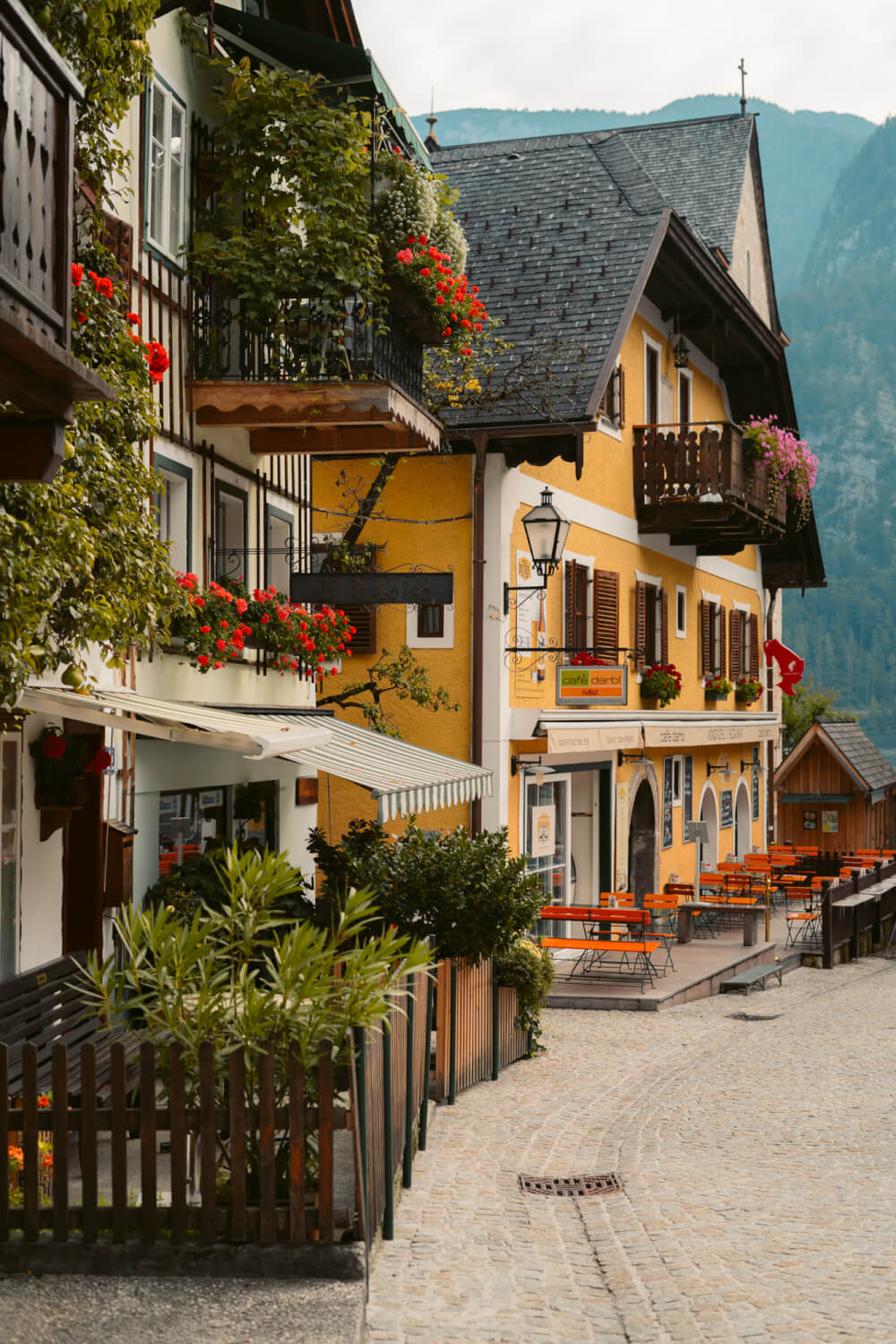 3. Evangelical Church
You likely didn't realize, but while walking to Marktplatz, you actually passed by the Evangelical Church that you so dutifully photographed from afar.
… And you might look at this iconic church and think "how wonderful!". Well, let me ruin that for you real quick with some dark history.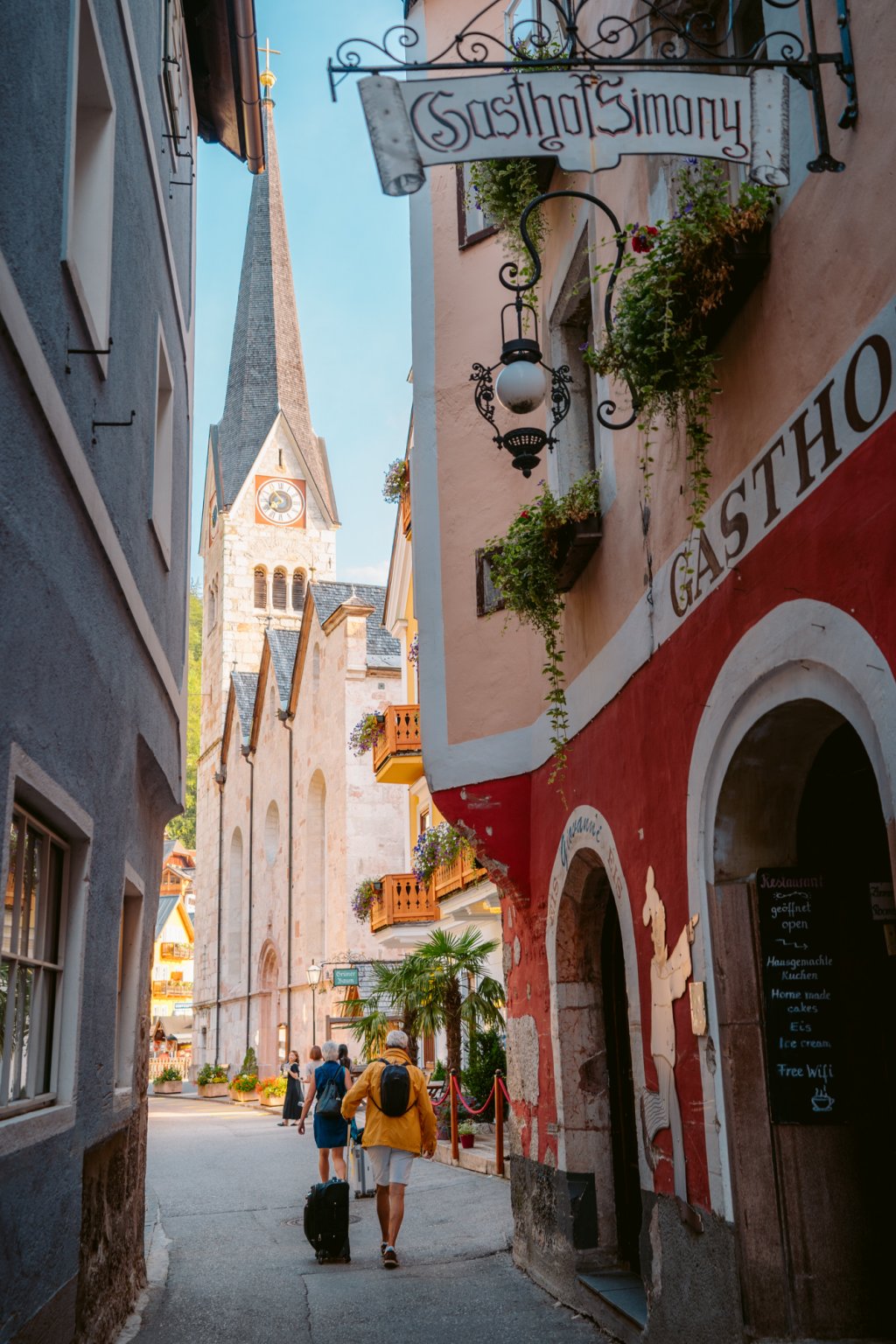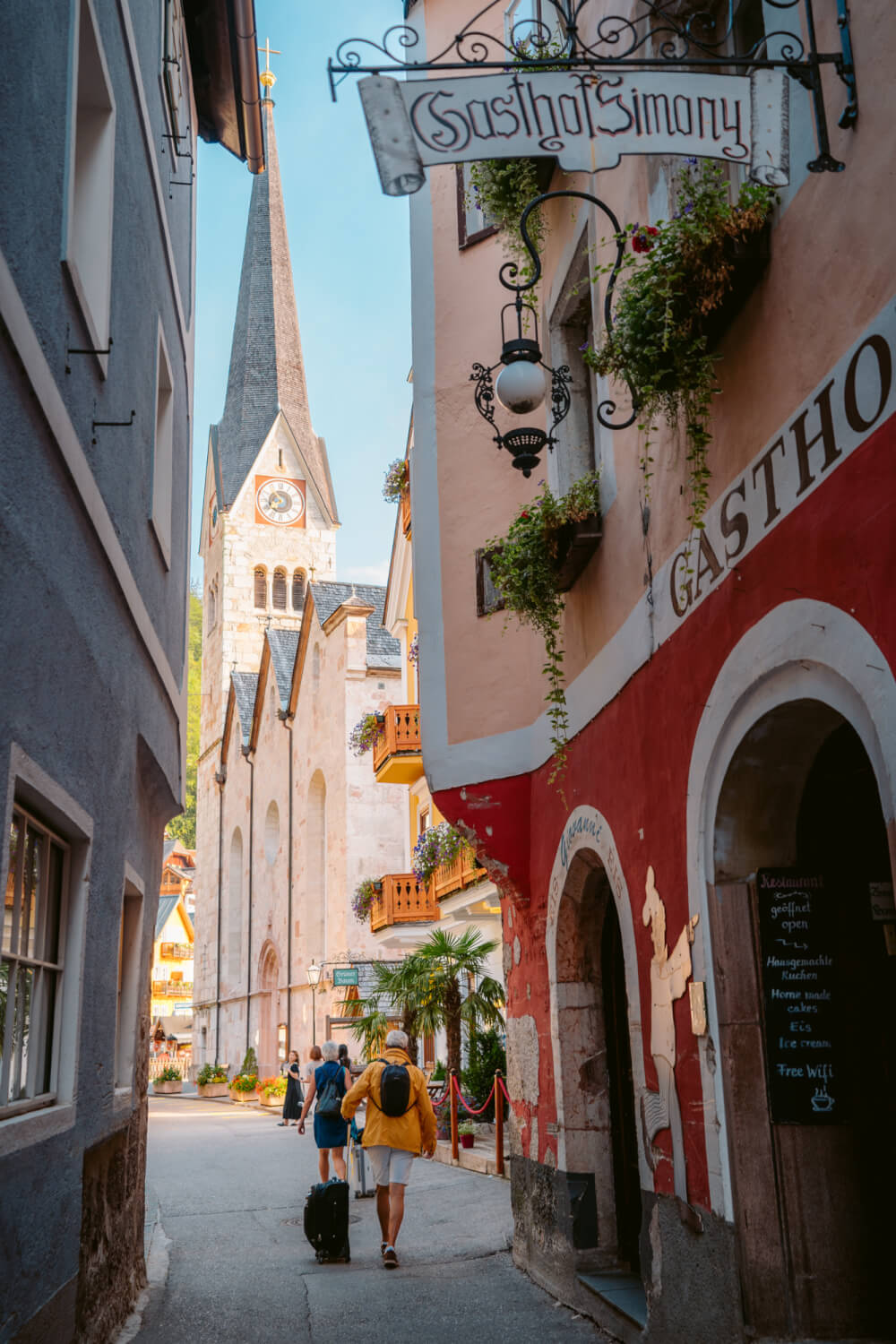 Here's the short version: when Martin Luther started spreading the word about Protestantism in the 16th century, the Salzkammergut was INTO it.
The miners and working class were especially gaga over the whole "stop the Catholic church from hoarding our money" idea, so soon Protestantism spread like wildfire.
Then, Emperor Rudolf came in and tried to put an axe on Protestantism.
Bridges were destroyed, salt pans emptied and crucial shipments blocked.
Soon, an army was brought in and Protestant ringleaders were sentenced to death and had their houses burnt down.
(If there's one thing I learned while researching this article, it's that Salzkammergut history has ZERO chill).
Years later, hundreds of Protestants were even banished and forced to emigrate to Romania.
So, given this exceedingly dramatic history, one can expect what a big deal it was when in the late 18th century, Emperor Franz Joseph I came in and granted Protestants just as many rights as Catholics.
This church was built a few decades later, and now is probably the most admired and photographed church in the entire town. Come on the right day and there are even concerts!
Oh how far we've come from the bridge burnings and religious coups of yesteryear.
… Sorry for ruining that otherwise very pretty photo for you.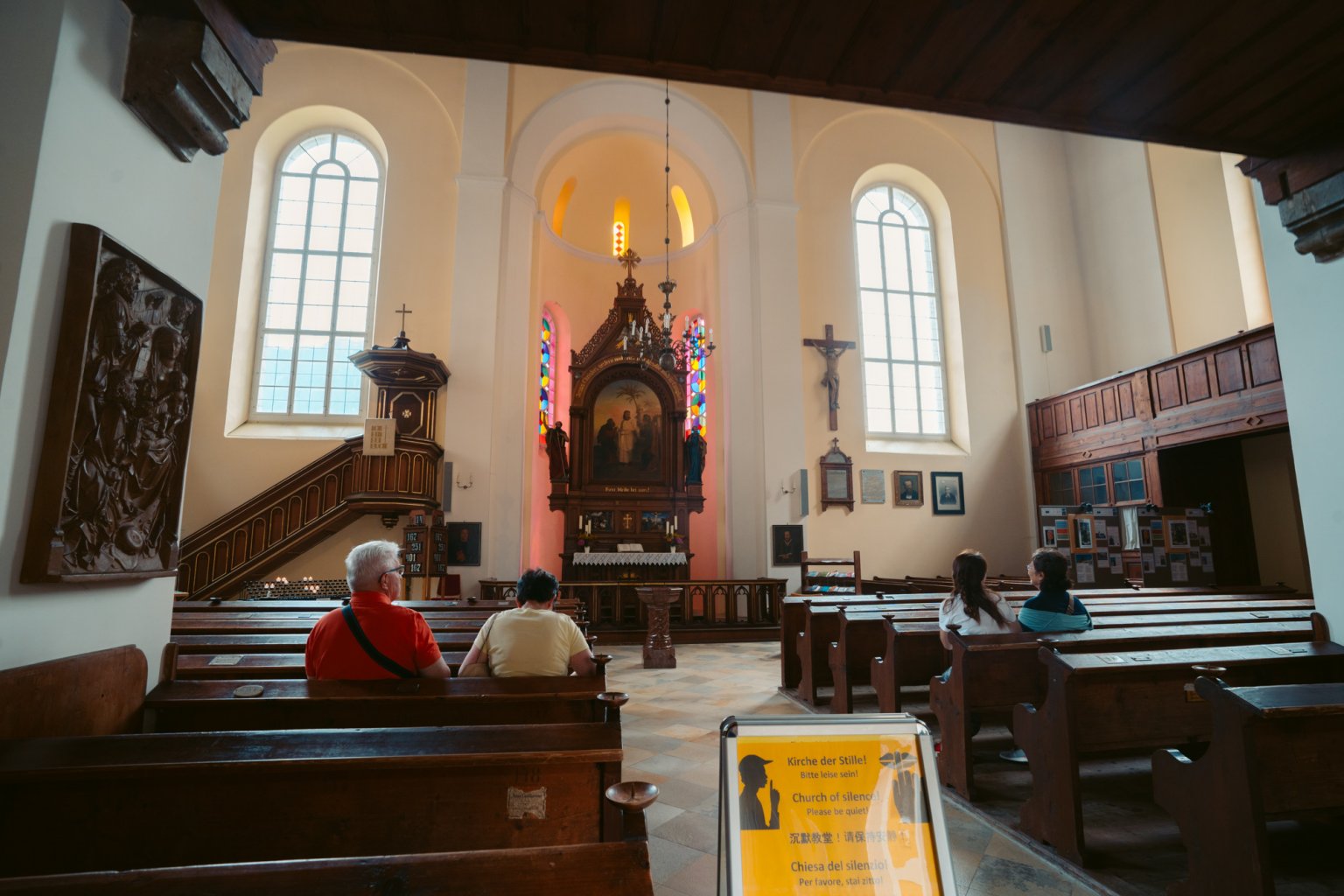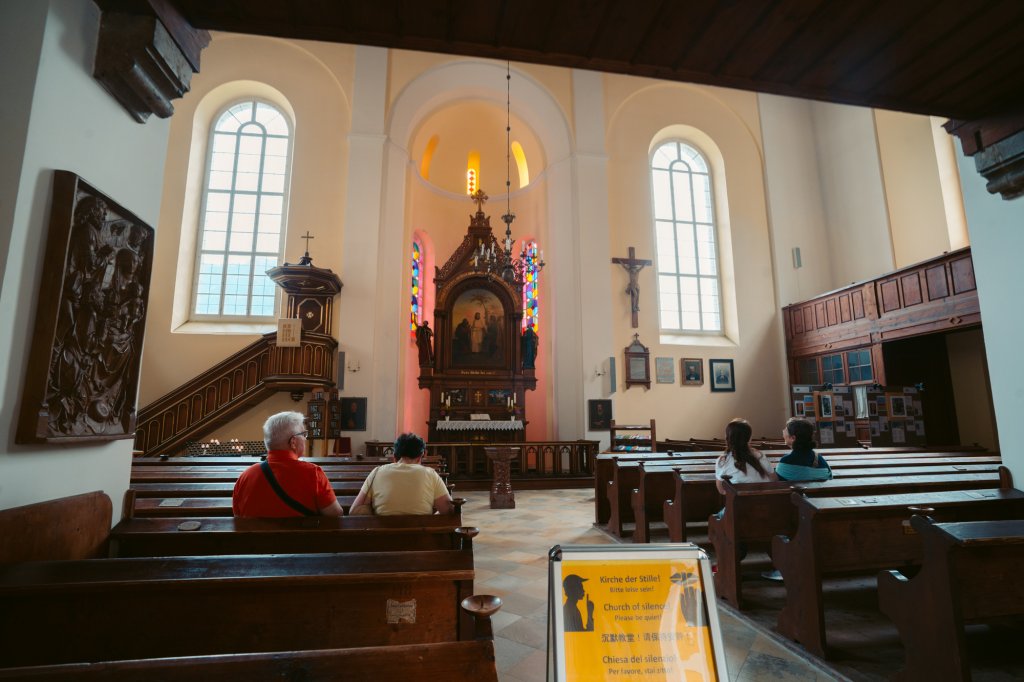 4. "Classic Village Viewpoint / Houses Panorama"
From one scenic spot to another, let's keep on moving to THE perfect view over Hallstatt's iconic wooden houses, stacked neatly like chocolatey bonbons along the vibrant Hallstättersee.
En route, you'll pass some spots we'll later return to, such as the Hallstatt World Heritage Museum and the Tourism Office if you've got a kink for brochures.
These aren't open yet though – remember, you're here to enjoy Hallstatt before the crowds arrive!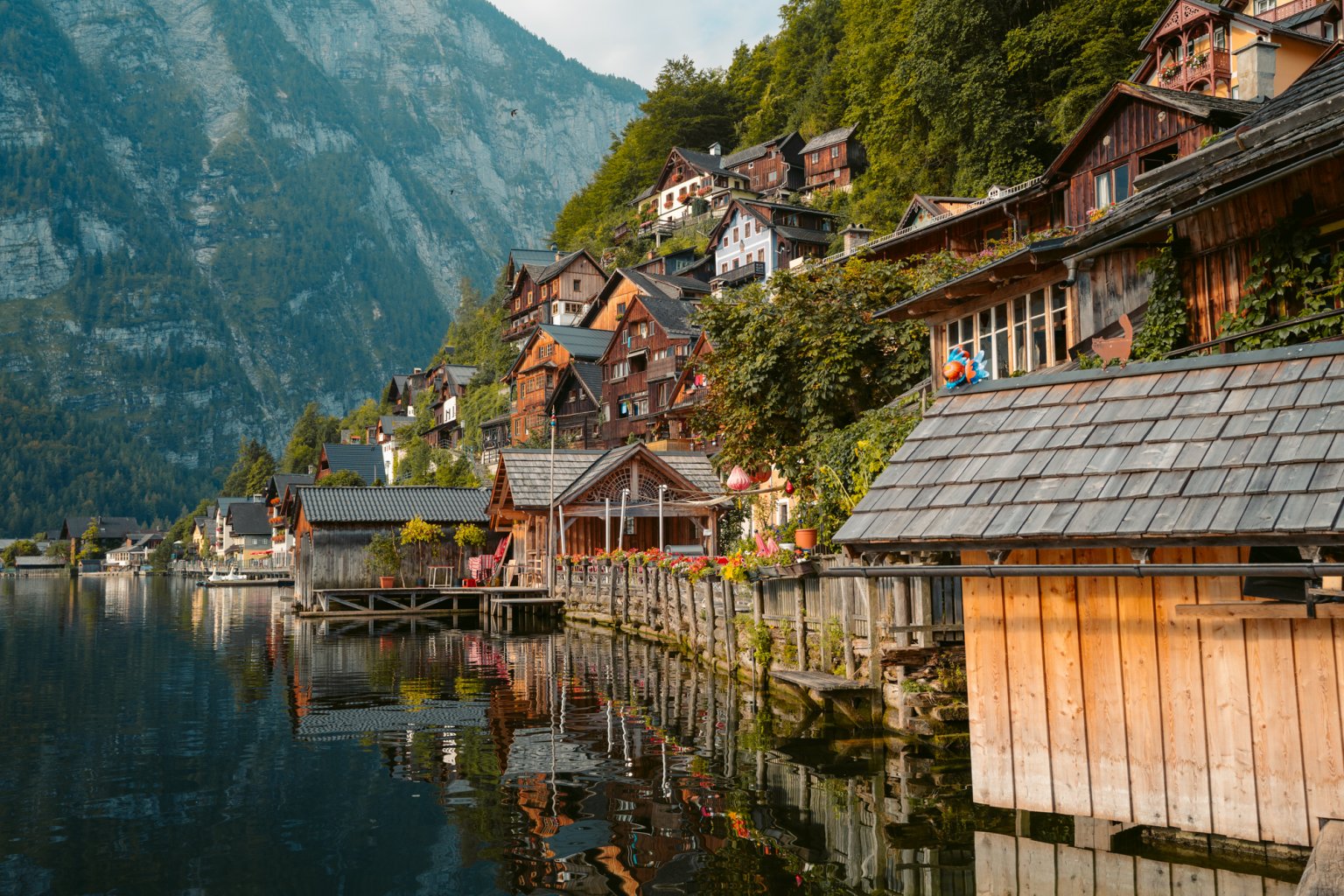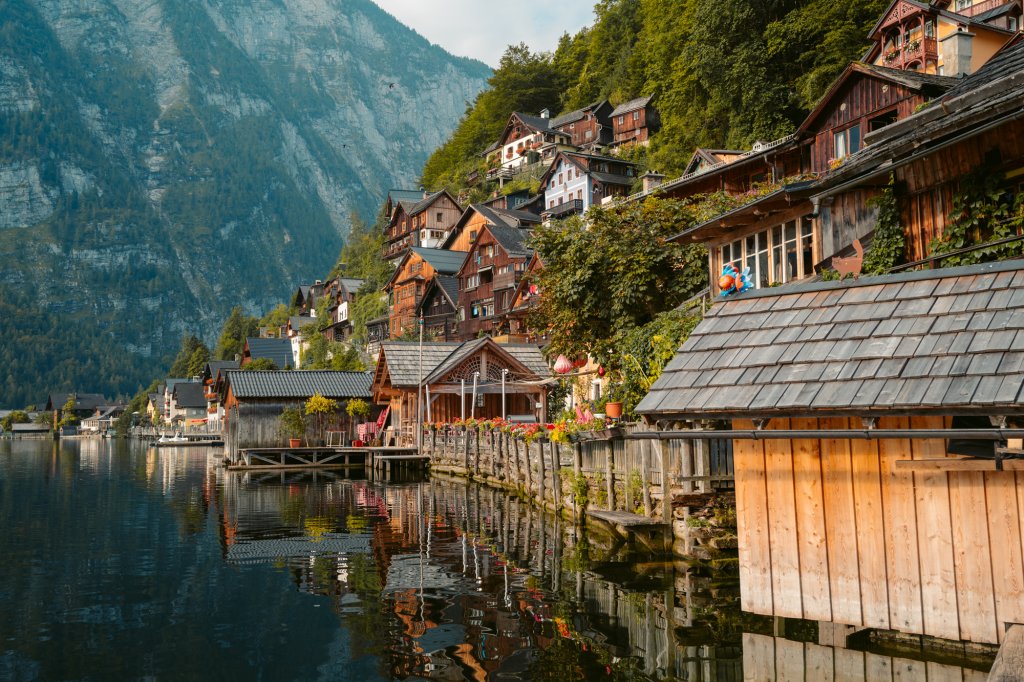 5. Bräugasthof
Onwards to our next sightseeing spot.
You'll pass by the famous Bräugasthof along the way, and it's an easy one to recognize because it's one of those places in Hallstatt that has successfully tapped not the Insta-Travel mentality.
Colourful lanterns dangle from a century-old chestnut tree along the waterside terrace, where charming little wooden tables invite you to come inhale their air for about 30 euros a gulp.
Just kidding, the prices aren't that steep, but here's a peek if you're nosy: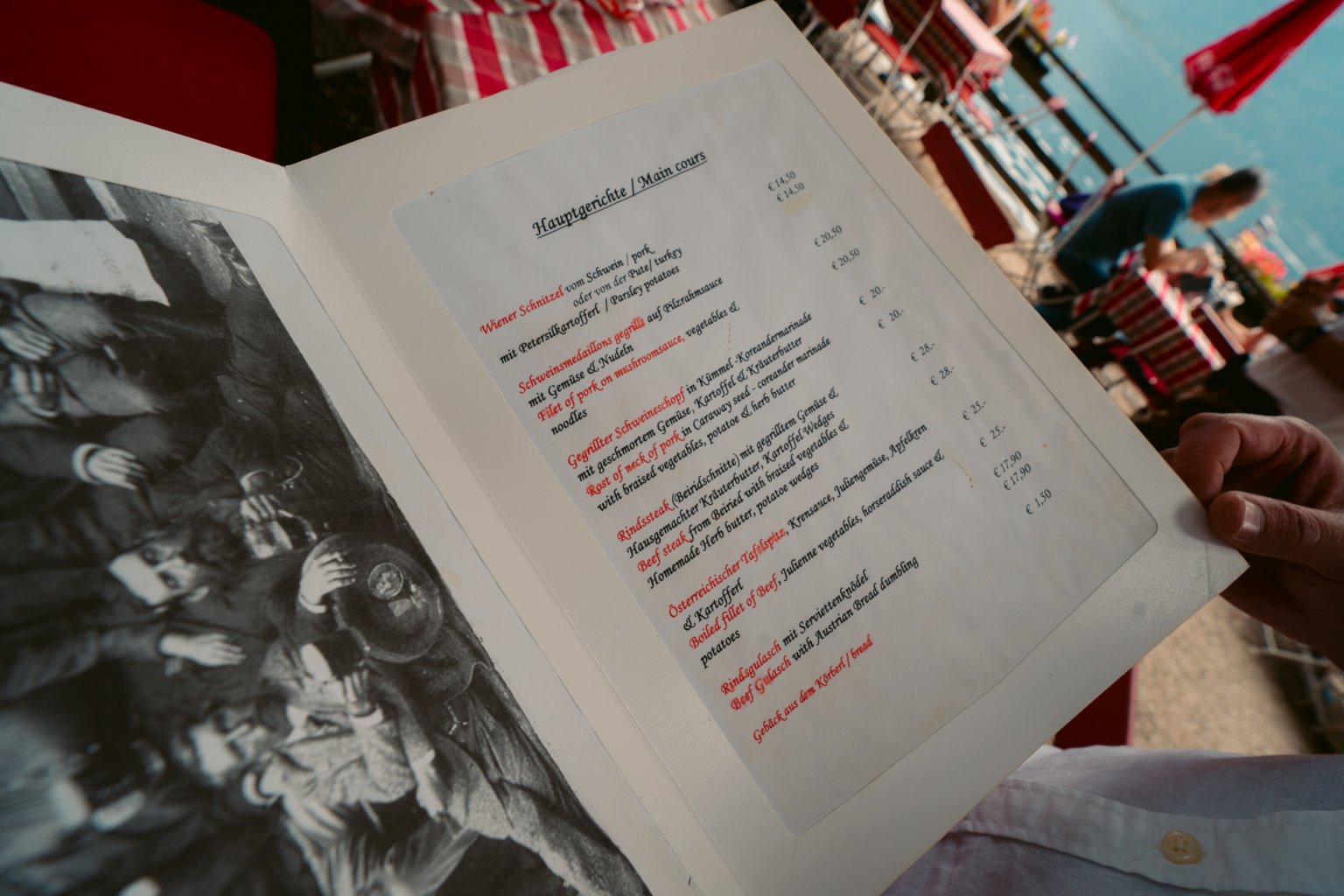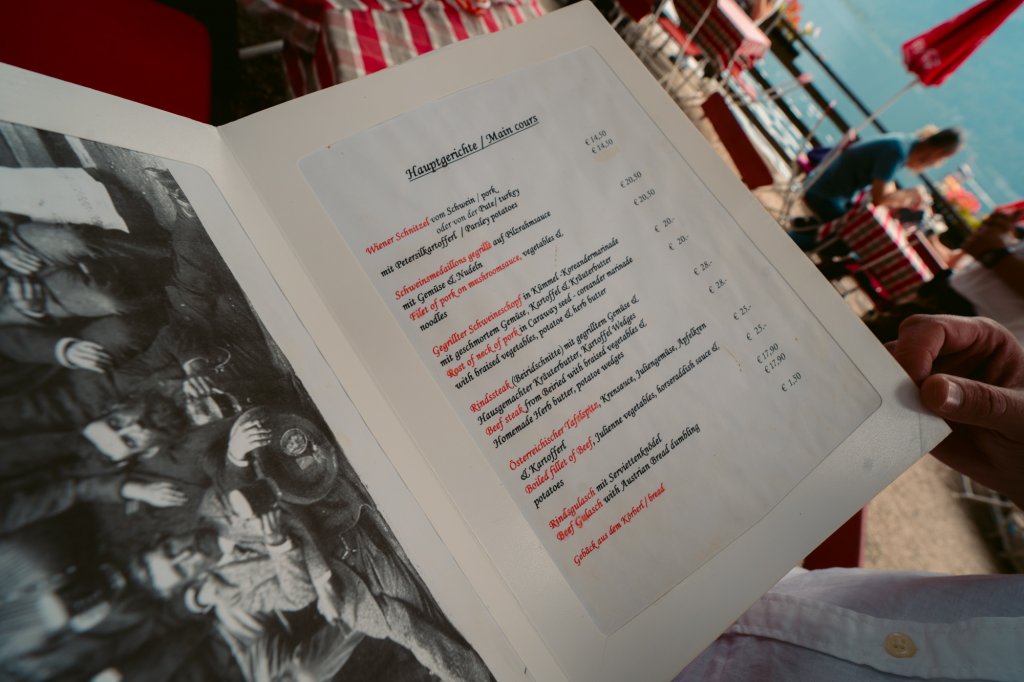 This historic building (today an 8-room guesthouse) dates back to 1472, but things really turned into a frat party in 1504, when the house secured brewing rights for beer.
This boozey glory period lasted centuries, until 1917 when Austria's entire copper stock was seized by the government to produce munitions, including yes, the copper kettles used to magically brew beer into existence.
And so, they did as all businesses do – they pivoted and began to serve food.
Random but mildly amusing fact: it is said that Hallstatt's first WCs (water closets, AKA toilets) where installed here.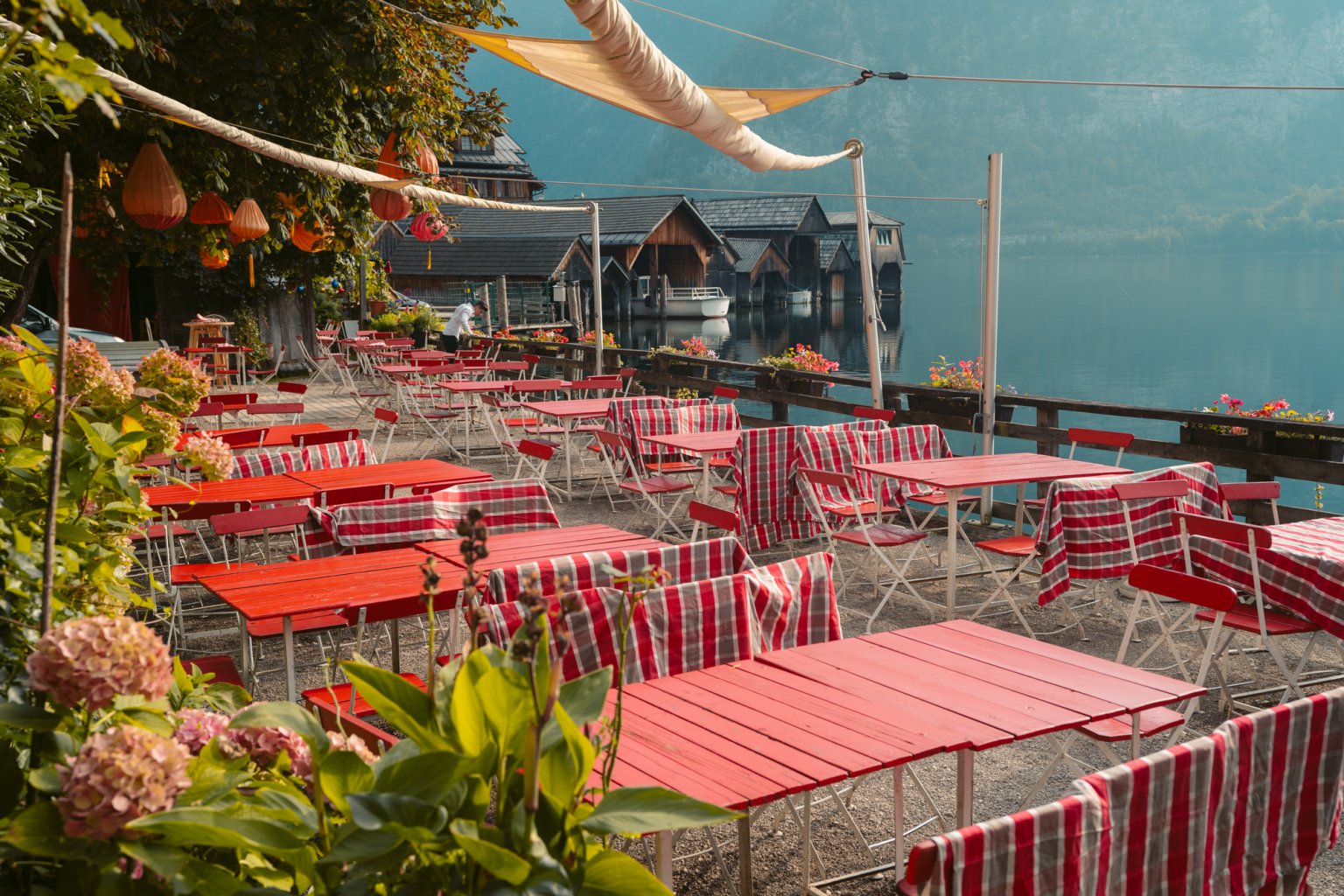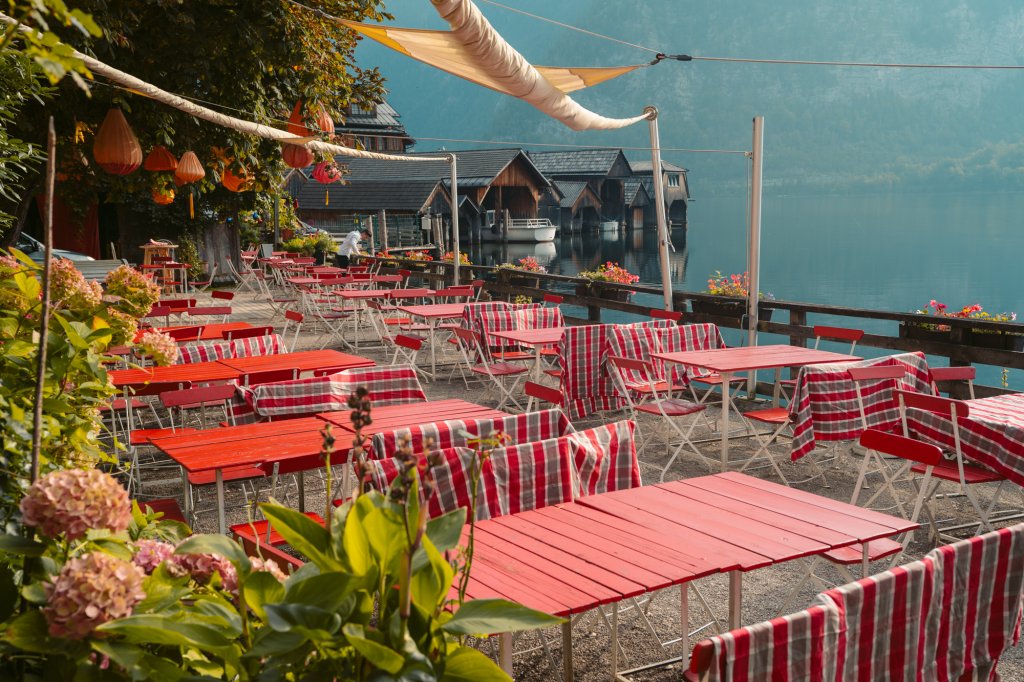 6. World War Memorial
Continuing on along Seestraße, we'll soon encounter a small memorial dedicated to those from Hallstatt who were lost during both world wars, a beautiful little memorial overlooking the lake.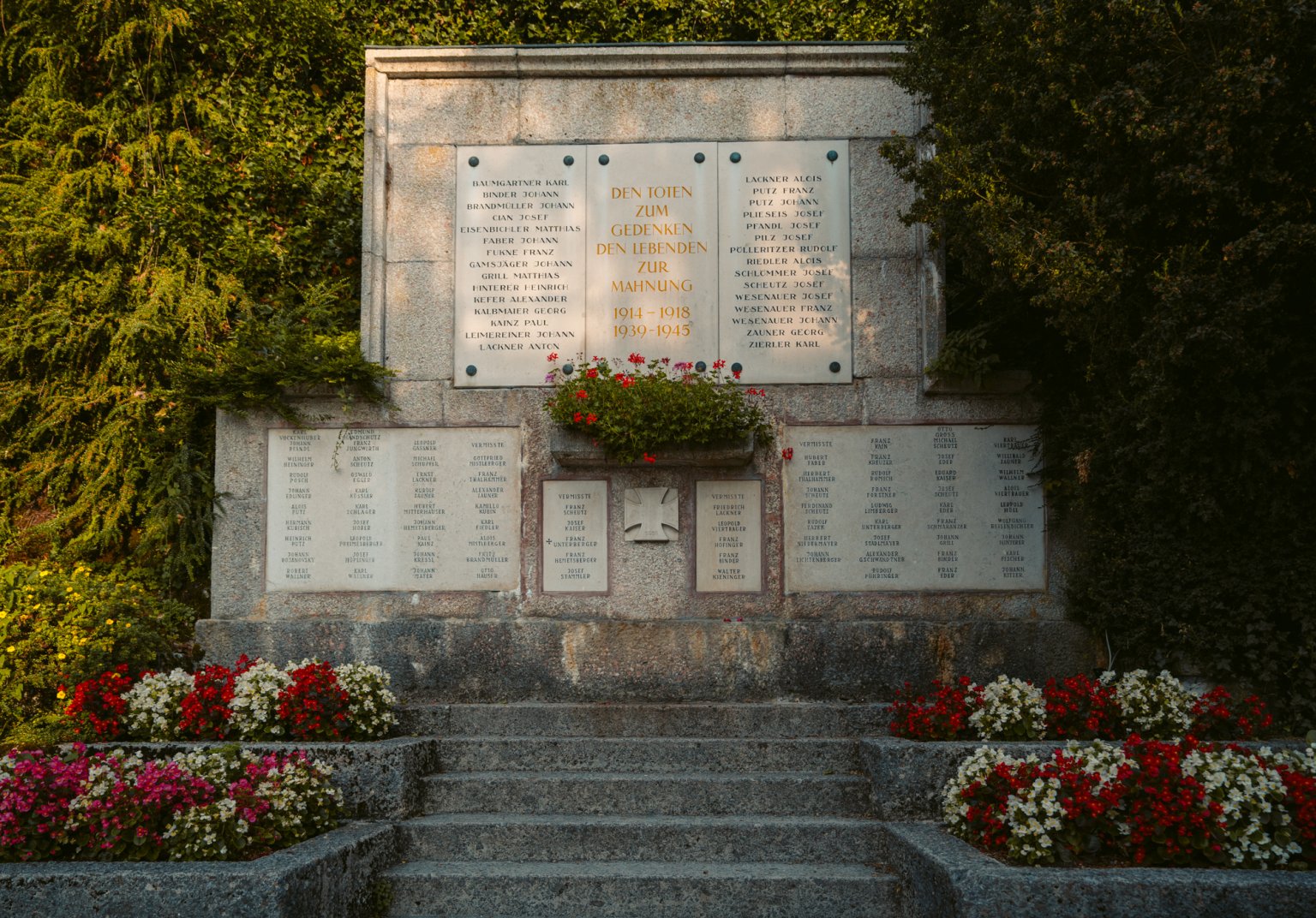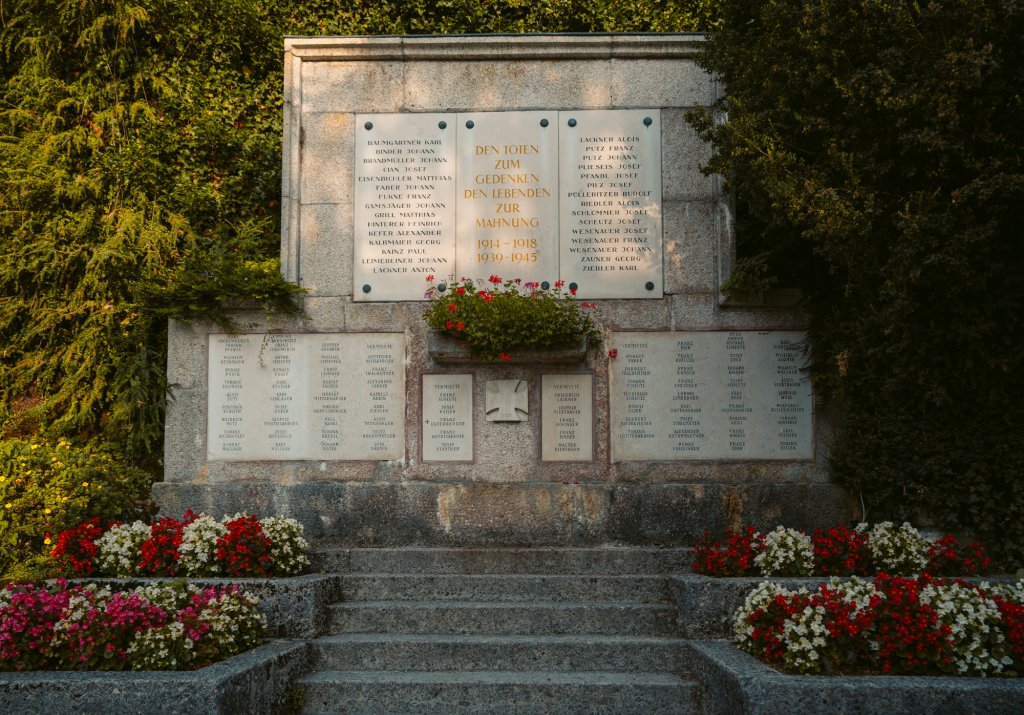 7. The Vending Machine for Hallstatt Air
I am about to tell you something now that will sound like a joke, but I bet you ten cans of air it isn't.
… Hallstatt is a town so synonymous with perfection, since 2017, they have been selling literal cans of their air to take home.
So as you browse for keychains, postcards, and knick knacks, you can also casually pick up a bottle of Hallstatt AIR in a nondescript vending machine.
In fact, go wild – why not lug home a whole sack of airs to show everyone how little money means to you?
Proof I'm not kidding: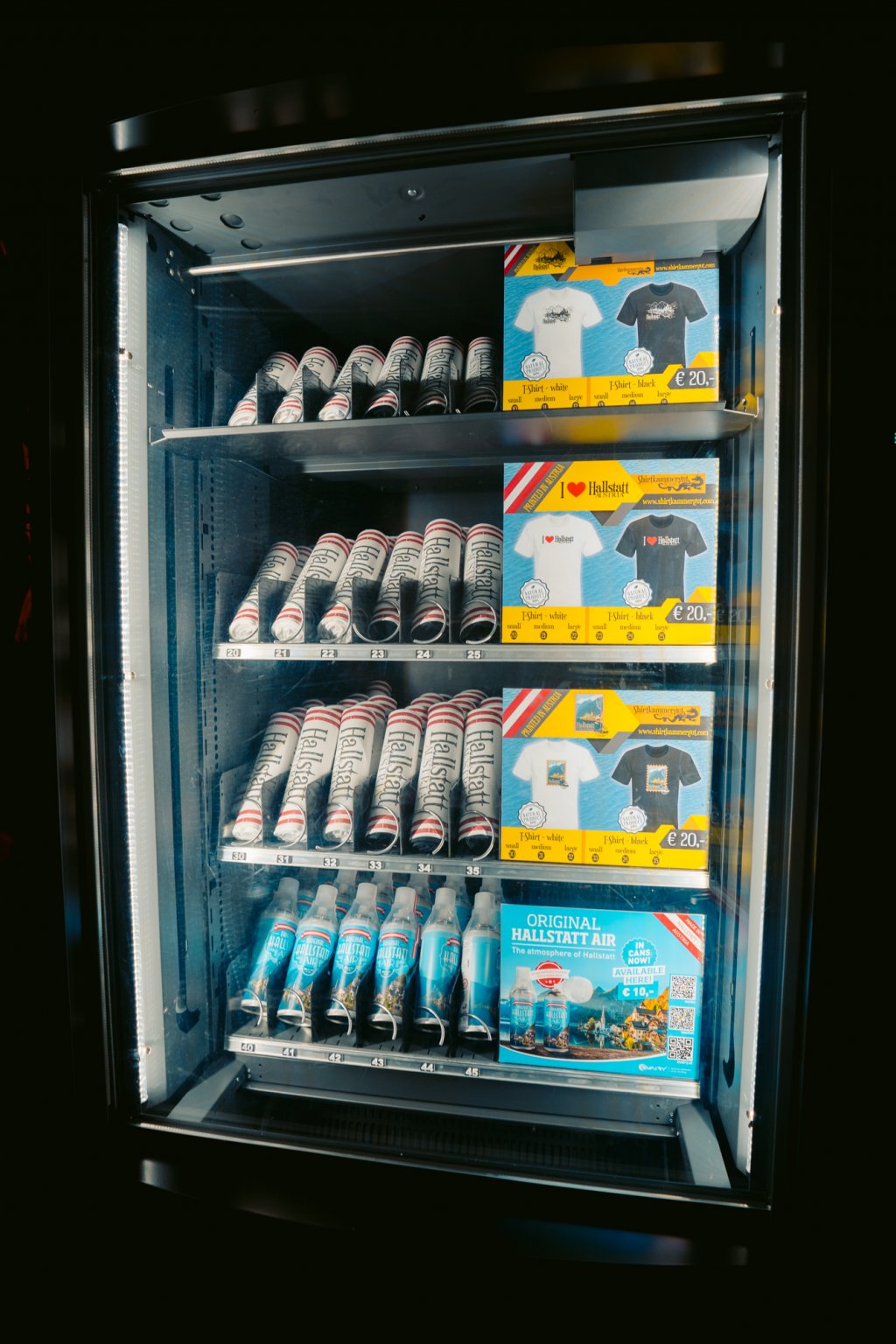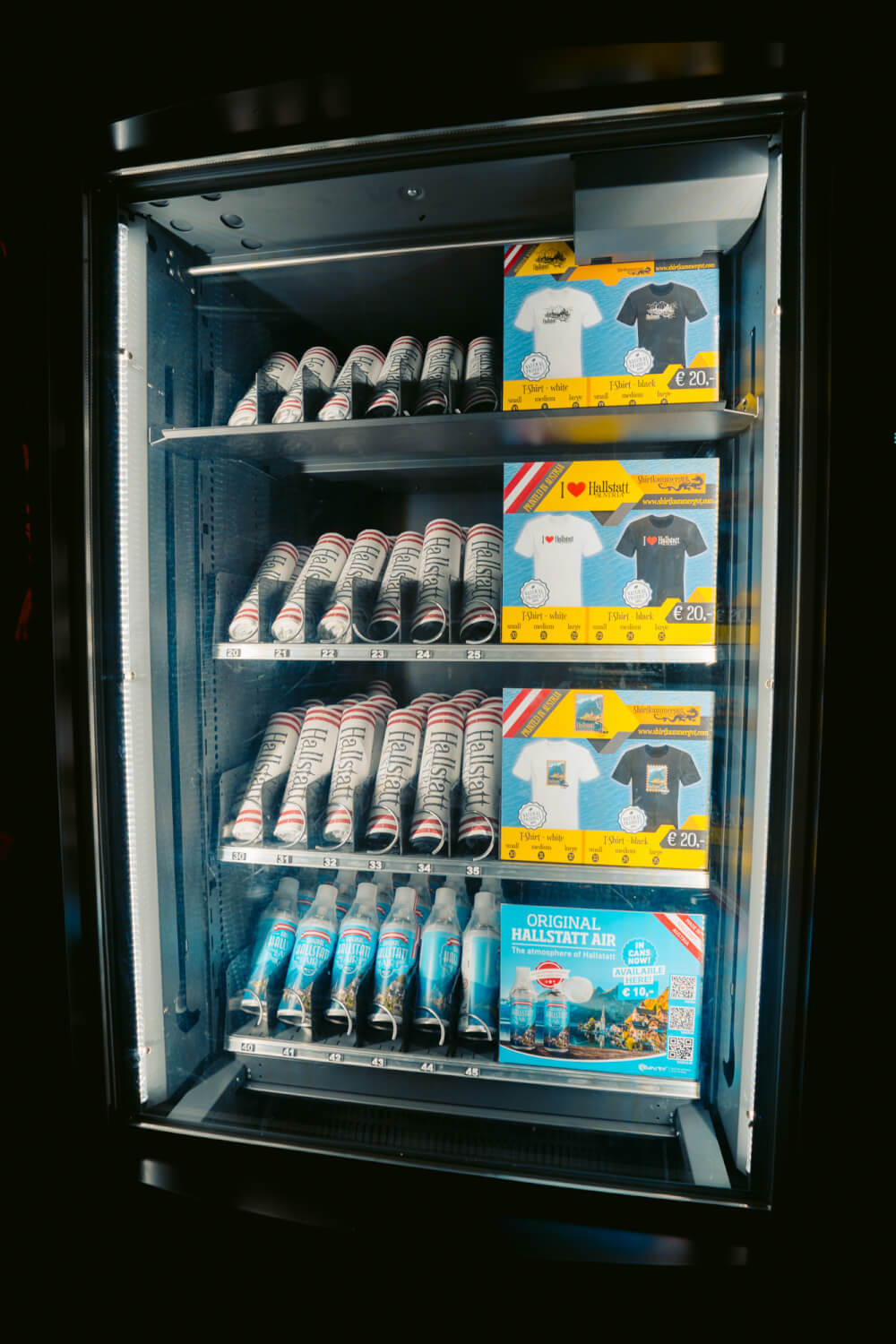 8. Foto-Panorama Hallstatt
Proceed with your air cans in hand to our next stop: another scenic viewpoint marked "Foto-Panorama Hallstatt" on Google Maps.
This gives you an alternative perspective over town, and is yet another stunner that will give you as many goosebumps as Instagram likes.
Soak it all in, because where else will you find views like this?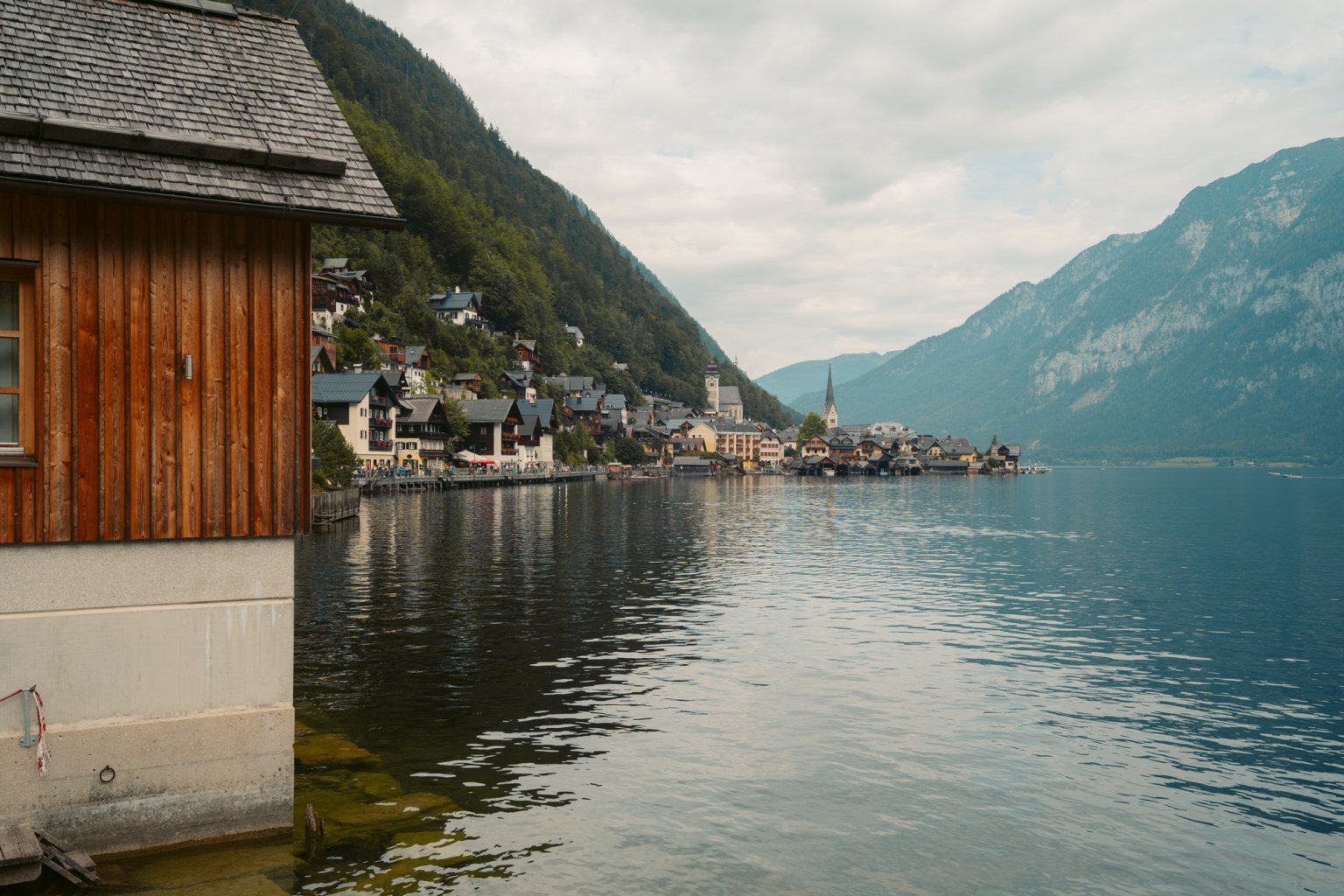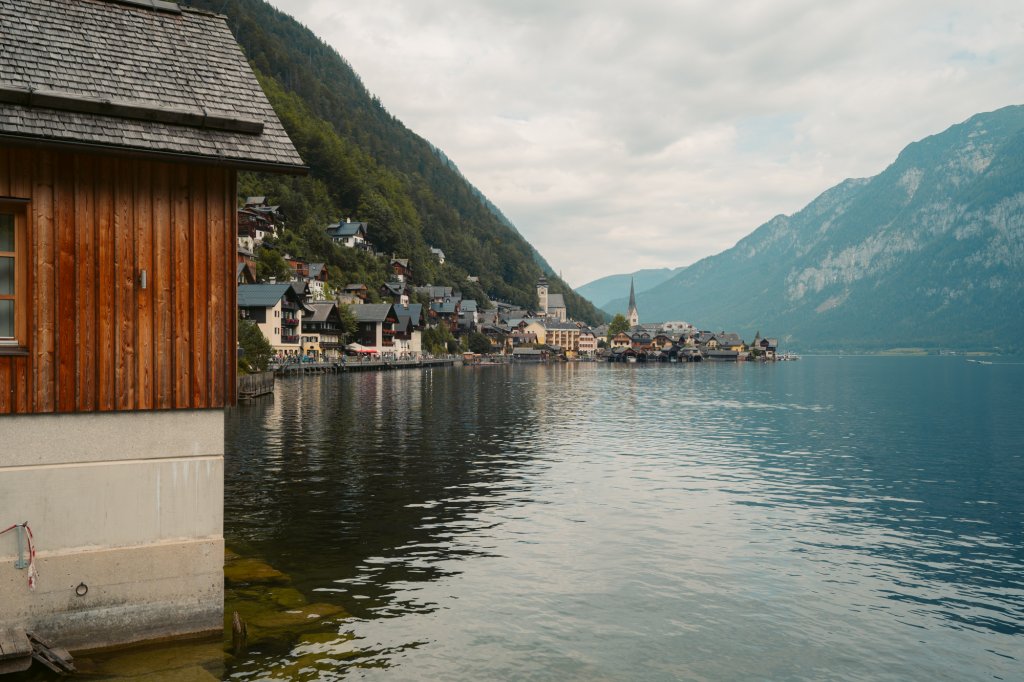 Okay – I'll tell you about one place. Hallstatt….. China.
For context: Hallstatt is a destination with clusters of superfans scattered across Asia, with visitors arriving in droves from countries like China, South Korea and Japan.
Some say it all began when a 2006 K-Drama called "Spring Waltz" filmed here, and through the power of social media, word of mouth, and a repeatedly debunked rumour that the town inspired Arendelle from Frozen, an unstoppable ball of hype was created.
Today, Hallstatt is a dream destination for countless Asian travellers (and clearly, I'm not immune).
But still, when a mining company in China unveiled their recreation of Hallstatt (except this one is a high-end residential complex) in Guangdong……… well, some said they maybe took the fandom too far. Over 900 million dollars too far.
Nonetheless, China's Hallstatt does exist, a curious tale in today's global travel landscape, and no doubt acting as a continual catalyst in Hallstatt's rise to fame as Asia's #1 dream destination (sorry, Giethoorn!)
Alright, now that we've covered all of Hallstatt's prettiest viewpoints, and its Chinese clone, we can relax a bit.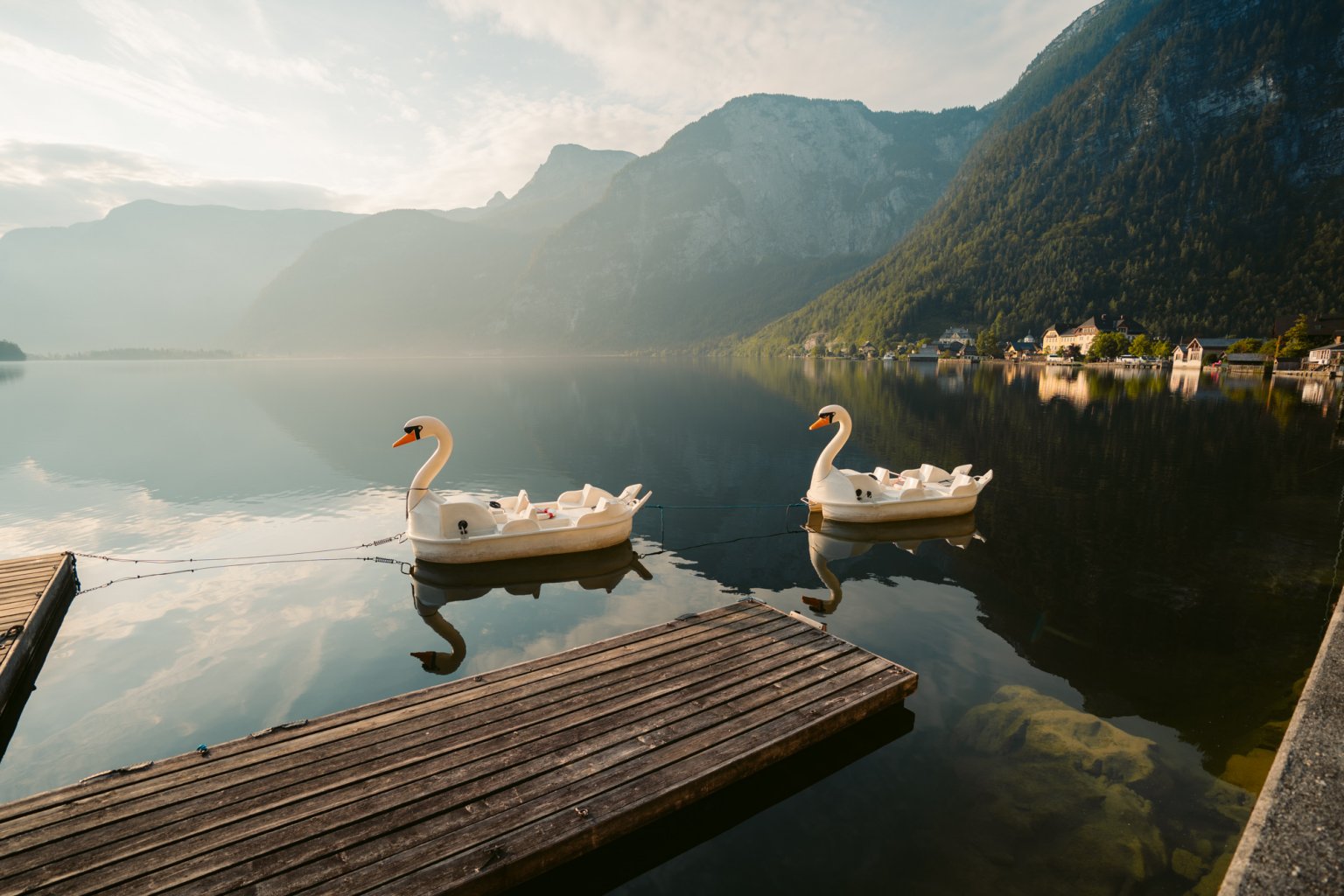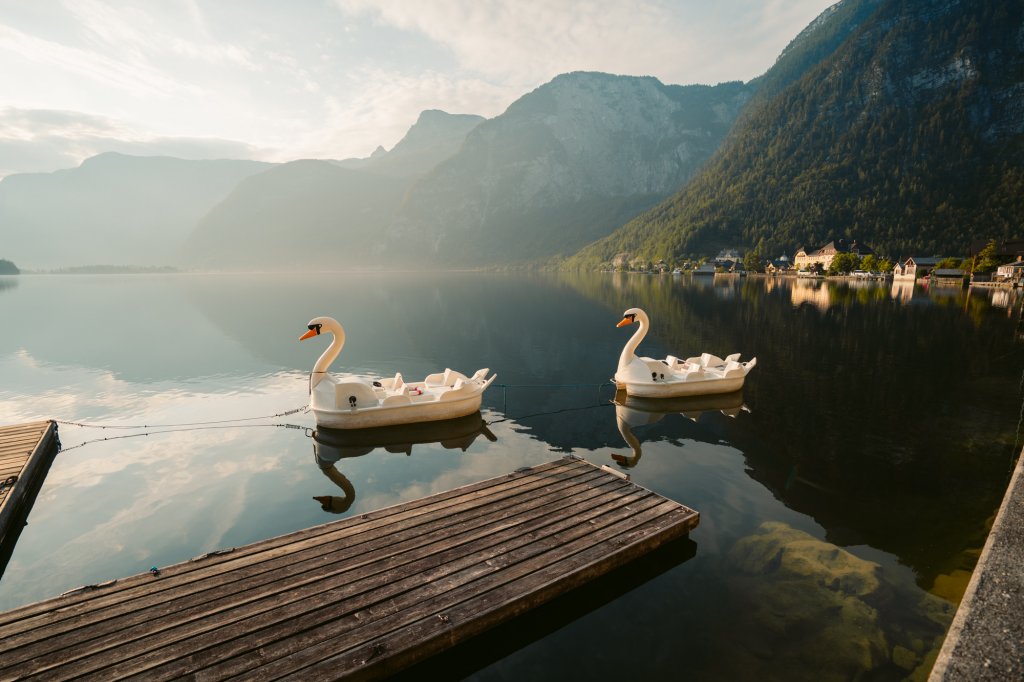 9. Toe dipping serenity break
Since there will still be some time before businesses open up, I recommend taking some time to just breathe in your surroundings and enjoy.
I personally have a nice wooden jetty near the memorial that I like to perch on, where I can dip my toes in and pretend like I'm a travel magician for seeing Hallstatt this empty.
If you're lucky, in the distance you'll see a swan or two gliding past…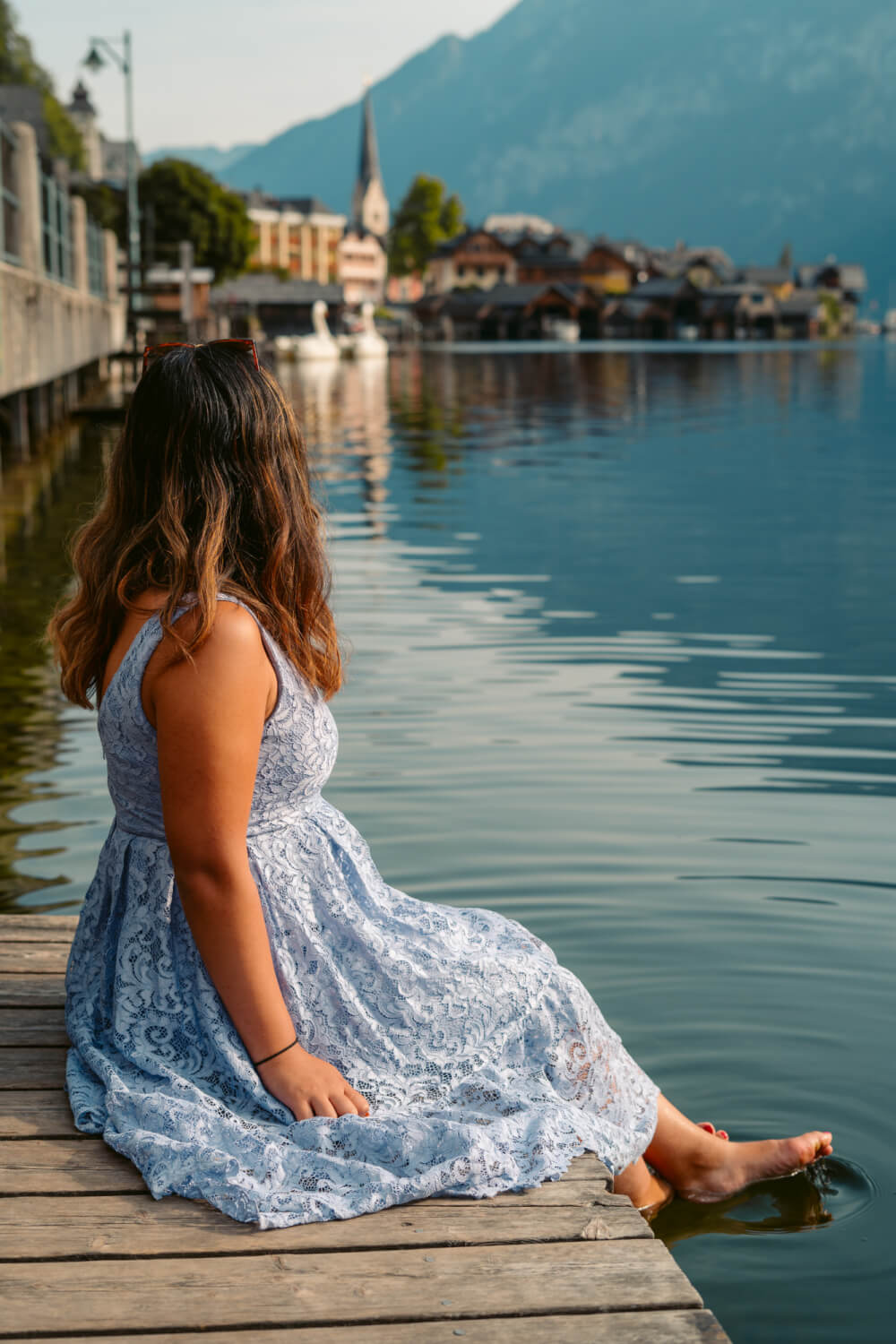 Now, If you notice they have a bit of a snooty attitude as they glide, it's because these are supposedly royal swans.
Legend has it they were imported by Kaiser Franz Josef and his beloved Empress Sisi in the 19th century to (I assume) class up the place a little.
Swan obsessions apparently run in the family though – Sisi's cousin is none other than the Mad Fairytale King Ludwig II, iconic castle hoarder who brought us Neuschwanstein Castle (literally New Swan Stone Castle) before his mysterious and untimely death, largely rumoured to be a murder.
But let's forget about murder for a second… you're here in Hallstatt!
Admire that glassy, salt-filled lake! Bask in that sunshine that's just peeking over the mountains! Think about how wonderfully good looking you are in this setting! Contemplate relocating your life here so you can open a bakery and live happily ever after.
… Too far? Okay, maybe it's time to go.
Let's grab some coffee before we combust.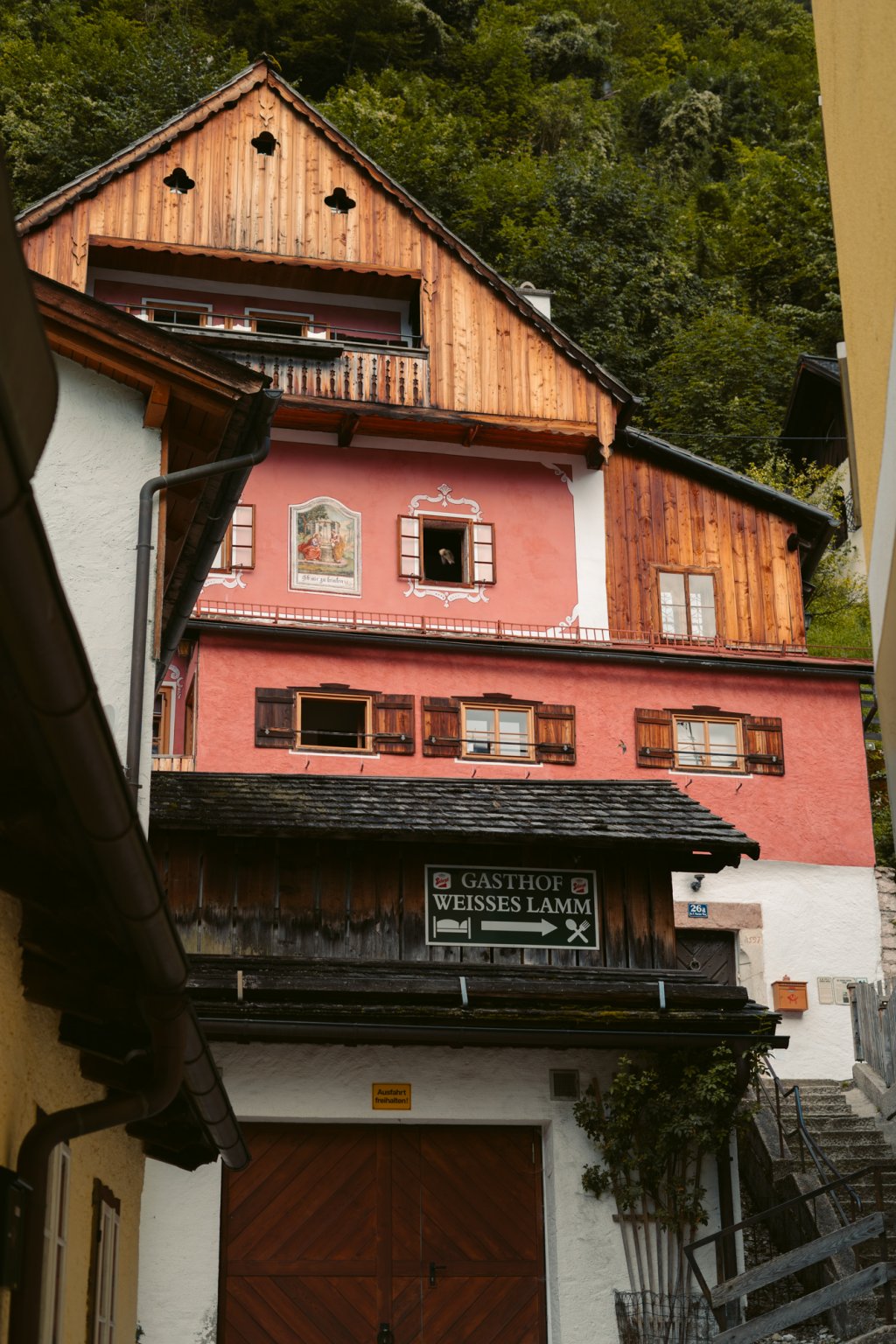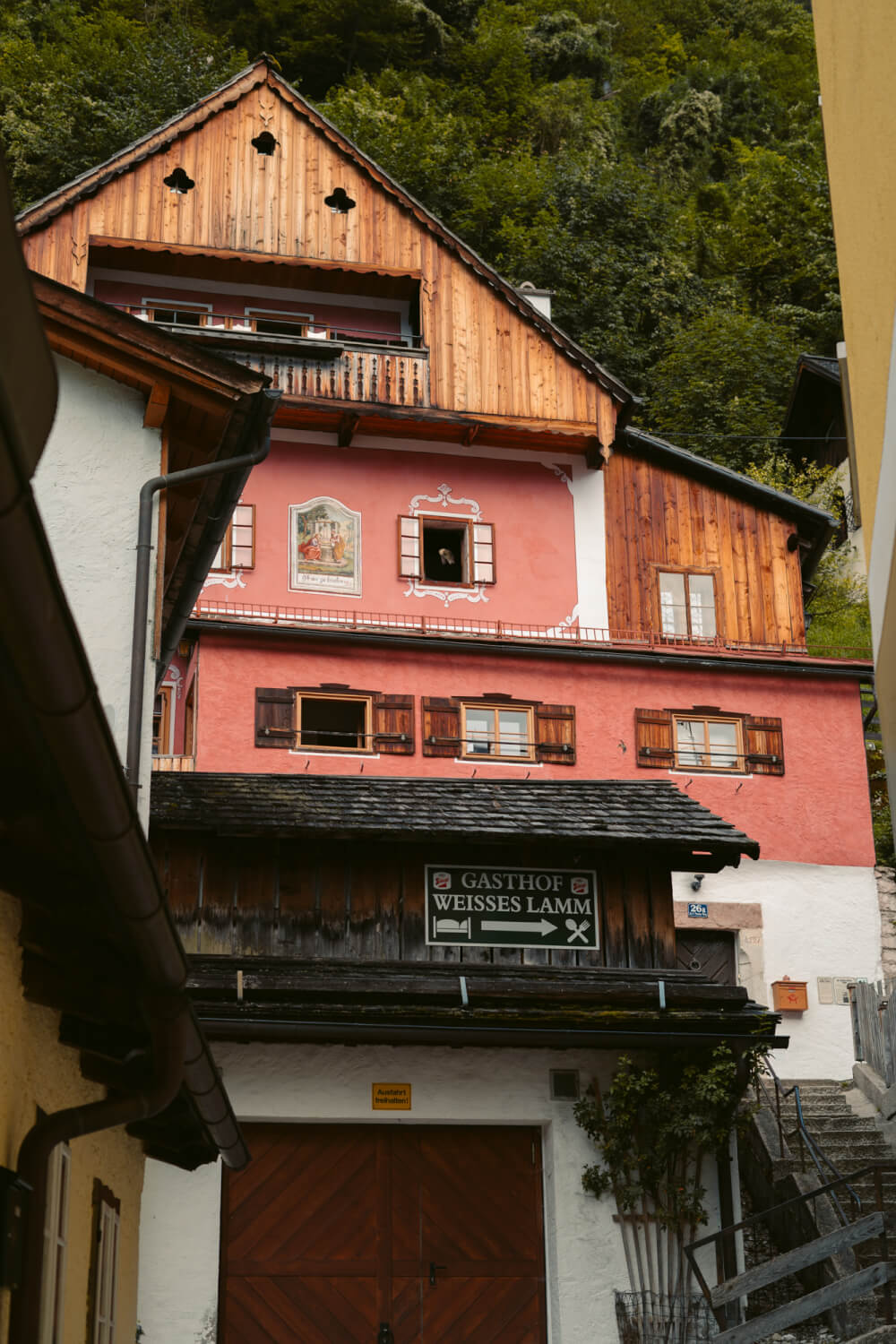 10. Coffee Time
From my research, most cafes in Hallstatt have pretty bad reviews, usually attributed to rudeness.
Now, either every restaurant here is exceedingly terrible, or perhaps low reviews and rudeness accusations are simply a consequence of being slammed with thousands of demanding tourists each day.
Nonetheless, SIMPLE 169 is a nice little cafe I'd recommend, located right by the Tourist Info office (which, if you're keen, is a place to raid for pamphlets and information).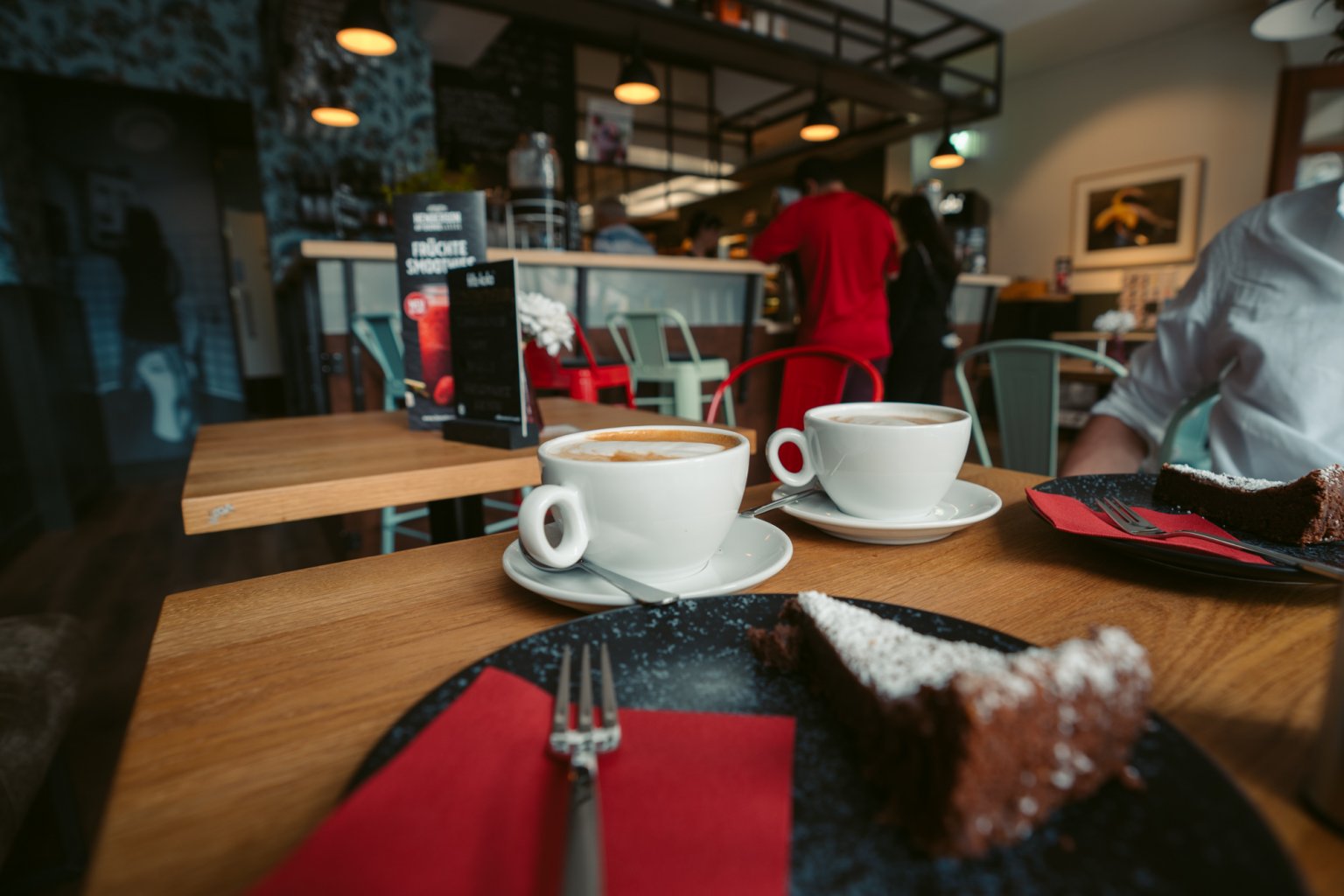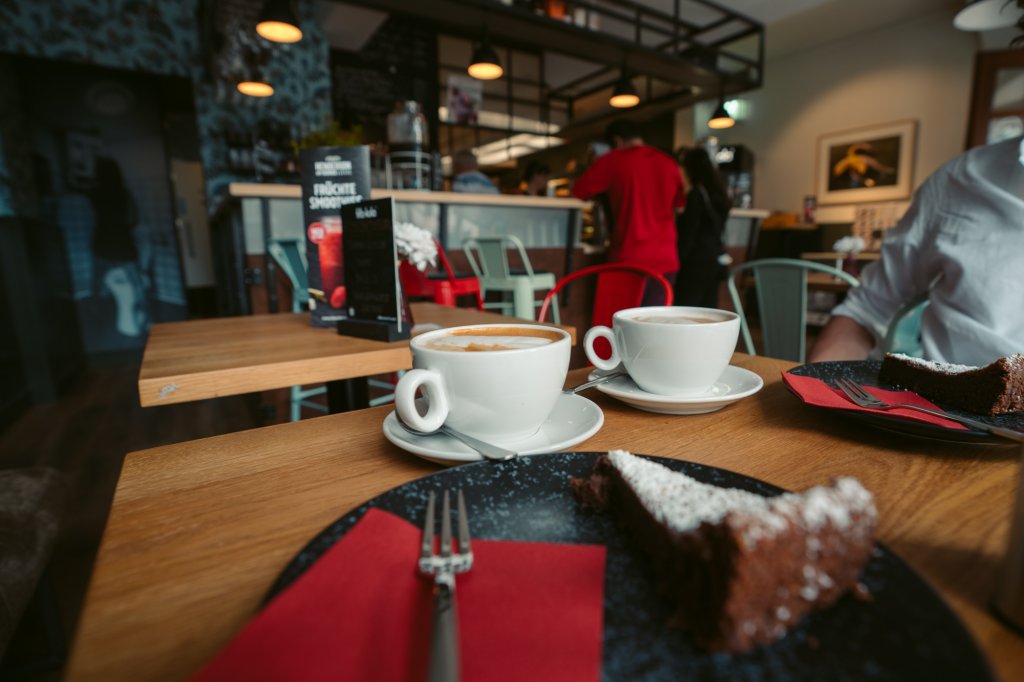 Since I'm not super fussed about doing all the activities here, I'm opting to skip a visit to the tourism office and instead digging into some coffee and cake…
I found the service here to be pleasant, and the food tasty (if not a bit inflated by Hallstatt pricing).
The multiple 1 star reviews (one of which was apparently left by a guest who went INTO the kitchen to order when the line was taking too long) are in my opinion undeserved.
With all those calories replenished (and then some), it's time to sightsee…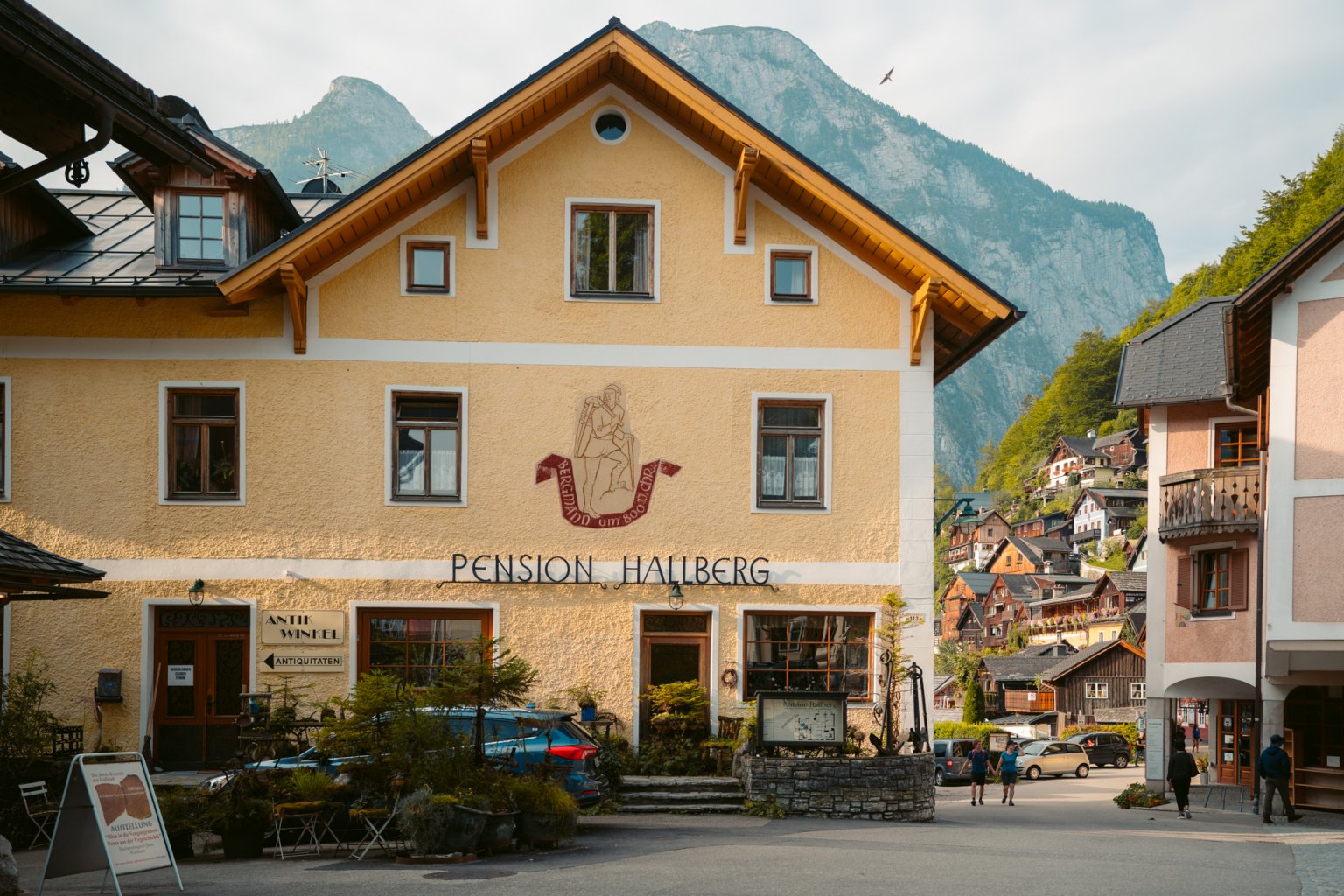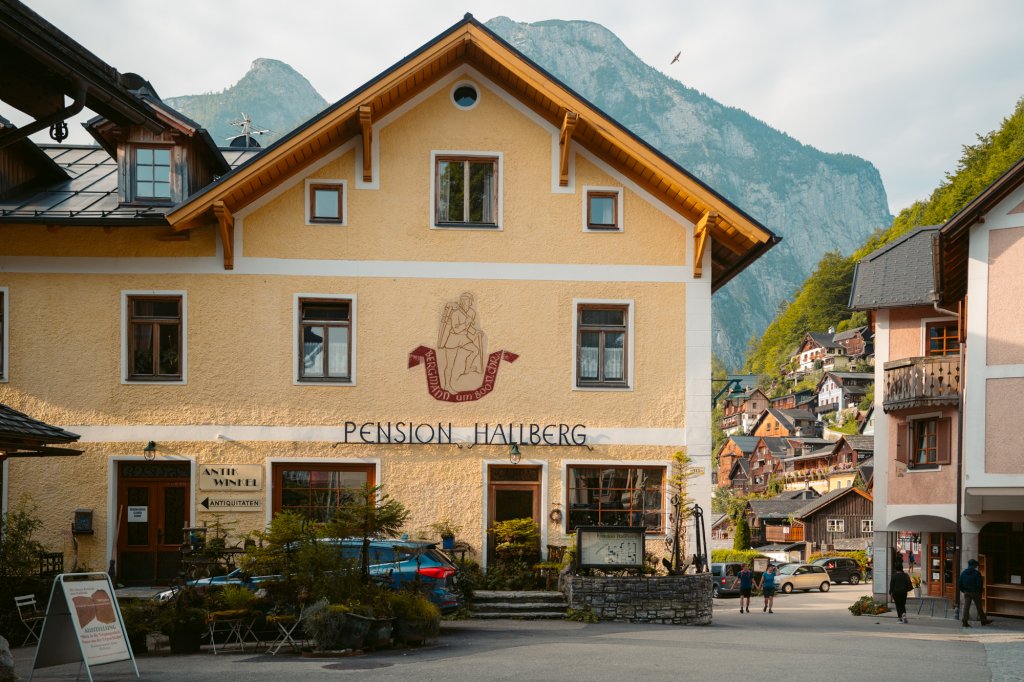 11. Dachsteinsport Janu, AKA Janu Sports Shop
Time to dig deep into Hallstatt's Roman past!
… Hidden in the cellar of a sporting goods shop.
Now, because I am an insufferably awkward person, we will first spend some time feigning interest in the shop's eclectic selection of golf polos, amethyst clusters and children's toys.
"You've always wanted an ornate wooden wolf, haven't you, honey?"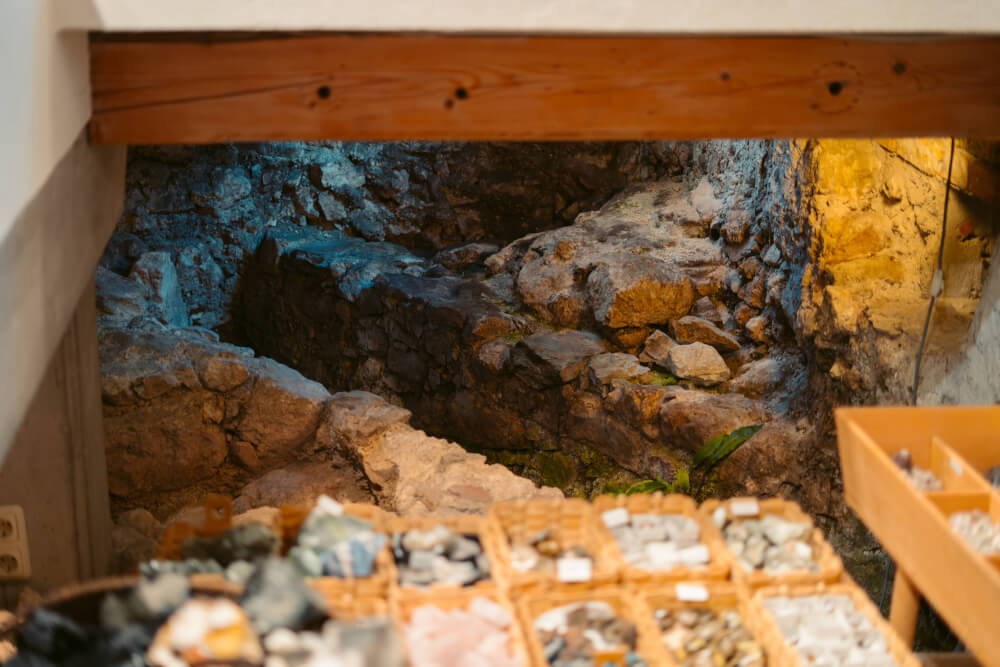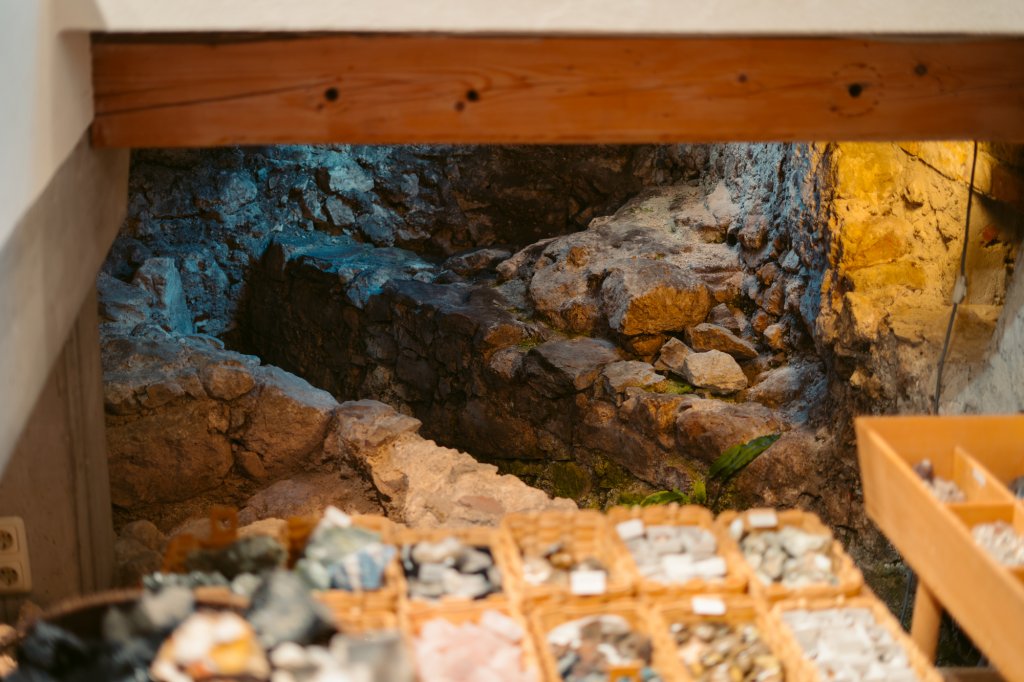 Okay, I think they've bought it.
Time to surge at that hidden wooden staircase over there behind the children's ponchos!
While it's barely a secret at all to anyone with access to Google, the Roman ruins lurking underneath this sporting goods shop offer a quiet reprieve from the selfie stick armadas just above.
A simple wooden staircase takes you from the strange sporting goods/crystals/home decor selections down to a 300m² collection of ruins dating back 7000 years… and strangely enough, nobody comes down to look, so you can hog these millennia of history for yourself.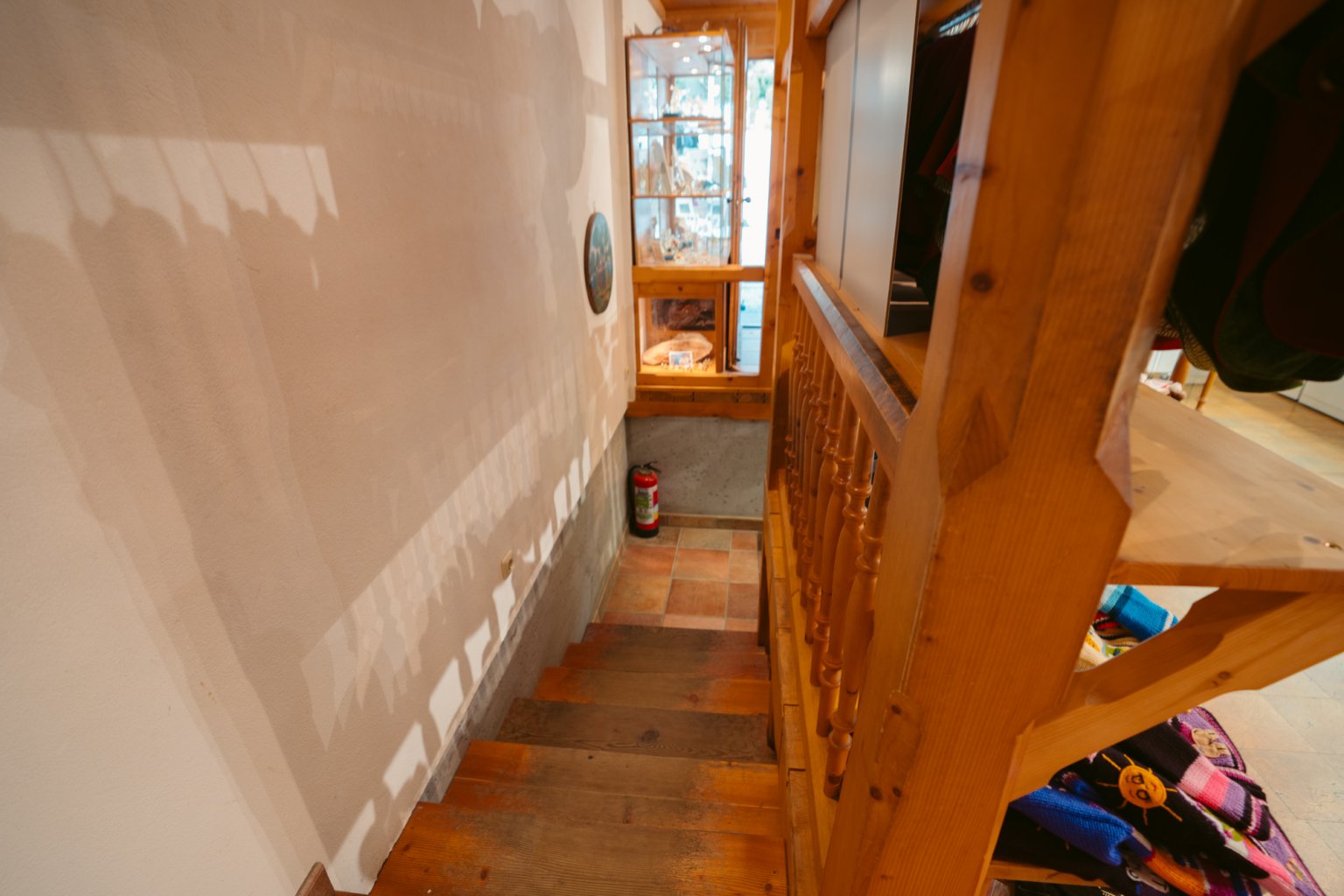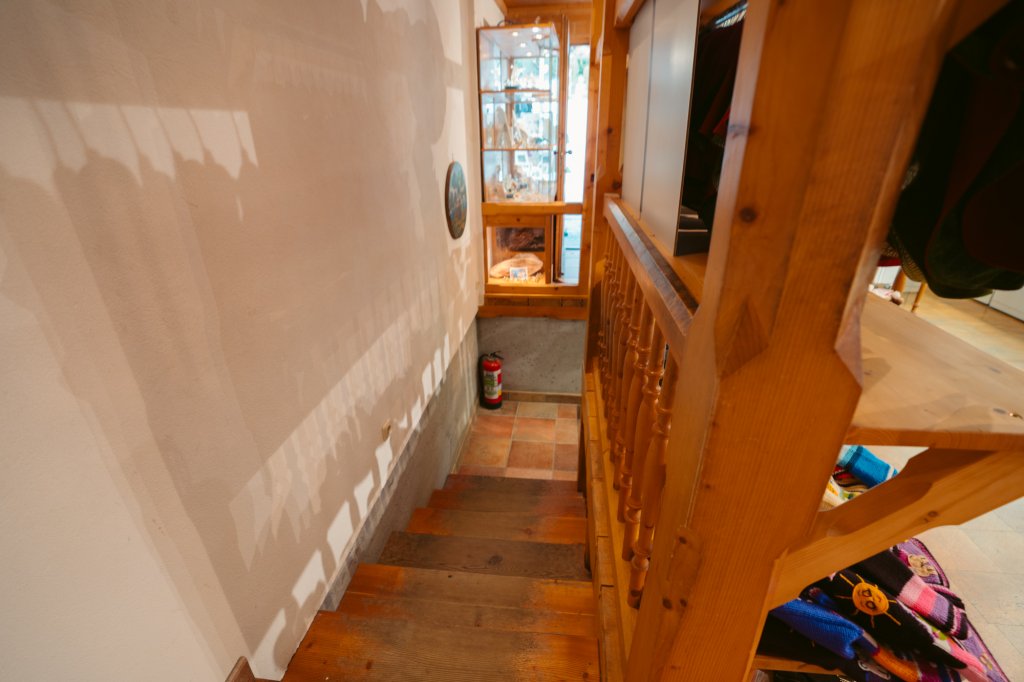 Now, home renovations are an endeavour usually fraught with headache anyway, but imagine the surprise of shop owner Fritz Janu when, one day in 1987, his "simple reno" involving a new boiler room turned into the accidental discovery of priceless historical artifacts spanning epochs.
This discovery paved the way for many more excavations in the years following, each time adding new goodies to an artifact collection that now includes Roman pottery, medieval tools, Latin-age ceramics, and many other bits and bobs worth (probably) more than my entire apartment.
… I'll be honest with you though – I don't think Fritz ever got that boiler room.
Today, the excavations are free for all nosy visitors to peruse. Well-meaning maroon signs mark off areas such as "ROMAN BATHS" that encourage your imagination to work overtime, while glass display cases showcase some of the finest aforementioned artifacts.
After you've had your fill of truly historical rocks, the exit is of course through the gift shop (as are all good things in life).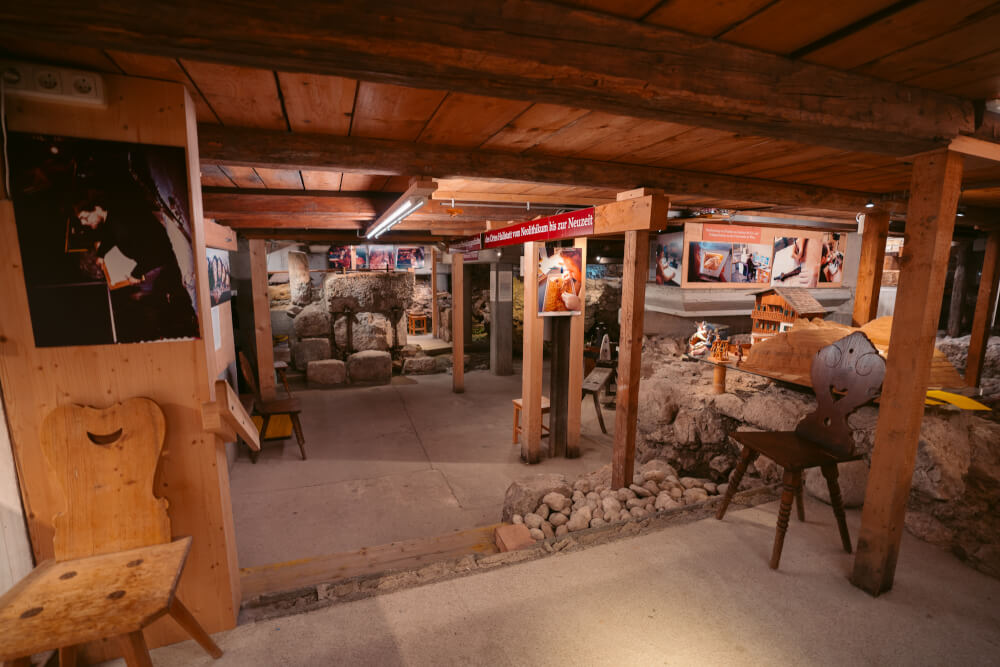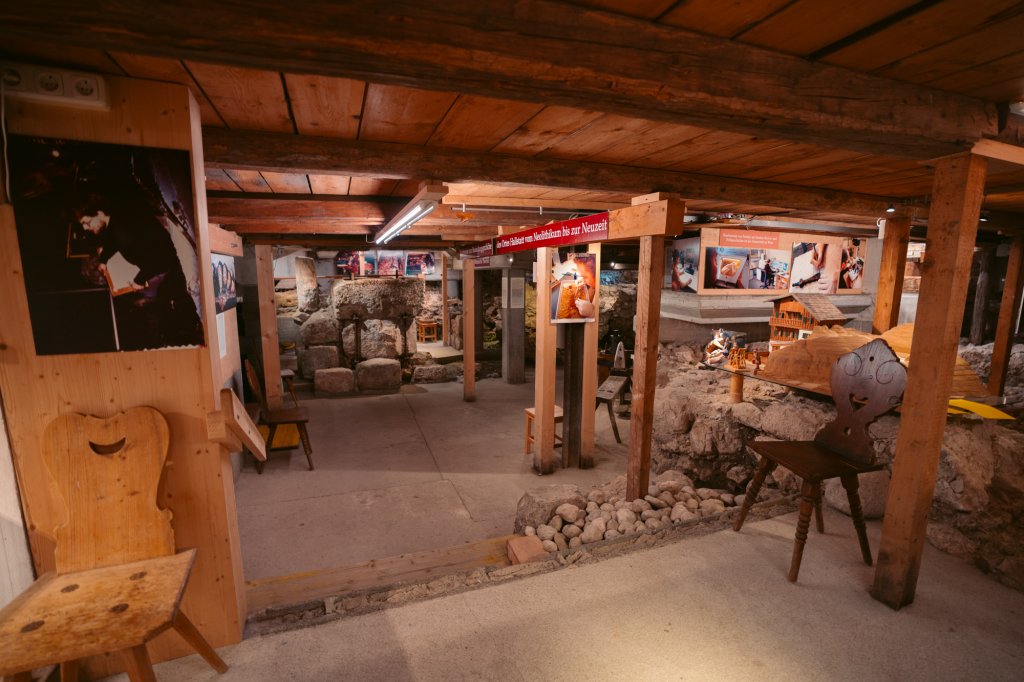 12. Hallstatt World Heritage Museum (Welterbemuseum Hallstatt)
Exiting the gift shop on the way back to Marktplatz, you'll see Hallstatt World Heritage Museum (Welterbemuseum Hallstatt).
When in 1997, Hallstatt and its surrounding areas became officially recognized as a UNESCO World Heritage Site, locals were thrilled.
The honour placed Hallstatt among the ranks of other World Heritage Sites like Egypt's Great Pyramids or China's Great Wall.
Officially, this means that Hallstatt offers such "outstanding universal value to humanity" that it must be conserved and protected. (And recreated in China for a billion dollars, apparently).
And for visitors, this means that Hallstatt's historical heritage is every bit as important as its snow globe aesthetic.
For the history nerds among you (and if you're still reading this, I'd venture to guess you're either a) my mom or b) mildly thrilled by history), then a visit to the Hallstatt World Heritage Museum is one easy way to admire the 7 millennia of Hallstatt's history all in one place.
Cramming 7000 years of history into a visit of a few hours might seem like a dizzying task that requires much patience (and perhaps alcohol), but if you're up for the challenge, I have heard great things about this museum and would love to check it out someday when my stumpy legs take me back to Hallstatt!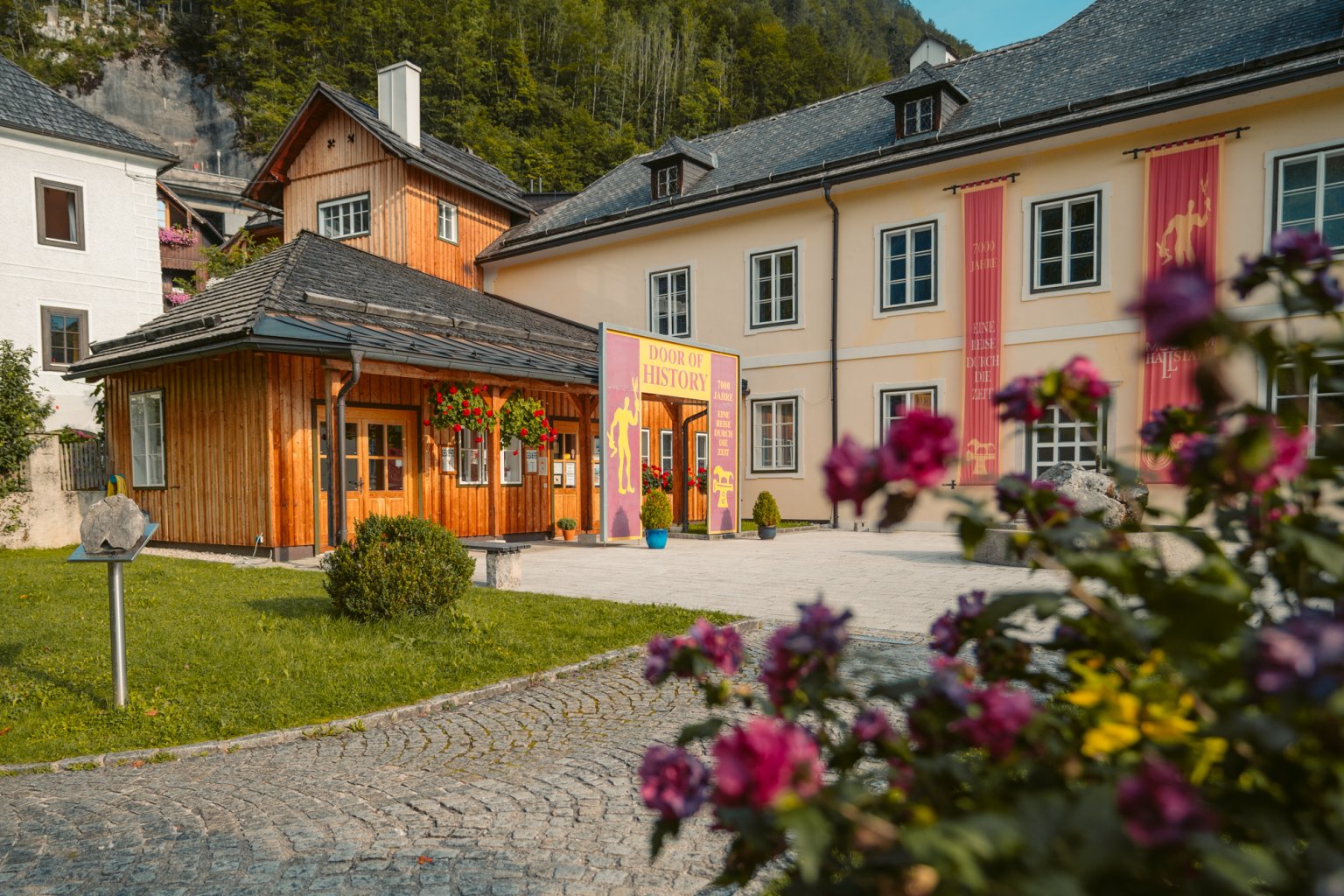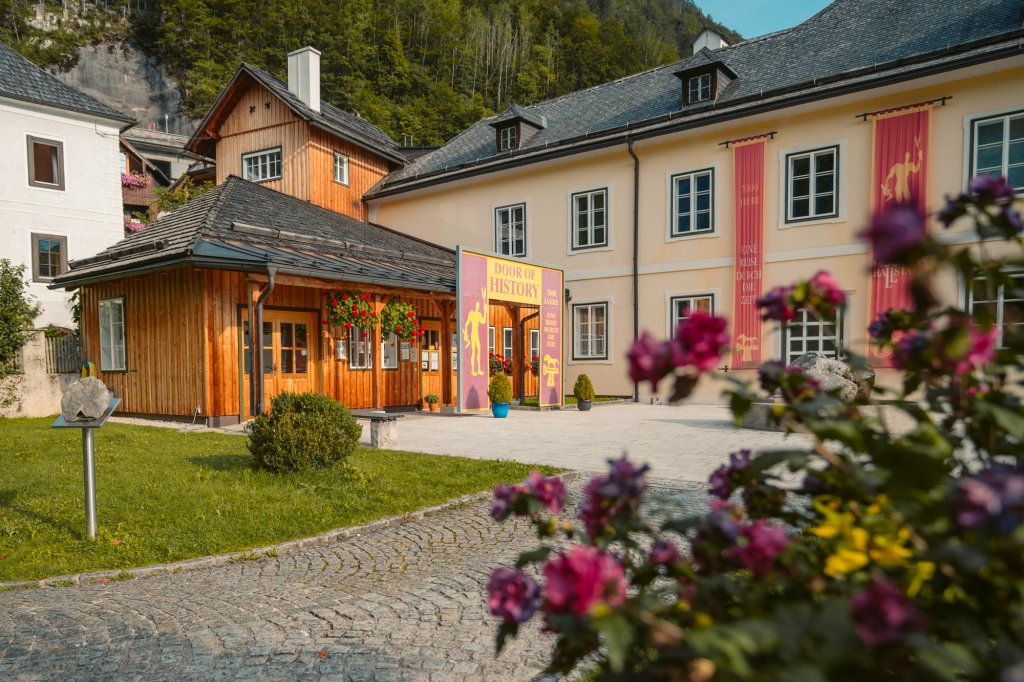 13. Hallstatt's Catholic Church
While Hallstatt's Evangelical Church is an iconic part of the Hallstatt "skyline", the village's Catholic Church hides in an uncharacteristically stealthy manner among the mountains.
That's where we'll be headed next.
Minimal hiking is involved – I promise!
Although odds are you're probably reading this at 2am while covered in nacho crumbs, so I don't think that would be an issue anyway.
The path I've chosen will allow us to double back on many of the spots we saw and marvel at how many more tourists have arrived since our early morning walk.
Marktplatz should now be alive and buzzing, with coffee drinkers crowding terraces, gift shops selling local specialties like Hallstatt Beer (and air, let's not forget that).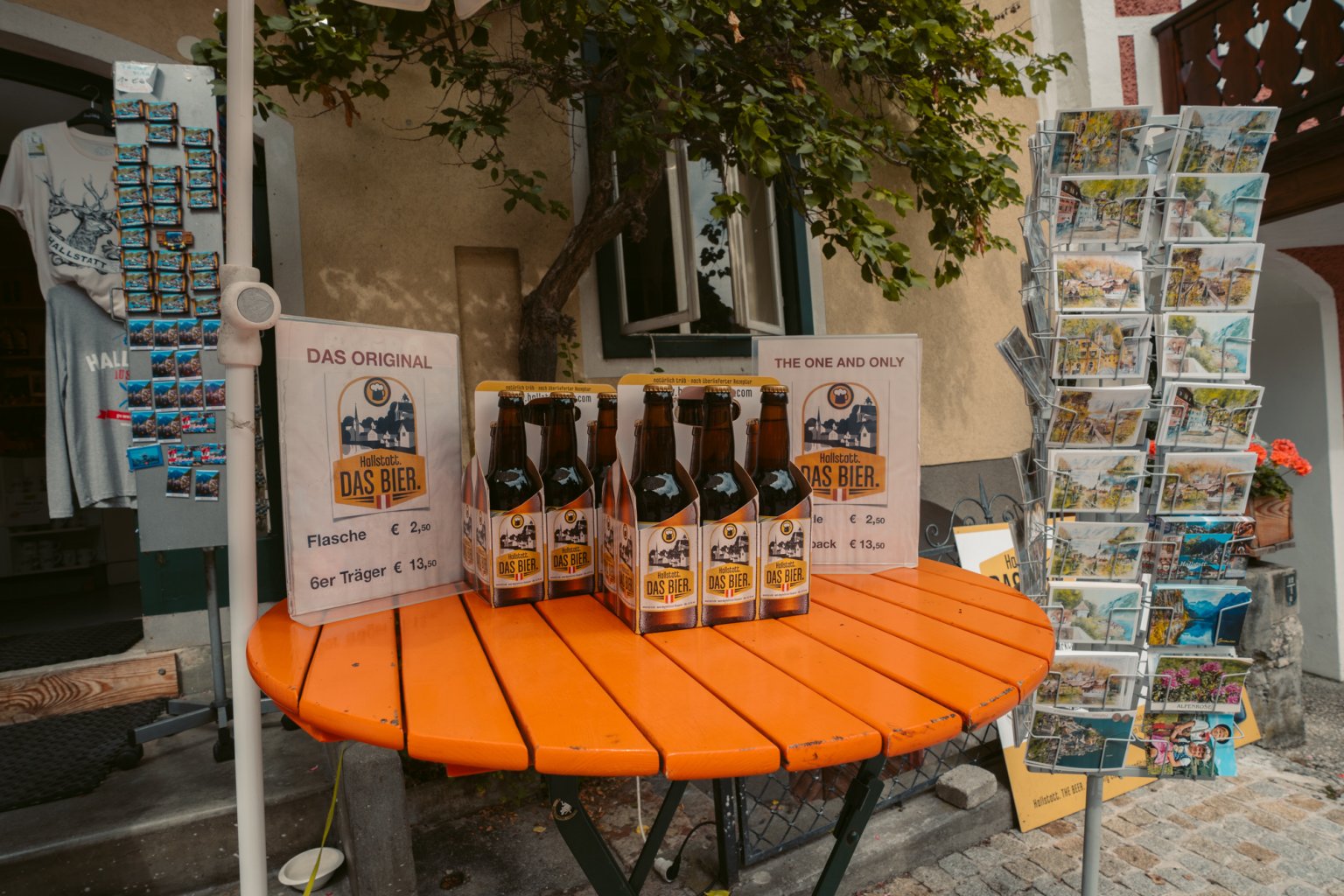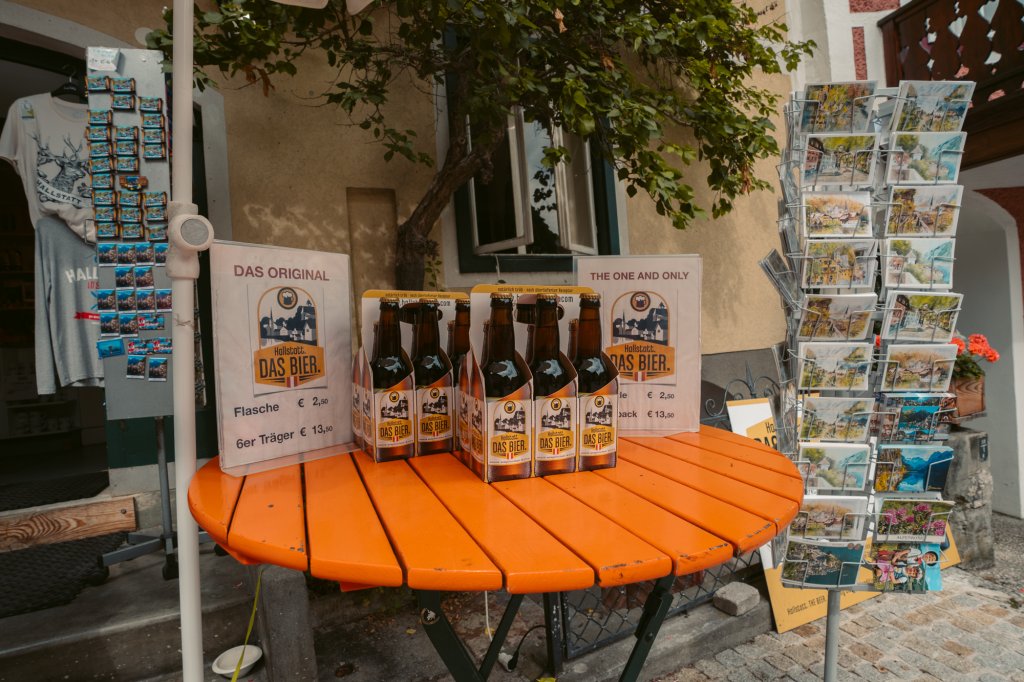 If you take a path through Marktplatz, a short uphill climb will get you to the church, with plenty of signage to guide you along the way.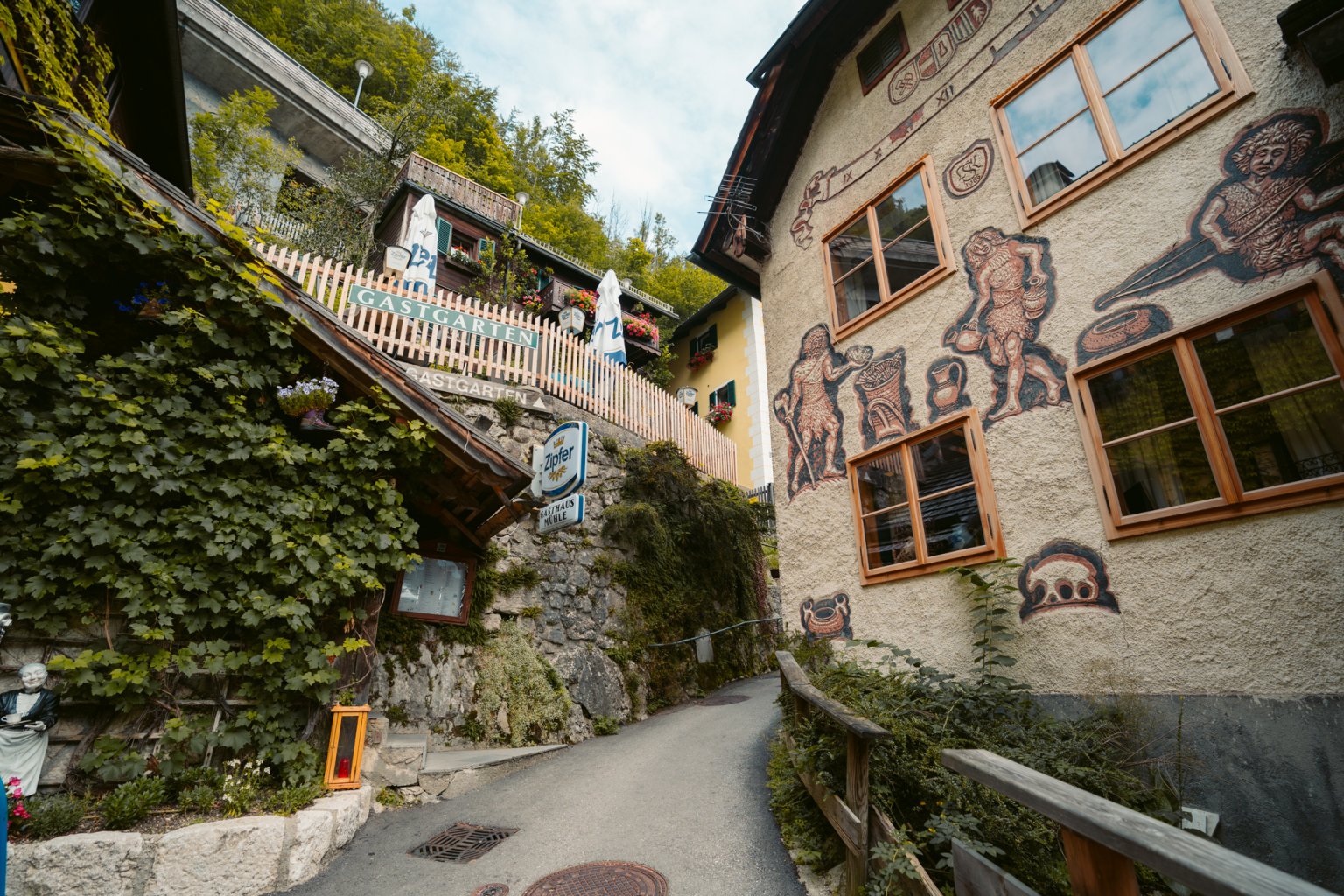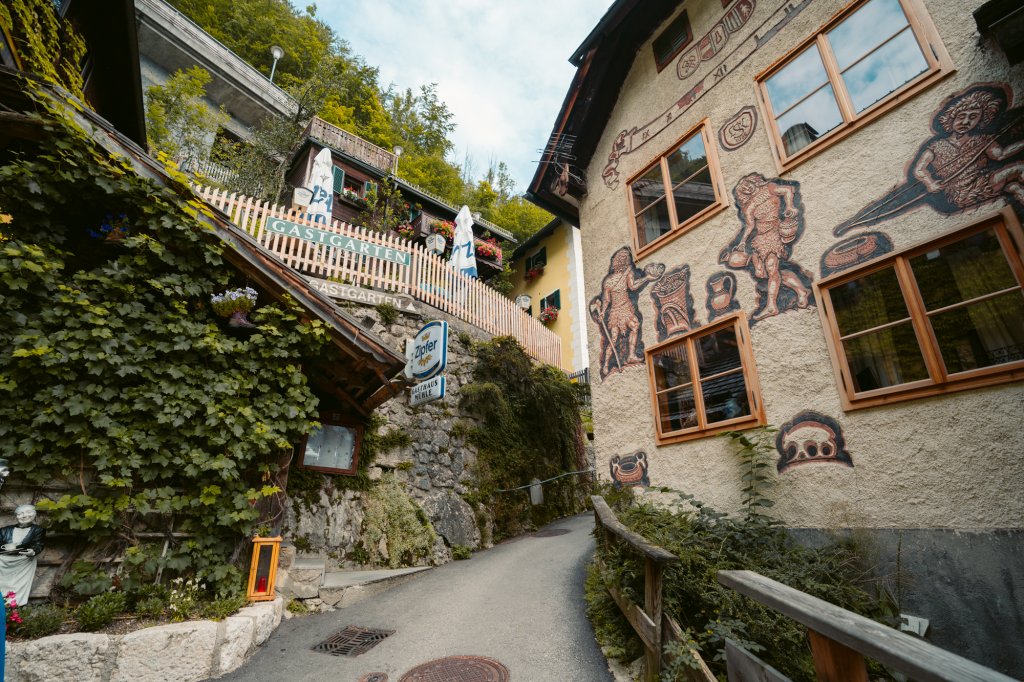 Soon, you'll encounter this beauty!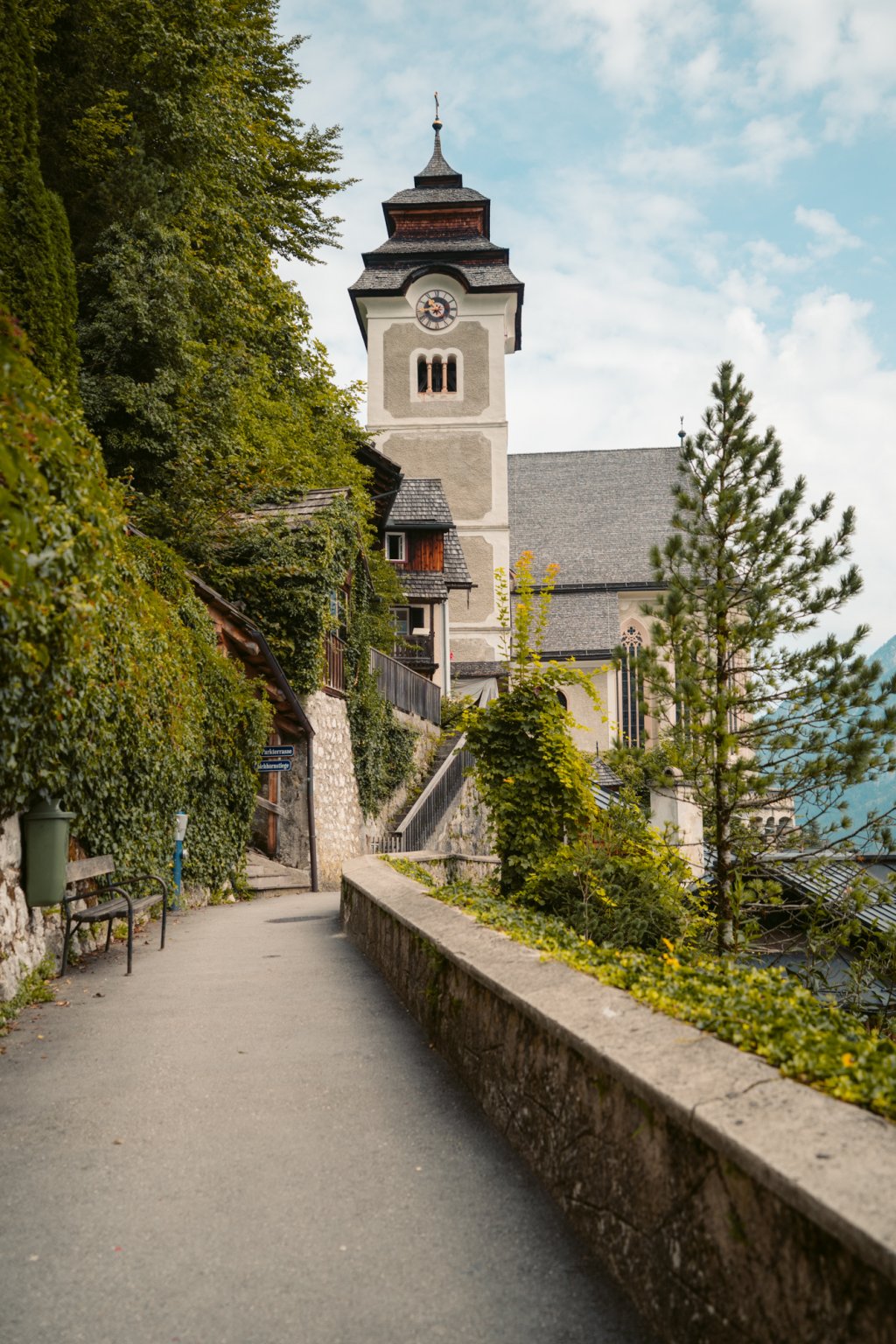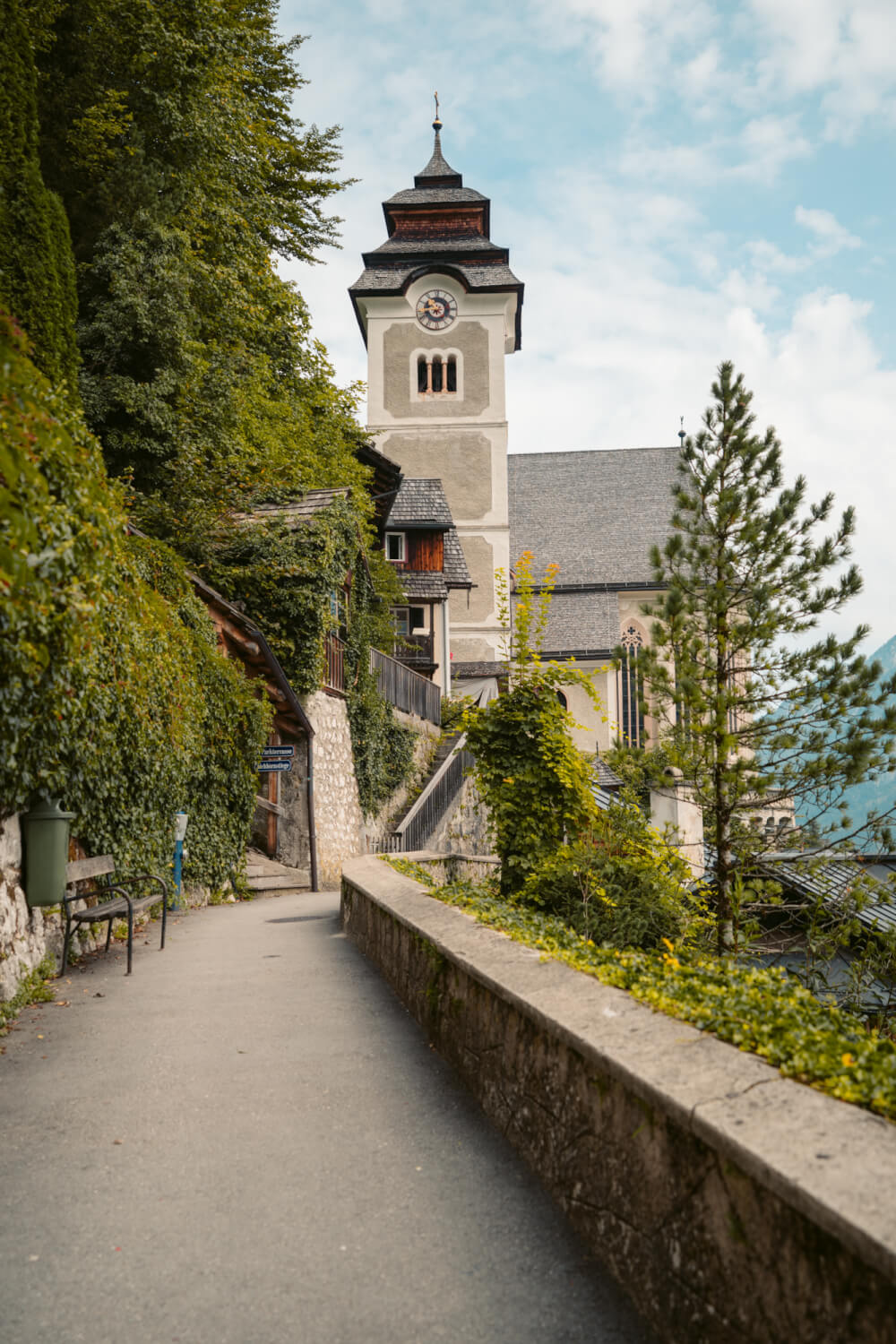 Now, for history. I keep saying this, but Hallstatt is OLD.
7000 years is a long time to exist.
Christianity is said to have existed for about 1/7th of this, with traces of Hallstatt's first Christian community going back to about 1050 AD.
Historians believe there was likely a small Romanesque church here in the 12th century, but it wasn't until the 16th century that some daredevil builders decided to construct a church over some steep jagged rocks. This is the church we see today, although a complete renovation in 2002 spiffed things up a little.
But if you want some serious crime thriller drama, step into this church and take a look at some of the paintings.
True story: paintings displayed in here were the subject of a 30 year criminal investigation, after an Italian couple allegedly came to "sightsee" in 1987 and "sightsaw" the heck out with four paintings from the altar smuggled under their coats (or suitcases, I don't know, I wasn't there).
Literally it took 30 years of investigating from private "art theft investigators" before a raid in 2017 rediscovered them in tact.
Okay, now let's go look at some skulls.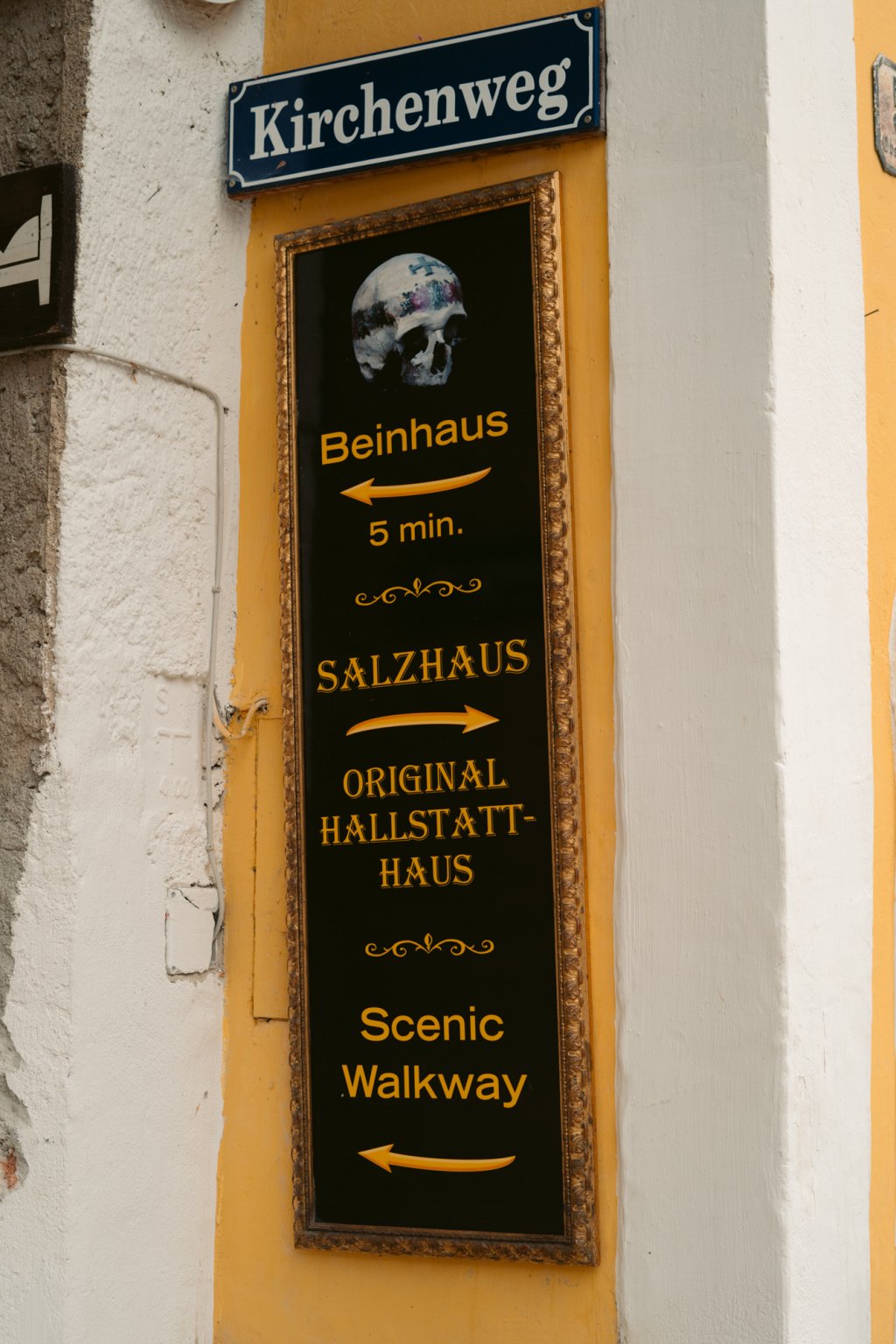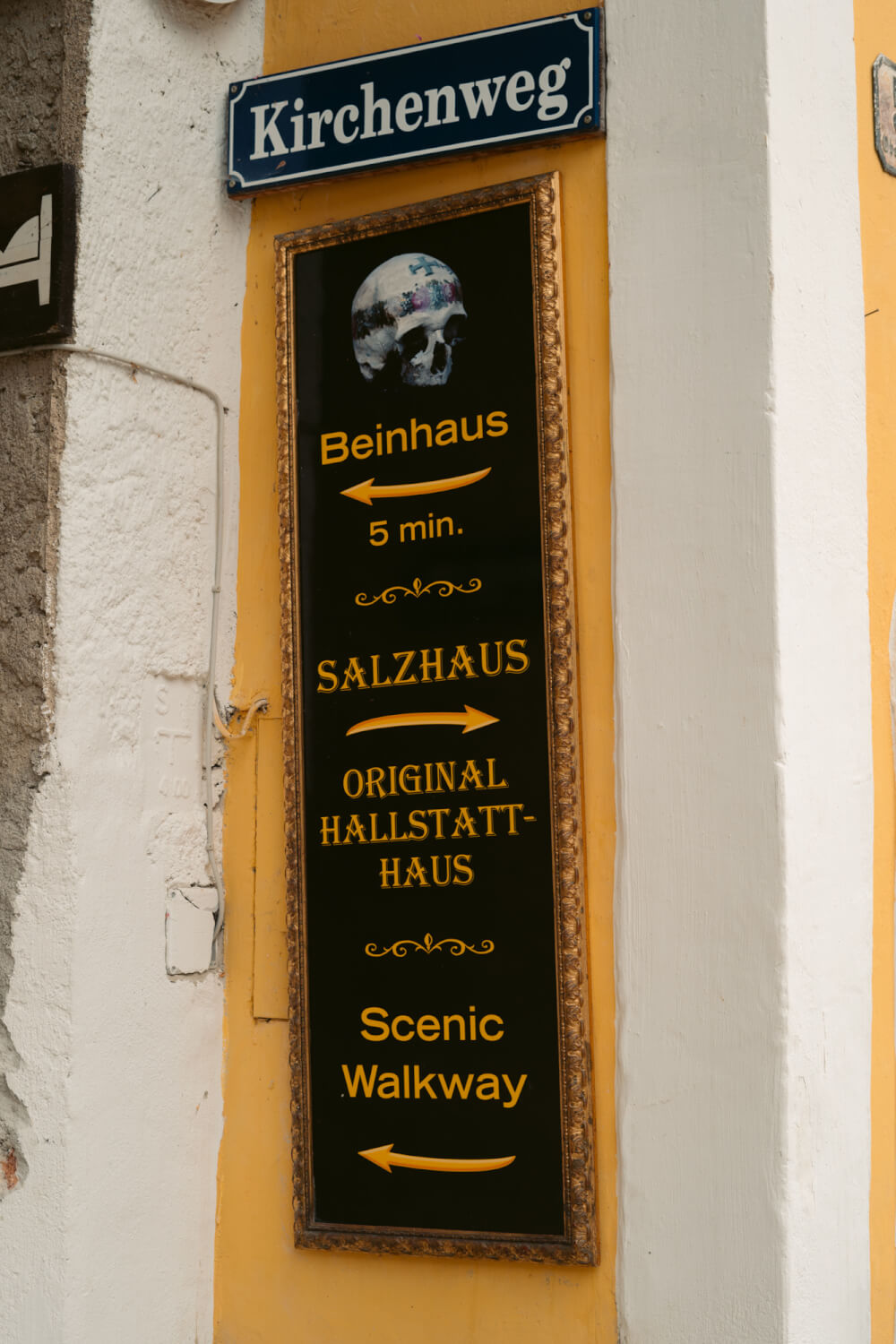 14. Hallstatt Charnel House
It's quite funny to me that Hallstatt, a village known for its fairytale glitz and postcard perfection, houses one of the most fascinatingly macabre sights in the country.
A chamber of skulls!
But, don't worry – they're artfully painted skulls.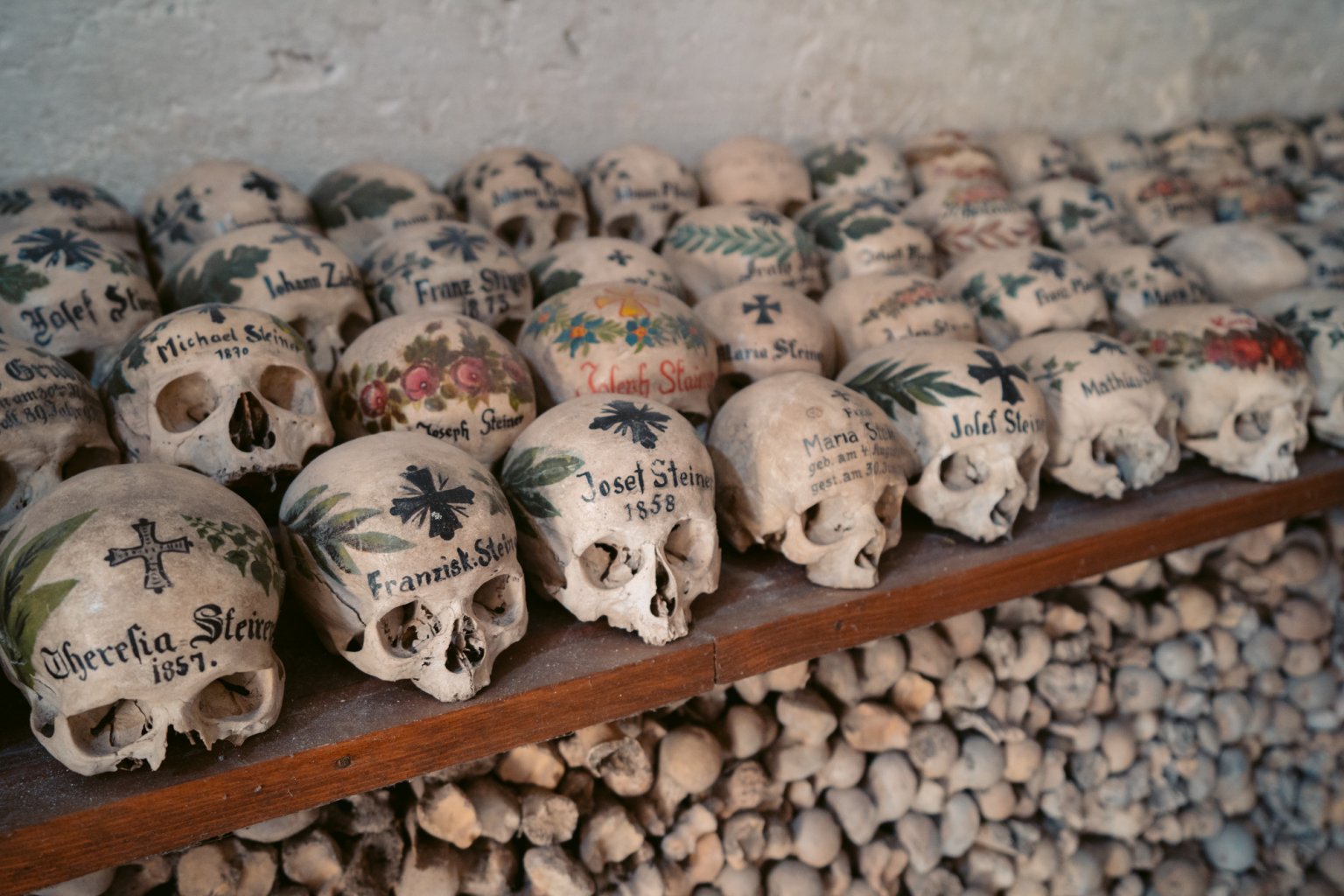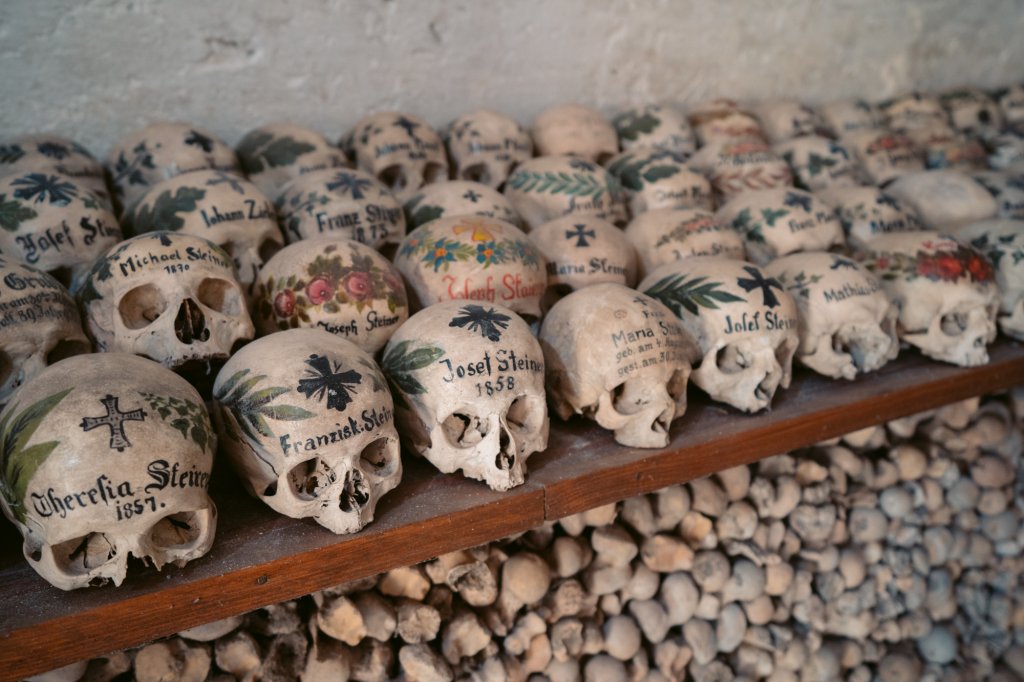 St Michael's Chapel is where we're headed to see them.
Fittingly tucked away at the back of Hallstatt's cemetery, you'll find the village's famous Ossuary in this chapel, where over 600 painted skulls await.
First though, we must pay a small entry fee to the toothy man guarding his skull house.
Between you and me, he seems weirdly proud of his skull house.
Now, why are we looking at hundreds of skulls arranged artfully in a stony cavern?
Well, skull painting, as macabre as it might seem to an outsider, was actually a custom popular in the region even up until modern times.
Due to the lack of burial space, often existing graves would have to be re-used for new burials.
In these cases, the exhumed bones would then be transferred to charnel houses like these in a second funeral of sorts.
To preserve the identities of these skulls, family members would paint them, making using of various inscriptions such as names, initials, and ornamental features like special leaves and crosses.
After admiring the skulls for a long enough time that you appease the skull man outside, but not so long that he begins to suspect you're a complete weirdo, it's time to head back outside.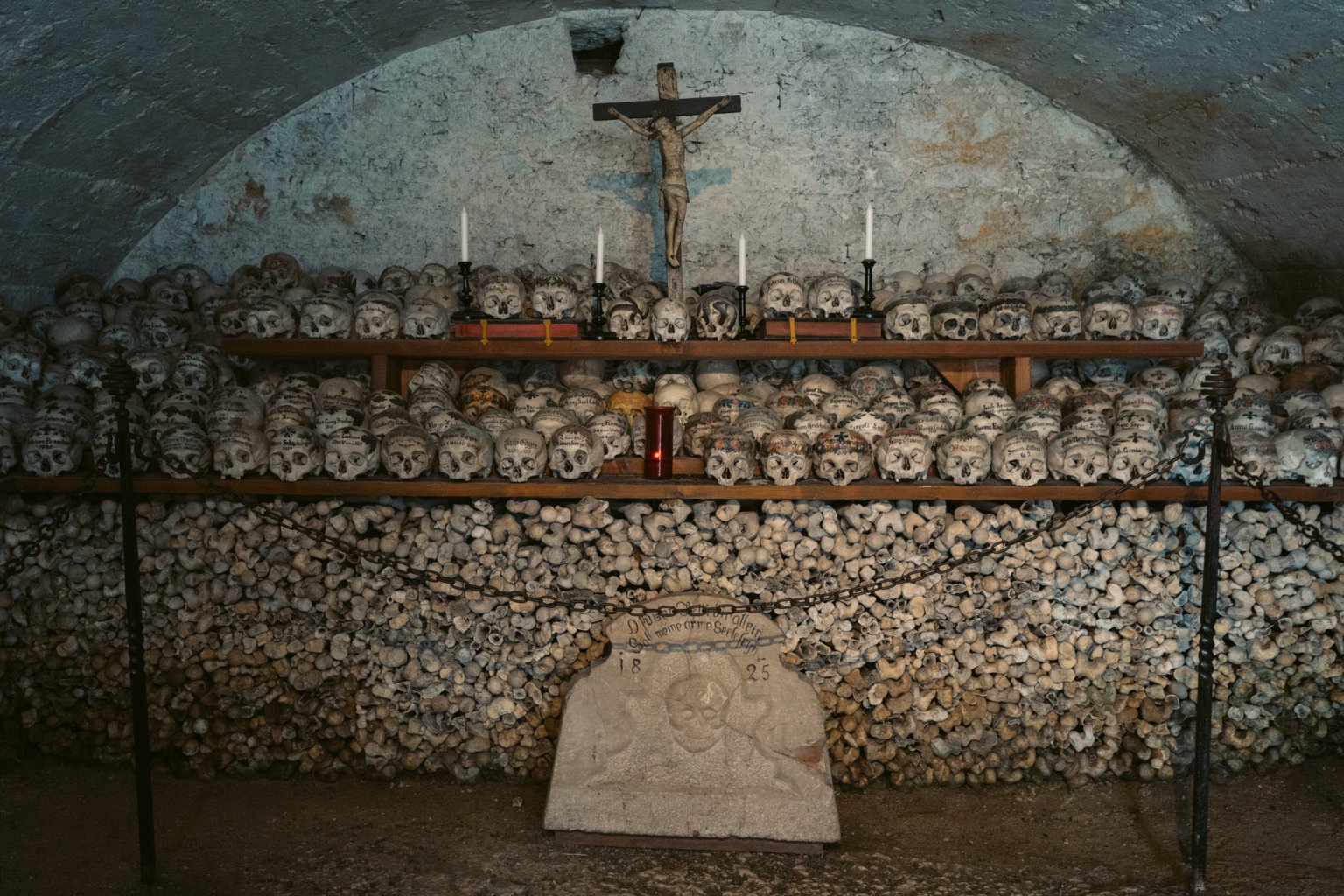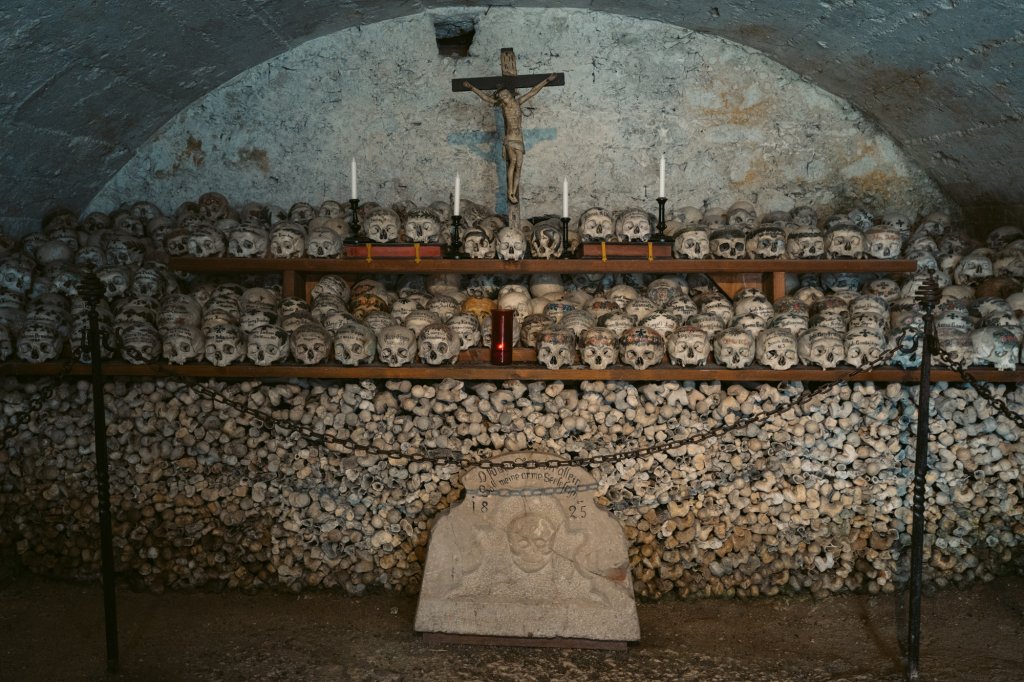 15. Hallstatt Cemetery
The cemetery of Hallstatt seems like a sad place to end our little Hallstatt walking tour today, but it's a beautiful one.
There is no shortage of great viewing points over the village (the Five Fingers are especially popular) but this one is my personal favourite because you're above the village, yet still close enough to admire all its wondrous little details.
This beautiful cemetery is a peaceful place high above the mobs of your fellow tourists down below.
As the literal chamber of bones we just visited will remind you, graves here are not permanent, and open up for "re-occupation" after only ten years.
And if you're wondering whether or not Evangelists have their place here too despite being located right by the Catholic Church, the answer is yes. The cemetery's front side is said to be allocated to Hallstatt's Evangelist community.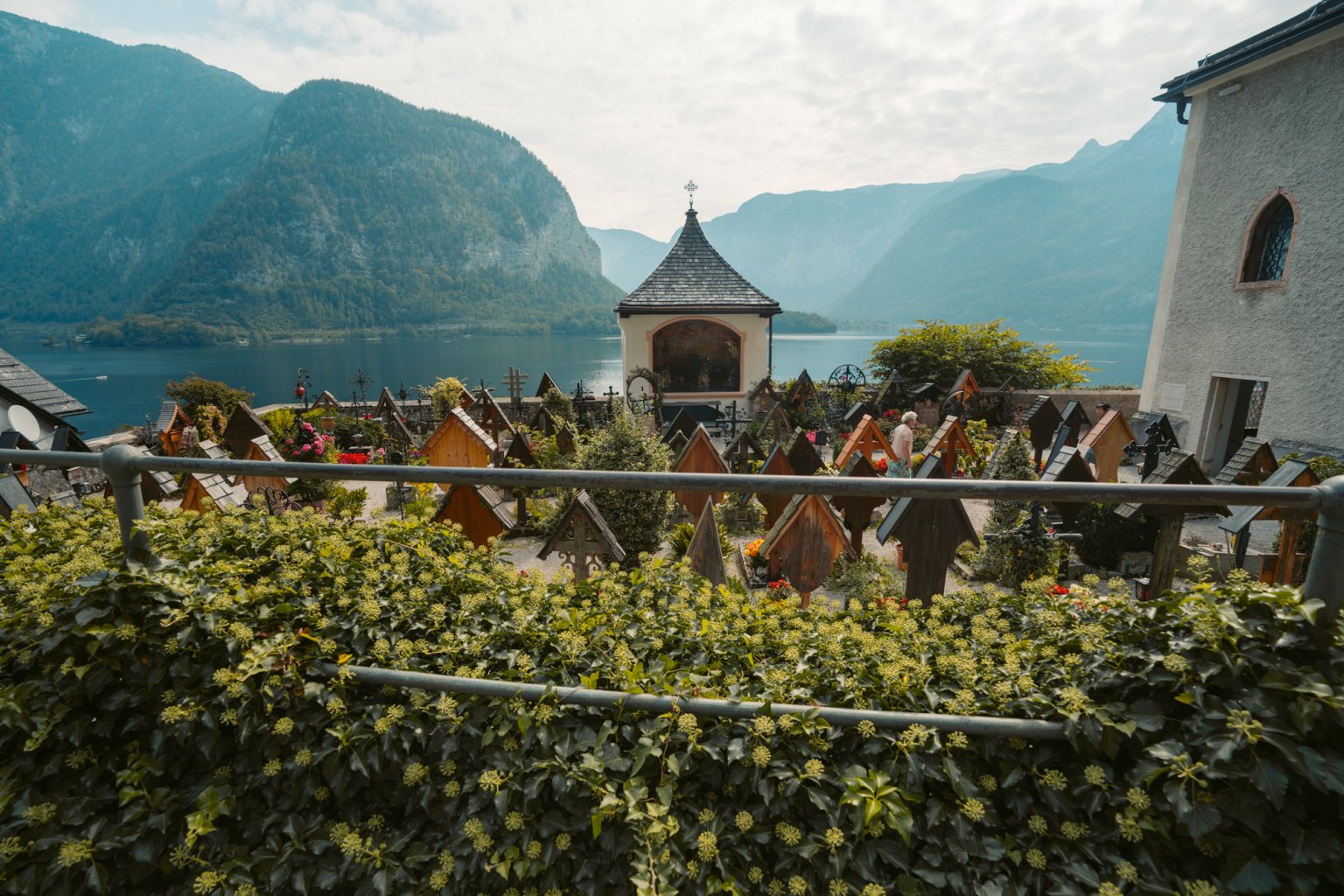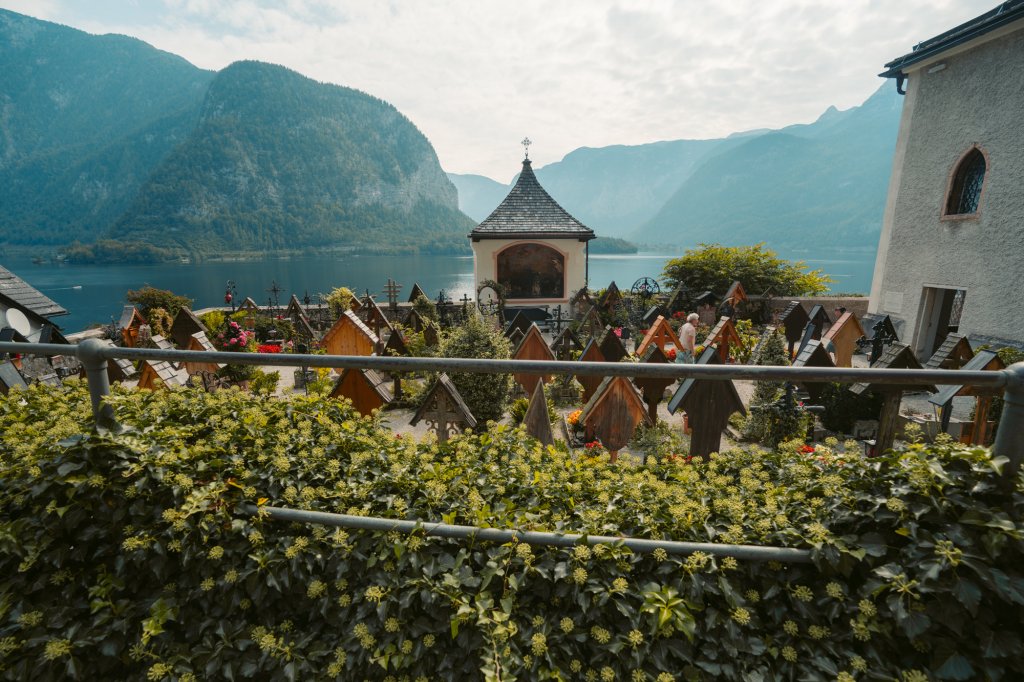 DIY Hallstatt Walking Tour Map
I hope you enjoyed today's walking tour of Hallstatt!
Wow, what a ride that was. There was theft, fire, skulls and cans of air. Everything you could possibly want in a tour of the world's most famous fairytale village, oft copied, but never replicated.
If you're lucky enough to follow this route in-person, I hope it helped you make the most of your time in the village, and if you were just tagging along for a virtual ride, well, thank you for choosing me over Netflix.
Until next time!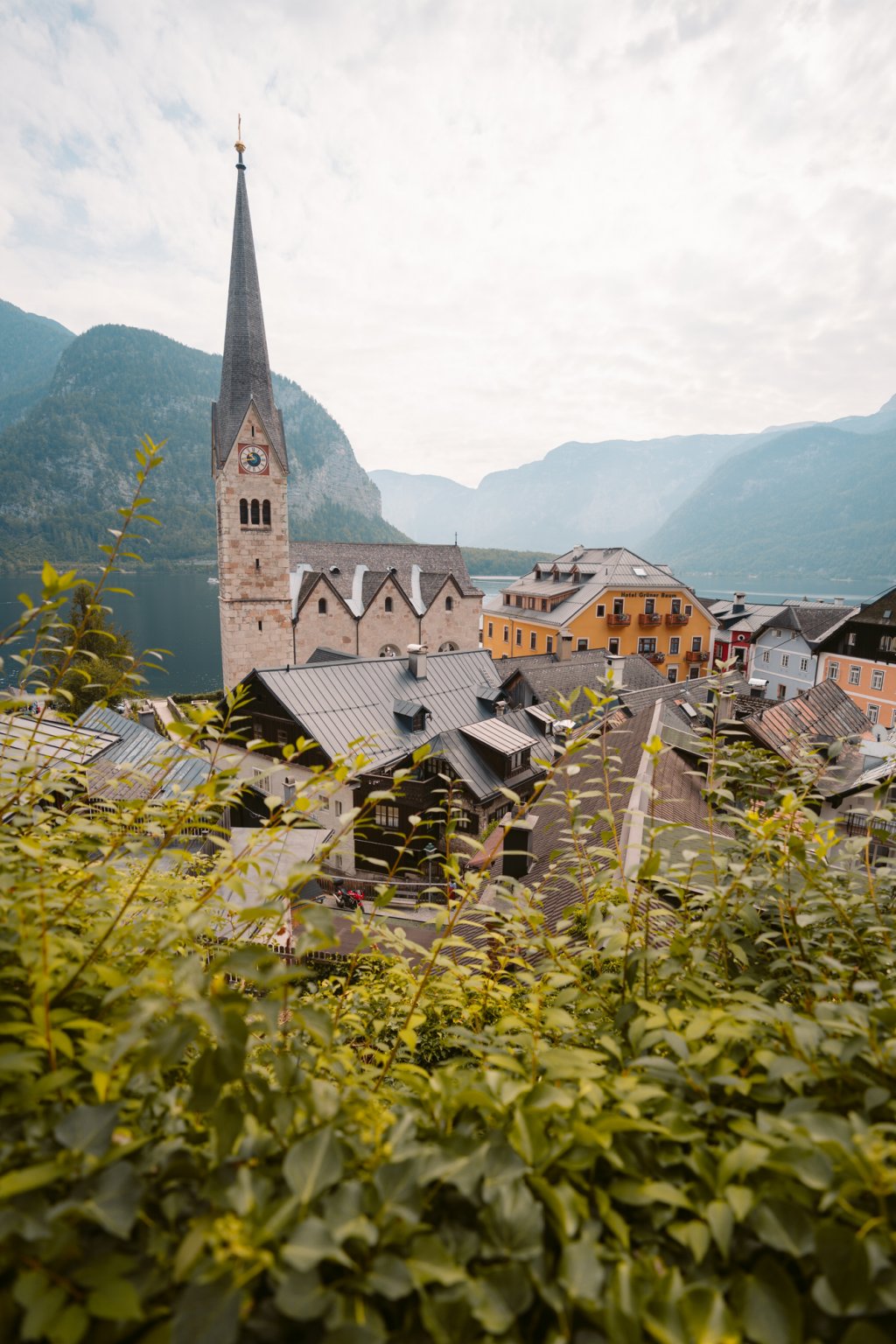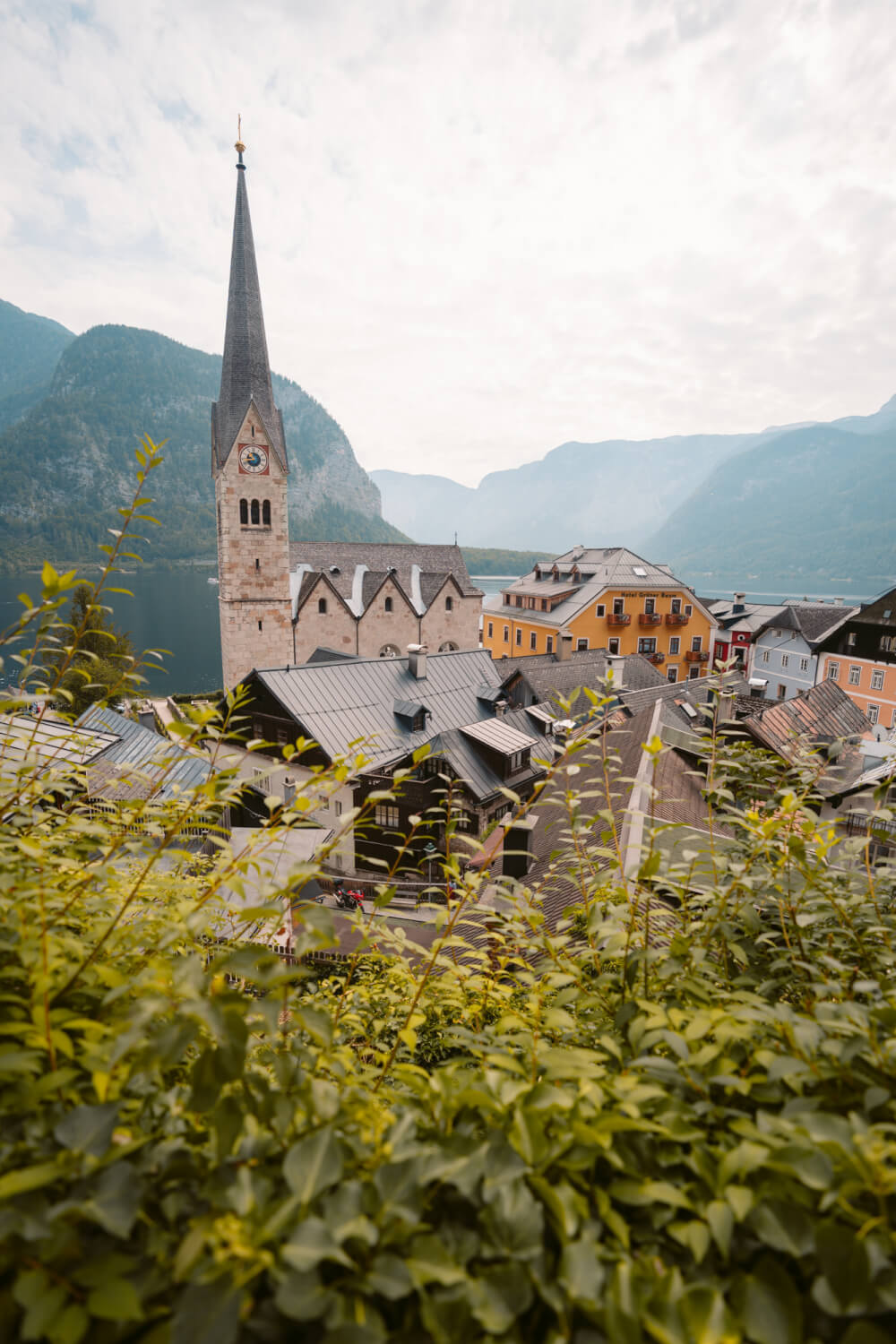 ---
Watch my most popular YouTube video this week:
---