*FYI - this post may contain affiliate links, which means we earn a commission at no extra cost to you if you purchase from them. Also, as an Amazon Associate I earn from qualifying purchases. Check out our Privacy Policy and Disclosure. for more info.
I have a little confession to make: I've been dying to write this Flixbus review for years. In fact, I've had a little "Notes" file on my phone compiling anecdotes and facts specifically for this occasion.
… and the day has come.
I've relied on Flixbus as my handsome steed literally dozens of times in the past three years, and after a particularly interesting ride (I'll explain this later), I felt inspired to finally sit down and write an honest Flixbus review that holds nooothing back.
In other words: this one's definitely #NotSponsored, my friends.
I hope you enjoy your reviews with a dash of salt and sass (AKA what I would name my food blog, tbh).
Save this post on Pinterest for later: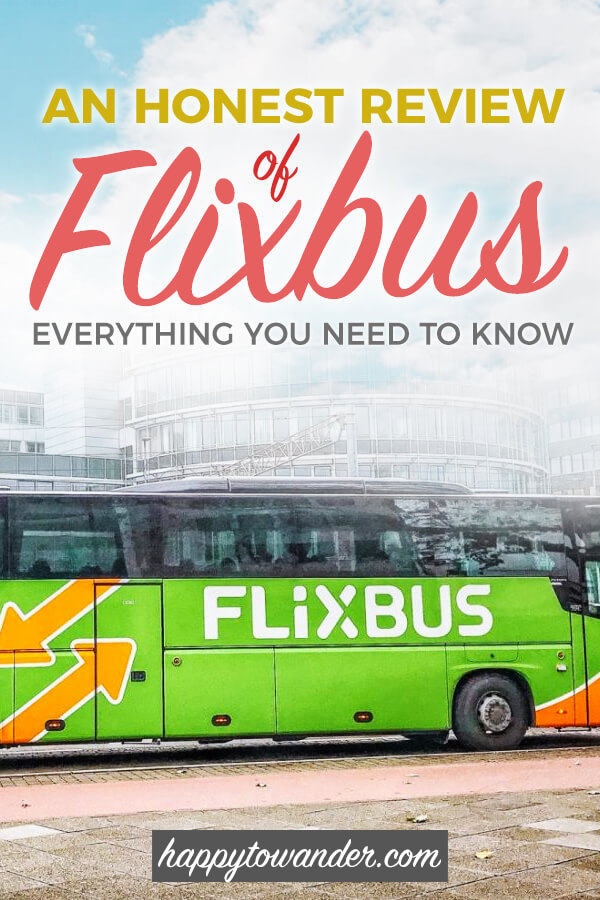 Click here to find the latest deals for Flixbus
TIP: If you are open to options other than Flixbus, I always use Omio to compare/book transport options in Europe. Sometimes trains or flights are cheaper, and this site compares them all at once and sorts them by price, convenience, etc. HotelsCombined offers a similar price check for hotels if you're still needing a place to stay 🙂
Flixbus: A Quick Introduction
Now, to quickly catch you up to speed, Flixbus is a budget bus travel company that has routes all around Europe.
Known for its ridiculously low fares (think 5 euros one way if you book early enough), its lime green coaches are a ubiquitous sight all around the continent, touting budget-conscious travellers who often look dead in the eyes as they ponder the all too common question "was this worth it?"
And to help you answer that question, I bring you my very honest Flixbus review.
I'll start first with a quick summary of pros and cons, then dive into some seriously important Flixbus info you need to survive your trip. OH, and if you find this review helpful at all,
I'd super appreciate if you clicked here and purchased from my affiliate link. It comes at no extra cost to you, but earns me a bit of commission. Thank you, and enjoy
PS: Since writing this review, Flixbus has launched new routes in the US! I have no experience riding with Flixbus in the US, but you are free to browse through the comments as several people have left their own experiences there. The following post though is strictly a Flixbus Europe review.
My Flixbus Review of Pros and Cons
Having read my fair share of horrible Flixbus reviews, I need to say that overall, Flixbus really is fine.
Like really, it does what it says it does. It gets you to where you need to go for a dirt cheap price, and their booking process is delightfully straightforward. When you think about how affordably you're able to travel thanks to them, you realize they do provide epic value for money.
That said, as with all things, you get what you pay for. Don't hop on a Flixbus expecting razor sharp punctuality, luxurious digs or glowing customer service.
Really, don't expect anything more than just a place to put your butt for a few hours as you try to ignore your neighbour's aggressive mouth breathing.
In my opinion, Flixbus makes sense if it's substantially cheaper than any other alternative (e.g. trains, flights, etc.). This is usually the case if you book early enough (although keep in mind that last minute fares can be comparable to the price of a train or flight).
In addition to that, I'd say Flixbus is a decent option if you're a relatively carefree traveller. This means no hissy fits if your bus is late or when your driver has the warmth of a walk-in freezer.
Odds are you'll have to endure some 'meh' customer service and do some waiting, maybe even on a random curb somewhere in the rain, so just have your expectations in check.
A quick summary of my Flixbus review pros/cons.

Flixbus Pros
Price: Bar none, it's one of the most affordable ways you can travel around Europe. It was the saving grace of my exchange student days around Europe. Sometimes you can get tickets for as little as 5 euros one way, or simply use an Interflix voucher to travel around five cities for less than 100 euros! That kind of price is a total bargain.
Ease of booking: Both their website and their app are super simple to use. Their booking process is straightforward and available in multiple languages.
Flexibility: The Flixbus cancellation and modification policy is actually really easy and straightforward. You can actually cancel up to 15 minutes before your trip. In the good old days, any modifications/cancellations used to be free. The fee then moved up to 1 euro, and now it's a system that charges more the longer you wait to cancel. Still, the highest fee is only 5 euros, which isn't bad at all. Read more here.
Coverage: They have a lot of routes all over Europe, which makes it a very convenient option (especially in Germany, where I live). Click here to see a map of all their routes.
Some amenities: There are usually charging outlets on board, so that's nice, alongside reading lights and a bathroom. Note that amenities do vary along different routes/buses, so don't be surprised if the outlets don't work, the bathroom is busted or there's simply none of these things at all.
Safety: Is Flixbus safe? A lot of travellers get scared when they see how cheap the fares are, and while I can admit these buses aren't luxurious, I've never once felt unsafe.
Flixbus Cons
Punctuality: Unless you're at the starting stop, buses are rarely on time. This is the main reason you shouldn't book with Flixbus, especially if you need to be punctual (e.g. to catch a connection, important meeting, etc.)
Service: With Flixbus, you are very much on your own. Signs are scarce and usually drivers will speak very minimal English. Drivers aren't usually that friendly.
WiFi: Does Flixbus have Wifi? I mean…. sure. Kinda. The reality is though that Flixbus WiFi usually doesn't work. Even when it does, you're restricted to a small limit that runs out quickly. The Flixbus Wifi limit is not generous at all, so if you have a long ride ahead, make sure to download some offline entertainment or bring along a *gasp* book.
Security: You need to be really careful with your belongings, especially if you're leaving bags in the hold. They don't really monitor who picks up what bag, or even watch over the bags as they're loaded in. I've never had anything stolen, but I have heard stories of it happening to to others in which case, yes, you're totally on your own.
Questionable stops: Flixbus pick up points aren't always easy to find, nor are they always well-posted. They will also rarely have any form of undercover shelter, so if it's raining or snowing, be prepared to wait while being pummelled by the elements.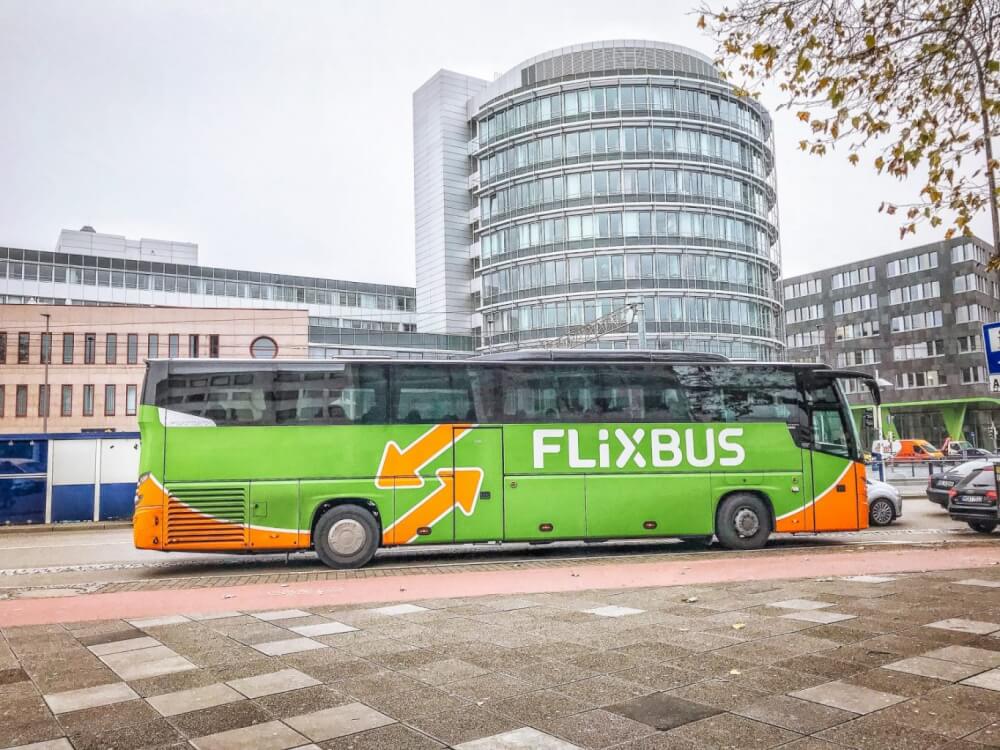 Important Flixbus Info You Need for Surviving Your Trip
I'll end off this Flixbus review with some really important considerations you need to make before your trip. Think of all this Flixbus info as essential survival tips. Please tattoo them on your thigh or something.
1. Seriously, don't use Flixbus if you need to be somewhere at a certain time – Flixbus delays are REAL
Punctuality is probably one of the biggest weaknesses of Flixbus.
I can't stress this enough: if you have to be somewhere (e.g. to catch some kind of connection, job interview, important meeting, hot Tinder date, whatever it is), you shouldn't rely on Flixbus to get you there in time.
As a serial victim of Flixbus delays, I have to tell you: SO much can happen! You can get stuck in traffic and be delayed by 2 hours (happened to me en route to the Nuremburg airport), you can get hit with randomly terrible weather (happened to me too many times to count) and if you're lucky, the bus may even spontaneously break down (happened to a friend of mine).
With Flixbus, you should always assume that it'll run late. If you have something important to catch, consider catching an earlier bus or simply using a different transportation alternative.
---
2. Book as far in advance as possible
Purchasing Flixbus seats is always cheaper the earlier you book.
If you want to get the best deal, hop on early.
The good news is, Flixbus is really flexible with cancellations and modifications. A few years ago, these were always free to make up until 15 minutes before the trip. I call these the glory days! Sadly this flexibility is no more because the Flixbus system now makes you pay more the closer to the departure you cancel.
Still, the fee isn't more than 5 euros, so I would suggest buying tickets as early as possible and then getting a refund/modifying the ticket later if needed.
Click here to browse deals now
3. Overnight buses are almost always a terrible idea.
This may come as a severe shock, but Flixbus seats aren't actually built for a good night's sleep.
*gasp*
And I totally get why you want to believe in overnight buses, because you really do save buckets of money! Not only are the tickets are cheaper, you get more time to explore the next morning and to boot – you don't even need to pay for a hotel room.
I mean, if you listen closely, you might hear all the budget travellers peeing their pants in excitement.
This is all dandy until you realize you get no good sleep at all, and arrive at your dream destination with panda eyes and a thirst for ten Red Bulls. Trust me guys, it's not worth it!
If there's one thing you take away from this Flixbus review, let it be that overnight buses are the devil, and should be avoided at all costs.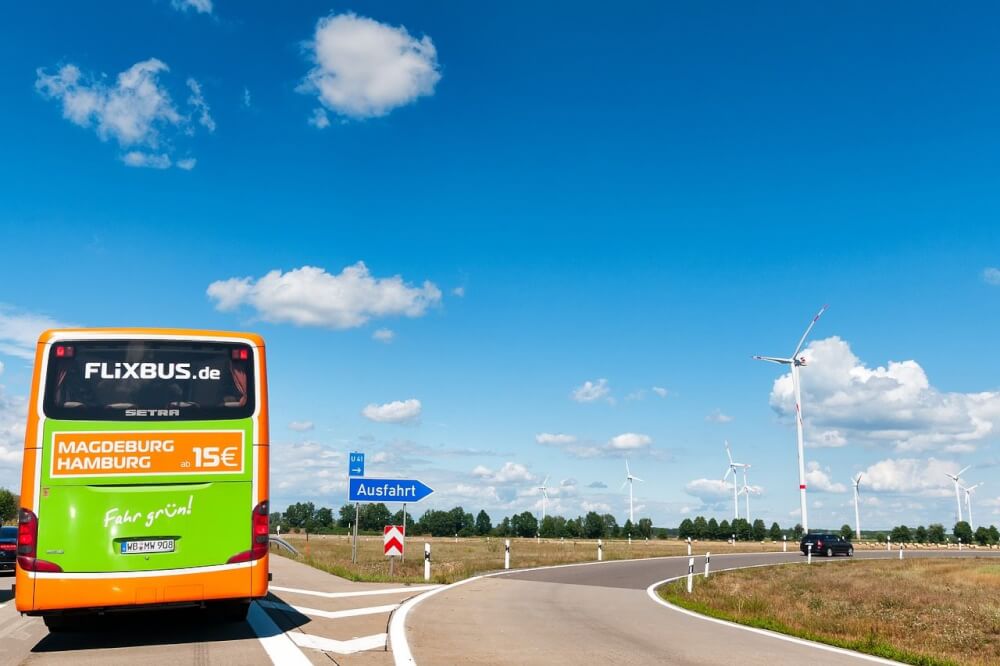 4. The early bird gets the least crappy seat
Honestly, the Flixbus boarding process is like the Hunger Games. All semblance of a line dissipates as soon as the little driver in the lime green jacket emerges.
… and people will hound him like he's Channing Tatum dipped in sugar.
It really pays to get there early though.
While Flixbus tells you to be there 15 minutes before departure time, I always go earlier.
It might seem paranoid, but being near the front of the line is crucial if you want any chance of sitting with your travel companions, or at least score a window seat away from the bathroom.
Trust me, don't run in there last minute or you'll be awkwardly shuffling through the crowded bus, meekly asking people to move their bags. You'll get some of the most severe side-eye of your life, guaranteed.
FLIXBUS REVIEW BONUS TIP: When you get there early, make sure you stand either by the front door (if you're doing hand luggage only) or by the Flixbus luggage storage area (if you need to check a bag). You'll be required to check any bags first before you board, so don't accidentally stand in the wrong line-up… or you'll end up in that coveted seat next to the famous Flixbus toilet 😉
5. Expect grumpy customer service
This Flixbus review wouldn't be complete without a shoutout to that classic Flixbus customer service.
Honestly, I imagine that job interviews for Flixbus drivers goes something like:
Interviewer: Does human contact irritate you? Also, are you good at mumbling?
Driver: *grunts*
Interviewer: You're hired!
Don't get me wrong – obviously not ALL Flixbus drivers are grumpy, but service in my experience has rarely been friendly or warm.
The truth is: you and your driver will probably not become Flixbus Besties, he probably won't be thrilled to answer any additional questions you have and no, he won't be cracking any jokes or flashing toothy grins your way.
That said, you paid like, 10 euros for your seat, sooo, at least you have that going for you.
On a similar note though, for my fellow English speakers, it's important that you remember the following…..
6. Don't expect service to be in English
You really need to prepare yourself well for your Flixbus rides. Know exactly where you're going, have the destination loaded up on Google Maps, have your passport ready, etc. because odds are, you won't hear a word of English throughout the ride.
The drivers rarely speak English, and even when they do, they don't typically make the on-board announcements in English, which means you'll potentially miss a lot of things like what stop they're at, how long the breaks are, etc.
Especially if your stop isn't the final stop, make sure you have a rough idea of how long it'll take to get there, then hop on Google Maps from time to time to ensure you don't miss your stop.
7. Want to hear a joke? Flixbus WiFi
Okay, but actually…
You need to know this: Flixbus Wifi is NOT great.
Of course it depends on the route, but sometimes it just will not work at all.
And even when the WiFi magically works, there's a cap on usage so you'll usually max out within an hour or so (or like, 5 minutes if you watch too many cat videos on Facebook).
SO, no matter what, don't count on the WiFi. especially on busier buses where there's many people trying to leech off it at once.
FLIXBUS REVIEW BONUS TIP: Have everything you need for your arrival (e.g. check-in confirmations, address of your hotel/hostel, etc.) loaded and ready for offline use, just in case the WiFi fails you.
8. Expect some blind, shelterless waiting
With plane travel, you have airports.
With train travel, you have train stations.
With Flixbus, you have………. the curb.
Just kidding. Kind of.
Obviously this all depends on your departure point. In Munich, we are very lucky in that Flixbuses come in and out of the main bus station, which has an undercover area so we're protected from rain and snow.
The same can't be said in many other cities (especially small ones) where Flixbus pickup points are just random spots marked with a sign (sometimes not even).
SO, remember to bring an umbrella and bundle up warm. In the case of delays, you'll often be left waiting outside for an indefinite amount of time.
FLIXBUS REVIEW BONUS TIP:
Literally, this sounds like a joke, but sometimes your bus MIGHT NOT EVEN BE A FLIXBUS. I'm not joking. This is the aforementioned experience that inspired me to finally write this review.
Last week, my Flixbus was running 45 minutes late, and I was beginning to worry because it didn't show up on the bus board whereas other delayed buses had. I managed to scramble and ask the customer service folks, who promptly pointed me to the (unmarked) Bay 24 and said that it was a white bus, and that the driver was already loading.
I looked around, thinking he was mistaken… I thought Flixbuses were always green.
Panicked, I went up to the sketchy white bus, showed the driver my ticket, and he let me on. It was weird…. and definitely not a Flixbus. And there was no signage to indicate it was where I intended to go.
In other words, if I hadn't asked, there would have been no way for me to know. Sooooo, if you're ever lost and confused, make sure to ask someone. Better safe than sorry.
PS: Yes while Flixbus does alert you of delays (they send emails/text messages), these aren't always 100% accurate and there's still loads of blind waiting that happens.
For instance, in the above scenario, I got one email in German stating the 45 minute delay, about 1 hour before my departure time.
I then got one email in English stating the delay again….. but this time I received it while I was already on the bus? That wouldn't have been too helpful. Anyways, be warned!
9. And the Flixbus interior? Well, it's definitely not the Ritz
The Flixbus experience isn't meant to be a crazy luxurious one, but overall, the buses are clean and comfortable enough.
That said, at 5'3″, I'm a relatively little thang, so I've never struggled with legroom for my stumps, but taller folks might struggle more (certainly on longer rides when the urge to manspread is real).
Flixbus seats do recline a fair bit, but they are super invasive for the person behind you. That said, it does go both ways, so expect your frontsies-neighbour to recline and leave you no space to breathe as well!
FLIXBUS REVIEW BONUS TIP: While some routes seem to advertise snacks/drinks available for purchase on board, I've honestly never encountered this in real life (and based on reviews I've read, they often don't deliver on this promise), so don't bank on it, and try to bring your own refreshments. At least a bottle of water!
10. Flixbus luggage is a free for all…. But you still need to follow the rules
I get a really good laugh out of the Flixbus luggage system, where they'll literally chuck your bags out on the street at the end of the journey, yet get Hulk-level angry when you try to bring anything kinda big onto the bus.
So, while they don't seem to care all that much about security, they can be weirdly stern about bag sizing, so keep in mind what your allowance is.
FLIXBUS REVIEW BONUS TIP:
I highly recommend you travel as much as much as possible with a small bag that you can bring on board with you, because security isn't the best.
I've only been on one bus ever where they've tagged the luggage and had you trade in tickets to get your bag.
Every other time, it has been a total free for all, which means the luggage doors are left wide open while the bus is loading (i.e. any random could just come up and take your things) and also all the bags are just unloaded onto the street at the end of the journey (i.e. again, any random could just come up and take your things!!)
I've luckily never had theft happen to me while using Flixbus, but I have heard horror stories of Flixbus stolen luggage so please be vigilant!
A few tips for surviving Flixbus luggage:
Tag your bags and try to put some kind of unique identifier on it. Since luggage at the end of the trip is such a free for all, having a unique thing on your bag might help prevent anyone taking your stuff by accident.
Don't bring anything over the Flixbus luggage size limit, or be prepared to pay up (in cash).
Bring some cash with you in the off-chance that you do need to pay those dreaded Flixbus baggage fees.
I saw a girl struggle so hard once because her bag was a little bit oversized, and they wouldn't accept any cards to pay the difference. The bus driver straight up threatened to leave her there if she didn't find an ATM!
13. The drivers will wait for NO ONE
This kinda goes back to #5, with the whole customer service thing... but yeah, Flixbus drivers don't usually care if you're being left behind.
Sometimes they'll half-heartedly count passengers before leaving a rest stop, but often they do not. They also do not care for latecomers.
EXAMPLE:
Once upon a time, I was on a bus that was literally stuck in the bus station queue of vehicles waiting to leave. In other words, we were still at the station, and weren't going anywhere anytime soon. This frantic guy then showed up, relieved to see the bus was still around, and kept tapping at the door, suitcase in hand, begging the driver to let him on.
The bus driver stared at him, almost drinking in the suspense before ultimately deciding that he was not worthy. Some friends of mine also reported an instance of two friends being left behind at a rest stop, with their passports and get this: their SHOES still on the bus.
Kinda asking for it though - I mean leaving the bus shoeless? Come on.
Sooooo, FLIXBUS REVIEW BONUS TIP: don't ever be late!
14. Only sit by the bathroom is you want to die
This is the ultimate Flixbus review bonus tip...
There are few woes worse than the horror of near-bathroom Flixbus seats. Trust me. This is not something you want in your life. Unless you want your Flixbus experience to literally go to shit.
The smell is the worst. Just avoid, avoid.

LAST BUT NOT LEAST: Don't forget to bring a passport and your ticket
This is so important! If you're travelling internationally, it doesn't matter if you're going through countries like Schengen where passports aren't typically checked, they'll still want one from you.
The bus driver will always ask for it, and I have been checked many times going through Schengen countries (e.g. from Austria to Germany for instance).
Always have your passport when you travel with Flixbus! And a copy of your ticket too (whether on your phone or printed out).
At the end of the day, my Flixbus review can be summed up in a few key words: it gets the job done, but not glamorously.
I hope you enjoyed this honest Flixbus review!
Again, this post was not sponsored in any way, I just wanted to share my personal Flixbus experience after having used their service so many times in the past few years.
I hope that you're know better equipped with the Flixbus info you're looking for. If not, feel free to ask away in the comments! If you've decided after this review that Flixbus isn't for you, I highly recommend using Omio to compare your other options. It's a free and super helpful website that shows you all the different transport possibilities (from trains and planes to flights).
Lastly, if you are booking with them in the near future, please consider using this link, which earns me a small commission at no extra cost to you. Thanks so much!
---
Watch my most popular YouTube video this week:
---