*FYI - this post may contain affiliate links, which means we earn a commission at no extra cost to you if you purchase from them. Also, as an Amazon Associate I earn from qualifying purchases. Check out our Privacy Policy and Disclosure. for more info.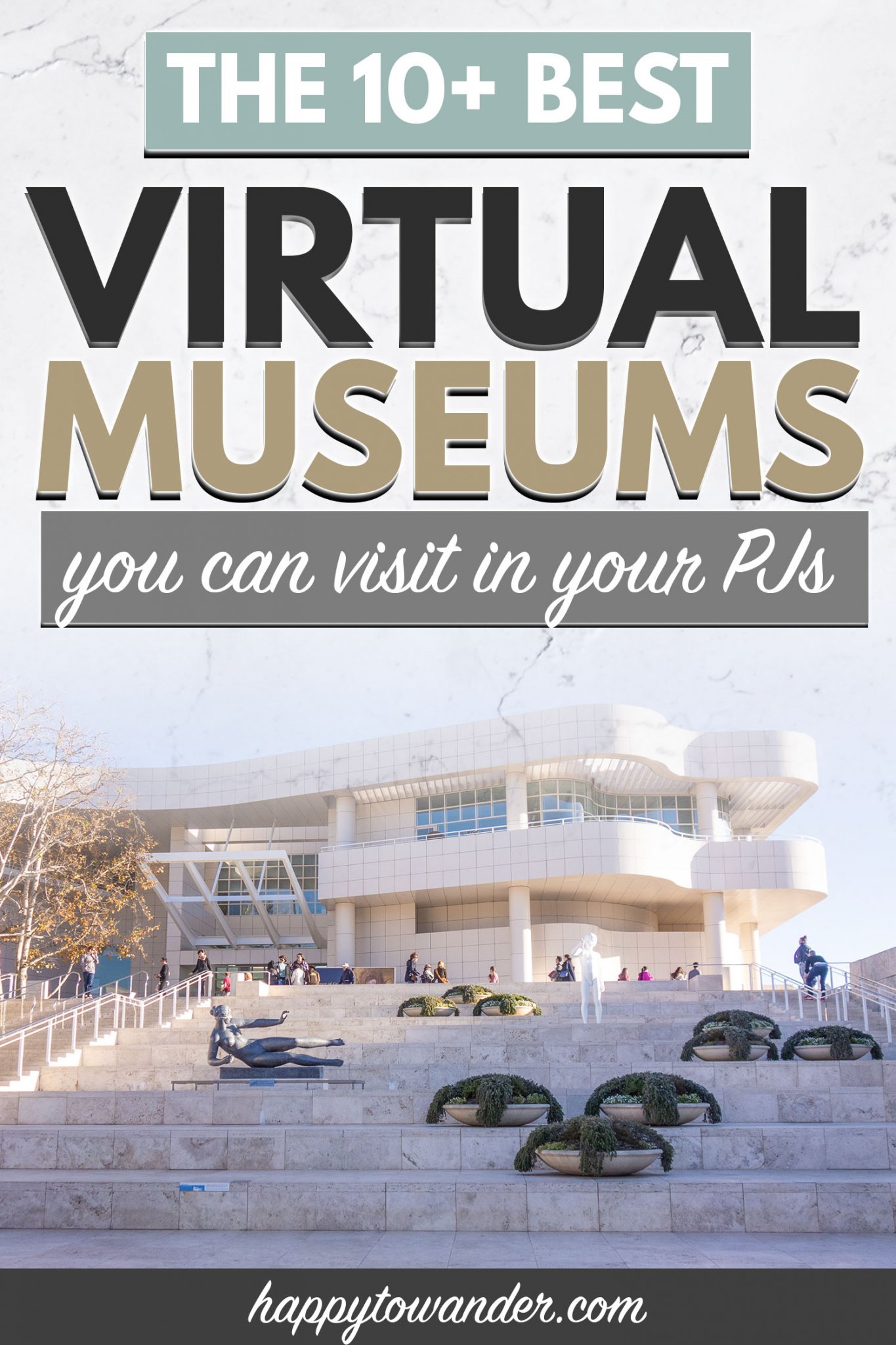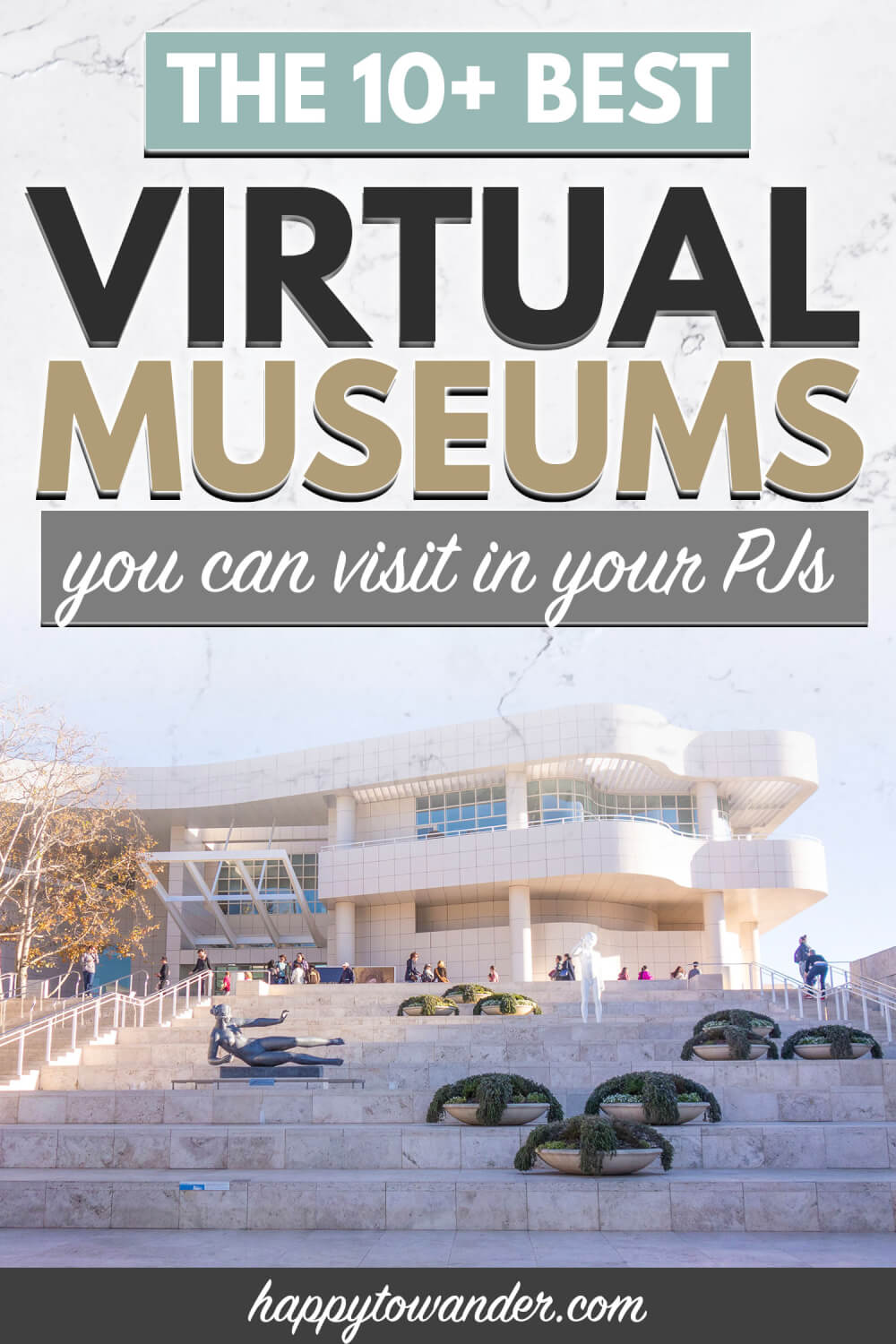 If you're hoping to get your fix of arts, culture & science from home – don't worry… in a world where you can find literally anything on the Internet, from slapping people with virtual eels to infinitely zooming quilts, there's no shortage of great virtual museums online that you can peruse.
In this post, I'll be recapping some of the best virtual museums in the world (that I've actually gone and tested because what else am I going to do…?)
From the extensive collections available on Google Arts and Culture to the many creative and unique virtual tours run independently by some of the world's top museums, here are my top picks if you're on the hunt for online museum exhibits!
Enjoy.
1. Virtual Art Museum Tours via Google Arts and Culture
Let me first introduce my new favourite website, Google Art and Culture. This one-stop shop pieces together the most interesting bits from different museums around the world, weaving them together with easily digestible stories and videos.
They also have a variety of online museum exhibits you can paw through. Among them are exhibits from the…
BONUS TIP: The Google Arts & Culture app has the best hidden feature ever… an "Art Selfie" function where you snap a photo of yourself and they compare it to their archives to discover your fine art doppelgänger. Download the app for iOS | Download the app for Android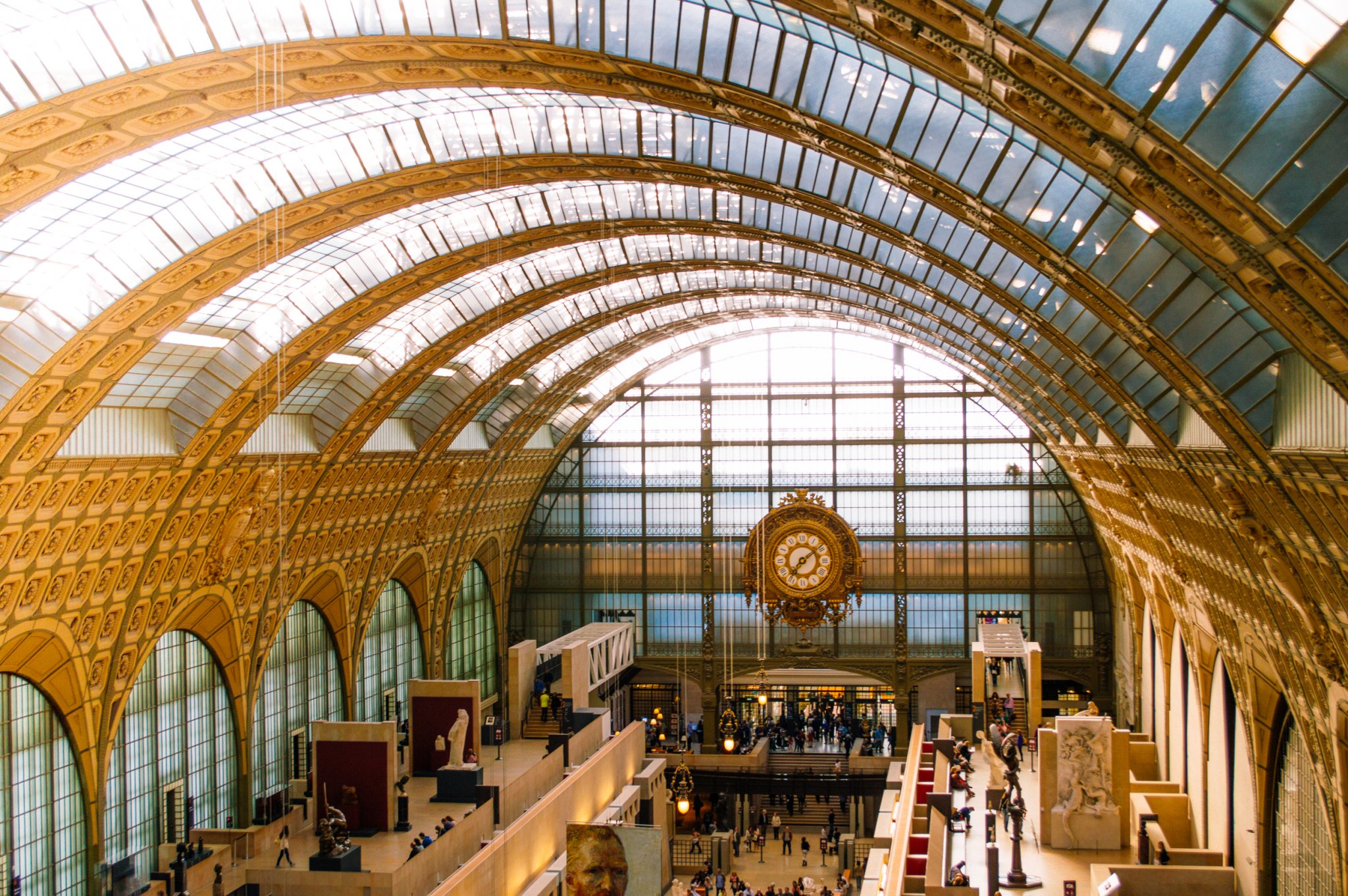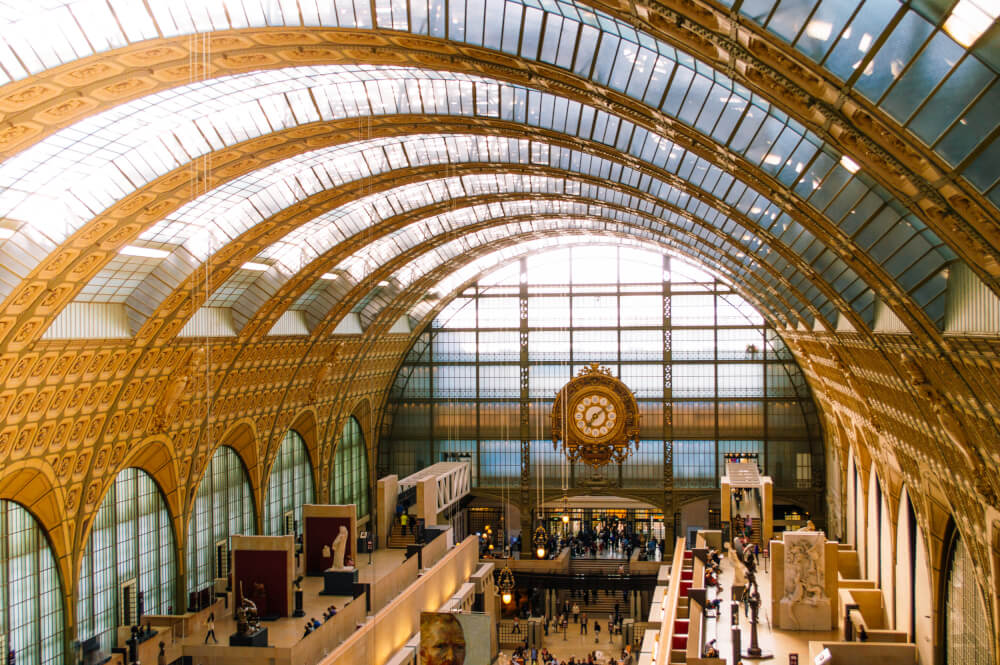 In addition to online exhibits, they also offer a lot of…
2. Free Online Museum Tours via Google Street view
Another neat thing you'll find through Google Arts and Culture is an abundance of fun Google Street View opportunities, which (as we know) is already a genuine treasure trove of snoopiness. Besides spying on your childhood home or hunting for some seriously weird WTF moments, Google Street View allows you to do very detailed walkthroughs of some of the world's top museums.
Below are some of the most famous options available, but you can check out the thousands of museums and cultural sites available on Street View here.
They even have a list of (now closed) museums that you can still explore. Read it here.
NOTE: Checking out museums on Google Street View is cool, but sometimes feels lacking in the full museum experience since you don't get to read any context or explanations. If you want something more similar to visiting an actual museum, below are some more unique free online museum tours you can check out.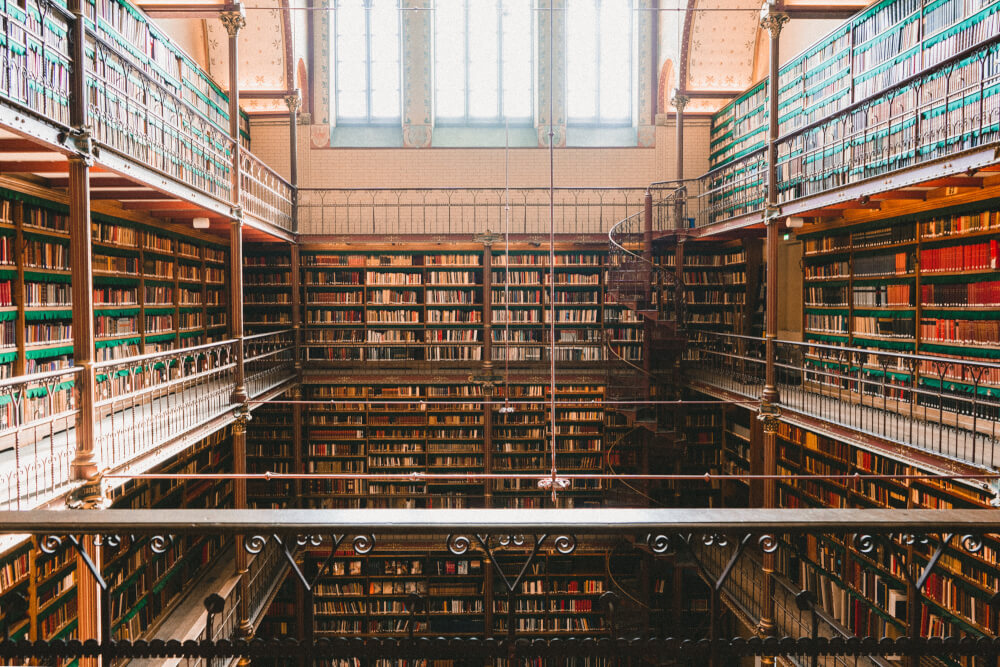 3. The Museum of Broken Relationships
Not the most conventional recommendation, but this is my favourite museum I've ever been to in the entire world and I was thrilled to see they have a digital collection available.
Long story short: this museum (originally established in Zagreb, now with a location in LA) collects artifacts from broken relationships all around the world. Each artifact is accompanied by how long the couple was together, along with a short blurb about the significance of that object to their relationship. This museum is a rollercoaster of emotions – sometimes funny, sometimes sad, but all of it so fascinating that (to date), it is still the only museum I've ever visited where I looked at and read explanations for every single item on display.
Click here to visit the Museum of Broken Relationships' digital collection
4. The J. Paul Getty Museum
The J. Paul Getty Museum (or more commonly, just 'the Getty') is one of the highlights of any visit to Los Angeles… not just for its extensive art collection, but also for its stunning hilltop location which offers unbeatable views. Luckily, their virtual museum experience allows you to experience the best of both worlds.
You can browse their collections online both on the Google Arts and Culture site here and on their official website, but the real showstopper is their outdoor virtual tour here, which combines beautiful photography with timelapse videos to make it feel like you're actually walking from point to point.
This was practically the only virtual tour of a museum I saw that incorporated videos like this, and I thought it was a really smart touch!
Click here for a virtual tour of the Getty grounds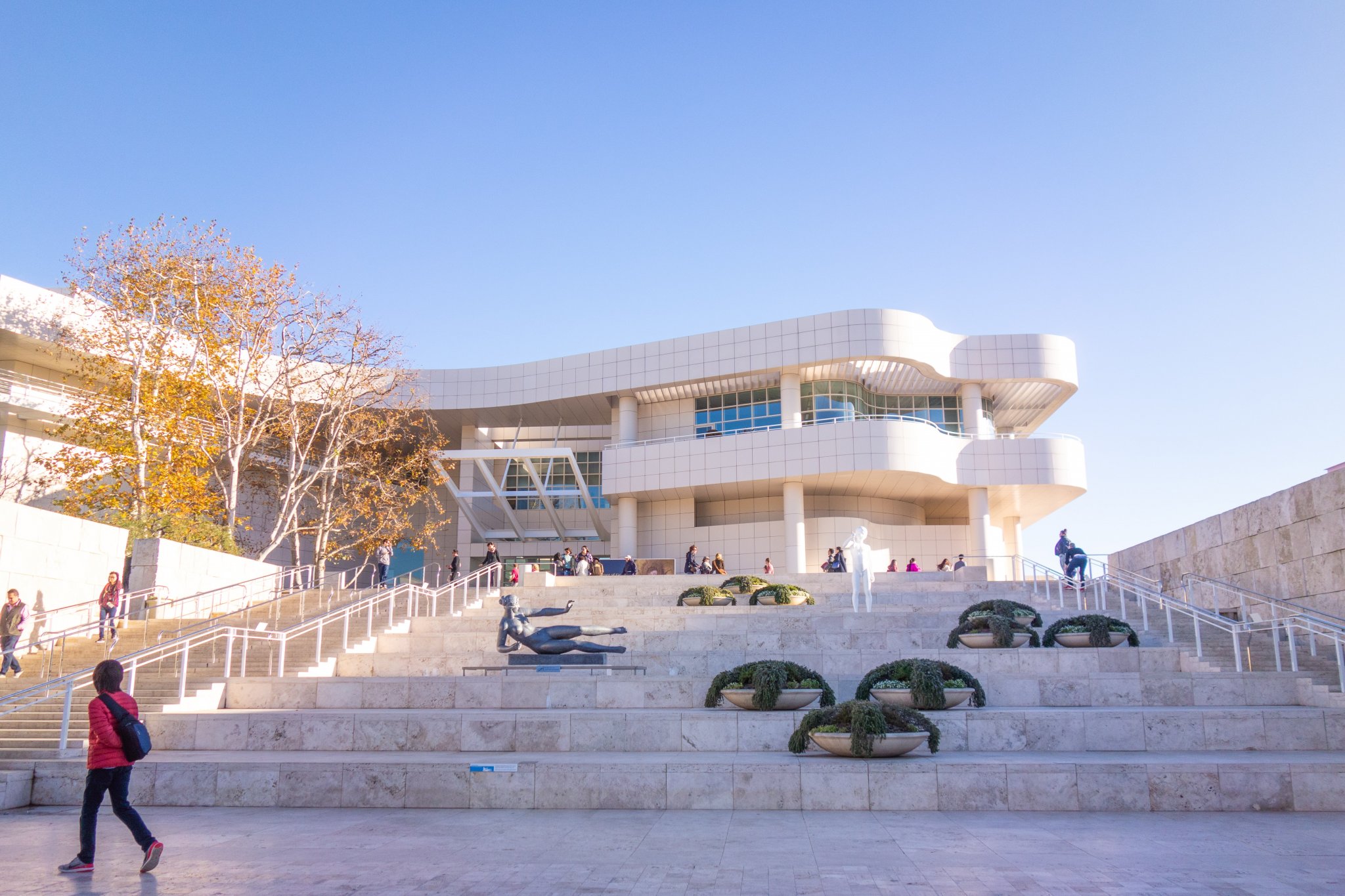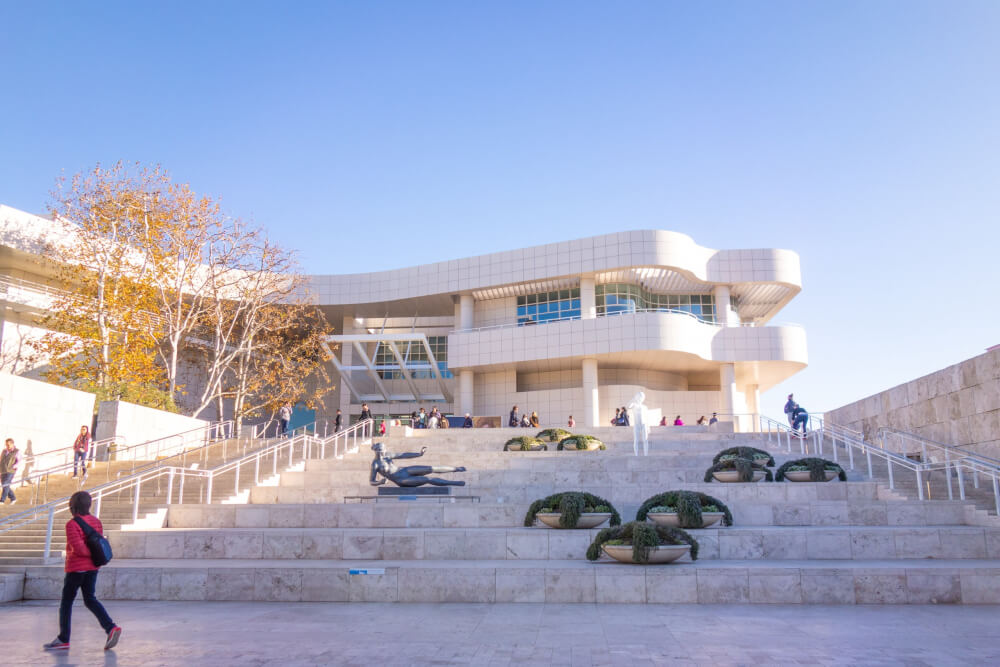 5. The Smithsonian National Museum of Natural History
The Smithsonian National Museum of Natural History in Washington DC is the most visited museum of its kind in the entire world… and you can easily visit it without even leaving your blanket burrito!
Hands down, this was one of the best virtual museum tours that I tested, and probably the most extensive. Not only do they have a variety of permanent and current exhibits that you can breeze through virtually, they even have an archive of past exhibitions too. There's even a special camera button you can press to get close-up views of certain displays. Really cool!
Click here for a virtual tour of the Smithsonian National Museum of Natural History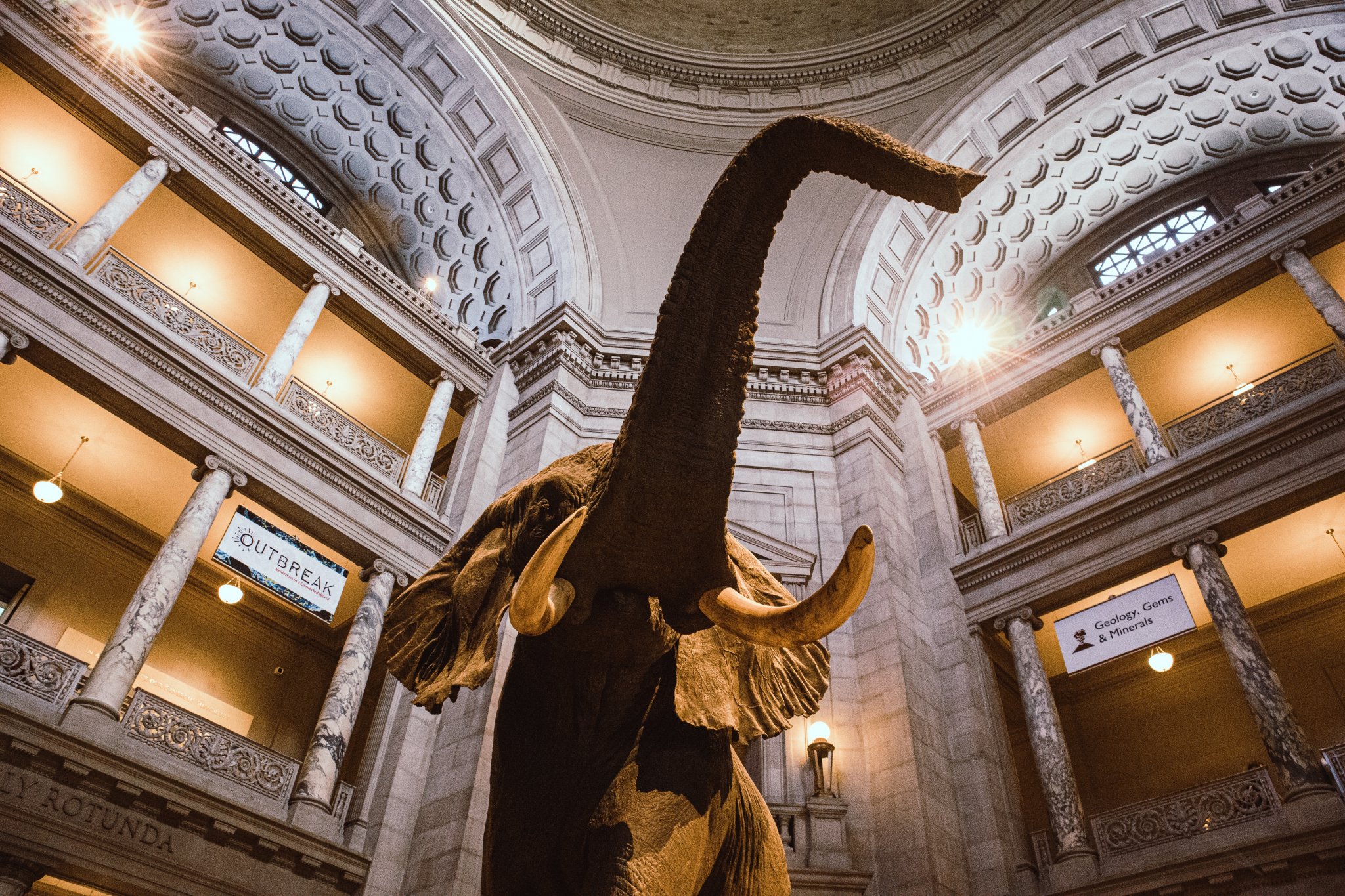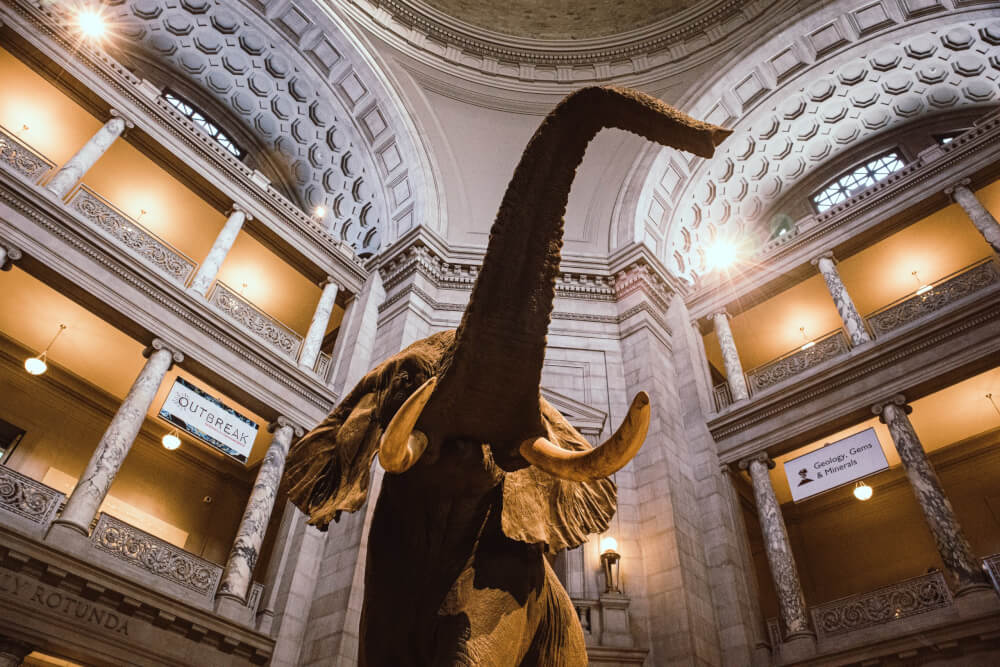 6. The Ellis Island National Museum of Immigration
Another really well-done digital museum is the Ellis Island National Museum of Immigration in New York City. The experience of visiting this world class museum has been digitized wonderfully, with a great attention to detail. I swear – you can even change the season before you walk in!
Of all the online museum exhibits I pawed through for this article, this one captures the experience of visiting a museum the best. You start outside at the front entrance, then use arrows/a map to navigate through different rooms which all come with detailed explanations. It's really a well-done tour.
Click here to see one of the best virtual museum tours I found, the Ellis Island National Museum of Immigration
7. The State Hermitage Museum
The State Hermitage Museum in Saint Petersburg, Russia is the second largest museum in the world, and a massive treasure trove of art, culture and history that you can explore even virtually thanks to its new gorgeous video tour.
Now, this virtual tour is a bit different than the rest – it's actually a 1 shot video that lasts over 5 hours… all filmed on the iPhone 11 Pro. This beauty was originally created by Apple to promote their phone, but besides just an ad, it feels like a real work of art. I admit I haven't sat through all five hours of it, but this is definitely the artsiest of all the free online museum tours in this list. You are guided through the museum in one shot, with beautiful music playing and dancers performing along the way. Great for some cultural eye candy (while perhaps making you want to invest in a new iPhone…)
Click here to watch the one shot virtual museum tour of the State Hermitage Museum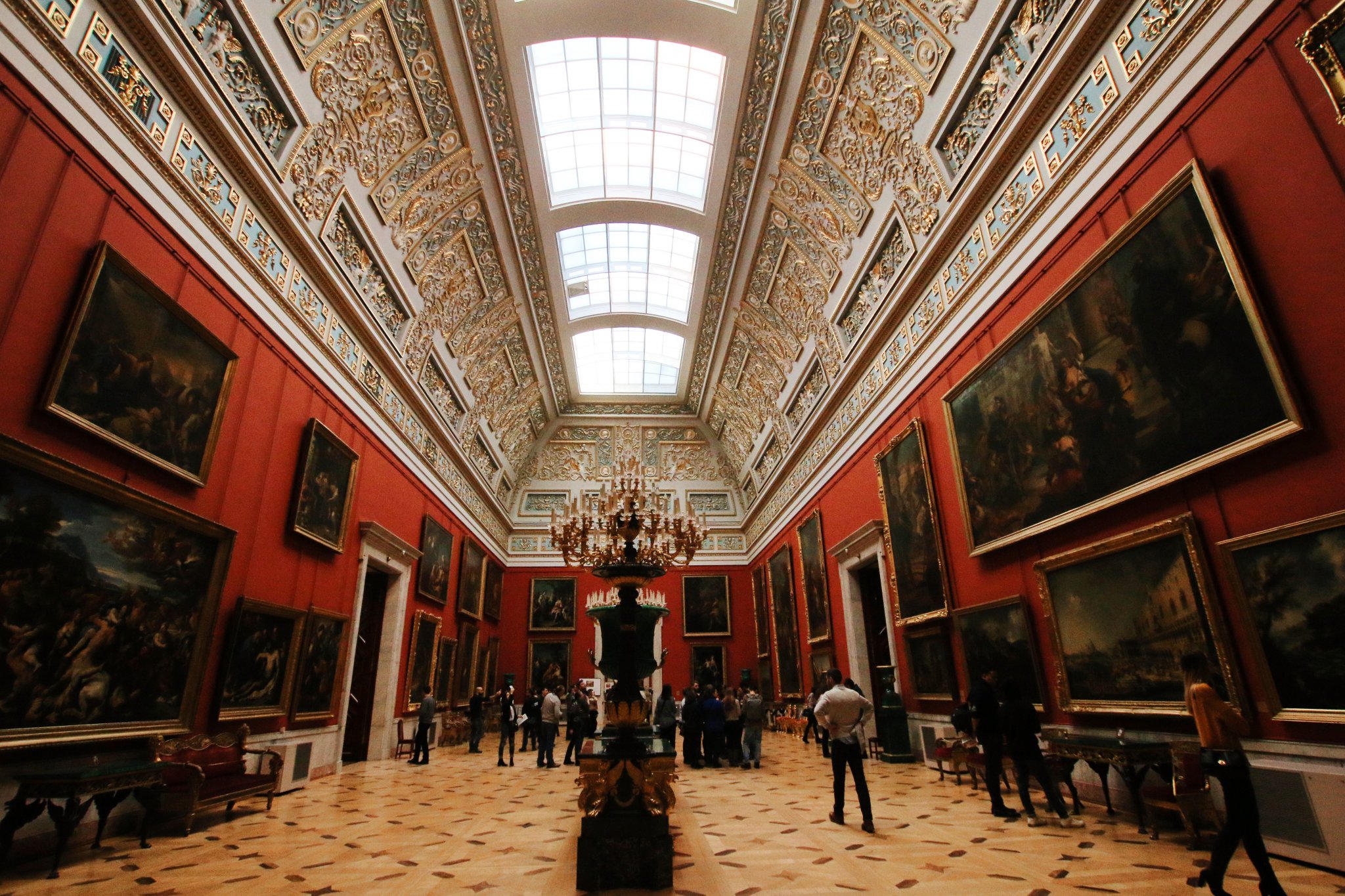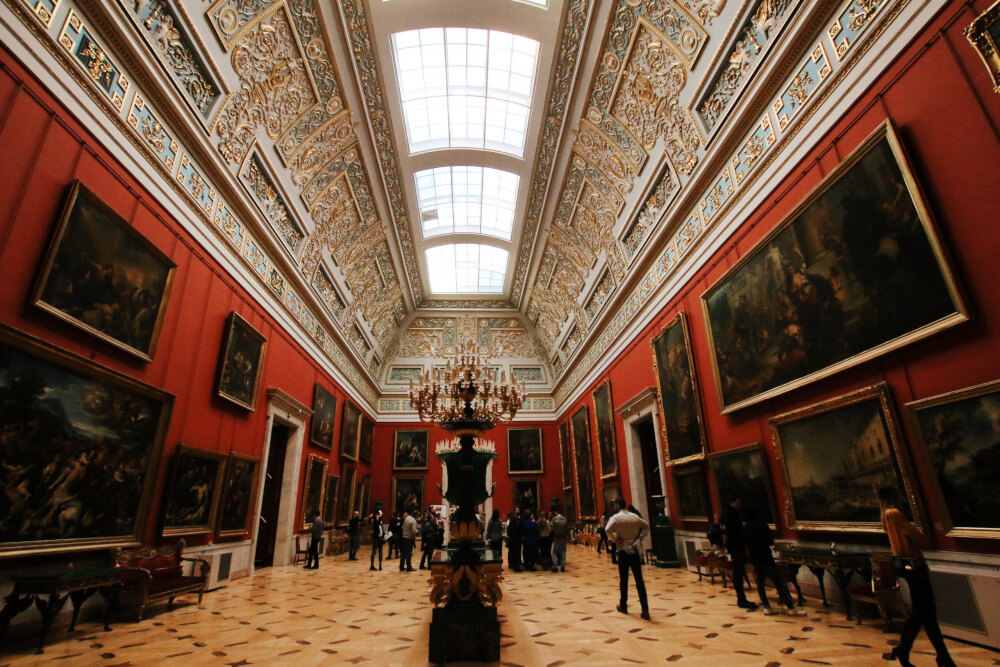 8. The MET
New York's Metropolitan Museum of Art (or simply, the Met, for anyone who has watched any TV show or movie ever) is one of the most famous museums in the world, and the largest art museum in the US, with over two works in its permanent collection.
And while the Met has dozens of online exhibits and digitized pieces of art available for viewing here, their virtual museum experience is a bit ~ fancier ~ than the rest thanks to a series of cool videos produced as part of their Met 360 Project, where they created 6 short 360 degree videos that showcase different iconic spaces of the MET from unique angles/perspectives (completely empty, for one!). Click here to watch them.
NOTE: If you have a virtual reality headset (I bought a very affordable one here), you can also watch these videos in VR!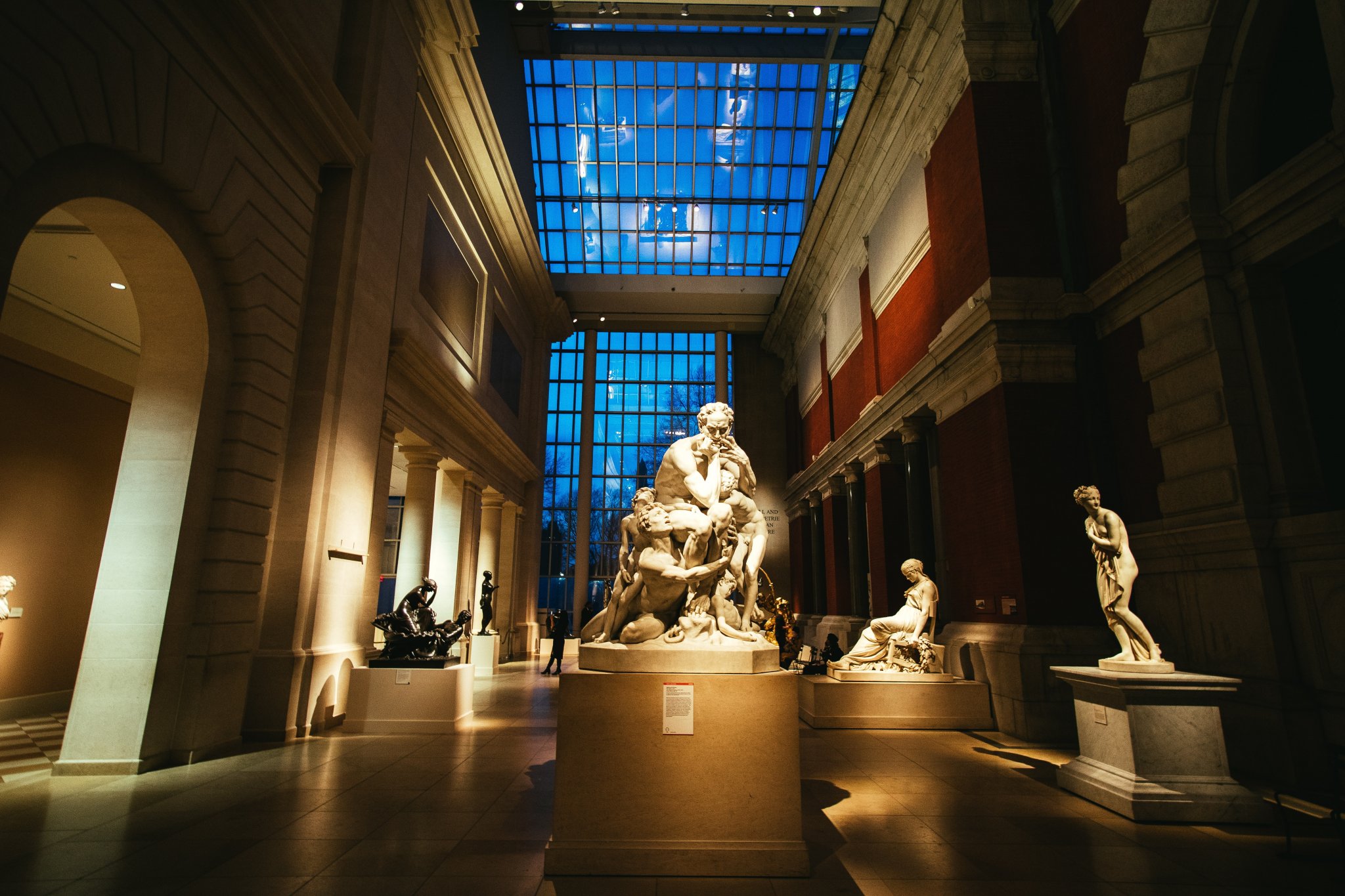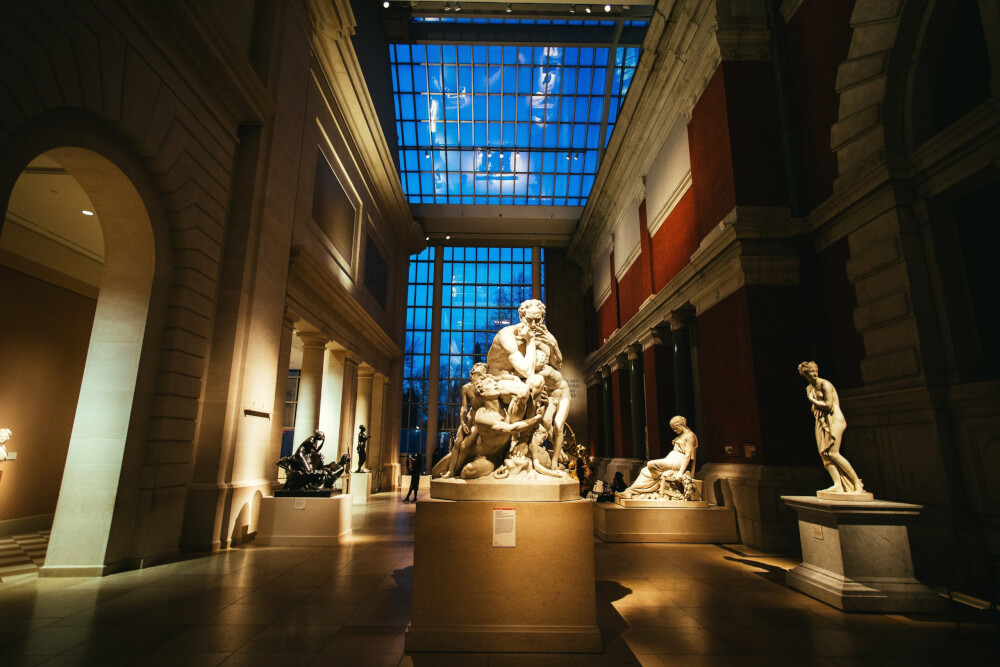 9. The Vatican Museums
For a peek inside the elaborate and gorgeous Vatican Museums, be sure to visit their HD virtual tours which offer you a 360 degree glimpse into some of the museum's most popular rooms, including the famous Sistine Chapel. In terms of image quality, this is one of the best virtual museums out there, plus you get to enjoy the museum in a way you never could in real life…… with zero other tourists blocking your view.
Click here to visit the virtual museum section of the Vatican Museums website
10. The Thyssen-Bornemisza Museum
The Thyssen-Bornemisza Museum is a small but mighty art gallery in Madrid, Spain that was (once upon a time) among the largest private collections of art in the entire world. Today, they offer an impressively robust virtual museum experience, complete with videos, virtual tours, online exhibitions, and even suggested playlists to get you in the right mood! You can browse through all their virtual offerings here.
For those of you who want a closer look at different works/their accompanying explanations, you can also browse through thematic tours they've created centered around food, fashion, wine and more. Click here to check those out.
11. The Wallace Collection
The Wallace Collection in London may not be one of the best knowns museums in London, but I'd argue their virtual experience is one of the best. With its extensive collection of fine and decorative arts, it offers some of the most pleasing eye candy online, with a beautifully captured collection of interesting objects, from Chinese imperial wine goblets to decadent peacock snuffboxes.
The best part about this virtual history museum is you can get an up-close look at the collection's most famous pieces through HD photos and videos, plus you get little explanations about each piece's history and relevance. If you're like me and crave a virtual museum that goes beyond just a Street View walkthrough, then definitely click here to visit the Wallace Collection digital museum.
12. Museu Picasso
The Museu Picasso in Barcelona offers one of the most complete collections of Picasso artwork in the world, totalling over 4000 of his works. That's all very impressive, but the main highlight for me is the museum's venue, which consists of five adjoining medieval palaces. Luckily, there's free online museum tours that will show you the best of all worlds!
You can browse through highlights of the museum's permanent collection here (although the painting displays are a bit small for my liking) BUT what I would highly recommend is a virtual tour of the palaces here. This tour focuses on the spectacular architecture of the museum itself, with lots of interesting tidbits about different details you would have probably missed even if you were there in-person. This is definitely a virtual museum tour where it feels like you have an insider guide exploring with you.
13. The National Palace Museum
The National Palace Museum in Taipei, Taiwan has one of the most impressive collections of ancient Chinese artwork and artifacts in the world, and their interactive museum tour is a great way to sneak a peek.
Despite being fairly slow to load (or it could be my computer's problem!), their virtual tour here allows you to walk through the museum while learning about different artifacts (helpfully marked with blue info bubbles which tell you more about each item). It's not the most seamless online museum tour on the list, but it does have a great thoughtful attention to detail and a unique collection that's quite different from most of the other museums on this list.
Click here to visit the virtual National Palace Museum
14. The Louvre
As the largest museum in the world, I couldn't omit the Louvre in Paris from this list.
I admit though, their virtual museum tour selection is rather dated and clunky. At the moment, they have three virtual tours you can do, including Egyptian Antiquities, Remains of the Louvre's Moat and the stunning Galerie d'Apollon. Again, they're not the most mindblowing digital museum experiences, but they're still pretty cool for a quick peek.
Click here to take a virtual museum tour at the Louvre
15. The British Museum
The British Museum in London has over 8 million (!!!) items in its permanent collection, and you can easily catch a glimpse of it all online here.
If you can get past the (honestly very slow loading) intro and the incredibly confusing interface at first, the interactive museum tour from the British Museum is actually pretty cool. You can sort by time period, geographical region, or topic and then get detailed descriptions of select artifacts, including even an audio guide. I'm not sure if I'm using it wrong though because I can only browse a small amount of isolated artifacts, which is alright, but I would far prefer a walkthrough tour where I can see the object as if I were actually in the museum.
16. Various NASA Headquarters
Lastly, for a bit of a sciencey geek-out, you should know that NASA offers some really well-done virtual tours of their various research centers. I mean…. it's NASA. You might come to expect some technical excellence.
All of their extensive virtual tours combine videos, text and 360 degree photos for a really robust tour experience. It really feels like you're getting a full field trip while you browse around ; ) Here are some worthwhile virtual tours from NASA to check out:
Did I miss any of your favourite online museums?
Let me know in the comments so I can add them to the list! I hope you enjoyed this virtual tour through some of the world's most incredible online museum exhibits. Be sure to click here to read my other armchair travel recommendations!
---
Watch my most popular YouTube video this week:
---