*FYI - this post may contain affiliate links, which means we earn a commission at no extra cost to you if you purchase from them. Also, as an Amazon Associate I earn from qualifying purchases. Check out our Privacy Policy and Disclosure. for more info.
Cheap flights to Europe are surprisingly easy to find if you know where to look… and trust me when I say I'm about to unload the goods.
I mean… You know me. I loves me a good deal, and nowhere do I get the thrill of a good bargain more than when I successfully save hundreds, even thousands of dollars on airfare.
Well, as a full-time travel blogger and someone who has lived in Europe on and off for about four years, I've had time to maniacally master the art of finding cheap flights to and from Europe.
These days, I usually fly home to Vancouver and back for less than 600 Canadian dollars or about 400 euros.
At this point, I think my parents are more excited to hear about my cheap airfare wins than my actual life, but what can I say?
The love of deals and frugality runs radically deep in my DNA.
And the craziest part is, finding cheap flights isn't actually that difficult… you just need to know all the tricks.
SO, that's what today's post is all about.
Below, I'll be sharing my top ten tips for booking cheap flights to Europe each and every time. Get ready to take some notes, because this is a long one.
BUT WAIT! No need to take notes, because I'm your Fairy Flightmother and I've got you covered. I have some actionable checklists that you can see here, or simply download from my VIP library!
Like checklists? You might also enjoy this international travel checklist of things to do before you go abroad.
Don't feel like reading? Catch these cheap flight tips in video form:
Tip #1: Know how to get instant discounts and cash back on flight bookings!
We'll start with a very basic trick that many cheap flight seekers aren't aware of: free cash back and instant discount services!
In the spirit of all things free, there are several services that you can take advantage of which will help you get the cheapest deal on your bookings every time, whether that's for a flight, for a hotel, or just for your everyday online purchases. Here are two you should definitely use…
1) Honey
The first one is Honey.
Honey is a Google Chrome extension that scours the web for coupon codes and automatically applies them for you at checkout, which means you can save money without doing… anything.
It's kind of like your sly ninja bestie for online shopping of all kinds, including flights and travel.
And well, for those of us who are forgetful and lazy, it's perfect because you just install it once and then it'll work in the background and pop up to let you know anytime they're able to find an additional coupon code or deal.
Super low maintenance, and basically free money. Click here to check out Honey!
EXAMPLE: One great way to quickly see what travel deals Honey can find is by browsing the travel section on their website. This is a more proactive approach, but as you can see, there are great deals to be found, like this coupon code for $150 off flight and hotel packages at Travelocity: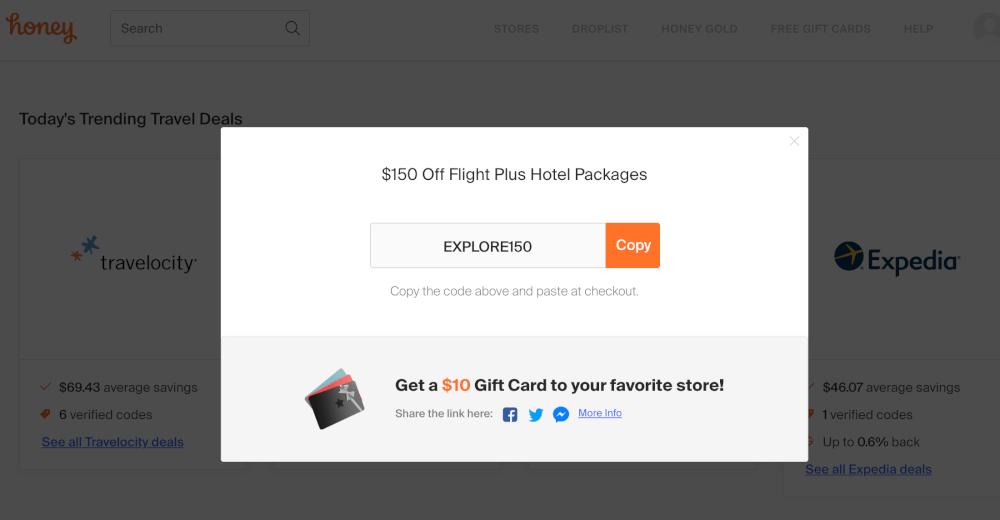 2) Rakuten, Formerly Known as Ebates
The second is Rakuten, formerly known as Ebates. It's a cashback website that gives you anywhere from 1-10% cashback on your purchases that you make online.
I know it sounds too good to be true, but I've used them for years and have had no trouble collecting my so-called "Big Fat Check" payments from them via Paypal.
In brief, this is how it works: when you make a free account with Rakuten and start shopping online at your favourite vendors through them, Rakuten makes a small affiliate commission (at no extra cost to you).
They then basically pass on a portion of their commission to you as cashback, sharing their earnings and saving you some dough!
Sure this won't get you rich overnight, but it's (again) pretty much free money, and can add up nicely for large purchases like flights. Click here to check out Rakuten and even get a free $10 cash credit to get you started.
EXAMPLE: Rakuten is partnered with dozens of different airlines which offer a range of cashback options, from measley 1% cashback (which I guess can add up too) to even 10% for select sites. Most of the world's major airlines and travel aggregators are included, so it's likely your desired airline will be part of the list.
And while 1-5% doesn't seem like much to get back, it's still better than nothing, and can add up nicely when you use it for multiple purchases.
I haven't been able to use Rakuten in years as they don't work in Germany, but I was still able to accrue hundreds in cashback back in the day:
Tip #2: Beware of outdated rumours and cheap flight myths… except one
The internet is a weird place.
(Anybody could have told you that)
BUT, it's an important fact to remember, because internet rumours and myths have this strange way of perpetuating themselves… and nowhere is this more true than the world of cheap flight seeking.
If I took a shot every time I heard a ridiculous statement like, "flights are always cheaper on Tuesdays" or "you must book EXACTLY 47 DAYS IN ADVANCE", I'd be very deeply inebriated right now.
But I'm sure you've heard those myths before too! In fact, many of them continue to exist on the pages of reputable travel sites, but let me (a questionably reputable travel site) tell you the truth: alllll those myths are outdated and untrue!
Get them outta your head.
It's true that there are certain patterns when it comes to cheap flights (e.g. offseason will always be cheaper than peak season, weekdays will always be cheaper than weekends).
But blanket statements like the whole "Tuesday booking" thing cannot possibly be true 100% of the time anymore, because most airlines now use dynamic pricing systems and algorithms to determine how much flights should cost.
This means the systems used to decide flight prices have gotten a lot smarter than an employee going "durhhh, it's Tuesday, better drop my fares", hence why you should never trust any overarching generalized statements like that.
EXCEPTION: Browsing in Incognito Mode
There is one relatively new flight myth that I do stand by though, and that is to browse flights in incognito mode.
For those of you who aren't aware, Incognito browsing or private browsing is a magical little mode available on most internet browsers that allows you to browse the Internet without storing any data on your computer or tracking your history from that session.
While it's uh, usually used for other things, it's actually VERY helpful when booking flights.
That's because as I said before, flight pricing systems are incredibly smart, sometimes in a pretty scheming way and the myth goes that when the system recognizes that you are looking at a particular route, they WILL jack those prices up because they know you're interested.
I know what you're thinking, and yes, that IS a pretty messed up dating tactic!
But regardless, while it's not as common as some people say, I would still browse on incognito just in case – it might not do anything, but it also couldn't hurt.
EXAMPLE: I know this price jacking trickery does happen sometimes because it has happened to me in the past. One time, I was looking at a deal and came back a few hours later, only to see that the price had gone up. To double check, I went on Incognito mode and saw the price was back at its original. Not sure if it was a fluke or not, but it was enough to make me paranoid enough to book on Incognito every time now.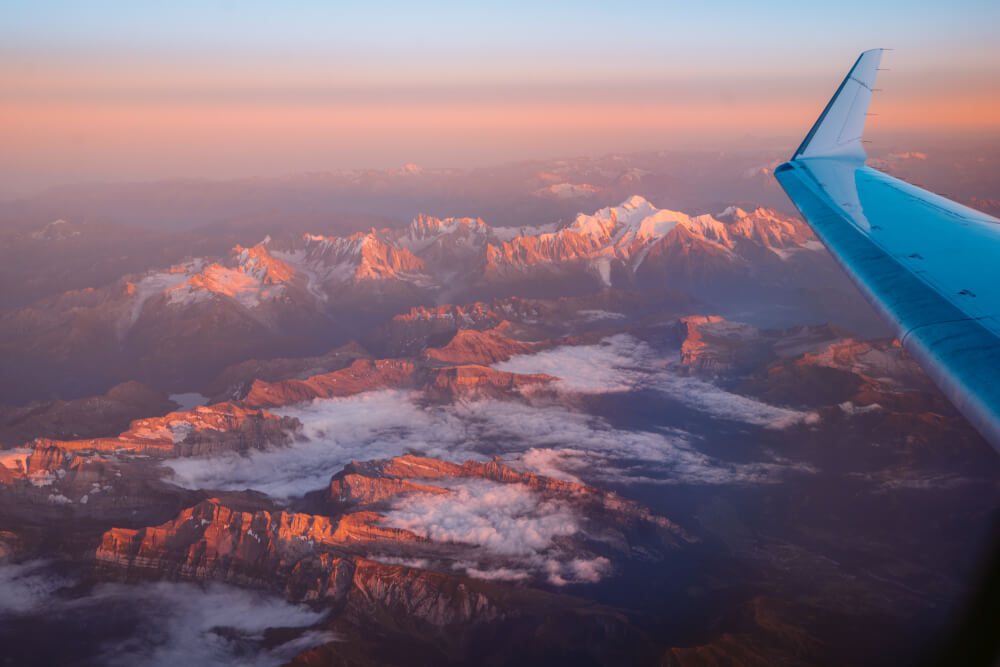 Tip #3: Deck out your cheap flight tool kit
When seeking out the cheapest flights to Europe, you're going to need a fully decked out arsenal of tools.
This is important to know because sadly, times have changed.
These days, you don't just log onto one airline's website and hope for the best…
Instead, there are dozens of aggregators and tools out there designed to help you find the best deal.
Here are some of my favourites that I've been using for years.
1. Skyscanner
Skyscanner is probably one of the most OG flight aggregators on the Internet.
I've been using it for over 5 years, and it's my personal favourite because I'm a classic millennial who fears change and it works great, so why mess with it?
The best features on Skyscanner include…
Searching flights to 'Everywhere'
Skyscanner's Everywhere option lets you type in your Departure City, then a vague destination like Everywhere, or a country, to help you find the best deal.
This is ideal if you don't have a set destination in mind, and are happy to explore different options. To demonstrate the power of this, here's a look at flights from London to 'Everywhere':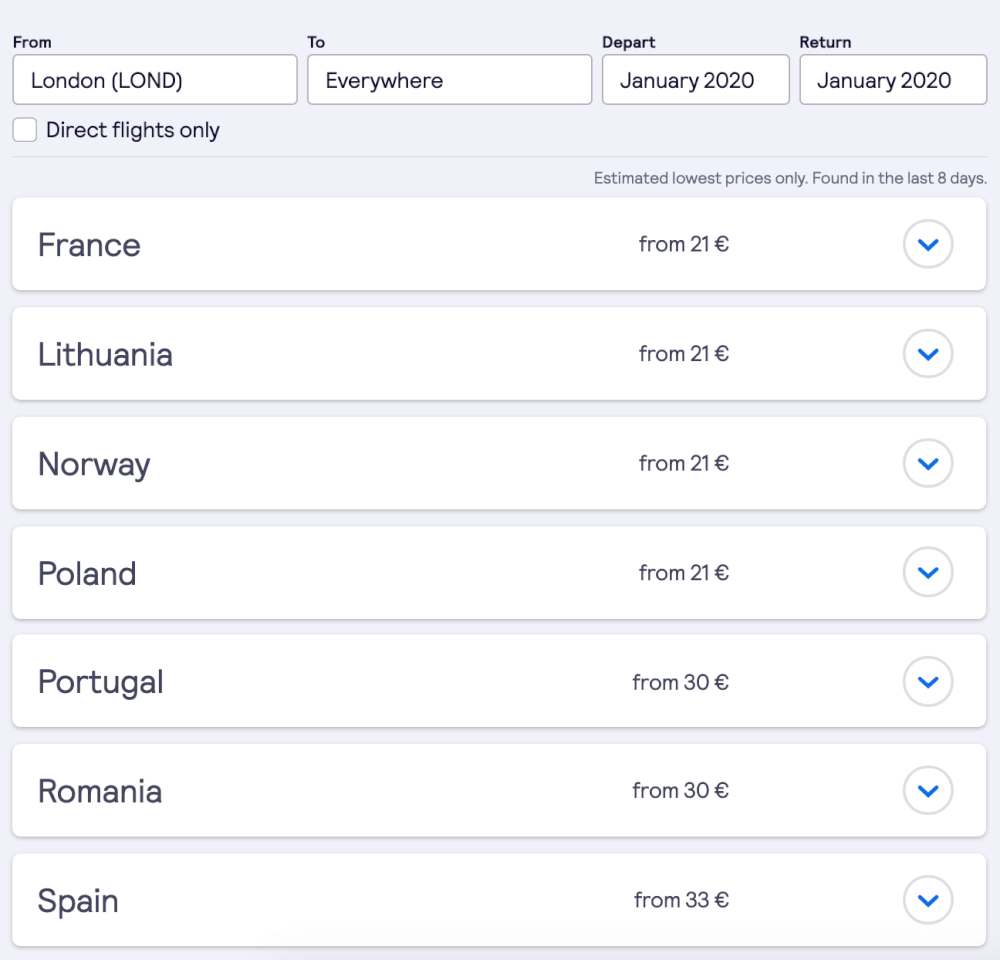 Browsing flight prices by month and on a calendar
I also love the browse by month and calendar option, which shows you when the cheapest flights are on a calendar with fun colours.
This is ideal if you know where you want to go, but are still exploring the cheapest months/days to fly.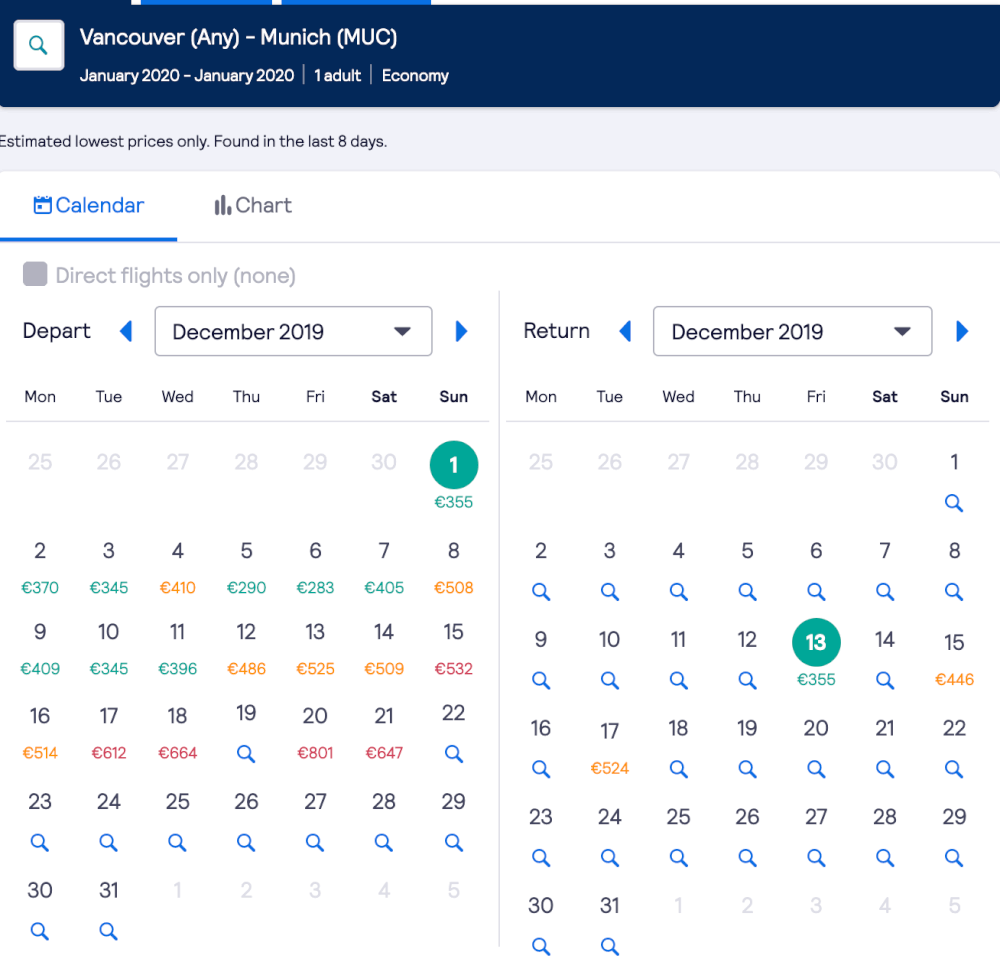 Lastly, you can also use Skyscanner to set price alerts, although I hate spammy emails so I don't use this much.
2. Airfarewatchdog
Another great option for finding cheap flights to Europe is Airfarewatchdog.
Now, this site does a lot and has way too many features for me to cover in this one post, but the feature I use most is their Deals page where you enter your Departure airport and it shows you cheap flights leaving from there in a certain time period.
While this is mostly better for flights within North America, if you keep scrolling you will often find very cheap flights to Europe too.
EXAMPLE: When I type in Vancouver on Airfarewatchdog, it'll take me to this custom page with the best deals departing from YVR Airport. After sifting through a lot of flights to the US, Mexico and even Asia, the European deals begin! Look at these flights for only $460 roundtrip to London: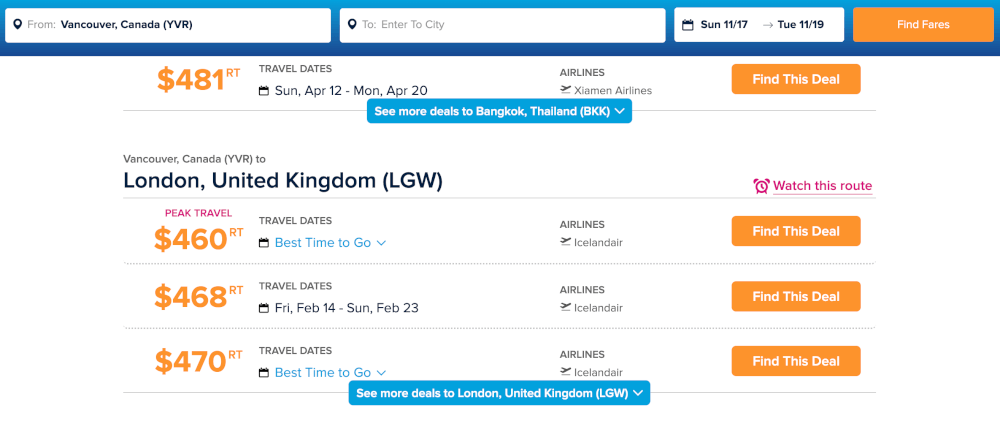 3. Secret Flying and Other Flight Deal Sites
So, Secret Flying… let's talk about it, because I adore this website and am Bieber-fever level obsessed with it. Honestly, it's one of the only reasons I still use Facebook!
Secret Flying is basically a site that posts news on error fares, cheap fares, and all sorts of great deals around the world.
I like to follow their updates on Facebook, but you can also subscribe on other channels. Their team does an amazing job at finding error fares and flight deals so you don't have to.
Of course, there are a lot of other websites similar to Secret Flying that might be better suited to you depending on where you live.
For example, a lot of my American friends love using Scott's Cheap Flights, meanwhile my Vancouver friends swear by YVR Deals (which only posts deals local to Vancouver).
Many major cities have similar sites these days all available for free, so be sure to do some research and see if your city has one.
EXAMPLE: One time, Secret Flying helped me score a VERY cheap flight home ($400!) for Christmas.

This was a few years back and I had ruled out visiting home for the holidays because I was still a recovering broke student at the time.

Seeing that deal (to Seattle, but getting to Vancouver from there was easy) was like a sign from Santa himself.

I've worshipped Secret Flying ever since. With a quick glance, I was able to find equally epic deals on the site, including this $400 deal from Vancouver to Iceland AND London.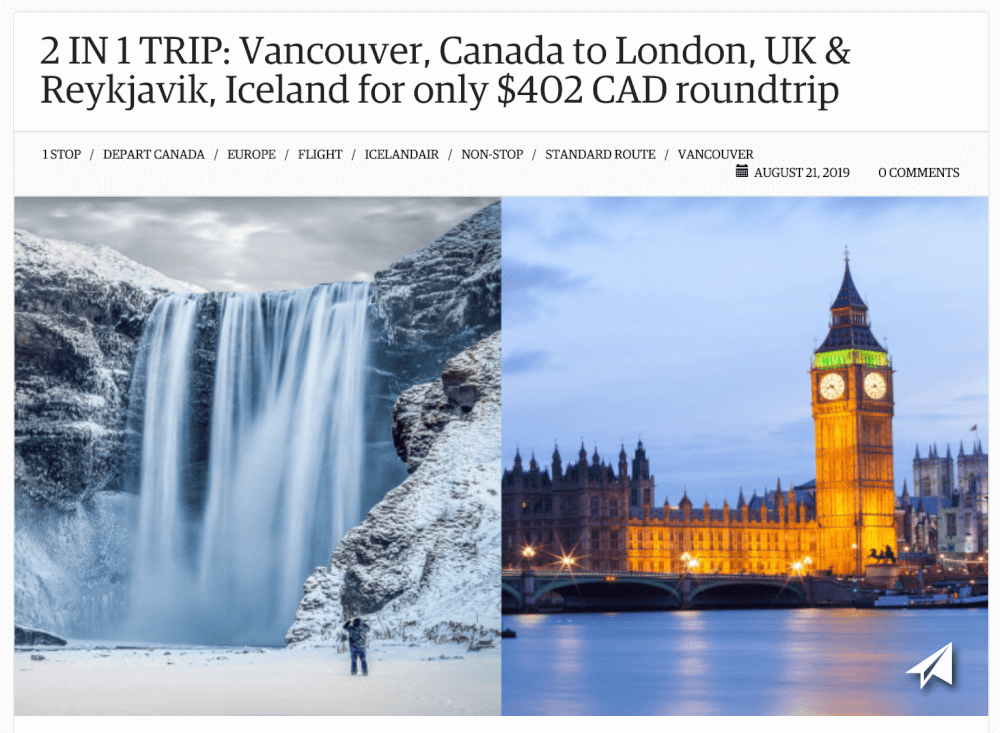 4. Google Flights
There are usually two camps in the cheap airfare world: those that Sksycan and those that Google Flight.
[Heh, never used those as verbs before]
Given the order of this list, I think you already know which camp I fall into.
That said, I love to give credit where it's due, and Google Flights is one incredible website with a lot of unique functionalities.
I don't use it as often as Skyscanner (remember, I fear change) but here is a taste of what it's capable of…
Searching Multiple Airports Simultaneously
Firstly, a function I love on Google Flights is you can search up multiple departure/destination airports at once.
All you need to do is type your first airport code in the search area, hit comma, and then it'll add that airport and also let you add additional airports afterwards.
This is really good if your city has multiple airports, if you're willing to use other nearby airports in the area, or are otherwise flexible with your destination.
For example, Vancouver is obviously the best airport for me when I'm departing from home, but often Seattle will have deals that are way too good to pass up, so I can easily search them all at once like so:


Seeing Cheap Flight Results on a Matrix
Another great thing I love about Google Flights is the way they display their search results. I'm a very visual person, so I'm a sucker for tables.
Luckily, Google Flights organizes results in a cool matrix with the cheapest dates shown in green, which is really satisfying to look at: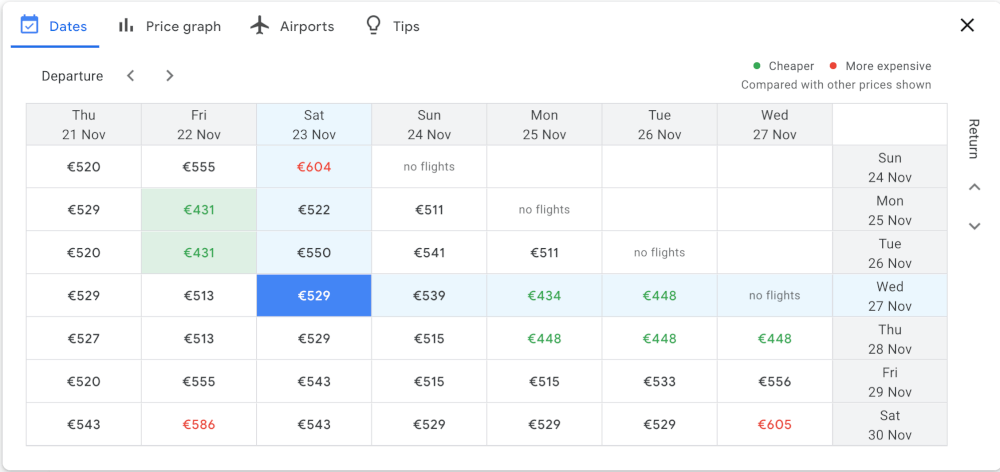 Using an Explore Map to browse multiple destinations at once
Speaking of visual satisfaction, another great Google Maps feature is their Explore Map.
With it, you can plug in your departure airport and see all the cheap places you can go on a map.
The results actually pop up as you navigate through the map so you can see results from anywhere in the world at a glance. Really great!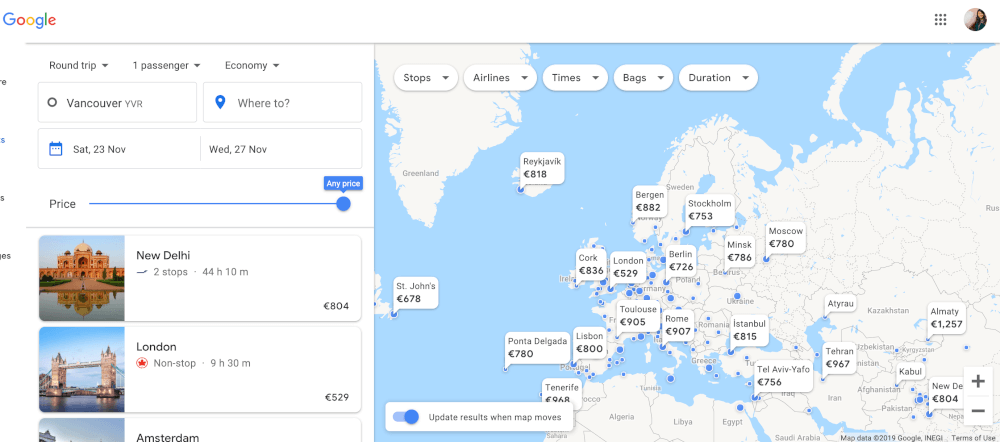 So, if you want a really robust tool, try Google Flights!
Do bear in mind though that their prices are not always the cheapest.
That's because other aggregators like Skyscanner and especially Momondo partner with more online travel agencies which means they are often more likely to give cheaper fares.
That's a whole other topic though, but if you'd like for me to give a thorough tutorial on all this, leave a comment and let me know.
5. Budget Airlines
Last but not least, the final tool you need in your arsenal is knowing the budget airlines that operate in your area.
Luckily for us, these days, travel has become a lot more accessible, with low cost carriers offering no frill services even internationally.
There are too many budget airlines to list, but for my fellow North Americans, you can look into names like Westjet, Eurowings, and most popular of all Norweigan.
Sure theses airlines might not be as glamorous as mainstream ones, but if budget is your priority (rather than frills and comfort), it really pays off to know which low cost carriers serve your local airport.
EXAMPLE: For me personally, Westjet is a low cost Canadian airline that offers direct flights from Vancouver to London, often for less than $500 CAD even at regular price.

If I need to get home on a certain date and don't have a lot of flexibility, usually I'll be able to find cheap flights on this route regardless of the season.

Since flights between London and Munich are very very affordable (I use Omio to check for travel options within Europe),

I sometimes use this as an easy way to quickly visit home. The cost on a "regular airline" can often be double this!

Sure everything costs extra (even meals!) but the savings can often justify the less glamorous experience.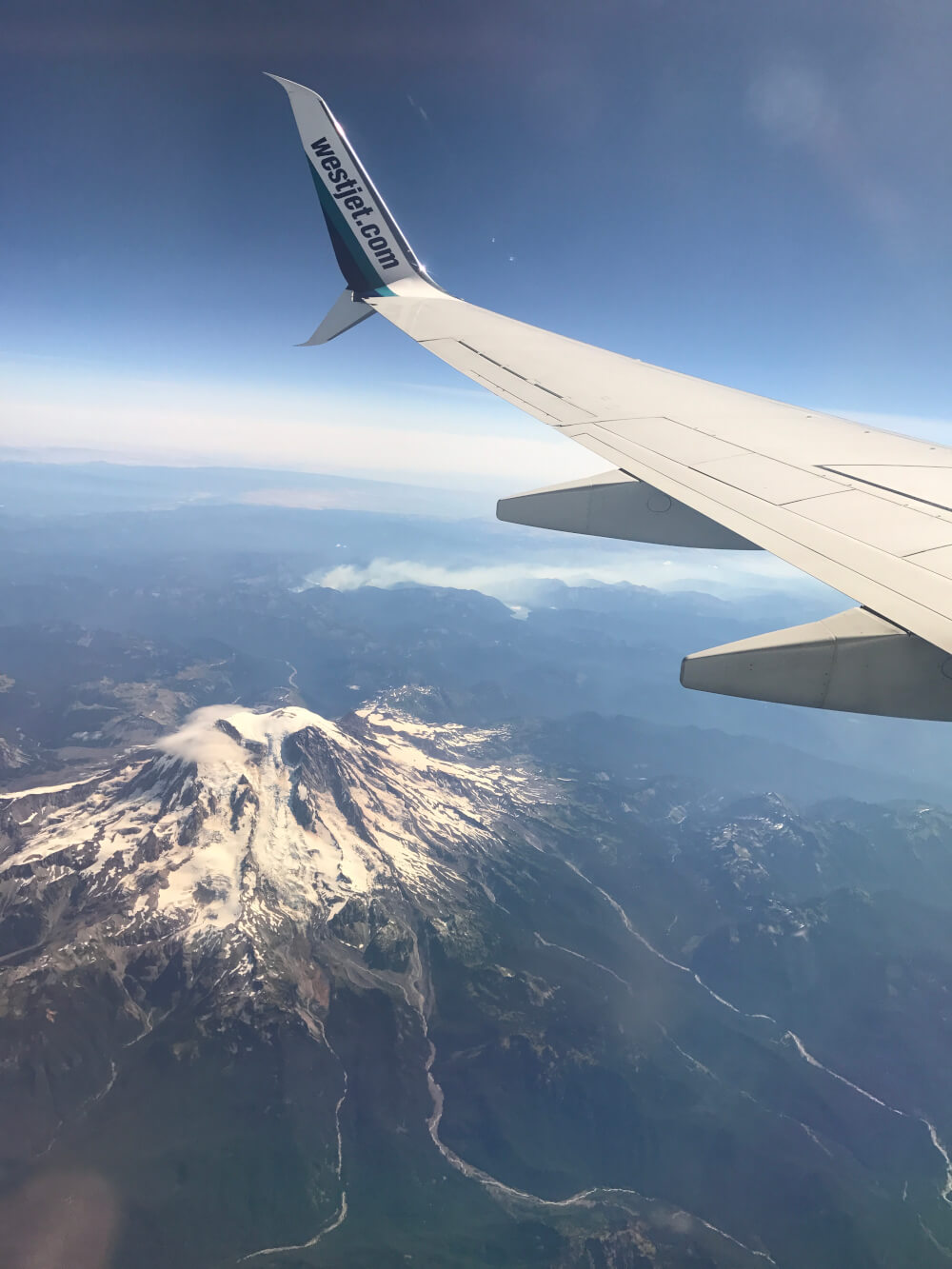 Tip #4: Forget loyalty… trust NO ONE
Ooh how dark.
BUT seriously, there's a time and place for loyalty, like with me and Chipotle, or with your favourite airline that you have status with, but trust me, if budget is your #1 priority, you will never get the cheapest flight possible if you always stay loyal to one airline or one website or service.
I mean, I just gave you all my favourite tools, but that's not to say they're the only ones I use.
See, at the core of finding really cheap flights to Europe is a baseline level of paranoia and stubbornness.
If you search one site and call it a day, you might get the best deal, but (more often than not), you won't.
On the other hand, if you search one site, don't trust it's the cheapest, and cross-check with all your other options, that is when you'll definitely find the best deal possible.
The reality is there is no one tool out there that will always give you the cheapest flight every single time, so to find those deals, you really need to put on your detective hat and get to work.
Double check every site, check the airline direct, even give them a call… persistence in this game pays off!
Tip #5: Embrace flexibility if you want to find dirt cheap flights
Now this tip isn't for everybody because sometimes you need that cheap flight for a specific destination or set of dates, maybe you need to be at a wedding, at a conference or something else very grown-up.
If however you have the luxury of flexibility, one of THE best ways to ensure you're getting the cheapest flight possible to Europe is by having some wiggle room when it comes to dates, and when it comes to your destination.
Think of it like this, if you NEED to fly out on ONE specific date to one specific place, you are locked into a very small pool of options. Expand that pool and you can find some truly amazing deals.
Many of the websites mentioned before are great for this. Like I said, the Skyscanner Everywhere tool is awesome, as is the calendar tool… and Google Flights also gives you lots of great search options to check for different times and destinations.
SO, remember, flexibility is key.
Some general rules of thumb to keep in mind though are that you should avoid weekends and holidays if possible, especially school holidays.
Moreover, flying during undesirable times like early mornings or red-eye overnights tend to be cheaper.
NOTE: If you don't mind it, you can also look into flights ON holidays like Christmas day, when people are less likely to fly.
All that said, if flexibility isn't really that much of an option, and you know you need to be somewhere specific at a certain time, make use of…
Tip #6: DIY your own stopover
So here's the main trick I use to consistently get cheap flights to Europe and also explore some cool new places: I engineer my own little stopover!
Here's why.
Major transit hubs in Europe often are the ones that have the cheapest fares. From my own personal experience, I've found that London, Amsterdam, Frankfurt and Milan tend to be cheaper to fly into than other smaller cities.
SO, using this bit of info, a very good way to fly to Europe cheaply is to just book the cheapest flight possible to Europe, then take advantage of budget airlines, trains and buses to reach your final destination.
Pssst… Omio is a great free tool you can use to search, book and compare these options, so check that out.
This is a technique I have used SO many times and it's great, because I get to add another city to my itinerary and save a lot of money at the same time.
EXAMPLE: One time I was on Secret Flying and found a very very cheap roundtrip flight from Vilnius to Vancouver for less than 300 euros.

Vilnius was never a place I thought I'd visit, but I decided to go anyway and I LOVED it!

It was such a cool unexpected city, so I got to visit home and an awesome new place for a fraction of what a regular flight would cost. Now that's most definitely a travel win in my books.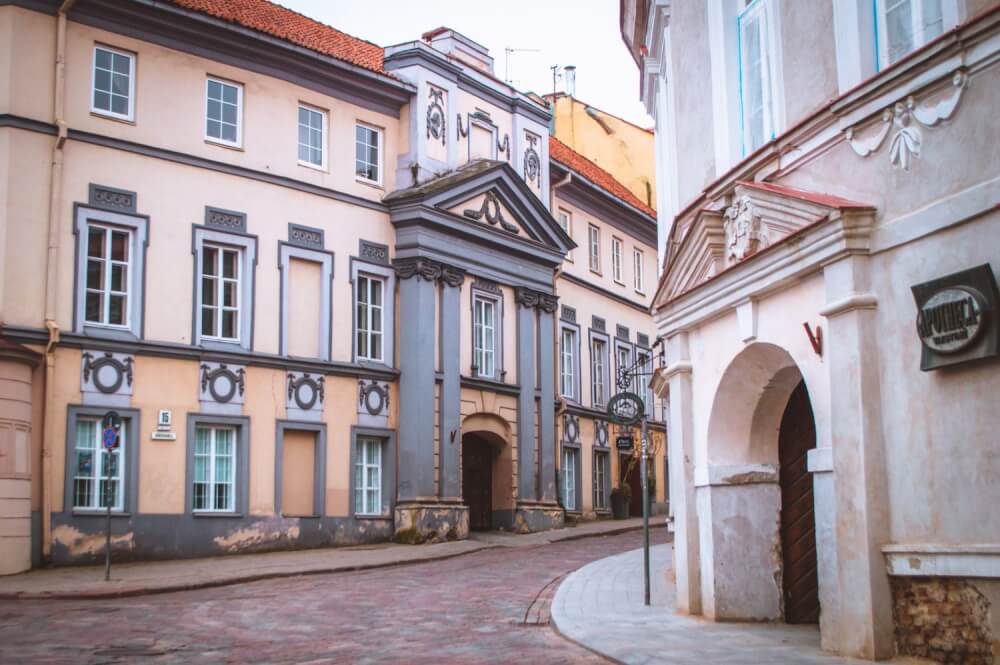 Tip #7: Check flights in the local currency and language
Now this a sort of ninja tip that a lot of travellers do not know about so listen up, smarties.
Oftentimes, you can save quite a bit of money on fares by actually browsing on that airline's local language website.
The gist of this technique is that you browse flights on the airline's local language and currency, then book through that local version to find cheaper deals.
This is commonly done with Norweigan, a popular low cost carrier, and I've tested it before, and it works!
Basically you log onto the Norweigan website, use Google Chrome to translate and make it less scary, then compare the fares.
Often, you'll find that the local currency works out to be cheaper, depending on the exchange rate. A simple trick, but one that can save you loads!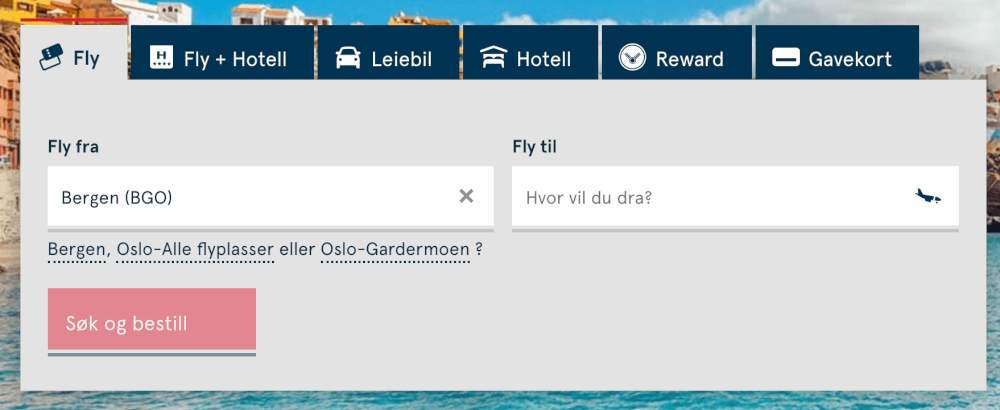 Tip #8: Wait for error fares
Ah, in the grand scheme of cheap airfare, I think Error Fares are the dream.
Like, deals that are so incomprehensibly cheap that they must be straight up errors? Music to my ears.
But how do you find error fares to Europe?
Well, there are a lot of great websites as I mentioned before like Airfare Watchdog and Secret Flying that purposefully suss out amazing deals and error fares.
I personally subscribe to Secret Flying on Facebook, because that's the platform that I use most but you can also get email alerts and things like that from a variety of other websites.
Staying up to date with these websites is a great way of staying on top of error fares as they come up.
But wait, I actually have a BONUS tip here that I don't see mentioned in many places, and that is, to use these cheap flight alerts as a SIGNAL to search other routes, namely, routes from your departure airport.
What do I mean by that?
Well, let's use a real life example. The other day, I saw Secret Flying post a deal from Paris to Los Angeles for 280 euros roundtrip, which is absolutely rock bottom cheap. I had been wanting to go to LA from Munich, so I thought if I could just get cheap flights to Paris, I could take advantage of this deal.
BUT actually, I was able to find the exact same deal leaving from Munich, despite the fact that at the time, only the Paris deal had been published.
This is important to note because as painfully obvious as this may sound, deal sites can't possibly publish every single deal in the universe.
SO, instead of just checking deal sites religiously and waiting for your airport's turn for glory, you can instead be more proactive and use their published content as hints!
If you see that there's a deal with a specific airline for instance, that may be a signal that the airline for whatever reason is discounting their fares, meaning other routes may be on sale too.
Plus, keeping an eye on deals can give you sort of a sixth sense about the routes that tend to go on sale, and also give you a feel for the cheaper airlines that run out of different cities.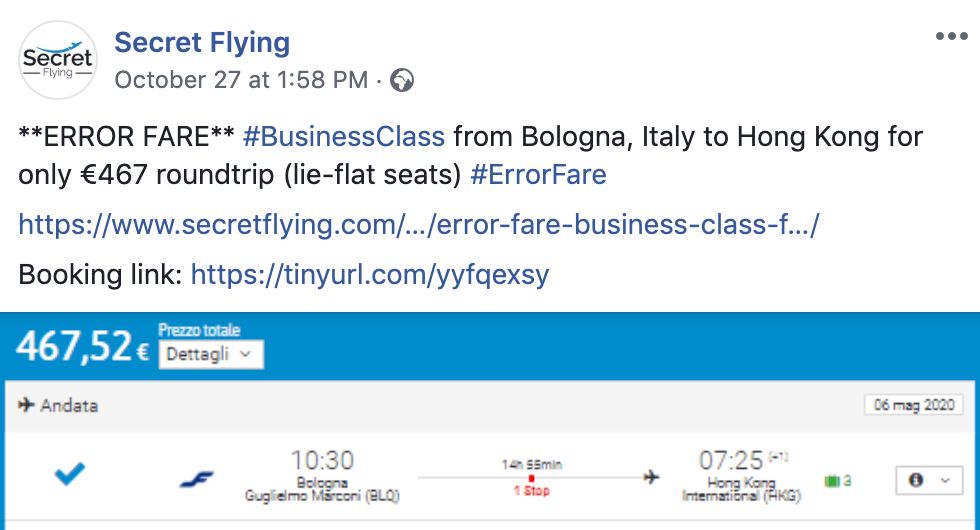 Tip #9: Dip your toes in credit card points
I am very very new to this, as in, I only got my new American Express Platinum Card last week (still over the moon about that).
But guys, there's a reason so many people are obsessed with credit card hacking. You really can use it to your advantage if you're smart about it!
I know that the world of credit card hacking can seem VERY daunting and overwhelming for newbies, but let me break down how taking advantage of welcome bonuses can get you a VERY cheap, even free, flight to Europe.
I'll use my card as an example. This BAD BOY is not a cheap card. Canadians like me pay $699 a year for it, and Americans pay $550 USD for it.
That's crazy.
BUT getting this card, at least in the first year, can help you fly to Europe for cheap.
That's because included with your sign-up is a $200 travel credit, and if you use my special referral link here, 60,000 points as a welcome bonus, which would score you a roundtrip flight anywhere in Europe from North America according to Amex's fixed points travel program.
So effectively, when you get this sign up bonus, you get a flight to Europe.
So the worst case scenario is that you're paying $700 for a roundtrip flight to Europe, which is very cheap. BUT add on the multitude of other perks like free lounge access for you and a +1, and it is SUPER worth it for the first year.
Again, here's my referral link for the 60,000 point bonus. Wink wink, please use it.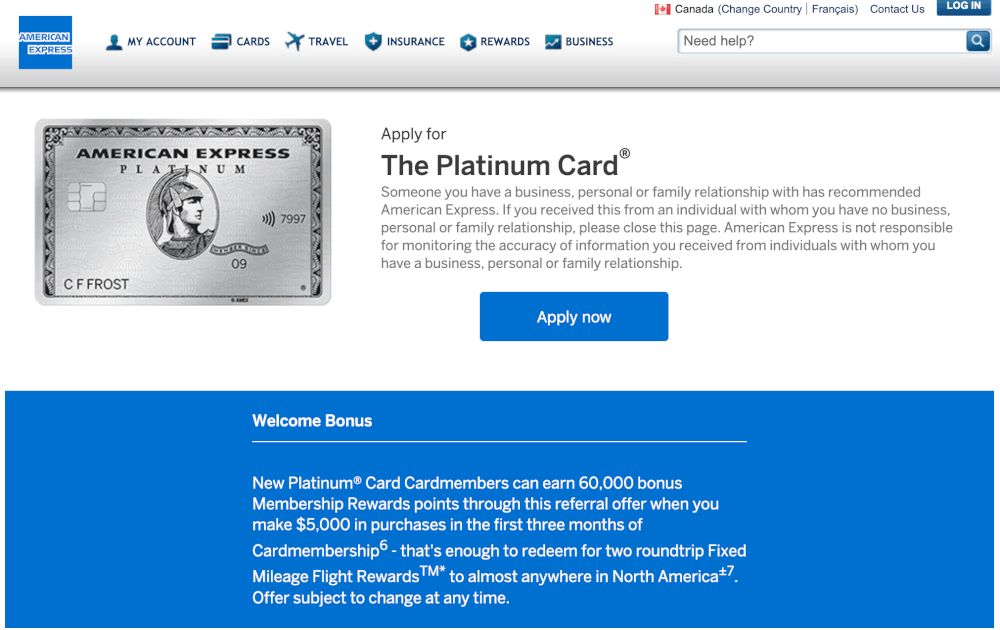 Alright last but not least, my final tip is a controversial one… Many people don't endorse it, and I personally wouldn't either, but for the sake of comprehensiveness, I will mention it…. So…
Tip #10: Use hidden city ticketing
Hidden city ticketing is basically the practice of saving money by buying a cheap flight with a stopover in your actual destination, then abandoning the last leg.
Sometimes, you can find flights like this and save hundreds in the process. It's weird, but it works.
I do admit, I used hidden city ticketing ONCE about two years ago.
When I flew roundtrip from Vilnius to Vancouver (as I mentioned before), I came back and got off in Amsterdam to see the tulip fields, and didn't take my flight from Amsterdam to Vilnius.
At the time I thought it was great, but I don't think I will do it again for a few different reasons.
The main one being tremendous guilt, because every time I went to check in for a Star Alliance flight for that year, they had that flight left for me to check in, and it was haunting me the entire time.
But, more importantly, as I said, this is a controversial practice, and one that airlines really frown upon. It's not technically illegal, but airlines have taken legal action in the past against big websites that promote it.
Lufthansa also made headlines for trying to sue a customer for it in early 2019, a case which was dismissed and is currently being appealed.
Regardless of these results, clearly there's some pushback so I would approach this technique with caution!
BONUS TIP: Know your rights as a passenger
And since that was kind of a downer, here's a bonus tip just in case: Know. Your. Rights!
This is something many visitors to Europe do not know, but passengers flying in/out of the EU, especially with an EU airline, have a LOT of rights thanks to something called the EU Regulation 261/2004.
And if your flight is delayed by more than three hours, or cancelled, you actually are eligible for compensation.
I know lots of people who have actually claimed it, and have gotten up to 600 euros in compensation for flights that have arrived late. That could be a free flight.
SO, if you find yourself in a situation where your flight to, from or within Europe is delayed, be sure to read up on whether or not you're eligible for compensation.
Airhelp.com is a service that's great for this.
Any questions about booking cheap flights to Europe?
Alright, did I miss any of your best tips when it comes to finding cheap flights?
Let me know in the comments. I hope this guide to cheap airfare can help you find the best possible deal on your trip.
Safe travels, and don't forget to download your free cheap flight checklists made with love by yours truly here.
---
Watch my most popular YouTube video this week:
---