*FYI - this post may contain affiliate links, which means we earn a commission at no extra cost to you if you purchase from them. Also, as an Amazon Associate I earn from qualifying purchases. Check out our Privacy Policy and Disclosure. for more info.
Wondering what to do in Ghent, Belgium? In this article, I'm sharing all my top tips for unique things to do in Ghent, along with hidden gems and quirky sights you won't find anywhere else in the world. Enjoy!
I've made it no secret that I'm low-key obsessed with Belgium, a country that I consider among the most underrated in Europe.
And if I had to pick an underdog among underdogs, it may just be the vibrant city of Ghent, the capital of East Flanders and the third biggest city in Belgium just behind Brussels and Antwerp.
What's so special about Ghent exactly?
Well, how many places allow you to be a time traveler, beer connoisseur, art snob, and quirky hipster all at once?
(I hope you don't have a quick answer to that, otherwise I'd be deeply embarrassed)
In short: there are SO many awesome, fun, and unique things to do in Ghent that it's impossible not to love this city. Add on a bit of hipster pride that it's not overrun by fellow tourists and boom – you have a perfect city break.
No doubt, this will be place you'll want to visit A-Ghent as soon as possible, so here's a list of what to do in Ghent during your visit, whether it's your first or your tenth.
The Top Touristy Things To Do In Ghent
Let's start with the touristy must-dos – the top Ghent attractions that are (in my opinion) actually worth it!
Take a Canal Tour
Much like in other canal-rich cities like Amsterdam or Bruges, taking a joy ride along Ghent's scenic canals is a very worthwhile experience in the name of both history and… laziness.
After all, Ghent's waterways are deeply intwined with the city's lengthy history.
It was way back in the late middle ages that Ghent originated as a settlement here at the confluence of both the Scheldt and Leie rivers.
This strategic location is what allowed Ghent to become one of the wealthiest cities back in the day, and today you get to reap the rewards by gliding along the water and seeing all the pretty things they did with their money.
There's a huge variety of cruise and boat services that are offered in Ghent, but I'd recommend booking an open-top one (this one is less than 10 euros when you book online) because I did one that had a glass roof and it wasn't great for photos.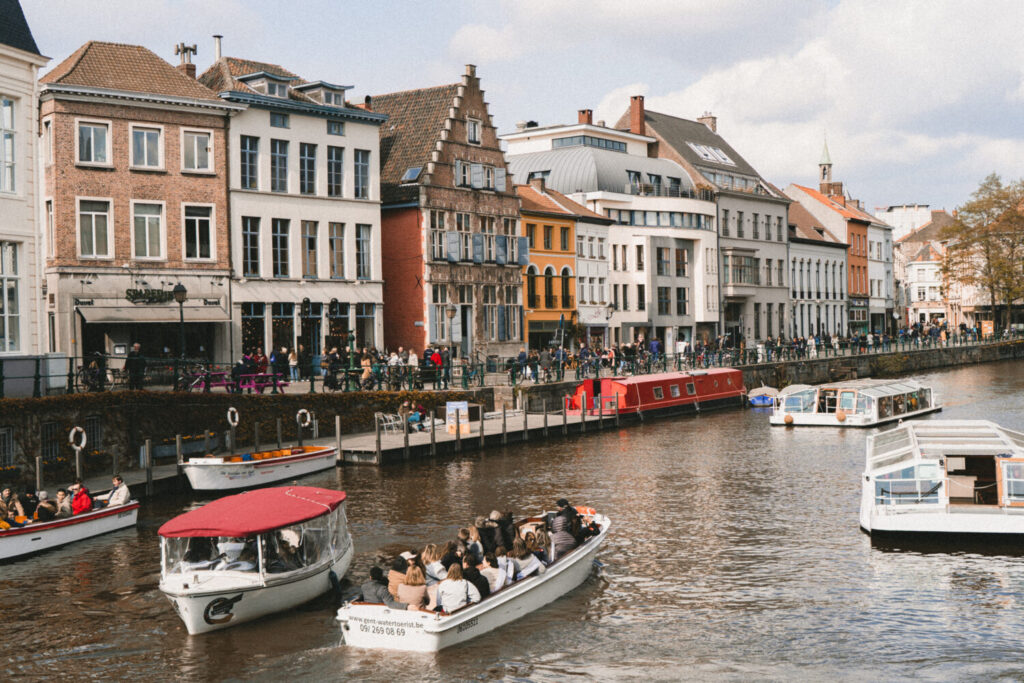 Enjoy the view from St Michael's Bridge
I love a good bridge, and I'm thrilled to report that St Michael's Bridge (one of the top attractions in Ghent) actually lives up to the hype.
It's here that you'll get some of the prettiest views in the city (from the ground level anyway), with prime landmarks such as Ghent's three main towers in view.
It's also a wonderful place for very vain photo opportunities. Allow me to demonstrate.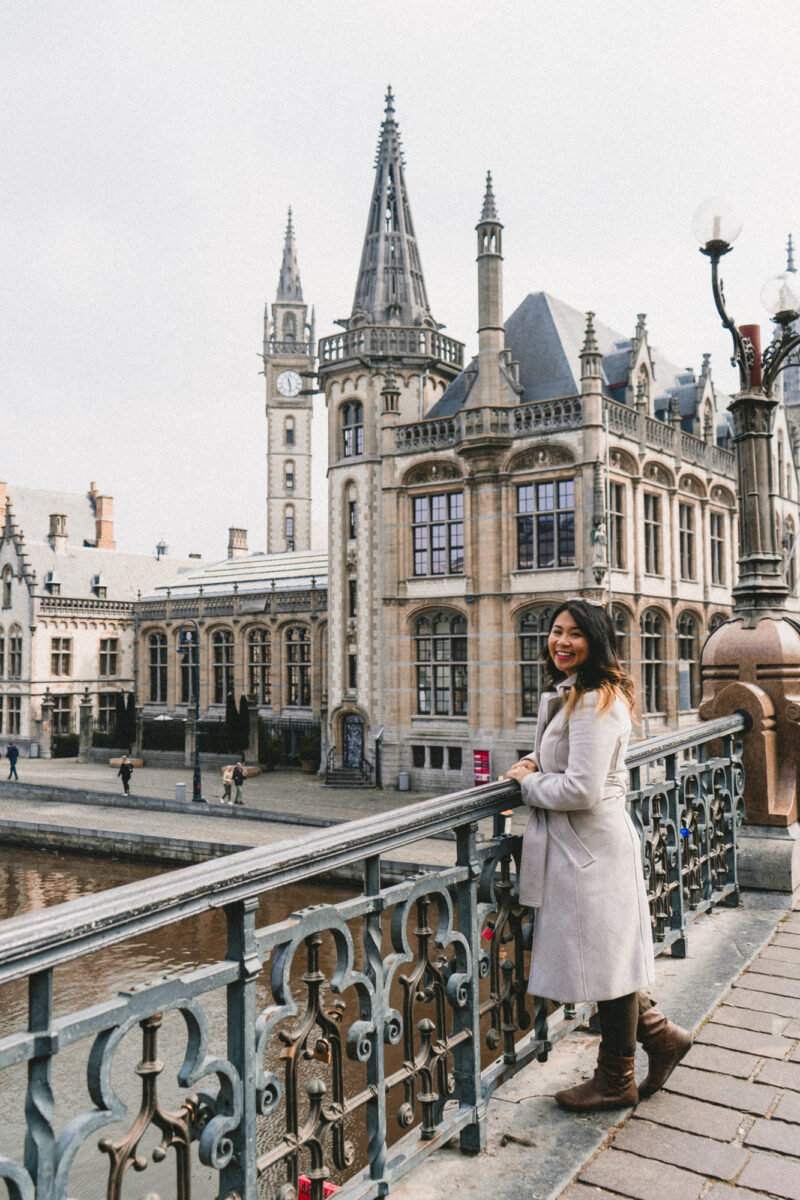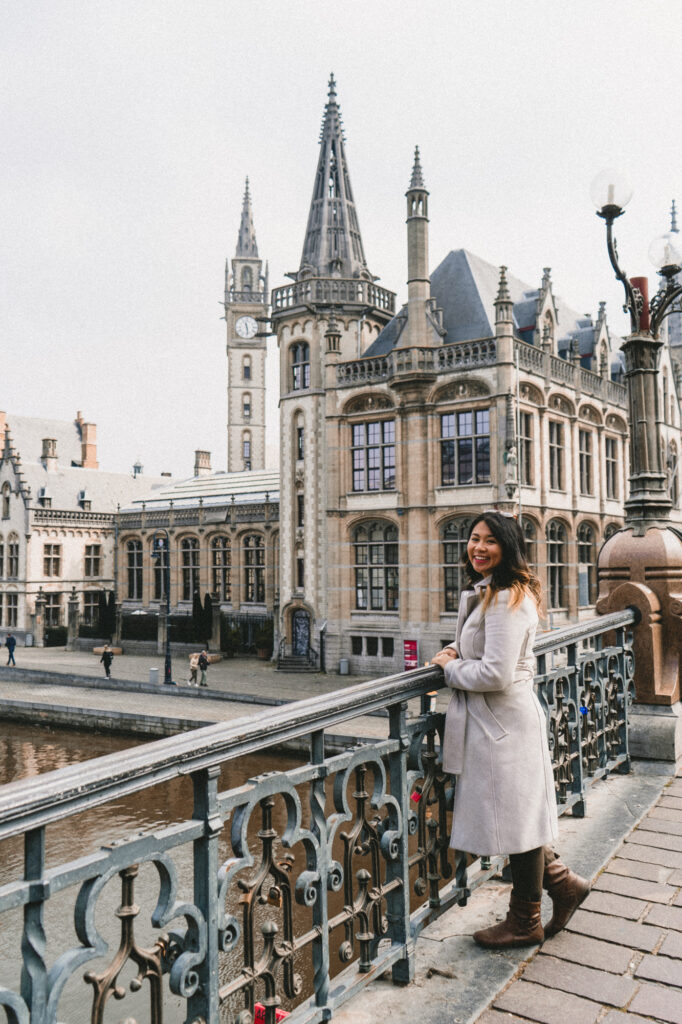 Go Church Hopping
The grandeur and diversity of churches in Ghent are tough to beat. I know it doesn't sound like the most thrilling experience in the world, but church hopping is actually one of the best things to do in Ghent.
Here's why: there's so many, and they're all beyond cool.
From churches housing famous masterpieces to churches that have been converted in food/flea markets, Ghent has it all.
Here are a few Ghent churches to put on your list:
Saint Bavo Cathedral: The oldest parish church in Ghent, and home to world-famous artworks including a Rubens painting and the infamous Ghent Altar piece (more on this later)
St.Nicholas' Church: A beautiful central church made of Tournai bluestone and constructed in the local Scheldt Gothic style
St Michael's Church: A Roman Catholic church known for its Neo-Gothic interior and impressive Baroque paintings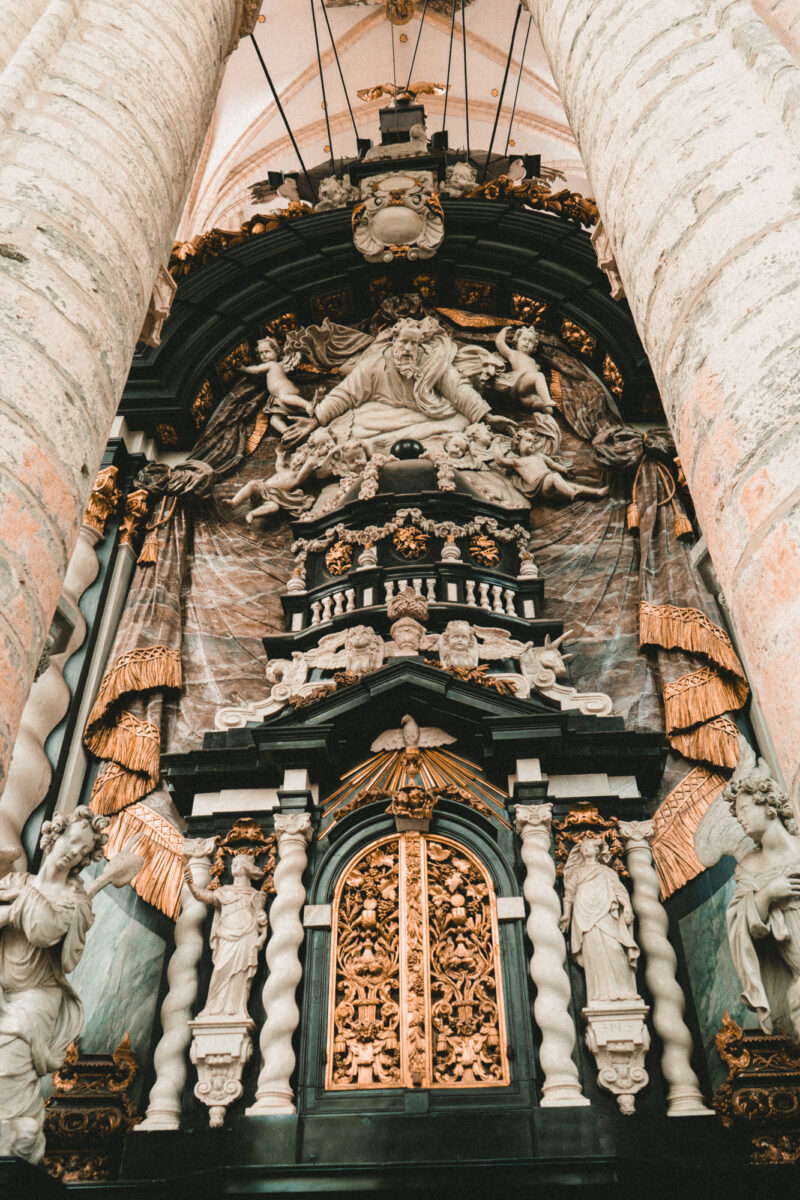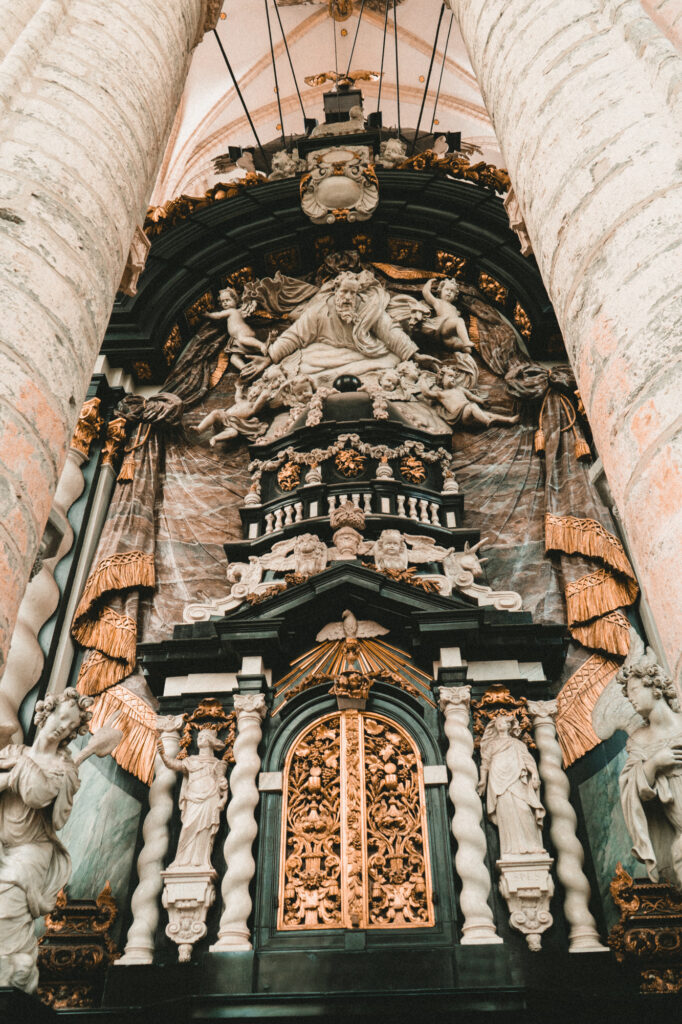 Climb the Ghent Belfry
For a truly mindblowing view over Ghent, look no further than the Ghent Belfry, widely considered to be the best view in town.
Once upon a time (back in the early 15th century), the city's top secrets were locked up here in a chest belonging to the Belfry's safe. Today, this Ghent attraction is hardly a secret, but a visit is worth it, especially considering there's a lift that takes you up after just a few flights of stairs.
TIP: Buy a skip the line ticket in advance here to avoid waiting.
Clamour Over the Ghent Altarpiece
Whether you're fond of art, or not all, you'll have likely heard about the Ghent Altarpiece, AKA the Adoration of the Mystic Lamb, a complex 15th-century painting comprised of 18 panels housed in Ghent's Saint Bravo Cathedral.
Long story short: the Ghent altarpiece tells the story of the Bible with remarkable attention to detail, so much that it's considered one of the most incredible masterpieces of all time.
And well, with that kind of popularity comes consequences… namely that it's widely considered one of THE most stolen artworks in history.
Today, you can marvel at this masterpiece behind a swanky €30m glass case, a protective measure that will hopefully prevent any further thefts. With that kind of pricey case though, you can expect that visitors will need to cough up a bit of cash to see it up close, which is why admission tickets are 12.50 per adult.
Definitely a bit steep, but worthwhile if you're keen to see a historic piece of art.
Visit Gravensteen Castle
Now it's time to travel back to the 12th century, all the way to the early days of Gravensteen Castle, also known as the Castle of the Counts, one of Ghent's top attractions.
What once harboured gripping screams of torture and functioned as a residence of royalty, prison, and even a cotton factory, today is an unmissable attraction, and one of the most popular touristy things to do in Ghent. And for a very good reason.
Inside these sturdy medieval walls, you'll find museums revealing weapons and armour used extensively in ancient warfare as well as a unique collection of… torture items, if you're into that.
PS: For an extra cherry on top of your torture war sundae, climb up the castle to soak in panoramic rooftop views of Ghent.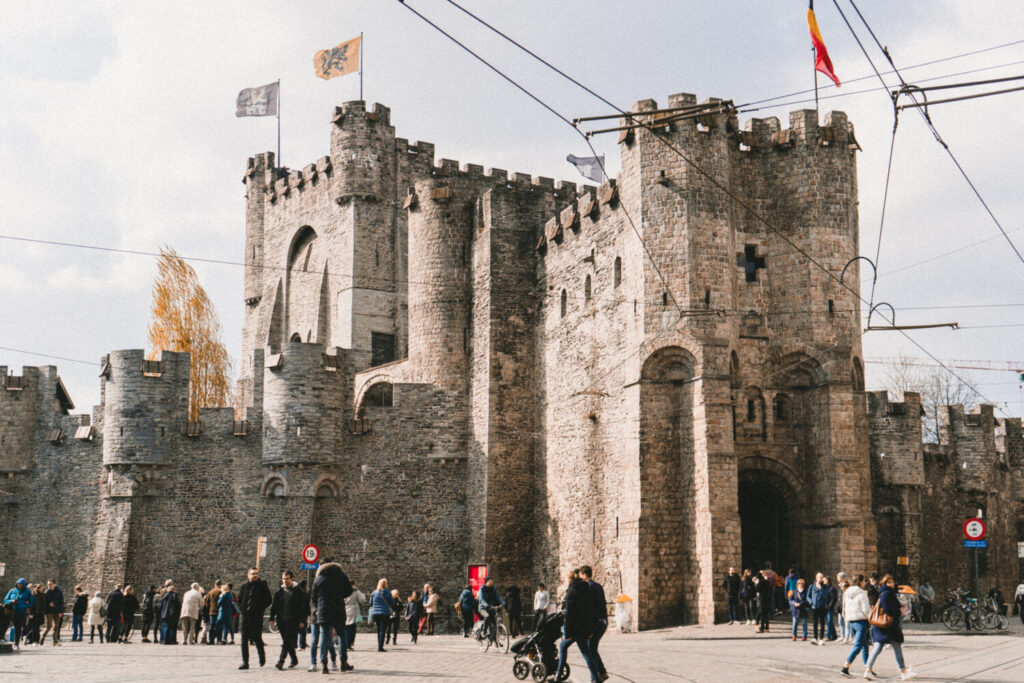 Wander Around Patershol
Ready for another lovely stroll? Welcome to Patershol – oft considered the coolest neighborhood in Ghent.
For nostalgic souls like me, a visit here is a must.
In Patershol (AKA the culinary heart of Ghent), you'll find dreamy cobbled alleys packed with trendy bars and traditional eateries, plus plenty of great opportunities for shopping. It's a lovely and charming escape from the more congested areas of Ghent, and a great place to grab a bite too.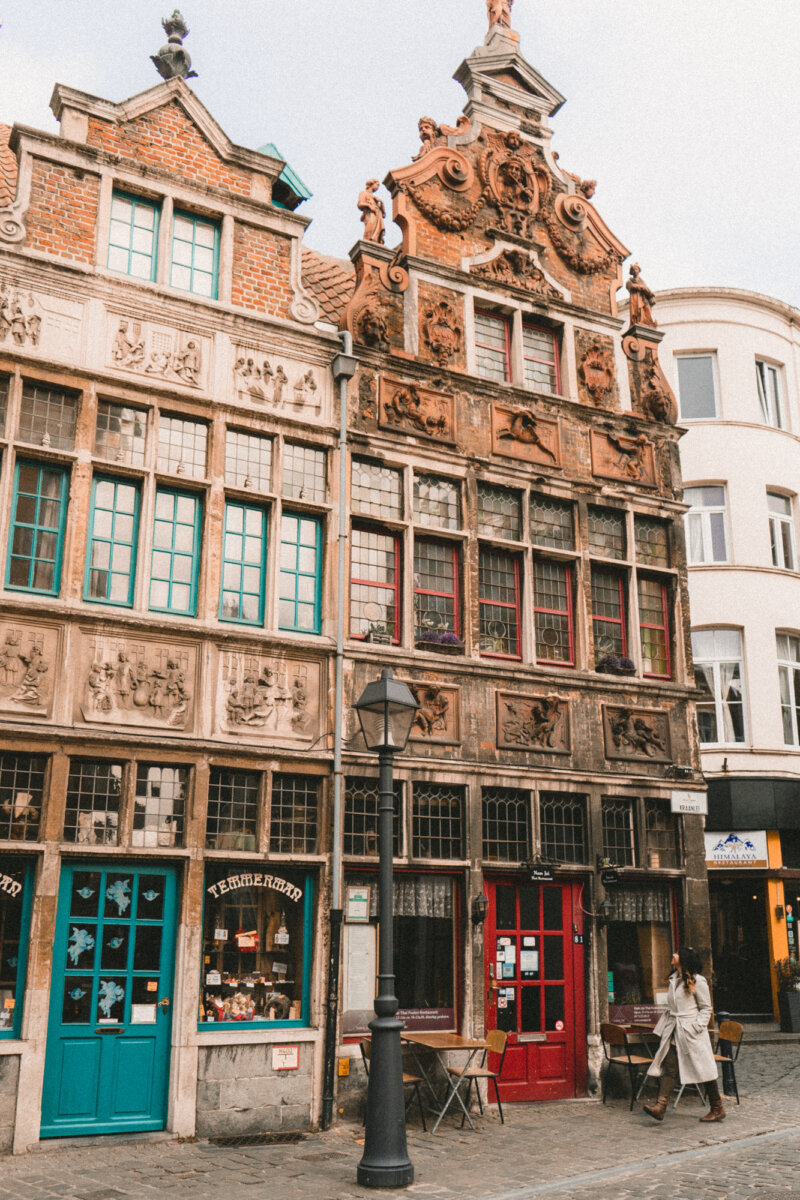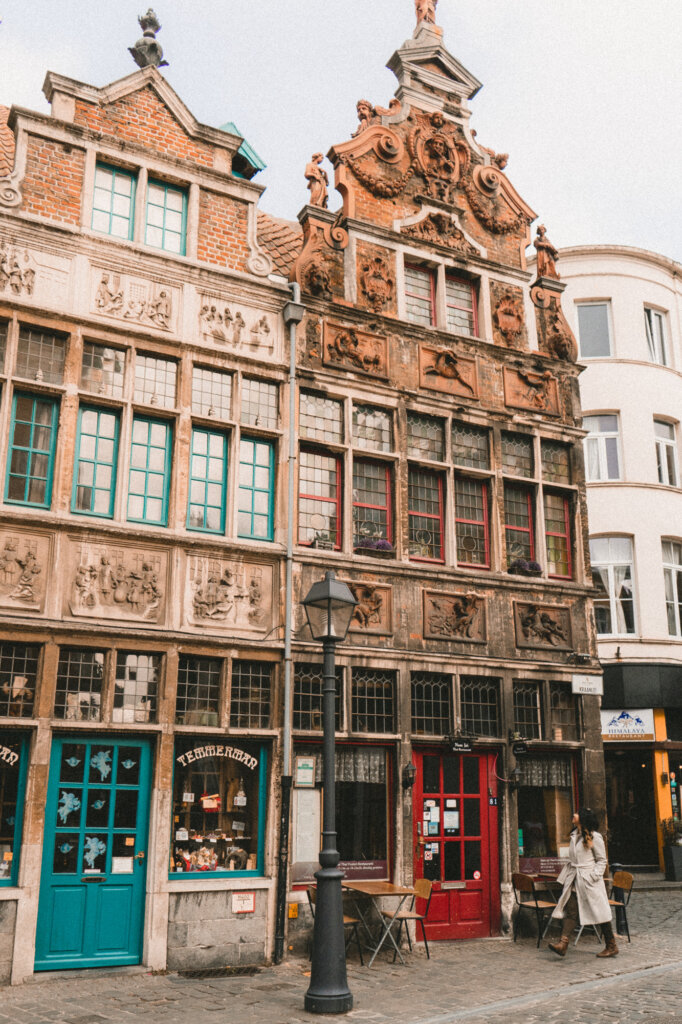 Enjoy Ghent by Night
There's a lot to do in Ghent during the day, no doubt, but avoid food coma-ing at your hotel right after dinner, because exploring Ghent by night is full of rewards.
After all, Ghent boasts an award-winning light plan that illuminates the city in such beautiful ways, they've genuinely won international accolades for it. Of course, the setting being lit isn't too shabby either.
Through this plan, many of Ghent's most important monuments are thoughtfully lit at night, which provides both extra safety and photogenic ~~ drama ~~, both things I'm a huge fan of.
Of course, besides prettiness, Ghent by night has a lot to offer.
Think countless nightclubs and DJs playing til the morning, buzzing pubs and cultural events, live jazz concerts, and much more waiting to be discovered. (That is, if you don't fall into a food coma)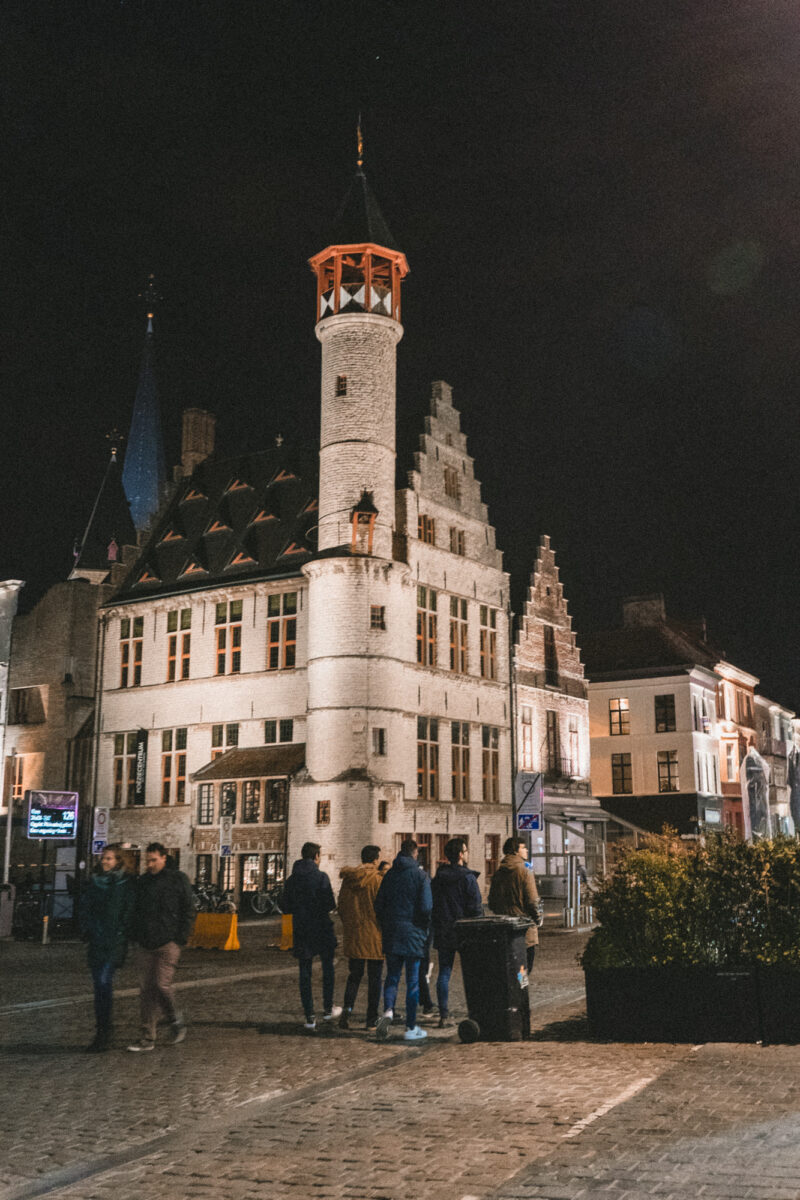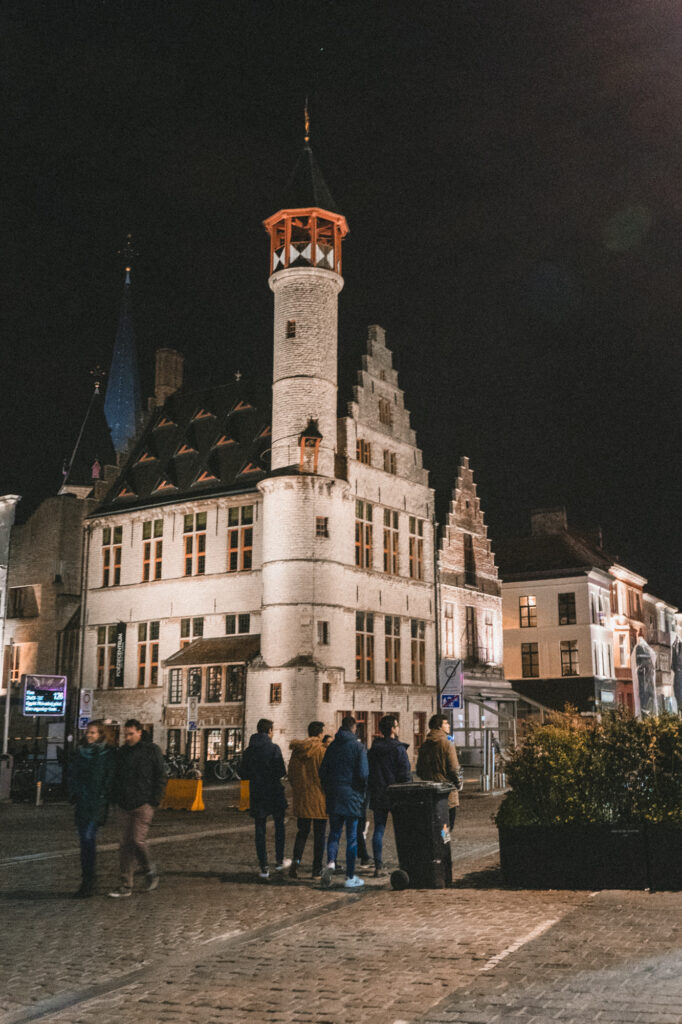 Explore Ghent's Graffiti Street
When Ghent opened up an alley in its city centre to legal street art back in 1995, graffiti artists across the city responded enthusiastically, and it's a tradition still preserved today on Werregarenstraat.
And while this alley (connecting the streets of Hoogpoort and Onderstraat) has become a touristy attraction in its own right, its original purpose wasn't to attract tourists.
Rather, it was to prevent the most valued historic buildings and walls in Ghent from getting sprayed on, which apparently worked pretty well!
Since this Ghent attraction is right in the city center, it's definitely worth a quick walkthrough, but don't expect to spend too much time here or get your expectations up too high.
To be honest, there are way better murals and street art in the city (more on that later), but this is just one of those quintessential Ghent activities you should check off your list.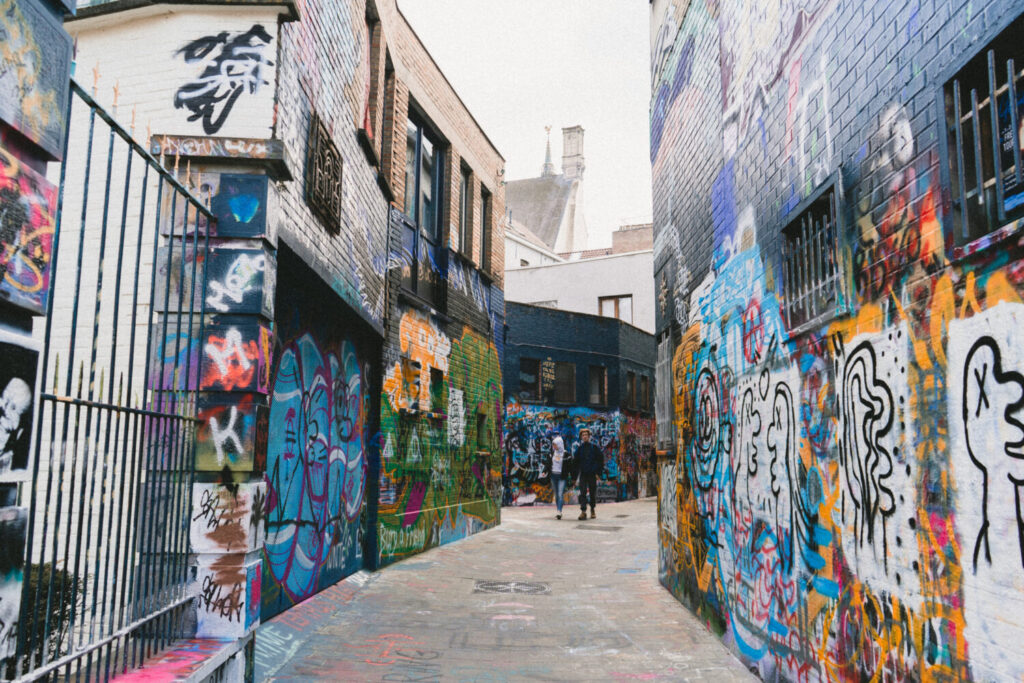 Follow the steps of Ghent's oldest wall at St. Bavos' Abbey Ruins
Can't get enough of Ghent's historic charm? Well then, head to Abbey Ruins of St.Bavos, where you can walk in the footsteps of some… seriously tumultuous history.
While much of the abbey is today in ruins, perfectly manicured shrubs and columns have been placed along the abbey's former perimeter so you can get a feel for what it was like back in the day.
This abbey actually dates back to the 7th century, where it stood for almost 900 years until Charles V ordered its destruction in 1540.
Today, the ruins are open only a few days a week (hours here), but the altar is still sometimes used as a performance stage!
Visit a Cool Art Museum that Likely Has an Awesome Abbreviation
As Belgium's resident "cool kid" (in my opinion anyway), it shouldn't be surprising that Ghent is full of art galleries and museums, with an exciting and diverse selection for every interest.
Funnily enough, I noticed most of the museums have fun abbreviations too. Here are some museums to add to your list:
SMAK: A must for unconventional and contemporary art lovers (particularly those who enjoy provocative exhibitions)
STAM: The Ghent city museum, which tells the history of the city through gigantic aerial maps and multimedia
Stop by the controversial Stadshal (City Pavilion)
In the heart of Ghent's historic center, you'll find a striking modern pavilion known as the Stadshal (or City Pavilion in English).
This open canopy made of wood, concrete and glass has divided public opinion since its introduction in 2012, with many locals angry at the modern design placed just a stone's throw from the city's most historic monuments.
Love it or hate it, you have to admit it looks pretty cool: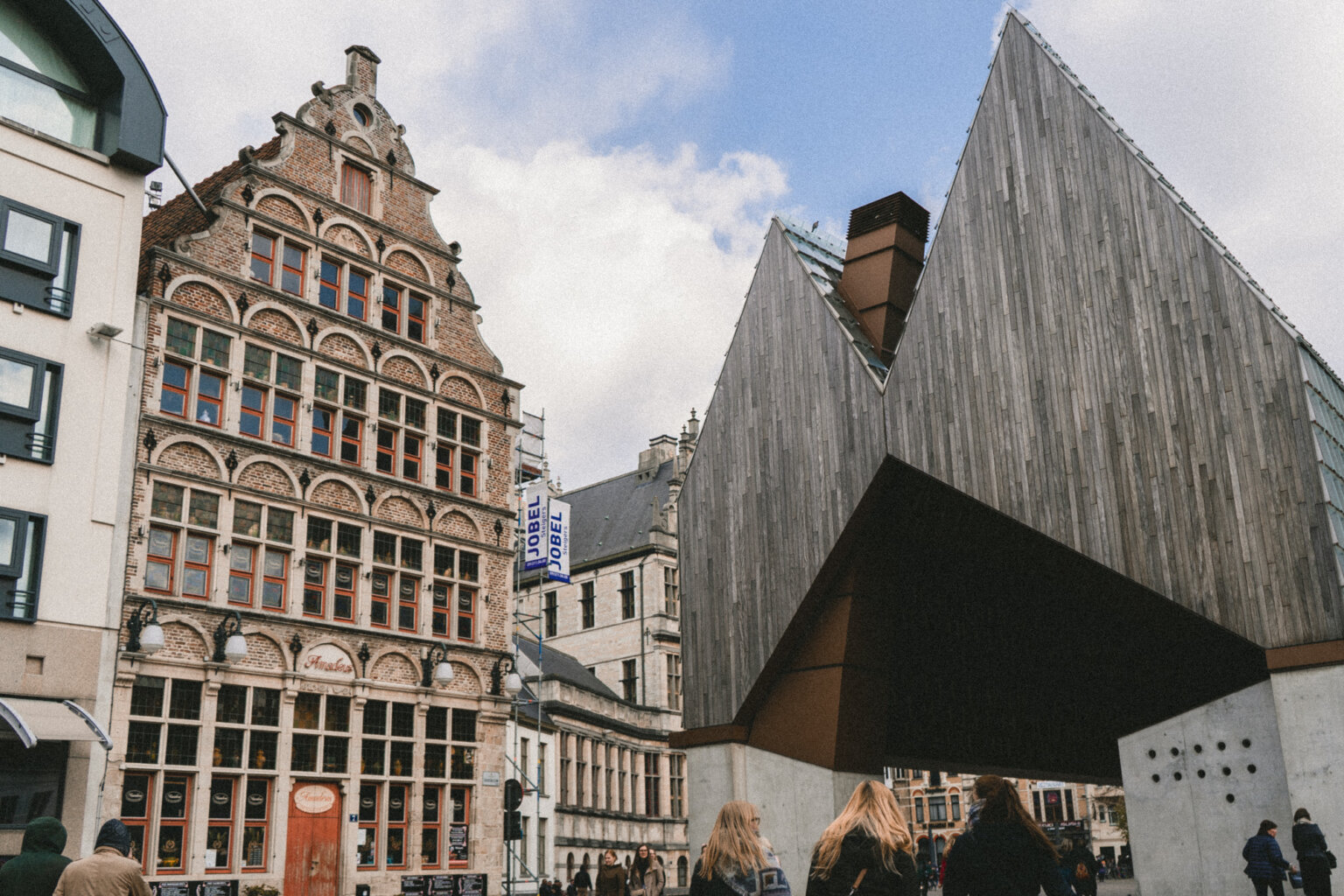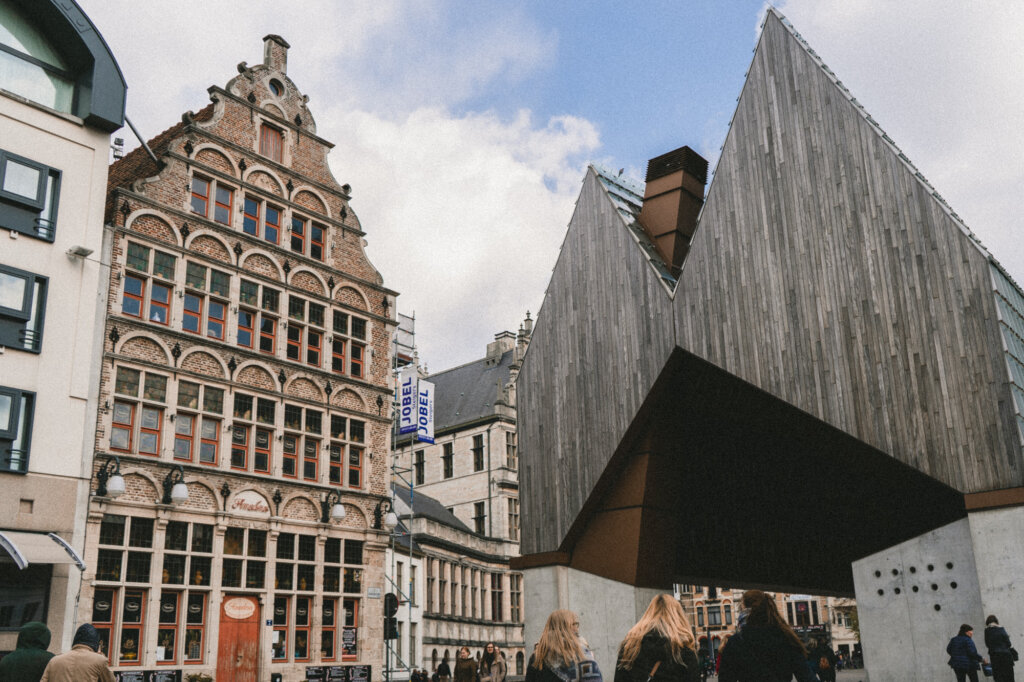 Admire the architecture of the Ghent Sint-Pieters Station
While Antwerp is commonly praised for having the world's most beautiful station, and Liège's train station was featured in Guardians of the Galaxy, Ghent's central station is worth some admiration too.
… I only wish someone had told me earlier, because I completely missed it, so don't make the same mistake as me. Meanwhile, here's a stock photo to convince you: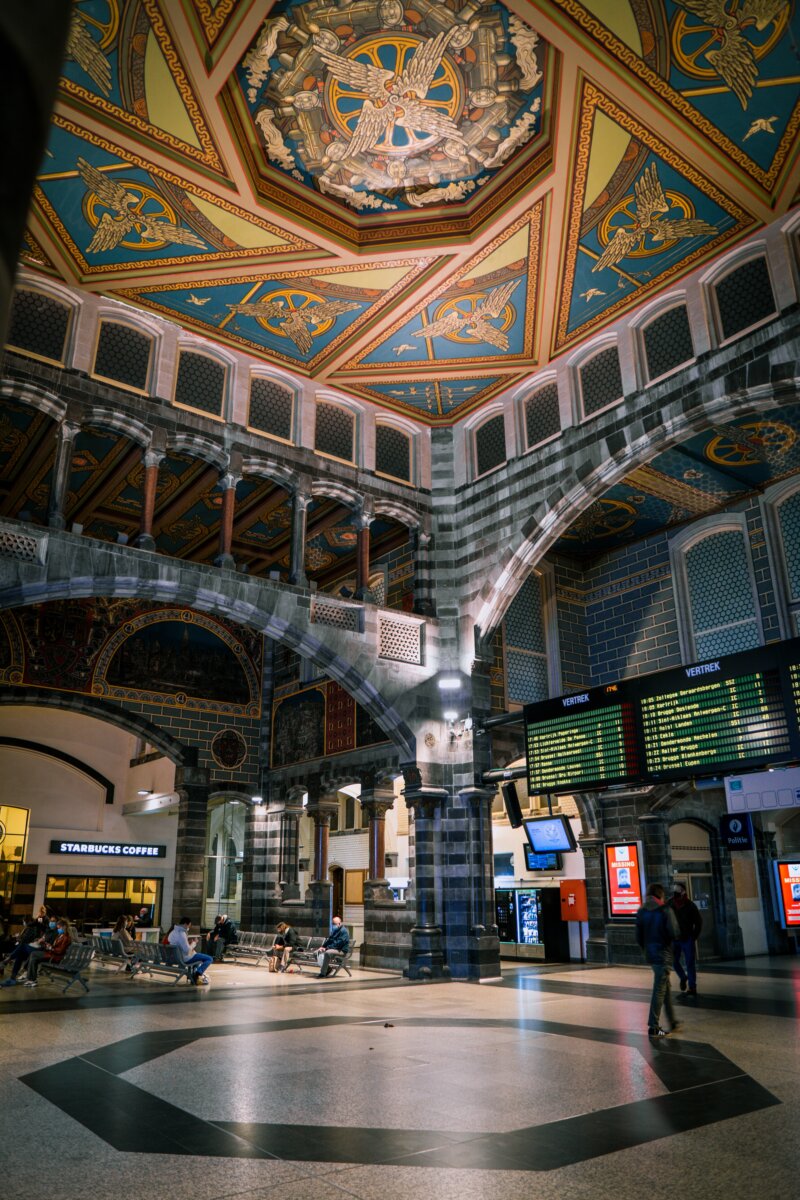 Beer and Foodie Things to do in Ghent
Beer and food are two wonderful reasons to visit Ghent, which has a reputation as one of Belgium's top foodie cities. Here are some wonderfully fun things to do in Ghent that relate to food and drink.
Drink Beer From a Glass so Precious, They Take Your Shoe as a Deposit
Wait a minute. Your shoe as a deposit? Yep, welcome to Belgium!
Apparently, stealing glasses is such a thing in Belgium that certain bars have begun fighting back. Some have adopted electronic anti-theft tags, while others (such as Dulle Griet in Ghent) have pulled out some seriously creative stops to protect their priciest glassware.
Namely, they take a shoe of yours as a deposit when you order one of their Max Van Het Huis beers, which come in comically lengthy glasses (pictured below).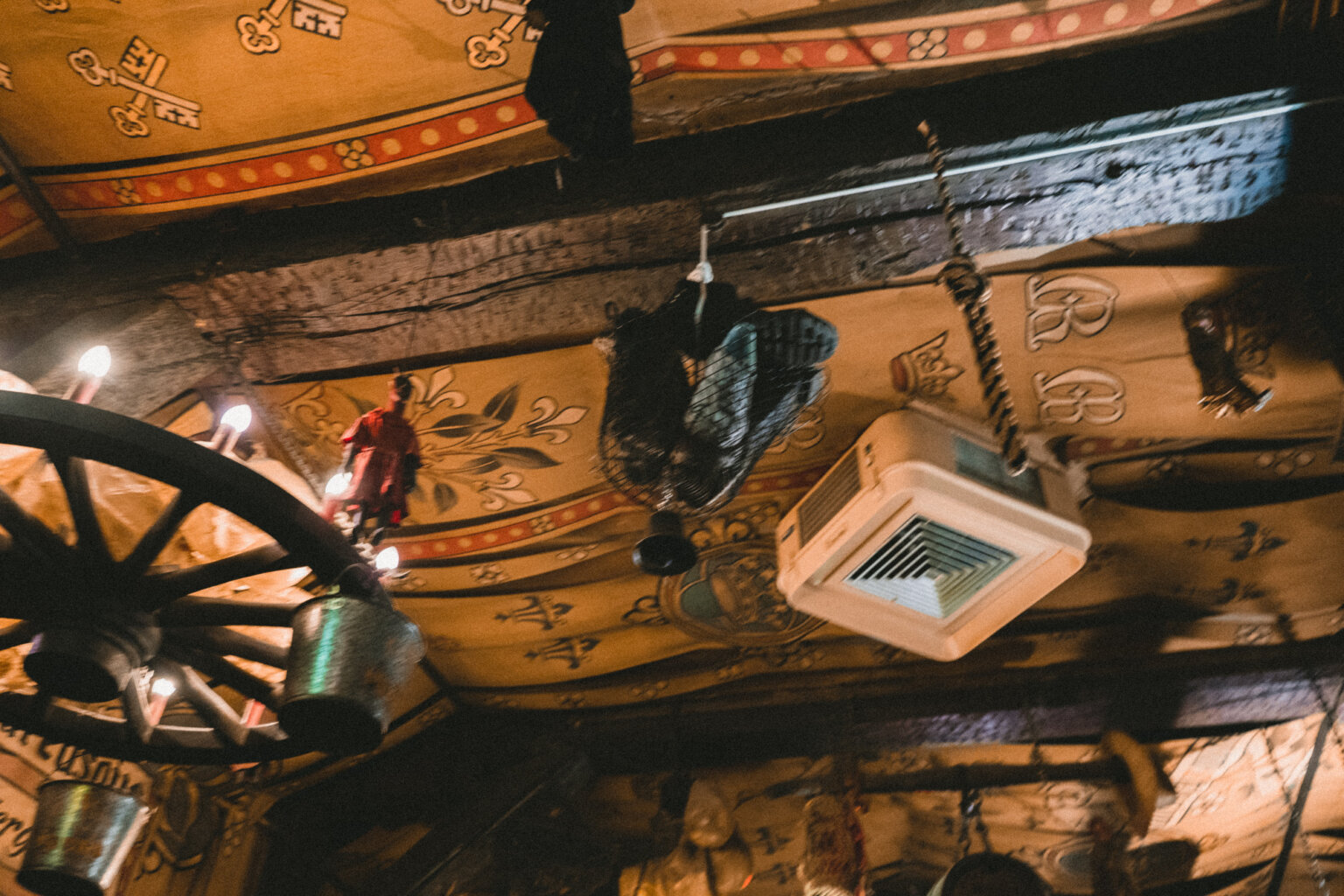 Sure, hopping to the bathroom because you're missing a shoe isn't glamorous, but sipping a giant beer as your shoe screams for help from above sure is!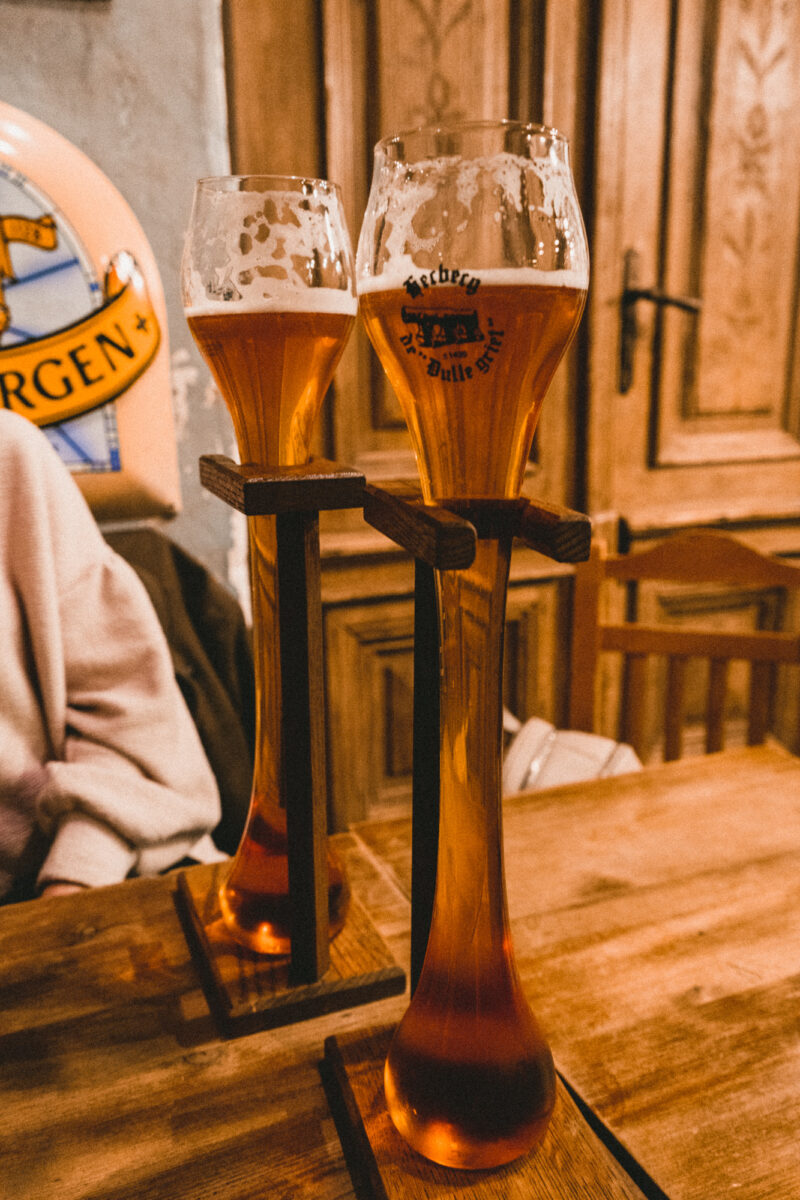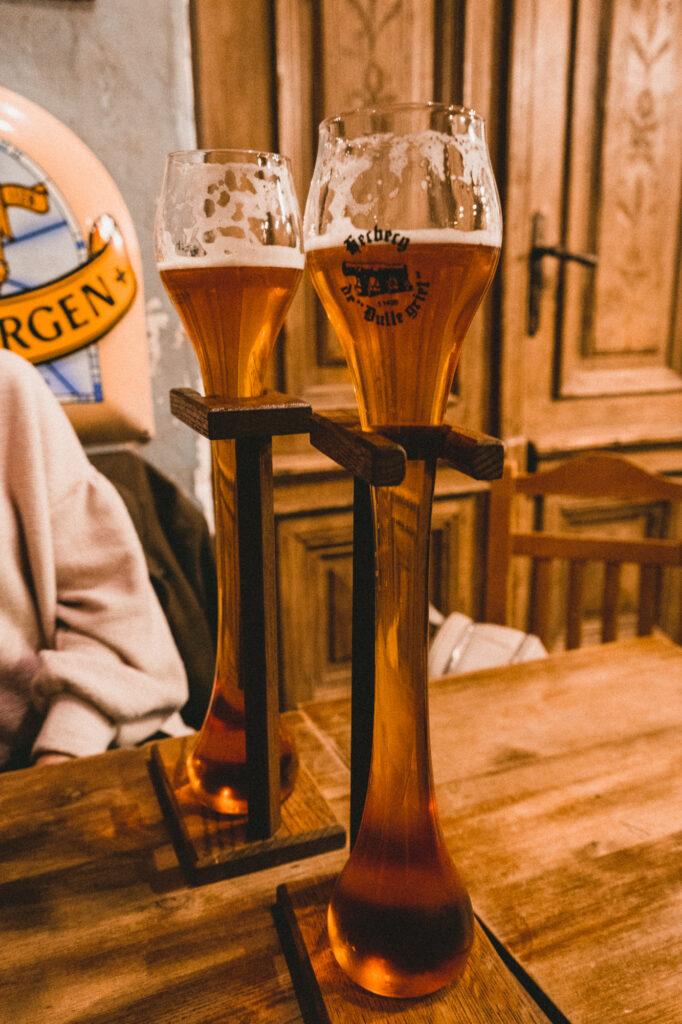 Enjoy a treat so beloved, it sparked a turf war
If you thought a shoe deposit was bizarre, allow me regale you with tales of the almighty Cuberdon, a traditional Belgian candy that has become entrenched in local Ghent folklore thanks to two petty vendors in Groentemarkt.
The year was 2011, and local businessman Carl Demeestere had just begun selling Cuberdons at his bakery. The conical nose-shaped candies (which contain a crisp sugary shell and a gooey, jammy interior) were a smash hit with locals and tourists alike.
To his horror however, a rival vendor by the name of Sonny Breine began selling Cuberdons shortly after, unsubtly right in front of Demeestere's bakery.
What ensued would become known locally as the "war of little noses" – Demeestere opened up his own stall right next to Breine's, the two began openly heckling each other in public, and once they even got in an open fist fight that resulted in both losing their licenses temporarily.
While today the war seems to be over, and Breine has long left his stall, drama has continued to unfold in recent years with Brein's successor dumpling a literal bucket of water on Demeestere's head.
Drama aside, if you want to taste the treat that inspired this soap opera of water buckets, brawls, and incessant hostility, go ahead and try a Cuberdon – those very same stalls are still there today.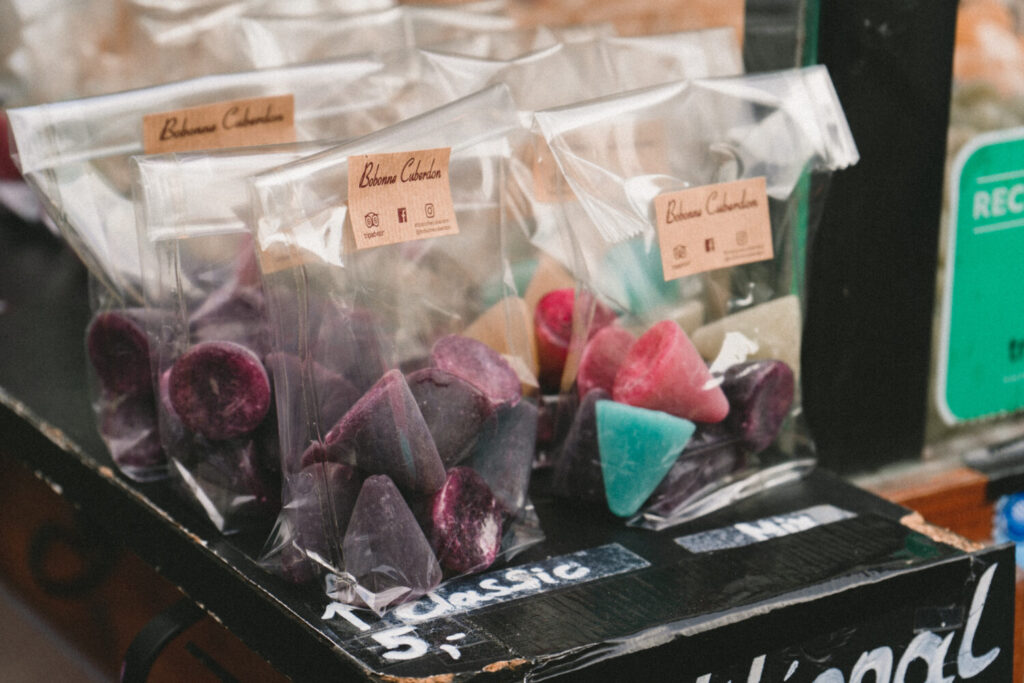 Sample some of the best vegetarian food in Europe
A little known fact about Ghent is that it's actually known as the veggie capital of Europe, with plenty of plant-based options found all around the city.
So, if you want to participate in a tradition that's uniquely Ghent, consider taking part in the city's Thursday Veggie day, during which over 100 restaurants and hotels in the city go vegetarian for the day, offering tasty options throughout the day that are all meat-free.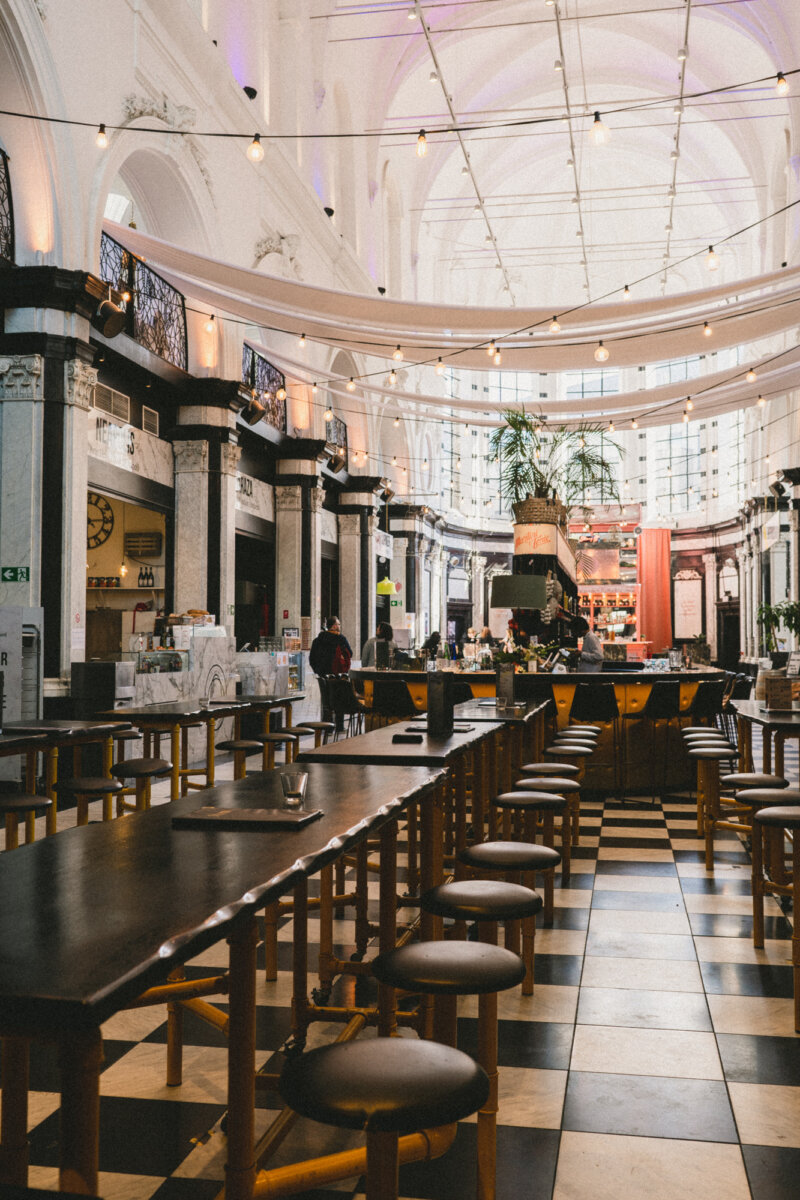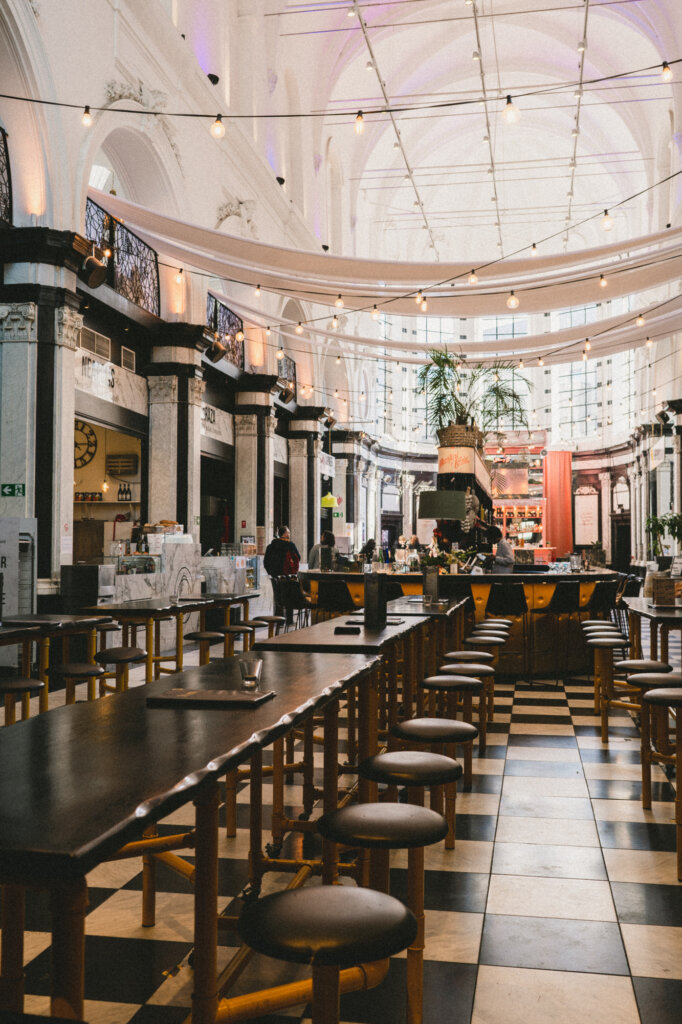 Have a coffee break at a used book cafe with FREE COOKIES
10,000 books, a wall full of free cookies, and truly tasty cappuccinos…
Truly, is there anything better?
One of the best things to do in Ghent when you're in need of a break is to visit Le Bal Infernal, a lovely and cozy café that is filled wall to wall with used books, as well as cookies on the house.
No, I'm not joking. Please go. I miss it deeply.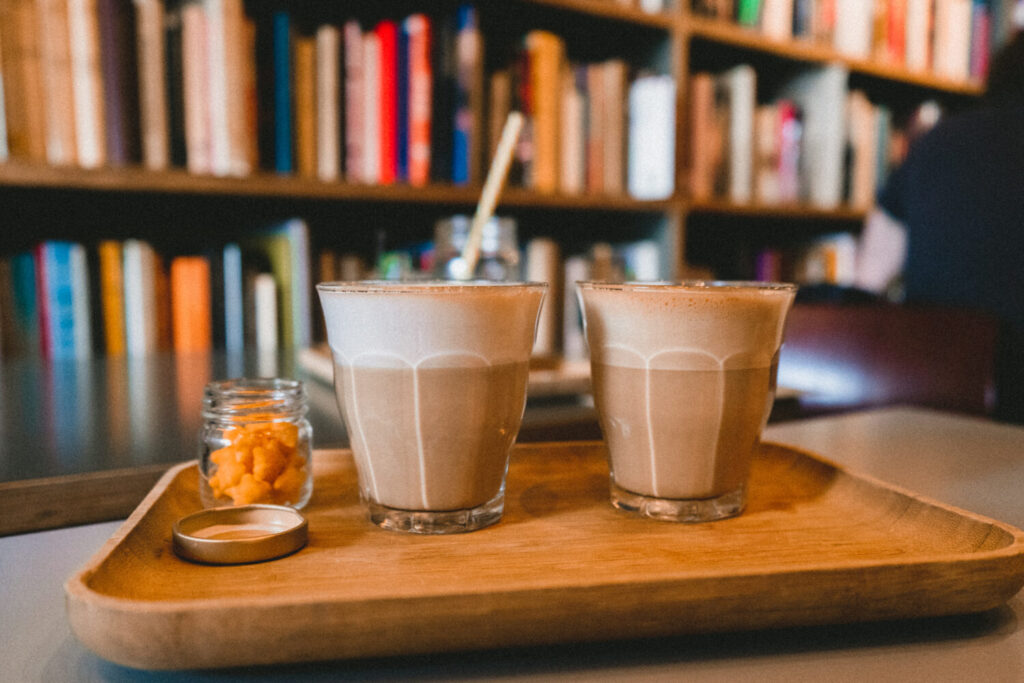 Go On an Epic 6-round Beer tour
While it's fairly easy to DIY your own beer tour around Ghent (just hurl yourself at the closest bar and get belligerent), there are certainly more dignified and cultured ways to get your buzz on.
If you're hoping to get some local insight into beer culture, as well as find where to drink beer in Ghent away from the more touristy locales, then booking a beer tour like this one is a great Ghent activity to consider. Not only does it take you to three different bars, you also get 5 beer tasters and a mini chocolate tasting too.
Sample local Ghent specialties at the Great Butcher's Hall
In Groentemarkt just steps from the aggressive nose-candy vendors, you'll find Ghent's Butcher's Hall, where local specialty Ganda ham hangs from the ceiling like a fun, meaty decoration.
This spot is a must-visit for foodies because it's now home to the Centre for East Flemish Regional Products, meaning you can find all sorts of local goodies to taste and buy, like beer, mustard, ham, and cheese.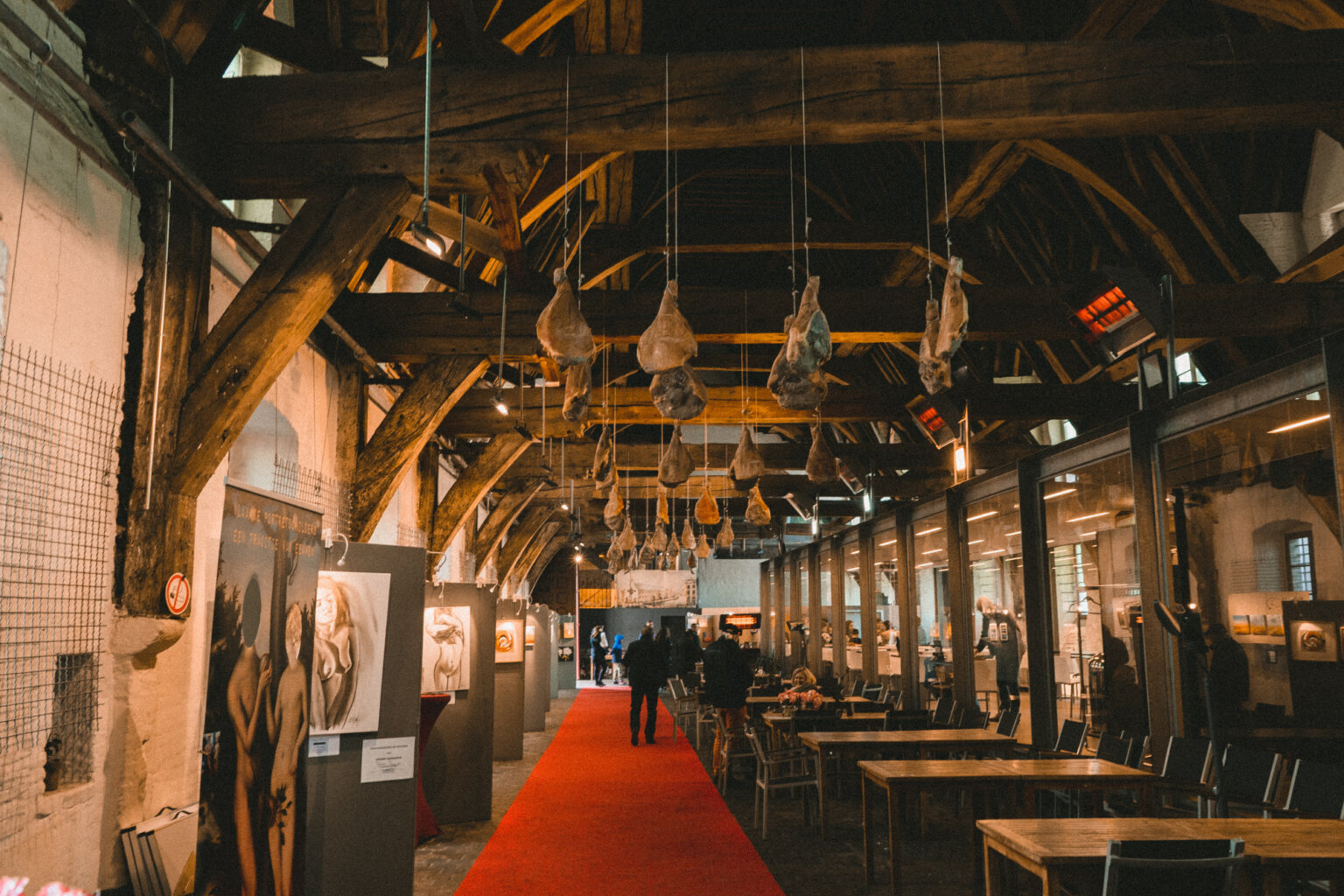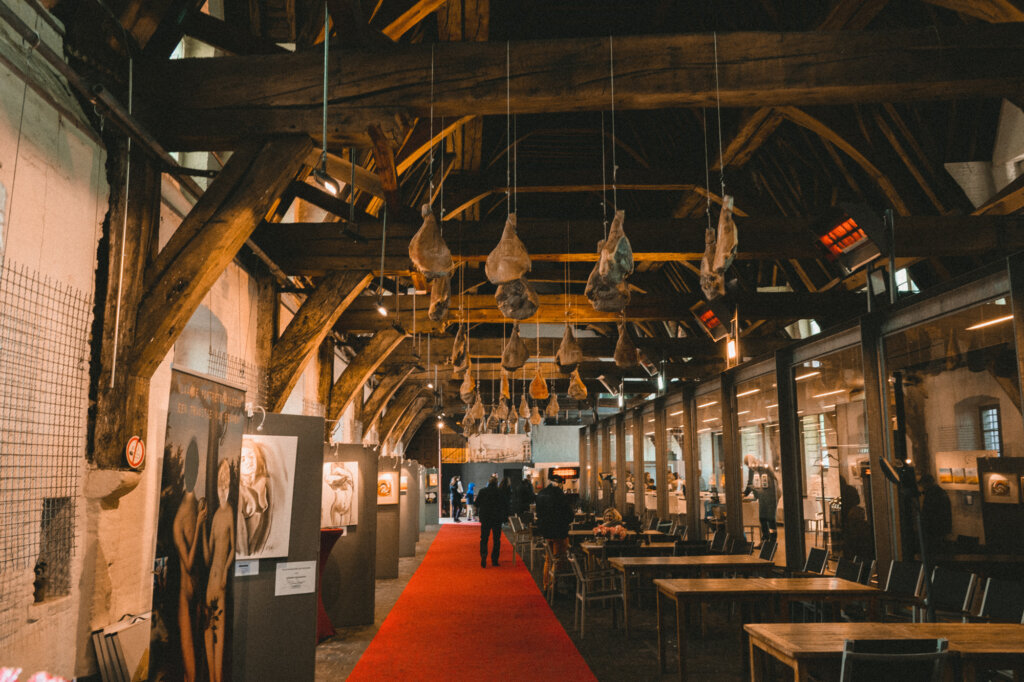 Enjoy a Chocolate Tour
If there's one thing that could be superior to the cold pint of craft beer, then it must be chocolate.
Fortunately, Belgium is known for its (nose-shaped, feud-inspiring) sweets and chocolate.
Again, it's pretty easy to DIY your own chocolate tour of Ghent, but if you want insider tips and local insight, then booking a chocolate tour like this one is definitely the way to go.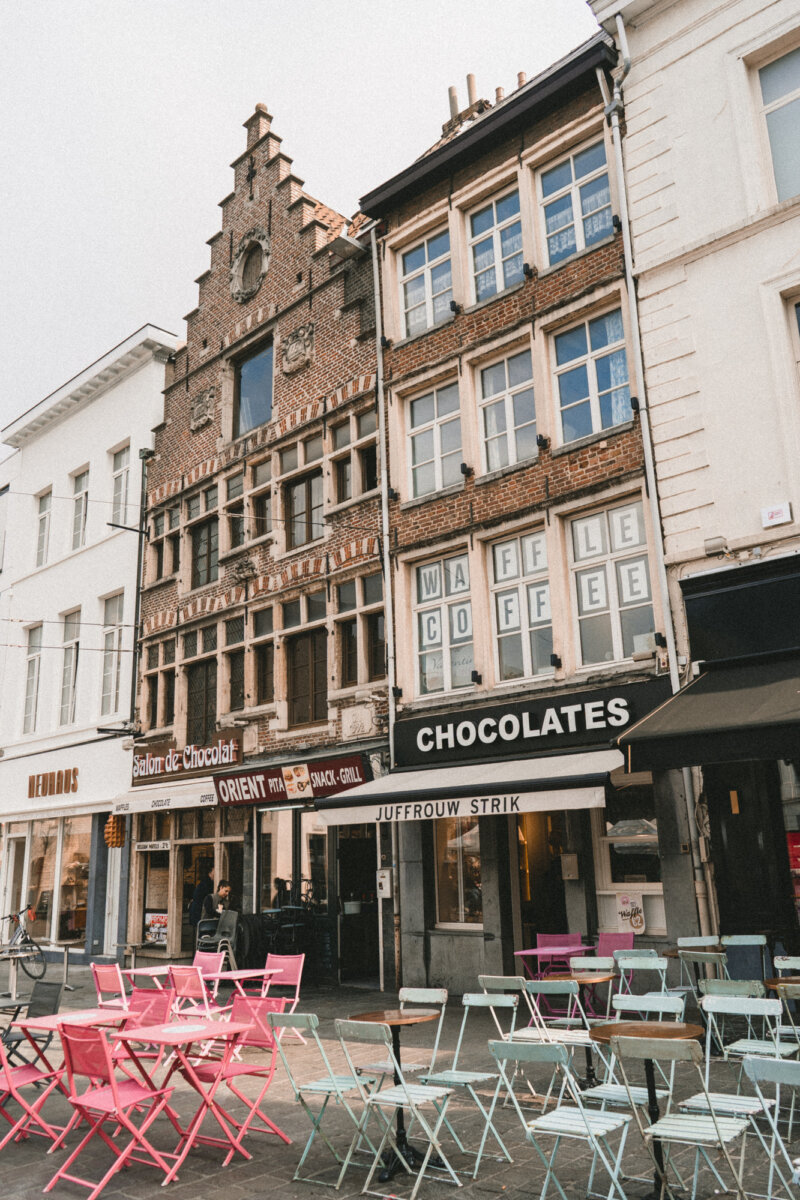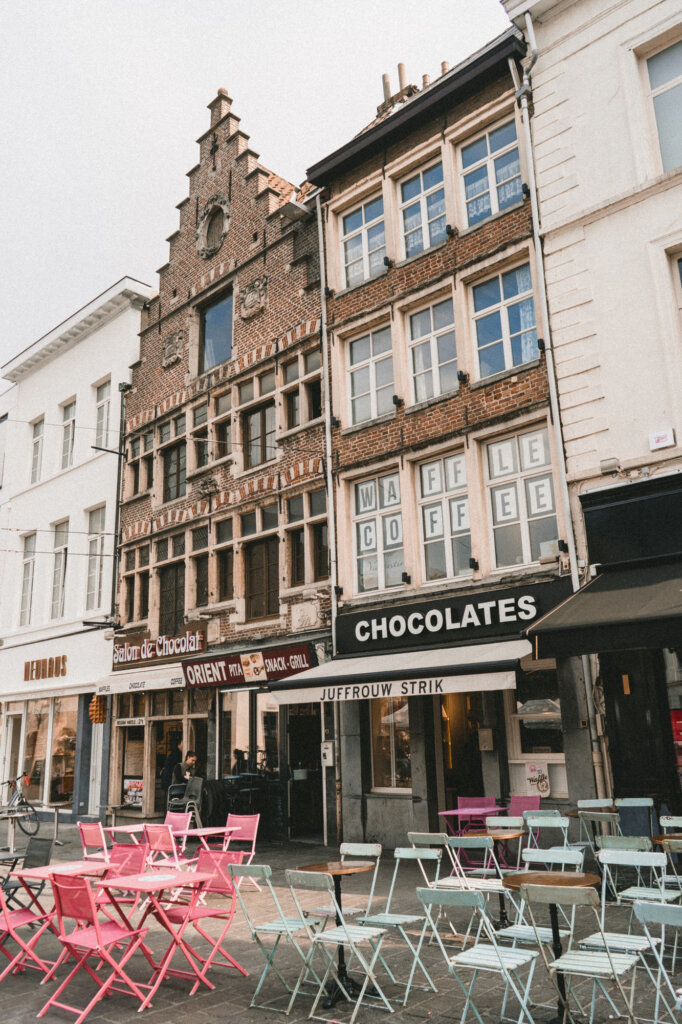 Learn how to cook Ghent specialties with a local
Ghent is a foodie city through and through, and one of the best ways to experience this is through learning how to make your own classic Belgian dishes from scratch!
This cooking class takes place in a Ghent kitchen/garden where a local expert will guide you through the preparation of your own Belgian classics, which of course you get to eat after. There's definitely no better way to get acquainted with local cuisine than this.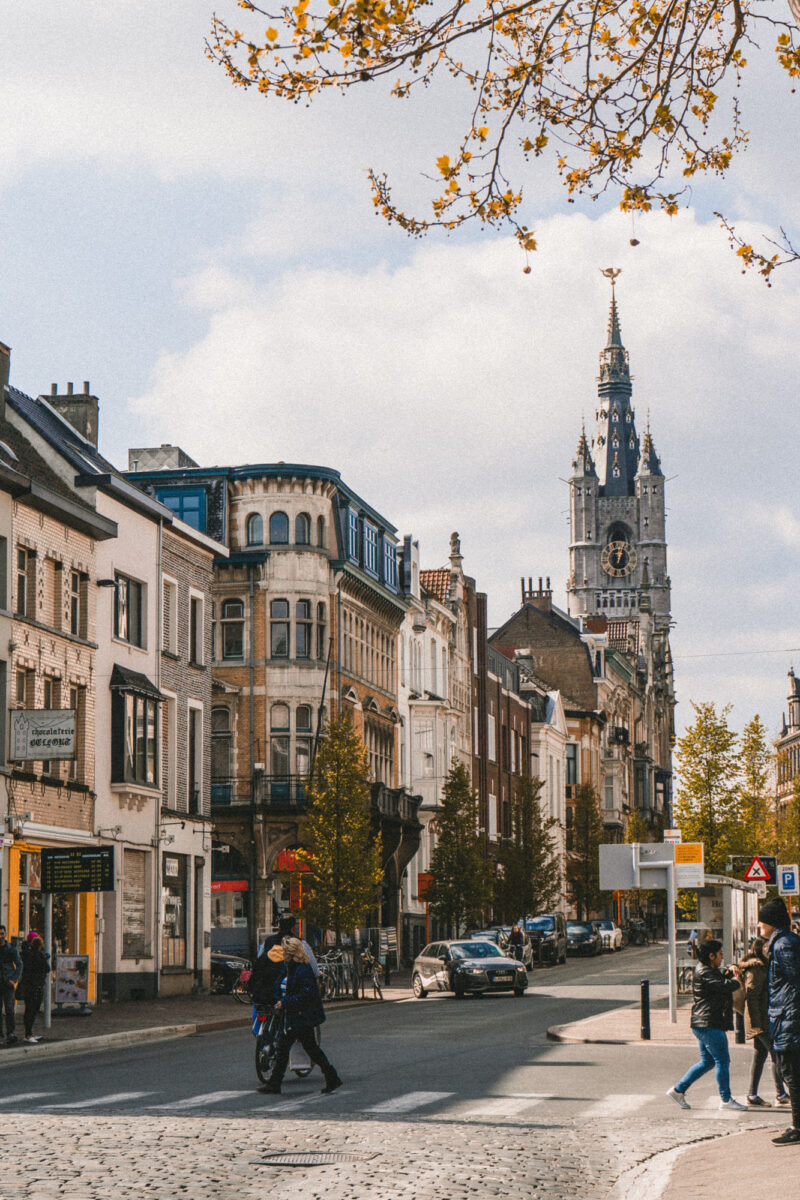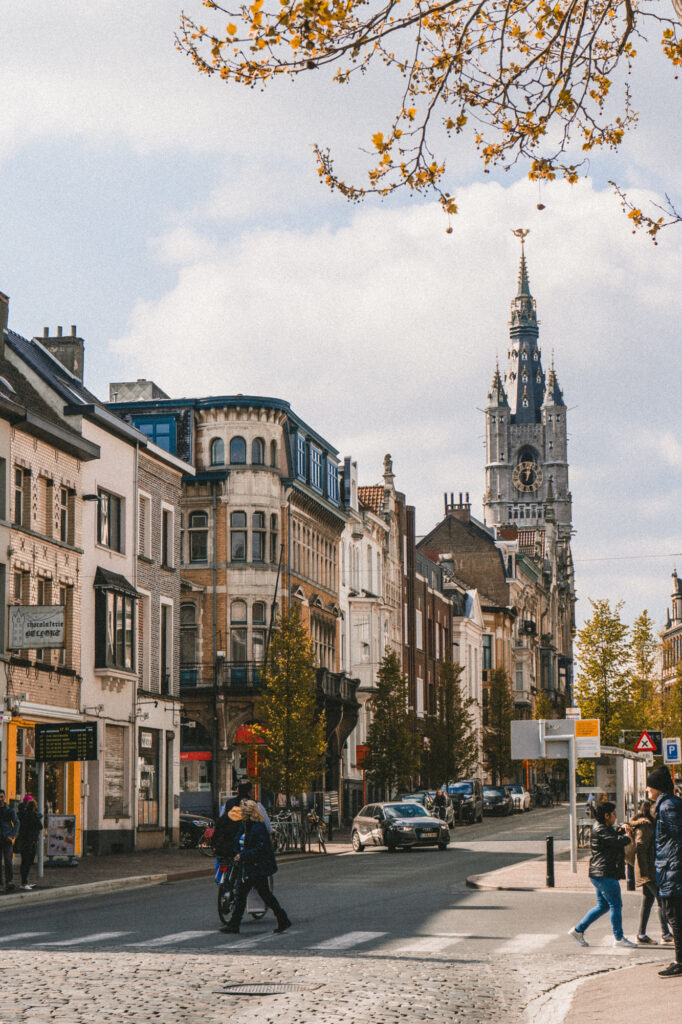 Quirky and Offbeat Things to do in Ghent
Now, what is there to do in Ghent that's a bit unusual or offbeat? In a city with shoe deposits and nose candy turf wars, surely you can expect an oddity or two. Well, I'm happy to report that there are plenty of fun and unusual Ghent activities to choose from. Here are a few.
Celebrate the birth of new Ghent babies
Celebrate the birth of stranger babies? Why not?
At the gorgeous Ghent square of Sint-Veerleplein, you'll find a peculiar streetlight installation that (when flashing) means a baby has just been born in the city!
In collaboration with the Ghent City Council, artist Alberto Garutti dreamt up this adorable installation in 2011.
It's known as Ai Nati Oggi ("For Those Born Today") and the concept is simple: a button installed in a local maternity ward allows parents to signal the birth of their child to the city with a flashing light.
Today, that light can be found in Sint-Veerleplein, one of the oldest squares in the city, sharing real estate with cozy pubs and iconic landmarks such as the Castle of Counts.
Ahh, yes – once a square for executions, now a square for flashing baby lights. Gotta love it.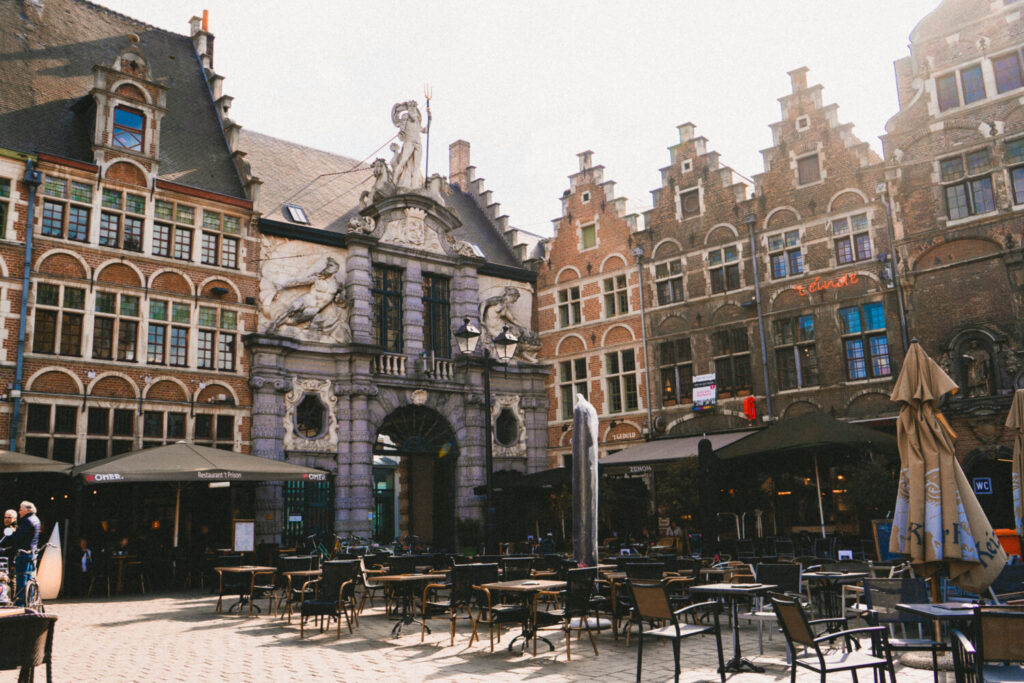 Enjoy Peace And Quiet At Ghent's Beguinages
For a peaceful escape from the busiest and buzziest patches of Ghent, consider seeking temporary refuge in a Beguinage.
These Beguinages are where enclosed communities for devout women were created back in the 13th century.
Today, they are UNESCO World Heritage Sites seen throughout the province of Flanders, where you'll find 30 total including in Bruges and in Antwerp.
As for Ghent, you'll find three here, all of which make for an excellent little walk:
Great St Elizabeth Beguinage 
Old St Elizabeth Beguinage
Small Beguinage Our Lady ter Hoyen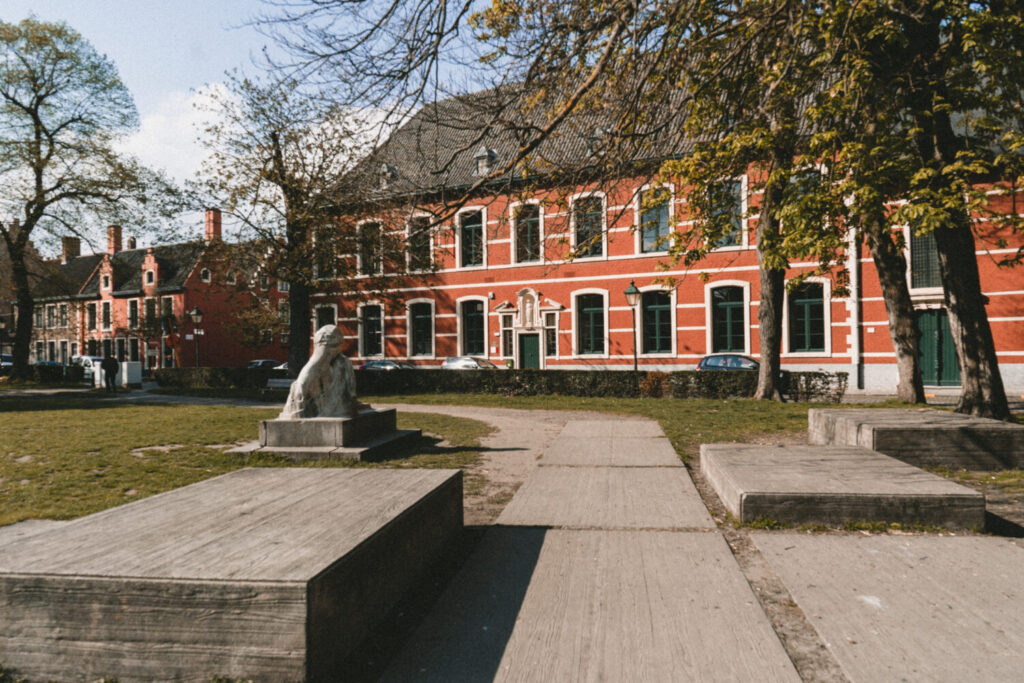 Grab a Drink at Ghent's Tiniest Microbar
You can grab a drink anywhere in Ghent, with hundreds of restaurants and pubs at your disposal, but if you're looking for something quirky and unique to do in Ghent, what about the smallest one?
Once upon a time, 't Galgenhuisje had two rather grim functions: first as a tripe house where they sold entrails deemed too unsanitary for the Butchers' Hall, and also as a waiting area where condemned men and women awaited execution.
Today, 't Galgenhuisje is Ghent's smallest cafe, exploding with great reviews, whether it's for their hospitality, variety of Belgian tap beer, friendly service or picturesque setting.
Say hi to Ghent's answer to Mannekin Pis
For those who have not yet known the joy of Belgium's most famous tiny peeing boy statue, let me fill you in: the Mannekin Pis is a Brussels icon, and arguably the city's most famous tourist attraction… although whether or not it's a tourist trap is fiercely up for debate.
Yes it really is just a fountain of a tiny peeing boy.
But don't worry – Ghent has something similar! If you're looking for "off the beaten path" tiny peeing statues, then boy do I have just the activity for you.
Lena, Nestor & Luna can be found happily peeing in the Kraanlei above Nestor Restaurant. You're welcome.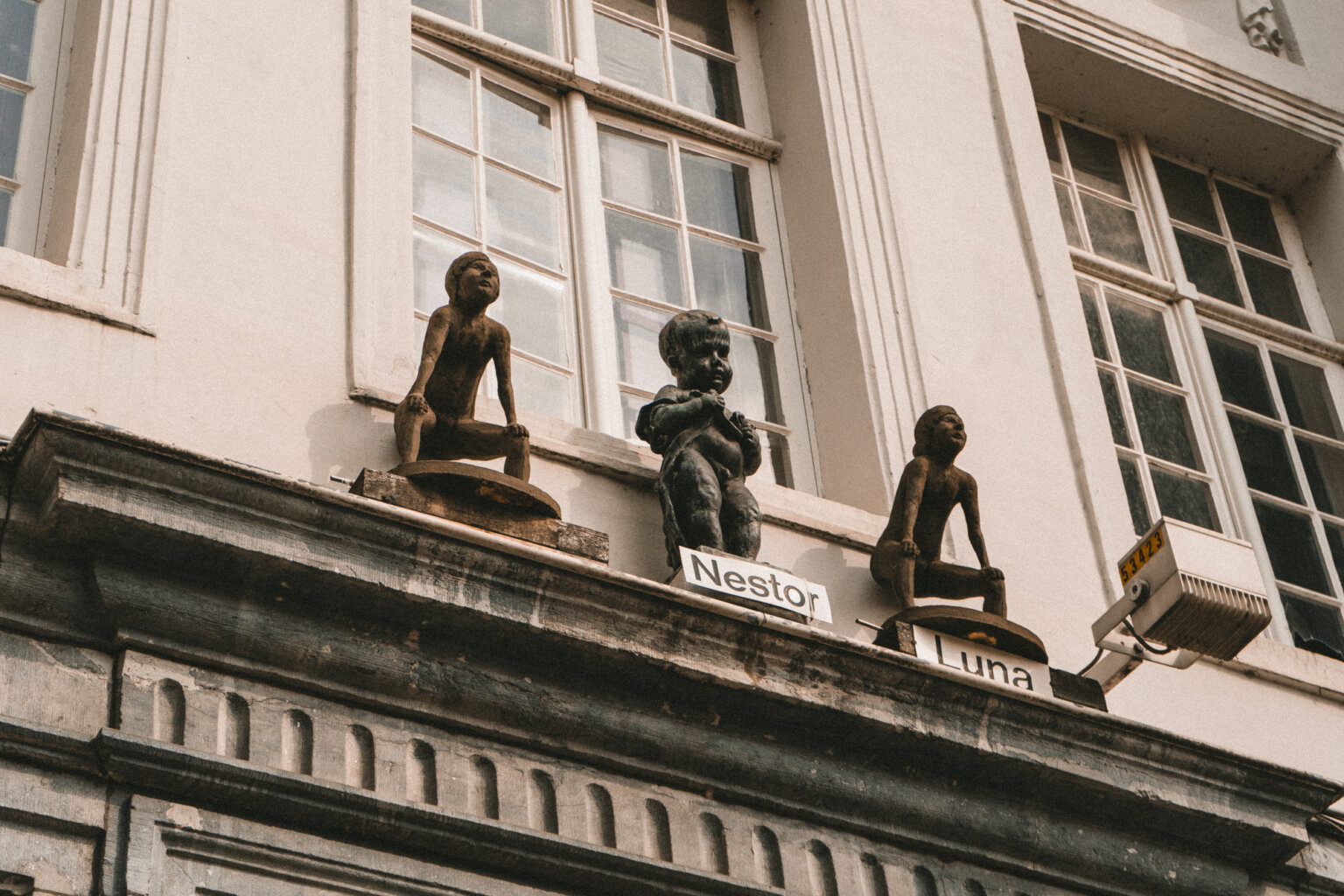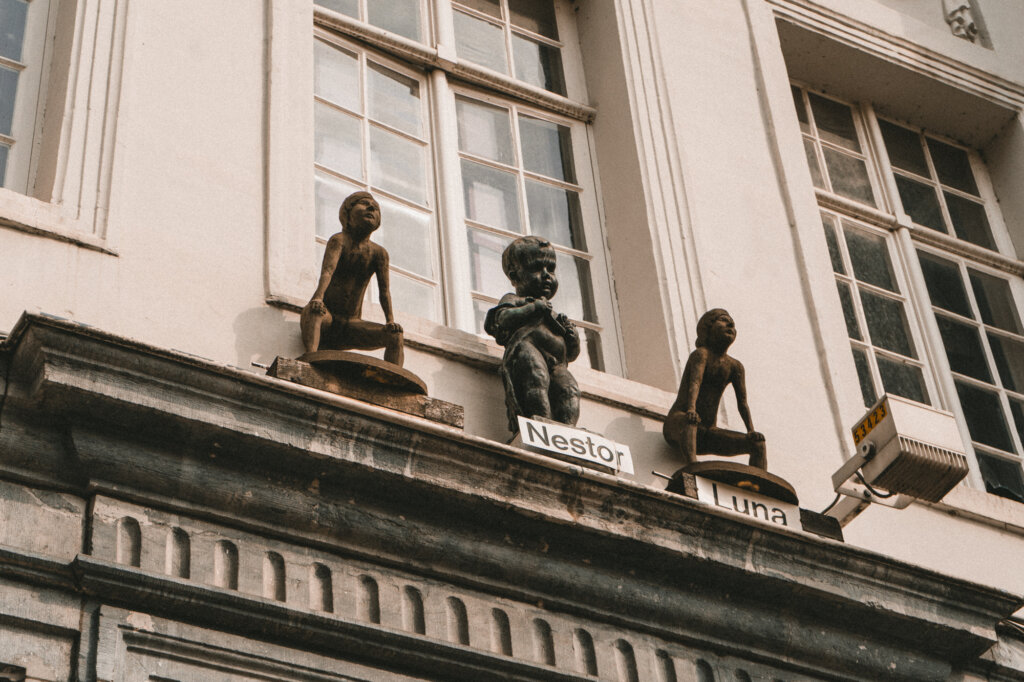 Or Visit a Troll-themed Bar In a Centuries-old Basement
Tucked away in a 15th century basement, Trollekelder is an authentic beer café in Ghent that not only excels in delivering an old fashioned pub ambiance, but does so with a dash of troll-themed details.
This bizarre fairytale setting was once a book shop up until the 80s. Today, it's an intimate hideaway known for its outstanding array of specialty beers… not that you needed any further incentive than "troll-themed bar".
Cool and Alternative Things to do in Ghent
Wondering what to do in Ghent for a bit of an alternative experience? Here are some ideas!
Hunt for epic street art
I've already said that I find Ghent's Graffiti Street pretty overrated, but here's the good news: Ghent is actually filled with tons of cool and beautiful street art – all you have to do is hunt it down!
Artists from around the world have left a legacy of street art in Ghent, and you can find it all over.
From statues dedicated to nature and realistic 3D graffiti art to funky and colourful murals representing fantasy and culture, there's plenty to see!
Click here for a list of murals you can visit.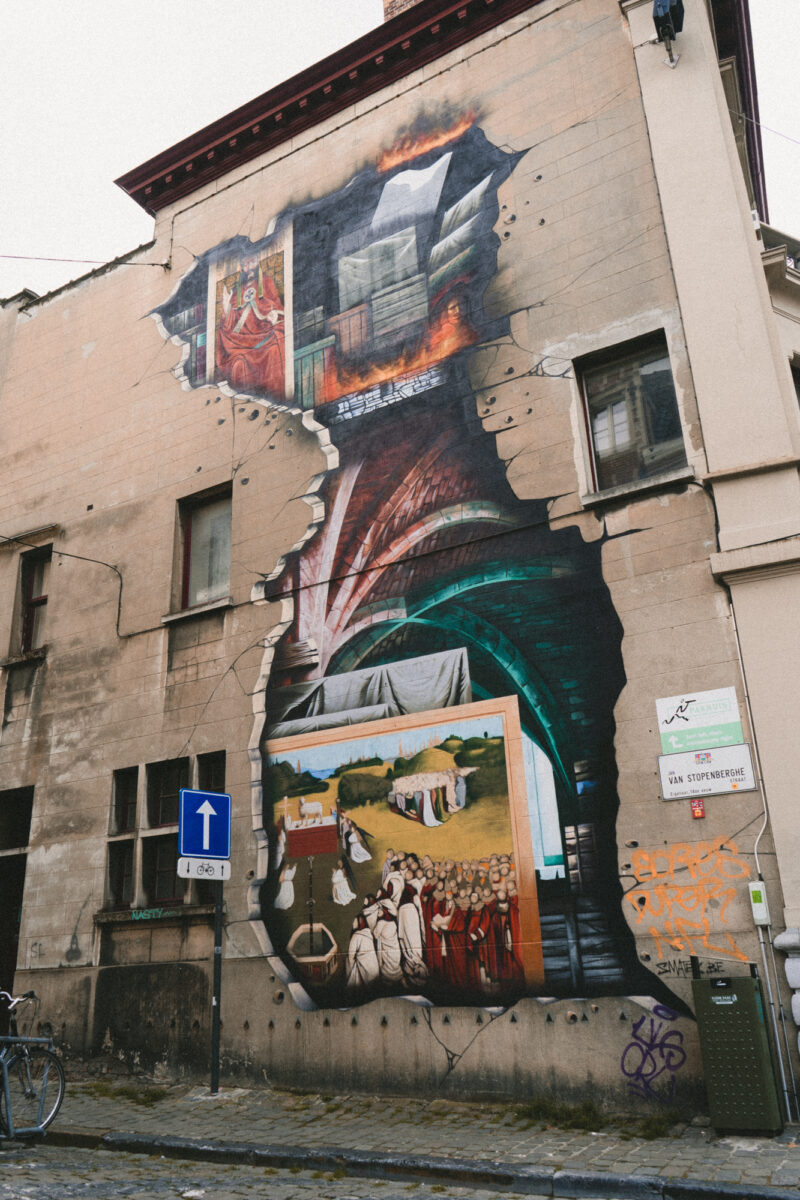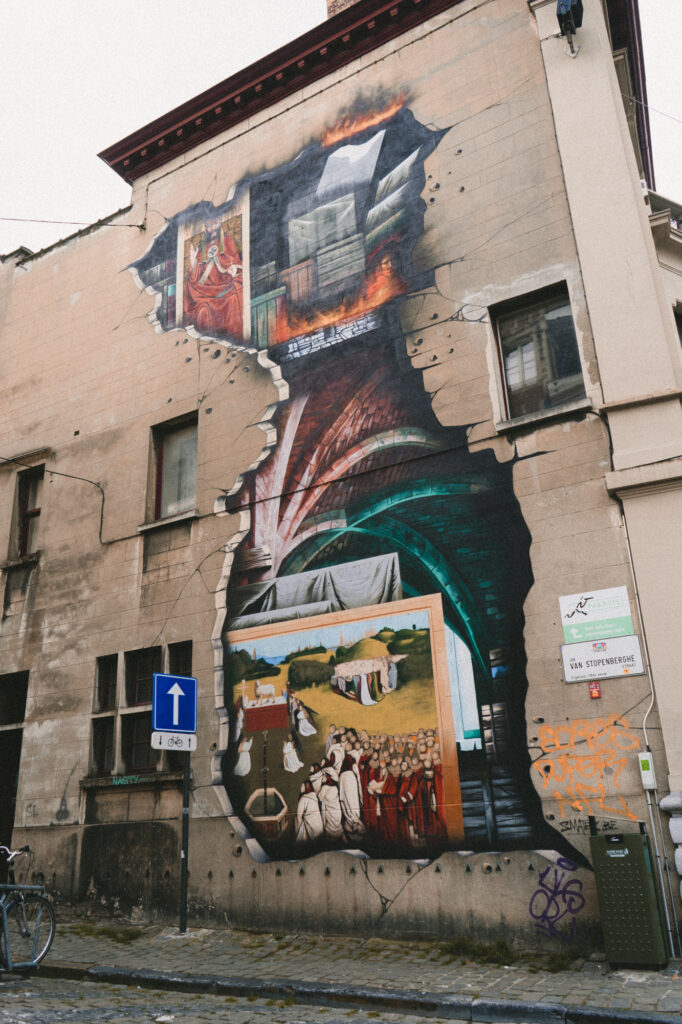 Go On an Urban Mountain Bike Sightseeing Tour
There's tons of wonderful ways to discover Ghent – on foot, by boat and also (if you're athletically inclined) by mountain bike.
If you're looking for one of the more unique things to do in Ghent, check out this highly rated urban mountain biking tour which takes you to hidden gems and alternative sights in Ghent with a local.
Check out De Krook
De Krook is a relatively new public library in Ghent, but its striking and unique design make it a worthwhile place to visit for lovers of architecture.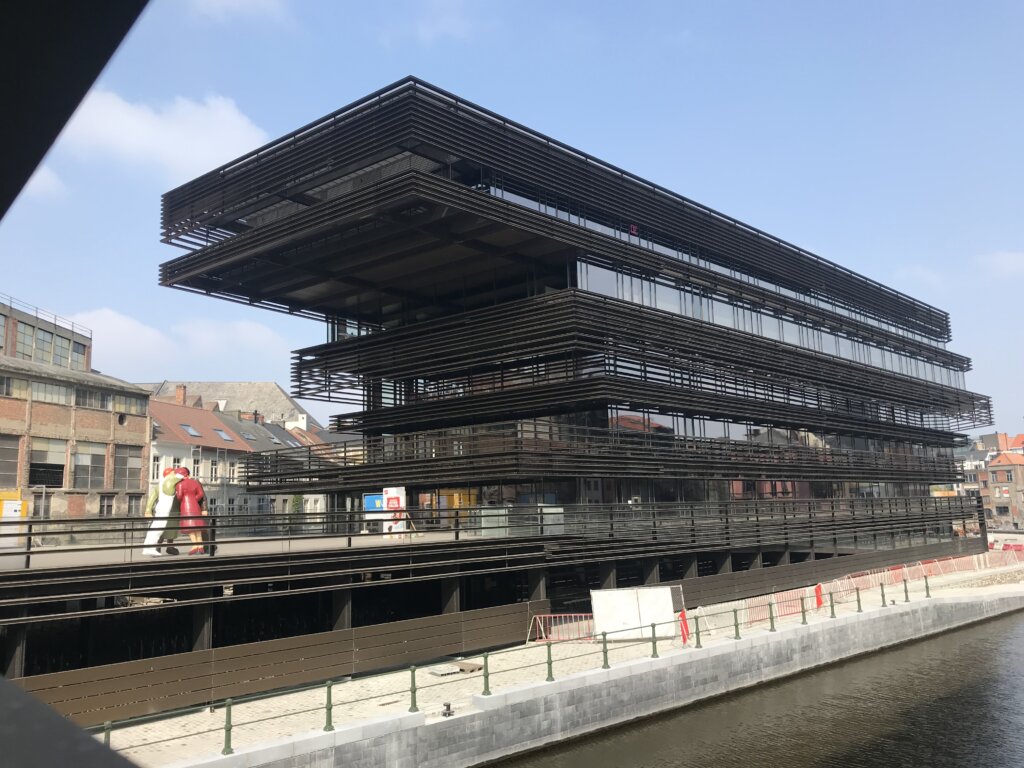 Perched on a river bend in Ghent once used to unload coal, this thriving and modern library is known for its outstanding modern architecture and unique activities including a Maker's Lab, 3D printing facilities and plenty of workshops for visitors.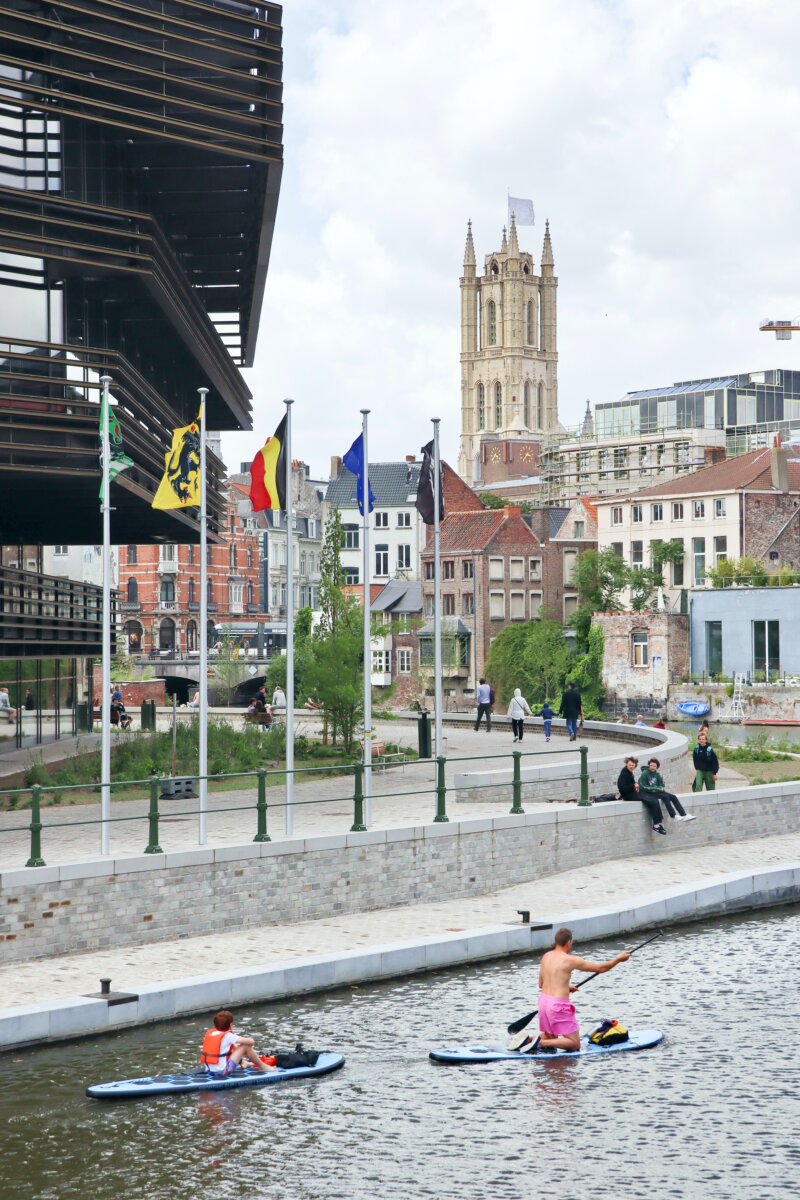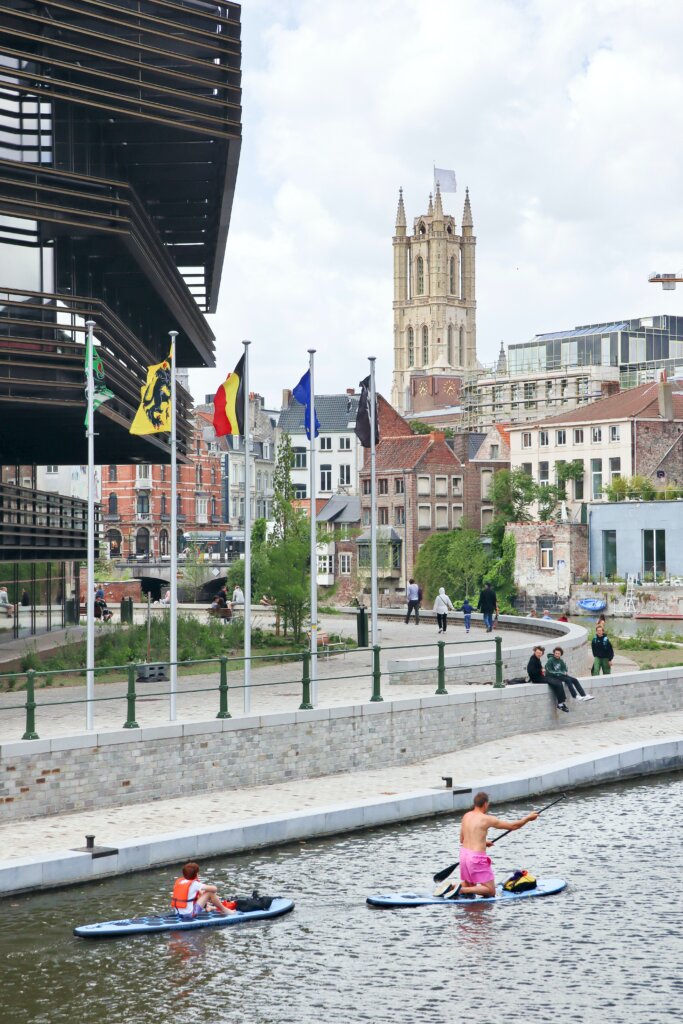 Go shopping at Dok Noord
If regular shopping on the main drags of Ghent is too mainstream for you, head to Dok Noord, a former factory that has been converted today into a trendy shopping complex with dozens of shops, entertainment services and even leisure/fitness facilities on the top floor.
Go For a Swim in Belgium's Oldest Indoor Swimming Pool,
To continue Ghent's string of random accolades, did you know Ghent is also home to Belgium's oldest indoor swimming pool?
The Van Eyck swimming pool in Ghent is a beautiful facility that boasts some seriously gorgeous art deco and offers a chance to ogle architecture, hang with locals and get a refreshing workout in all-in-one.
And despite being Belgium's oldest indoor pool/bath house, it's also considered fairly new as it was completely refurbished back in 2001.
As a bonus, a special lounge on the first floor allows you to chill out after your swim for a chance to properly appreciate the architecture.
Did I miss any of your favourite fun things to do in Ghent?
Let me know in the comments!
---
Watch my most popular YouTube video this week:
---