*FYI - this post may contain affiliate links, which means we earn a commission at no extra cost to you if you purchase from them. Also, as an Amazon Associate I earn from qualifying purchases. Check out our Privacy Policy and Disclosure. for more info.
Travel quotes are a guilty pleasure of mine, and as your friendly neighbourhood (insufferable) travel blogger, it should come as no surprise that I do indeed keep a secret shame folder of my favourite travel quotes that inspire me.
… And today, I'm unleashing the flood gates!
Read on for a full list of my favourite travel quotes, with hopefully some that are less common and less uhm… "live laugh love", yenno?
Let me know in the comments what your favourite travel quote is! Also, because this is the Internet, it's entirely possible that some quotes are misattributed. Tell me in the comments if you notice any mistakes! All quotes without attribution are  "unknown" (or you know, most likely from a cheesy Pinterest graphic)
My Personal Favourite Travel Quotes
Of all the travel quotes floating around the interwebs, these are my personal favourites that really nail the emotions and joy I link to travel.
Many will (hopefully) be travel sayings you haven't heard before. I hope you like them as much as I do!
1. "To my mind, the greatest reward and luxury of travel is to be able to experience everyday things as if for the first time, to be in a position in which almost nothing is so familiar it is taken for granted." – Bill Bryson
2. "Travel is like love, mostly because it's a heightened state of awareness, in which we are mindful, receptive, undimmed by familiarity and ready to be transformed. That is why the best trips, like the best love affairs, never really end." – Pico Iyer
3. "Every dreamer knows that it is entirely possible to be homesick for a place you've never been to, perhaps more homesick than for familiar ground." – Judith Thurman
4. "It's an irritating reality that many places and events defy description. Angkor Wat and Machu Picchu, for instance, seem to demand silence, like a love affair you can never talk about. For a while after, you fumble for words, trying vainly to assemble a private narrative, an explanation, a comfortable way to frame where you've been and whats happened. In the end, you're just happy you were there- with your eyes open- and lived to see it." – Anthony Bourdain

5. "Travel is more than the seeing of sights; it is a change that goes on, deep and permanent, in the ideas of living." – Miriam Beard
6. "Better to see something once than hear about it a thousand times"
7. "There's something about arriving in new cities, wandering empty streets with no destination. I will never lose the love for the arriving, but I'm born to leave."- Charlotte Eriksson
8. "This was how it was with travel: one city gives you gifts, another robs you. One gives you the heart's affections, the other destroys your soul. Cities and countries are as alive, as feeling, as fickle and uncertain as people. Their degrees of love and devotion are as varying as with any human relation. Just as one is good, another is bad." – Roman Payne
9. "Nobody can discover the world for somebody else. Only when we discover it for ourselves does it become common ground and a common bond and we cease to be alone." – Wendell Berry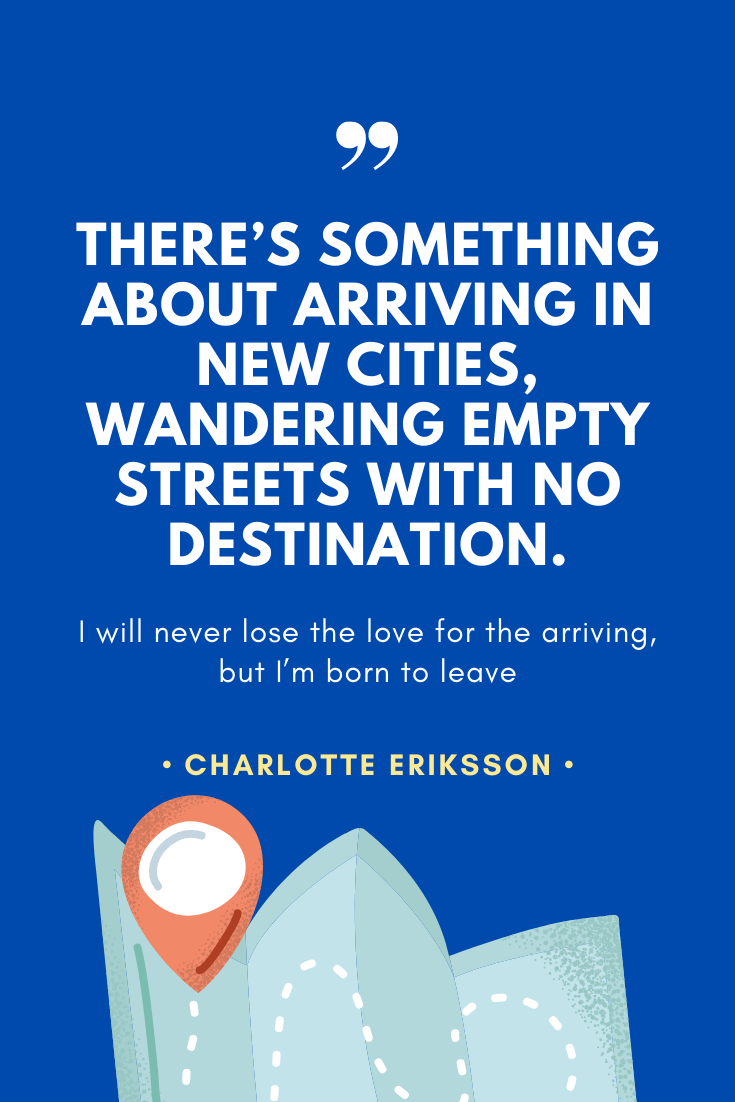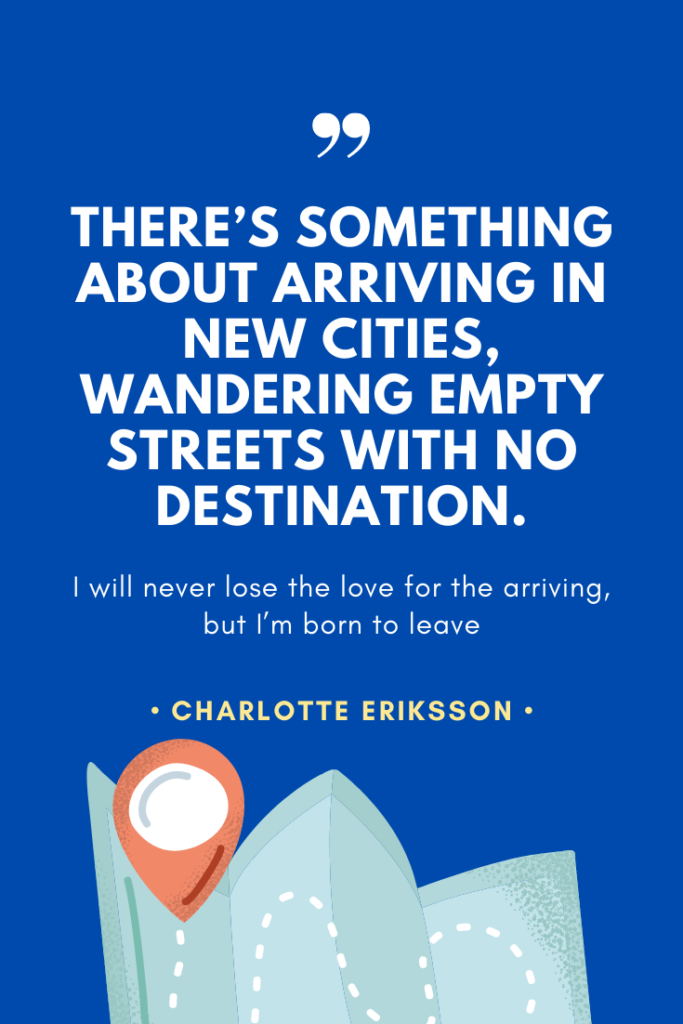 Funny Travel Quotes
Let's start the rest of this collection off with a laugh!
Most travel quotes are mildly cheesy and inspirational, so I collected a few that don't take themselves too seriously. Here are some of my favourite funny travel quotes for you:
10. "Too often travel, instead of broadening the mind, merely lengthens the conversations." – Elizabeth Drew
11. "Adventure, yeah. I guess that's what you call it when everybody comes back alive." – Mercedes Lackey
12. "People travel to faraway places to watch, in fascination, the kind of people they ignore at home." – Dagobert D. Runes
13. "When preparing to travel, lay out all your clothes and all your money. Then take half the clothes and twice the money." – Susan Heller
14. "Bizarre travel plans are dancing lessons from God." – Kurt Vonnegut
15. "I have found out that there ain't no surer way to find out whether you like people or hate them than to travel with them." – Mark Twain
16. "Because in the end, you won't remember the time you spent working in the office or mowing your lawn. Climb that goddamn mountain." – Jack Kerouac
17. The worst thing about being a tourist is having other tourists recognize you as a tourist. – Russell Baker
18. "Sometimes the road less traveled is less traveled for a reason." – Jerry Seinfeld
19. "If an ass goes travelling, he'll not come home a horse." – Thomas Fuller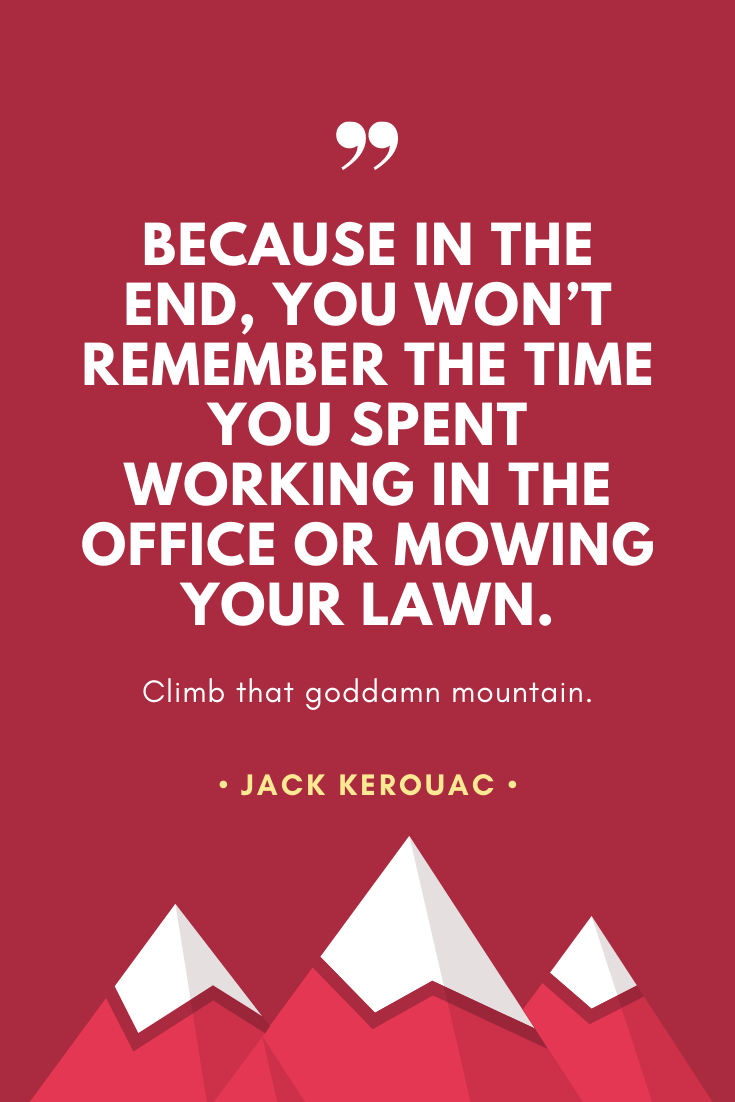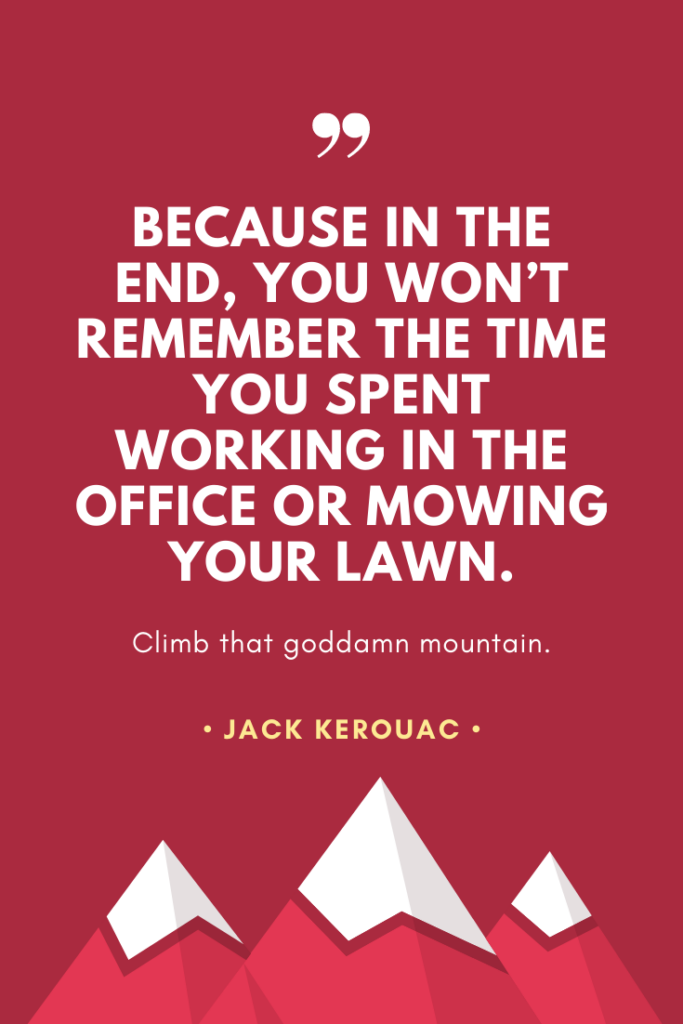 Road Trip Quotes
Despite always falling asleep and panic-crying when I get the navigation wrong, I love road trips! Here are some road trip quotes that will get you jazzed for your next big trip:
20. "The freedom of the open road is seductive, serendipitous and absolutely liberating." – Aaron Lauritsen
21. "Some beautiful paths can't be discovered without getting lost." – Erol Ozan
22. "Sometimes the most scenic roads in life are the detours you didn't mean to take." – Angela N. Blount
23. "It's a road trip! It's about adventure! . . . It's not like we have somewhere to go." – John Green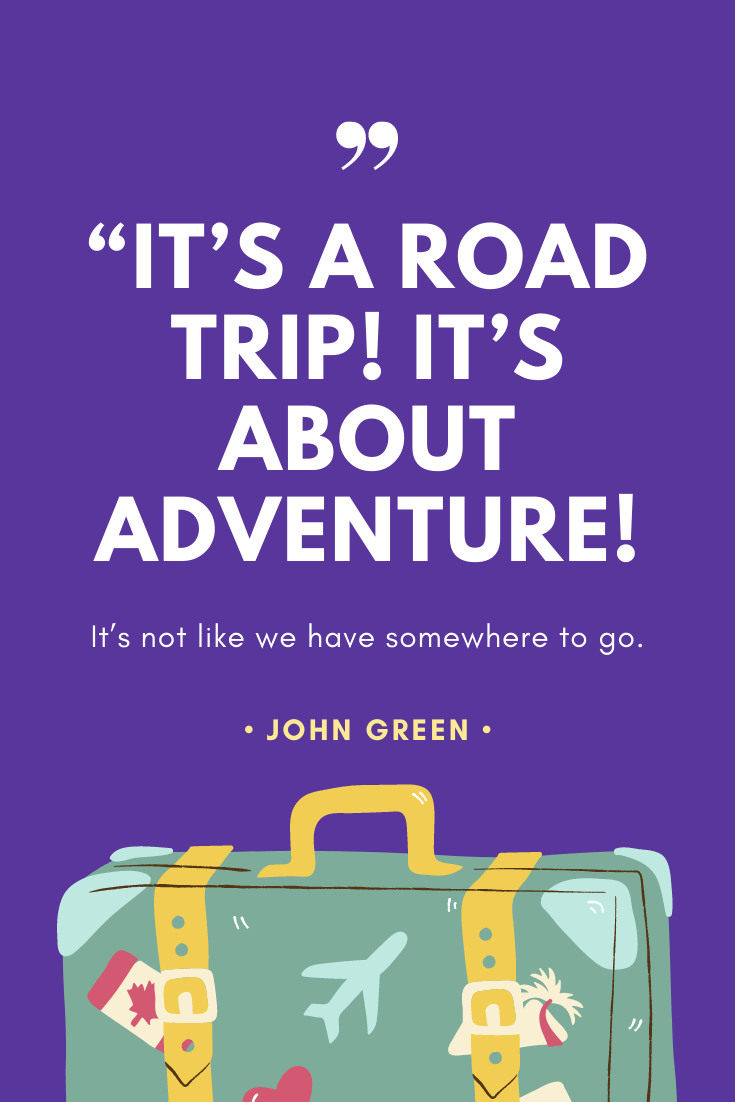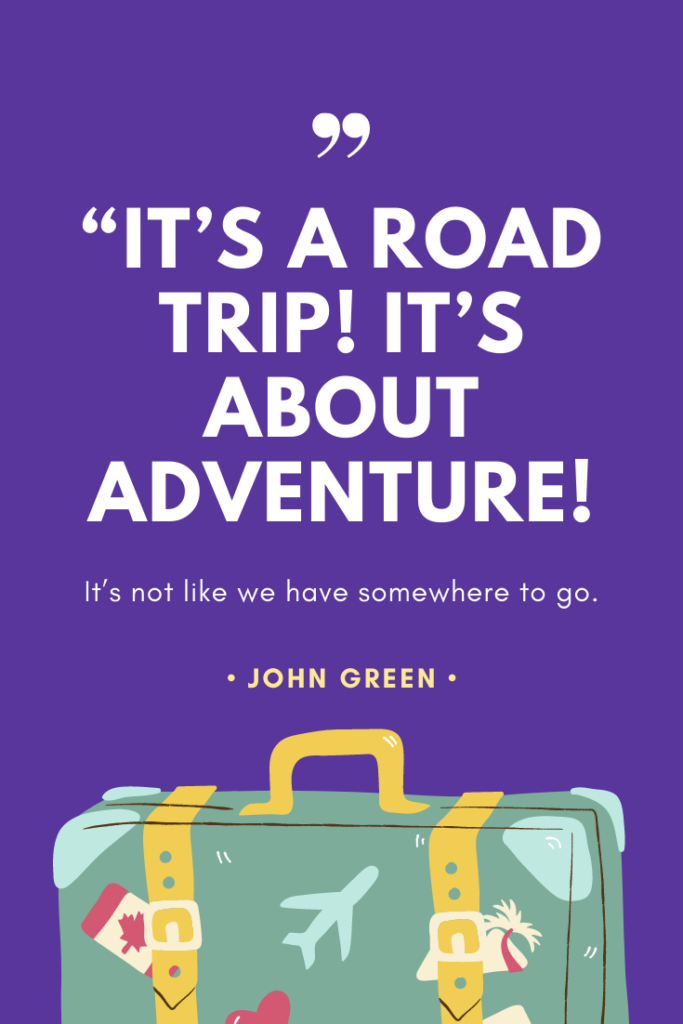 Travel Quotes that Will Make You Say "True Dat"
Get ready to nod aggressively in agreement with these truth bomb travel quotes:
24. "Take only memories, leave only footprints." – Chief Seattle
25. "Never get so busy making a living that you forget to make a life."
26. "Life is a journey, not a destination."
27. "Travel is fatal to prejudice, bigotry, and narrow-mindedness." -Mark Twain
28. "Adventure may hurt you but monotony will kill you."
29. "There's no way I was born to just pay bills and die."
30. "Wherever you go becomes a part of you somehow." – Anita Desai
31. "Traveling allows you to become so many different versions of yourself."
32. "Of all the books in all the world, the best stories are found between the pages of a passport."
33. "I am not the same, having seen the moon shine on the other side of the world." – Mary Anne Radmacher
34. "Jobs fill your pockets, but adventures fill your soul." – Jaime Lyn
35. "I would rather own a little and see the world, than own the world and see a little of it."
36. "The whole object of travel is not to set foot on foreign land; it is at last to set foot on one's own country as a foreign land." – Gilbert K. Chesterton
37. "Now more than ever do I realize that I will never be content with a sedentary life, that I will always be haunted by thoughts of a sun-drenched elsewhere." – Isabelle Eberhardt
38. "To travel is to discover that everyone is wrong about other countries" – Aldous Huxley
39. "I travel because it makes me realize how much I haven't seen, how much I'm not going to see, and how much I still need to see." – Carew Papritz
40. "No one realizes how beautiful it is to travel until he comes home and rests his head on his old, familiar pillow. " – Lin Yutang
41. "Traveling — it gives you home in thousand strange places, then leaves you a stranger in your own land." – Ibn Battuta
42. "The real voyage of discovery consists not in seeking new landscapes, but in having new eyes" – Marcel Proust
43. "Those who follow the crowd usually get lost in it."
44. "A ship in harbor is safe, but that is not what ships are built for." – John A. Shedd
45. "Travel…the best way to be lost and found at the same time." – Brenna Smith
46. "Though we travel the world over to find the beautiful, we must carry it with us, or we find it not." – Ralph Waldo Emerson

47. "Once you have traveled, the voyage never ends, but is played out over and over again in the quietest chambers. The mind can never break off from the journey." – Pat Conroy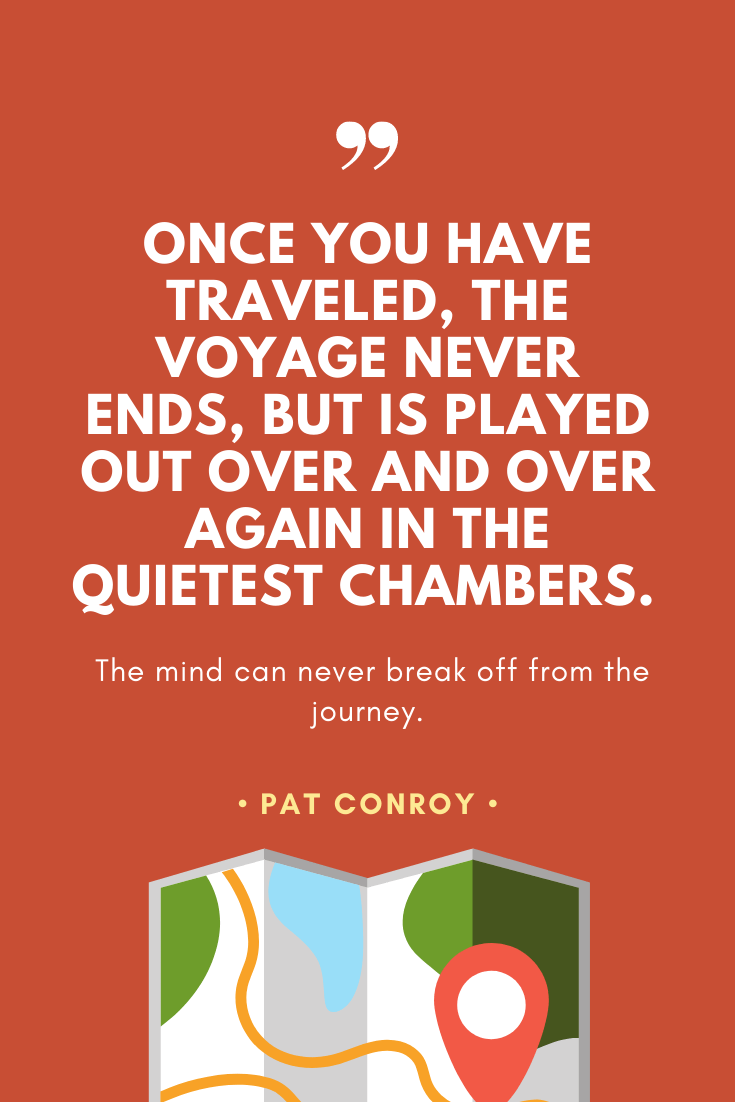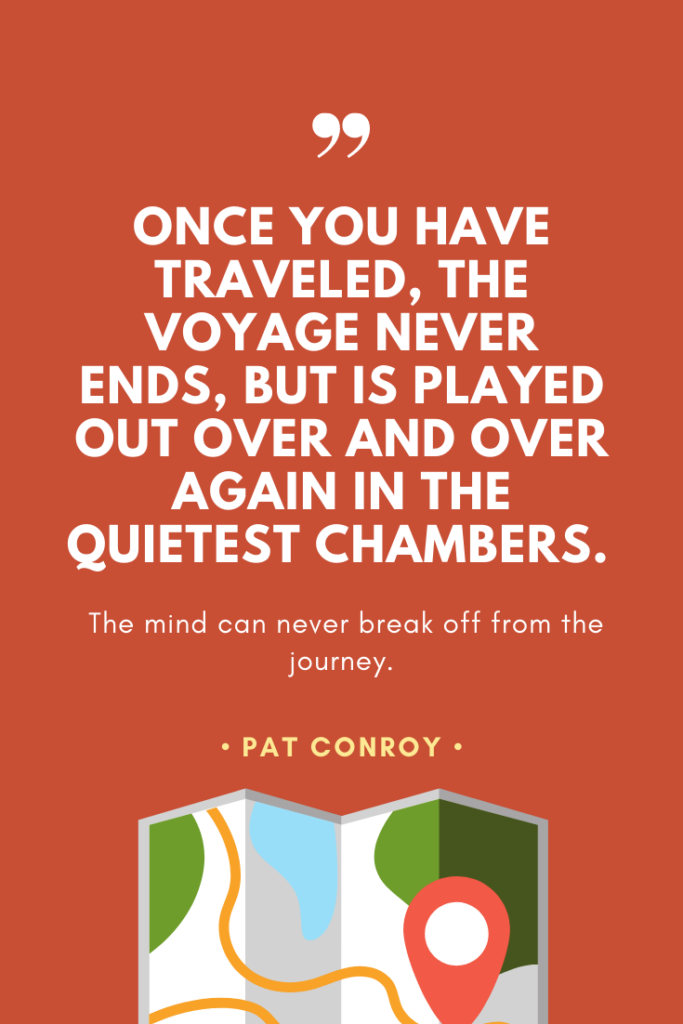 Travel Quotes that Will Make You Go "YASSSS"
These travel sayings are here to get you FIRED UP! Enjoy my favourite travel quotes that will make you feel all empowered and stuff.
48. "Do not follow where the path may lead, go instead where there is no path and leave a trail." – Ralph Waldo Emerson
49. "Be fearless in the pursuit of what sets your soul on fire." – Unknown
50. "If you want something you never had, you have to do something you've never done."
51. "Life is either a daring adventure or nothing." – Helen Keller
52. "Blessed are the curious for they will have adventures."
53. "You only live once, but if you do it right, once is enough." – Mae West
54. "If you think adventures are dangerous, try routine: it's lethal." – Paul Coelho
55. "There are seven days in the week and someday isn't one of them."
56. "If you're twenty-two, physically fit, hungry to learn and be better, I urge you to travel – as far and as widely as possible. Sleep on floors if you have to. Find out how other people live and eat and cook. Learn from them – wherever you go." – Anthony Bourdain
57. "Adventure isn't hanging on a rope off the side of a mountain. Adventure is an attitude that we must apply to the day to day obstacles in life." – John Amatt
58. "Perhaps travel cannot prevent bigotry, but by demonstrating that all peoples cry, laugh, eat, worry, and die, it can introduce the idea that if we try and understand each other, we may even become friends" – Maya Angelou
59. "Because when you stop and look around, this life is pretty amazing." – Dr Seuss
60. "See the world. It's more fantastic than any dream made or paid for in factories. Ask for no guarantees, ask for no security." – Ray Bradbury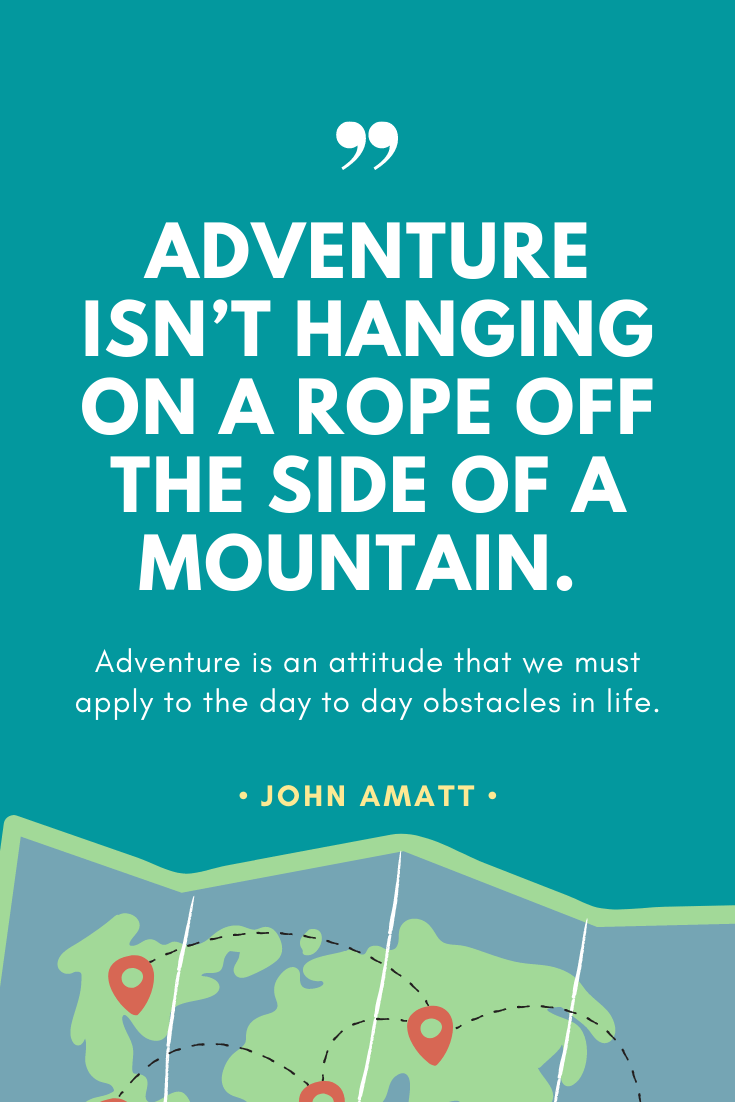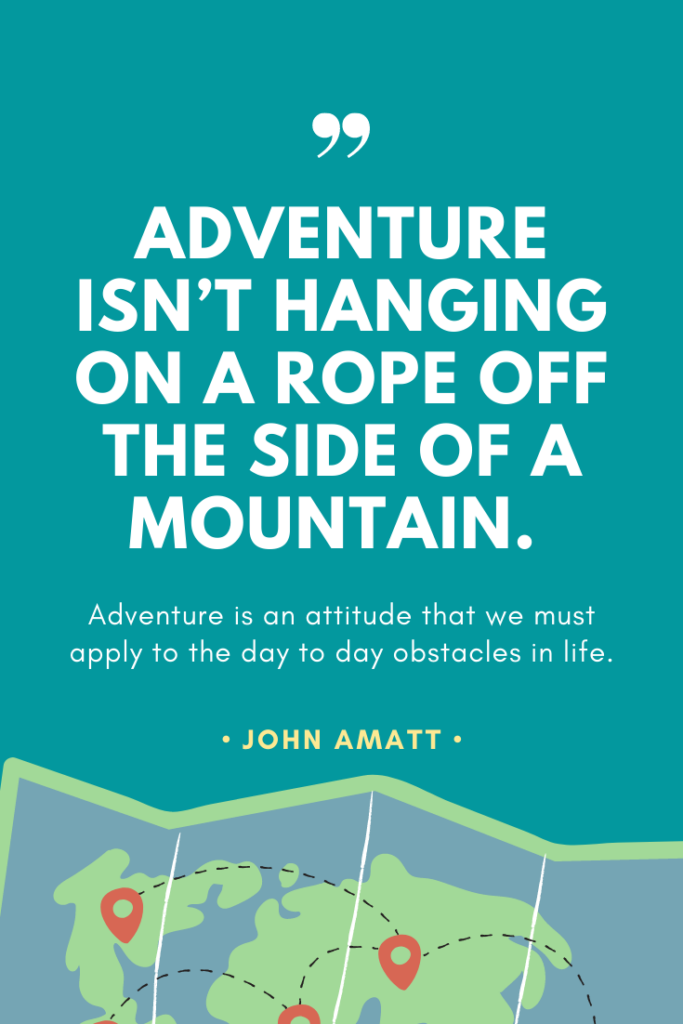 Short Travel Quotes
The following travel sayings keep it short and ultra-quotable. Think of them as a limitless bank of great travel captions for Instagram 😉 Best accompanied with a vaguely related emoji.
61. "Life is short and the world is wide."
62. "Don't call it a dream, call it a plan."
63. "Life begins at the end of your comfort zone." – Neale Donald Walsch
64. "Live your life by a compass, not a clock." – Stephen Covey
65. "Live life with no excuses, travel with no regret" – Oscar Wilde
66. "Adventure awaits. Go find it."
67. "Fear is only temporary. Regrets last forever."
68. "The greatest adventure is what lies ahead."
69. "Do more than just exist."
70. "Live, travel, adventure, bless, and don't be sorry." – Jack Kerouac
71. "To travel is to take a journey into yourself." – Danny Kaye
72. "The journey itself is my home." – Bashō Matsuo
73. "I may be going nowhere, but what a ride." – Shaun Hick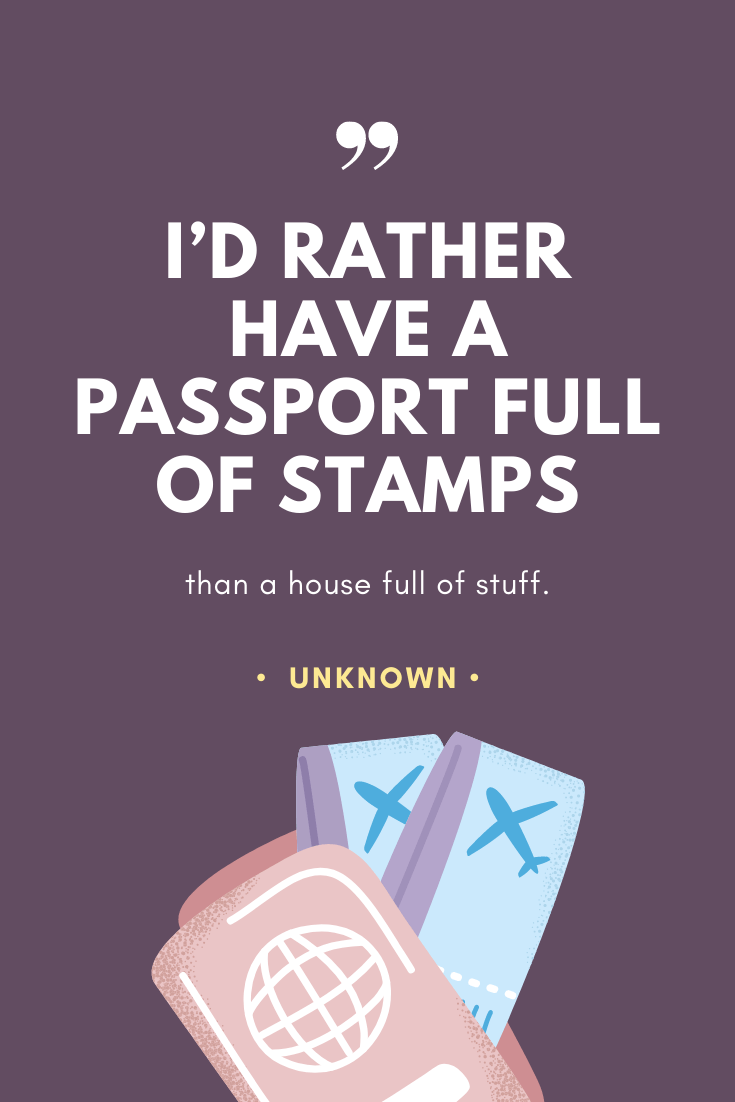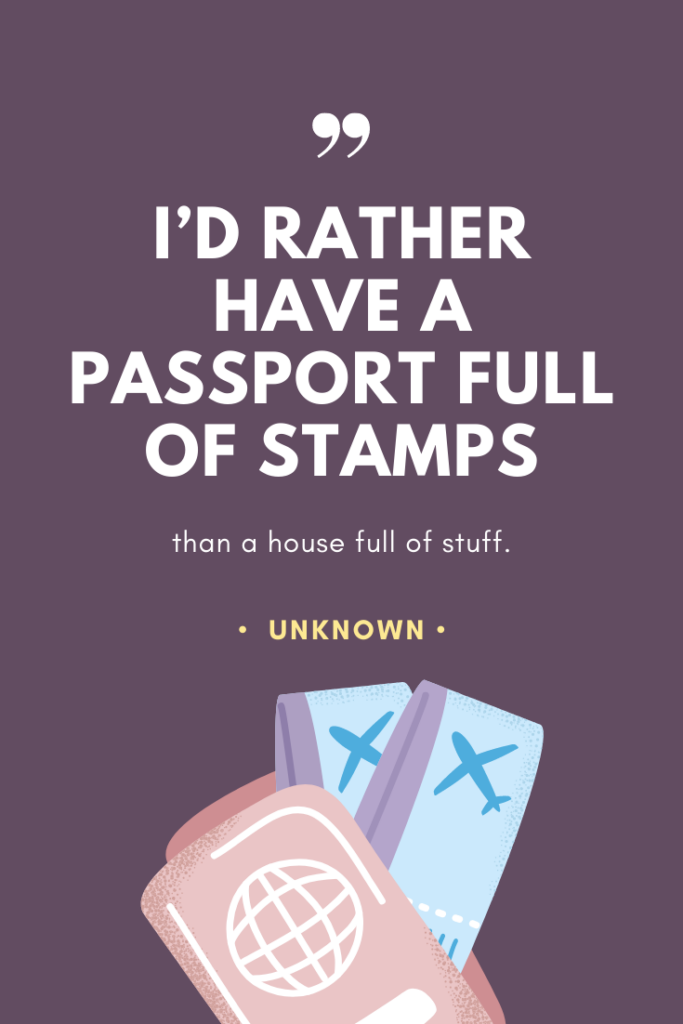 Travel with Friends Quotes
Is there any greater joy than the ability to travel with friends? Yes, the ability to travel solo. Lol jokes… kind of.
Anyways, here are some travel quotes related to friendship if you're looking for something to half-heartedly sprawl into a birthday card 😉
74. "A journey is best measured in friends, rather than miles." – Tim Cahill
75. "It doesn't matter where you're going, it's who you have beside you."
76. "The more I traveled the more I realized that fear makes strangers of people who should be friends." – Shirley MacLaine
77. "We are all travelers in the wilderness of this world, and the best we can find in our travels is an honest friend." – Robert Louis Stevenson
78. "Everyone needs someone who will call and say 'get dressed, we're going on an adventure'".
79. "Life was meant for good friends and great adventures."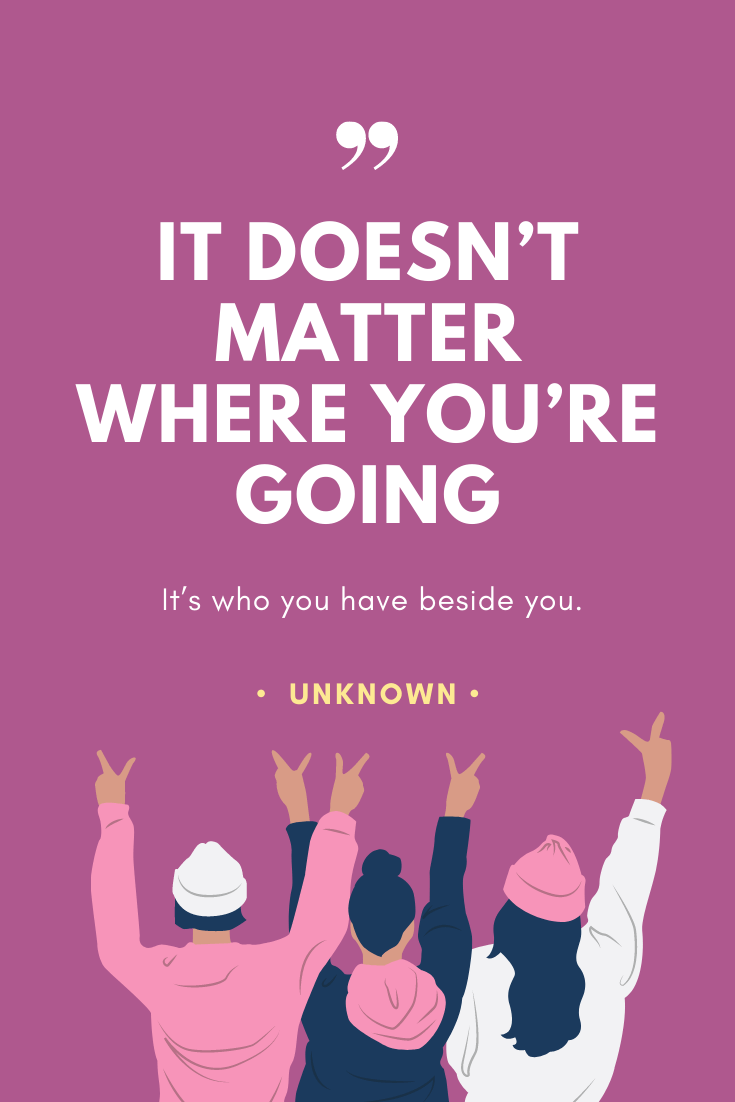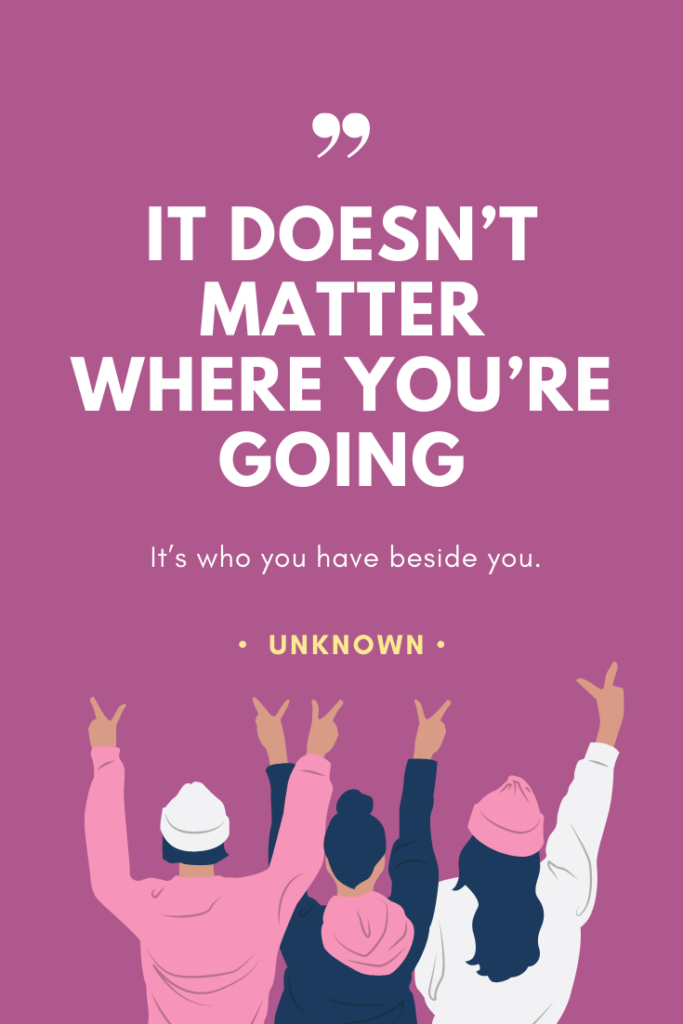 Long (but Awesome) Travel Quotes
A lot of travel sayings out there are short and snappy, but sometimes I love digging into longer travel quotes that are eloquently phrased and perfectly nail an emotion I or thought I'm not able to describe myself.
The following are some of my favourite long travel quotes. Sure they don't fit on a T-Shirt, but dayum they're great to read!
80. "Adventure is a path. Real adventure – self-determined, self-motivated, often risky – forces you to have firsthand encounters with the world. The world the way it is, not the way you imagine it. Your body will collide with the earth and you will bear witness. In this way you will be compelled to grapple with the limitless kindness and bottomless cruelty of humankind – and perhaps realize that you yourself are capable of both. This will change you. Nothing will ever again be black-and-white." – Mark Jenkins
81. "We travel, initially, to lose ourselves; and we travel, next to find ourselves. We travel to open our hearts and eyes and learn more about the world than our newspapers will accommodate. We travel to bring what little we can, in our ignorance and knowledge, to those parts of the globe whose riches are differently dispersed. And we travel, in essence, to become young fools again- to slow time down and get taken in, and fall in love once more." – Pico Iyer
82. "Go outside. Don't tell anyone and don't bring your phone.

Start walking and keep walking until you no longer know the road like the palm of your hand, because we walk the same roads day in and day out, to the bus and back home and we cease to see. We walk in our sleep and teach our muscles to work without thinking and I dare you to walk where you have not yet walked and I dare you to notice.

Don't try to get anything out of it, because you won't. Don't try to make use of it, because you can't. And that's the point. Just walk, see, sit down if you like. And be. Just be, whatever you are with whatever you have, and realise that that is enough to be happy. There's a whole world out there, right outside your window.

You'd be a fool to miss it." – Charlotte Eriksson
83. "Why do you go away? So that you can come back. So that you can see the place you came from with new eyes and extra colors. And the people there see you differently, too. Coming back to where you started is not the same as never leaving." – Terry Pratchett
84. "No man is brave that has never walked a hundred miles. If you want to know the truth of who you are, walk until not a person knows your name. Travel is the great leveler, the great teacher, bitter as medicine, crueler than mirror-glass. A long stretch of road will teach you more about yourself than a hundred years of quiet." – Patrick Rothfuss
85. "Every place is a goldmine. You have only to give yourself time, sit in a teahouse watching the passers-by, stand in a corner of the market, go for a haircut. You pick up a thread – a word, a meeting, a friend of a friend of someone you have just met – and soon the most insipid, most insignificant place becomes a mirror of the world, a window on life, a theatre of humanity." – Tiziano Terzani
86. "They say no land remains to be discovered, no continent is left unexplored. But the whole world is out there, waiting, just waiting for me. I want to do things– I want to walk the rain-soaked streets of London, and drink mint tea in Casablanca. I want to wander the wastelands of the Gobi desert and see a yak. I think my life's ambition is to see a yak. I want to bargain for trinkets in an Arab market in some distant, dusty land. There's so much. But, most of all, I want to do things that will mean something." – Lisa Ann Sandell
87. "The tragedy in the lives of most of us is that we go through life walking down a high-walled lane with people of our own kind, the same economic situation, the same national background and education and religious outlook. And beyond those walls, all humanity lies, unknown and unseen, and untouched by our restricted and impoverished lives." – Florence Luscomb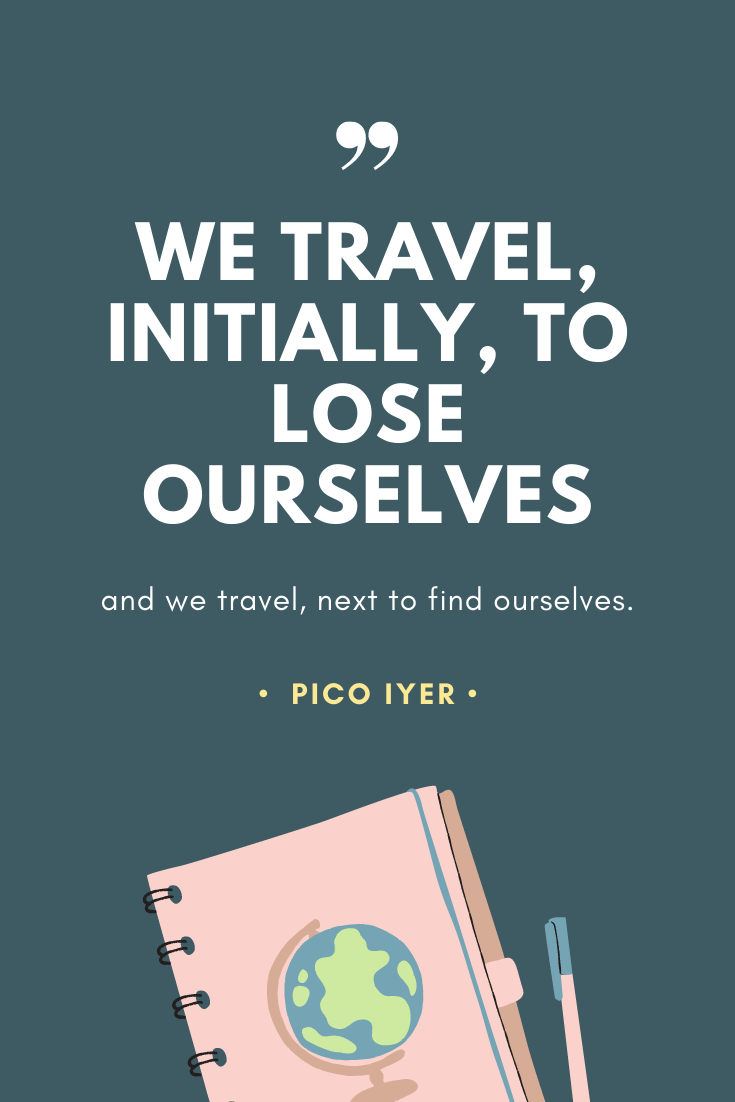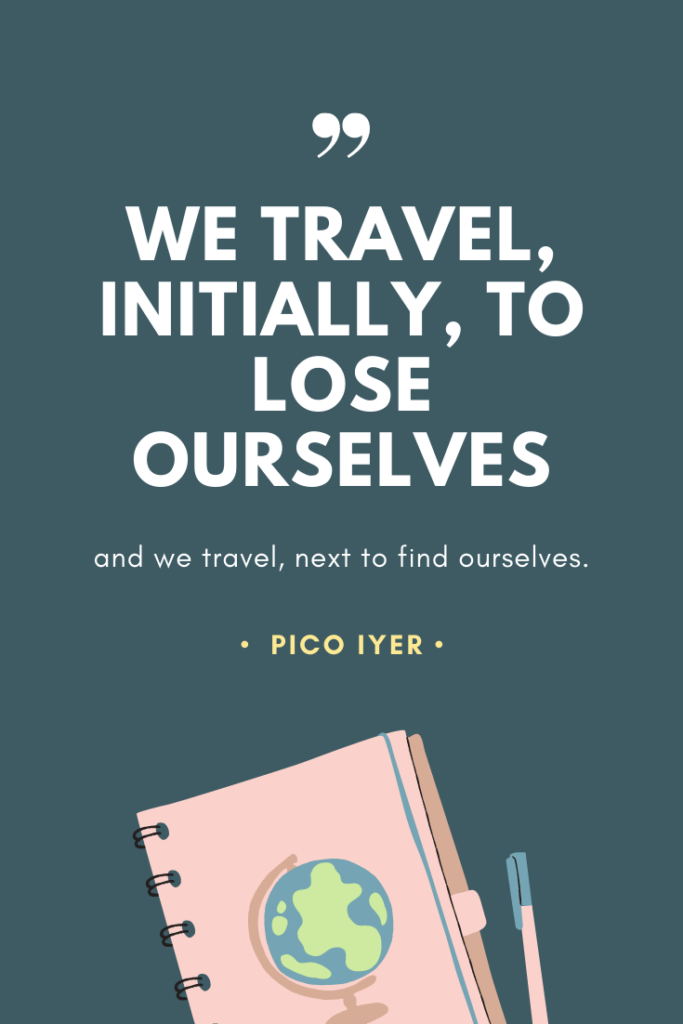 Reassuring Travel Quotes
88. "Then one day, when you least expect it, the great adventure finds you." – Ewan McGregor
89. "Great things never came from comfort zones."
90. "The struggles we endure today will be the 'good old days' we laugh about tomorrow."
― Aaron Lauritsen
90. "Twenty years from now you will be more disappointed by the things that you didn't do than by the ones you did do. So throw off the bowlines. Sail away from the safe harbor. Catch the trade winds in your sail. Explore. Dream. Discover." – Mark Twain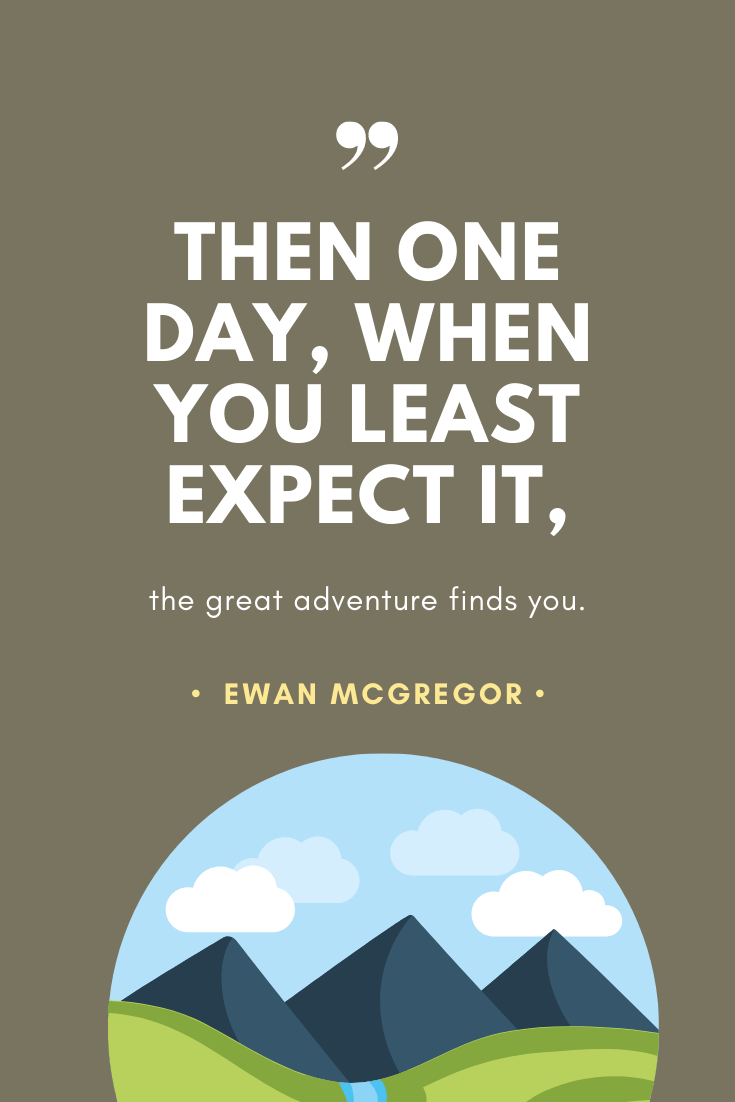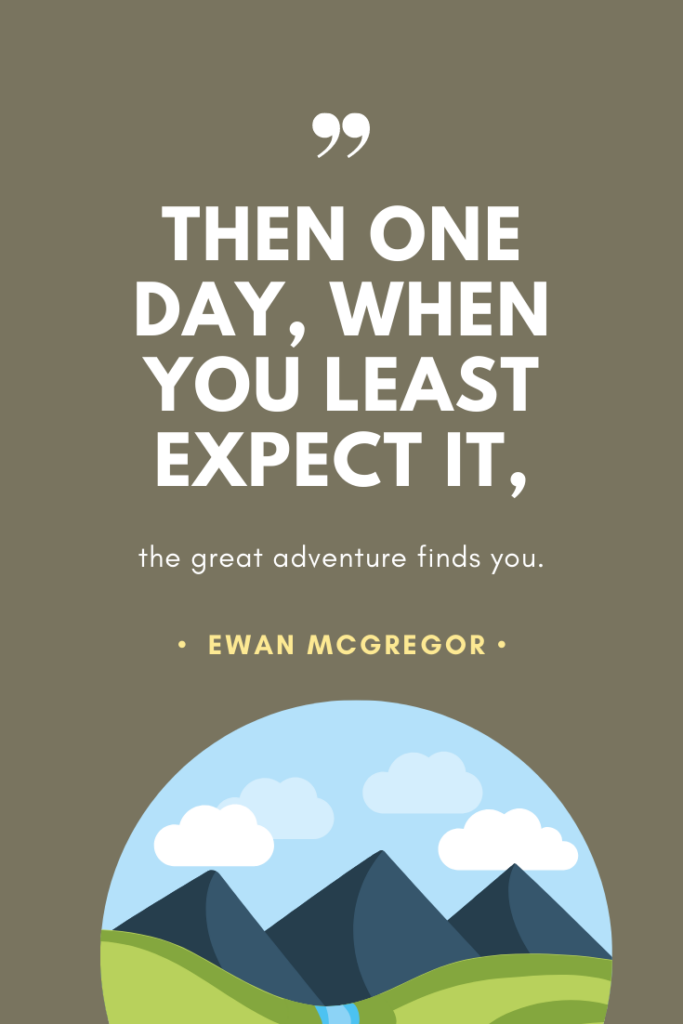 Quotes Describing the Wonder of Travel
I felt like these three travel quotes needed a category of their own. I just love the way they capture the wonder/joy of travel! Do you agree?
91. "We live in a wonderful world that is full of beauty, charm and adventure. There is no end to the adventures we can have if only we seek them with our eyes open." – Jawaharlal Nehru
92. "Leave home, leave the country, leave the familiar. Only then can routine experience— buying bread, eating vegetables, even saying hello—become new all over again." – Anthony Doerr
93. "Real traveling is not about visiting places but 're-visiting' our inner-self." – Sorrab Singha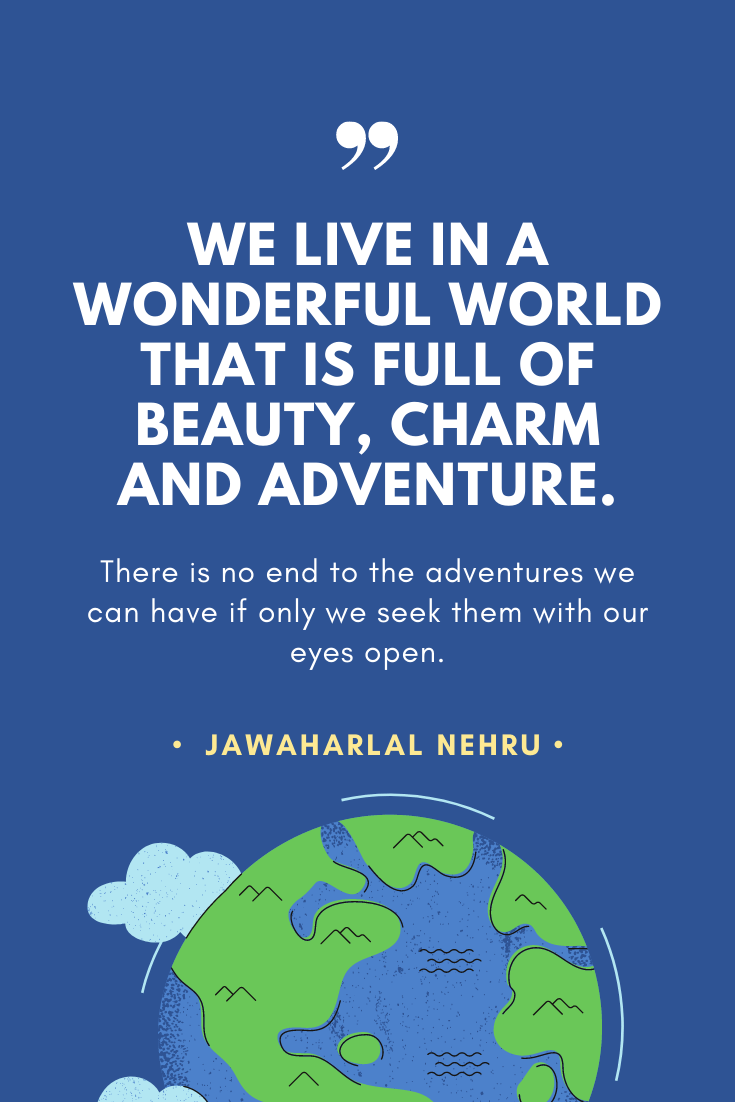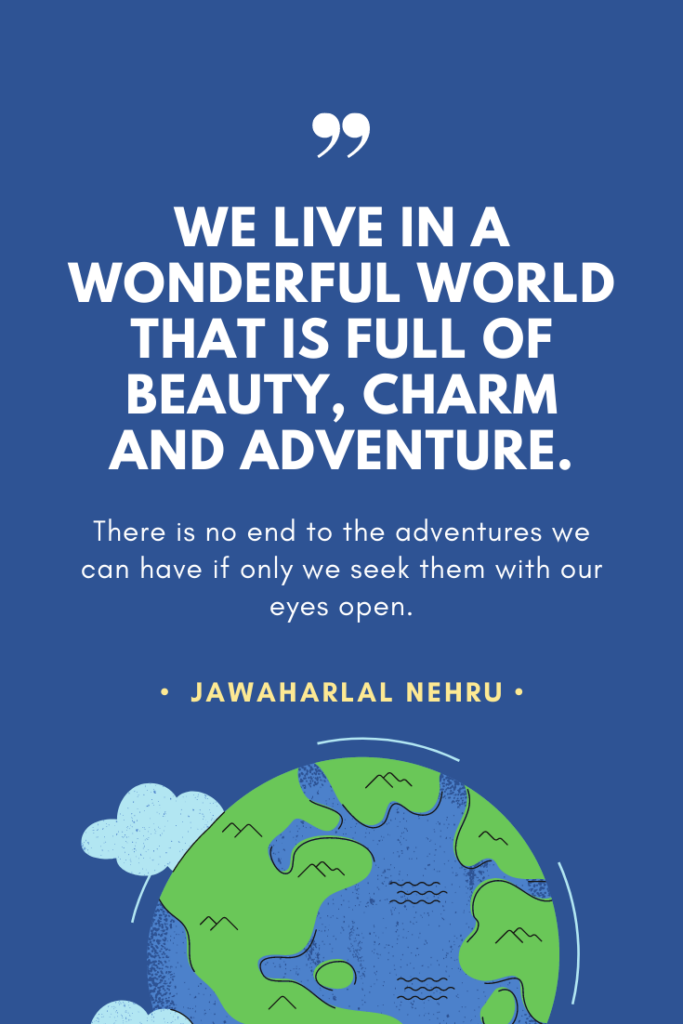 Overused AF (but Still Inspirational) Travel Quotes
Okay, and now, last but not least, I bring you THE most over-used travel quotes of all time. Some of them honestly make my skin crawl, but hey, I can admit they're pretty darn inspirational (and of course, I couldn't do a travel quotes roundup without them).
Just try to imagine them out of their typical context of inspirational mugs or T-shirts and you'll be fine.
94. "A journey of a thousand miles begins with a single step" – Lao Tzu
95. "To Travel is to Live" – Hans Christian Andersen
96. "Travel is the only thing you buy that makes you richer."
97. The world is a book and he who doesn't travel only reads one page." – St. Augustine
98. "Not all those who wander are lost." – J. R. R. Tolkien
99. "Travel. As much as you can, as far as you can, as long as you can. Life's not meant to be lived in one place."
100. "I'd rather have a passport full of stamps than a house full of stuff."
101. "I'm in love with cities I've never been to and people I've never met."
Did I miss any of your favourite travel quotes?
I hope you enjoyed that epic roundup of my favourite travel quotes! Now your turn – drop me a comment if I've left out any of your favourites.
---
Watch my most popular YouTube video this week:
---