*FYI - this post may contain affiliate links, which means we earn a commission at no extra cost to you if you purchase from them. Also, as an Amazon Associate I earn from qualifying purchases. Check out our Privacy Policy and Disclosure. for more info.
After living in Germany for well over five years, I thought nothing could surprise me anymore on the booze front.
Giant beers slurped by the litre? Sure. An automatic refill policy on beers until you surrender with a coaster over your glass? Alright. Sausage-infused schnapps? Yes, I've even had that… fittingly at the world's first sausage hotel.
So when I tell you I was shocked by my most recent German booze adventure, that should tell you something.
Enter the Bad Dürkheim Wurstmarkt, an event whose name literally translates to "sausage market" but is in fact an absolutely unhinged celebration of another tasty local specialty: wine.
It's the biggest wine festival in the world in fact, welcoming over 600,000 visitors a year, with origins stretching back six centuries.
More importantly, it's a place where guzzling wine by the half litre is the norm, rather than cause for calling the cops. Yes, you read that right… half litre wines, or mildly diluted spritzers, if you're trying to be responsible.
One or two glasses and you'll be giddily hurling yourself down a log ride with girls you met an hour ago (true story).
So what exactly is the Bad Durkheim Wine Fest, or Wurstmarkt? How did this epic party come to be? And what really goes down at the largest wine festival across the globe?
Read on for a full overview of the Bad Dürkheim Wurstmarkt, with a brief history, practical information, and plenty of Wurstmarkt tips if you plan to attend yourself.
First: A Dürkheimer Wurstmarkt Video Tour
This festival is one of those events that's tough to describe in words, so if you want to get a quick overview of what it'll be like, check out this video tour I put together from my visit!
What Exactly is the Dürkheimer Wurstmarkt? 
Colloquially known among English speakers as the Bad Dürkheim Wine Fest, the Wurstmarkt is the largest wine festival in the world, and the biggest party of the year in the Rhineland-Pfalz (AKA Rhineland-Palatinate) region of Germany.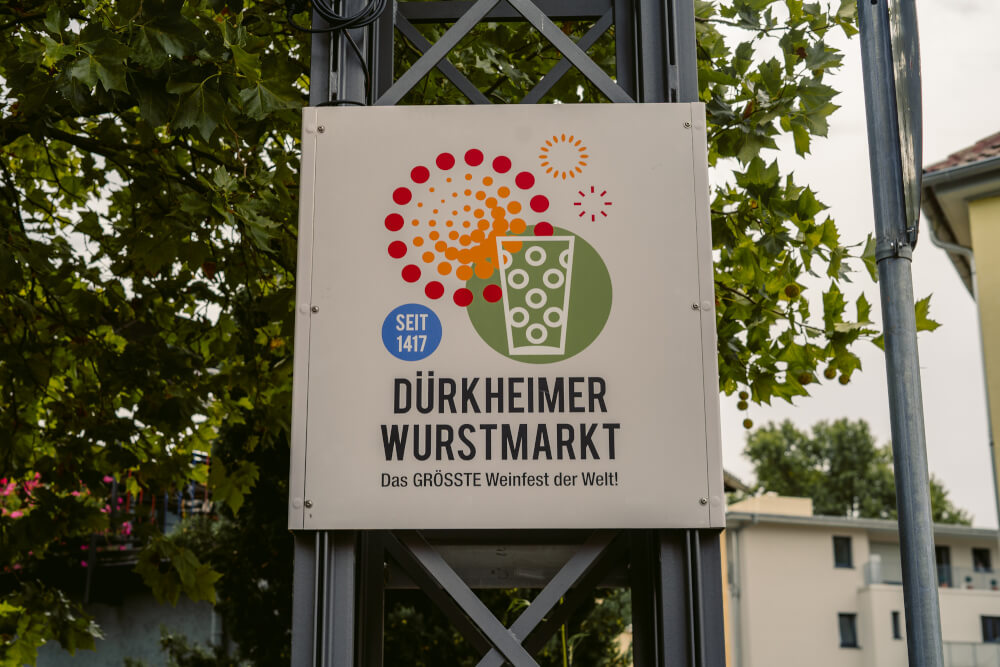 Taking place during the 2nd and 3rd weekends of September (with a handful of stalls operating at limited capacity in between), this annual event is a chaotic yet delightful celebration of the region's tastiest product: wine.
Throughout the festival site, you'll find fairground rides, games, food vendors, and market stalls…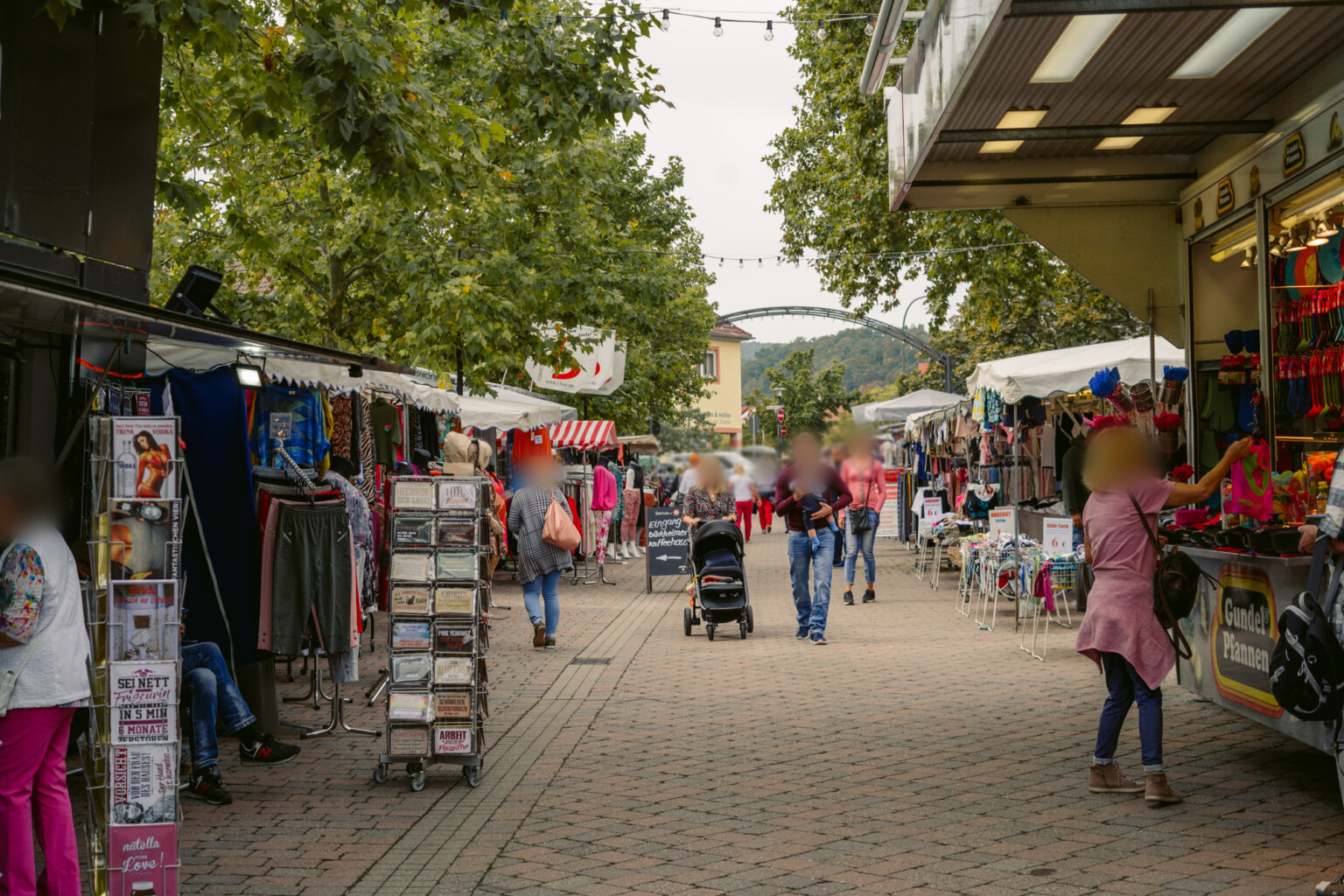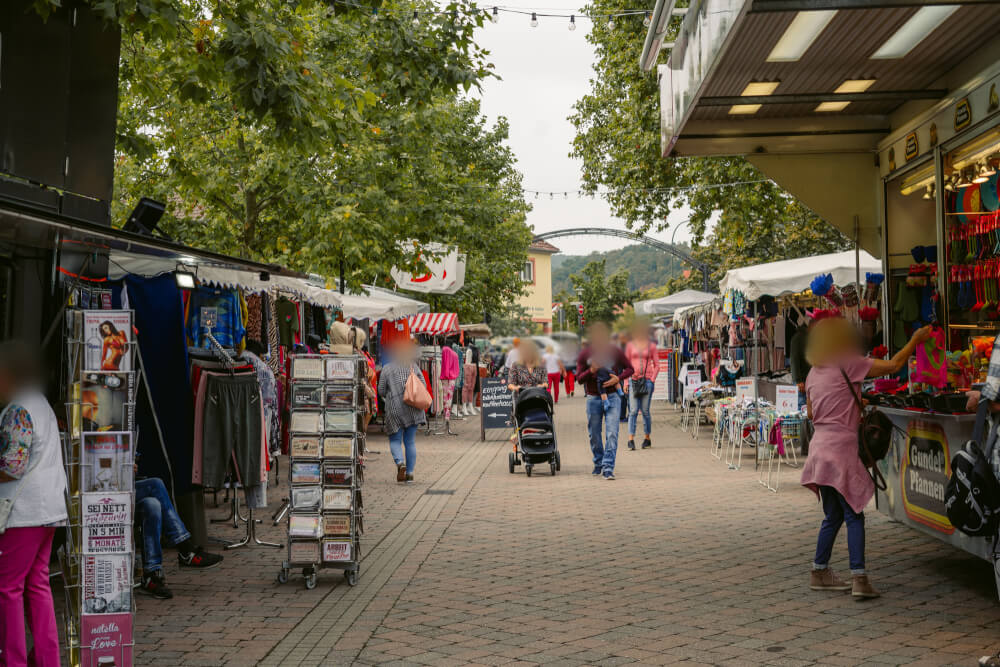 In addition to a huge selection of places to sit down and have some wine, including…
30+ Schubkarchstände, untranslatable seating areas with ultra narrow benches and tables: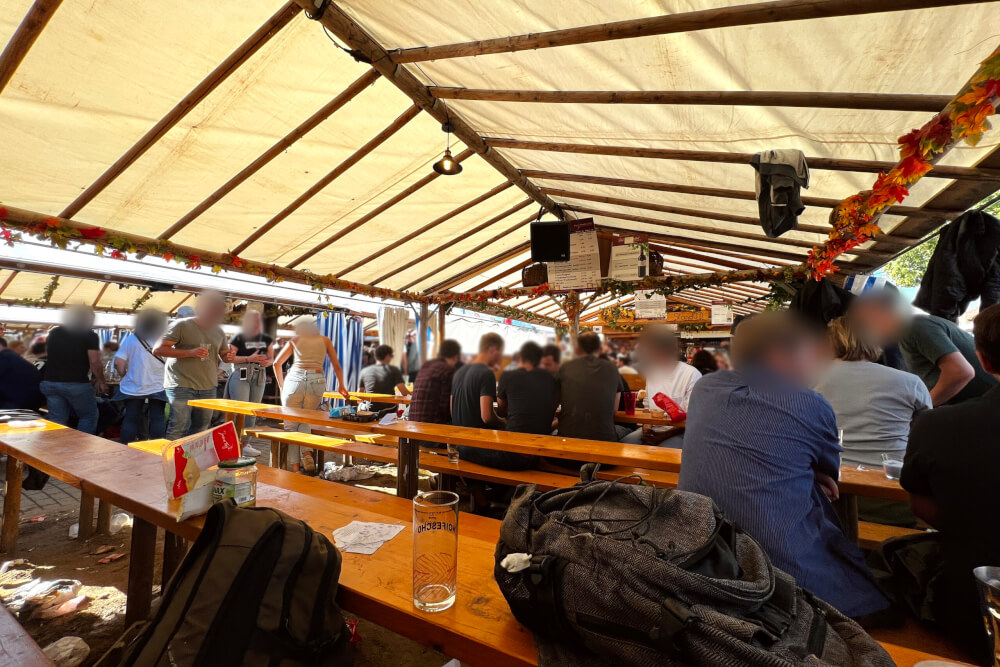 A few covered tents (like at Oktoberfest), where there's wider tables and benches, and usually musical performances in the evening: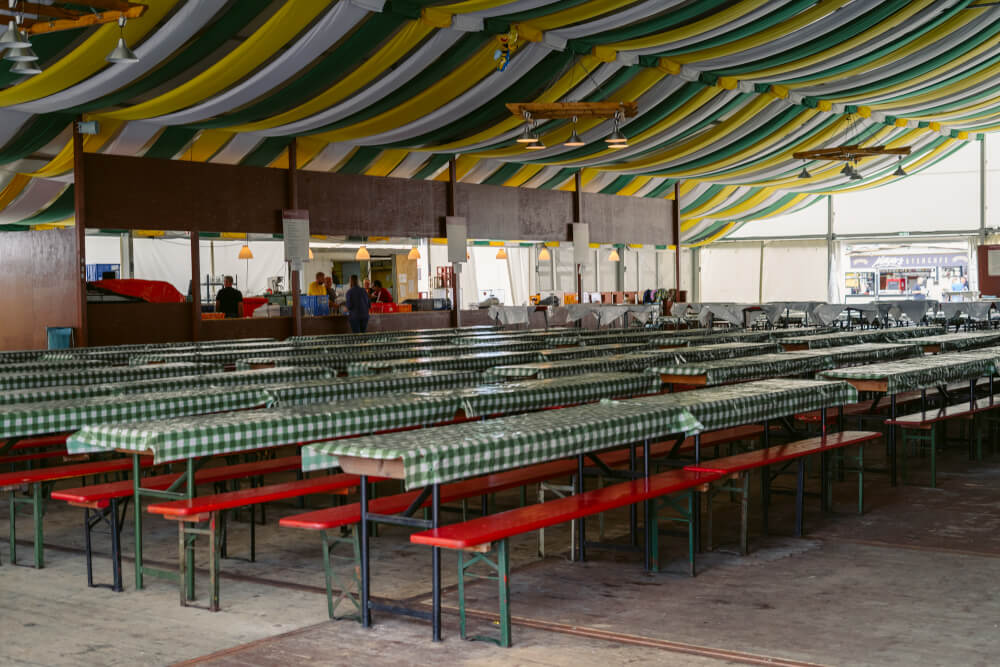 A classy Weindorf (Wine Village) where you'll find proper chairs and tables, along with more refined food offerings: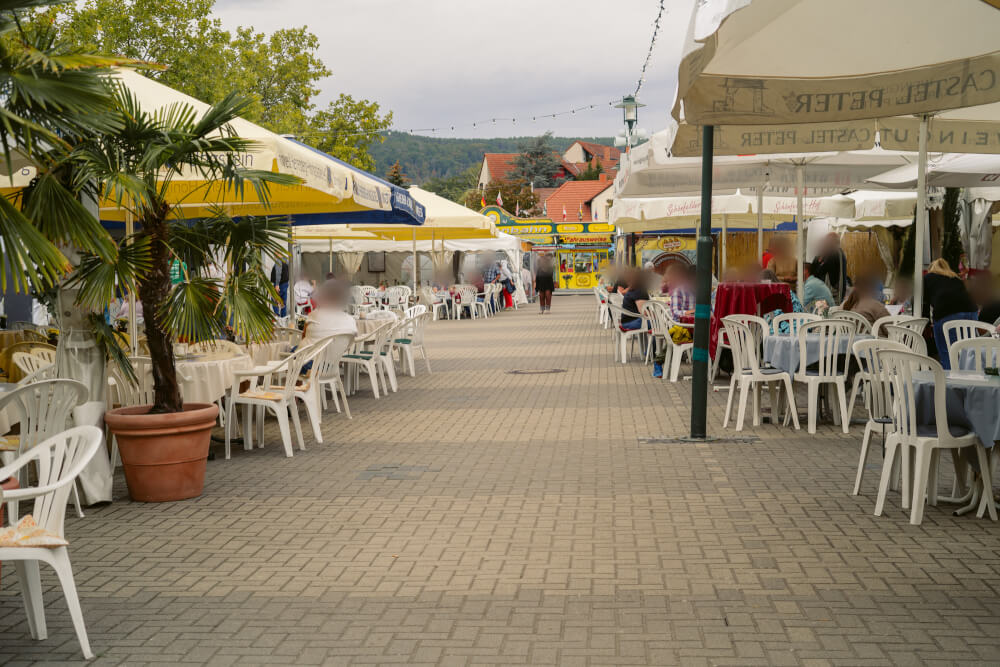 And the largest wine barrel in the world, with a 1.7 million litre capacity, and is now a restaurant for seated meals and wine: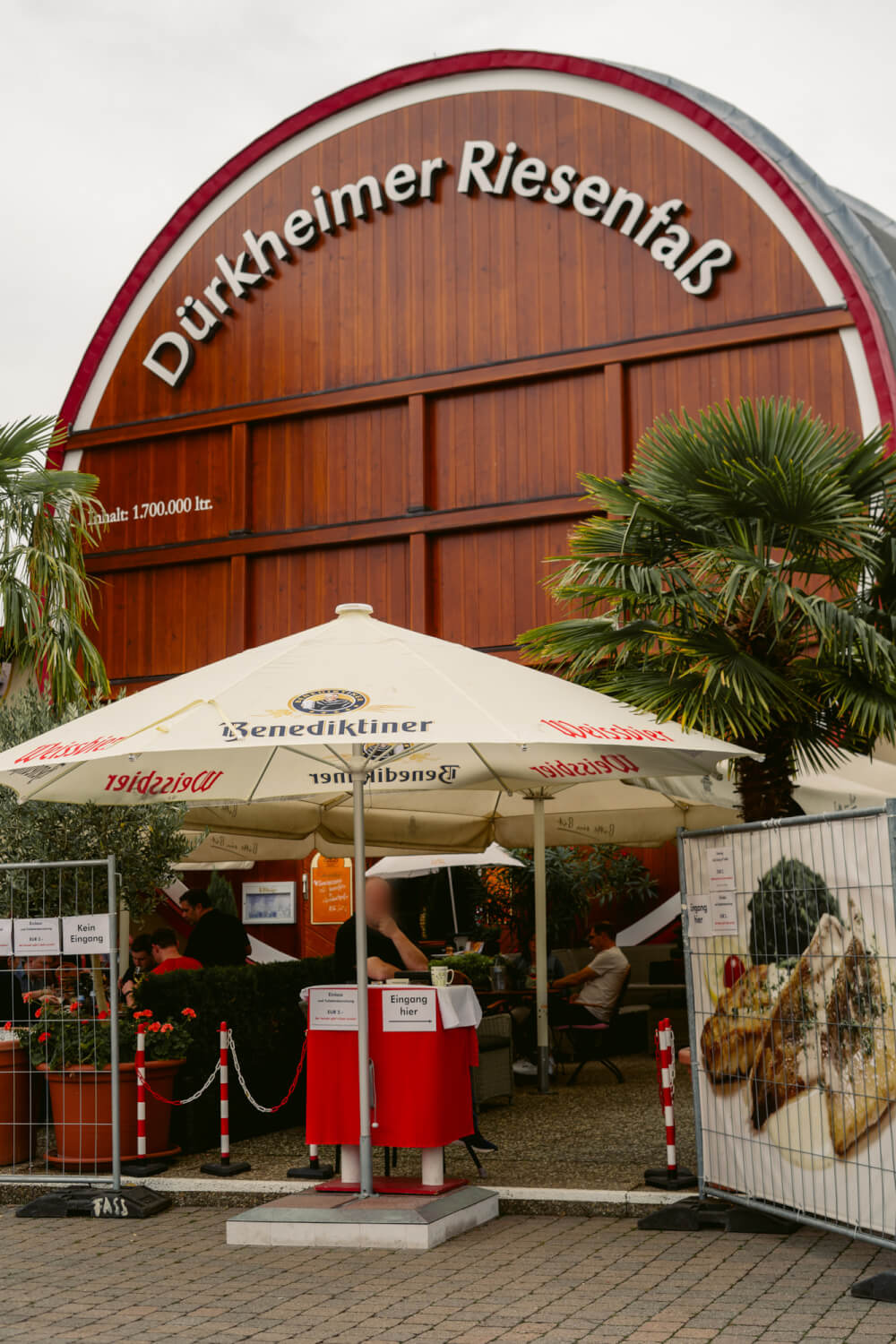 And for those seeking a break from grapey goodness, there are also stalls selling long drinks/cocktails, and a few beer gardens as well…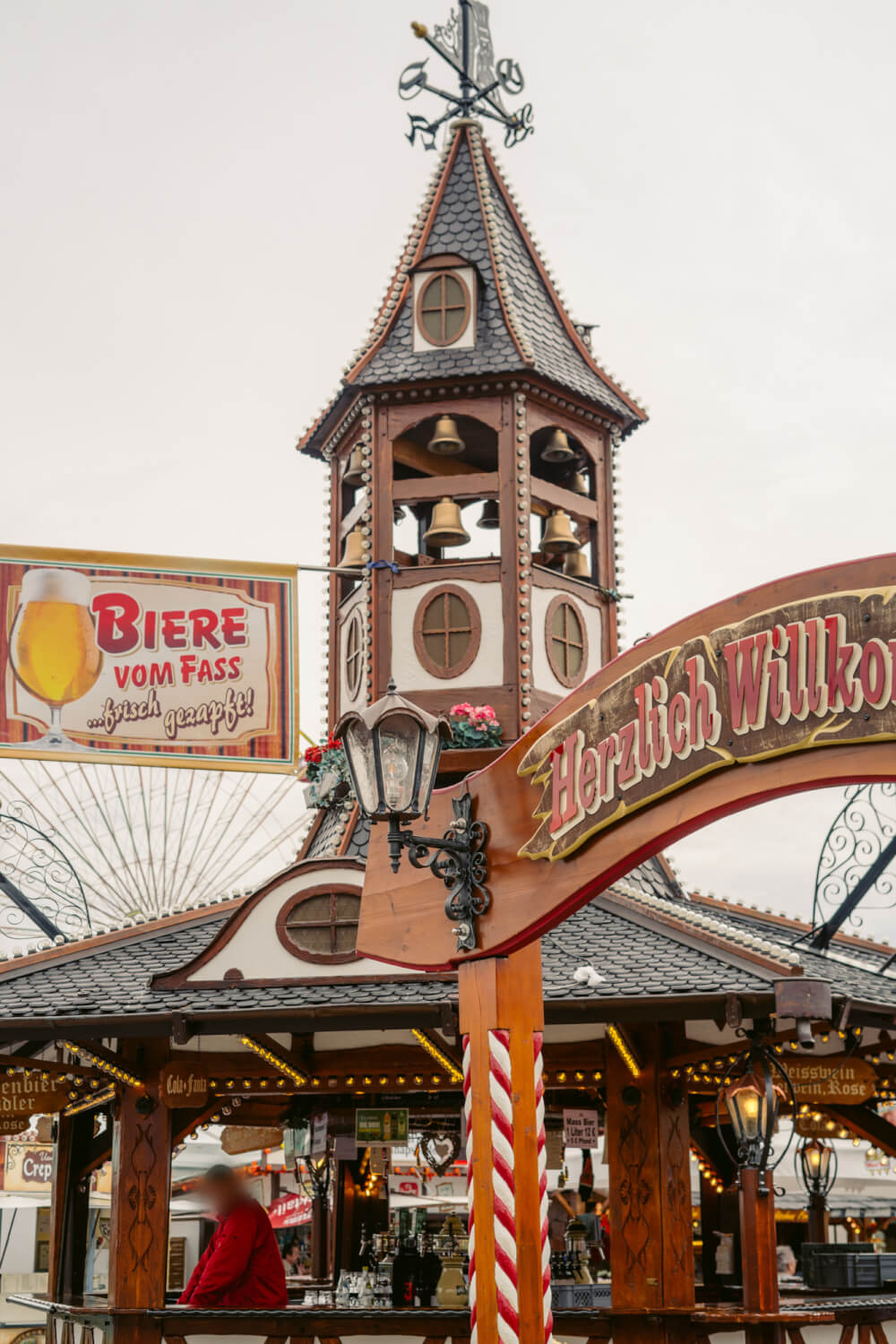 Plus a fully stacked event programme throughout the festival which includes live performances, fireworks, and fun unique events like boozey morning poetry readings and the crowning of a new wine princess.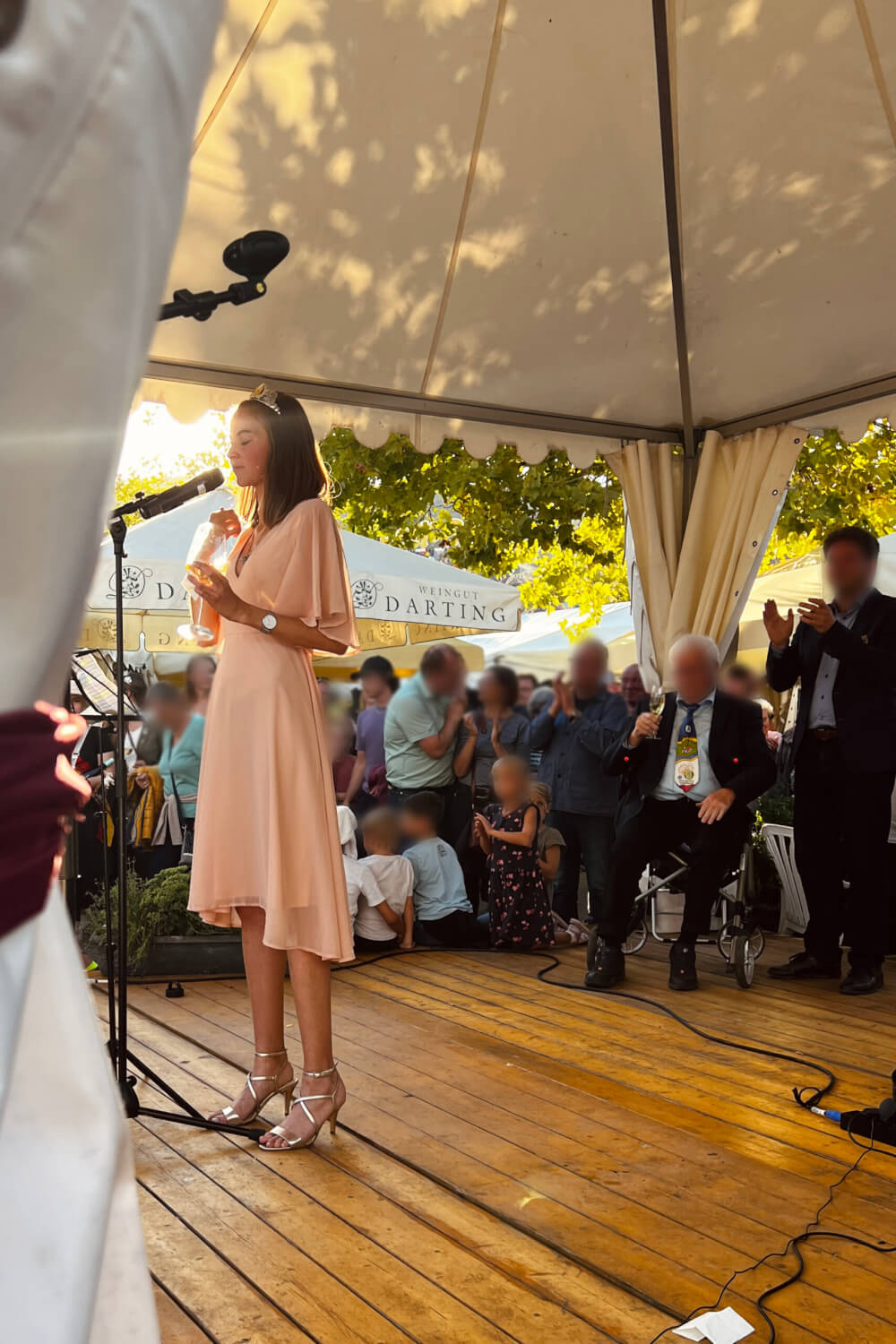 If you're trying to picture the vibe, imagine if a state fair had a baby with a frat party, but also this event was double booked with a retirement home garden soirée.
During my two days at the festival, I saw kids on a field trip, parents with strollers, retirees day drinking, and many (I say many) a red-faced reveller, jumping on benches and offering strangers bread and canned meat from their backpacks (more on this later).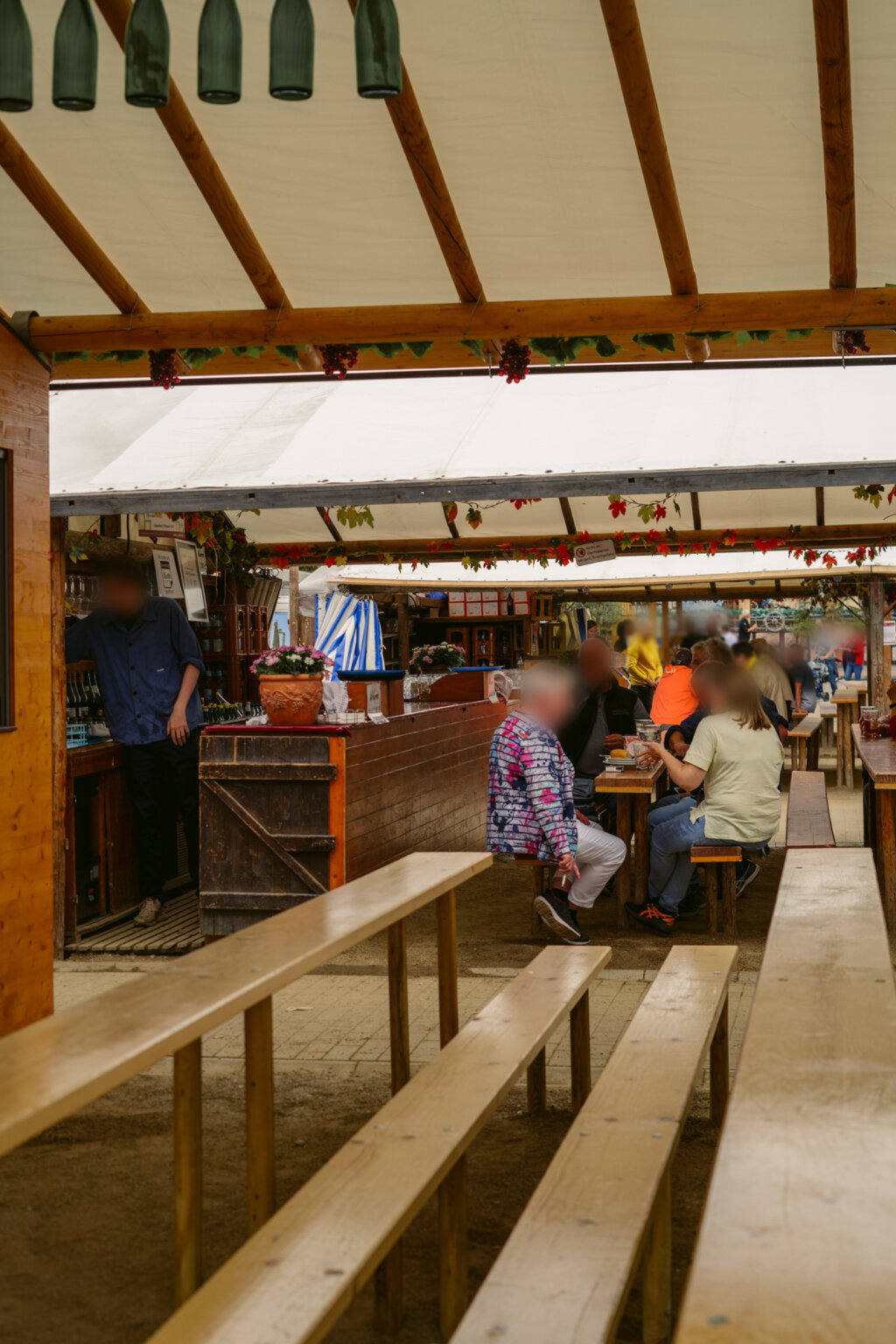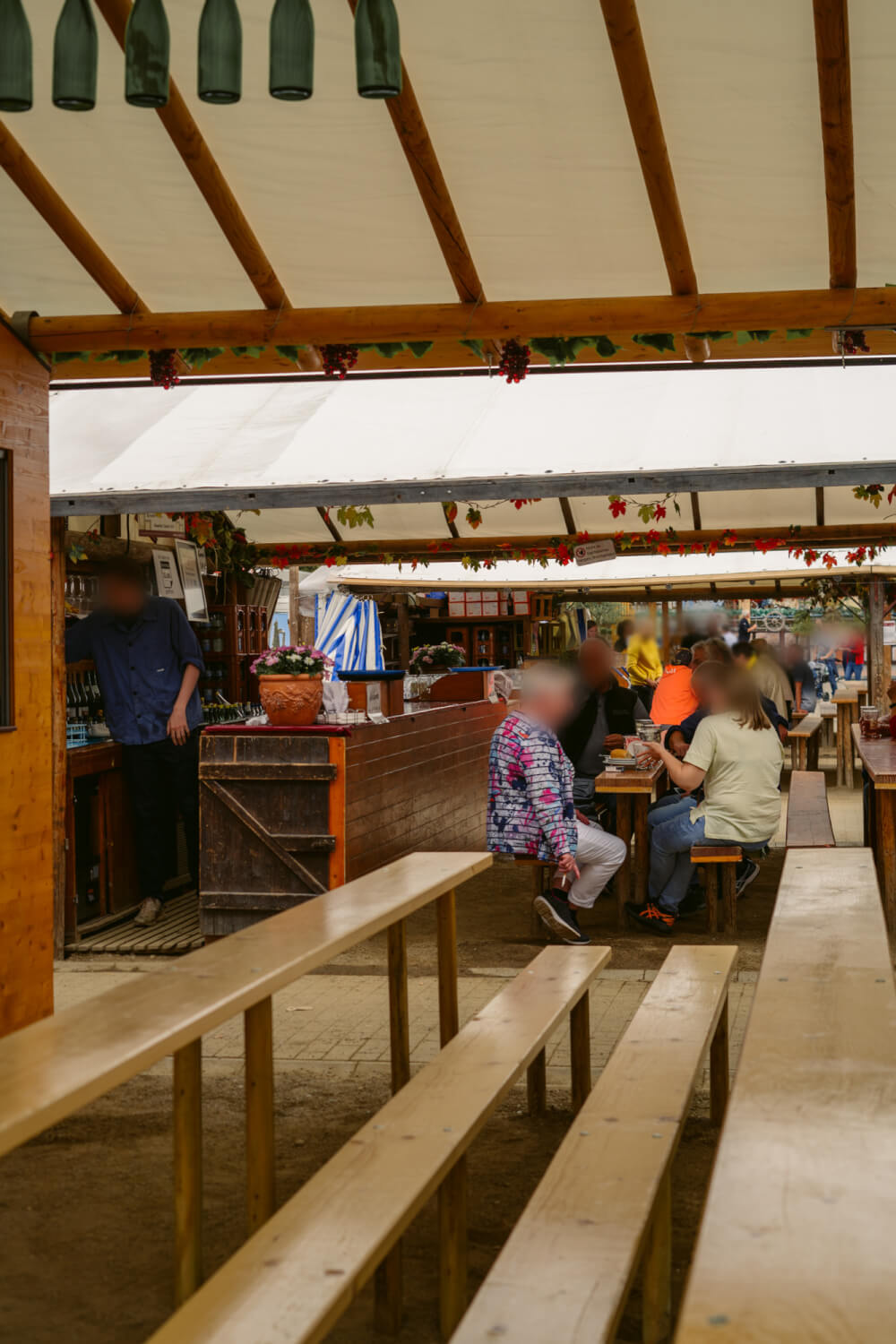 The best thing about the Wurstmarkt is it's an event that has something to offer everyone, with dramatically different energies depending on when you visit, making it a solidly fun time that I think everyone should experience at least once, much like Germany's other mega-booze festival: Oktoberfest.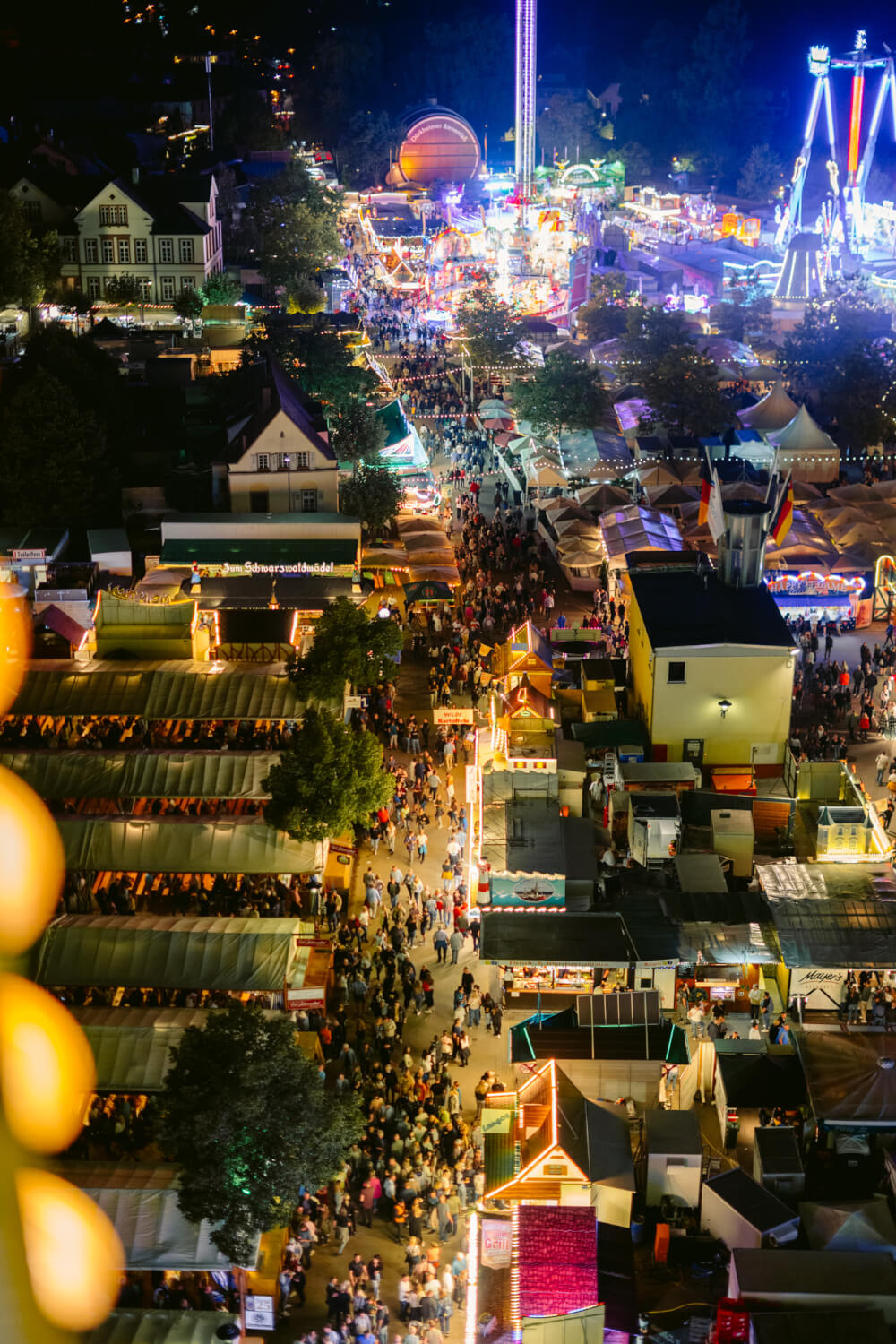 A Brief History of the Wurstmarkt
So now you might be wondering: how did a "Sausage Market" come to be the world's largest wine festival?
To answer this, we need to cue a dreamy harp and set our time machines back over 600 years.
You see, even as early as 1155, evidence suggests there has been a sanctuary dedicated to Saint Michael located on the top of (present day Bad Dürkheim's) Michelsberg hill. With time, it became a popular place for pilgrims to go, specifically on Saint Michael's Day, which falls on September 29.
And as more and more pilgrims headed to Michelsberg to seek important things like, you know, religious clarity and spiritual awakening, so too did local farmers and winegrowers, who headed there to seek other important things, like customers and profit.
It is said that local producers began to lug their wares with wheelbarrows over to the pilgrims, selling enticing treats like wine, sausages and bread.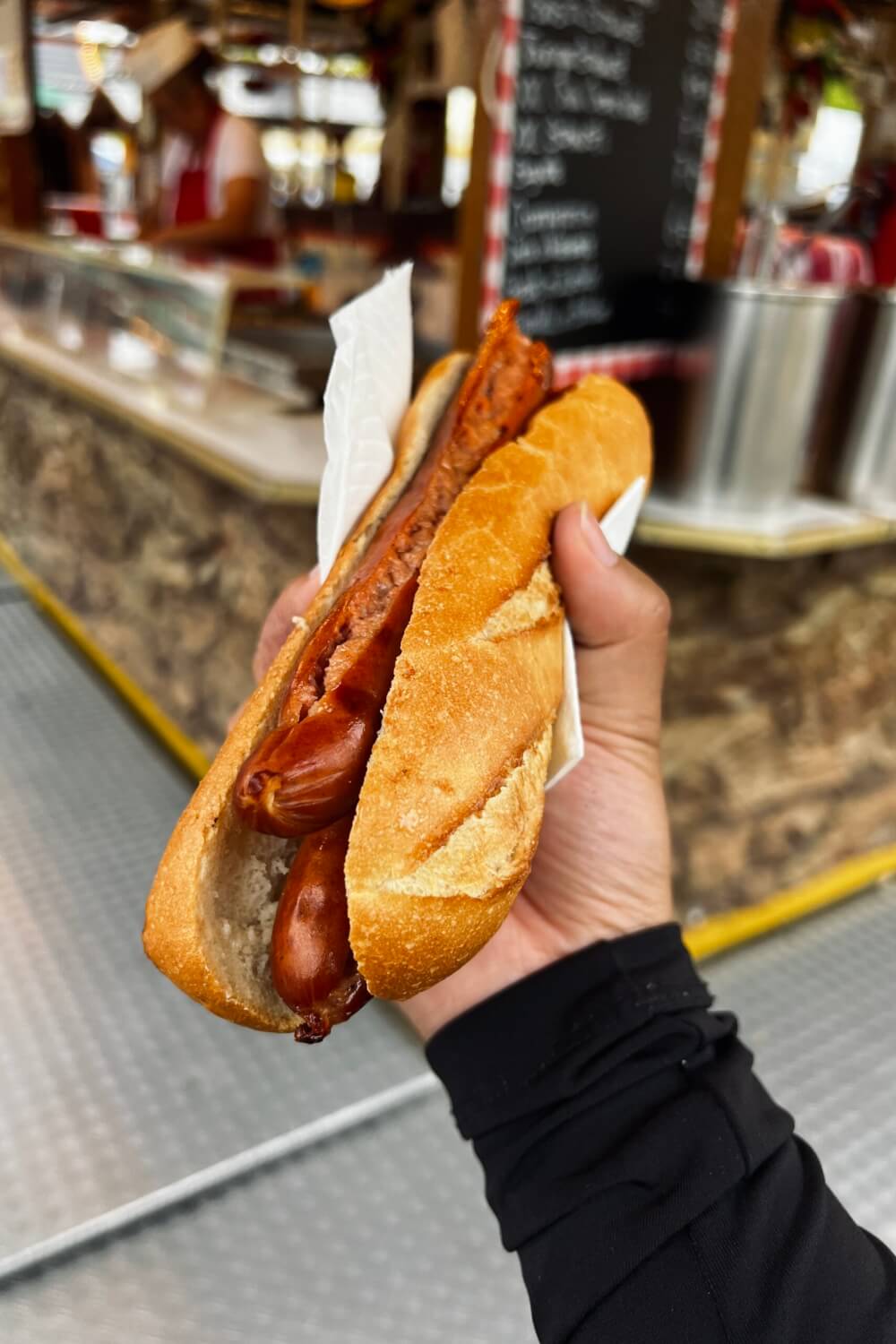 With time, local entertainers decided to get in on the party, and by 1417, the event (known then as Michaelismarkt) involved traders of all kinds from across the region. This is considered by historians to be the start of the present-day Wurstmarkt, hence why we say it has been happening for over 600 years.
With time, the party outgrew Michelsberg, and they had to expand to the market square below. For centuries, the Michaelismarkt went on in the same square it takes place today, until a pivotal name change in 1832 to 'Wurstmarkt', supposedly due to the sheer number of sausages consumed at the festival.
Of course, sausages go hand in hand with wine, and over the years, the event became more of a celebration of local vineyards and wine than simply juicy meat… Although there's plenty of that to be found as well.
Today, the Wurstmarkt (AKA Bad Dürkheim Wine Fest) is one of best folk festivals you can attend in Germany, and one that I can wholeheartedly recommend visiting for any wine lovers (or simply lovers of a good time).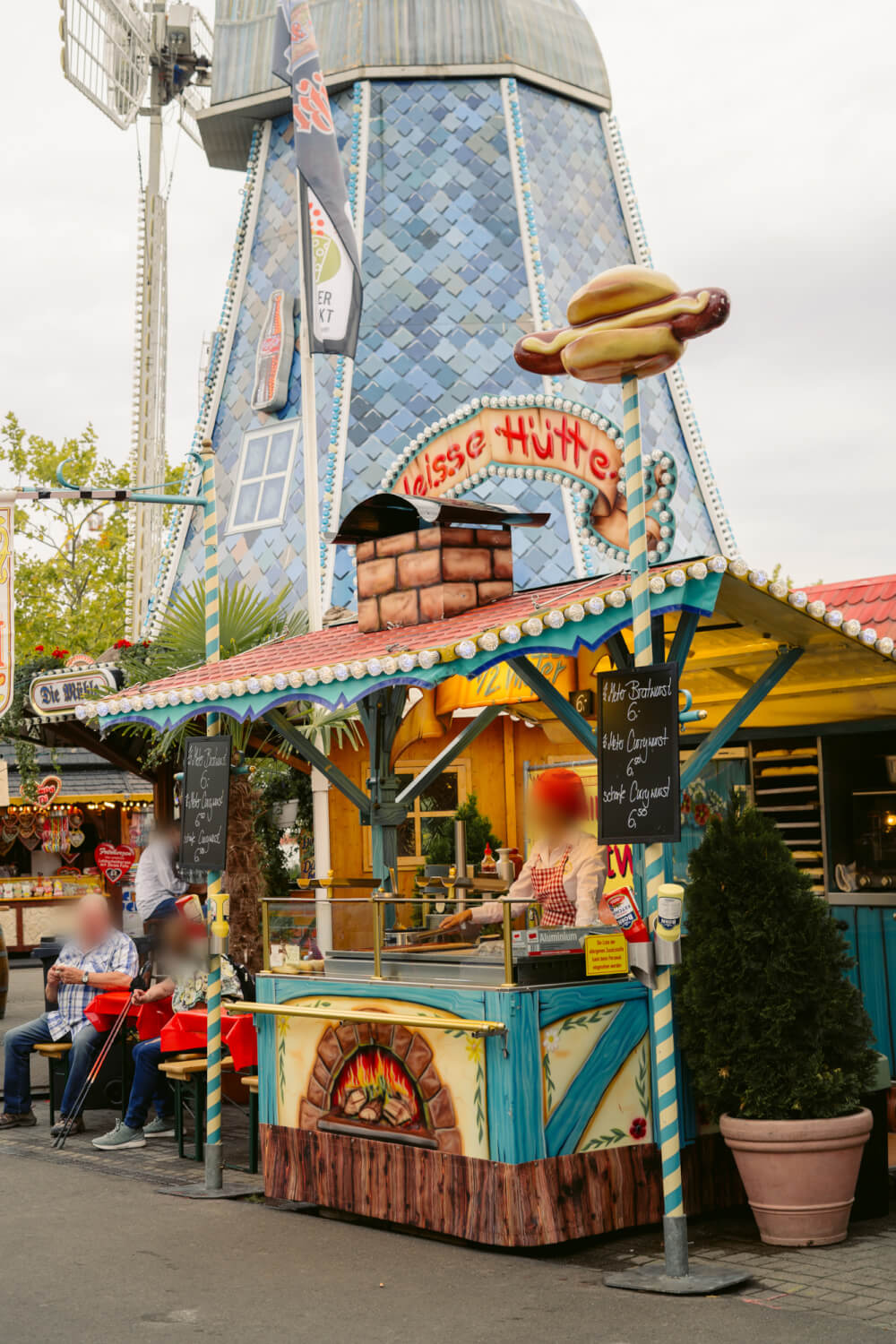 Practical Must-Knows for the Bad Dürkheim Wurstmarkt
Looking to plan your own visit? Take note of the following…
Wurstmarkt 2023 Dates
If you ever had any doubt that Germans like to plan in advance, I would like you to know that the Wurstmarkt planning committee has confirmed dates all the way up til 2030. They are as follows:
Sept 8 – 12 and and Sept 15 – 18, 2023
Sept 6 – 10 and Sept 13 – 16, 2024
Sept 12 – 16 and Sept 19 – 22, 2025
Sept 11 – 15 and Sept 18 – 21, 2026
Sept 10 – 14 and Sept 17 – 20, 2027
Sept 8 – 12 and Sept 15 – 18, 2028
Sept 7 – 11 and Sept 14 – 17, 2029
Sept 6 – 10 and Sept 13 – 16, 2030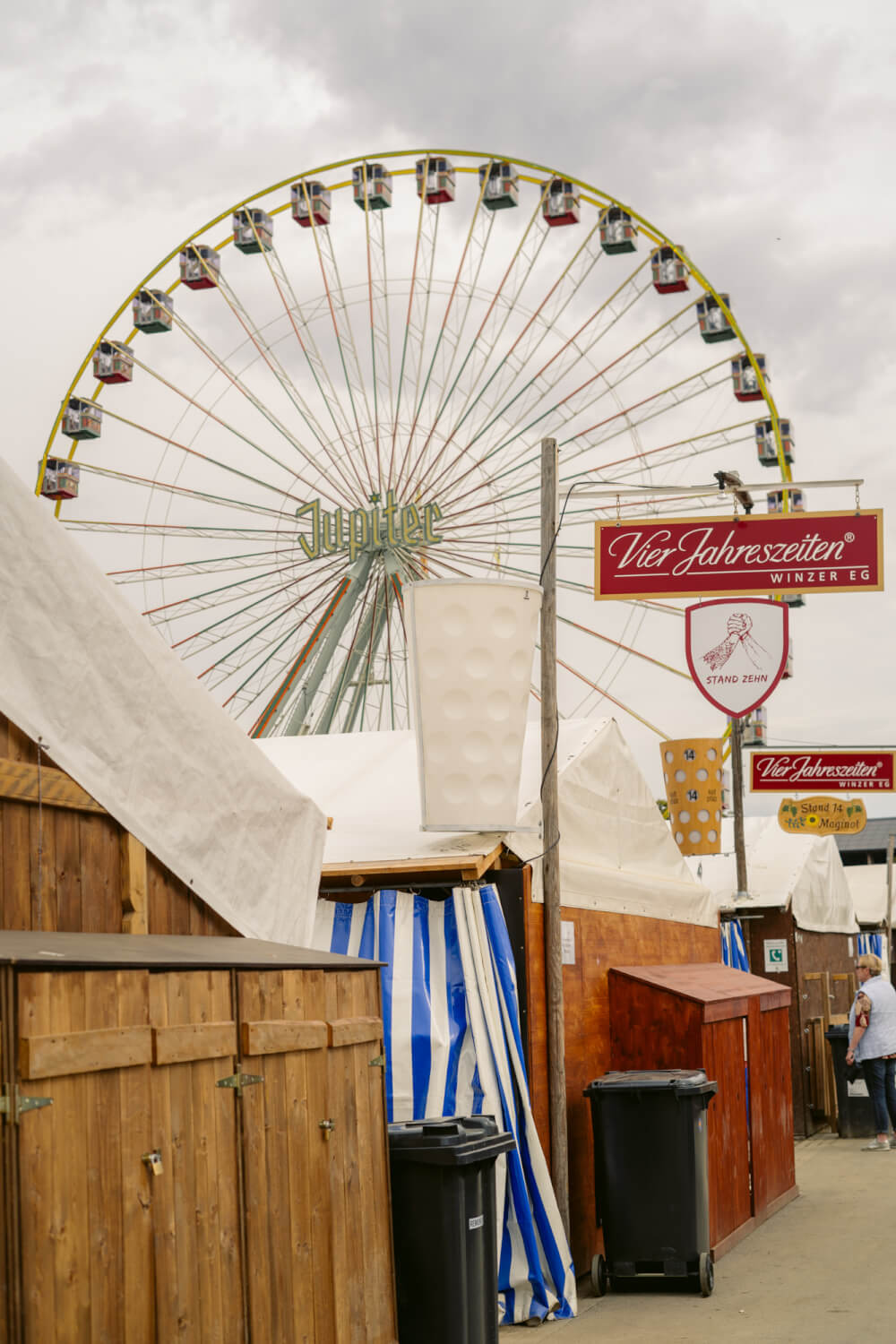 NOTE: While a small handful of stalls may be open from noon to 10pm, Wednesdays and Thursdays are generally considered to be off-days at the Wurstmarkt, so much that it's known as the "Zwischenmarkt" (In between market) and not even counted on the official website as part of the opening dates.

If your main purpose is to sample some local wine, then maybe a visit during thse days could be nice, but there would definitely be far less of an atmosphere here compared to other days.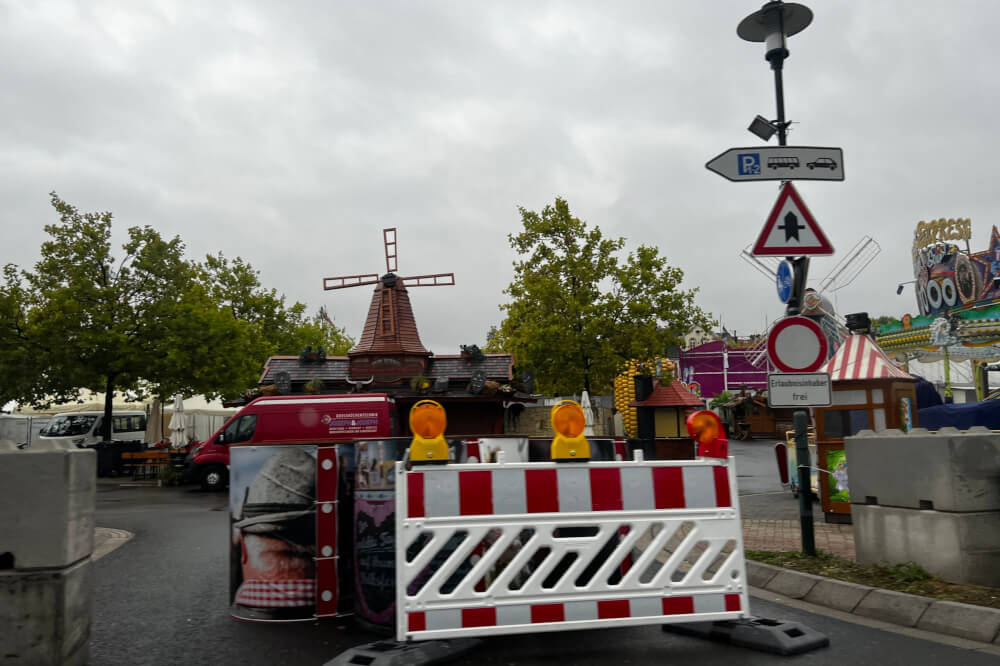 The Best Time to Visit Wurstmarkt
We attended the Wurstmarkt this year for three nights, arriving on the first Sunday and leaving Wednesday morning.
We thought that this was quite ideal timing as we were able to catch some of the weekend rowdiness, along with key events like the Literarischer Frühschoppen* and Crowning of the Wine Princess on Monday, as well as the fireworks on Tuesday, a day which was notably more calm than the days prior.
Of course, no matter which days you attend, you'll probably end up having some kind of special event or performance to watch. They intentionally plan it that way!
For instance, there's a fun opening day ceremony, and fireworks on the final night as well. You can find a full programme on the official event website here.
*Wondering about the very wordy Literarischer Frühschoppen? On the first Monday of the Wurstmarkt, there's one of the most popular events of the festival, the Literarischer Frühschoppen (Literary Morning Pint) during which thousands of visitors gather in the morning to listen to poetry and performances in the local Pfalzer (Palatinate) dialect.

There's music, there's poetry, there's performances, and there's general merriment, all taking place in the heart of the Schubkarchstände. I met some very red and sweaty guys who had been at it since 4am in the morning just to attend!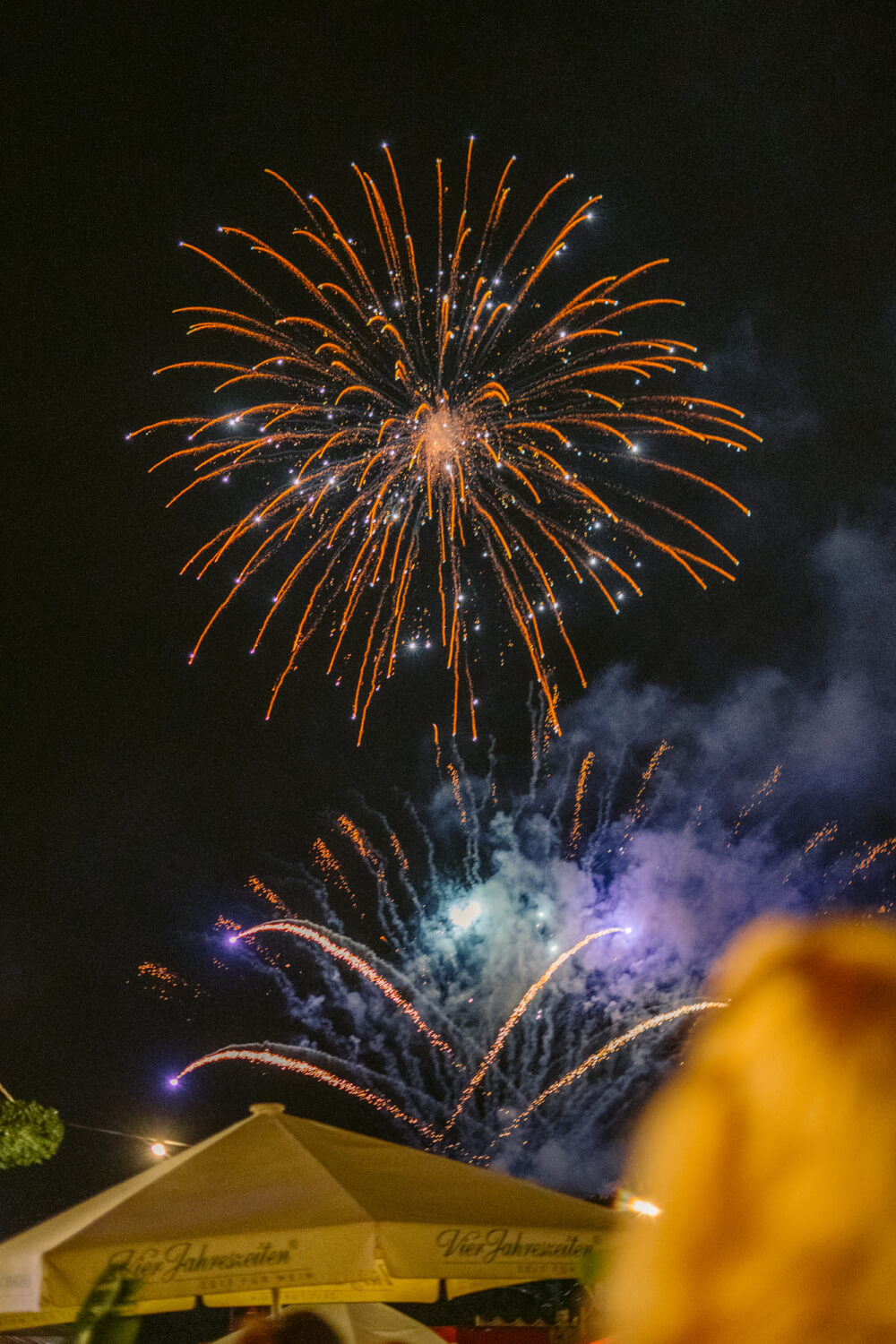 Wurstmarkt Opening Times
As stated on their official website's FAQ section, "In the morning the hustle and bustle begins on the Sausage Market area. The bar closes every day with the last guest." which is delightfully vague.
We started our days usually around 11am, and saw that most stalls were fully open by then, and… to be honest, we never made it past 9pm so can't say for certain when it all closes… but trust me, when half litre wines are involved, I don't think you need to worry about staying too late.
As for the rides, those are supposedly open from 11am until midnight (at the latest).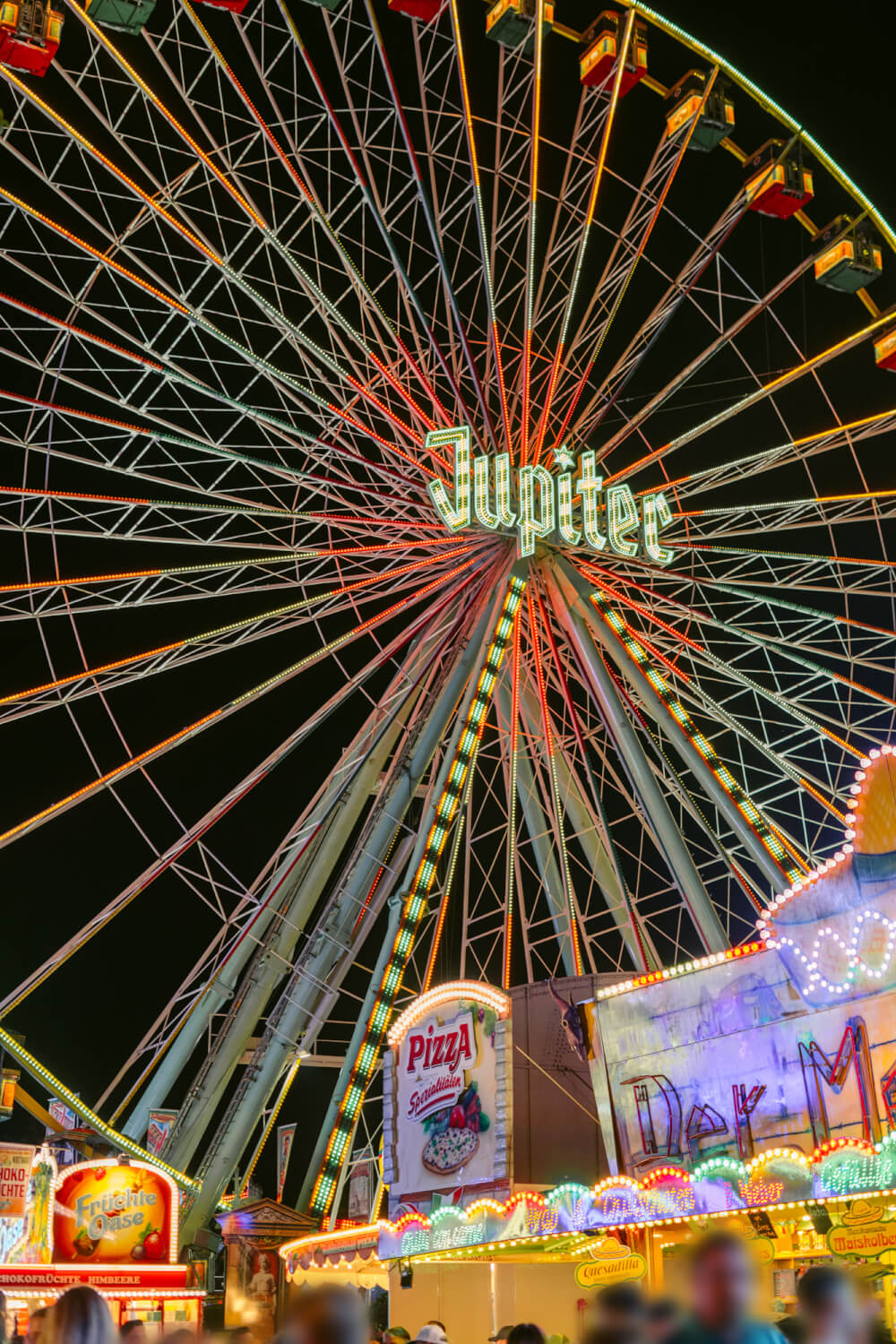 Wurstmarkt Tickets and Costs
With the exception of very few ticketed events, entry to the Wurstmarkt festival site is completely free! Unfortunately, everything else (wine, food, etc.) – you gotta pay for.
Here are some general prices from my trip so you have an idea of how much you might spend:
Around €4.50 – €5 per Weinschorle (Wine Spritzer)
Around €4 – €5 per glass of 0.25L wine
A 3 euro Pfand (Deposit) on the glasses, which you get back upon their return
€7 for a 1/2 metre Bratwurst in a bun
€9.50 for a (very tasty) spicy rigatoni
€6.50 for three pieces of cheesy pizza bread
€9 for a giant schnitzel sandwich
€4.50L for a 0.4L Beer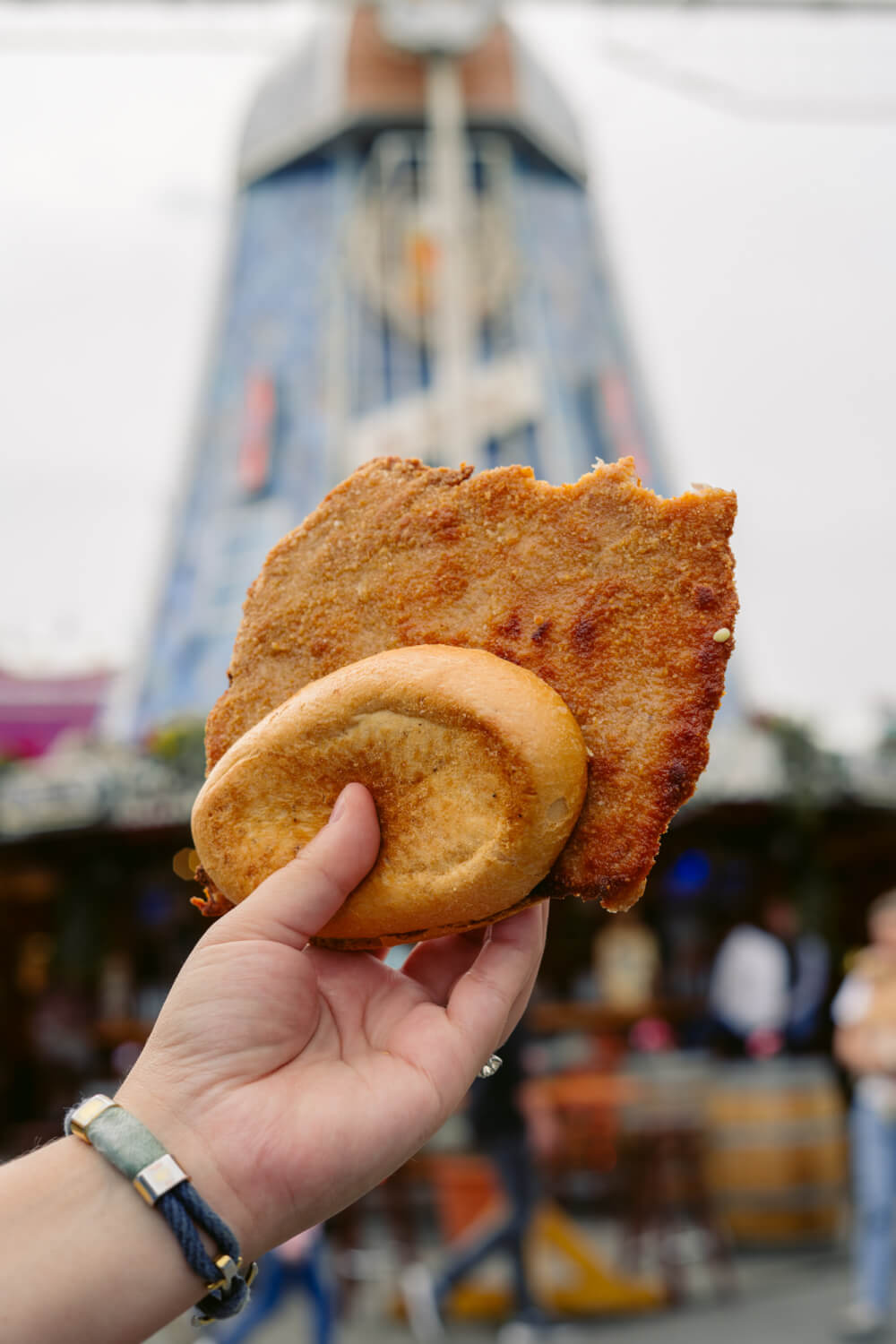 What to Wear to Wurstmarkt
After years of hoarding dirndls for Oktoberfest, I was so SO excited to bust out my collection at Wurstmarkt.
But if there's a single piece of wisdom you take away from this post, let it be that the Wurstmarkt is NOT a dirndl and lederhosen event.
I repeat: it is NOT a dirndl and lederhosen event.
For the most part, everyone I saw was dressed in casual clothes (a lot of classic blue jeans + black T-shirts) so just wear whatever you're comfortable in… including comfortable shoes, because those narrow benches are no joke.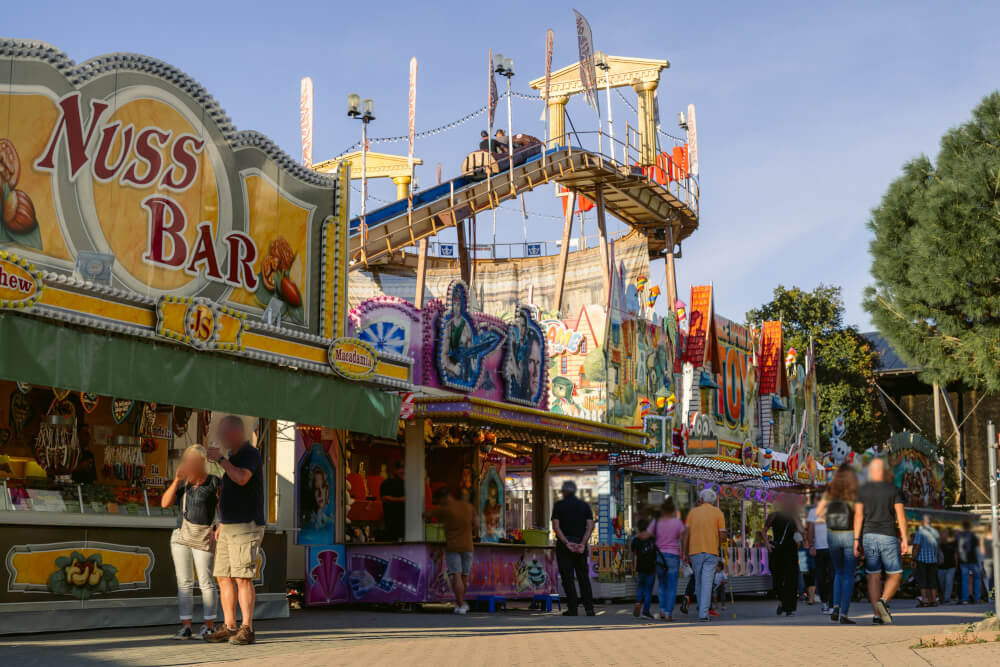 Where to Stay for the Wurstmarkt
If you don't live within a day trippable distance, I highly recommend booking as early as possible if you want to stay close to the festival site. This is because Bad Dürkheim is a rather small place, so there's not that many hotels to book.
We booked our hotel about 3 months in advance, and the only decent option we could find was the Hotel Annaberg, which was really nice, but about a 25 minute walk away from the festival site… albeit a beautiful walk through some vineyards.
I can definitely recommend it if you're looking for an affordable and quaint place to sleep that's a bit removed from the chaos of the festival, although the rooms are fairly basic.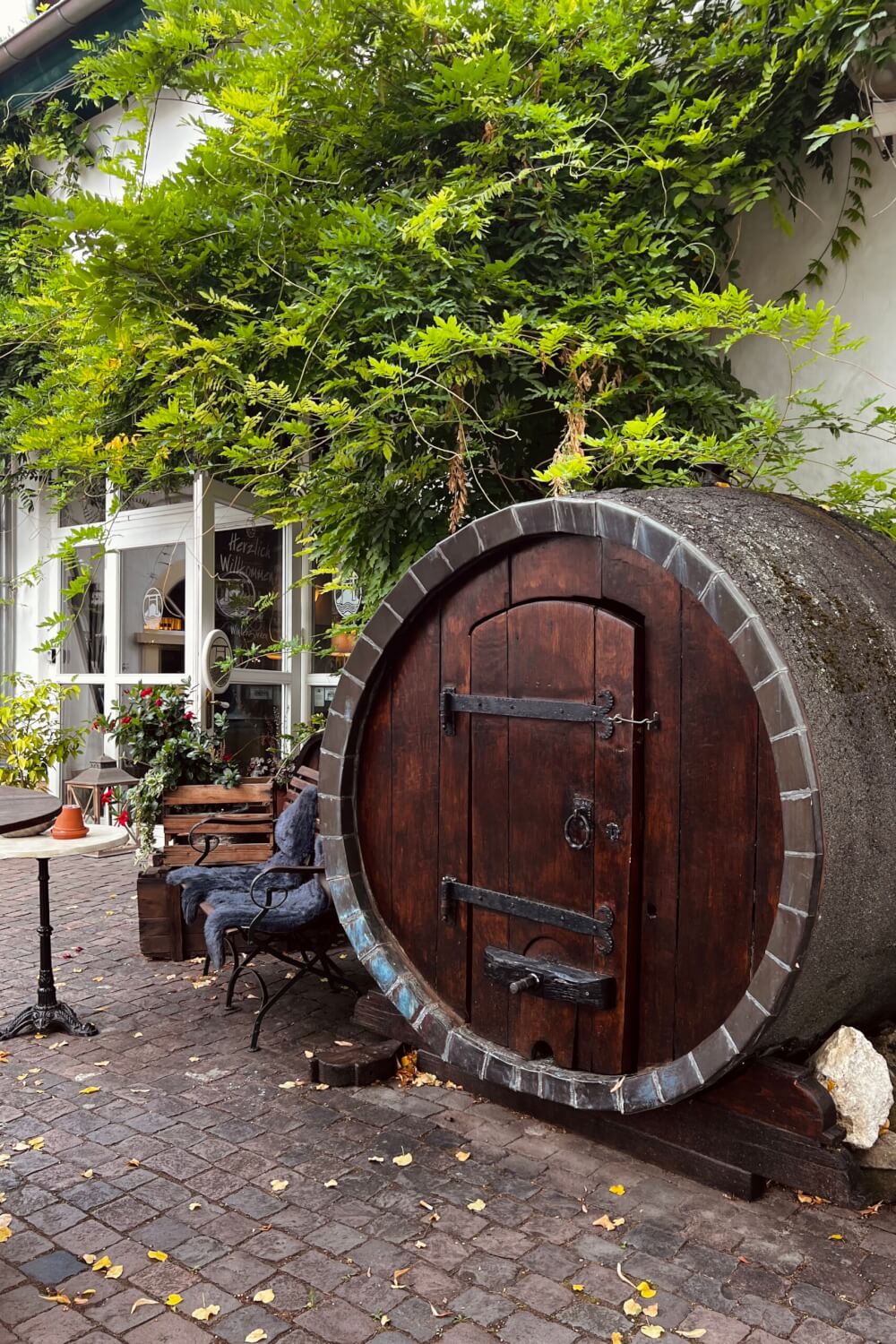 On the opposite end of the spectrum, the Mercure is located pretty much right on the festival site, which is great if you're valuing proximity and convenience, but probably not ideal if you're noise sensitive and want a quiet place to sleep.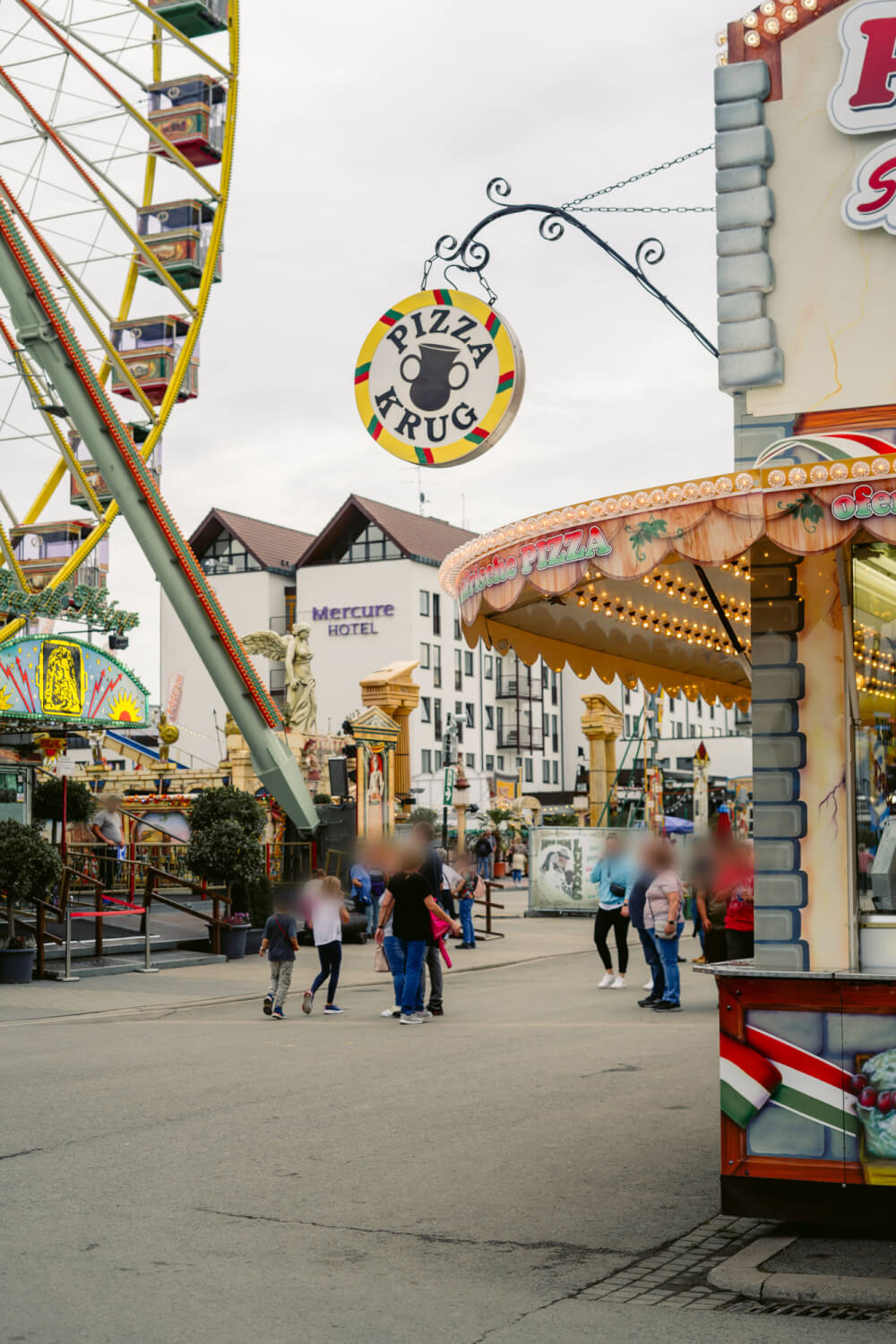 If you're looking for quick recommendations, here are some ideas on where to stay close to Wurstmarkt:
Or, if you don't see many options, another alternative is to book accommodation in a nearby town. Mannheim for instance is only an hour away by tram. Click here for hotel availability in Mannheim.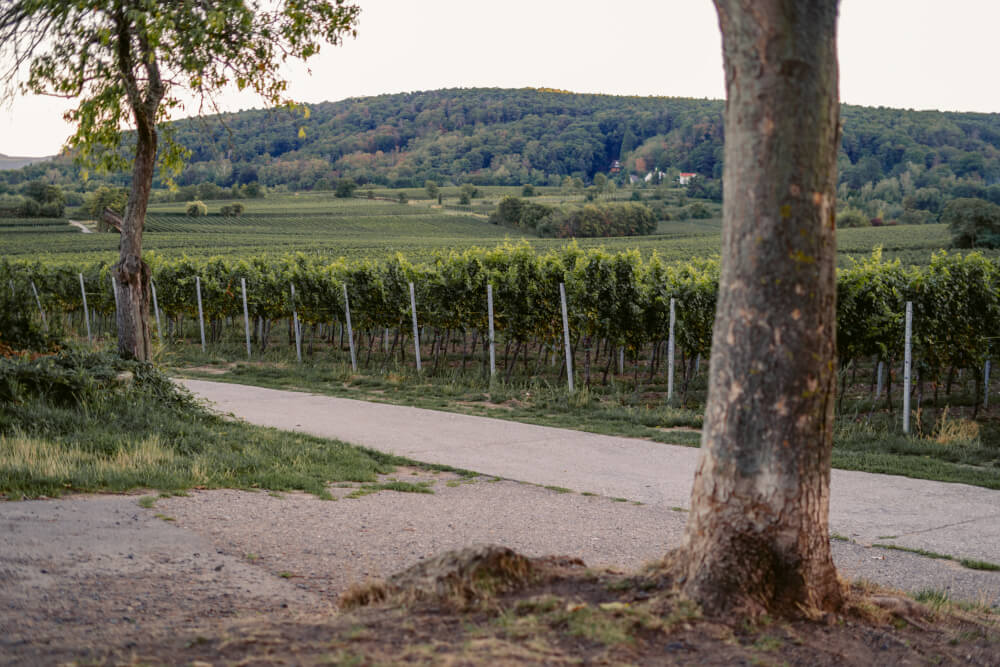 Wurstmarkt Map
The layout of the festival may change a bit year to year, but here's a quick peek at this year's map so you have an idea of just how huge it is!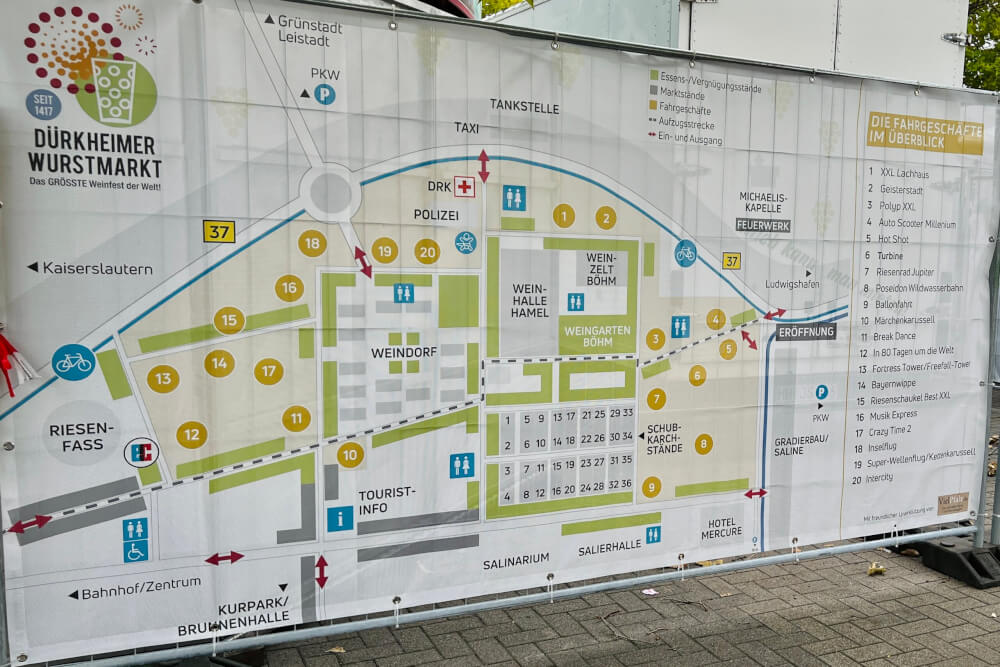 Tips for Attending Bad Dürkheim Wurstmarkt
Alright, you've gotten the history, you've gotten the practical must-knows, and now let's dive into the Wurstmarkt tips for those lucky enough to be attending.
I went in blind to this event, since there's not a lot of information about it online in English, so I guzzled litres of wine 'for research', and come back to you now with all the random must-knows for this magnificent beast of a festival.
1. Bring cash
While Germany is slowly but surely moving towards being a card-friendly country, the Wurstmarkt has not quite caught up. So, if you want a stress-free experience, make sure you have plenty of cash as most stalls will not take card.
If you find yourself without cash (or perhaps in need of a top-up), then an ATM can be found on-site in front of the large wine barrel, or if you want to escape any fees from that ATM, there's a few banks with ATMs within a 10 minute walk of the festival site, like this Postbank.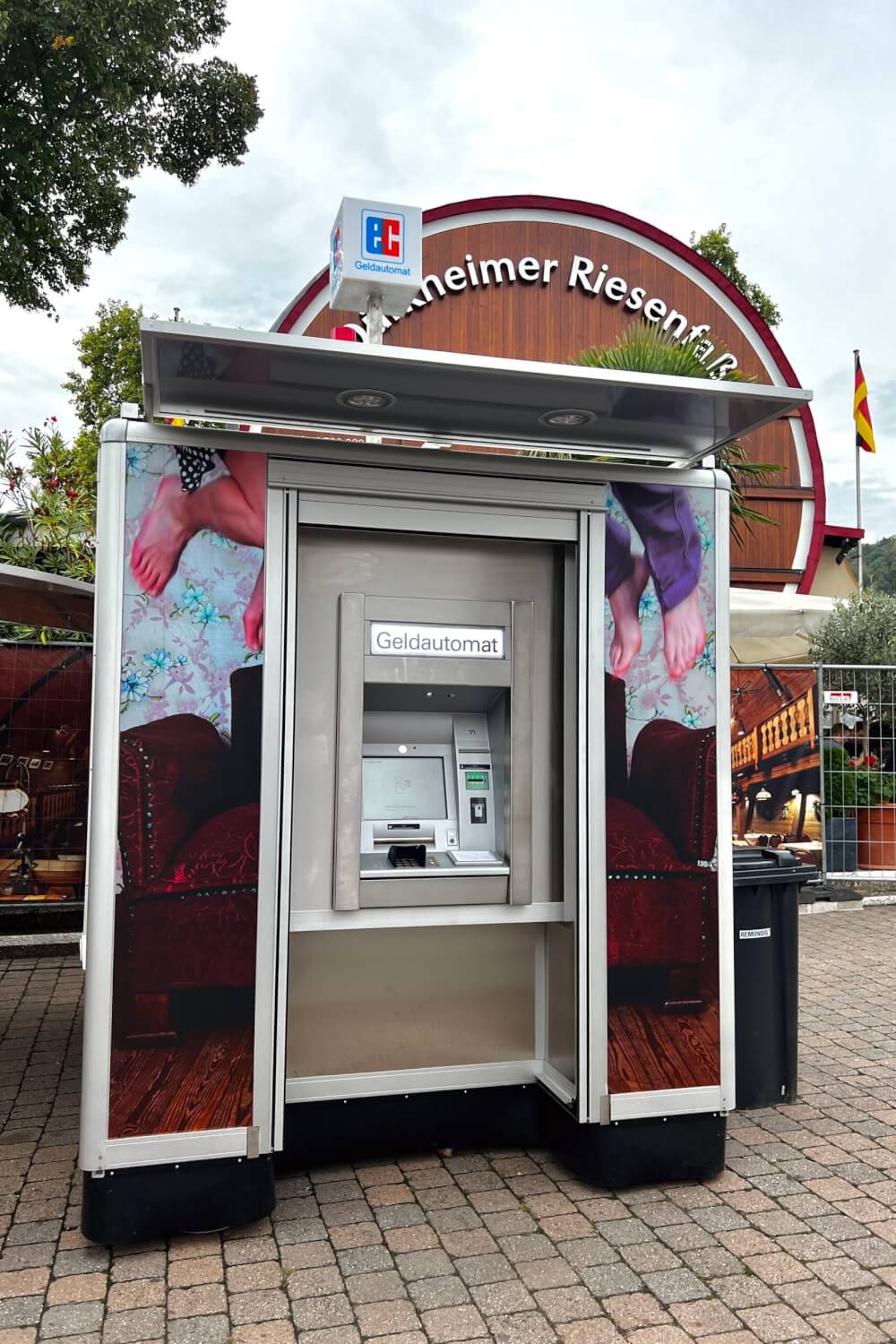 2. Have some coins handy
As you'll recall from my Germany must-knows post, peeing is sadly often not free in good ol' Deustchland.
This year at Wurstmarkt, the cost of using the toilets was 70 cents per go, which (yes) is a very annoying amount of change… so if you want to be prepared, have some little bundles of 70 cents ready in your wallet so you don't need to trifle around for change in your most dire moments of des-pee-ration.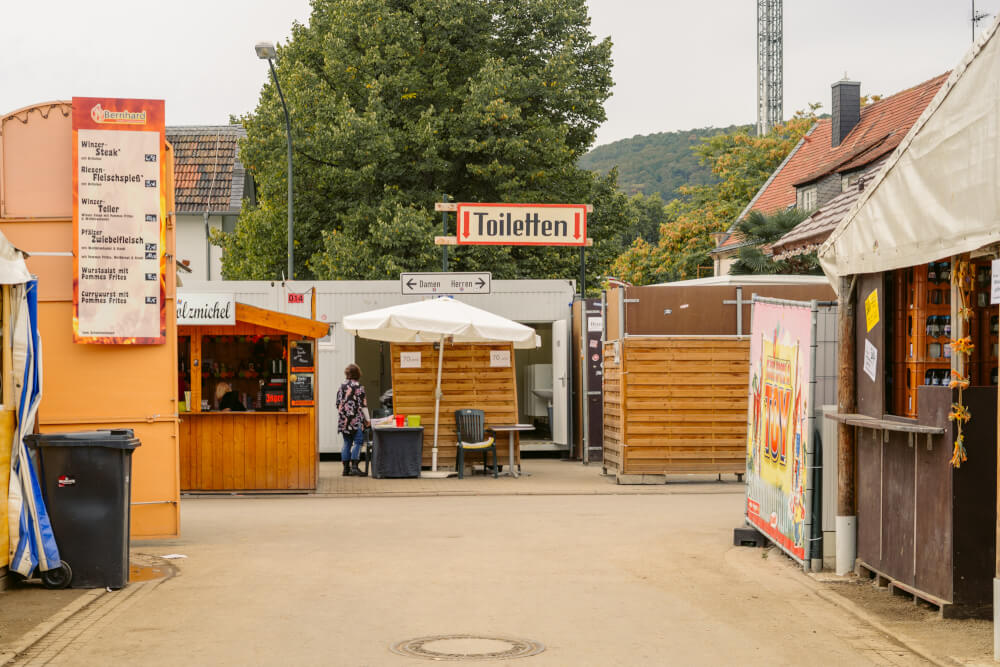 3. When you tip, say the amount total you want to pay
Tipping in Germany works a bit differently to North America. Rather than leave tip on the table afterwards, you'll usually include the tip when you pay.
So let's say your drink was €4.50, and you wanted to tip 50 cents, then you would say "Fünf" (or Five) when handing over a large bill that requires change, or simply "Stimmt so" (which is their way of saying keep the change) if you're handing over a 5 euro bill.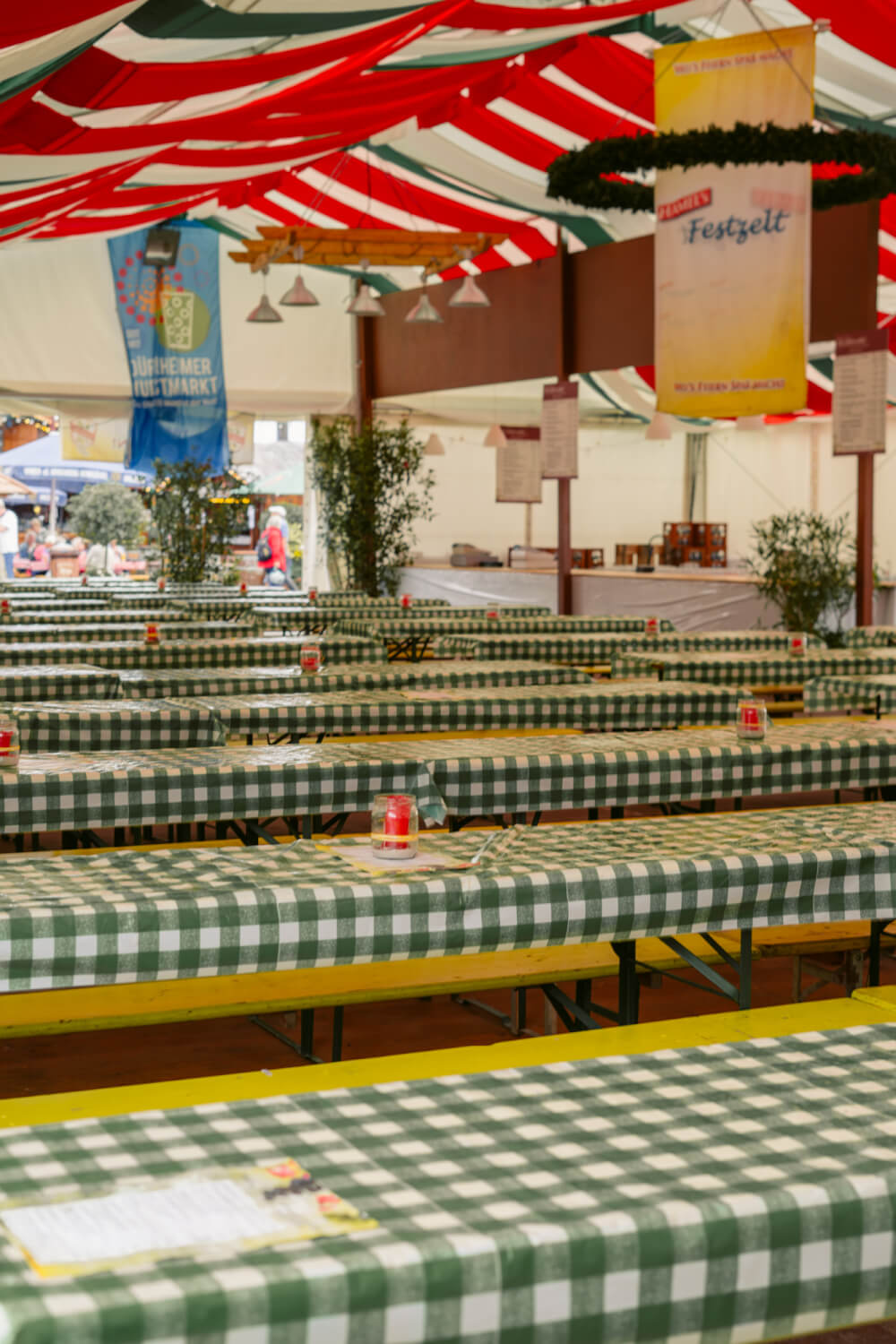 4. Always return your glasses to get money back
Generally speaking, when getting a drink in the classic Dubbeglas cup from the Wurstmarkt, you pay a three euro deposit on top of what you're paying for the drink, so if the cost of your Weinschorle was €4.50, you would get charged €7.50 total, €3 of which you'd get back upon returning your glass safe and sound.
… So a) don't be surprised when your drink costs more than is written on the menu and b) don't let your drunk self forget to get your deposit back. That €3 could get you 1/3 of a schnitzel sandwich!
5. Learn the ordering etiquette
At the Wurstmarkt, how you order depends on where you are.
Some of the drinking areas offer table service, while others are self service (Selbstbedienung), so when in doubt, have a look to see if others are waiting to be served or going up to the bar to order, and copy that.
Most tents will have a few different wines available, usually a sweet one or two, a dry and semi-dry Riesling, a Rosé, and some will even have red or sparkling varieties.
So, don't be silly and just try to order "a wine" – know which one you want, even if you intend to get it as a 'Schorle' that's mixed with sparkling water.
When ordering, the menus are typically in German, so some keywords to take note of are…
Trocken (Dry)
Halbtrocken (Semi-Dry, used for wines with mild sweetness)
Lieblich (Sweet)
Schorle (Spritzer – when you see this word added to a drink, that means it is partially diluted with sparkling water)
Trollschoppen (Wine mixed with sparkling wine. Order only if you want to lose balance quickly)
While most workers will speak at least some basic English, it's always polite to order in German, or attempt to, anyway. To do so, simply say "Hallo, ich hätte gerne ein [insert drink, e.g. Trocken Rieslingschorle]" pronounced "ha-low, eesh heh-teh gair-nuh eye-n [insert drink]".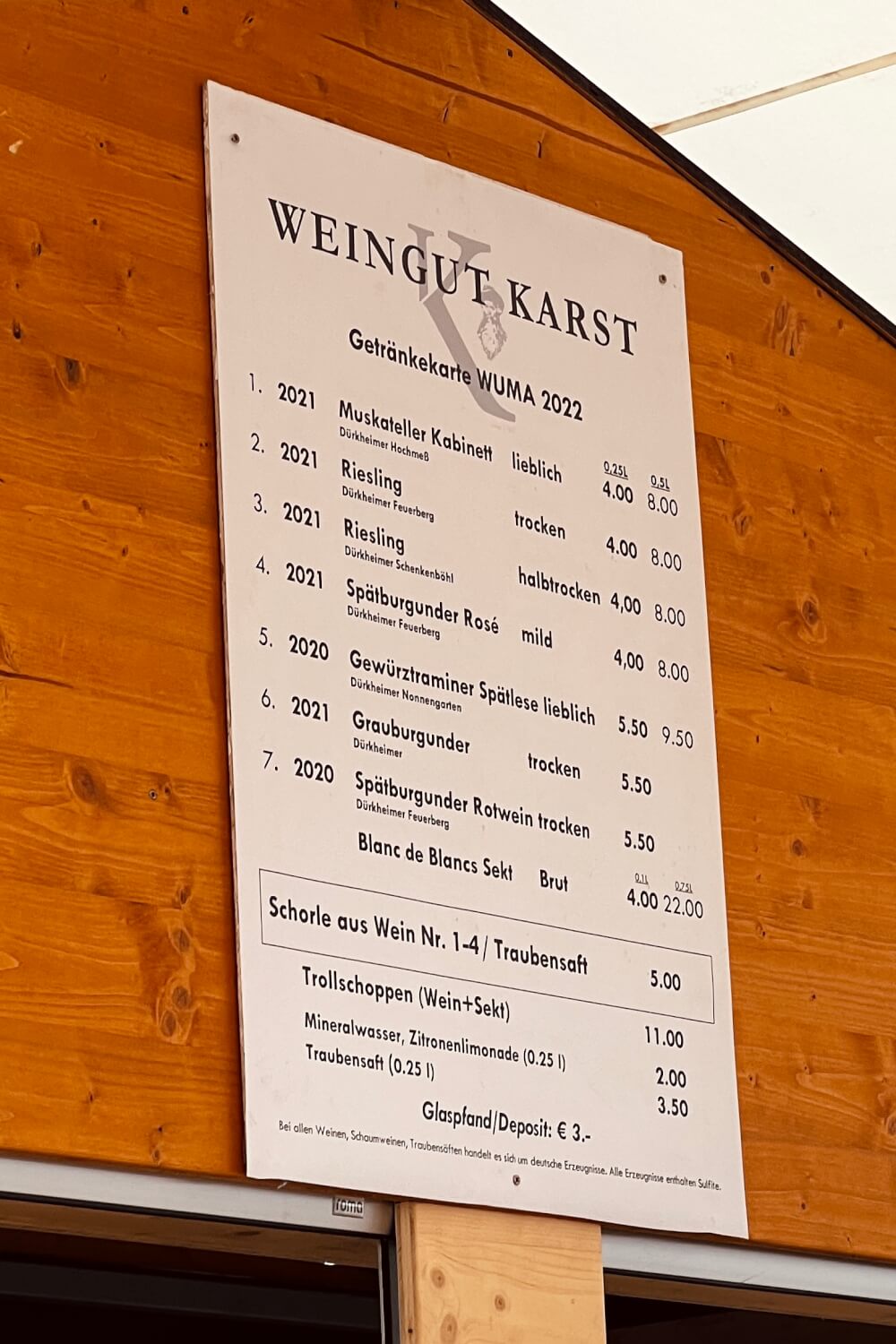 Nerdy interlude about glassware: The main drinking vessel at the event is known as a Dubbeglas.

Named for the word "Dubbe" which means dots in local dialect, these are thick glasses with a half litre capacity that are wider at the top and have little dotted indentations around it for a better grip.

As a popular legend goes, these glasses actually originate from Bad Dürkheim, where a local butcher invented them because smooth glasses too easily slipped out of his greasy hands while he worked. And if you find yourself trying to slurp up some wine after digging into a roast chicken, then you'll know this problem all too well.

At the Wurstmarkt, you'll find Dubbeglas usually with the logos of wineries printed on, so be sure to grab a photo of each drink so you remember what you had!

If you want to be extra hardcore, you can even buy a 'cozy' for your Dubbeglas called a Dubbe Dabbe, or a special holder for your Dubbeglas that you wear around your neck, called a Dubbeglas Halter.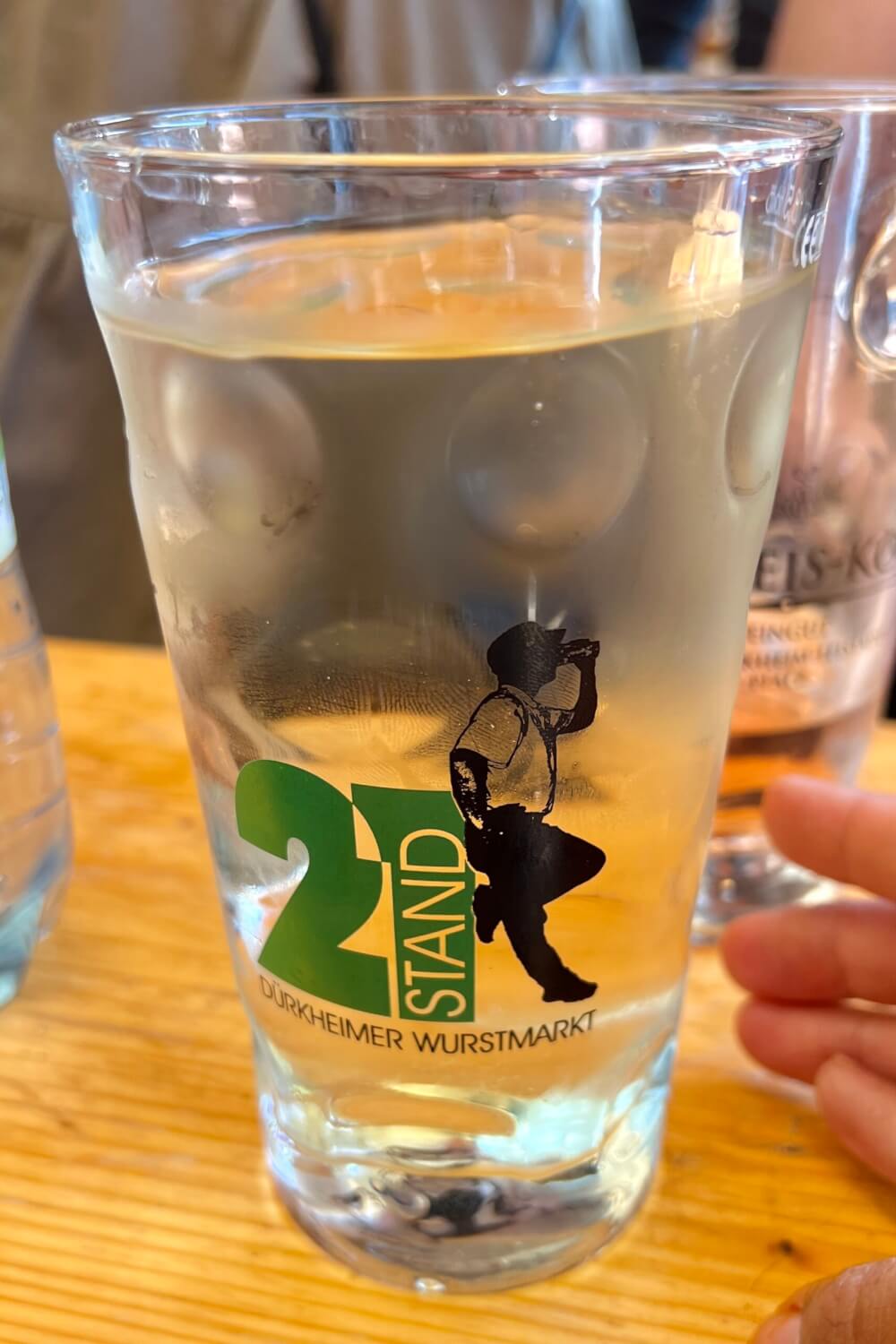 6. Know what you want to order in advance
Related to the tip above re: ordering etiquette, if it's a slow period, you could likely get away with taking some time to order, but if you're at the festival during a busy time, then waffling around trying to decide on your drink is probably one of the most annoying things you can do.
SO, have your order locked and ready by the time you get to the bar (or by the time the server comes to your table). Efficiency is key.
… and please, do not ask them for a recommendation. There are exceptions of course, but generally I've found that Germans do not comprehend the concept of someone asking for what they'd recommend, given the nature of enjoyment is so subjective. Often when you ask this question, they'll just reiterate the attributes of the wine rather than give you their personal preference.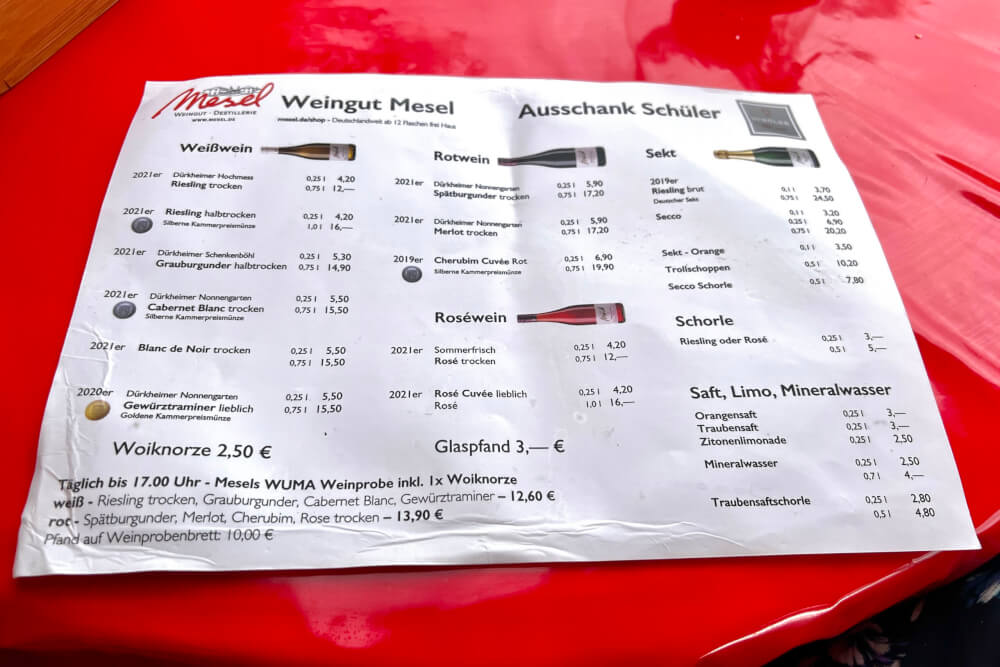 7. Pace yourself by ordering Schorle, instead of full-on wine
As you can imagine when the serving size is half a litre, getting pure wine is probably not a great idea. So, for the sake of your… not dying, you should probably stick to a Weinschorle, which is a wine spritzer mildly diluted with sparkling water.
I say mildly because after watching them pour me many a Schorle, I've come to realize the ratio is actually closer to 85% wine, 15% water. Still, that little bit of hydrational cushioning does help, especially after a few.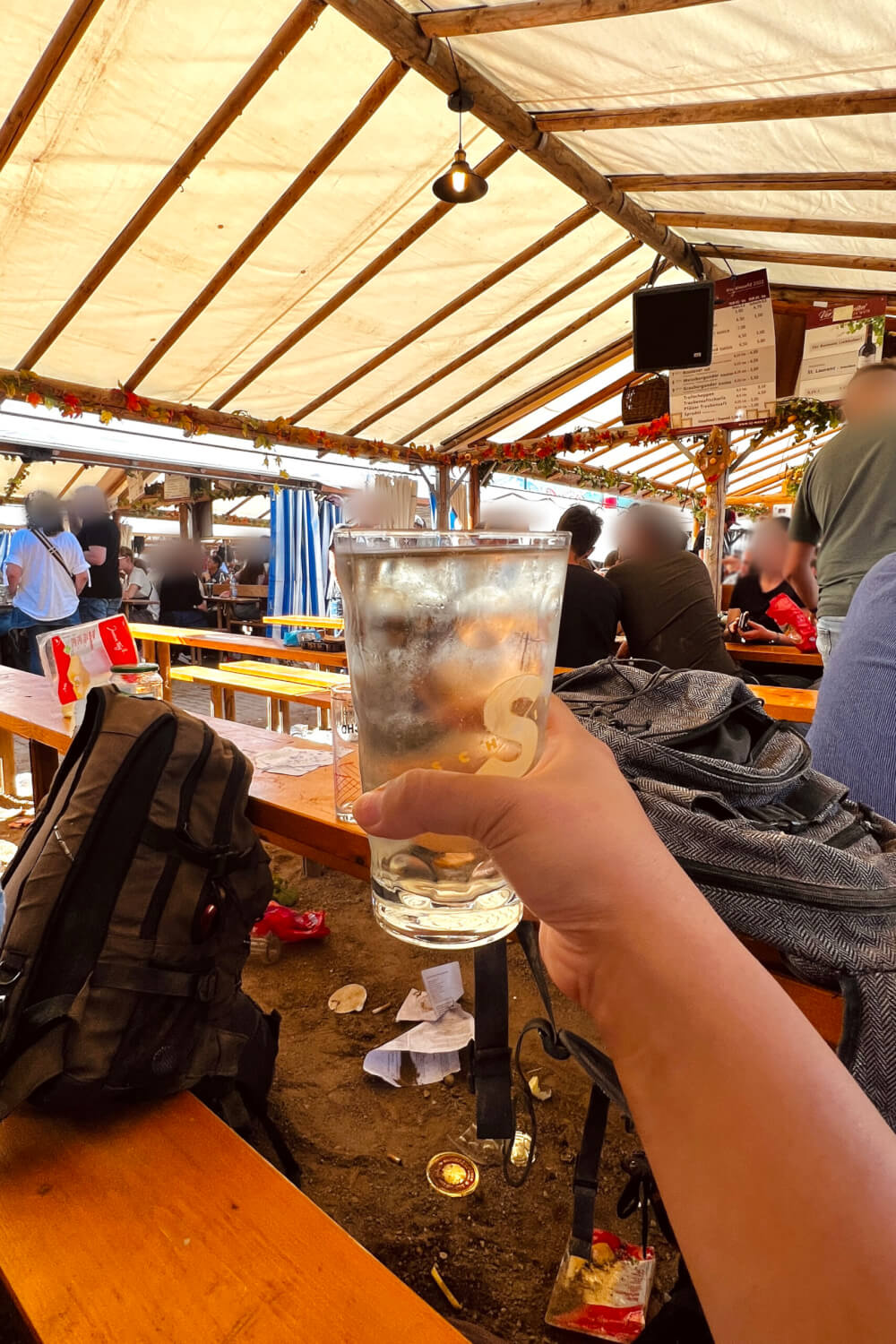 8. Bring some snacks to line your stomach
Outside food is allowed at the Wurstmarkt, so if you are a drunk nibbler, then packing some snacks is a great way to stay fed and save money.
I learned this the fun way when some random students sitting near us appeared with a magical backpack full of snacks.
Upon being offered some questionable canned meat, I jokingly said I'd only have some if they had bread… and voila, as a quick unzip of the backpack revealed, they had plenty of bread. And cheese. And more canned meat.
So, yes (sorry mom), I did try some of that stranger's smuggled meat. And it was, as much as I hate to admit it, rather delicious.
9. Do not bring any big bags or backpacks
Please leave the suitcases and giant bags at home. Not only are these likely to get in the way (those Schubkarchstände are super narrow and crowded), the official website says that big bags will be checked by security on your way in (though we didn't personally witness this).
Better safe than sorry though and bring a small bag. As far as I saw, there was nowhere to leave your bag like a coat check or anything, so pack light!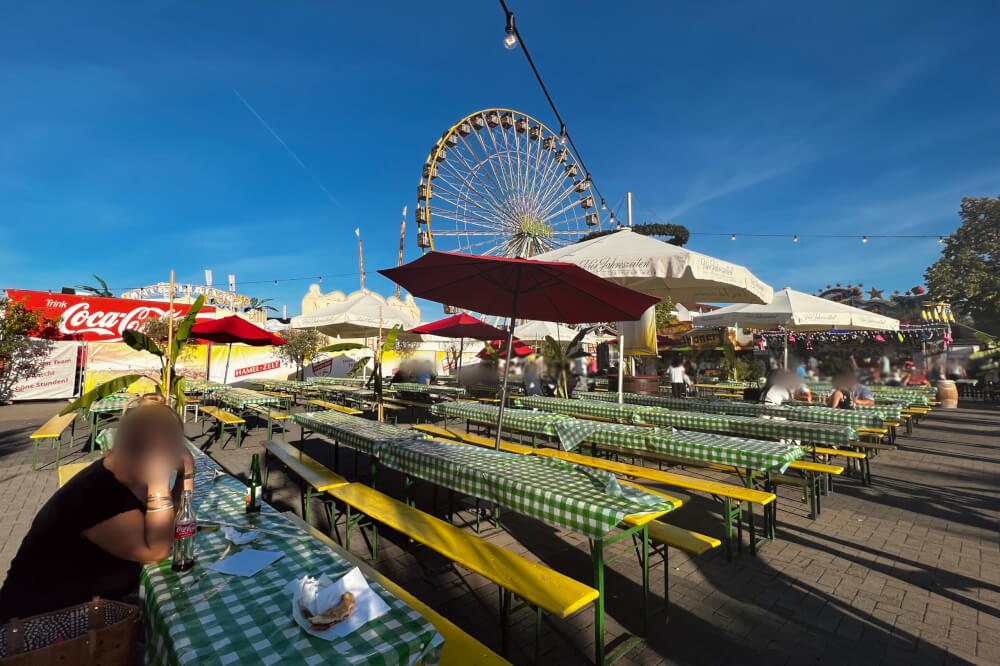 10. Use festival landmarks to orient yourself
When you first enter the Wurstmarkt, it's easy to get overwhelmed, so I'd recommend taking note of various landmarks as you walk around the festival, particularly at the entrance/exit you'd take to get home, and at the intersection of noteworthy washrooms.
Luckily, many of the stalls at the Wurstmarkt are unique. For us, we knew to look for the exit by the Schnitzel Mill and mini swing ride, which is where we entered each day.
We also knew that the ATM was in front of the giant barrel, and the creepy corn stand would lead to… well, to be honest, all I remember is the fact that it would haunt my nightmares forever.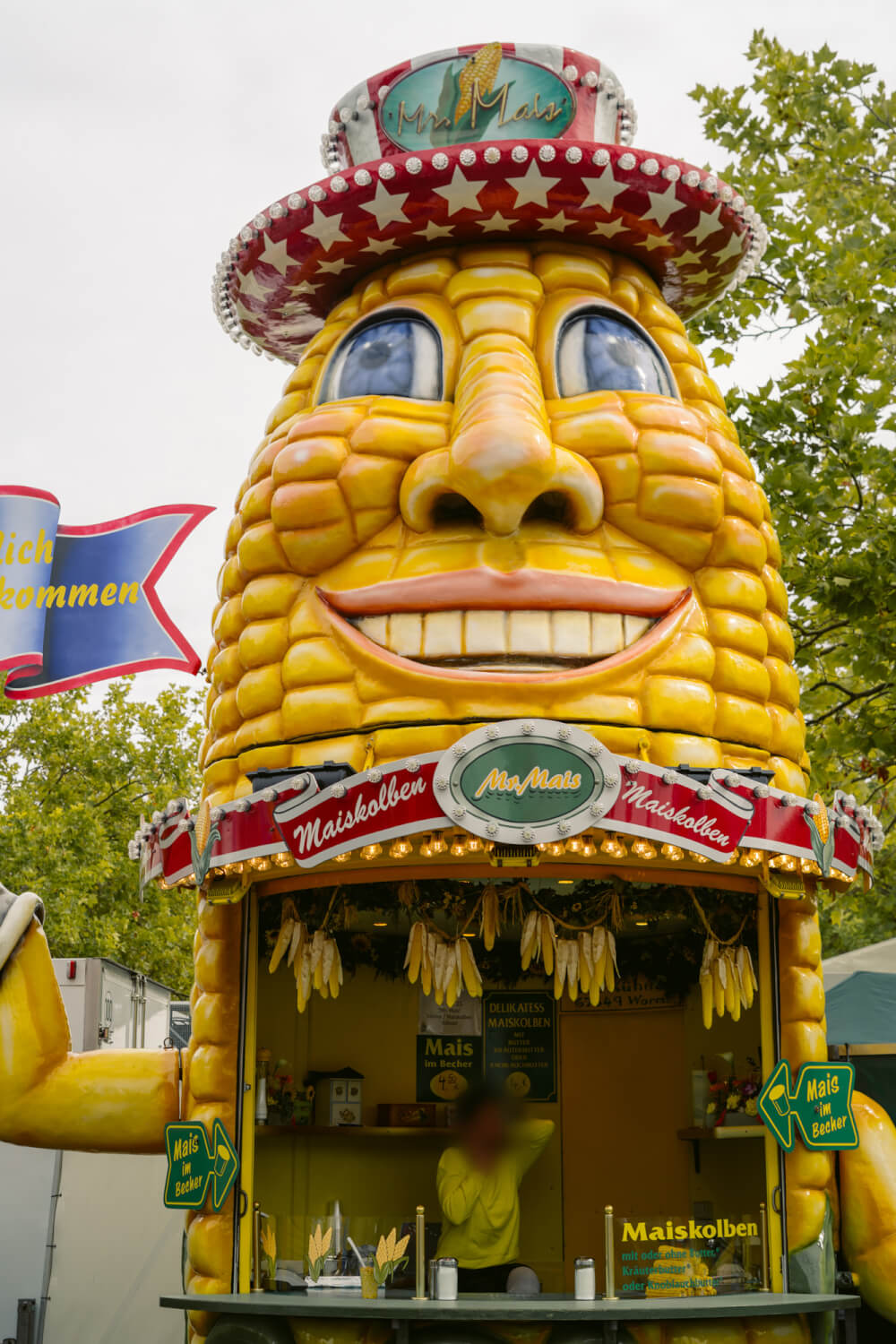 Nonetheless, taking note of these little details can help you easily navigate the festival and find your companions/way home after a few too many wines.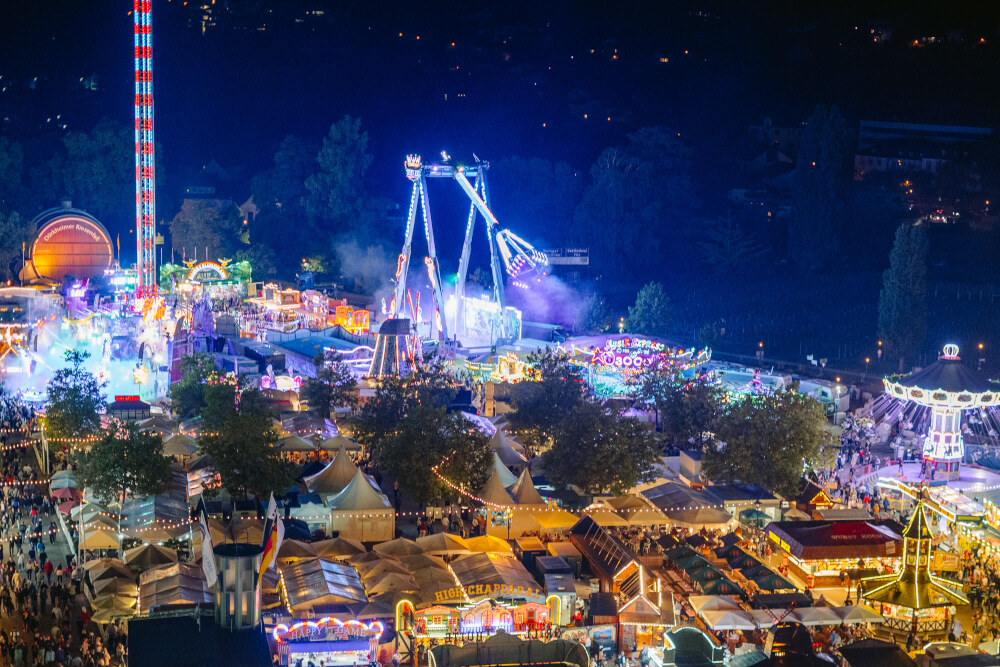 11. Be mindful when taking photos and videos
Generally speaking, people in Germany really take their privacy seriously (and privacy laws here are some the strictest in the world), so if you're taking photos or videos during your visit (which of course you will) try to wait until there's not someone's face clearly in your shot.
Usually, if there's people but they're in a large crowd and not the focus of your photo, then that's fair game. It's mainly closer-up/face shots that we want to avoid.
There were a few times at the festival when I was maybe not being so mindful of my photos/videos that I saw some people physically put up their hands to cover their faces… so to avoid being a nuisance like me, try your best to avoid getting strangers in your photos.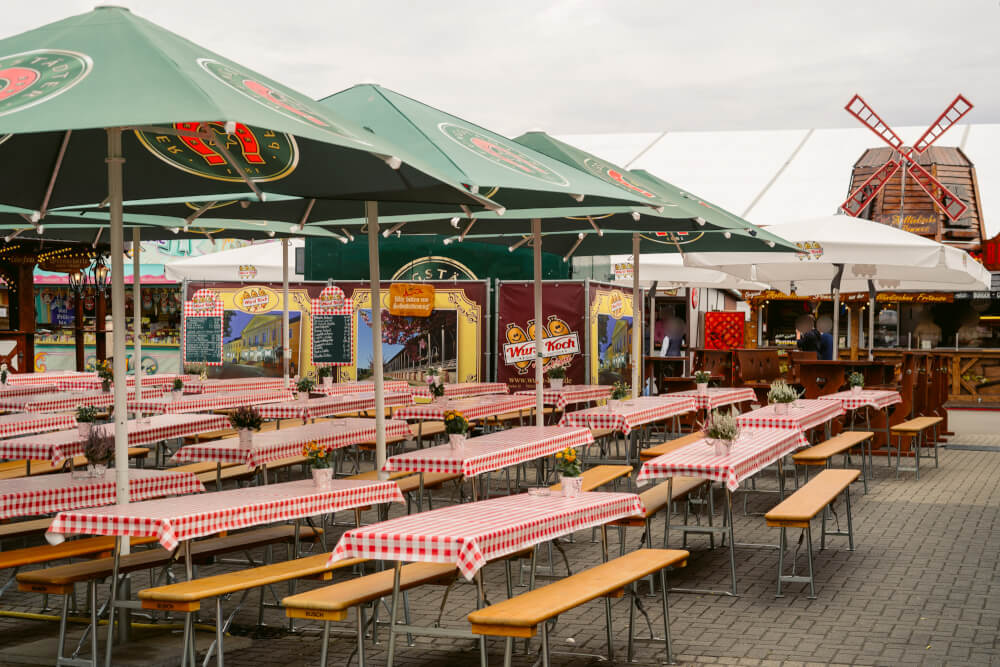 12. Book tickets in advance for special events
Lastly, while most of the Wurstmarkt is free entry, there are a select few special events that require the purchase of a ticket, such as wine tastings on the ferris wheel and some concerts/performances.
Before your Wurstmarkt visit, I highly recommend checking out the official event programme so that you have a chance to book tickets for events you don't want to miss.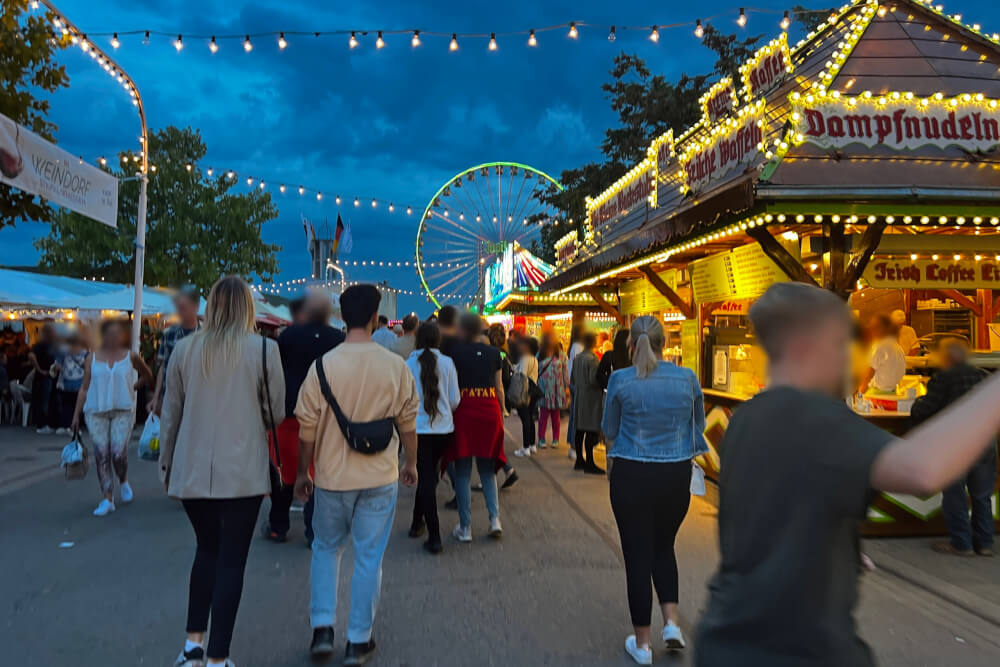 I hope this Bad Dürkheim Wurstmarkt Guide Was Helpful!
Let me know in the comments if you have any more questions, and I hope you have an amazing trip!
---
Watch my most popular YouTube video this week:
---