*FYI - this post may contain affiliate links, which means we earn a commission at no extra cost to you if you purchase from them. Also, as an Amazon Associate I earn from qualifying purchases. Check out our Privacy Policy and Disclosure. for more info.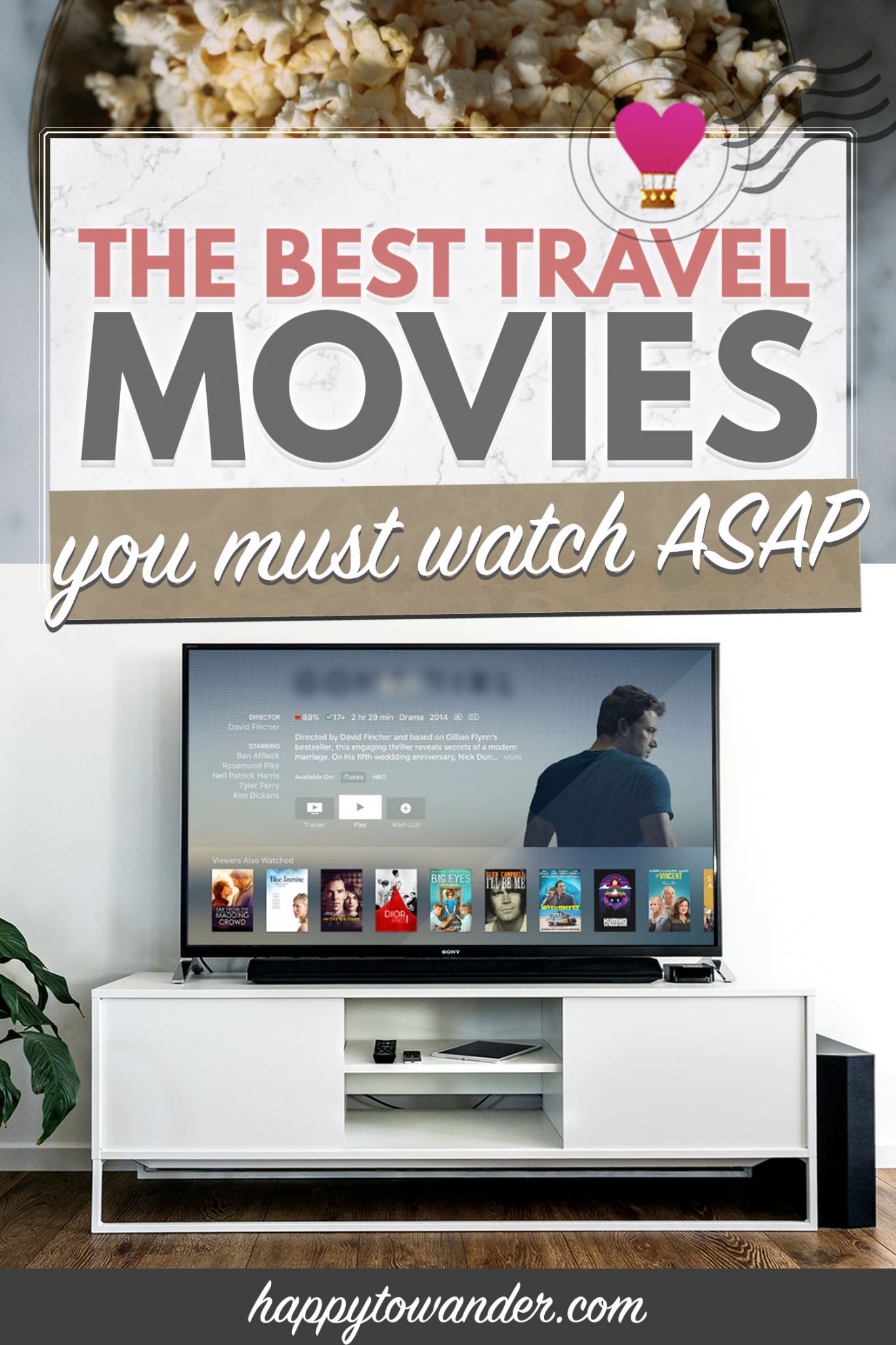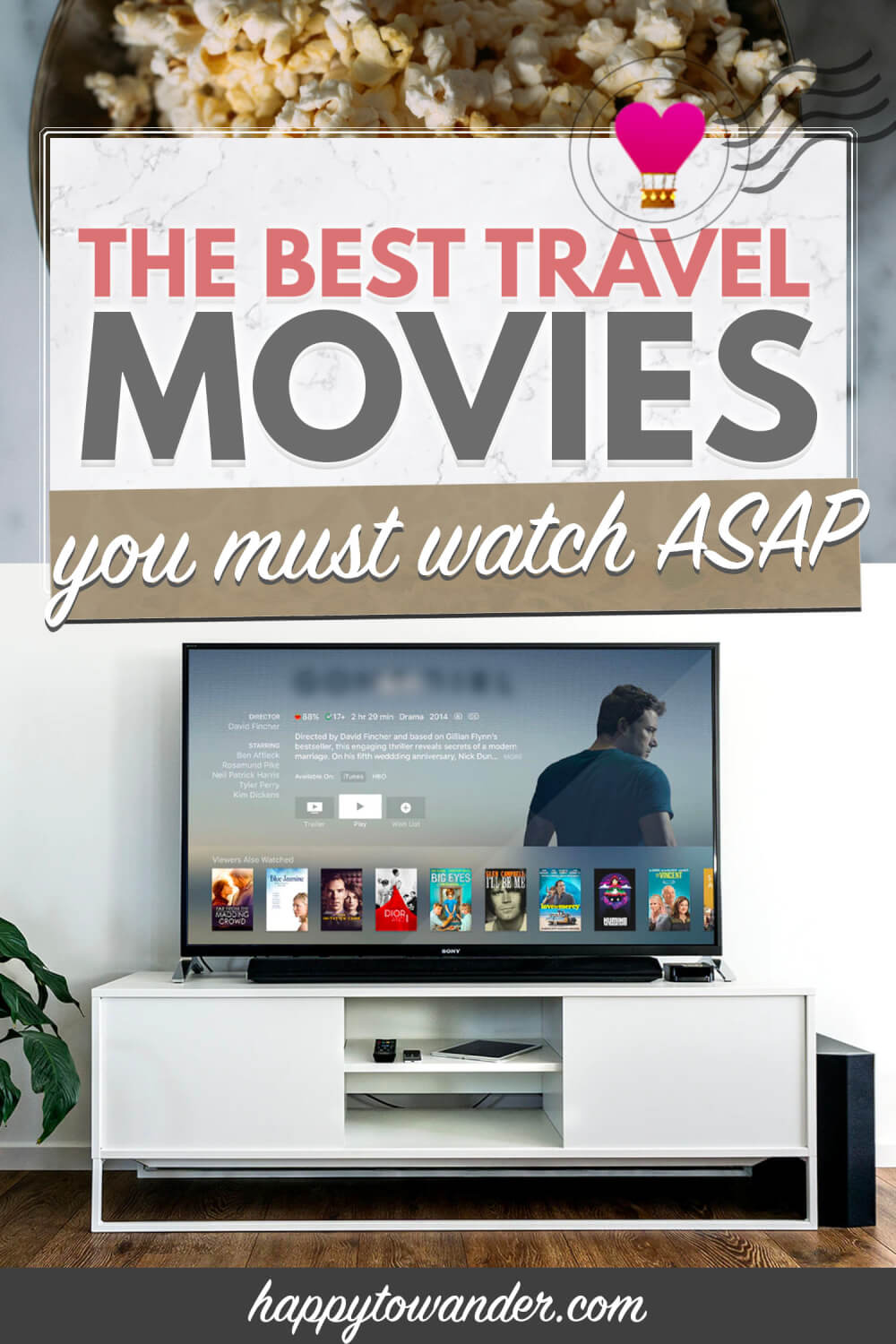 When it comes to downtime, truly nothing thrills me more than a good movie, preferably enjoyed food-comatose looking like Jabba the Hut, cradling some Pizza the Hut.
And now that I (like much of the world) am spending a lot more time at home, I've been relying increasingly on armchair travel methods like digging into a good travel movie or you know, pinning photos on Pinterest while sobbing.
So, since binging travel movies is a healthier coping mechanism between the two, I'm here today with a list of my personal favourites. A list of where to cry quietly at home may follow soon in the future.
Now, truthfully, I've always been a little embarrassed by my taste in movies. After all, I can get the same satisfaction from an incredible piece of Oscar-winning cinema as I would a trashy chick flick… But hey, I truly believe that movies are like medicine… the perfect prescription always depends on the ailment.
So, below, I've summarized some travel movies that I can highly recommend, what sort of "mood" they're good for, along with why I love them. I've deliberately chosen movies that give me the same wonderful wave of feelings that travel can bring me, so they're not necessarily the most epic adventure films or anything like that, but I do hope you'll be able to find some escapism in these! Of course, feel free to comment with your own suggestions too because there's always more to watch.
… Now, here we go, my top picks for travel movies to watch in between adventures. Enjoy! I'll go prepare us a wheelbarrow of popcorn.
The Before Trilogy
IDEAL FOR: Hopeless romantics craving a European escape & romance with a side of realness
PLOT: Comprised of the three cult-worshipped films Before Sunrise, Before Sunset, and Before Midnight, this trilogy follows a classic tale of boy meets girl. Boy (American, Ethan Hawke) meets girl (French, Julie Delpy) on a train to Vienna, where they hit it off and he convinces her to spontaneously join him for a night exploring Vienna together. The subsequent instalments check in on these two every 9 years, and yes, they really were filmed 9 years apart, showing a realistic love story that unfolds over almost 20 years.
WHY I RECOMMEND IT: If you've ever wistfully stared out a train window and daydreamed about meeting the love of your life while criss-crossing Europe, then wowwwww do you need to watch this trilogy. I warn you, they are not super exciting films because very little actually happens, but there's just a sense fascinating realness to them, complete with sharp dialogue, amazing chemistry, and glorious backdrops to boot (Vienna, Paris, and Greece). If it's a uniquely romantic movie marathon you're after, look no further.
WHERE TO WATCH: Before Sunrise here, Before Sunset here, and Before Midnight here
Watch the trailer here for the first instalment, Before Sunrise:
Life in a Day
IDEAL FOR: Those who want to happy cry over the wonder that is life and how incredibly diverse yet similar the world is
PLOT: This unique and incredible film has one simple goal, documenting what life was like on a single day – July 24, 2010. Pieced together from 80,000 YouTube submissions from 192 countries around the world, this hour and a half showcase of humanity shows the mundane happenings of daily life with a wonderful global twist, shedding light on how alike and different we all are.
WHY I RECOMMEND IT: Sure, this is kind of an unconventional recommendation because it's far from a glossy, big-budget Hollywood production, but that's exactly why I love this movie. It's available completely for free on YouTube here, and captures life around the world from the perspective of the people living it. Nothing "big" happens, it's all just…… life, and in times like this, it feels weirdly wonderful to have reassurance that we're all more alike than we are different. If you're like me and find a strange sense of peace and satisfaction out of sitting on a park bench people watching, you will love this slice of life from all around our strange little planet.
WHERE TO WATCH: For free on YouTube here
Watch the trailer here (just watching this trailer made me weep for some reason because I am a baby): 
THE Secret Life of Walter Mitty
IDEAL FOR: Those craving an escape from the mundane with a quirky and different adventure
PLOT: Walter Mitty is our forever-daydreaming protagonist who lives a mundane life as a negatives assets manager at Life Magazine. When he finds that an important negative is missing for the magazine's final print issue, Mitty embarks on an incredible global journey to chase it down, creating the kind of adventure he had always day dreamed about.
WHY I RECOMMEND IT: Sure, it's a little weird and fantastical, but no movie quite fills you with the urge to make a unique adventure of your life like this one. I mean, the soundtrack alone will make you dream of incredible adventures – it's that good. I'm not usually a huge fan of the whole "escape the 9-5 to see the world" cliché, but this movie puts a unique spin on it and will hit you right in the feels with its equal measures of humour, heart, and glorious landscapes from Greenland and Iceland.
WHERE TO WATCH: Here
Watch the trailer here (and I dare you not to FEEL THINGS):
Le Fabuleux Destin d'Amélie Poulain
IDEAL FOR: Those craving a quirky virtual trip to Paris with a side of heartwarming whimsy (also those that don't mind reading subtitles)
PLOT: Amélie is a shy, daydreaming waitress living in Paris who leads a simple but lonely life. One day, she accidentally discovers an old tin of childhood trinkets hidden in her apartment wall, and after reuniting it with its owner, dedicates herself to a mission of bringing happiness to others through random acts of kindness… while also pursuing a mysterious crush of hers. There's a lot going on…. you just need to watch it!
WHY I RECOMMEND IT: I adore this movie so much. To me, it's practically like teleporting to Paris and being whisked away on a journey filled with whimsy, strangeness, and heart-melting humanity. Trust me, if you're craving a Parisian escape (particularly the neighbourhood of Montmartre) and want to feel nostalgic for memories you've never even had (trust me, this is possible), then you need to watch Amélie. This is a film that truly showcases the romantic allure of Paris!
WHERE TO WATCH: Here (free w/ a Cinemax trial)
Watch the trailer here (it's kind of weird, but I promise the movie is really really good!):
Midnight in Paris
IDEAL FOR: Nostalgic souls who want to escape to a romantic vision of Paris, balanced out with zany characters, a fun plot & classic Woody Allen quirkiness
PLOT: A disillusioned screenwriter named Gil is vacationing in Paris with his fiancée and her snobby, well-to-do parents. After some disagreements with his fiancée (over moving to Paris, spending time with an old acquaintance, a lot of stuff really), he goes for a midnight walk to clear his head and through an unexpected turn of events, finds himself transported back in time to 1920s Paris, an era he has always dreamt of. Here, he meets his creative idols, finds inspiration and begins to question his current life and… * suspenseful pause * relationship.
WHY I RECOMMEND IT: If you want some classic Parisian eye-candy, Midnight in Paris has it in spades… but it does so with a creative plot, sharp writing and a fun approach that's simultaneously nostalgic and quirky. If you want to fall in love with Paris – both old and new, give this a watch. The city of Paris is as much a character in this as any of the main actors.
WHERE TO WATCH: Netflix or here
Watch the trailer here (not my favourite trailer to be honest… Trust me, the actual movie is better!):
Letters to Juliet
IDEAL FOR: Those seeking a fluffy, lighthearted and predictable chick that showcases Italy at its most glorious
PLOT: A young aspiring writer goes to Verona with her fiancé for a romantic pre-honeymoon, but when he abandons her for a bunch of business meetings (typical), she's left to explore for herself and discovers the famous "Secretaries of Juliet", a volunteer organization who reply to letters left at Juliet's famous balcony. She decides to help out too, but when she replies to a 50 year old letter left unanswered for decades, she's whisked away on an unexpected quest to help a woman find her long lost Italian love.
WHY I RECOMMEND IT: I'm a sucker for predictable chick flicks, and Letters to Juliet encapsulates everything I love about them: an assuring predictability, a guaranteed happily ever after, and plenty of smiles and laughs throughout. All the better that it showcases some seriously droolworthy Italian eye candy (and I really do mean the city/landscapes here, perverts). This movie will transport you to Italy and make you dream of penning your own letter to Juliet. It's definitely a warm fuzzy movie well worth a watch.
WHERE TO WATCH: Netflix or here (free w/ Showtime trial)
The trailer is here if you want to watch it, but honestly it kind of shows the entire movie so don't watch it if you want to be surprised:
Mamma Mia
IDEAL FOR: Those wanting a fun musical escape filled with upbeat music, a fun story & beautiful Greek landscapes
PLOT: After reading her mom's diary, young bride-to-be Sophie discovers three potential men that could be her father….. and decides to invite all three of them to her wedding, unbeknownst to her mom, Donna. Well, sure enough, all three arrive to the beautiful Greek island where her mom now owns a hotel, and (musical) hilarity ensues as Sophie tries to figure out who her father is and Donna tries to figure out her feelings while surrounded by old friends and old flames.
WHY I RECOMMEND IT: I've loved Mamma Mia ever since watching it live over 10 years ago, and the movie adaptation is just such a fun escape. Really, if you can tolerate Pierce Brosnan attempting to sing, then you need to watch this movie. Such a fun plot, great music (of course) and those luscious, irresistible Greek backdrops…. ahhh.
WHERE TO WATCH: Netflix or here (free w/ a Starz trial)
Watch the trailer here:
Julie and Julia
IDEAL FOR: Those wanting inspiration to cook, travel, and seek new adventures in everyday life
PLOT: This fun movie jumps back and forth in time following two true stories: first, the story of famous chef Julia Childs as she navigates the early days of her culinary career in Paris, and second, the journey of OG food blogger Julie Powell, who once famously dedicated a year to cooking all 524 of Childs' recipes as a form of escapism from her soul-crushing job. The end result is a film all about perseverance, grit, and the importance of following through with your dreams.
WHY I RECOMMEND IT: If my Instagram feed is any indication, people in quarantine are currentluy doing one of two things: 1) recording themselves doing home workouts or 2) recording themselves making bread. I love the contrast between these two activities but what I love more is this feel-good movie (based on a BLOG, no less!) that makes you want to run off to Paris to learn how to cook, or equally master the art of French cooking from your own tiny kitchen. I feel like it's the perfect film for how many of us feel right now – wanting to break out of our routines, but not sure how. This film is delightful escapism with a glowing cast – definitely give it a watch.
WHERE TO WATCH: Netflix or here
Watch the trailer here:
Murder on the Orient Express
IDEAL FOR: Those seeking an intriguing mystery with a splash of humour, glamour, and gorgeous faraway landscapes
PLOT: Taking place in 1934, renowned Belgian detective Hercule Poirot finds himself on board the Orient Express with an eclectic group of passengers, among them a professor, a count, a princess, and a missionary, just to name a few. But, when a mysterious murder takes place on board overnight, it's up to Poirot to solve the curious case.
WHY I RECOMMEND IT: A twirly stache, an all-star cast, some vintage train glamour and a classic tale of whodunnit… Murder on the Orient Express might not be your typical "travel movie" but it does showcase some pretty breathtaking sights, from "Jersualem" (actually Malta, a filming locations chameleon) and bustling Istanbul to the dreamy mountains of Switzerland. If you're a fan of trains, mystery, and poorly-done Russian accents, this one is well worth a watch.
WHERE TO WATCH: Here
Watch the trailer here:
Crazy Rich Asians
IDEAL FOR: Those seeking a fun, fast & unique rom com that'll transport you to Singapore (and make you crave all sorts of food…. and most likely, a luxury vacation)
PLOT: NYU professor Rachel travels to Singapore with her boyfriend Nick, who's taking on best man duties at his BFF's wedding… but when Rachel realizes Nick has been hiding his family's insane wealth, she's confronted with all sorts of obstacles, from Nick's judgey mom and jealous admirers to a new lavish lifestyle so different from her own. The only question is, can she handle it all?
WHY I RECOMMEND IT: I dare you to watch this and not immediately wish teleportation was a thing. Everything in this movie tickles my wanderlust, from their decadent 1st class flight, to the delicious street food of Singapore, all the way to the absurdly wonderful places they host the bachelor/bachelorette party scenes. If you're in the mood for a fluffy rom com with wanderlusty undertones and a gut-punch of wonderful Asian representation, you need to watch this.
WHERE TO WATCH: Here
Watch the trailer here:
The Lord of the Rings Trilogy
IDEAL FOR: Those wanting to marathon an epic series of truly incredible films, with a wonderful story and even more wonderful landscapes
PLOT: It feels weird to summarize such a well-known story, but here goes: in this epic fantasy trilogy, a young Hobbit named Frodo inherits an ancient ring that he soon learns must be destroyed in order to save the world from the Dark Lord, Sauron.Together with a group of companions, he goes on an epic journey to Mordor to destroy the ring once and for all, facing endless trials and evil along the way.
WHY I RECOMMEND IT: I mean…… come on. This is one of the most famous film series in the world! If you haven't seen it yet, you must. I think the story and pop cultural value of this trilogy speaks for itself, but I argue it's a must-watch travel movie too for its stunning landscapes from all around New Zealand. Fun fact: besides New Zealand, it's said that J.R.R Tolkien was greatly influenced by the gorgeousness of the Lauterbrunnen Valley, which you can read about here.
WHERE TO WATCH: Fellowship of the Ring here, Two Towers here, Return of the King here
What are some of your favourite travel movies?
Let me know in the comments! I hope you enjoyed this list of mine. Happy watching.
---
Watch my most popular YouTube video this week:
---