*FYI - this post may contain affiliate links, which means we earn a commission at no extra cost to you if you purchase from them. Also, as an Amazon Associate I earn from qualifying purchases. Check out our Privacy Policy and Disclosure. for more info.
If you're looking for an insider's guide to beautiful Munich, Germany, then grab a beer because you have come to the right place.
I've been living in Munich for the past four years and now know the city like the back of my hand.
In this guide, I'll walk you through everything you need to know about Munich for your trip, from boring logistics stuff to insider secrets that most visitors don't know!
Save this post for later on Pinterest:
Arriving in Munich
By plane:
Munich Airport is about 45 minutes away from the city center by public transportation and about 30 minutes by car and taxi.
The most convenient way to arrive in the city would of course be booking a taxi (€50-60) or a private transfer via Welcome Pickups, which guarantees an English-speaking driver and pick-up from arrivals.
A far cheaper option however is the Lufthansa Express bus (€10.50 one way, €17 roundtrip), which is comfier than the train, and actually in some cases, cheaper too… but my preferred option (as it's the most reliable, and can't get stuck in traffic) is the train, AKA the S-Bahn.
Both the S1 and S8 (€11.60 one-way) take you from the airport to the city centre in about 45 minutes. For a full guide on prices, which tickets to buy and which option is best for you, read my full Munich airport to city guide!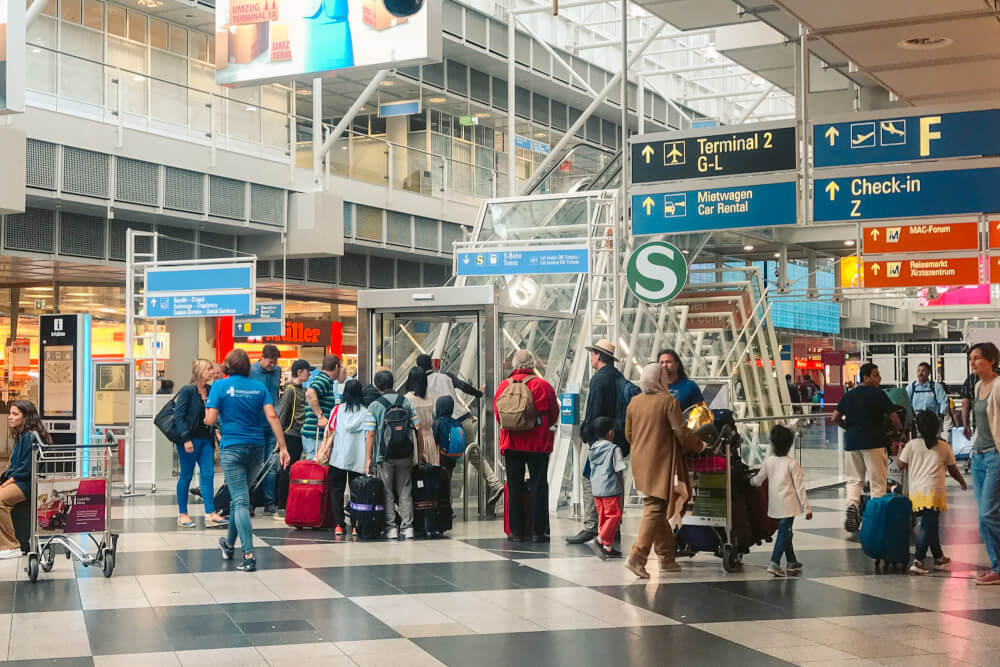 By train:
Munich is a compact city, with only a few main train stations for you to worry about (click here for the full list!)
Luckily, they're all easily connected by the city's U-Bahn and S-Bahn lines, so getting between them is easy. Most likely, you'll be arriving at Munich's Central Station (Hauptbahnhof in German) which is of course, in the middle of all the action.
This station is pretty huge and difficult to navigate for first-timers, so you can click here for my full guide to the station.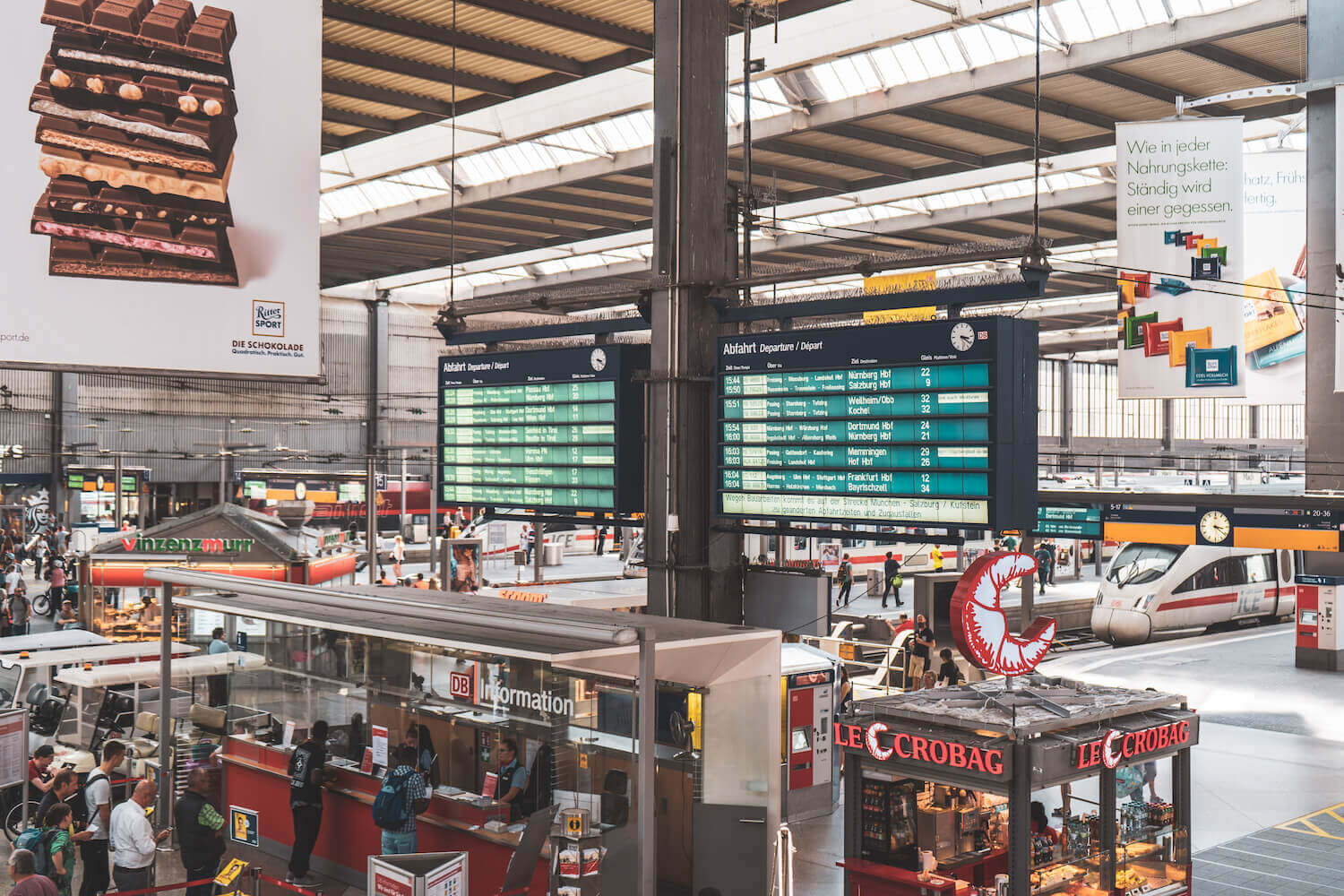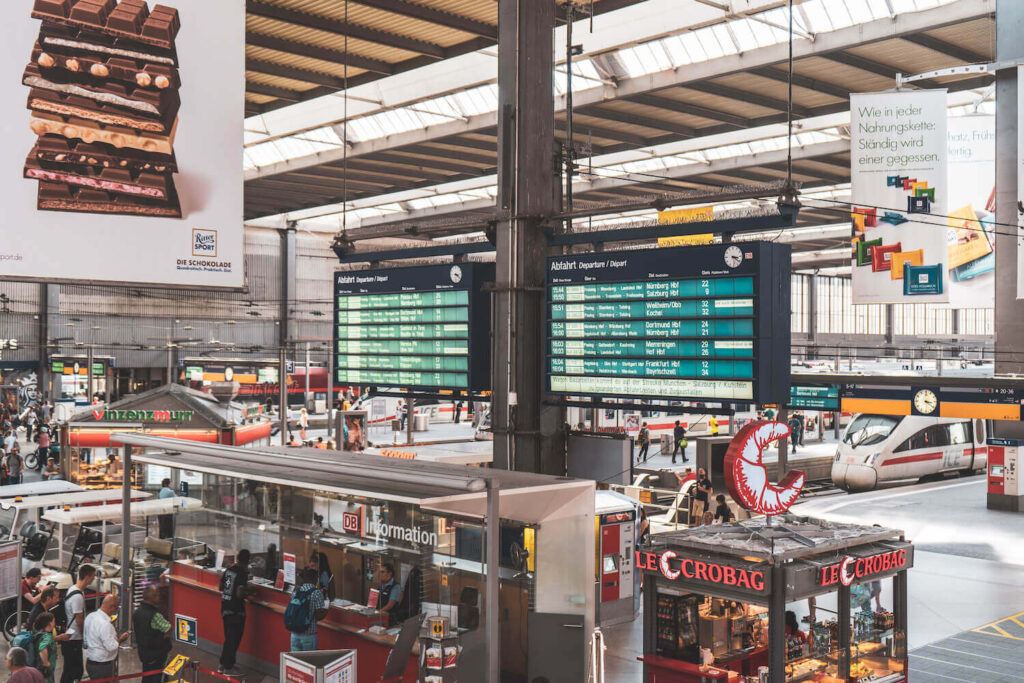 By bus:
If you're arriving in Munich by bus, you'll most likely end up at Munich ZOB, the central bus station which is only 1 S-Bahn stop away from the Central Train Station (Hauptbahnhof).
This station is easily linked to public transport, but it can be a bit tough to find the S-Bahn station for first timers as you have to go up the escalators, cross the bridge and then head back down some stairs to find the S-Bahn platform.
If you need some help, read my full guide to the Munich Central Bus Station!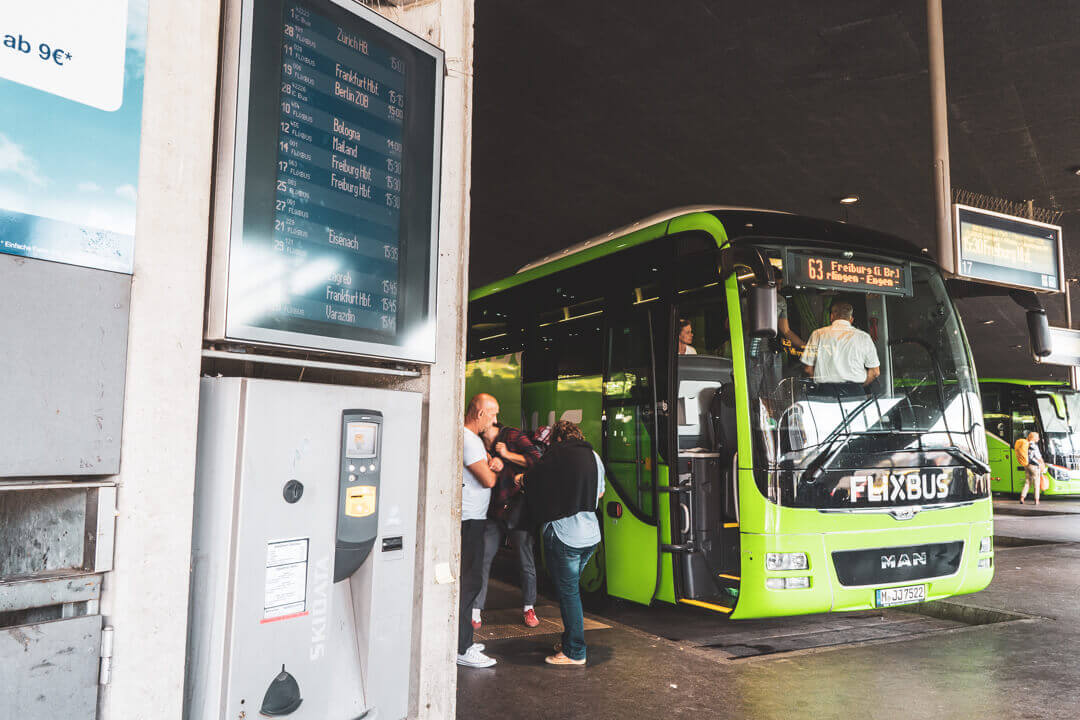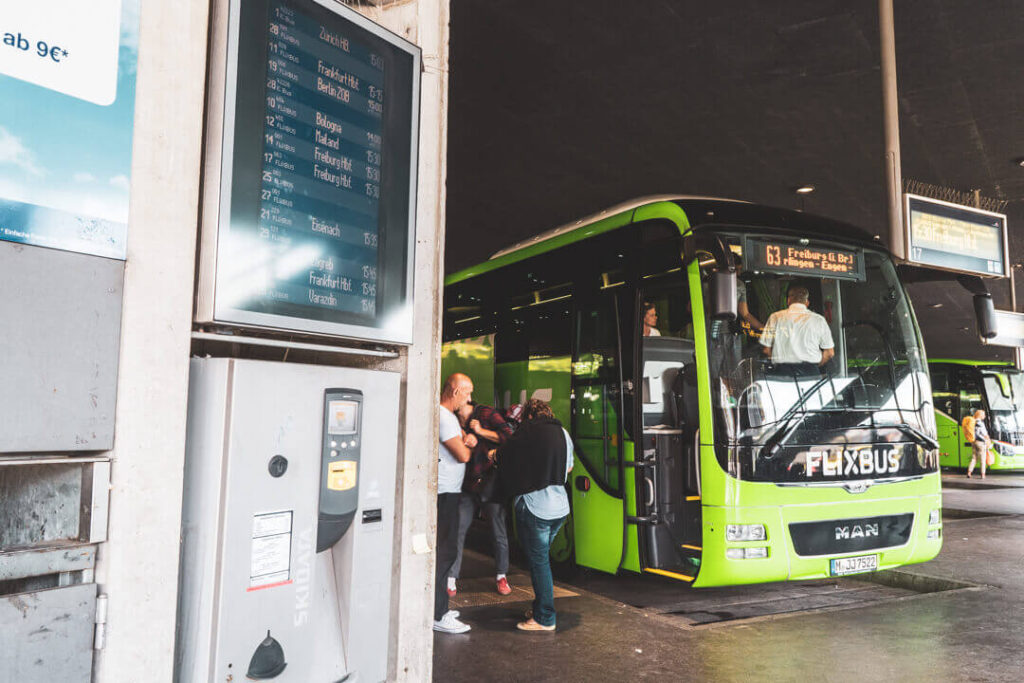 What to Pack for Munich
If there's one thing I can tell you about Munich weather, it's that there is ZERO consistency.
One summer it might be scorching hot (#HeatWave2019), other summers it might rain half the time… one time there was even snow in May. It was madness.
This is why packing for Munich means checking weather reports religiously before your visit, and also packing smartly with appropriate clothing for ever-changing weather… and naturally, comfy shoes are a must.
That said, here are some general packing lists I've created over the years that might help you figure out your suitcase!
For the summer: Read my European summer packing list.
For Oktoberfest: If you're coming to Munich for some boozy, beer festival fun, then you'll need to pack accordingly. Be sure to read my post on what to wear to Oktoberfest for more.
For winter: Read my European winter packing list.
Here are some more packing tips you might be interested in: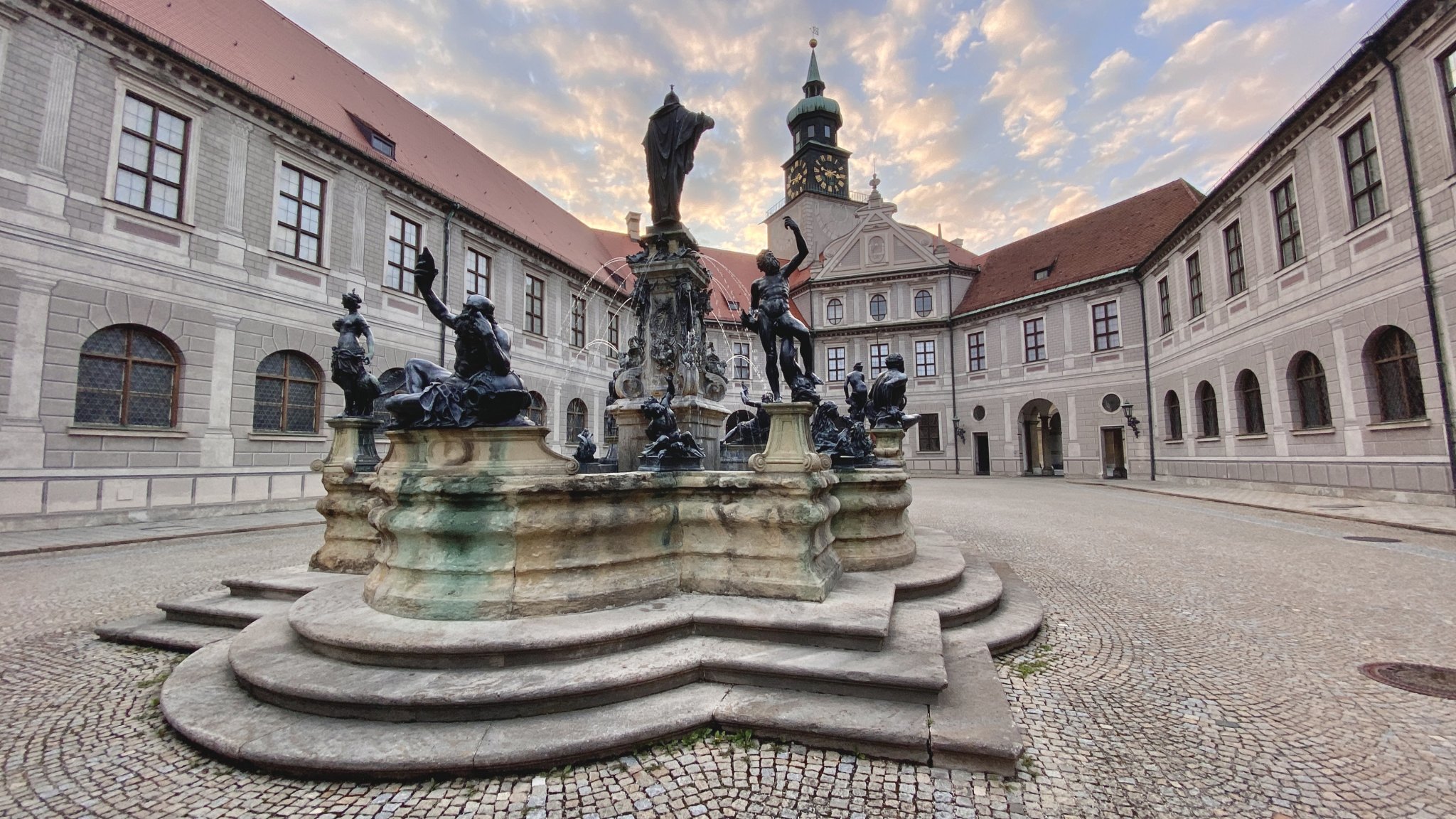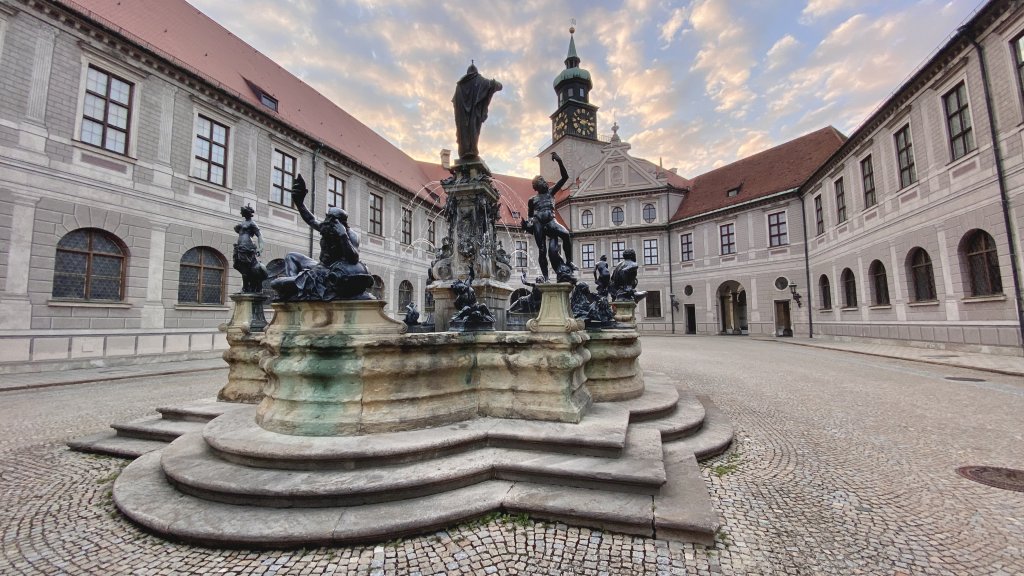 Random (But Important) Munich Tips
I've written extensively about important must-knows before your visit Germany, but here a few things to keep in mind before your visit to Munich:
Bring Cash
While this is steadily changing, Munich is still very much a cash-heavy economy. Cards are accepted in many places, but not all, so be sure to have lots of cash (and coins) on you.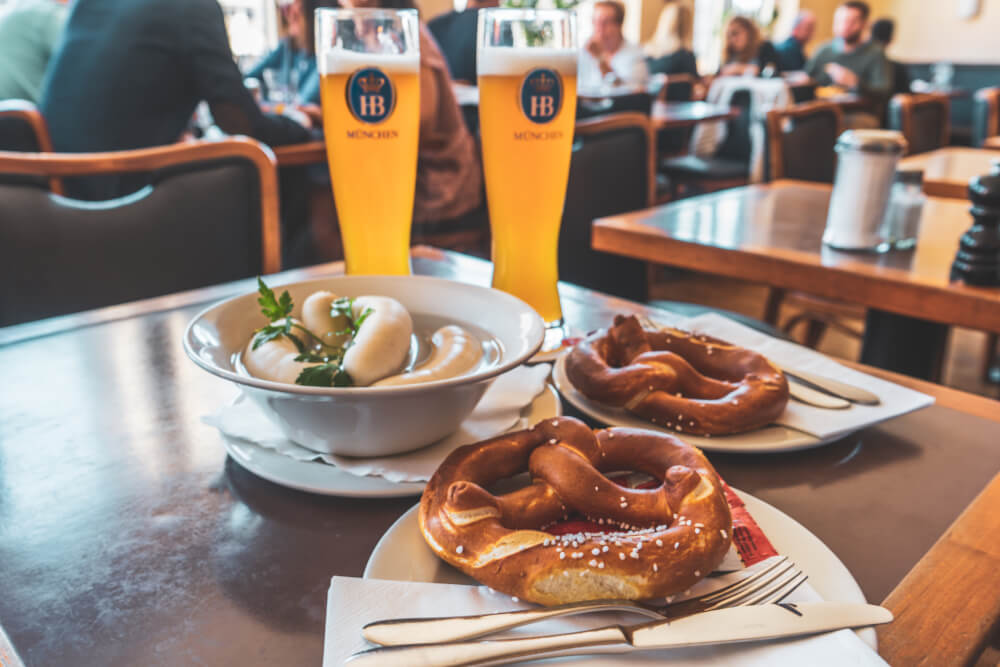 Everything is closed on Sundays… but it's the perfect museum day!
Sundays are considered a day of rest in Munich, so most shops, supermarkets, etc. will be closed on Sunday.
Restaurants and cafes usually remain open though, and the supermarkets at the train stations will be open too if you need groceries in a pinch.
Rather than shop though, consider heading to a museum on Sunday instead. Many museums offer 1 euro entry, which is an amazing deal!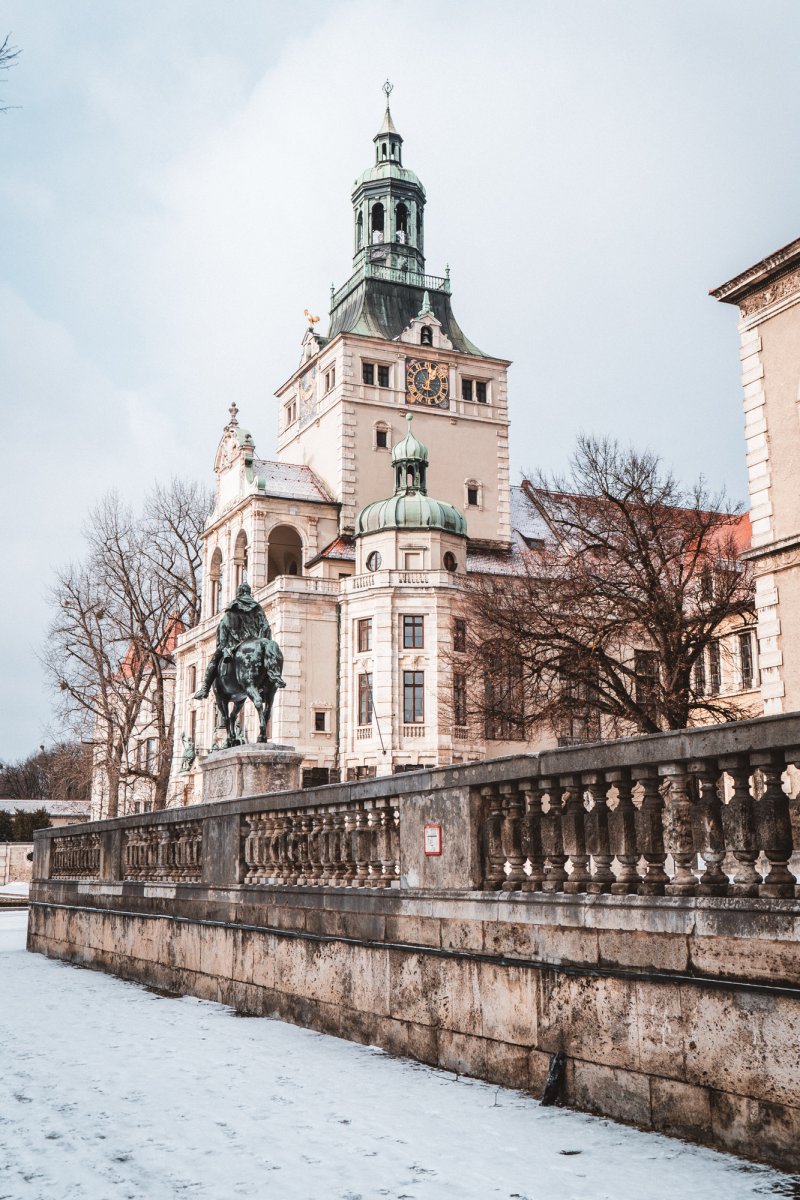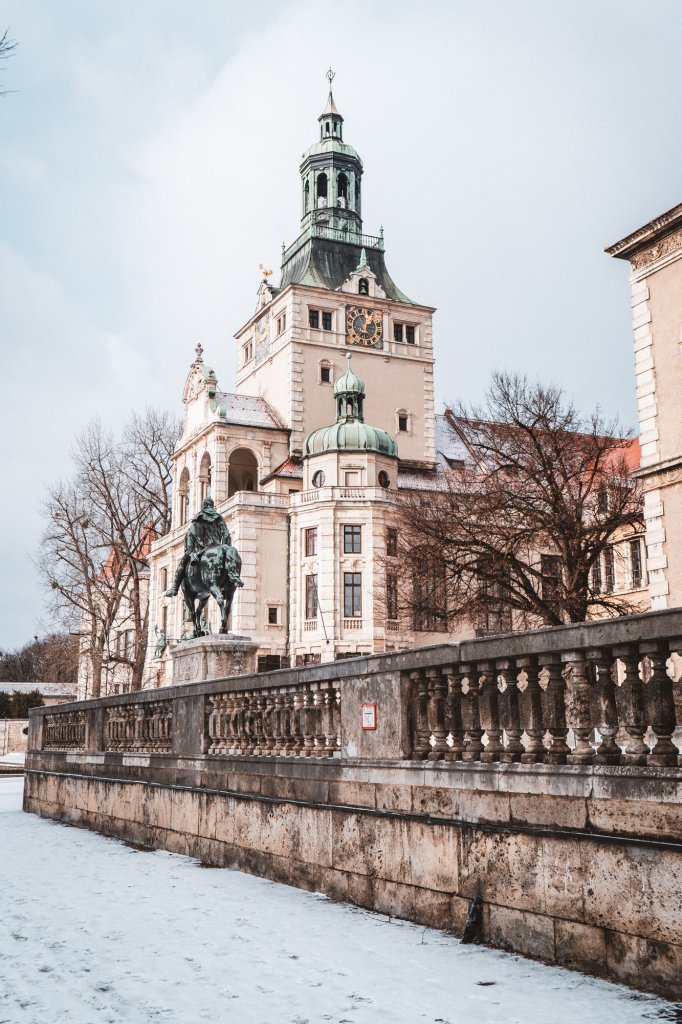 Learn all the public transport hacks
Public transportation in Munich is confusing, and expensive!
At €3.40 for a regular one-way ticket, costs can add up quickly.
Luckily, there are lots of hacks you can use to save.
For example, if you are travelling 4 stops or less on a bus/tram or 2 stops or less on the U-Bahn, you can buy a short trip ticket for €1.50. You can also buy a day ticket (which is worth it if you are travelling more than 2 times in a day) OR the best deal of all is to get a Group Ticket, which is one price for 5 people.
Read my full guide to Munich public transportation to learn more.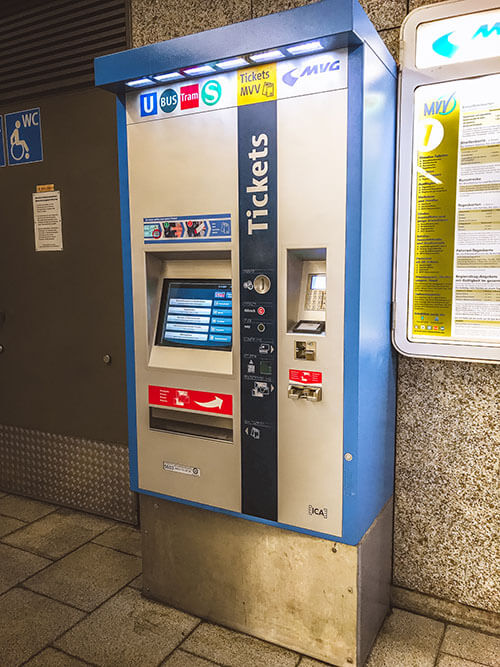 Bring a water bottle
Most restaurants don't do free water, so if you want a bottle, expect to pay something wild like 4-6 euros for water.
To save some money (and be friendlier to the environment), I'd recommend bringing your own water bottle and filling it where you can with tap water (although sadly, drinking fountains aren't as widespread here as in other major European cities).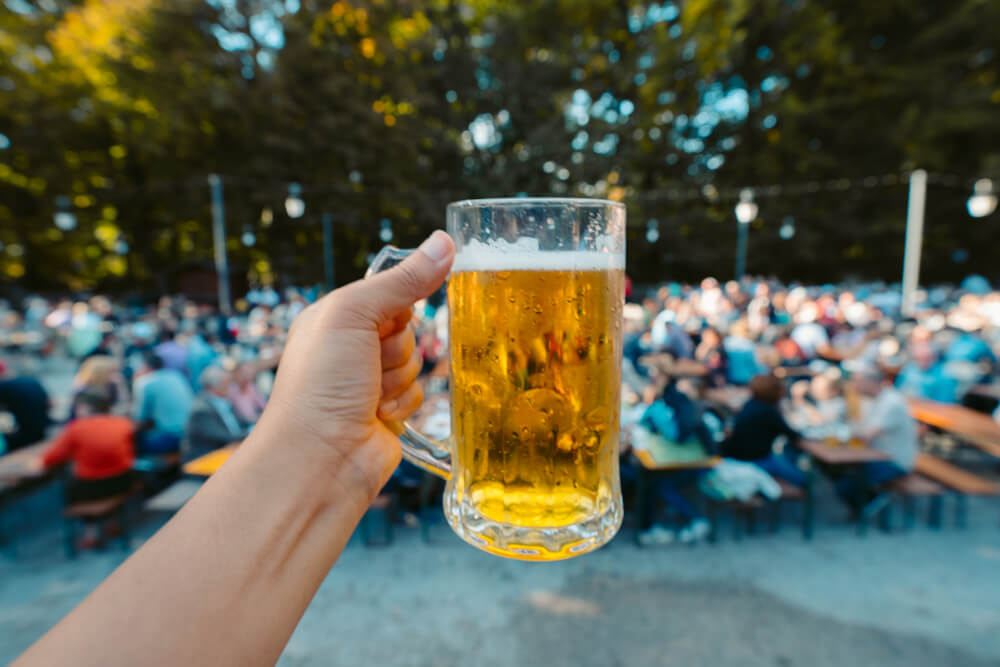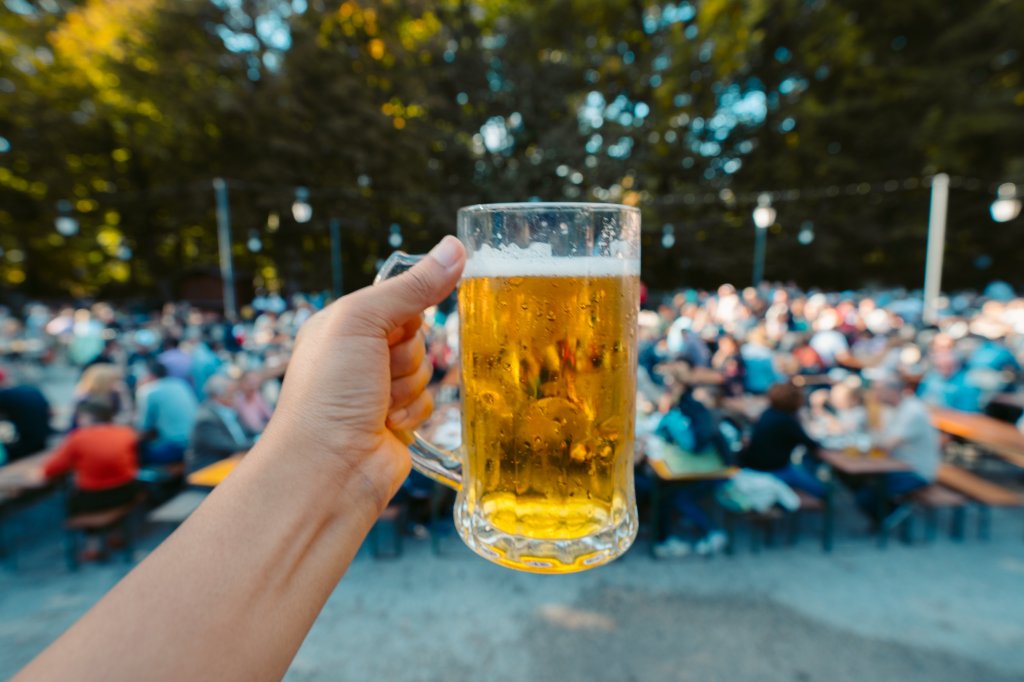 Don't jaywalk or walk in the bike lane
Bavarians take jaywalking really seriously, especially if there are children around, so don't do it.
Certain angry omas (we call them the Omapolizei) will have no problem with yelling at you from across the street.
Similarly, make sure you don't accidentally tread onto the bike lane, because cyclists have no patience for our touristy BS.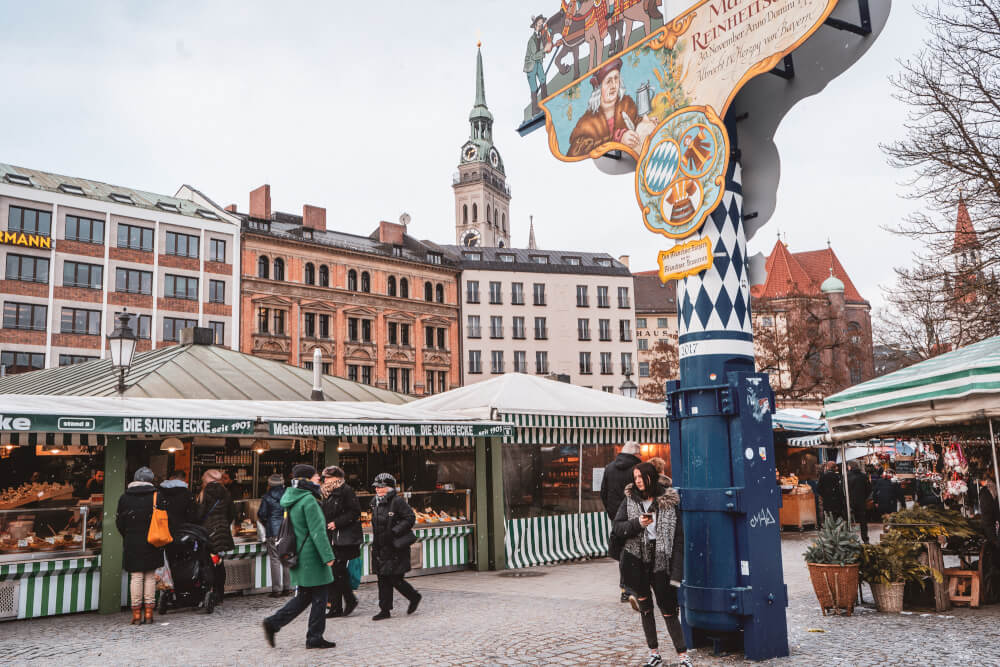 Oh yeah, and peeing costs money here
Public restrooms (WC) in Germany will cost ya.
Usually public toilets (even in train stations) will cost you 50 cents to a euro, so make sure you have change.
This is even true in certain beer gardens and restaurants, where there's no mandatory fare gate (as in stations), but there's a woman who works there and tipping her is customary.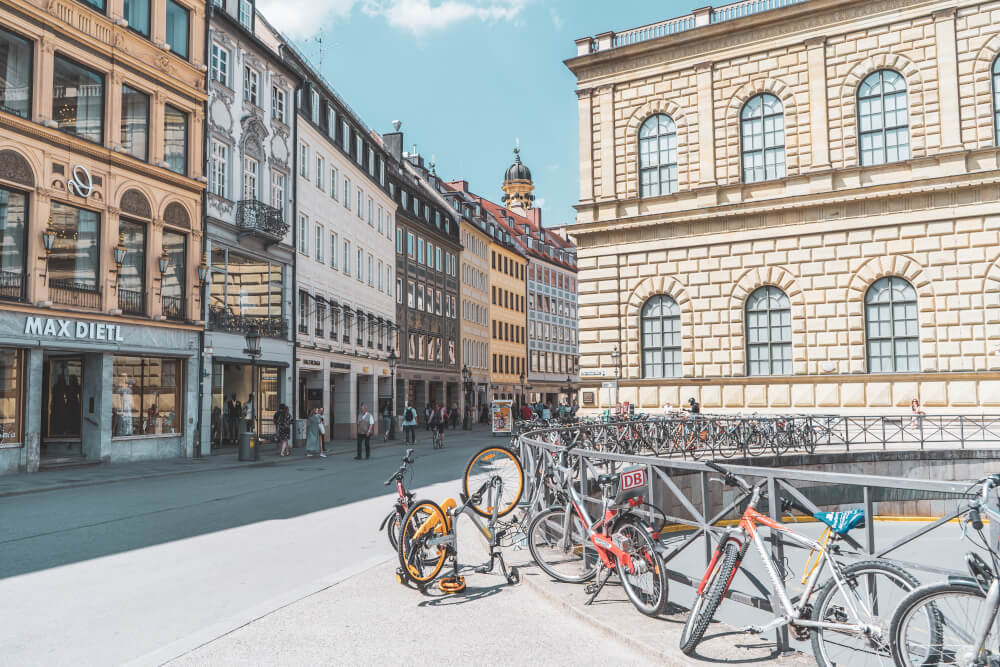 What To Do In Munich: My Top Picks
Below you'll find my two top 5 lists for things to do in Munich, including the touristy (but awesome) must-dos, along with some more offbeat suggestions.
If you want more though, I do have an ultra-long list of 99 things to do in Munich for you here. Feel free to browse it for more suggestions than you'll be able to handle ; )
Top 5 (Popular, but Great) Things to do in Munich
Visit Marienplatz and Munich's Old Town
Marienplatz is Munich's main square, and one of the most photogenic spots in the city.
No visit to Munich would be complete without a stop at this square to marvel at the stunning Neues Rathaus (New City Hall) and the lovely streets that surround it.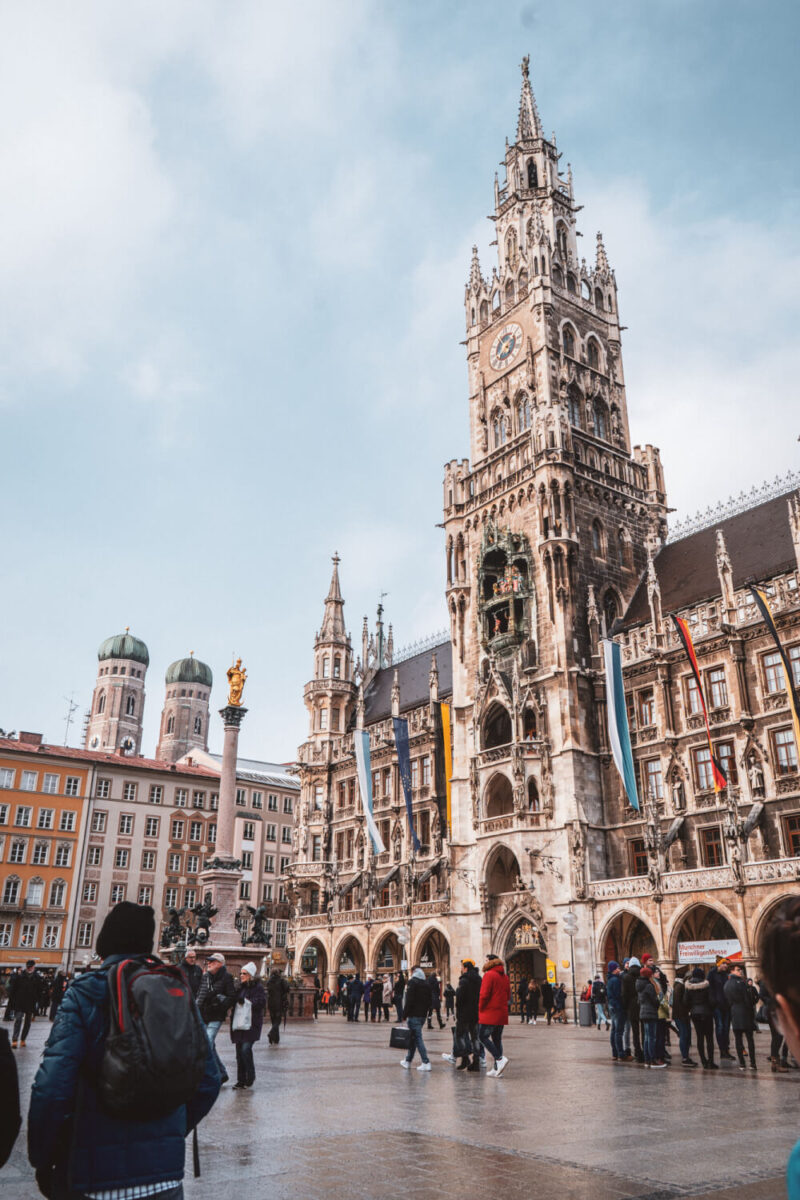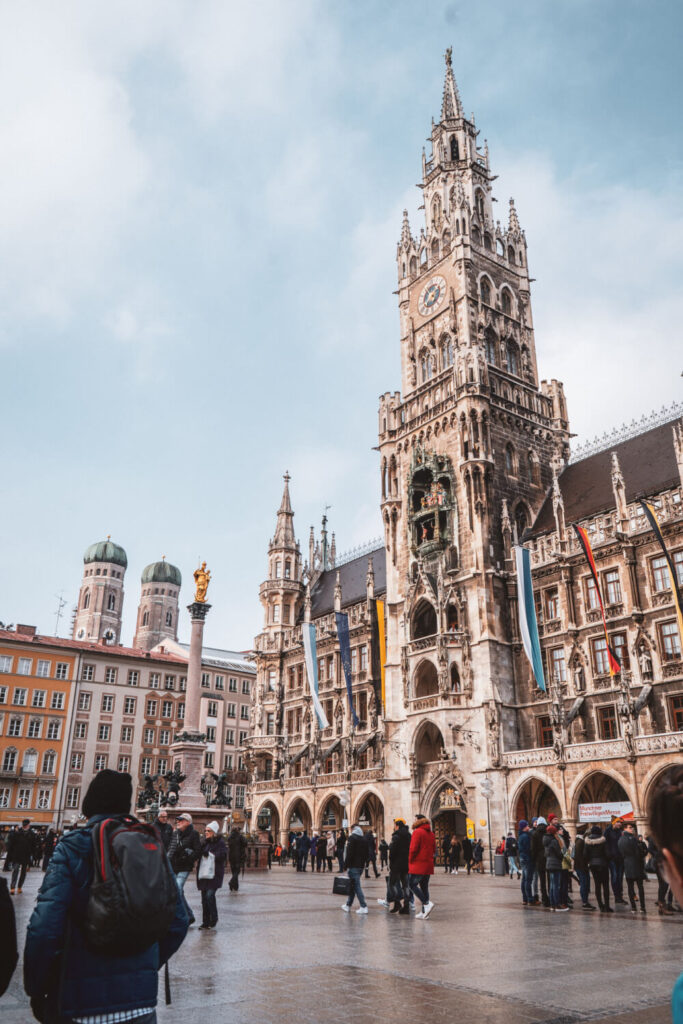 Enjoy an amazing view
One of the best ways to appreciate the grandeur of Munich's Old Town is by getting up high!
There are two options for this: climbing the many steps of the Alter Peter church tower, which provides a great view over the Neues Rathaus, OR alternatively, the lesser known (but equally beautiful) viewpoint inside the Neues Rathaus itself, which you can access by elevator.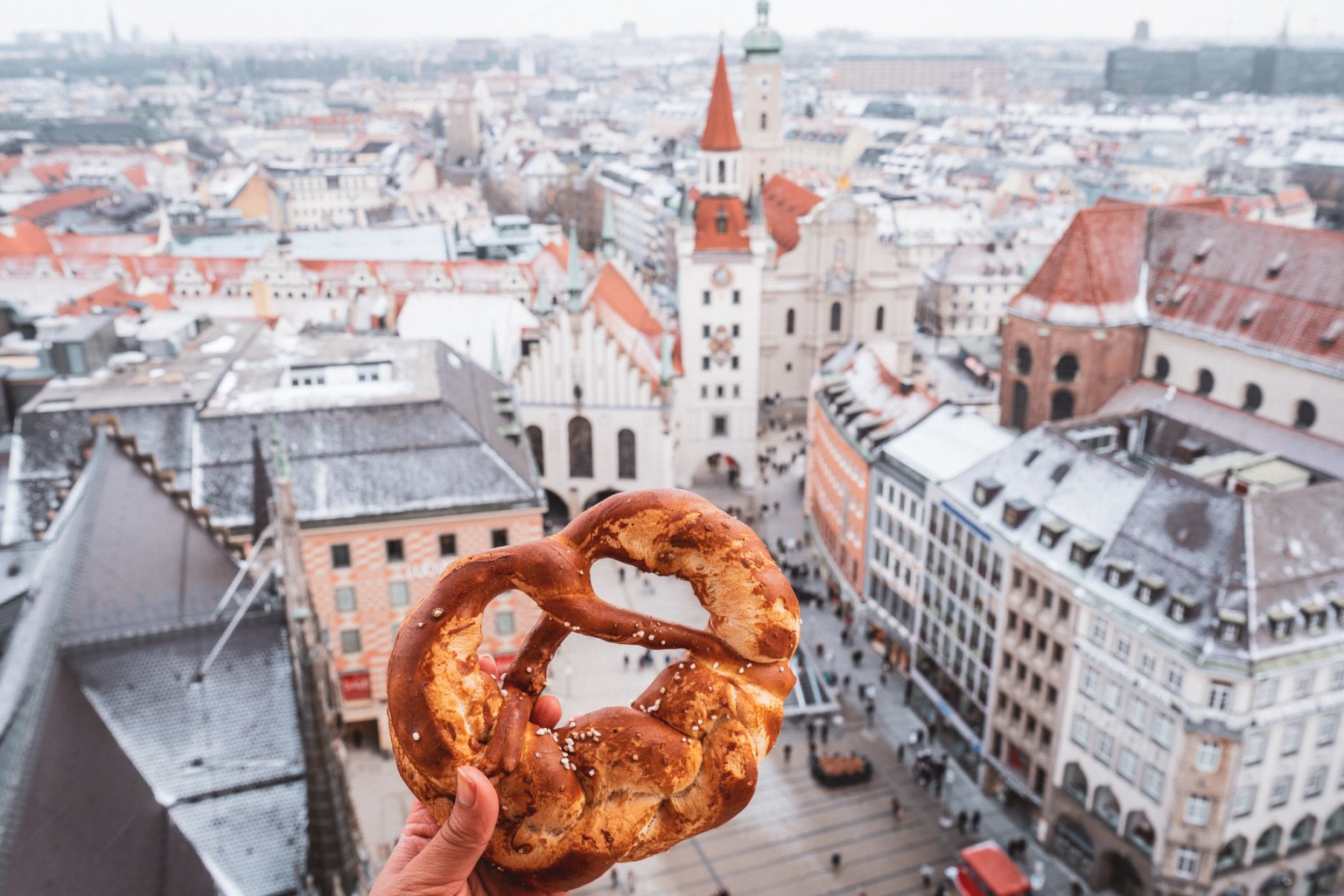 Prance through Hofgarten
This gorgeous royal garden is designed in Italian Renaissance style and ideally located in the city centre between the Munich Residenz and English Garden.
With free access today, it's a wonderful place for a stroll, especially when buskers are performing in the Dianatempel (Diana Pavilion) in the center.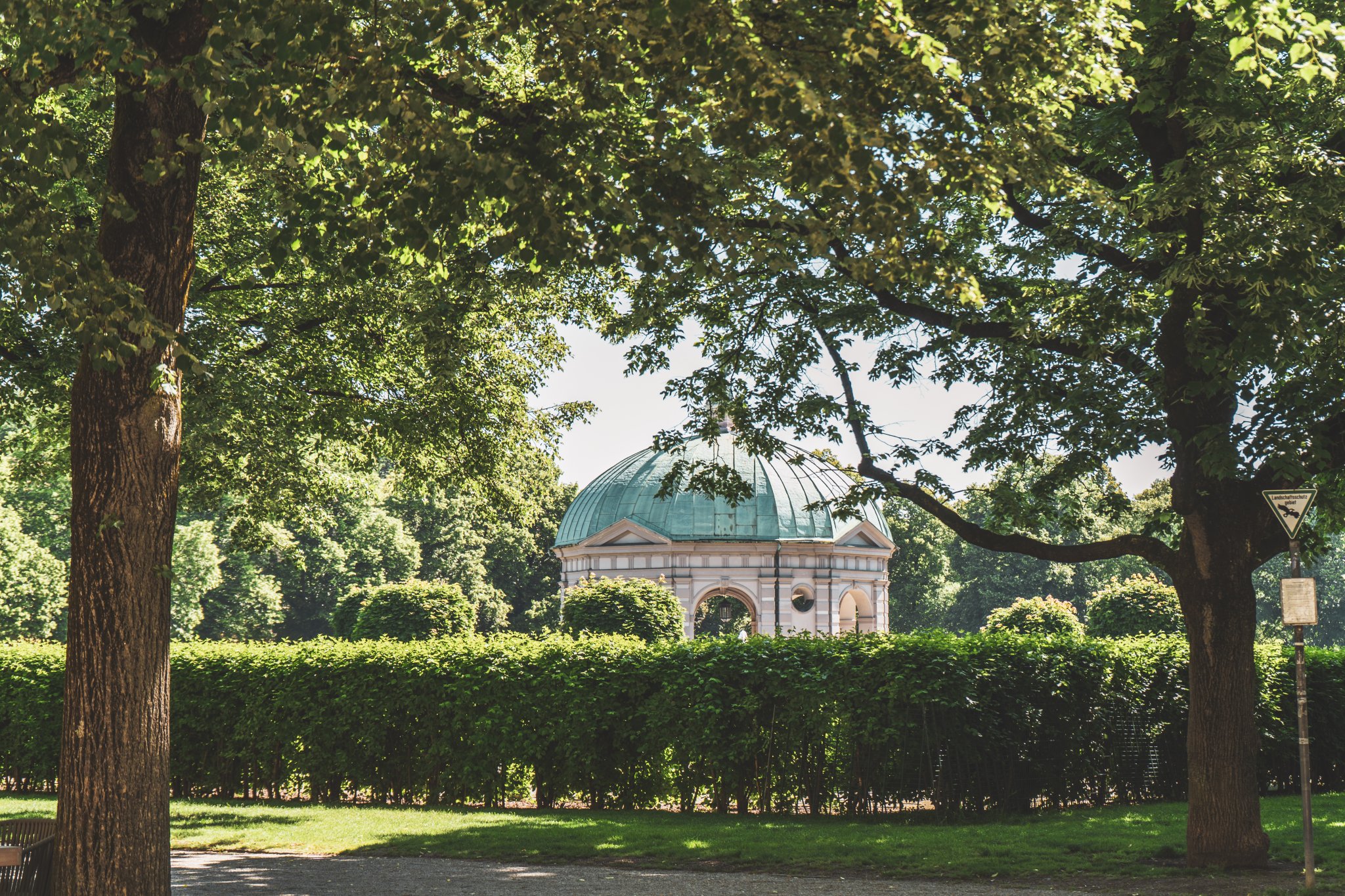 Check out Munich's river surfers and English Garden
Munich's Eisbachwelle is one of the most famous and unique attractions in the city.
This static wave offers surfers a chance to surf in the middle of the city rain or shine, at any time of day, and coming to watch is a must-do.
From here, you can also explore the English Garden, one of the largest city parks in the world, filled with beautiful greenery and beer gardens!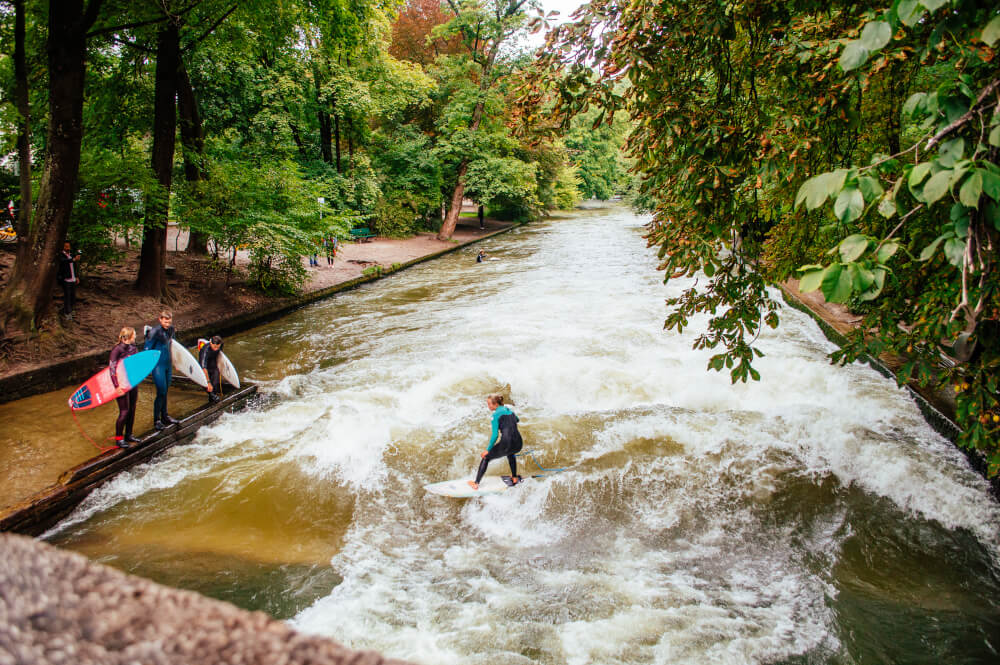 Enjoy a beer garden or beer hall
Last but not least, you can't come to Munich without enjoying the beer culture so firmly entrenched in the city's DNA.
The best way to enjoy it is to sit in a beer garden when weather permits – the Chinese Tower is a popular favourite, but the Seehaus one is my personal go-to.
Otherwise, if it's not beer garden weather, cozy into a classic beer hall to get a taste of Bavarian culture! The world-famous Hofbräuhaus is touristy, but definitely worthwhile.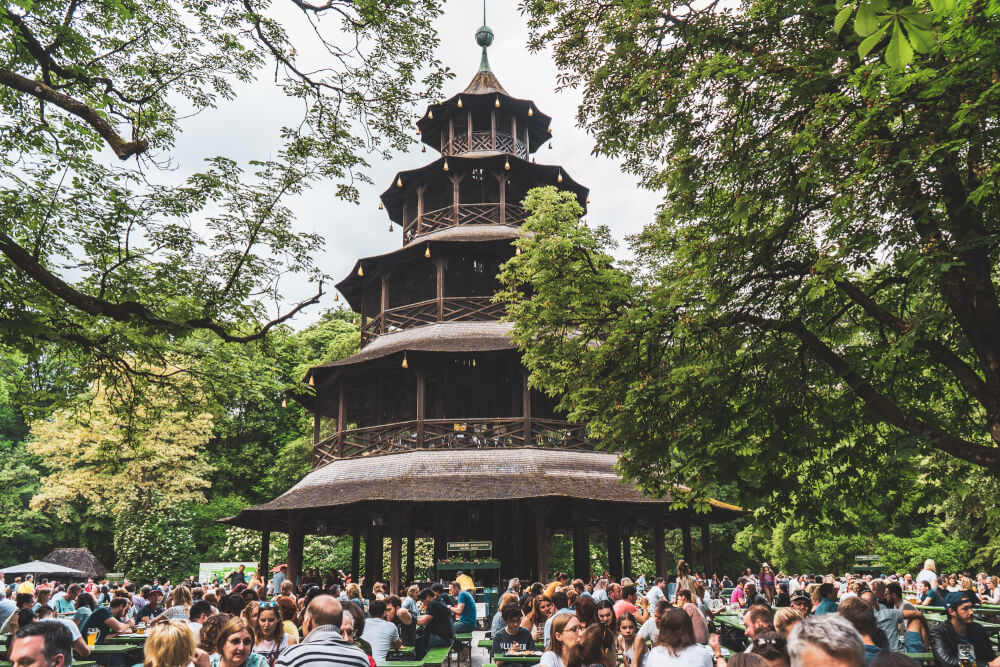 Top 5 (More Offbeat) Things to do in Munich
Visit Munich's Olympiapark
Munich hosted the summer Olympics in 1972, and today the Olympic Park is one of my favourite spots in the city.
Located less than 15 minutes from the city center by public transport, I love bringing visitors here to see the cool modern architecture of the park, the amazing painted houses of the student village Olympiadorf, the free attraction BMW World and of course, the views from the Olympic Tower (or the Olympiaberg as a free alternative).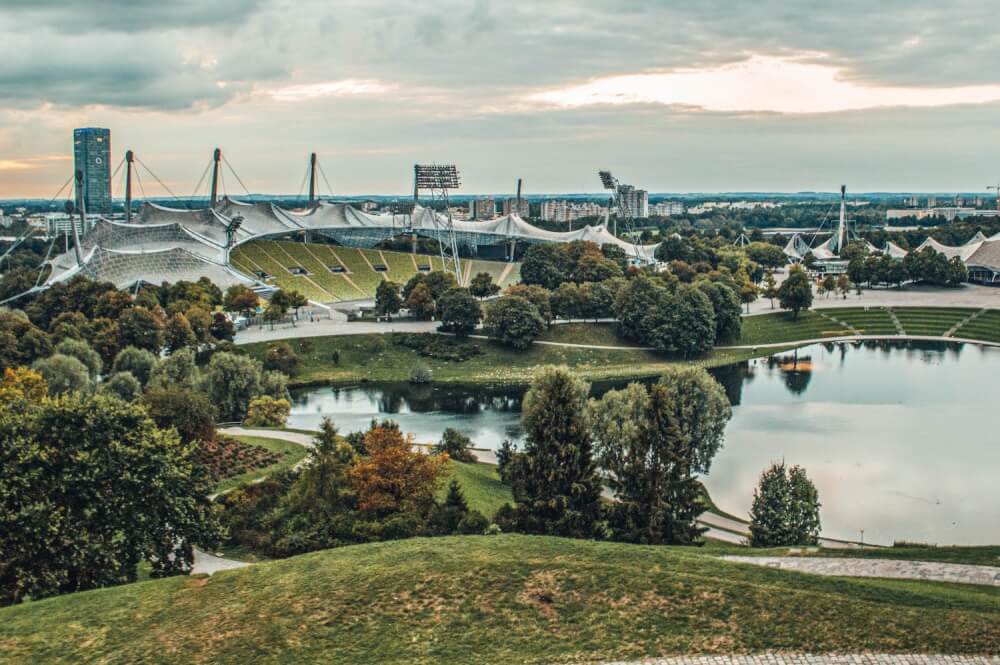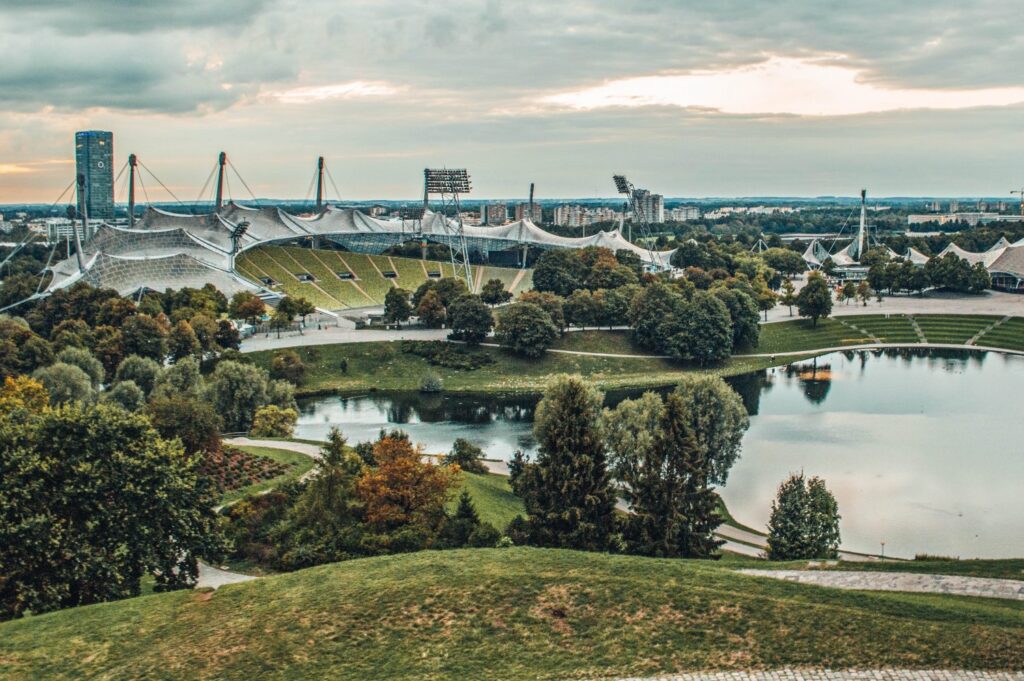 Step into the jawdropping Munich Justizpalast
Munich's Justizpalast is one of the coolest hidden gems in the city that most people don't realize you can enter (even most locals!).
This building is the seat of the Bavarian Ministry of Justice, but the inside is completely free for you to visit (you just need to pass an airport style security check first).
The architecture in here is AMAZING and it's all super close to the city's main sights (e.g. Karlsplatz), so be sure to check it out. Click here for more info.
Enjoy Munich's top museums for only 1 euroIf you're lucky enough to be in Munich on a Sunday, you can enjoy many of the city's best museums for only 1 euro!
While museums aren't usually at the top of my Munich 'must-do' list, the offer is a lot more compelling when it's this cheap, plus Munich's museum quarter is really beautiful and worth a look. Click here for a list of museums that offer 1 euro entry on Sundays.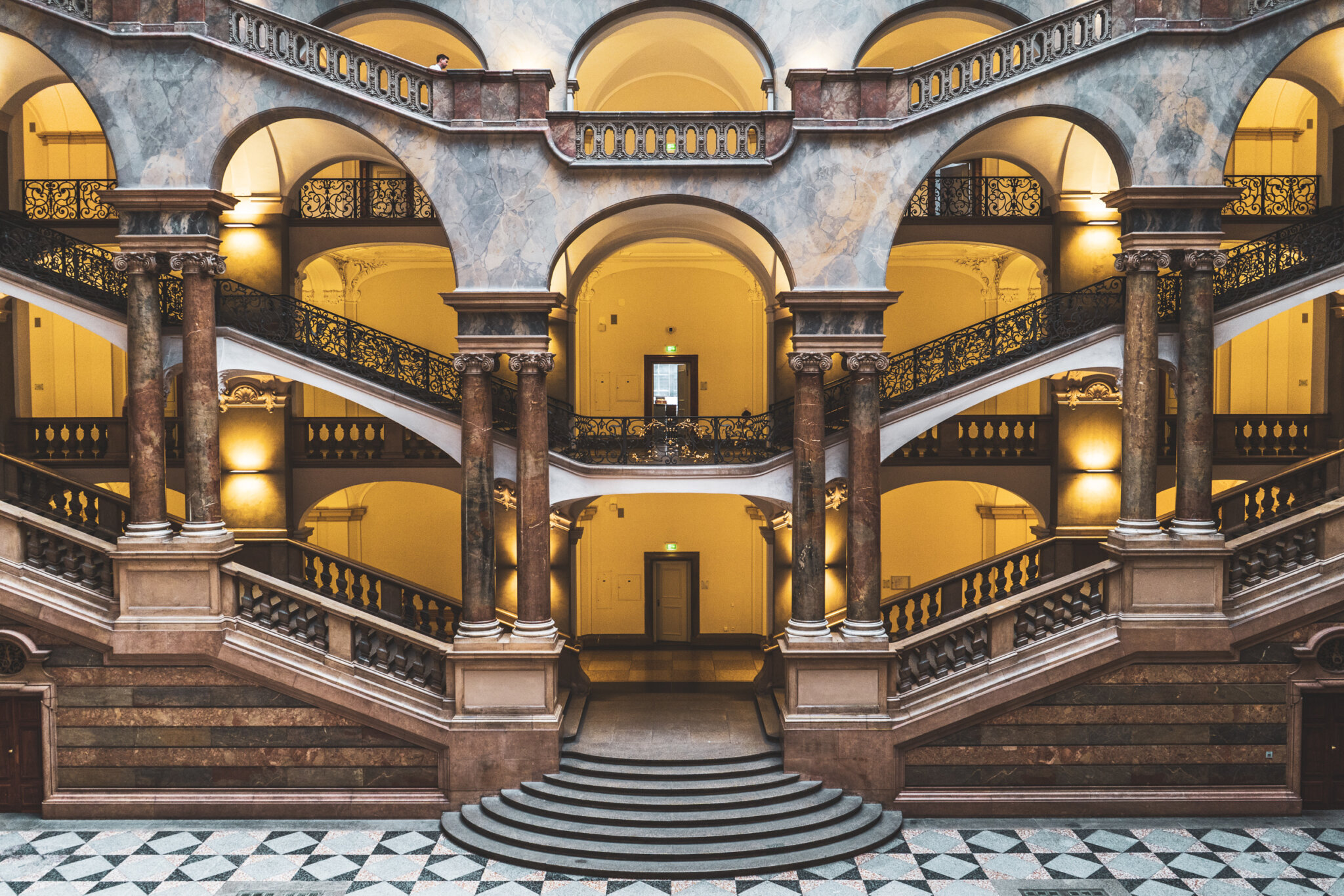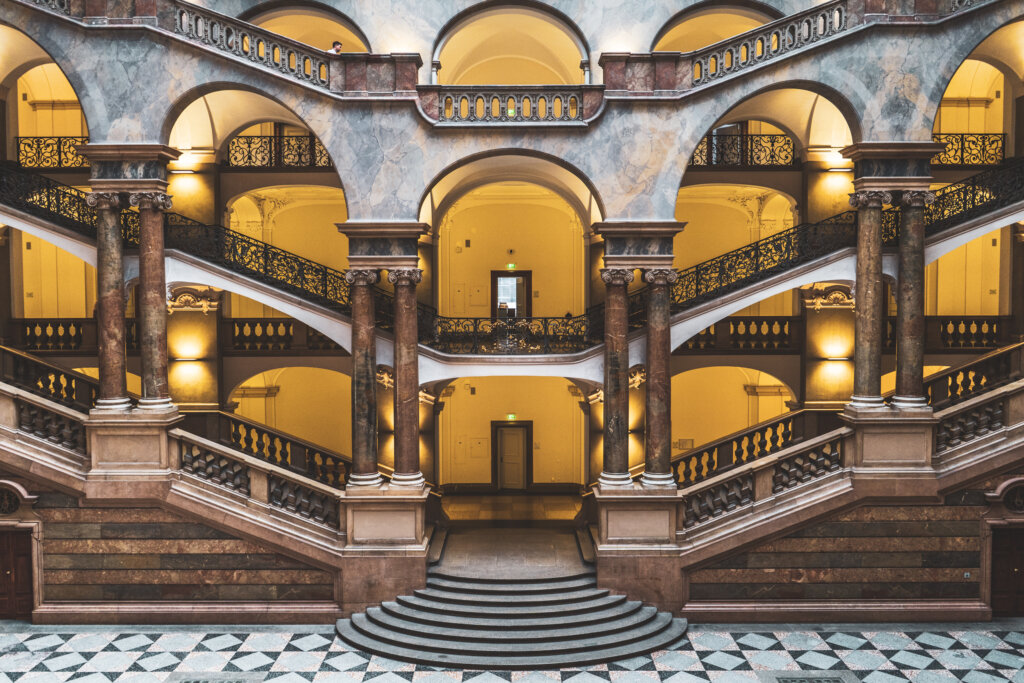 Try beer (and other weird) flavoured ice cream
Der Verrückte Eismacher is a quirky Alice in Wonderland themed ice cream place behind LMU university, famous for their selection of very strange rotating Bavarian flavours, including Augustiner beer, sausage, sauerkraut and more.
Don't worry though – they have normal (very delicious) flavours too, and are very liberal with samples so you can indulge your curiosity without getting a full scoop.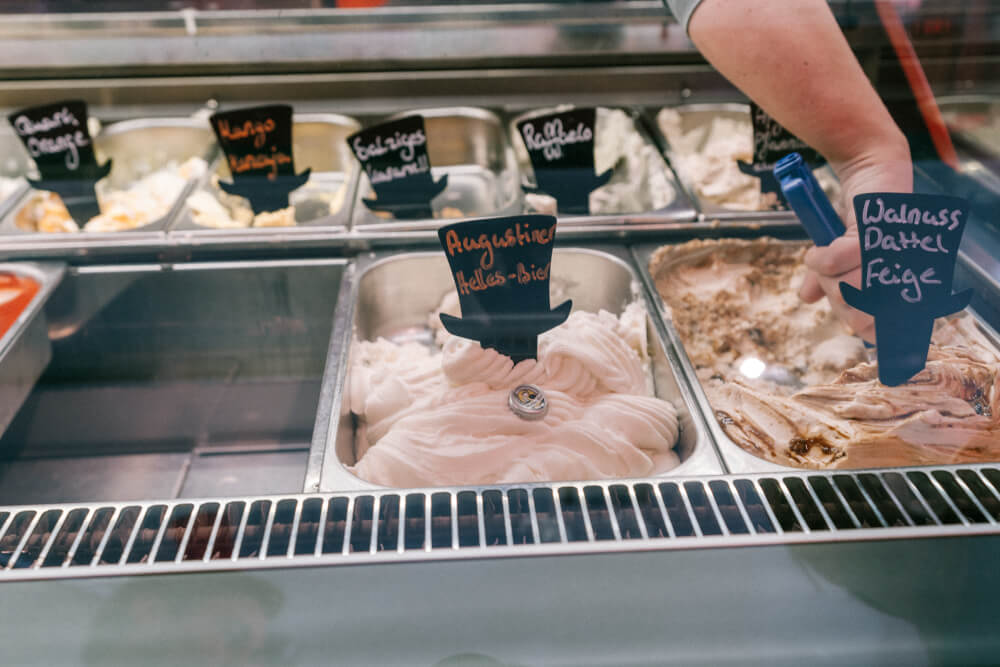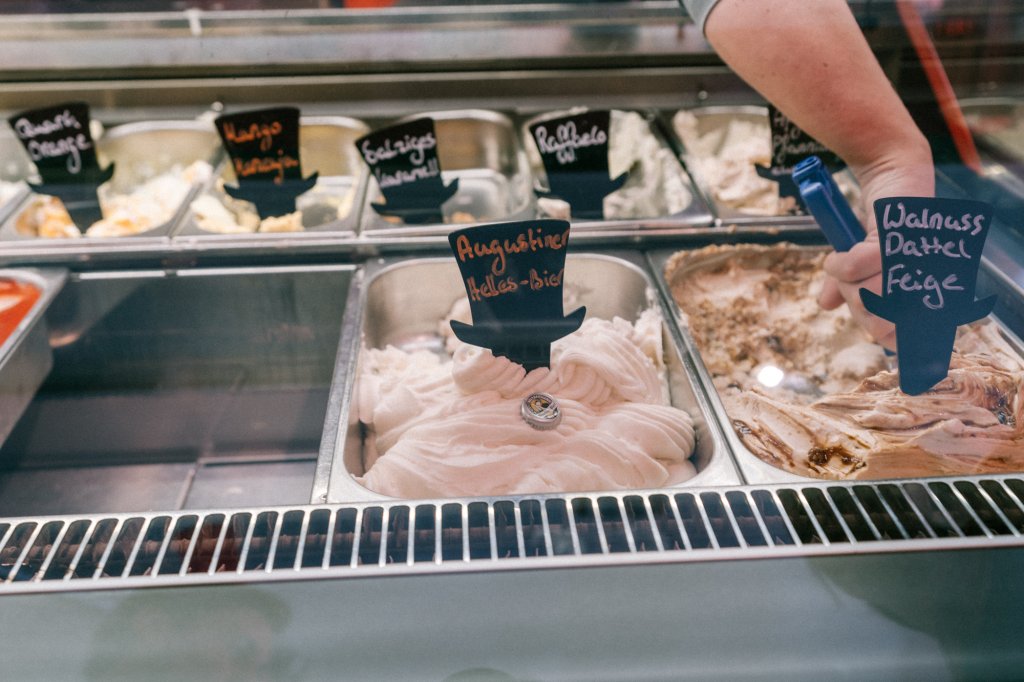 Have a coffee at a hidden rooftop cafe
Lastly, one of my favourite hidden spots is the rooftop cafe at TMU technical university called Café im Vorhoelzer Forum.
It offers a unique view over the city and can only be accessed by entering the university building and taking an elevator (or stairs).
Most visitors don't know about this spot, and the views/cappuccinos are fantastic. NOTE: While it's unknown to most visitors, it is a VERY popular spot with students and locals, so expect long lines on weekends.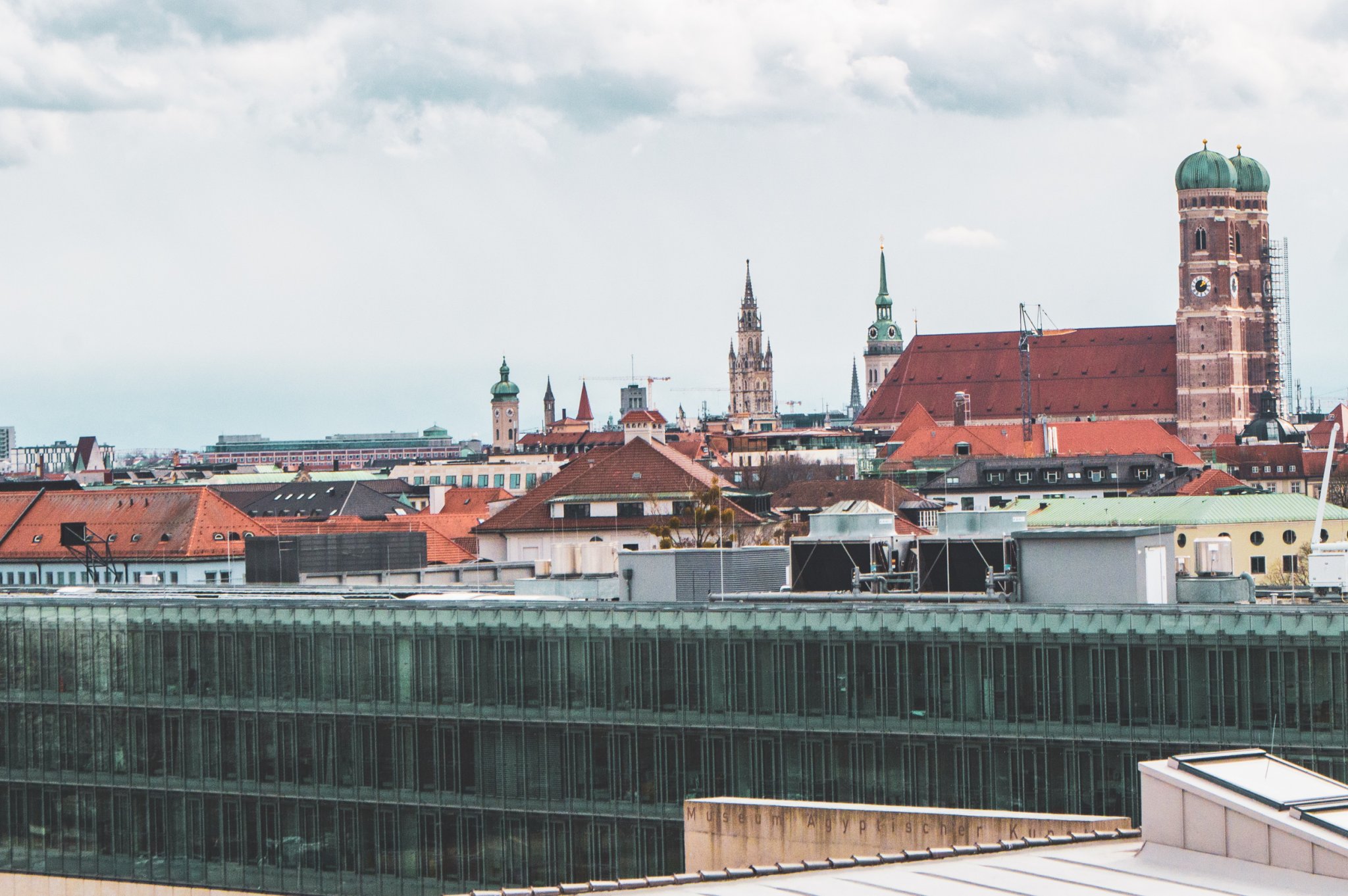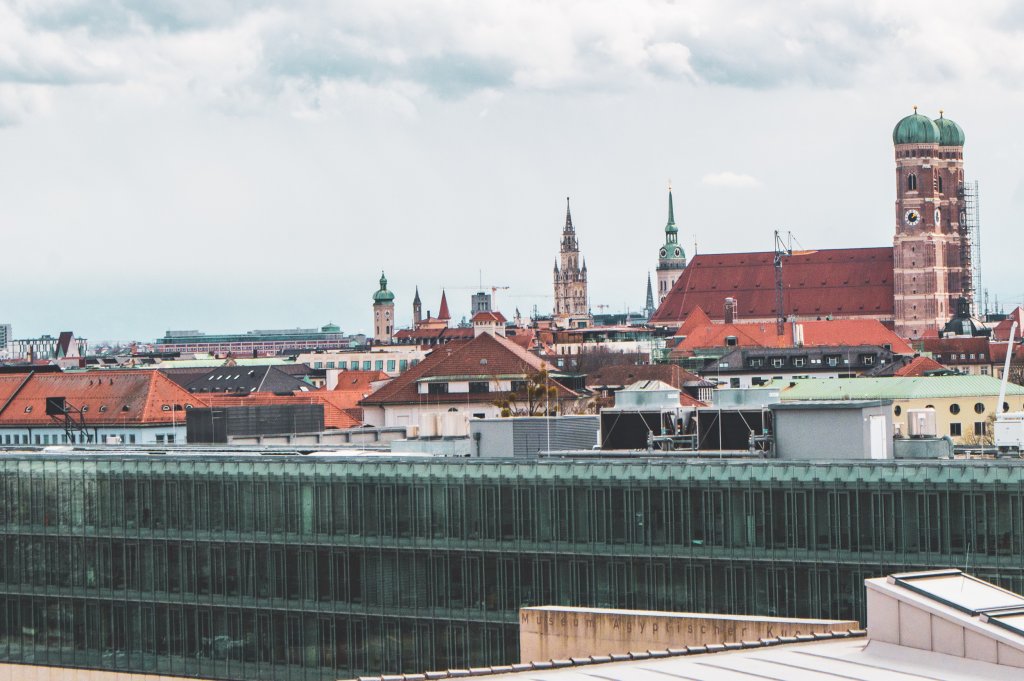 My Munich Itineraries
Looking for some advice on how to structure your trip?
I've assembled these special easy-to-follow itineraries just for you! These are based off of the exact route I take my visitors when they visit me in Munich, so I hope you enjoy them!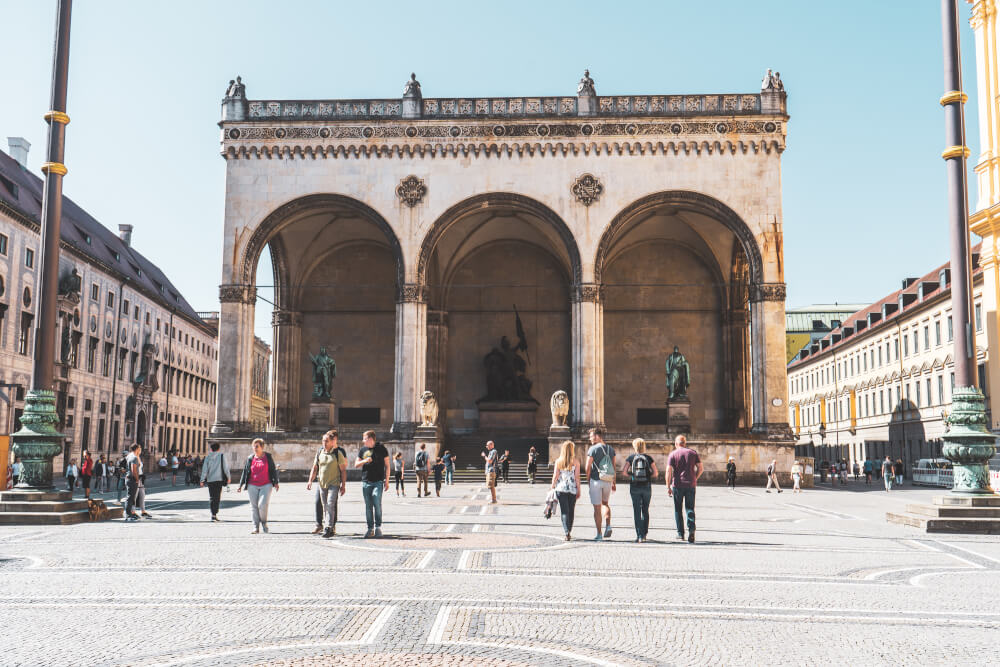 What to Eat in Munich
If you're coming to Munich, you better come hungry. Bavarian food is as rich and caloric as it is delicious, but when in Munich, you need to indulge a bit. You can click here to see my full list of recommended Munich restaurants, but below are some must-tries while you're in town and where to get them!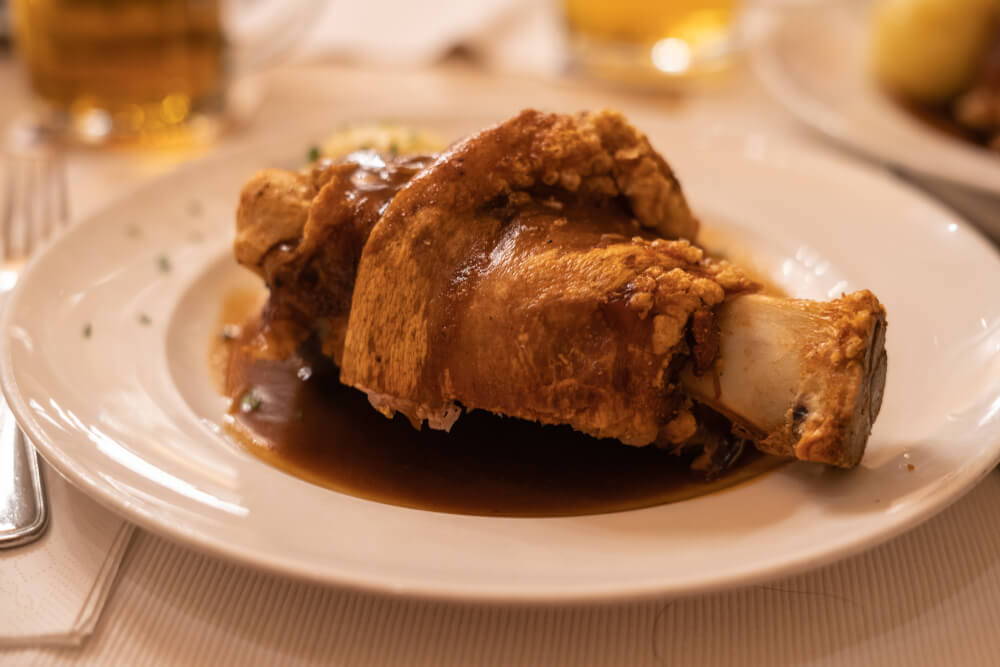 Munich Day Trips
Munich makes the ideal base for several incredible day trips around Bavaria and Austria. If you have a little more time in the city, I'd highly recommend doing a day trip or two to get the most of your visit. Here are a few of my favourites!
For Munich's most popular day trips, I've created special step by step guides that will help you plan! Here they are below: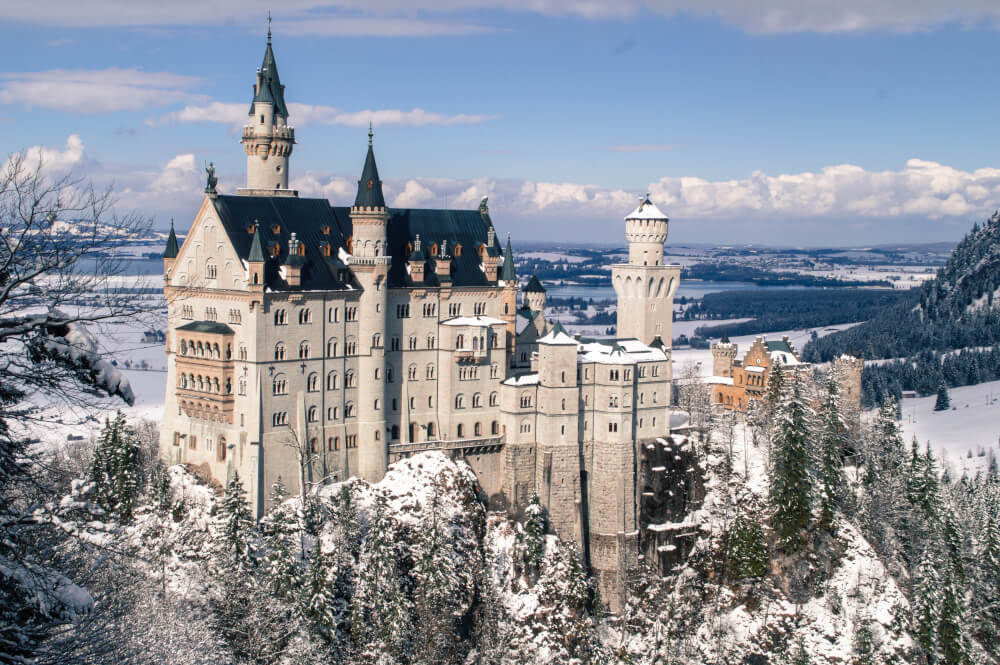 Oktoberfest
Let's talk about Oktoberfest!
… Talktoberfest. Yup.
If you're coming to Munich for the largest beer festival in the world (and my personal Christmas) then here are some resources to help you plan your trip.
Unsurprisingly, I have written extensively about Oktoberfest over the years so hopefully these guides will help prepare you for the insanity to come. You can also read my full Oktoberfest guide for this year.
Here are my most helpful Oktoberfest posts: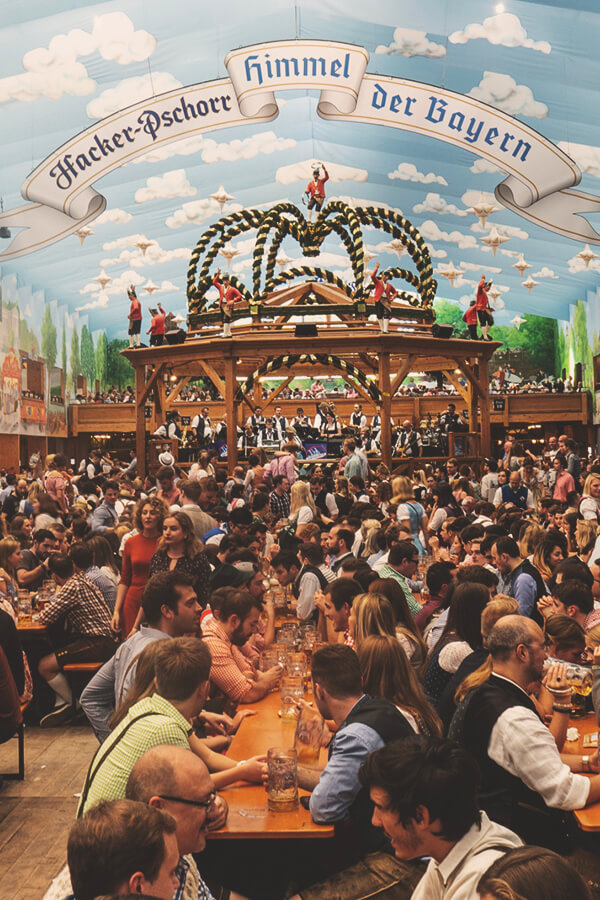 Munich Christmas Markets
And while I love Oktoberfest, the most magical time of year to visit the city is no doubt Christmas Market season, when all of Munich's main squares are lit up with twinkly lights, cozy wooden stalls and the irresistible scent of gluhwein spice in the air.
If you plan to visit Munich for Christmas Markets, here are some resources to guide your visit!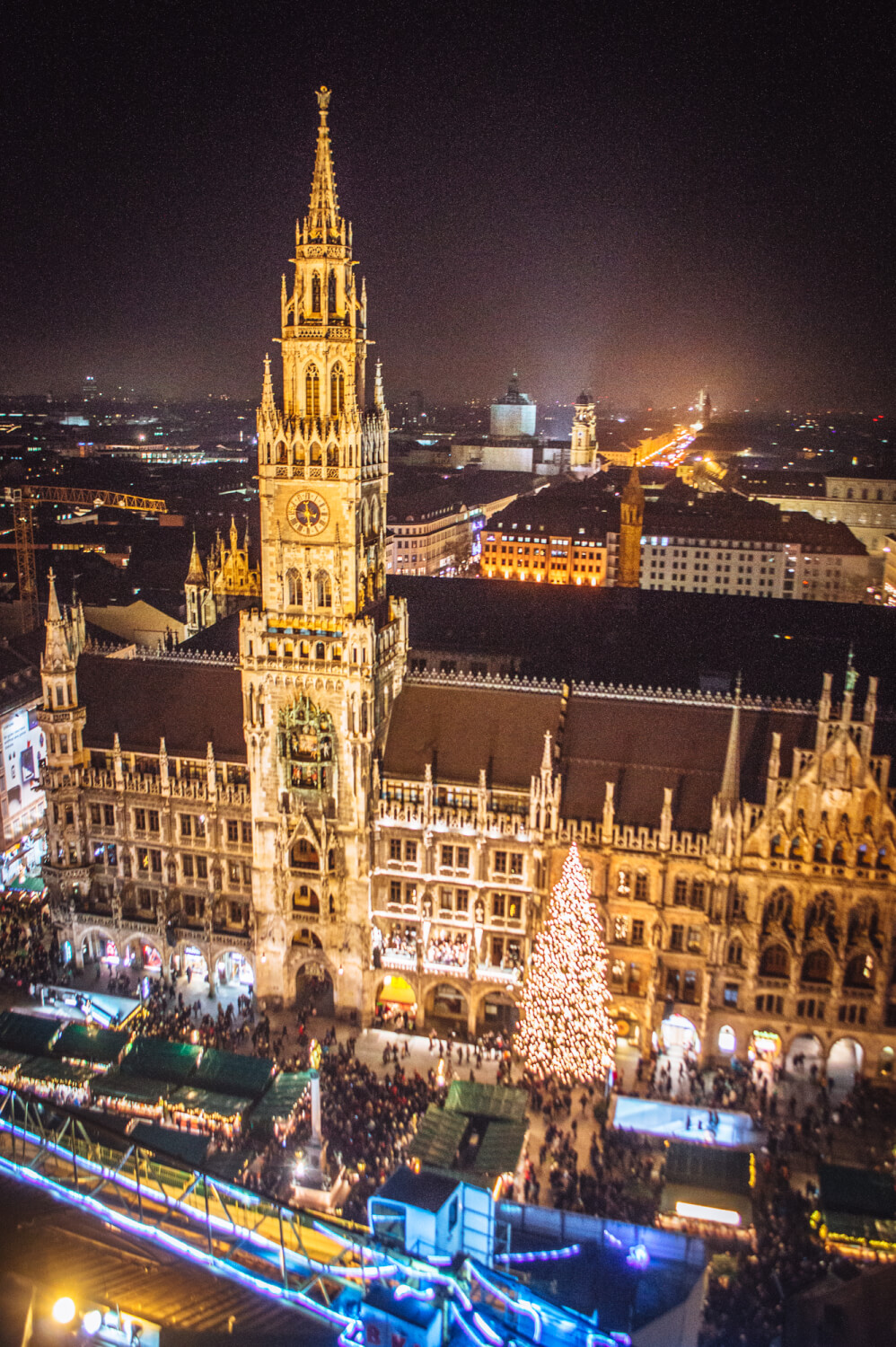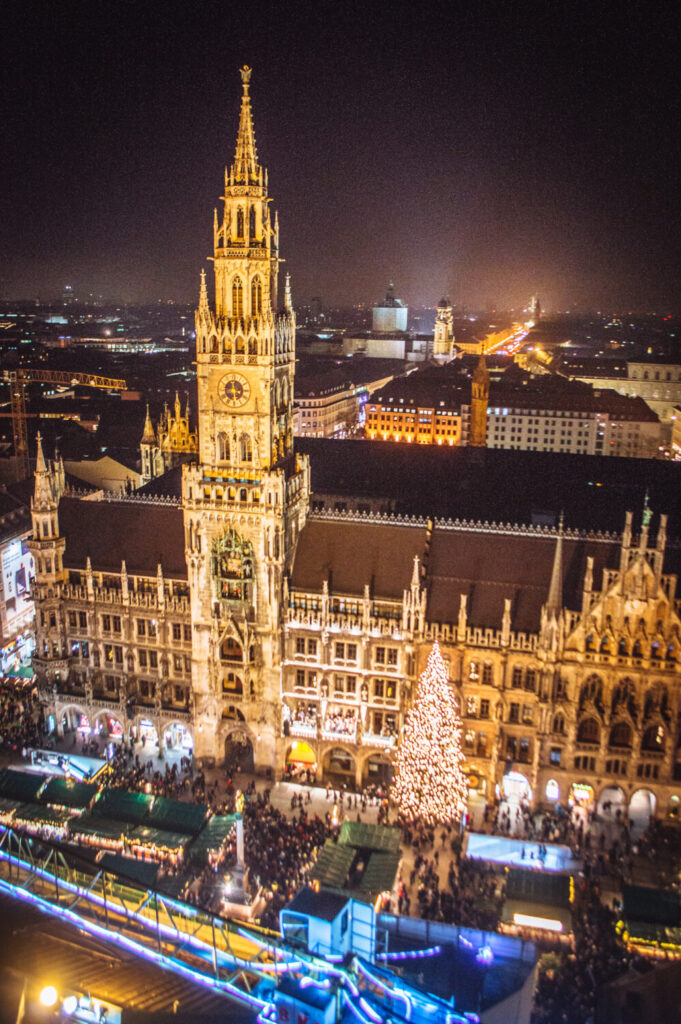 I hope this Munich Travel Guide was Helpful!
Let me know if you have any more questions about your trip to Munich. I'm always happy to help!
My Go-To Travel Favourites: