*FYI - this post may contain affiliate links, which means we earn a commission at no extra cost to you if you purchase from them. Also, as an Amazon Associate I earn from qualifying purchases. Check out our Privacy Policy and Disclosure. for more info.
This list of Before Midnight filming locations in Greece was created in partnership with Movie Travel and the Hellenic National Commission for UNESCO. I hope you enjoy it!
As a hopeless romantic of the most concerning variety, I have frequently found myself in the starry-eyed position of falling in love with places I've never been to, whilst getting overly attached to people I've never met or, in more troubling cases, fictional characters who do not actually exist.
So give me a good romance, set it against a scenic backdrop, and I'm as good as a puddle of goo.
This is why, as with many wanderlust-stricken romantics, I've found myself so invested in the cult classic 'Before' Trilogy, the epic love story of a star-crossed American guy (Jesse) and French girl (Celine), who meet on a train to Vienna – an epic story that releases a new installment every 9 years, providing a raw and realistic look at love and the way it develops, imprinting on us a sense of lovestruck wanderlust all at the same time.
Save this post on Pinterest for later: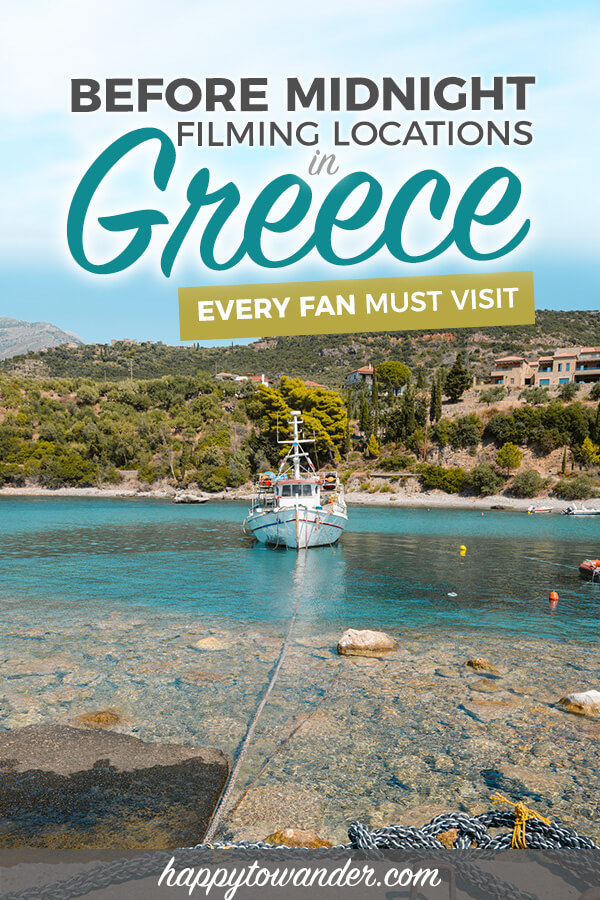 In Before Sunrise, they made us fall in love with the magical glow of nighttime Vienna, in Before Sunset, they made us yearn for the warm nostalgia of Paris, and again, in Before Midnight, they showed us the raw, untouched beauty of the Southern Peloponnese.
So, when I found myself recently exploring the much too underrated region of Greece's Southern Peloponnese, following in the footsteps of Jesse and Celine was naturally, my #1 priority. As to not waste my precious research, I'll show you all the wonderful places we went below! Here is a full list of Before Midnight filming locations in Greece's Southern Peloponnese region that every 'Before' trilogy fan must visit.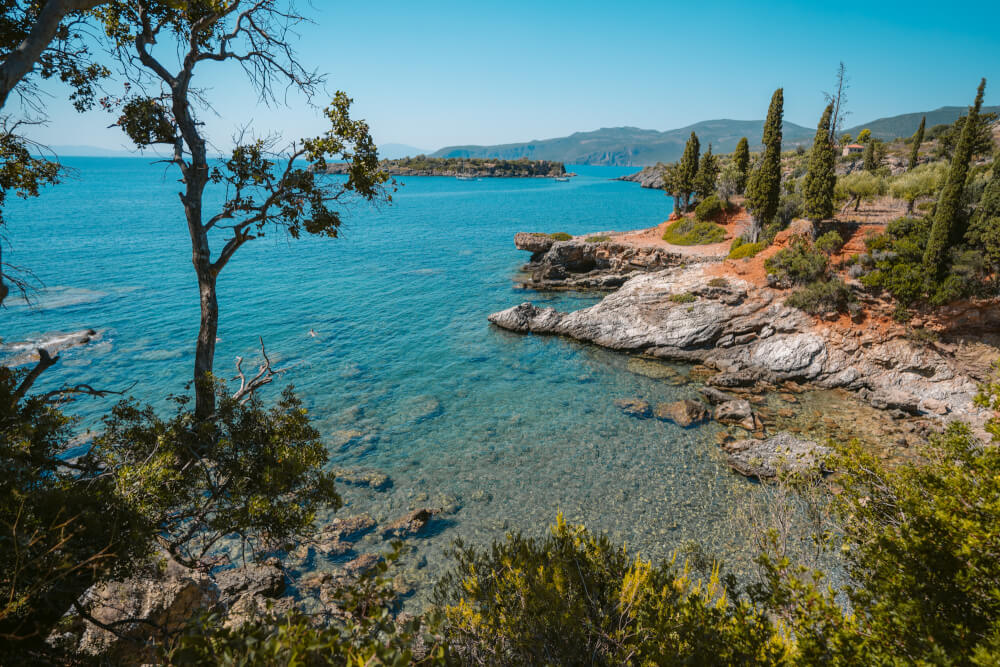 1. Leigh Fermor's House, AKA Jesse and Celine's Greek Summer Home and Writing Retreat
In 'Before Midnight', Jesse, Celine and their family find themselves in the Southern Peloponnese thanks to one man: Patrick, who invites Jesse to spend the summer with him at his idyllic writer's retreat.
And the beautiful limestone house seen in the film did in fact once belong to a Patrick – the world famous travel writer Sir Patrick Leigh Fermor, a man whose name is inextricably linked to the region.
As one of the most beloved adventurers and writers of his generation, his global journeys took him all across the world, but it was here in the Southern Peloponnese that he chose to settle and live until his death in 2011.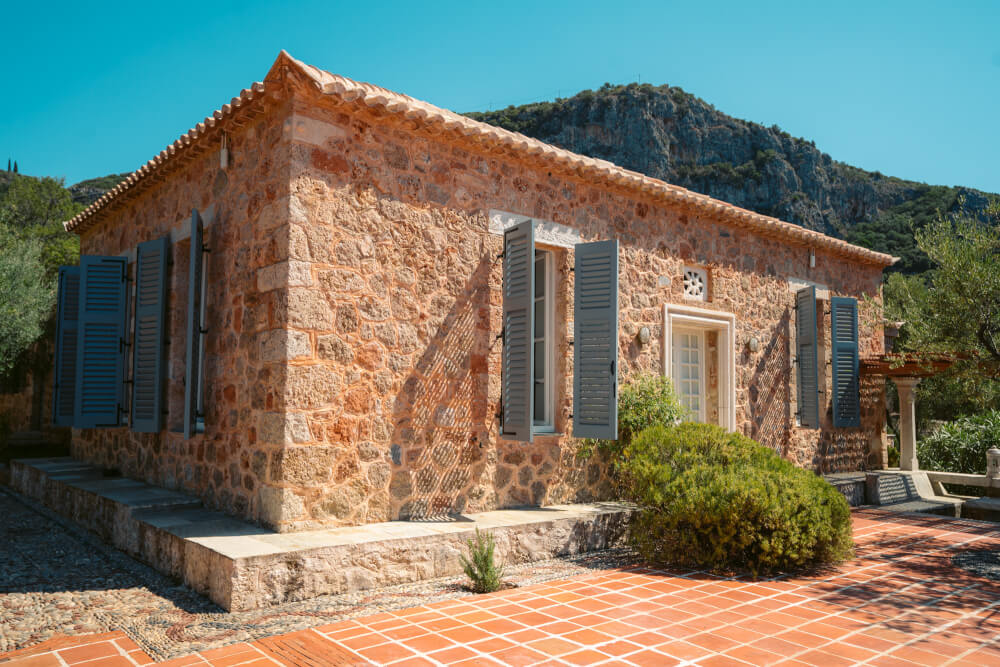 This iconic home, long regarded as one of the most stunning private residences in Greece, remains one of the most beautiful symbols of his legacy, owned by the Benaki Museum who runs tours and visits for the public, alongside private retreats for artists and creative intellectuals… just like in the film!
This property featured in many scenes of Before Midnight, including the lengthy dinner where the couples discuss love, and the scene where Jesse is discussing his books, writing and ideas with Patrick and Stefanos on the terrace.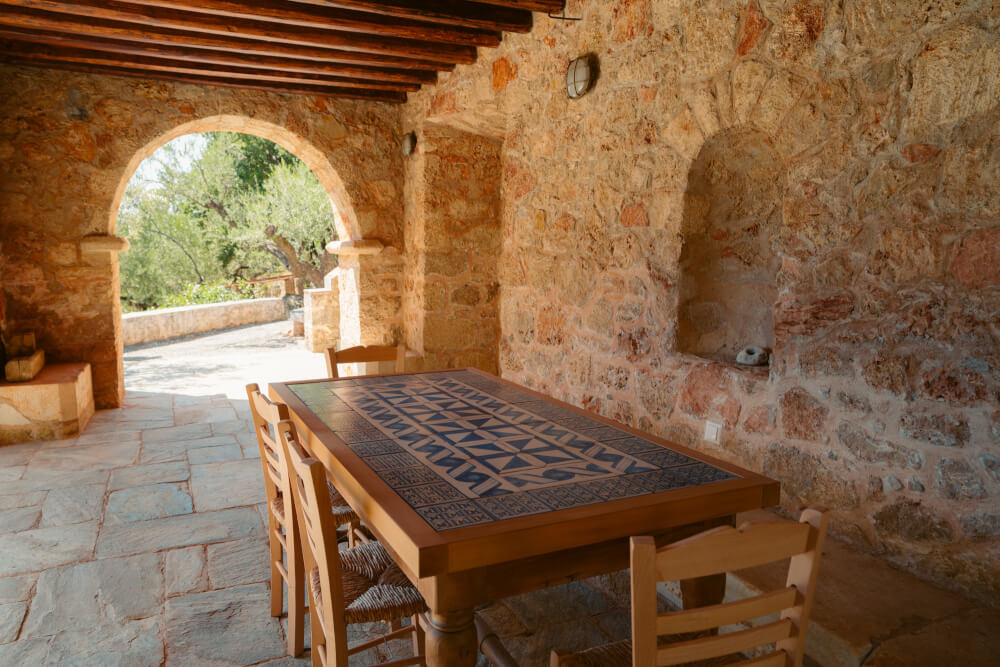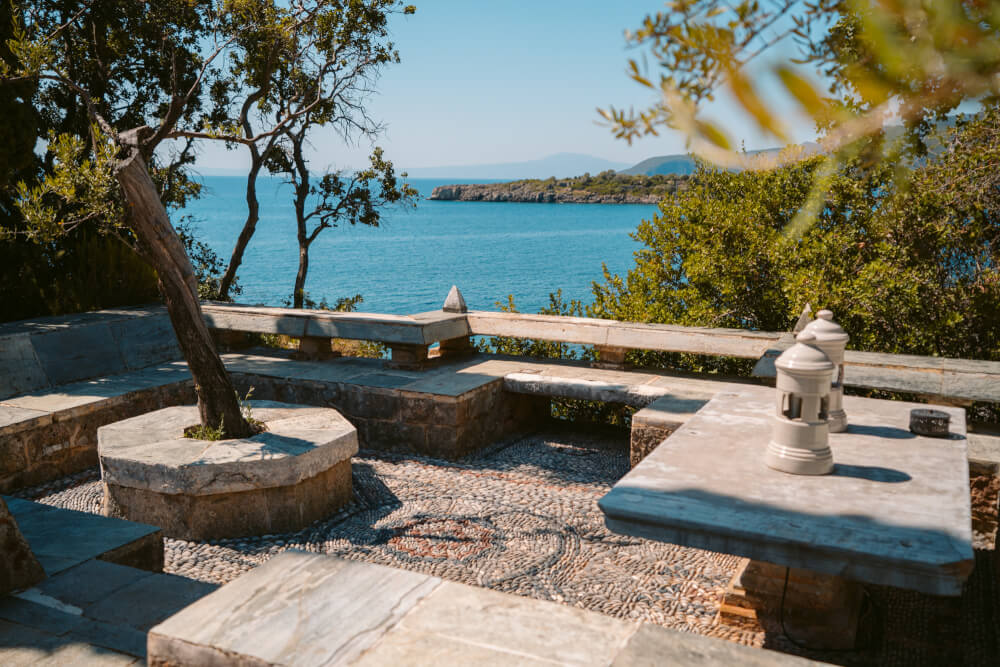 2. Kardamyli, AKA Jesse and Celine's Sunset Spot and Shopping Break
One of the most visually stunning scenes in 'Before Midnight' comes during sunset, when Jesse and Celine are seen enjoying their child-free date night at a seaside restaurant, watching the sun slowly disappear behind the mountains.
While no such restaurant exists in real life, the dock on which it was filmed certainly does, offering unspoiled views of the crystalline waters and mountainscapes along the horizon.
This dock can be found in the seaside village of Kardamyli, known for its multitude of golden beaches and access to mountain trails.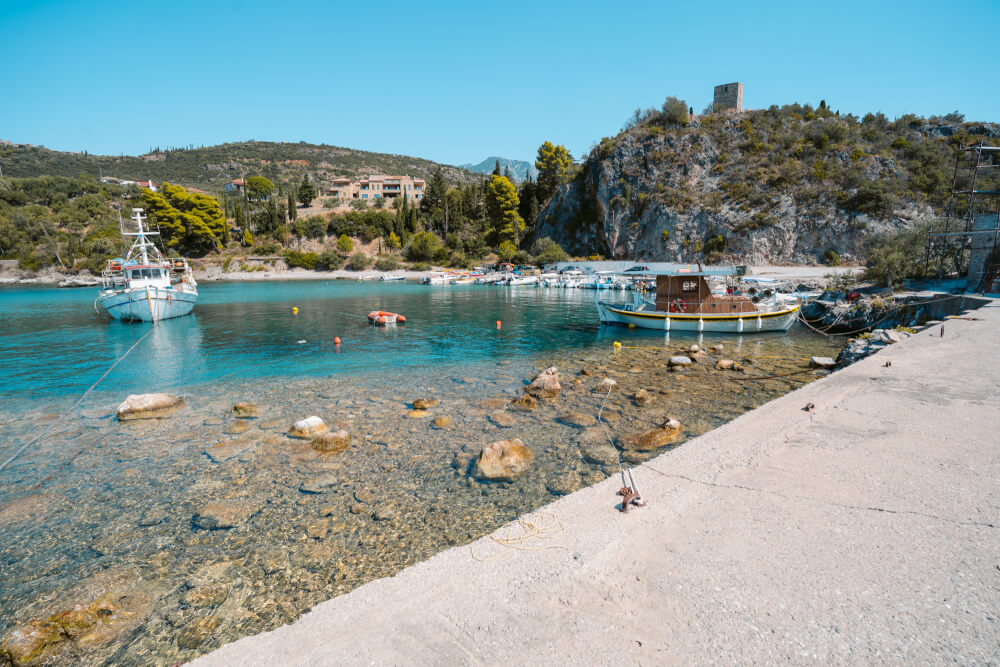 Situated only 35km away from Kalamata, this humble village emanates an authentically Greek atmosphere in some of the country's most serene settings, making it a must see when travelling through the Peloponnese.
Kardamyli is also where you see Jesse and Celine stop to buy supplies for their road trip at the beginning of the film.
BONUS: For the perfect lunch spot overlooking the stunning Kardamyli dock seen in from the film's sunset scene, be sure to visit the nearby Dioskuri Taverna, which offers delicious and fresh local cuisine with unbeatable views of the sea. It's also rumoured that this spot was a favourite of the cast and crew while filming.
3. Platsa, AKA the Little Village with the Byzantine Chapel
The tiny, sleepy village of Platsa is one of the simplest but most charming parts of a 'Before Midnight' themed trip.
This is one of the villages that Celine and Jesse visit during their day alone, doing what they do best: walking and talking about life and all its peculiarities from death and the afterlife to love and the romanticized idea of dying with someone you love.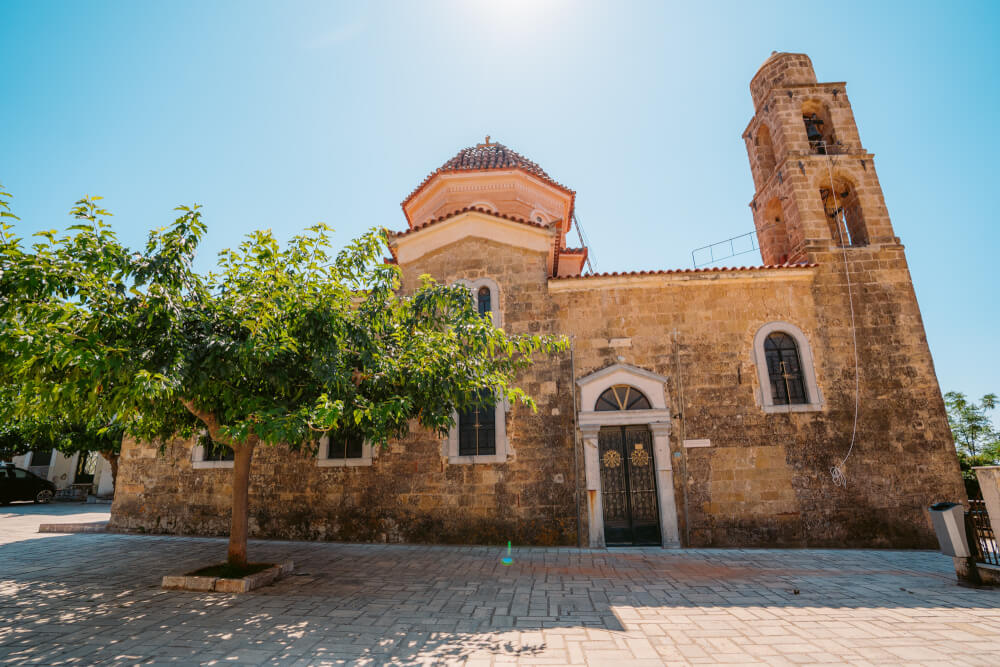 Of course, the conversation gets cut short when they come across a little Byzantine chapel that Jesse had already visited, and wanted to show Celine.
Located a short walk away from the Platsa main square (which Jesse and Celine can be seen walking through), this tiny frescoed Byzantine chapel dates back to the 14th century and is dedicated to Saint Odilia, the patron saint of eye problems.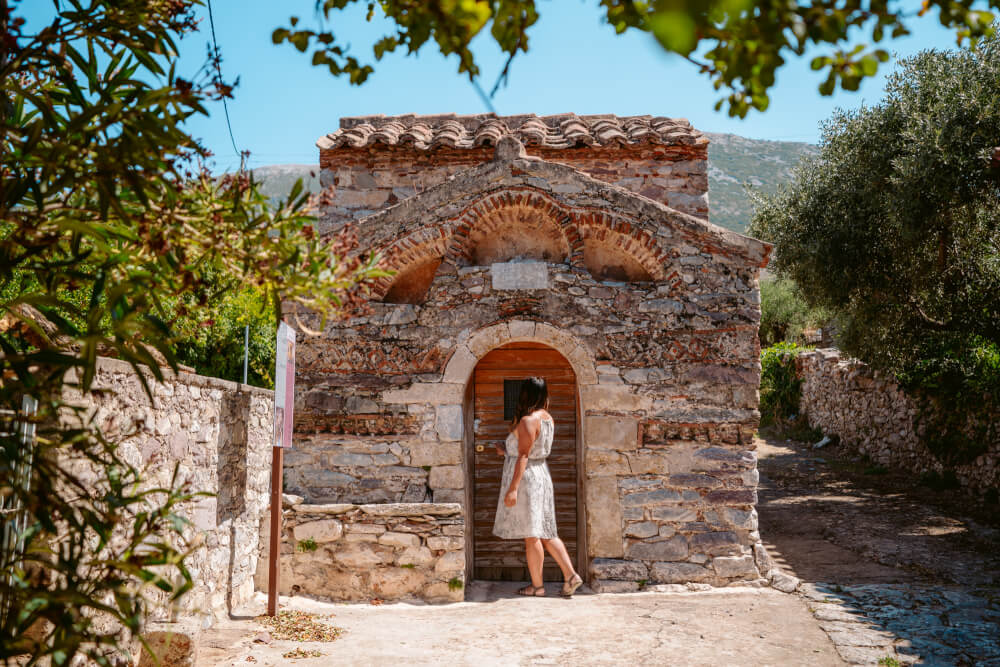 Ironically, as Jesse points out, many of the frescos have had their eyes scratched out, done during the Turkish invasion to dishonor the chapel and its paintings.
This little chapel may be small, but it's a true hidden gem in every sense of the word…. Just be sure to refrain from any inappropriate jokes like Celine.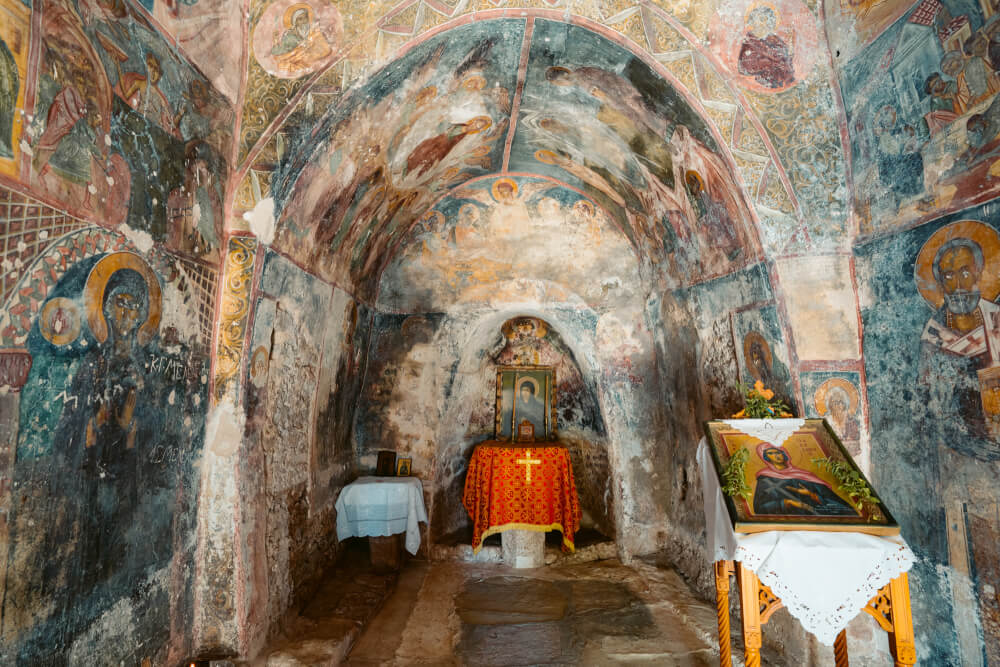 4. Pylos, AKA the Setting for Jesse and Celine's Golden Hour Stroll
Another idyllic Southern Peloponnese setting seen in 'Before Midnight' is the beautiful town of Pylos, perched along the Southwest coast of the Peloponnese on the shores of Navarino Bay.
The streets of Pylos make their grand appearance in Before Midnight as Jesse and Celine are walking down a set of stairs, through the main square, and then towards the shore for sunset, chatting about what they might change about each other, and the different kinds of dreams they have.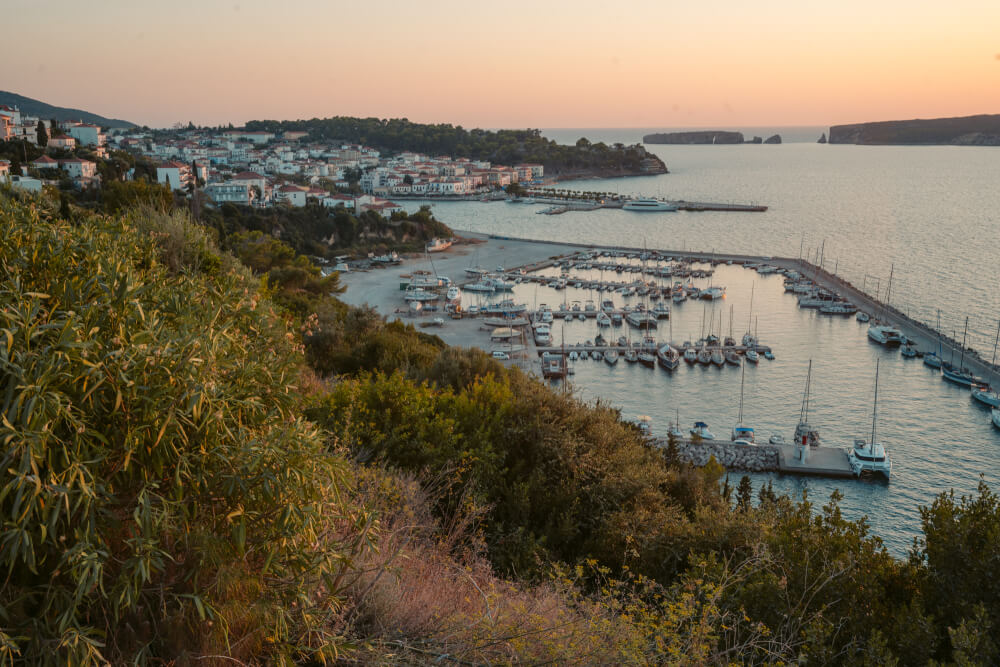 The scene is brief, but your visit here should be anything but.
Today, Pylos is an wonderfully laidback town with a lively main square, bustling waterfront, and charming side streets filled with shops and cute local eateries… a great place to settle down for the night and watch the sky turn pink, just as Jesse and Celine do.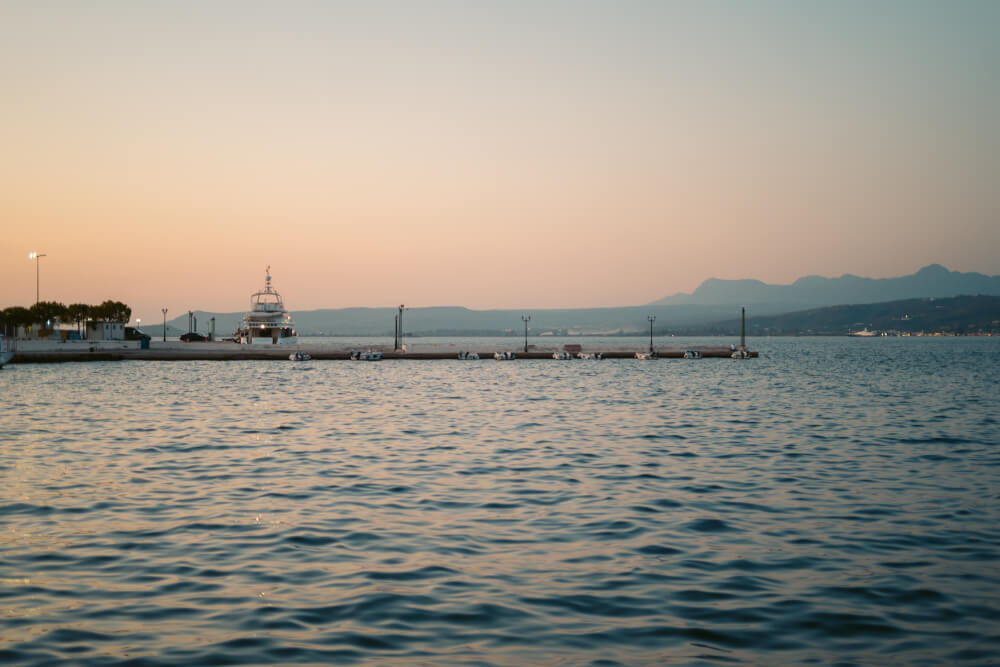 5. Methoni Castle, AKA The Ruins that Jesse and Celine Explore
Located near Pylos is Methoni Castle, a 13th century medieval fortification that can be seen in 'Before Midnight' as one of Jesse and Celine's sightseeing spots.
These are the picturesque ruins that are spotted immediately after the dinner scene, when we are re-introduced to the thoughtful banter that made us fall in love with this dynamic duo in the first place.
Beyond just a set for Before Midnight though, Methoni Castle is a worthy attraction on its own, boasting status as one of the largest castles in the Mediterranean, with an impressive 14 arch stone bridge.
These fortifications can be seen in the distance as Jesse and Celine are laughing, goat-spotting, and talking about how much they've changed over the years, how as kids they wanted time to speed up and now all they want is for it to slow down.
And of course in true Jesse and Celine fashion, we hear them discuss life, passion, the difference between men and women and how strange it is for them to finally be talking about something other than the kids.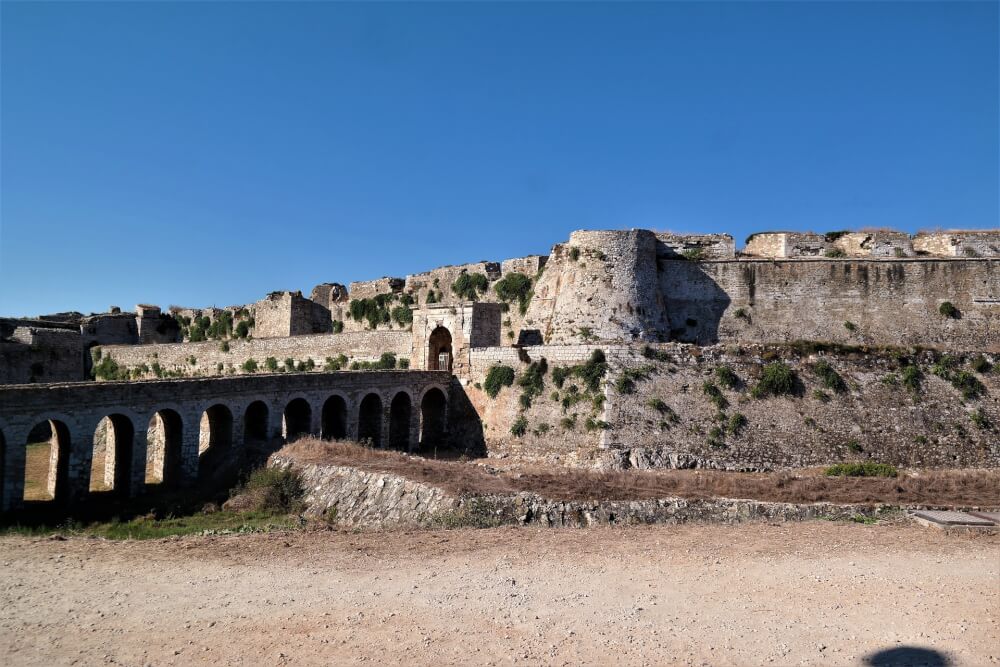 6. The Ruins of Ancient Messini, AKA the Ruins that Jesse and Celine Drive Past
In 'Before Midnight', one of our first glimpses of the reunited Jesse and Celine is a lengthy dialogue-heavy driving scene, during which we learn of their twin daughters.
As the two girls sleep in the back, Jesse and Celine drive past some ruins that their daughters wanted to see, but decide to let them sleep and keep driving.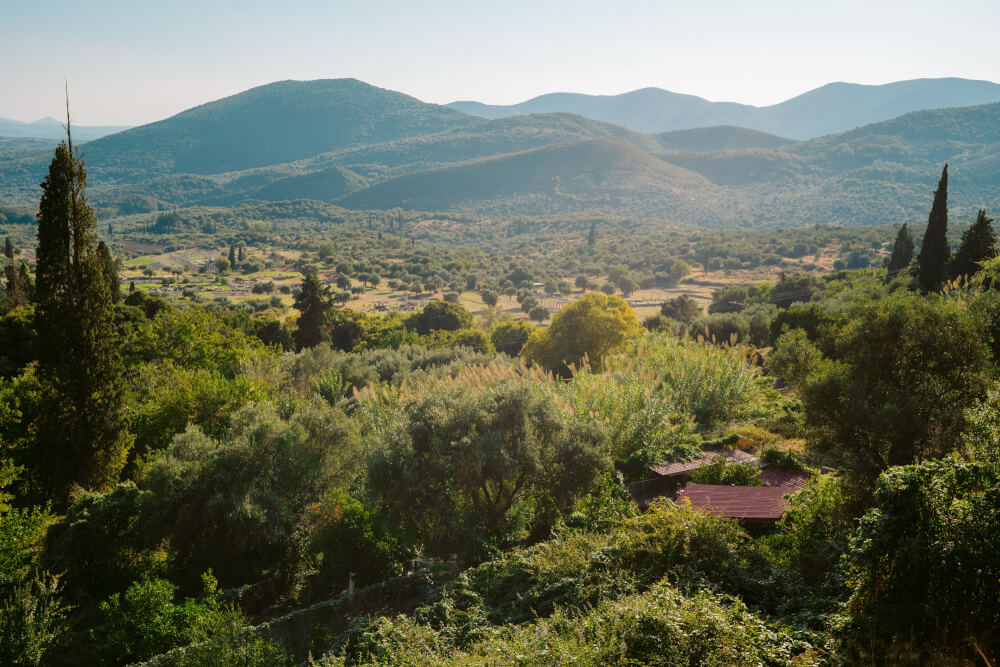 These ruins in question, while only seen briefly, are the ruins of Ancient Messini, located about 30km away from Kalamata, and are well worth a visit, even if Jesse and Celine drove right past.
This sprawling archeological site showcases the legacy left behind by a vast ancient city, with a beautifully preserved theatre, a towering Arcadian Gate, and one of the largest stadiums of Ancient Greece.
Imagine an endless sprawl of temples, houses, and monuments, all wrapped with an immense 9km wall surrounding the city. Without a doubt, you should avoid Jesse and Celine's mistake, and pay a visit to this historic complex!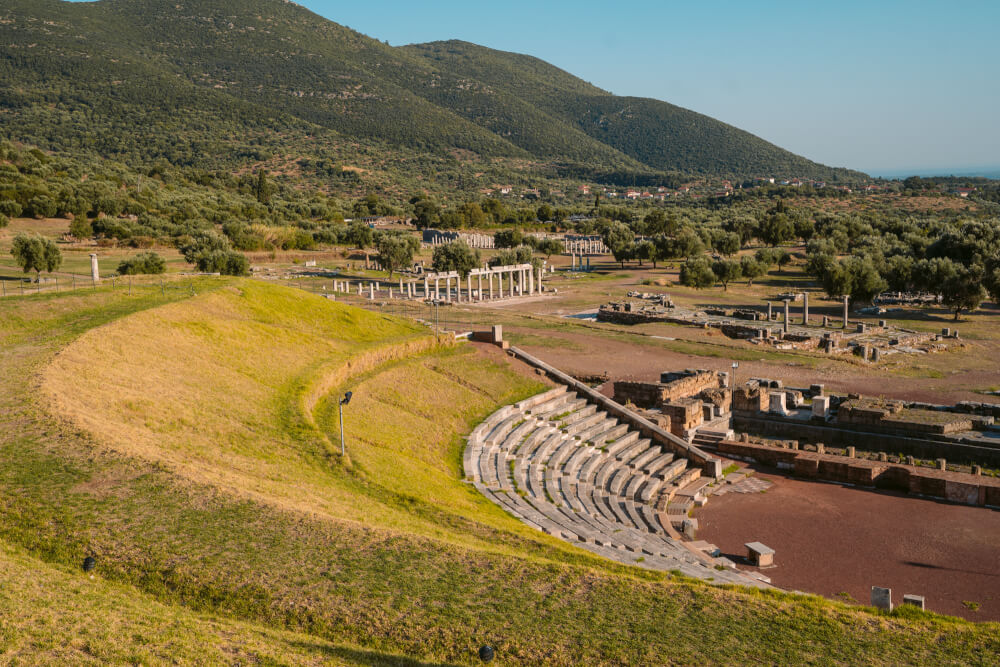 7. The Westin Resort Costa Navarino, AKA The Fancy Hotel for Jesse and Celine's Romantic Getaway
And who can forget the good-intentioned events that lead up to Jesse and Celine's most explosive on-screen fight… ever? Well, if you, too, want to check into the fancy 'Before Midnight' hotel that was meant to be their romantic escape, you can!
The dramatic hotel scenes from 'Before Midnight' were, in fact, all shot at the Westin Resort Costa Navarino, which is also where members of the cast and crew stayed during filming, and a resort that continues to operate today.
Rumour has it the suite used for filming was even converted into a special 'Before Midnight' suite for superfans.
8. Kalamata International Airport, AKA the Airport Where Jesse Says Goodbye to Hank
While it's definitely not the most exciting or exotic film set in the world, this list of Before Midnight filming locations would not be complete without mentioning the Kalamata International Airport, which is in fact where the first few scenes of 'Before Midnight' were shot.
As you might recall, it was this airport where Jesse is saying goodbye to his son Hank after spending the summer together.
And while I wouldn't recommend going out of your way to find this filming location, this airport is actually the most convenient transport hub linking international flights to the Southern Peloponnese, so you might find yourself here anyway!
BONUS: Mystras
Last but not least, we have a 'Before Midnight' location that perhaps did not actually appear in the film, but is nonetheless so wow-worthy that I couldn't omit it.
Perched on the slopes of Mount Taygetos, you'll find the legendary city of Mystras, a fortified settlement with centuries of tumultuous history under its belt.
This fortified city once served as the capital of the Byzantine Despotate of the Morea, a province of the Byzantine Empire in the mid 14th and 15th centuries.
The ruins of Mystras, unchanged since the 19th century, have been a UNESCO World Heritage site protected since 1989. Scattered along the lush greenery of Mount Taygetos, this dense set of ruins emanates an otherworldly feel that invites you to simultaneously step back in time and feel on top of the world.
And sure, while no scenes from Before Midnight shot at the actual ruins of Mystras or within the new Mystras town, the verdant landscapes of the region, along with its historical gems, are a recurring character in the film that follow Jesse and Celine throughout their adventure.
---
Watch my most popular YouTube video this week:
---