Europe has no shortage of fairytale towns – that's a fact. Like most Disney-loving little girls, I lived my young days with the assumption that I would one day grow up to be dressed by birds, whisked away by some prince and transported via pumpkin carriage to the castle home of my dreams.
Against all odds, I did manage to grow up… and have since acquired more realistic goals like putting on pants (some days). From time to time though, inspired by the unreal beauty of my surroundings, certain princess dreams have managed to resurface, and once again I become a puddle of glittery goo and stardust dreams. Most recently, I had one of these moments in France. So, for those who are jaded about the failure of their fairytale fantasies, I have the perfect holiday destination to renew your childhood hopes: Alsace. Put on your tiara and get ready for a scenic e-journey through one of my favourite regions in France.
An introduction to Alsace
Found in Eastern France, the ridiculously picturesque region of Alsace is quite possibly the truest representation of fairytale charm I've ever encountered. Its close proximity to Germany and Switzerland has allowed for a unique hybrid identity to take hold, where there's the pleasant joie de vivre of France, but also the quaint charm and coziness of German Gemütlichkeit. This region is teeming with beautiful little towns and big cities to see, the most popular being Strasbourg (the region's largest city) and Colmar (a postcard come to life). There's of course plenty of quieter villages along the way worth visiting as well like Riquewihr, Eguisheim and Obernai.
My first experience with Alsace was during two short trips to Strasbourg for work. As I paraded through the Old Town (ice cream in hand), ogling the pretty houses lining cobblestoned streets, I couldn't ignore the scent of gingerbread and baked goods in the air. As I took in the half-timbered houses, the beautiful canals, and the absolutely epic Strasbourg Cathedral… you can say it was a head-over-heels kind of love.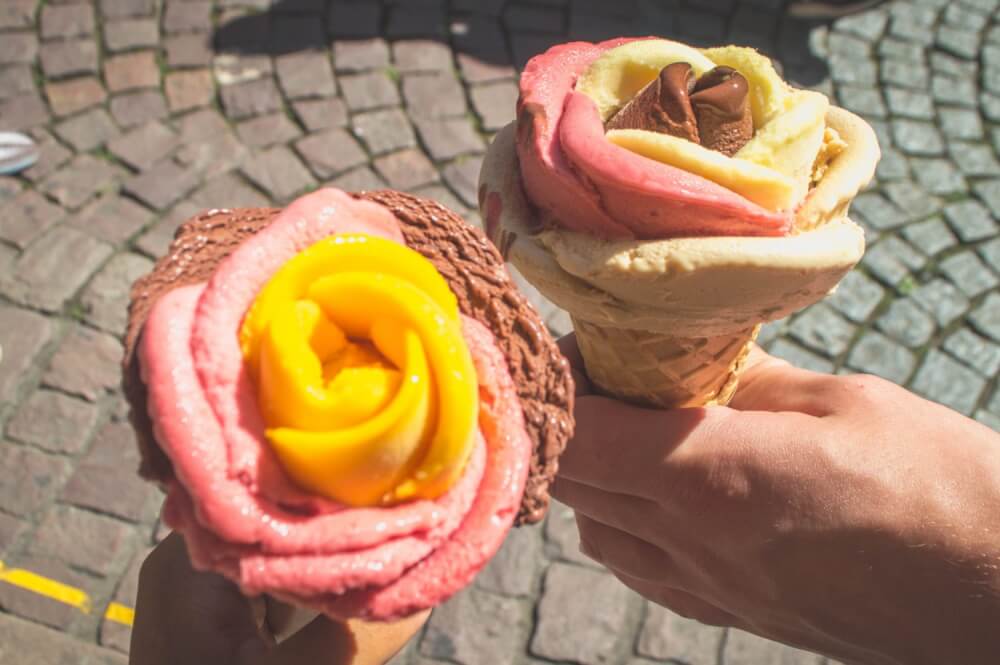 I got the chance to return again this summer as a long weekend trip from Munich, this time squeezing in a Colmar visit as well. Despite the crowds, the melty summer heat and the many closures due to August holidays, Alsace was just as gorgeous as I remembered. Let me warn you though: this region has a lot of visitors, especially in Strasbourg (where river cruises love docking), so expect that it will be busy. Also, if possible, avoid visiting in August/on Sundays as many places will be closed. If you plan well around these minor frustrations, then Alsace has some real goodness to offer. Let me rattle off a few for you…
An 'is this real life' kind of beauty
I tend to think that one's impressions of a place range on a spectrum from "meh" to "what!! how???". The beautiful old towns of Alsace definitely lean more towards the latter. When I say it's a type of beauty that's hard to believe, I mean it. Walking through Colmar's Petite Venise was especially unreal for me, because I genuinely felt like I had walked into some kind of painting (or at least a scene from Beauty and the Beast). In Alsace, you'll find storybook charm at its finest, with colourful timbered houses hugging narrow canals and quaint bridges. My initial thought: "Am I in a snowglobe right now?"
Absolutely unreal food
While in some ways I still imagine myself as a dainty princess, the truth is I am also never one to refuse a well cooked slab of meat, a healthy heap of potatoes or enough carbs to feed a village. Alsacian cuisine is the refined grace of French cooking married with the hearty satisfaction of German fare. It's the best of both worlds, especially when paired with the cozy ambiance of a traditional Alsacian restaurant.
Be sure to try:
Coq au Riesling (or Poulet au Riesling): a rich and delicious poultry dish cooked with white wine, usually served with buttery fried spätzle.
Tarte flambée: a thin flatbread traditionally topped with a tangy fromage blanc, onions and bacon. (Tip: don't ever call it a pizza!)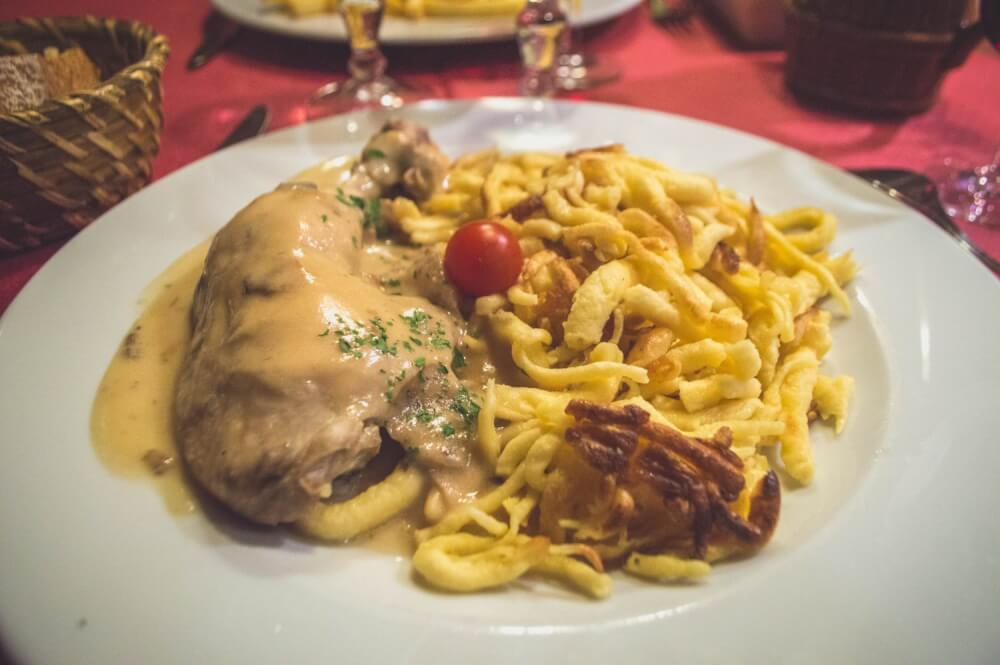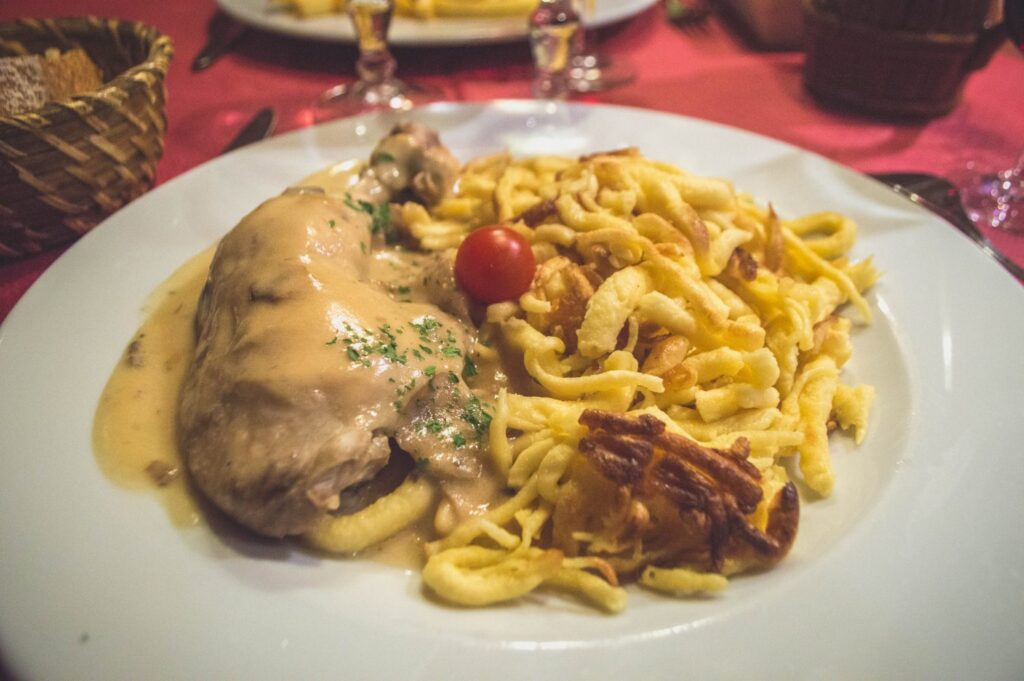 Delicious wines
Alsacian wine, let me tell you, is absolutely superb. That's probably why Alsace is one of the most important wine-producing regions in France. One of the biggest tourism draws to the area is its famous Route des Vins, a dreamy itinerary that takes you through charming villages, scenic vineyards and no big deal, plenty of medieval chateaux and houses. Of course, there's no need to do this entire route if you're short on time – you're more than able to enjoy the spoils of Alsace from any restaurant or bar. White wines are especially popular here, so do give their Riesling wines a try.
How to see Alsace for yourself
Getting there: There's two major international airports in the region: Basel-Mulhouse airport and Strasbourg airport. Strasbourg is also well connected by train to other parts of France and Europe.
When to go: Any time of year! The region is beautiful in the summer despite the heat, but it's during the cold winter season that Alsace's magic comes alive through the region's many charming Christmas markets. Click here for my full guide to the best Christmas markets in Alsace.
How to make the most of your trip: Try plenty of wines, indulge in the local cuisine and visit a mix of the more popular spots (e.g. Strasbourg and Colmar) with quainter villages so you get a full appreciation of the region. Be ready to snap plenty of photos because this is one of the most photogenic areas in Europe!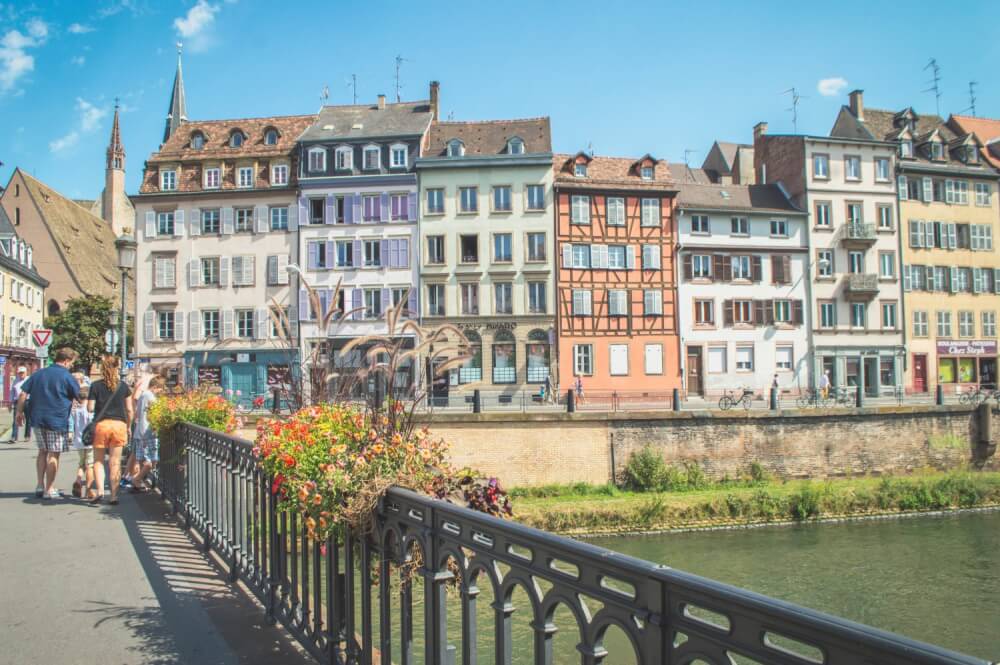 For more specific tips and recommendations on visiting Alsace, check out these great guides and posts:
Alsace Road Trip Itinerary by To Europe and Beyond
The Alsace Region by Home is Where the Internet Is
The Essential Guide to Alsace by Conde Nast Traveler
Strasbourg Guide by Travel Yes Please
Now over to you – what's the most picturesque place you've ever visited? Any that reminded you of a straight-up fairytale? Let me know in the comments!