*FYI - this post may contain affiliate links, which means we earn a commission at no extra cost to you if you purchase from them. Also, as an Amazon Associate I earn from qualifying purchases. Check out our Privacy Policy and Disclosure. for more info.
If getting throat punched with fairytale charm is the goal, then Alsace should be the destination.
In this post, I'm sharing all the best places to visit in Alsace, France, from culture-rich cities to adorable Alsatian towns straight out of a Disney movie.
Ready those tiaras, my friends. It's about to get real whimsical in here.
An introduction to Alsace
Found in Eastern France, the ridiculously picturesque region of Alsace is quite possibly the truest representation of fairytale charm I've ever encountered.
Its close proximity to Germany and Switzerland has allowed for a unique hybrid identity to take hold, where there's the pleasant joie de vivre of France, but also the quaint charm and coziness of German Gemütlichkeit.
This region is teeming with beautiful little towns and big cities to see, along with plenty of quieter villages along the way.
In my opinion, it's a must-visit destination for anyone remotely interested in wine and fairytales… which (honestly) if you're reading this blog, probably means you.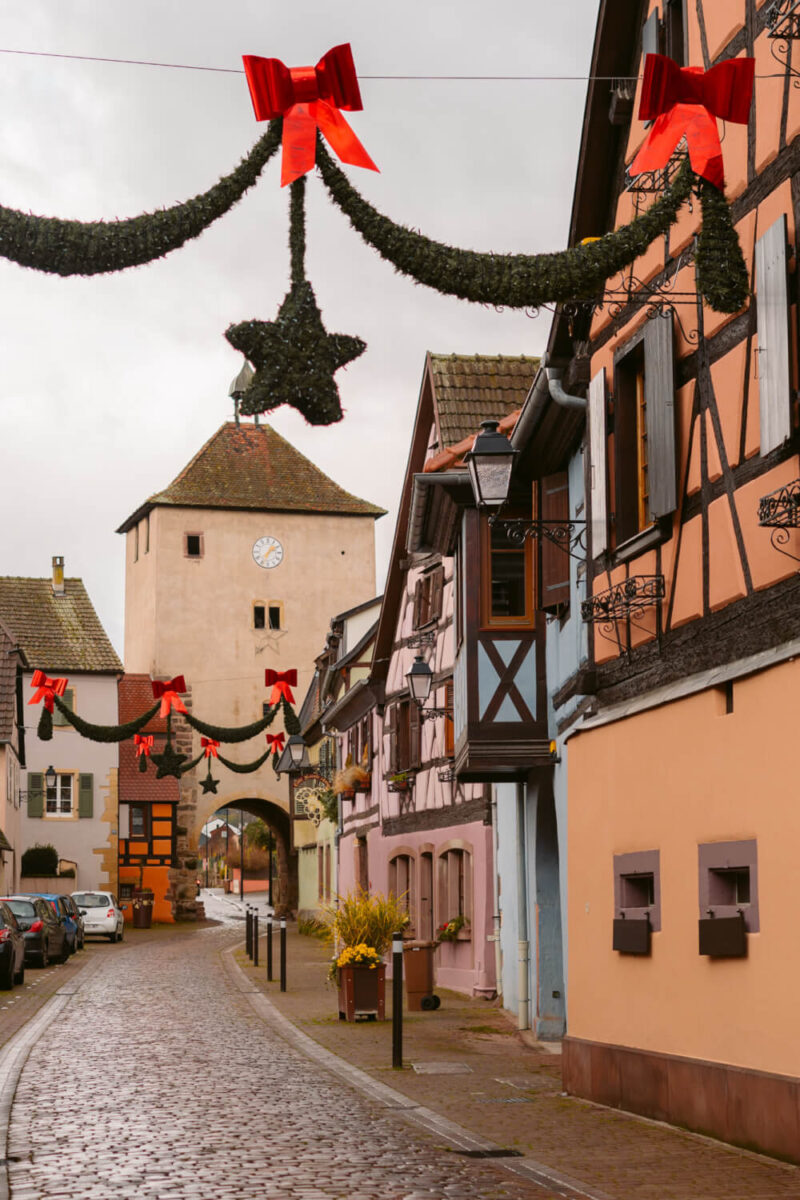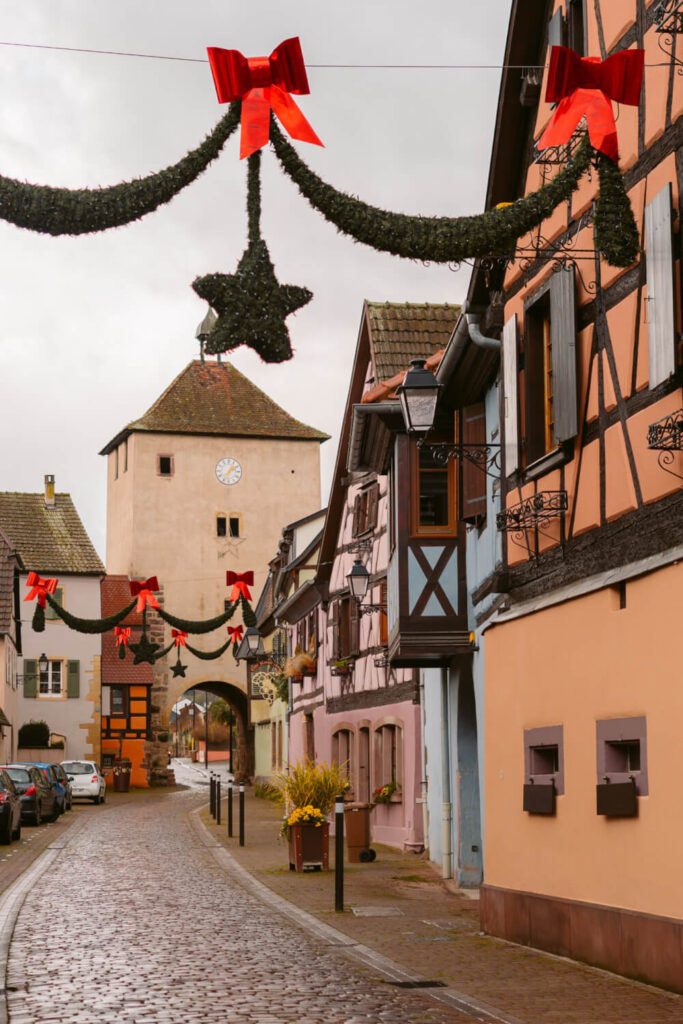 What is Alsace Famous For?
Alsace is one of the most popular places to visit in France, but why? Here are some of the things that the region is known for.
Fairytale Towns
Google photos of Alsace and odds are you'll see one of its many colourful, storybook towns, complete with half-timbered houses and an endless stream of picturesque canals.
Alongside other photo-famous spots like Hallstatt and Burano, Alsace is probably one of the most photographed places in Europe.
This flawless fairytale aesthetic is one of the main reasons why visitors flock to Alsace en masse… and really, with pretty sights like this, can you blame them?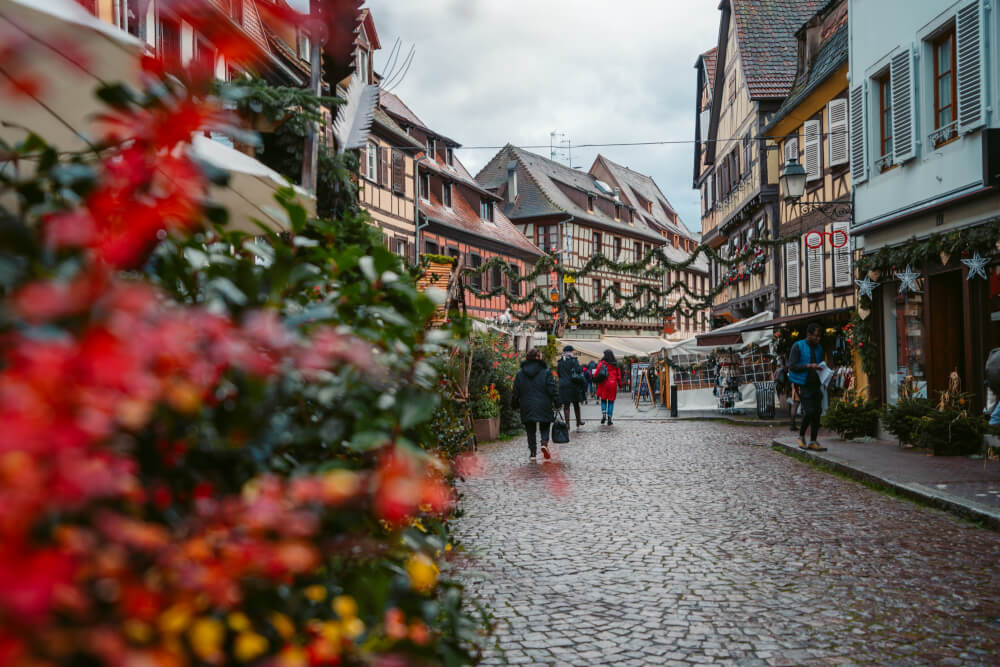 Christmas Markets
I've written extensively about Christmas markets in Alsace because they are honestly some of the best in the world.
Besides offering an impossibly charming backdrop to Christmas cheer, many of Alsace's top destinations also go all-out for Christmas in the form of unique markets and breathtaking installations, often in ways you don't see at German Christmas markets.
So, if you're having trouble deciding when to visit Alsace, Christmas is an excellent choice (although fair warning, it can be extremely crowded).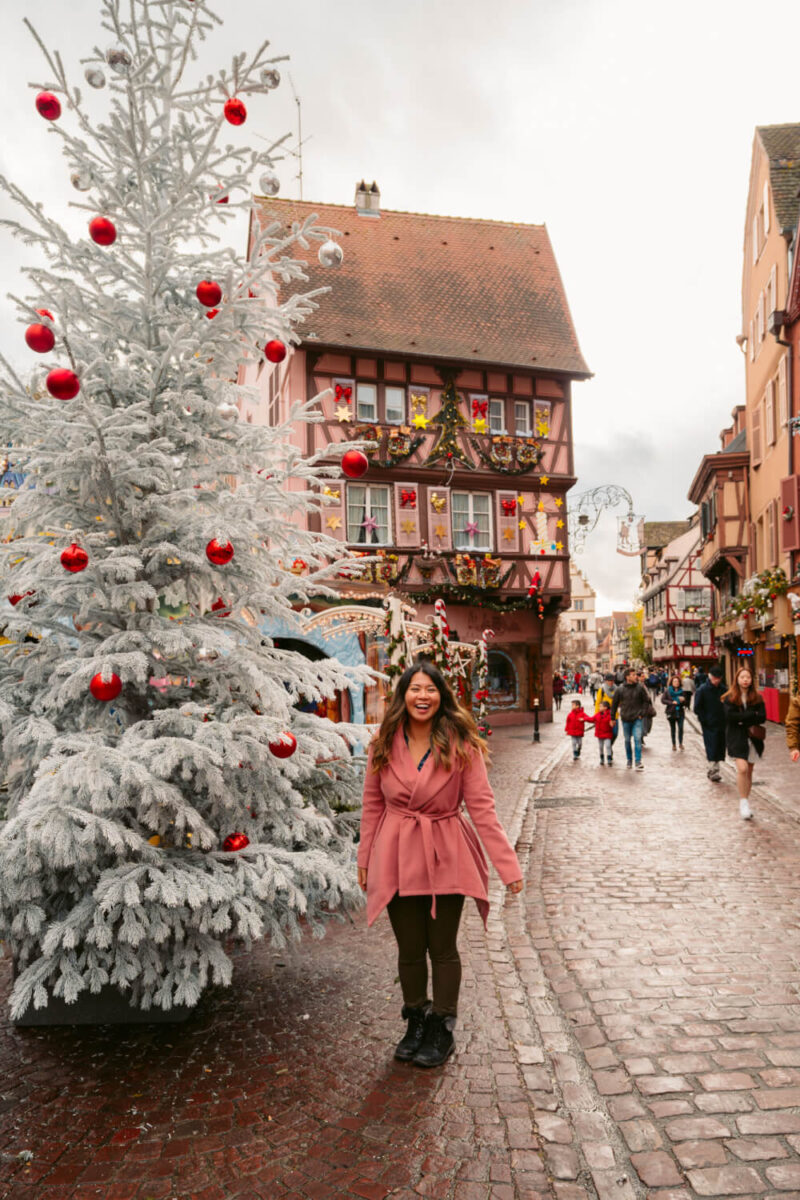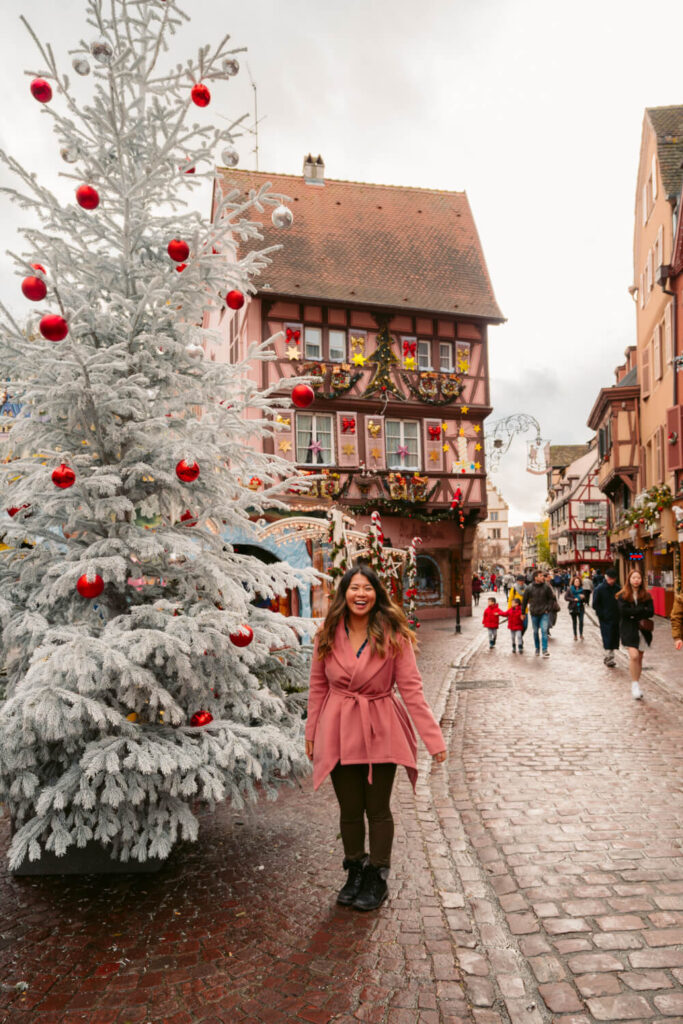 Amazing Wine
Alsacian wine, let me tell you, is absolutely superb. 
That's probably why Alsace is one of the most important wine-producing regions in France.
One of the biggest tourism draws to the area is its famous Route des Vins, a dreamy itinerary that takes you through charming villages, scenic vineyards and no big deal, plenty of medieval chateaux and houses.
Of course, there's no need to do this entire route if you're short on time – you're more than able to enjoy the spoils of Alsace from any restaurant or bar.
White wines are especially popular here, so do give their Riesling wines a try.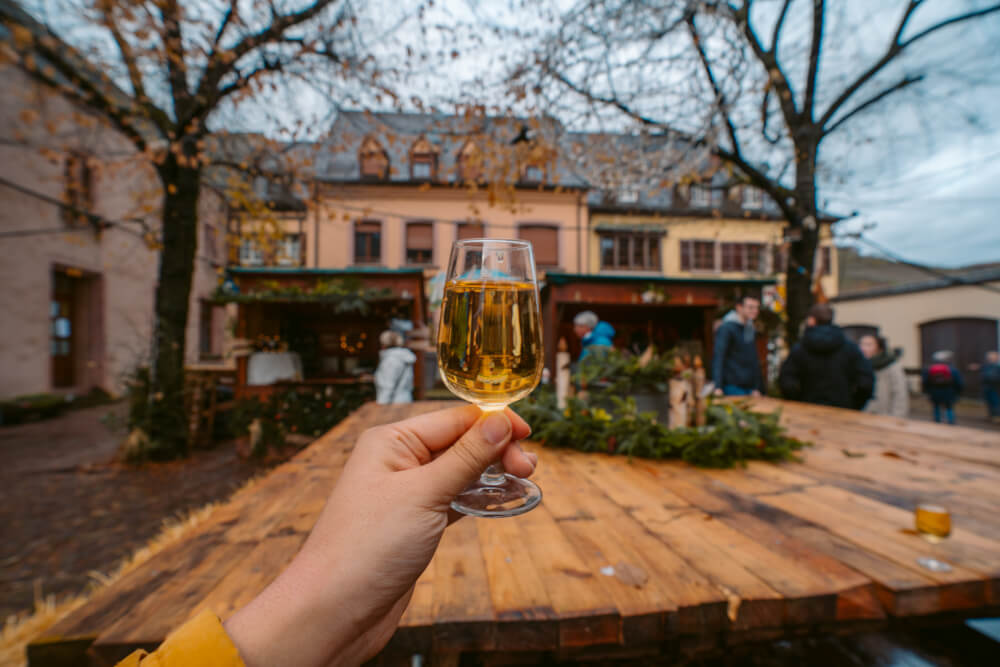 Hearty Alsatian Cuisine
While in some ways I still imagine myself as a dainty Disney princess, the truth is I am also never one to refuse a well cooked slab of meat, a healthy heap of potatoes or enough carbs to feed a village.
… I do live in Munich after all, home of Oktoberfest and pretzels the size of your face.
Well, eager eaters will be happy to hear that Alsatian cuisine is the refined grace of French cooking married with the hearty satisfaction of German fare.
It's the best of both worlds, especially when paired with the cozy ambiance of a traditional Alsacian restaurant.
While gallivanting across all the most beautiful places in the Alsace, be sure to put your camera down and try:
Coq au Riesling (or Poulet au Riesling): a rich and delicious poultry dish cooked with white wine, usually served with buttery fried spätzle.
Tarte flambée: a thin flatbread traditionally topped with a tangy fromage blanc, onions and bacon. One of my favourite Christmas market foods!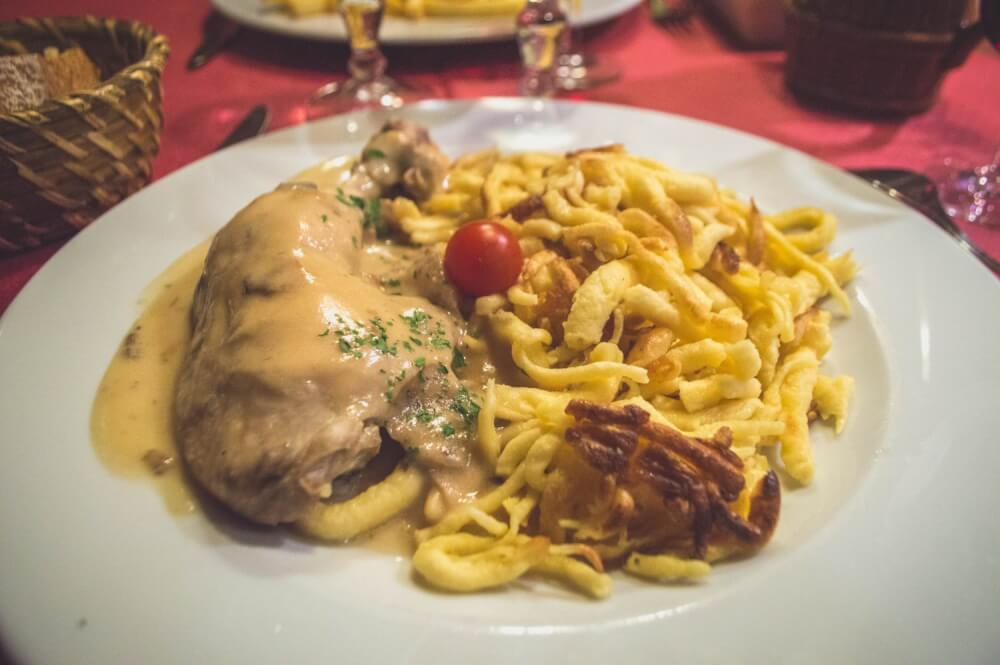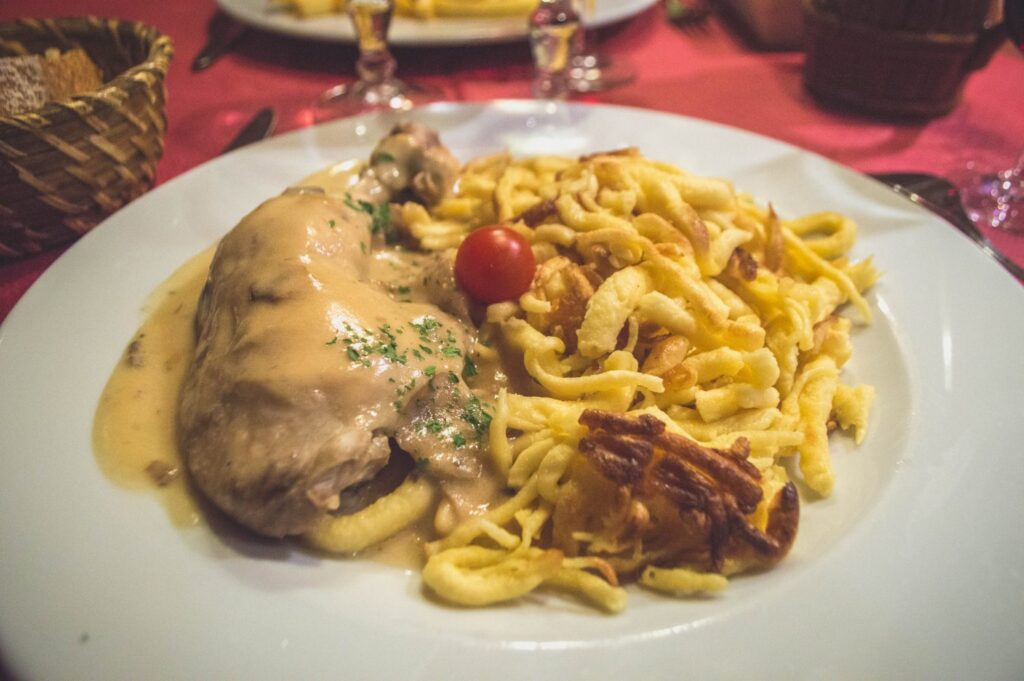 Cities to Visit in Alsace
While Alsace is mainly known for its amazing little villages and towns, there are still some Alsace cities well worth visiting. Here are a few:
Strasbourg
Strasbourg is the capital of Alsace, so let's start there.
Like many visitors to Alsace, my first taste of the region was in Strasbourg, where I went twice for work trips. On my first visit, as I paraded through the Old Town (ice cream in hand), ogling the pretty houses lining cobblestoned streets, beautiful canals, and the absolutely epic Strasbourg Cathedral… you can say it was a head-over-heels kind of love.
I've now visited Strasbourg 5 times, and can see why this city convinced UNESCO to recognize its entire historic center as a World Heritage Site for the first time ever in France (before, the honour had only ever been given to single monuments).
While busier, more chaotic, and less "fairytale"-sque than smaller villages in Alsace, Strasbourg offers all the features of a perfect city break, complete with postcard-perfect photo opps like in Petite France, along with iconic attractions like its gigantic cathedral, wide selection of museums, and let's not forget: the absolutely jaw-dropping Strasbourg Christmas Market.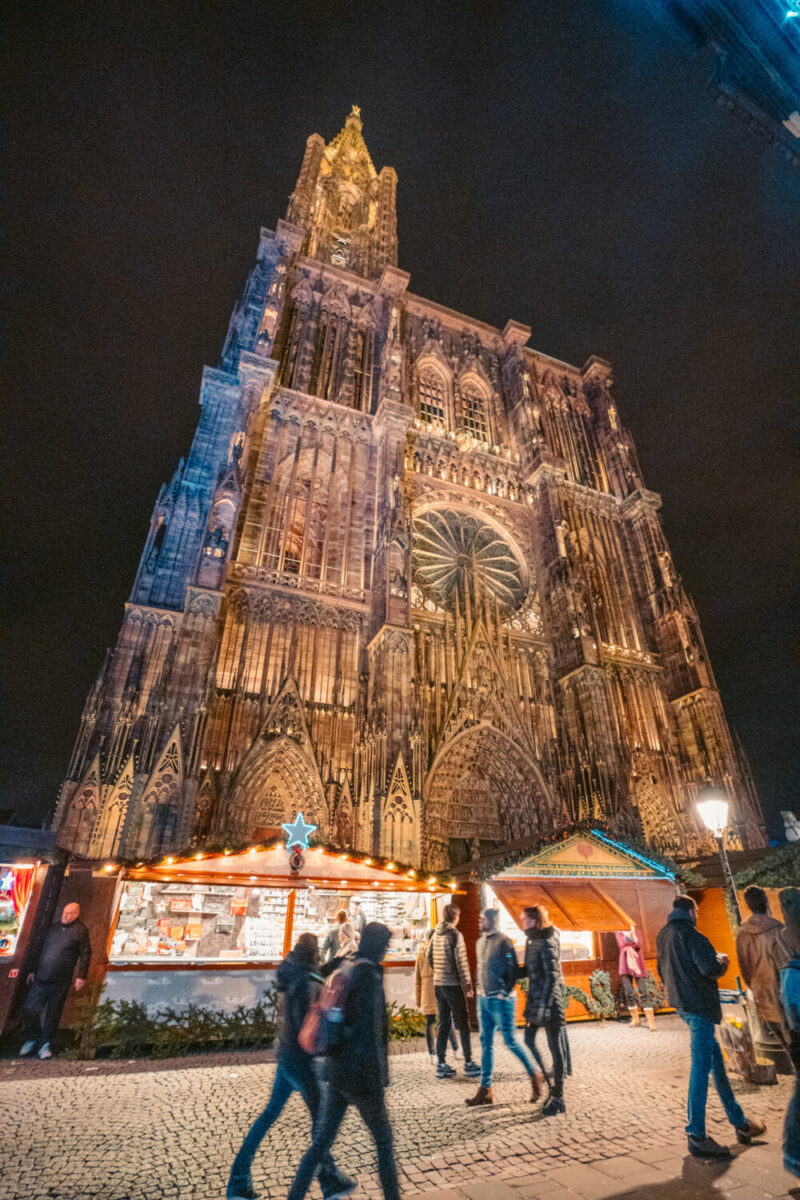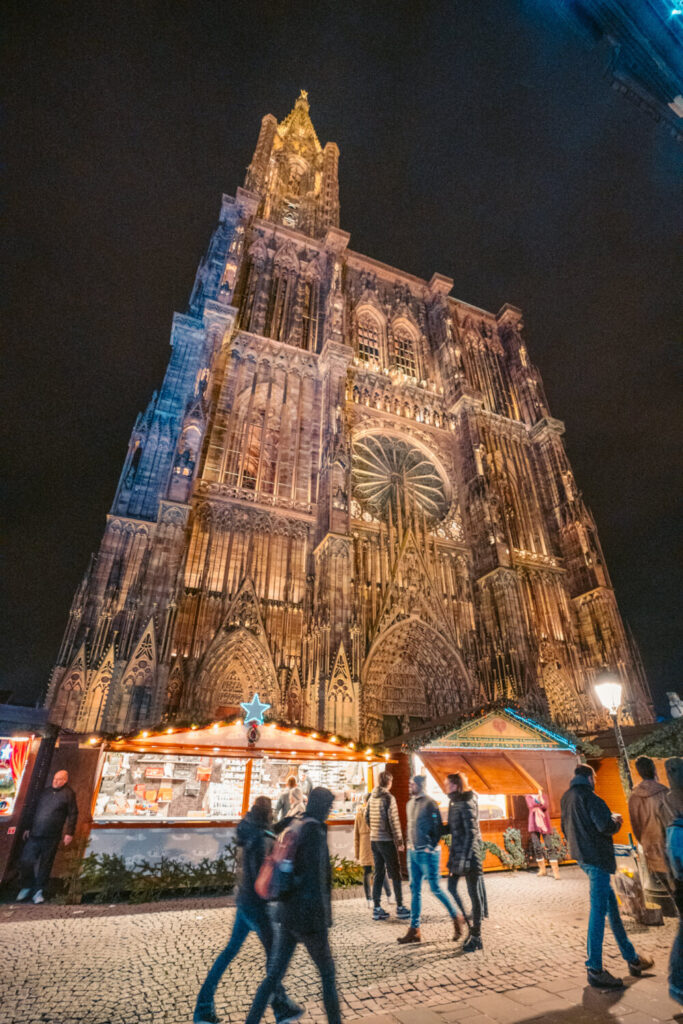 Mulhouse
For a culture break packed with vibrant street art murals and internationally renowned museums, Mulhouse (located so close to Switzerland that its airport is shared with Basel's), is a must-visit.
While it's a far cry from the typical Alsatian aesthetic of storybook timbered houses, Mulhouse is a really cool city that honours its industrial heritage in fun and unique ways.
The Mulhouse Christmas Market for example is the only one I've ever encountered that has its own "Christmas Market Fabric" every year that is used as a decorative motif throughout the city.
This is just one of many nods to Mulhouse's booming textile industry, along with several museums and popular events dedicated to the topic as well.
PS: If you're going to Mulhouse for Christmas, you might consider checking some amazing Switzerland Christmas markets off your bucket list too.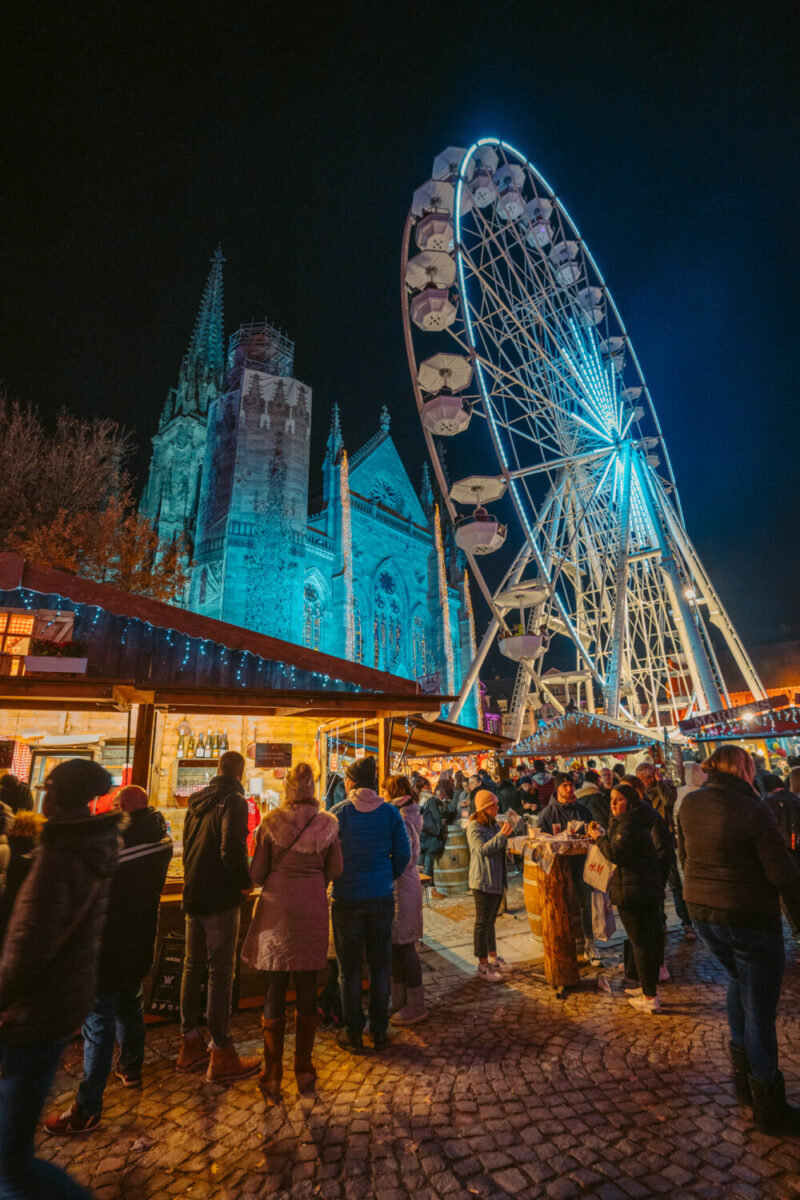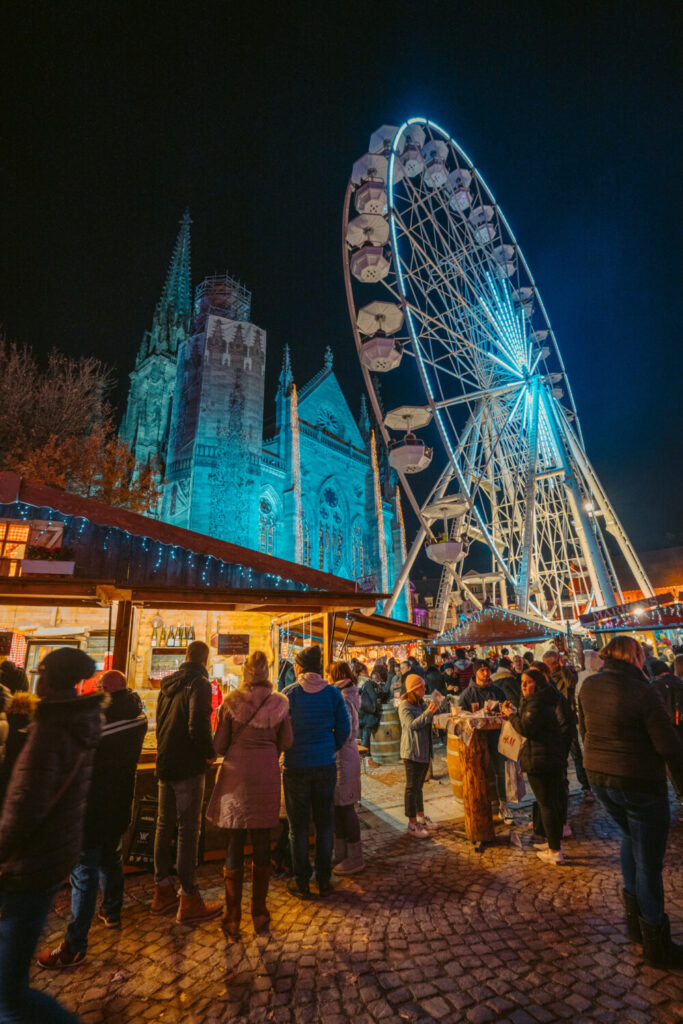 The Most Charming Alsace Towns and Villages
Alsace is a region known for storybook towns and villages so cute, they have to be Photoshopped. If that's the reason you're visiting, then these are some places to visit in Alsace that you simply cannot miss.
Colmar
Colmar is typically #1 on everyone's Alsace bucket list.
It's a busy tourist magnet for sure, but one that's more than deserving of its popularity.
When I say it's a type of beauty that's hard to believe, I mean it. Walking through Colmar's Petite Venise was like stepping into some kind of painting (or at least a scene from Beauty and the Beast).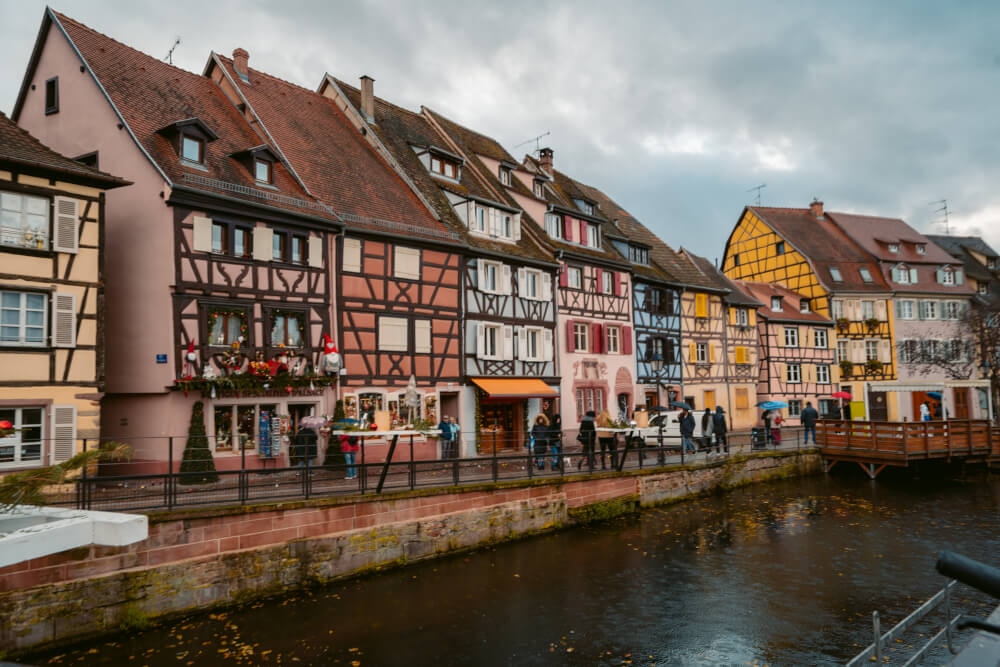 Besides colourful, whimsically decorated facades scattered across its scenic historic centre, Colmar also has a few surprises up its sleeve.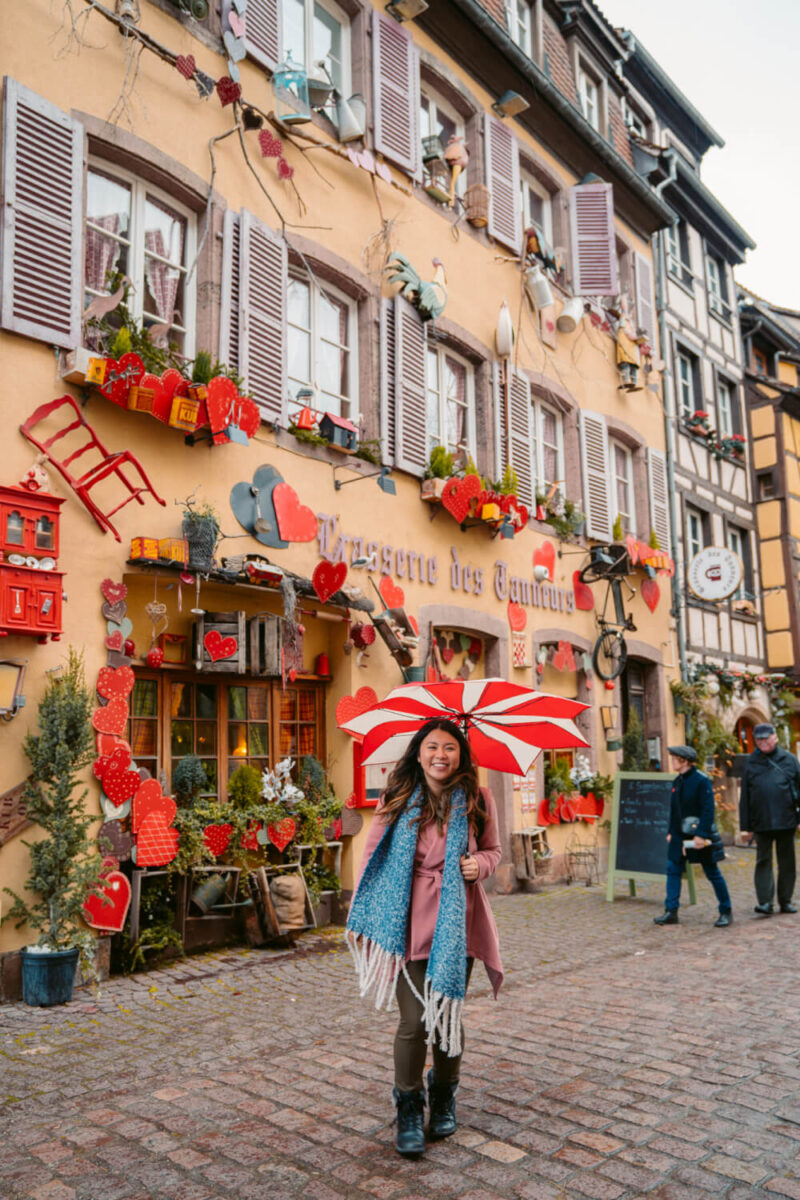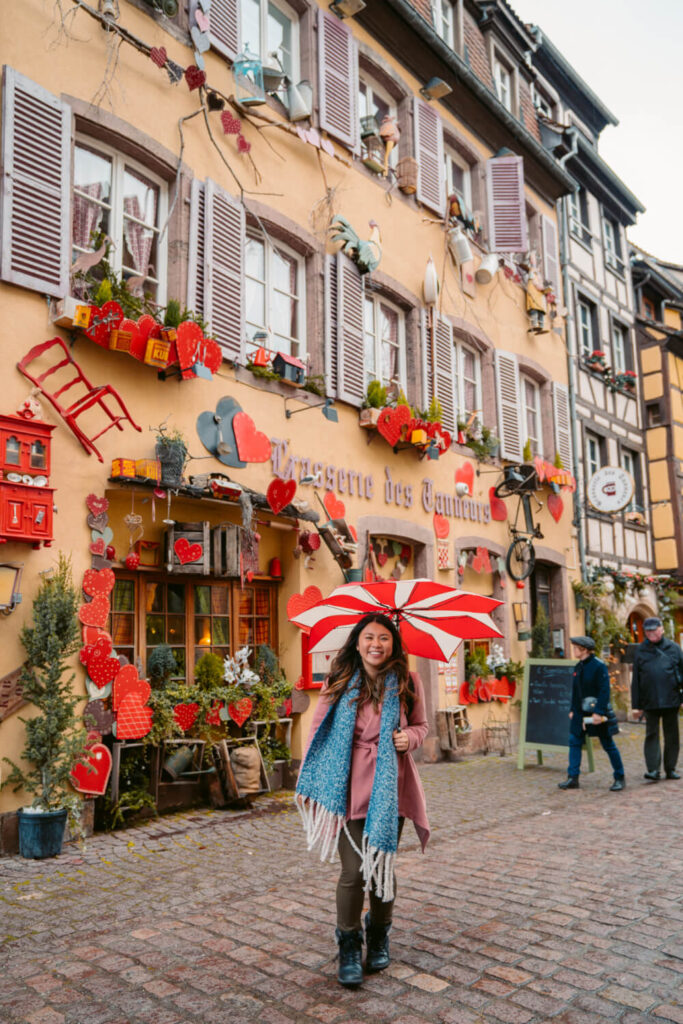 For instance, Frédéric Auguste Bartholdi (AKA the man behind the Statue of Liberty), is from here, so you'll find an entire museum dedicated to him and even a mini-Statue of Liberty perched on a roundabout just outside of the city.
Not to mention, the Colmar Christmas Market scene is turly extraordinary.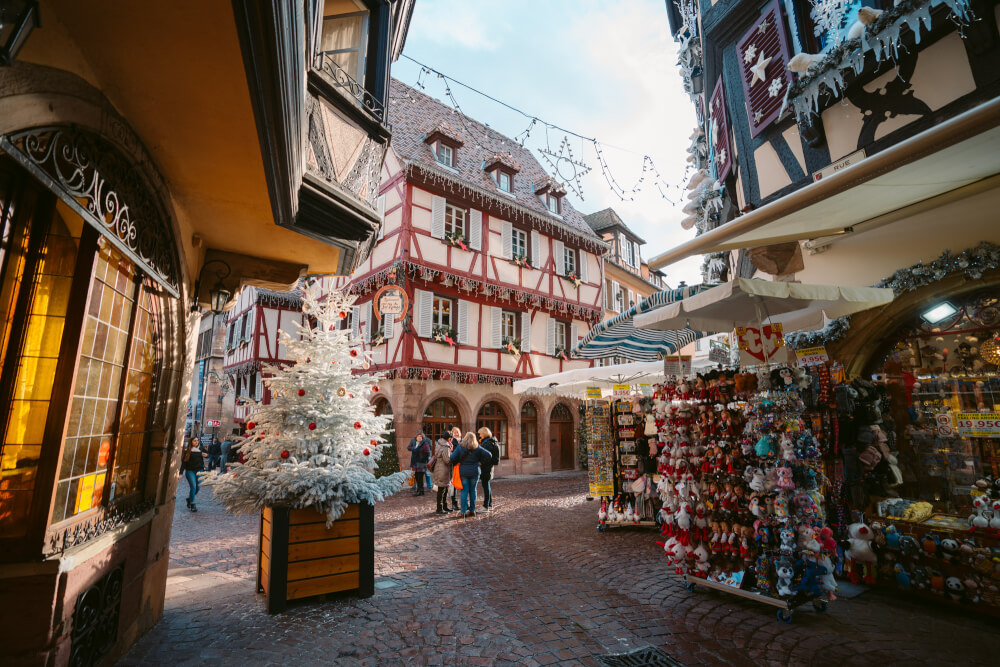 Eguisheim
I love hunting down real-life Disney locations like Neuschwanstein Castle and yes, even obvious ones like the Disneyland Paris Castle.
So why did I choose Eguisheim for a two night stay? Over the years, many villages have been named as inspiration for Belle's iconic hometown in Beauty and the Beast, but perhaps the name that comes up most often though is Eguisheim, a medieval marvel located just under 7km from Colmar.
The wanderability of this scenic village is owed to its unique layout, which unfolds in three concentric circles around its central castle. This makes a walk around the village a true delight, and while it's small and easy to cover in just an hour or two, it's sure to make a lasting impression.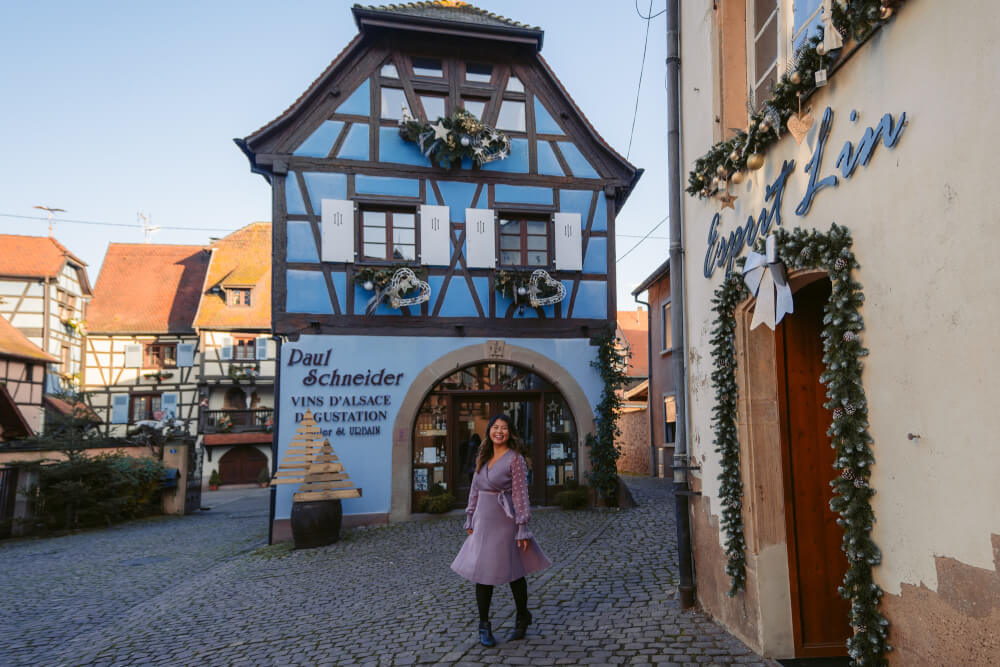 Kaysersberg
Wine and castle lovers can't miss a stop in picture-perfect Kaysersberg, where you'll find a gorgeous fortified town complete with its own hilltop castle and lush green vineyards.
With less than 3000 inhabitants, Kaysersberg is small, but it packs a powerful punch no matter what time of year you visit.
Come at Christmas, and you'll find Yuletide magic in the form of teddy bear facades and glittering light installations. Come in the spring/summer and you'll find vibrant flowers cascading from all the village's prettiest half-timbered houses.
I realize that it's tough to take a bad photo anywhere around here but trust me when I say Kaysersberg is probably among the most photogenic of all the villages in Alsace.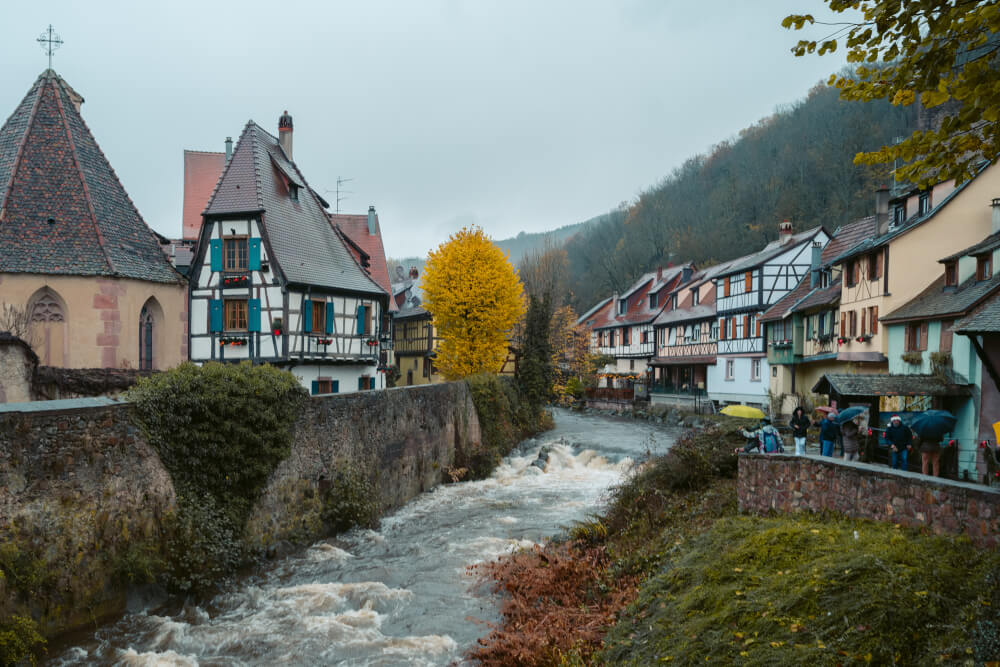 Obernai
I stayed overnight in Obernai so I could take advantage of the Obernai Christmas Market, and to this day I still affirm it's one of the best hidden gems along the Alsace Wine Route!
While not as famous as some of the other names on this list, Obernai has no shortage of all the things that make Alsace so much fun to visit – fairytale half-timbered architecture, lovely little streets to meander through and top notch hospitality.
I'd highly recommend a visit here if you want to visit an Alsace town that's a bit less busy than the others.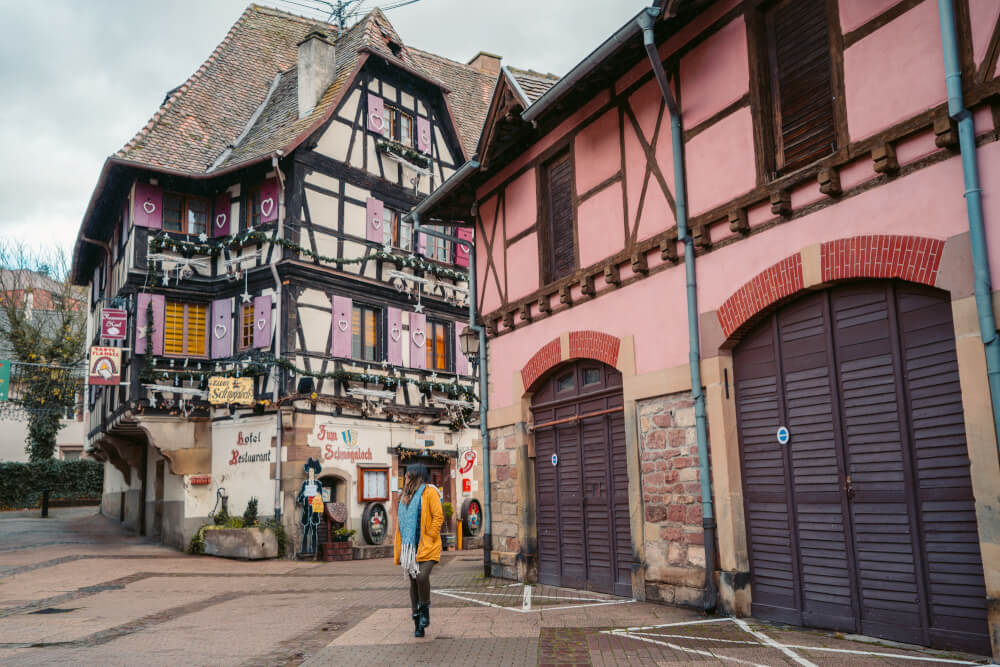 Turckheim
If you're looking for some of the cutest villages in Alsace to visit, Turckheim is absolutely adorable.
With a bite-sized historical center enclosed by medieval walls (and three gates still standing!), the absolute highlight for me in this small town is its elf-themed Christmas market, which turns the centre of town into a Dr Seuss-esque wonderland of colourful stalls.
Turckheim is also famous for its giant yellow Advent Calendar, which includes a nightly spectacle throughout Advent where a candle is lit daily in each window, and a short story read to the masses.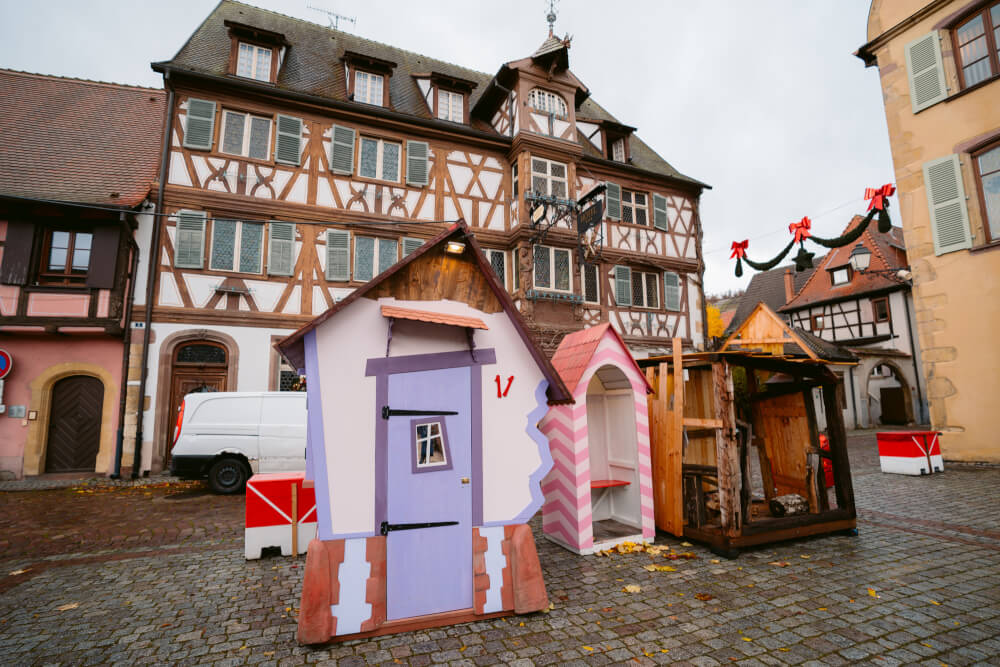 Thann
A stroll through historic Thann is a bit like a mini-history lesson, with a mix of 16th century houses, and medieval fortifications sprinkled throughout the town's historic core.
Most noteworthy though is its Saint Thiébaut Collegiate Church, a gothic masterpiece that has a bell tower so lovely, many locals contend it's the most beautiful one in all of Alsace.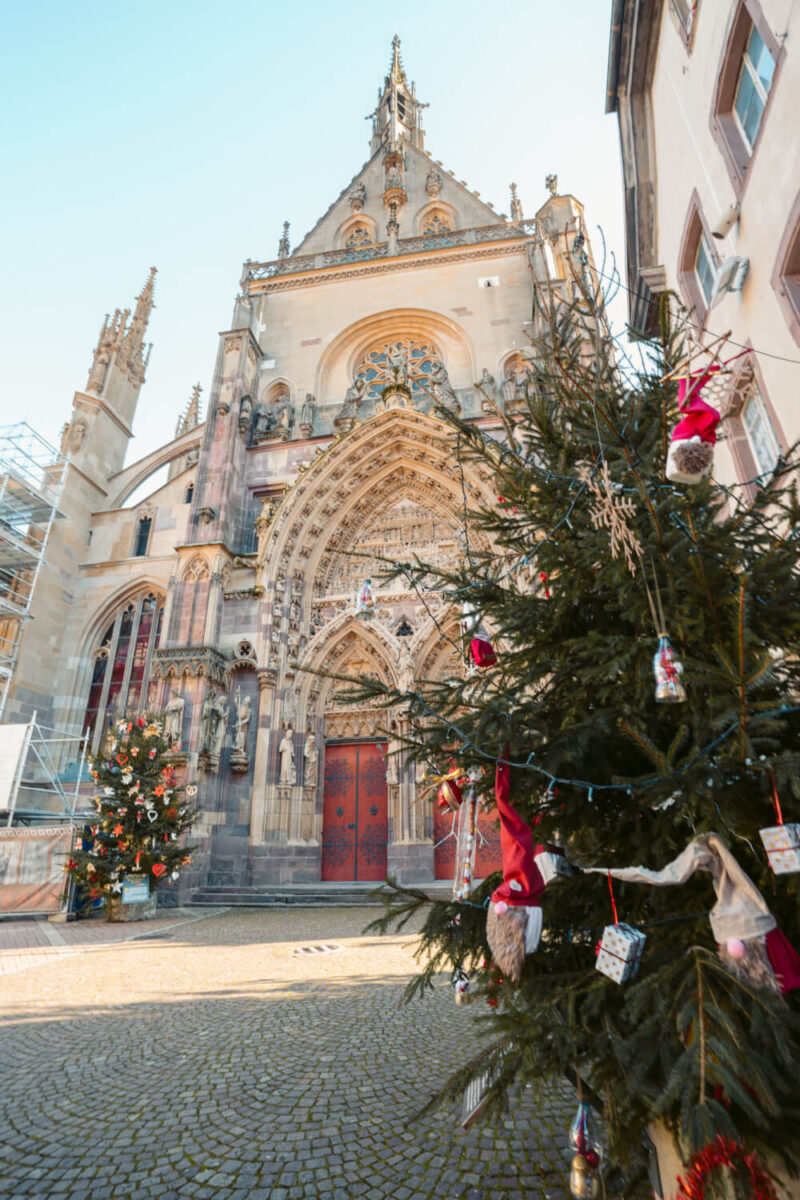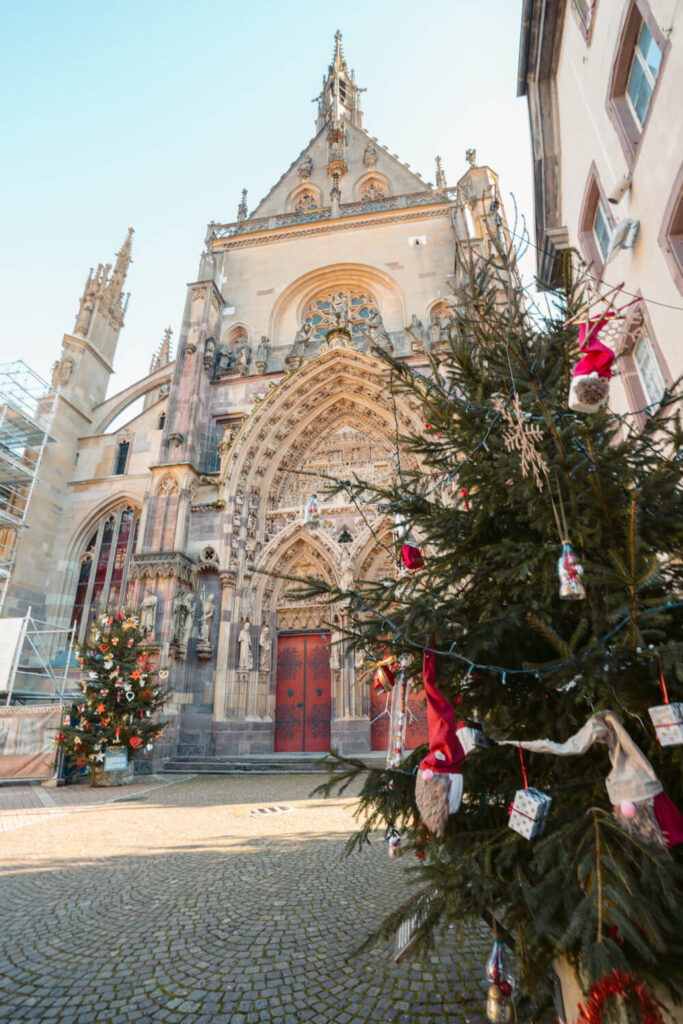 Ribeauvillé
Ribeauvillé is hands down one of the busiest towns in Alsace, but perhaps also one of its most enchanting.
Once upon a time, this town was where the Lords of Ribeaupierre called home. As lords often did, they opted to construct three fortified castles in the area whose ruins you can still see today, crowning the rolling green hills that surround the town.
Today, Ribeauvillé still has plenty of its fortifications and towers in tact, with plenty of elegant photo opps along its main drag. Definitely worth fighting the crowds for!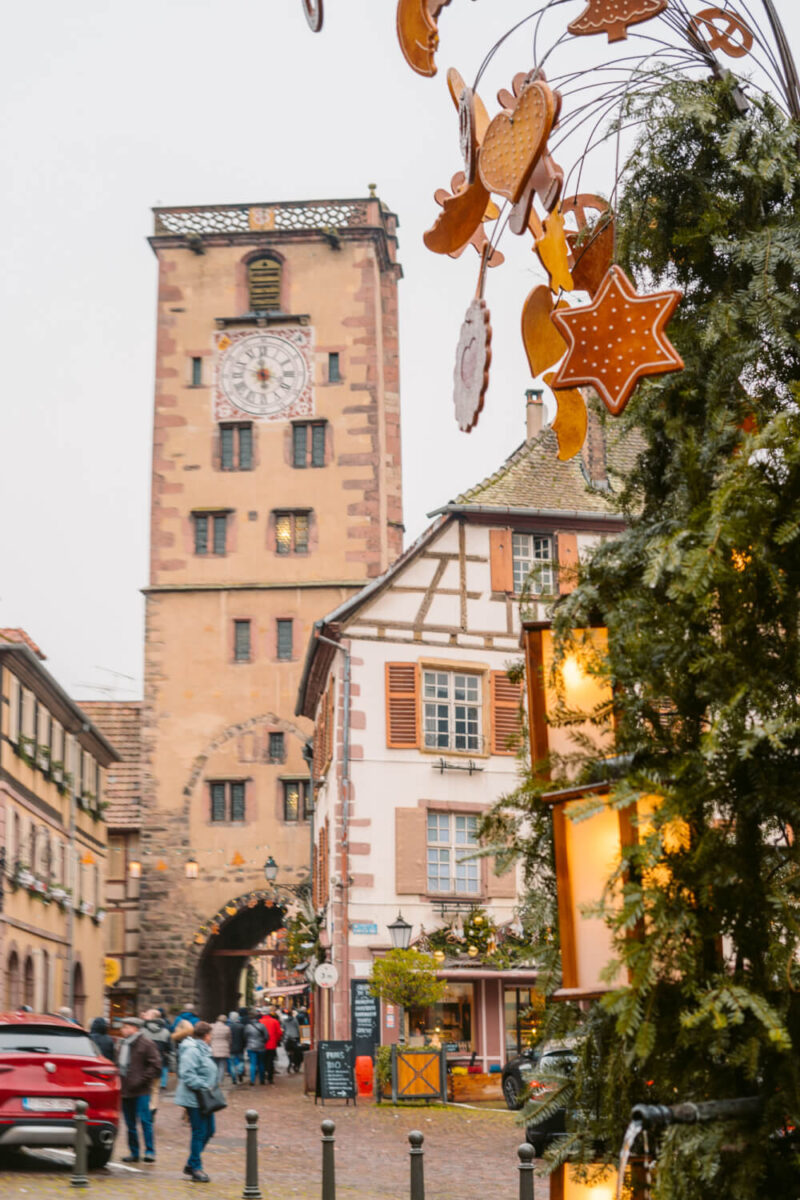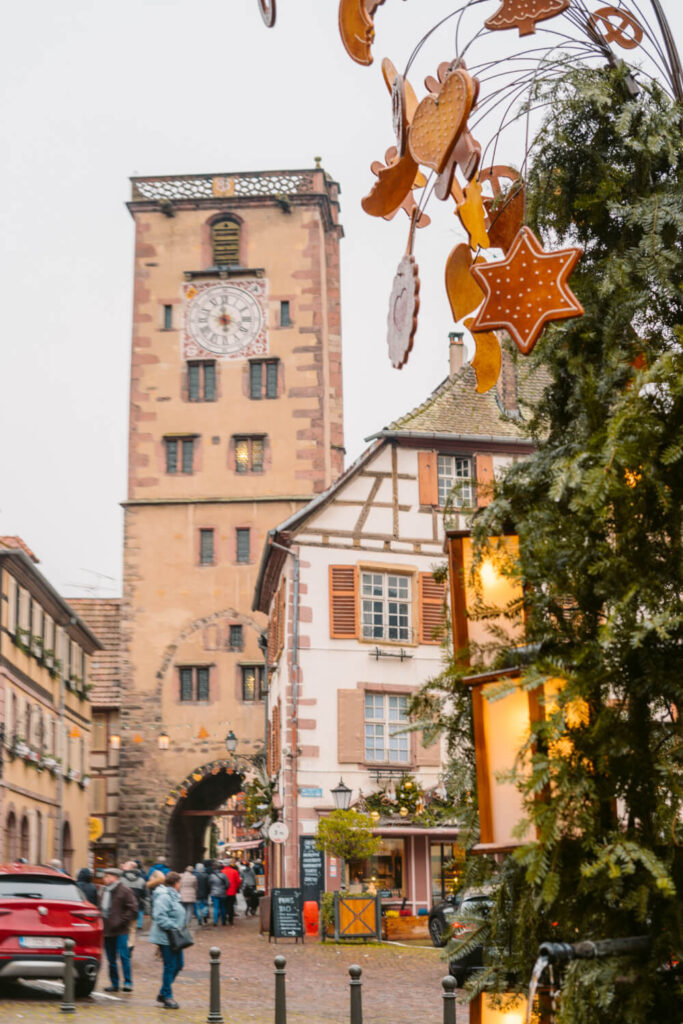 Riquevir
Last but not least, I have to mention Riquevir – one of the places in Alsace so popular that we couldn't even get in!
Yes, much like eager partygoers denied entry at a hot nightclub, we found ourselves at the mercy of hopelessly long queues on a weekend when we tried to visit Riquevir's famous Christmas Market.
So, I admit this is not an Alsace town I've had the pleasure of visiting yet, but if the photos tell me anything, it's that this town is a real must-see.
Other Places to Visit in Alsace
Besides big cities and quaint villages, Alsace has several other interesting destinations that I can recommend, depending on what you're interested in. I wouldn't necessarily rank these places as absolute must-sees in Alsace, but they're still noteworthy enough to include.
Guebwiller
Located close to both Colmar and Mulhouse, Guebwiller is an Alsatian town that doesn't frequently appear on roundups of Alsace must-sees.
But, I needed to include it for its unique Christmas market – "Blue Christmas" during which all the city's monuments are lit up blue! It's quite a magical sight, and certainly different from other Christmas markets in the region.
Guebwiller is also known for its beautiful churches.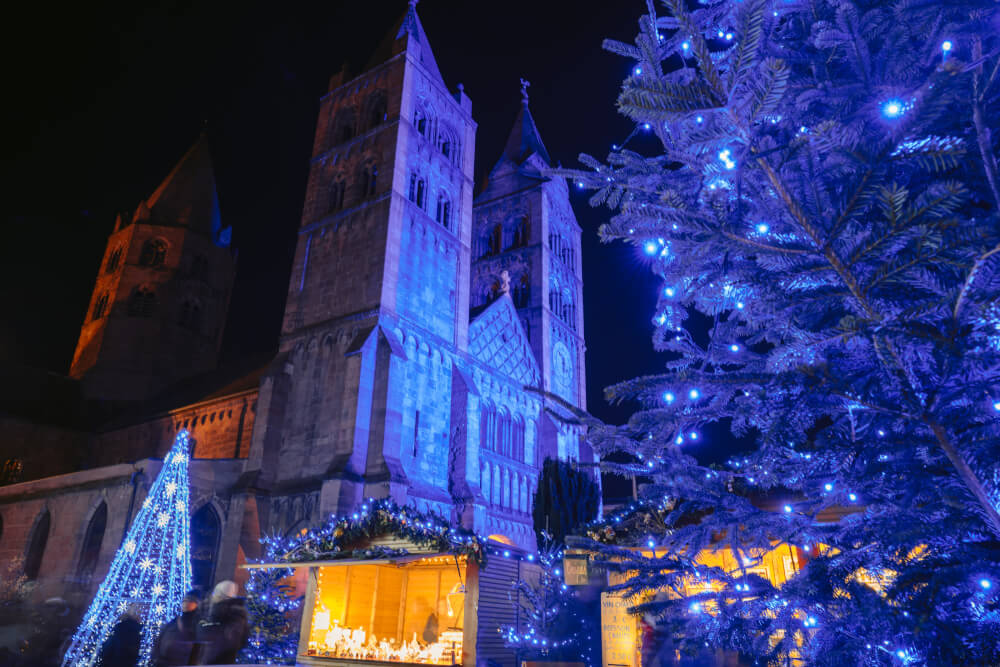 Sélestat
I once dragged my friends to Sélestat on a long detour during our Alsace road trip. Why?
This humble little Alsatian town is said to be the birthplace of the Christmas tree!
(Or, at least the earliest written records of Christmas trees can be traced here, so let's just run with it).
While it's not as postcard-perfect as some of the other fairytale towns in Alsace, Sélestat has many varied pieces of architecture and interesting sights to offer, including their Humanist Library, a treasure trove of medieval transcripts and prints from the 15th/16th century.
Some consider this one of the most important cultural sights in the entire region, so if you're a history buff, Sélestat might be well worth a visit.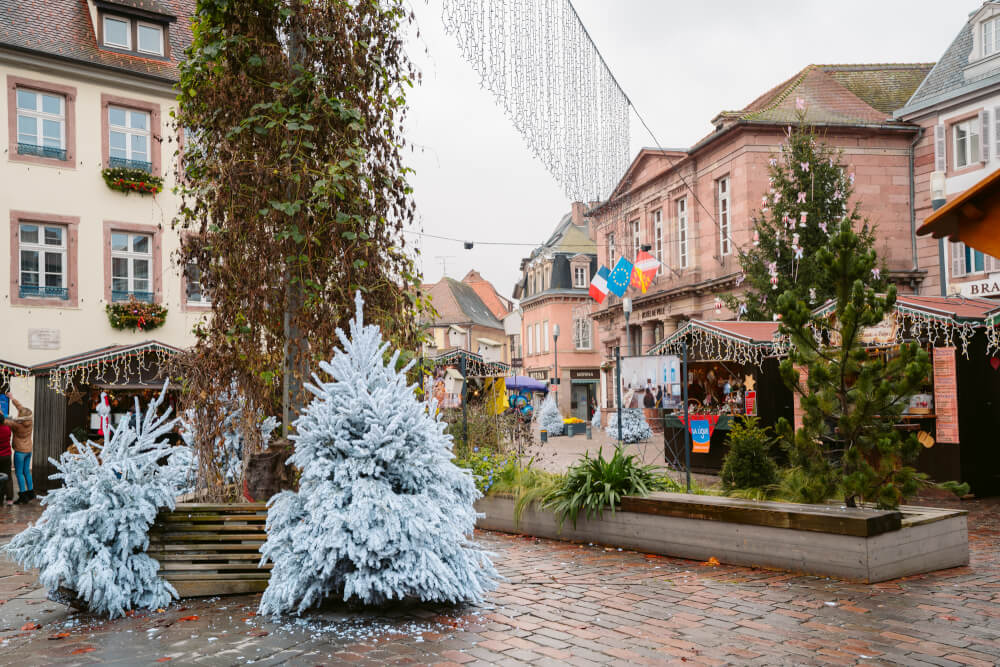 The Vosges Mountains
While hiking isn't usually the first thing that comes to mind when visitors think of Alsace, the Vosges Mountains offer plenty of opportunities for hiking and adventure in the area.
From fortified castles and green valleys to rushing waterfalls and glacial lakes, a stop in the Vosges could be a nice way to break up the endless wine and sightseeing on your Alsace itinerary.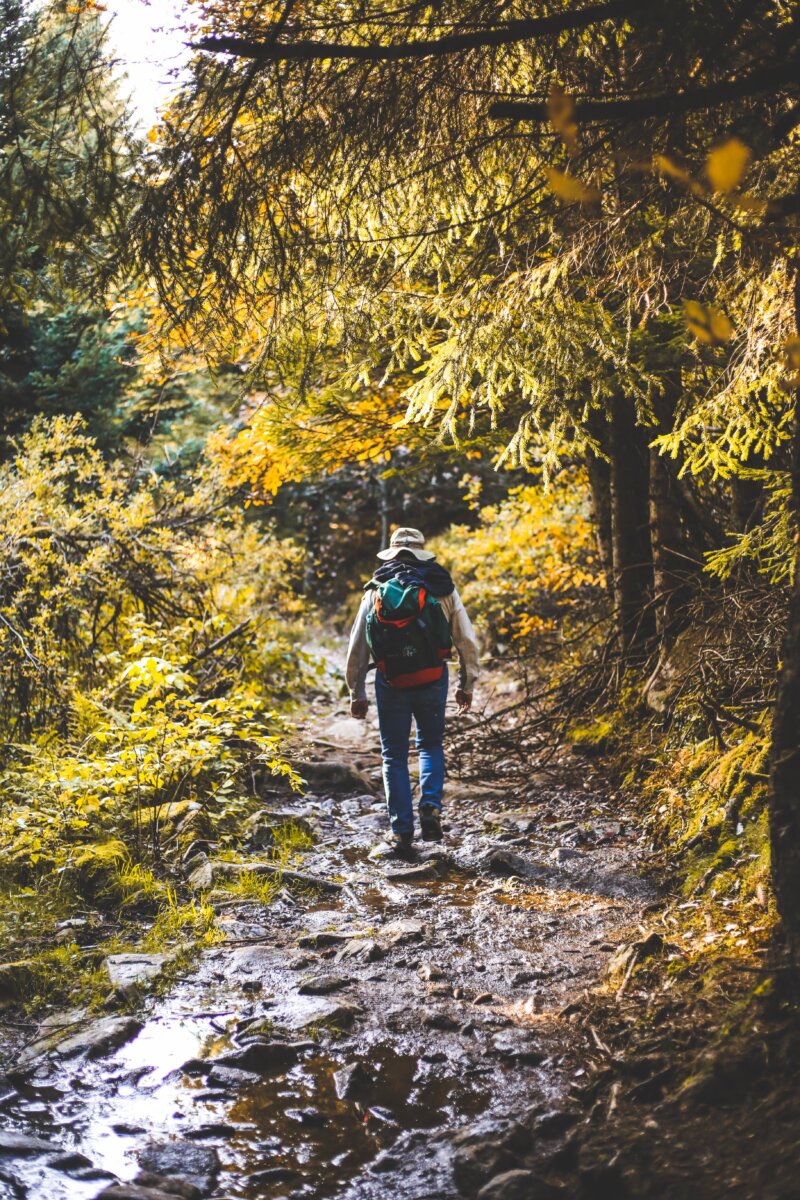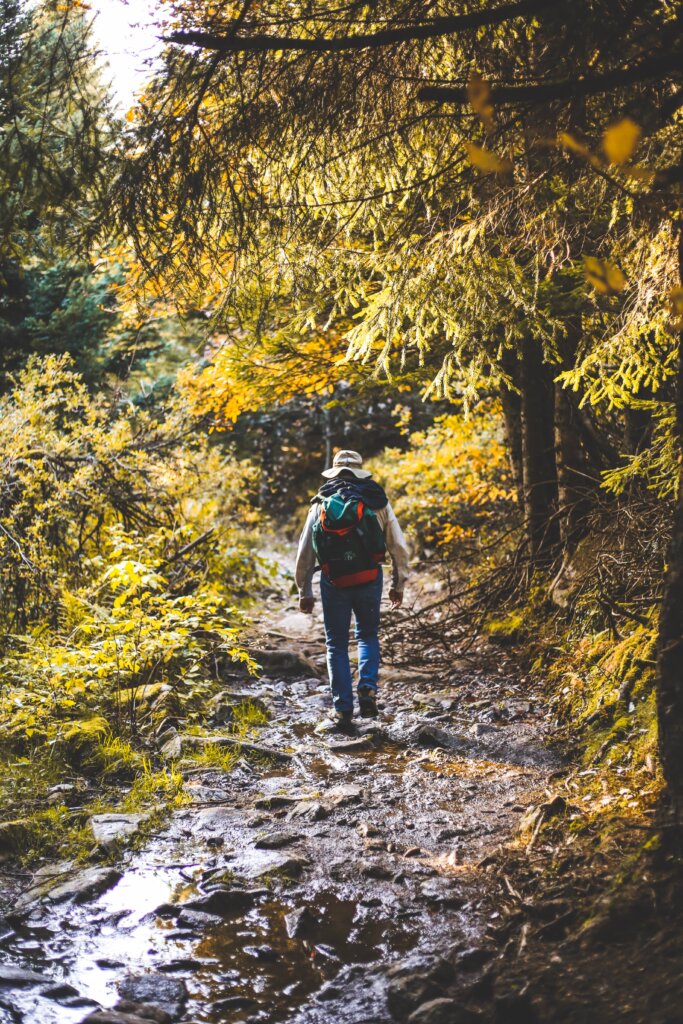 How to see Alsace for yourself
Getting there: There's two major international airports in the region: Basel-Mulhouse airport and Strasbourg airport. Strasbourg is also well connected by train to other parts of France and Europe. If you're travelling on a budget, read my cheapest ways to travel around Europe for more tips.
When to go: Any time of year! The region is beautiful in the summer despite the heat, but it's during the cold winter season that Alsace's magic comes alive through Alsace's charming Christmas markets.
How to make the most of your trip: Try plenty of wines, indulge in the local cuisine and visit a mix of the more popular spots (e.g. Strasbourg and Colmar) with quainter villages so you get a full appreciation of the region. Be ready to snap plenty of photos because this is one of the most photogenic areas in Europe!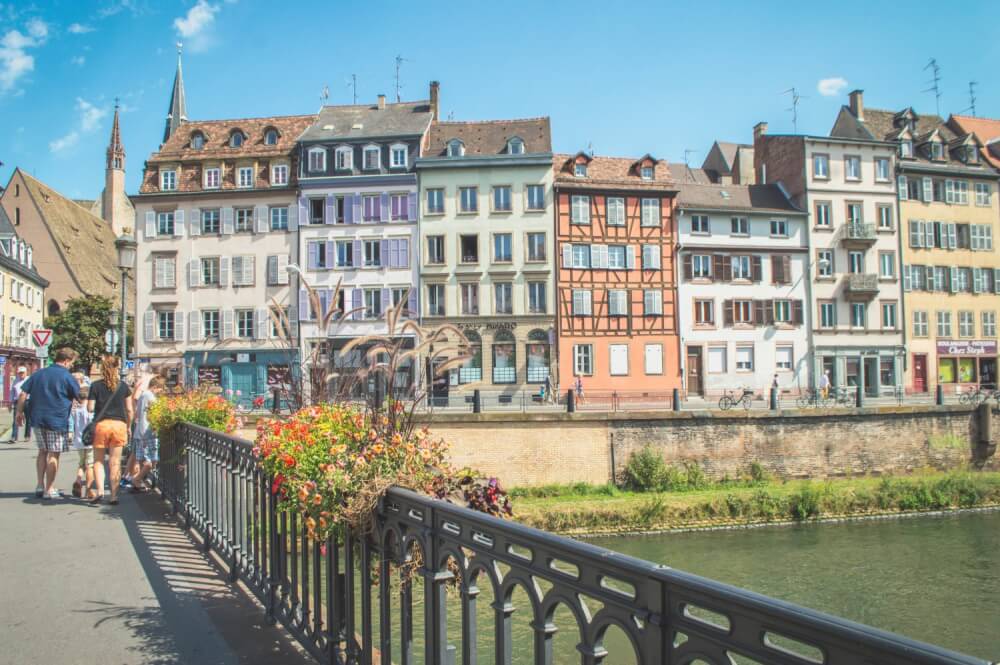 For more specific tips and recommendations on visiting Alsace, check out these great guides and posts:
Alsace Road Trip Itinerary by To Europe and Beyond
The Alsace Region by Home is Where the Internet Is
Strasbourg Guide by Travel Yes Please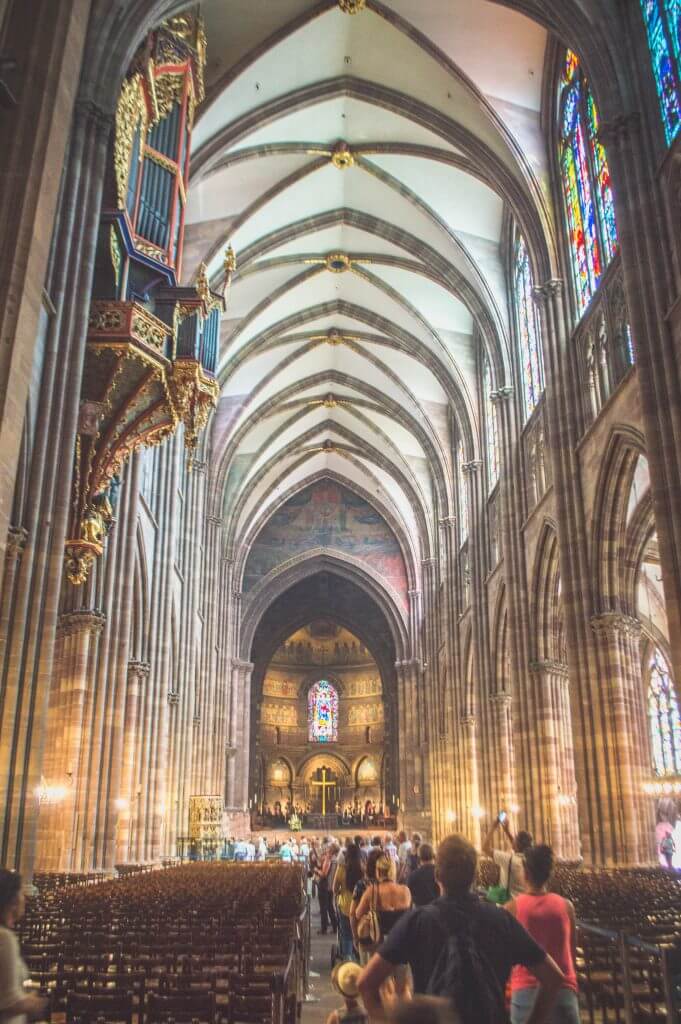 Did I miss any of your favourite places to visit in Alsace?
Let me know in the comments! 
---
Watch my most popular YouTube video this week:
---