amzn_assoc_placement = "adunit0";
amzn_assoc_search_bar = "true";
amzn_assoc_tracking_id = "happytowander-20";
amzn_assoc_search_bar_position = "bottom";
amzn_assoc_ad_mode = "search";
amzn_assoc_ad_type = "smart";
amzn_assoc_marketplace = "amazon";
amzn_assoc_region = "US";
amzn_assoc_title = "Shop foldable water bottles:";
amzn_assoc_default_search_phrase = "foldable water bottle";
amzn_assoc_default_category = "All";
amzn_assoc_linkid = "bcc6c2124e250a8f0c013fe539741745";
amzn_assoc_rows = "1";



---
8. Reserve the aisle and window seats
If you're travelling with a friend or partner, no need to fight to the death re: who must take the dreaded middle seat. Just reserve both the aisle and window in hopes that nobody wants the middle seat… if they do though, just ask to switch! Super simple travel hack that works well 🙂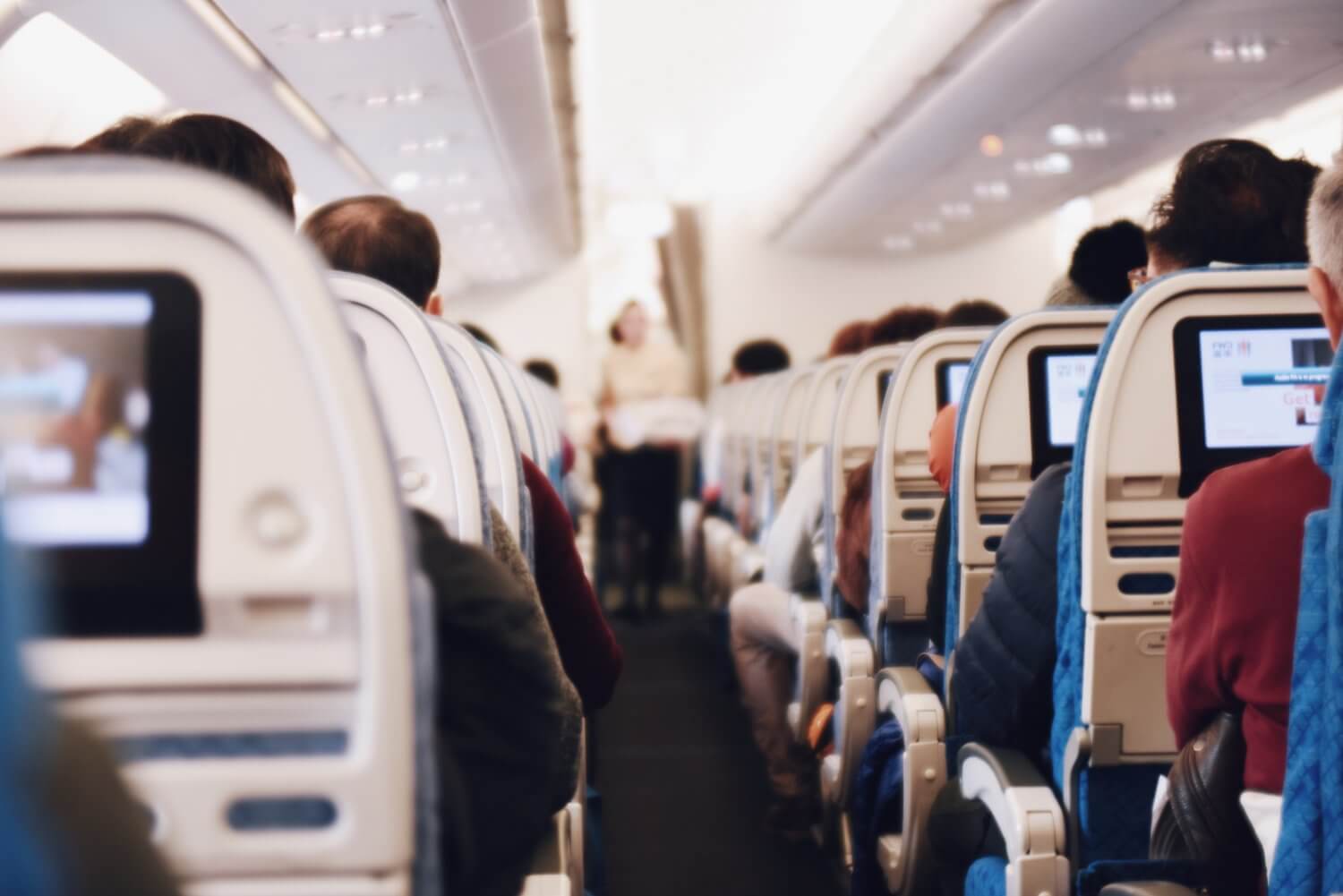 ---
9. Scope out your flight seat in advance
As most travellers know, not all plane seats are created equal! Some have more leg room, some are absurdly close to the washrooms, etc. Luckily, you can just enter your flight details on Seat Guru (it's free!) and read different reviews/first hand experiences. If you have one of those flights where you can choose your own seats during online check-in, this is a massive life saver.
---
10. Find WiFi passwords on FourSquare
FourSquare is a website/app where people share tips, ratings and reviews on places to go near you (e.g. restaurants, cafes, bars, etc.) The handiest part of this website is the "Tips" section where people can leave helpful recommendations for others, and it's often here that you'll find the WiFi password for places. So, if you need WiFi in a pinch, you can easily hop on Foursquare and sleuth around for WiFi passwords.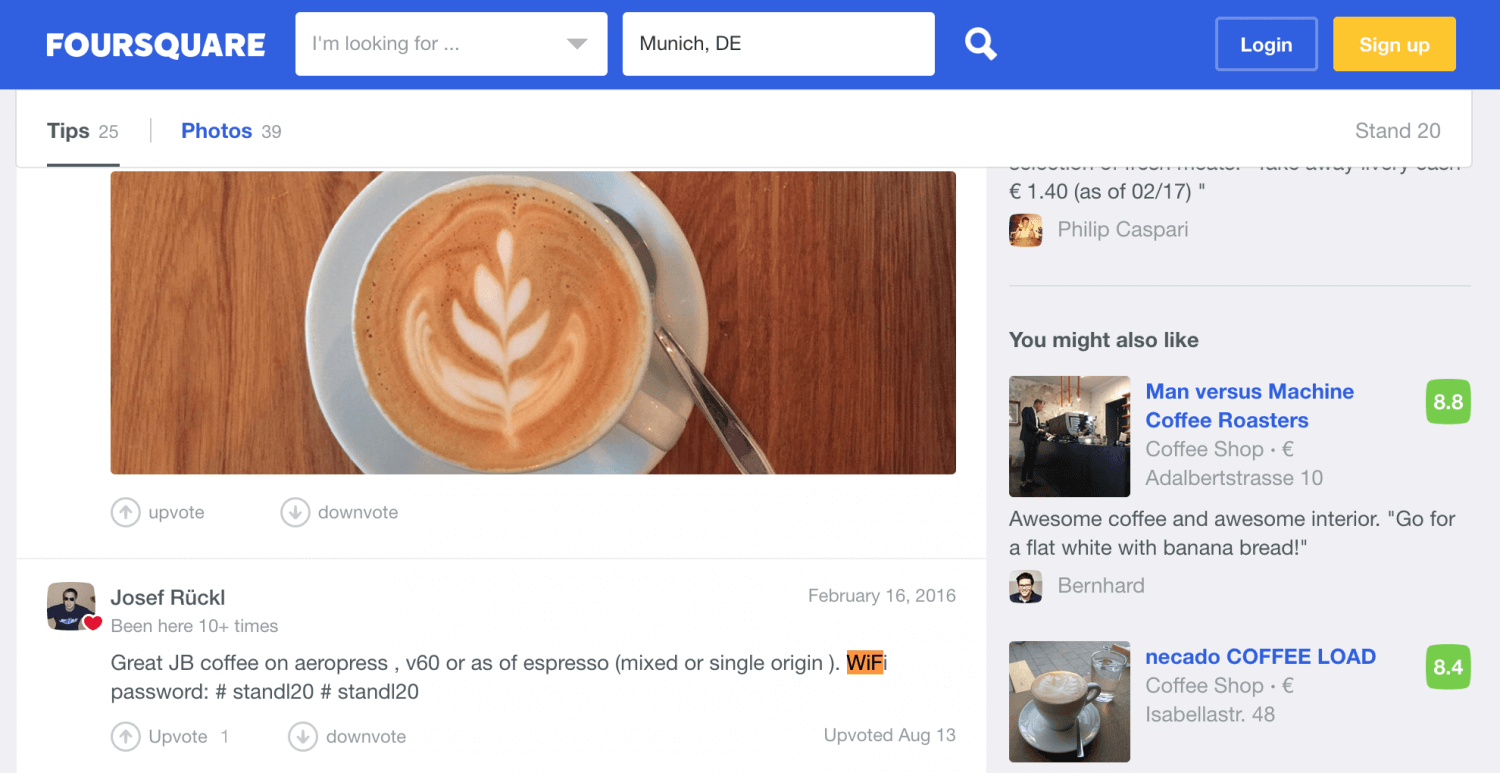 ---
11. Or download an app that shows you all the WiFi passwords
WiFi Map is an app that shows you the passwords to different WiFi networks (over 100 million of them, as they say). The handy part is they're organized on a map so you can easily scope out the ones closest to you. Note: some dissatisfied users say that passwords are outdated, but it's a handy tool to have just in case.
Find it on: Google Play | iTunes 
---
12. Bring a clothespin to prop up your toothbrush
Whether you're staying in an AirBNB, hostel or hotel, sometimes you want to make sure your toothbrush doesn't touch anything. If a holding cup isn't available, just throw a clothespin on it to prop it up. Pure germaphobe genius.
---
13. Download Google Translate for use offline
If you're travelling abroad and don't speak the language, it's handy to have Google Translate loaded and ready. That said, it normally does require Internet connection. Here's a way around it: download the Google Translate app, then go to Settings and choose "Offline Translation". From there, you can download different languages.
Bonus tip: if you want to translate signs, menus, etc. quickly, tap the camera button on your Google Translate app to translate images in real time. The first time I saw this feature in action, I realized we are (indeed) living in the future.

---
14. Bring some baby powder for a quick freshen-up
Weird, I know, but baby powder is amazing for freshening up. Especially in the summer, if you're wearing flats or sandals, your feet (and footwear) will inevitably start smelling. Throwing some baby powder on them is a quick way to deodorize and make you feel human again.
---
15. Keep a pen in every bag/pocket
Not the most unconventional, but I promise this will save your life. You never know when you need a pen, so have one handy in all your purses/daybags, backpacks, luggage cases, etc. so you're not scrambling when everyone else is filling out their Customs sheets.
---
16. Make use of local grocery stores/supermarkets
No, you don't need to cook your own meals necessarily, but all the time I see budget travellers sprinting for vending machines/little kiosks when there are supermarkets literally within eyesight selling the exact same stuff for a fraction of the price. Supermarkets are great for stocking up on snacks, water, drinks, etc. Take advantage of them!

---
17. Use a TV to charge your electronics
One of the the things I forget most often is the little USB adapter that comes with my phone charger. I usually then just plug my cable into my laptop to charge, BUT if you don't usually pack a laptop, know that most TVs have a USB port around the back and you can easily use that to charge all your electronics 😉 You're welcome!
---
So, it seems like you're well on your way to becoming a travel ninja. I hope you enjoyed that article about unconventional travel life hacks. Feel free to leave a comment below if you have more to share! 
Reader Interactions