*FYI - this post may contain affiliate links, which means we earn a commission at no extra cost to you if you purchase from them. Also, as an Amazon Associate I earn from qualifying purchases. Check out our Privacy Policy and Disclosure. for more info.
Aside from completing the Hallmark movie catalogue and belting festive karaoke with Michael Bublé, there's no greater bucket list item for Christmas lovers than a visit to Europe's best Christmas Markets.
After all, what's not to like? Opulent market stalls? Historic backdrops? Hot wine served in tiny, colourful boots? Just the thought of it makes me want to mull something this instant.
But if you're trying to narrow down the list and are wondering where the best Christmas markets in Europe can be found, then good luck. That's a mission I've ardently pursued for the better part of a decade. The fruits of which I'll be sharing with you today, through a countdown of (what I think) are the most magical Christmas market destinations in Europe.
Favourites will be snubbed! Underdogs will claw their way up the ranks… and the easily startled among you may be shocked by some of my honest takes. I apologize for the drama – I spent all night editing the video version of this guide, and the sleep deprivation is manifesting itself as unhinged theatrics….
But anyway, read on for a countdown of the best Christmas markets in Europe, from a Christmas market fanatic who has visited a frightening amount of them, and would be typing this on a gingerbread laptop if she could.
NOTE: This roundup is mostly places I've visited personally, with a few ultra famous ones I haven't been to yet that felt weird to not include. These ones will be marked with an asterisk… so let me know in the comments if you disagree with any of them!
44. London, England
OOH. The drama begins! Yes, London made the list, but it's at the bottom. I know, how dare I?
Why is London so low down on the list? Well, the truth is, while Christmas in London is an absolutely epic affair thanks to its decorations, displays and overall festive pizazz, the actual Christmas markets in London themselves leave quite a bit to be desired, selling many of the same mass-produced products at inflated prices.
… But I'm a softy, so London still makes the list, because while the market stalls themselves are just okay, their backdrops are next-level, from Trafalgar Square and Leicester Square to the iconic Southbank. I mean, doesn't the thought of drinking mulled wine with the London Eye behind you just spark joy? It certainly does for me.
Now, the largest Christmas market event in London is the city's famous Winter Wonderland which takes over Hyde Park with a massive fun fair and Christmas market. While these days it's mainly a place for influencers to take cute pics in giant earmuffs, I do think it's a pretty fun festive destination so long as you plan ahead to avoid peak period crowds… oh, and so long as you have money. Because the prices there? Truly yikes.
So, while I can't say London's Christmas markets are the best in Europe, I can say that the city is a must-visit destination for Christmas regardless, which is why I've feistily slid it in at the bottom of the pile.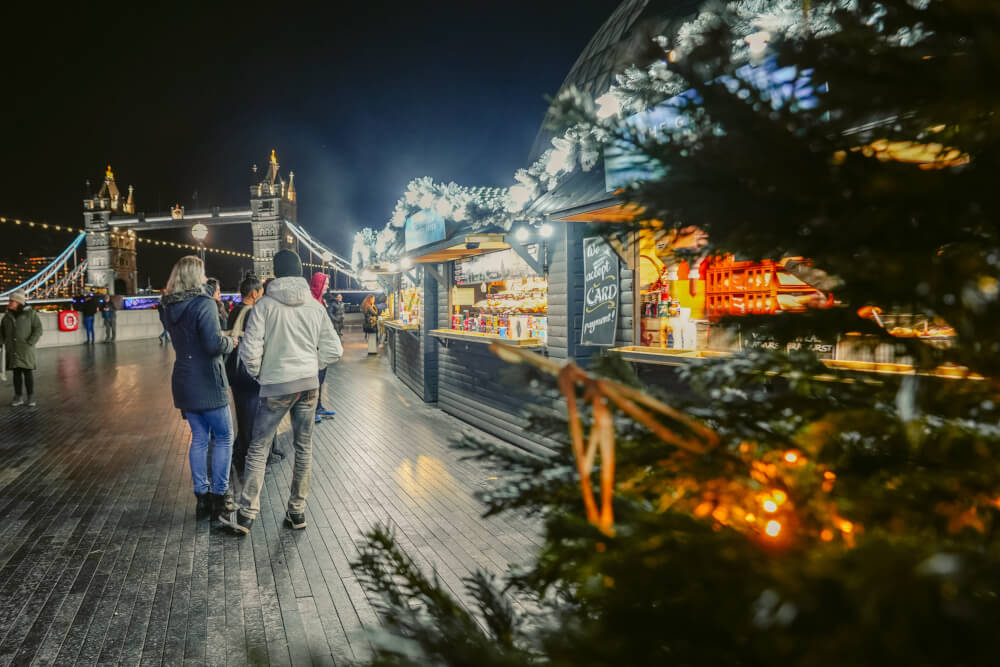 43. Budapest, Hungary*
Next on the list is Budapest, one of Europe's most beautiful cities, and one that becomes more popular every year as a Christmas Market destination.
While I've been to Budapest in both Summer and Fall, its Christmas market season has still eluded me, but with all the praise it's receiving lately (plus my people pleasing side wanting more representation from across Europe), I'm putting it in on the list!
Go to Budapest during Christmas season and you'll find markets held in some of the city's prettiest settings, including Vörösmarty Square and St Stephen's Basilica, where a dazzling light show projects onto the basilica every 30 minutes.
In addition to stalls selling festive food, drink, and gifts, there's also opportunities for ice skating and enjoying the city's top sights… Including their dreamy thermal baths… Honestly, it's the thermal baths that persuaded me to include Budapest on this list. I mean, what a selling point, so long as you don't mind taking baths with dozens of strangers 🙂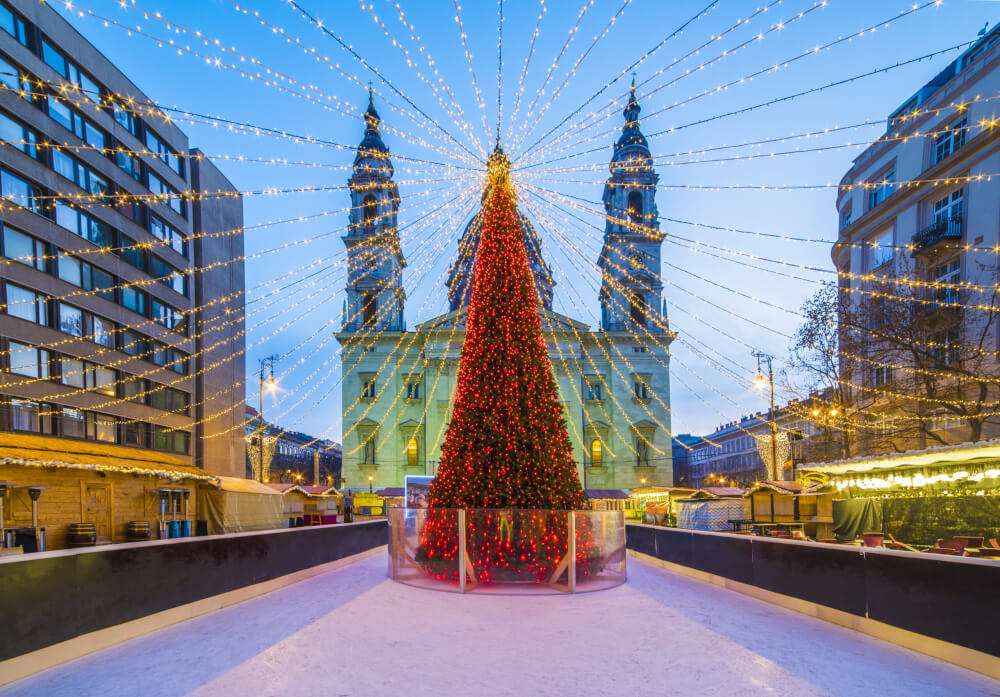 42. Düsseldorf, Germany
And if you're looking for a variety of amazing Christmas markets to visit in one of Germany's most fashionable cities, then Düsseldorf's Christmas Markets are an excellent choice. I mean, it's Germany's fashion capital after all…. do with that information what you will.
Düsseldorf was an unforgettable Christmas market trip for me, mainly because it was the trip where I absentmindedly went to the train station without bringing my (fully packed) suitcase with me. I ended up doing the trip with just the clothes on my back, the essentials I had in my backpack, and a fun penguin sweater I scooped up at Primark upon arrival.
And I still had fun! So imagine how much I would loved it with any of my actual belongings with me.
Jokes aside, Düsseldorf's Christmas Market scene is fairly underrated, with a selection of themed markets across the city and plenty of great stalls to browse and enjoy.
Key highlights include a fun Christmas Pyramid adorned with figures of local celebrities, and a lovely selection of stalls along the Rhine River. My personal favourite though was the Angels' Market, which was fully decked in an (unnecessary) amount of gold. How delightful!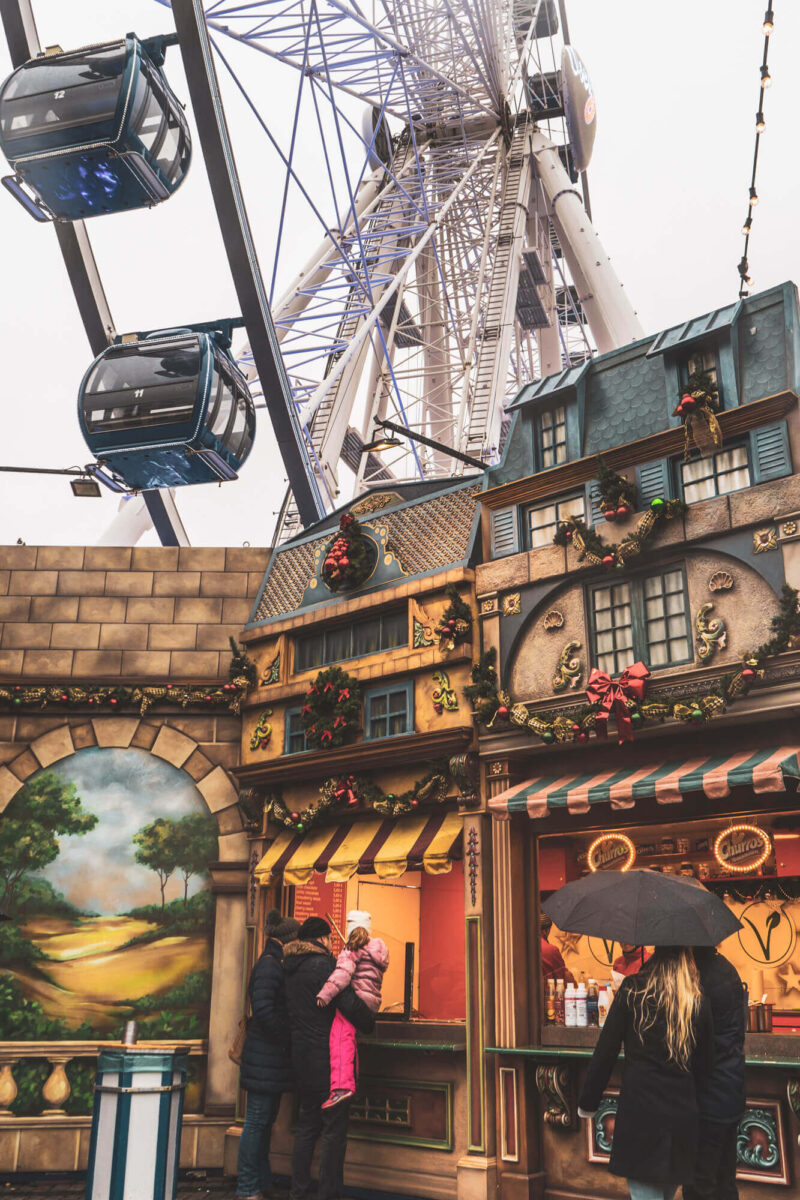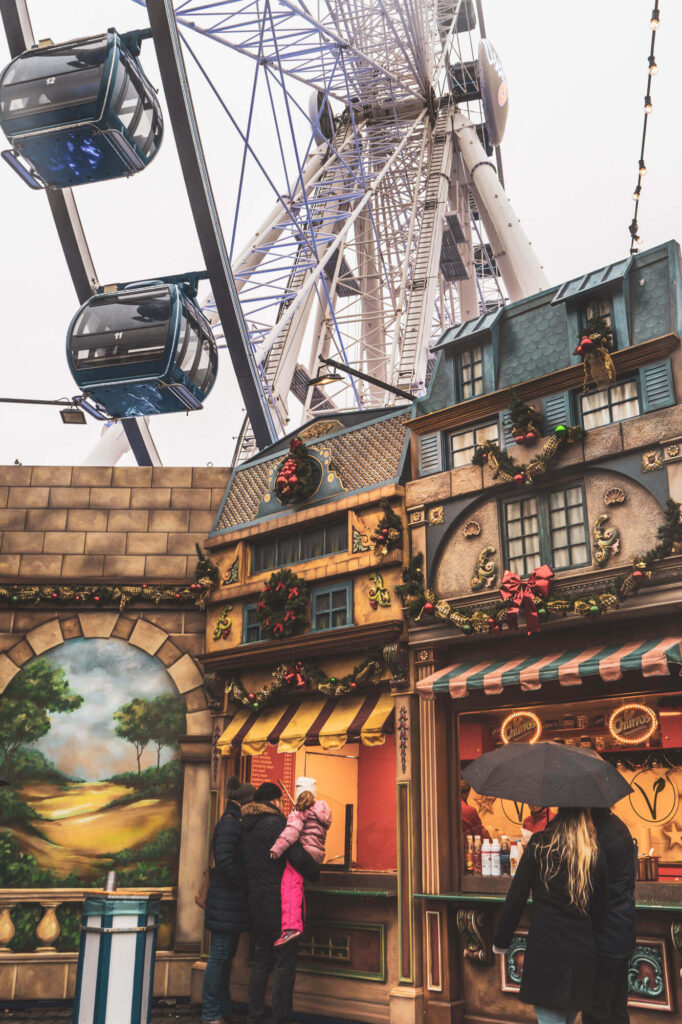 41. Stuttgart, Germany
Another fairly underrated Christmas market destination in Germany? Stuttgart!
Sure, it's a city best known for its automotive industry which doesn't exactly scream festive, but Stuttgart's Christmas Market scene has quite a lot to offer, from its giant advent calendar set up in the City Hall windows, to a variety of themed markets like a Finnish Christmas Village.
You'll also find some impressive stall decor here since they incentivize stall owners by weaponizing my favourite thing: competition. Oh yes, they choose a winner every year for best stall decorations, which means plenty of elaborate huts to admire thanks to our basic human need to annihilate others.
… Again, how delightful!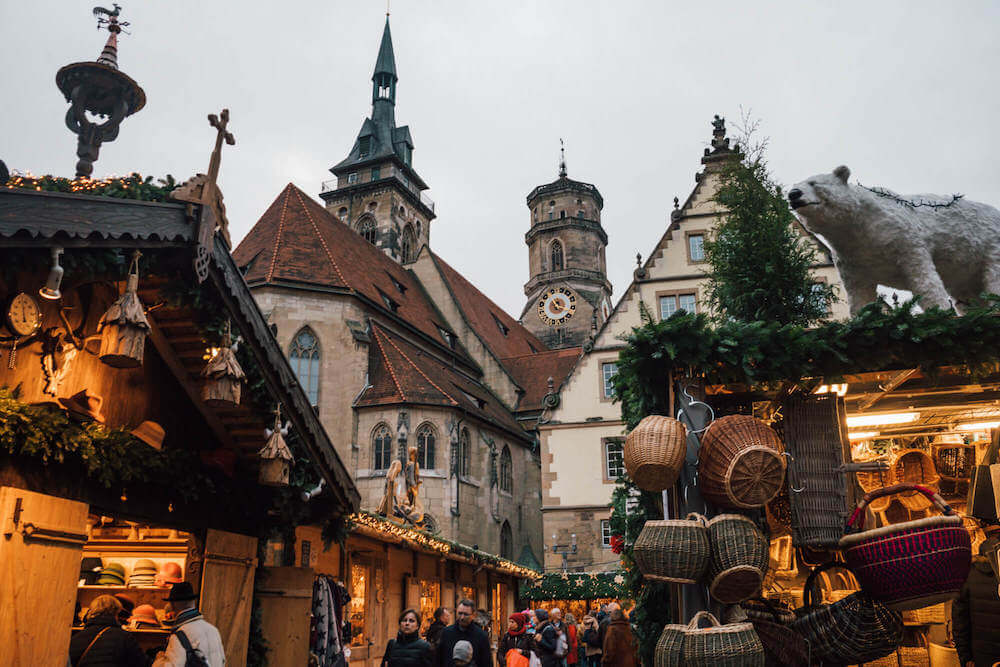 40. Paris, France
Next up on our list of best European Christmas market destinations is a boring one: Paris.
I know – how overdone is that?
Much like London, Paris' Christmas charm comes in the form of decadent decor and storefronts so luxurious, you feel poorer just looking at them, but there are a few Christmas markets to be enjoyed here too, with locations so iconic I had to include them on the list.
From the large Christmas Market and fun fair at the Jardins des Tuileries to the vibrant Christmas Market at La Défense, the Christmas markets in Paris offer a lot of opportunities for shopping, dining and soaking up the festive atmosphere… all with beautiful City of Light glittering as usual in the background.
Add on the festive charm of other Parisian must-sees like its department stores and covered passages, and you have an unforgettable festive getaway… as much as I hate to admit it! If you're swayed, don't forget to check out my full list of Paris Travel Tips so you're prepared.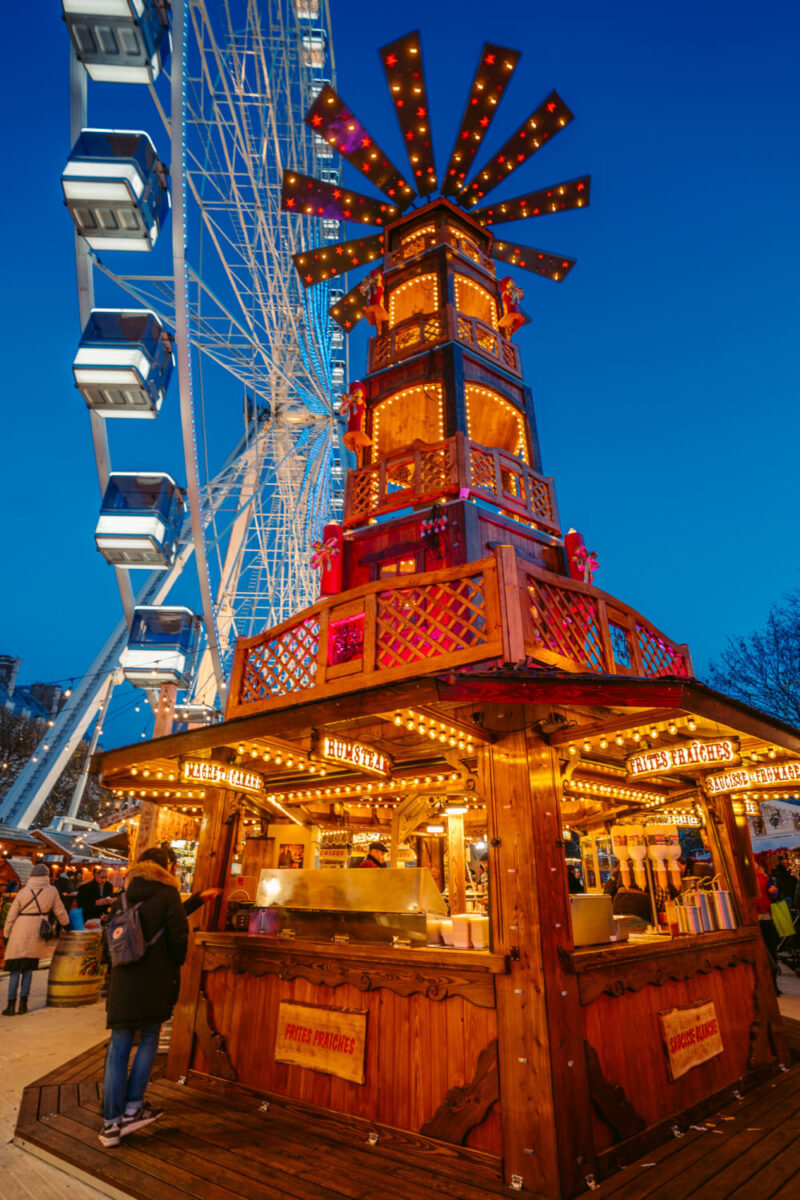 39. Winchester, England
Alright, I know that Christmas markets in England don't get a lot of love, but I find that pretty unfair. Some of them are honestly really cute, like good old Winchester for instance, where the Christmas spirit hits you as soon as you leave the train station with strings upon strings of twinkly lights, and weirdly wholesome "WELCOME TO WINCHESTER!!!" signs as you bumble into the center.
The main event here can be found at the glorious Winchester Cathedral (where Jane Austen is buried), which makes a magical backdrop for their small but mighty Christmas market which takes place every year.
With dozens of stalls to peruse, including a separate Makers' Market with handmade decorations, gifts, and clothing from local businesses, and this is definitely one of the coziest Christmas markets to visit in England. The vibes are just immaculate.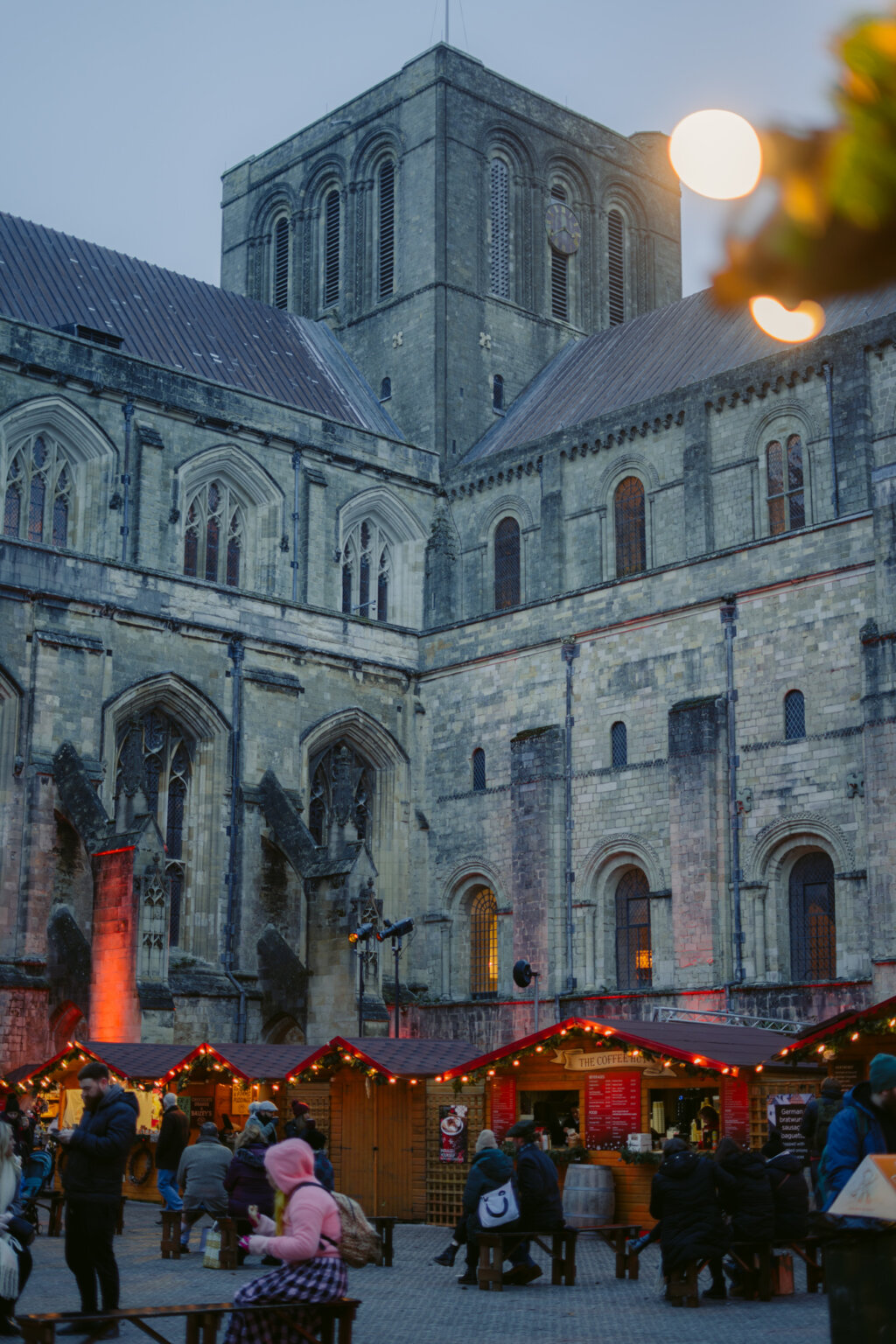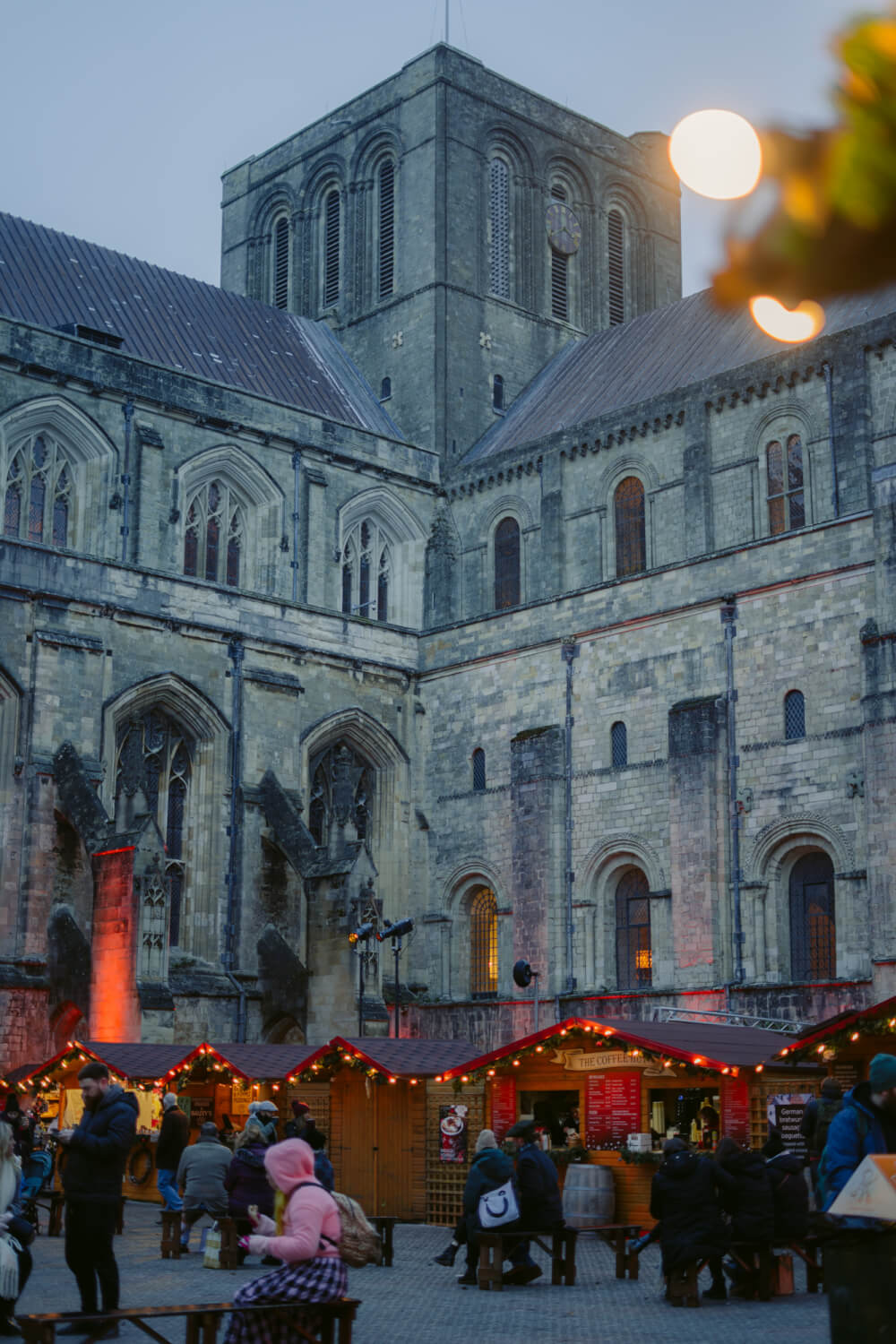 38. Essen, Germany
I once named Essen one of the most underrated Christmas market destinations after my visit there in 2018… and honestly, I still agree with my initial assessment.
For the uninitiated, Essen is a city in the Ruhr region of Germany, known mainly for its industrial legacy… which makes it all the more surprising that its Christmas market scene is actually magical. I mean, the city's main attraction is a coal mine, so the festive flair does come as a shock… but in a good way!
From its main Christmas market that takes place under a glittering canopy of twinkle lights to their medieval-themed market nearby, this is a great German Christmas Market to visit if you want something more off the beaten path, and significantly less crowded than nearby markets like Cologne.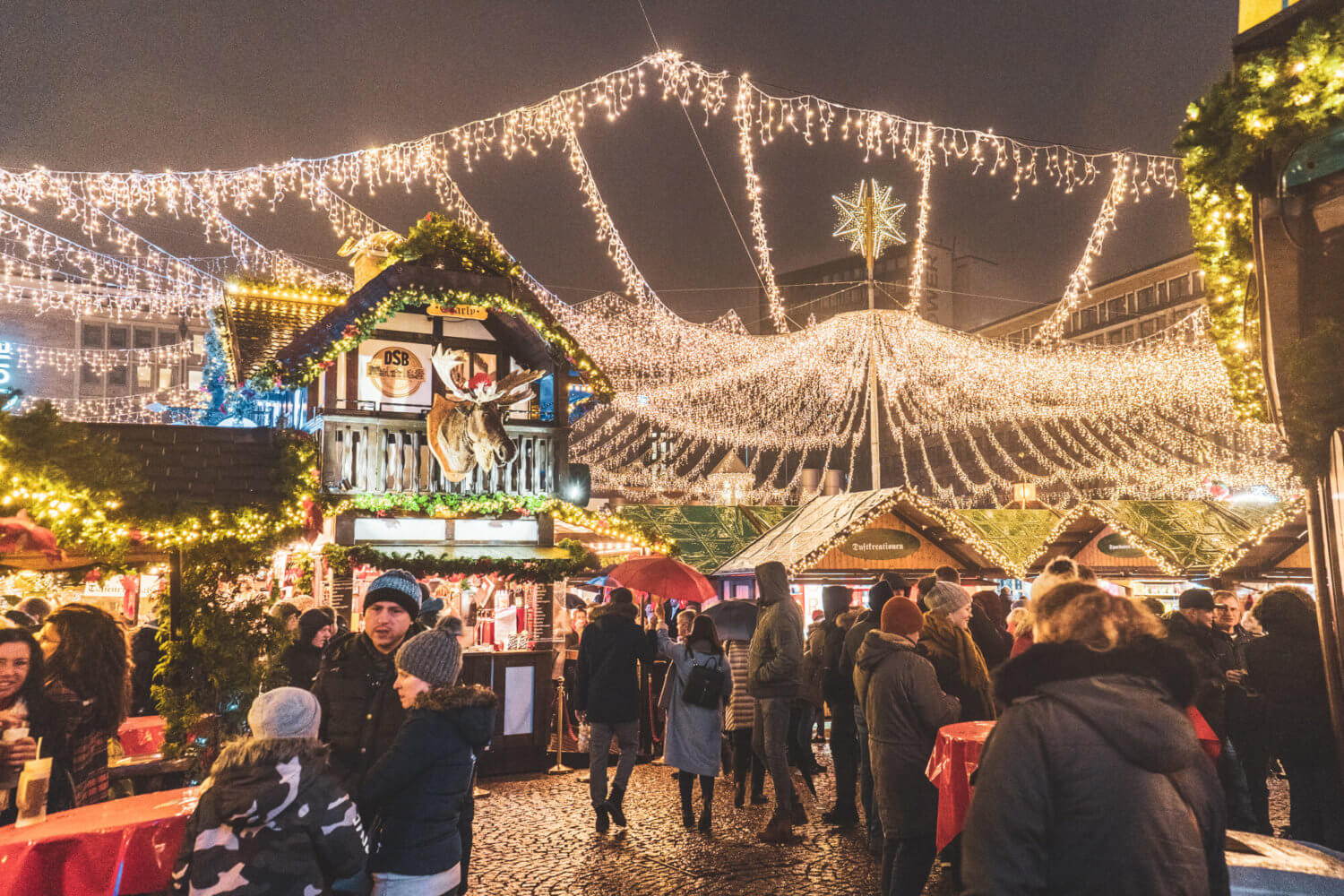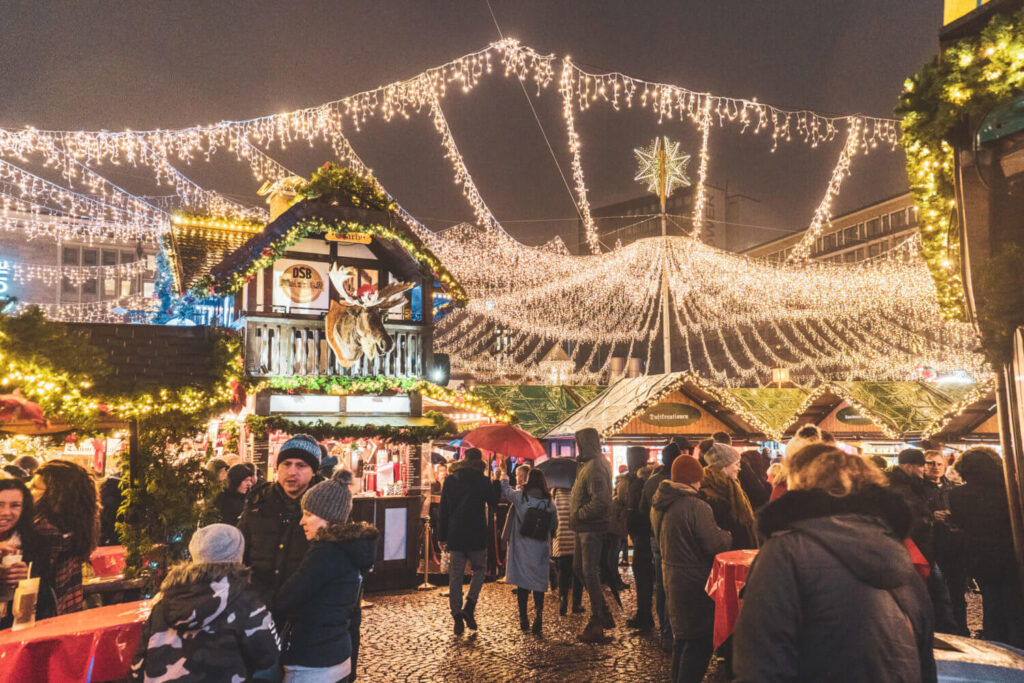 37. Valkenburg, the Netherlands*
Now let's move onto another underrated pick – the so-called "Kerststad" (or Christmas City) of Valkenburg in the Netherlands.
As evidenced by the name, this is a place that takes Christmas seriously, with an exciting calendar of festive events that take place from November to December.
What's earned it this spot on the list is not just that I felt bad about excluding the Netherlands (which is honestly a bit true) BUT also that it has a very unique twist to its Christmas markets that you don't find in many other places… namely, that they're held in caves. Or, more precisely, marl quarries. But I like the sound of 'caves' better.
One of the caves in question is the Gemeentegrot, one of Europe's oldest and largest… so the natural thing to do was fill it with crafts and treats. You'll also find plenty of unique installations from epic sand sculptures to elaborate Nativity scenes, as well as above-ground market stalls and festivities as well for the non-mole people reading this.
36. Graz, Austria*
While often overshadowed by Vienna, Austria's second largest city Graz is one of the most beautiful cities to visit in Europe… and based on my research, it seems to get even more magical at Christmas time, when it's home to over a dozen Christmas markets.
I visited Graz a few years ago for a conference and fell in love with all the unique things to do there, its many cool day trips, and its proximity to the birthplace-turned museum of Governator Arnold Schwarzenegger.
So trust me when I say I started to foam at the mouth when I saw how all its intimate courtyards become venues for CHRISTMAS MARKETS! I'm already plotting my return (or "I'll be back", as Arnie would say.)
But anyway, if you make it there before me, here's what you need to know: the main attraction here is the Hauptplatz Christmas Market in front of city hall, but there's plenty of other cozy markets scattered around the city's elegant courtyards, with themes ranging from a Children's Advent Fair and Sustainable Christmas Market to a market where all stalls are charity-run. Yes, please go and let me live vicariously through you.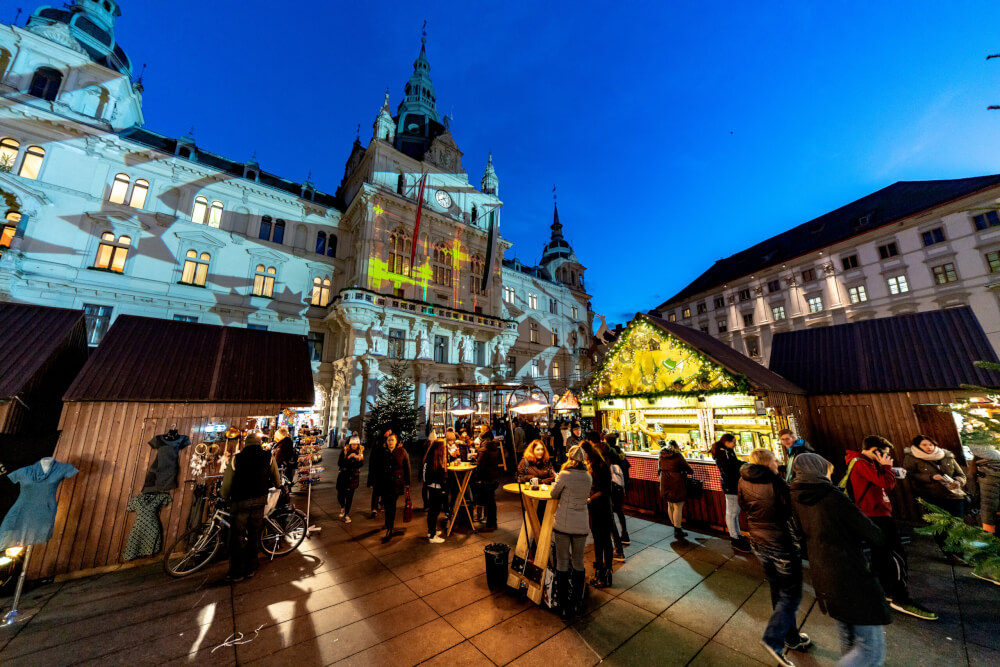 35. Edinburgh, Scotland*
I adore Edinburgh – if you've been on this site before, you should already know this to be true.
Scotland's gorgeous capital attracts visitors year-round with its historic beauty, but once the holidays hit, market stalls and festivities take over the Princes Street Gardens and George St, adding even more magic to the mix… a compelling reason for me to return sooner rather than later.
Truth be told, I've heard mixed reviews on the markets themselves and the goods they sell, but hey, they win bonus points for their epic backdrop and the abundance of other amazing winter activities in Edinburgh, like bumming around the city's unfair number of beautiful bookshops.
Plus, if you stick around until New Year's, you can experience the city's world-famous celebrations for Hogmanay.
And, as a final selling point – they filmed some of those terrible Netflix Princess Switch movies here. So yes, it really is like walking around in a Christmas movie.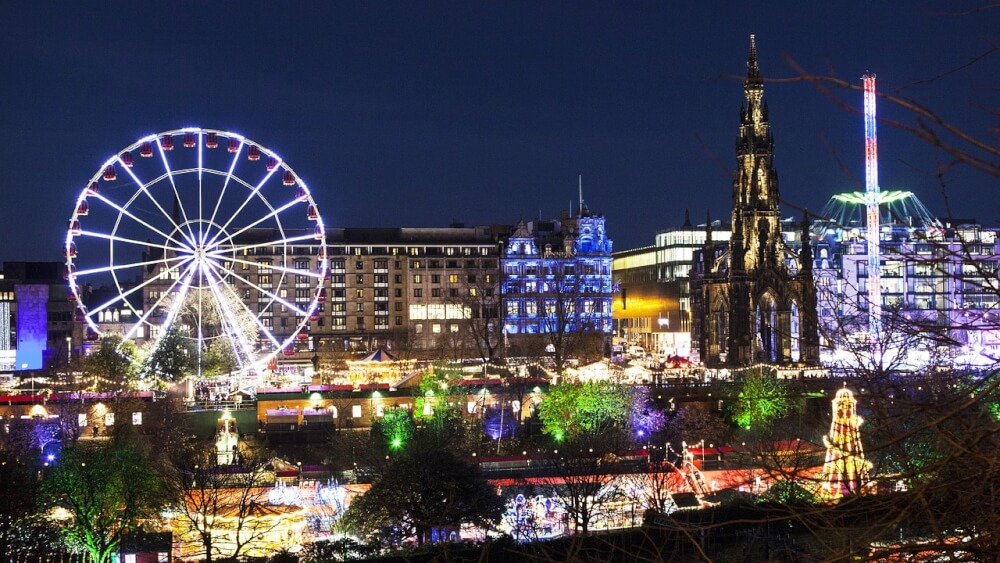 34. Wrocław, Poland*
If photos are to be believed, another one of Europe's most amazing Christmas markets can be found in Poland… specifically in Wrocław, pronounced like Vrahts-wahf, in case you want to avoid being made a fool like me when I first tried to say it.
Anyways, if fairytale vibes are your thing, this beautiful Polish city gets a magical makeover at Christmas time, with over 250 elaborately decked chalets to admire in the city center.
Often considered one of the largest and most beautiful Christmas markets in Poland, this fairytale-themed market is a true feast for the senses, with stalls all over the main Market Square, and along smaller side streets throughout the city. I truly cannot wait to pillage it for pierogi someday.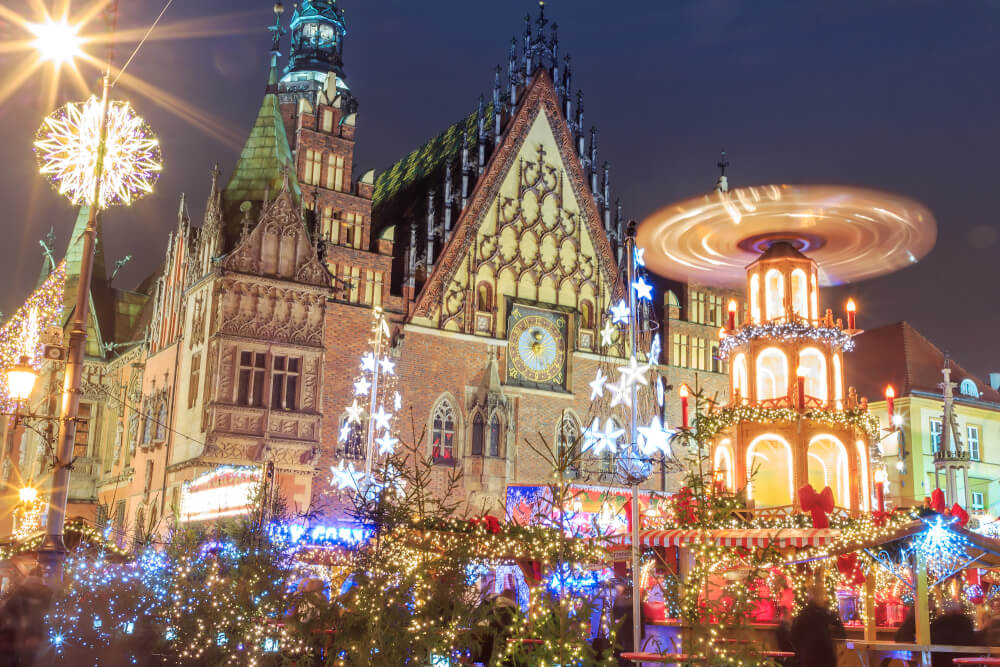 33. Birmingham, England
Now here's another surprising one: Birmingham!
Fun fact: Birmingham's Frankfurt Christmas Market is considered the largest authentic German-style Advent market outside central Europe, attracting over 5 million visitors annually with nearly 200 stalls spanning from Victoria Square to the Bullring shopping centre.
While a lot of people love to hate on Birmingham (I don't! I even wrote a glowing post of fun things to do there), I do think the energy here captures the essence of Germany's Christmas markets tremendously well, with an additional market focused on more local makers available on the grounds of Birmingham Cathedral.
… Oh, and they serve cold beer all over the place which is admittedly not very German Christmas Markety, but still a nice addition if you enjoy beer and frostbite.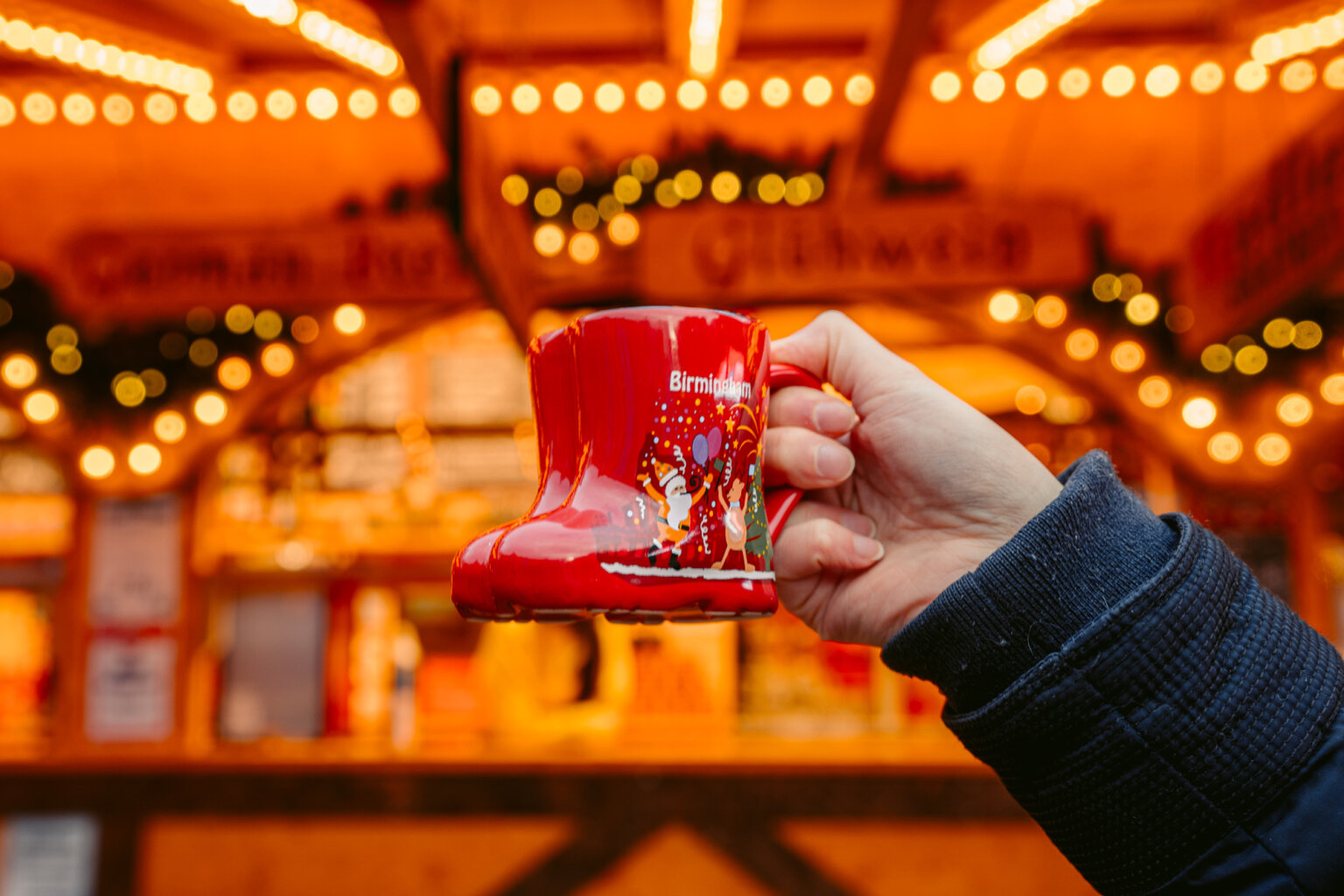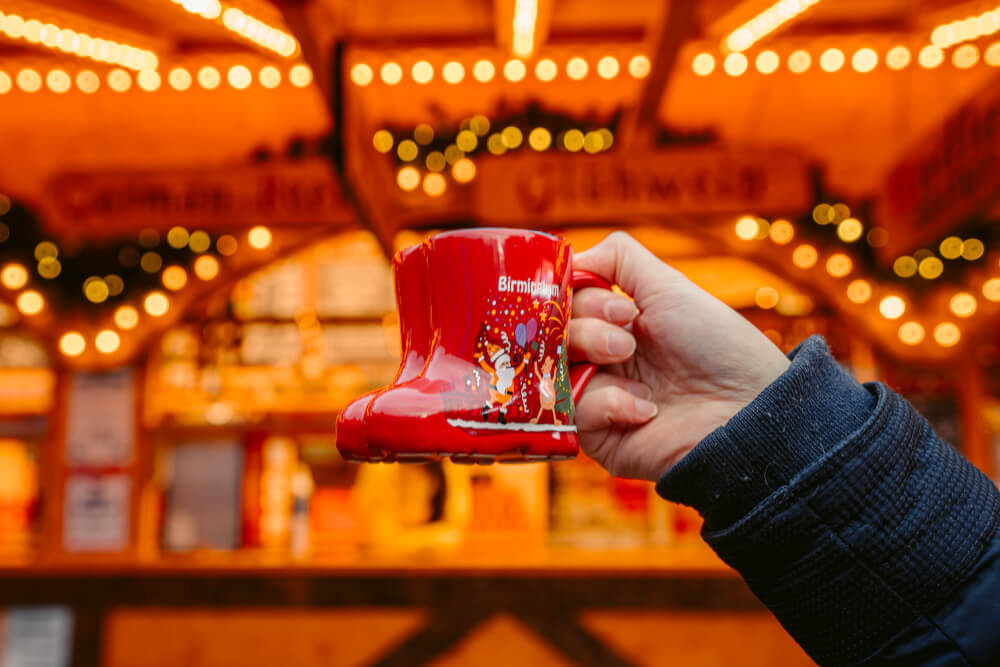 32. Prague, Czechia
I have to admit, I was a little disappointed in Prague's Christmas markets when I first visited. The booths aren't the most exciting, and, if I'm being honest, the white tarp roofs on many of the huts really bummed me out.
BUT after some time to reflect, despite the grandeur of Prague's market stalls paling in comparison to other European Christmas markets, there's one thing that makes this city a firm contender for top Christmas market destination in Europe: it's Prague.
It's genuinely that simple! Christmas markets can get samey after a while in terms of what they sell, so a nice backdrop goes a long a long way.
And Prague? Prague boasts some of the prettiest backdrops on the continent.
Dominated by the main market in Old Town Square, with a few smaller ones scattered around the city, selling a selection of food and souvenirs, shopping isn't really the main event here, but if your goal is to simply enjoy the festive atmosphere with a Svařák (hot wine) while soaking in the wintery charm of one of Europe's most gorgeous capitals, then a Christmas market trip to Prague is definitely one for the bucket list.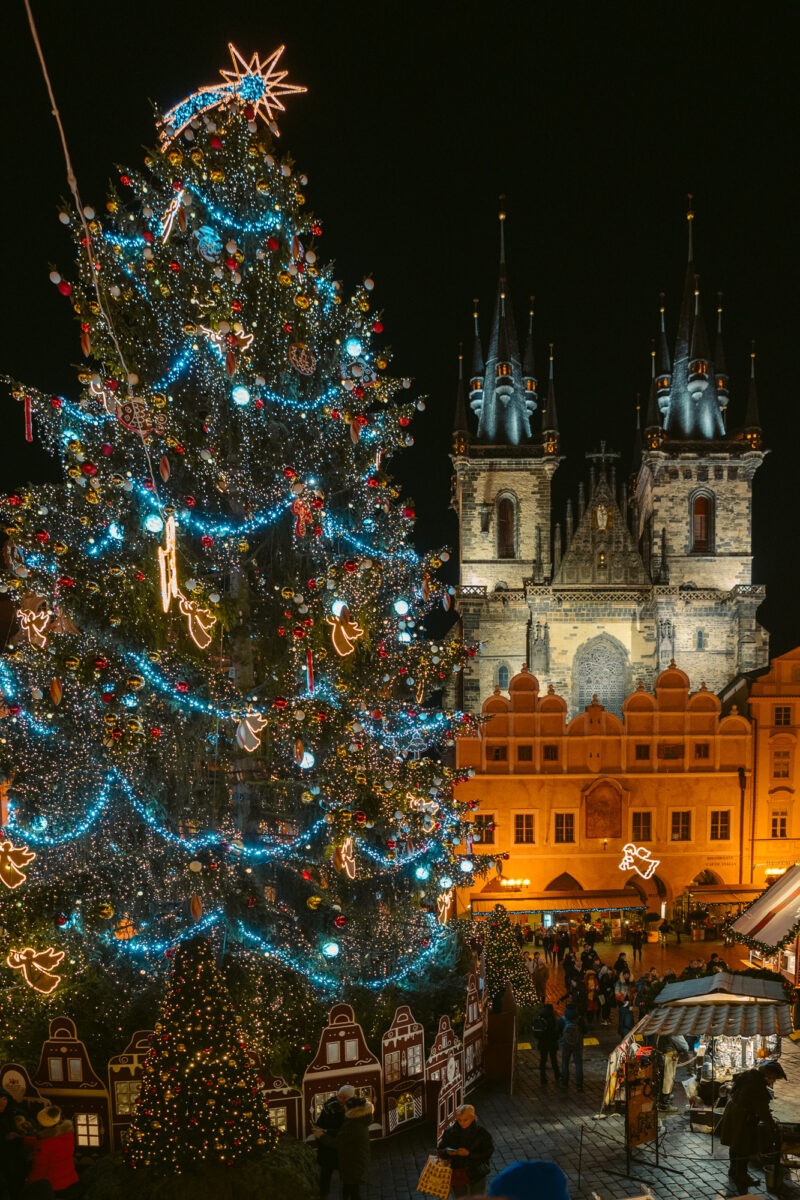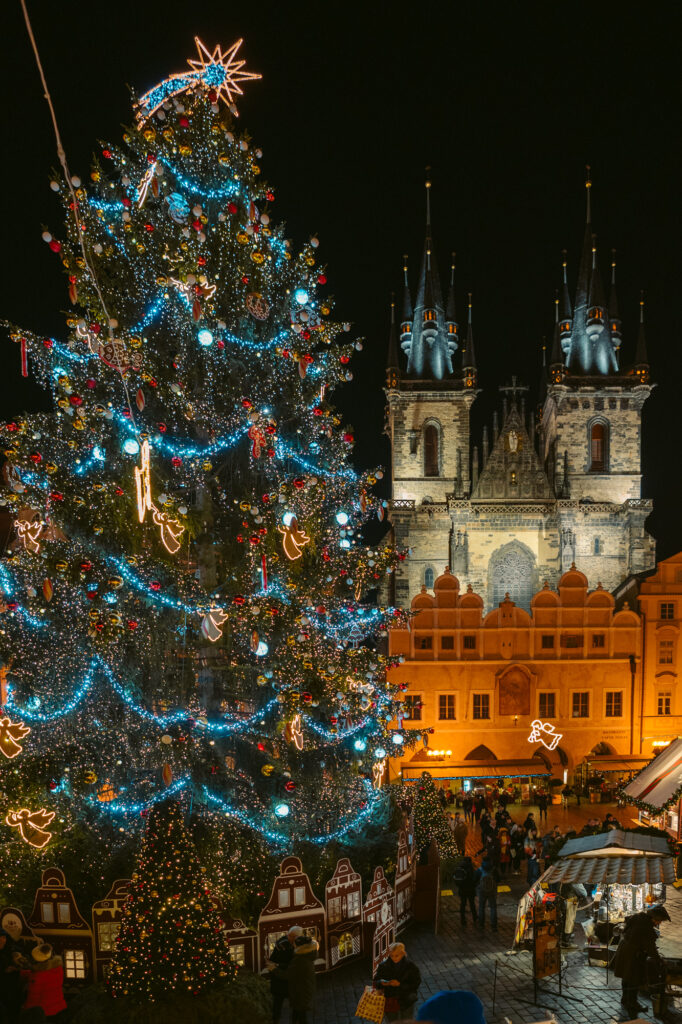 31. Dortmund, Germany
While often missed by international visitors, the Dortmund Christmas Market scene is one that boasts a number of superlatives: not only is it one of the biggest Christmas markets in Germany (with over 300 stalls to browse), its centerpiece happens to be the biggest Christmas tree in the entire world.
(Biggest natural Christmas tree, I should say. There's a bigger artificial one somewhere… probably in Dubai or something)
In any case, add on plenty of fun fair attractions and an abundance of stalls to pillage for classic Christmas market treats, and you have an impressive Christmas market destination worth visiting. I especially loved the food options here. This was the first place I had pasta tossed in a giant parmesan wheel and my life has never been the same since.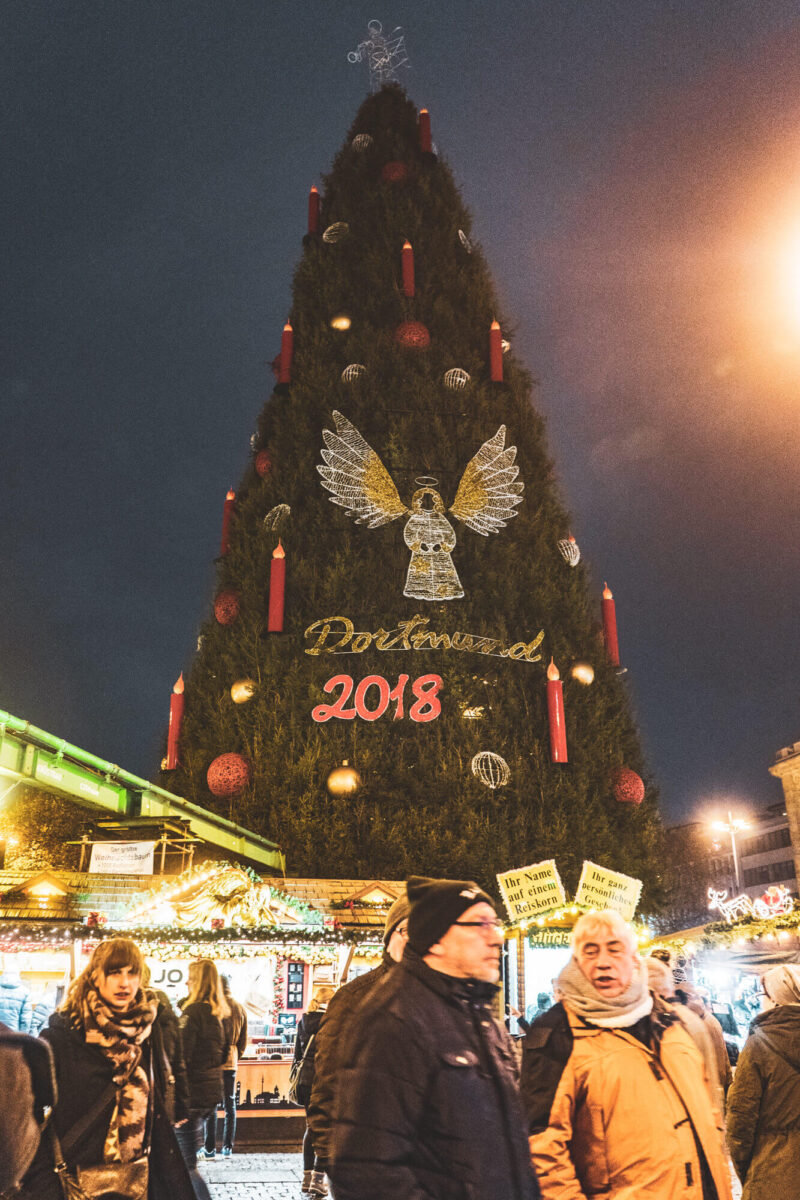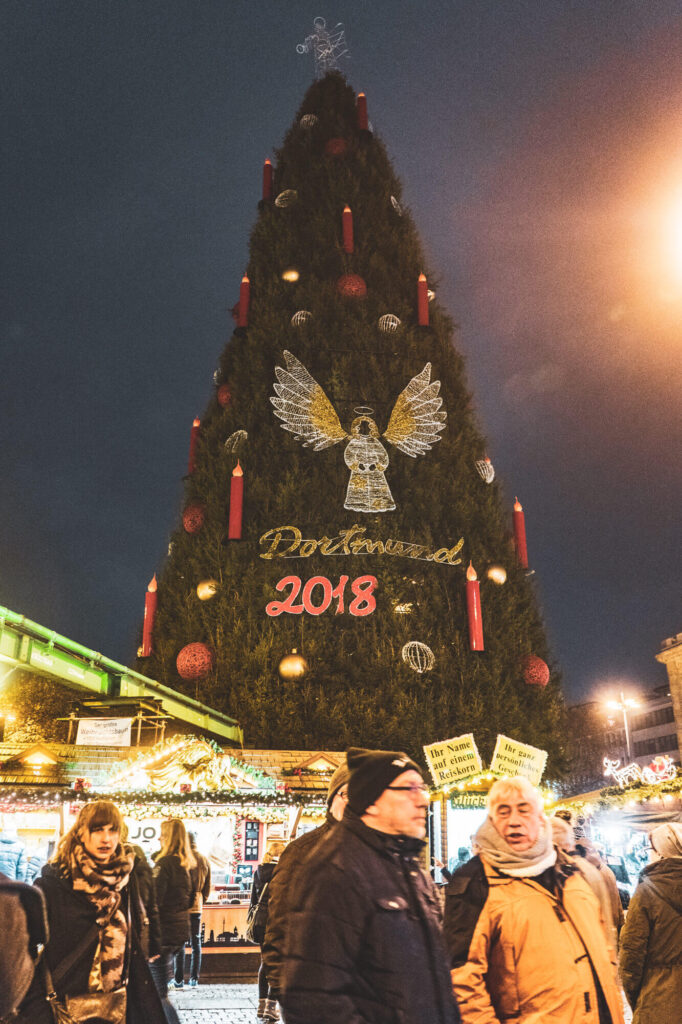 30. Blenheim Palace, England
Best known as the birthplace of Winston Churchill, this elaborate country home hosts a month-long Christmas market every year running from mid-November to mid-December… but really, the starring attraction here isn't the market itself, but rather the festive decor of the palace, which is illuminated with a dramatic light show and elegant Christmassy interiors that change theme every year. It's usually a fairytale, because of course it is.
For those willing to brave the cold, there's even a festive light trail in the palace gardens, which tends to sell out every year, hence why I don't get to brag about how I went. I did however make the small walk out to the gardens to see a place they've literally named "the Harry Potter tree", thanks to its brief cameo appearance as a Harry Potter filming location.
A bonus mention goes to the nearby Oxford Christmas Market, which is fairly small but worth a visit since Oxford is gorgeous and filled with fun, supremely nerdy things to do.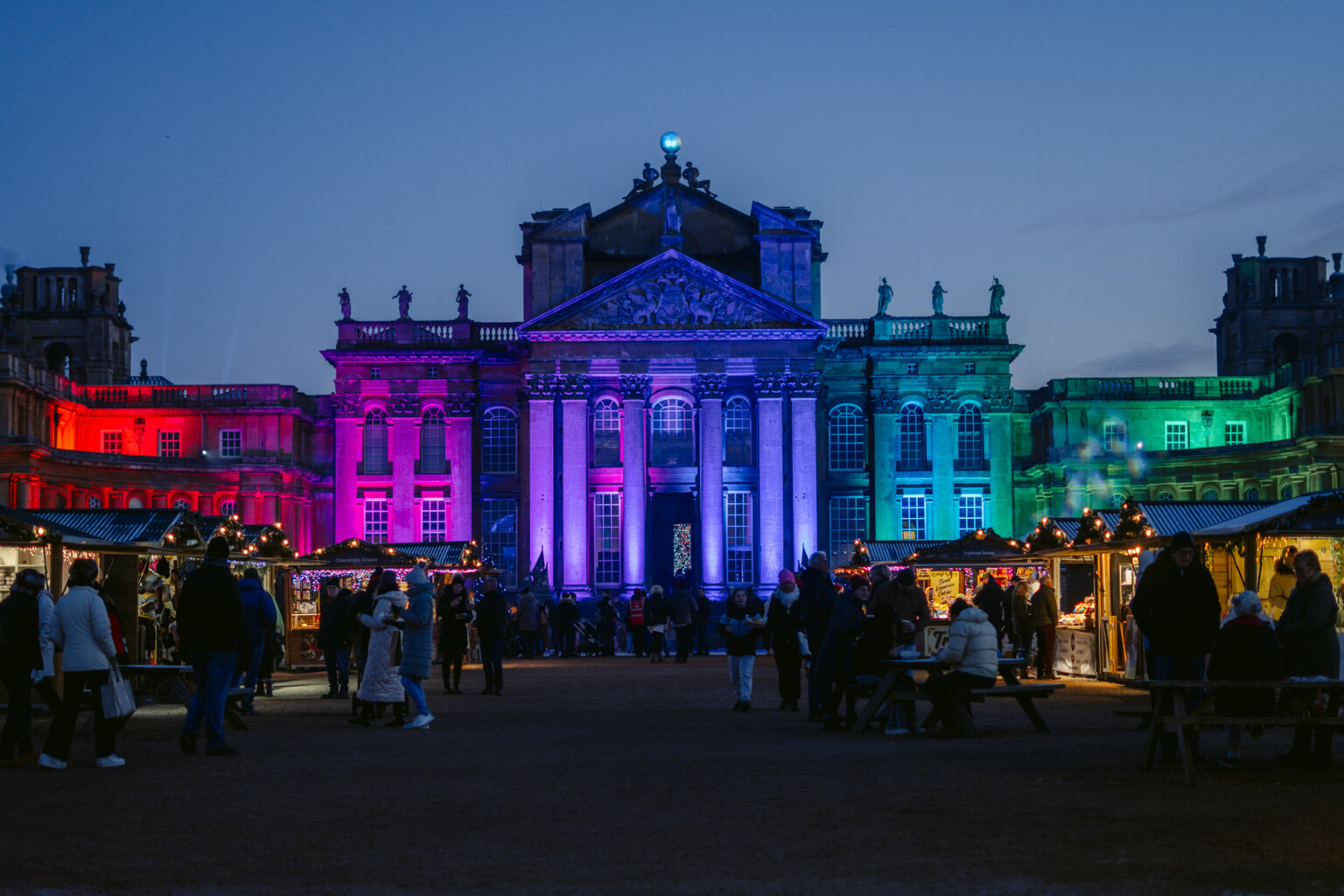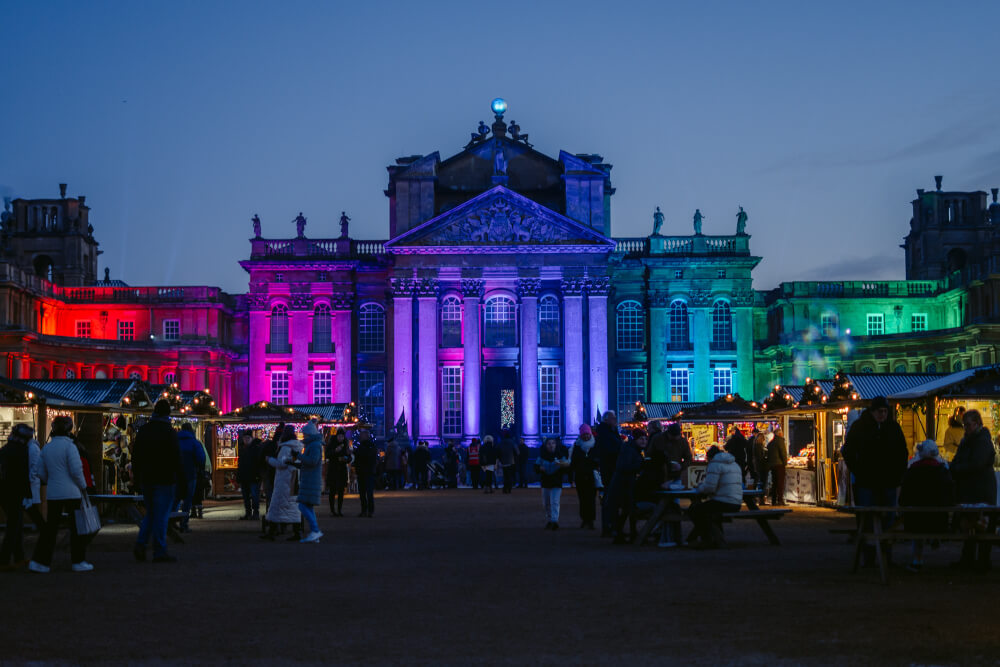 29. Frankfurt, Germany
It's possible Frankfurt would have ended up much higher on this list had I not committed the #1 sin of Christmas market hopping in Europe…….. I went on a Saturday. And felt like a (festive) packed sardine the entire time.
Granted, this isn't an uncommon experience in Frankfurt. Home to Germany's busiest airport, Frankfurt is a common pick for overseas visitors who want to experience Germany's Christmas market charm for themselves.
Of course, this means heavy crowds, but those who smartly plan for off-peak periods get to enjoy a wide range of Frankfurt Christmas markets, from the classic main market in the Römerberg, which looks straight out of a snowglobe to a pink-themed LGBTQ market, a cool rooftop market with skyline views and more.
An honourable mention goes to Mainz Christmas Market close by which is well worth a visit too if you're in the area.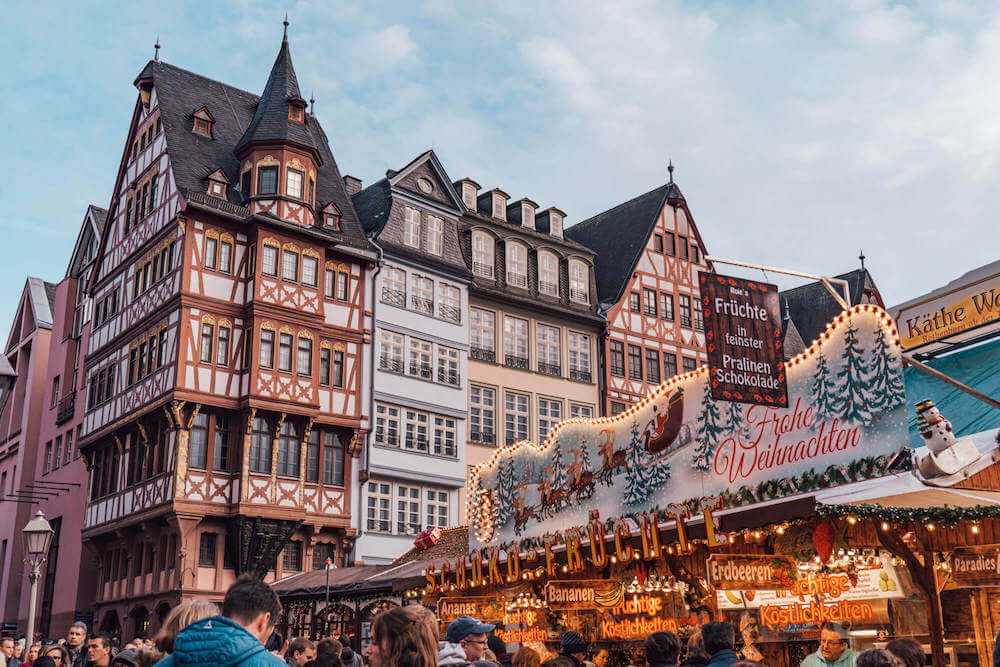 28. Karlsruhe, Germany
I have to admit, the Karlsruhe Christmas Market really took me by surprise when I went, especially because I was only really going to stretch my legs between trains.
This underrated city in Baden-Württemberg can be found just a stone's throw from the French border, and is home to a few different markets, including the main market in Friedrichplatz, which is (shockingly) home to some of the most opulent rooftop decorations I've seen at any Christmas market in Germany.
There's also an extension of the market at Marktplatz where you'll find a lovely pyramid and ferris wheel, as well as a charming skating rink at Schlossplatz with a backdrop of the beautiful Karlsruhe Palace. All in all, a great underrated Christmas market find!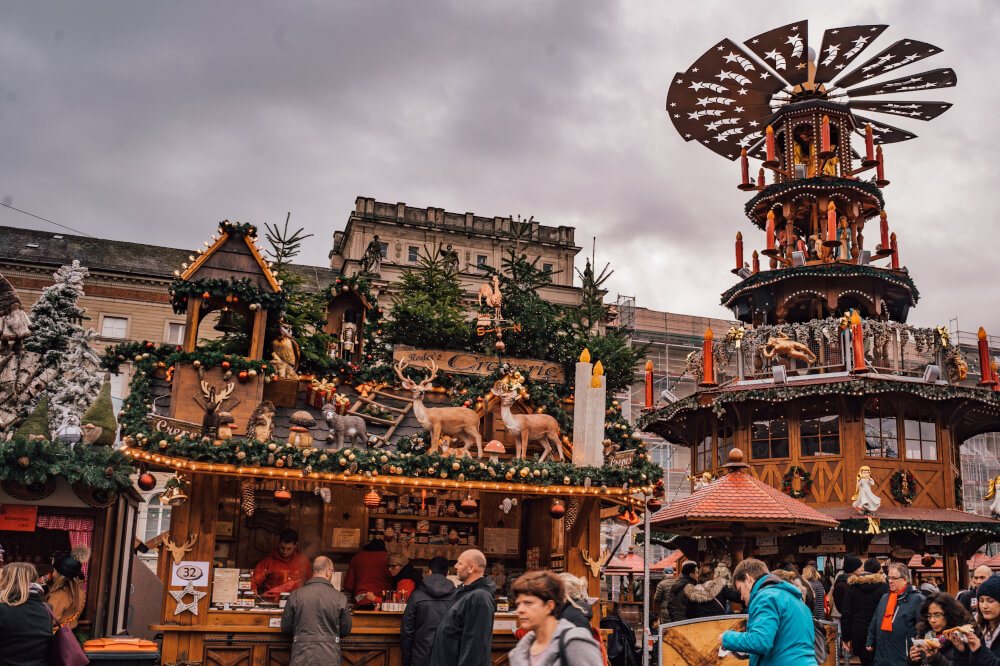 27. Madrid, Spain*
Speaking of underrated, while Spain isn't often considered as big a Christmas market destination as countries in central Europe, the Spanish capital of Madrid is an exception that's well known for its Christmas market scene.
The crown jewel of the city's festive calendar is the Plaza Mayor Christmas Market which fills the city's epic main square with red wooden chalets selling all sorts of Christmas decorations, ornaments, gifts, and Nativity Scene figures. There are plenty of other markets on throughout the season though, along with a big ice rink and several festive performances like circus shows.
Despite visiting Madrid in the winter time, I managed to miss this Christmas market by a mere day or two… which is how I managed to longingly capture these red huts fully installed and ready to go. I've heard great things though, so maybe I'll be able to go sometime and edit this post with my experience.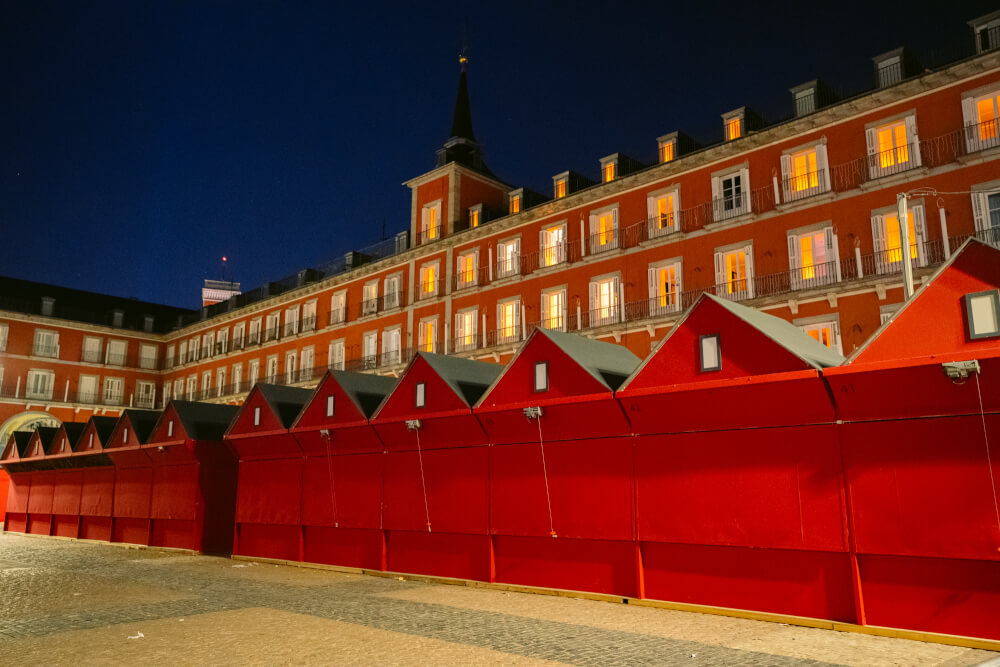 26. Mulhouse, France
Now, when it comes to finding the best Christmas markets in Europe, I always love to find a unique hook or angle. Like I said, European Xmas markets can get very samey after a while… but I'm happy to report that Mulhouse has one of the most delightful hooks I've found in all my travels.
Here, as a nod to the city's textile industry, they have a unique feature unseen anywhere else in Europe: a specially designed Christmas fabric that they change annually to decorate the different stalls around the city, decking souvenirs, cups and even sold by the metre at the (adorably pink) city hall.
Add on an array of stunning light installations, and a beautiful open-air ferris wheel that provides sweeping views over the Temple Saint-Étienne and Place de la Réunion, and you can see why Mulhouse is one of the top Christmas market destinations in Europe.
Admittedly, the fabric isn't always cute, but the concept is, and that's what counts!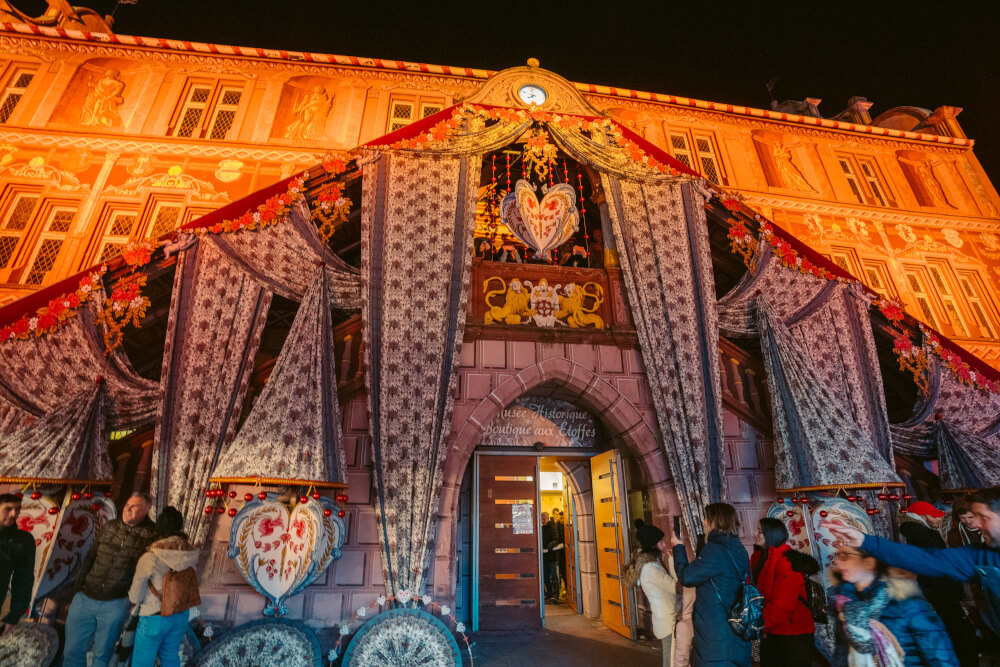 25. Esslingen, Germany
I'm a sucker for good themes (as evidenced by how taken I was by literal fabric mere moments ago), but if I were to applaud one market for really sticking and committing to its theme, it'd be the medieval Christmas market in Esslingen.
With costumed vendors selling everything from potion bottle liqueurs to medieval toys, this market feels like a proper walk back in time (if you can avert your gaze while passing pharmacies and things, that is).
While exploring, you'll find a ton of medieval carnival games, food from around the world and, to ensure all bases are covered, even a more traditional German Christmas market steps away from the medieval one. I was absolutely blown away by this market when I visited, and it helps of course that Esslingen is possibly one of the cutest little towns in Germany.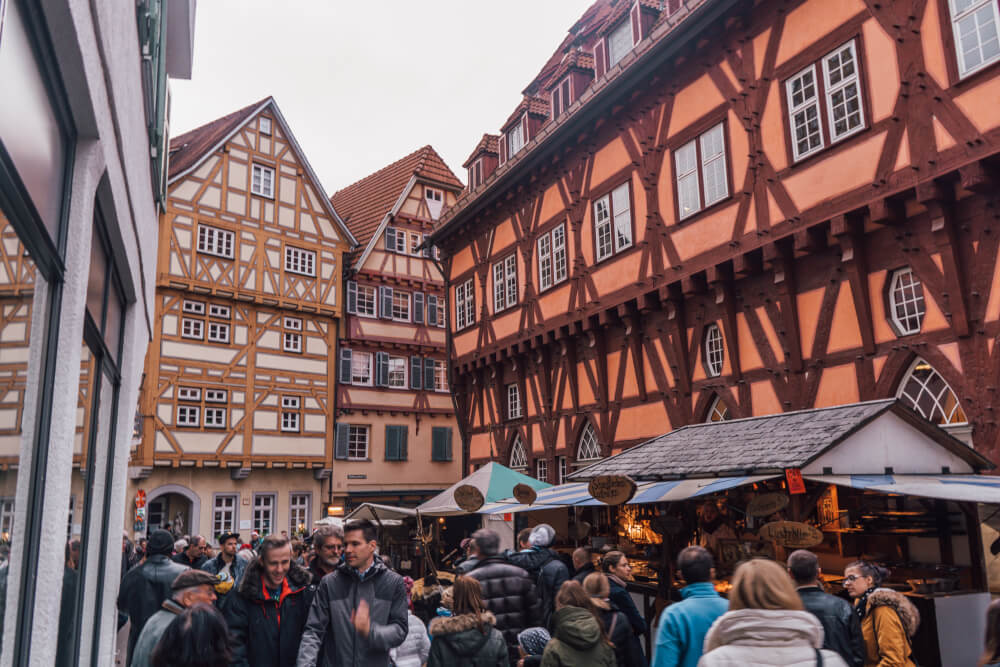 24. Hamburg, Germany
One of the first Christmas markets I ever visited was in Hamburg, so in a way you can consider this city part of my weird festive origin story.
But clearly it made an impression. Not only is this Northern German city an absolute dream to explore, it's ideal for Christmas market browsing because of its many unique Christmas markets. For a more traditional experience, there's the main Weihnachtsmarkt Rathausmarkt in front of the Rathaus which uses Hamburg's gorgeous City Hall as the backdrop.
Or for something a little different, there's the Santa Pauli Christmas Market, a provocative sex-themed Christmas Market located in Hamburg's Red Light District where you can shop for all sorts of interesting goodies such as NSFW ornaments among other….. interesting goods. I don't want to spoil too much, but if you're looking for VERY unique souvenir forms of contraception, this market has you covered!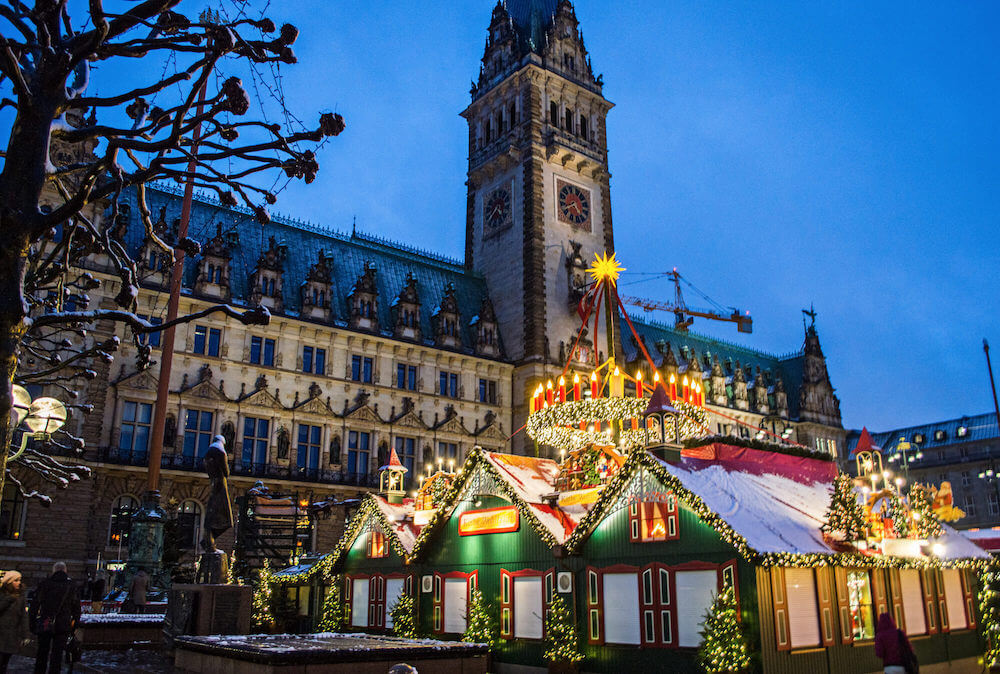 23. Tallinn, Estonia*
I felt like the list lacked a bit of Baltic representation, so here I am presenting you with the wonders of Tallinn, Estonia.
This beautiful winter destination is quickly becoming one of Europe's most hyped up Christmas market cities with an array of Christmas market stalls scattered around the historic Old Town, considered one of the best-preserved medieval town centers in the world.
With a large Christmas tree at the market's centre, the fairytale vibes here are unmatched, with a fun festive calendar of events to accompany the city's Christmas market season, from a Christmas jazz festival to a gingerbread themed exhibition. As a bonus, snow is definitely more likely here than in some other Christmas markets on my list!
Photo by snowflakediana / Shutterstock.com
22. Berlin, Germany
A lot of people love hating on Berlin's Christmas Market scene, but I'd like to stand in defence of it today.
I mean, not that much, since it's still only #22, BUT I want to emphasize that Berlin has made the list not for any particular market itself, but simply for its many, many choices.
With over 60 Christmas markets held throughout the holiday season, Berlin trumps most other cities in Europe for its sheer variety of markets, whether you're looking for an elegant market set in a palace, like you'll find at Schloss Charlottenburg or a hip, distinctly Berlin Christmas market held on the rooftop of a shopping mall parking lot.
Granted, not all the markets here are winners, but if you're looking for the classic cozy Christmas market experience, the festivities at Gendarmenmarkt are definitely worth a visit, with dozens of other options waiting once you're done.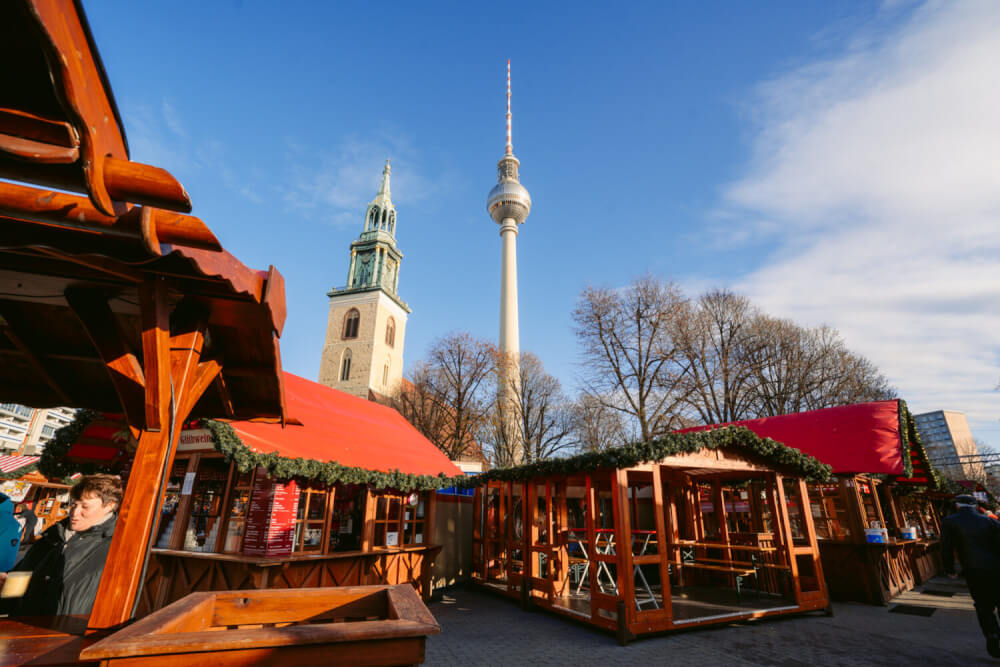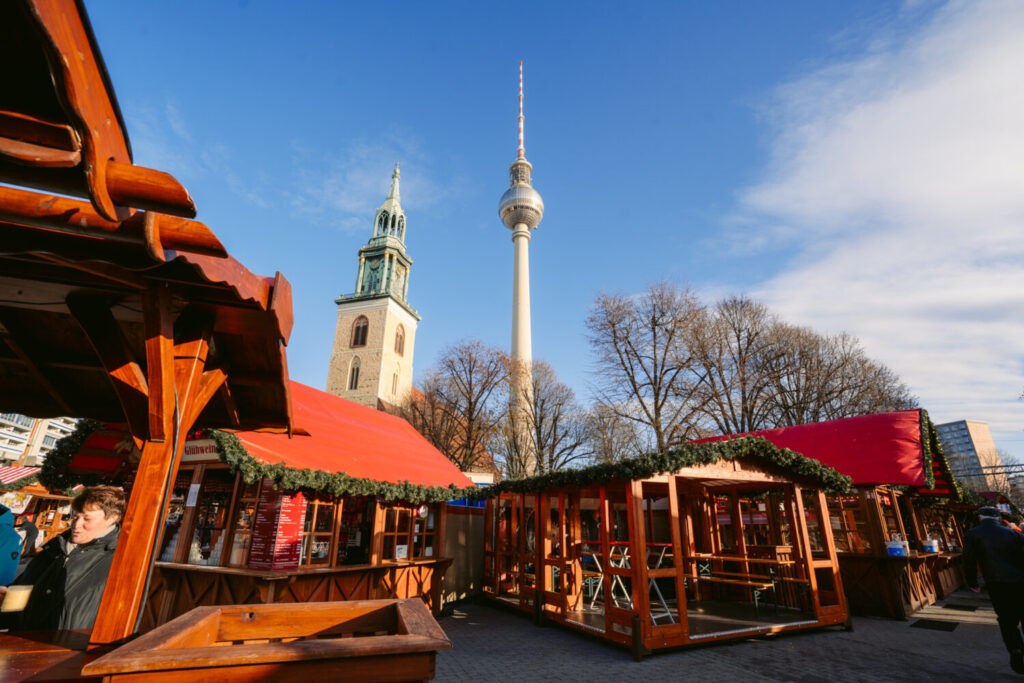 21. Aachen, Germany
Famed for its epic cathedral and mouthwatering Printen cookies, Aachen is a city that does the festive season properly… a fact confirmed by the Christmas market's 1.5 million annual visitors.
Here, you'll find beautiful stalls scattered around the city's Old Town, making backdrops out of the epic Aachen Cathedral, known as Germany's first monument to receive UNESCO Heritage status, as well as the impressive City Hall. I really liked the cozy feel of the markets here, and find Aachen is perfectly sized for a short visit… plus they do the cutest pastel boot mugs here and I really can't resist those.
It's worth mentioning too that this Christmas market even has their own special mascot, a giant man made of their city's beloved cookie (who gets increasingly creepy if you stare at him too long).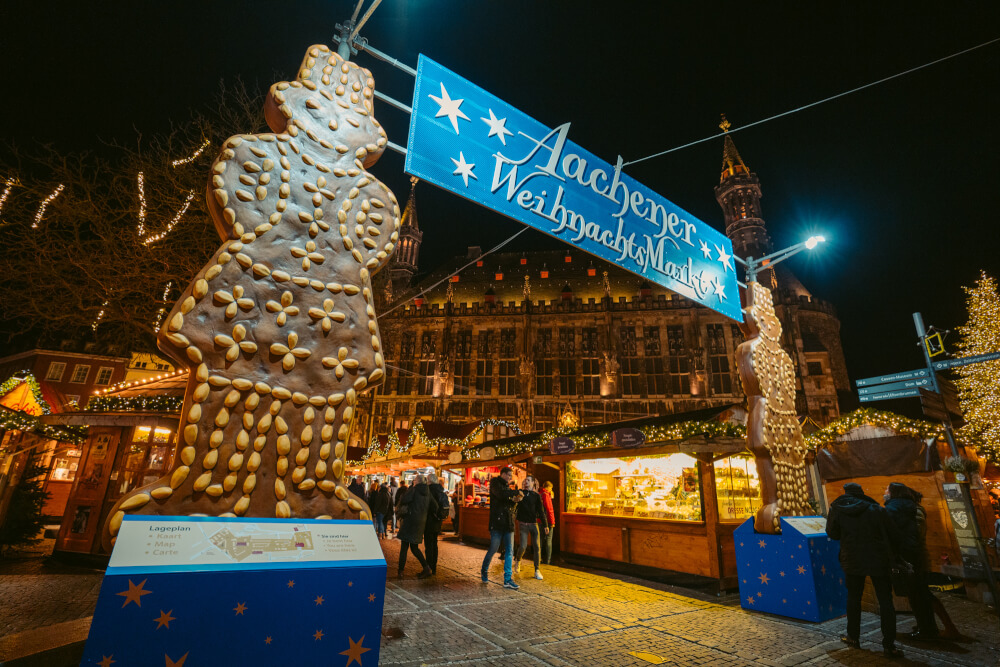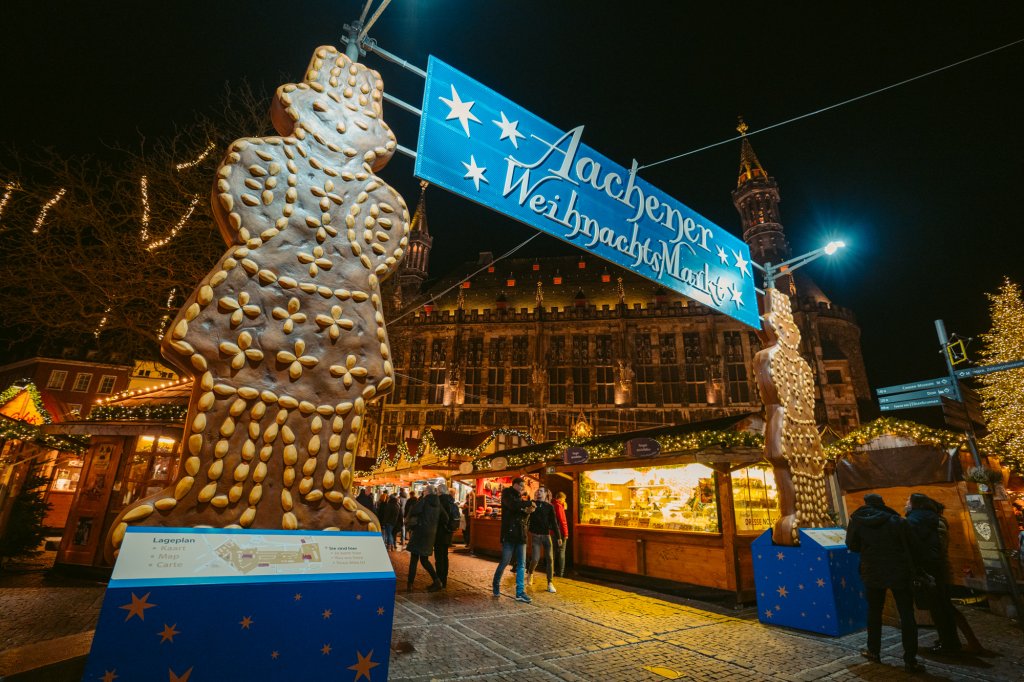 20. Brussels, Belgium
With a tasty reputation upheld by fries, beer, and chocolate, Belgium is a country beloved year-round… but during the festive period, it's the Belgian capital of Brussels that really steals the show with a vibrant assortment of Christmassy events known as Brussels Winter Wonders.
With over 200 market stalls spread across multiple locations in the city, there's the typical Christmas market vibe here, but in addition to that, there's a LOT of bonuses, including fun fair elements like a big Ferris wheel, rides, merry-go-rounds, ice skating and even special pop-ups like saunas and VR installations. If you want a cozy and traditional Christmas market vibe, Brussels probably won't be the right choice… but if you want something fun and vibrant, then definitely check it out.
The starring attraction of the Winter Wonders programme is the epic light show that takes place in Grand Place, one of the most magnificent squares in Europe… set to dramatic music of course, which you know I love. It's this spectacular show that really secures Brussels' spot on the list for me! Who doesn't love fun lights and gorgeous architecture?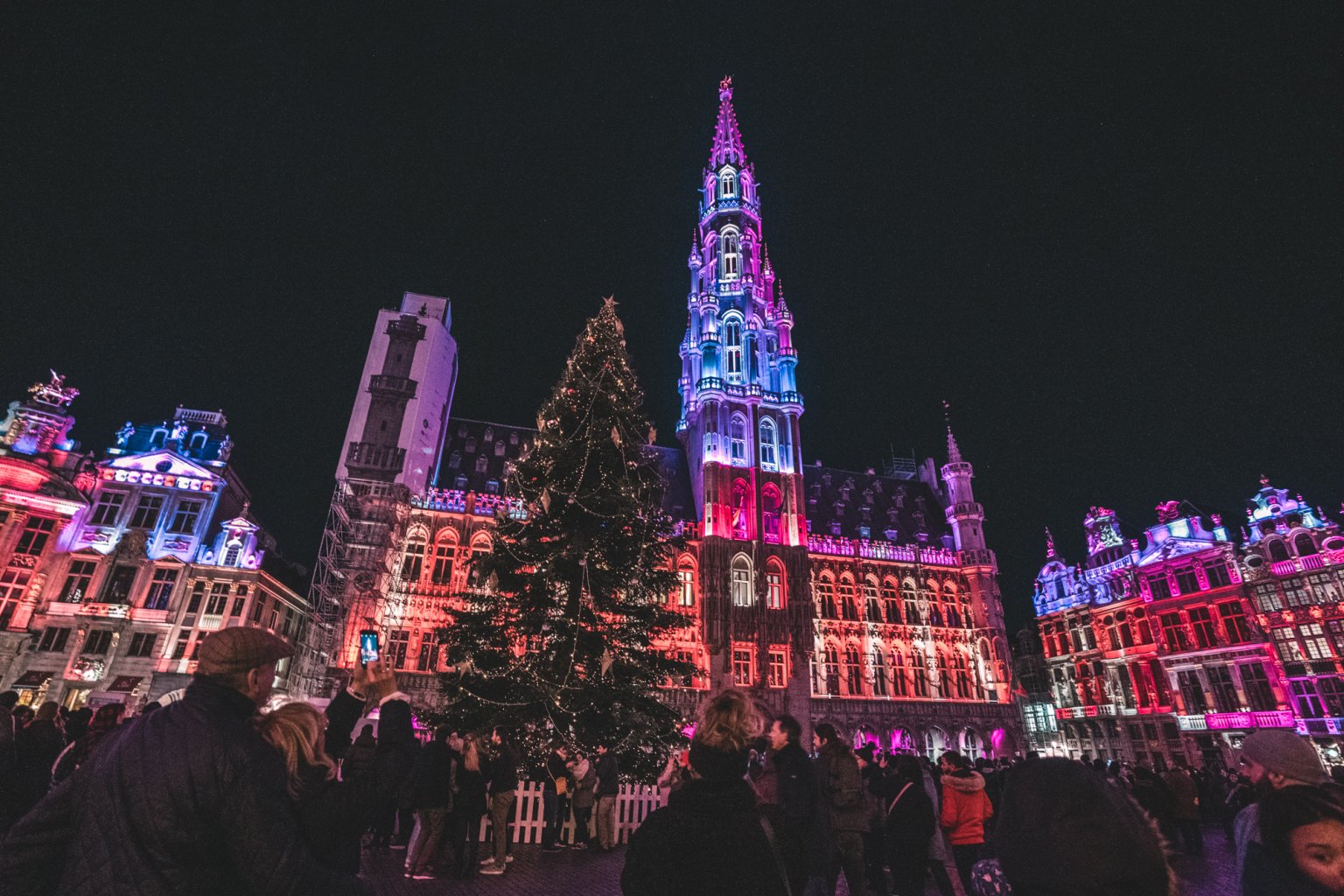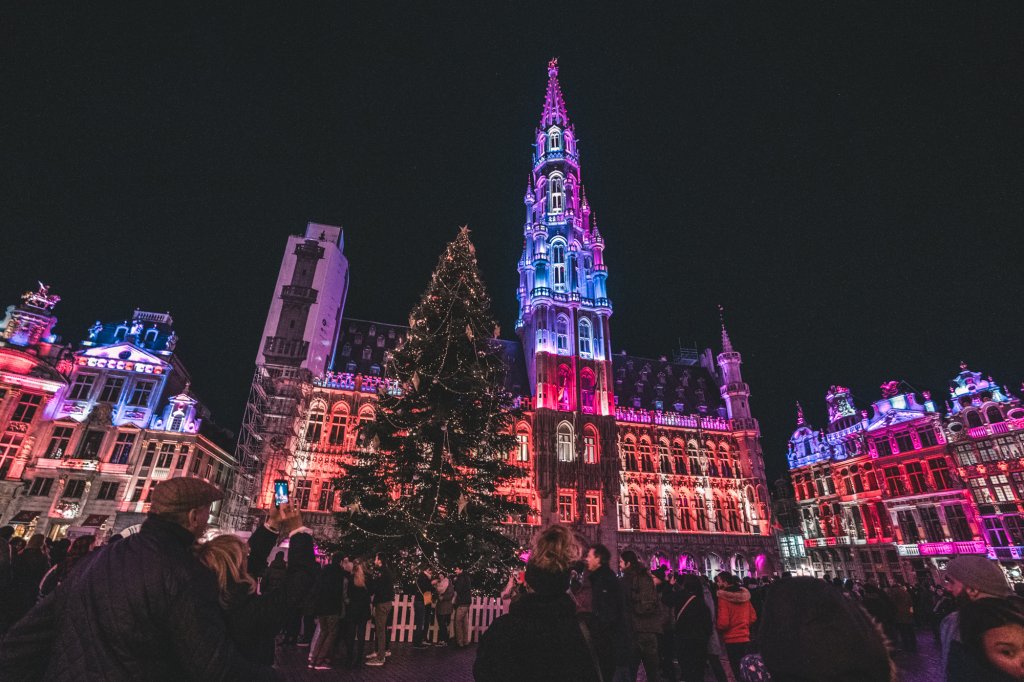 19. Kaysersberg, France
From big city to small town, next up on our list is Kaysersberg.
This aggressively Christmassy Alsatian town is as scenic as it gets, with a rushing river down the middle and lush terraced vineyards rising up in the surrounding hills. This is where you need to go if you want to see a village engulfed by Christmas, offering an endless parade of beautiful market stalls and equally beautiful storefronts selling sweets, ornaments and everything in between.
One of the highlights here is ogling the elaborate building facades, often adorned with charming shutters, glittering baubles, and even fluffy teddy bears… though with the gloomy European winter weather, the future of their fluffiness is uncertain at best.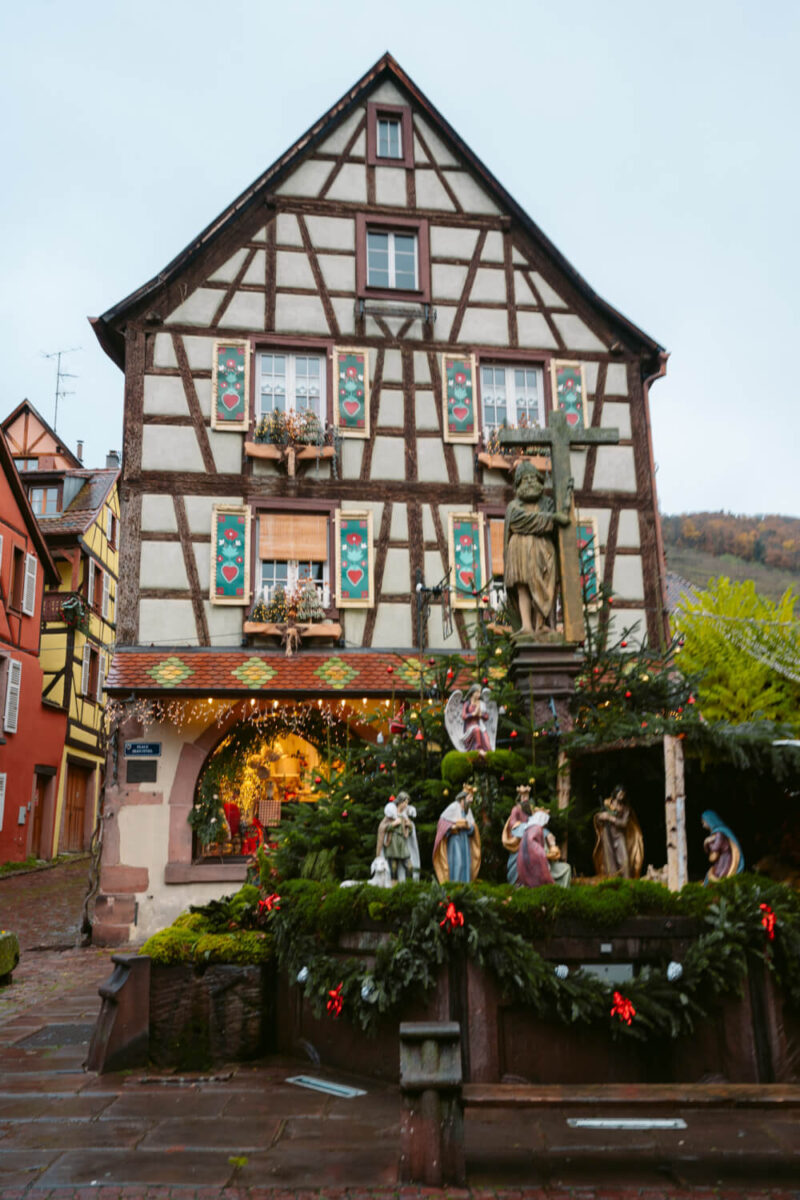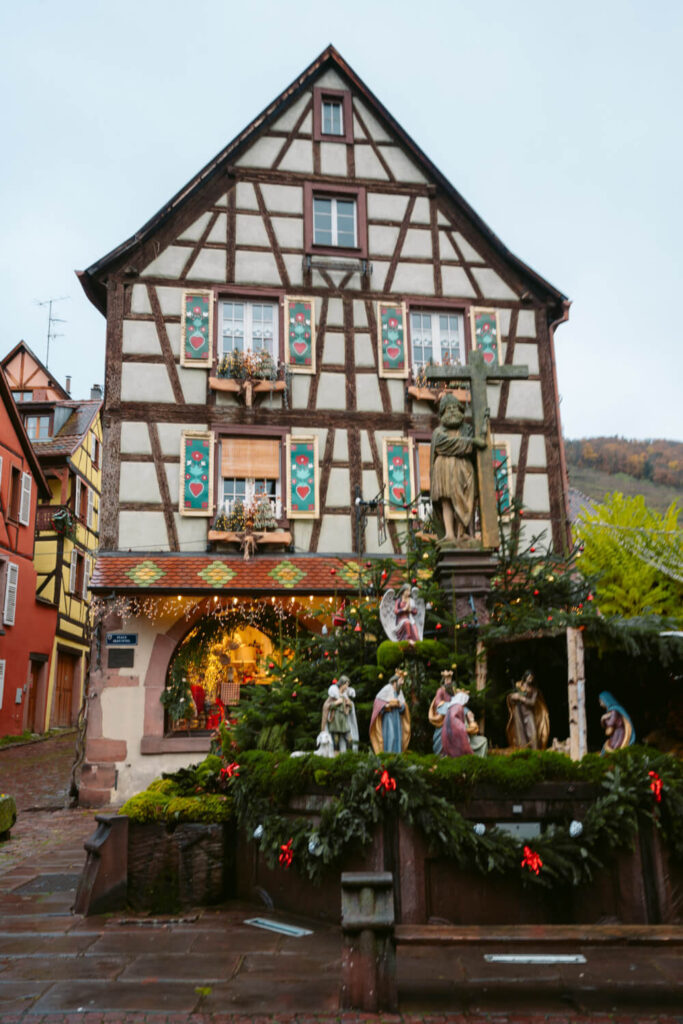 18. Basel, Switzerland
I love this city! I've previously written about the best things to do in Basel, and also elaborated on the wonders of Basel's Christmas Markets, but here's a quick summary.
The charming Swiss city of Basel is unique in that it's located at crossroads of three countries (Switzerland, Germany and France). It's also home to one of the oldest Christmas markets in Switzerland, with two main markets in Münsterplatz and Barfüsserplatz swimming in Yuletide charm.
Highlights include the giant Christmas tree right by the Basler Münster and the towering Christmas Pyramid which serves as the centerpiece of the Barfüsserplatz market… both ridiculously photogenic.
Overall, I think the Christmas markets here nail the 'cozy, traditional' feeling very well… plus, you can't go wrong with fondue.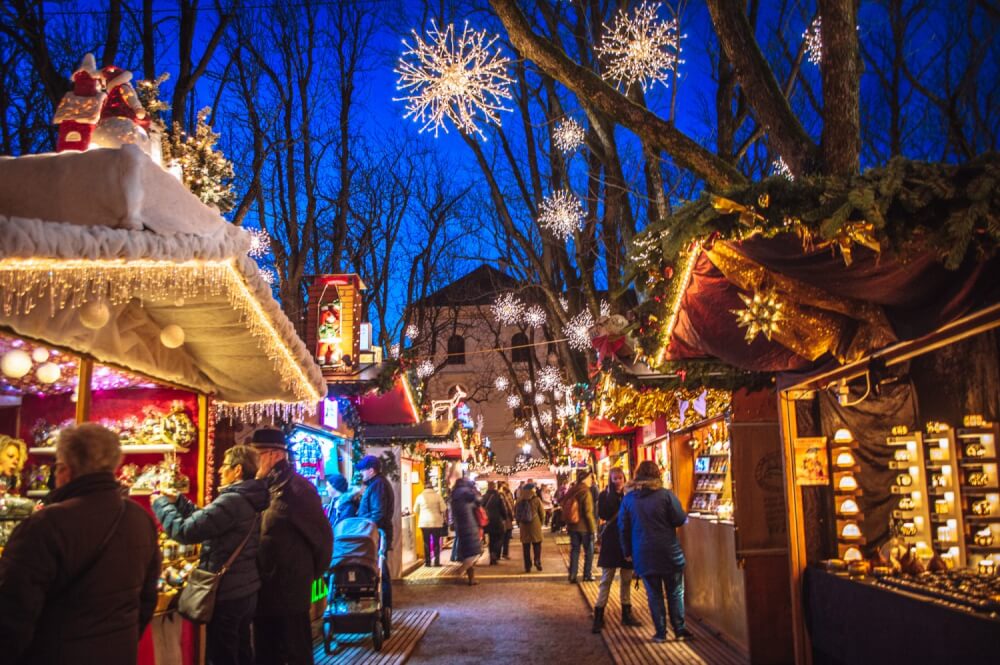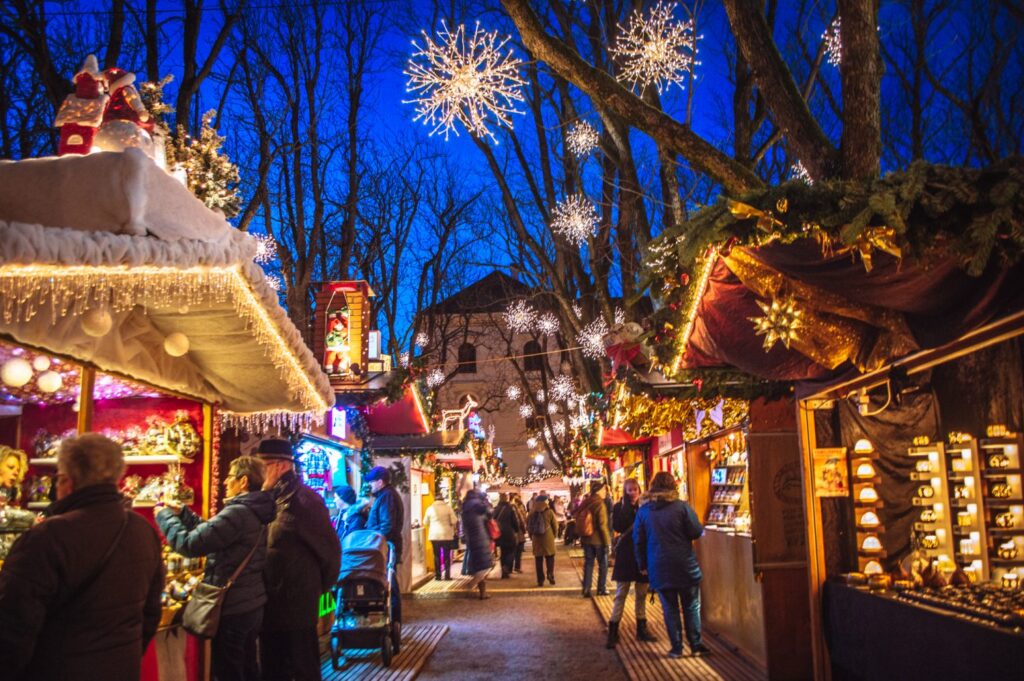 17. Nuremberg, Germany
The Nuremberg Christmas Market is one of Germany's most famous markets, attracting millions of visitors each year.
Not only is it known as one of the oldest Christmas markets in the country, it's also famous for its ambassador, the Nuremberg Christkind, who is chosen by popular vote every two years and is present for a series of special events throughout the season, including the opening ceremony.
While this market is personally not my favourite as it's extremely busy and features many stalls selling similar mass-produced goods, it does have a number of charming draws, including the largest Feuerzangenbowle in the world, a Sister Cities Market which features goods from Nuremberg's global sister cities, and of course, the picturesque hilltop Nuremberg Castle.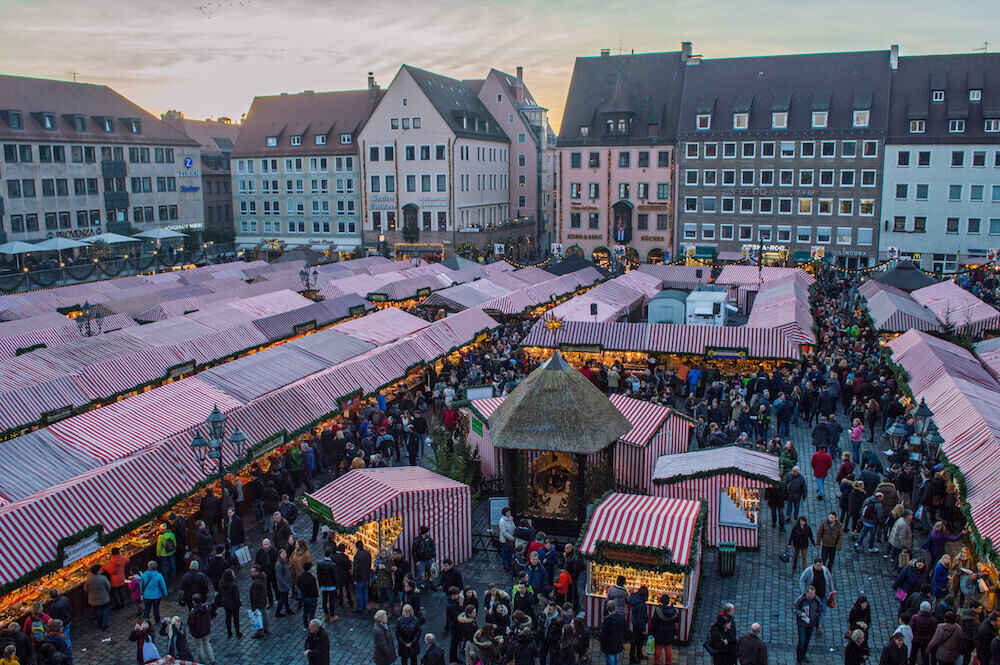 16. Turckheim, France
Remember what I was saying earlier about themes and unique angles? Yeah, here's another great European Christmas Market that nails it!
Known for its colourful 'Elves' Village, Turckheim is an Alsatian town that puts a whimsical twist on traditional Christmas markets…. by pretending like a bunch of elves made it.
Stepping into this market is like walking into a colourful cartoon set, with vibrant chalets made to look like they were painted by elves, along with a full-on elves' wishing well where you can make your own wishes for the upcoming year.
The town's most famous Christmas attraction though is probably its colourful advent calendar, which opens up a new window every day from Dec 1 – Dec 24, accompanied by a lighting of the Advent wreath and a mini story time. It's so cute it does indeed hurt a little.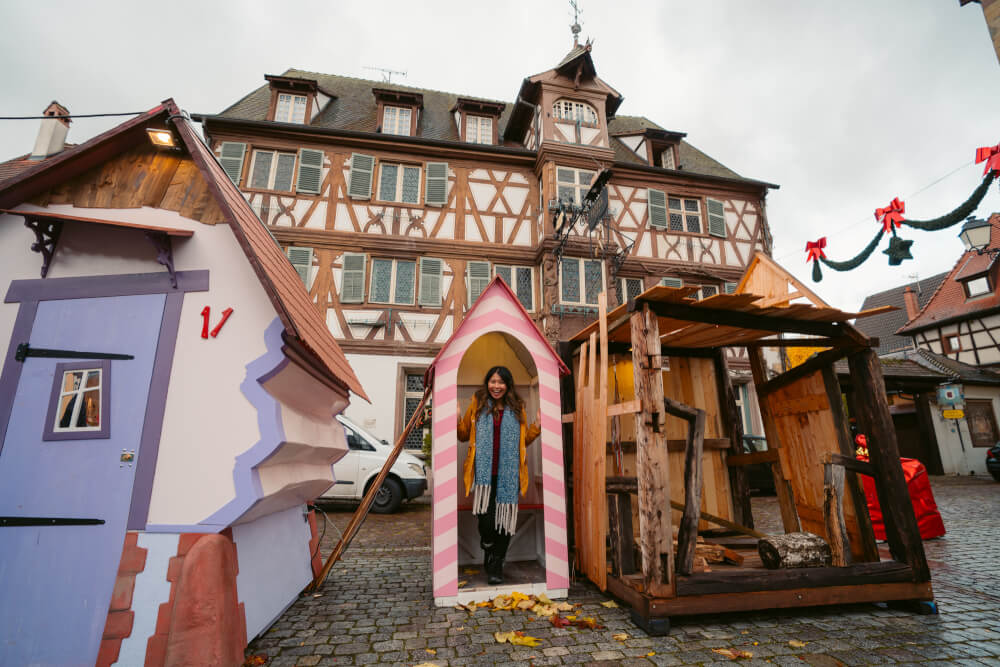 15. Obernai, France
Want to enjoy the Christmas markets in Alsace, but terrified of crowds?
Obernai's Christmas Markets were among my favourite finds on the Christmas market road trip I did, and if you like markets that are a bit quieter and more offbeat, then I think you'll enjoy this one.
Located just 20 minutes away from Strasbourg, this gingerbread-esque village is worlds away from the big city… with timber-clad houses lining narrow lanes, and just the perfect mix of Christmas cheer without too much flashiness.
Here, you'll find a few different markets all within walking distance of each other, with a lot of amazing handmade goods and local products to browse. It helps of course that the town is impossibly cute and that the vendors are very, VERY generous with samples. Do with that nugget of knowledge what you will.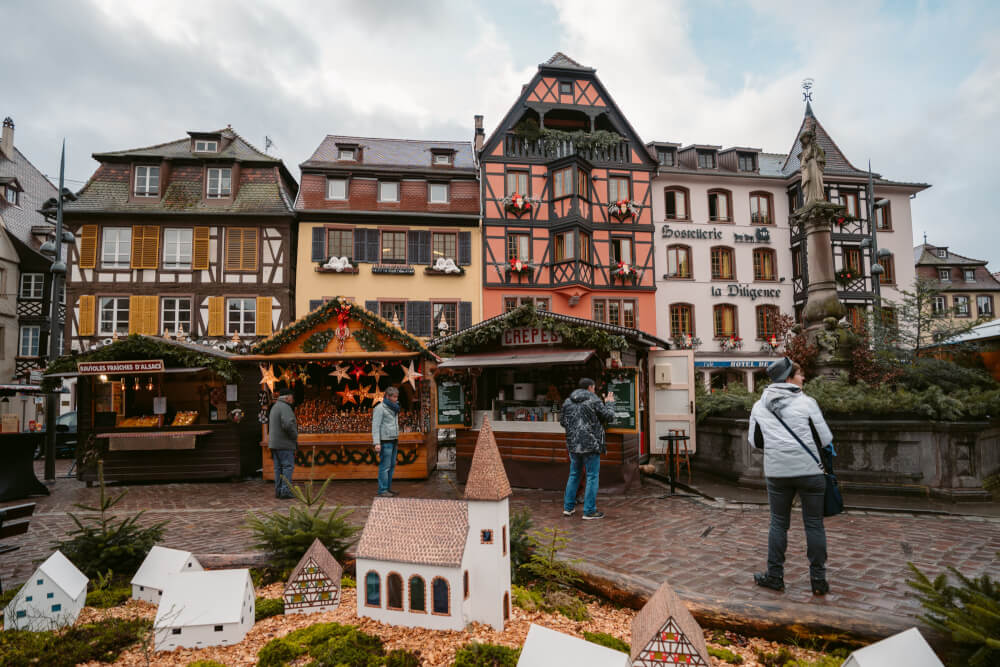 14. Bath, England
I've raved about Bath before on this site. I've written about my dreamy two days in Bath, and about all the fun things to do in Bath…
So now allow me to regale you with praise for its Christmas market too.
This historic English city offers one of the prettiest backdrops of any European Christmas market, with the entire city designated a UNESCO heritage site, the only city in the UK to have this honour.
While Bath's Christmas Market is only held for a short time, it's well worth making the trip to see the traditional wooden chalets around town. Since they place a special emphasis on makers and artisans from around England's Southwest, you're likely to find a lot more unique gifts here than other Christmas markets.
Along with the market stalls, there's also a lot of great Christmas events at Royal Victoria Park, where you'll find a skating rink and glow in the dark mini golf with plenty of Christmas lights. Dreamy.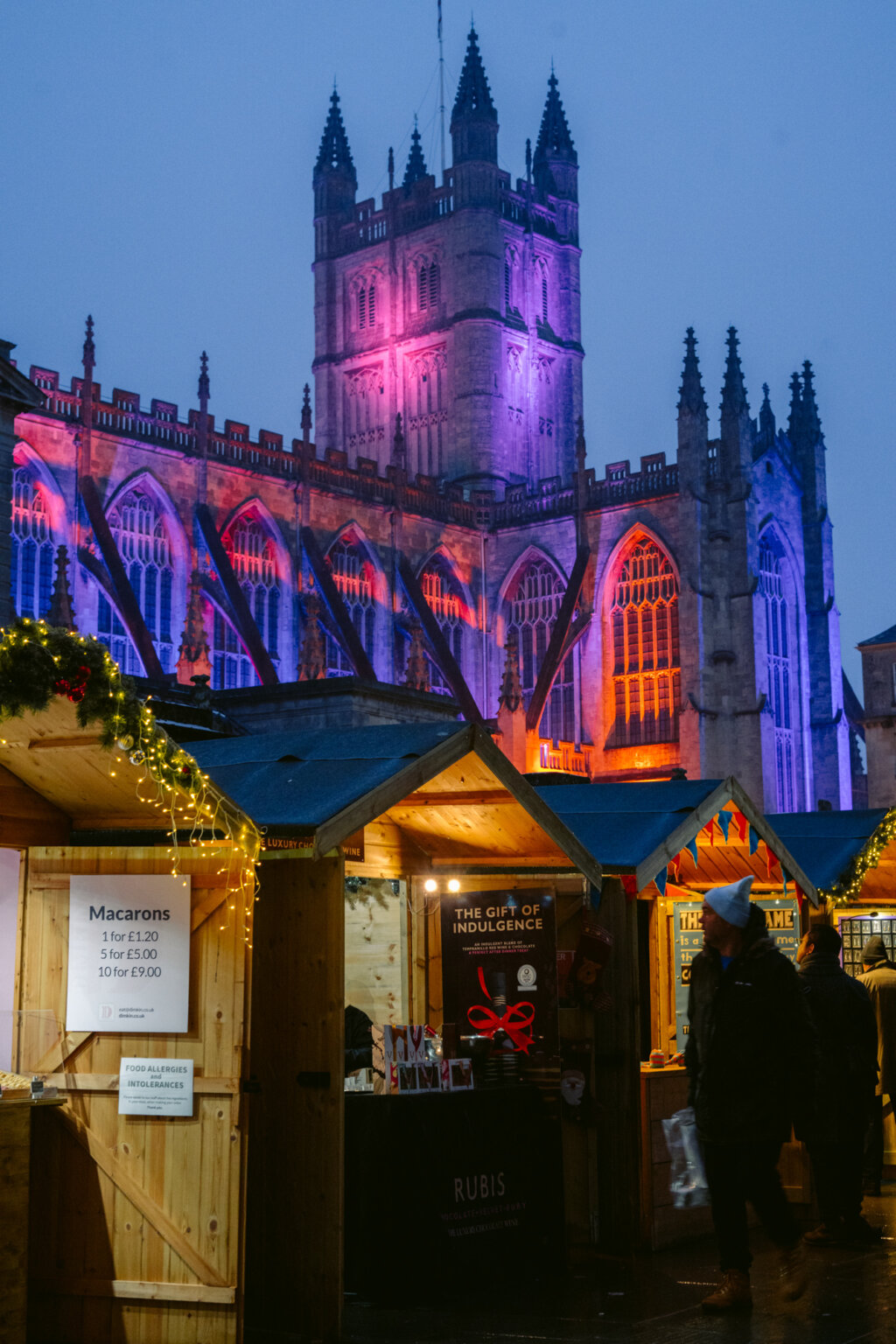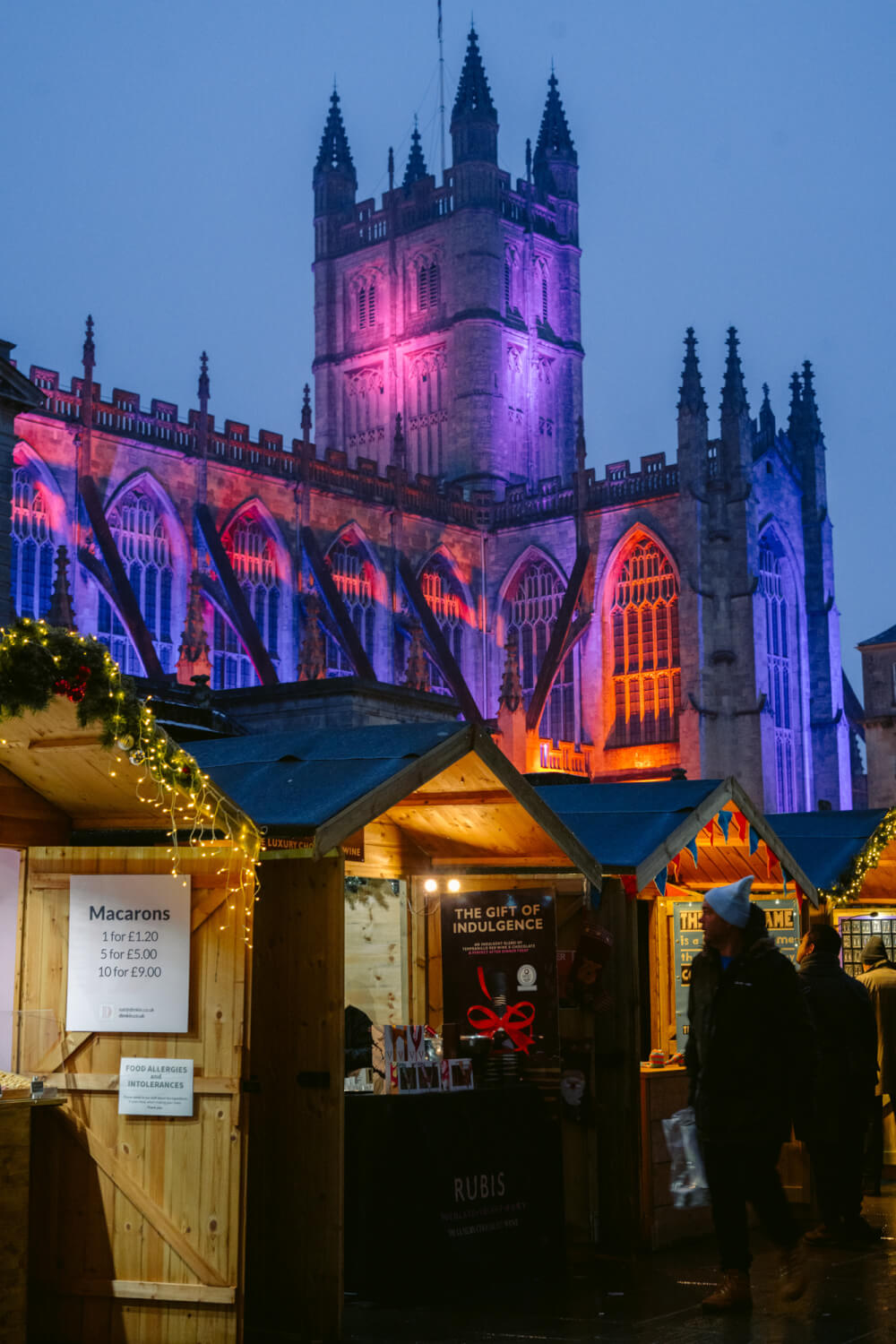 13. Eguisheim, France
Another dreamy Xmas market for the bucket list? Eguisheim.
This charming village is often said to be the inspiration behind Belle's village from Beauty and the Beast, so as you can imagine, it's pretty magical.
One of the most distinctive features of Eguisheim is its layout, which sees streets arranged in three concentric circles around the the town's central square, making wandering around such a fun (and vaguely confusing) affair. Plus, throughout the Christmas season, these streets are filled with festive lights and market stalls, cranking up the magic even further somehow.
I will say, this market is fairly small, but the setting more than makes up for it, with some of the prettiest storybook architecture you'll find in Europe… plus it's very close to many of the other markets on the list, so make sure you don't miss it!
12. Zürich, Switzerland
Now if it's glitz and glam you're after, Switzerland's largest city, Zürich is the place to be.
You literally can't even leave the train station without getting dazzled by Christmas charm. Inside the main train station itself is the first of many markets part of the Zürich Christmas market scene, with this one especially noteworthy thanks to its glittering 50ft Swarovski Christmas tree.
There's also a gorgeous Christmas village just outside the picturesque Opera House, and cozy markets sprinkled around town, including one with a Christmas tree stage that fills up with carollers every evening. Capping it all off with the very adorable Lucy (AKA the shimmery lights that run along the main shopping street, Bahnhofstrasse), and you can see why Zürich is such a great Christmas market destination.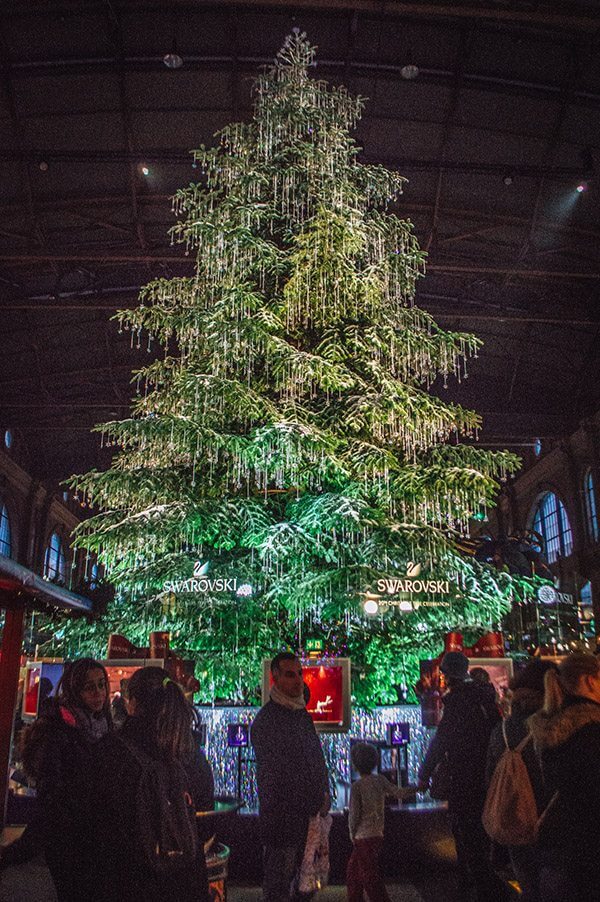 11. Salzburg, Austria
Best known for the Sound of Music and Mozart, Salzburg is a spectacular Austrian city that hosts a number of delightful Christmas markets throughout the Advent season, making use of epic backdrops from the towering Salzburg Cathedral to the hilltop fortress of Hohensalzburg, perched 500 metres above the city.
That's not all of course, there are plenty of smaller, cozier markets to be discovered as well, illuminating courtyards, palaces and more with festive cheer and plenty of festive stalls selling gifts and treats.
Salzburg used to be one of my go-to day trips from Munich, so much that I even wrote a full day trip guide to it once. Getting to see it at Christmas time was one of my favourites though.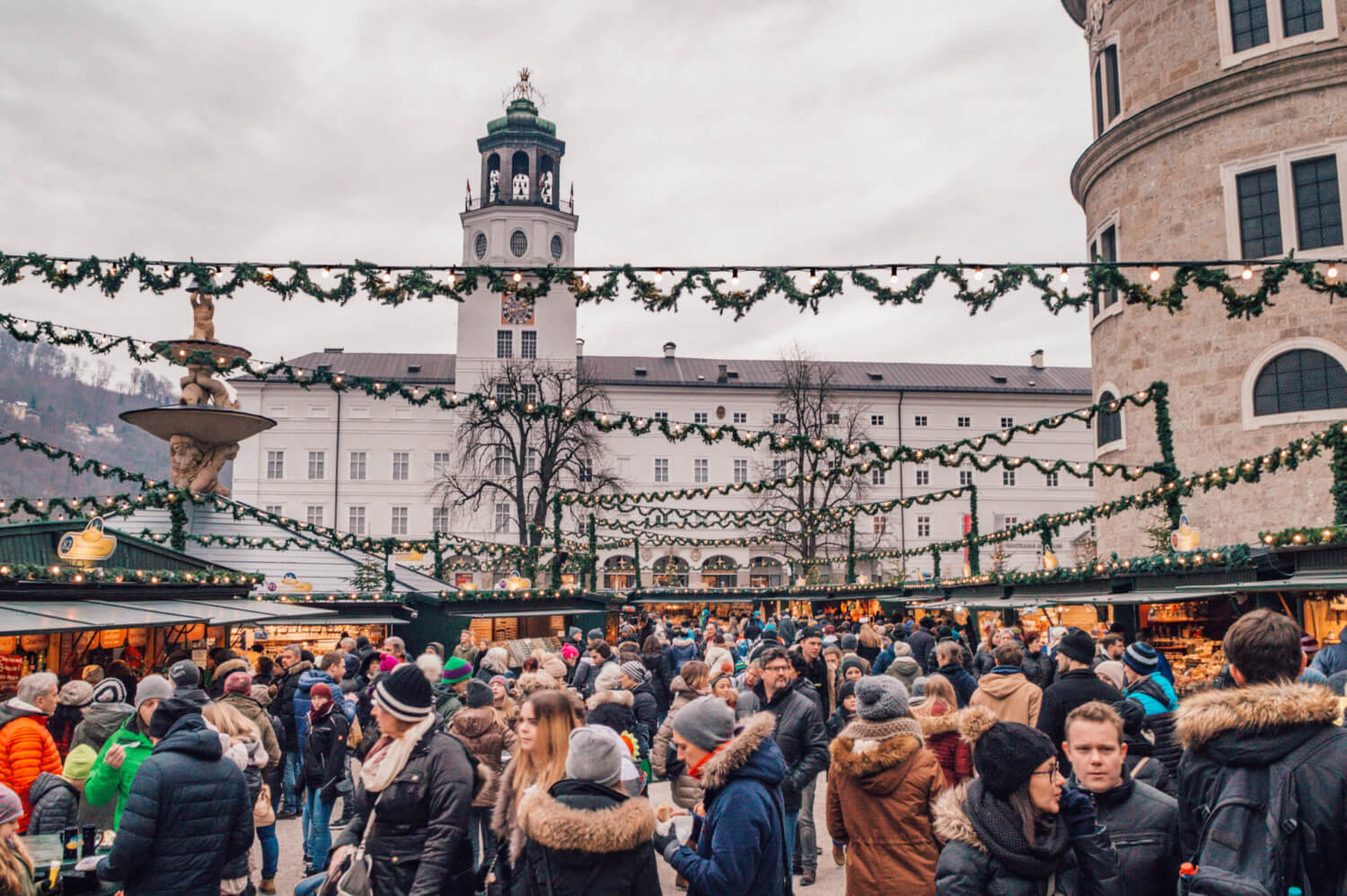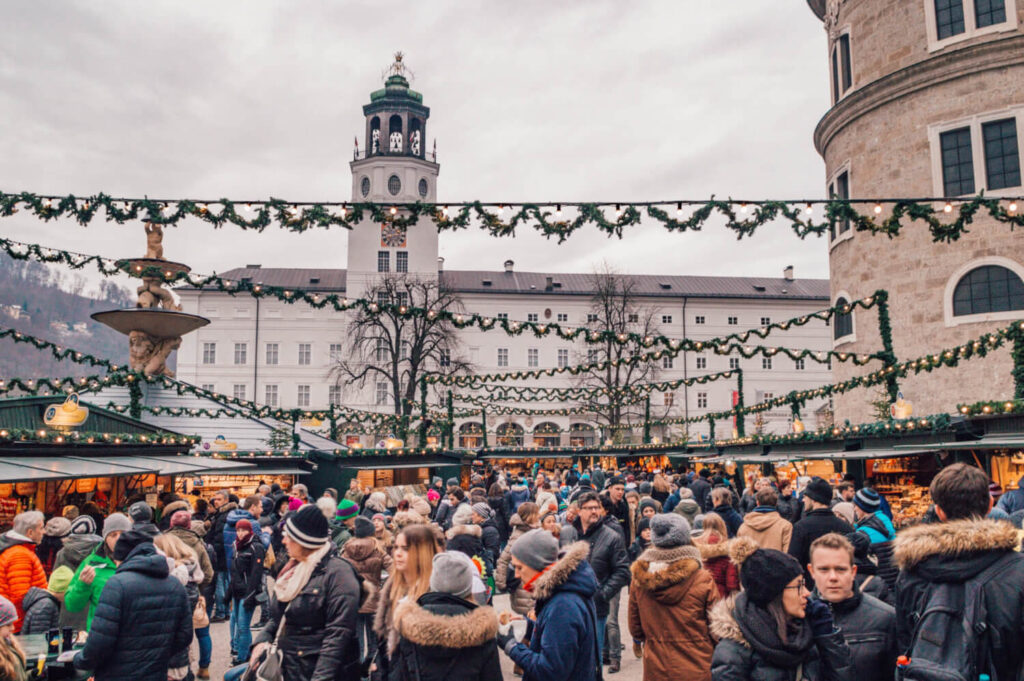 10. Regensburg, Germany
Ooh – can you believe we're down to the top ten?! Exciting stuff.
Kicking us off is the delightful Eastern Bavarian city of Regensburg, which is home to a few different Christmas markets, from the main Christmas market in Neupfarrplatz to the Lucrezia Market which focuses on goods from local artisans.
The one that has given it such high placement on my list though is the Christmas market at the Schloss Thurn und Taxis, a beautiful palace that opens up its grounds to one of the most romantic and beautiful Christmas markets not just in Germany, but in all of Europe.
Besides its dreamy setting, the stalls here are arranged beautifully around the palace grounds, with a droolworthy selection of food items and plenty of fun activities, from live blacksmithing demoes and an illuminated lakeside walk to live music and a hilltop gazebo where you can sip sparkling wine while overlooking the grounds.
Hands down, this is one of the most magical small Christmas markets in Europe, and well worth the entry fee. You can tell because I have nothing silly or snarky to say about it.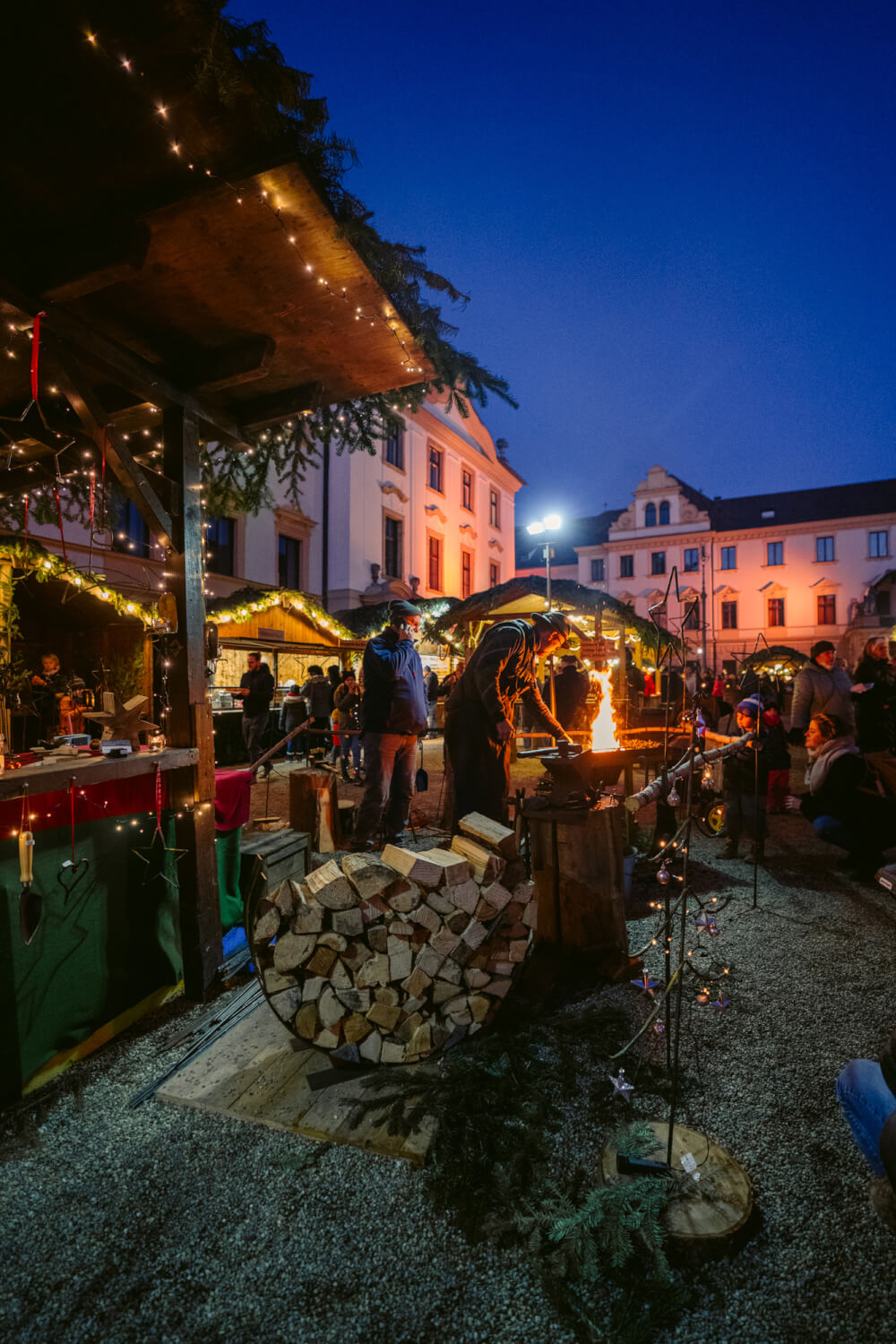 9. Montreux, Switzerland
Woah – who is this underdog in the top ten?!
Allow me to explain – the stunning lakeside location of the Montreux Christmas Market is what sets it apart from the competition, with over 170 beautiful stalls arranged along the shores of Lake Geneva selling all kinds of unique gifts and food items. It may not be one of the most glamorous Christmas markets in Europe, but its quiet and relaxing vibe is exactly what makes it so worth visiting.
While here, you can also keep an eye out for the famous flying Santa of Montreux, who glides across the sky three times a day. Or, even better, you can go meet Santa himself in his mountain grotto by taking a special cogwheel train.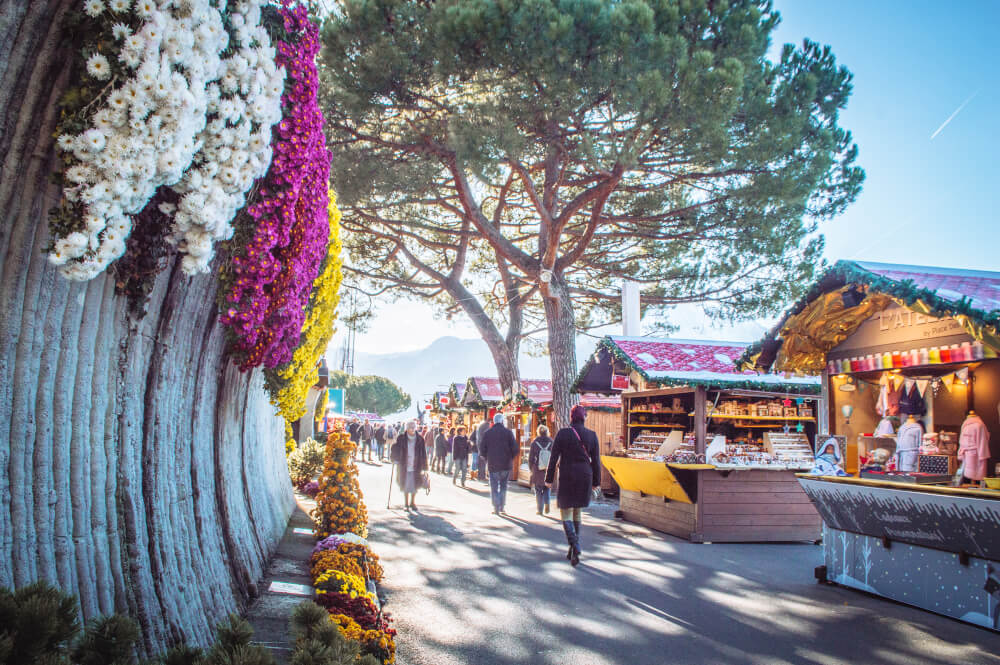 8. Monschau, Germany
If I could pick one Christmas market in Europe to put in a custom snowglobe and live in forever, it would probably be Monschau's.
Nestled in the picturesque Eifel region of Germany (a stone's throw from Belgium), the Monschau Christmas Market is a festive gem perfect for travelers seeking a storybook holiday experience. I loved it here so much, I gave up my pre-purchased train ticket so I could stay for a few extra hours. If you know what a cheapskate I am, you will understand that this is a big deal.
With its cobblestone streets and half-timbered houses as a charming backdrop, the Christmas market in Monschau is small but mighty, selling all your typical handicrafts and Christmas market goodies, but somehow looking SO much cuter than most other places doing it.
Securing its spot on my top ten is the additional Made in Monschau Christmas Market I visited, an indoor market with stalls exclusively from local makers, which was filled with the cutest handmade gifts. I ended up leaving with THE most darling train-themed baby onesie, which I reluctantly gifted to an actual baby weeks later. If it had come in my size though, I assure you I'd be wearing it as I type now.
PS: If you're a Christmas movie addict like me, this town is also the setting of a wonderful German Christmas series known as "Over Christmas". Be sure to watch it and get ready to put Monschau immediately on the bucket list.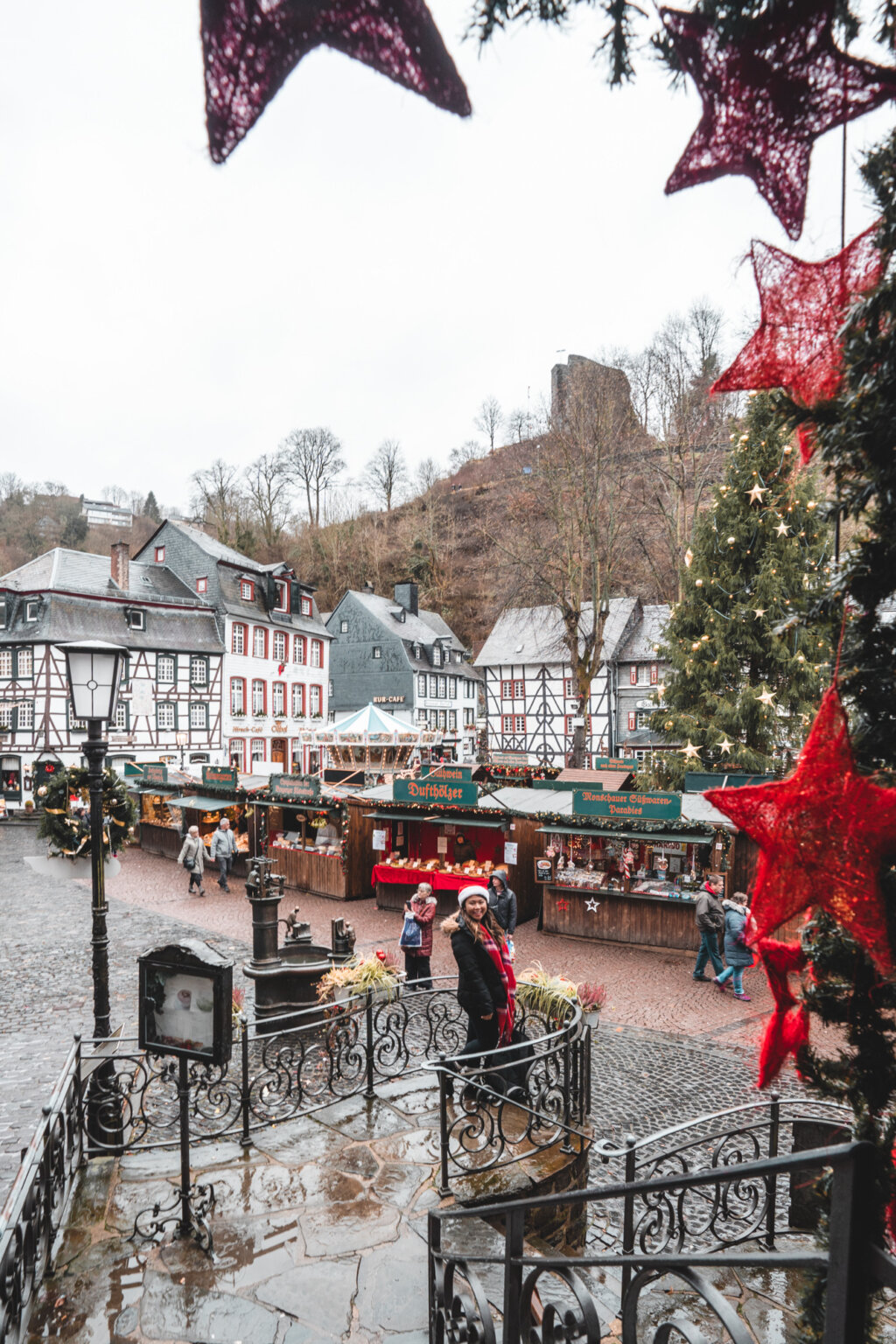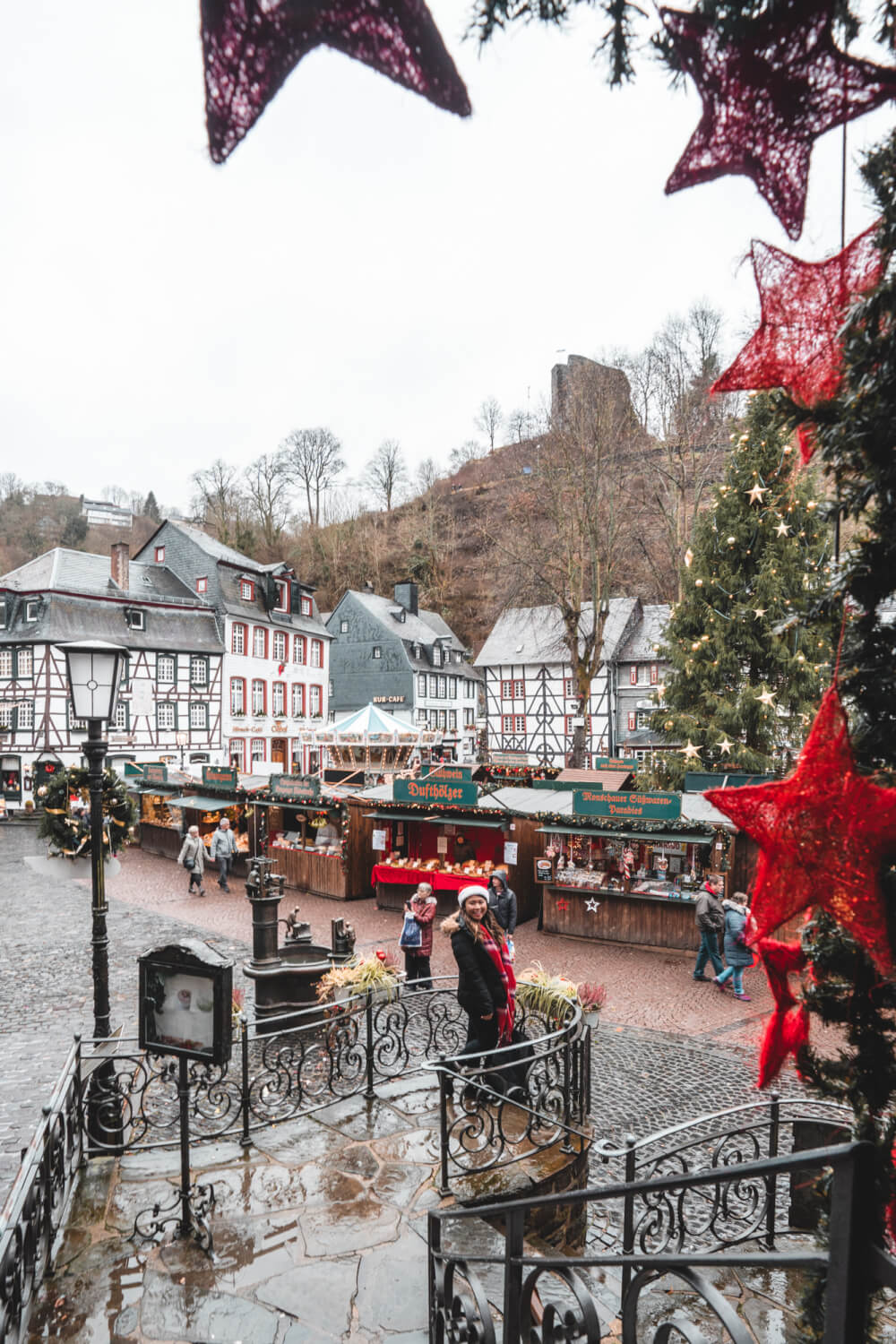 7. Vienna, Austria*
Austria's capital is well known as one of the top Christmas market destinations in Europe, so I had to include it in this roundup… although I've only visited through Pinterest.
With over a dozen festive markets scattered around the city, Vienna offers a range of magical settings to choose from, whether you want opulent palace courtyards or grand city squares.
If your goal is to be wowed by architecture before being wowed by Glühwein, Vienna is a pretty safe bet.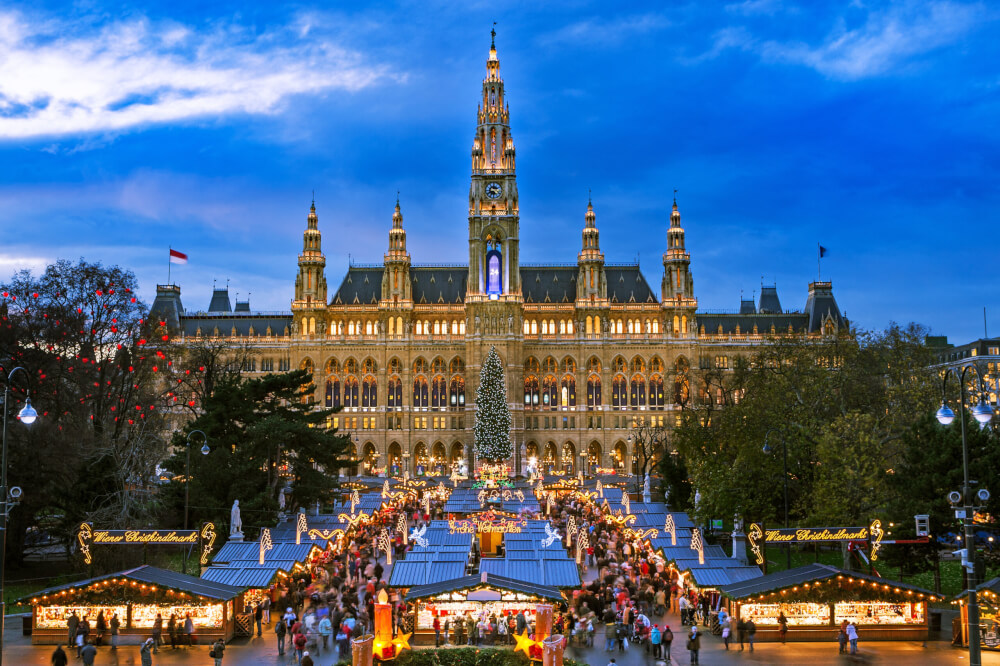 6. Copenhagen, Austria
Known as one of the most perfect cities in the world (topping lists whether it's happiness, quality of life, gastronomy or design) so it should surprise nobody when I say that Christmas in Copenhagen is…… a delight.
While there are multiple Christmas markets held in Denmark's capital each year from Nyhavn and King's New Square to the alternative community of Freetown Christiania, the starring attraction of Copenhagen's Christmas scene is definitely Tivoli Gardens, one of the world's oldest amusement parks and probably one of the most enchanting too.
Tivoli Gardens goes all out at Christmas time, with amazing market stalls, light installations, and festive decor, all jazzed up with the background noise of violent screaming from the park's selection of thrilling rides.
All in all, it makes for a wonderful place to warm up next to a fire and sip on Gløgg, the local twist on mulled wine which includes additional goodies like raisins and sliced almonds. Little wonder why I decided to spend my birthday here a few years ago!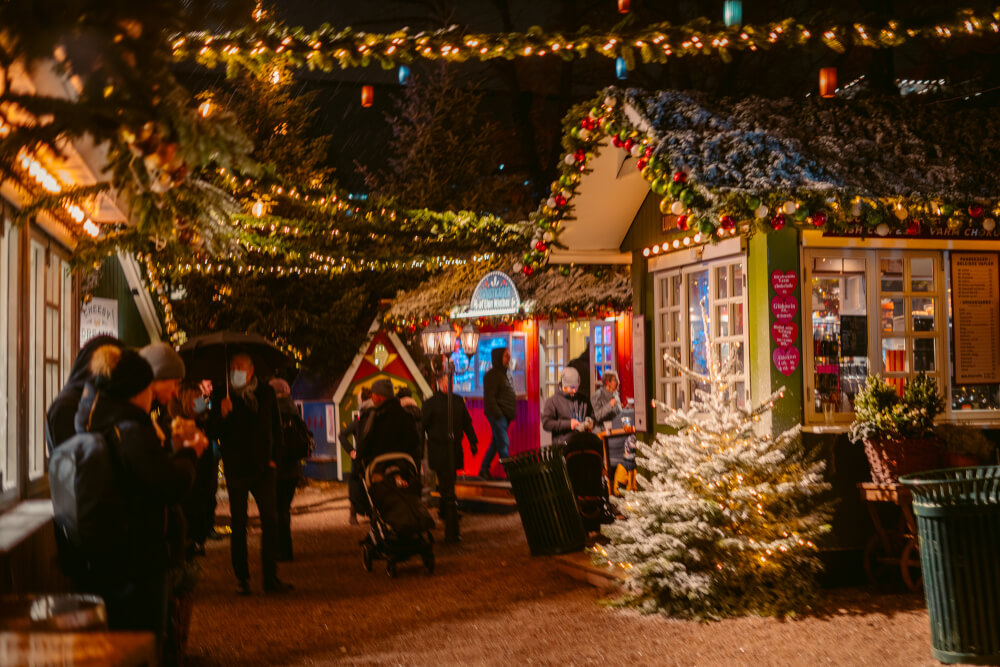 5. Colmar, France
Top five time! Let's start with Colmar's wonderful Christmas markets.
Beloved year round for its fairy-tale aesthetic, Colmar becomes an impossibly charming place at Christmas time, with market stalls and festive decor overtaking the city's already-perfect streets, squares, and canals.
Granted, it does get very busy, so it's important to avoid peak periods whenever possible. If you manage it though, you'll be treated to half a dozen markets scattered across the town's most scenic squares, with various themes from a children's market to a gourmet market selling some of the most delicious Christmas market food you'll try in Europe.
Luckily, all the markets are within easy walking distance of each other, making Colmar the perfect festive day trip.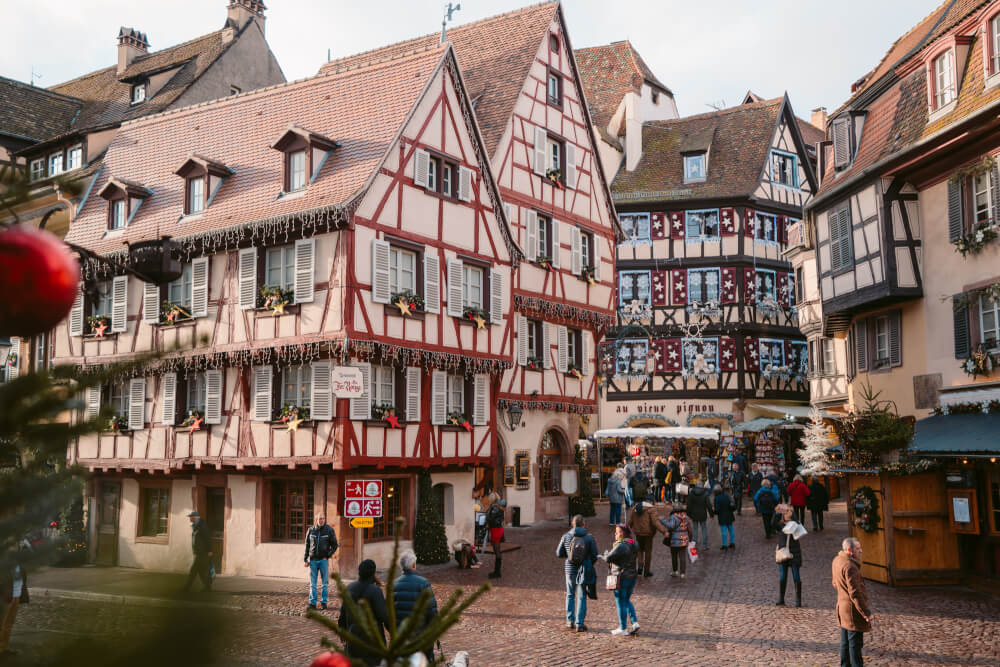 4. Munich, Germany
Call me biased, I don't care. Sure I used to live in Munich, and sure part of me still dreams of the buttered pretzels every night, but with over a dozen Christmas markets to choose from, Munich's diverse Christmas market scene makes it one of the best places to visit in Europe for Christmas time.
Besides its main Christmas market in Marienplatz, said to be running since the 14th century, there are a number of alternative Christmas market experiences to enjoy, including an epic medieval market, a steampunk/circus-themed market, and even a Christmas market at the airport. At the airport!!! Can you imagine landing and immediately having a Glühwein before your passport is even tucked away in your bag? I can. It's great.
Turning some of the city's top landmarks into scenic backdrops, Munich's Christmas market scene is one that you really can't miss… There's even a giant Christmas market that takes over the grounds of Oktoberfest, known as the Wintertollwood Festival… and a Christmas market on a boat on a bridge.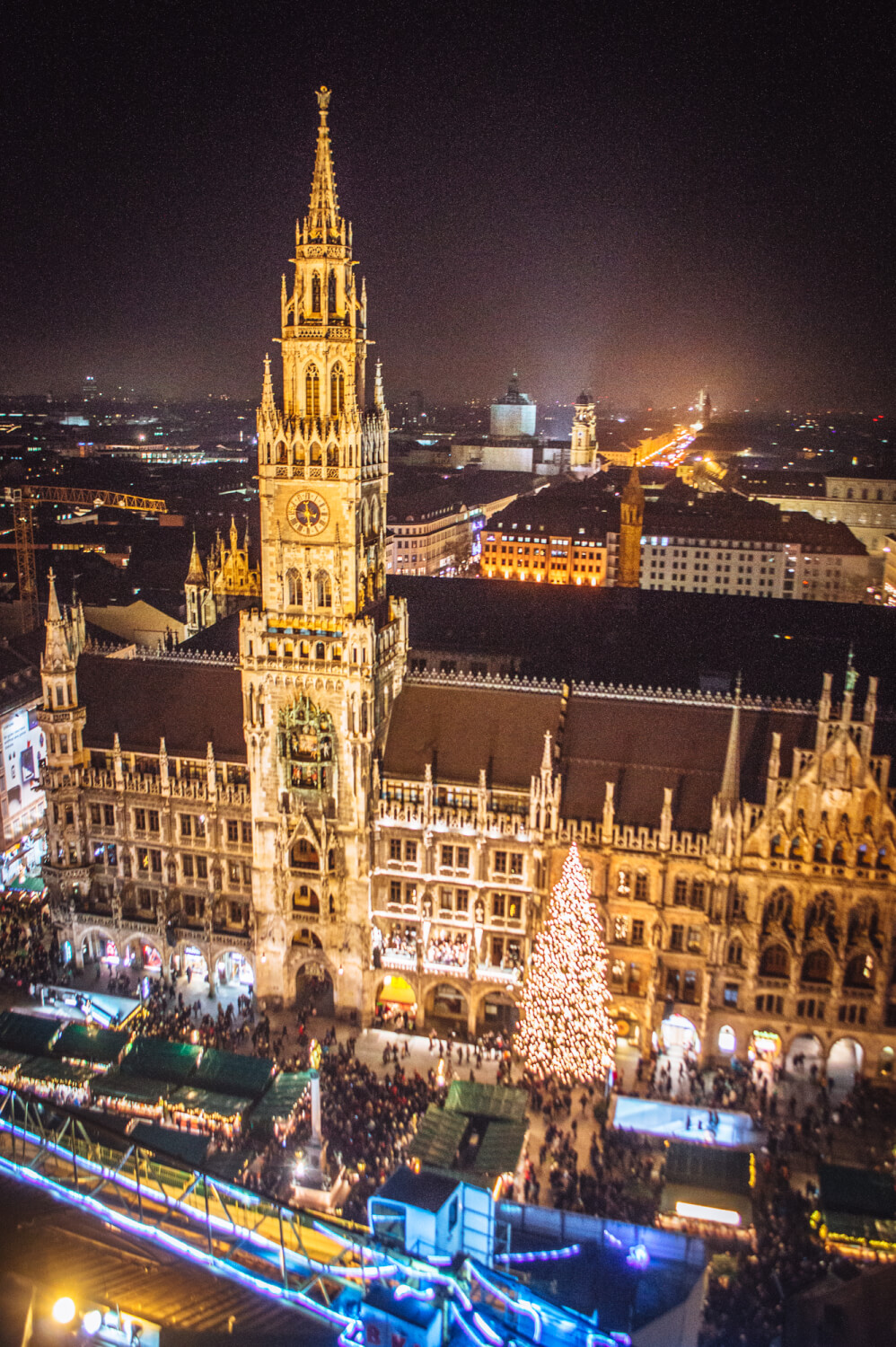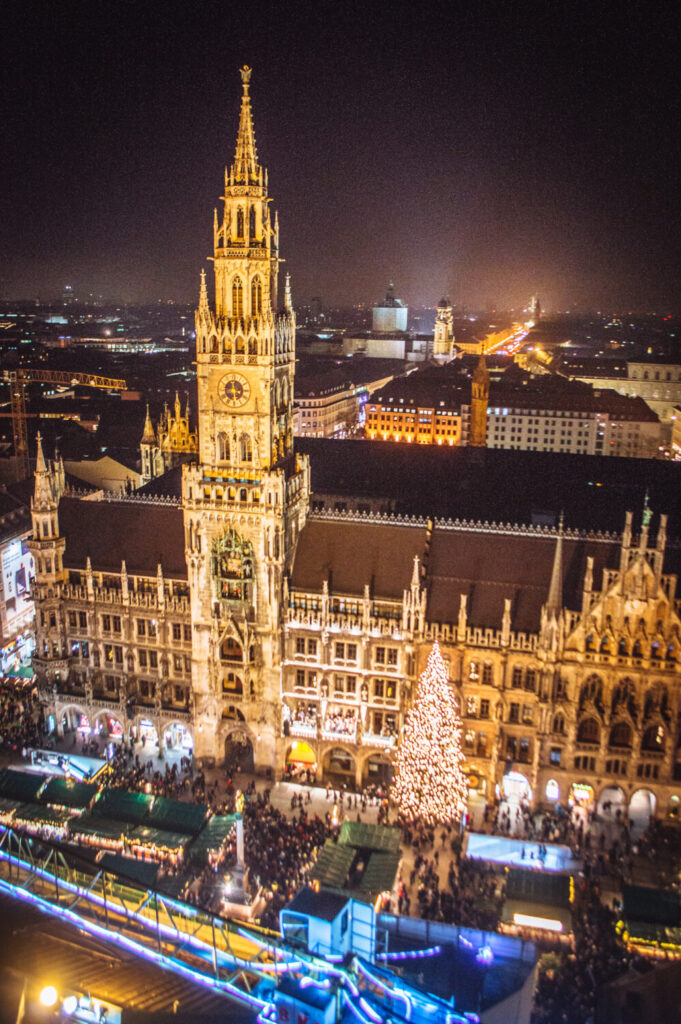 3. Strasbourg, France
There are SO many great things to do in Strasbourg at Christmas time, so little wonder why it's part of my top three.
Home to France's first ever Christmas markets, Strasbourg offers a diverse Christmas market experience that takes over the entire city with markets of various themes scattered all around the historic centre.
From a magical market in the shadow of the epic Strasbourg Cathedral and pretty riverside stalls to the quirky OFF Christmas Market which is home to alternative gift ideas and initiatives, you really won't get bored exploring the markets here.
It helps of course that the city itself is stunning, with plenty of Christmassy facades and displays to make you feel like you're in a festive dreamland. Especially if you over-indulge in free wine samples. Not that I'm speaking from personal experience or anything.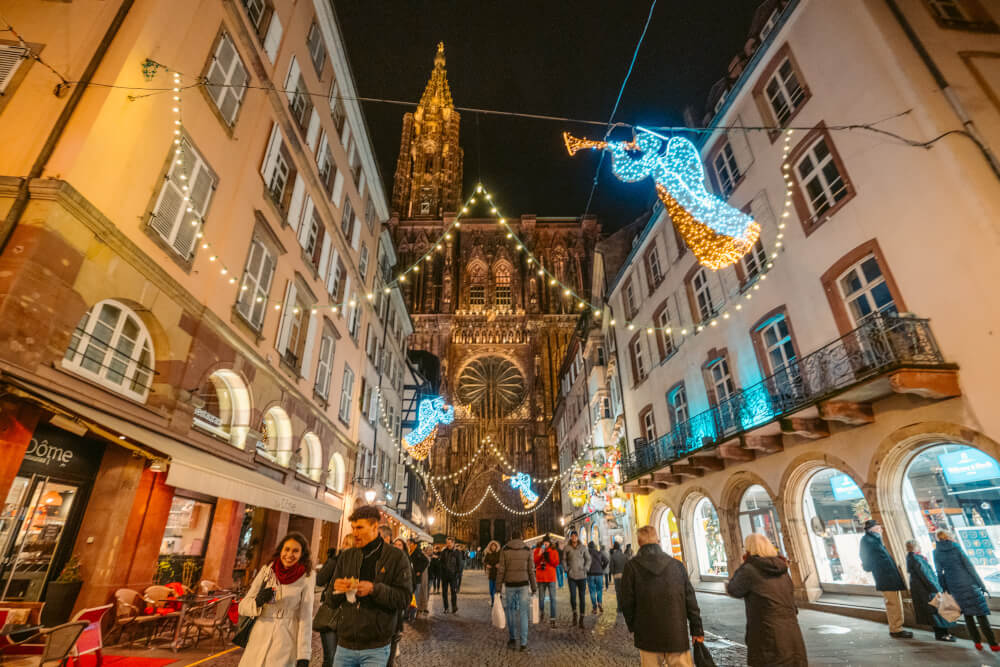 2. Cologne, Germany
With a variety of themed markets all over the city, there's no denying that Cologne's Christmas market scene is one of the best in Europe. Seeing them for the first time, I genuinely couldn't believe how beautiful they were, and yes, a tear may have been shed.
Whether you want amazing photos of the Cologne Cathedral Christmas Market, which takes place under a canopy of glittering lights, an angel themed Christmas market complete with angels on stilts, a nautical themed market by the river or the star of the show: a magical elf-themed market in the historic centre, complete with its own skating rink and cute elf-themed touches all over… Cologne has it. And will execute it with plenty of flair.
Cologne's Christmas market decorations are by far some of the most detailed and elaborate I've come across, and with even waffles that are shaped like their iconic cathedral, you'll feel like you're in your own Christmas movie. Just avoid weekends, because millions of others want to be part of the movie too.
Finally, we've arrived at our number one pick. Can you guess where?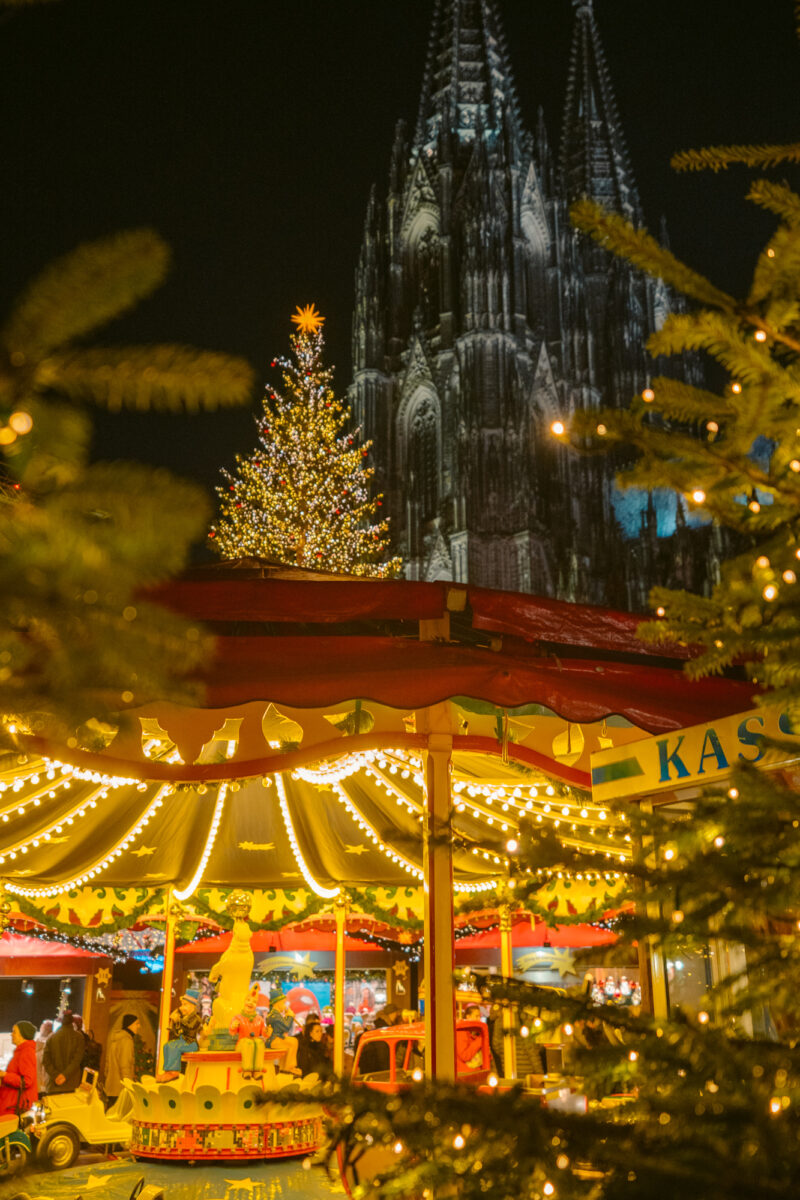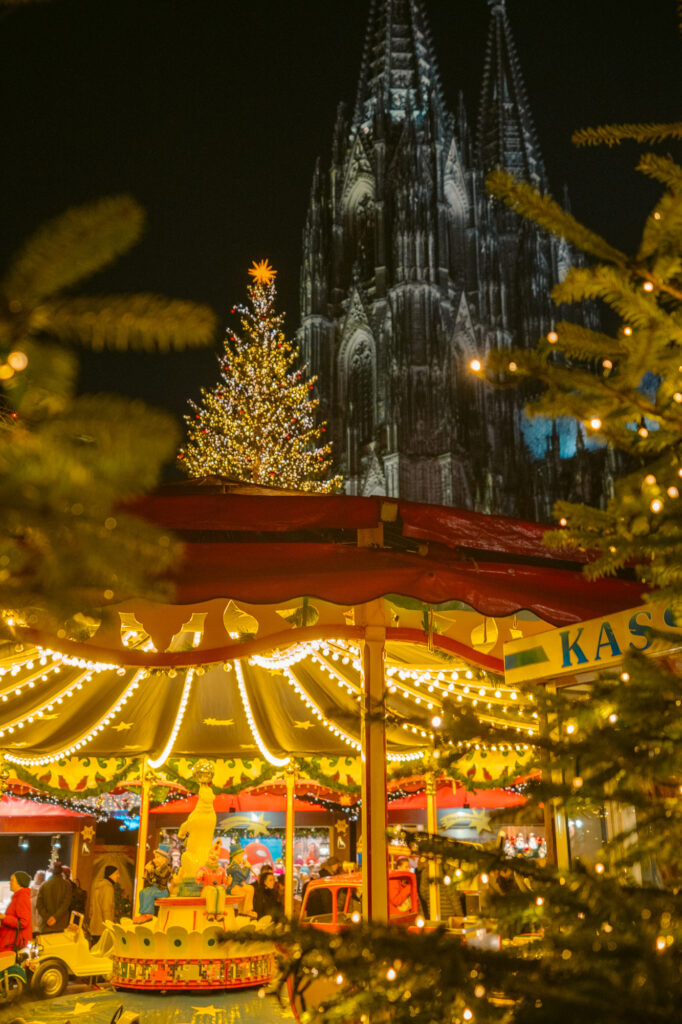 1. Dresden, Germany
This was a tough decision, but when I think of the most amazing Christmas markets in Europe, it's Dresden's stunning selection that comes to mind, with seven main markets held throughout the city between November and December.
The starring attraction here is Dresden's Striezelmarkt, one of the oldest Christmas markets in Germany with origins dating back 1434. Along with its stunningly elaborate stall decor, this market is home to the world's largest functional Christmas arch and the world's tallest Christmas pyramid! So in other words, the Dresden Striezelmarkt is an overachieving jerk who thinks it's better than us. I'm not mad about it though.
Besides this market they have an incredible medieval themed market that will transport you back in time, a cozy romantic market tucked away in an idyllic courtyard, an international-themed market with gifts from around the world and some of the most beautiful backdrops that Europe has to offer, like the amazing Dresden Frauenkirche.
If it's variety, extravagance, and attention to detail you're looking for, Dresden has it all in one scenic package… and I am very proud to crown it number one in my list of Europe's top Christmas market destinations.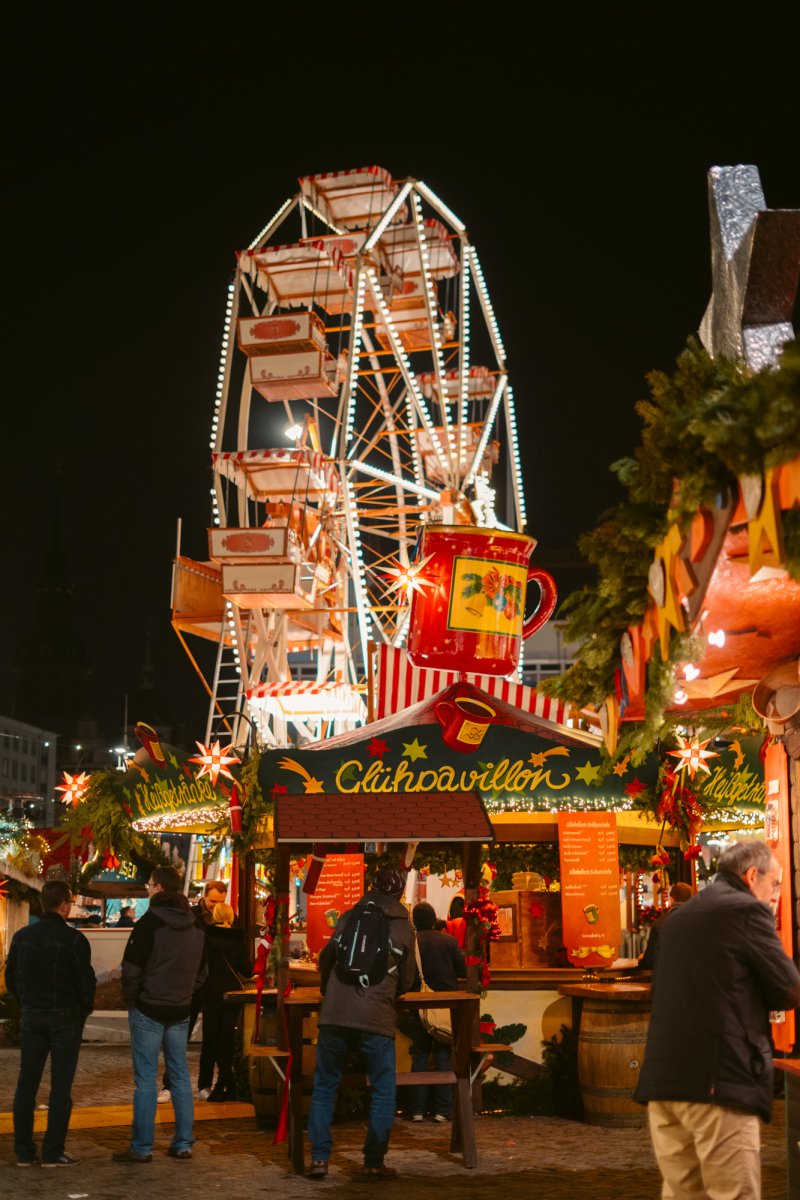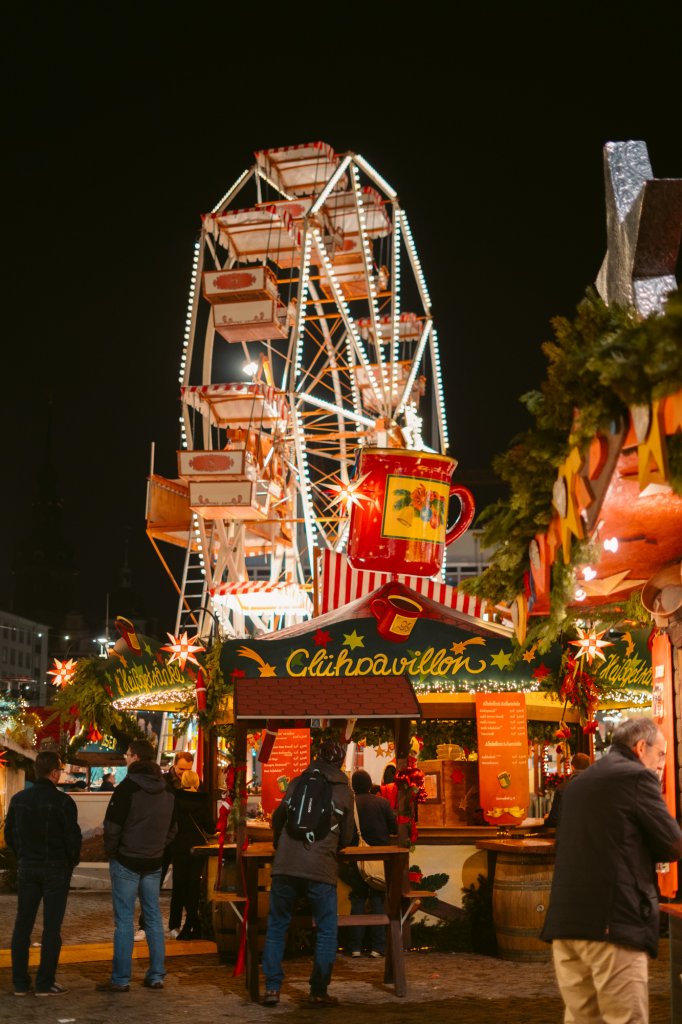 Did I Miss Any of Your Favourite European Christmas Markets?
Now, as I mentioned, this post focused primarily on Christmas markets I've personally visited, but I know there's many more that travelers rave about, like the Christmas markets in Zagreb, Croatia, Bucharest and Brasov, Romania, and all over Northern Italy. So, again, please comment if you have more Christmas markets to recommend!
My Go-To Travel Favourites: