*FYI - this post may contain affiliate links, which means we earn a commission at no extra cost to you if you purchase from them. Also, as an Amazon Associate I earn from qualifying purchases. Check out our Privacy Policy and Disclosure. for more info.
When it comes to regal badassery, I would say no castle in Germany does it better than the Imperial Castle in Nuremberg, probably the only castle in the country I would dub "enchantingly badass".
Lemme tell you why.
As one of the most famous castles in Germany, Nuremberg Castle of course flaunts A-List status as one of Nuremberg's top attractions, but in addition to that, it's a historical powerhouse with some wild stories to tell, bar none the best views in town, and even a re-converted youth hostel you can book a stay at.
From status as one of the most important seats of the Holy Roman Empire, to near-destruction during bombings in World War II, this castle is a shining example of the historical richness and depth to be found in Nuremberg.
In my opinion, it's one of the must-dos in the city, non-negotiable, something to put at the top of the list…
Save this post on Pinterest for later: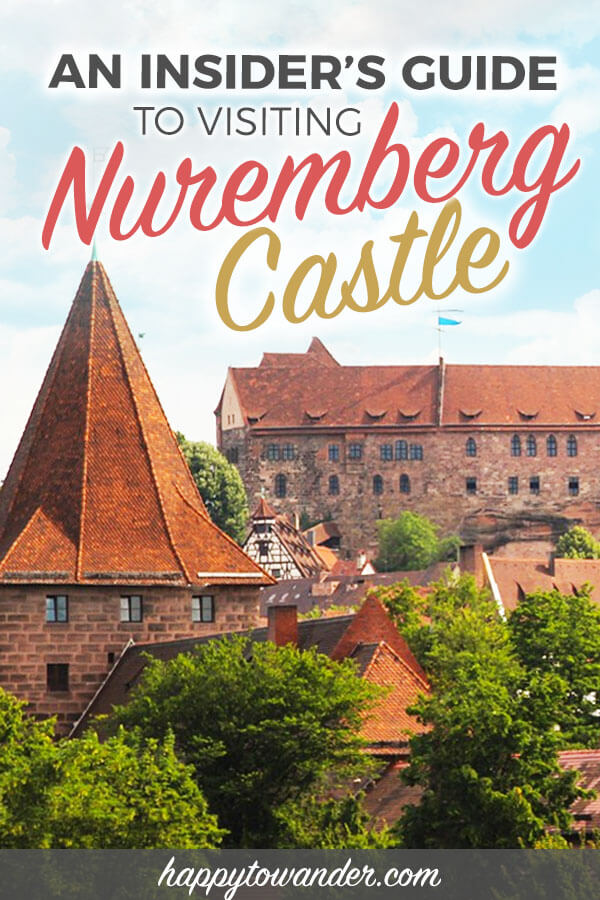 And so, if you're interested in visiting the Imperial Castle of Nuremberg for yourself, here's a guide on everything you need to know for your visit, from opening hours and costs, to history and a virtual walkthrough of all the rooms you can expect during your visit!
… Can you tell I'm mildly obsessed with this place?
Let's start with some boring logistical details, before jumping into history, photos and a little guided tour.
Basic Visitors' Info for Nuremberg Castle
If you're planning to visit Nuremberg Castle for yourself, here are some basic must-knows:
Nuremberg Castle Opening Hours
The opening hours at Nuremberg Castle change seasonally, but according to their official website, they are as follows:
The Imperial Castle:
April to September: Every day from 9am – 6pm
October to March: Every day from 10am – 4pm

NOTE: The last entry is 30 minutes before closing, and the castle is closed on  New Year's Day (January 1)

, Shrove Tuesday, and December 24, 25, 

31.
The Castle Gardens:
November to March: CLOSED
April to October: From 8am until nightfall (usually 8pm at the latest)
The Maria Sibylla Merian Garden:
November to March: CLOSED
April to September: Every Sunday and Monday from 2pm – 6pm
October: Every Sunday and Monday from 2pm – 4pm
Nuremberg Castle Admission Charges
How much will it cost you to visit Nuremberg Castle? Here are the admission prices:
NOTE: If you plan to visit many attractions in Nuremberg, getting a Nuremberg Card might make sense. Castle entry is free with it! Click here to check prices.
Combo ticket for the Imperial Castle (Includes the Palas & Double Chapel, the Deep Well, Sinwell Tower and the Imperial Castle Museum): €7 euros regular, €6 reduced [*NOTE: Sinwell Tower is closed indefinitely for restoration work]
Palas with Double Chapel and the Imperial Castle Museum: Cost: €5.50 regular, €4.50 reduced
Deep Well: €3 regular, €2 euros reduced
NOTE: Admission to the Castle Gardens and Maria Sibylla Merian Garden is free!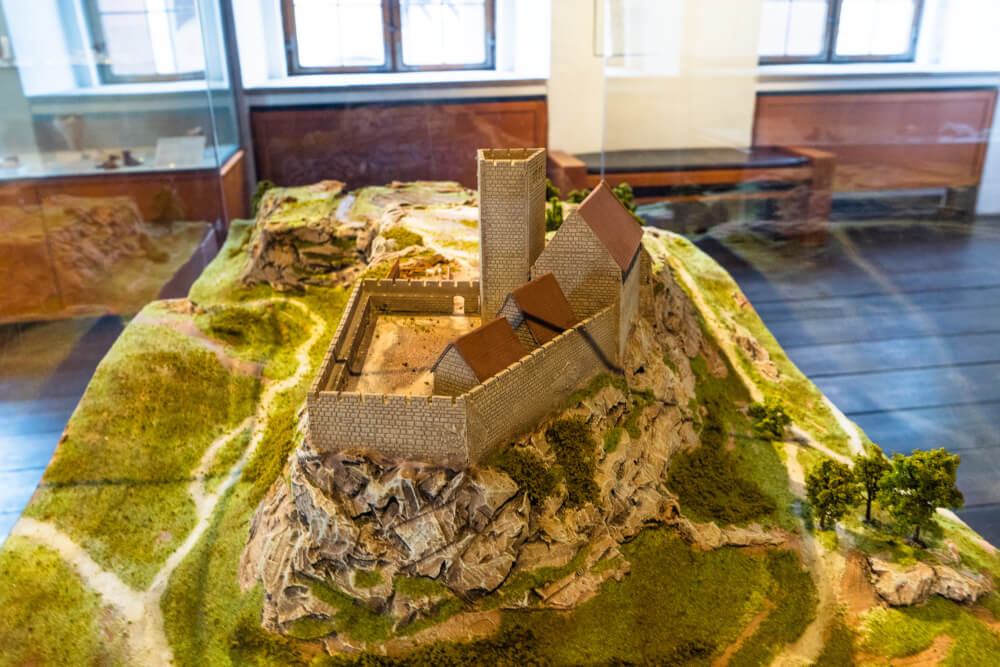 How to Get to Nuremberg Castle
Nuremberg Castle is located smack dab in the middle of Nuremberg, so it's supremely easy to get to, and even easier to find (just look up and find the giant castle on the hill).
If arriving by public transport, these are the closest stops:
Tram 4: Tiergärtnertorplatz
Bus 36: "Burgstraße"
U-Bahn (underground): Lorenzkirche
My preferred mode of arriving at Nuremberg Castle though is simply walking!
Nuremberg is really compact and on your way from the main train station to the castle, you pass by so many of Nuremberg's best sights, which is why I highly recommend visiting the castle this way.
Plus, you should know, no matter how you choose to visit the castle, the leg-melting uphill walk is inevitable at the end, so you might as well take a scenic stroll towards it to get warmed up 😉
FINAL NOTE: If you're looking for the castle's address, you should know that this bad boy is such a landmark that it doesn't need an "address", although Google Maps seems to think it's located at "Burg 13". Either way, typing in "Imperial Castle of Nuremberg" will get you there.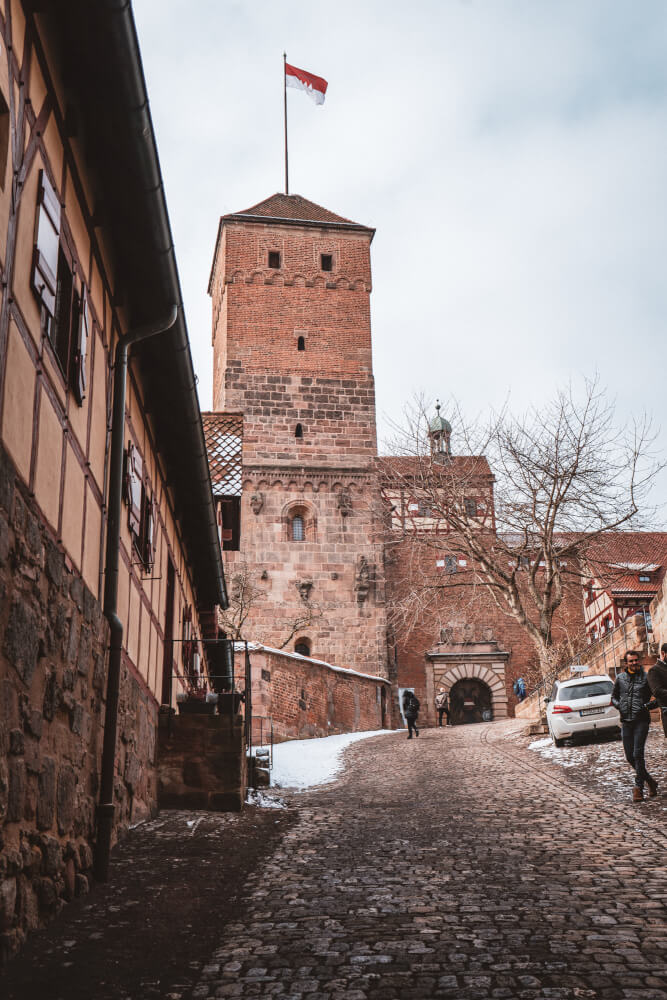 Nuremberg Castle: A Brief History
The first recorded mention of Nuremberg Castle dates back to 1050, so yes, there is a LOT of history to cover.
To briefly sum it up, this castle here is known as one of the most important palaces of the Middle Ages because for over 500 years (From 1050 to 1571), it hosted pretty each emperor of the Holy Roman Empire multiple times.
Back in this day, rather than "capitals" as we know them now (where the King/Emperor would have based themselves), they would instead castle hop from one palace to the next.
For a variety of reasons (the wonderful views being one, I'm sure!), the Imperial Castle of Nuremberg was one of the preferred castles for them to hop to, hence why rulers found themselves here pretty often.
So as you can guess, the question of Nuremberg Castle's age and 'time period' is quite complicated and confusing.
The entire Nuremberg Castle complex is quite vast, with several distinguishable sections that were built during different periods.
Historians say that the first buildings were erected around 1000, while the preserved double chapel is a legacy left from the Salian Royal Castle built in the mid 11th century.
This was around the time that the castle became an important imperial seat.
Last but not least, the staterooms and residential spaces you can tour now date back only to the 16th and 17th centuries.
Following the Thirty Years' War, the castle largely lost its importance until the late 1930s, when the Nazi party worked on restoring it for the Nuremberg Party Rally of 1936.
WWII air raids however turned large parts of the castle into ruins, with notable exceptions being the Double Chapel (a miracle by all accounts, which is why it is such a big deal today!)
Thankfully, lengthy restoration works have restored the castle back to its former glory, making it one of the top tourist attractions to visit in Nuremberg, with informative exhibitions, museum displays and more all open for nosy public perusal.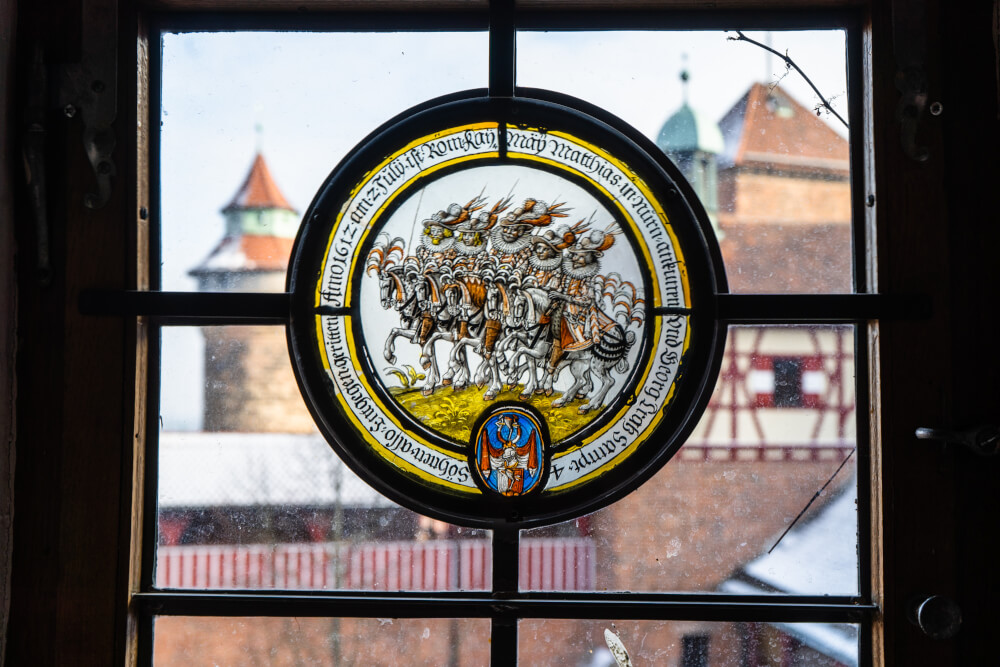 How to Stay Overnight at Nuremberg Castle
If you fancy sleeping like royalty, or at least like the royalty's horses….. then here's a cool tip: the imperial stables at Nuremberg Castle are actually home to a modern youth hostel, with 93 rooms open for guest bookings!
If you're prepared to strengthen your calves through the uphill slog to get to it, the Jugendherberge Nürnberg is a fully equipped hostel with modern facilities, free WiFi, 24h reception and a buffet restaurant.
If you've ever wanted to check "sleep at a castle" off your bucket list, here's your chance!
Click here to check reviews and availability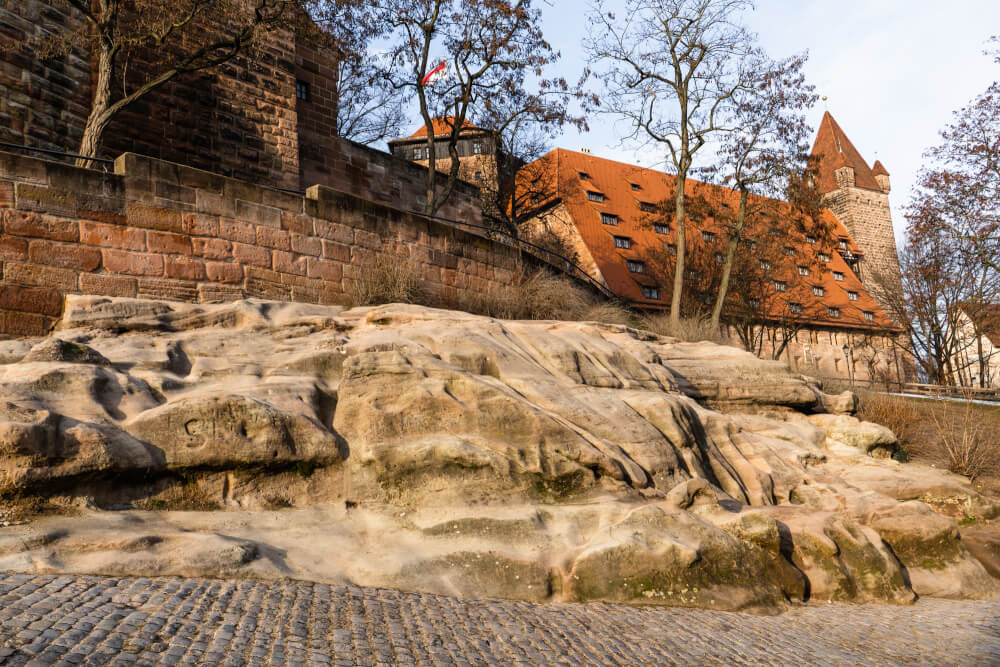 A Virtual Tour of Nuremberg Castle
Alright – enough talk, let's head into the castle! (Virtually, at least). If you want a preview of what the luscious Imperial Castle of Nuremberg looks like, or want to assess whether admission is worth it, here's a quick rundown of the different areas you can visit.
1. The Knight's Hall
If you follow the recommended visit route offered by Nuremberg Castle, the first room you'll enter is the Knight's Hall.
Once upon a time, this was of course where the emperor would meet/greet all his most important guests, although with its relatively modest layout (wooden columns in the middle support 30 wooden beams on the ceiling), you wouldn't necessarily think it had such a grand purpose.
The view however is absolutely glorious, and by far my favourite view in Nuremberg!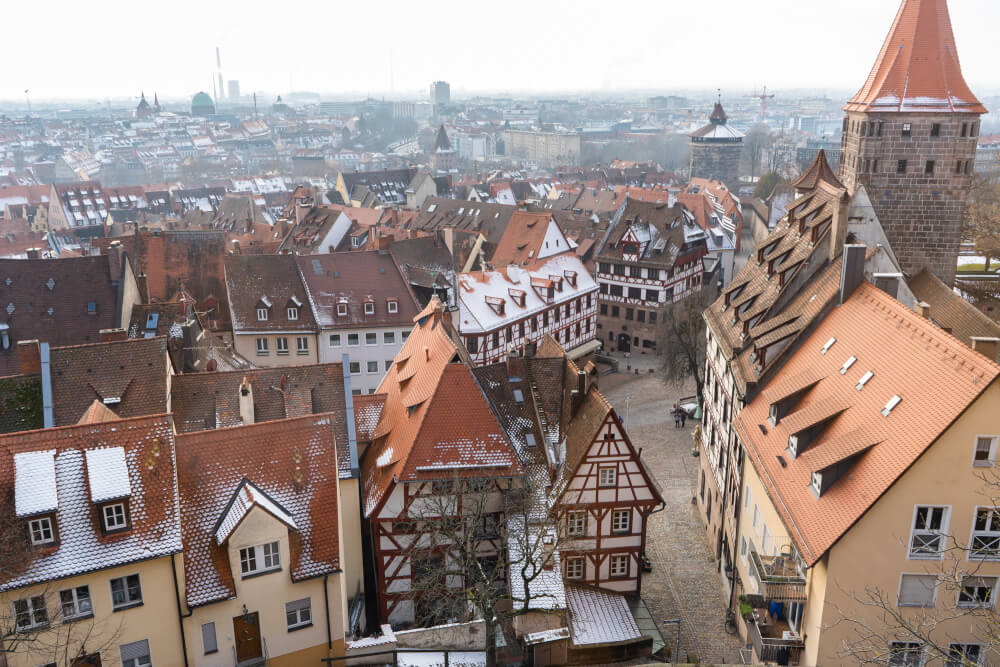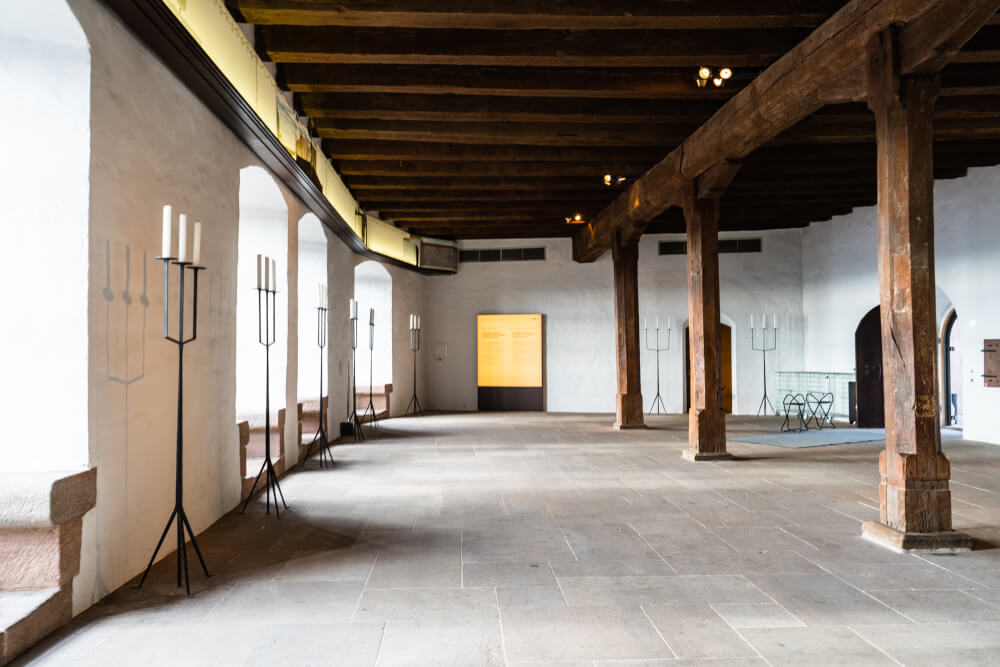 One of my favourite features of this room besides the view is the very extravagant procession that circles the tops of the walls (above the windows) every 20 minutes, essentially depicting how over the top it used to be when the emperor entered Nuremberg with his crew.
During this little demo, they ring bells, blast loud music, and you get to see a little automated "show" that is hilariously grandiose and over the top.
Be sure to keep an eye out for it before you move onto the next room.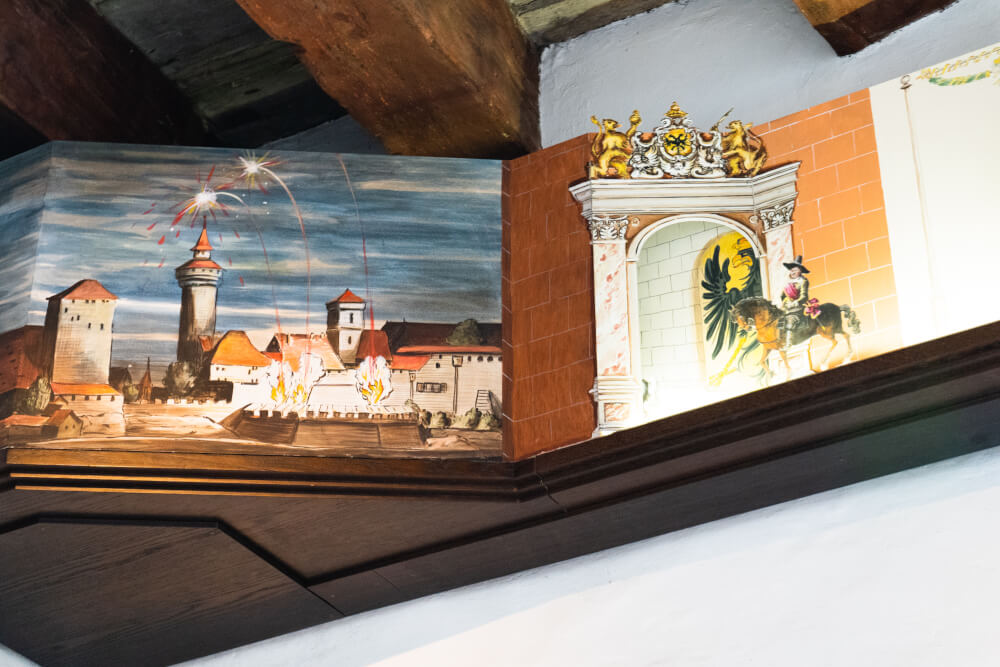 After marvelling at this display, head over to the East Wall, where you'll see an arch surrounded by paintings that leads into the Imperial Chapel. This is of course our next stop….!
2. The Double Chapel, AKA the Imperial Chapel and St Margaret's Chapel
The Double Chapel in Nuremberg Castle is one of the most significant and well-known pieces of the castle complex, mainly because it was one of the few parts that escaped World War II without significant damage.
This room has two chapels essentially stacked on top of each other, connected through an opening in the middle which enabled people on either level to hear services going on in both chapels.
… Talk about multitasking.
To get a great vantage point of this room, you can climb up to the emperor's gallery above, accessible by some stairs.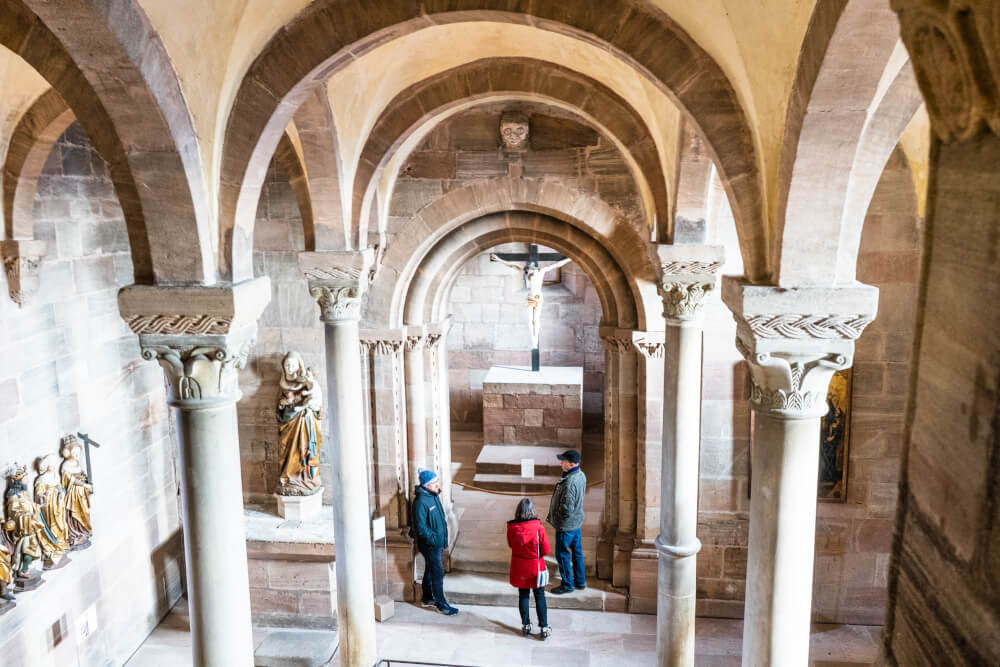 3. The Imperial Hall
Next, you get to visit the Imperial Hall, once used as a dining hall for the emperor/court and also for fancy events when the occasion arose.
It had to be rebuilt after World War II, but nonetheless they made sure to retain many elements of the original like the traditional black/yellow colour scheme and the shallow wooden ceiling.
Today, for guests, there is a museum exhibition room themed around the Holy Roman Empire, with a lot of interesting displays, texts, and artifacts that shed light on this time period.
Side note: there are some extremely creaky floorboards in this room. Tread with caution or it WILL sound like you have stepped on a bag of stray cats.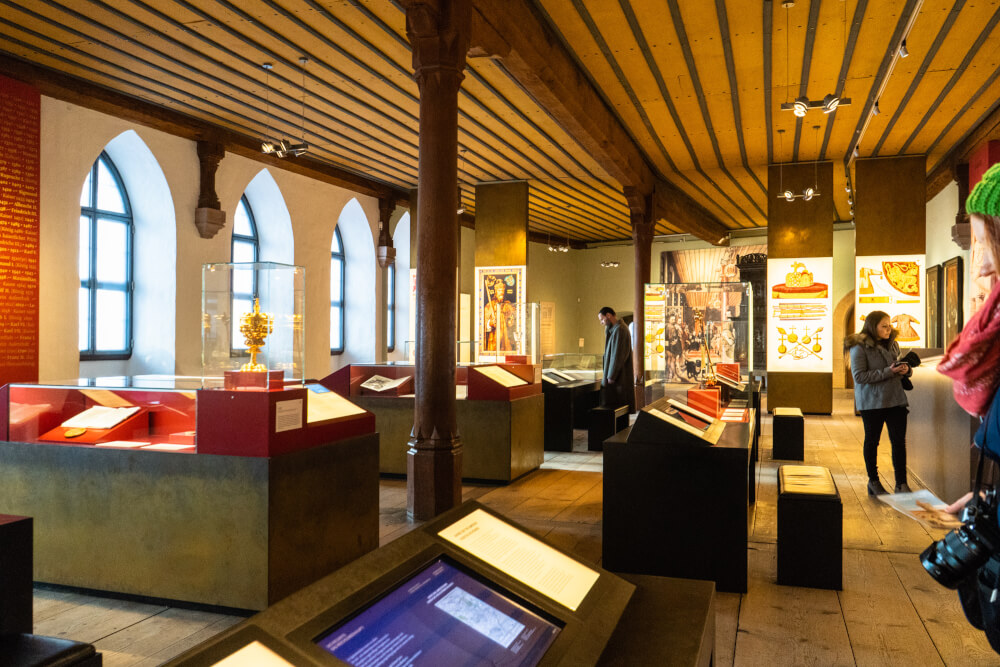 4. The Emperor's Living Room
After gawking at all the different displays in the Imperial Hall, you enter a section called the Imperial Apartment. In this space, the ceilings are especially noteworthy because they were some of the only parts the stayed in tact during the WWII bombings.
The motifs you see on this room's ceiling include a black double eagle (symbolic of the Holy Roman Empire in Germany), along with coats of arms from other main countries at the time including Austria, Bohemia, Hungary, Castile, Granada, Aragon, Sicily, Leon and Old Burgundy.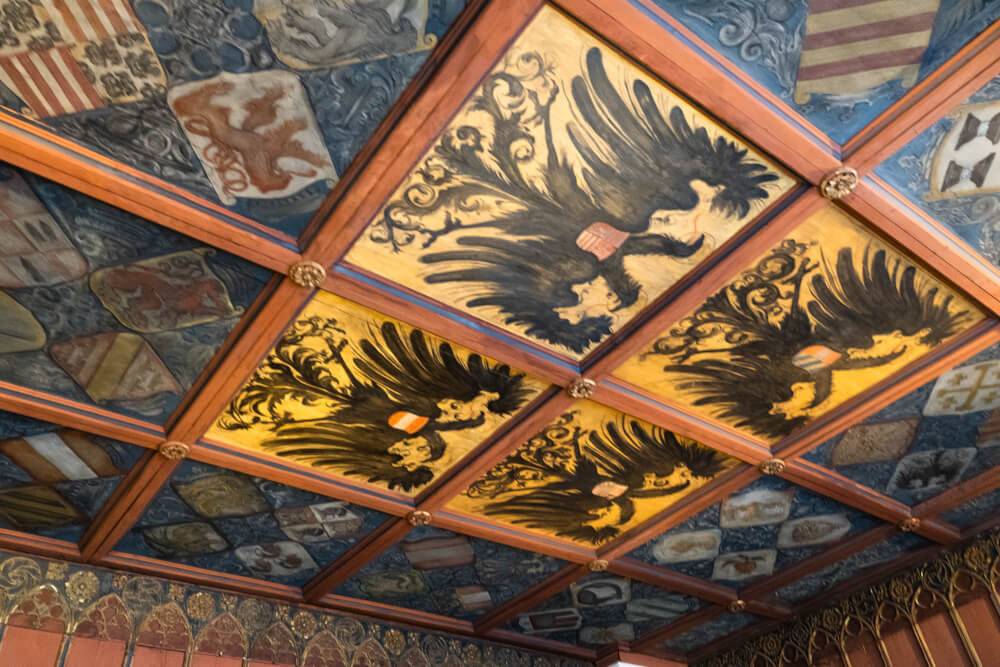 5. The Emperor's Chamber
The next room also has its own giant double eagle on the ceiling, and was formerly used as a bedroom.
Fun fact: this room is often called the "Green Chamber". Can you guess why? I'm not sure if this very grand stove has anything to do with it, but I just had to show it off: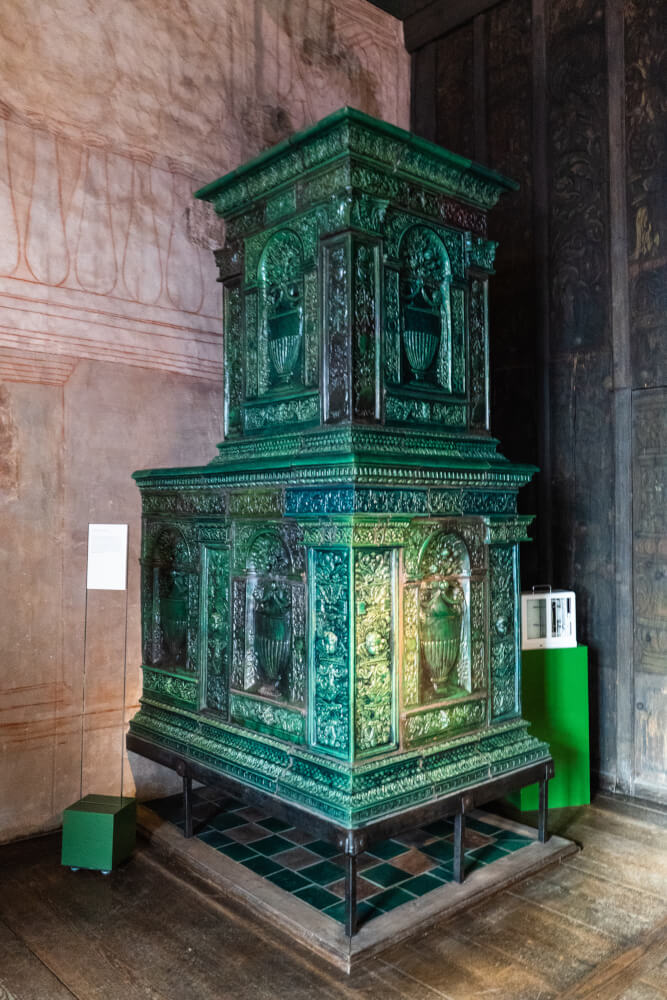 6. The Corner Chamber
Then we head into the corner chamber!
… This is where you'll see the crown jewels hovering mystically in the center of the room, over a model of Nuremberg (which is supposedly the oldest known topographical model ever built of a German city!)
All along the walls you'll also find paintings from famous local artists which were once gifted to the emperor.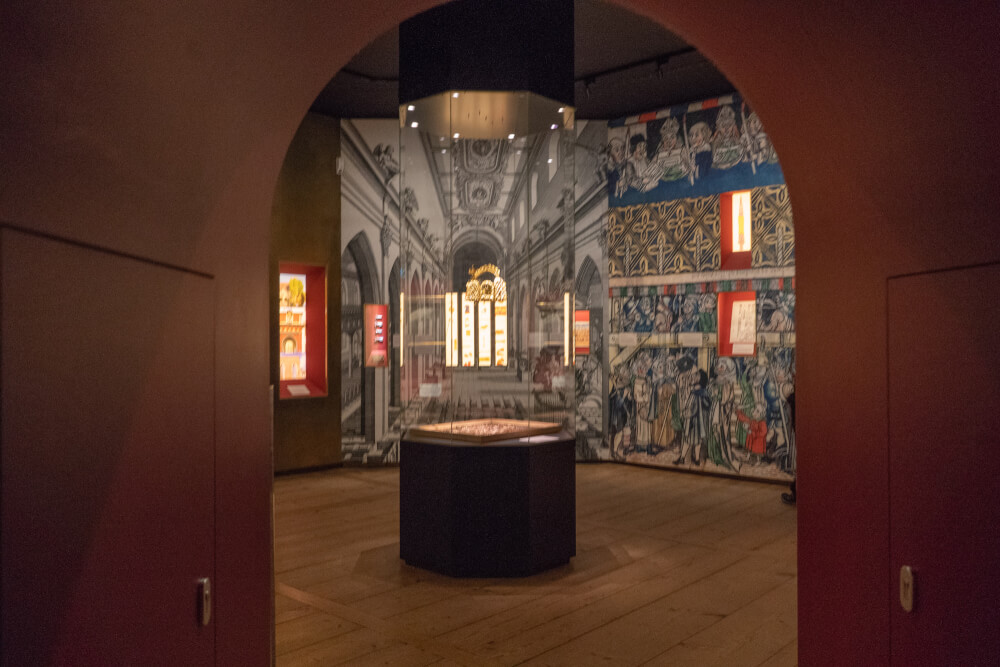 7. The Insignia Corridor
After this, you pass through the Insignia Corridor which has some illustrated panels showcasing the history between the collapse of the Holy Roman Empire until the end of World War II.
Follow this corridor to the end and you are brought to….
8. The Imperial Castle Museum
The Nuremberg Castle's bower today houses the Imperial Castle Museum, which is filled with cool military artifacts and displays about the castle's history.
THIS is the part of the castle you'd go to if you want to admire medieval armour and weapons, and also marks the last stop of your main castle complex visit. Once you step outside though, you are also free to explore…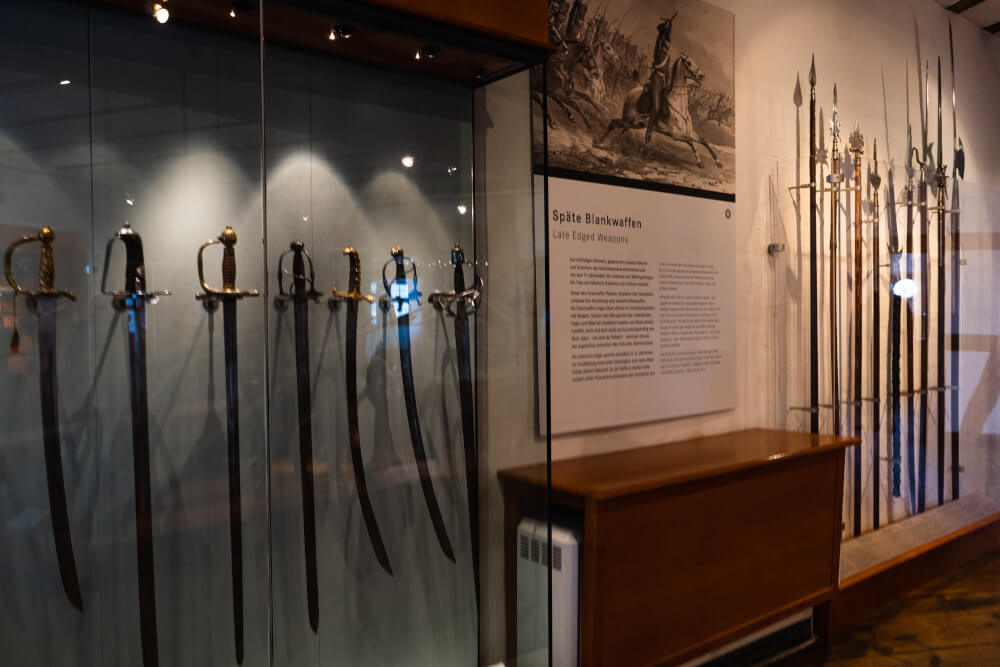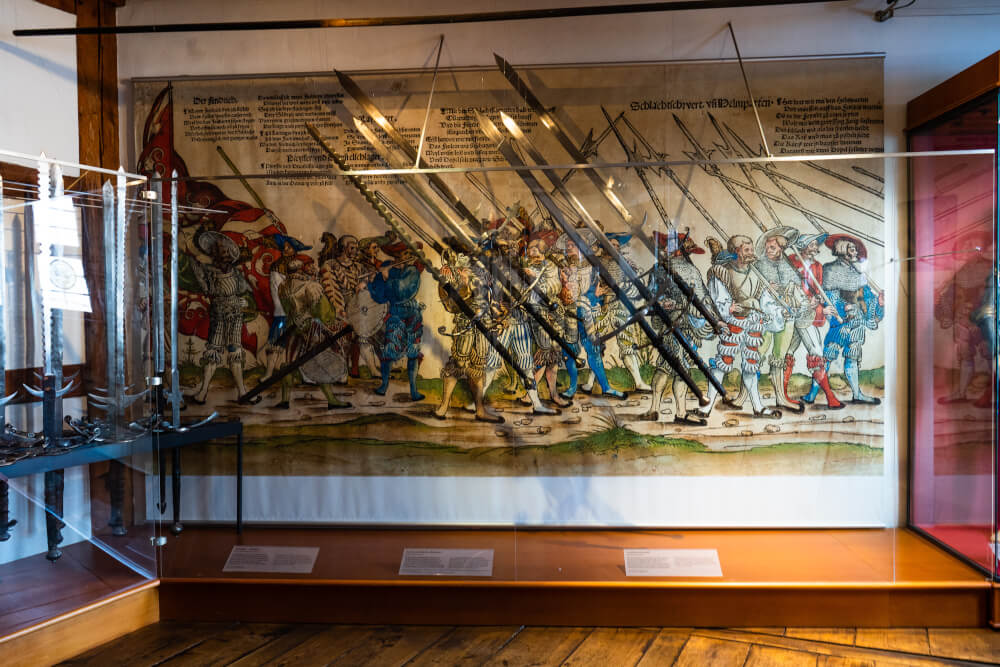 9. The Deep Well
Outside of the main palace building, there are a few sections of the castle complex left for you to visit, one of the most intriguing being the Deep Well.
While the history of the Nuremberg Castle Deep Well is shrouded in mystery, experts estimate that it dates all the way back to the first buildings of the castle as a water source would have been a crucial part of early construction.
With this assumption in mind, the Deep Well is one of the oldest parts of the castle you can visit. Housed in a cutesy half-timbered house, the well goes 50m deep and there's a demonstration once an hour where a staff member explains more about the well and shows just how deep it goes (no spoilers, but dropping objects are involved).
NOTE: This is the only way to see the well 'at work' so to speak, so be sure to organize your visit around the showtimes if it's a priority for you.
10. The Castle Gardens
Next up, if you're visiting during warmer months, you'll also have a chance to explore the castle gardens (open to the public, even without paying the entry fee).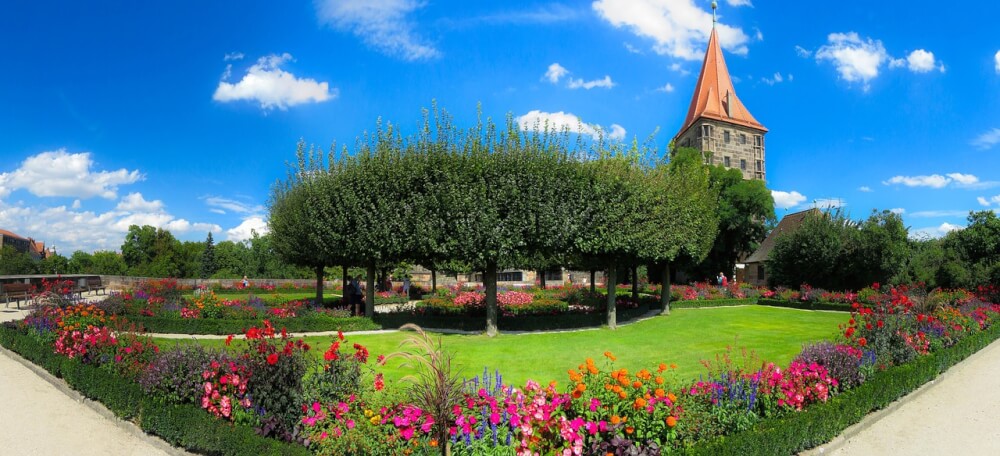 While Nuremberg Castle is known to have had many different gardens over the years, the present day gardens can be found on bastions on the north/west sides of the castle – a pretty place to escape from the bustle of the city:

11. The Maria Sibylla Merian Garden
And of course, there's another (more secretive garden) that you can visit for free at Nuremberg Castle if you get the timing right!
Open only a few times a week at Nuremberg Castle is a secluded garden commemorating Maria Sibylla Merian, a famous Nuremberg artist and pioneer of insect research who used to live right next to the castle.
Located between the Heathens' Tower and Heavenly Stables, this garden is where Maria supposedly studied flowers and insects for her art throughout many years of her life.
Today, it is used for weddings and for sightseeing, but only on select days so be sure to refer to the official website and the hours listed above.
Fun fact: Supposedly, all the flowers/plants found in the garden can be found the various works of Merian, including tropical plants from South America.
12. Sinwell Tower
Last but not least, we have the Sinwell Tower, which at the time of writing is closed for restoration until the foreseeable future, BUT you can still admire its wonderful shape from the outside.
I mean, its name apparently translates literally to "extremely round" in Middle High German, so you can imagine what it looks like.
Anyways, this tower was once upon a time used for defensive purposes and could help castle dwellers spot attackers from far away. This was another one of the few parts of the castle complex that managed to stay in tact after the bombings of World War II.
I'm looking forward to the day it re-opens to the public so I can climb the wooden staircase inside and get the best ever view over Nuremberg!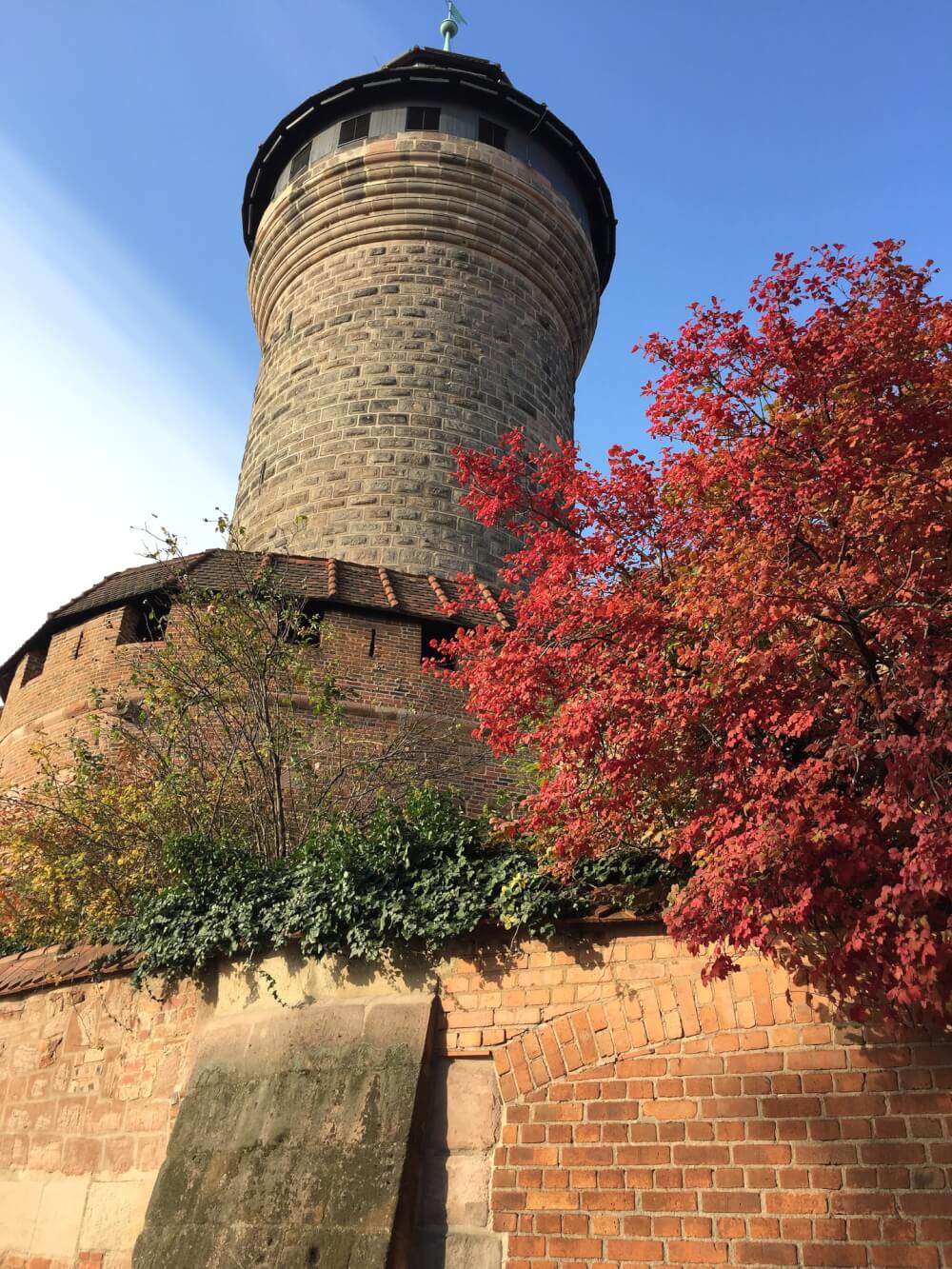 Final Tips for Visiting Nuremberg Castle
Alright here are a few last tips for you before your Nuremberg Castle visit! In advance of your trip, remember that you should…
Be prepared for an uphill walk
Once again, this is a scenic castle perched on a hill, which sounds romantic until you realize the only way up is to climb. It is a pretty steep walk, so bring comfy shoes/ water and be prepared to slog it out.
Consider getting a Nuremberg Card for savings
If you plan to visit many attractions around Nuremberg, it might make financial sense to get a Nuremberg Card, which includes access to a bunch of attractions for one tidy price. Click here to check prices.
Coordinate your visit with days that the gardens are open
While the Nuremberg Castle gardens have pretty regular opening hours during the summer season, the Maria Sibylla Merian Garden is only open on certain days depending on the month that you visit, so if you have a few days in Nuremberg, try to coordinate your visit with a day that both gardens are open so you can see as much of the castle grounds as possible.
Time your visit to match with the well performance
Last but not least, as I mentioned, the Deep Well does a little demonstration once an hour, which they will tell you about when you buy tickets.
If this is an experience you're interested in, remember to organize your visit around this.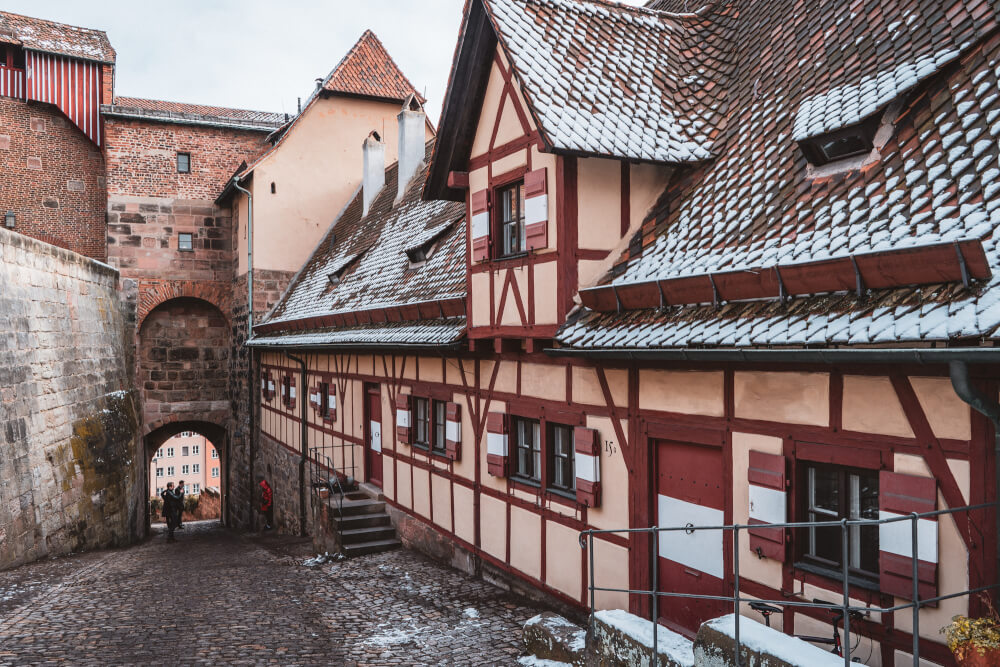 Any more questions about Nuremberg Castle?
I hope you enjoyed this guide to visiting the beautiful Imperial Castle in Nuremberg! If you have any more questions about visiting Nuremberg Castle, let me know in the comments below. Safe travels!
---
Watch my most popular YouTube video this week:
---