*FYI - this post may contain affiliate links, which means we earn a commission at no extra cost to you if you purchase from them. Also, as an Amazon Associate I earn from qualifying purchases. Check out our Privacy Policy and Disclosure. for more info.
NOTE: This Frankfurt Christmas Market guide was written after my visit in 2018, but has been updated with the most recent info and dates I could find online. Do note that some details/locations may differ year to year though, so let me know in the comments if you notice anything inaccurate.
Thanks to a buzzing international airport, glittering name-recognition and status as one of the oldest and most spectacular Christmas markets in Germany, Frankfurt Christmas Market is one of THE most sought-after winter destinations in all of Europe.
… Which means crowds. And tourists. But alas, still plenty of opportunities get schwasted on hot booze, so you know it can't be all bad.
Now here's the thing: Frankfurt is a city that often gets dismissed as boring thanks to its sterile rep as banker-land. And so, I must shamefully admit that I never gave it a chance, apart from stopping in for burritos at Germany's only Chipotle of course.
This past visit however, I got to see Frankfurt in a whole new light… and I enjoyed it, even without burritos. If there's a time to truly appreciate Frankfurt, it's no doubt the Christmas market season, when the streets are flooded with sugar high humans and all sorts of belly-busting treats.
And while on one hand, the main Christmas market in Frankfurt is among the busiest in the country, there's a whole crop of other "just for locals" markets that are unique, cool, and a happy secret among those in the know.
Luckily, I had my own insider, my local friend Megan Starr who happily showed me around markets I had a hard time finding info on… even on Google.
So yes, consider this a complete Frankfurt Christmas Market guide to both the mainstream and hidden gems of the city. I hope you can use these tips to make the most of your Frankfurt trip, and of course, eat plenty along the way…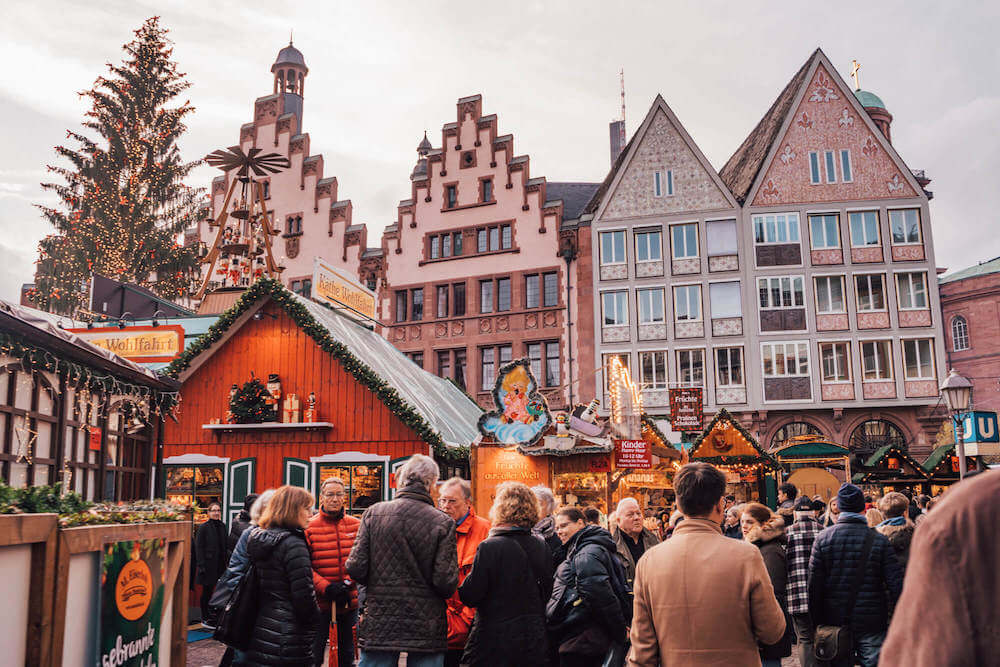 A Brief History of the Frankfurt Christmas Market
Before we jump into all the logistics, let's chat about why Frankfurt Christmas Market is so darn special.
While many European Christmas markets lay claim to the fact that they're among the OLDEST or the LARGEST, Frankfurt's Xmas shenanigans have concrete proof of their age, with a document that traces their roots all the way back to 1393. So yes, this market is reaaal old.
[Brief pause for delight and applause]
Back then, in the mega fun 14th/15th century, the market looked quite different than it does now, with thrilling events like mystery plays featuring on the program.
Over the years, the market evolved and witnessed a variety of special events, like a Royal Christmas Wedding in 1498 (AKA a Netflix Xmas movie waiting to happen) and the addition of a giant Christmas tree at the start of the 18th century.
Before long, it became the norm to shop for toys and presents exclusively at these markets. While Frankfurt (and its historic square) suffered tremendously from bombings during WWII, post-war markets continued in different locations around the city…
And now, centuries later, with the market's historic backdrop restored in the 80s, we continue to shop and stuff our faces at these Christmas markets, a trend that has spread to other parts of the globe.
FUN FACT: There's even now a "Frankfurt Christmas Market" in Frankfurt's sister city, Birmingham which was set up in 1997. It's said that many of the vendors at that market come from Frankfurt to sell their wares to eager UK holidaymakers, originally created as a marketing ploy to lure more visitors to see the real deal in Frankfurt. These days, it's one of the best Christmas markets in England!
Europe Winter Packing Essentials:
Frankfurt Christmas Market: Basic Info
Type As, I'm looking at you. If you're already eagerly planning your visit, here are the dates and times for the official Frankfurt Christmas Market for this year… and be sure to check out my full list of Christmas market must-knows for more info.
Frankfurt Christmas Market Dates
The Frankfurt Christmas Market is scheduled to take place from November 27 – December 21, 2023.
Frankfurt Christmas Market Hours
In previous years, the Frankfurt Christmas Market opening times were as follows:
Monday – Saturday from 10am – 9pm
Sunday from 11am – 9pm
Frankfurt Christmas Market Locations
The Frankfurt Christmas Market scene consists of a few main players: the Weihnachtsmarkt Frankfurt (AKA the main official Frankfurt Christmas Market) and a few other unique markets around the city.
In this section, I'll cover the must-see locations of the main Frankfurt Christmas Market.
PS: Depending on when you visit, you should know that Frankfurt actually has several pop-up markets/special events that are only available for a few days. This article (in German) has a great summary of them, but below you'll find a list of markets that are open for most of the season.
Weihnachtsmarkt Frankfurt Römerberg
Address: Römerberg
Let's start with Römerberg, the square that acts as the heart and soul of Frankfurt's Christmas Market.
With its whimsical half-timbered backdrop, the glittering 30m tree (topped with 6500 lights and 300+ red ribbons) and a showy vintage carousel to top it all off, this part of town is like a snowglobe come to life during Christmas time.
With countless stalls selling Xmas market favourites like grilled sausages, roasted nuts, pretty ornaments and more, this is the quintessential German Christmas market experience Instagram loves to tell you about 😉
While the area gets extremely crowded and congested during peak periods like weekends, it's still a worthy stop on your Frankfurt Xmas Market tour.
PS: If it's artsy goods you're after, don't miss the chance to peruse jewelry, pottery, sculptures, photographs and more from local artists. You can browse these art fairs in the Römerhallen (Dec 7-22, from 12-8pm, closing at 6pm on the 22). and St Paul's Church (Nov 27 – Dec 22 from 12-8pm, closing at 6pm on the 22).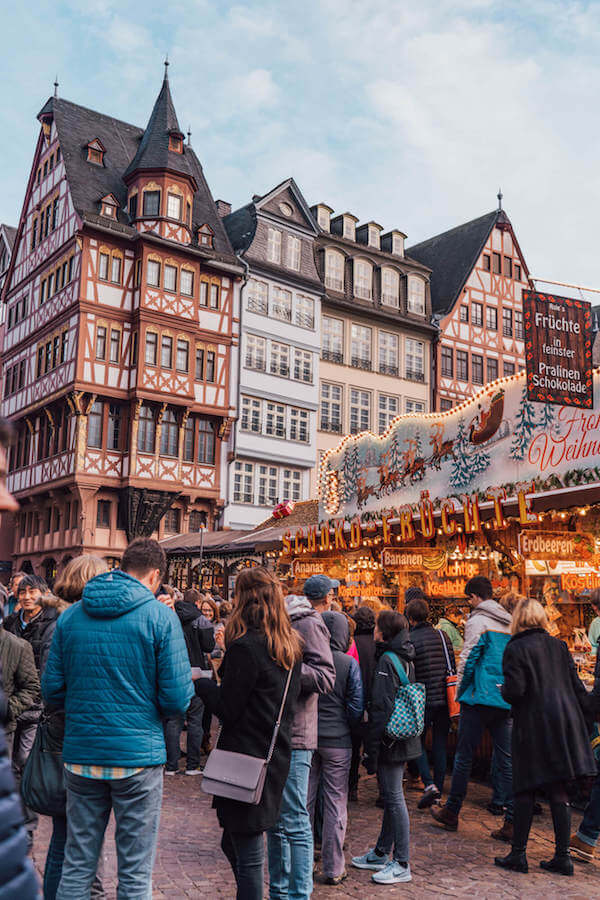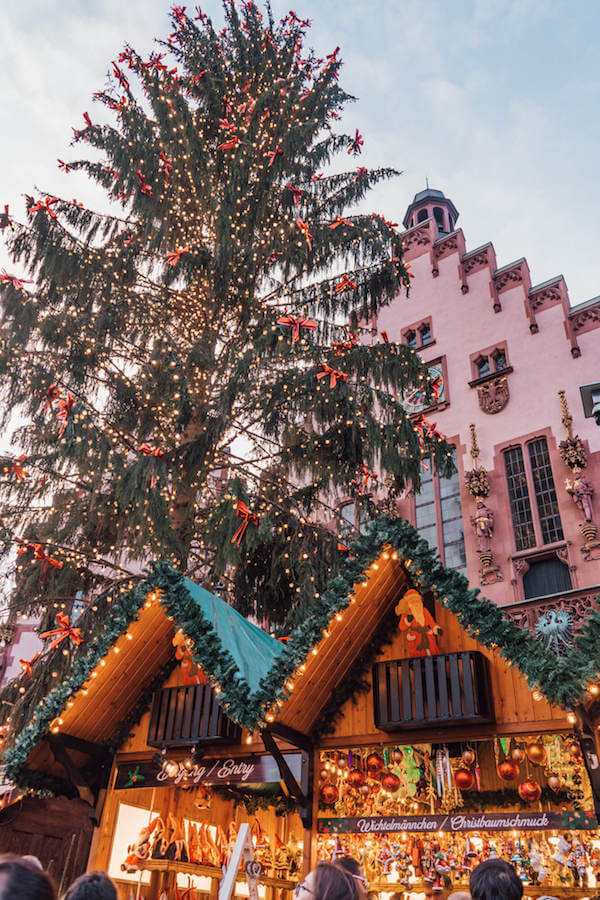 Paulsplatz Market
Just north of the Römerberg, you'll find an extension of the Frankfurt Christmas Market with the red bricked St Paul's Church acting as a cozy background. Here is where you'll find one of the most famous stalls of the Frankfurt Christmas Market: Wagner's Honighaus, a two story half-timbered construction stacked with honey products of all kinds, including intricately carved candles, flavoured honeys of course, mead.
Free for You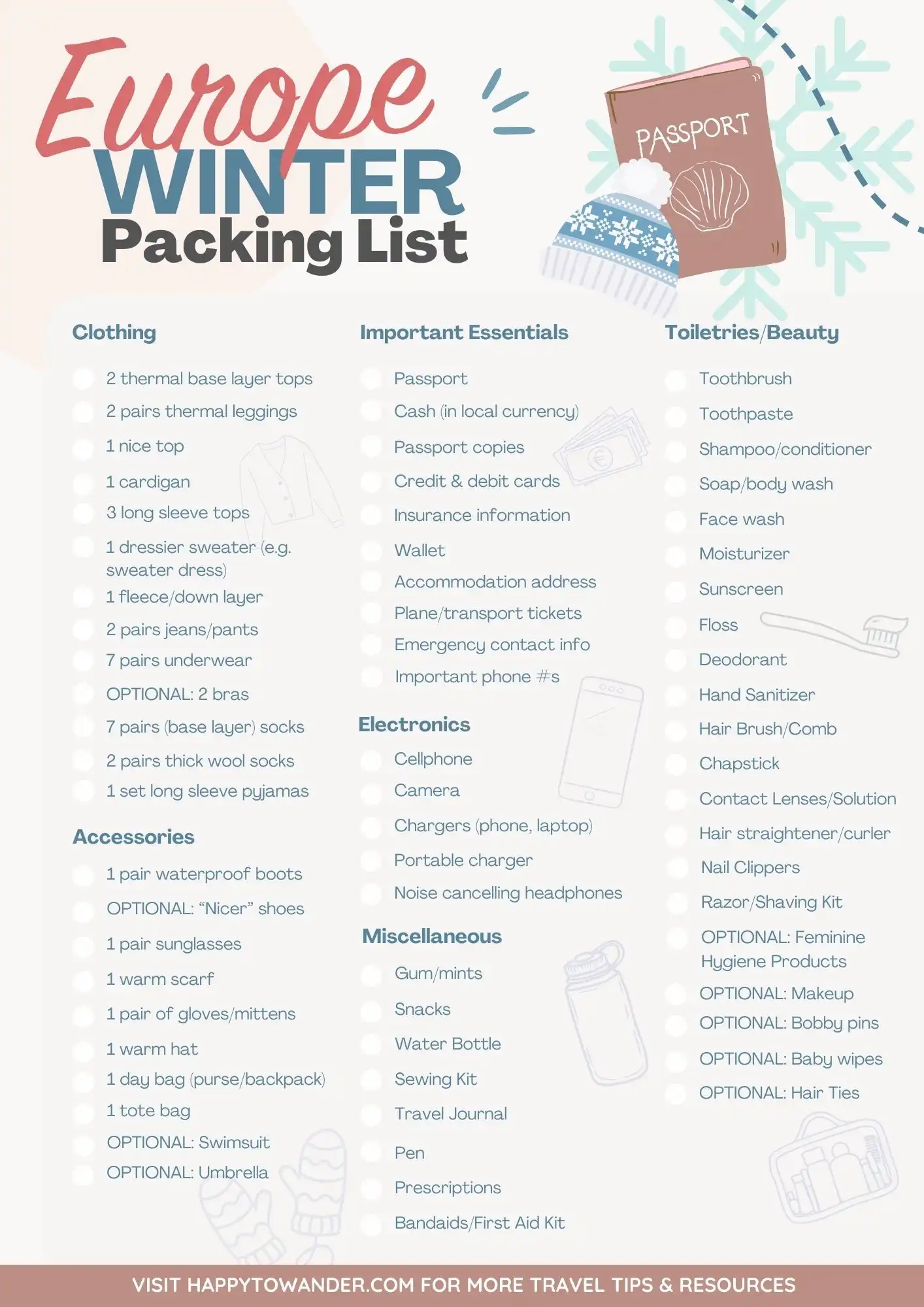 Hauptwache Market
If you love seeing old sights juxtaposed with the new, make sure you stop by the Hauptwache Market.
This extension of the main Frankfurt Christmas Market in Römerberg is conveniently linked to Frankfurt's busiest shopping street, which means you have an excellent one-stop shop for all your holiday shopping.
You'll find all sorts of goodies here, from a chalet dishing out hot soups to a stall peddling yummy treats for your doggo friends, like pretzel-shaped dog biscuits.
I personally love seeing the cute wooden huts set along such a modern backdrop. Markets definitely don't look like this in Munich!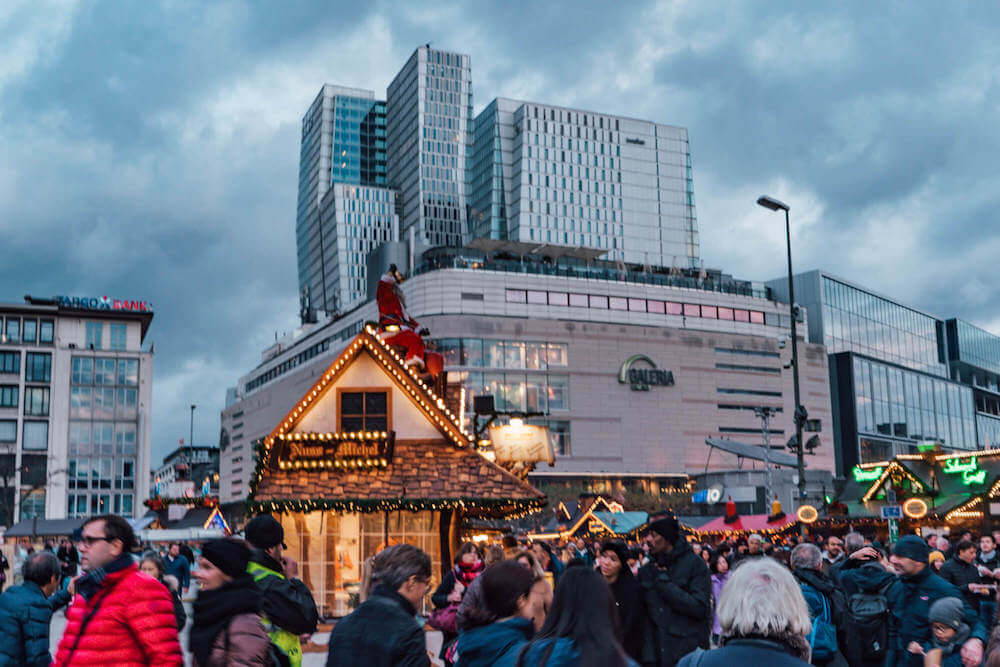 Mainkai Market
The Mainkai market is another extension of the Frankfurt Xmas market.
Set along the banks of the Main river, you'll find dozens of stalls here offering up pretty views and a little extra breathing space after the chaos and Hunger Gamey vibes of Römerberg.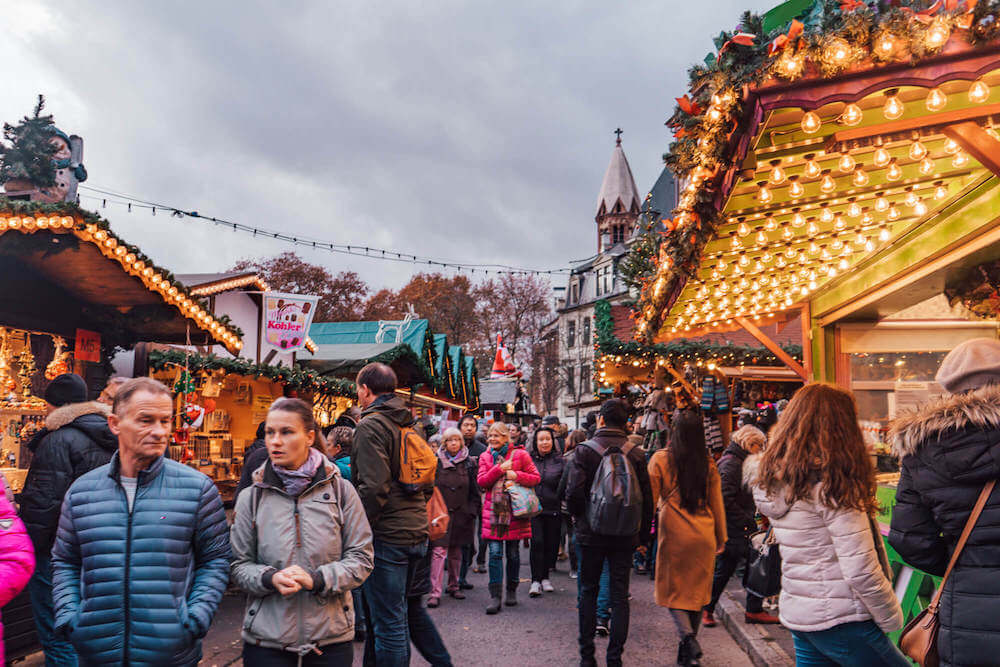 Other Frankfurt Christmas Markets to Check Out
Besides the main Frankfurt Christmas Market, there are a few other markets around the city that are beloved by locals but not nearly as well-known to tourists. If you're after a more unique and local vibe, add these bad boys to your list!
City Beach Market
Address: 5th floor of Konstabler Car Park, Carl-Theodor-Reiffenstein Platz 5
In the sizzling summer heat, this location serves as the only rooftop beach in downtown Frankfurt. Naturally then, it gets a holiday makeover during the Christmas season and becomes the city's coolest, most "Gossip Girl"y Christmas Market.
With unbeatable views of Frankfurt's modern skyline, this unorthodox location is found 5 floors above ground on the rooftop of a parking garage in Frankfurt's main shopping area… a true treat for those cool enough to know about it.
In addition to a few stalls selling the usual food, drink and goodies, you'll find a cute curling rink to test your skills if you wish. Sadly though, the pool is shuttered up, which means your gluhwein-induced cannonballs will have to wait.
On that note, if you want to feel especially sophisticated, this is one place in town where you can sip on a hot Moscow Mule while the rest of us peasants enjoy our gluhwein. As a cute touch, the pfand tokens here are colourful dice.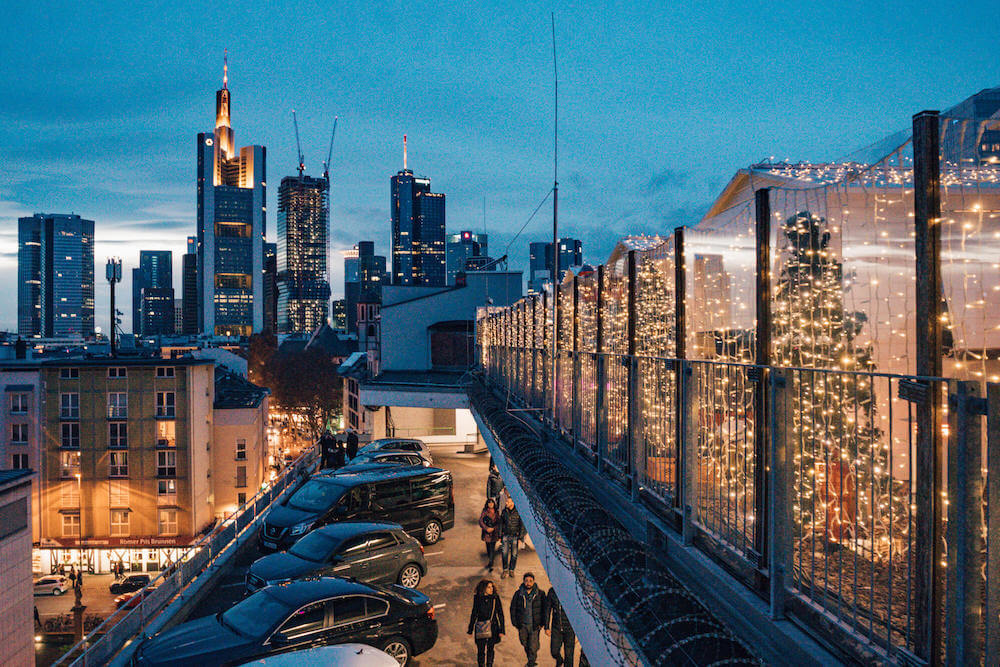 Rosa Weihnacht, AKA Frankfurt Pink Christmas
Address: Friedrich-Stoltze-Platz
Opening hours: Monday – Saturday 10:00 am – 9:00 pm | Sunday 11:00 am – 9:00 pm
Are you dreaming of a pink Christmas?
Of course you are, you millennial, you.
Good news: there's a special Christmas market in Frankfurt that is all-pink!
The Rosa Weihnacht is Frankfurt's LGBTQ market, which in this case just translates to gaudy, glitzy decor and a chill, laid-back vibe. Imagine bright pink Christmas trees, glitzy purple lights and of course, the usual stalls selling all sorts of delicious goodies.
The vibe here is definitely more local, though I didn't spot anything tremendously different like the mermen ornaments at Munich's pink Christmas market!

TNT Weinachtsmarkt
Address: Thurn-und-Taxis-Platz 1
While this bite-sized Christmas market is indeed on the small side, it's a cozy little nook perfect for a gluhwein with friends… plus you really can't beat the pink foreground and picture-perfect tree, can you?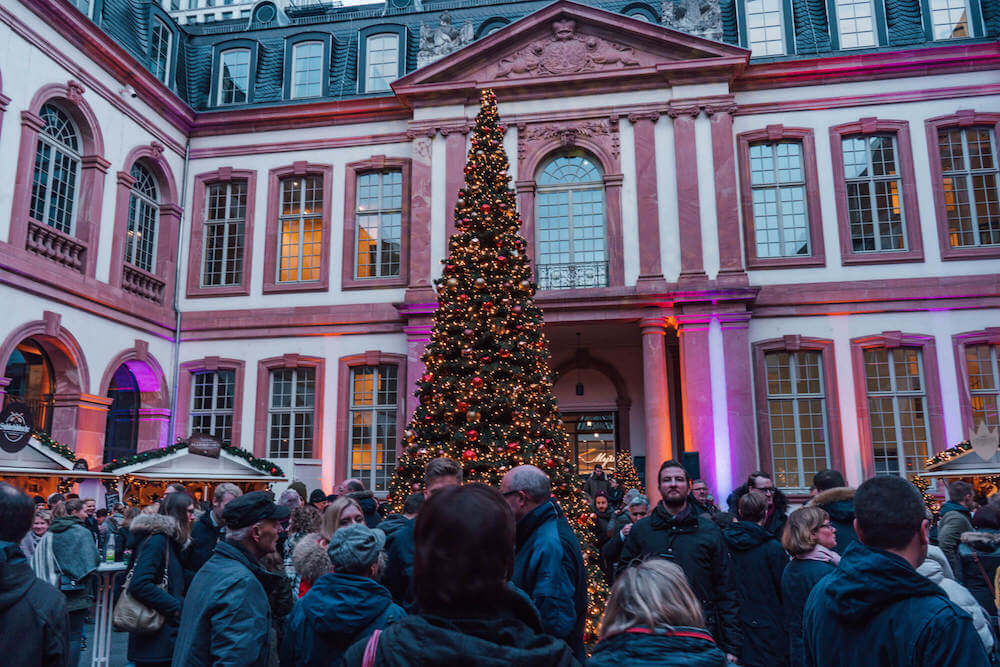 Frankfurt Christmas Market Map
Hoping to make the most of your own Frankfurt Christmas?
Click here to see a map from the official tourism board (at the bottom of the page) that summarizes the Frankfurt am Main Christmas Market Christmas market scene.
What to Eat and Drink at the Frankfurt Christmas Market
FACT: If you're visiting a German Christmas Market, it would be a crime for you to not consume at least twenty million calories during your visit.
You can click here for a full roundup of German Christmas Market foods you need to try, but here are a few treats that are unique to Frankfurt that you should save some space for.
Almonds in every flavour possible
I've spoken in excruciating detail all over this site about how much I adore roasted German almonds.
WELL, Frankfurt is the city to try them, because they really kick it up a notch in terms of sheer variety.
M. Eiserloh Süsse Mandelbar (located just off of Römerberg) is a Frankfurt Christmas Market institution with over 50 different flavours of almonds on offer to satisfy pretty much any weird craving that might strike, whether that's Red Bull, rum or just something with a fiery kick.
Yes, spicy almonds. You've been warned.
Brenten and Bethmännchen
… Their names ma be quite the mouthful, but their premise is simple. These are Frankfurt-exclusive cookies made of maripan.
Brenten is essentially spiced marzipan pressed into molds and baked, while Bethmannchen is a traditional Xmas-time cookie made of marzipan rolled like a ball and decorated with three half-almonds.
Legend has it that the treat (originally created for the banking Bethmann family) started off as having four half almonds, representing each of the family sons. When one of the sons passed away a few years later, they amended the cookie to include only three almond halves.
… I'm not crying. You're crying.
Apfelwein (Apple Wine)
While beer is happily chugged by the litre in Bavaria, the drink of choice in the state of Hesse is actually apple wine (like apple cider but less sweet).
Thanks to its regional popularity, you can of course find hot apfelwein on sale at the Frankfurt Christmas Market.
Since it's basically fruit, you can feel free to have five portions as recommended by nutritionists around the world. (I think)
Cheese Fondue
While fondue is more synonymous with Switzerland than Germany, it's impossible to ignore the siren's call of hot melted cheese.
Luckily for you (and unluckily for your wasitline) I saw a few stands offering Frankfurter Original Käsefondue, which visitors can happily enjoy with some bread and a literal mug of cheese.
Sounds like a typical Friday night to me!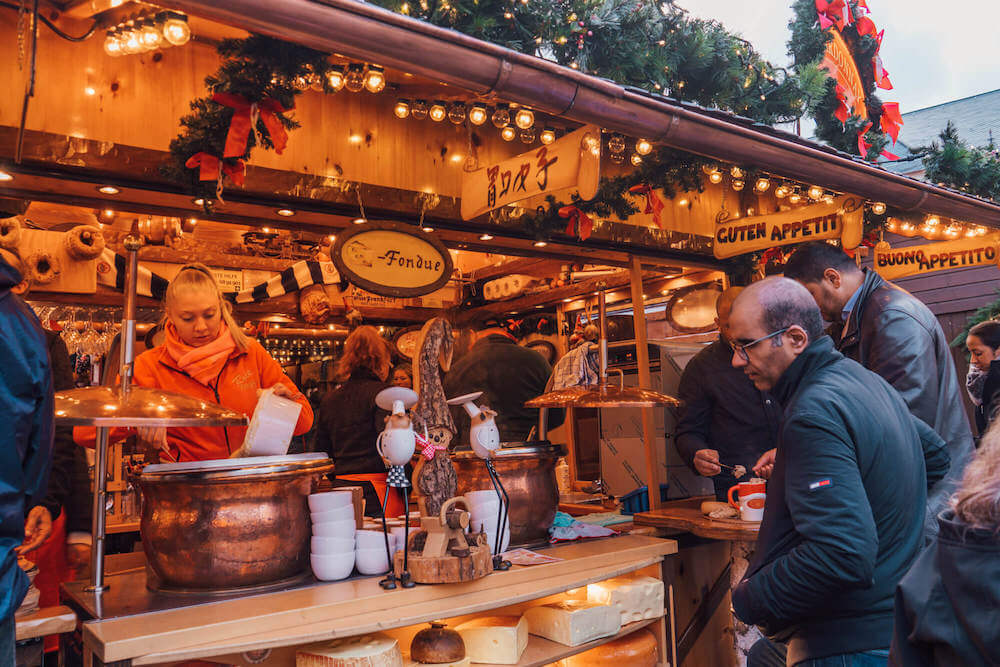 Soup!
I know, another bizarre recommendation, but in the Hauptwache market, I spotted this Suppenhütte with some of the happiest people ever gulping down delicious hot soup.
Sure it's not quintessentially German, but there's no better cure for the cold…. except maybe Schnapps.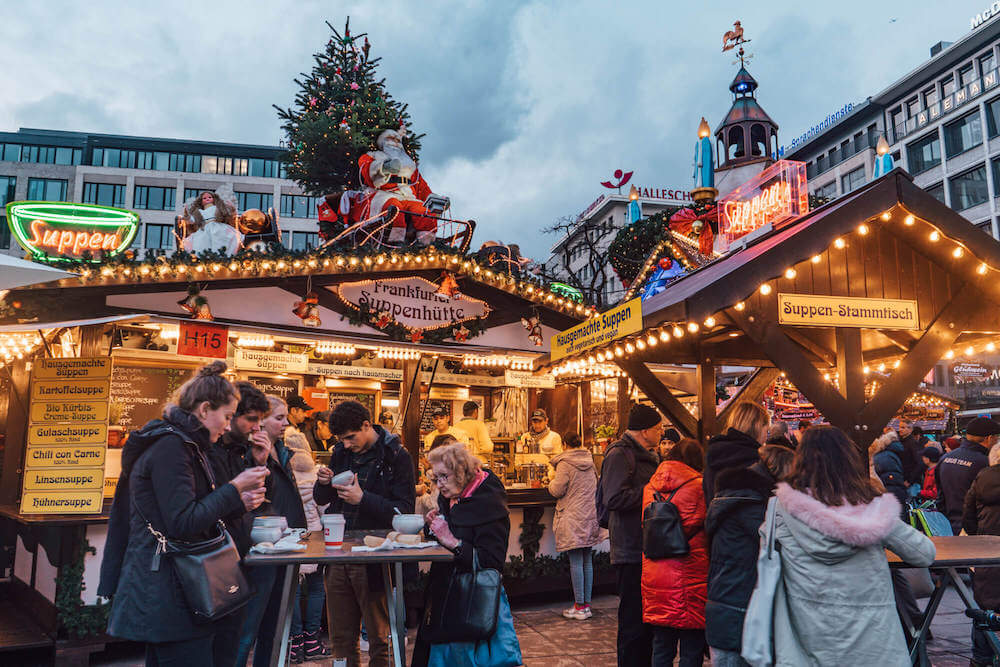 Final Tips for Visiting Frankfurt Christmas Market
Alright, if you want to squeeze the most out of your Frankfurt Christmas Market experience, here are some final golden tips for you!
Avoid Saturdays at all costs
In a city as popular as Frankfurt, there's bound to be crowds all throughout the season. Frankfurt Christmas Market reviews often mention the incessant crowds and I would say Saturdays are the peak of this, so try to avoid visiting the main, busy markets on Saturdays.
Bring cash
Cash is king in Germany. Some vendors will take cards (begrudgingly) but having actual cash is better than anything else. Remember to get cash out before visiting the markets – it might be a pain to locate one later on in the market itself.
Dress warm!
Frankfurt weather in December can be crazy nippy, so be sure to bring extra layers. My winter in Europe packing list might help.
Keep your ears… "Peal"ed for the Pealing of the Bells
4 times a year, the 50 bells of Frankfurt's 10 downtown churches ring in unison for half an hour, all in harmony.
This spectacle has been going on since the 50s, and you can still admire the 70 tons of metal clanging against each other in sweet cacaphony.
The next Pealings will happen on the first Advent Saturday at 5pm and on Christmas Eve at 5pm.
Christmas Markets Near Frankfurt
Besides its magical snowglobey aesthetic, one of the top things that Frankfurt has going for it is that fact that it's a central transport hub with a cheap airport, which means you can easily use it as a jumping point for other stunning Christmas markets in the area. Here are a few unique ones to check out.
Mainz Christmas Market
From downtown Frankfurt, you're less than 30 minutes away from the quaint little city of Mainz, home to an intensely atmospheric (and gorgeous) Christmas market.
With over 100 stalls and a surprising number of vegan and bio options, you can shop for all sorts of cute and unique gifts.
During my visit, I saw everything from cute felt bottles to personalized sugar bowls, and when the backdrop looks this good, well….. *swoon*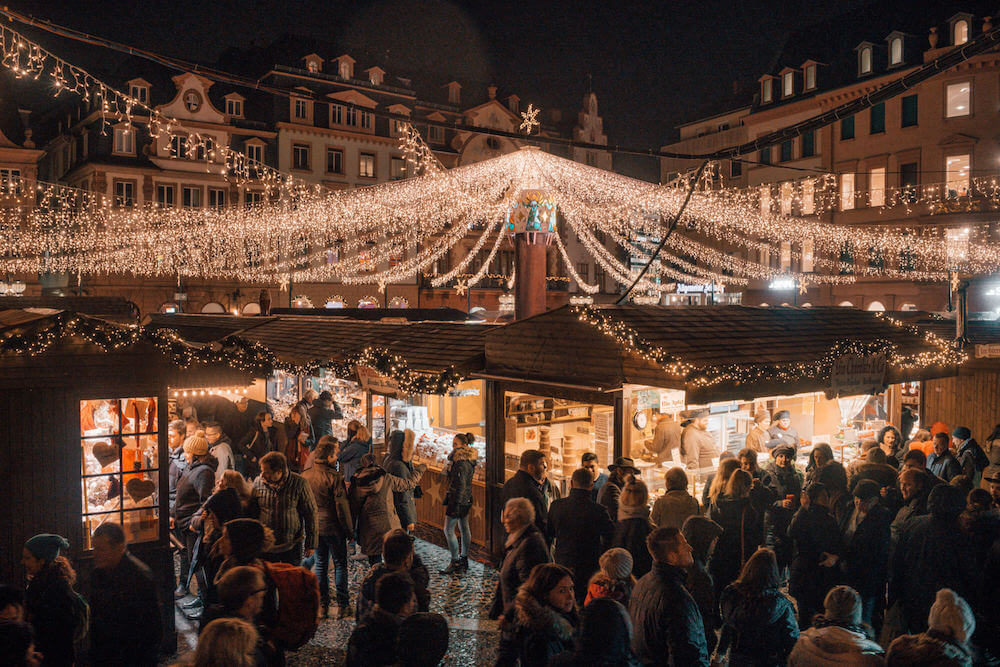 Rüdesheim Christmas Market of the Nations
About an hour and ten minutes away from Frankfurt by train is the town of Rüdesheim, which not only won the title of "Best Christmas City" back in 2016, but is a unique Christmas market thanks to its international spread of stalls and products.
With 6 continents and over 20 countries represented, this is definitely a departure from your traditional German Christmas market, but maybe that's exactly why it's worth a visit.
Hanau Christmas Market
Located 20 minutes away from Frankfurt is the famous little town of Hanau.
I throw around the term "fairytale" a lot, but there's no place more fairytale than Hanau – it's literally the birthplace of the Brothers Grimm, the guys who brought us famous tales like Cinderella, Snow White and Rapunzel.
Of course, you can expect their (small) Christmas market to be adequately fairy taley, with the largest Advent Calendar in the state showing off a new scene from a Brothers Grimm fairytale every night at 6pm.
Düsseldorf Christmas Market
About 1.5 hours by train from Frankfurt is Düsseldorf, the swishy modern fashion capital of Germany. With a series of different themed markets scattered around the city, plus a giant skating rink, ferris wheel and a Lindt Chocolate Store that gives out free samples (hot tip), Düsseldorf is an awesome German Christmas market destination you need on your bucket list.
Click here to read about the different Christmas markets you can explore in Düsseldorf!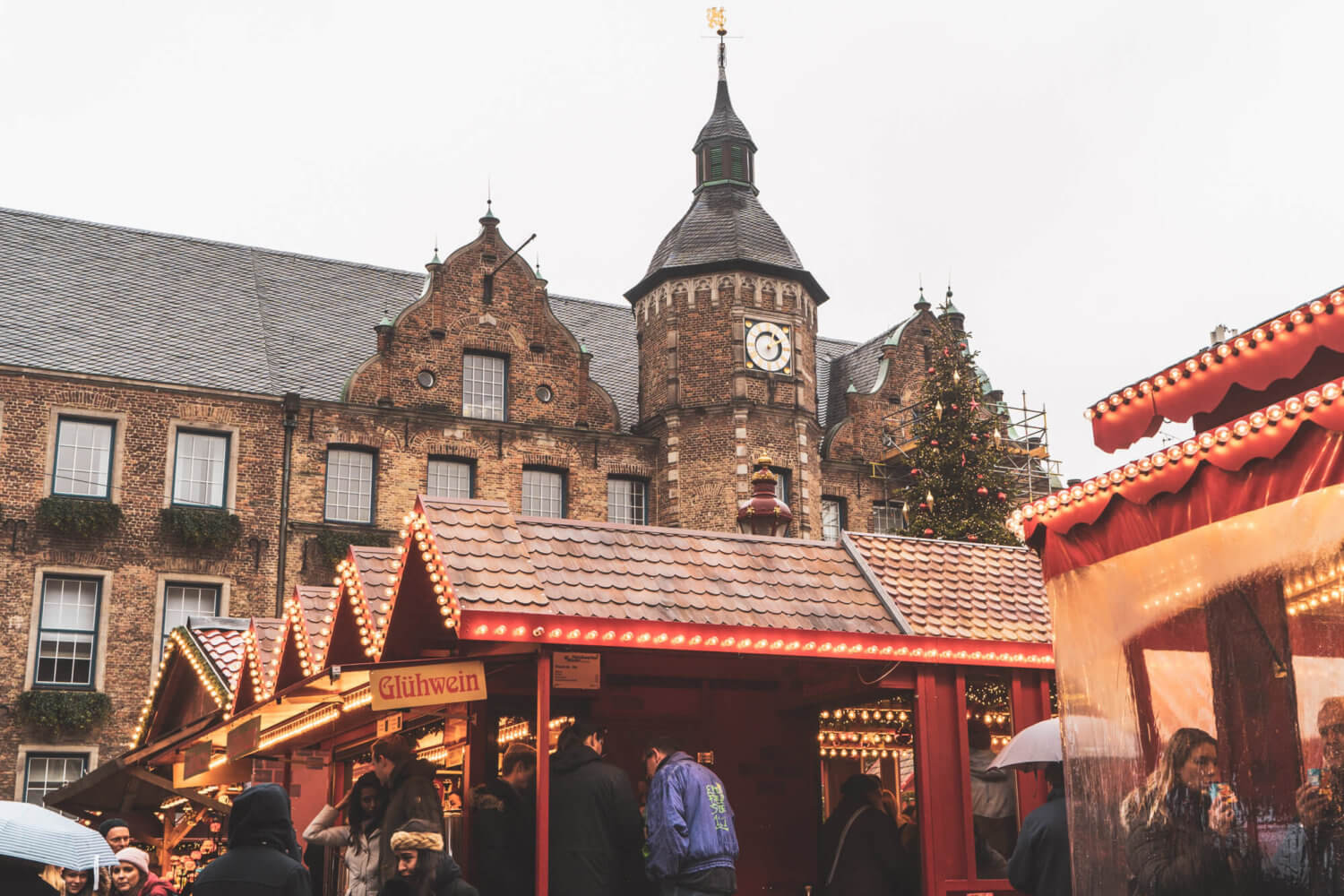 Any more questions about the Frankfurt Christmas Market?
Let me know in the comments. I hope you have a magical Christmas in Frankfurt, Germany and that this guide was helpful for you. Have a safe trip!
My Go-To Travel Favourites: