*FYI - this post may contain affiliate links, which means we earn a commission at no extra cost to you if you purchase from them. Also, as an Amazon Associate I earn from qualifying purchases. Check out our Privacy Policy and Disclosure. for more info.
Winter in Europe is a truly magical time of year providing a treasure trove of enchantment and wonder… but if you're wondering where exactly to go, then 1) congrats on the first world problem and 2) get ready for an onslaught of recommendations.
I adore travelling Europe during winter time. When I lived in Munich, I spent every winter ferociously lunging at every wonderland I laid eyes on. Off-season crowds? Off-season prices? And festive magic sprinkled in between? There's no going wrong.
Whether you're looking to traipse around a real life snow globe, eat your weight in Christmas market treats, or bask in some winter sun, Europe has options. Possibly too many options, which is exactly why you're here.
So, keep scrolling for some of my top picks for European winter destinations, from snowy wonderlands and festive Christmas markets to warmer winter destinations where you can laze in the sun like a leathery walrus. Prepare your bucket list, folks – you're gonna want it handy.
Find the Right European Winter Adventure for You!
As I mentioned, this post will cover a wide range of European winter getaways, from snow-dusted fairytales to warm hideouts where you can soak in all the Vitamin D your face can handle.
Depending on what you're looking for, you might want to jump to…
Europe Winter Packing Essentials:
1. Iceland
Winter in Iceland is a freezing cold (but absolutely dreamy) affair, with lucky visitors getting a chance to see the country's already epic landscapes cloaked in layers of enchanting snow.
Winter of course also brings with it the possibility of catching some dazzling Northern Lights, and a fraction of the crowds you'll typically find in the summer, meaning a rare chance to feel like Iceland is (almost) all yours.
I did a week long camper van trip a few winters ago and while I genuinely did sleep in pretty much all my clothes, every biting bit of cold was worth it. My first time seeing Iceland's Northern Lights for instance happened to coincide with a midnight pee break, which has set the bar pretty high for any future pee breaks in my life.
Afraid of the cold? Don't worry – there are plenty of wonderful opportunities to warm up in Iceland, whether that's wading through the milky waters of the (naturally heated) Blue Lagoon or with a comforting bowl of Kjötsúpa, Iceland's national soup.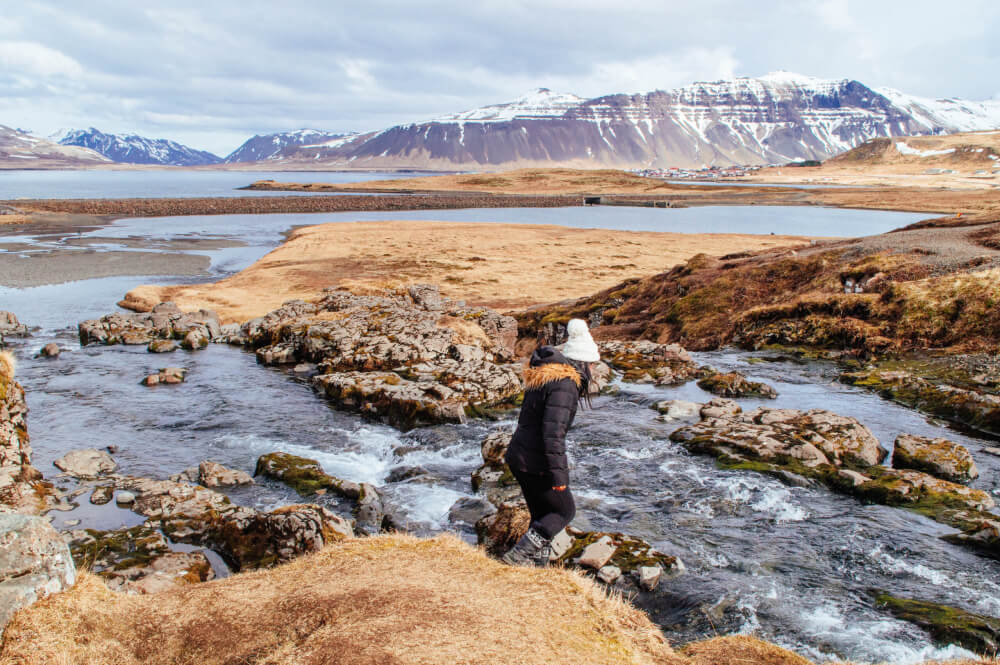 2. Switzerland
Next up: Switzerland! I could talk about this country all day.
While renowned for its year-round beauty, there's no doubt that Switzerland becomes particularly enchanting in the winter, with views, chocolate and fondue in abundance.
For mountain lovers, the Swiss Alps transform into a snowy playground for skiers and snowboarders, with world-class resorts like Zermatt and St. Moritz offering breathtaking slopes (and the dreamy Glacier Express train connecting them).
And for history and culture lovers, Swiss cities offer plenty of museums and unique indoor attractions that are perfect for winter time.
In Basel for instance, there's the unique Museum Tinguely, which houses an epic collection of kinetic art that comes to life with buttons you control, and in Lucerne there's the shockingly epic Museum of Swiss Transport, AKA Disneyland for transport nerds like me.
Of course, if you time your visit for the festive season, many places in Switzerland also have gorgeous Swissmas markets as well. As I said, there are many reasons to visit… just make sure you read my Switzerland must-knows before you go.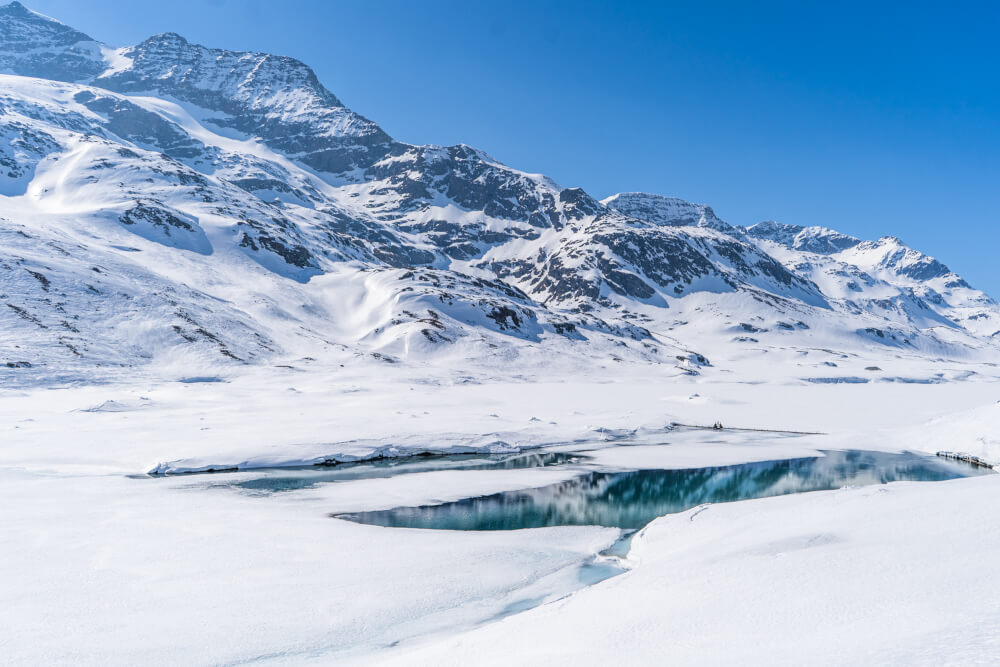 3. Lake Bled & the Julian Alps
Looking for a winter getaway in Europe that's more off the beaten path? In northwest Slovenia, you'll find another winter wonderland blessed with snow dusted mountains, idyllic landscapes and plenty of opportunities for outdoor adventure.
The most famous gem of this region is Lake Bled, a pristine lake with a church-crowned island in the middle… one you can reach through a traditional wooden boat (known as a Pletna) or admire through this oh so glorious sunrise hike.
But that's not all! There's also Bled Castle nearby, the equally stunning Lake Bohinj 30 minutes away and the popular resort town of Kranjska Gora, famous for its winter sport offerings.
Add on thermal springs for keeping warm and the delectable Bled Cream Cake for keeping happy, and you have pretty much everything you need for the perfect European winter escape.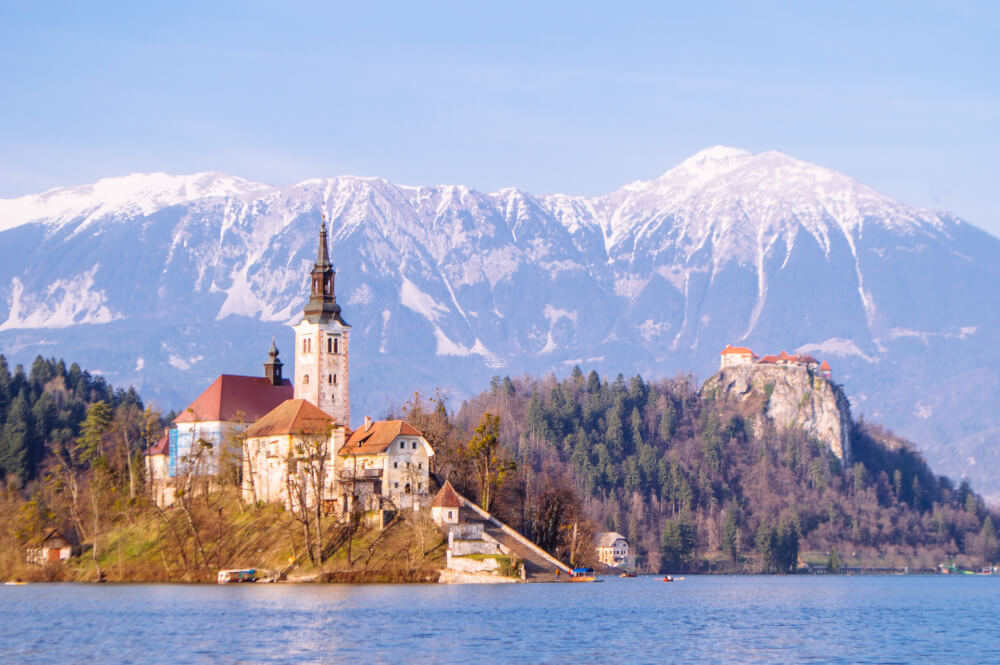 4. Lapland
It's a region that has become synonymous with the holiday season, so little surprise that Lapland has made my list of European winter destinations…. despite the fact that I haven't made it there myself.
But there's good reason for that! This scenic region of northern Europe is split across the northernmost bits of Finland, Sweden, Norway and Russia, and epitomizes cozy winter vibes with its snowy landscapes and wealth of wintery activities like dog sledding, snowmobiling and even visiting Santa Claus himself.
Rovaniemi is probably the best known destination here, thanks to some genius marketing that has made it the official hometown of Santa himself. Buuuut you'll find plenty of other winter joys across this scenic winter-wonderland, from the longest toboggan run in Europe (Kaunispää by Saariselkä) to the world's first and largest hotel made of ice and snow.
So yes, if you want snowglobey winter, go to Lapland.
NOTE: While the winter fairytale of Lapland has eluded me so far, I've personally done winter trips to an array of Nordic cities like Bergen, Helsinki, Stockholm and Copenhagen and can highly recommend them, but more on that last one later.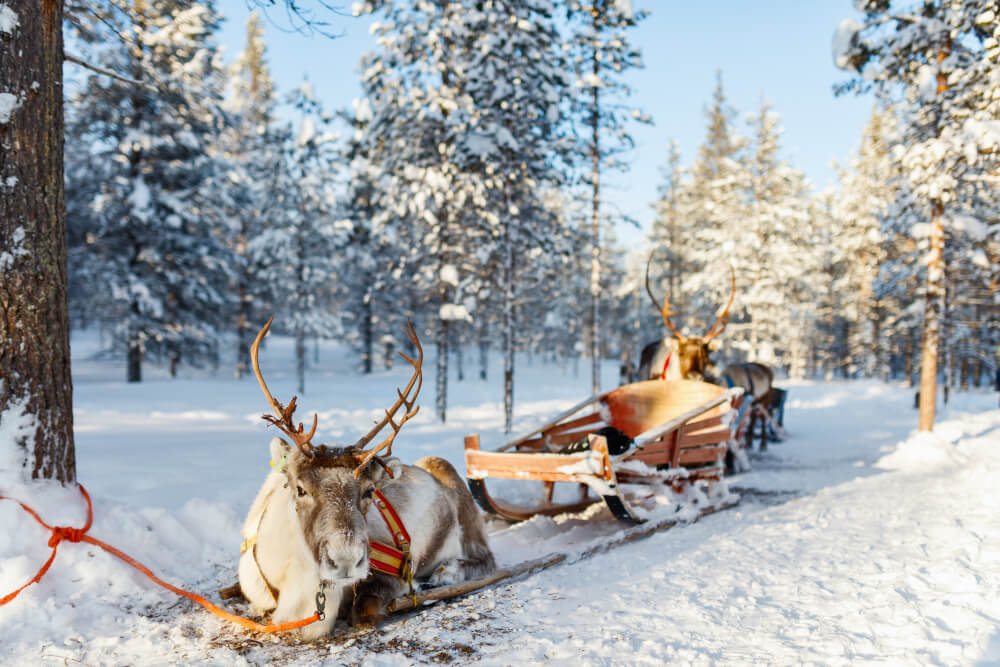 5. Germany
I know that's a wide net to cast, but hear me out: the entire country of Germany made this list because you'll find enchanting Christmas markets in pretty much every city, town and village. I'm not joking.
From globally famous Christmas market cities like Cologne and Munich, to quieter hidden gems like Ludwigsburg or Esslingen, Germany at Christmas time is the most delightful place, and made the endless bureaucracy I endured living there worth every tear.
For optimal idyllic vibes, I would recommend visiting concentrating your efforts around the Alps, where snow capped mountains offer an impossibly magical backdrop, along with excellent skiing and snowboarding for those of you who are sportier than me.
Combined with an irresistible roster of warming food and drink, from Glühwein and schnitzel to crispy potato pancakes, and it's easy to see why millions flock to both Germany for their Christmas markets every year.
NOTE: Beware that some Christmas markets aren't open for the entire season, so plan accordingly. You can learn more in my article about Christmas market must-knows.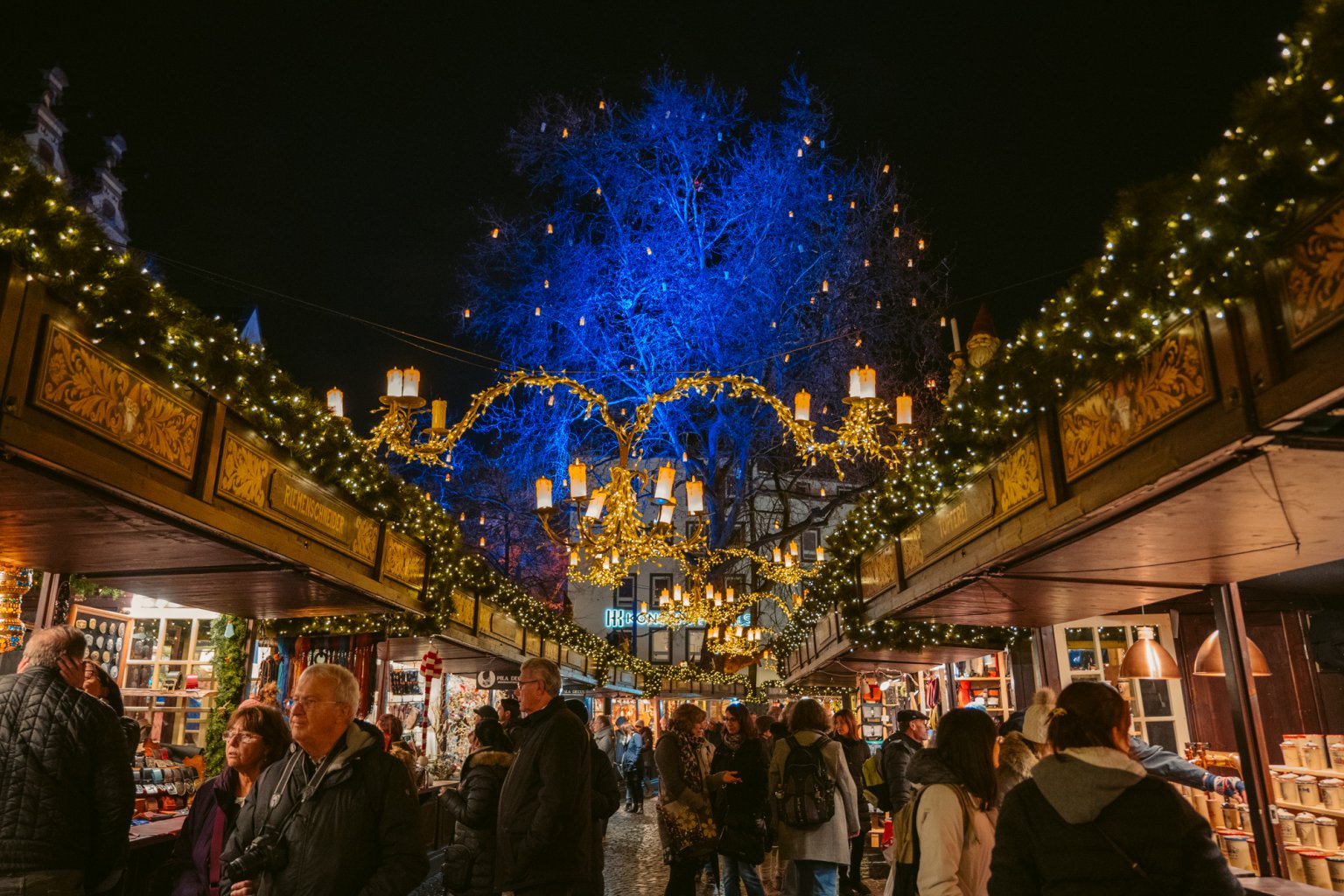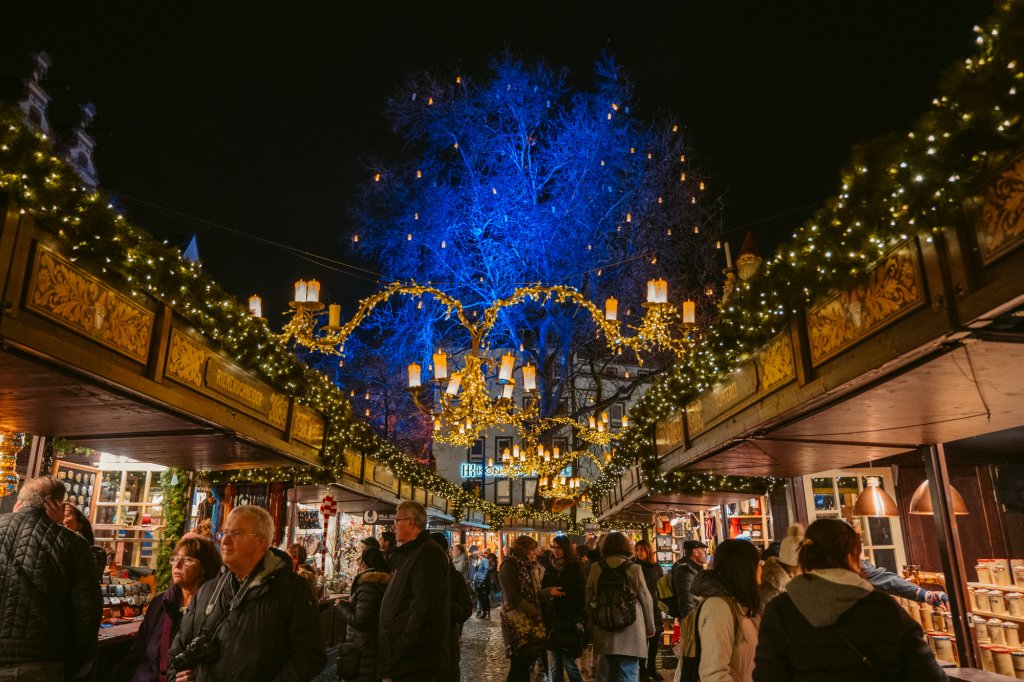 6. Austria
Just like in Germany, Christmas markets are serious business in Austria, with festive markets scattered all across the country as soon as the Advent season hits. So, for the sake of being thorough, why not add this entire country to the list too?
From the world-renowned ski resorts of the Austrian Alps to the festive markets that grace Vienna and Salzburg, there's an unmistakable sense of magic in the air as soon as you step foot in Austria.
Visitors can revel in the crisp mountain air, savour a cup of life-changing Glühwein, and partake in exhilarating winter sports, all while being surrounded by the country's signature landscapes.
Plus, if you time your visit for around St Nicholas Day (Dec 6), you may get to experience one of the most unhinged and frightening holiday traditions in Europe: the Krampuslauf, or Krampus Run.
Think an endless parade of half man, half goat demons who scare bad children… and grab unsuspecting tourists. Tyrol is especially known for this event, but you'll find it in many other parts of Germany and Austria as well.
PS: Don't forget to steal all my best Austria travel tips before you go.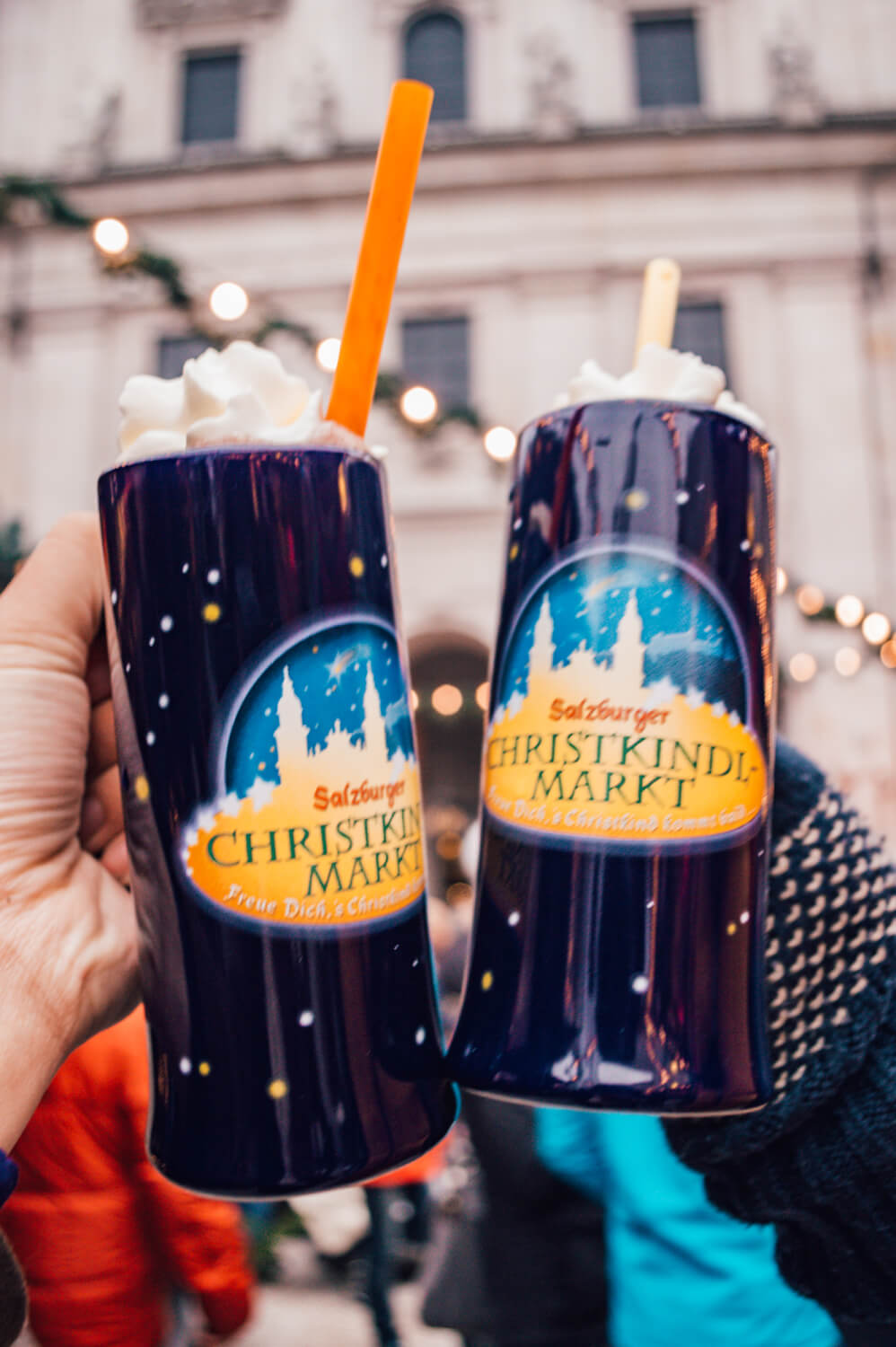 7. London
Now, if there's one place in Europe that does glitzy Christmas well, it's London.
Come Christmas time, the English capital transforms into a magical wonderland of twinkling lights, with outrageously glamorous light installations, and a variety of pop up Christmas markets across the city in iconic locations from the bustling Southbank to vibrant Trafalgar Square.
Granted these markets aren't as cozy as the traditional ones you find in Germany and Austria but London makes up for it with showmanship and flair elsewhere, with some of the best beautiful storefronts and displays you'll find anywhere in Europe. You can check out my full Christmas in London guide to see what I mean.
Plus, there's nothing quite like enjoying a traditional Sunday roast in a cozy London pub to warm the soul. The crowds will be wild though – just warning you. Try to time your visit for Sunday – Thursday to avoid the worst of them (and read up on my full list of London travel tips to be fully prepared). I'd recommend at least three days!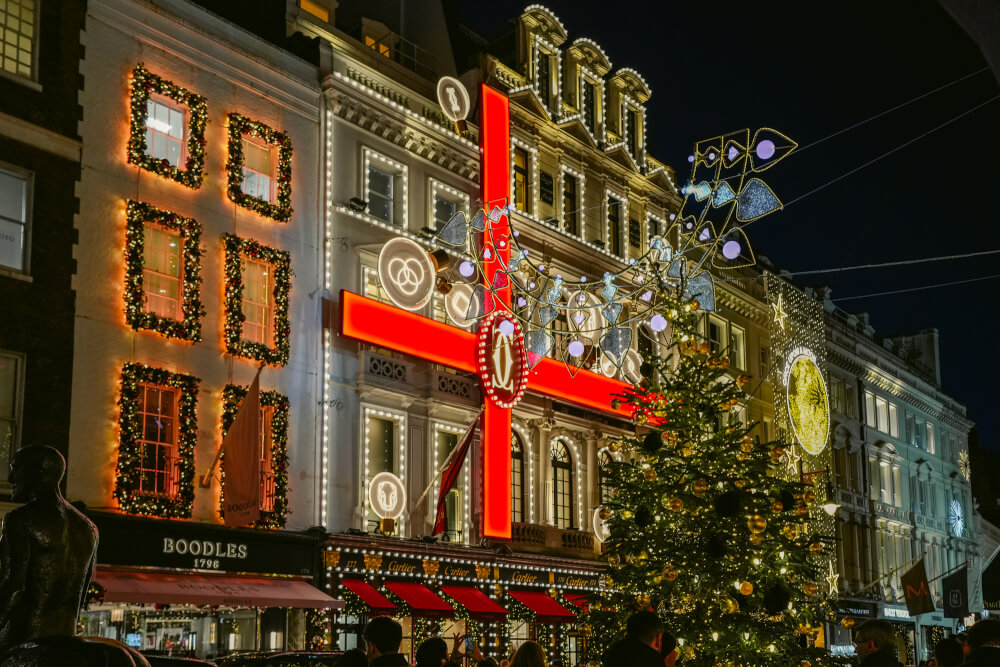 8. Paris
Another glamorous Christmas city? Paris, of course.
Paris at Christmas time exudes romance and charm, with the City of Light living up to its name as its streets and boulevards sparkle with holiday installations and decorated storefronts.
I mean, imagine ice skating with the Eiffel Tower as your backdrop… or munching your way through an array of Christmas markets in iconic destinations like the Tuileries Gardens and La Défense. Are you crying yet? I am.
Plus, if it gets too cold, there's always plenty of opportunities for shopping, like in the famous Galeries Lafayette which has a new unique Christmas tree every year… as well as plenty of world class indoor attractions like the Louvre, Musée d'Orsay and many many more.
There's even loads of free things to do in Paris, so your budget doesn't have to suffer… although it probably will, because let's be honest, boulangeries exist. STILL – Paris is a wonderful winter destination, so make sure it's on your list.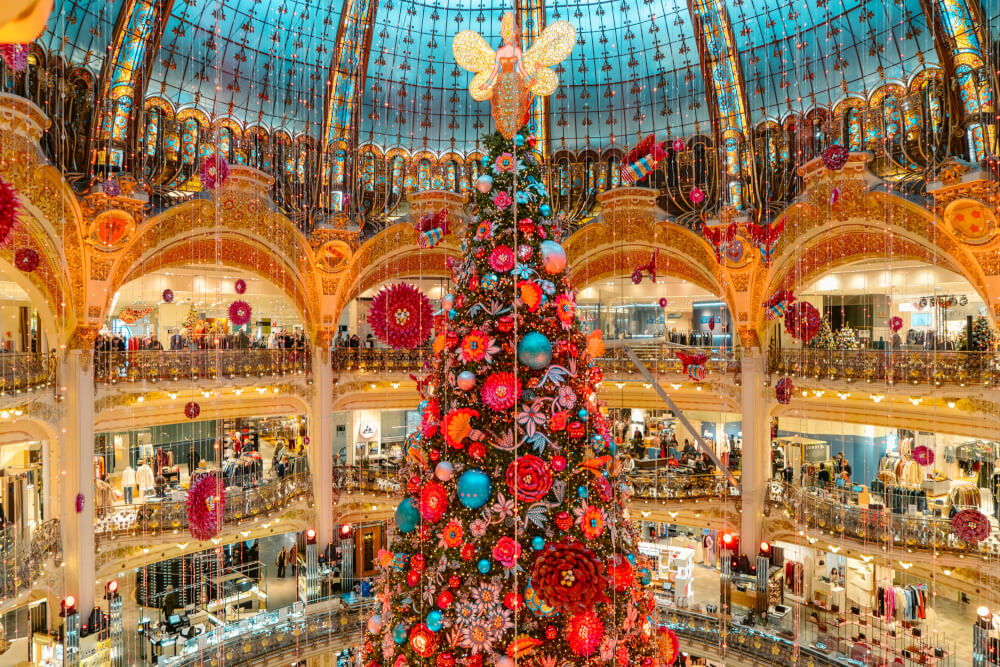 9. Alsace
The next festive must-see on our list is Alsace, a charming region in eastern France known for its endless parade of storybook towns, wineries and half-timbered houses in dreamy pastel shades.
Unsurprisingly, Alsace's many towns are a delight to visit at Christmas time, with festive makeovers that will make you swoon and sob in equal measure. I mean they decorate the buildings with bears. BEARS!
Larger cities/towns like Strasbourg, Colmar & Obernai will have multiple markets to choose from, and you'll find unique offerings throughout the region too, from the elf-themed market in Turckheim to the Blue Christmas event in Guebwiller. Check out my full list of Alsace's best Christmas markets for more details on the best places to cry. I mean visit.
And if that's not enough to convince you, Alsatian wine is just about the closest thing we have to drinkable magic.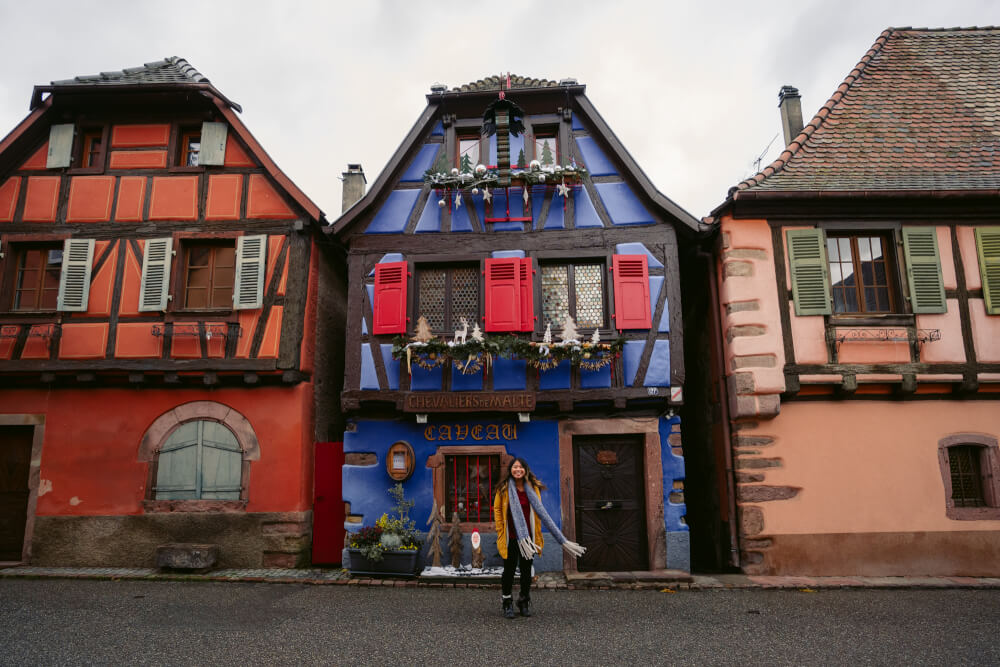 10. Copenhagen
And while we're on the topic of festive European capitals, I'd probably be glitter bombed if I didn't mention Copenhagen so let's chat about it now.
The Danish capital is known the world over for its pastries, but at winter time it shines especially bright, (not literally of course – it is in reality VERY VERY dark most of the day, but stay with me here…)
Come winter, the city is adorned with sparkling lights, pop up Christmas Markets and winter celebrations at Tivoli Gardens, the world's 2nd oldest amusement park, which transforms into a festive wonderland for the season. There's no shortage of fun things to do in Copenhagen at Christmas time – which is why I celebrated my birthday there a few years ago, ringing in a new year of life with the best gift possible: a violent Gløgg hangover.
Christmassy things aside, this time of year is also ideal for appreciating the Danish concept of Hygge, loosely described as a feeling of warmth, coziness and contentment. Perhaps this is why the hotel I stayed at offered free wine just after sunset. In any case, free or not, Copenhagen is crawling with cozy places to burrow, which is why it's one of my favourite European winter destinations.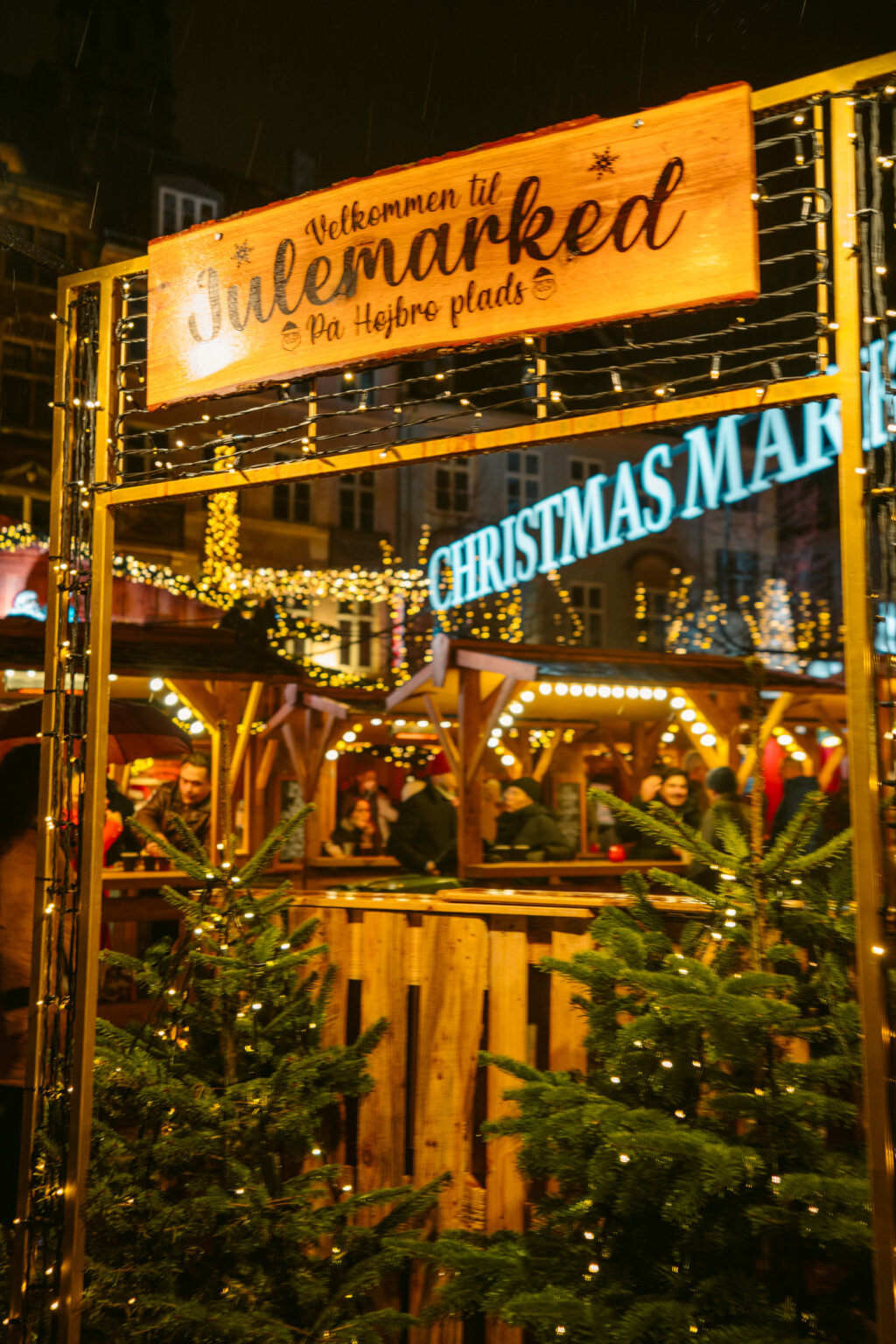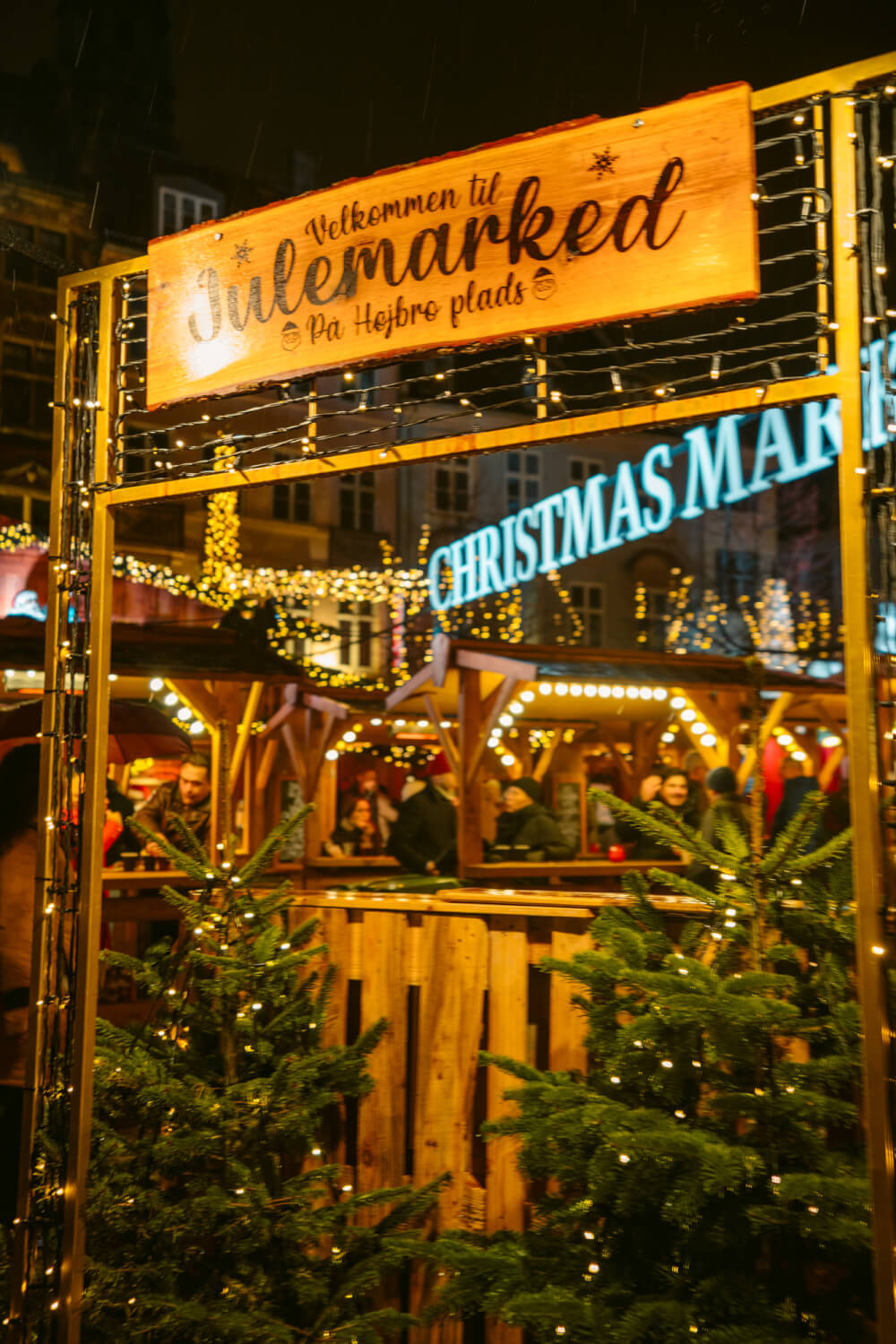 11. Poland
Lastly for this section, I need to talk about a country that's very much on my Christmas market bucket list that I haven't gotten a chance to visit, and that's Poland.
I feel like I could just show you photos of the Christmas markets here and that would be enough to convince you, because honestly every photo I've seen of them from Krakow and Katowice to Warsaw and Wroclaw look… frankly, unreal.
Plus there is no quicker path to joy in this life than a pierogi, so if you're looking for another festive winter destination in Europe, be sure to look into Poland.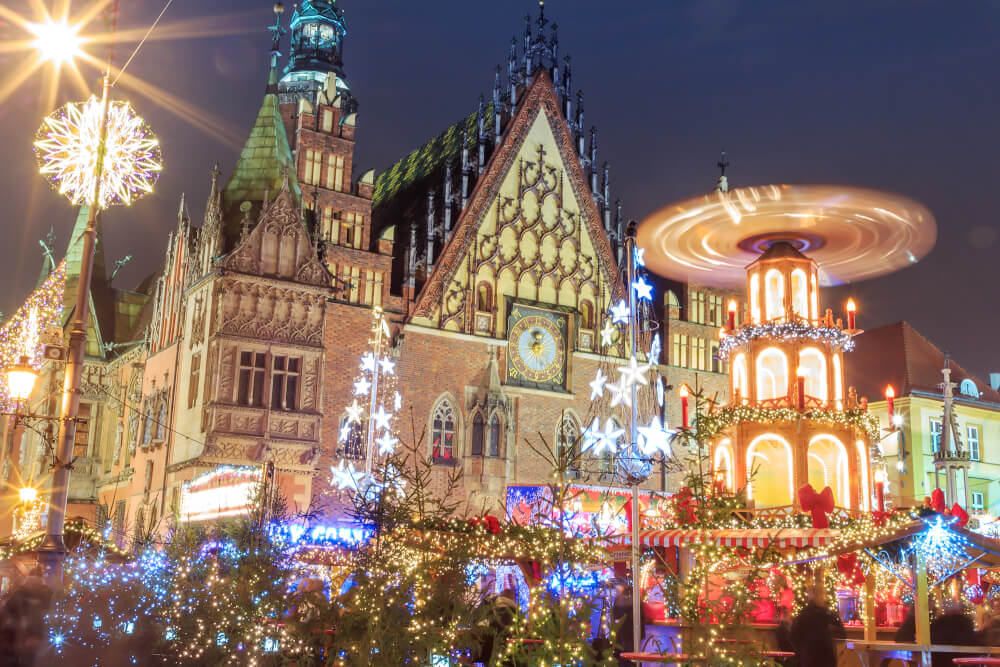 12. Vienna
Of course, it has to be said that winter in Europe offers more than just Yuletide celebrations. The season brings with it a ton of other unique celebrations as well – one of the most glamorous being ball season in Vienna which takes place between November to February.
Yes, ball season. And I don't mean baseball or basketball season. I mean fairytale Disney Bridgerton Ball season. And even tourists like you and me can attend… so long as we snag a ticket, of course.
During this magical season, Vienna's many magnificent venues open their doors to host a series of lavish ball events filled with guests in exquisite gowns and dapper tuxedos, all eagerly waltzing the night away. This unique opportunity allows you to immerse yourself in the romantic and refined world of Viennese ballroom culture, a tradition that has endured for centuries and remains an iconic part of the city's identity.
The best part? Many balls are hosted by professional guilds, so you can go to events like the Confectioner's Ball where there's a tombola that can win you 3000 cakes. Or the coffee maker's ball. Or the physician's ball which sounds like a spectacular place to meet a spouse.
Anyways, all that said, if you want to live your best Bridgerton life, then be sure to add this season of opulence, elegance, and old-world charm to your bucket list. More info here.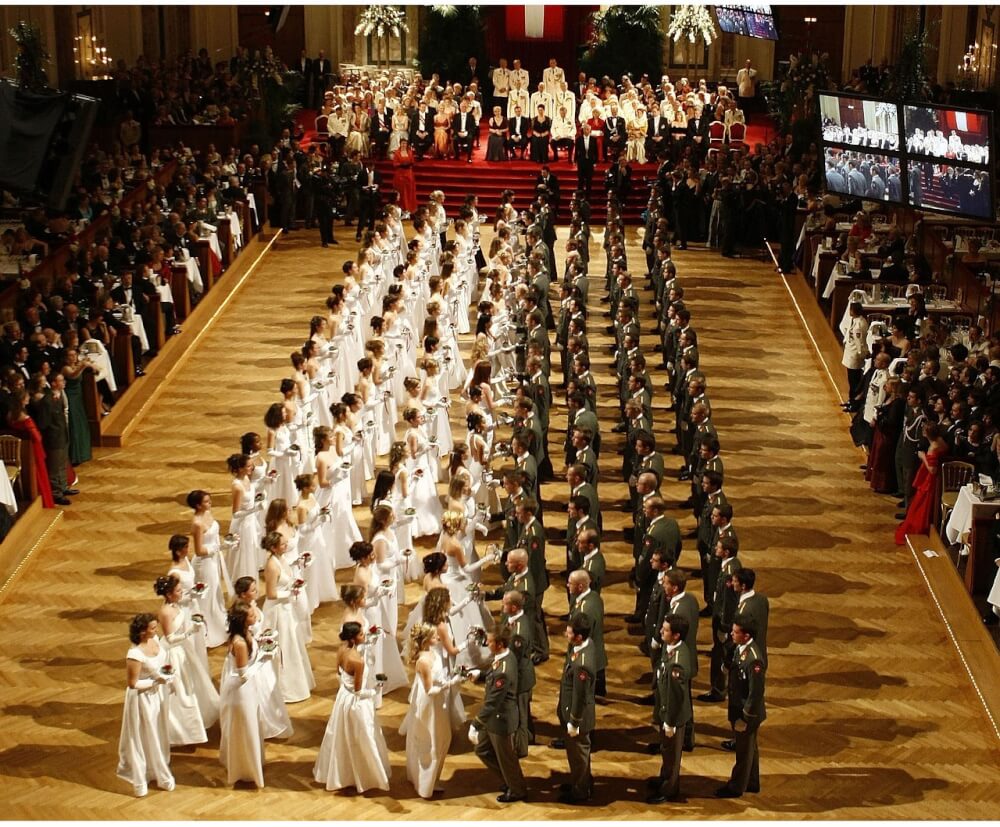 13. Cologne
January and February also usher in the most exciting parts of Carnival season, during which many countries host unique celebrations before Lent, like in to Cologne, known for its epic party period known as its Crazy Days.
Whether you're looking for exclusive masked balls or impromptu street parties, the 'Crazy Days' of the Kölner Karneval offer a diverse array of experiences for every type of visitor. Parades, performances, conga lines with Minions & Marios – you name it.
This is one of the best parties you can attend in Europe, so be sure to check it out!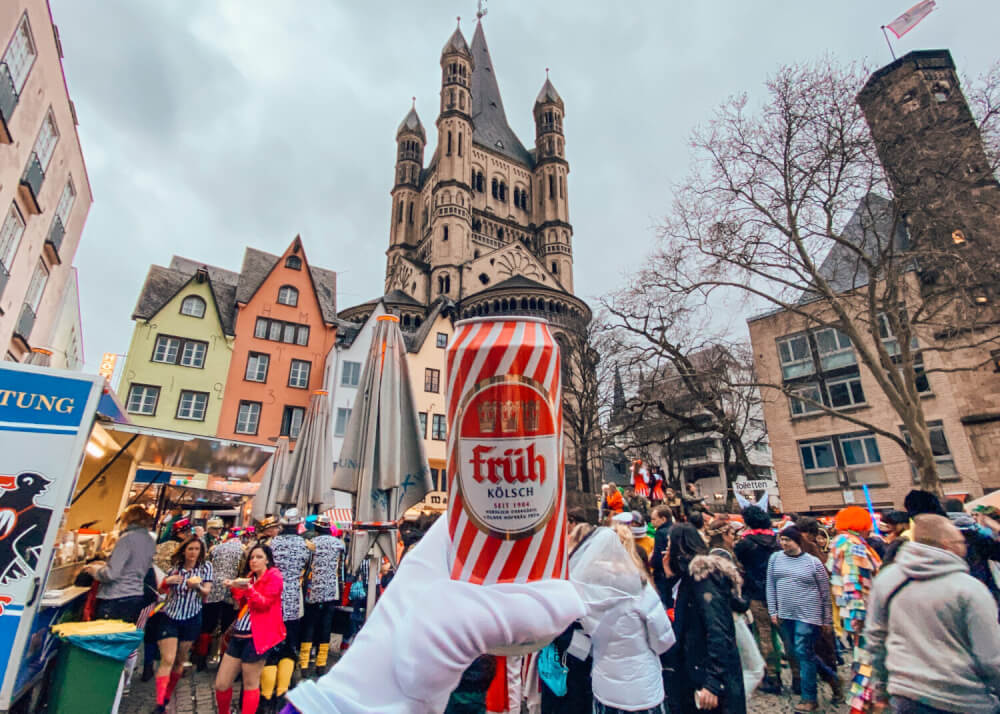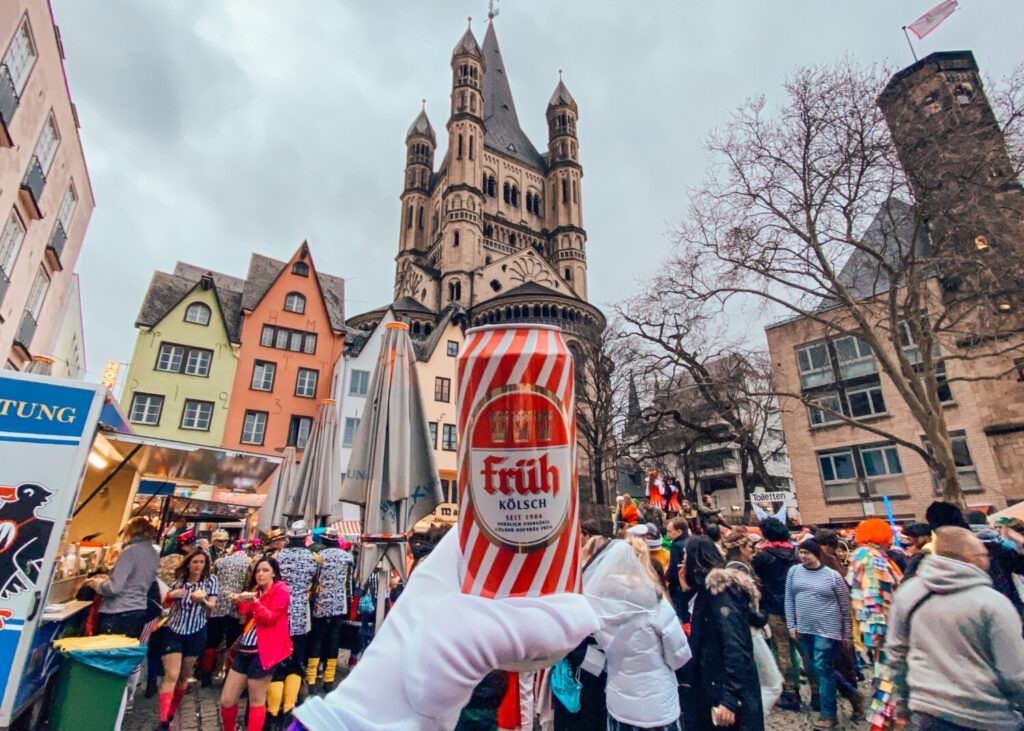 14. Venice
Speaking of Carnival season, I have to of course also mention Venice.
The Carnival of Venice is a celebration like no other, with its origins dating back to the 12th century. During this magical period, the city's streets, squares, and canals become a stage for elaborate masks and costumes, transporting visitors to a world of mystery, intrigue and severe mask FOMO.
Whether you're twirling away at a masquerade ball, or (more probably) gawking at everyone's elaborate outfits while sightseeing in a poncho, this special time of year is a must in Venice… so long as you don't mind crowds, because there will be loads of em.
Check out my full Venice travel tips post to learn more.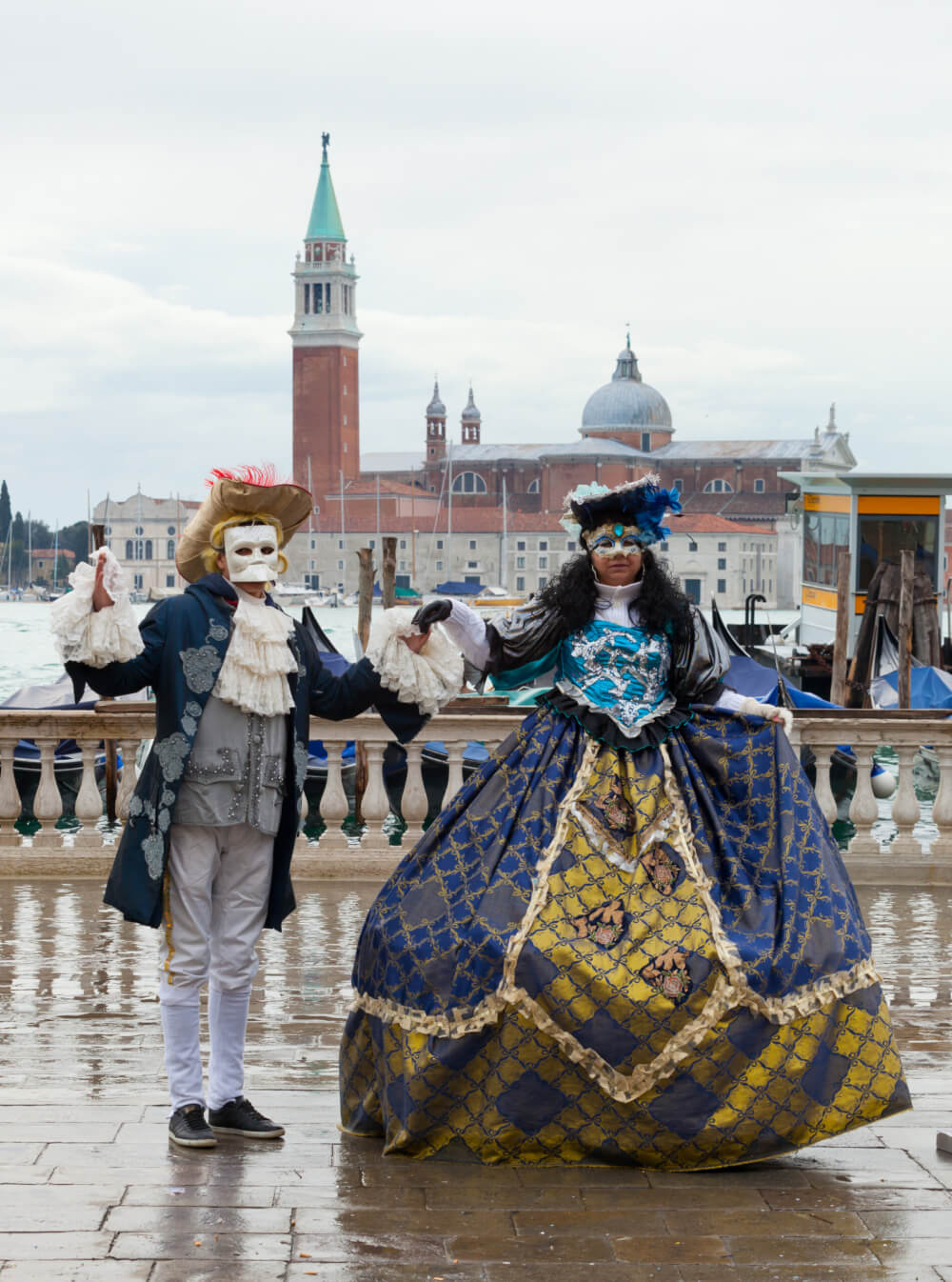 15. Rome
Of course, I have to say that pretty much any major touristy city in Europe is a delight to visit during winter time.
Why? Fewer crowds, and lower prices. Bliss!
When it comes to culture-rich destinations where the main attractions are museum and sights, I really think winter is one of the best times to go, which is why I think one of the best winter destinations in Europe is actually Rome, AKA the Eternal City.
I mention this in my Rome travel tips post, but as the summer crowds dwindle, Rome's historical treasures and iconic landmarks can be explored at a more leisurely pace, with winter's crisp air and clear skies providing the perfect backdrop for strolling through its ancient streets. And, if the weather's not cooperating, there's plenty of cozy spaces to slurp up signature Roman dishes… which isn't a bad consolation prize.
I actually hated Rome on my first visit, and it wasn't until a January trip that I realized what all the hype was about… and I've been back again since because of how much I loved it! So yes, be sure to consider this city break for your winter getaway… and steal my three days in Rome itinerary while you're at it.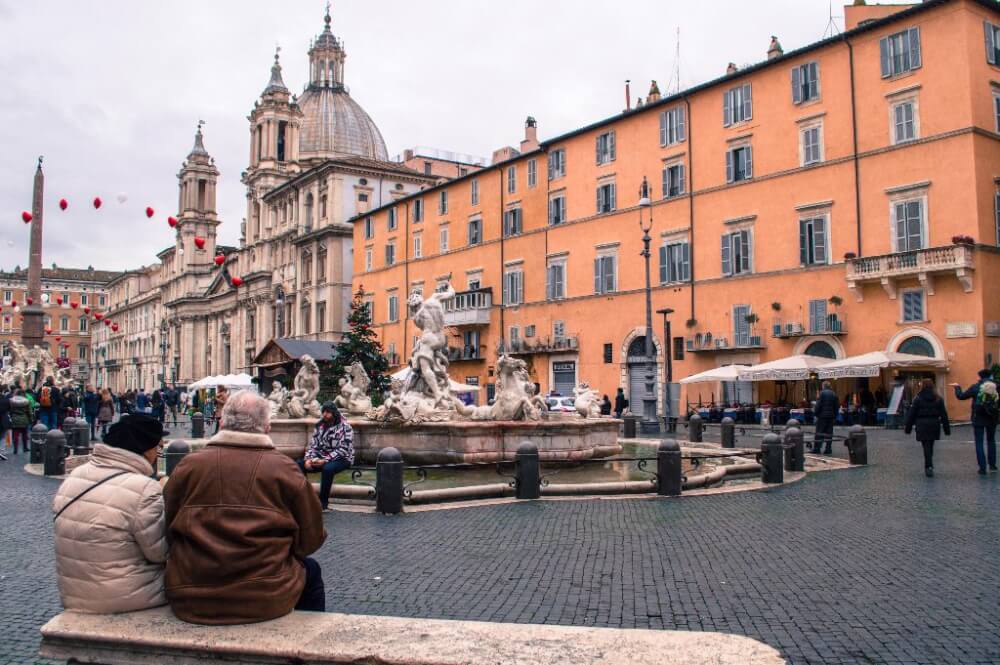 16. Madrid
Another lovely winter city break in Europe is Madrid… and I'm not just saying that because you can order churros in unfathomable quantities there.
(Although that's part of it)
Churros aside, the Spanish capital takes on a cozy, festive charm as holiday decorations adorn the streets, and the air is filled with a sense of celebration. The city's renowned museums, like the Prado and Reina Sofia, provide a warm place to hide from the cold, while the loving embrace of traditional Spanish dishes are ready whenever you need a break.
Of course, Madrid's iconic parks and plazas are still beautiful to explore even in winter months, with far fewer tourists to spar with too. All in all, Madrid in winter is a wonderful hidden gem, offering a perfect blend of cultural richness, festive cheer, and cozy comfort (plus a lot of unique Madrid things to do).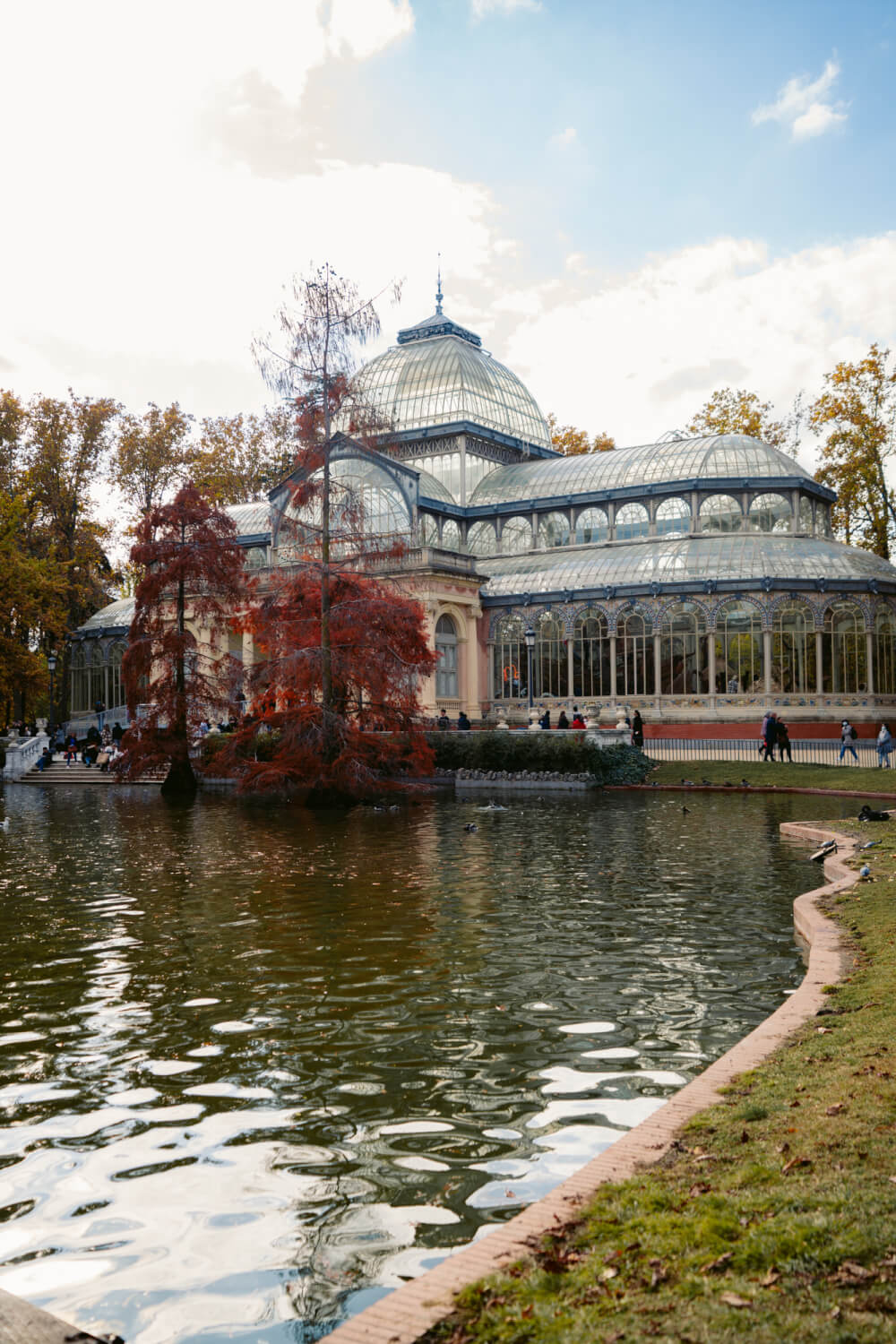 17. Budapest
Ah, onto another one of my favourites: Budpaest.
The Hungarian capital takes on a magical quality during the winter season, with the iconic Danube River winding through a landscape adorned with charming Christmas markets and festive lights.
The reason it has made my list though is not festive cheer… it's the city's thermal baths, like Széchenyi and Gellért, which offer a warm and relaxing escape from the winter chill, alongside traditional Hungarian dishes like hearty stews and delectable pastries.
Of course, Budapest's many historic sites, like its stunning Parliament Building, create a captivating backdrop for winter exploration… all with a fraction of the summer crowds. Honestly, I think this photo alone will convince you, so I'll just leave it here: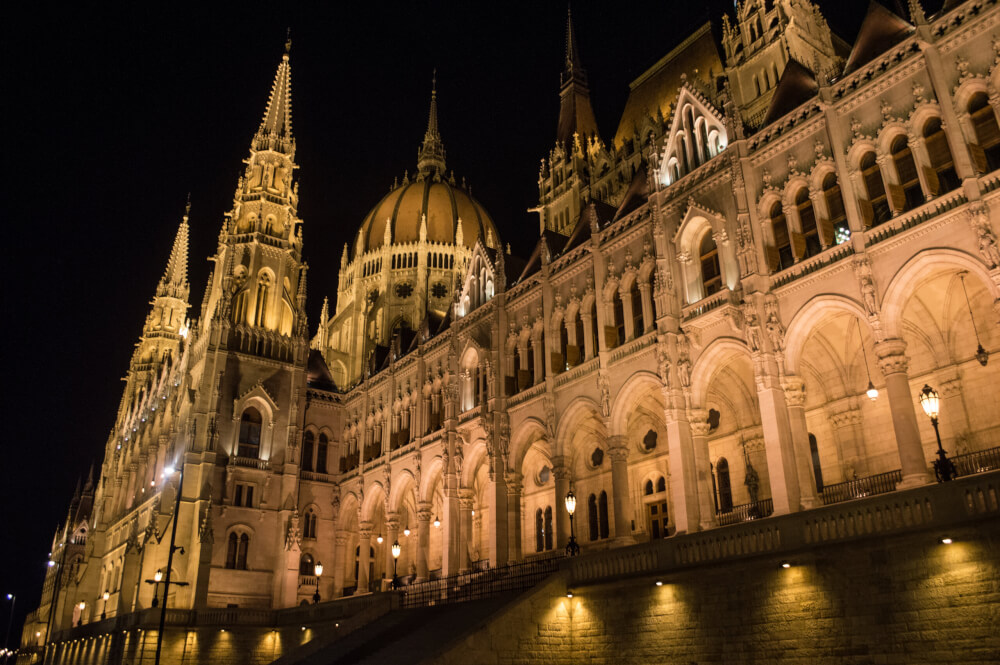 Now if you're hoping to escape the cold, then let's move onto warmer winter destinations in Europe for a sunny escape.
18. The Canary Islands
If it's near-guaranteed sunshine you're after, then the Canary Islands are a great place to start. This Spanish archipelago can be found off the northwest coast of Africa, with average winter temperatures that linger around 20°C (68°F).
With enticing unifying characteristics like balmy temperatures and pristine beaches, each island boasts its own unique draw, from Lanzarote's otherworldly volcanic terrain to Gran Canaria's dramatic sand dunes.
I've personally been to both Fuerteventura and Lanzarote during the winter (this may shock you, but I went for a surf camp), and while the winds can be fierce, the lack of crowds and ample sunshine make them well worth visiting.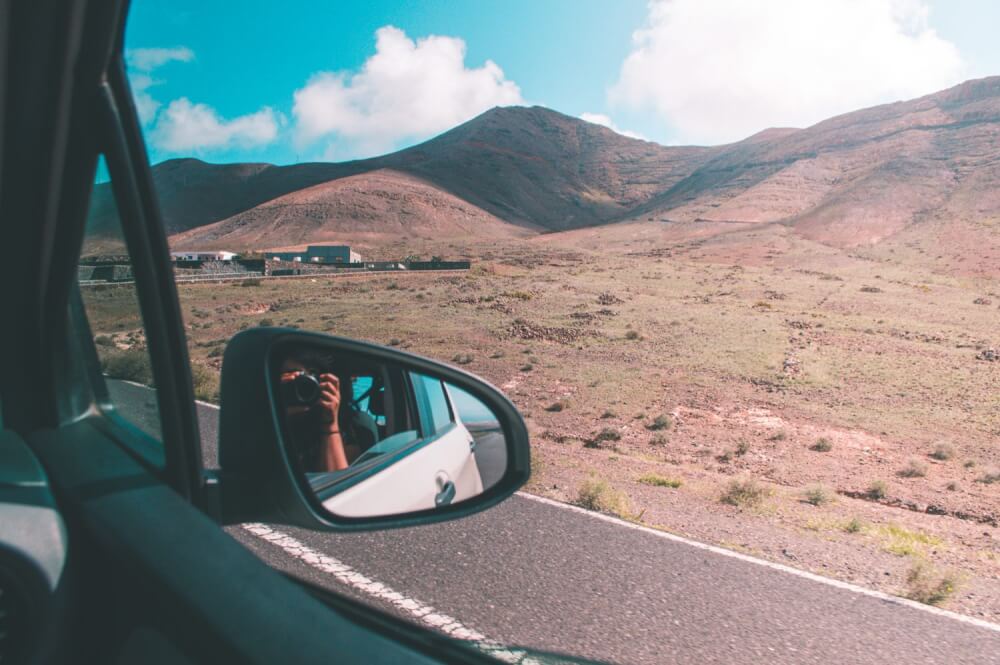 19. Malta
Next up: one of my favourite countries in Europe – Malta!
As an unhinged Malta fangirl most of the year, it should surprise no one that I think Malta is a great winter destination in Europe, seamlessly blending culture and sunshine, with mild temperatures averaging around 15-20°C (59-68°F).
While admittedly, these temperatures aren't ideal for sunbathing all day, the two main islands of the archipelago (Malta and Gozo) have plenty to offer by way of places to visit, cultural attractions and must-sees, from ancient temples and opulent churches to fascinating museums, all with lots of sunshine to soak in as you explore.
Of course, it helps as well that Maltese cuisine is absolutely delicious and worth a trip on its own. Read more about must-tries in my Malta travel tips post.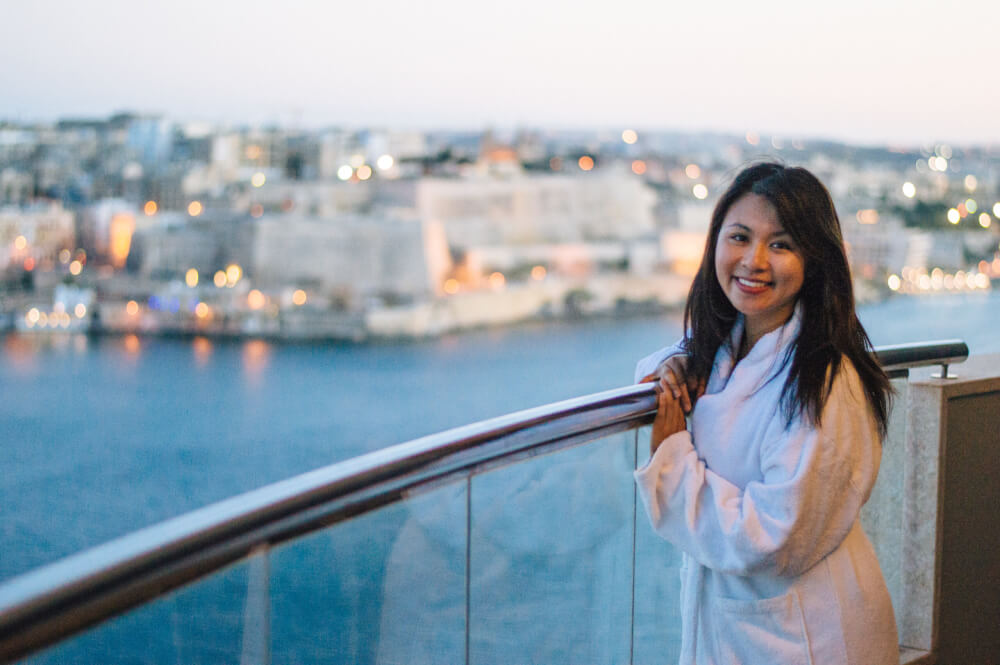 20. The Algarve
Another warm winter destination in Europe (beloved by all, but especially by Brits!) is the Algarve. As I mentioned in my Portugal must-knows post, this glorious region in southern Portugal is home to a number of beautiful beaches and dreamy stretches of dramatic coastline.
With average temperatures around 15-18°C (59-64°F), the region's golden beaches, rugged cliffs, and hidden coves remain inviting even in the cooler months, with a fraction of the usual summer crowds who flock to the region to drink, tan, and prune.
Charming towns like Lagos, Tavira, and Albufeira are perfect for strolling during this time of year, even if the temperatures aren't exactly roasting, plus wine and fresh seafood is always in ready supply… making it an excellent choice in my books!
NOTE: I've also heard wonderful things about Portugal's two autonomous communities of Madeira and the Azores, both beautiful archipelagos in the North Atlantic Ocean known for their staggering natural beauty. Although I have yet to go so please tell me in the comments if you've been because I'd love to hear more about it.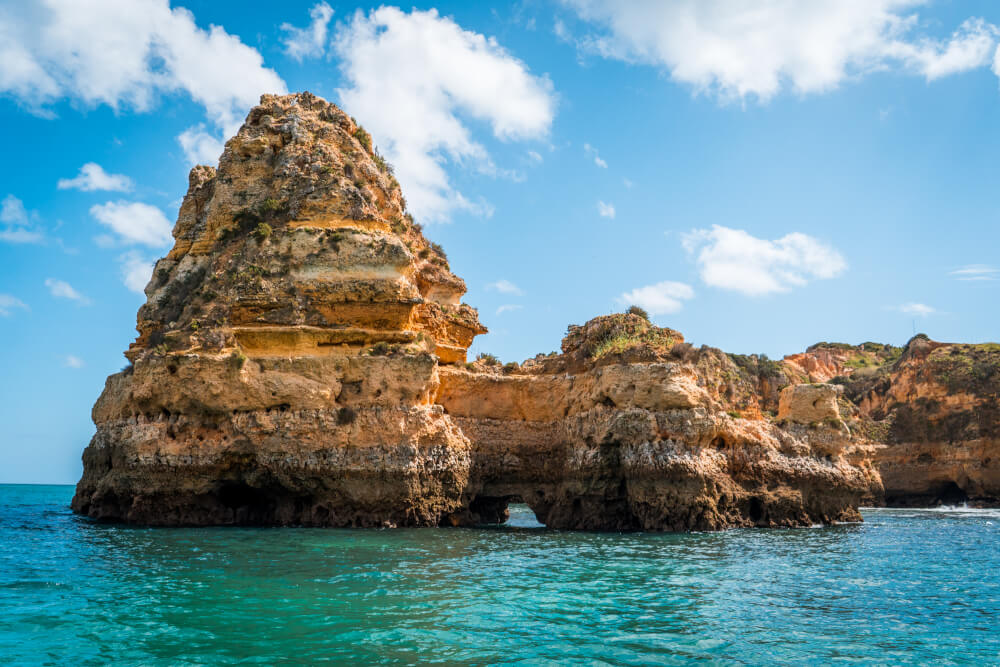 21. Southern Spain
Lastly, we have Southern Spain. I mention this region a lot (most recently naming it as a great Fall destination in Europe), but honestly, I think it's an excellent winter destination as well, tying history, food, and culture together in one scenic, sunny package. After all, with cities like Seville, Granada, and Malaga experiencing balmy tempartures averaging 15-20°C (59-68°F).
This time of year is perfect for escaping the region's summer crowds and often unbearable temperatures, with plenty of famous sights to take in from the epic Alhambra in Granada to the Real Alcazar in Seville.
There's also the Tabernas Desert here, which is often considered the only true desert in Europe. Read more about Spain in this full guide to Spain must-knows.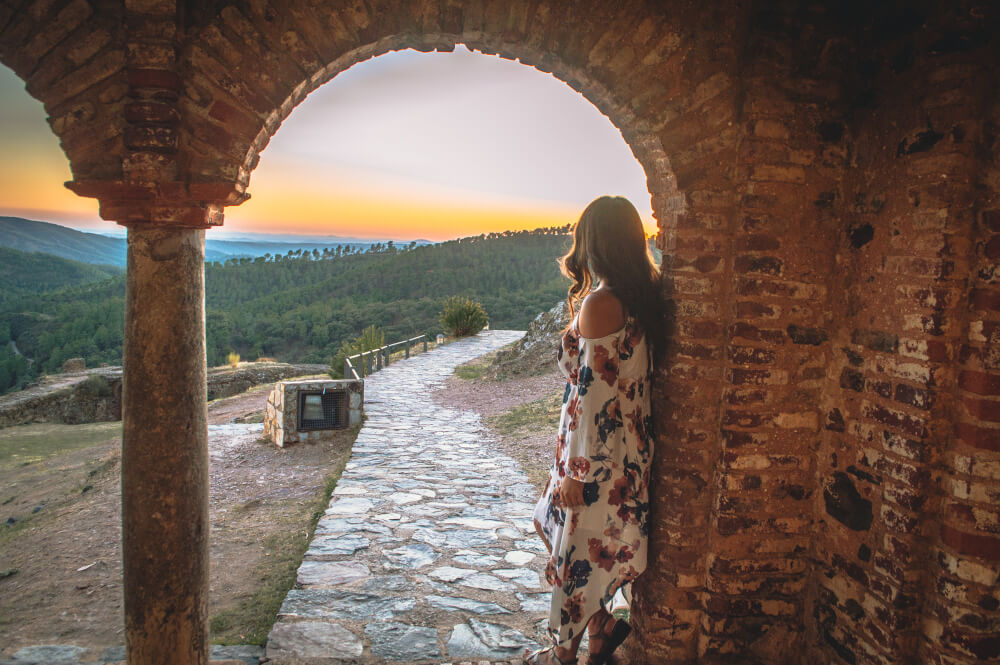 LASTLY: Of course if your goal is to simply find the warmest temperatures you can, then looking southward on the map is probably a good idea. Crete and Cyprus for instance are both known for their relatively mild winter temperatures, although some rainy days may be expected.
Did I Miss Any of Your Favourite Winter Destinations in Europe?
Let me know in the comments so I can add more winter must-visits to the list!
My Go-To Travel Favourites: