*FYI - this post may contain affiliate links, which means we earn a commission at no extra cost to you if you purchase from them. Also, as an Amazon Associate I earn from qualifying purchases. Check out our Privacy Policy and Disclosure. for more info.
If I had to pick an easy way to describe the sheer delight of Colmar's Christmas Market scene, I'd say it's pretty much the Disneyland of Christmas markets.
I mean… really. Everything in Colmar feels a bit cuter, a bit more magical, and bit like singing blue birds will emerge at any moment to assist with your mittens.
(There's even giant tantalizing churros!)
And while just like Disneyland, Colmar is a busy busy place filled with starry-eyed visitors keen to absorb its magic through osmosis, I'd argue its popularity doesn't impede on its magical allure….. that's right – juuuust like Disneyland.
Save this post on Pinterest for later: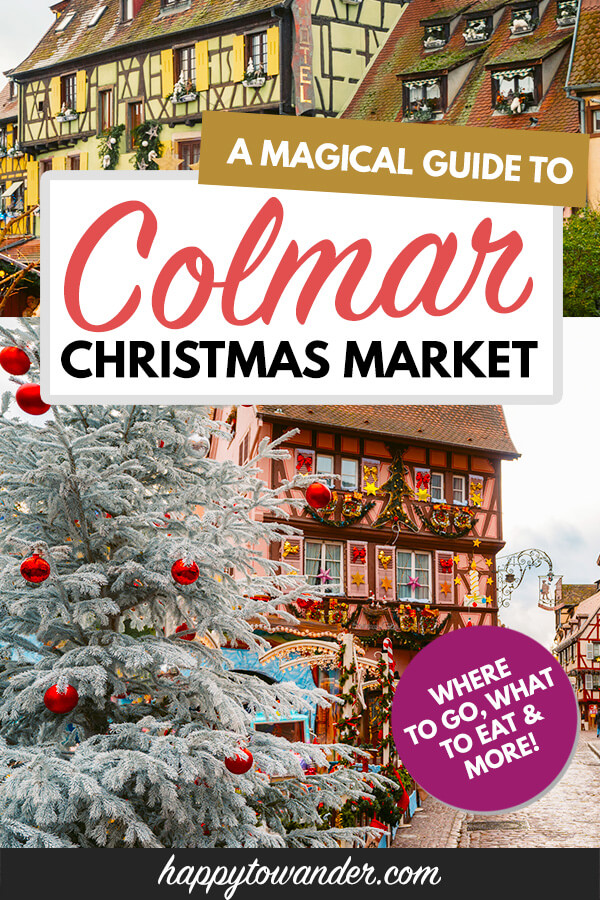 Truthfully, I've been to a lot of Christmas markets in my day (probably more than is healthy or socially acceptable), but I would rank Colmar among the most whimsically decorated and picturesque markets I've ever visited.
Sure it gets busy, but welcome to Christmas market season in Europe. It's all fun and games until you get elbowed in the face lining up for a mulled wine.
BUT – trust me, it's worth it. Especially when the markets are as pretty as Colmar's.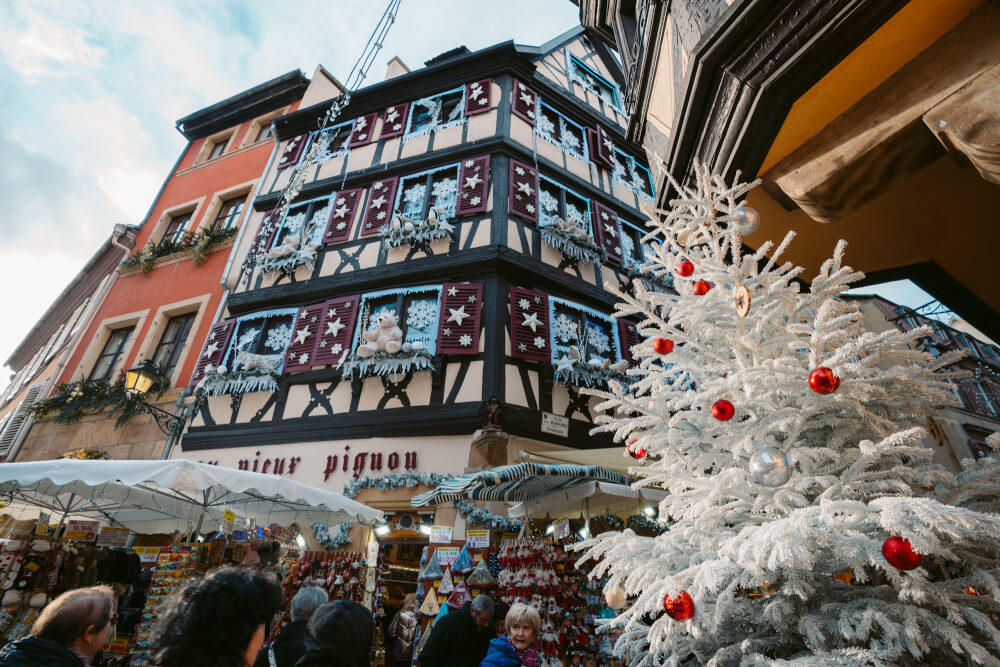 So if you're hoping to visit the beautiful city of Colmar in December to see all its Christmas markets, here's a little guide to show you alllll the amazing Christmassy things you can do, along with the best markets to visit, where to find the best Christmas facades, and more.
PS: If you're also visiting the nearby Strasbourg Christmas Market on this trip, read my guide for that here.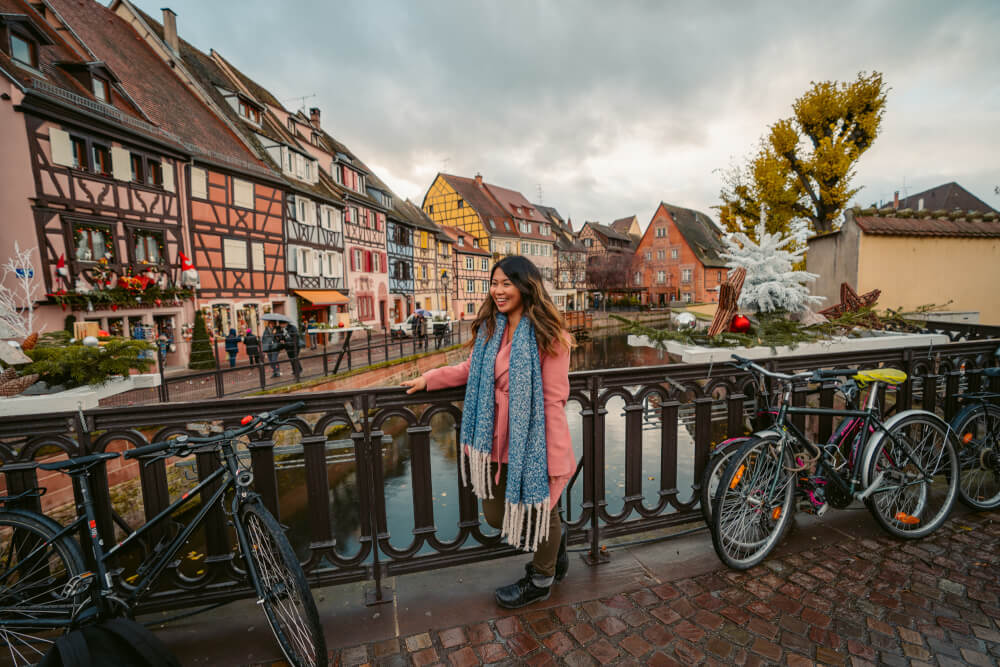 Colmar Christmas Market: Important Must-Knows
First – let's tackle the must-knows. If you're thinking about seeing the famous Colmar Christmas Market for yourself, here are some important things to keep in mind:
How to Get to Colmar:
Colmar is located halfway between the Alsatian capital of Strasbourg and beautiful Basel, Switzerland. Direct trains will connect you from either of these cities, along with some buses for a more affordable option.
To find the best deals, I always use Omio to compare/book transport options. It's a free tool that shows you the different ways to get from Point A to Point B and lets you sort based on price, times and convenience. Be sure to check it out to find the best route for you!
Colmar Christmas Market Dates: November 23 to December 29, 2023
Colmar Christmas Market Hours:
From Monday to Thursday: 10am to 7pm
Friday, Saturday & Sunday: 10am to 8pm
December 24: 10am to 5pm
December 25: 2pm to 7pm
Where to stay when visiting Colmar's Christmas markets:
While we actually stayed overnight in nearby Eguisheim, there are a lot of good options if you want to stay in Colmar.
Here is a very high-rated luxury option in the Old Town, and here is an affordable but reliable chain located near all the markets.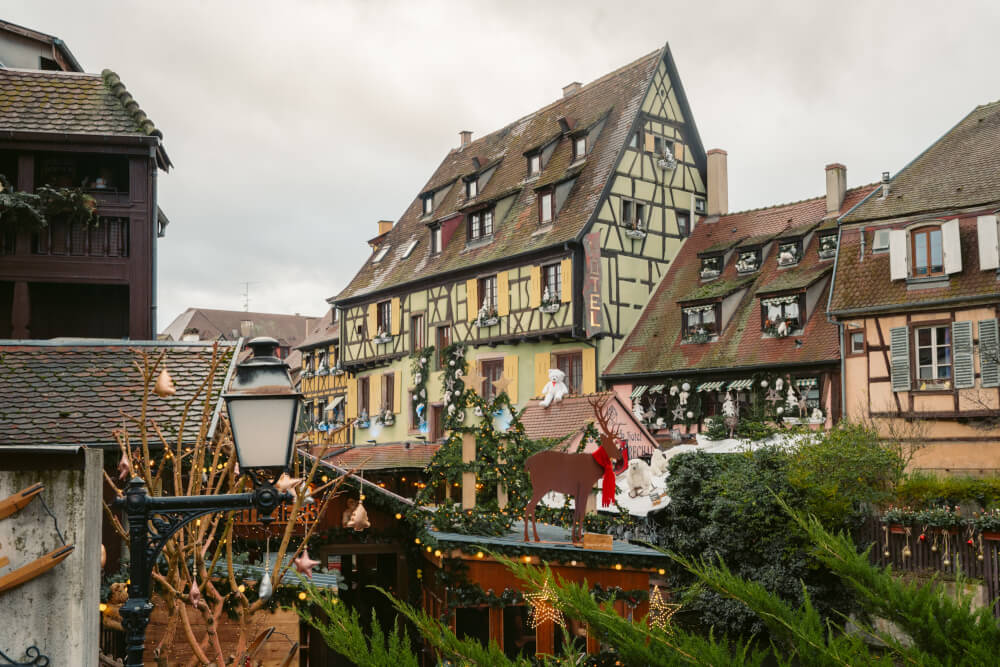 Colmar Christmas Market Locations Overview
The Colmar Christmas Market scene has six different markets scattered around the cutesy Old Town, including a brand new gourmet market that focuses on delicious made-to-order food!
Every Christmas market in Colmar has something different to offer, so here's a quick rundown of where to go and what to expect.
The Artisan Arts Market at Place des Dominicains
This was the first Christmas market we visited in Colmar.
Found in the shadow of the majestic Église des Dominicains, this market is dedicated to artisan arts from Alsace, which means you can expect to find stalls from all sorts of painters, glass blowers, jewelry makers and more.
Of course, there are some food options here too, including one of the few spots in Colmar where I spotted vin chaud being sold in cute boot-shaped mugs rather than the plastic cups which are more common throughout Alsace.
This would be the perfect place to pick up some ornaments or handicrafts as gifts. There's even a fun little children's ferris wheel that I would love to go on… but then again, bulldozing through a sea of children for a ride doesn't exactly scream 'Christmas spirit'…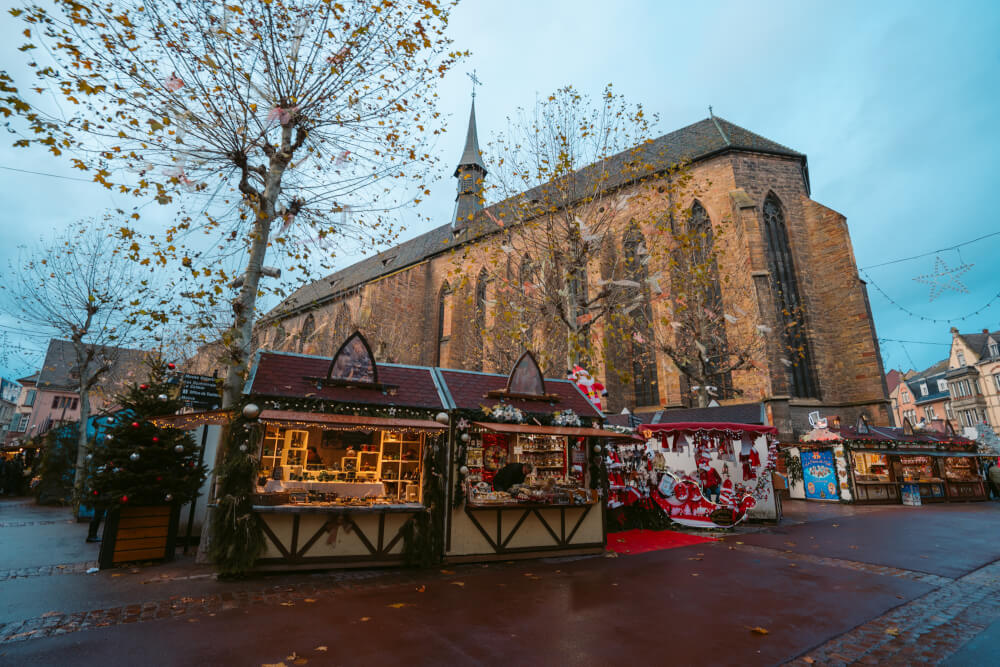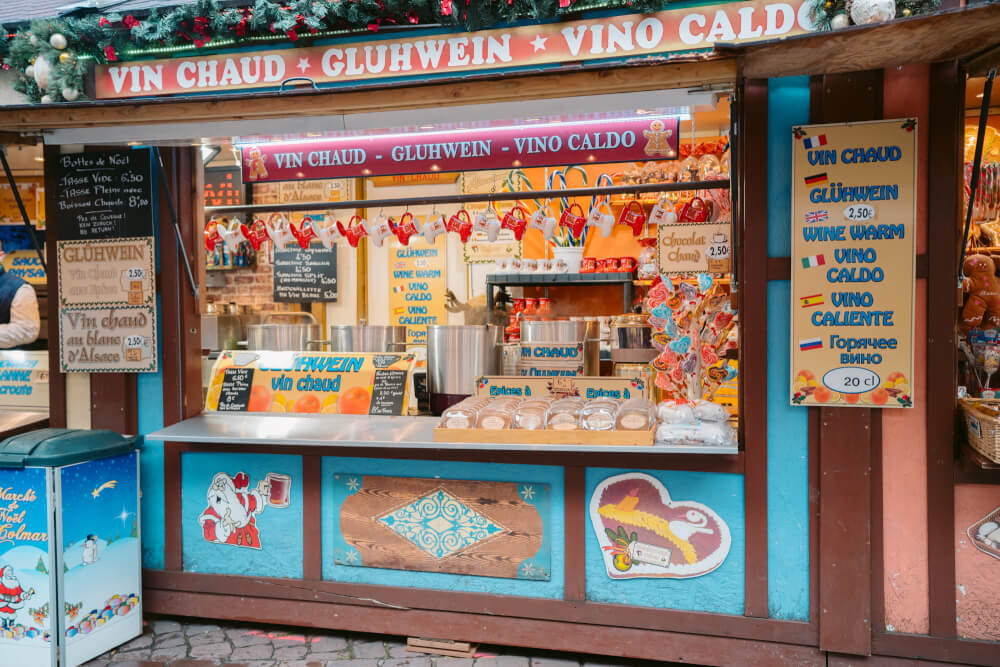 The Gourmet Christmas Market at Place de la Cathédrale
From there, the hanger began to settle in, so we headed straight for Colmar's newest Christmas market at Place de la Cathédrale.
This gourmet food market showcases 9 different little cabins with dishes prepared lovingly by 9 dedicated chefs. It's all undercover, so you're well shielded from the elements, which makes it the perfect place to stop for lunch if you don't mind standing room dining.
Full disclosure: you'll need to do a few loops around to decide what to eat – I saw loads of incredible options that made choosing impossible.
Eventually, I settled on a delicious Bouchée à la Reine, which was a delicious meat dish covered in buttery pastry (vol au vent), served with creamy little dumplings (späetzle).
It was honestly one of the best things I ate my entire trip, and a significant departure from the typical grab and go food you get from Christmas markets. My friends also tried the black truffle risotto, which was a very delicious vegetarian option.
PS: At this Christmas market, they also do cooking demos!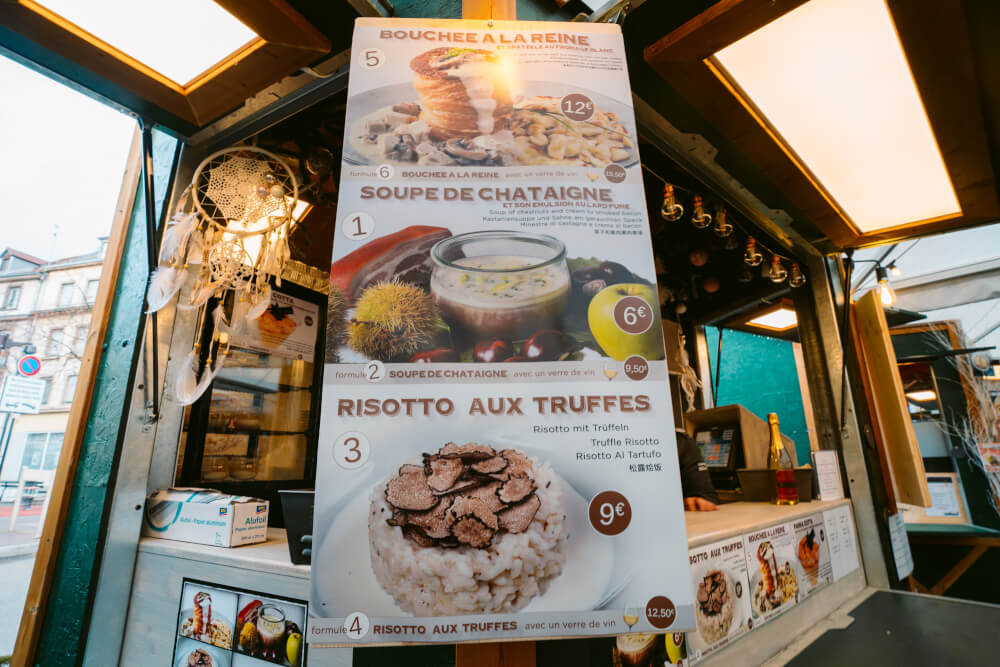 We then made our way to the indoor market at the medieval Koïfhus building, a perfect spot to warm up a bit and admire the work of local artisans.
This was one of my favourite Christmas markets in Colmar for shopping, because there was a huge variety of beautiful products made by local artists and craftspeople, including lovely jewelry pieces, adorable felt hats, elegant ceramic bowls, plates and more.
This was probably the best market to browse for unique items, and while not in a conventionally typical Christmas market setting, the Koïfhus building was also a beautiful, cozy venue.
One of the highlights for me were the elaborate gingerbread creations on display on the upper floor of the market.
No photos were allowed but these were some of the most intricately designed gingerbread houses and cookies I've ever seen in my life. It's well worth a stop here to check these out.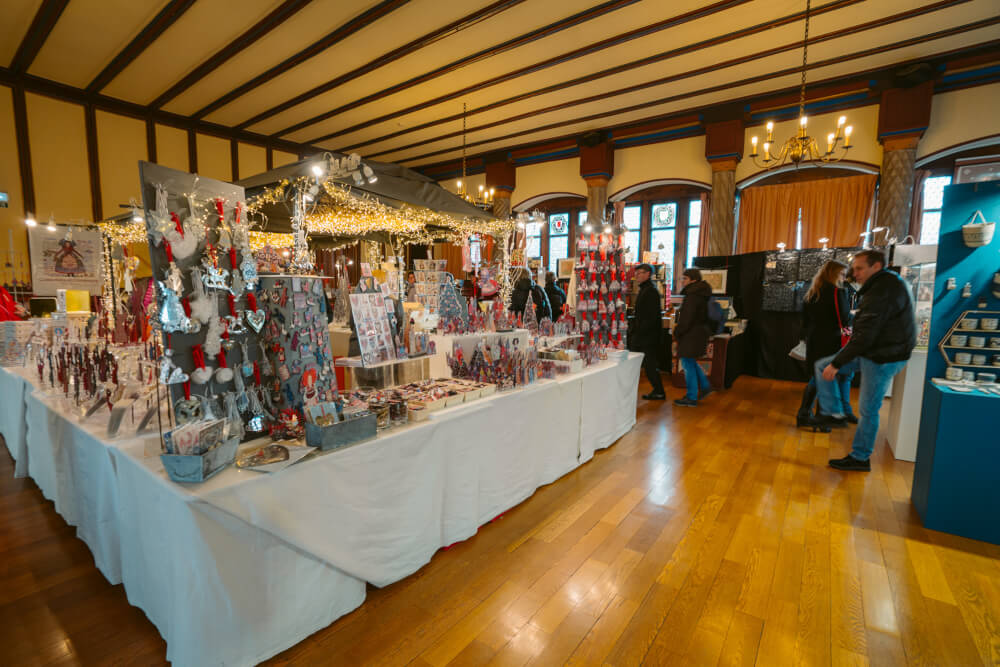 From there it was a quick walk to the next Christmas market on our list at Place de l'Ancienne Douane. This is one of the biggest Christmas markets in Colmar, with 50+ chalets arranged along the city's scenic canals.
With so many stalls to browse, the variety here is huge, from tourist-centric gifts like magnets and postcards to more unique handicrafts, and of course, plenty of food/bev items like craft beers, local wines, and handmade chocolates.
While this market was a lot more crowded and less cozy than the others, it's worth a stop for its beautiful setting and decorations, which are among the prettiest in the city.
I especially loved the displays placed over top the canals, including cute Christmassy scenes created with twigs, trees, and baubles.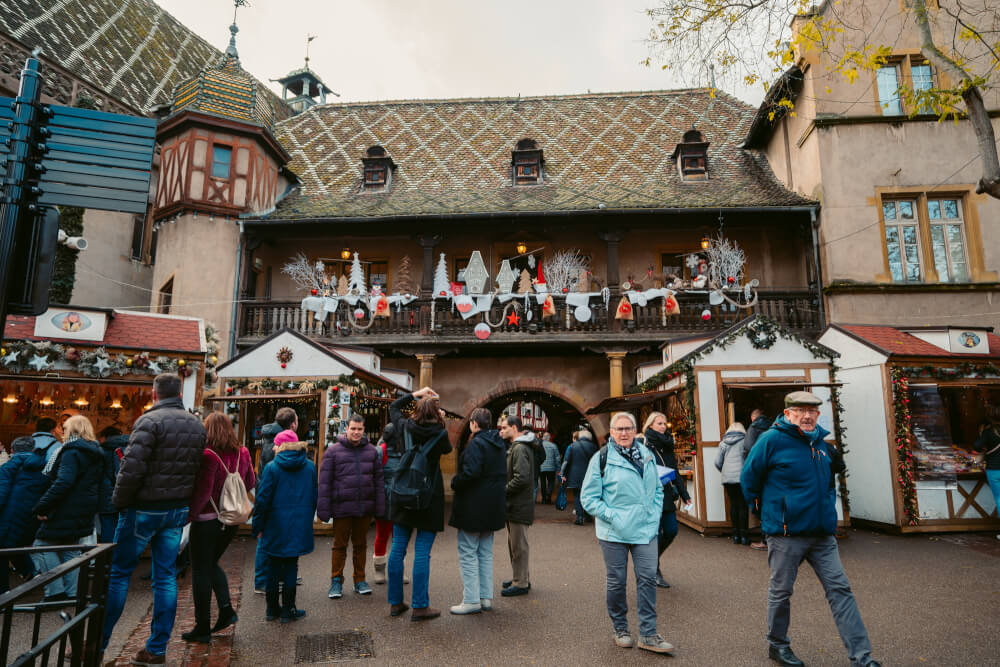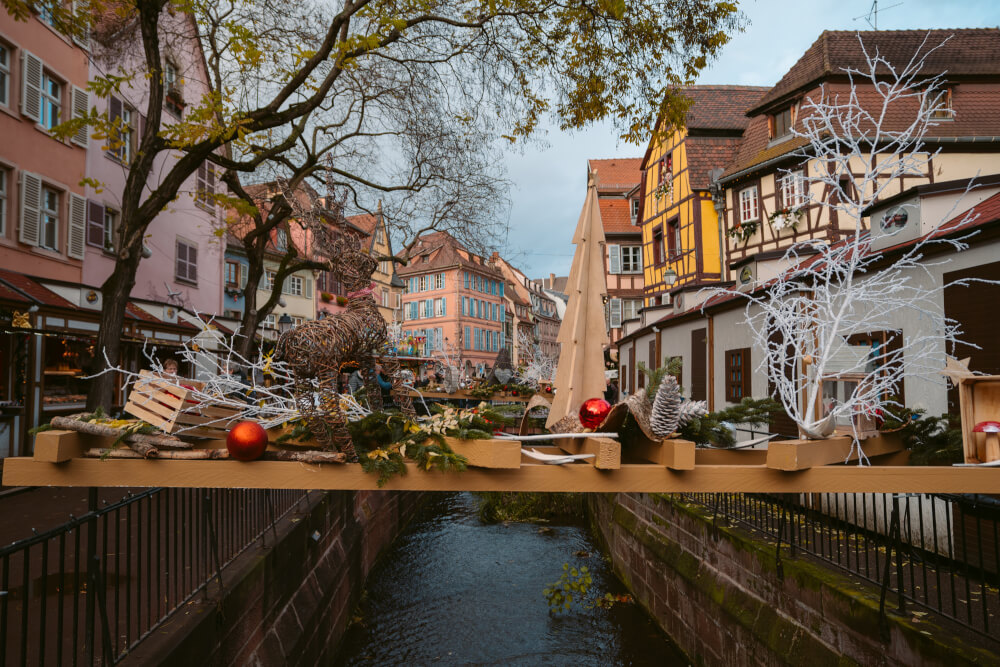 The Petite Venise Children's Christmas Market
Hands down, the most postcard-perfect area of Colmar is Petite Venise, and it's where in Colmar you'll truly feel like you've walked into a fairytale.
Naturally then, there's a Christmas market here too. While it's billed as the Children's Market, I didn't feel like it was a market strictly for kids… after all, there were still stalls selling beer and liquor!
Instead, I would say it's a regular Christmas market with small sections meant specifically for children, with vendors selling wooden toys, little games, and even rides on robot ponies? Yes, really – I saw it happen.
There were a few stalls here selling some really wonderful goodies, including decorative feathery flower lights, the softest (microwavable!) plush toys imaginable and even a bright yellow mailbox where kids can drop off their letters to Santa.
This box is so huge I could probably try to ship myself to the North Pole in it… how many stamps do you think that'd take?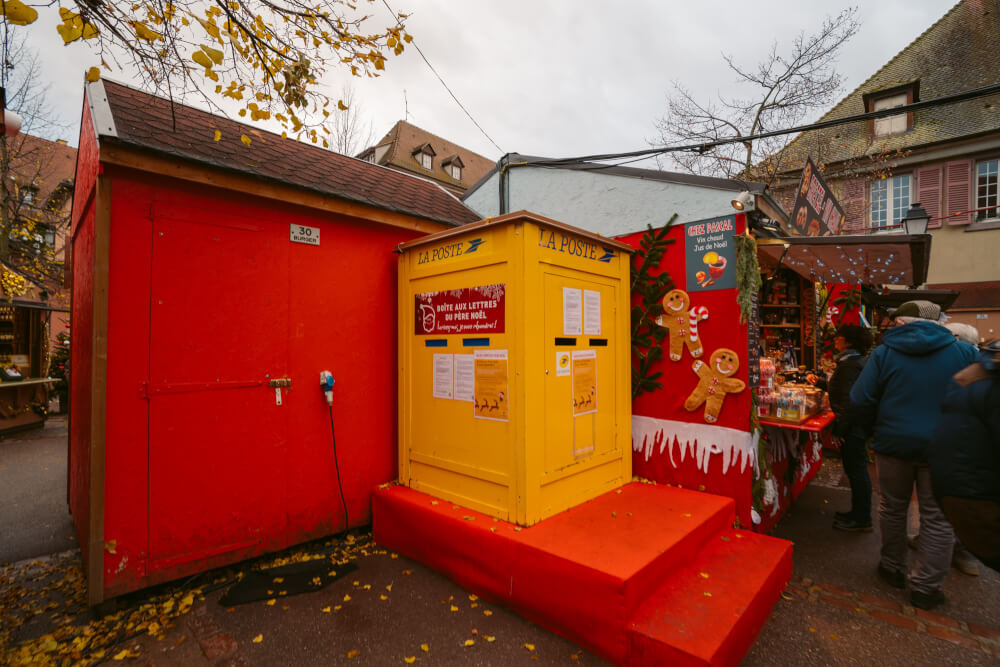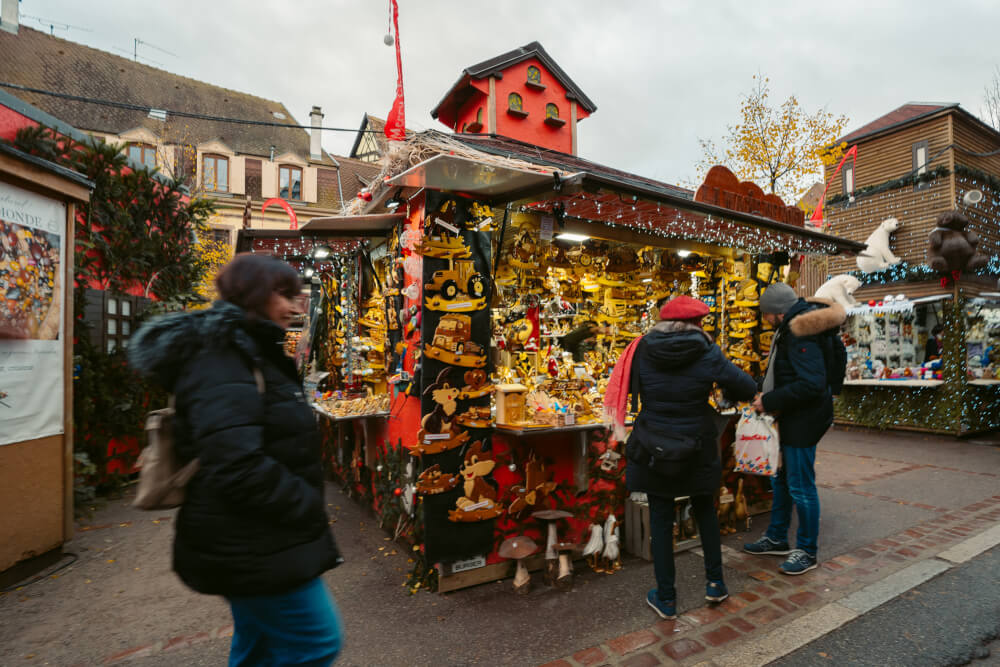 Last but not least, it's the Colmar Christmas market that got away…. for us, anyway!
It wasn't until after we'd left (bellies full and feet sore from all the running around) that I realized we missed one of the main Colmar Christmas markets, specifically the one located at Place Jeanne d'Arc.
The theme for it is local Alsatian specialties, so you can expect to find a lot of gourmet local products including foie gras, wines, jams, and honey. If this sounds like your…. jam (heh) then be sure to not miss it like we did!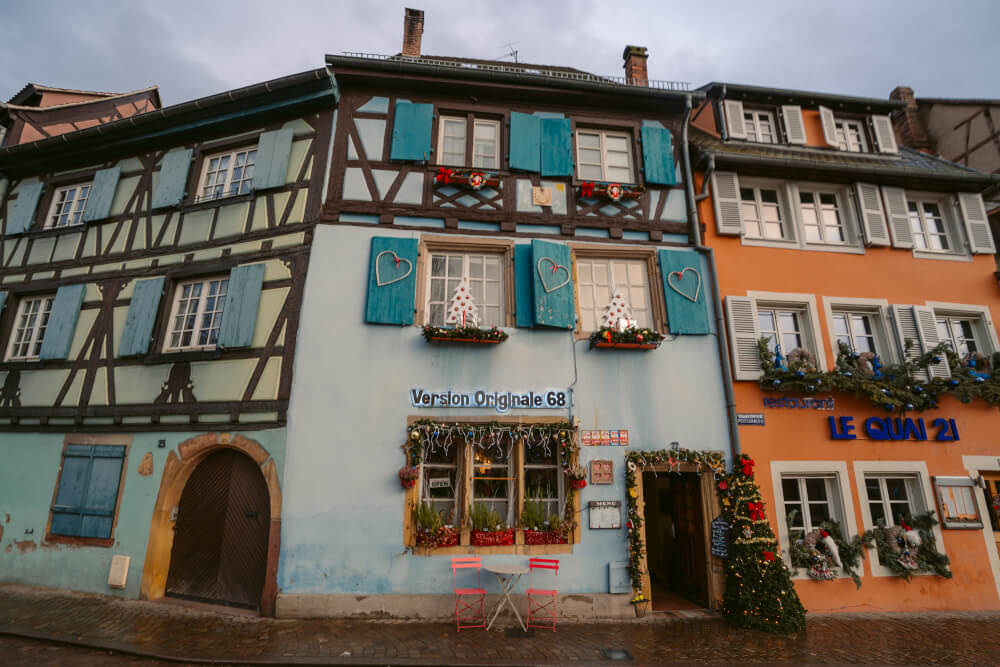 What to Eat and Drink at Colmar Christmas Market
Looking for food and drink inspo for your winter jaunt around Colmar? Here are some ideas:
Bouchee à la Reine + Gourmet Specialties
Hands down, if there's one place you should eat in Colmar during Christmas market season, it's the new gourmet market at Place de la Cathédrale.
I've already raved about the dish I tried – the Bouchée à la Reine but truthfully it was the tastiest, most comforting dish ever and I wholeheartedly recommend it.
This dish is a vol au vent served with spaetzle and a cream sauce, so basically delicious creamy meat filling in a buttery pastry crust, with bouncy egg dumplings. It is SO GOOD, and SO FILLING.
Of course, besides this one dish, there are 9 stalls for you to choose from selling a variety of gourmet specialties. Definitely grab your lunch here!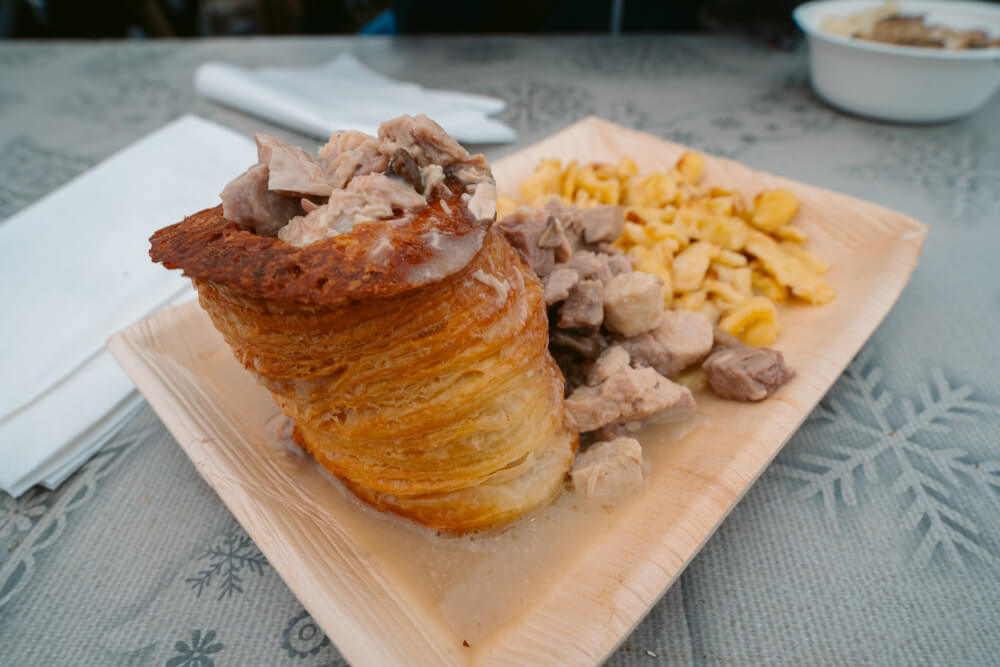 Of course, one of the quintessential Christmas drinks you must consume at Colmar Christmas Market is vin chaud, known in Germany as glühwein and in English as mulled wine.
You'll find stalls selling this on every corner of each market, and you need to make sure you enjoy one or two as you stroll around. The truth is hot wine makes every experience more magical, and like, even the teddy bears become softer after one or two 😉
While sadly, cutesy mulled wine mugs aren't as common in the Alsace as in Germany (they prefer plastic cups here), I did spot some very adorable Christmas boots at a stall in the Place des Domincains Christmas Market available for a higher price. Be sure to keep an eye out if you want that clasically cute vin chaud photo.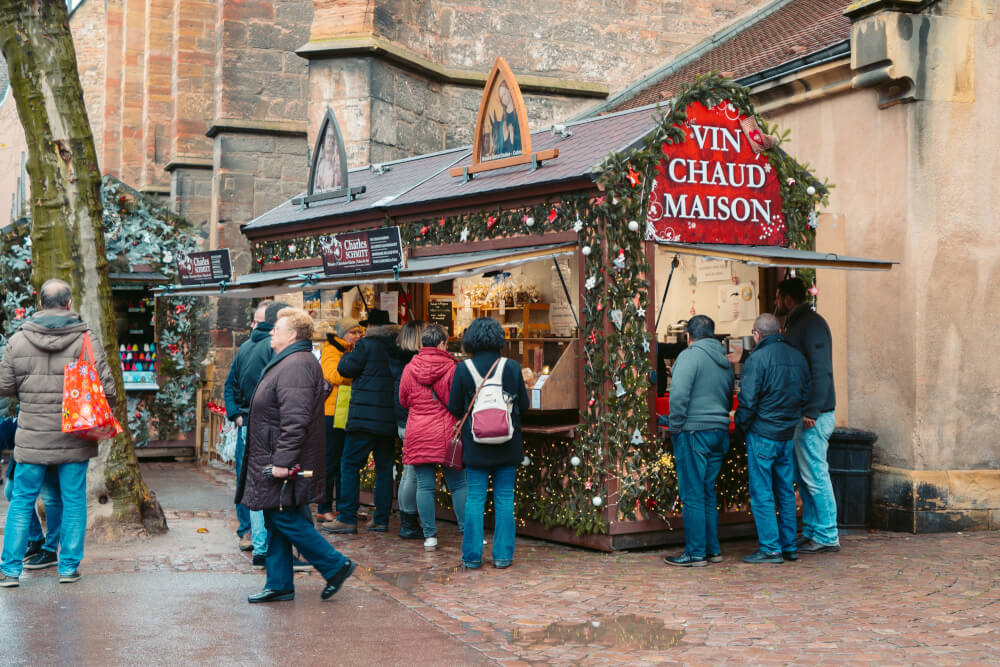 Tartines are fancy little open-faced sandwiches that come in all kinds of toppings from olives and cheese to salami and cheese to eggs and cheese. Okay, there's usually cheese involved, but that's never a bad thing.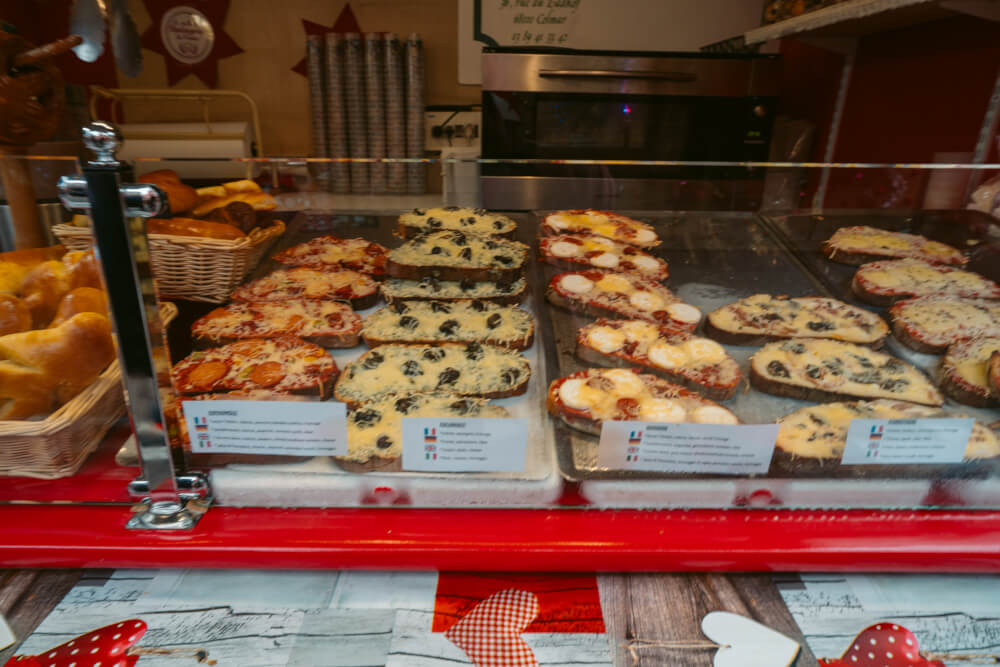 I saw these beauties waiting at a stall in the Children's Christmas Market at Petite Venise… warmed up in the oven, they're perfect to-go snack for your Christmas market meanderings!
Chocolat Viennois (Or Just Hot Chocolate)
If you tire of drinking wine, or maybe don't want to be drinking wine at like, 10am in the morning, be sure to grab yourself some hot chocolate, especially one that's done in Viennois style (in other words, smothered in a giant mountain of whipped cream).
I know it's not the most unique thing in the world to try but I enjoyed one at Au Croissant Doré and it was so perfect, I just HAVE to recommend it to someone.
So please, take my word for it- the hot chocolate here is goooooooood. Real good. Just look at it:
Other Alsatian Specialties
I didn't get around to munching on other Alsatian specialties in Colmar, but I did eat my fair share of them during the other stops on our Christmas market road trip.
If you want to try some Christmas market foods that are uniquely Alsatian, be sure to try tarte flambée (flatbread with creme fraiche, onions and other toppings), choucroute (sauerkraut topped with meat.
Not my fave but very very typical), and spaetzle (bouncy egg noodles/dumplings, often smothered in cheese).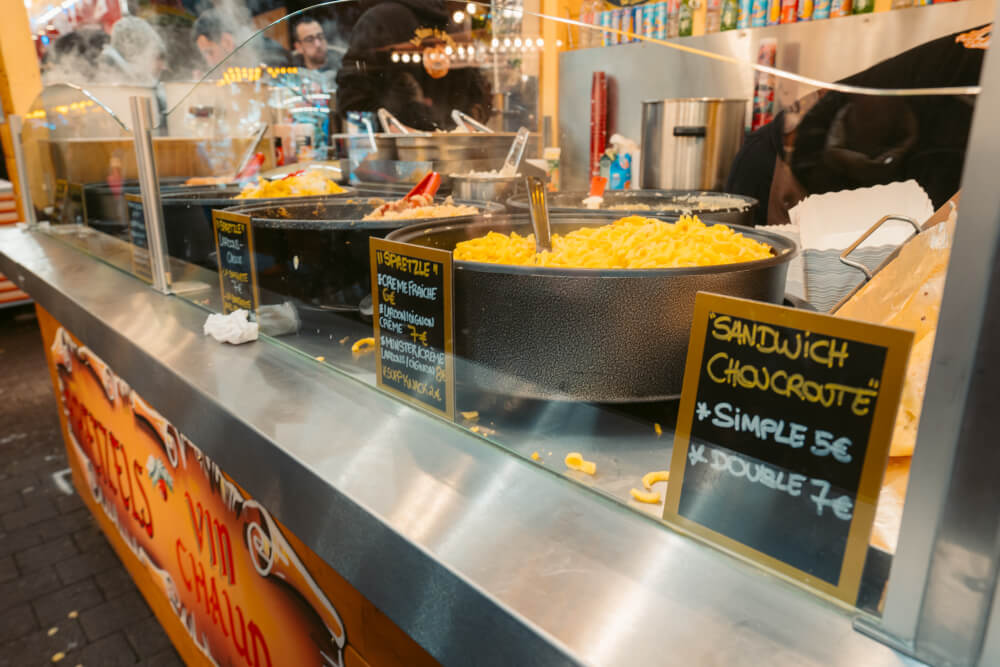 What to Buy at Colmar Christmas Market
Looking for an idea of what to spend your money on at Colmar's many Christmas markets? In addition the usual Xmas market haul of decorations, knitted wear and caloric regret, here are some souvenir and gift ideas.
Stunning jewelry pieces
Hands down my favourite shopping area at the Colmar Christmas Market was the indoor artisans' market, where I spotted an array of really beautiful handmade jewelry and ceramics.
This is where I would go to buy unique gifts beyond the typical Christmas market goodies like ornaments and cookies.
One stall in particular made droolworthy fantasy-themed necklaces with unique designs inspired by dragons and folklore.
I wish I had gotten a photo, but many of the artists protect their designs by not allowing them, so here are some cute pots I saw instead: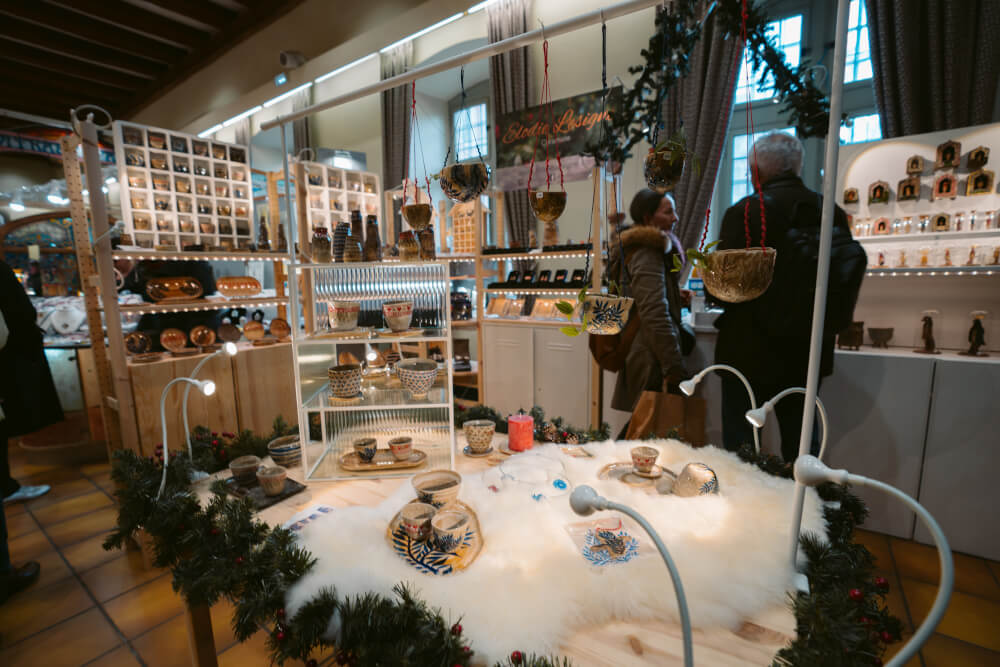 No – just kidding. This would be a terrible use of your money and suitcase space… Frankly, I just wanted an excuse to post this photo of me aggressively embracing this gingerbread man: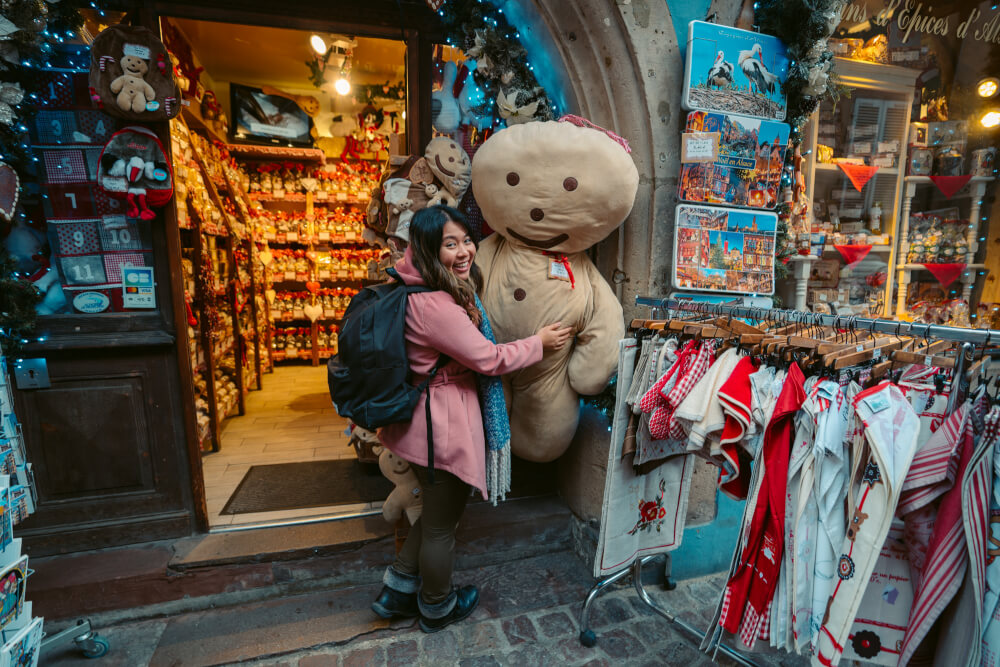 Bredele
For a sweet and festive souvenir, be sure to grab a bag of beautiful bredele, an Alsatian specialty consisting of special little Christmas cookies and cakes, usually sold in assorted bags of sugary wonder.
There was actually a wonderful stall on the bottom floor of the indoor artisans' market selling delicious ones where I eagerly wolfed down a sample. To find them, head to the bottom floor of the Koïfhus market and just follow your nose! The buttery smell of fresh cookies baking will lead you to your prize.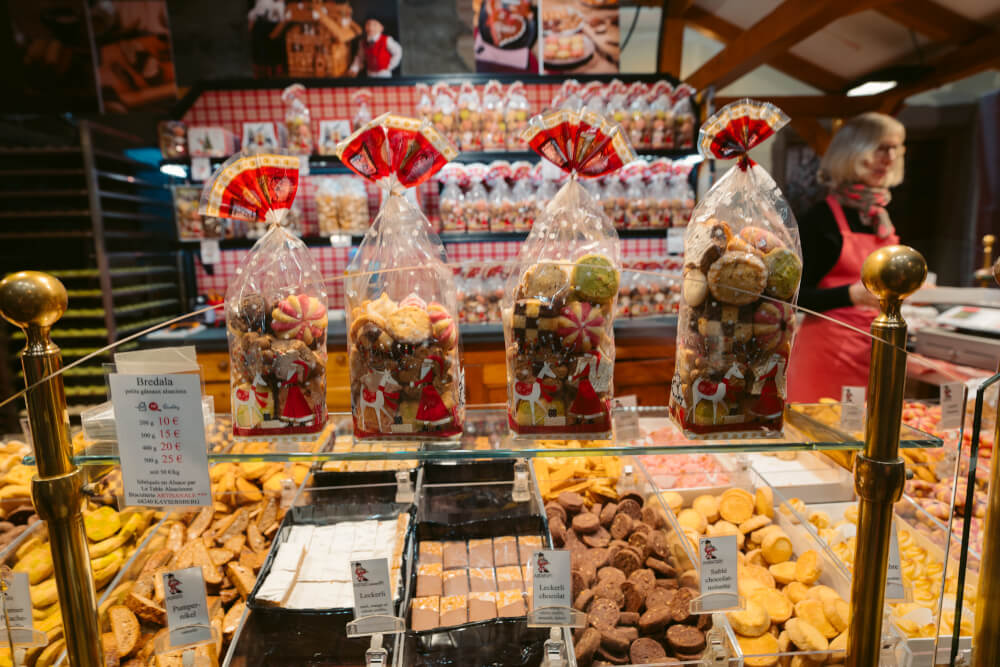 Local food products
Alsace is famous for its variety of local food products, namely its wine, cheese, jams and foie gras.
You'll see many stalls selling these famous specialties all around Colmar's Christmas markets, with even an entire market dedicated to them (the one at Place Jeanne d'Arc)!
For a gift or souvenir that's truly unique to this region, local products are always a great bet.
You can even get them where the locals do, at the 19th century indoor market hall in Petite Venise, located at 13 rue des Ecoles.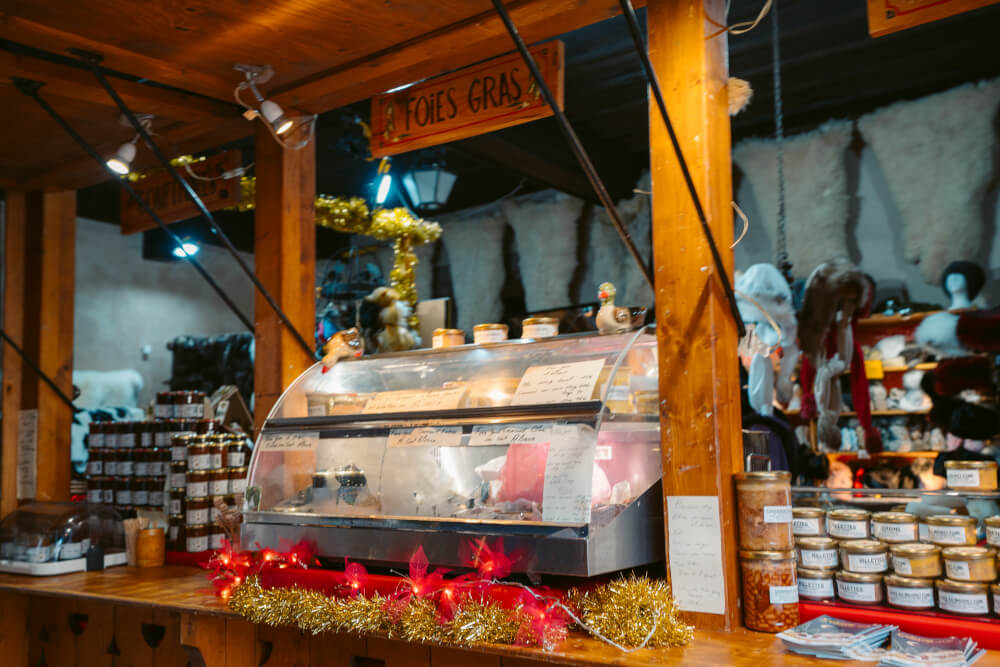 Pretty Decorative Lights
Christmas stars and lights are a common fixture at every Christmas market, but one stall in Colmar caught my eye in particular – this one at the Children's Christmas Market in Petite Venise selling gorgeous feathery lights!
While I've spotted a few of them around Christmas markets in Europe, they're a lot rarer than the typical Christmas stars you see for sale everywhere, so be sure to pop by and admire them, if even just to fantasize about covering your entire house in them: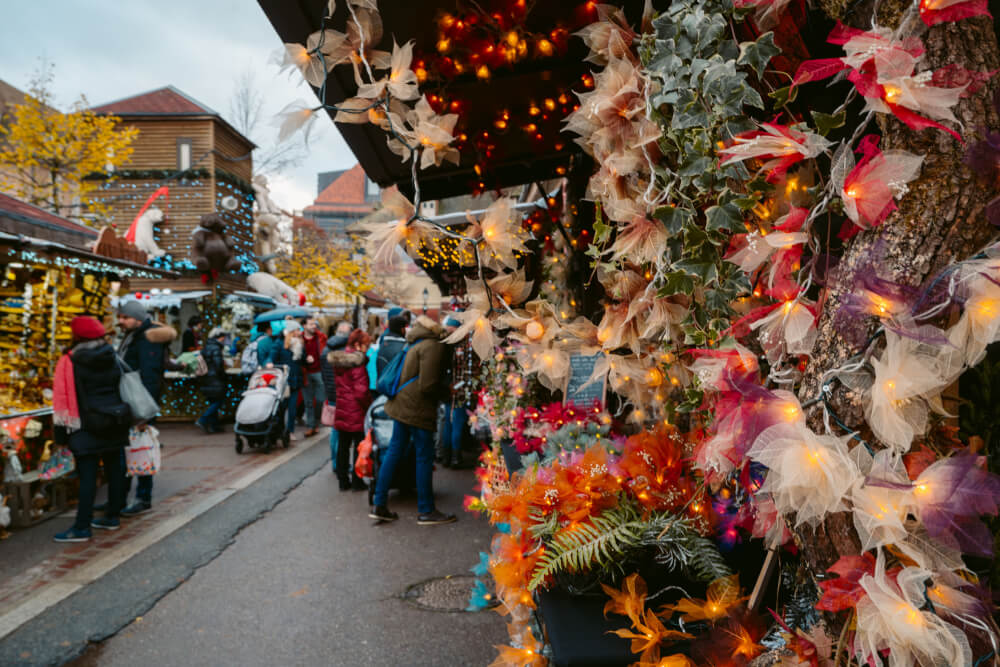 Gingerbread Hearts
Lastly, for a really adorable gift or souvenir, take home a gingerbread heart (preferably with Colmar written in frosting!)
These decorative cookies last for years, and make an awesome durable gift.
NOTE: Make sure you/the recipient don't actually eat them – sure they're edible but they don't taste great.
And when I say they can last for years? Trust me, I have a four year old one that still looks fresh, which is kind of scary!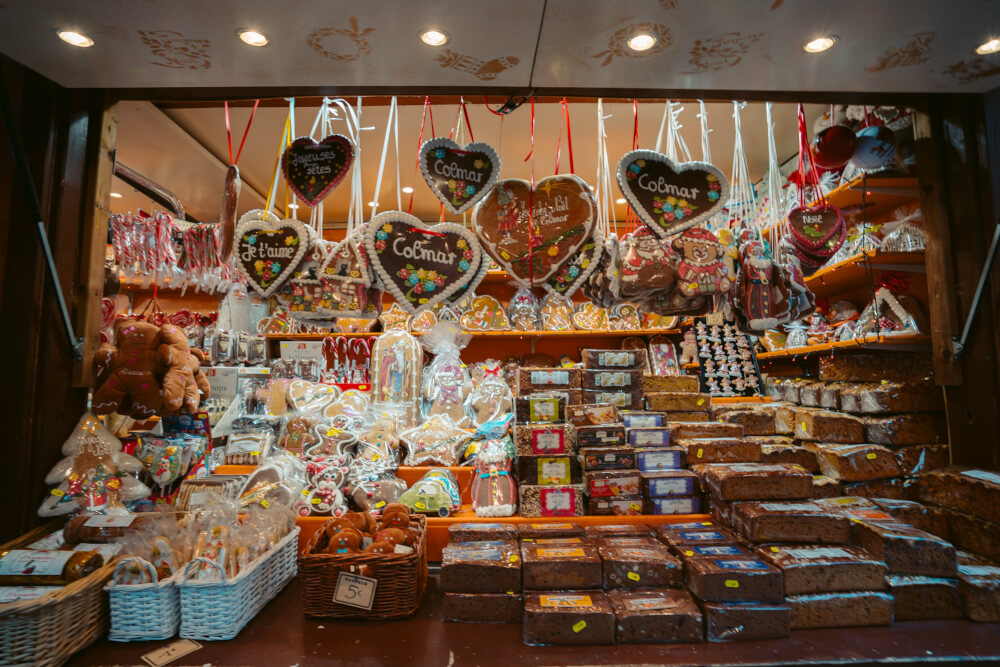 Other Christmassy Things to do in Colmar
Lastly, I have to say there are a lot of other things to do in Colmar in December besides just visiting the different Christmas markets. Here are some ideas to add to your trip!
Marvel at the incredible Christmas facades
One of the things that makes Colmar such a joy to explore during Christmas time is that the entire city is decked out for Christmas, with a variety of stunning festive facades to freak out over (and um, claim as your own for a spontaneous photo shoot!)
While adorable year round, one of my favourite facades in Colmar is at the Brasserie des Tanneurs (pictured below).
The simple decor at Version Originale 68 coupled with its beautiful blue colour is also very charming, as is the view from the bridge at Saint Turenne in Petite Venise.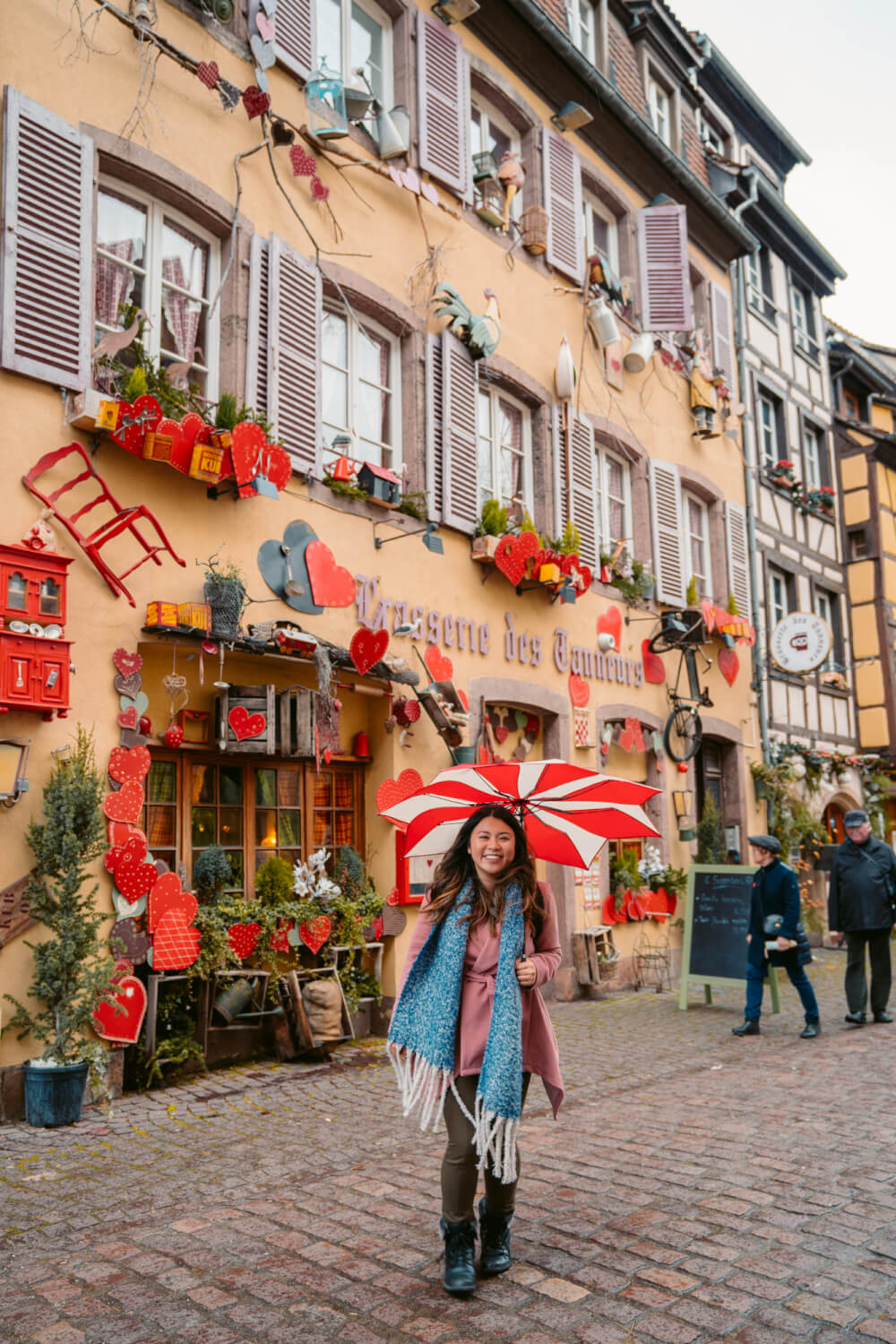 For the most "Instagram famous" view though, be sure to head over to this little road in front of Restaurant La Romantica, where you'll find THE perfectly pink half-timbered house with a big white tree in the foreground!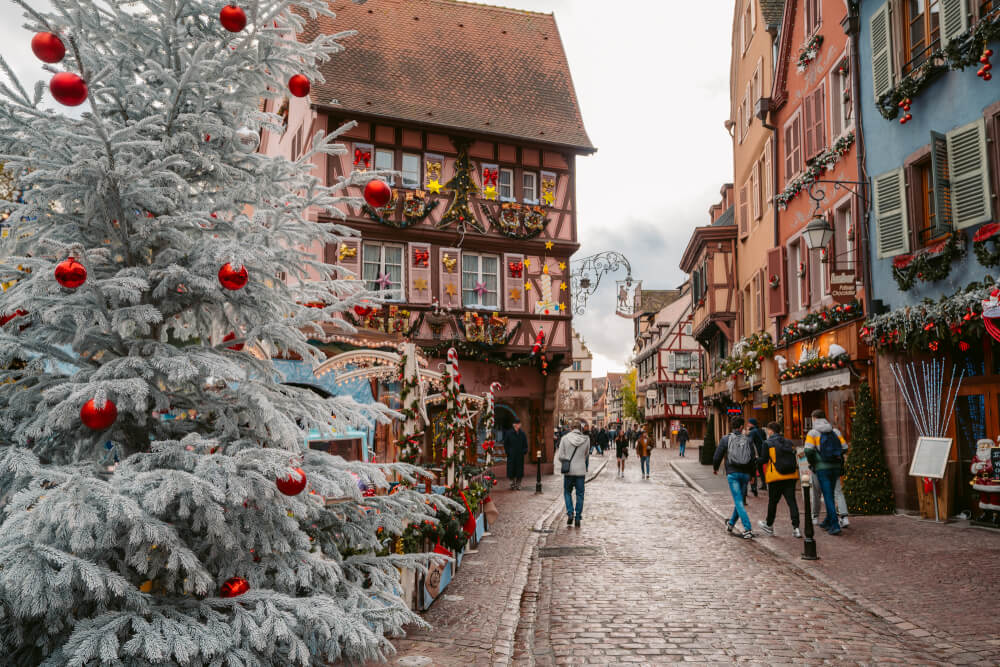 Give ice skating a try
Once you're done oohing and ahhing your way around Colmar, another option for something fun to do is ice skating.
In Place Rapp, you'll find a 800m2 skating rink, which, if you have more coordination than me, actually sounds like a lot of fun and not an exercise in fear and trauma.
Surrounded by lush Christmas trees and pretty Christmas lights, this is definitely a fun Christmas experience you shouldn't miss in Colmar… again, if you have more coordination than I do!
Watch a…. floating children's choir?
I admit this made me laugh out loud when I read it, but one of the very unique events in Colmar at Christmas is they have floating children's choirs that run down the canals.
If the thought of children on a boat being forced to sing "Silent Night" on repeat makes you giggle too, then we should definitely be friends.
But honestly it does sound very magical, especially because the performances are after sunset, when the boats and town are all illuminated with twinkling lights. Click here for more info.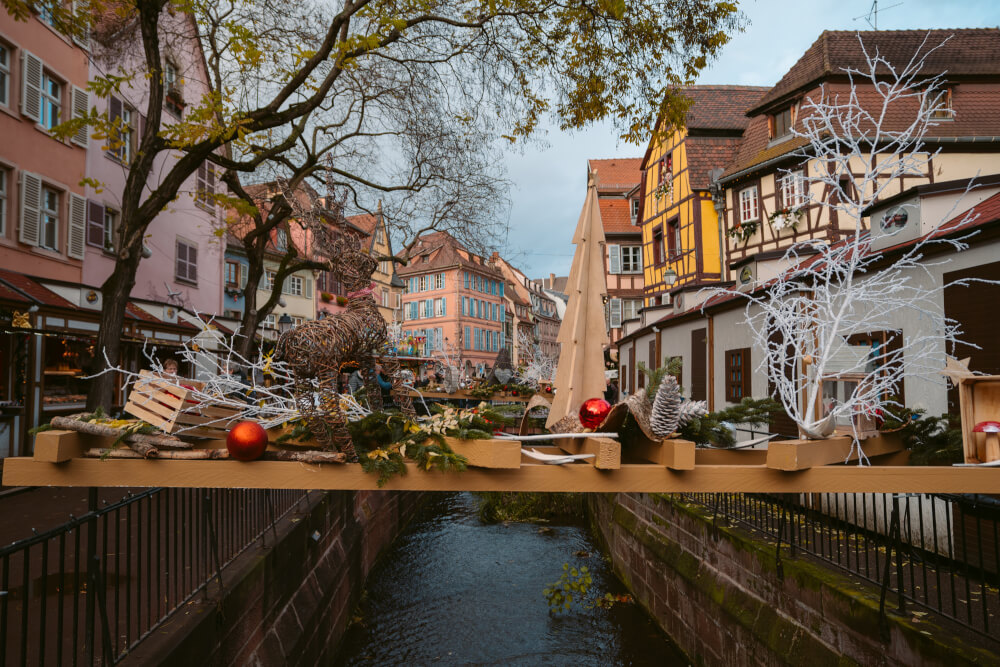 Okay sure so maybe this sounds more like an excuse to drink wine mid-day than anything else, but I'm 100% on board!
During Christmas time, many wineries in Colmar (and Alsace in general) will decorate their cellars in a festive way and put on special tastings, food pairings and events that are Christmas themed.
If the weather isn't looking great for your trip, or you're simply looking to take a break from all the Christmas market exploration, cozying into one of these cellars is a great way to soak in the Yuletide joy while also partaking in local culture….. or at least viticulture ; )
Click here for a list of Christmas cellars around Colmar.
Visit the covered food market in Petite Venise
In case you haven't had enough of markets, Colmar is home to a nice little covered market (located in Petite Venise) which is great for browsing fresh food products.
It may not be the most festive activity, but they do deck their halls for the Christmas season, and have a wide variety of food items to peruse, including giftable items you can take home.
This is a great indoor option if the weather isn't great, and also a much more local experience than some of the more congested Christmas markets in Colmar's Old Town.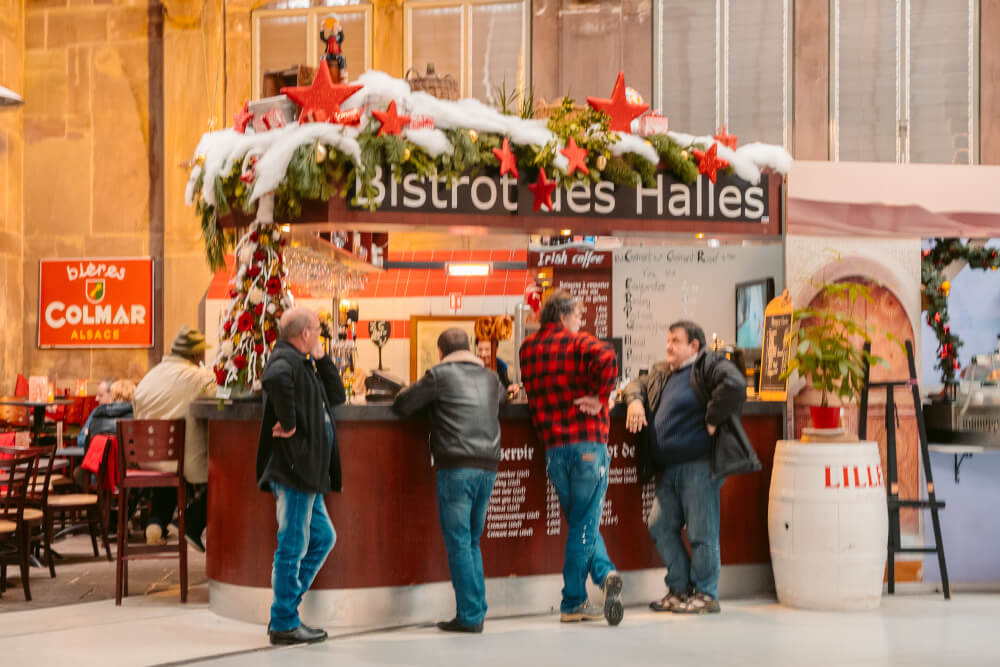 Colmar advent festivities can really take it out of you, so be sure to schedule in some time to relax with a warm drink and soak in the cozy vibes of this adorable town.
For instance, during our visit, we ducked into the most adorable pink cafe for our sugar fix – Au Croissant Doré (the Golden Croissant). The chocolat viennois here (AKA a hot chocolate smothered in a mountain of whipped cream) is worth every single calorie. That said, my arteries would likely disagree.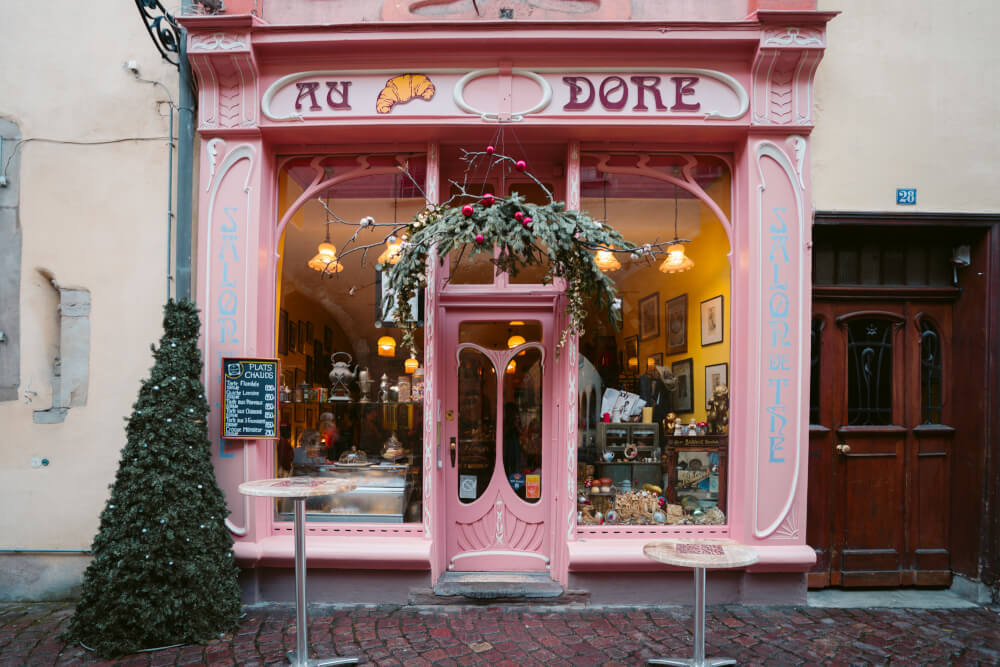 Practical Tips For Your Visit
If you are planning to your own trip around the Colmar Christmas Market circuit, here are some important must-knows to keep in mind:
Bring small coins to use the bathrooms
Chugging vin chaud like it's water has its consequences, but luckily for visitors, there are several public washrooms scattered around the markets which can be accessed with a small fee.
NOTE: The hygiene at some of these is questionable, so wherever possible I would try to use the facilities at a cafe or restaurant instead.
Bring a small reusable bag for shopping
To make your Christmas market trip a bit more eco-friendly, be sure to bring a canvas bag or something to carry all your shopping!
Most vendors actually won't have big bags to give you (and usually just wrap your goodies up in paper) so it's best to have some extra bags just in case so you can shop with ease.
Cash is king
While some stalls are beginning to take cards now, this definitely isn't the norm, certainly at food stalls around Colmar's Christmas markets, so make sure you have plenty of cash (especially in small bills) so you don't hold up the line-up scrounging around for change.
Take note that they'll charge a deposit on cups
Often you'll see one price advertised for vin chaud or any hot drink, then are asked to pay a little more than that when you actually order.
This is because they typically charge a deposit of 1-3 euros on the cups! When you bring the cup back (sometimes with a token they give you, but this isn't the norm in Colmar), then you get your deposit money back.
Any more questions about the Colmar Christmas Market?
I hope you enjoyed this Colmar Christmas Market review! It's a big market with a lot of overwhelming options, so I hope this broke everything down nice and clearly for you. Have a magical trip!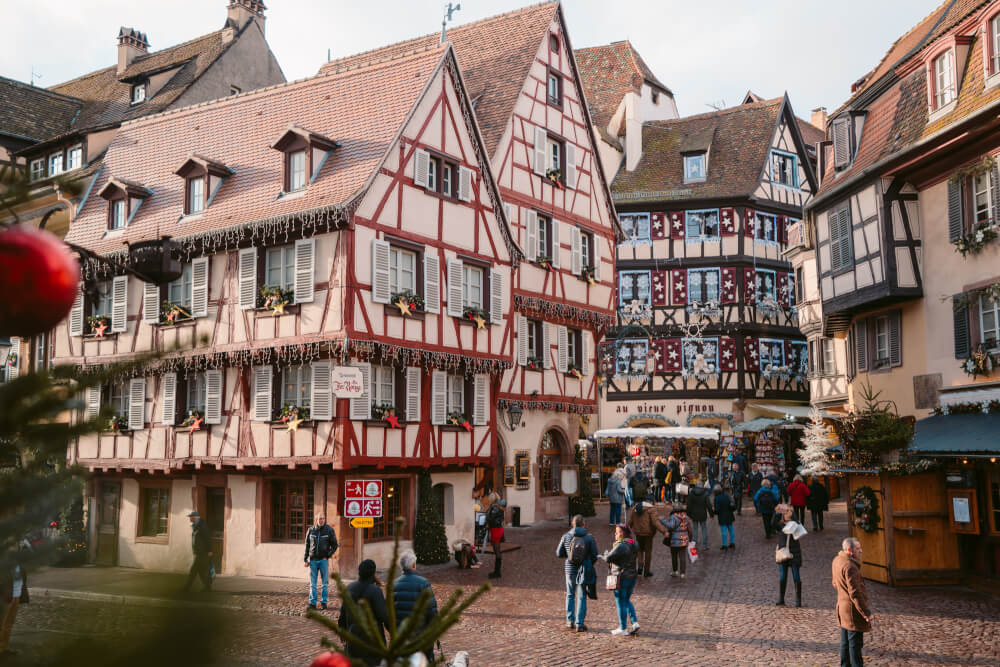 ---
Watch my most popular YouTube video this week:
---