*FYI - this post may contain affiliate links, which means we earn a commission at no extra cost to you if you purchase from them. Also, as an Amazon Associate I earn from qualifying purchases. Check out our Privacy Policy and Disclosure. for more info.
NOTE: This Karlsruhe Christmas Market guide was written after my visit in 2018, but has been updated with the most recent info and dates I could find online. Do note that some details/locations may differ year to year though, so let me know in the comments if you notice anything inaccurate.
I'll be honest: Karlsruhe is a German city that doesn't get much love on the tourism front.
Located along the scenic banks of the Rhine River, so close to France you can smell the boulangeries, it's a city often glossed by in transit… as I have, over a dozen times.
But when I found myself in the area (naturally embarking on a maniacal binge of European Christmas markets), I figured: why not check out what this Karlsruhe has to offer?
With low expectations simmering, I headed out to Karlsruhe last winter for a day trip marred by moody grey clouds.
I had no idea what to expect when I got off that train at Karslruhe train station, I had no idea what to expect as I hurtled through the city on a 10 minute tram ride, and I had NO idea what to expect as I entered Friedrichsplatz, the main venue for Karlsruhe's Christmas Market.
Well, let's just say my first thought was "WOW".
Like, really. Wow. Wow. Wow. Wow. Wow.
For a city that's almost never talked about as a tourist destination, I was floored to discover an utterly magical Christmas market, complete with some of the most beautifully decorated wooden huts I've seen in Germany, along with a giant palace-side skating rink and stall after stall of enchanting Christmas goodies.
I really mean it when I say that the Karlsruhe Christmas Market is a true hidden gem of the German Christmas Market circuit, and if you feel a bit brave and want a cool Xmas market experience away from the tourist crowds, this is it.
So, if that intrigues you, below you'll find a rundown of everything you need to know about the Karlsruhe Christmas Market in Germany, including important dates, locations, what to eat and what to buy!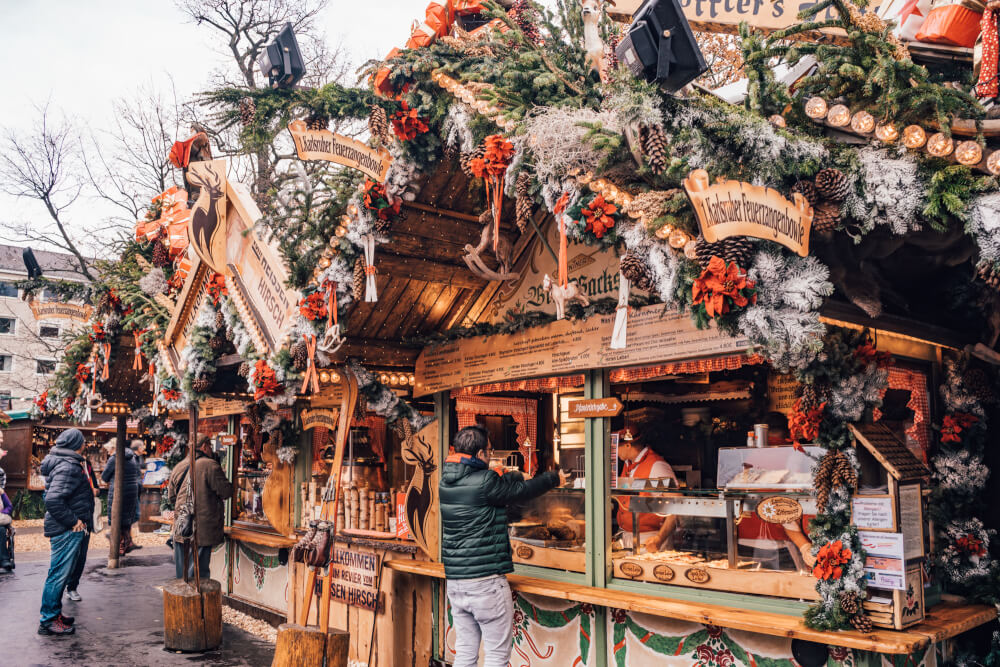 Karlsruhe Christmas Market: Important Must-Knows
If you're hoping to visit the Karlsruhe Christmas Market for yourself sometime this winter, here are some basic but important facts to keep in mind.
Where is Karlsruhe?
Karlsruhe is a city in Southwest Germany near the French border, north of the Black Forest and along the Rhine River.
While it's largely bypassed by tourists in favour of nearby Heidelberg, it's an interesting little city with a unique structure – a castle as the geographic epicentre of town with streets running out of it in a fan-like pattern, hence Karlsruhe's nickname as "The Fan City".
Europe Winter Packing Essentials:
How to Get to Karlsruhe Christmas Market
The closest airport to Karlsruhe is the Baden Airpark, which largely serves budget carriers like Ryanair.
This airport is 40km from the city, and can be reached via shuttle bus on weekdays (10 euros one way) or by taxi/car, which is about a 35 minute drive.
Other airports nearby include Frankfurt and Stuttgart, which both offer high speed trains that get you to Karlsruhe in an hour. There's also Strasbourg, which is just over an hour drive away.
Once you arrive at the Karlsruhe train station, getting to the main Christmas markets is easy – they are all pretty much a 10 minute tram ride away.
NOTE: To find the best way to reach Karlsruhe, I recommend you type in your departure location on Omio and use it to compare/book different transport options. It's a really useful and free tool that shows you the different ways to get from Point A to Point B whether by plane, train or bus. It's great! I'd be completely lost without it.
Karlsruhe Christmas Market Dates
November 28th to December 23rd, 2023
Karlsruhe Christmas Market Hours
The opening hours for the Karlsruhe Christmas Market are as follows:
Sunday – Wednesday: 11am – 9pm
Thursday – Saturday: 11am – 10pm
Karlsruhe Christmas Market Map Overview
The Karlsruhe Christmas Market scene is spread out across several venues in the city.
They're mostly all within close walking distance of one another though, so you can get a good feel for them even during a short visit.
Below, I summarize the different Christmas markets in Karlsruhe that you can frolic to! Here's also a map:
Karlsruhe Christkindlesmarkt at Friedrichsplatz
The main section of the Karlsruhe Christmas Market can be found in Friedrichsplatz, a leafy green square in the center of the city, surrounded by imposing buildings like the State Museum of Natural History and the Baden State Library.
This gorgeous square makes the perfect backdrop for the dozens of artfully decorated chalets selling handicrafts, food, gifts and more. Pay special attention to the rooftops of these chalets, many of which are intricately decorated with lights, baubles, and figurines.
PS: Be sure to stop by the tall Christmas Pyramid for a glühwein, and keep an eye out for the "Flying Santa Claus" who glides through the sky every night at 5 and 7pm.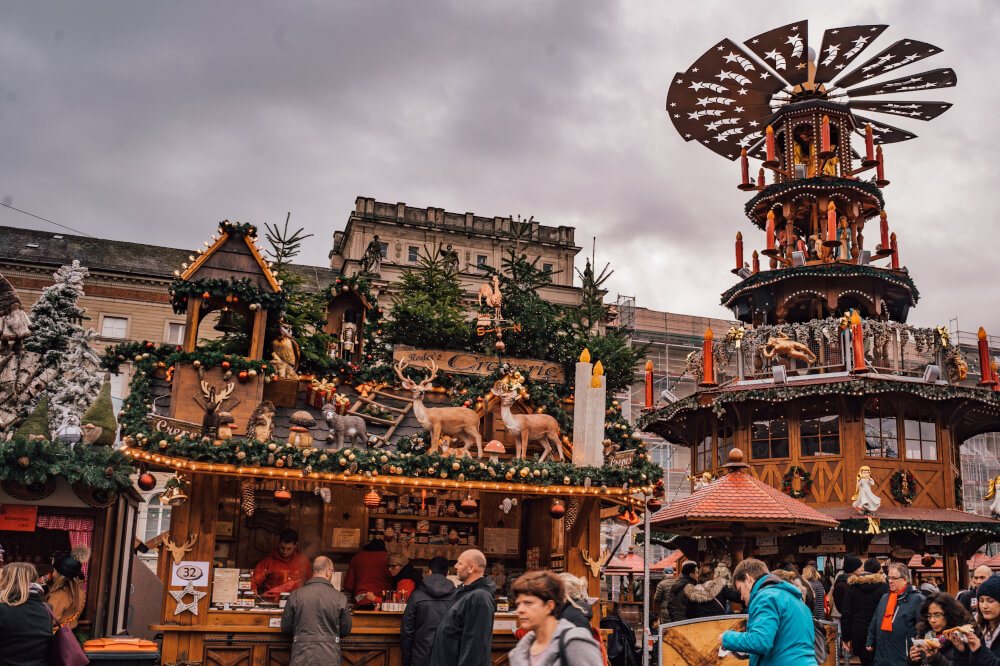 Karlsruhe Christkindlesmarkt at Marktplatz
Another extension of the Karlsruhe Christmas Market can be found at Marktplatz, where a big ferris wheel awaits, along with several atmospheric chalets selling a variety of different foods. There's quite a bit of seating in this area to eat, so that should be your #1 priority coming here. Plus, it's pretty gorgeous to look at.
PS: The peculiar pyramid in the middle of the square is actually a tomb marker for Margrave Karl Wilhelm of Baden-Durlach, the founder of the city, and mastermind behind the city's fan layout.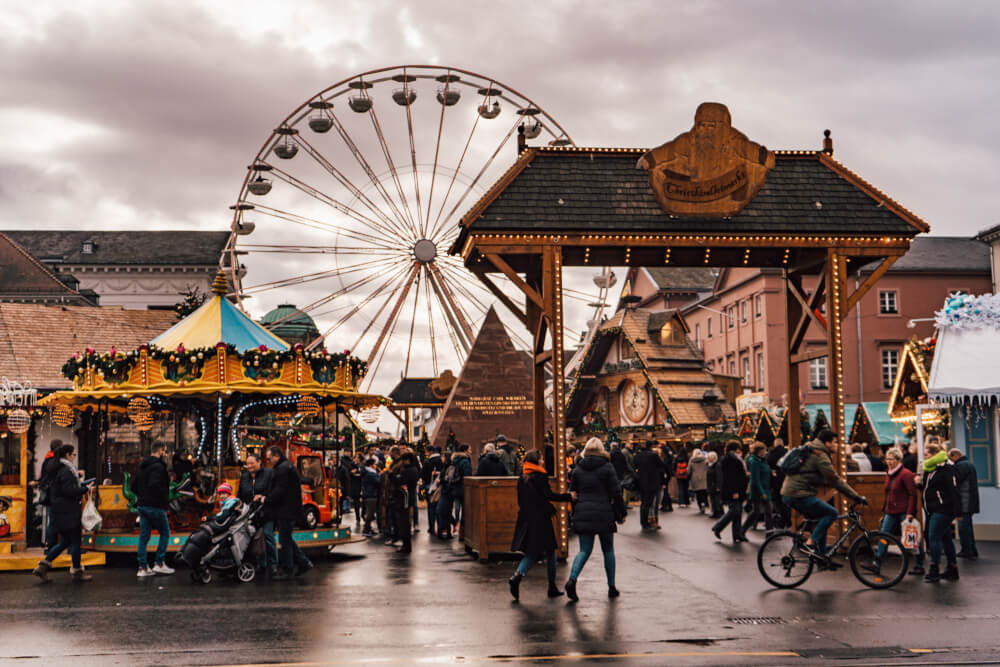 Kinderland St Stephan
For those travelling with kids in tow, be sure to visit the Kinderland (Children's Land) in the church square of St Stephan Church.
Throughout the Advent season, there is a lot of different kids programming on offer here, assembled with care by various partners including the city's main museums, libraries and even the zoo.
Stadtwerke Eiszeit
Besides markets, food and shopping, one of the more unique Christmas offerings that Karlsruhe has to offer is the Stadtwerke Eiszeit, a massive open-air skating rink located directly in front of the city's main palace, Schloss Karlsruhe.
Fun fact: the skating rink here is actually the largest of its kind in Southern Germany, with over 2000 m² for skaters to enjoy. It's also open until the end of January, which makes it the perfect opportunity to experience Christmas magic in the city even after the holidays have ended.
For more information on this event, be sure to visit stadtwerke-eiszeit.de.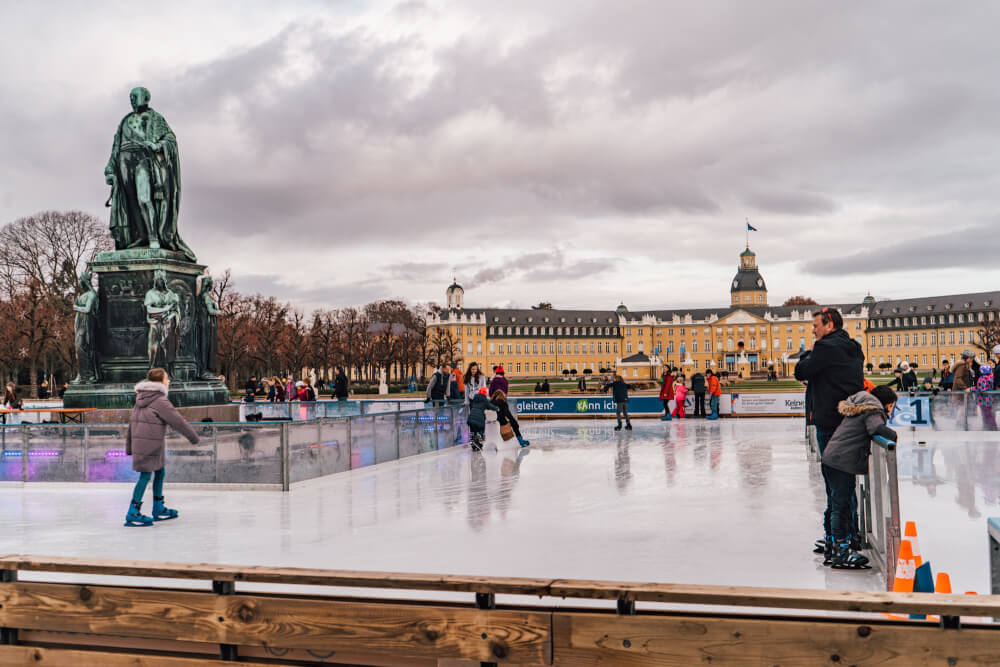 Karlsruhe Durlach Medieval Christmas Market
Last but not least, an additional Christmas market in Karlsruhe I didn't get a chance to visit – the (supposedly) awesome Durlach Medieval Christmas Market, which zaps you back in time to the Middle Ages with storytellers, jugglers, medieval swordsmen and even their own fire show.
Located at the Karlsburg in Durlach (one of the oldest neighbourhoods in Karlsruhe), this medieval market was initially launched back in 2002 to raise funds for flood victims, but is today an institution in the Karlsruhe Christmas Market scene, dazzling visitors with food, performances and market stalls that all harken back to the Middle Ages. Click here for more information.
Free for You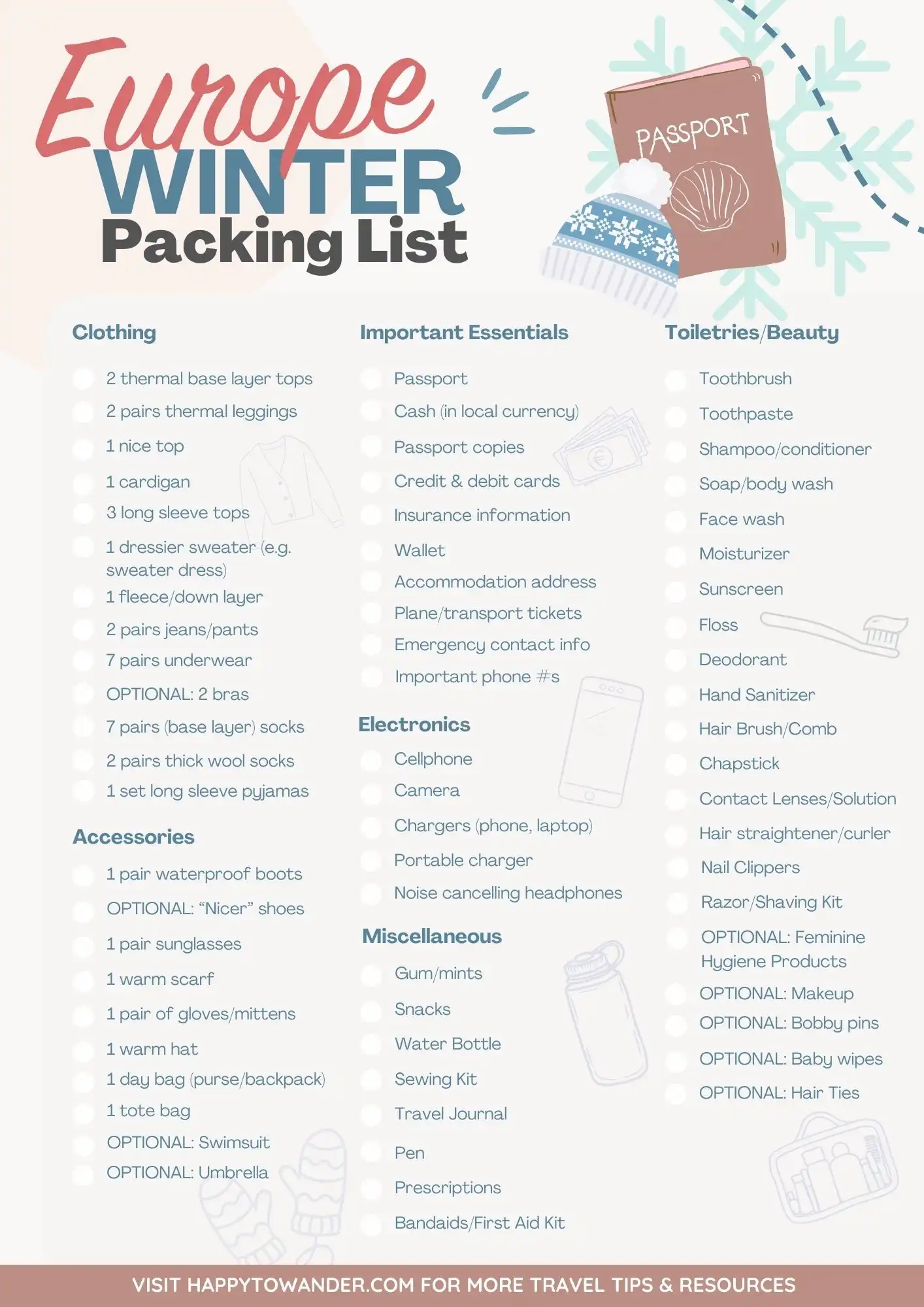 What to Eat and Drink at Karlsruhe Christmas Market: 5 Must-Haves
I've made it no secret that I have a soft spot for Christmas market treats, so let me guide you through some of the best things to try at the Karlsruhe Christmas Market!
You can learn more from my full food guide to German Christmas markets, but here are some unique offerings I noticed in Karlsruhe in particular.
Langos
Langos is a Hungarian treat but it has become increasingly popular at Christmas markets around Germany, including the Karlsruhe Christmas Market!
If you want something terribly indulgent and delicious, be sure to treat yourself to one of these – they're basically slabs of fried dough topped with your choice of savoury or sweet toppings.
I'm partial to the savoury varieties – anything with cheese and garlic are a winning recipe for terrible breath but a happy stomach.

Marzipian
Marzipan is a confectionary treat made up of ground almonds, sugar and sometimes honey.
It's super popular among Germans, so you can expect to find many stalls selling it around Christmas markets, usually molded into adorable shapes like little animals or (no joke) potatoes.
If you want to sample the wonders of marzipan for yourself or simply take some home as a gift, be sure to stop by the Lübecker Marzipan stall, which drew big crowds when I was at the market.

Feuerzangenbowle
I like to think of Feuerzangenbowle as Glühwein on steroids.
Basically it's a hot wine mulled with spices that has the bonus addition of rum-soaked caramelized sugar dripped into it.
Yes, it's as good as it sounds, and at some stalls, they even make a bit of a show of it, giving you an individual cup with a sugar cube that's set on fire before your own eyes.
It's one of my favourite Christmas time drinks, and you can find it in Karslruhe at the Koffler's Hüttenzauber – just look for the big scroll sign that says "Karlsruher Feuerzangenbowle".

Roasted Almonds
Ah, sweet sugary Christmas crack… I love roasted almonds – I really do.
The ones tossed with sugar are heavenly, and finding them is easy – just follow your nose. They're the perfect snack to munch on while you contemplate which 15th candle to spend your money on, so do yourself a favour and grab yourself some.
There will be many stalls selling them but Süßwaren und Mandelbrennerei Filder can be found strategically close to the Christmas Pyramid, so that'd be a perfect place to grab some.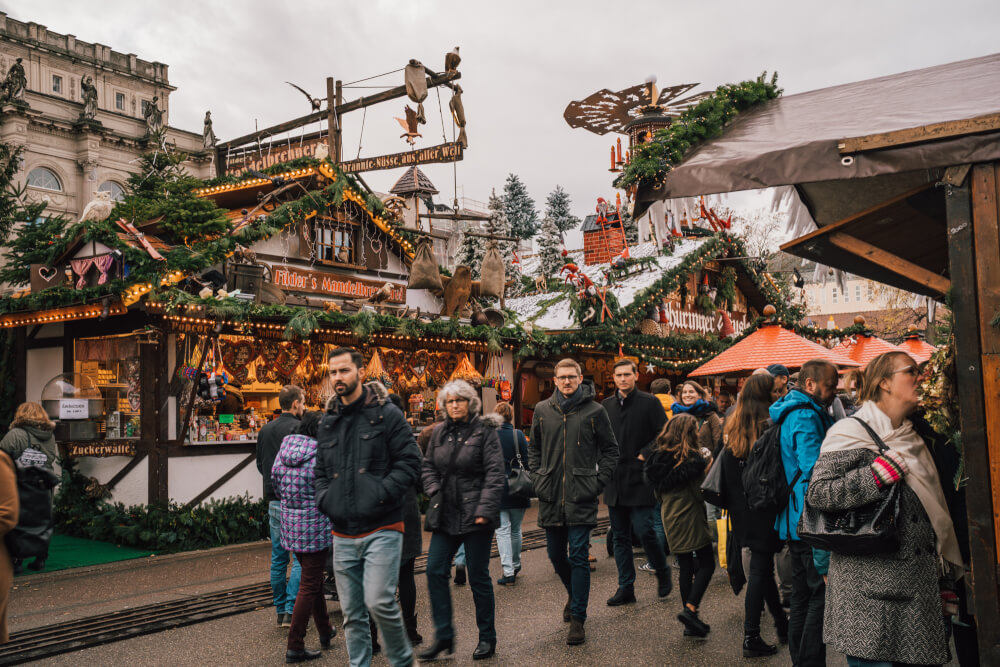 Waffles and Crepes
Lastly, during my visit, another crowd favourite around the Karlsruhe Christmas Market were the different waffle/crepe stands.
I could smell them from a mile away and seethed with envy as I saw countless happy faces walking around, chin deep in a Nutella crepe. I definitely regret not getting one!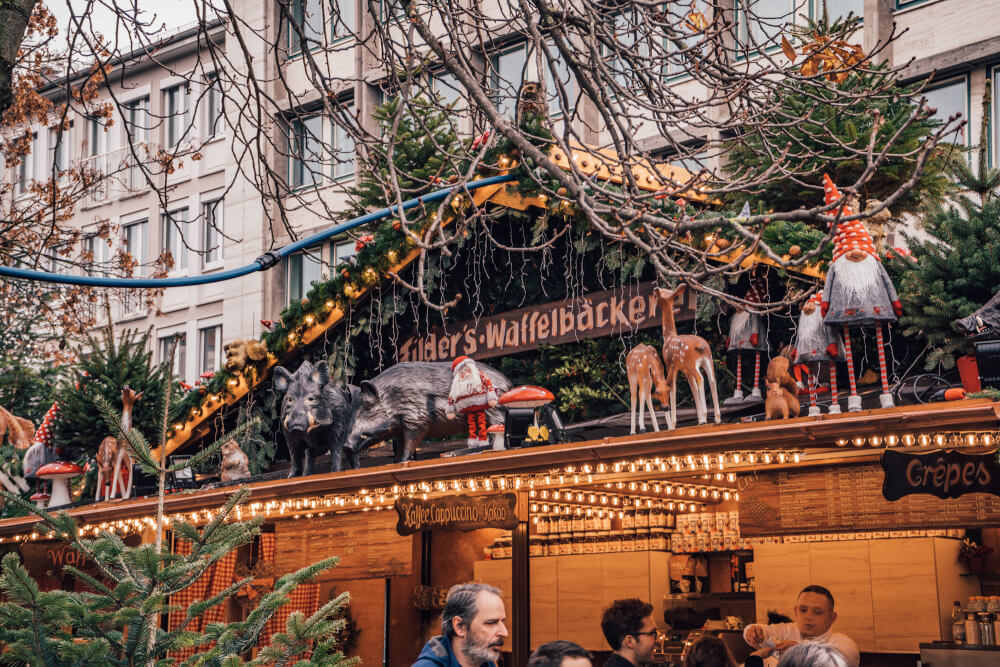 What to Buy at Karlsruhe Christmas Market
And hey, if you have any cash left after buying all that food, then it's time to do some shopping!
One of the nicest parts of the Karlsruhe Christmas Market for me was seeing the abundance of unique stalls selling handmade products, a nice contrast to the very famous Christmas markets which are increasingly these days filled with mass-produced goods. I have a full guide on German Christmas market shopping that you can peruse for more info, but below you'll find some specific stalls that I really liked in Karlsruhe.
Wool Products
While you can never go wrong with cozy knitted goodies, I noticed quite a few stalls in Karlsruhe selling super soft wool goods, including purses, knitted caps and mittens.
These always make great gifts, and are an excellent excuse to purchase something local and handmade when the chill gets a little too biting.
PS: I mean, some stalls are worth visiting for their fuzzy alpaca spokespeople alone. Truly, this is some masterful marketing.

Christmas ornaments
It is physically impossible to leave a Christmas market without going home with a new ornament or ten, and while finding ornaments won't be tough at all around Karlsruhe Christmas Market (or at any Christmas market for that matter), one of the highlights of my visit was the Käthe Wohlfart chalet, a pop-up branch of one of the most famous Christmas companies in the world.
I always love seeing their variety of decorations, plus it's all housed in a mega-symmetrical hut that looks like this. How could you not be enticed?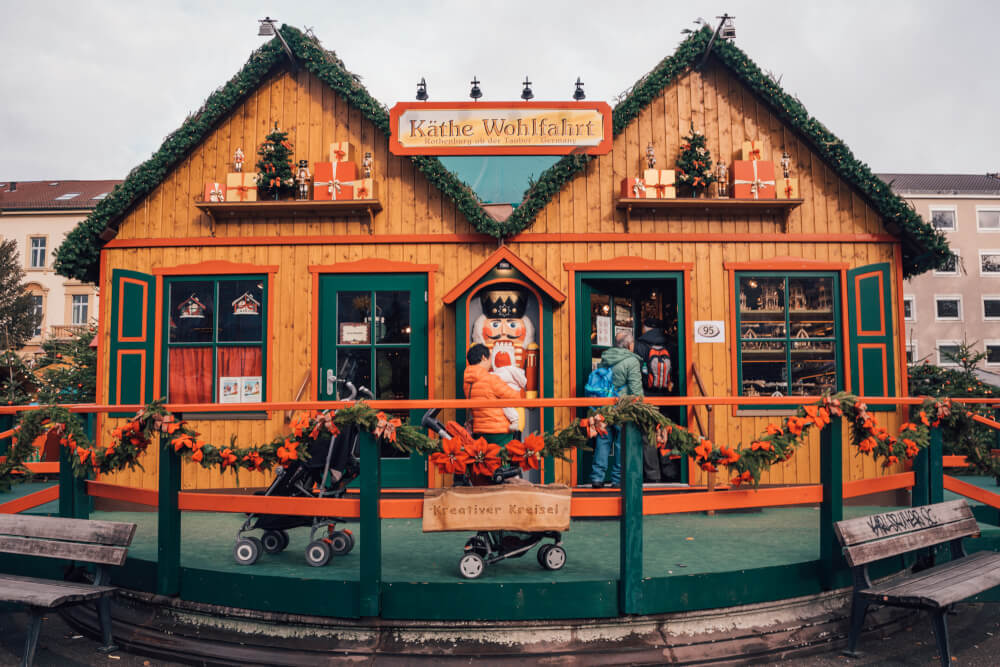 Handmade Candles
Last but not least, I do have to say: you can never go wrong with candles.
Candles are pretty much as ubiquitous around Karlsruhe Christmas Market as ornaments or red-nosed Glühwein drinkers, so be sure to take a look at some of the options – they make excellent gifts!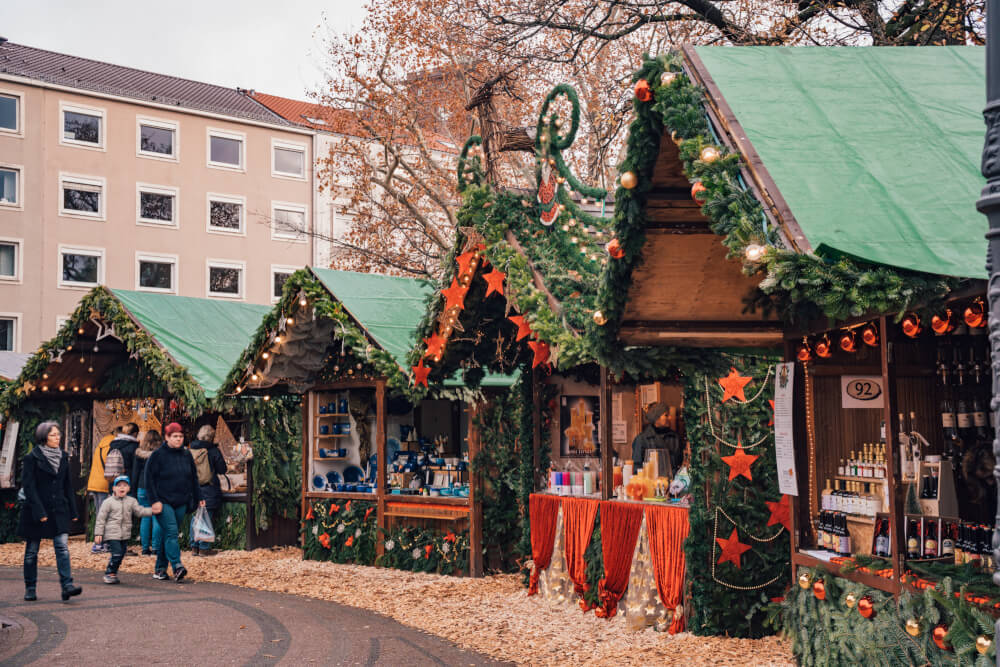 Any more questions about the Karlsruhe Christmas Market?
I hope you enjoyed this thorough guide to the Karlsruhe Christmas Market! It really is a surprising Christmas market with lots to offer, so I hope you make the most of your visit and enjoy your time there as much as I did! Have a magical trip!
My Go-To Travel Favourites: