*FYI - this post may contain affiliate links, which means we earn a commission at no extra cost to you if you purchase from them. Also, as an Amazon Associate I earn from qualifying purchases. Check out our Privacy Policy and Disclosure. for more info.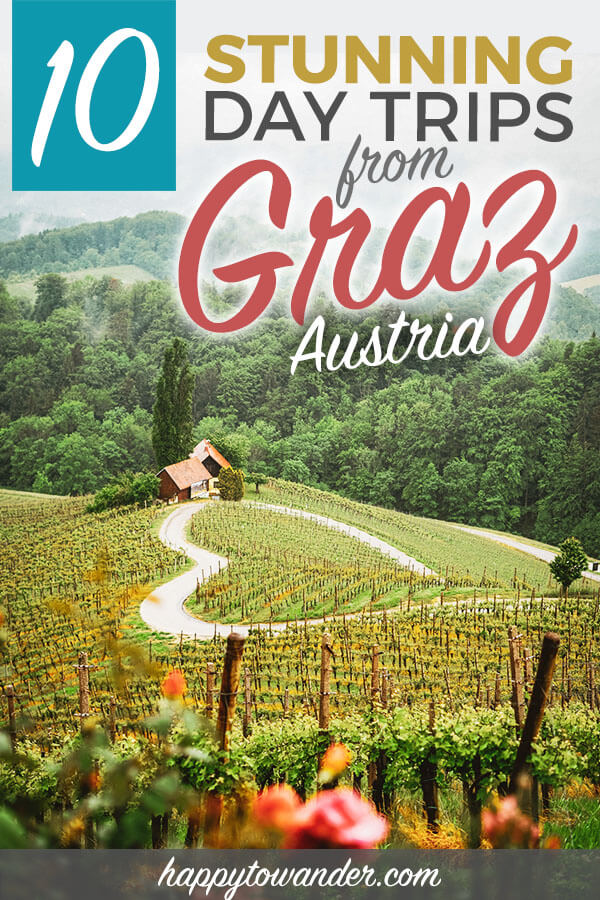 This guide to weekend and day trips from Graz was produced in collaboration with Visit Graz and Visit South Styria, who hosted me on this trip as part of Propel Conference by Captivate. All wine-induced ramblings however are my own.
As an avid city breaker who has darted frenetically around Europe for the past five years, I always get this warm giddy feeling when I have the opportunity to explore a place I know literally nothing about.
After all, there's a certain monotony to well-treaded destinations. Hopping from sight to sight (all of which you've encountered relentlessly on Instagram and Pinterest) can start to feel uninspired at best, and boring at worst.
So when I boarded my flight to Graz for the Propel Conference, I admit I dove in blindly, with zero expectations or clue what I would find.
Little did I know, Styria would bust out of all of the following in its bottomless bag of tricks: the world's tallest underground slide, an alien-shaped art museum, an Austrian doppleganger for Tuscany, and even a museum dedicated to Arnold Schwarzenegger…
What next? A heart-shaped road? A famous 40 year old horse? Spike-studded pumpkin death machines?
Just kidding. We saw all of those as well.
Even the incessant drizzle and grey-clouded sky couldn't dull the shine of Styria, one of my most surprising travel finds this year. So in classic Christina fashion, I would now like to ramble about it for about twenty straight hours. Grab a blanket, folks.
With Graz as a base, you're within arms' reach of some truly delightful parts of Europe that remain humble secrets among overseas visitors. So, if you're up for something a little different, here are 10 wonderful trips to take from Graz, Austria.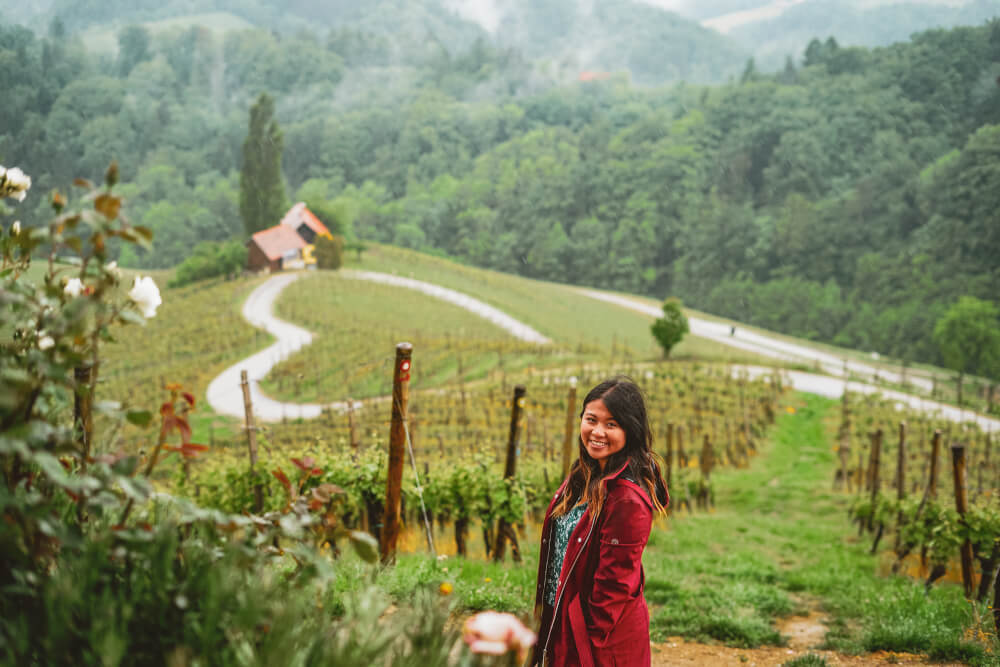 1. The South Styrian Wine Route (AKA the Südsteirische Weinstrasse)
South Styria is renowned for amazing white wines like crisp Sauvignon Blancs, aromatic Gelber Musaktellers, and Morillions that dazzle the palette (while acting as an ideal wingman to local dishes).
… buuuut thanks to the wineries' relatively small scale of production, many of these dangerously drinkable wines are kept as stealthy secrets from much of the world…
Unless you visit of course! This is why the South Styrian Wine Route is one of the best escapes from Graz that I could possibly recommend… no less because it's less than an hour away from the city.
This 25km route spans from Ehrenhausen to Leutschach, taking you past countless vineyards, inns, and local producers, all with the happy bonus of rolling green hills and romantic winding roads.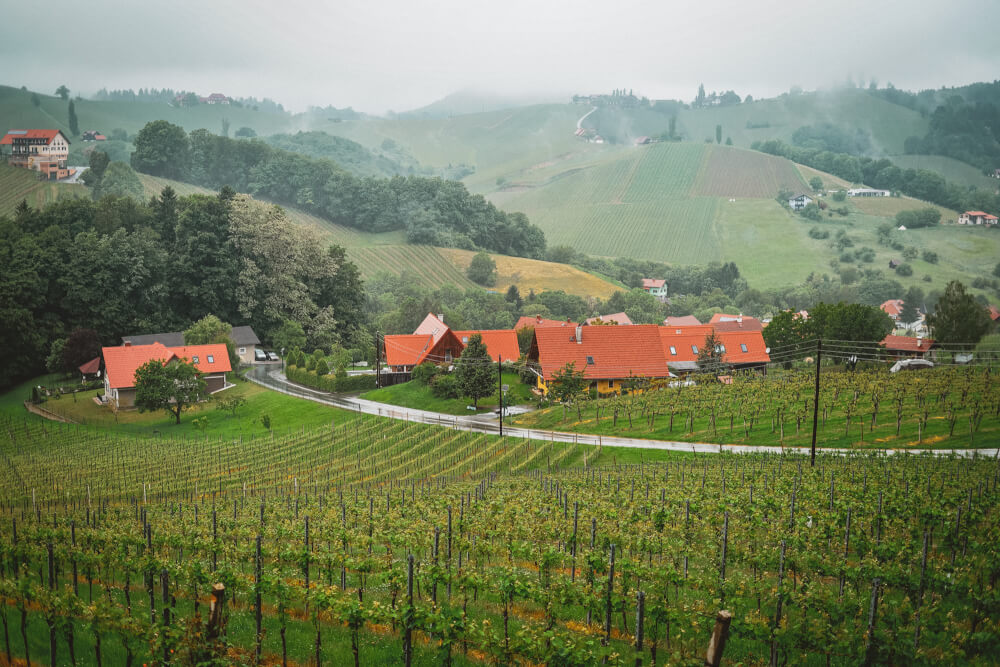 Beyond the luscious scenery though, the most charming part about drinking wine in South Styria is meeting and chatting with individual producers along the way. Never have I ever sipped wine while talking to the wizards that made it, but getting this opportunity in South Styria was one of the highlights of my trip.
With that in mind, here are two stops that especially stood out:
Kästenburg Winery
We arrived at Kästenburg Winery when the rain was at its worst.
But even in the torrential downpour, I was quick to notice the winery's crystal clear dedication (and loyalty) to tradition. Arranged around the entrance were big boards featuring vintage photos, odes to the six generations that have been making wine here for decades. 
And it's this historic legacy that draws me to this winery in particular. As one of the founding members of the South Styrian wine route, Kästenburg is among the best known in the region, with three young siblings now at the helm – Lukas, Jakob & Lisa Jakopé who work together to produce a diverse range of wine types (including reds like Blaue Wildbacher, Cabernet Sauvignon, and Pinot Noir) while serving countless hungry (and buzzed) customers at their on-site restaurant.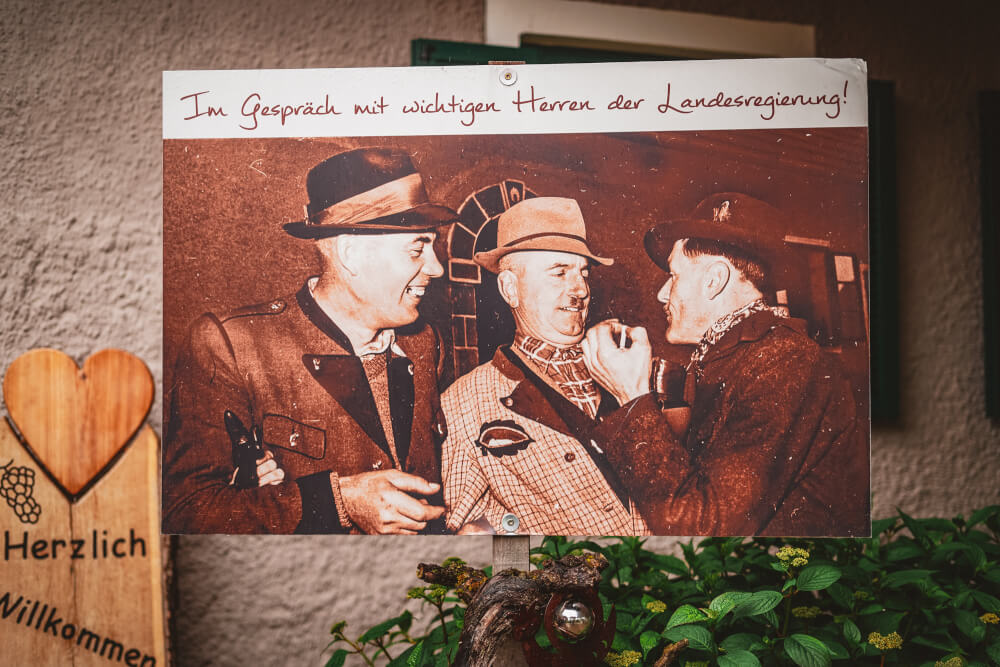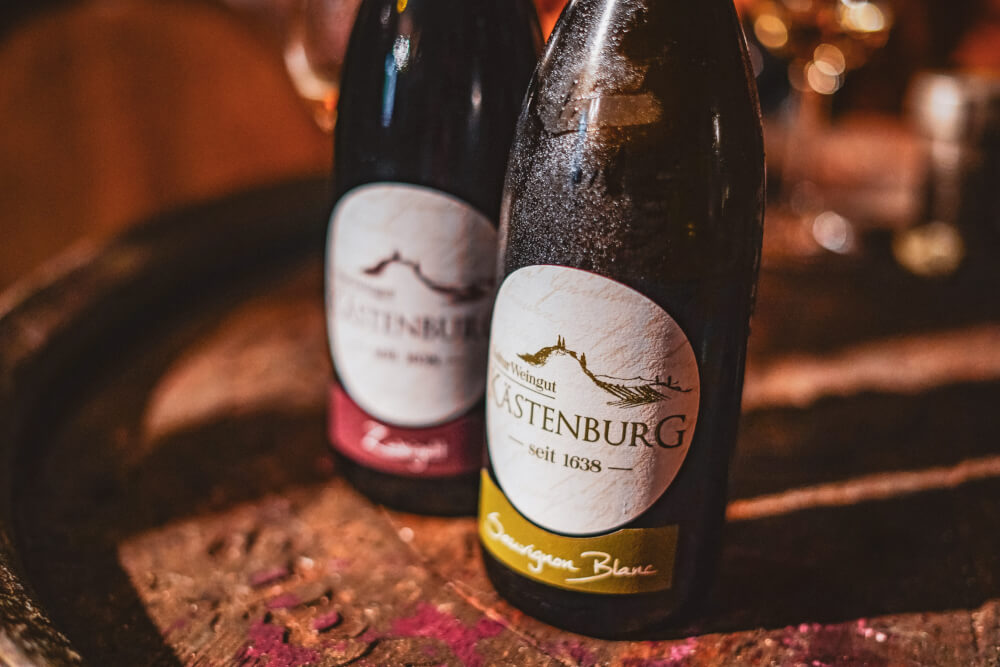 And although the rain refused to quit, one of the highlights of Kästenburg Winery is the view, which overlooks those scenic South Styrian hills, and is so close to Slovenia, you can even see it from where you stand.
So, with photo opps and wine as bait, Jakob led us through the drizzle to his family's treasured viewpoint.
Undeterred, I slapped on my red hood and trudged up the rainy hill. And there I stood, clutching my fizz in the rain (freshly uncorked with a sword, I might add). I looked smugly over to Slovenia like some weatherproof winelord and realized just how tough it would be to go back to my regular vino ritual of "sipping wine out of the bottle while crying over my laptop".
(…. That was a joke. Kind of.)
Anyways, to the point – a girl could get used to views like this.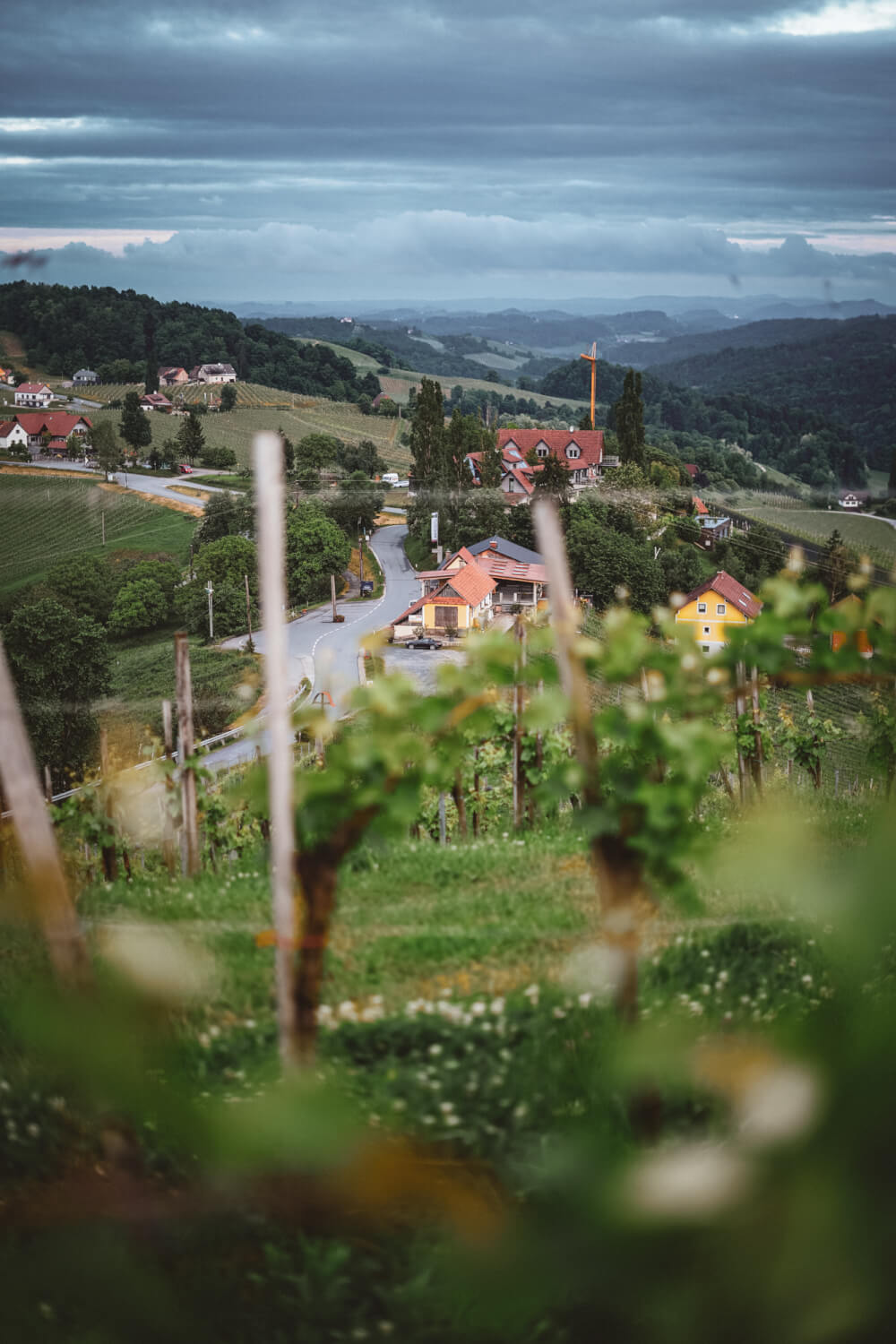 We returned later in the evening for dinner, with a non-stop parade of dishes prepared carefully and lovingly with fresh local products. Everything was handmade – even the ceramic plates our food was served on, crafted with love by the siblings' mother, Ilse.
Anyways, if you're looking for a one-stop shop with amazing views, great wine, delicious food and outstanding hospitality, this winery is a must-visit, if only for their vanilla ice cream with pumpkin seed oil.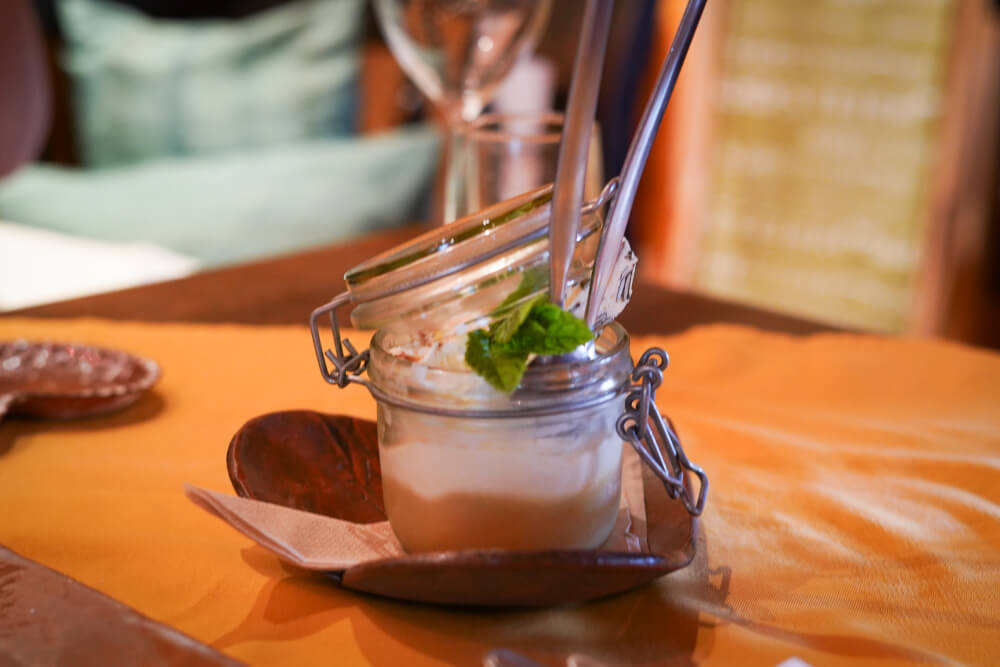 The Resch Pumpkin Seed Oil Press
As is often the case with destinations, nailing down the 'secret sauce' behind their charm is no easy feat. With South Styria however, I'm quite positive this sauce involves a hefty dose of pumpkin seed oil, one of the best hidden secrets of this region.
This nutty oil, produced from local pumpkin seed, is mindbendingly delicious, and supposedly excellent for your health (which means, scientifically, you are A-OK to faceplant into it as frequently as you like).
In Styria, this oil is liberally applied over top everything you can imagine, from salads and sandwiches all the way to dense vanilla ice cream.
But the only thing that makes this oil taste better is knowing how it's made, which is why I loved our visit to the Resch Pumpkin Seed Oil Press, conveniently located on the South Styrian wine route.
After a soggy (but scenic drive), we went straight from the cozy confines of our car, straight into the buzzing workspace of 5th generation producer, Bernd Resch, whose family has been producing oil since 1842. Here, we watched from start to finish how much work goes into producing every drop. First, seeds must be harvested and peeled, before they're crushed, mix with salt and water, then slowly heated and roasted until they're ready for pressing. Press, bottle, repeat. 
And as for those spike-studded pumpkin death machines I mentioned in the intro, they are the machines used to harvest pumpkin seeds. I must have stared at this video playing in the Resch shop for about 5 minutes. It is legitimately mesmerizing:
So with all this new pumpkin know-how under my belt, you bet I appreciated every pumpkin-doused bite more. I even made sure to buy some of the amazing Resch pumpkin pesto I hogged over at the sample table.
In fact, I lovingly cradled this pesto all the way home to Munich, where I slathered it all over a fresh pot of fusilli and forced my boyfriend to love and appreciate it as much as I had. … He did. Or he pretended to, at least, in fear of sleeping on the sofa. (Yes, I AM an excellent girlfriend!)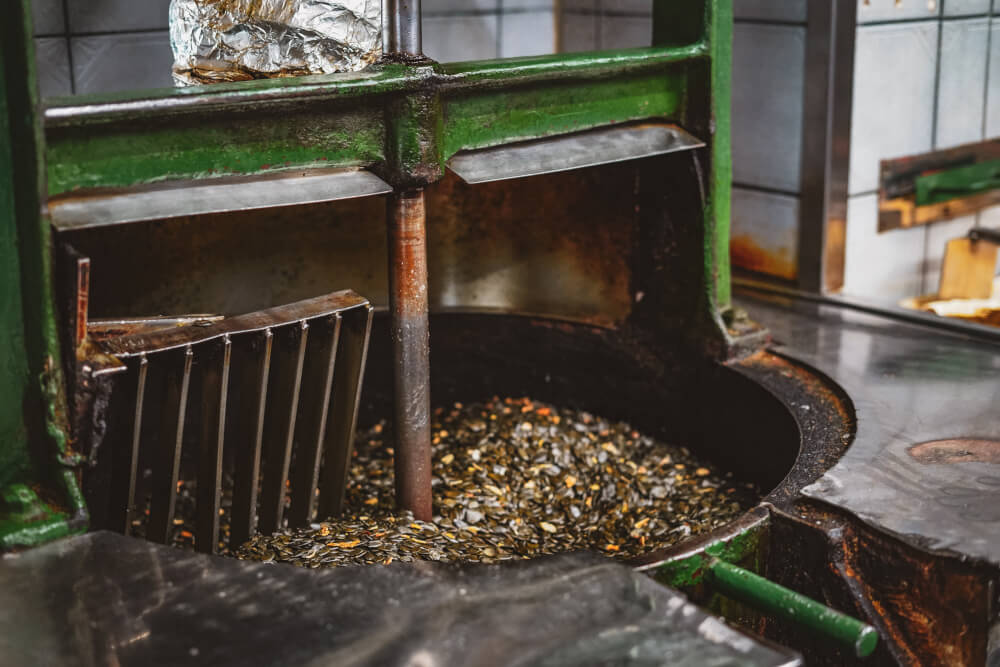 Quirky side note: I've been told that nearby are the world's largest glass grapes, an art installation in Eorykogel. So, if "posing with oversized glass grapes" is a bucket list item for you, first of all – that is great. Good for you. Second of all, you can do that right here in South Styria!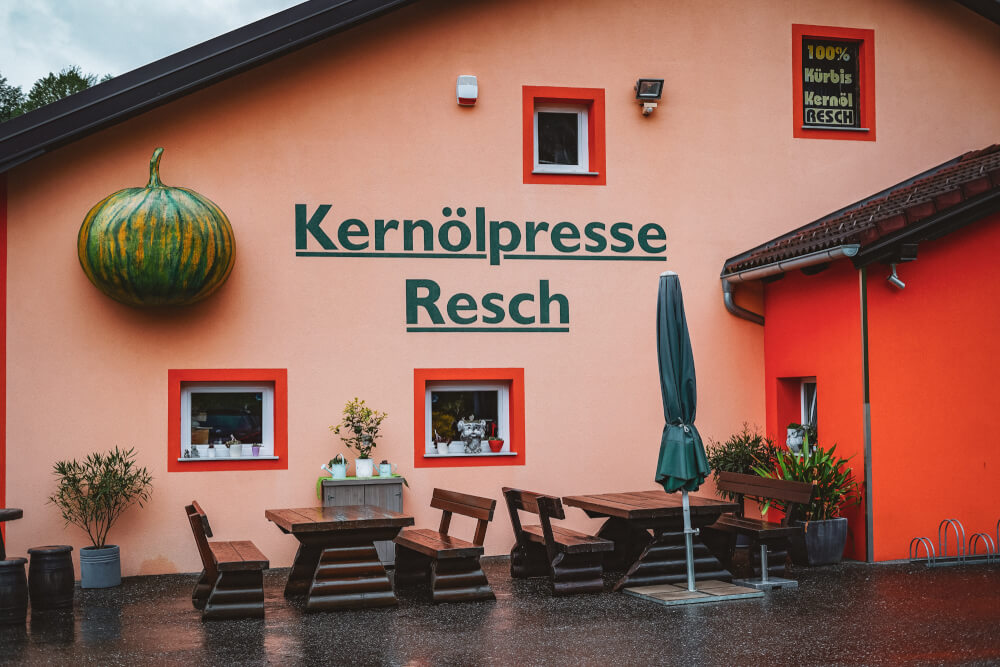 ---
---
2. Gamlitz and the Buschenschank Tinnauer
Another great day or weekend trip to do from Graz is Gamlitz.
Located just off of the official South Styrian Wine Route, Gamlitz is a colourful wine village complete with its own wine museum, and one that we happily used as the homebase for our South Styrian Wine Route tour.
We stayed at the Hotel Restaurant Weinlandhof, a spotless property with a killer breakfast buffet and spa. The best part? Just how easy they made getting around the area without a car. In fact, all around Gamlitz, those hoping to partake in wine revelry safely can make use of the free GAST-Taxi that takes you from point to point (with participating vendors) for free.
How's that for genius?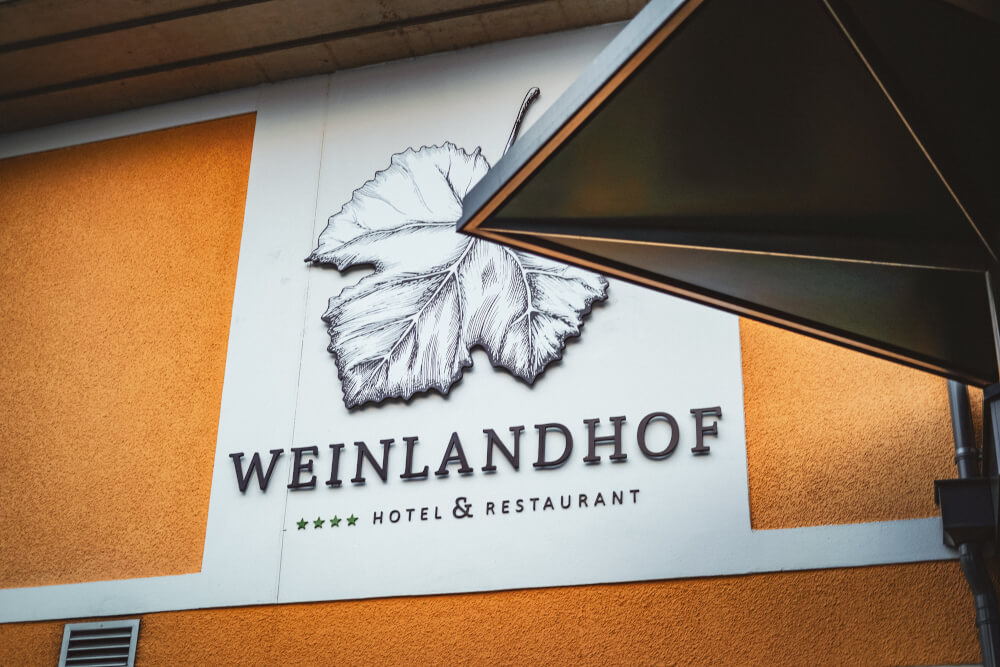 And so where did we get this taxi to bring us?
Straight to food. Naturally.
Only a 7 minute drive from Gamlitz proper is the Buschenschank Tinnauer, a cozy and oh so charming family-run property offering up fresh bites in a serene setting over rolling green vineyards.
It was here that we had our first Buschenschank experience of the trip.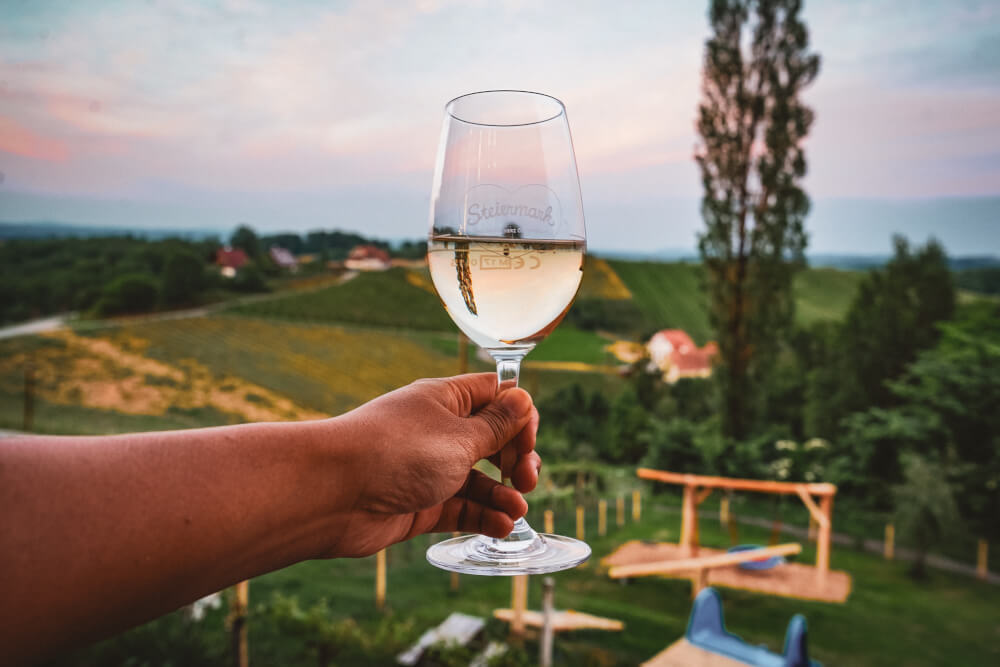 Put simply, a Buschenschank is a special wine tavern common in Styria where winemakers have the right (by law) to serve local products to guests without a formal restaurant license. As such, all dishes at Buschenschanks are served cold, and more than likely either produced by the winemakers themselves, or somewhere very, very close by.
As our table filled up with stacks of salads and platters of local cold cuts, cheeses and freshly-baked bread, all hangriness and apprehension melted away. While I usually much prefer hot meals when given the choice, every bite we had here was fresh, flavourful and so, so good, I barely noticed everything was cold. Washed down with a few glasses of wine, and a generous helping of impossibly smiley hospitality, the Buschenschank Tinnauer, to me, was the perfect start to our wine exploits around South Styria.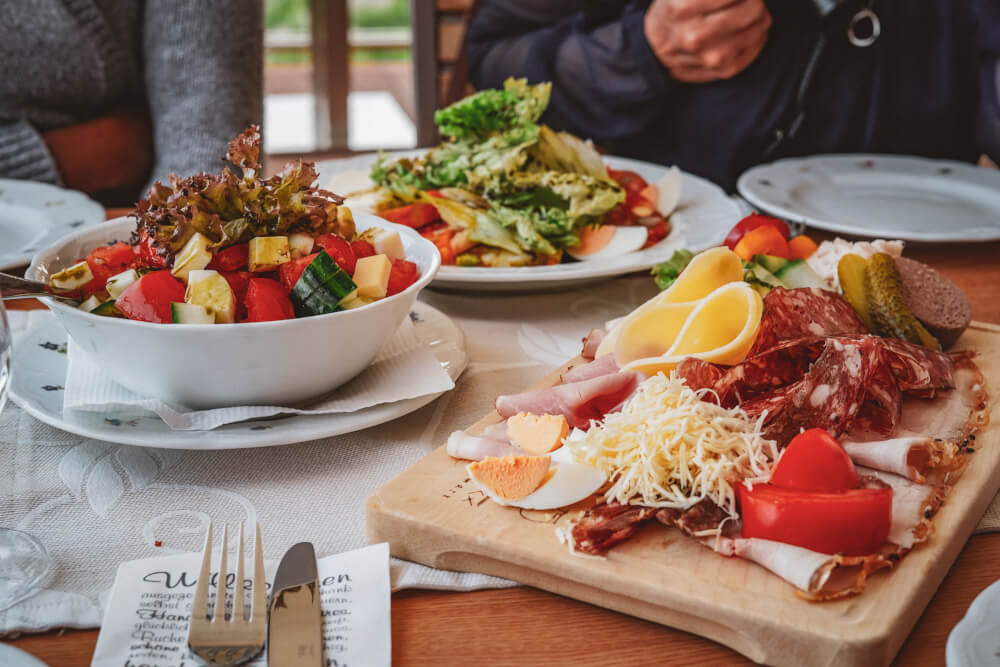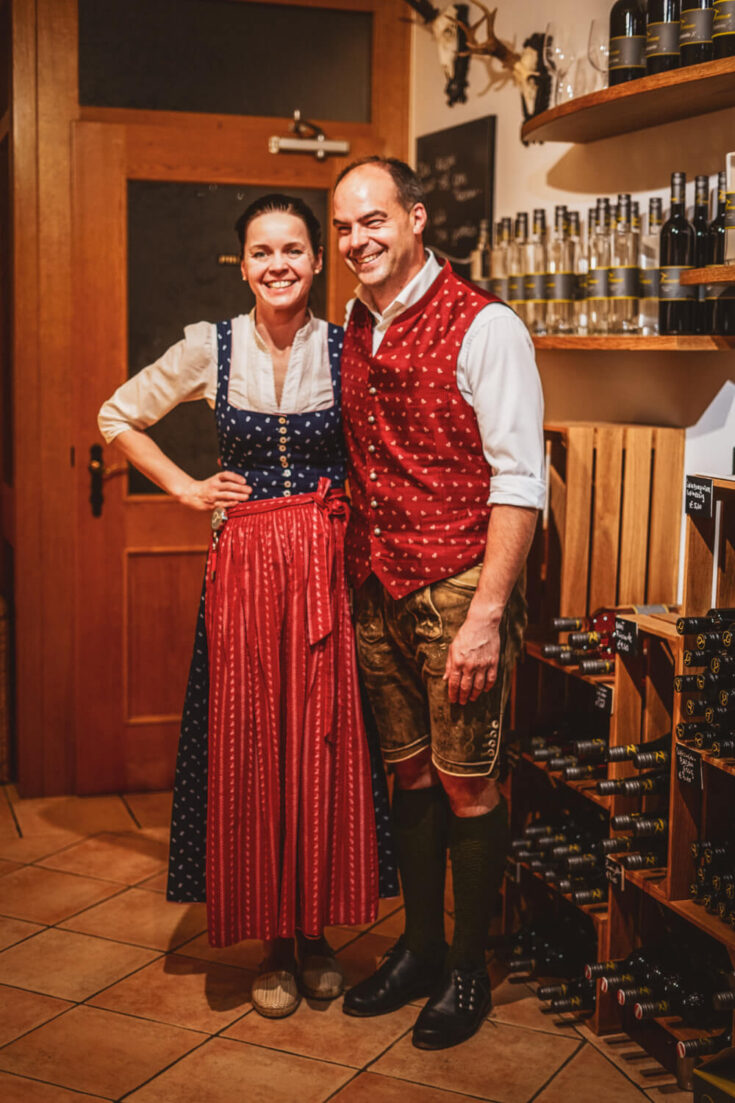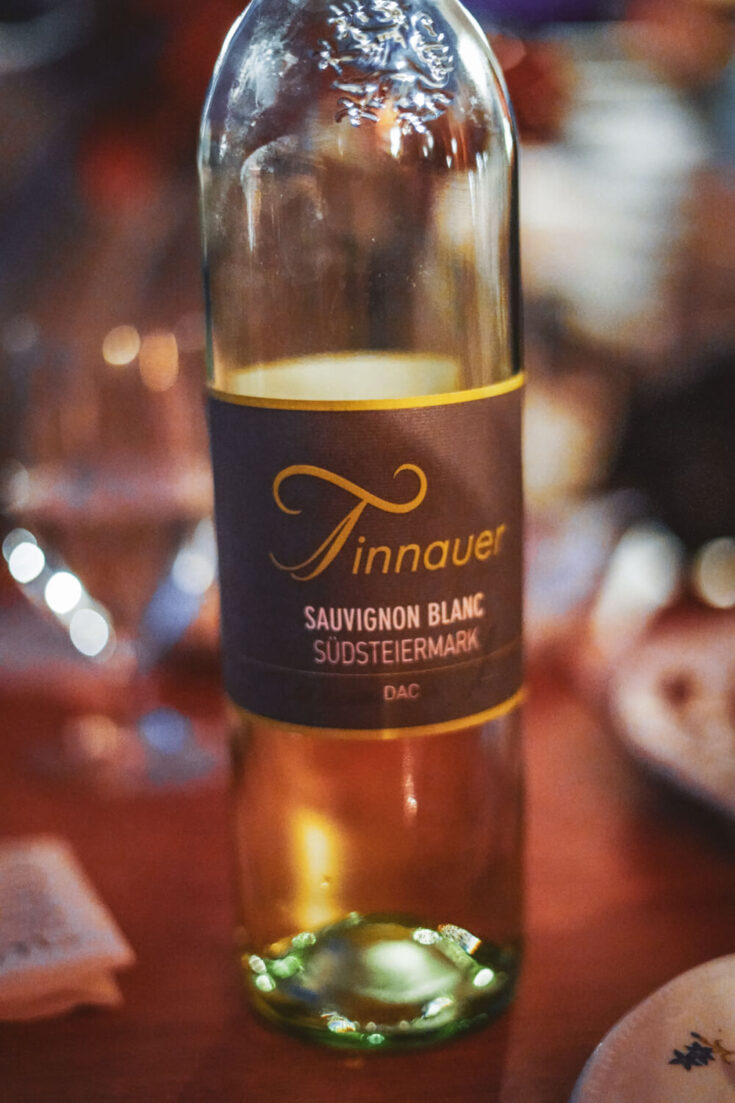 In Gamlitz, we also had the pleasure of eating at Landgasthof Wratschko – Hotel am Marktplatz, although 'eating' seems like a rather understated term for the way we demolished that mountain of Backhendl.
For context, while dining at a traditional Buschenschank is of course a must-do in South Styria, another specialty that can't be missed is their famous crispy Backhendl, a local, fancy iteration of fried chicken. If you're craving a hot, hearty meal, I recommend you sink your teeth into some backhendl, which as I learned, pairs deliciously with jam.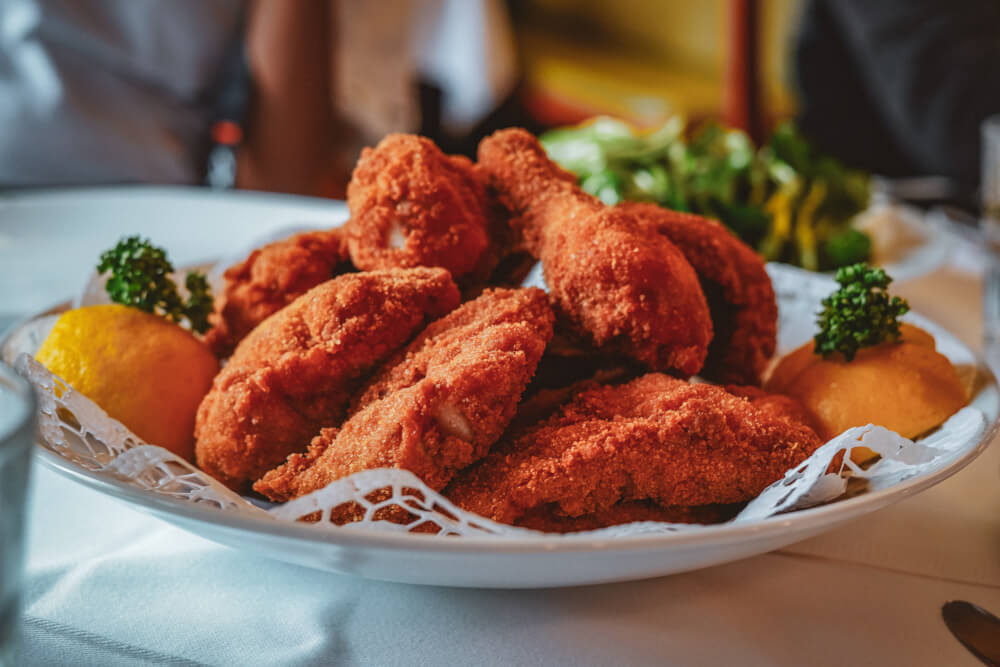 *slathers jam on everything*
---
---
3. Slovenia's Secret Heart-Shaped Road
Another unique and awesome spot near Graz is Slovenia's heart shaped road (yes, really!)
In case you didn't know, a portion of the South Styrian Wine Route actually straddles the Austrian border with Slovenia, so when we heard that there was a mysterious heart-shaped road to be seen there, the wine we'd consumed gave us enough confidence to beg for a detour.
… and we got it!
A short drive later, we were taken from the wine clutches of South Styria to nearby Slovenia, where we drove along a road that was evenly split down the middle between the two countries. Have you ever been in a different country than someone else in the same car as you? Because I have.
After a quick (but amusing drive), we found ourselves at the Dreisiebner Stammhaus (or Dreisiebner Stefka in Slovenian), a restaurant which offers a perfect viewpoint over Slovenia's famous heart-shaped road.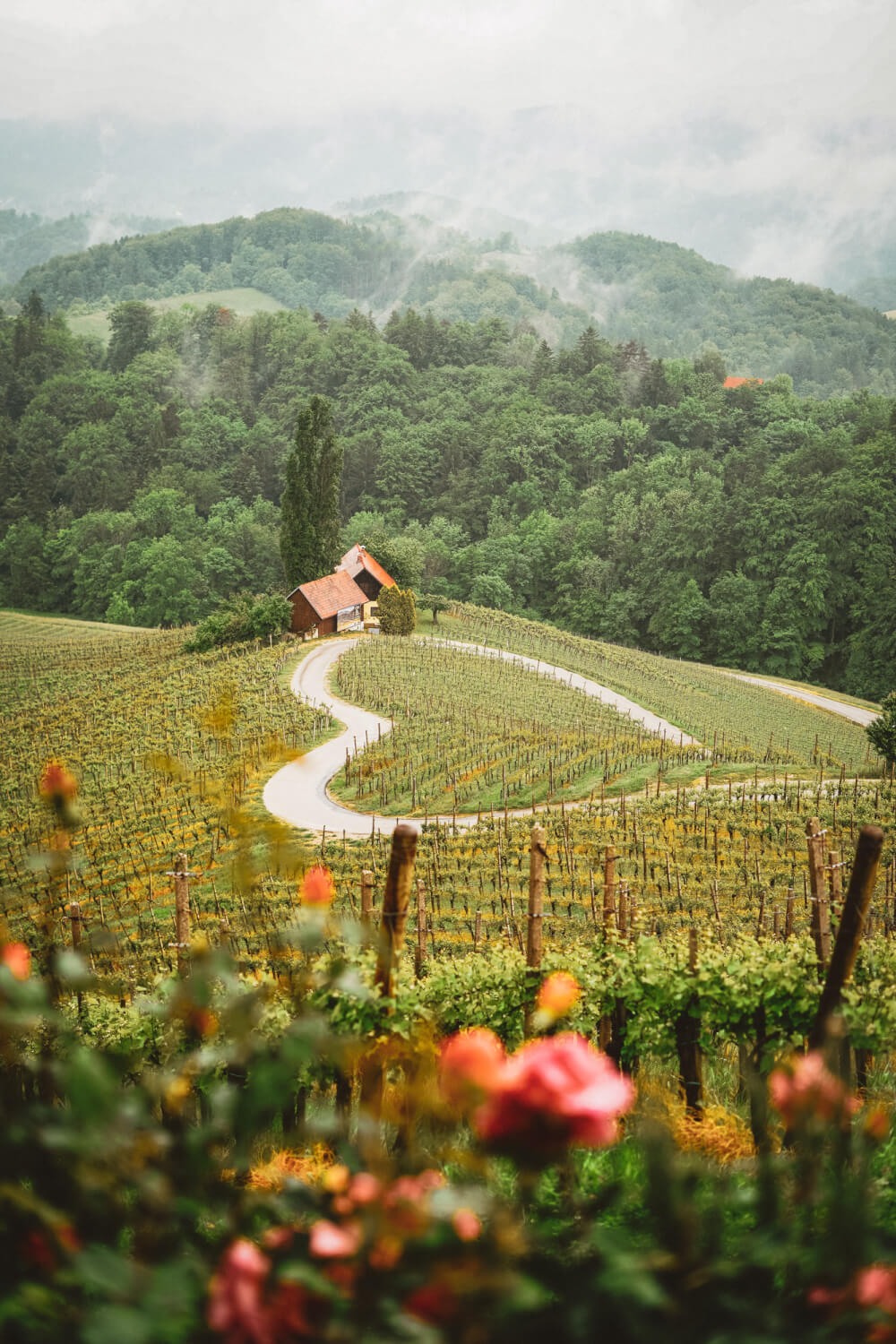 Of course, these views are best admired with a glass of wine, but if time doesn't allow you to sit down for a bite, then you're allowed to come take photos – just be sure to give 2 euros per person to the restaurant for their time.
---
---
4. The Vinofaktur Genussregal
How to get there from Graz: S5 train (Direction Spielfeld-Strass) from Graz Hauptbahnhof to the Ehrenhausen Bahnhof, then a 7 minute walk
While of course, South Styria is best enjoyed as a long weekend trip or longer if time permits, you could easily get a taste of it in a day, at a magical little place called the Vinofaktur Genussregal.
As we pulled up to see its modern container park façade and glitzy glass exterior, I admit was thrown off.
… Well first I squealed at the bright pink rosé-mobile out front, but THEN I was thrown off.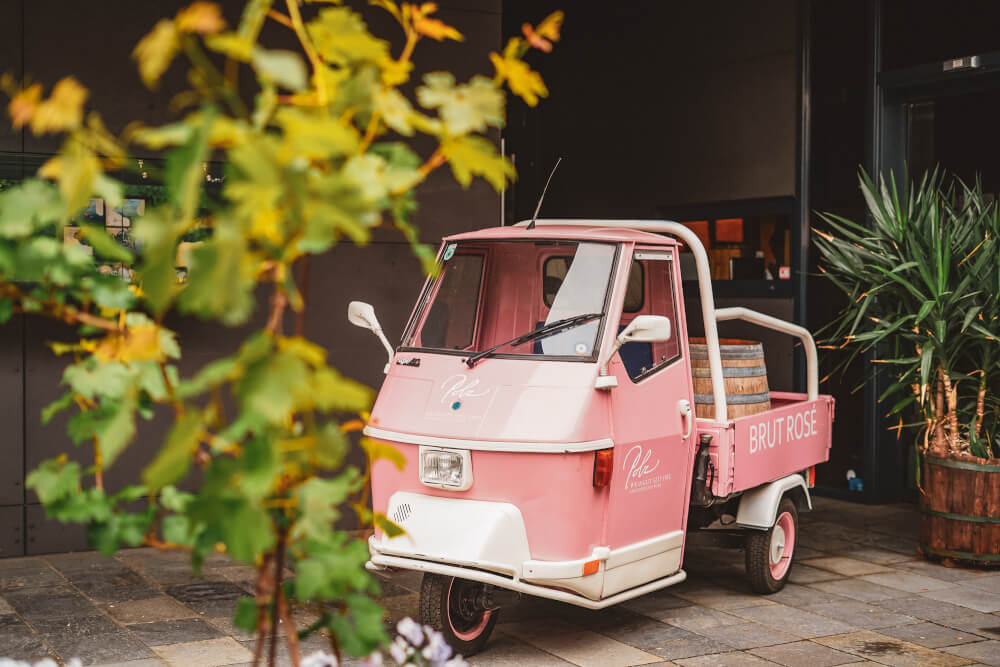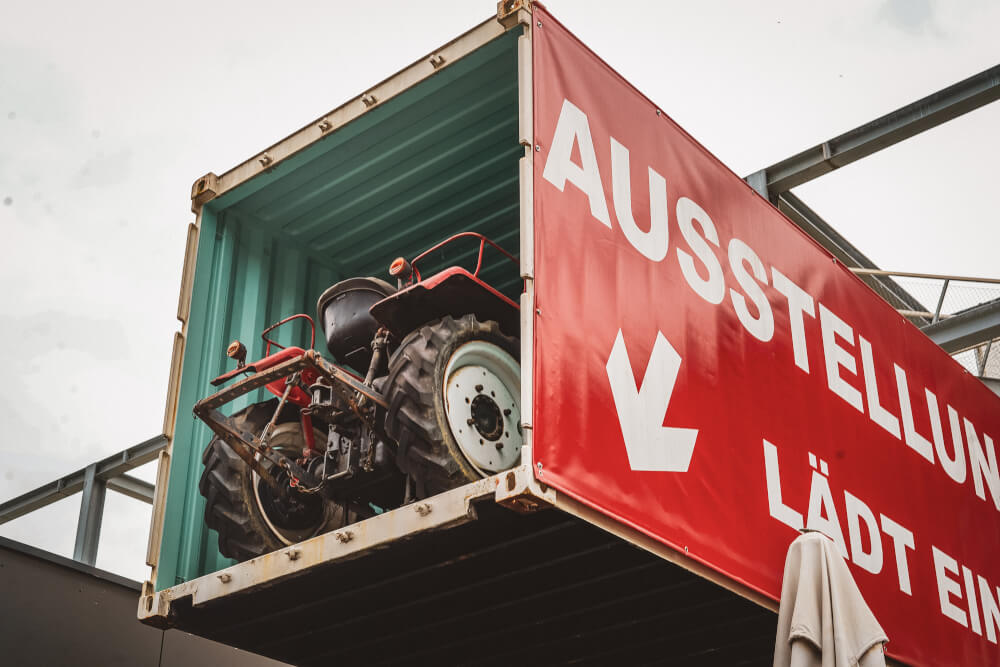 After all, you wouldn't exactly expect the Austrian countryside to house a space like this.
While it certainly does function as a giant wine depot (think a classy Costco for wine), where the Vinofaktur Genussregal shines is in its educational exhibition space, crammed with interactive exhibitions that teach you all about the local products you're consuming. Think motorcycle motion simulators, a 'wheel of history' that plays you food history videos triggered by a spinning wheel, and of course, a porcelain spoon to call your own so you may pillage and plunder the 40+ sampling stations as you please.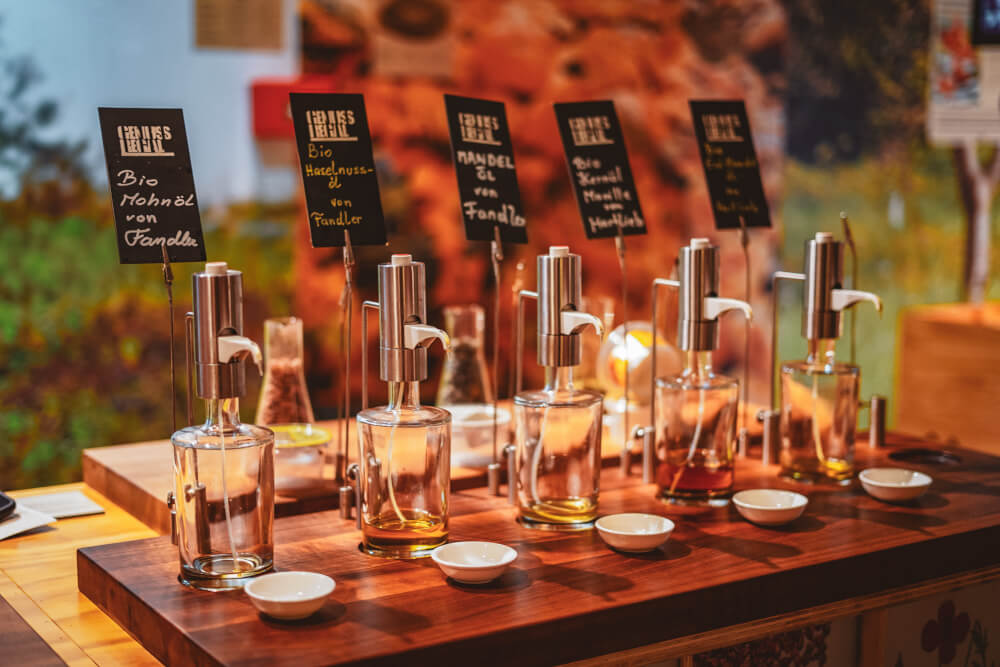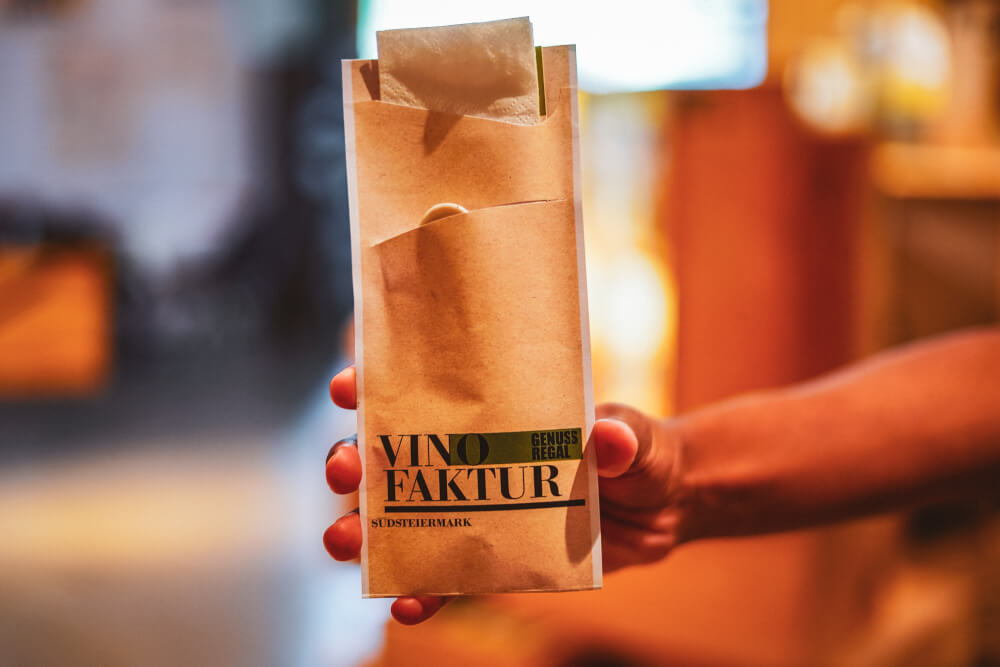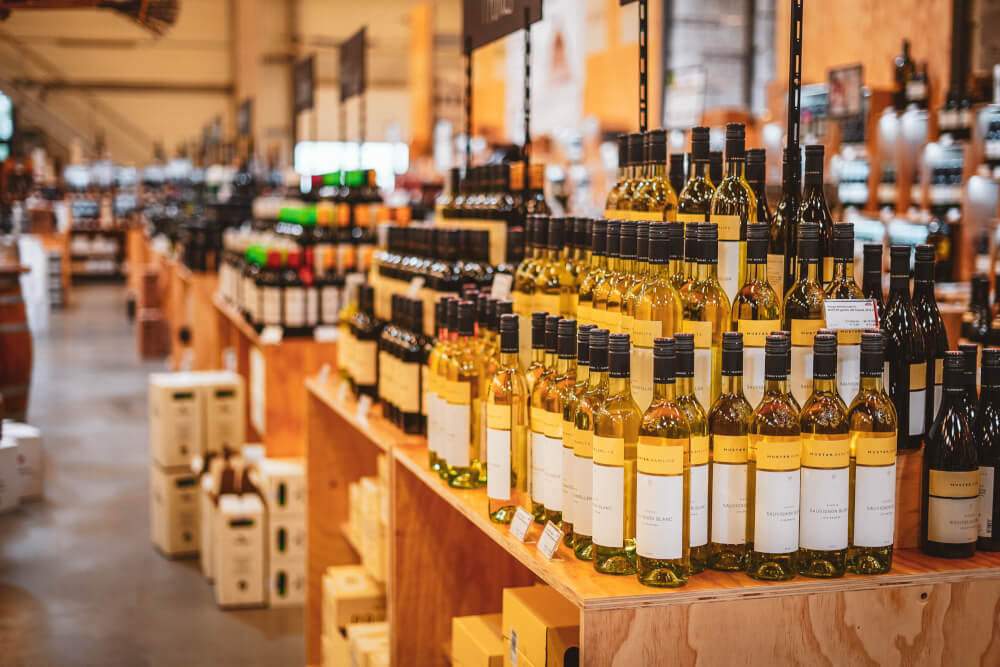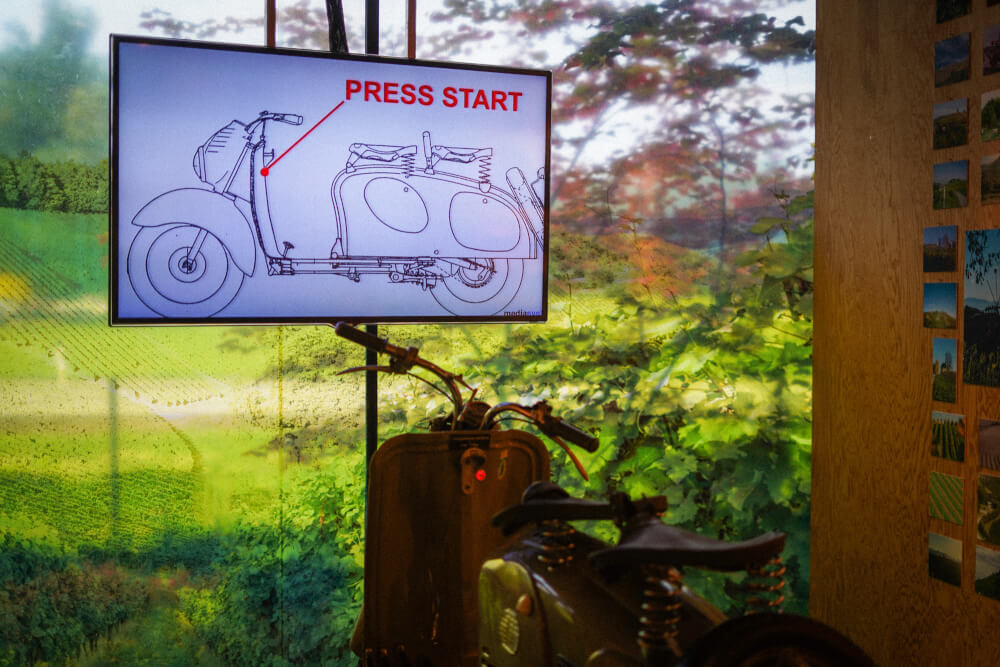 ---
---
5. Leibnitz and Seggau Castle
How to get there from Graz: S5 train (Direction Spielfeld-Strass) from Graz Hauptbahnhof to the Leibnitz
Easily accessible by train from Graz is picture-perfect Leibnitz, a cute bite-sized town with a colourful main square and a slew of quirky attractions, including the Sanitärmuseum, a museum devoted to the oh so timeless toilet and bathtub.
This was actually our first point of contact with the glories of South Styria.
In fact, the sun was so brightl upon arrival that I almost instantly forgot how we had boarded the wrong train and botched a (usually) simple 30 minute commute.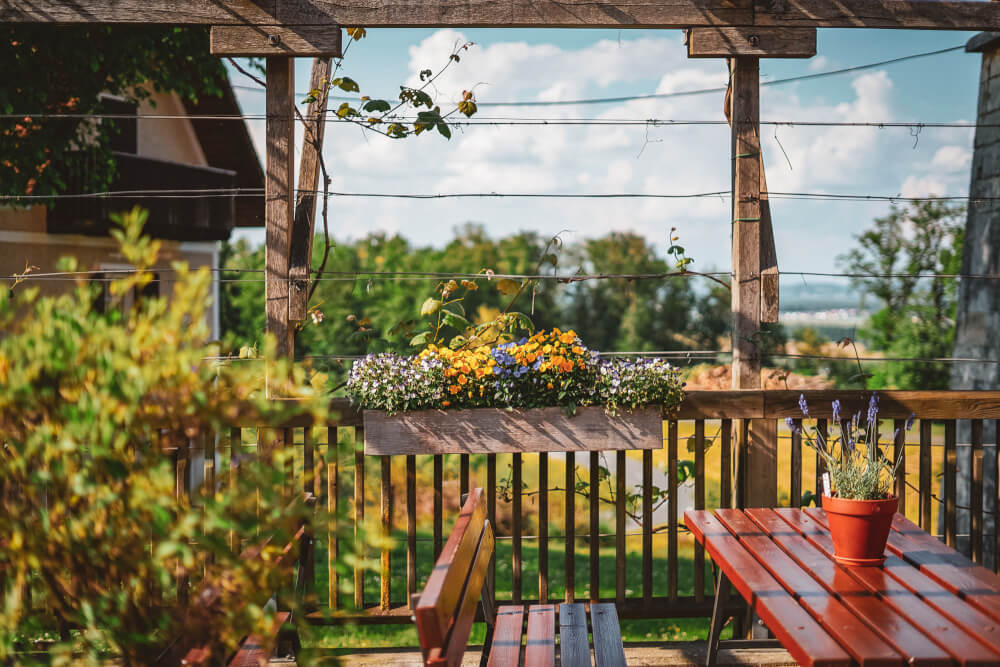 So with the sun shining down on Leibnitz, I could tell it was glorious. ……. From the car window at least. The truth is, we didn't have time to properly explore Leibnitz (and partake in its quirky museum offerings), but its pretty pastel buildings were a lovely little treat as we weaved down the road up to the main event for the afternoon: Seggau Castle. Seggau Castle, perched high above town on the Frauenberg, offers sweeping views over the rolling green hills of South Styria below, with a 300 year old Episcopal wine-cellar along with the honour of having the "largest historical bell in Styria".
As a sucker for castles, can you blame me for wanting to grab a ballgown and move in forever?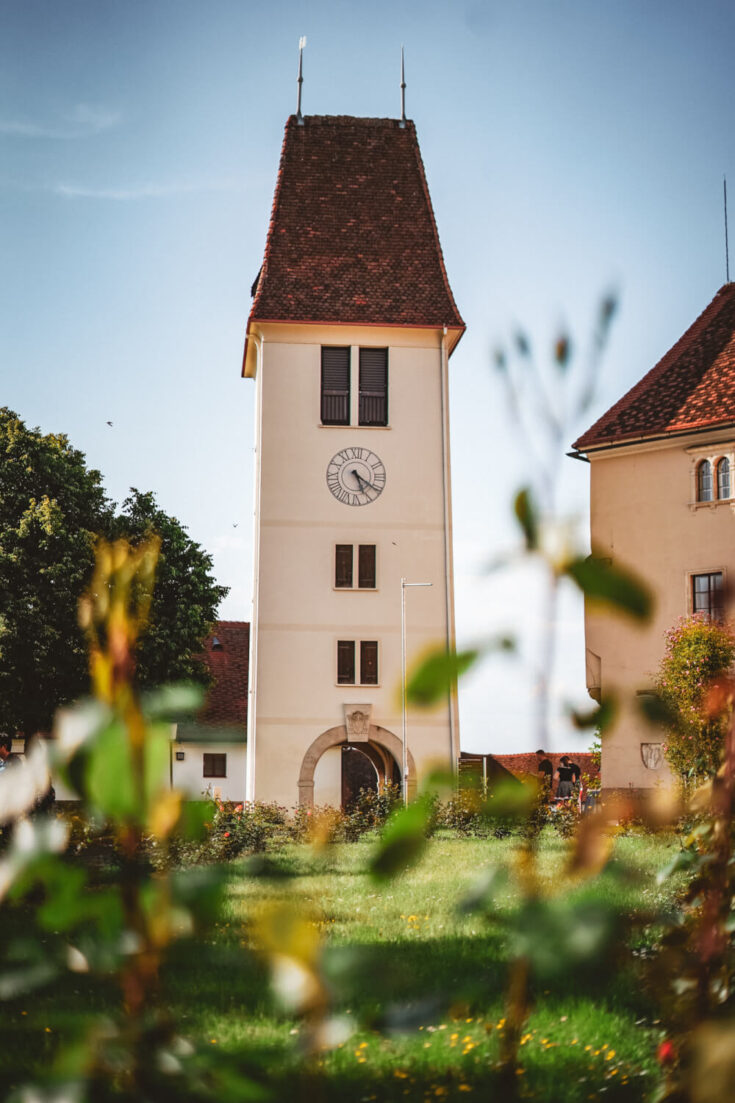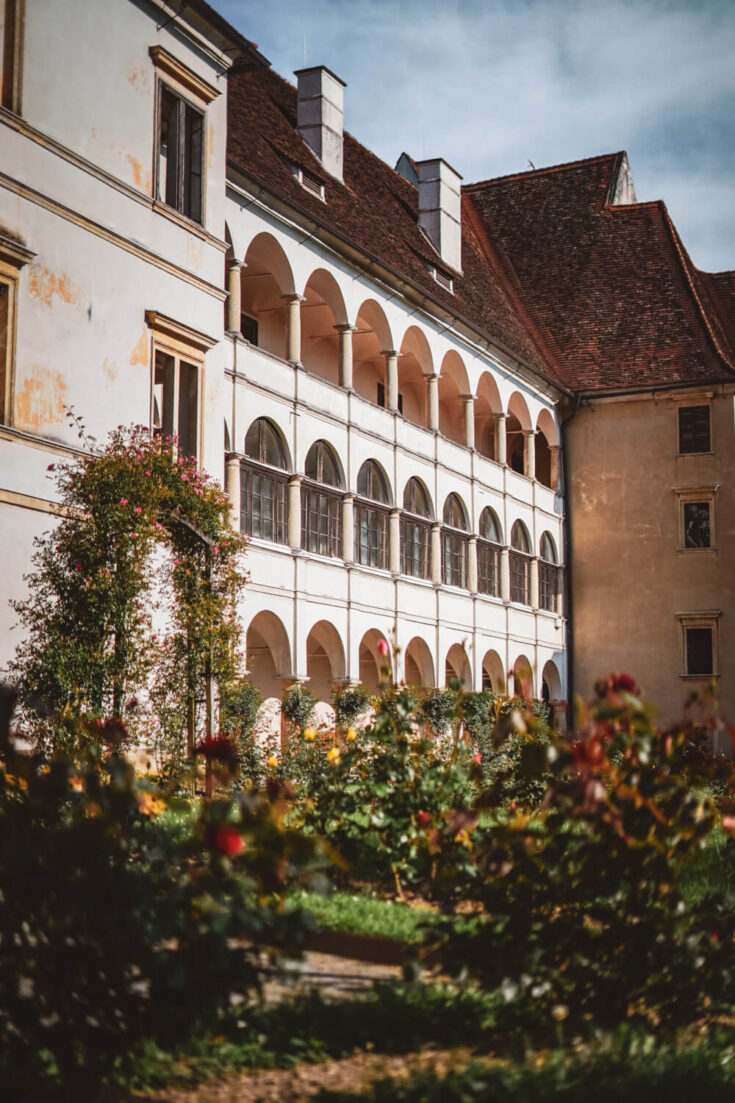 ---
---
6. Thal and the Arnold Schwarzanegger Museum
And for pop culture junkies like me who grew up binging on 80s action flicks, a day trip from Graz to Thal and the Arnold Schwarzanegger Museum is non-negotiable.
Between you and me, this might have been one of my favourite things I did during my time in Styria, and you can read a full blog post all about it here.
As the former childhood home of Arnie, this museum is packed with amazing photos, props, statues, and personal items, including Arnie's first Golden Globe. The rooms of the house are divided into different stages of Arnie's life, from his early childhood days to his political career and of course, his lengthy careers in fitness and Hollywood. There's even gigantic Transformers in the backyard, an admittedly random but delightful addition to a quirky must-see in the Graz region.
Oh, and keep an eye out for Arnie himself, who is said to visit from time to time…!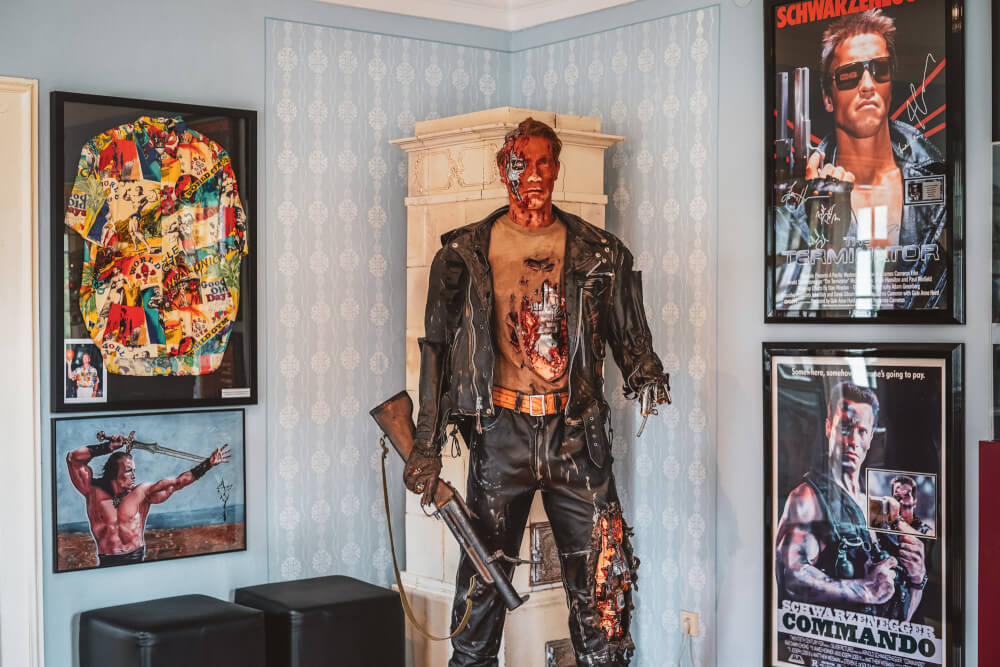 ---
---
7. Bärnbach, St Barbara Church and the Bärnbach Kunstpfad
Bärnbach was one of those truly unexpected finds that occur only at the perfect collision between great timing and eagle-eyed attention.
We were en route back to Graz when a glimmering gold onion dome caught my eye. As our car slowly glided past it, I craned my head to the window, only to see the most whimsical church façade I'd ever seen. Once again empowered by a slight wine buzz, I asked if we could pull over.
… Request granted!
Camera in hand, I hurtled like a crazed hyena towards what I now know is Bärnbach's St Barbara Church, designed by legendary artist and architect Friedensreich Hundertwasser, mastermind behind one of Vienna's most famous attractions, the Hundertwasserhaus.
This church is unlike any I've ever encountered. The architecture, while colourfully unconventional, is (to me) the picture of delightful whimsy. Besides the glittering gold dome that caught my eye, green splotches dot the rooftop, wavy colour blocks adorn the facade, and all around are unexpected details, like the garden's twelve gates decorated with symbolism belonging to other religions from around the world, a beautiful statement to tolerance and togetherness.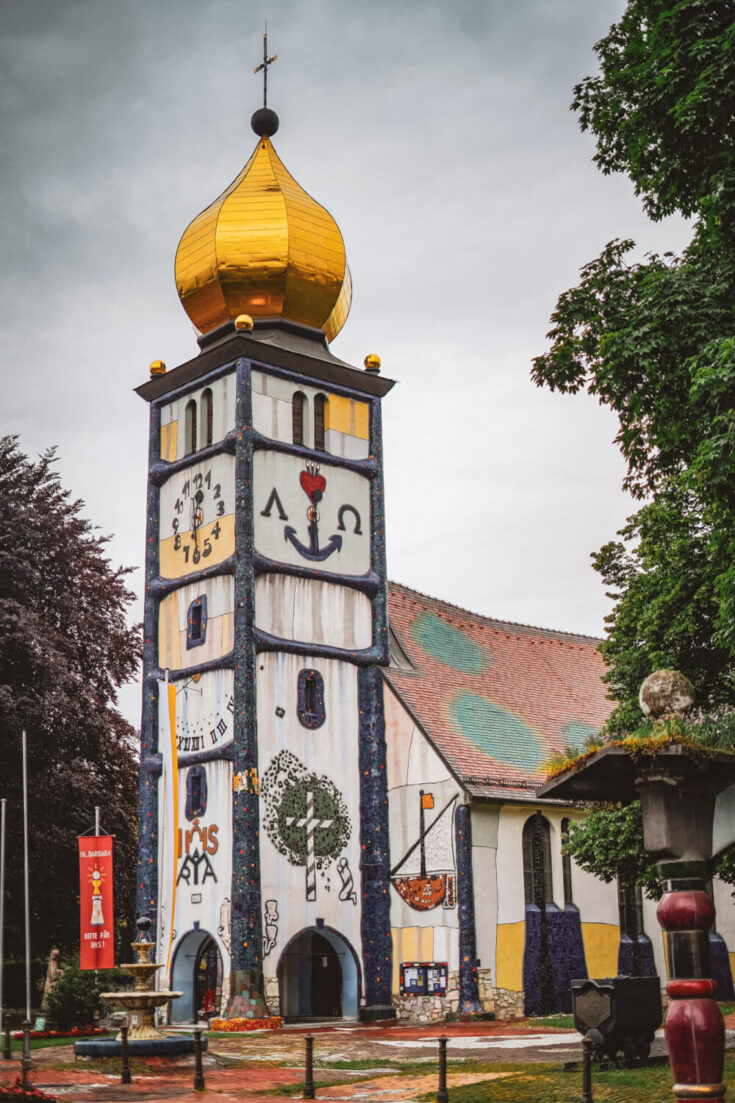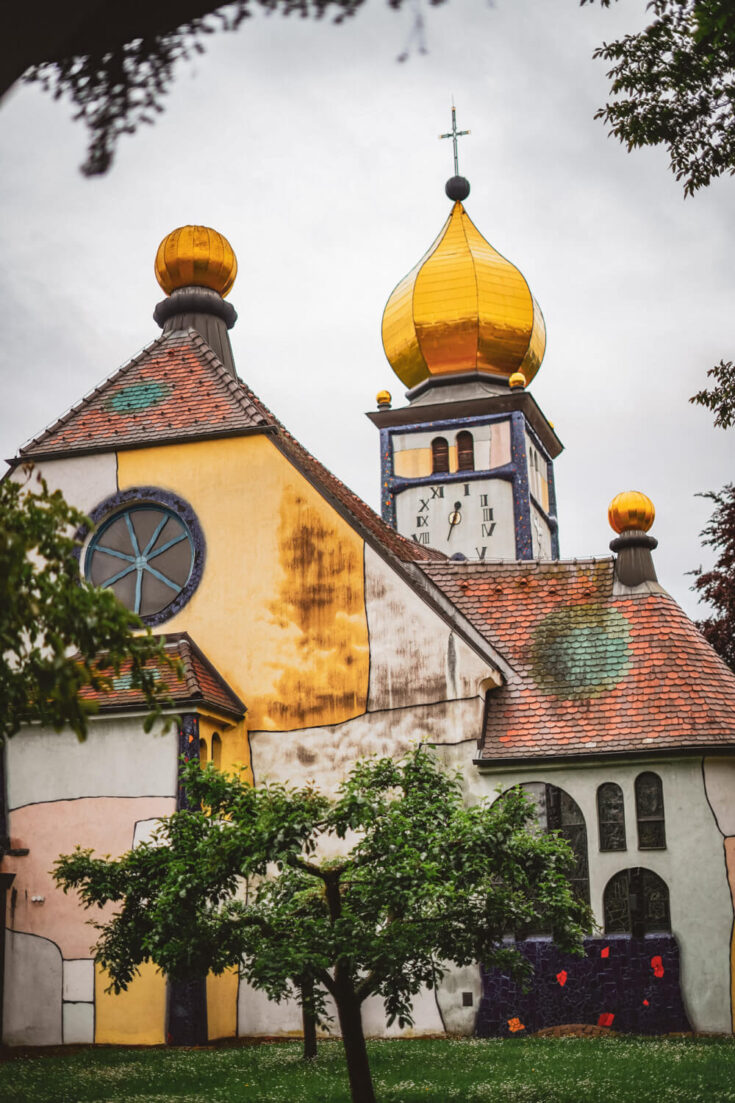 And while I didn't have a chance to check out other pieces, I later learned that this church is one of many pieces along the Bärnbach Art Trail, which guides you past fascinating works of art with stainless steel steps throughout the city. Pretty cool, no? Click here for a map.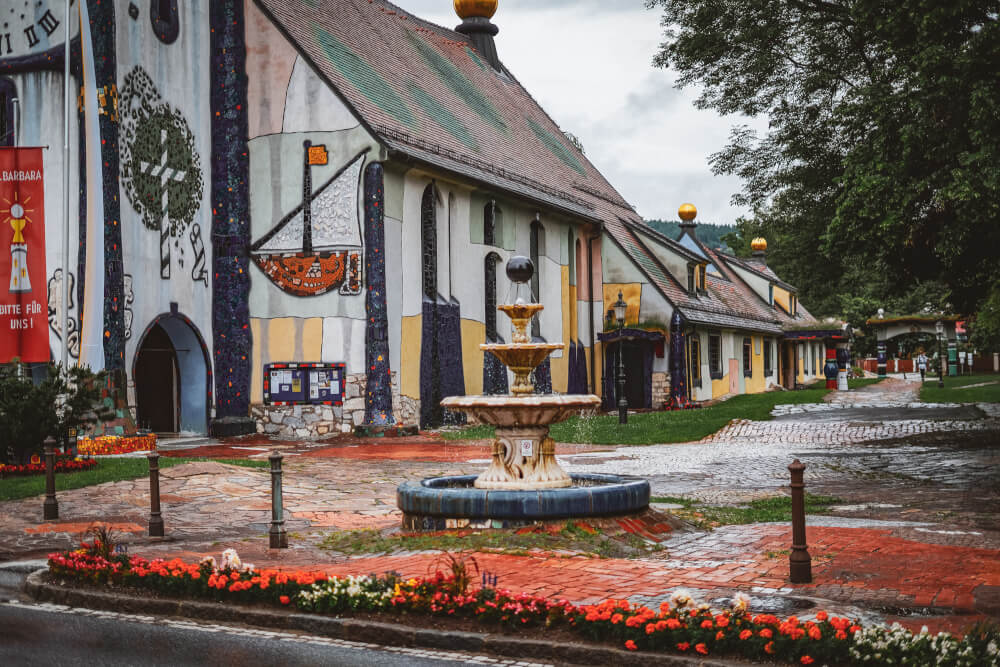 ---
---
8. The Gardens and Palace at Eggenberg
And if you're working against time, here's an excellent day trip you can do from Graz with barely any extra effort!
A short skip from the historical center of Graz is where you'll find the beautiful palace and gardens of Eggenberg, a Baroque palace complex that counts among one of Austria's most beloved cultural treasures.
I didn't have time to explore the gardens and interior given time constraints, but I did take a quick peek and this is one stunning beast of a building. Watch out for the screeching peacocks though – they're terrifyingly aggressive.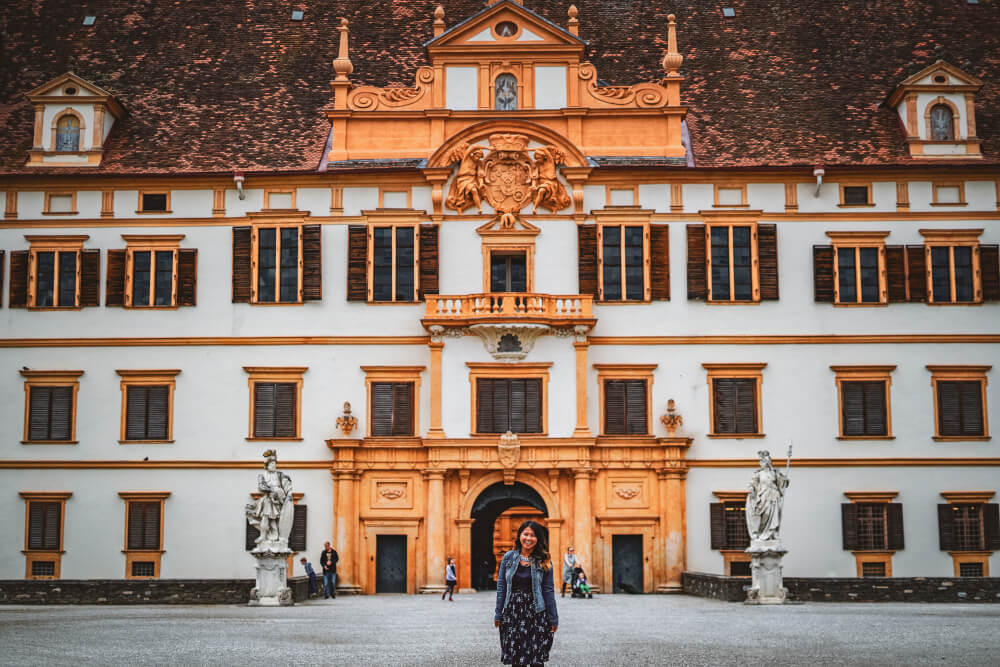 PS: If you have time to do a tour, one of the highlights of the palace interior is the Planetary room, decked out in paintings representing the different planets and signs of the zodiac.
---
---
9. Lipizzaner Stud Farm Piber
And as a note for equestrian fans: the Lipizzanner Stud Farm in Piber is located only 1 hour away from Graz, making it an easy day trip to do in all seasons.
This is of course where the horses from the world-famous Spanish Riding School in Vienna come from. During your visit, you get to see these famous horses in person, learn about the history and tradition of breeding here, as well as visit the intriguing little carriage museum located on-site.
NOTE: I would only recommend this day trip if you're very interested in equestrianism and horses. As a more casual horse admirer (which is something I never thought I'd say!!), I think a lot of the "wow-factor" of the visit was lost on me. Some of the other members of our tour (who were tour guides at the Spanish Riding School themselves!) seemed to swoon over every minute like they were fangirling at a Backstreet Boys concert.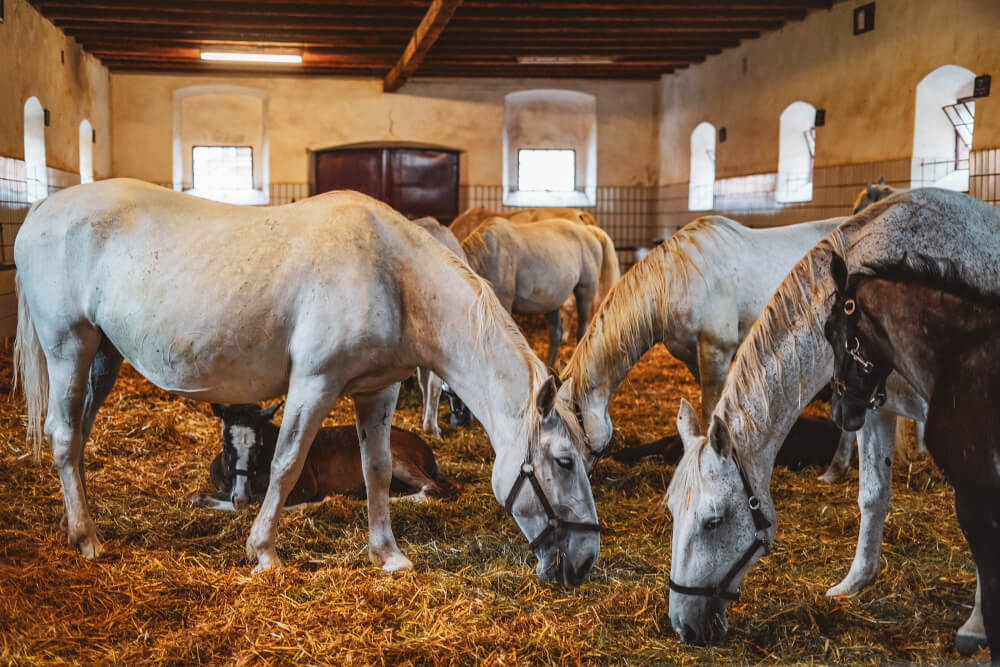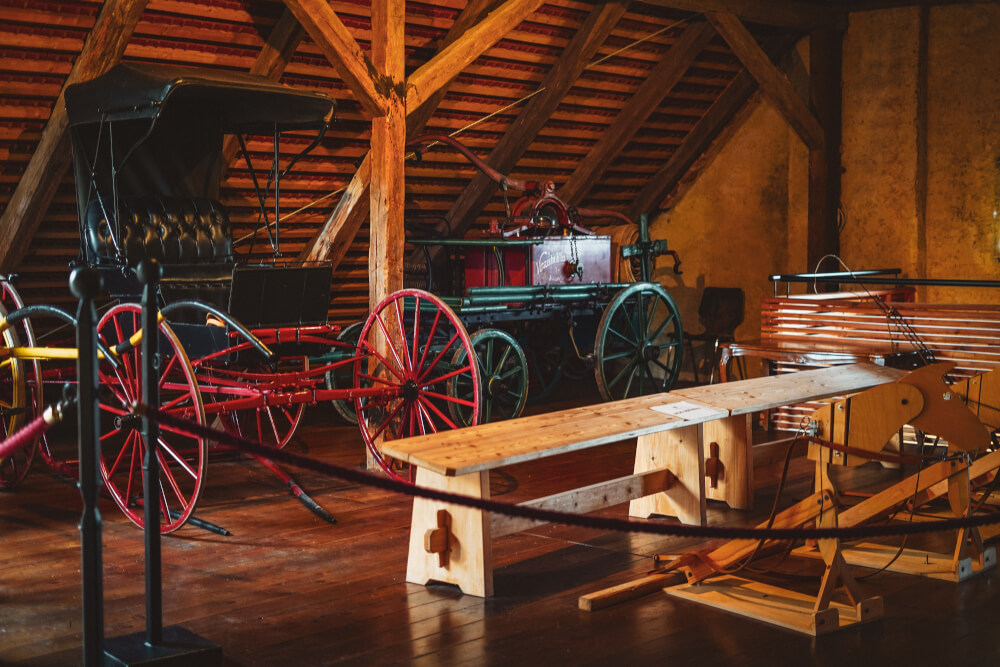 ---
---
10. Bad Blumau
Last but not least, I have to include a gorgeous spa that I unfortunately didn't get a chance to visit, but a few friends of mine did, which left me seething with envy. The Bad Blumau, located 1 hour east of Graz, is a large thermal spa complex that doubles also as a walk-in art installation designed by none other than Hundertwasser himself (yes, the same guy who did the church I mentioned above, except this place is a SPA!!!).
I'm talking 11 indoor/outdoor pools, countless mineral springs, and saunas that will melt your face off (in the best possible way)… I guess that's the next one for the bucket list then?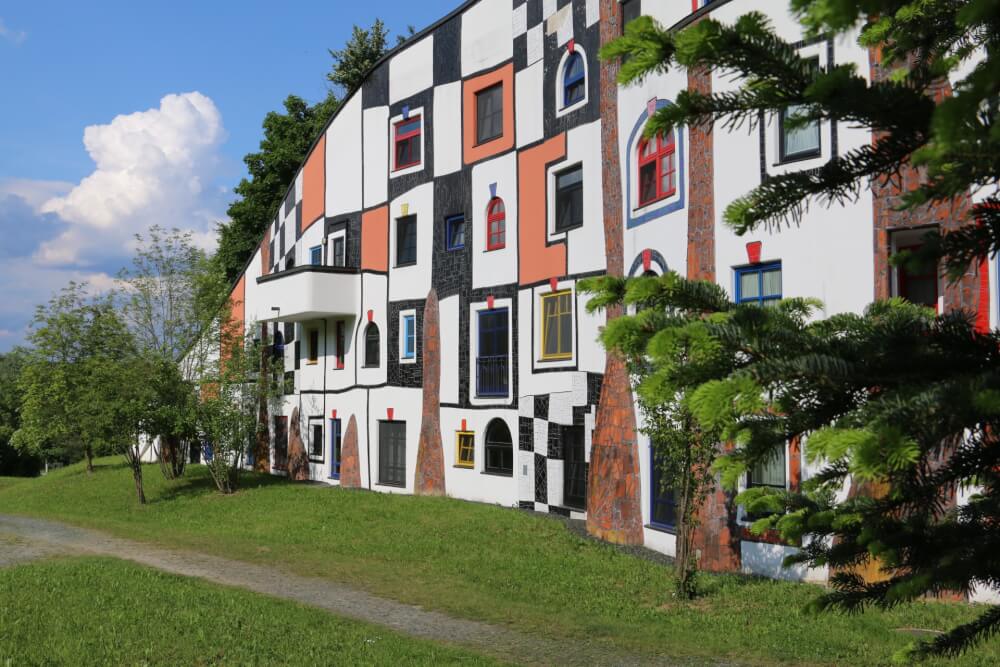 ---
---
Did I miss any of your favourite trips to do from Graz?
Anyways, I suppose, as we pass the 3000 word mark, it's time to wrap up this ludicrously lengthy love letter to Graz, to Styria, and to all the wines I've chugged along the way. I hope you enjoyed this roundup of wonderful places to visit near Graz. Let me know in the comments if I've missed any of your favourites! Safe travels!
---
---
My Go-To Travel Favourites: