*FYI - this post may contain affiliate links, which means we earn a commission at no extra cost to you if you purchase from them. Also, as an Amazon Associate I earn from qualifying purchases. Check out our Privacy Policy and Disclosure. for more info.
When dreaming up the most beautiful places to visit in England, there's one city that consistently tops lists and throttles the competition.
And with its buttery Georgian architecture and even more buttery buns, it should come as no surprise that this overachieving destination is none other than Bath – a place so popular, it has been a go-to retreat for almost two thousand years.
Its historic prowess is so revered in fact that the entire city centre is a UNESCO World Heritage Site, making every step feel like a step back in time (if you can ignore the Pizza Expresses).
Little wonder why it's the city of choice for period drama crews, and now period drama fans, who flock to the city every year to fulfill their boldest Bridgerton fantasies.
In case my ardent praise left any mystery, Bath is one of my favourite cities in England, and I'm lucky to be dating someone who called it home for four years! So, read on for a list of the best things to do in Bath, with a bit of insider know-how sprinkled in.
1. Explore Bath Abbey
We'll start with the touristy must-dos: a visit to beautiful Bath Abbey is one of THE best things to do in Bath… especially if you climb to the top for sweeping views.
This stunning abbey is the centerpiece of historic Bath, and was once a Benedictine Monastery. While its perpendicular Gothic design is plenty majestic from the outside, trust me when I say you'll want to catch a glimpse of the interior as well.
Today's present structure dates back to the 16th century, meaning it has had plenty of time to cement itself as one of the most beautiful sights in Southwest England… and cement it has, with breathtaking stained-glass windows as well as a droolworthy fan-vaulted ceiling.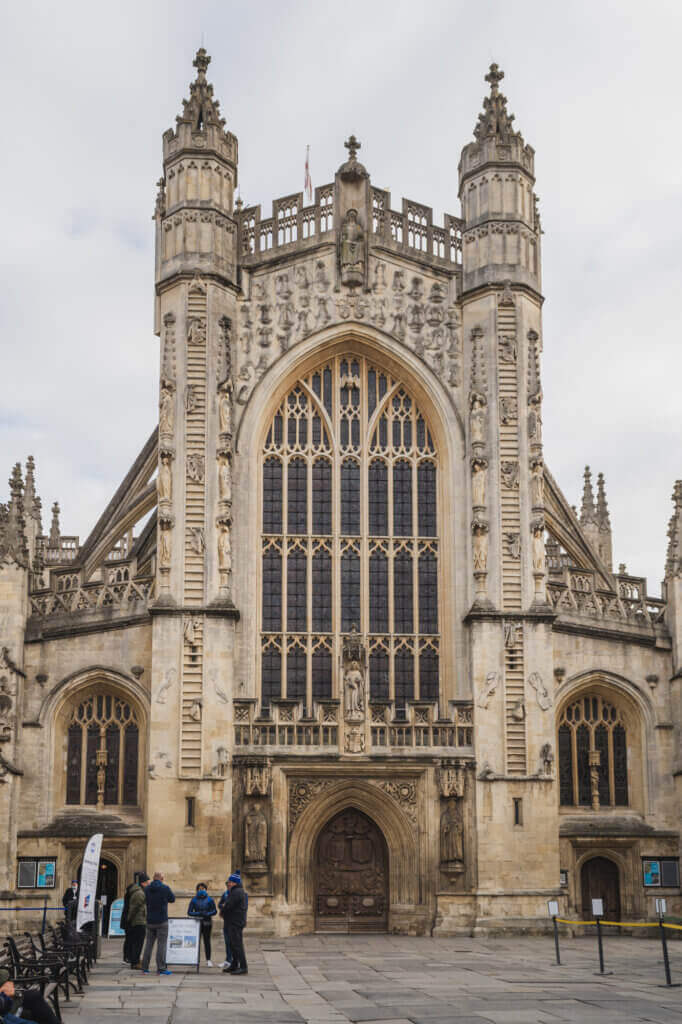 Of course, Bath Abbey is a working church, so check their website to see when services will be happening, and be sure to book a tour at the front desk upon arrival so you can climb the 212 steps to the top! This costs an additional fee but is definitely worth it in my opinion.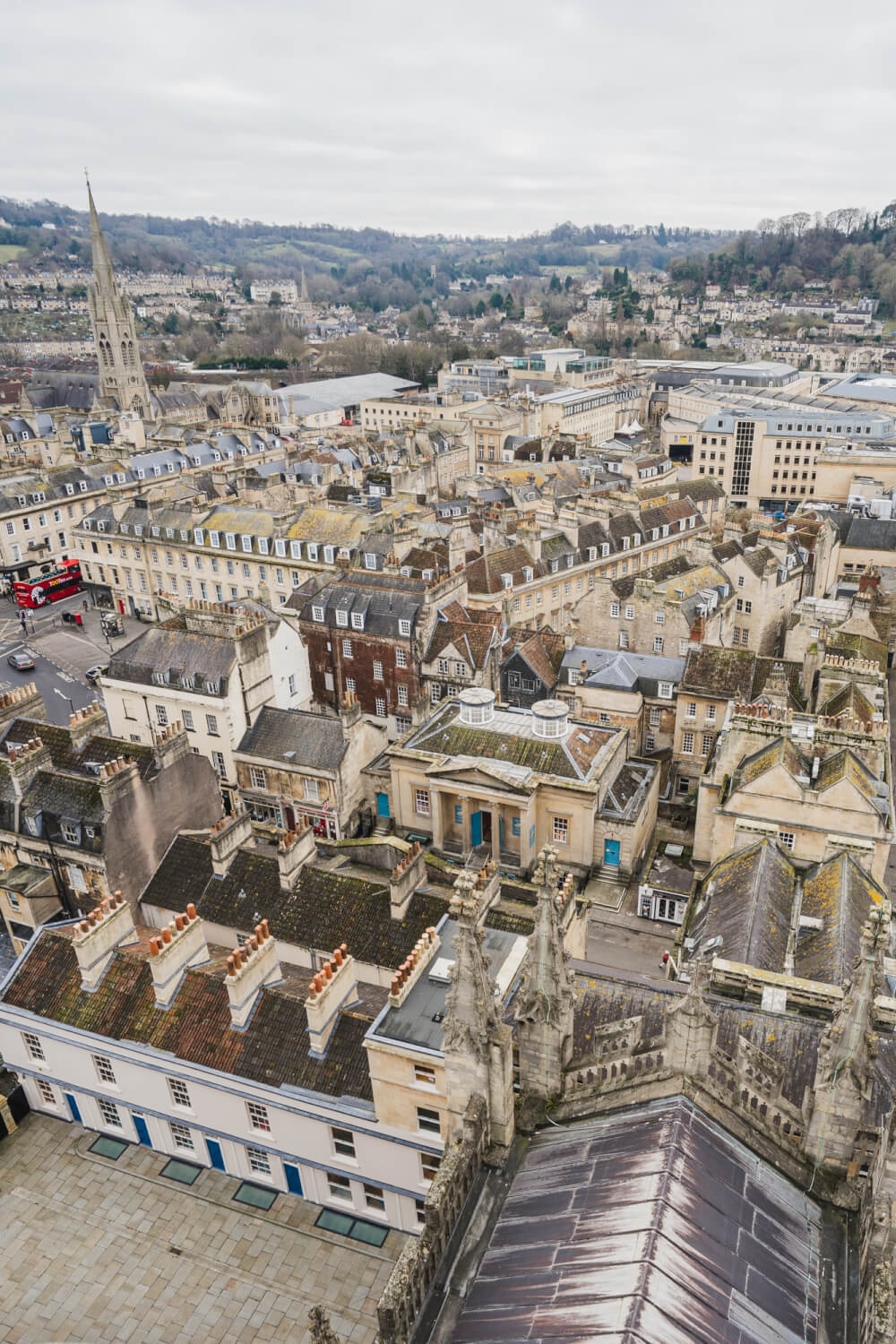 PS: If you'd like to seethe in anger and jealousy with me, this stunning space is where my boyfriend had his university graduation ceremony. IMAGINE!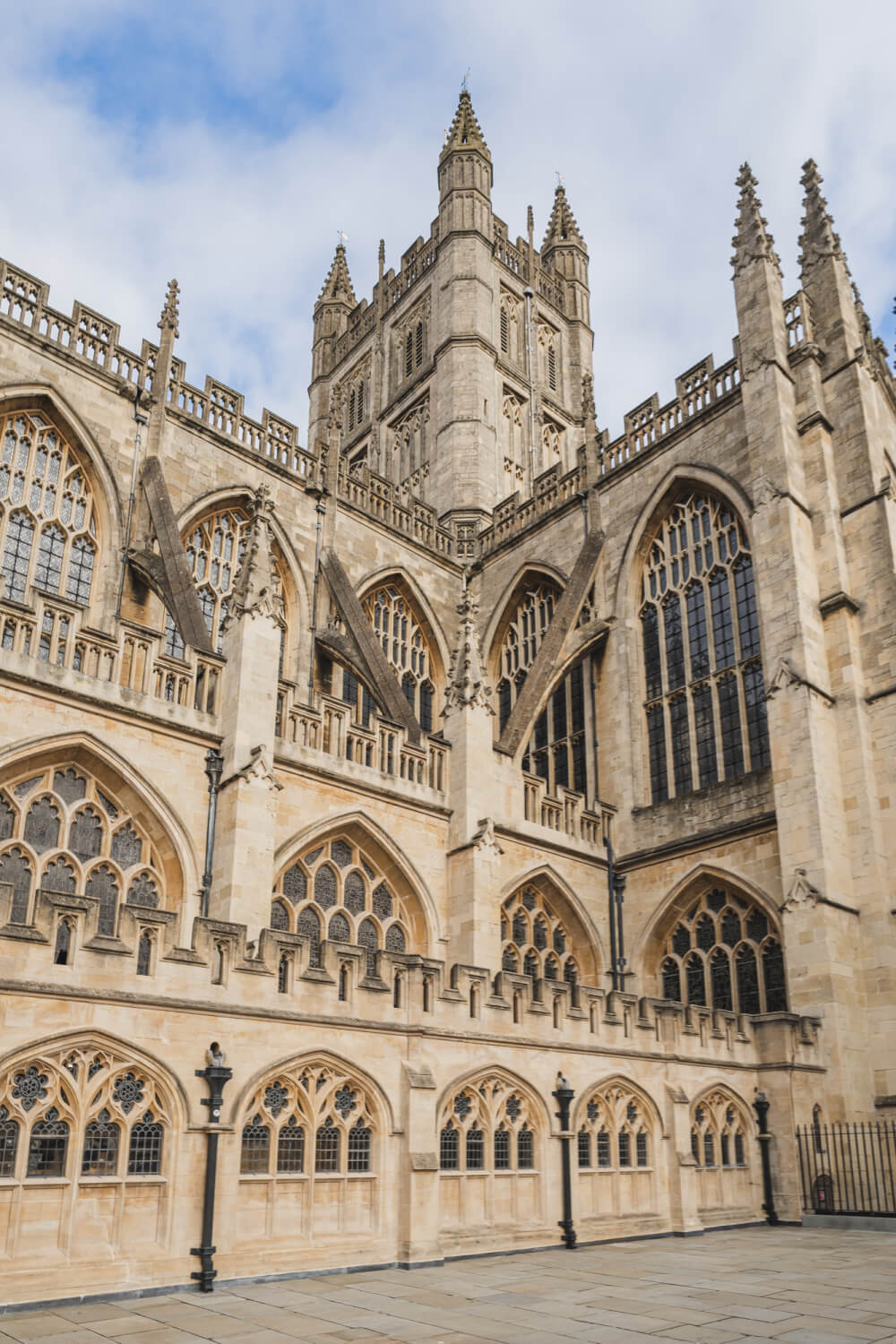 2. Visit The Roman Baths
Continuing with one of the best historical things to do in Bath, one of the top must-see Bath attractions is, of course, the Roman Baths that gave the town its modern name.
While the natural springs of Bath pre-date even the Roman occupation of Britain, the structures that can still be visited today date back to around 60-70 AD when the Romans built a temple here.
For 300 years this area was known as Aquae Sulis (Waters of Sulis), and although the baths fell into ruin after the Roman departure from Britain, they were (luckily for us) redeveloped years later, fulfilling Bath's calling as a popular spa city once more.
And while soaking in the tempting waters is no longer an option, today the Roman Baths offer an interesting museum site, where you can see the ancient Roman building, learn more about the town's history and even taste-test some of the water for yourself. Spoiler: it smells like eggs, but may have healing powers. Do with that knowledge what you will.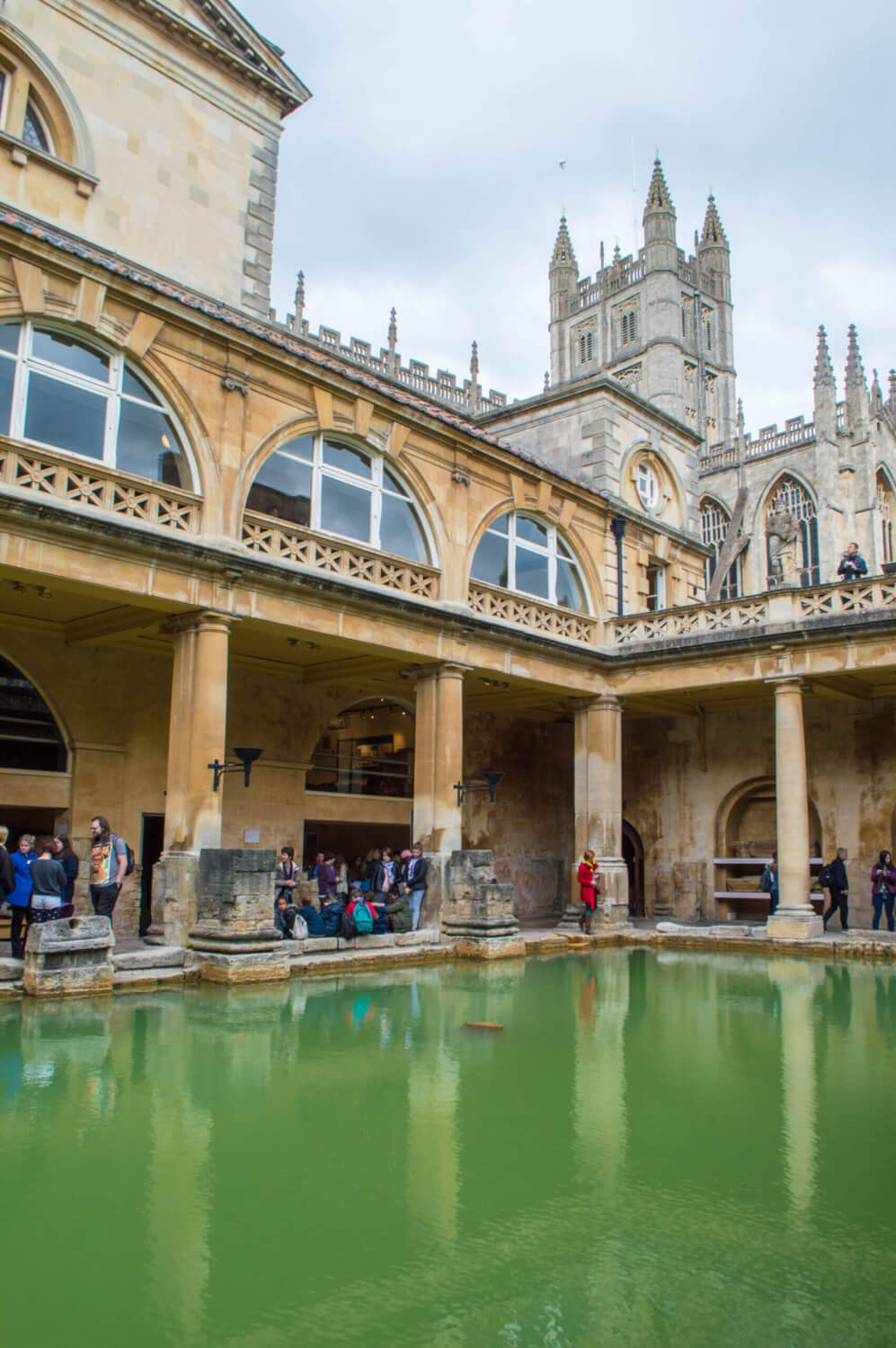 3. Relax at Thermae Bath Spa
Of course, after seeing the ancient Roman Baths, one of the top things to do in Bath is to actually relax in the famous healing waters – which you can do at the Thermae Bath Spa!
One of the reasons Bath originally became a famous spa town is that people believed bathing in the mineral-rich hot springs was good for your health, with many visitors coming to Bath to 'take the waters' when recovering from illness.
The Roman Baths were shut down for bathing in the 1970s, but in 2006 the Thermae Bath Spa was opened around the corner, where you can even swim in a rooftop pool overlooking the Roman Baths and Bath Abbey.
In the Cross Bath, you can even see the natural waters from Bath's spring ascending. So, it goes without saying: this is one of the most relaxing things to do in Bath, and a must for any Bath getaway.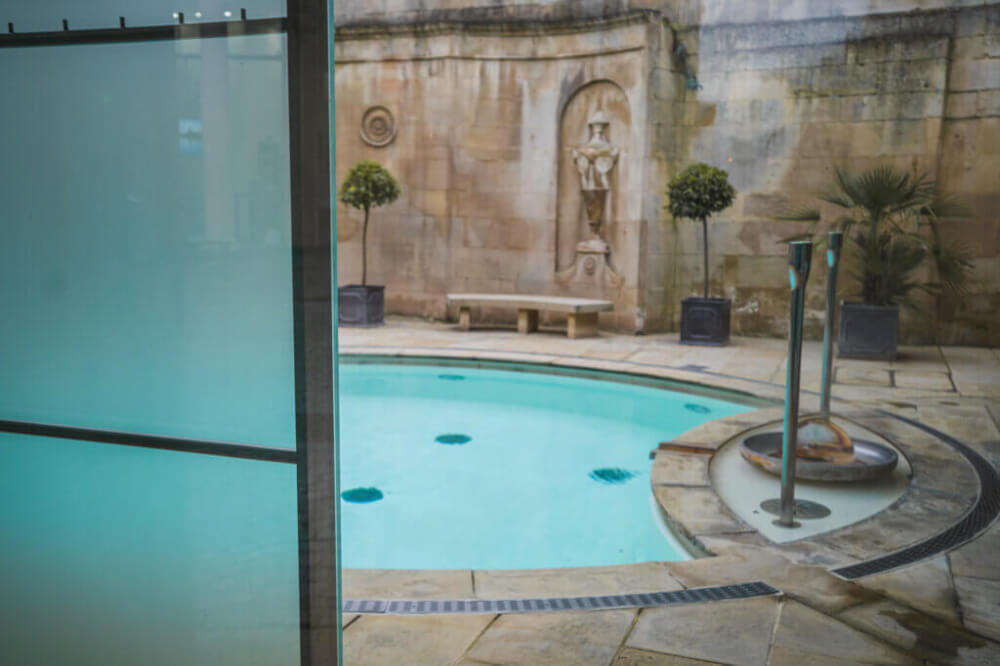 4. Stroll around Bath's Historic Centre
It may sound lame, but to me one of the best things to do in Bath is simply stroll around the city centre, ooh-ing and ahh-ing at the delights of its signature Georgian architecture.
Some highlights for me include picturesque Bath Street, which dates back to 1791: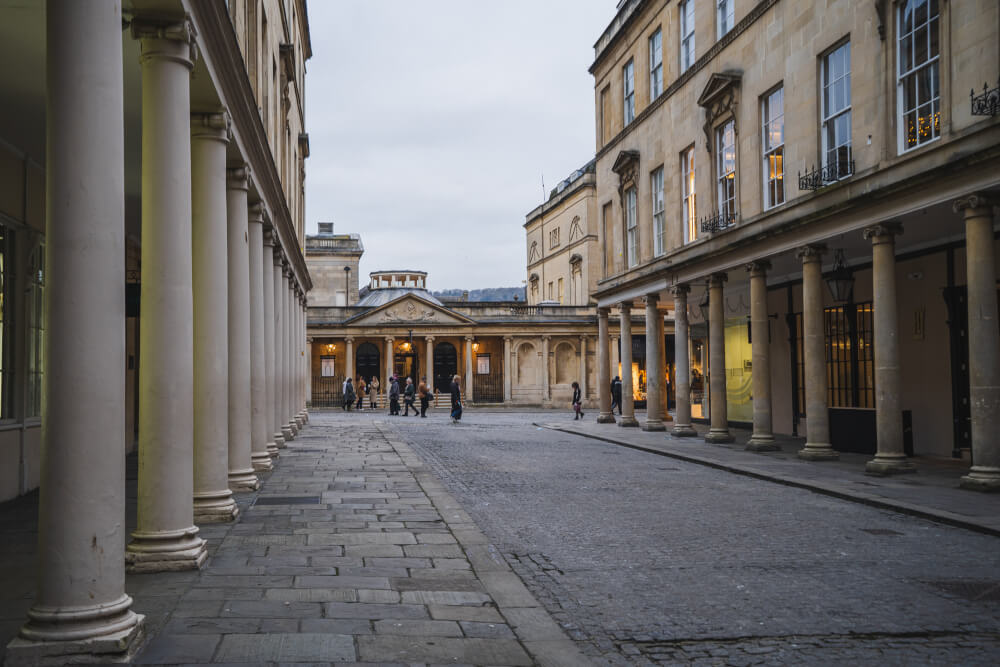 Abbey Green, one of Bath's prettiest squares: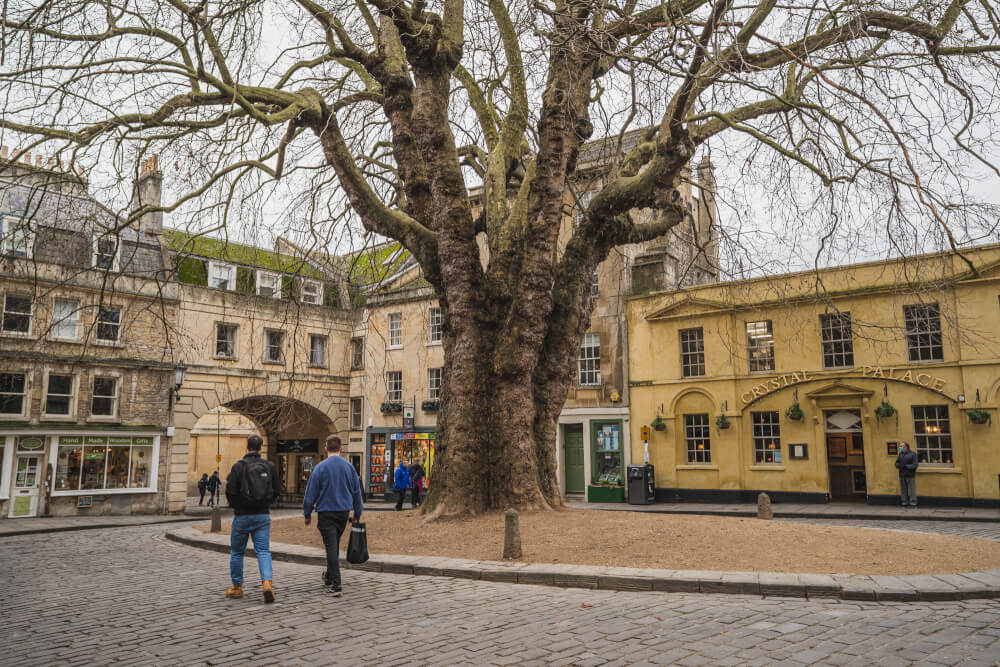 The Circus, a ring of townhouses from the Georgian era designed by John Wood the Elder – a complete circle with a circular park in the middle, supposedly inspired by Stonehenge.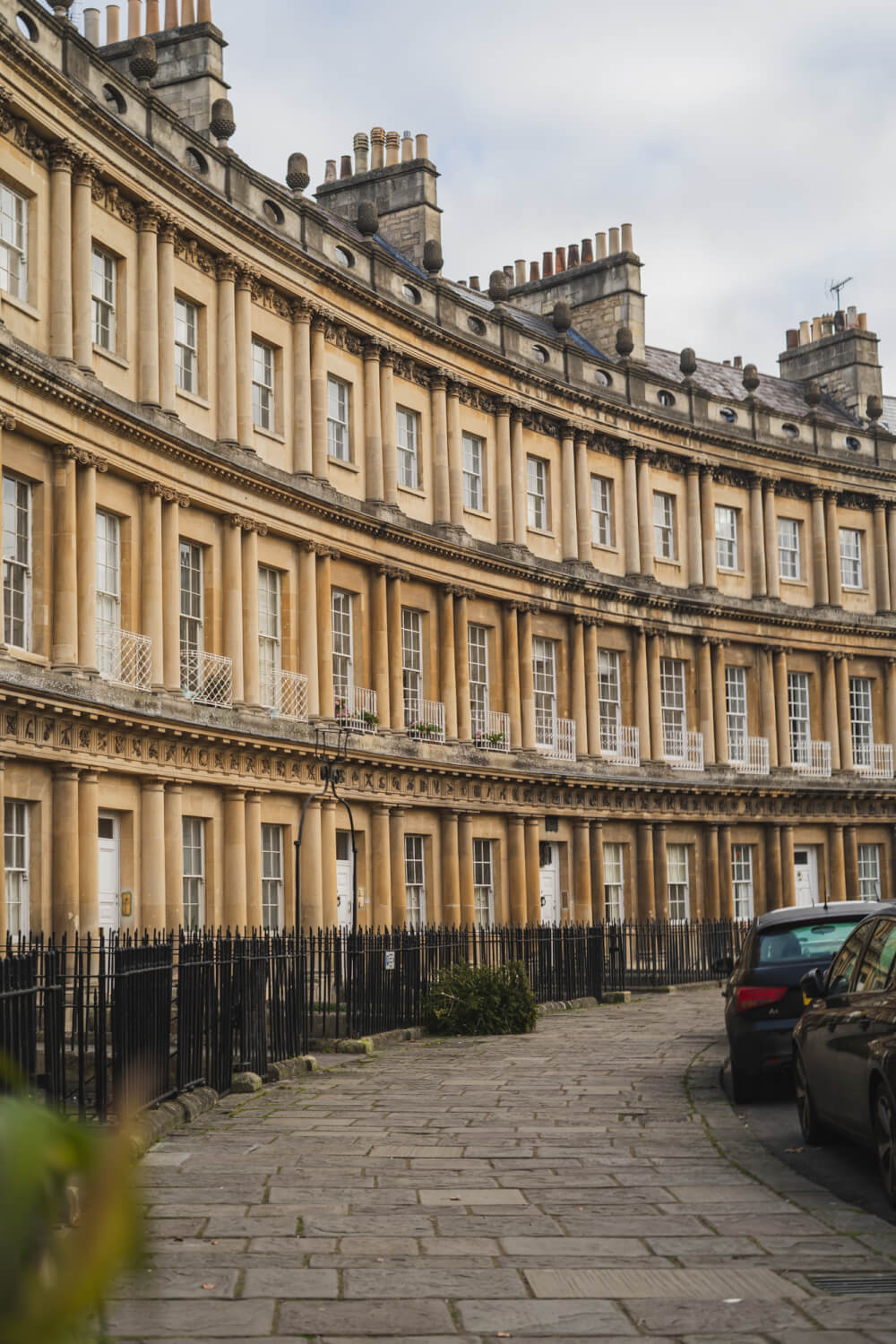 The charming Bath Guildhall Market, AKA the oldest shopping venue in the city: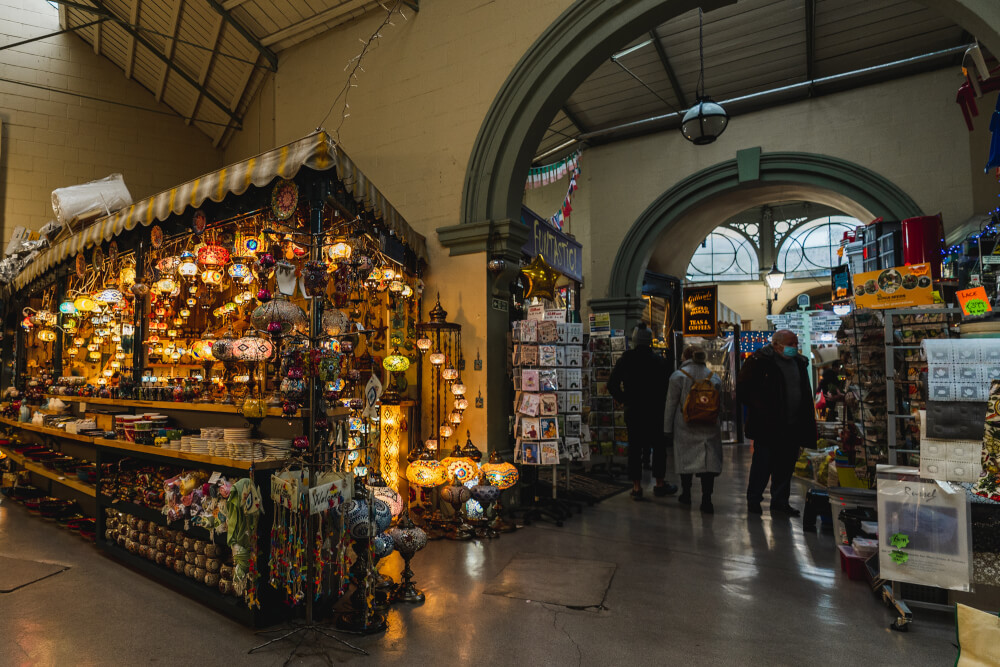 The Corridor, a pretty covered shopping arcade:
And Pulteney Weir.
For the uninitiated, a weir is basically a type of low dam used to regulate the flow of a river… which sounds boring, until you see it in action.
Pulteney Weir (near Parade Gardens) in particular is quite picturesque, with a unique horseshoe shape creating a series of little cascades in front of the equally picturesque bridge mentioned above. Today, it offers one of the best photo opps in town, making it a must-see for any Bath itinerary.
NOTE: While you're not allowed to swim in this portion of the Avon near the weir, Bath residents used to do it in the past, as you can see in these lovely historical photos.
On that note, another one of the top things to do in Bath is…
5. Walk over Pulteney Bridge
With its scenic location along the River Avon, there are a number of pretty bridges scattered across Bath, although the most interesting by far is Pulteney Bridge.
Pulteney Bridge is notable in that it's one of only four bridges in the whole world with covered shops spanning both sides of the bridge. The other three are Ponte Vecchio in Florence, the Rialto Bridge in Venice and the Krämerbrücke in Erfurt.
While you'll definitely want to get some photos of the bridge (particularly from the Parade Gardens, more on that in a bit) it's also worth going for a walk across it so you can properly admire the shops located within the limestone structure.
There are some lovely little cafés, florists, jewellers and other boutique shops to discover here, so go wild.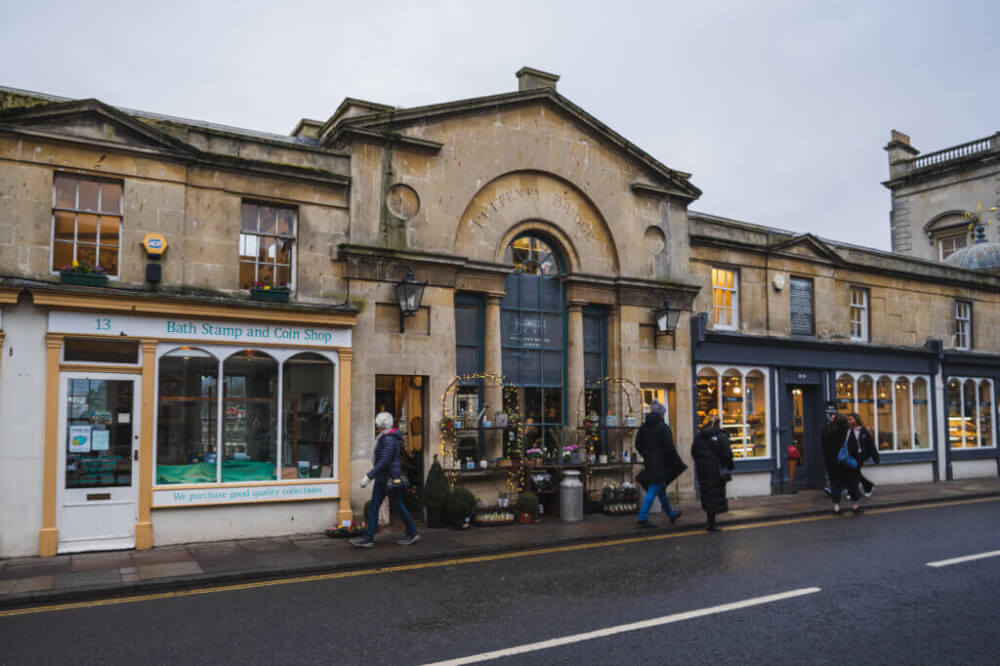 6. Enjoy a boat tour on the river
Of course, for a unique perspective of Pulteney Bridge and other Bath landmarks, there's perhaps no activity more relaxing than a leisurely boat ride on the River Avon.
Feeling splurgey? This boat tour even comes with a few glasses of prosecco.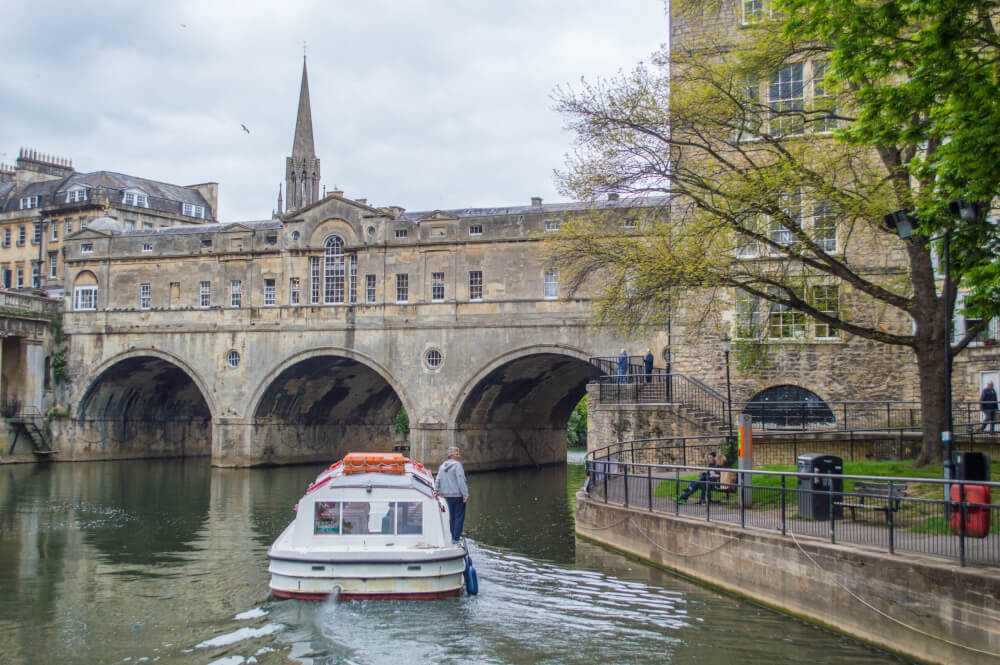 7. Search for Lady Whistledown at The Royal Crescent
Fans of Netflix's Bridgerton will be particularly excited when visiting Bath, as many locations in the city were used to stand in for Georgian-era London, like the Royal Crescent.
The Royal Crescent is a set of terraced houses that were designed by the famous British architect John Wood the Younger, son of John Wood the Elder – another famous Bath architect from the Georgian era! Together they were responsible for many of the most beautiful buildings in Bath, like these townhouses.
Today the original 30 townhouses of the Royal Crescent contain a number of flats and houses, as well as the Royal Crescent Hotel & Spa. The crescent of houses all look out over the beautiful Royal Victoria Park, which is also a lovely spot to walk around or relax.
And if you're feeling especially nosy, No. 1 Royal Crescent is a museum where you can see how homes looked during the Georgian Era, and the museum was also used as a filming location for the Featherington House in Bridgerton!
PS: You can even book a full-on Bridgerton walking tour if you're especially keen.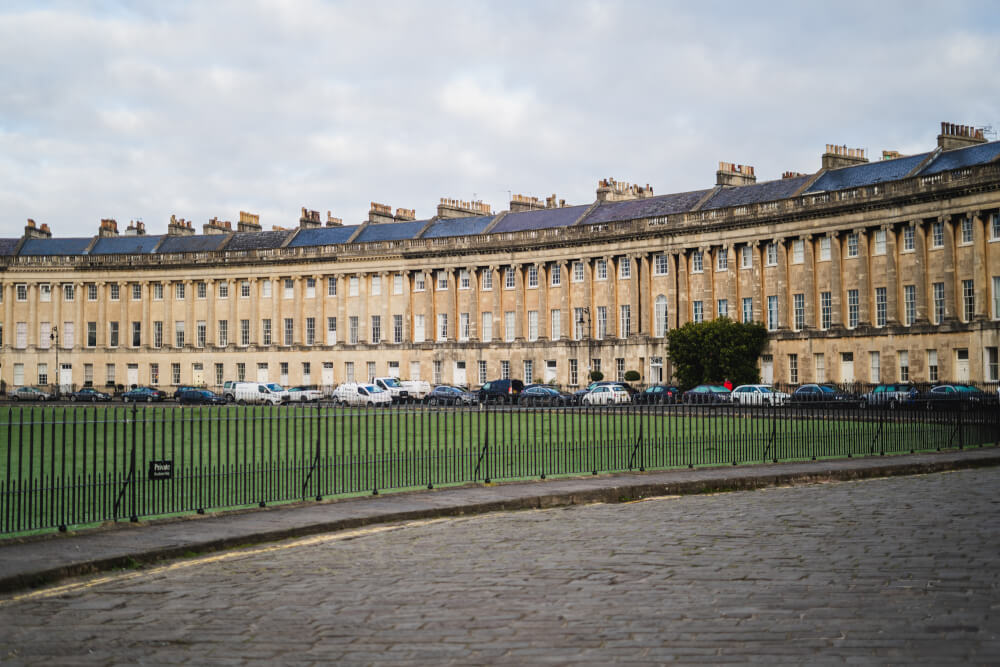 8. Enjoy the Parade Gardens
I've already mentioned the Parade Gardens, so rest assured it's an excellent spot for enjoying some of the most beautiful views in Bath!
Located in between the River Avon and Bath Abbey, these small gardens offer lush lawns for picnicking while enjoying views of the river, along with a small café for those who prefer to come empty-handed.
The floral displays here are stunning, particularly during summer when there's a special 3D display with a different theme each year.
It costs £2 to enter these gardens (unless you're a Bath resident) but it really is worth it if you want to enjoy a little walk and relaxation.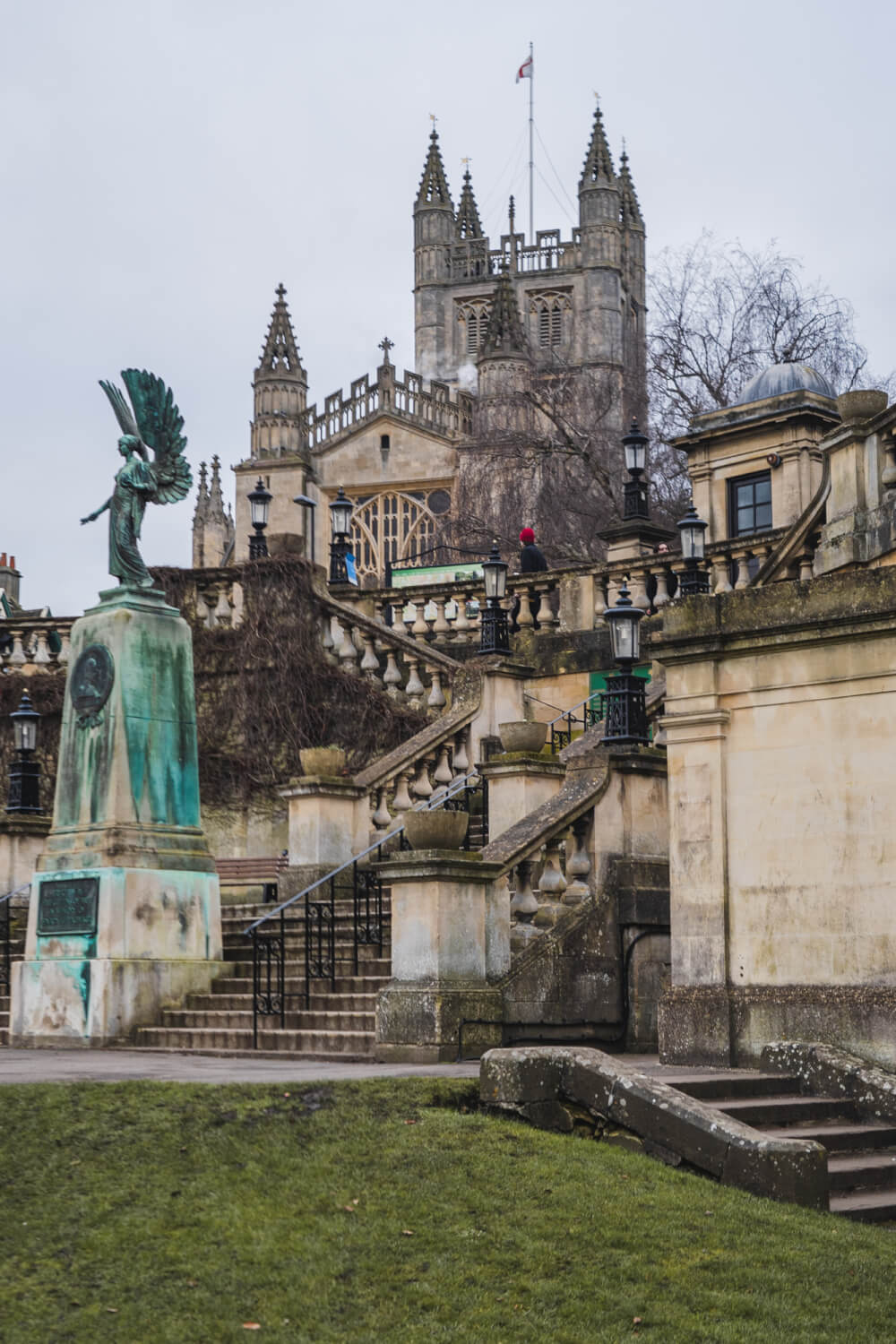 There are also some interesting sculptures in the gardens to discover, like the one of Prince Bladud and the Pig, which is a reference to the legend that King Lear's father Bladud discovered the powers of Bath's healing springs with the help of his herd of pigs.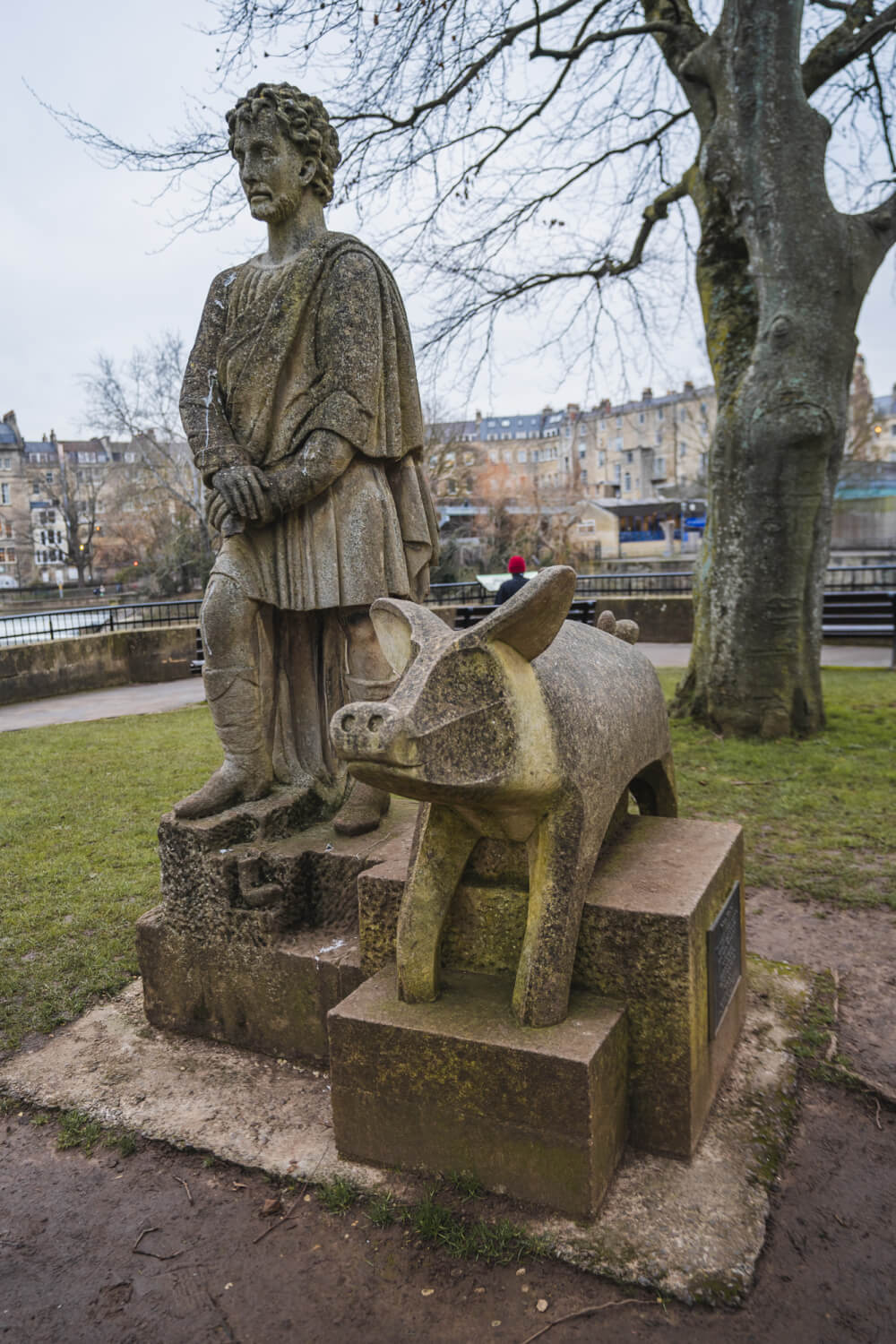 9. Indulge at Sally Lunn's Historic Eating House
There are many great places to eat in Bath but the number one unmissable place is Sally Lunn's Historic Eating House!
Sure – it's a bit touristy… but these buns are pure heaven, and I can't help but endorse them.
If you've never heard of them before, a Sally Lunn bun is a type of tea cake or sweet bun that's thought to have originated in Bath, perhaps even in the kitchen at Sally Lunn's. This eating house is world-famous and dates back to 1680, so it's also the best place to try a Sally Lunn bun.
Best enjoyed slathered with butter, or toppings such as jam and cream, this quintessentially Bath treat is a must-try, preferably with an unreasonable amount of tea.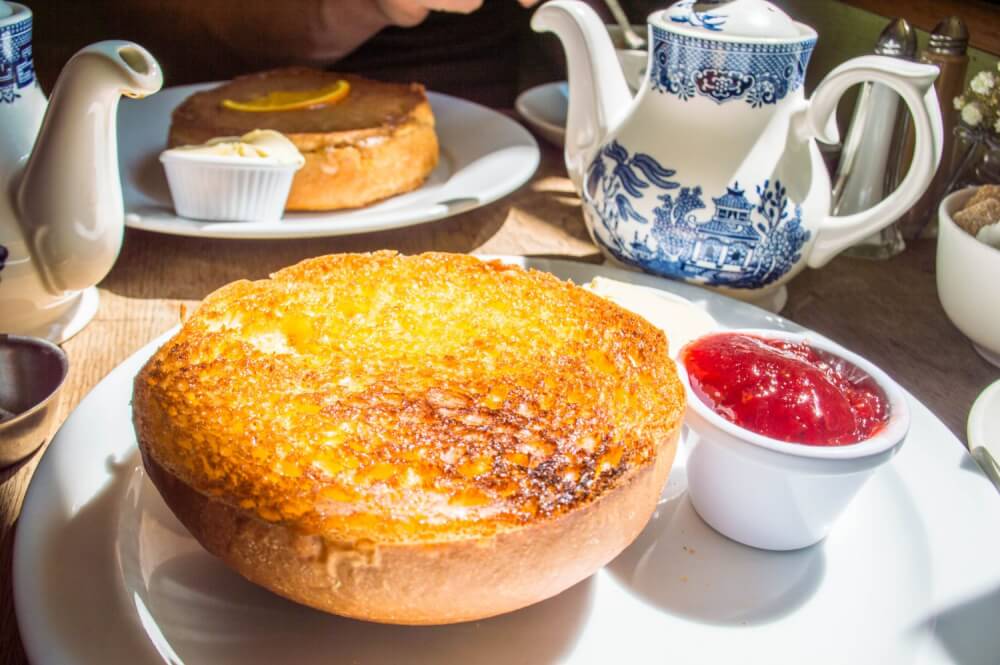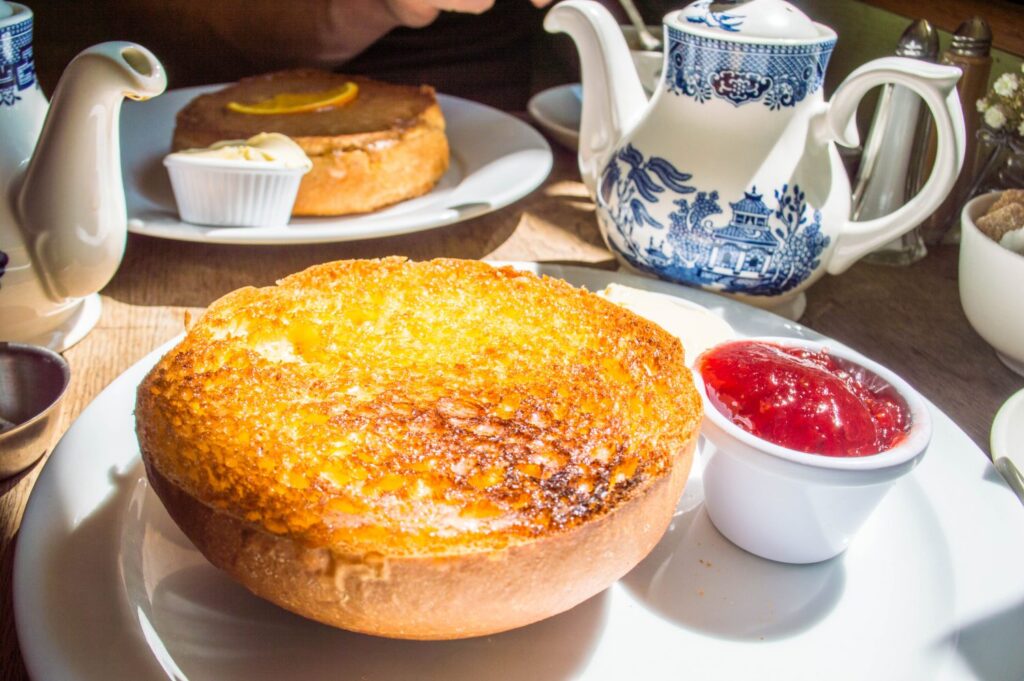 10. Ramble through the Prior Park Landscape Garden
If you're looking for some outdoorsy stuff to do in Bath, head to the Prior Park Landscape Garden, where there are more than 28 acres of gorgeous landscape to enjoy.
Set on the side of a steep valley with fantastic views over Bath, this landscape garden was originally a deer park until it was bought by Ralph Allen in the 18th century, who had it designed by Capability Brown (a famous British landscape architect) with advice from the poet Alexander Pope to complement his new house.
That's a lot of hands on deck, but the results are impressive.
Today the park is owned by the National Trust since it's such a perfect example of English landscape gardens and is one of the best places in Bath to go walking or have a picnic while looking back over the city.
There are also a number of pretty features within the park, including the Palladian Bridge (pictured below), a Gothic temple, a lake and a lovely little grotto.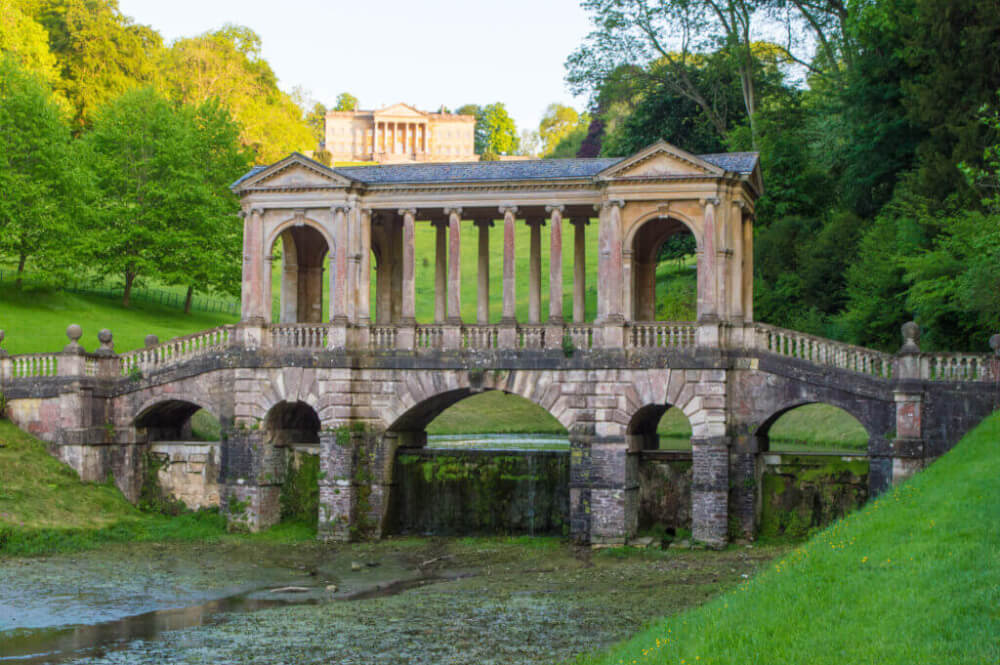 11. Enjoy the Views from (and of) Sham Castle
The same Ralph Allen who was responsible for the beautiful landscaping in Prior Park is also behind this next attraction – a fake castle facade called (fittingly) Sham Castle!
Apparently, Ralph Allen had this folly built to improve the views from his Bath townhouse (rich people, am I right?), but snark aside, it makes a pretty neat addition to the Bath skyline.
Despite its medieval appearance, this impressive bit of landscape wizardry was actually constructed in 1762.
And even though it's not a real castle, this monument is still a Grade II listed building and a pretty cool spot for some photos… so if you're looking for fun photo opps in Bath, be sure to add this spot to your list.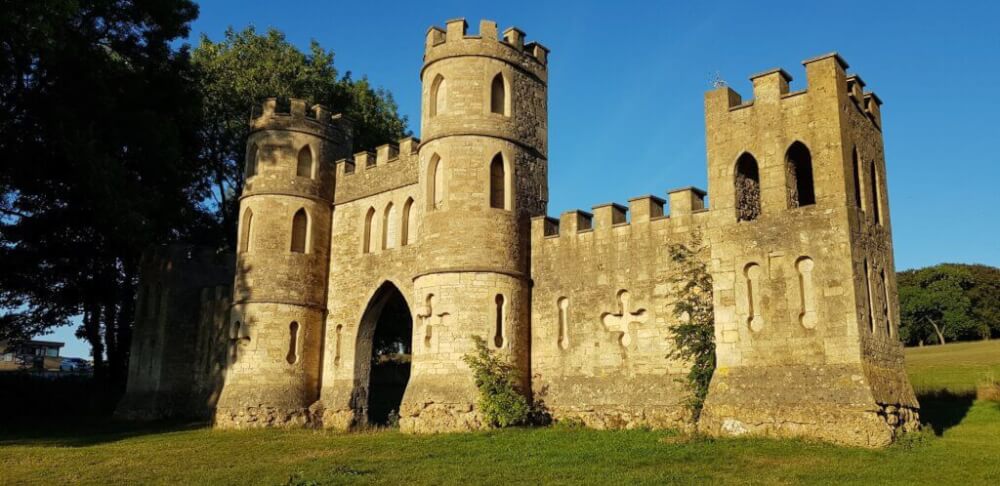 12. Hike up to Alexandra Park
Rounding up the best viewpoints in Bath is Alexandra Park, which is also located south of the city center, in between the river and Prior Park.
If you don't have time to explore Prior Park in full, the much smaller option of Alexandra Park still provides gorgeous (and also much closer) views over the city center, especially if you can time your visit for sunset/dusk.
It's a bit of a steep hike up to the top of the park, but it's well worth every leg cramp for splendid views, excellent dog spotting, and on Fridays and weekends, even a pop-up bakery van.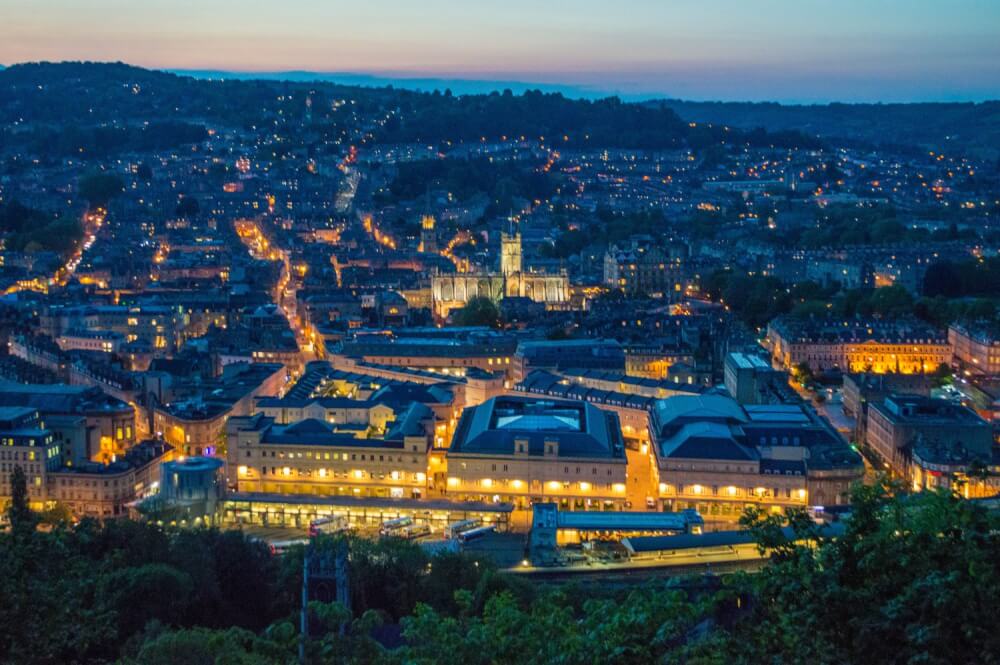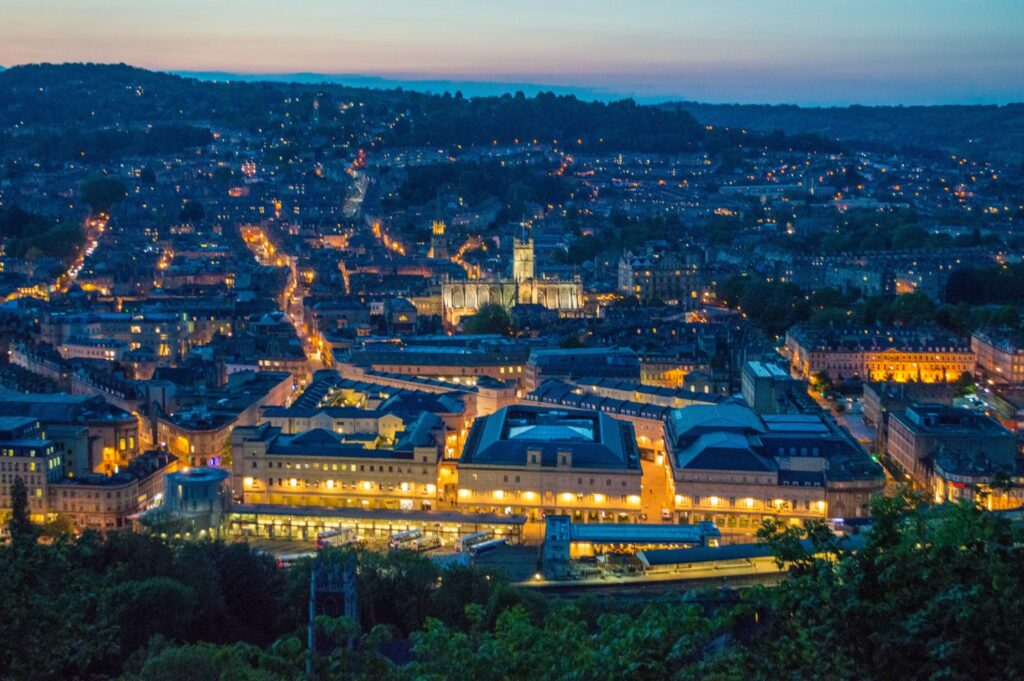 13. Visit The Jane Austen Centre
Feeling like an absolute nerd? Well, a visit to the Jane Austen Centre is one of the top activities in Bath for any fans of this great British novelist (i.e. any teenage girl who hyperfixated on the 2005 Pride and Prejudice like me).
Jane Austen lived in Bath for about five years and two of her novels (Persuasion and Northanger Abbey) are primarily set in Bath as well. The Jane Austen Centre is a museum about her life and works, along with a snapshot of Bath itself during the Regency Era.
This is quite a fun museum, located in a beautiful Georgian townhouse and featuring staff in Regency costumes, plus you can dress up in Regency attire yourself! After exploring the museum, make sure you also have some tea and cake in the upstairs Regency Tea Room.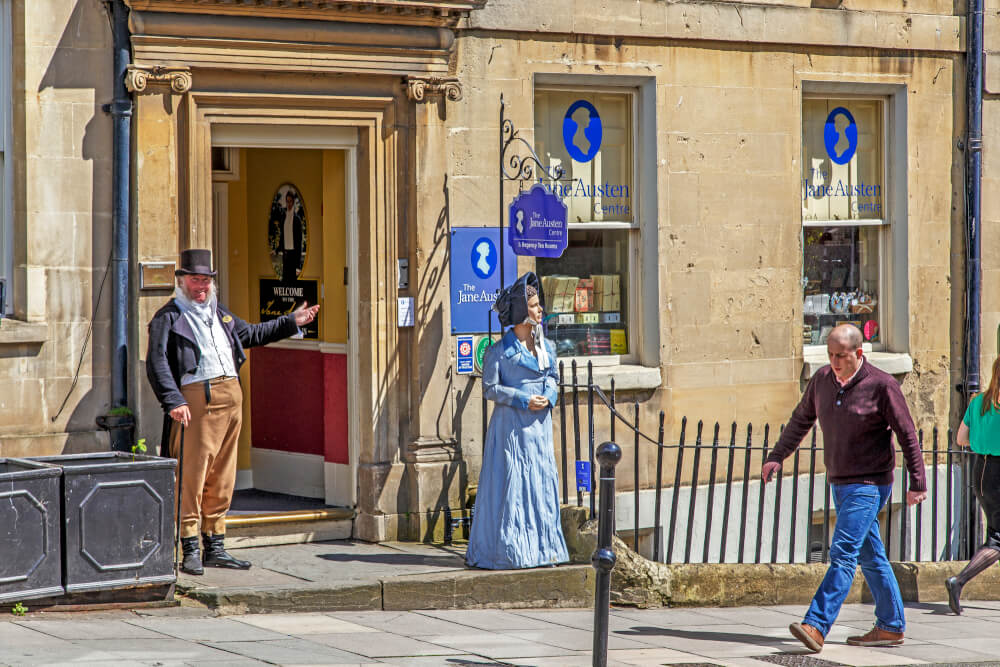 14. Admire Beautiful Art at The Holburne Museum
The Holburne Museum is another lovely building in Bath that you may recognise from Bridgerton, as the exterior was used to represent Lady Danbury's home.
In real life, this museum is Bath's first-ever public art gallery and contains many beautiful paintings, porcelain, silver, china and sculptures.
The museum is also attached to the Sydney Gardens, which is another gorgeous area to wander through when the weather cooperates.
As well as admiring the art and pretty gardens, there's a nice Garden Café here as well, which offers the perfect spot for a bite between Bath sightseeing adventures.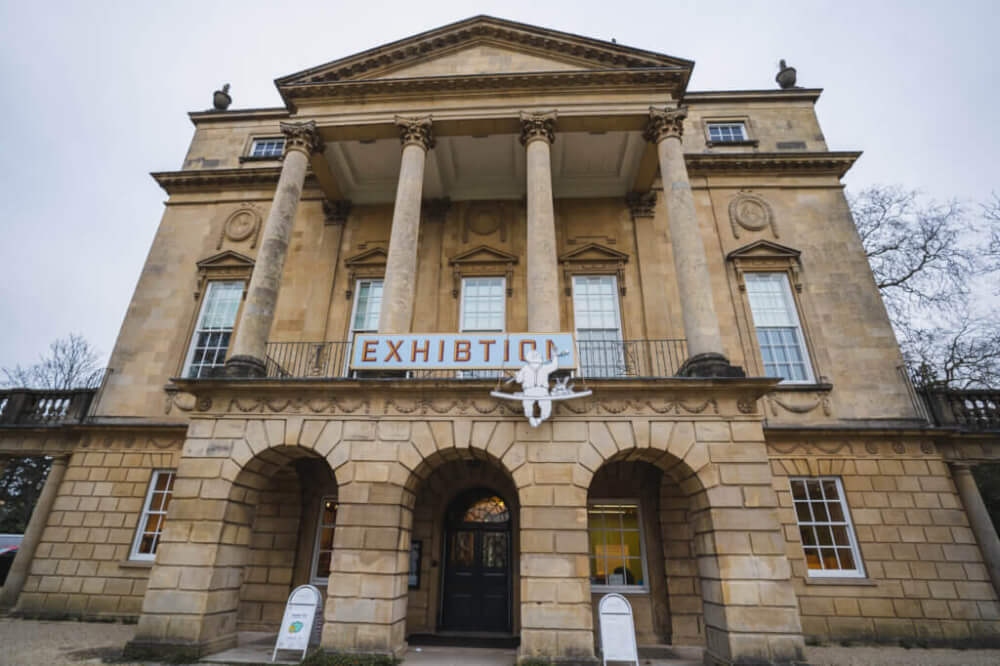 15. Learn about Space at the Herschel Museum of Astronomy
Looking for other intensely nerdy things to do in Bath?
Here's a more offbeat suggestion: the Herschel Museum of Astronomy is located in the former Bath home of William Herschel – a German-born British astronomer who famously discovered the planet Uranus in this very location (insert suitable Uranus joke here)!
This museum is really interesting for both astronomy fans or just those interested in the history of Bath, as the house has been recreated to look as it would have while Herschel was living there with his sister in the 1700s.
Along with replicas of the equipment he used for astronomy, the rooms have also been restored with period wallpaper, carpets and furniture, so it's like stepping back in time.
The garden has also been restored in the Georgian style, with a sundial placed on the spot where Herschel may have actually placed his telescope.
16. Get a Fright at Mary Shelley's House of Frankenstein
One of the more unusual and fun things to do in Bath is to visit Mary Shelley's House of Frankenstein, which is an immersive museum that also contains a very unique escape room!
While Shelley famously came up with the initial idea for her novel while visiting Switzerland, she wrote the main bulk of it while living in Bath. This museum is partly dedicated to her life and work and partly to the evolution of Frankenstein's Monster in popular culture.
There are 'multi-sensory environments' throughout this house, as well as lots of art relating to the story that's considered the first-ever science fiction novel.
There's also a Frankenstein-themed escape room for those who dare.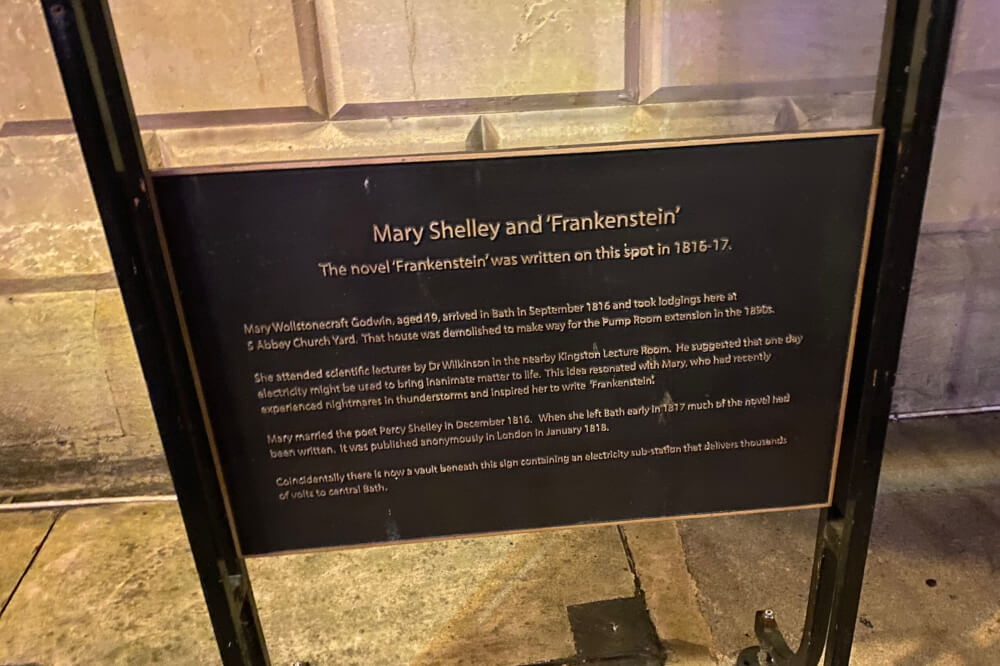 17. Enjoy the Victoria Art Gallery
The Victoria Art Gallery is the main art gallery of Bath, originally opened in 1900 to commemorate the Diamond Jubilee celebrations of Queen Victoria.
This Grade II listed building is one of the best places to see British art in Bath, particularly works by local artists such as Walter Sickert and Thomas Gainsborough. The building itself is also stunning, particularly the domed ceiling embossed with zodiac signs and some pretty blue walls.
The main collection here is regularly rotated and free to visit. If you want to attend a specific temporary exhibition then you may need to pay so check the website to see what's on.
18. View Exquisite Art at the Museum of East Asian Art
While the Victoria Gallery is great for seeing local Bath art, the Museum of East Asian Art is another epic spot for lovers of art and culture.
Also called MEAA, this museum is the only museum in the entire United Kingdom that's completely dedicated to artwork from East and Southeast Asia, with one of the biggest collections outside of London. There are more than 2,000 objects on display here, from countries such as China, Japan, Korea and more.
MEAA is filled with ceramic art, jade ornaments, bronze and bamboo carvings, as well as other items that provide insight into Southeast Asian cultures. The gift shop has some gorgeous gifts and souvenirs to buy as well.
19. Prance through the Botanical Gardens of Bath
As well as Prior Park Landscape Garden, there's also a Botanical Garden in Bath which is perfect if you want to do some shameless frolicking.
These gardens were founded in 1840 and cover about 9 acres of enchanting gardens, along with a scented walkway, a Roman temple, a stream, a pond and a number of quirky sculptures.
If you want to get pretty photos with greenery or flowers. this is the spot to visit, and it's also excellent for a picnic.
While here, make sure you also head across the road to the Great Dell, another section of ornamental gardens that was created from an old stone quarry in 1987.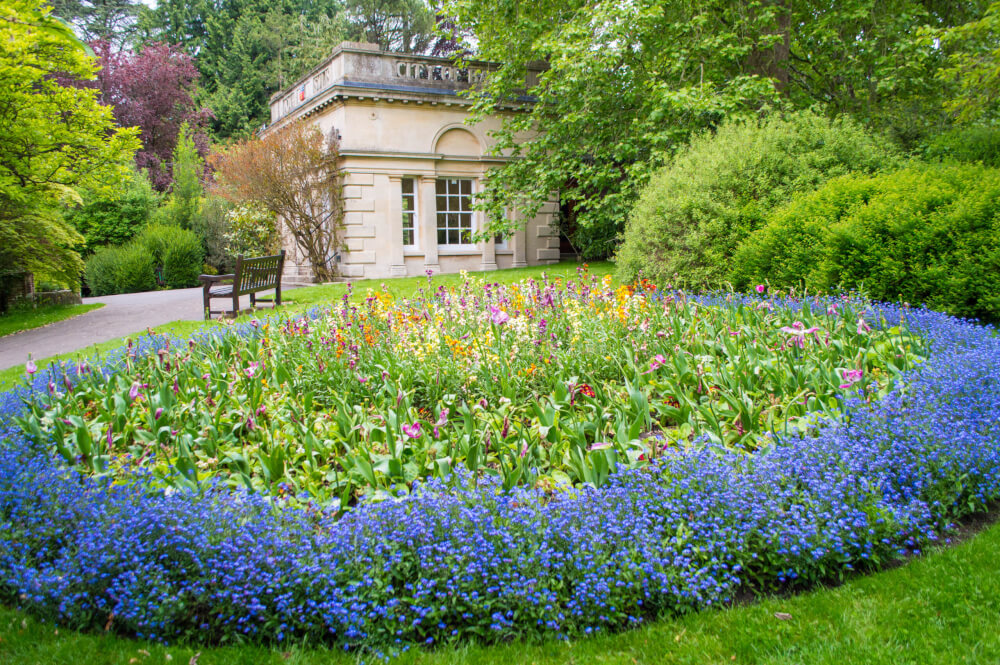 20. Enjoy Some Peace and Quiet at St Mary's Churchyard
I know it might seem morbid to visit a cemetery, but the one at St Mary's Churchyard is so pretty and peaceful that it's well worth a look, especially if you feel like some peace and quiet away from the crowds of tourists!
ThIS cemetery is also noteworthy in that it has little signs that tell the stories of those buried there. You can even download a cemetery trail to learn more.
Stories and signs aside, once upon a time this spot was home to a medieval church known as St Mary's Church Bathwick. Though demolished in 1818, a local historical society got to work conserving the remains of the site in 2000 and it's now an interesting site to see the graves of notable past residents of Bath.
The ruins are still relatively overgrown, with lots of brambles and ivy covering the gravestones of architects, soldiers, grand ladies and paupers, making it quite a tranquil spot to see birds or butterflies.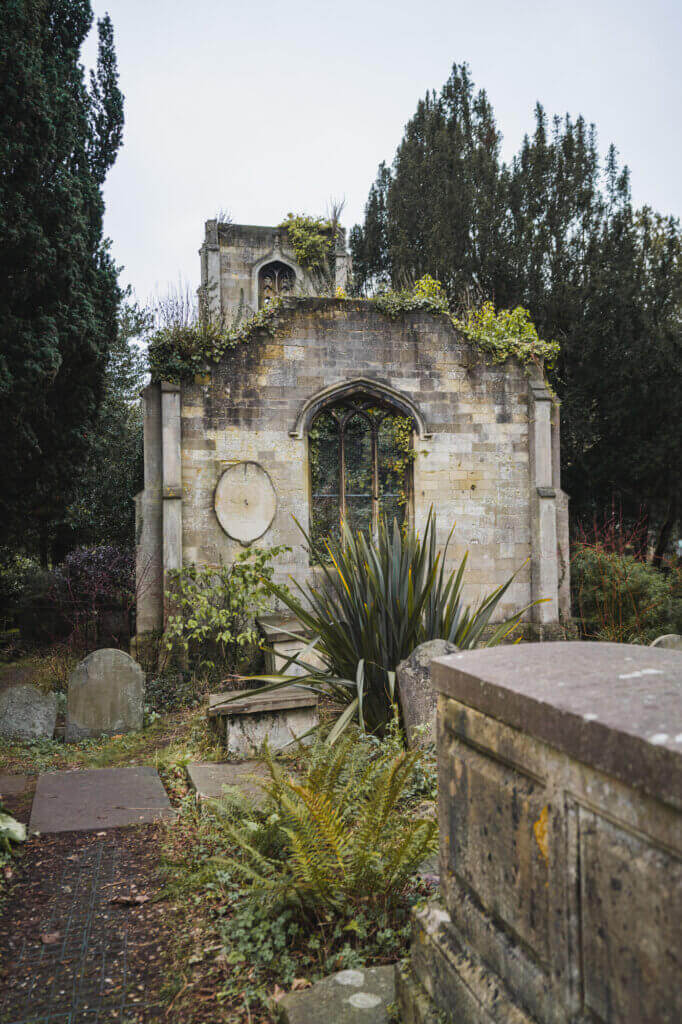 21. Explore the Bath Assembly Rooms
NOTE: The Assembly Rooms are currently closed to visitors as they figure out a new visitor experience. The information below is for your reference, but I'll update this space as soon as I hear more!
You should know by now that many of the most beautiful buildings in Bath were designed by the two John Woods…es, so let's add another one to the list: the elegant Bath Assembly Rooms.
John Wood the Younger designed the Assembly Rooms, which were originally used as a place for dance and music. When they opened in 1711 they were described as 'the most noble and elegant of any in the kingdom,' so you can understand why they are now a popular museum.
Visitors can explore the lovely Georgian architecture in four main rooms: a ballroom, a tea room, a card room and the octagon room.
There are ten original crystal chandeliers still hanging from the ceilings and you can join a behind-the-scenes tour if you want to learn more about the building's history… but don't forget your ballgown to twirl in – this is actually another Bridgerton location, fittingly where they held a ball!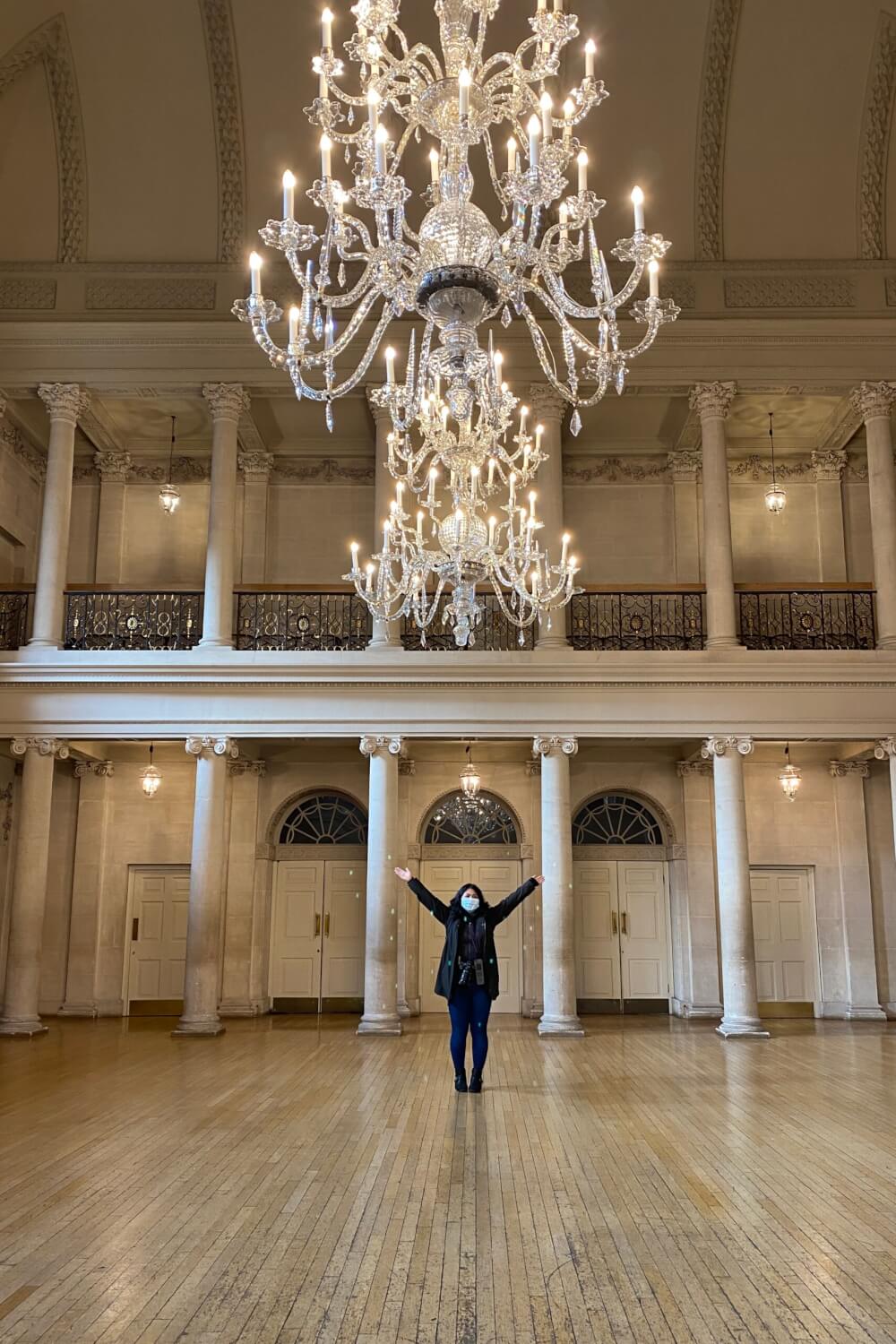 22. See Stunning Clothing at the Fashion Museum Bath
NOTE: The Fashion Museum of Bath used to be housed in the Assembly Rooms but is currently moving to a new location in the Old Post Office. As such it is not currently open to the public, but the information below has been left for your reference.
Looking for fun things to do in Bath for fashion lovers? The Fashion Museum of Bath is a must visit.
With a dazzling collection tracing the history of fashion from the 16th century to today, this is a fascinating spot to see how styles have changed throughout the years (for better or for worse).
Along with historic clothing, gloves and shoes, each year there's a special "Dress of the Year" display, which has included pieces by modern designers like Giorgi Armani, Ralph Lauren, Alexander McQueen and Donatella Versace.
Did I Miss Any of Your Favourite Fun Things to Do in Bath?
Let me know in the comments so I can add more Bath activities to the list!
My Go-To Travel Favourites: