*FYI - this post may contain affiliate links, which means we earn a commission at no extra cost to you if you purchase from them. Also, as an Amazon Associate I earn from qualifying purchases. Check out our Privacy Policy and Disclosure. for more info.
It may have been the ten buckets of Glühwein I eagerly chugged, but my friends, I just had the best weekend ever exploring the Düsseldorf Christmas Markets scene, and I'm here to rave about it like your favourite drunk uncle.
Düsseldorf at Christmas time looks like this: cozy, themed markets scattered along the streets of Germany's fashion capital, complete with twinkling lights, a big ice rink, a giant ferris wheel overlooking the Rhine, and yes, a Lindt chocolate store that's liberal with free samples.
But what truly set these markets apart is this: Düsseldorf is located in the North Rhine-Westphalia state of Germany, close to several other large cities like Essen, Dortmund, Duisburg and more.
ALL these cities have amazing Christmas markets, and are easily linked to each other through public transportation.
What's more wonderful is that the Christmas markets here open earlier than most other parts of Germany, including the one in Duisburg, the country's longest-running market, which opens in MID-NOVEMBER.
… And so, I did what any sane Christmas addict would do: I spent a weekend exploring them ALL.
Yes. All of them. Including the seven within Düsseldorf's city center.
Save this post on Pinterest for later: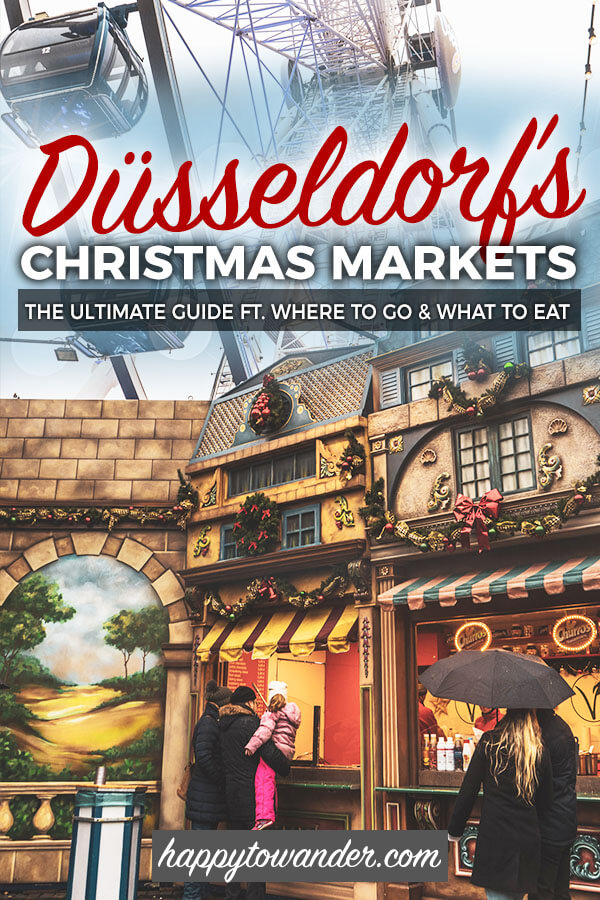 All in the name of research for you guys, anyway.
So, this Düsseldorf Christmas Market review details all the important information you need to know before your visit, from the best Düsseldorf Christmas Markets you need to visit, their opening times/locations, and handy tips to make your trip as magical as possible.
Grab yourself a mug of virtual Glühwein and let's get down to some gritty, magical business…
So, where are the Christmas markets in Düsseldorf?
Düsseldorf is a pretty big city, but there are seven main Christmas markets all located in the city center, near the Altstadt (Old Town) area.
If you want to go further afield, there are plenty of Christmas markets to visit between Benrath and Kaiserswerth as well. You can find a full list on the last page of the official Düsseldorf Christmas brochure here.
Of course, you can also do like me and take advantage of a North Rhine Westphalia regional ticket (a SchönerTagTicket NRW ticket) and enjoy unlimited transport in the region for a day.
I used this with my boyfriend to hop between cities in the region, which allowed us (in one day) to see the largest Christmas tree in the world in Dortmund, the longest-running Christmas market in Duisburg and also the supremely underrated Christmas Market in Essen.
I highly recommend doing this and will be detailing some nearby must-see Christmas markets near Düsseldorf later!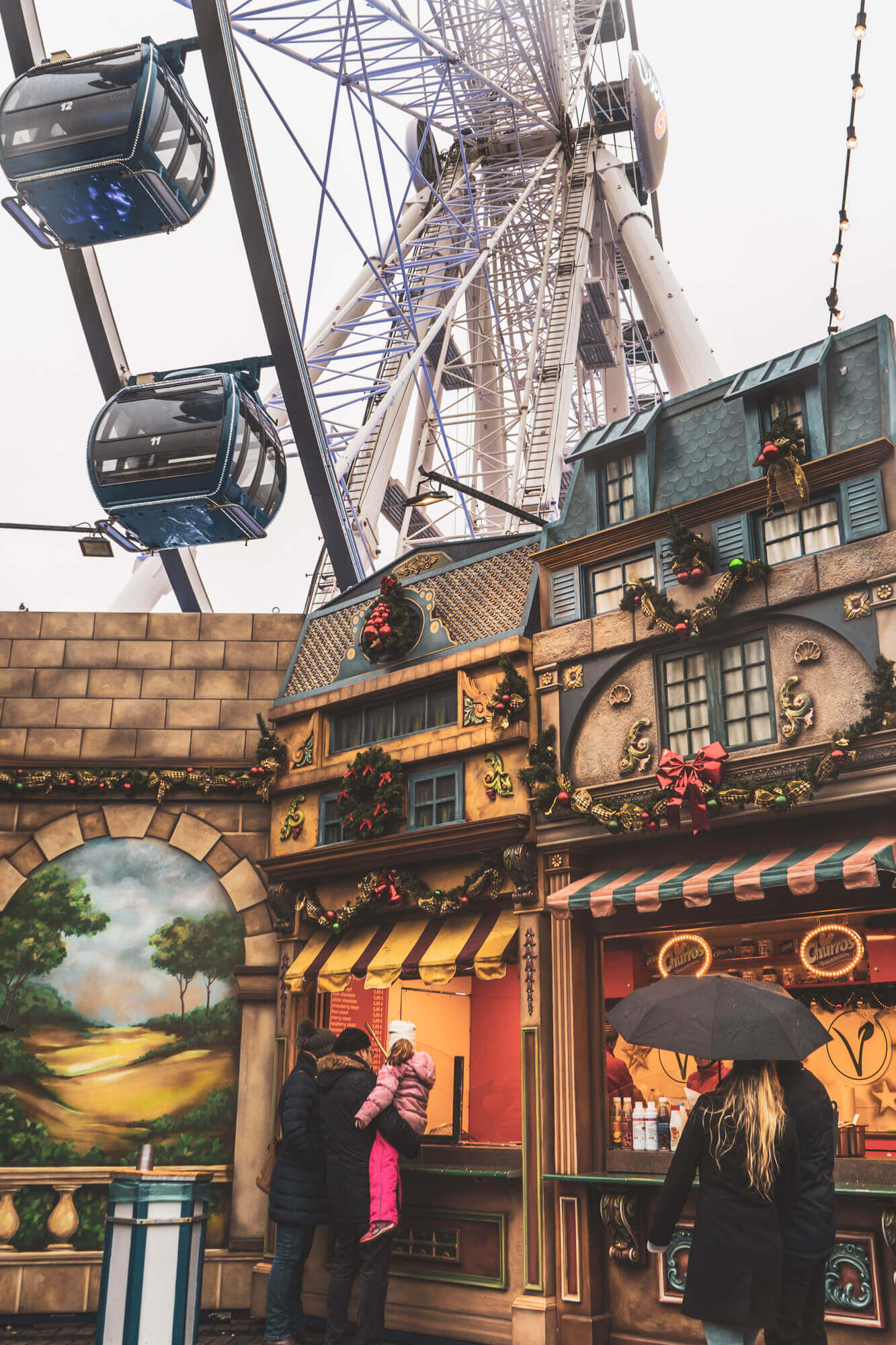 When do Christmas markets start in Düsseldorf?
One of the best things about the Düsseldorf Xmas market scene is that the markets in this region open a few days earlier than in other parts of Germany!
In 2018 for example, the main market in Munich didn't open until the 27th, whereas the ones in Düsseldorf were open from the 22nd onwards.
This was primarily the reason I picked it for my getaway. Because I'll be spending Christmas at home this year, I wanted to cram in as much magical German goodness before my departure. So, if you're wondering when the Düsseldorf Christmas Markets will be open, here are some key dates/times for you.
The Düsseldorf Christmas Market dates for 2023 are November 23 to December 30, 2023 with closures on Totensonntag and December 25 (Christmas Day).
Opening times for the markets are:
Sundays to Thursdays: 11am to 8pm
Fridays and Saturdays: 11am to 9pm
December 24: 10am to 2pm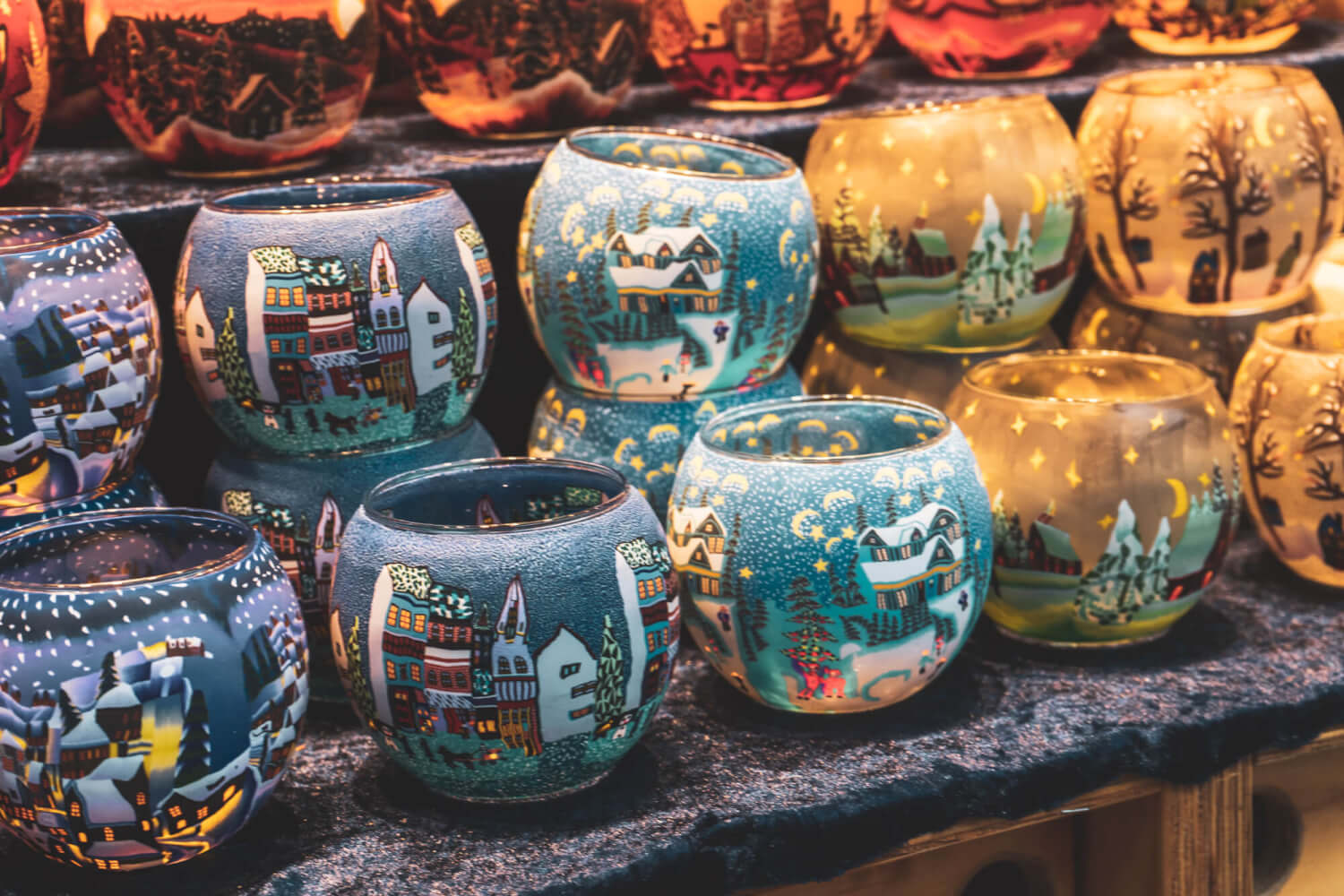 Hotels near Düsseldorf Christmas Markets
Because all the markets are located in the Düsseldorf city centre, pretty much any hotel you book in the centre will put you within easy distance of the markets themselves.
Click here to browse Düsseldorf Christmas Market hotels in the city centre
If you're wondering where to stay in Düsseldorf for Christmas markets, I can speak about two places from personal experience (as I've been to Düsseldorf in the past for a concert too!).
Keep in mind that Christmas market season in Düsseldorf gets BUSY and so hotel prices get really eye-gouging over the weekend if you don't book early (as I learned the hard way). Here are two places I've stayed at:
For a great, mid-range hotel a little out of the center: If your goal is to balance cost/comfort, then I can highly recommend the Hotel Indigo Düsseldorf. It's a clean, airy and super-modern hotel that's not quite in the Old Town but about 20 minutes' walk from most of the Christmas markets. I stayed here a while back and loved it (full review here).
Click here to check reviews and prices for Hotel Indigo Düsseldorf
For a budget choice near the train station: If you want something very very cheap but still clean, then the Hotel Famosa might be for you. It's within a 10 minute walk of the train station/ the start of the markets/shopping area and it's very close to a LOT of great Japanese restaurants.
It's definitely a little run-down, and the street it's on can feel a little sketchy, but for the price (less than 60 euros a night!), the rooms themselves are very clean and the staff are friendly. It's not a glam place by any means but a great compromise between price/location.
Click here to check reviews and prices for Hotel Famosa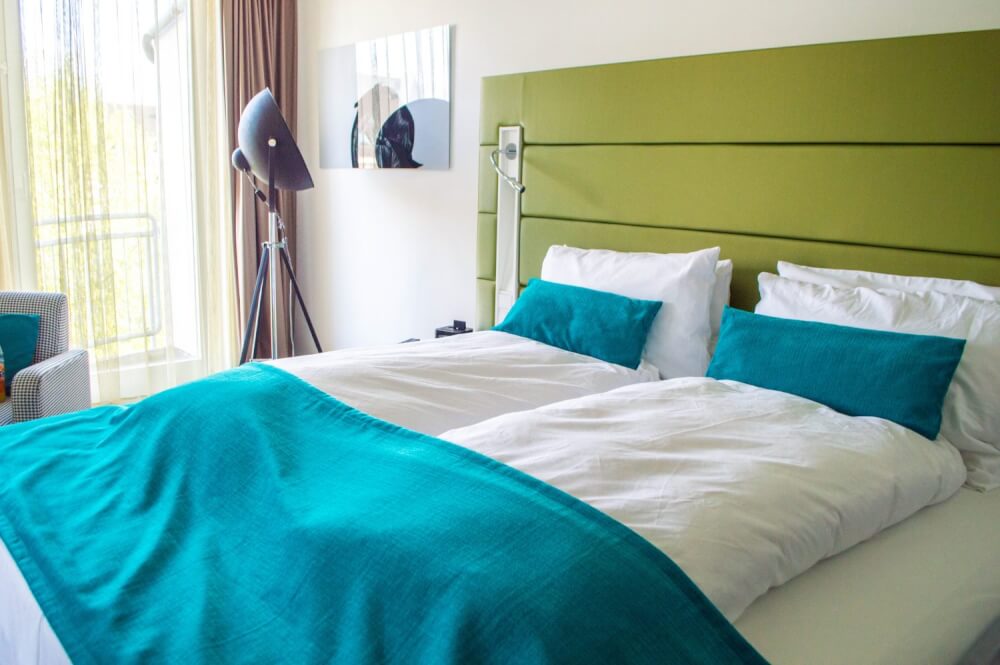 Düsseldorf Christmas Markets You Can't Miss
Alright, now let's get to the good stuff: the specific markets. As I mentioned before, in Düsseldorf's city centre, there are 7 different Christmas markets scattered around within close skipping distance within each other.
In the name of research, I ate my way through most of them this past weekend, so I'd love to share a detailed breakdown of the different markets, themes and vibes with you.
NOTE: It's very easy to hit each of these Christmas markets in a few hours, so I highly recommend you try to see as many as possible! While many will have similar stalls and products, they do have unique themes/designs so they're worth a look. I could have easily seen them all, but my sense of direction failed me and I managed to miss one. Don't worry – I'm still kicking myself over it.
Anyways, here are the Düsseldorf Christmas Markets you need to make sure you visit:
1. The Engelchen-Markt
Location: Heinrich-Heine-Platz
The Engelchen-Markt (little angel's market) in Heinrich-Heine-Platz is solid proof that great things come in small packages (and that there's no such thing as too much gold or sparkles).
While quite a tiny market, this atmospheric gem is (in my opinion) the best Christmas market in Düsseldorf.
From delicious Aachen Printen to handcrafted slippers and rainbow tins of tea, you can find all sorts of goodies at these golden, angel-topped stalls.
The music pavilion in the center serves as a gorgeous little centerpiece (and of course, makes an excellent place to sip ten litres of glühwein). It's cuter when you make it rhyme -> Drink til oblivion in the pavilion.
PS: Look out for a cute little stall called Mädchenkram, which sells adorably sassy mugs/stationary (think pink mugs with golden crown lids that say "QUEEN OF F*CKING EVERYTHING".
Santa, you know what to get me for Christmas (AKA my boyfriend who is probably reading this even though I tell him to never read my stuff. Boy, you've been caught)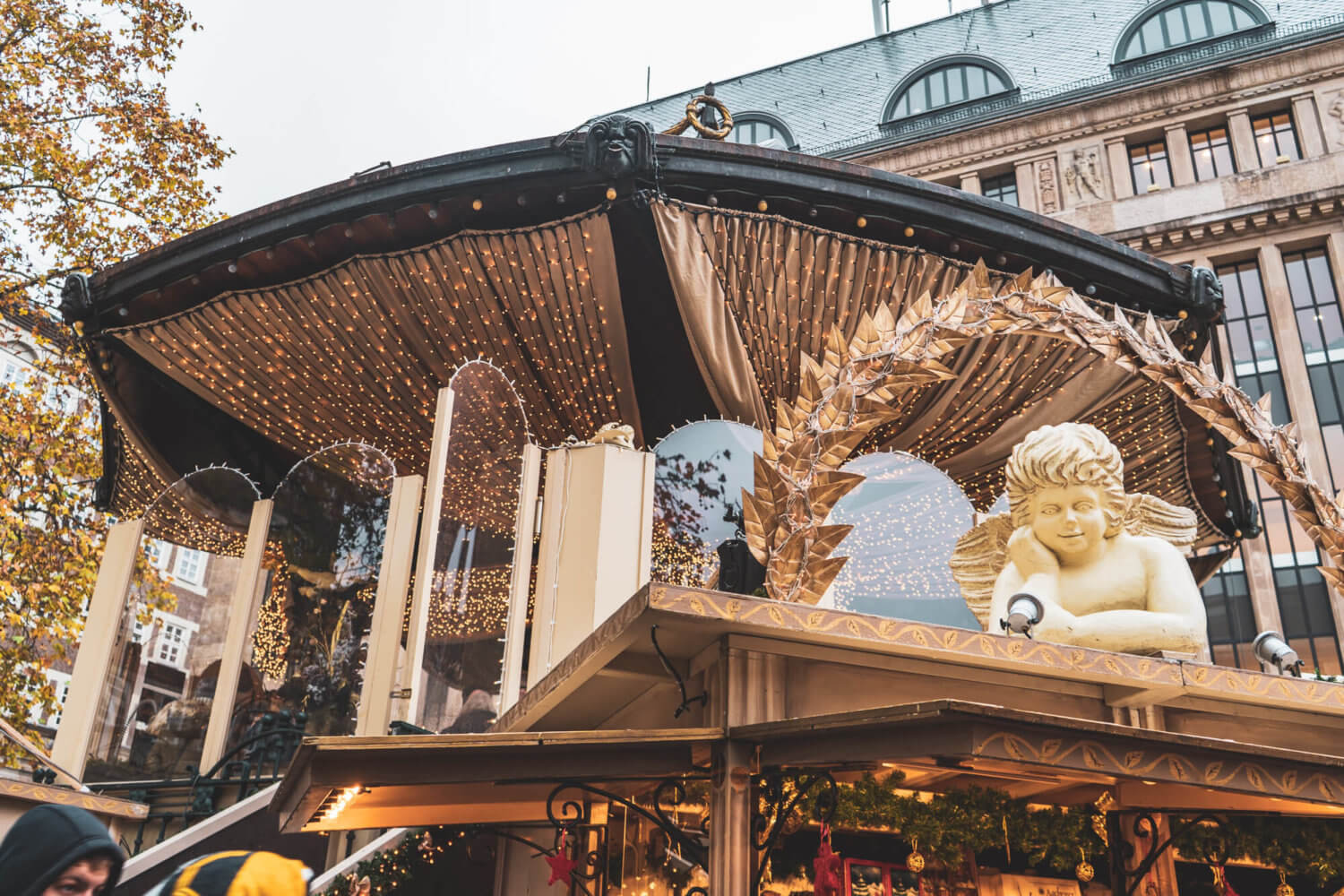 2. The Handwerker-Markt
Location: Marktplatz
Set along the scenic backdrop of Düsseldorf's Rathaus (City Hall), the Handwerker-Markt in Marktplatz is like a cutesy little Christmas village, complete with a tall glittering tree and red Christmas huts selling all sorts of handicrafts.
Here, you can take your pick from dozens of stalls selling handmade items – like burly, wooden kitchenware and handpainted candle holders.
The hand-carved life-sized Nativity scene here is also noteworthy, although I didn't get the closest look thanks to the eager photo snappers in front of it!
Vegans take note, I also noticed a sweet stall selling all kinds of vegan and gluten-free treats, including cannolis, fudge, pralines and more. If you're looking for a place to indulge, this is it!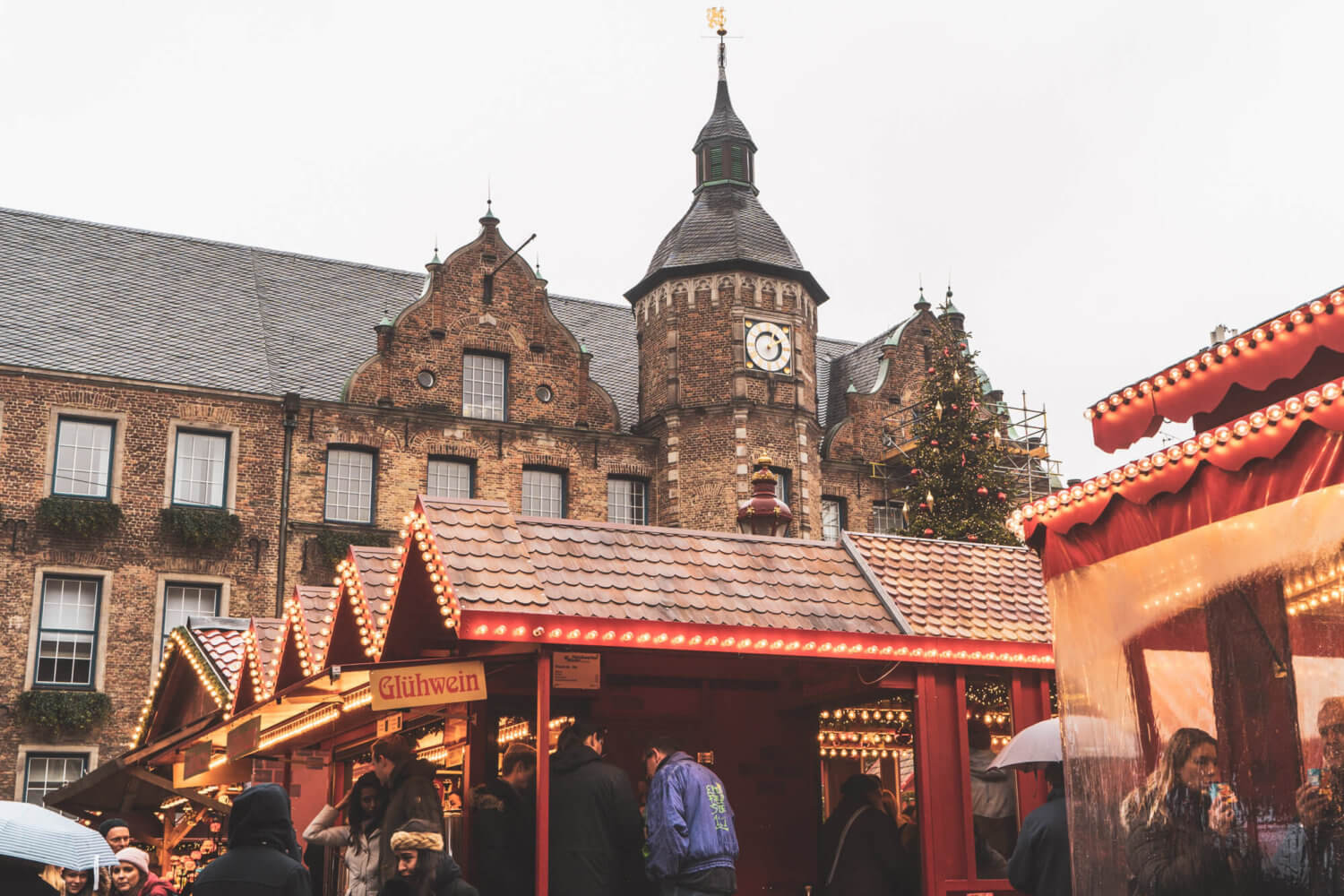 3. The Altstadt-Markt
Location: Flinger Straße
While walking between Marktplatz and Heinrich-Heine-Platz (the two markets mentioned above), you'll find a variety of cute Christmas stalls scattered along Flinger Straße.
With a picture-perfect backdrop of the Old Town's colourful facades, the stalls themselves are painted like Düsseldorf burgher houses which yes, I can confirm, is irritatingly cute.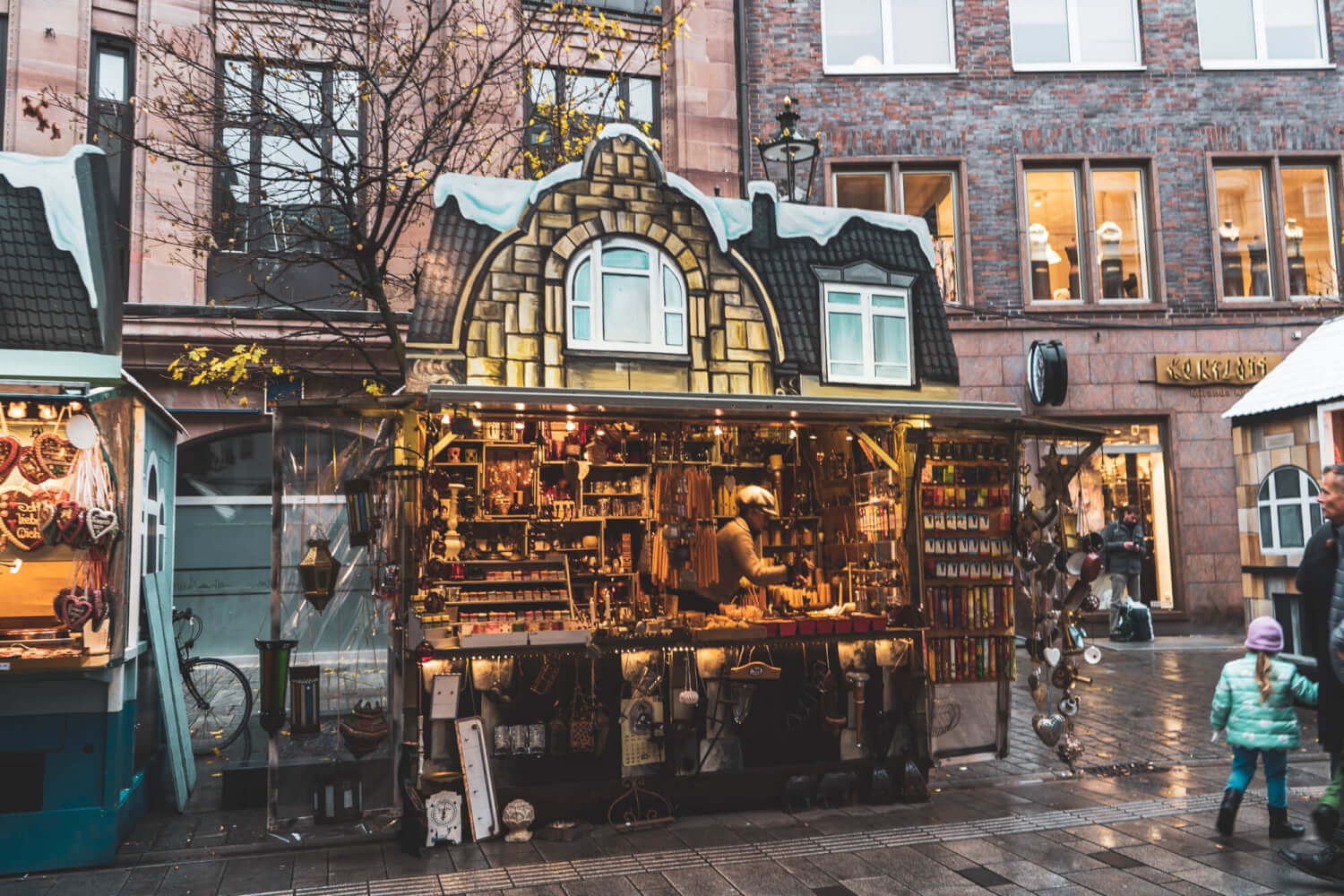 There are plenty of stalls to peruse and grab goodies at along this street, but there was one stall in particular that I loved which sold stunning handmade ornaments, and of course I couldn't resist buying one for home.
Keep an eye out for it – the ornaments are made of pinecones and other beautiful earthy things (sorry – I'm not a botanist).
PS: Along the way, you'll also encounter a big Christmas pyramid selling mulled wine. While here, keep an eye on the peculiar figures rotating around, who don't look at all like traditional Christmas figures.
I thought there was something weird about them at first glance and sure enough, after a quick Google, I found out the spinning figurines in this pyramid are actually important Düsseldorf public figures, including "Mutter Ey" a woman who used to own a coffee kiosk near the art school. How random, but cool.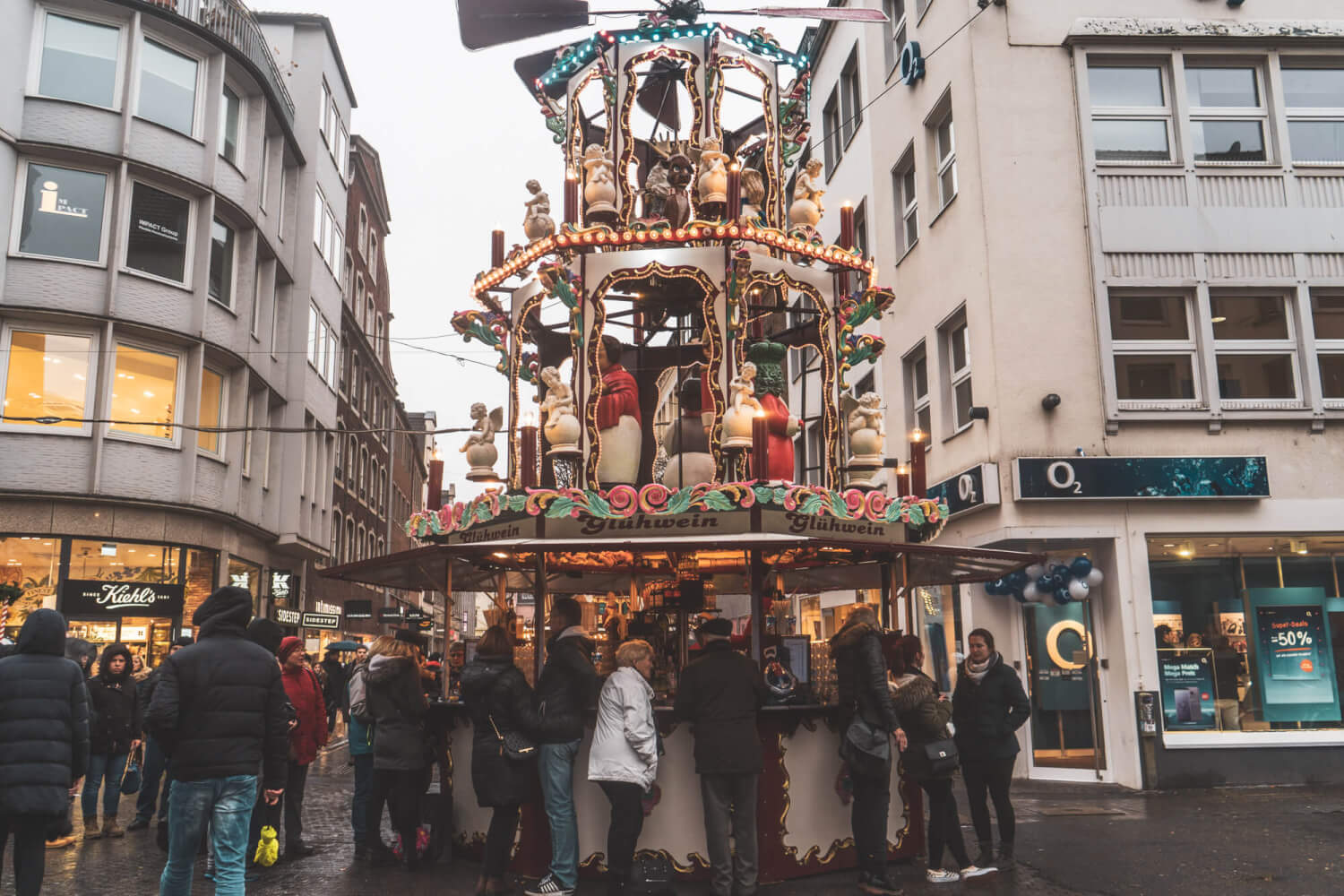 4. The Sternchen-Markt
Location: In the inner courtyard of Wilhelm-Marx-Haus
This tiny, cozy market wins bonus points for its unique blue and white colour scheme, featuring adorable sky blue huts topped with fluffy white snow.
With a mix of typical stalls like jewelry, handicrafts and delicious treats, it's a very short walk from the Engelchen-Markt, so make sure you don't miss this one during your Düsseldorf Christmas tour.
It may be small, but it's worth a visit. I've heard this market is especially atmospheric at night thanks to its dramatic lighting displays. Sadly I didn't get to see the twinkly lights for myself, but look how cute it already is by day: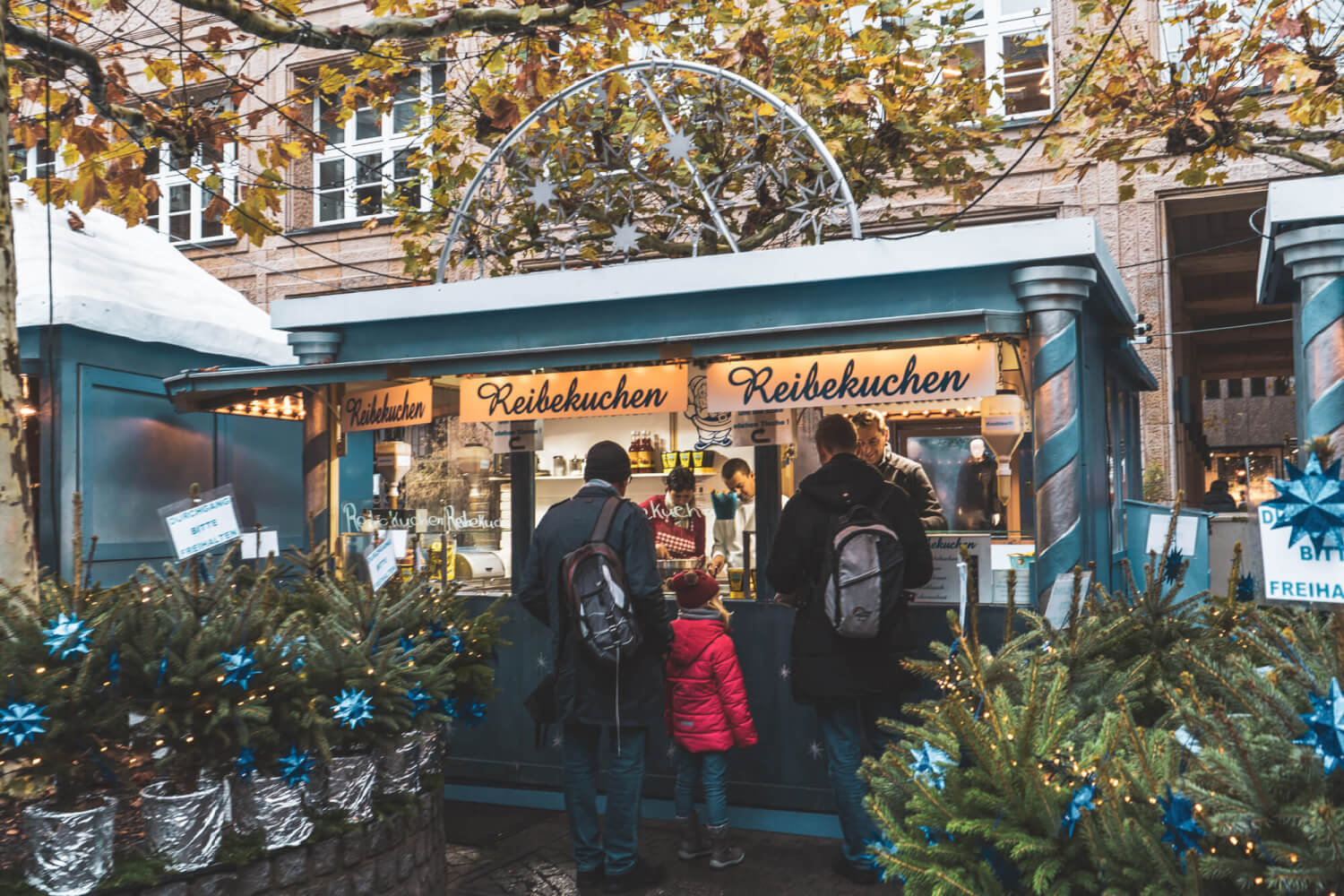 5. The Märchen-Markt
Location: Schadowplatz
Branded as the "fairytale market" this year, with huts topped with characters from the Grimm's Brother fairytales, this is the one Düsseldorf Christmas Market I missed this year, simply because of my poor sense of direction.
I was probably walking directly parallel to it, and didn't even realize. It's a shame, because it looks absolutely magical! There's apparently even a Christmas Tower where stories are read out loud and the kiddos (old and young) can meet Father Christmas for themselves on Fridays.
6. The Schadow-Markt
Location: Along Schadowstrasse
The word "Markt" here is a little misleading here because the Schadow-Markt isn't so much a contained market as it is just a line of stalls along one of Düsseldorf's main shopping streets.
That said, the Schadow-Markt is still a nice addition to your Düsseldorf shopping adventure (just don't expect a cozy winter wonderland vibe).
Why not supplement your shopping at big-box retailers like Karstadt with some lovely Christmas market stalls….? Or just take a break with a hot mug of glühwein and rest your feet after battling with pre-teens over discounted pyjamas at Primark!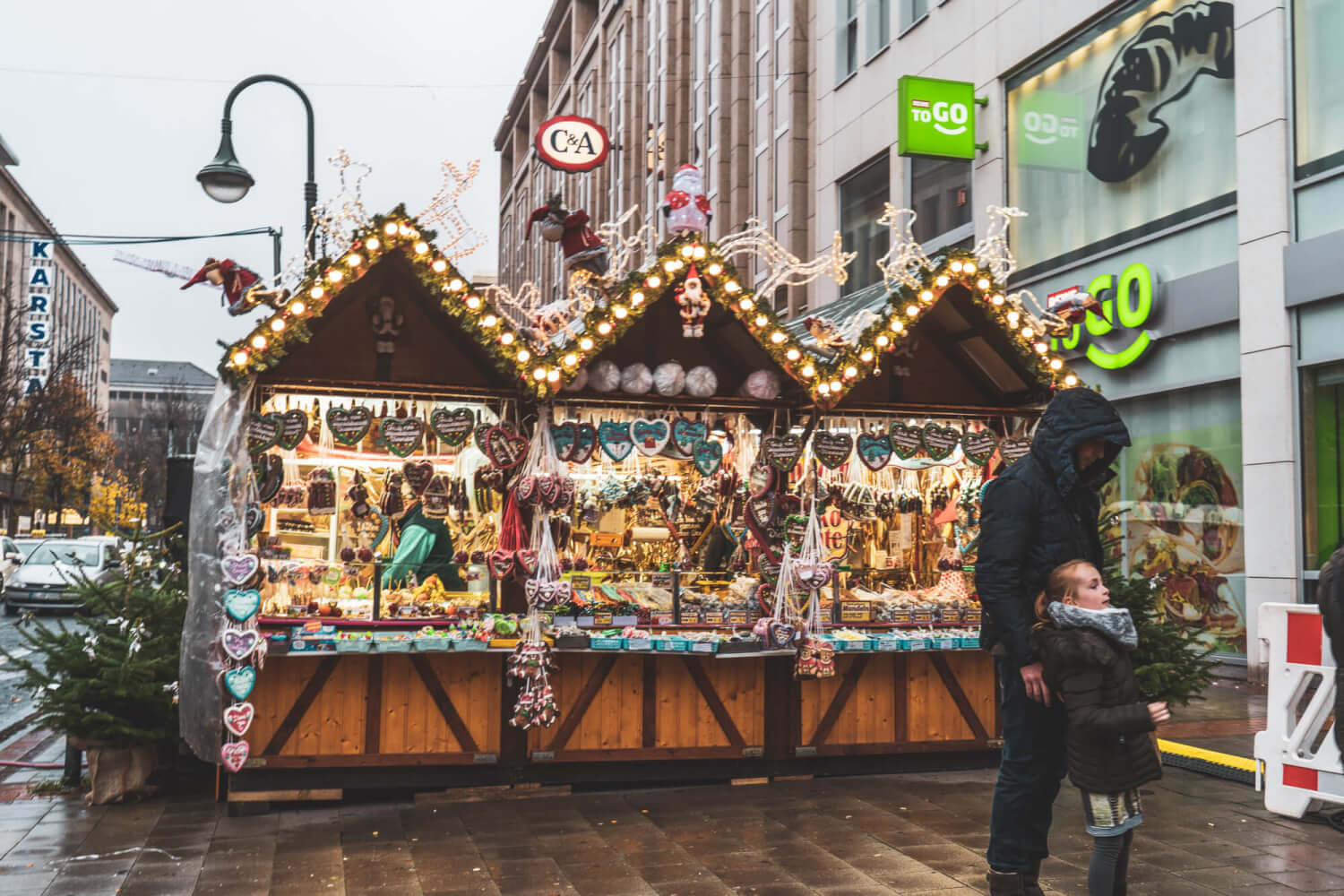 7. The Kö-Bogen-Markt
Location: Jan-Wellem-Platz & Joachim-Erwin-Platz
With a scenic location overlooking Hofgarten, this Düsseldorf market is a must, especially if you have young ones in tow.
Alongside pretty wooden huts selling the usual goods, there's a special childrens' activity tent and a hut filling the air with the tantalizing (yet stinky) smell of raclette.
If you're on the hunt for live music as well. the Lichterhimmel at this market is where a variety of live musical performances will take place throughout the season. You can find the live music program here.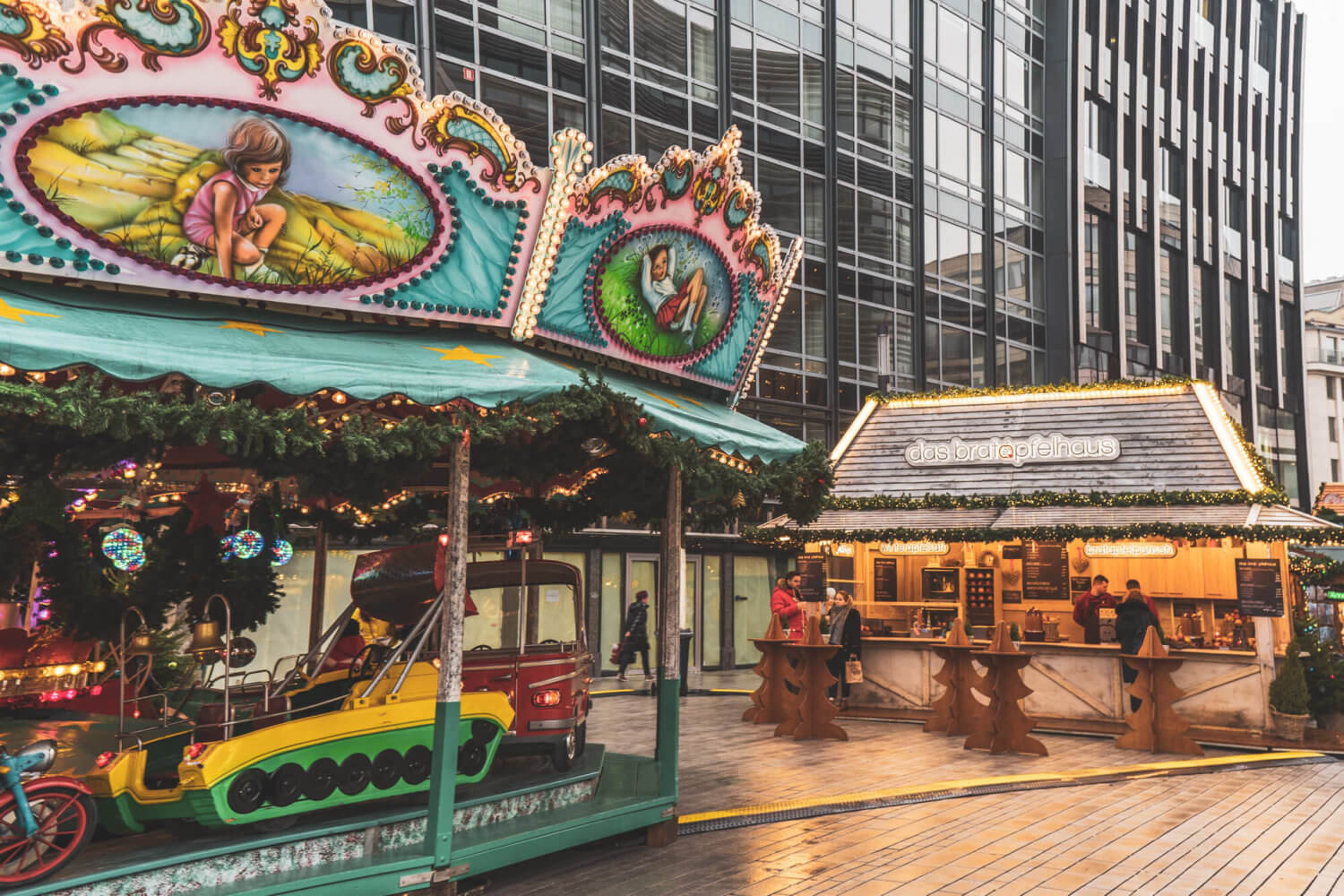 PS: There is a stall here that sells the famous (and PRICEY) TASSEN tableware, well known for their quirky commercials and cups, bowls, etc. with cute little emotional faces. Hard to explain, just watch this commercial which is surprisingly hilarious and relatable:
Christmas markets near Düsseldorf
Yay – now let's move onto some other nearby markets you can visit.
As I said earlier, one of the best things about visiting Düsseldorf for Christmas markets is that you are within easy travelling distance to plenty of other amazing Christmas markets in the region.
We devoted a day to exploring a few different nearby cities and are so glad we did. You can definitely say we got our fill of Christmas!
Anyways, all of the following are less than an hour away from Düsseldorf by train. These are (in my opinion) some of the best Christmas markets near Düsseldorf, and easily accessible when you're basing your little vacation from Düsseldorf.
PS: If you plan to visit many cities in a day, I recommend getting the North Rhine Westphalia regional ticket (a SchönerTagTicket NRW ticket) to enjoy unlimited transport in the region for a day OR you can also get a Verkehrsverbund Rhein-Ruhr 24/48 hours ticket which is cheaper but more limited in what trains you're allowed to take.
The Christmas Markets in Essen
Honestly, my favourite Christmas markets I saw this trip were in Essen.
The lighting displays here were the best I saw in the region, both in the main market (pictured below) and in the streets. Their main market is also international-themed, which means a nicer diversity of products on offer.
Last but not least, they have a small medieval market in addition to the standard traditional one, which sells cool things like leather coin pouches and wooden treasure chests! You can read a full post about the market here.
How to reach the Essen Christmas Markets from Düsseldorf: The trip from Düsseldorf Central Station to Essen Central Station will take about half an hour and from there, you can reach the main Essen Christmas markets on foot within 10 minutes (with stalls greeting you immediately when you exit the station, actually!). You can easily check timetables on GoEuro or the DB website, but trains are very frequent.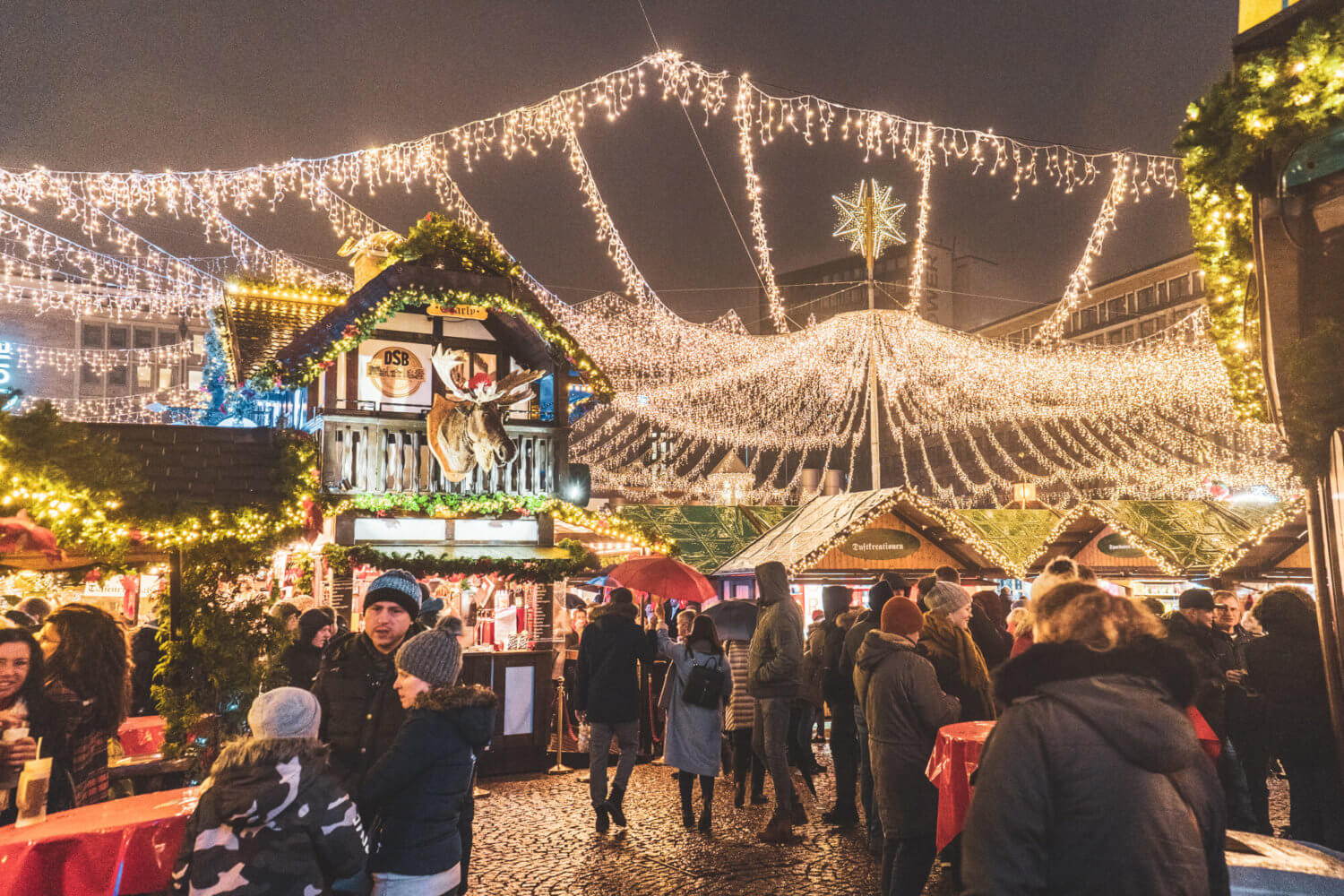 The Christmas Market in Duisburg
Branded as the "longest Christmas market in Germany", the Duisburg Christmas market makes my list simply because it's much quieter and less congested than the Christmas markets in Düsseldorf.
The market opens far earlier than most Christmas markets in Germany (around mid-November), which might explain its relative airiness and lack of crowds.
A few highlights for me included the Zum Faschen stall near the beginning of the market, a wooden chalet house with a cute outdoor seating area in the back with a cozy fire and little barrels you can sit in.
There was also a very cute display stall right in front of "Zebra Shop" that showcased hundreds of adorable Christmas market mugs from different years and cities around Germany.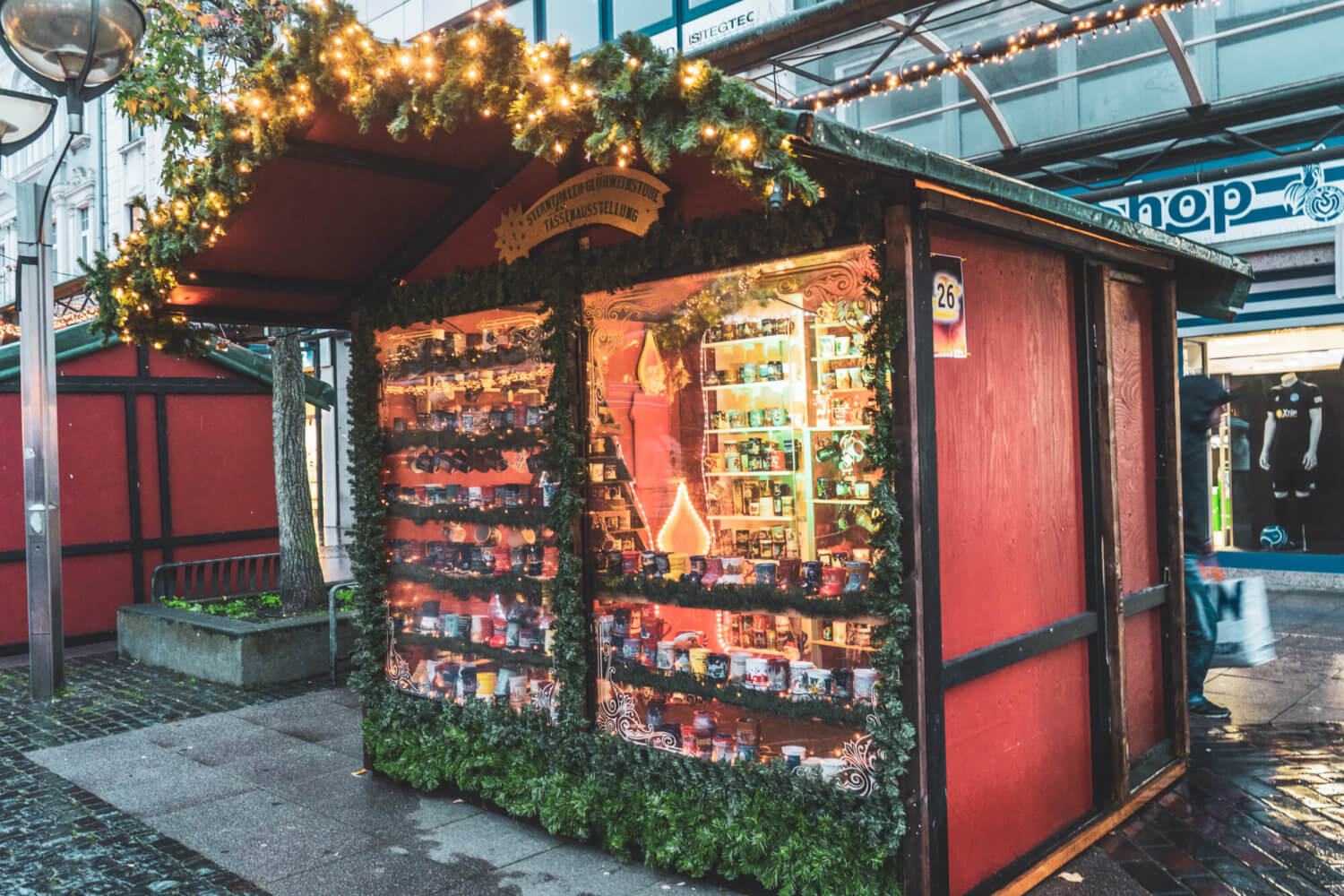 How to reach the Duisburg Christmas Market from Düsseldorf: The trip from Düsseldorf Central Station to Duisburg Station will take about 15 minutes and from there, you can reach the Duisburg Christmas market on foot within 10 minutes. You can easily check timetables on GoEuro or the DB website, but trains are very frequent.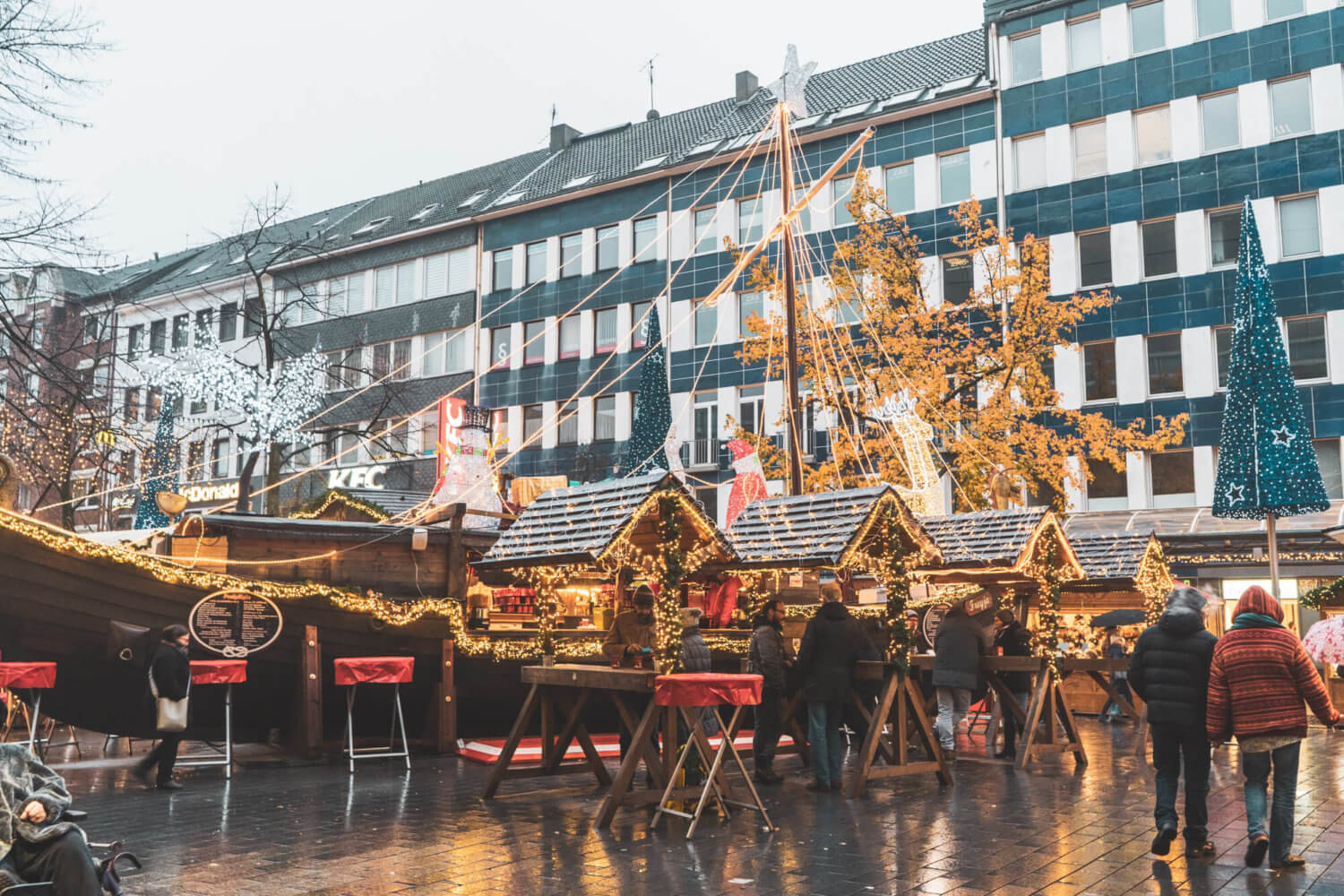 The Christmas Market in Dortmund
The Dortmund Christmas Market is world famous because of its giant tree, which happens to be the largest Christmas tree in the entire world!
Alongside its status as one of the largest Christmas markets in the country, this naturally makes it one of the best Christmas markets near Düsseldorf to visit.
Besides the truly humongous tree in Hansaplatz (which isn't lit up until November 26, mind you *shakes fist*), there are also a lot of other stalls and little markets scattered around the city, and a fun little ferris wheel you can ride.
Click here to read my full guide about the Dortmund Christmas Market
How to reach the Dortmund Christmas Market from Düsseldorf: The trip from Düsseldorf Central Station to Dortmund Central Station will take about 45 minutes to an hour depending on the train you catch. (I highly recommend breaking up the journey by stopping in Essen first!) From the station, you can reach the Dortmund Christmas market on foot within 10 minutes. You can easily check timetables on GoEuro or the DB website, but trains are frequent.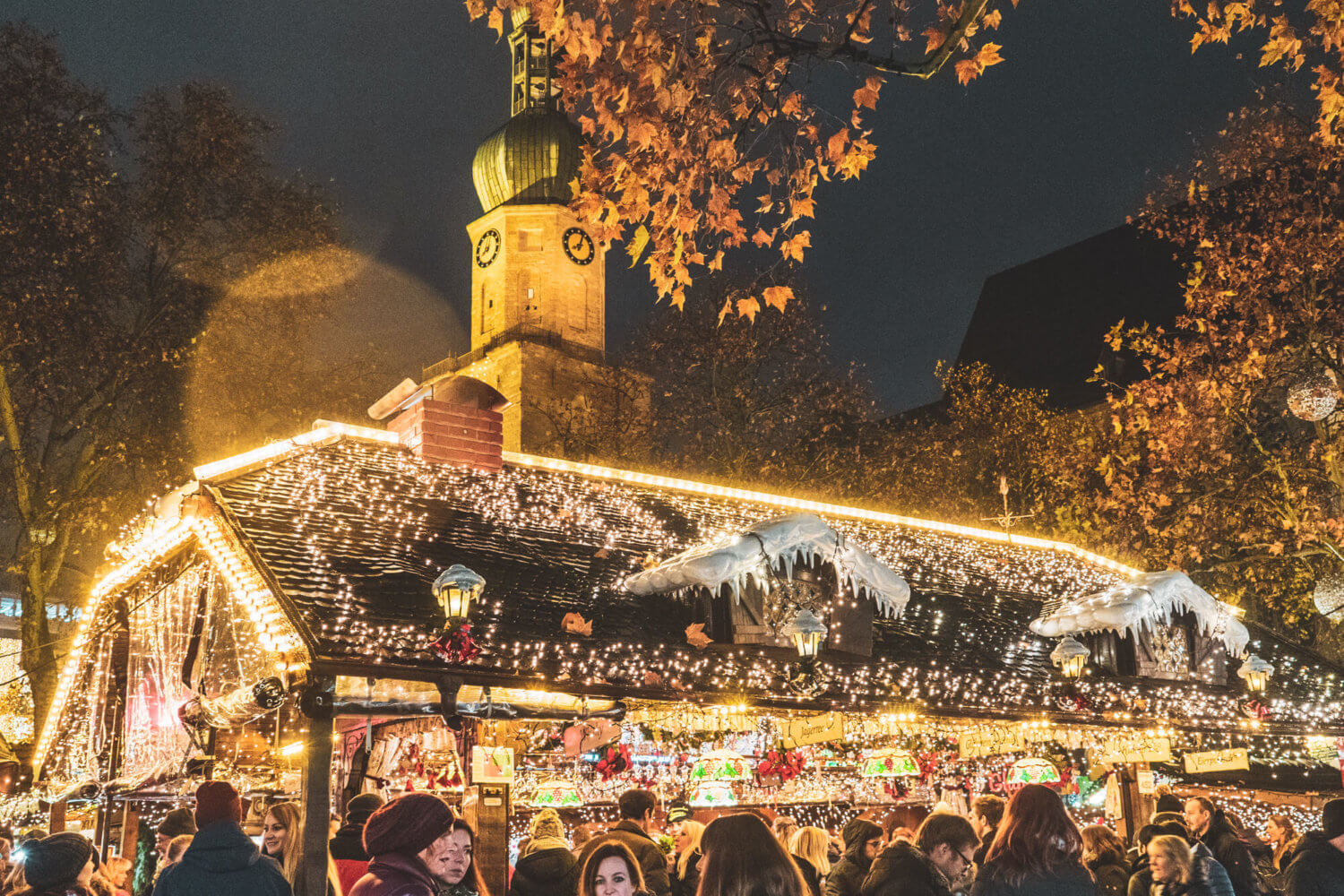 The Christmas Markets in Cologne
A year after my initial NRW Christmas market jaunt, I headed to Cologne to see their famous Christmas markets in person, and honestly… wow. I am ruined for life!
Having been to my fair share of markets around the country, I can safely say that Cologne's seven main Christmas markets are truly some of the most spectacular ones you'll encounter in Germany.
Each one has a unique theme, with enchanting decor and plenty of wonderful food and drink to round out the experience. If you want to experience some of the best Christmas markets that Germany has to offer, make sure Cologne is on the list! Click here to learn more about the Xmas market scene in Cologne.
How to reach the Cologne Christmas Markets from Düsseldorf: You can either drive for 45 min or hop on a train for 30 min and be in Cologne! You'll encounter your first (and most famous) Christmas market right outside the train station, so it's an easy day/half-day trip to do.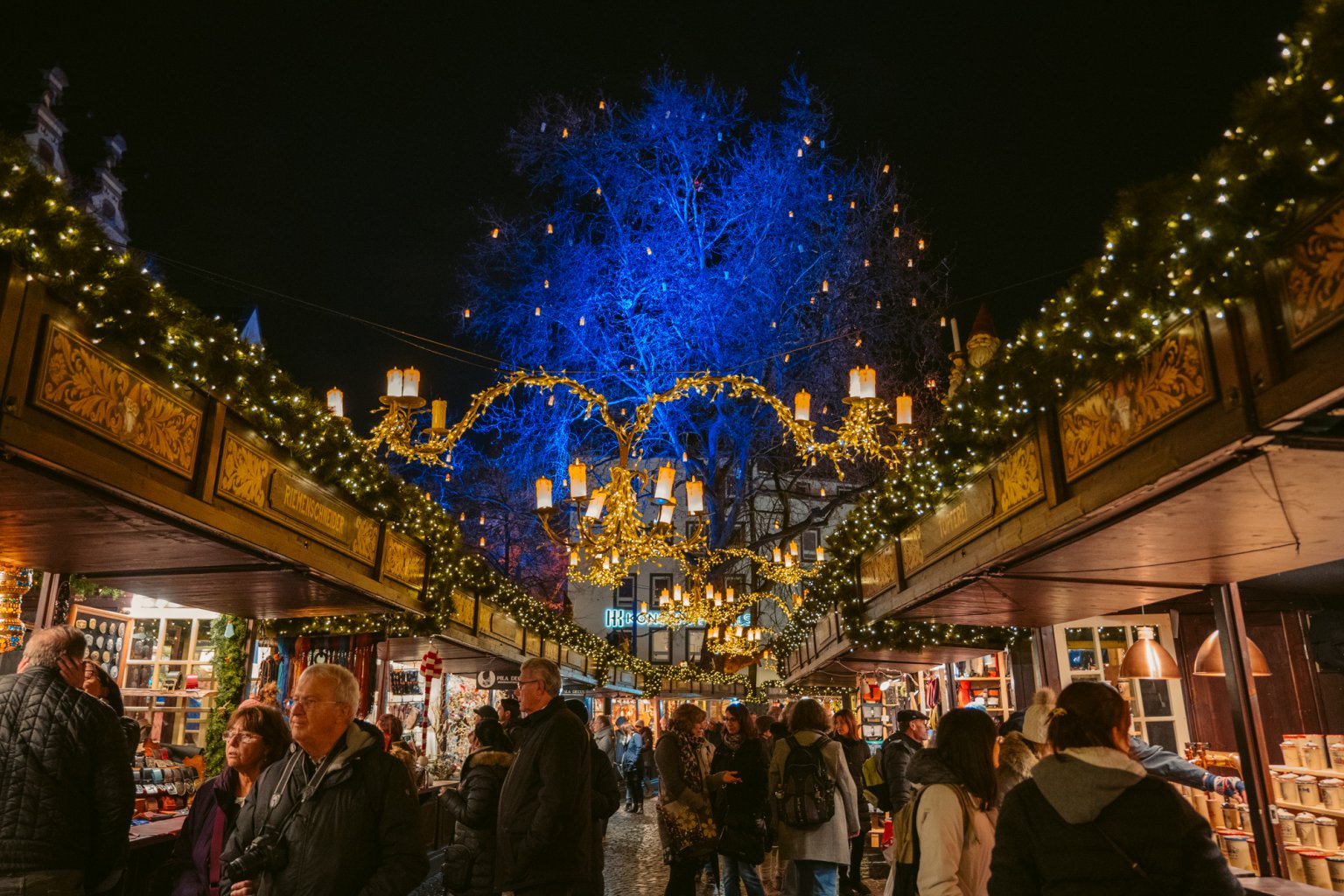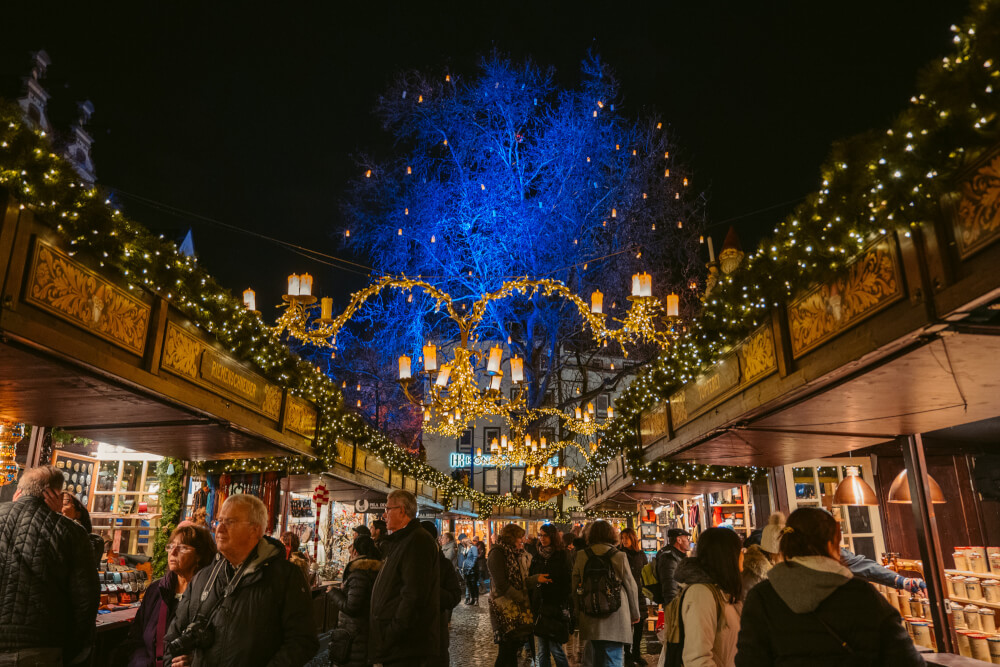 The Christmas Market in Bochum
Last but not least, this is a market I only learned about shortly after my whirlwind tour of Ruhr region Christmas markets, so I'm kicking myself for not seeing it in person!
Nonetheless, I've included it in this list because this market is extremely unique thanks to an aerial stunt show that takes place every evening starring Santa himself and his own acrobatic angel.
Every night, 35m above the market, tightrope artist Falko Traber dresses up as Santa Claus and dazzles the crowd by hovering and gliding above the Dr.-Ruer-Platz as a Christmas story is told. On weekends, he supposedly even slides down an 84m rope?! How could you NOT want to see this?
How to reach the Bochum Christmas Market from Düsseldorf: The trip from Düsseldorf Central Station to Bochum Central Station will take about 45 minutes. According to Google Maps, from the station, you can reach the Dortmund Christmas market on foot within 5 minutes. You can easily check timetables on GoEuro or the DB website, but trains are frequent.
Düsseldorf Christmas Market Food (and Drinks!) You Need to Try
Here are a few highlights of things to eat while flouncing around Düsseldorf's Christmas markets, but if you want a full list of must-trys, check out this post on delicious German Christmas Market food and drink.
1. Kartoffelpuffer/Reibekuchen
Whether you go for the cutesy name Kartoffelpuffer or the more aggressively German-sounding name Reibekuchen, these hashbrown-esque potato pancakes are a must try. They're commonly served with some kind of applesauce, but they're phenomenal plain too.
2. Glühwein
Mulled wine, best consumed hot and scalding, whilst wistfully dreaming under twinkly lights.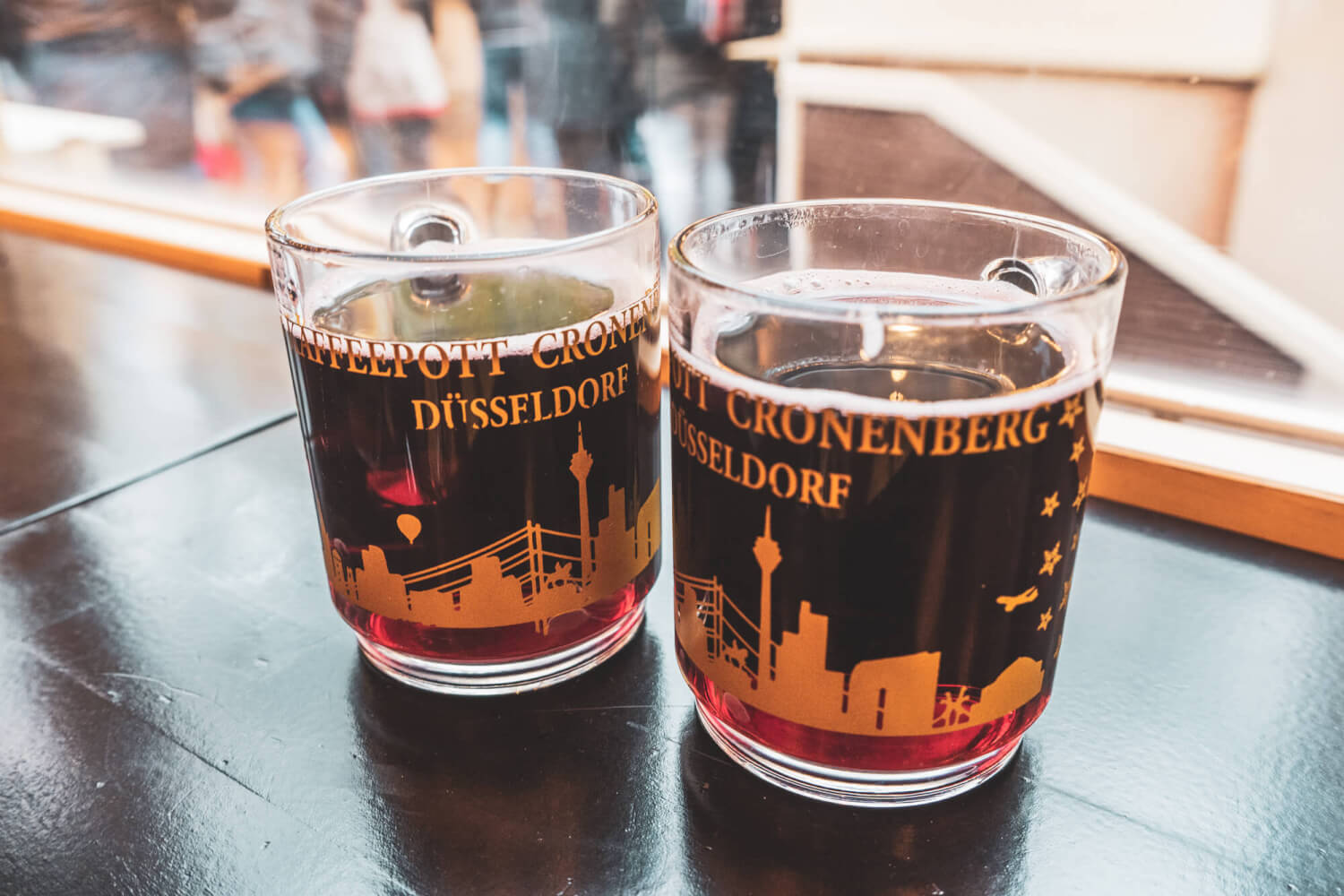 3. Gebrannte Mandeln (AKA Roasted Almonds)
Addictive and delicious. They win in their simplicity (and their impossibly irresistible smell). Follow your nose and get some of these roasted almonds ASAP.
4. Eierpunsch
A hot alcoholic drink made with egg yolks, white wine, spices (cinnamon & cloves), vanilla and citrus juice. It honestly tastes a lot like a liquid version of apple strudel….. but that may be owed to the huge topping of whipped cream it usually comes with.
5. Bratwurst (AKA Sausage)
Frolic over to the closest Schwenkgrill (a dangling platform of grilling sausages mmmmgh) and grab yourself a bratwurst in a bun. When in Germany…..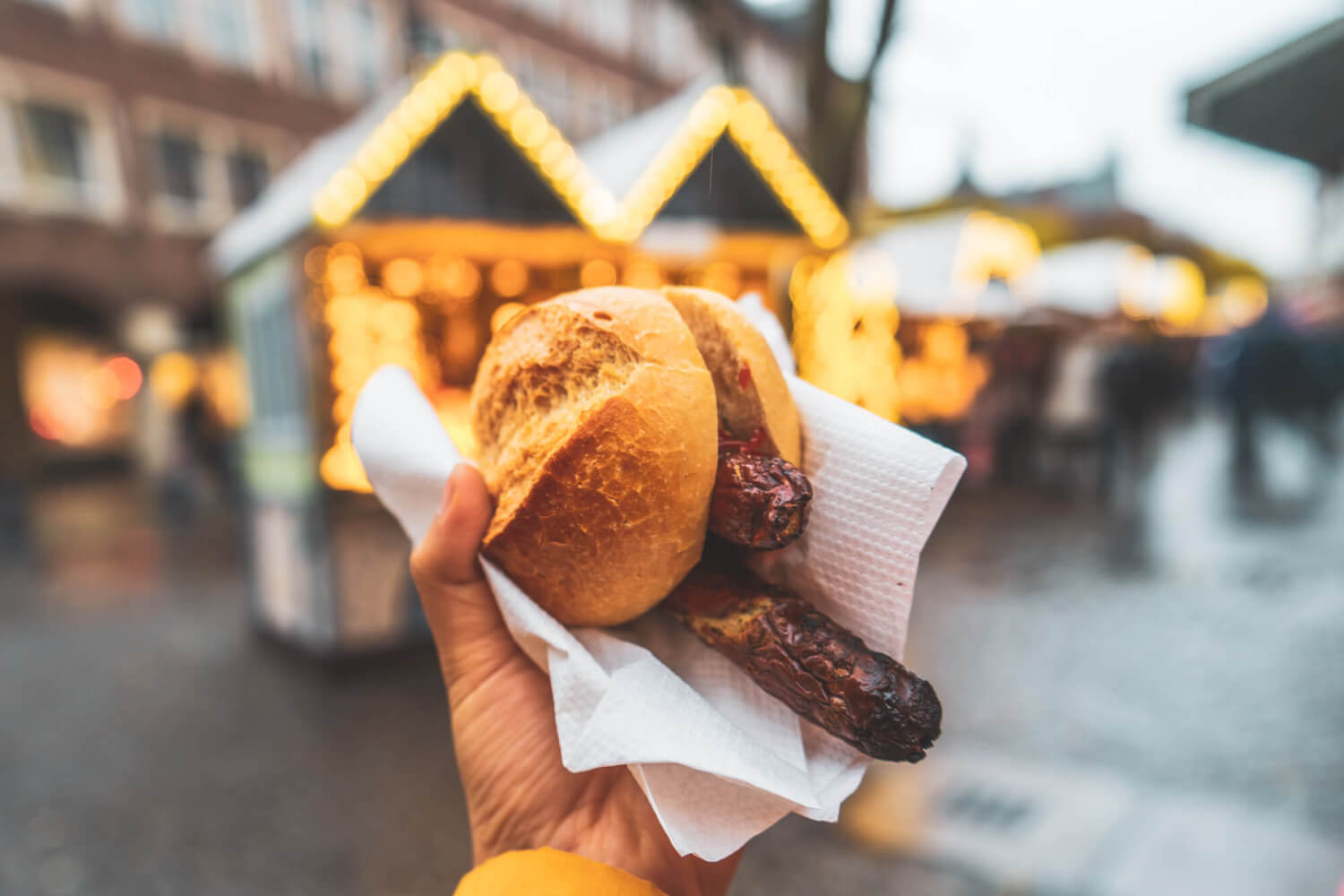 Other Magical Things to do in Düsseldorf at Christmas Time
Of course, when you're visiting Düsseldorf in the winter, don't think that you're 100% restricted to visiting Christmas markets (although that wouldn't be the worst thing in the world…!) There are plenty of other things to do in Düsseldorf in December, and here are some highlights:
1. Go ice skating
The Düsseldorf Christmas Market ice rink you might have seen in photos is located in Corneliusplatz, in the heart of the city. If you want a scenic place to go ice skating in Düsseldorf, this is it!
2. Stroll down Königsallee and enjoy the Dome of Lights
Königsallee is well known as the swishy, high-end shopping street of Düsseldorf. If you'd like to be a total baller, this is the part of town where you might stock up on some sweet Hermes scarves or Louis Vuitton purses for your loved ones.
For those of us who might prefer to spend our dollars on sweet treats instead, this is also a scenic little area for strolling and window shopping.
Especially magical is the reflection of the "Dome of Lights" over the Stadtgraben.
3. Take a ride on the Big Wheel on Burgplatz
One of the centerpieces of Düsseldorf's Christmas magic is its giant ferris wheel, aptly named "The Big Wheel".
With a strategically scenic position near the Rhine, this spot was one of my favourites in Düsseldorf.
Surrounded by whimsical rides and a handful of cute, Disney-esque stalls, this area is a must-visit if you're exploring Düsseldorf in December.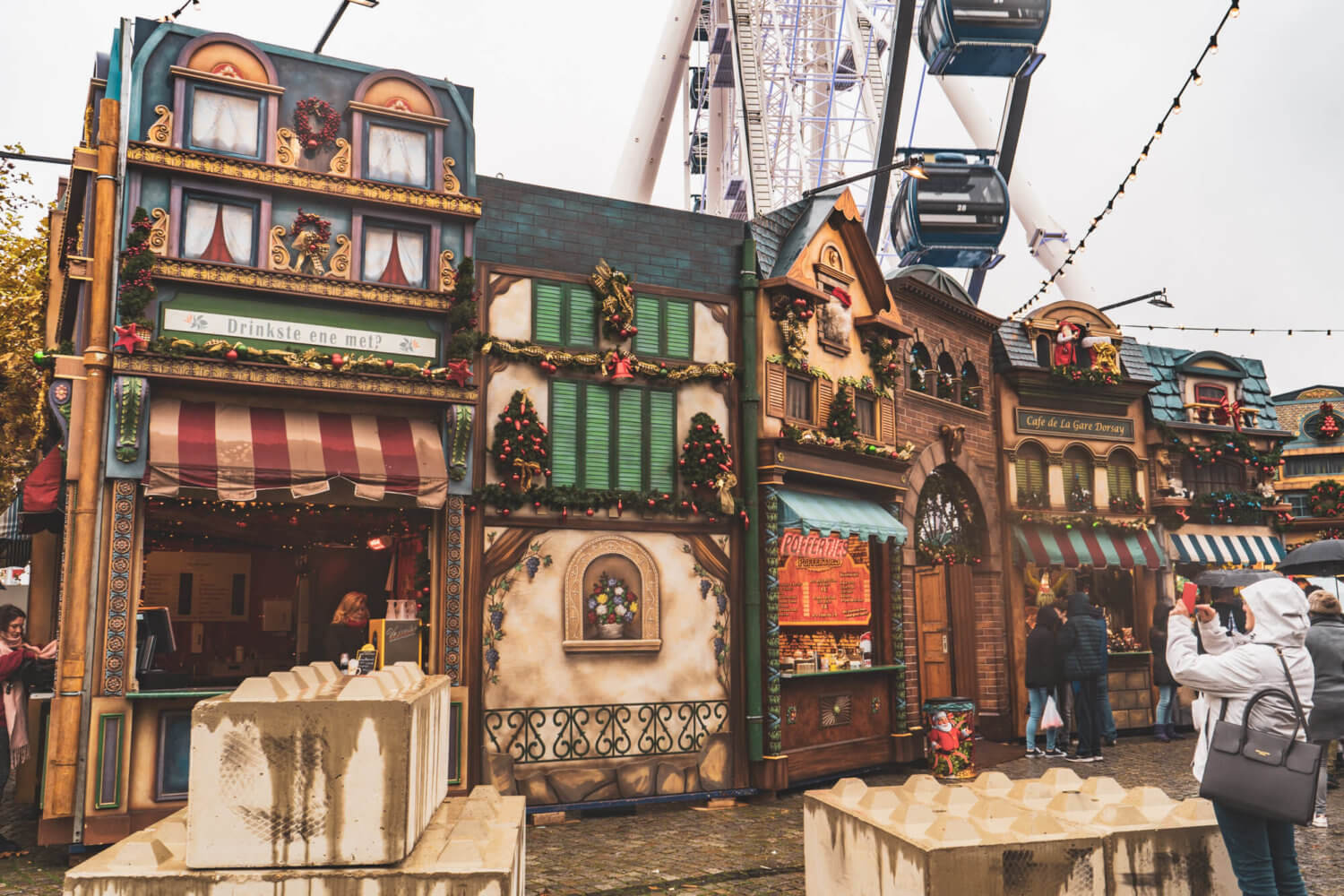 4. Pop into the Lindt store for a sweet treat
As a Lindt chocolate addict, I need to recommend this store to you. It's a beautiful, bright store in the middle of town, filled to the brim with delicious varieties of Lindt chocolate you never knew existed.
You can mix and match the gorgeous selection into custom gift packs for your lucky loved ones, or simply come in for a look (and for the free sample that they give you on the way in. Shhh – you didn't hear that from me).
MY MUST-DO TIP: Get yourself a hot chocolate at the Lindt cafe (located in the store). We tried the milk chocolate and dark chocolate one – both were adequately life-changing.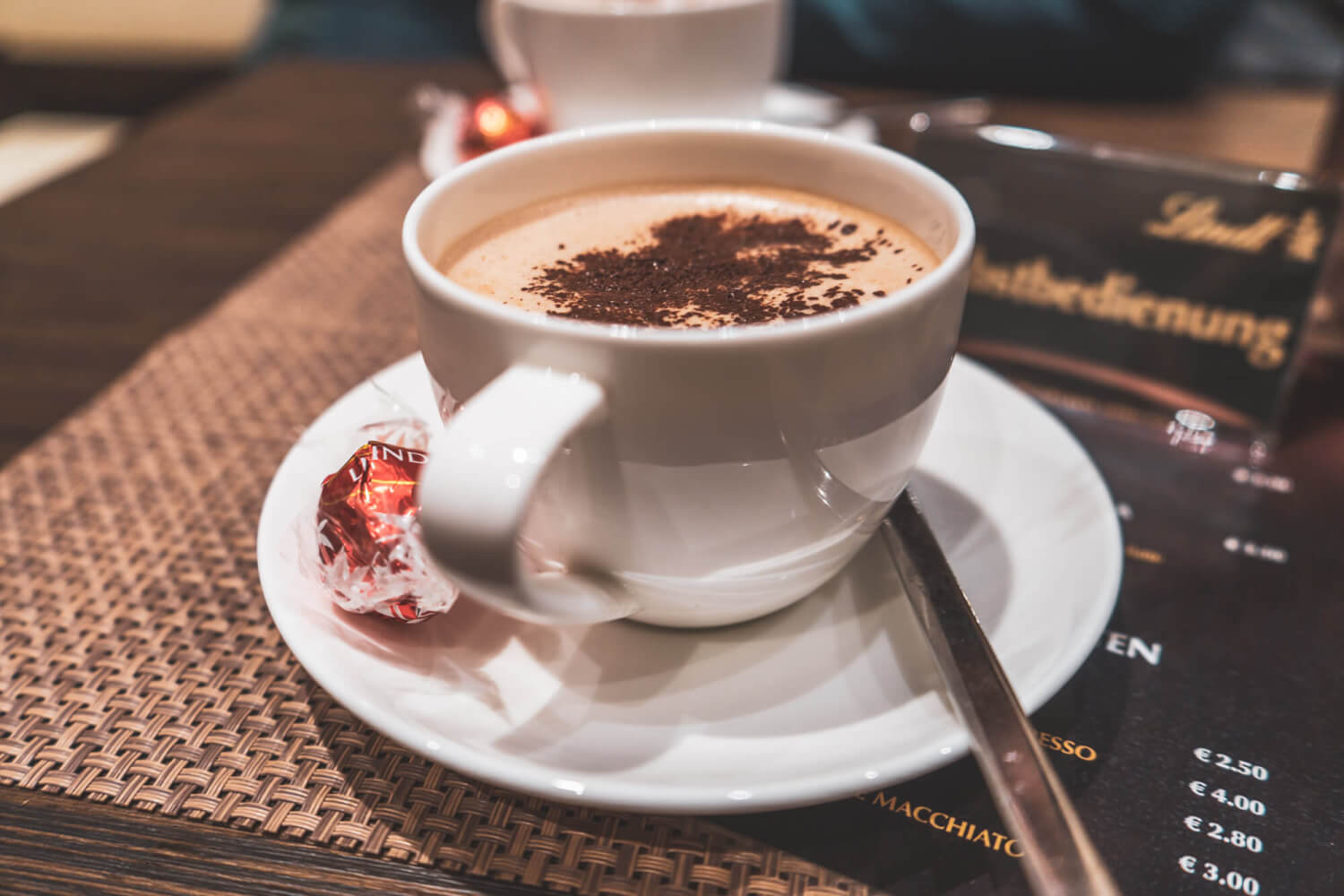 5. Try a special Christmas beer (or simply the traditional Alt beer)
It wouldn't be a Düsseldorf Xmas without some beer, am I right?
You are still in Germany after all.
If your teeth grow wary of the endless Glühwein and candied almonds, then refresh yourself with a special Christmas beer over at the Brewery im Füchschen, a cozy brewery decked out in Christmas decor.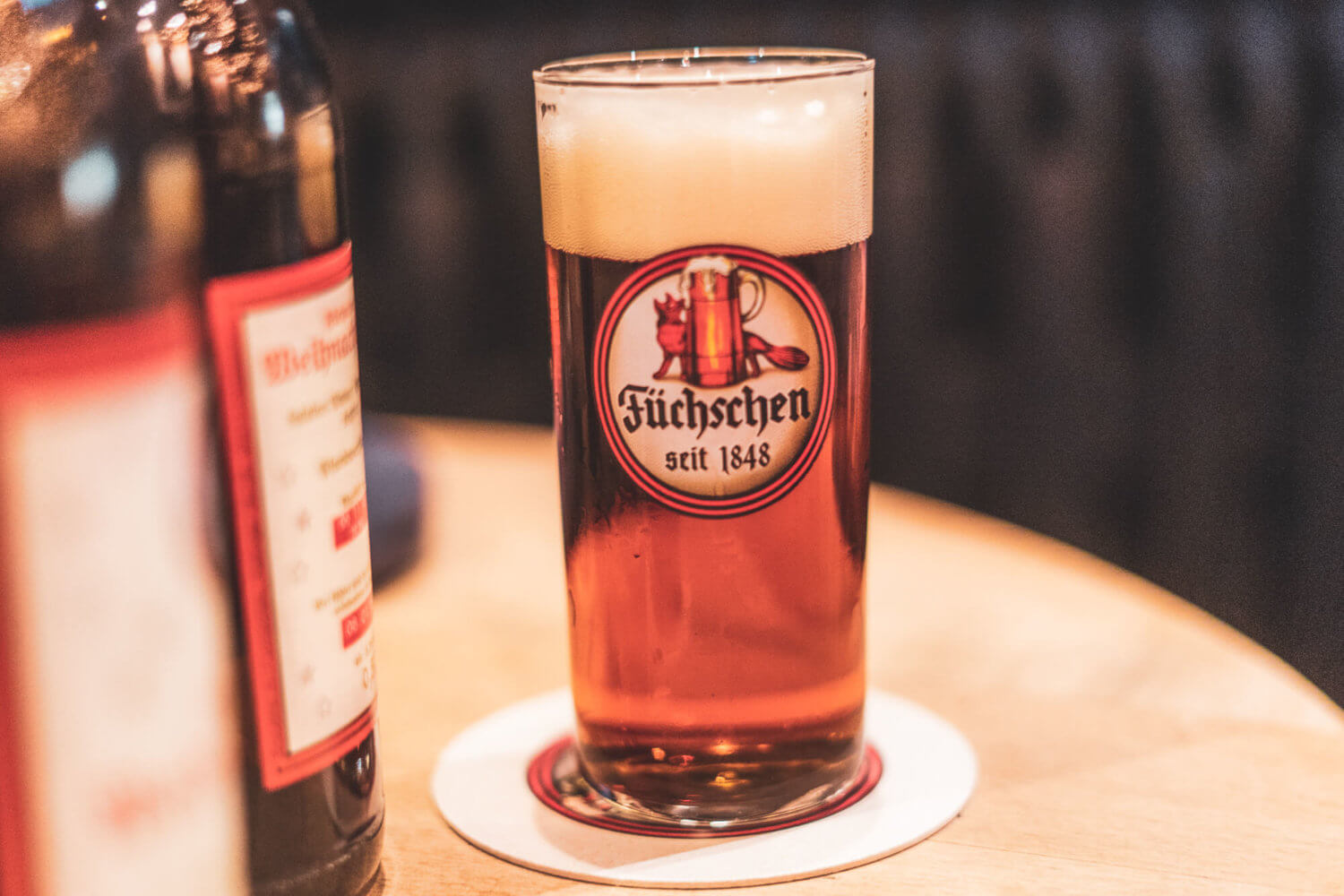 6. Watch the Christmas tree lights show in the Schadow-Arcaden
If you're looking for a magical little break while shopping, don't miss the Schadow-Arcaden light show, which features dazzling displays with 30,000 lights on a 15m high tree, alongside the best holiday tunes. From November 26th onwards, you can catch this show once an hour on the hour from 10am – 10pm. Here's a video of it from two years ago:
7. Go Christmas shopping in Düsseldorf
There are a LOT of places to go shopping around Düsseldorf, a city with a flashy reputation as Germany's fashion capital.
A lot of people from neighbouring cities and towns actually flock here to get their shopping done, so whether you're looking for a big box department store, a well-heated mall or smaller, bespoke boutiques, there's something for you to throw your moneys at.
8. Enjoy a guided "Ho Ho Ho" Christmas tour
Last but not least, if you're looking to spice up your visit to the Düsseldorf Christmas Markets, the tourism office offers a 2 hour guided tour that brings you on a festive stroll through the Old Town.
Admission includes a biscuit and hot drink! Click here for details.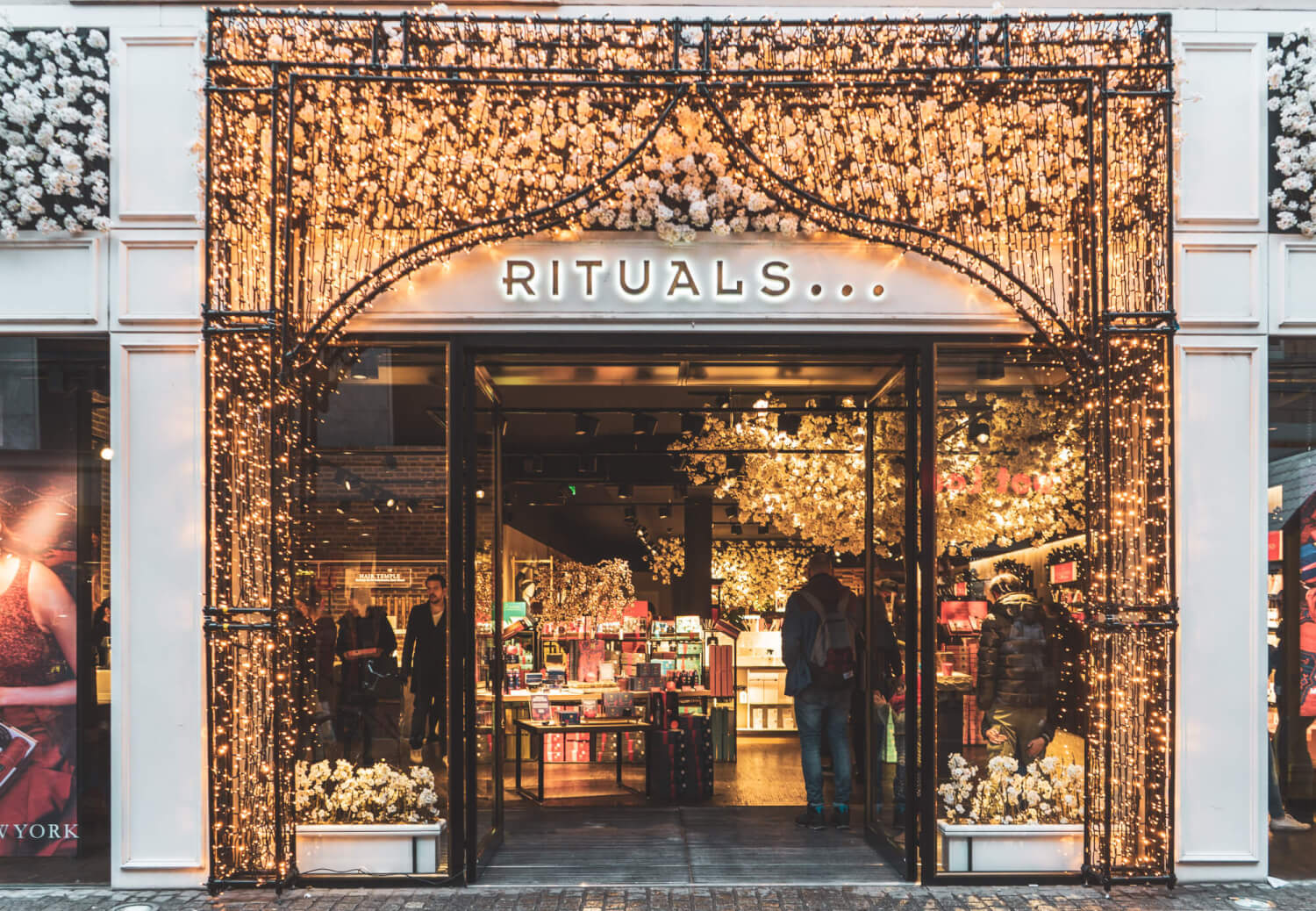 Düsseldorf Christmas Market Map
In case you're hunting for a specific Düsseldorf Christmas Market location, click here to download an easy-to-use map that has starred all the main locations and the most wintery things to do in Düsseldorf.
Final Tips: Must-Knows Before Visiting the Düsseldorf Christmas Markets
Before your magical Xmas visit to Düsseldorf, remember the following:
In 2023, the markets are closed on November 26 and December 25
While many of the websites and pages about Düsseldorf Christmas Markets will list "daily" opening times, there are two notable exceptions you should be mindful of: 1) The Sunday of the Dead (Totensonntag) is a national day for commemorating the dead that takes place on the last Sunday before Advent.
In 2023, this falls on November 26, and the markets are not open (as I have learned the hard way…!)
The second exception is Christmas Day. No markets will be open on Christmas day.
In fact, this is usually quite a special time for Germans to spend with family so I wouldn't expect too many restaurants to be open either. (Shops will definitely be closed as it's a holiday). Be sure to research places to eat accordingly!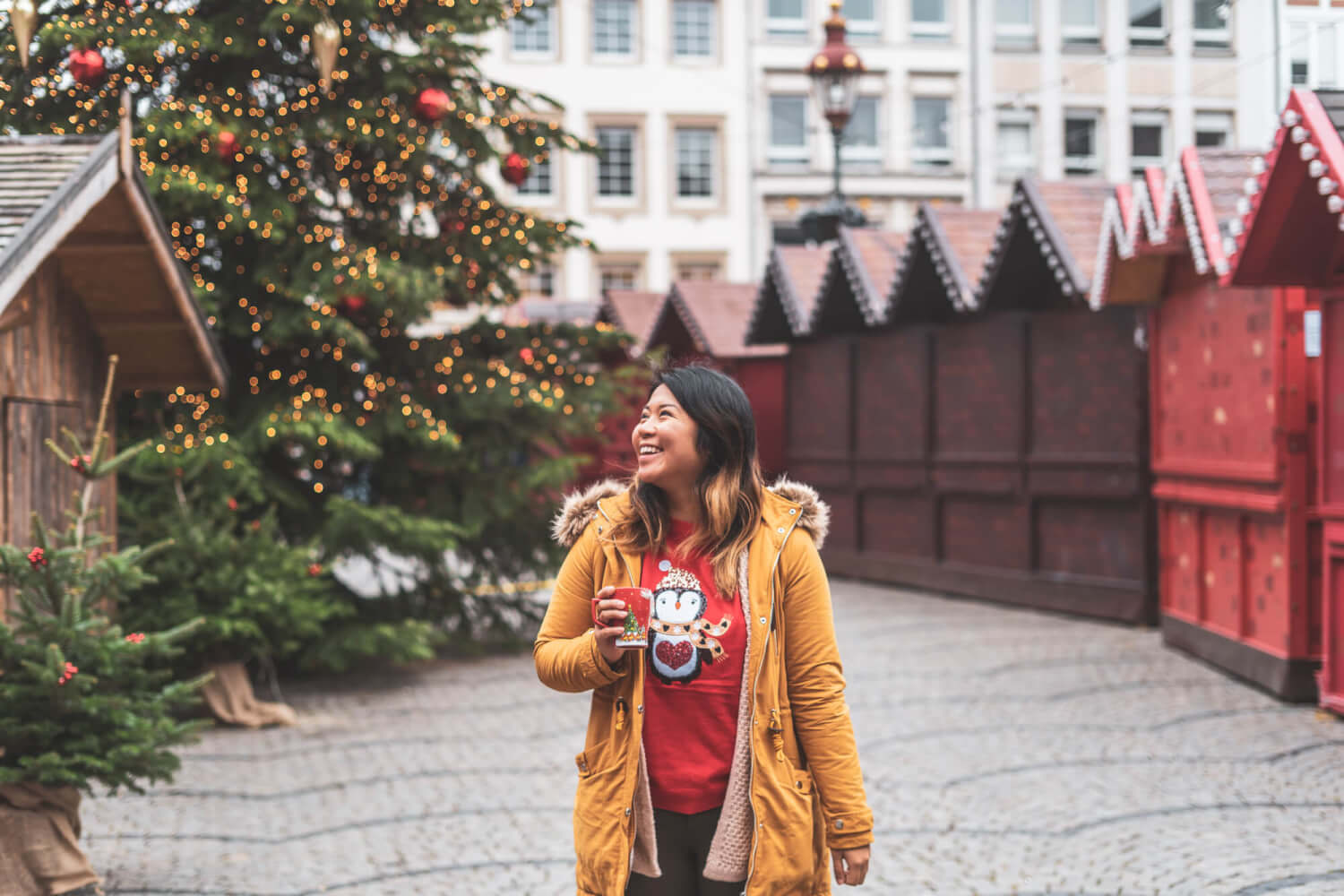 The markets are much more atmospheric at night
This might seem a bit like a no-brainer, but night-time is really the time to be exploring Düsseldorf Christmas Markets!
While all the photos throughout this post were taken during the day (I ran off to explore other nearby cities in the evening), know that these markets will be approximately 1.5 million times more magical after the sun sets and the city lights up.
The main Düsseldorf Christmas Markets are within close walking distance of each other
Again, I may sound like a broken record, but remember how close all these markets are to each other! Definitely try to hit them all if you can.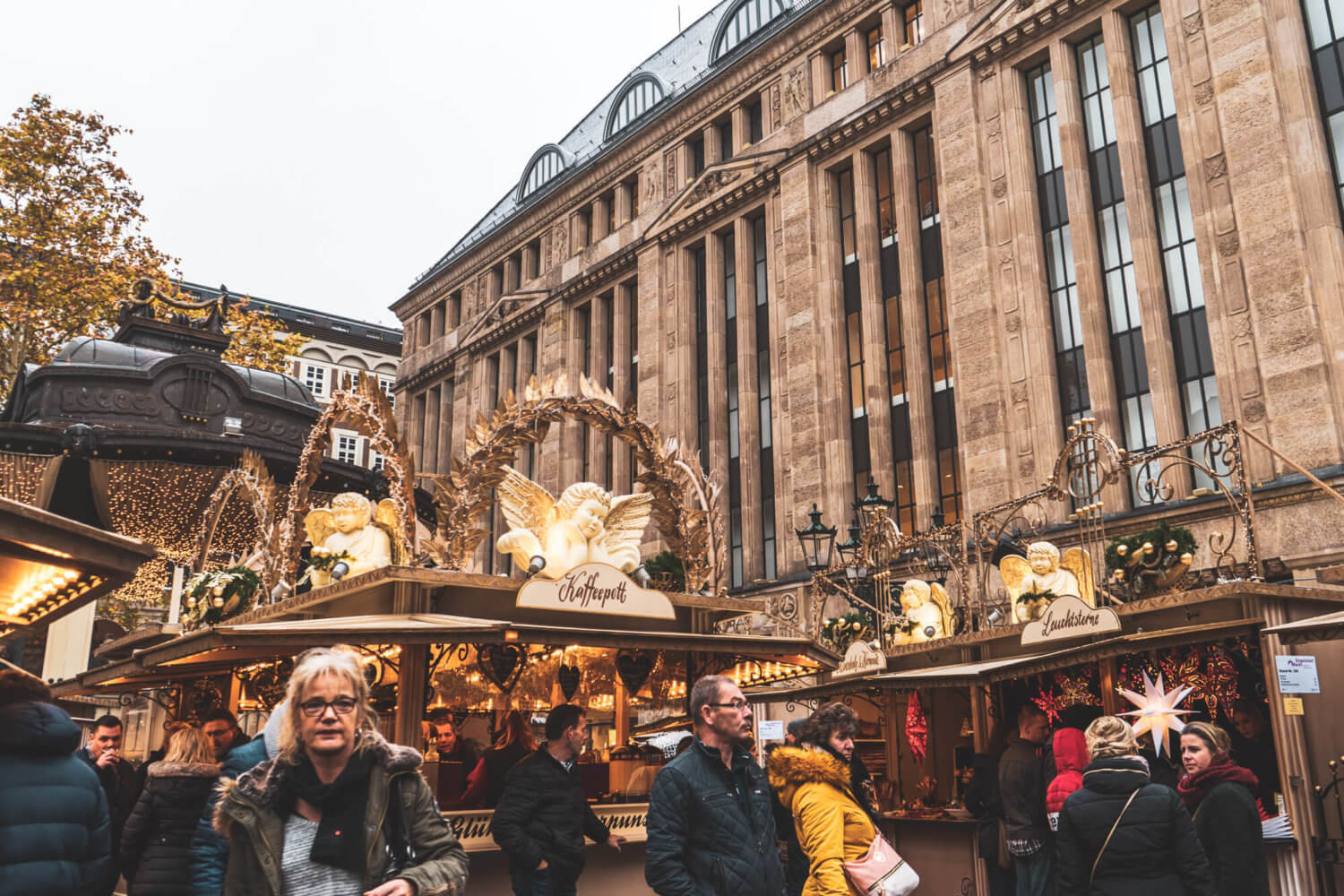 Any more questions about Düsseldorf Christmas Markets?
I mean, I think I've talked long enough, but let me know if you have any more questions and I'll get back to you in the comments. I ho ho hope you have the most magical Christmas in Düsseldorf, Germany!
---
Watch my most popular YouTube video this week:
---