*FYI - this post may contain affiliate links, which means we earn a commission at no extra cost to you if you purchase from them. Also, as an Amazon Associate I earn from qualifying purchases. Check out our Privacy Policy and Disclosure. for more info.
Despite being the UK's second largest city, the West Midlands metropolis of Birmingham is an English destination often skipped by international visitors.
From the fairytale villages of the Cotswolds and the Beatles attractions of Liverpool to the sandy beach towns of the Southwest, like Brighton, Bournemouth, or Poole, international visitors can often be spotted frolicking England in search of sights from their filtered mood boards and period dramas.
But Birmingham? Not even English people go there, joked one of my friends.
Good thing I've always loved an underdog. And good thing I'm weirdly stubborn when people tell me I won't like a place… because for a destination once named "the UK's Ugliest City", I was very, very pleasantly surprised.
So, if you're wondering what to do in Birmingham, I've got you. From wolfing down Disney waffles in the world's largest Primark to more… cultural pursuits like perusing the largest public library in the UK, here are the top fun things to do in Birmingham, England, or Brum as it's so affectionately nicknamed.
1. Visit Birmingham Cathedral
St Philip's Cathedral is a beautiful little Baroque-style church and one of the most important Birmingham attractions to add to your itinerary.
Originally constructed in the 18th century, this Grade I listed building was completely bombed during WWII but was then restored to its current form for curious visitors like you and me to enjoy.
Luckily, many of the treasures on display had been removed at the beginning of the war, meaning they are still intact and able to be admired. The stained glass windows are particularly gorgeous!
This cathedral is also quite unique as its design was inspired by Italian Baroque architecture, so it doesn't look the same as most churches in England.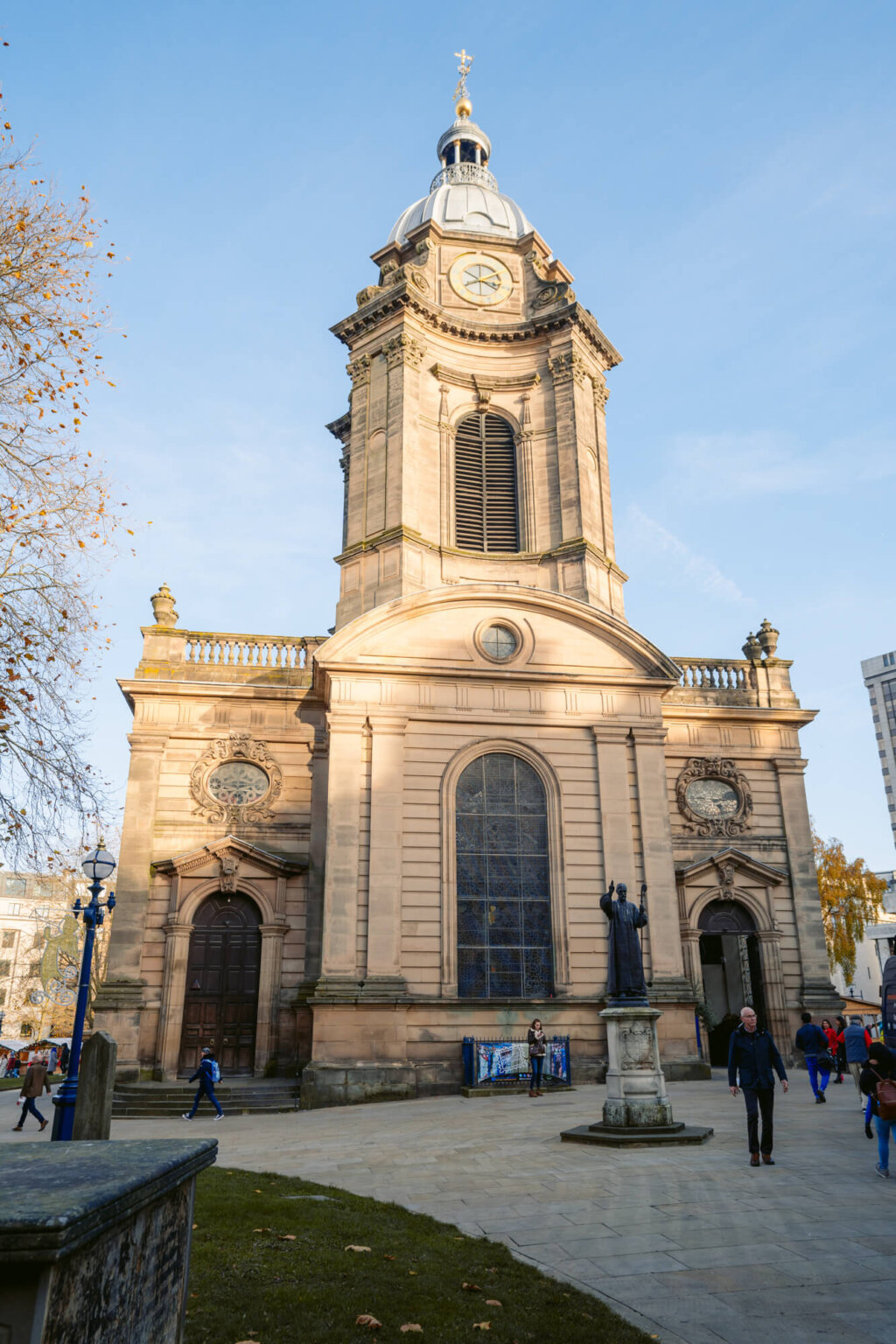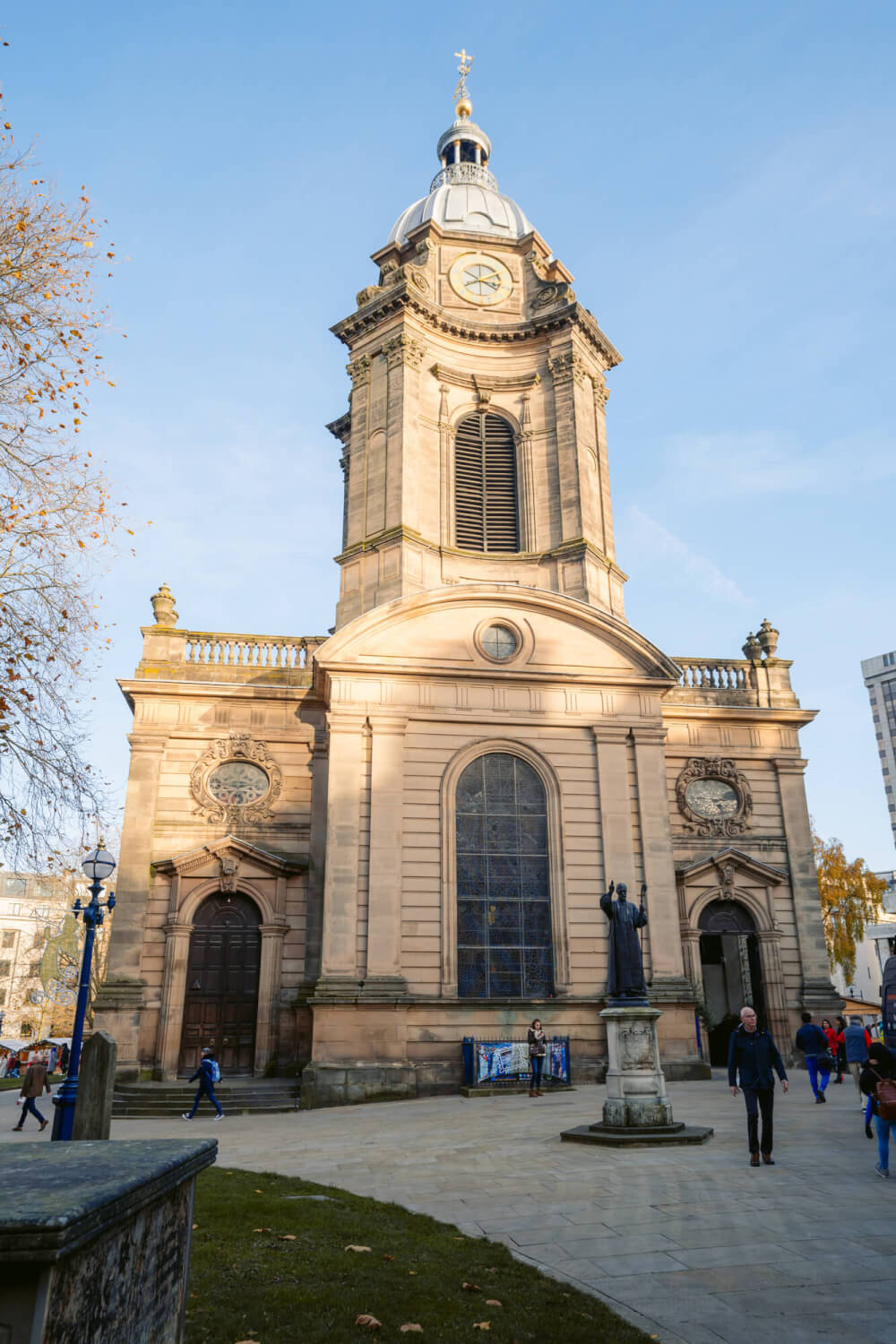 2. Experience Birmingham Library and Terrace
One of the best free things to do in Birmingham is to visit the local library, which is full of surprises both inside and out.
From the exterior, this post-modern building looks a bit like a high-tech cake, with metal circles on the side to represent the city's metal-working history.
It's the largest public library in the United Kingdom and as well as the usual library offerings (WiFi, books, computers and a café), it also features some impressive roof terraces. These are lovely spots for views over the city or to relax with a book and they often host performances and exhibitions.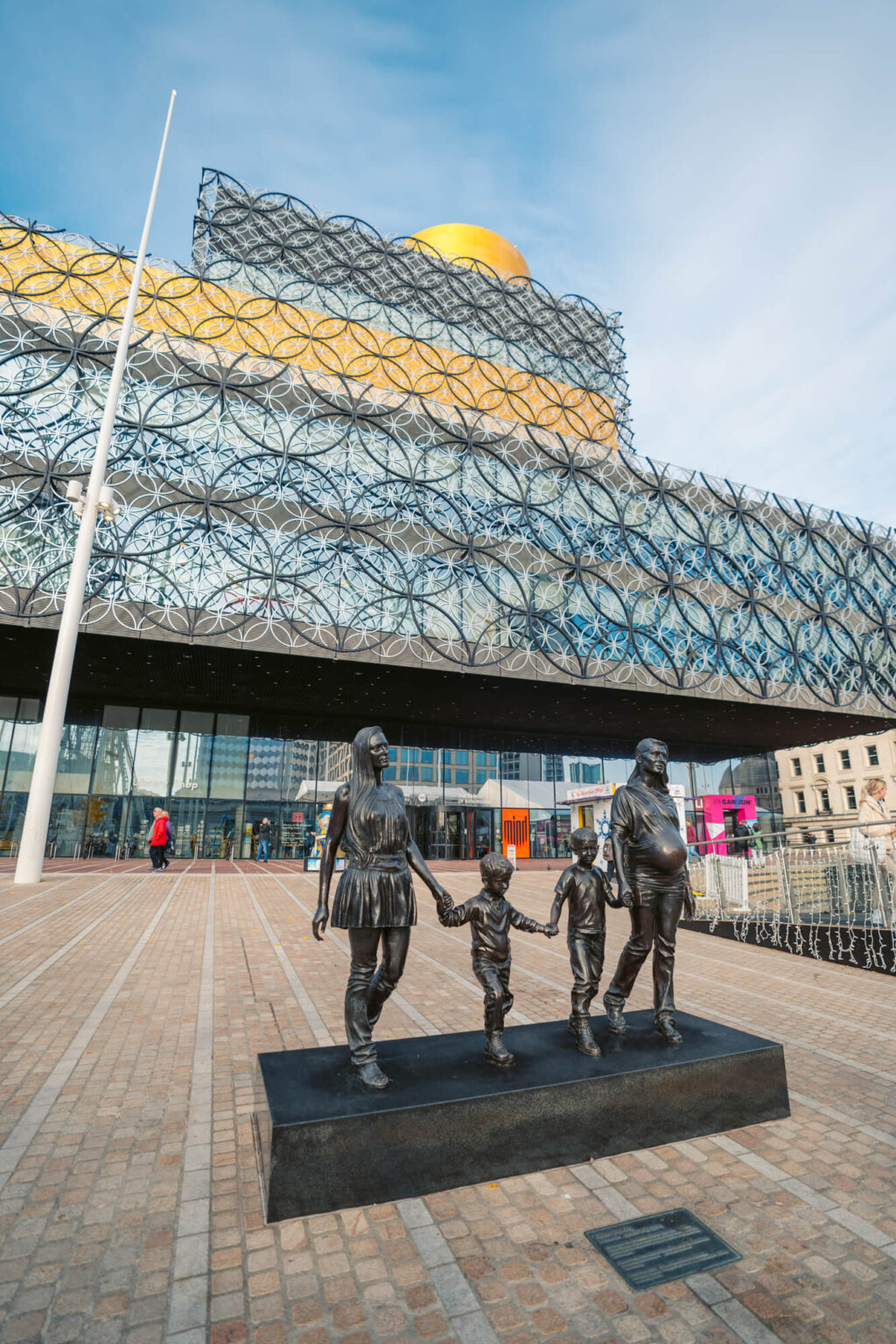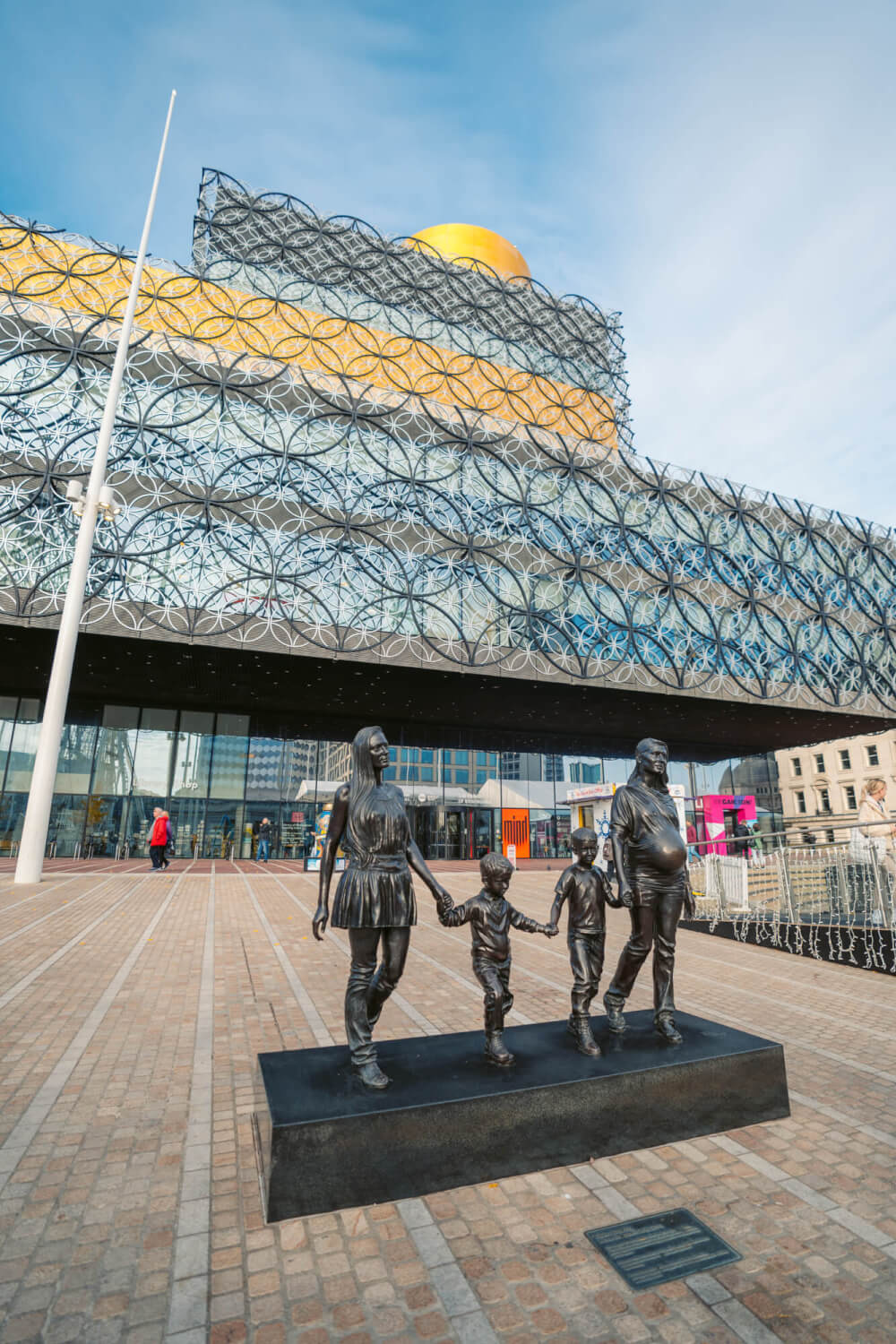 Besides parts on the inside looking like an alien spaceship though, my personal favourite find was the oh so hidden Shakespeare Memorial Room in the golden rooftop rotunda on level nine.
Here, the library's collection of Shakespeare's works is on display, inside a gorgeous room covered in Elizabethan-style woodcarvings and metalwork. This is definitely one of Birmingham's top hidden gems, so be sure to check it out: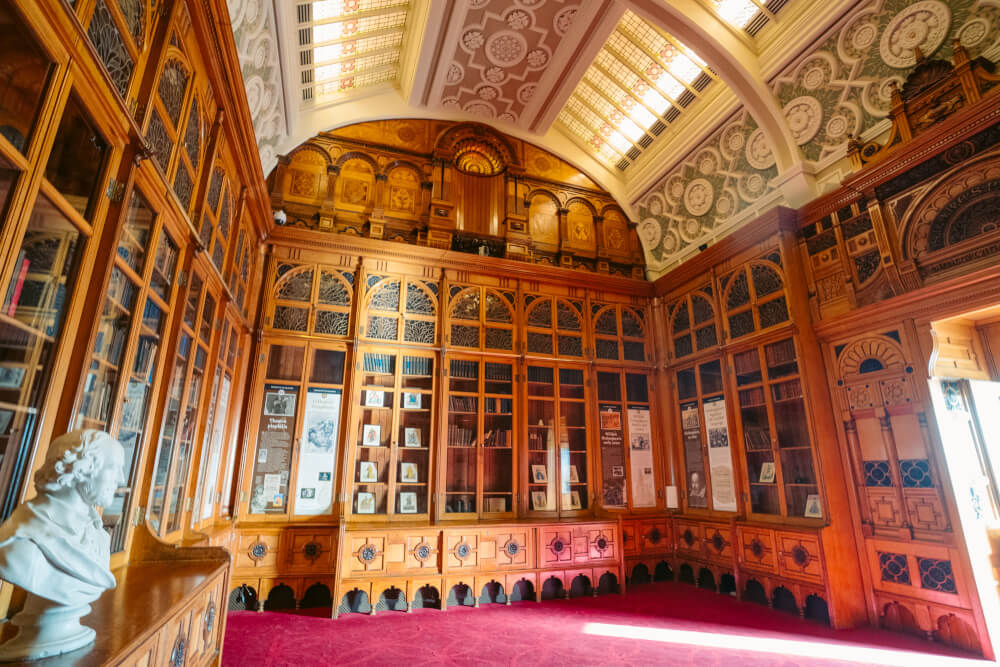 3. Wander Through the Main Town Square(s)
Victoria Square is the heart of Birmingham, a public square lined with a slew of significant buildings includin the Town Hall, Council House, Birmingham Museum & Art Gallery, Victoria House and some cool sculptures.
Birmingham's Town Hall is particularly noteworthy – it contains a famously huge concert pipe organ and was built to resemble a Corinthian temple. Over the years many concerts have been held here, with performers such as The Beatles, Led Zeppelin, Queen, Pink Floyd, The Rolling Stones, and Bob Dylan!
Of course, the Birmingham Museum and Art Gallery is also quite interesting for a visit, and home to a rather infamous statue of Lucifer…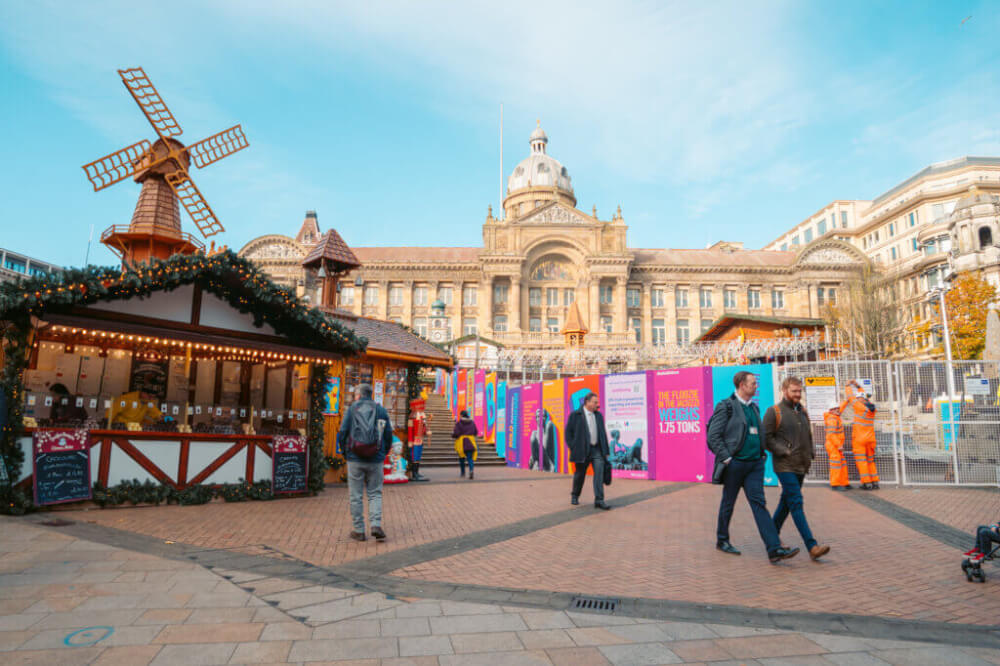 Directly next to Victoria Square is Chamberlain Square, with a beautiful memorial fountain for Joseph Chamberlain in the middle. Joseph Chamberlain was once the mayor of Birmingham and also the father of Neville Chamberlain, who was Prime Minister from 1937 to 1940.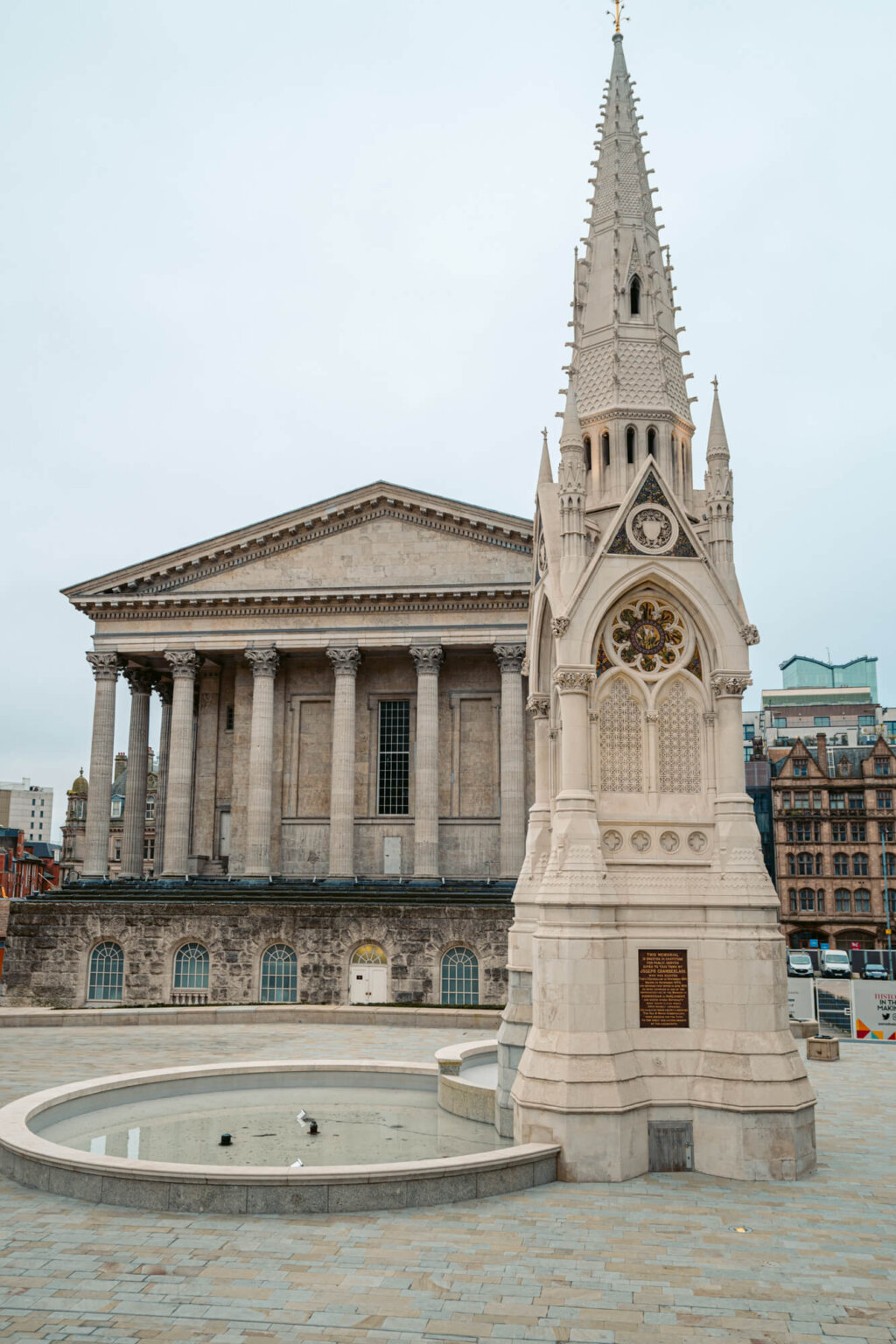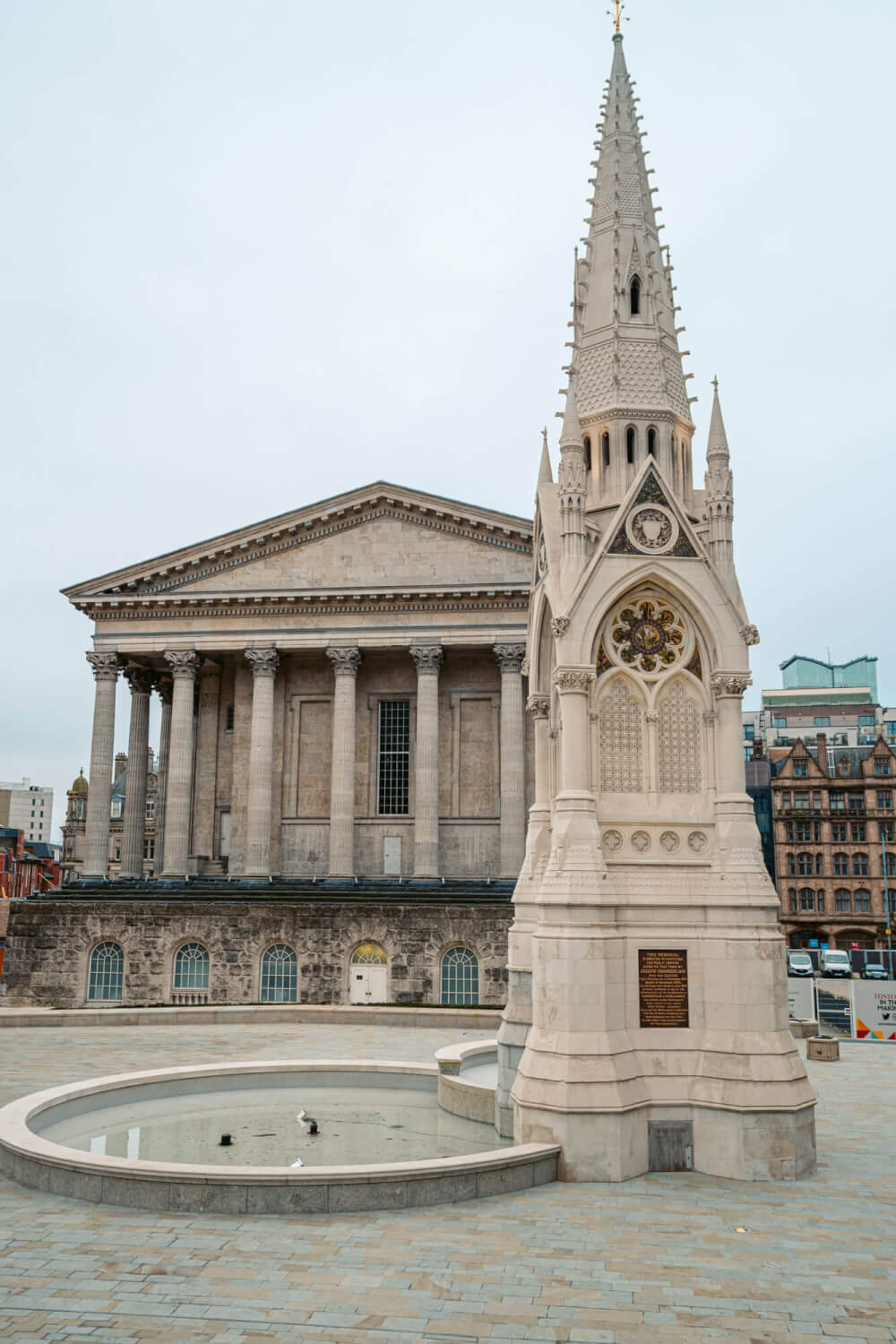 4. Have a Pint at The Old Crown
If you are looking for quieter things to do in Birmingham, head to the Old Crown pub for a drink and some history.
The Old Crown is Birmingham's oldest pub, although it was originally built to be a Guildhall (around 1368) before being used as an inn, then converted into houses, and finally, restored and reopened as a pub!
It's believed that even Queen Elizabeth I stayed here in 1575, so you will be in very good company if you come here for a drink and/or meal. While the interior is very cosy and rustic, there's also a fun beer garden to sit outside when the weather is nice.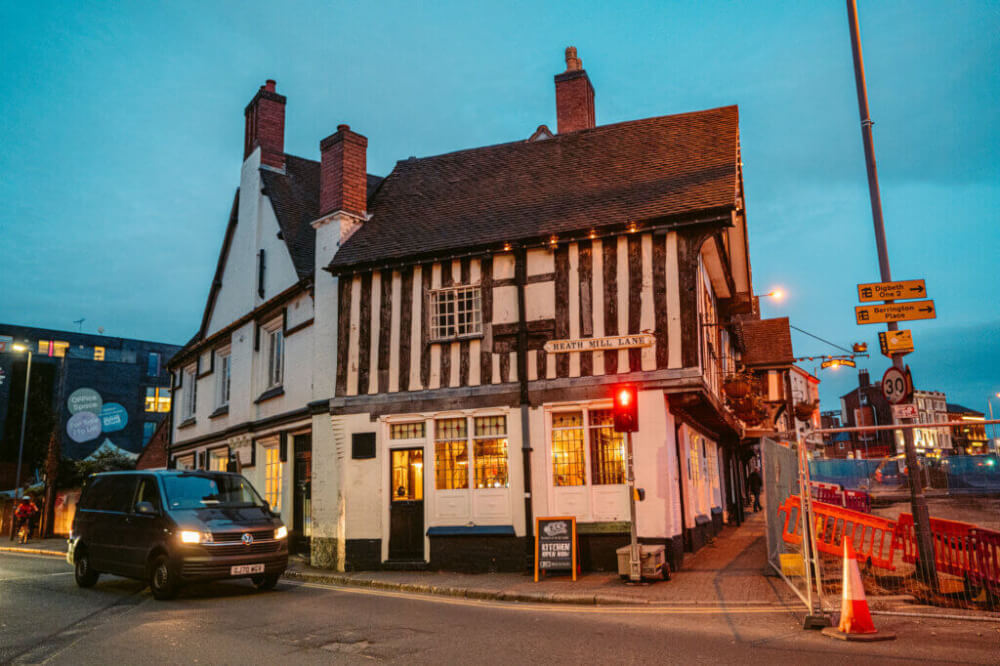 5. Explore Gas Street Basin
Some of the coolest stuff to do in Birmingham can be found in the Gas Street Basin, where two major canals meet.
Birmingham is filled with canals, to the extent that it's even said the canal network is bigger here than in Venice!
The Gas Street Basin used to be an important route for transporting materials during the Industrial Revolution, but now it is a hub of entertainment with bars, pubs, cafés and restaurants lining the canals.
Make sure to keep an eye out for the many colourful boats moored to the Worcester Bar, which was built to stop the water from the two canals from mixing. People even live in these boats and you can walk across the bar to have a look at them (the boats, no the people, you creep).
6. Drool Over Bling in the Birmingham Jewellery Quarter
The Birmingham Jewellery Quarter is famous for housing more than 100 diamond dealers and jewellery shops, many of which are located in beautiful old Georgian buildings.
If you want to go shopping for jewellery then this is obviously the best place for it, plus there are many other shops, trendy bars, art galleries and restaurants in the area as well.
Keep an eye out for the beautiful green Chamberlain Clock on the roundabout junction of Warstone Lane, Vyse Street and Frederick Street.
There's also a fascinating Museum of the Jewellery Quarter here, which is a great spot to learn more about Birmingham's history of jewellery-making.
If you're interested in calligraphy and writing then you might also enjoy the Pen Museum too. Yes, a museum dedicated to pens. What a delight.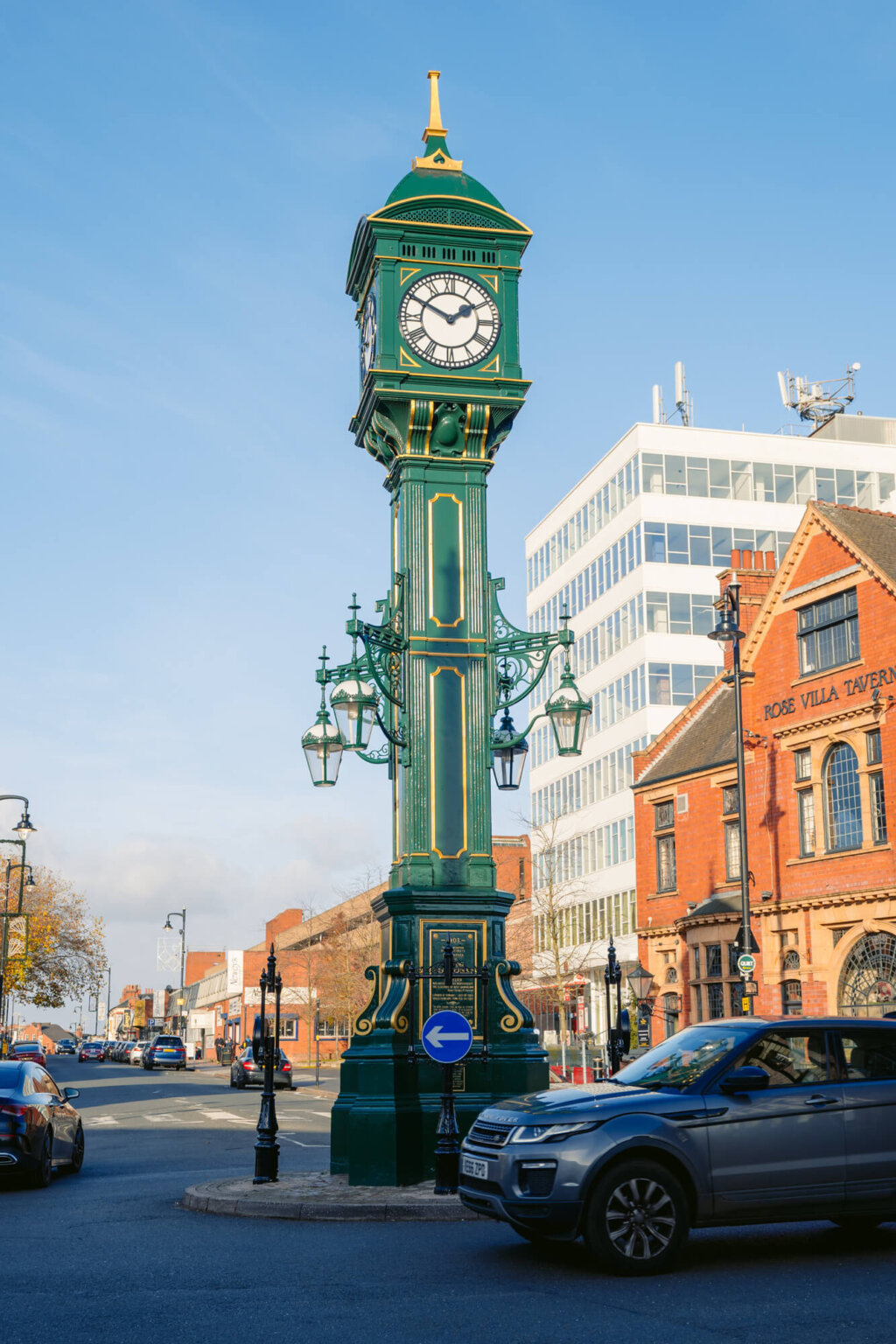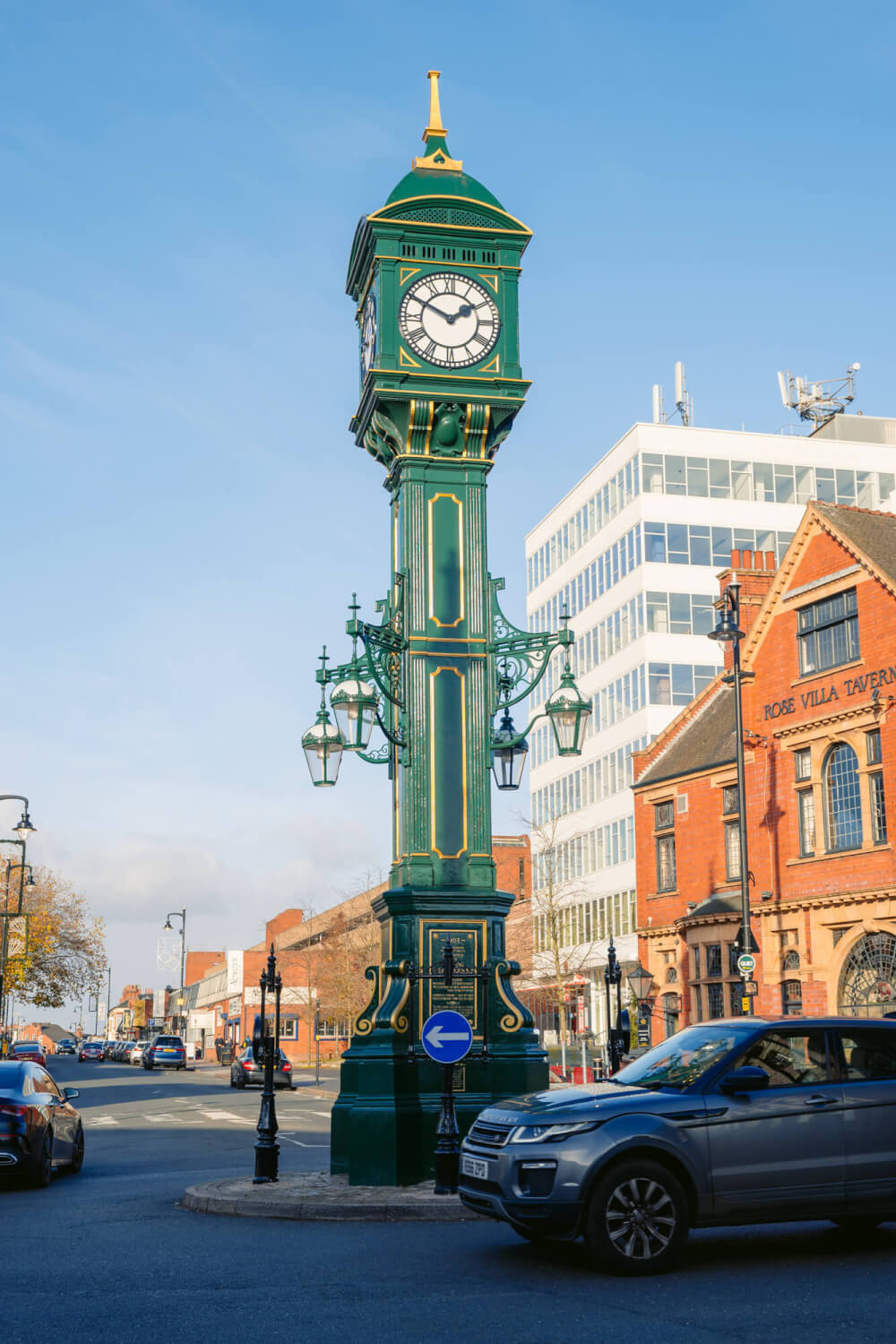 7. Find the Bull at the Bull Ring
One of many cool things to see in Birmingham is the massive bronze bull sculpture located in the Bull Ring shopping centre, a modern structure once named "Britain's ugliest building".
Birmingham is a popular shopping destination for people in the UK, and the Bull Ring is the largest city centre-based shopping centre in the whole United Kingdom. It's located where an original market held bull-baiting (a horrible form of 'entertainment') and was named the Bull Ring because of that history.
If you feel like going shopping at big department stores like Selfridges, Prada, Ted Bater, Zara or Debenhams then this is the place to go, but make sure you stop by the bull statue, called The Guardian, for a photo!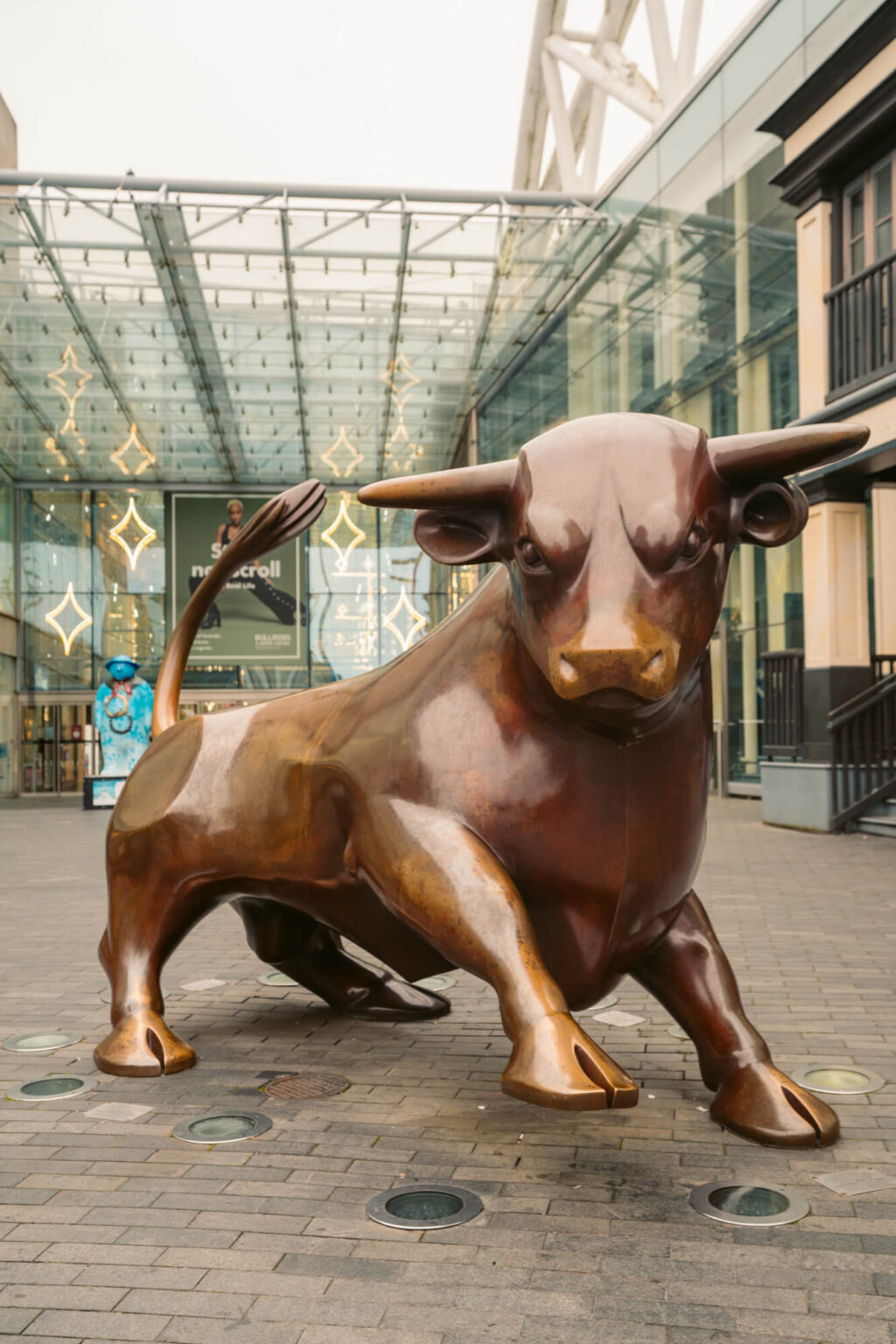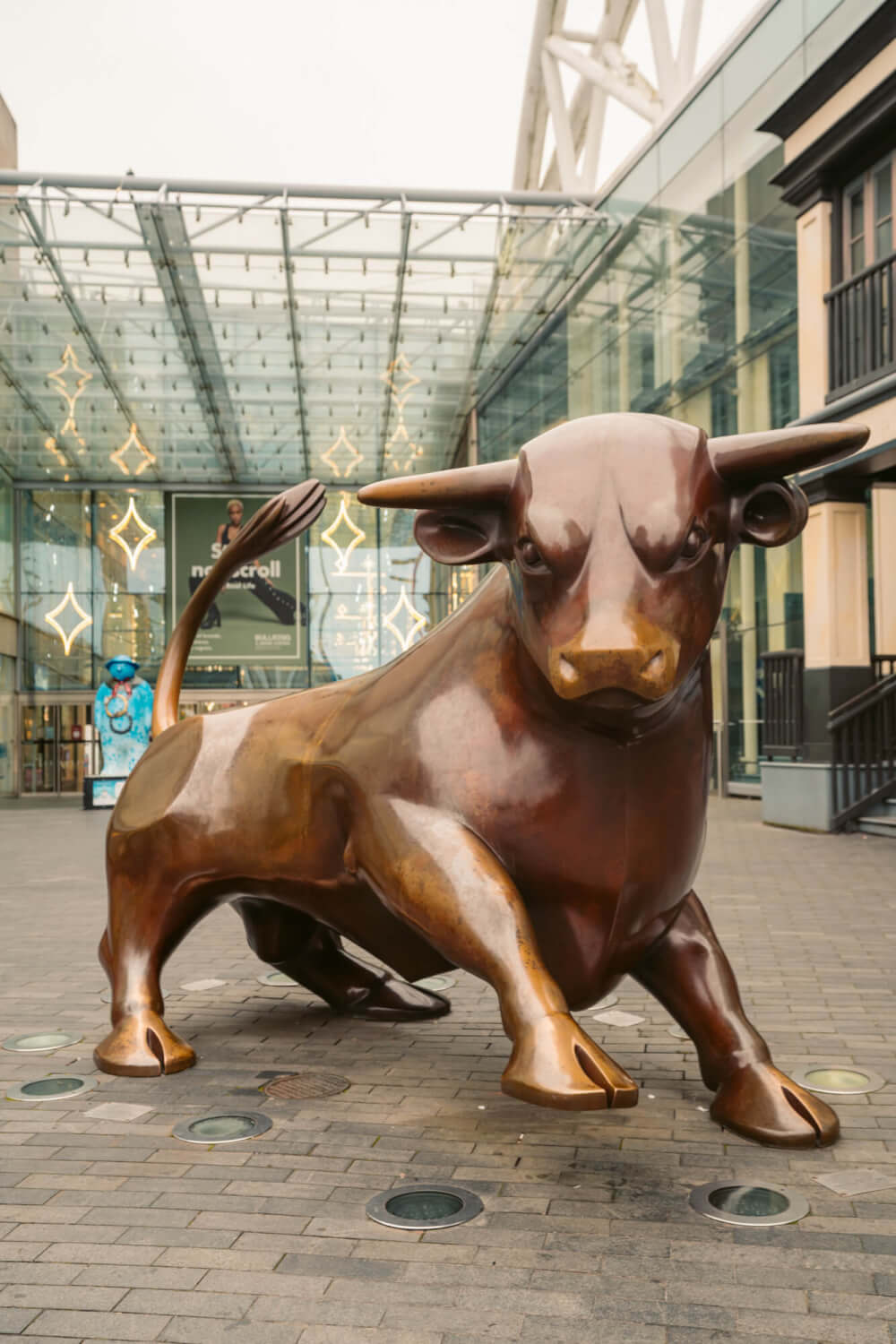 8. Enjoy the Creative Vibes at The Custard Factory
The Custard Factory was once an actual factory for making custard (duh) but it's now more of a creative district and home to some of the most fun things to do in Birmingham! Sadly, there are no vats of custard to dive into here, but there are plenty of other sweet activities to savour.
The original Victorian factory buildings here date from 1849 to 1922 and now contain a number of independent shops, cafés, bars, restaurants and the legendary Mockingbird Cinema. There are some really cool art pieces around the area too, including a giant tree-man!
At night everything is lit up with fairy lights and it's quite a hip spot for partying (and by that, I mean grabbing a drink and then being in bed by 9, because I'm old now).
As for where to go, you can really take your pick. From the Chance and Counters board game café (with food and alcoholic drinks available) and the NQ64 Birmingham arcade bar (with old-school arcade games), to the pretty Birdies Bar for cocktails, you really are spoiled for choice.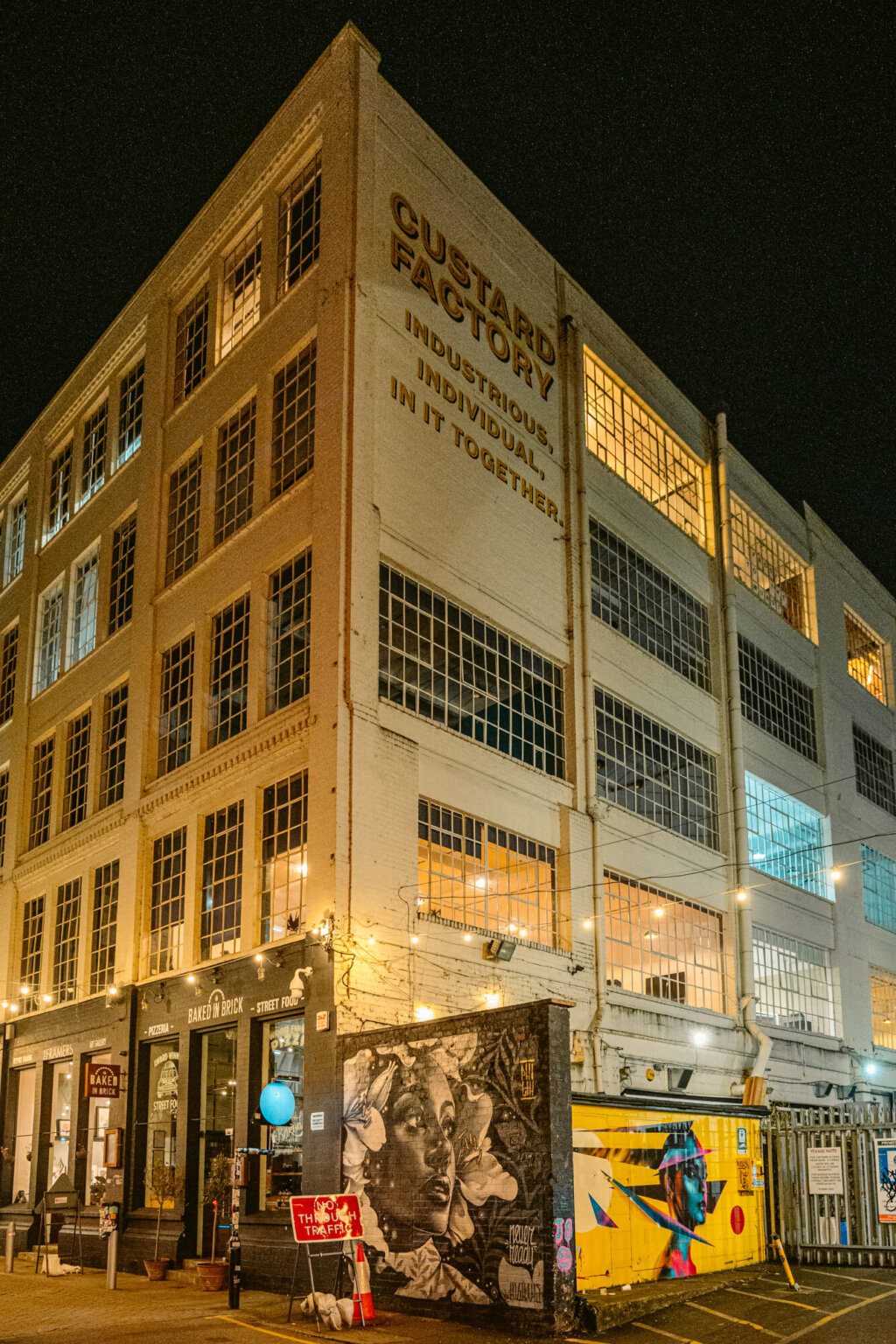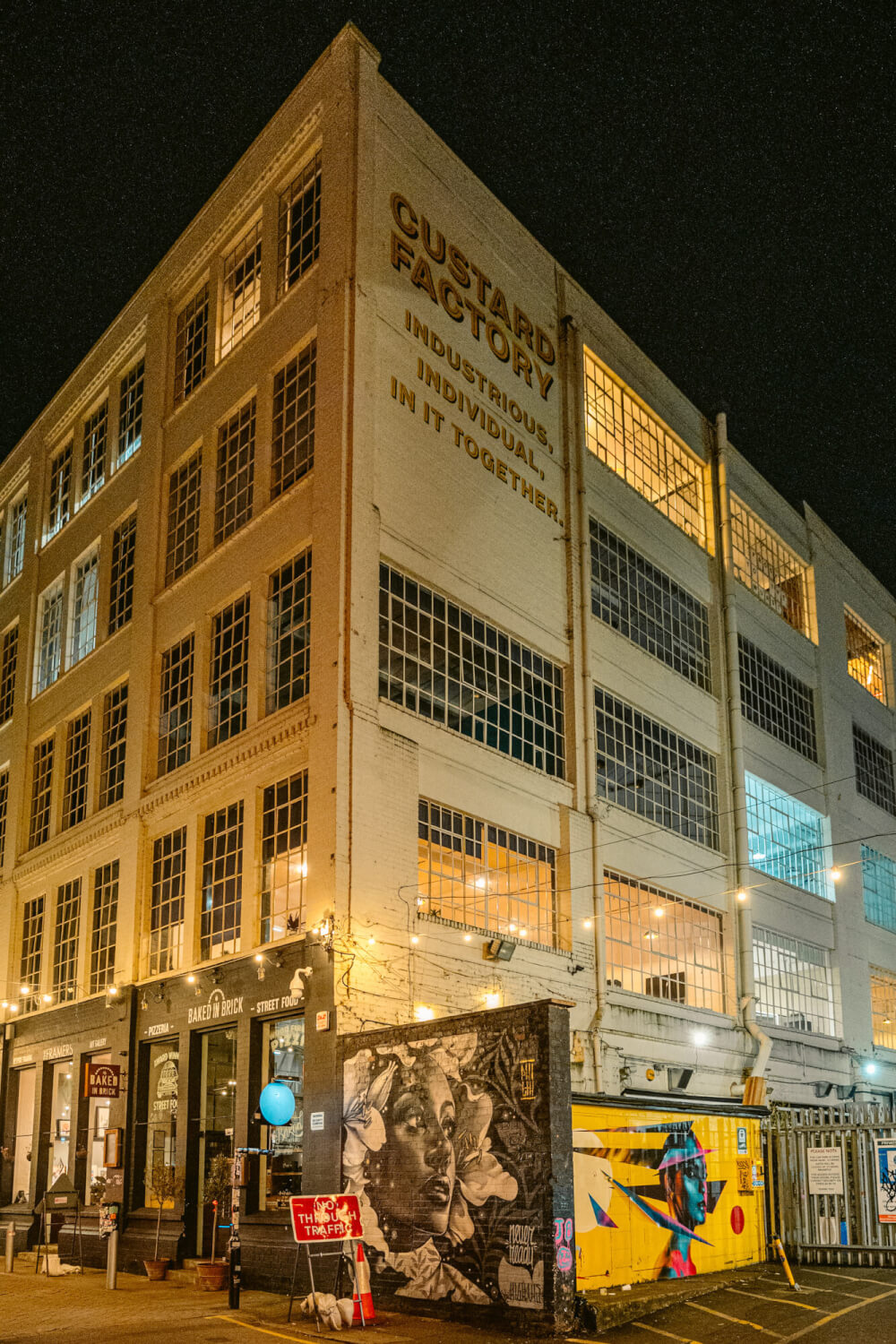 9. Remember the Fallen at the Hall of Memory
The Hall of Memory is a beautiful war memorial in Birmingham that honours locals who were wounded or died during World Wars I and II, as well as in active service since 1945.
This elegant building is located next to the library in Centenary Square and was also constructed almost entirely by local Birmingham workers. On the outside are four large bronze statues by local artist Albert Toft, representing the Army, Navy, Air Force and Women's Services.
Inside the cast-bronze doors is a shrine that contains two caskets and two books, with the Roll of Honour for each world war. There are also art deco bas-relief plaques on the walls showing scenes from WWI and a stunning stained-glass window. It's a gorgeous spot to come and remember those who have fallen during armed combat.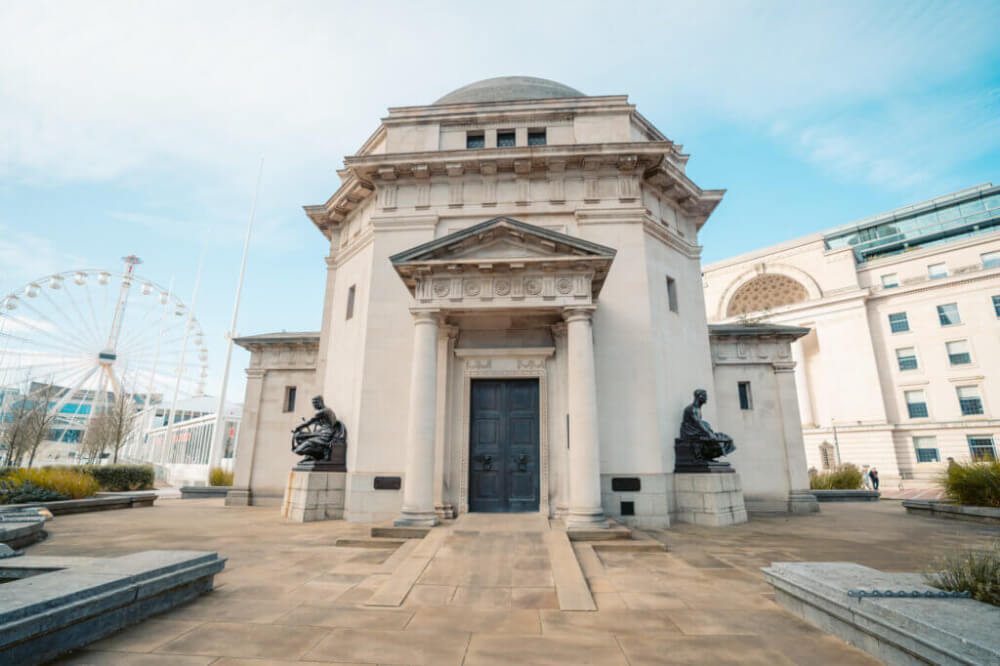 10. Walk Through the Great Western Arcade
Going shopping is one of the most popular activities in Birmingham, and there are a number of stunning covered arcades to do so, aside from the Bull Ring shopping centre.
The Great Western Arcade is one of the most beautiful of these covered passageways, built during the 19th century and a lovely example of Victorian architecture. The barrel-vaulted roof and central dome are particularly pretty, so don't forget to look up!
This arcade is known for housing many independent boutiques with plenty of lovely things to buy for yourself or as gifts.
If you're a bit of an architecture nerd (guilty!) keep an eye out for the original stone masonry on Temple Row as well as the plaster mouldings above the doors on the upper balcony.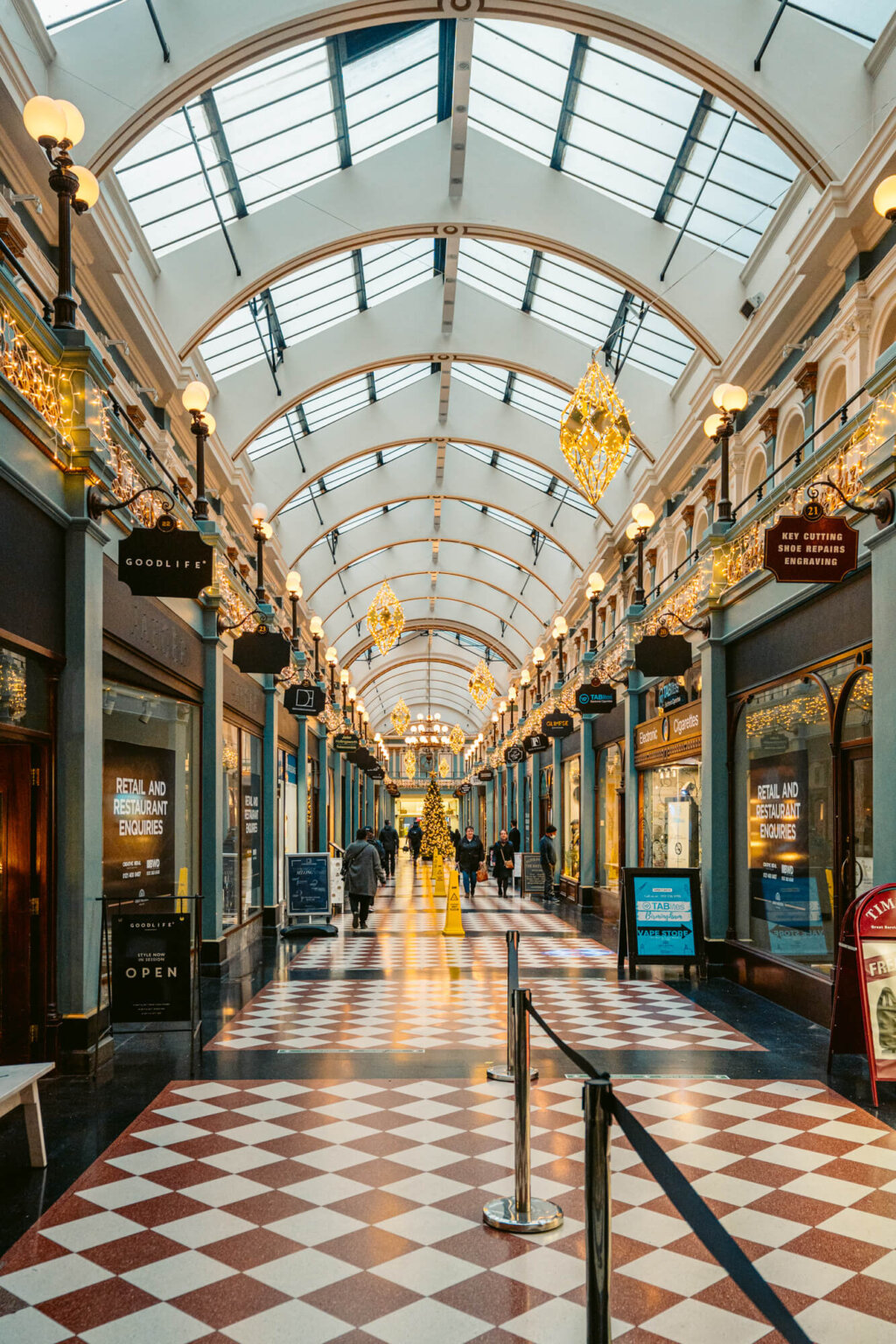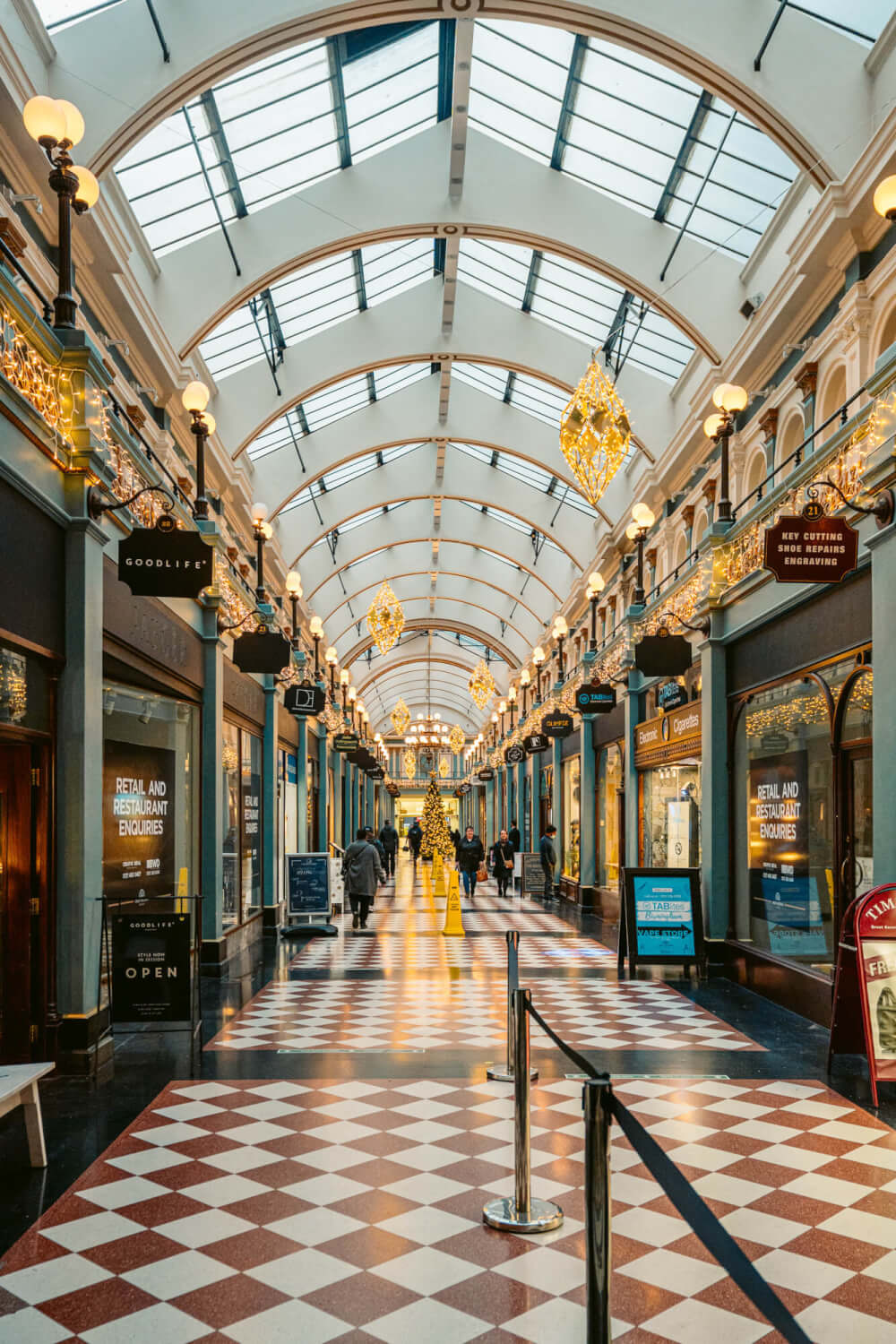 11. Gaze in Awe at the Ceiling of Piccadilly Arcade
The other most popular (and stunning) covered arcade in Birmingham is the Piccadilly Arcade with its jaw-dropping ceiling murals by Paul Maxfield.
Piccadilly Arcade was originally opened in 1910 as a cinema and while it was turned into the shopping arcade you see today in 1923, it's also still possible to see on the sloped floors where the seating and cinema screen would once have stood. Many of the stores still have the original classic shop fronts but with a wide variety of modern goods for sale… so be sure to have a quick prance through.
Even if you don't want to do any shopping, I recommend popping in to see the mural since it's just a quick walk from Birmingham New Street Station!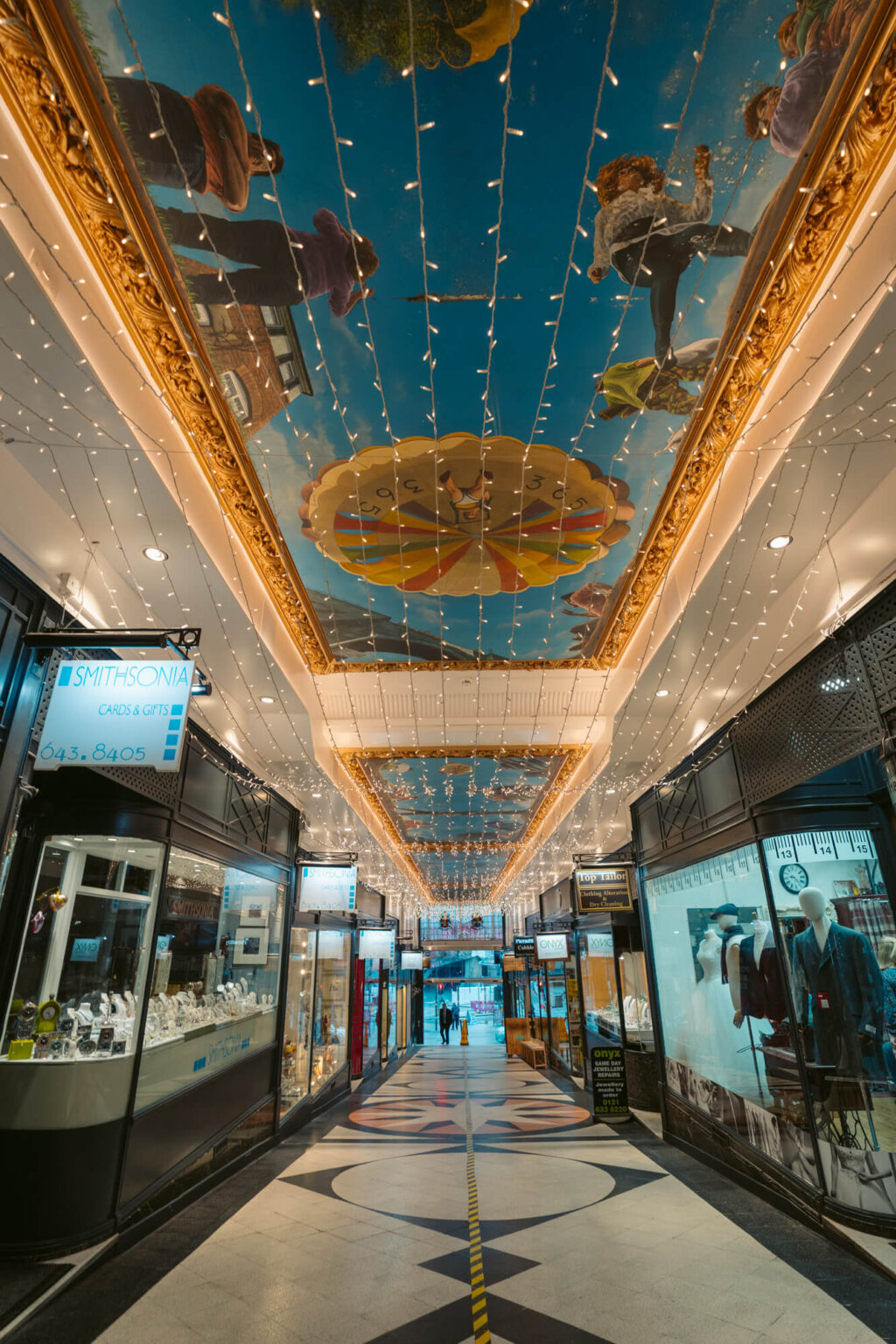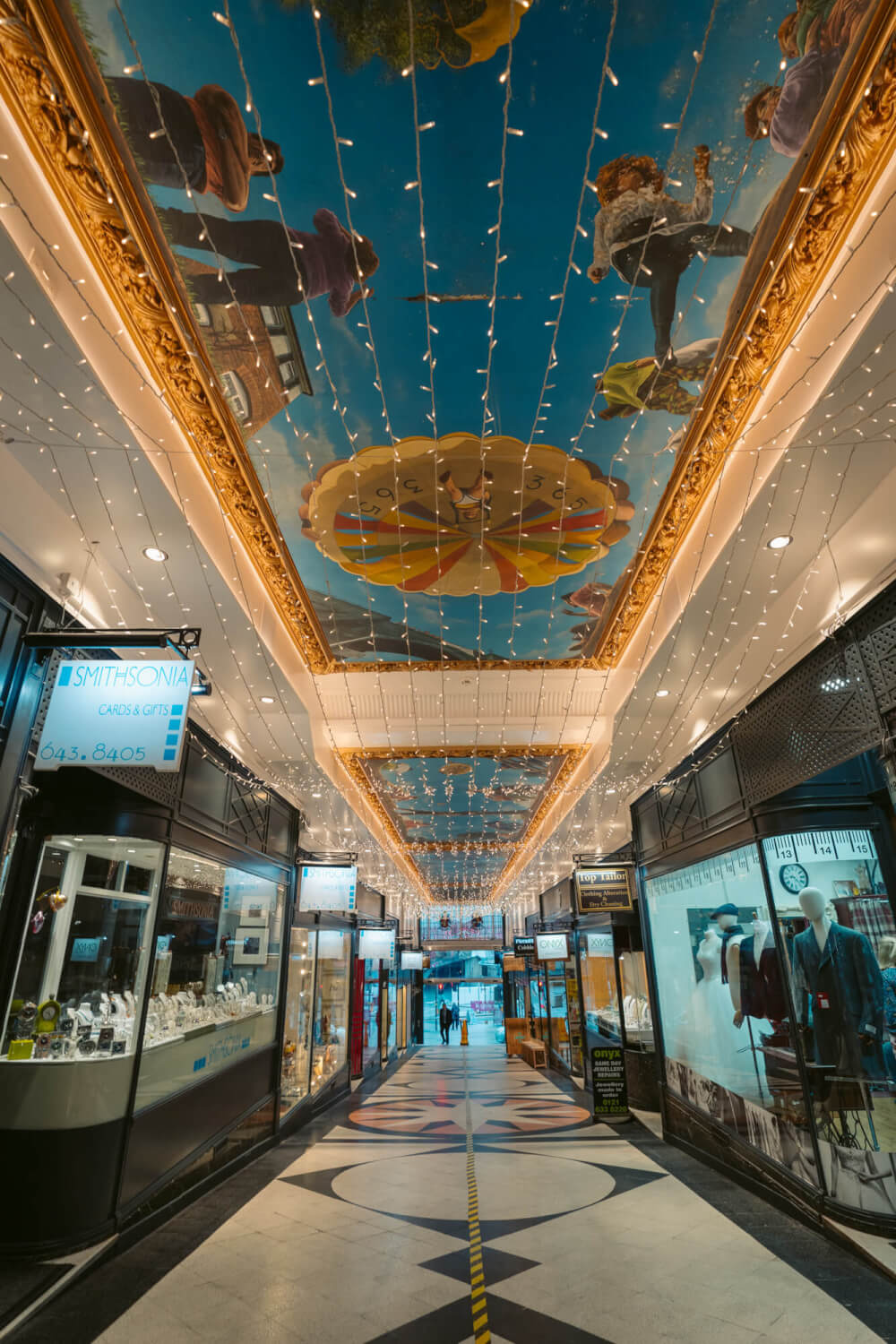 12. Pop Into the Apple Store
I wouldn't normally say going to an Apple Store is one of the top things to do in Birmingham, but this particular one is housed in a stunning building that's definitely worth a visit!
This Grade II listed building was once a Midland Bank Building, then it was turned into a six-storey Waterstones bookstore (now THAT would have been a delight to visit!) and is now easily one of the most stunning Apple stores in the world.
If it wasn't for the flag and little Apple logo plaques on the wall you might be forgiven for mistaking the building for a smaller version of the Gringott's Wizarding Bank from Harry Potter!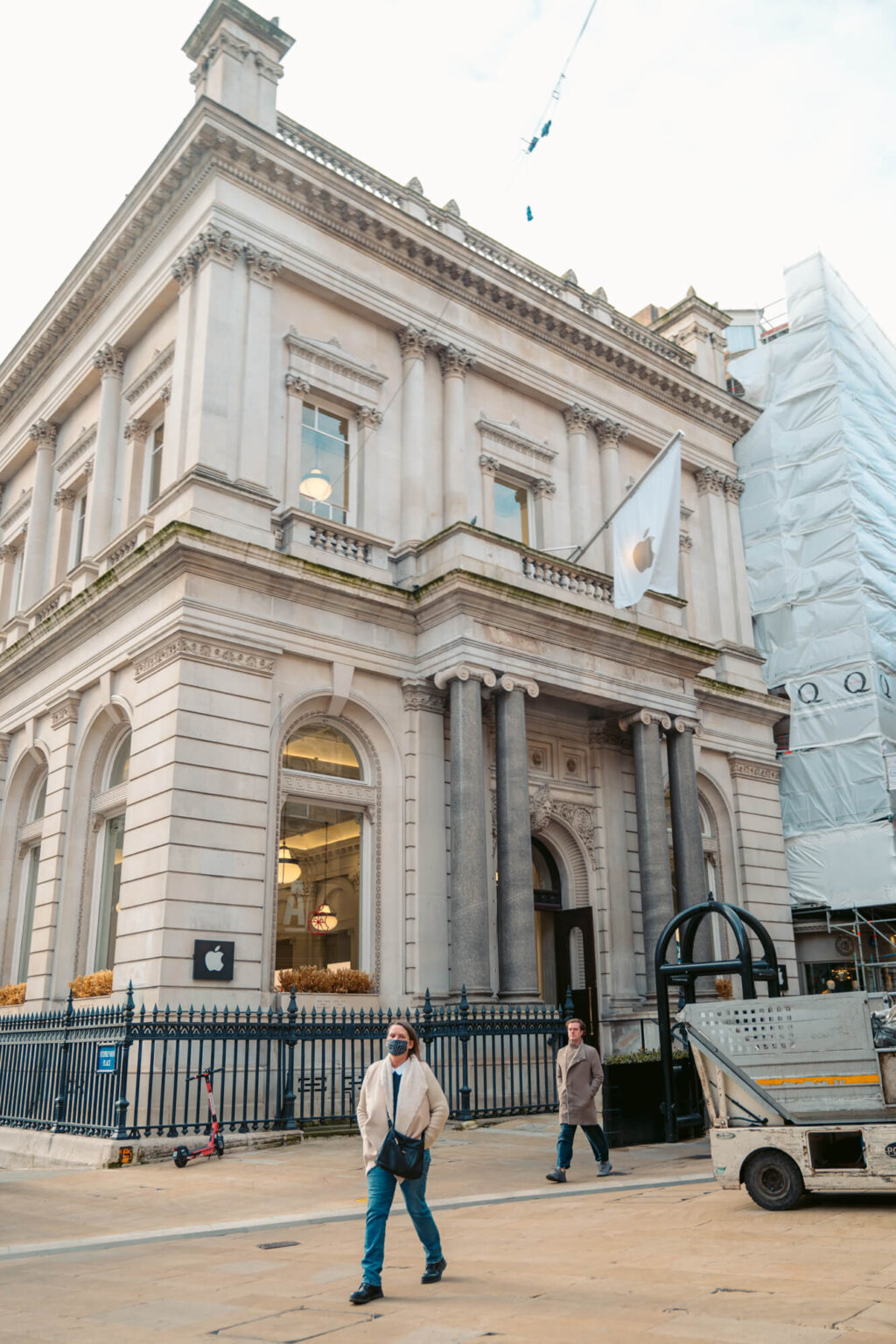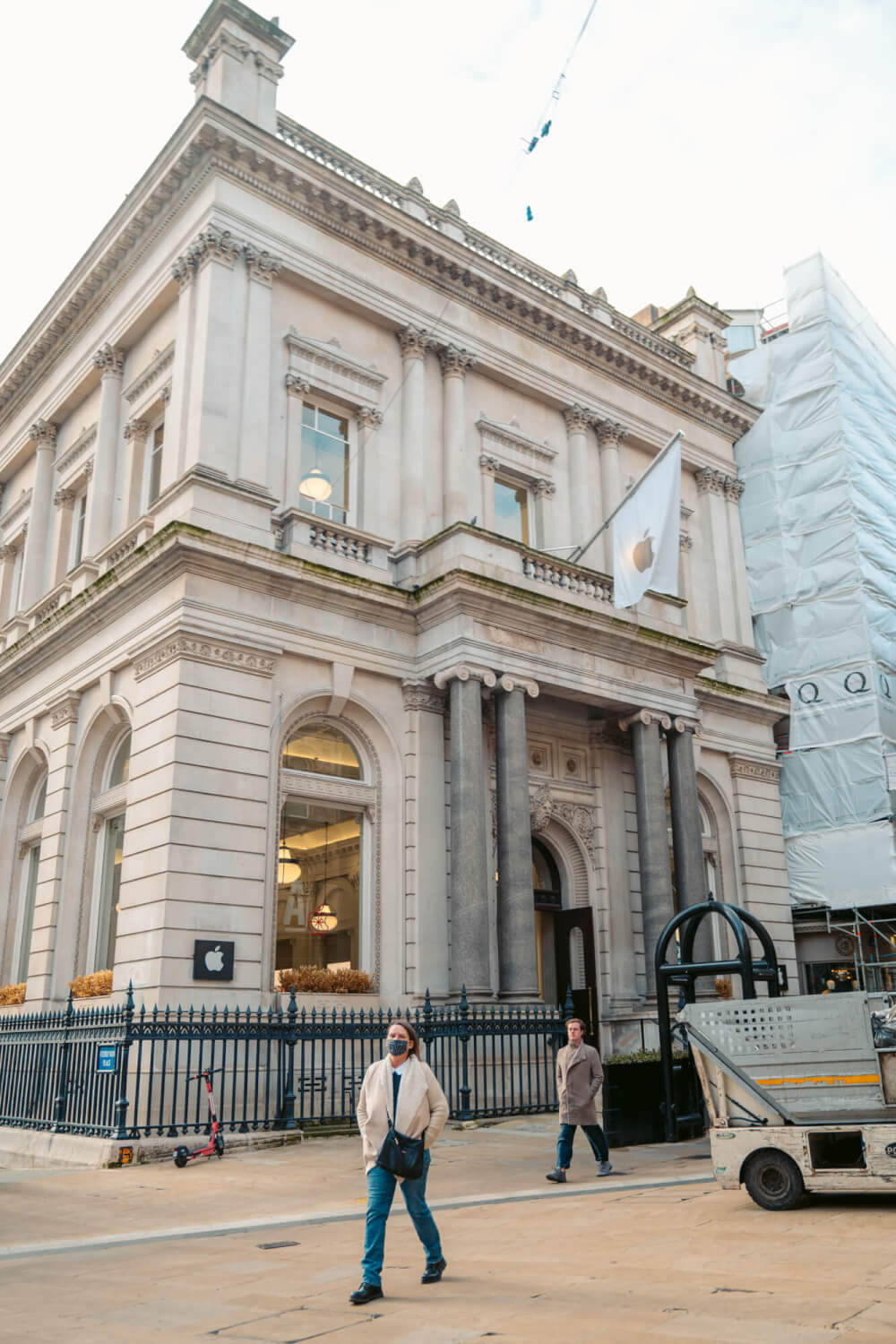 13. Go Shopping in the World's Largest Primark
As well as the most beautiful Apple store in the world, Birmingham is also home to the largest Primark store in the world!
Primark Birmingham High Street is spread out over 5 floors and 160,100 square feet, with as much clothing and accessories as your heart could desire, along with a beauty studio and barbershop on the premises.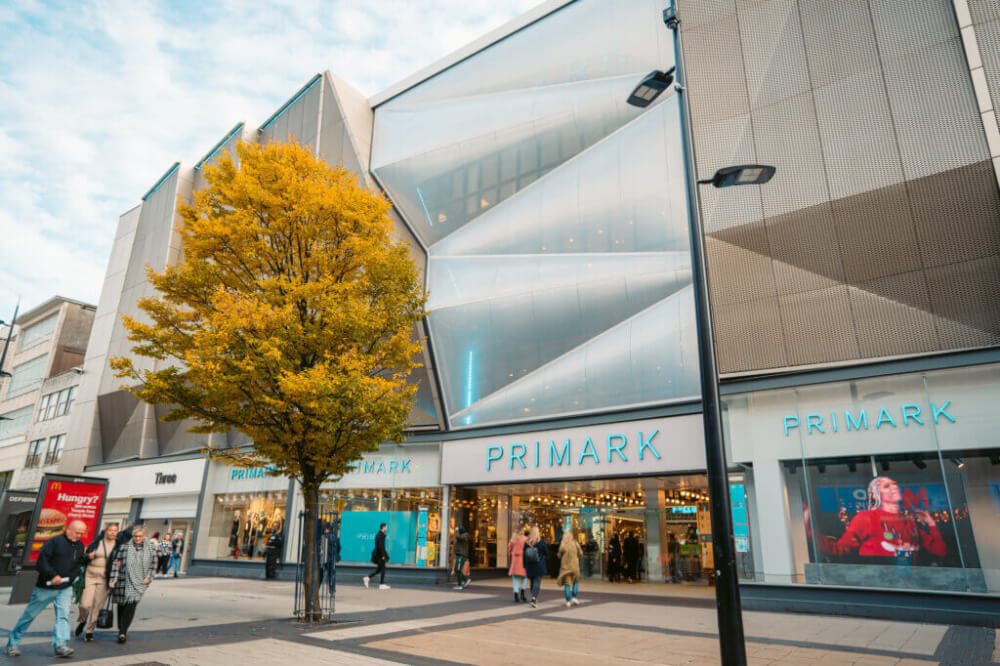 What's more, there are three different cafés inside the building, including a Gregg's and, my favourite, a Disney-themed café on the top floor! I would recommend a visit purely for the Mickey Mouse waffles…
14. Visit Birmingham Christmas Market
If you are visiting at the end of November or up until December 23rd, then a visit to the Christmas market is one of the best things to do in Birmingham.
Birmingham is actually one of the best destinations in the United Kingdom for Christmas Markets, as the town is famous for the Birmingham Frankfurt Christmas Market, which brings all the magic of a traditional German Advent market to England!
This is the largest German Christmas market to be found outside Central Europe, with more than 200 stalls selling gifts and delicious food.
There are also other Christmas markets to be found in Birmingham, including one on Cathedral Square, an ice skating rink with a bar and a giant Ferris Wheel in the city centre. Keep an eye out for the cosy little igloos (pictured below) to have drinks and meals in as well.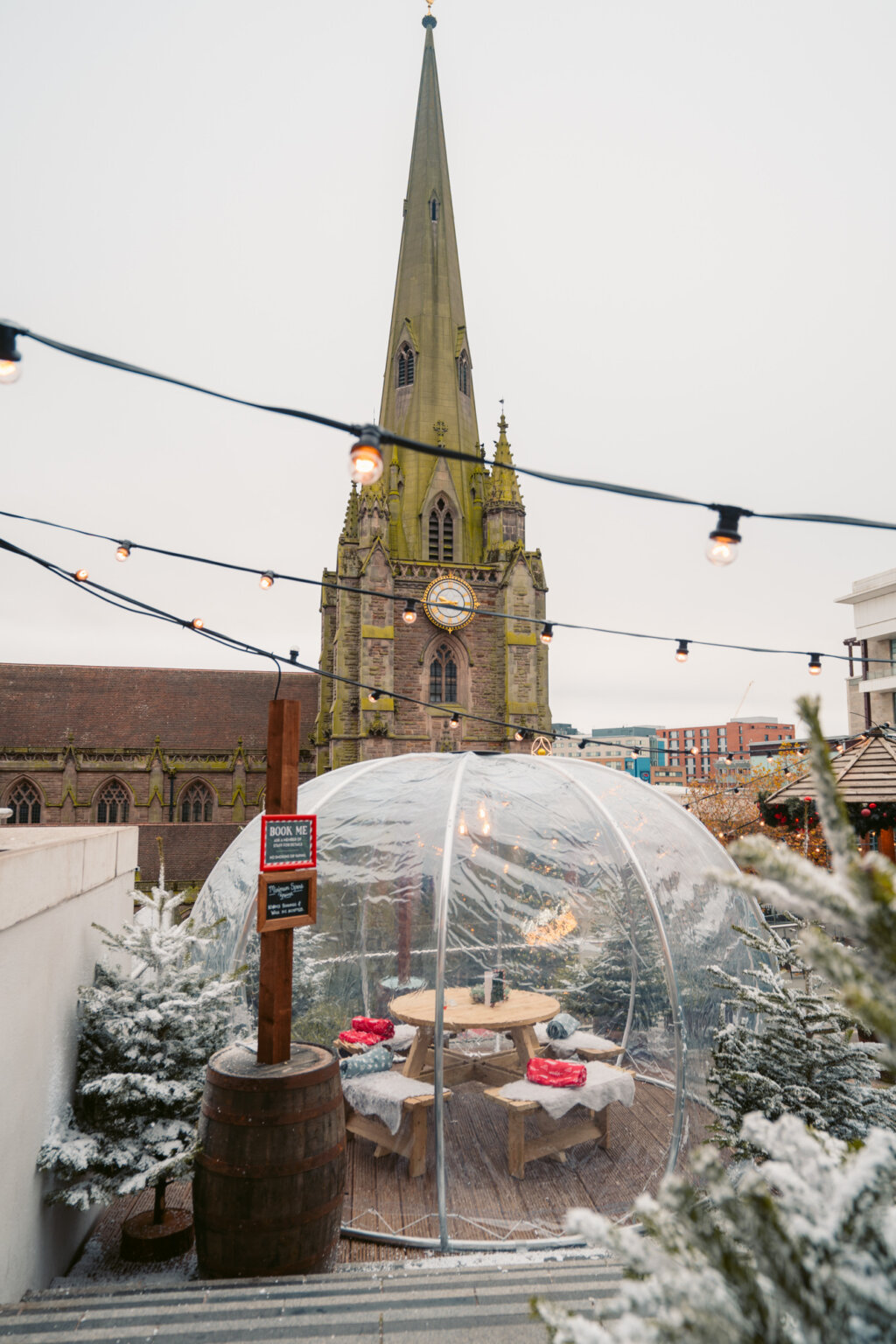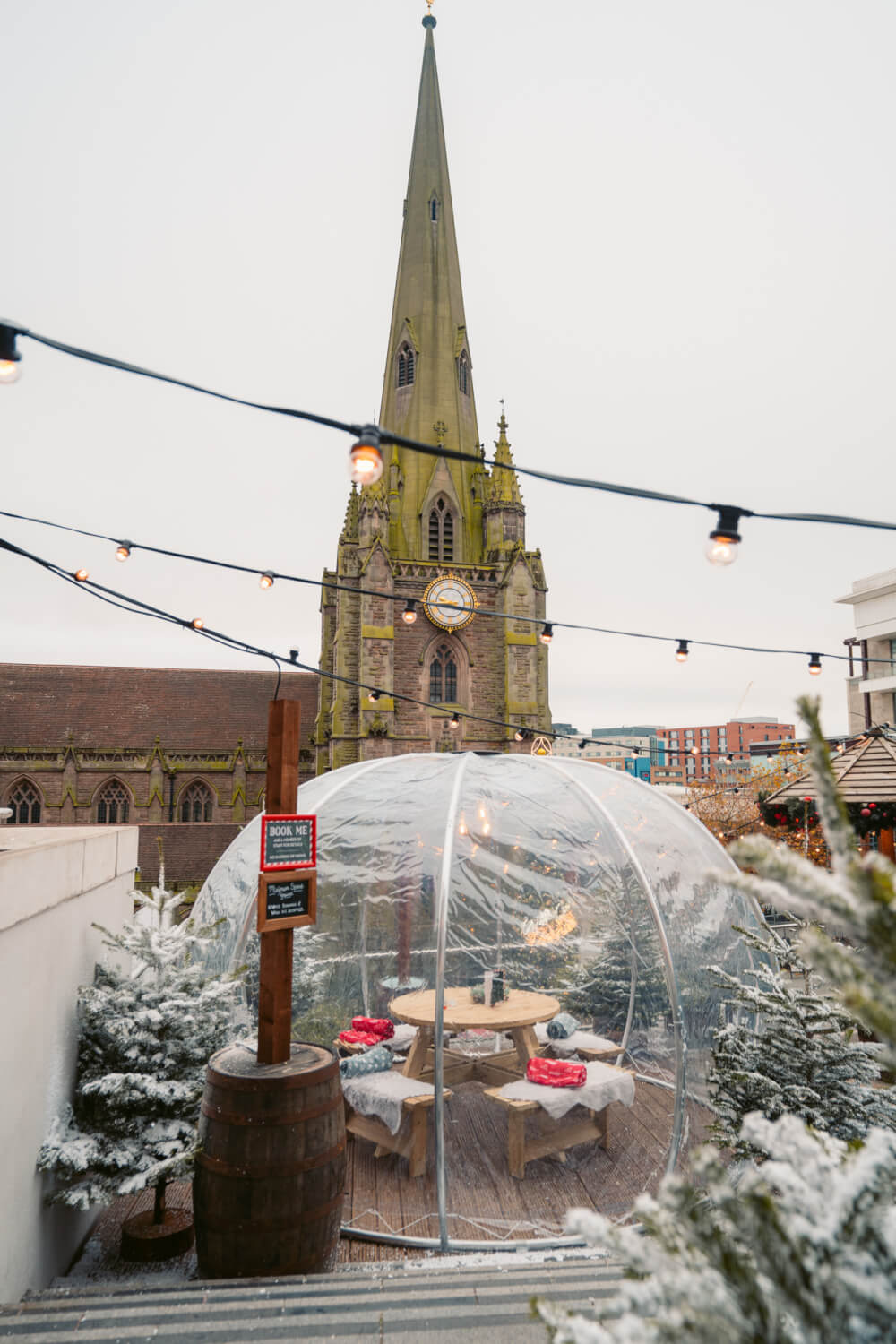 Did I miss any of your favourite things to do in Birmingham?
Let me know in the comments so I can add more recommendations to my list!
My Go-To Travel Favourites: