*FYI - this post may contain affiliate links, which means we earn a commission at no extra cost to you if you purchase from them. Also, as an Amazon Associate I earn from qualifying purchases. Check out our Privacy Policy and Disclosure. for more info.
One of Austria's best kept secrets is the mega-quirky Arnold Schwarzenegger Museum, located near Graz. I recently had a chance to visit while hosted by Visit Graz, as part of the Propel Conference by Captivate. Here's what it was like inside!
As a child of the 90s, I can safely say this decade was one heck of a time to be alive. Froot Loops and Dunkaroos were considered acceptable sustenance for children, and entertainment? Well, let's just say my parents had no qualms with young Christina violently slashing enemies on the N64, or binging all the latest action movies on VHS, lovingly lugged home from Blockbuster.
And for me, no actor is more synonymous with this nostalgic past than Arnold Schwarzenegger. In some ways, (a consequence of having an older brother), I feel like I grew up with Arnie. I mean… I watched the Terminator movies on repeat. Jingle all the Way became my favourite Christmas movie. I often quoted Kindergarten Cop. And, against all odds, I even adored Mr. Freeze in the trainwreck that was Batman & Robin.
So, when I found out there was an Arnold Schwarzenegger Museum in Thal, just a short skip away from Graz, where I was attending the Propel Conference by Captivate.…. Well, I knew I needed to "GET TO DA CHOPPA!"
… and by chopper, I mean I car. Sorry – just really needed to squeeze in one last outdated pop culture reference.
Save this post for later on Pinterest: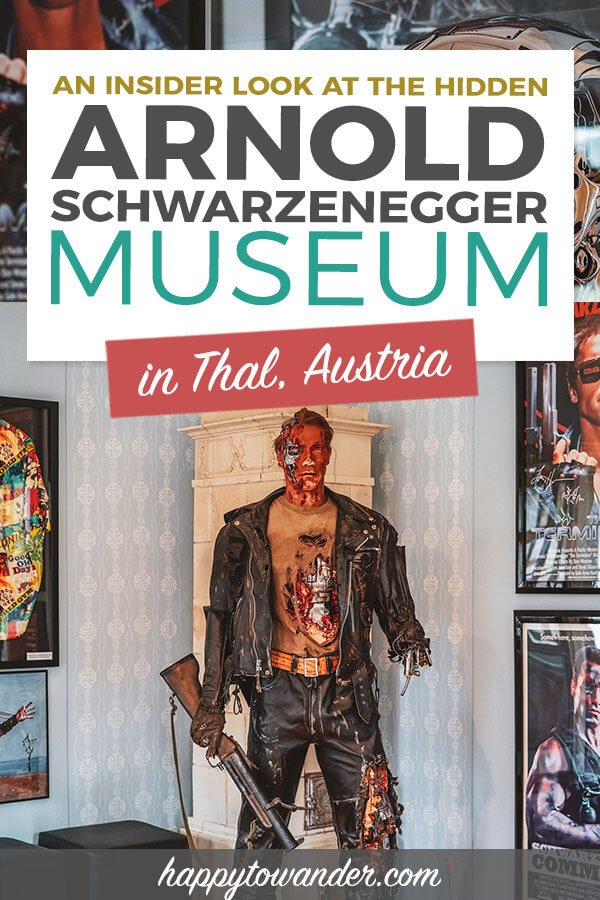 ANYWAYS, if you're a big Arnie fan like me, or simply looking for a more offbeat thing to do in Graz, this post is for you. Let me whisk you away on a journey to the childhood home of Arnold Schwarzenegger, and the museum there that now documents his incredible life story so far.
I'll start with some quick practical information about the museum, before assaulting you with the approximate 10 million photos I took.
… Enjoy!
PS: Be sure to check out my full guide to cool and unusual things to do in Graz for more.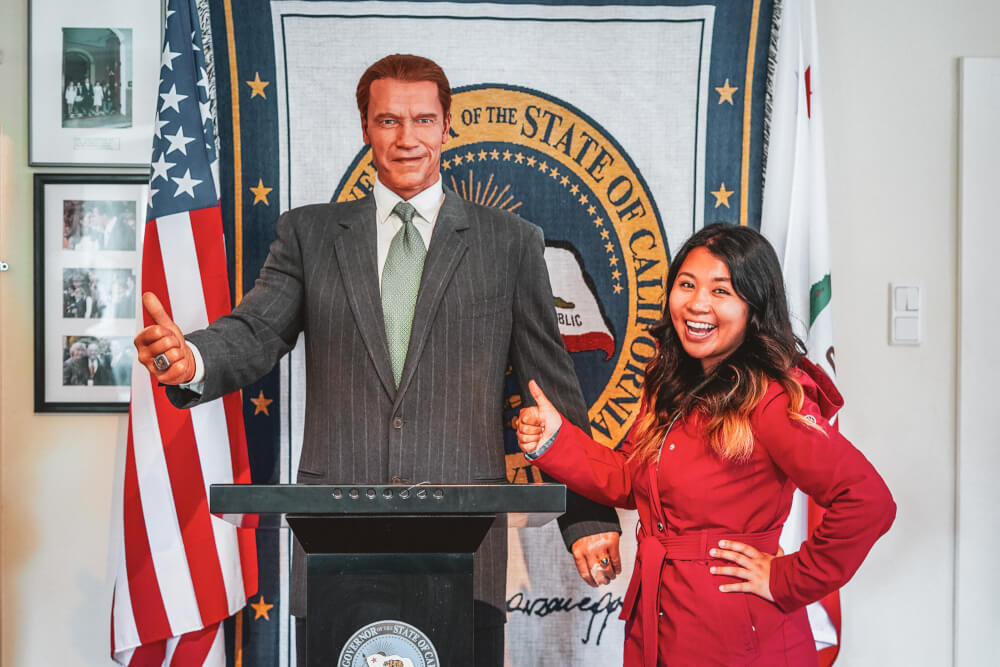 Arnold Schwarzenegger Museum: Fast Facts
WHERE: The Arnold Schwarzenegger Museum is located in Thal, Austria, which is a 20 minute drive from the Graz city center, or about 40 minutes by public transportation.
OPENING HOURS: During the summer season from March to October, the museum is open 10am-6pm with the last admission at 5:30pm. During the winter season from November to February, the museum is open from 10am-5pm with the last admission at 4:30pm.
ADMISSION PRICES: Admission to the Arnold Schwarzenegger Museum costs € 8,90 for adults, plus 2 euros extra for an audioguide if you want it. Otherwise, it's €10 for a guided tour.
EXTRA NOTES: The Arnold Schwarzenegger Museum proudly offers free WiFi, so take advantage!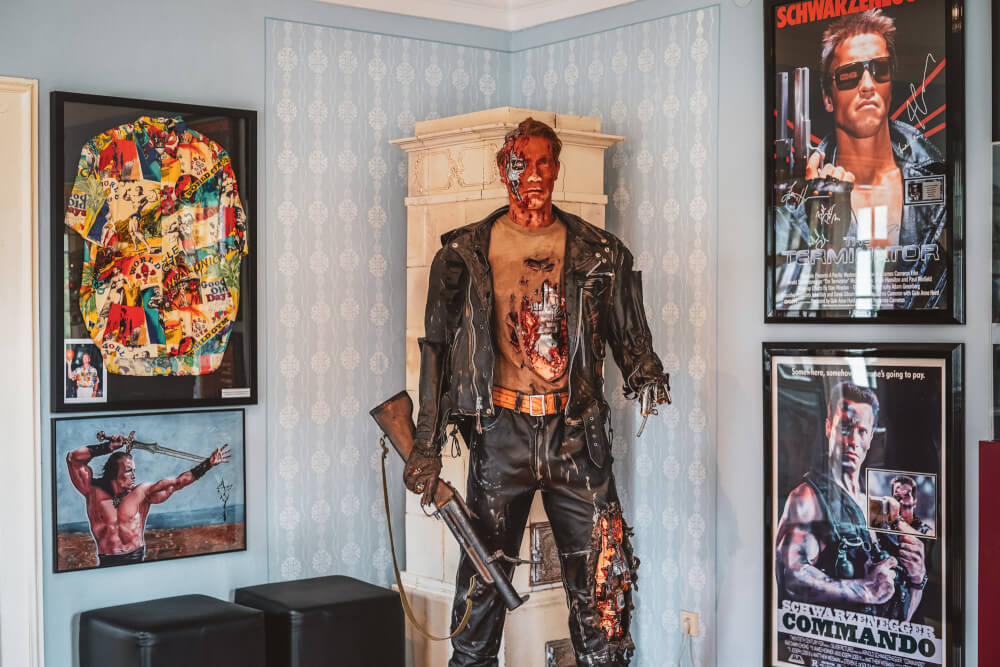 A Brief History of the Arnold Schwarzenegger Museum
Today, Thal's Linakstrasse 9 is home to the official Arnold Schwarzenegger Museum, an endeavour supported and endorsed by Arnie himself.
Why here? Well, our beloved Arnie was born in Thal on July 30, 1947, and the bright yellow site of the Arnold Schwarzenegger Museum today is where he spent his childhood and teenage years.
Once a forester's lodge many years ago, the home was privately owned for decades after Arnie moved out, but this didn't stop fans from making little pilgrimages to see Arnie's geburtshaus (birth house) for themselves. Likely irritated by the non-stop stream of fans, the house was put up for auction in 2009, at which point it was purchased by Austrian entrepreneur, Christian Baha, who planned to turn it into a museum.
And while the museum wasn't officially inaugurated until 2011, it's important to note that the seeds for an Arnie-centric attraction had been planted for several years. Back in May 2004, the new "Arnold Schwarzengger Wanderweg" opened as a hiking trail that allowed visitors to follow in the steps of Arnie himself. The following year, a special exhibition featuring Arnie memorabilia opened up. So, really, it was only a matter of time before we saw an official museum pop up.
And so, on the day of Arnie's 64th brithday (July 30, 2011), the Arnold Schwarzenegger Museum officially opened its doors to the public. The rest, I suppose, is history.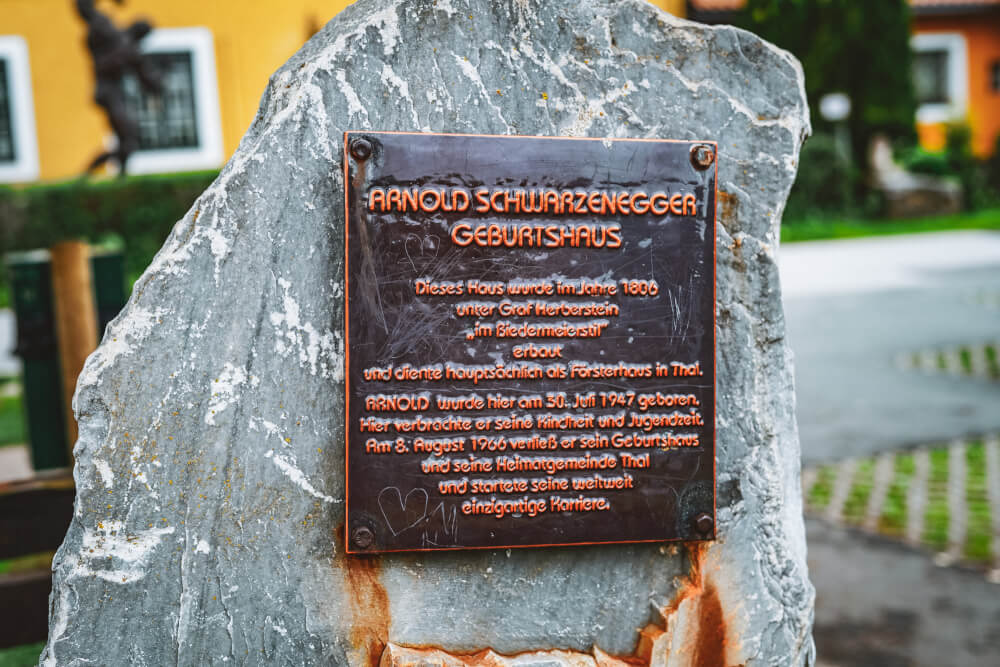 How to Visit the Arnold Schwarzenegger Museum from Graz
The Arnold Schwarzenegger Museum is actually a very easy day trip to do from Graz, whether you're coming by car or public transportation. Here's how to do it.
From Graz to the Arnold Schwarzenegger Museum by Bus
There are no direct buses from the Graz city center to the Arnold Schwarzenegger Museum. Instead, you need to first get to Gösting and take a bus from there. Here is how to do this trip from central Graz.
STEP ONE: From Jakominiplatz in Graz, take Bus 40 to Gösting (click here for timetables) OR from Graz Central Station, take Bus 85 to Gösting (click here for timetables).
STEP TWO: From Gösting, catch the 48 bus to Thalersee (click here for timetables).
STEP THREE: Walk along the lake on the highway towards the golf course (this is according to the official website, but honestly just punch the museum into Google Maps to make sure you go the right way). You will soon see some signs pointing to the Arnold Schwarzenegger Museum. Follow these signs uphill and turn left as you get to the top. Here is where you'll find the house!
From Graz to the Arnold Schwarzenegger Museum by Car
The easiest way of course is to punch in the address, Linakstraße 9, Thal into your GPS or Google Maps.
If you prefer old school directions though, here they are according to the official website:
From "Wienerstraße" to Gösting: Look for and follow signposts for "Thalersee", "Jakobikirche/Prof. Ernst Fuchs Kirche" or (duh) "Arnold Schwarzenegger Museum" as you go to the left of Schloss Gösting. From Lake Thalersee, continue on the highway along the lake in the direction of the golf course. To your right you will soon see signposts pointing uphill to the Arnold Schwarzenegger Museum. Follow those and drive up to the top, where there will be a parking lot next to the museum!
From Steinberg: Opposite from the Restaurant Dorrer, take the highway to Thal and drive a short distance towards the gold course/lake. Near the golf course, look to your left and you will soon see signposts pointing uphill to the Arnold Schwarzenegger Museum. Follow those and drive up to the top, where there will be a parking lot next to the museum!
A Virtual Tour of the Arnold Schwarzenegger Museum (Spoilers Abound!)
If you're curious about what treasures/surprises the Arnold Schwarzenegger Museum contains, then allow me to spam you with some photos and take you through a virtual tour of the different rooms. If you want to avoid spoiling the magic for yourself, then you might want to look away… Otherwise, enjoy the shameless amount of Arnie-themed bliss that is soon to follow!
The Arnold Schwarzenegger Museum Main Entrance/Exterior
The squealing will begin promptly as your car pulls into the parking lot.
I mean, where do I begin?!
I arrived at the Arnold Schwarzenegger Museum on a drizzly May afternoon, head still spinning from the dozens of wines consumed over a weekend press trip in South Styria's wine country. I only had a few hours left in Graz, but the prospect of a museum dedicated to the Governator himself felt, to me, more than worth the risk of a missed flight.
As we parked up, I was immediately delighted.
At first glance, we were treated to the view of a giant Transformer-like sculpture, a painted phone booth with a colourful muscle-Arnie, and of course, a grand, horrifyingly muscular bronze statue of Arnie in his classic 3/4 back pose.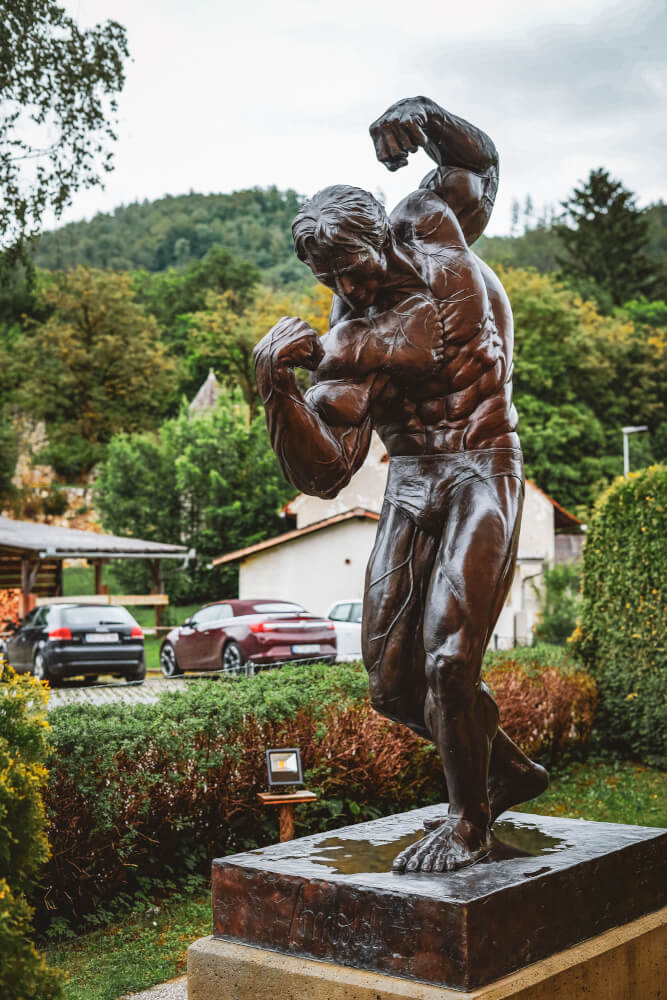 The house is large, but keep in mind Arnie's family only occupied the upstairs (or so I'm told).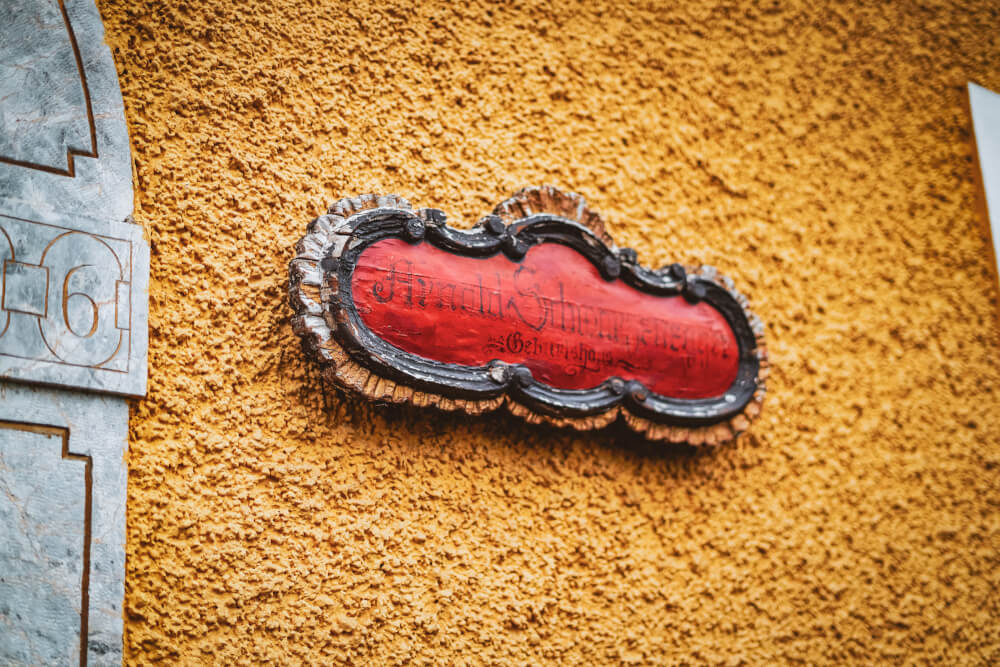 Walking towards the entrance, an old timey red plaque, scribbled with faded script, confirms that you are, indeed, about to step into Arnie's birth home. Can you feel the excitement?
The Ticket Sales Point/Shop
Like a weird overly polite Canadian, I entered the house and immediately squeaked "hello!" to the staff member on my right.
Just kidding – it was definitely not a staff member. It was a cardboard cutout of Arnie himself! Well HEY!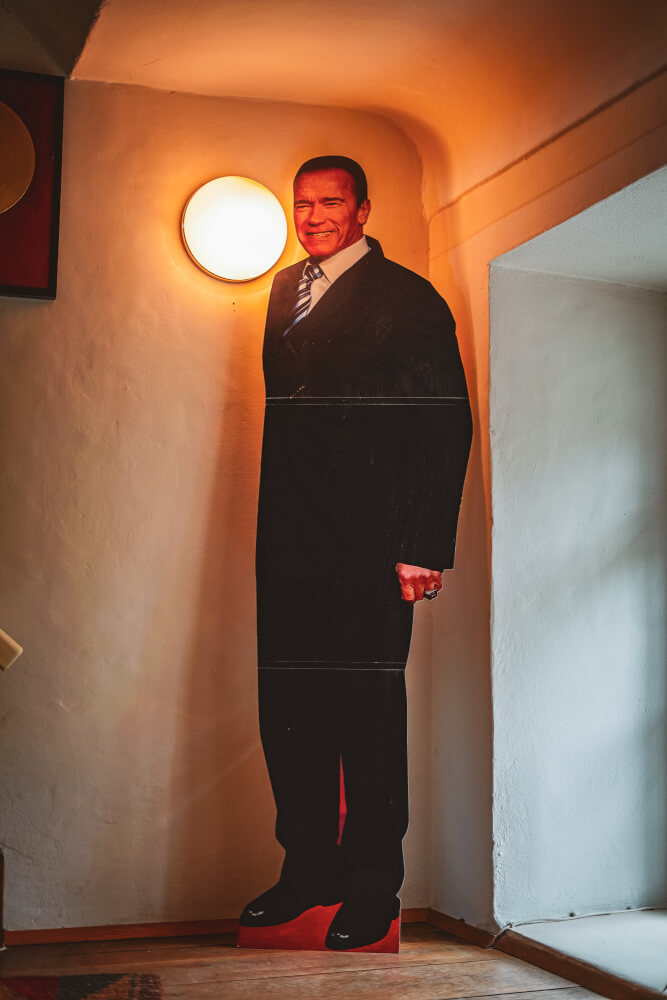 Heading straight from the main door, I found myself in the cash desk area/souvenir shop. After grabbing tickets, we got a brief introduction to the museum from a young and enthusiastic staff member, who kindly let us know she was available to field any Arnie-related inquiries. After some subtle interrogation, she let us in on a secret: Arnie might be popping in for a visit in two days (as he was already in Vienna for a conference).
While internally screaming, I simply smiled and maintained my composure. "Oh. COOL," I probably said. Or something else equally measured. No frantic shouting at all!
Anyways, after a quick peek at the merch on offer, I headed in for the real deal…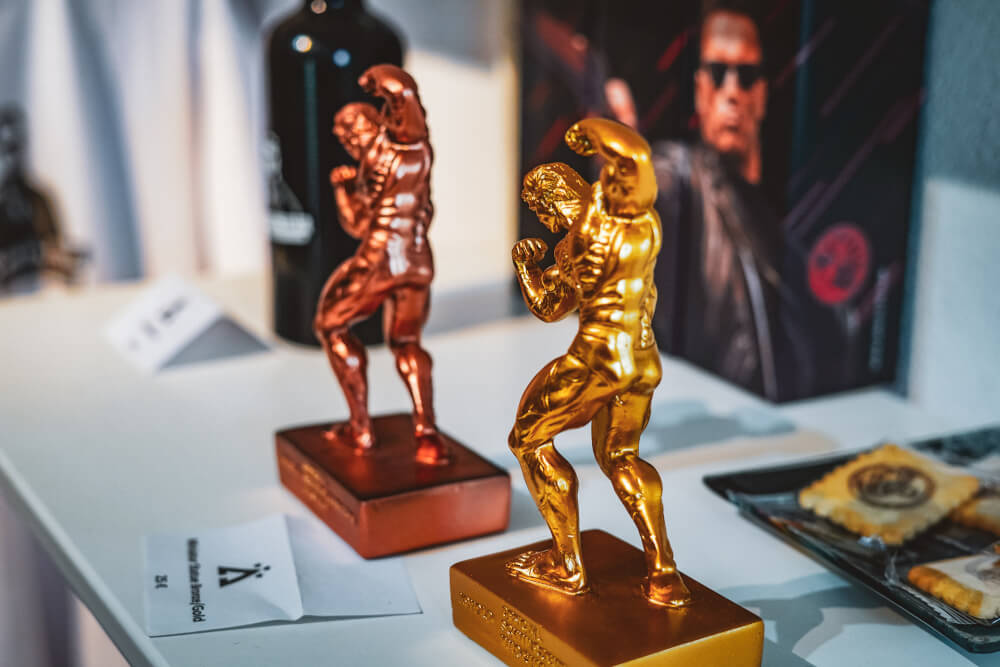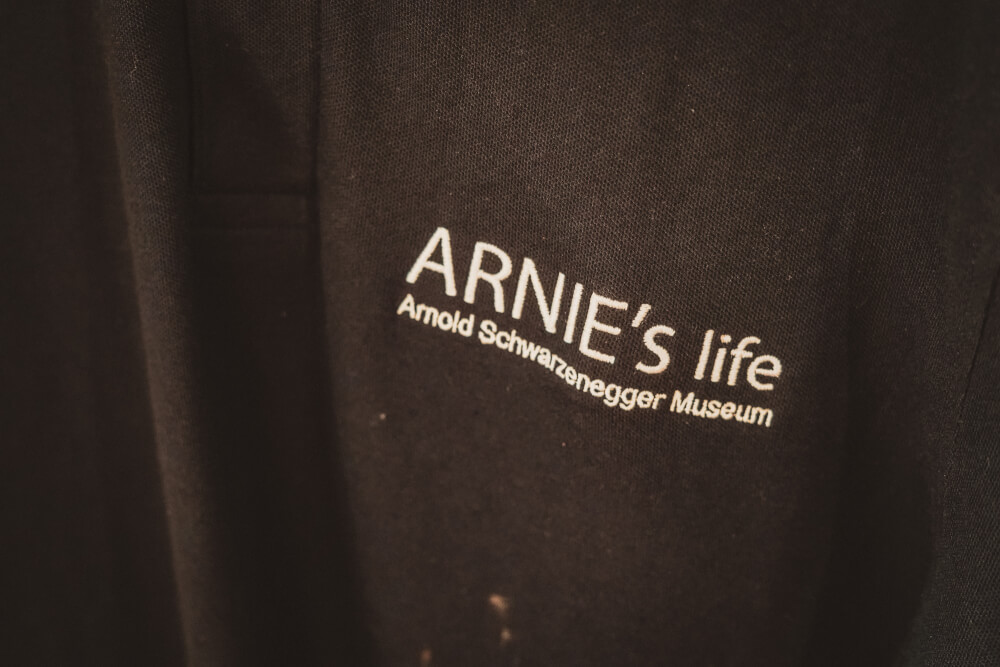 Arnie's Childhood Room
The layout of the Arnold Schwarzenegger Museum is fairly simple, and it's actually smaller on the inside than it appears. Essentially every room in the house is dedicated to a different part of Arnie's life.
Turning left from the cash desk and gift shop, I entered Arnie's 'childhood room' decked head to toe in photos and memories from Arnie's early years, child's bed included.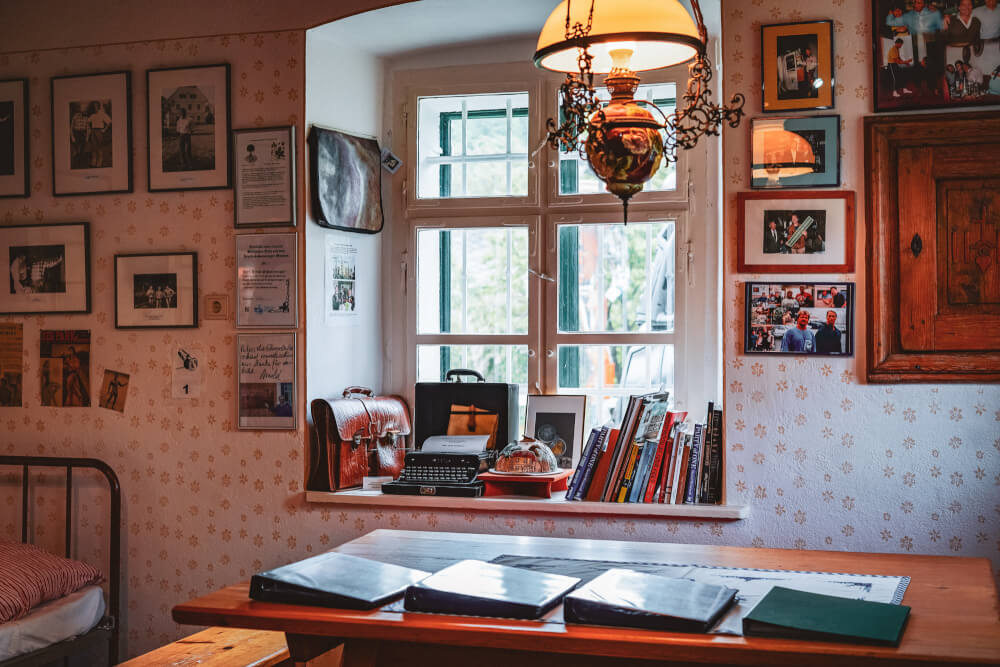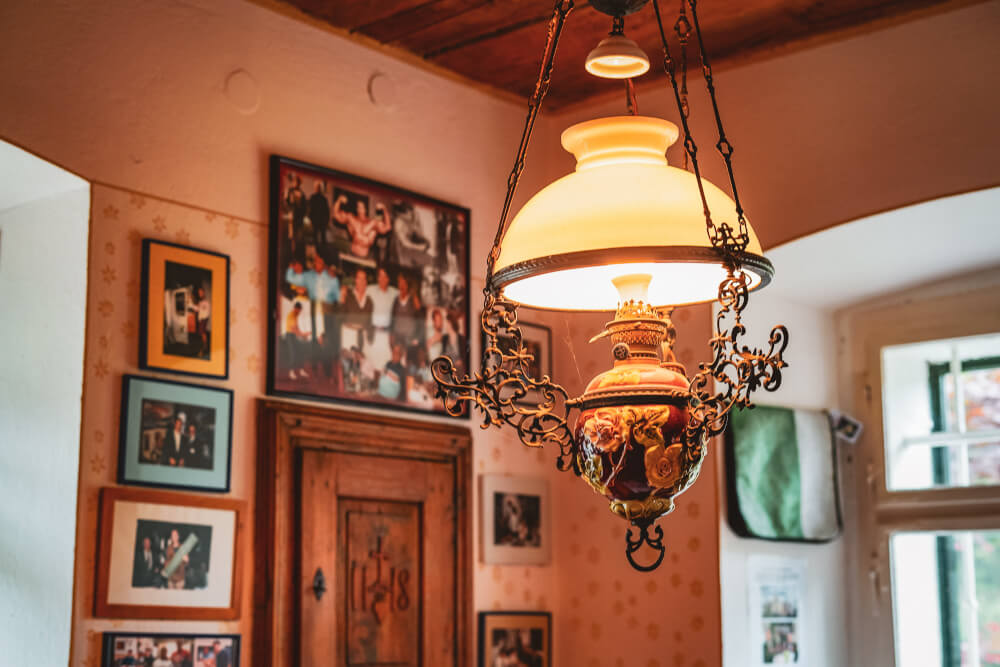 I quickly learned that Arnie was actually in the Austrian military for a year, as part of the compulsory service required of Austrian males as soon as they turn 18.
Apparently, he was once even thrown in army prison for sneaking off to participate in a bodybuilding competition. Looking at his life path now though, it seems like he made the right choice!
Anyways, this part of the museum was small, but interesting. Some naked ladies were even added to this army locker for effect, but no, Arnie was not romantically linked with any of them. (I asked because I'm a creep).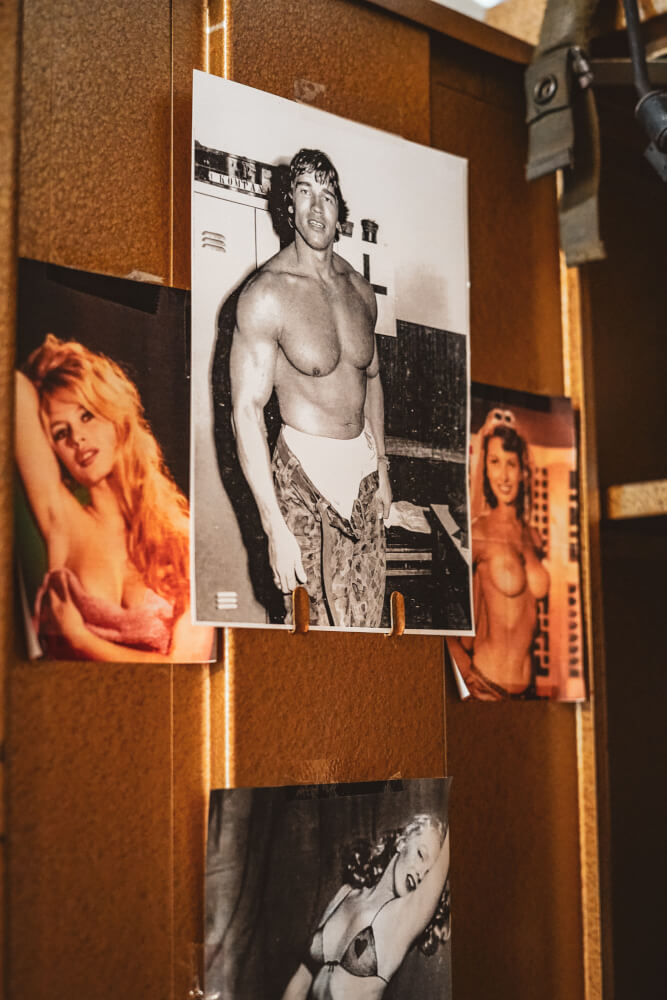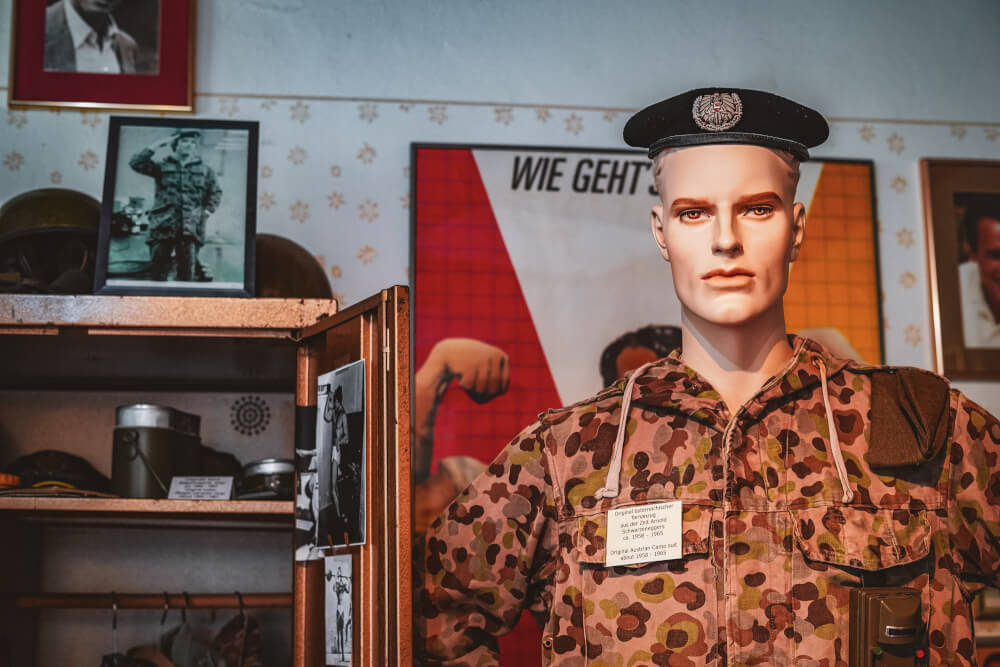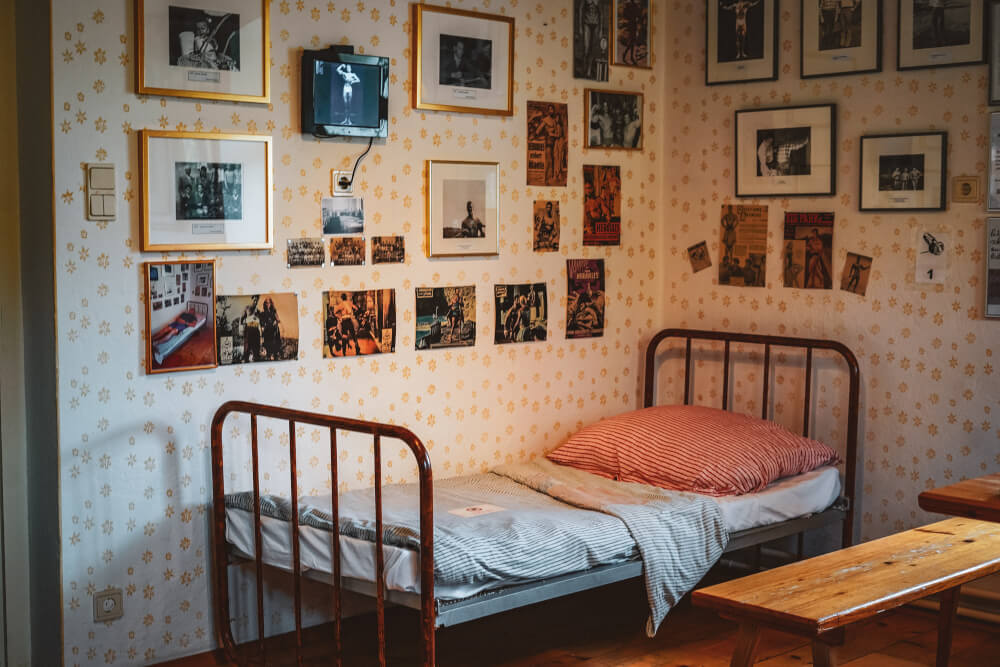 Arnie's Political Career Room
As I moved into the next room, the theme was clear: we were going full Governator in this room.
In one corner stood a life-sized wax figure of Arnie himself in full political mode. In another corner, his governor's desk…. and all around, framed photos and memorabilia from his time in office. I still remember, as a young kid, learning that the literal Terminator had been elected into the US government.
Crazy to think that's now a chapter of history!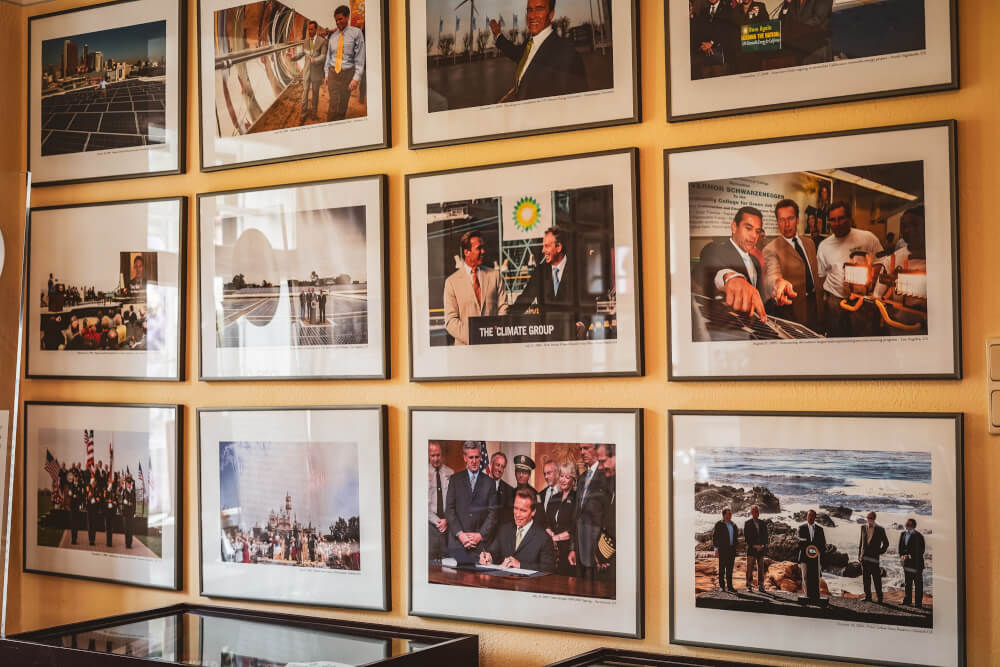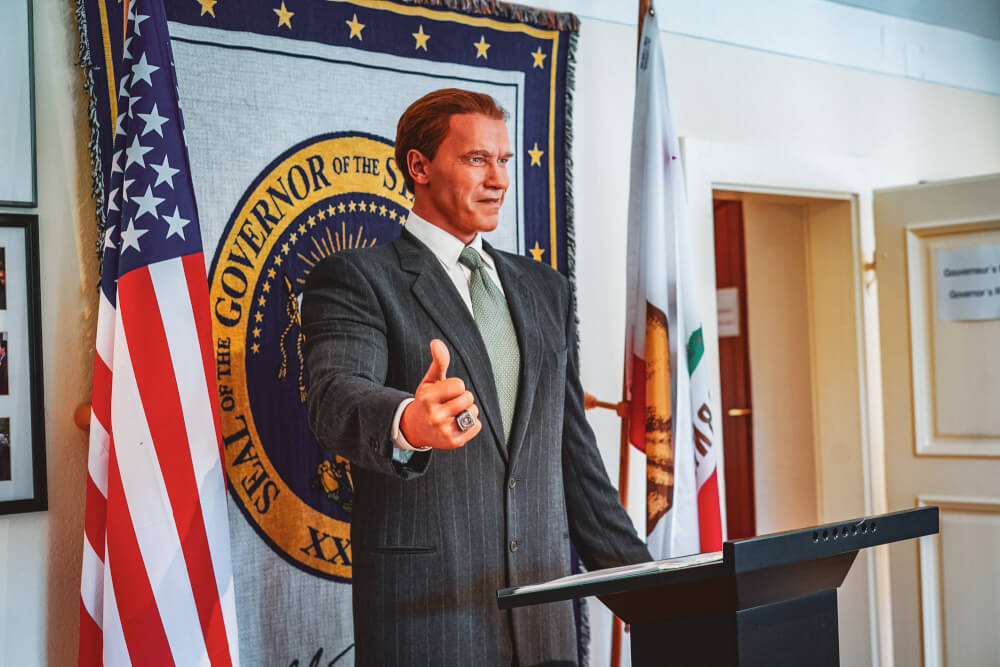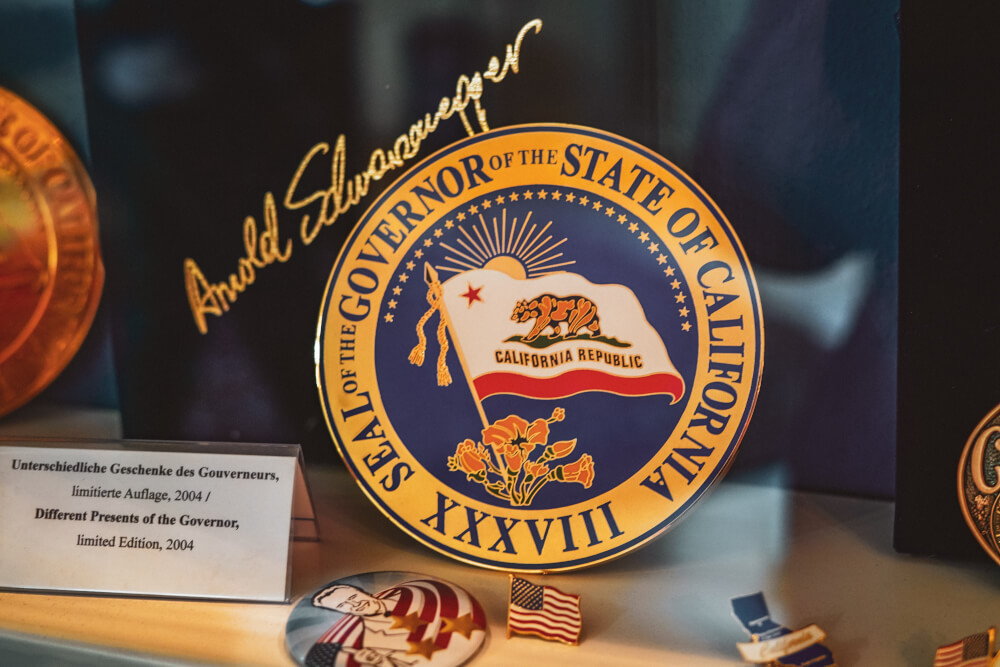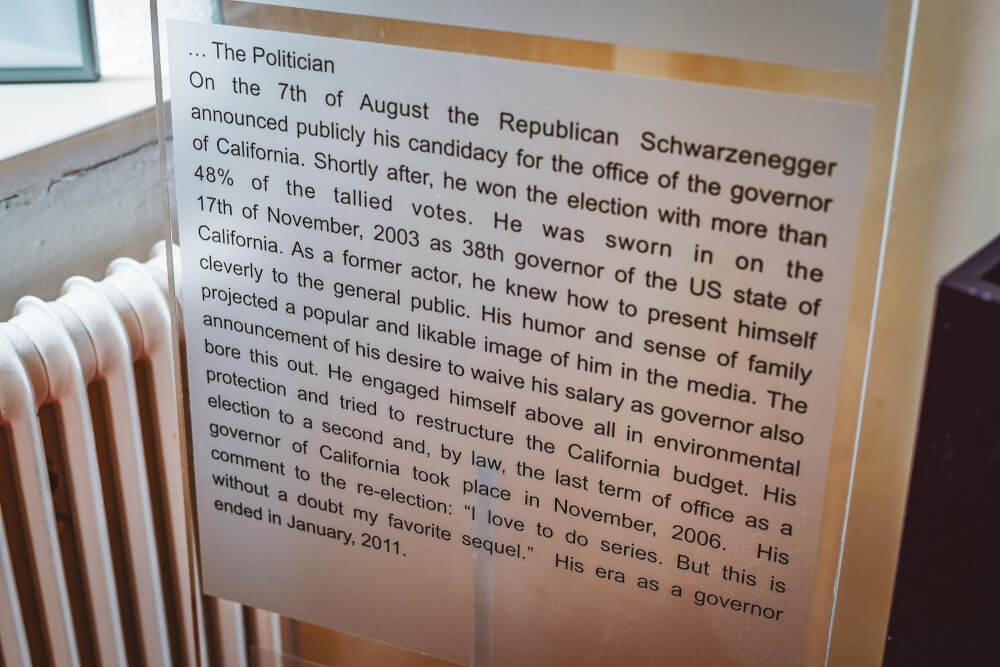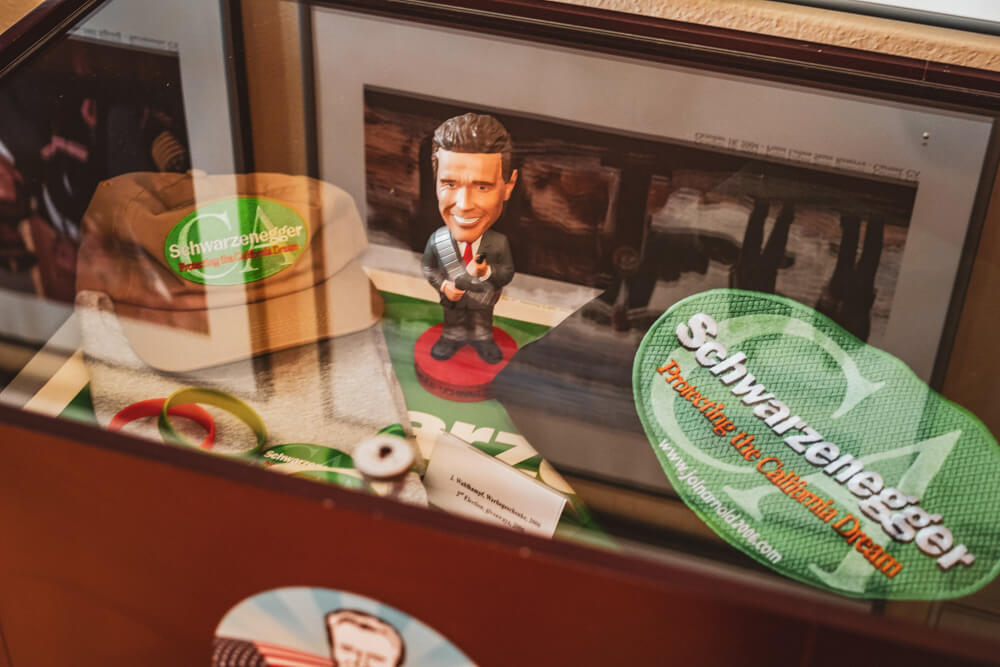 I especially loved seeing swag from his campaign trails!
Arnie's Film and Hollywood Career Room
Heading up the stairs, the movie geek in me could almost die.
TV screens played scenes from Arnie's most well-known films, while glass cases housed all sorts of DVDs, props and other memorabilia. I mean, was I really looking at the Terminator motorcycle? Pinch me.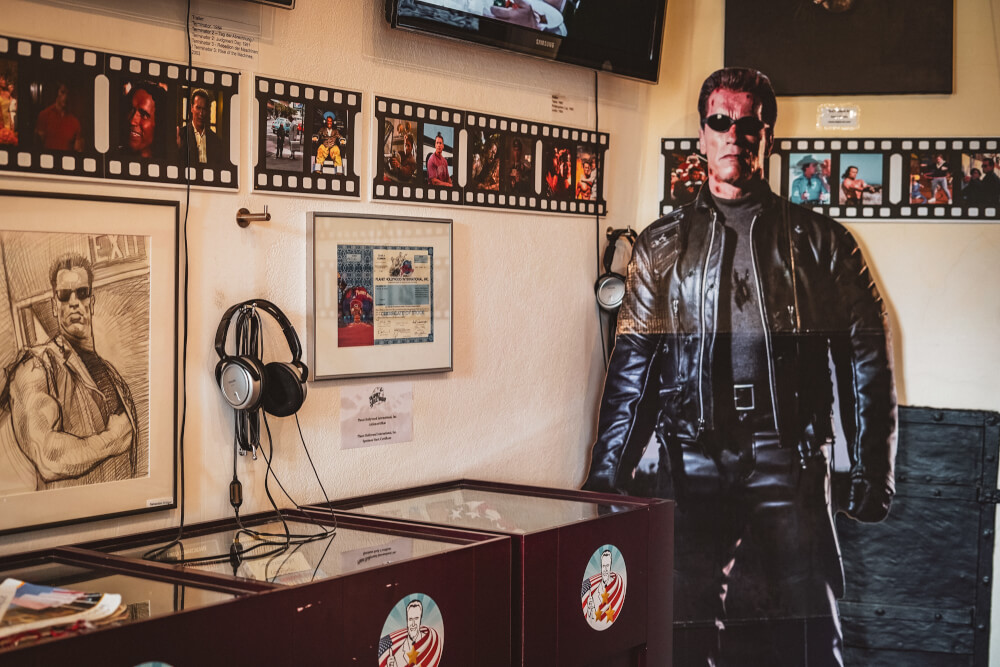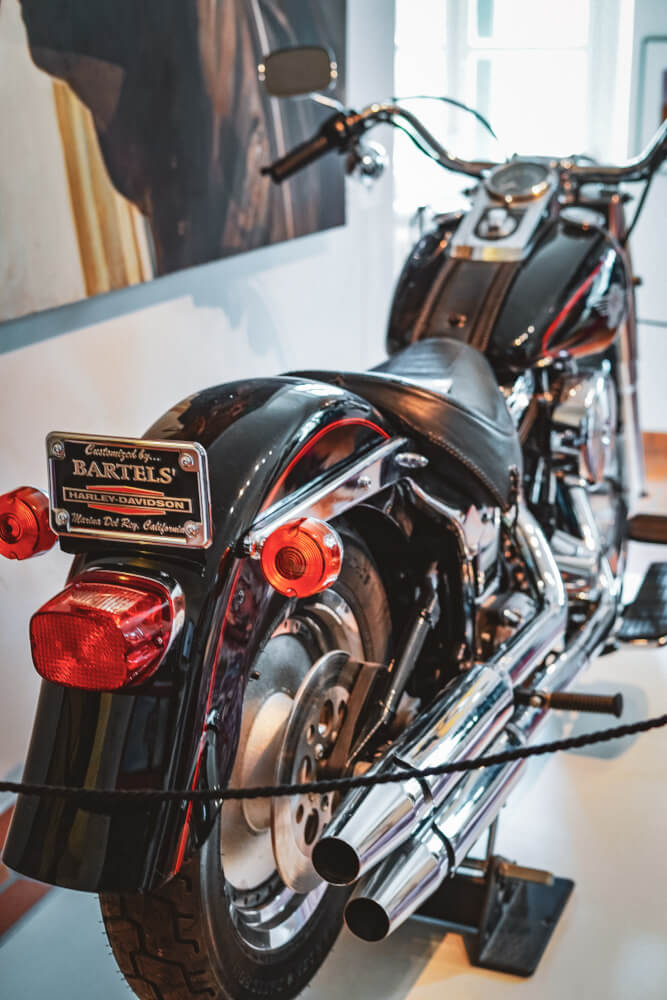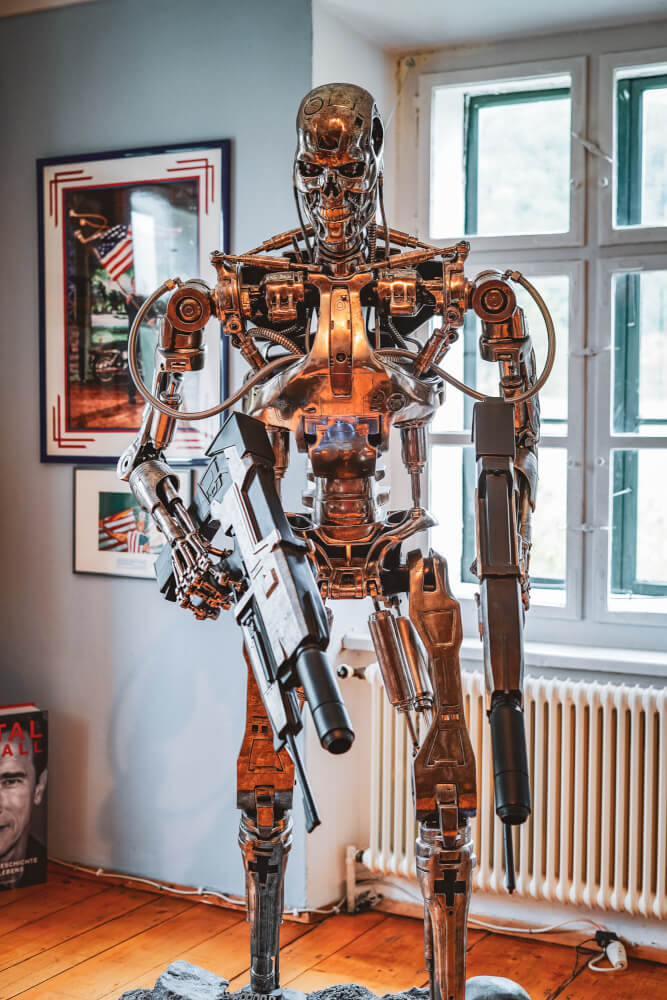 Side note: the fact that DVDs were being put on display in a MUSEUM as RELICS of the PAST made me feel very old.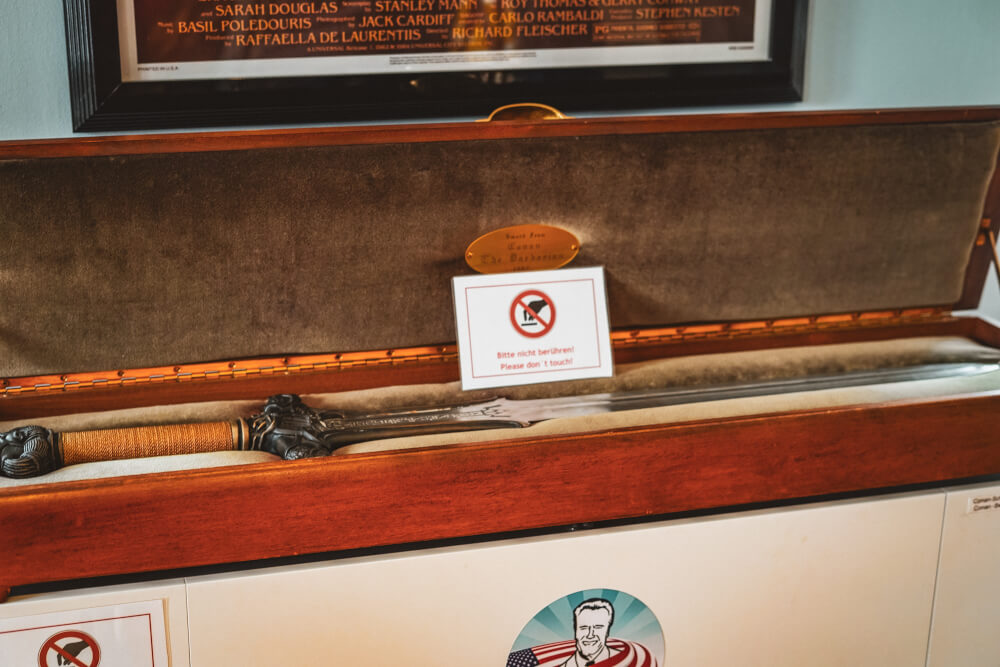 Another interesting revelation I never knew was that Arnie actually went to university, studied economics and was a self-made millionaire before hitting Hollywood success. Who knew?!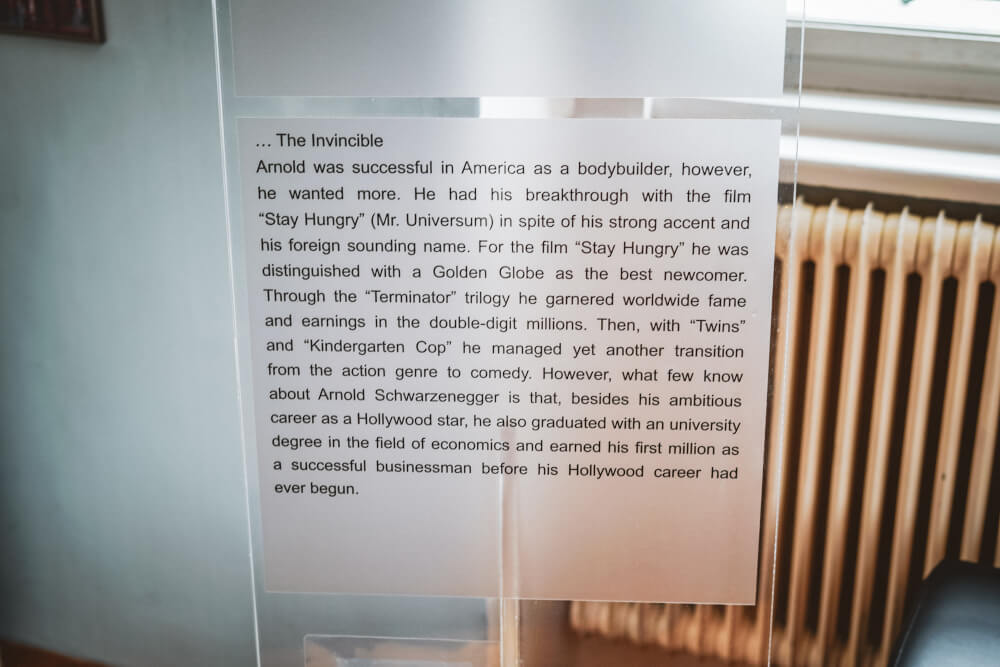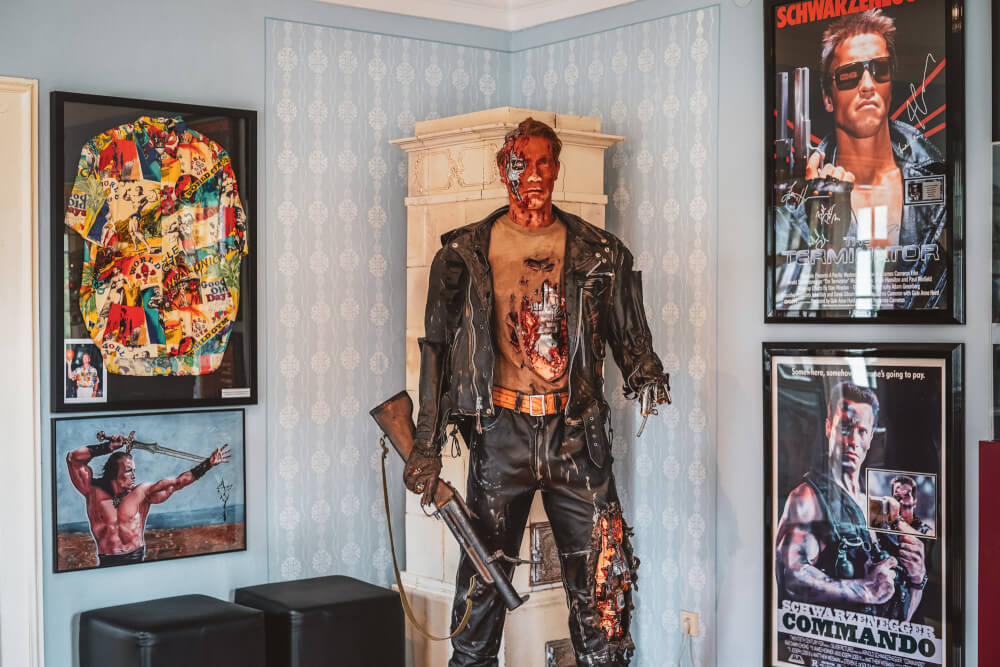 Of course, a few framed costumes lined the walls as well…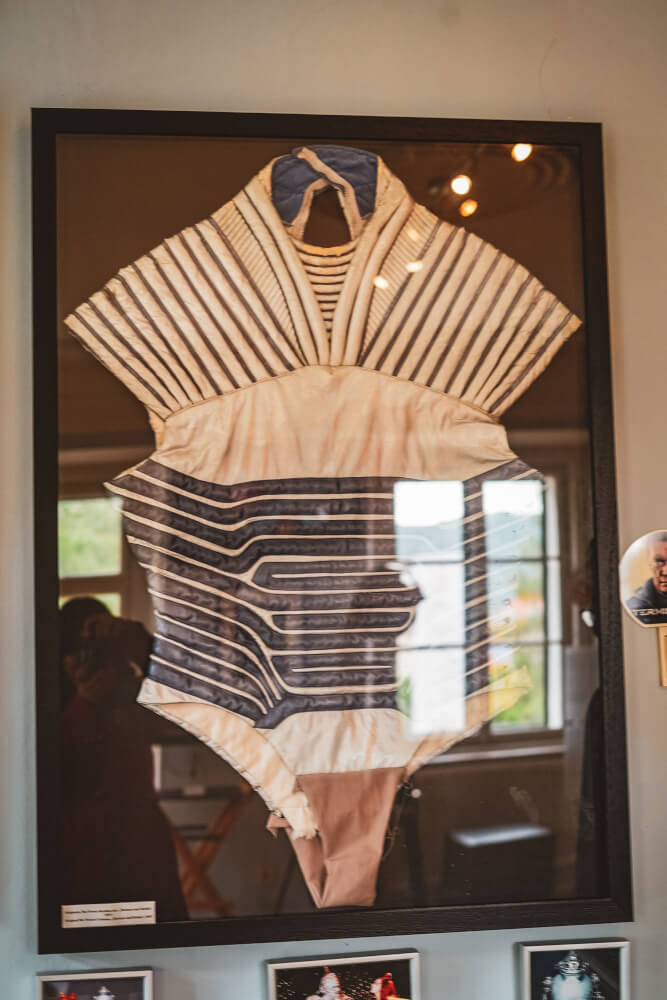 And nothing delighted me more than seeing this framed photo of Arnie celebrating his American citizenship. Seriously.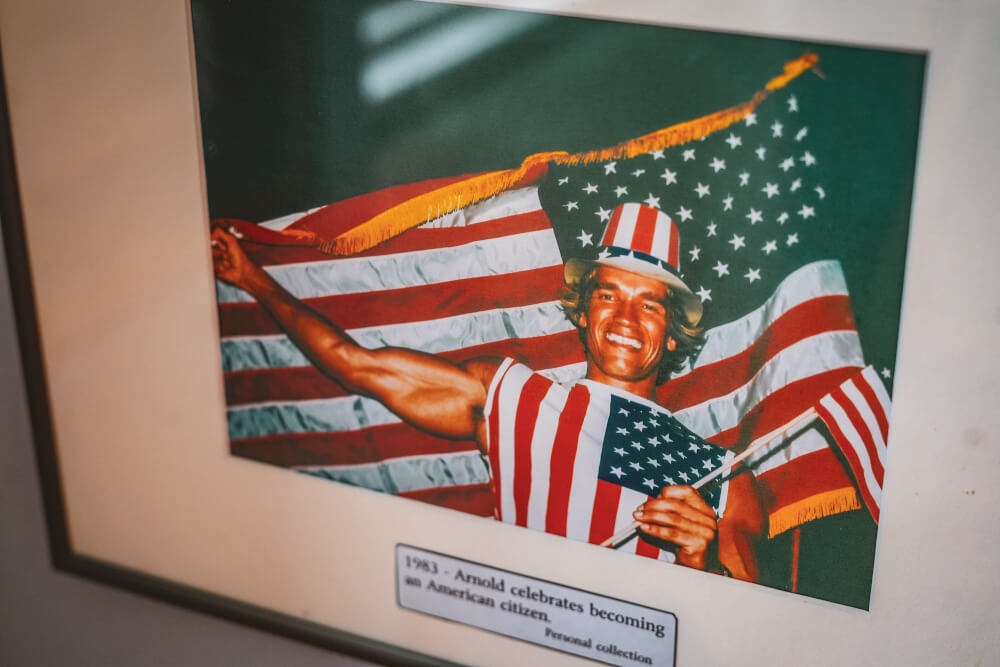 The Bodybuilding Room
For the next room, it was like I had won some free tickets to the gun show.
I mean…. THOSE. GUNS!
I'm not very familiar with Arnie's bodybuilding career, but this room provided a lot of insight into his weightlifting background, how he got started, and of course, how he eventually skyrocketed to fame.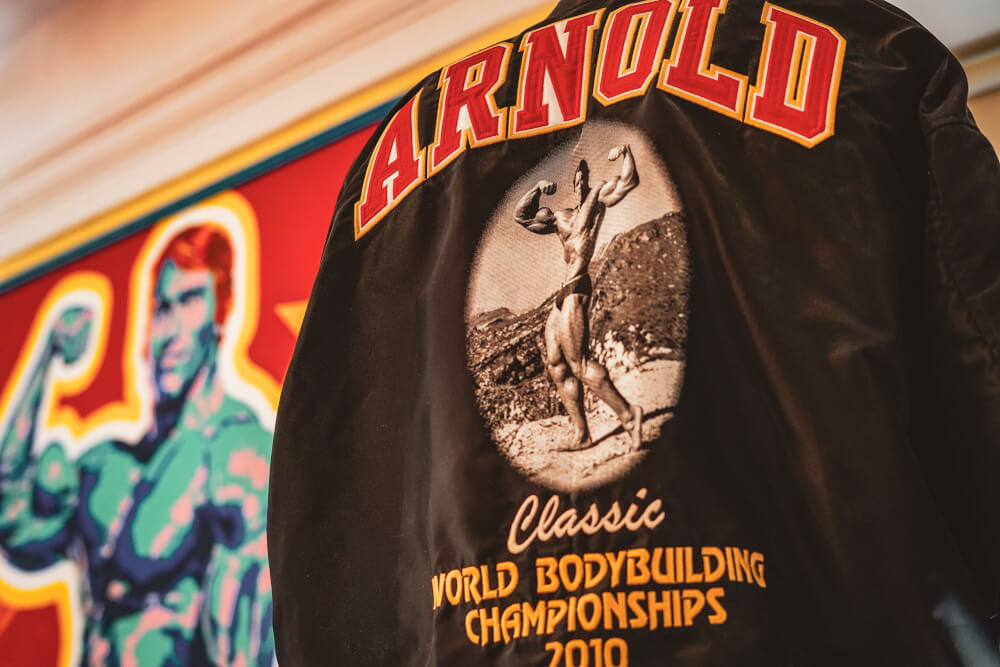 The shirtless bowl cut wax figure was of course just a bonus.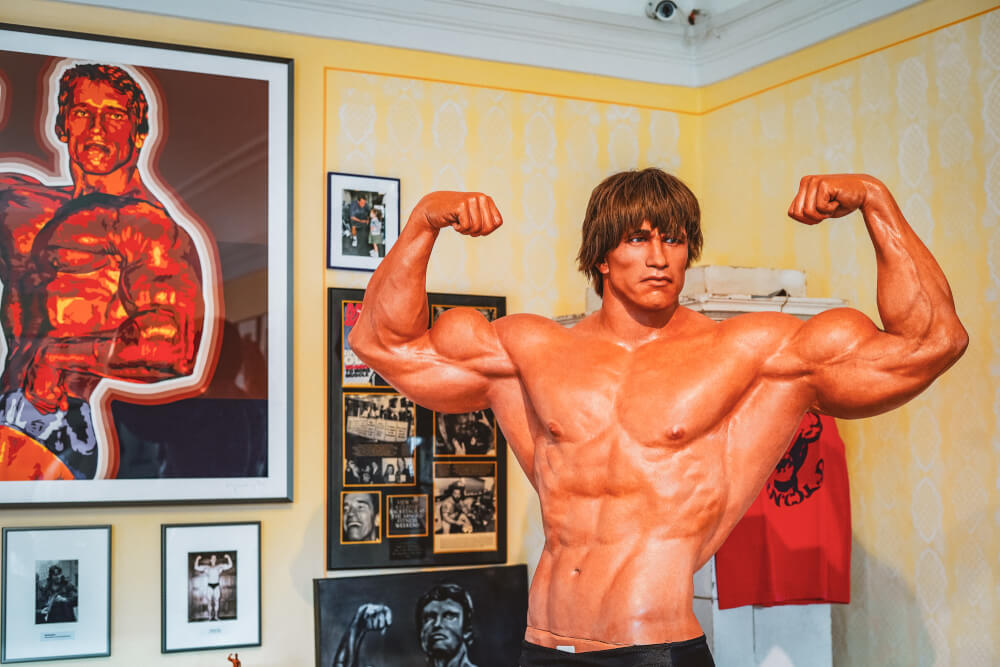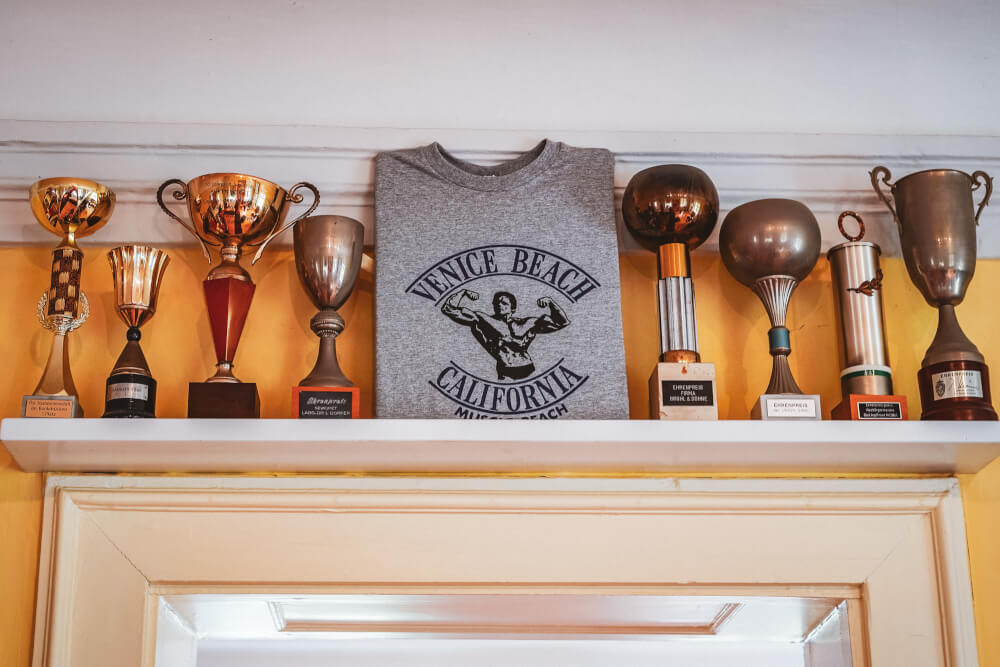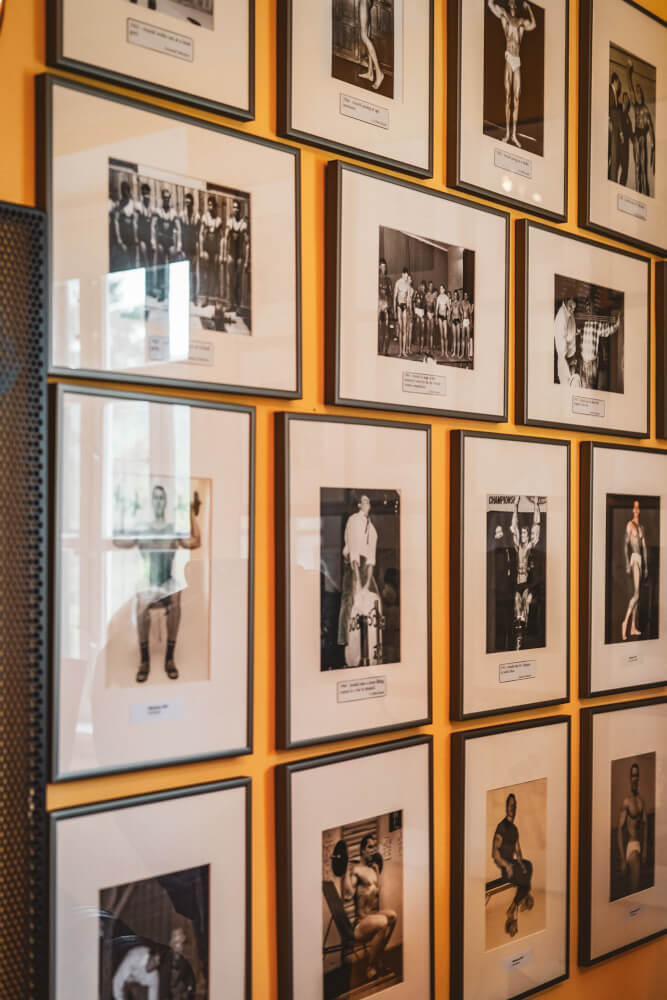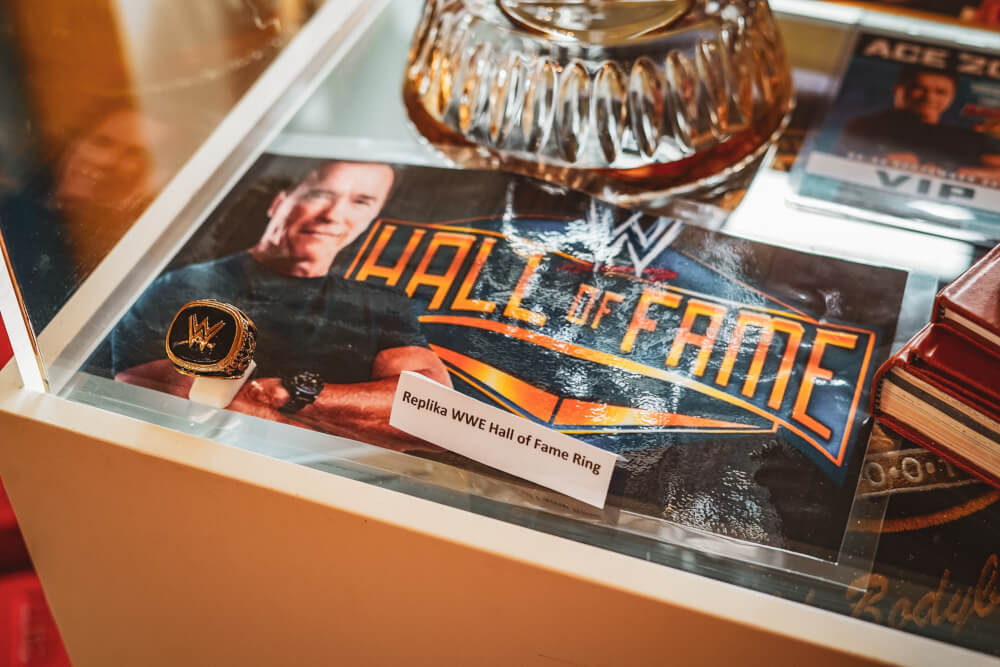 The Original Arnold Schwarzenegger House Kitchen
The final upstairs room brought me a few steps back in time to see what the original Schwarzenegger family kitchen would have looked like. The furnishings were modest, and understated, which made sense considering I often heard of his humble upbringing.
In fact, he has often been quoted saying "We had no flushing toilet. No refrigerator. No Television. What we did have was food rations — and we did have British tanks around to give us kids the occasional lift to the elementary school.".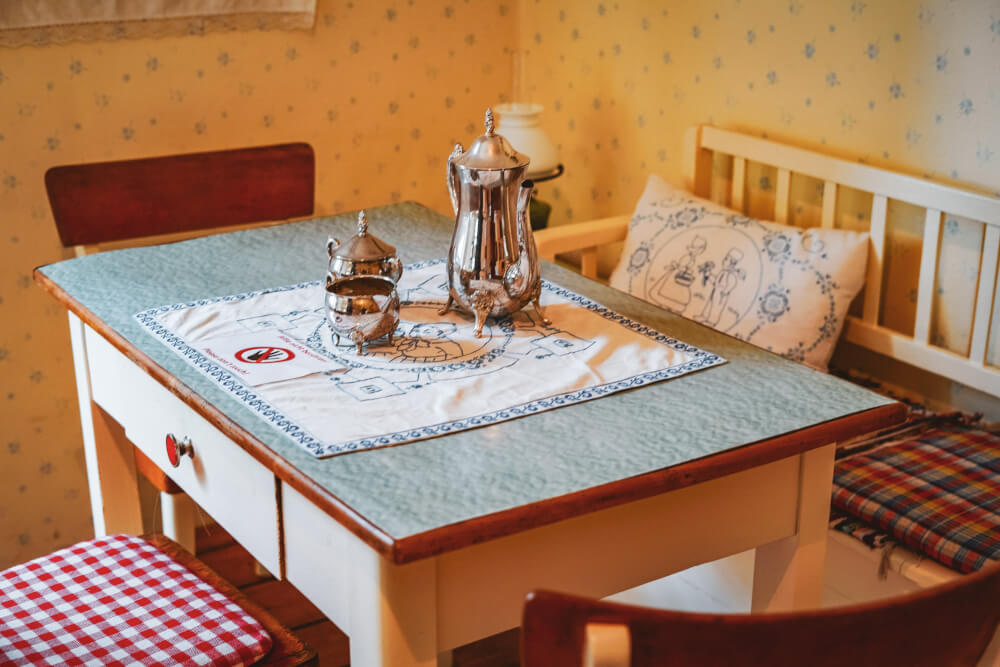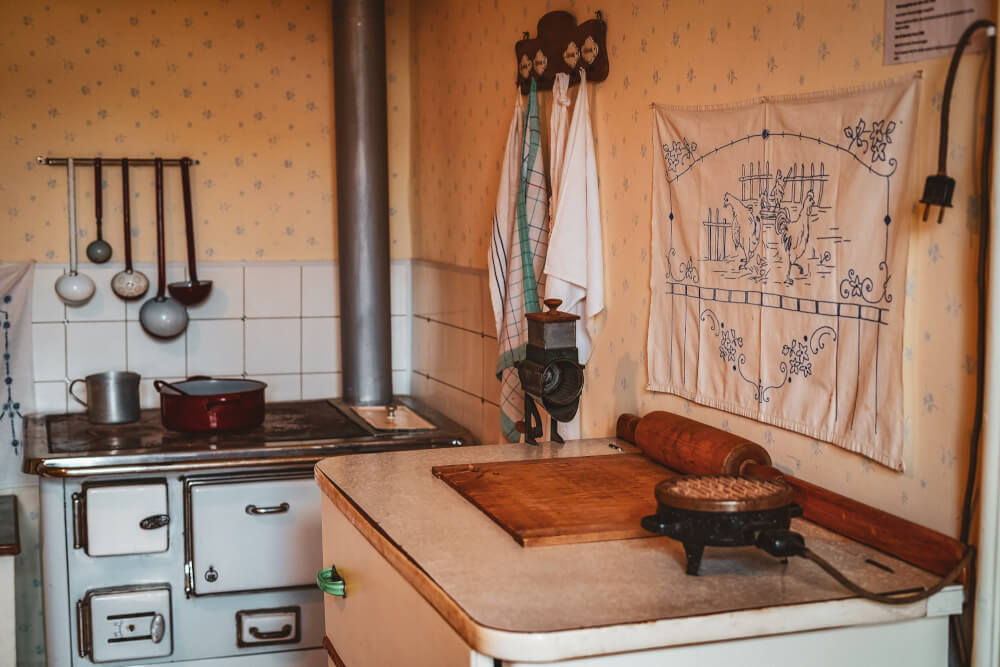 The Upstairs Hallway
The final part of the museum before heading downstairs was the hallway, which was once again decorated with photographs and you could even take a peek at the old school toilet that Arnie would have used as a kid.
Let's just say I'm very happy that I grew up in the age of modern plumbing.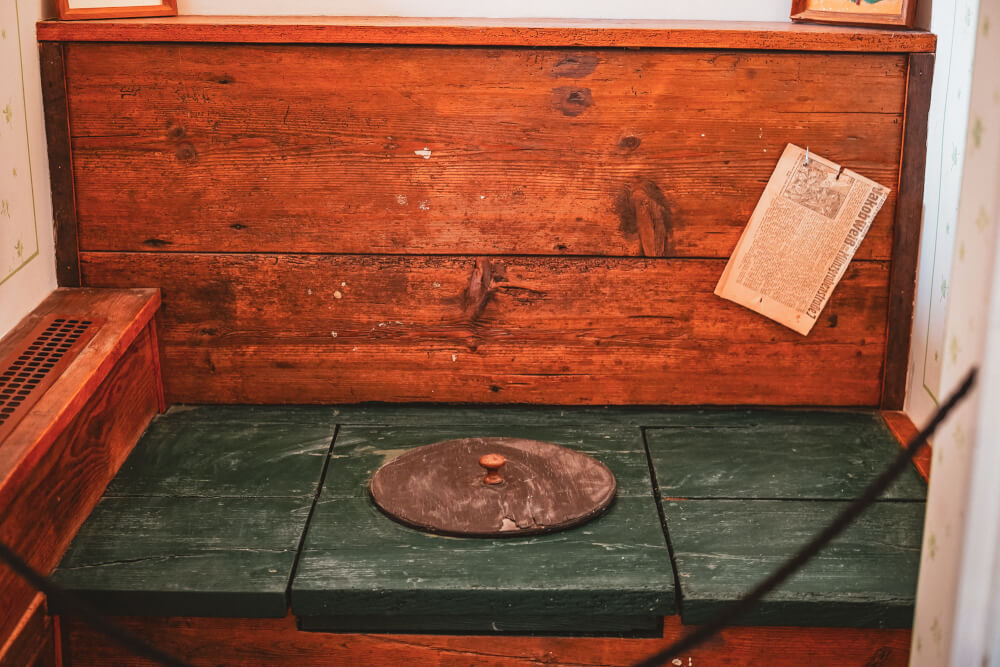 I was especially delighted to see this photo of Arnie celebrating Oktoberfest though!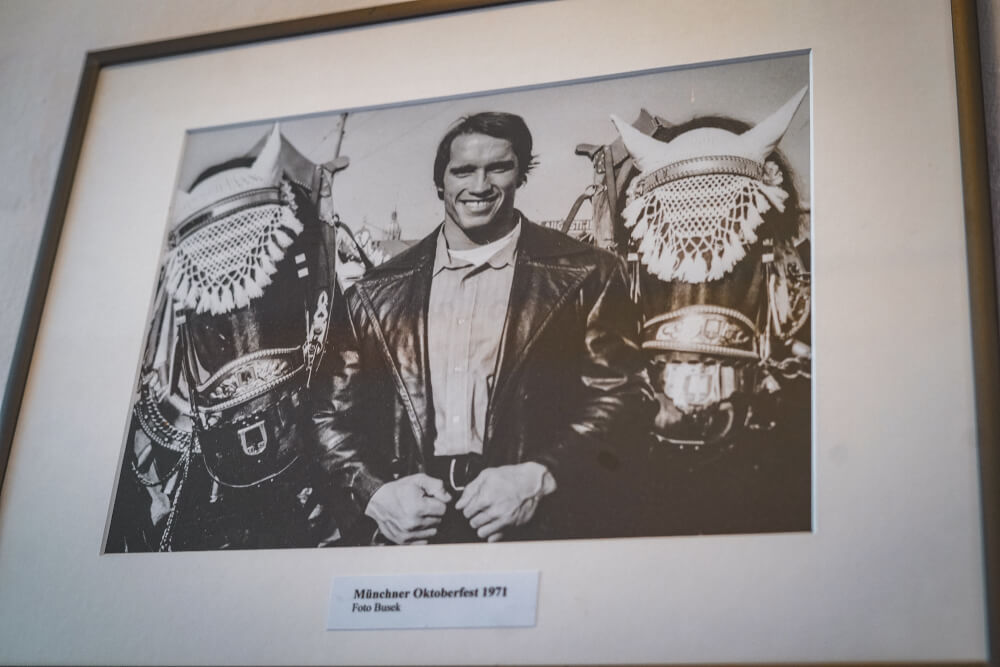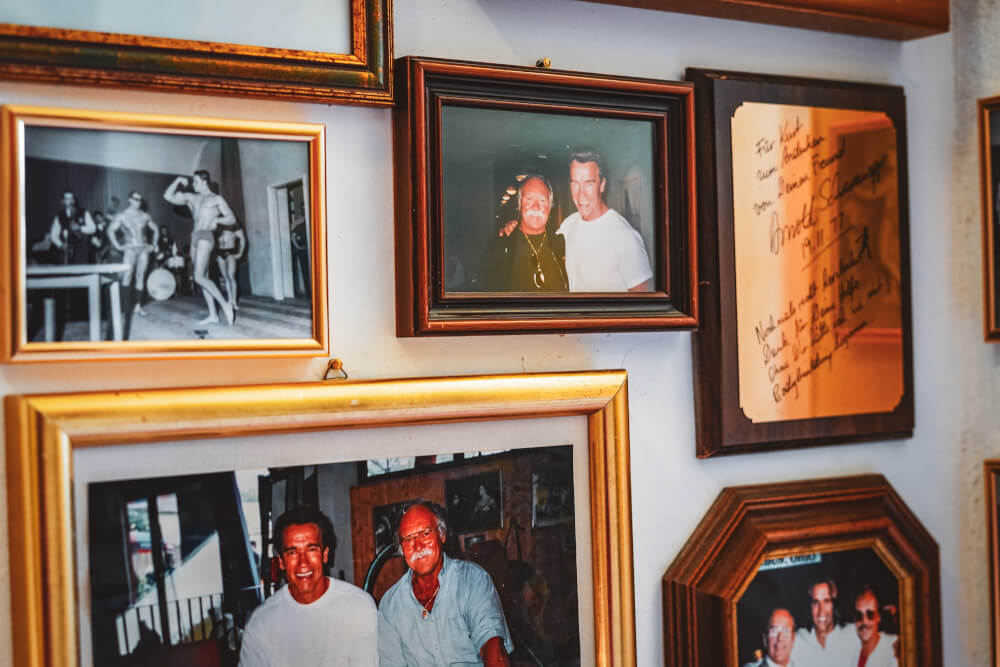 The Backyard
Lastly, after going down the stairs, I passed back through the shop area and headed straight outside to the backyard, home to an (admittedly) very random assortment of displays.
First off, there was the (Guinness World Record holding) largest wooden dumbbell in the world: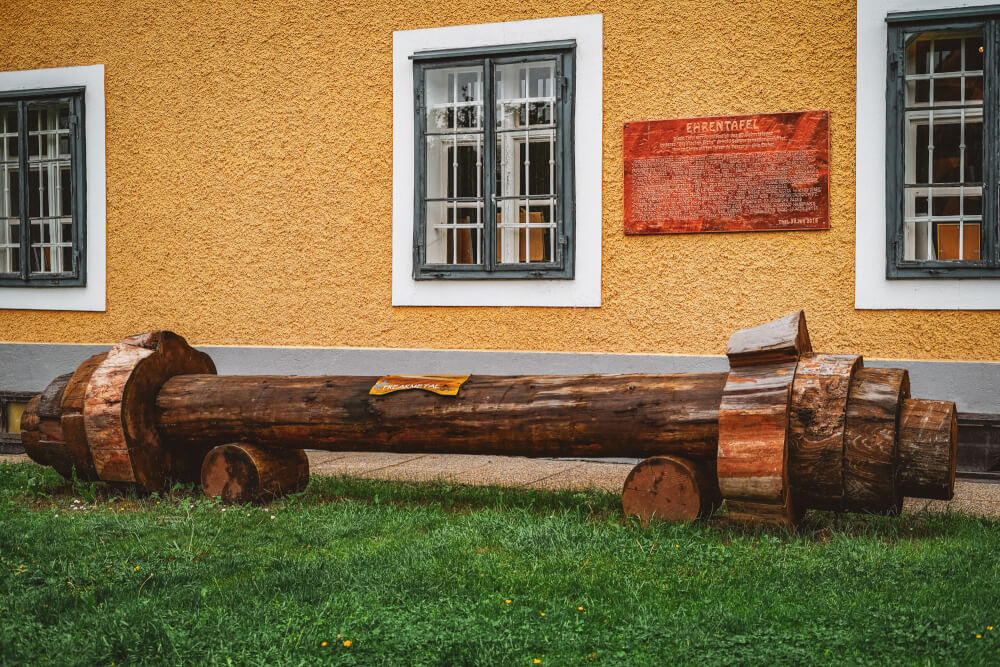 Then there were several pieces of "Transformer Art" by Danilo Baletić, which were very cool but not super related to the life and times of Arnold Schwarzenegger…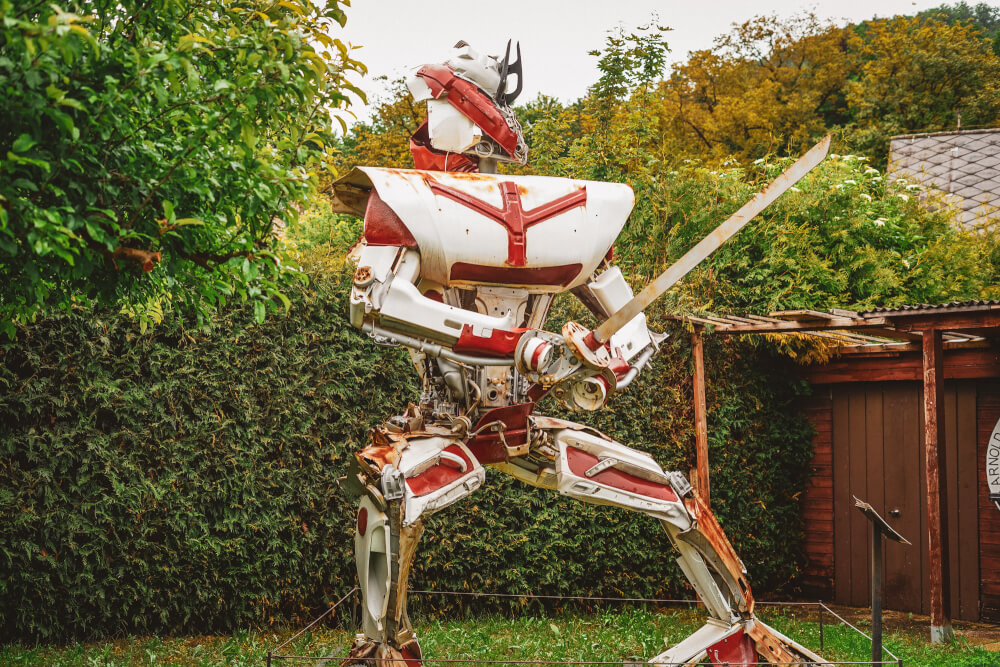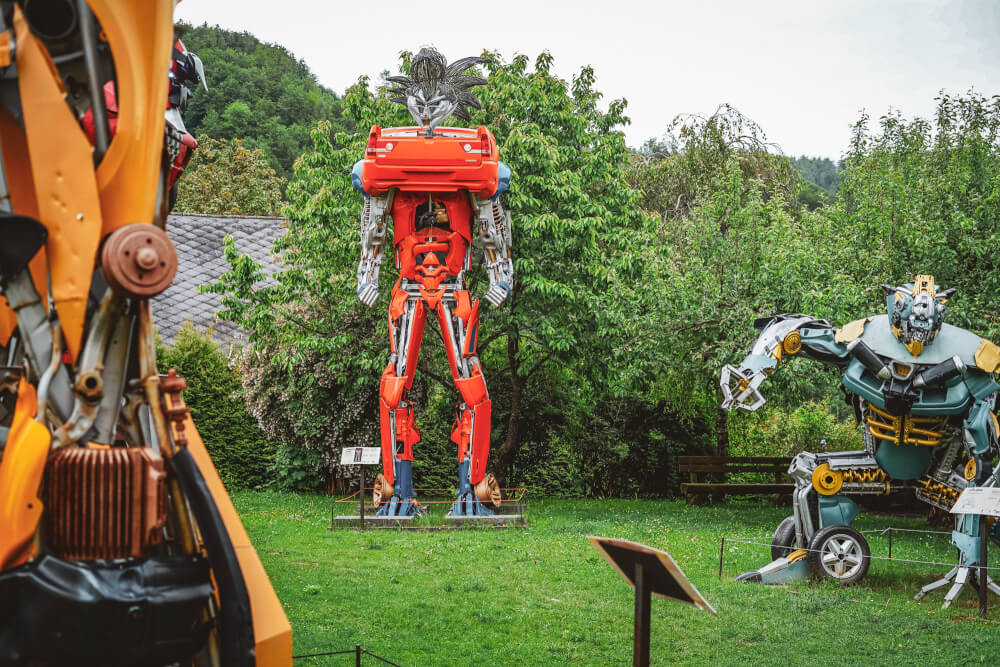 SIDE NOTE: While these installations were originally only meant to be around until Spring 2018, I saw they were still up in 2019, so I asked a staff member who told me they were likely becoming permanent fixtures of the museum.
… Random, but cool.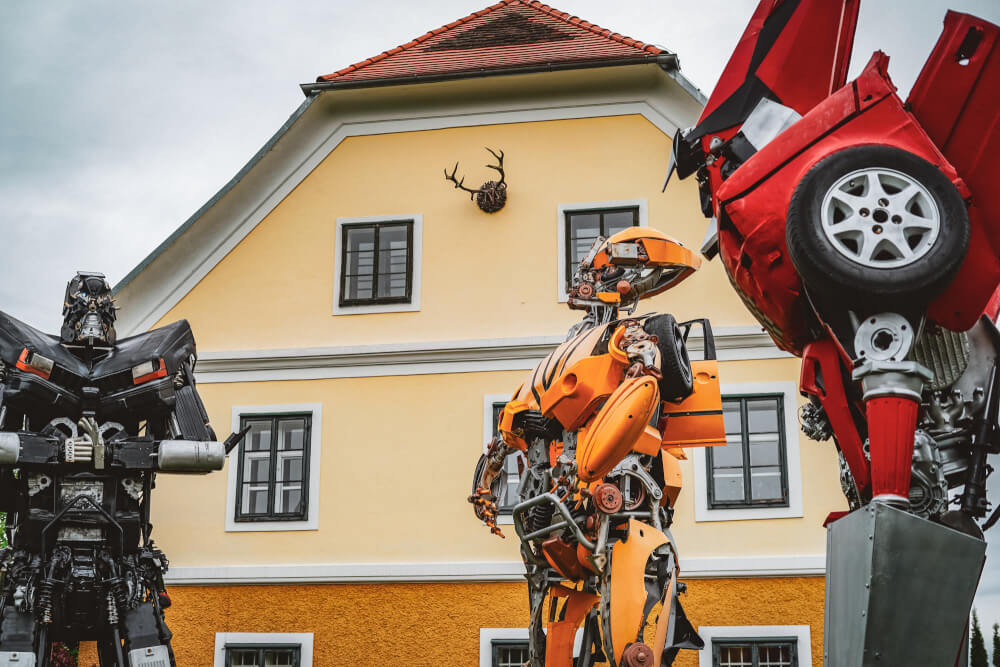 And so, with the largest smile of all time plastered on my face, I left the Arnold Schwarzenegger thinking the obvious: "I'll be back."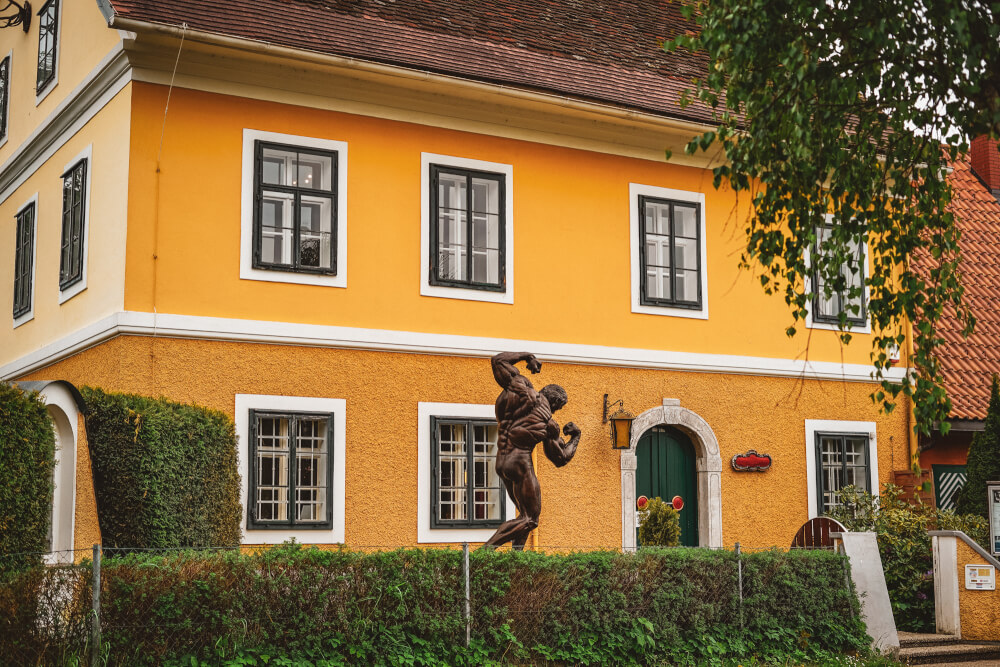 Any Other Questions About the Arnold Schwarzenegger Museum?
Anyways, I hope you enjoyed that guide and tour to the epic Arnold Schwarzenegger Museum in Thal! If you have any more questions about the museum, let me know in the comments! Hope you have an awesome trip, and……. Hasta la vista, baby! [Sorry, couldn't resist]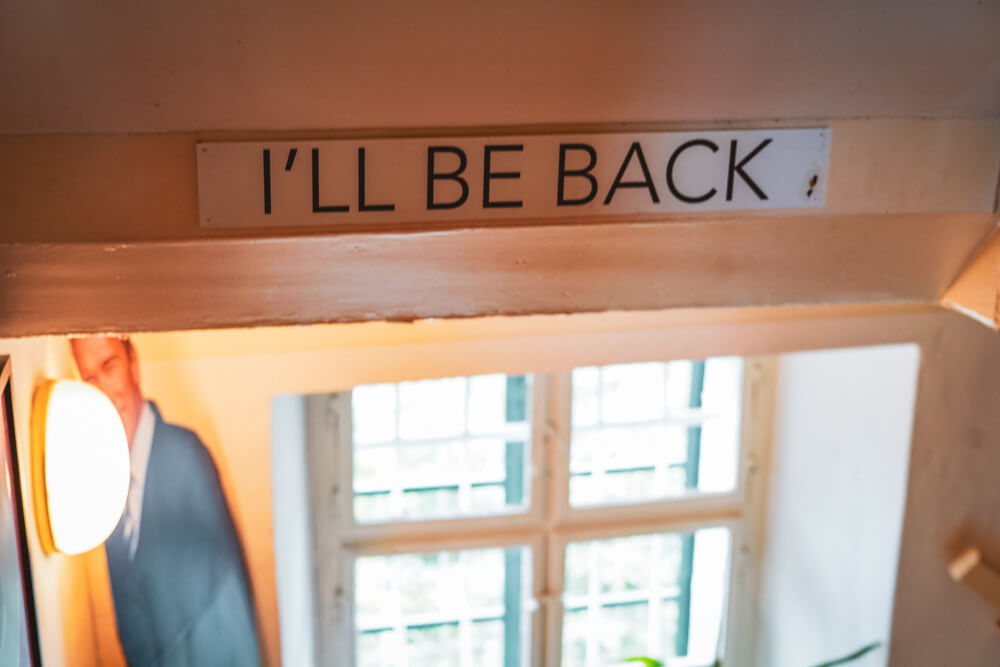 My Go-To Travel Favourites: