*FYI - this post may contain affiliate links, which means we earn a commission at no extra cost to you if you purchase from them. Also, as an Amazon Associate I earn from qualifying purchases. Check out our Privacy Policy and Disclosure. for more info.
As a rabid fangirl for all things Parisian, it was only a matter of time before I celebrated Christmas in Paris and let me tell you…
Ahhhhh!
Honestly, I'm still reeling from my chocolate/wine/cheese high. Also, I'm quite certain I'm pregnant with pastries.
But caloric mischief aside, I do think these are all signs of a truly excellent trip.
Granted, I've never been great at hiding my love for the French capital (check out my top Paris tips for more), but Paris at Christmas time is a whole other beast – a beast sprinkled with cheese, dipped with chocolate and soaked in buckets upon buckets of wine.
Save this post on Pinterest for later: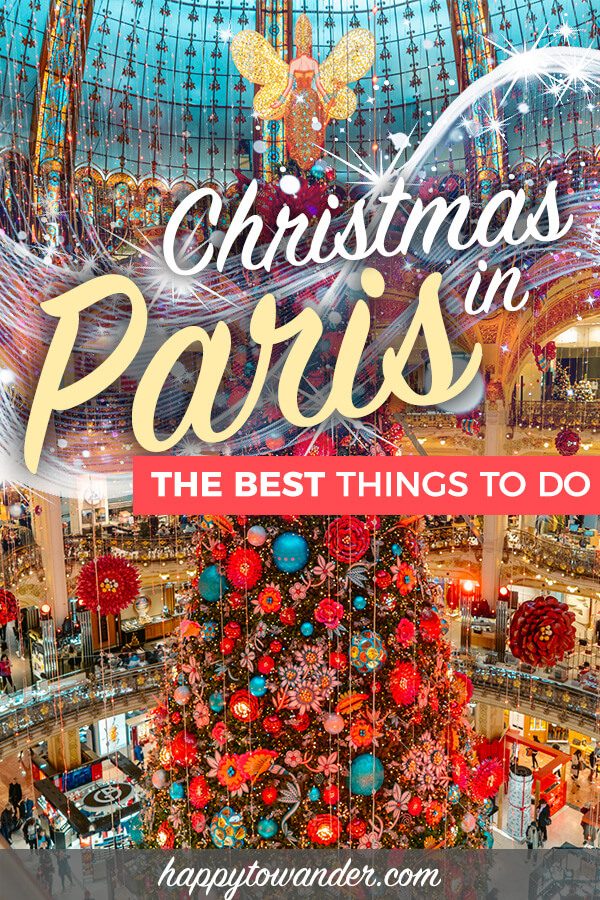 Maybe it's the fact that peak season crowds have thinned, every street is decked with lights and the relentless consumption of sugar becomes 100% normalized, even encouraged.
Regardless of the reason, my conclusion remains the same: Christmas is hands down one of the best times to be in Paris.
I recently returned from a few days revelling in Paris Christmas magic, and if you're in the lucky position of doing the same this year, boyyy do I have recommendations for you.
My ardent love for both Paris and Christmas have finally collided to produce the crossover episode that nobody asked for… I hope you're ready!
So, are you wondering what to do in Paris at Christmas time?
This guide has you covered with everything you need to know, including Paris Christmas Market recommendations, where to find the most magical Paris Christmas tree decorations and pretty much everything else you need to know when visiting Paris at Christmas time. Enjoy!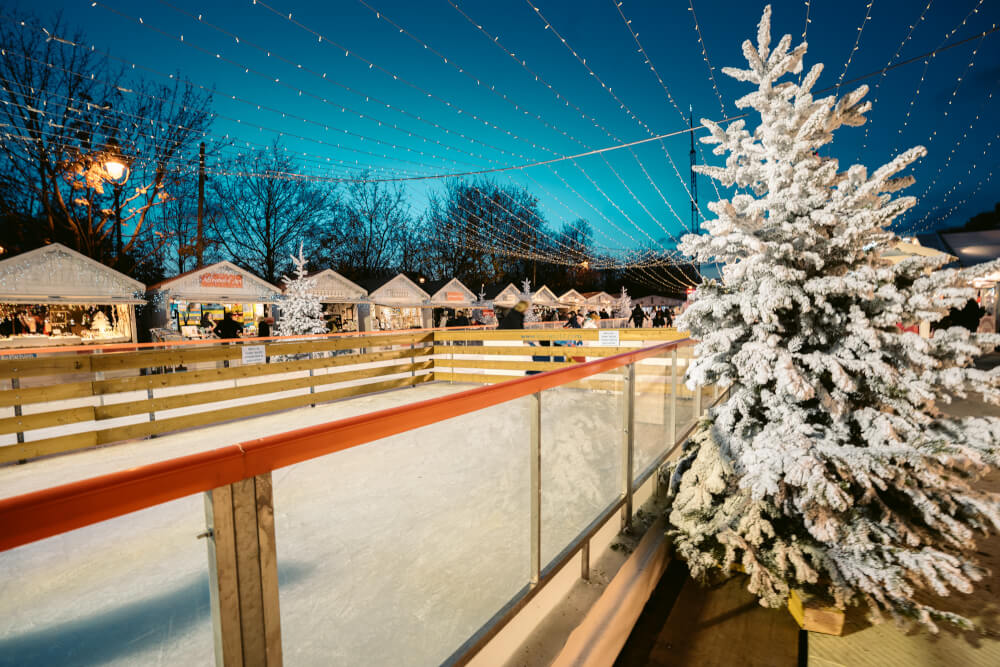 Catch the video version of this Christmas in Paris Guide
Looking for a more visual travel guide? This video below will give you a glimpse at what Paris really looks like at Christmas time:
The Best Christmas Things to do in Paris
Looking for fun things to do in Paris over Christmas? Here are some of the best festive must-dos that you can't miss when visiting Paris at Christmas time:
Enjoy the Paris Christmas market circuit
First up, one of my favourite things in the universe: Christmas markets!
While nearby Germany and Switzerland are probably better known for their ahh-worthy Christmas markets, Paris has its fair share to enjoy as well.
Most Christmas markets in Paris open after Advent, but luckily I had the chance to mosey my way through a few of the city's early birds, and also some of Paris' biggest: the Christmas Market at the Jardins des Tuileries and the Christmas Market at La Défense.
Hands down, a visit to one of these is the most magical way to instantly dunk yourself in glittery Christmas spirit.
Cuddle up with a vin chaud, rub your hands across the fuzziest artisanal goods, and you'll be ho ho ho ing in no time.
For a full list of Paris Xmas Markets, click here.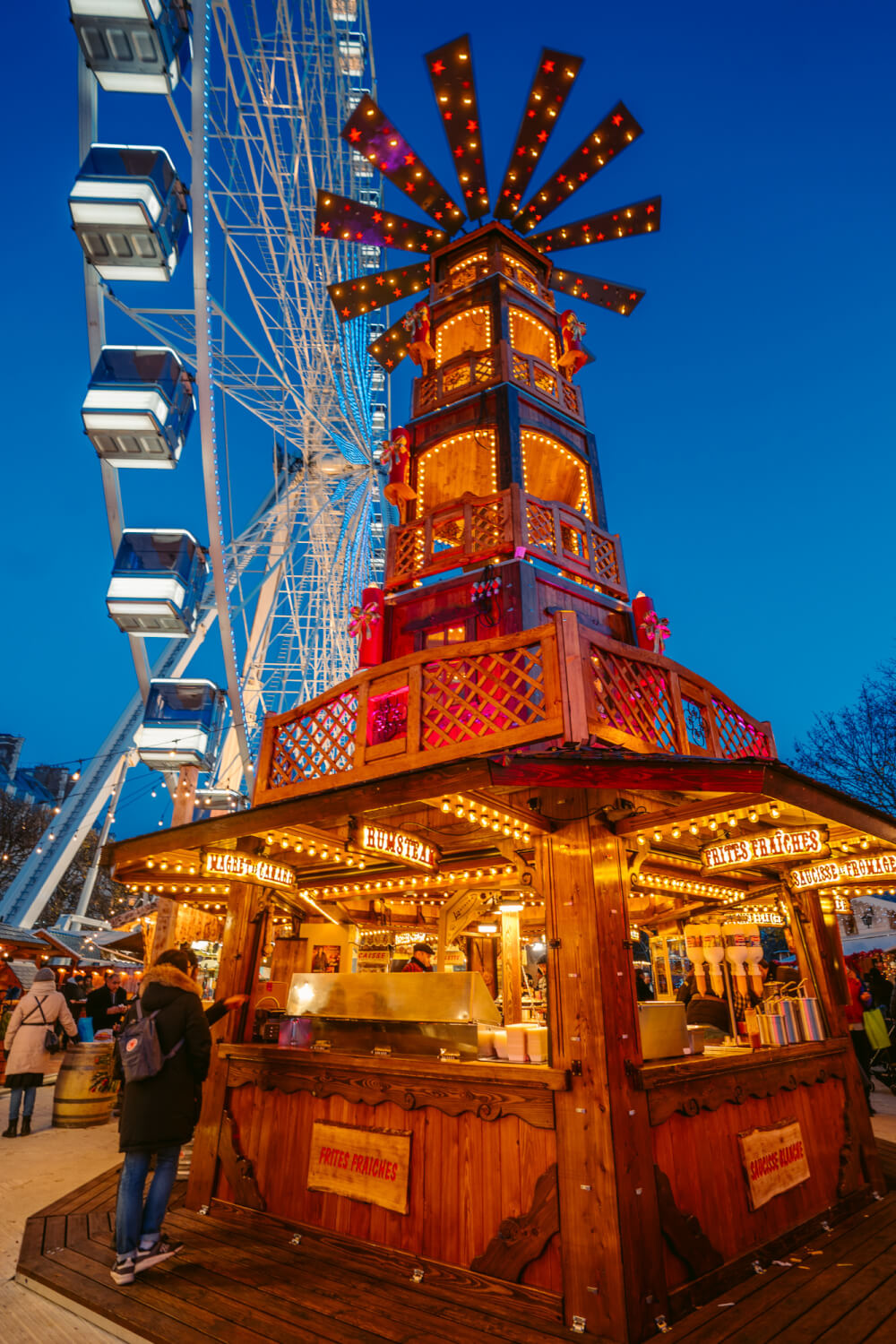 Go gaga over Paris' stunning Christmas window displays
Parisian Christmas decor is decadently next-level, particularly when it comes to the city's world renowned department stores.
So, hands down, one of the best Christmas things to do in Paris is to lurk around the different Christmas displays found in shop windows, which can be adorable, enchanting, weird, or most likely, a fun combination of all three.
Printemps for example has a psychedelic creepy-cute bird theme this year, while Galeries Lafayette's displays center around bees. You can easily visit both in one go, which I highly recommend.
Take a day trip to Disneyland Paris (which is amazing at Christmas time!)
Next: why not consider a visit to the nearby Disneyland Paris?
Honestly, Disneyland Paris is magical on any given day, but deck the park out in Christmas decor and it's truly one of the happiest, most festive places on earth.
I'm a December baby, and Disneyland Paris was in fact where I spent my 22nd birthday a few years back, because a) I am a child and b) I couldn't resist the Christmas magic.
There's nothing quite like seeing the Sleeping Beauty Castle decked out in lights, with Mickey wreaths and a glittering tree to boot. Definitely add this to your Paris Christmas itinerary if you get a chance – you won't regret it!
Want more info? Read my guide on planning a day trip from Paris to Disneyland Paris.

Marvel at the incredible Galeries Lafayette Christmas tree
Hands down one of the most amazing Christmas spots in Paris is the world famous Galeries Lafayette, a luxurious department store with a showstopping Christmas tree that dazzles the masses every year.
And if that's not sparkly enough as is, there's even a light show every 30 minutes that you can enjoy…
As well as a variety of Christmas décor scattered around the store's multiple floors.
Coming to see this tree is a must-do if you're looking for Christmas activities in Paris!
BONUS TIP: There's now even a free skywalk that's open to the public where you can enjoy a unique perspective over the tree. Check out my list of free things to do in Paris for more.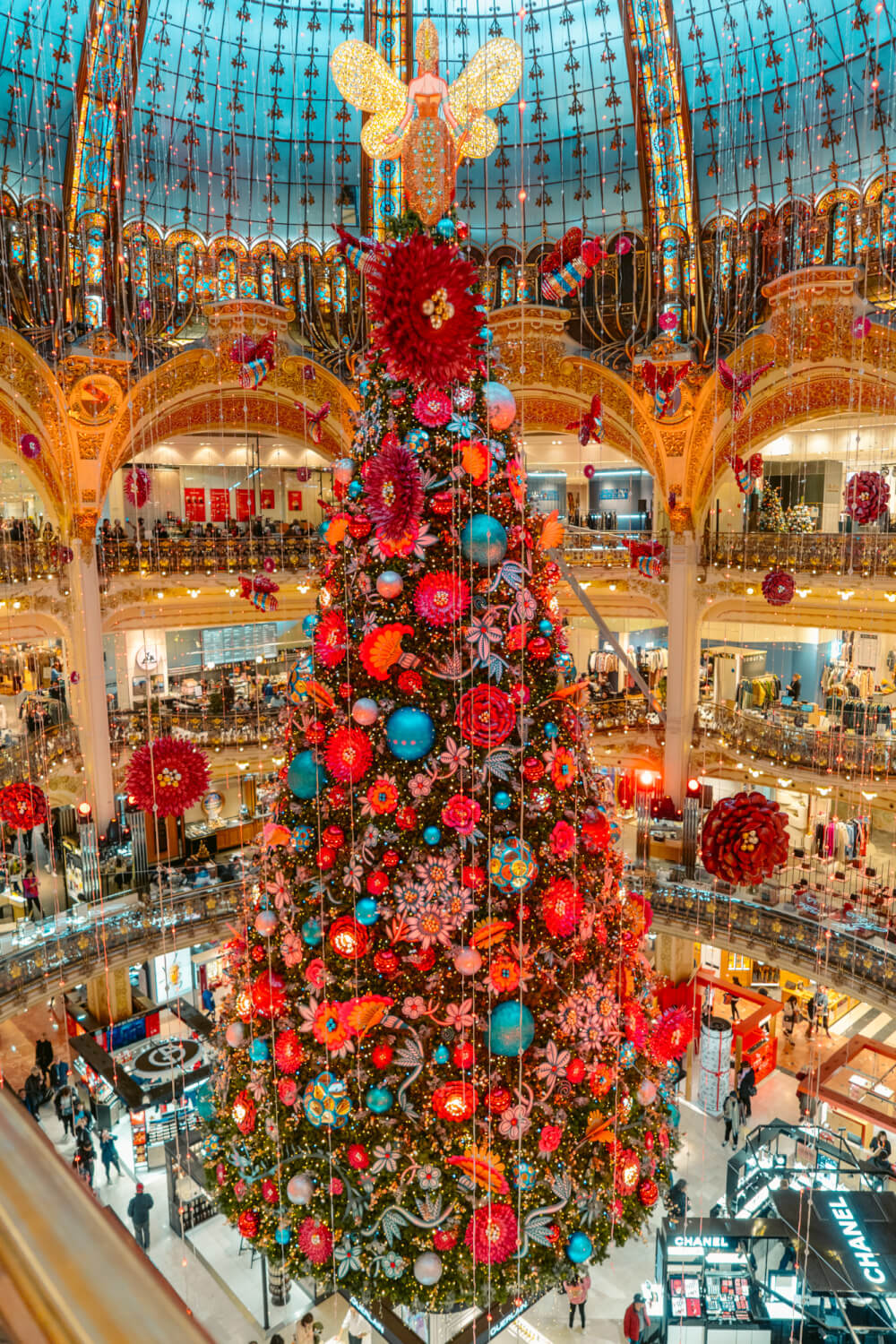 Go ice skating with an amazing view over the city
Another reason Galeries Lafayette is one of the top places to visit in Paris at Christmas is because this year they have a brand new free SKATING RINK on the roof!
As in… you can skate with the Eiffel Tower as your backdrop.
… All without spending a cent.
I got the chance to enjoy the rink as part of a media preview and it's undoubtedly one of the most scenic skating views I've ever enjoyed, although calling my uncoordinated hobbling "skating" is pretty generous.
Regardless of whether you're a skilled skater or a failed Canadian sports reject like me, the venue makes every glide and tumble worth it.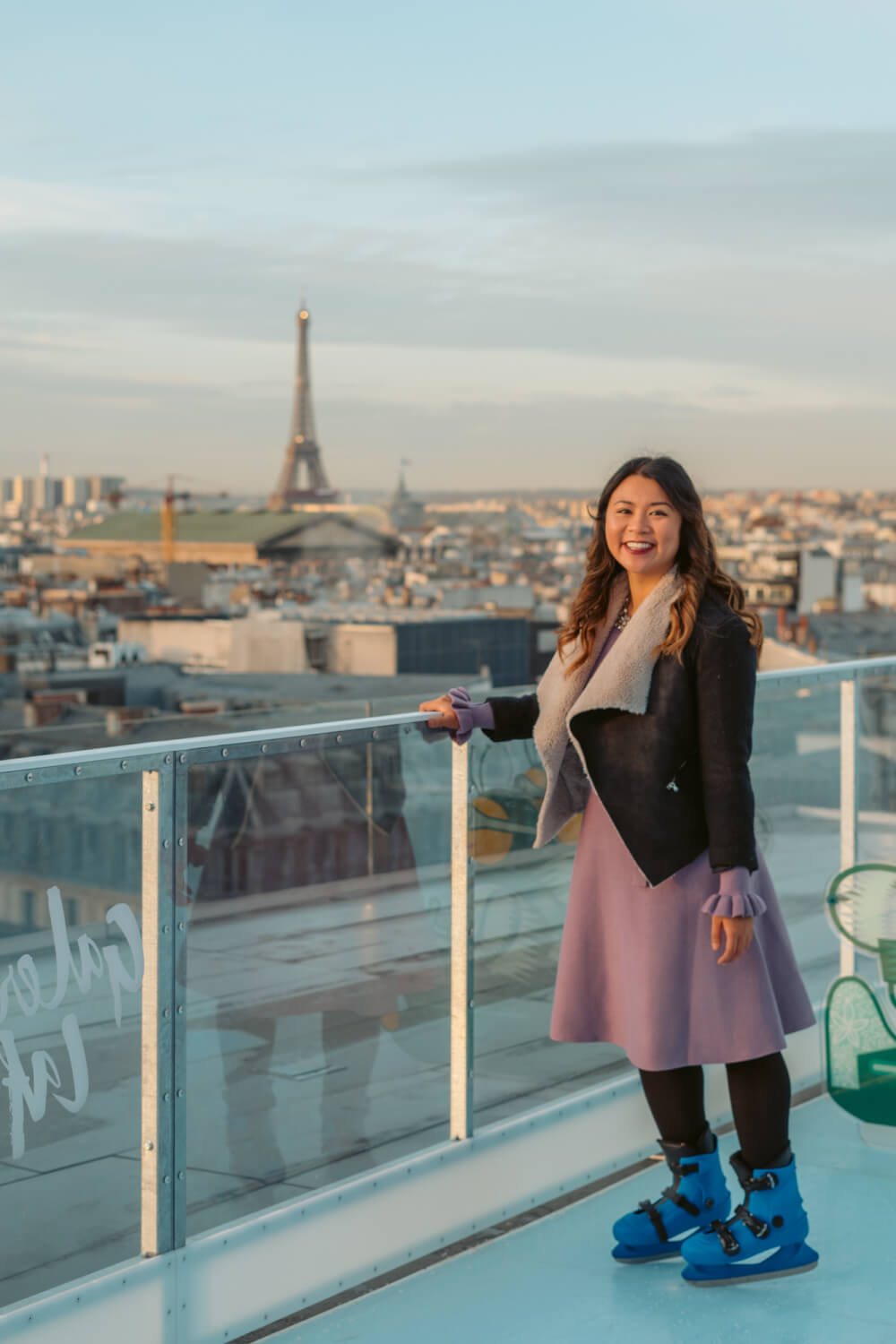 Dine in a glittery igloo on top of the Eiffel Tower
Looking for something quintessentially Paris to enjoy during the festive season? Well. Paris' Eiffel Tower at Christmas has a special surprise awaiting visitors: a boozey igloo where you can cozy up with food and drink!
This "Bulle Parisienne" can be enjoyed on the 1st level of the Eiffel Tower until March, with plenty of food and drink offers for every meal of the day… plus a DJ spinning beats every Thursday. Igloo party on the Eiffel Tower? Yup, that'll do.
Click here for more info from the official website.
Admire the stunning Christmas displays all around the city
It's hard not to be assaulted with Christmas cheer while gallivanting around Paris. Practically every storefront is jazzed up in some way, whether with twinkly lights or literal sculptures made of chocolate.
There are some places that are better than others for Christmas display spotting in Paris though. Here are a few you should definitely check out:
The Village Royal this year has giant glittery bears and balloons on display – don't miss them! They're super cute:

Paris' biggest toy store, the Village Jouéclub also has some fun displays going on this year, with a wonderfully magical Harry Potter theme!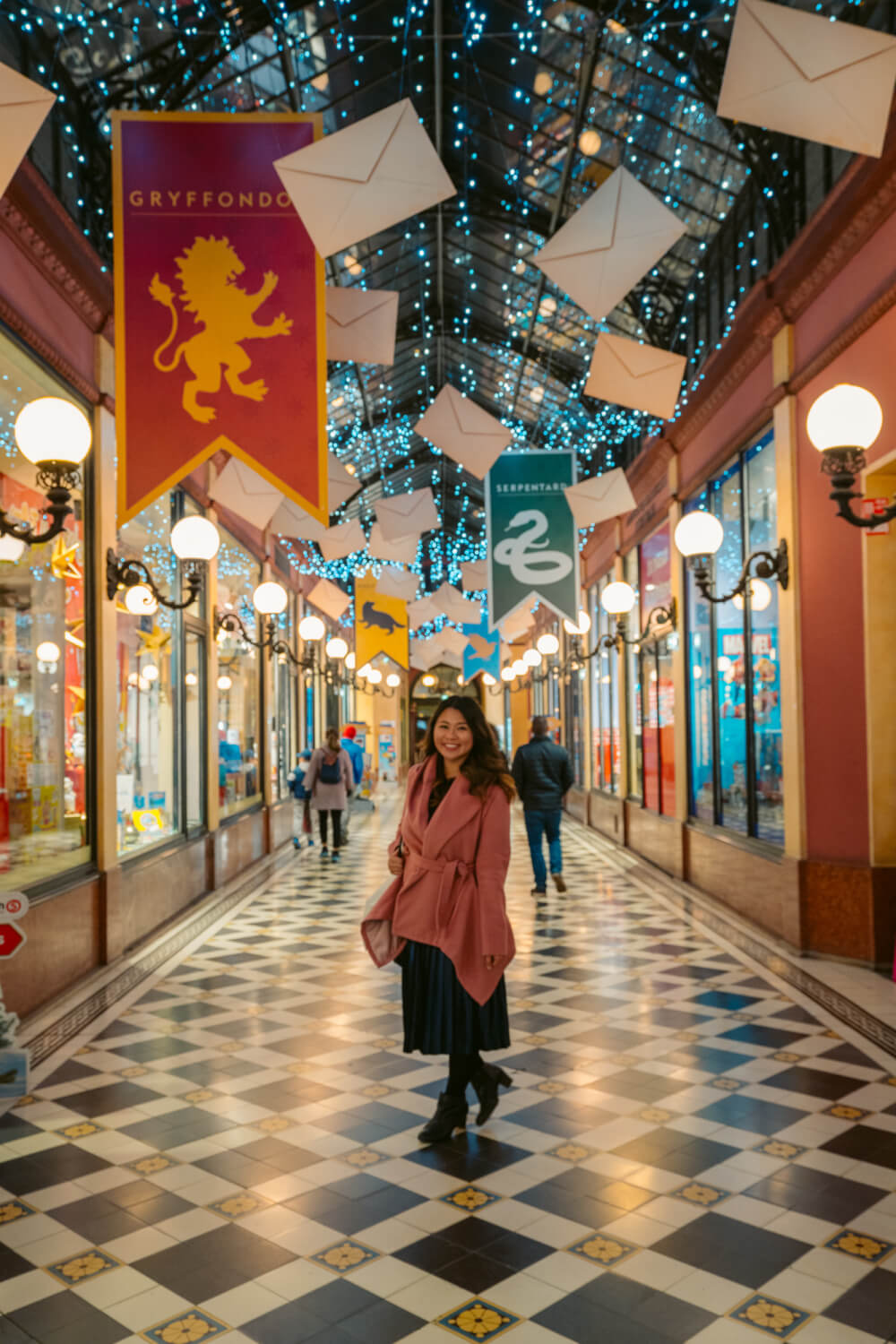 For a real life Christmas village in Paris, head over to Bercy Village, where you can find a trail of trees illuminated with unique modern light sculptures.
While I admit, there's not a lot to do at Bercy Village besides shop or eat, I do really like this little area because of its unique history.
Lining the Cour Saint-Emilion, you'll find 42 white stone storehouses left over from when this area used to host the largest wine market in the world.
Today you'll find an entertainment complex and various shops/restaurants in place of said market, but it's still a neat offbeat spot to visit, especially at Christmas when they run special shows and festive programming. Click here to learn more.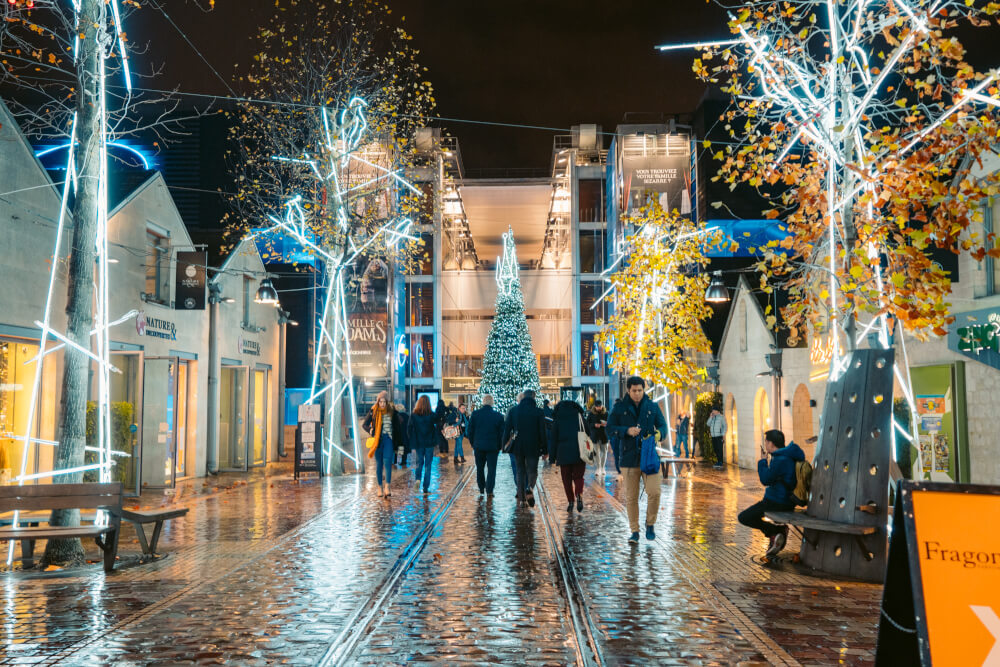 Last but not least, the iconic Champs Elysées are also worth checking out during Christmas time, with all their pretty light displays and holiday-themed storefronts.
While far from my favourite place to actually shop in Paris, of all the Paris Christmas lights I've encountered, the glittering glasses of bubbly on Champs Elysées are among my favourite, so be sure to check them out:
Go shopping on Rue Montorgueil
Of all the charming streets to skip through in Paris, the quintessentially Parisian Rue Montorgueil is a must visit, especially at Christmas time.
This charming market street is a treat for all senses, mixing beautiful facades with an indulgent parade of bakeries, cheese shops, and cafes.
In fact, you'll actually find the oldest patisserie in Paris lurking on this street: Stohrer, in operation since the year 1730.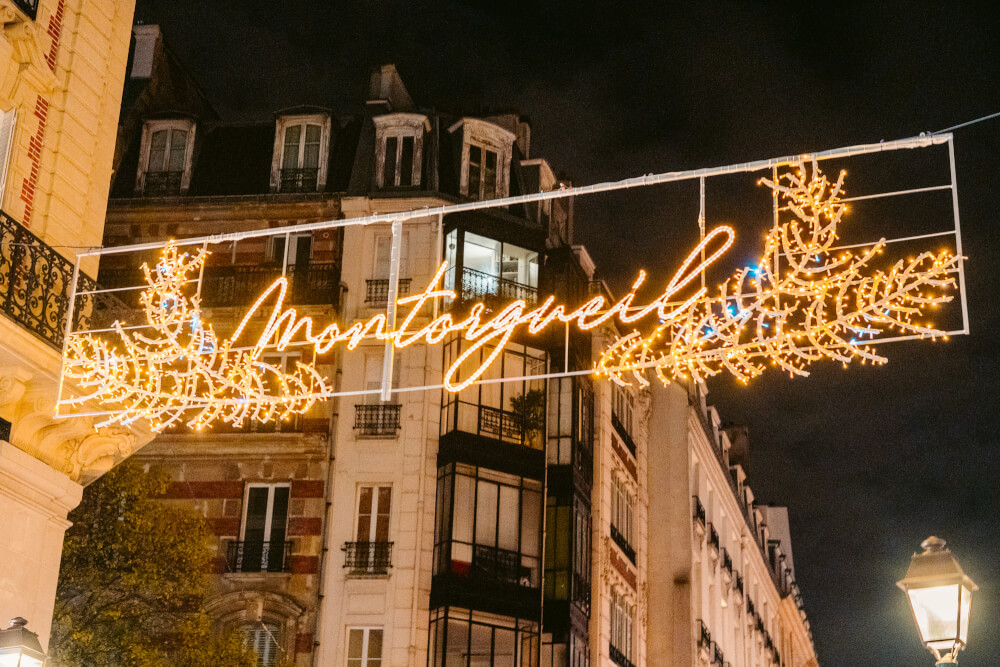 Faceplant into a stunning Parisian yule log
Known in French as a Bûche de Noël, yule logs are traditionally log-shaped Christmas cakes that are gobbled down in France during the holidays.
With Paris being extra as always though, many of the city's top pastry chefs release their own special yule log creations throughout December… some of which are beautifully creative.
If you're lucky enough to be in town during yule log season, definitely treat yourself to one, or at least take a gander at all the creative options around town!
Sadly no yule logs were available in patisseries during my November visit, but here's an example of how cool they can be: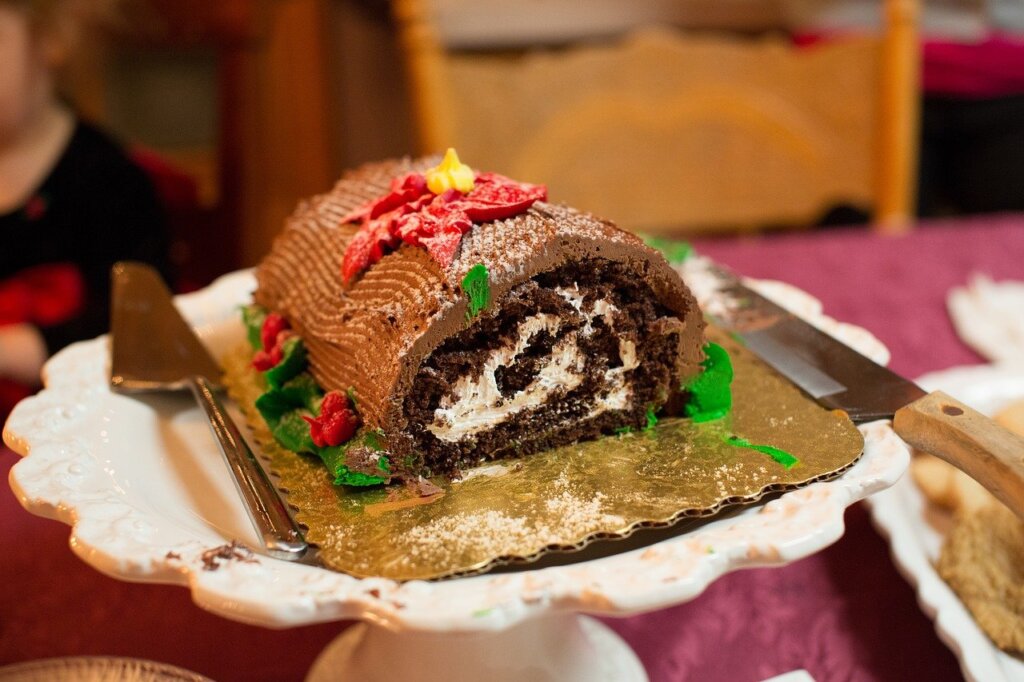 Watch a fun Christmassy cabaret
If you're looking for a glitzy and unique way to spend an evening in Paris, be sure to add a cabaret experience to your bucket list!
This year, the world-famous Paris Lido is offering Christmas packages with four course meals, champagne and even a Christmas log dessert for visitors.
Tickets are limited though so be sure to check availability well in advance of your visit here.
Enjoy boozey festivities at a magical Christmas-themed rooftop, bar, or terrace
A little known Christmas secret of Paris is that many of the city's fanciest hotels and terraces will be rolling out Christmas pop-ups where you can booze up in a festive and enchanting atmosphere.
From an igloo bar on the Eiffel Tower (as previously mentioned) to cozy chalets at the Ritz and the Park Hyatt, one of the best ways to warm up after a long day of sightseeing is a scenic drink in a sparkly, festive venue.
My personal recommendation?
Le Perchoir at the BHV Marais, a rooftop bar on top of one of Paris' most famous department stores.
This is one of the top hotspots in the city during the summer, but it's also open in the wintertime with beautiful lights and of course, one of the top views in town so you can chug your wine with Eiffel Tower views.
… and maybe one of the best light shows the city has to offer.
Click here for a nice roundup of Christmas terraces/bars open in Paris this season.
Learn to make Christmas dinner with a Parisian chef
I love taking cooking classes when I travel, so imagine my squeals of delight when I discovered you can actually book a cooking class in Paris where you prepare a three course Christmas dinner with a local chef!
I didn't have time during my visit to check it out, but I wanted to let you know about it just in case you love foodie experiences as much as me. Click here to check reviews and availability.
Go hunting for Christmas trees around the city
The Paris Christmas tree scene is pretty lit…. literally.
While I do think that the best Paris Christmas tree decorations are found at Galeries Lafayette, you'll also find dazzling displays elsewhere in the city, including Place Vendôme and Le Bon Marché.

Book a Christmas themed walking tour ft. Paris' Christmas markets and main light displays
Lastly, if you want to experience the most magical parts of Christmassy Paris with the help of a guide, several companies offer Paris Christmas tours, like this one which brings you to the top Christmas sights in Paris, and includes a free winter drink, or this one which is a bus tour that brings you to all the nicest Christmas lights in the city.
Click here for more info on the Paris Christmas lights tour.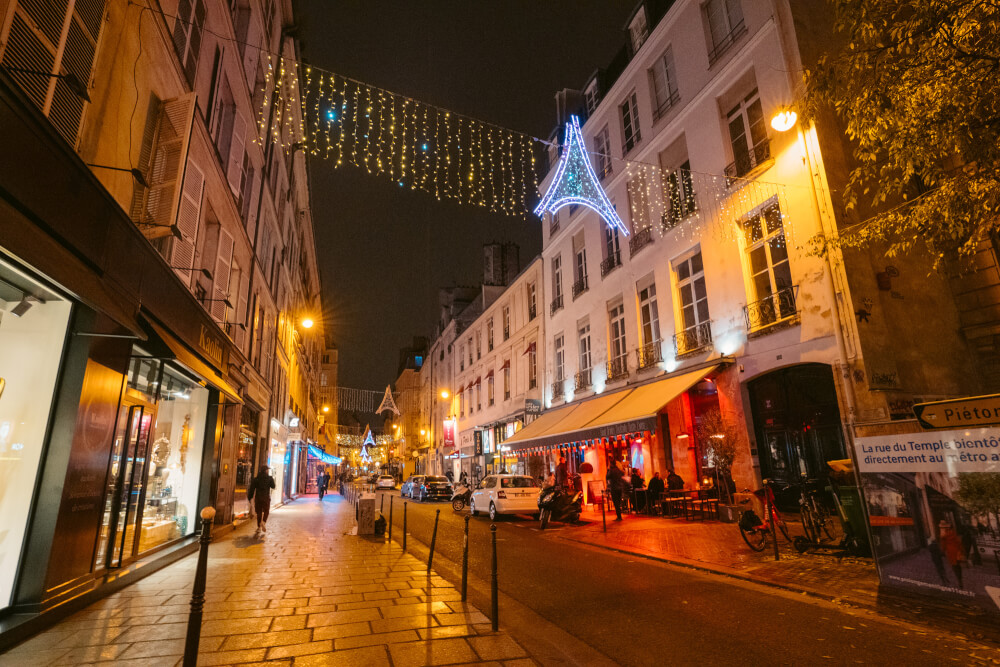 Celebrating Christmas Day in Paris
There are plenty of things to do in Paris on Christmas Day if you're lucky enough to be in town! More importantly, there's loads to eat.
As you might expect, many of Paris' restaurants shutters its doors for Christmas day proper. This site has a good list of restaurants that are open in Paris on Christmas day.
Here are some other Christmas day experiences to consider in Paris though, to make your visit extra special.
Celebrate your Paris Christmas in style at an elegant brunch
Brunch and Christmas are two of my favourite things… combine them, and I could cry.
If you have similarly strong sentiments towards the team-up of brunch and Christmas, be sure to check out the beautiful selection of Parisian restaurants who offer upscale brunches for Christmas day. There's quite a few of them, and they all look incredibly special. Click here for a list.
Enjoy Christmas dinner in Paris….. on a river cruise along the Seine
If you're looking for a very special Christmas celebration in Paris, consider booking yourself on a delicious dinner sightseeing cruise on Christmas day.
The reviews on this one are unanimously fantastic, with sailings available on both Christmas Eve and Christmas Day.
If you're looking for a truly magical and unforgettable experience during your Christmas day in Paris – this would be a great idea. Click here to check prices and availability.

Or simply book a Christmas lunch cruise
For a more affordable option on Christmas day in Paris, you can also book a lunchtime river cruise which includes an all-inclusive menu cooked on board. Click here to check availability.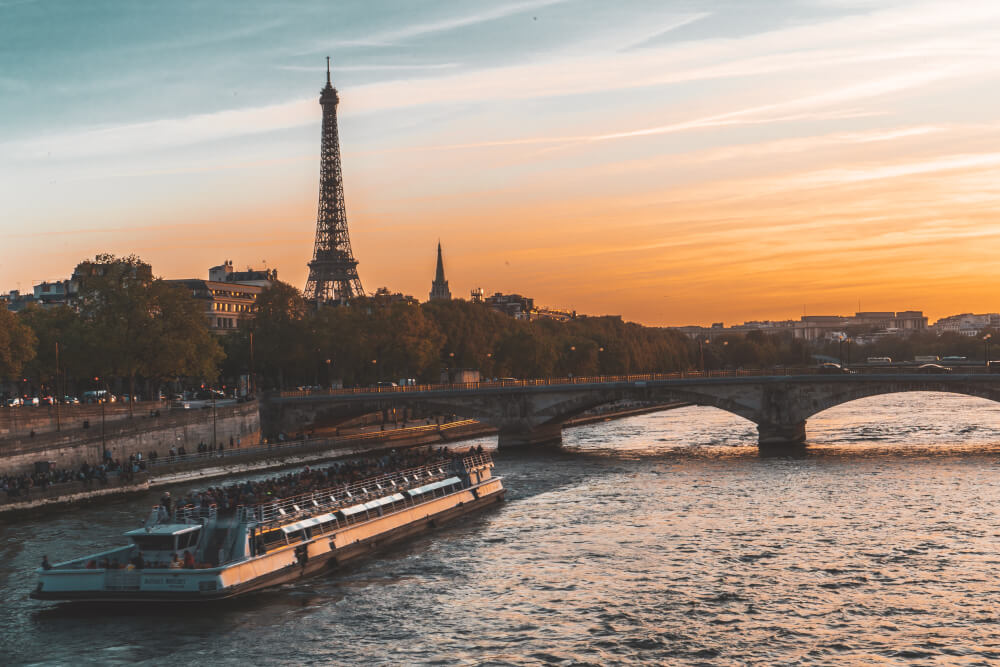 Go window shopping
Just because most shops are closed on Christmas day doesn't mean its stunning displays and lights are!
Paris is known for its elaborate shop windows and this is still something you're able to take advantage of even on Christmas day itself.
Check out the Eiffel Tower on Christmas Day
Lastly, while you won't find a ton of places open in Paris on Christmas day, one reliable bet is the Eiffel Tower, an iconic attraction that remains open on Dec 25.
That's right – shameless cheesy tourist fun never sleeps!
Click here to see other main Parisian monuments open on Christmas day in Paris.
Other Things to do in Paris at Christmas Time (That Aren't Christmassy, but Still Magical)
Last but not least, if you're still looking for some things to do during your Paris Christmas trip, here are some ideas that aren't necessarily Christmas-themed, but nonetheless magical must-dos during your trip!
Immerse yourself in art at the Atelier des Lumières
If you're looking for an indoor activity that will absolutely blow your mind (and maybe make you cry twice), I cannot recommend the Atelier des Lumières enough.
This immersive art experience brings amazing artwork to life through moving projections on the walls, coupled with music and dazzling lights.
Visit before January and you'll be able to catch the Van Gogh and Japon Rêvé experience that I went to. Seriously, it was so good, and I'm not joking about the crying twice thing… they're even open on Christmas day! Click here to visit their official website.
Escape the chill by exploring Paris' covered passages
The covered passages of Paris are one of my favourite little eccentricities of the city – covered shopping arcades crammed with tiny boutiques, cafes and restaurants.
Once upon a time, the city boasted over 150 of these, of which only a few dozen remain, all in the city's right bank.
These beautiful passages become only more magical at Christmas time, with elaborate strings of twinkling lights, bright red baubles dangling from the ceiling, and of course, an ample dose of Christmas magic sprinkled along the enchanting storefronts.
The Maison du Roy at Passage Jouffroy is especially known for its stunning Baroque Christmas displays and the impossibly pretty Gallerie Vivienne sparkles like no other once Christmas comes along.

Whether to rescue your fingers from the biting cold or to simply add some variety to your wistful Parisian wanderings, be sure to dip into a passage or two!
You might even happen upon a filming location that you recognize, like these from Emily in Paris.
PS: If you're exploring Paris at Christmas with kids in tow, you can even book a special Christmassy scavenger hunt of all these passages. Click here to check prices and availability.

Drink your weight in hot chocolate at a cute cafe
There's no bad time to be enjoying hot chocolate in Paris, but there's something about the Christmas spirit engulfing the city that seems to give you a free pass to not count calories and to indulge, indulge, indulge.
One of my personal favourite things to do in Paris at wintertime is to cozy up with a giant mug of hot chocolate… which you'll find no shortage of in this city.
Angelina is a Parisian institution that many love for their thick drinking chocolate and elegant tea room, but if I can be honest, my tastebuds far prefer the delicious hot chocolate at the Lindt Cafe!
Is it the most Parisian experience? Not exactly, but trust me when I say I would take a bullet for this hot chocolate. Try one with whipped cream and your life will be changed.
Warm up in a museum
If it gets too cold walking around outside, the good news is you have dozens of amazing world class museums to choose from as your warming room du jour.
Besides the Louvre and the Orsay which are of course very well-known, Paris has over 100 museums that you can visit.
I highly recommend getting a Paris Museum Pass here – it's one ticket that gets you skip-the-line access at many of Paris' most important museums.
I got one the first time I visited the city and saved a lot of money because I milked it for all it was worth! Click here to check prices and availability.
Enjoy stunning chocolates and pastries
Last but not least, can I really talk about Christmas in Paris without at least a quick shoutout to the city's unreal pastry scene?
In the name of unhinged decadence, I command you get yourself to a patisserie anytime hunger calls and gorge yourself on the variety of beautifully decorated pastries and chocolates up for grabs.
As a bonus, many of these shops deck themselves out in Christmas decor too.
Any more questions about Christmas things to do in Paris?
I hope you enjoyed this guide to Have the most magical Christmas vacation in Paris! Be sure to stuff yourself silly for me.
---
Watch my most popular YouTube video this week:
---