*FYI - this post may contain affiliate links, which means we earn a commission at no extra cost to you if you purchase from them. Also, as an Amazon Associate I earn from qualifying purchases. Check out our Privacy Policy and Disclosure. for more info.
When it comes to Yuletide street cred, few events in the world hold a candle to Strasbourg Christmas Market, a place so magical, it's known as "the capital of Christmas".
… In fact, it's a title so official, you see it emblazoned in glittery lights upon arrival to the city.
But while that's one wildly bold (borderline braggy) reputation to uphold, it seems Strasbourg does so with ease.
One quick Google of the world's best Christmas markets and you're bound to find Strasbourg on the list.
And, after experiencing a truly unhealthy amount of Christmas markets in my lifetime across Germany, Switzerland and now the Alsace, I knew I needed to see for myself.
And this year was the year!
I'm happy to confirm that after rolling through the streets of Strasbourg like a doughy gingerbread ball (for "research"), Strasbourg does indeed live up to all the Chrismagical hype that surrounds it, and somehow even exceeds expectations.
Save this post on Pinterest for later: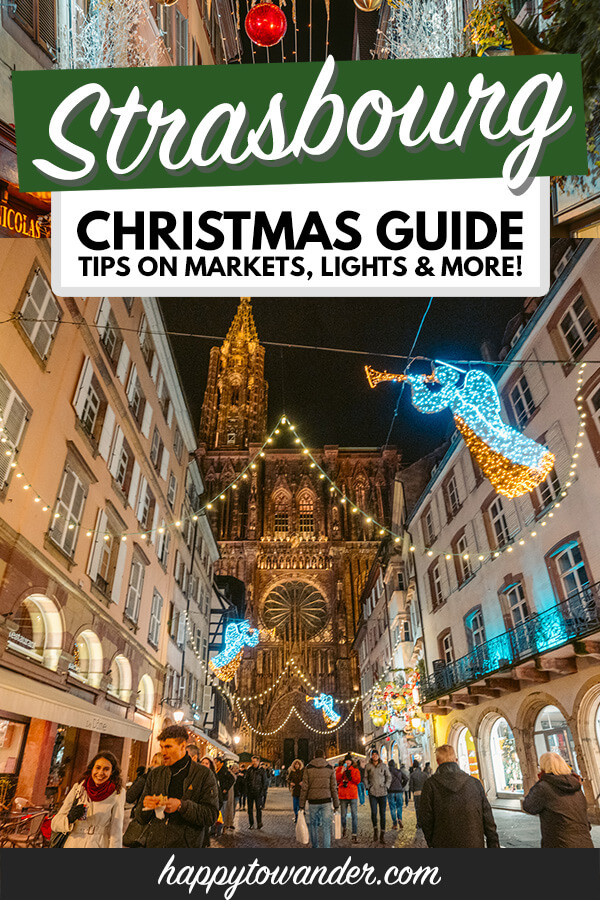 But it's just better if I show you.
SO, read on because in this post I'm going to guide you around my personal favourite Strasbourg Christmas markets and give you the low down on what it's like in this truly magical Christmas city.
With 10 markets to explore, there's a little something for everyone whether you're after a traditional market experience, a place to shop for local foods, or an alternative twist on Yuletide fun.
Spoiler: the best markets aren't actually the most famous ones… so keep reading if you want to find out alllll about the best gems in this Christmas capital, along with where to find the best Christmas facades, where the prettiest lights are, what to eat, and um, where to find a Lebanese dance party.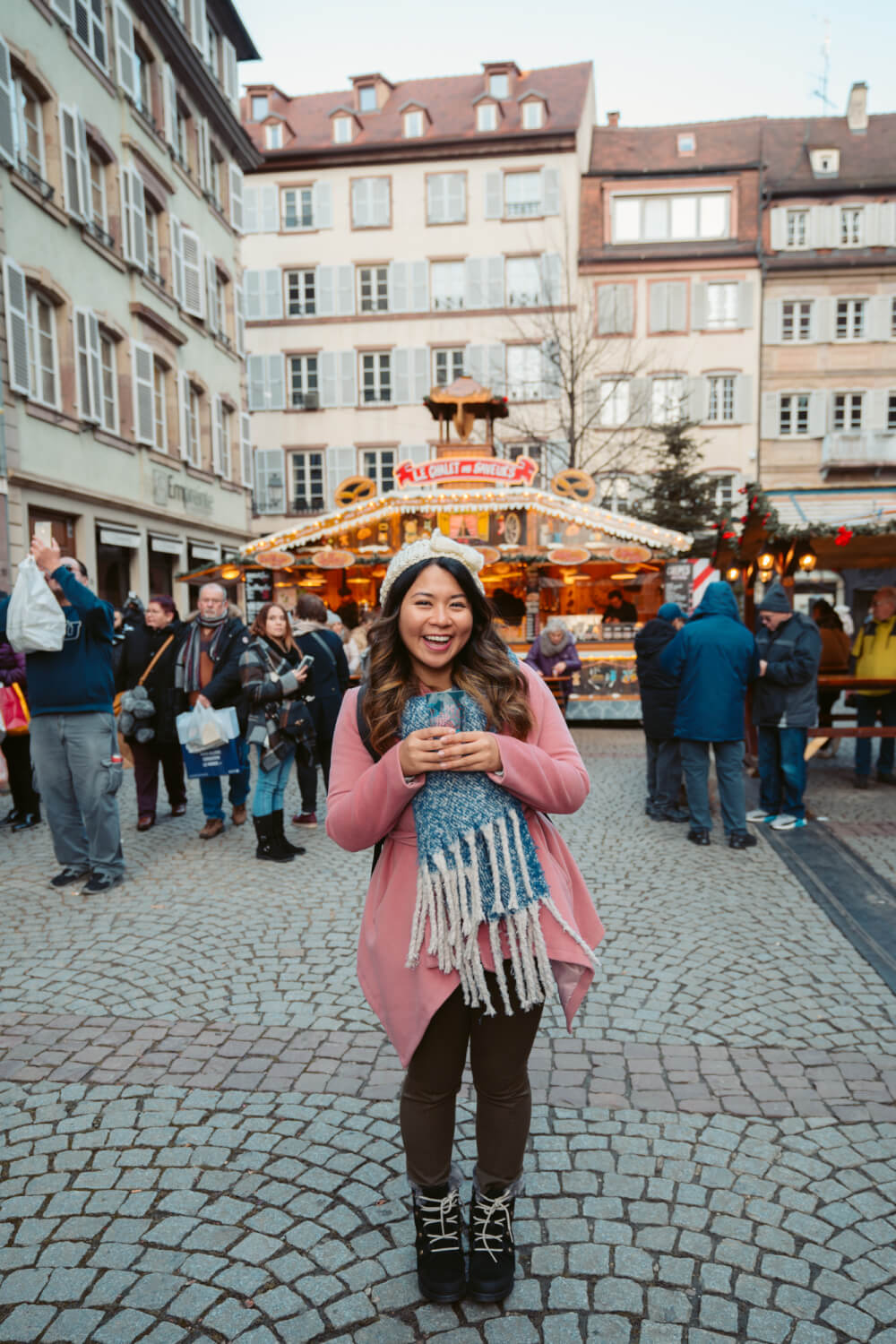 Strasbourg Christmas Market: Important Must-Knows
Alright before we get to the good stuff, here are some practical Strasbourg Xmas market facts for you:
Strasbourg Christmas Market Dates: November 24 – December 24, 2023
How to Get to Strasbourg:
Strasbourg is a city extremely well connected by train (about 2.5 hours from Paris) and it also has its own international airport.
To find the best deals, I always use Omio to compare/book transport options. It's a free tool that shows you the different ways to get from Point A to Point B and lets you sort based on price, times and convenience.
I'd definitely recommend using it to find the best deal from your departure point!
Where to Stay Near Strasbourg's Christmas Markets:
My friends and I booked a room at this central hotel during our trip and it was great! Not only was the location absolutely perfect – the price was fantastic given we were staying in peak season on a weekend.
The room itself was really clean and the beds are really comfortable as well – definitely a great budget-friendly yet stylish option.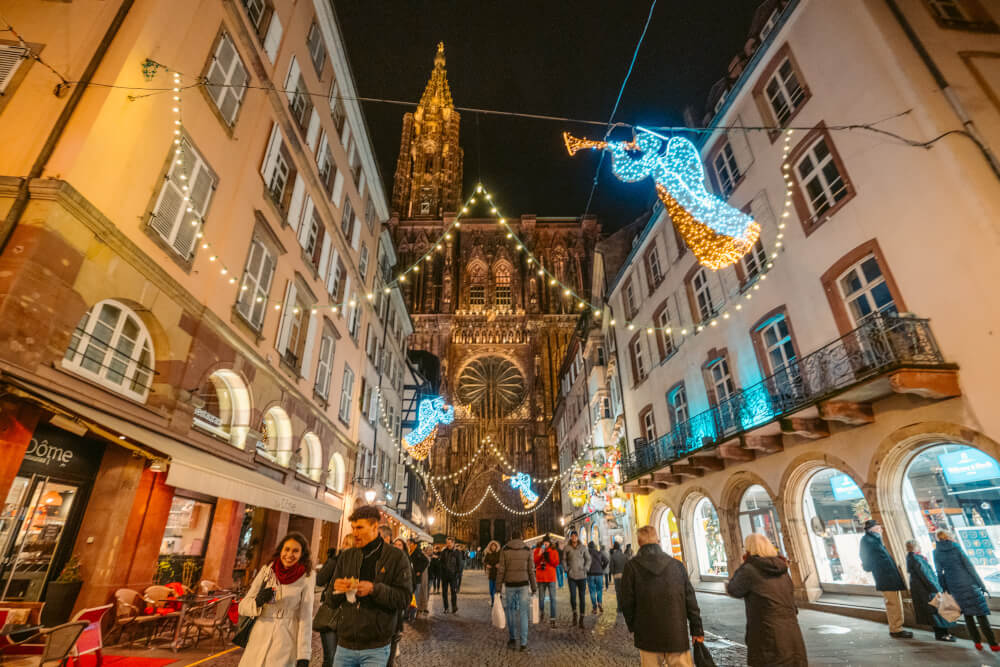 Strasbourg Christmas Market Locations
There are several Christmas markets scattered around the Strasbourg city center. Here are the main locations that you can't miss:
1. The Strasbourg Christmas Market at Place de la Cathédrale
While this is hands down among the most touristy Christmas market in Strasbourg, the stunning backdrop in this square (coupled with a buzzing atmosphere) makes it well worth a visit.
Located around Strasbourg's most famous landmark, the Strasbourg Christmas Market at Place de la Cathédrale features a few clusters of stalls surrounding the majestic Cathédrale Notre Dame de Strasbourg.
Here, you'll be able to throw your coins at the usual suspects of every Christmas market haul, including cookies, tree decorations, and of course, vin chaud, AKA mulled wine.
Personally, I didn't find a ton of great stalls for unique shopping here, but big chalets serving hot goblets of vin chaud are a dime a dozen, so this is a nice market to visit for a warm drink and to enjoy the beautiful backdrop… although the crowds at peak hours can make relaxing tough.
Don't worry though, there are plenty of other Christmas markets in Strasbourg to enjoy that are way less crowded and more intimate. I'll share some of my favourites below.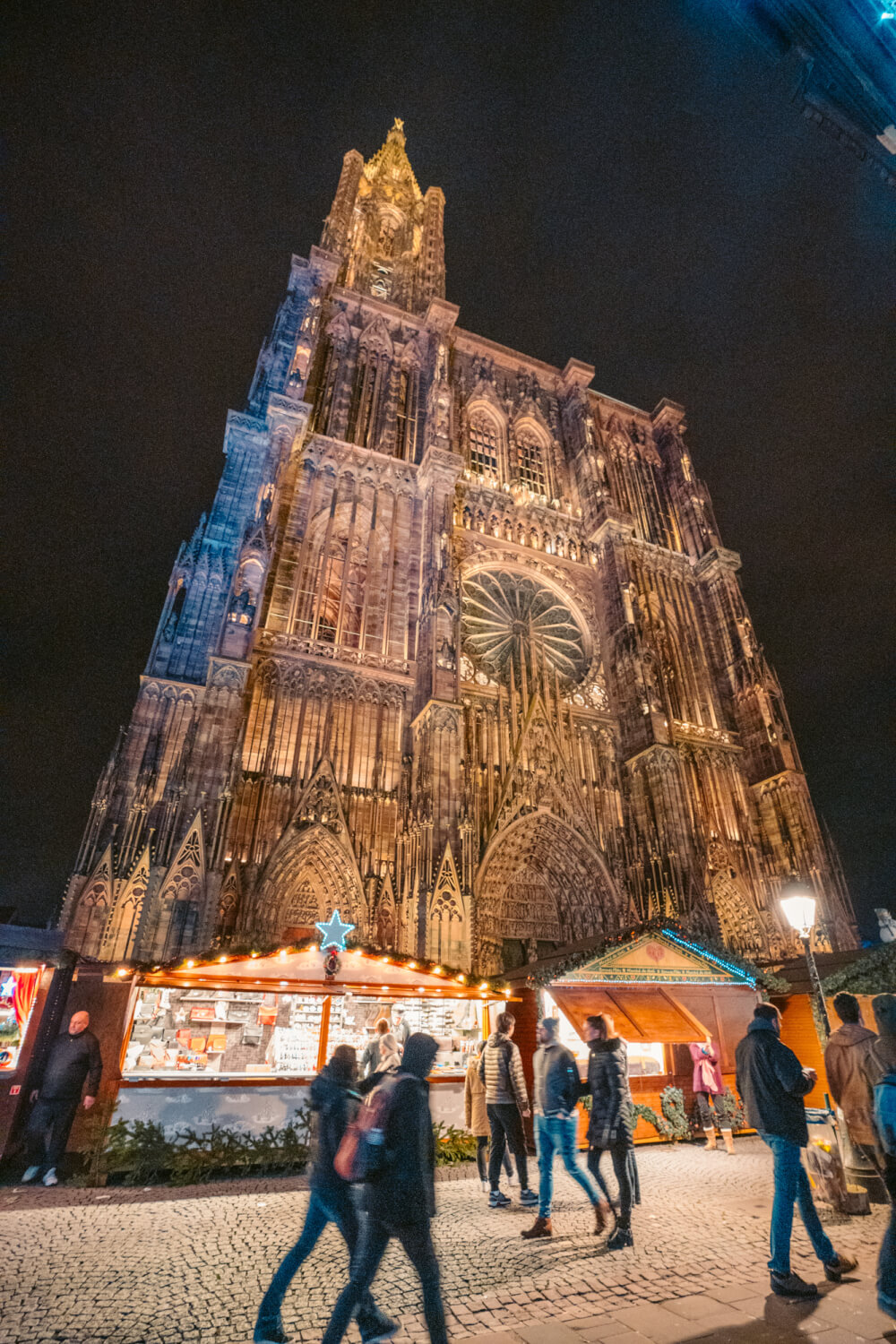 2. The Christkindelsmärik at Place Broglie
Before we hop onto the more alternative recommendations, I need to quickly mention Strasbourg's oldest Christmas market: the Christkindelsmärik at Place Broglie.
This is definitely among the liveliest of Christmas markets in Strasbourg, but its beautiful central location and fame comes with one consequence: painfully large crowds.
While I really liked the location and food options at the Christkindelsmärik, I would also say it's not my favourite for shopping or relaxing, mainly because many of the stalls sell mass produced goods that you find at most other European Christmas markets, and the market paths can get really congested.
But that's not to say you shouldn't visit this historic market.
After all, it's one of the oldest in Europe and set in a beautiful square.
While I wouldn't come here to do all my shopping or hang out for a long time, I would 100% come here to eat, because the food selection here is leaps and bounds better than most of the other Christmas markets in Strasbourg.
From fresh pretzels and spaetzle to knack sausage and crepes, you'll find loads of potential indulgences.

3. The OFF Christmas Market at Place Grimmeisen
Alright, now we can move onto some of the cooler more offbeat markets we visited!
For an alternative Christmas market experience in Strasbourg, be sure to head over to Place Grimmeisen where you'll find the OFF Christmas market.
In a sea of traditional Christmas markets, this too-cool-for school market really is something special.
A dazzling LED tree shines in the corner, with vendors all around, wares displayed in repurposed shipping containers, transparent igloos and wooden chalets.
In the center, there's a dining space where keg-turned-stools offer plenty of seating for locals and tourists alike, and really, this is a much more relaxed place to unwind than some of the more well-known markets above.
While the product selection here is quite small, it's nice and unique, with a variety of local products like chutneys, wines, and art on sale, along with a little area selling used toys for low income families.
Be sure to grab yourself a cup of their plum mulled wine too – it's slightly spicy and delicious!
For the ultimate guilt-free sip, be sure to return your cup to one of the red cup collection boxes. Doing so will turn your deposit into a 1 euro donation to support homeless residents of Strasbourg.
The Small Producers of Alsace Christmas Market at Place des Meuniers
Another few great markets in Strasbourg revolve around local food, which (if you know me at all) is something I can very much get on board with!
If you want a chance to support local producers and stock up on delicious local goodies, then you have a few different options.
The first is the Small Producers of Alsace Christmas Market, which is a must visit by night thanks to the twinkly colourful stars suspended above the market.
Here, you'll find award-winning Bredele cookies, truffles, mushrooms, local craft beer and more to sample and purchase.
The atmosphere here is really something special – just see for yourself:
The Alsatian Delicacies Market at Place du Marché-des-Poissons and the Patio of Palais Rohan
Another Strasbourg Christmas market where you can stock up on gifts from local producers is the Alsatian Delicacies Market, probably my personal favourite of all the Christmas markets in the city.
This idyllic little market is located along the water, with a long line of chalets selling local goods but with a special focus on local wines and craft beers.
This is the perfect Christmas market in Strasbourg to visit at sunset.
They have a lot of tree stumps to sit on (yes, it's comfier than it sounds) and a great view over the water.
I highly recommend getting yourself a glass from Domaine Vierling – their sparkling white wine was so good I bought three bottles to take home!
The International Guest Christmas Market at Place Gutenberg
One unique feature of the Strasbourg Christmas market scene is that every year, they welcome a guest country to host their own little market.
After guest stints from Finland and Iceland, the country of honour the year I visited (2019) was Lebanon.
Alongside a glittering blue Christmas tree (and an accompanying glitter bear), I saw dozens of stalls selling delicious Lebanese food and handicrafts. I even spotted a Lebanese cedar tree (with a label that indicated it was – don't worry, I'm not that adept at identifying trees).
This was one of my favourite Christmas markets we visited in Strasbourg because of its unique energy and food! I tried a deep fried potato dish called Batata Harra sprinkled with pomegranate seeds and it was truly a life-changing experience… I hope to write a memoir about it someday.
Anyways, memoir or no memoir, I'd highly recommend running to this unique Strasbourg Christmas market at your first convenience… and feel free to shimmy your way in because the vendors here love a good dance party – I spotted it myself while eye-ing all the delicious eats!
The Carré d'Or Christmas Market at Place du Temple-Neuf
Located in the shadow of the protestant church of Temple Neuf Strasbourg, you'll find the Carré d'Or Christmas Market, one of my favourite smaller Christmas markets in Strasbourg.
I honestly loved the vibe of this cozy market, with a handful of little stalls selling unique gifts and vin chaud with actual mugs rather than the sad plastic cups you see elsewhere in Strasbourg!
The stalls here are an eclectic mix of local delicacies like foie gras, handmade gifts like gold-dipped bookmarks and Christmas market classics like fuzzy socks and slippers.
I admit this is where I adopted a rather wonderful little panda slipper that I've named Roy. A few vin chauds might have factored into that decision, but I regret nothing.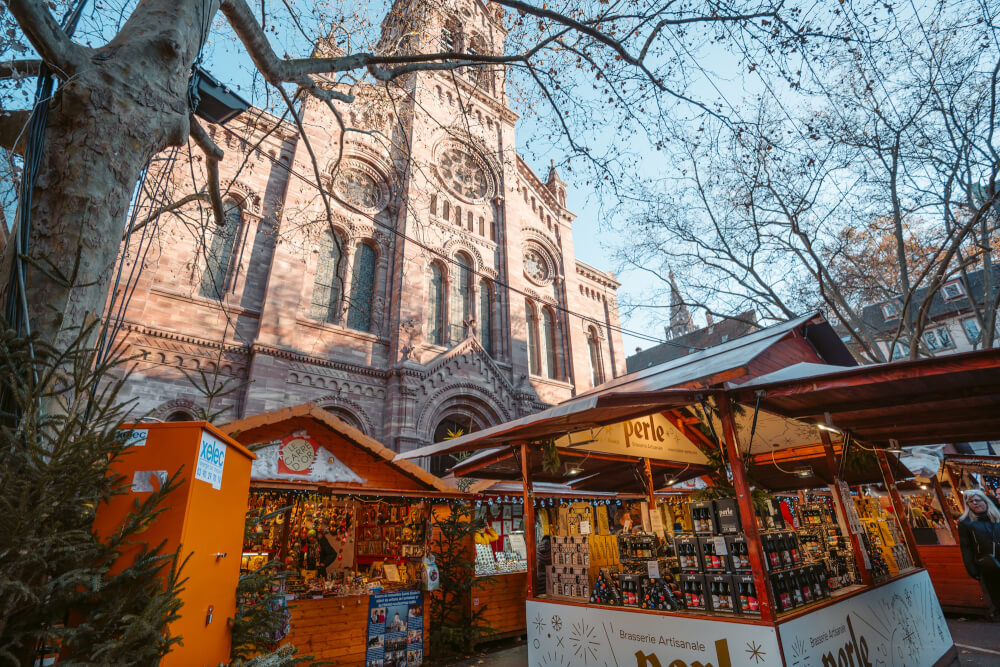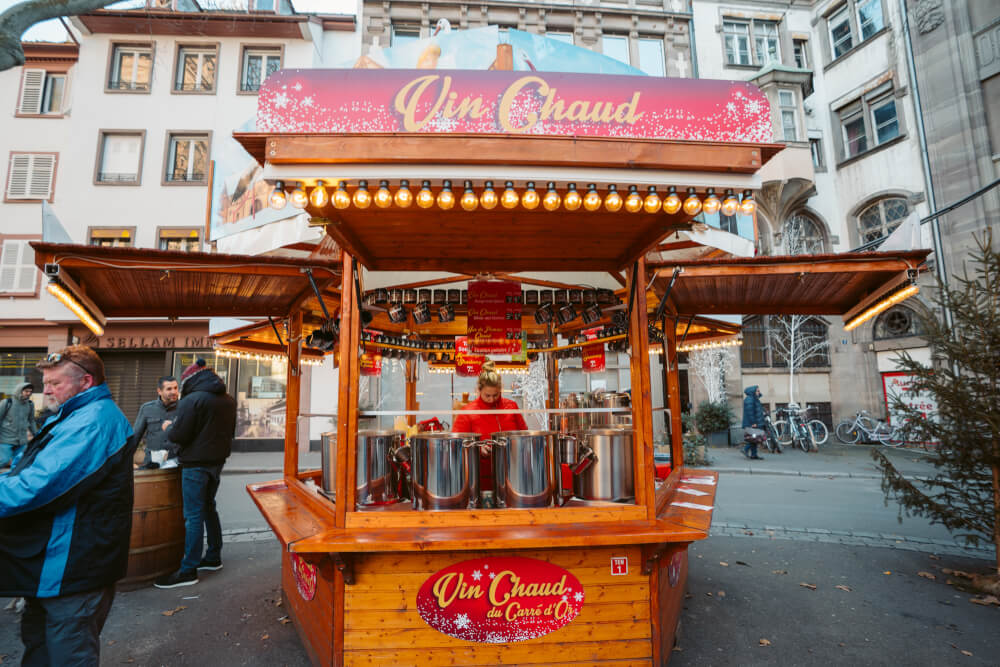 PS: Getting to this market is half the fun of the experience.
From Strasbourg Cathedral, be sure to follow the lit-up trail that says "Carré d'Or" – it'll bring you down Rue des Orfèvres, home to some of the prettiest Christmas facades in Strasbourg.
Look down the different side streets here too – Rue du Chaudron is especially gorgeous.
The Small Christmas Market at Place Saint Thomas
Last but not least, there's the small and cozy Christmas market at Place Saint Thomas.
While not huge, what I liked about this Christmas market was how relatively crowdless and peaceful it was compared to some of the larger options in the city.
I also spotted a fun stall selling creative bike bells!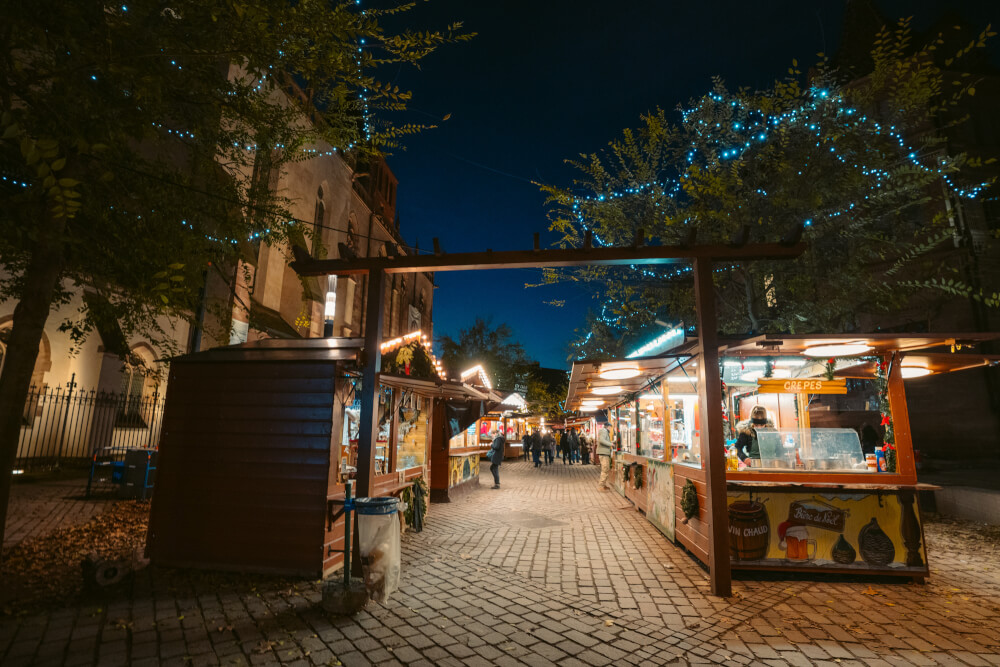 What to Eat and Drink at Strasbourg Christmas Market: 10 Must-Haves
Now onto the good stuff – the food! What is there to nosh on at Strasbourg's many Christmas markets? Here are some ideas:
1. Flavoured Vin Chaud
Vin chaud, AKA hot wine mulled with spices is a must-drink at any Christmas market, but what I most appreciated about the Strasbourg Christmas Market in particular was the huge variety of different flavours you could get.
While German Christmas markets can be a bit more purist in their wine mulling ways, I spotted all kinds of unique flavours around the Christmas markets in Strasbourg, including plum at the OFF Market (really tasty!) to raspberry in front of the Cathedral (less tasty).
They even have non-alcoholic versions and special flavours for kids.
This is by far my favourite way to warm up during Christmas market season, and I'm sure you'll feel the same. ; )
2. Alsatian wine
Alsace is one of the most important wine regions of France so naturally, if you're a wine drinker, you need to treat yourself to a few glasses.
One great place to relax with a glass of wine is the Christmas market at Place du Marché-aux-Poissons because of its beautiful location along the water and of course, its spotlight on local Alsatian specialties.
I enjoyed a sunset glass of sparkling wine from Domaine Vierling (okay, fine, I had two) and loved it so much I lugged three bottles home with me to Munich.
3. Grumbeerekiechle (AKA Galette de Pomme de Terre) with Munster Cheese
These crispy hashbrowns are a local take on Kartoffelpuffer, one of my favourite German Christmas Market foods.
While in Germany, it's common to enjoy these crispy wondercakes with apple sauce, I was delighted to see that the Alsatian way involves significantly more gooey cheese…
And so, on one cold hangry night, we bought a stack of three Grumbeerekiechle to tide us over until dinner time and oh my gosh, I have to tell you it was so good I almost cried.
We got ours (3 pieces of Grumbeerekiechle with Munster cheese on top) at the Chalet de l'Opera at the Christkindelsmärik at Place Broglie and there are no words for how delicious it was.
I'm drooling a puddle over my keyboard just thinking about it.
4. Spätzle
One of my favourite comfort foods in central European cuisine is Spätzle, a bouncy kind of noodle/dumpling usually served with cheese.
You'll find Spätzle being served in giant pans all around Strasbourg Christmas Market, so be sure to grab yourself a portion to try… I warn you, your first will certainly not be your last.
5. Tarte/Baguette Flambée
One of my favourite things to eat in Alsace (well, anywhere really) is their famous tarte flambée, known in German as Flammkuchen.
These are basically thin crispy flatbreads topped off with creme fraiche and a variety of toppings, typically onions and bacon bits.
They are so so delicious, and quintessentially Alsatian, so if you want a typical and delicious snack, be sure to grab one of these!
In Strasbourg I also saw several stalls doing a variation with baguettes which I'm sure are also delicious.
6. Choucroute
Choucroute is typically served as a heap of sauerkraut with an array of mysterious steamed meats on top.
Not really my favourite dish in the world, thanks to my aversion to sauerkraut and the lack of gut-busting carbs…
BUT it's really one of the most typically Alsatian dishes that you can try, so if you want to sample something traditional, this is it!
You can even find Choucroute sandwiches at the Christkindelsmärik.
7. Knack d'Alsace
Speaking of local specialties, if you're in the mood for sausage (please take your head out of the gutter, please), then consider choosing a local sausage known as a Knack.
These sausages are so-named for the "knack" sound that they make when bitten into.
Famed for their crispy outer skin and smoky flavour, you'll be able to find them at most sausage stalls around the different Christmas markets in Strasbourg.
8. Fresh Pretzels
You'll find fresh pretzel stands all over Strasbourg's Christmas Markets, and they're the perfect cheap but filling snack that you can have on the go.
Often you'll find specials when you buy multiple at once, and some stalls like this one at the Christkindelsmärik even sell hot ones with cheese on top!
I'd highly recommend buying hot pretzels because they're less likely to taste tough and stale – my friend Sophie bought one that was dry as bricks which would definitely not be a good surprise!
9. Lebanese Food
As I mentioned above, one of the best unique parts of the Strasbourg Christmas Market scene is the international market that they host every year with a new host country in Place Gutenberg.
For 2019, the guest of honour was Lebanon, which meant an amazing selection of Lebanese goodies to try.
I personally tried some Batata Harra, deep fried potatoes cooked with spices and topped with pomegranate seeds and would literally ship someone my left arm for another portion.
It was SO good, and one of the best things I ate during my entire Christmas market road trip, so be sure to try some if you can, along with the myriad of other delicious Lebanese dishes on offer.
10. Noodles at La Mian
Okay, so this isn't a Christmassy recommendation at all but if you, like me, grow weary of stuffing your face with cheese and sugar non-stop and begin to crave "real food", then definitely make your way over to La Mian for some ridiculously delicious hand-made noodles.
These are some of the best noodles I've had in Europe, and coming from a Vancouverite, that's pretty high praise.
The noodle soups here will warm your soul and make you forget all the fried potatoes you've consumed throughout your Christmas market exploits.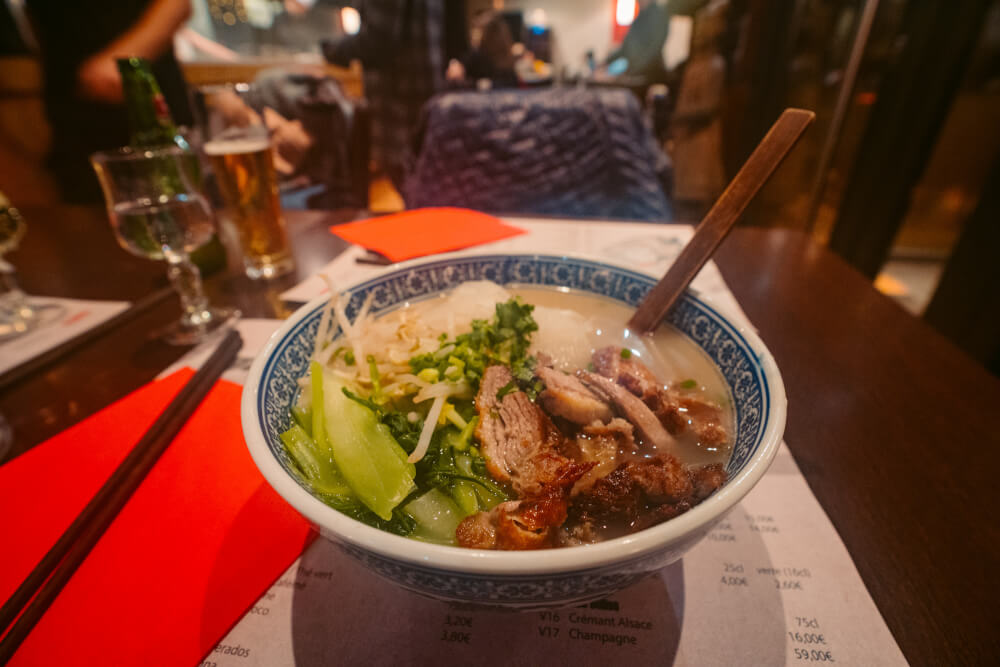 What to Buy at Strasbourg Christmas Market
Now onto the shopping! Which souvenirs should you make sure to get? Here are some of my picks:
Bredele
One of the most ubiquitous treats I spotted at the Strasbourg Christmas Market was Bredele, little biscuits/cakes that are prepared for Christmas time and sold in gorgeous assorted packages.
Virtually every Christmas market in Strasbourg has a stall selling these but I noticed that the Small Producers of Alsace Christmas Market at Place des Meuniers had one stall with several awards on display so if you want the real deal, head there!
Local food products
Alsace is known for a variety of foodie specialties including their foie gras, wine, and cheese.
In my opinion, taking some local products home with you is always the best souvenir to share with family and friends, so be sure to stock up if your luggage allows!
(Or even if it doesn't. I'm not embarrassed to admit I held three bottles of wine with my bare hands on the train home to Munich)
Golden bookmarks
I first spotted these awesome bookmarks a few years back at the Montreux Christmas Market and was so happy to see them around a few of the Christmas markets in Strasbourg.
They make really cool unique gifts and come in all kinds of epic designs, so keep an eye out for them:
Alsatian wine glasses
Drink enough glasses of Alsatian wine (which I trust you will) and you might begin to notice a recurring pattern of stubby little wine glasses with green glass stems.
Supposedly, the wide bowls bring out the floral notes of the region's aromatic white wine and the green stems reflect the pale colours of the wine itself. While I'm certainly no expert in wine glass history, I do know one thing for sure: these glasses are cute and oh so Alsatian.
I spotted this stall selling them at the Christkindelsmärik:
Chocolate
It won't be difficult to find unique chocolate gifts at the Strasbourg Christmas Market.
I spotted for instance one stall selling unique tools and items made out of chocolate, including a camera! There was also a chocolatier at the OFF Market with a huge line-up.
Gingerbread Cookies and Hearts
One of my favourite souvenirs to gift people from Christmas markets are gingerbread hearts.
Make no mistake – these really aren't that great for eating, but they're incredibly durable and adorable gifts that last a shockingly long time as decoration (I have one that looks exactly the same after 4 years… maybe that will show you why it's not too tasty to eat!)
You'll find a lot of confectionary stalls around the Strasbourg Christmas Market circuit selling special ones with Strasbourg written on them, which to me is the sweetest and most adorable souvenir you can bring home.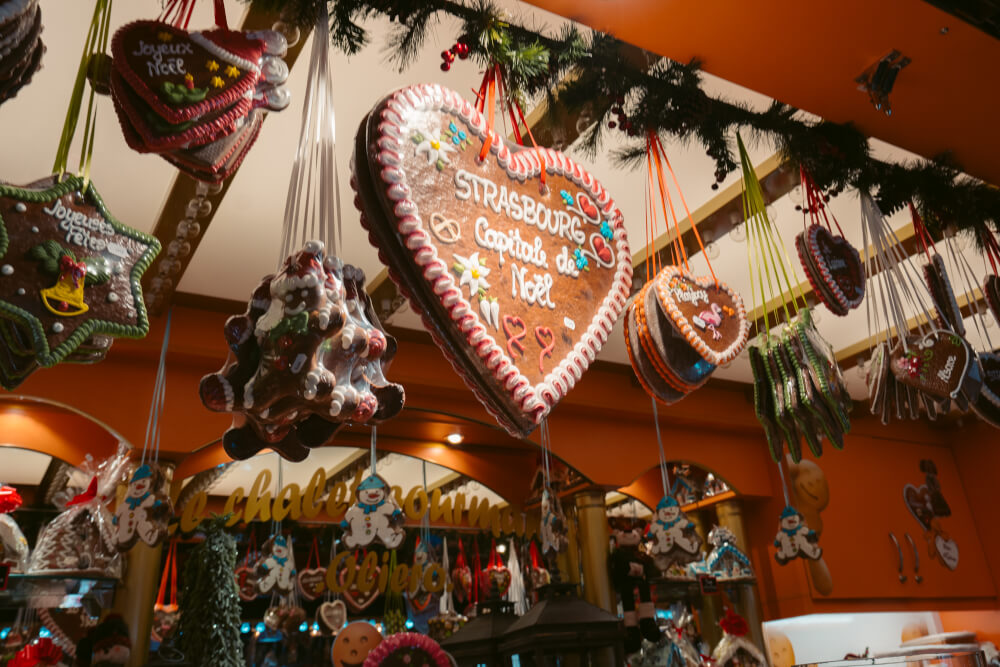 Beautiful Christmas Storefronts and Displays in Strasbourg
One of the things that makes Strasbourg so ridiculously special at Christmas time is its beautiful decor all around the city, particularly on storefronts and along some of the main pedestrian streets.
Here are some beautiful Christmas places in Strasbourg that aren't actual markets, but worth passing by anyways because of their impressive flaunting of Christmas spirit:
Rue des Orfèvres
Hands down, this was one of my favourite streets to stroll down in Strasbourg, with (I would argue) the highest density of prettified Christmas storefronts, including a lovely pastry-themed display at Pains Westermann, Saint Sépulcre Restaurant with its whimsical penguin/polar bear display, and the beautiful winter decor at Maison Naegel.
While it does get rather congested during peak hours, this is a beautiful little street connecting the Christmas market at Strasbourg Cathedral with the cozy Carré d'Or Christmas market, so you need to make sure you visit!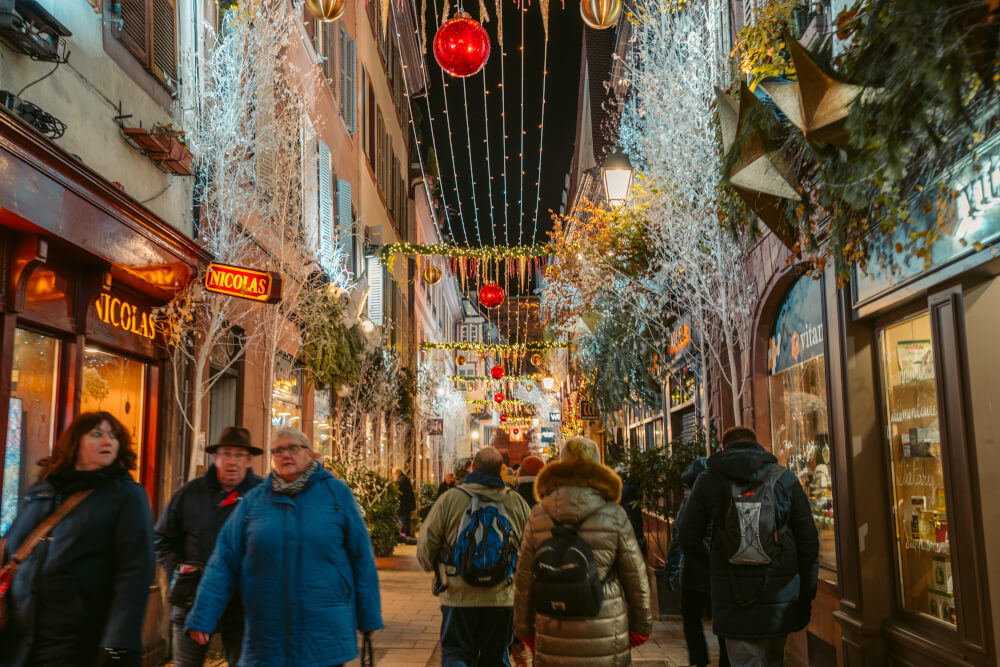 The side street Rue du Chaudron along here is also wonderfully picturesque – La Maison de Hanssen & Gretel here has the cutest toy train facade this year:
Christian – Salon de Thé
If you want an example of a tea house doing the most, look no further than Christian.
This charming tea salon has two splendidly decorated facades to marvel at in Strasbourg: one just around the corner from Strasbourg Cathedral on Rue Mercière and another on Rue de l'Outre.
Rue du Maroquin (Between Le Gruber and Au Vieux Strasbourg)
It was a photo of this exact corner that convinced me I needed to re-visit Strasbourg again in Christmas time.
I think this cluster of buildings sums up the Christmas attitude in Strasbourg: delightfully over-the-top, with a festive sense of grandeur unmatched at most Christmas markets in the world!
The Chandelier at Rue du Fossé-des-Tanneurs and Grand Rue
One of my favourite light installations I spotted in Strasbourg was this pretty chandelier!
There's no official name for it apart from "the giant chandelier" but it's decorated with illuminated cookie cutouts and loads of sparkling lights:
Rue des Grandes Arcades
If you're a fan of cute gingerbread people, don't miss the light installation running all the way down Rue des Grandes Arcades (between Strasbourg Cathedral and Place Gutenberg).
It features a cute gingerbread man yielding a candy cane! So adorbz!
Rue des Tonneliers
Once upon a time, the Rue des Tonneliers was the street used by delivery men to roll barrels that had just arrived at the docks.
Today, you can admire a cute lighting display that pays tribute to this unique history – lighting displays in the form of barrels suspended over the street!
Le Comptoir de Mathilde
Le Comptoir de Mathilde is a charming little gourmet food shop with several locations in France.
In Strasbourg, their storefront this year had a whimsical display featuring a ferris wheel, a hot air balloon and Santa's mailbox. Check it out:
Au Fond du Jardin
Right behind Strasbourg Cathedral is a pretty little tea house with a simple but gorgeous holiday facade worth checking out… and stunning pastries too if you're hungry.
While we didn't get to try the brunch/breakfast that Au Fond du Jardin is famous for, we did cozy into the Cafe Suisse next door which offered the most wonderful little spot to warm up after a long day of sightseeing.

The Käthe Wohlfart Chalet
Käthe Wohlfart is probably one of the most famous names in the world for Christmas decorations.
They're from Rothenburg ob der Tauber, where they even run a Christmas museum, so you can tell they're pretty serious.
Luckily, you can experience the magic of Käthe Wohlfart at the Strasbourg Christmas Market too – they have their own little wooden chalet to the side of Strasbourg Cathedral.
While it can get really crowded in there, I've been to several of their chalets in other cities and it's always a really impressive and sparkly experience. I'd recommend it if the line-up isn't too long!
Strasbourg Cathedral
Last but not least, you of course can't visit Strasbourg without taking a peek inside the incredible Strasbourg Cathedral, home to a gorgeous astronomical clock, and during Christmas time, a large nativity scene.
Other Christmas Things to do in Strasbourg
Besides visiting Christmas markets and gaping at all the gorgeous Christmas facades, there are still plenty of other Christmas activities in Strasbourg to fill your itinerary. Here are some ideas:
Go ice skating by the Giant Christmas Tree at Place Kléber
Everything seems to glitter in Strasbourg during Christmas time, and Place Kléber is hands down one of the best spots to get in on all the Xmas action.
This square is where you'll find the prettiest and largest Christmas tree in Strasbourg, along with a sprawling skating rink and twinkling light-filled trees.
Warm up with special soup for charity
Every year, local celebrity chefs in Strasbourg organize a special event for charity known as "The Starry Soup" during which gourmet soups are sold to support local charity Le Collectif HUMANIS. So, if you want to eat well and support a good cause at the same time, head over to Place Kléber to enjoy a bowl. Click here for more info.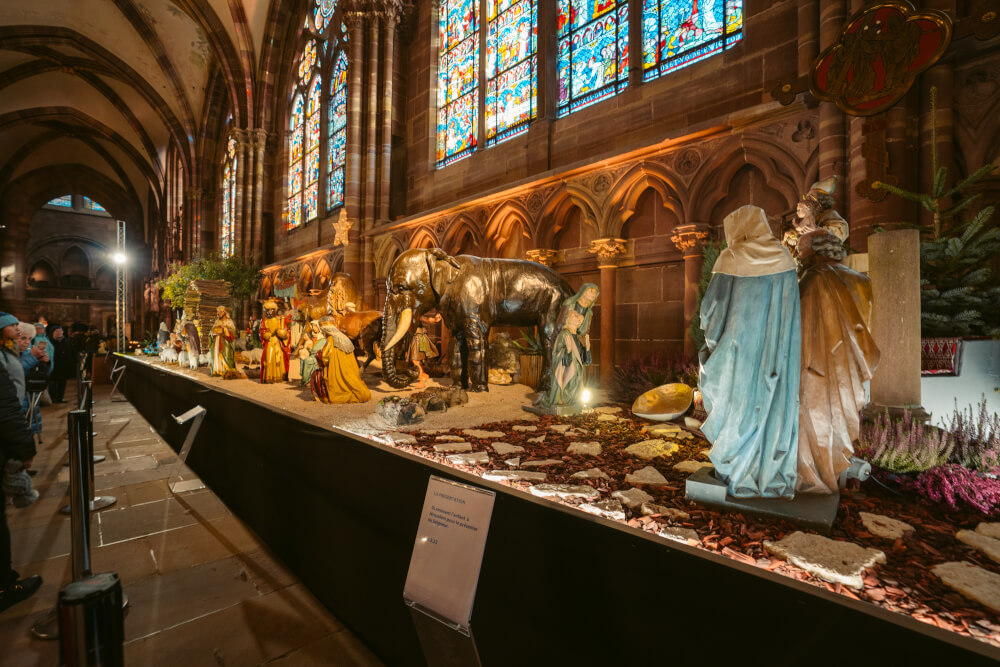 Attend a decoration workshop and help decorate the participative Christmas tree
One of the my favourite little quirky features of the Strasbourg Christmas market scene is the adorable Participative Christmas tree, decorated with ornaments made by members of the public during free workshops.
With its hidden location tucked away in Place du Marché Gayot, this tree can feel like a secret away from the tourist masses, so if you want to feel like a Strasbourg Christmas insider, be sure to stop by for a look… or even attend a workshop yourself!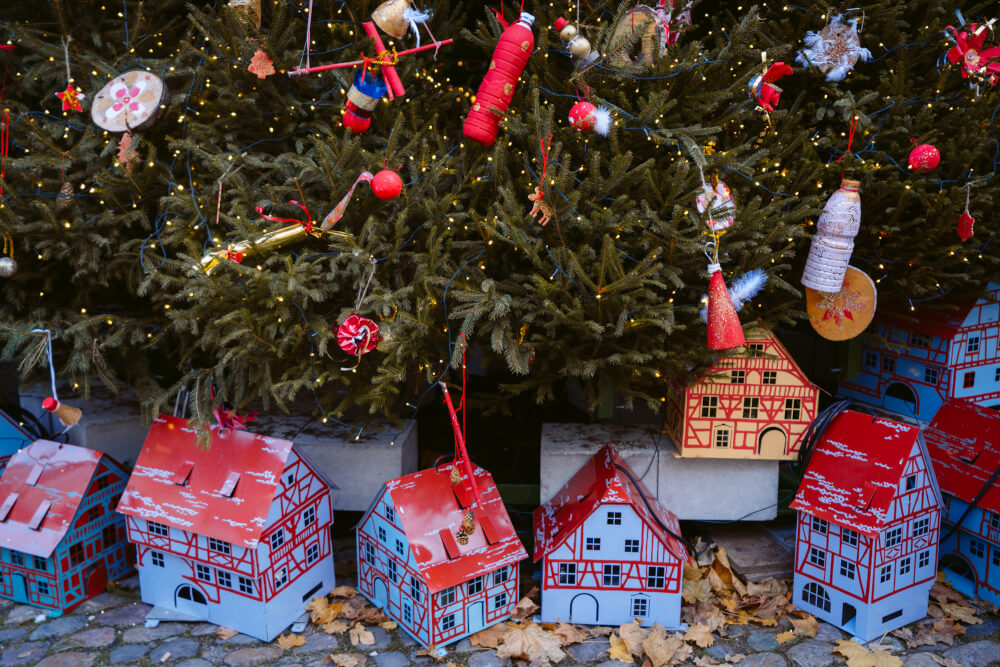 Any more questions about the Strasbourg Christmas Market?
I hope you enjoyed this Strasbourg Christmas Market review! It's a big market with a lot of overwhelming options, so I hope this broke everything down nice and clearly for you. Have a magical trip!
---
Watch my most popular YouTube video this week:
---