*FYI - this post may contain affiliate links, which means we earn a commission at no extra cost to you if you purchase from them. Also, as an Amazon Associate I earn from qualifying purchases. Check out our Privacy Policy and Disclosure. for more info.
NOTE: This Obernai Christmas Market guide was written after my visit in 2019, but has been updated with the most recent info and dates I could find online. Do note that some details/locations may differ year to year though, so let me know in the comments if you notice anything inaccurate.
Bursting with cuteness in spades, the delightful little city of Obernai is a sorely underrated gem in the Alsace region of France, with, as I learned, one of the quaintest Christmas markets in the region.
I mean… as the first stop of our Christmas road trip around the Alsace, the best way to describe our initial reaction to seeing Obernai's fairytale streets was "unhinged shrieking".
This town (like many of the others surrounding it) is a genuine snowglobe come to life, with half-timbered houses lining cobblestoned streets and an endless parades of Christmassy facades studded with garlands, baubles, teddy bears and every wonderful Christmas thing you can imagine.
At only 20 minutes away from Strasbourg, it makes the perfect side trip, or an alternative base to avoid crowds (and inflated Christmas market pricing). After all, it made my list of top Christmas markets in Europe for a reason.
So, here's a rundown of everything you need to know about the Obernai Christmas Market in France, including important dates, locations, what to eat and what to buy!
Obernai Christmas Market: Important Must-Knows
Thinking about seeing the famous Obernai Christmas Market for yourself? Here are some important things to keep in mind:
Obernai Christmas Market Dates: The Obernai Christmas Market will be open this year from Nov 24 – Dec 31, 2023.
How to Get to Obernai: Obernai is about a 20 minute drive from Strasbourg. You can also reach Obernai by train or bus from Strasbourg. To find the best deals, I always use Omio to compare/book transport options. It's a free tool that shows you the different ways to get from Point A to Point B and lets you sort based on price, times and convenience. I'd be lost without it!
Omio: Simple Transport Comparison & Booking Portal
Want a simple way to search, compare & book transport options across trains, buses, flights, and ferries? This helpful tool allows you to simply enter Point A and Point B, then see all the options at a glance. I use it religiously when I book trips, and find it saves me SO much time.
Coverage: 1000+ transport providers in 37 countries (including US & Canada)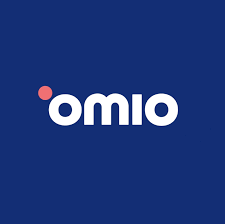 Europe Winter Packing Essentials:
Obernai Christmas Market Hours:
Monday to Thursday: 10am to 7pm
Friday, Saturday and Sunday: 10am to 8pm
December 24 and 31: 10am to 4pm
Market closed on December 25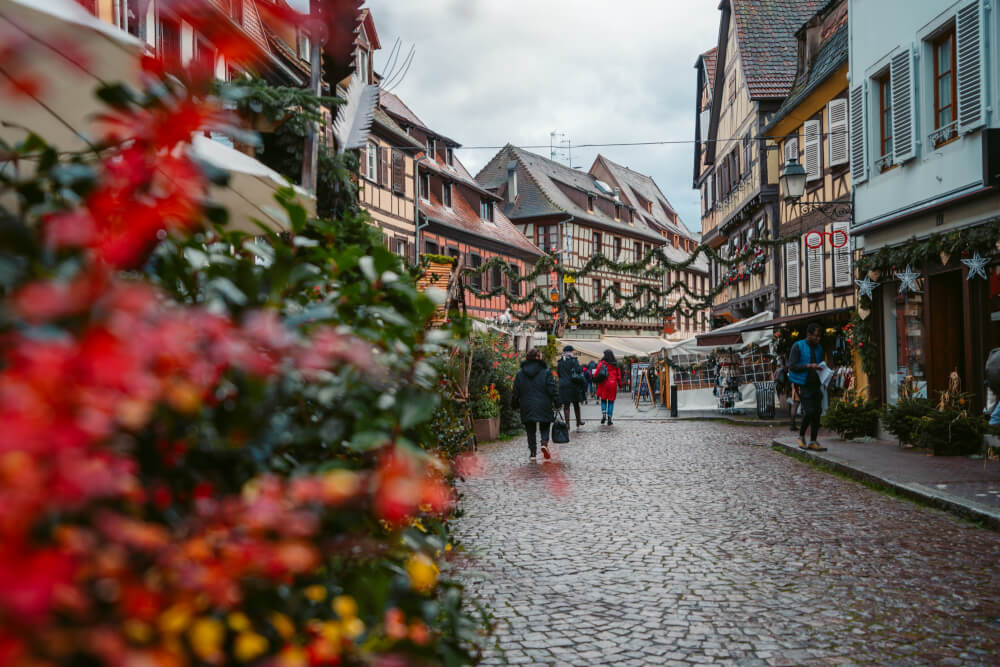 Where to Stay Near Obernai Christmas Market
I can wholeheartedly recommend the hotel we stayed in, which was this one located right in the heart of town. We even had a room overlooking the main square, which meant actual Christmas market VIEWS!
The staff were friendly, the beds incredibly comfy and best of all, it didn't break the bank despite its epic location. I'd highly recommend staying here if you're planning an overnight during your Obernai Xmas market visit.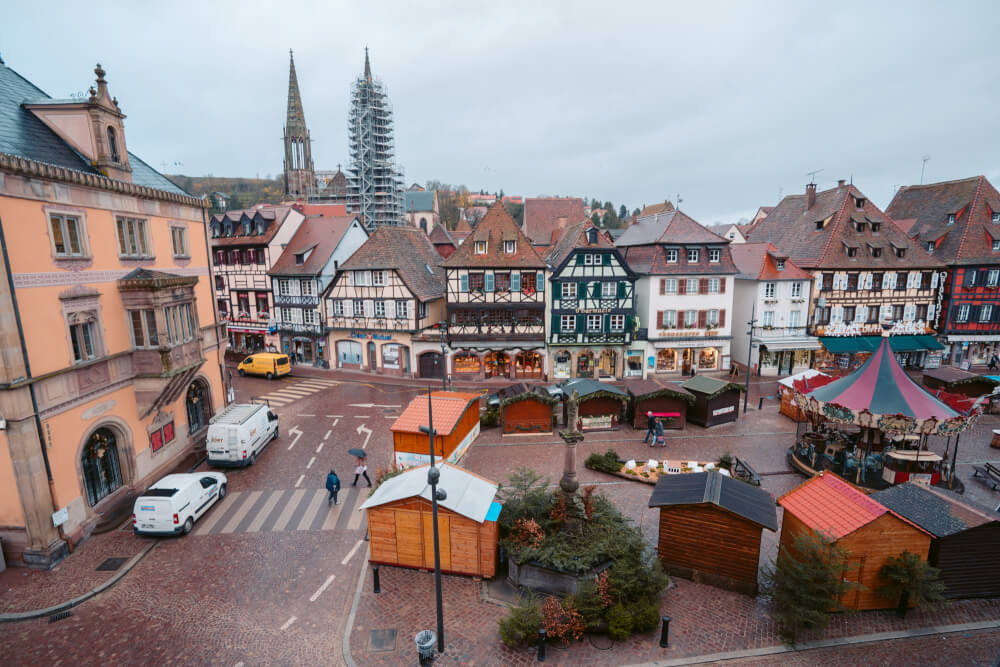 Practical Tips for Your Visit
Based on my personal experience, here are some practical things to keep in mind! You can also check out my full list of Christmas market must-knows and France tips if you want more info.
Be mindful that this market closes really early
Being used to many of the German Christmas markets in Munich which can be open past midnight, I was sorely disappointed to see that all of the market stalls in Obernai had already shuttered their doors by our arrival at 9pm. In fact, the stalls already close by 7pm from Monday to Thursday!
So, sadly, my dreams of marinating in a tub of vin chaud for the night were crushed. This was our own planning mistake though, so be sure to plan your trip accordingly and don't arrive too late in the evening!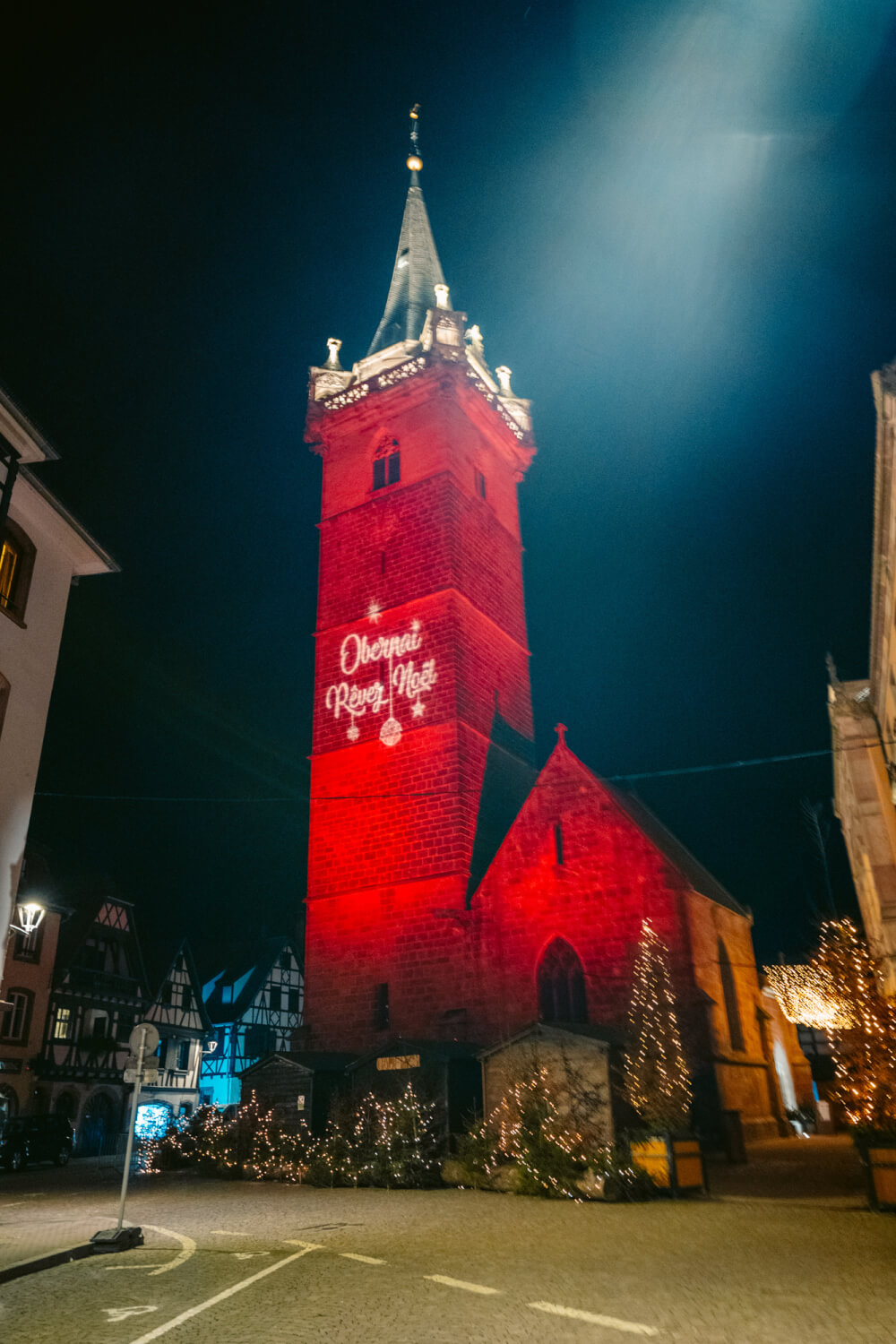 Grab a map
While Obernai offers a small Christmas market, they're nonetheless delightfully organized and even have free maps of the different markets for you to take for free!
To find them, just look for a box storing tearable maps – they're usually placed around town under the different marketplace signs.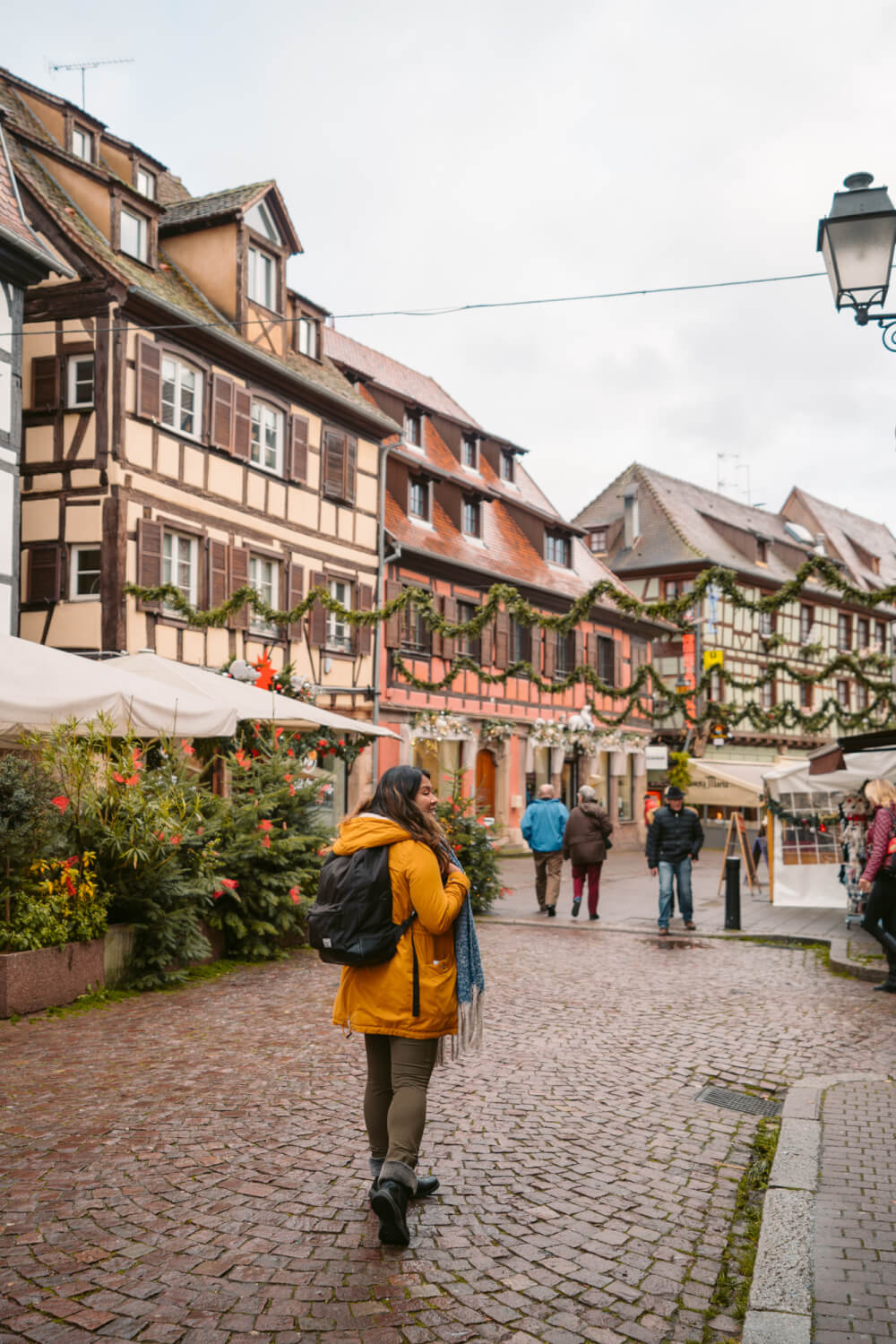 Find free parking just behind the ramparts
Street parking in Obernai is a hot commodity that's not so easy to come by… and really expensive too.
Luckily, during our trip, we discovered a giant free parking lot located just behind the ramparts and saved ourselves a lot of moola by parking where the locals parked. Just search up "Parking Remparts" on Google Maps and it'll show up.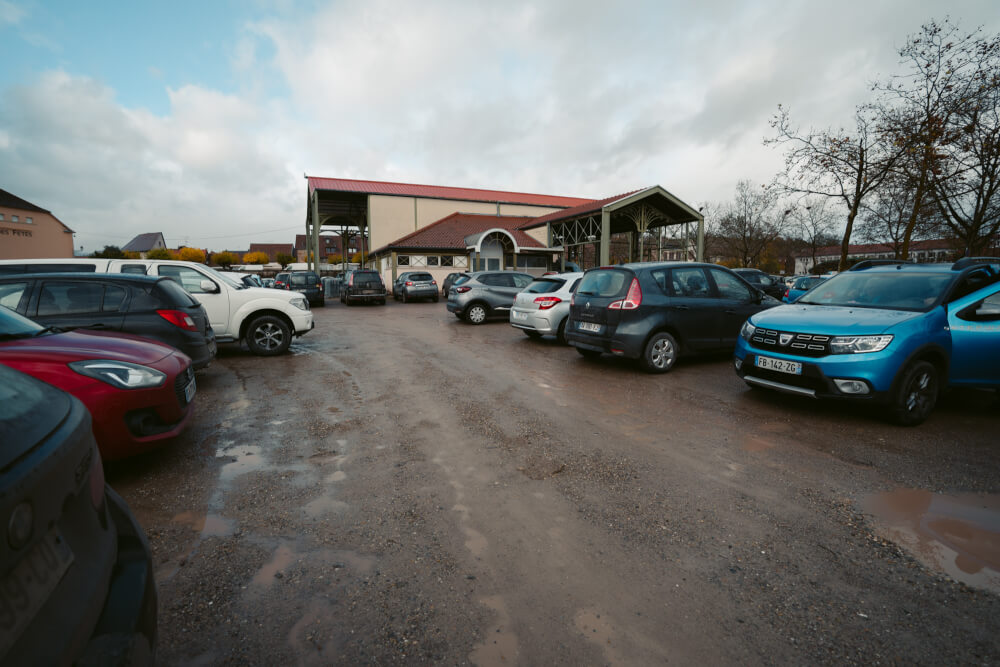 Obernai Christmas Market Locations
The Obernai Christmas Market has several different locations sprinkled around town, but with it being such a compact little place, you can reach them all easily by foot.
Here are the four different market locations you should keep an eye out for:
1. Place du Marché
This cluster of market stalls can be found in Obernai's main square and is probably the biggest part of the Obernai Christmas Market.
Its centerpiece is a pretty little carousel as well as a mini-Christmas village. There are stalls here selling all the typical Christmas market goodies, including roasted chestnuts, vin chaud, chocolates, decorations, and local Alsatian products.
Be sure to come by after dark, when the entire square is lit up and even the Belfry gets jazzed up with a special Christmas projection.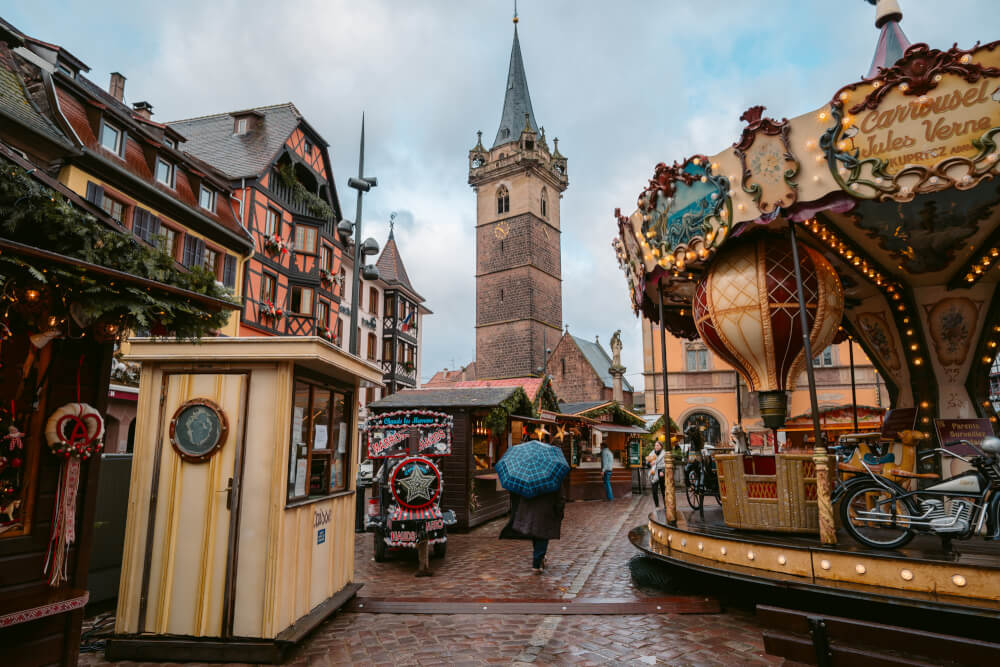 2. The Stalls Autour du Beffroi
Scattered around the Beffroi (Belfry), you'll find the second main part of the Obernai Christmas Market….. pretty much right across the street from the Place du Marché.
Like I said, you don't have to walk far in this town between locations!
One stall here I really recommend visiting is the Tapenades et antipasti Lansaque, who lured us in with the siren's call of samples, but more on this below!
The main part of this market can be found next to two important Obernai buildings: the tourist information office and the city hall. Here, you'll find an airy square lined with stalls on all sides and plenty of spots to relax with a vin chaud. Remember, wine is a local Obernai specialty so be sure to partake (if only in the name of cultural education).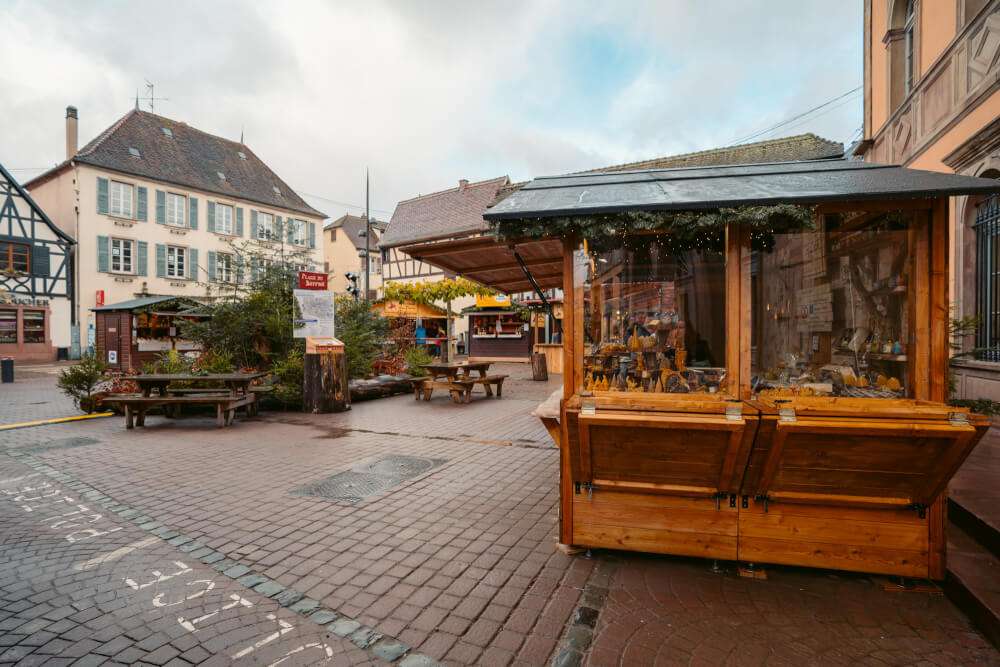 3. The Place des Enfants at Place de l'Étoile
Another Christmassy spot to visit in Obernai is the children's area at Place de l'Étoile (AKA Star Square!)
I have to say though, while it's included on the Obernai Christmas Market map, I wouldn't consider this an actual Christmas market. Instead, it's more just a children's play area with a carousel, toy train, and a chalet model of Santa's workshop.
Of course, there are still options for treats if you so choose. There aren't many opportunities for shopping but you can still stock up on all kinds of sweets and goodies here including waffles, crepes and vin chaud… which is really all you'd need, isn't it?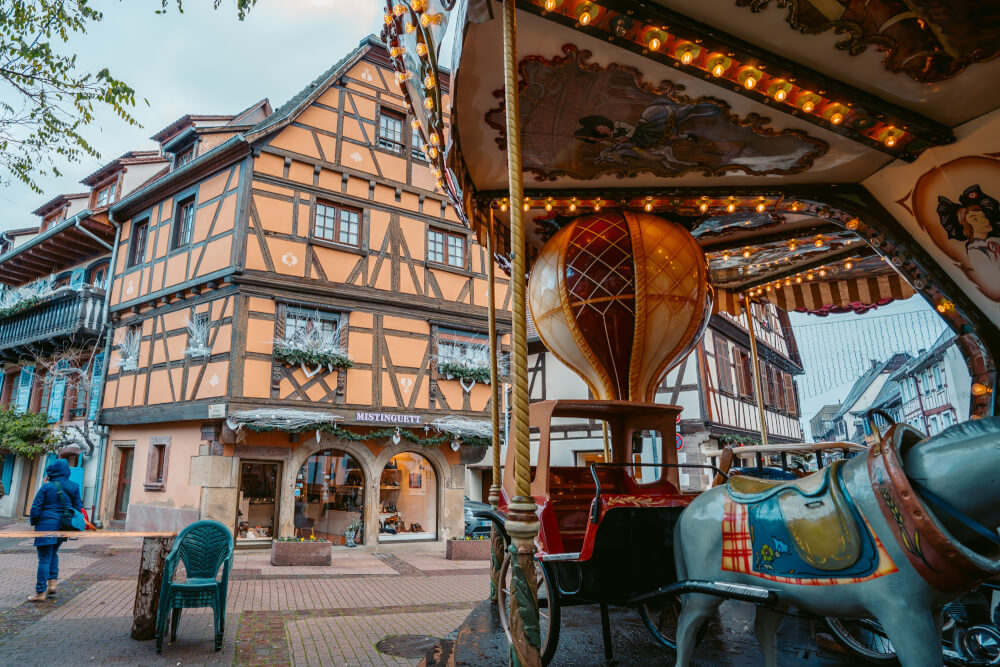 And, even if you don't have kids in tow, I'd still recommend stopping by this market just because of its proximity to one of my favourite Christmas facades in Obernai, Zum Schnogaloch. I mean, it looks like this: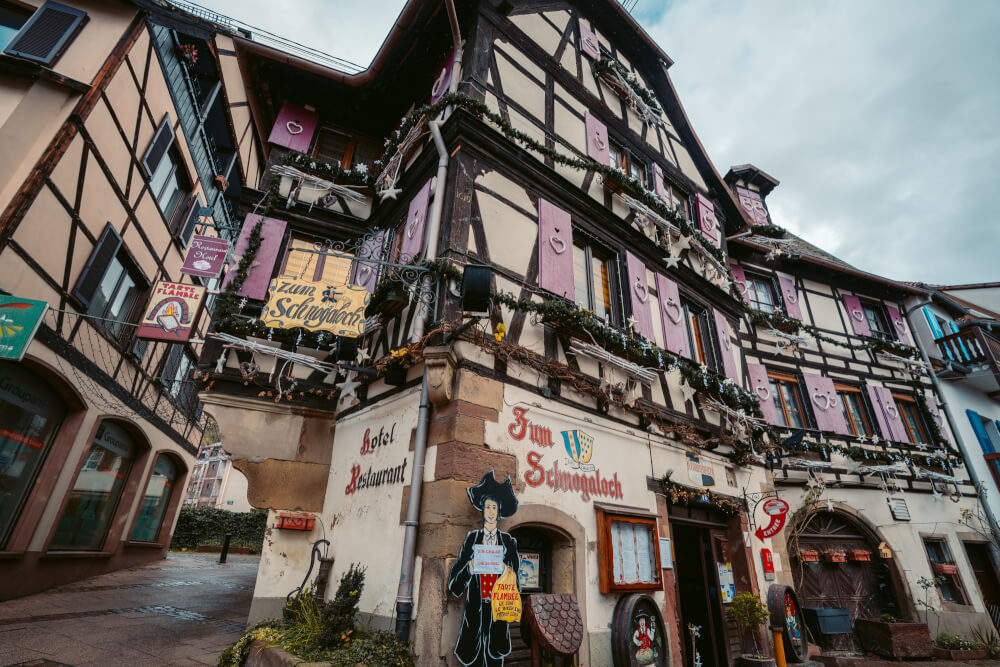 4. Place Nehrer
Located at the ramparts of the city, conveniently close to the free parking lot I mentioned earlier, you'll find a handful of stalls (again) organized around a cute model village/festive centerpiece.
This is the last location of the Obernai Christmas Market, with just a small handful of stalls but a nice vibe with a selection of unique vendors. The specialties here were an eclectic mix of local products and decorations, from local sausages and biscuits to glass baubles and artisanal candles.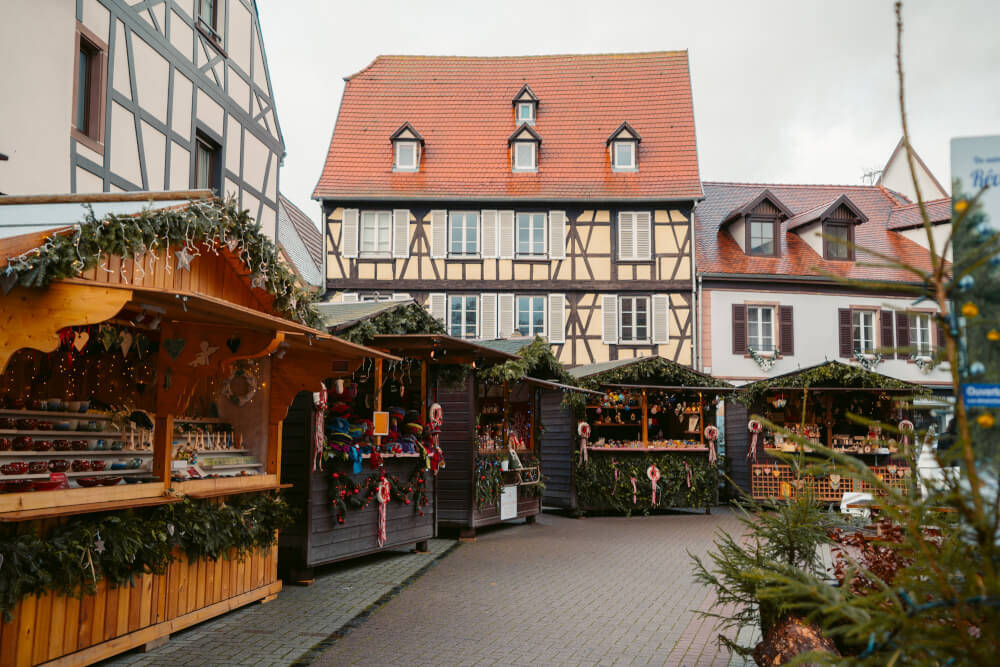 Free for You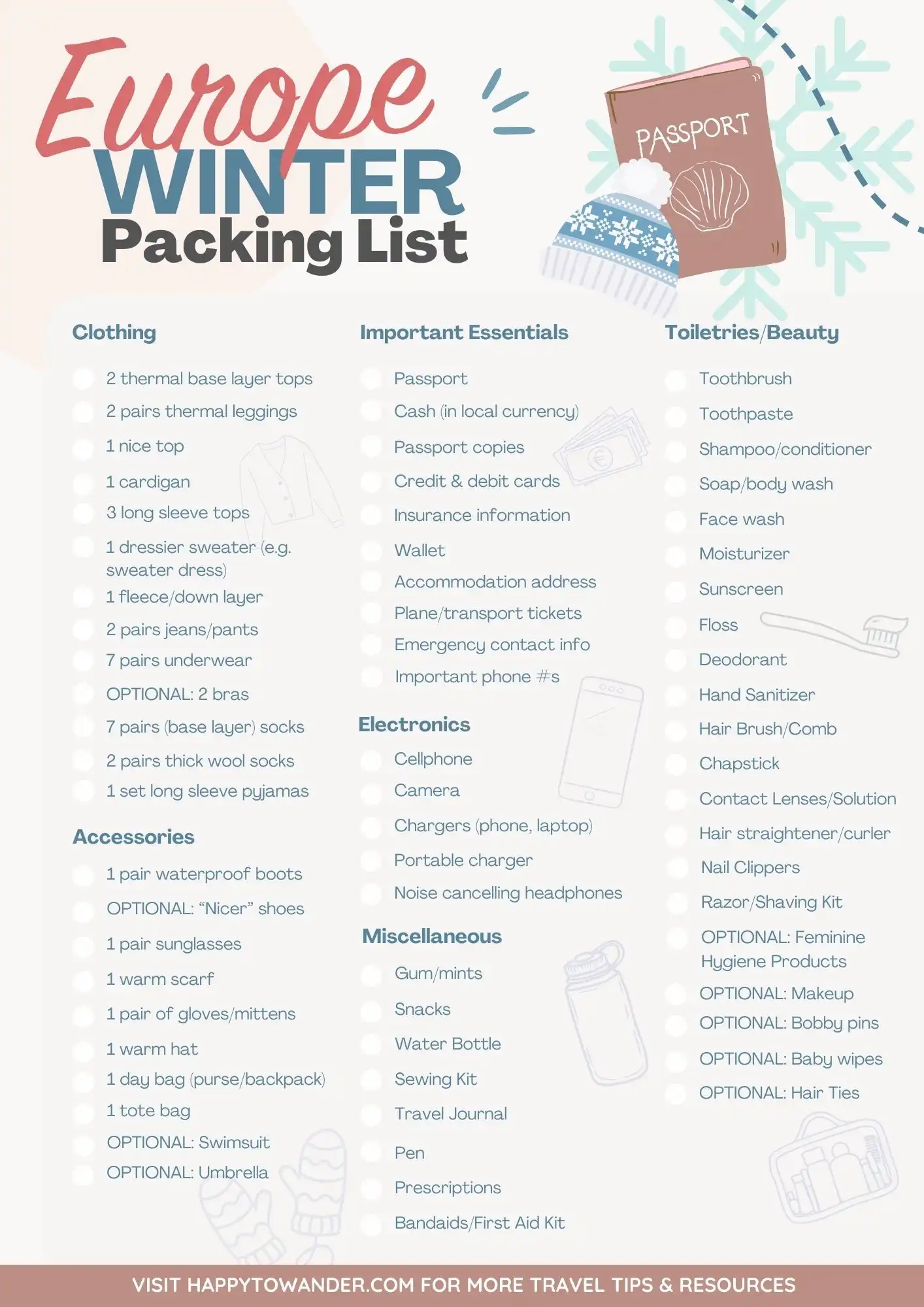 What to Eat and Drink at Obernai Christmas Market: Must-Haves!
If you're anything like me, you'll be pillaging this Christmas Market for yummy goodies. Here are some things to try!
Pickled onions & tapenades
If there's one foodie product you need to at least sample during your time at the Obernai Christmas Market, it's the incredible tapenades and pickled treats from Tapenades et antipasti Lansaque.
Located in a stall just across from the Place du Marché, this gem of a vendor sells the most flavourful pickled goods and spreads made from recipes perfected over the past 18 years.
While recommending Provencale specialties at an Alsatian Christmas Market might seem weird, come for a taste and you'll see why! The onions pickled with balsamic vinegar were my favourite, but the owner here is wonderfully liberal with samples, and I enjoyed everything he threw our way. A pretty great breakfast if I can say so myself!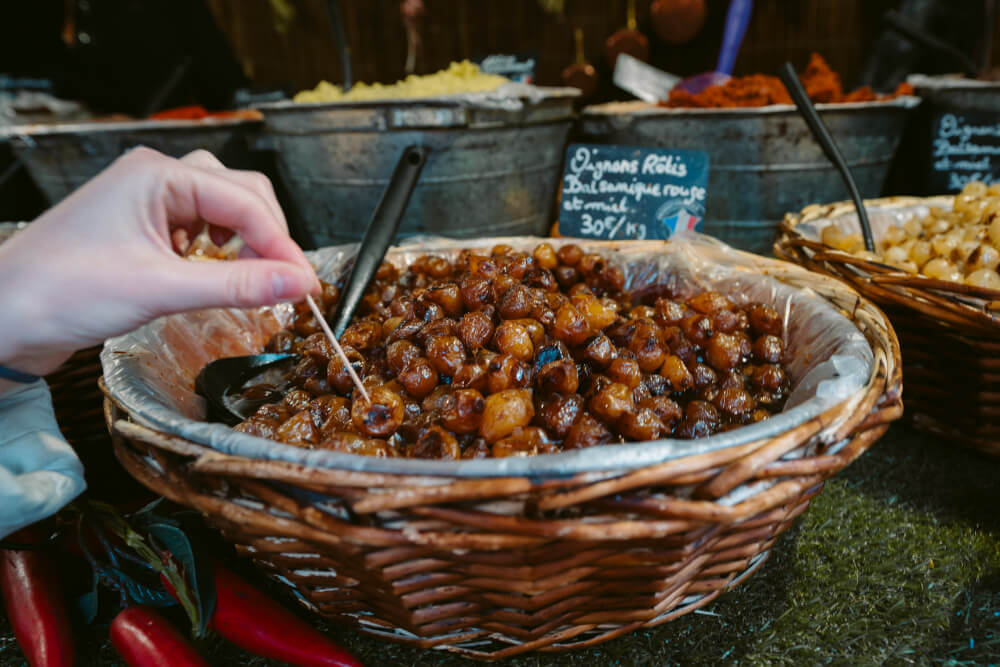 Tarte Flambée
If there's one Alsatian specialty that I consider synonymous with Christmas, it's the almighty Tarte Flambée, often known under its German name, Flammkuchen.
If you've read my roundup of favourite German Xmas market foods, you'll have heard me sing its praises before, but there's no better place to enjoy it than the Christmas markets of the Alsace, since this former farmer treat was pretty much born here!
In Obernai, you'll find it at almost every single restaurant, and all over the Christmas market at different stalls. We enjoyed some at the Restaurant La Soupe à Mémé one night and my two vegetarian friends were delighted to find variations here that were both vegetarian and vegan (made with coconut cream!) The staff here were super friendly and the restaurant was really cozy. I'd highly recommend it.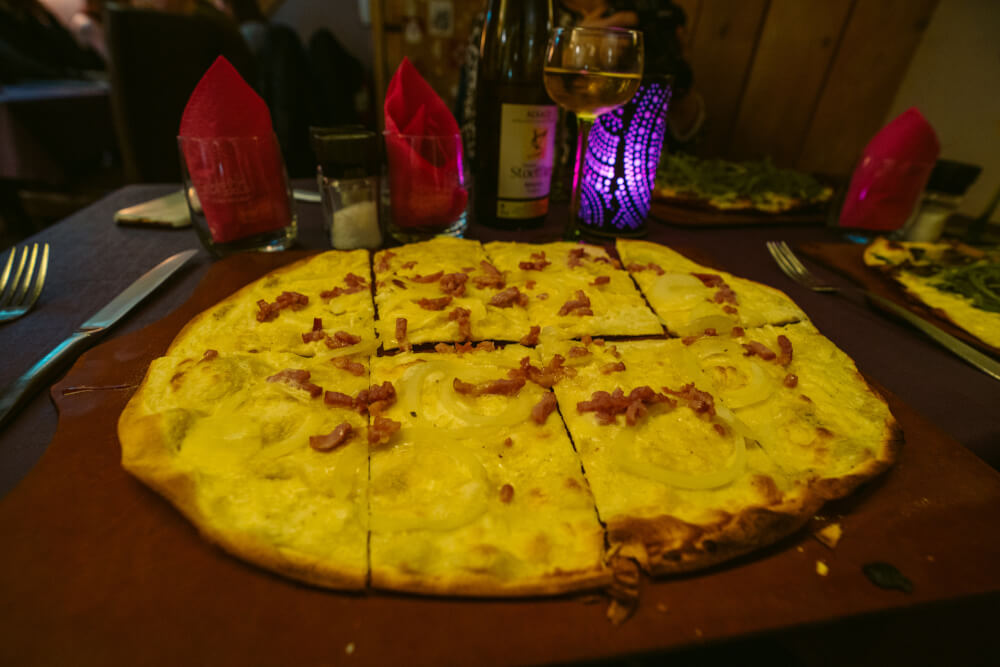 Vin Chaud
Of course, you can't visit any Alsatian Christmas market without trying some vin chaud, AKA mulled wine. Obernai would be an especially nice place for it, as they make theirs with wine from local wineries.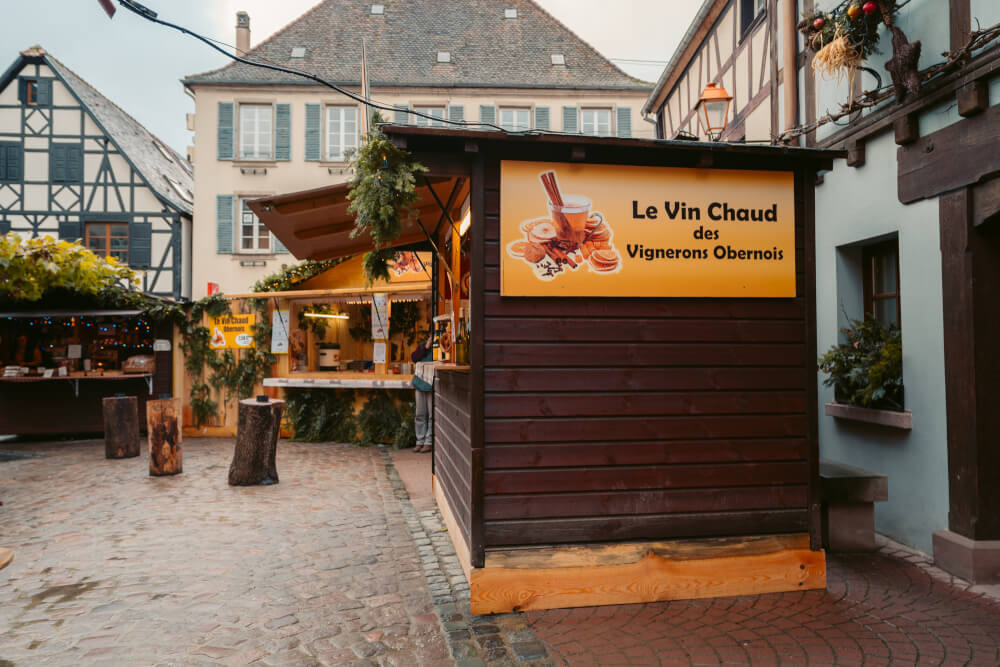 Local Wine
Speaking of wine, the Alsace region (and especially Obernai) are well-known for their delectable wines. Be sure to treat yourself to a few glasses during your stay!
Riesling Soup
Okay – I think we're starting to see a pattern here with my recommendations…
BUT, hey – do you love the local Riesling so much, you wish it could be a meal? Well, apparently you can – in the form of Riesling soup! I didn't particularly want wine soup at 10am in the morning but this is apparently a very traditional dish often served as a starter during the holidays, made with Riesling, broth and plenty of cream. Sounds like the perfect meal on a cold day to me!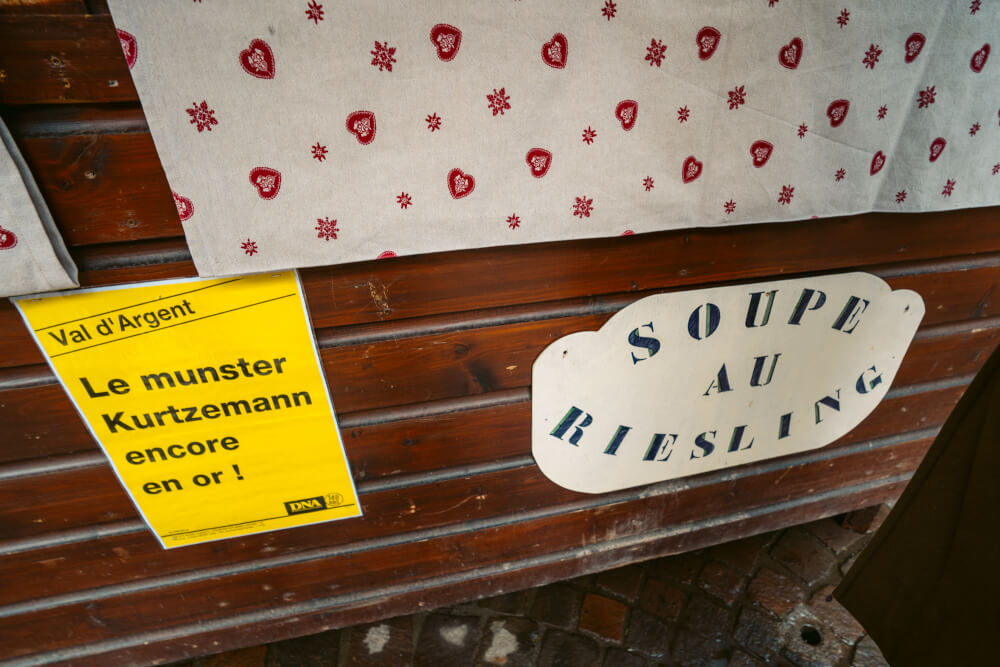 What to Buy at Obernai Christmas Market
Wondering what souvenirs and gifts to bring home? Here are a few ideas:
Local food products
From cheese and foie gras to the world famous local wines, one of the best things you can stock up on at the Obernai Christmas Market is food products! If you want something that you can trust is a genuine and authentic souvenir, this would be a great bet.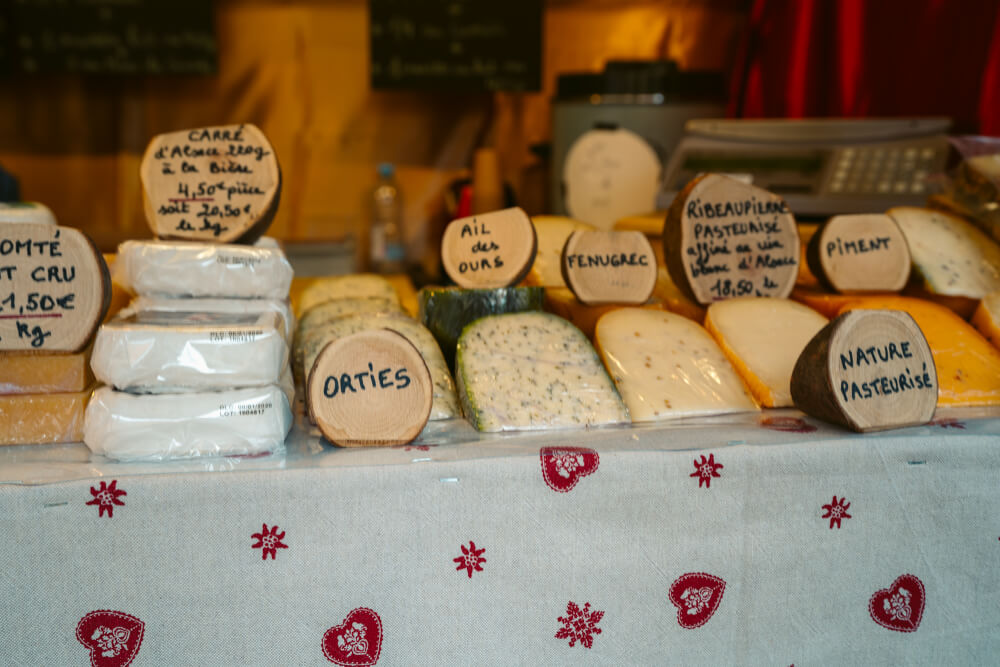 Handmade clothing/accessories
I spotted quite a few vendors around the Obernai Christmas Market selling adorable knitted hats, and other handmade accessories/clothing items.
If you neglected to pack warm enough, stocking up on extra layers would be a great practical (and cute) souvenir to buy.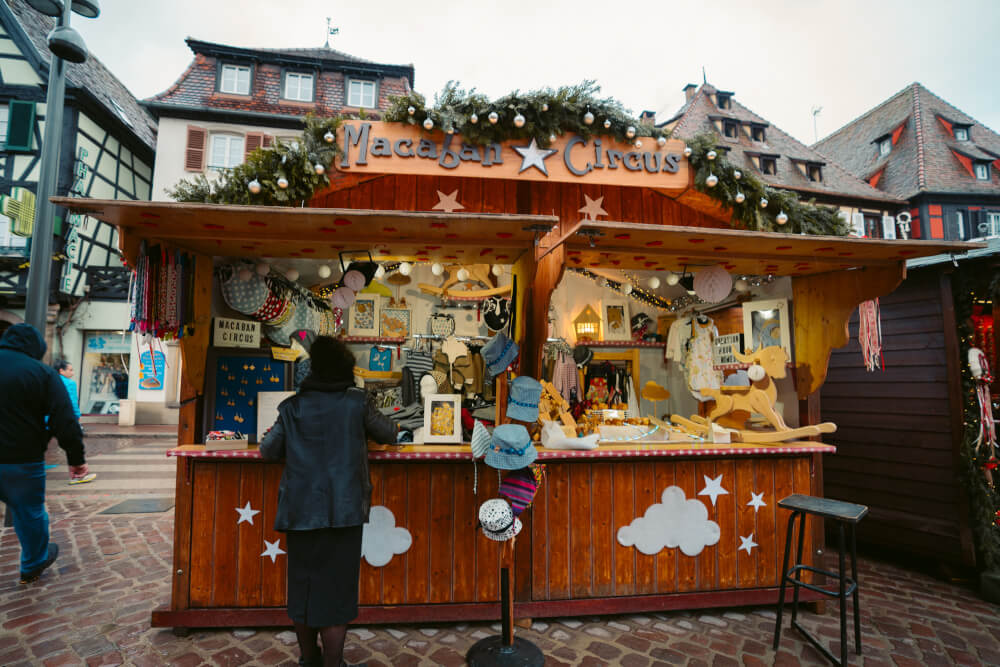 Christmas Decorations
Lastly, one of the loveliest souvenirs you can take home from any Christmas market is definitely decorations for your tree.
Luckily, there were loads of cute ones I spotted all along Obernai, including these painted wooden cutouts I quickly became obsessed with. Look at the pretzel!!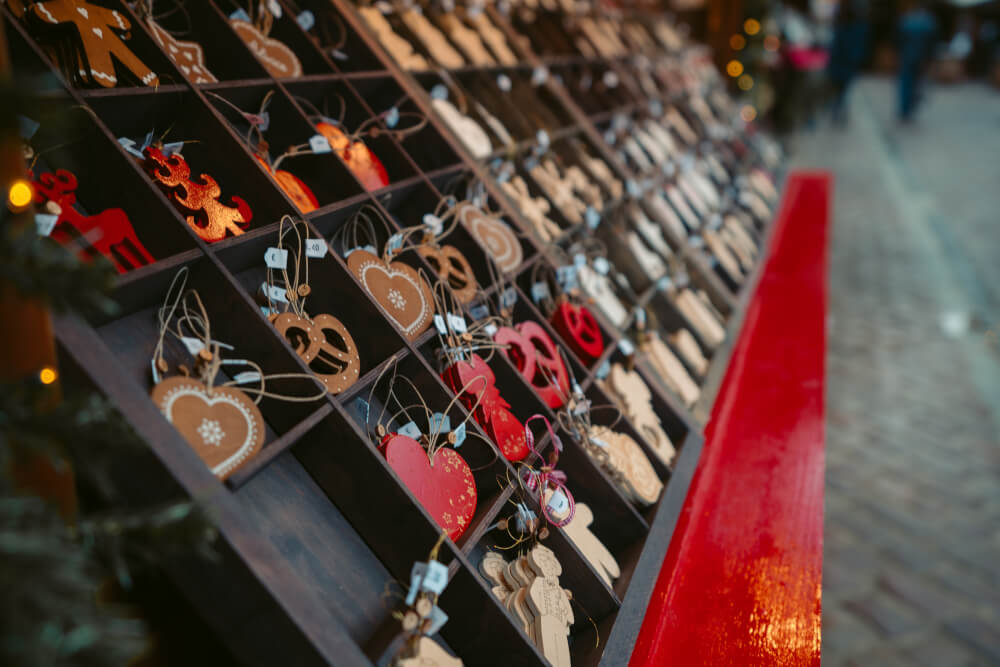 Any more questions about the Obernai Christmas Market?
I hope you enjoyed this Obernai Christmas Market guide and review! Have a magical trip 🙂
My Go-To Travel Favourites: