*FYI - this post may contain affiliate links, which means we earn a commission at no extra cost to you if you purchase from them. Also, as an Amazon Associate I earn from qualifying purchases. Check out our Privacy Policy and Disclosure. for more info.
As a die-hard Christmas market fangirl, it was only a matter of time before my wine-fuelled quests brought me to Prague, a city oft listed among Europe's most magical…. even without the helpful hand of festive Christmas cheer.
So, it was fresh off a sugary high in Berlin and Dresden that I hopped on a bus to Prague, curious to see what Czech Christmas markets had to offer.
Having been to Prague a few times, I'm no stranger to its magical appeal. Nonetheless, I did wonder how exactly Prague's Christmas markets would stack up against the legendary markets I've frequented in Germany.
So what is it like to experience Christmas in Prague? This post will guide you through the various Christmas market locations I visited and my honest opinion of them. I hope this helps you plan your trip!
Save this post on Pinterest for later: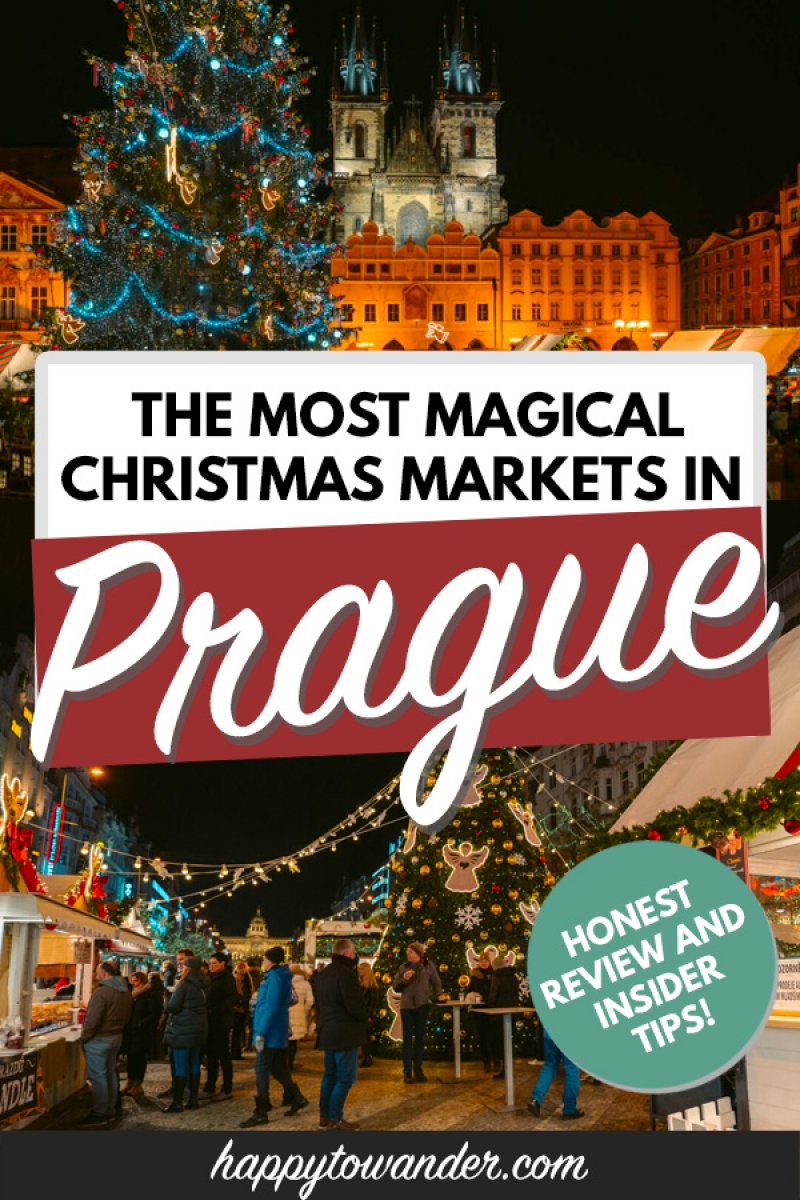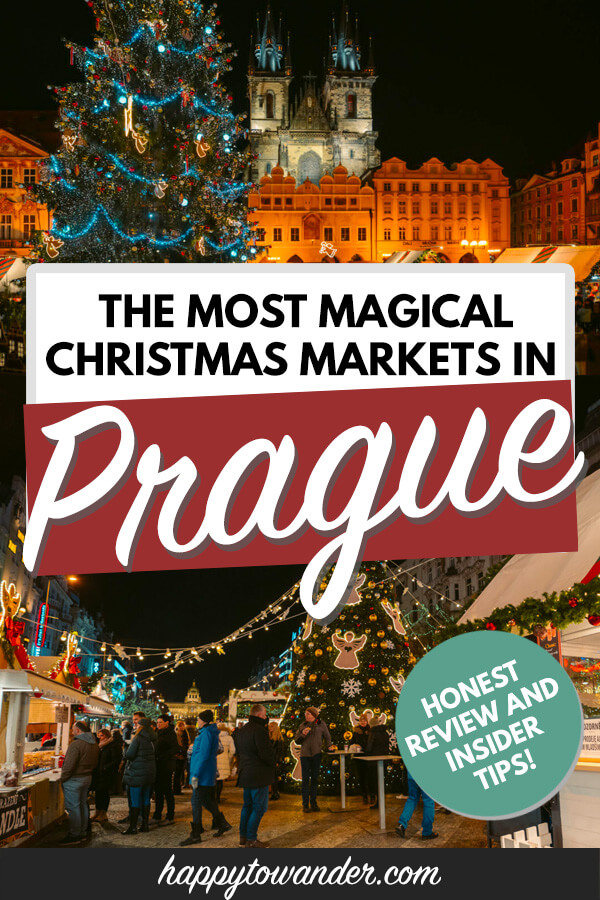 Overall: Are Prague's Christmas Markets Worth Visiting?
I'll be very honest with you: the Christmas markets in Prague aren't really the most amazing Christmas markets in Europe for shopping or eating…
I found many of the stalls to be repetitive, and especially in more touristy areas, fairly commercialized and overpriced with the same mass-produced goods and selection seen over and over.
BUT (and this is a big but) I contend that Prague is still a magical place at Christmas time, and well worth visiting… especially if you seek out the more 'local' Christmas markets rather than sticking to the oft-covered tourist trek.
I mean… despite the fact that I found Prague's most popular Christmas markets to be fairly underwhelming compared to other Christmas markets I've been to, they still win major points simply for their backdrop.
After all, this is PRAGUE we're talking about… one of Europe's most beautiful cities, and one that becomes only more special at Christmas time, with relatively thinner crowds and twinkling lights illuminating every corner.
So, while in my opinion, the Christmas markets in Prague aren't must-sees on their own, Prague itself very much is, with a wealth of attractions and sites beyond Xmas markets that make it a dreamy and magical winter getaway.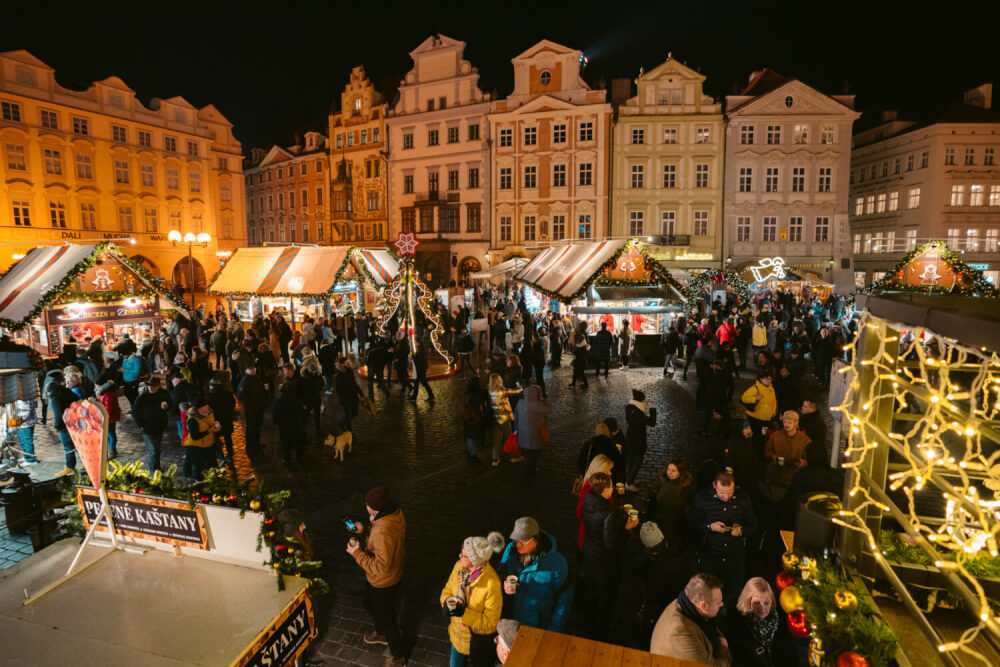 Prague Christmas Markets 2023 Dates
According to the official Czechia tourism website here, this year's dates for Prague's Christmas Markets are as follows:
Old Town Square (Staroměstské náměstí): Dec 2, 2023 – Jan 6, 2024
Wenceslas Square (Václavské náměstí): Dec 2, 2023 – Jan 6, 2024
Republic Square (náměstí Republiky): Dec 2 – 30, 2023
Tyl's Square (Tylovo náměstí): Nov 26 – Dec 24, 2023
Peace Square (náměstí Míru): Nov 20 – Dec 24, 2023
Smíchov – pedestrian zone Anděl: Nov 24 – Dec 24, 2023
The Best Christmas Markets in Prague
So, if you're set on visiting Prague at Christmas time, let me help! During my visit, I dutifully snapped and snacked my way around some of the best known Christmas markets in town. Some were definitely better than others, so here's my honest overview:
For the Best Backdrop: Prague's Old Town Square Christmas Market
By far, the most impressive Christmas market in Prague in terms of backdrop and sheer wow-factor is the Christmas Market in Prague's Old Town Square, one of the most important tourist spots in the city.
This is definitely the busiest and best-known of Prague's Christmas markets, with plenty of visitors crowding its stalls even during off-peak periods.
But, it's well worth visiting in spite of the heaving crowds because this is Prague's most beautiful Christmas market by far.
With a towering tree as the market's centerpiece, and important Prague monuments like the Týn Cathedral hovering in the distance, this market is pure eye candy….. with loads of real candy to offer visitors too.
While the stalls here concentrate mostly on food, what you'll find are mainly the most famous Czech specialties often peddled to tourists, like grilled meats, "Prague ham", and Trdelník, a ubiquitous spit cake made from grilled dough.
I'd recommend coming to this market for the ambiance, but doing your shopping/eating at some other markets that are less busy, and offer less inflated prices.
For the Most Local Experience: Náměstí Míru Christmas Market
If you're eager to escape the crowds and visit a Christmas market in Prague where you might actually be surrounded by more locals than fellow tourists, head to the Náměstí Míru Christmas Market in Prague 2.
This market in front of the Church of St Ludmila is a lovely and quaint Christmas market where the tourist traps of central Prague seem like a faraway dream.
Shoutout to the MVPs at Honest Guide for this recommendation – their videos are the best if you want insider Prague tips.
Here, you'll find a beautiful tree in the center, with a canopy of twinkling lights suspended above dozens of stalls selling stuffed toys, ornate cookies, spices and other gifts that are actual gifts, and not the typical 'gift shop souvenirs' that are commonly seen at the Christmas markets in Old Town Square or Wenceslas Square.
NOTE: This Christmas market isn't far from the center, but it's still an uphill slog so I would recommend taking the tram instead of walking like I did – I was a bit of a sweaty salty mess by the time I arrived. I did happen to walk past a delightfully festive flower shop though called BELIEVE IN UNICORNS, which you should stop by if you get a chance!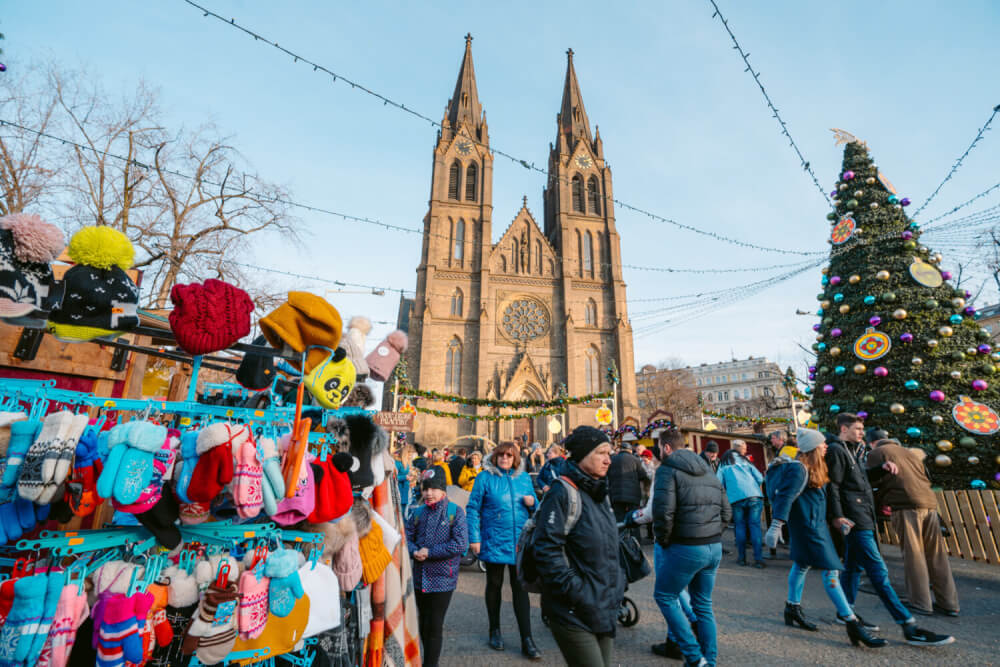 For a Lovely Snacking Spot: Tylovo Náměstí Christmas Market
A short walk away from the Náměstí Míru Christmas Market, you'll find the Tylovo Náměstí Christmas Market, a laid back micro-market filled primarily with food stalls, but the odd stall or two with gifts to purchase as well.
This is THE market to head to if you're starting to feel hungry, with plenty of international options ranging from Russian Pelmeny and Vareniky to crispy Chinese dumplings.
The adorable woman at the dumpling small smiled at me, so you can guess which vendor I ended up throwing my money at…!
This cozy Christmas market is decked out in plenty of cute festive decor, including bauble-studded garlands and a large Xmas tree centerpiece across from the Beránek Hotel.
There was also considerably more room here to perch and enjoy some food and drink, so I would recommend coming here if you want to enjoy a bite away from the crowds.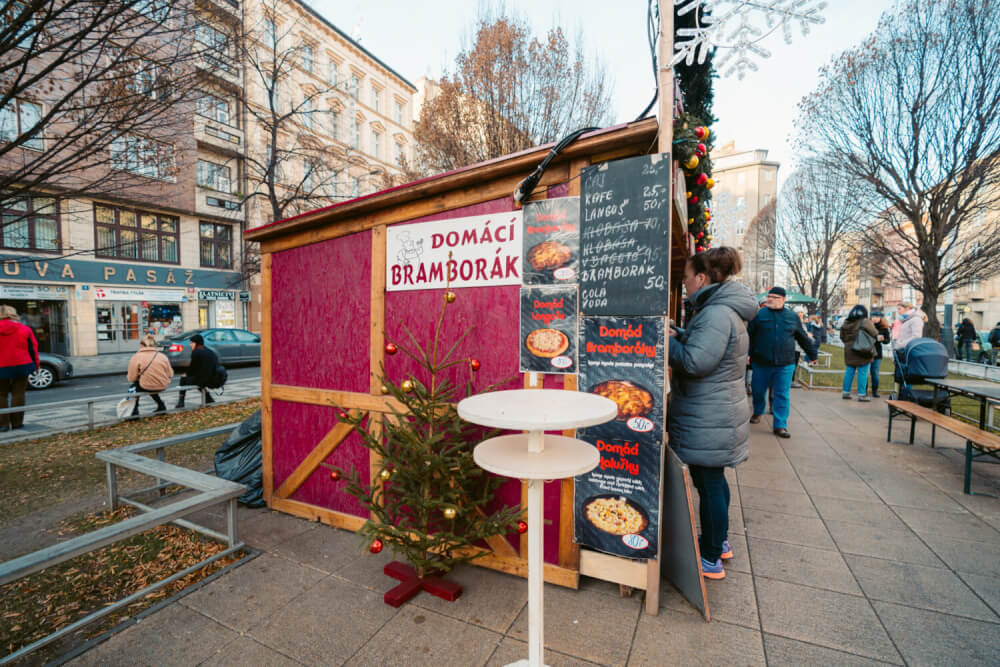 For the Best Foodie Experience: Manifesto Christmas Market
As I mentioned before, I didn't love the food selection at the main Christmas markets in Prague, which seemed to serve the same rotation of ham, sausage, and waffles at every single stall.
That doesn't mean all Christmas markets in Prague are like this though!
If you want to please your palette with a bit of a more diverse selection, then you should definitely head over to the city's Manifesto Market.
With two locations in Prague, I went to the one in Florenc, which was all dolled up for the festive season with twinkly lights and igloos to dine in!
Mexican, Vietnamese, Indian – you name it, and this market has it. This would definitely be the place to go if food is your priority, and you're eager to experience it in an industrial chic, yet festive setting.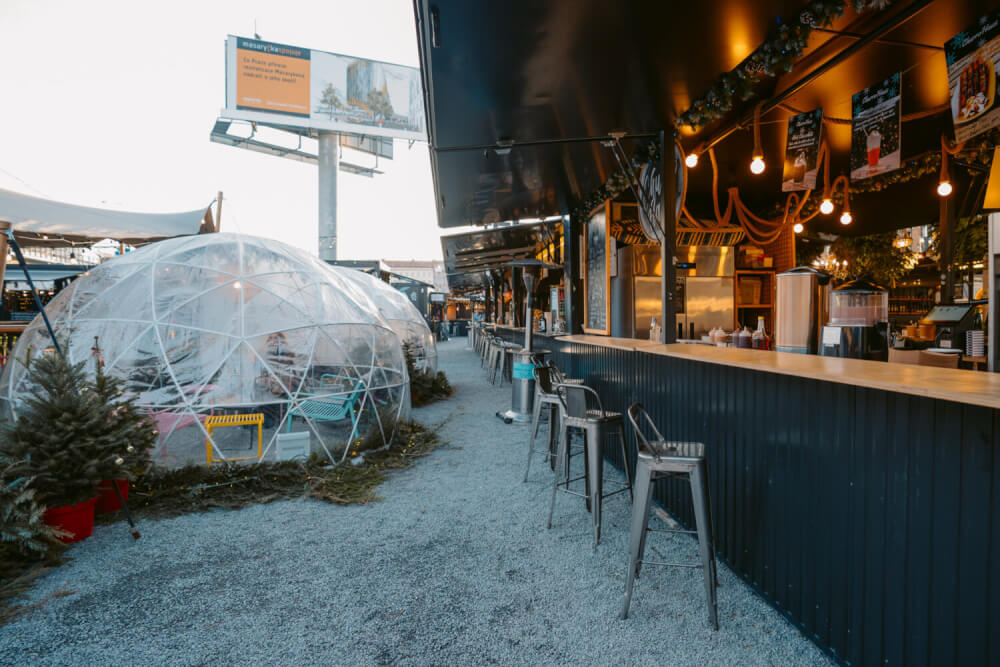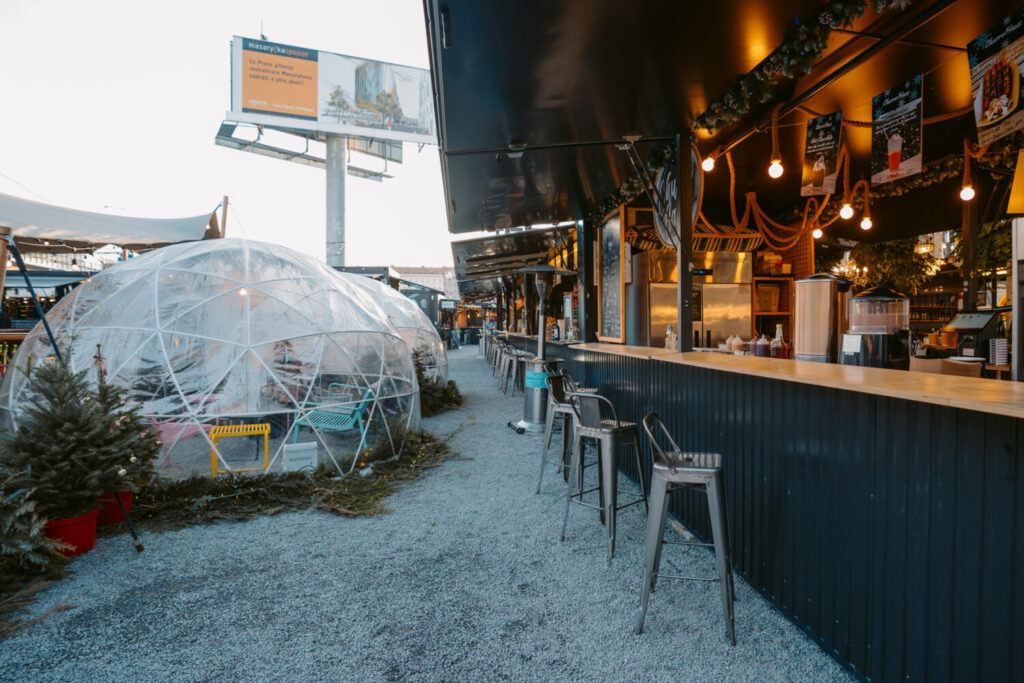 For a Less Crowded Christmas Market Atmosphere in Central Prague: Náměstí Republiky Christmas Market
Lastly, my final recommendation (before digging into the markets I didn't enjoy) is the Christmas market in Náměstí Republiky (AKA Republic Square), which is divided into two sections around the square.
If you hate crowds as much as I do, you might find this is a nice alternative to the ultra-busy Old Town Square Christmas Market which is only a short walk away.
Personally, I found the food options here superior to the Old Town Square market, and there was actually some space to breathe. There were also more stores selling actual gifts to buy, which was a big plus.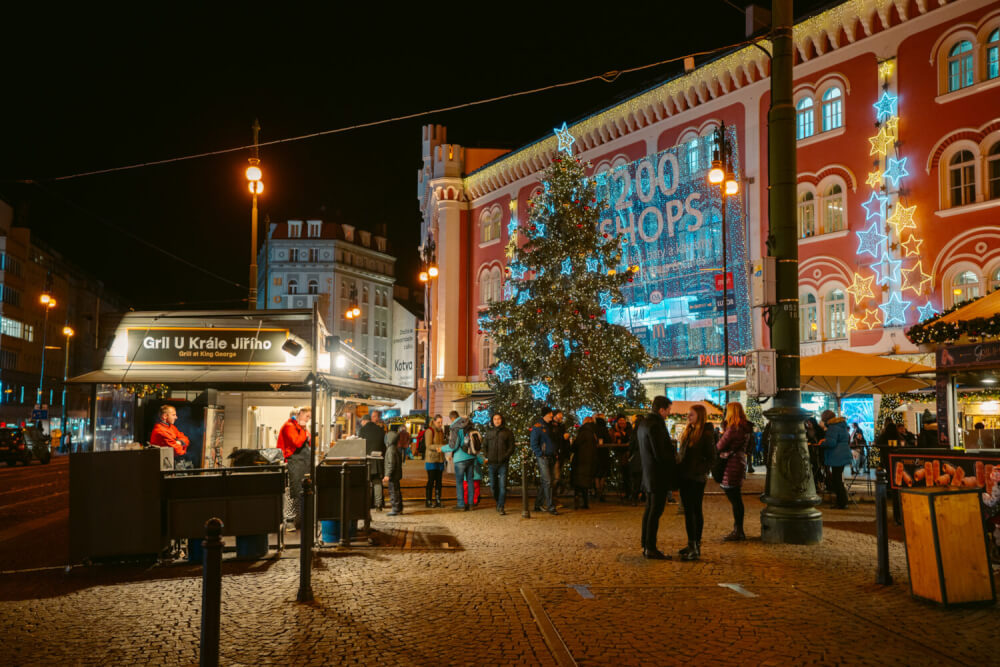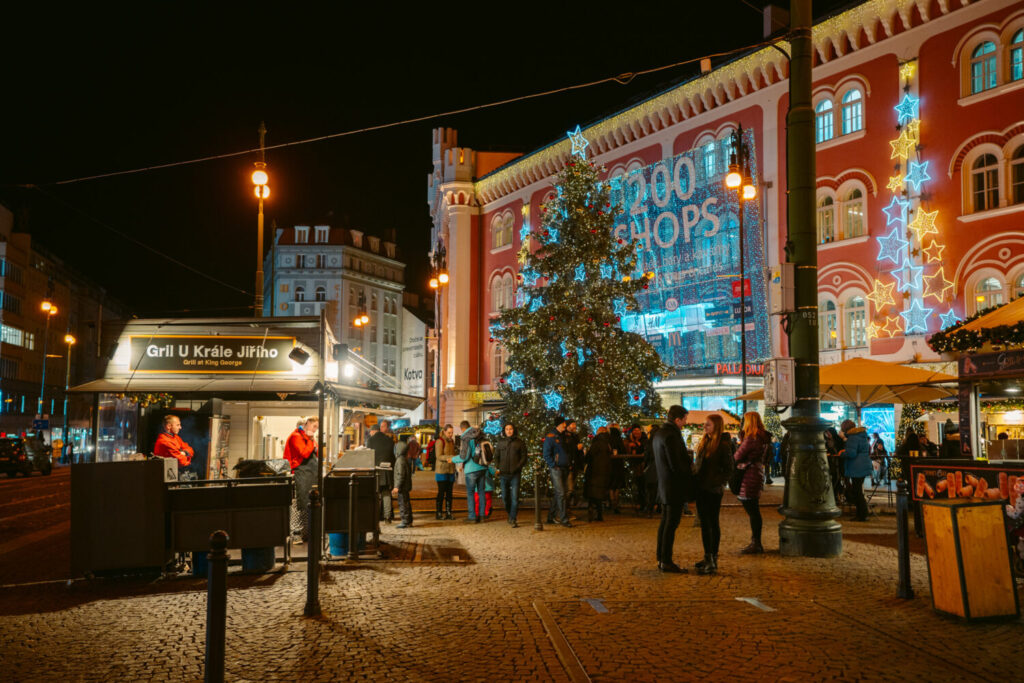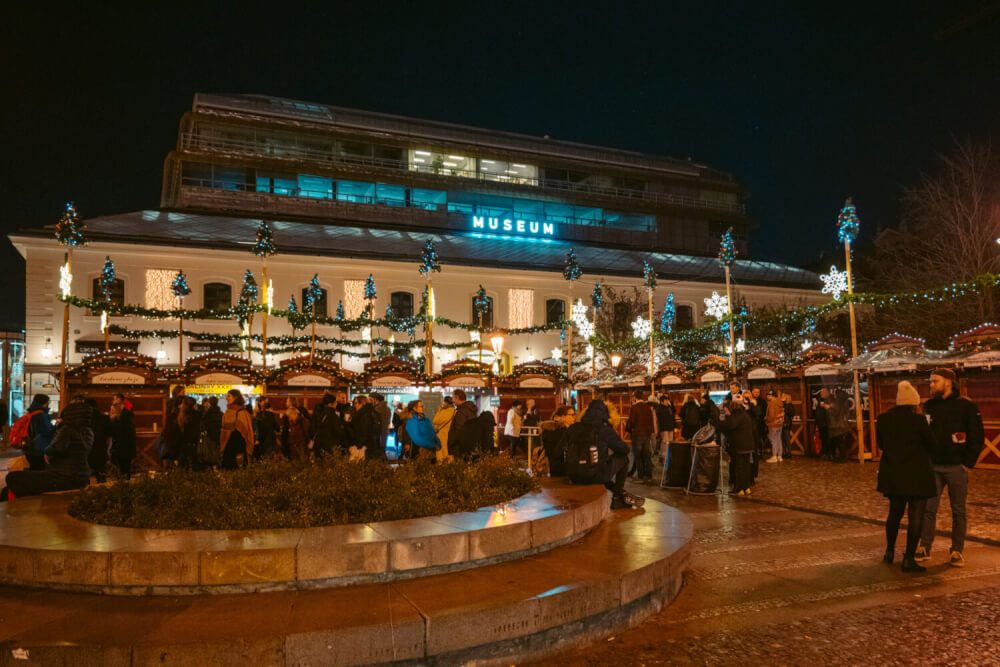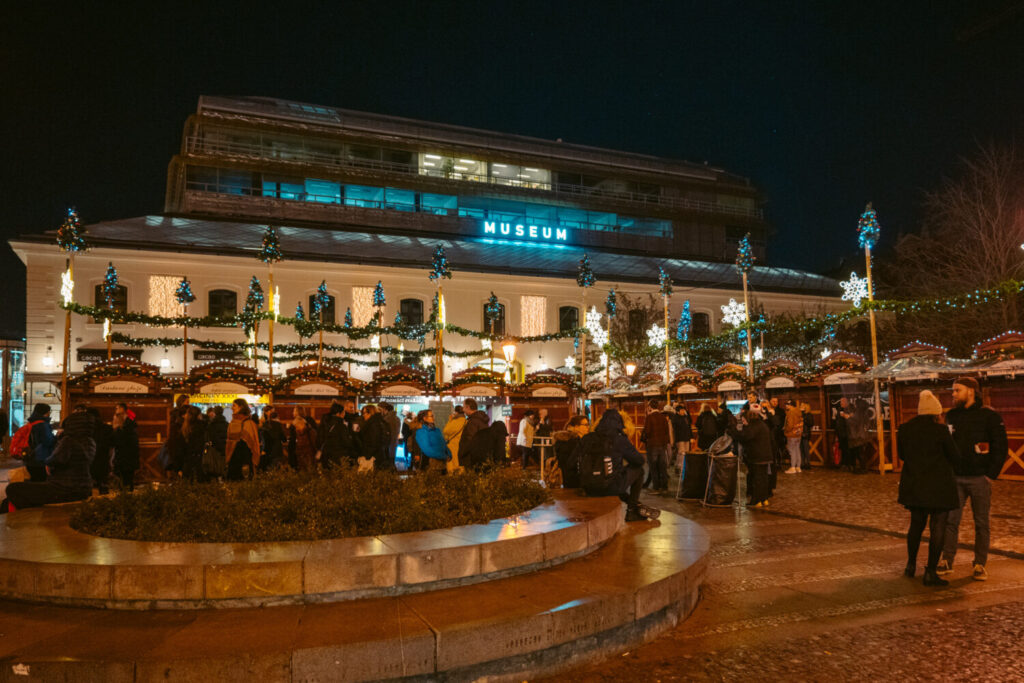 Other Prague Christmas Markets
I always strive for comprehensiveness, so below, I'd also like to outline other Prague Christmas markets that I didn't enjoy as much, along with reasons why.
Of course, you could always have a different experience to me, so here are some other Christmas markets I visited in Prague.
You can also refer to the official city website for a full list of others I didn't get a chance to see, as they can often change year by year.
Prague's Wenceslas Square Christmas Market
Wenceslas Square is another one of the most popular tourist hotspots in Prague, so they of course boast a Christmas market of their own.
… and to be honest, I didn't love it. Granted, the lights and decorations were quite pretty to look at, but the "market" itself was mainly a small, crowded cluster of market stalls on two ends of the square selling the same repetitive food as in the Old Town Square.
NOTE: They can be quite sneaky with their food prices here, as some of the tastiest looking dishes list their price per 100g, which can easily add up quickly!
So, if you do come to this Christmas market (which is kind of inevitable due to its central location), just have your expectations in check! On a positive note, I did love the tree lights that changed colour. Yes, I am about five years old.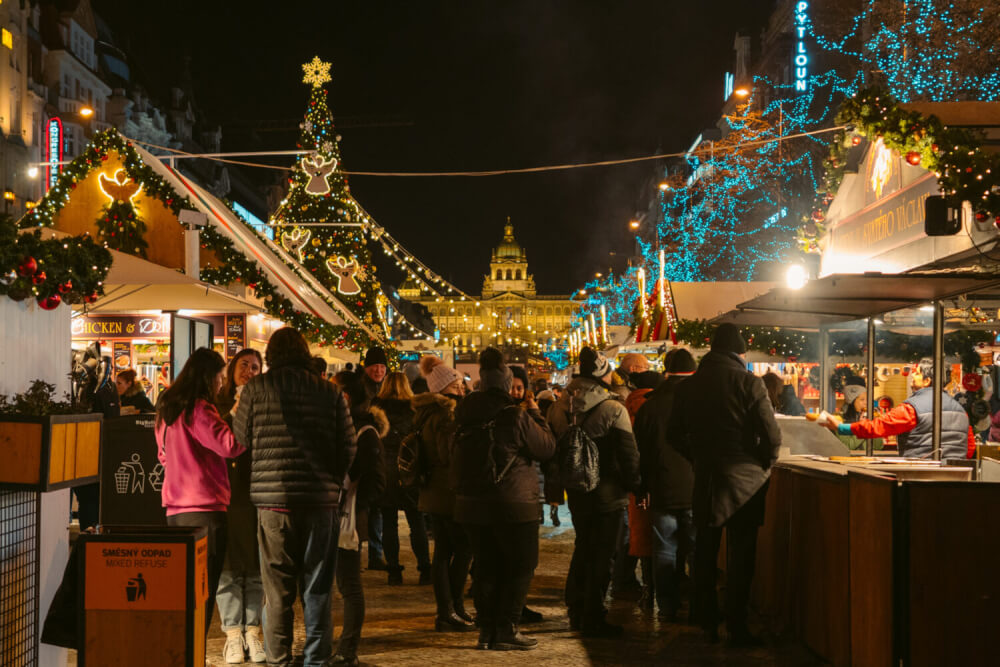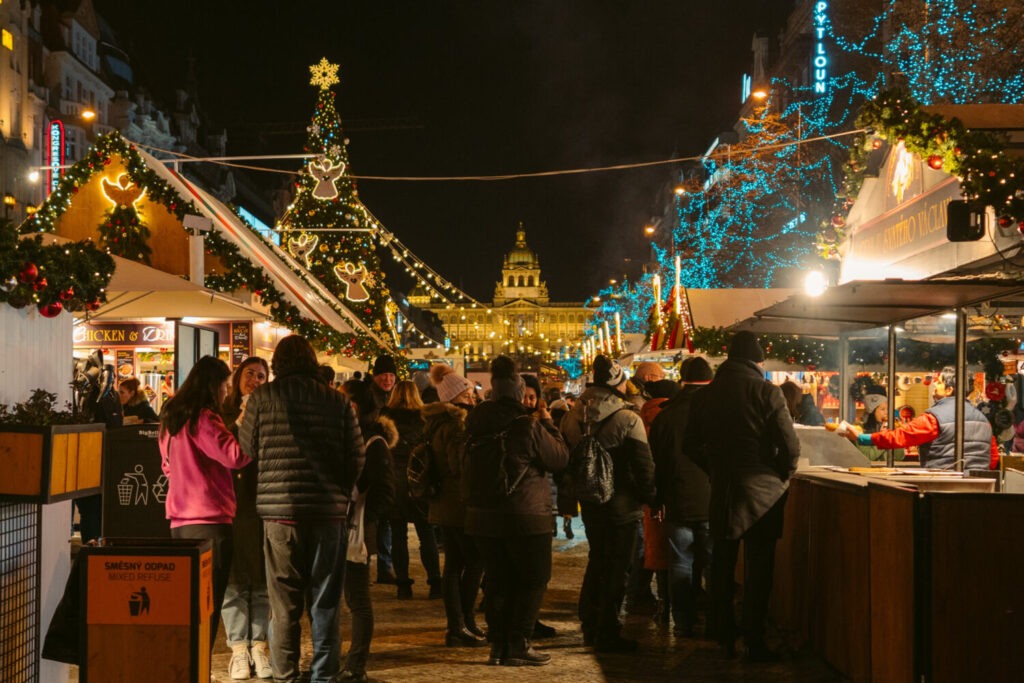 The Kampa Island "Christmas Market"
Another Christmas Market that some people recommend is the one on Kampa Island, but to be honest, I really hesitate to call this a full-on Christmas market because it is comprised of a very very small and sparse cluster of stalls.
Nonetheless, given its well-treaded location between Charles Bridge and the John Lennon Wall, odds are you will end up here at some point during your Christmas visit to Prague, but I would not get my hopes up super high for this one.
Here's a photo to give you an idea of what to expect: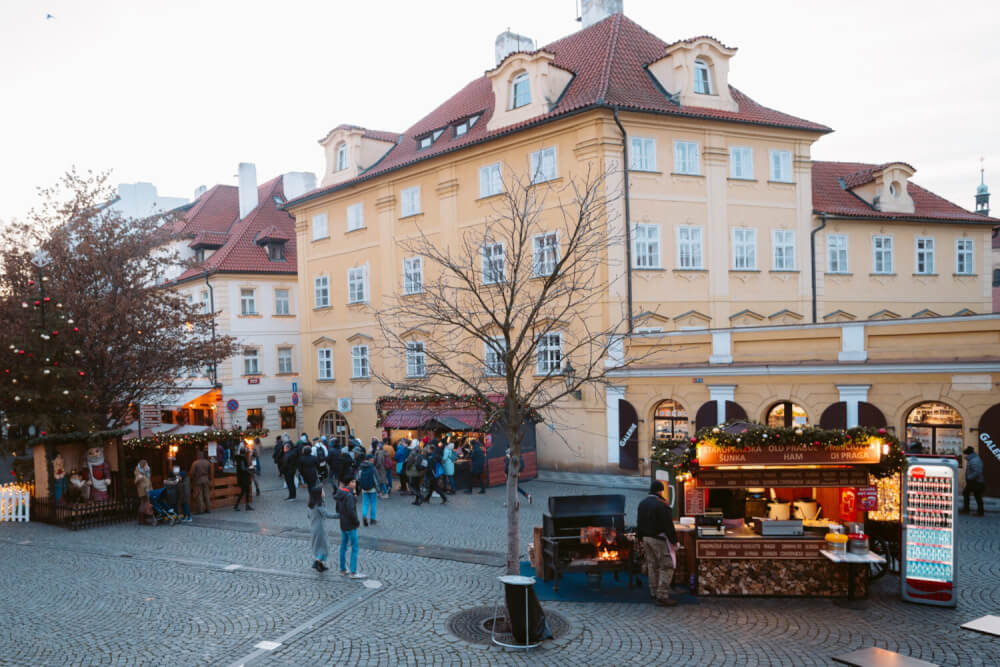 Stalls in Front of Prague Central Station
Lastly, if you're about to depart via the train station but want one last glimpse of Christmas cheer, there actually were a handful of Christmas market stalls located just outside of the train station.
Most of the goods being sold here are the same knick knacks and souvenirs you see in every Prague souvenir shop, but if you want to munch on a final sausage or glug down a final mulled wine, here is where you can do it!
PS: Pro tip, if you have some extra time, the Old Train Station (confusingly located inside the new train station – just follow the signs) is actually a very cute area to check out at Christmas, with lots of adorable decorations.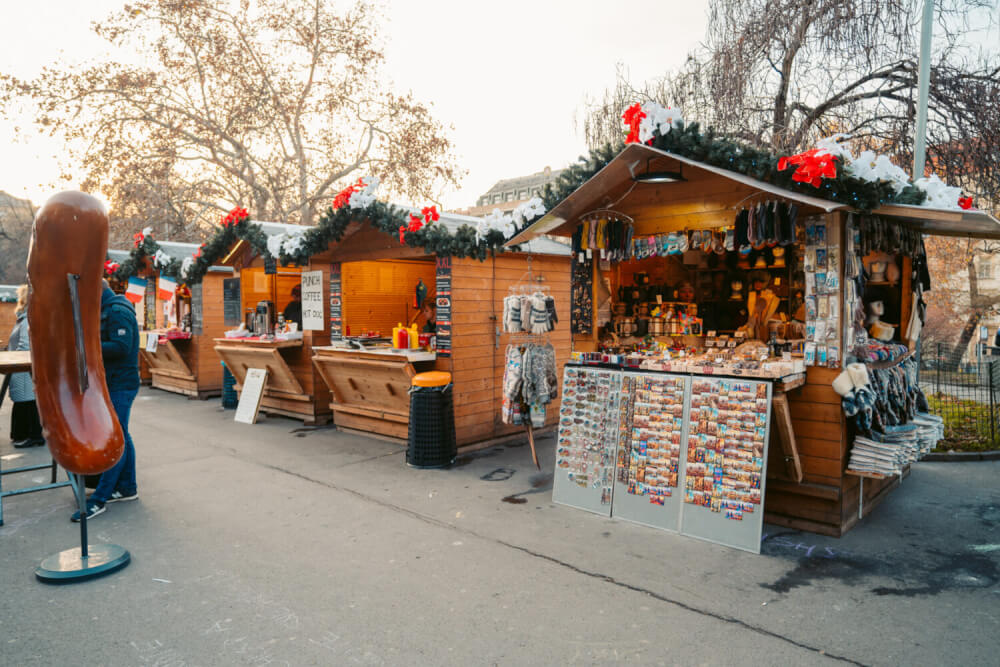 Prague Christmas Market Food & Drinks to Try
Okay, last but not least, let's do a quick rundown of the different Christmas market snacks and goodies that are available to you in Prague.
As I mentioned before, many of the markets will be selling the exact same things over and over, so here are some typical treats to keep an eye out for.
Russian Pelmeni (Dumplings)
I'm addicted to dumplings, and these Russian ones (usually filled with beef and served with fried onions and sour cream) are like little bites of crack.
Or, heaven, if you prefer a more wholesome analogy. I could have eaten these for every meal, and they are the #1 snack I recommend you try, even though their origins aren't Czech.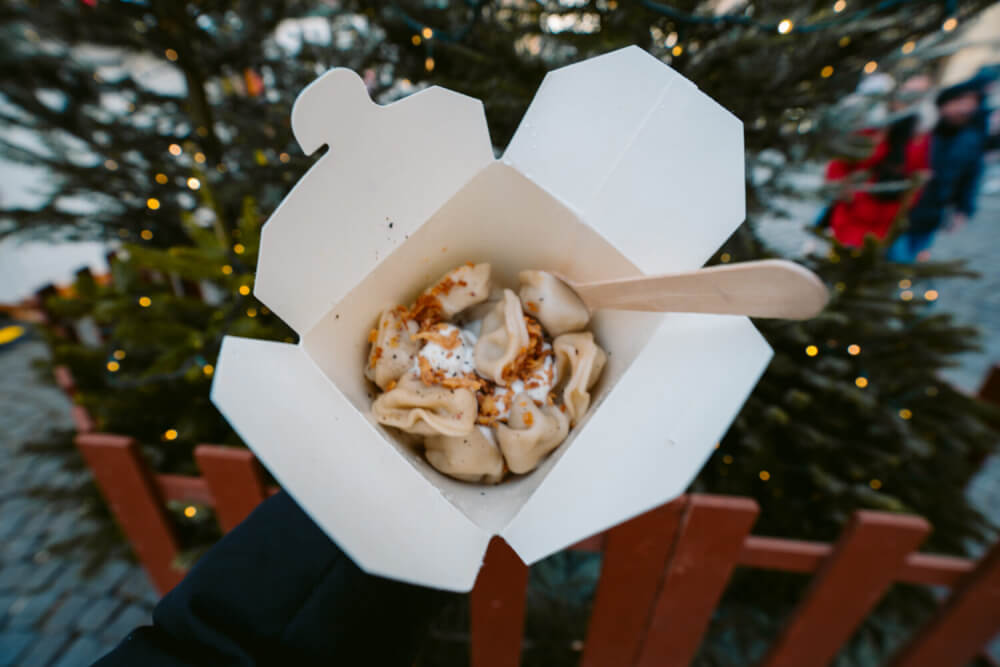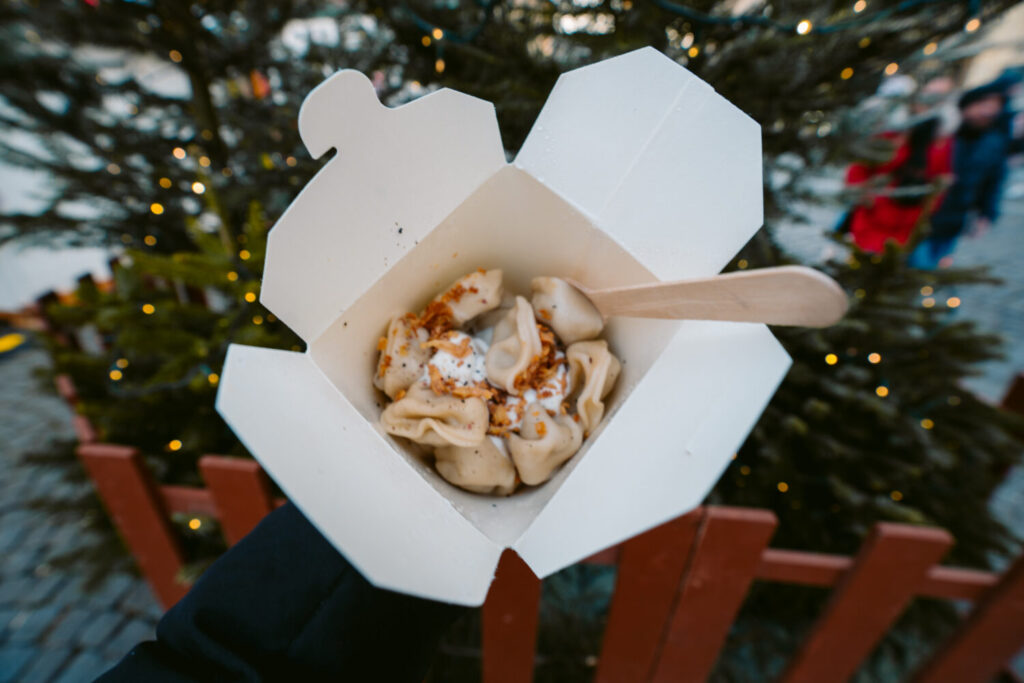 Grilled Sausages
You'll smell them before you see them – sausages in Prague are EVERYWHERE. Everywhere! There were times when I left my hotel room and expected a Czech sausage man to be waiting at the end of the hallway.
Needless to say, if you'e a hot dog lover, you need to try some grilled sausages at the Prague Christmas Markets.
There are a lot of different types that you can try, but I always go for the tried and true tactic of staring at the selection and seeing what calls. One particular night, it was this juicy 'Prague Sausage'.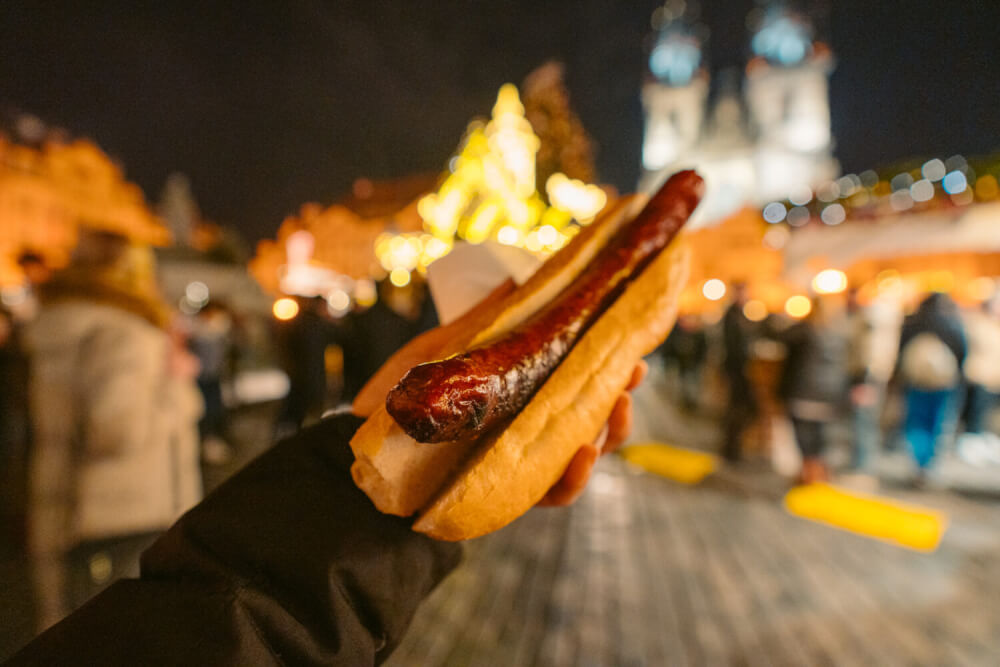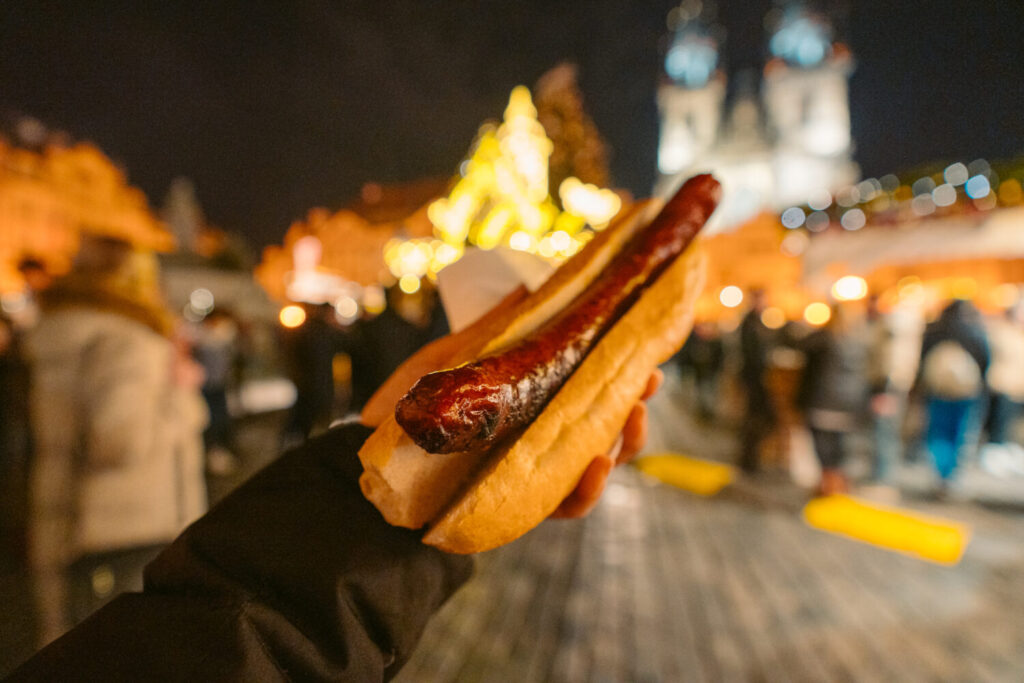 Prague Ham (Pražská šunka)
Almost as ubiquitous as sausage in Prague is ham, which you'll see roasting happily in every Christmas market throughout the city. I've had this multiple times, and it is definitely a tasty snack, best shared with friends so you don't drift off into a ham coma.
Be warned though that the price of this delicacy is usually given per 100g, and you are also charged in this way, so be specific in the amount you order or face the wrath of a common tourist #HamScam, where they give you wayyyy too much and charge you accordingly.
Sure there are worse problems out there than too much ham, but just so you know…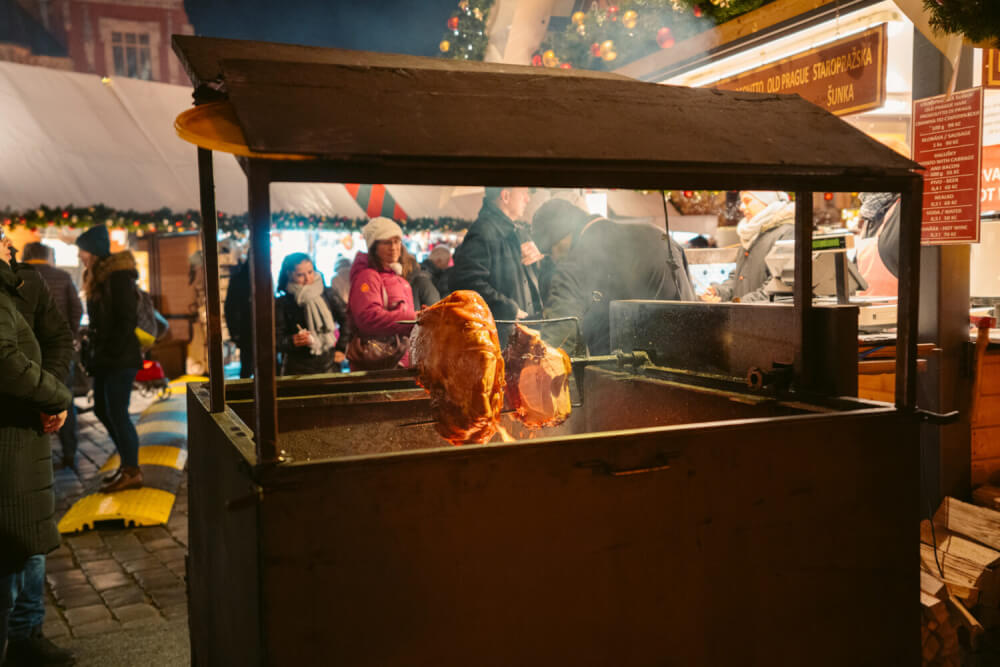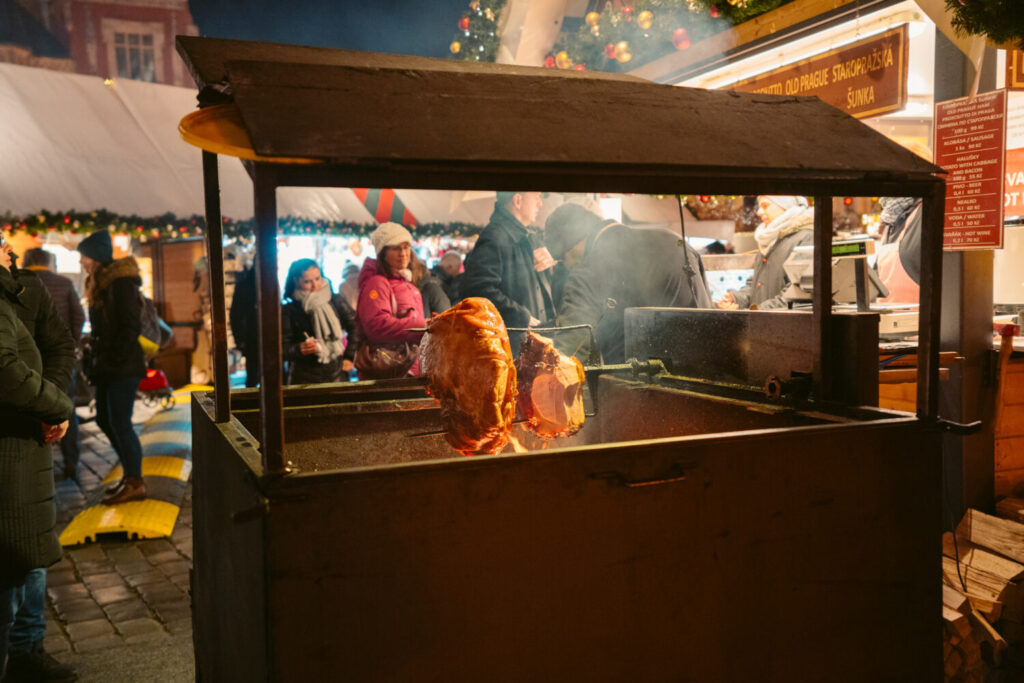 Svařák
In English, it's mulled wine, in German, it's Glühwein, and in Czech, it's tasty tasty Svařák.
No Christmas market trip anywhere is complete without a hot cup of this spiced wine, which is mulled to perfection in a clear bid to taste like the holidays in a cup.
Make sure you grab one to try while you explore Prague's Christmas markets!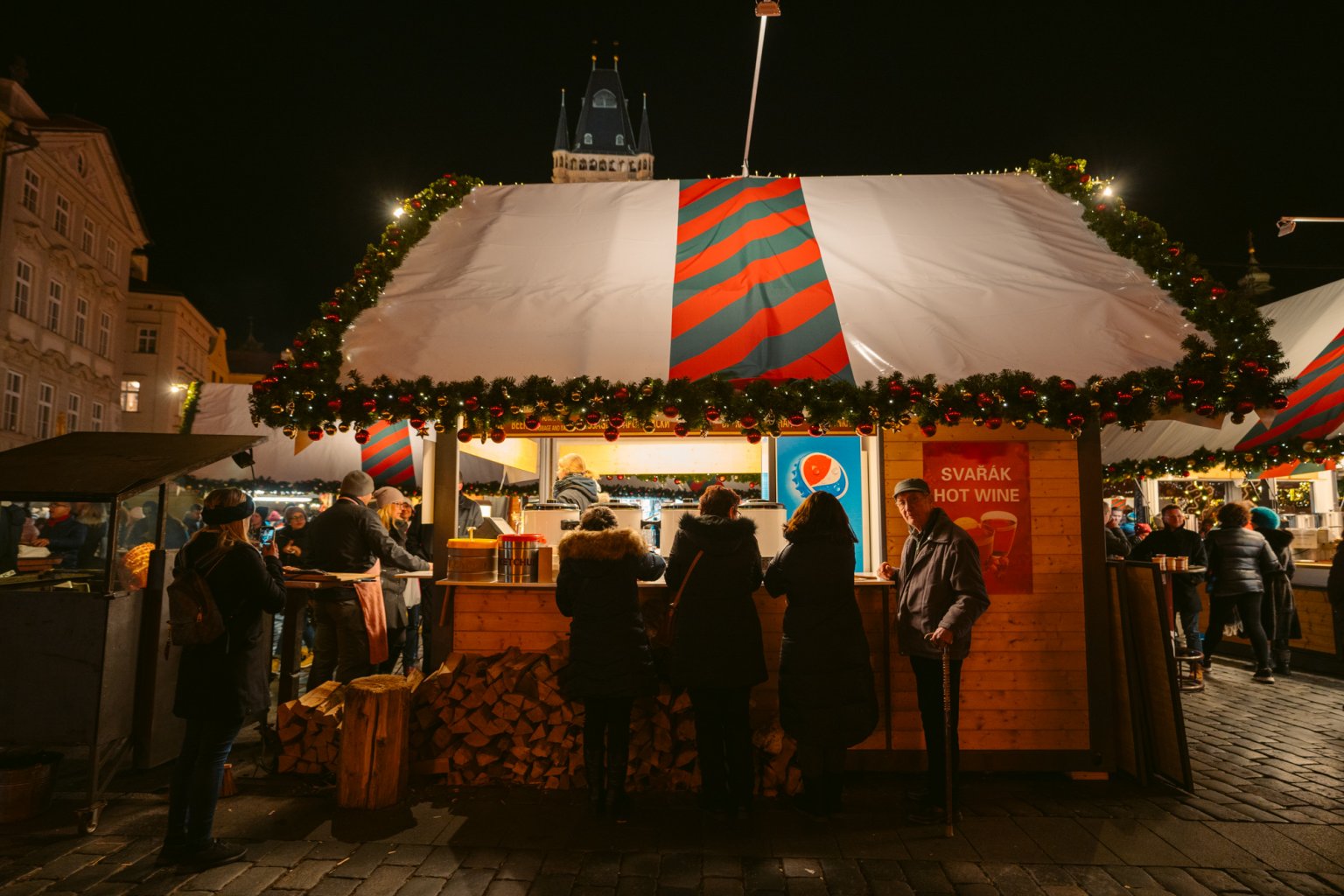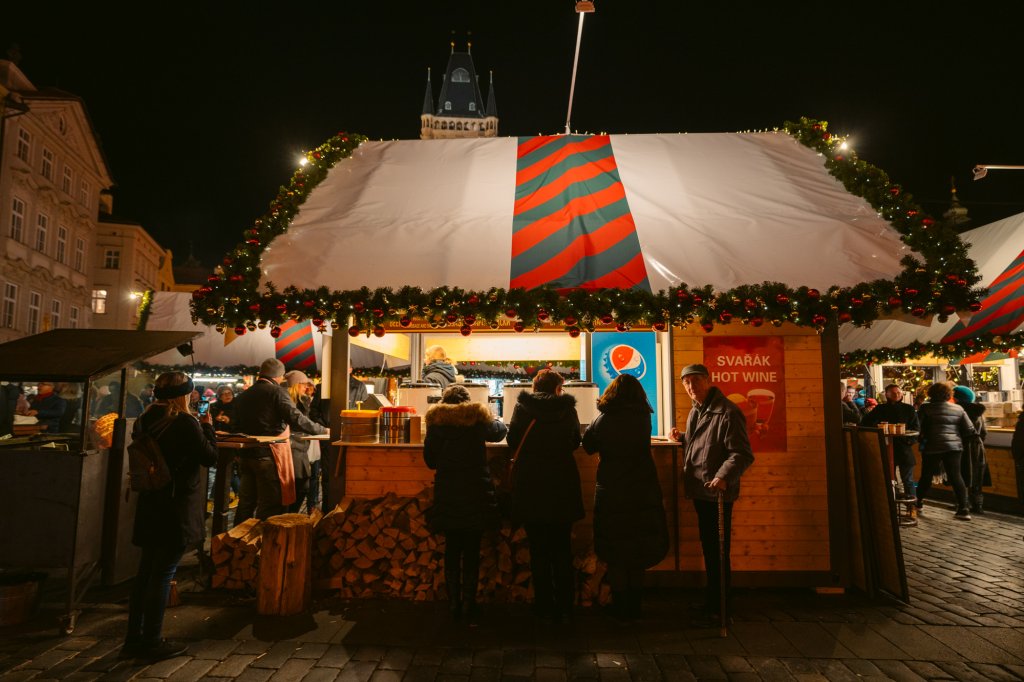 Fried Donuts & Pancakes
And for sweet tooths, you'll be happy to know that every Prague Christmas market has plenty of donuts and pancakes for dessert.
I inhaled a Palačinky so quickly I didn't manage a photo, but I'd highly recommend them. They're thin crepe-like pancakes served with different toppings like fruit and jam.
If you'd like something more gluttonous, I had my eye on these deep fried donut/pancakes throughout my entire stay… until my waistline begged for mercy so I refrained.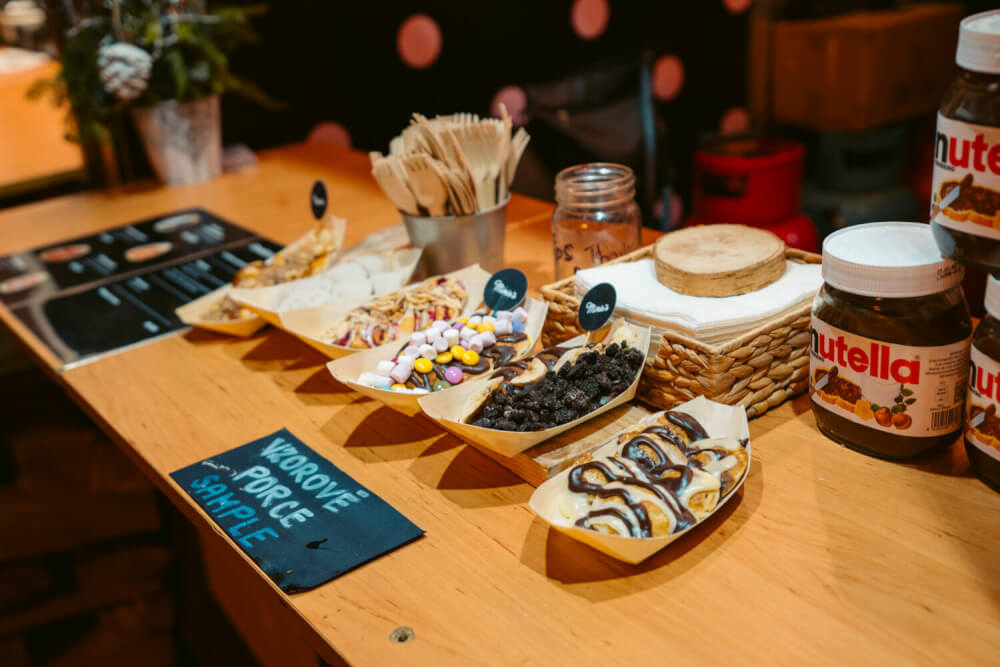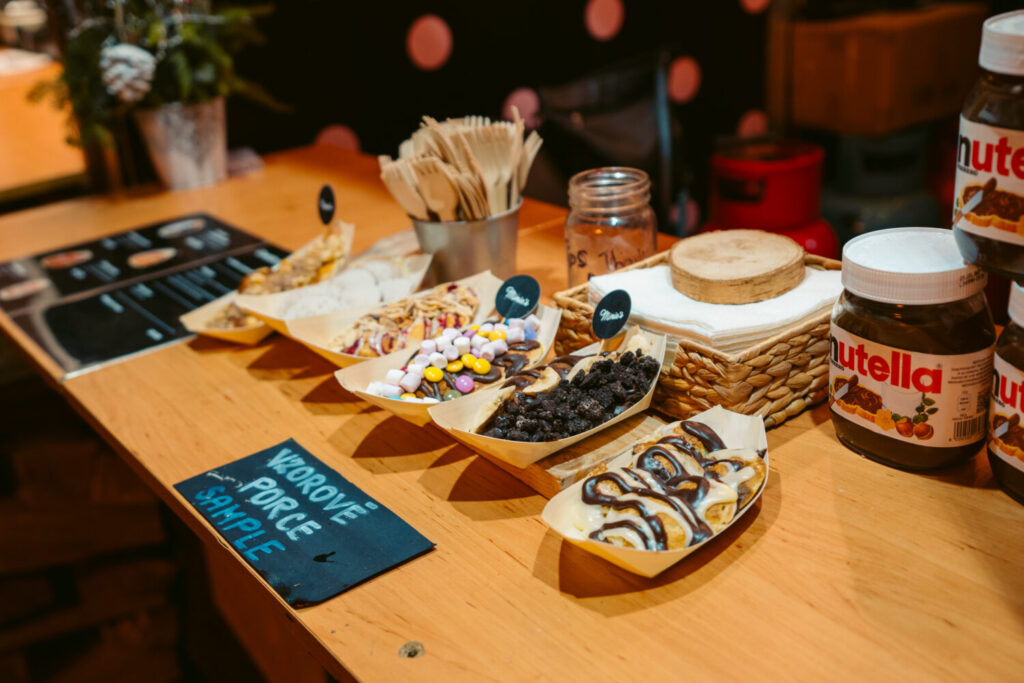 Lángos
Lángos are one of my favourite street foods in the world.
They're Hungarian, but widely available at Prague's Christmas markets, and while they're truly horrible for your health, they're well worth every single calorie.
Essentially, Lángos are deep fried slabs of dough slathered in wonderful toppings like cheese and garlic. Yes, they are every bit as wonderful as they sound!
Here's a photo of a Lángos I enjoyed at a Munich Christmas Market: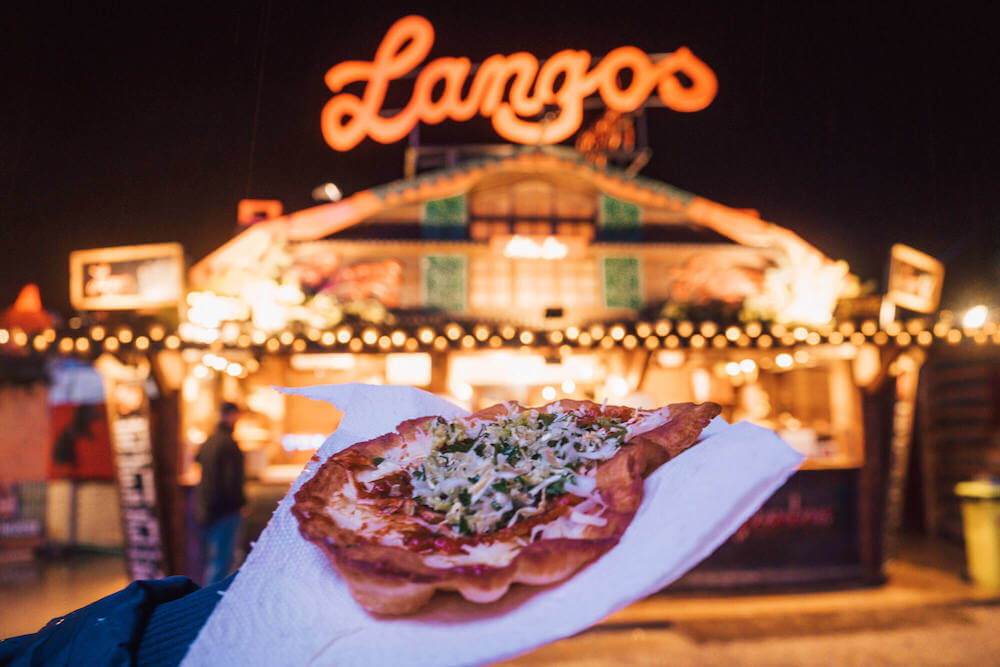 Potato Pancakes (Bramboráky)
While I didn't get a chance to eat potato pancakes in Prague on this visit, I have eaten my fair share of these treats over the years – probably enough to populate an entire field of potatoes.
They are by far one of my most recommended Christmas market snacks in Germany, and if you find a stall selling them in Prague, be sure to try one! They're basically little deep fried patties of potato made from grated taters and… it is just pure heaven.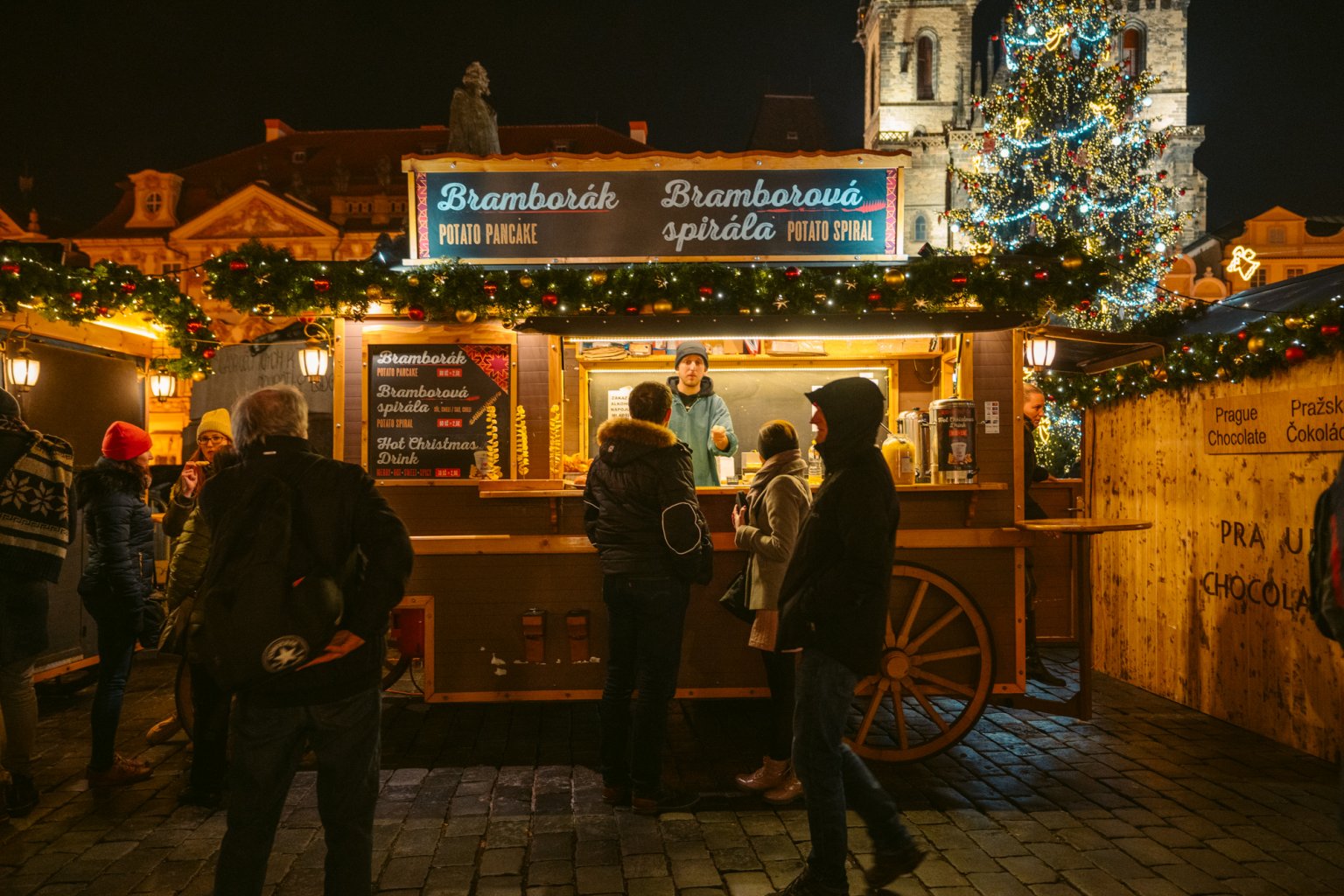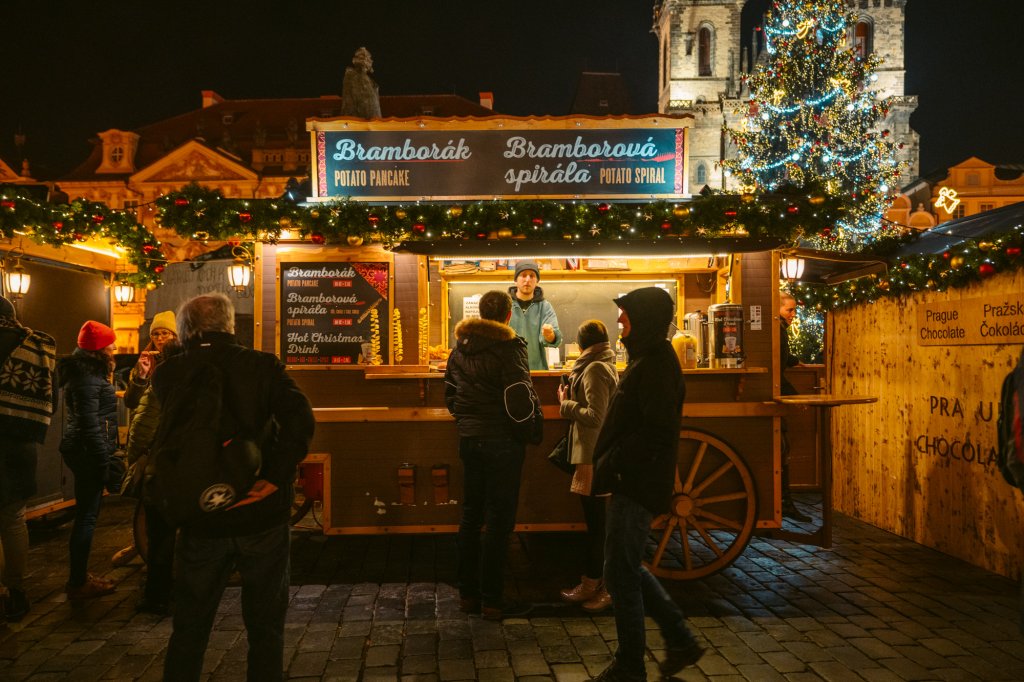 Trdelník
It's impossible to do a roundup of foods to try in Prague without mentioning the oh-so-divisive Trdelník, a treat that has over the years become a symbol of Prague itself……. despite not being Czech at all.
Many find Trdelník to be overrated and overpriced, but I actually find it quite tasty when served with ice cream. On its own, it can be a little bland, but it sure is purdy. Here's a photo of two cones I had when I was in Cesky Krumlov!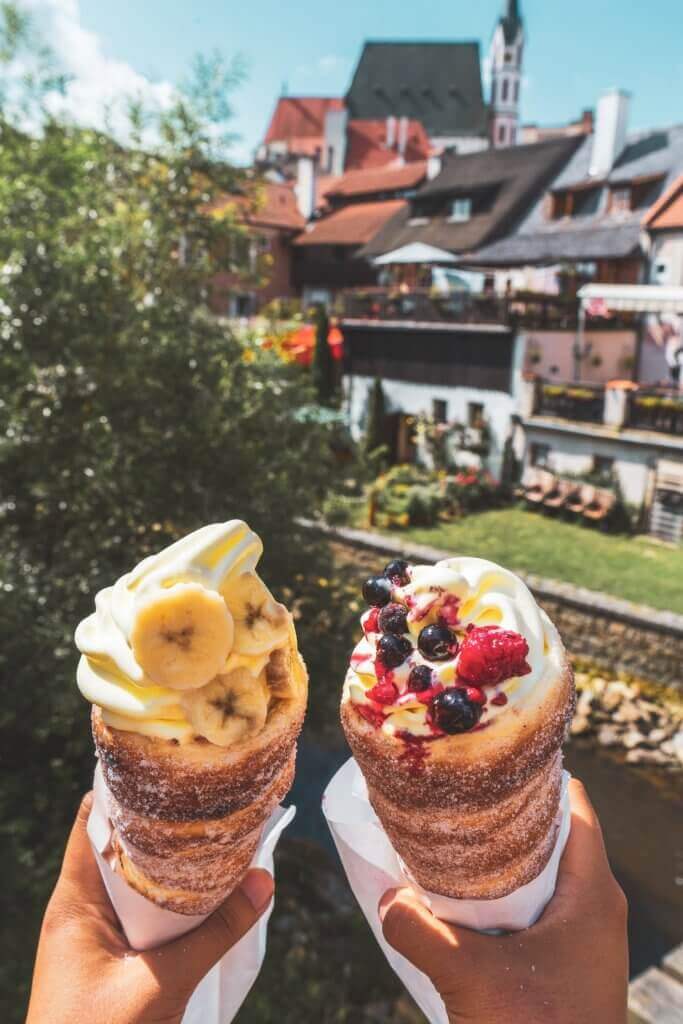 Where to Stay for Prague's Christmas Markets
While Prague's Christmas markets are spread out across the city, I would recommend staying as close to the Old Town as possible to soak in all the most magical parts of Prague!
I personally stayed at this (newly opened) hotel and it was amazing – super modern, comfortable, and within easy walking distance to all the sights.
It was also shockingly affordable for the location, although I think I got a really good deal… even the receptionist couldn't believe I paid less than 50 euros for the night!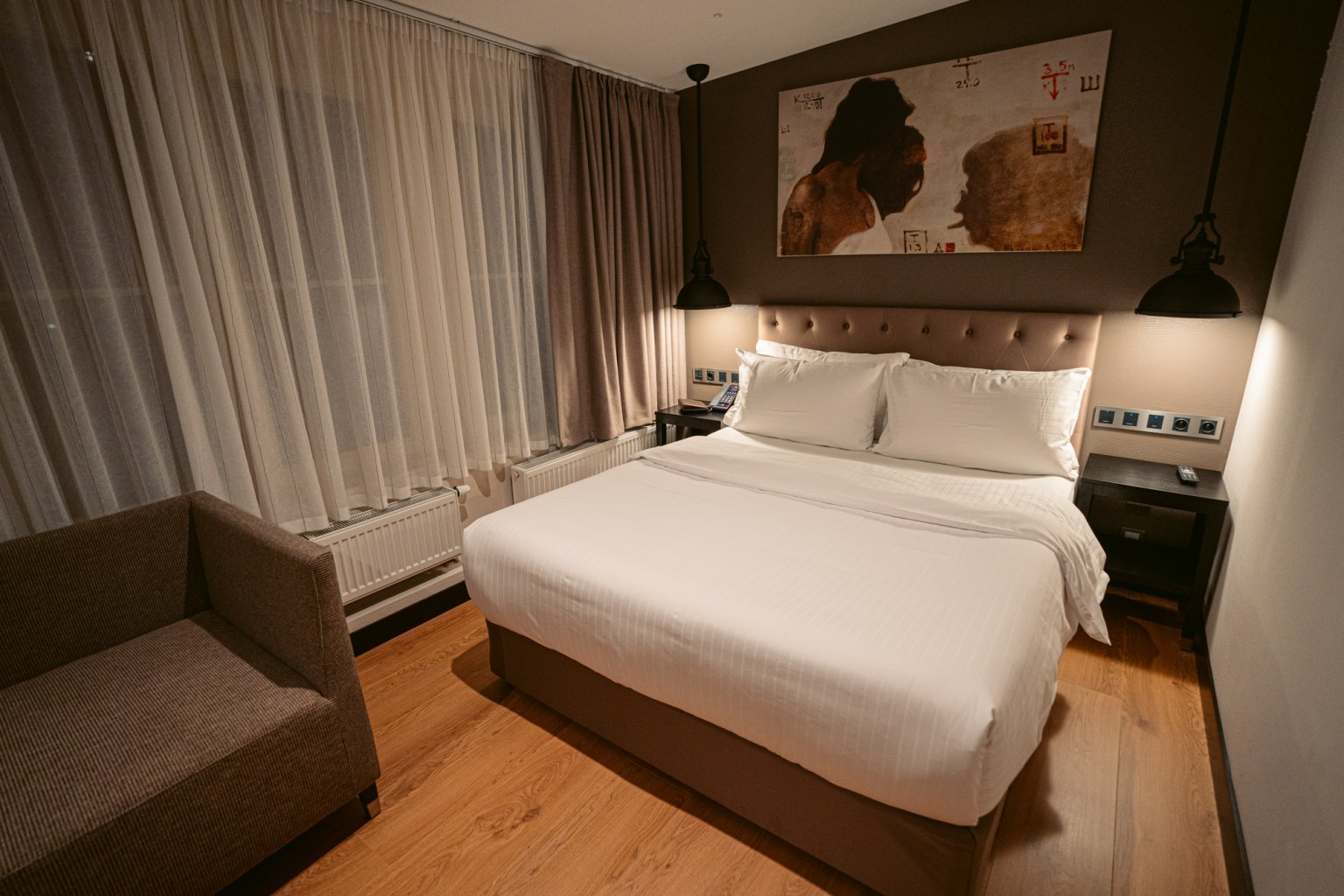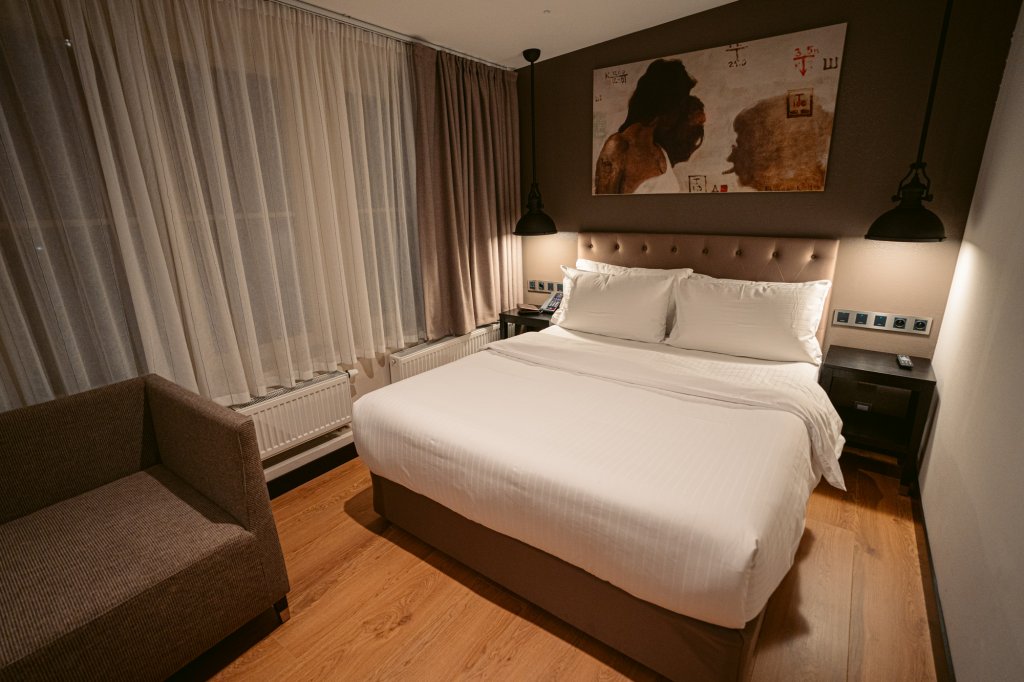 I Hope you enjoyed this guide to Prague's Christmas Market Scene!
Let me know in the comments if you have any more questions! Happy travels 🙂
---
Watch my most popular YouTube video this week:
---