*FYI - this post may contain affiliate links, which means we earn a commission at no extra cost to you if you purchase from them. Also, as an Amazon Associate I earn from qualifying purchases. Check out our Privacy Policy and Disclosure. for more info.
I've done a lot of thinking lately, and I'm ready to confess something. Of all the guilty pleasures of my life (among trashy reality TV, McDonalds breakfast and living in my pyjamas), I'd say German Christmas Market food might just be at the top of the list.
I mean, every November, as soon as as the Christmas markets across Europe open their doors, there's me, heavily breathing, rolling my way through markets like a giant human marizpan potato.
At that point, I don't care what you feed me, but it better be mulled and dusted with 2 cups of sugar.
I mean… it's kind of hard to hate German Christmas Market food. It's the best kind of comfort grub, all consumed blissfully unaware of their caloric destruction.
After all, calories don't count at Christmas, right? And who am I to argue with science?
And the best thing about German Christmas Market treats? Not only do stalls peddle the greatest of German goodies, they've also (over time) adopted the best and baddest snacks from other countries around Europe.
This has of course turned the German Xmas market scene into a continent-wide celebration of gluttony.
Where else can you stuff your gall with sausages one second, pasta the next, followed by Hungarian Lángos and French crepes?
*pans to footage of me making snow angels in a mound of European junk food*
Well, if you're hungry, this article is for you!
This guide will walk you through THE best German Christmas market food and drinks you need to try.
A few rules of thumb of course: bring loose-fitting clothes and don't you dare eat a meal before visiting the markets. You've been warned.
Now, onwards… Here's what to eat in Germany during Christmas market season.
Europe Winter Packing Essentials:
Delicious German Xmas Market Foods You Need to Try
What do you eat in Germany for Christmas? Well, a better question might be what DON'T you eat?
Over the years, German Christmas Markets have stepped up their food game, mixing traditional German food with international classics that are equally beloved (and detrimental to one's waistline). Here are some ideas for your German Christmas feast:
1. Wurst (AKA Sausage)
Fact: it is physically impossible to walk through a German Christmas Market without wanting a sausage. After all, wurst are a German Christmas Market classic, with a dizzying amount of variety on offer.
Whether it's the tiny Nuremburger sausages that you could easily pop by the dozen or a thick Thuringian rostbratwurst in a bun with mustard, you're spoiled for choice wurst-wise at any German Christmas market.
So, I follow a very simple rule of thumb: go by what looks good, and what everyone else is ordering.
Watching bundles of juicy sausages being cooked on a twirling Schwenkgrill is probably one of the most mesmerizing things you'll witness in your life, so try not to drool too much and be sure to keep things moving.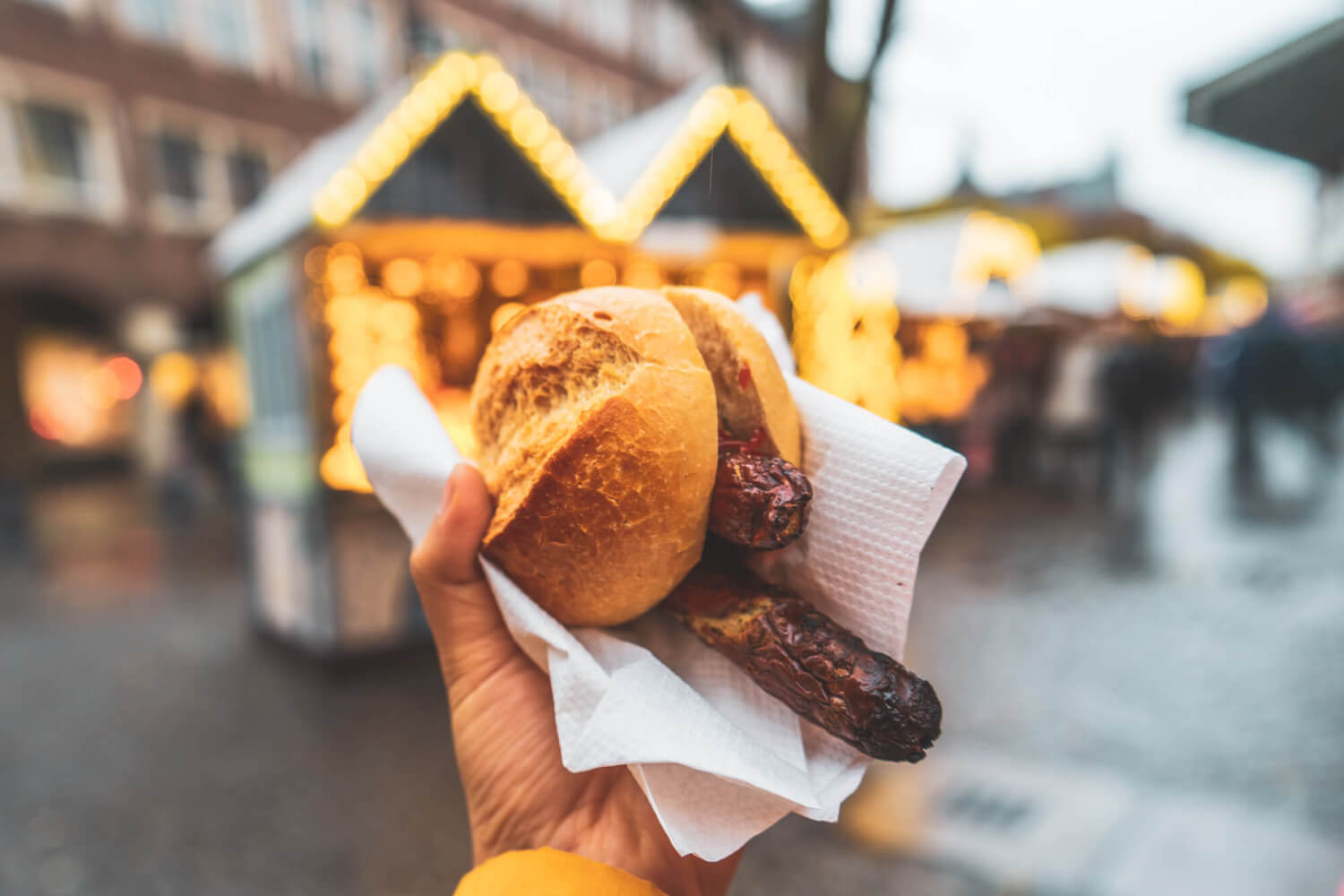 2. Reibekuchen & Kartoffelpuffer (AKA Potato Pancakes)
If you like hashbrowns, make sure you get yourself a Kartoffelpuffer (or Reibekuchen – same thing!) as soon as humanly possible.
These potato pancakes are the most addictive and delicious potato treat you'll have in your lifetime, and you'll definitely want more than one after that first hot, crispy and oily bite.
NOTE: They're commonly eaten with apple sauce, but I honestly devoured mine too quickly to even contemplate a side.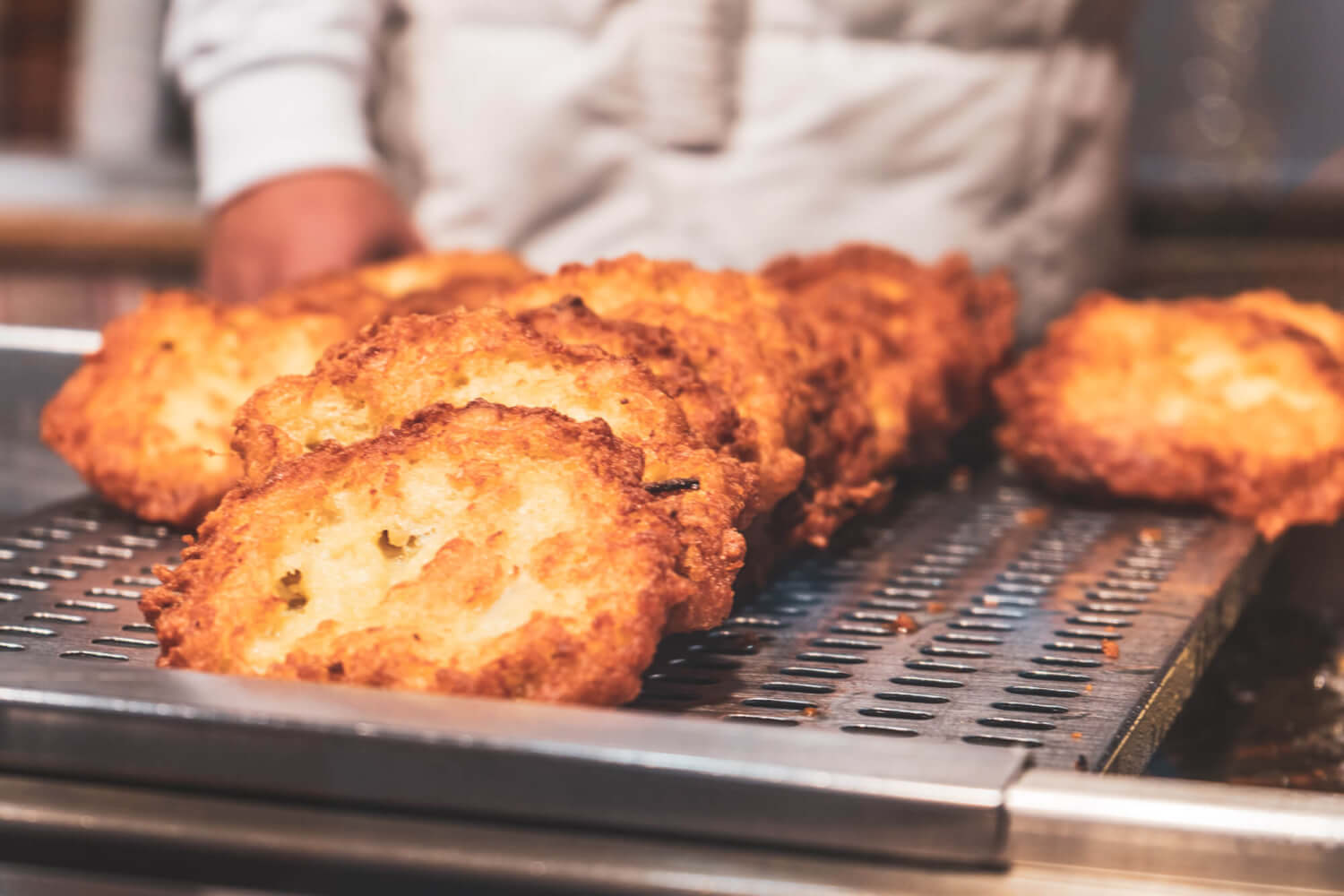 3. Champignons (AKA Mushrooms)
If you're looking for a snack that won't clog every artery in your body, then consider getting the healthy-ish snack of roasted mushrooms, AKA champignons.
You'll find pretty much one stall at every German Christmas Market selling them, and rest assured, your nose will lead you right to your prize.
Often they're served with a nice garlic (knoblauch) sauce. Mmm!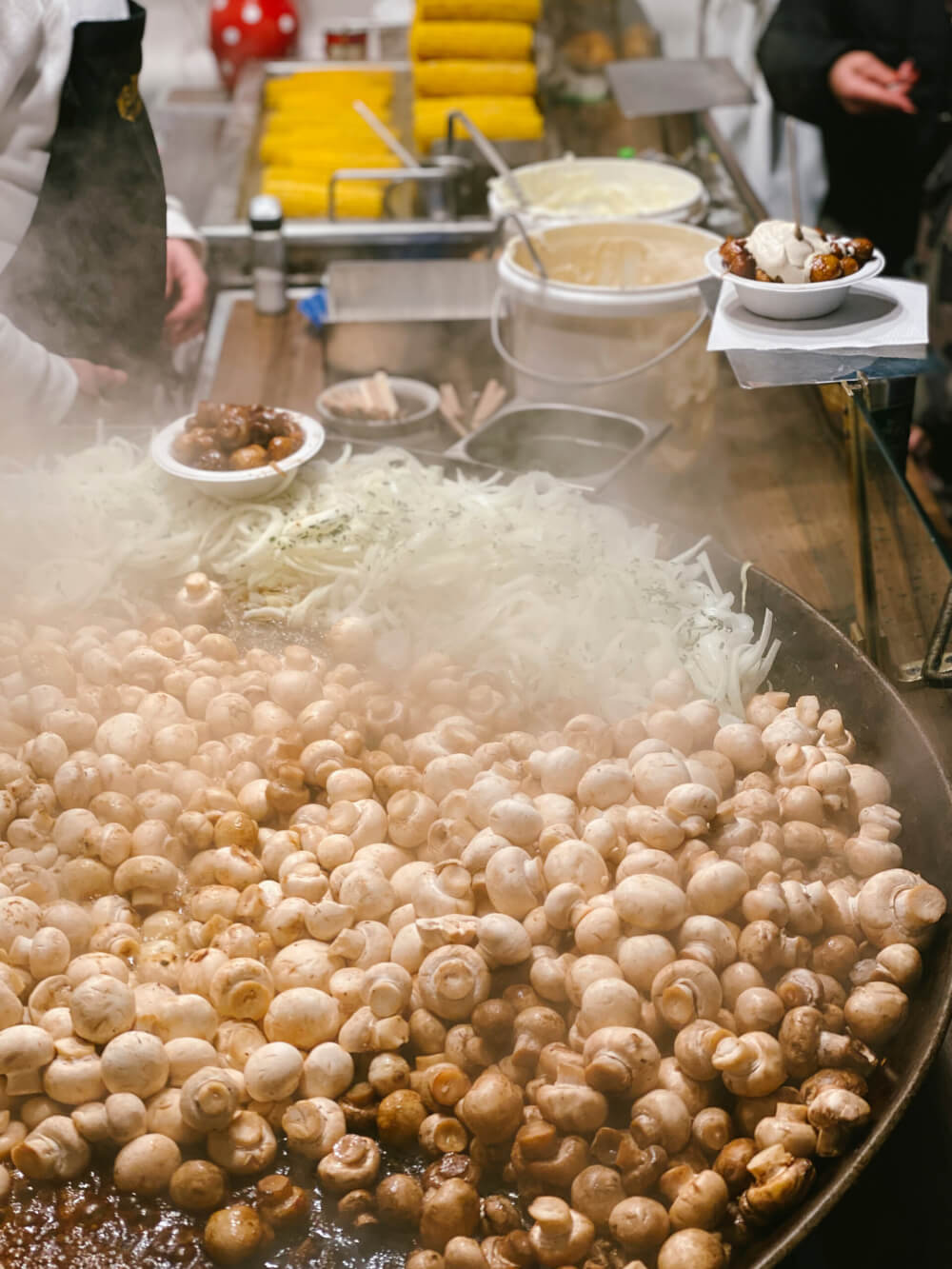 4. Gebrannte Mandeln (AKA Roasted Almonds)
While not exclusively a German Xmas food, to me, the smell of candied nuts will always be synonymous with the Christmas markets in Germany (and Oktoberfest, but that's a different story!)
Needless to say, the smell of these addictive little heaven drops will tempt you from miles away.
If you don't want to spend your life savings on nuts, I compel you to stay the heck away. I don't think filing bankruptcy because of "tasty nuts" will go over well with your finance guy.
5. Pommes (AKA Fries)
Ugh, how basic can I get, right?
I know that fries aren't the most exciting thing in the world, but there's something incredibly magical about strolling around under all the Christmas lights, nursing some crispy fries doused in mayo.
Get yourself a cone of fries to share and enjoy as the smell tempts every human and dog that crosses your path. *evil cackle*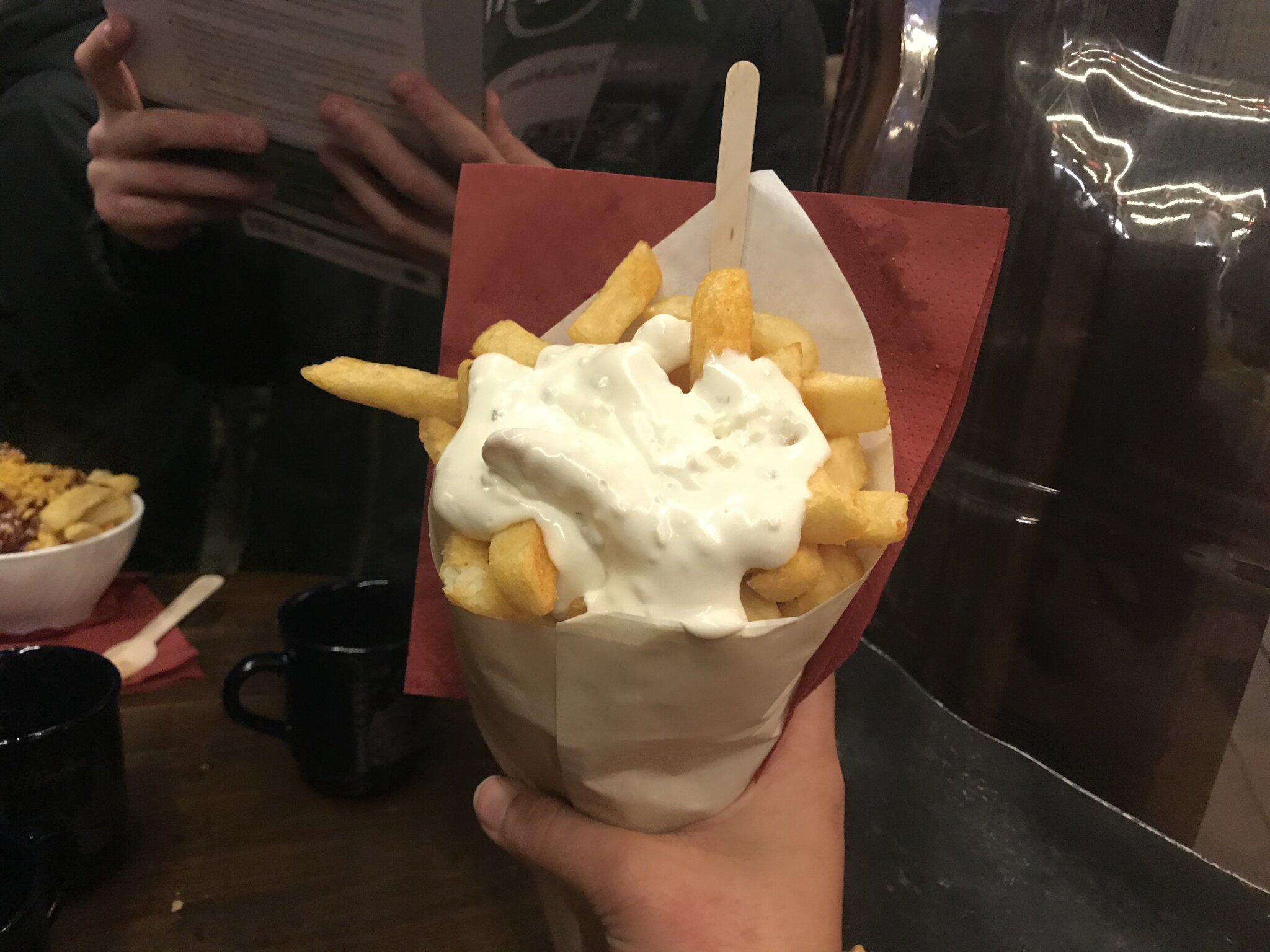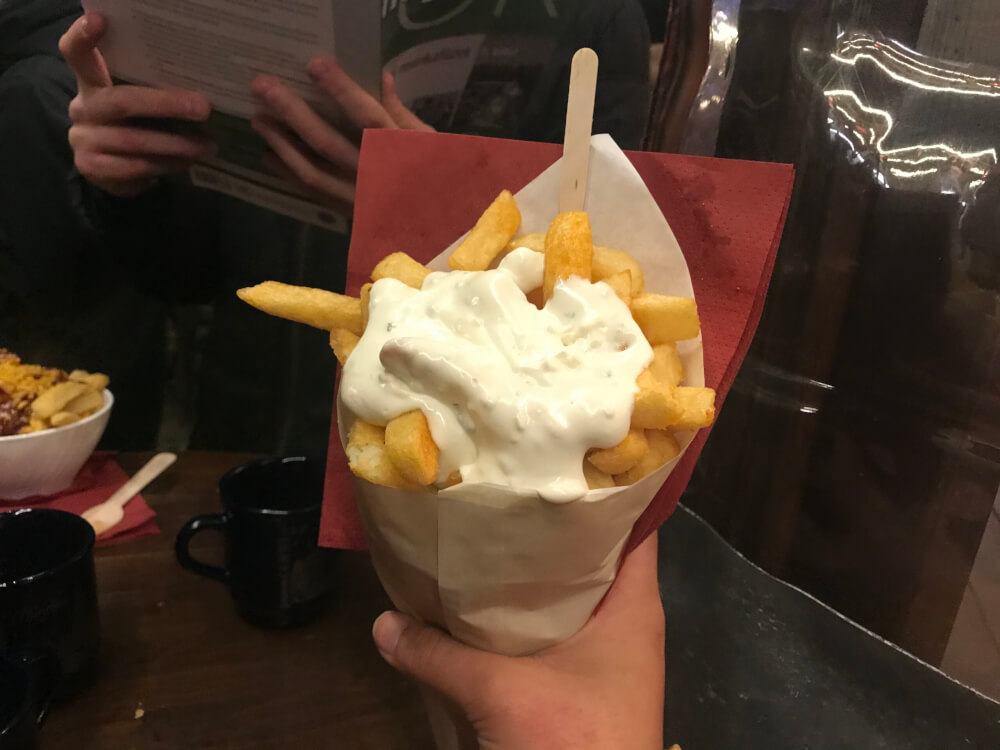 6. Flammkuchen
Think of flammkuchen as a delicate, fancy little pizza.
It's a thin flatbread typically covered in white cheese, creme fraiche, onions and bacon, BUT all sorts of varieties and toppings can be found nowadays.
It's a typical snack of the Alsace region of France (and the neighbouring areas of Germany like Baden-Wuttenburg) but it's a fair-time favourite at any big German event.
Why? It's ridiculously delicious, and the perfect savoury snack if you're not looking for something that will stuff you silly. Definitely grab a slice to try if you get a chance, especially if it's at one of the Alsace's amazing Christmas markets.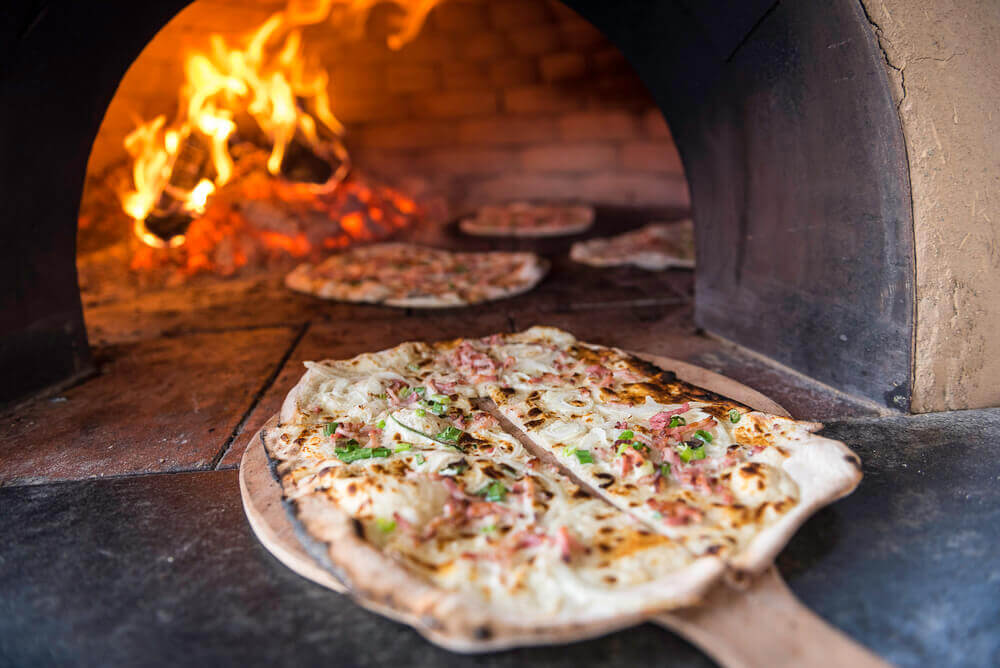 7. Knoblauchbrot (AKA Garlic Bread)
When eating at German Christmas markets, I usually fly by one key rule: follow your nose!
If you abide by this rule as well, your schnauzer will undoubtedly lead you at some point to knoblauchbrot, AKA garlic bread.
I know it's not the most exotic dish, but it's damn good (and also garlic bread here is more deep fried and usually slathered in some kind of yummy sour cream).
If you spot this treat at any Christmas market food stalls, be sure to grab one to try.
Free for You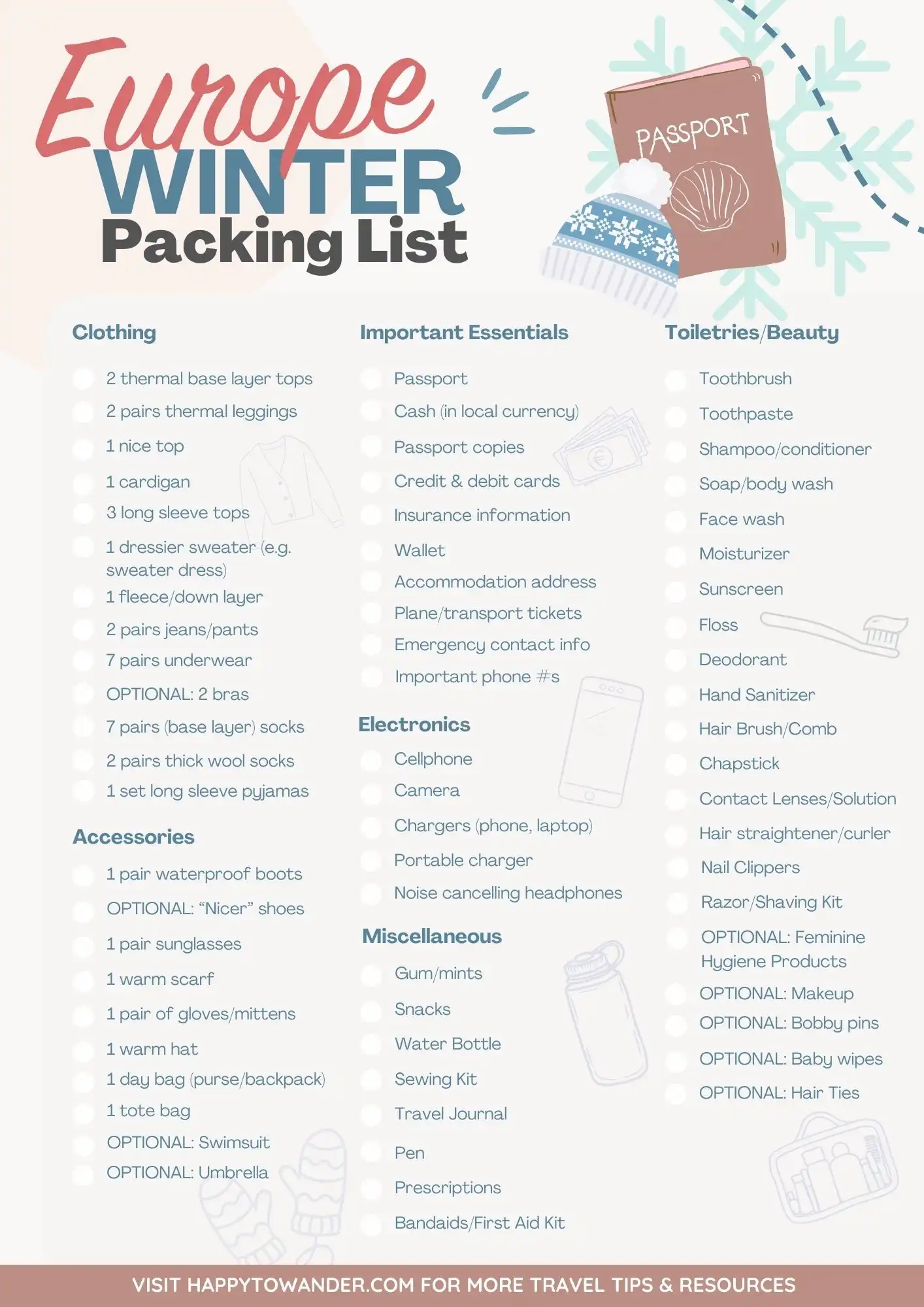 8. Lángos
Lángos (pronounced long-oh-sh) is a delicious piece of fried dough that's topped with all sorts of wonderful things like cheese, sour cream, or really, whatever you want!
As the name probably hints, it's not a traditional German Christmas Market food (its roots are Hungarian), but its deliciousness has ensured that it now features heavily in any Xmas market, in Germany and abroad. If you've never tried Lángos before, it's time for that to change, my friend.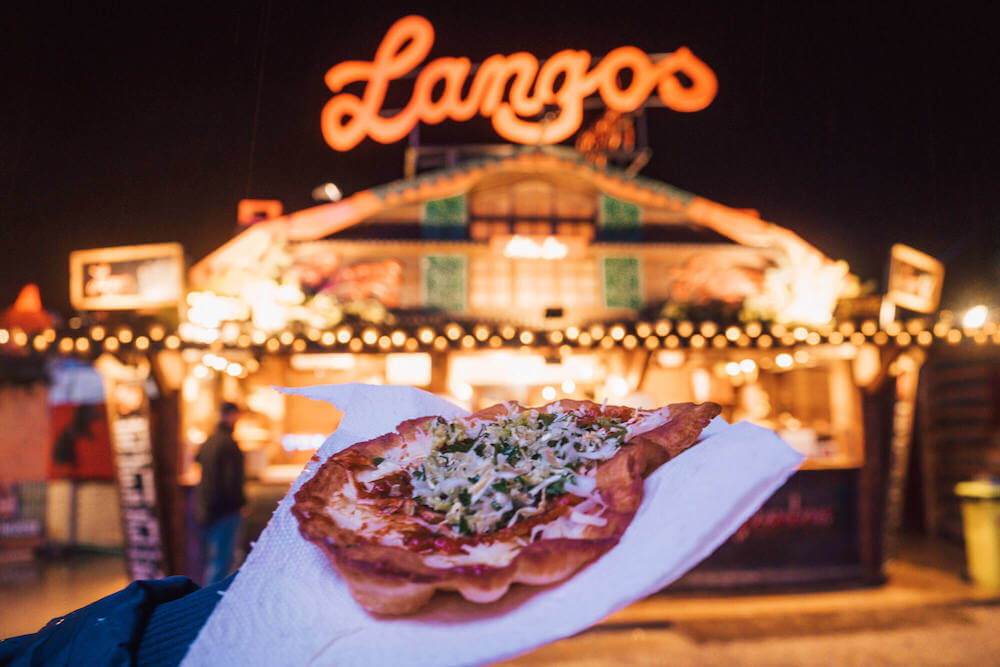 9. Raclette
Okay, so, really, Raclette is proof that simple things are often the best.
While its consumption is more common at the Christmas markets of Switzerland and France, raclette is now a big player in German Christmas markets because well, it freaking rocks.
It's basically heated cheese that is scraped off the wheel to offer a cheesy blanket to various toppings, usually potatoes, onions, cold cuts, pickles or all of the above on bread!
If you smell something funky in the air, odds are it's raclette being heated up, and my advice is you should run to it ASAP like it's the love of your life (because honestly, it kind of is).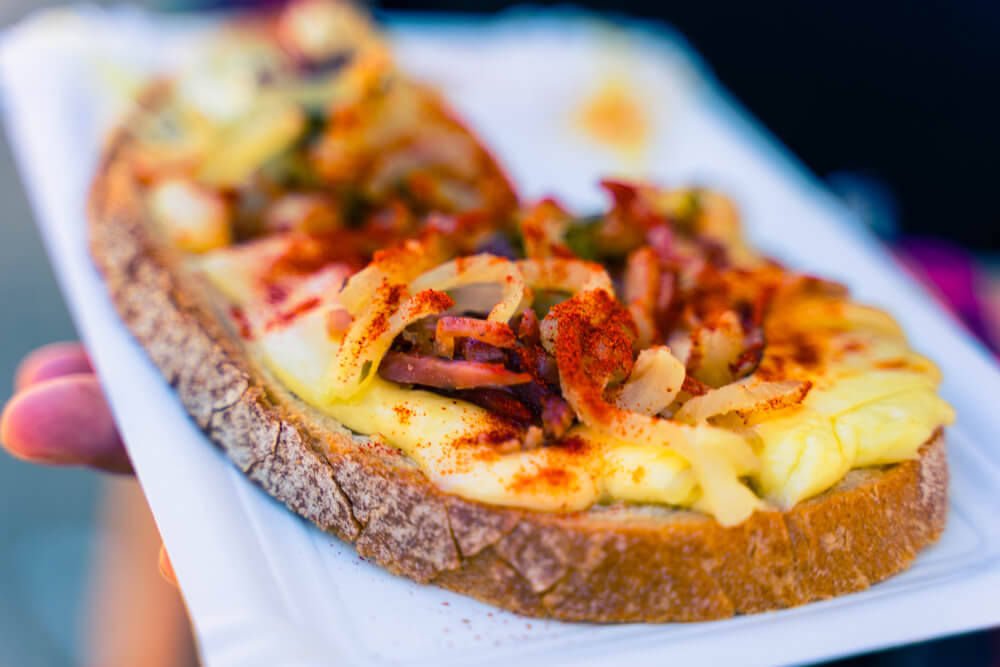 10. Fried Camembert
This was a treat I first noticed while exploring the Christmas markets in Düsseldorf – disks of breaded camembert stacked sky high just waiting to be deep fried.
It was quite possibly the most beautiful thing I'd ever seen. If you spot fried camembert at a German Christmas market, I urge you to eat as many as you possibly can.
They're SO GOOD!
11. Käsespätzle
While I haven't seen a lot of stalls selling my beloved Käsespätzle, I've noticed it at a few German Christmas Markets I've visited so I feel like I should include it.
Käsespätzle is like the German answer to Mac and Cheese – it's bouncy egg noodles generously slathered in Emmentaler cheese and fried onions.
It is one of my favourite traditional German food indulgences, and is more commonly consumed in a beer hall than at a Christmas market.
That said, if you see it around, grab a small plate to try. It's amazing!
Unorthodox recommendation: Käsespätzle is SO good with Sriracha on top. Like, I might even bring a tiny bottle in your bag just in case the occasion arises. This might be blasphemous to hear, but trust me.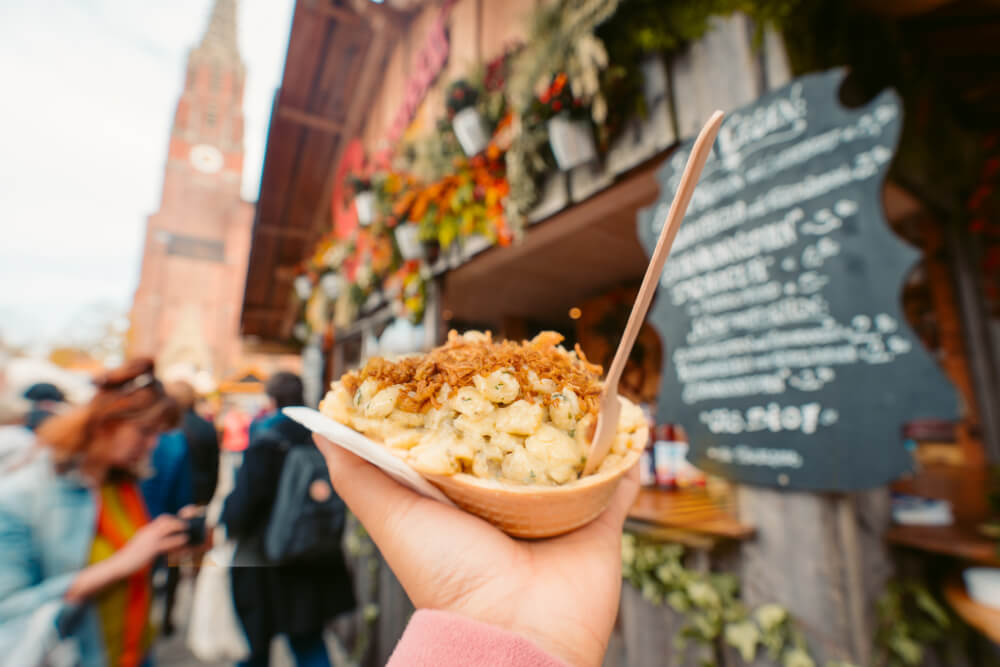 12. Schupfnudeln
Similar to gnocchi, these potato noodles are a classic dish beloved in Southern Germany & Austria.
Think of them as bouncy finger-like noodles that are typically served fried in bacon and tossed in… sauerkraut?!
I know, this is a dish bound to divide people, but if you're a fan of sauerkraut, this is a must try. Be warned though: it's really filling, so I advise sharing a plate between two.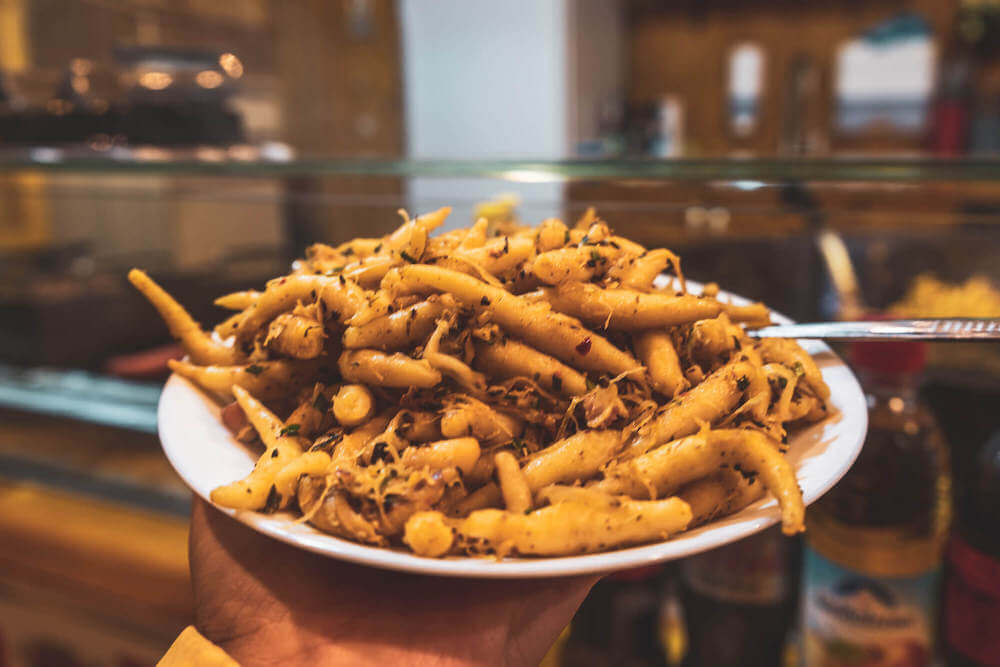 14. Currywurst
Ah, currywurst.
This is a popular German food that's beloved across the country (especially Berlin), whether at special currywurst stalls, as a delicious beer garden snack or perhaps a late night mouth-filler after partying too hard.
In sum, currywurst is a sausage that is sliced up and tossed around in a sweet curry ketchup, usually dusted with curry powder afterwards.
I know it doesn't sound like much, but you need to try it for yourself! Currywurst is beautiful. Currywurst is versatile… ergo, you should enjoy the magic of currywurst whilst surrounded by Christmas cheer.
It's often served with a side of fries (pommes), but if you want to save room for other delicacies, you can usually just get the sausage on its own too. Enjoyyy.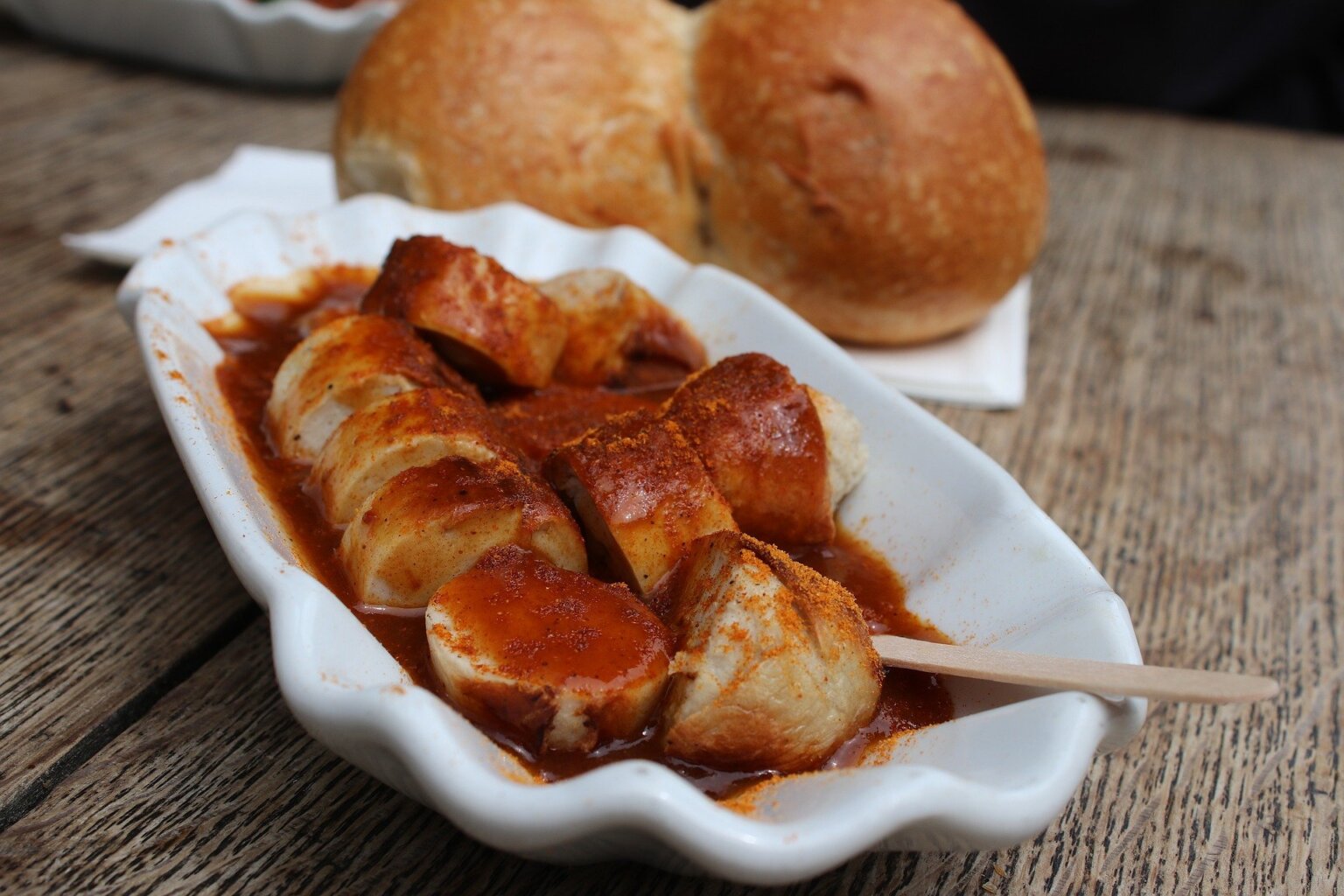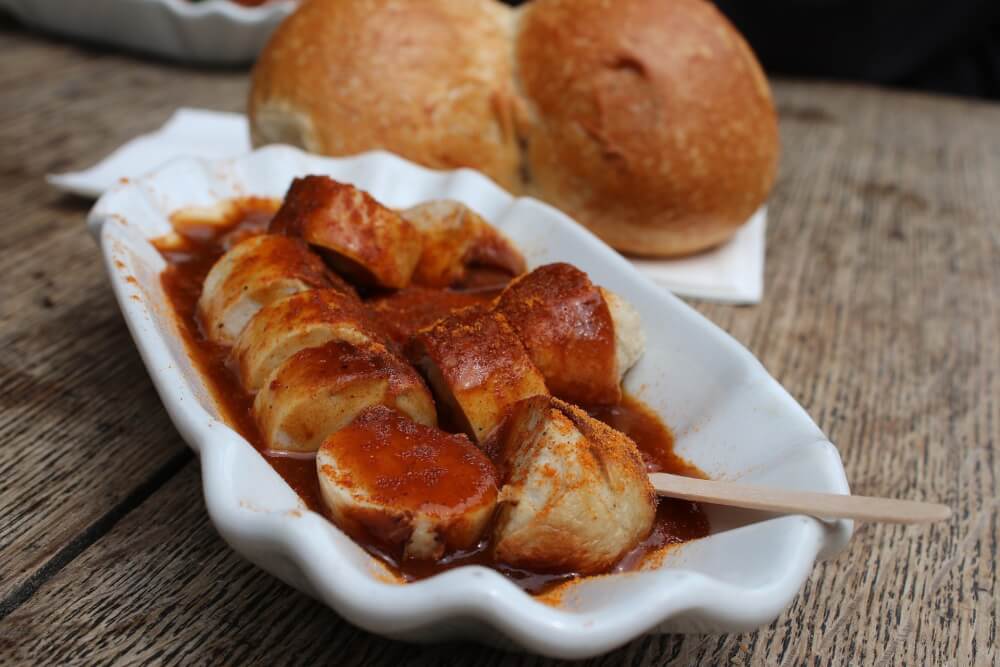 15. Grilled Fish or Eel (???)
Okay, so this isn't for the faint of heart.
I admit, the Munich Christmas market food scene had spoiled me for years with very dependable classics such as fries and candied nuts.
My recent Christmas Market adventure to North Rhine Westphalia however really thew me for a loop, with fish featuring at the markets much more than down here in Bavaria.
While Stecklerfish (fish on sticks) is a common sight in the South, I also noticed other delicacies such as smoked eels and salmon. Yes, eels! They kind of look like long, stretched out, overripe bananas. Isn't that an attractive description?
I didn't dare try it, but I trust you might have more adventurous taste buds than me. Hey, when in Rome…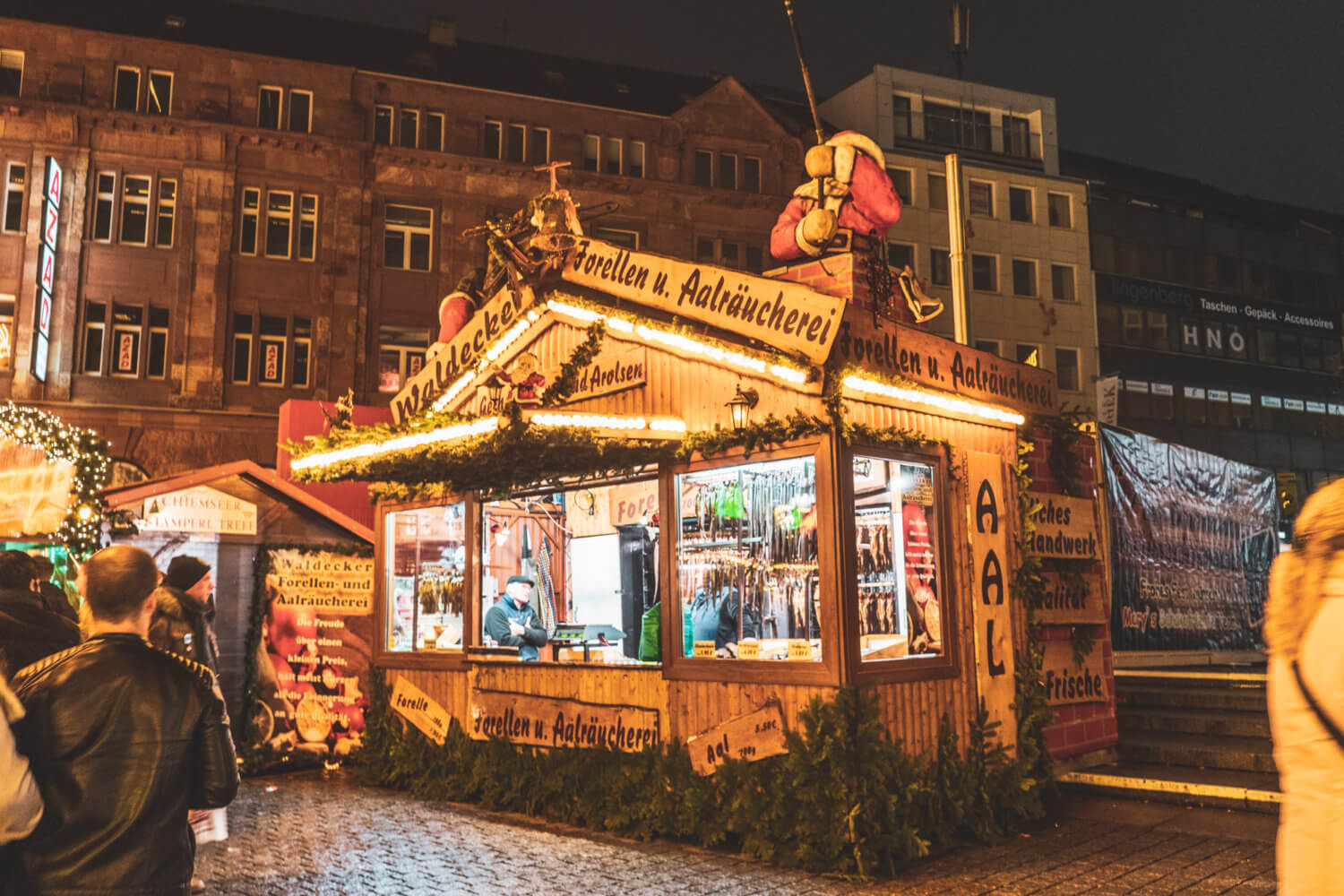 Your German Christmas Drink Bucket List
Of course, German Xmas markets are about far more than food. I might argue that having a hot drink in hand is even more important than stuffing your face with carbs (though both are important).
The beauty of German Christmas market drinks is they have this incredible ability to warm you from the inside out and fill you with all sorts of childlike wonder vibes…. which may or may not be related to the drinks' strong alcoholic content.
Anyways, these are the German Christmas Market drinks you need to try:
16. Glühwein
As the mac daddy of all Christmas market drinks, Glühwein is THE Christmas market drink that has become a beverage synonymous with Christmas itself. It's essentially a hot wine mulled with spices to create the ultimate comfort drink, like Christmas in a cup.
I mean, if you aren't soaking in a tub of hot German wine at Christmas, is it even Christmas?
These are the existential questions I like to concern myself with.
I'm quite certain the answer is no. While I've met the occasional grinch-character who doesn't enjoy Glühwein, I can say it's pretty universally beloved so you need to try it at least once.
If you're feeling especially experimental, some stalls will sell fruity spins on Glühwein like cherry or raspberry flavours, and some do a white wine Glühwein that's super delicious as well.
PS: Just remember to drink it quickly because cold Glühwein is pretty much just a sad sangria.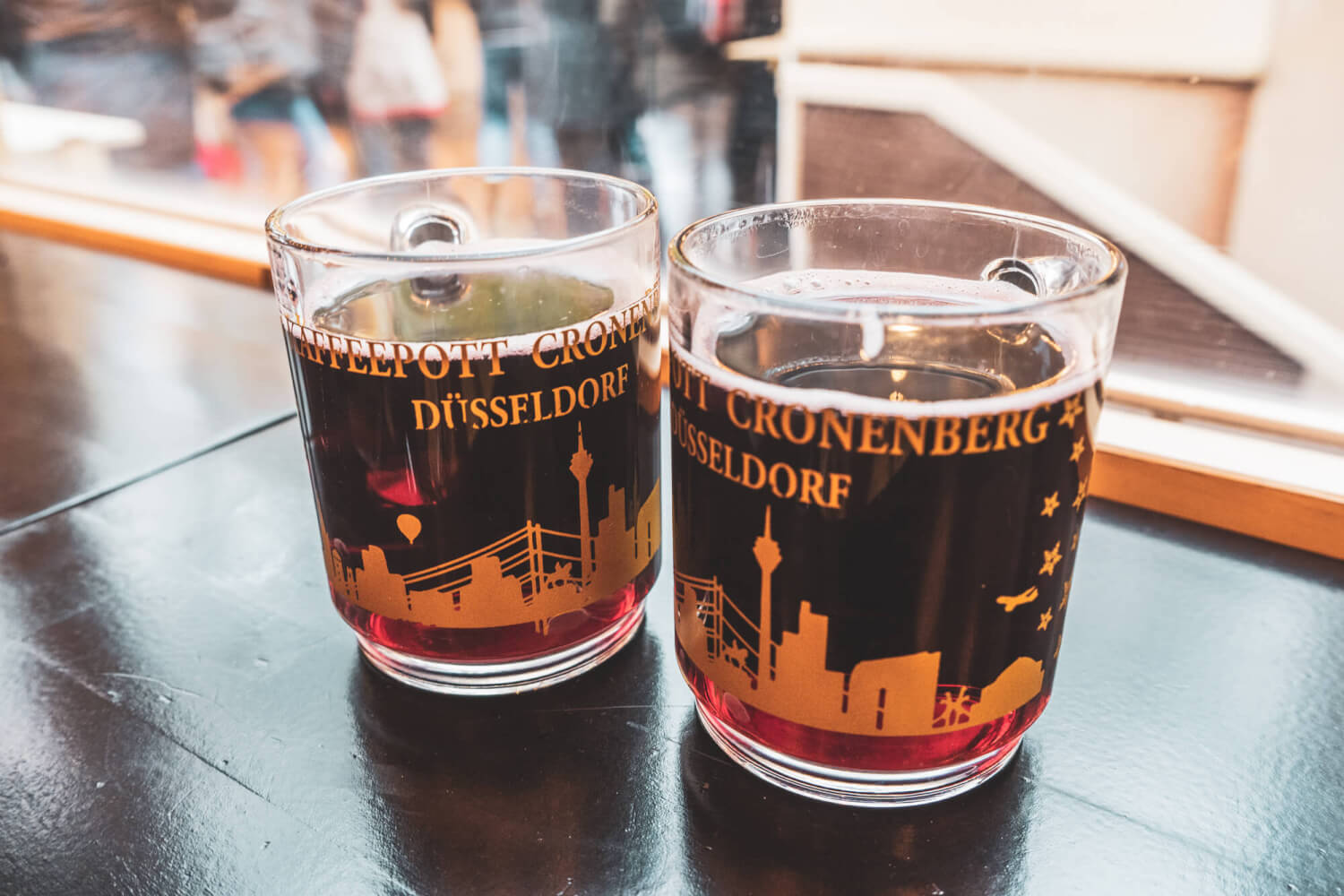 17. Eierpunsch
Another German holiday drink that you'll often see at Christmas markets is the "Eierpunsch".
While some silly souls compare it to eggnog, I don't taste the similarity at all.
Sure, they both have "egg" in the name, but Eierpunsch is actually made with egg yolks, white wine, spices (cinnamon & cloves), vanilla and citrus juice.
Sure, this is a highly unlikely and weird-sounding combination, but when served altogether with a big topping of whipped cream, it actually tastes like a blended apfelstrudel. Use that information as you will.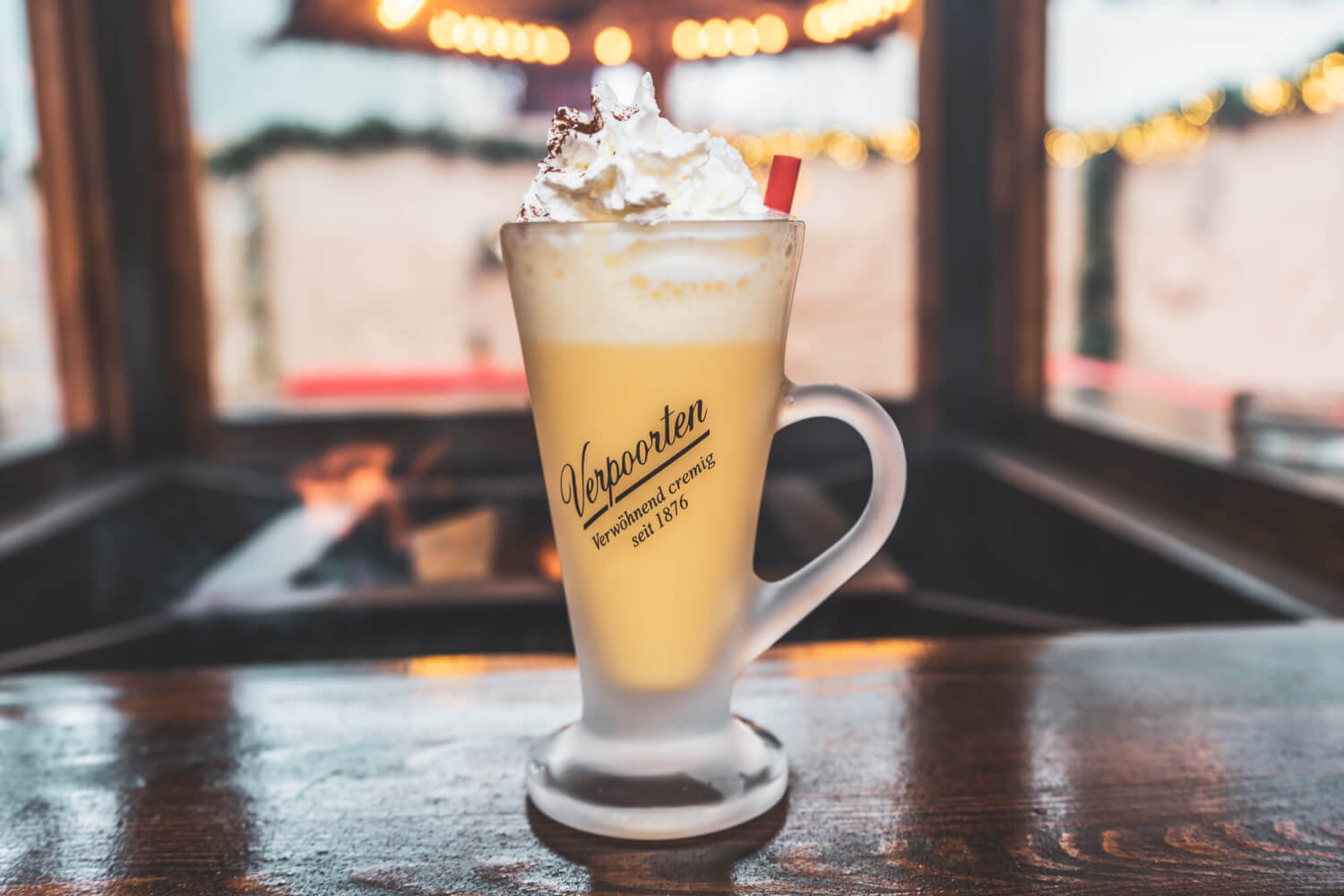 18. Heiße Schokolade (preferably spiked with some rum!)
It's not a Christmas Market until you get some chocolate in you, so why not warm up with a delicious mug of hot chocolate?
And sure, you could keep this as an innocent little non-alcoholic drink. BUT HEY, it's Christmas – the socially acceptable time to day drink and be mildly buzzed all the time, sooooo I invite you to try your hot chocolate with a little twist.
Often at German Christmas Markets, the follow-up question to ordering a hot chocolate is whether you want alcohol in it or not… I know this sounds barbaric, but get a shot of rum in there. It's delicious.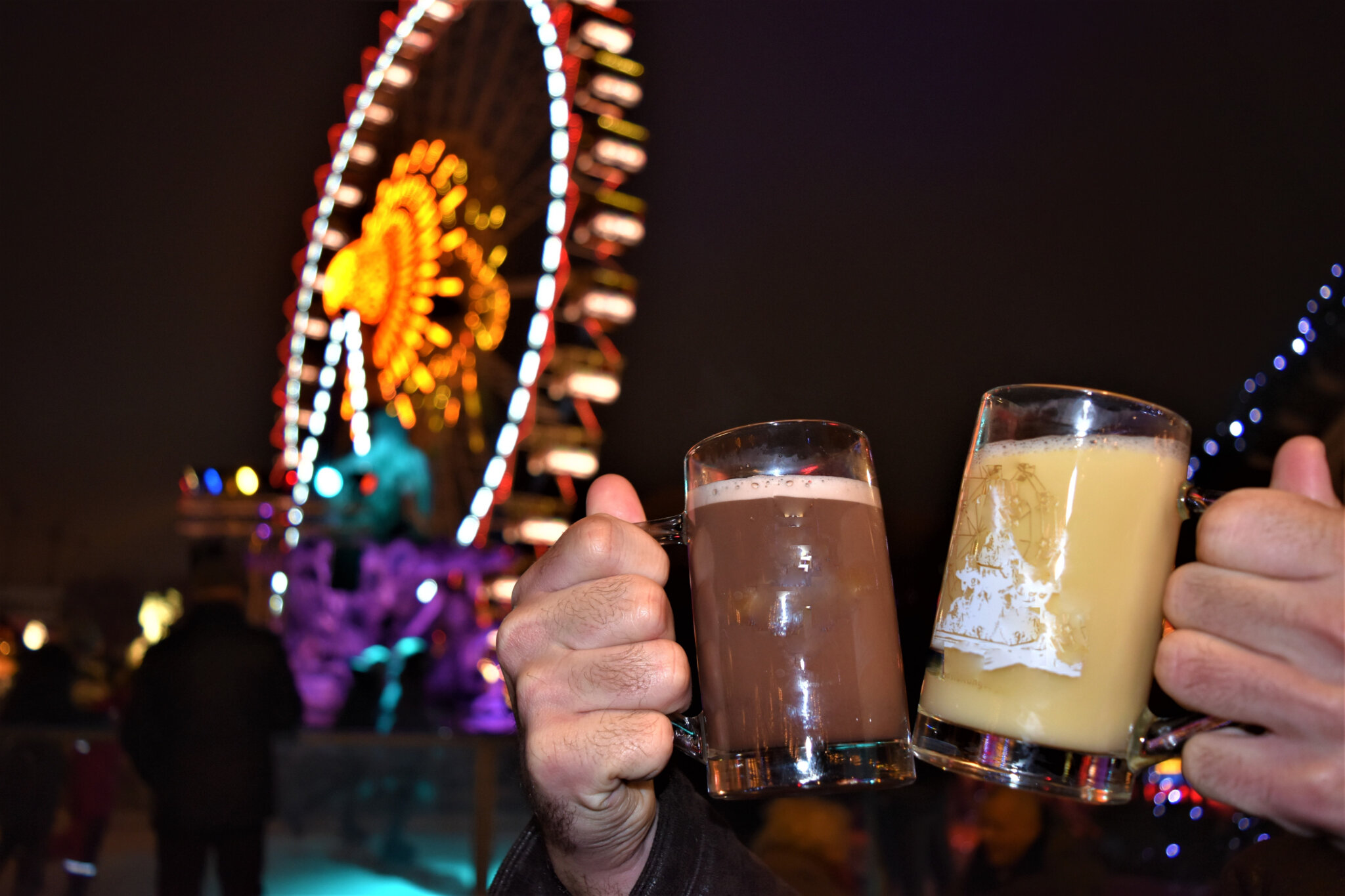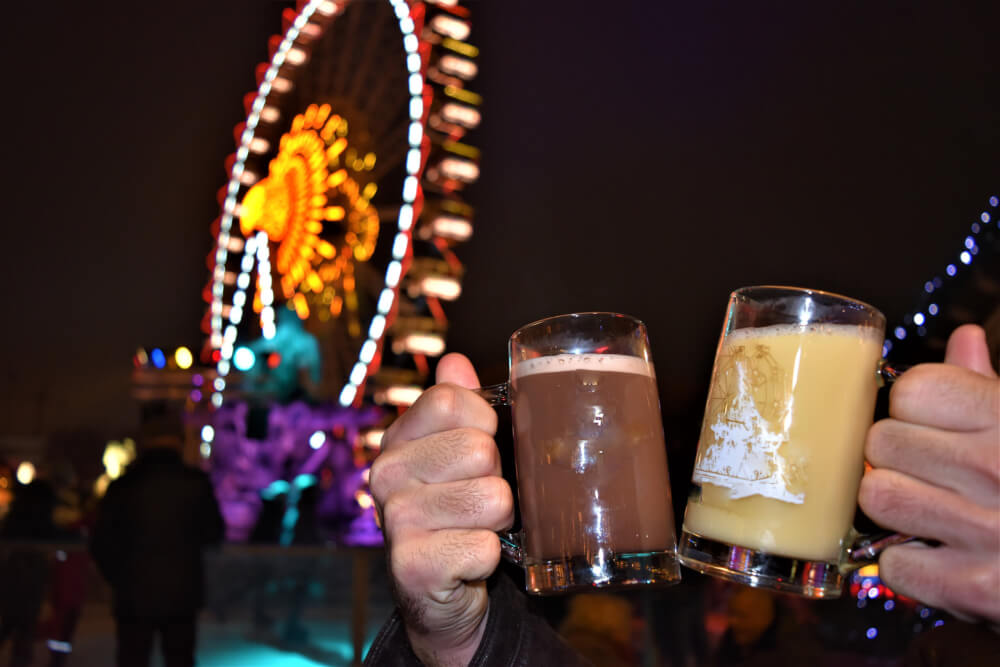 19. Feuerzangenbowle
If Glühwein isn't hardcore enough for you, then give Feuerzangenbowle a try.
It's basically Glühwein but with a sugar cube on top that is soaked in rum then SET ON FIRE, spiking your mulled wine with boozy sugar. Yeah.
There are a few different versions – some of them give you an individualized cup with a little spout that the sugar cube is perched in, then it melts naturally into your drink.
Others will have a giant cauldron of Glühwein with a massive sugar cube over top that's soaked in rum and periodically set on fire, with the caramelized drippings entering the Glühwein directly.
I actually prefer the latter because the flavours feel more balanced, but the individual ones are cooler for photos!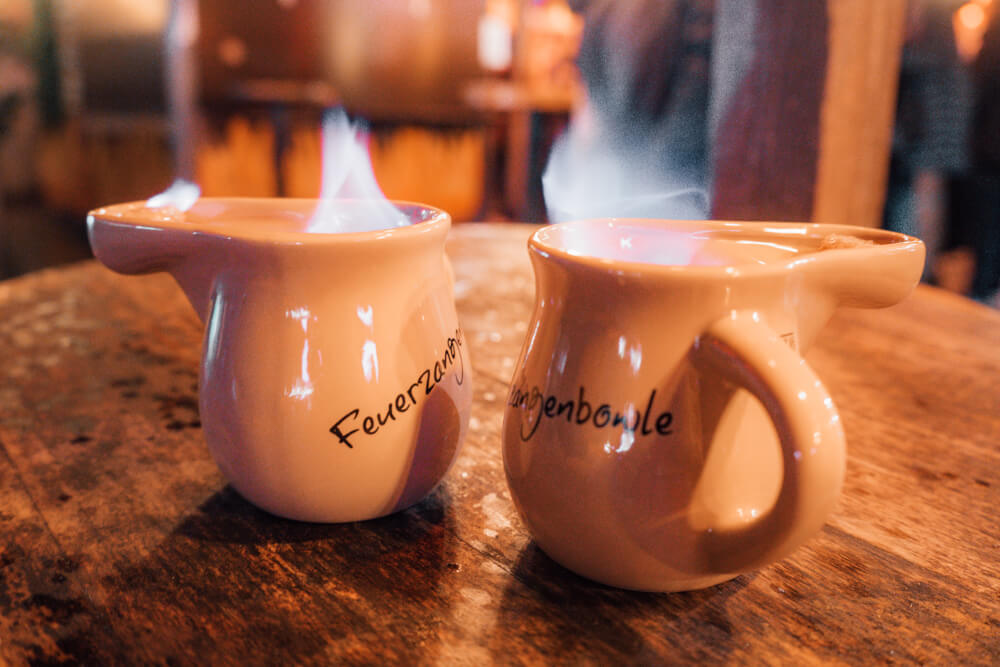 20. Jagertee
AKA Hunter's Tea, AKA a way to make tea alcoholic. Yay.
While technically Austrian, Jagertee is a popular drink you see at some German Christmas Markets, and is a black tea mixed with rum. It's rather potent and alcoholic, so don't have too many 😉
21. Glühbier
Turns out, Germans can mull anything, including the country's national beverage: beer! I now that hot beer sounds pretty gross, but it's actually not bad. The best way to know is to try it of course.
22. Grog
Grog is a hot drink once commonly consumed by seamen up in the North of Germany to warm them up and ward off the cold. Its oh so complicated ingredients? Hot water and LIQUOR. (Usually rum)
This is like the angry, drunk uncle of German drinks and truthfully, I do not like it at all.
Buuuuut it's traditional, and worth a try if you get tired of sipping Glühwein incessantly.
I tried one at the Essen Christmas Market and even the pretty crystallized sugar stick couldn't save it. I was literally drinking rum in hot water guys.
It felt like I had reached a new low point in my life. And while I did see other flavours on the menu (including an Apple Grog), I don't think "rum in hot water" is really the drink for me. Pass the hot chocolate please.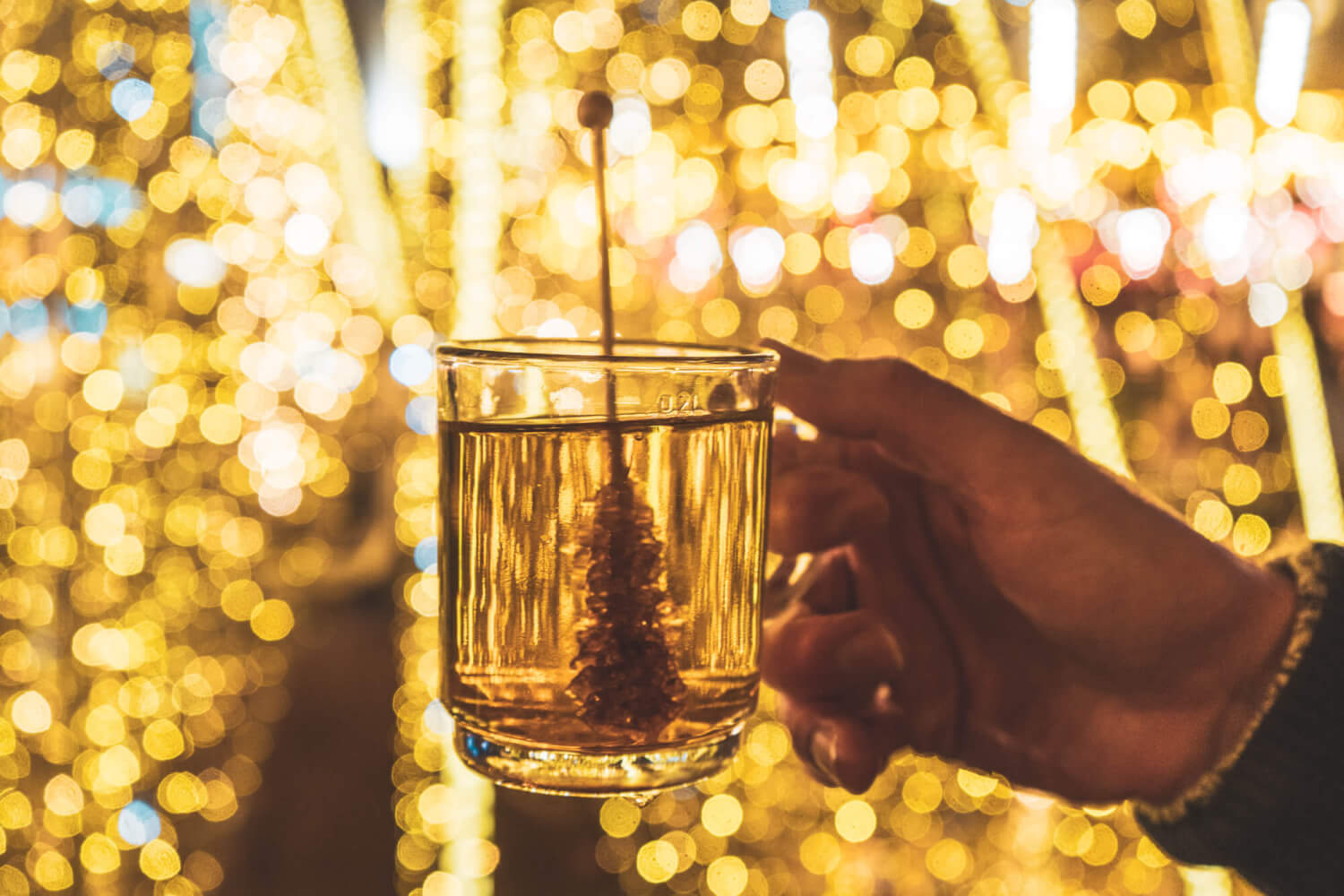 23. Kinderpunsch
So far I've mostly mentioned German Christmas Drinks w/ alcohol but don't worry: there are of course non-alcoholic options if you want as well.
If you want to partake in the cozy Glühwein fun but without the alcohol (or need something for the kiddos to drink without getting smashed), then try Kinderpunsch: it's basically Glühwein except it's spiced juice rather than wine. I've had it before – it's nice!
German Christmas Sweets & Desserts You Should Try at Every Market
Are you at all surprised I've dedicated an entire section to sweets and dessert? You really shouldn't be.
This lengthy guide to German Christmas food and drink couldn't possibly be complete without a dessert section. So, here are some sweet treats you need to make sure you eat at German Christmas Markets:
24. Dampfnudel
Dampfnudel is one of my favourite Bavarian dessert revelations, and one of my favourite foods to eat at Oktoberfest.
If you see it being served at a German Christmas Market, you have to try it!
It's like a fluffy cloud of bread with cinnamon that's soaked in a decadent vanilla sauce (or sometimes jam, but I don't like to mess with a good thing and the vanilla sauce is already perfect).
It's very simple, but oh so delicious, and well worth a try.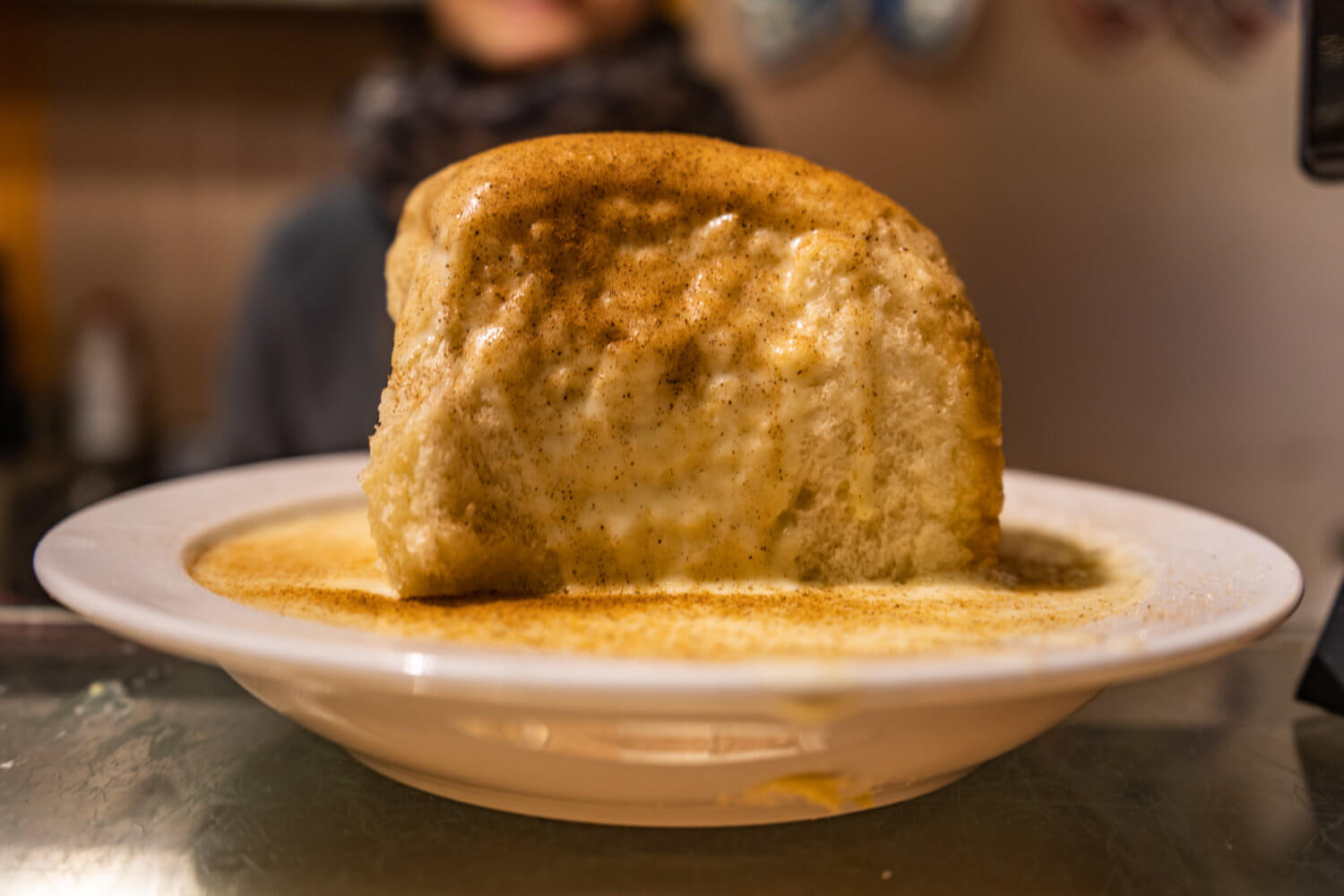 25. Schaumkuss
Of all the tempting treats on offer at Christmas markets around Germany, the adorable Schaumkussen are among the most irresistible.
Think of them as German market marshmallows generously dunked in chocolate and a variety of different flavours.
I just want to buy a million of them and build myself a little Schaumkuss fort.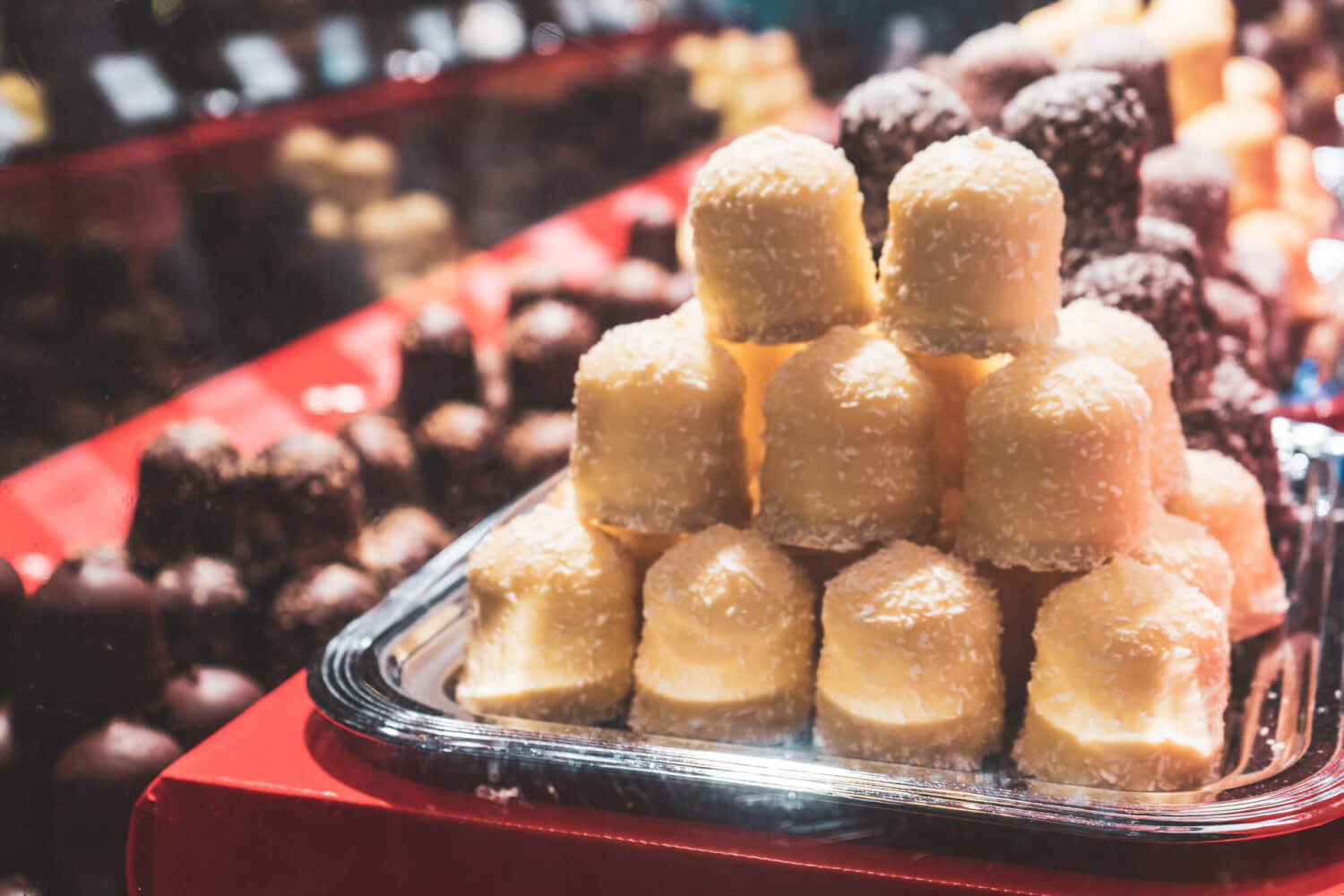 26. Stollen
When it comes to traditional German Christmas desserts, one's mind immediately jumps to Stollen.
This dense fruit cake is a classic staple at any German Christmas celebration.
Think of it as a dense bread packed with fruit, spices, and nuts.
Honestly, it's not my favourite, but I know a lot of people adore it. If you enjoy fruitcake, make sure to give Stollen a try. After all, it features at every German Christmas meal for a reason!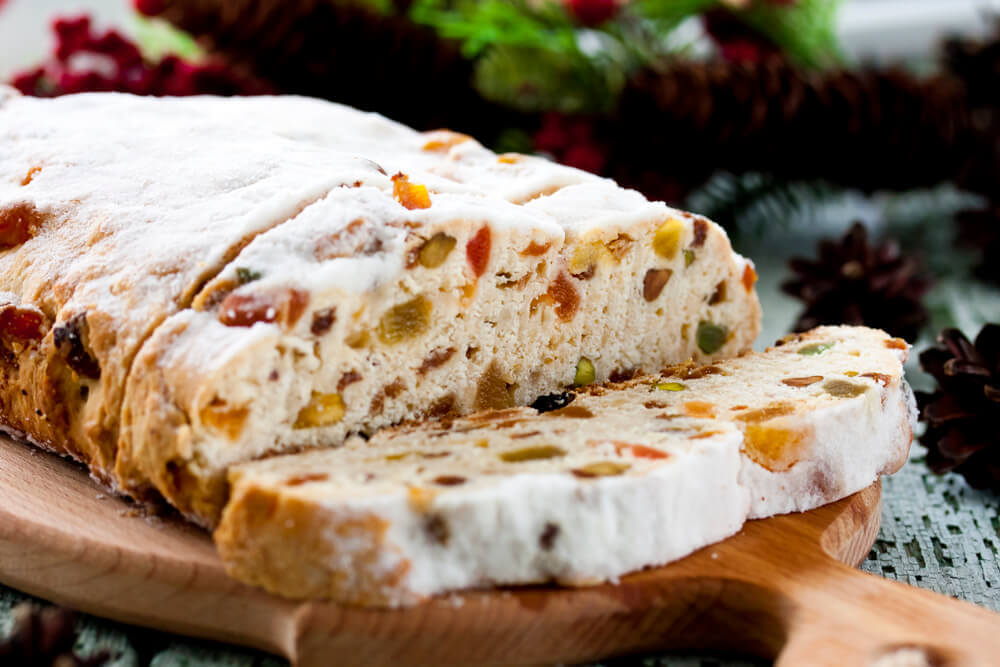 27. Fruchtspieße (AKA Fruit Skewers) and Paradiesäpfel (Candied apples)
You'll find chocolate-covered fruit skewers and candied apples at every German Christmas Market, and they're yummy, don't get me wrong, but I don't think they're the most unique "must try", certainly not for German Christmas Markets…
But hey, if you're craving a sweet treat that's mildly on the "healthier" side, then this is a great alternative.
These goodies are usually sold out at those big colourful candy stands. On that note…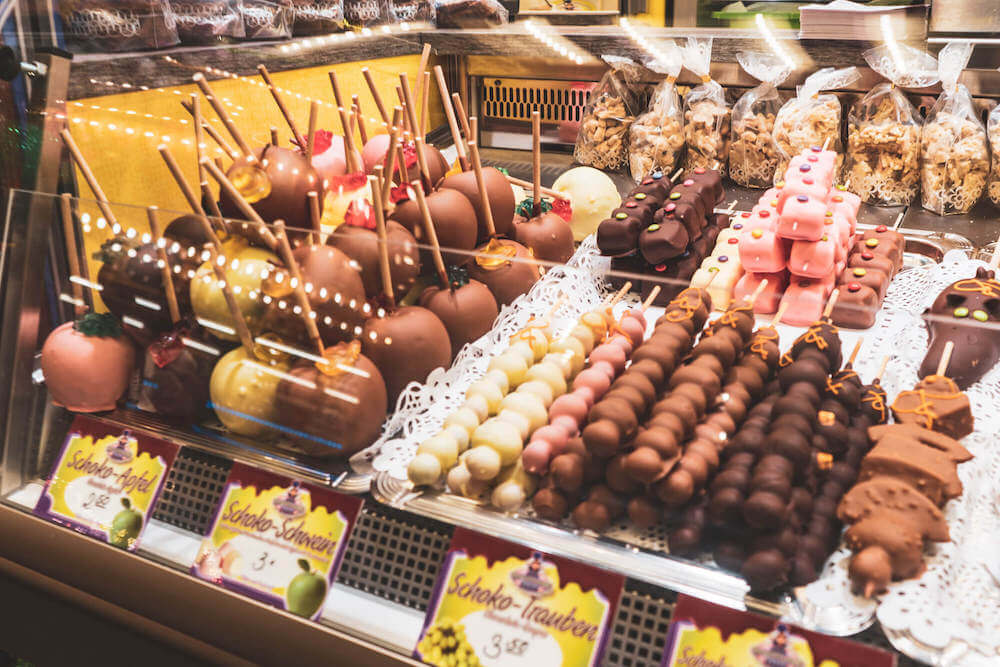 28. CANDYYYYY
At every German Christmas market, you'll find huge, colourful candy stalls selling the best gummies, liquorice and traditional German candy/bonbons the country has to offer.
I personally love the unnecessarily humungous livewires (gummy tubes filled with cream candy).
I still fondly remember getting one that was about 1m long and swinging it around in my mouth like a dinosaur with a super long prey. I don't think anybody was as amused as me.
29. Marzipan
Marzipan is a German Christmas market classic!
Made with ground eggs, almonds, sugar and honey, you'll find them in a variety of cute shapes, from little lumpy potatoes to more elaborate/sophisticated tiny fruits and flowers.
Honestly though, get the marzipan potato, if even just to watch people's faces when you gift it to them.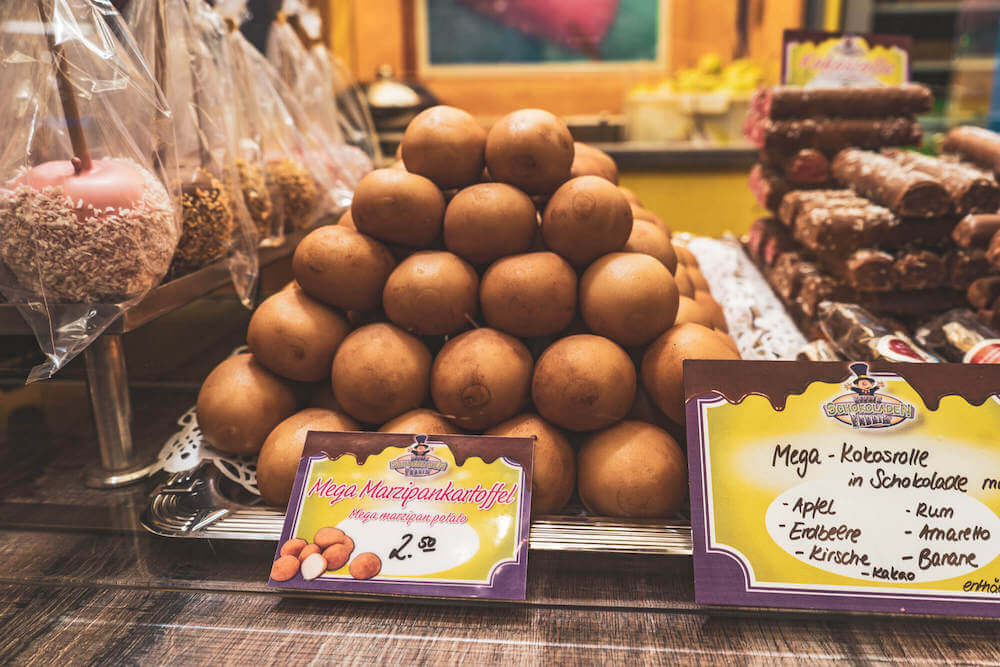 30. Crepes and Waffles
Last but not least, I bring you a final Christmas market classic: crepes and waffles!
While of course neither of these are particularly German snacks, that doesn't erase the siren's call of their sugary delight.
Whether you prefer your pancakes paper thin and stuffed with fillings (crepe) or divided in fun grids and typically topped with sugar or more indulgent toppings like Nutella (waffles), you can't go wrong with a crepe or waffle during your German Christmas market.
My go-to order? Nutella and banana crepe. Mmm.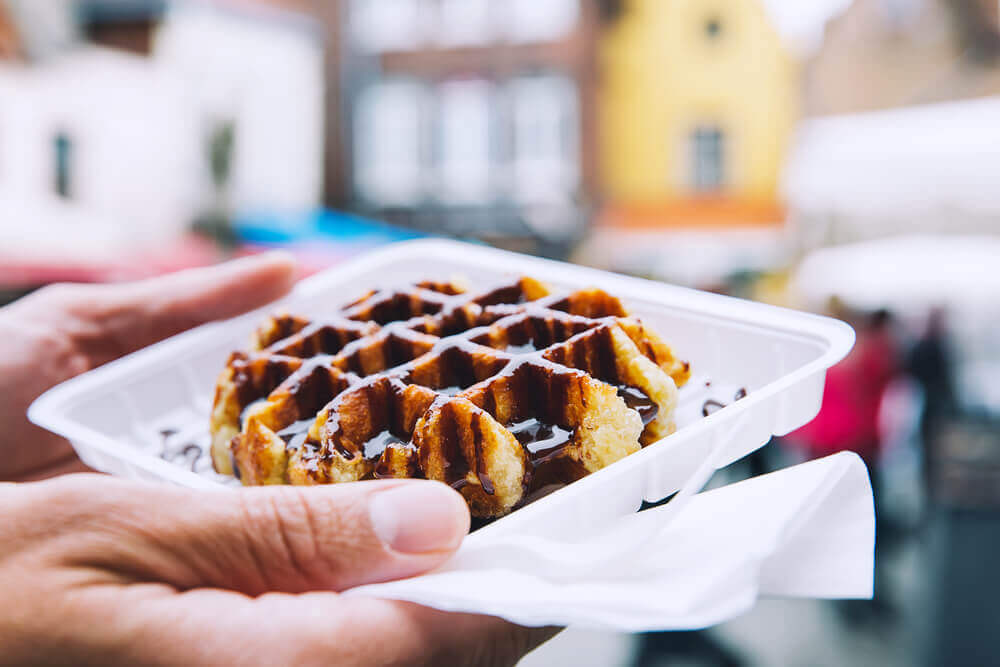 Any more questions about German Christmas Market Food & Drinks?
Alright that was a pretty exhaustive list already, but I know there's always more delicious eats out there that await my faceplanting. If you have any other Christmas Market food ideas you'd like to share, be sure to drop them in the comments!
My Go-To Travel Favourites: