*FYI - this post may contain affiliate links, which means we earn a commission at no extra cost to you if you purchase from them. Also, as an Amazon Associate I earn from qualifying purchases. Check out our Privacy Policy and Disclosure. for more info.
Let me tell you, when you add it all up, the Stuttgart Christmas Market certainly has a bucketload to brag about.
For one, it's among the oldest Christmas markets in Europe, with a document tracing its roots all the way back to 1692.
But more importantly, it also happens to be an ideal jumping point for some of the coolest, most unique Christmas markets in Germany, which is why I decided to devote a weekend to it on my recent Christmas market binge.
Full disclosure: Stuttgart was never a city I particularly grooved with. I used it mainly as a jumping point for connections (both flights and trains), and nothing more… a strictly business "no fun" relationship.
… Which is why I am SHOCKED at how much I enjoyed their Christmas markets. Like, they're some of my favourites in the entire country.
Having seen dozens of markets across Germany over the years, I was pleasantly surprised to discover that Stuttgart has found a way to keep things unique and different… but you need to know what to look for.
Since there wasn't a ton of information out there about Stuttgart's Christmas markets, I decided to write my own guide after a weekend of exploration.
I hope you enjoy this Stuttgart Christmas Market review, featuring where to find them, what to expect and other important must knows.
Save this post on Pinterest for later: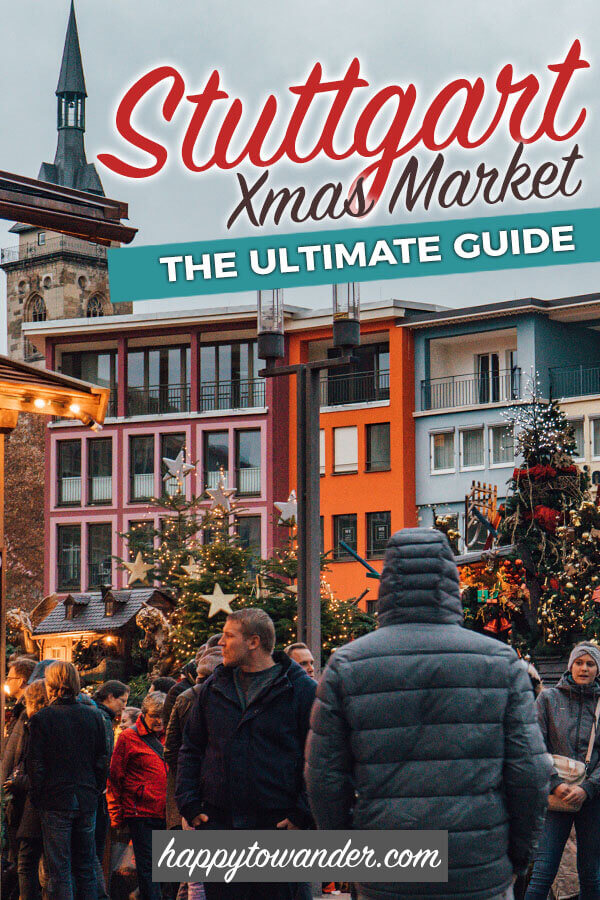 Stuttgart Christmas Market: The Basics
Stuttgart Christmas Market is one of the most unique in the country, and now also one of my favourites. If you want to plan your own visit, here is what you need to know:
Stuttgart Christmas Market Dates:
Nov 23 – Dec 23, 2022
Stuttgart Christmas Market Hours:
Monday – Thursday: 10am – 9pm
Friday – Saturday: 10am – 10pm
Sunday: 11am – 9pm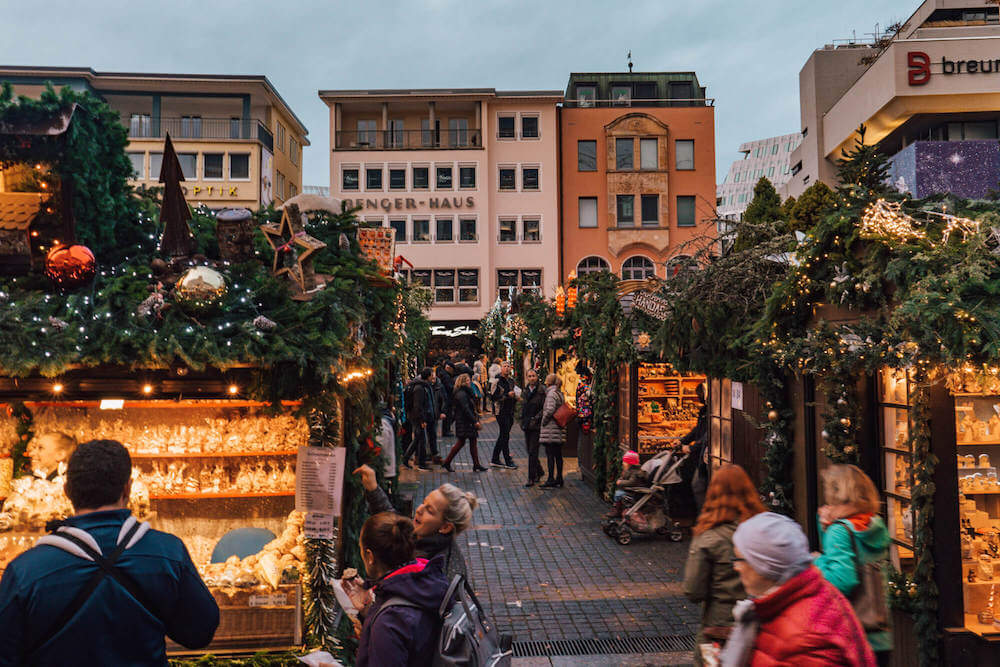 Unique Things to do at the Stuttgart Christmas Market
One of my favourite parts about the Christmas markets in Stuttgart is that they have a ton to offer that I didn't notice in other cities.
This was a welcome breath of fresh air (not that I don't LOVE the endless stalls of candied nuts, waffles and handpainted ornaments), but if you're looking for a Christmas market with "wow factor", Stuttgart is it. Here are a few of the things you can do in Stuttgart in December:
1. See a giant advent calendar
Starting December 1, the Stuttgart Town Hall (Rathaus) becomes a giant Advent Calendar.
With strategic windows blocked off with numbers (and framed by beautiful lights of course), one image is revealed a day up until Christmas.
According to the official Stuttgart website, the images revealed are coats of arms belonging to Stuttgart's districts, but the one image I saw looked to be a photograph of a place instead.
Regardless of what the images reveal, it's a cool sight (especially because the city's beautifully decorated tree is right there too).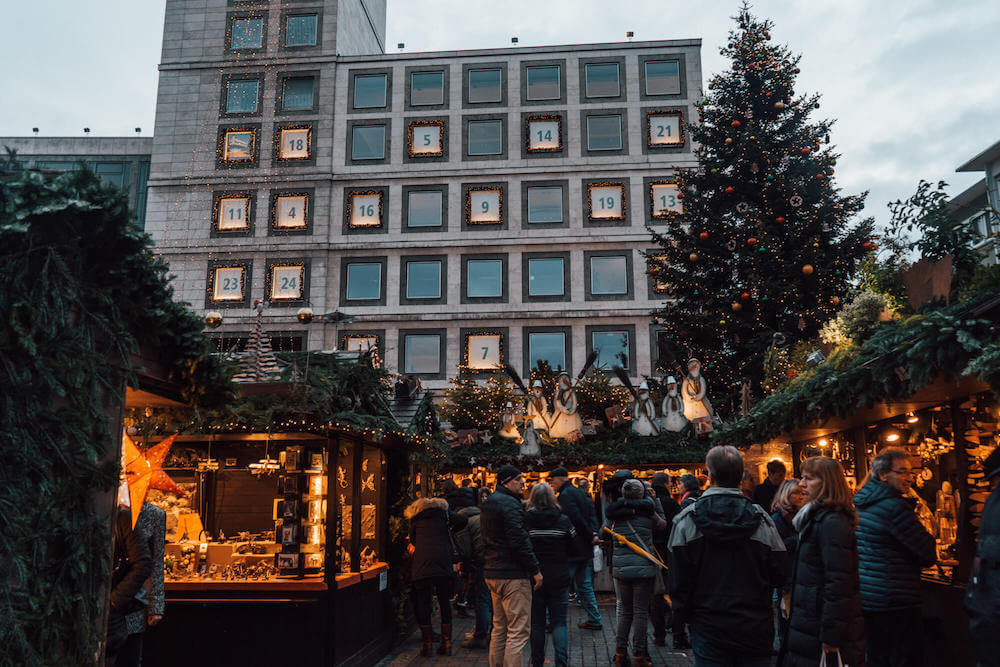 2. Keep an eye on the gorgeous, unique rooftops
Coming from Munich, where stall decorations are modest and simple, it was such a treat to waltz into the main part of Stuttgart Christmas Market in Marktplatz, with every stall boasting a unique roof decor.
Dazzling displays of baubles, lights, teddy bears, fruit, mechanical reindeer and more are out to impress – after all, there's a competition hosted every year for the most beautiful rooftop, so it's no surprise they go all out.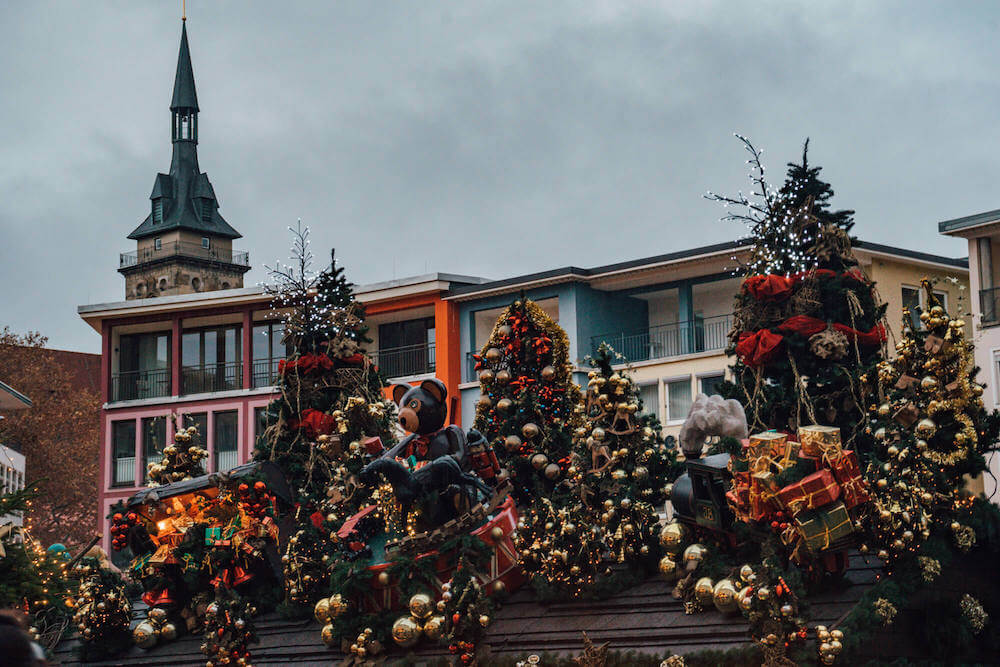 3. Walk through a Finnish Christmas village
I haven't encountered a Finnish market anywhere else in Germany during Christmas season, though I've heard some other cities do it as well.
Nonetheless, in Stuttgart's Karlsplatz is where you'll find a mega cozy Finnish Christmas village set up, complete with long strings of little Finnish flags, wooden stalls selling Glögi (like a Finnish mulled wine), Flammlachs (salmon cooked over a fire) and even a cozy little Lavvu where you can enjoy all your treats.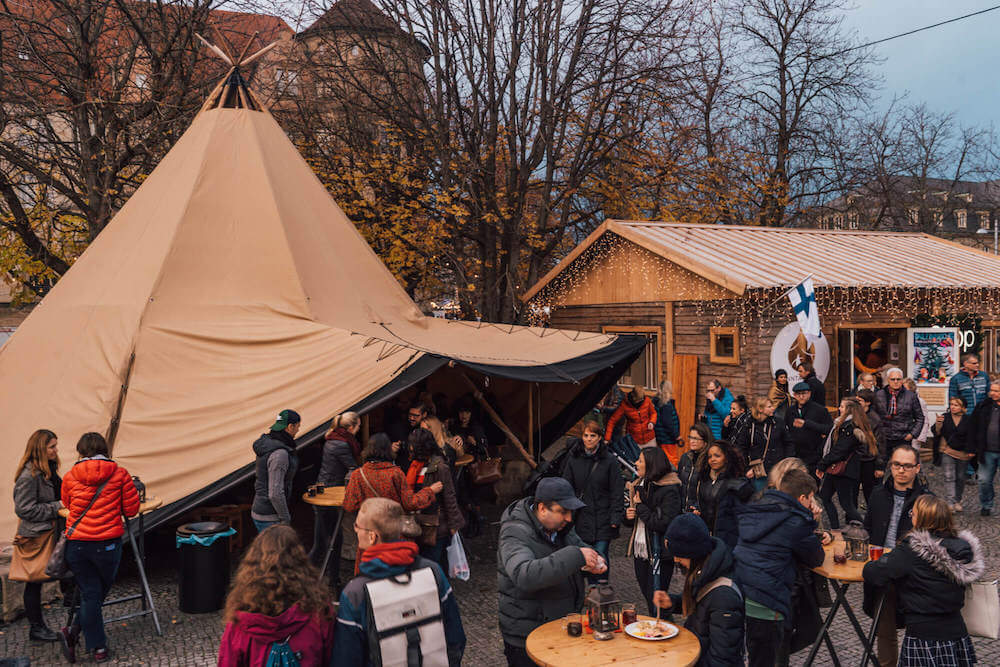 4. Visit an antique market
Right next to the Finnish Christmas Village in Karlsplatz is a narrow white tent filled with stalls selling everything from old books and globes to pricier antiques and paintings.
It got REALLY crowded in there on a Sunday (it's a small space after all) but it's still worth a look if you're in the mood for some treasure hunting.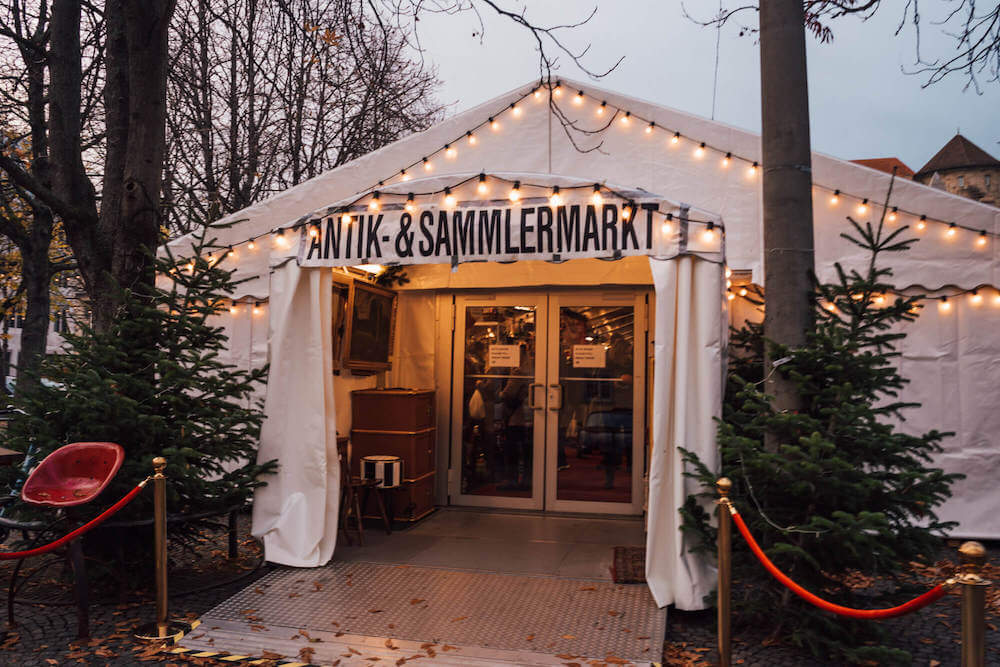 5. Visit a "real life" nativity scene
Yes, a real life nativity scene complete with farm animals.
While I also saw one of these in Esslingen, nowhere else in Germany have I seen a nativity scene complete with actual farm animals to complete the scene? Stuttgart, you truly are extra.
6. Take the train for 15 minutes and be at another incredible Christmas market
Last but not least, this was my favourite part about being based in Stuttgart for my German Christmas Market explorations.
Stuttgart is close to a LOT of really beautiful towns with noteworthy Christmas markets of their own… and when I say close, I mean 15 minutes by train close.
You could easily get yourself a day ticket for the region and visit multiple in a day, as I did. The Ludwigsburg Baroque Market and the Esslingen Medieval Market were two especially wow-worthy highlights.
Stuttgart Christmas Market Locations
So, exactly where is the Stuttgart Christmas Market?
Well, like in many major cities, the "Stuttgart Christmas Market" is actually comprised of various little markets scattered around the city.
The good news is, in Stuttgart all these locations are within close walking distance of one another. Here are the spots you need to make sure you visit.
Marktplatz
This is where you'll find the "main" Christmas market in Stuttgart and many of the holiday highlights including the giant Advent Calendar on the Rathaus, a big towering tree and of course, countless stalls to do your shopping at.
While there are the typical Christmas market goods like ornaments, candles and handicrafts, one peculiar section I haven't seen elsewhere is an aisle full of various cleaning products, like special tools, liquid soaps, etc! It was strange, but different.
Regardless of whether or not you go full-on "Mr Clean", be sure to keep your eyes peeled for the spectacular rooftops of the different stalls – they're among the most elaborate in the country and why this is my favourite Stuttgart Xmas Market in spite of its crowds.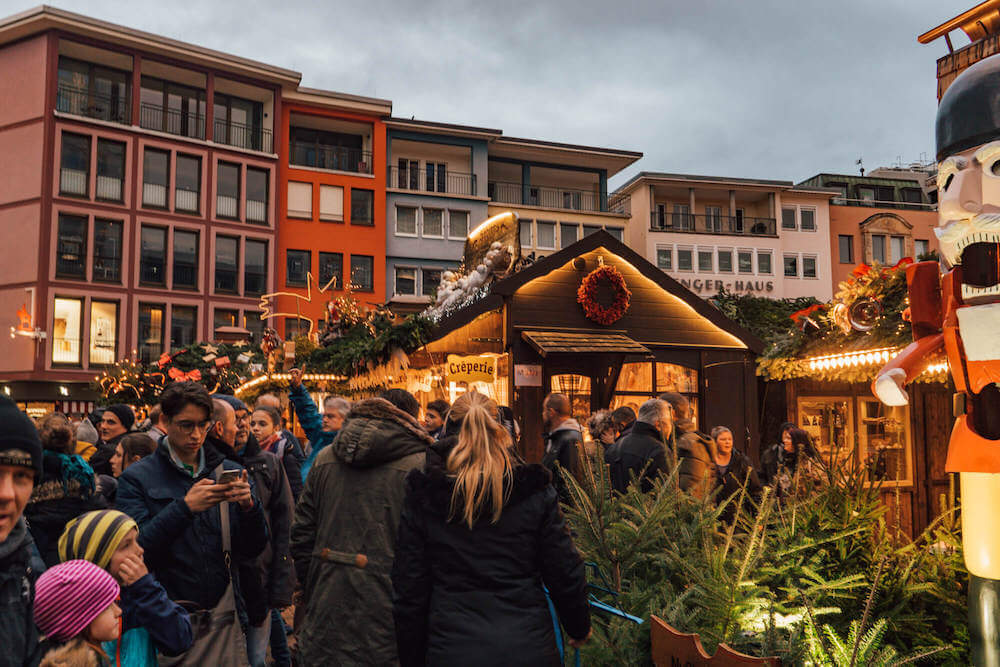 Schillerplatz
This is a cozy market with a big glittering tree set to a scenic backdrop consisting of the Stuttgart Old Castle and the Collegiate Church among others.
While set away from the bustle of the main market, this square hosts a street market 2x a week and really comes alive during Stuttgart's Christmas Market season. The most tempting of all? The giant slabs of flammkuchen being served up near Schäfer's Weihnachtsmarkt Hütte.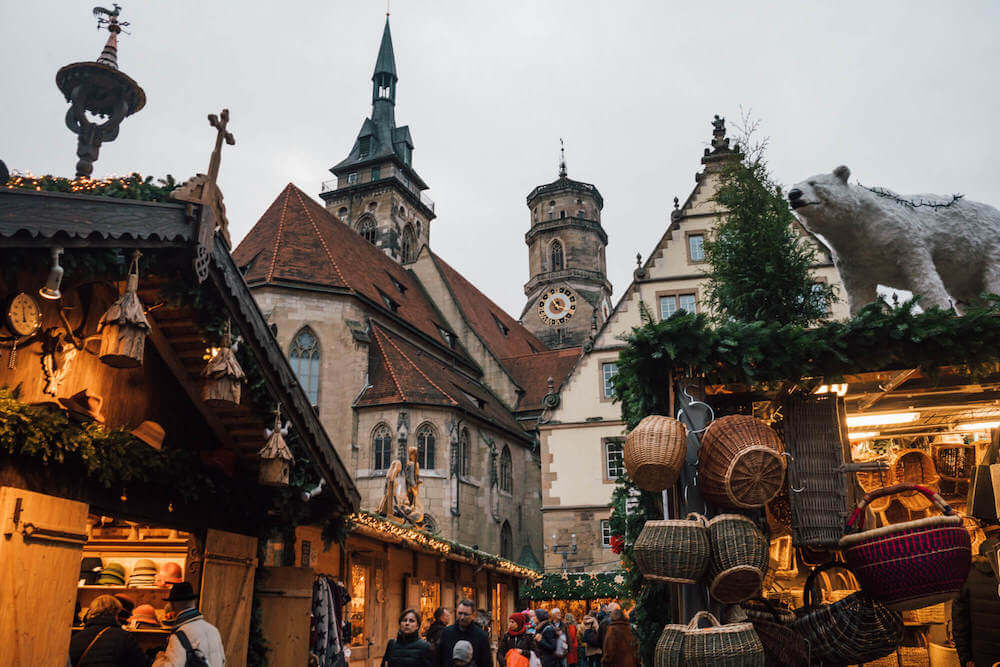 Karlsplatz
Karlsplatz is where you'll find the Finnish-themed Stuttgart Winter Market, packed with all kinds of Nordic goodness, from piping hot Glögi and salmon to warm cozy sweaters and heated seating inside an actual Lavvu (similar to a North American tipi).
Stuttgart in December can get chilly, and this little market is a great place to warm up, so don't miss it.
You'll also find the Antiques Market here – just look for the long white tent!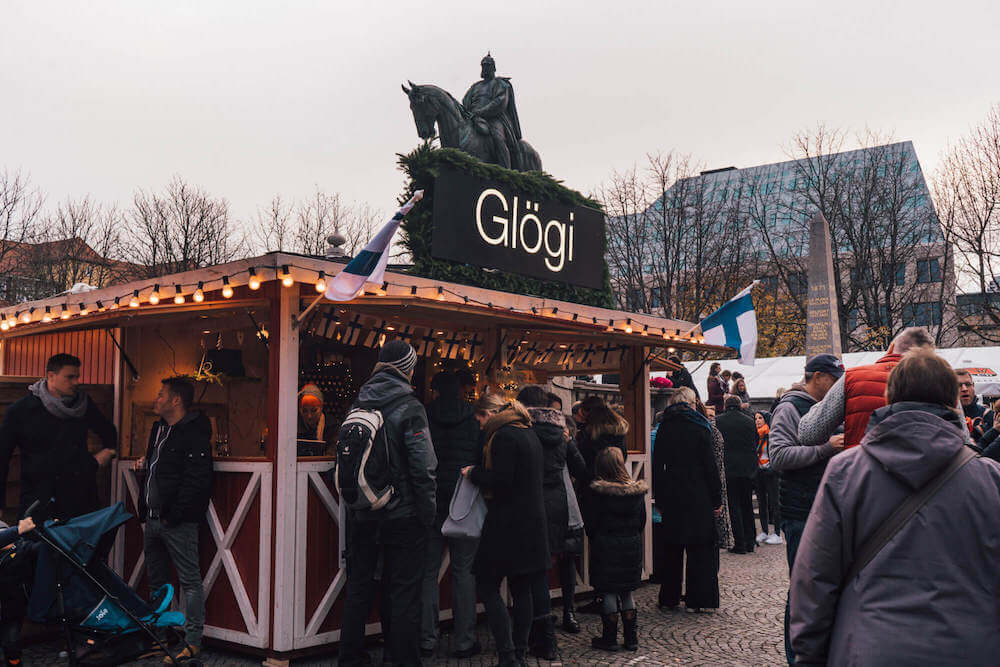 In Front of the Markthalle
While mostly consisting of food stalls, I still felt this tiny section of the Stuttgart Christmas Market was worth a mention.
It's a cozy place to grab a bite and offers more standing/eating space than other parts of the market.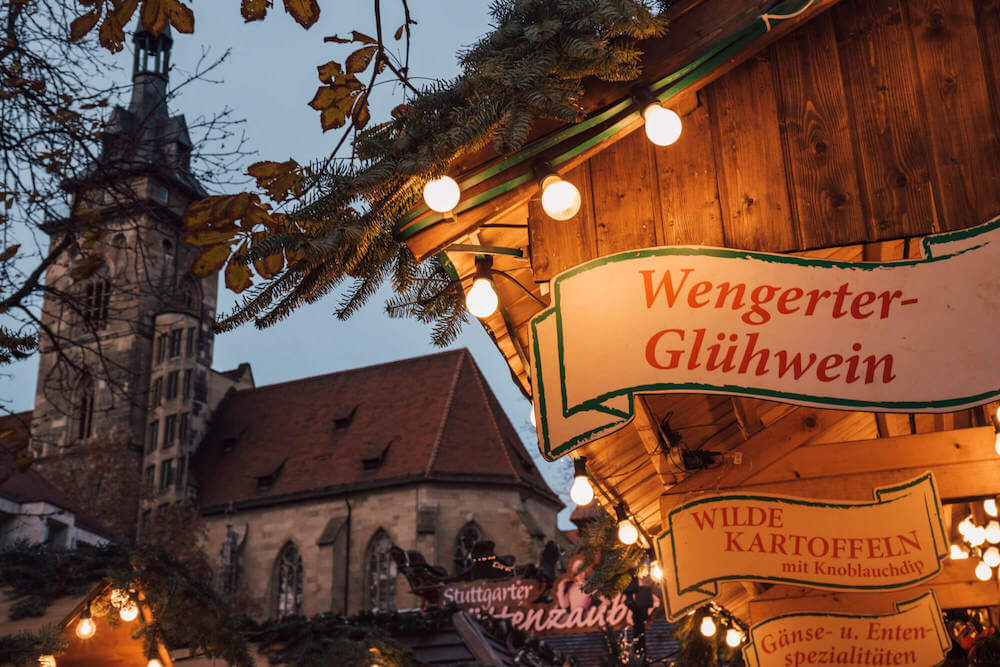 Schlossplatz
In Schlossplatz, you'll find cozy wooden huts arranged along one of the city's most magnificnent backdrops, alongside other holiday favourites like Stuttgart's ice skating rink.
In 2018, there were even 8 one of a kind light sculptures modelled after famous attractions/symbols of Stuttgart for you to admire, including a glittery elephant and a little ferris wheel.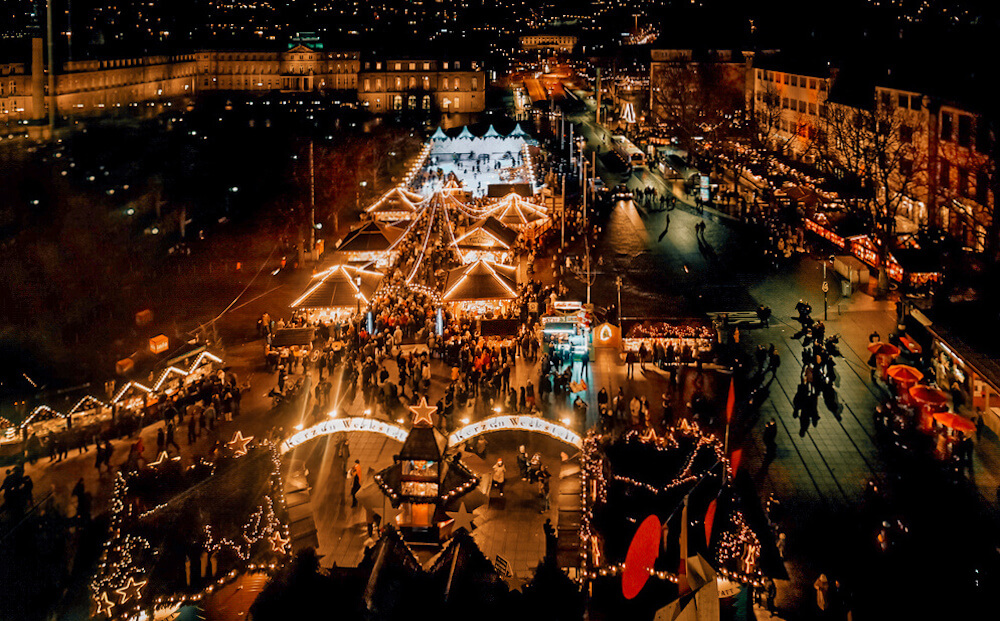 What to Eat and Drink at the Stuttgart Christmas Market
Another thing that really stood out to me while visiting the Stuttgart Xmas Markets was that they had SO many unique food stalls!
Whereas at more traditional markets you can expect to see the same foods over and over, there was a huge variety at the Stuttgart Christmas Market, with everything from traditional classics like candied nuts and sausages to more unusual finds like truffle currywurst, German ravioli and more.
You can read my full German Christmas Market food guide for more recommendations, but here are a few options that stood out in Stuttgart specifically.
Glühwein
Glühwein, AKA mulled wine. This is a non-negotiable when it comes to Christmas market treats! What I loved about the Glühwein in Stuttgart especially was that they had a HUGE variety of mugs in different colours and shapes… I even saw one that was charcoal black, and the emo teen in me really wanted it.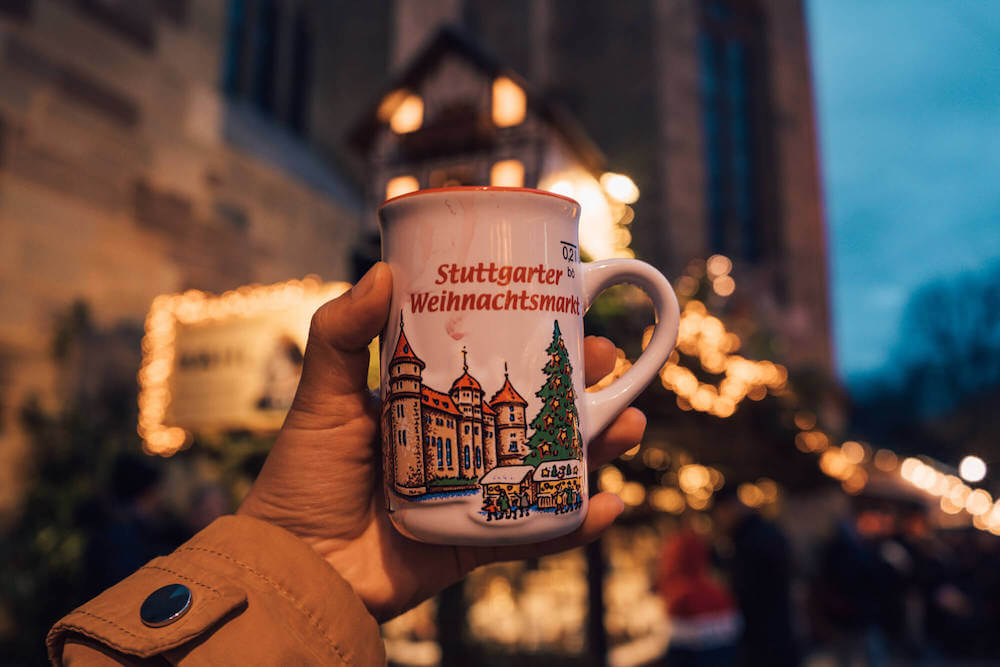 Flammkuchen
Everywhere I turned in Schillerplatz, I could see people hauling out big slabs of fresh flammkuchen on wooden boards (very close to the Schäfer's Weihnachtsmarkt Hütte, pretty much right next to it).
Maultaschen
You can't visit the Stuttgart Xmas Market without trying some local treats, and Maultaschen is one of them.
Stuttgart is part of a German area called Swabia, famous for gut-busting, hearty eats like various stews and egg-based noodles.
Maultaschen is like a giant German ravioli typically with a meaty, bready filling. I LOVE it and the Stuttgart Xmas Market in Marktplatz had a little stand selling "Handy Maultaschen" literally a giant Maultaschen you hold and eat like a savoury pop-tart.
It was SOOOO good and not at all plain like I was expecting (given the lack of sauce or broth). A must-try!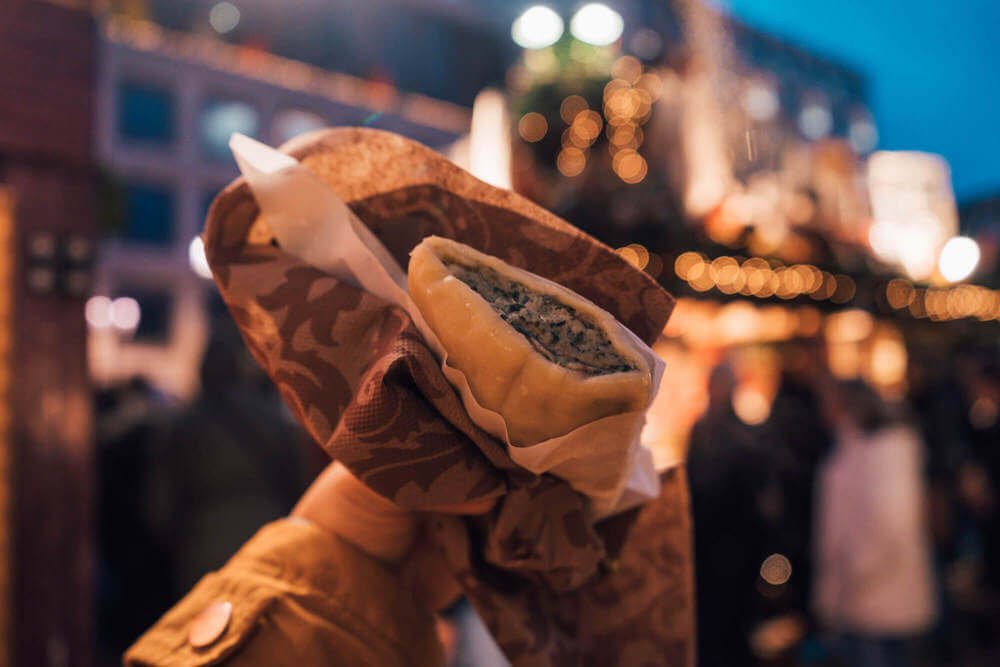 Patatas Bravas in Garlic Sauce
Conny's glittering stand at the Stuttgart Christmas Market is one of the most popular and buzzing food stalls in the entire city.
If you're easily distracted by shiny objects like me, you'll probably first be distracted by the incredible decor that decks out the giant hut – glitzy baubles in purple and silver, then you'll probably be further drawn in by the enticing and unique items on the menu.
Cheesy fondue, Kaiserschmarrn (shredded pancakes), baked camembert, truffle currywurst and the mac daddy of snacks: patatas bravas in GARLIC SAUCE. Mmmgh. Hold me back.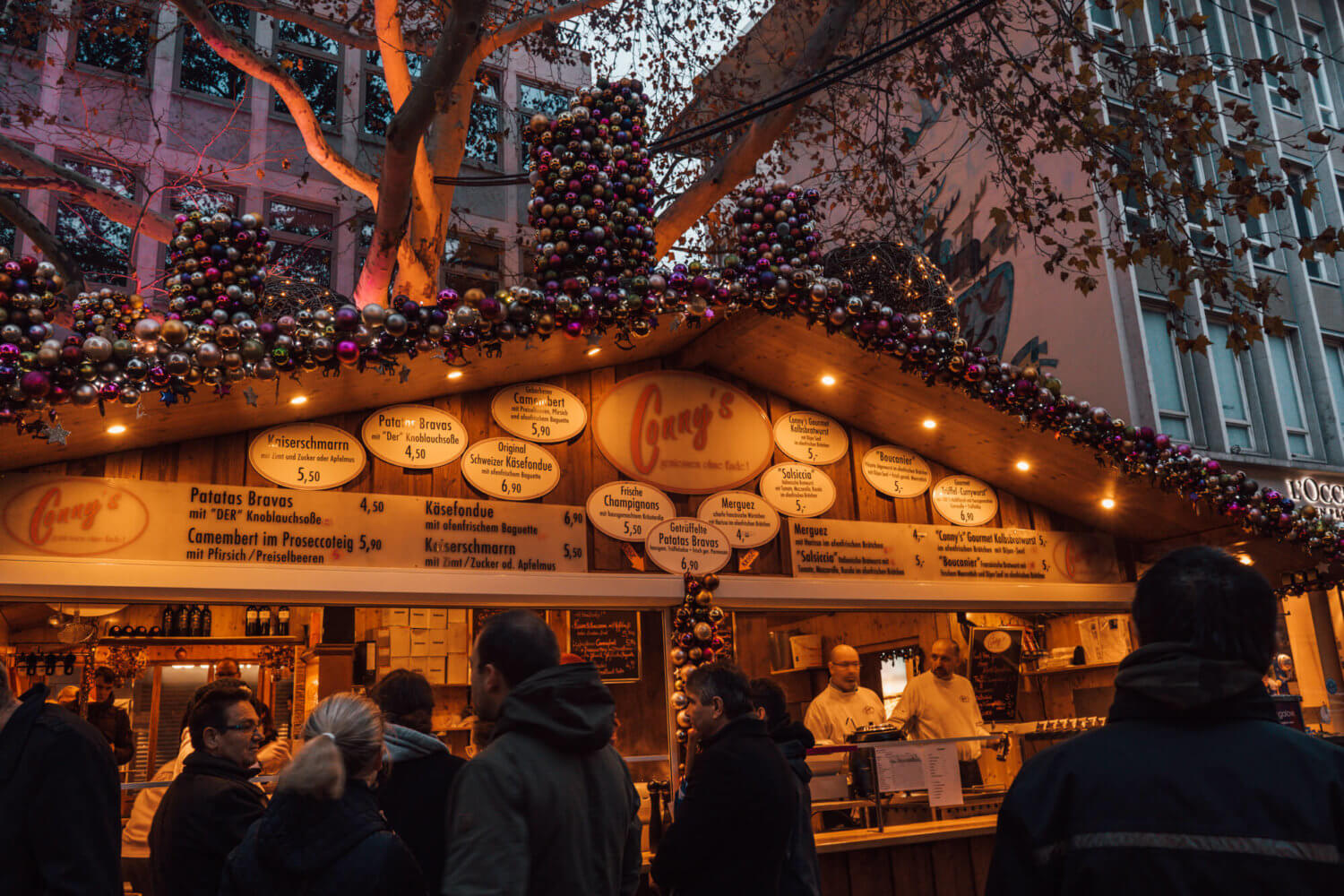 Awesome Christmas Markets Near Stuttgart, Germany
I wish I had spent more than a weekend in Stuttgart because I swear this city is like the sun, with countless cool little Christmas markets orbiting around it.
One of the best things you can when visiting the Stuttgart Christmas Market is making some time to visit other amazing markets in the area too.
For inspiration, here are what I consider to be some of the best Christmas markets near Stuttgart:
Esslingen Christmas Market
I wish I had words to describe how I felt when I first laid eyes on Esslingen. It has been a long time since a place has made me giddy, and yet here I was, a hot mess of giggles in the middle of this little German town.
Esslingen is a truly stunning place, immaculately preserved with gorgeous half-timbered buildings, darling little rivers and of course, one of the most incredible medieval-themed markets Germany has to offer.
Aesthetically, Esslingen is like Rothenburg ob der Tauber, but without the endless bus tours and the market itself had SO many cool things you could buy, including liquors bottled like colourful potions!
Best of all? You can take the train and be in Esslingen in less than 15 minutes from Stuttgart.
Read my full guide to the Esslingen Christmas Market for more info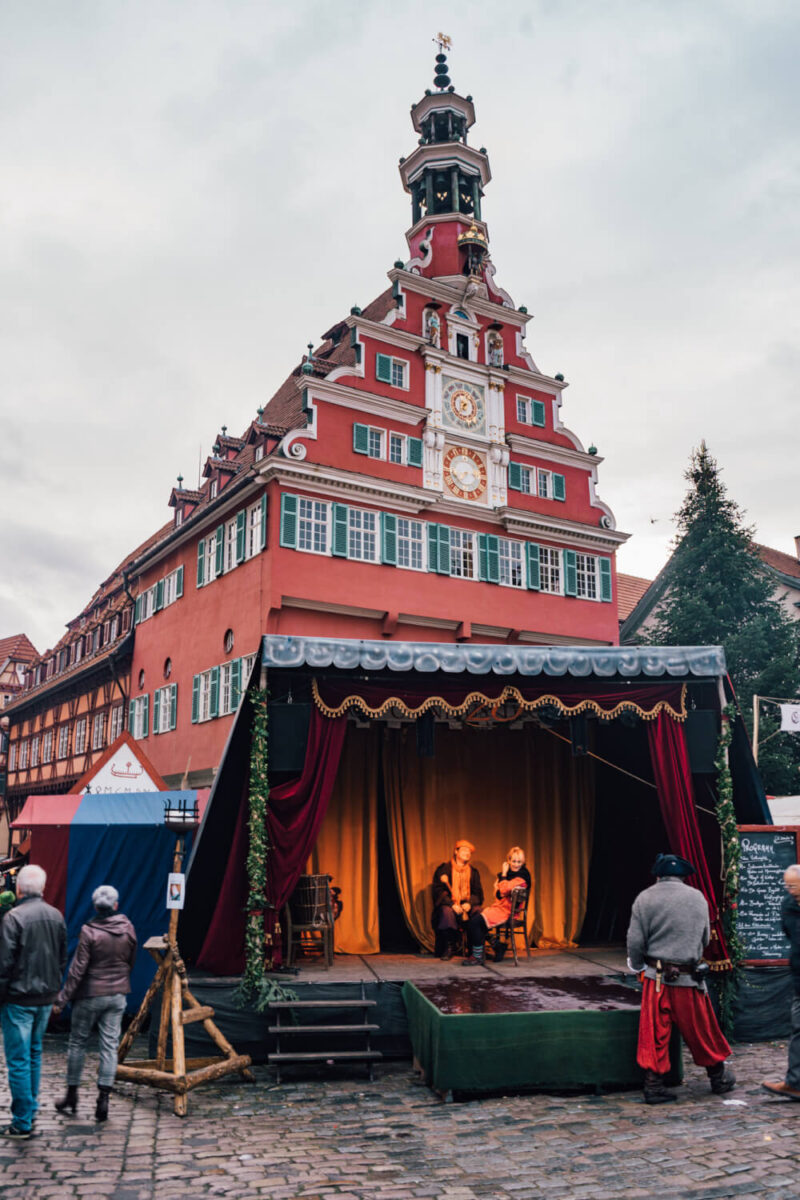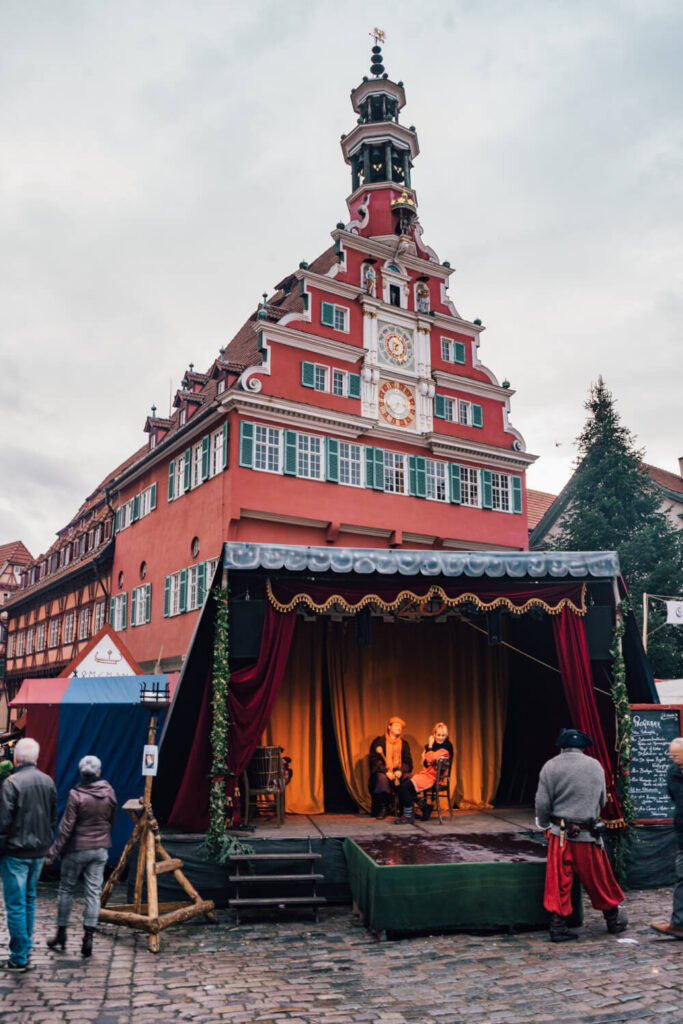 Ludwigsburg Christmas Market
I've always had a soft spot for Ludwigsburg. Not only is it a gorgeous little Baroque town, it's also home to the world's largest pumpkin festival AND now one of my favourite little Christmas markets in all of Germany.
Check out my full Ludwigsburg Christmas Market guide for more info
This market is definitely geared towards locals. You'll find lots of stalls selling cured meats, giant wheels of cheese and big loaves of bread for people to take home.
And food? Well, Ludwigsburg dazzles on that front as well. You'll see countless happy humans waltzing around with Stockbrot in hand, long swords of bread that can be both savoury (with cheese and bacon) and sweet. These are delicious and I highly recommend them.
A few other notable stands included a knoedel stall selling all sorts of wiggly dumplings, a specialty duck stall selling gourmet duck dishes and of course, a little stall selling Maultaschen. Come here hungry! You won't regret it.
How to get from Stuttgart to Ludwigsburg: There are a lot of regional and S-Bahn trains running no more than 10 minutes apart that can get you from Stuttgart to Ludwigsburg.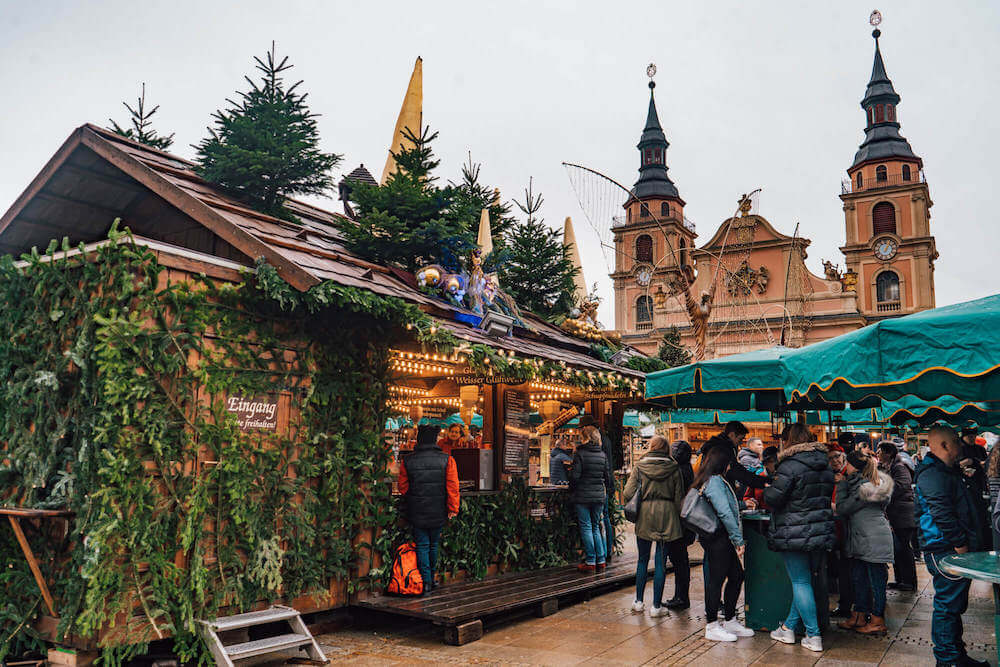 Karlsruhe Christmas Market
While farther away (more or less an hour from Stuttgart), it's still reachable by S-Bahn so I figured it deserved a mention.
From its massive skating rink (with a literal palace backdrop) to its quaint main market complete with elaborate hut roofs and Christmas-tree lined pathways, the Karlsruhe Christmas Market was an awesome little surprise for me on my recent trip and I'm surprised more people don't talk about it!
Thanks to its advantageous train connections as well, it makes an excellent jumping point for Christmas hotspots in France like Strasbourg and Colmar.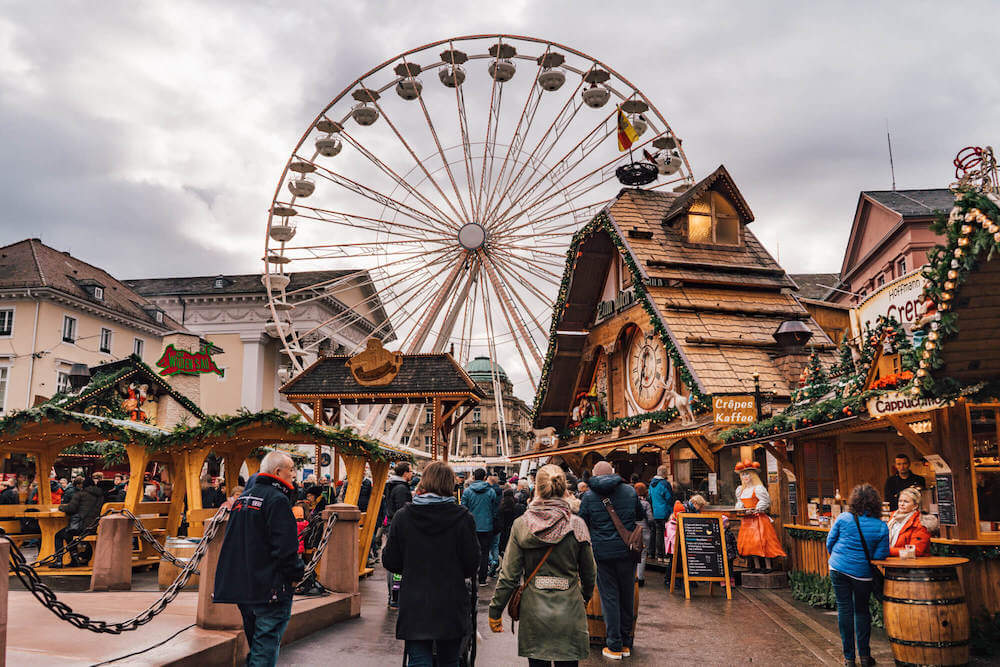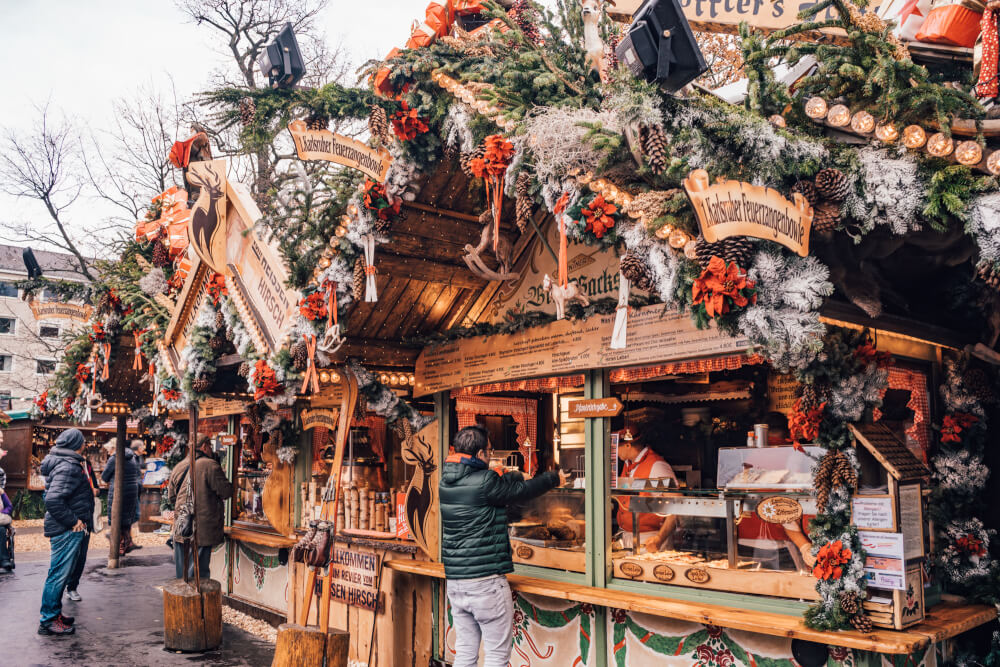 Tübingen Christmas Market
I've never been to a town more like a snowglobe than little Tübingen.
Granted, I did witness a magical snowfall during my visit, and I also happened to be in town for a chocolate festival, but nonetheless, this town knows up to crank up the winter magic, so I needed to include it.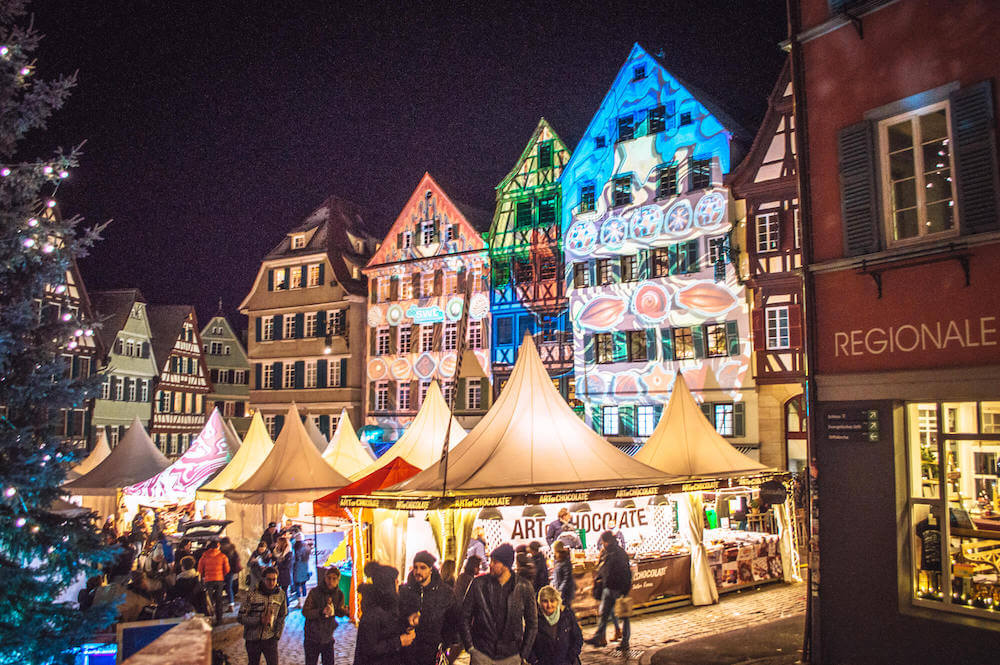 The only catch? Tübingen Christmas Market only open one weekend each year: the third weekend of Advent, so be sure to plan in advance and brace yourself for crowds.
Hotels Near Stuttgart Christmas Market
If you're looking for a hotel that will put you RIGHT in the action where all the Christmas markets are, you should be looking for something in the very city center of Stuttgart. That said, know the trade-off: it'll likely be quite noisy if you choose to stay right in the action.
Click here to browse Stuttgart Christmas Market hotels
The best hotel for Stuttgart Christmas market hopping (in my opinion) is Aloft Stuttgart.
It's located less than a 10 minute walk from the Stuttgart HBF, or 1 stop by U-Bahn (which is right underneath the hotel). You're also only 2 stops away from the main markets.
Thanks to its midway location between the train station and the center of town, you can easily go market hopping in the area and also explore around Stuttgart too. I stayed here for the weekend and it was a super clean hotel with really nice staff, and kind of a modern, edgy contemporary feel. It was a little bit pricey on a Saturday but the beds were such a dream.
Any more questions about Stuttgart Xmas Markets?
Let me know in the comments! I hope you have the most magical trip ever in Stuttgart.
---
Watch my most popular YouTube video this week:
---