*FYI - this post may contain affiliate links, which means we earn a commission at no extra cost to you if you purchase from them. Also, as an Amazon Associate I earn from qualifying purchases. Check out our Privacy Policy and Disclosure. for more info.
NOTE: This Zurich Christmas Market post was written after my visit in 2017, but has been updated with the most recent info and dates I could find online. Do note that some details/locations may be differ year to year though, so let me know in the comments if you notice anything inaccurate.
Of all the twinkly, fondue-drenched Christmas market experiences I've enjoyed in Switzerland, the elegant wonders of the Zurich Christmas Market may just take the cake.
Bold statement, but Zurich is already one of the prettiest cities in Europe – so imagine what happens when you add a glittering canopy of lights named Lucy, a giant tree made of Swarovski crystals, and cute wooden market stalls all throughout the city centre.
MAGIC. That's what.
Switzerland is a country that rocks yuletide joy, and Zurich might just be the crown jewel of that Christmas crown. No less because the entire city literally sparkles throughout the season.
Truly, from a diversity of Christmas markets to a fully-decked schedule of Xmas shenanigans, Zurich is a wonderful place to be during Christmas time.
So, if you're a lucky duck planning on enjoying Christmas in Zurich, here's a rundown of everything you need to know about the Zurich Christmas Market scene, including important dates, locations and what to eat!
Zurich Christmas Market: Important Must-Knows
If you're hoping to visit the world-famous Zurich Christmas Market for yourself this year, here are some basic facts and important must-knows to keep in mind.
NOTE: For more practical info, you can also check out my full list of Switzerland travel tips and must-knows before visiting Christmas markets in Europe.
Where is Zurich?
Zurich is a city located in North-Central Switzerland, along the shores of a lake by the same name.
Contrary to popular belief, Zurich isn't actually the Swiss capital.
However, it is the country's financial center, serving as the HQ for countless financial giants from around the world, along with some of Switzerland's largest corporations.
Unsurprisingly then, Zurich has developed a rep for being one of Europe's cleanest, wealthiest cities, with a sky high standard of living that regularly pushes it to the top of "most livable cities in the world" lists.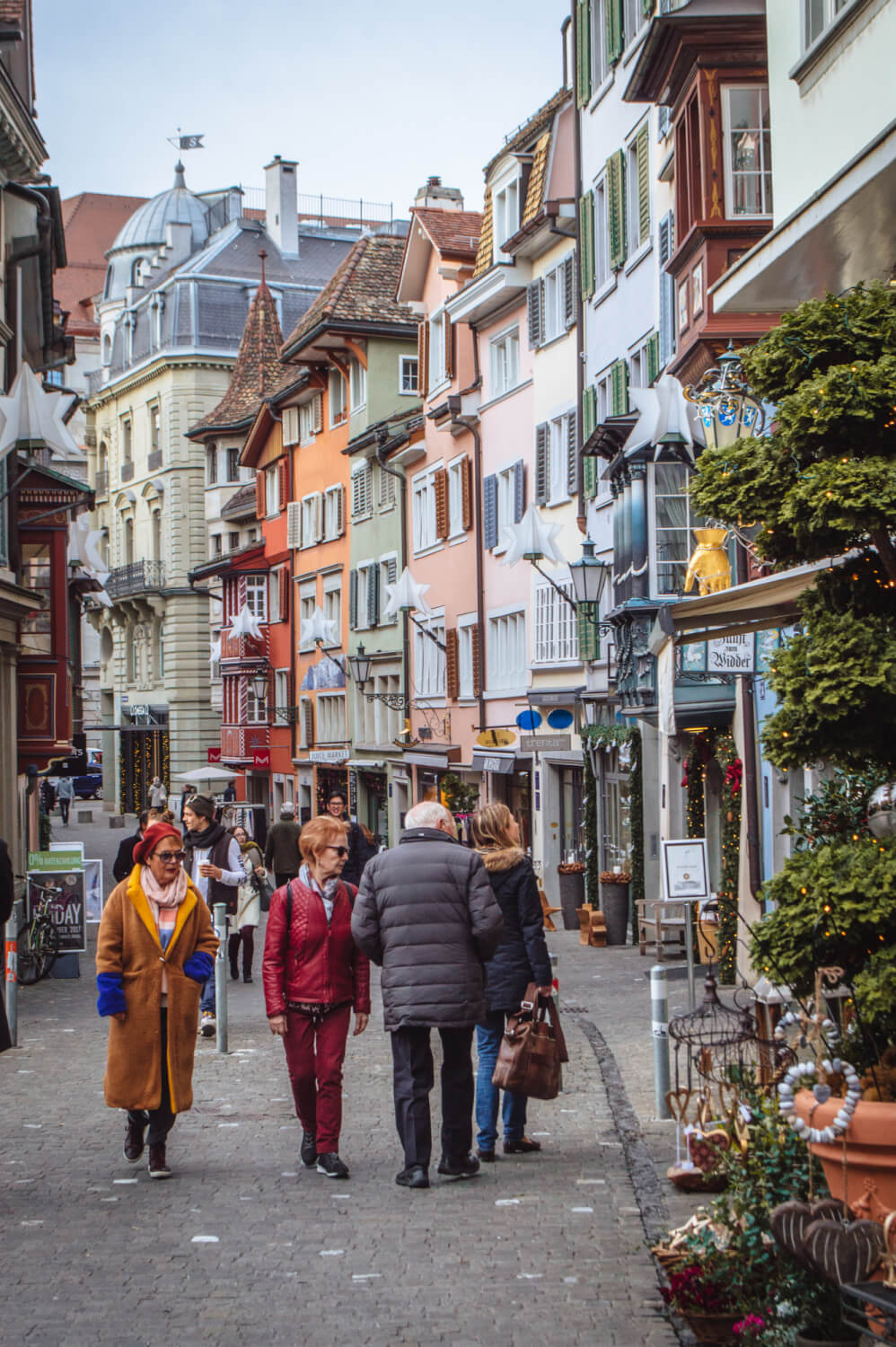 How to Get to Zurich
Zurich is a massive transport and travel hub so you won't have to worry about getting here – there are genuinely a million and one ways you can do so.
The closest airport is of course the Zurich Airport, which is serviced by most major international airlines and is also a jawdropping 12 minute train from the city center. Seriously – one of the quickest airport commutes I've ever heard of!
You can also easily reach Zurich by train. Their Hauptbahnhof is one of the busiest (if not THE busiest) in Switzerland, with frequent connections to other cities around Switzerland and Europe.
Plus, if you arrive by train, you'll be steps away from the first Zurich Christmas Market on our list – the Christkindlimarkt at the Zurich Central Station, home to a famous 50ft Swarovski Christmas tree.
New to train travel in Europe? Check out my full guide on European train travel!
Lastly, if you are coming from within Europe, taking a bus like with Flixbus might also be an affordable option.
To find the best deals, I always use Omio to compare/book transport options. It's a free tool that shows you the different ways to get from Point A to Point B (including buses, planes and trains). It even lets you sort based on price, times and convenience, which is super handy.
Omio: Simple Transport Comparison & Booking Portal
Want a simple way to search, compare & book transport options across trains, buses, flights, and ferries? This helpful tool allows you to simply enter Point A and Point B, then see all the options at a glance. I use it religiously when I book trips, and find it saves me SO much time.
Coverage: 1000+ transport providers in 37 countries (including US & Canada)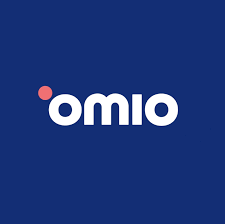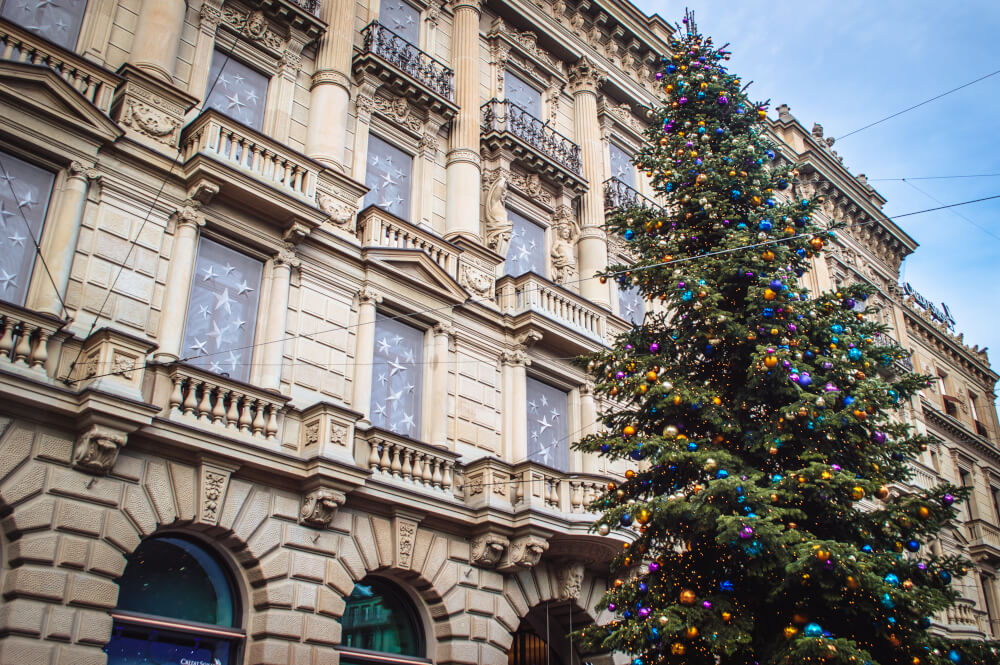 Zurich Christmas Market 2023 Dates
Most of Zurich's main Christmas markets are scheduled to be taking place from Nov 23 – Dec 23 this year. Click here for a precise list of dates for each market.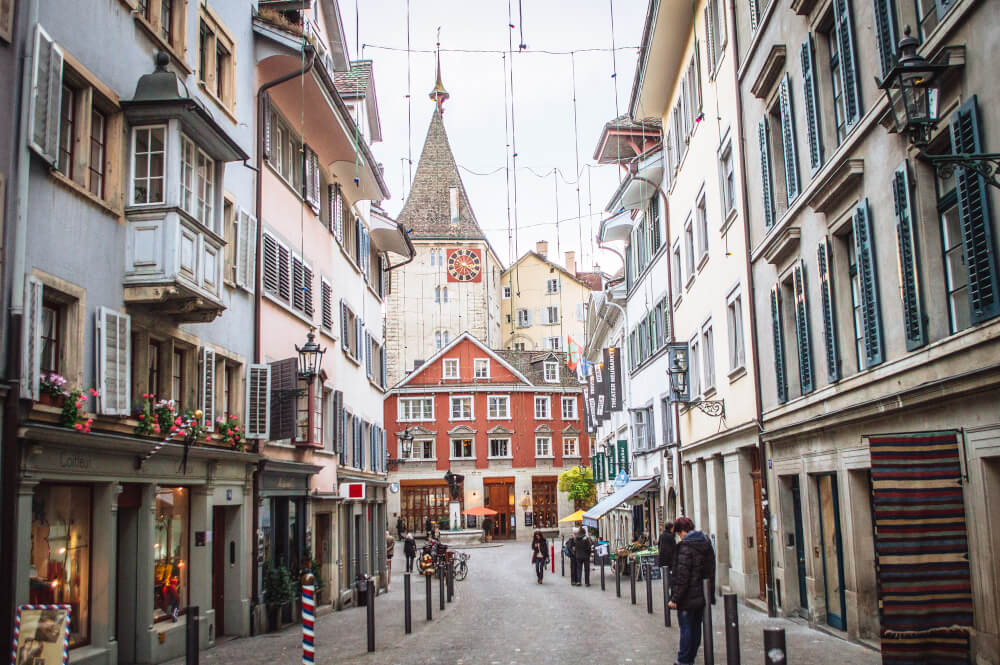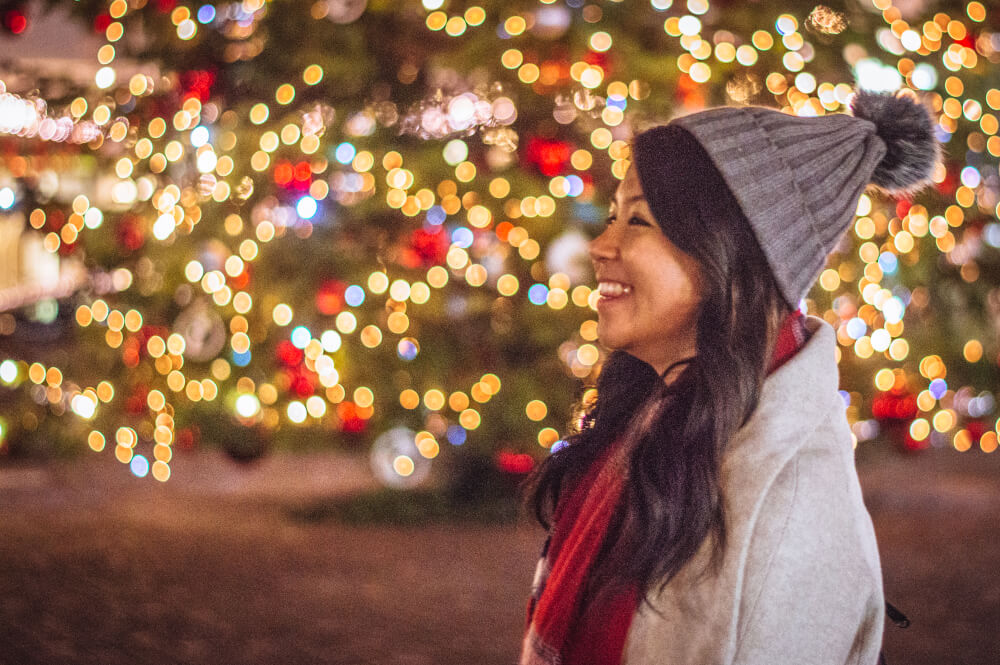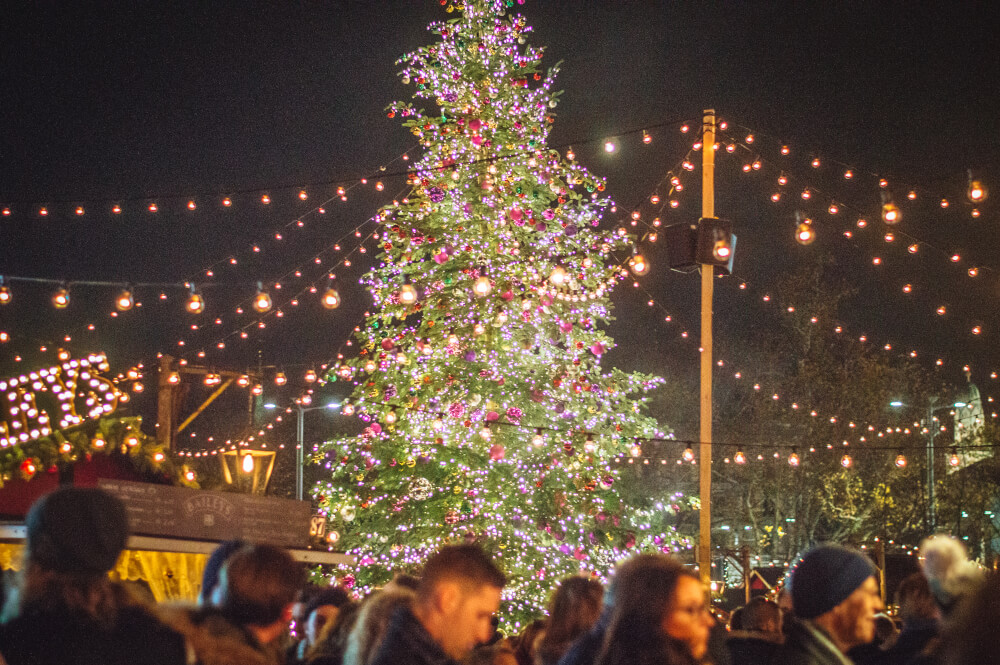 Hotels near Zurich Christmas Market
Looking for a convenient place to stay in Zurich during Christmas market season? Here are some hotel options that will put you in the middle of all the Xmas market action:
Budget Option: 'Budget' is hard to come by in Zurich, one of the most expensive cities in Europe!
Nonetheless, Hotel Bristol Zurich is a highly-rated hotel with inexpensive rooms only a 5 minute walk from Zurich Hauptbahnhof. Click here to check reviews and availability.
Mid-Range Option: citizenM is a chain I've been obsessed with ever since I stayed at their London property – they offer very stylish accommodation for a relatively low price, and are a great option if you want to stay somewhere modern and "nice" without breaking the bank.
Their Zürich location is within 15 minute walk of the Hauptbahnhof and most of Zurich's Christmas markets, which makes it a great base. Click here to check reviews and availability.
Luxury Option: Hands down, the best luxury hotel to stay at in Zurich for Christmas markets is the iconic Baur au Lac.
This is where I stayed during my trip and it was amazing.
Not only are they within easy walking distance of Lake Zurich and all of the city's best Christmas markets, but they also have phenomenal Christmas decor of their own. I highly highly recommend staying here if budget allows. Click here to check reviews and availability.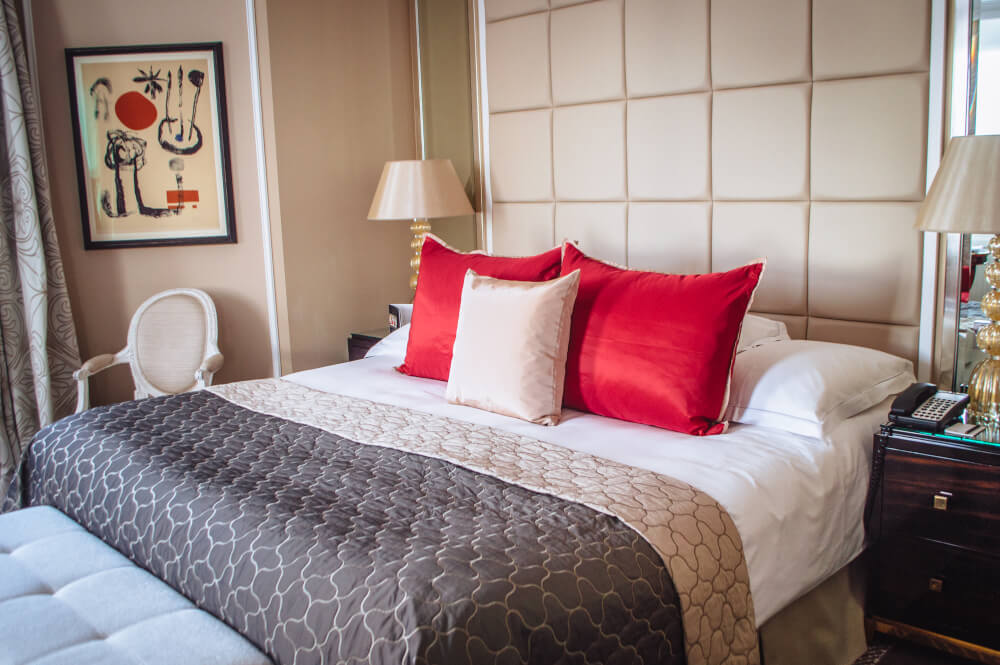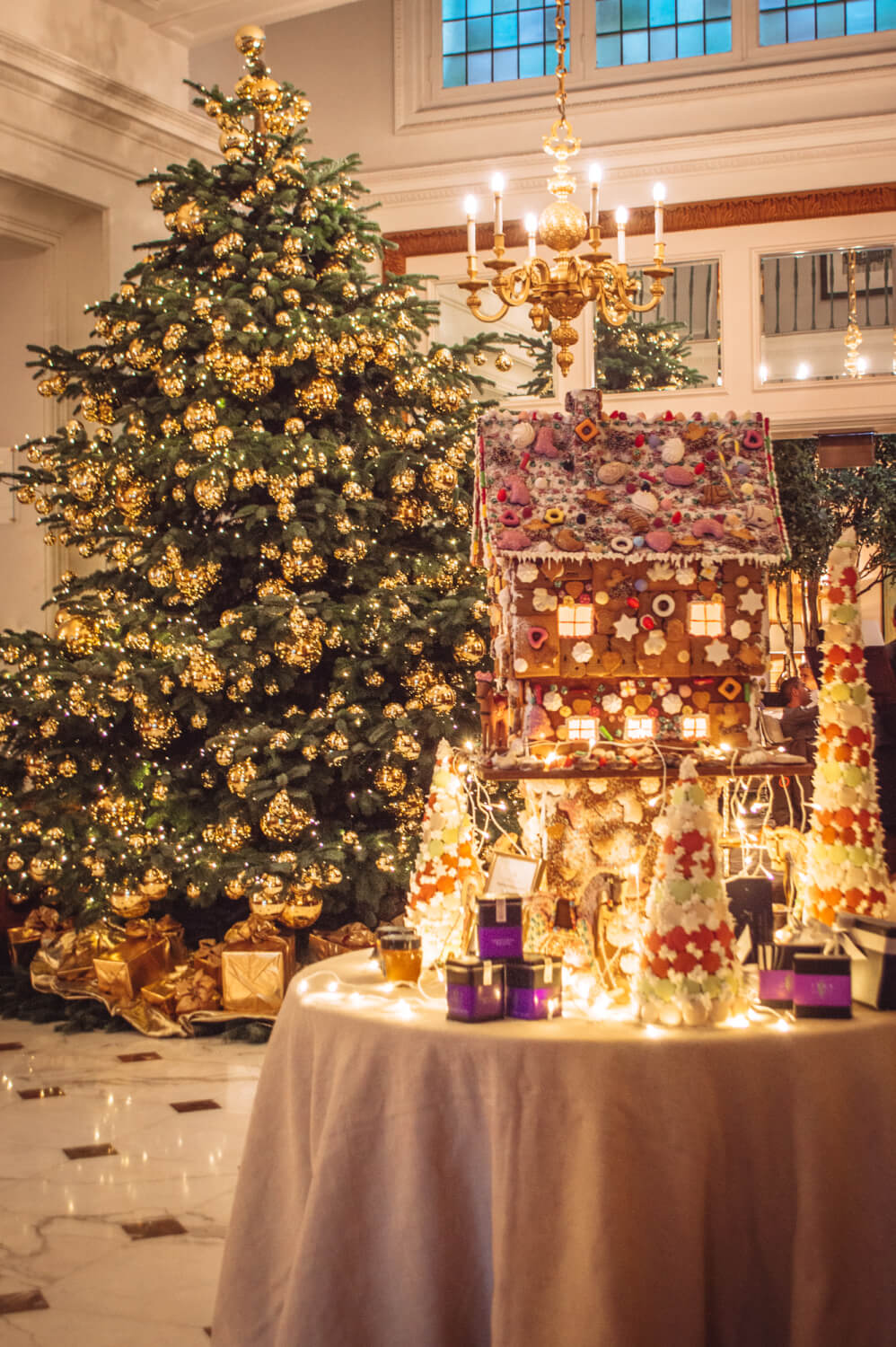 Zurich Christmas Market Map Overview
One of the best features of the Zurich Christmas Market is the way it's spread out across multiple venues, meaning lots of opportunities for varied Christmas sightseeing. Here are the best market venues/places to go if you want to truly appreciate Zurich at Christmas time.
Europe Winter Packing Essentials:
1. The Christkindlimarkt at Zurich Central Station
The Christmas magic in Zurich begins right as you get off the train!
Yup – the Christkindlimarkt at Zurich Central Station is here to make that glittering first impression, and it's a worthwhile market to check out for one simple reason: its dazzling focal point – a 50ft tall Christmas tree decked out in Swarovski crystals.
Located in the main concourse of Zurich Hauptbahnhof, this market has 150 stalls which makes it one of the largest Christmas markets in Europe to take place indoors.
I'll be honest though – this market isn't my favourite for shopping as there are quite a few stalls that sell mass-produced goods, but it's a very unique market to see, and definitely worth it for a glimpse of that blinding crystal tree.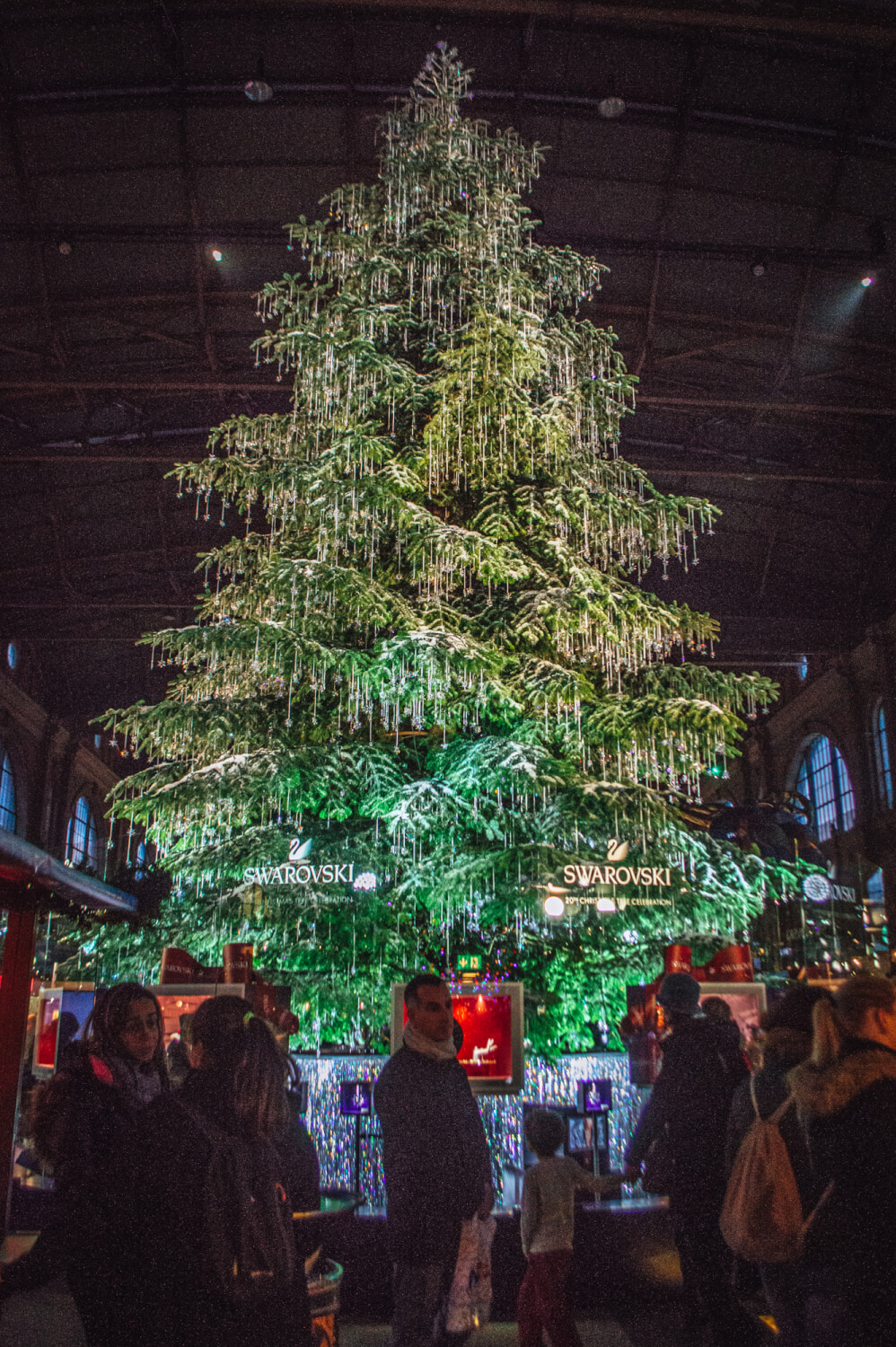 The Zurich Viennese Village (Wienachtsdorf) at Sechseläutenplatz in Bellevue
This Christmas market in Zurich is probably my favourite, with a scenic location near Lake Zurich, right by the city's grand opera house.
In this scenic location, you'll find a cluster of over 100 market stalls arranged to provide a village-like atmosphere, complete with a large skating rink, Bavarian curling, cozy wooden chalet, and traditional carousel.
I especially like this market for shopping, as it's home to the city's 'Designer Market', where many local designers are invited to parade their handmade creations.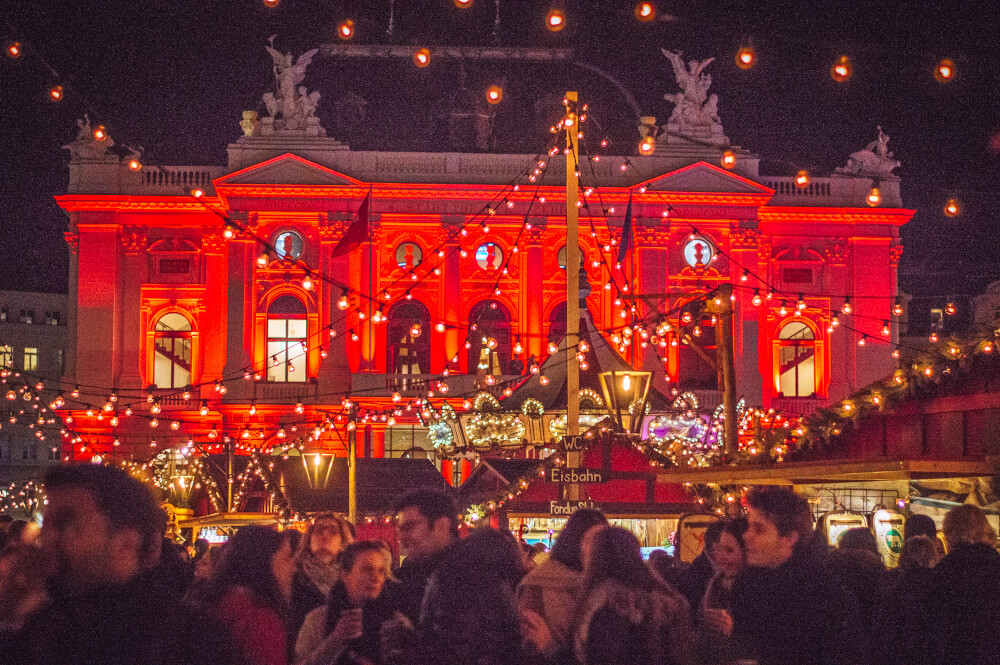 Combined with a large variety of local and international foods to feast on, and this might be the most atmospheric Christmas market in Switzerland.
PS: I love a good pun, and "Wienachtsdorf" which combines "Wien" (Vienna) and "Weinachsdorf" (Christmas Village) is pretty darn clever. I just needed to point that out… now, laugh with me and carry on.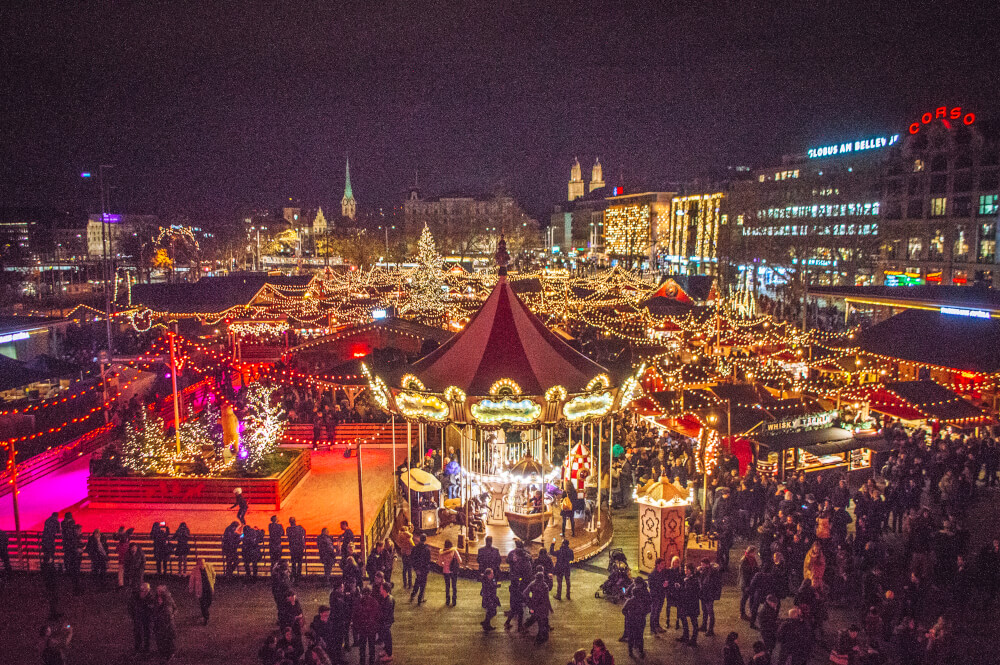 The Zurich City Christmas Market
Located super close to the central Bahnhofstrasse is the Zurich City Christmas Market, thrown in the heart of Zurich's main shopping area.
This market can be found sandwiched between two of the city's biggest department stores: Jelmoli and Globus, which makes it the perfect place to shop your heart out.
The wooden chalets here are rustic and adorable, with strings of Christmas lights to add that perfect magical touch.
There are also some food stalls and mandatory huts for glühwein, but the focus here is definitely on shopping, with lots of stalls selling unique handicrafts you'll be throwing your money at all night long.
NOTE: It gets really crowded here in the evenings, so arrive early if you want to shop in peace!

The Werdmühleplatz Christmas Market
Tucked away in a little courtyard just off of Bahnhofstrasse, you'll find the uniquely atmospheric Christmas market at Werdmühleplatz, with beautiful star lights hanging from the trees and one of Zurich's most beloved Christmas time traditions, the Singing Christmas Tree.
Since 1998, this tree-shaped stage has been hosting different choirs from around Switzerland throughout the festive season, delighting visitors with carols and oodles of Christmas cheer.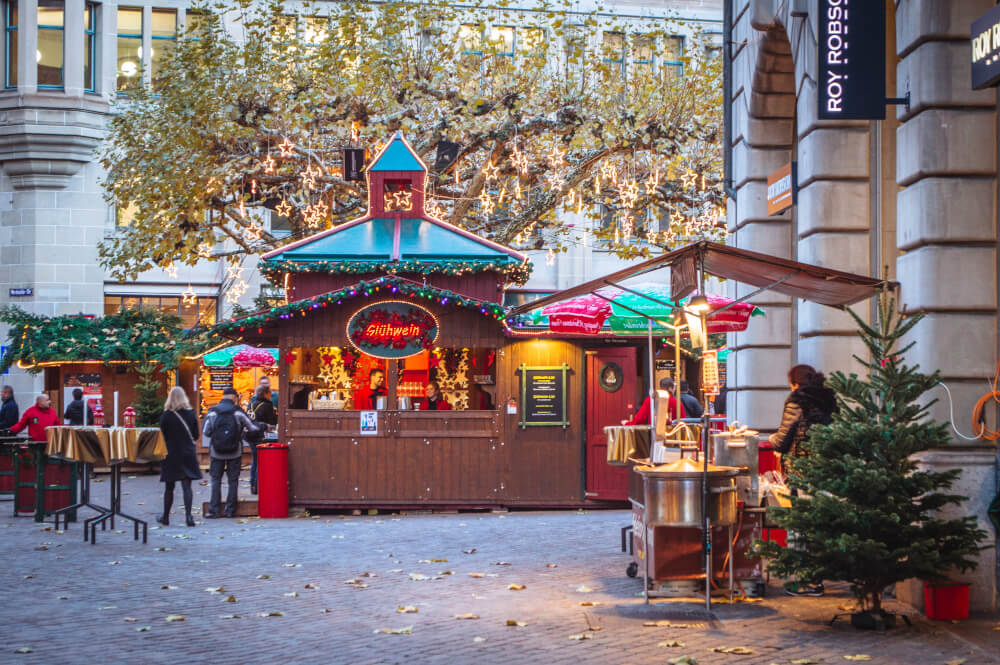 PS: I also found this little square to be the perfect place to sneak away for a glühwein… although I don't think there's such thing as a bad place to chug glühwein anyway.

Dörfli Weinachtsmarkt im Niederdorf
Last but not least, we have the Dörfli Christmas Market, the oldest Christmas market in the city, fittingly located in Zurich's Old Town.
This market is worth checking out for the adorable ambiance alone, with a fairytale backdrop of pastel-coloured buildings, ski gondolas-turned-fondue spots, and cutesy storefronts all jazzed up for Christmas time.
I found this market to be wonderfully quiet during the day, a nice break from the crowds that gather after the sun comes down, but there's no shortage of cool performances that happen here, which (at once glance from their official website) includes fire jugglers, giant alphorns and… llamas? Did I miss out or what?
NOTE: This Christmas market is scattered around various squares in Niederdorf, including Zwingli Space, Stüssihoffstatt, Rosenhof, Niederdorfstrasse, Hirschenplatz and around the Grossmünster.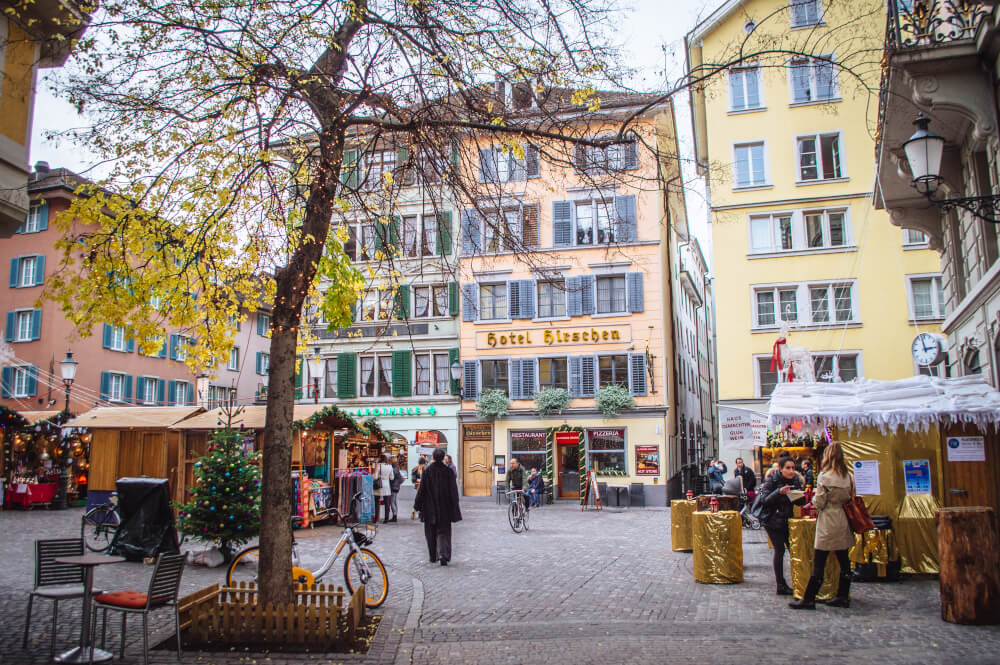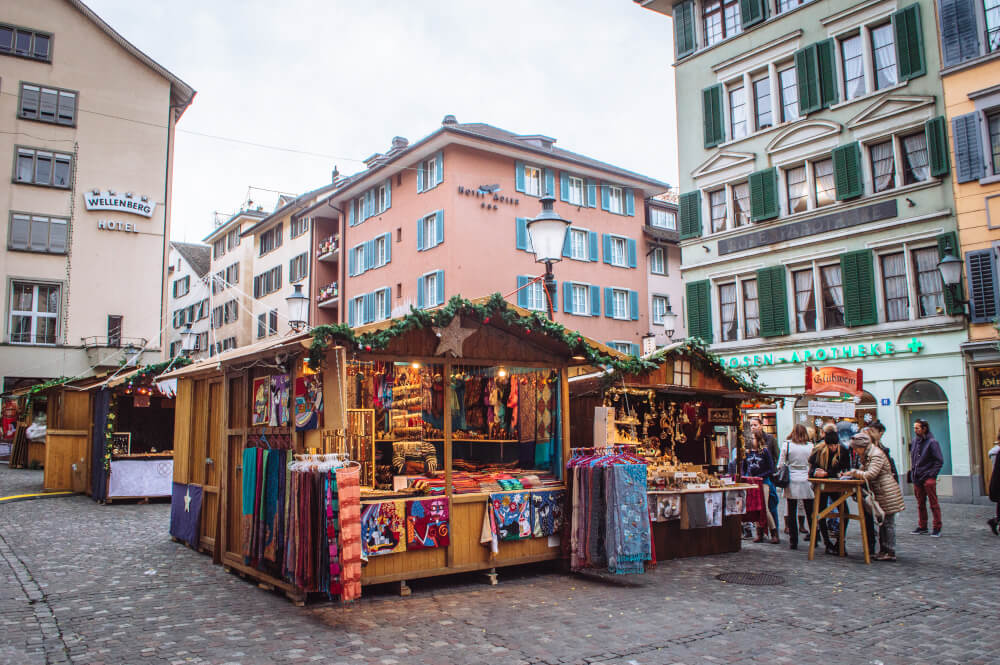 Other Activities and Attractions During Christmas in Zurich
Of course, the Yuletide magic in Zurich isn't just limited to Christmas markets! There are plenty of other sparkly and wonderful Christmas-themed attractions in the city to enjoy. Here are a few to add to your list:
Admire Lucy on Bahnhofstrasse
I know that sounds stalkerish, but Lucy is actually the adorable nickname given by locals to the long trail of 12,000+ twinkly lights that line Bahnhofstrasse… and not some random Swiss girl I want you to stalk.
In fact, watching Lucy light up is one of the big Christmas events of the year in Zurich – one that I got to witness for myself!
Everybody comes out to the streets like they're waiting for a parade, and count down as the lights turn on at precisely 6pm. It's a magical community event, and so, so pretty when all the lights come on.
And while I'd love to take this opportunity to extoll the virtues of Swiss punctuality, the year I attended, somebody definitely got fired because the lights flicked on prematurely at about 5:40, before promptly turning back off again. Quite anticlimactic, but beautiful nonetheless 😉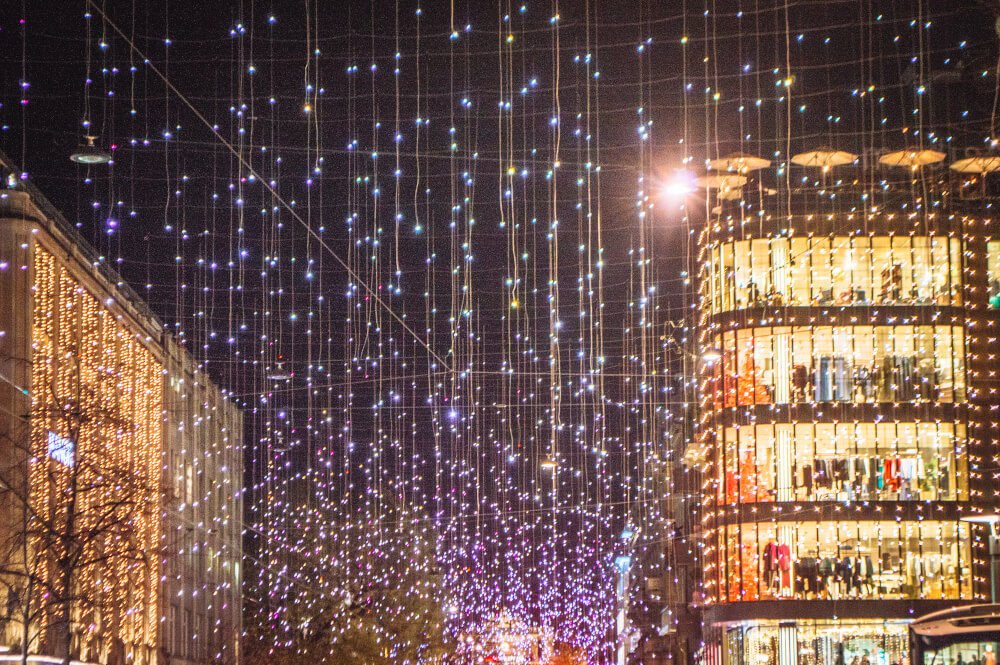 The Christmas Tree and Chalet at Baur au Lac
The Baur au Lac is a beautiful luxury hotel located right by Lake Zurich, and they're also a wonderful (lesser known) Christmas location in Zurich that is well worth checking out!
Every year, they host a Christmas lighting ceremony during which 70,000+ Christmas lights on the property are flicked on all at once.
It's a very magical experience, complete with glühwein, cookies and performances! Best of all, this ceremony is completely free and open to the public.

Illuminarium
A relatively new attraction on the Zurich Christmas circuit is Illuminarium, an amazing light show projected at the Landesmuseum Zurich, made complete with various stalls selling treats.
This unique immersive experience draws on enchanting light projections, storytelling and of course, ample amounts of glühwein to create a magical experience for all visitors. Click here for more info.
Europe Winter Packing Essentials:
Circus Conelli
A Christmas circus? Seriously, what doesn't Zurich have?
But yes, Zurich is in fact home to the first Christmas circus ever in Switzerland, which has been dazzling fans for over 35 years with vibrant shows featuring acrobats, clowns, and live music.
It's important to note that this circus doesn't use any animal performers, which is great, and makes it an ideal outing if you have kids in tow. Click here for more info.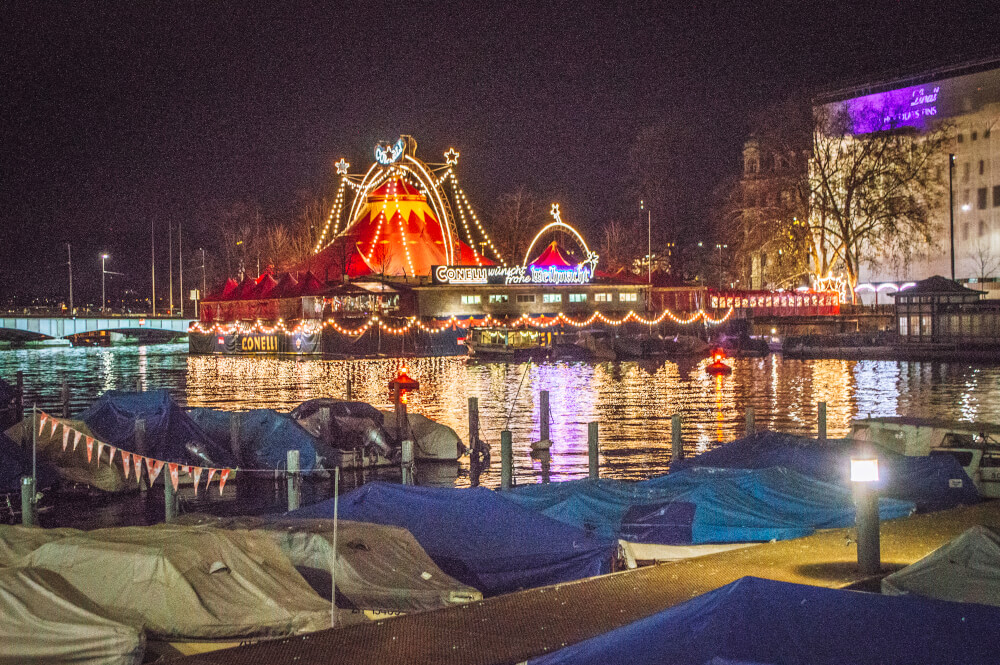 Salto Natale
Another circus experience to enjoy in the Zurich area during Christmas time is the Salto Natale, which has been delighting audiences in Zürich-Kloten annually since 2002.
This is definitely a more refined and elegant take on the circus experience, with fine dining menus available, along with a promise of bringing "surreal and poetic entertainment" to guests.
Sounds pretty intense, but if that interests you, you can click here for more info.
Ride the Zurich Christmas Tram
Another kid-friendly activity to enjoy in Zurich at Christmas is the Märlitram, an adorable Christmas tram that carts young visitors around town while angels read them stories.
I know, it's as magical as it sounds, and I haven't even been inside (although I have squealed with glee every time I spotted the tram around town, so there's that).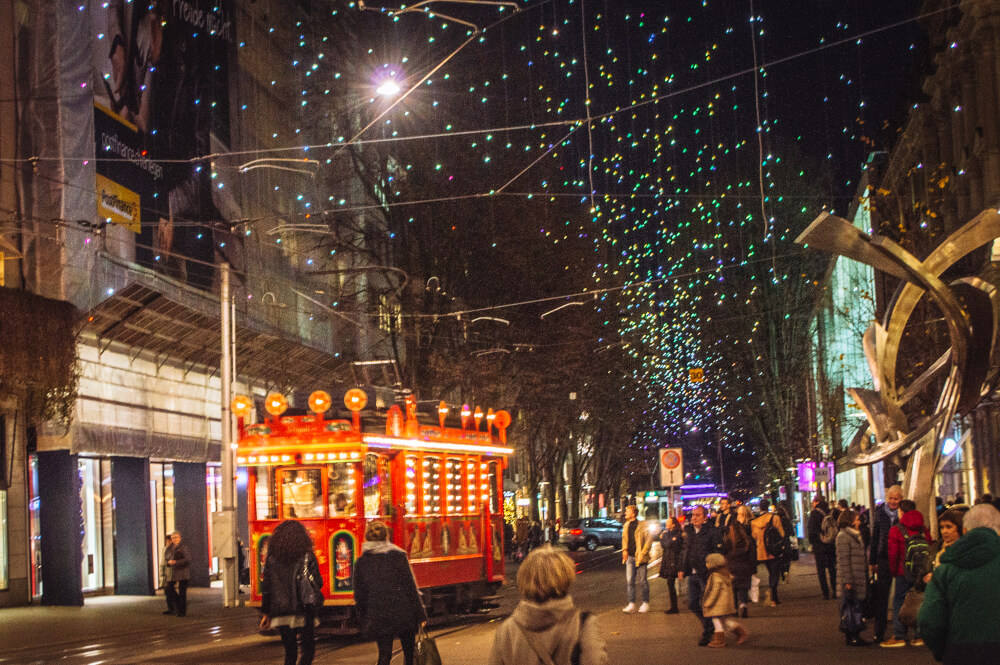 NOTE: Tickets for this tram can be purchased up to a week in advance from the Jelmoli Customer Service desk on the 4th floor.
What to Eat and Drink at Zurich Christmas Market: Must-Haves
Now, the moment you've all been waiting for: FOOD! and DRINKS! All the best things to enjoy at a Christmas market, and Zurich is no exception. Here is a mix of very traditional Christmas market treats, along with some unique recommendations that you'll only find in Zurich.
NOTE: This guide initially included detailed recommendations including which stalls to visit, but since I last visited Zurich for Christmas markets in 2019, many places I loved are no longer around, so the recommendations below are more general. I hope you still find them helpful!
Glühwein and Glühmost
We'll start with a classic – mulled everything. Seriously, give me a liquid and I'd love to mull it.
The mulled drink most associated with Christmas markets is of course mulled wine, AKA glühwein in Zurich, a hot wine mulled with delicious warm spices that will have you feeling jolly pretty quick.
Another drink commonly seen in Switzerland is glühmost, a mulled apple most (AKA juice that's pressed with the seeds and skin).
Both are delicious picks, although if I were you, I'd be sampling them all just to be sure ; )

2. Sausages
Ain't no party like a sausage party, and luckily, if you follow your nose, you'll be able to find sausages grilling on pretty much every corner in Zurich during Christmas time.
Usually served with a bun, these are the perfect grab and go food to keep you going during your Xmas market explorations.
These days, vegan and vegetarian sausages can be found around the markets too!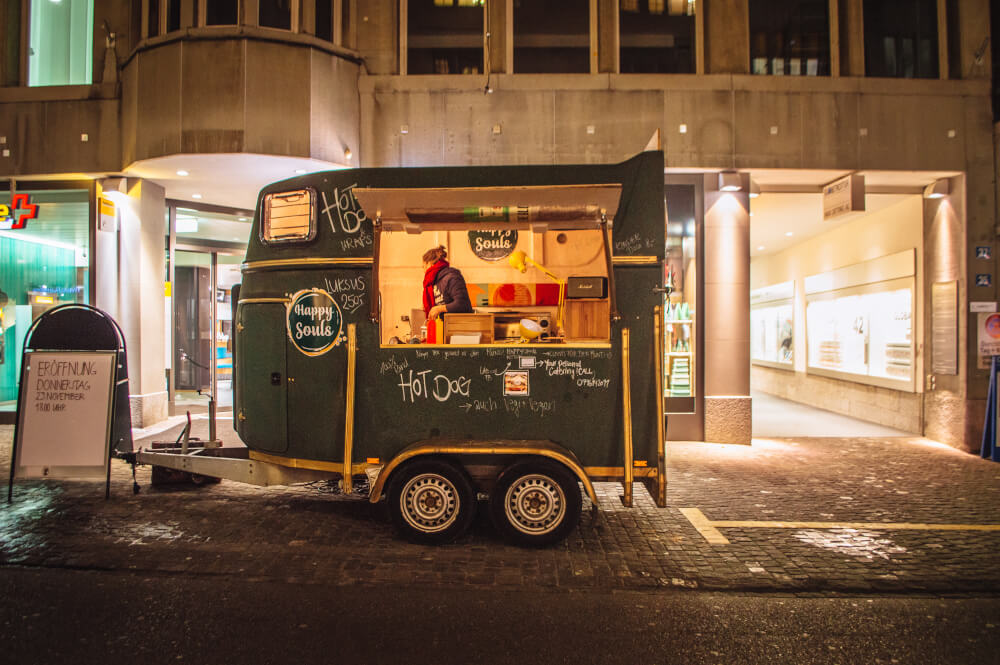 3. Öpfelchüechli
For those with sweet tooths (and zero self control), sampling Öpfelchüechli is a must.
These local treats are deliciously crispy apple fritters served with custard, and are as unforgivable on your waist line as they sound, but myyyyy goodness they're good.
A true treat of perfection, and a Zurich classic!
4. Raclette
Speaking of perfection, have you ever heard of raclette?
It's his amazing Swiss melting cheese that is heated up then scraped onto a happy plate usually filled with potatoes, pickles and other vegetables.
It sounds simple but it's divine – one of the tastiest and quintessentially Swiss foods you can get at Zurich Christmas Market… and trust me, you'll be able to find it everywhere! Just follow your nose!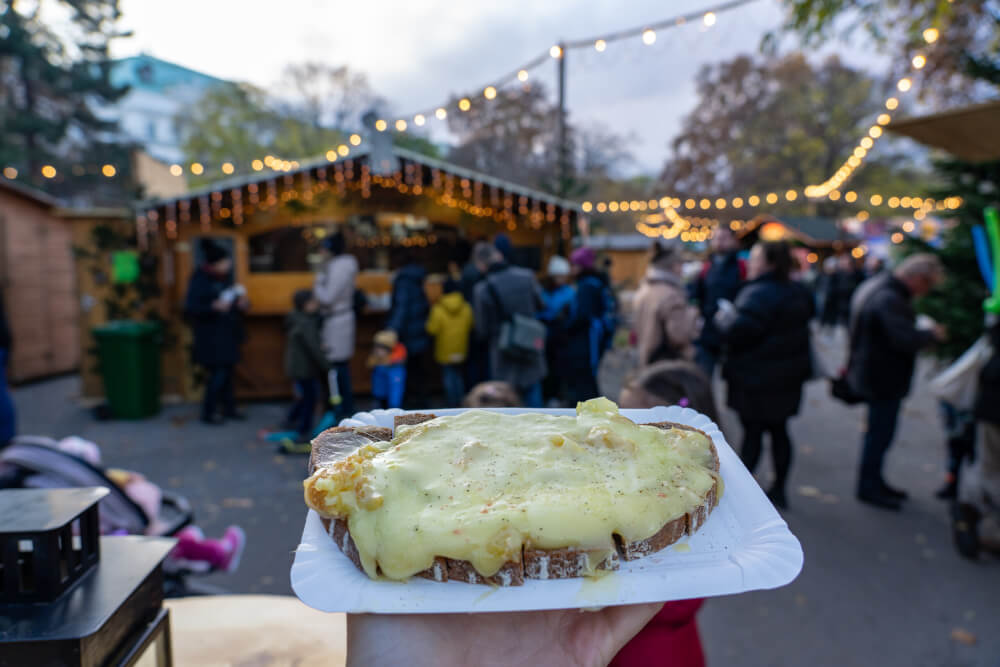 5. International Street Foods
Zürich is a fairly vibrant and international city, and its Christmas market food selection certainly reflects that! The Wienachtsdorf in Sechseläutenplatz is known for its abundance of international food offers, from Afghan and Sri Lankan to Danish, Dutch, and Austrian.
This market is well known for its food, and really, one large section of it feels more like a street food market than a Christmas market, so be sure to come hungry and come curious, because you're bound to find something different from the other side of the world to sample!
6. Flammkuchen
One of my favourite Christmas market foods ever (or just foods, period).
Flammkuchen, AKA tarte flambée is this amazing flatbread that's topped with creme fraiche, bacon and onions.
So simple and so good, often served with different toppings as well. Just do yourself a favour and try one – you'll soon see what I mean.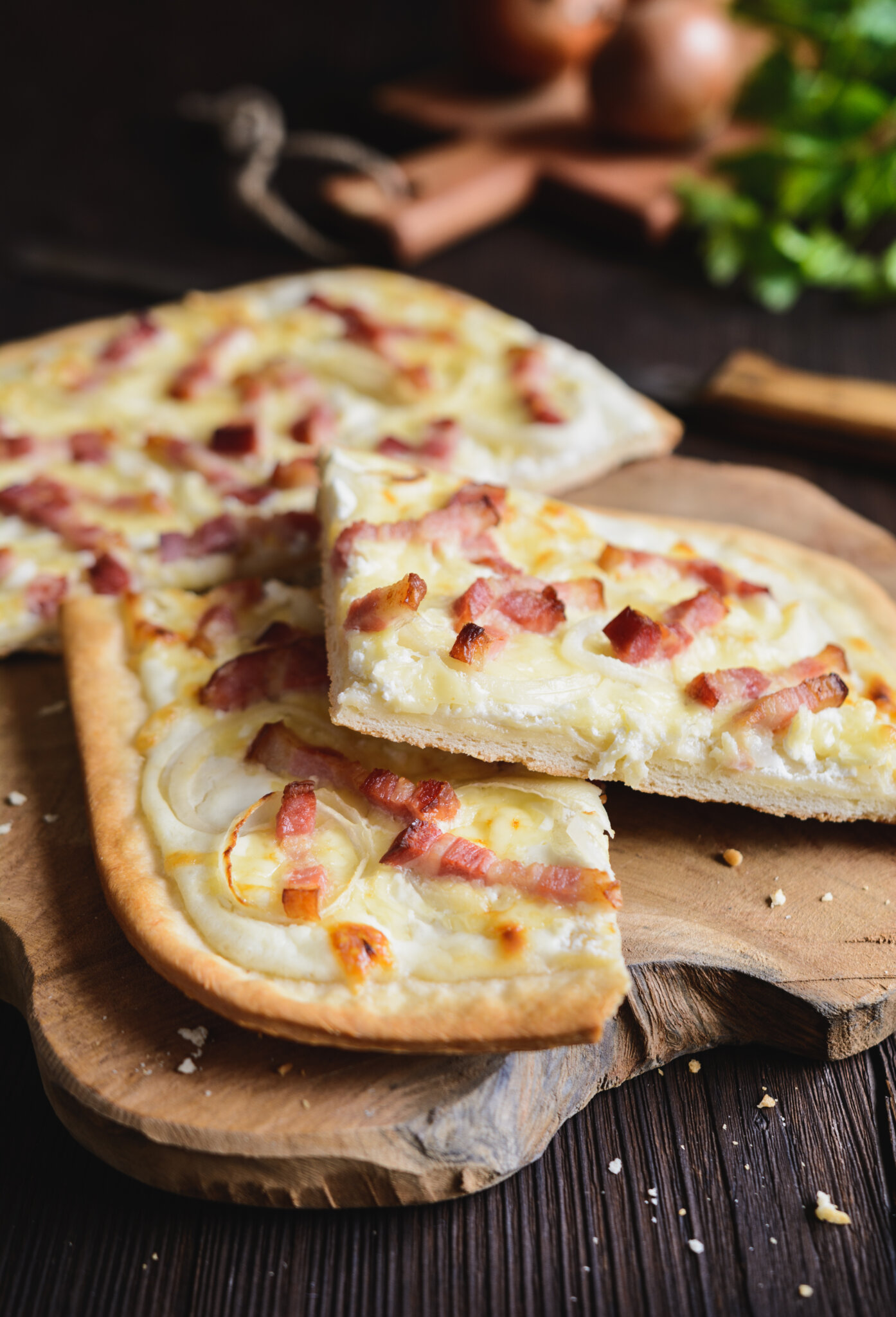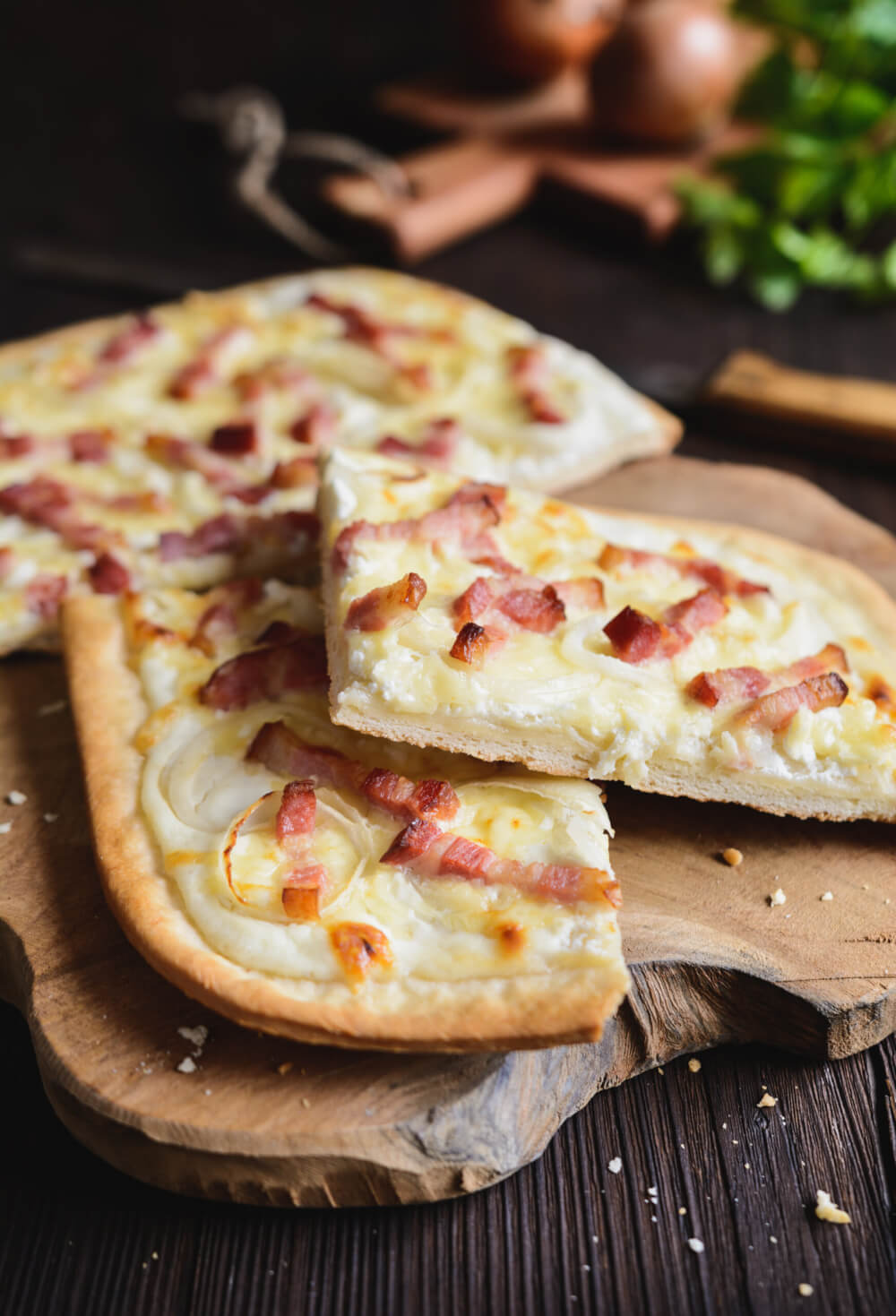 7. Gommer Cholera
Woah. Cholera? I know – strange name choice, but hear me out! This savoury treat couldn't be farther away from the disease it shares a name with – in fact, it's a vegetable pie/cake thing made out of onions, leeks, potatoes, cheese and apples… all things we love.
This is a quintessentially Swiss dish from the Valais region of Switzerland, and definitely a hearty food to try if you're craving something more unique.
8. Kaiserschmarrn
Not a Swiss treat, but a delicious one that originates from Austria. I think of Kaiserschmarrn as a pillowy comfort food that's basically a hug for your tastebuds.
It consists of shredded pancakes topped with powdered sugar, usually served with a side of apple sauce, plum compote or both.
9. Fondue (in a chalet)
Lastly, while definitely not a grab and go affair, fondue is a must while in Zurich. What more could you ask from life than a giant pot of melted cheese?
This Swiss classic involves dunking bread and other goodies into their own little tub of cheesy wonder and yes, it's as wonderful as it sounds.
Many Swiss restaurants will offer fondue on their menus across the city, but if you want a more magical Christmassy experience, book yourself a table at one of the fondue chalets at the Christmas markets! You can click here to reserve a spot at the fondue chalet at the Wienachtsdorf in Bellevue.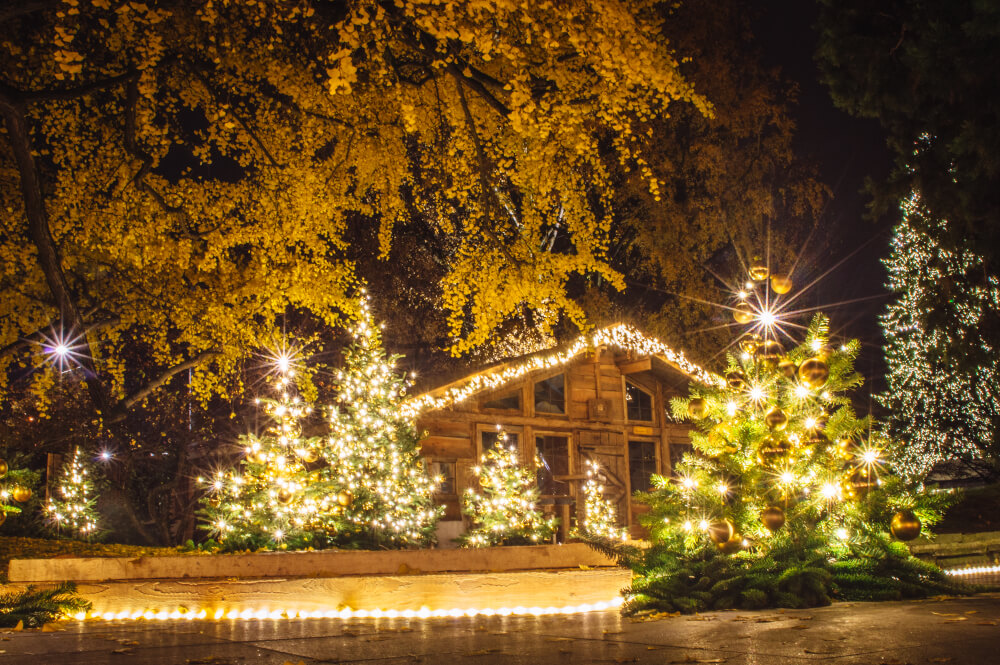 Any more questions about the Zurich, Switzerland Christmas Market?
I hope you enjoyed this lengthy guide to Christmas in Zurich! I know there are a LOT of Christmas markets in this city so the choice can feel rather overwhelming. Hopefully this post was able to help you out. Have a wonderful trip, and be sure to enjoy a glühwein for me!
My Go-To Travel Favourites: